The Kindness Of Strangers
My love for the Porsche 911 really only emerged in recent times, although in retrospect it did seem to be bubbling just below the surface for a couple of years.
Back at the end of October, I gave you the full story on my experience driving the new turbocharged Carrera 991.2, thanks to kindness of Brian Henderson from Rotiform. There's a little bit more to this story though; driving the Miami Blue 911 was just the start of what became two very memorable days.
After begrudgingly handing Brian back the keys to his car, I was just about to retrieve my camera and tripod to start shooting when Darren Yoo appeared with his hand outreached holding the key to his yellow GT3.
"Would you like to drive my GT3?" There is only one answer to that question.
This was never the plan, but I certainly wasn't complaining.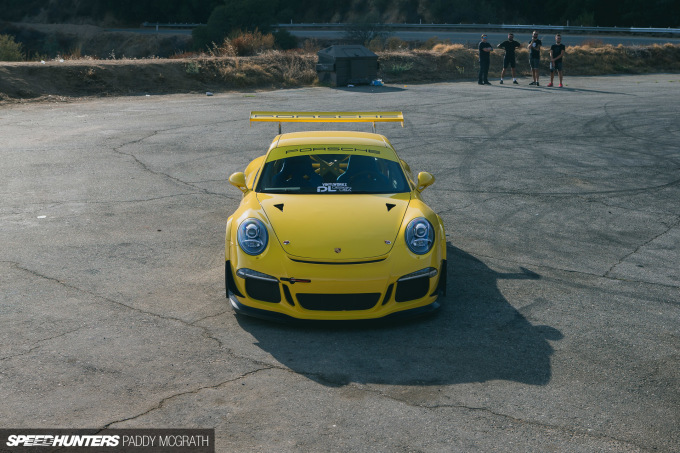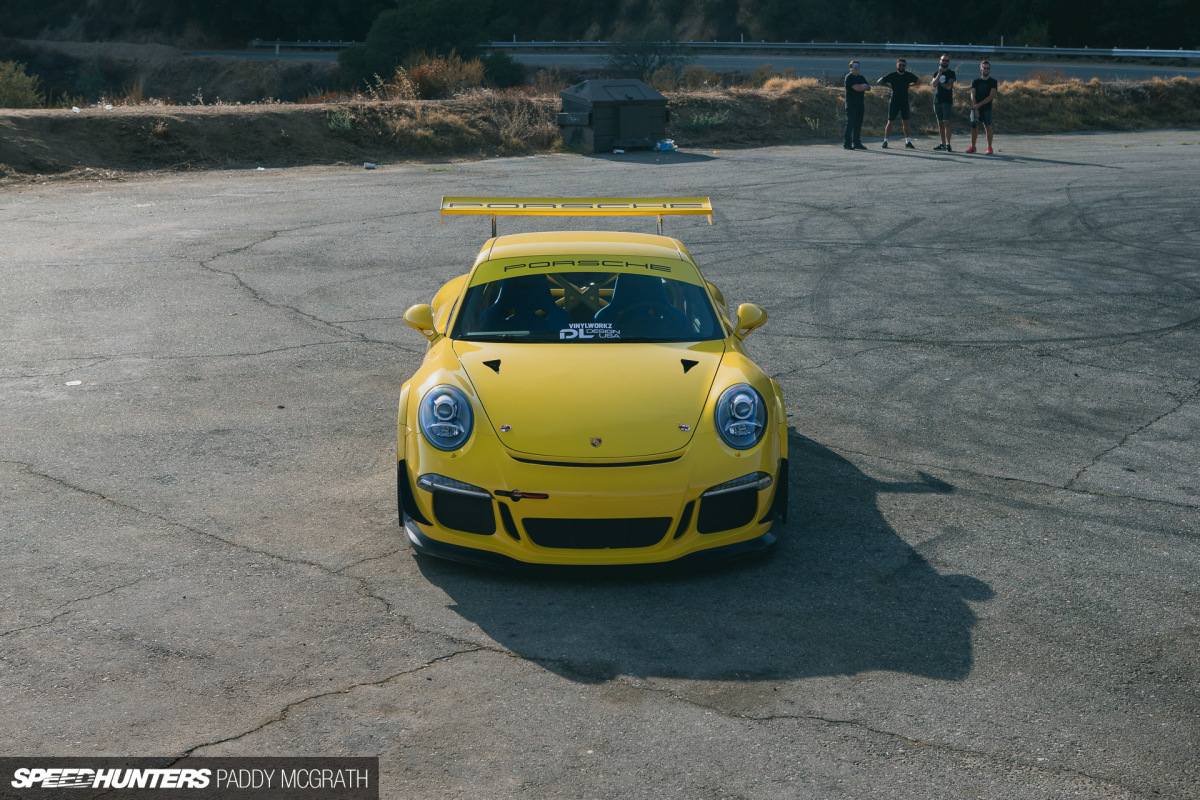 Looking back, none of this should have happened. Our original schedule did involve Brian's Carrera, and another car that unfortunately wasn't available in time. It was only on our way to the canyons that Brian wanted to drop in to see the crew at iDL Design, where his 964 was being stored.
We got talking, as car guys tend to do, as we explored the shop. The iDL team was in the middle of removing the factory roof from a particular 997 that was being prepared for SEMA, but when they heard our plans for the day, they were up for tagging along. The more the merrier, right?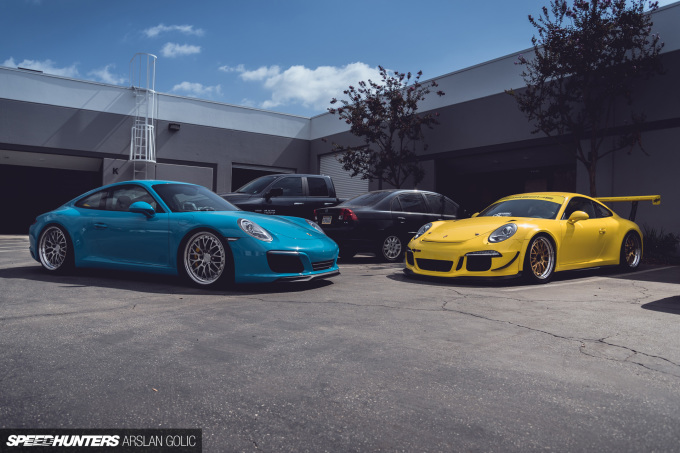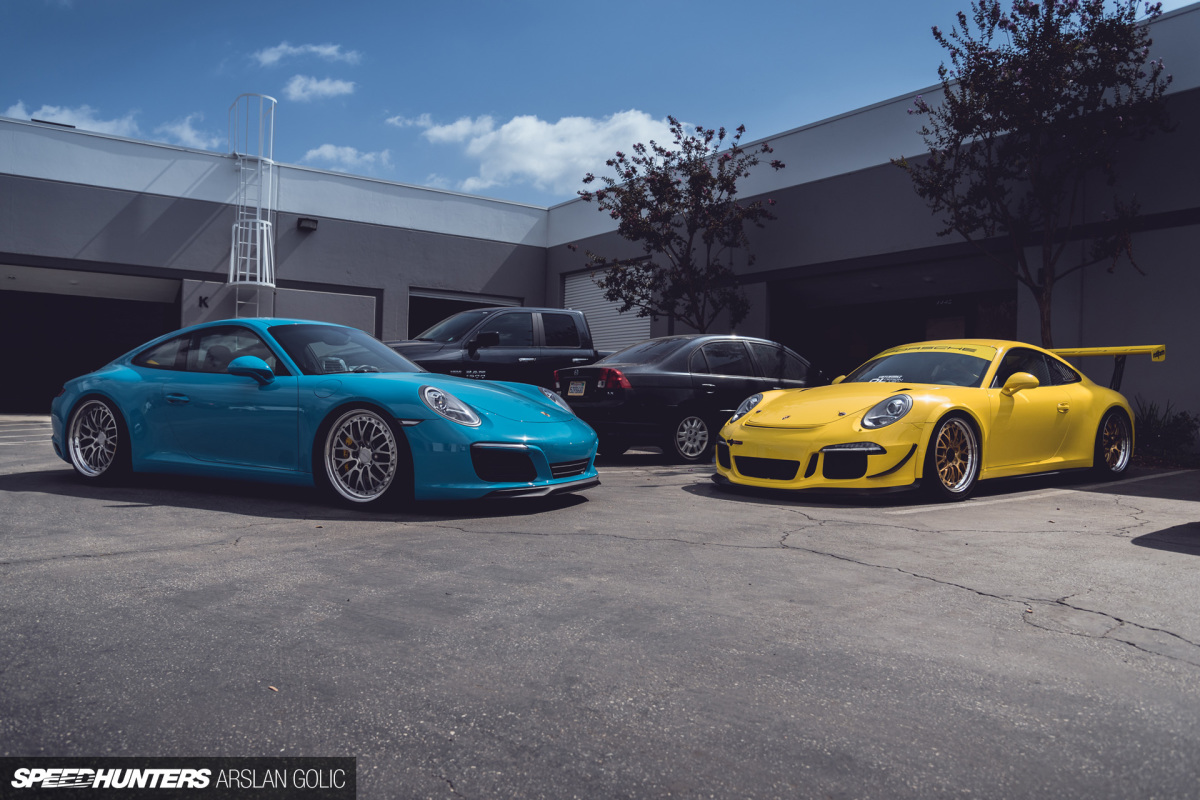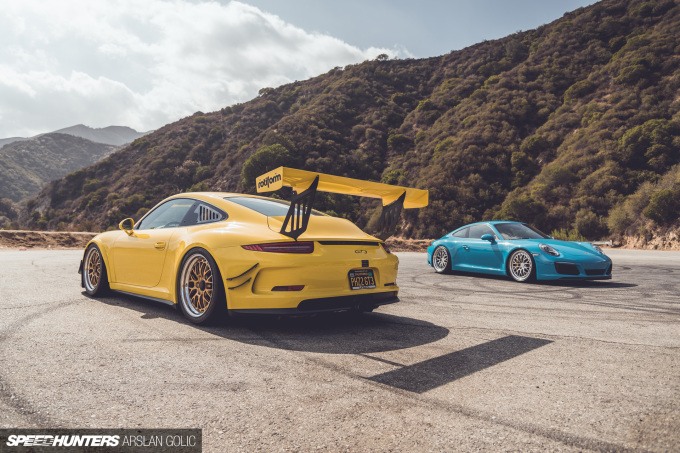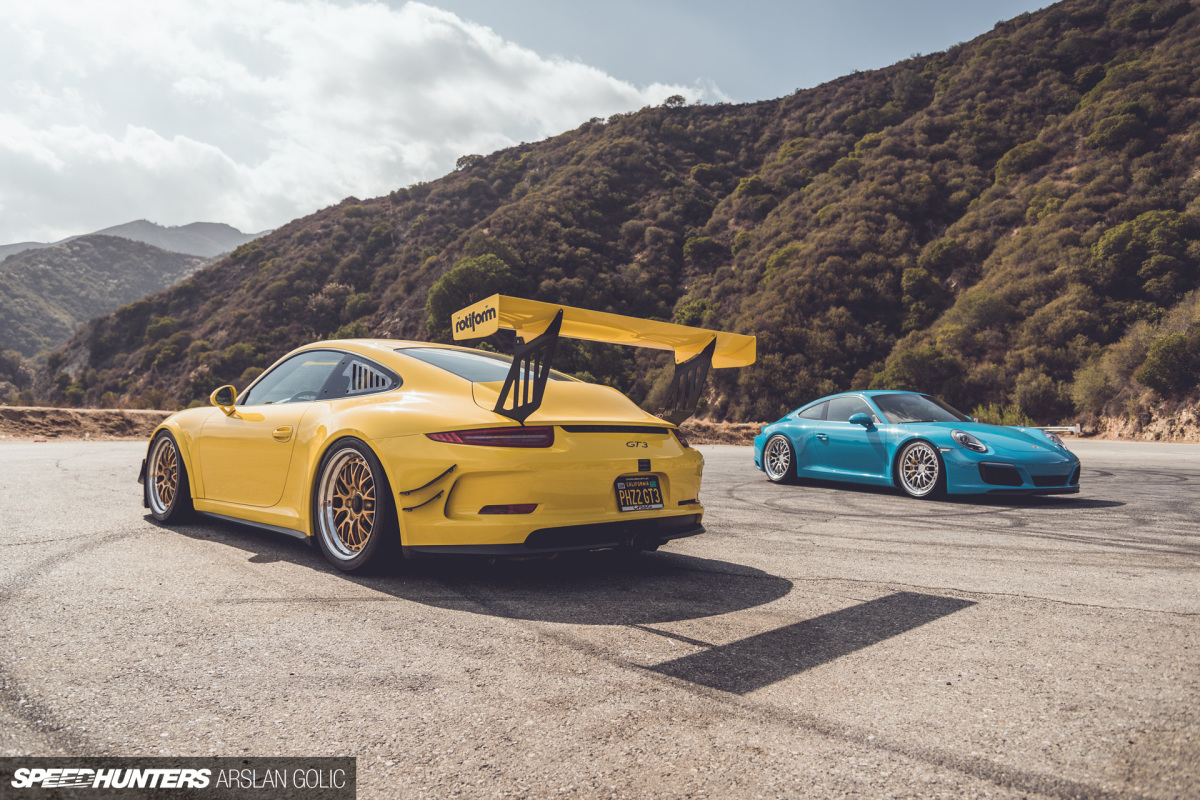 Before I had a moment to consider Darren's question, I had already blurted out a 'yes' and was walking towards the car. This was potential dreamland territory, but the rational side of my brain was now kicking in. I was about to get behind the wheel on the wrong side of a nigh-on 500hp rear-engined car, to drive it on the wrong side of the road. And all this in a car that's worth more than I've probably earned in all my years as a professional photographer.
Cautious excitement was my general mood.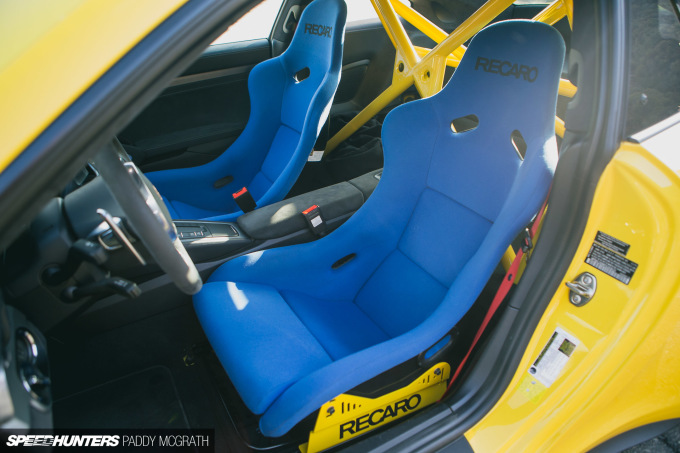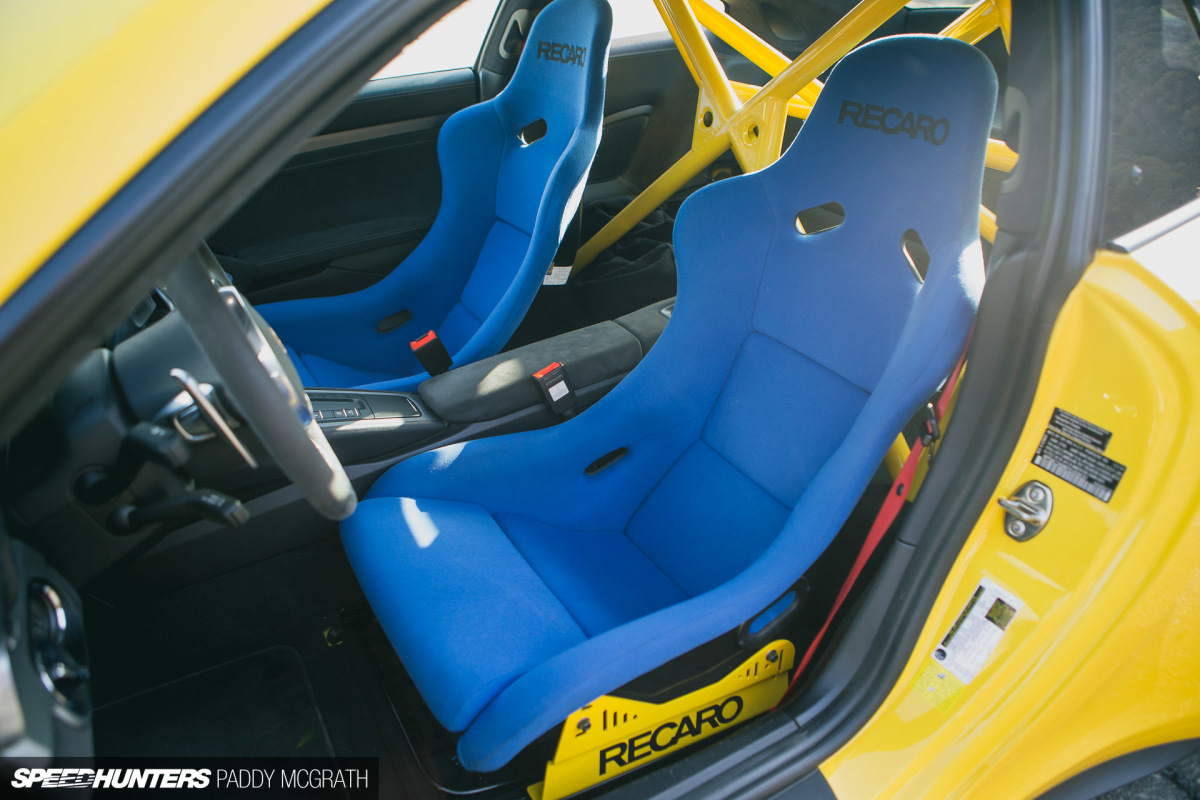 The car in question – which some of you might recognise as previously being one of the Spoon Sports-themed 911s – was tastefully modified. There was nothing questionable about the car, or anything that I probably wouldn't have done myself. The stock seats have been removed, in their place a pair of fixed-back Recaros which offer more lateral support and hold for the driver. There are no harnesses to fiddle with, thankfully; the standard three-point safety belts are perfect for the street.
Making myself comfortable and adjusting the seat and wheel according to the way Keiichi Tsuchiya showed me, Darren crouched beside me to give me a quick briefing on everything I needed to know. His tutorial was short, however. "Put the gearbox in Sport; you can shift at 9,000rpm." That removed any uncertainty about how he would like me to drive his car then.
All GT3s of this generation are PDK or dual-clutch. I've driven a considerable number of DCT-equipped cars in recent times, but this felt different. One of the first things I noticed was that the manual selector was pull for an upshift and push for a downshift in manual mode. It's the opposite of every other VW Group dual-clutch gearbox, but it's how it's supposed to be. This pleased me greatly as it's a far more natural orientation.
With regards to the other modifications, Darren has kept them sensible. There are a lot of GT3 Cup parts which bring the exterior to life; the front bumper, front reinforcement bar with tow hook, hood, front fender flares, rear deck lid with uprights and wing, rear bumper, rear reinforcement bar with tow hook, third brake light and rear quarter glass are all Cup items.
BBi Autosport is responsible for the half-cage, Rotiform for the centre-lock, GT3-specification LSR wheels. The suspension is factory, save for a change to Swift springs.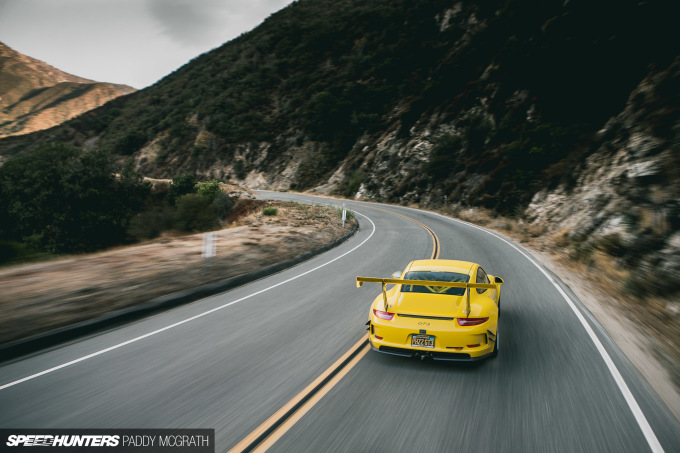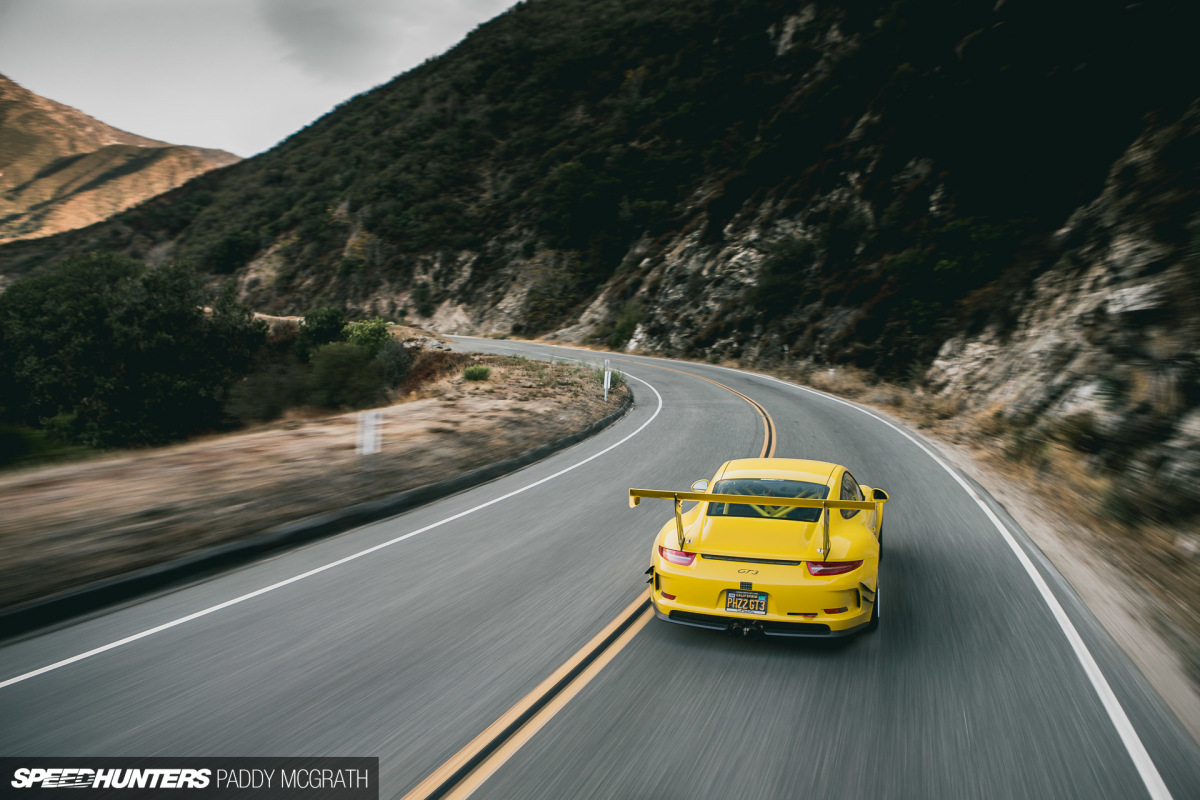 With the car having already been adequately warmed up on the drive to our location, I was at least comfortable with gently pushing it from the off. Pulling away was a simple case of releasing the footbrake and gently applying throttle to start progress. Crossing to the other side, I turned left and began to descend the now sort-of-familiar road. Selecting second gear using the steering wheel mounted paddles required a more determined pull than I've become use to, and it was certainly more tactile than I expected.
Gently cruising around the first corner at low speed in second gear, the road began to open up into a considerable straightaway. Well, it was now or never, right?
9,000rpm For The First Time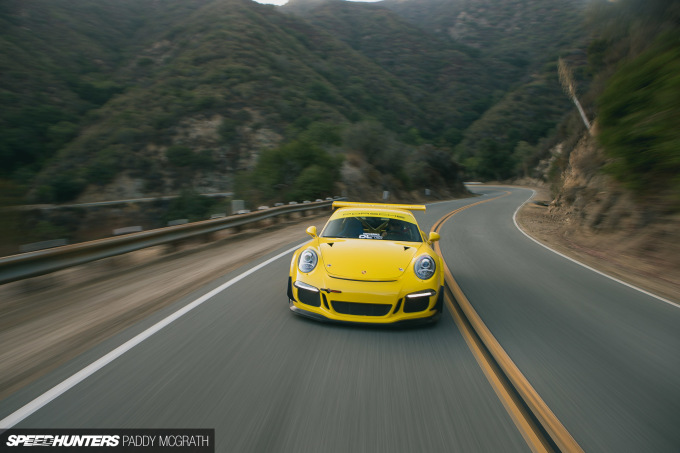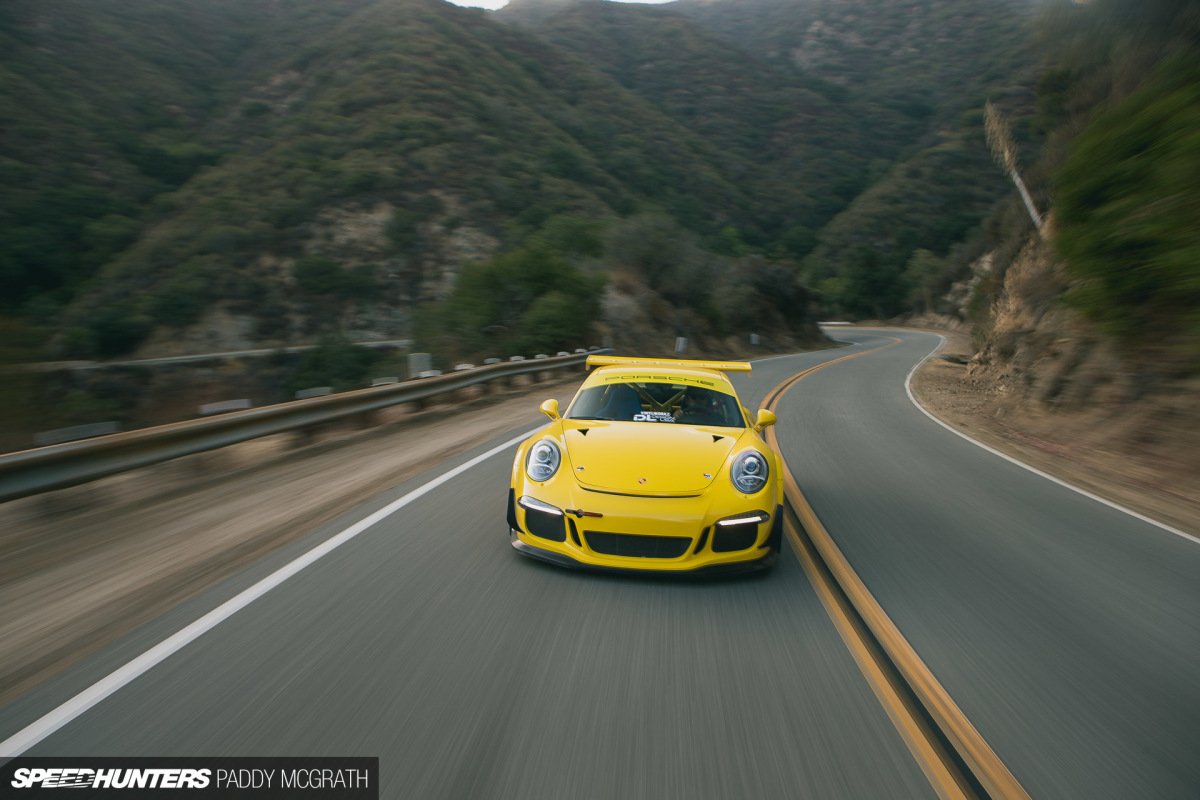 Coming from the turbocharged Carrera and having driven a lot of turbocharged cars in general, this was something else. Leaning into the right pedal there was the expected immediate response of a high powered, naturally aspirated engine. What I wasn't expecting, despite thinking that I had adequately prepared for this moment mentally, was the ferocity of the acceleration.
With the engine screaming, I glanced down at the tachometer to discover that I was only at 6,000rpm when the real fun is the run out to the 9,000rpm shift point. Where the first 6,000rpms are impressive, the last 3,000rpm is mind blowing. Videos, anecdotes or even a good PowerPoint presentation cannot accurately describe the feeling this car gives you at full throttle, especially with the iPE full cat-less exhaust including headers and mufflers.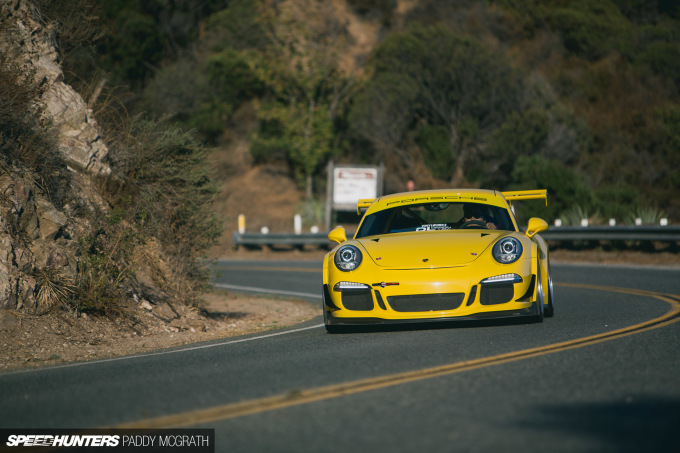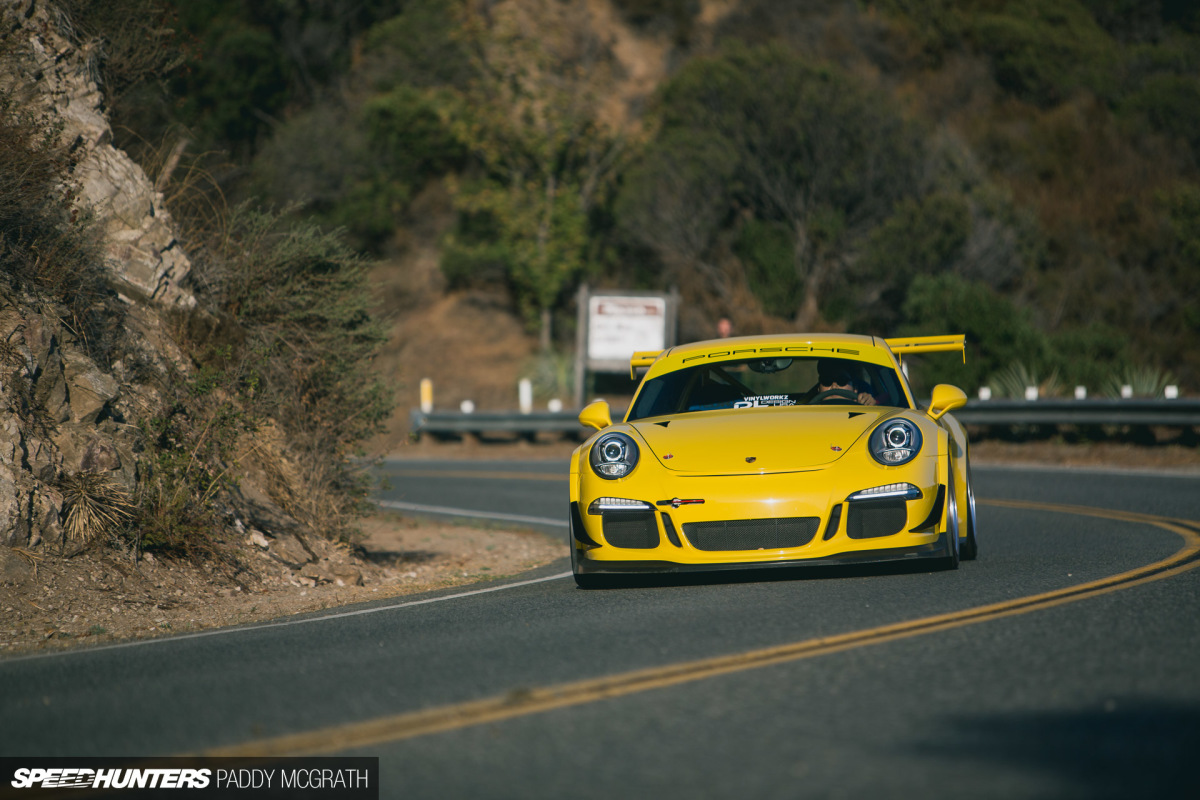 A purposeful pull of the right paddle engaged third gear and the onslaught continued, although this acceleration phase was cut short by the rapidly approaching tight right hander. Brake, brake harder, downshift to second with the accompanying auto-blip and turn-in.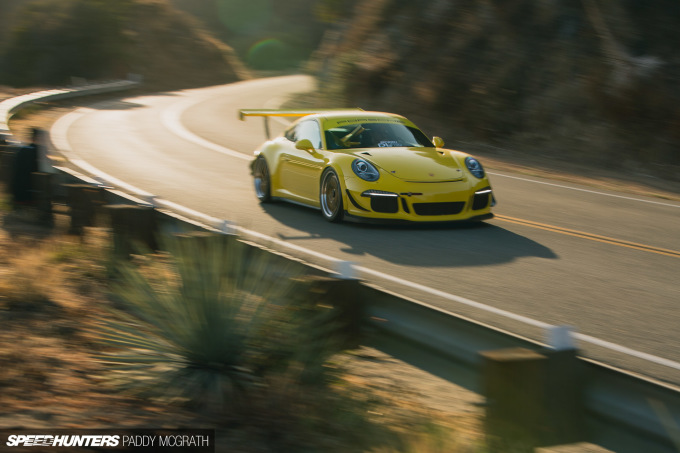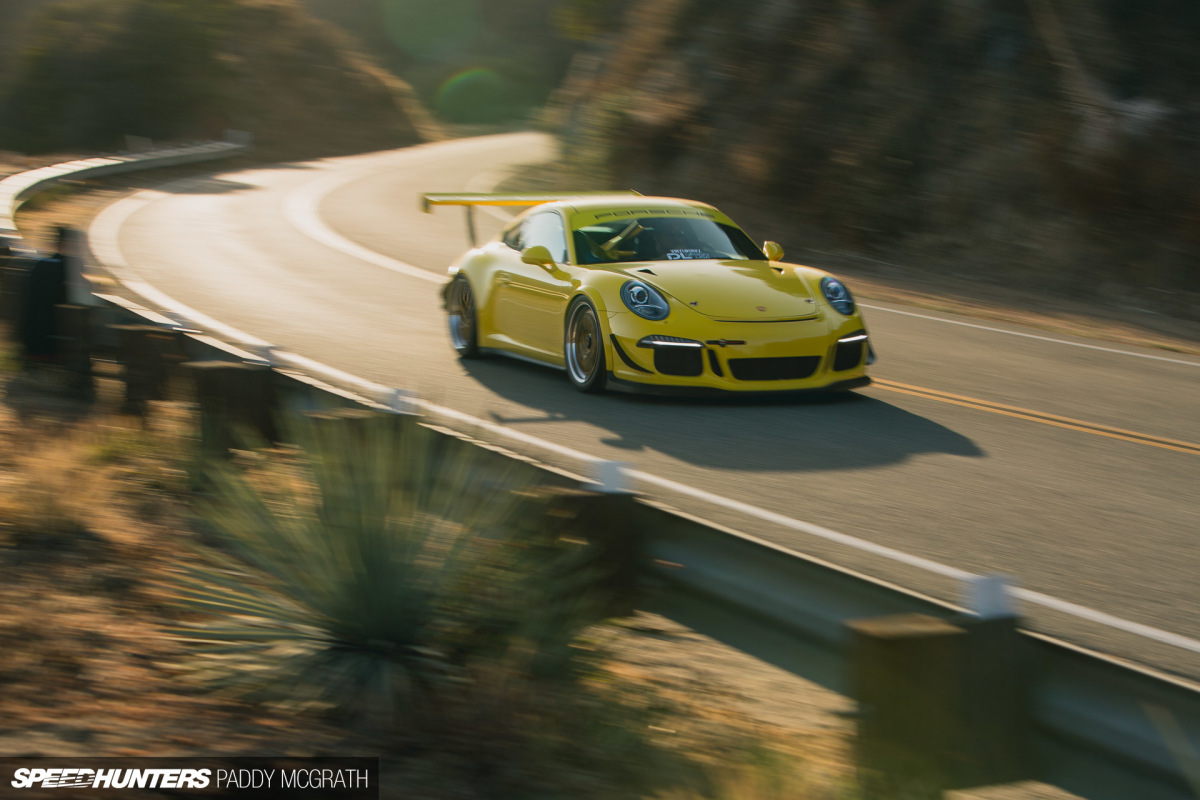 There's nothing that turns-in quite like a rear-engined Porsche. It's a strange feeling, and one I still struggle to articulate. Continuing my descent, the road requires only 2nd, 3rd and occasionally 4th gear to be really enjoyed. This keeps a lid on things and I'm acutely aware that this is a car that is comfortably more capable than I am. I'm also aware that it's worth more in one piece than I am, too.
I reached my self-imposed turnaround spot and stopped for a moment just to take it all in. When I woke up on that particular morning, I had no idea I would end up having this experience. I might never have it again, so I was doing my utmost to take it all in. A feint smell of brakes entered the car; the engine was quietly idling but I could feel it.
Checking that the coast was clear, I moved off once more but climbing this time. At this point, I was torn. I wanted this experience to last forever and driving fast would only shorten my time in the car, but it had to come to an end at some time, right? A slow start evolved into a pace which had me in a state of concentration that I don't think I've ever experienced before. I was really trying, but the car was completely unfazed.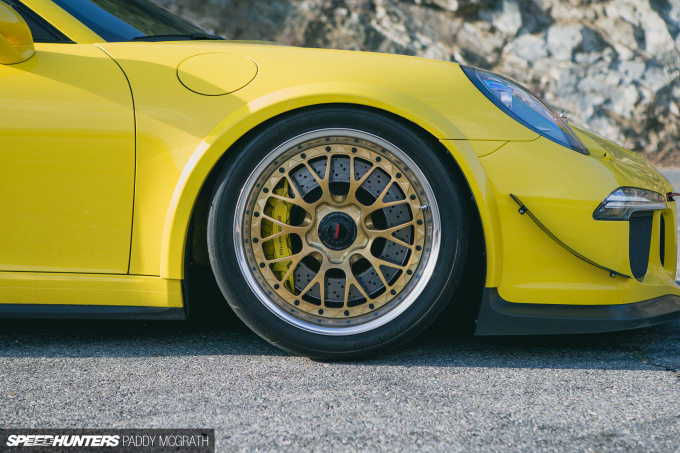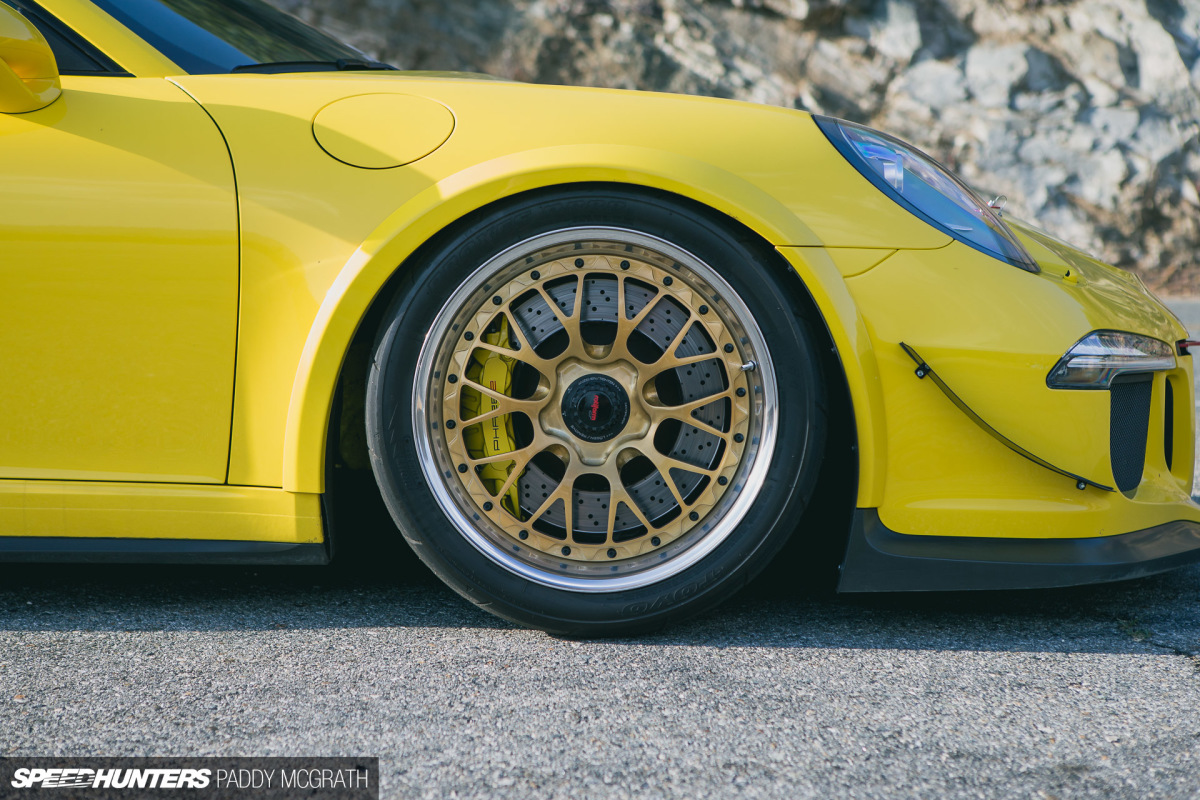 There wasn't even as much as a tyre chirp or squeal at any point as we whipped back and forth, using as much of the lane that I could, and a little bit more on the right hand side of the car where possible.
Each time I corner I think that I could have braked later and stayed on the throttle longer to carry more speed. I was getting far away from myself when finally the sensible part of my brain called a halt to the proceedings. Enough. I was done.
Simply, this more car than I am a driver.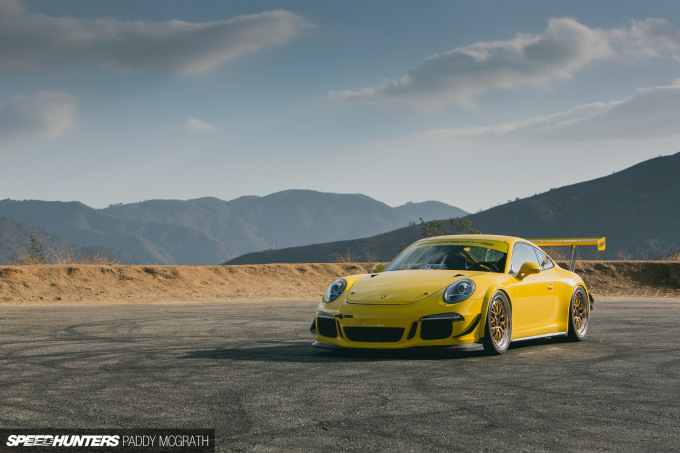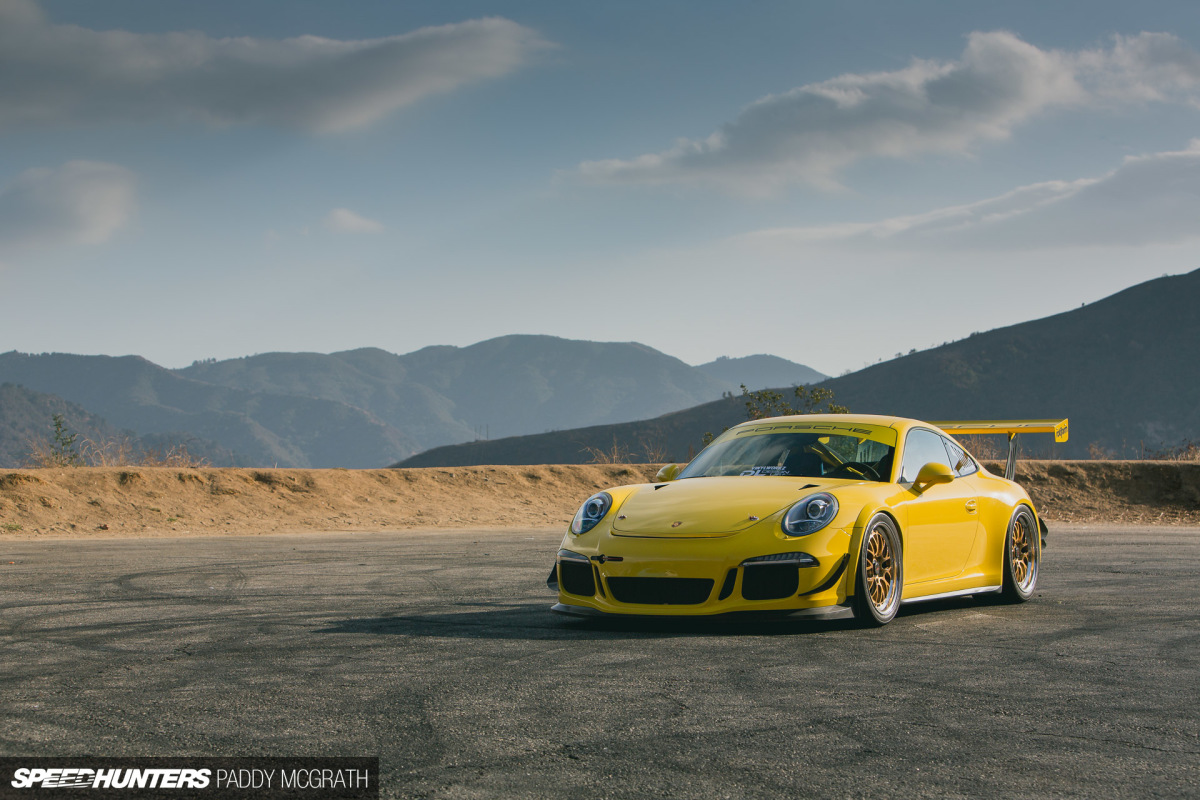 I take this moment of realisation to back off completely and coast the remaining section of road, allowing the car to cool. It probably didn't need it, but I've always been the mechanically sympathetic sort and it's no harm either way.
There's a part of me that's proud that I had the sensibility to know when to slow down and to admit defeat, but there's another part of me, the curious side, that still wants to know just how much more I had in me. I know really though, that the open road isn't the place to find that limit.
Finally reaching our shoot location, I gently bring the car to a halt and switch it off after a brief period of idle. Taking the key out of the ignition, I lift myself out of the seat and car as casually as possible to find a lot of faces looking back at me, smiling in a sort of knowing way.
Many questions followed which I remember answering but I don't remember the words used. Truthfully, my mind was in another place trying to comprehend what had just happened. Even two months later, as I write this, I still can't fully appreciate the experience. I just know that I'll be eternally grateful to Darren and Brian for making this happen. This wasn't just a drive, it was a rite of passage.
If someone ever affords you this opportunity or something similar, don't hesitate to take it. Just remember to bring your brain with you.
Paddy McGrath
Instagram: pmcgphotos
Twitter: pmcgphotos
paddy@speedhunters.com
Additional Photography by Arslan Golic 
Cutting Room Floor