Five Days & Counting…
While it seemed like a great idea at the time, I can highly not recommend getting off a 10-hour red-eye flight, and immediately getting to work chasing cars around the greater Los Angeles area.
Now that I've had my mandatory whinge, I can get straight down to it. The scene is Friday October 27th (yesterday, as I write this); it's around 11:00am and and I've just pulled my Dodge Charger rental car into a discreet location 20 minutes from LAX. Why a Charger? It was either that or a Hyundai, and I've had my fill of them for 2017.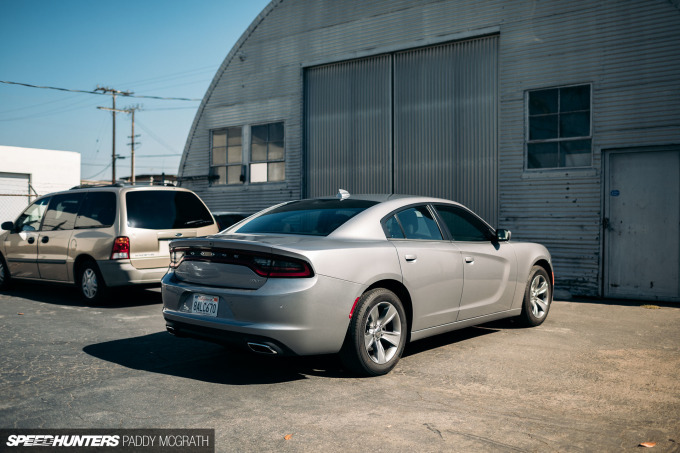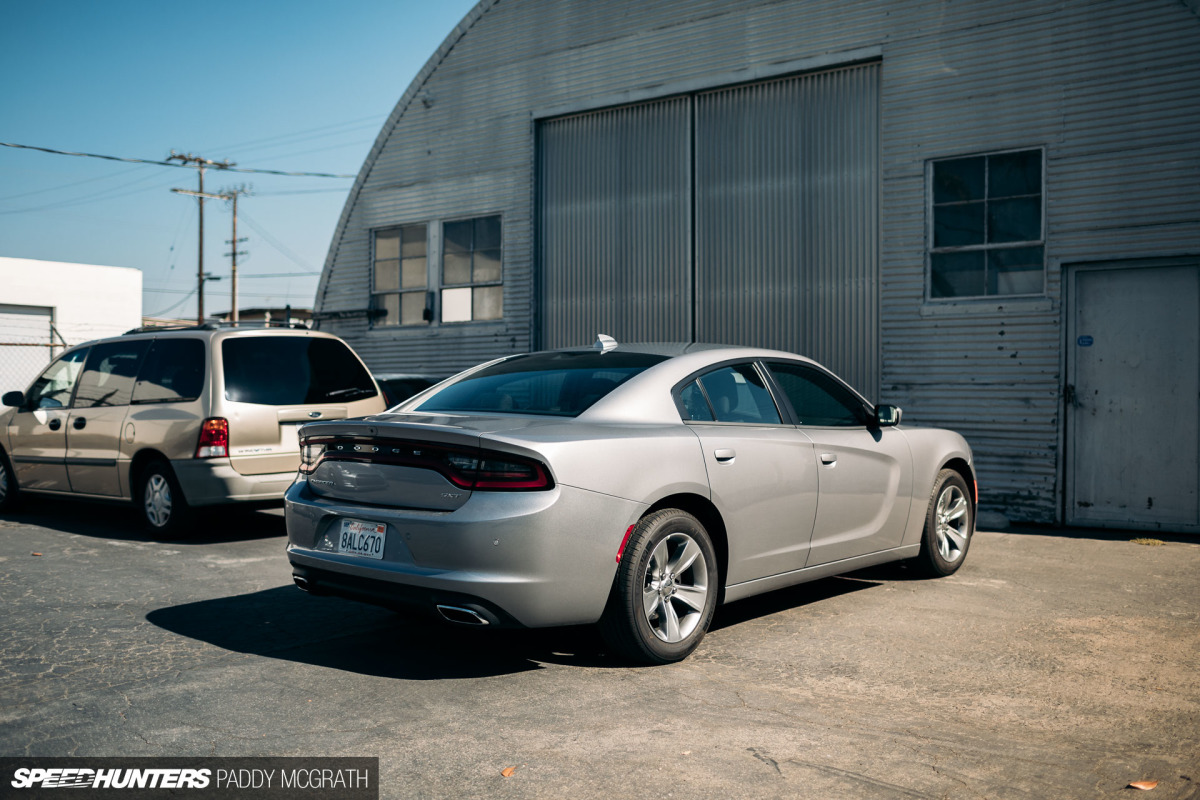 It was a fetching silver, which I chose because the last car I had was black which turned it into a mobile oven after seven minutes of being parked up in the Californian heat. I was keen not to experience that particular perk again. Apologies, I'm off track.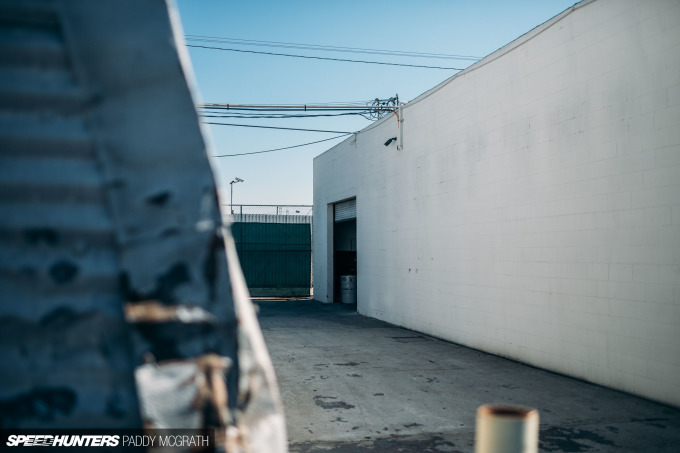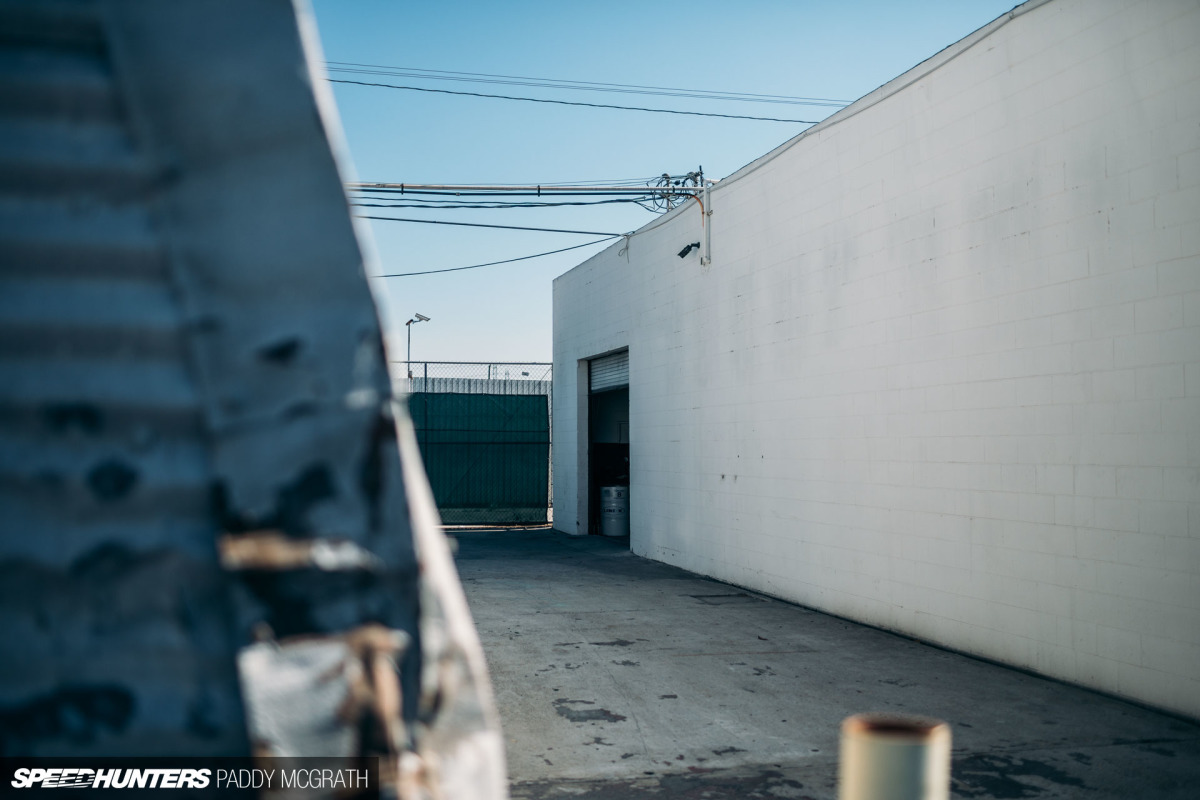 The actual reason I was here, which strangely isn't to talk about my lacklustre choice of rental car (it's only a V6, which I didn't think was a thing in the USA), was to visit MotoIQ, and check on the progress of a particular SEMA build that we've been bringing you tidbits of over the past week or so.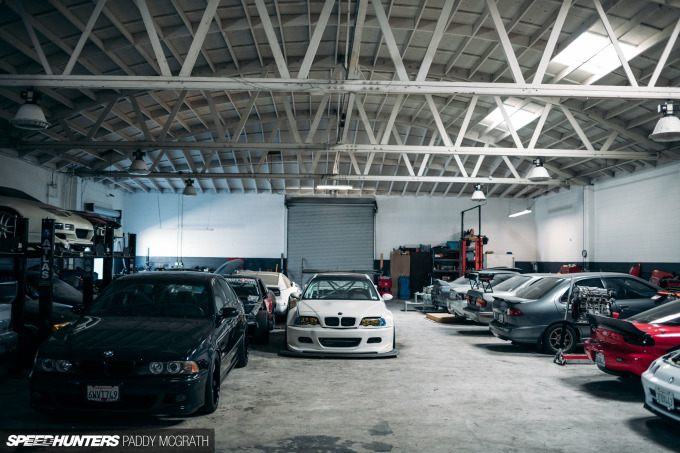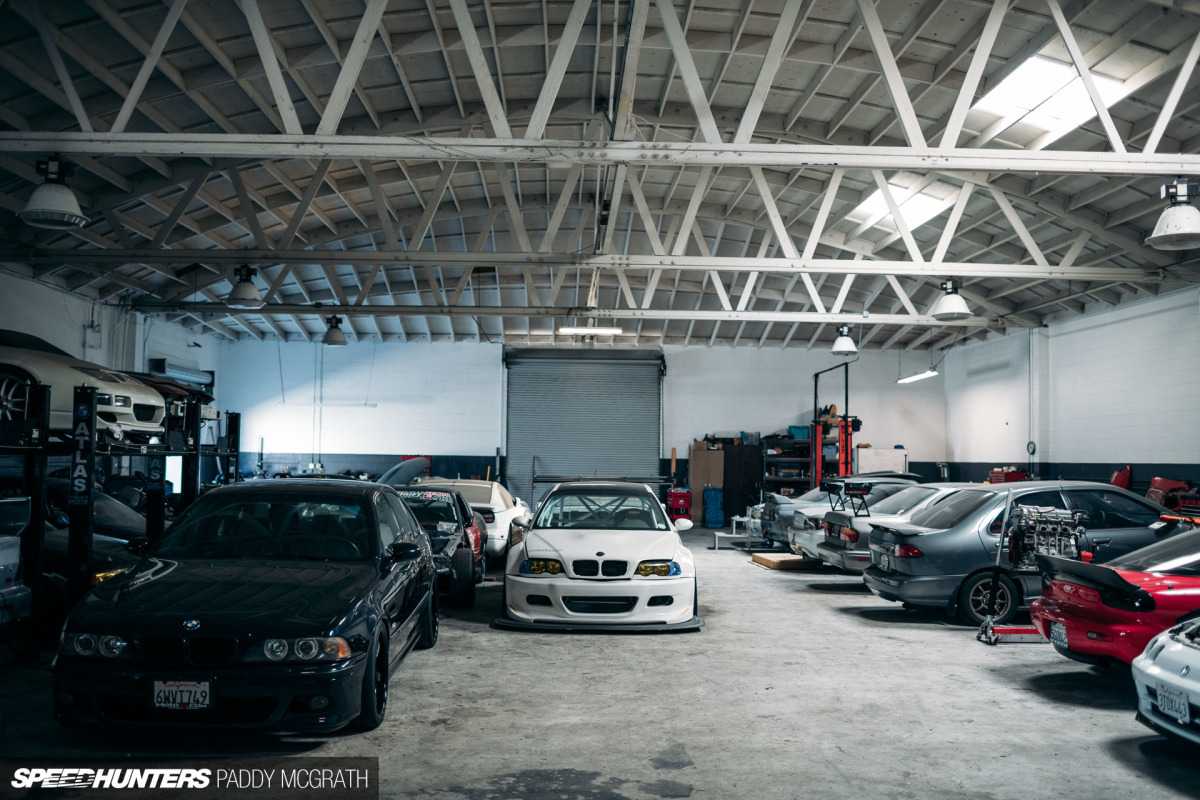 I'm a big fan of the guys at MotoIQ. I met Mike Kojima at the Nürburgring in 2010 on a KW Suspensions trip and was blown away by his softly spoken, humble nature, considering the depth of his knowledge when it comes to extracting the most amount of performance from a car.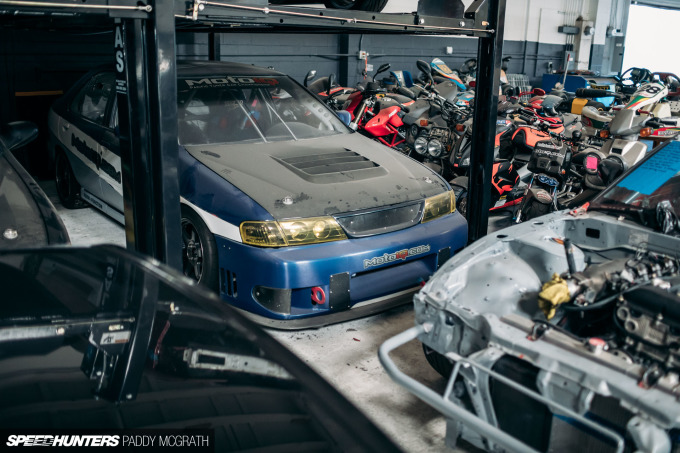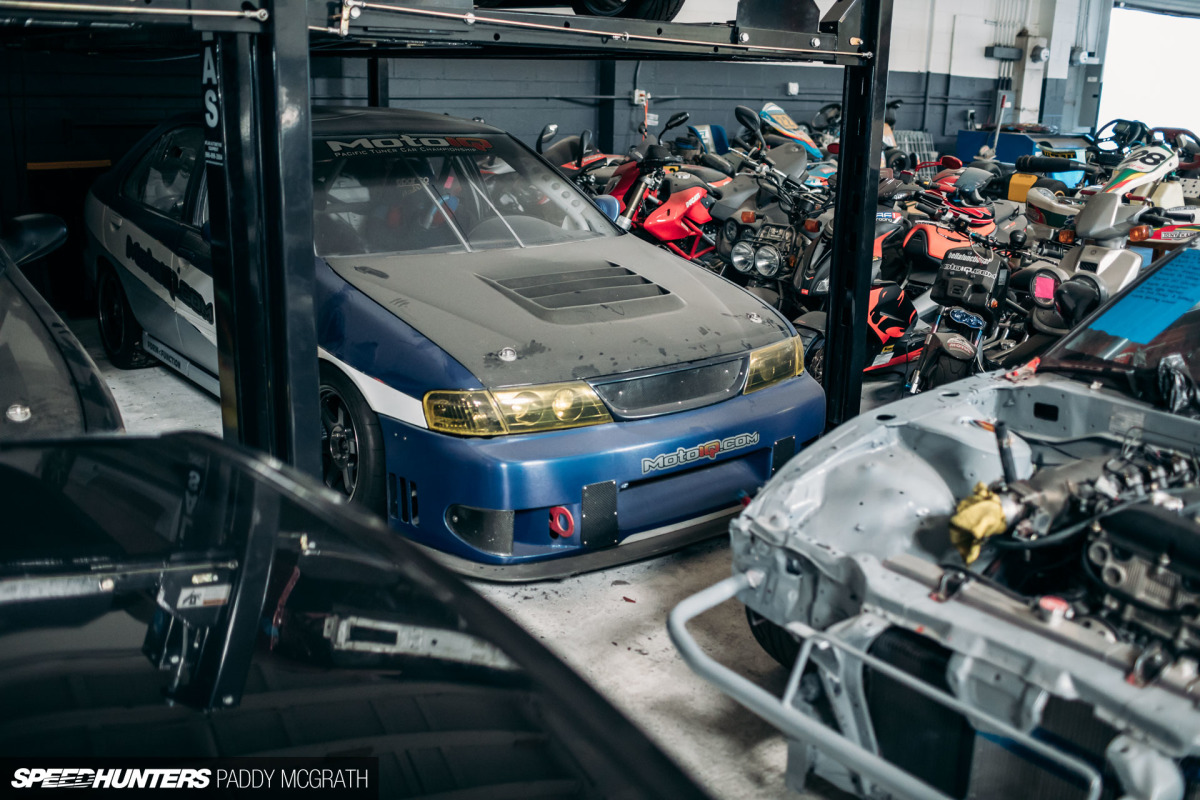 The MotoIQ workshop is a treasure trove of fascinating and fast cars. They're also one the most welcoming groups of people I've encountered.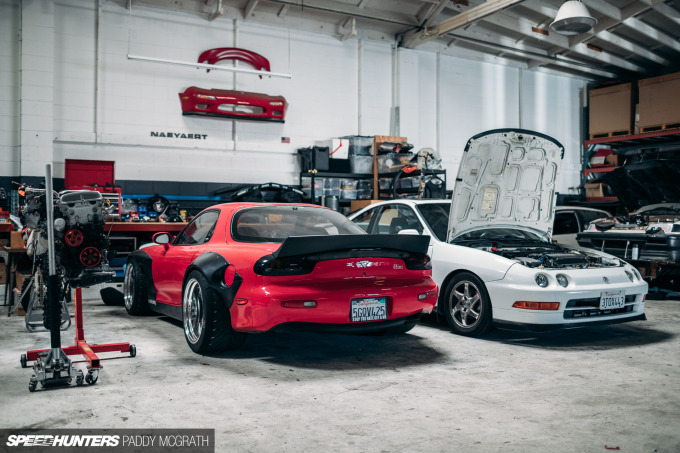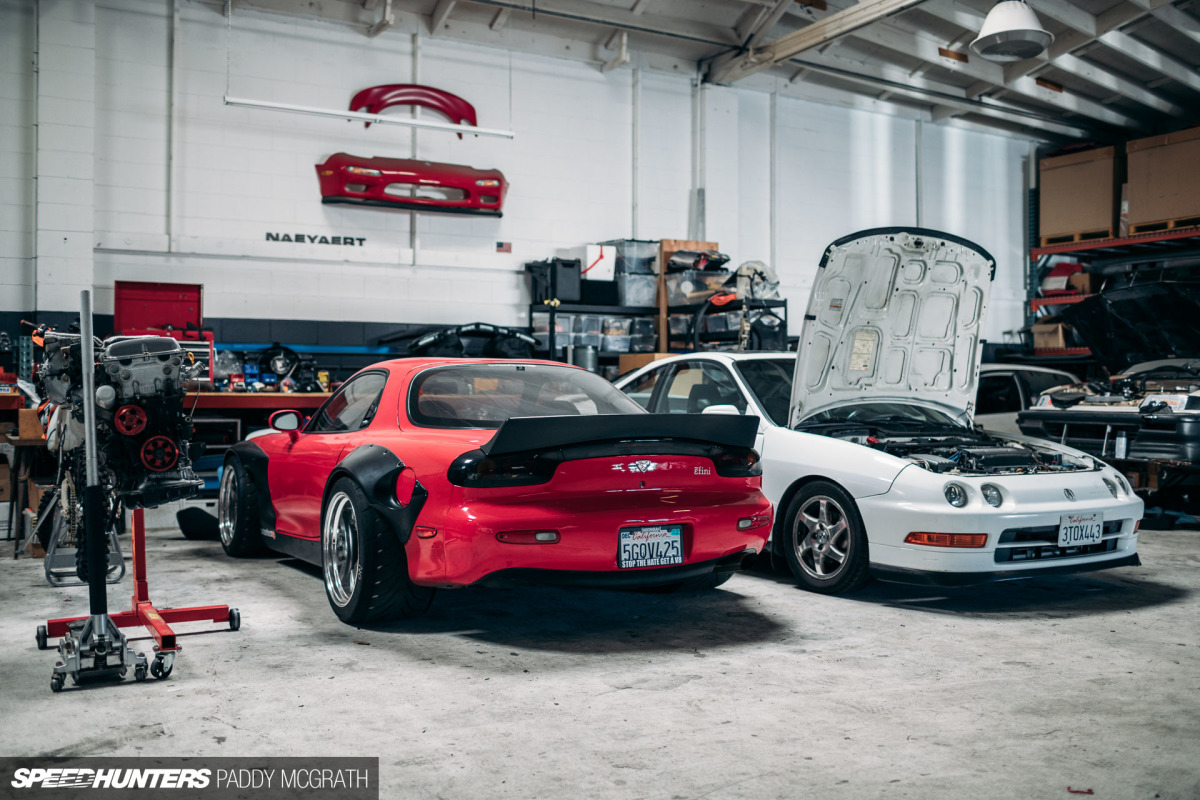 They're not afraid of going against the grain either – whatever makes fast. I had been staying in touch with Martin Gonzales at MotoIQ, who had been very kindly keeping me up to date with the CSF Evo X build.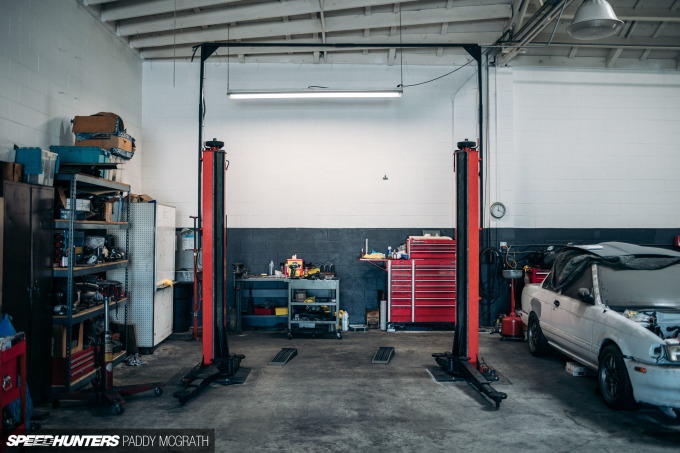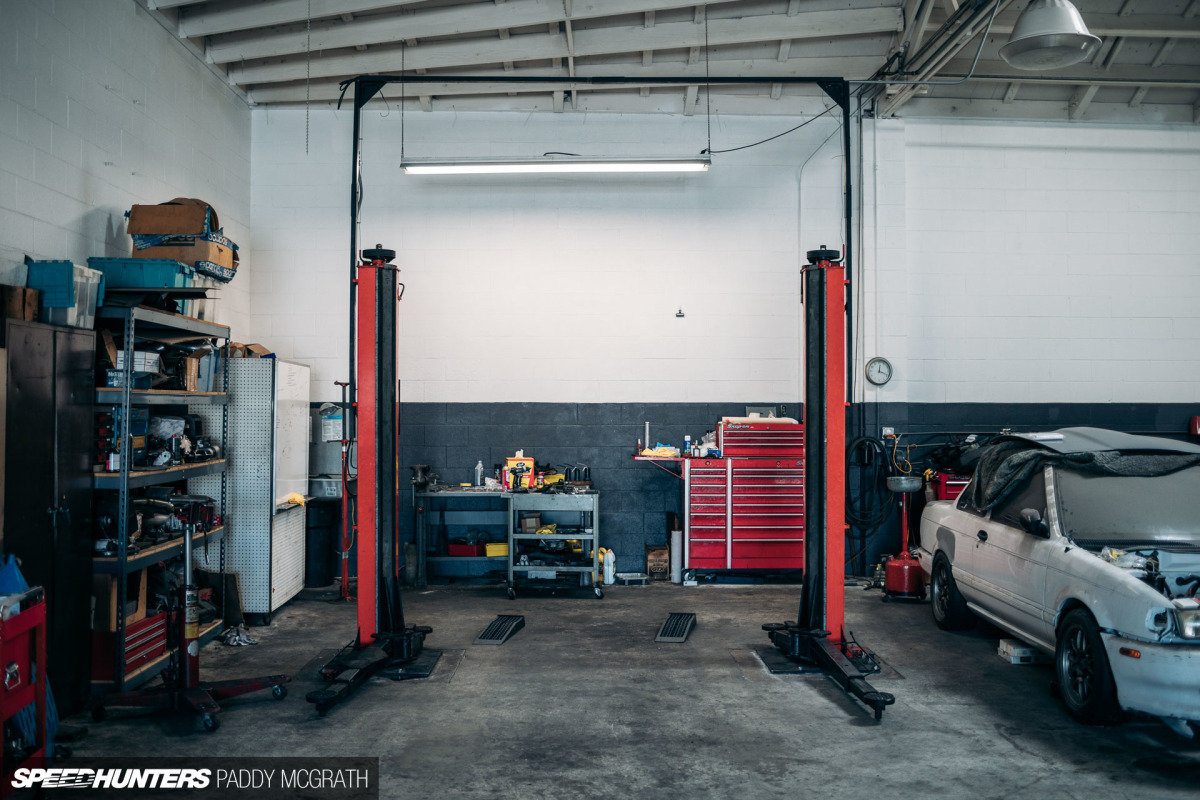 For maybe the first time in my life, I was slightly ahead of the game. The Evo was on its way from LTMW, where it had just been painted the night before. Evo goes here.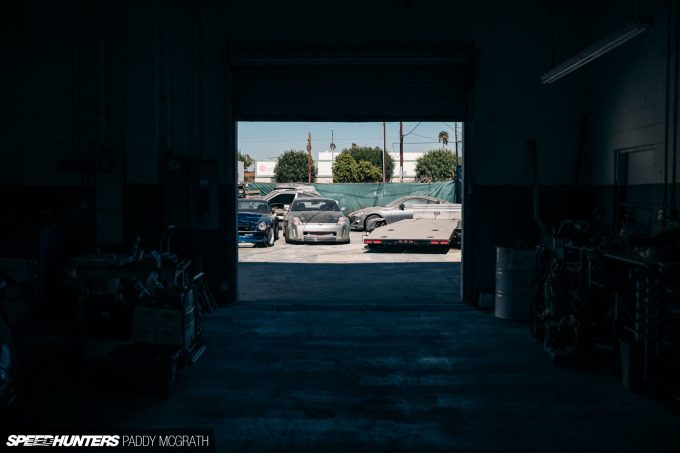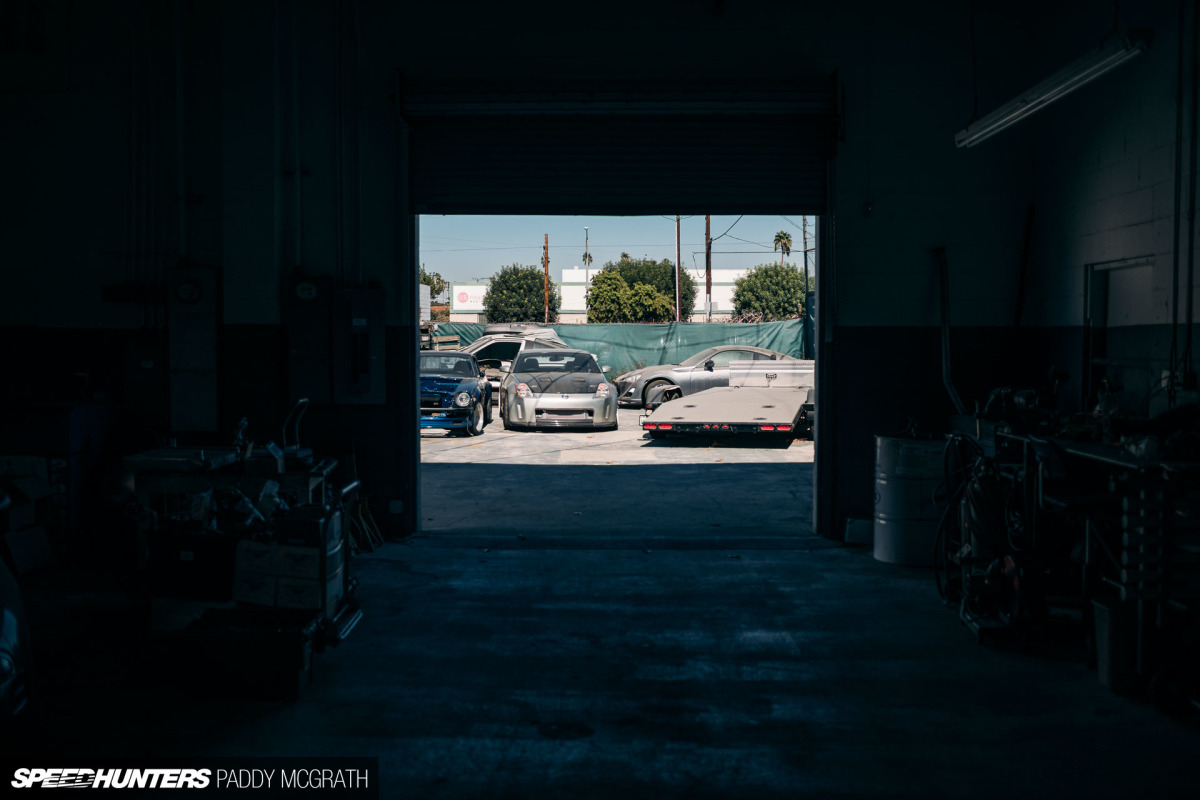 It gave me the opportunity to have a quick look around while we waited, the MotoIQ team on standby to get stuck in the moment it arrived. No time can afford to be wasted before SEMA.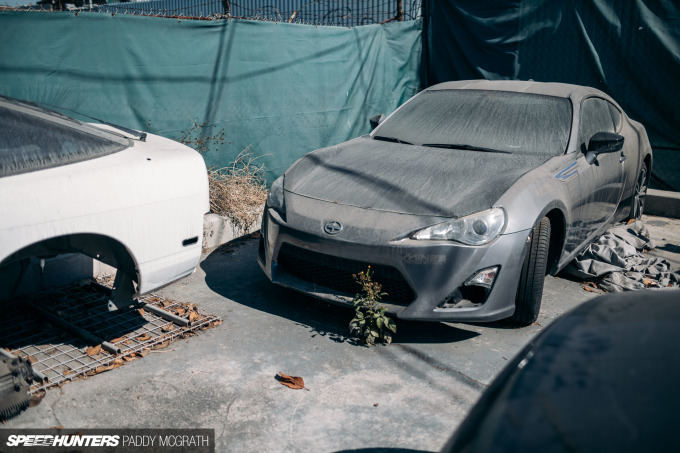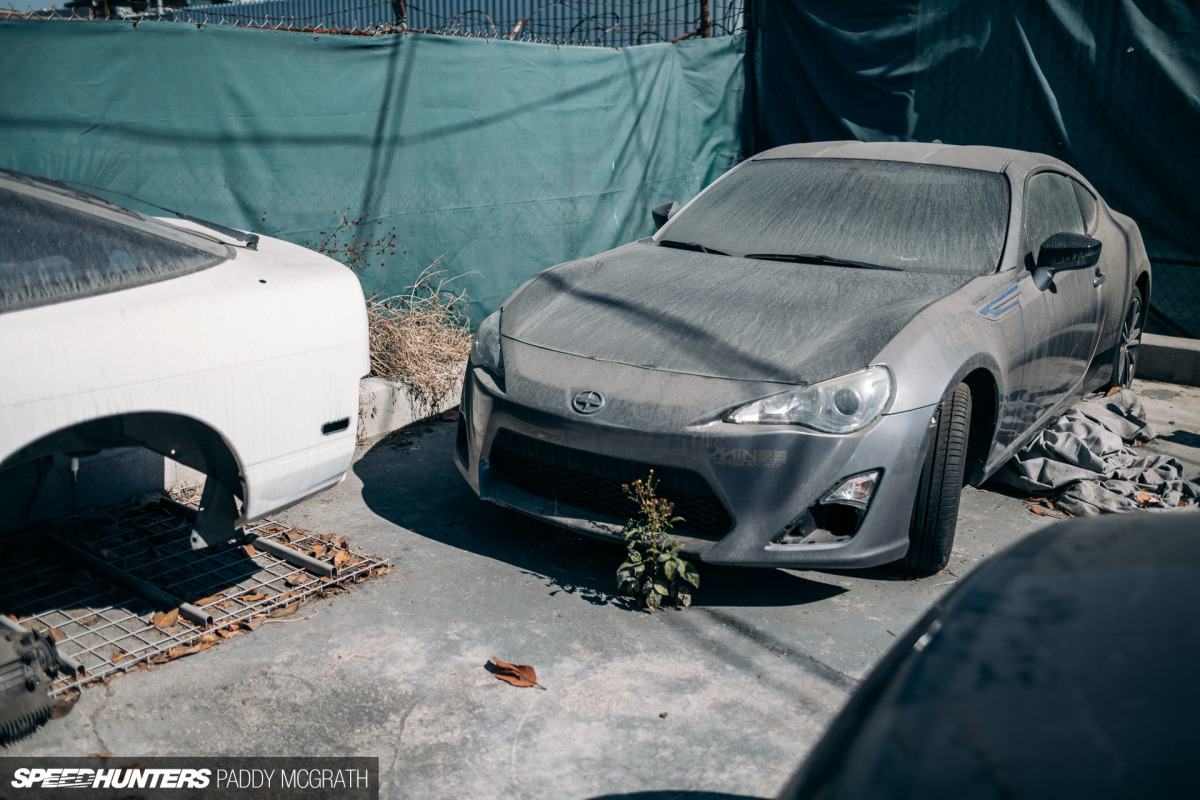 We will have to come back for a proper look around here in the future, when the guys aren't under pressure. I get the feeling that there's a lot of interesting car stories to be told…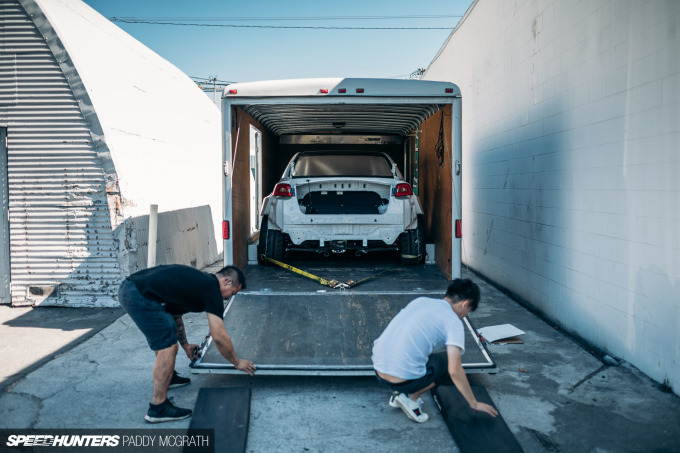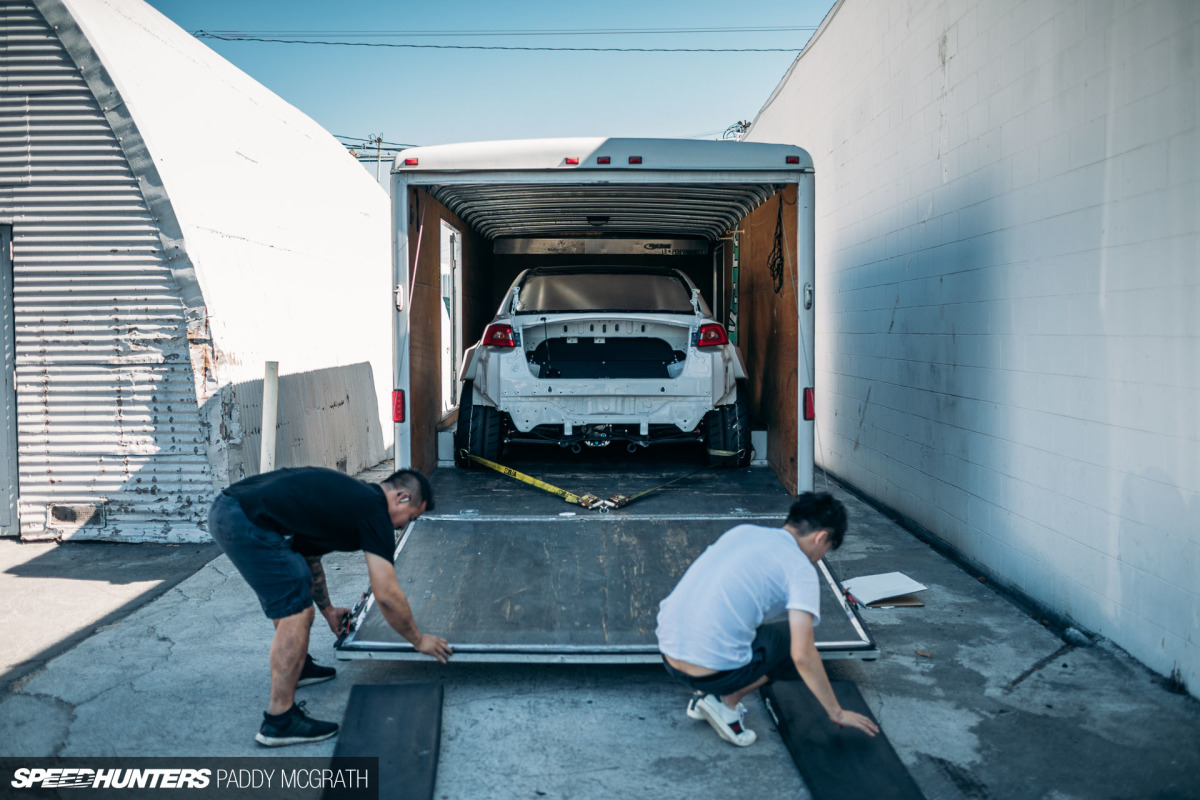 The low idle of a large capacity motor was all the signal we needed to be told that the cargo had arrived. It was less than two weeks ago when I had last seen this as a practically bare shell.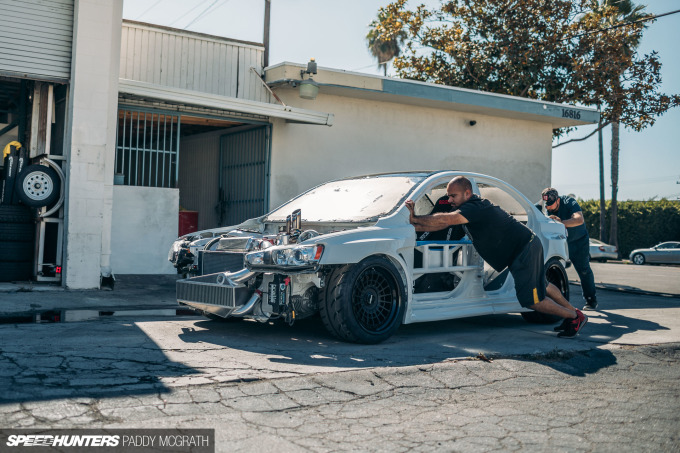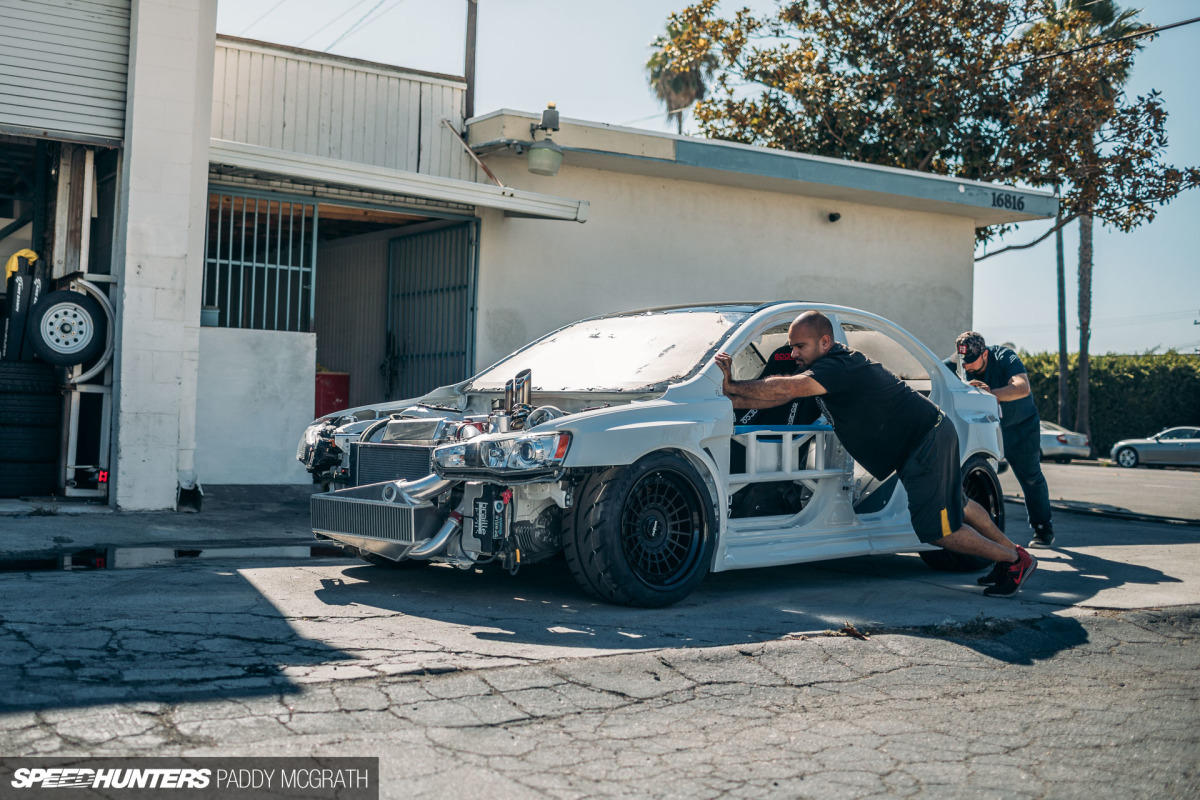 It's now significantly closer to being a finished car. Without wanting to talk down the rest of the cars I would see after this, this is still the build that excites me the most as we head towards Las Vegas next week.
As it looked like that there might be manual labour involved, I quickly made my excuses and hit the road. Time was ticking.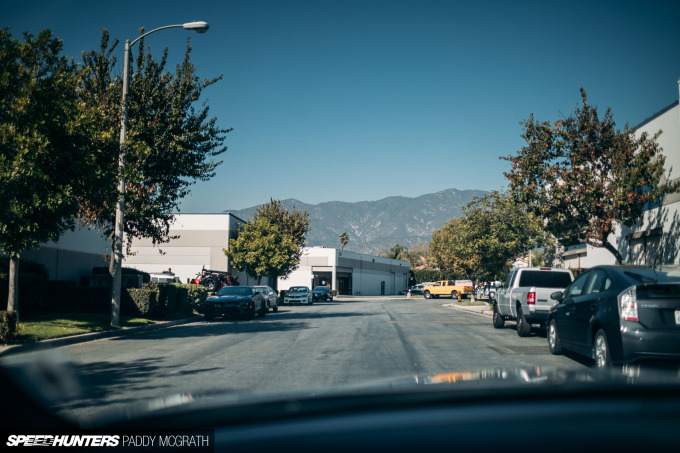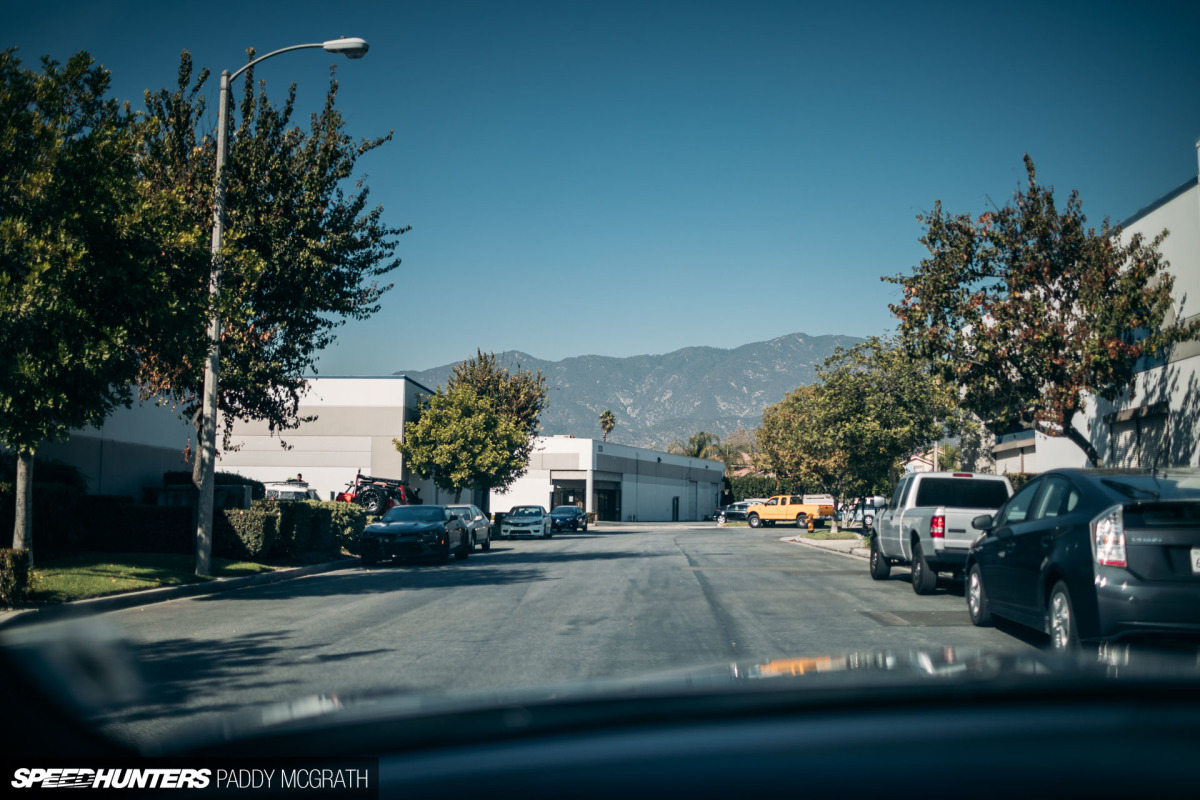 What should have been an hour turned into nearly two courtesy of LA traffic in baking sunshine. This time I was headed to Irwindale and iDL Garage, just minutes from the famous speedway.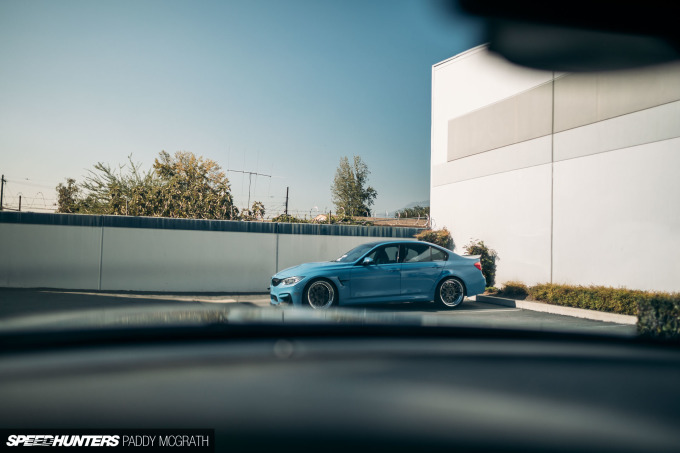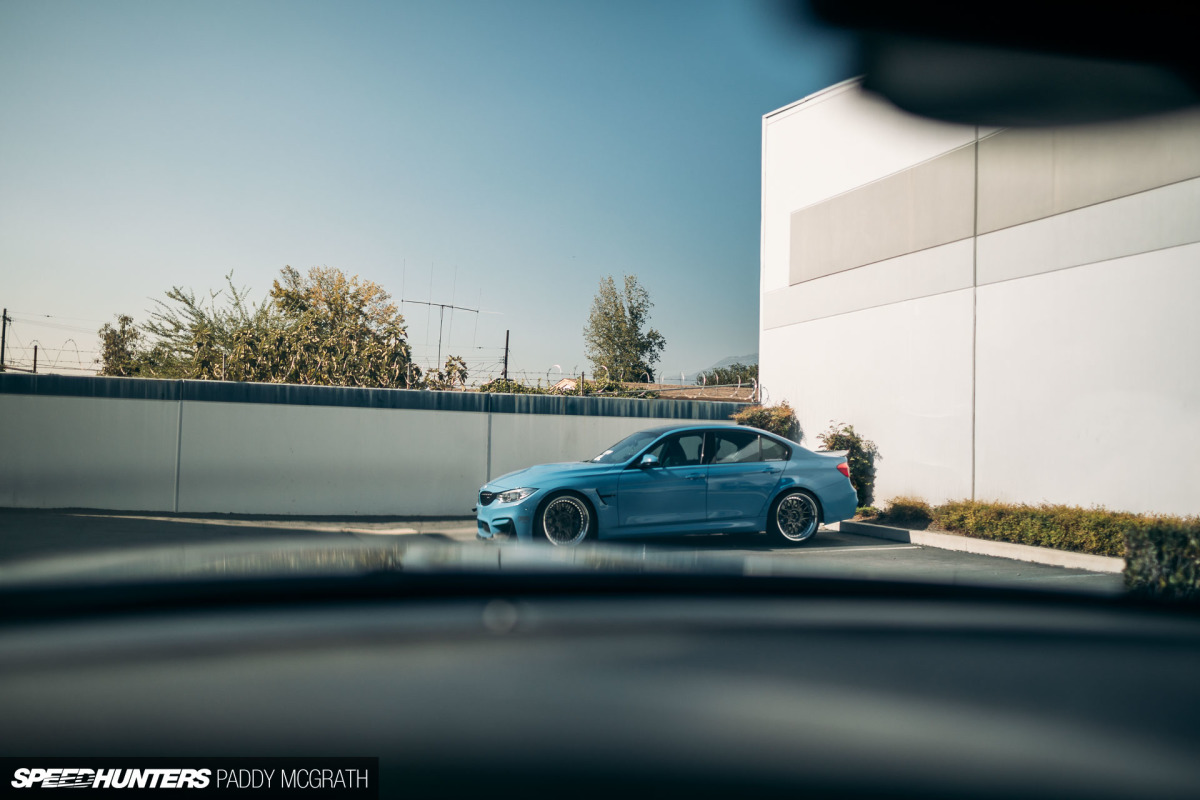 I hadn't been to iDL's new premises, but it wasn't hard to figure out which one it was. Plus, the iDL branding outside and accurate Google mapping made it pretty easy to confirm I was in the right place.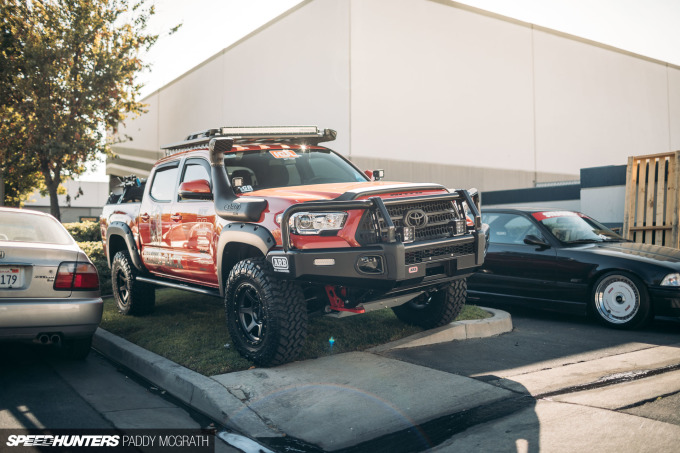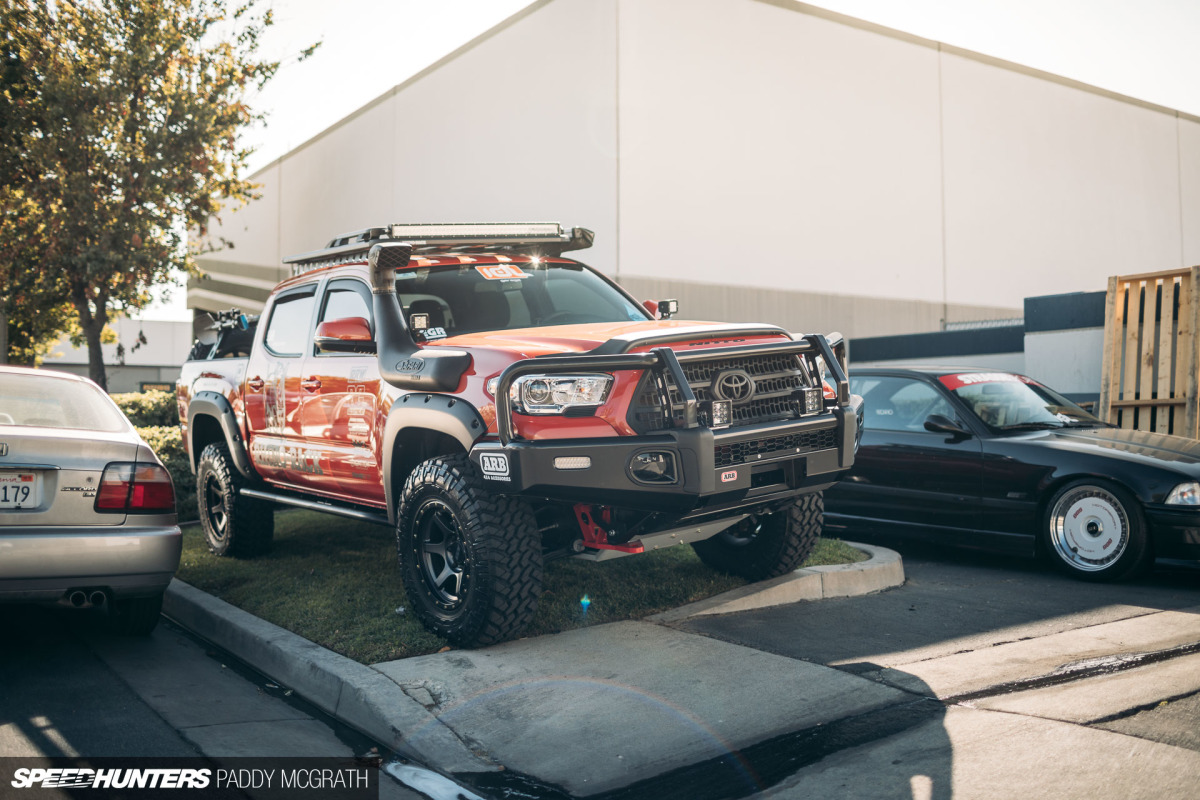 Like the MotoIQ team, the iDL guys were in full swing, and again, were patiently awaiting the return of their headline car. Still, there was more than enough to keep me entertained and appease my light capturing device.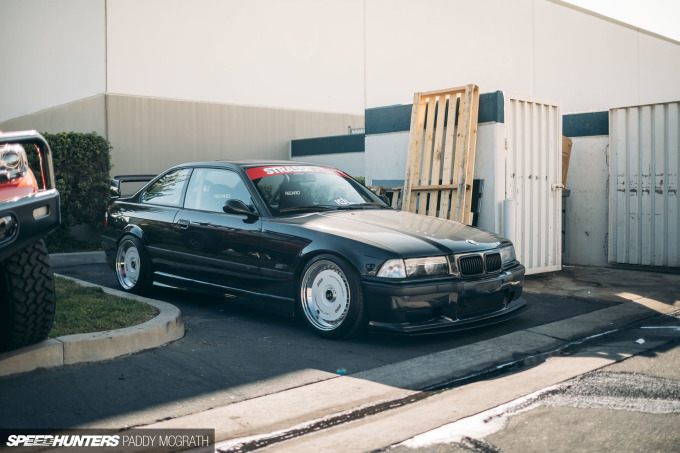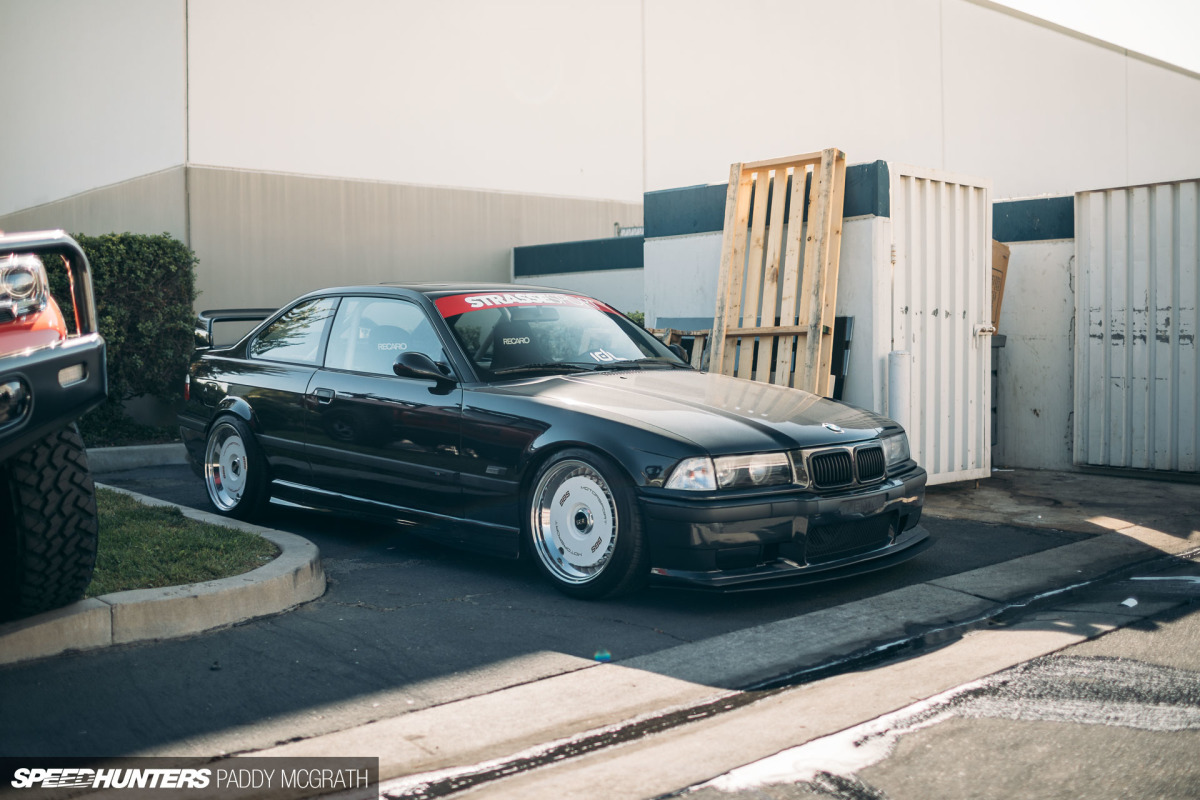 I have no idea if this E36 is a SEMA car. Honestly, I don't really care either because look at it; it's beautiful. An E36 done right.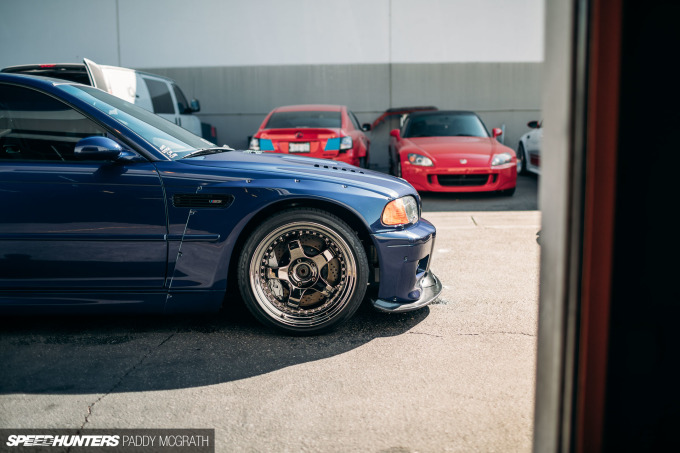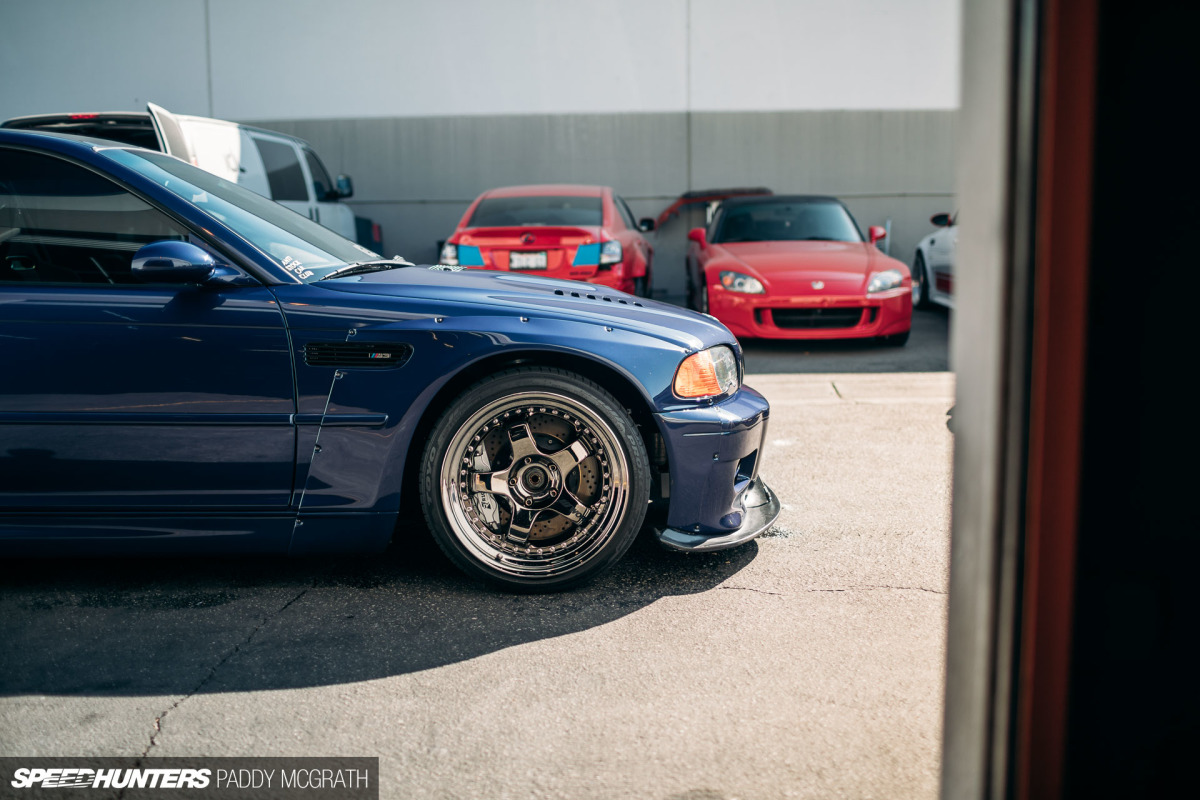 It wasn't the only Bavarian motor present; the same Liberty Walk-kitted and Air Lift Performance-equipped E46 M3 that was displayed in our Need for Speed: Payback booth at EA Play back in June had stopped by for a wash.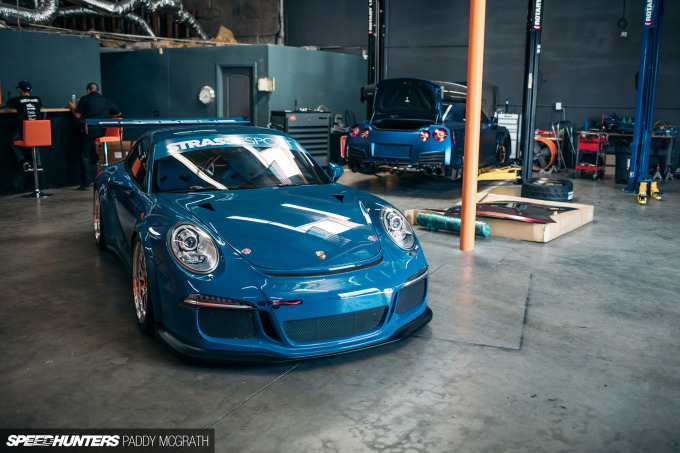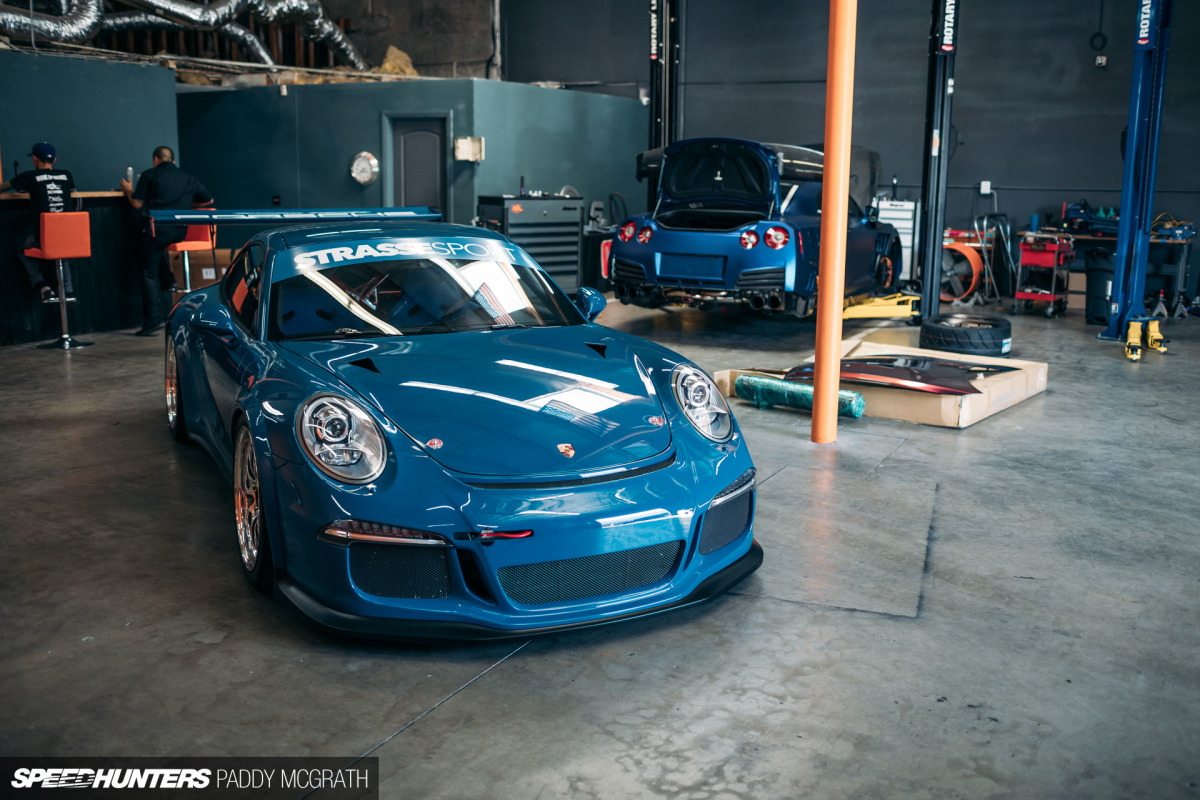 Inside, I was reunited with the GT3 that's basically ruined every other car for me. It's a car which continues to improve, too. A colour change and upgrade to Moton suspension makes this 911 Cup-inspired Porsche still one of my favourites.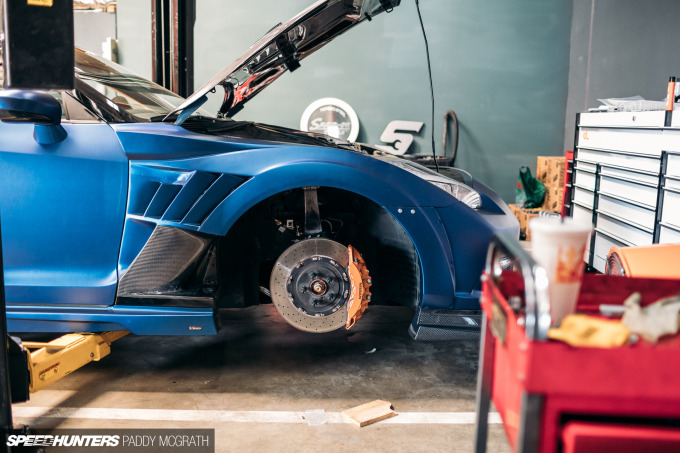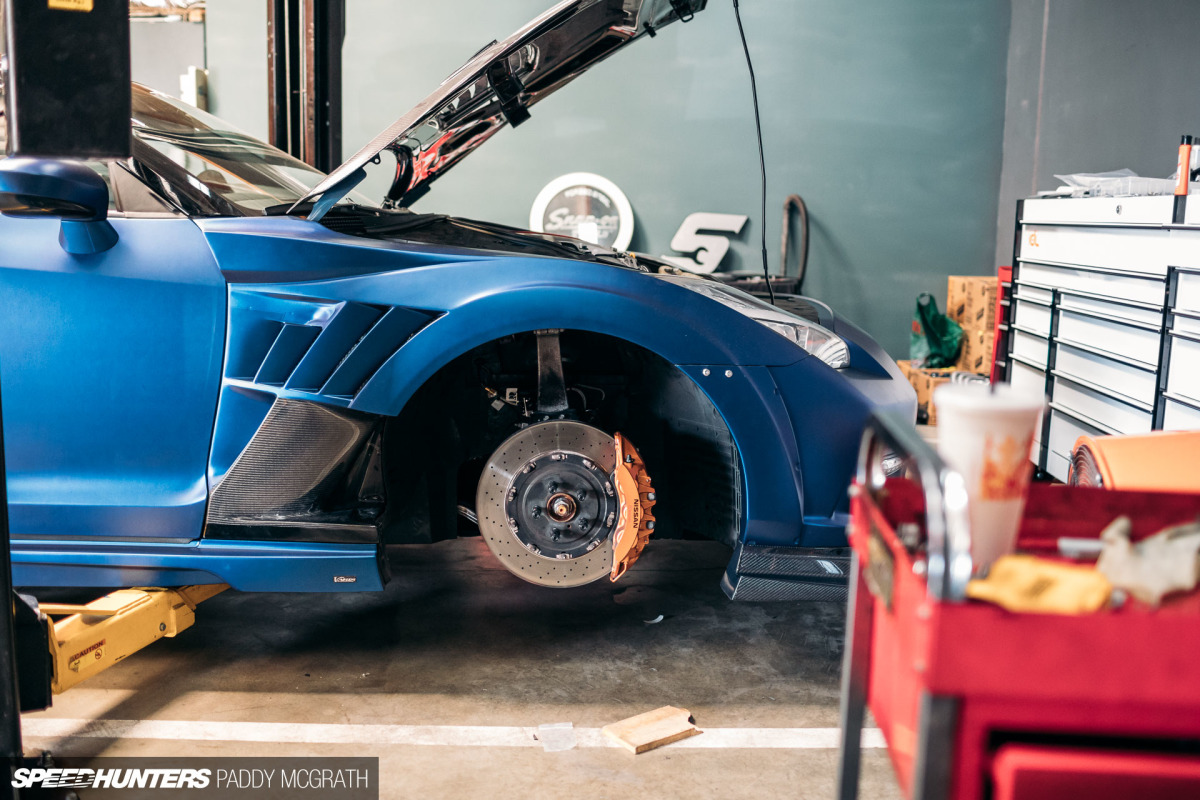 Behind it, and near completion, was a Varis-kitted GT-R, also destined for the show floor next week. With the deluge of Rocket Bunny and Liberty Walk kits in recent years, it's always a breath of fresh air to see the OG kit manufacturers like Varis still at the sharp edge of the game.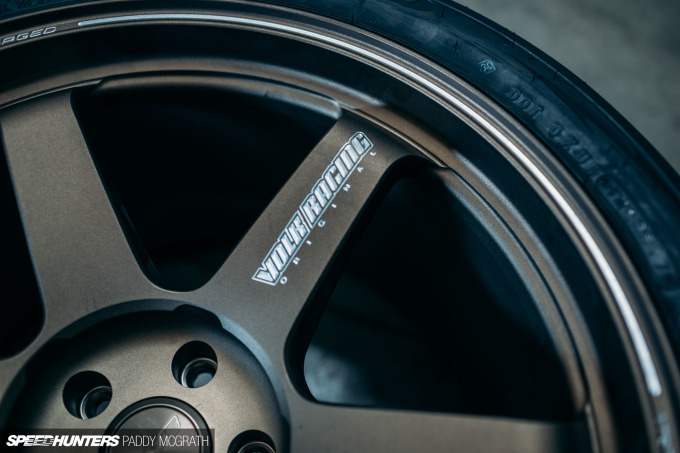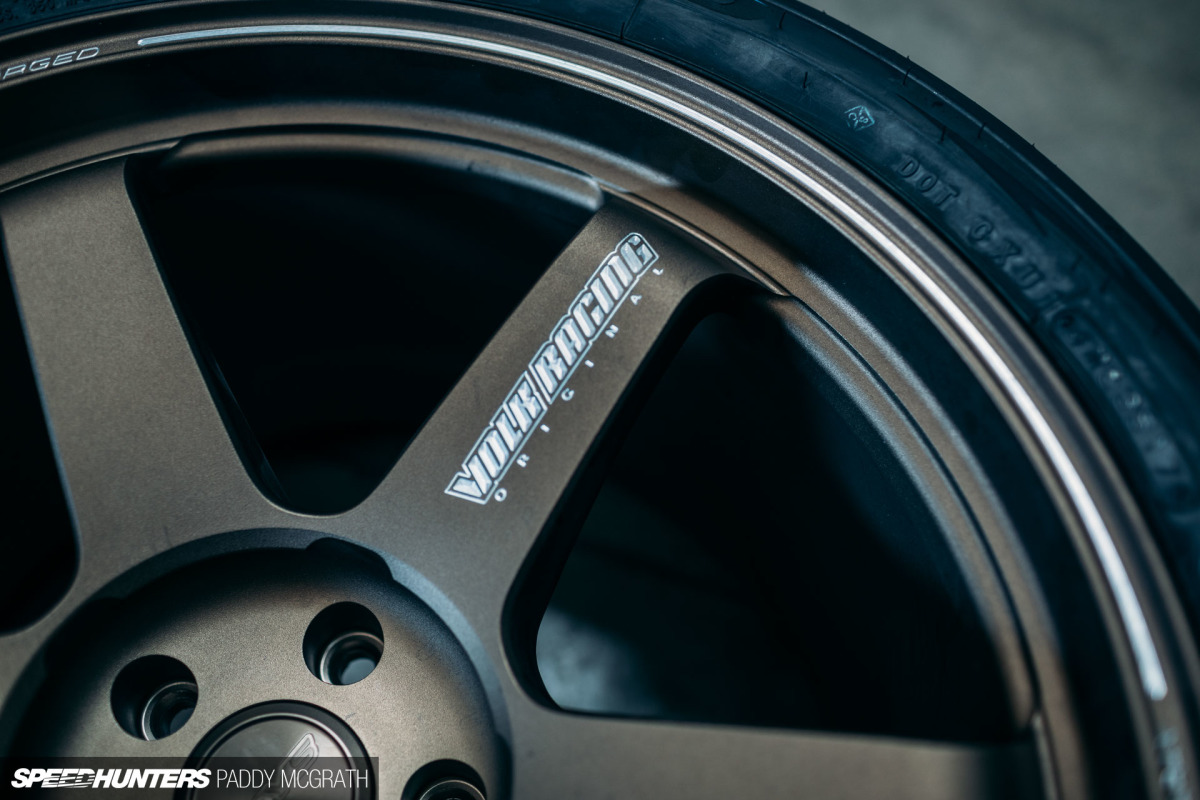 An absurdly wide set of RAYS Volk Racing TE37s were sat nearby, waiting to be mounted.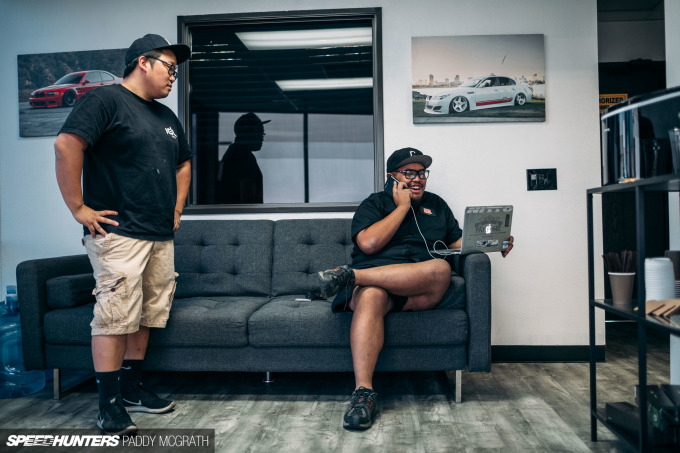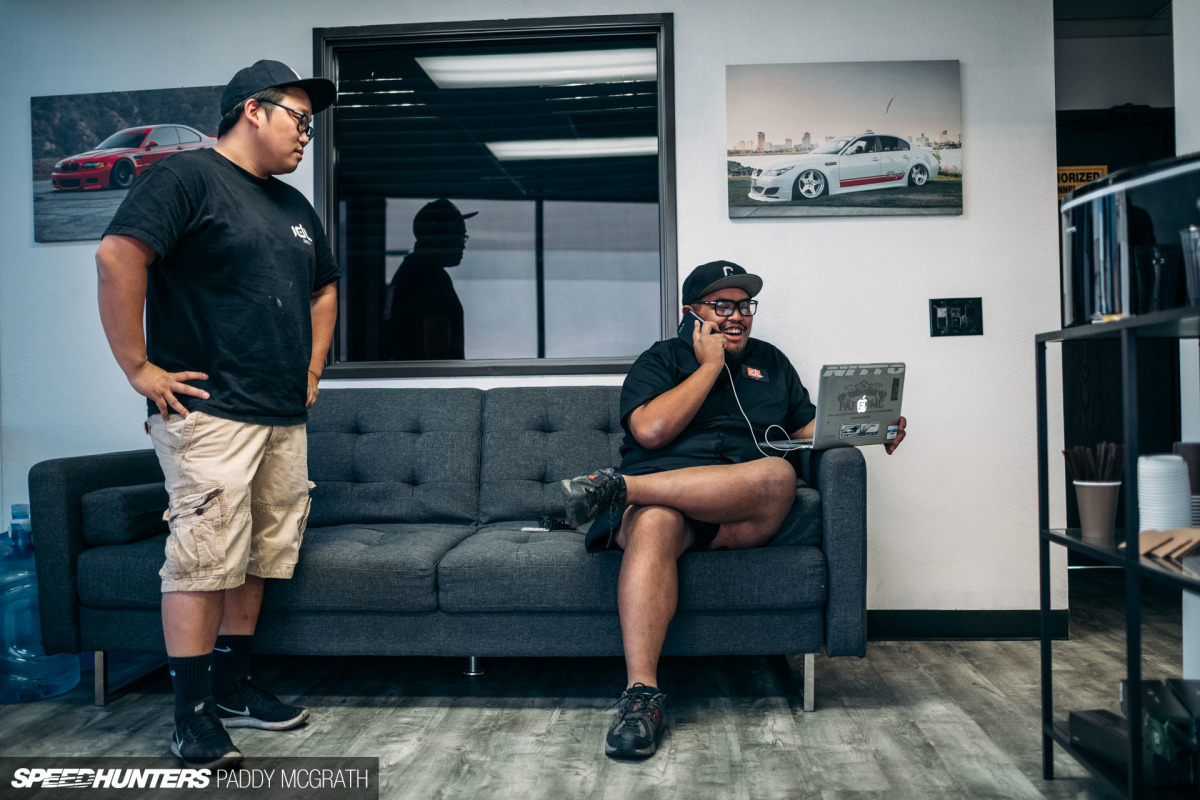 Darren and Yogi looked like they were about to ask me to lift something, so again, I gave them my thanks and hightailed it out of there. That sure was a close one.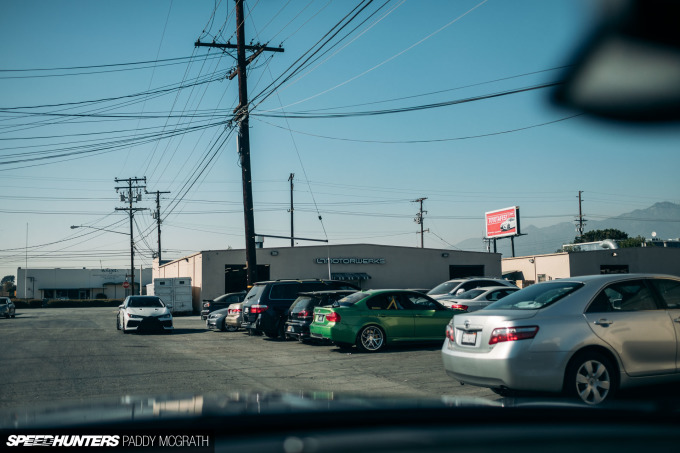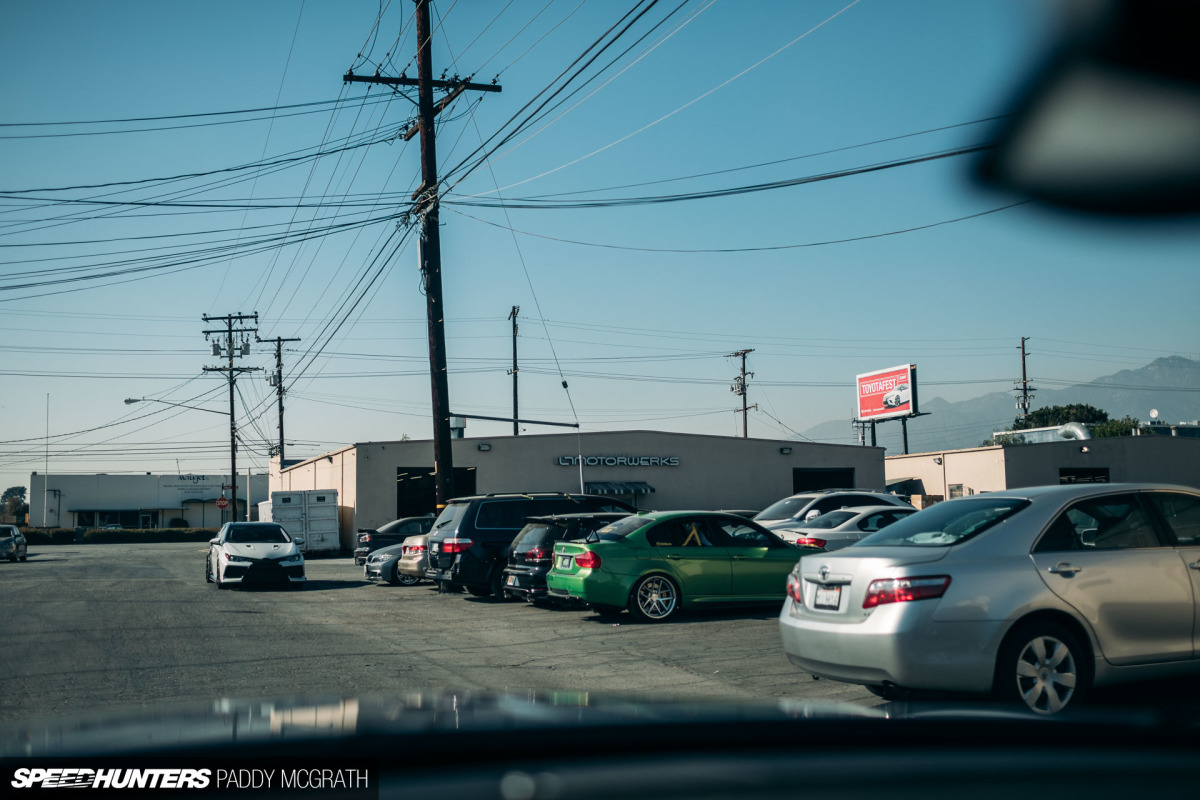 My last and final destination of the day, as it happened, wasn't a million miles away from iDL. LT Motorwerks (LTMW) is one of the most renowned aftermarket companies in LA, with a staggering history of magazine cover cars and immaculate builds.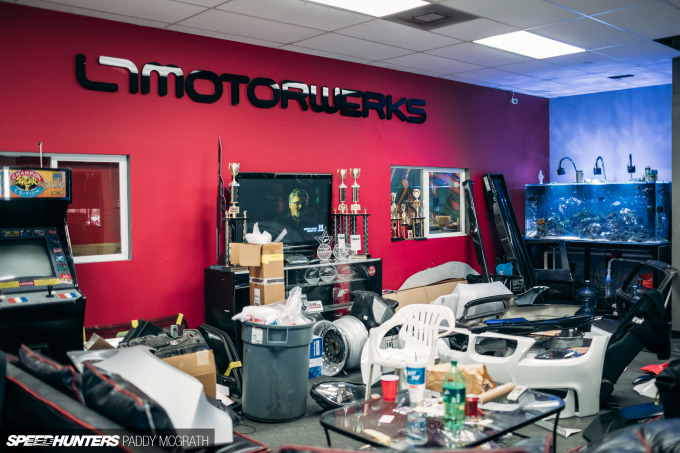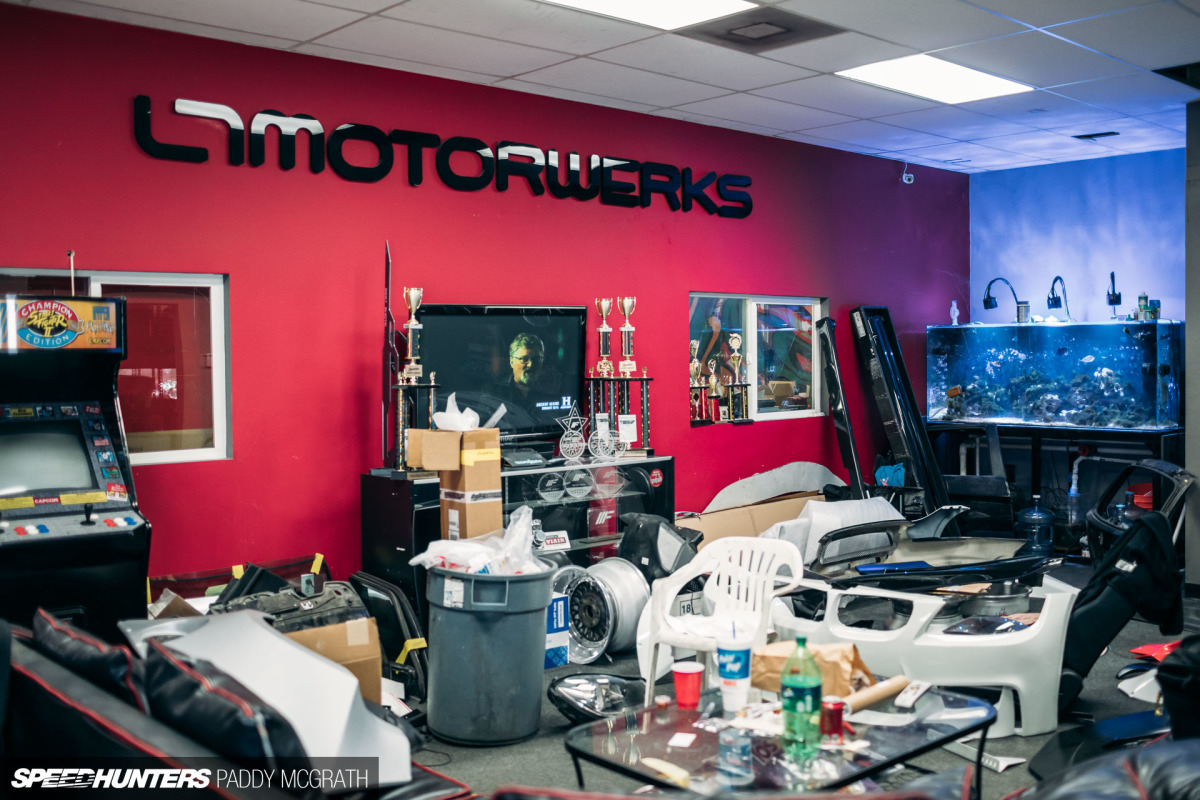 Which explains why they've never had time to clean their waiting room. Of course, I joke, but this sort of thing excites me greatly.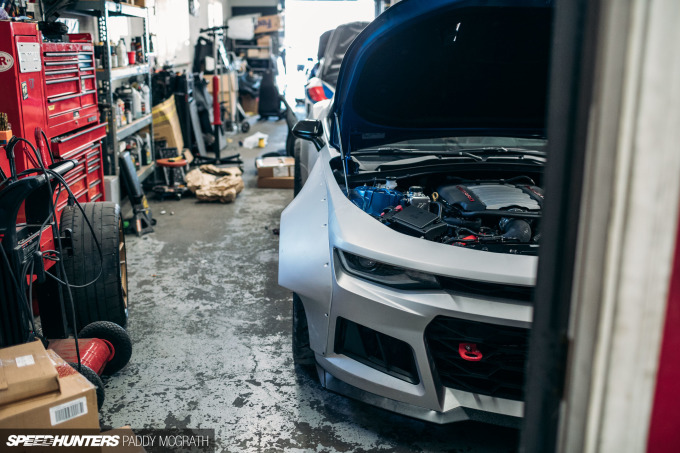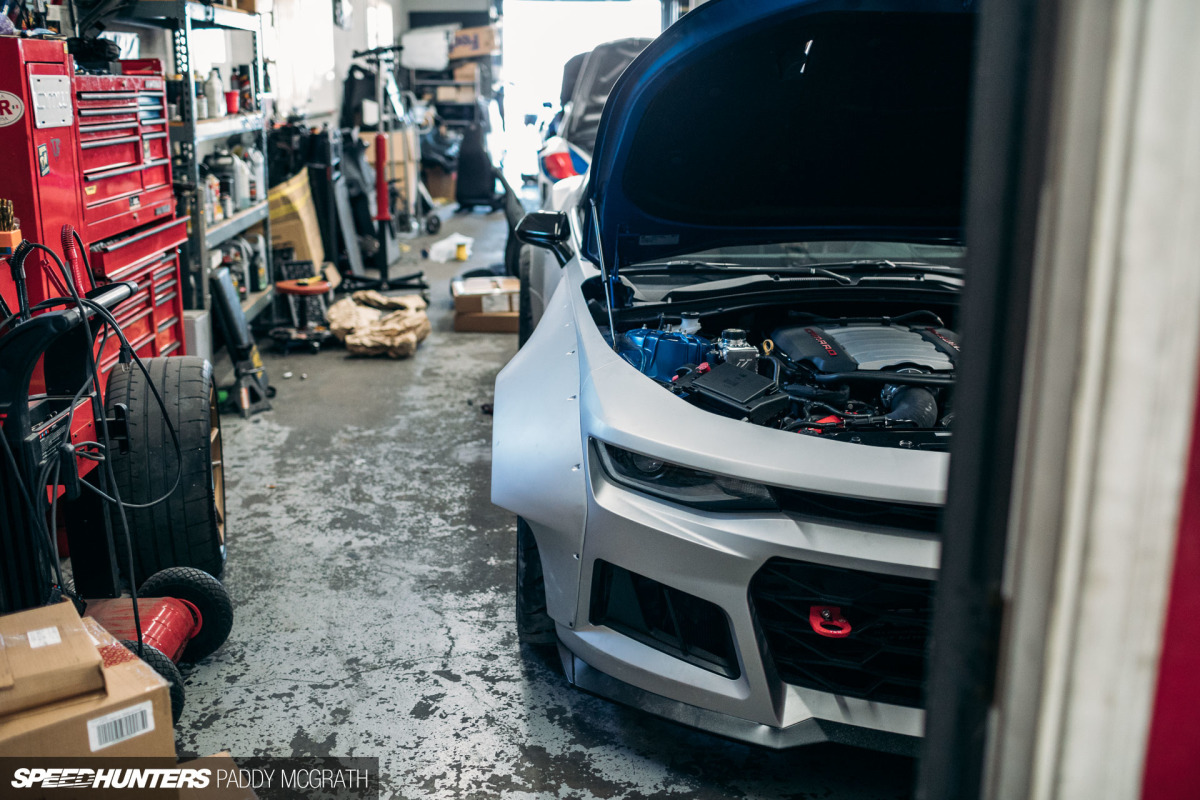 They were clearly in full swing of SEMA prep, so much so that there was no one on reception; I just smiled politely and kept shooting as I walked through. Well, Lee Coleman of Street Fighter LA pushed me through the door, so I'm blaming him. His new Camaro was the first car to greet me.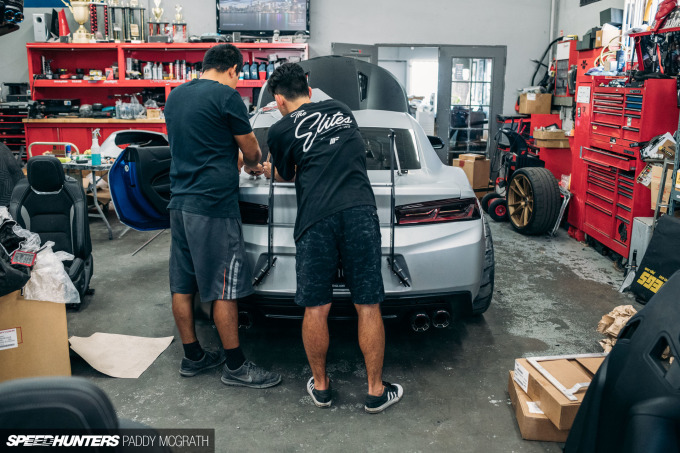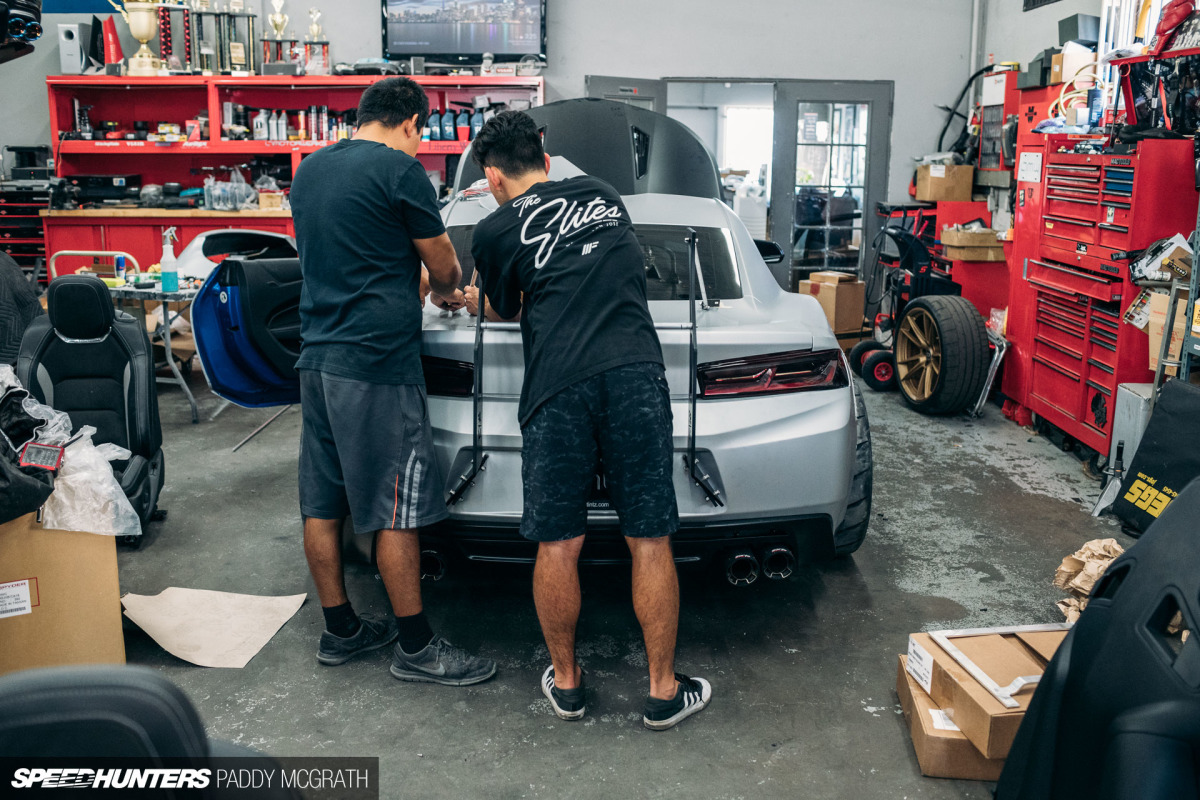 As a European with limited access to Camaros, Corvettes and the like, these things get me going a little bit more than they should. It also had the correct number of cylinders, unlike my rental car.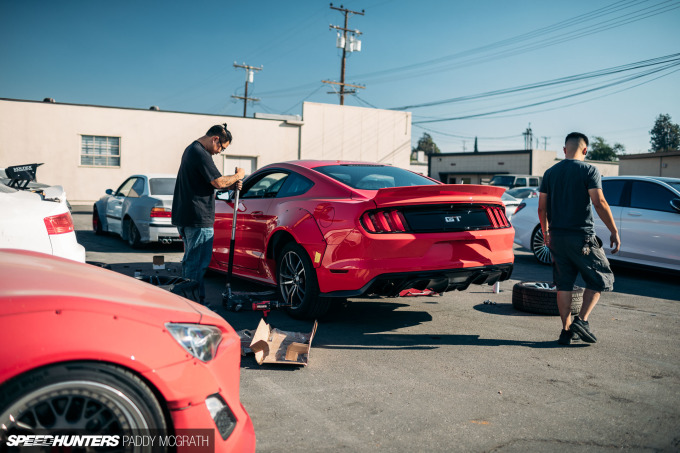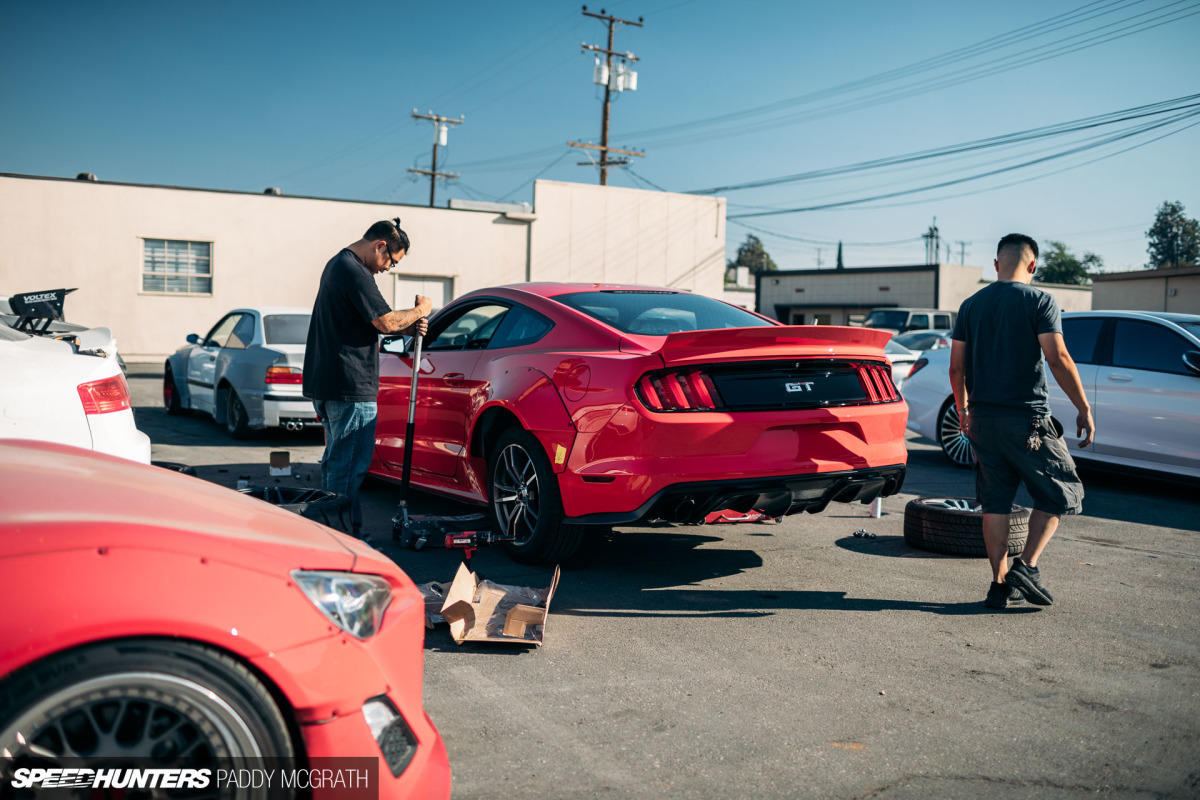 With the workshop full, there was activity taking place in the car park, too.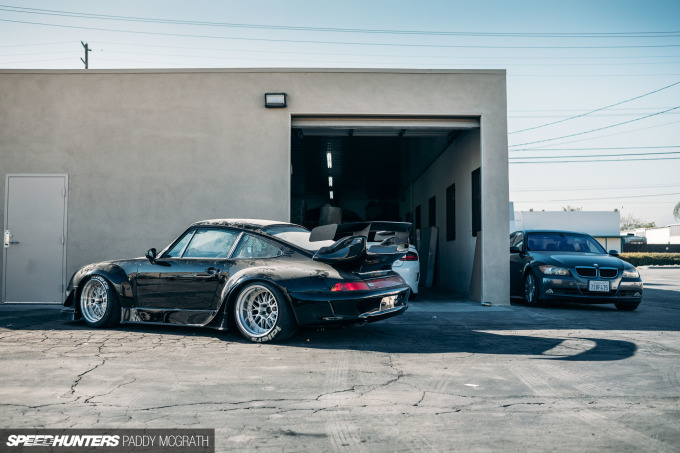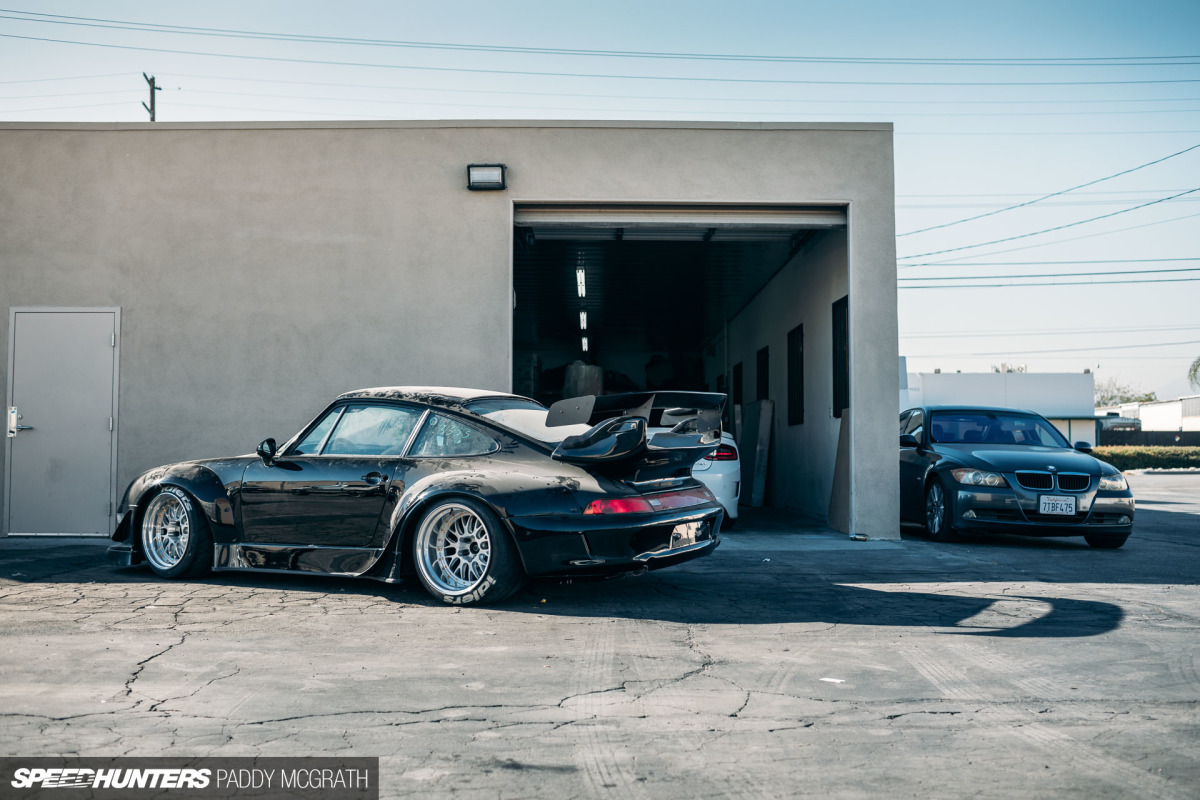 It's pretty surreal to walk around and see these things in real life; it's the Overfender Paradox in full effect.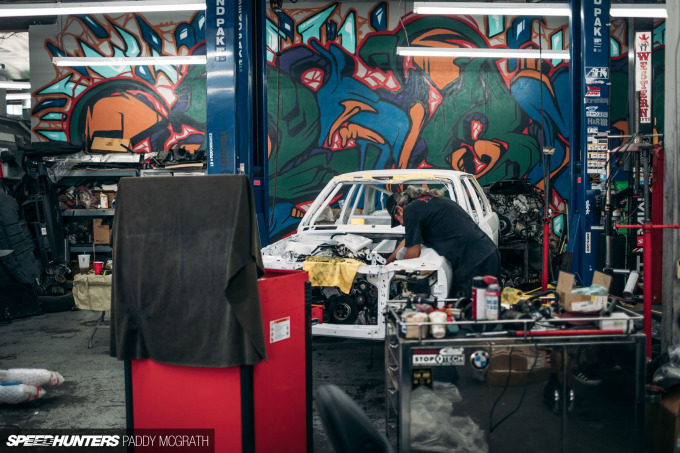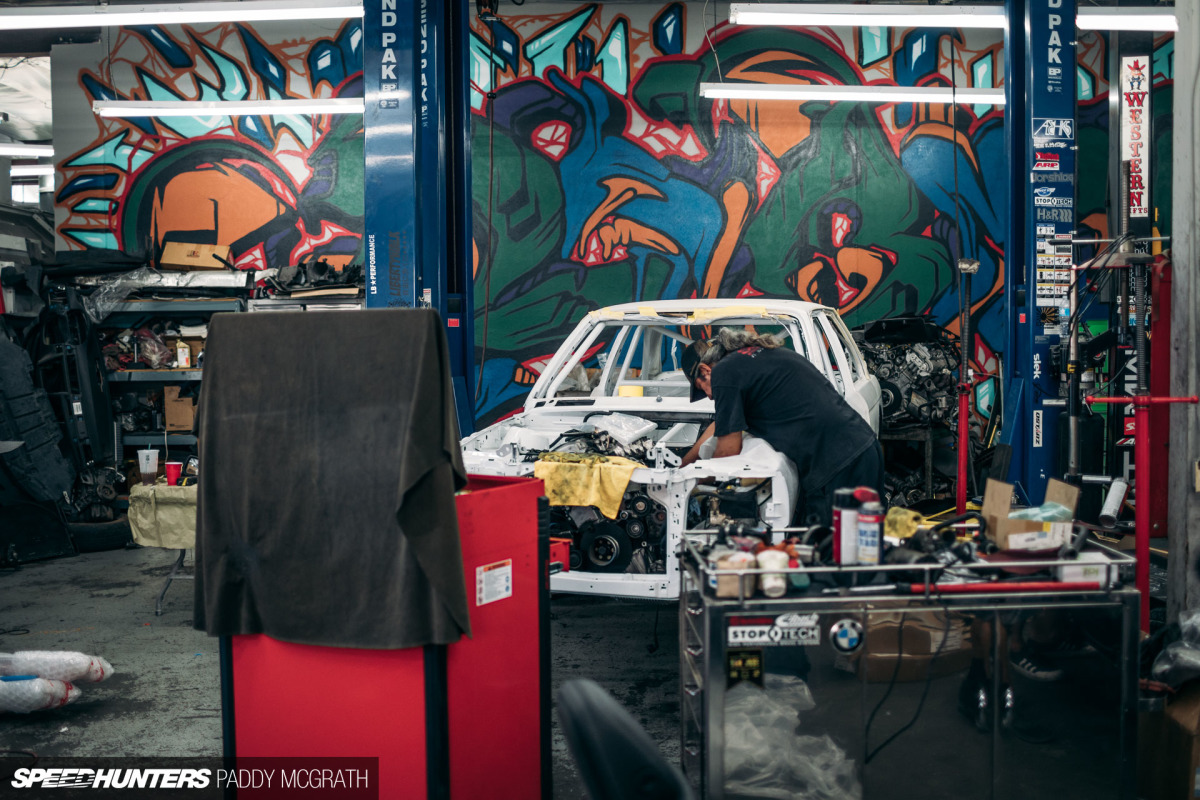 Understandably, there wasn't time for much small talk as there have no doubt been countless sleepless nights already, with several more to come. Some projects are clearly due for a time after SEMA.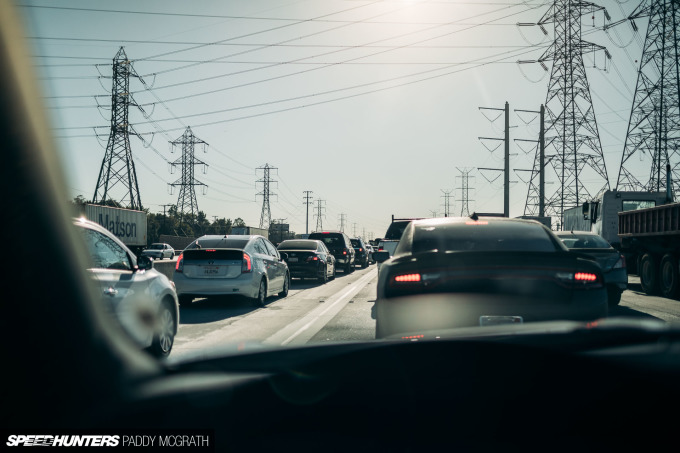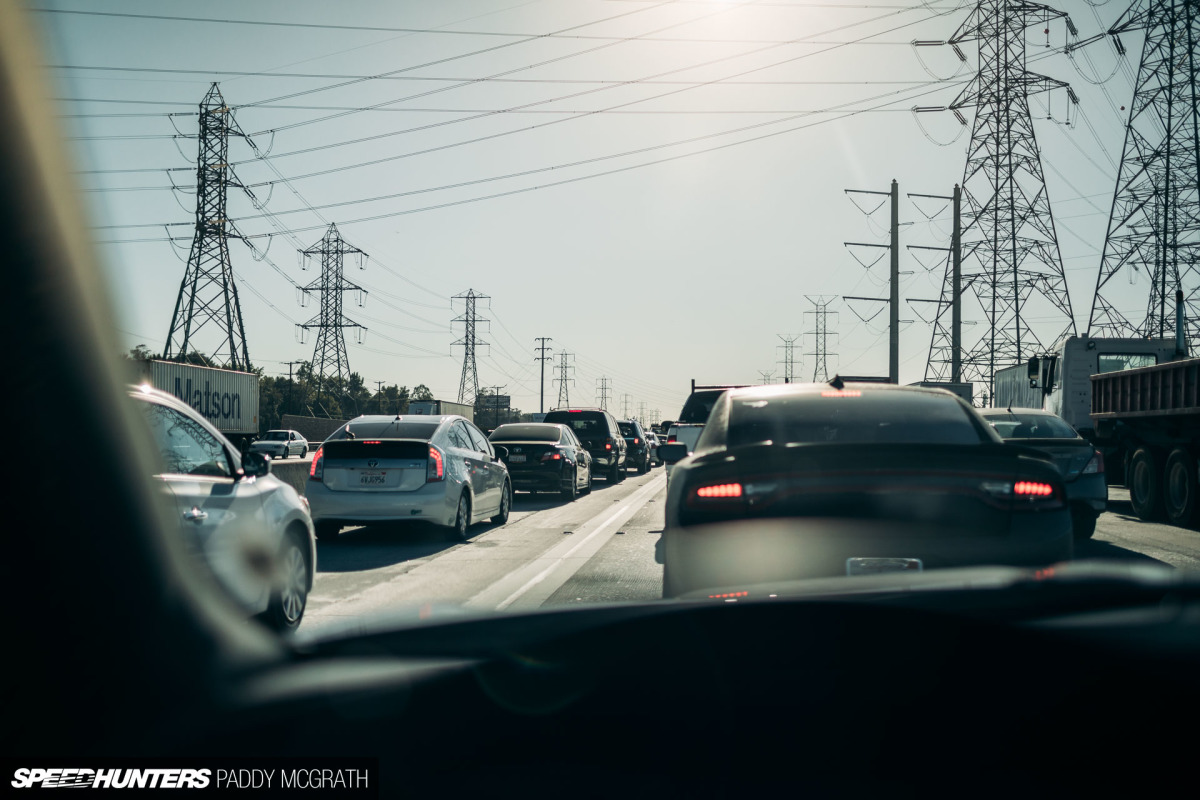 With one last shop on my list to visit, BBI Autosport in Huntington Beach, I hit the road only to be stopped in my tracks southbound on the 506 pretty much immediately. Despite being only 30 miles away from LTMW, I couldn't make it to the famed Porsche-centric shop in time, despite some, um… peculiar driving manoeuvres.
Three out of four isn't bad, especially considering that I'd only been in town for around 24 hours. Still, there's a lot more Speedhunting to be done…
Paddy McGrath
Instagram: pmcgphotos
Twitter: pmcgphotos
paddy@speedhunters.com
Cutting Room Floor