Up To Speed
Project RS4? Not very imaginative, is it?
It's been almost three months since I picked up my Audi RS4 Avant, so I'm well overdue an SH Garage update. The truth is, I've not jumped straight in and made any major changes yet, and for a good reason.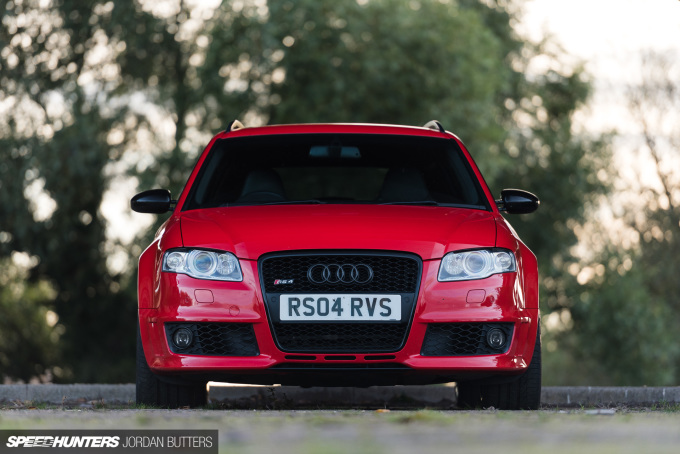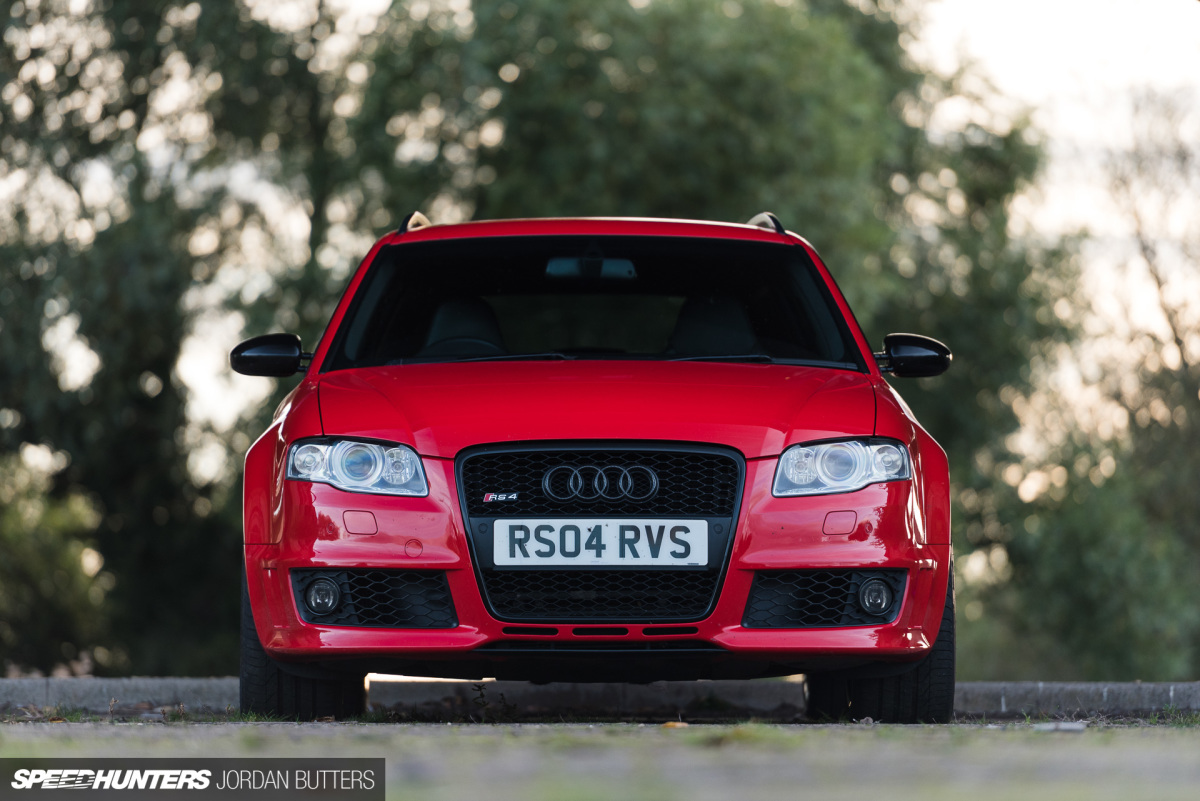 I really don't believe in modifying cars just for a sake of it, and when I narrowed my next car choice down to the B7 RS4 Avant I already knew that there probably wasn't a huge amount that I'd want to do to improve it, initially at least.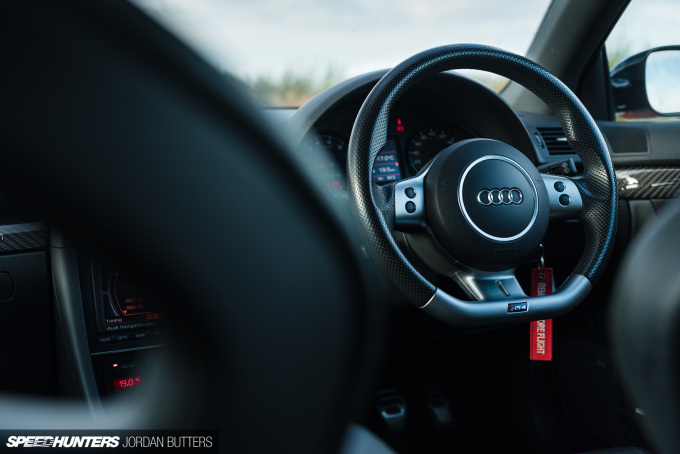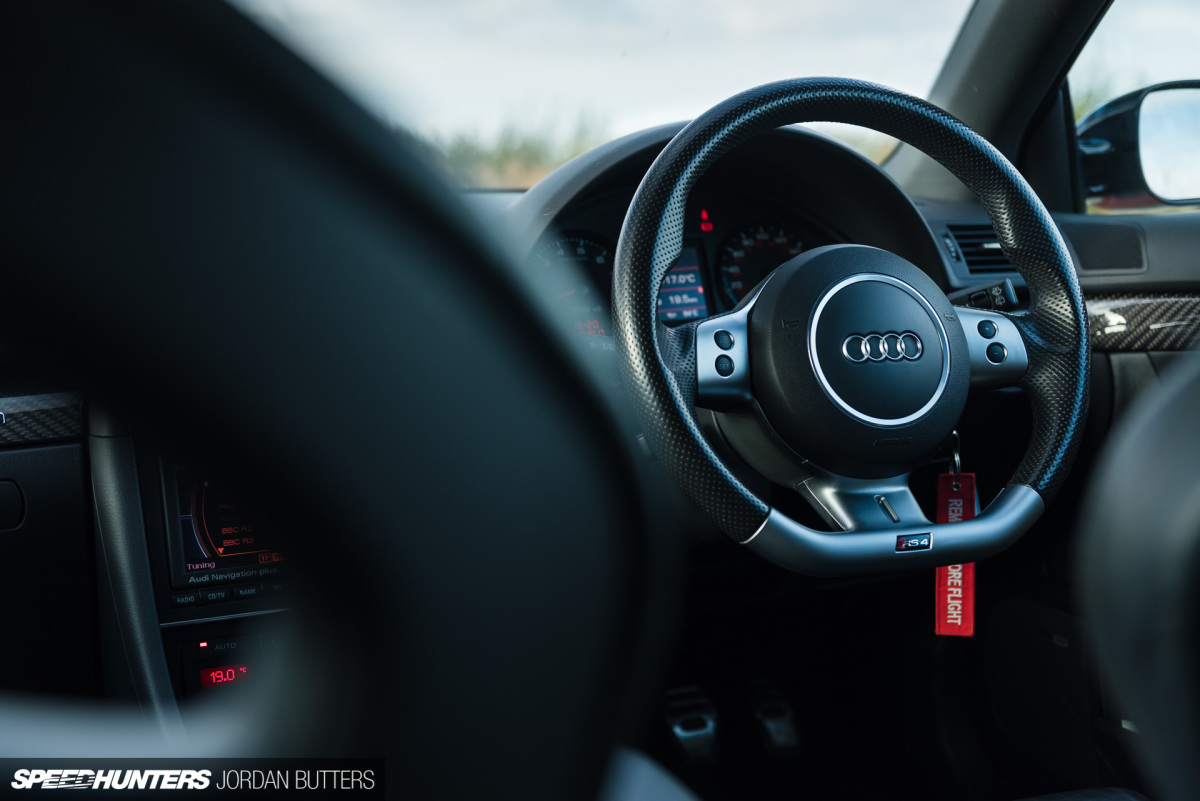 The way I see it is that if you've bought a car that needs major changes making before you can really start to enjoy it, then you've bought the wrong car. Not that you have to justify it to anyone, but it's just not how I go about things.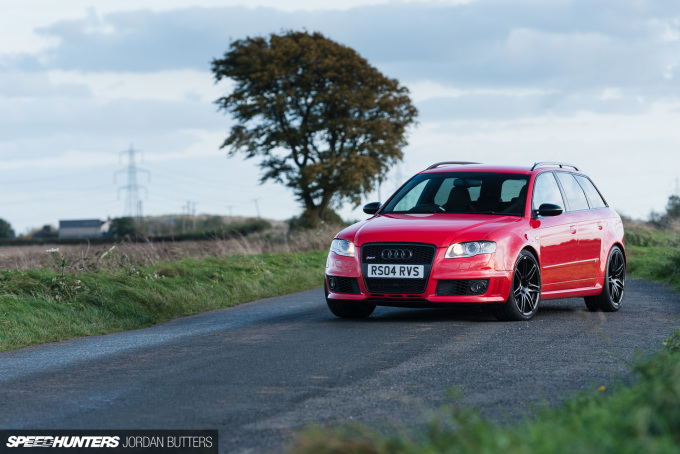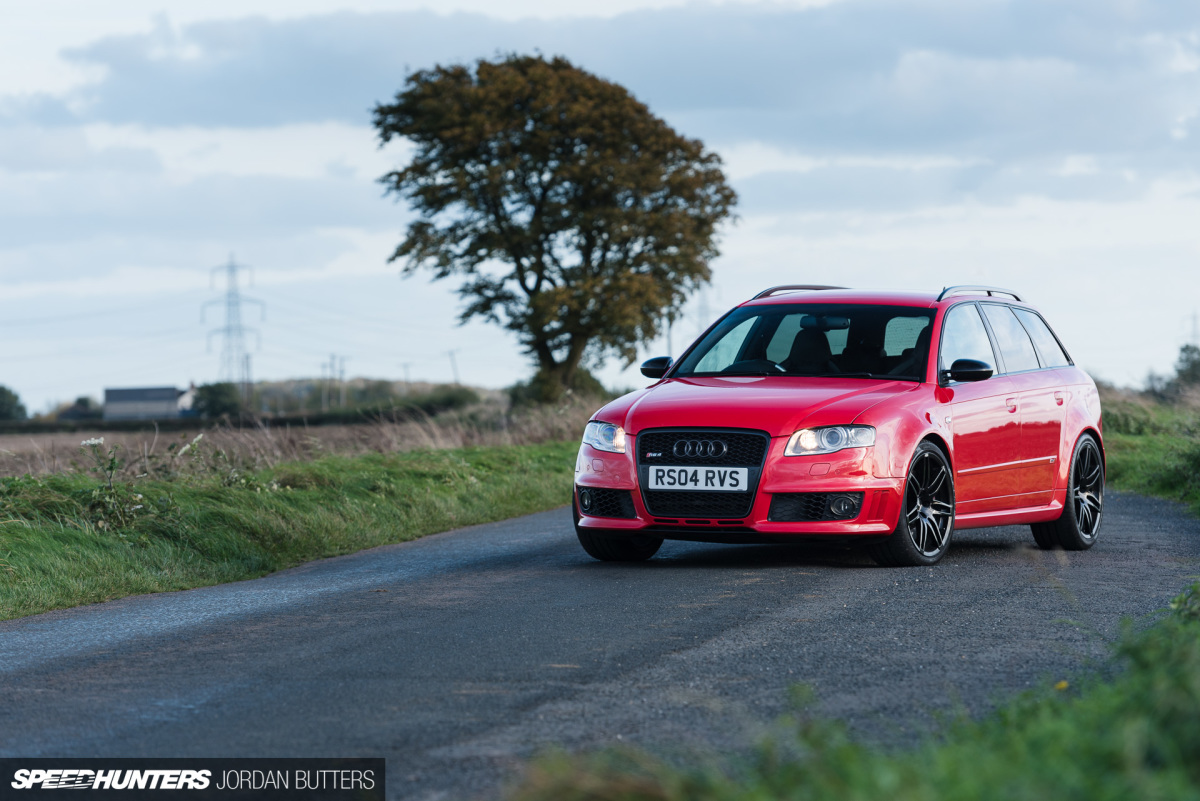 I viewed a fair few RS4s before settling on this one. There are pretty big variances in spec with this model, and I've fallen into the trap of buying an 'almost right' car before, only to spend lots of money and time getting to to a good starting point. When it came the RS4 it was only ever the Avant model; I knew I wanted one with the Recaro sports seats and flat-bottom steering wheel, black optics (black grille, window surrounds and exhaust tips), and the carbon dash trims.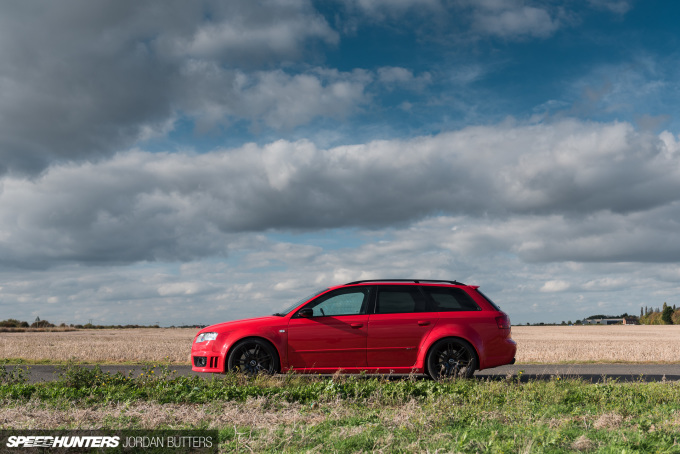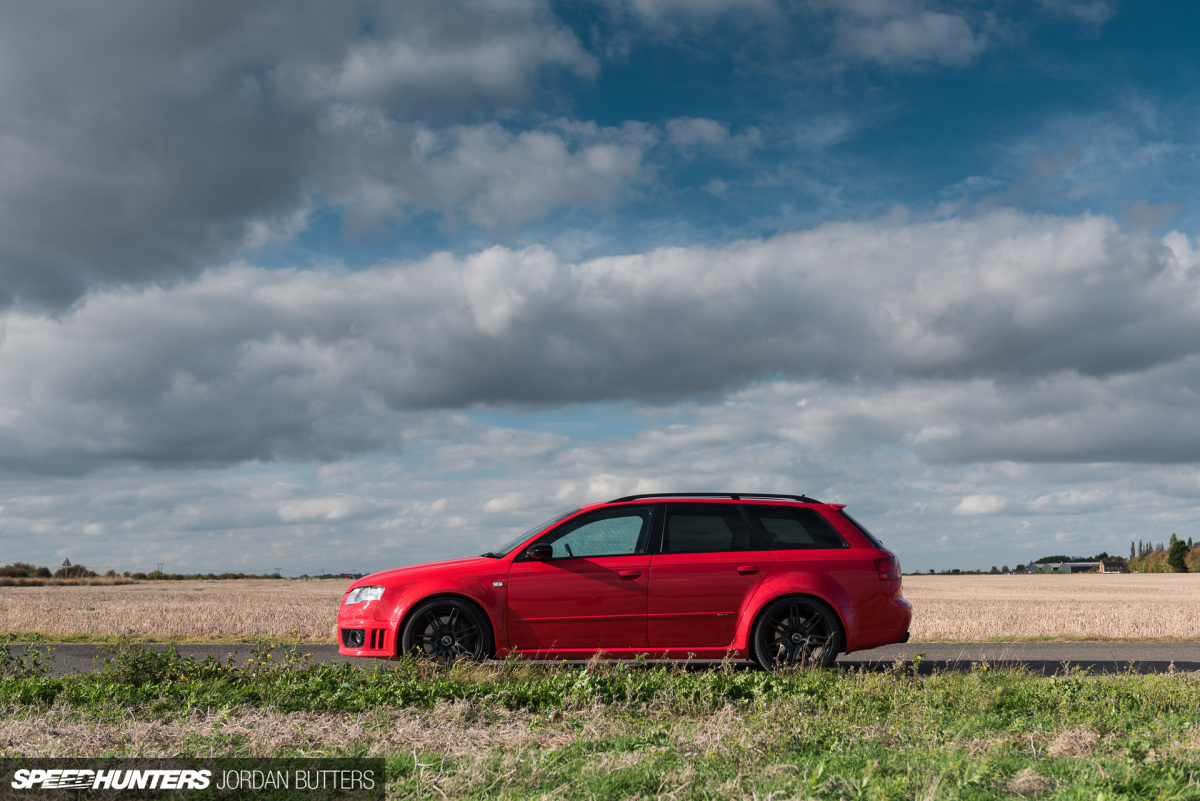 The most common colours are black, silver and grey, so naturally I made life more difficult by only looking for Sprint Blue, Misano Red and Imola Yellow. The red wasn't my first choice, but it's pretty rare in the Avant body and I'm super happy with it.
Besides, red's the fastest colour, everyone knows that.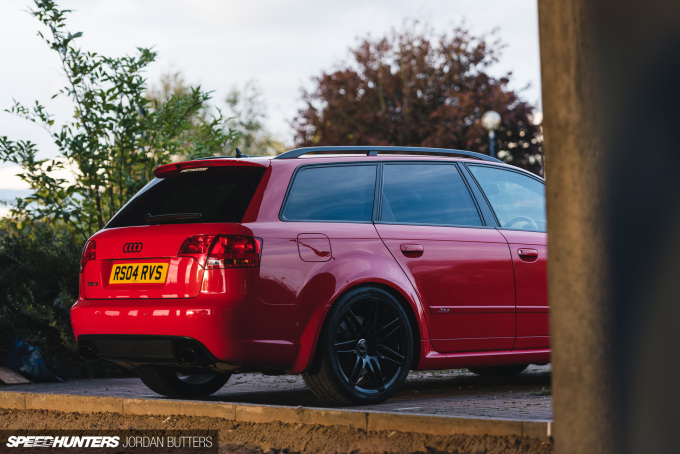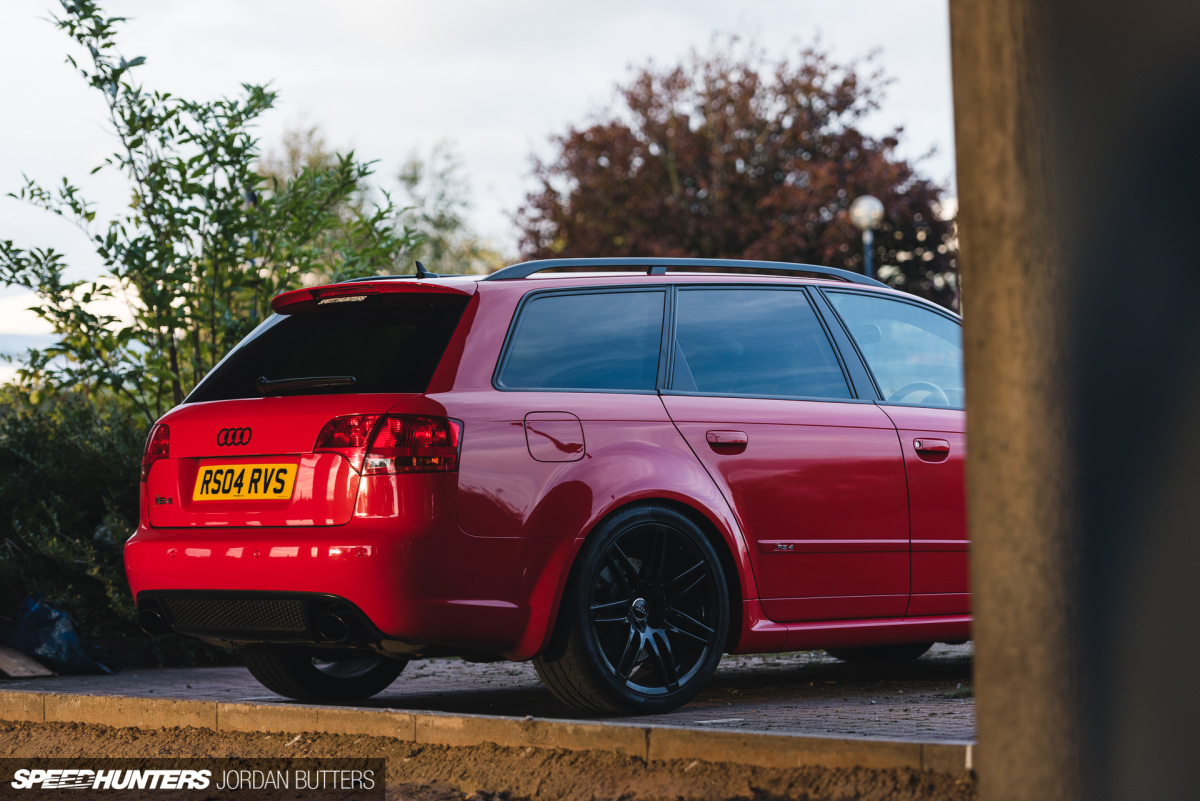 I've been using the car far more frequently than I used my Honda S2000, mostly because of practicality. Photography is all about taking all of your kit with you, not using most of it, and then bringing it all home again with you. In this sense, the Avant is perfect; I can get everything in and out with ease, and the boot space makes it useful for shooting tracking shots from, too.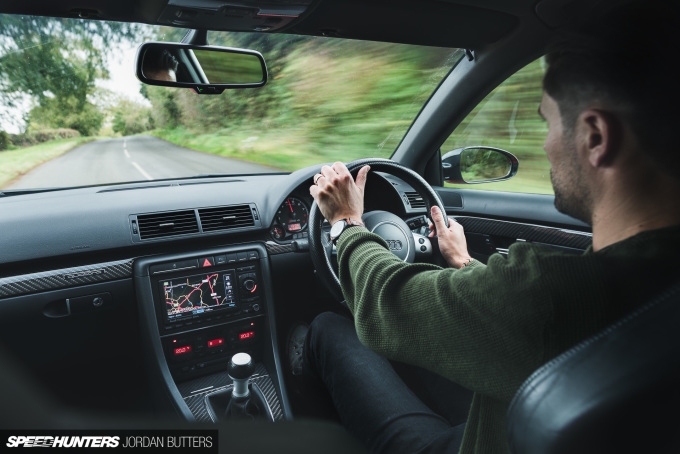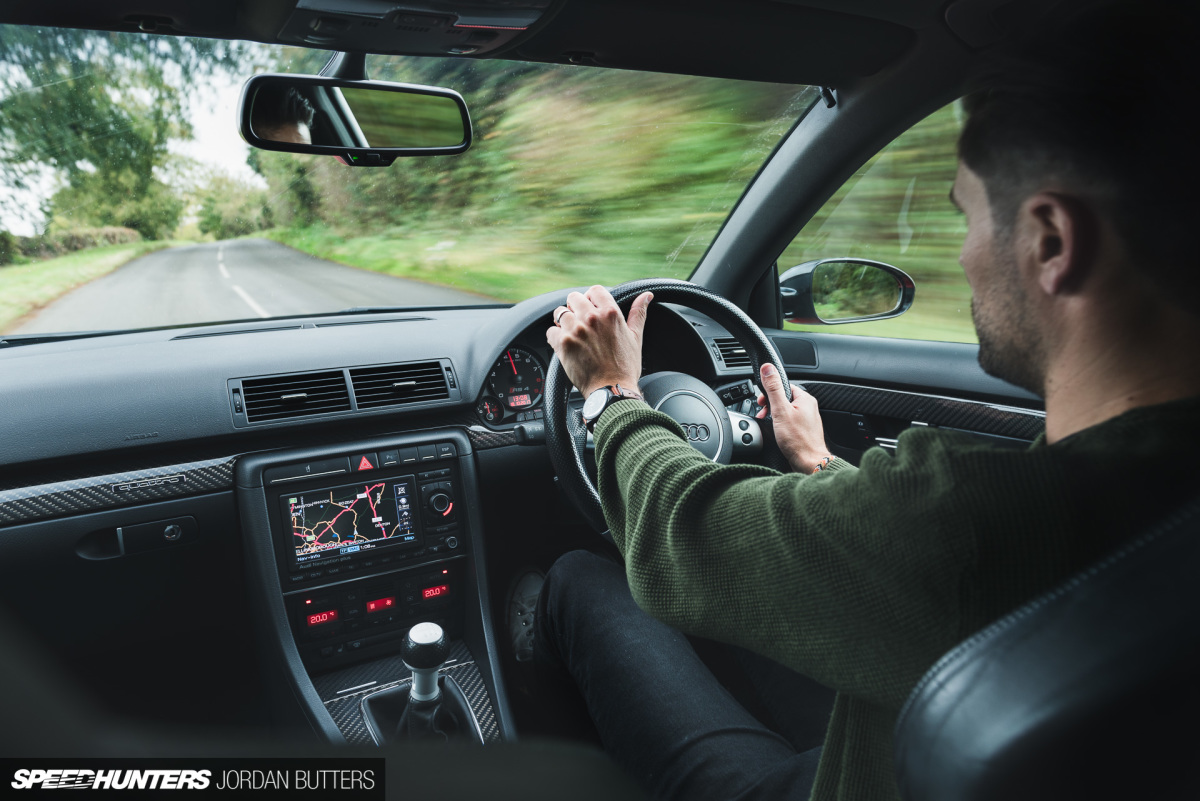 The Quattro AWD system means that there's no shying away from inclement weather and, to be frank, it's just damn good fun to drive. The car couldn't be more different to the S2000. From a 2.0-litre four pot to a 4.2-litre V8; from a lightweight rear-wheel drive sports car to a heavy all-wheel drive estate. Adjusting to the Audi has definitely made me change my driving style to suit, but I'm finding an increased confidence in its road holding, and often find myself taking endless detours to drive it more.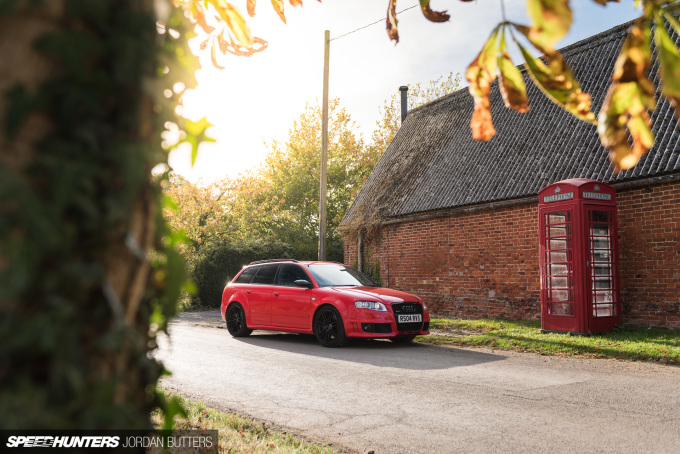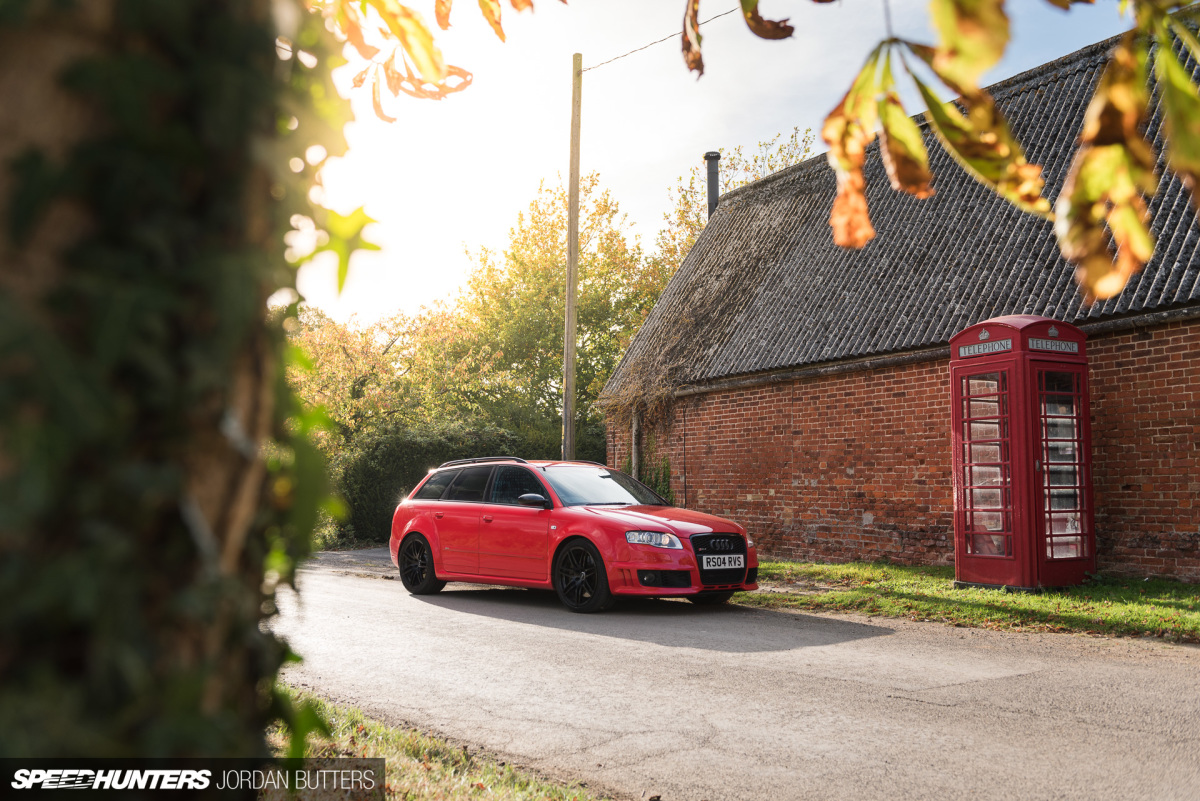 The thing that I'm enjoying the most so far is there it's a car that doesn't really compromise in any areas of performance. I can take it to IKEA, load it up with flat-packs, drive it across a muddy field (if the desire takes me), and still get from 0-60mph in around 4.5-seconds on the way home. It's really quite silly.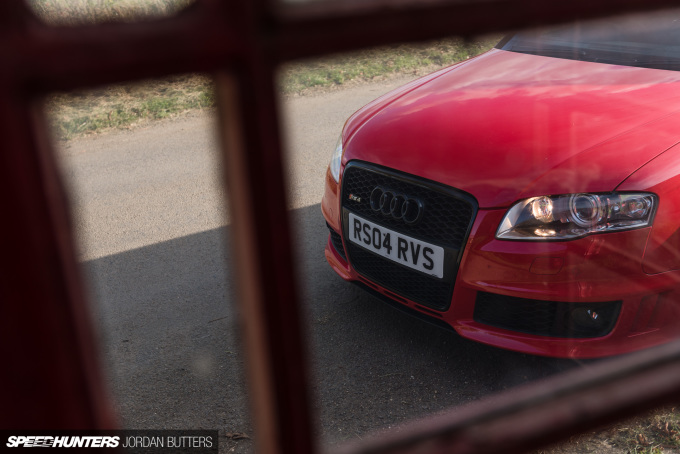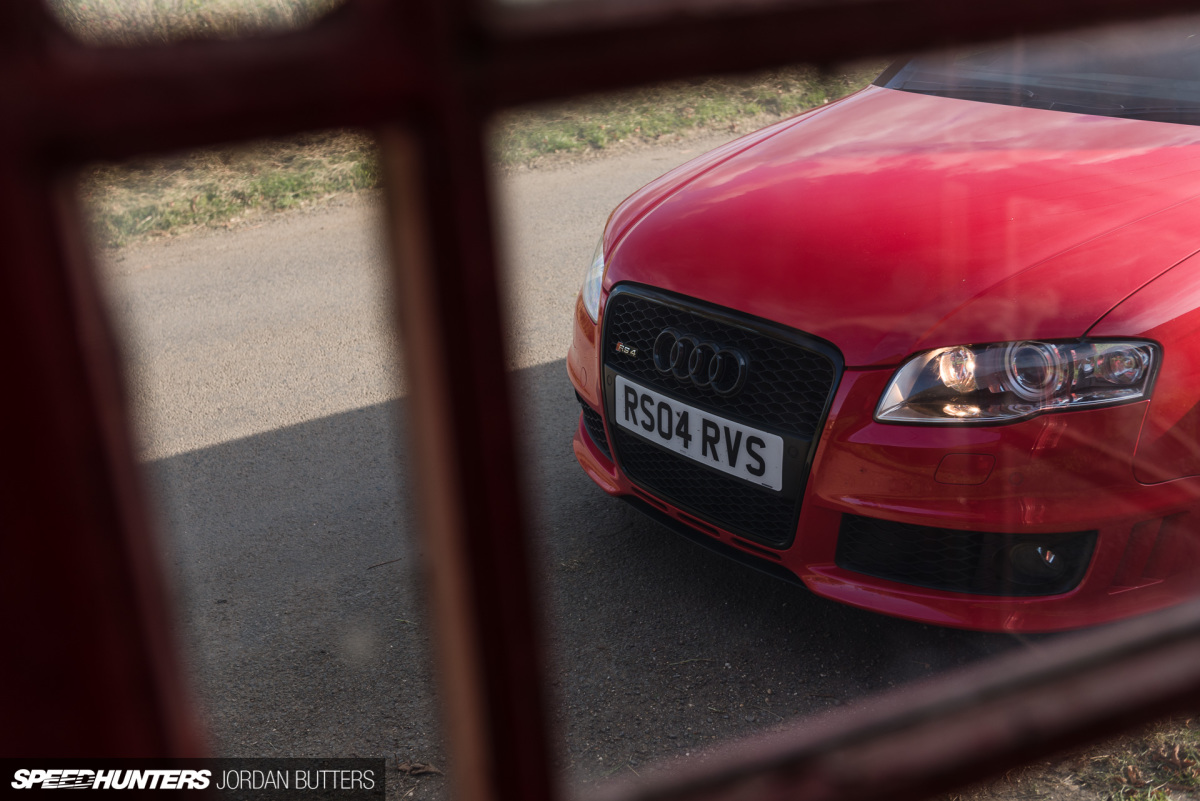 But now having put some miles on it, I'm getting a feel for what I want to improve on in due course.
Room To Improve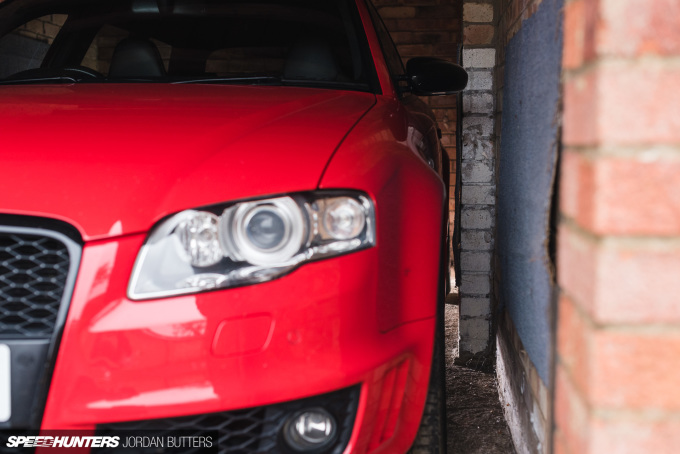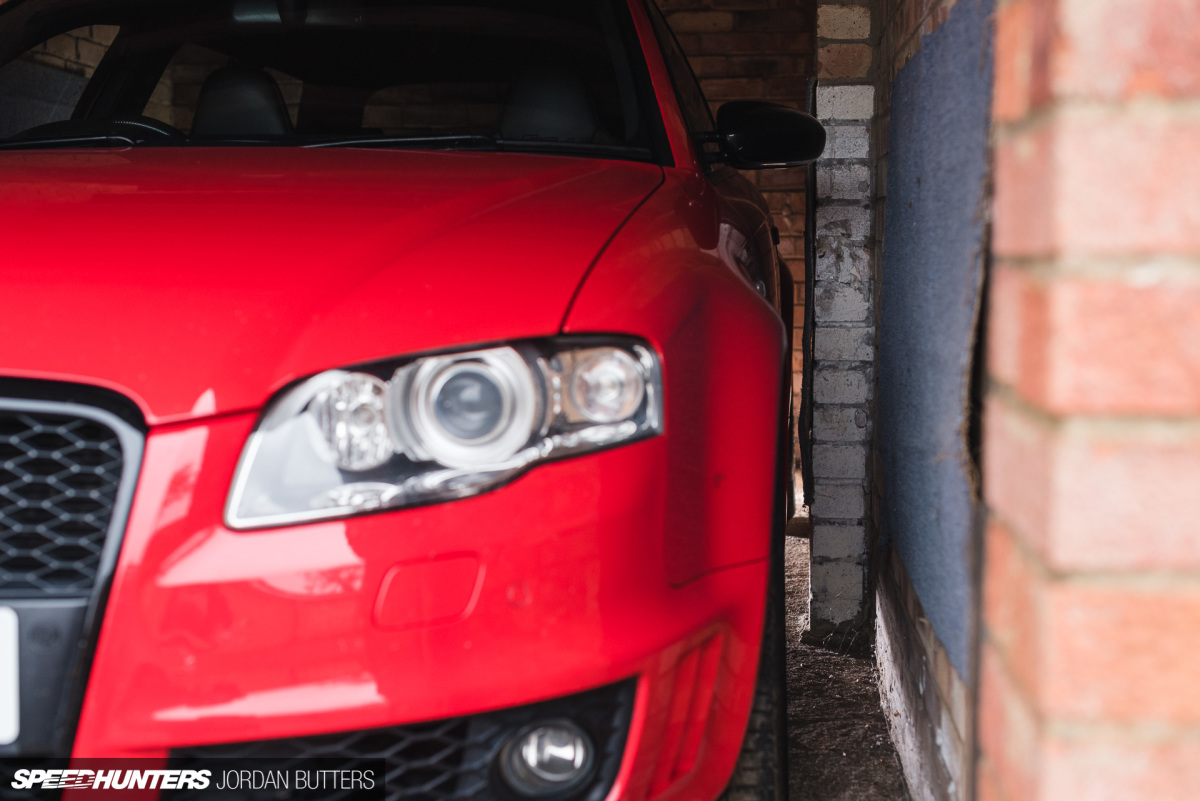 After picking up the car, my first job was to replace one of the rear parking sensors. I'm quite paranoid about parking the car out on the street because RS models are a pretty big beacon for thieves; there are waves of RS thefts that sweep through periodically, and if it's not the cars going missing it's the seats. A replacement pair of seats are reportedly £15k+ new from Audi, and you have to build them from a box of parts for that price. Therefore, garage essential, and sensors essential when you take into account just how little room I have when parking the car. It's a bit tight.
I also had to replace the rear wiper motor which failed on the drive home. The stupid thing still does a terrible job of clearing the screen so I might remove it altogether. Still, small niggles that you expect with a used car.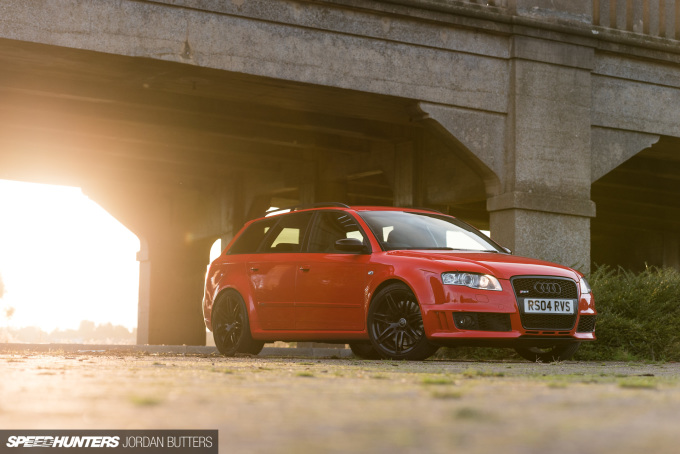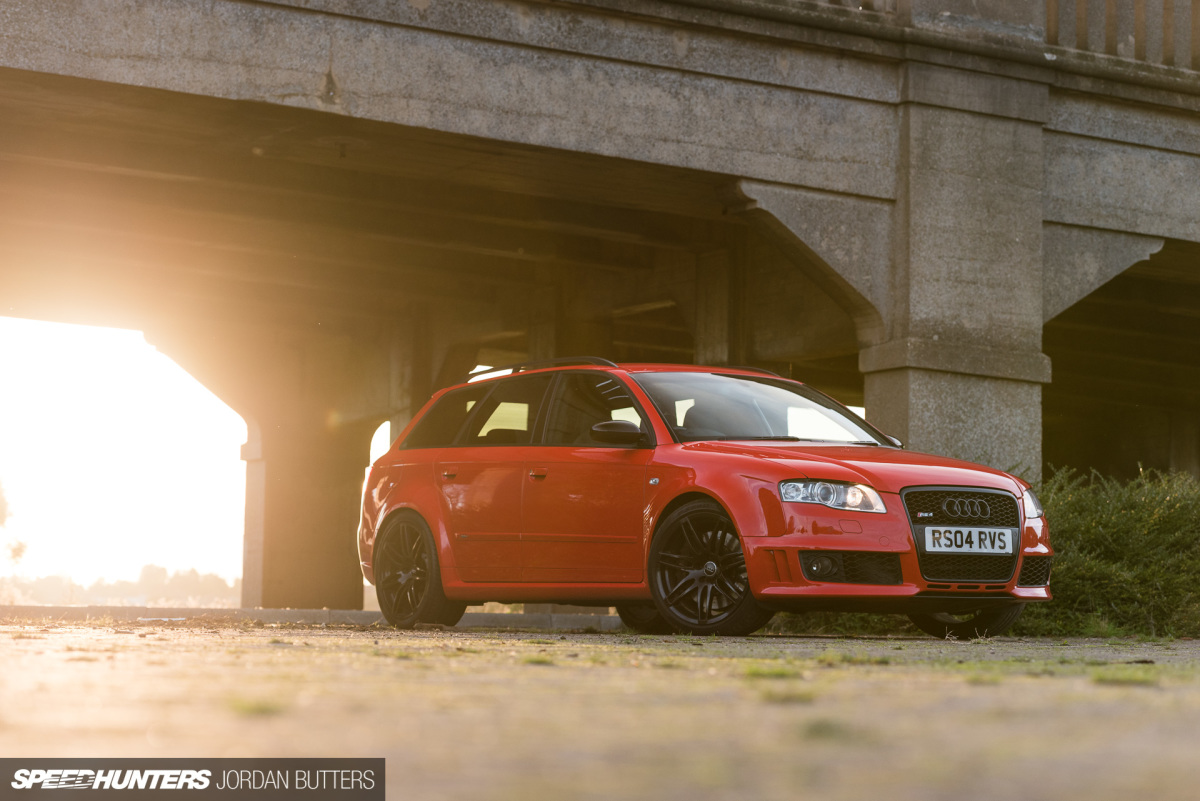 The other changes I've made have mostly comprised of, well, un-modifying the car actually. It came into my possession wearing more badges than Audi released it from the factory with. A large 'Quattro' grille badge quick went into the bin, as did the two 'V8' badges from the front wings that someone saw the sense to add, along with a large Audi dealer rear plate surround. The result was something instantly cleaner and less cluttered. I've also ordered OEM silver badges for the front and rear to replace the carbon ones currently on the car. The private plate came with the car and I'm undecided as to whether it's staying or not.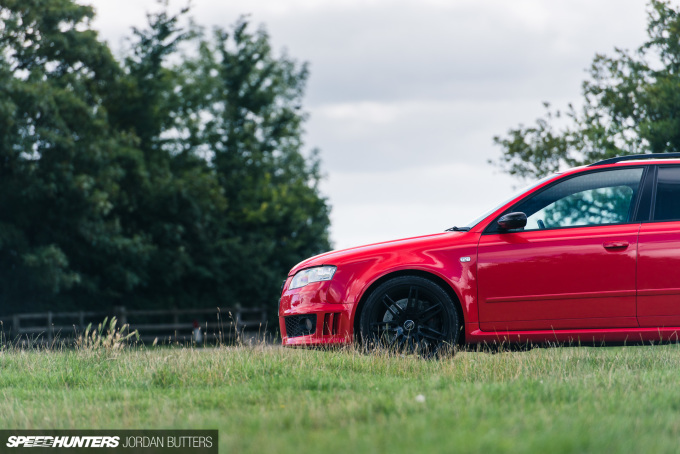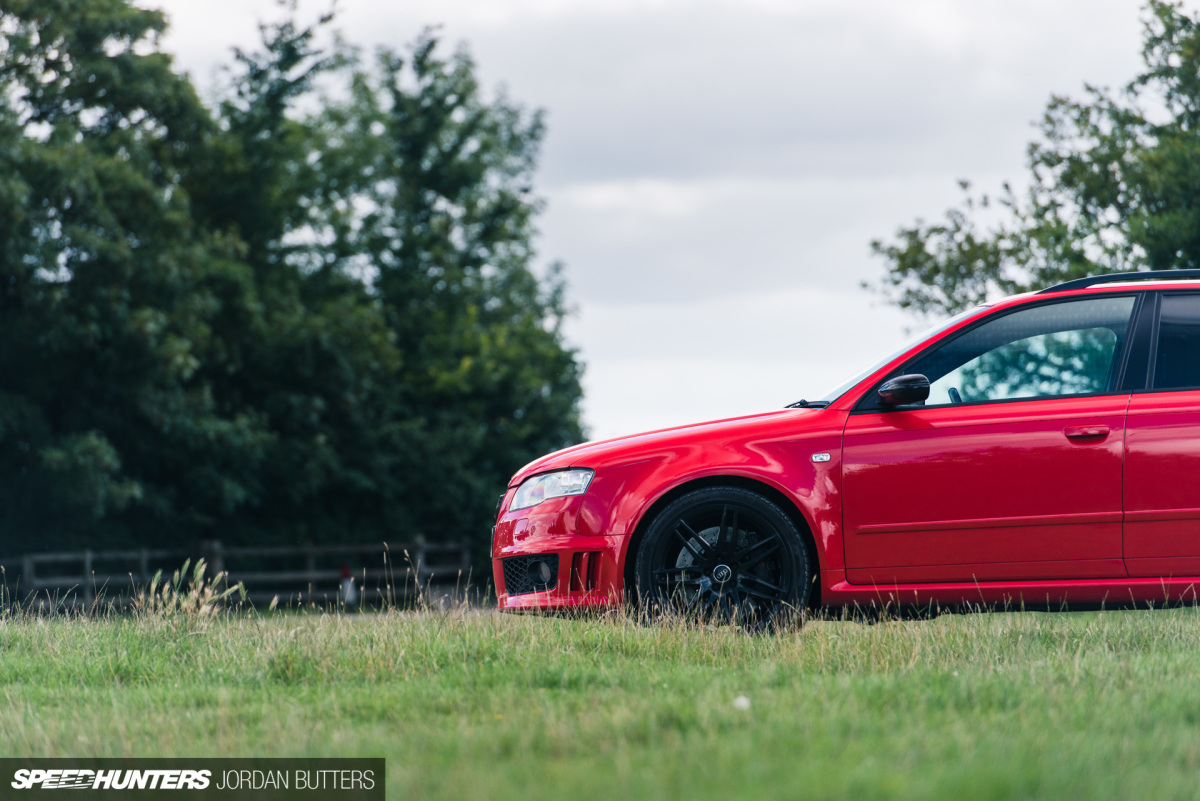 The black wheels are a sticking point at the minute; in photos I hate them but in person they've grown on me. They'll stay put for the winter months while I decide whether to have them painted silver, or whether to swap them for something aftermarket. Whatever I choose it'll be hard to match how well the OEM wheels suit the shape of the car.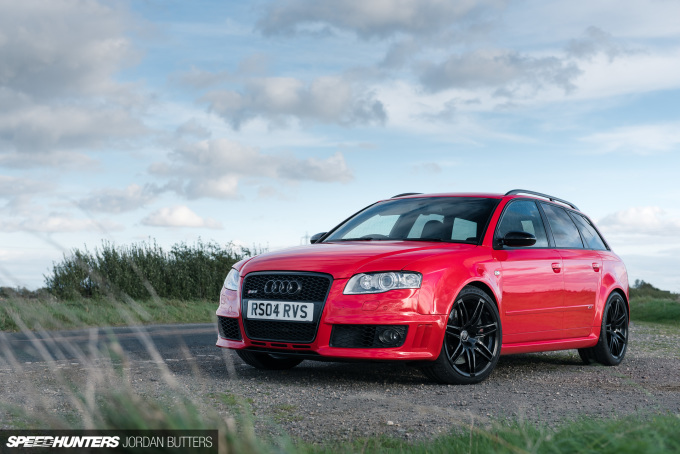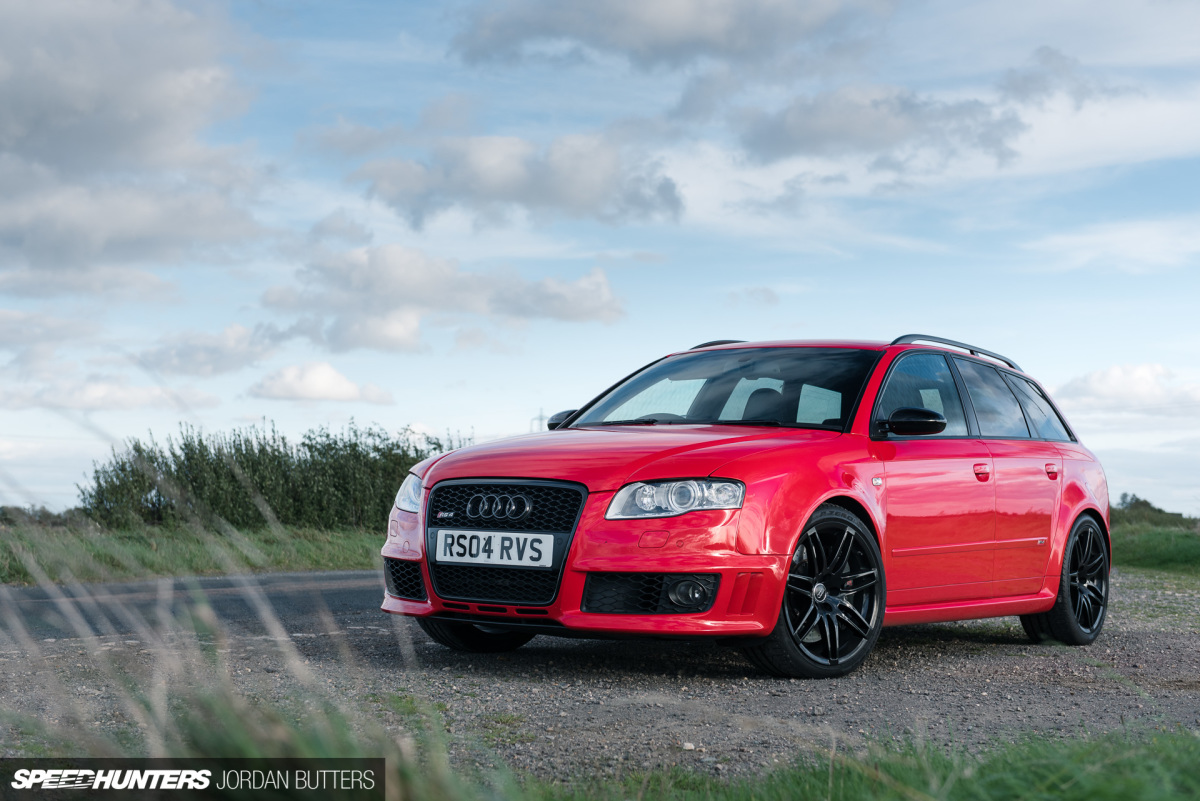 The B7 RS4 is considered by many to be Audi's best-handling RS model. My car is still running the original DRC (Dynamic Ride Control) suspension, a clever mechanical system which hydraulically links diagonally-opposed shock absorbers via central valves, regulating and controlling oil flow to the shocks which need the most support in corners. Sadly, it's a system that's notorious for failure. This car has had two shocks replaced already during its lifetime, so I'm well aware that at some point I'll need to make the change to coilovers.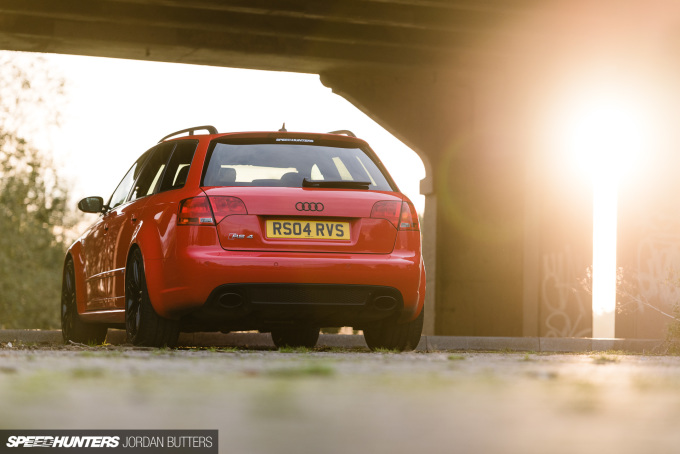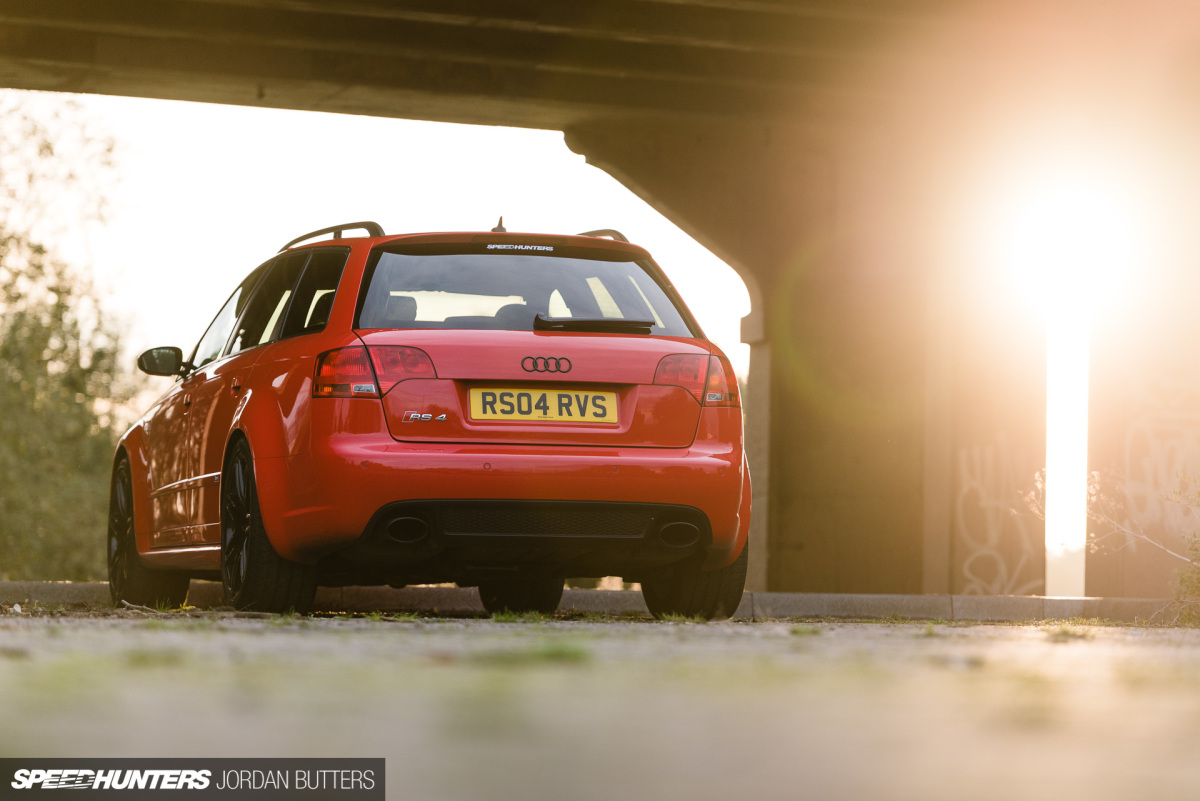 The big question is whether I do this preemptively and enjoy the car's excellent handling as it was designed, or wait for a shock to fail and risk being car-less until the replacement is sourced. Either way, my aim will be to choose suspension that doesn't compromise the car's handling ability too much. At the same time I'll probably do a full suspension arm/bushing check over and see what needs replacing. This isn't a track car, but maintaining a tight feel for fast road driving is essential.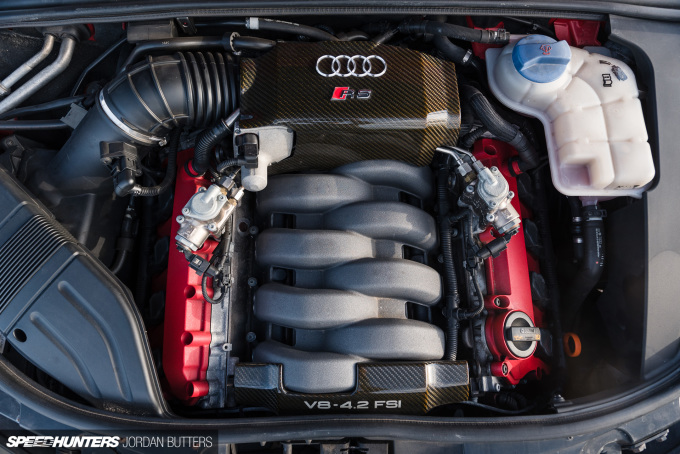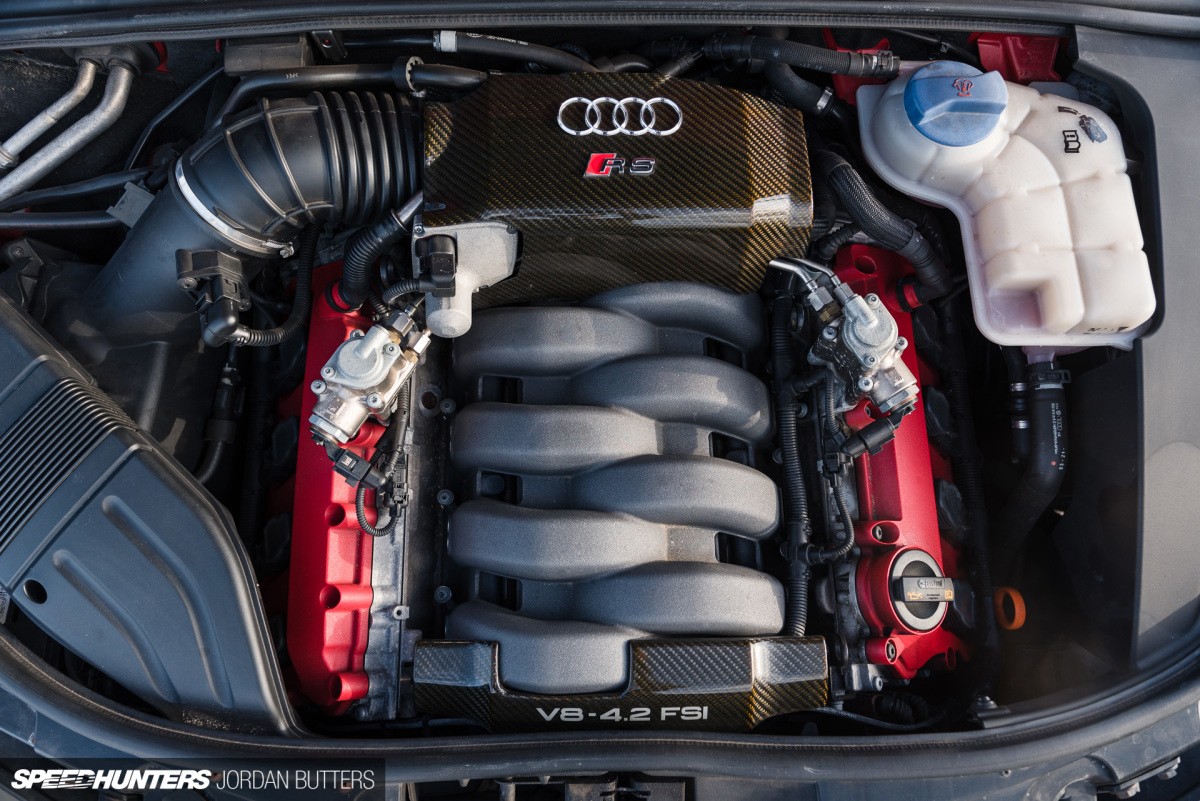 In terms of engine performance, there's no major leaps in performance available without dropping some serious wedge. The naturally aspirated V8 puts out around 420hp if you believe Audi's book figures, or roughly 380hp by most real-world measurements. The reason for the drop is that the engine features FSI (Fuel Stratified Injection), adding fuel directly to the combustion chamber, rather than into the intake or ports. It's better for efficiency and emissions, but comes with a downside – carbon build up.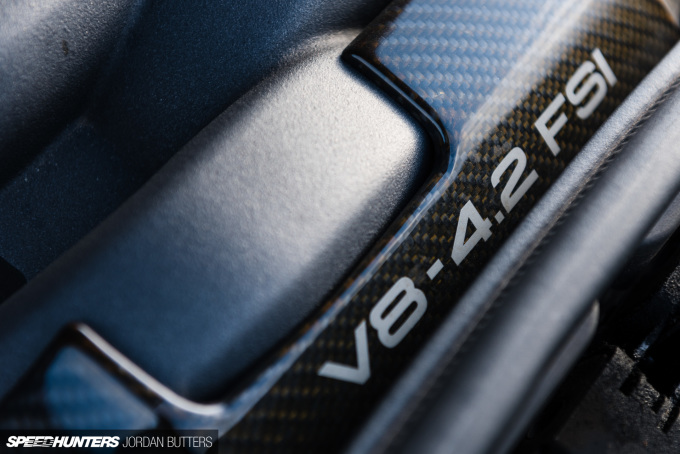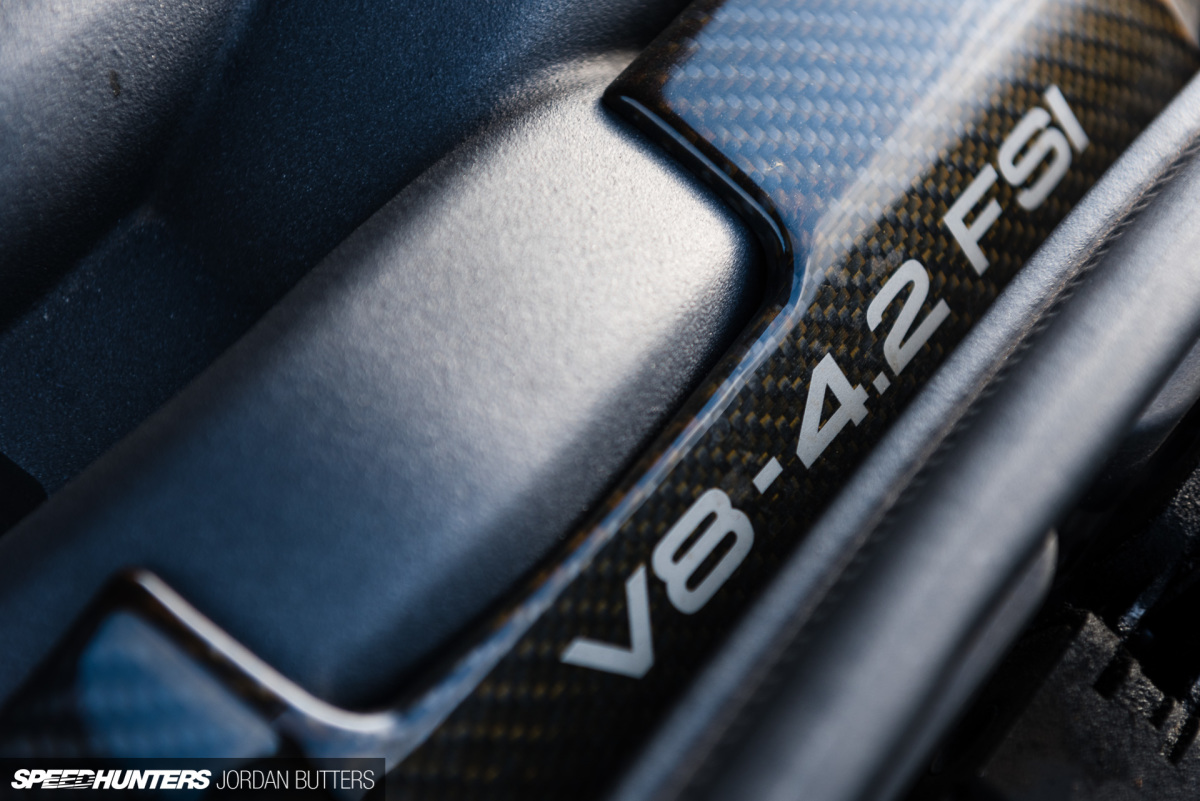 Without the fuel to 'cleanse' the intake and valves, carbon deposits build up over time, making the intake system less efficient and sapping power. My car was dyno measured at 395hp last year so there's definitely some build up present, although I've heard of RS4s dropping into the low 300s, so it's not the worst. There's some debate as to whether it's worth doing a full carbon clean, as the deposits often return within a few thousand miles, however, a spot of frequent 'Italian tuning' (running the car up to redline at full load) can help keep it at bay.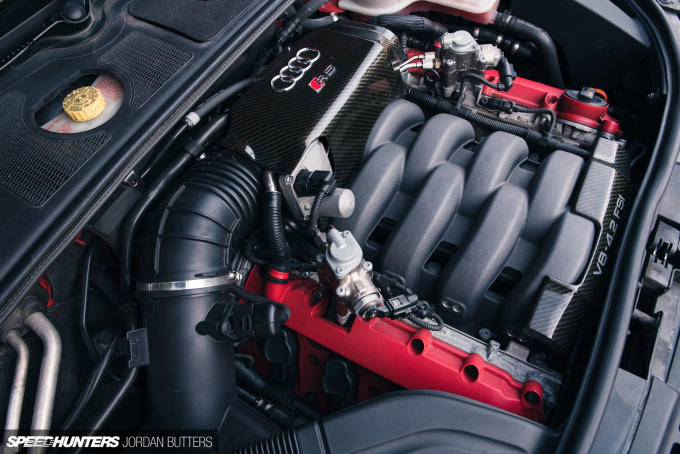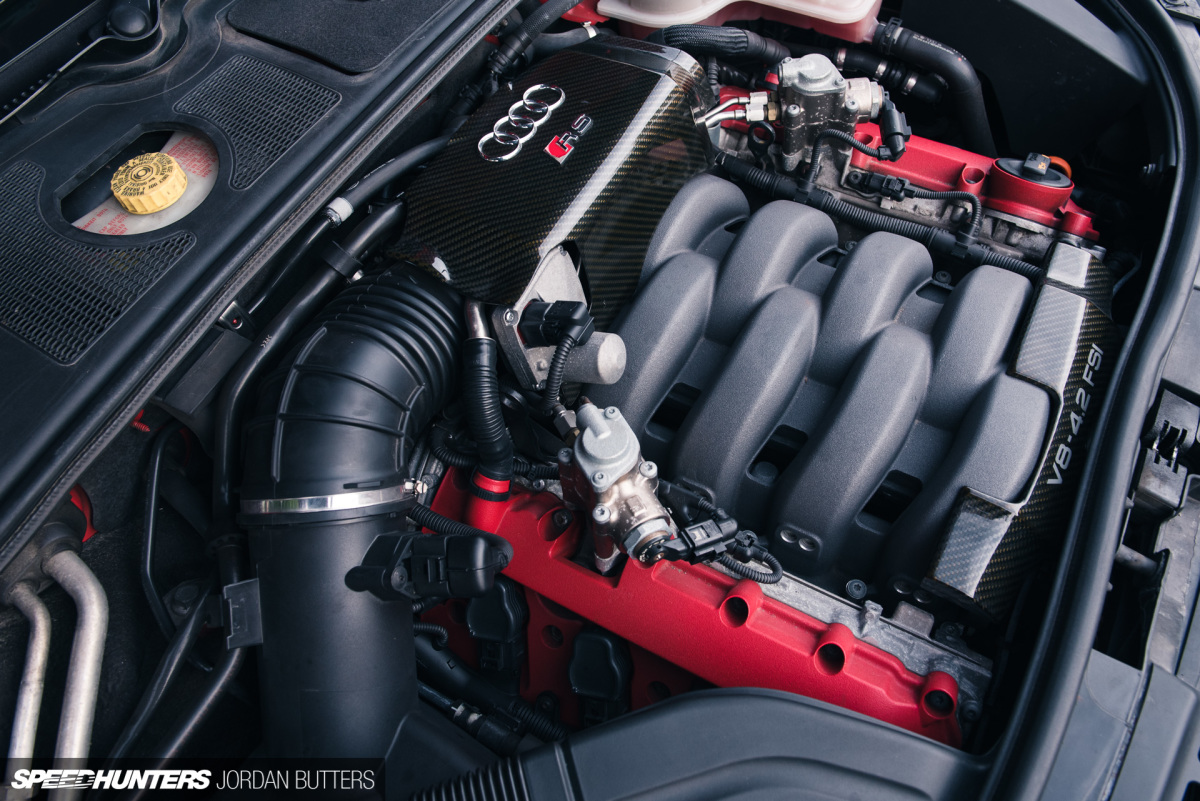 I'm currently investigating options to get this work done along with some modifications to the inlet manifold and a ECU remap. Final results for all of the above are typically in the region of 440hp, with greatly increased throttle response.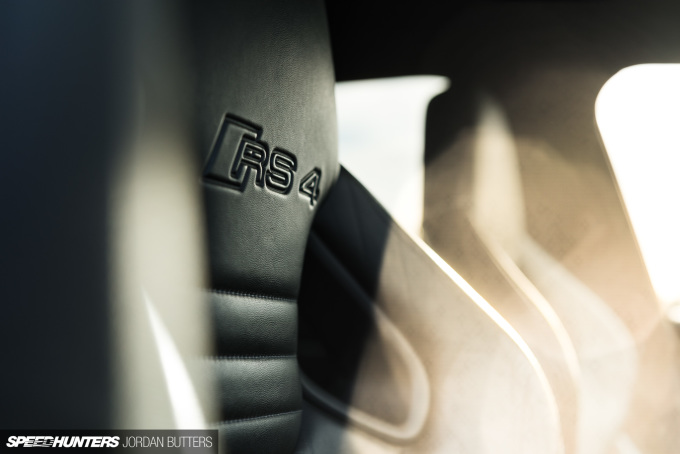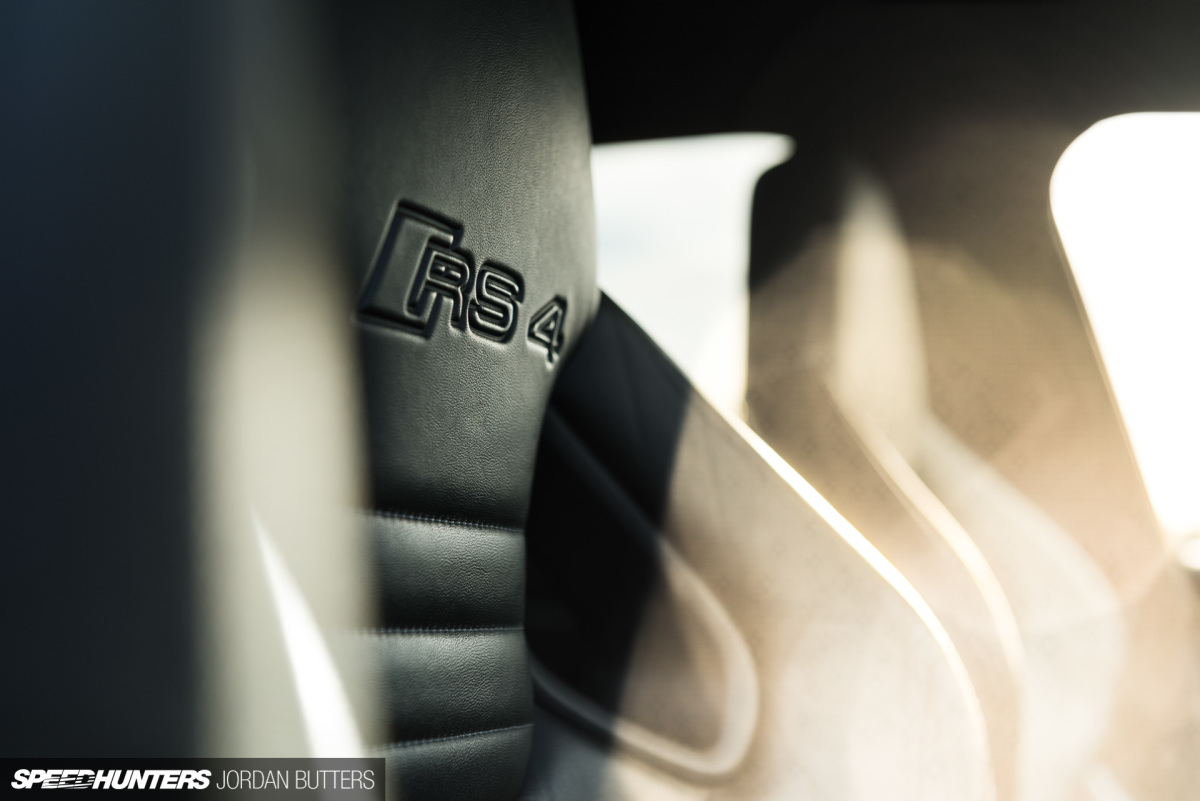 After that the only option for more power is supercharging, which brings things up to 600-700hp, but leaves an approximate £14,000-sized hole in the wallet. No thanks.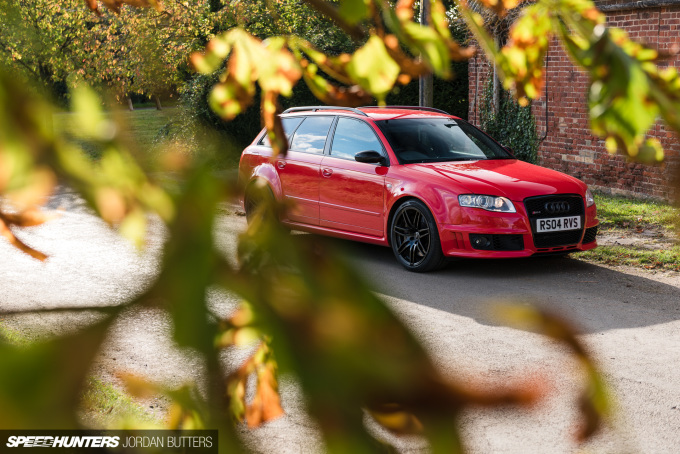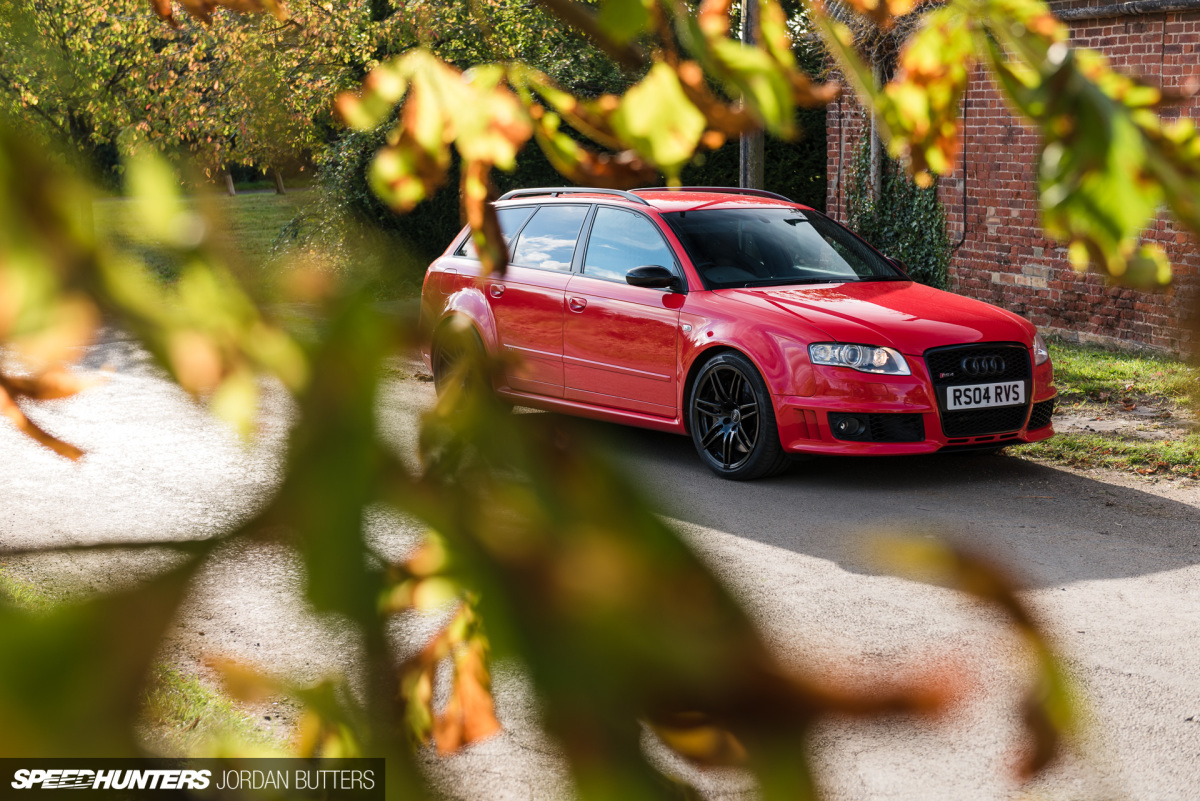 At some point along the way I'd like to get a bit more of a growl out of the V8 with a full exhaust, and possibly an intake system too. That'll do.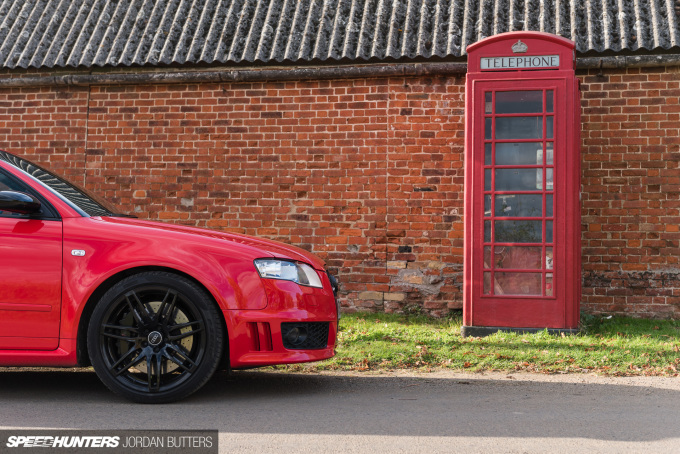 Otherwise, the car's bodywork is in pretty good shape. There's a bit of bubbling on the edges of the front arches which is a common issue on most VAG models, and one that I'll get sorted next year when I get the wheels painted.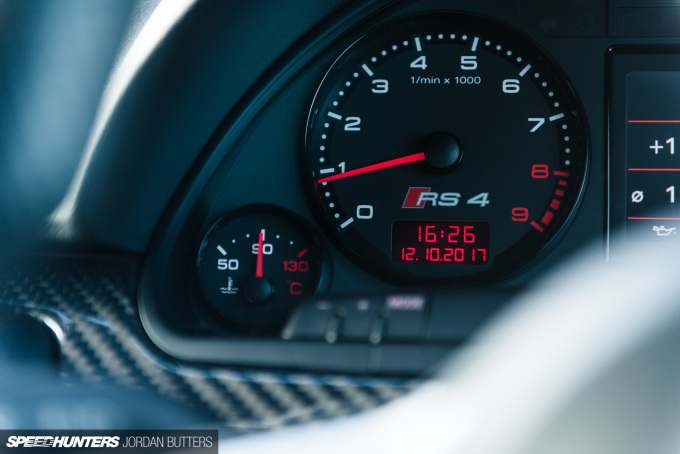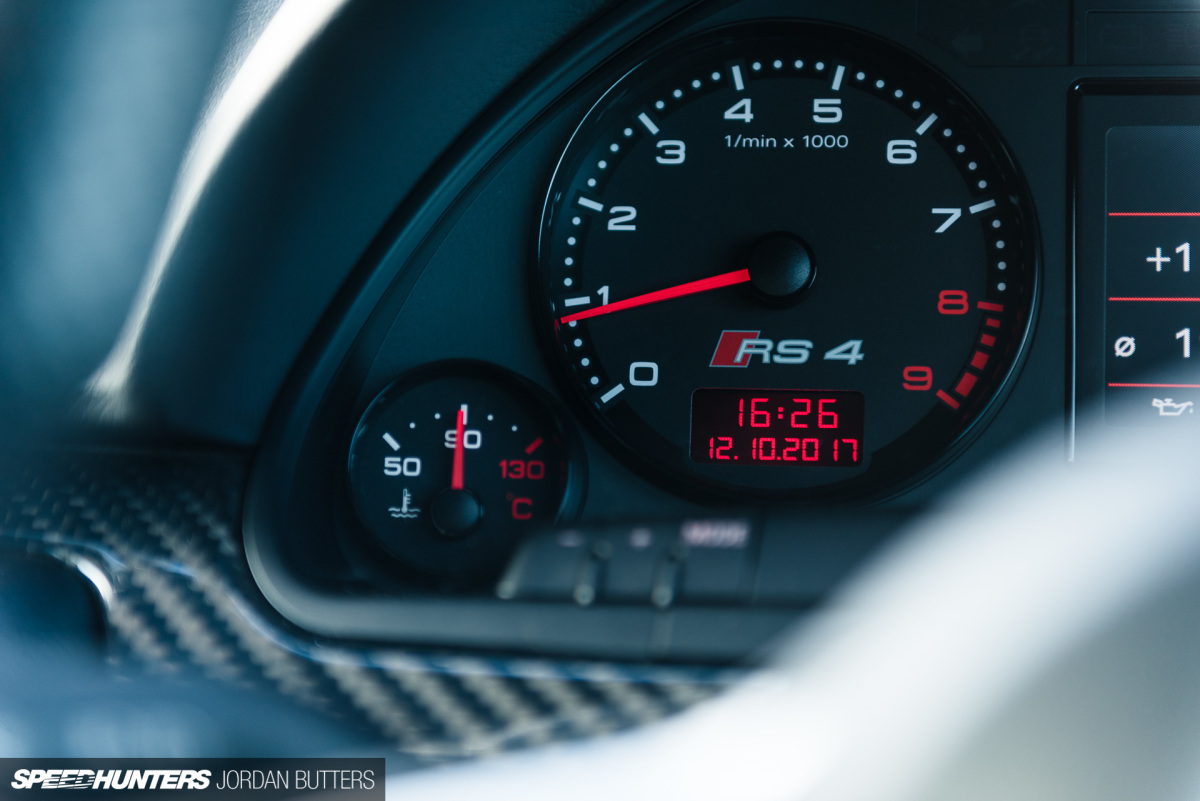 The interior is in good shape too, although a touch of leather care wouldn't go amiss.
I'm also currently living with the outdated OEM Audi sat nav and media system with a third-party Bluetooth hands-free receiver. I'm no audiophile, but the OEM Bose speaker system does the job for me. Swapping in a modern sat-nav CarPlay system would make a big difference in terms of user interface, however..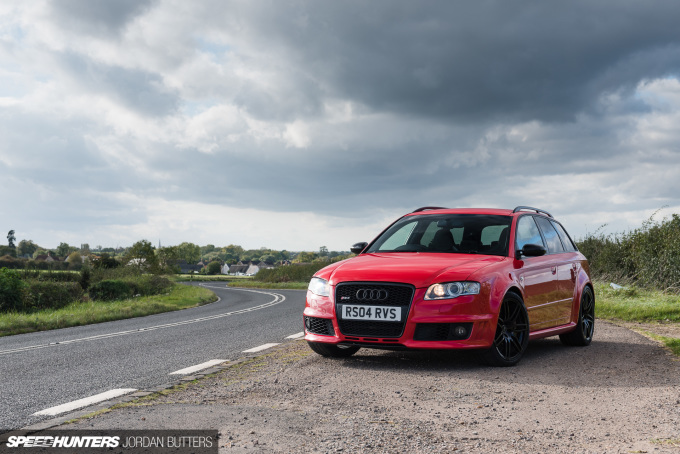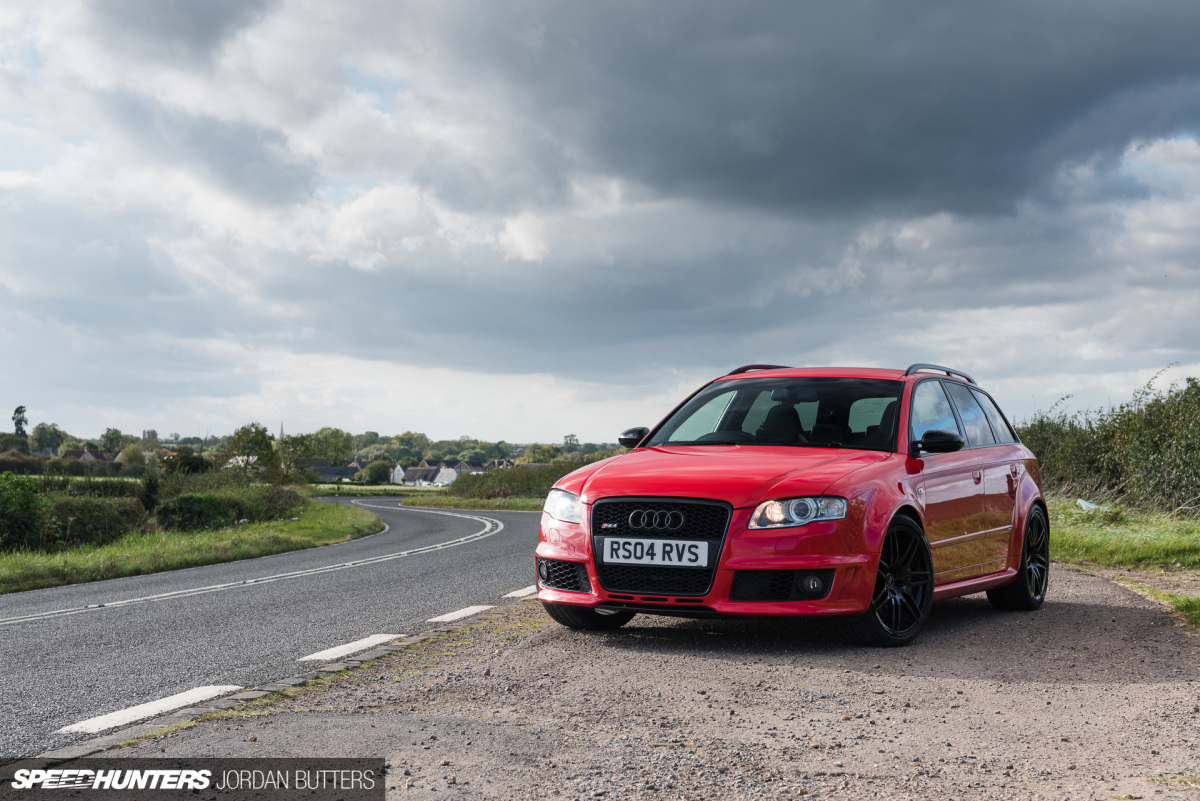 So now we're up to speed on the car and it has the proper intro that it deserves. The changes I'm planning all focus on improving the driving experience, without deviating too far from what I believe is an amazing car as standard.
The project really could do with a better name though…
Jordan Butters
Instagram: jordanbutters
Facebook: Jordan Butters Photography
jordan@speedhunters.com