Charismatic
Aftermarket car culture is a fickle beast. For a start, it's a subculture that is strongly guided by trends and fashions.
This is plain to see if you visit any one of the static shows that have become commonplace up and down the UK and, I'm sure, in every other country around the world. Barely a month passes by when there's not a large indoor show with an appropriately-cool-yet-sufficiently-vague name to attend. I'm not knocking it – coming from a time when there literally used to be one big car show each year here in the UK, being an auto enthusiast in 2017 is exciting.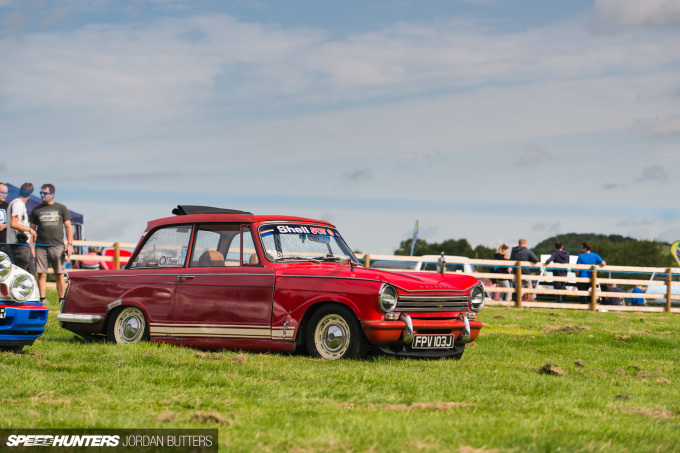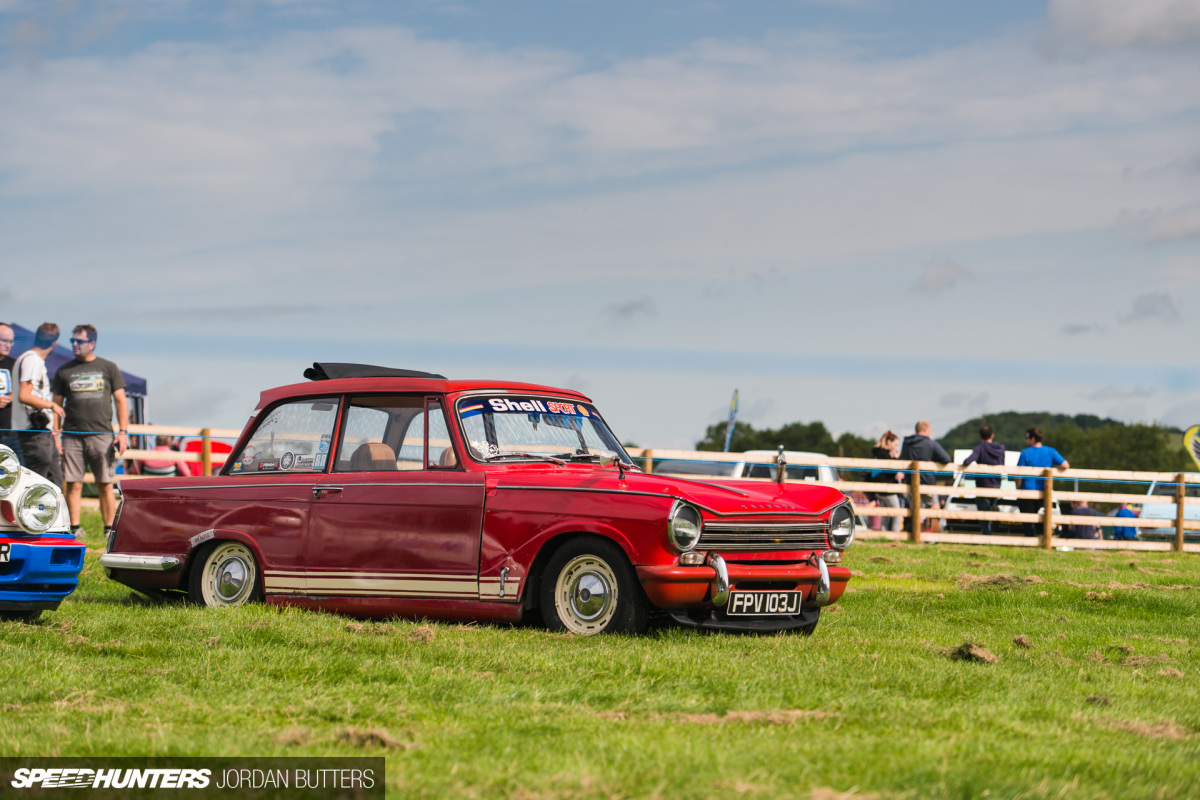 But, it's not always diverse. No matter how hard we try not to be, as humans we're influenced by what other people do, say and like. These shows are often packed to the gunwales with the same cars, the same brands, the same builders and the same modifications over and over again, simply because that's what people want to see.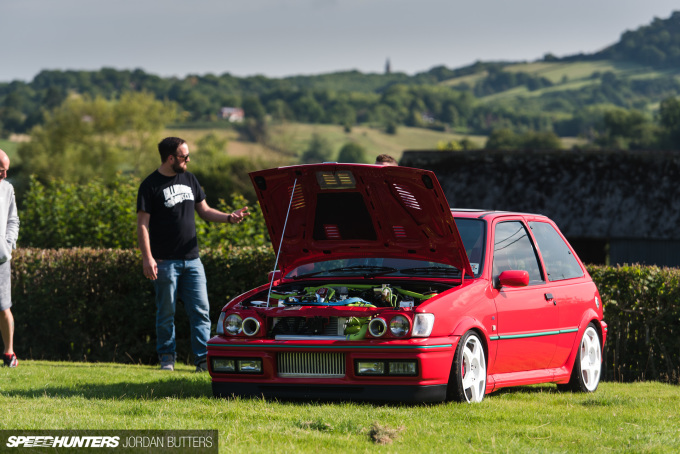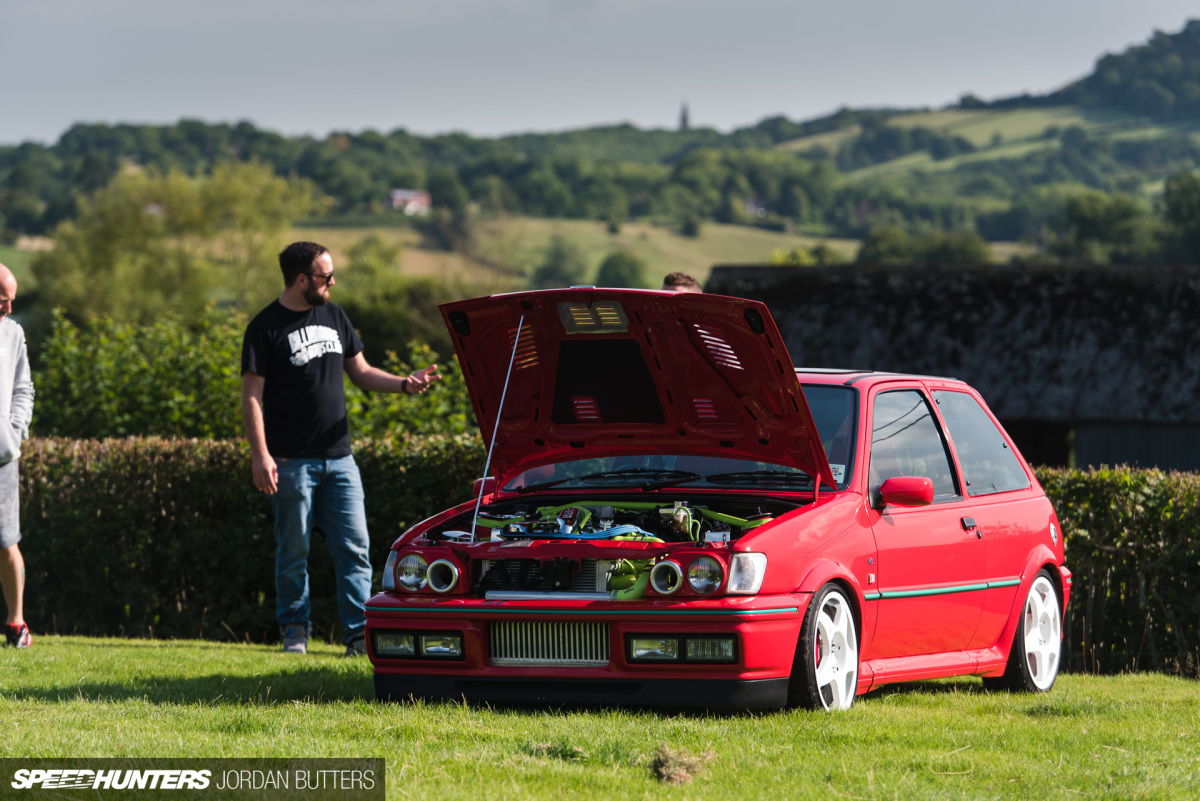 It's always been this way too. Here in the UK, in 2017, it's all new German cars, OEM+ styling, air suspension and luxury wheels. In the '00s it was JDM machines, street racing and under-car neons (thanks Dom Toretto and Brian O'Conner), and back in the '90s it was Max Power, performance Fords, bright paint, big sound systems, and cruising to Southend seafront on a Saturday evening.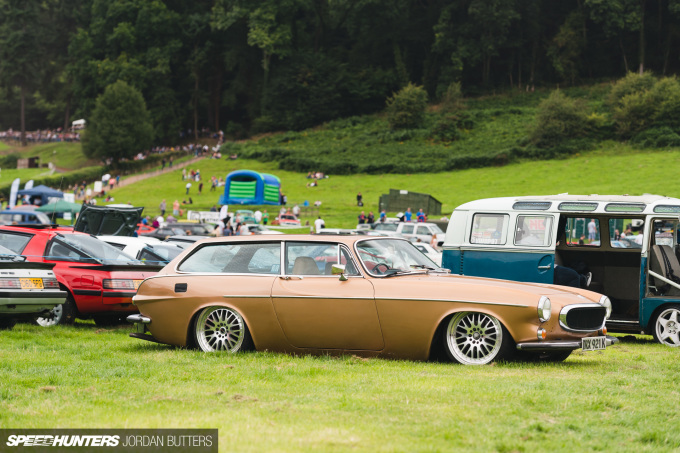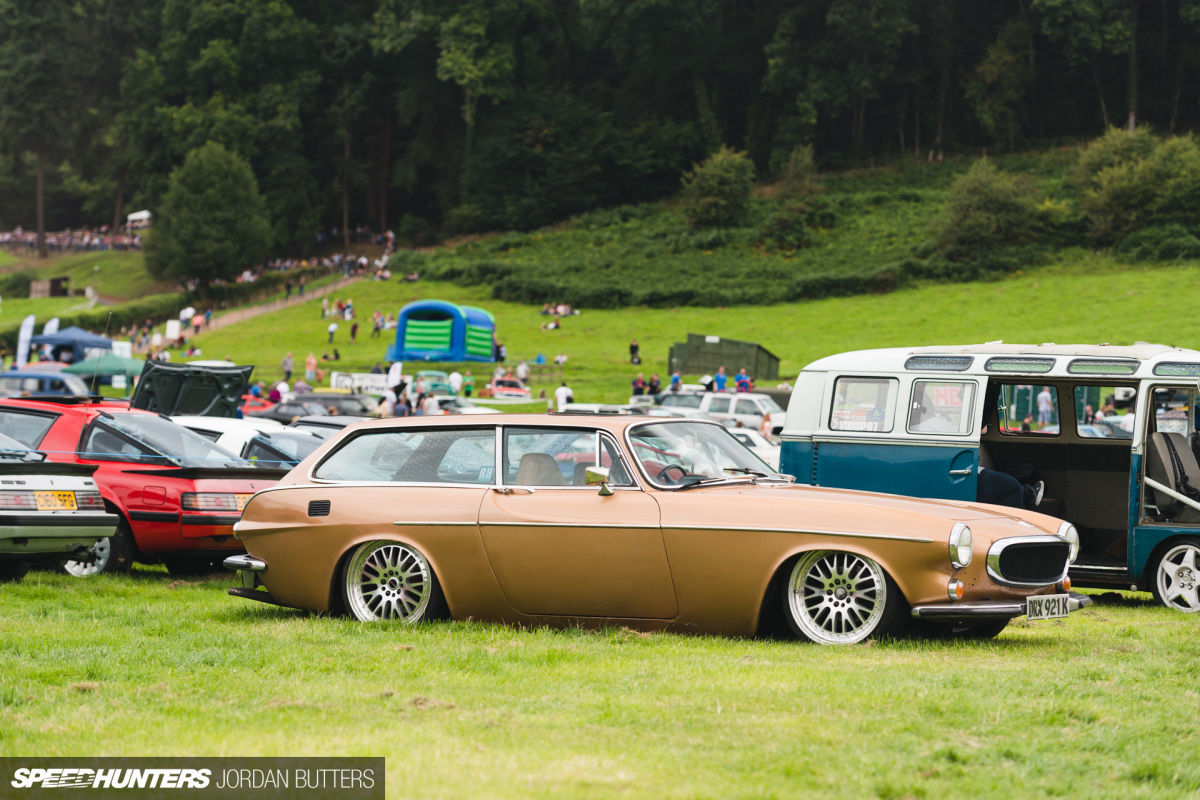 But what about those that don't conform to the status quo? They might not be the 'right' models, built in the 'right' way or use the 'right' parts, but they still need a place to exist, somewhere for those who want to to be able to appreciate them.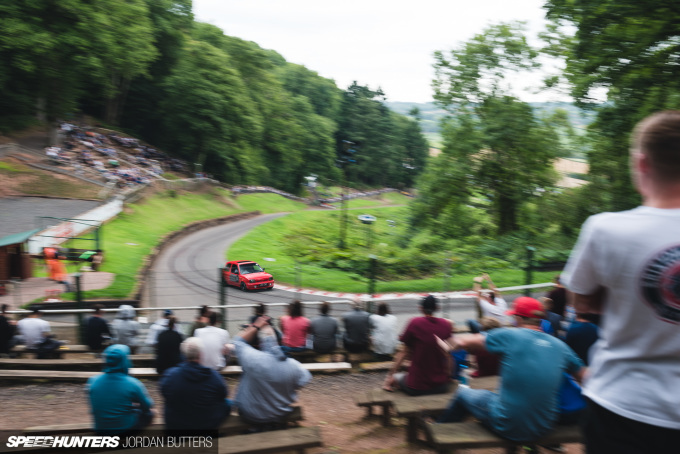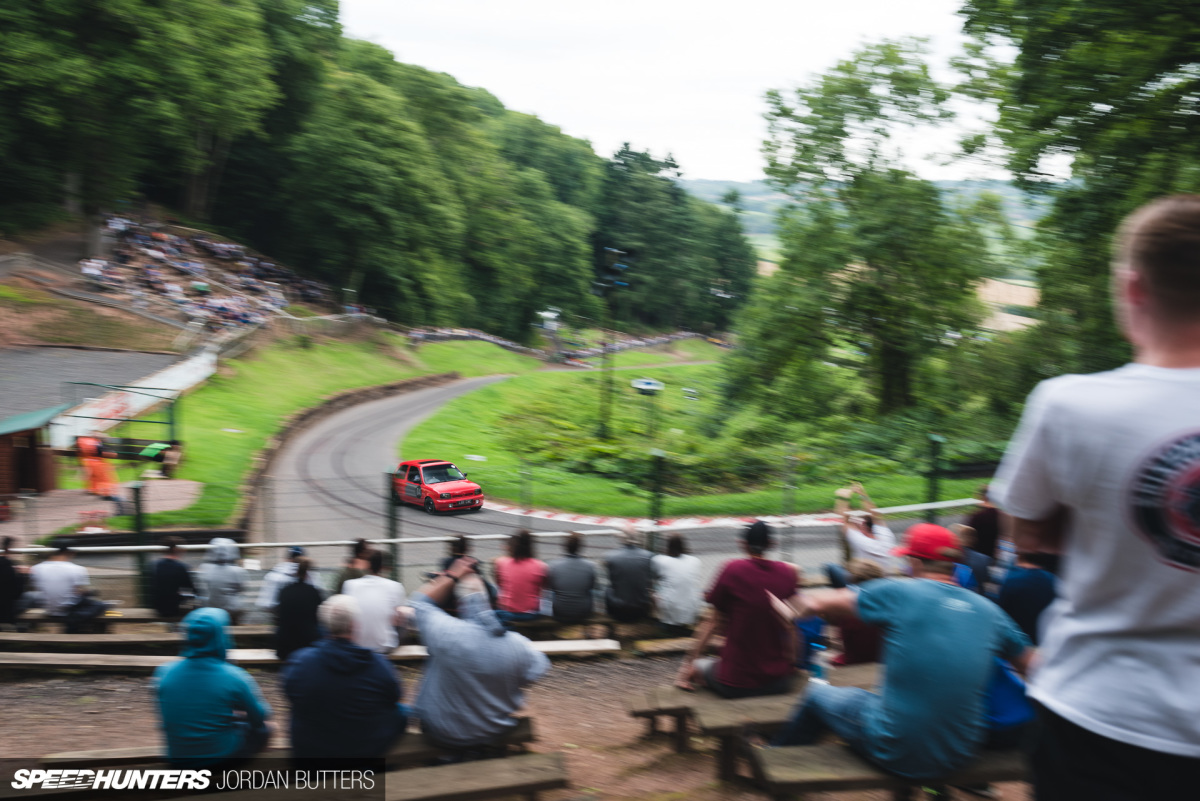 It turns out that the Retro Rides Gathering is their safe place.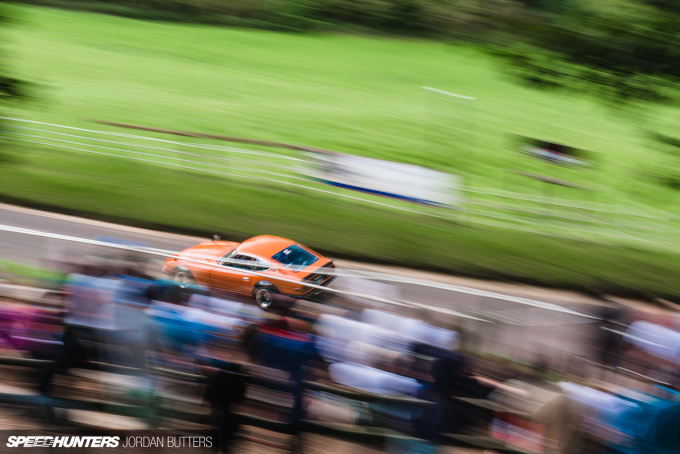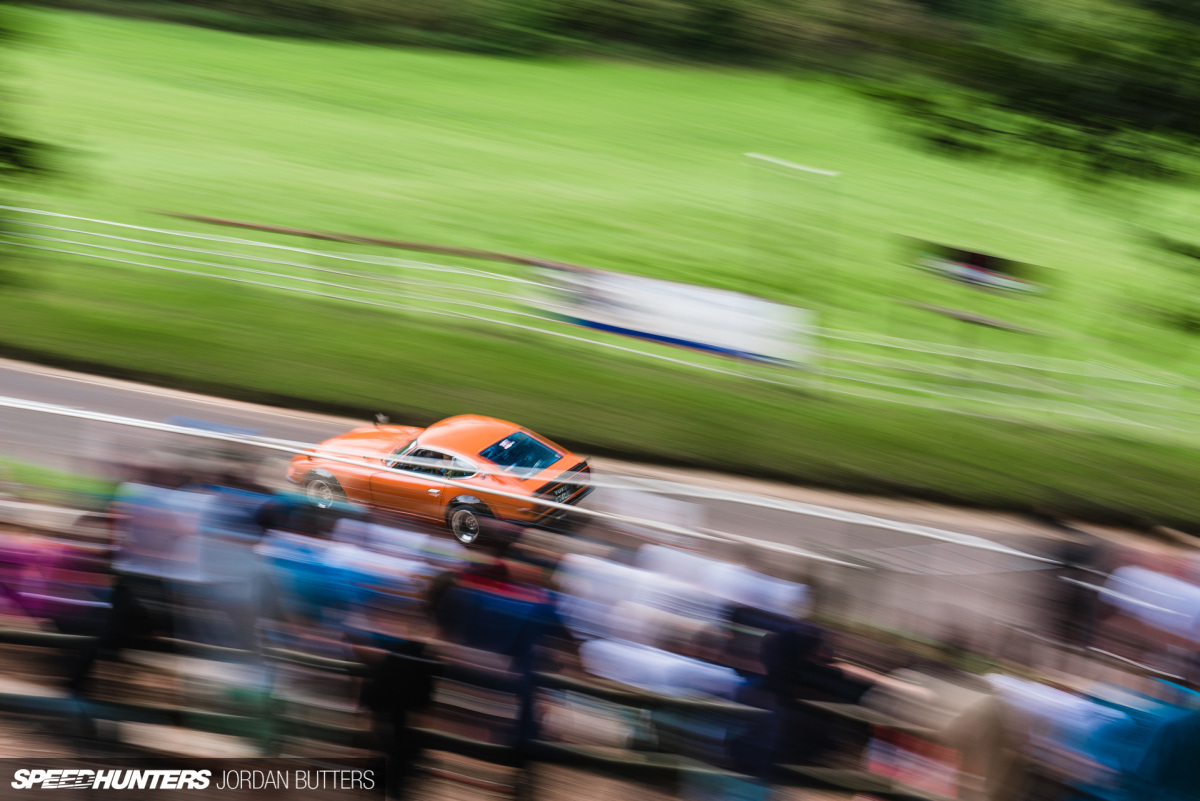 What they lack in en-trend parts and formulaic approach, these same cars often make up for in character. It's the one thing that's often lacking to an extent that you'd be forgiven for glazing over when walking the endless halls of cookie-cutting builds at other shows.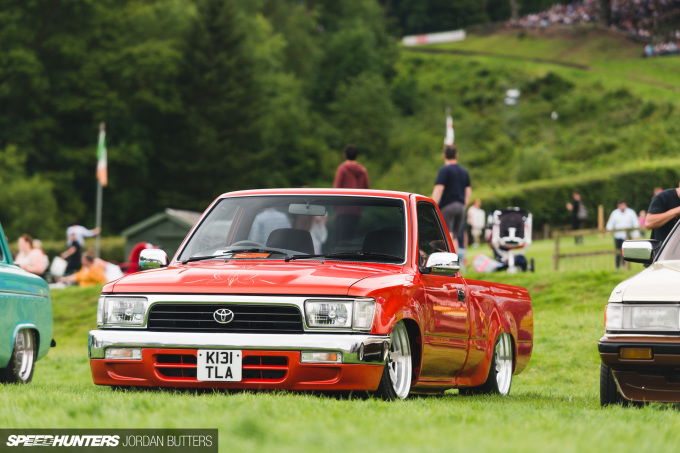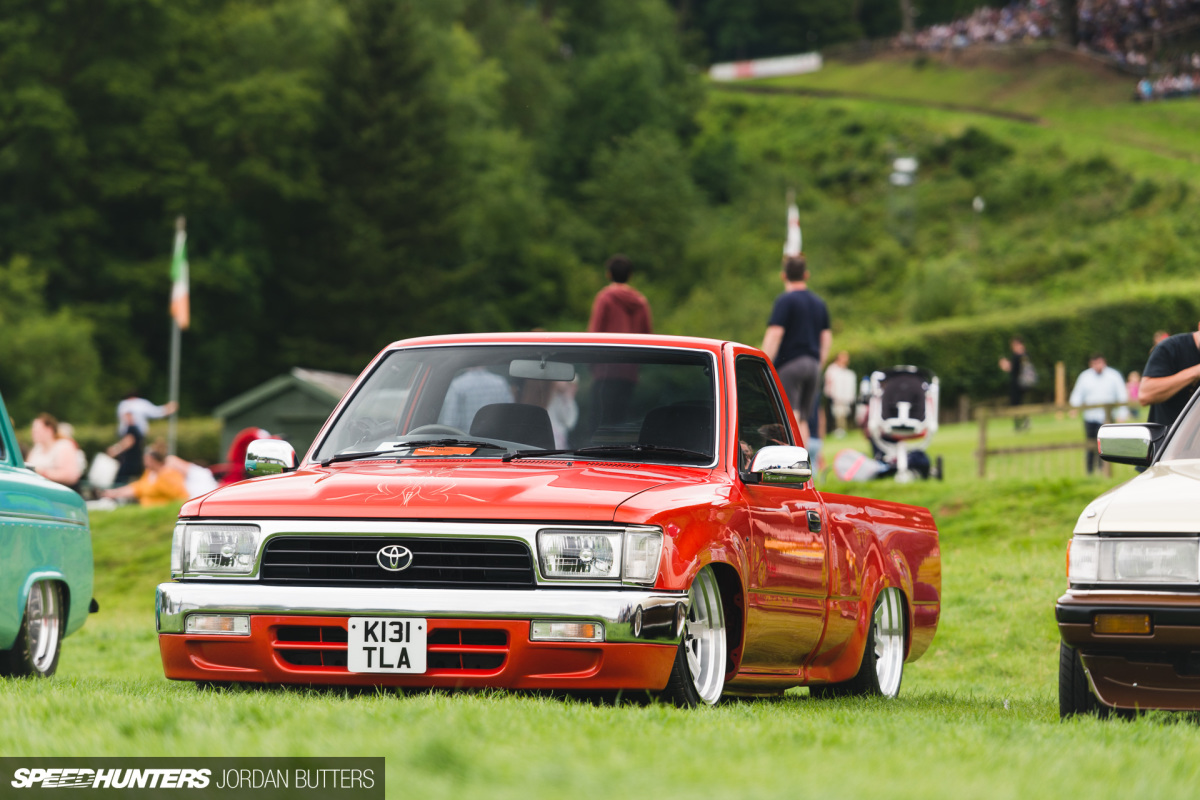 Retro Rides Gathering is an event that I've known about for years, but up until now hadn't managed to visit and see for myself. Having done so, I can unequivocally say it is one of the most unusual and eclectic automotive assemblies that I've been to.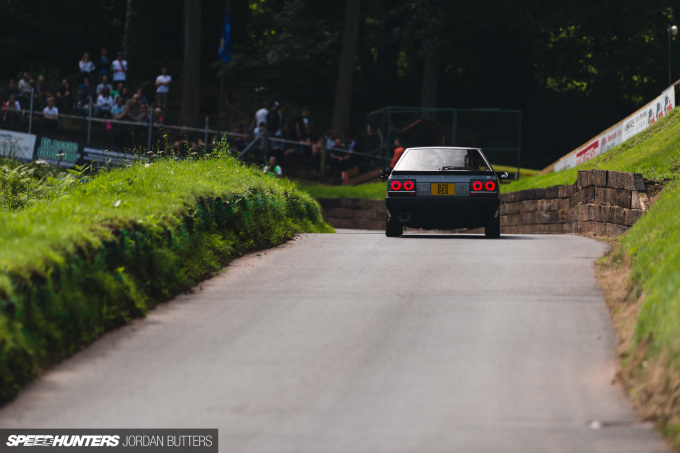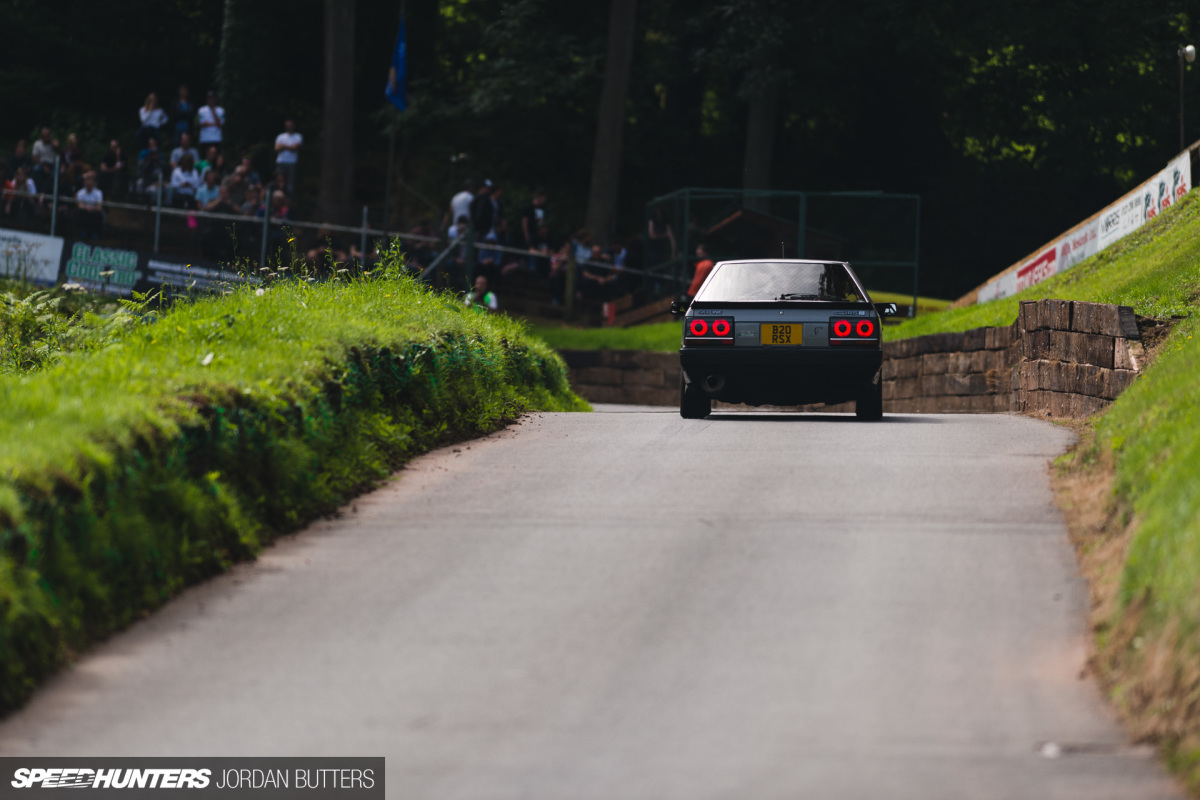 That's not just because it focuses on the old school either. We have other events here, such as the excellent Players Classic, which do that in a very, very good way. Players' carefully curated selection of show cars ensures that everything you see is something special.
Retro Rides Gathering employs no such selection process, and herein lies its charm. Some cars are great, many take you by surprise, a few are pretty crap and some you'd rather forget, all of varying qualities. It's a true mixing pot of cultures, influences, sub-genres and eras. It's also the perfect showcase and celebration of what I think we do well here in the UK – the weird, the wacky and the wonderful.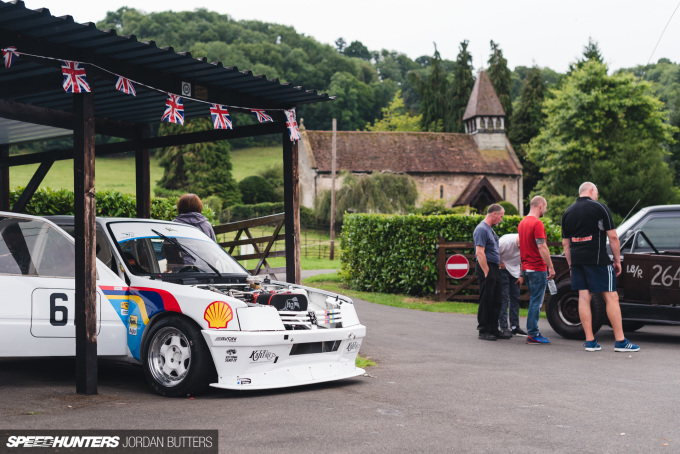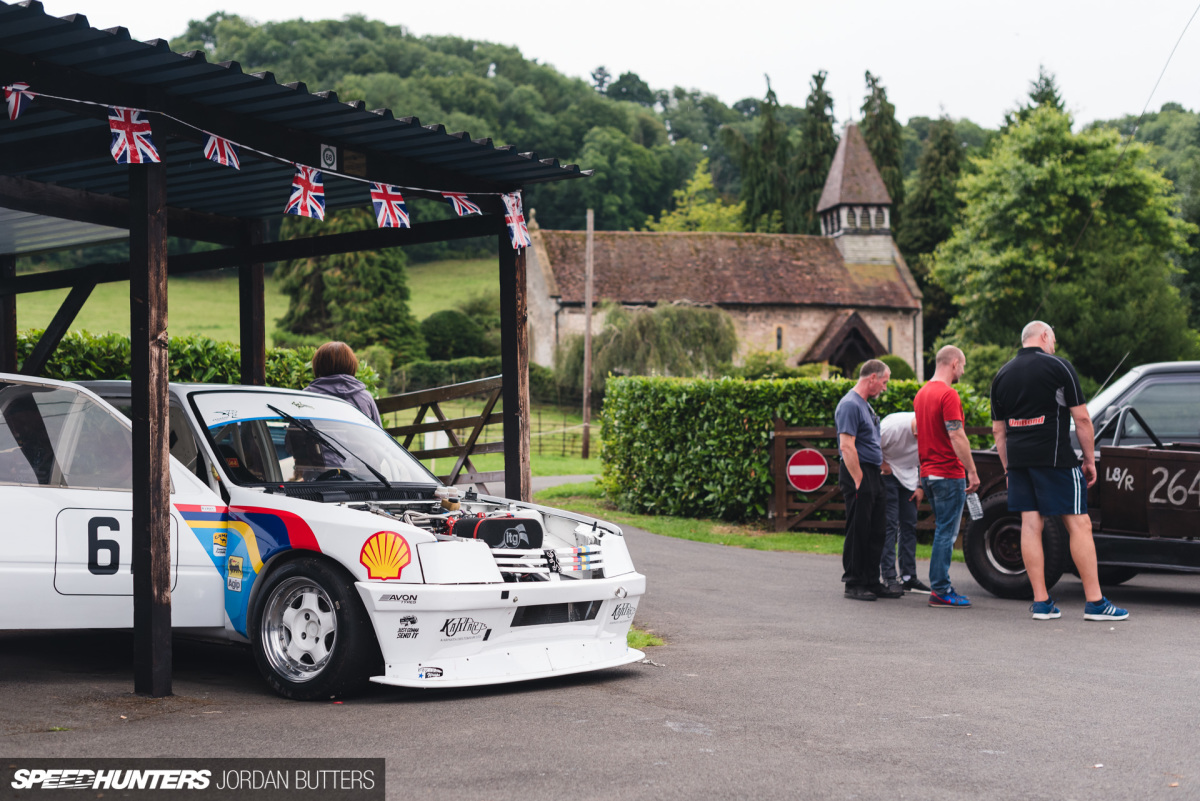 Since 2014, the annual gathering has taken over Shelsley Walsh Hill Climb in Worcestershire, having outgrown its previous home at Prescott Speed Hill Climb. Part static car club show and part track day, this event offers show-goers the best of both worlds – rows upon rows of machines to admire alongside the chance to spectate some great track action. Machinery aside, the venue is also unique, and steeped in motorsport history.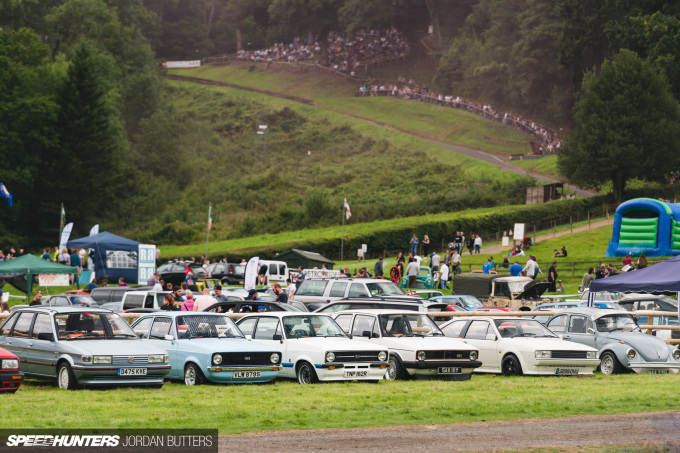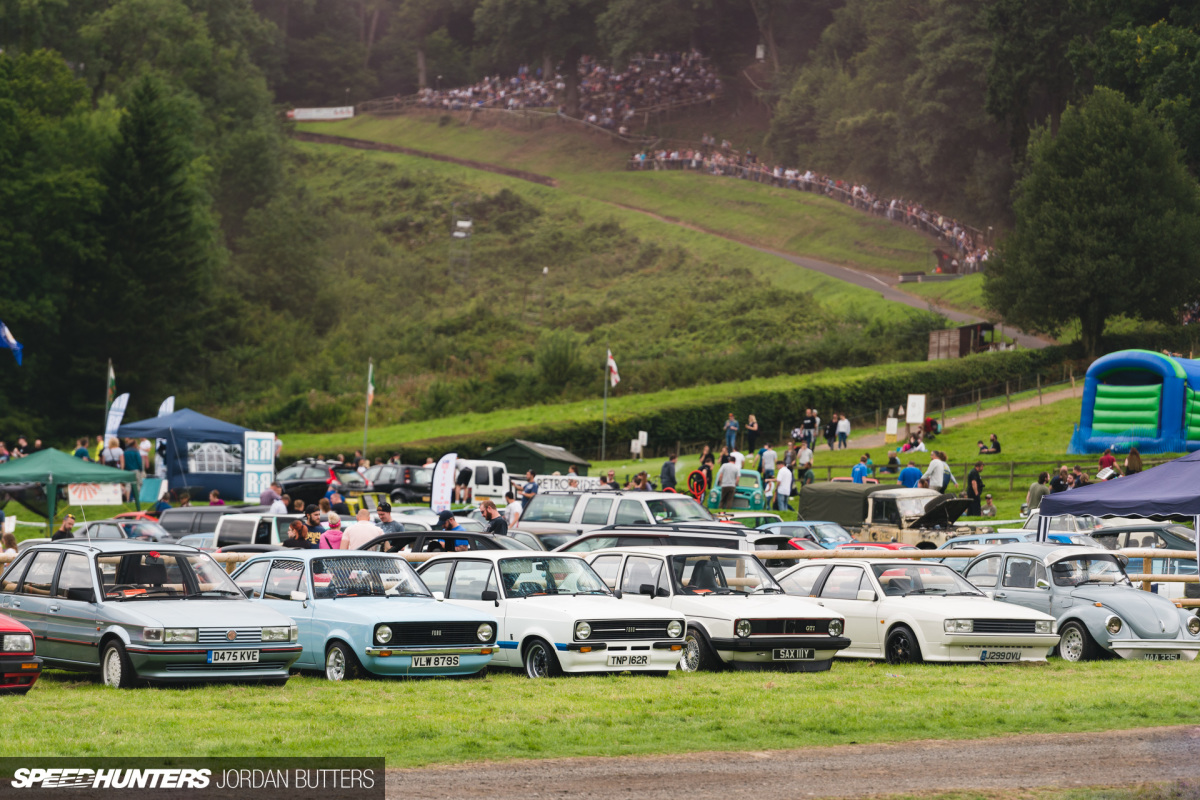 Set on the edge of the Malvern Hills, Shelsley Walsh Hill Climb is as old as motorsport itself. While the Brooklands circuit in the south of England opened in 1907, and is credited as being the oldest motorsport venue in the world, Shelsley Walsh actually ran its first competitive hillclimb event in 1905. The venue has been in continuous operation ever since, save for a few years when the world went to war on two occasions.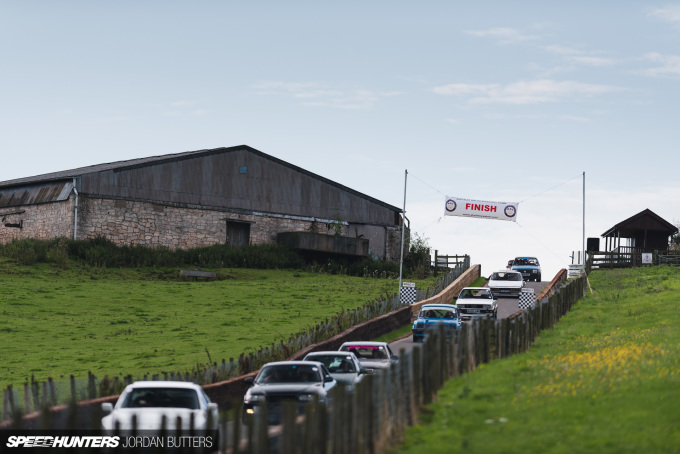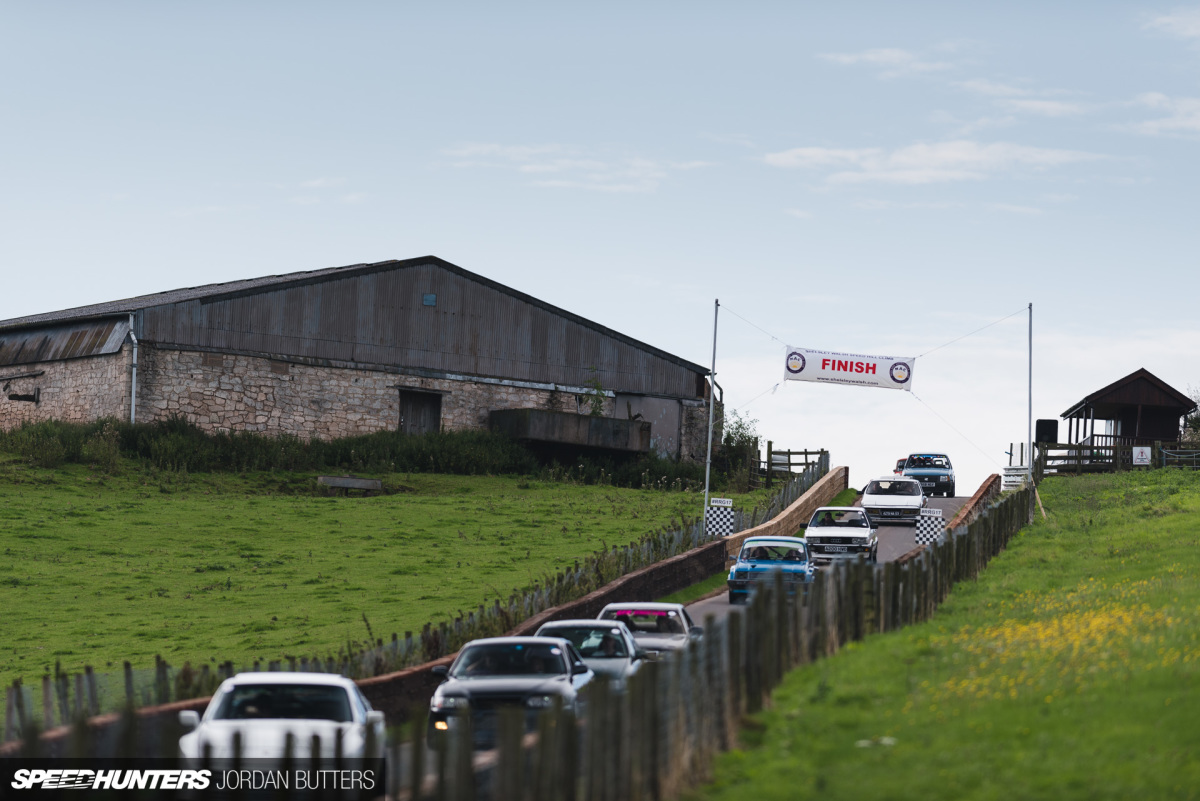 The circuit today is the same one that was being used back in 1905, well, except for an extra eight yards of tarmac that was added in 1907 to bring it up to a standard 1000-yard length. The sprint measures just 12ft wide at its narrowest points, and climbs almost 330ft from start to finish.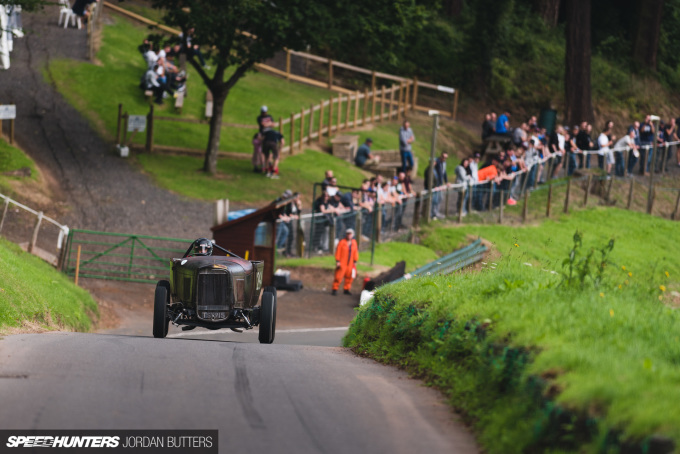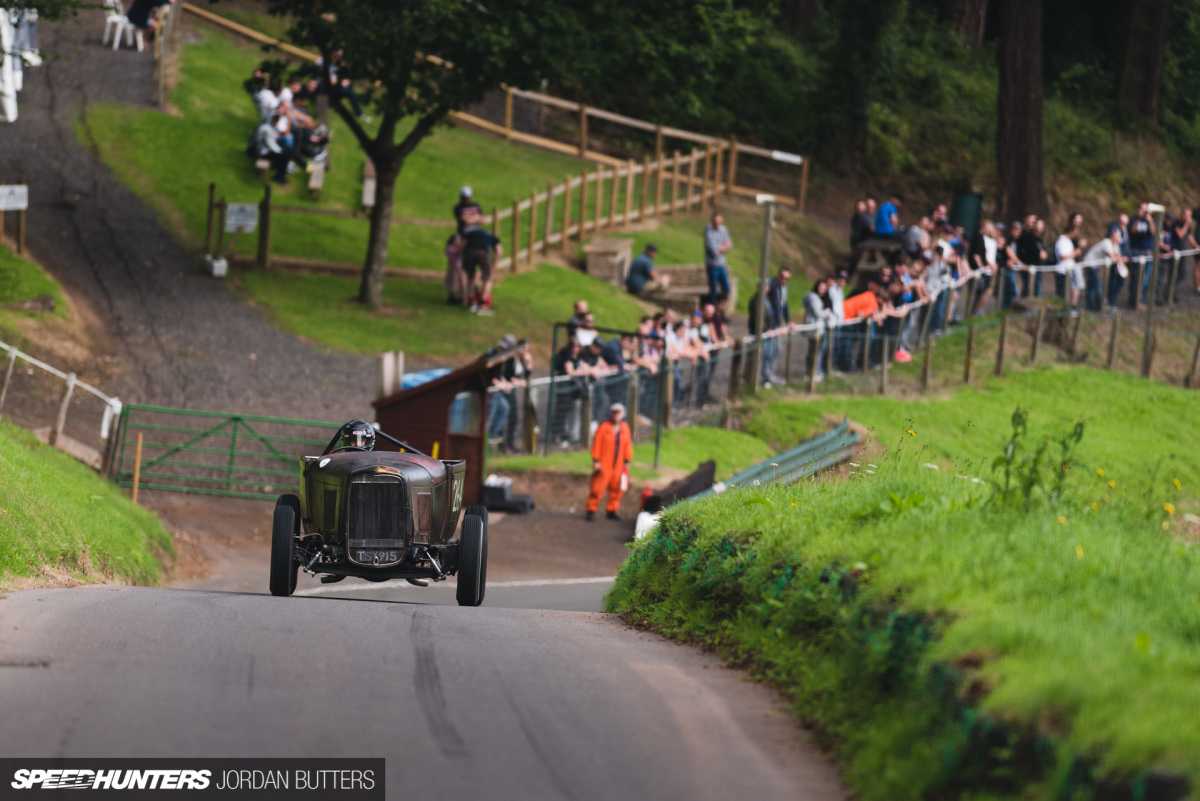 It's a steep gradient, and one that requires drivers to maintain pace throughout – speed scrubs off quickly, and it's difficult to get moving again, especially in a lower-power car. It's also hell on your calves when you're trudging up and down it all day!
Climb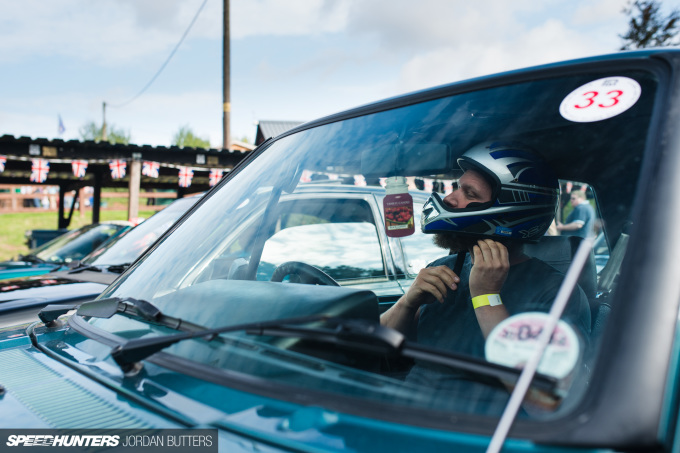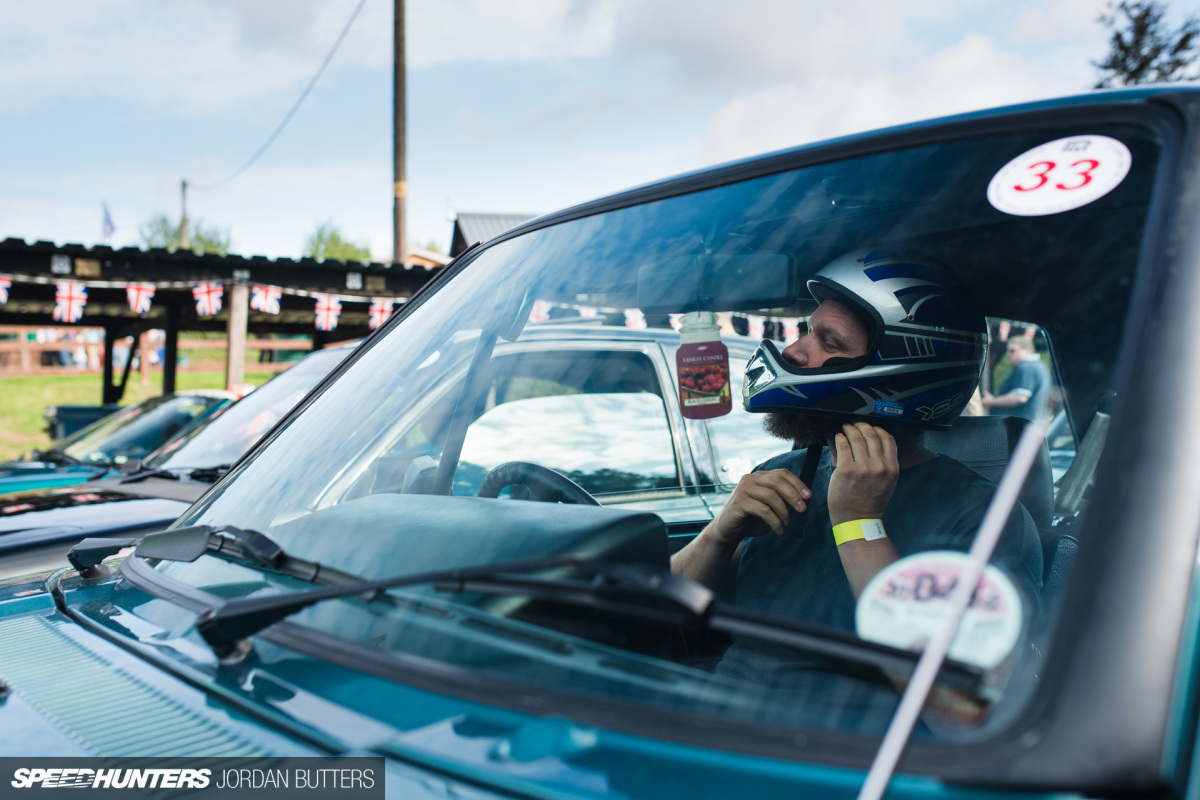 During Retro Rides Gathering, the hill climb itself is available to book by anyone with a sufficiently retro ride (pre-1995 by the organiser's loosely-based classifications), with processions of all manner of crazy, weird, wonderful and forgotten machines blasting up the hill from breakfast through till dinner.
You only have to walk through the staging paddock to appreciate just how unusual this event is in terms of lineup. JDM drift cars sit alongside Escort RS Turbos, home-built kit cars sit ready and waiting while oddball hot rods roll up to the line.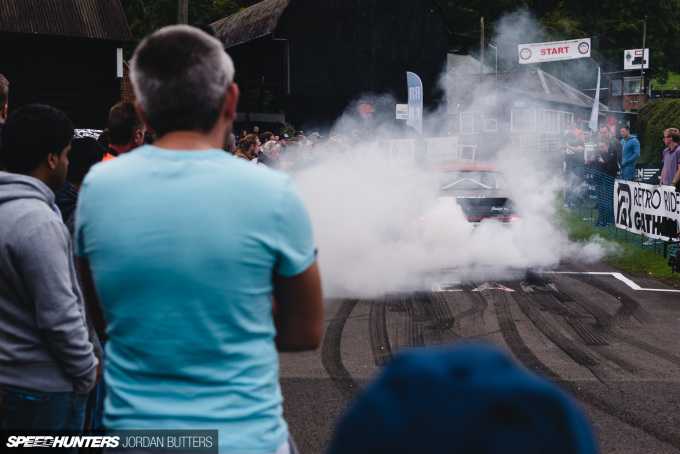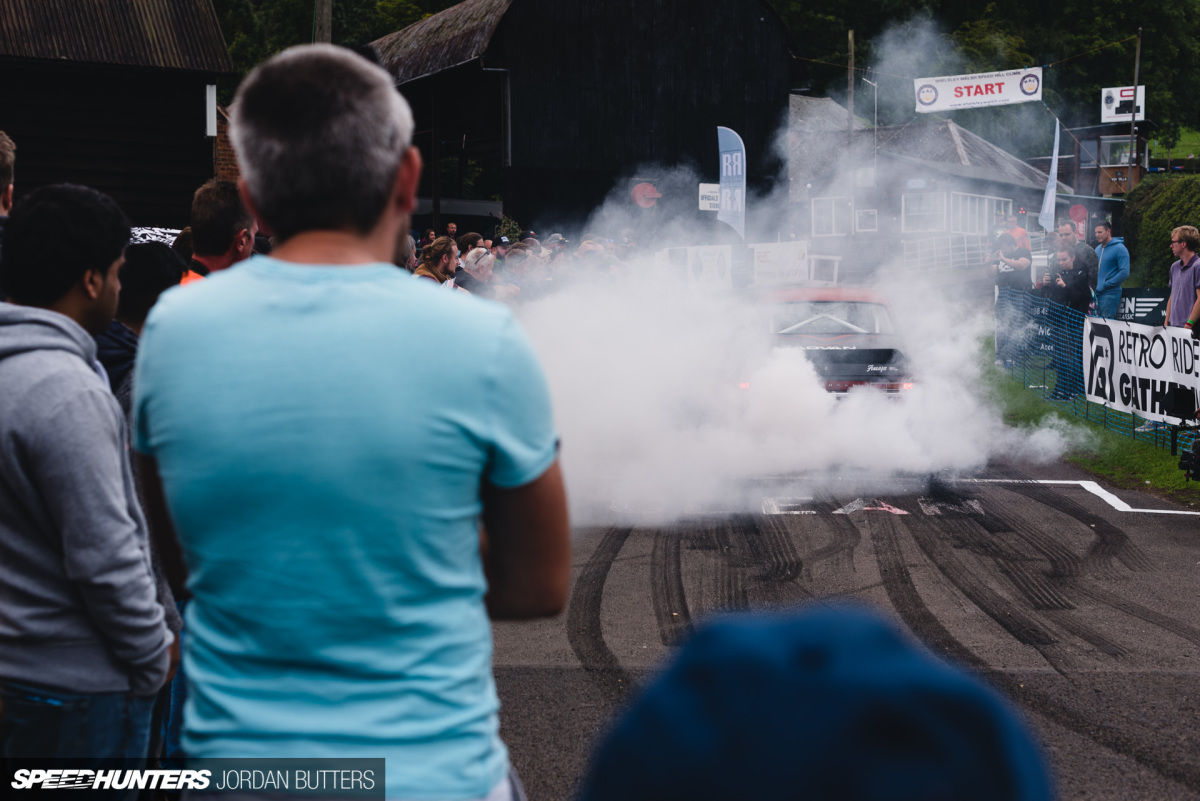 The start of the course is swamped four or five people deep as cameras and smartphones are toted ready to capture the next contestant to step up. Burnouts are optional but frequent, if you've got the horsepower.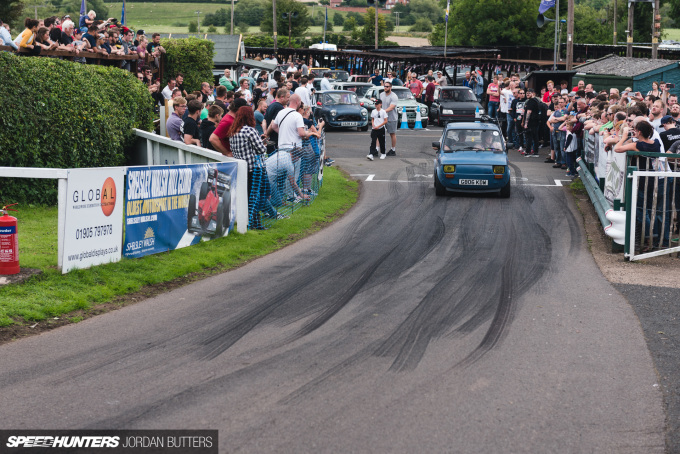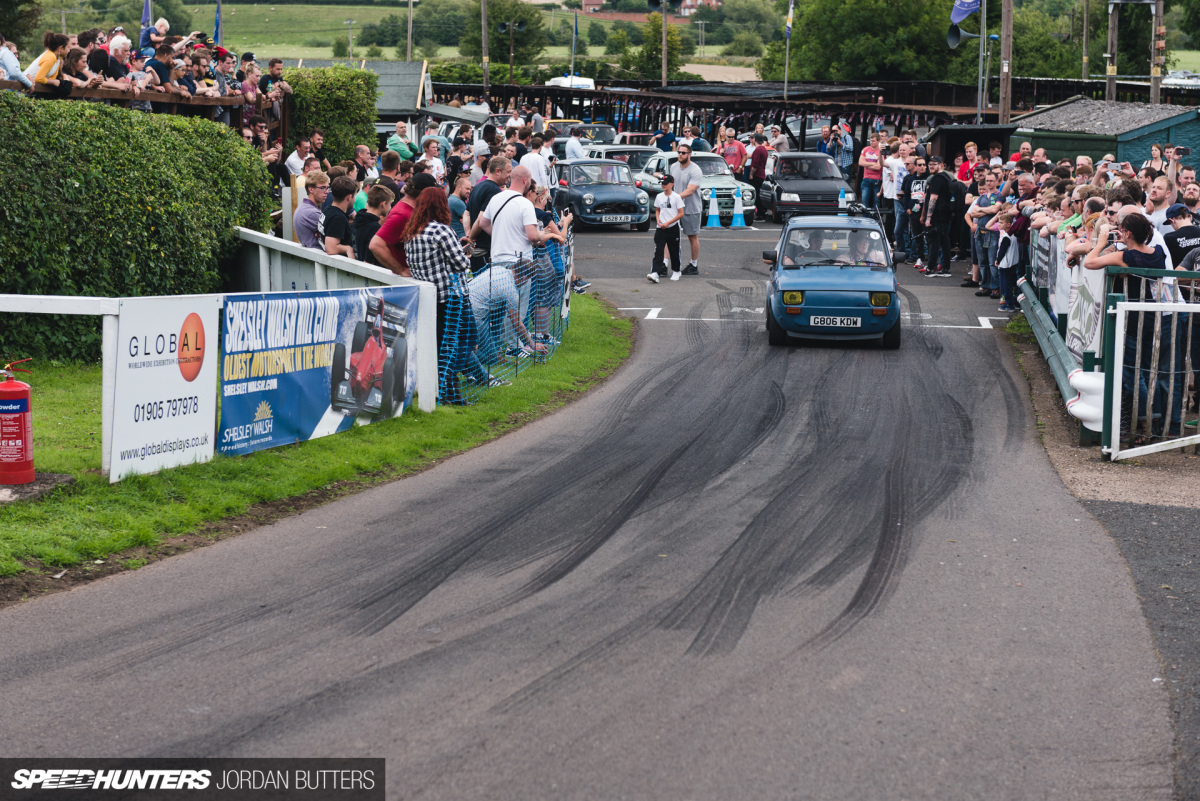 Not everyone has.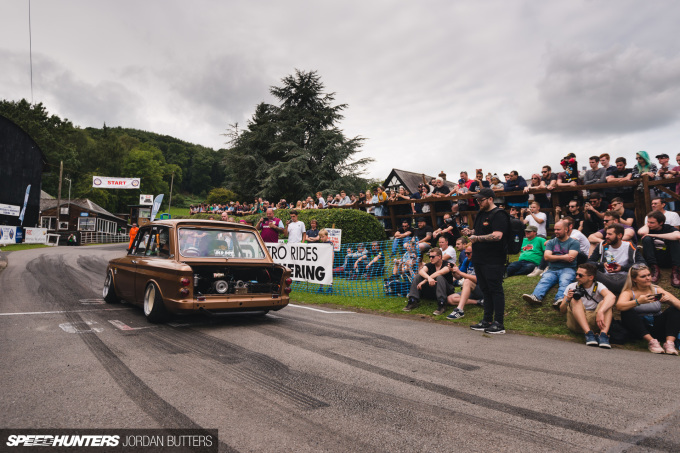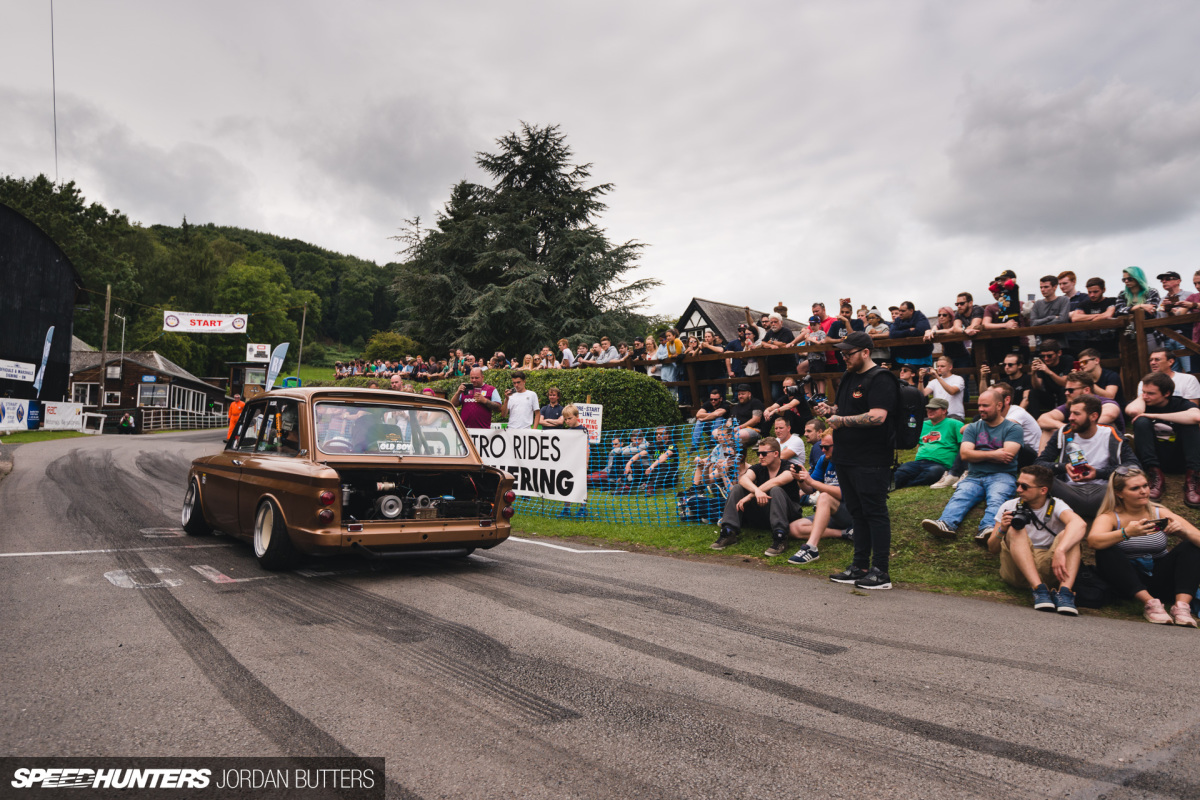 After a short wait for the car in front to finish its navigation, the signal is given, the flag drops and the next track-goer propels forward towards the expectant crowd lining the climb, exhaust and intake notes resonating through the trees.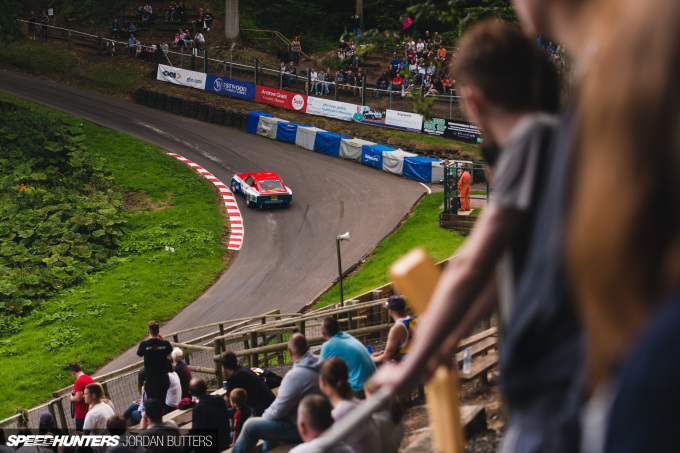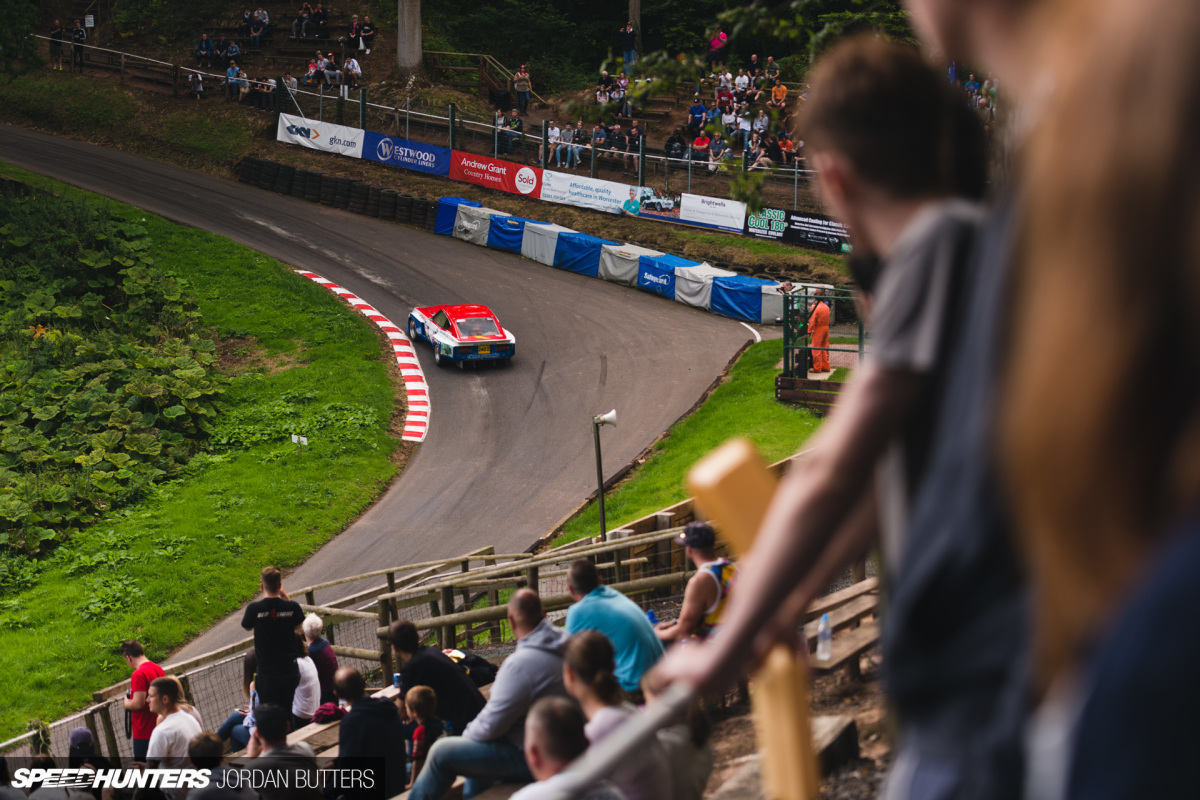 This is where the real entertainment is at Retro Rides Gathering. While amateur track days can often be incredibly boring affairs to spectate, pull up a pew on the banking trackside here and hours disappear before you.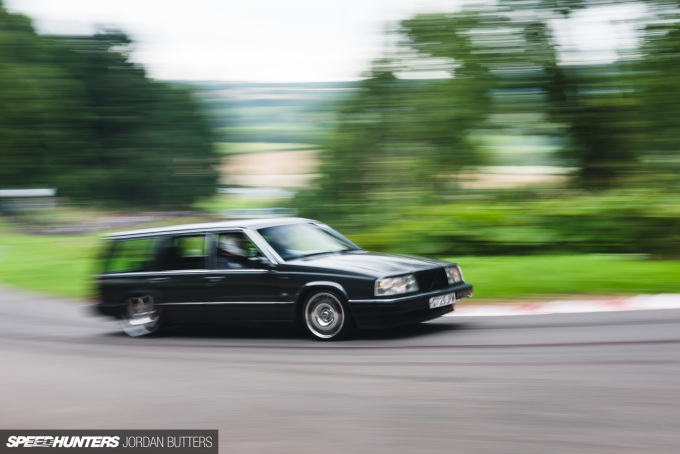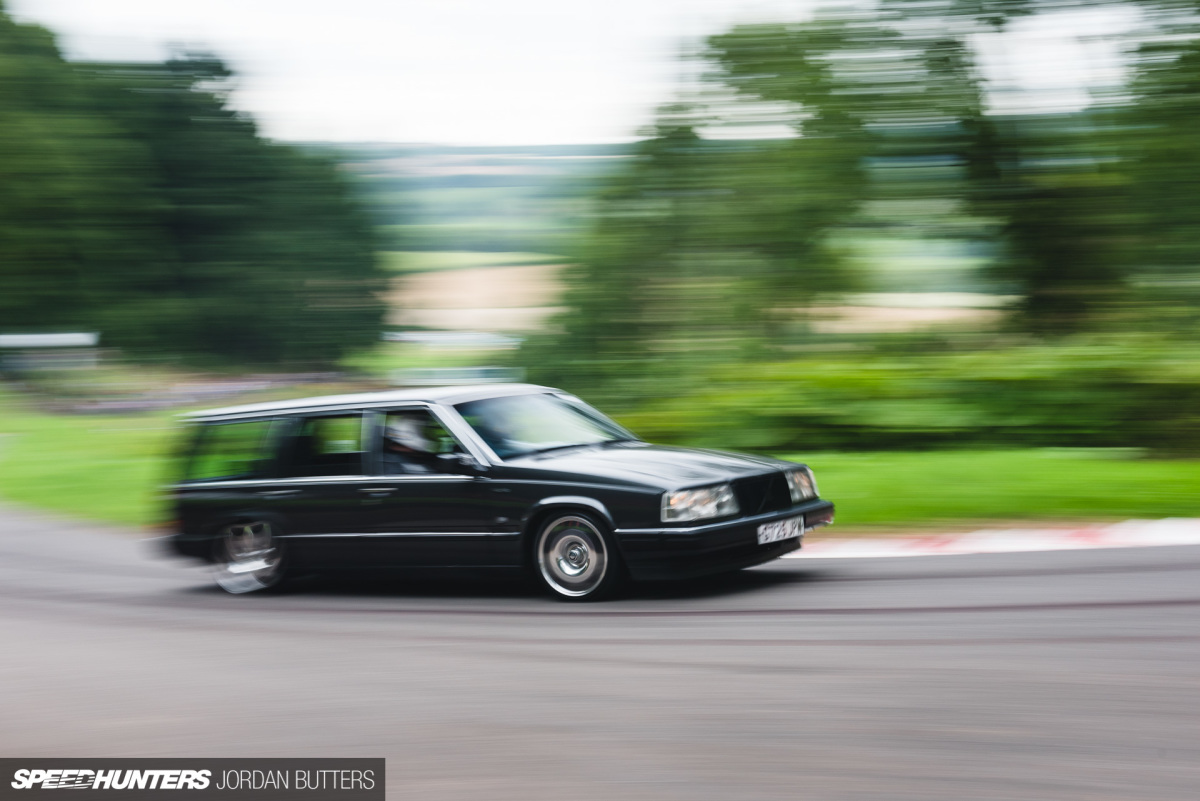 Why? Simply because you never know what you're going to see next.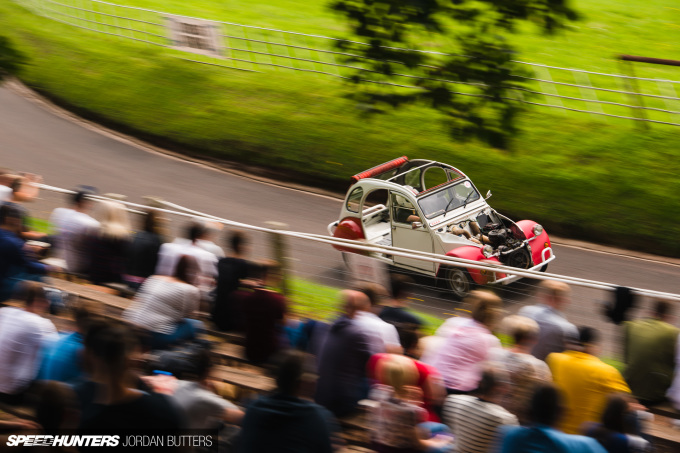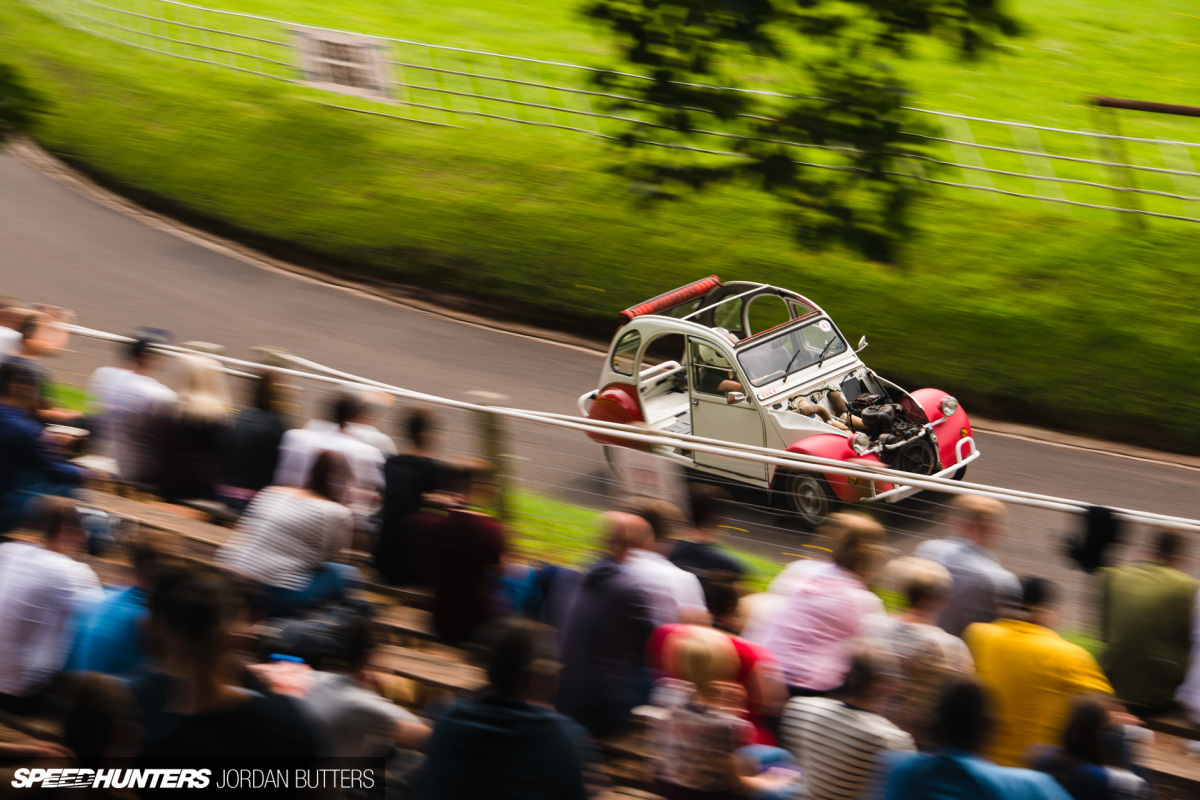 One minute a turbocharged brick-like Swedish estate comes screeching past at full pelt, the next a door-less, bonnet-less Citroen 2CV with aspirations of 20hp downhill on a good day trundles into sight.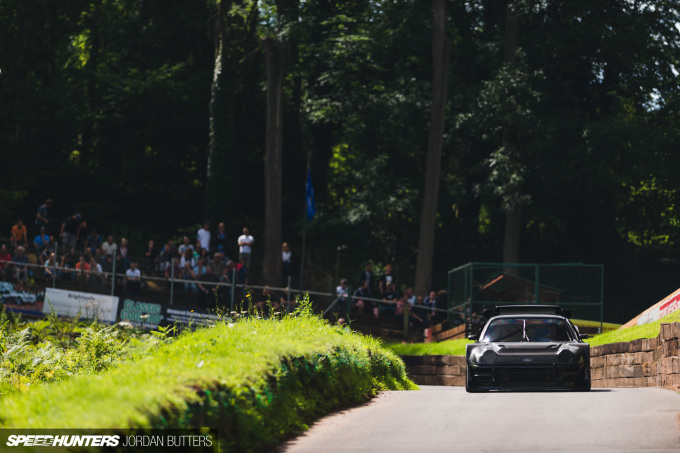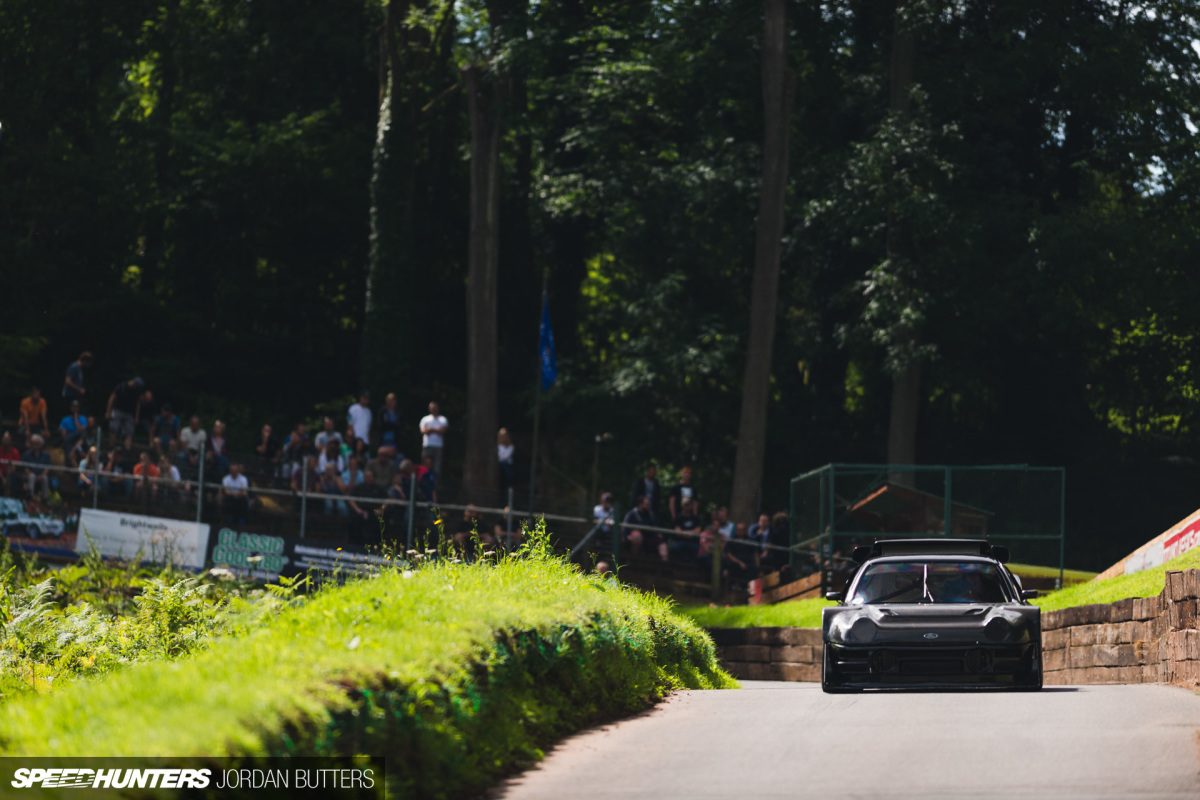 A selection of guest cars are handpicked by the event organisers to lead each group up the hill. Liam Doran's mean black RS200 is blisteringly quick off the line, although the nature of the course doesn't allow him to really open it up.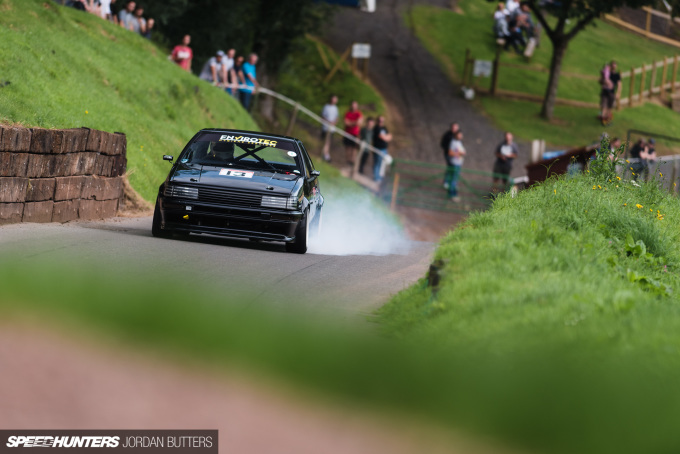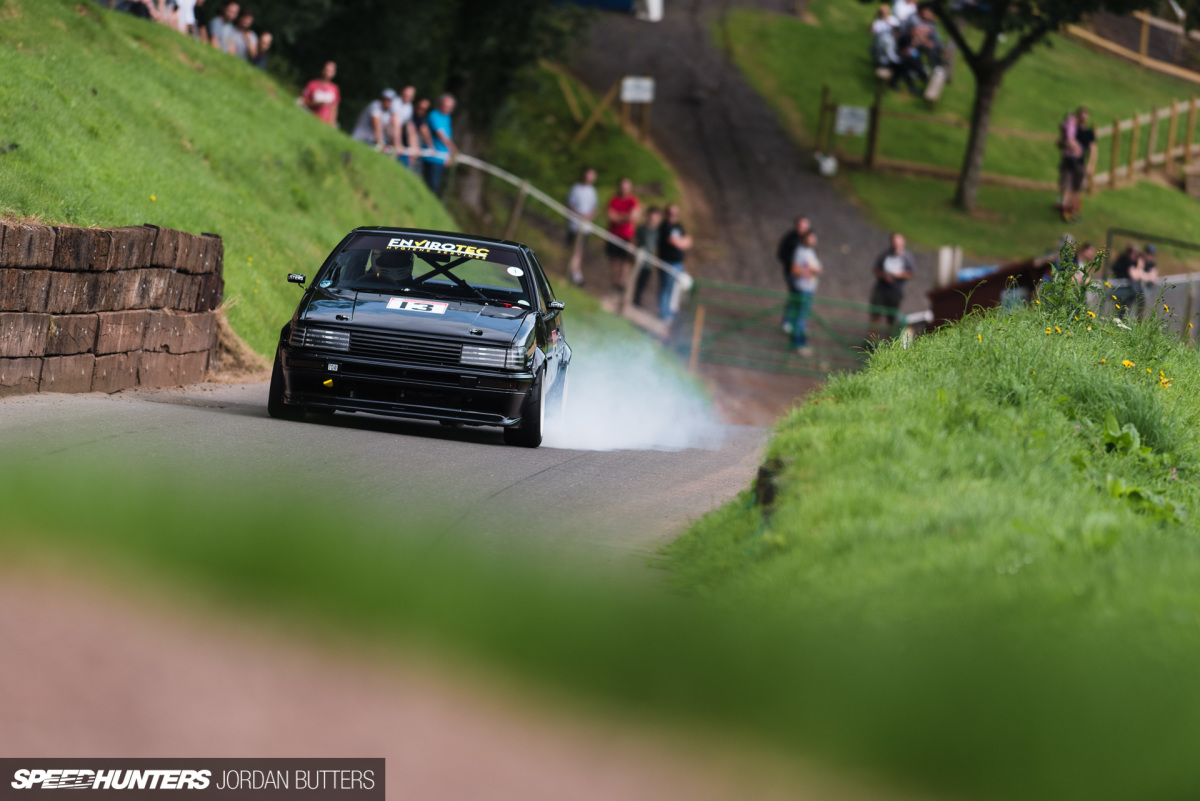 Rob May's race-spec AE86, which we featured earlier this year, looks right at home on the hill climb. Rob doesn't really know how to give it any less than 110 percent, so each and every run is terrifying and entertaining to watch in equal measures.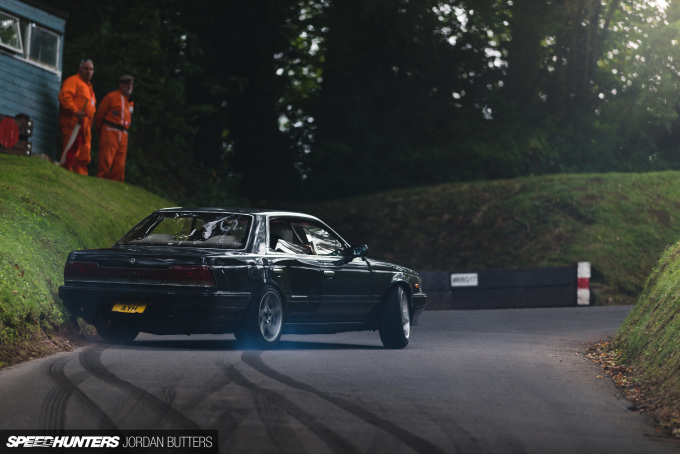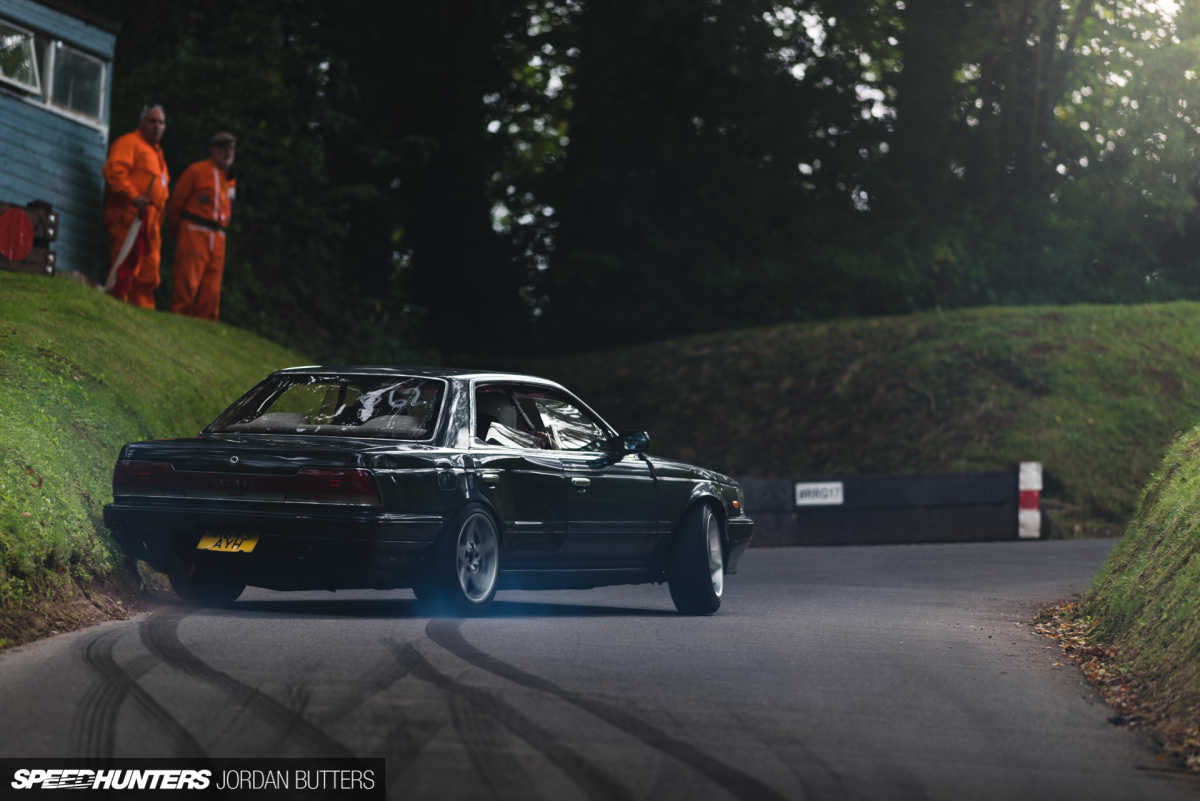 Of course, most aren't taking their track time too seriously. Those with a penchant for oversteer give the crowd a cheeky show whilst trying not to upset the marshalls too much.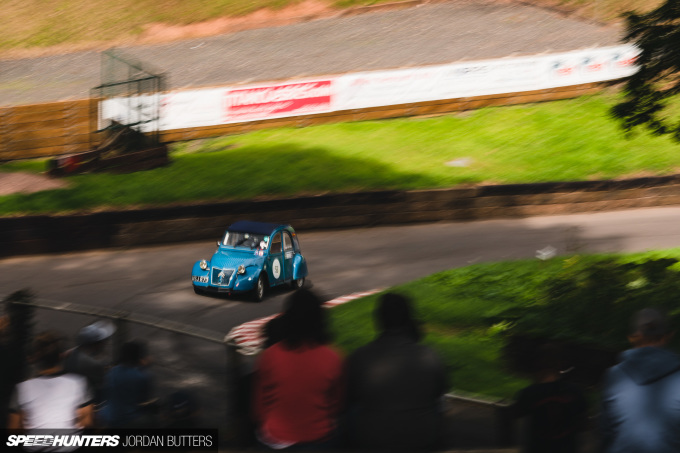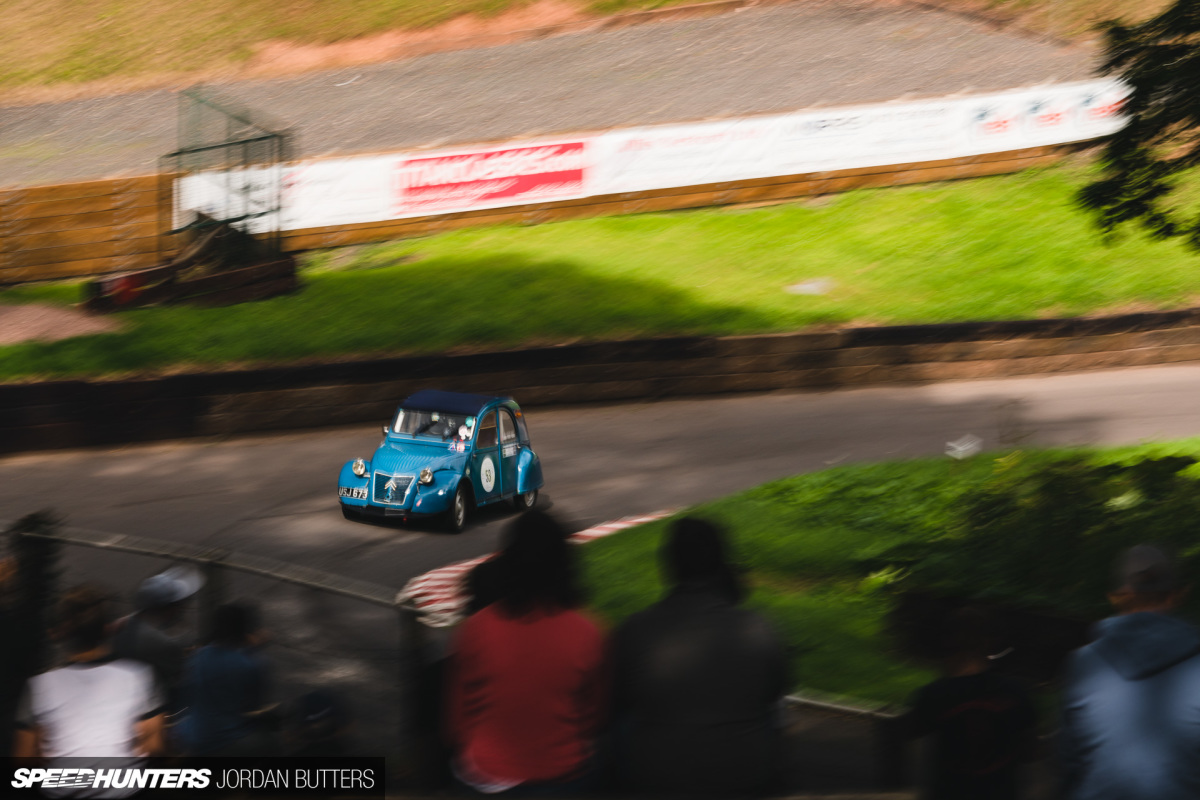 While others are just happy to get to the top in one piece under their own steam.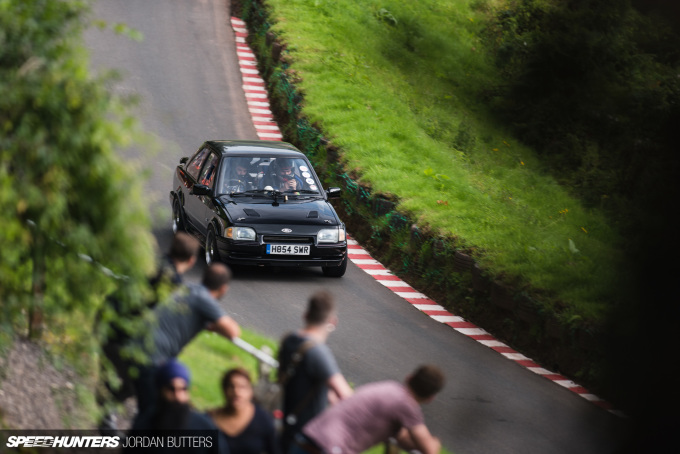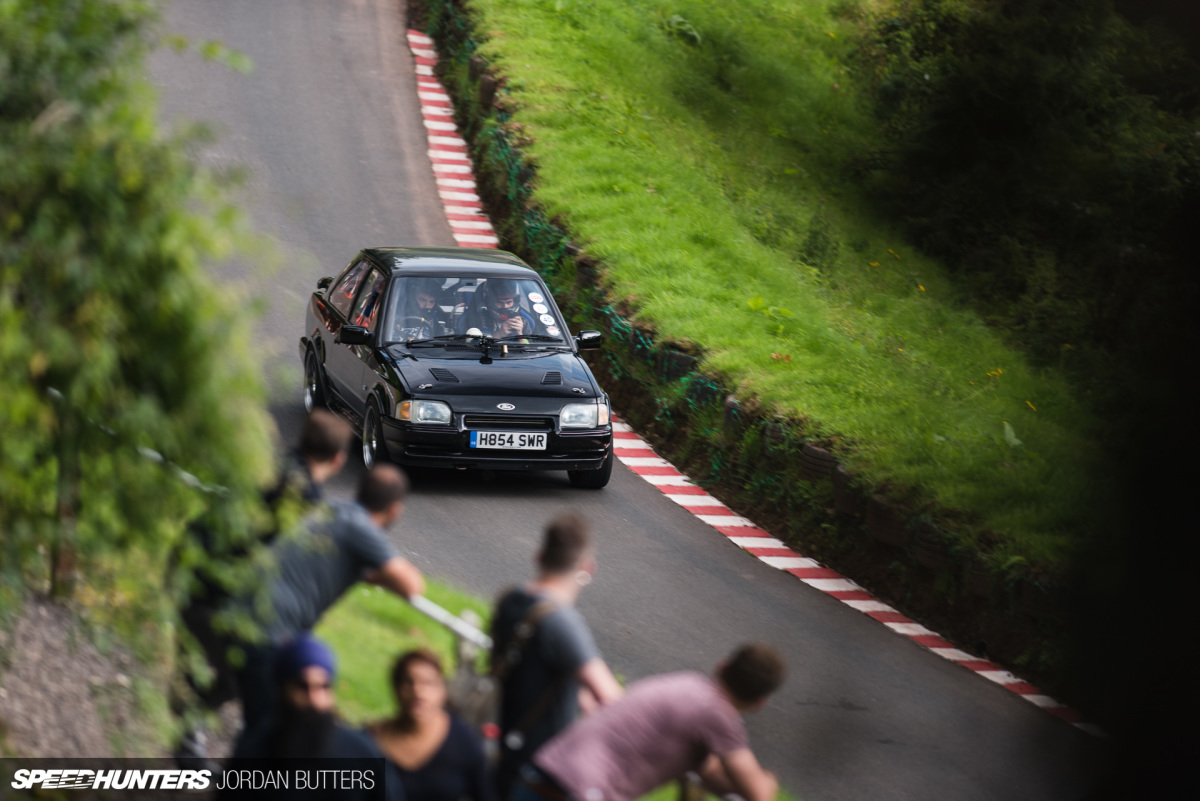 Watching the cars climb one by one makes me appreciate some of the icons of aftermarket car culture that seem to have been somewhat forgotten.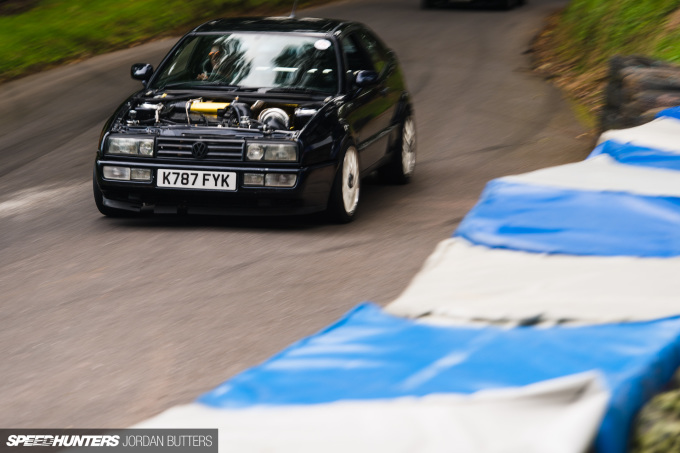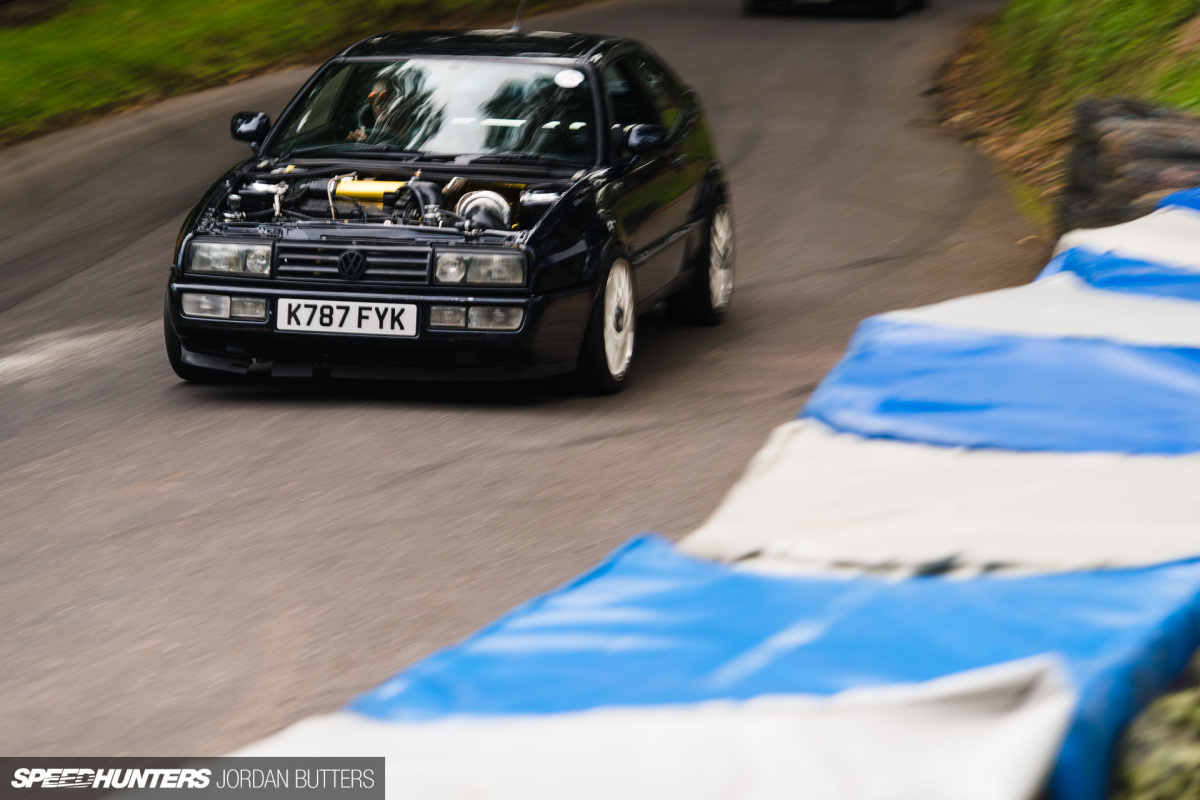 Back when I started to become aware of the tuning industry here in the UK in the mid-to-late '90s, cars like the Escort RS Turbo, Sierra Cosworth, Corrado VR6 and Vauxhall Nova GSi were seen as the models to own.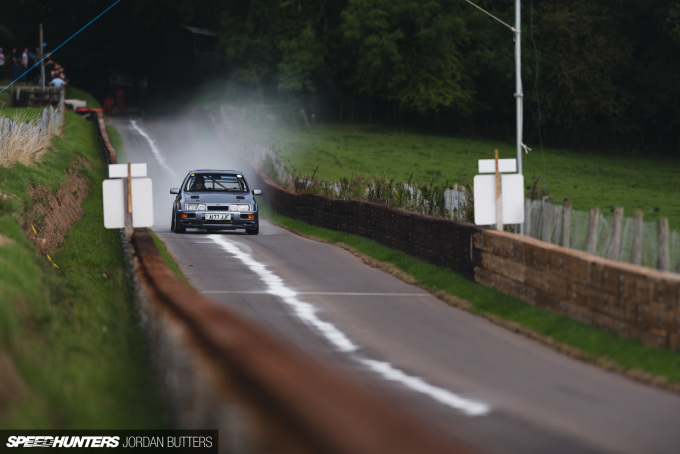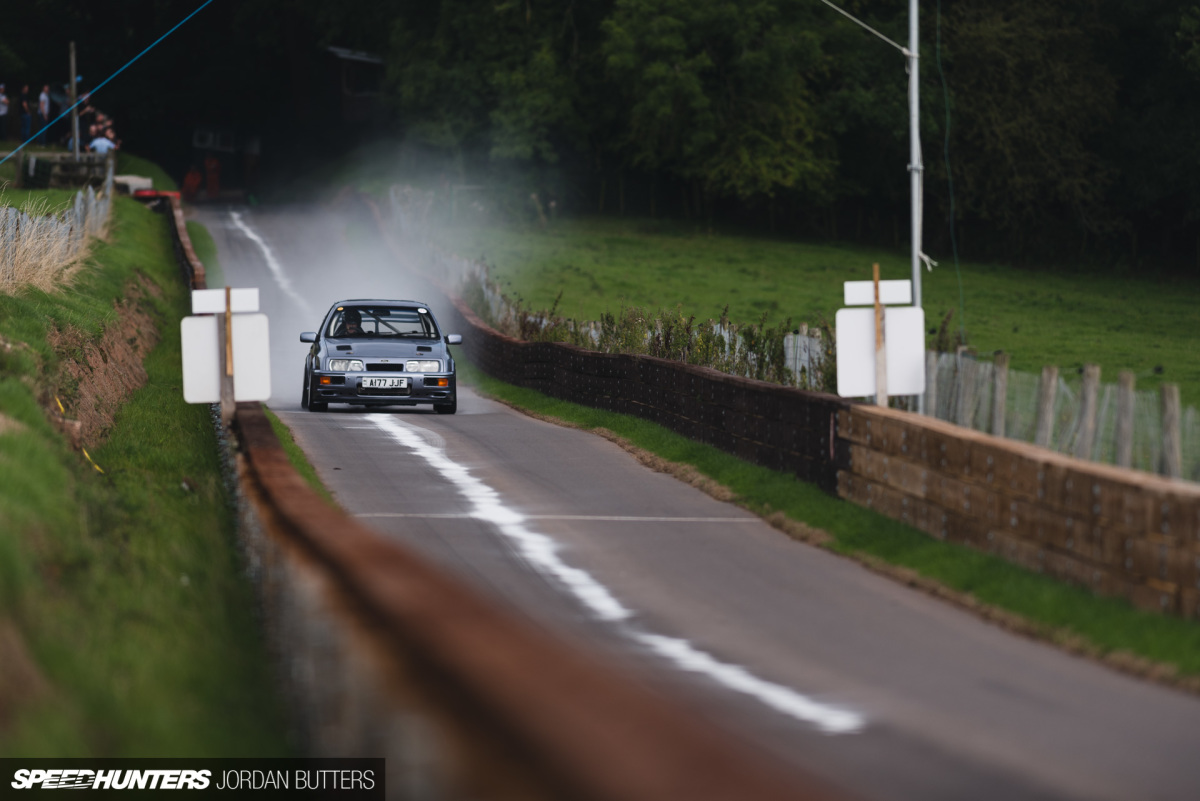 One thought that crossed my mind is where do these era-defining trends and builds go when they fall out of fashion? Where are the radically modified cars that used to grace the pages of Max Power and Fast Car? I'm sure plenty are either condemned to the great scrapheap in the sky, or sitting forgotten somewhere under a cover or in a yard, unwanted and unloved. However, a fair few of them seem to have found a home at events such as this.
I descended the hill towards the car club field to see what I could find.
Charm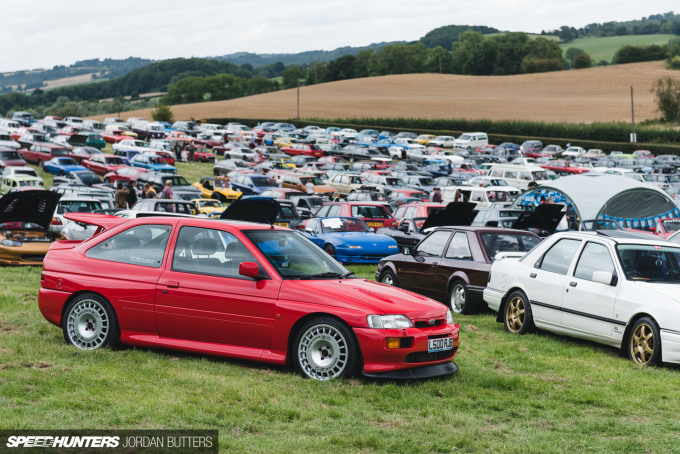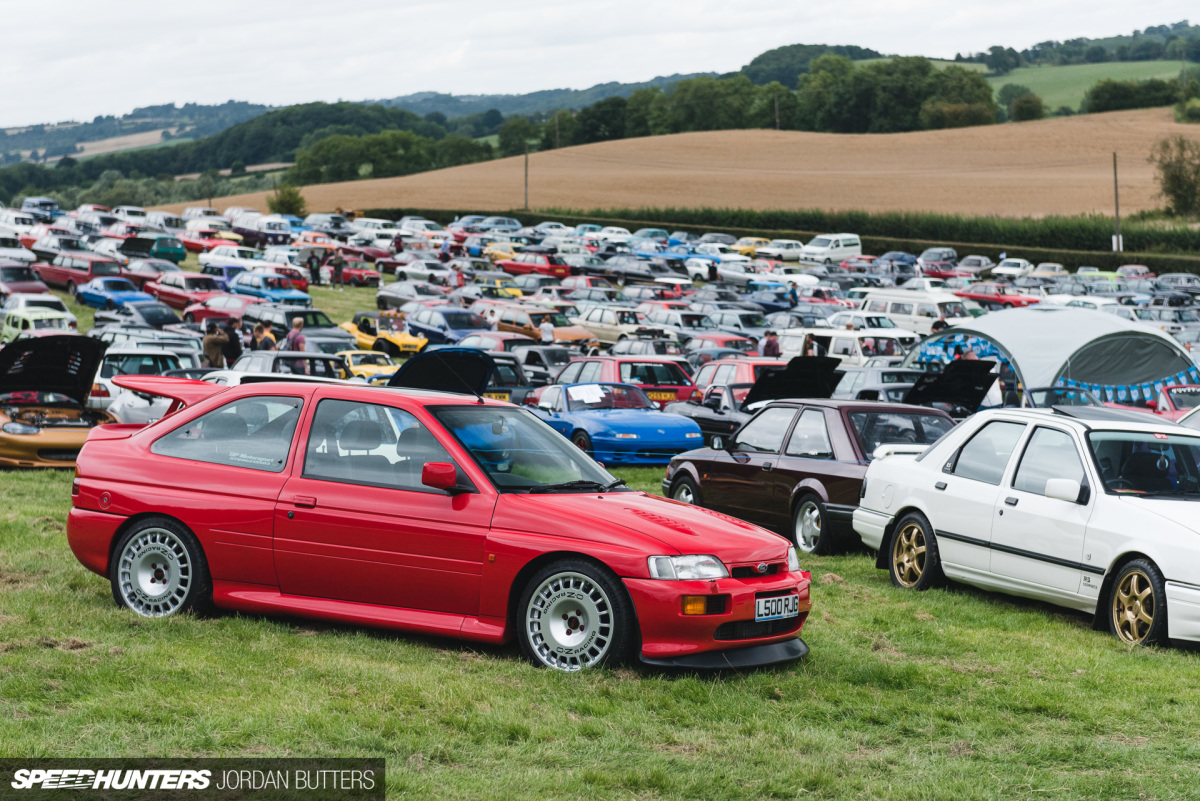 A few steps in to the club parking field and I could've been back in the late '90s, although had it actually been the late '90s my legs would not have have been so tired from walking up and down the hill I'd imagine.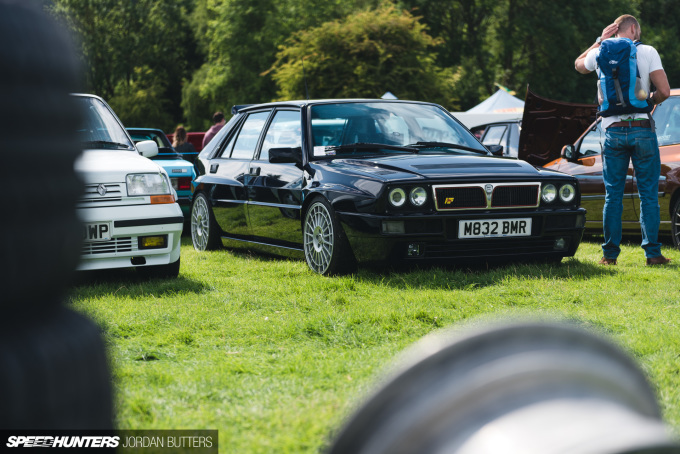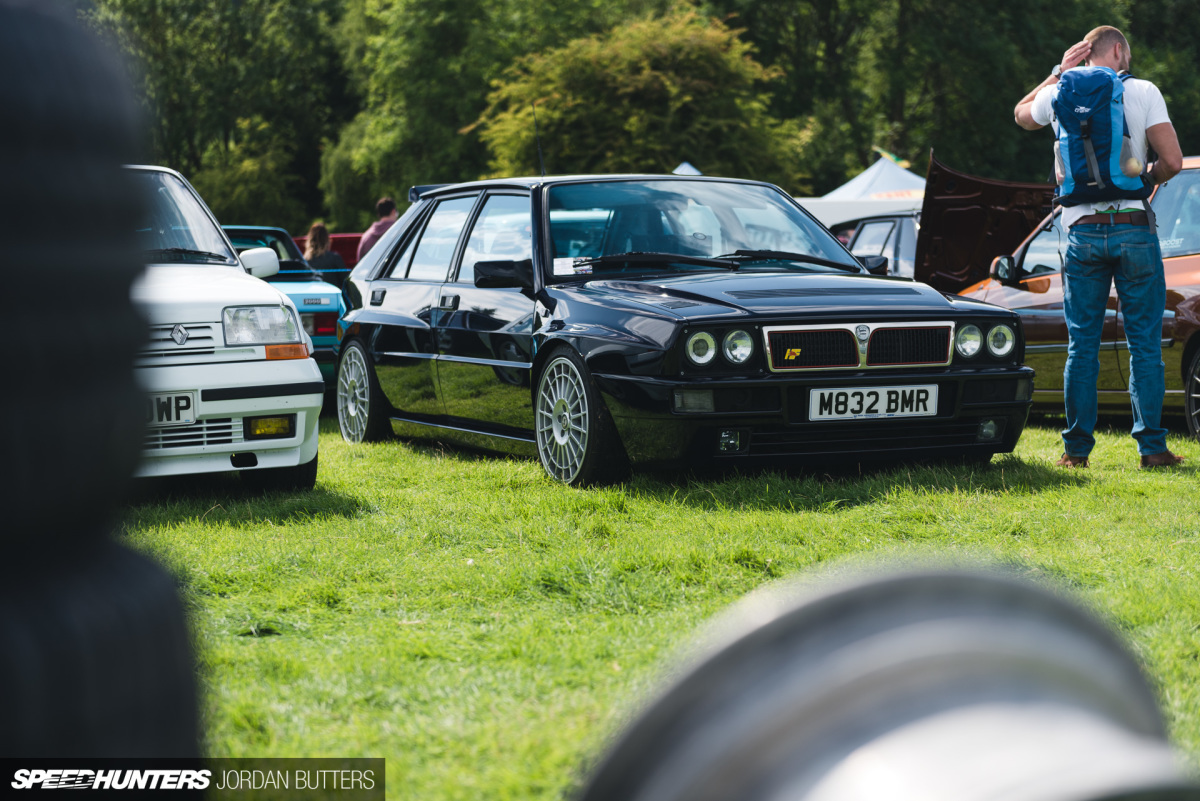 These were the poster cars for the aftermarket car culture enthusiasts of my generation. I followed this Lancia Delta Integrale Evoluzione II (most wordy car name ever?) into the show and it stirred up memories of the first time I saw one on the road when I was 15 or 16. As it did back then, it commanded my attention with its pumped arches, aggressive features and flat-faced multi-spoke wheels.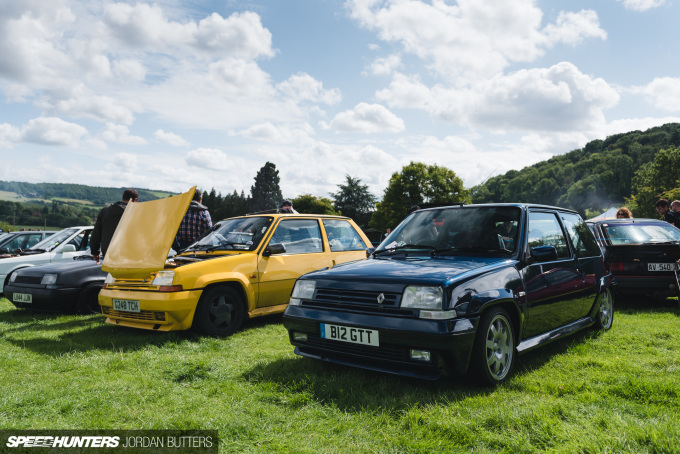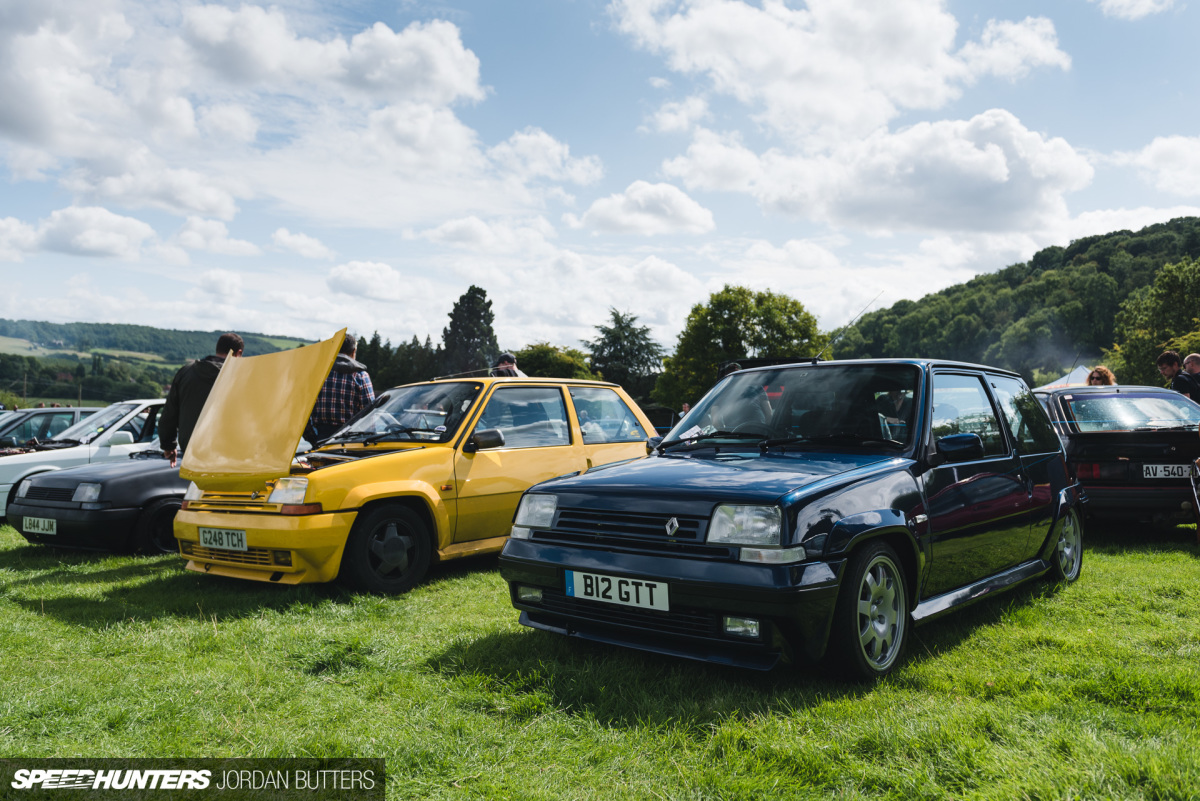 Conversely, cars like the R5 GTT had become a bit of a running joke around a similar time period. Easy to fit manual boost controllers made these pocket rockets ludicrously fast for very short periods of time before the engines inevitably released all of their smoke, often in spectacular fashion. I remember only the brave snapping them up back then, but nowadays I'd love to have one in my possession, if only for the sake of nostalgia.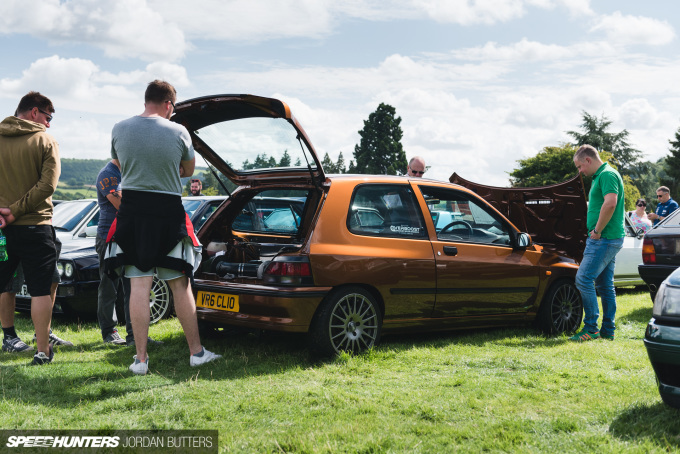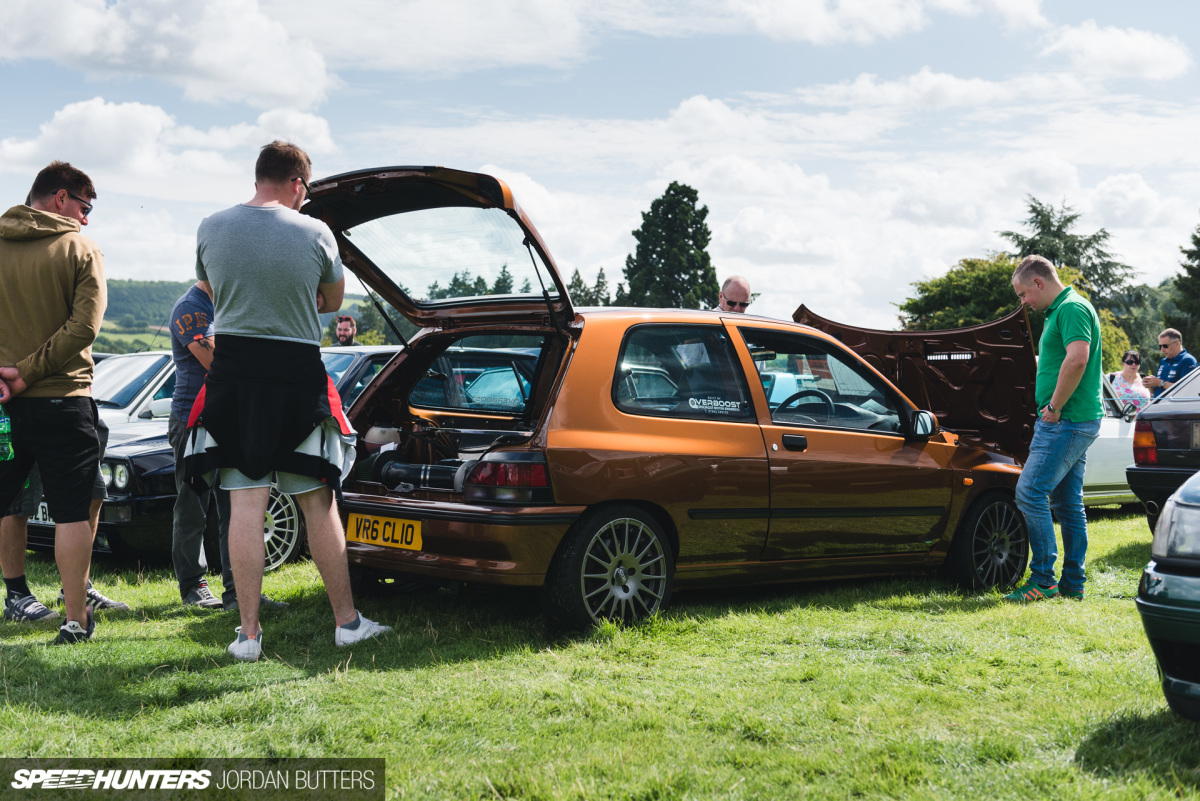 French cars from around this era are seeing somewhat of a revival nowadays too. Thinking back, it was a great time for le hot hatch – they were usually very light, simple to work on, handled great and had just the right amount of power to pose a substantial threat to your life or license. They weren't always reliable, so the thought of an engine swap is appealing. They didn't often have said engine in the back as per this particular example either – more on this to follow.
Speaking of unusual engine swaps, what makes more sense than a turbocharged Honda B18 in a Peugeot 309 GTi?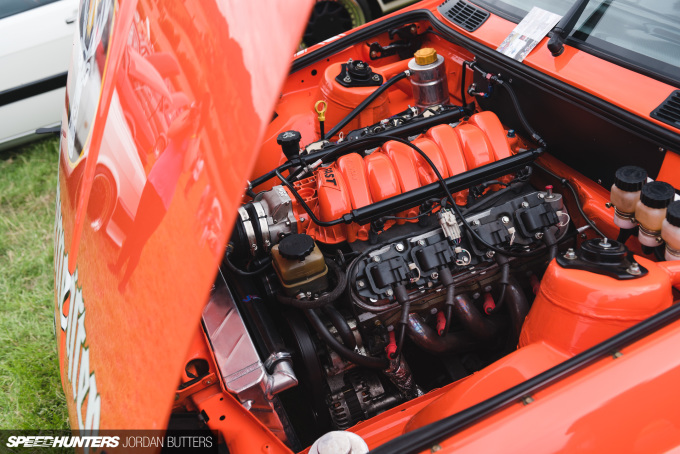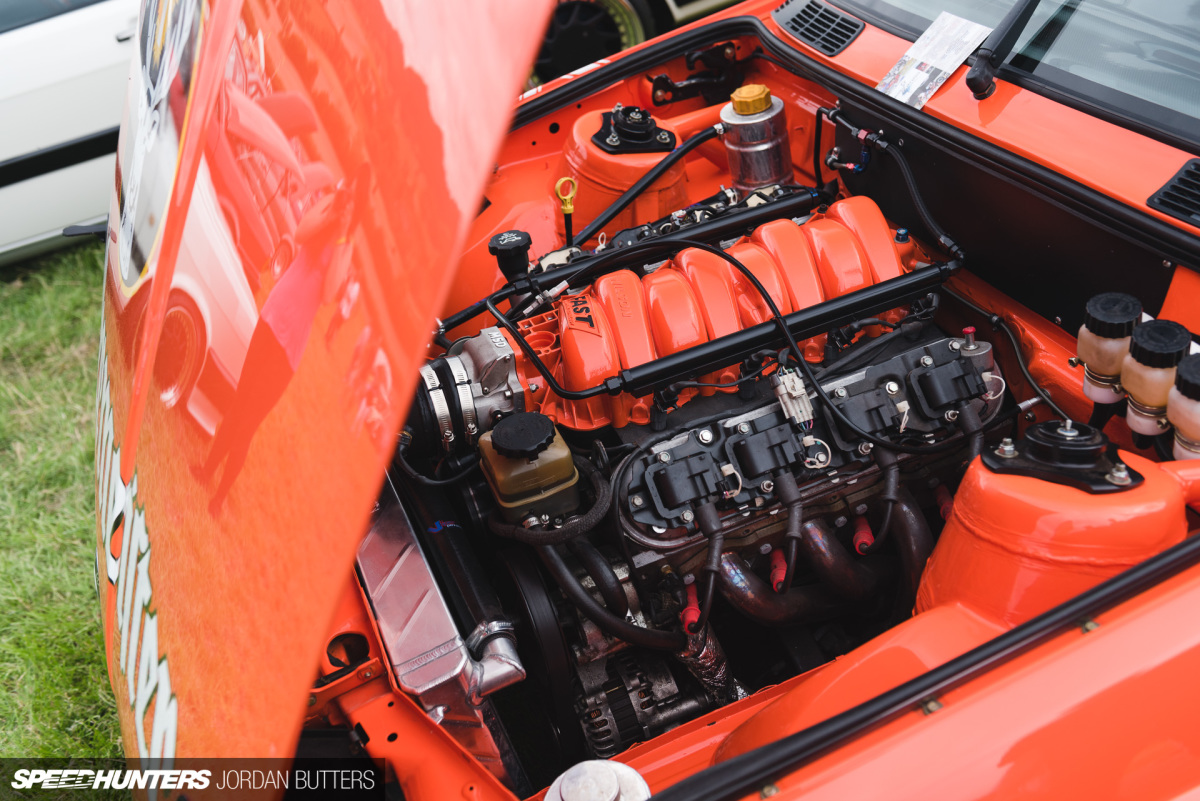 Or an LSX-converted left-hand drive BMW E30 M3 in full Jägermeister livery?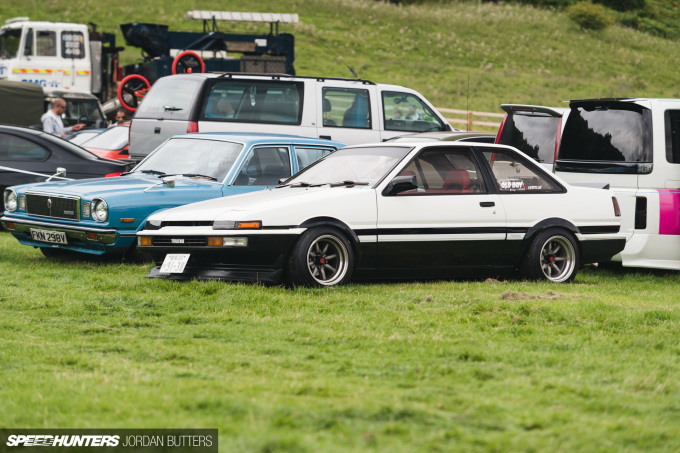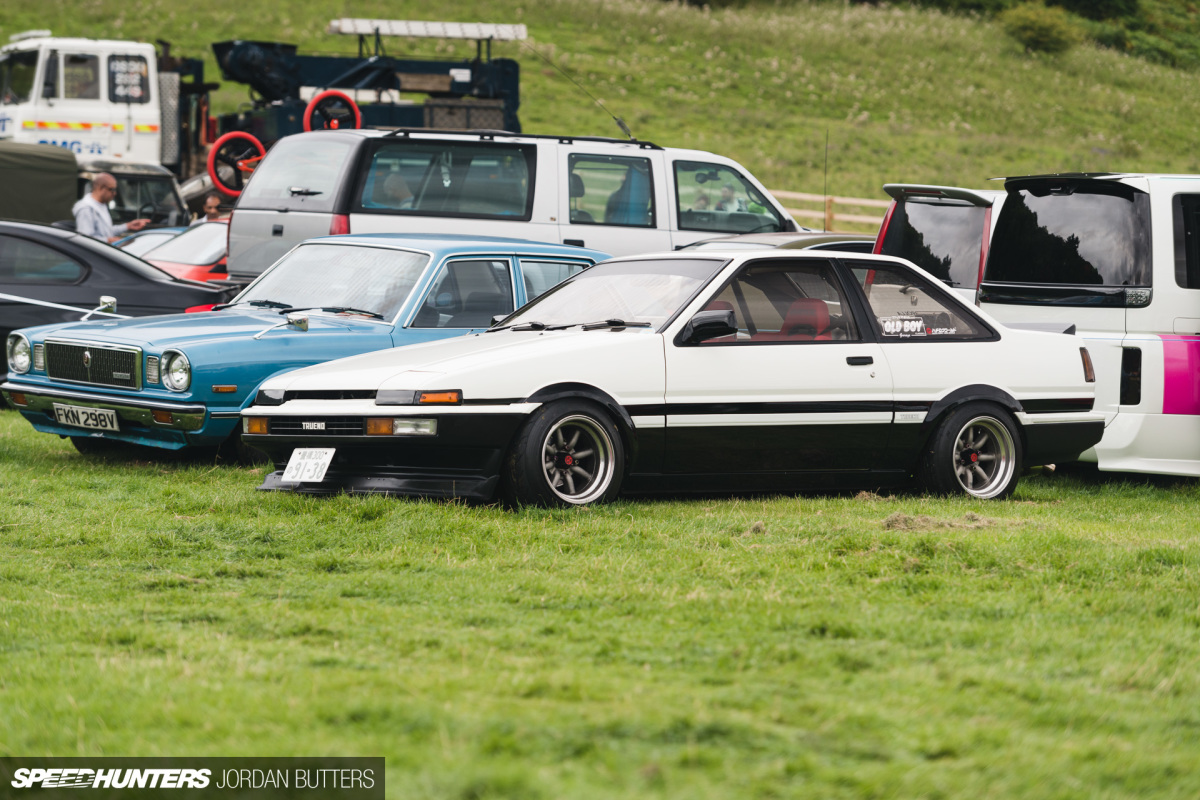 No gathering is complete without a selection of oddball JDM machinery. Anywhere else in the country, a panda AE86 stands out like a sore thumb…
But here at Retro Rides Gathering the humble Corolla seems like somewhat of a conservative choice alongside some of the more bizarre attendees.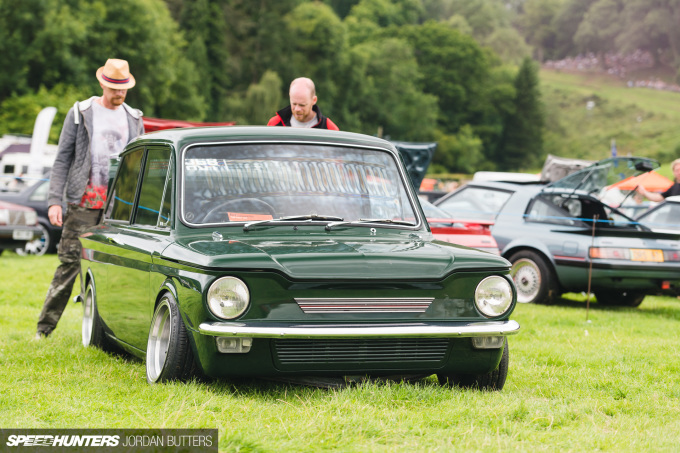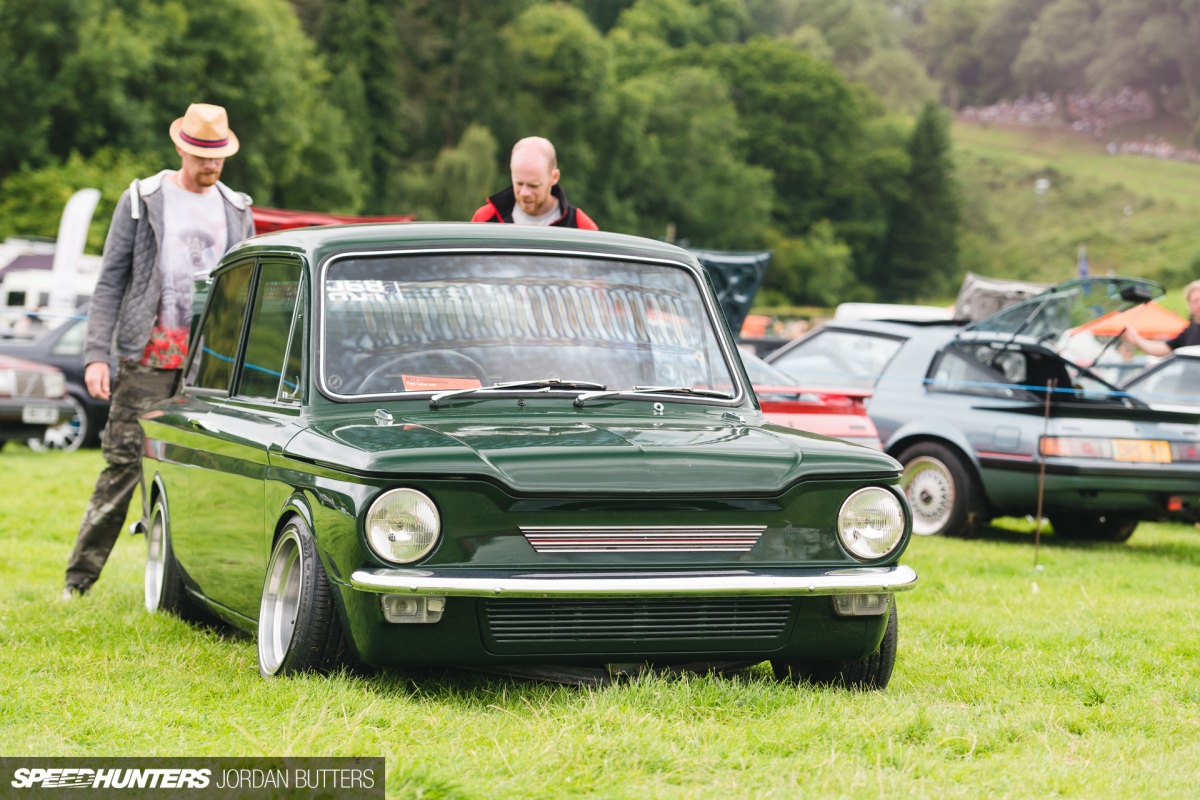 The selection on show is certainly diverse beyond anything I've seen before, but there's one thing they all have in common: character.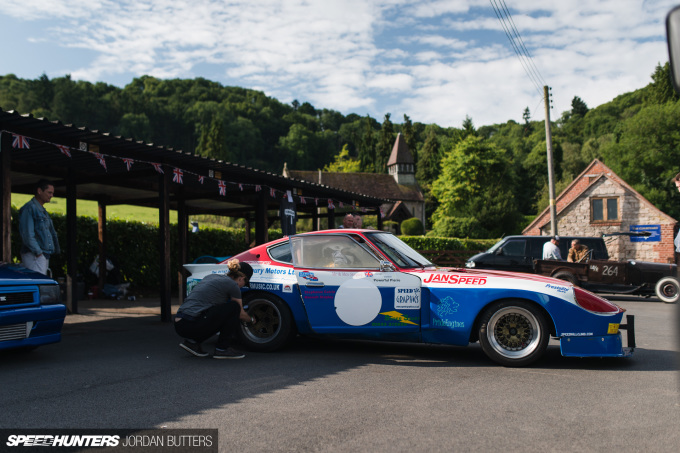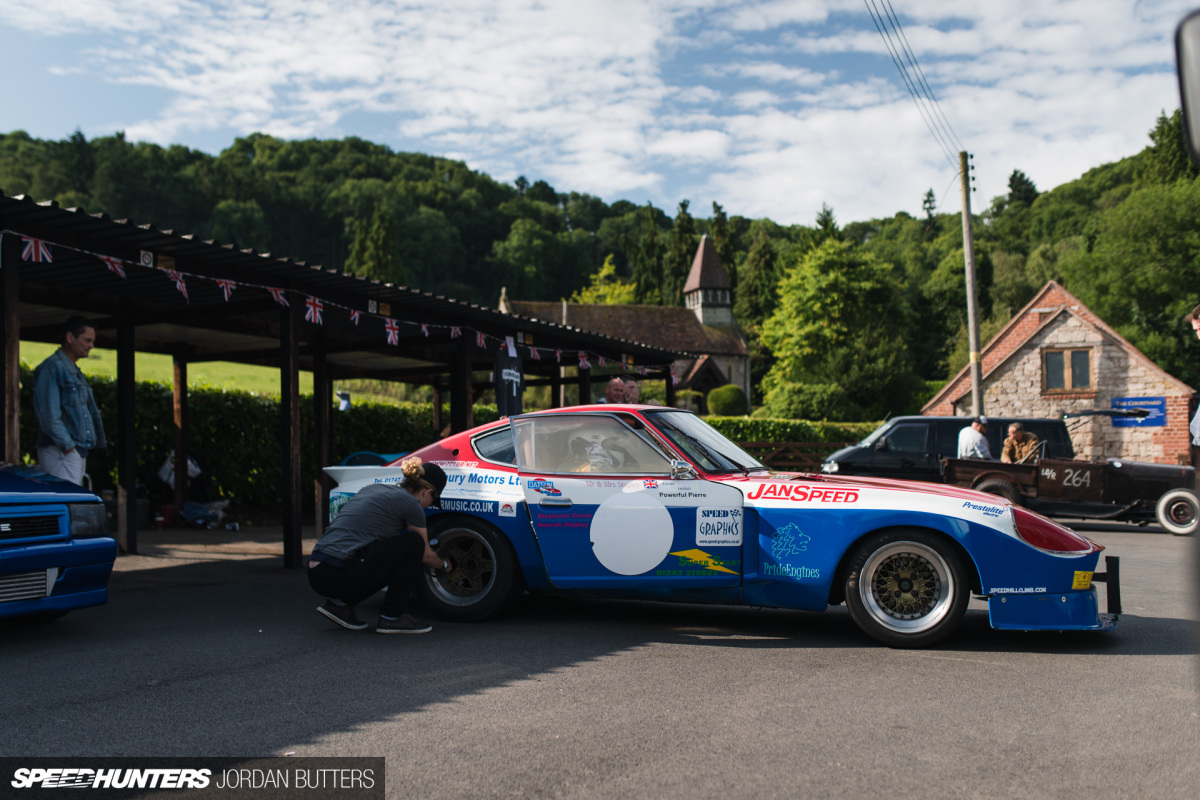 It's a quality that's difficult to define or put your finger on. It might not boast the fastest, most expensive, more desirable or rarest selection, but Retro Rides Gathering attracts these characterful cars in droves.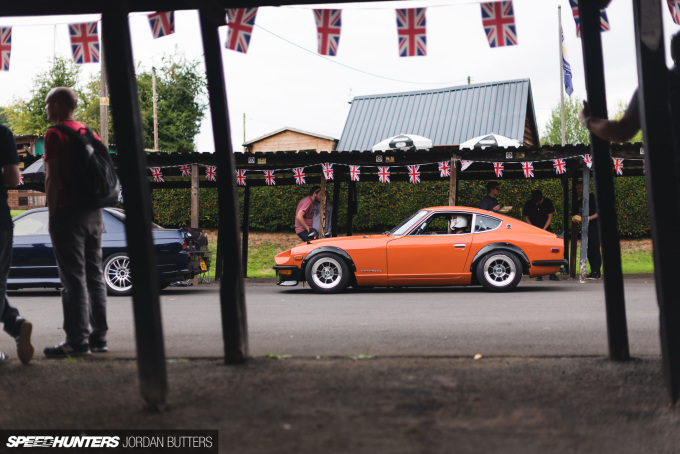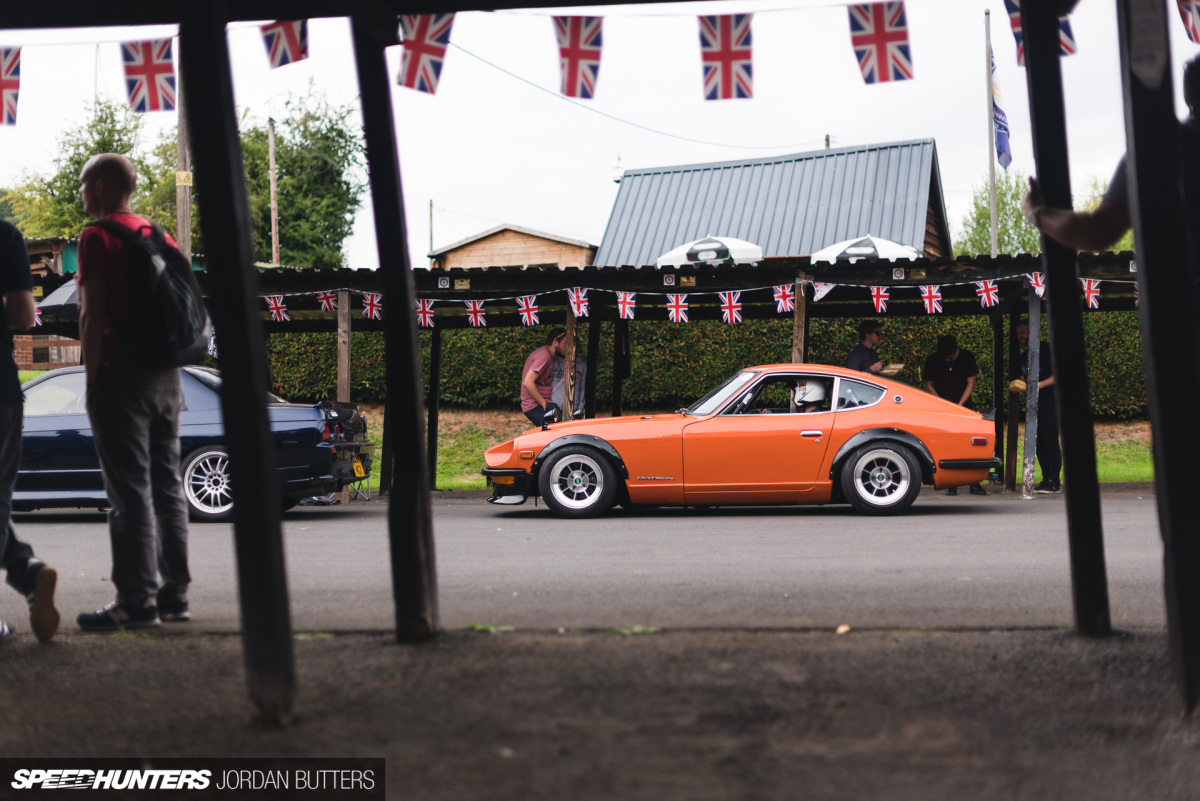 I hadn't even navigated half way through the field, but heading back into the paddock as the day came to a close I managed to catch the last few cars queuing to run up the hill.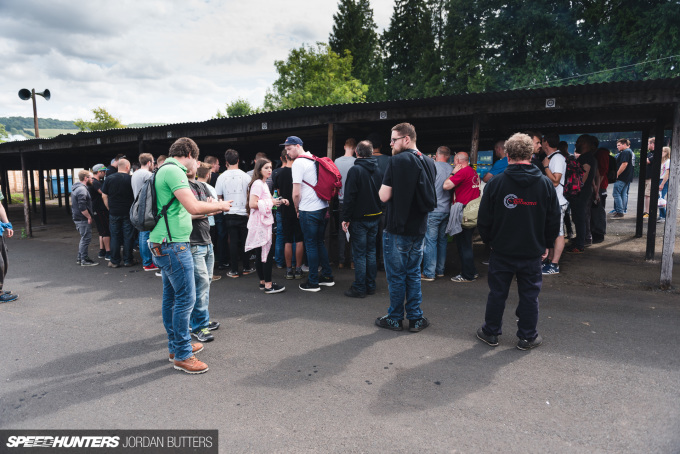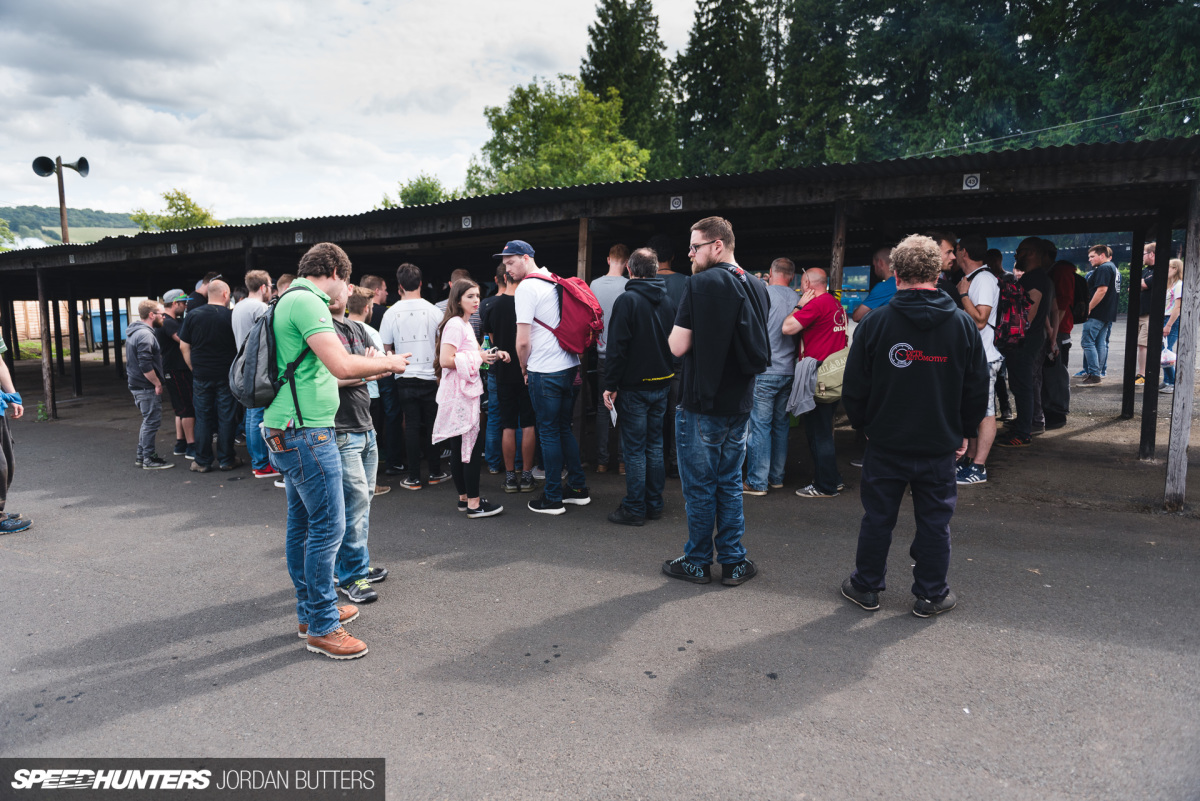 A small crowd had gathered around one of the rickety shelters lining the paddock as a team of people worked frantically around the unusual car within.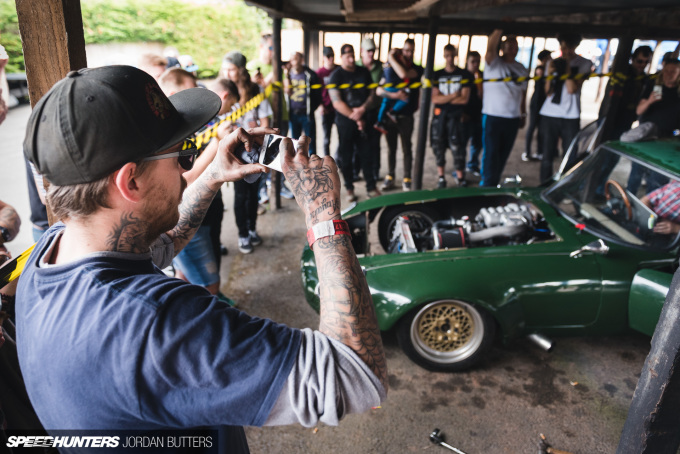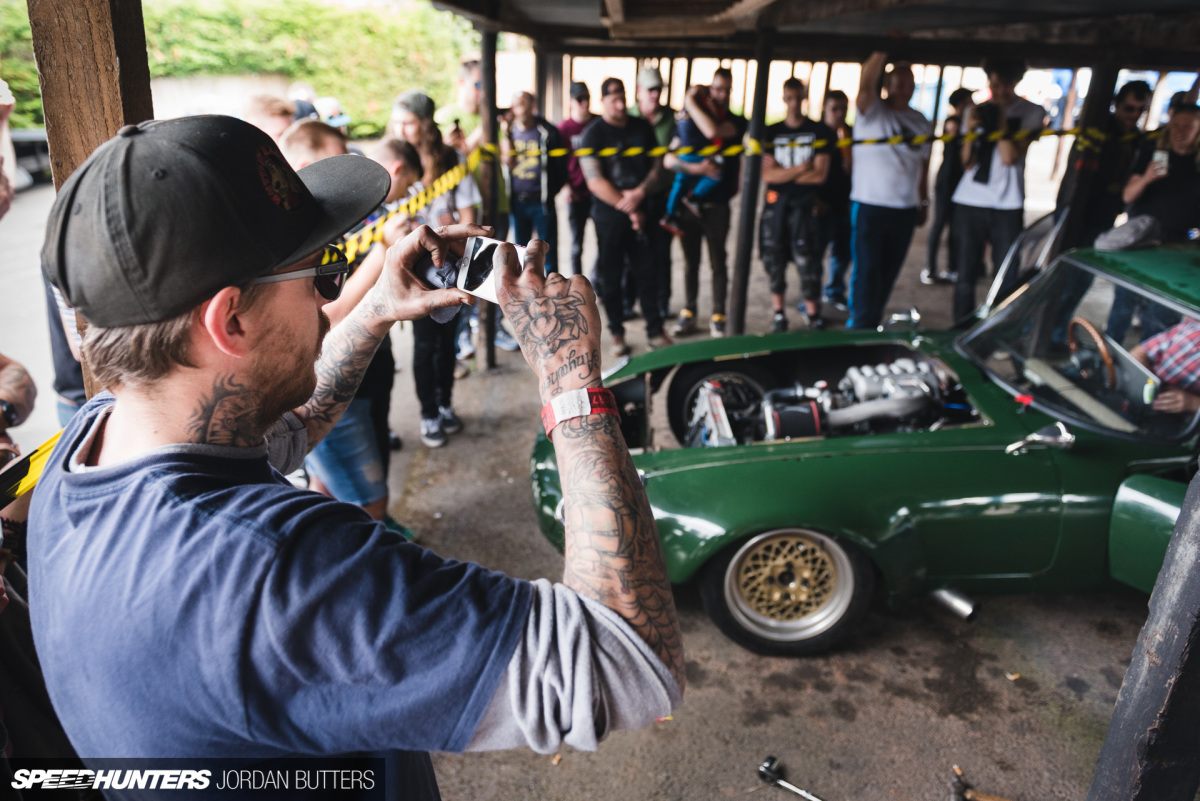 I pushed my way through the onlookers to see (and hear) that Pipey McGraw's crazy 3type was present, painted and running. It's a way off completion, but I've another update to bring you very soon.
I rounded off the day by watching a few launches from the line. It shouldn't have taken me so long to get to a Retro Rides Gathering, but I'm glad I made it eventually.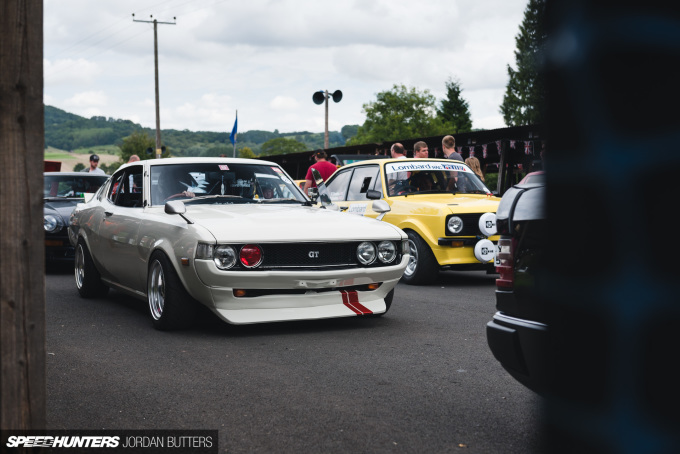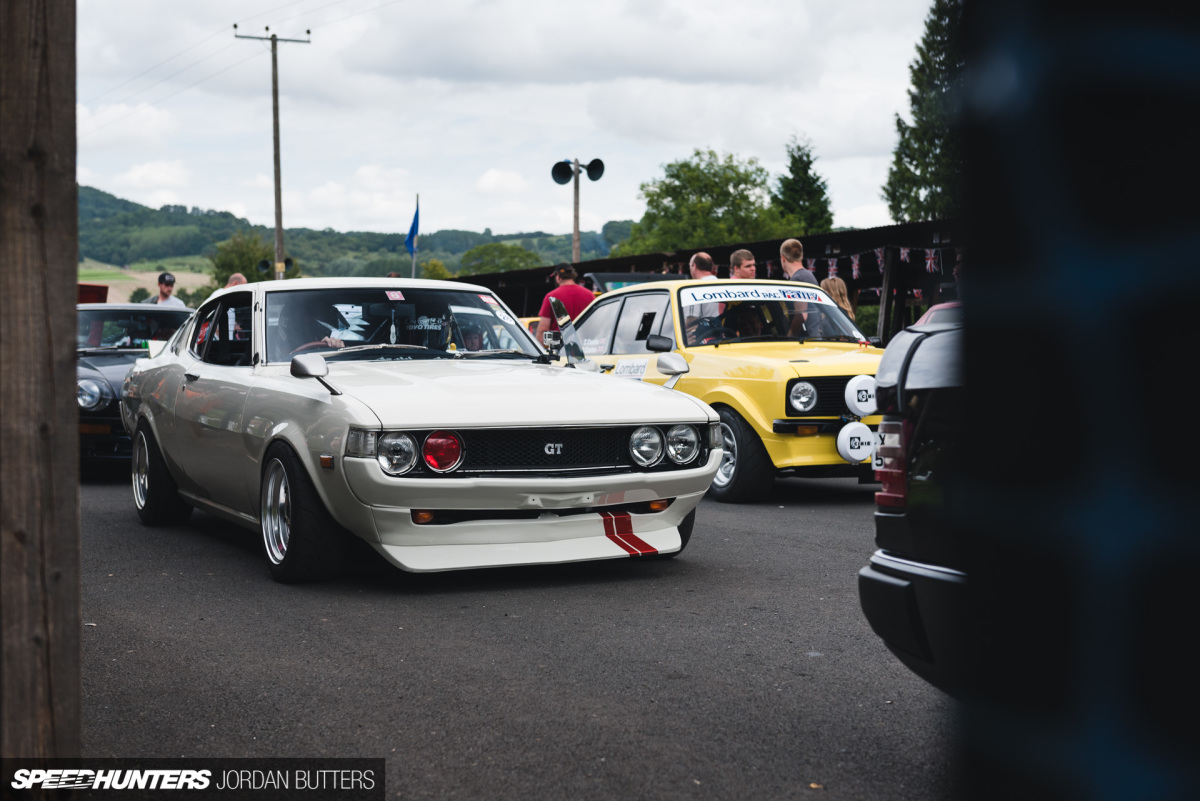 A unique venue, good vibes, a great turnout and some truly unique machines makes this an event I need to return to.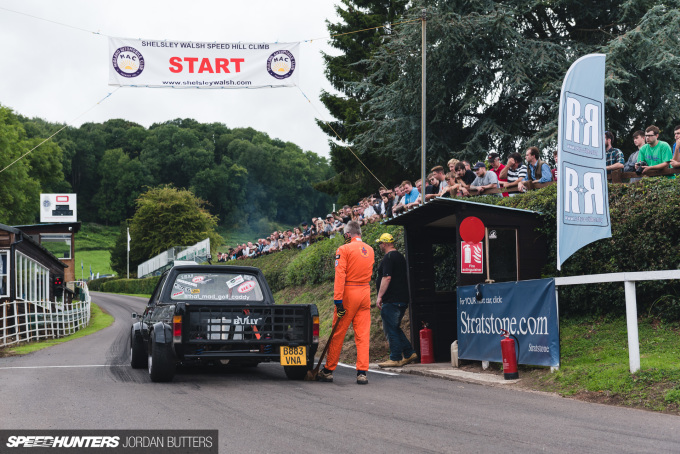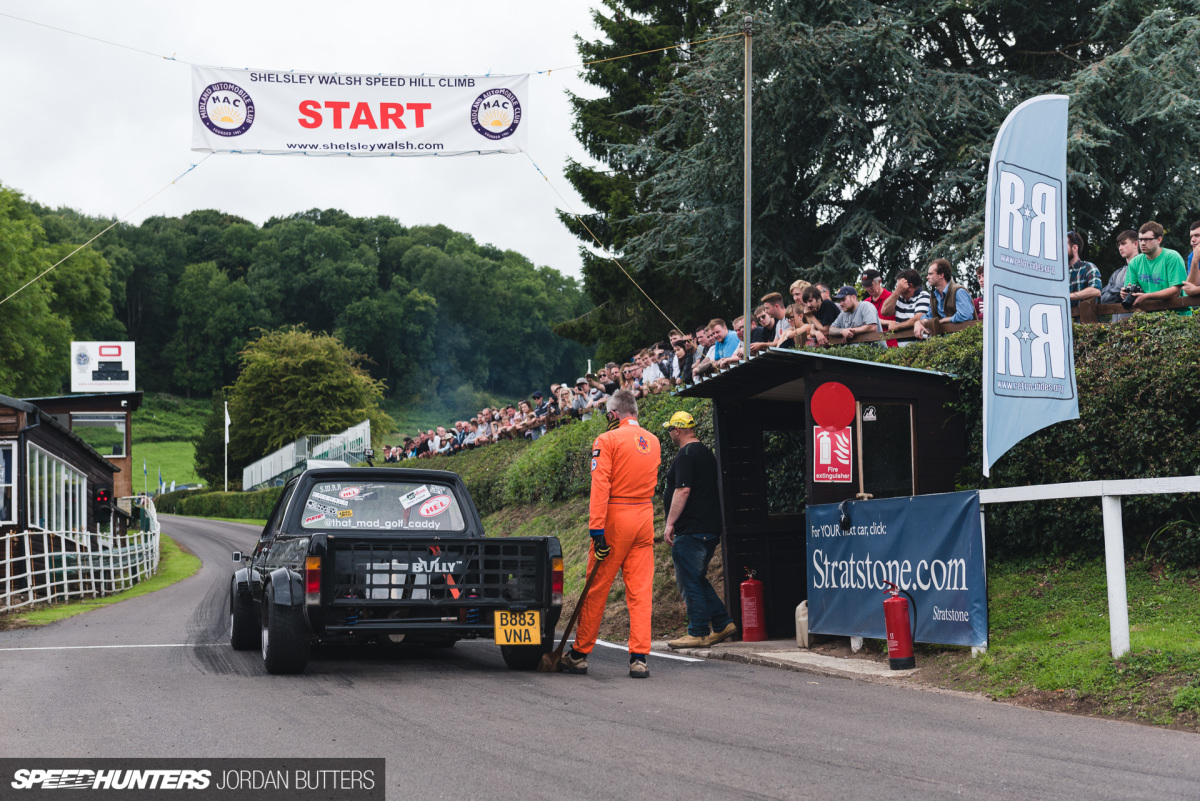 If ever I'm in need of a reminder as to what makes car culture in the UK so great, this is the perfect place to start looking.
Jordan Butters
Instagram: jordanbutters
Facebook: Jordan Butters Photography
jordan@speedhunters.com
Cutting Room Floor