The Power Of Dreams
There are some cars that immediately grab you from afar and command your attention, and then there are some that attract admiration in a more understated manner, but build your appreciation the closer and more you look.
Focusing on the latter, some builds just feel 'right'. Whether it's the combination of parts used, the driving ethos or motivation, the quality of workmanship at hand, or just something that you can't quite put your finger on. You know when you find it. Well, at least I do – it's when I find myself intentionally uttering out loud 'this is nice'.
That's exactly what happened when I first laid eyes on Andy Boyle's 2000 Honda Civic Type R.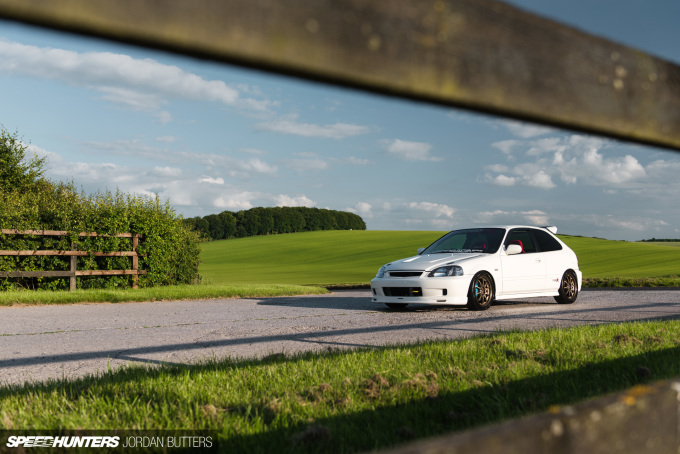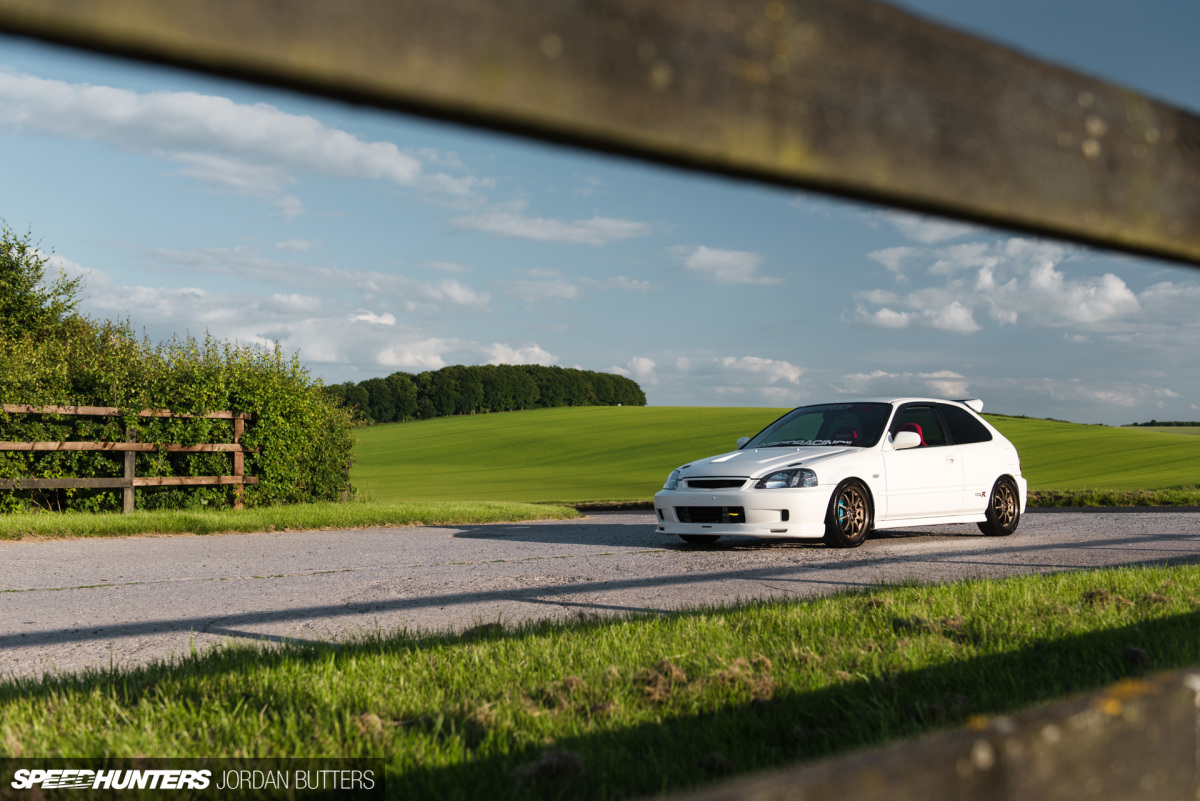 The story began in 2008, when working at a Honda main dealer, Andy found it hard to escape the inspiration all around him. This was some nine years ago, when the popularity of the EK hatchback was strong and visitors to the dealership's parts and service departments were ordering and fitting uprated components to their base-model, but modified, EKs.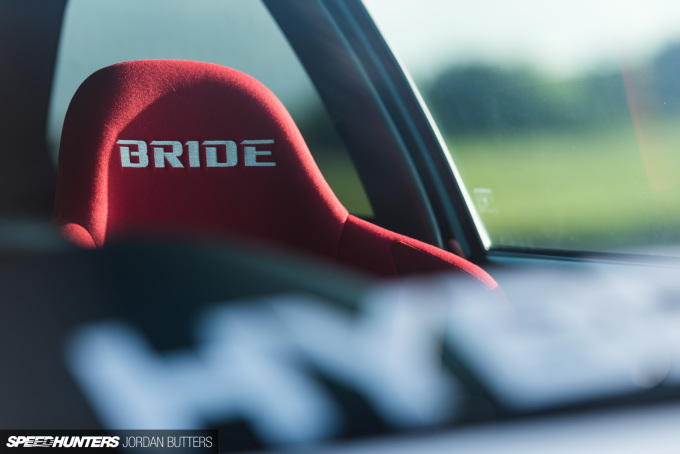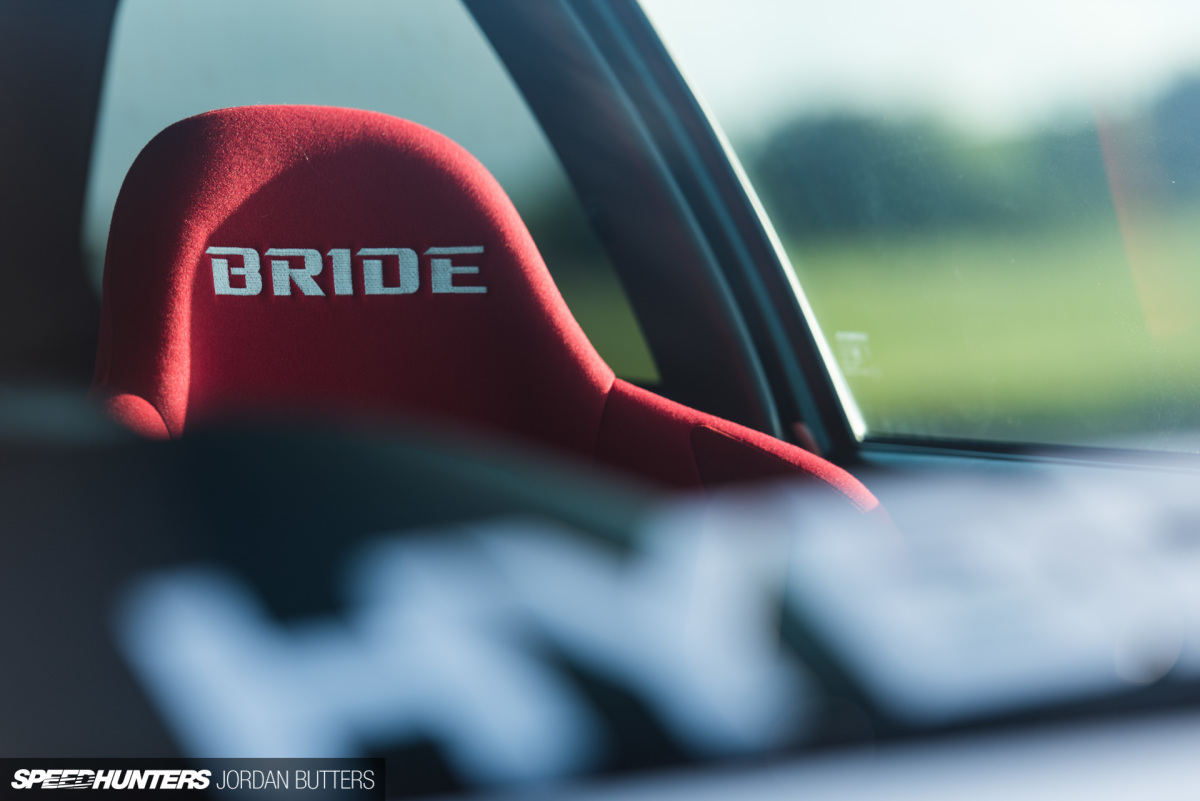 So when the chance came for Andy to buy this Japanese import 2000 Civic EK9 Type R, he jumped at it. As is so often the story, he had all intentions to keep the car stock, but after putting some miles on the Civic he began to get a feel for the areas that he'd like to improve and the modifications soon followed.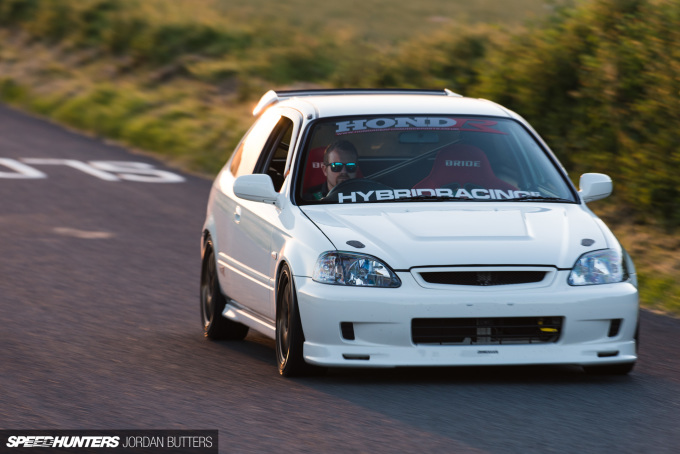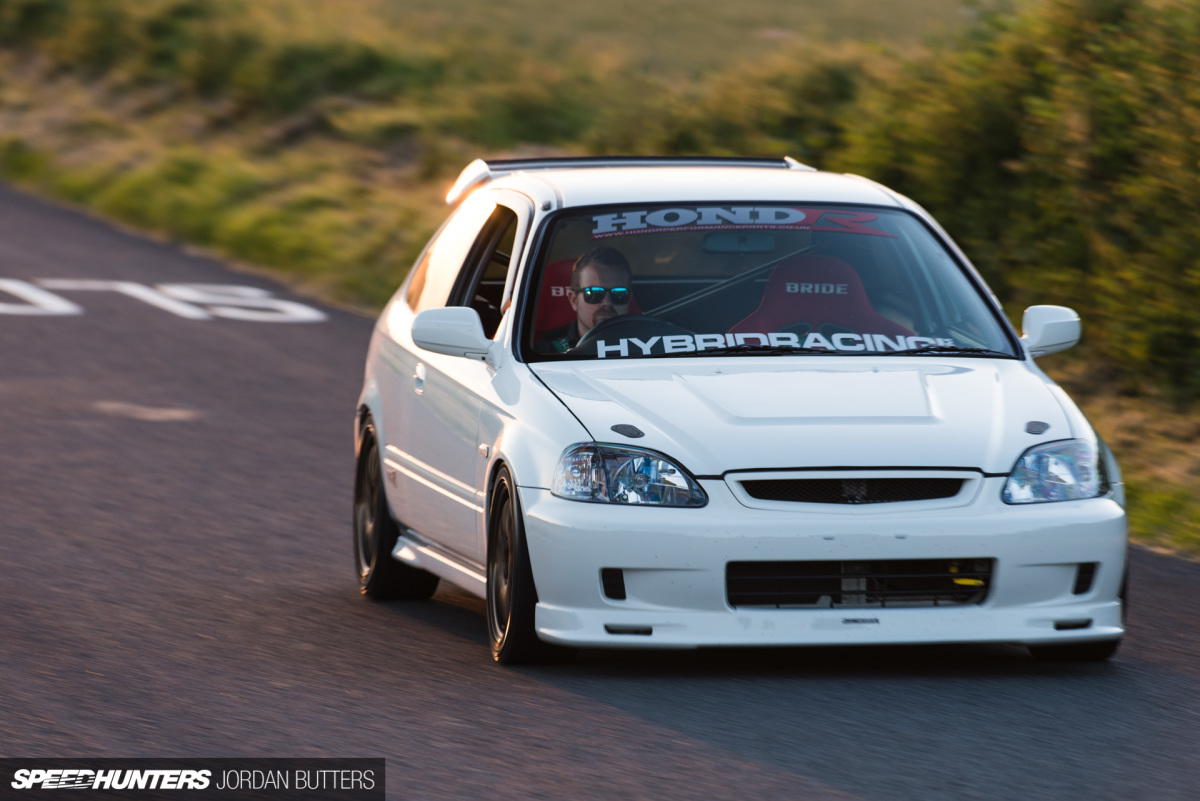 It wasn't long before Andy turned his attention to what was under the bonnet. For this Type R's credentials aren't immediately apparent on the surface, but what lurks beneath is something truly special and immaculately achieved.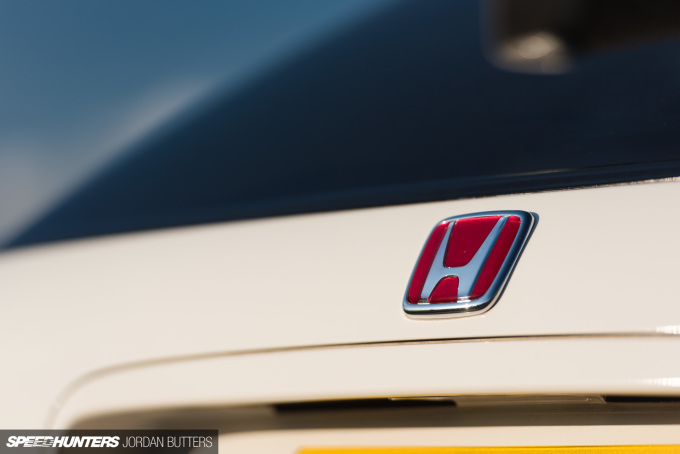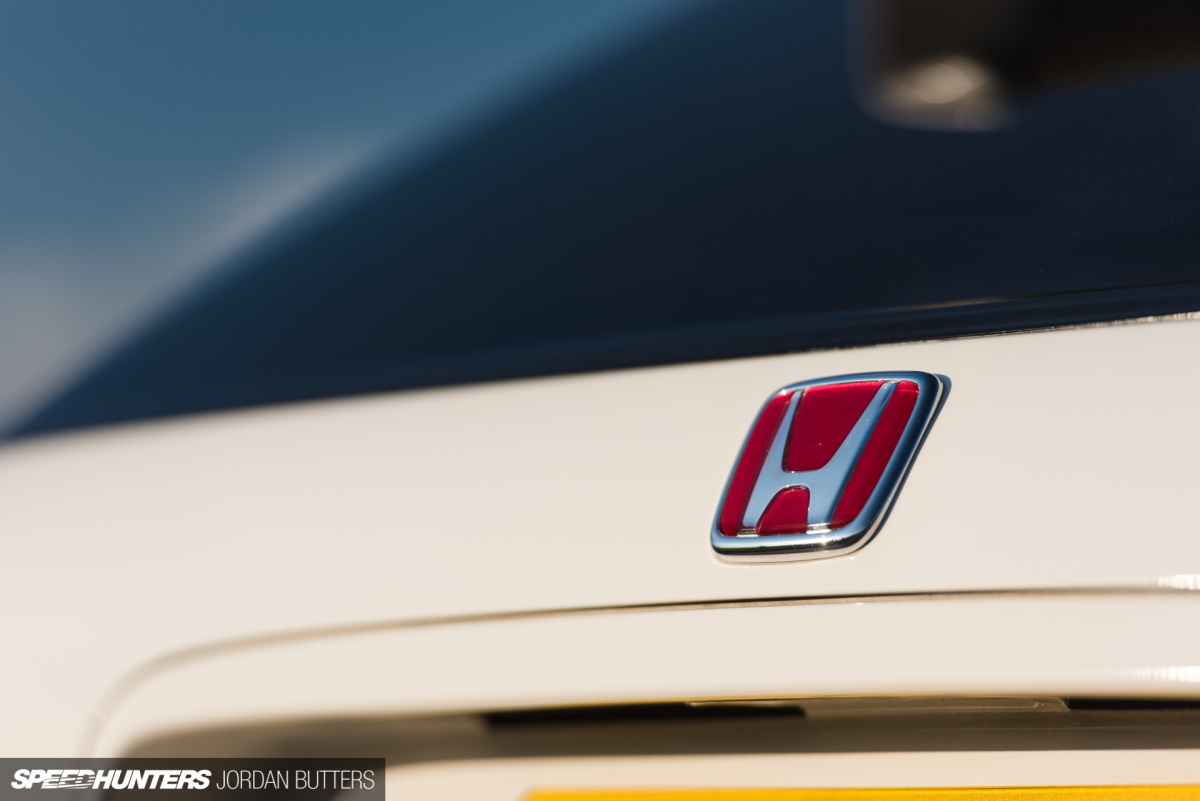 UK Honda specialists Hond-R just so happened to be on Andy's doorstep. If the name rings a bell, it's because we ran a spotlight on their Prelude Type S from Mimms Honda Day earlier this year, and also because they're one of the most respected Honda tuners in Europe.
Andy called upon the team at Hond-R to first swap the stock B16B motor out for a larger displacement B18C engine from a 1998 JDM Integra Type R to satisfy his urge for more go.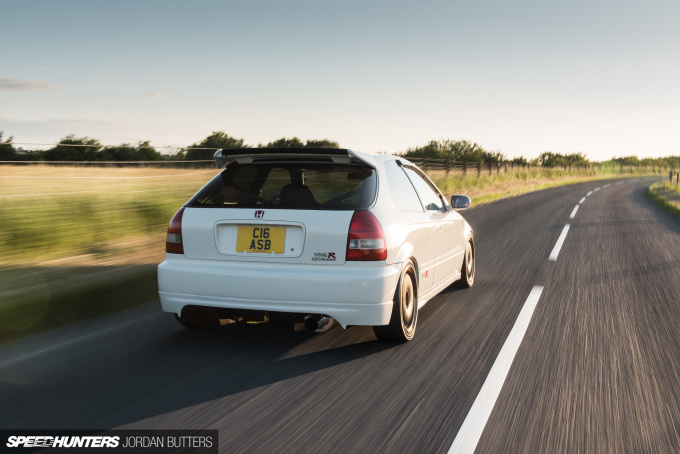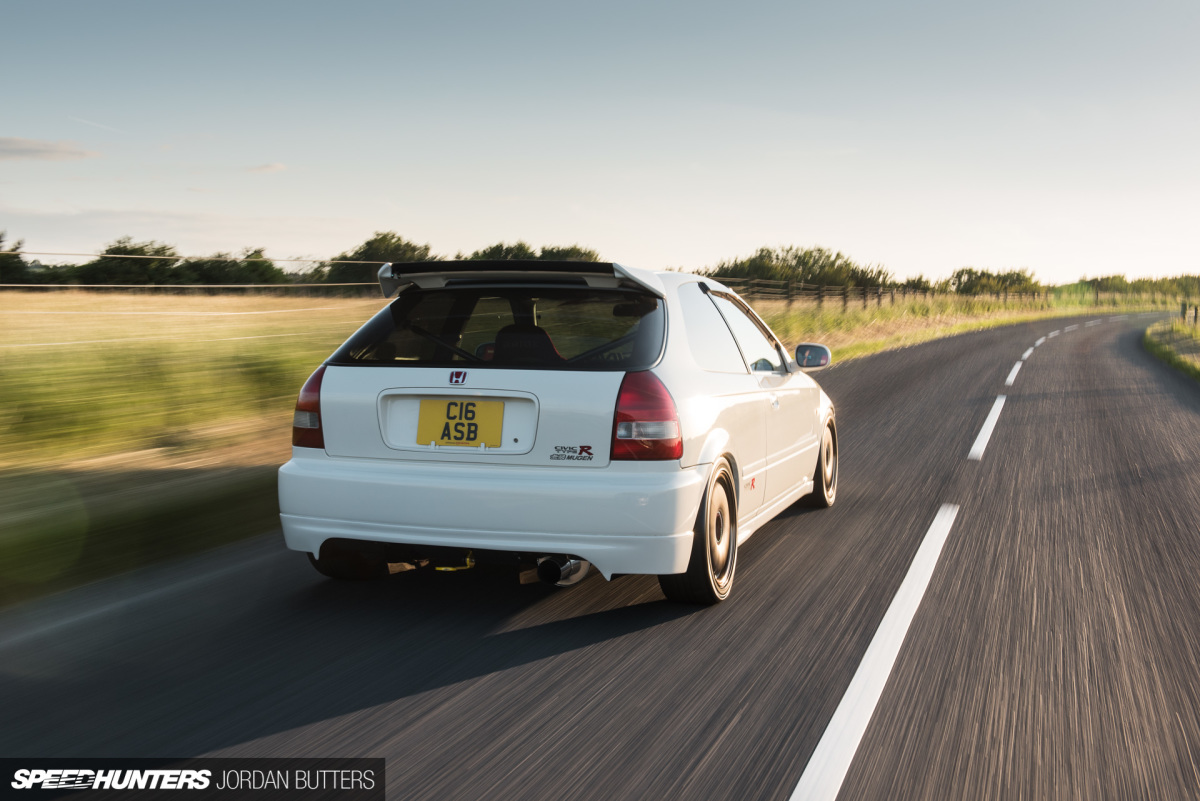 This did the job, and with the extra power, whilst retaining the naturally aspirated bark of a Honda B-series engine, Andy was satisfied. For a little while…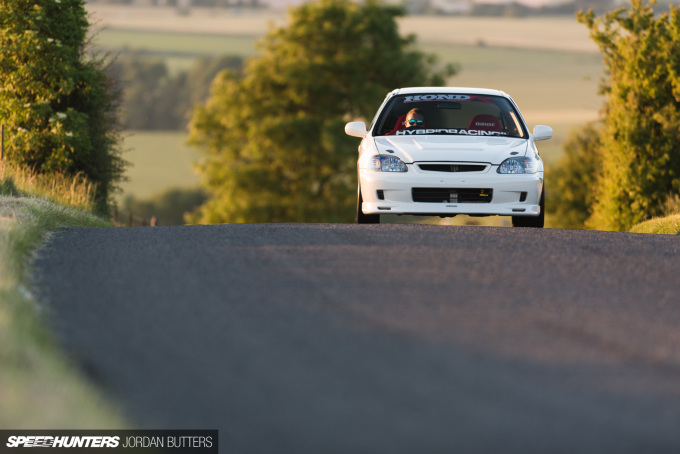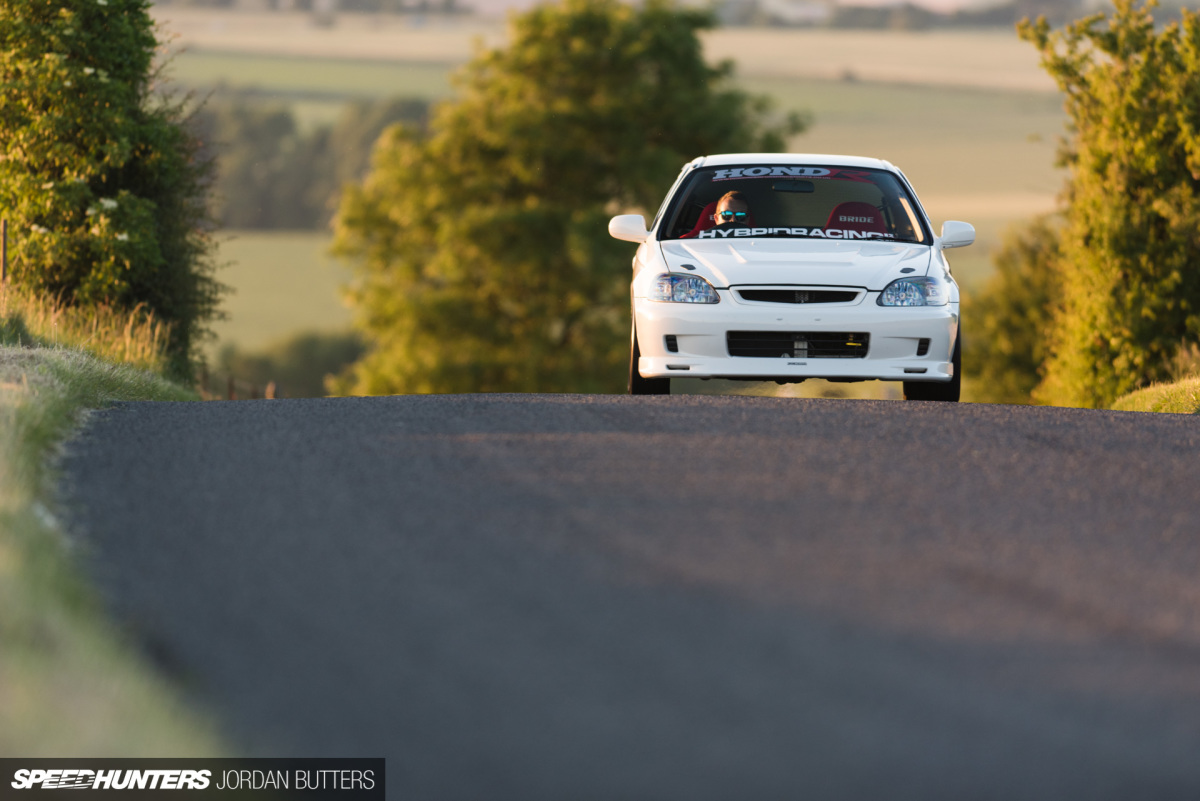 Fast forward to 2016 and Andy's sights shifted towards owning his dream car – an R34 Nissan Skyline GT-R. He came very close to selling the EK, but after much contemplation decided that rather than part with it, he was going to stick with what he knew, and transform it into his ultimate Type R.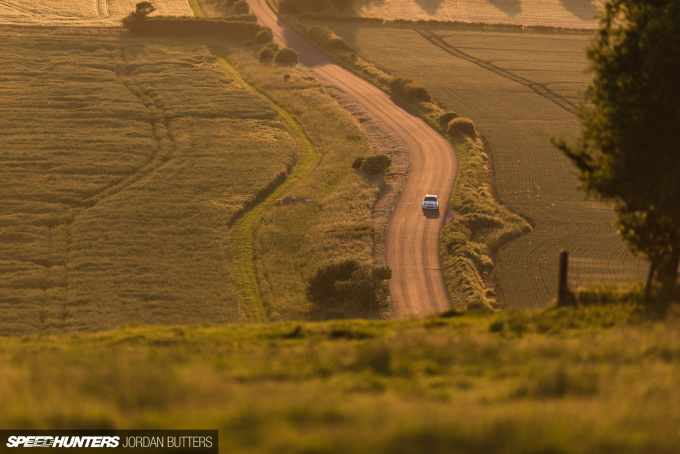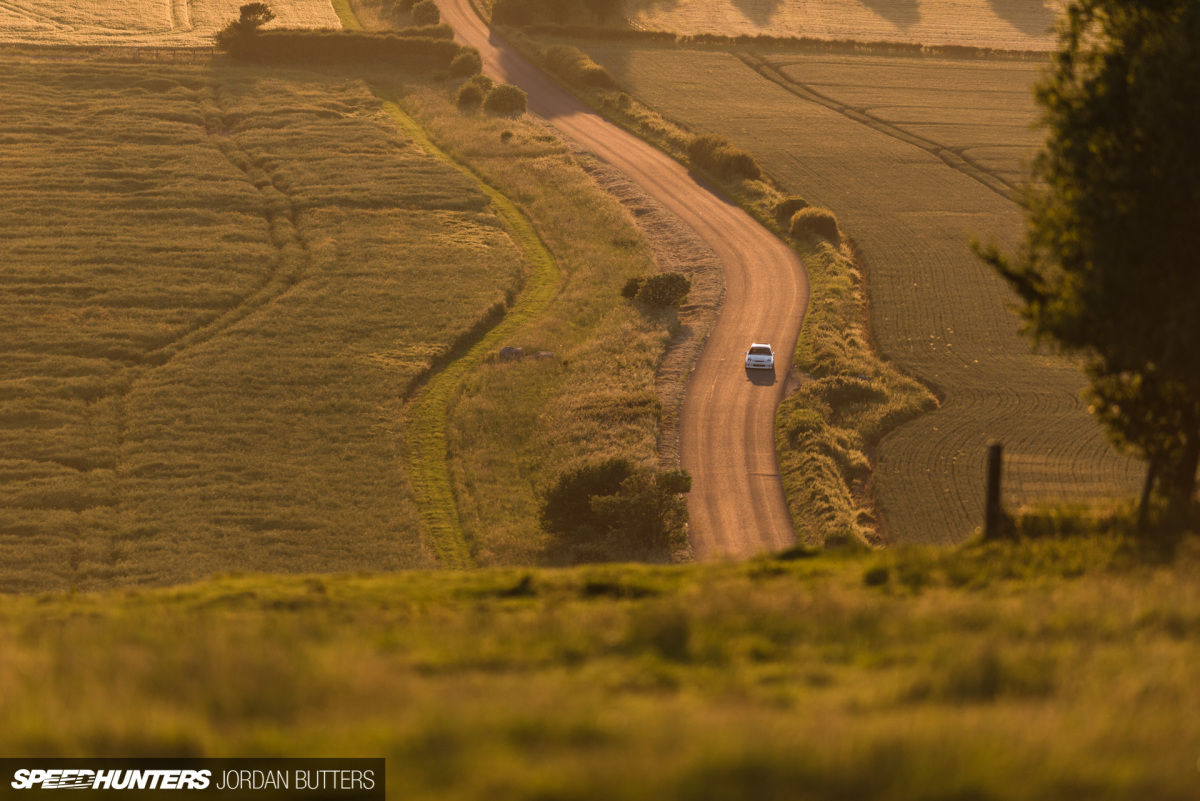 "The reason that I ended up keeping the car for as long as I have is the way that it makes me feel when I drive it," Andy explained. "It's a feeling of being at one with the car and being able to know exactly where the limits are and how hard to push them."
Change Something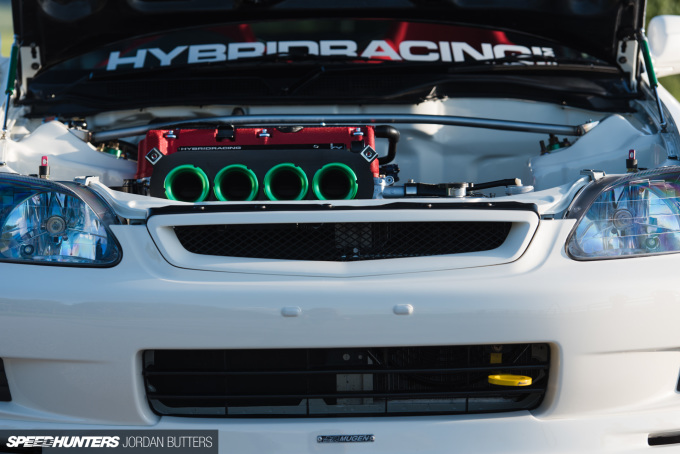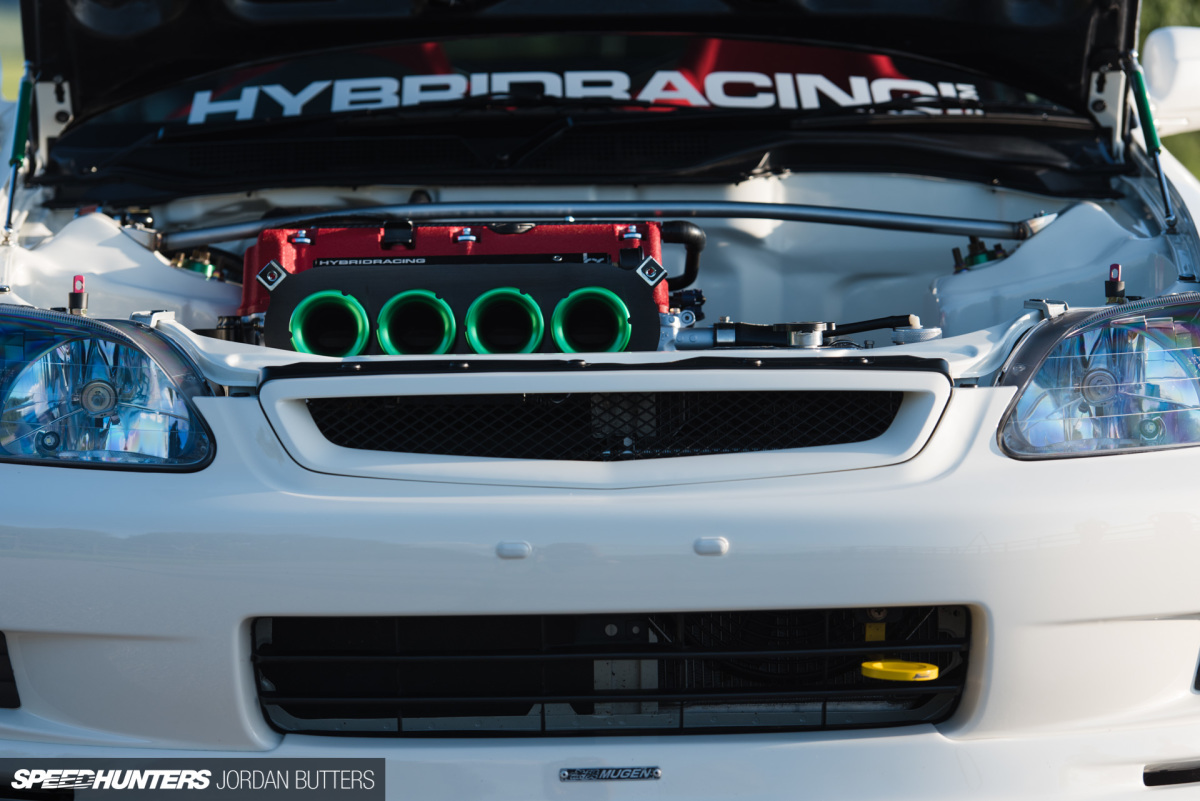 With inspiration from the famous Spoon K20A EK9 planted firmly in his mind, Andy set Maz and the team at Hond-R back to work again, this time converting the B18C to a K20A setup. Now, engine swaps in the Honda world are nothing unusual, but the quality or work and the lengths gone to here are what really makes this Civic quite special.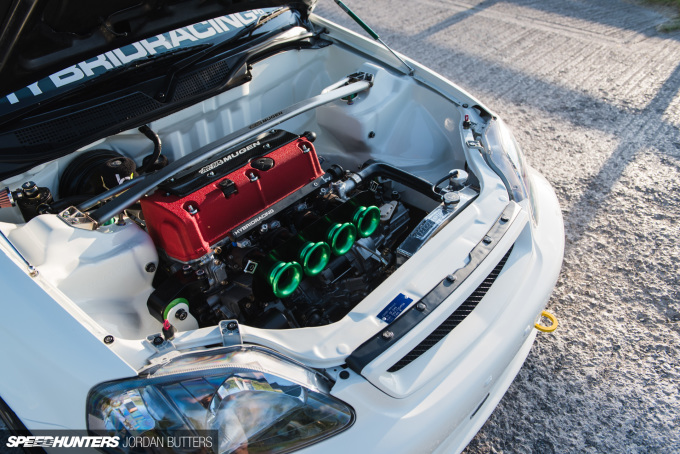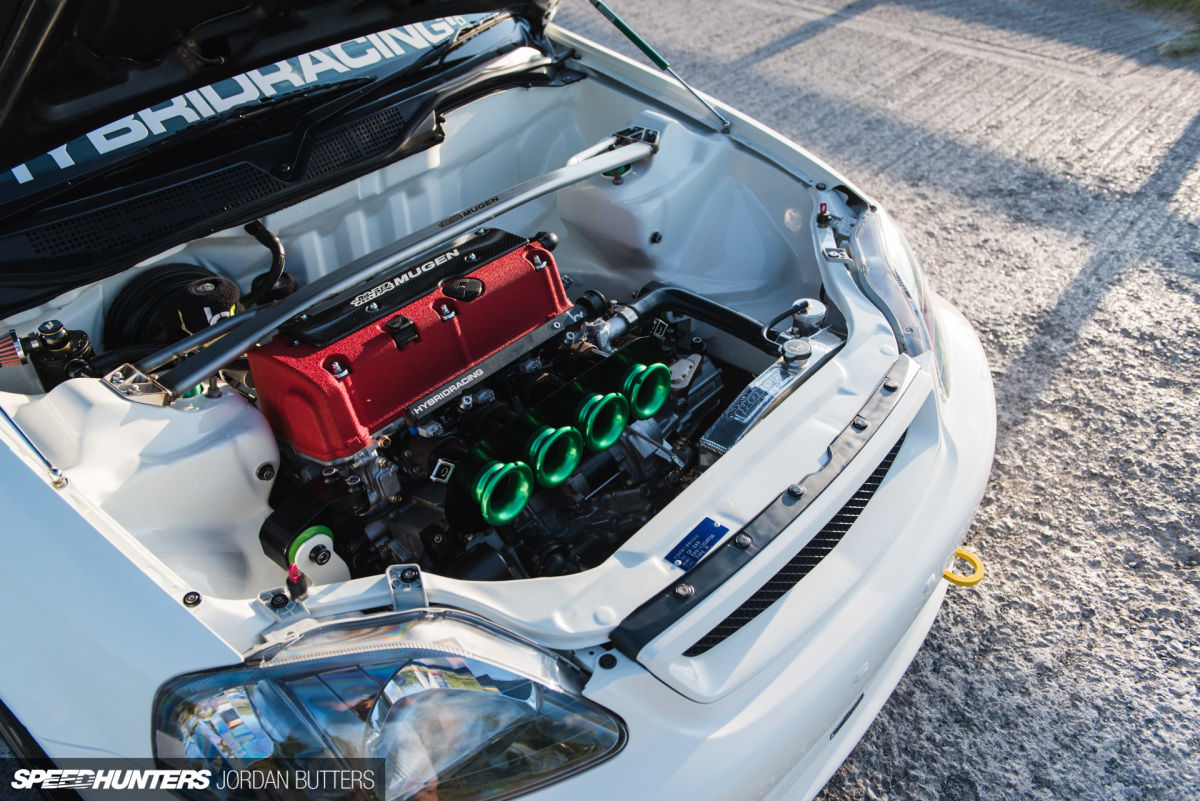 With the B18C removed, Hond-R got to work on readying the bay for its new heart. Everything that wasn't deemed necessary was removed, tucked or relocated. All unneeded holes were filled and brackets removed, however Andy didn't want a completely smooth look, but rather wanted the conversion to look like it always belonged. In doing so, he opted to keep some OEM touches, such as the ribs and deviations in panel angle on the bulkhead.
Rather than use bolt-on conversion mounts to sit the DC5 Integra Type R K20A motor in place, the necessary metalwork was welded and smoothed into place to accept the Hybrid Racing engine mounts used, subtly stamped with Hond-R's logo.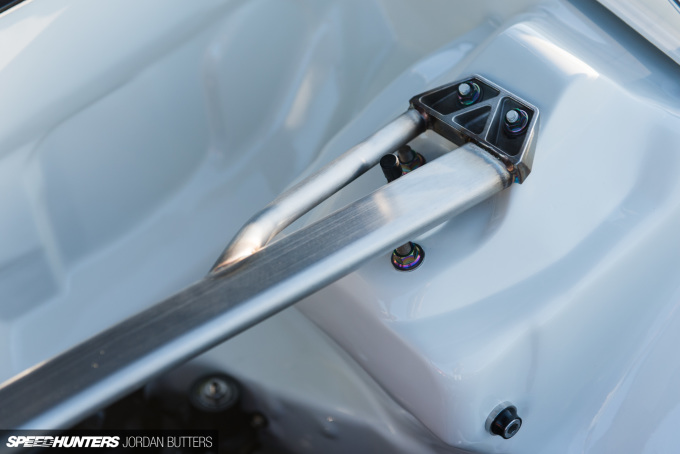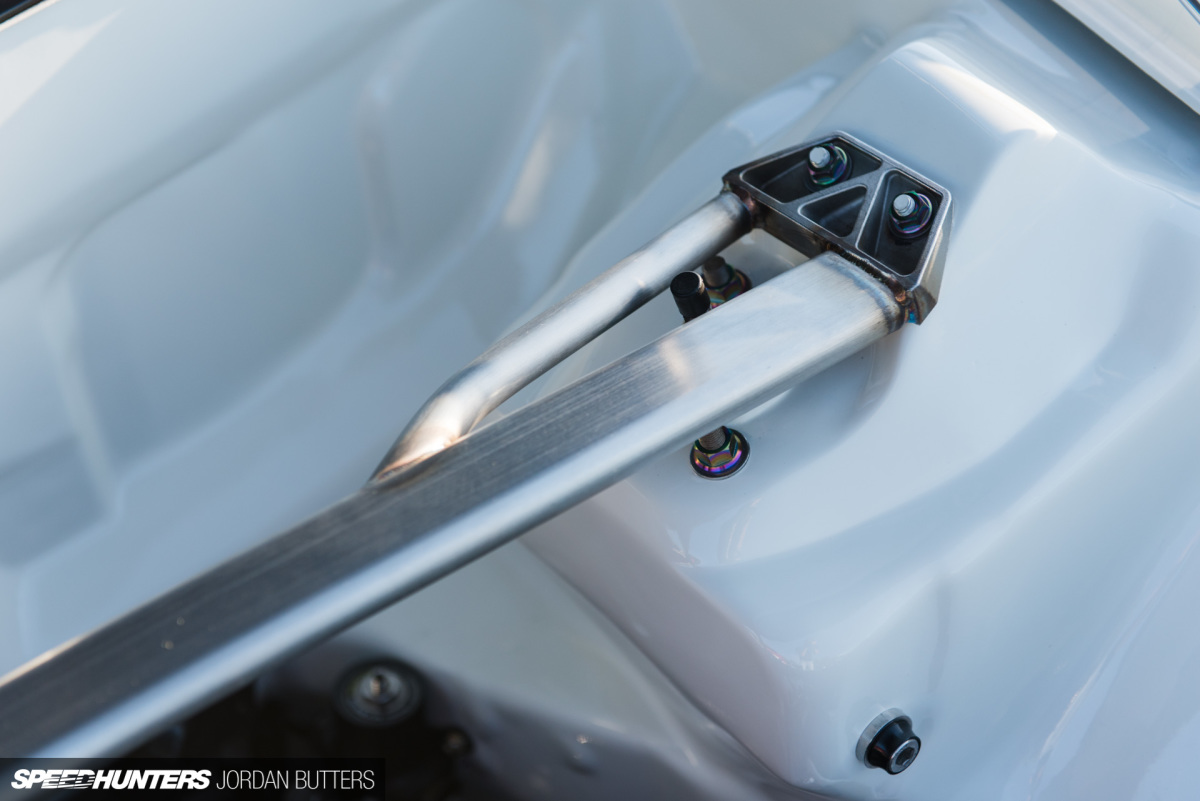 You'd have to really know your Hondas to tell, but all-new strut tops were fabricated too. With lowered EKs, the upper control arm can hit the top of the original turret, denting the metal and damaging the paintwork. It had already happened to Andy, so to avoid it occurring again raised strut tops were fabricated. This also meant cutting, modifying and re-welding the Mugen strut brace to suit the new point of contact. Hond-R went as far as to do extensive testing and practicing to ensure that the style and colour of the welds matched the existing Mugen metalwork so as to make it as perfect as possible.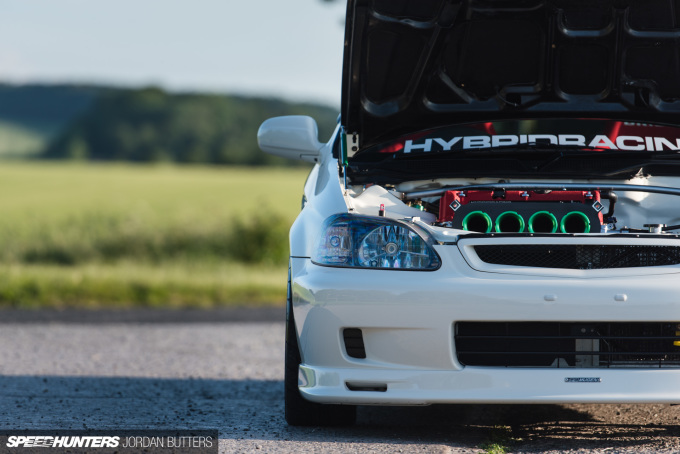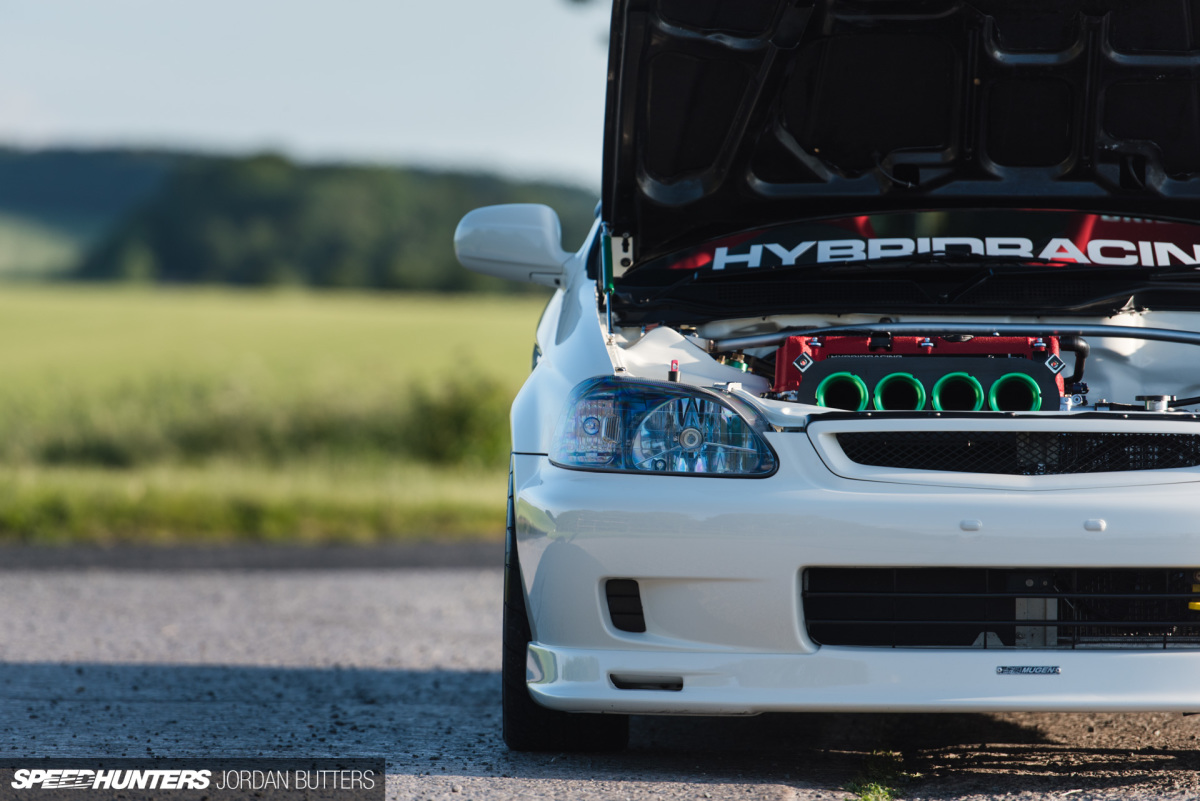 Knowing that no internal upgrades were necessary on the K20A, Andy weighed up how best to tackle induction. After lengthy discussion with Hond-R, he decided to keep it naturally aspirated, and headed down the individual throttle bodies route, and boy are my ears glad he did. The loud bark caused by the K20A sucking in quick, sharp intakes of air at wide-open throttle resonated around the Wiltshire hills – you can hear the Civic long before it screams into sight.
AT Power ITBs were the weapons of choice. Fully aware of the downsides of fitting ITBs on a road car, Hond-R pulled out all of the stops to get the engine behaving in a civilised manner in all conditions. A vacuum box and pump was added to assist the brake servo vacuum. Troublesome cold starts were also eliminated by retaining the OEM Honda idle control valve – a turn of the key and a quick blip on the throttle are all that's needed for Andy's EK to bark to life and idle like a stock motor.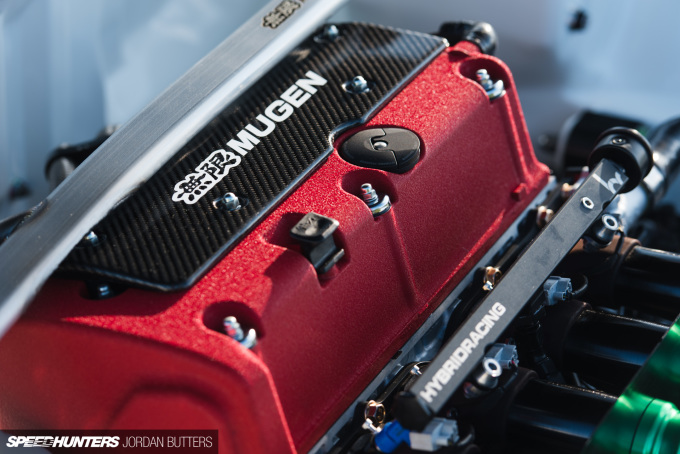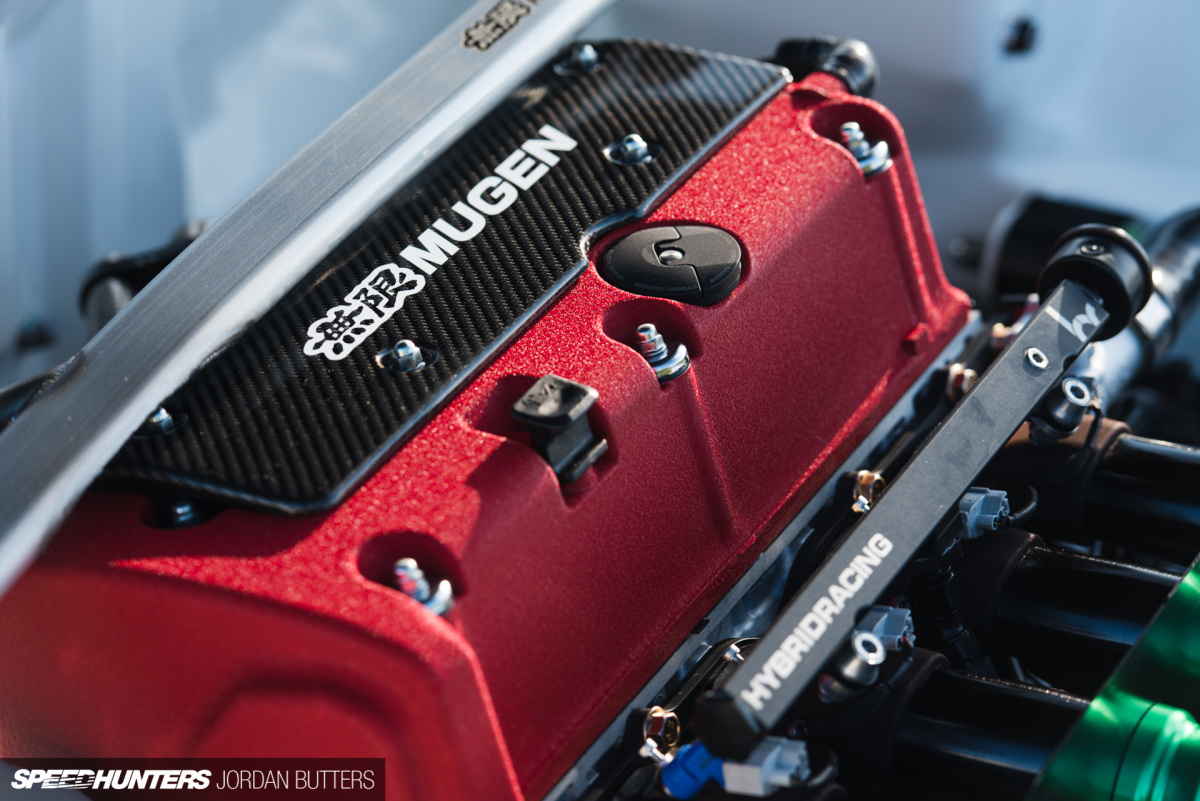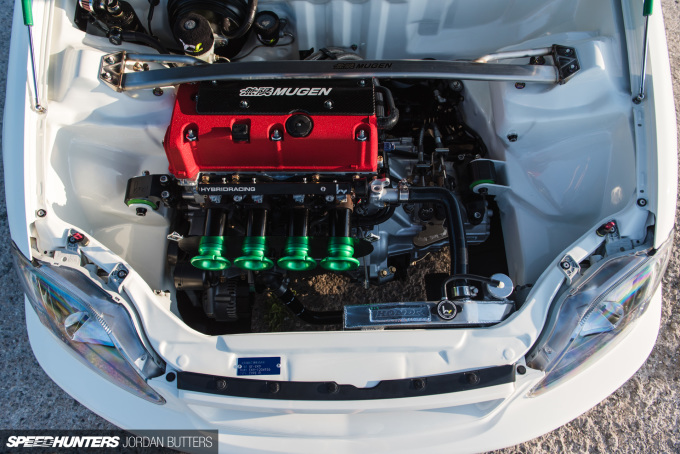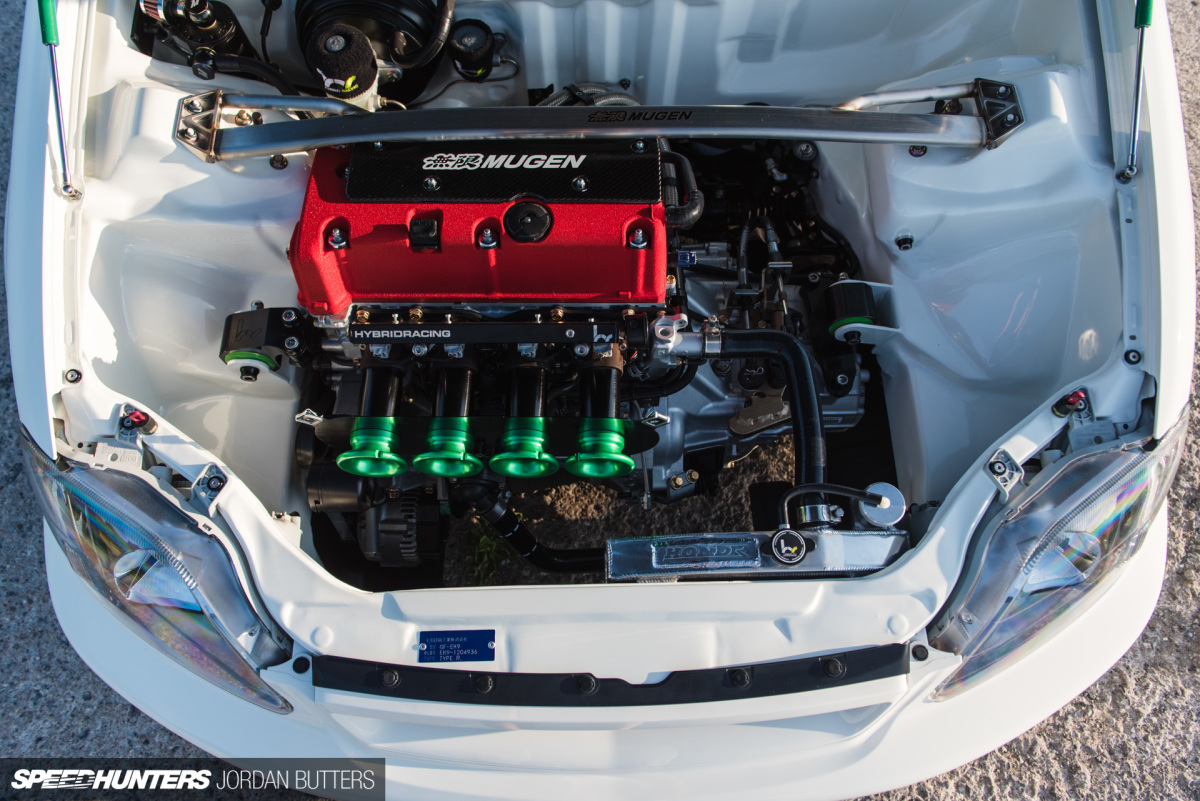 A Hybrid Racing fuel rail, FPR and RDX injectors take care of fuelling, courtesy of an AEM engine management system, while a Mishimoto radiator helps to keep things cool. Hybrid Racing also supplied the exhaust manifold, which pulls spent gases down and away from the car via custom 3-inch exhaust.
There are plenty of other little trick touches too, from the visible Mugen plug cover and Mishimoto catch tank, to the well-hidden Clockwise Motion sump baffle and Spoon Sports magnetic drain plugs.
Make Something Better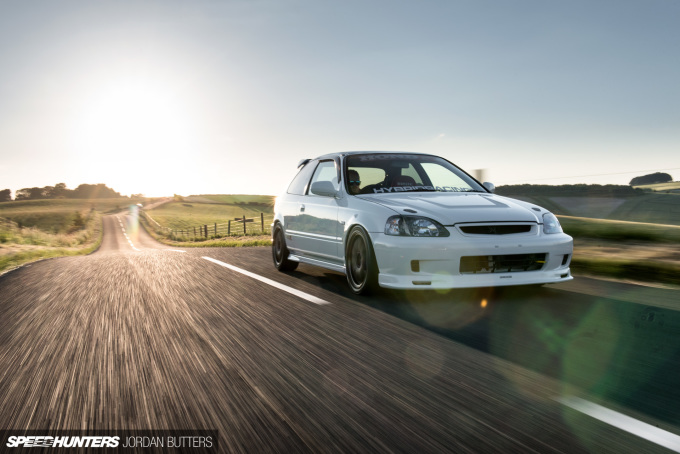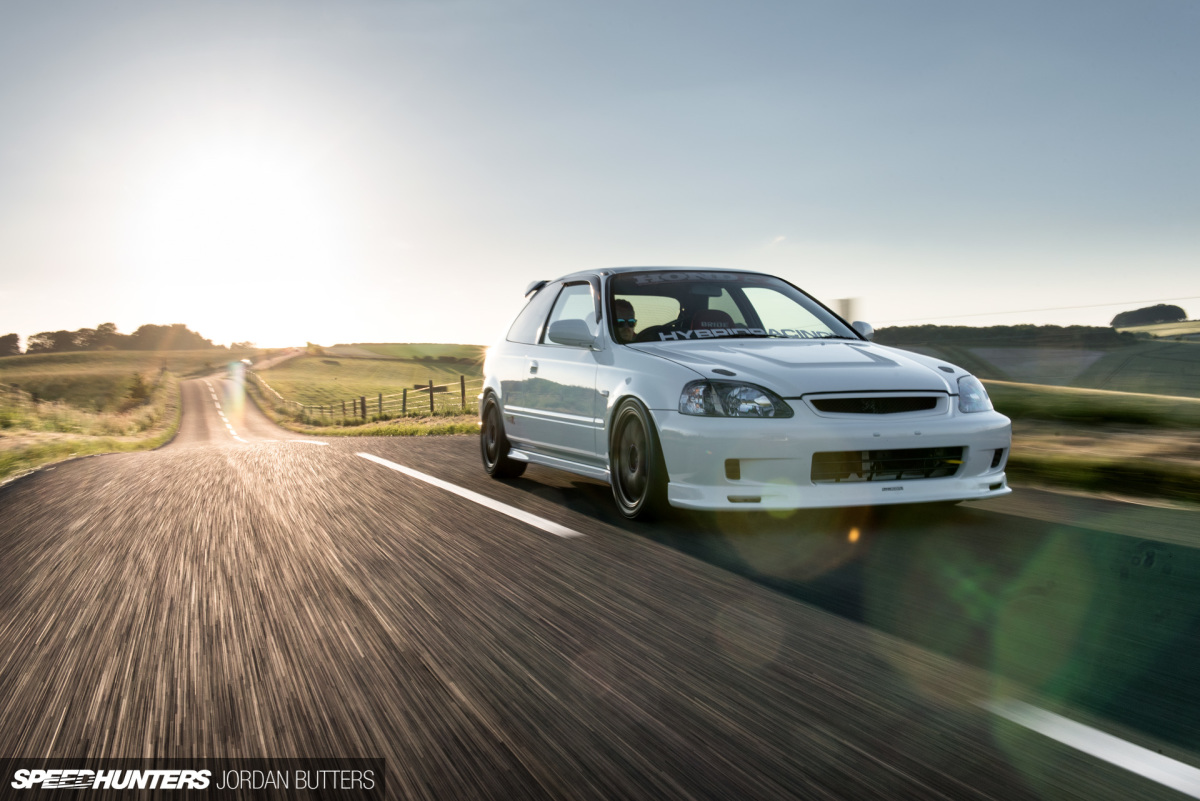 Many attribute the OEM+ movement to the VAG crowd, but it's easy to forget that this also plays a big part in Honda culture too. The exterior of Andy's EK9 is a shining example of how adding just the right, carefully curated parts can accentuate the classic JDM hot hatch.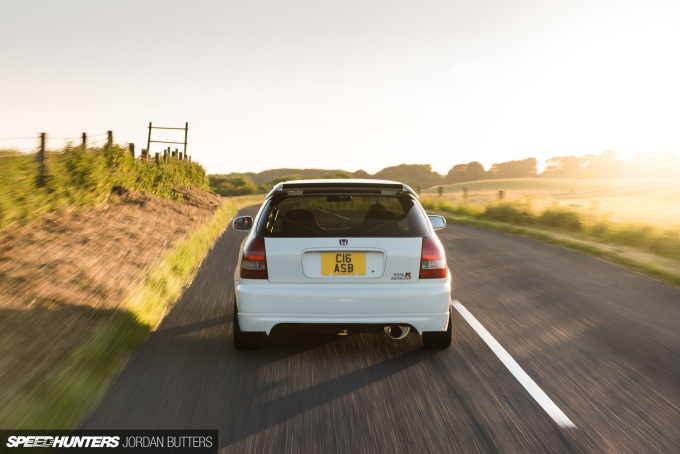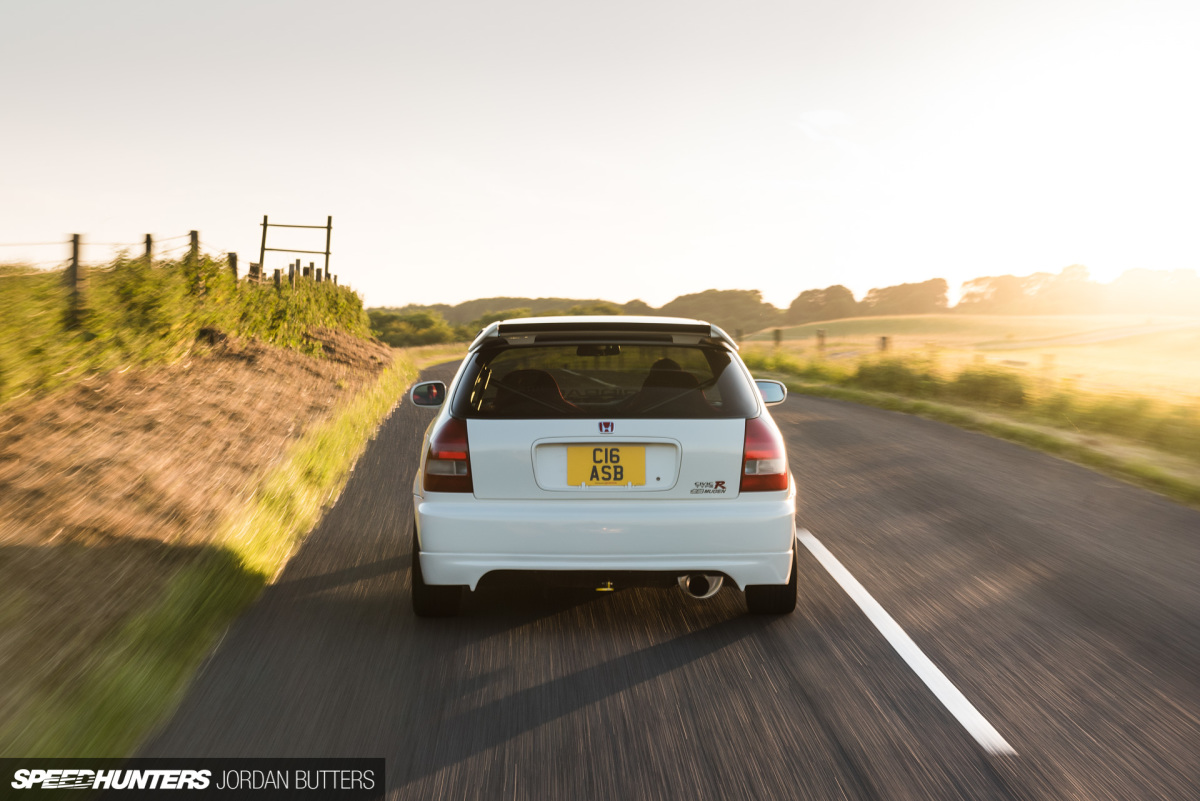 When you compare the EK9 Type R in stock form to the more audaciously-styled newer Type Rs, you realise how ridiculously understated they are. There's no shouty spoilers, aggressive vents, steroid-fuelled bulges or deep valances. There's just one subtle exhaust tip rather than three/four/six prominent tunnels big enough to fit your entire arm up. It's all very, well… plain.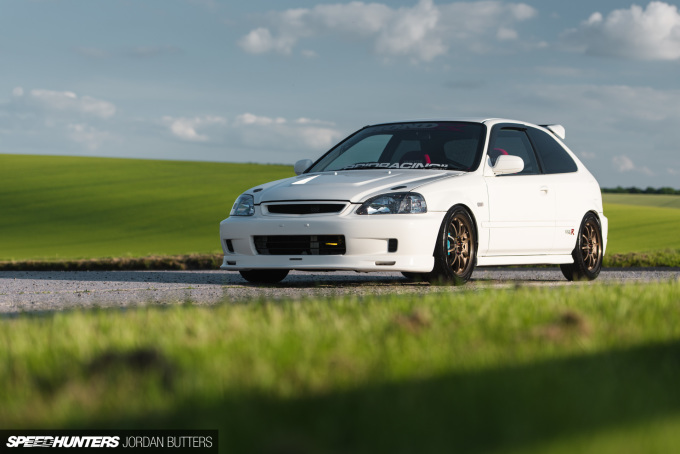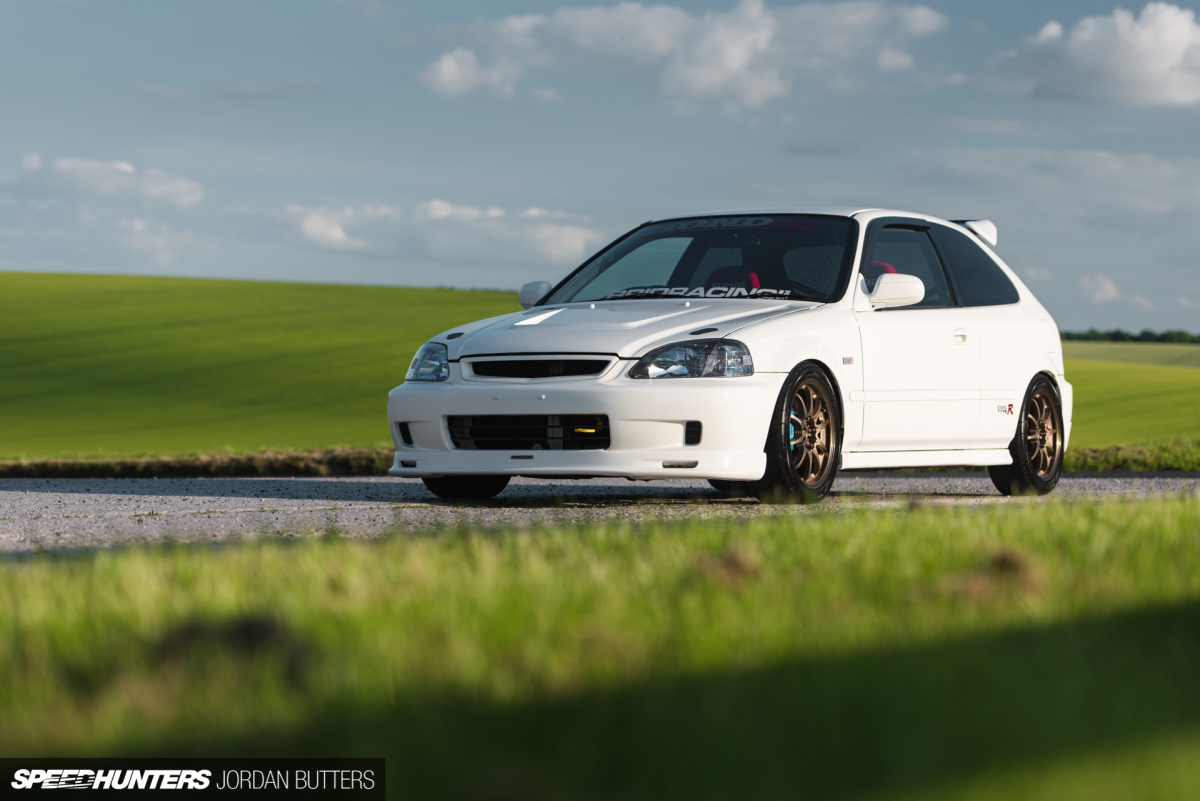 Andy set about adding his own subtly aggressive touches to the exterior to give the little Civic a bit more road presence.
At the front, a genuine Mugen Type SS front lip brings the bodywork a touch closer to the tarmac, while a functional Shift Sports carbon bonnet not only looks the part, but helps relieve the under-bonnet temperatures a bit. A set of USDM plate blanks allow Andy to remove the numberplate whilst keeping it looking neat up front.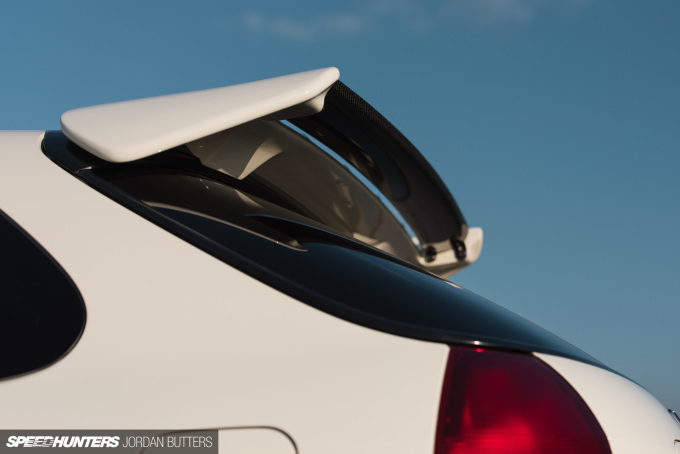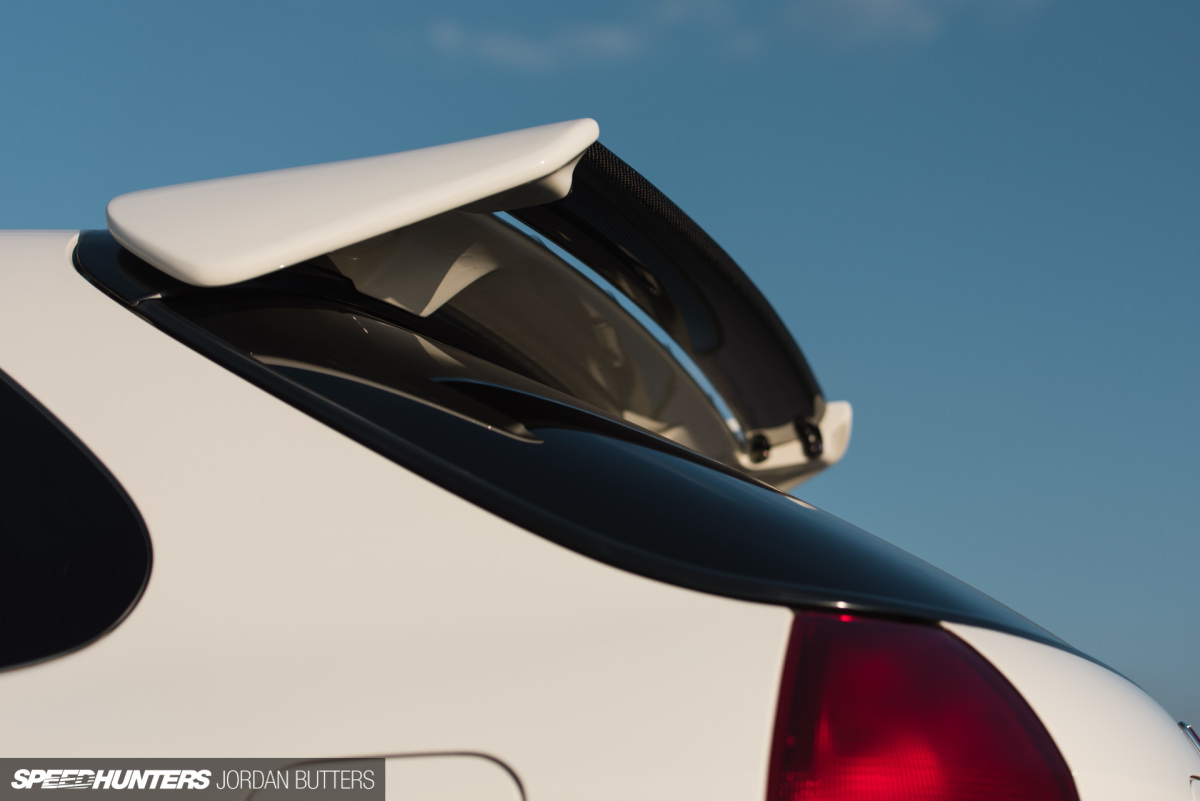 At the back, the stock EK9 hatch spoiler has been replaced by a larger Seeker V2 item, complete with angle-adjustable carbon blade.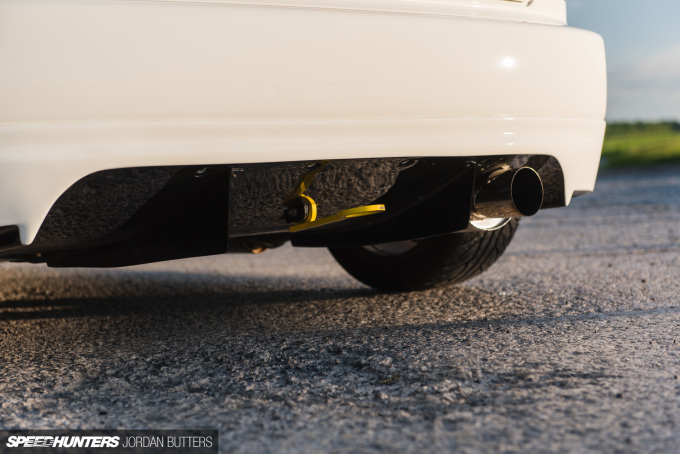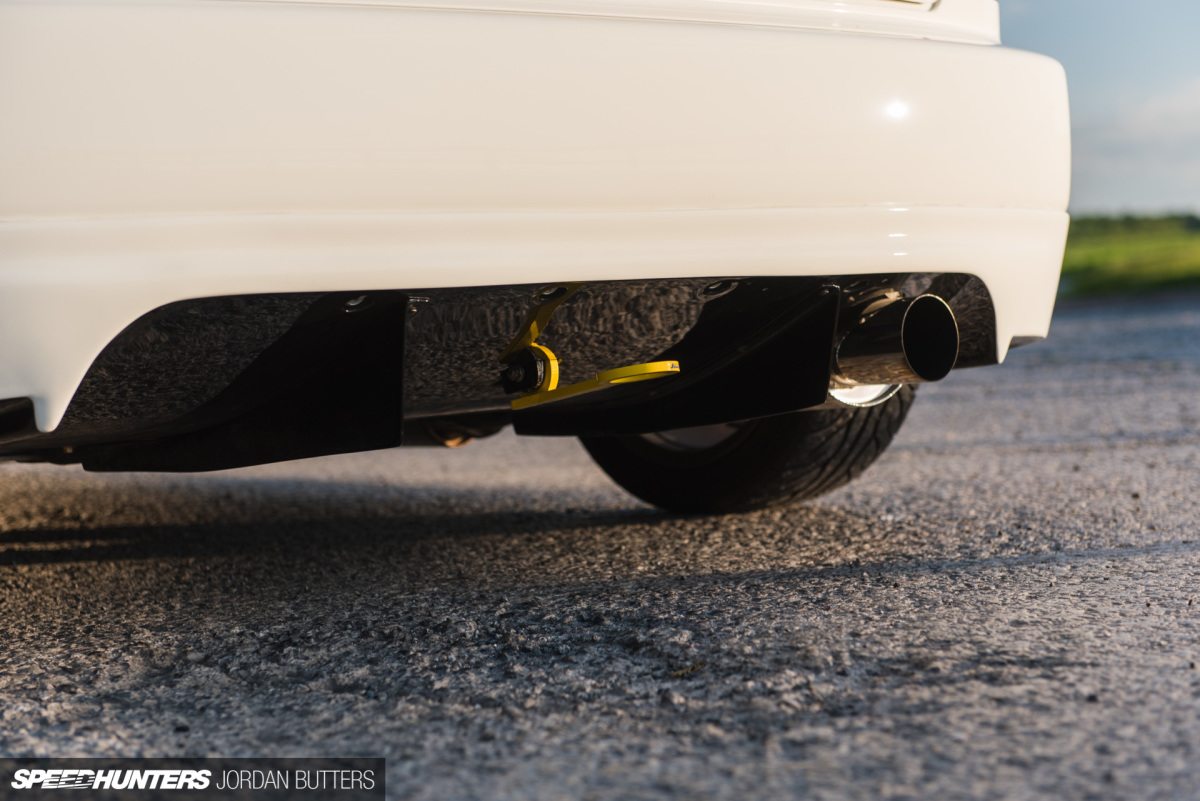 Below, Andy opted for a subtle Sergent FRP rear aero diffuser and undertray with J's Racing solid tow hook. These subtle additions don't alter the Type R's Championship White lines by much, but it's just enough to add some much-needed aggression to the styling.
Without question, the visual stars of the show on the exterior are the set of RAYS Volk Racing CE28N wheels, finished in that signature RAYS bronze metallic and secured onto the car with a set of Muteki neon chrome wheel nuts. Stopping power aplenty is provided by a pair of signature teal Spoon Sport twin-block four-pot front calipers holding Project Mu HC800 pads and clamping tightly around a set of StopTech grooved discs.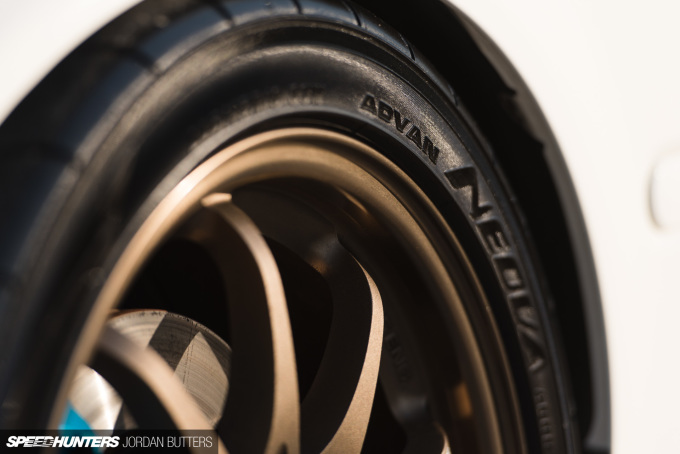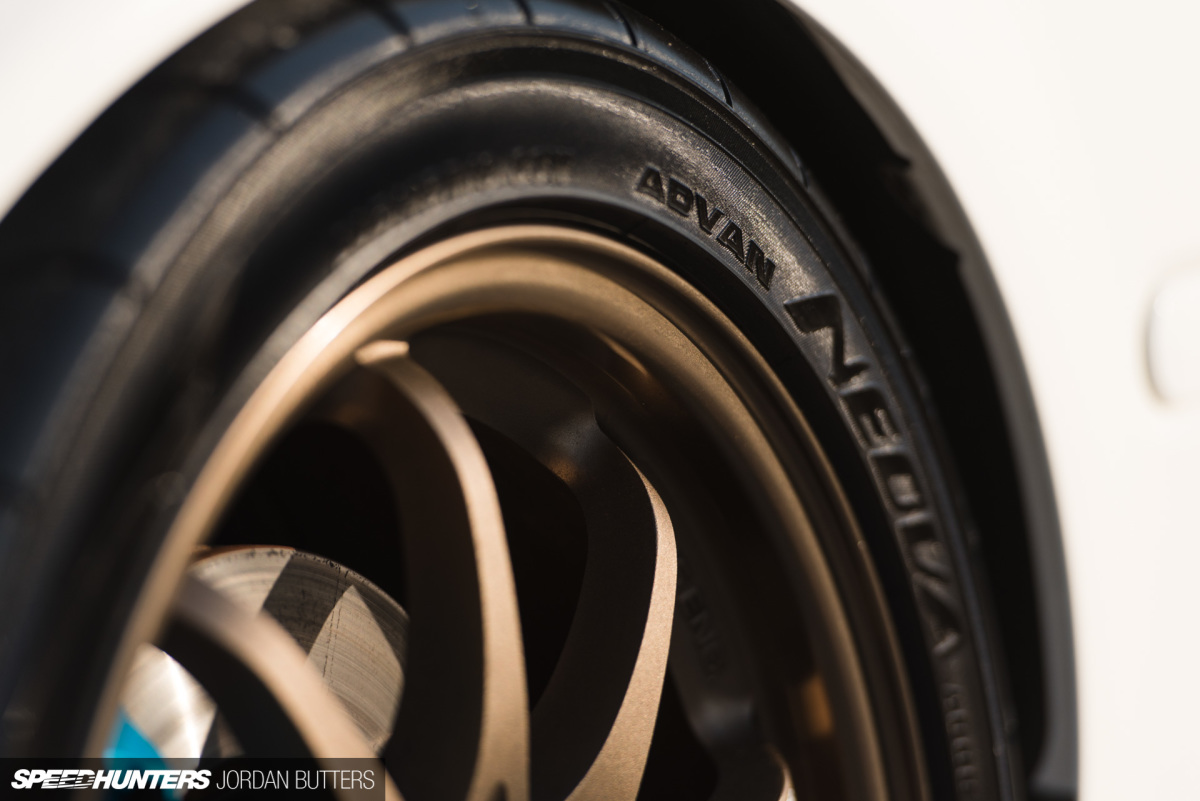 It's crazy when you consider that many modern hot hatches are specified with wheel sizes in excess of 20-inches. The 16-inch CE28Ns here fill the EK9's modest fenders with ease. Measuring at 7-inches wide at ET+42 all around, the Civic has a purposeful stance, and with super-grippy Yokohama AD08R rubber in 205/45R16 sizing, there's plenty of grip available. Especially when you consider just how light and nimble this classic JDM chassis is.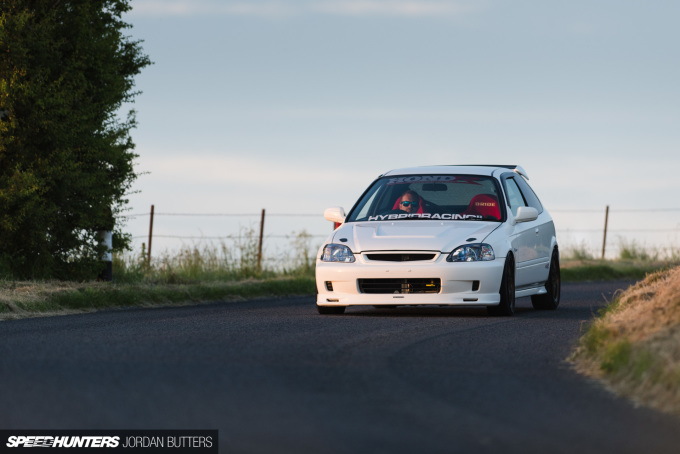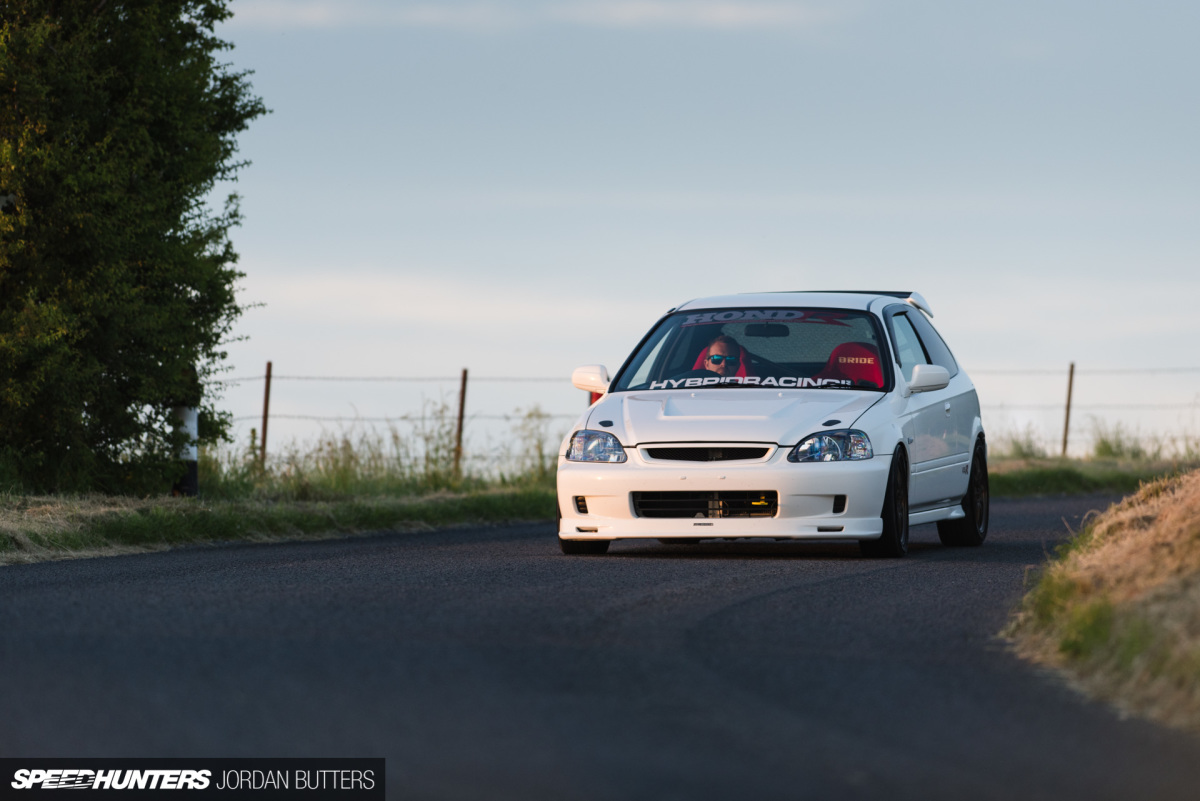 A DC2 Integra steering rack and front subframe accommodate the K-swap, but Andy has opted for a Toyota MR2 electric-hydraulic PAS pump to retain steering feel. The Civic's ride height is achieved through a set of carefully set up Tein Mono Flex coilovers, with the alignment kept in check by Buddyclub front UCAs and Skunk2 rear LCAs.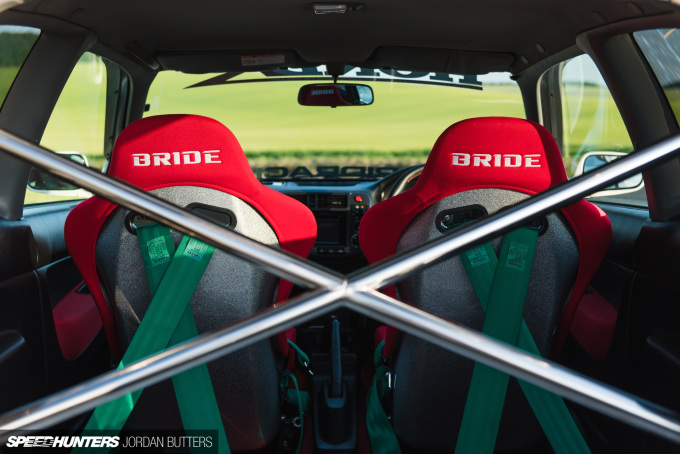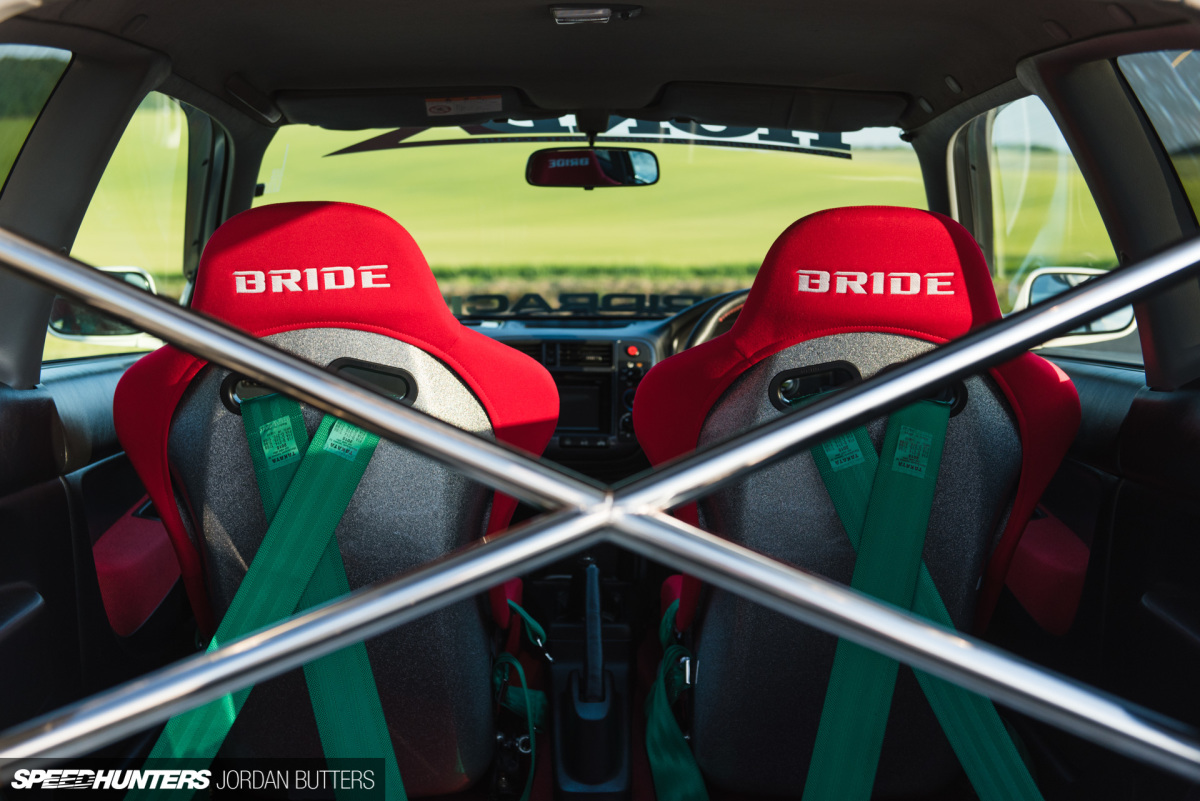 Inside the cabin it's business in the front and, well, not much in the back. A pair of red Bride Zeta III bucket seats and Takata harnesses provide snug transportation whilst not deviating too far, visually at least, from the Type R's original interior. A Spoon Sports wheel, Hybrid Racing shifter and Spoon Sports shift knob keep things in control.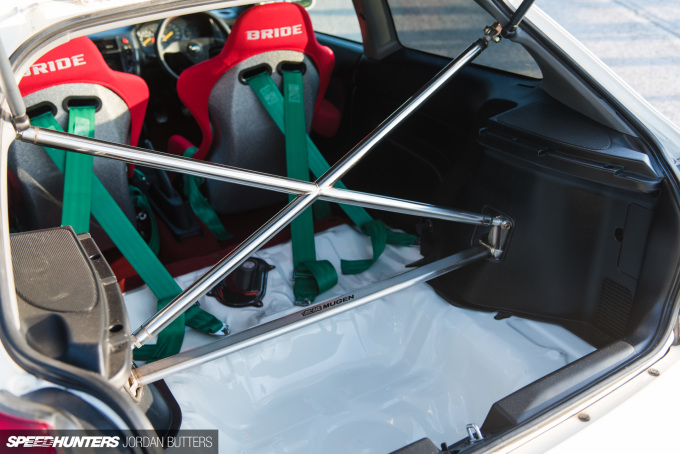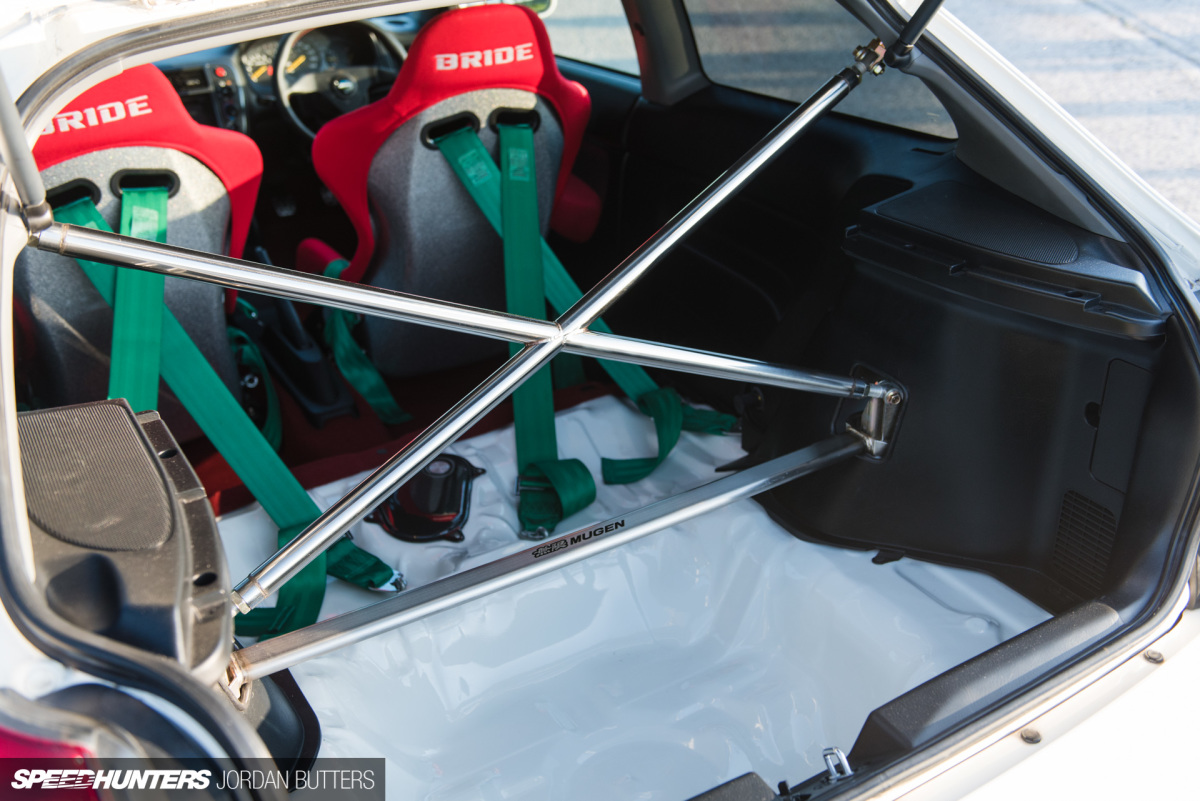 In the back, a carbon fuel pump cover and polished X-brace are the only occupants. Naturally, the rest of the interior is as spotless and well finished as the rest of the car.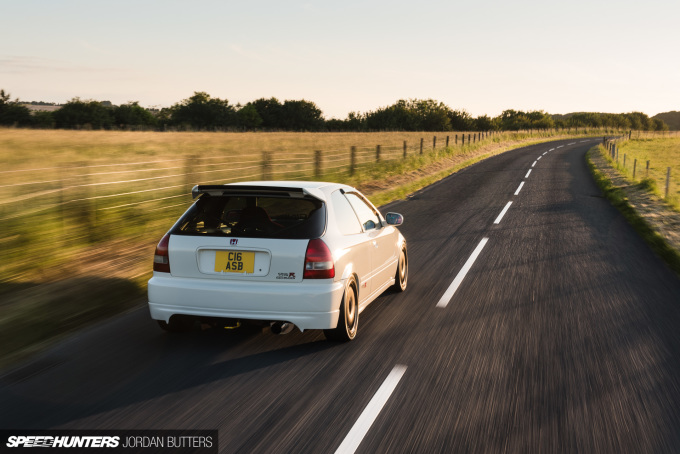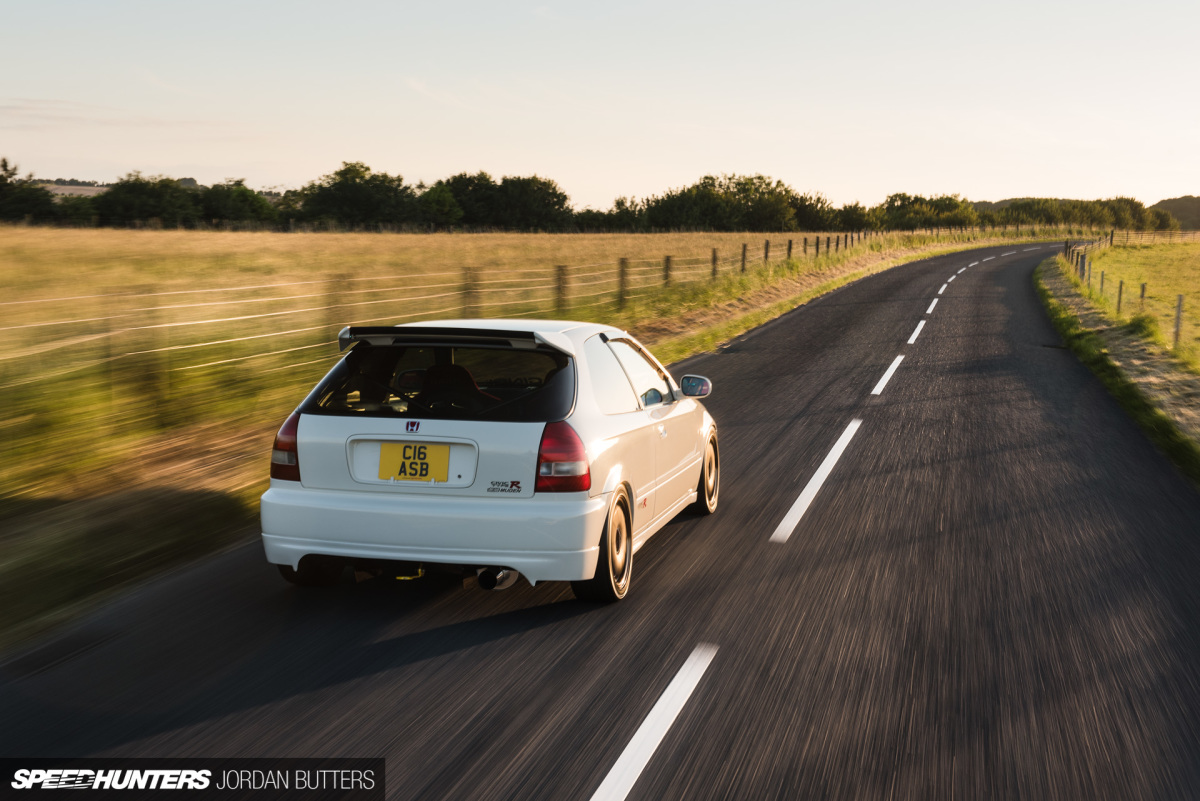 With the sun setting over the picturesque vista of Swindon, Andy took me for a couple of runs up the road. Estimated power is around the 240hp mark and the way that it delivers it is brutal and prolonged.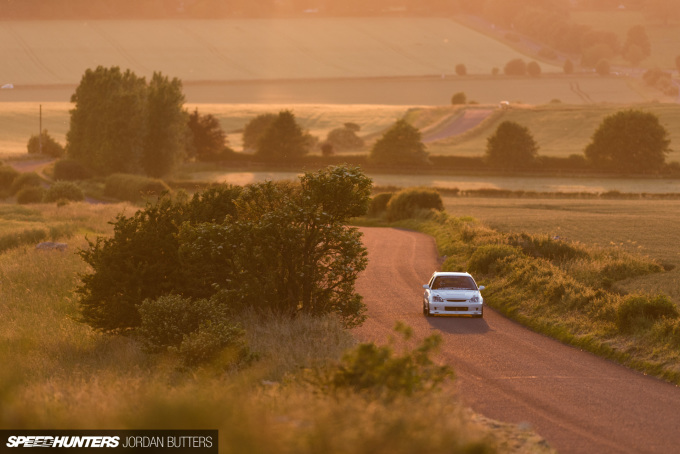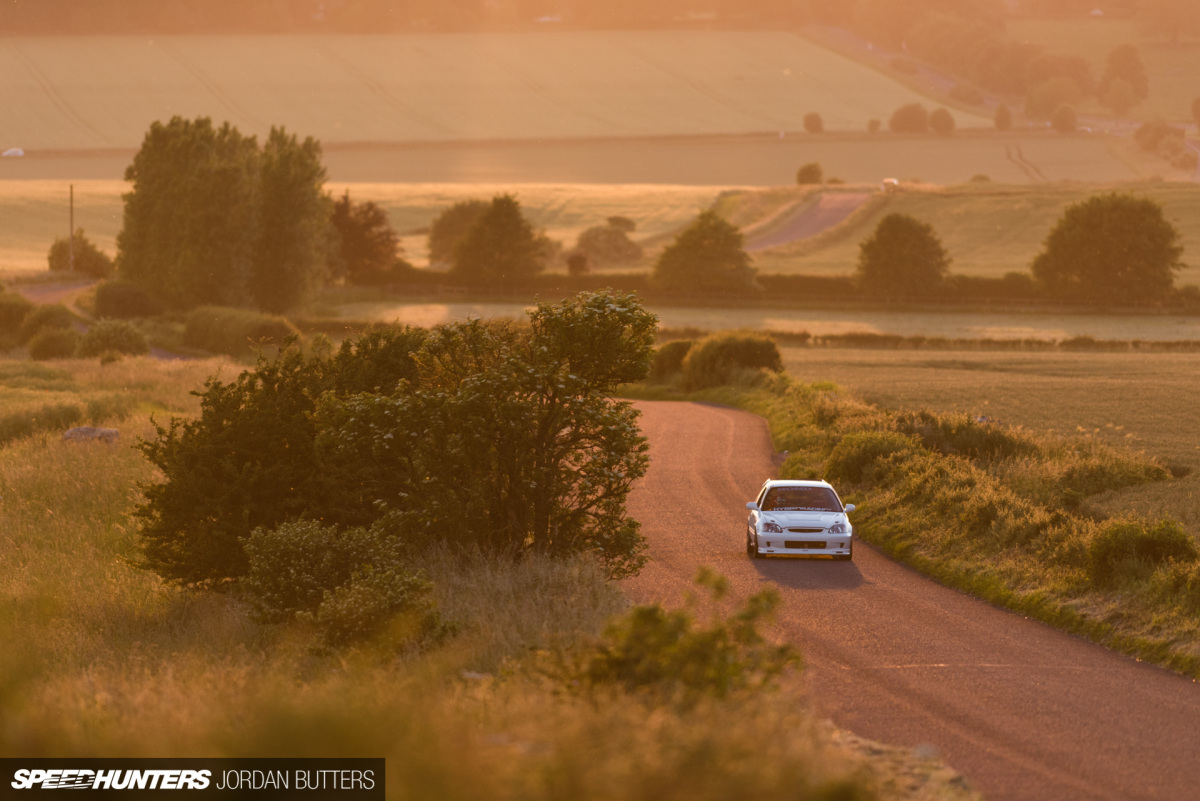 The EK behaves as if it was completely standard at idle and cruising speeds, but screams like a banshee towards the redline when required.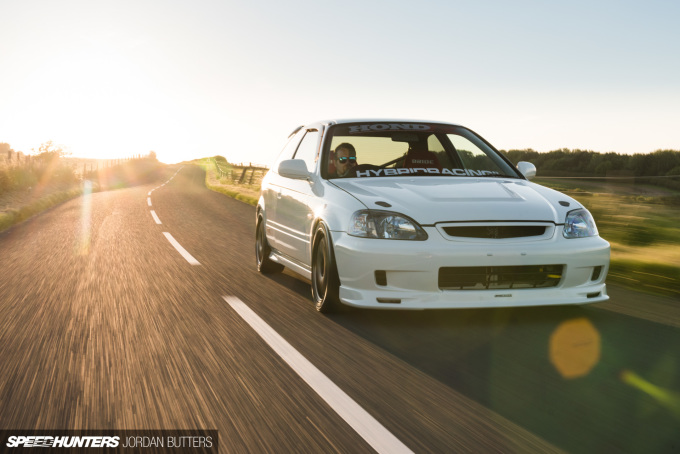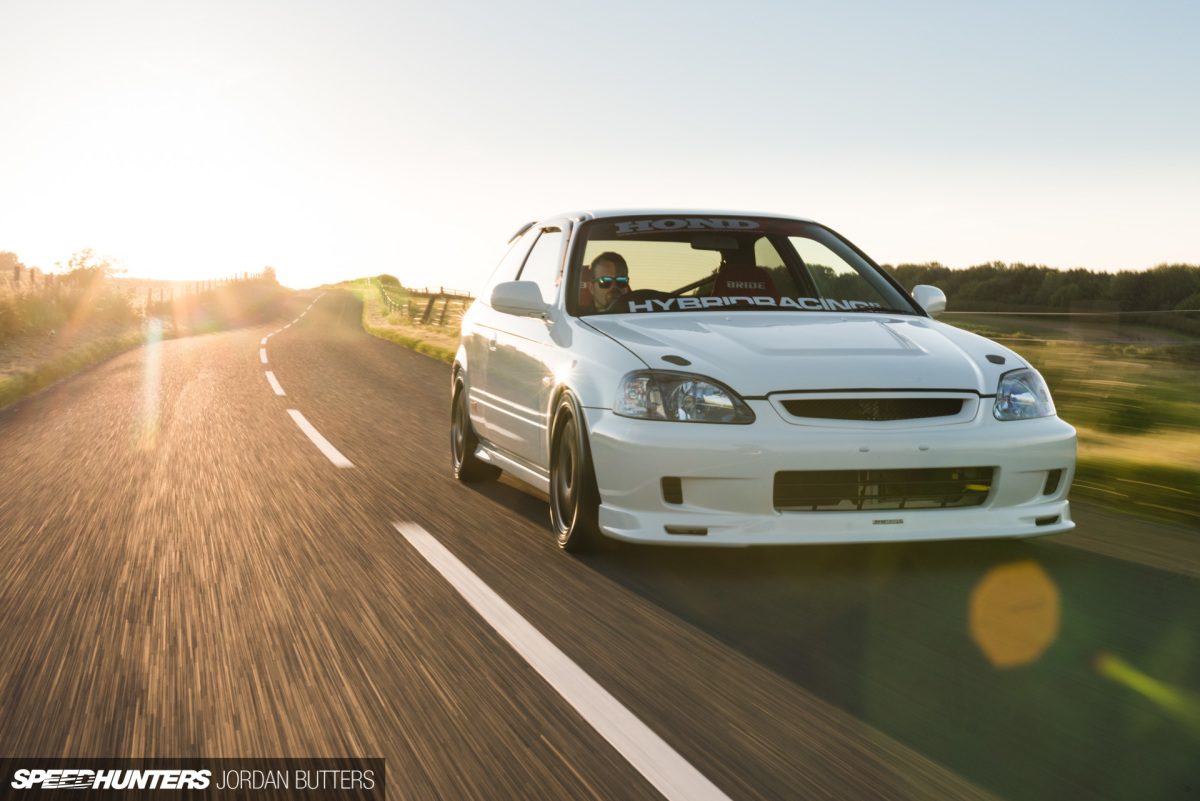 Dropping and dipping through the turns, it's nimble and light and looks like incredible fun to drive. Despite just how immaculately clean and well considered this build is, it's far from a show queen and sees plenty of spirited driving and the occasional track day.
"You have to use a car for what it's built for," Andy reassures me.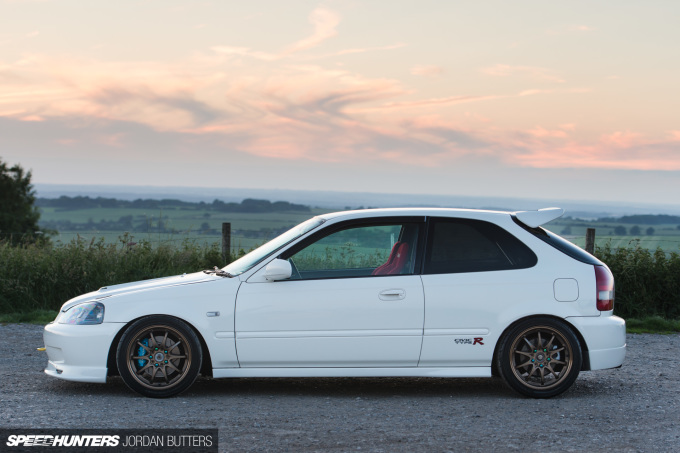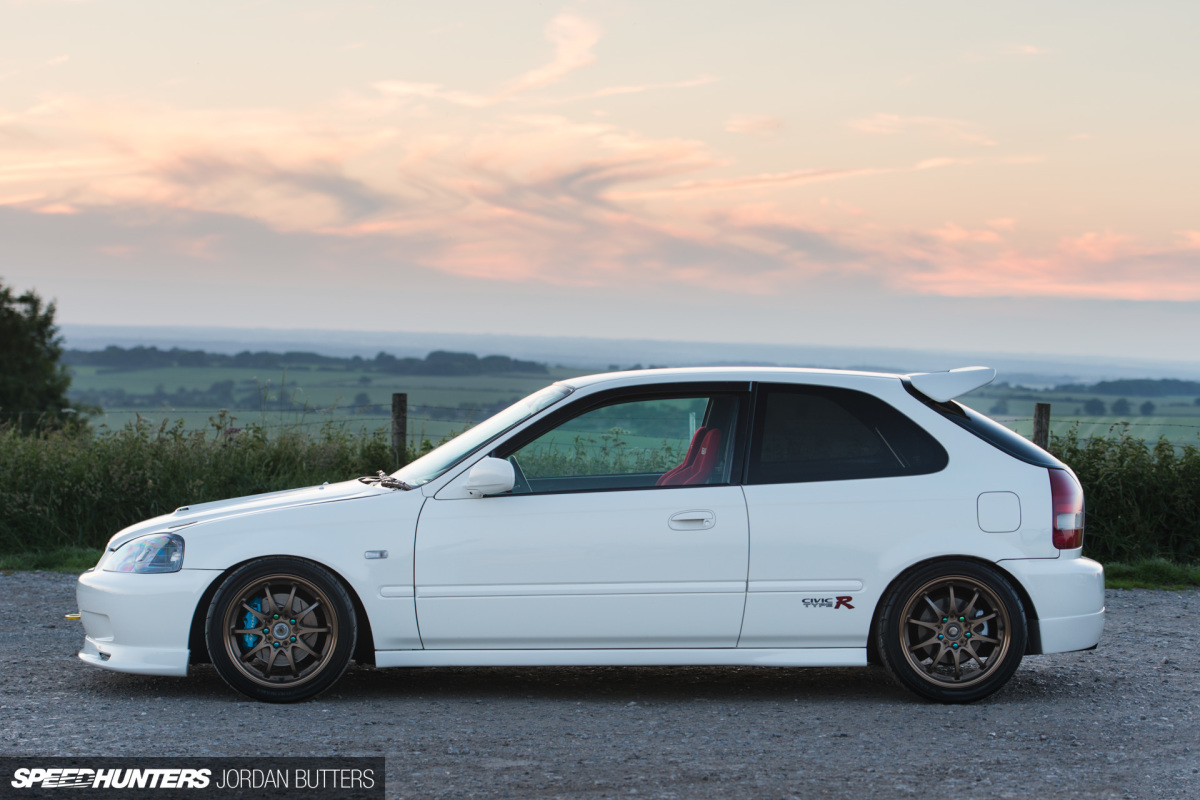 Andy and Hond-R have built, what is for me, pretty close to the ultimate fast-road EK9. Everything is so well considered, planned and executed. You can tell that nothing's been done on a whim, or changed for the sake of it.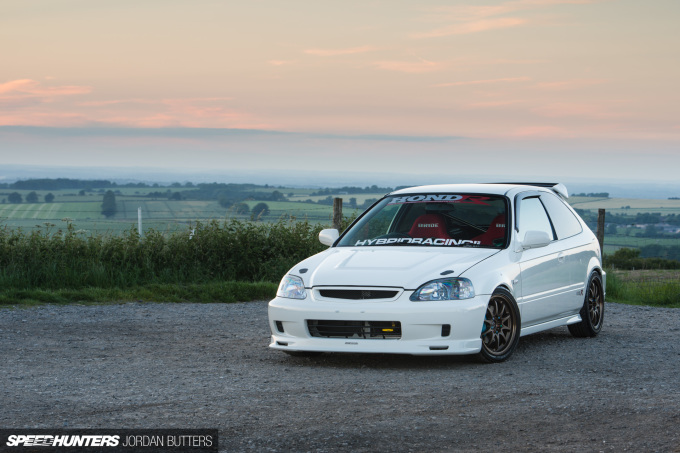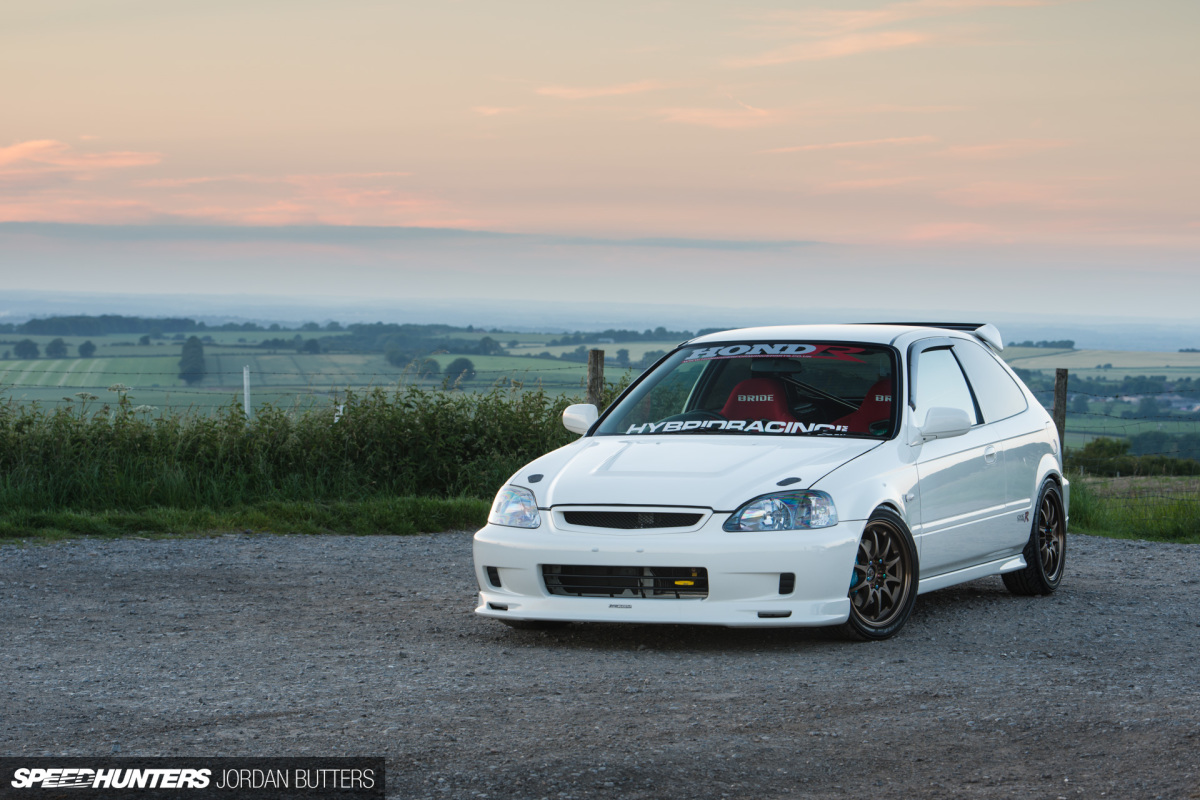 It's not a car that's chasing down power figures with forced induction, or compromising its usefulness on the road in the name of being lighter, or more aerodynamically efficient, through over-the-top weight loss or lairy aero additions.
It stays true to what a Type R should be, whilst bringing sensitive and tasteful improvements to the table.
Jordan Butters
Instagram: jordanbutters
Facebook: Jordan Butters Photography
jordan@speedhunters.com
Cutting Room Floor