Making up for lost time
There's something to be said for those of us fortunate enough to have their work made almost entirely of pleasure. However there are days when I find it equally baffling to discover that many of my pleasures have slipped into the realm of work – that is to say, I had a shocking epiphany when it recently dawned on me the only time I've driven Leroy in the past three years has been when a story deadline forced me to.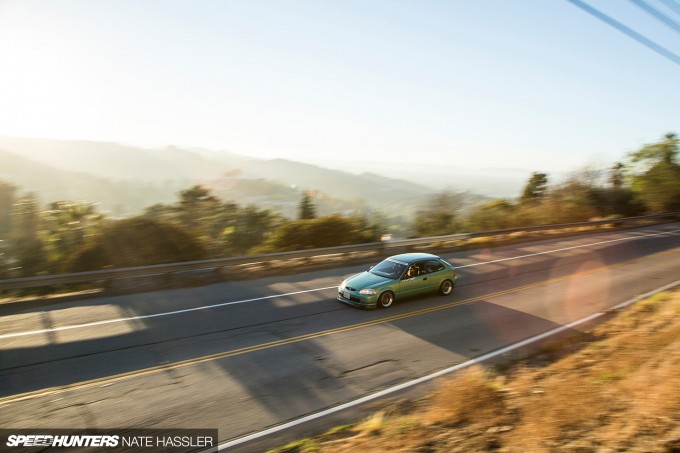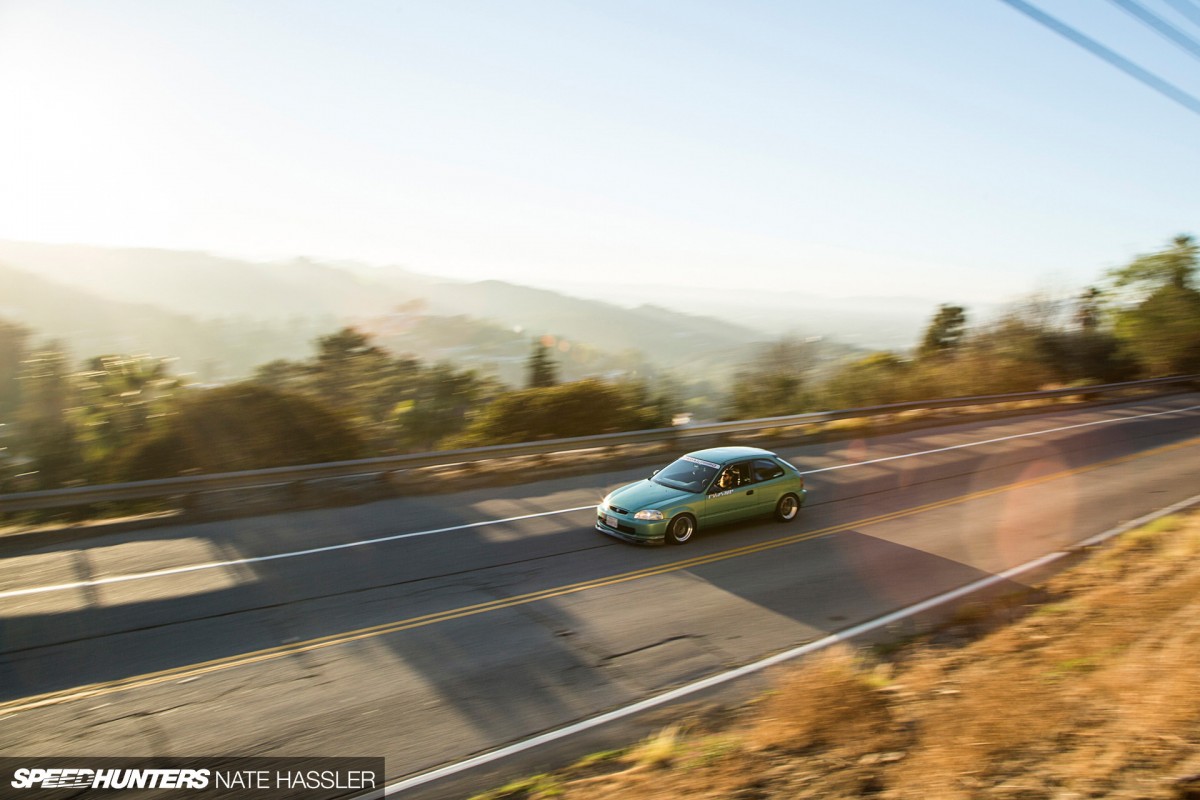 How is this possible? Well, life moves in unpredictable ways it seems. We've all heard the saying 'time flies when you're having fun' and that couldn't be more true in my case. The last several years have been a pivotal time in my life, thrusting my career from what was already a decent launching point into realms beyond my wildest dreams.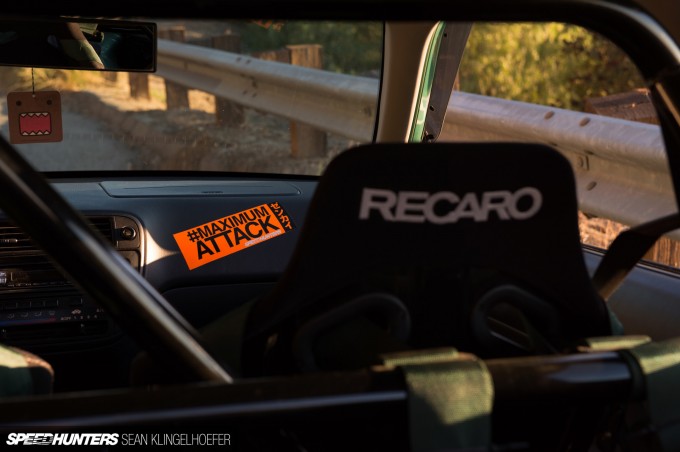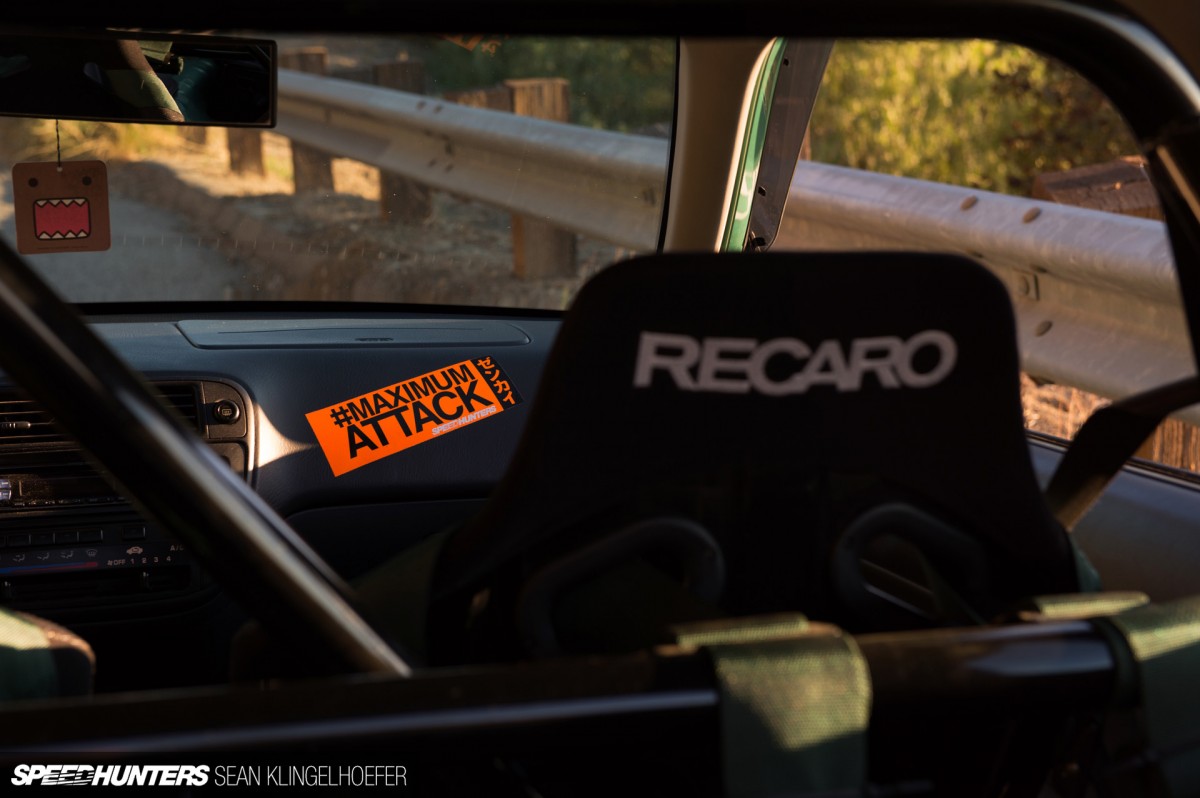 While my success as a commercial photographer has blossomed, other passions, such as the longing to build cars, have been put on the back burner. In fact, since the last installment, I've only driven Leroy very little… Which seems such a shame.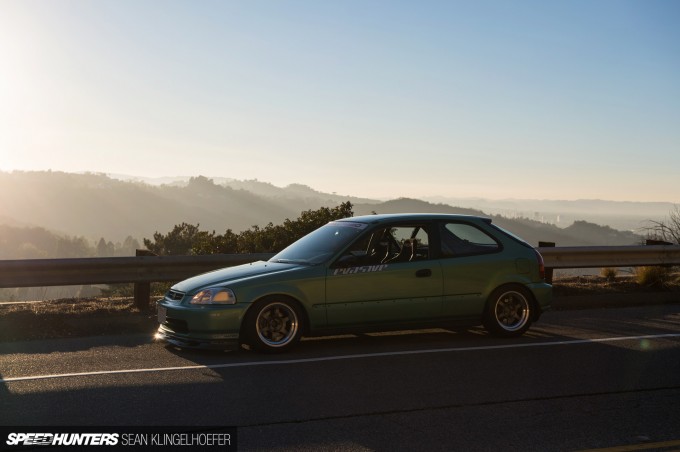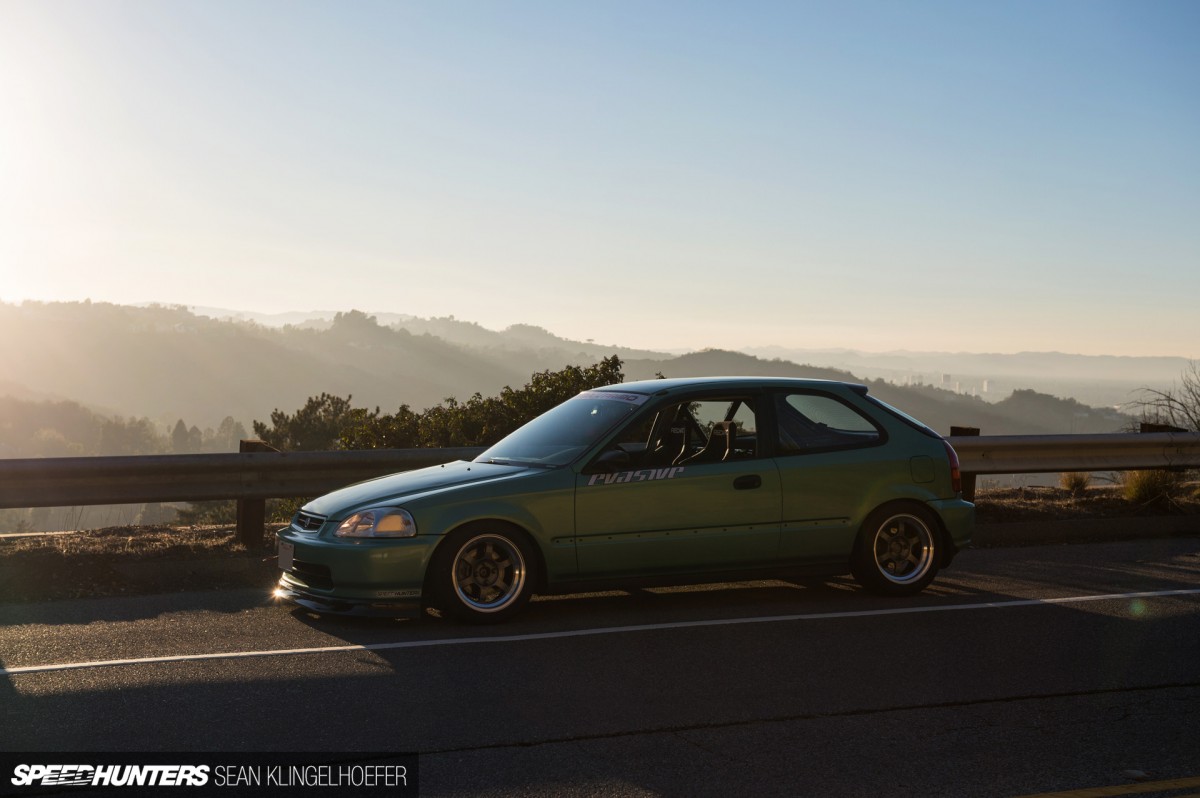 It seems to me now that even 72 hours in a single day wouldn't be enough to accomplish the things I often set out to cram in. Some of you may have noticed my posts becoming a little more scarce as of late, which is just the latest development in this chain of events.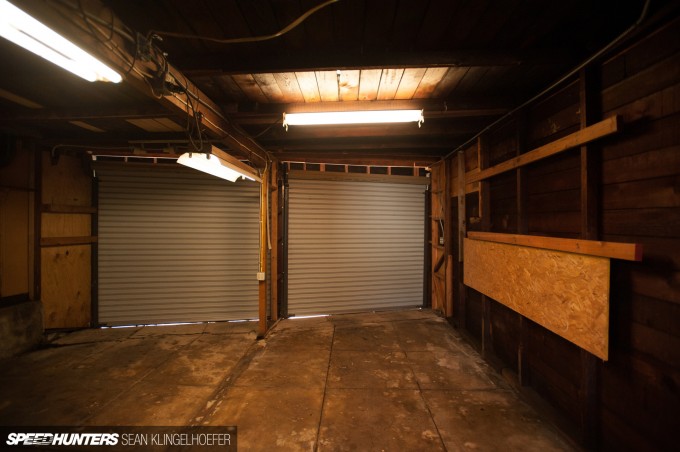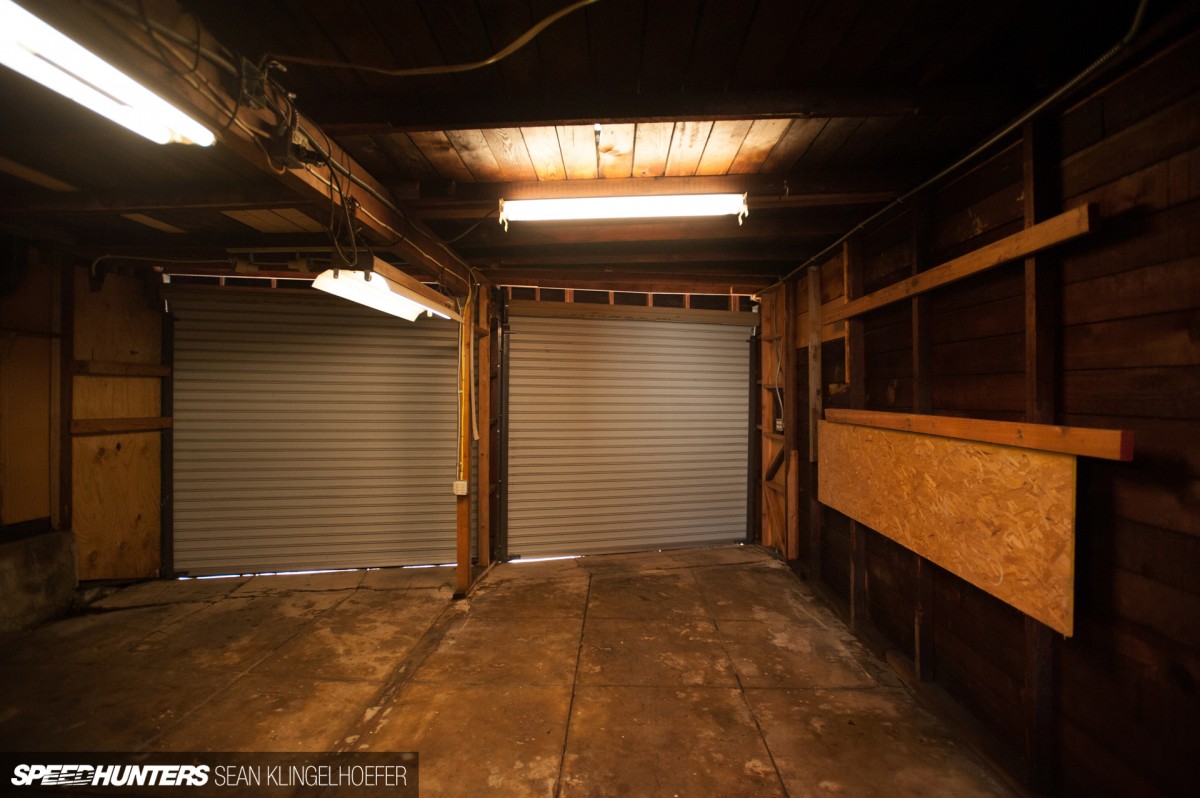 You see back in November I moved house, which was both a blessing and a curse. On one hand, I now have a garage again, which is something I've been longing for ever since moving to LA five and a half years ago.  On the other hand, I now have a seemingly endless to-do list of other things to take care of in my precious free time.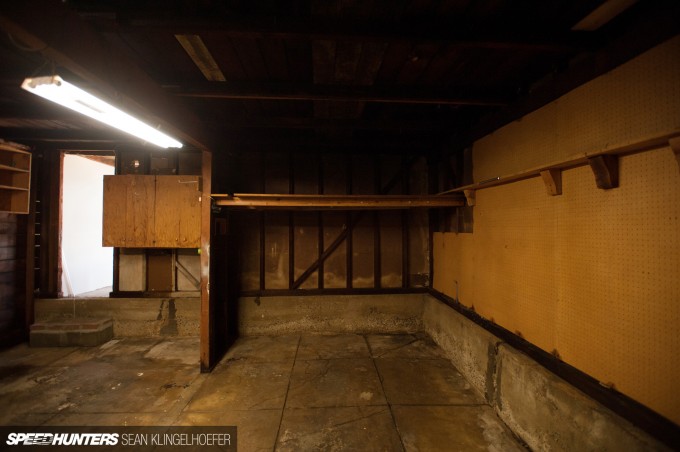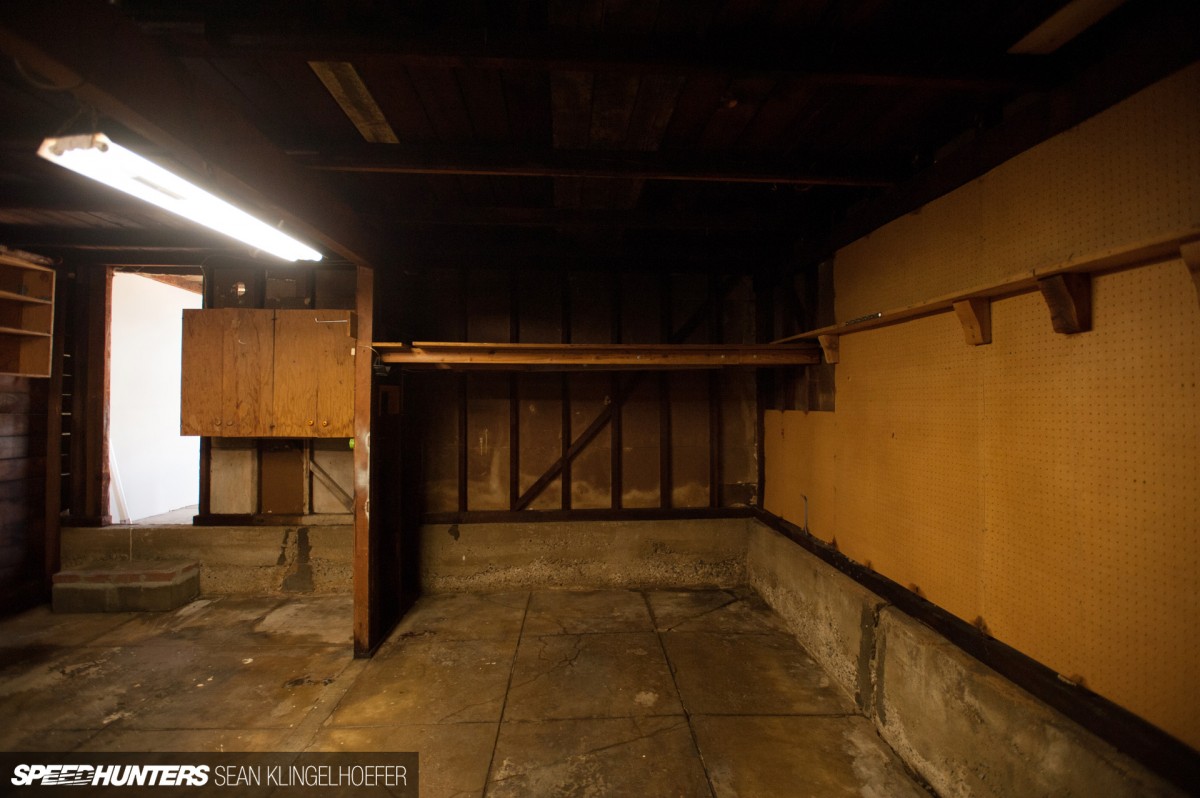 The day before taking over keys to the place I went ahead and gave the garage a good thrice-over, cleaning virtually every surface. With the previous tenant's sawdust and mildew out of the way, I could see the bare bones of the space aching to be revived. However, since that time I've scarcely been at home at all. Despite my best intentions, I believe I've only set foot in the place five times – mostly to add more junk to the ever-growing stockpile.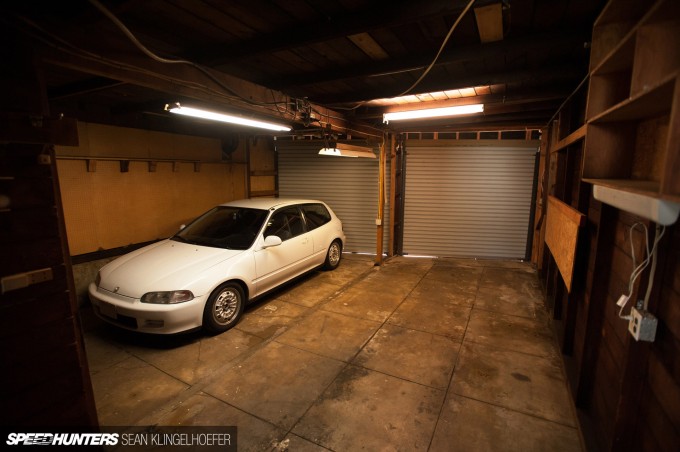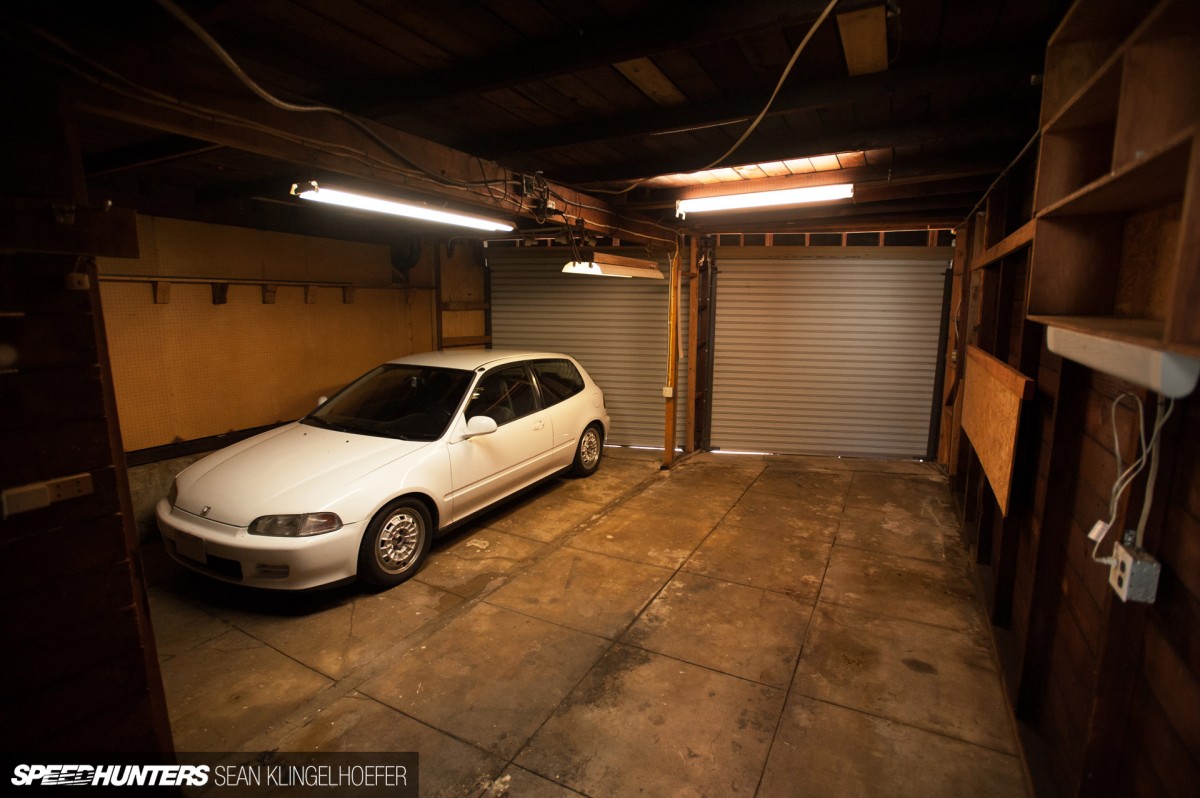 Here we see the space with my other Civic, Oliver. Some of you may recognize this car from the cover of Project Car magazine number 22. Up until last year, this car was my daily driver, but it's now another project to be sorted out somewhere in tomorrow land.  A mere day after this photo was taken, the place went from cavernous potential to border-central, chock-full of boxes to be gone through and reorganized another day.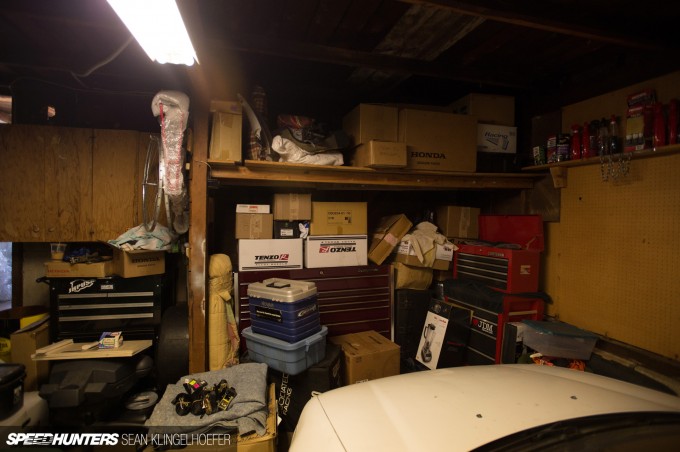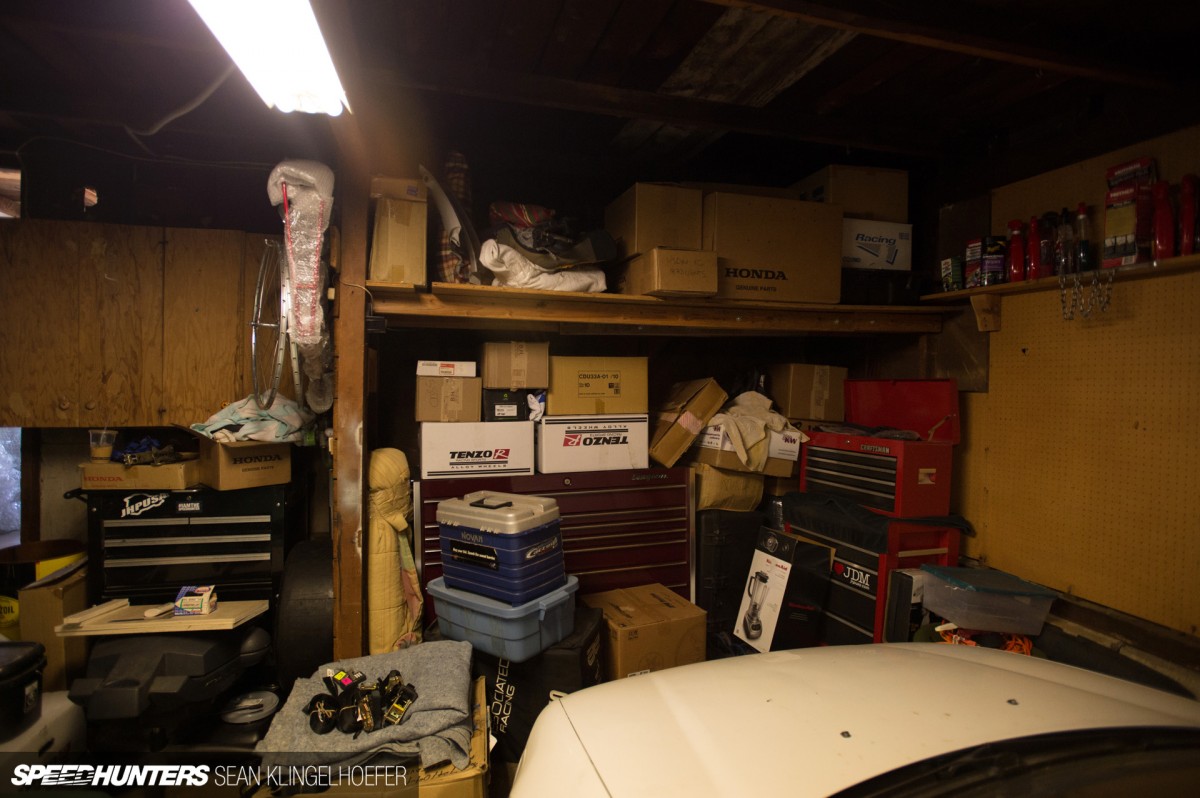 This is, more or less, the current state of affairs. Nevertheless, all of my tools and parts now reside under the same roof and the potential to begin tinkering again is there. I just have to find the time. Fortunately, my Speedhunters inbox brimming with project update requests would prove to be just the fire I needed under my backside to get out there.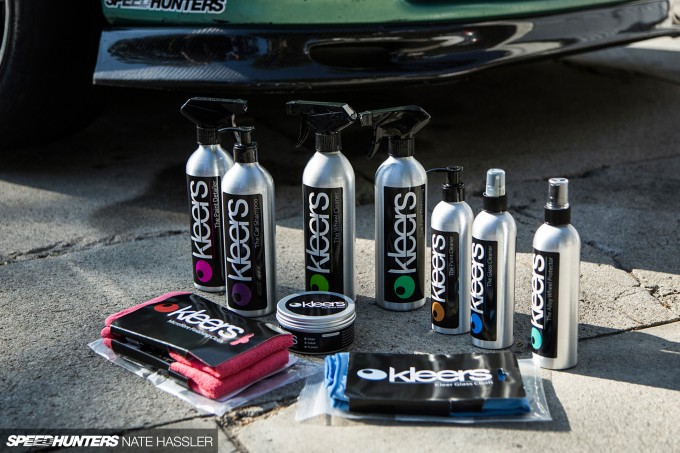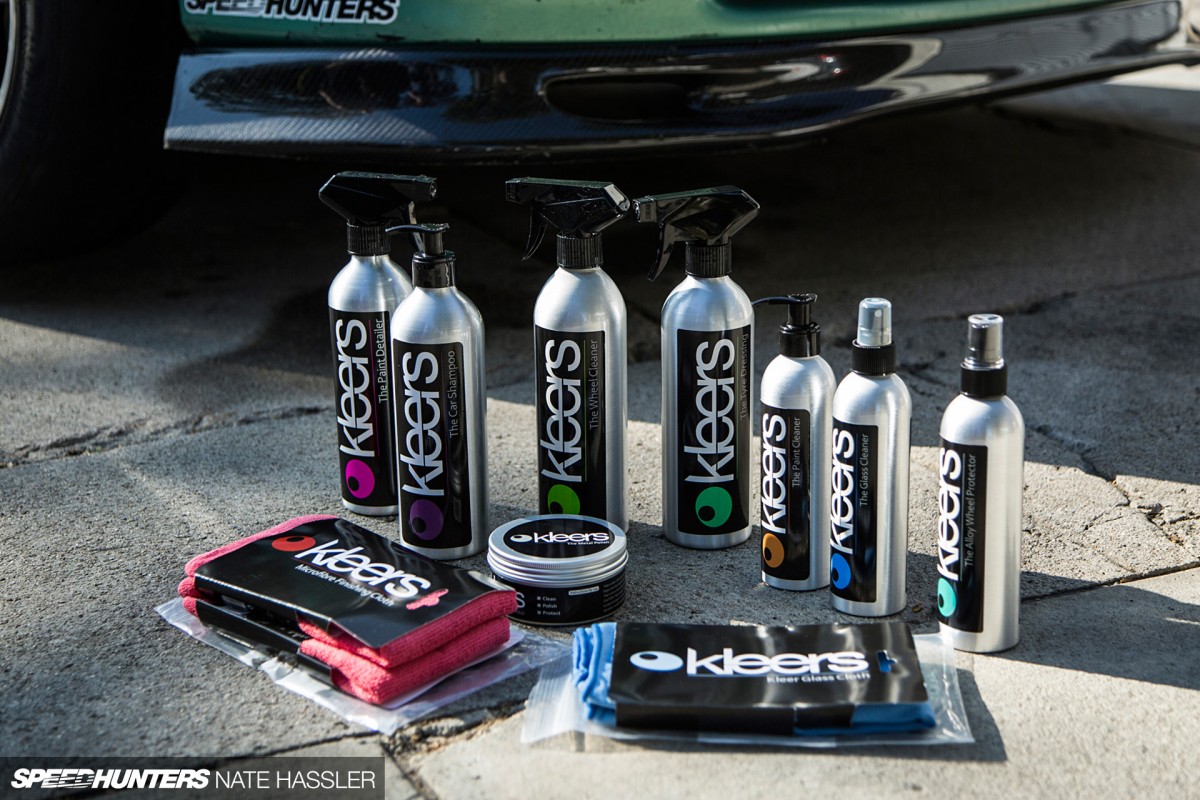 After moving several heaps of miscellaneous stuff, I was able to work Leroy out of his hidey-hole. Needless to say, having not been driven in ages, the car was filthy. Fortunately I had just received a care package from Kleers that would remedy this problem.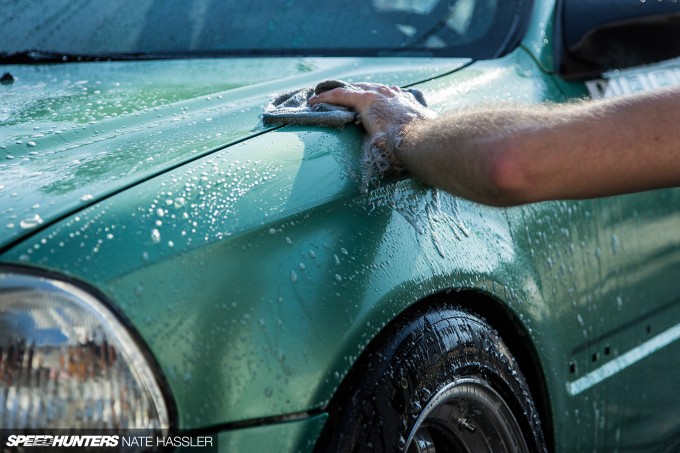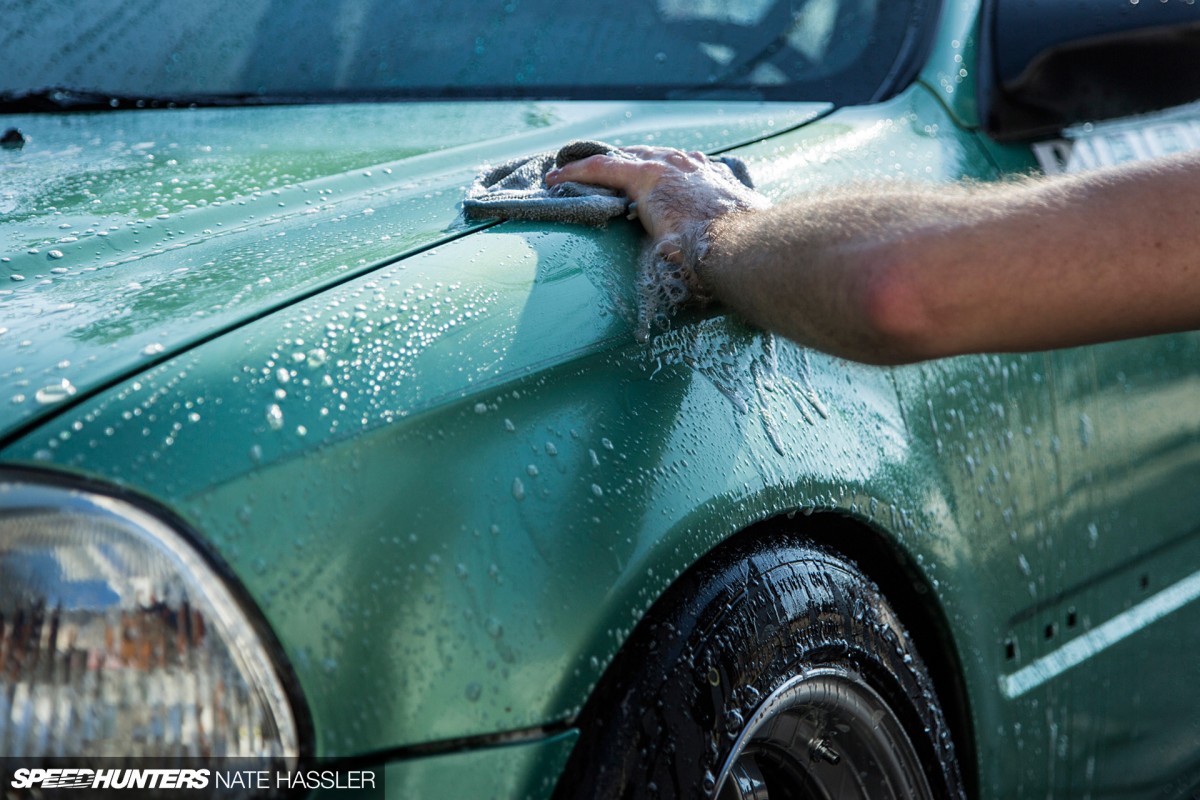 I'm sure by now that you lot are about as sick of reading about me washing my car as I am of washing it, but that's one of the unfortunate realities of owning cars that are seldom driven. I'm sure many of you reading this now share the pain.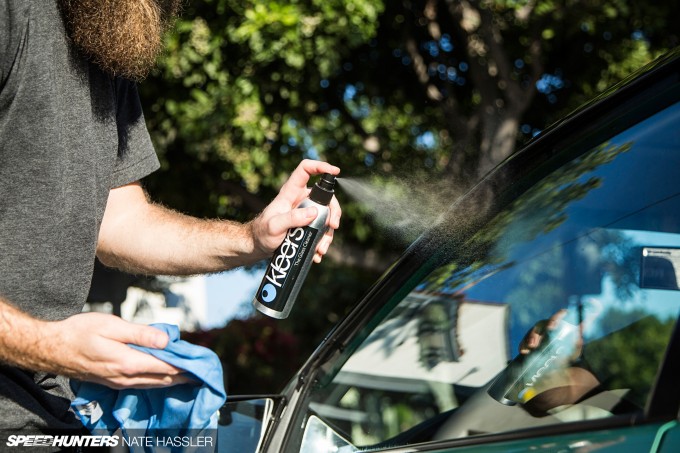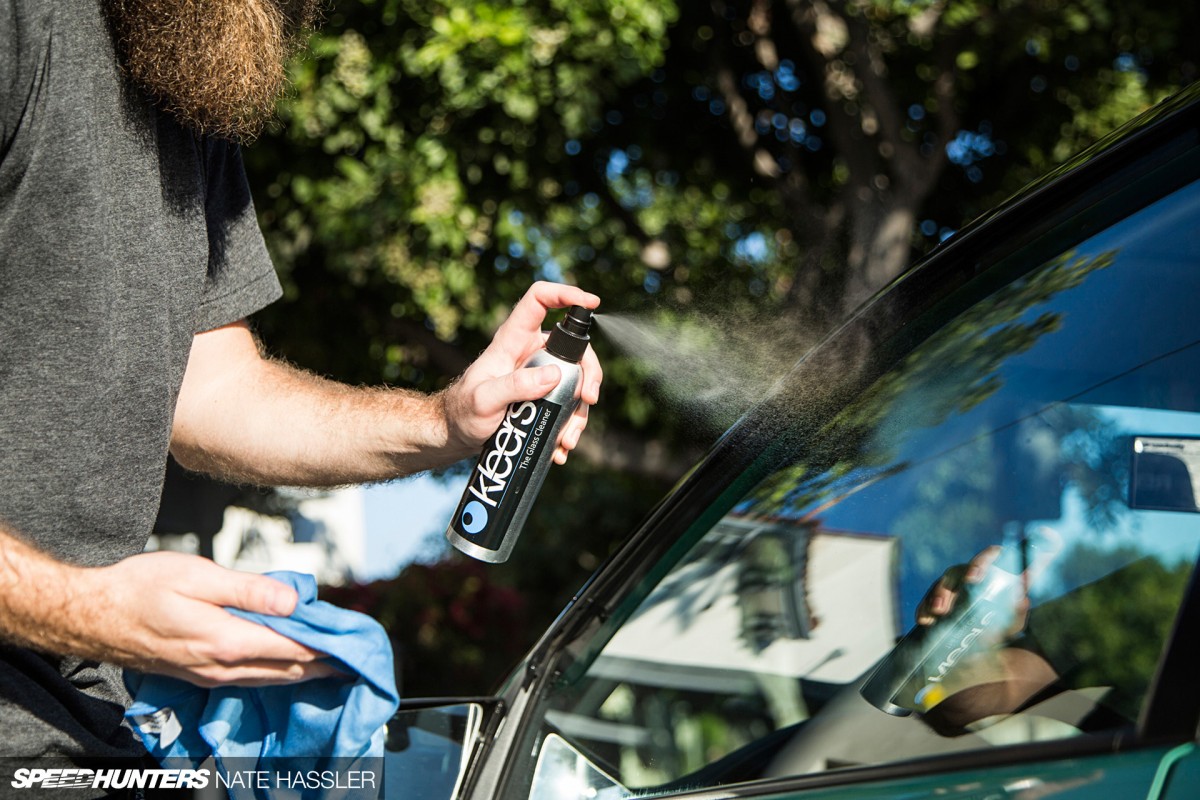 After an hour or so of scrubbing, wiping, polishing and adding some finishing touches, Leroy was good as new. Or at least as close as it's gonna get. With my long-time friend and fellow photographer Nate Hassler as my co-pilot,  it was time to fire up the old boy and go for a spin.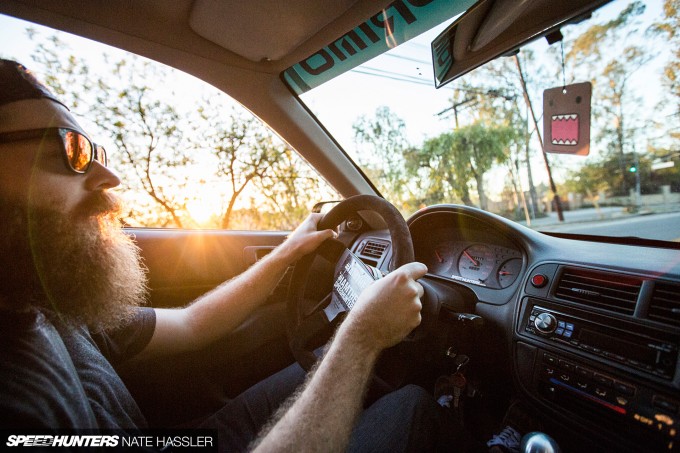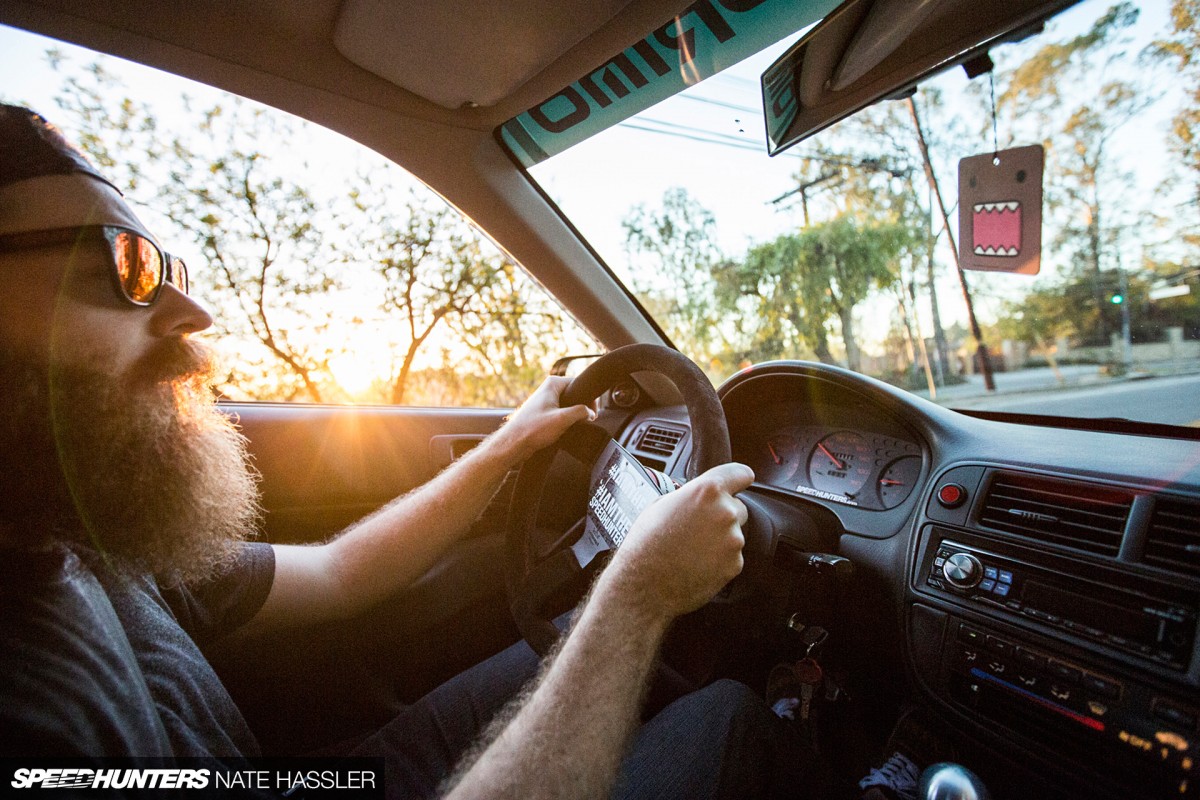 The engine started first try (one of the redeeming qualities of a Honda) and immediately put a smile on my face. Every time I drive this car it surprises me how fun it is to throw around. Everything is still so tight and precise – one of the actual pleasures of having a car that is only driven a few times a year. With the sun threatening to set, it was time to head for the Hollywood hills for a nice cruise.
Hollywood's skyline jewel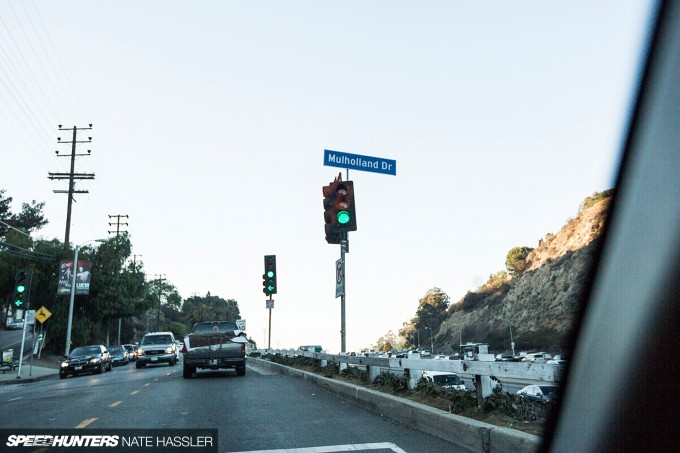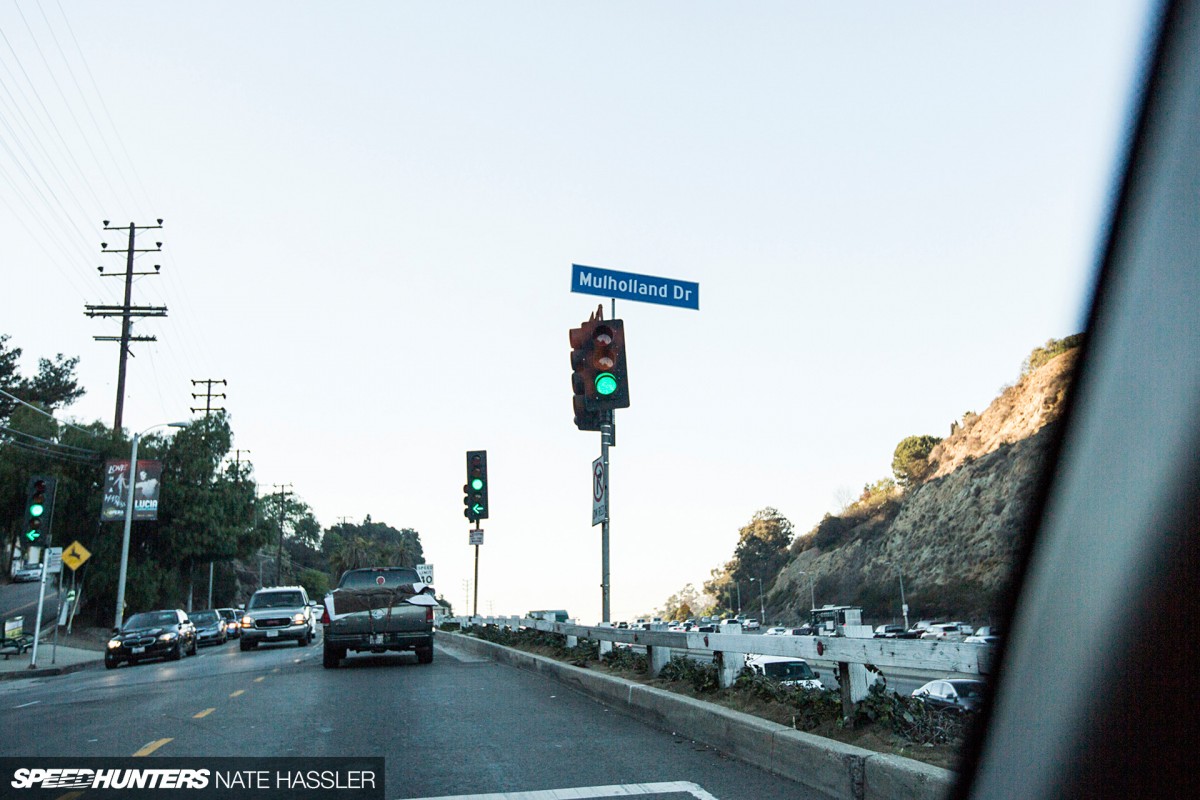 I had my sights set on Mullholland Drive, one of Southern California's most famous scenic routes. It's a road I've only driven on twice since I've lived in California and I figured this day was as good as any to finally drive it for pleasure.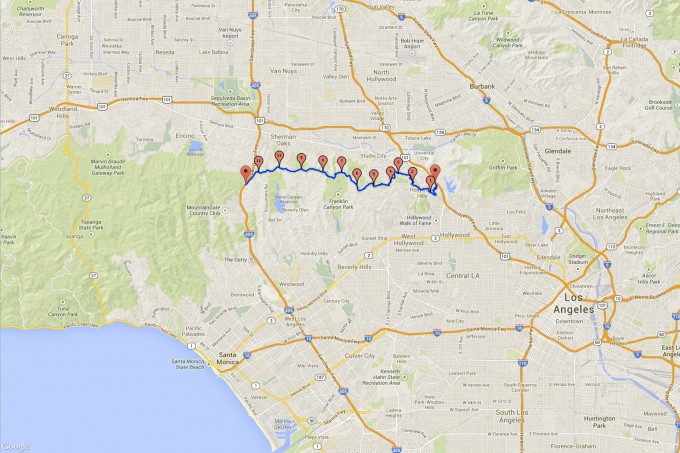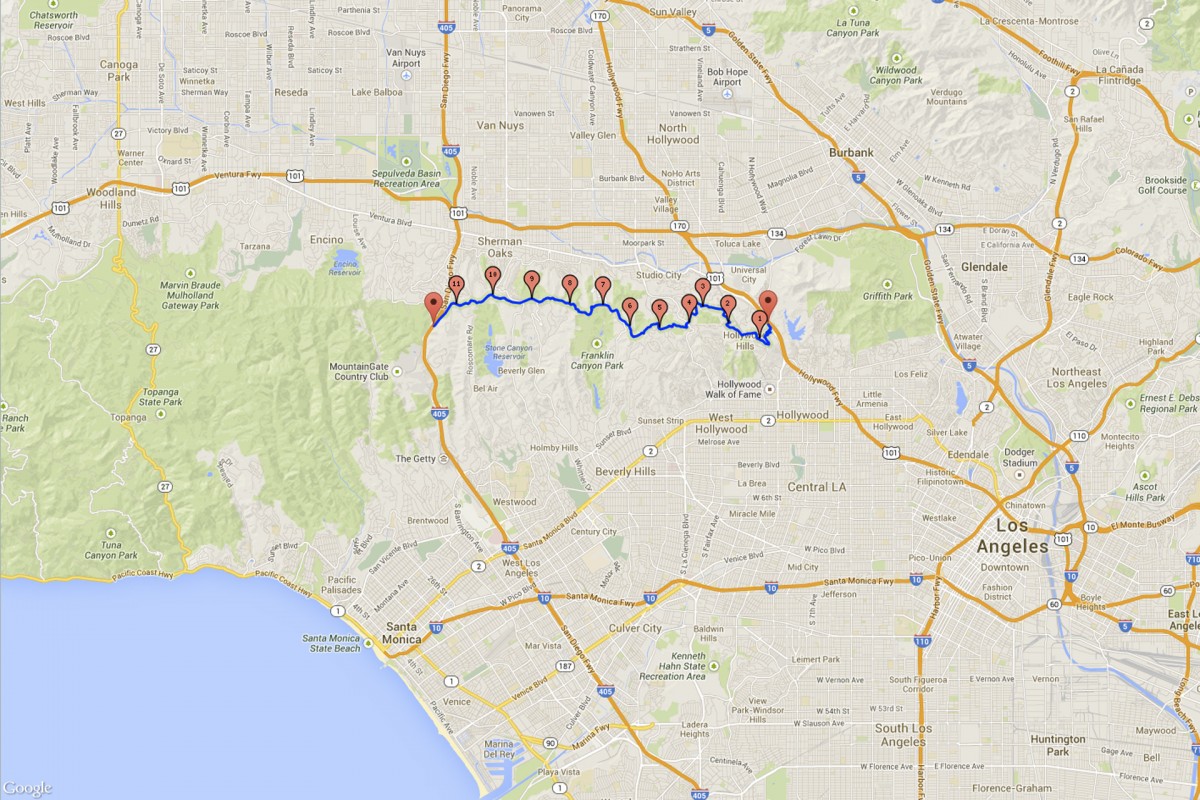 Mullholland technically has two sections – Mullholland Highway off to the west (which I plan on flogging in the future), and Mullholland Drive that meanders through some of the most expensive houses in the world in the Hollywood hills. For this drive I wanted to focus on the twelve mile stretch between the 101 and 405 freeways, known around the world for its incredible vistas and overlooks.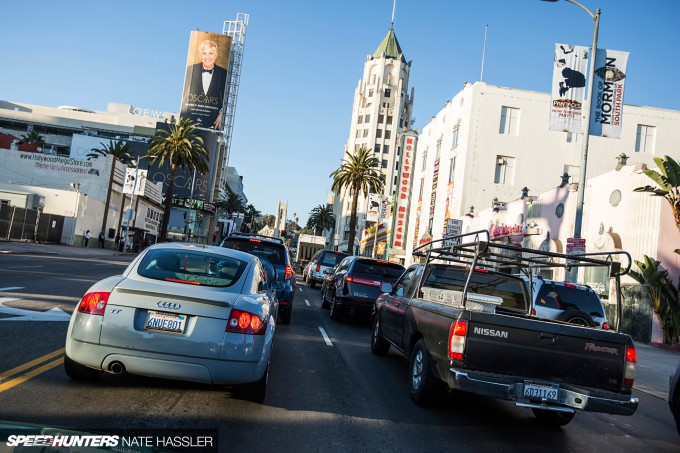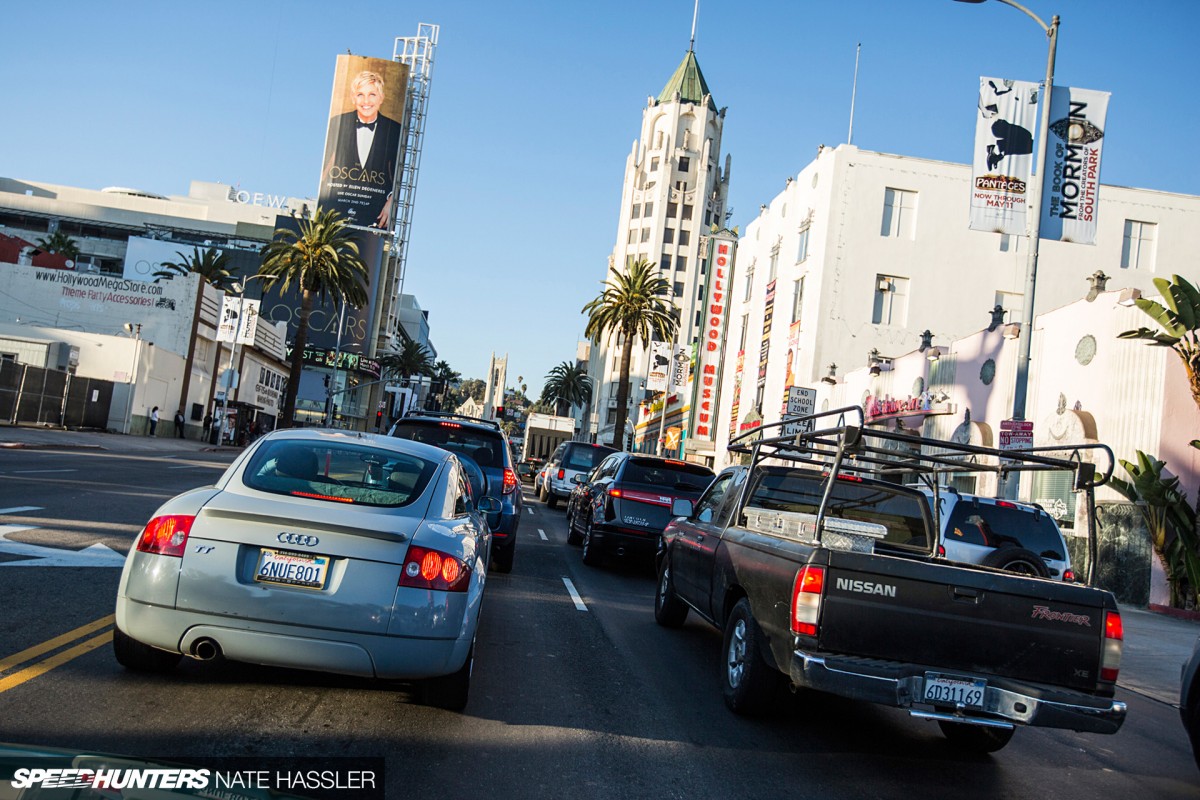 The difficult part would be getting there. There are many reasons I love living in Hollywood, but the traffic certainly isn't one of them. This is a fairly typical view heading northbound on Highland Ave looking towards Hollywood Blvd and its legendary Walk of Fame.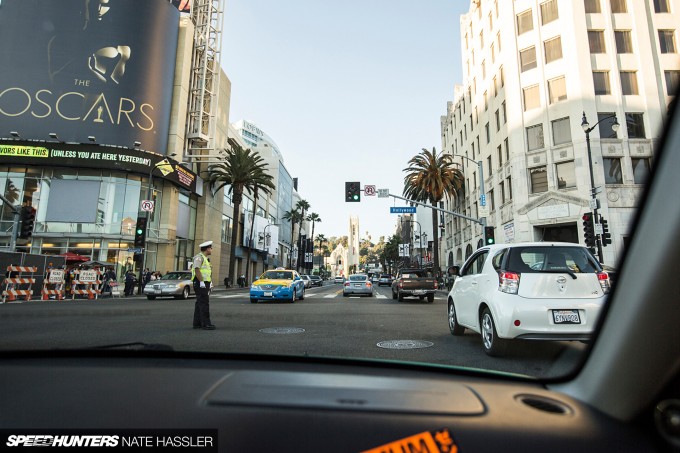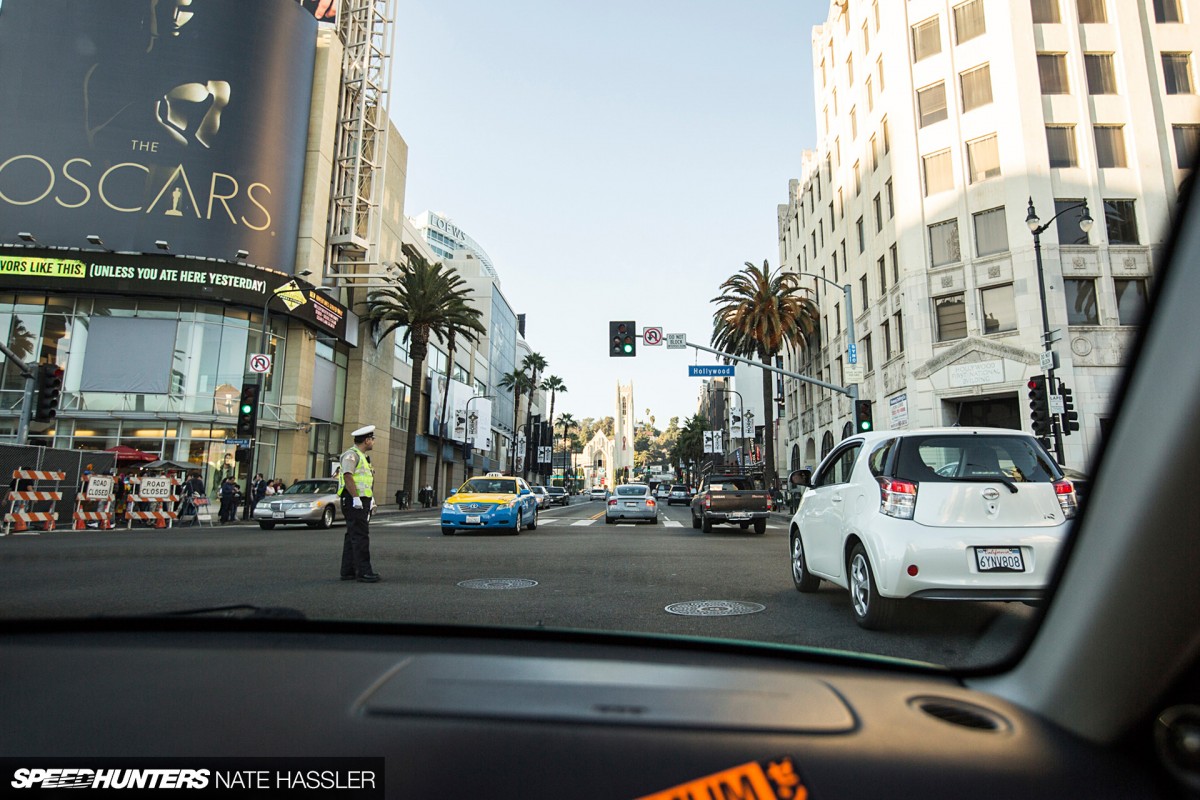 As we neared the intersection, I realized traffic was even more dense than usual due to a road closure for the upcoming Oscars. #HollywoodProblems.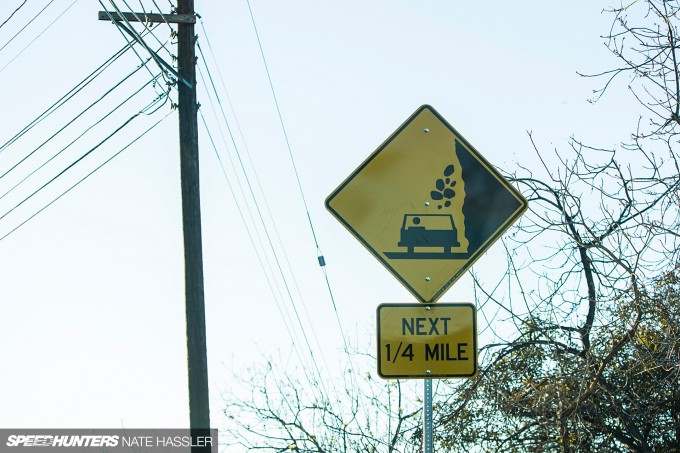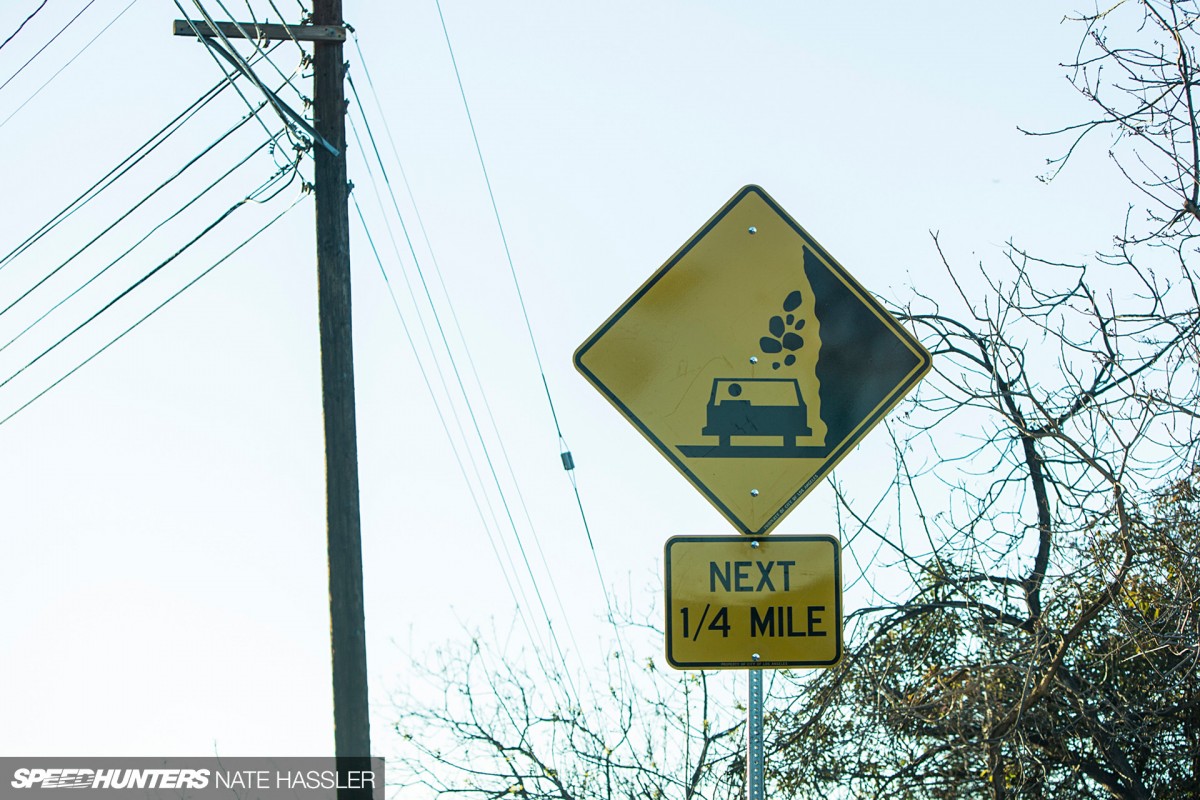 Inevitably we would make our way out of that horrific scene and find ourselves on some nice twisty bits. Signage like this is always a good… sign.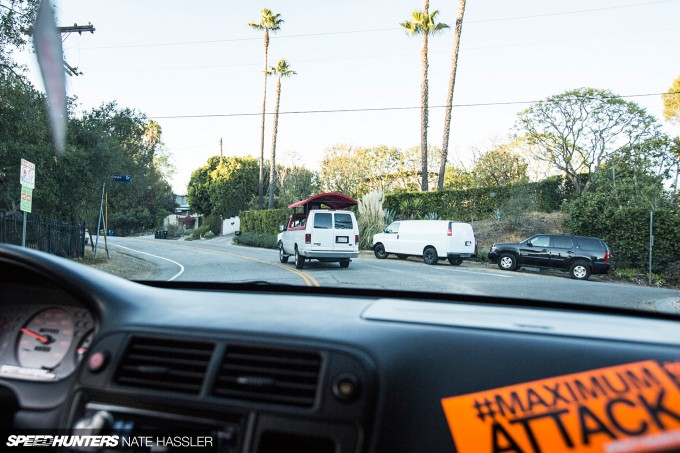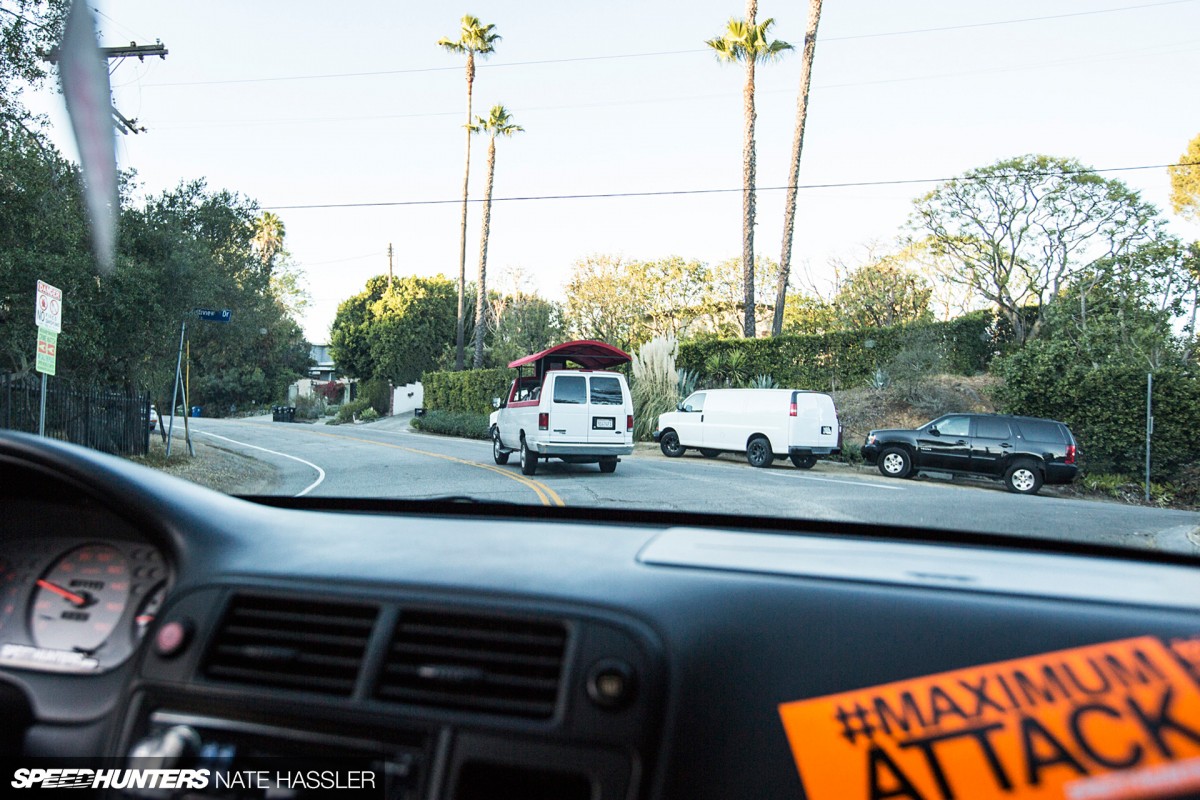 But even when you think you've finally cleared the final hurdles, a challenger appears. This is the Los Angeles equivalent of Jeremy Clarkson's famed archenemy, the caravan. After living in Hollywood for some time, you stop noticing star-tour vans, until you're stuck behind them on an evening drive in the twisties.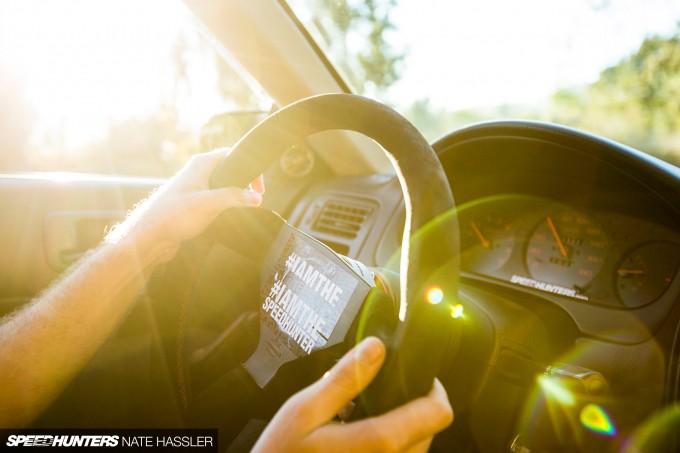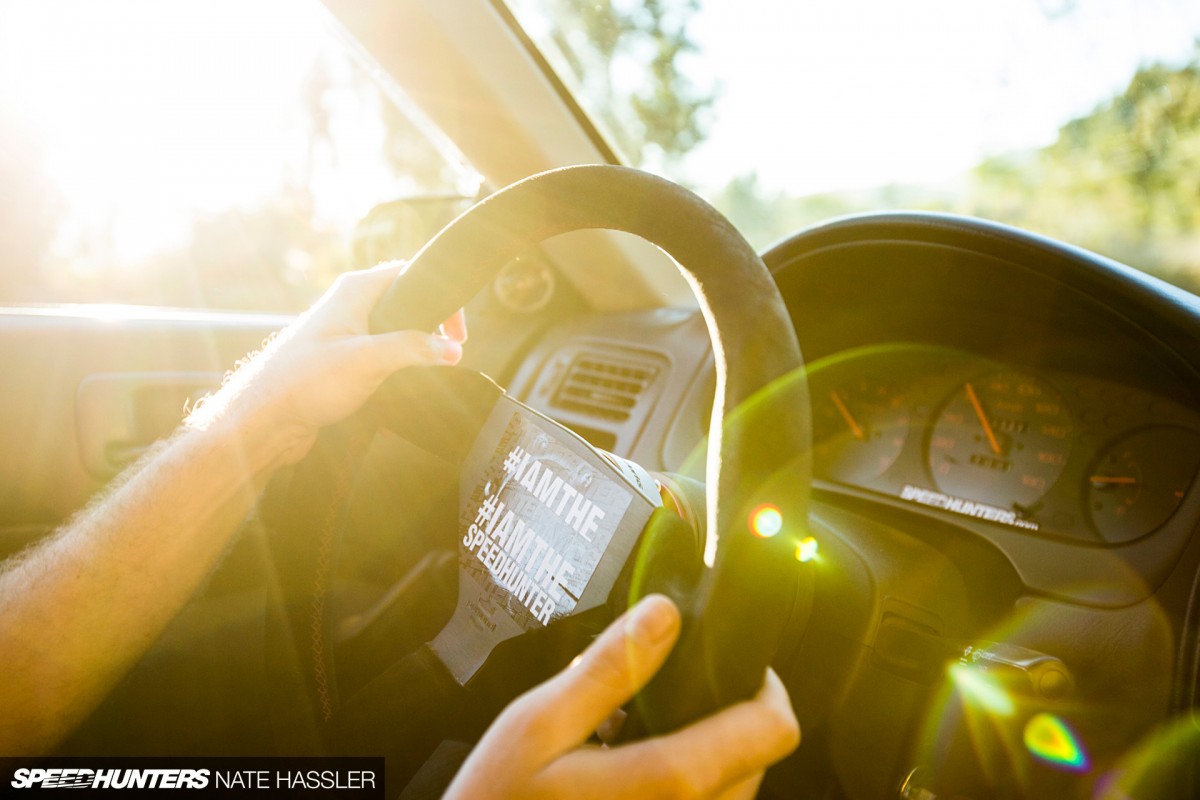 Fortunately they stop frequently and generally move quite slow so they aren't too difficult to overtake. With open road, clear skies and my brand new KW suspension, it was time to get things turned up.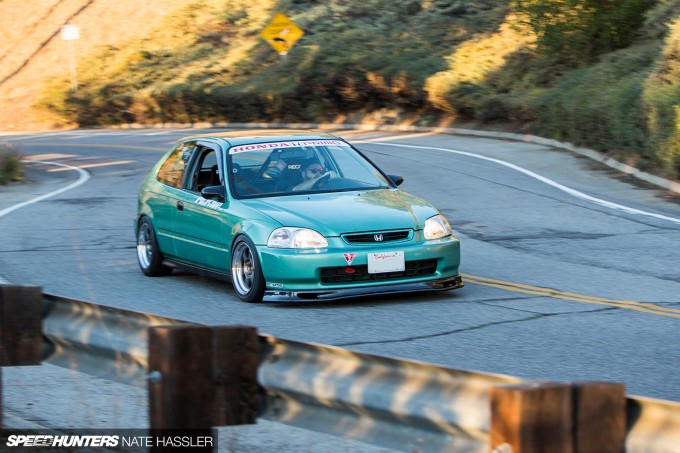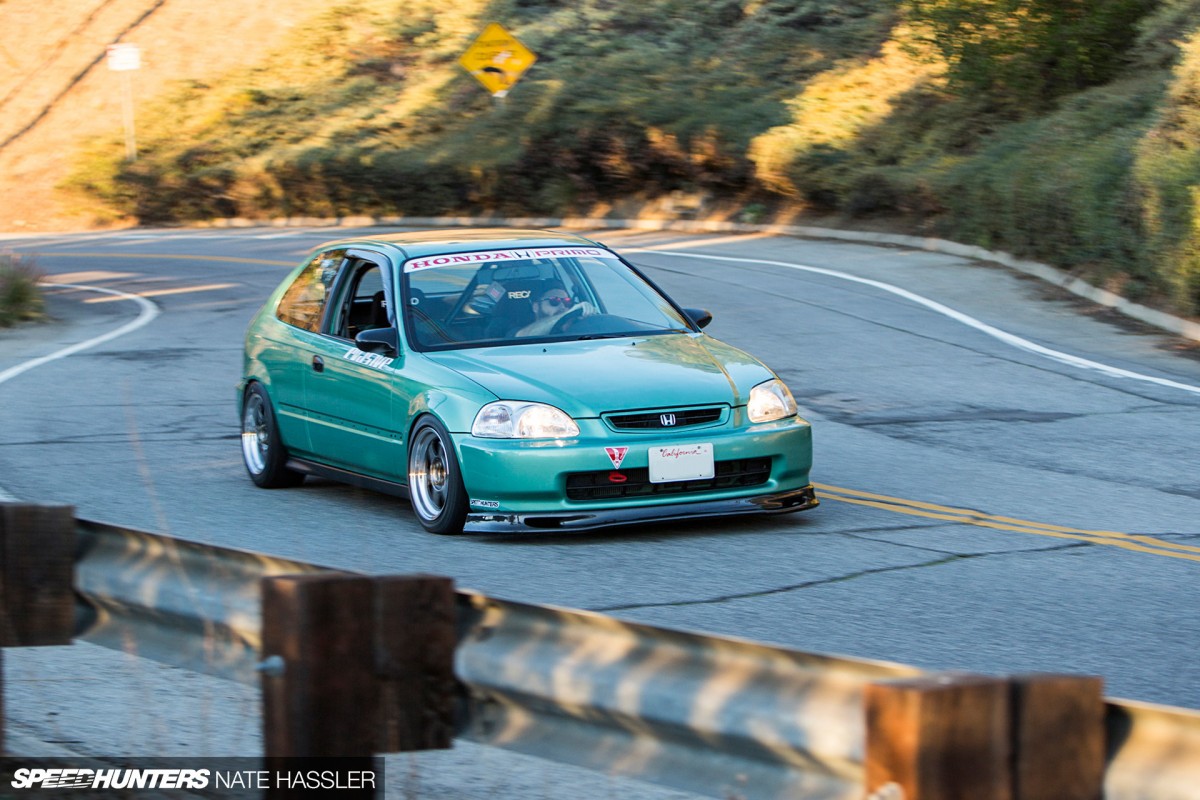 In all seriousness, these days I drive rather modestly on public roads. I had a really gnarly near-death experience at the end of my teenage years in a Civic not so different from this one that made me rethink a lot of things, including flogging a car in a place where you can put others in danger. Even at relatively slow speeds compared to a track, I can still dice and have fun though.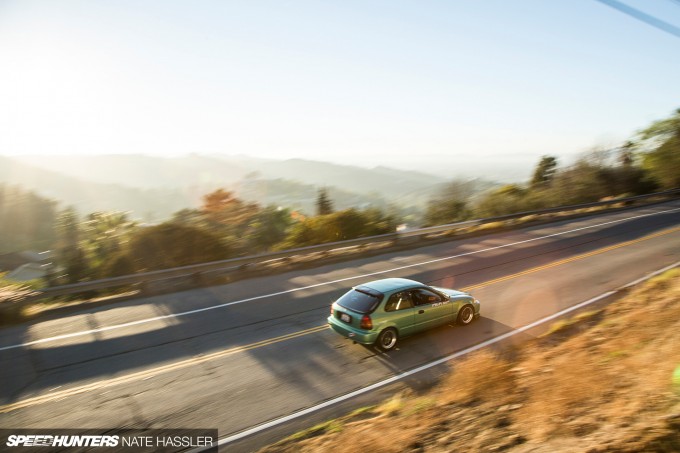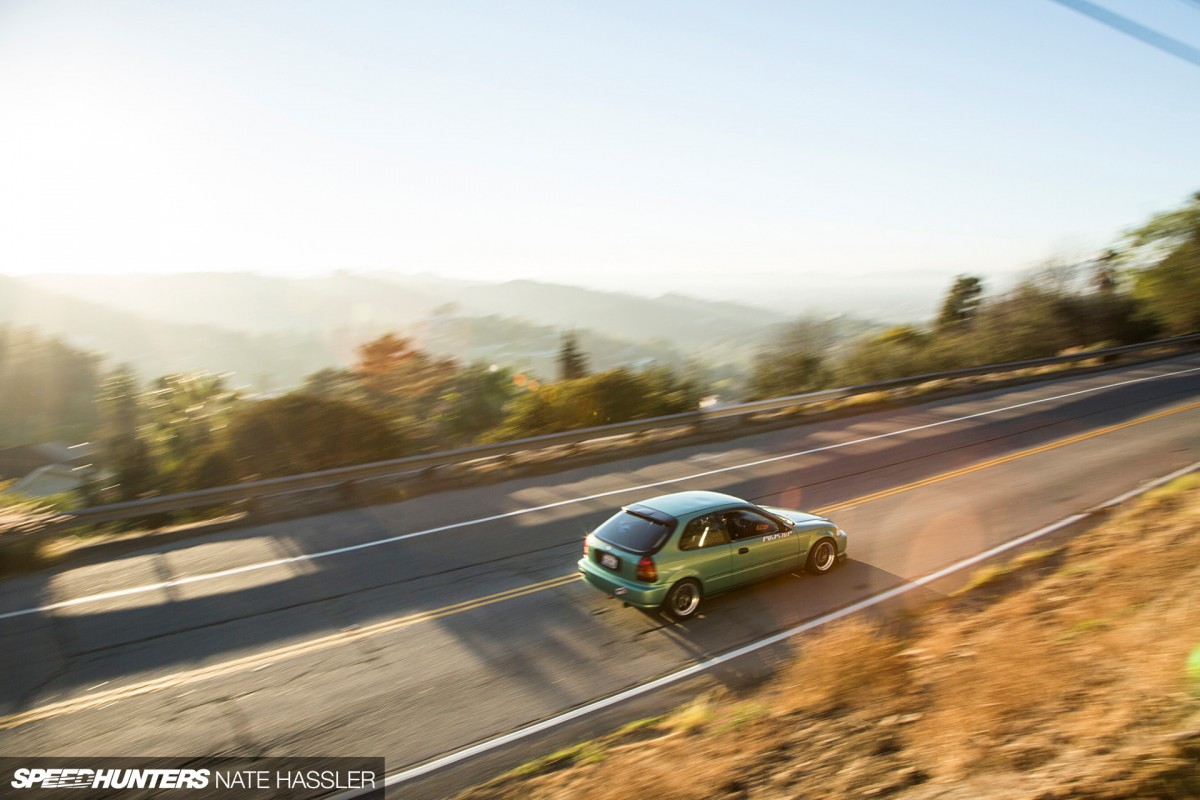 Nevertheless I was still driving at a rapid enough pace to feel the KWs at work beneath me. One of the things that has always impressed me about their shocks is the way they soak up high speed bumps and dips, in some cases better than an OEM shock. Over my course as a journalist, I've driven maybe a dozen cars on roads like this in North America and Europe on various KW kits and this is their signature trait – excellent compliance. It makes me smile that instead of somebody else's car, now they're fitted to mine.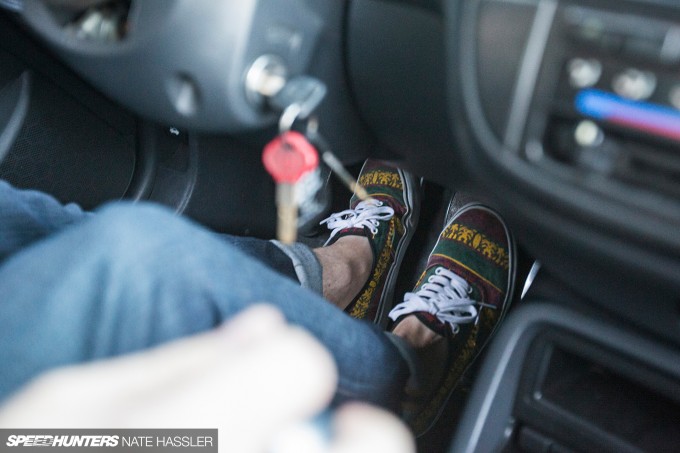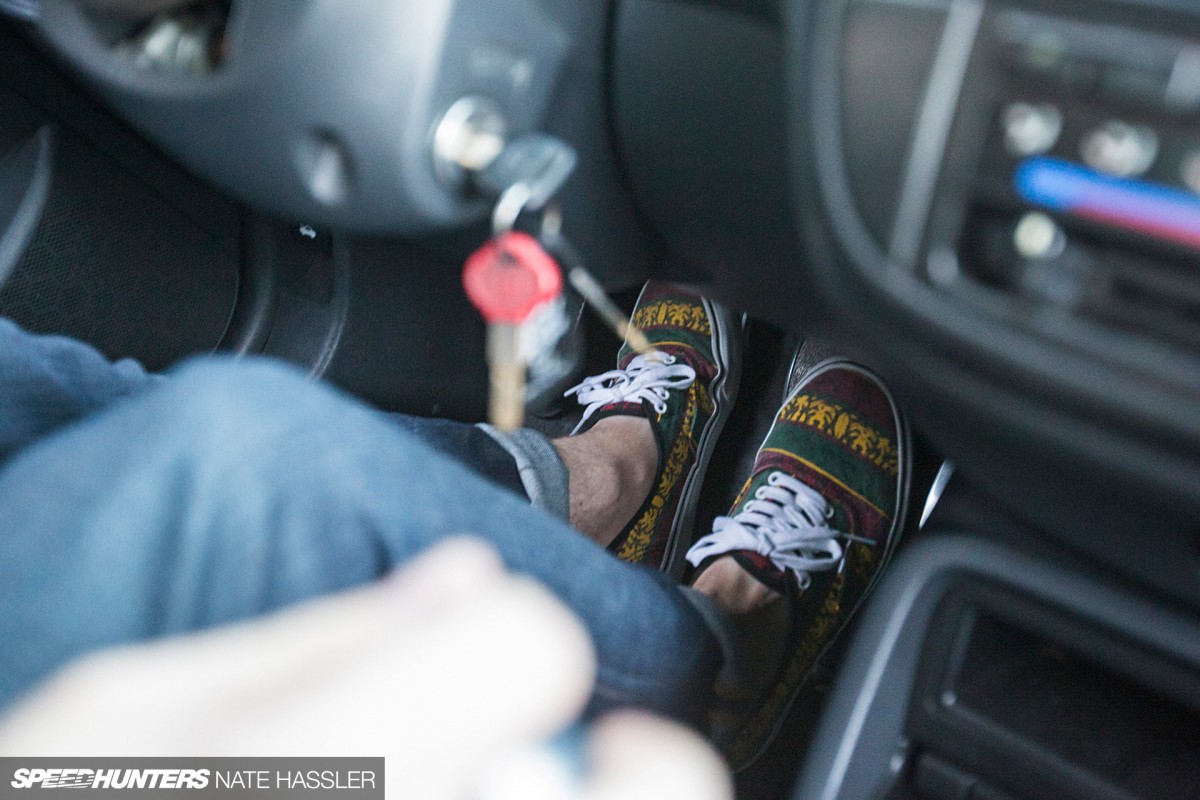 Before long, I found one of many gorgeous overlooks and decided to go both-feet-in and have a look.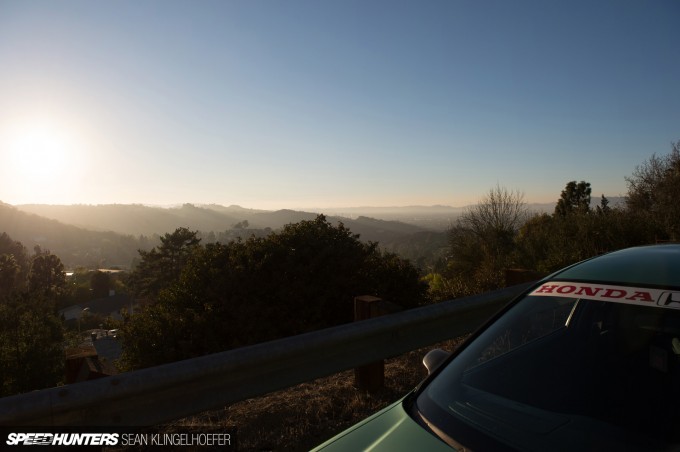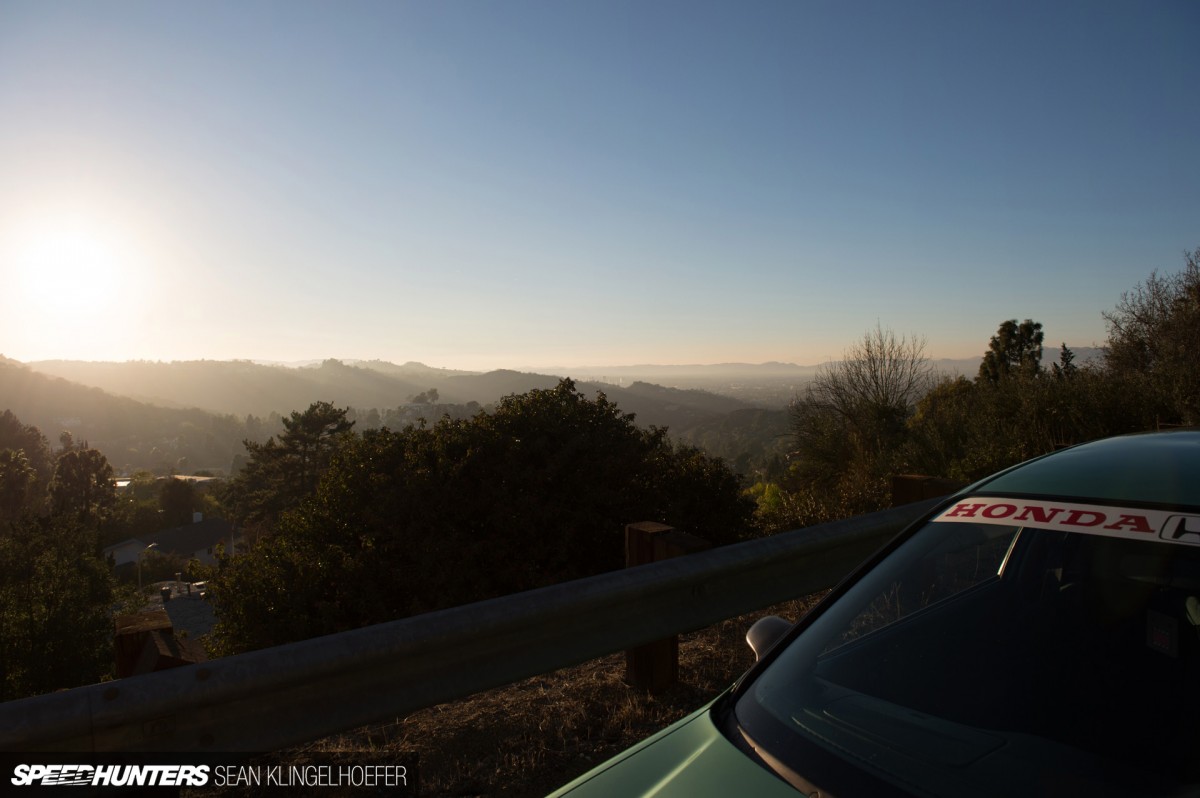 Breathtaking. Both literally (from the smog) and figuratively (from the view). Although I've grown accustomed to the late evening in Southern California, there's still something undeniably beautiful about that thick golden light.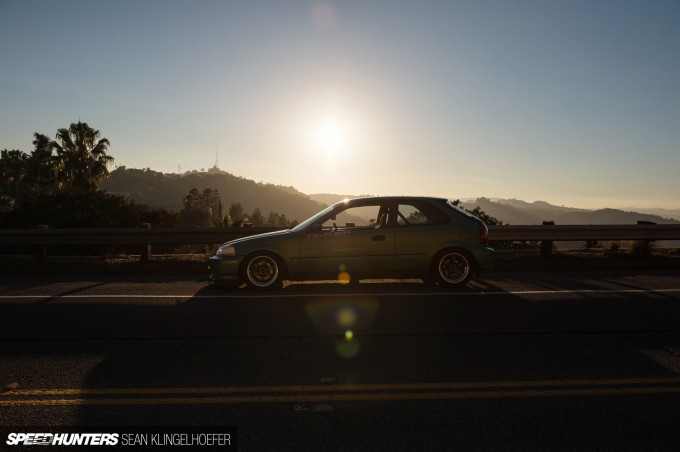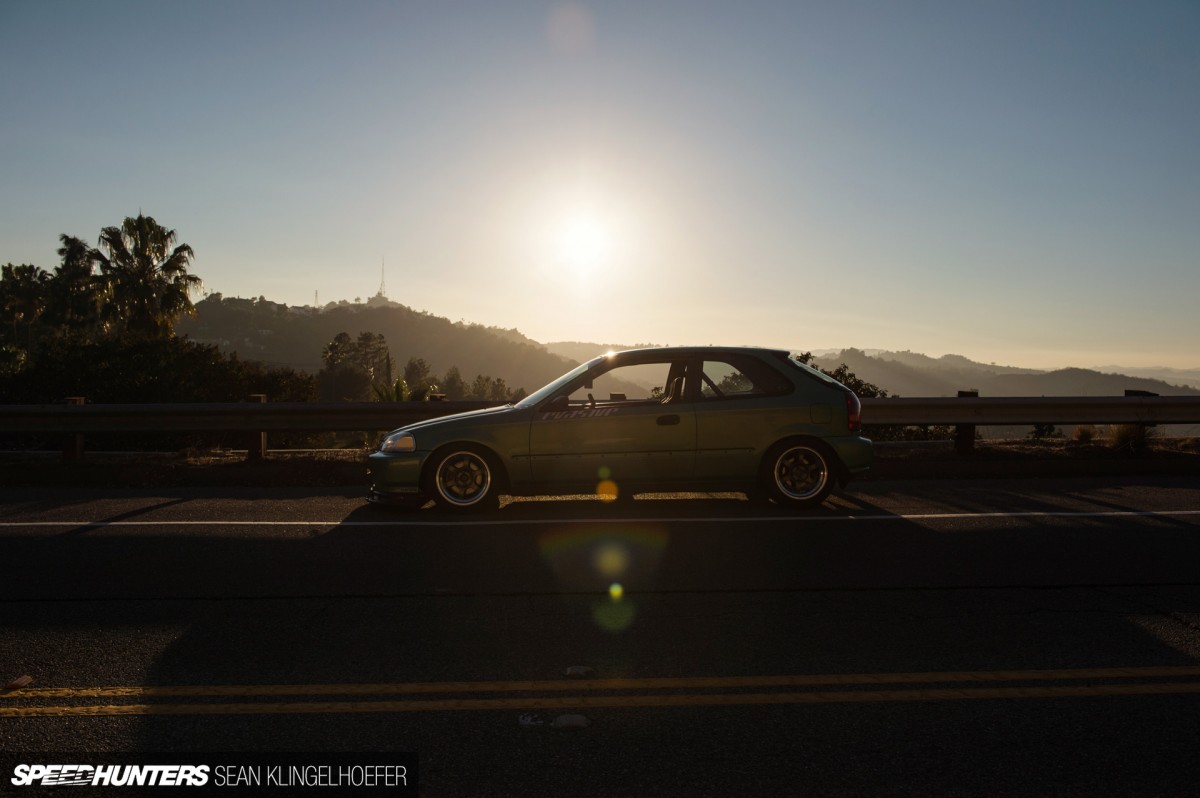 There's something special about this part of the world, and along roads like Mullholland, you begin to understand why Hollywood was built here.
Westward ho!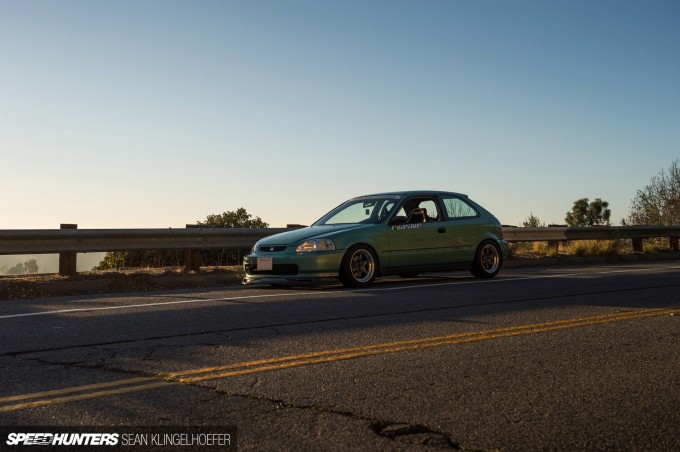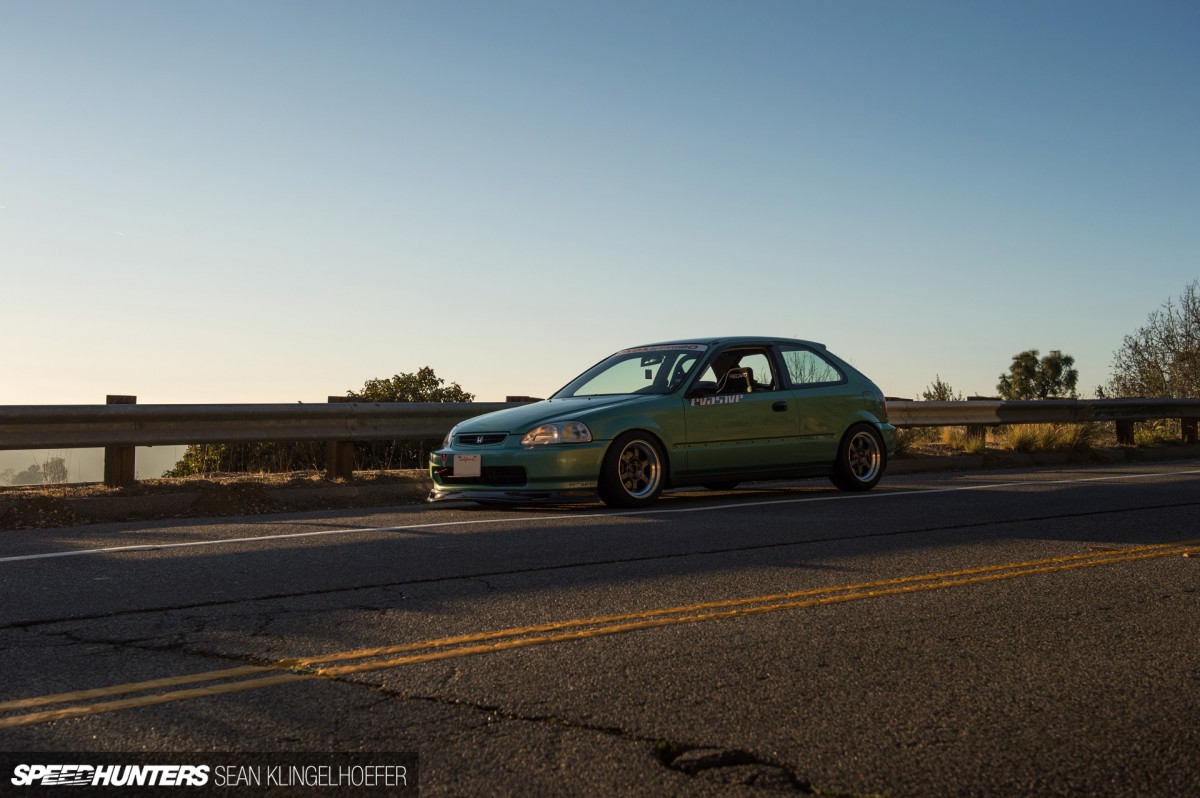 Many of us got our start shooting our own cars, and I'm no exception to that rule. Yet these days the opportunity to shoot my cars is so slim that outside of using my BMW as a composition stand-in on a commercial shoot, it almost never happens. What was once all I knew, has become an almost alien experience.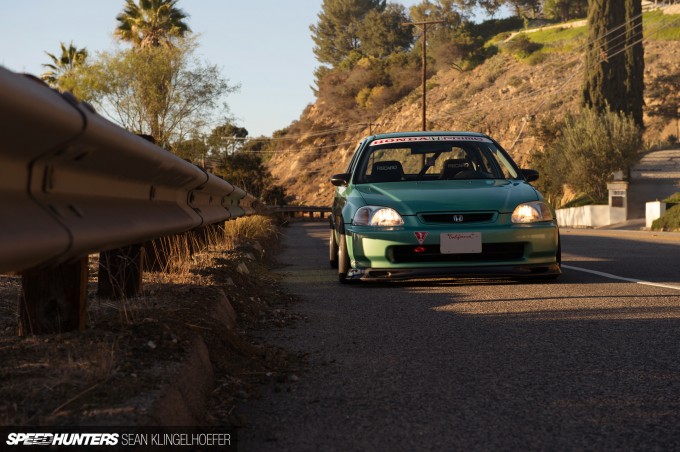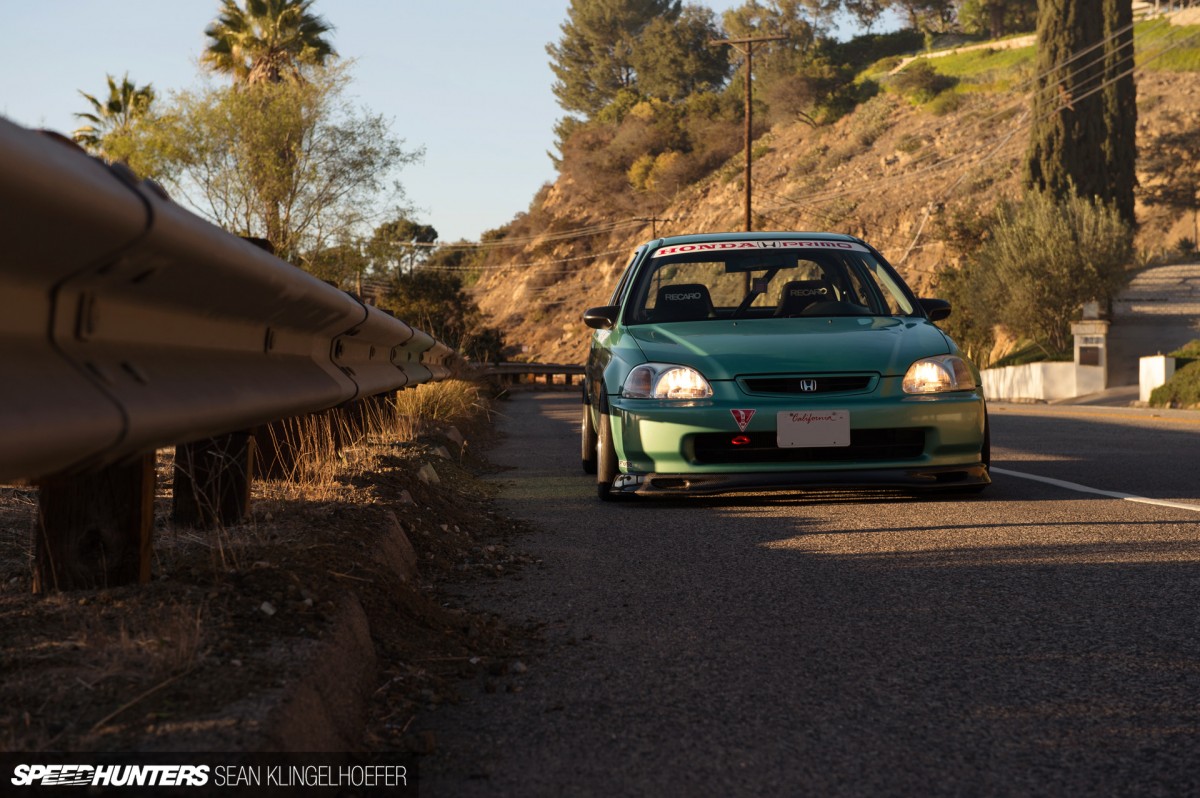 Looking back at this car, I see many things: all the history we have together – travelling up and down the west coast with nearly all of my belongings, heading to California to chase a wild dream, taking a poor stock Civic and slowly building it into what it is today.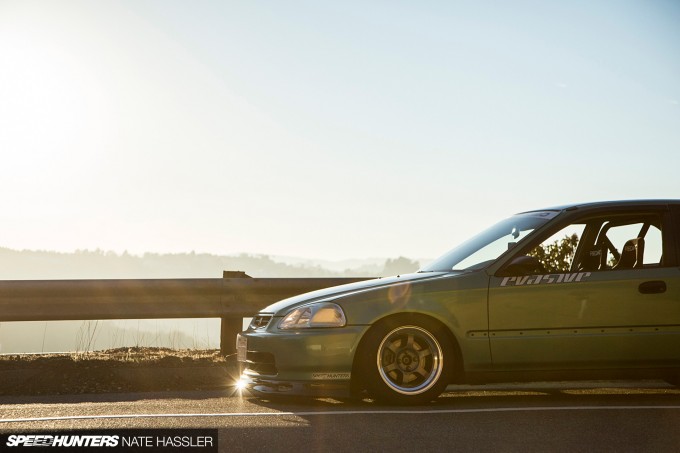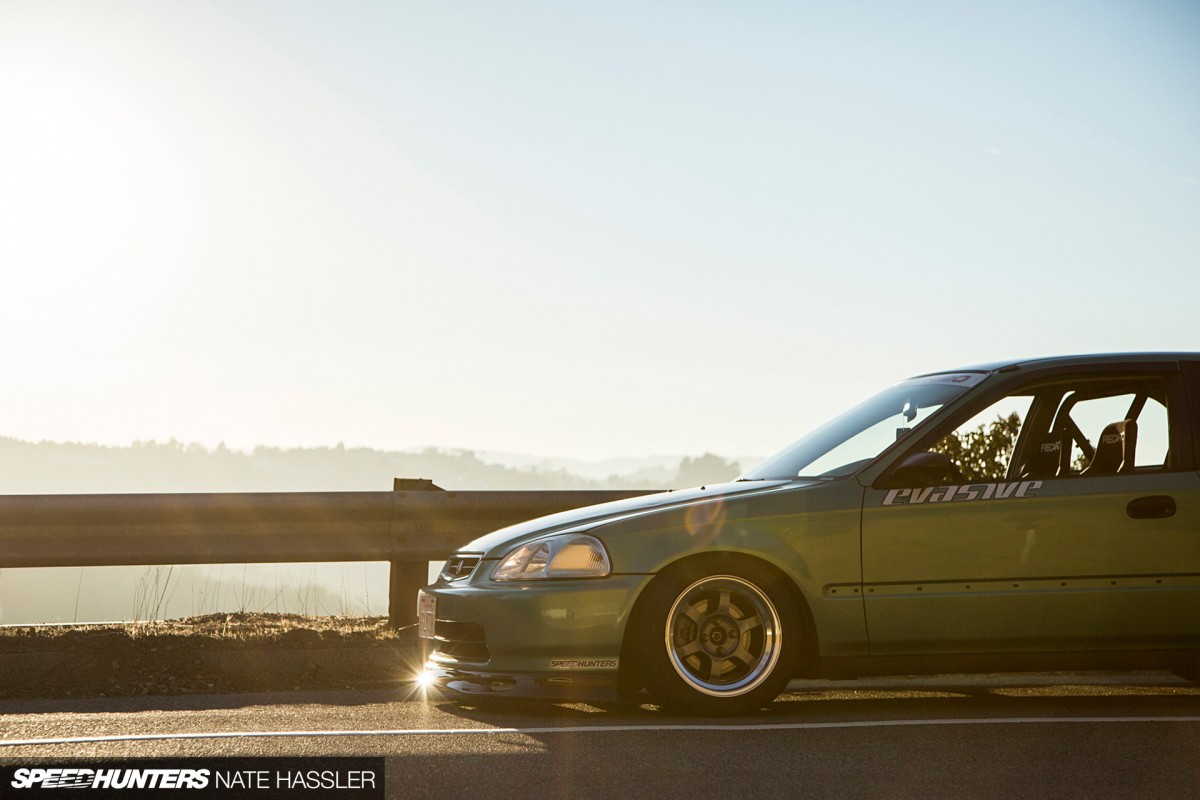 Of course I still see the longing for all of the things that are still yet to be done. Leroy has become the ghost of tuning past, future and present. But with the sun rapidly departing, there was no time to dwell on these thoughts and once again it was time to feel the road.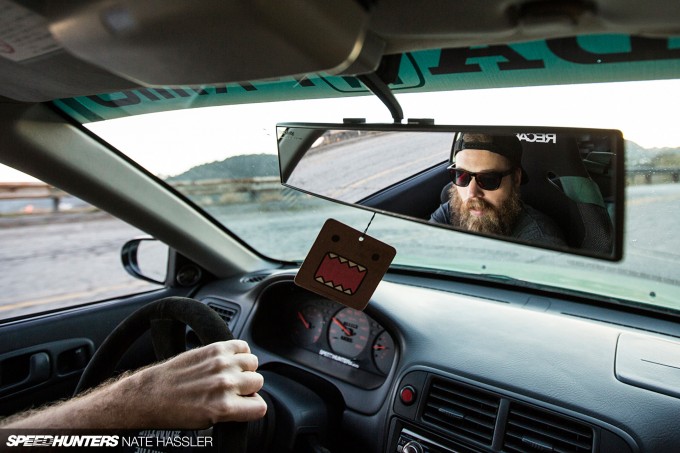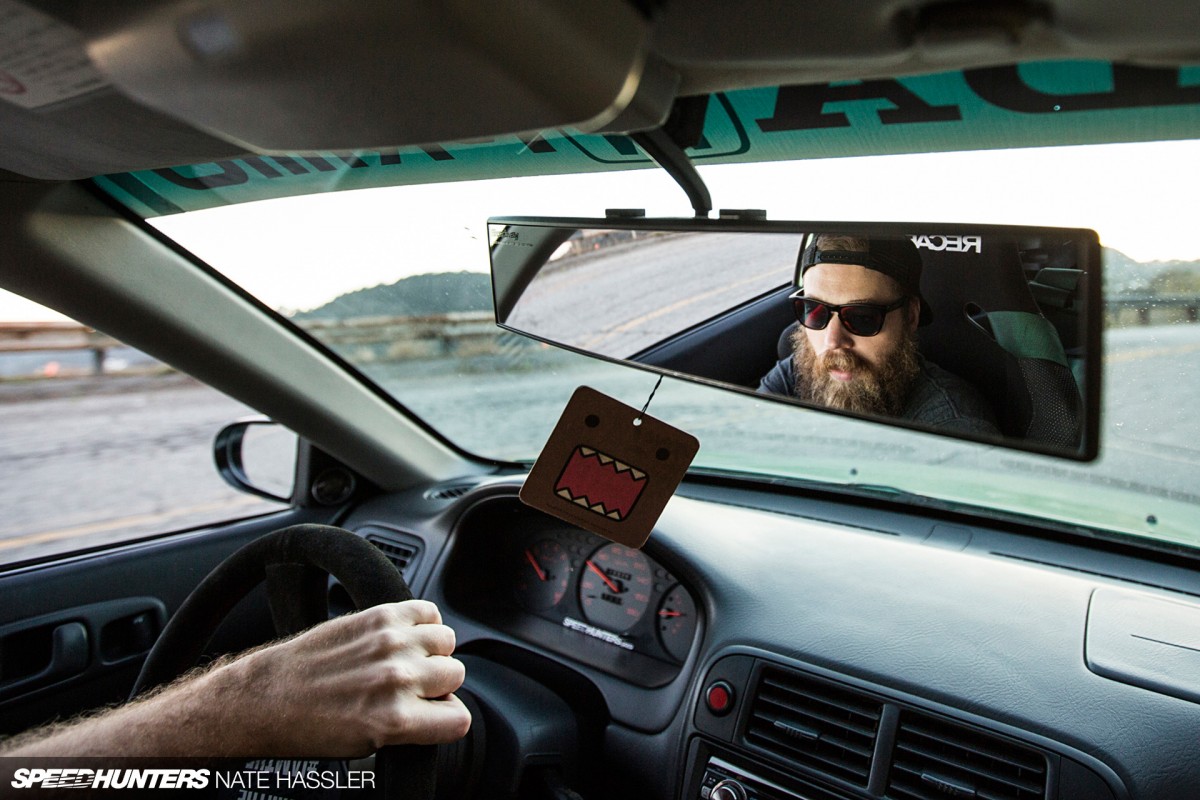 And I do mean feel. After years and years of slow development, Leroy is really coming into his own. This might not be the prettiest, the fastest or the most JDM car I've owned, but it damn sure is the most mechanically sound Civic I've ever driven. Sure it has dings galore, but there isn't a single millimeter of steering slop.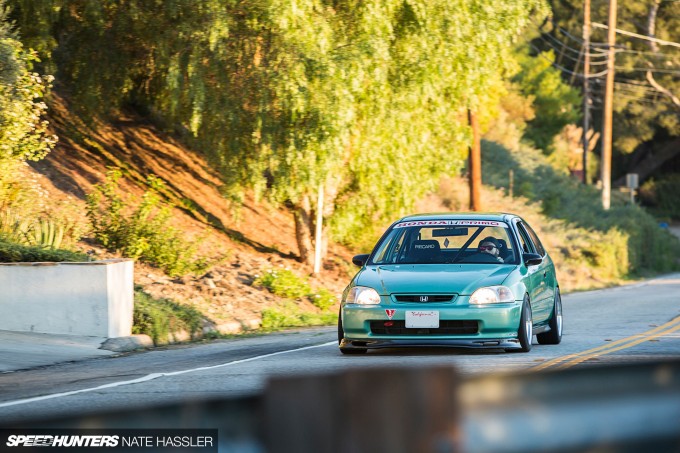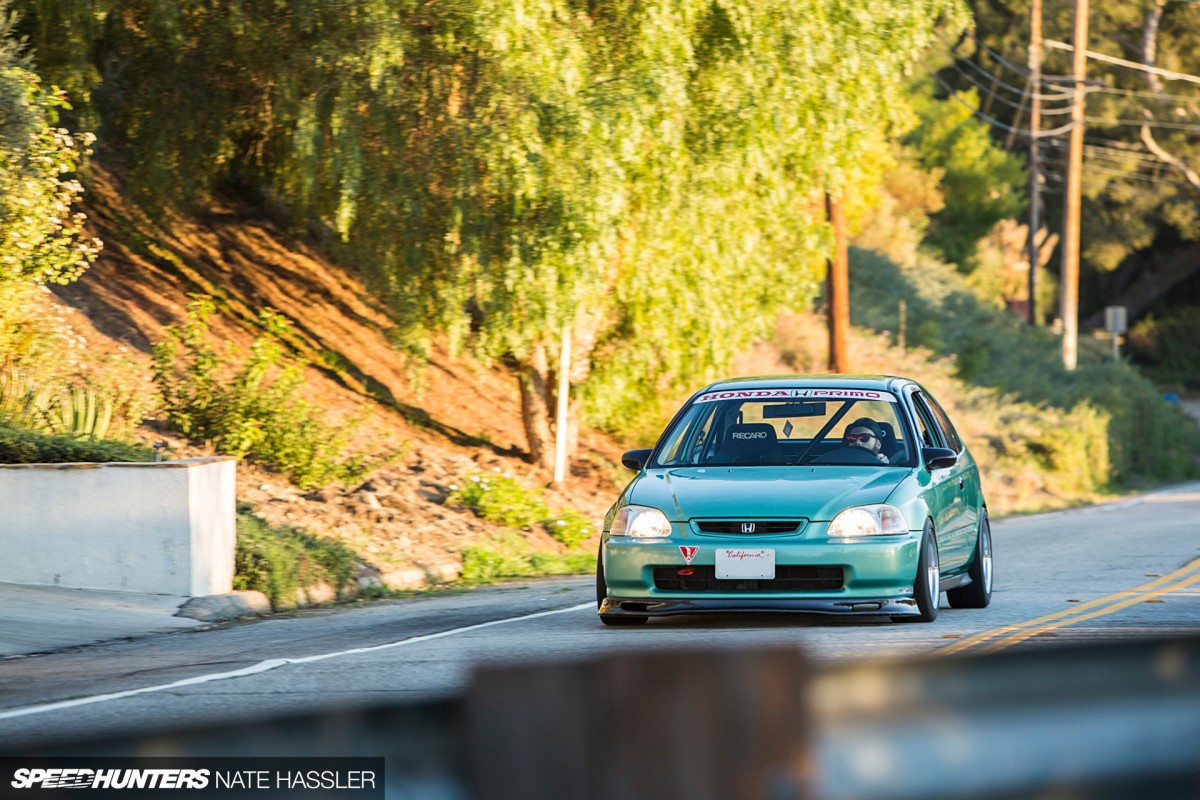 There's no bump steer, no toe steer and no understeer – only Sean steer. It's glorious. You essentially will the car where you want to go and Leroy makes it so. Times like this make me wonder what in the hell is wrong with me. Why don't I get out and drive more often!?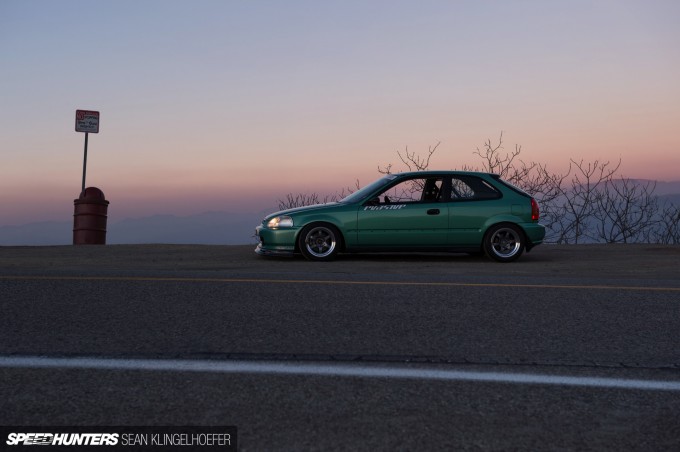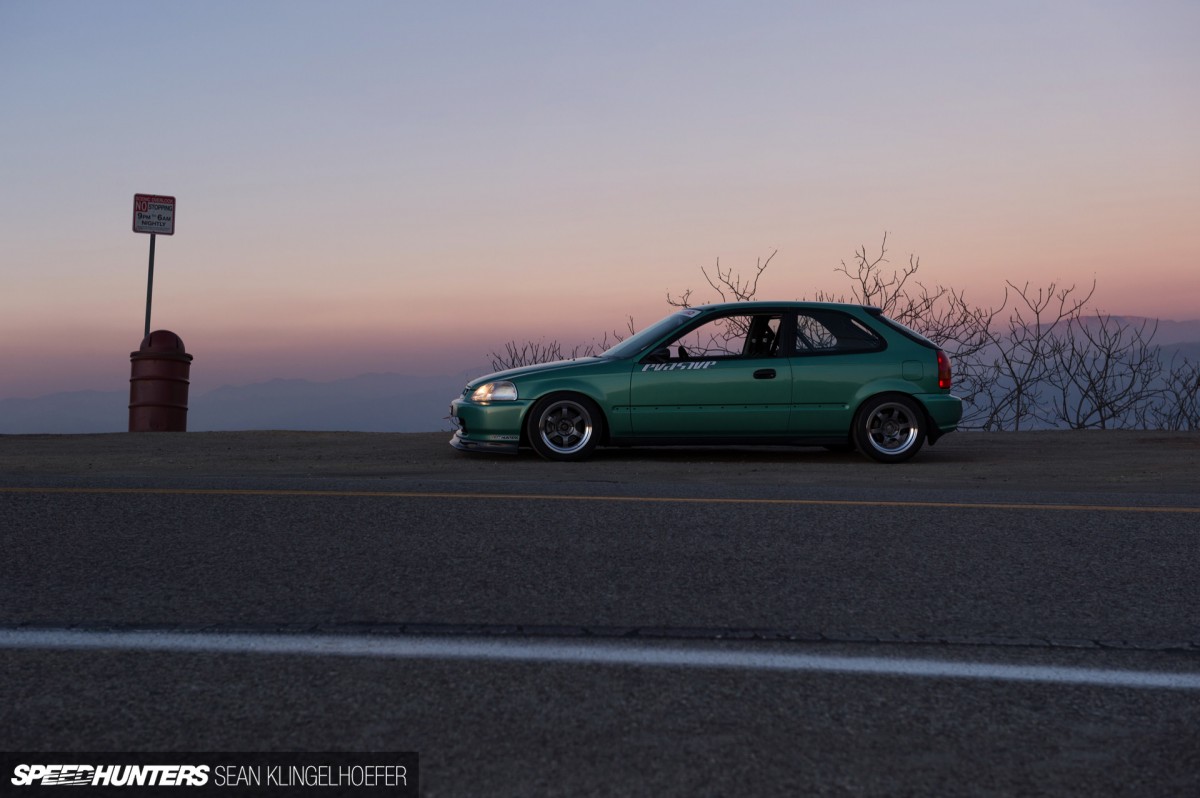 Eventually I made it out of the heavy-residential section and onto some really tasty smooth tarmac. This section seemed to be free from any traffic and evidently isn't used as part of any normal commute. It was here that I pulled off to get a few shots at one final vista before the sun was completely gone.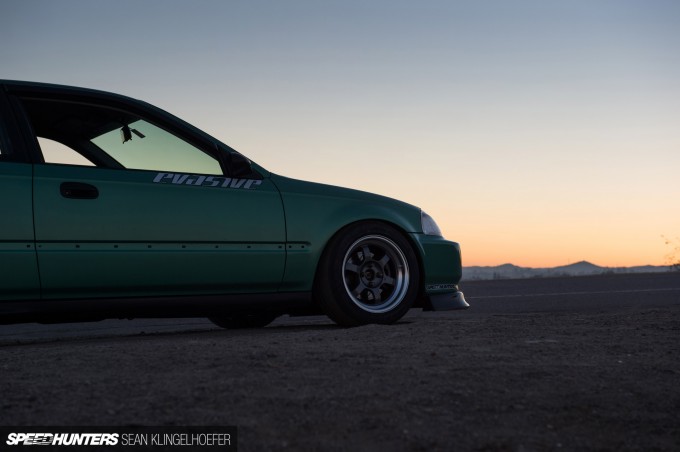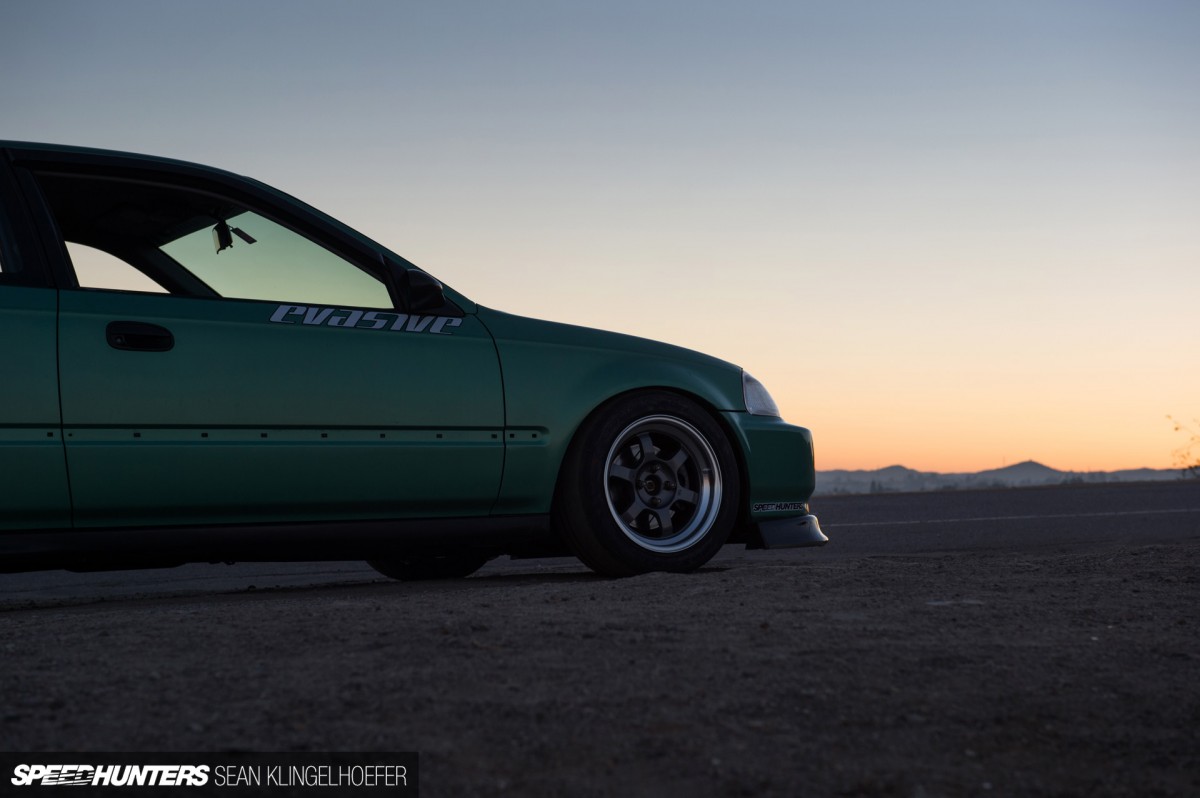 When you don't drive your car often, you start to think of it as a liability. It's a bunch of time and money just sitting around. Then you start getting crazy ideas about selling the car and the kinds of things you could do with the money.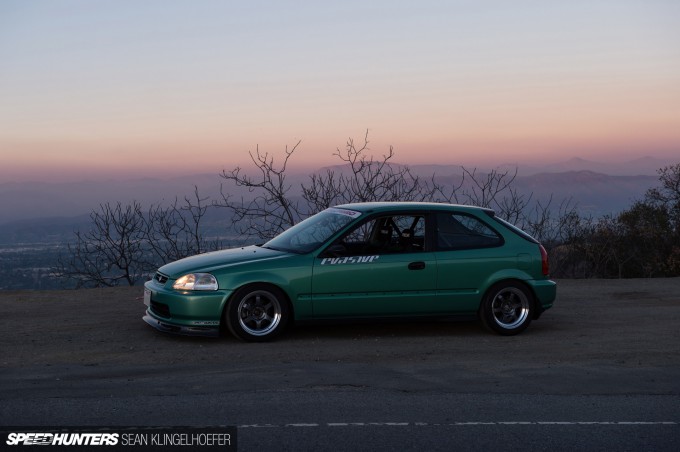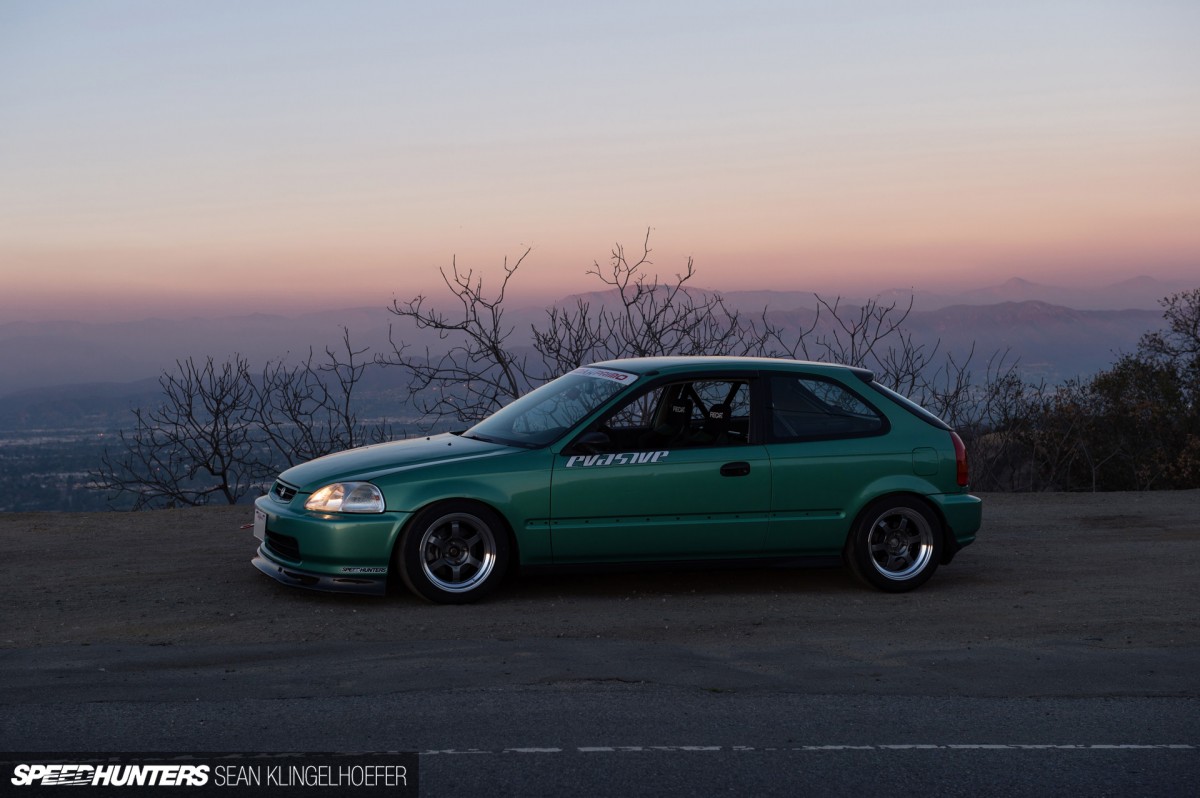 But when you finally take the car out, drive it down a fun stretch of road and place it in a picturesque setting, all of those thoughts instantly vanish, replaced quickly by ideas of what comes next. In my case, that's very obviously a new clutch, which I actually have sitting in one of three dozen boxes along with a thousand other pieces waiting to go on.
Beverly Hills via Wilshire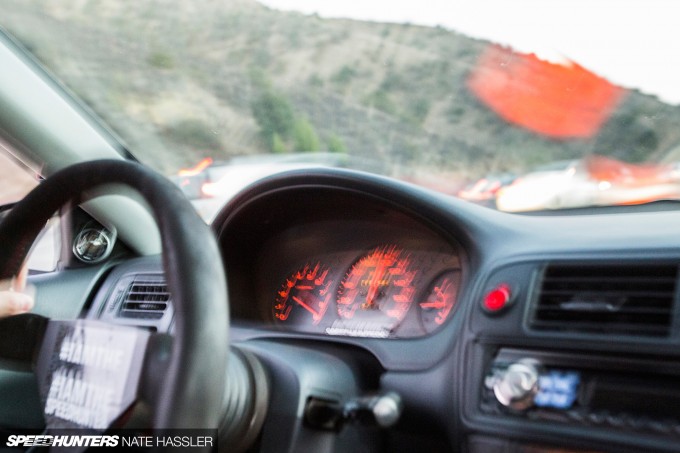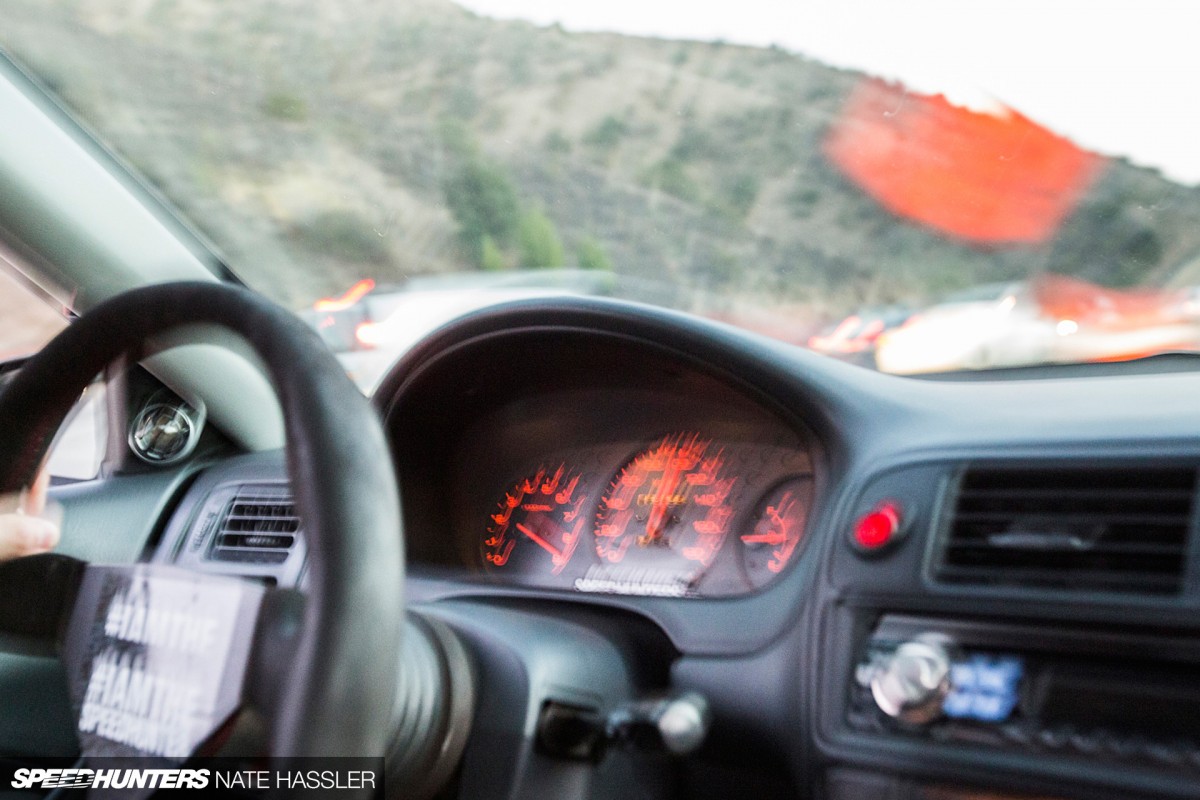 Eventually we would run out of Mullholland to drive and merged onto the I-405 south, a freeway infamous for epic traffic jams. Fortunately we only needed to take it one stop, just long enough for VTEC to kick in. Yo.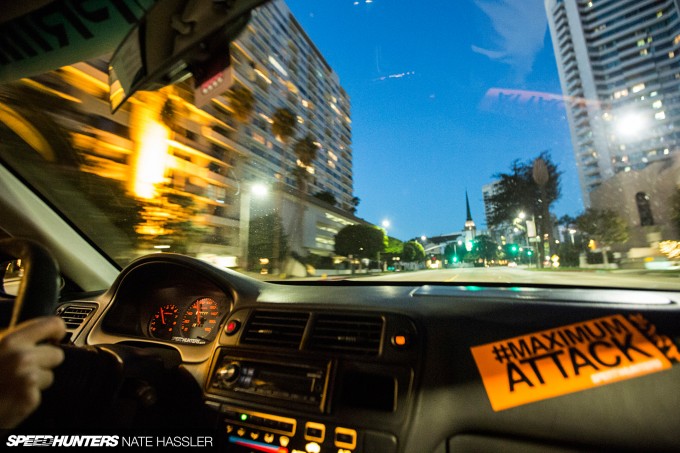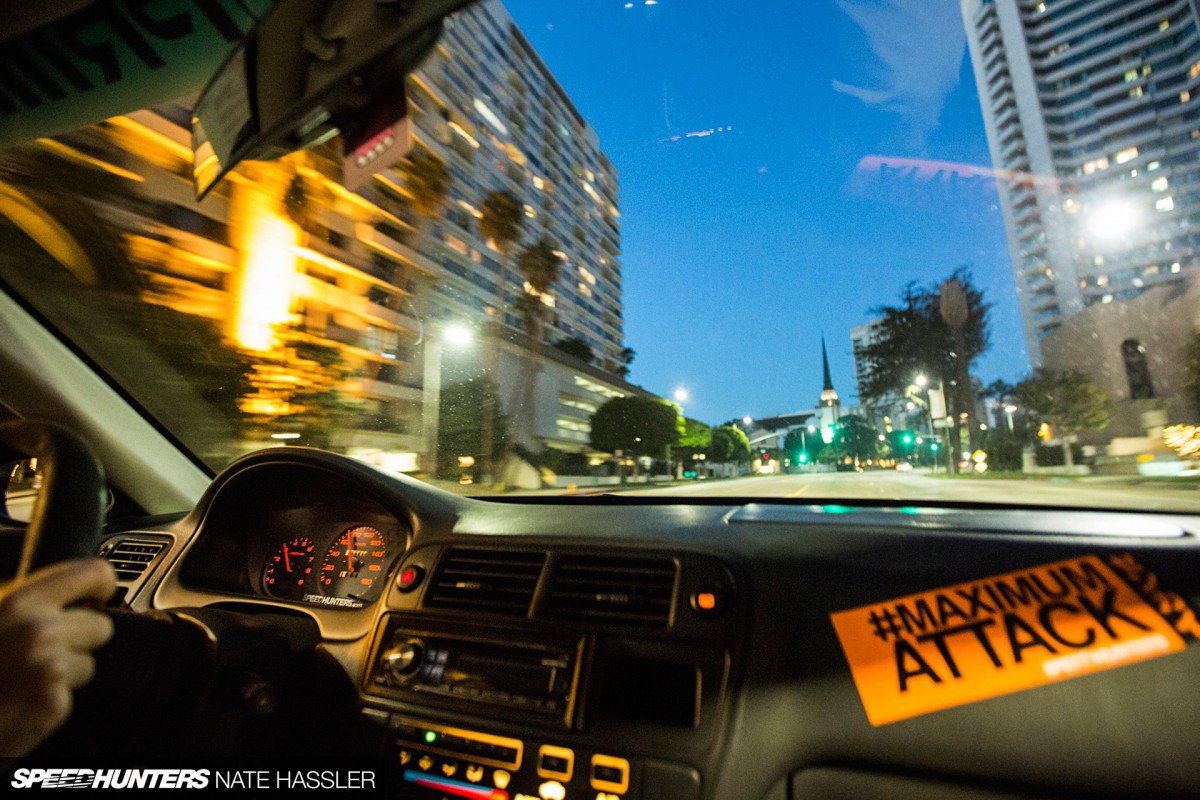 To head back home, I decided to take Wilshire Blvd east. It isn't much of a driving road by any stretch of the imagination, but it's a very important piece of the history of LA and serves largely as the city's backbone – a 15.8 thoroughfare from downtown to Santa Monica beach. It's also a road I know well, having never lived more than half a mile from it.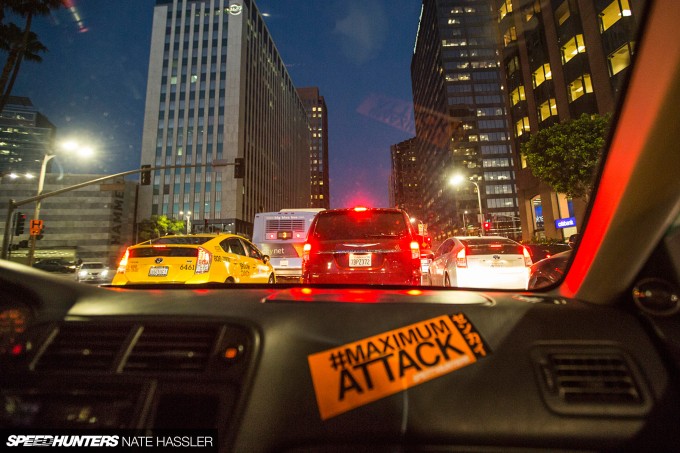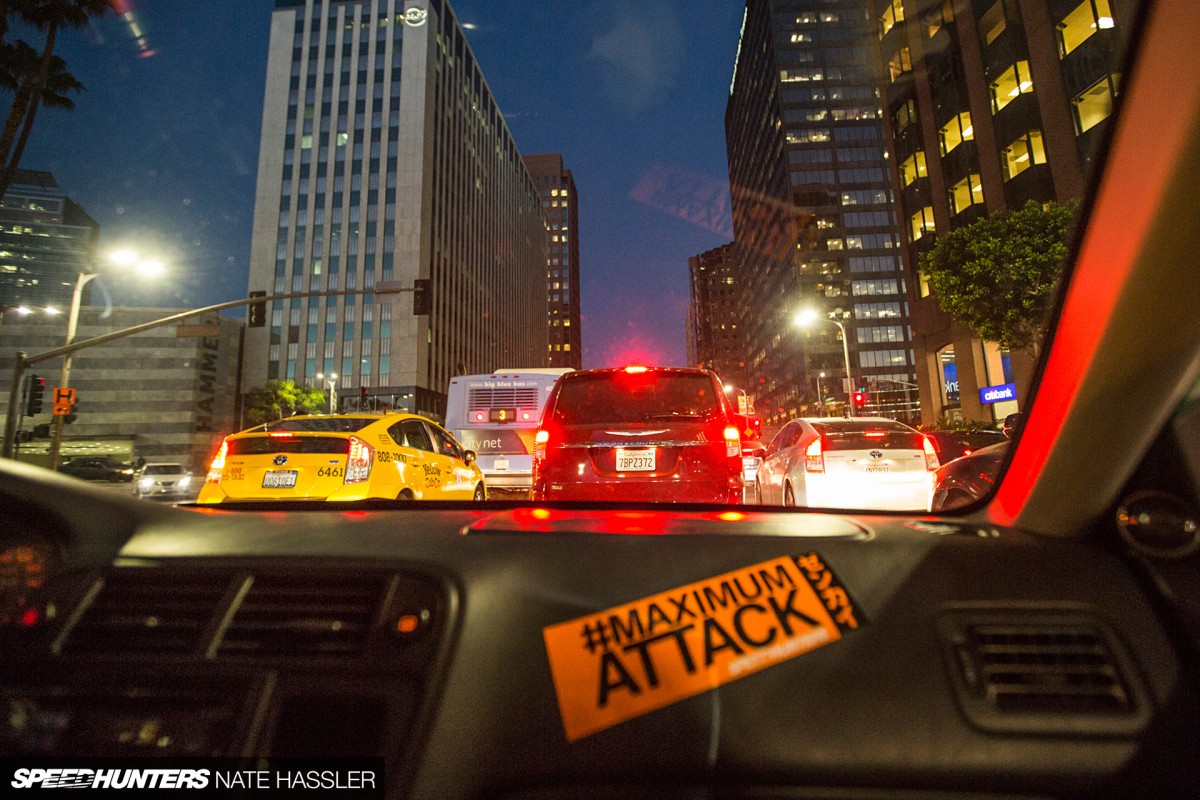 Of course, even the mighty Wilshire is subject to traffic jams, as is pretty much all of SoCal for five days a week between 4 and 7pm.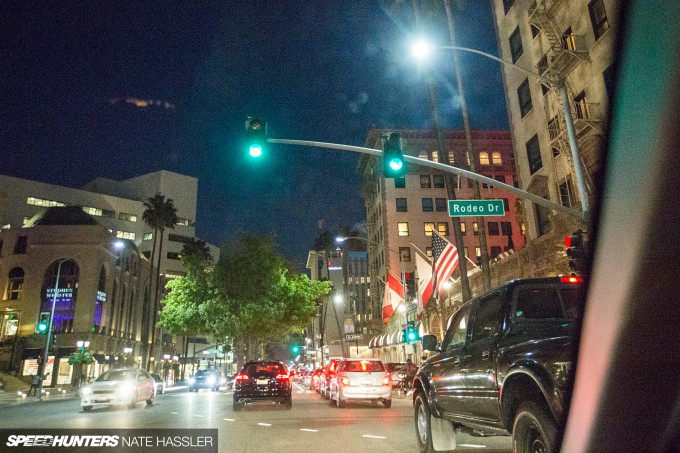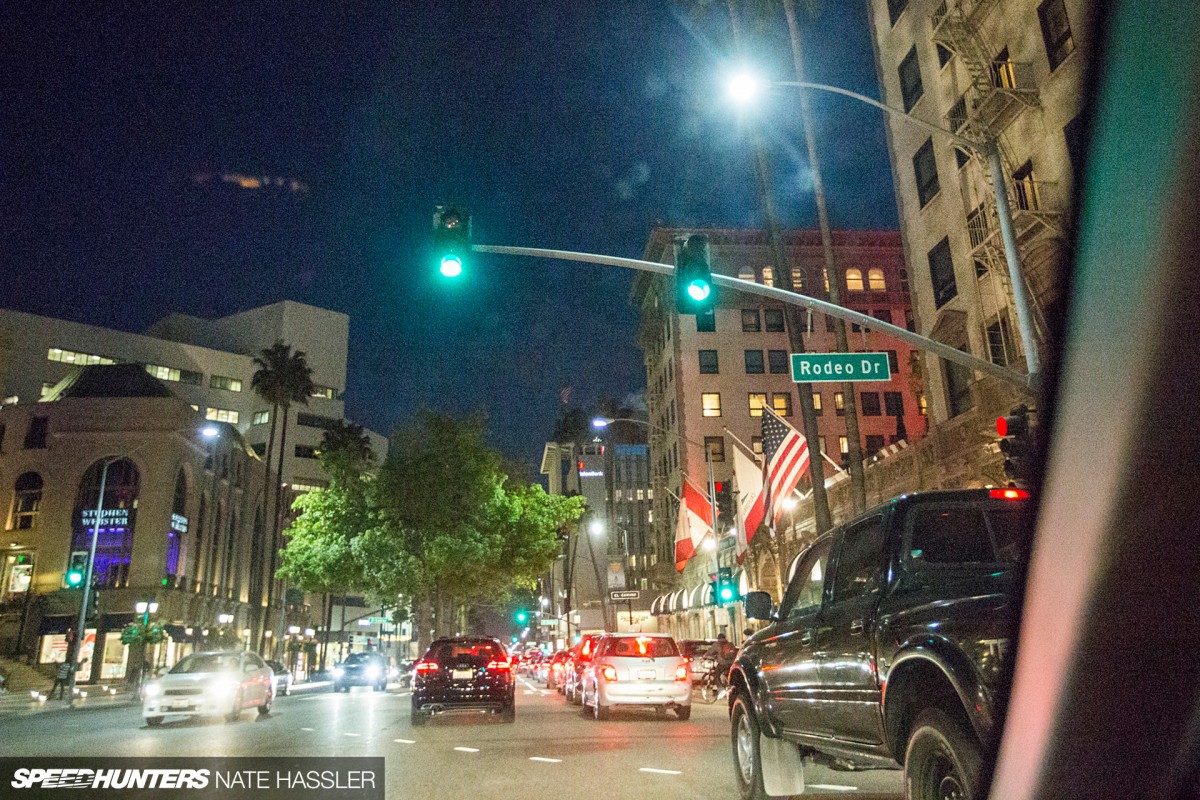 Before long, we were passing one of the world's best-known shopping districts: Rodeo Drive. Known for high-end fashion, it's not the easiest place to shoot, but for the likes of Larry Chen it can be done.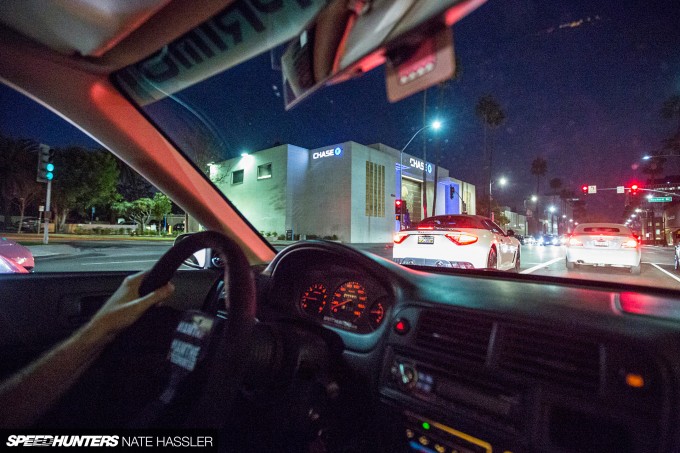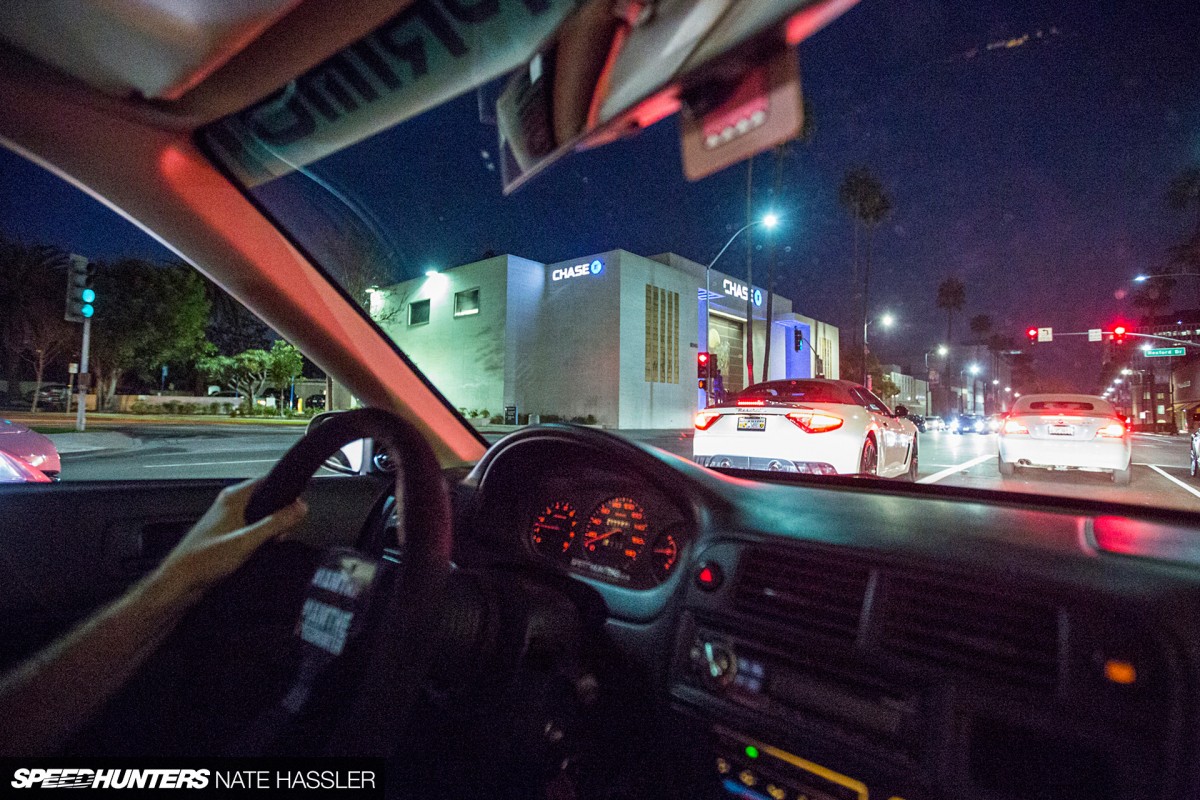 In this neighborhood, the wealthy aren't bashful about their fortunes, which means plenty of eye candy out on the streets.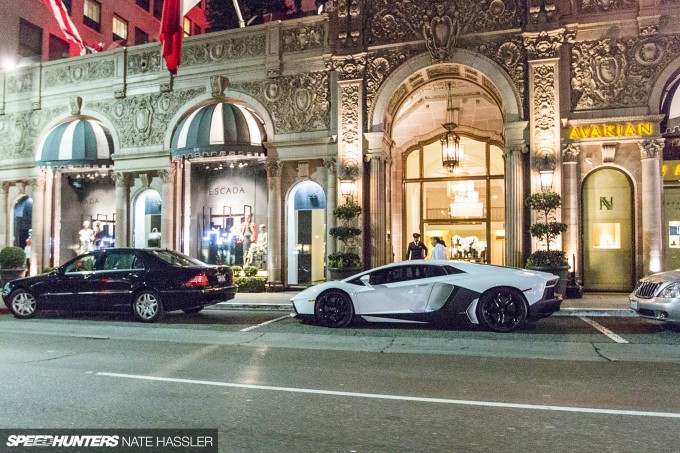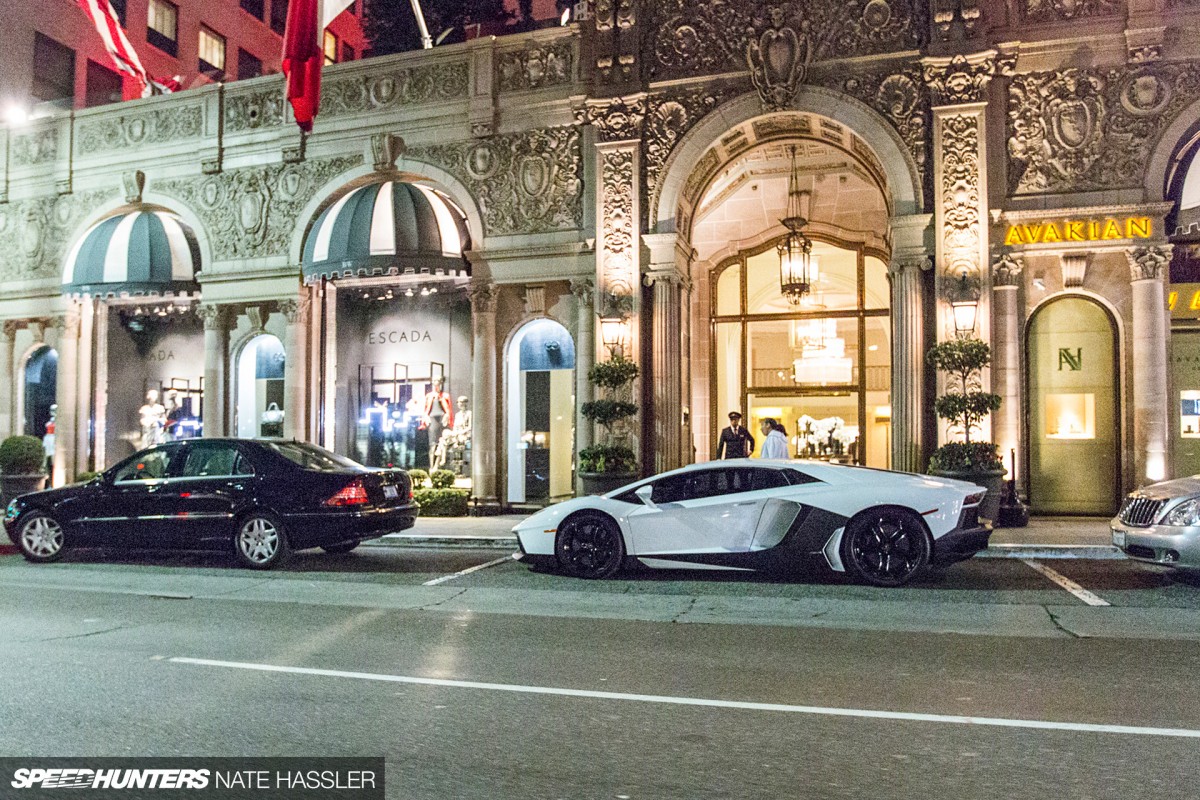 Believe it or not, you actually get quite used to the sight of an Aventador. After seeing them on a weekly basis and shooting a handful of them, it's easy to forget I once had the chance to drive one myself.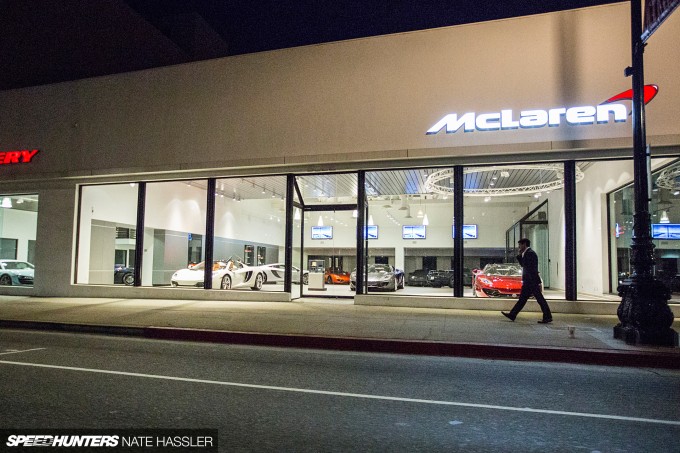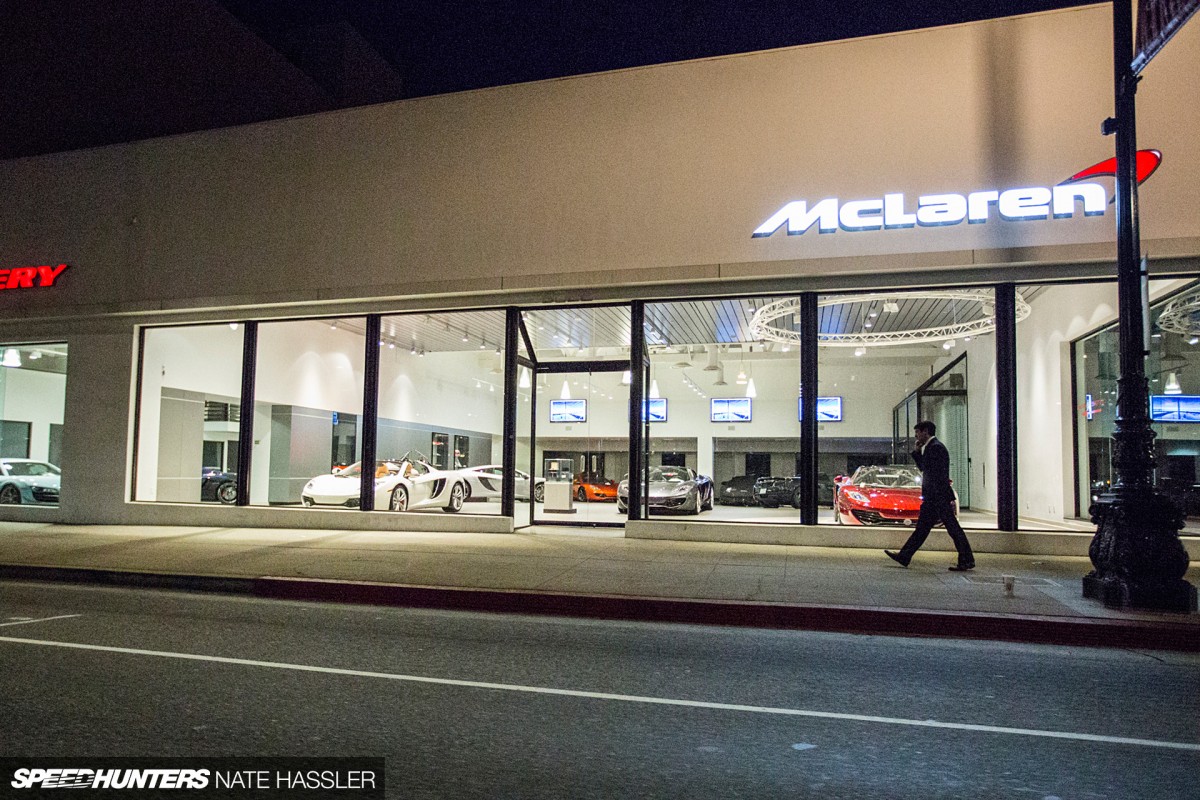 Luxury car dealers are literally teeming along Wilshire. Seen here is the McLaren dealer where our very own Larry Chen got an exclusive look at the then-hyper-new-hypercar, the P1. The results were nothing short of epic and one of the images even graced the cover of the #JoyOfMachine Speedhunters book.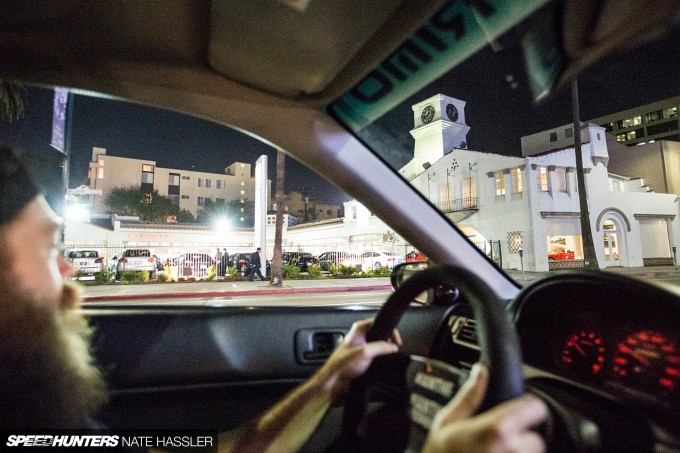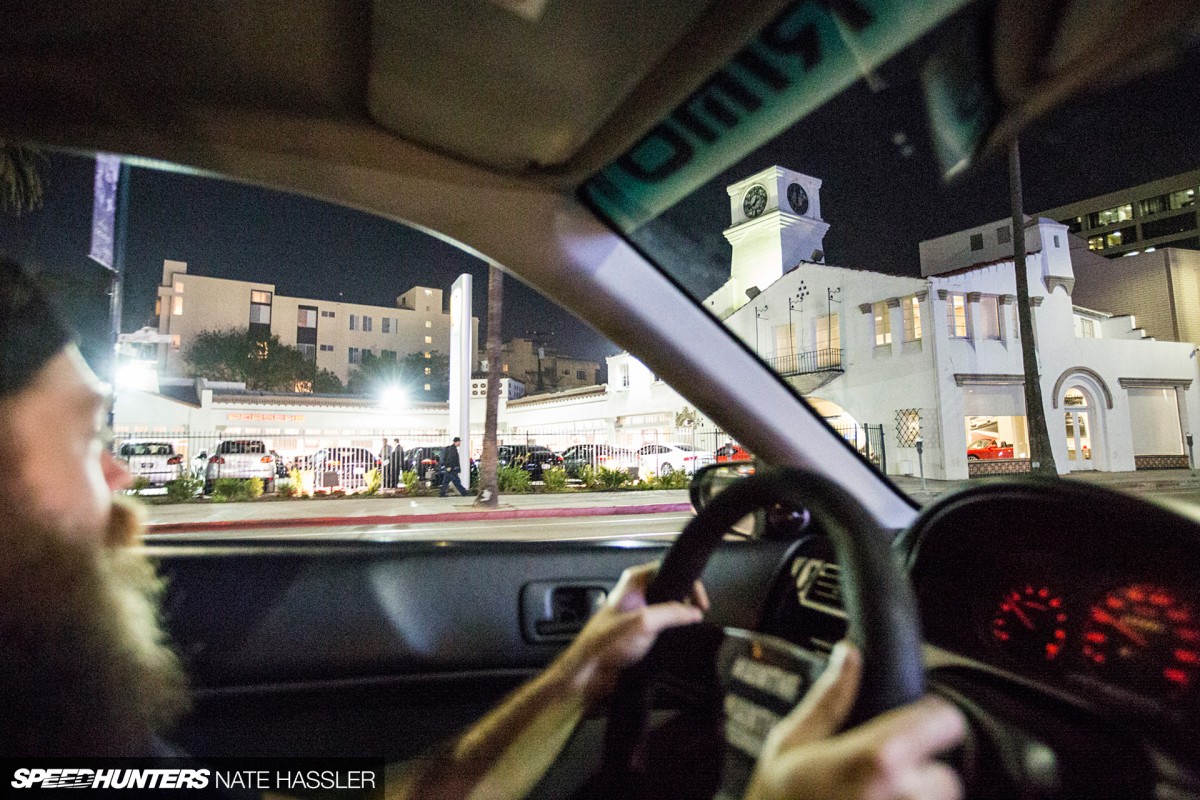 But my favorite dealership has to be Beverly Hills Porsche, not only for the cars on offer, but the building itself. Long before it housed German sports cars, this location was one of the world's only drive-in-markets, another of LA's strange and long-forgotten inventions.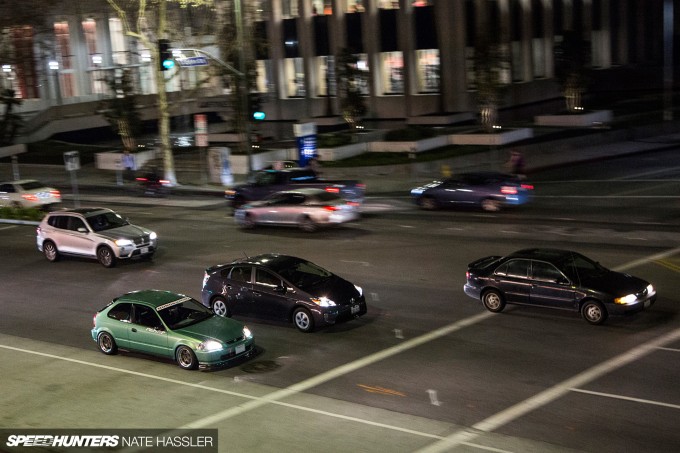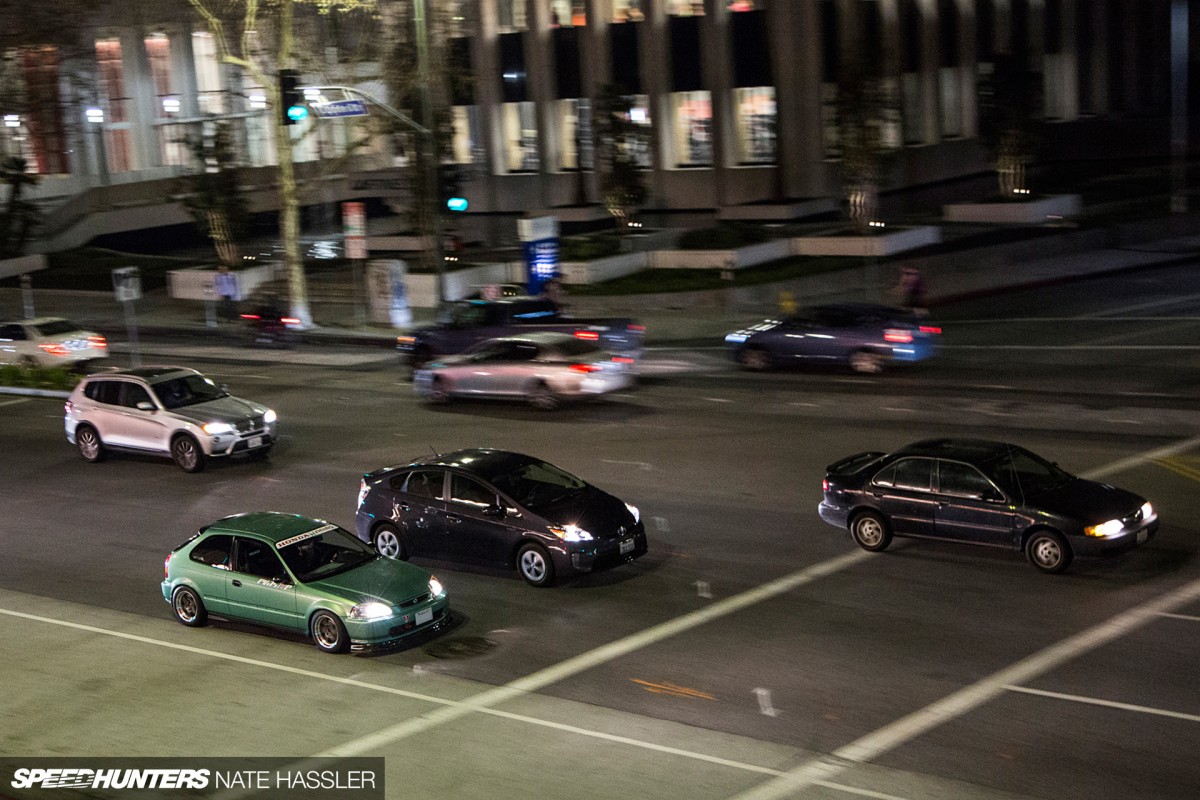 I might as well point out one other perk of living here and that is enjoying an evening drive with the windows down in February with nothing on but a tee-shirt. There's something to be said for moderate climates.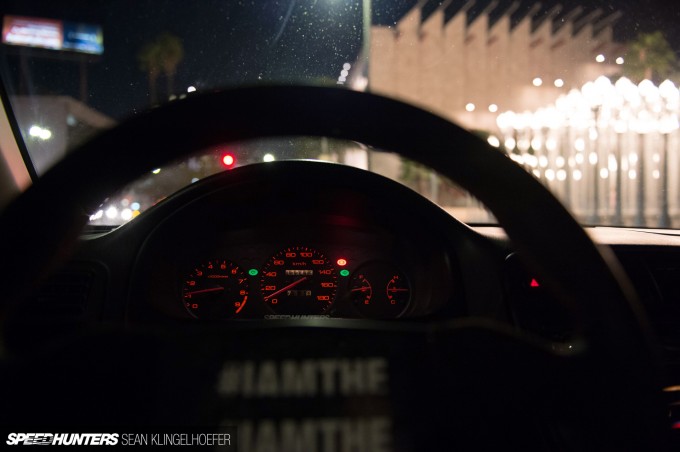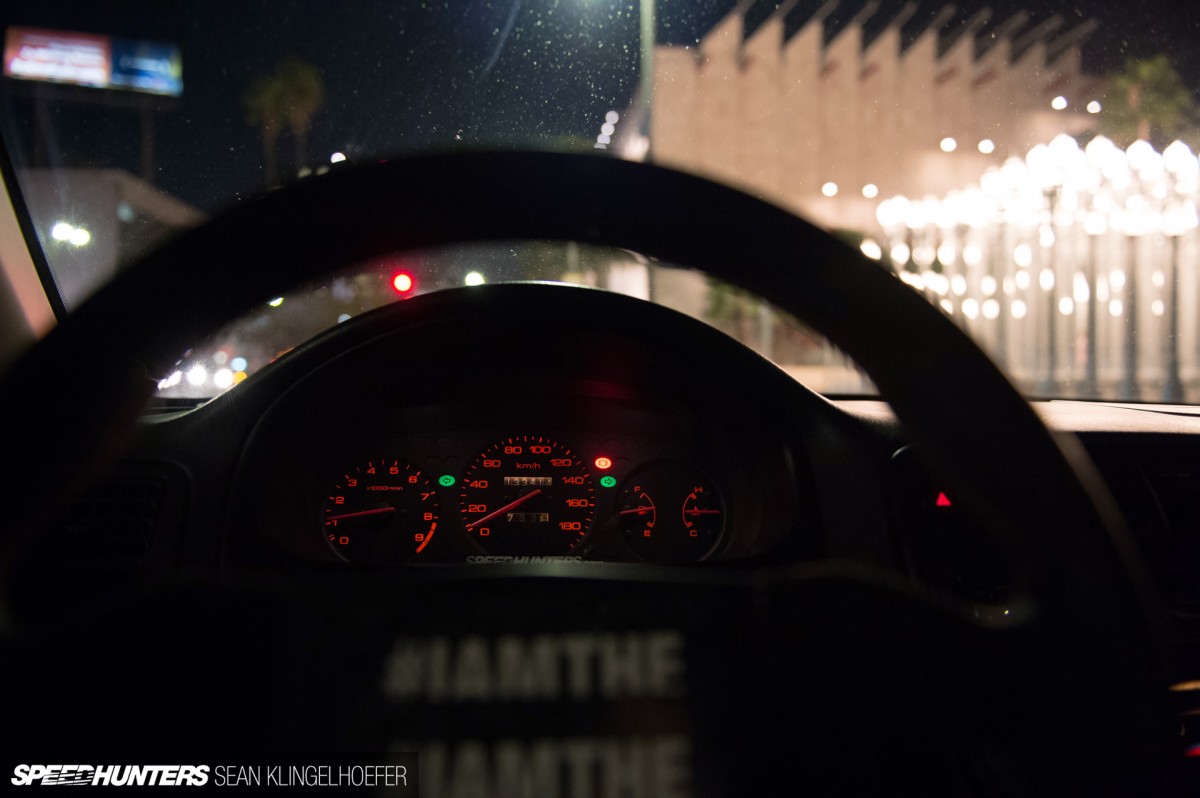 With the drive nearing its end, there were just a few stops to make before heading home. The first is one of my favorite LA landmarks: the Los Angeles County Museum of Art or LACMA for short.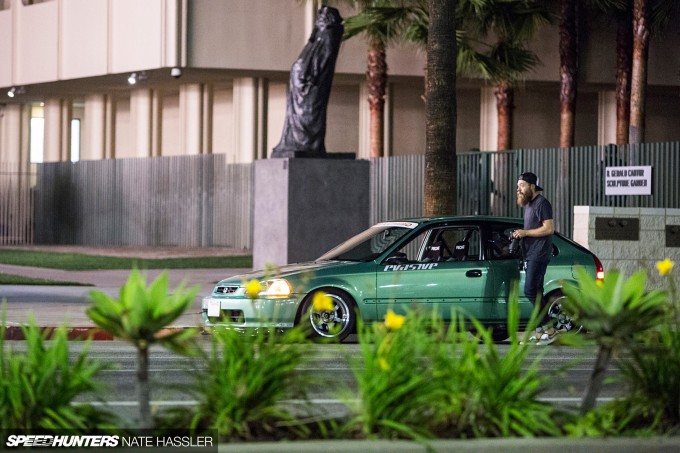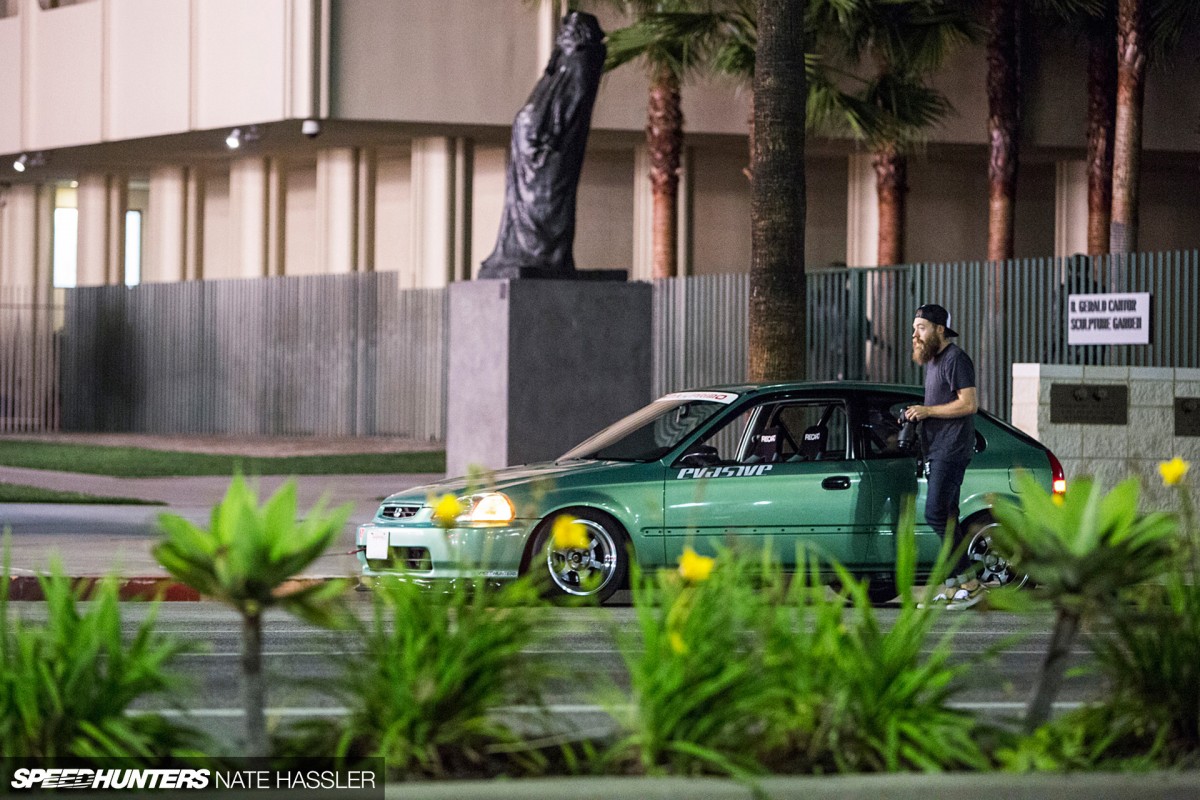 It was here that I decided to pull over in front of its now-trademark lamp post installation to stretch my legs. It was at this very moment that I realized another interesting quirk about shooting your own cars.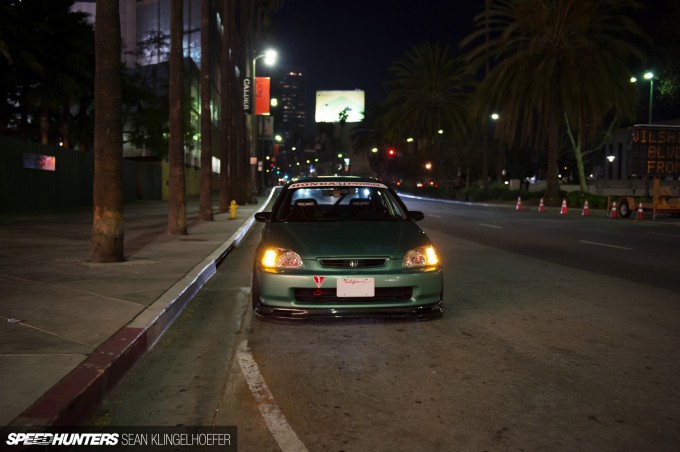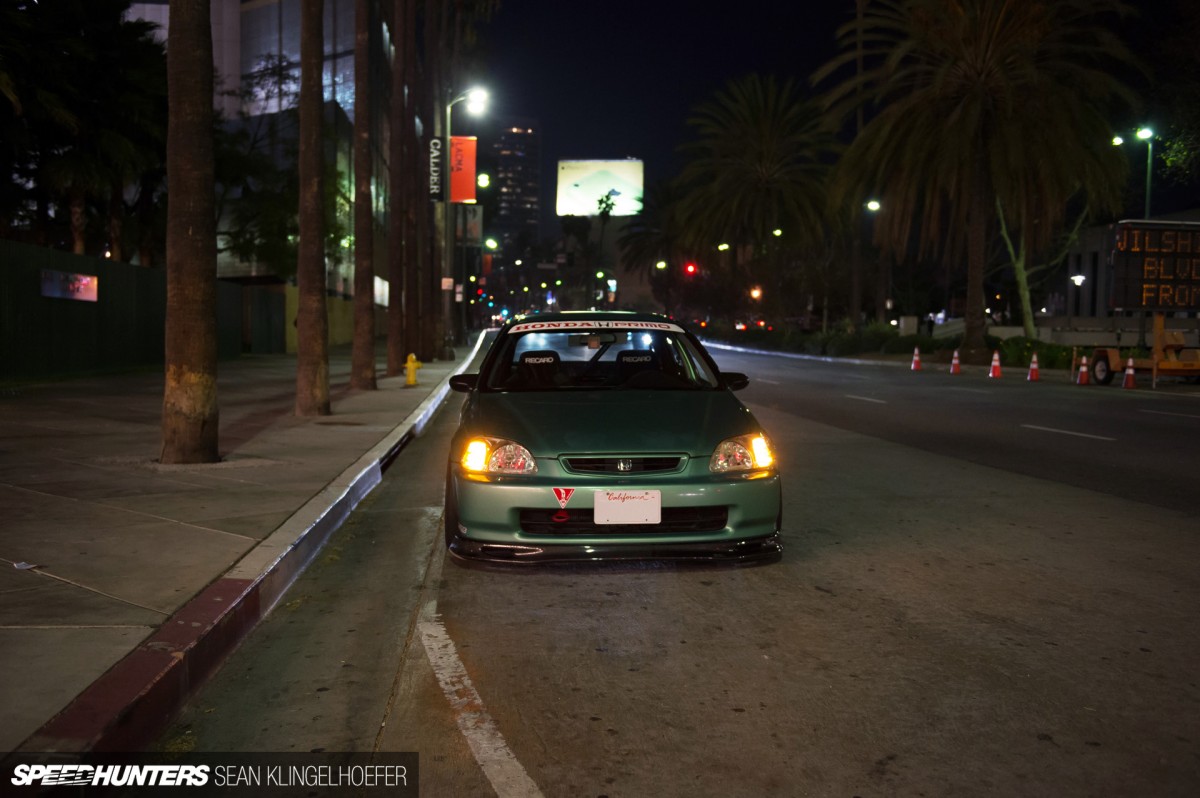 For some reason, I seem to stop thinking about technicalities and start acting more as a historian. It becomes more about remembering a moment in time and less about trying to create a work of art.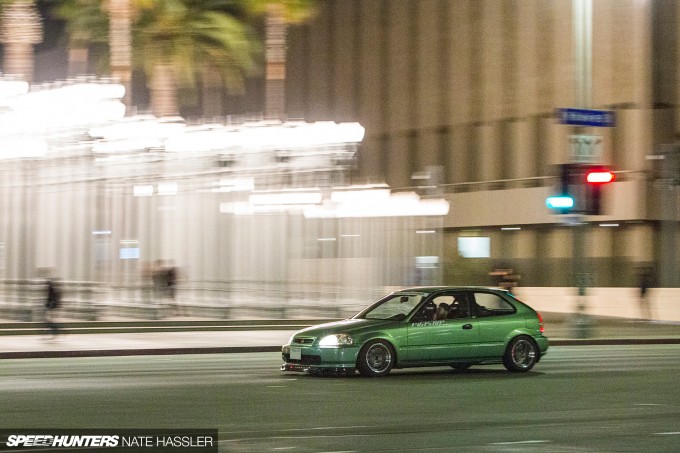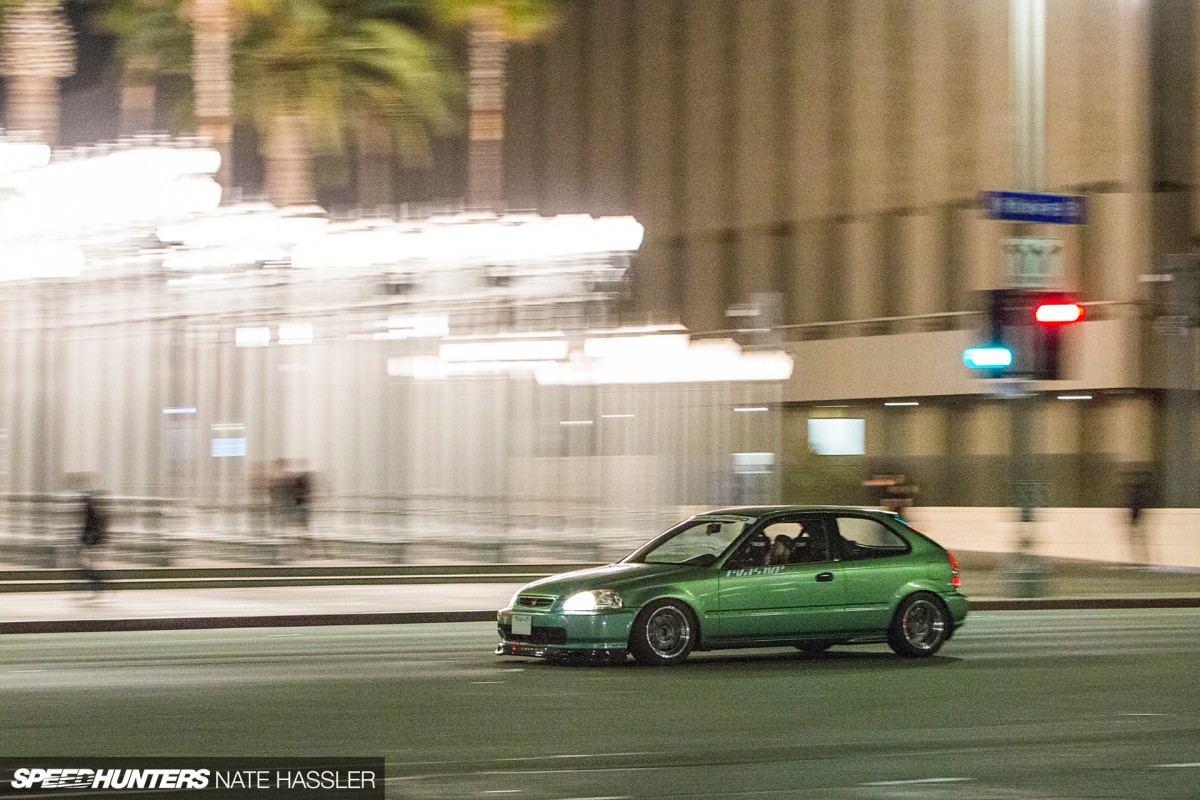 Normally I would avoid tourist traps like Mullholland and LACMA in an effort to avoid coming off as cheesy, but when it comes time to select somewhere I feel represents who I am, they're the first that spring into mind. I've learned a lot about myself through working for Speedhunters and it seems this is an ongoing education.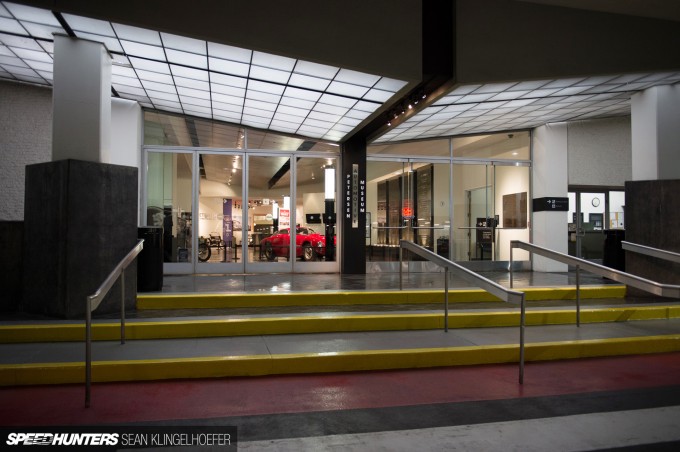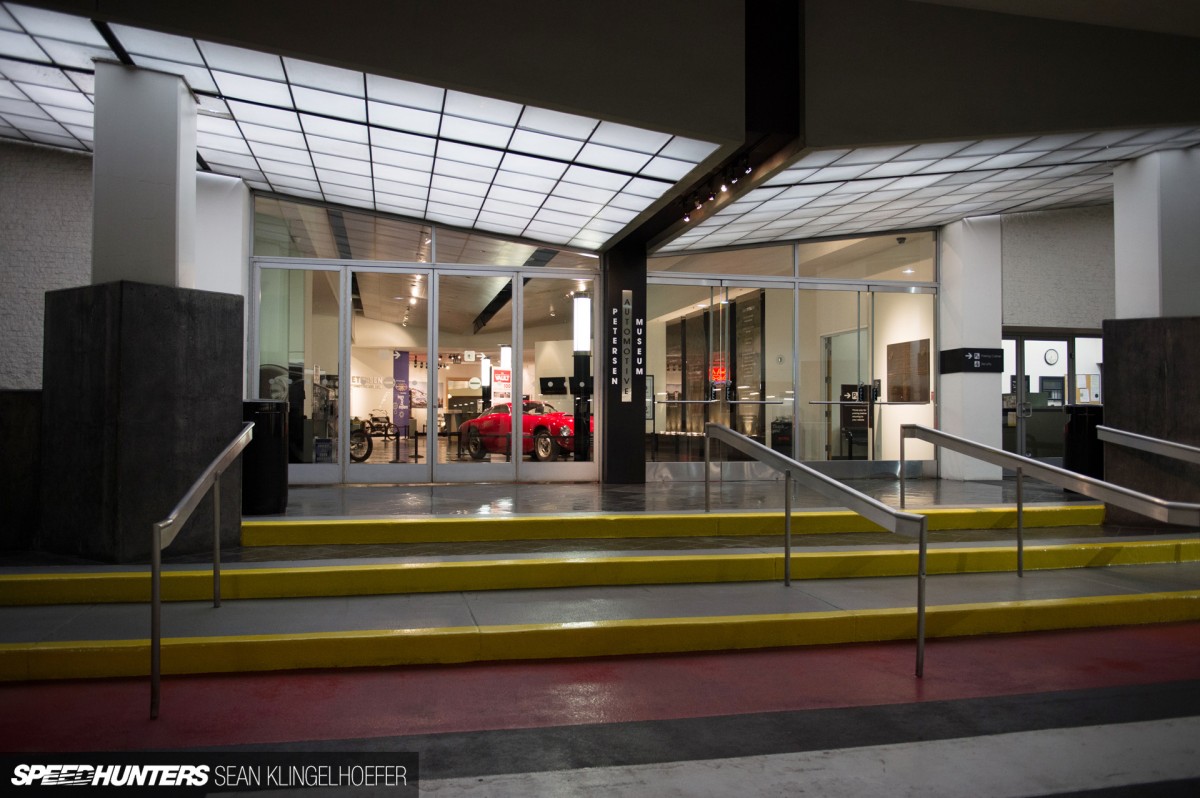 The final stop of the night was just across the street and somewhere I'd recommend any petrolhead look into when traveling to LA: the Petersen Automotive Museum. Famous for a number of reasons, many of which Mike Garrett has detailed in his posts, but infamous for one in particular – The Notorious B.I.G. was shot to death outside, moments after leaving the museum.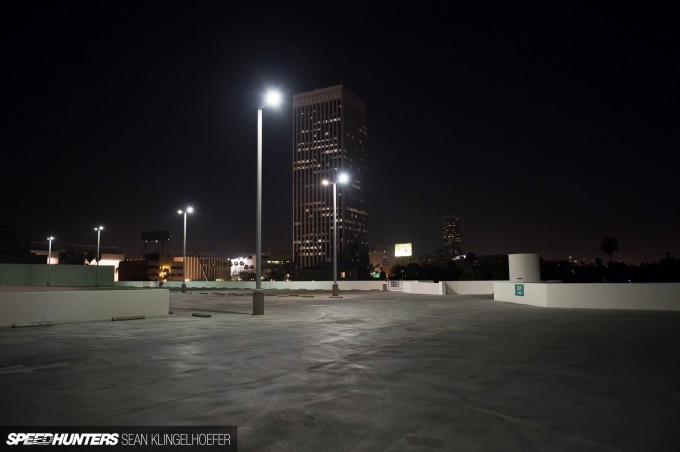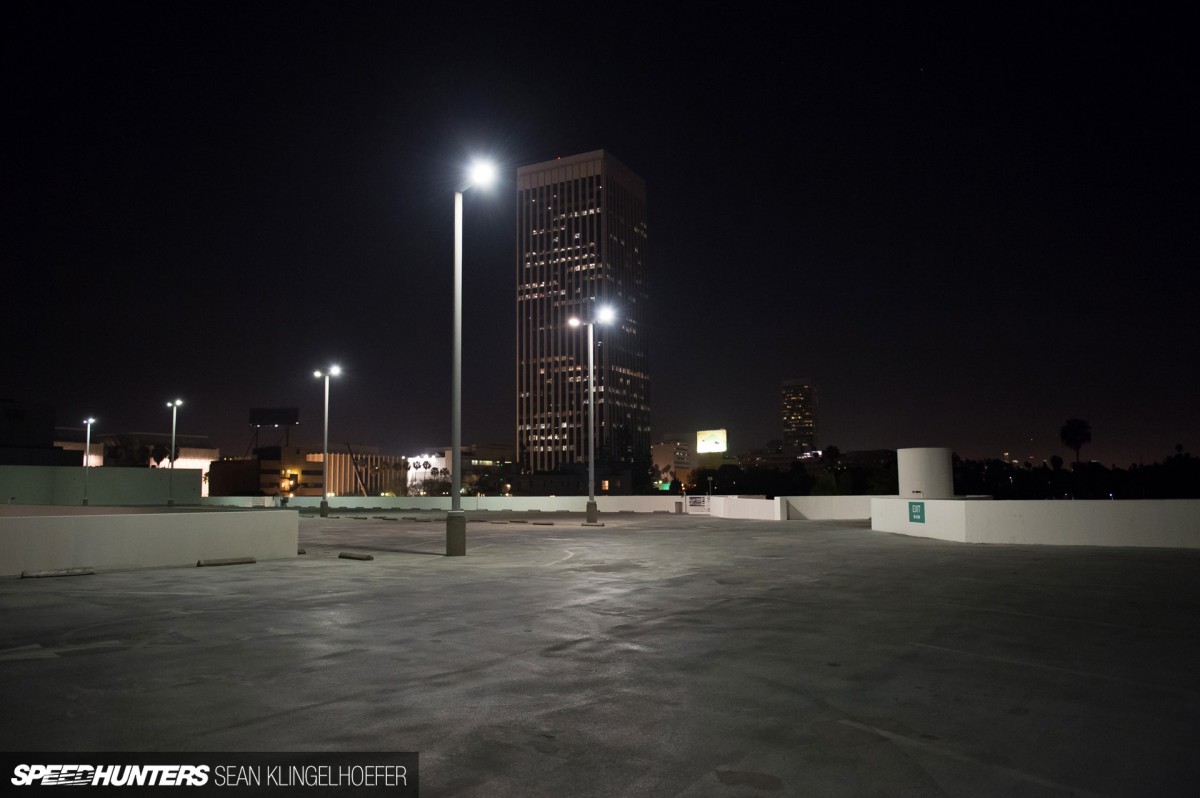 By this time the museum was well and truly closed, but I had something else in mind anyway. After driving up several winding ramps, I eventually found the rooftop parking lot and decided to have a final go at some images before putting Leroy away for the night.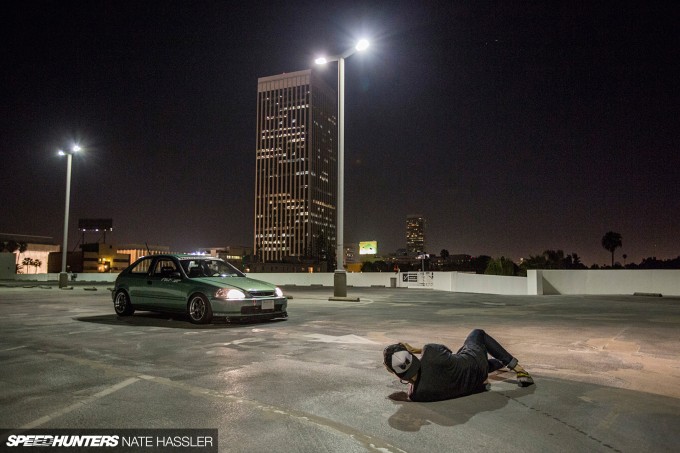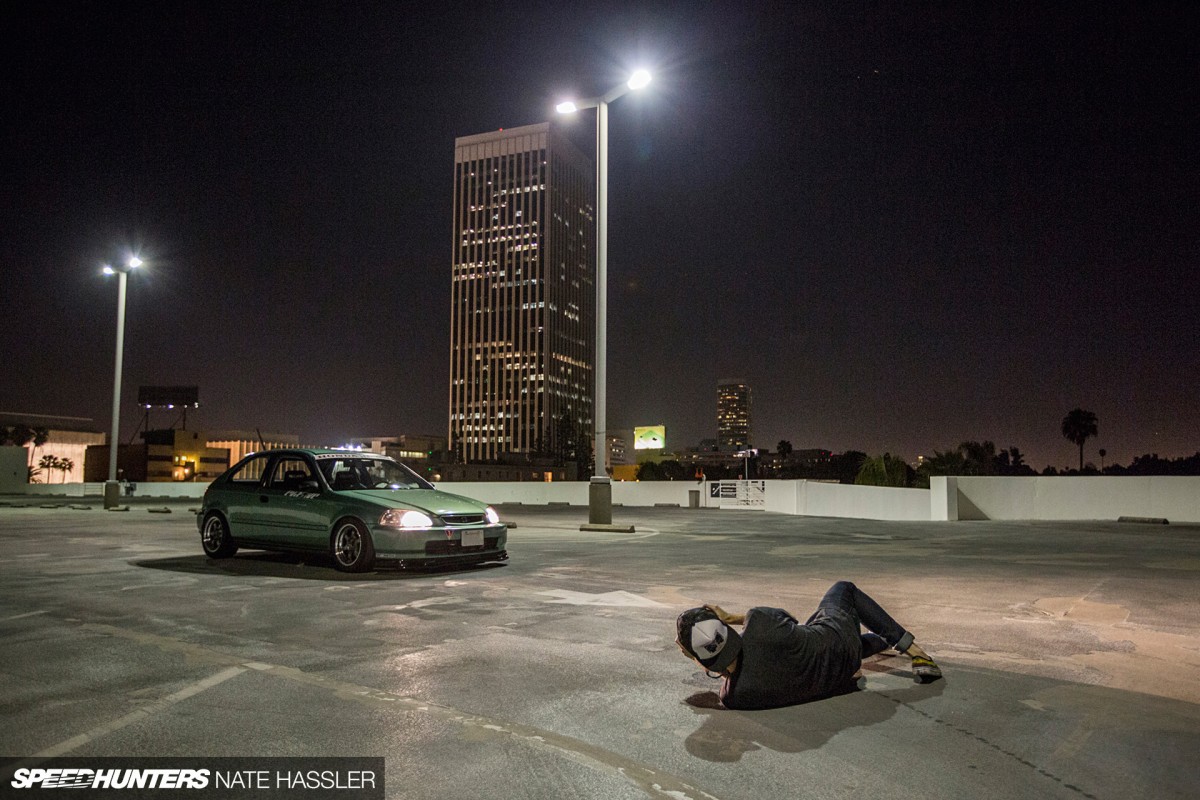 Once again I was reminded of my teenage years – years of experimentation and excitement. Here I was frozen in time, just a boy and his car. The exposure settings were horrendous, the backdrop lackluster and the car rough around the edges. It was perfect.
I can't wait to do it all again.
Sean Klingelhoefer
Instagram: seanklingelhoefer
Email: sean@speedhunters.com