Fancier footwork
There's nothing I love more than when Christmas comes early. For petrol heads there aren't many things that can compare to bolting an awesome new part to our cars, and one of the quintessential mods is an upgraded suspension kit. Thanks to the guys at KW in Germany, Leroy is now set to handle like never before, thanks to a custom-made set of 3-way adjustable Competition coilovers.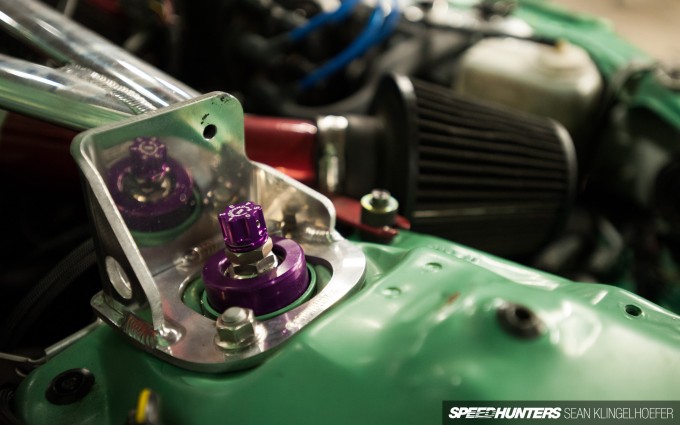 I've been a huge fan of KW ever since Paddy and I first visited their factory back in 2010, and while I've put their products on other cars, I've been dying to get my hands on a kit for Leroy. Since my EK has essentially been converted to track-only purpose I knew I wanted to go above and beyond their street range of products and delve into a custom motorsports kit.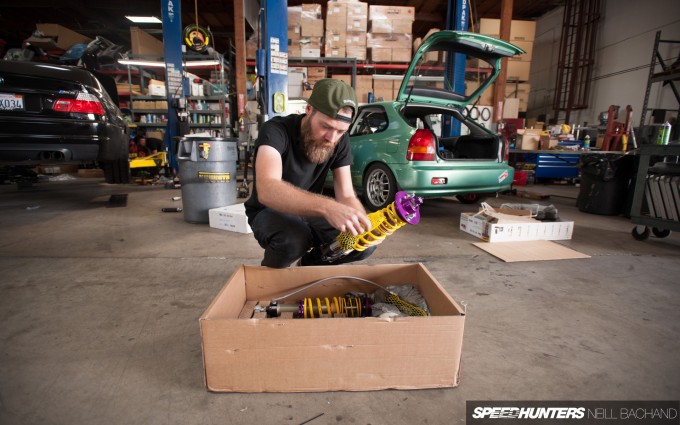 While every product KW sells offers excellent value-for-money, I've been through half a dozen exotic shock sets on Leroy and I wanted this to be the end-all, the last suspension kit I'll ever need to own. With custom valving and a modular design, the 3-way adjustable Competition shocks allow a huge range of damping adjustment and can be overhauled or rebuilt to new specs as necessary.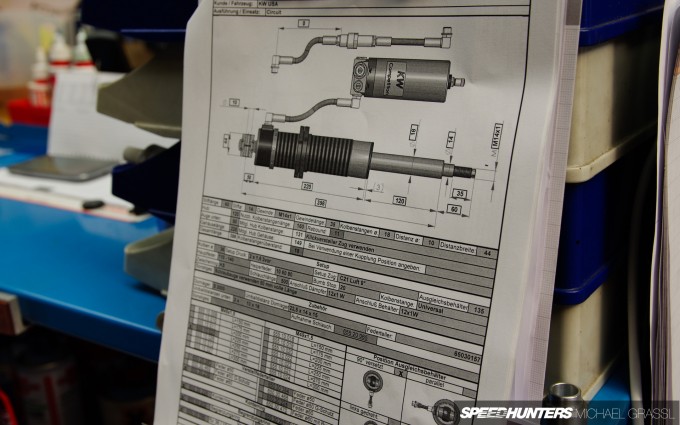 The process is custom tailored to every customer, starting with a survey to gather basic information like corner weights, wheel size/weight, chassis modifications and more. From there, the team will take the data they have on file for a specific model (presuming they've already made a kit for your application previously) and then build the shocks to your desired specs.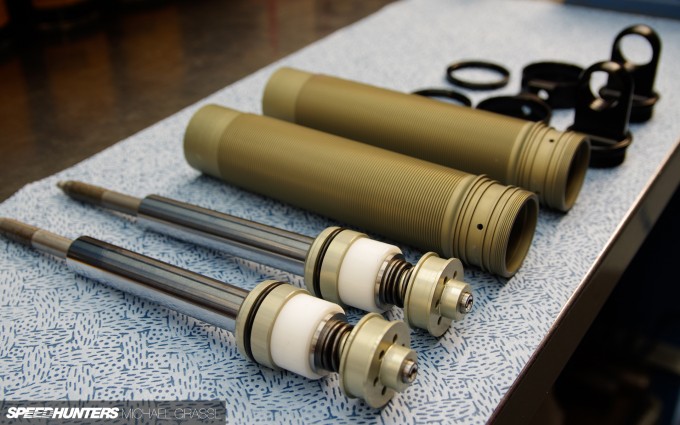 In my case, an engine swap, moderate gutting and modified Integra Type-R style rear lower control arms all made my car the perfect candidate as it requires a kit that isn't currently offered by any manufacturer. Here we see the beginnings of what will become my rear shock absorbers.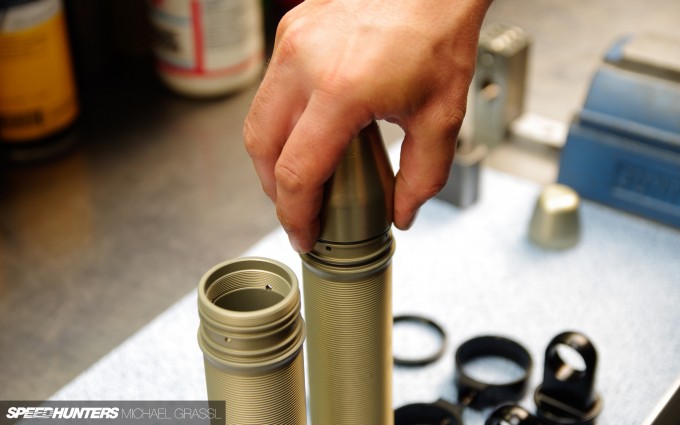 Practically every product KW makes, even their entry-level ST / Weitech stuff, is made by hand and cataloged electronically in their computer system. However the racing division has its own separate warehouse and offers unparalleled flexibility when it comes to building bespoke suspensions.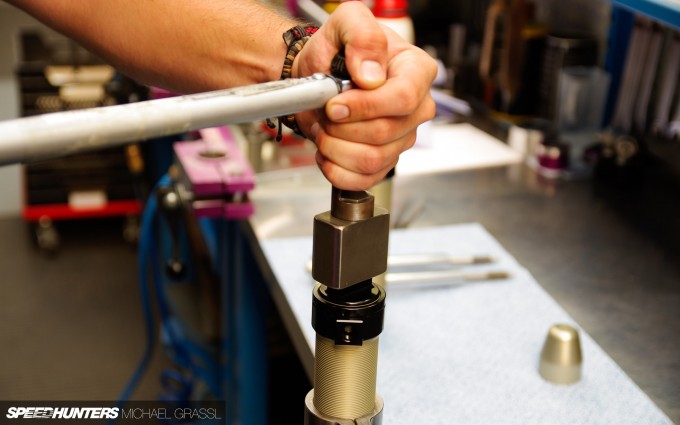 Using a computer-based inventory, the required parts list is generated and each bit is gathered from the corresponding parts bin. Once the necessary components have been gathered, the assembly process starts with the valve system. The valve assemblies are then installed onto the shock rods before moving onto assembling the bodies seen here.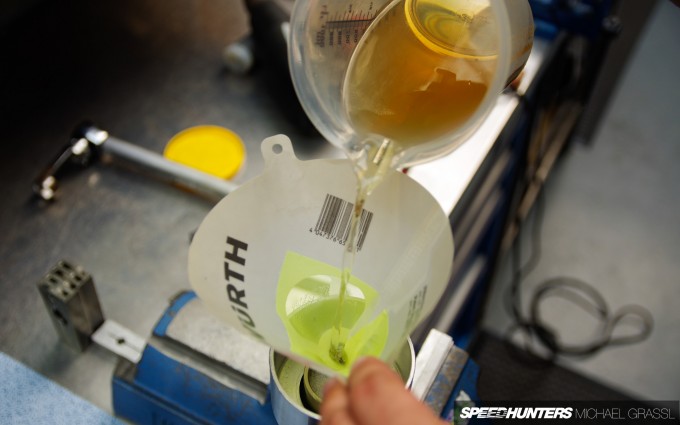 With the body assembly sorted, the shock tube is then filled with a special oil. The volume of oil required is also computer monitored.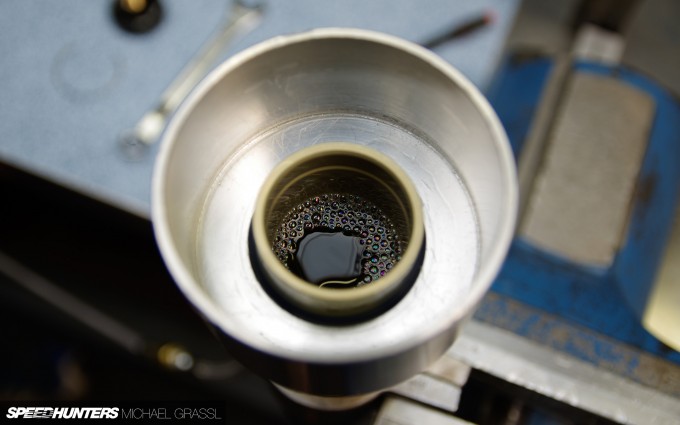 Once the shock body is filled, the oil is left to cavitate so the bubbles rise to the surface.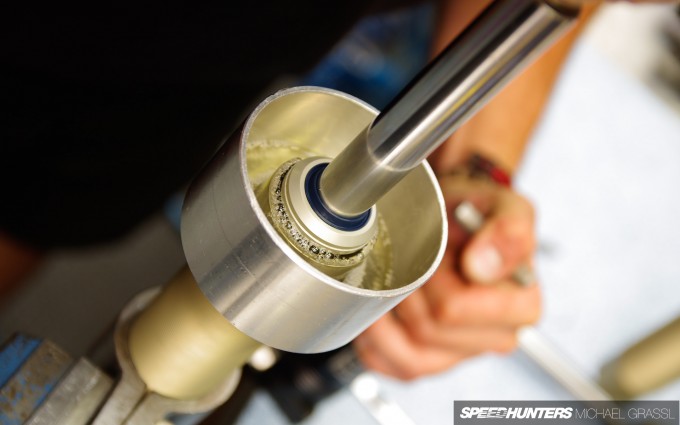 Next it's time to carefully install the shock rod and valve assembly into the body. This is where the magic starts to happen.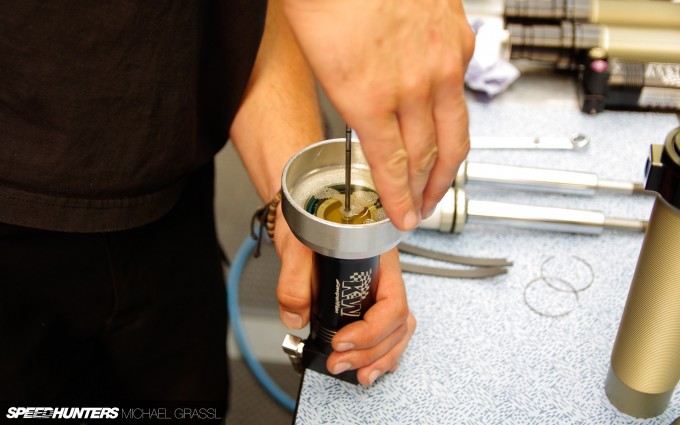 With the shock rod in place, the last thing to do is fill the overflow canister.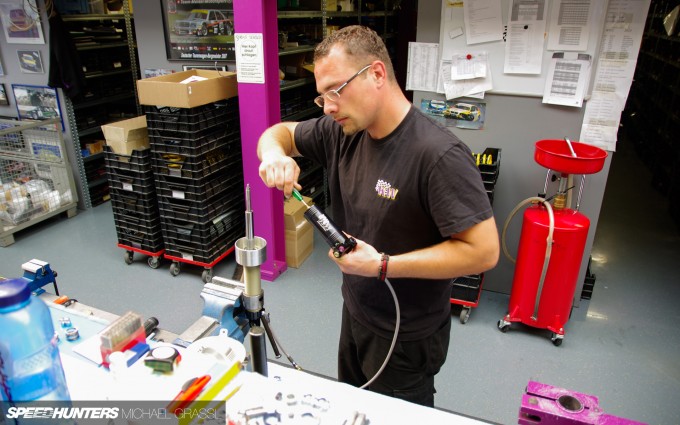 Once the canister has been filled with oil it is sealed and then the shock is pressurized. At this point you essentially have a complete state-of-the-art racing shock absorber!
From Germany with love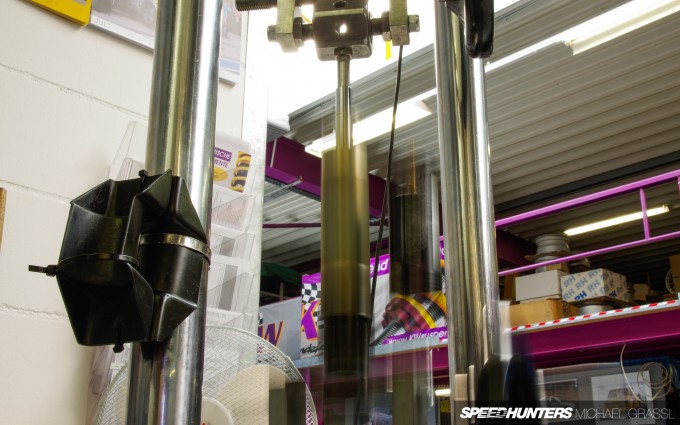 But of course the process isn't quite finished. KW takes quality control to a level I've never before witnessed as they dyno every single shock they make. Not just the racing stuff but literally every shock they build. Spot-checking simply won't do. Here we see my new suspension being put through its paces and monitored for any abnormalities.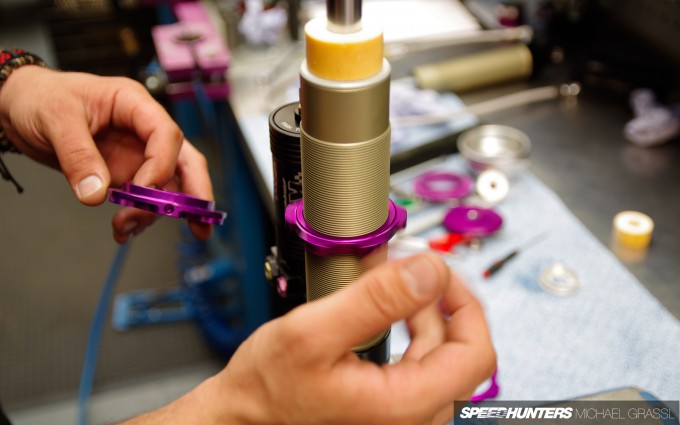 Although rare, if a problem does arise, the shock is disassembled and checked for errors. You can rest assured you won't receive any bunk shocks from KW. Once the dyno gives the OK, the finally assembly commences, starting with the spring perches.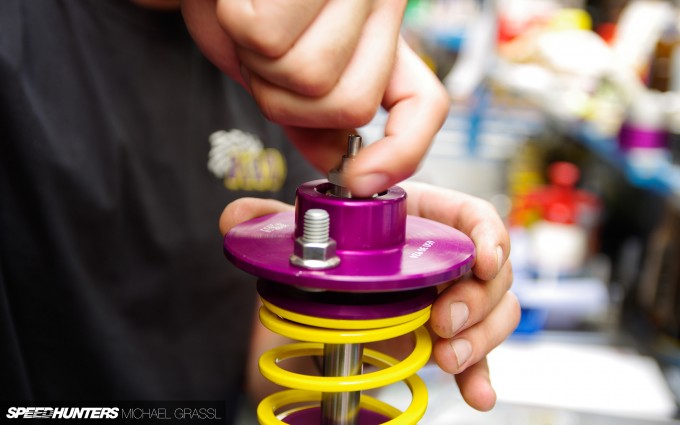 Next the springs are installed followed by upper mounts if the kit includes them. In my case a set of full spherical-bearing top hats complete the race kit.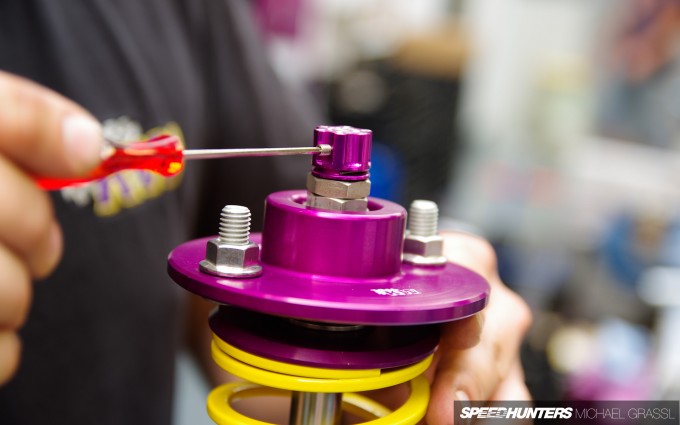 The final piece of the puzzle on my shock is the upper knob for rebound adjustment.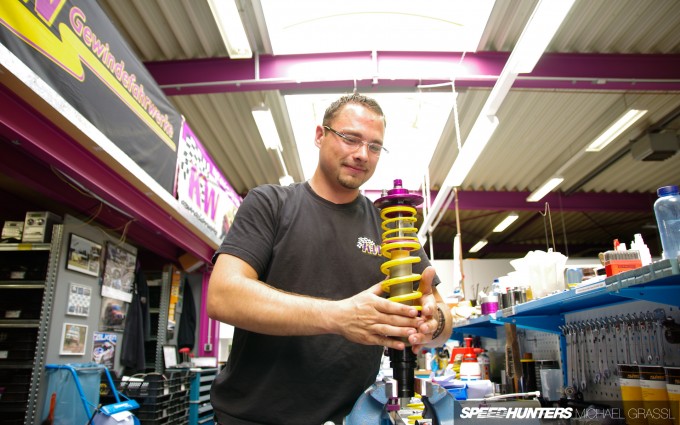 Voila, one custom shock ready to go! You can see that such perfectionism not only puts a smile on my face, but also the people who create the product.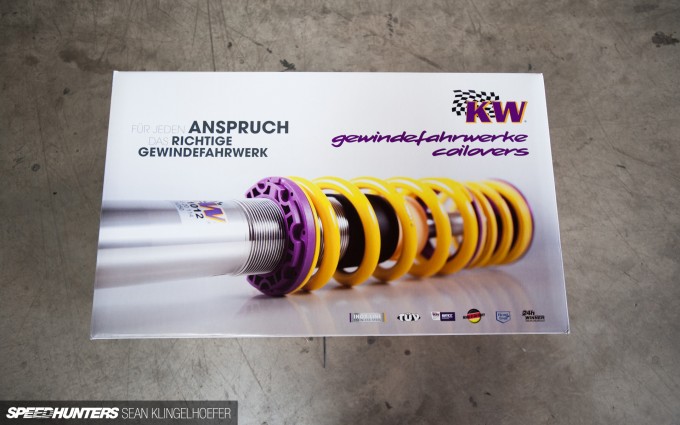 A week or so later I received a package air-freighted from Germany, with love. At last my new Gewindefahrwerke had arrived!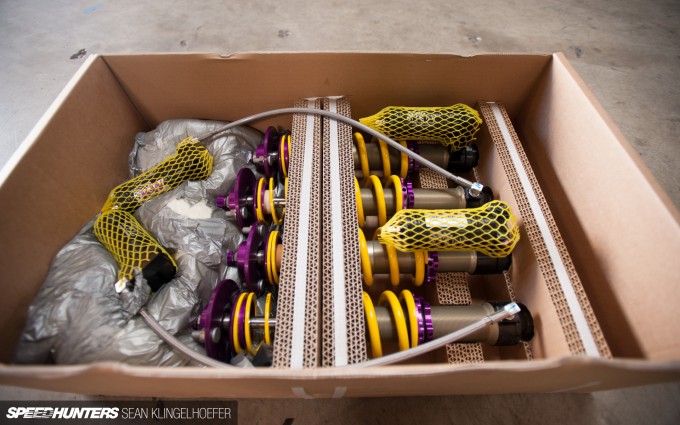 Not only does KW build shocks in a different way from every other manufacturer I know of, but they also have a unique way of securely boxing them. Just getting to the shocks requires some effort and it wouldn't surprise me if their packaging is TÜV approved.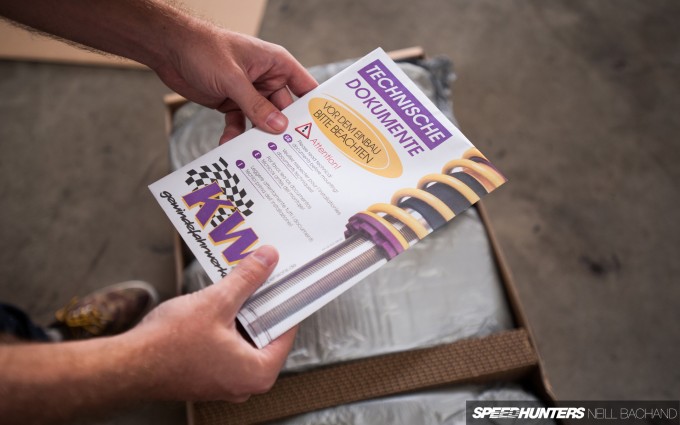 Among other things, the Competition kit includes a special set of documents which give an overview of how to adjust the shocks…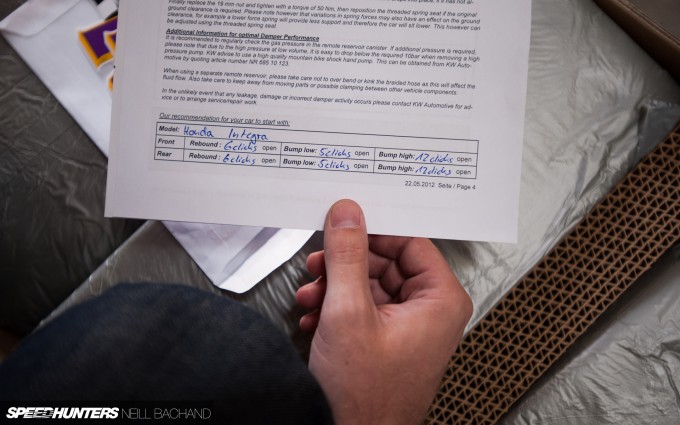 Including a recommended starting point for your application. All that's left now is to bolt them on!
Installation time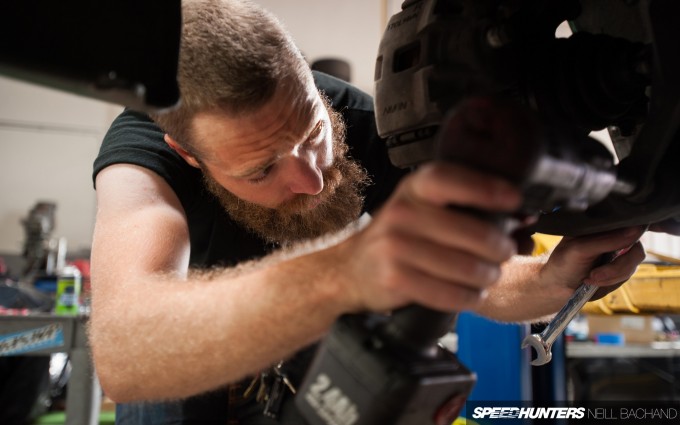 After over a decade of tinkering with Hondas, I've become pretty familiar with the removal and installation of suspension components. I decided to make a quick visit to my friends at Evasive Motorsports to hijack a lift and tools to further speed up the job.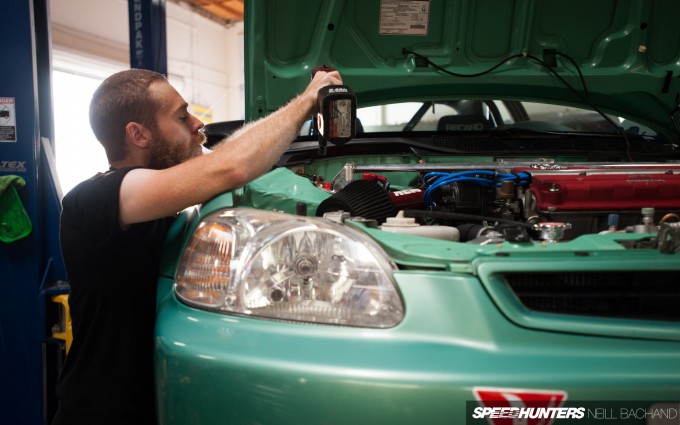 If I had to rate the difficulty of installing new shocks on a '90s Civic or Integra it would probably be 1 out of 10. If you can grasp the concept of how a nut and bolt work, you can definitely do it. It's also a pretty rewarding experience, especially if you're putting aftermarket suspension on a previously stock car.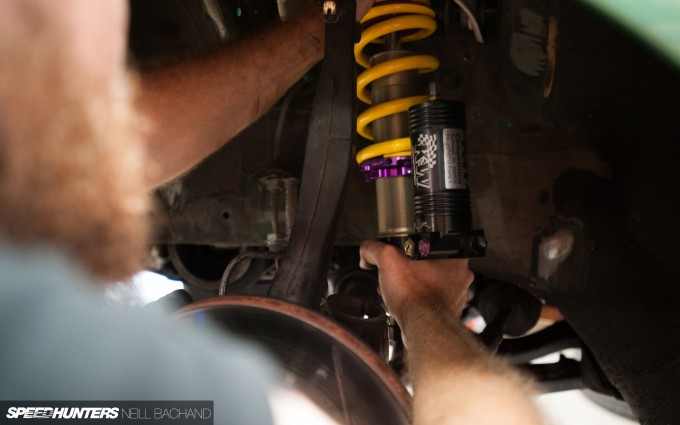 If you have a 12mm, 14mm and 17mm wrench and sockets and an hour to spare, you can easily tackle the job on your driveway. '90s Hondas are some of the easiest cars I've ever worked on and I love how simple changing components is. However, these shocks do require a bit more attention due to the external canisters.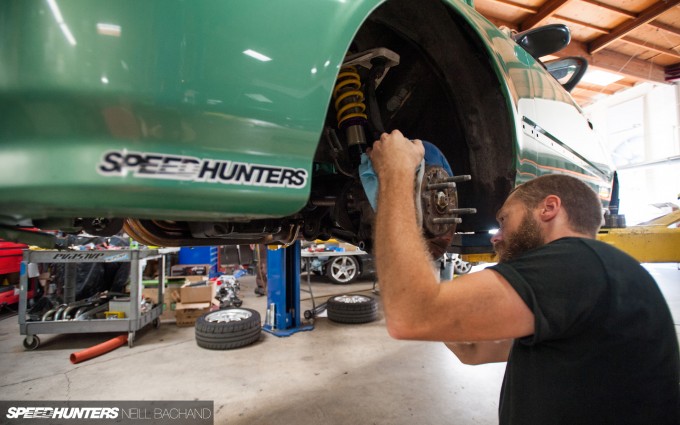 I discovered that the front shocks actually needed to be indexed in towards the wheel well a little bit to avoid the inside of the rim rubbing on the canister at full lock. But that was a very easy problem to fix.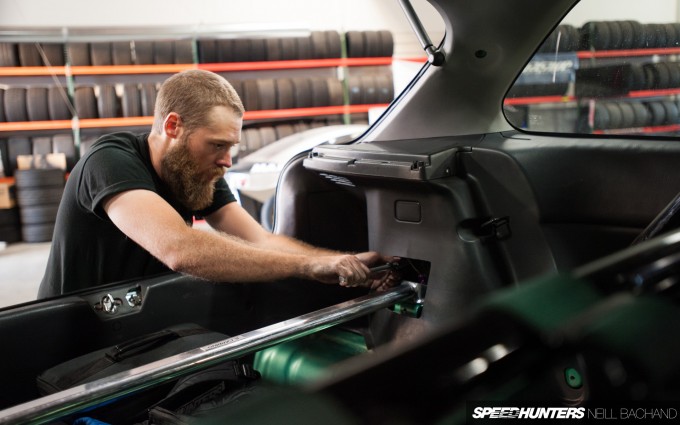 The rears on the other hand had one additional step since the canisters in the back were remote and would have to be secured separately.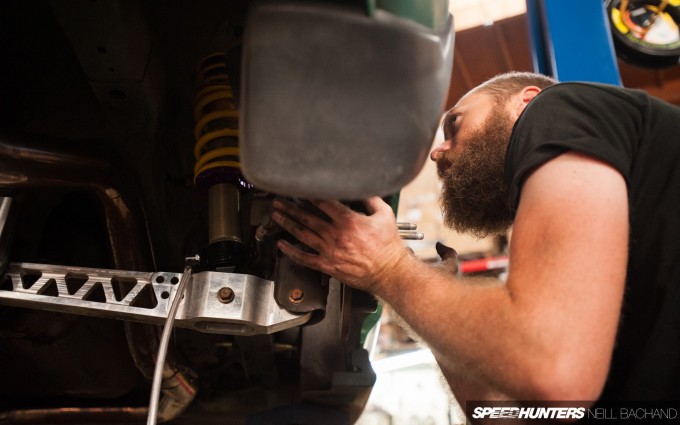 I thought about drilling through the body to mount the canisters inside the car, but decided to go a different route for now.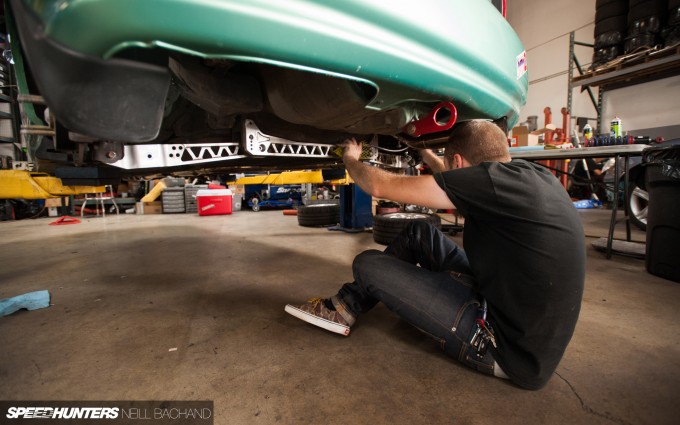 After looking around under the car for a while I decided to use my subframe brace as a temporary resting place for the canister. Since I'm not currently running a rear bar, this would allow adequate mounting stability with additional cooling which is a bonus. It's also out of the way enough from harm – in five years of use the brace doesn't have a single scratch on it so I think it's more than safe.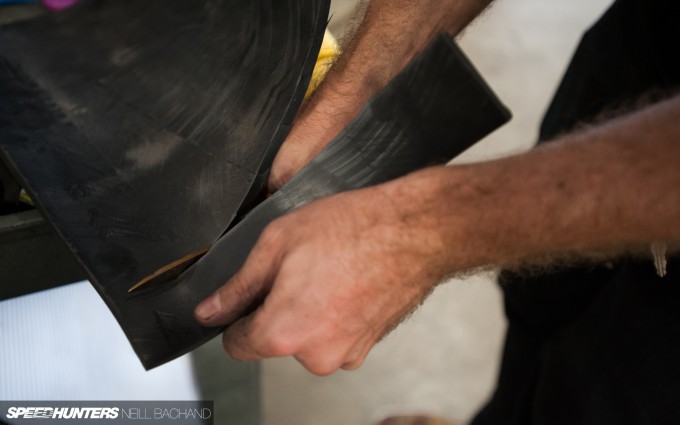 Using some rubber the guys had laying around, I fashioned a set of bumper pads for the canisters.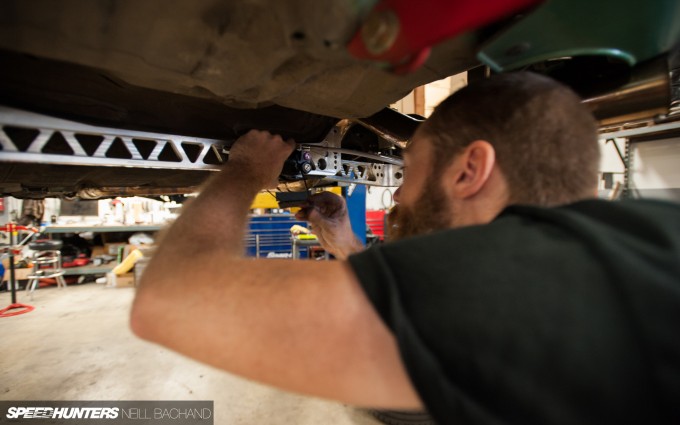 Next it was time to utilize some extremely high-tech zip ties as I went about fastening the assemblies to the subframe brace. Easy-peasy.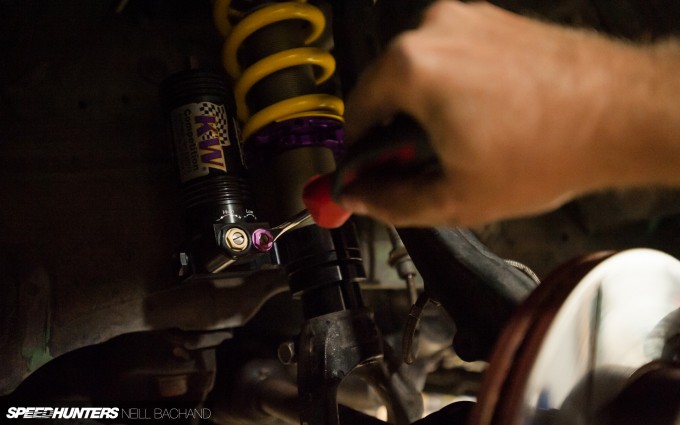 The shocks should ship with the recommended settings pre-dialed for you, but the German in me had to double-check just in case. With the shocks all bolted in and adjusted, the next step will be setting ride height, corner balance and aligning the car, but that will have to come next time.
For now what I can say from the drive home is that this kit displayed many of the qualities I've come to expect from KW, namely unreal compliance in high speed compression damping (the I-5, I-10 and I-405 no longer break my back!). I'm really looking forward to getting the footwork dialed in and taking Leroy to the track to test these babies out soon!