The Right Way
A few months back we asked you to post up your questions about harnesses, seats and seatbelts for the experts at TAKATA Racing to answer. Afterwards, we pooled together the questions and asked Tom Myers, the Head of Motorsport Programs at TAKATA Racing, to answer a bunch of them for us. Some solid information has come out of it, so let's get to it…
What is the safest method of mounting a multi-point harness in a street legal vehicle?
It might sound obvious, but the most important thing is to read, understand and follow the installation instructions properly. There are various acceptable mounting methods ranging from a certified roll cage or a harness bar to using the OEM seatbelt mounting points when they can achieve the acceptable geometry. The type of seat must also be considered, as the shoulder belts must pass through slots or headrests at the correct height. It's worth noting that not all street legal vehicles are built to properly put in an aftermarket harness, so consulting your TAKATA dealer is always recommended.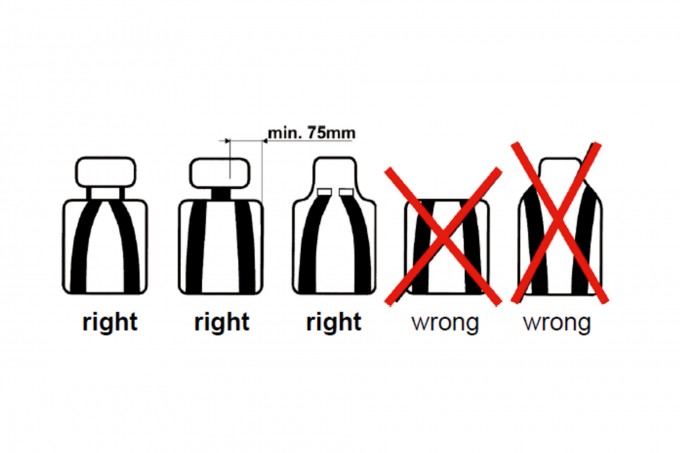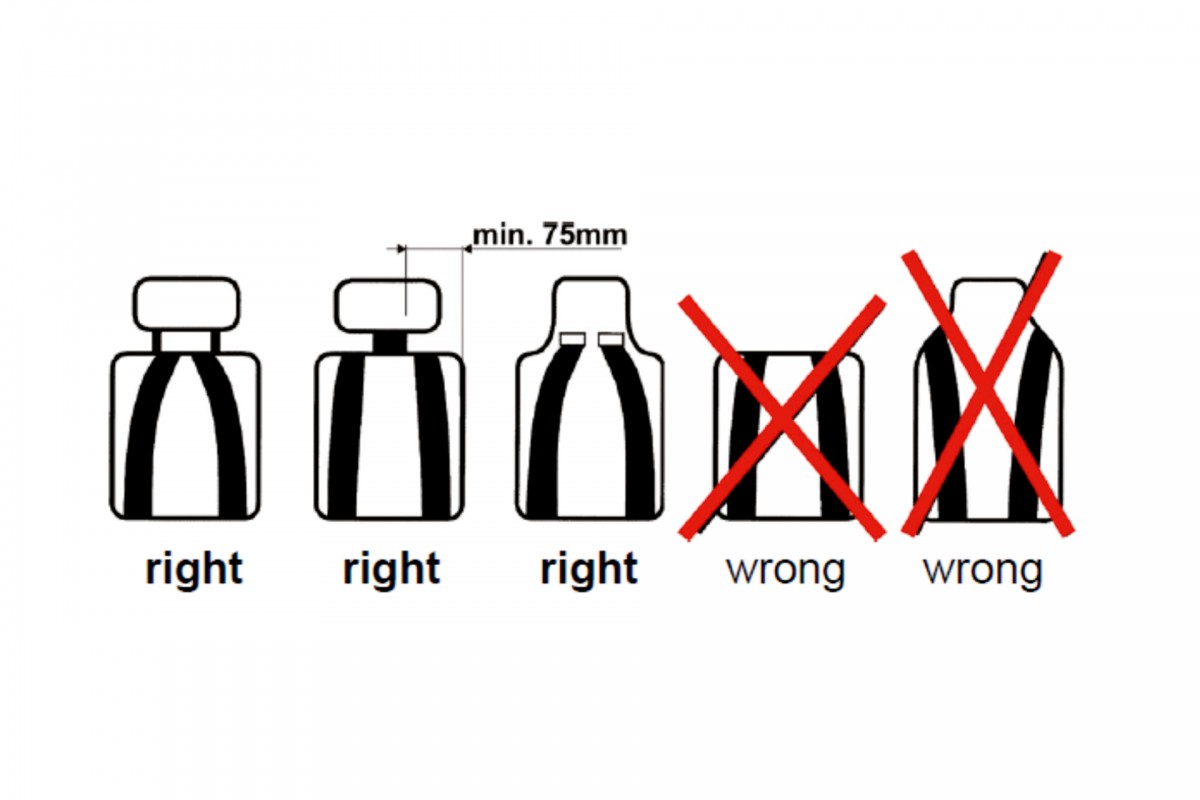 What kind of seats do I need to have to install a multi-point (4 or 6-point) harness?
Harness belt systems must not be installed in vehicles equipped with seats which do not have adjustable head restraints, or seats with backrests that have integrated head restraints where there are no openings for the shoulder belts.  The seatbelts will not function properly in these types of seats as shoulder belts will tend to slip off the shoulders.  Never create a new opening in the seats installed in your car, if it's a manufacturers seat it will have been crash tested and changing the way it works will affect it's performance in a crash.  When shoulder belts are installed to rear seat lap belt anchorages, the front seat backrest must be able to maintain a >5kN load applied by the shoulder belts during an accident.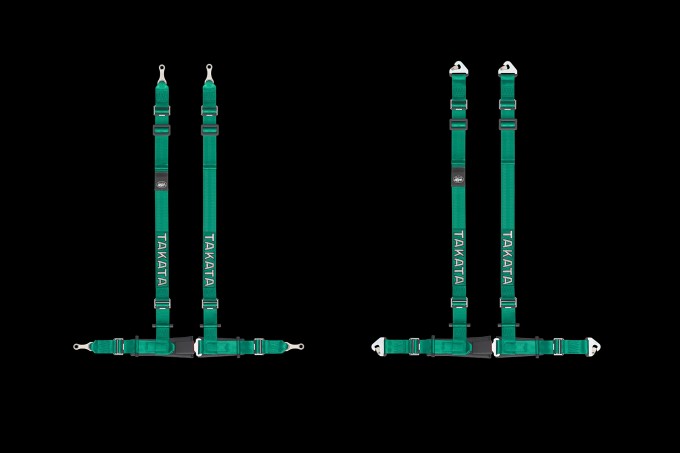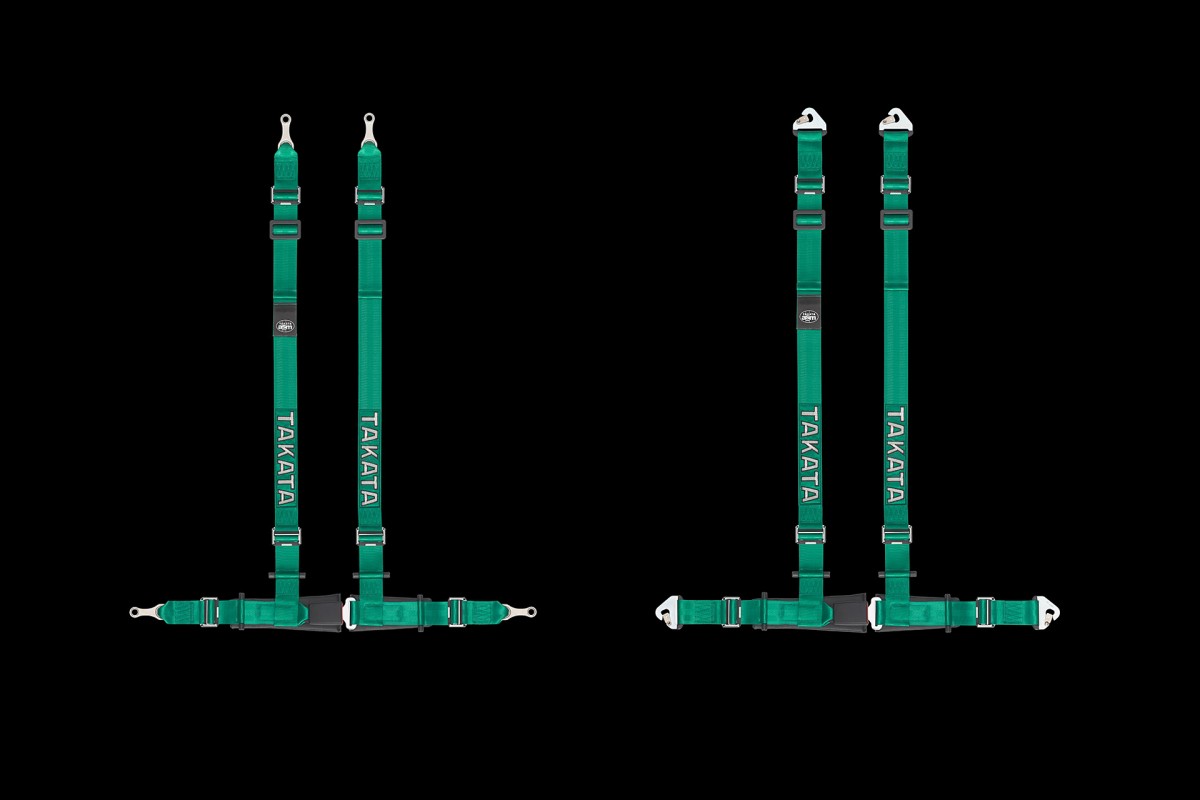 In regards to the Drift II harness, why does TAKATA suggest mounting the belt to the existing lap belt points while some seem to think that is unsafe?
First, we should point out that TAKATA belts are both manufactured in accordance to the European Standard ECE-R 16.04 and Federal Motor Vehicle Safety Standard (FMVSS) 209. OEM seat belt points are the only anchorages that have been 100% tested to hold the loads required for a harness system. The user must determine based on local or national regulations if they choose to keep the original 3pt harness system in the vehicle or replace it for a multi-point TAKATA harness.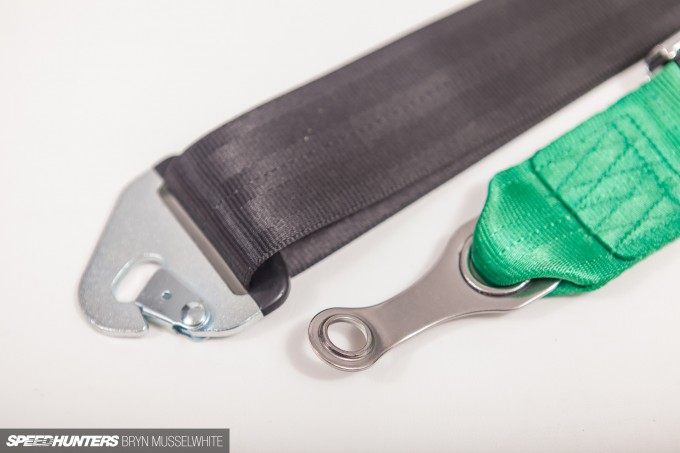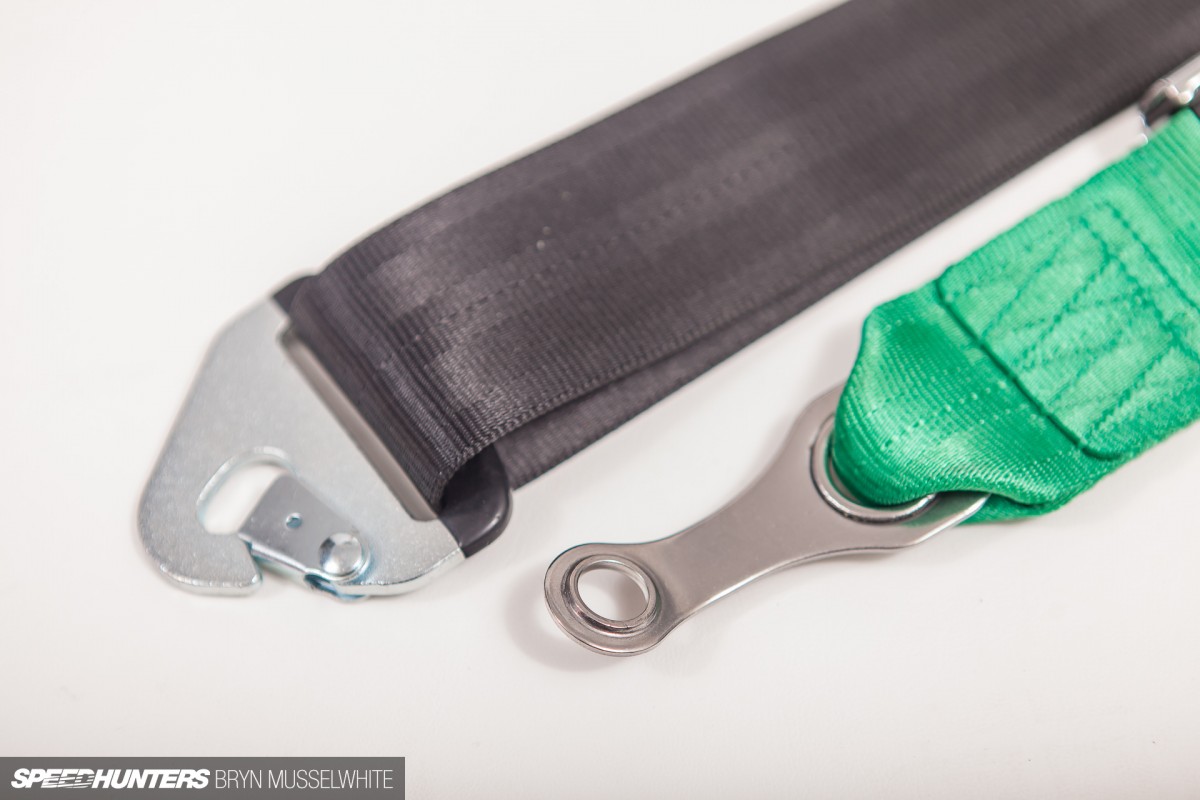 The TAKATA harnesses are offered with multiple options for installation. In most cases, bolting directly to the original OEM seatbelt anchor points is the best solution but eye-bolts and snap-hook hardware are also acceptable methods. Again, follow the installation instructions or have the work done by a trained professional.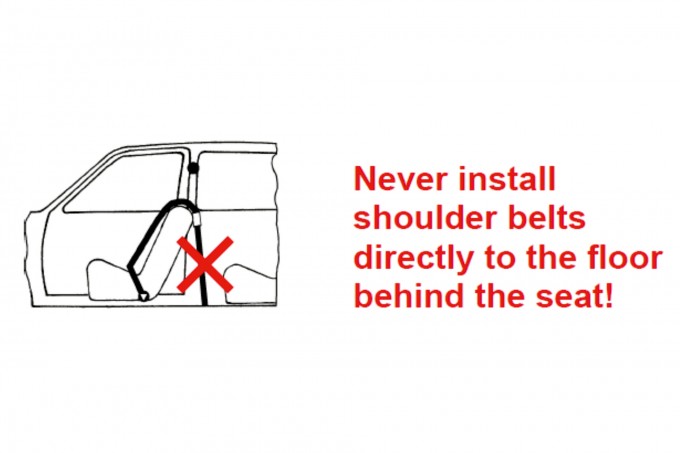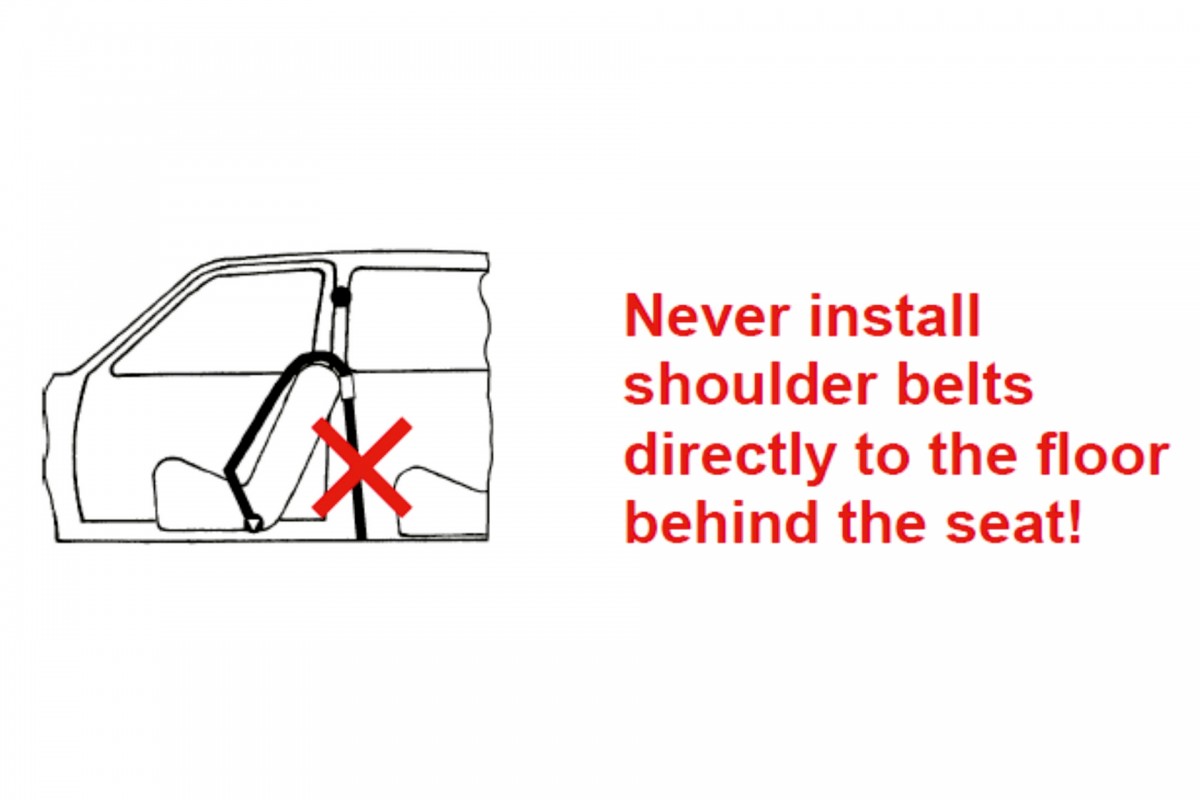 I have heard mounting the shoulder harnesses to the floor behind the seats is generally safer than mounting them to the crossbar behind the seats, is that true?
Mounting directly behind the seats or to any position greater than 45° downwards is considered unsafe. We'll go into more detail in the next question.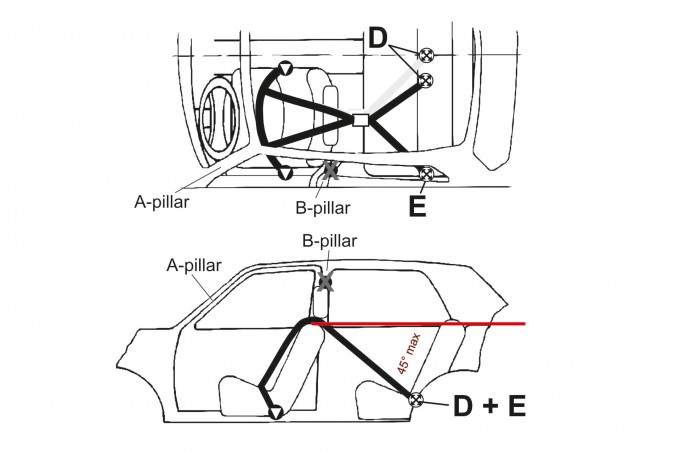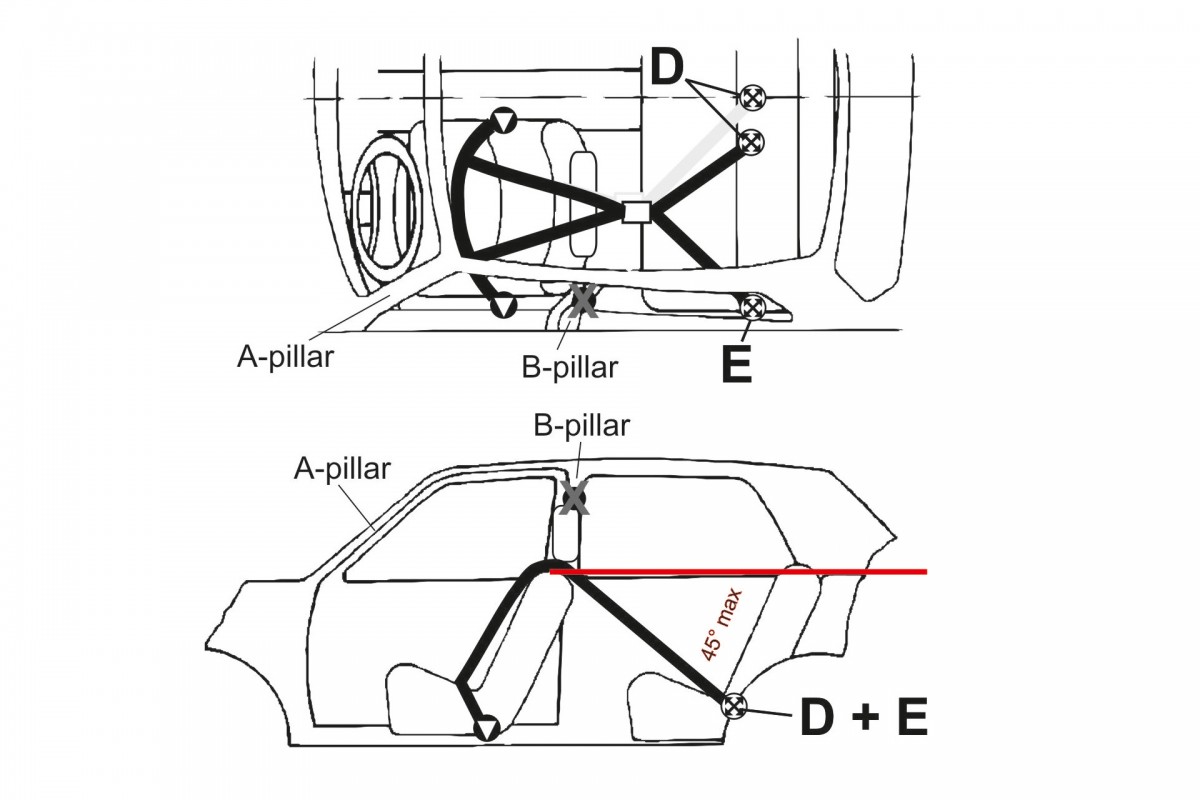 I see a lot of people mounting the harness on a harness bar but it sits lower than an average persons' shoulder line, basically pulling from below. I heard that in an accident this can pull you downwards and put a lot of stress on the cartilage between the vertebrae. Is this true, does it matter or is it just an urban legend?
When mounting shoulder belts to a roll cage or harness bar, the optimal angle of the belts (from the horizontal plane) is between 0° and 20° downwards from the top of the occupants' shoulders or seat back opening. When a rollcage or harness bar is not available, installing a multi-point harness to the rear OEM seatbelt anchor points (D & E) an angle of 45° downwards from the top of the occupants' shoulders or seat back opening is acceptable.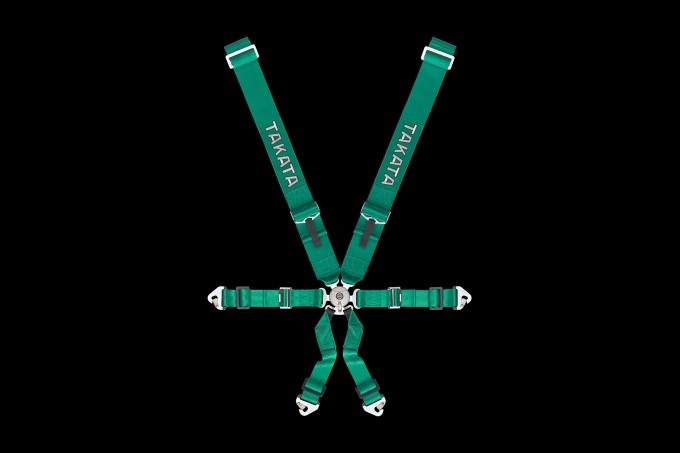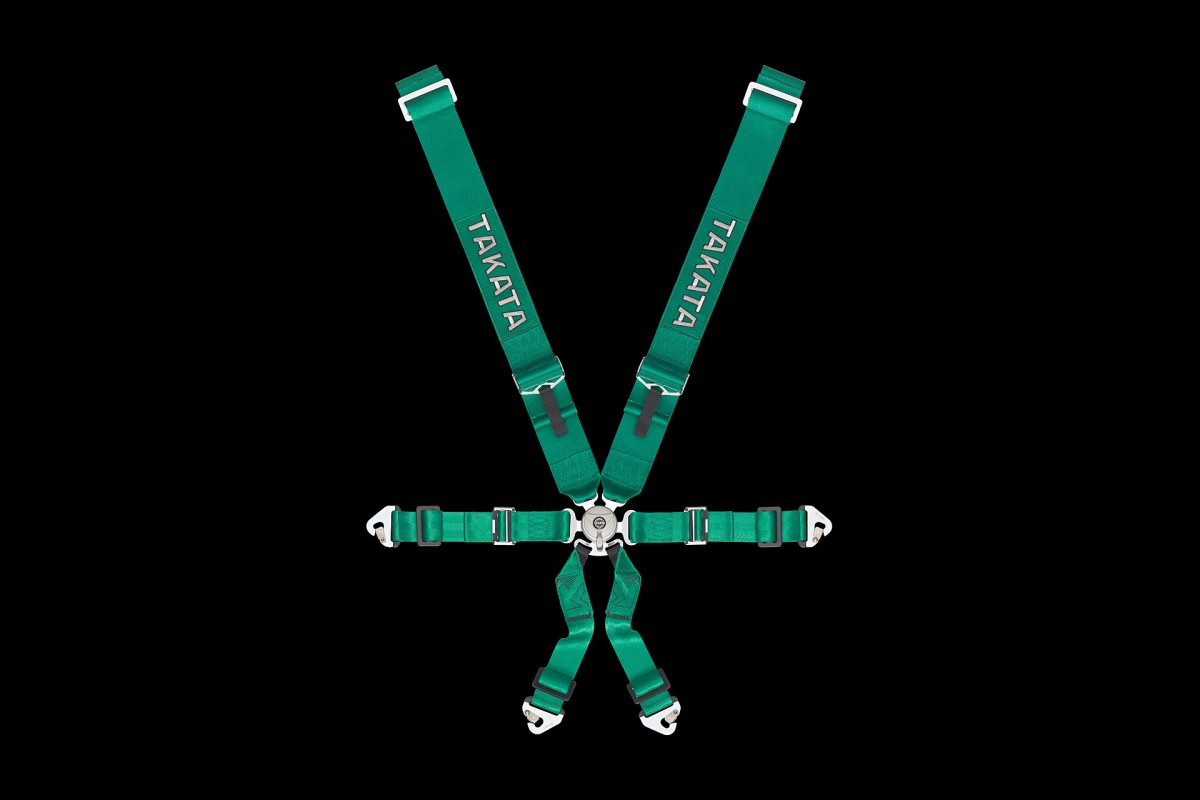 Could you define the proper way you expect your harnesses to be installed, especially in regards to competition use for five and six points? Would you find a harness bar that simply bolts to various points within the rear cabin area acceptable to mount any of your safety equipment? 
Any harness system intended for use in competition must be installed in a properly prepared vehicle. The entire vehicle must be considered, including roll cage, proper race seat and mountings, harness anchorages, interior nets and fire suppression systems. The use of five point (single crotch strap) models is highly discouraged as these five point designs increase the risk of soft tissue injury and also tend to cause higher levels of chest compression in the event of accidents.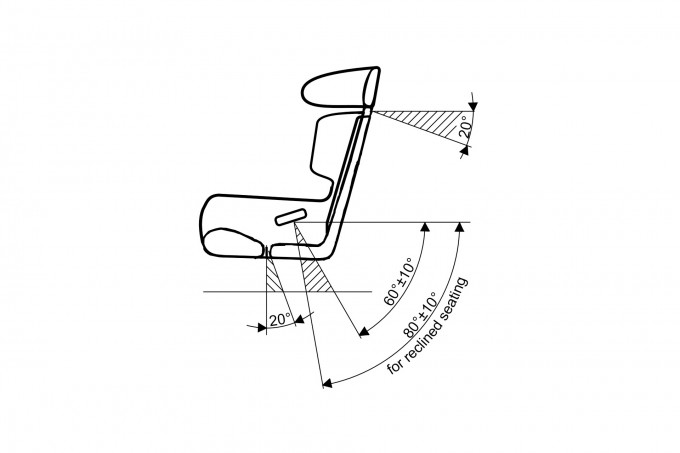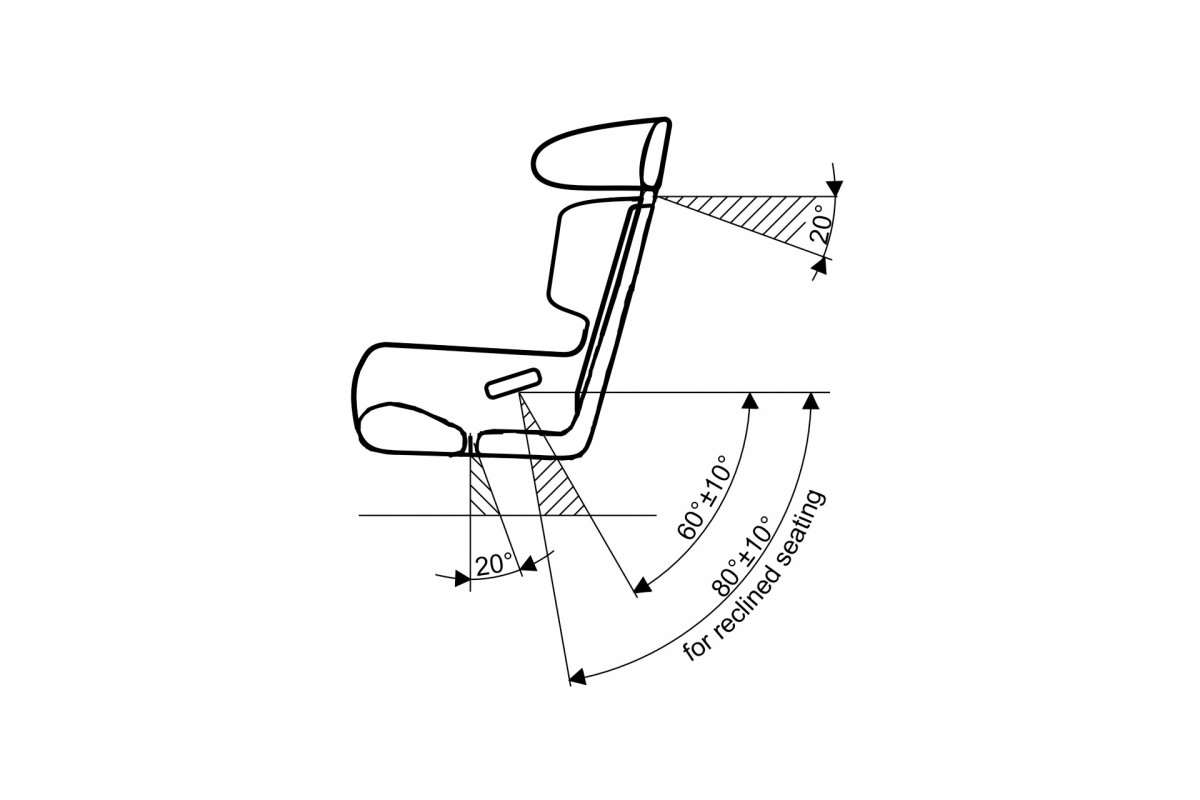 The general installation angles to for six point harness systems are shown above. Always follow the manufacturers' installation instructions provided with the specific harness model you have purchased.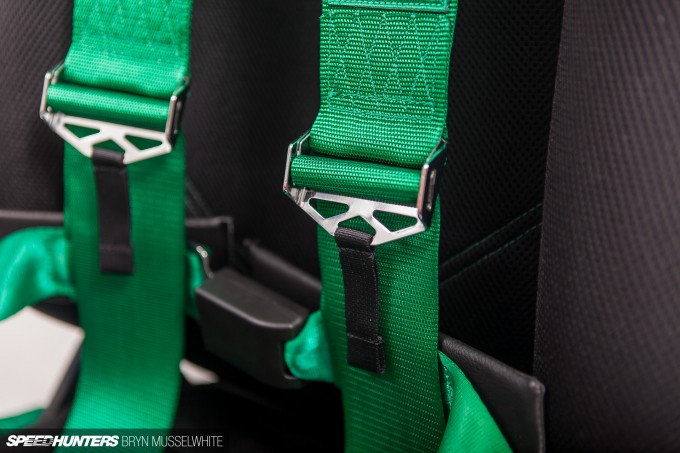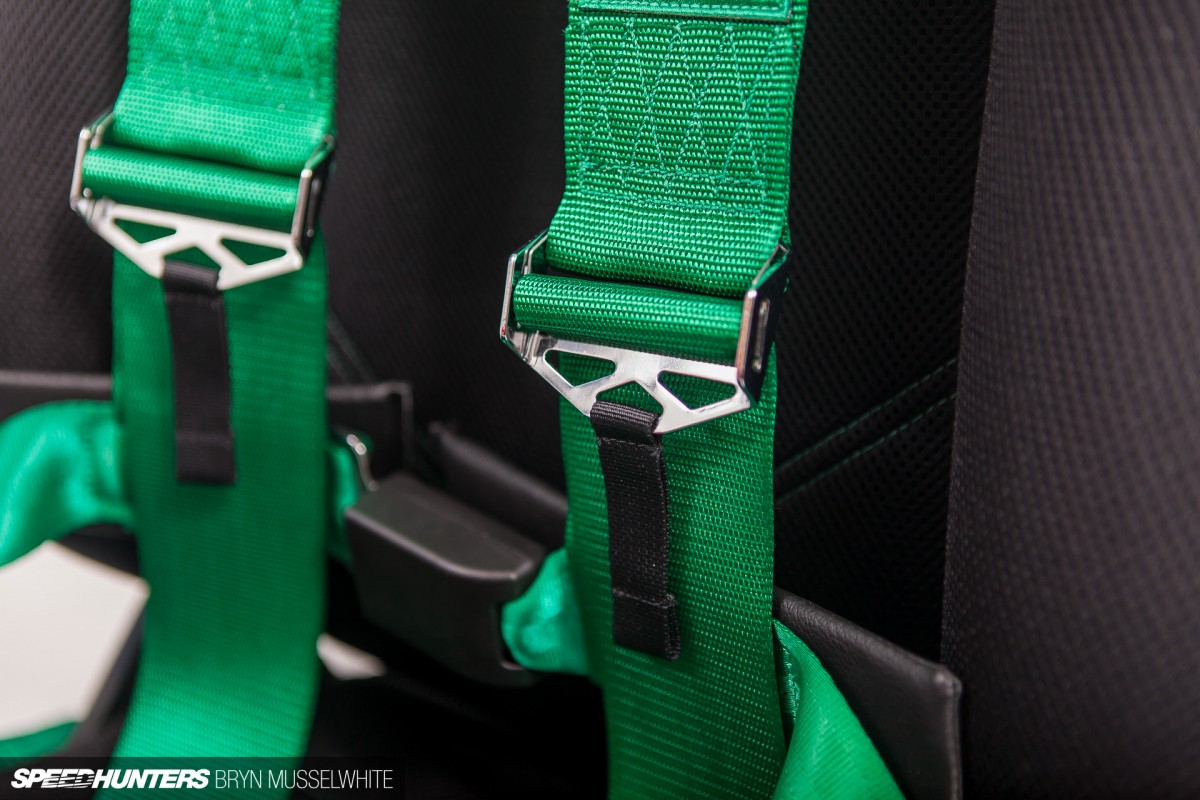 When should I start using a multi-point harness? I see lightly modded cars running four point, sometimes even six points (probably overkill) as much as I see 400hp street cars with regular seats, so, at which point should I feel or know that it is time to use a proper harness?
The first and foremost purpose to use a TAKATA Racing harness is safety. There are many other secondary reasons you might want to install a multi-point harness and what type of harness best fits your needs. There is no minimum limit on how much horsepower you have or what type of driving or racing you might be involved in. Injuries and fatalities can occur even at low speeds. The decision to use a TAKATA Racing harness should be based on your individual needs and if you can properly and legally install a multi-point harness in your vehicle.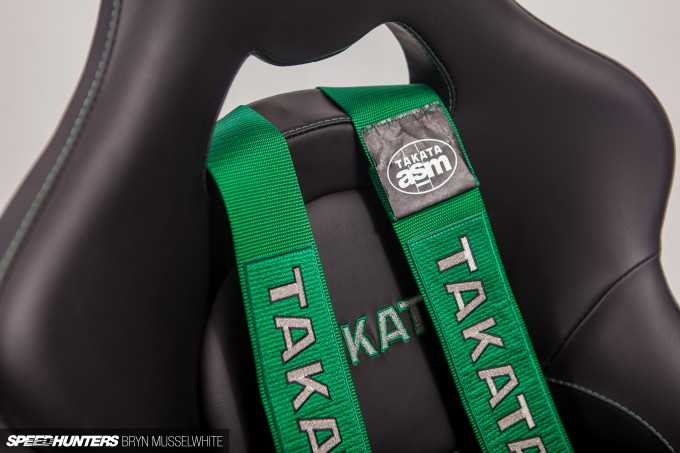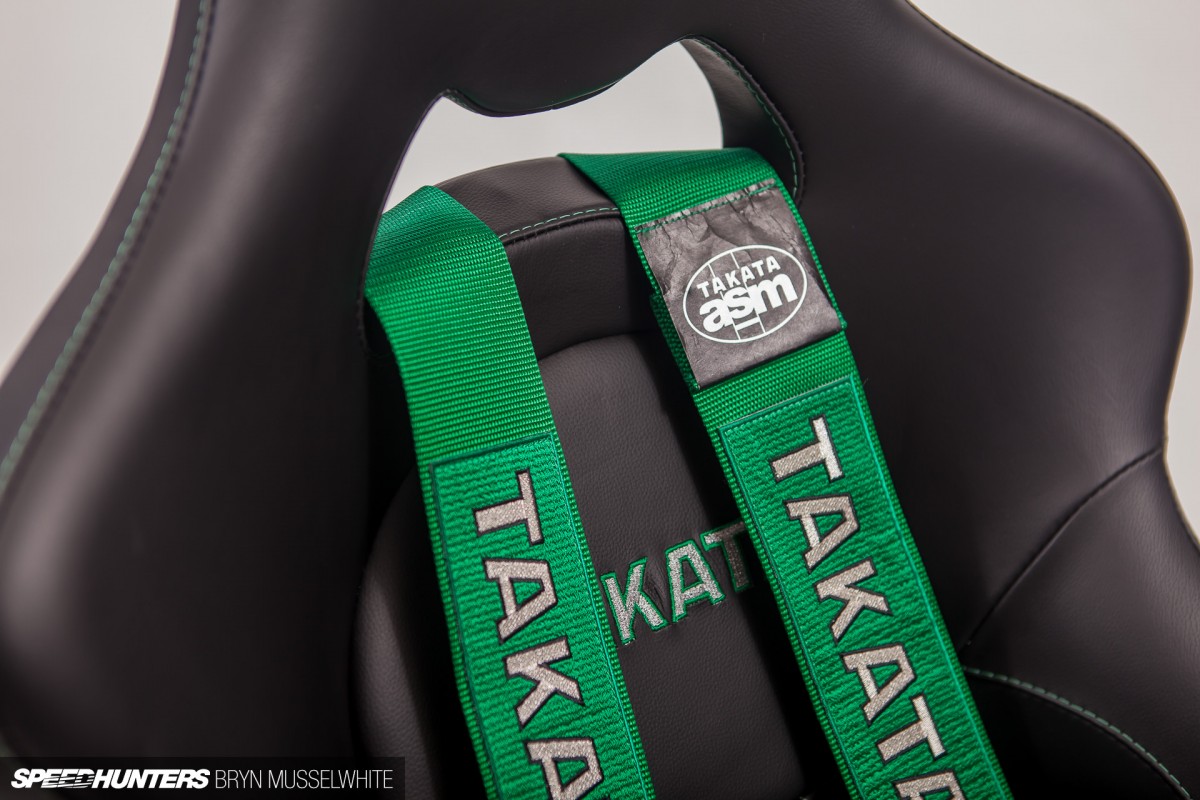 How safe is a TAKATA harness system on the street? What precautions can users take to make it as safe as possible, and is a TAKATA harness system an adequate replacement for an OEM 3-point seatbelt?
A properly installed and fitted and correctly fastened TAKATA Racing DRIFT or RACE harness offers the same or better protection as an original OEM seatbelt. All TAKATA four-point harness systems are manufactured with the TAKATA asm™ system which helps prevent submarining (sliding under the lap belt in the event of a forward impact). This asm™ feature as well as the high quality components does offer a level of comfort and safety which reflect the expected performance of OEM three-point belts.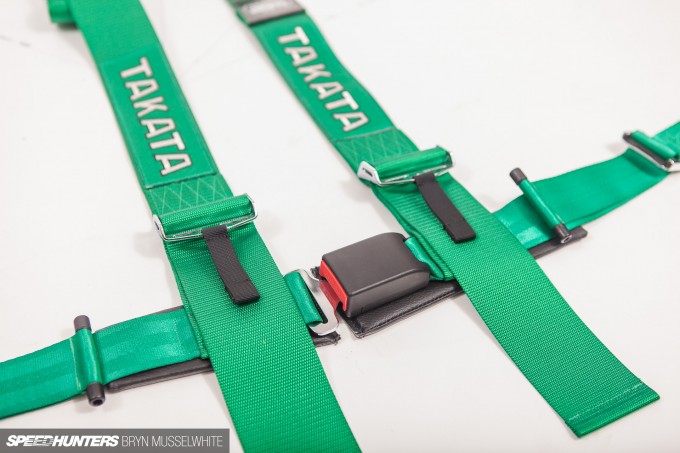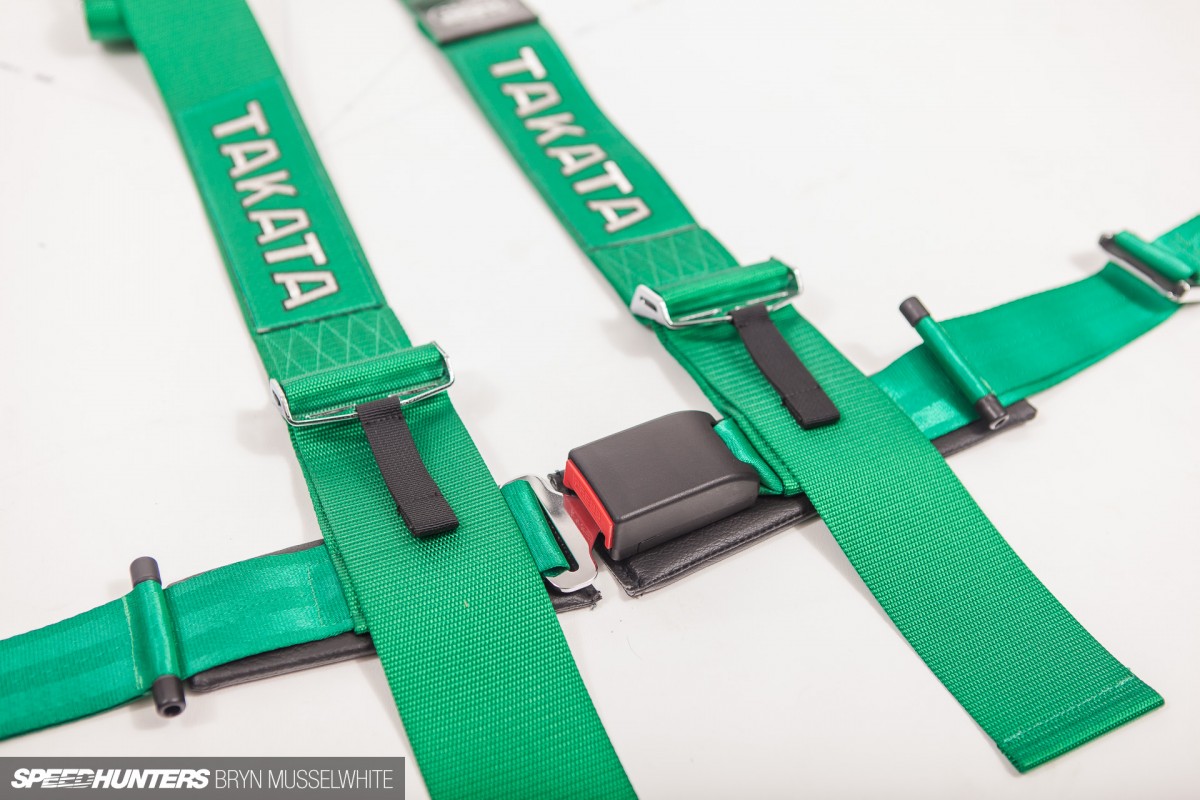 Properly fastening the harness restraint:
1. Place each arm and upper torso into the shoulder-lap belt loop and make sure the shoulder belts are running flat over the shoulders, collarbones and chest.
2. Position each lap belt portion well into the bend between the upper thighs and the pelvic crest. If this cannot be achieved due to short shoulder belts, lengthen shoulder belts first.
3. Insert buckle tongue into buckle until you hear a distinct "click" indicating the tongue is properly engaged.
4. FIRST tighten lap belt. ALWAYS tighten lap belt first!
5. Tighten shoulder straps next. Both shoulder straps must be tightened equally, and never pull too tight. Shoulder straps must not pull the lap belt upwards from the intended position. Tighten harness so shoulder/tail straps do not sag behind the seat!
Sitting Pretty… & Properly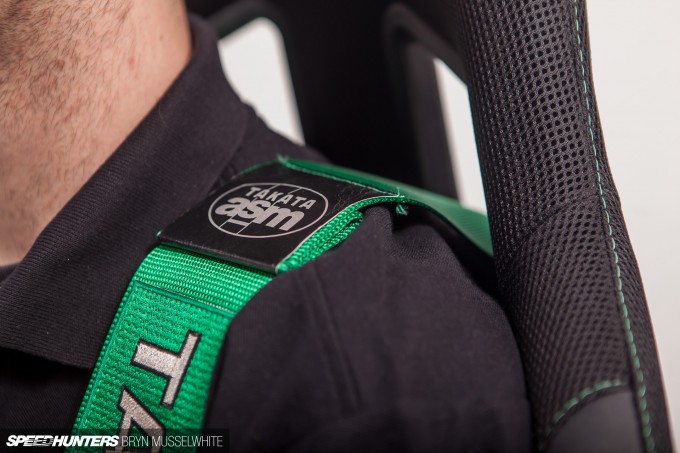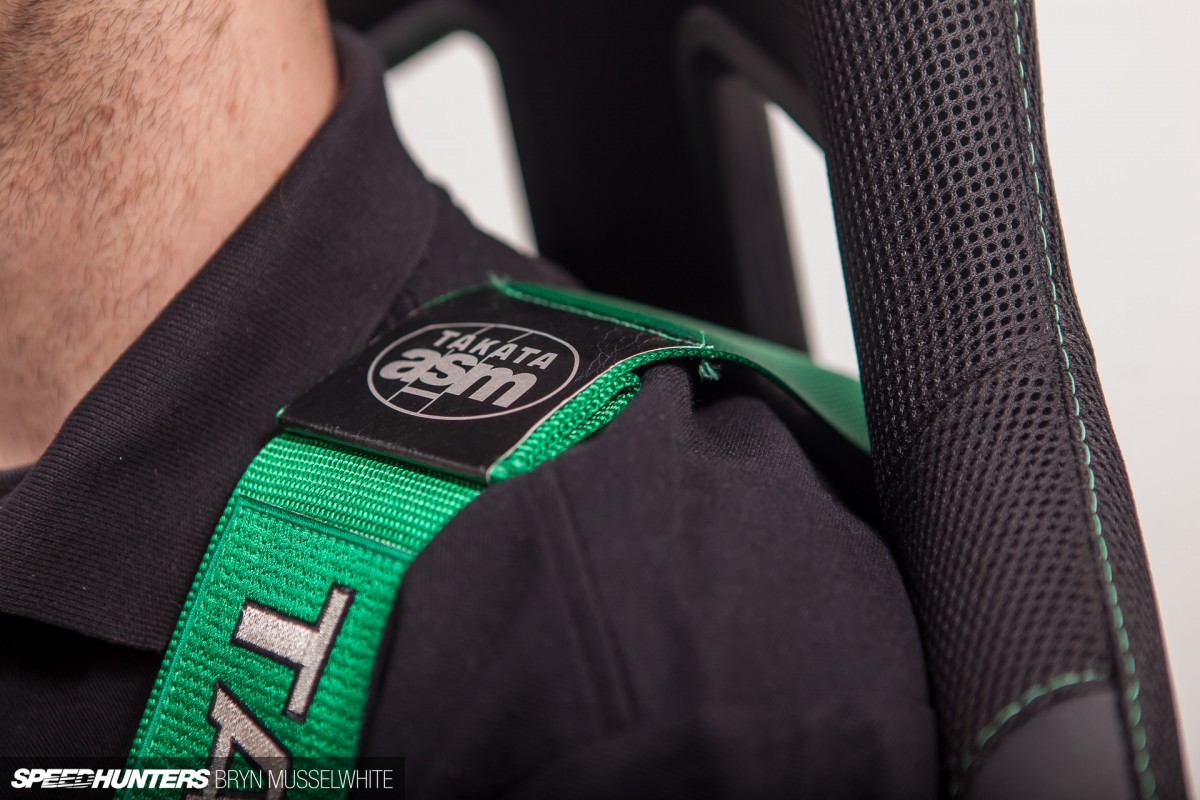 I'm quite a tall guy (around 196cm). Do you have any seats that will fit me without having the holes for the shoulder straps too low?
TAKATA seats are designed around a broad percentile range of users and have inbuilt adjustability by virtue of the shoulder slots, which are 100mm (4 inches) deep. This allows for different height users to still have a shoulder strap freely pass through the slot.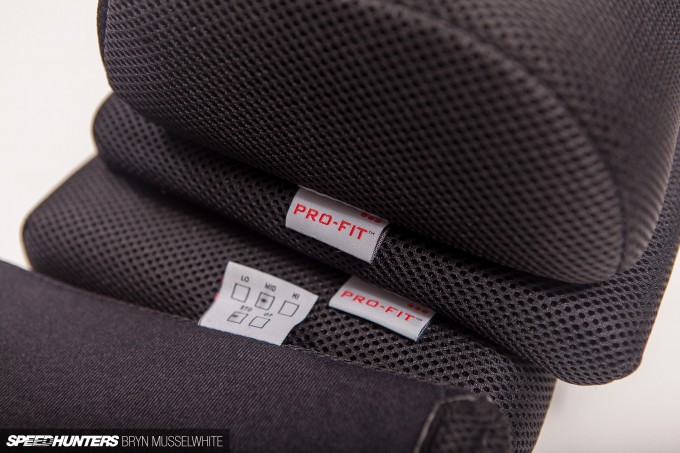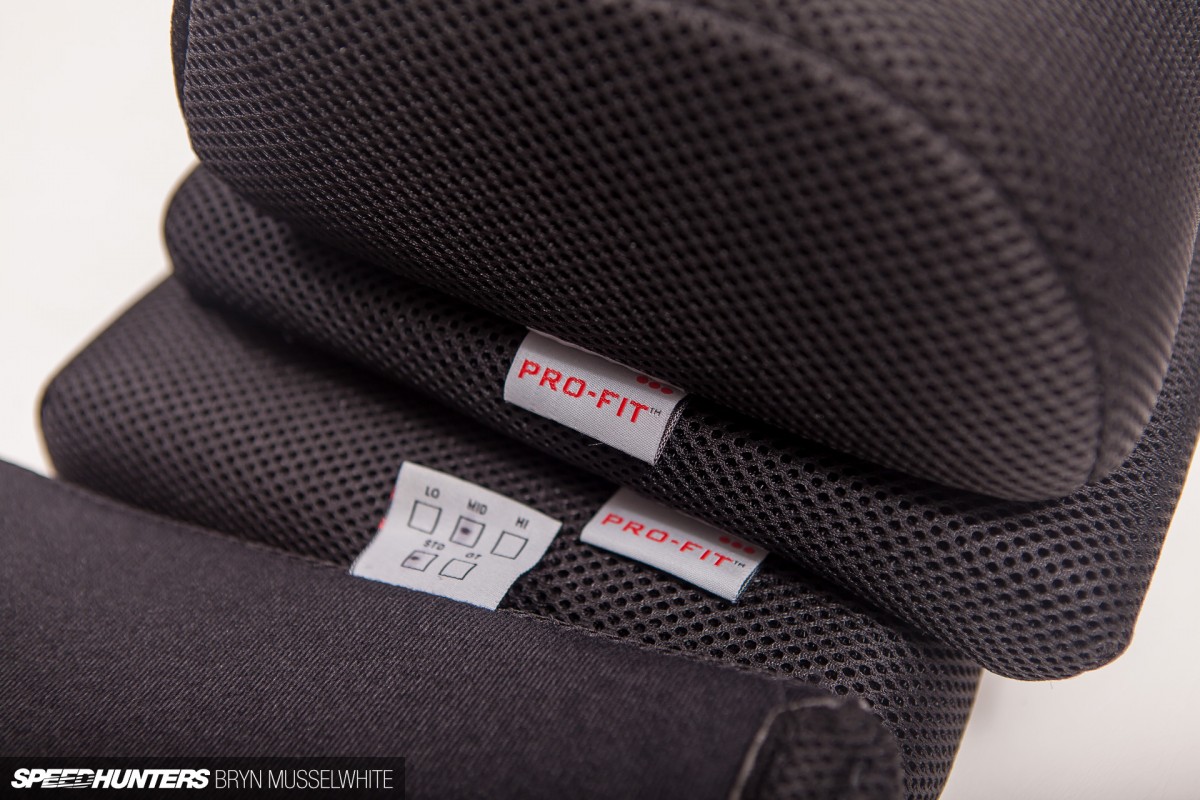 In addition to this your TAKATA dealer can supply an extra low (or higher) base cushion to allow a very tall (or shorter) user to sit correctly in the seat, thereby catering for almost any driver's height. Correct fitting in the vehicle is also an important part of this process to ensure your belts are performing at an optimum level in your seat and at your shoulders.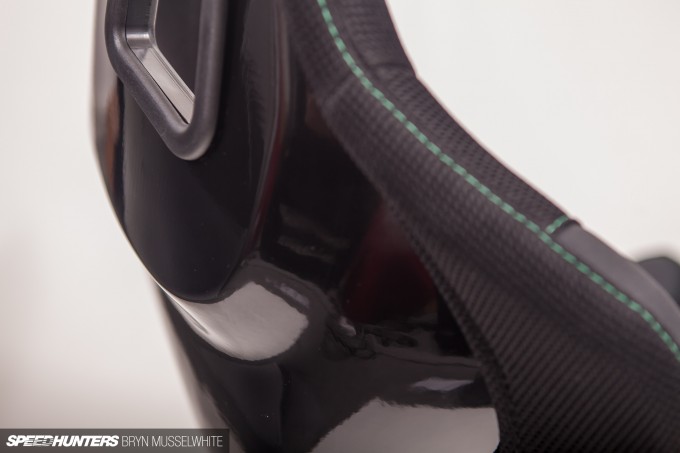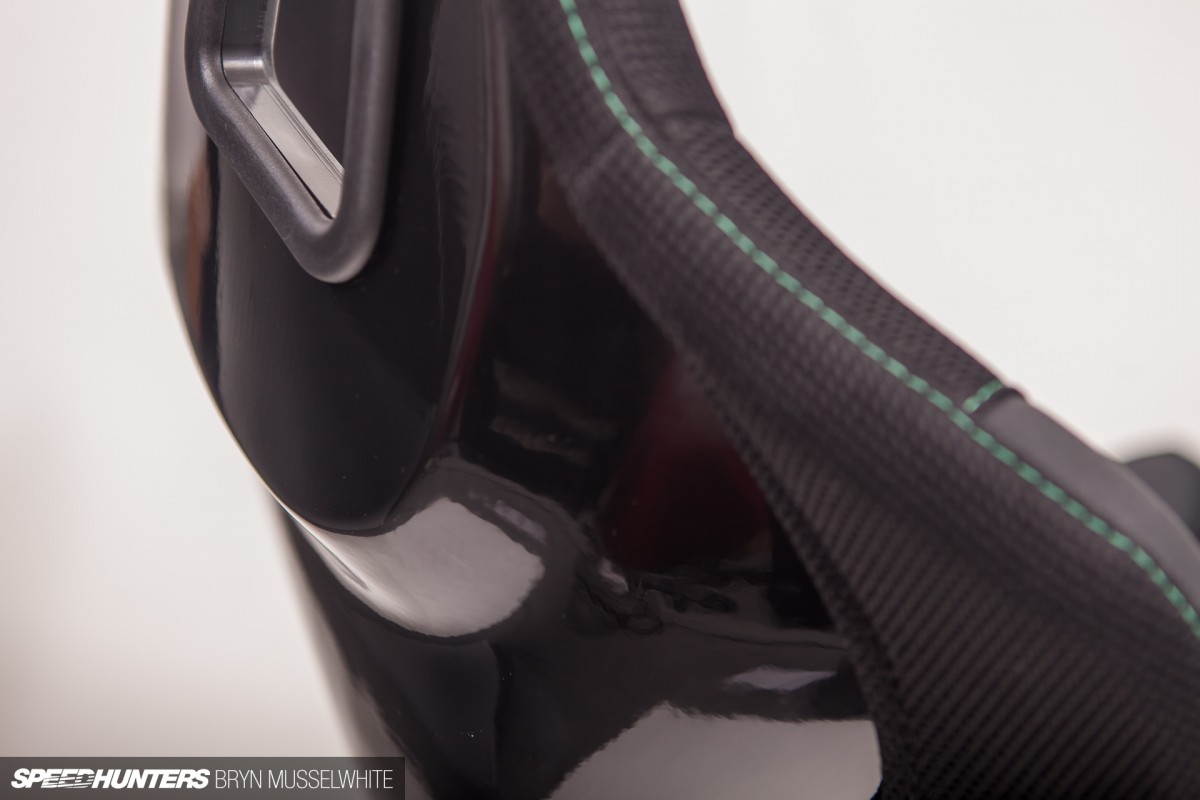 How do you come up with inspiration for the seat designs?
TAKATA seats are designed foremost with safety in mind but performance is an equal consideration. A lot of factors influence the design though, from ergonomics and functionality through to comfort and styling. The FIA homologated versions focus on safety through strength and functionality, to allow a driver to pilot a car to full potential. Almost every feature of the TAKATA Race LE is designed for a purpose, such as the broad harness slots to allow free passage for a belt on varying driver sizes as well as two available shell widths. A unique recessed feature of the lower head pad allows for the most effective use of a HANS device and belt geometry dictates how the harness slots are positioned.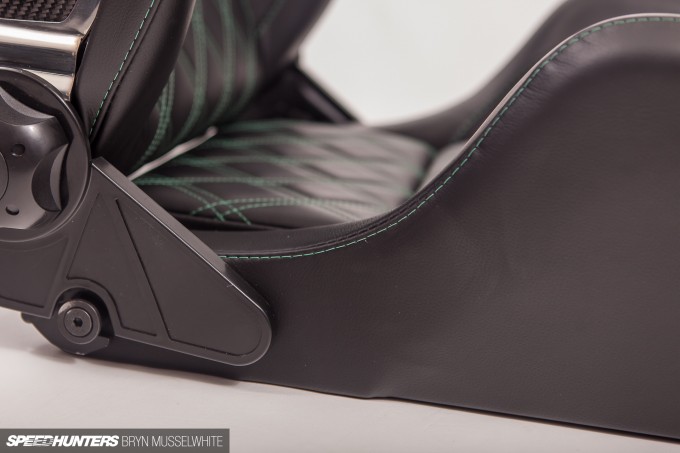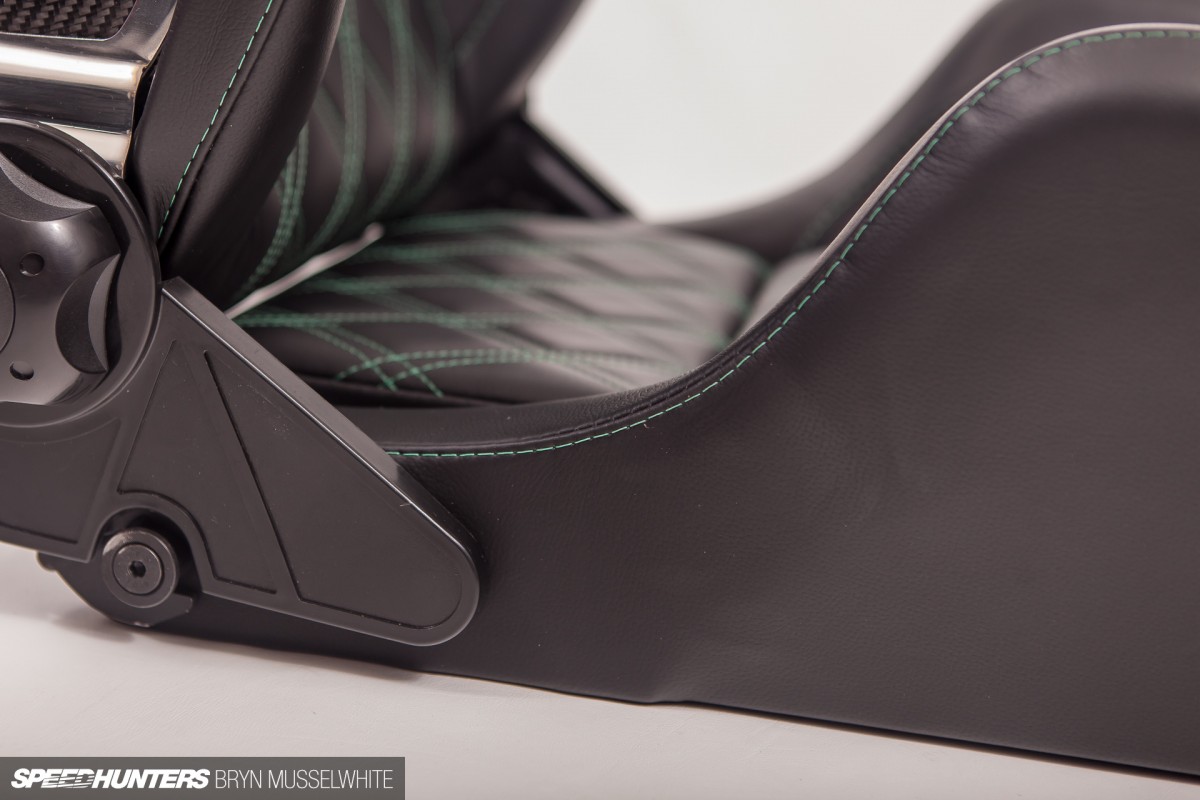 The Sport range of recliners such as the Street and Drift Pro combine superb holding which is inspired by ergonomic design for a high level of comfort. Of course, all road recliners are fully tested to legislative standards as well as tested exhaustively by TAKATA with a corresponding range of belts.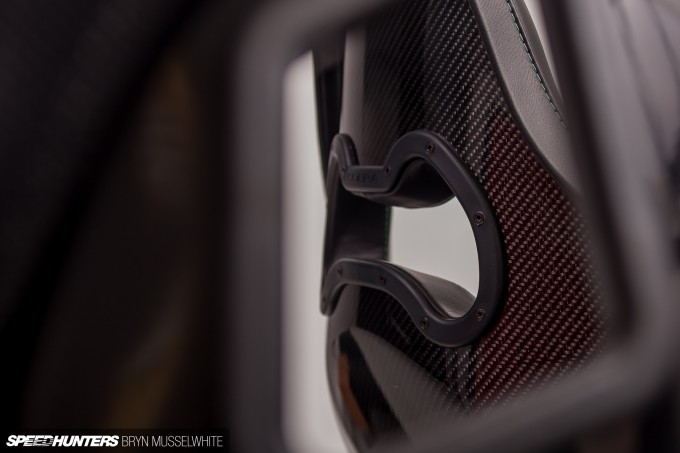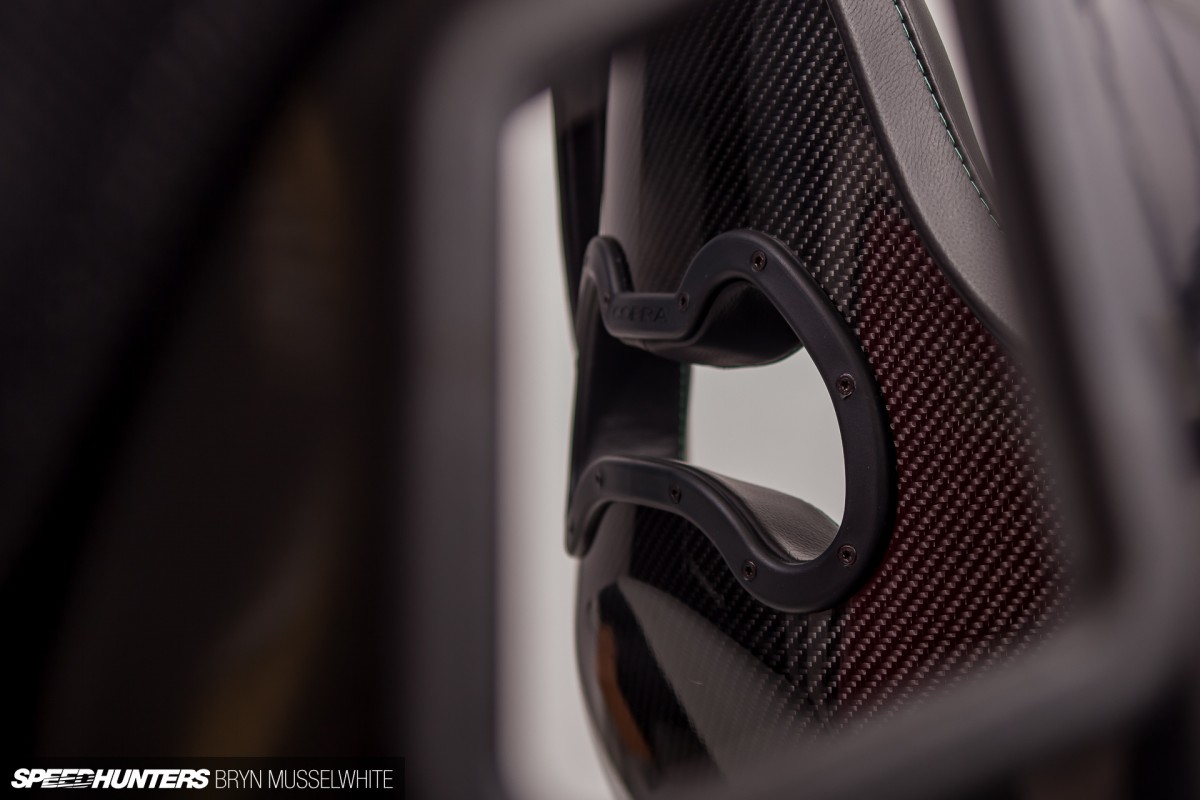 What are some of the tests your seats have to pass in order to earn FIA certification?
The TAKATA Race Le seat is homologated to FIA safety standard 8855-1999. This is a dynamic test which is performed only at accredited test houses approved by the FIA and involves crash testing the seat in a deceleration rig to extreme loadings. The seat is attached to a ballasted sled facing rearwards using the manufacturer's side mounts – in this case the 4mm steel TAKATA mounts supplied with each seat. The seat is then occupied by a 50th percentile Hybrid II dummy, strapped in with a 4-point FIA homologated harness. Since the seat is crash tested rearwards, the harness does not add to the seat's performance, it merely prevents the dummy from leaving the seat on impact. The sled is then decelerated using crush cans to provide a long enough pulse to reach the FIA's requirements which is 20g sustained for a minimum of 50ms. In reality, the pulse usually peaks at around 28g in order to sustain such a long pulse. A second and third test both sideways and again rearwards are carried out respectively on the same seat at 15g and 10g for the same duration pulses. After this the seat is inspected and only passes the test if no damage is visible and the structure remains intact.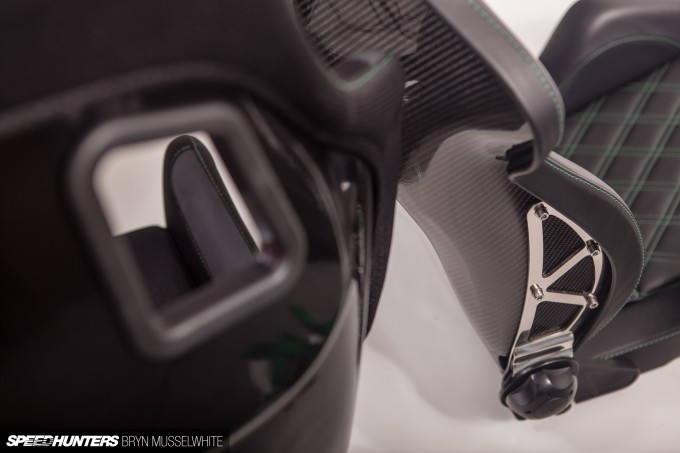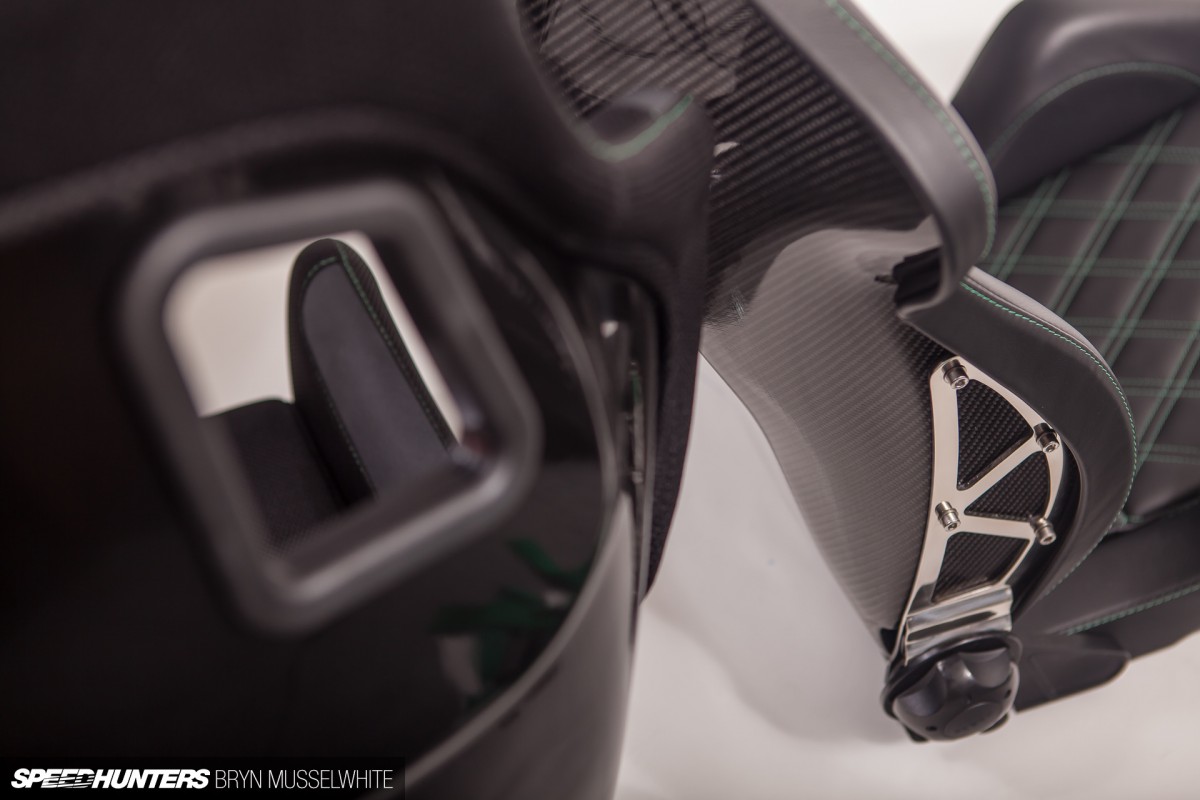 How does the difference in build materials such as fibreglass, Kevlar and carbon fibre affect safety and weight savings. 
TAKATA FIA homologated seats are tested and approved in GRP Fibreglass versions, but include a multitude of different types of fibres which make up a complex construction. Generally speaking, weight versus cost of composite laminates expands exponentially with the use of more advanced materials. Carbon is one of the lightest and most brittle fibres which is why it can sustain similar strengths to glass fibres at lower weights.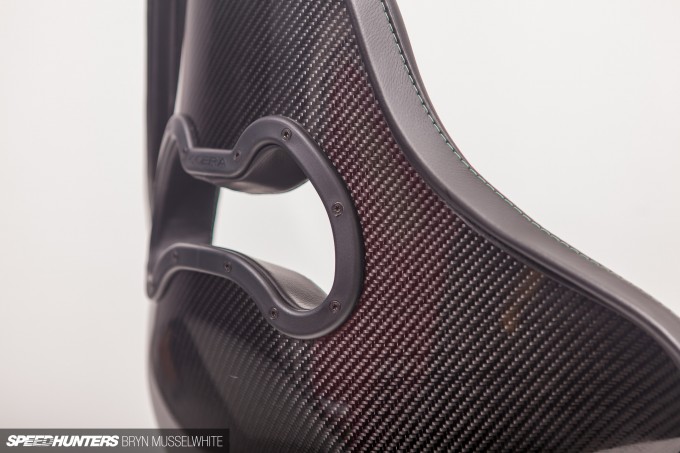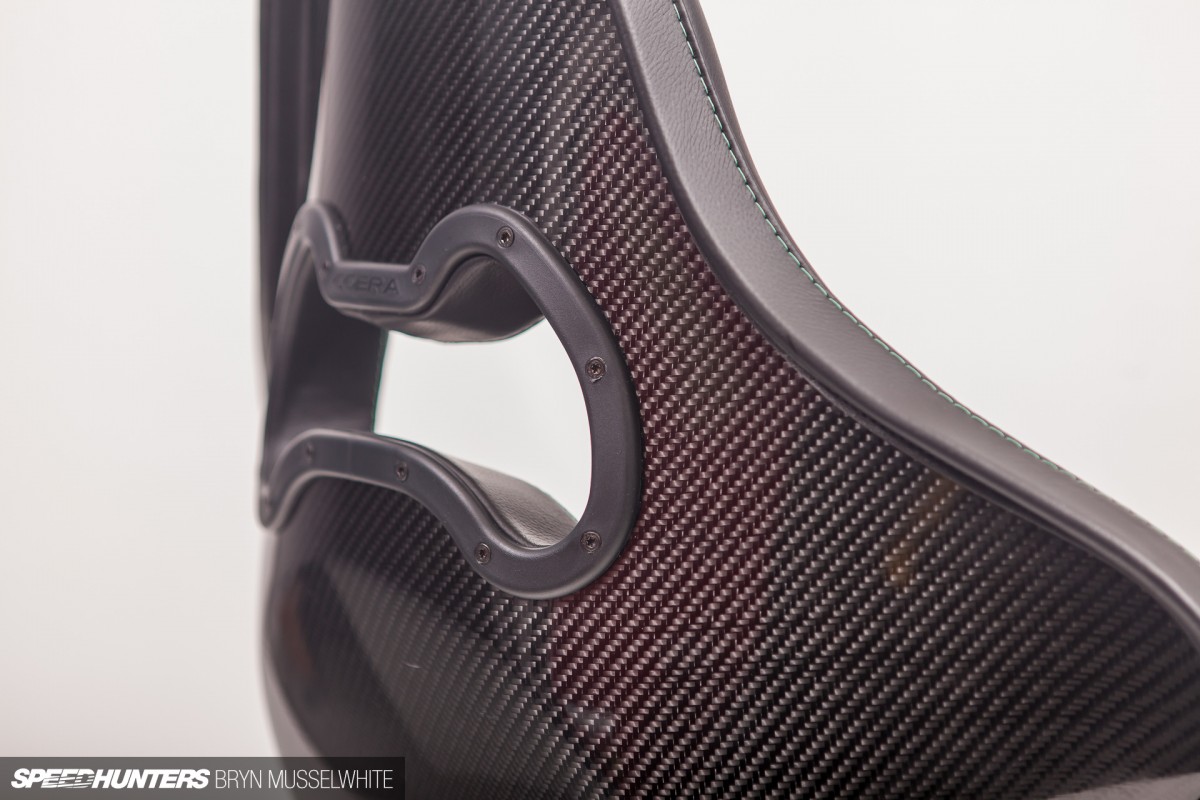 Kevlar or generic aramidic fibres are much less brittle than carbon but have a greater tensile strength than glass and very little elasticity to break, hence they can assist a laminate in greater overall strength against intrusion, similar to their use in military/ballistic applications. A good compromise is found in glass fibres which can also be combined with polyester in specific woven fabrics. TAKATA seats use such combinations in proprietary forms since fibres within a composite laminate perform at their best under tension. Through exhaustive research the TAKATA Race LE is produced with up to six different fabric weaves and orientations in certain areas to obtain the optimum degree of stiffness and strength versus the least weight penalty.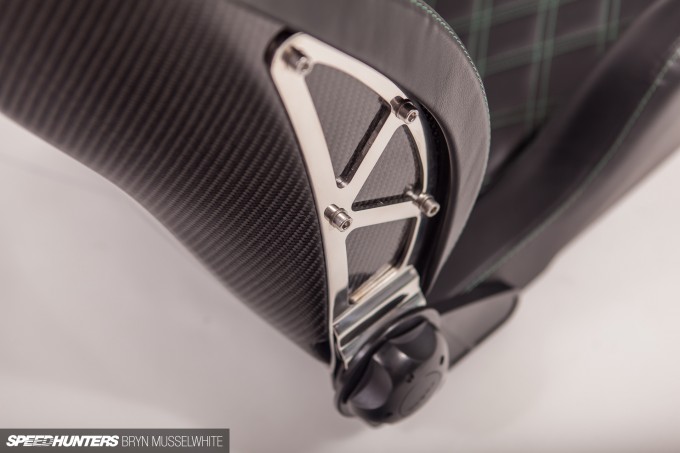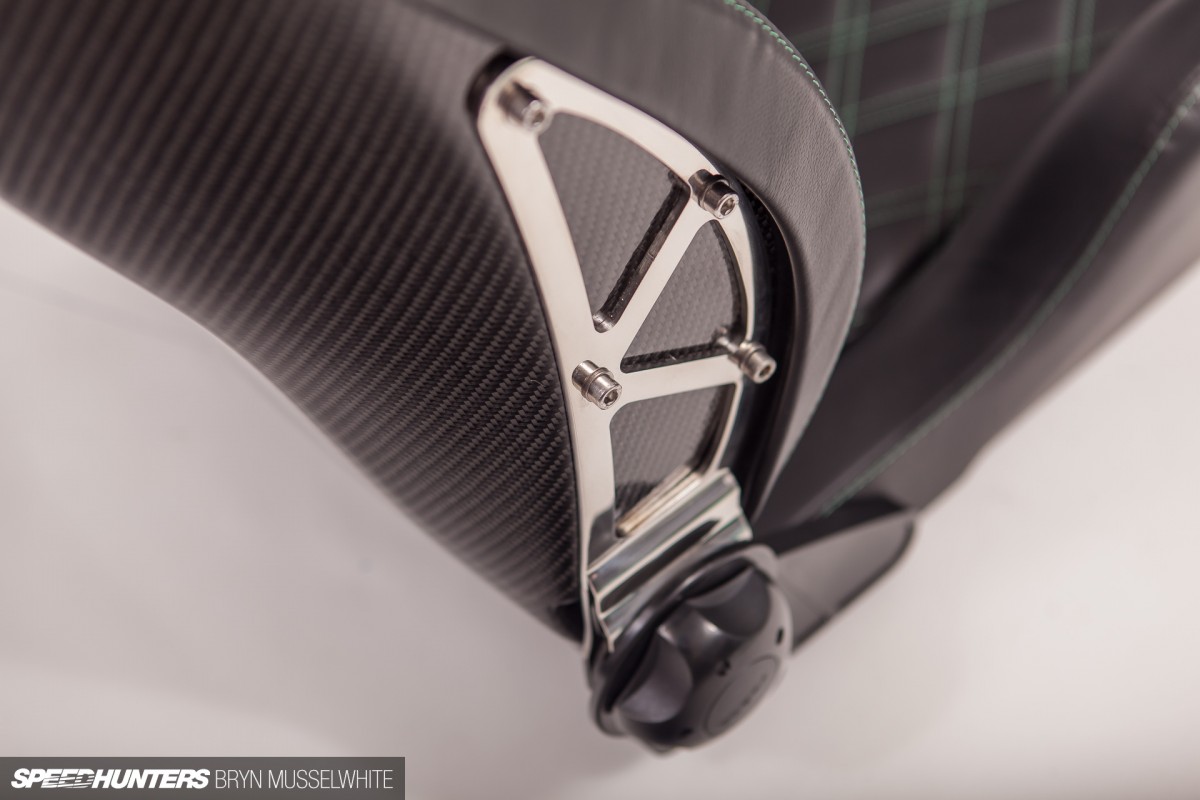 Would it be okay to use a recliner on the track?
There are some instances where a reclining seat can be used on track. Indeed the FIA seat safety standard 8855-1999 allows for a reclining seat to be homologated by a manufacturer if so required. The reality is, to achieve the required strength to pass the standard, the seat would be a very heavy steel unit with considerable reinforcement, hence almost all FIA approved seats are fixed back and the majority are composite construction. With that said though, a reclining seat that has been tested to ECE R17 strength standards as a standalone unit can be a safe seat in certain applications when considering all of the other safety hardware that is present in a vehicle, including a safe subframe designed correctly for the seat in question, using the vehicle manufacturers original mounting points and using the correct safety belt system. Some circuits will allow reclining seats for track day use and tuition sessions, but most race sanctioning bodies dictate a fixed back seat. There is no real substitute for safety on track. Always choose the most suitable safety equipment you can for your chosen discipline and an FIA homologated motorsport seat is a key part of the package.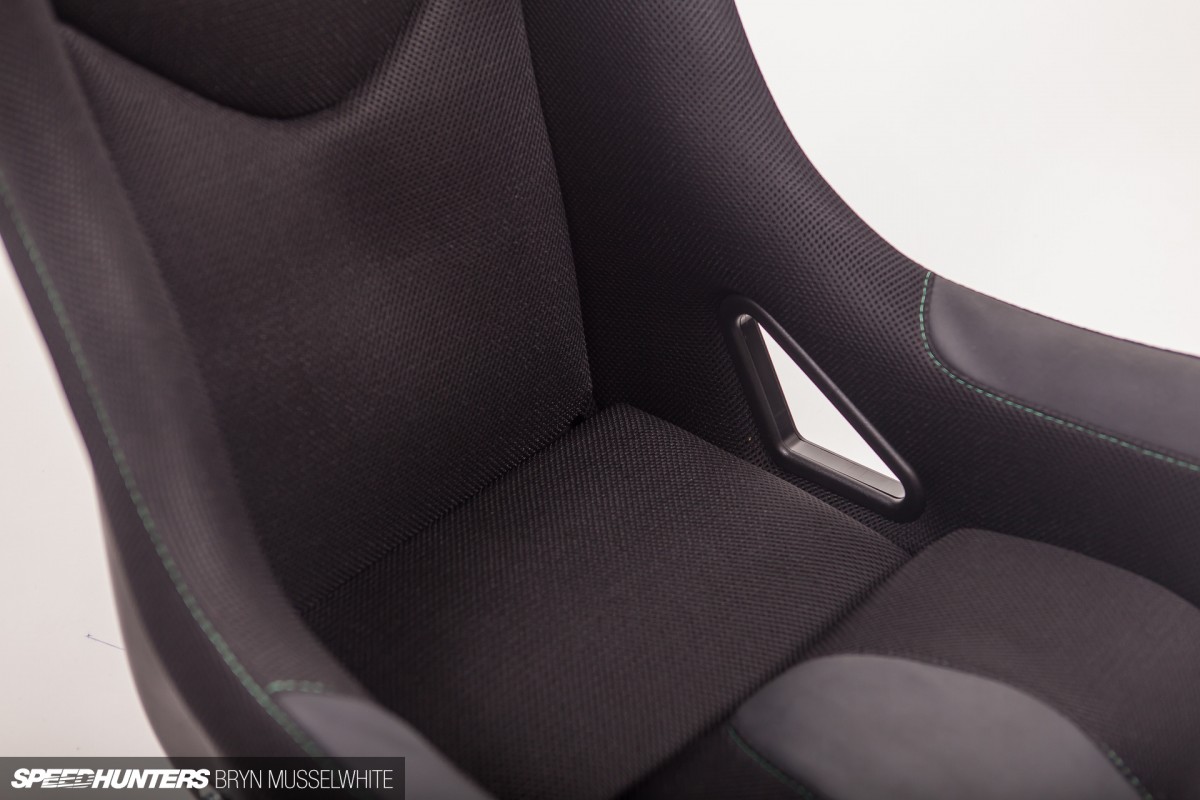 Is it likely to develop back issues if I were to daily drive in a fixed back seat?
In terms of comfort fixed back race seats have a disadvantage against reclining seats since they cannot be adjusted for angle of recline. However, since this is known in the design process it could be argued that fixed back seats have greater emphasis placed upon the ergonomics and comfort aspects to ensure they at least meet the comfort standards set by a reclining seat. It is also known that back pain from a car seat is mostly caused by poor posture through a lack of support. A sports seat by the very nature of its design creates more support than a generic original equipment seat and is more focussed in its features. A fixed back race seat takes this one stage further and in order to maximise safety and driver performance, supports the body more fully thereby creating less muscle fatigue from poor posture. A well fitted and correctly positioned fixed back seat can easily perform equally as well as a reclining seat for a daily driver.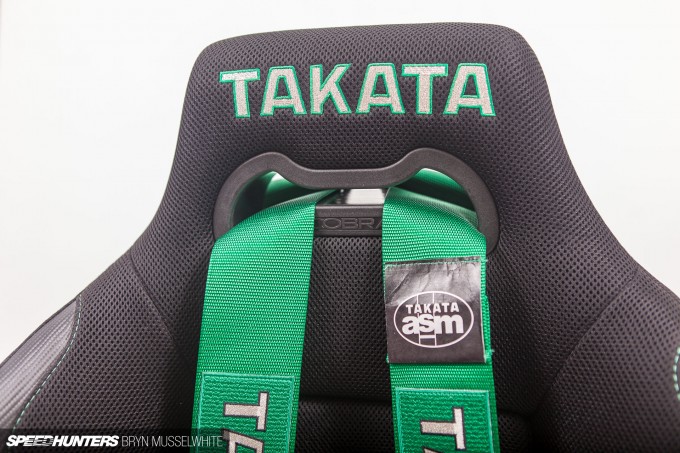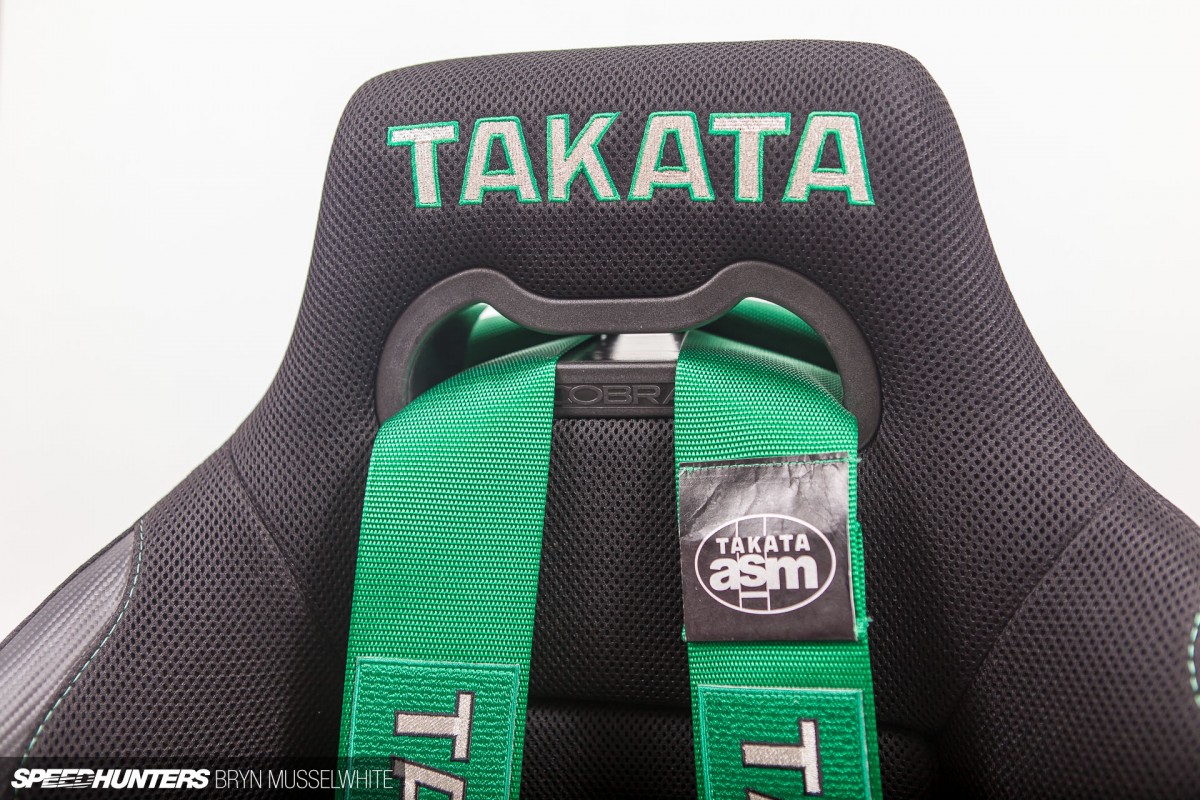 Contact your local TAKATA dealer to try out the TAKATA race LE seats for size and a correct fitting. Then take the time to have the seat fitted correctly in your car and adjust through the various available angles and heights provided by the multihole adjustment on the sidemounts until the perfect driving position is found. Augment this if necessary with optional cushions sizes also available through your dealer.