An Idea, A Side Project
If there's one thing that pushes people to do extraordinary things, it's passion. And I guess you can say that passion is very much behind Hurtling, a new brand that the guys at Varis launched this year.
While their true bread and butter, if you recall my tour of the facility a few years back, is to design, develop and create aero parts- via the VRS name – for the more popular Japanese and foreign sports cars to hit the market, Varis has always been the first out of the blocks when it comes to offering kits for new models. They've been doing it since 1975, too.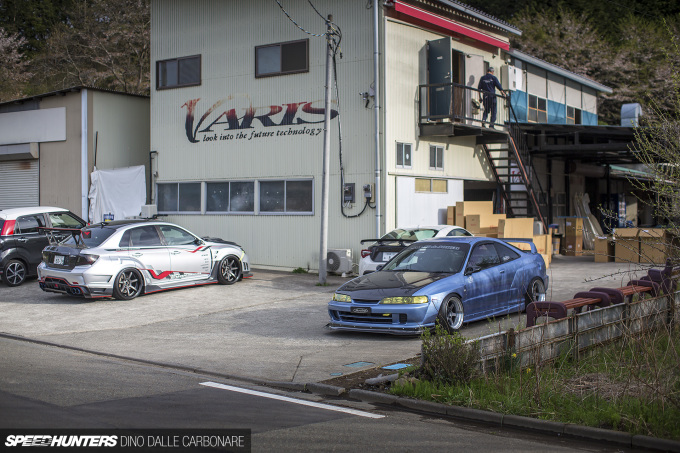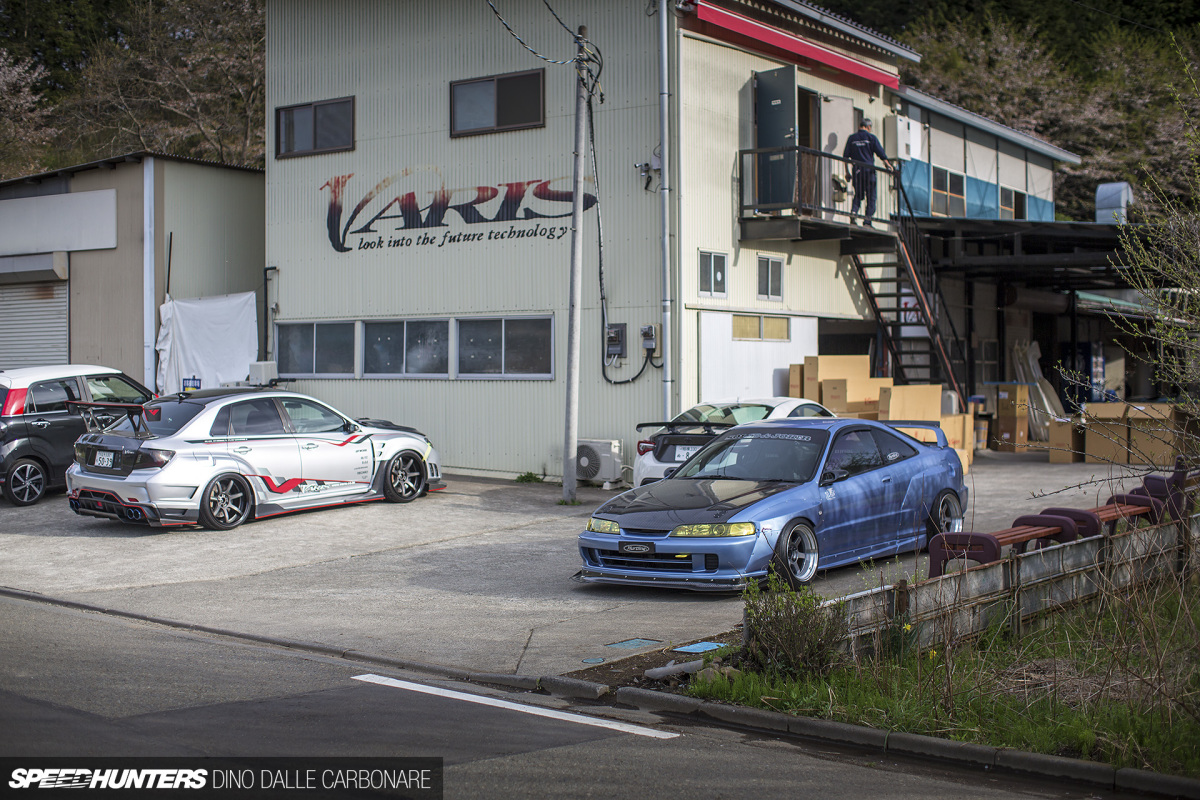 Varis has fine tuned their production over the many years of operation, and that's allowed them to stay on top of the market. They work with Manabu Orido on his Ridox line, have the Magnum Opus line for luxury sedans, and also have a special works team that collaborates with select motorsport programs.
You'd think that would be enough to keep the business content, but Naohiro Yahagi, the son and now president of the respected company his father started, thought that there was still something missing. It wasn't to have anything to do with Varis – and didn't need to either – and that's how Hurling was born.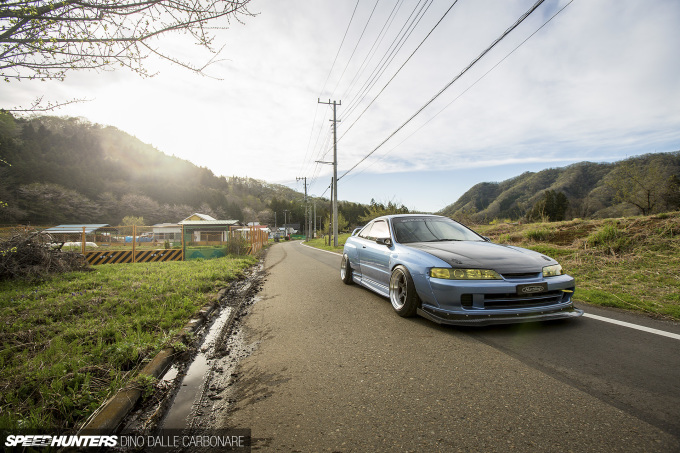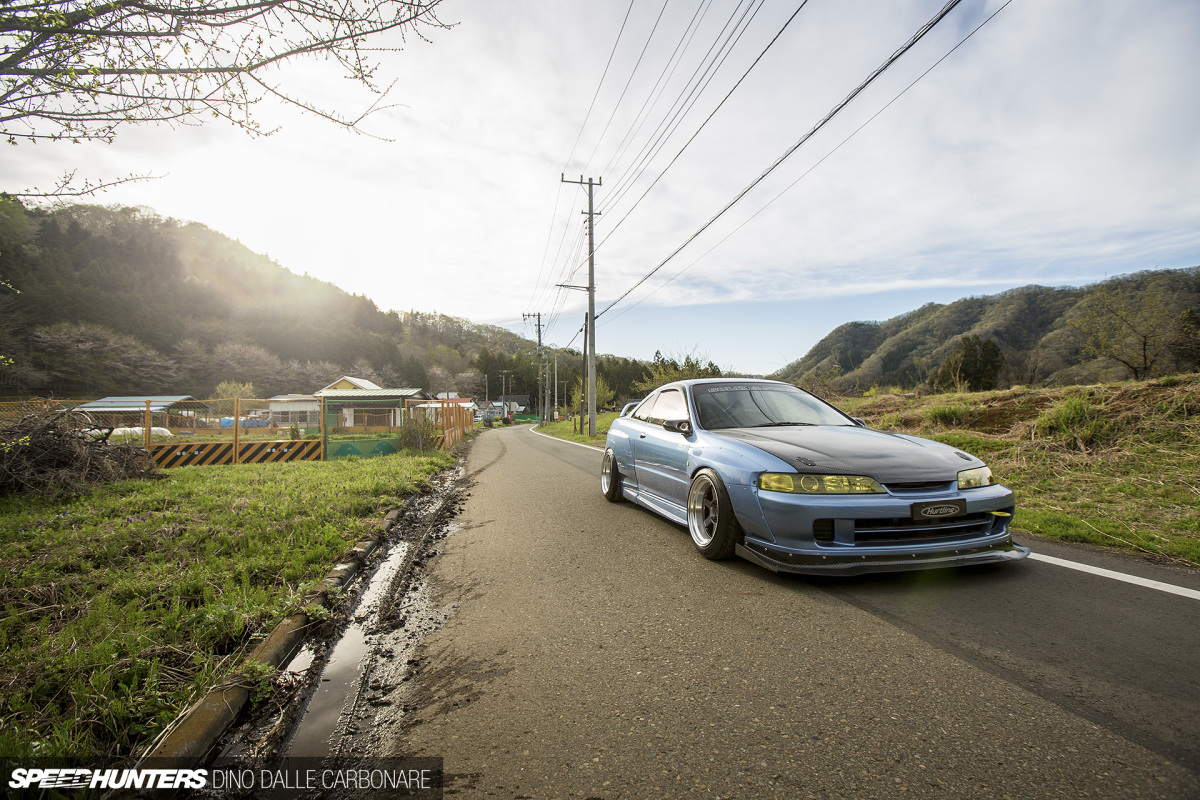 Let's be sincere here, Japanese manufacturers have been severely under-delivering on the affordable sports car market ever since the glory days of the '90s. They've struggled to come up with anything as interesting or as focused as the cars that so many of us still lust over after all these years. And that's precisely what Hurling has been created to do, inject some of that famous Varis design onto platforms like the DC2 Integra Type R.
This Integra is actually Yahagi-san's car from back in the day; it's got more than 270,000km on the clock now, but he's held onto it all these years because of the raw excitement it still provides 20-odd years after it came off the production line.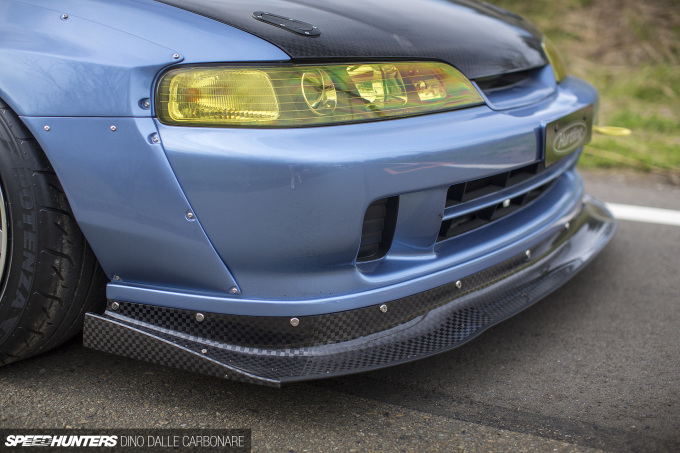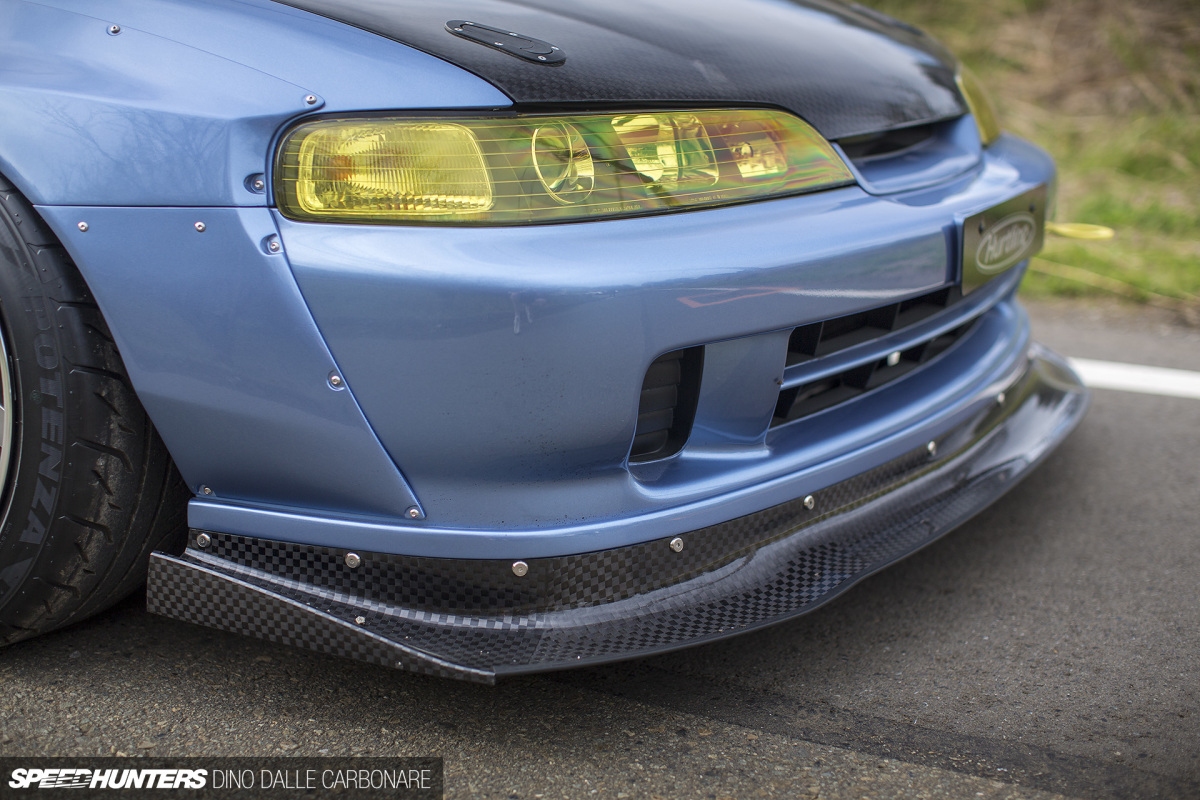 I personally think that designing a modern kit for an older car is really cool thing to do, and in this instance the result is unlike any other DC2 we've featured or seen before. Think mid-'90s meets the mid-'10s and you'd be halfway to understanding what the thought process behind this Solid & Joker aero kit was.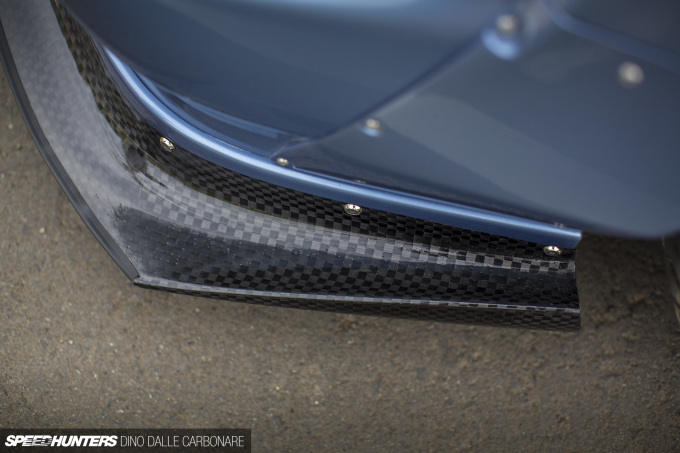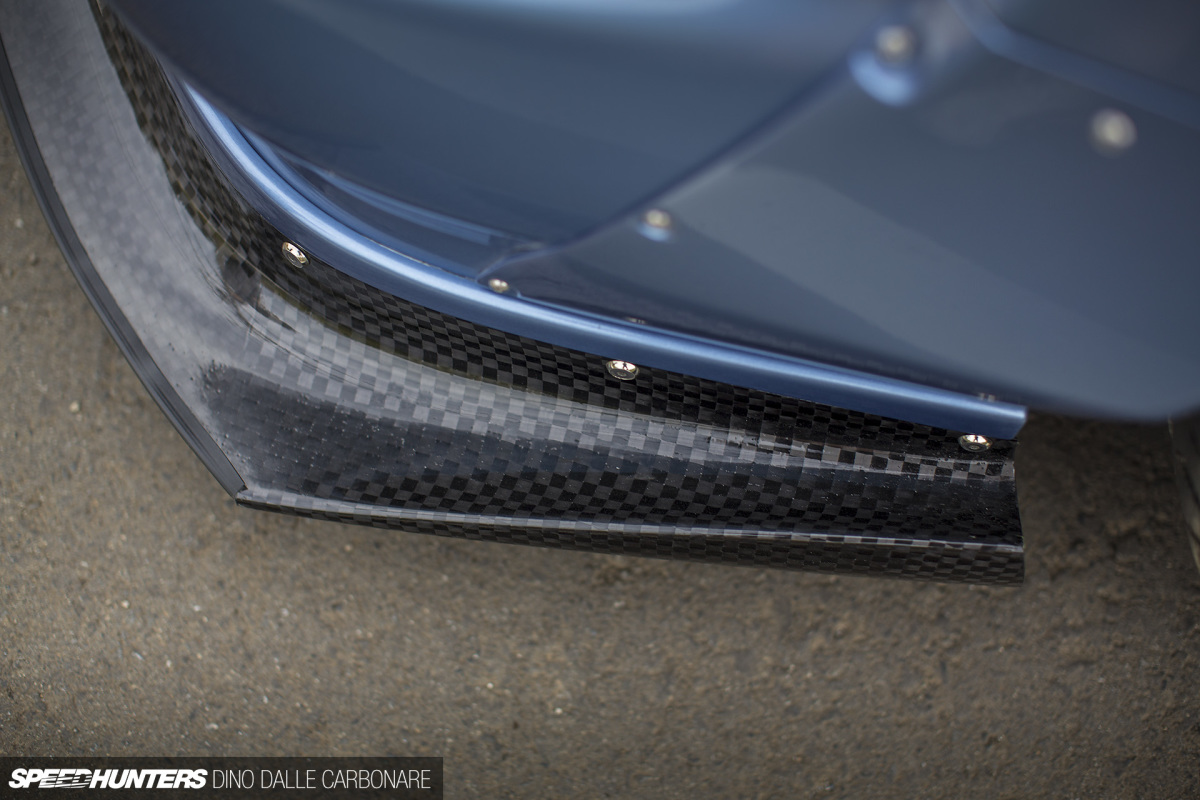 When we first saw the car at Tokyo Auto Salon earlier in the year it was the in-your-face front lip spoiler that initially grabbed my attention. The thick gauge carbon weave that Varis has used on other project cars before looked like the freshest thing I'd seen on an old Honda.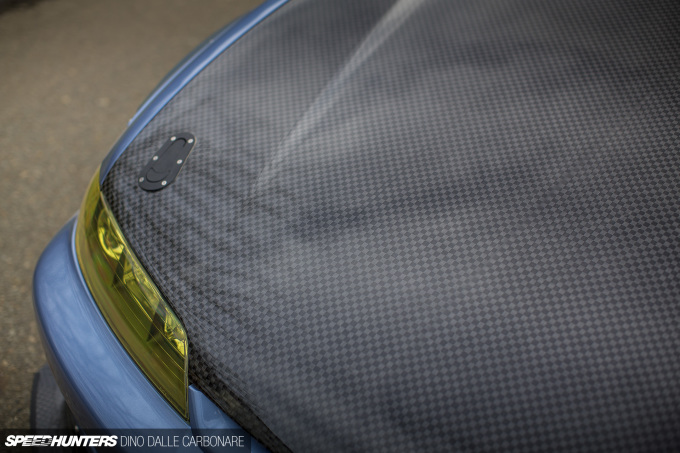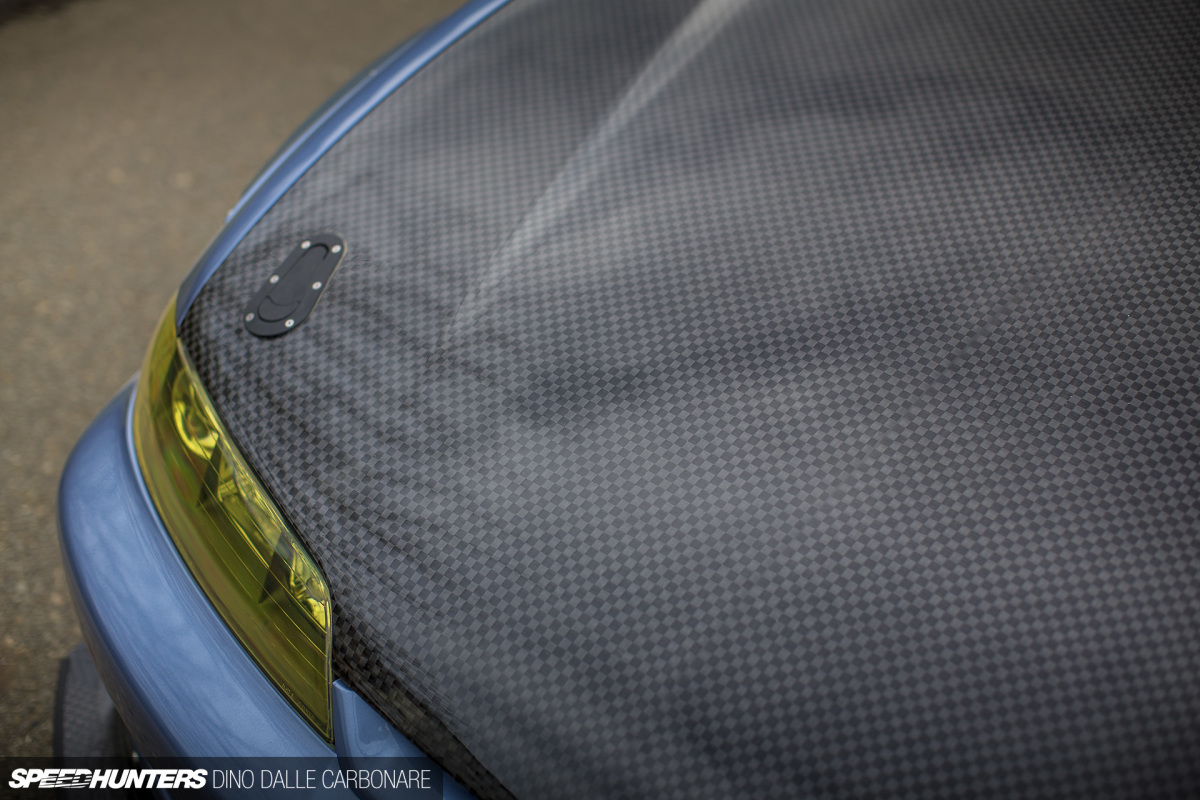 And the same composite material was used to make the optional carbon hood that the kit can be specced up with .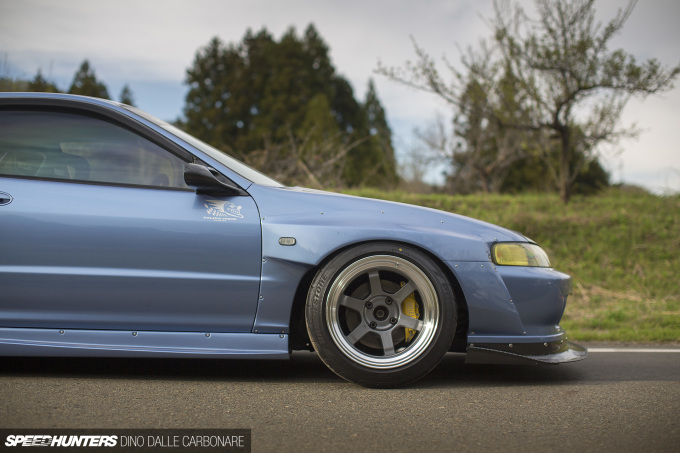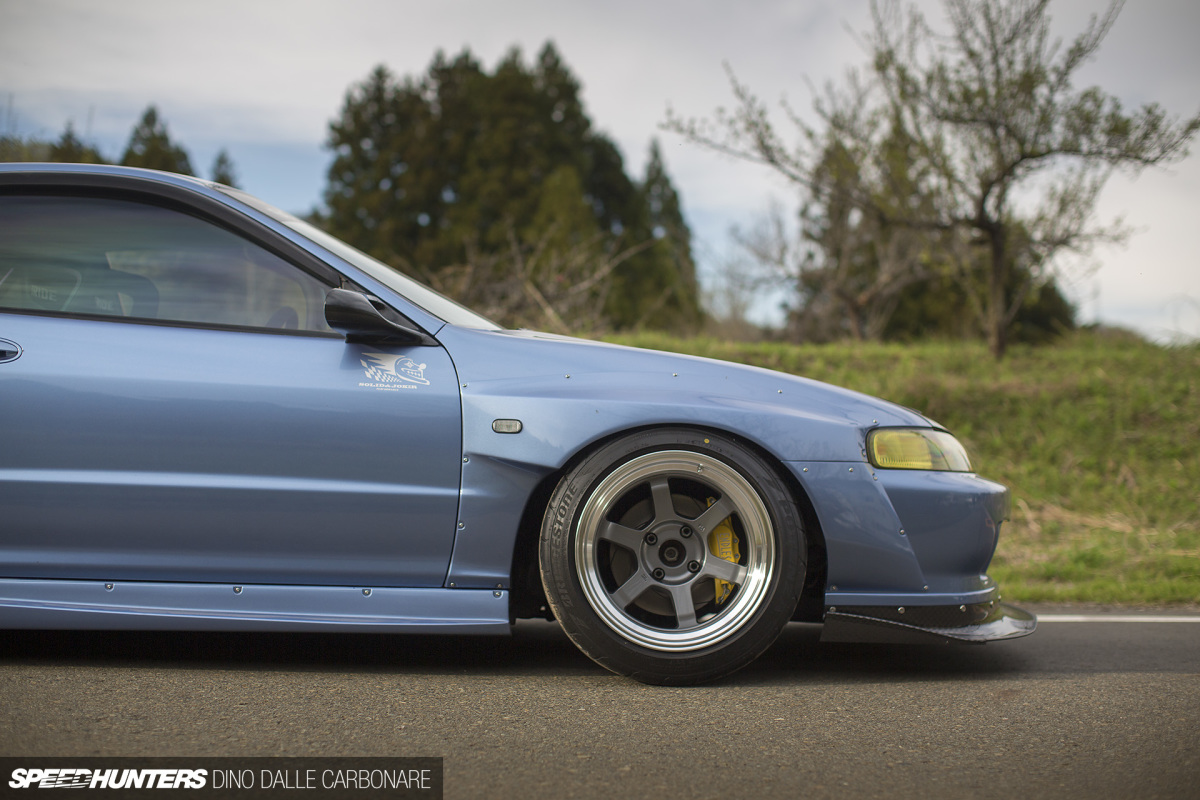 I say 'kit' because this version of the Solid & Joker conversion slaps on some seriously massive fender extensions. Sure, it's the current trend, but these look different. It's almost as if they were envisioned in 1995.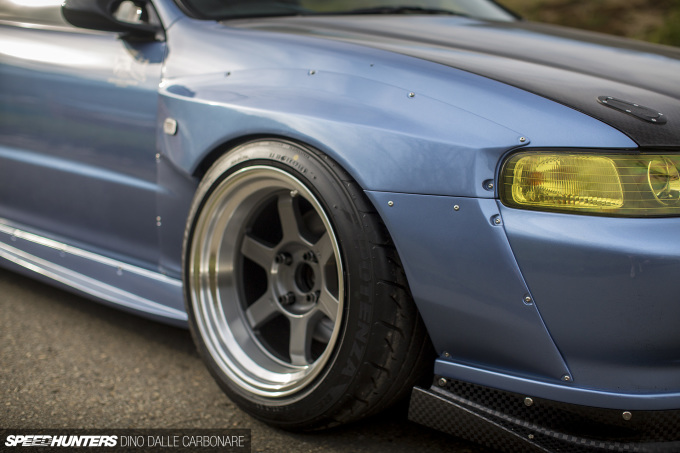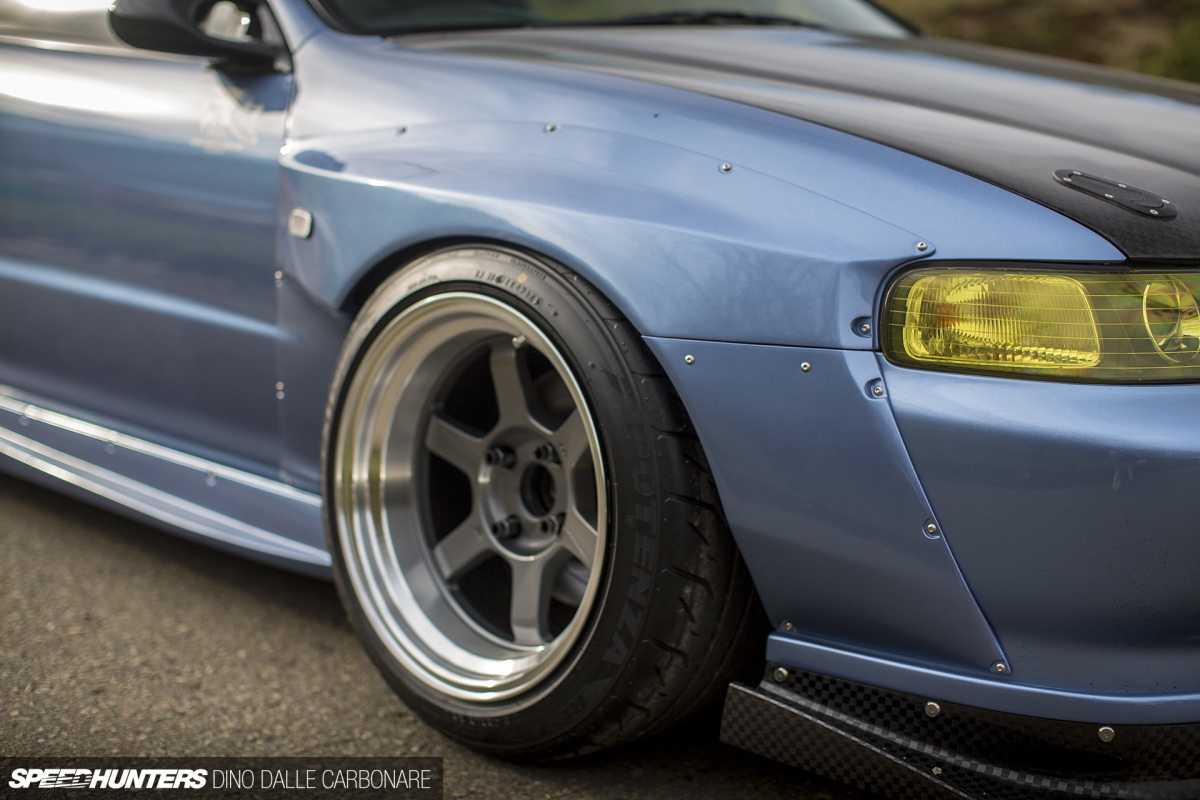 There's no gentle, progressive radius – these are bolt-on blister fenders, and the shaping style is more in line with what you'll find on a Lancia Delta Integrale or E30 BMW M3. And that's a good thing.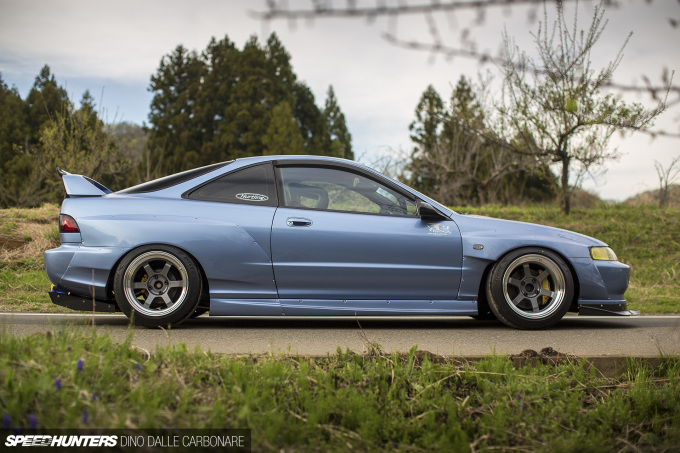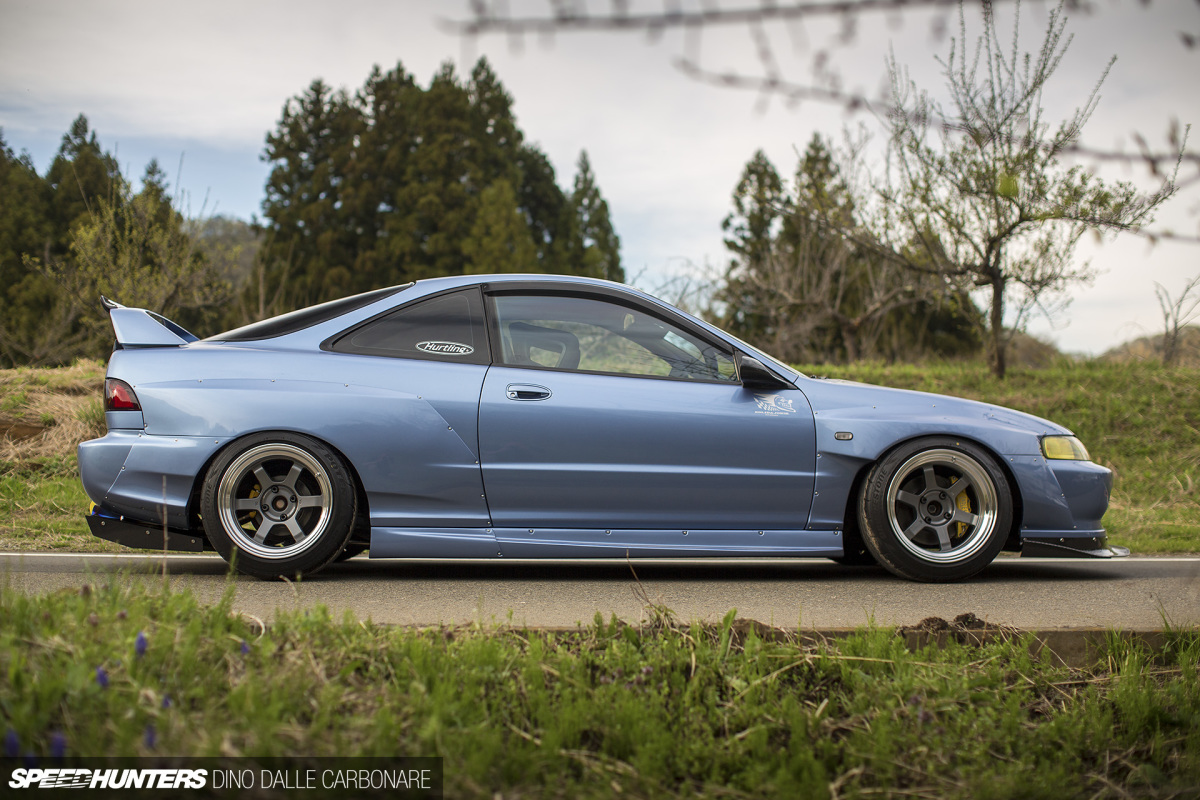 It's brought this DC2 into the new millennium; the timeless look remains, but it's been added to in the right sort of way.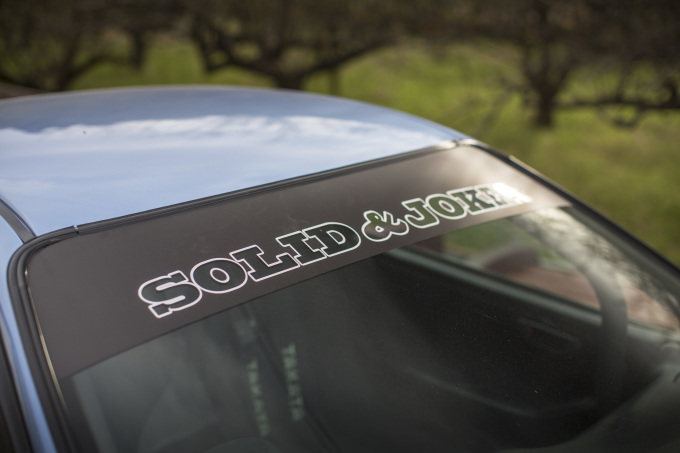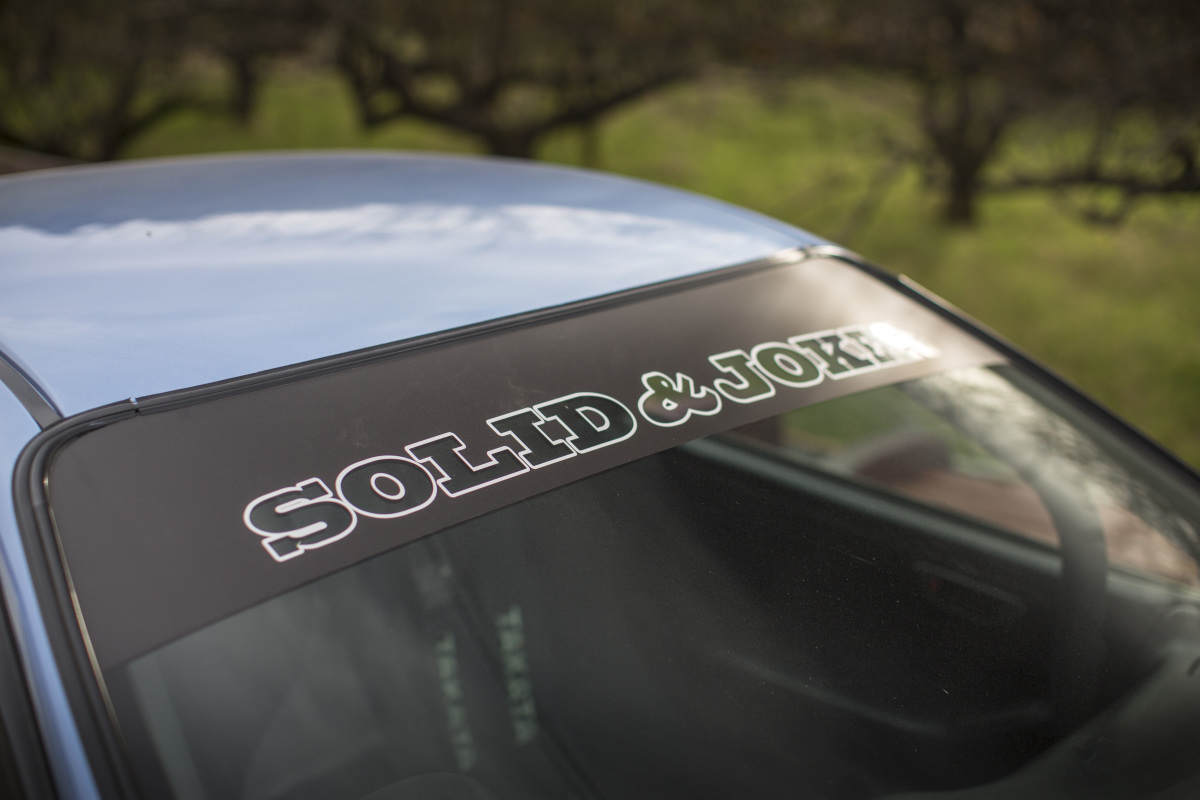 Some of the Varis staff I was chatting to while looking over the Integra said that it's a car that's meant to be driven and I guess that really sums it up well.
Wide Or Narrow, It's Your Call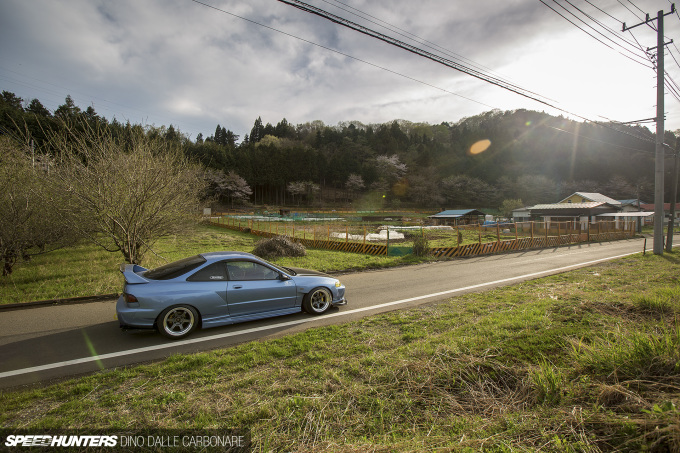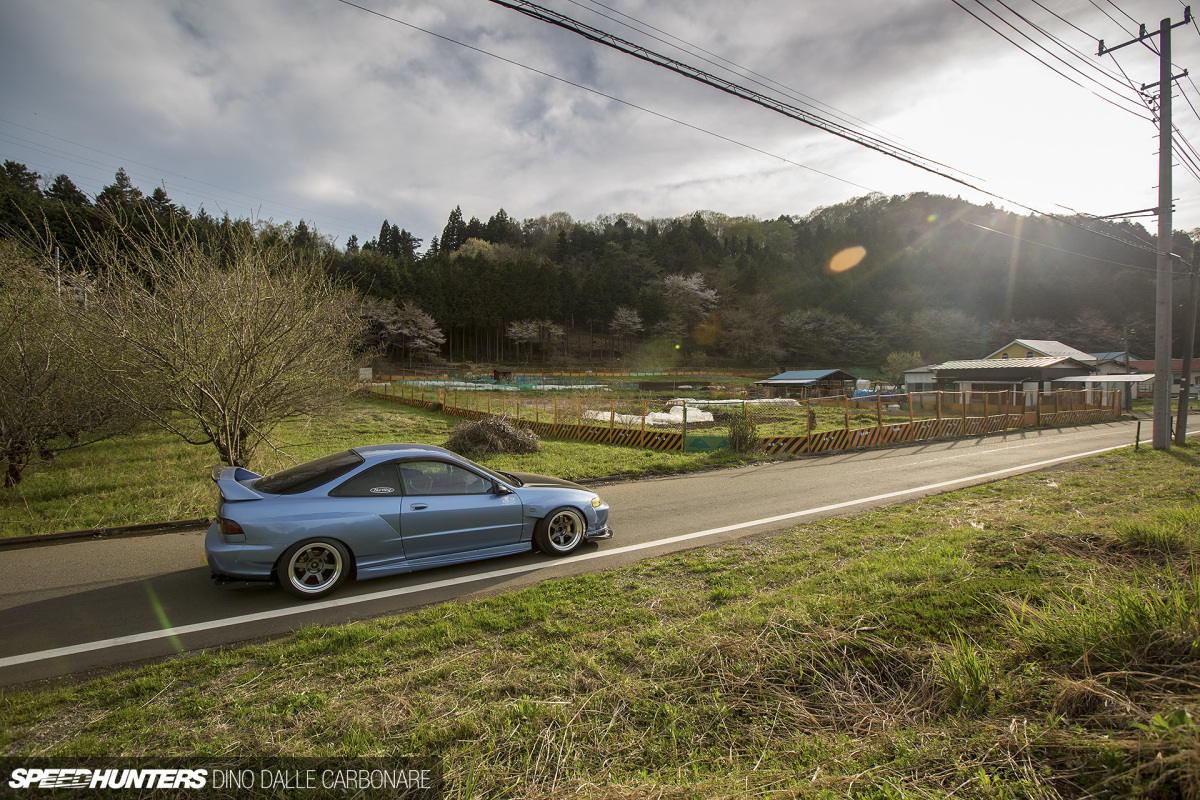 Aside from lusting over the NA1 NSX Type R during my school days in Japan, I never really got into the other Type R models that followed. Maybe if you owned a DC2 – or still own one today – you'd never think about cutting it up and turning it into something a little bit more unique. In that case, you'd probably be more interested in the more subtle parts that Solid & Joker make for the Integra's stock body.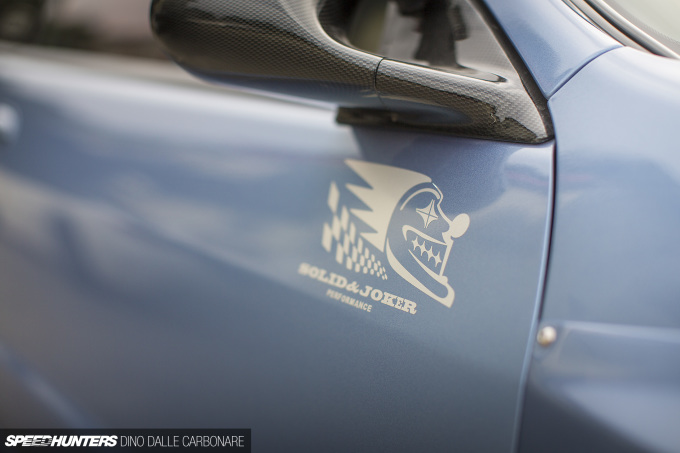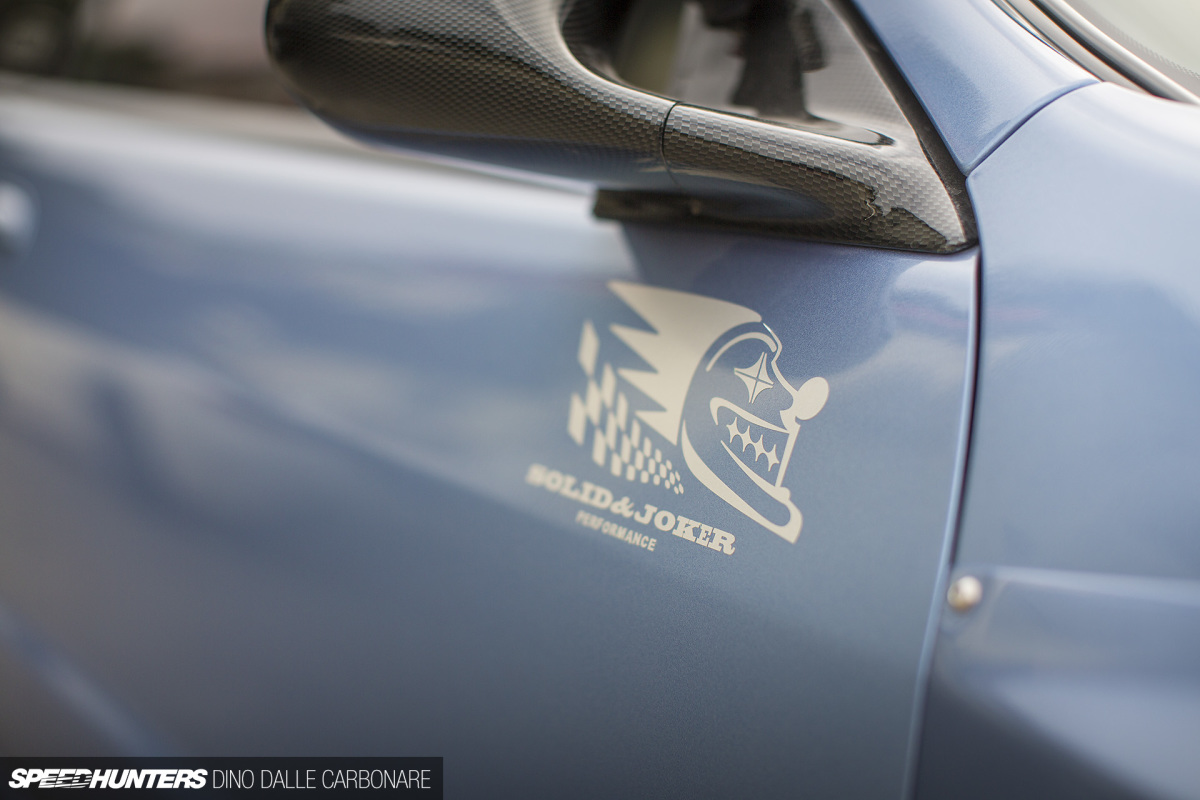 Coming out with two versions of the kit was a good move; there's one for those that want to go wild and another for those that just want to subtly enhance the lines of their beloved DC2.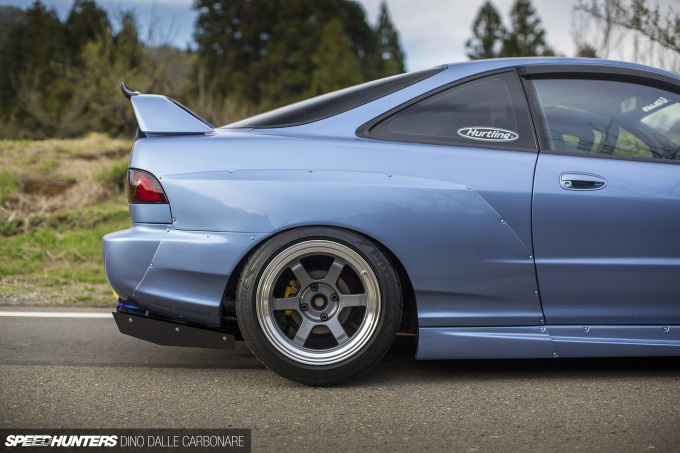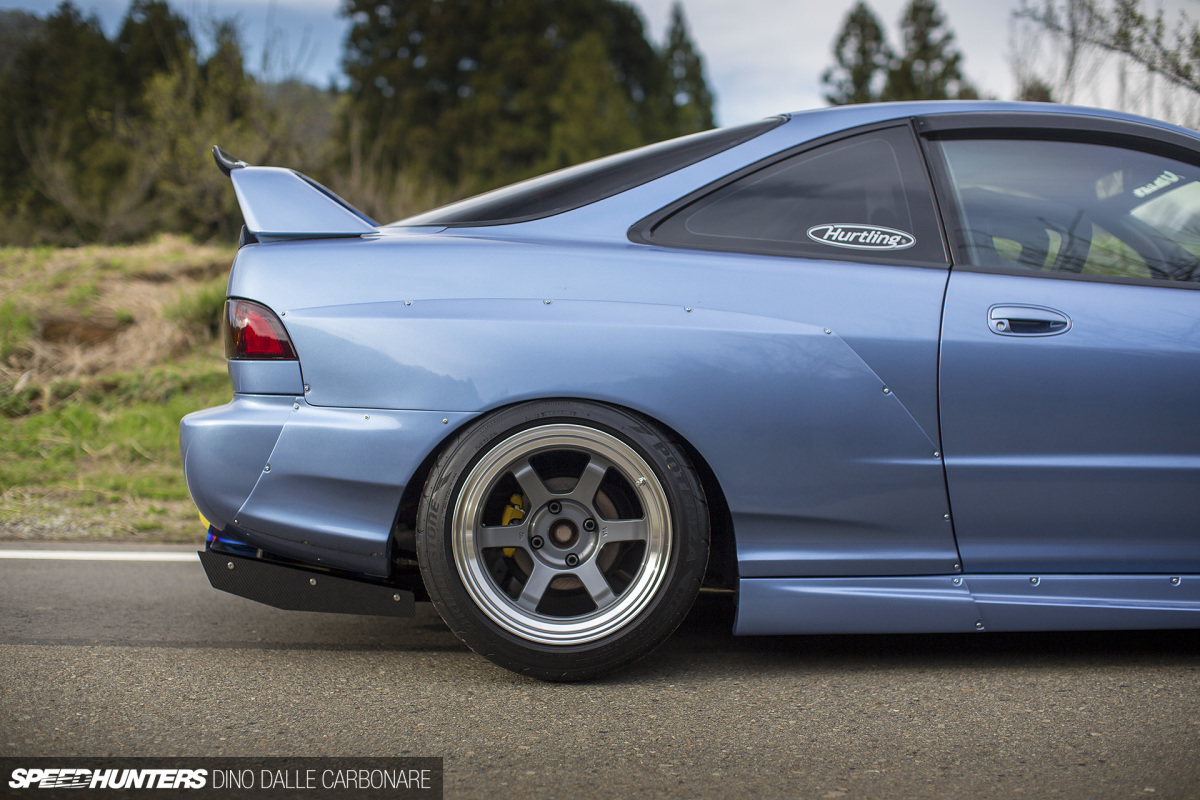 The rear gets an even more grandiose treatment; the angular lines are there, the massive girth is there, and it ties together what the front end starts rather well.
Fitment with the 16-inch RAYS Volk Racing TE37Vs is definitely geared towards looks – after all, this was a TAS demo car. The offset and tire fitment is aggressive, but there's no rubbing whatsoever.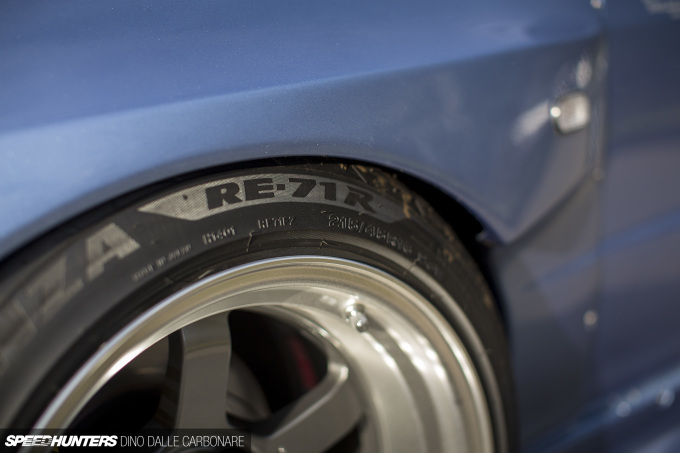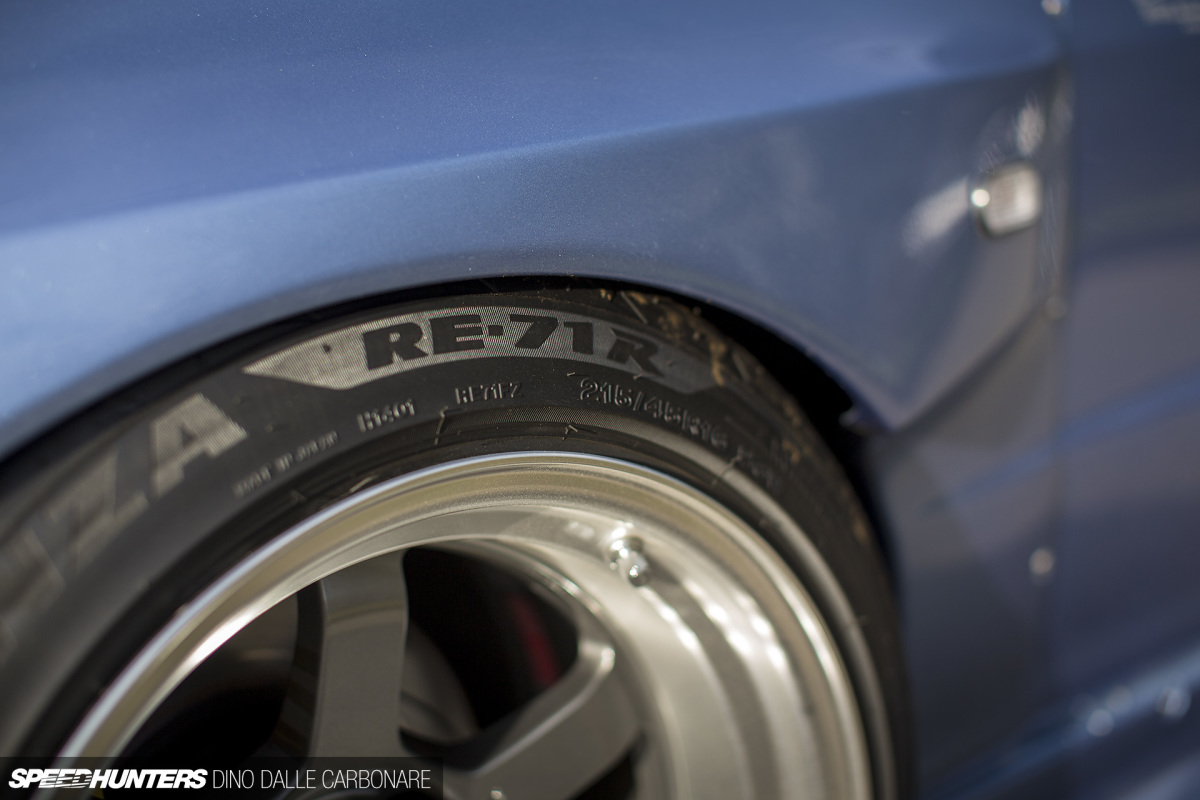 The lightweight forged wheels are fitted with the new Potenza RE-71R street radial from Bridgestone that everyone is raving about in Japan, 215/45R16s all round.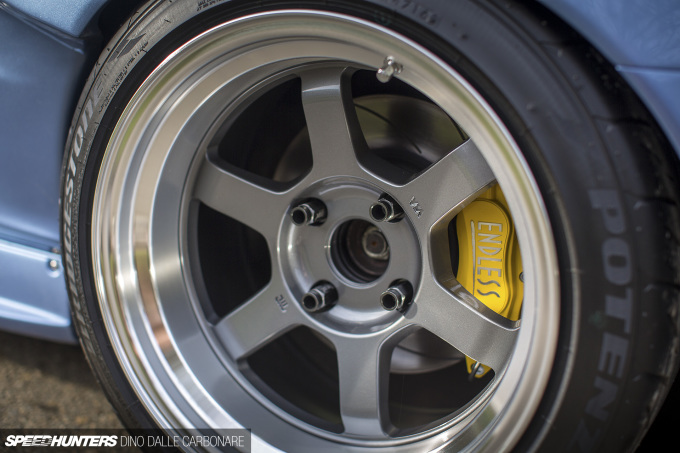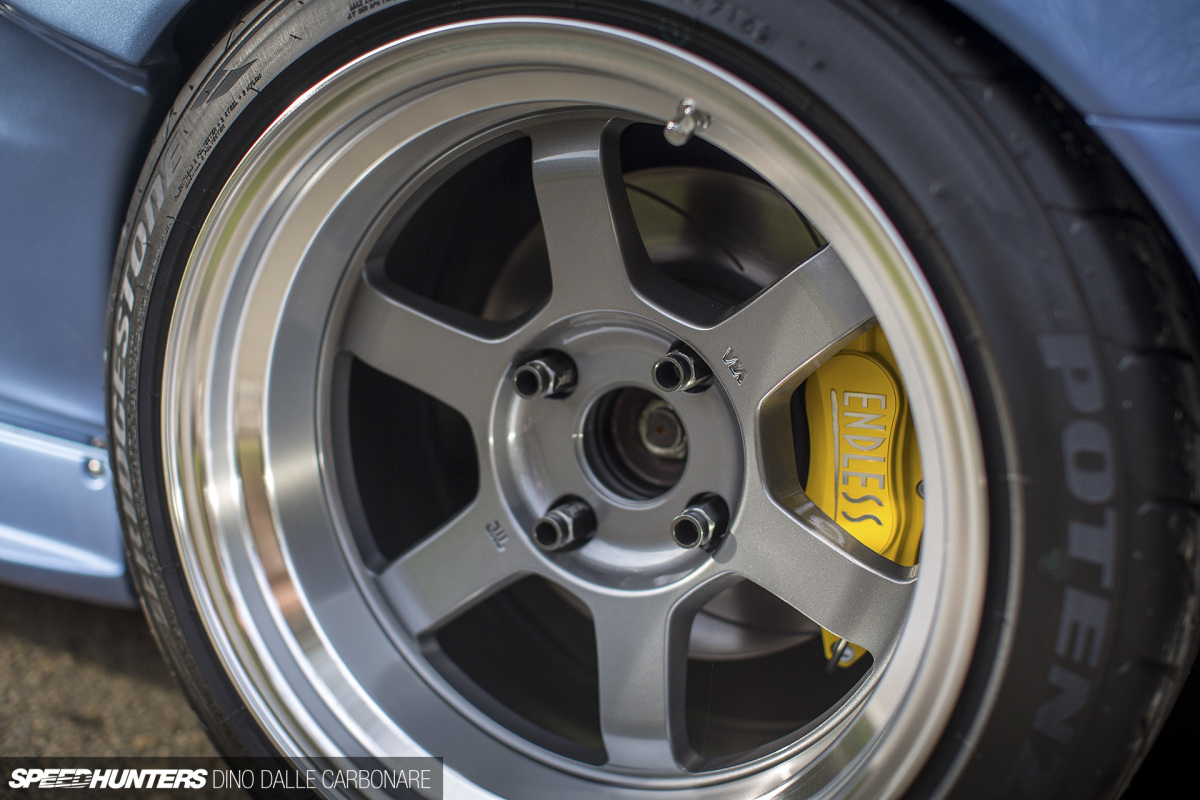 And while the adjustable Aragosta suspension keeps the handling in check, the 4-pot Endless front brake kit replaces the stock calipers for increased braking force.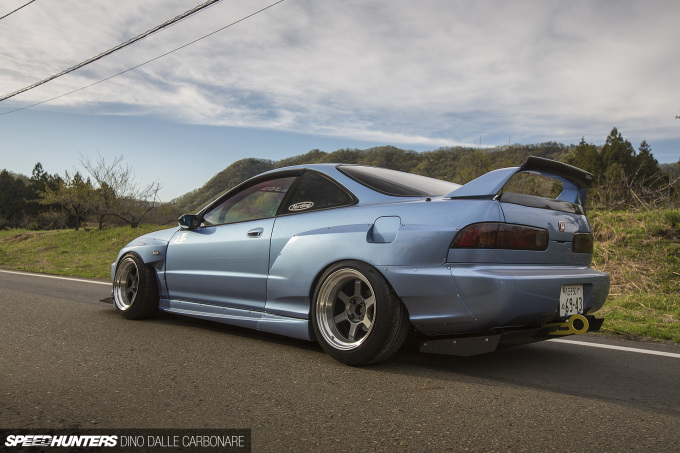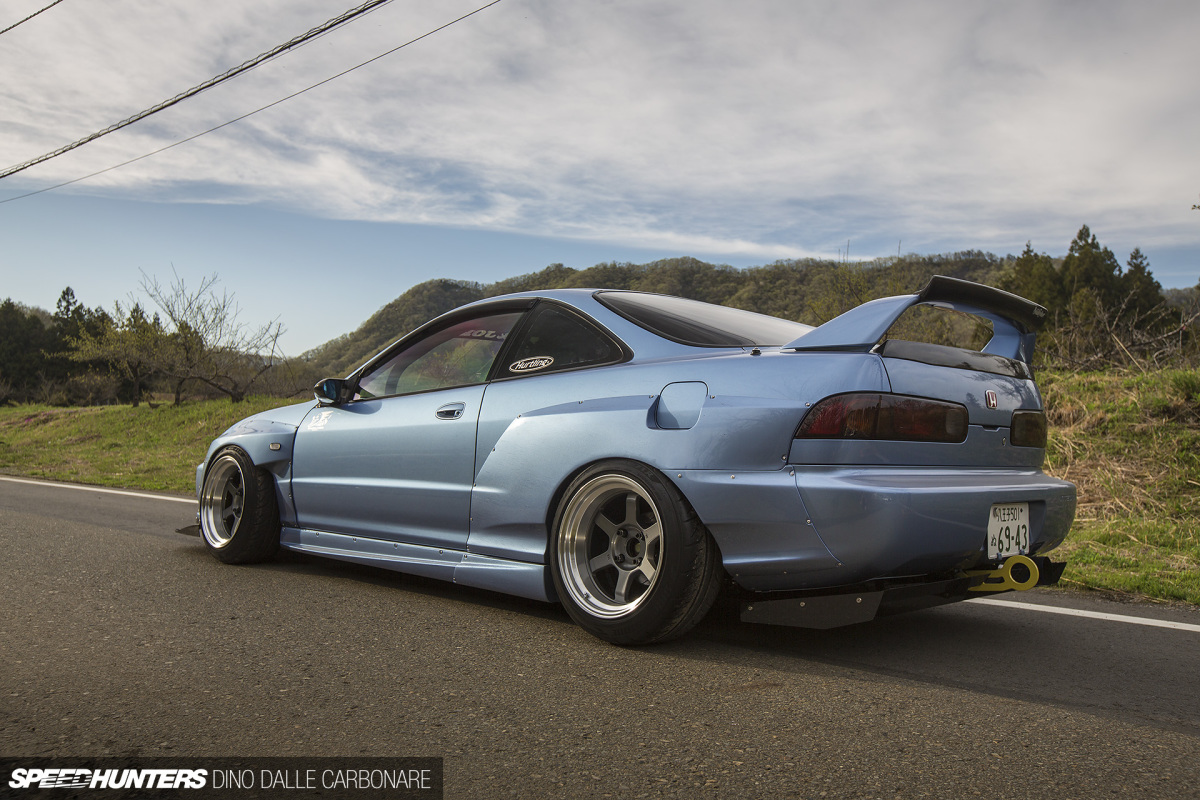 No matter what angle you admire the Hurtling DC2 from, it looks good.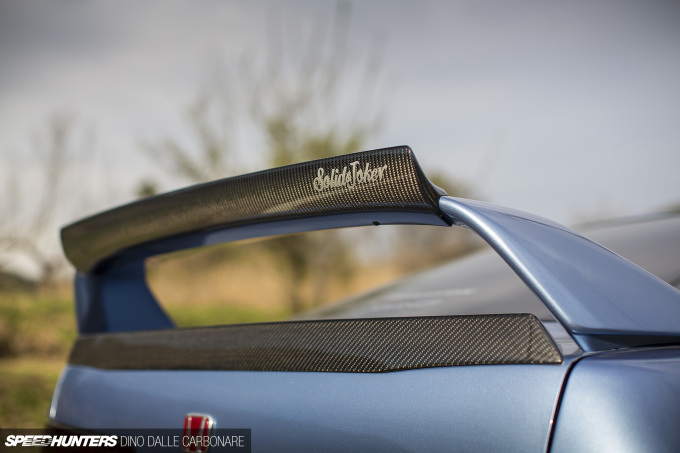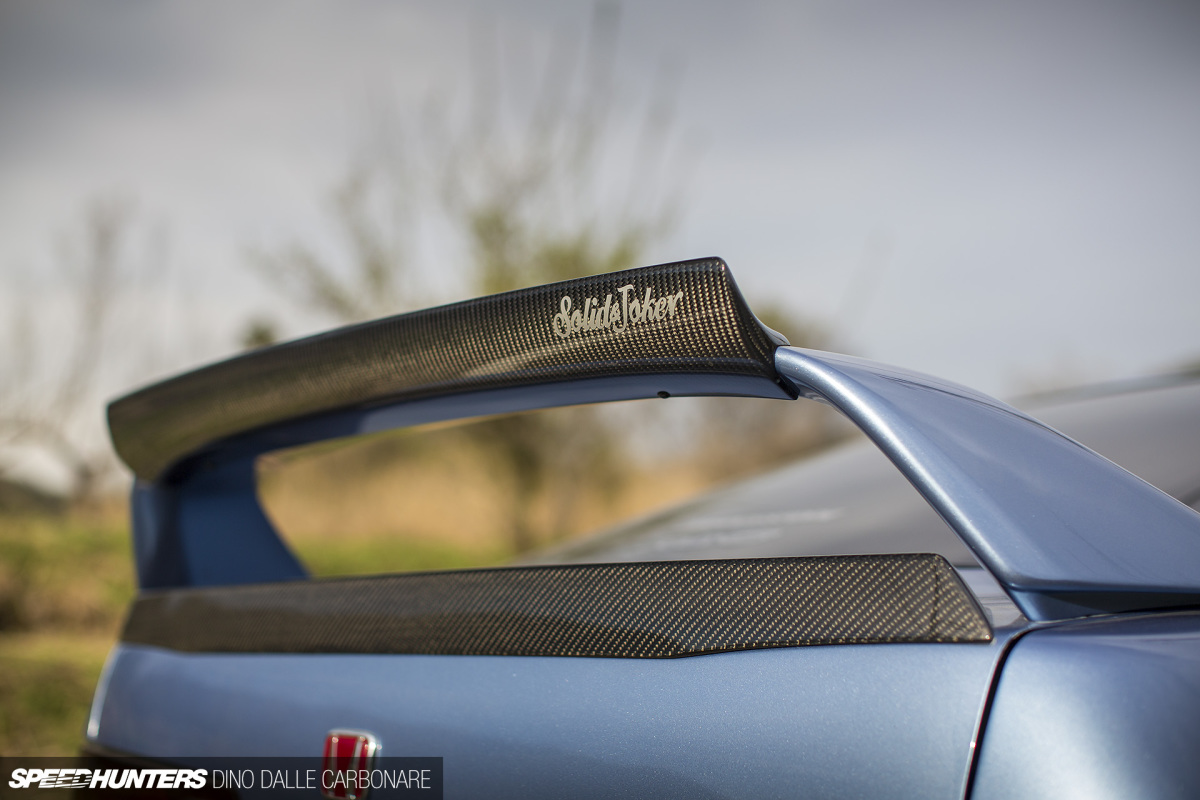 One of my favorite touches is how the stock, and very '90s-looking spoiler, has been cut and mated to a carbon raked wing element. There's also a trunk lip for extra effect, which reminds me of the setup the Nismo version of the BNR32 had back in the day.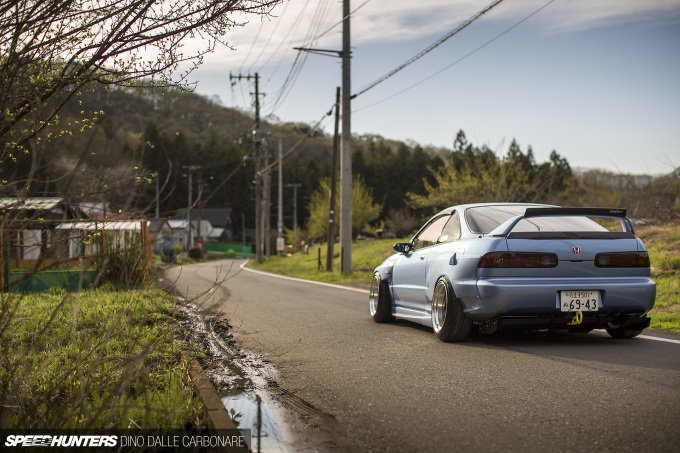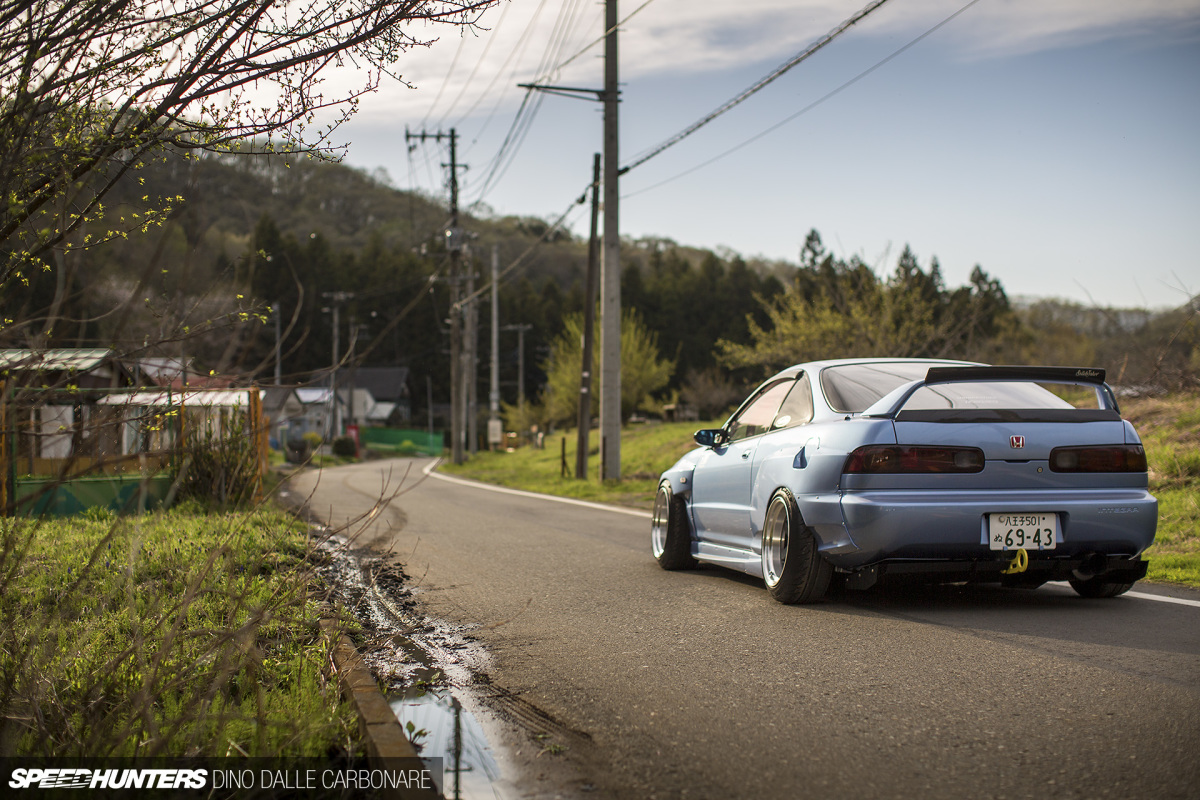 The rear end gets one more optional part from the Hurtling catalogue, and that's a rear diffuser which fills in the space the raked design of the DC2 creates.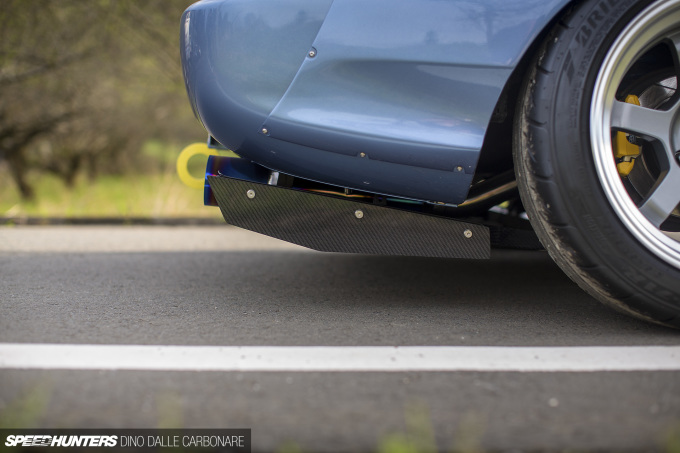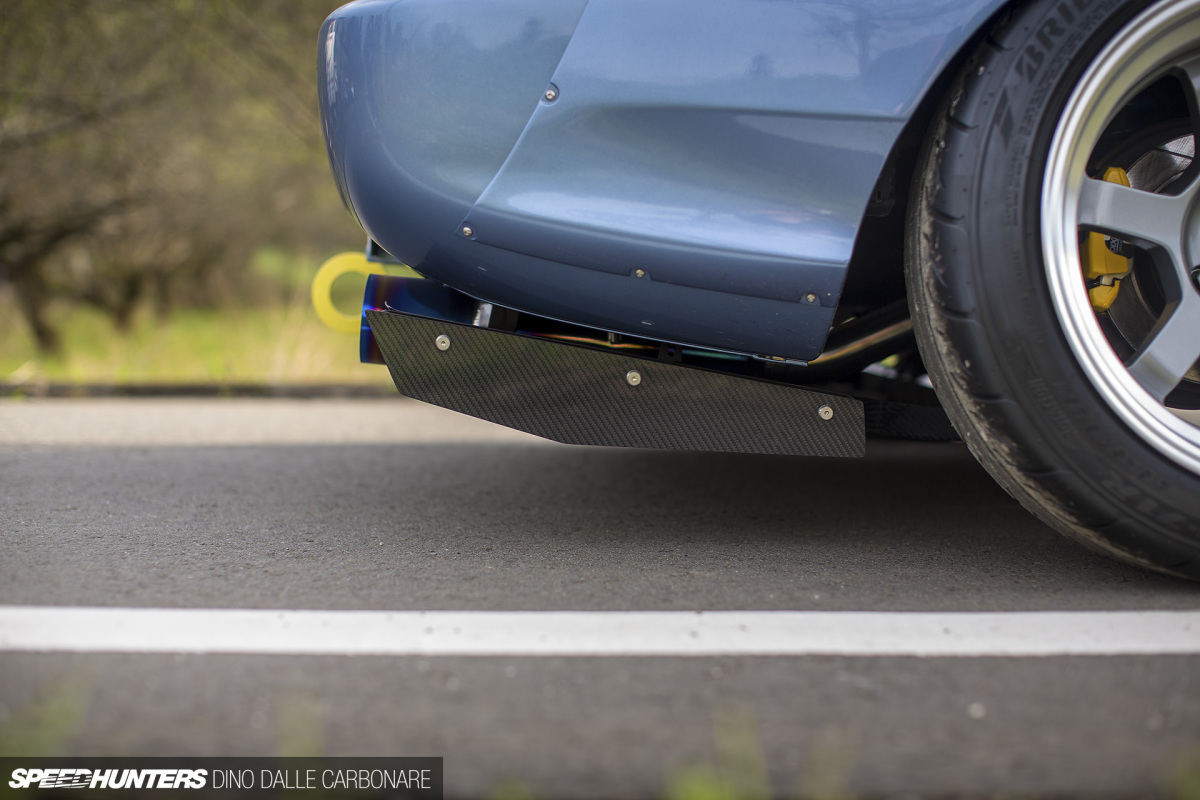 It's all very well executed, a mix of metal and carbon, looking a lot like what an R34 GT-R wears from factory.
The Nostalgia Continues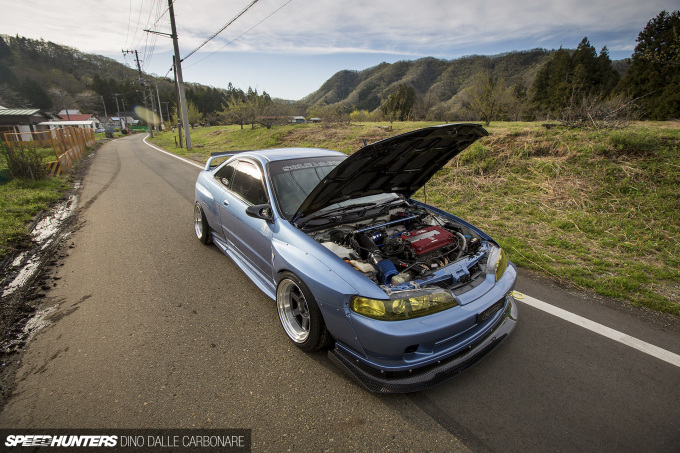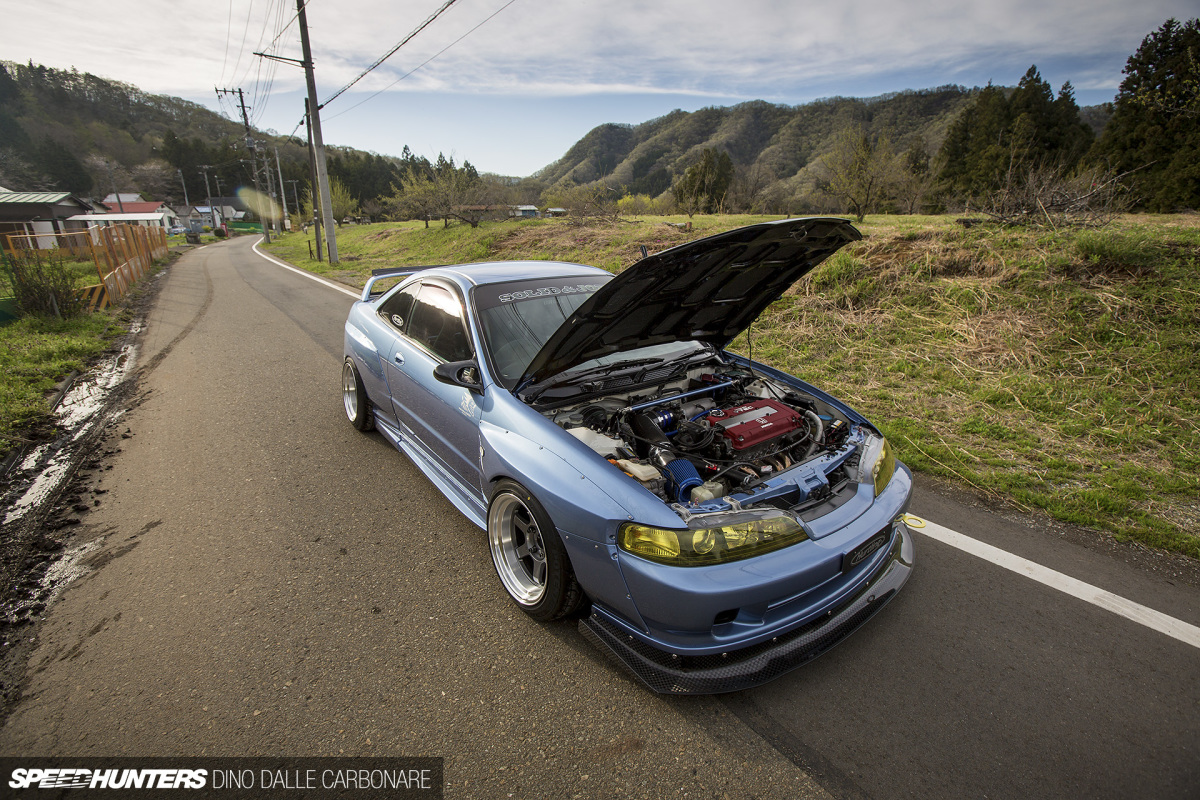 Lift the paper-light carbon bonnet and the memories start flooding back.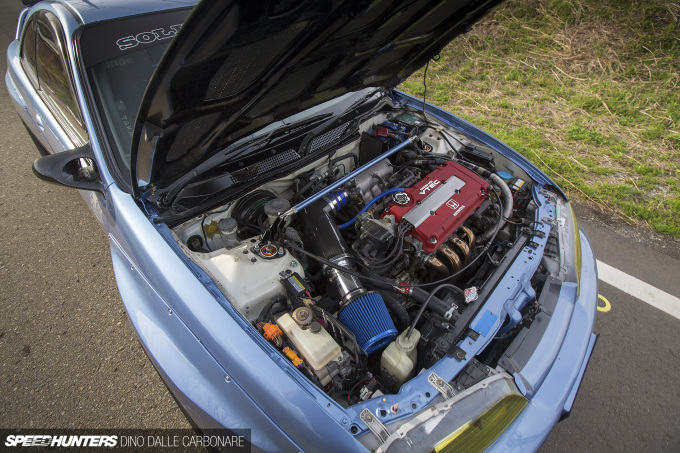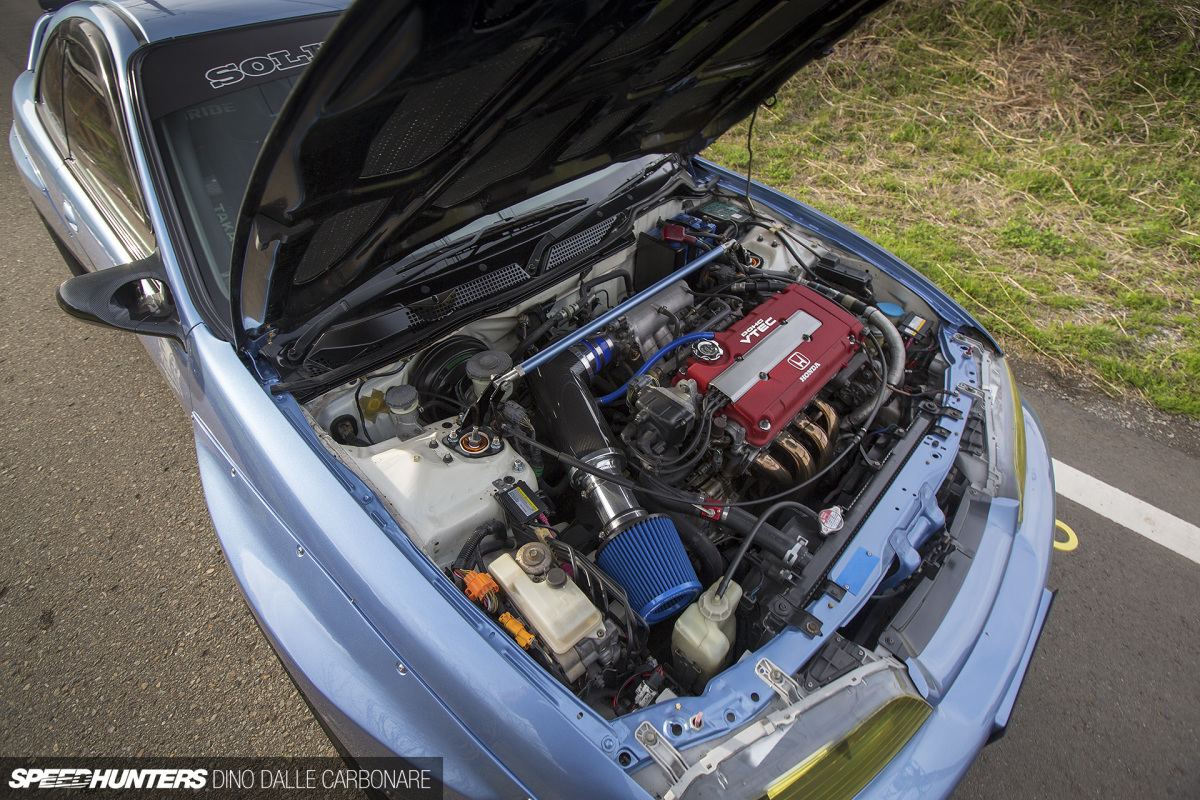 Ah, the good old days where engine bays looked the part; intake manifolds were made of cast aluminum, and things seemed more intuitively laid out. It's a far cry from what you're normally greeted with when lifting the hood on a modern car.
While internally stock, the B18CR benefits from a simple selection of basic upgrades that allow it to sing just right. The Zero 1000 intake and cone filter probably won't do anything for power, but they will make that jump onto the cam's second set of lobes even more of an aural event.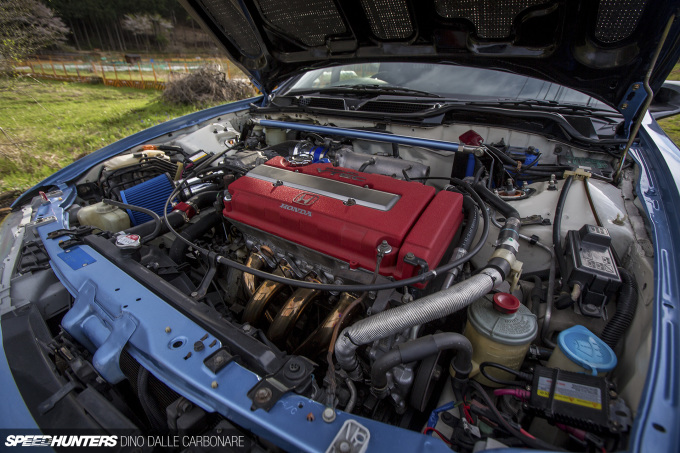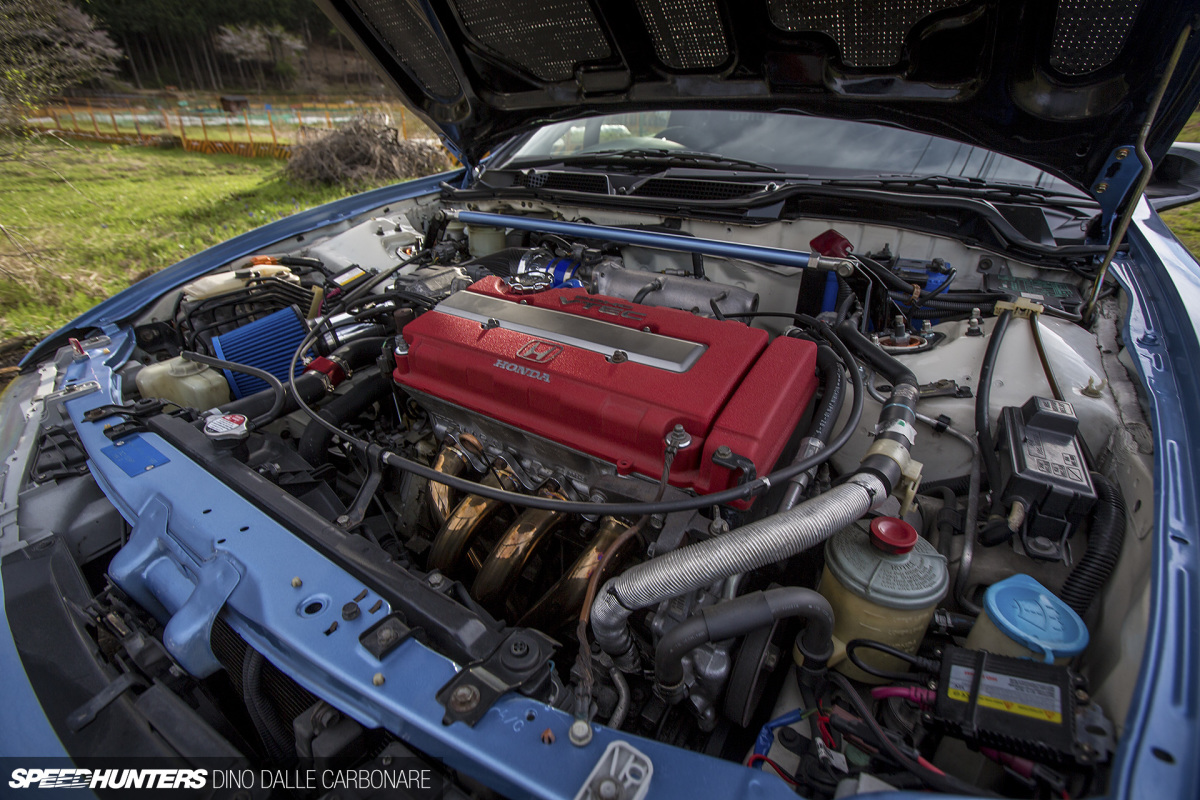 Once that VTEC kicks in (yo!) it's down to the Fujitsubo headers to make the most of the exhaust gas flow.
Maybe you'll see a horse or two being added, but it'll probably just be an increase in sound considering this particular car has got over a quarter of a million kilometers on the odometer. Still, it's a Honda motor, so it's still happily thundering on.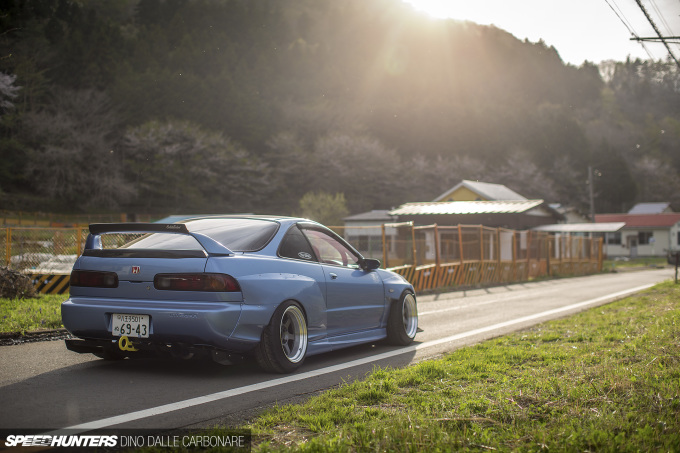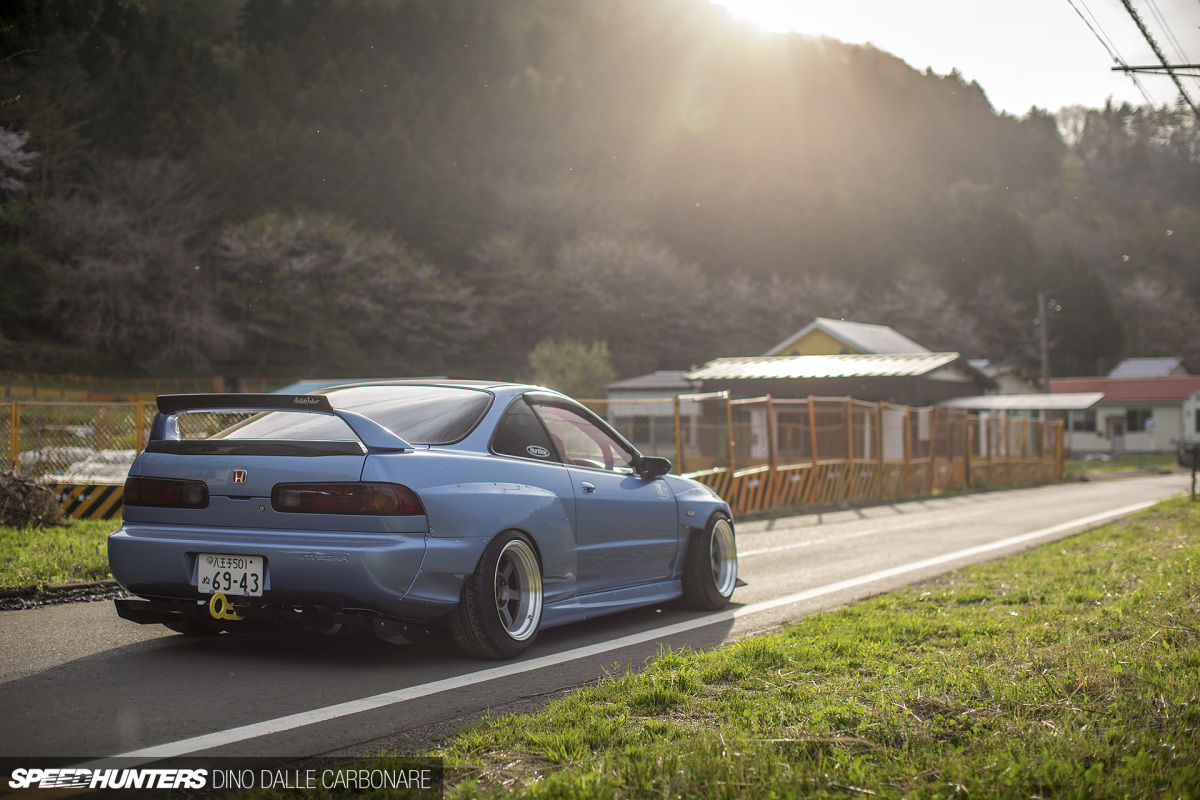 As the spring sun started to dive for the surrounding rural Kanagawa-ken hills, I hurried things along as there were a few more details I had yet to explore.
Driven By Passion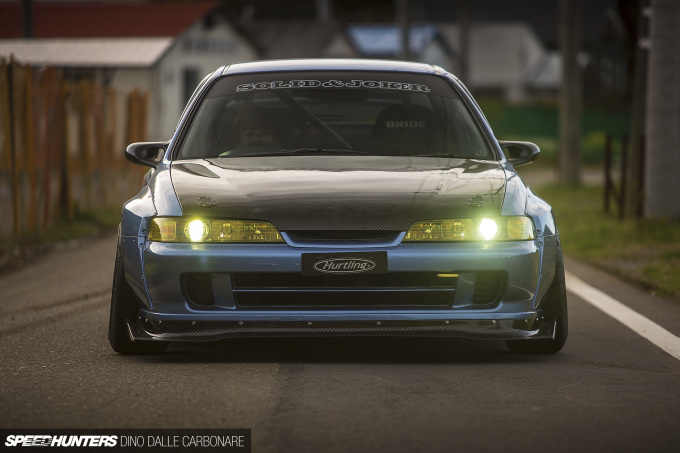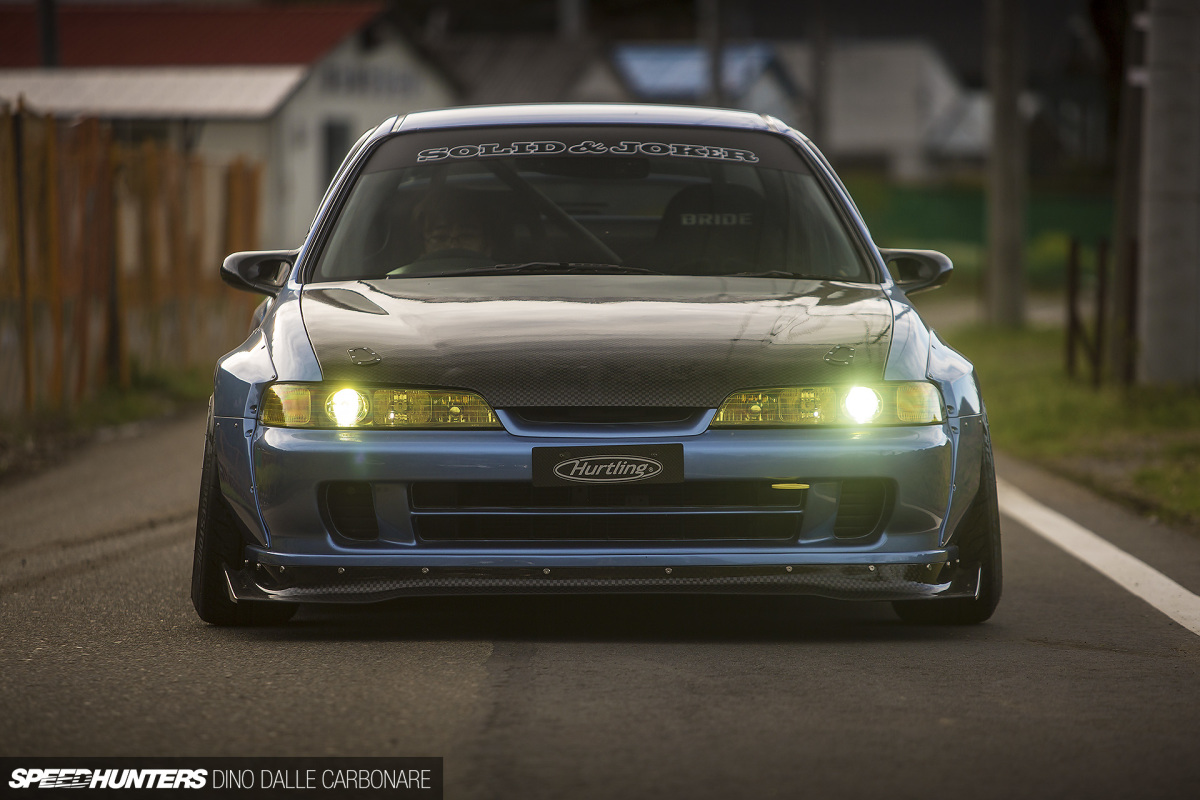 While Yahagi-san was moving the car around so I could position it for another series of shots, I noticed how damn sexy it looked in the warm afternoon light when viewed straight on. You get the feel for the added girth, see how the carbon parts enhance the menacing front end, and catch a glimpse of the roll-cage's rear cross bar which hints that this car means business.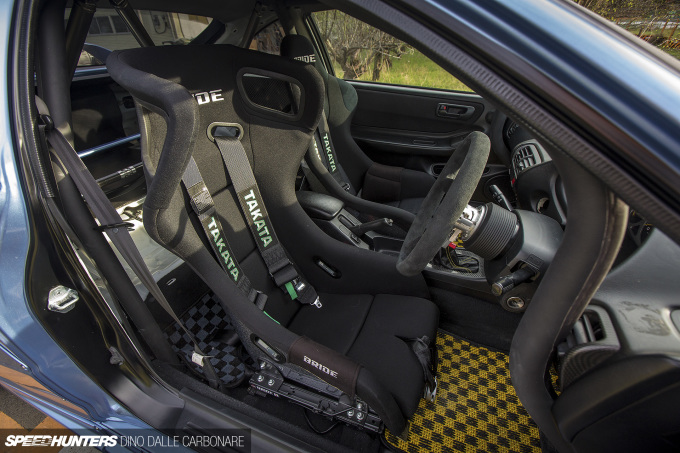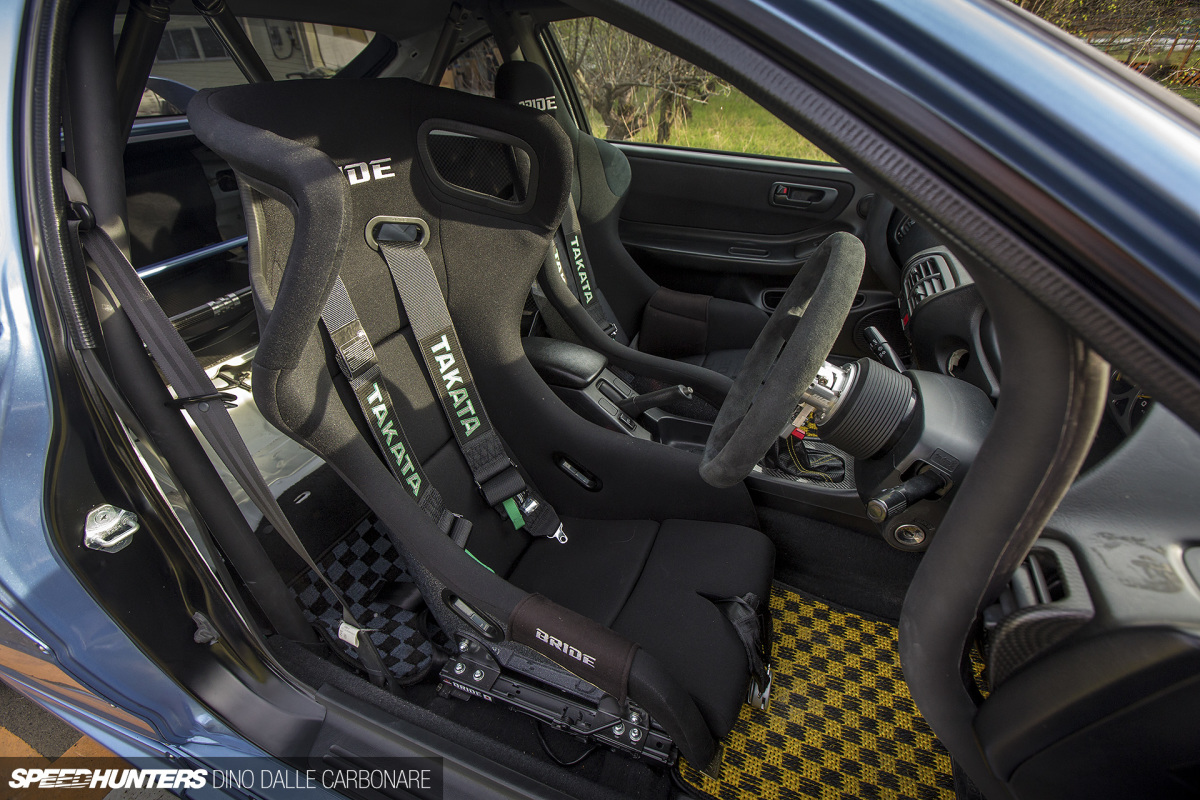 That yellow theme with the headlights and brake calipers is carried over into the cabin with the set of front checkered carpets – the first thing your eyes fall on. You then notice that the driver's side runs a pretty serious-looking fixed bucket seat from Bride, with a more traditional item for the passenger. By the way, the seat size is very JDM spec – I'd be lucky to fit one half of my gaijin behind in there.
The yellow detailing continues!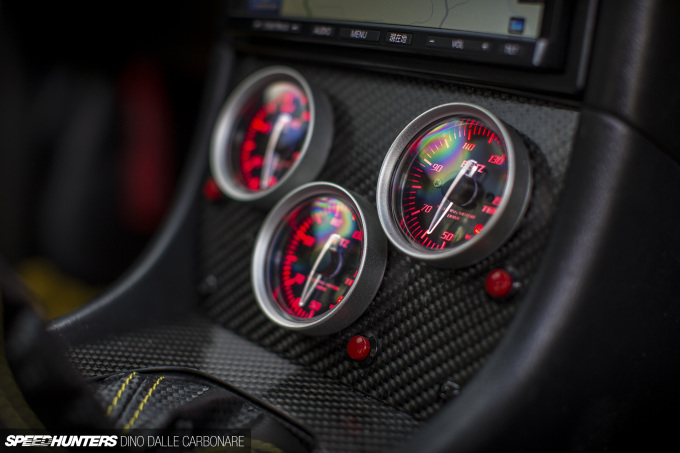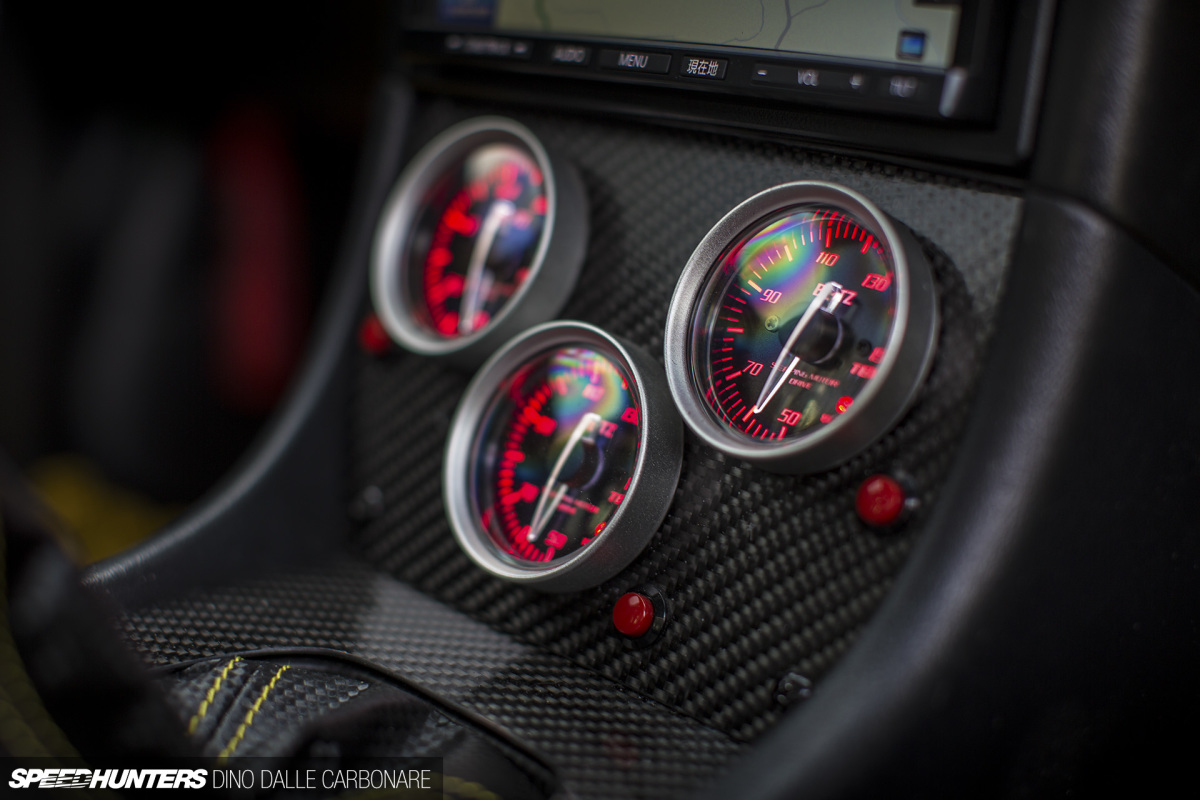 You may have seen the addition of a few sensors in the engine bay – they relay their signals back to three Blitz gauges arranged on a custom carbon panel in the center console. One glance down and you'd be able to get instant feedback on oil temperature and pressure as well as water temperature.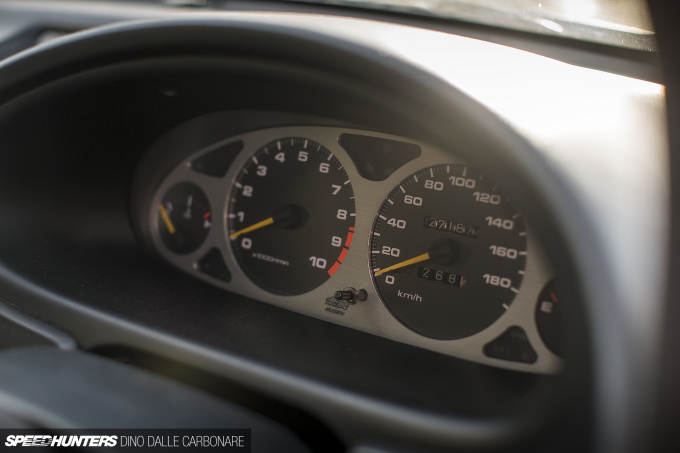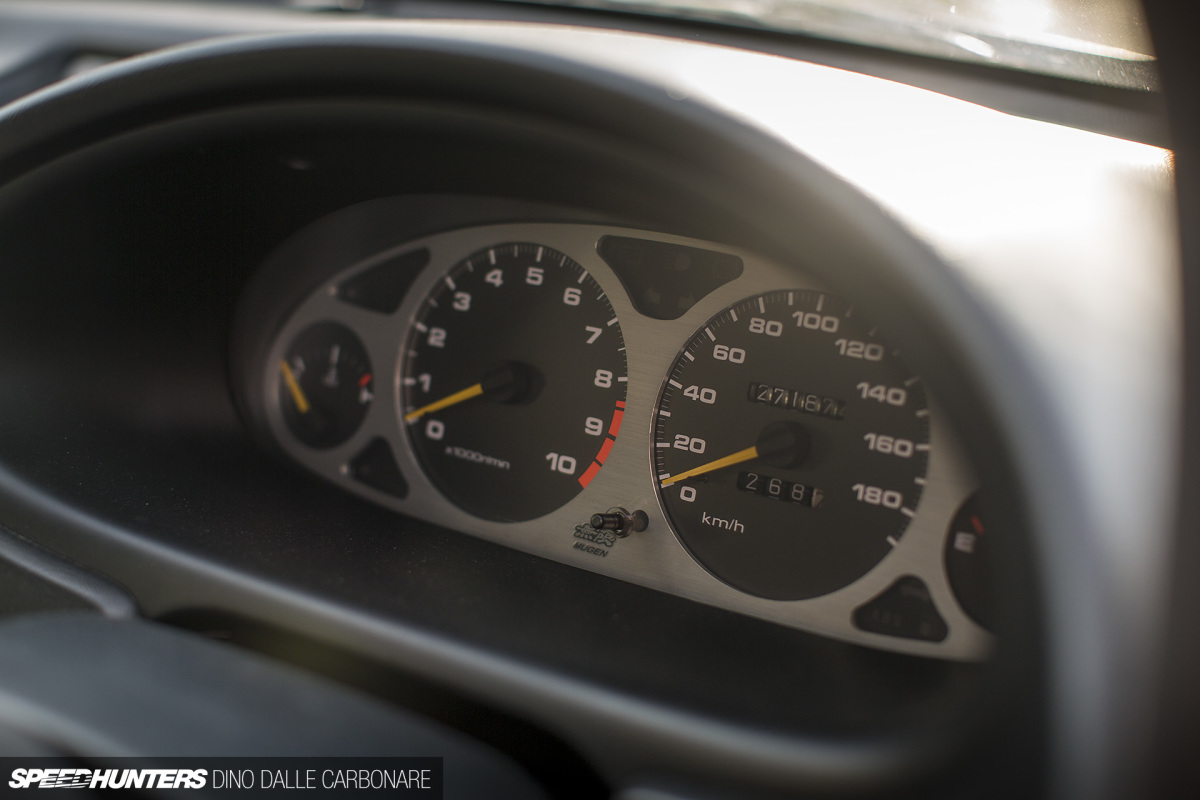 What I like the most about Type R Hondas of the '90s is their simple analogue gauges with yellow needles. See where the inspiration for yellow detailing was borrowed from?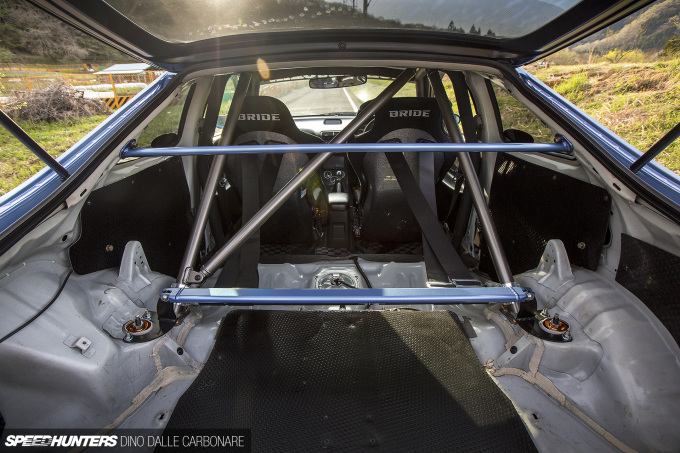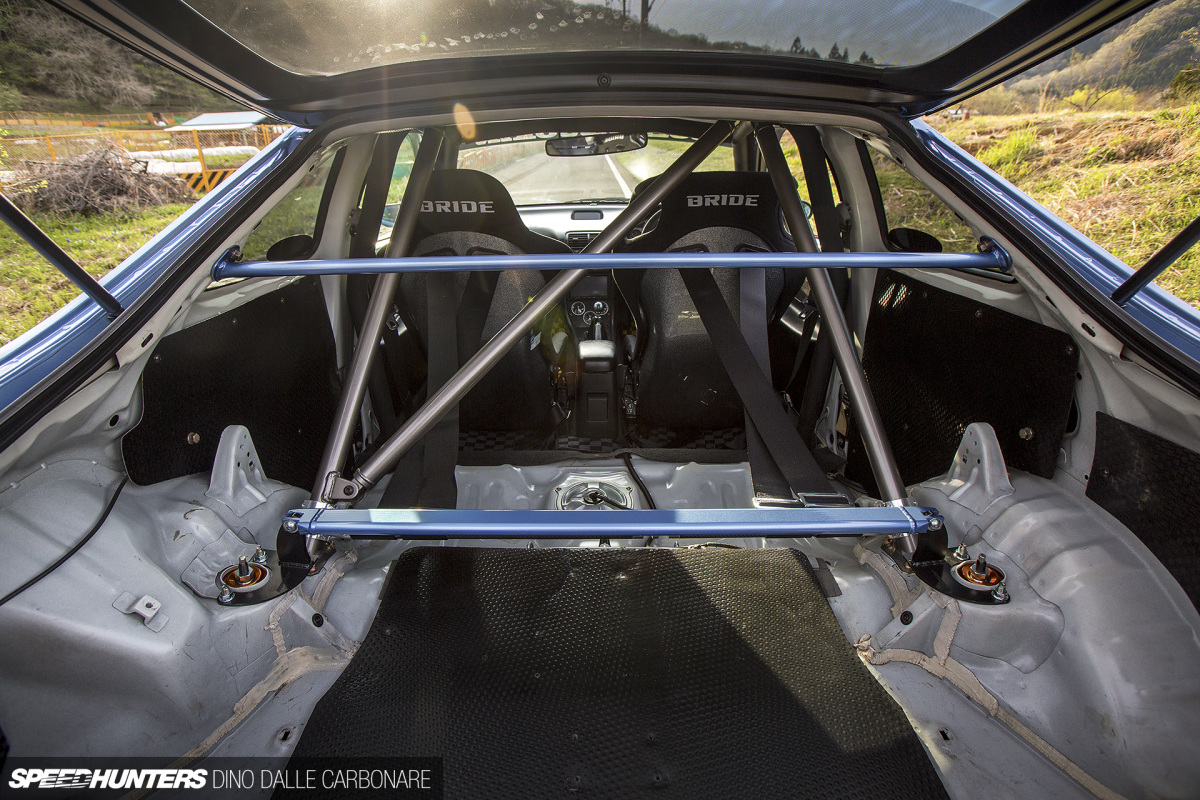 There's nothing to see in the back; the rear seats have been deleted along with most of the trim to help lighten the car, which is a very good way to make these older cars go even faster. The bolt-in cage is further joined by stiffening bars both inside the cabin and underneath the car.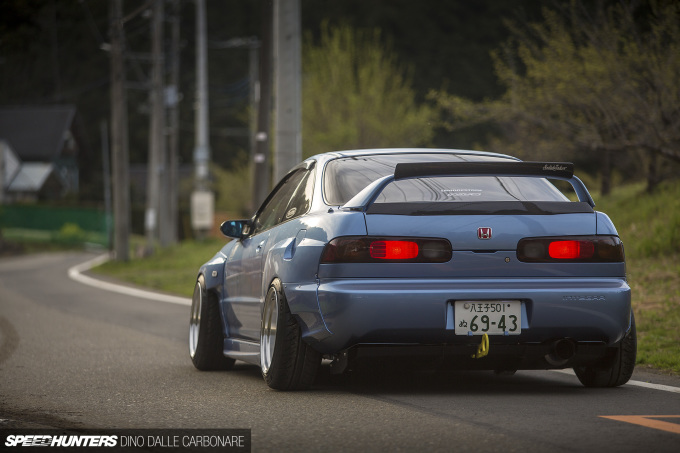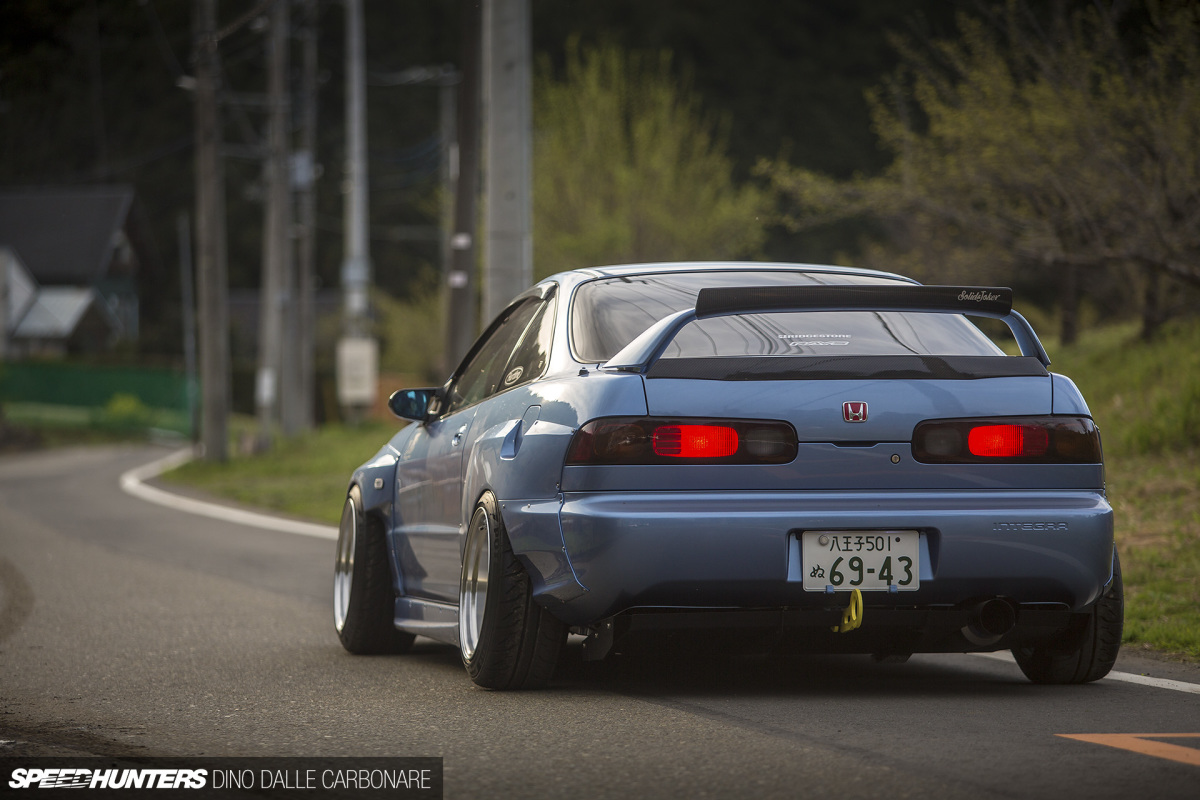 Hurtling have certainly kicked off their brand with a whole lot of awesomeness. Ever since shooting this damn thing I've been thinking about DC2s far too often. And while this is one hell of a way to get started, there is a lot more to come from the Solid & Joker line of aero parts. When passion drives you, there's no way you can go wrong.
Dino Dalle Carbonare
Instagram: speedhunters_dino
dino@speedhunters.com