California Love
Thanks to social media, the automotive industry feels so small and connected at times. With just a few clicks on my phone, I can be instantly exposed to the latest aftermarket tuning and styling trends.
Thinking about how internet-spoiled I am, I was recently prompted to ponder my hometown of Los Angeles, and how it was at the epicenter of the stateside tuner car scene in the mid '90s through to the early '00s. Excessive bodykits, under-glow and decal overload defined the burgeoning tuner era, and LA was at the heart of the movement.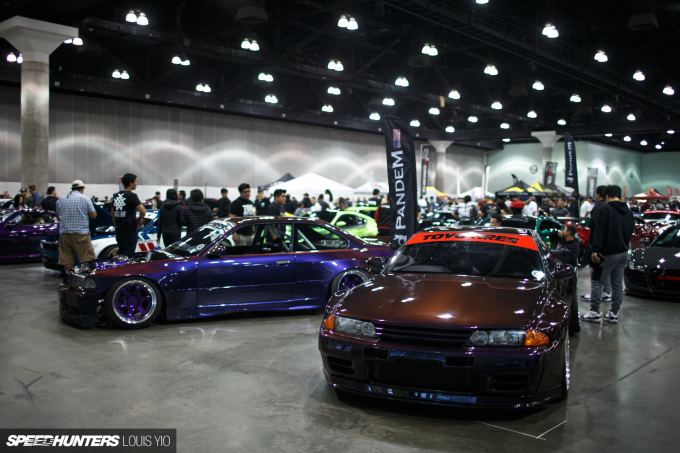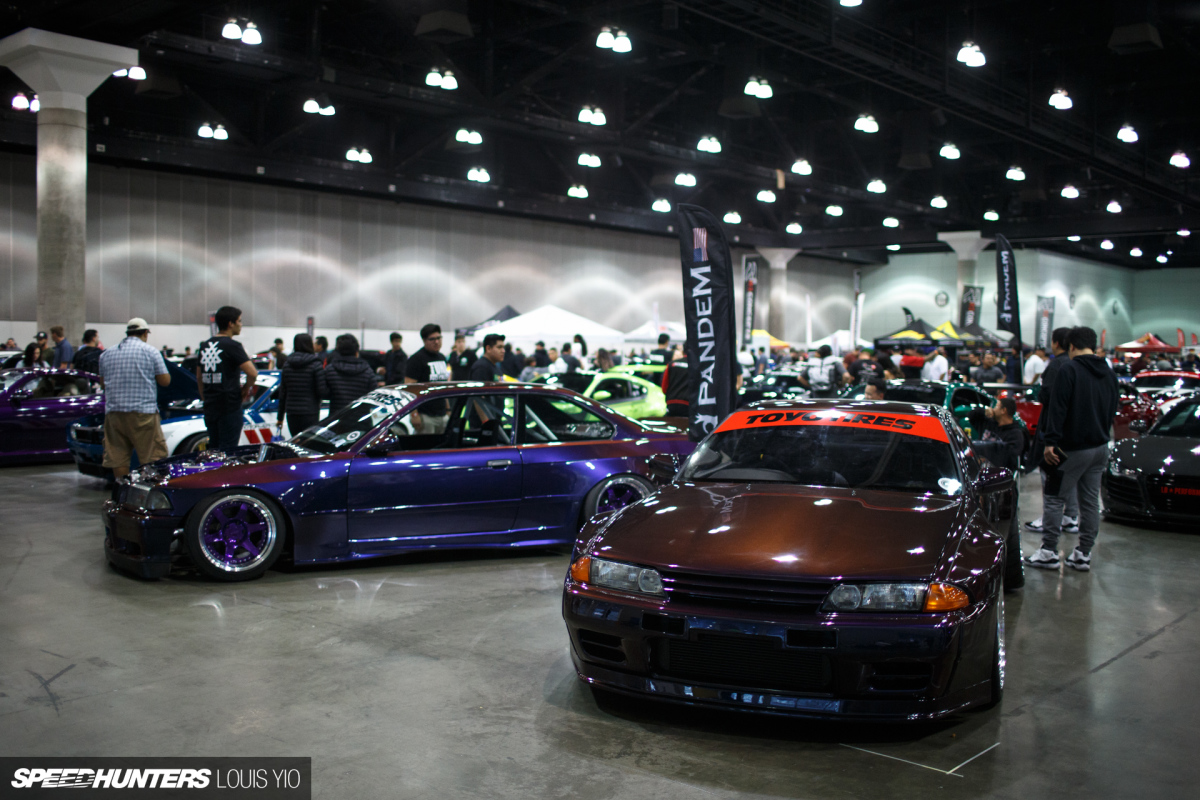 But after 20 years, can La-La Land still be considered the hub now that the automotive community is so connected? Last weekend I decided to put down my phone and go and find out first-hand at AutoCon LA.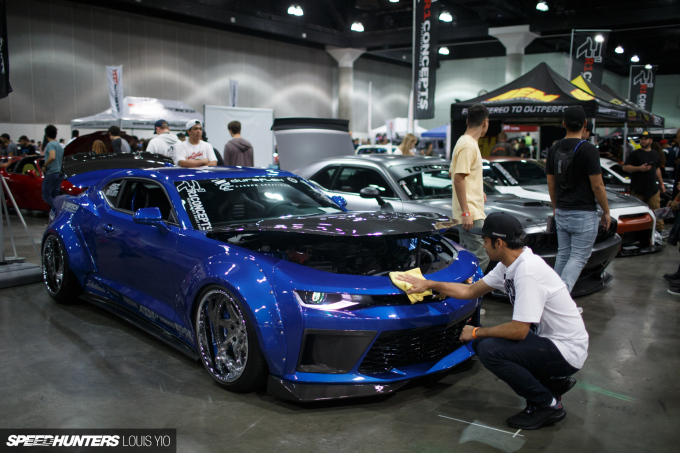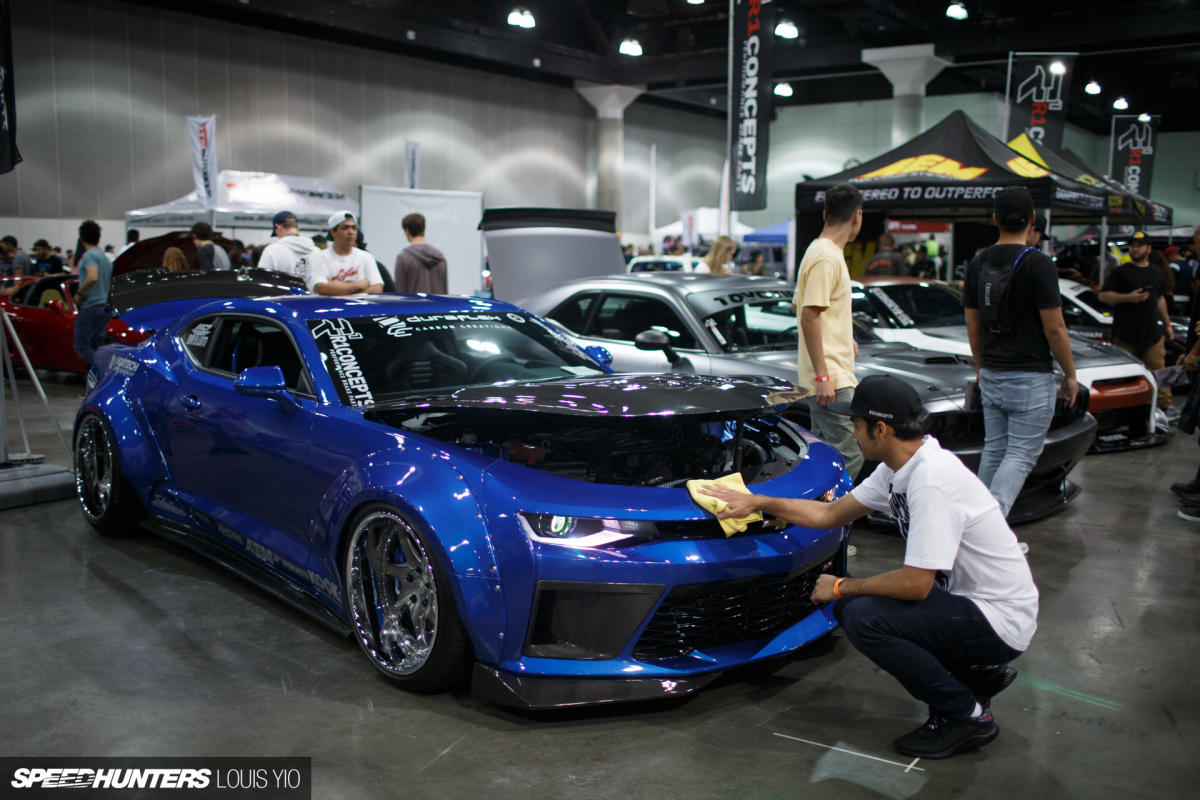 AutoCon have been running events since 2010, and in that time have grown into one of the nation's most respected promoters of car shows for, primarily, the tuner set. So if I wanted an answer to my question, the series' first stop of the 2017 season would surely be the place to find it.
Tuner Trends Start Here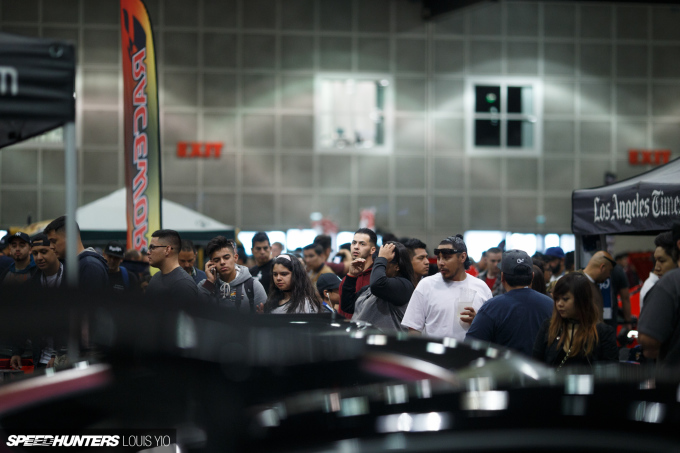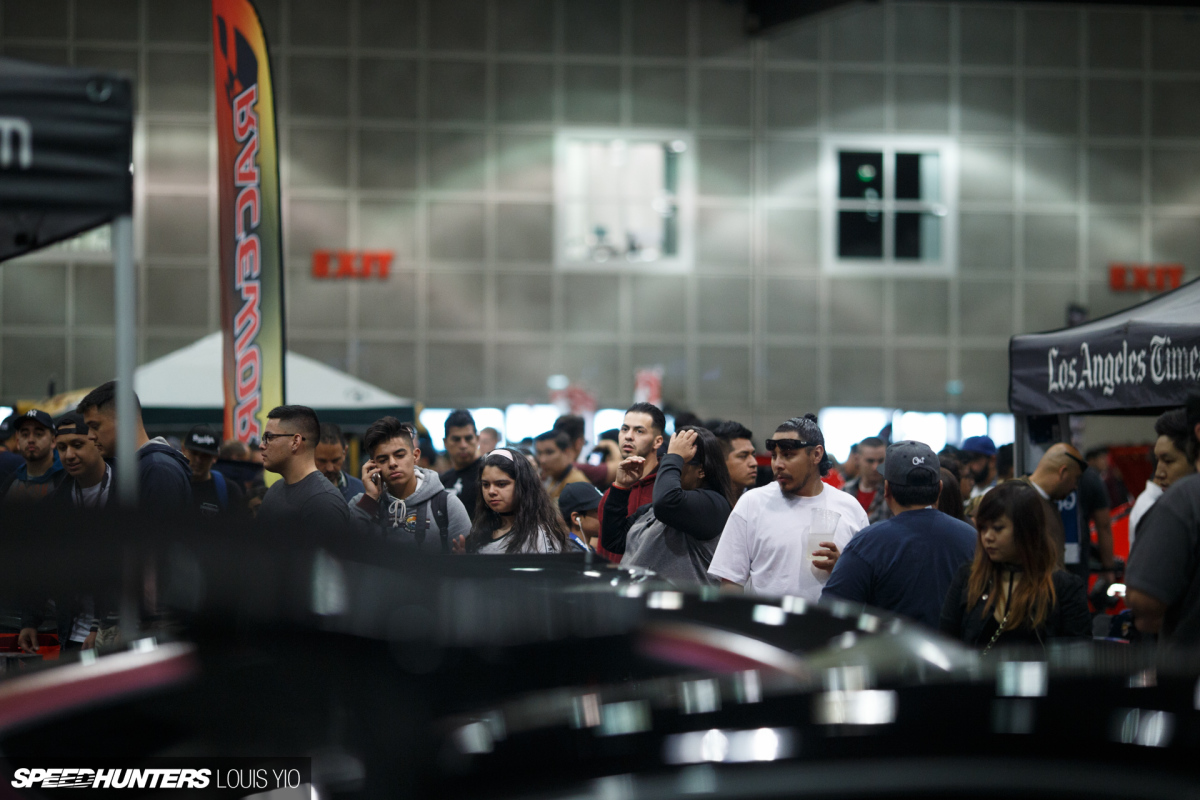 I arrived at the Los Angeles Convention Center just before 1:00pm when the show was due to start, and noticed that the line of people waiting to get in and check out the cars was already wrapped right around the block. Luckily, I had a media pass and was able to hop on in while there were only a handful of attendees on the show floor.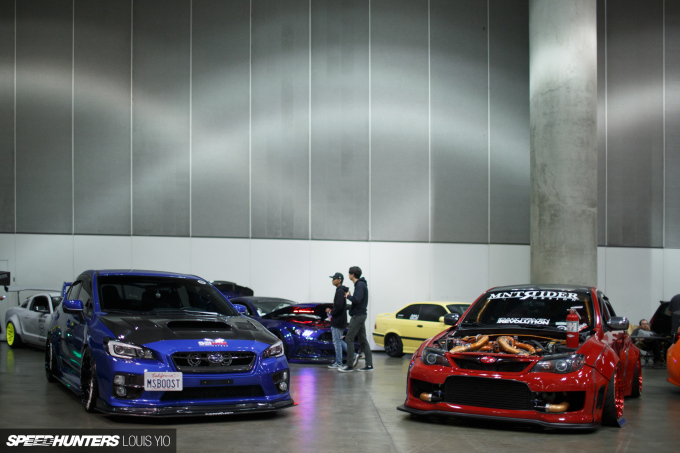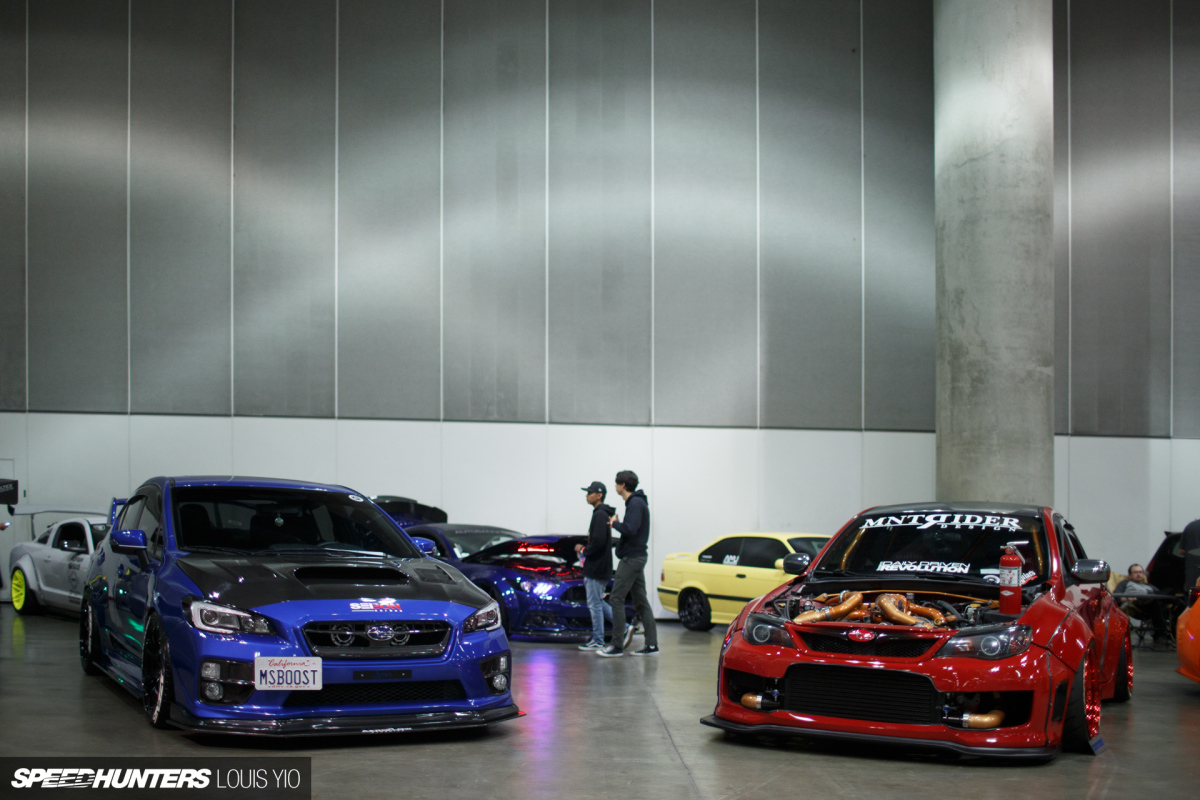 I should start by saying that, even though I was born in Los Angeles and am slightly biased towards it, I've always thought of LA as the place where tuner trends originate. Some of the most extensively modified cars in the United States were dreamed up and built out of the City of Angels, and you only have to take a stroll through the bigger events on the calendar to see it. Am I wrong?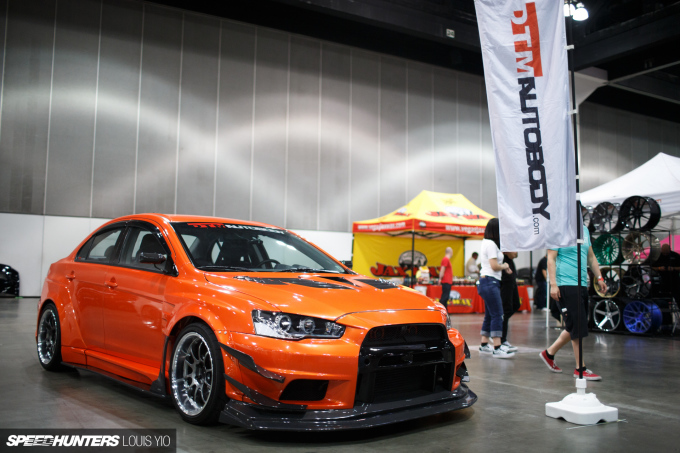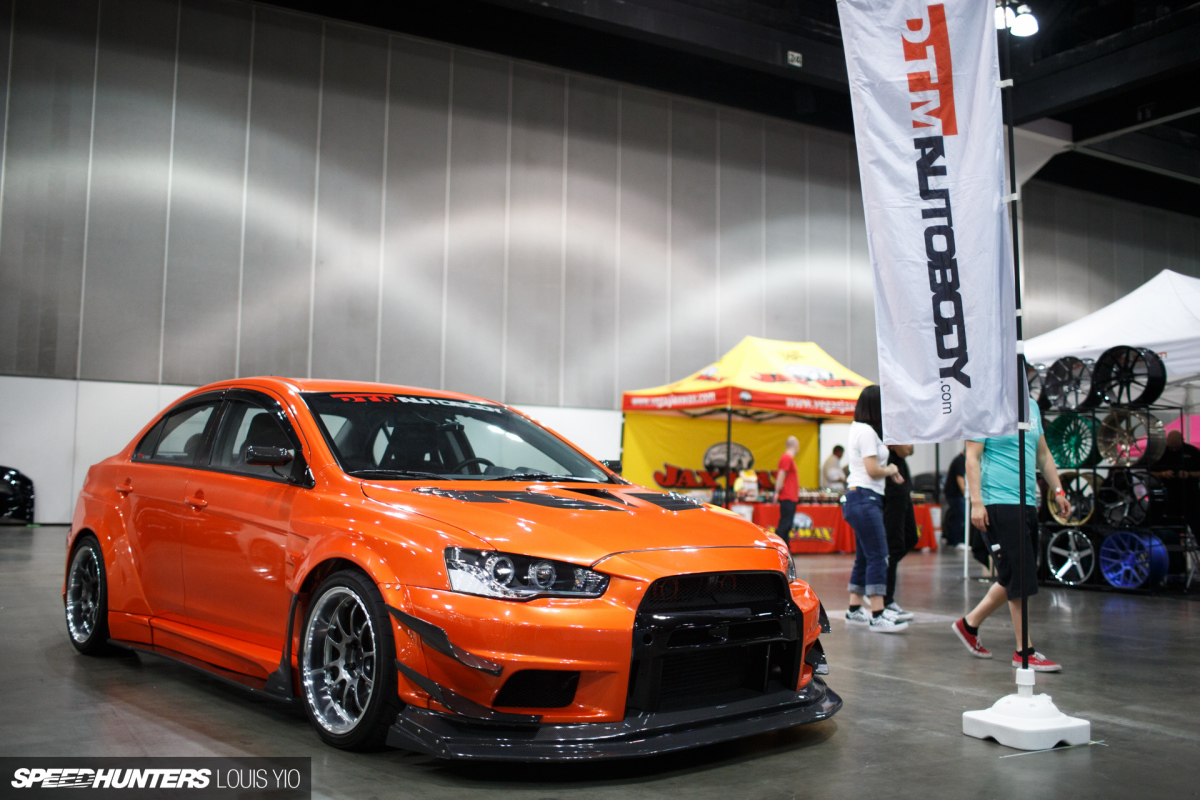 Of course, a lot of styling cues seen on these cars come from elsewhere, and obviously Japan remains to be the biggest source of inspiration. It's also the place where a lot of the parts being used in tuner-type builds originate from.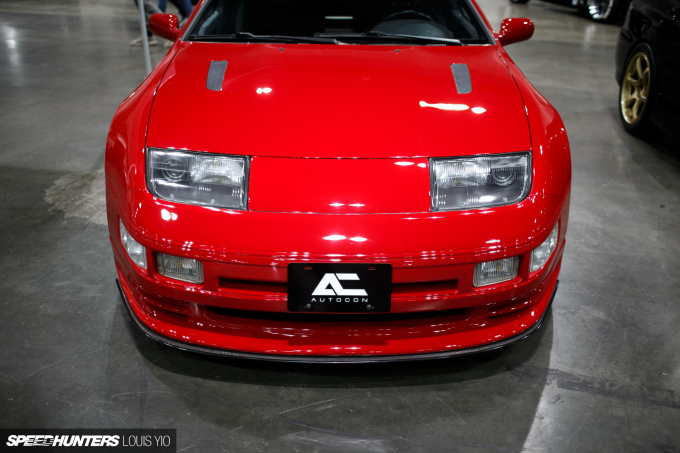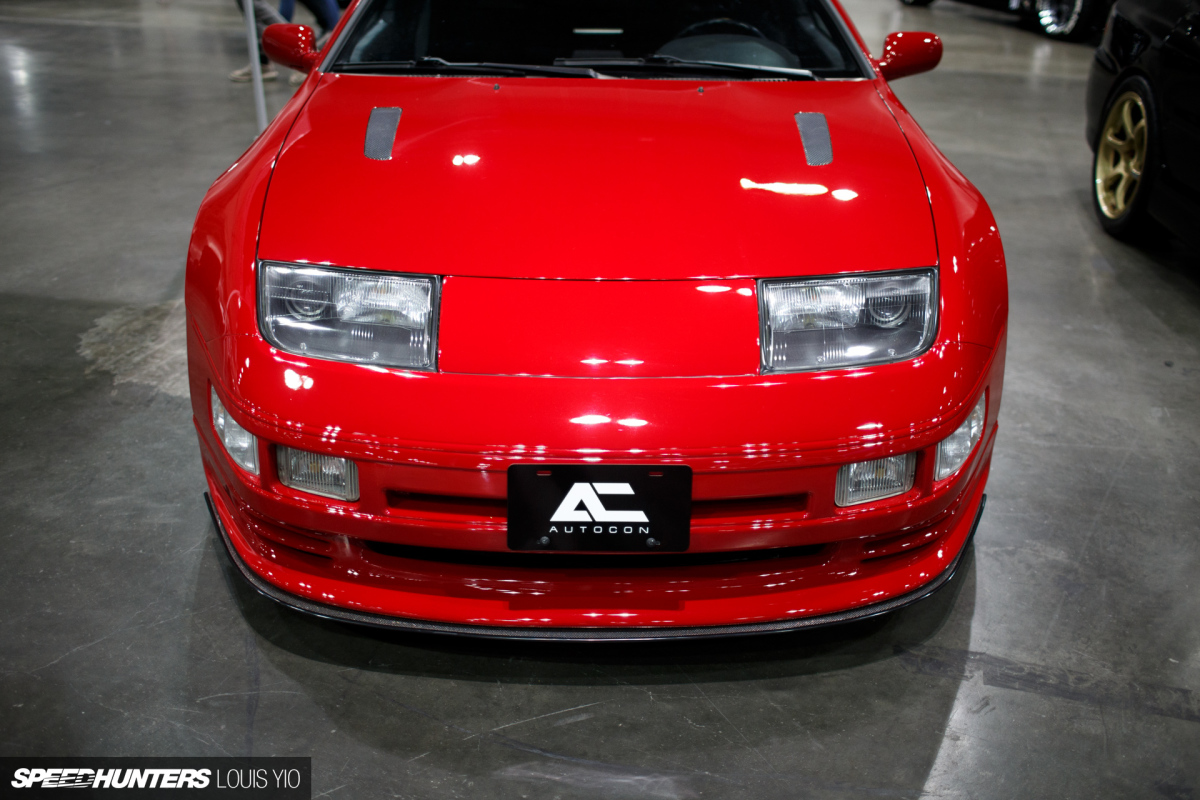 A quick glance around the the convention center's expansive South Hall had me excited for what I was going to find, and one of the immediate stand-outs was an incredibly clean Nissan 300ZX sitting on Desmond Koenig wheels. I see these cars maybe once or twice a month, but they're usually in the worst of conditions, so being able to look over one as clean as this example was quite nice. It was also the only Z32 at the show.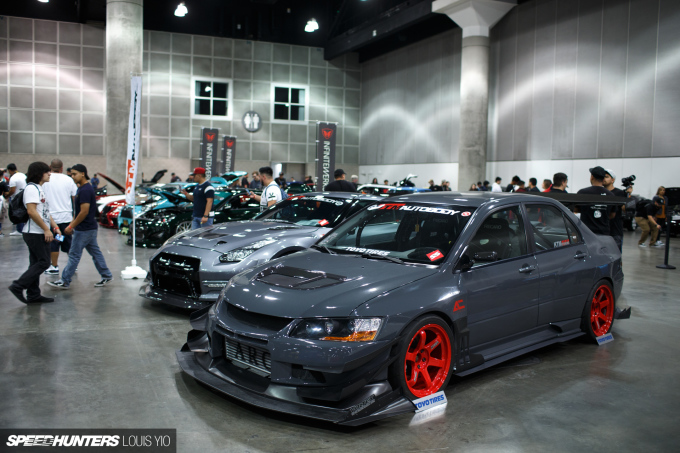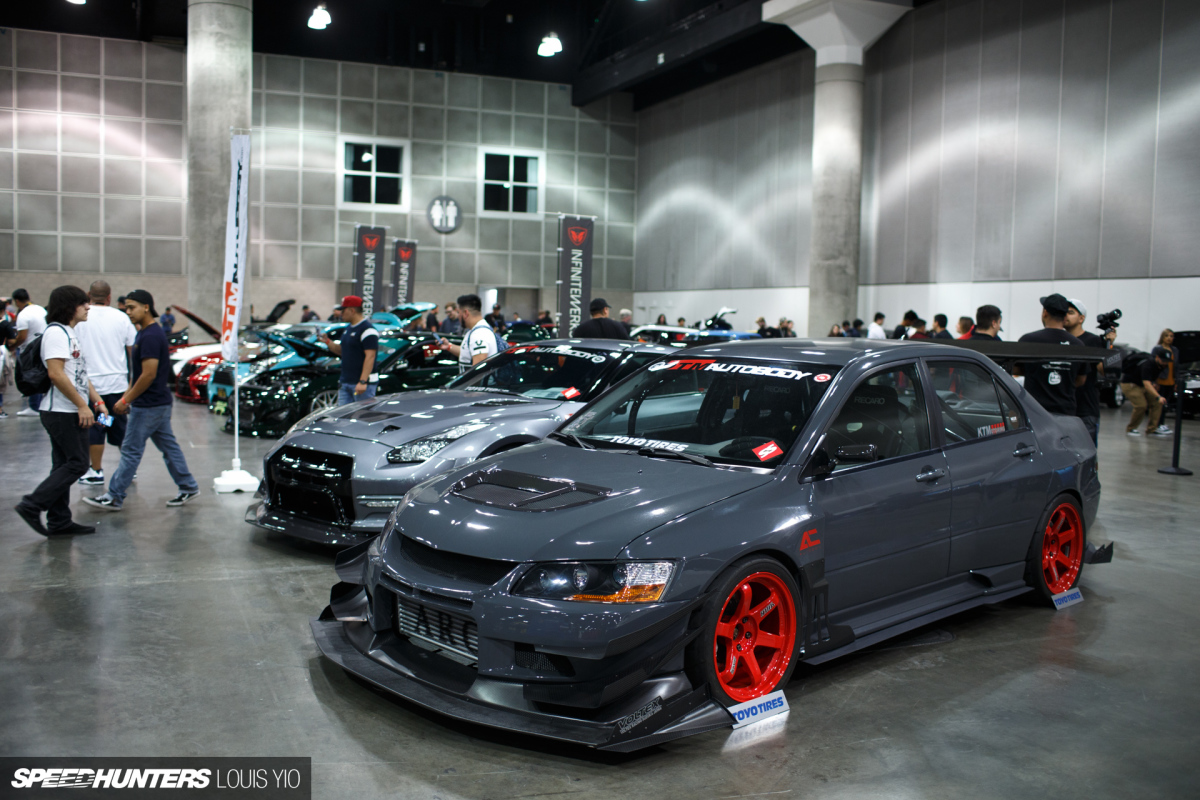 Some of you may remember Kelvin Hsiu's Evolution IX MR that we featured earlier this year. This still rates as the most insane Evo I've seen in person.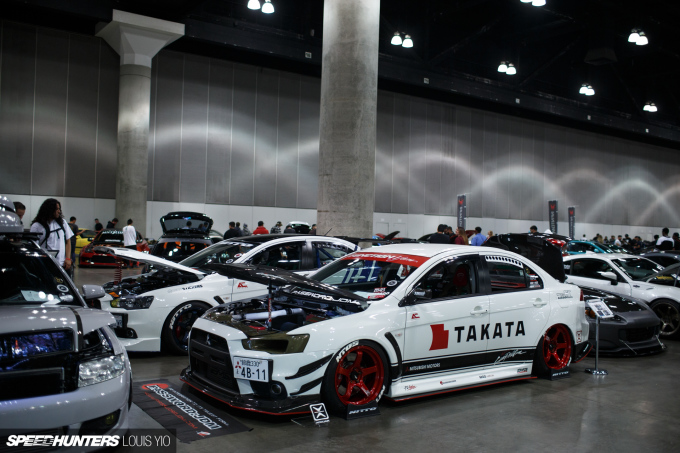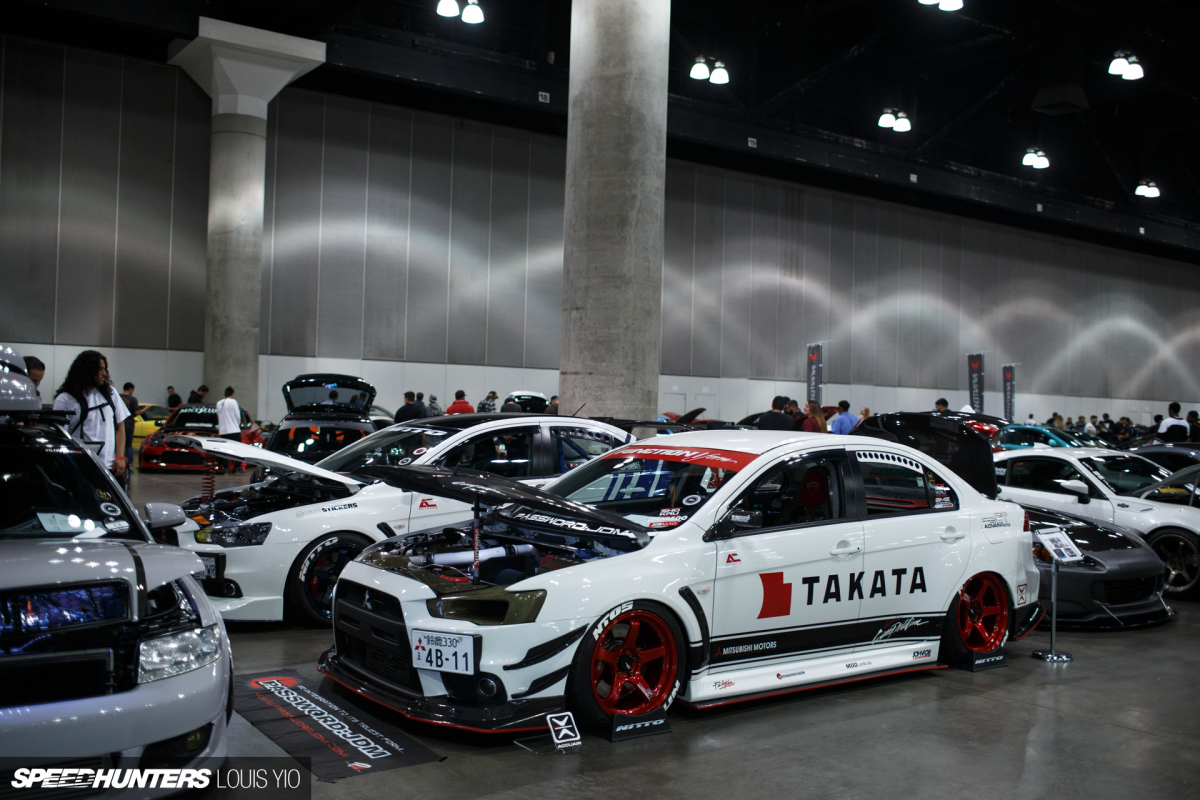 Sticking with the high performance Lancer for a moment, I've noticed more and more Evo Xs around LA recently. Given that production of the long-running Mitsubishi model has now ended, I wonder if people have been snapping them up before the prices inevitably rise?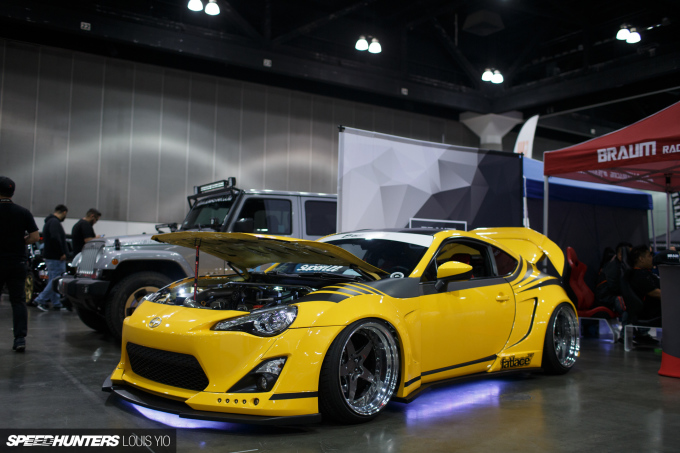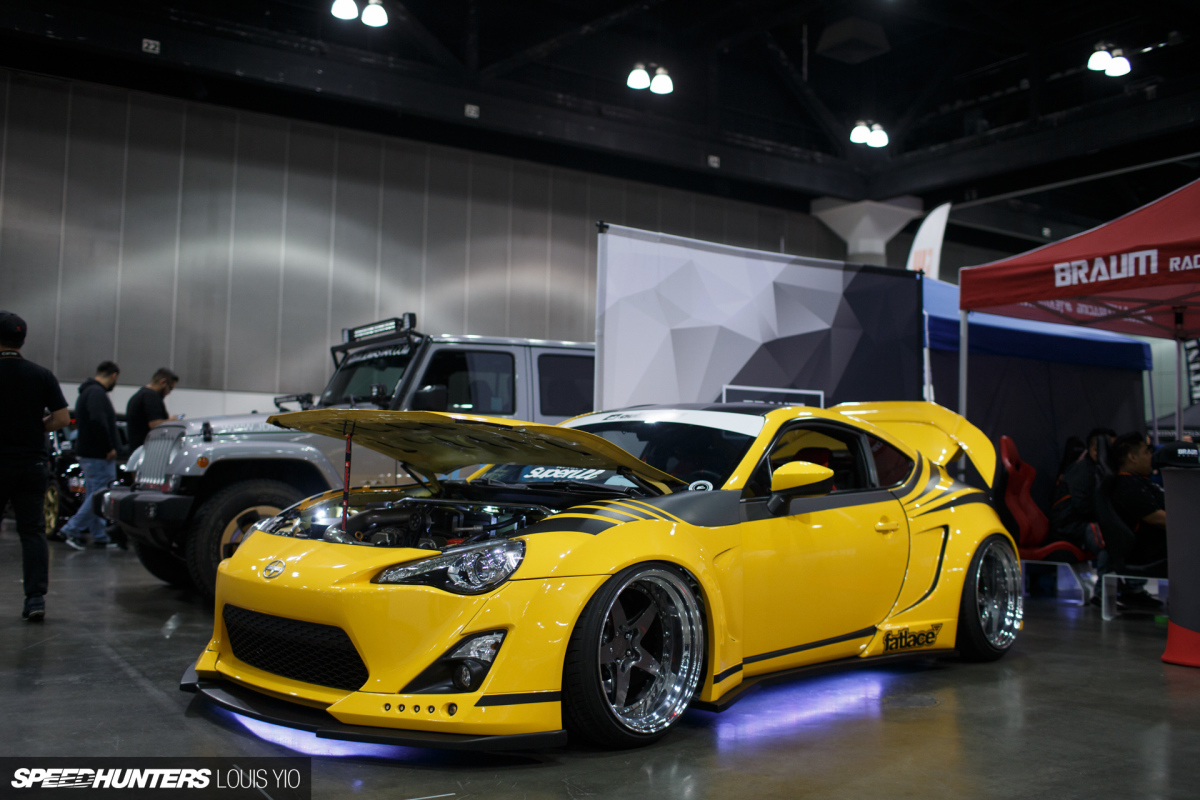 Although it's still relatively new, the ZN6 (and ZC6) has already lent itself to every type of build that I can think of. I've seen them as garage queens, rally weapons, drag warriors, drift machines, and surprisingly even tow cars among other things. To me, this is the platform that revitalized the tuner scene, which felt like it was fading away in the years prior. It's also the model that shot Rocket Bunny's fame through the roof here in LA. I'm honestly not joking when I say I see at least two or three TRA Kyoto-kitted ZN6s/ZC6s a week just driving around town.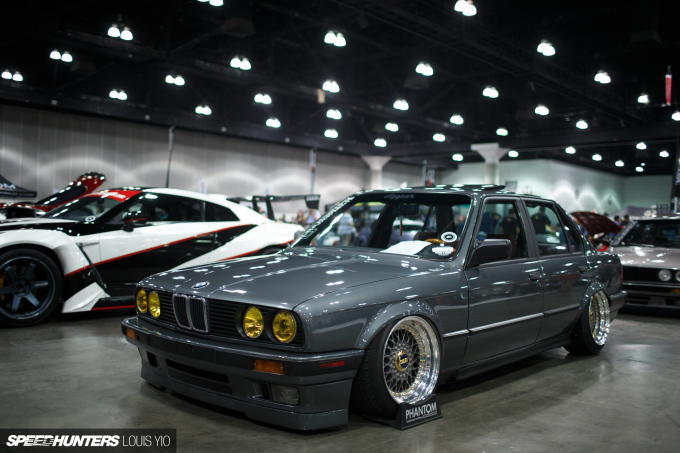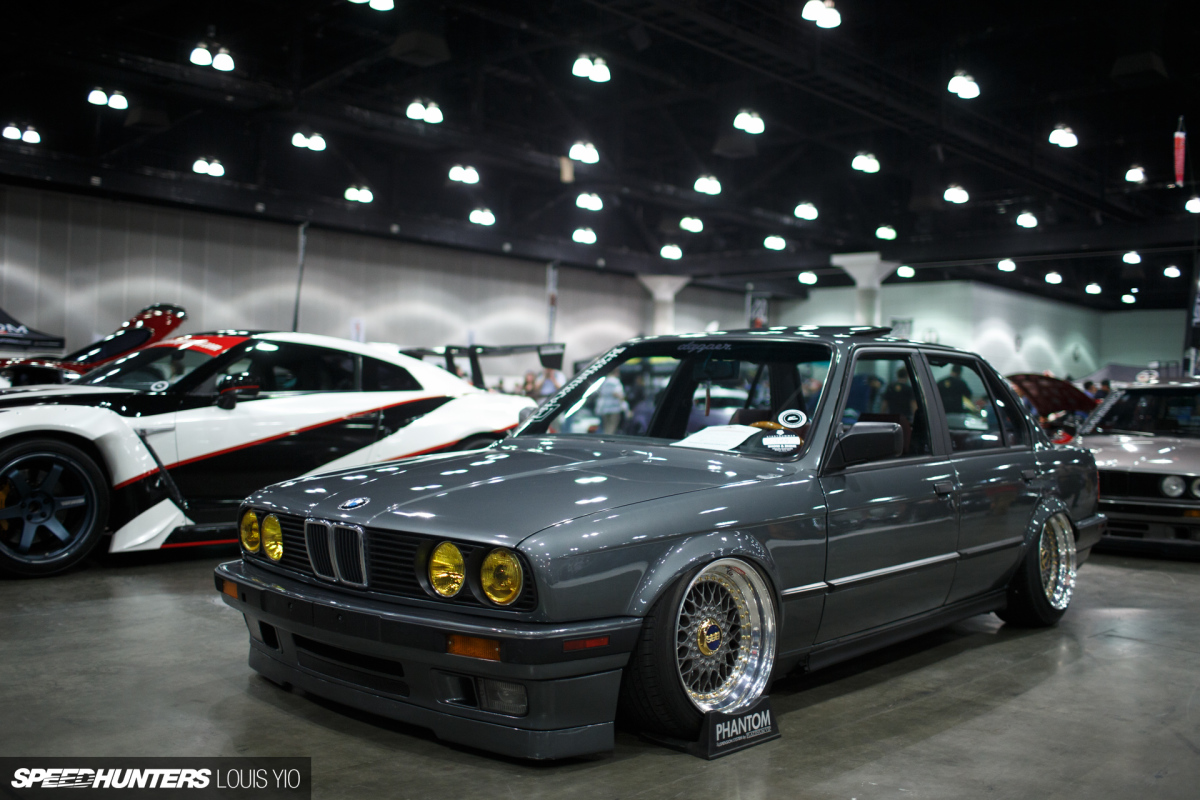 One thing that intrigued me at AutoCon was the number of E30s on display, which was a lot more than I had expected. I'm definitely used to seeing late-model BMWs (E90 and newer) modified with both styling and performance upgrades – sometimes both – but while E30s are commonplace on the streets, I can't say I've seen too many of them built up to a show standard in this part of the world. Maybe times are changing…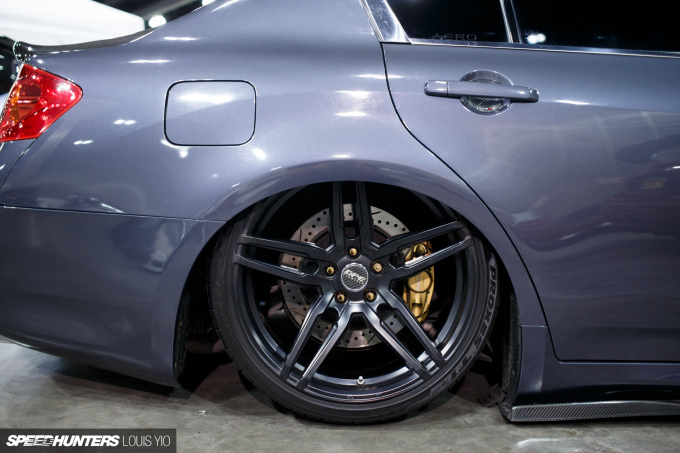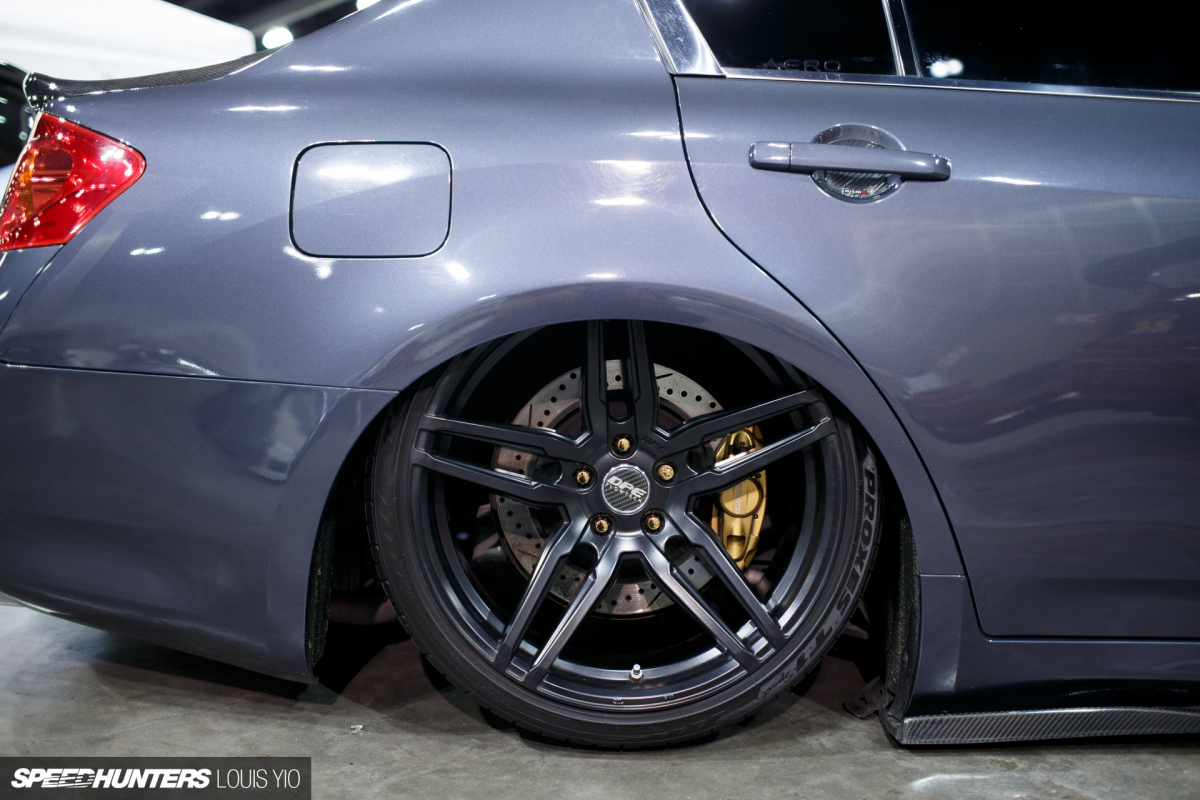 I've also noticed that people are starting to stray away from the super-slammed look, with more of a move to aggressive fitment. That's not to say that I didn't see more than a few sill-scrapers at AutoCon LA.
Big-ass, race-inspired GT wings! Are they here to stay? I think so, and I'm definitely not complaining about it.
Some of you might be wondering about the awesome TCP Magic-kitted FD3S Mazda RX-7 sitting on RAYS Volk Racing TE37SL Black Edition wheels in the cover photo and above. It's owned by Jonny Grunwald who is Bulletproof Automotive's former project manager, and you can expect a full feature very soon.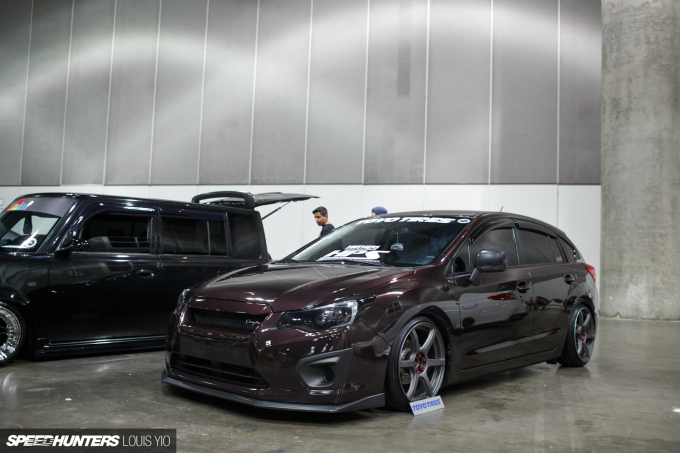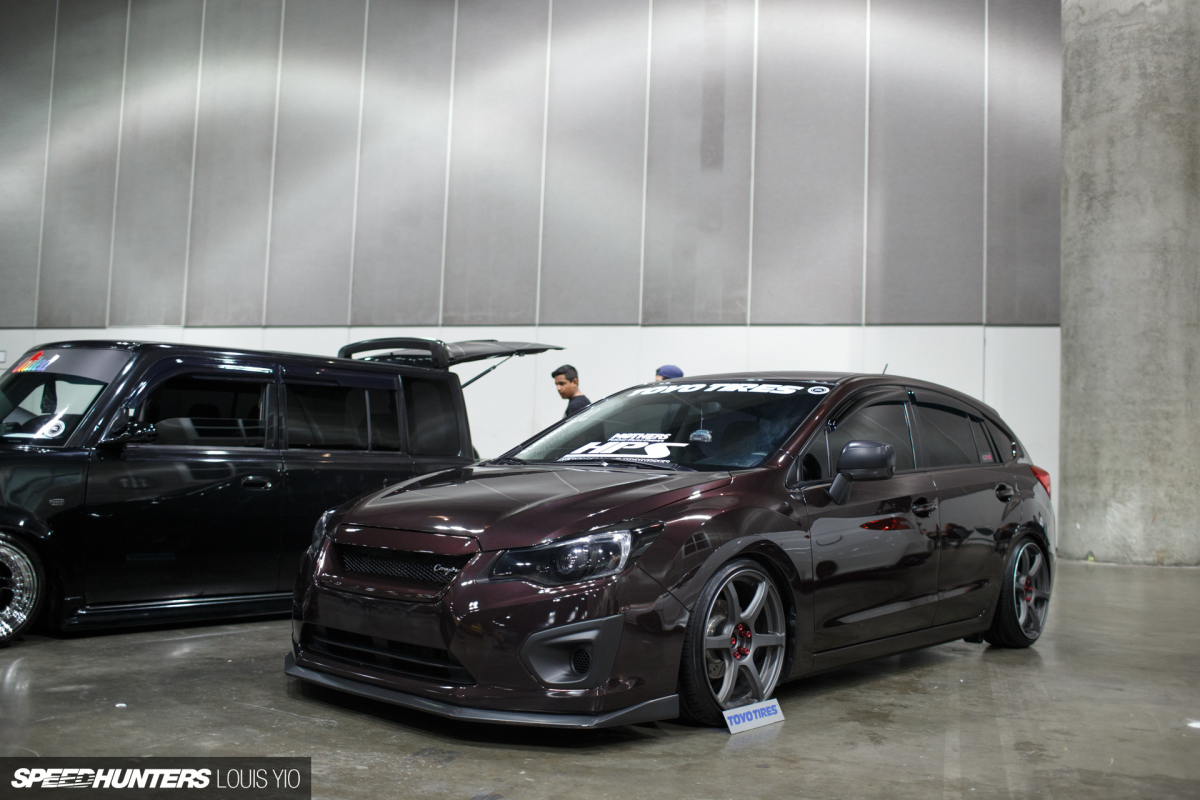 It's always nice to see builds based on less popular modifying platforms, like this fourth generation Impreza. While the WRX variant is an excellent looking car, I really love the headlights on these base Imprezas. Disclaimer: I also own one as a daily.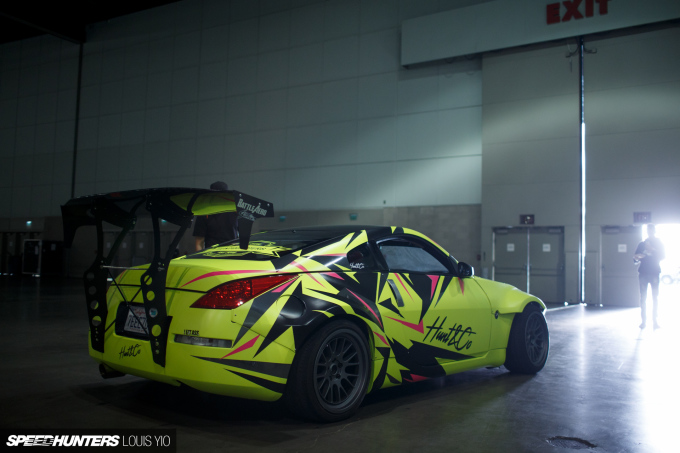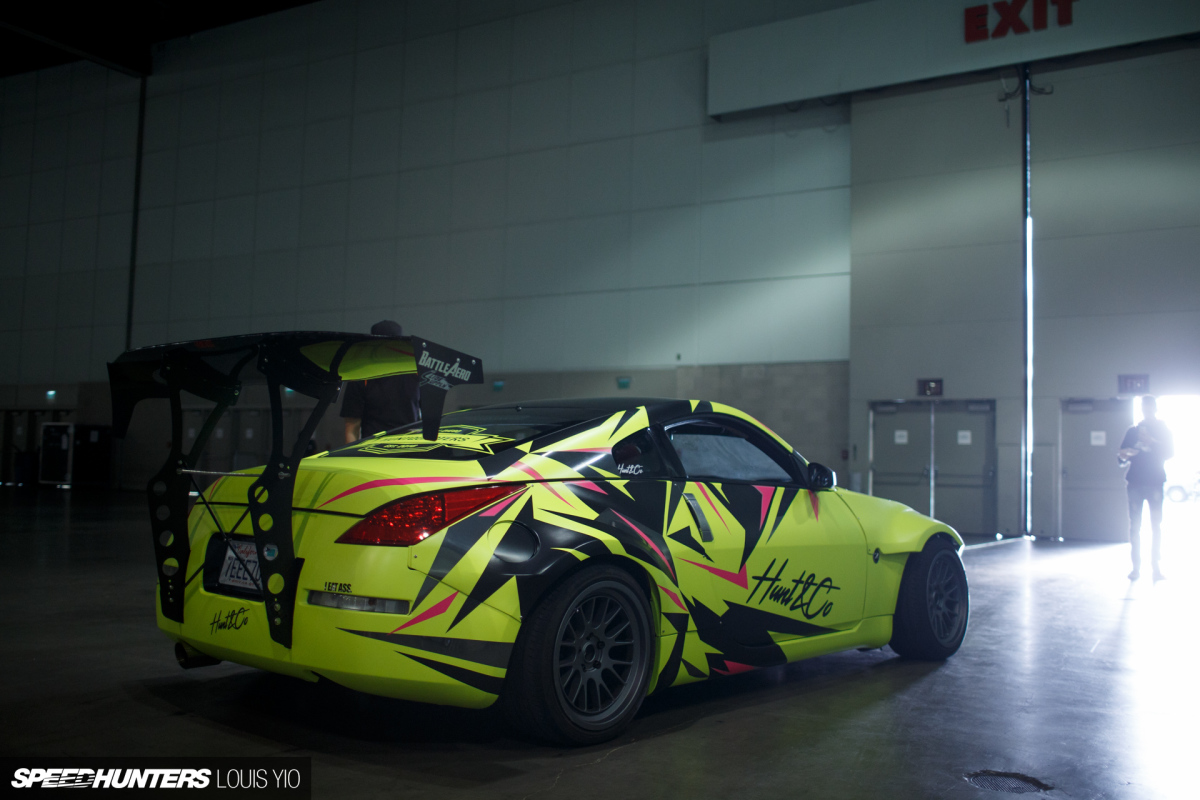 If you spend any amount of time on YouTube watching car-related videos and vlogs, you'll probably know of TJ Hunt and his supercharged Subaru BRZ, Nissan R35 GT-R Black Edition, and 350Z pictured above. The line to get a picture with him rivaled that of the one to get into AutoCon.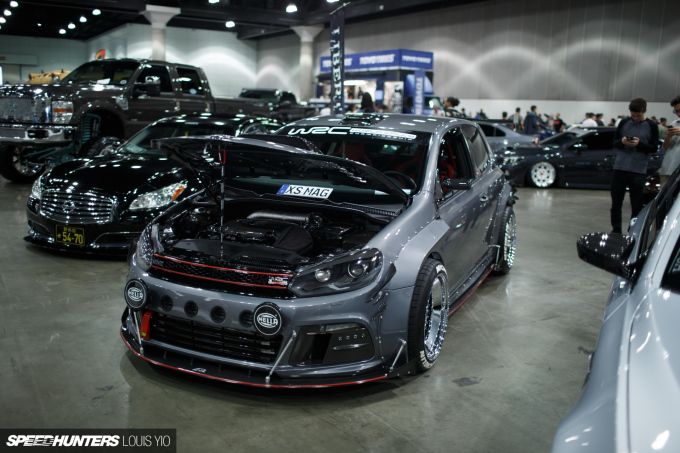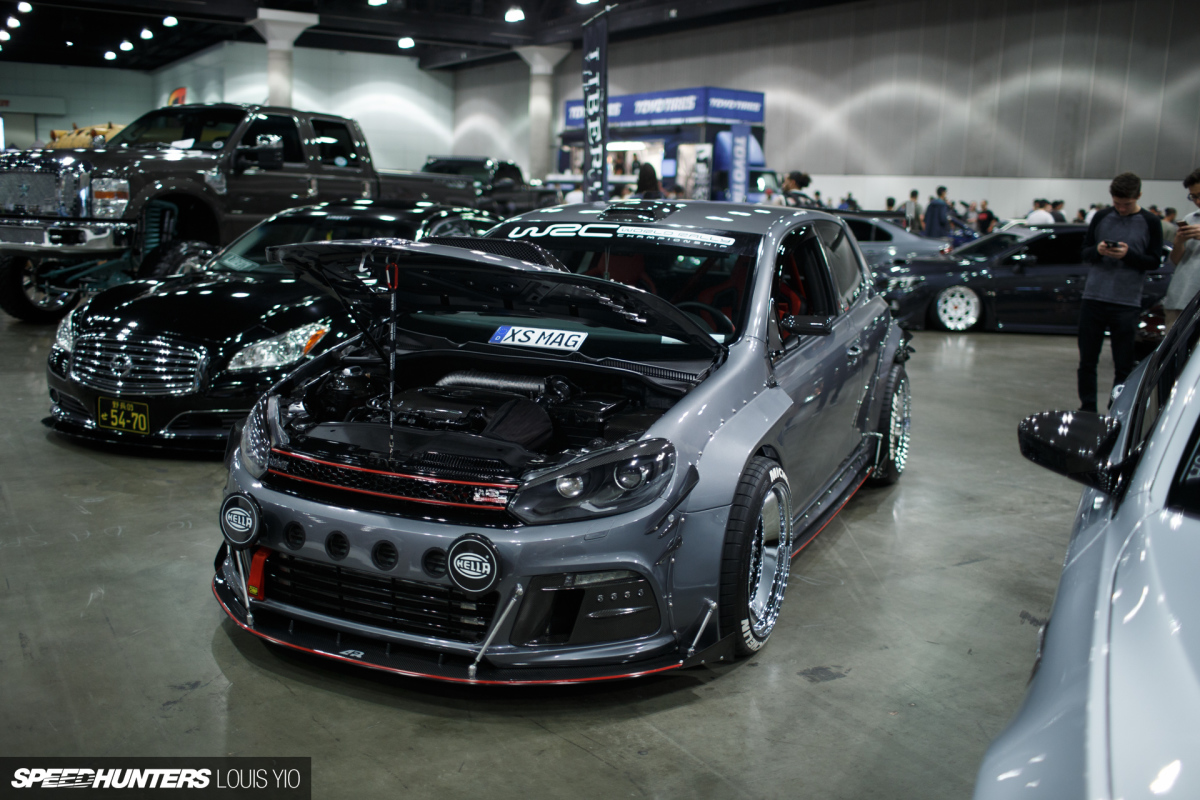 The most unexpected find of the day was this Golf, which was on some other level of cool. Yes, I think it's pretty badass. I like the WRC theme the owner has going on, and the raw bolt-on nature of its exterior modifications give it some added aggression.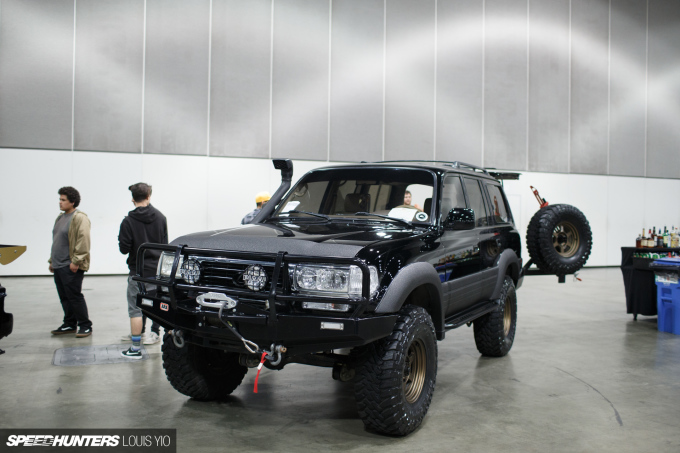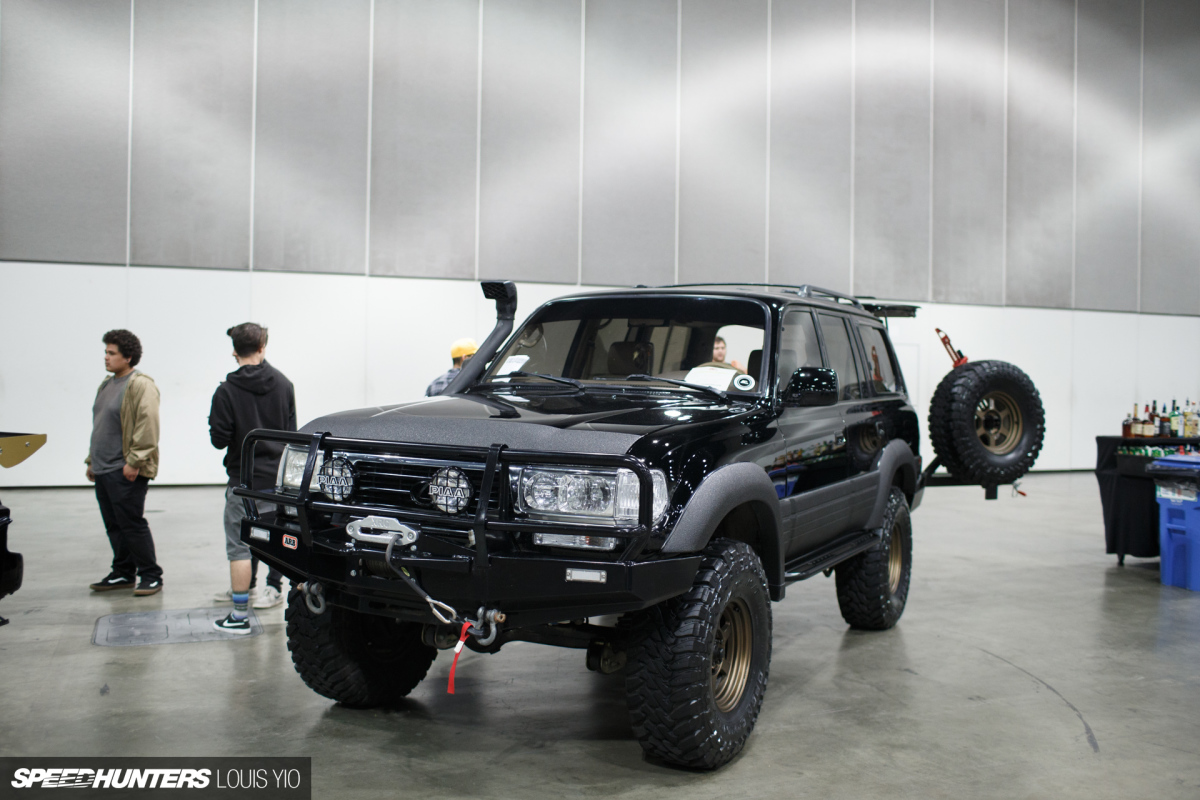 Another one of my favorites was this FJ80, or more specifically, the Lexus LX variant which I never get to see. Sitting on classic bronze Volk Racing TE37X Progressive Model wheels, there was almost too much awesomeness for my peasant eyes to take in.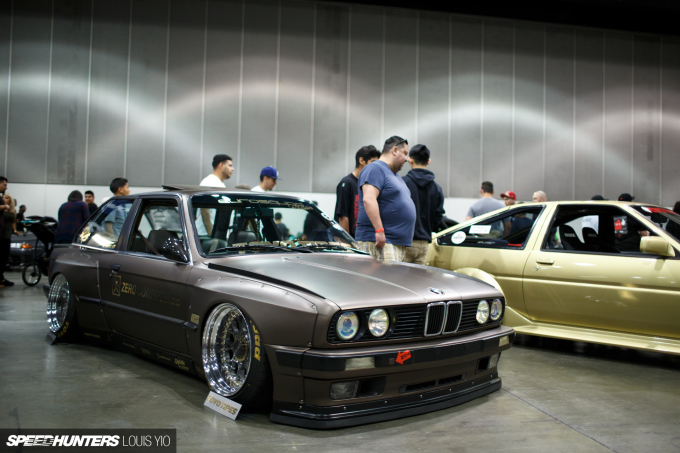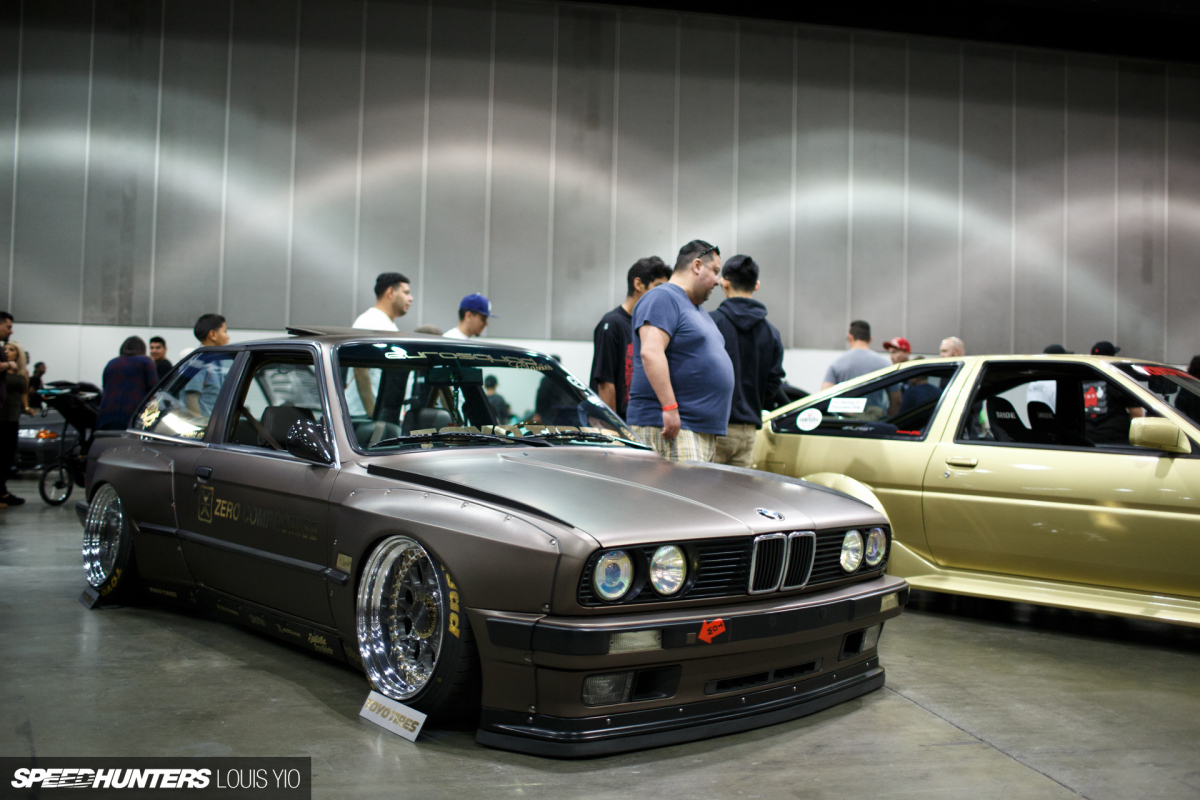 I'm really liking Kei Miura's new Pandem kits as they have a more angular look as opposed to the original Rocket Bunny design, and therefore work better on older cars that have a boxy look to them, like the BMW E30.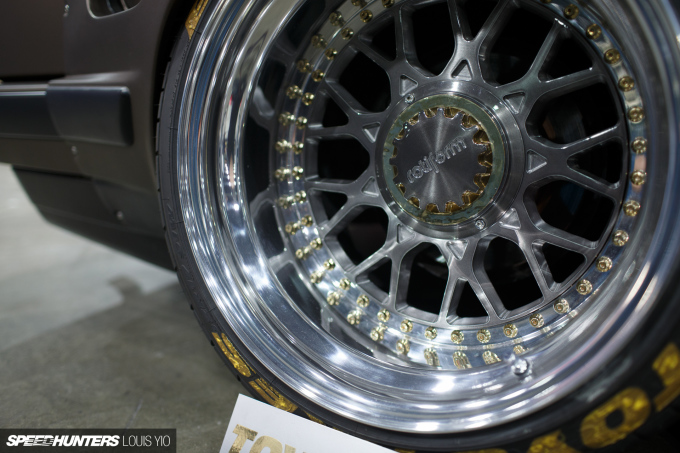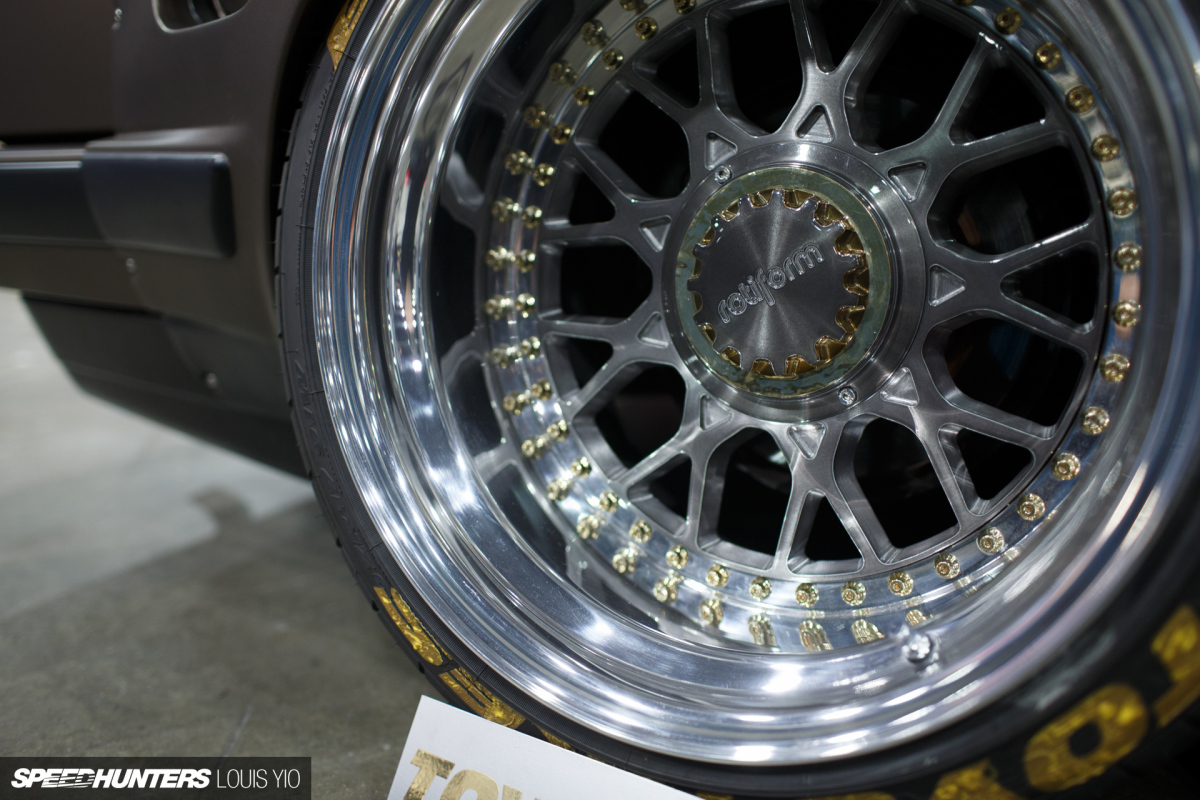 This particular E30 build had a lot going for it, including a set of super-clean Rotiform RSEs.
The modifications flowed through to the interior which included a gold-colored half-cage, vintage Recaro seats and a wood-rimmed Nardi steering wheel with matching shift knob.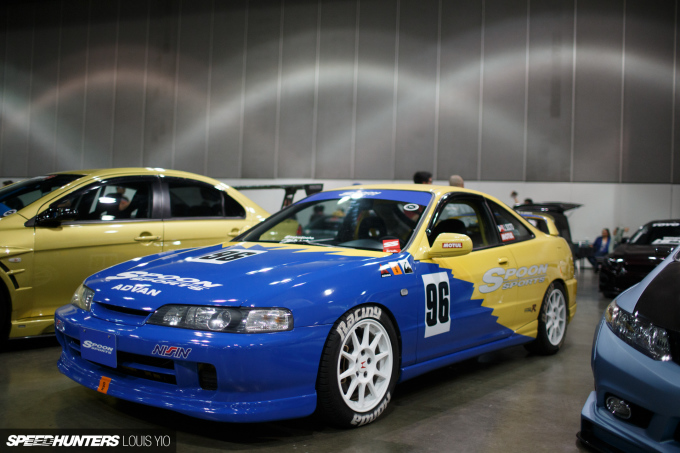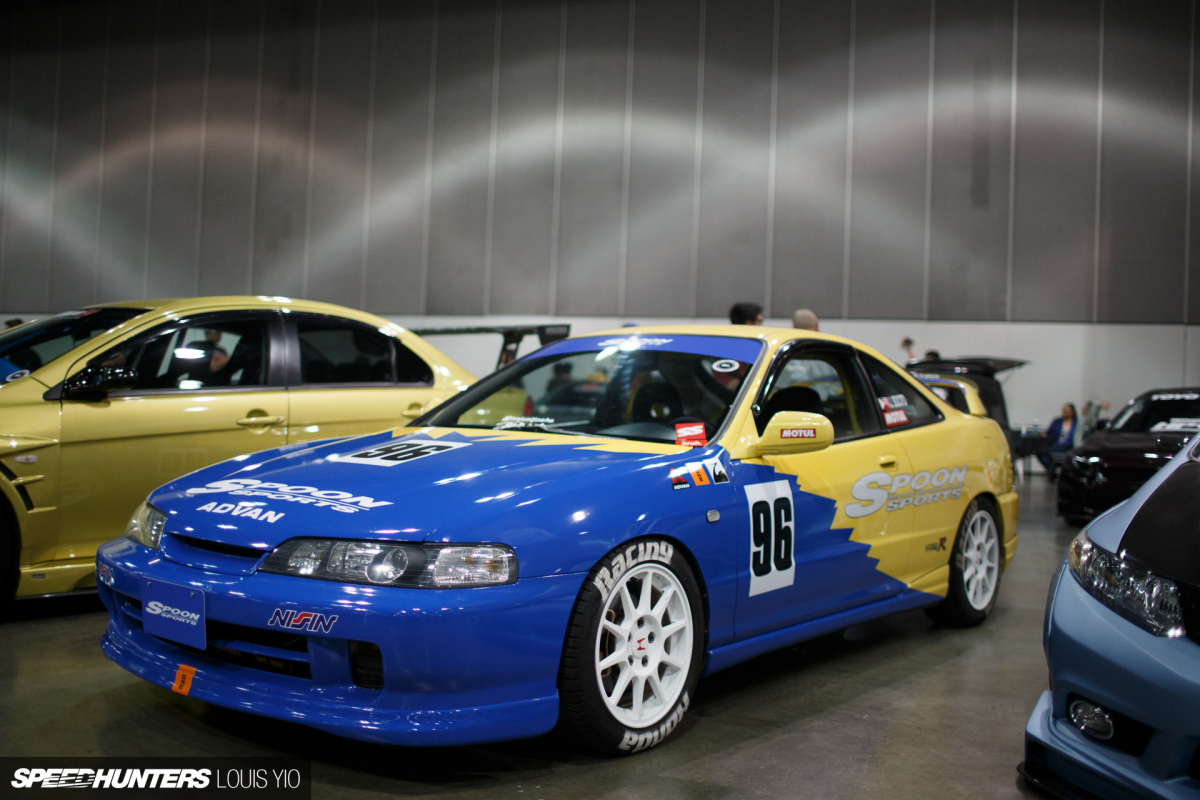 If there was one surprise above all at AutoCon, it was the distinct lack of Hondas. Given they were once the mainstay of the LA scene, I wonder where the love's gone? I also wonder with the release of the new Civic Type R whether we'll see a resurgence in popularity.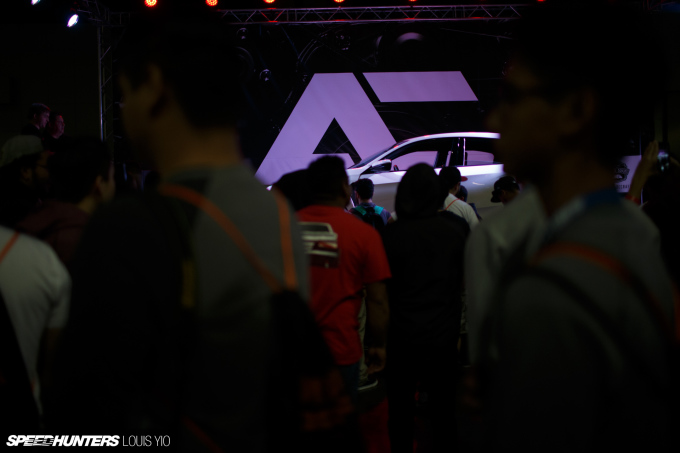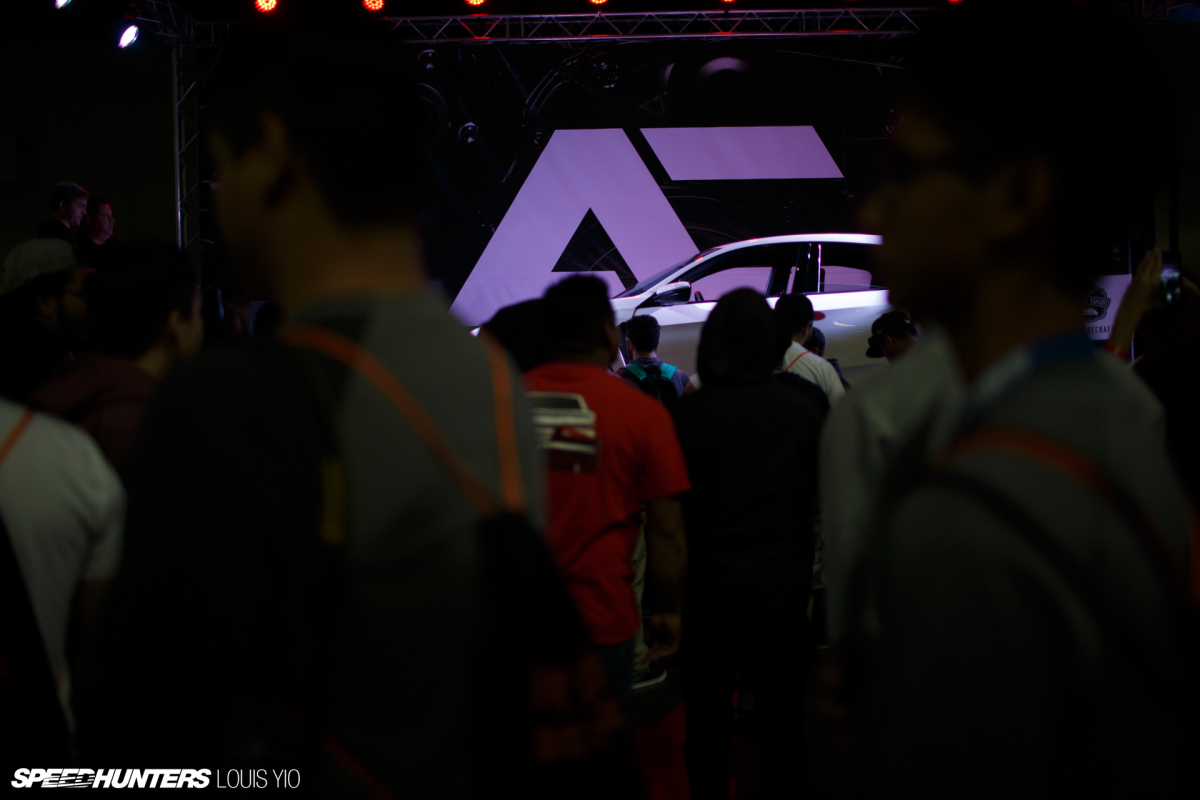 Speaking of, Honda was actually at AutoCon with the new car, as recently unveiled in production form at the Geneva International Motor Show. The fact that it was mobbed all day could be seen as a positive sign.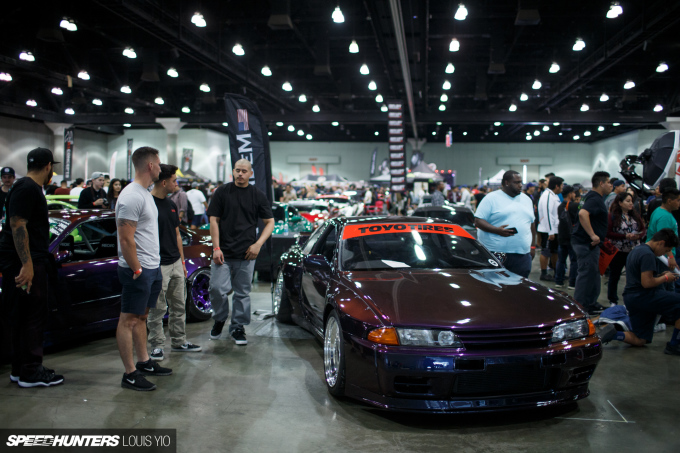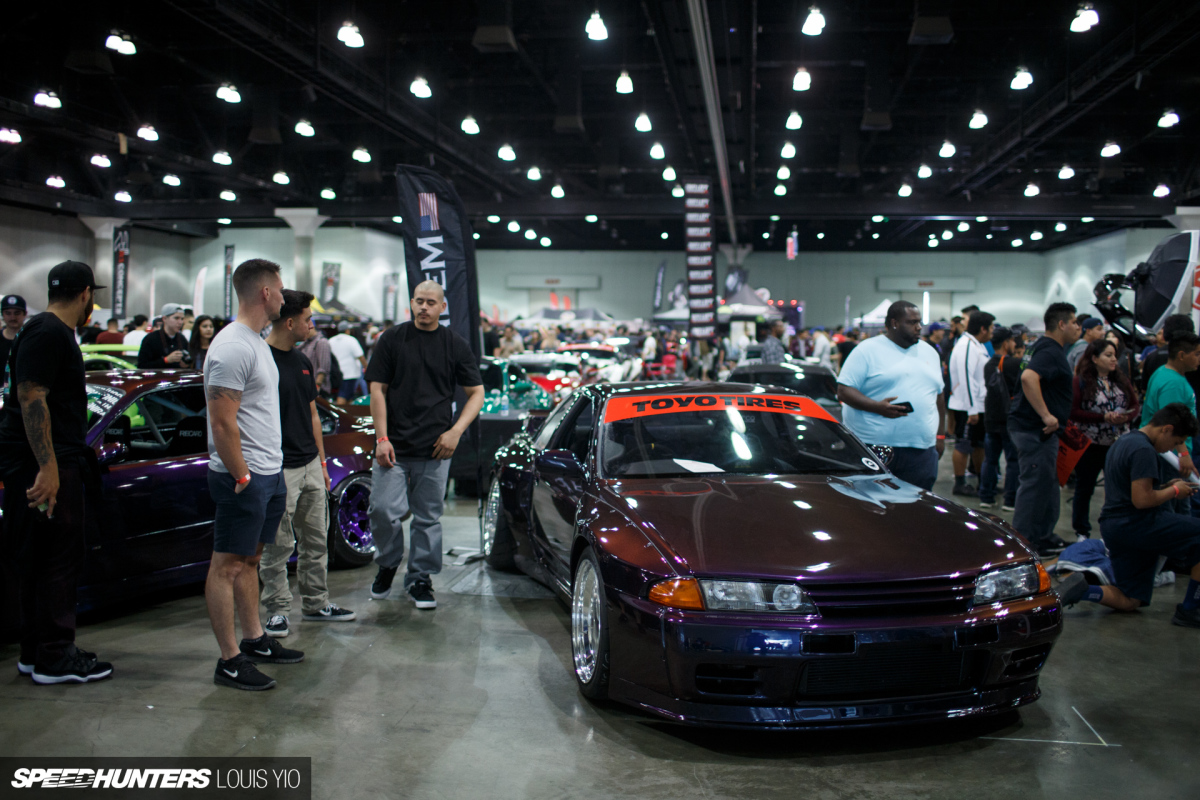 LTMW probably pumps out more TRA Kyoto-kitted cars than anyone else in the SoCal area, and they were at the LA Convention Center to debut their new Pandem R32 GT-R build. Needless to say, the Skyline attracted a lot of attention. The question has to be asked though: given the collectability of the BNR32 GT-R now, would you be brave enough to go down this customizing road?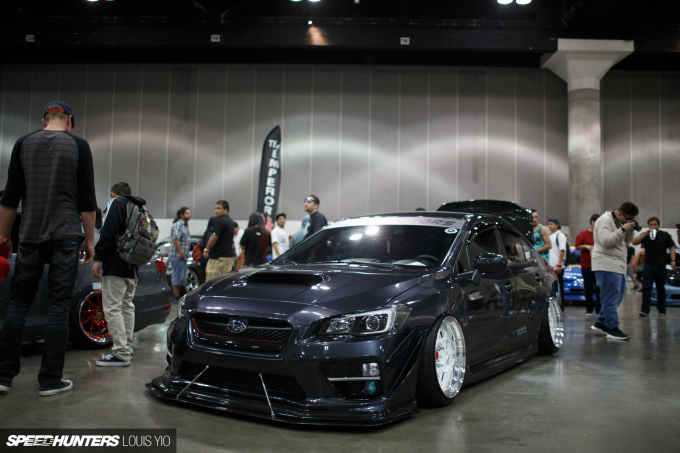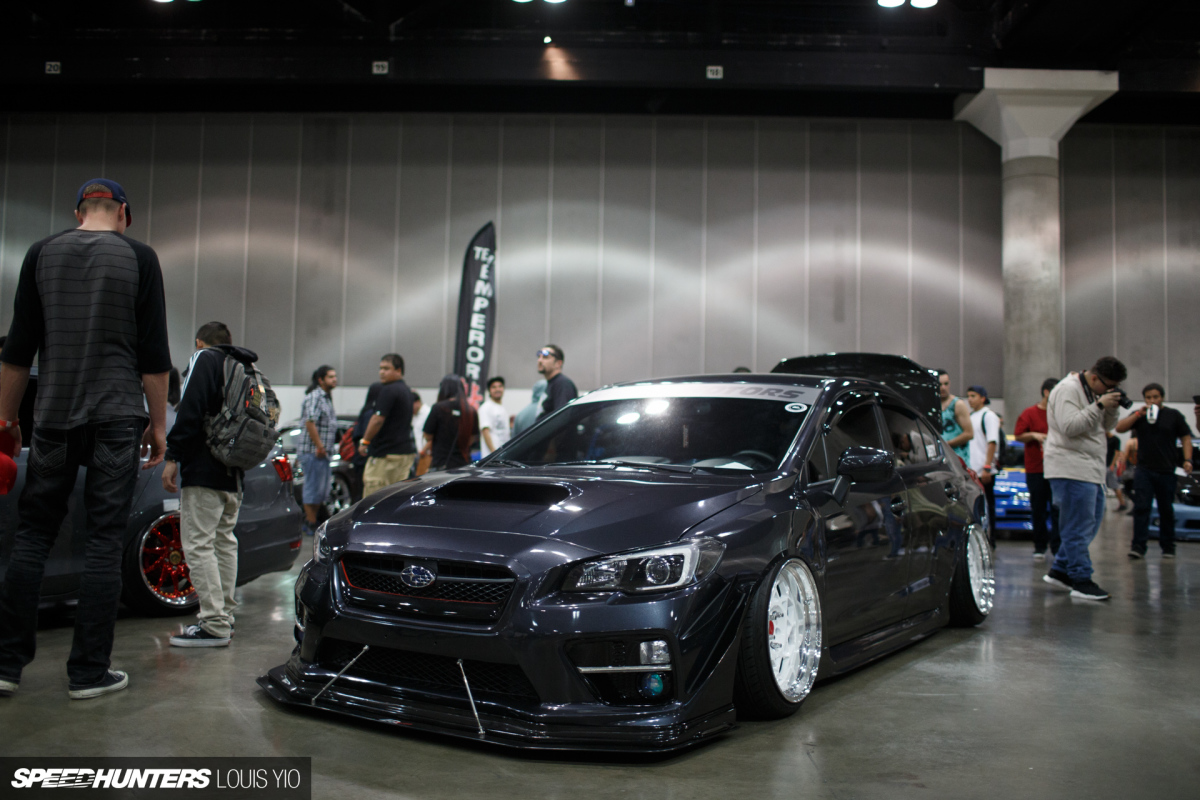 With Subaru being the fastest growing manufacturer in the US, it's no wonder that we're seeing more and more WRXs around the place. To put it into perspective, they sold just over 170,000 vehicles in the year 2000 and just over 615,000 units in 2016.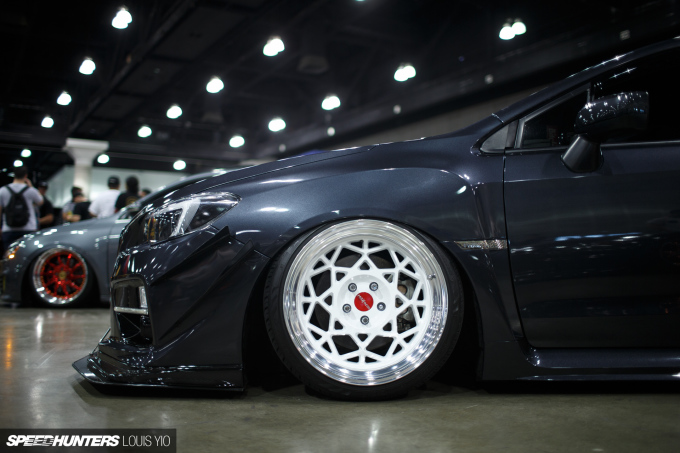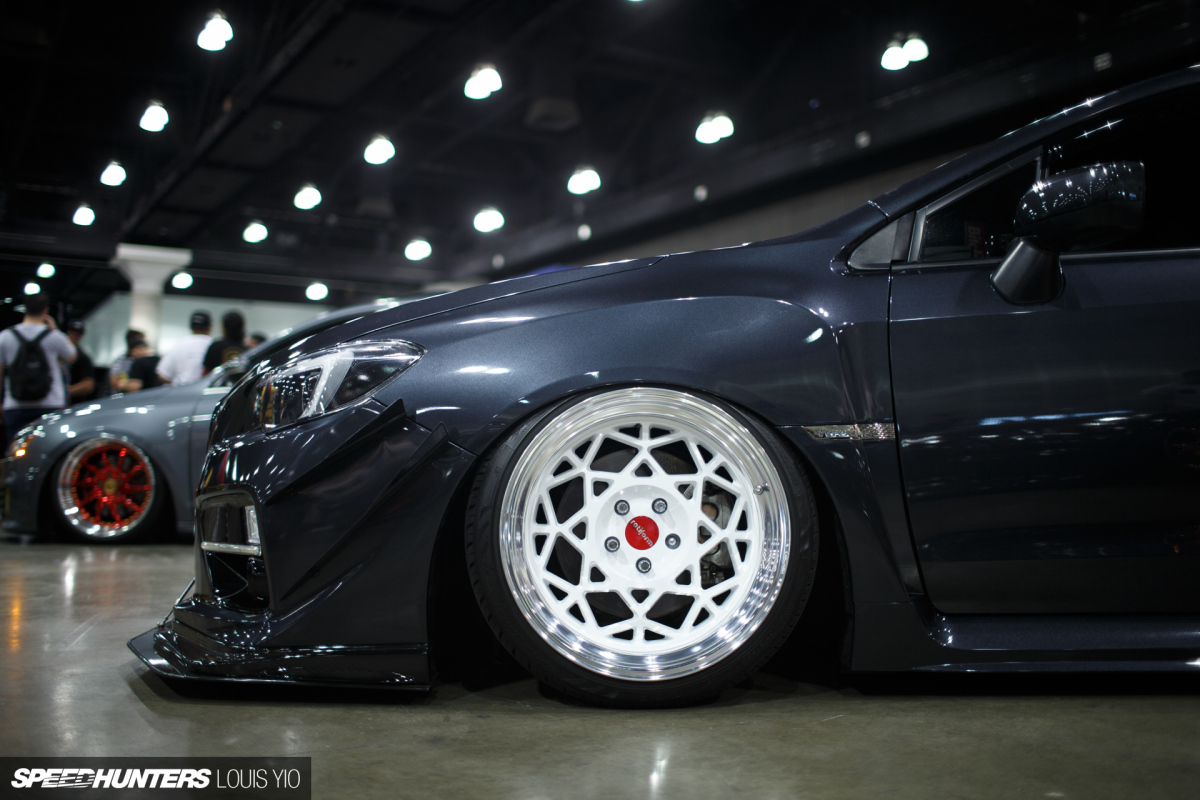 I like the somewhat subtle approach taken with this particular car, utilizing and embracing the factory lines instead of using a bodykit.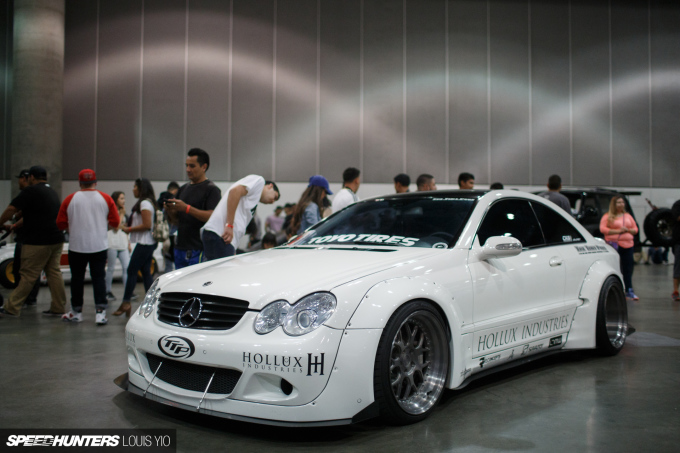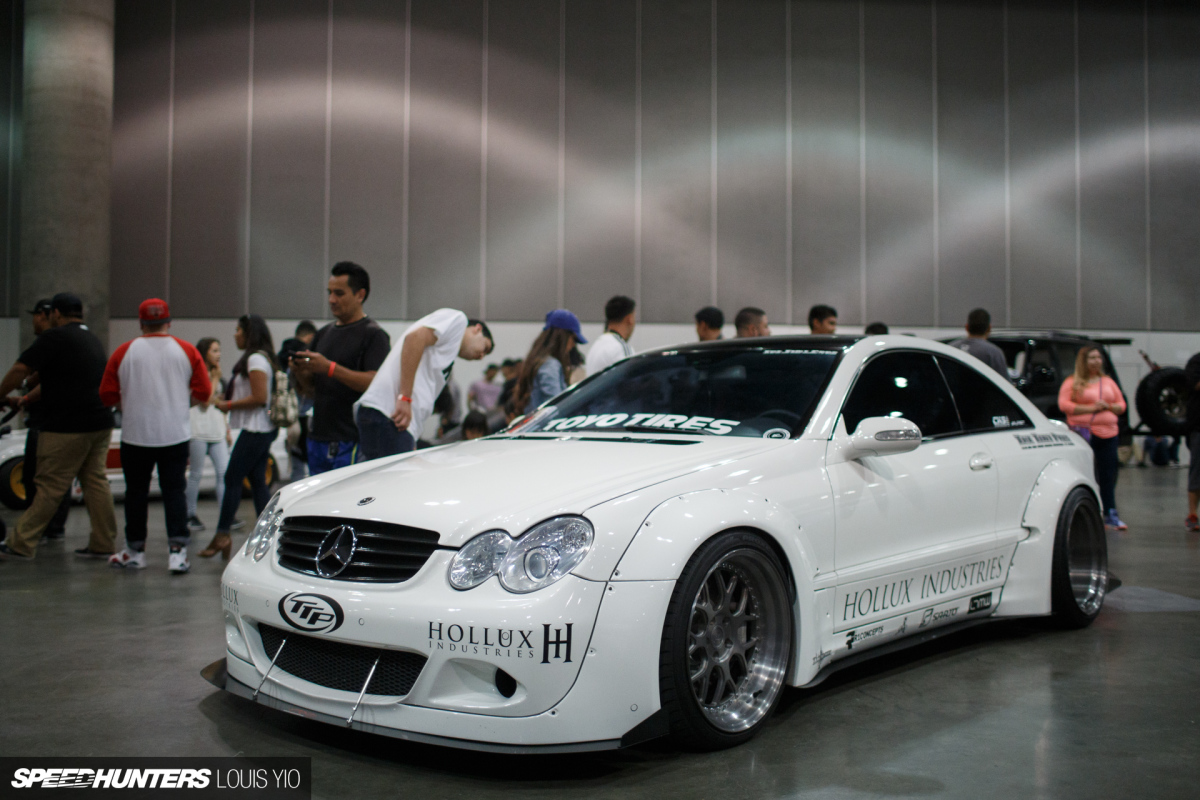 Ah, overfenders… Don't get me wrong, I really do think they have a place, and we've seen some amazing builds that perhaps wouldn't have had the same impact if they weren't wearing the opinion-dividing style of wide arches. The issue that I see though, is that because they've become so popular, we're starting to see some major knock-offs.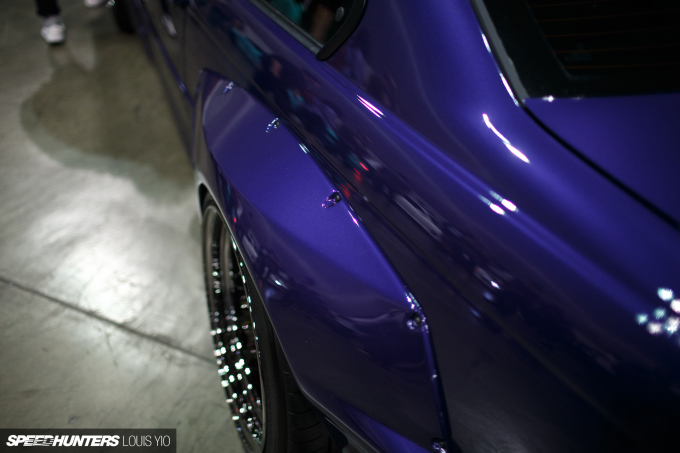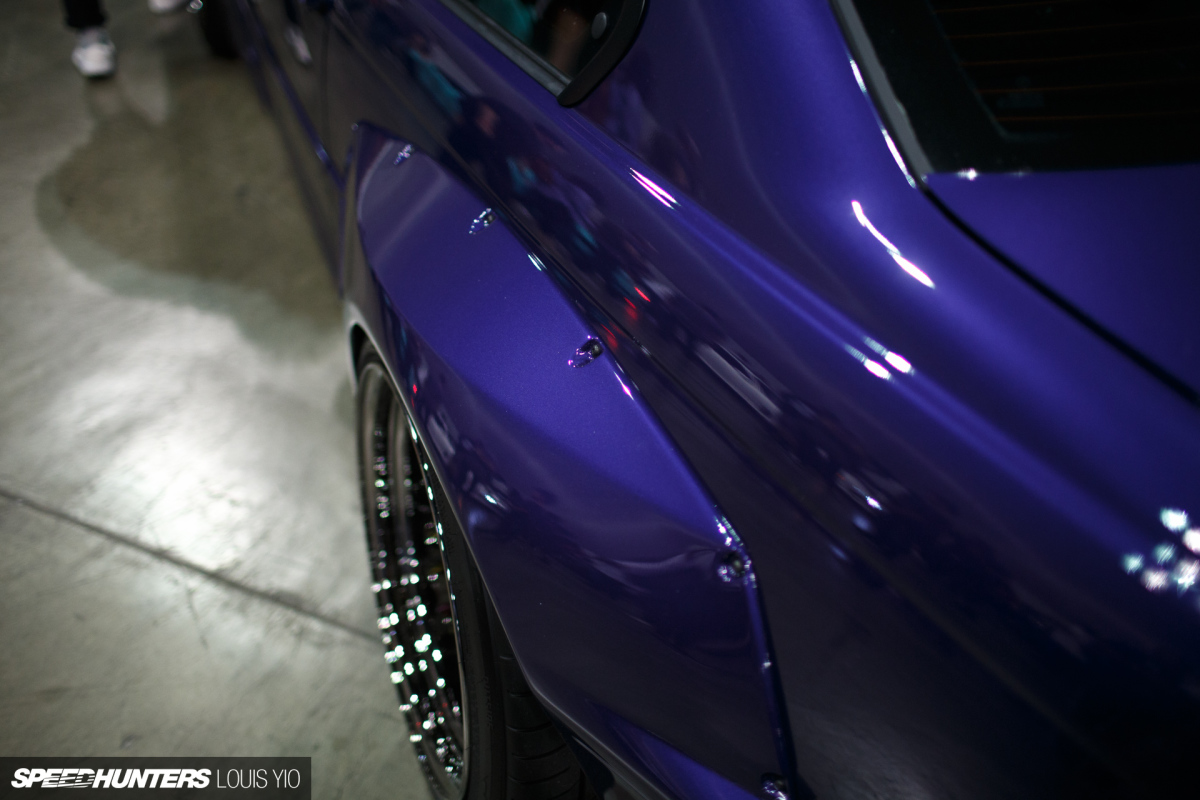 Some look great because they flow well with the car's original lines, but other times they don't. What do you guys think?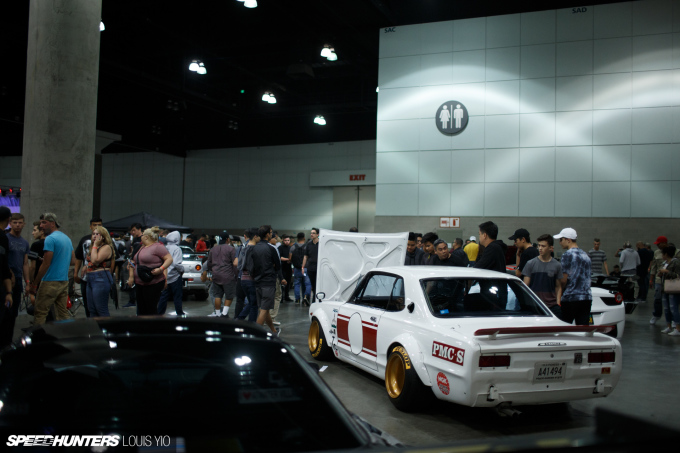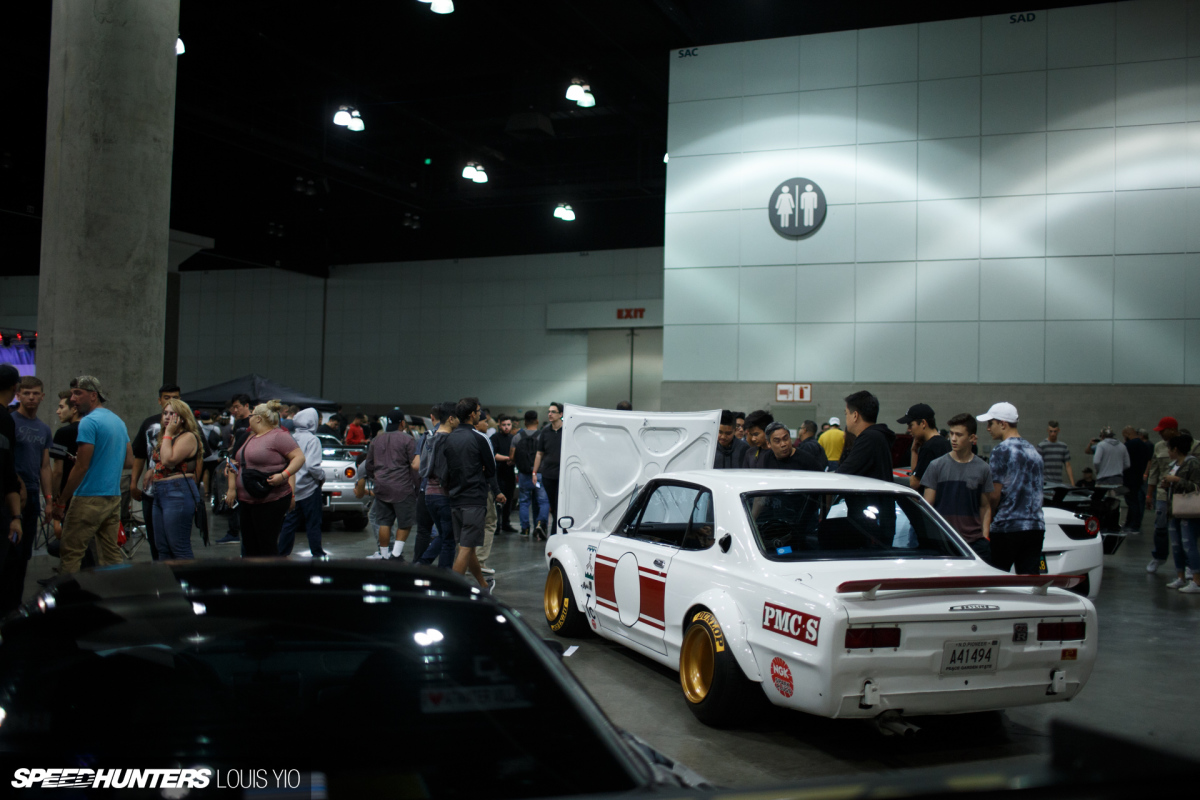 This lone Hakosuka was like a people magnet for all the right reasons, though. Its owner, Joel Tan, also has a certain TE27 Corolla that we featured early last year in his garage.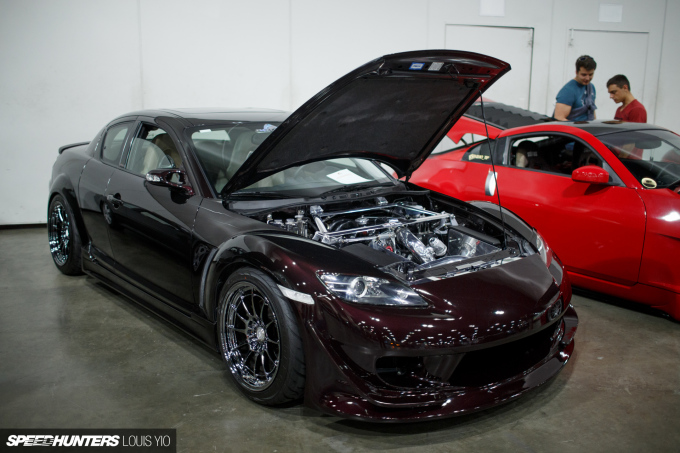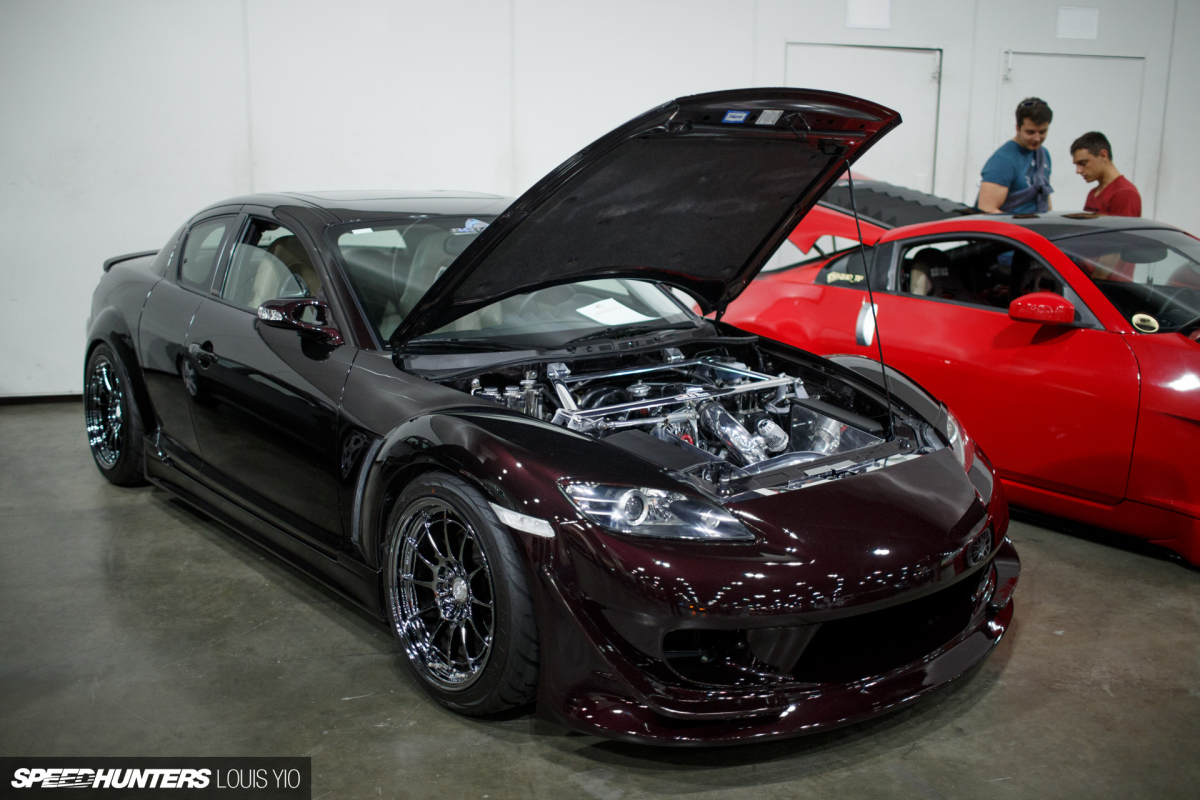 Despite there being no shortage of them, the RX-8 can't be seen as a popular tuner car modifying base, so when I saw this ultra-clean build I had to snap a few images and include it in this post. Hopefully Mazda will hear our cries for another rotary-powered performance car in the future, preferably along the RX-7 lines.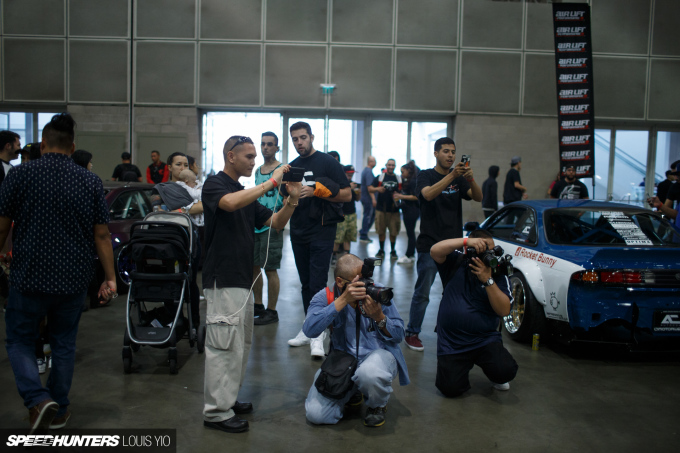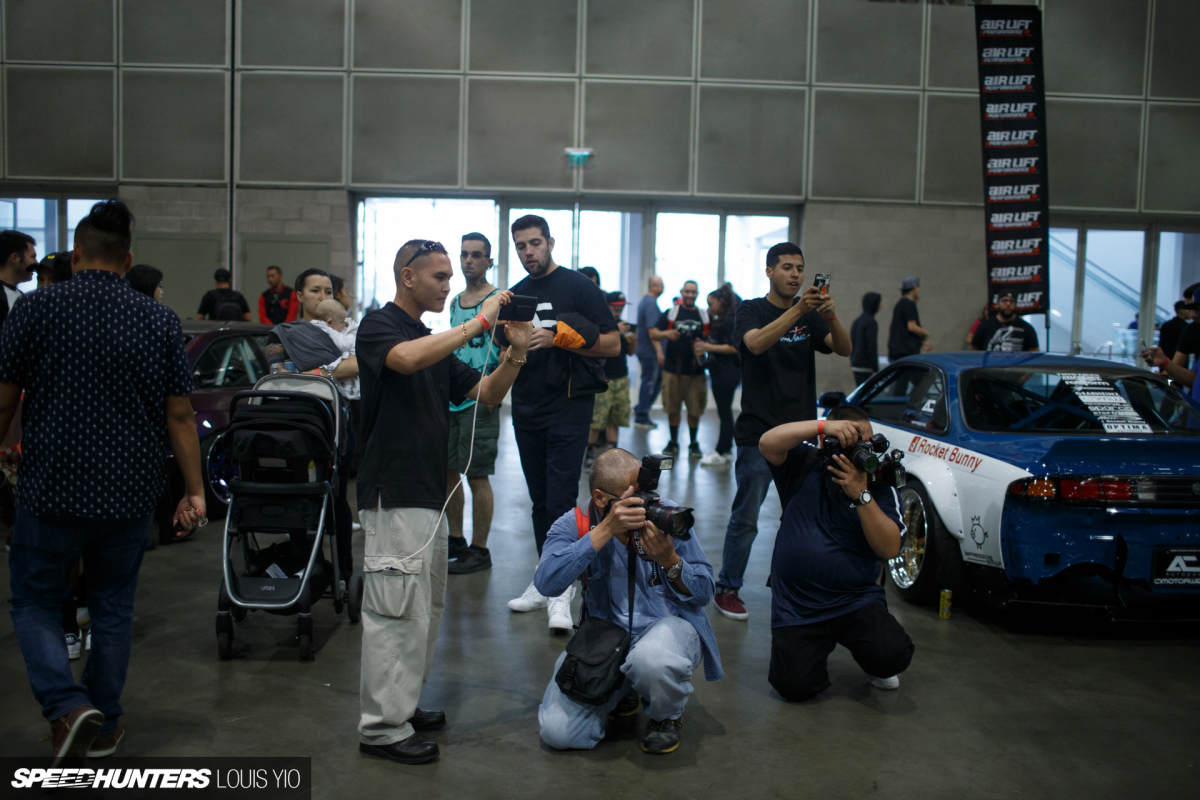 I really wasn't sure what to expect from AutoCon LA, but I'm glad I came along. I'm also happy to report that Los Angeles is indeed still the epicenter of tuner car culture – in my humble opinion anyway.
There's another AutoCon show coming up this weekend as part of the Formula Drift season opener in Long Beach, and with Paddy headed along to that event, I'm interested to hear his thoughts on our cars. In the meantime though, stay tuned for a few spotlights I have coming up.
Louis Yio
louis@speedhunters.com
Instagram: lusciousy