Exploring JCCA
January is a great month for Speedhunting in Japan. From Daikoku's New Year gathering to Tokyo Auto Salon (and all the associated night meets) to HKS Premium Day – there's barely a free Saturday or Sunday if you're a car enthusiast.
But there's one event that gets the nerdy otaku in me excited the most: the JCCA New Year Meeting held on the last weekend of the month.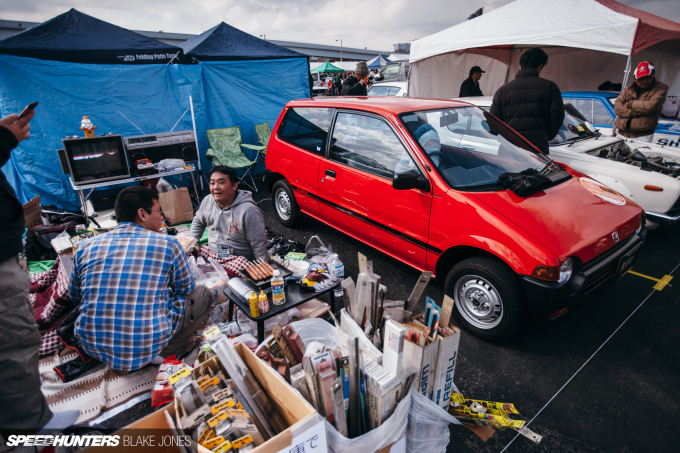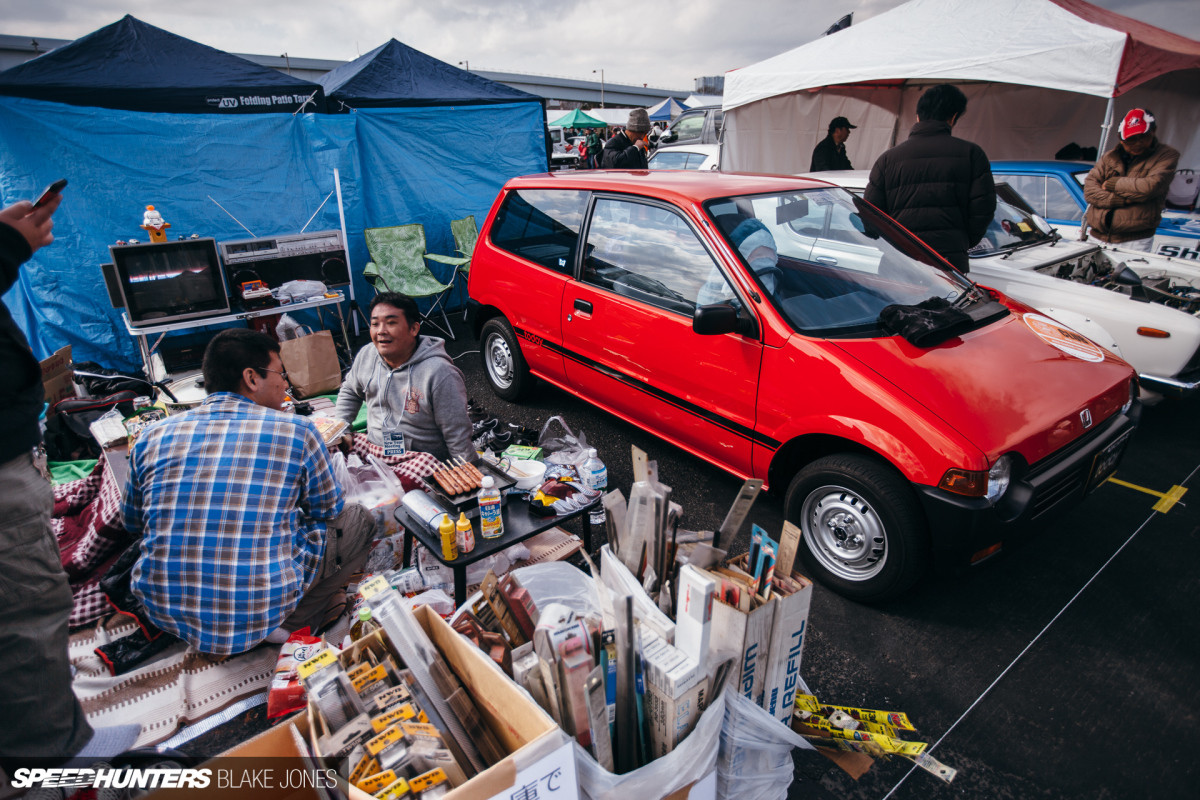 For the uninitiated, JCCA stands for Japanese Classic Car Association, one of Japan's largest enthusiast organisations. JCCA is responsible for bringing together all kinds of vintage car fans at race events and slower-paced meets like this event, held on the same weekend in January every year in Tokyo's Odaiba district.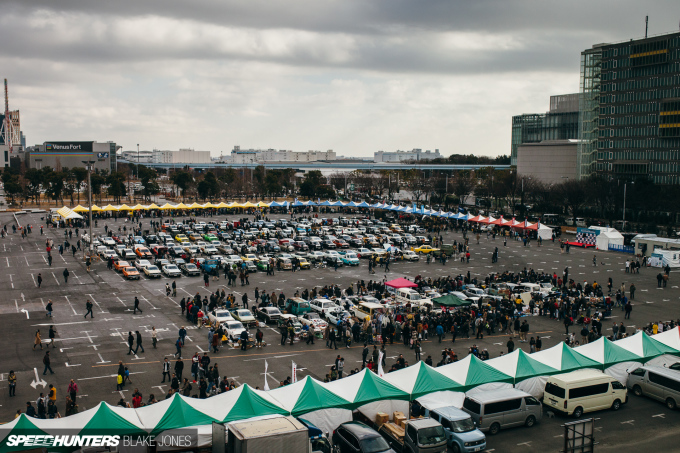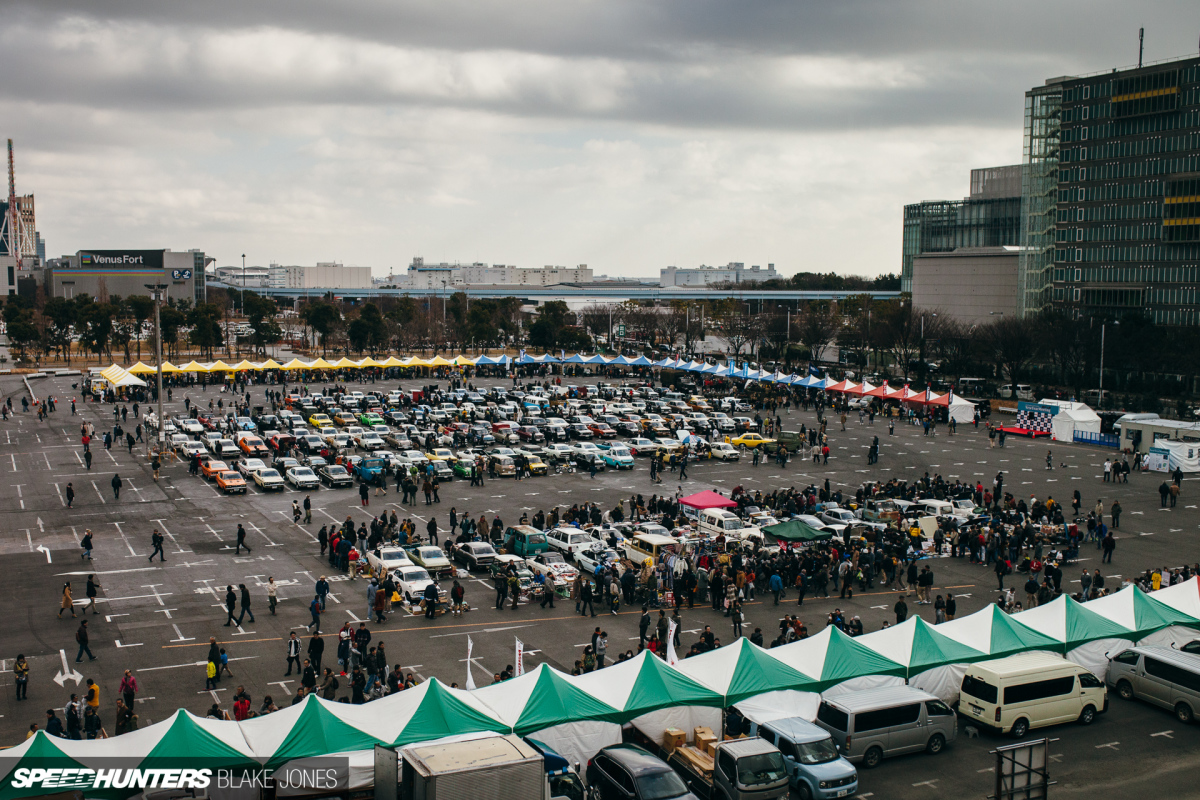 Despite the continuous surge in interest in vintage Japanese automobiles, the turnout in 2017 did seem slightly down on previous years (this photo shows about 50 percent of the cars on display, the other half out of frame on the left). As you're about to see, though, a little less quantity didn't mean a shortage of quality!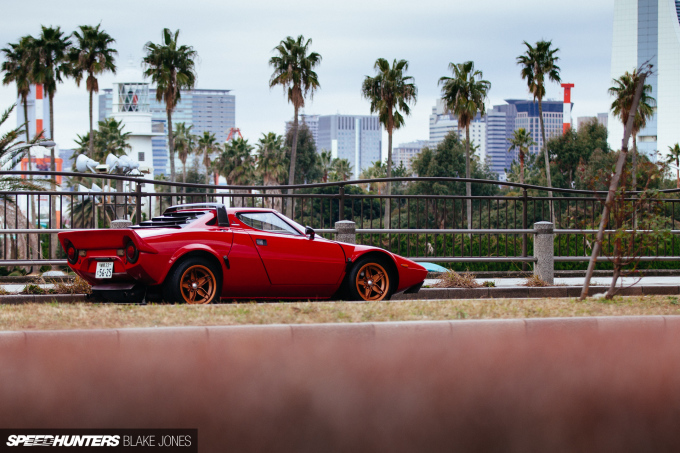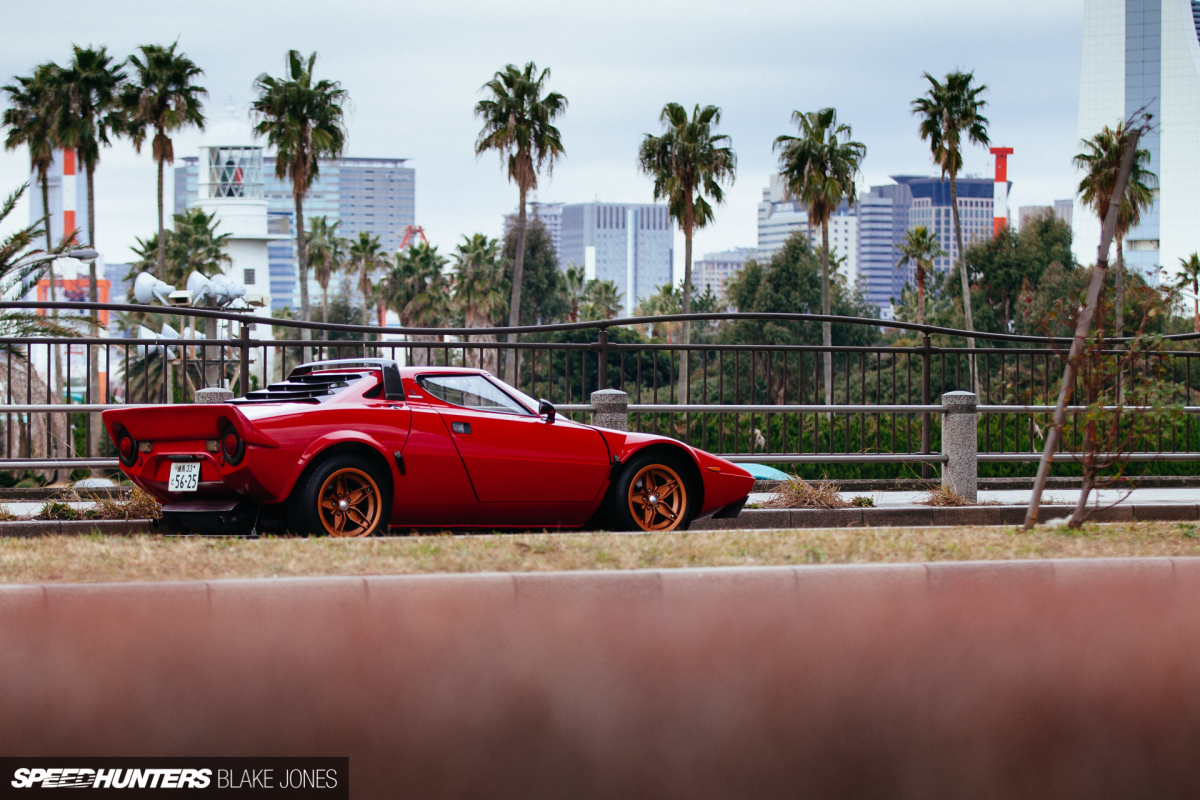 Before I'd even made it through the gates there was plenty to see; Lancia Stratos, anyone? Due to the insane rarity of the original (only 492 were made) I have to assume this was a very nice replica, but you can never be sure in Tokyo…
At these sort of events you could happily just sit on the kerb outside the main gate and watch all the interesting machinery roll by, but that's not what Speedhunting is about. So after purchasing my ticket (a neat ¥1000 or approximately US$9) I wandered into the sea of classic machinery out for the 2017 JCCA New Year Meeting.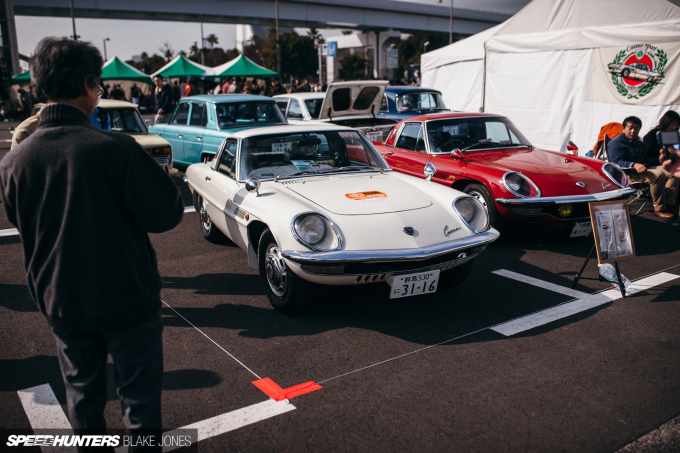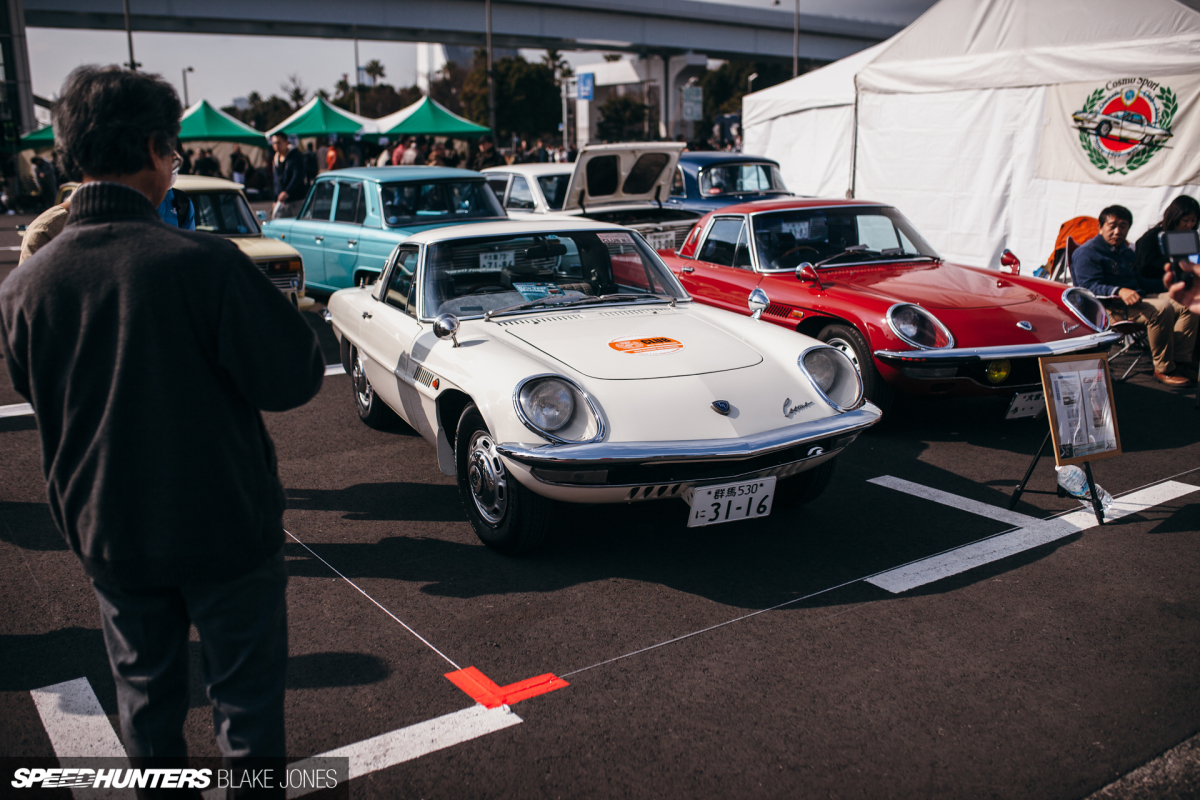 JCCA is the place to be if you want to see the kind of machinery that is usually only reserved for climate-controlled museum displays. Toyota 2000GT? Check. KPGC110 Skyline GT-R? Check. Mazda Cosmo Sport? Double check.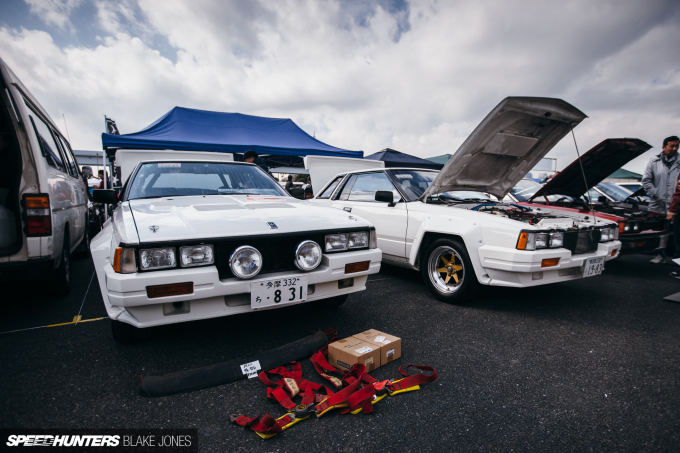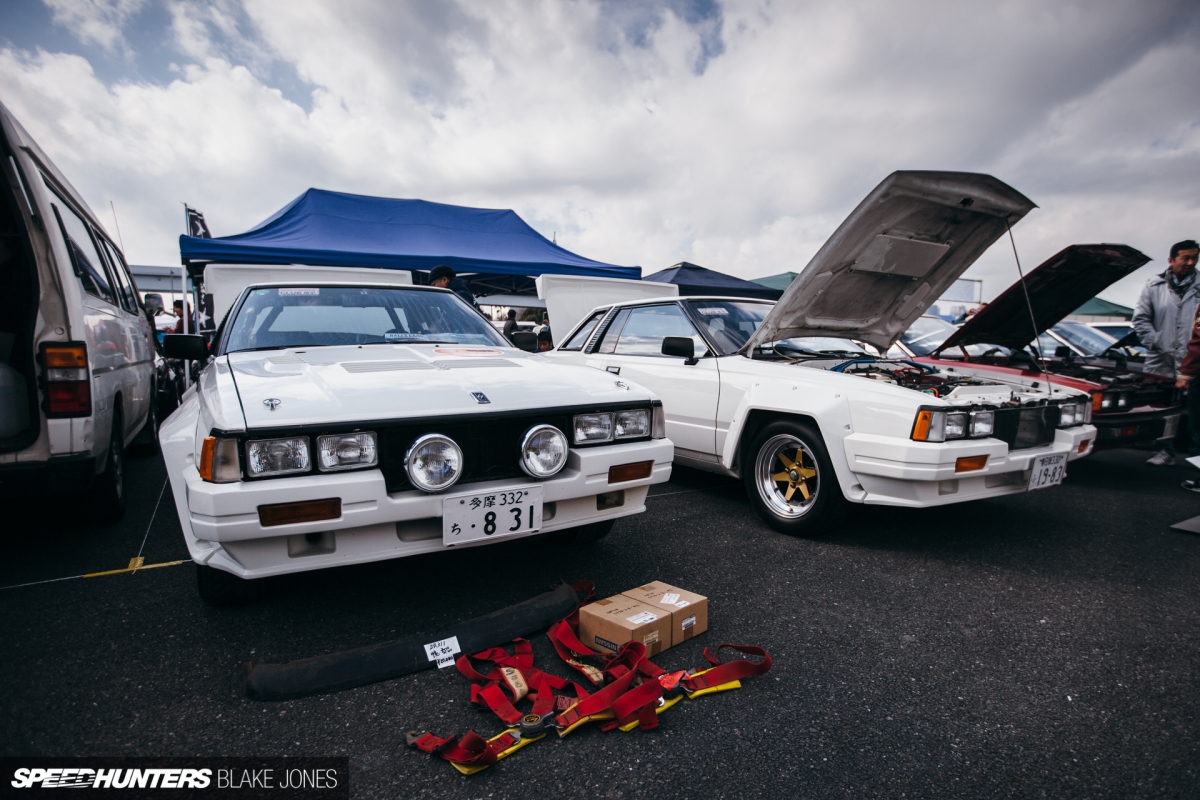 You're also certain to spot rarities like the Silvia 240RS, a 200-unit homologation run to support Nissan's Group B rally efforts in the early '80s.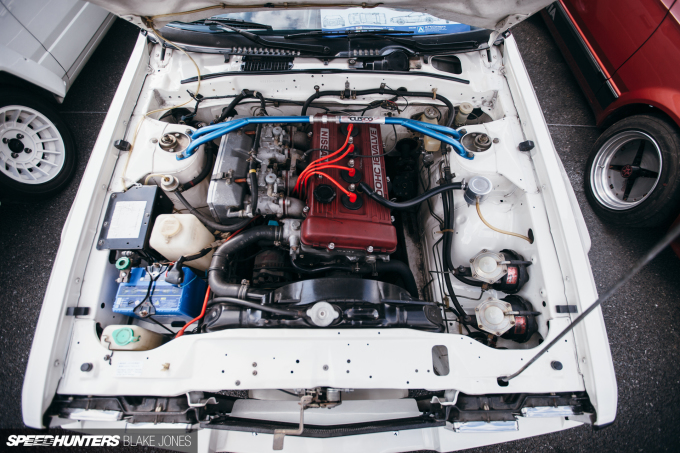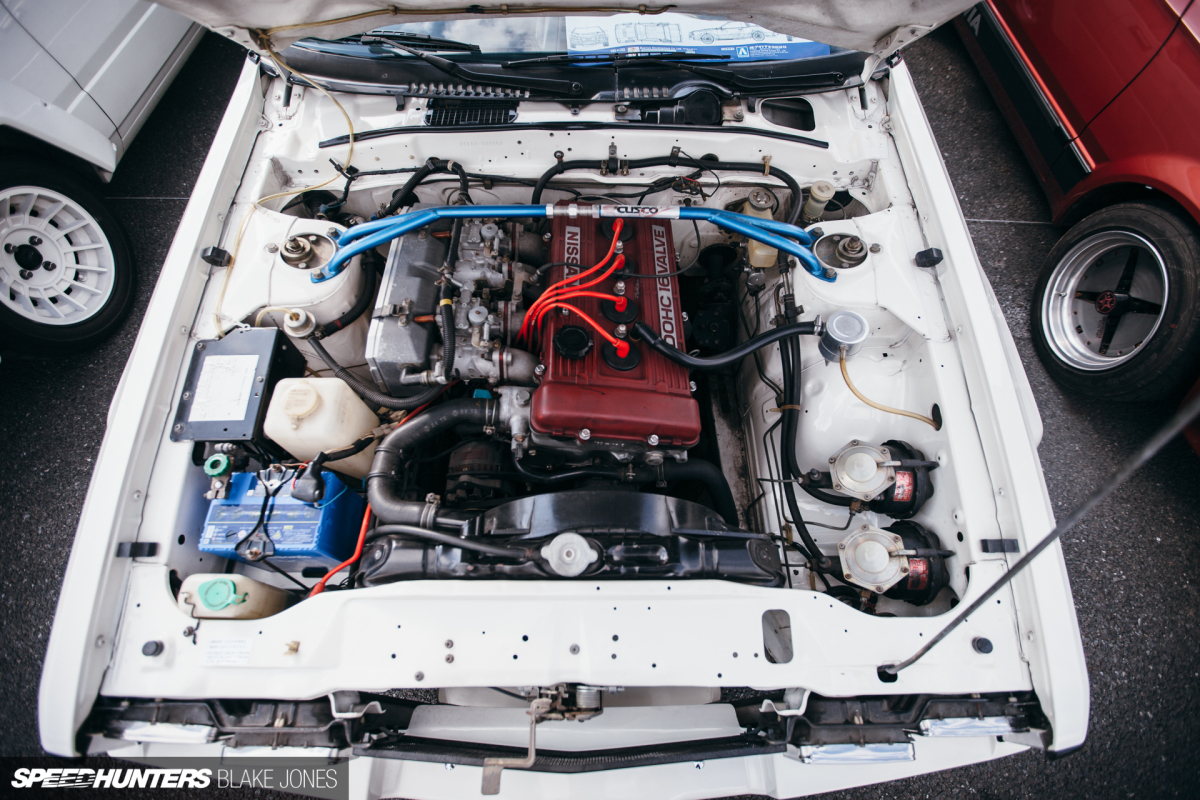 The 240RS's engine bay cradles a very rare piece of Nissan motorsport history: the FJ24. While being based on the respected FJ20, the FJ24 actually shared very few parts with the consumer engine. Dry-sumped and fitted with twin Solex 44mm carburetors, it was good for 275PS in Evolution form.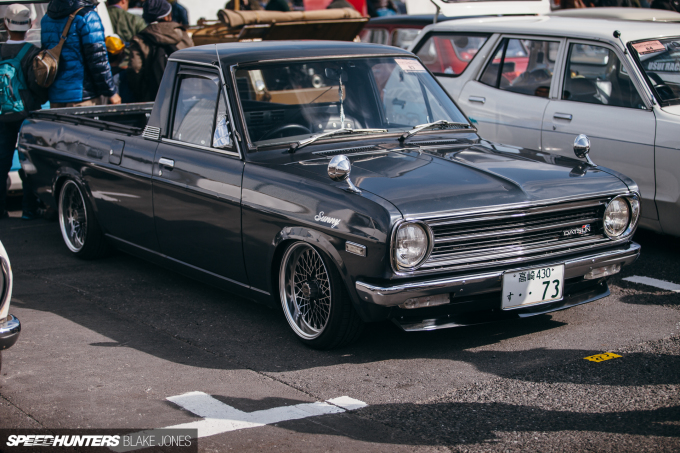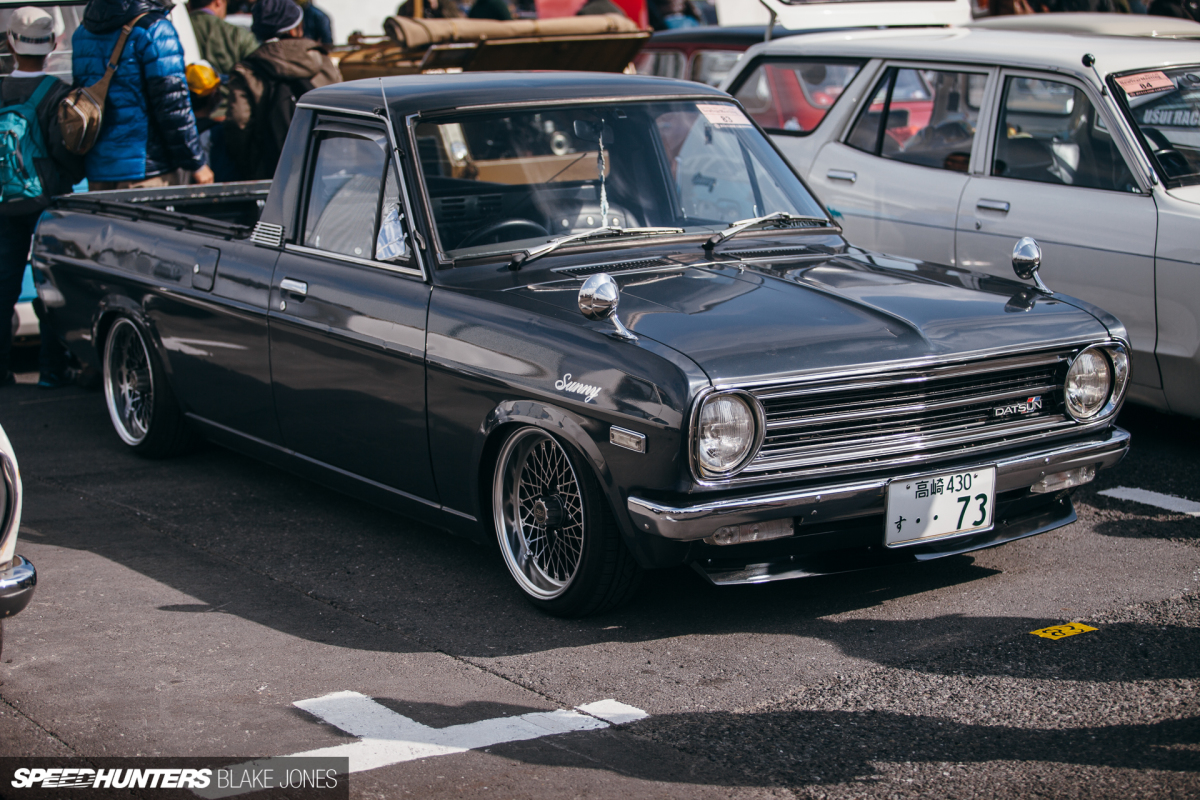 It's not all collectible unobtanium at the JCCA show, though. Plenty of space was dedicated to kaizo-sha (modified cars), like this simple but effective Datsun Sunny.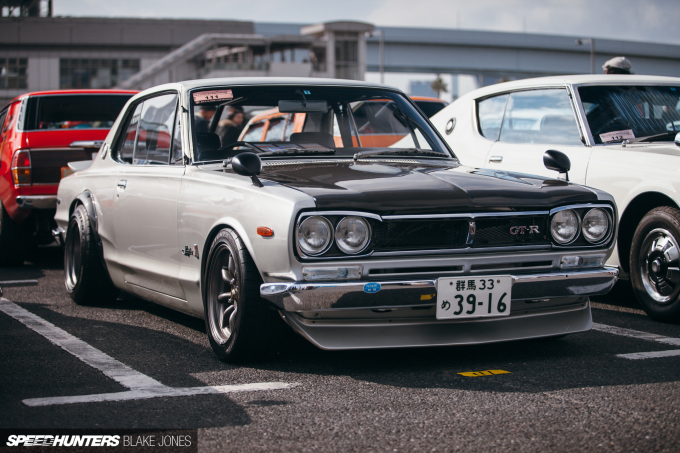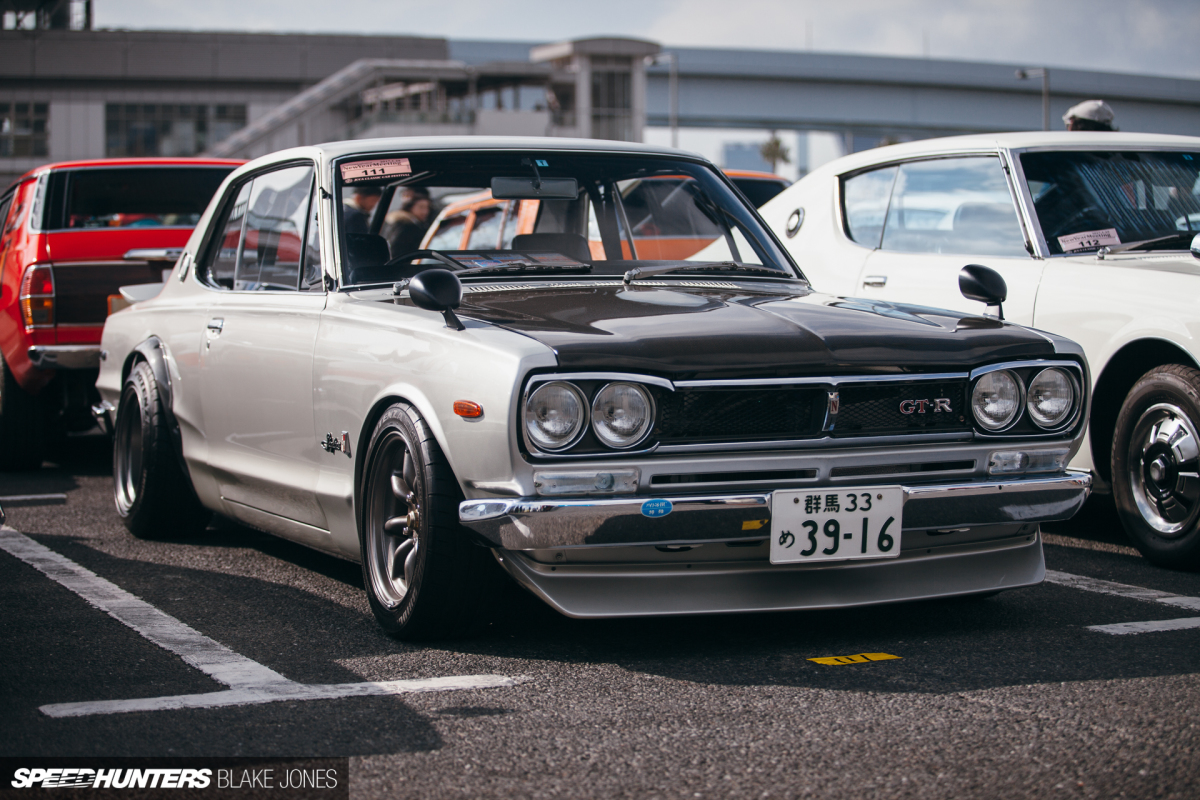 I guess you could say this is the Hakosuka kaizo-sha starter pack. Lowered, low-offset RS Watanabe wheels, bolt-on rear flares and a chin spoiler – it's a classic look that can't be argued with. Even a GT-R replica like this car can't be found for less than ¥5,000,000 (approximately US$45,000) these days, but for that sort of money you'll get plenty of rust and other shortcomings.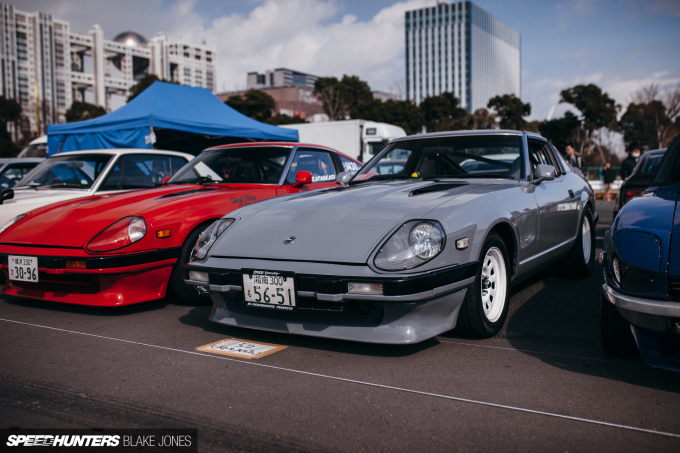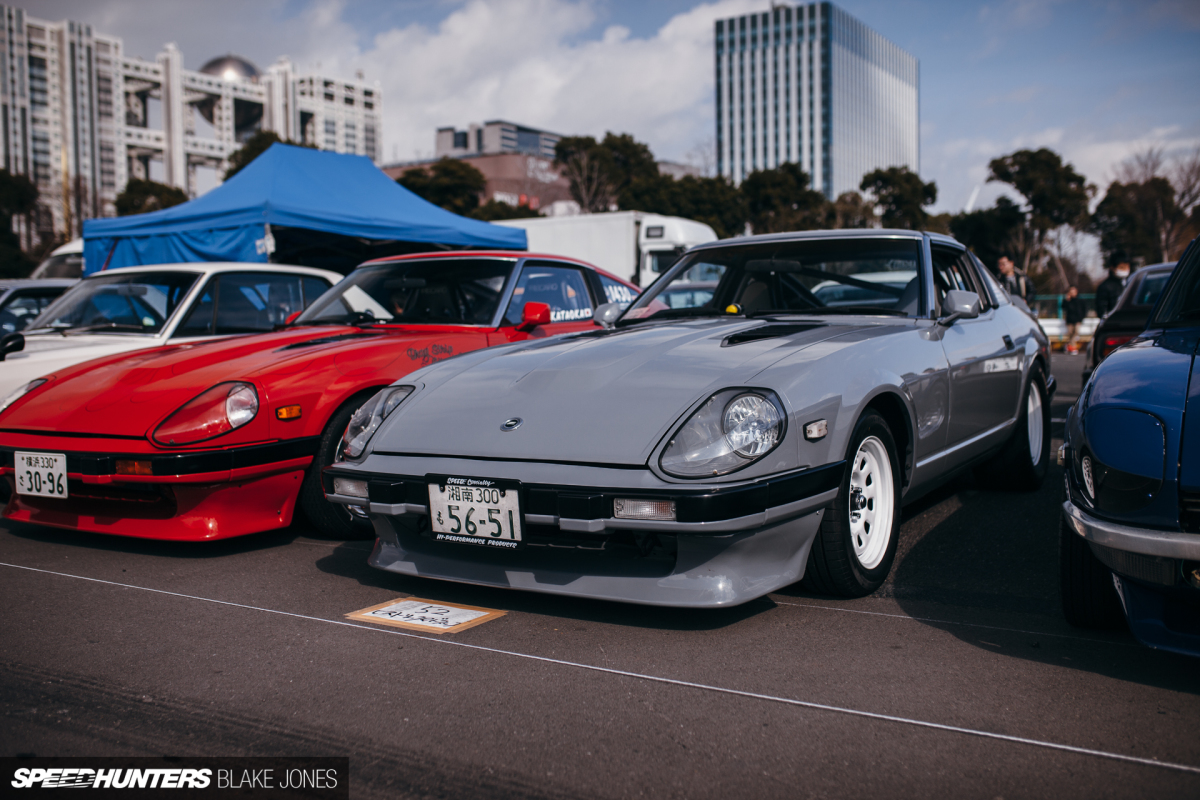 This 280ZX had been built for drag duties and really stood out with the US-style Diamond Racing wheels and glossy battleship grey exterior paint.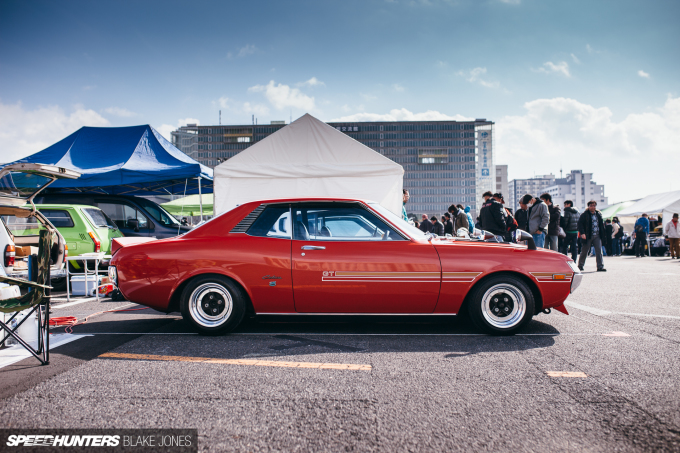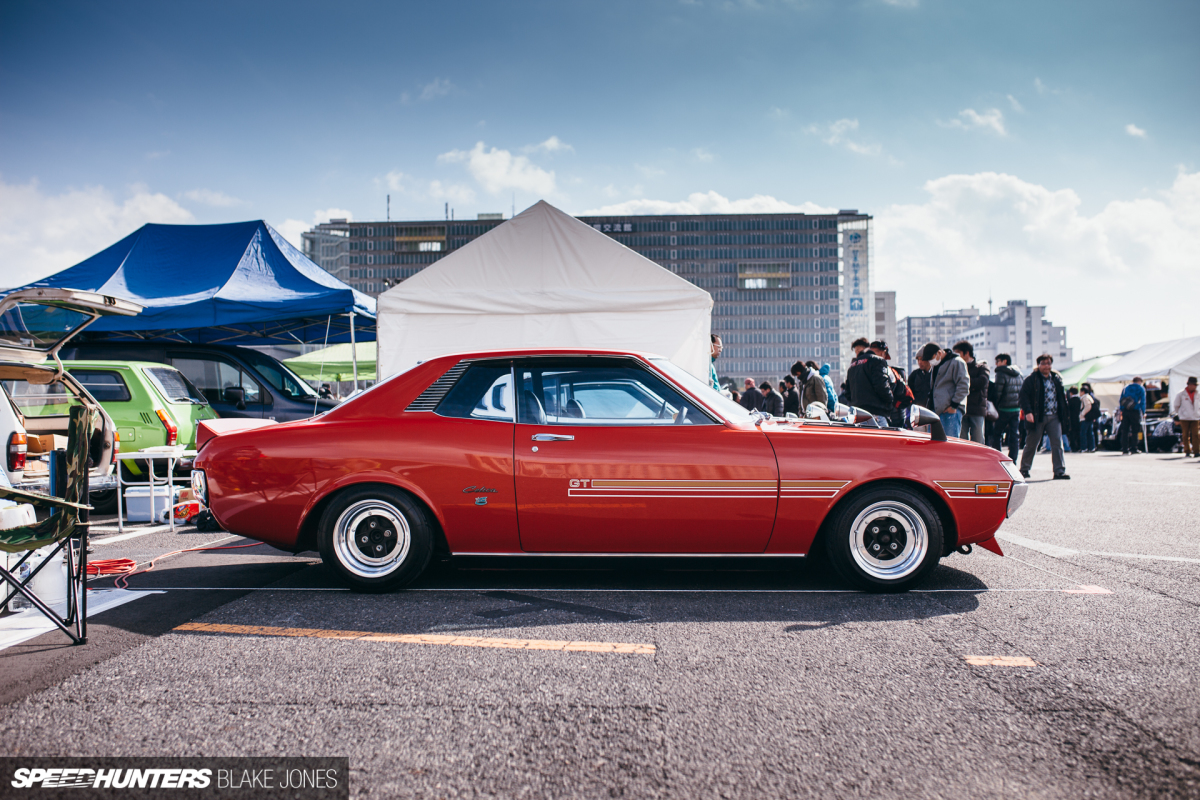 But that's enough of the Nissans for now; here's a simply stunning first-generation Celica GT, the designation signifying better trim (power windows, air-conditioning) and an upgraded, twin-cam engine compared to its lesser ET, LT and ST siblings. Those American-inspired Coke bottle hips have aged incredibly well.
While the Celica has become iconic in its own right, a comparable effort from Mitsubishi flies under the radar. I'm talking about the Galant FTO. The olive green paint on this example struck me as non-original, but the owner confirmed that it was a factory Mitsubishi colour.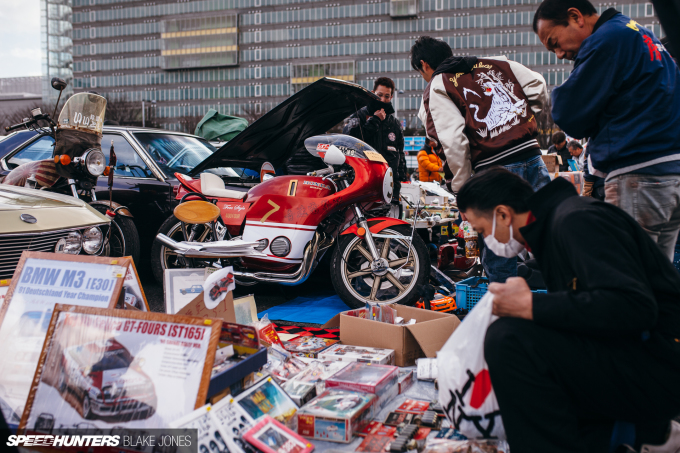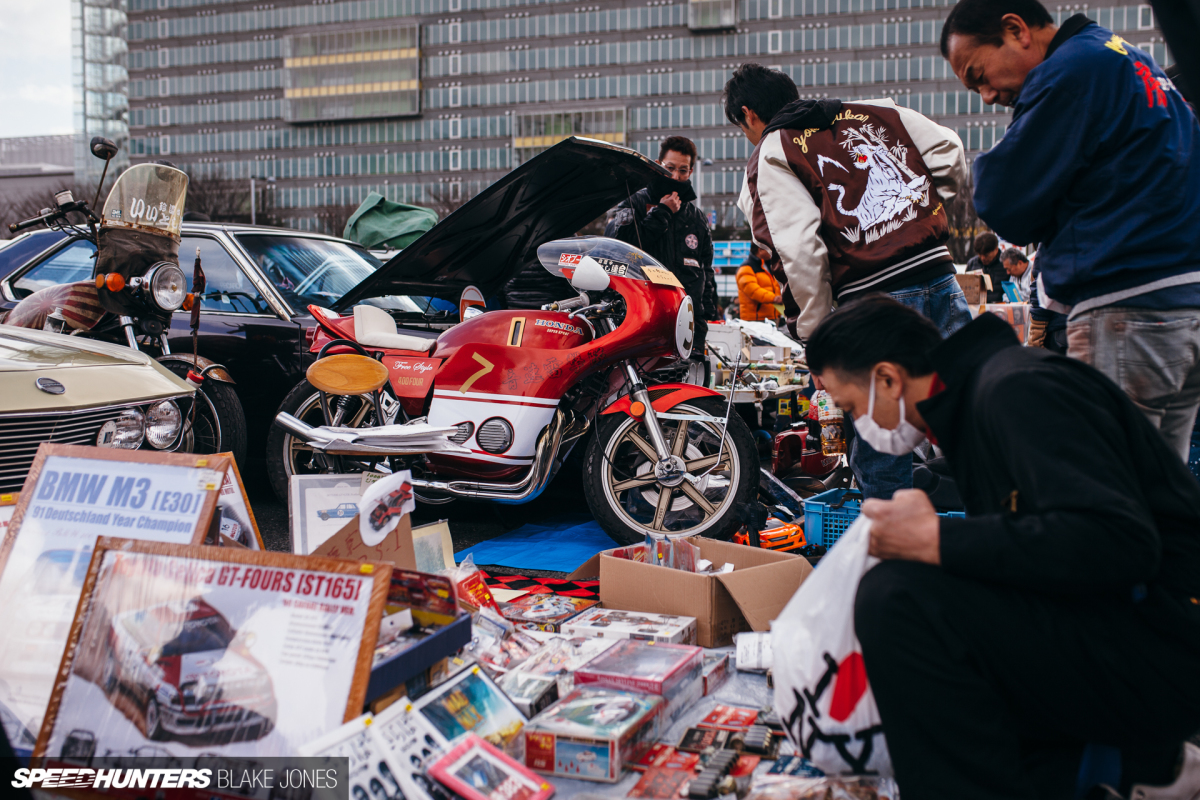 Once you're done poring over the cars, it's time for a stickybeak at the 50-odd stalls spread throughout the show area. From vintage brochures and posters to scale models to out-of-production performance parts – it's nothing short of a kyusha-otaku's wet dream.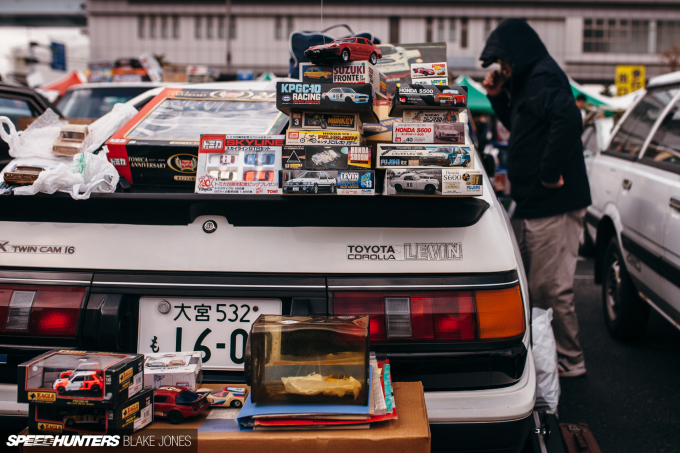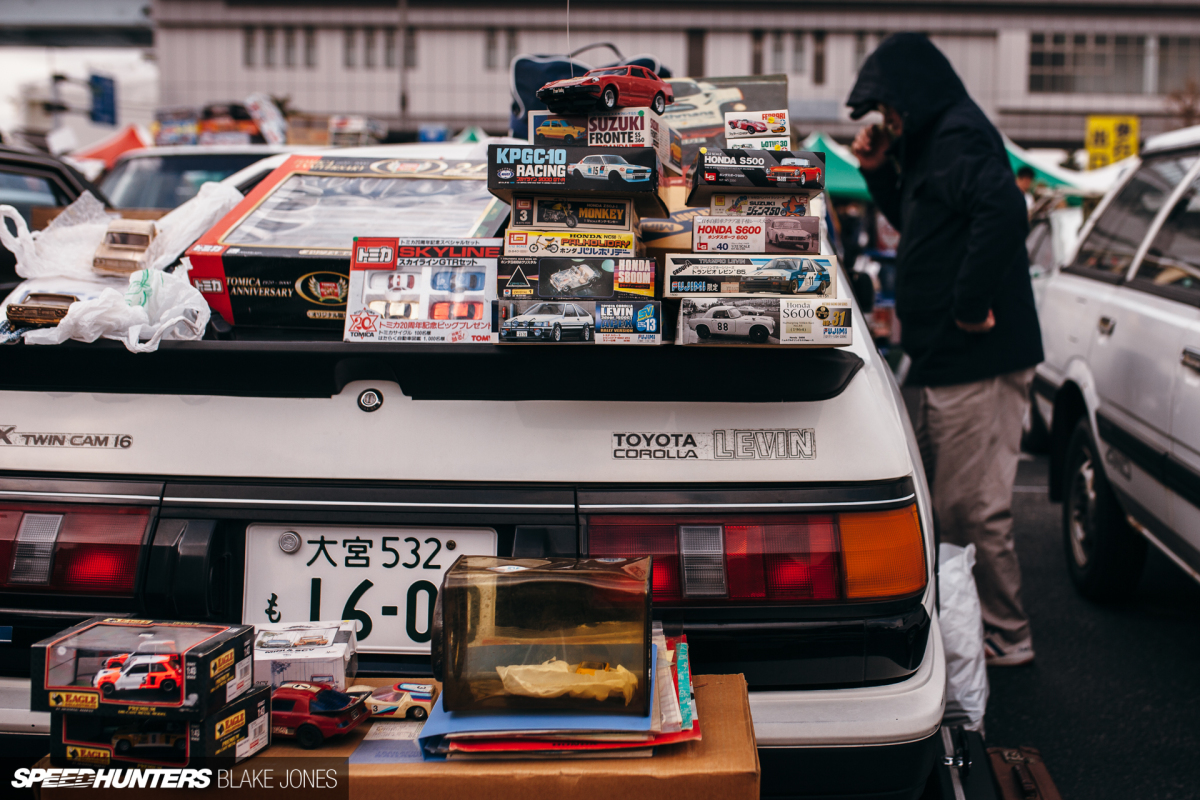 This writer is in the midst of an obsession with vintage Japanese advertising and I couldn't resist sifting through the crates of yellowed magazines in search of hidden gems. It was all to easy to fall into the black hole of the search and lose track of time completely, but somehow I walked away from the day relatively unscathed, save for a 1/43 scale 1972 PGC10 and an RS Watanabe 'Pit Crew' jacket.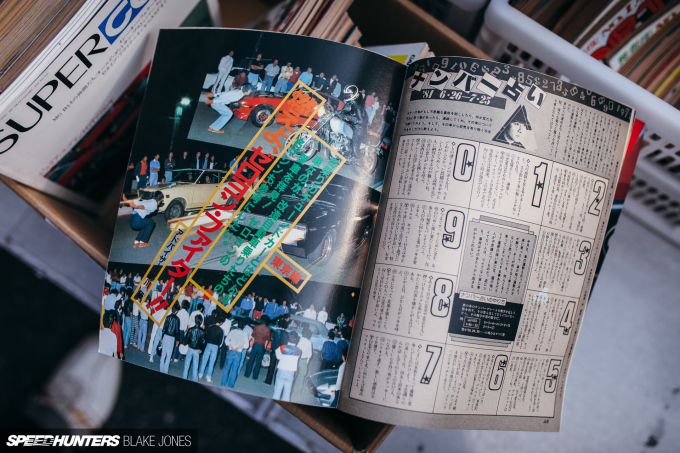 This 1988 issue of Option magazine had a cool special on street drag racing back in the day. Ahh, to be amongst the denim-clad youths on that humid Tokyo evening almost 30 years ago.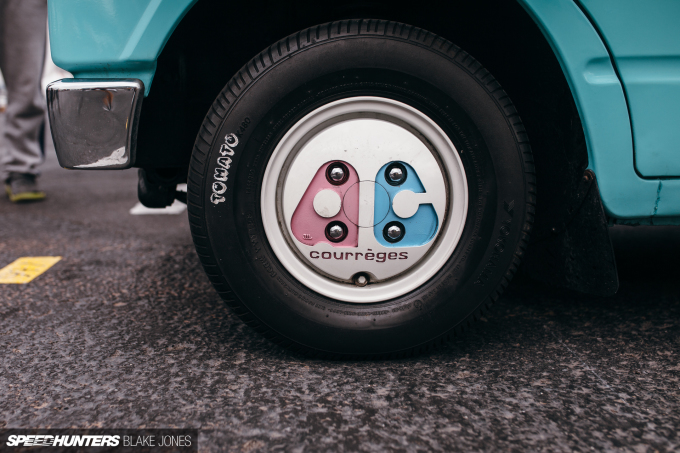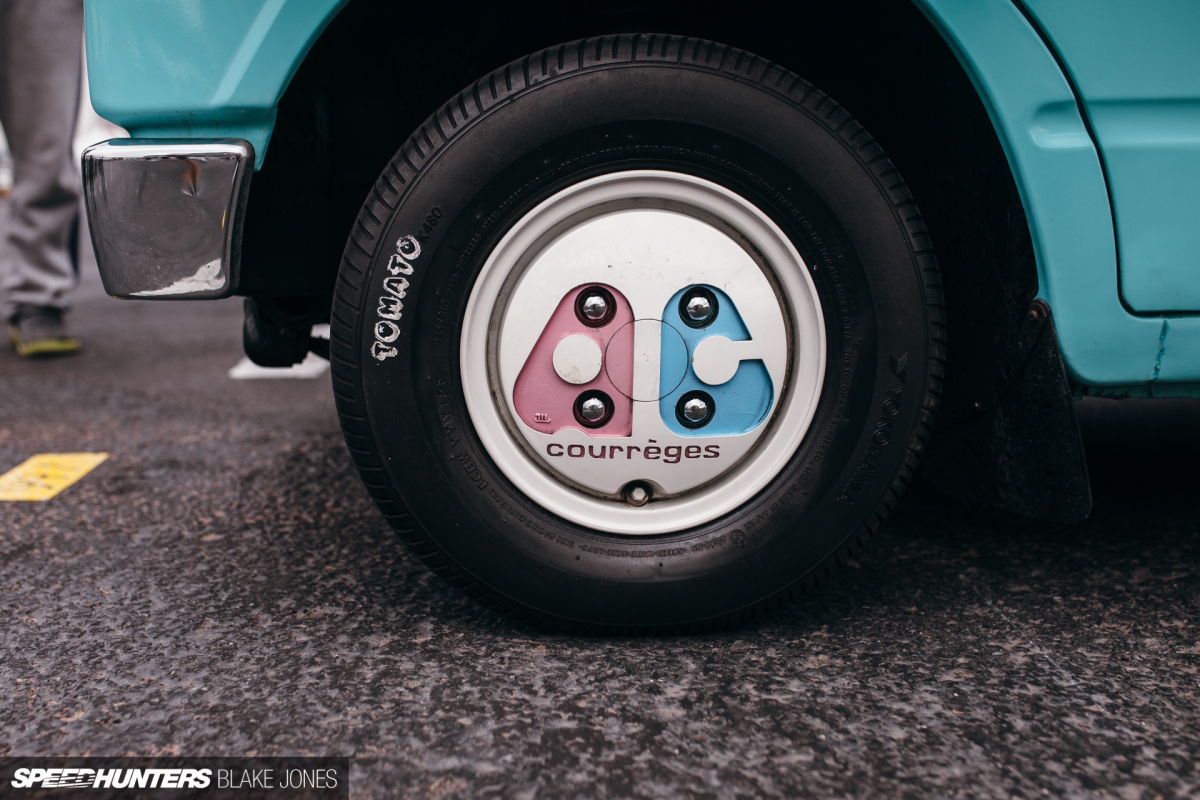 Curiosities like these vintage Courrèges wheels are everywhere to be found at the JCCA New Year Meeting, but it does help to know what you're looking for. These pastel wonders are a relic of the late '80s when Yamaco Corporation and French fashion designer Andre Courrèges teamed up to offer a range of purely cosmetic upgrades targeted at female kei car drivers. I guess it never took off, but a set in good condition can fetch impressive money today.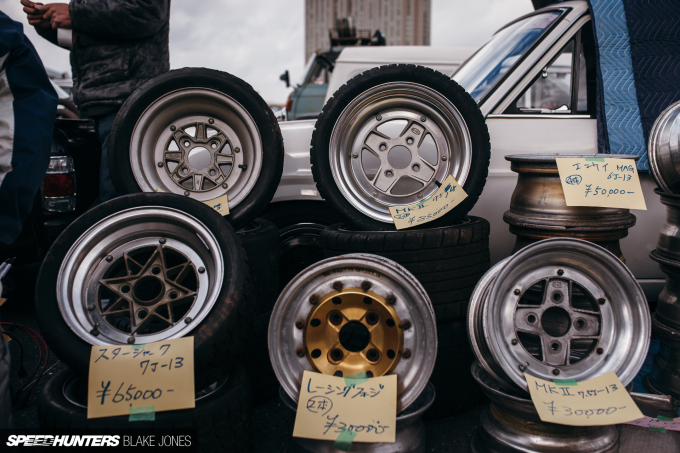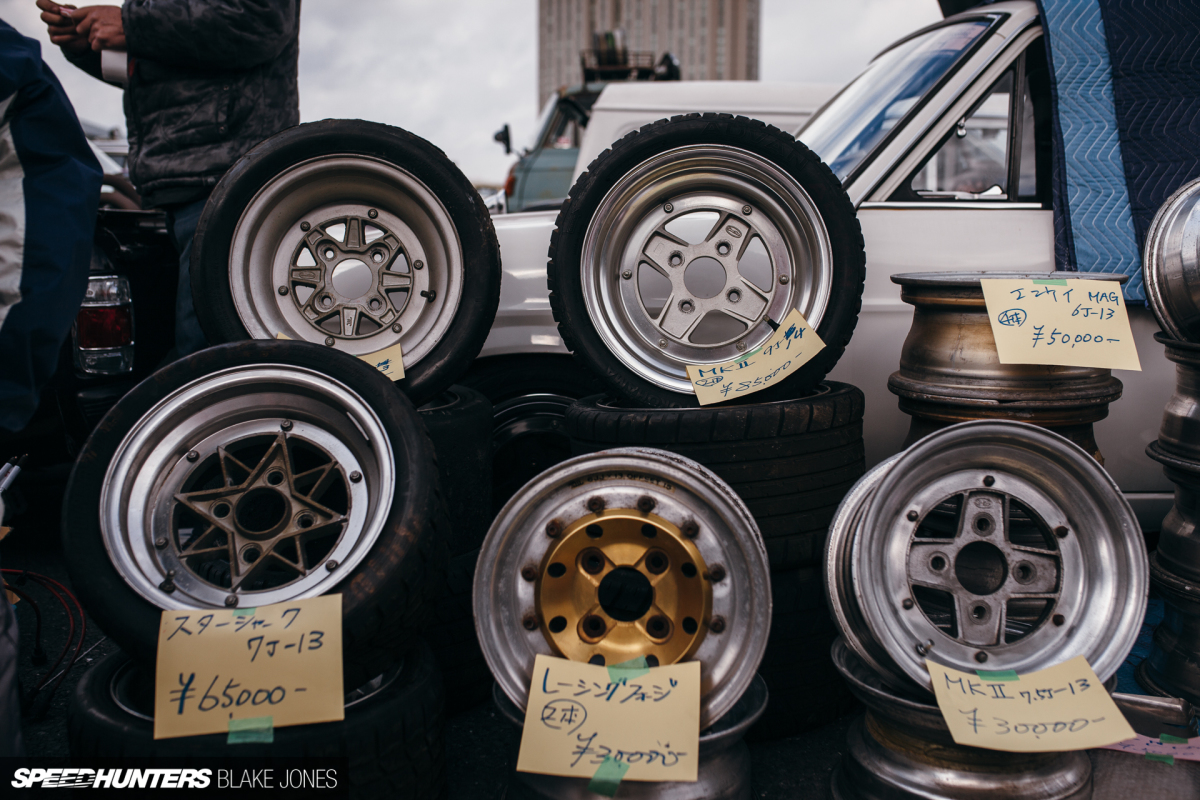 For the rest of us, all the iconic Japanese wheel designs are available – for a price.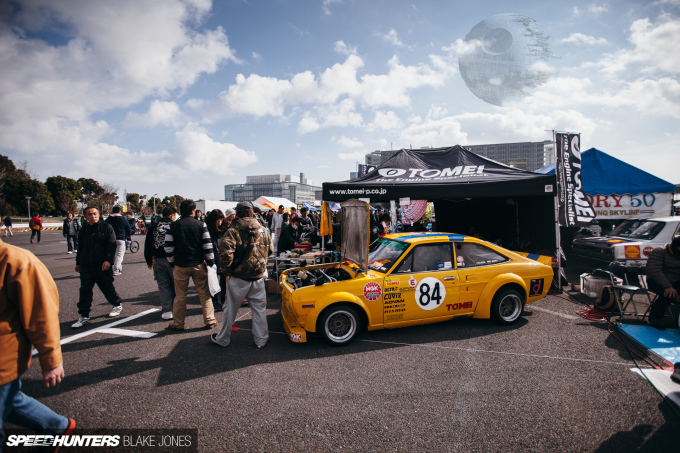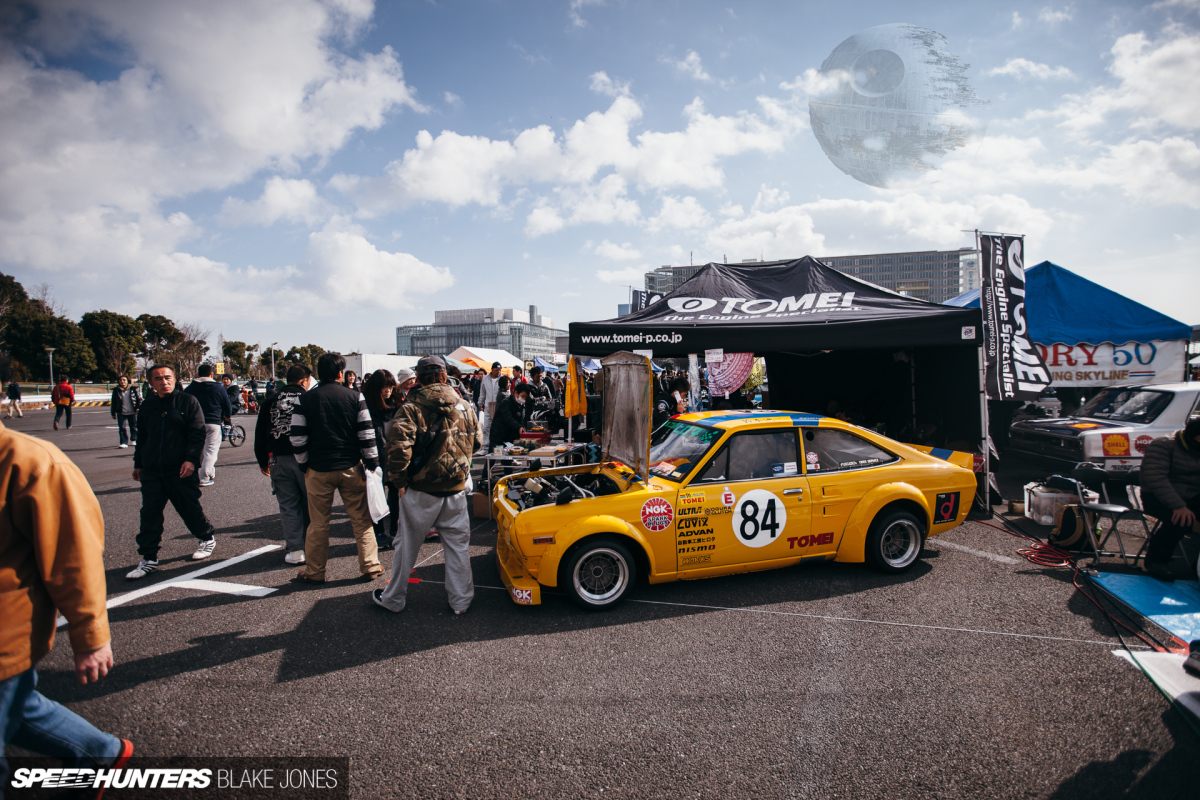 Although I could have happily spent the whole day at the JCCA event, doing so would have meant missing out on another event of its own happening right next door.
The Show Outside The Show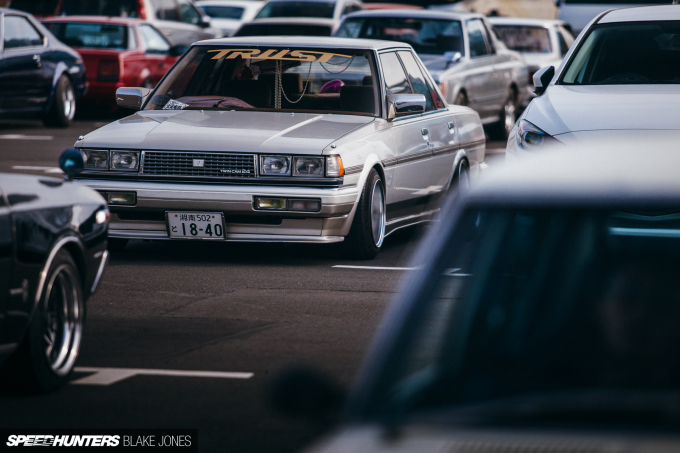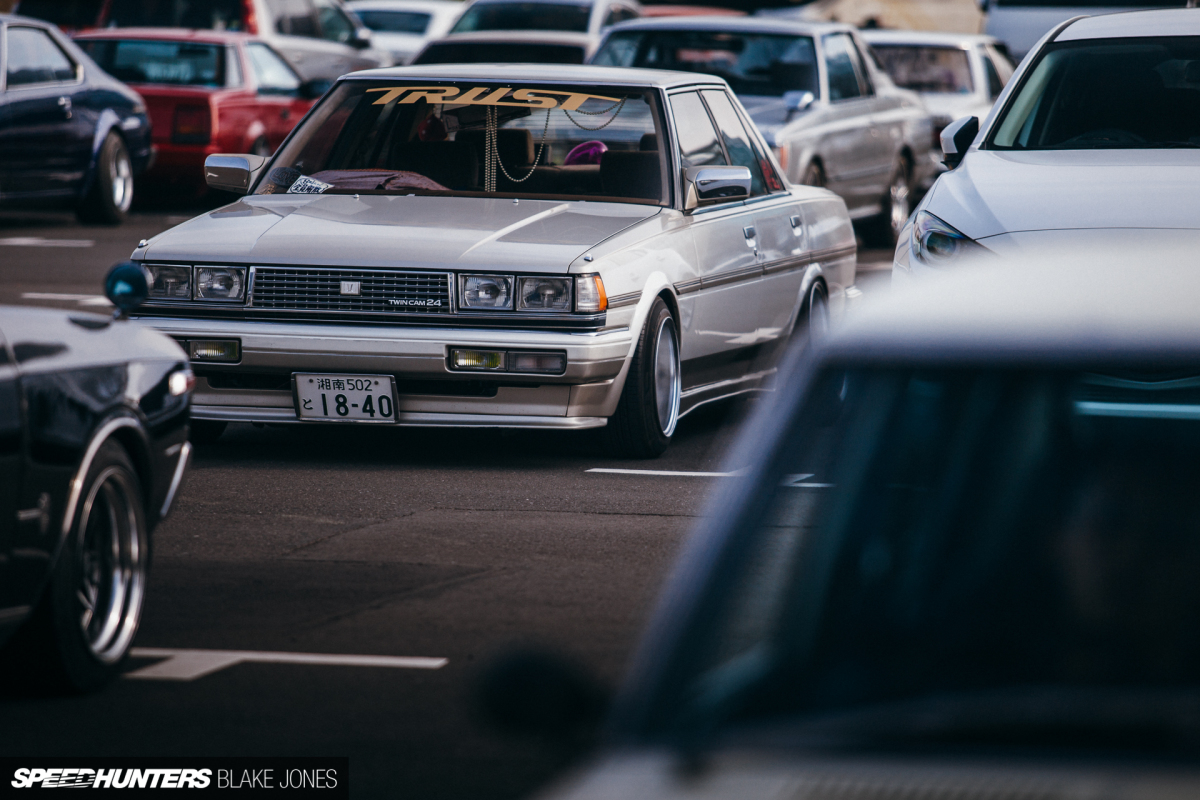 While you'll find all manner of rare and collectable metal inside the event gates, the carpark is the domain of the everyman. This is where 'regular' enthusiasts park up their rides and enjoy a day amongst like-minded individuals, leaving the often hectic and constricting reality of life in Japan behind for a short while.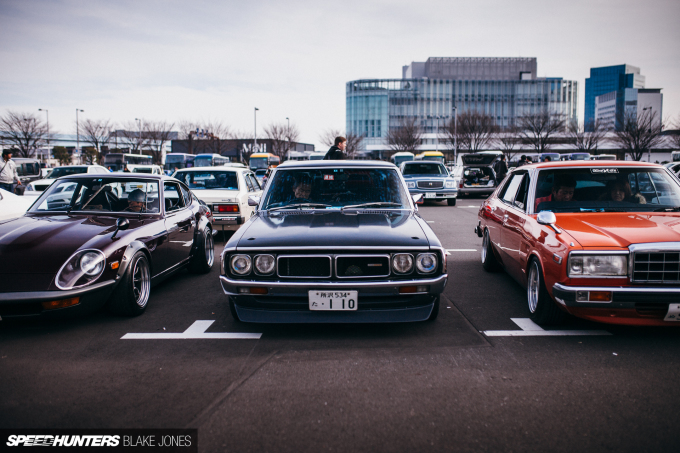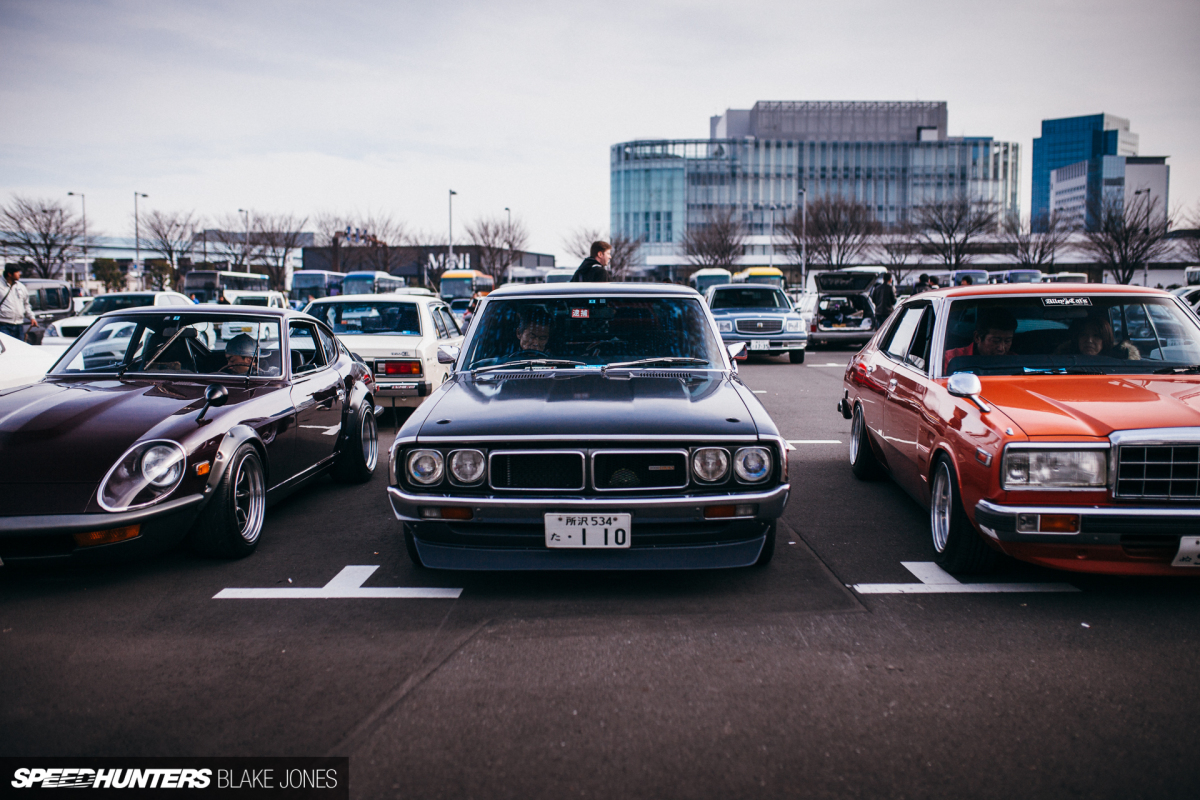 Each time I attend the New Year Meeting I seem to make the same mistake of spending excessive amounts of time inside the show and leaving the carpark-hunting until too late, when many of the cars have already made tracks towards their respective garages. This year was no different, but thankfully there were still more than enough quality cars around to satisfy my desire.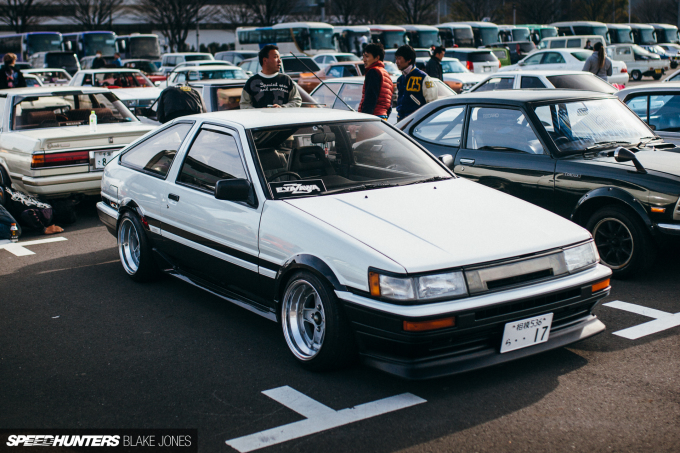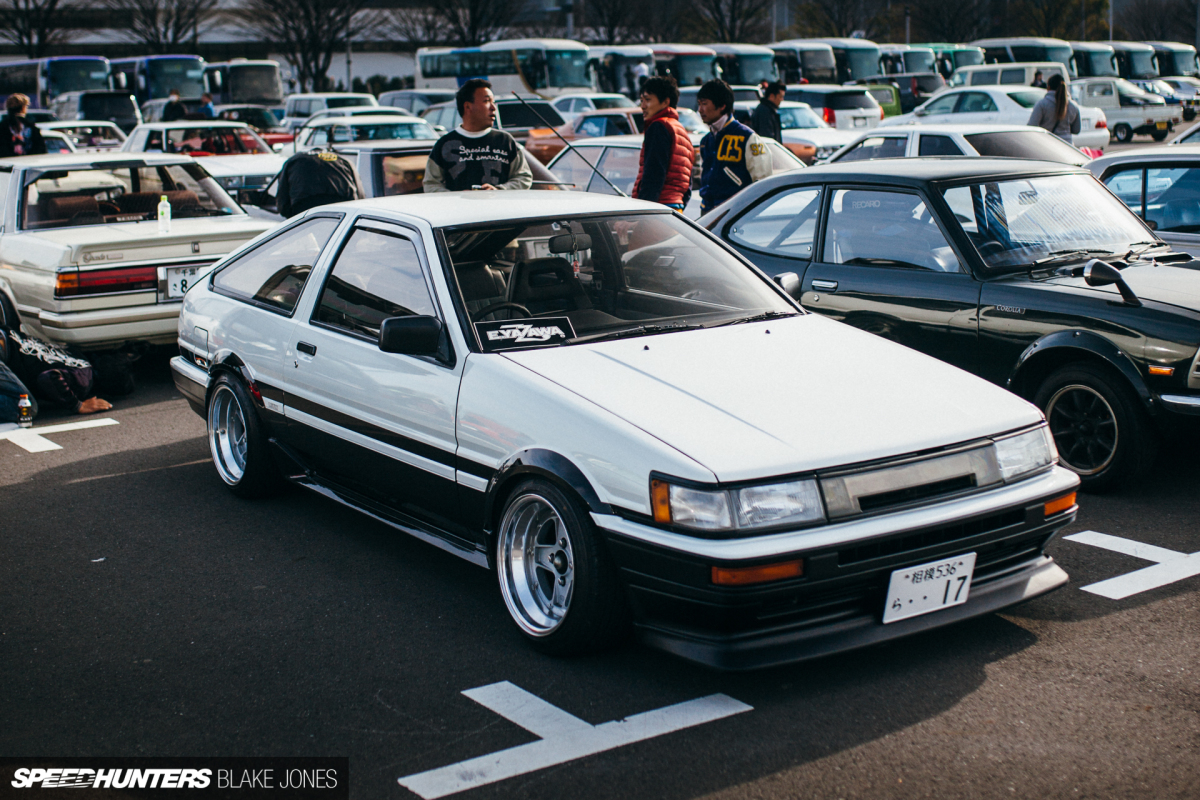 Honestly, the case could be made for coming to Odaiba and not even entering the actual event, such is the volume of interesting cars in the adjacent parking lot. I've spotted this unbelievably clean AE86 Levin hatch before – those super-dished SSR Mk2s are hard to forget!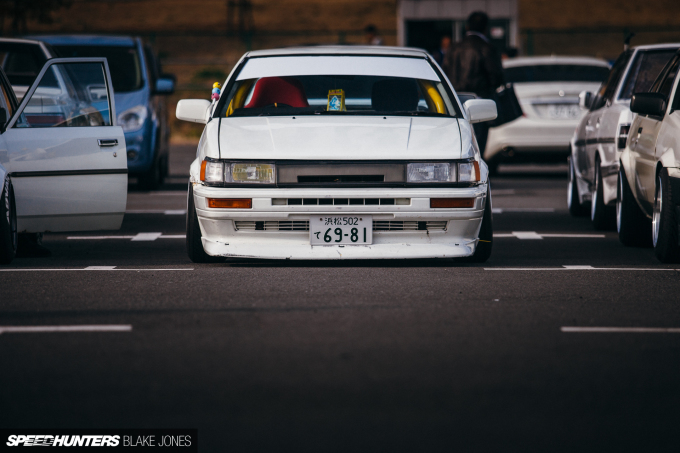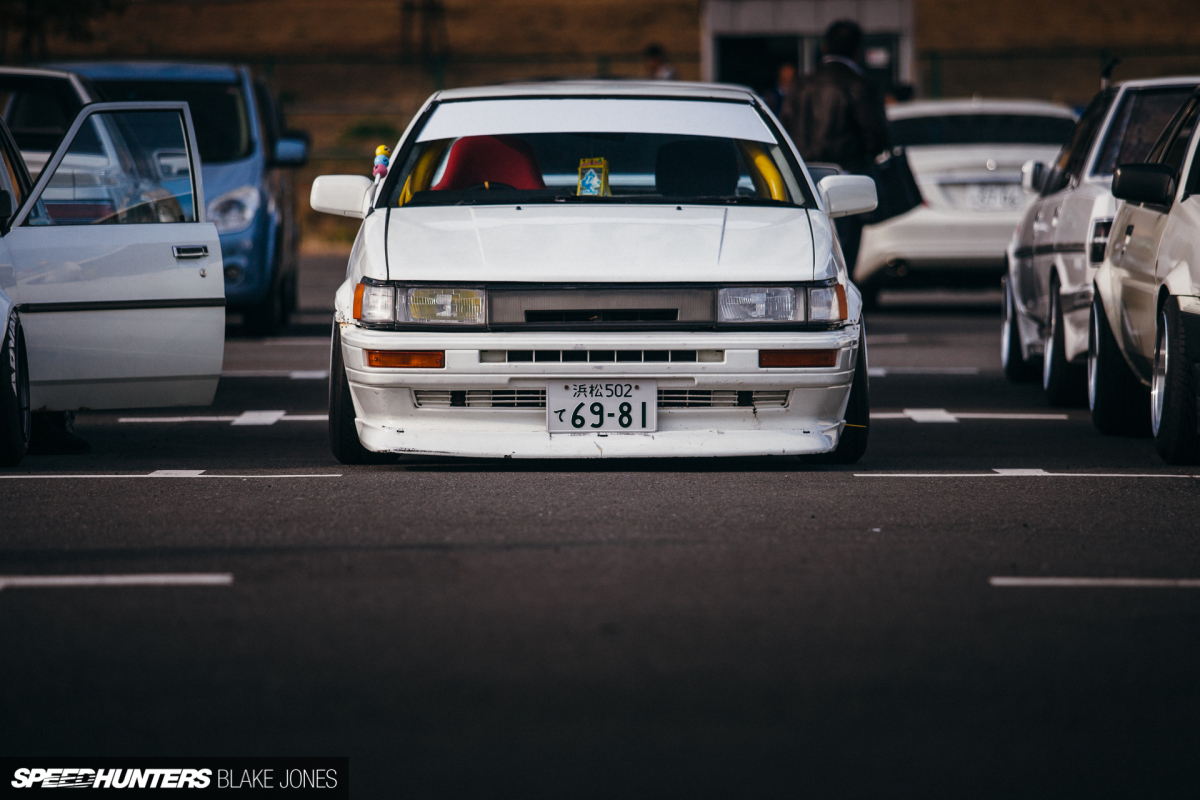 Providing a nice contrast is this AE86 completely unaware of its collector status. It's rough and raw, just like you would have found it in the '90s tuner glory days.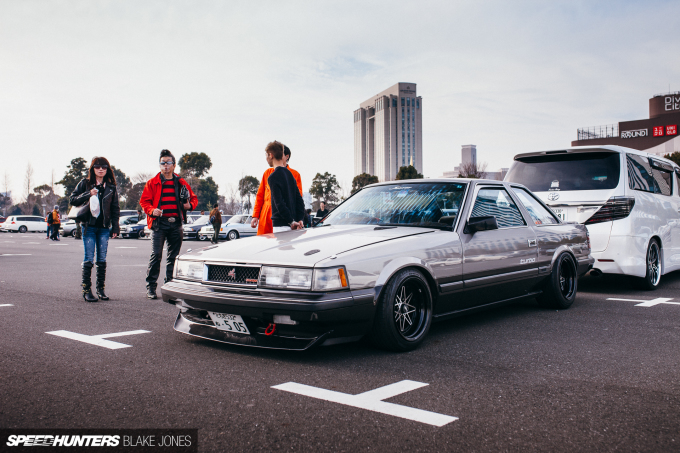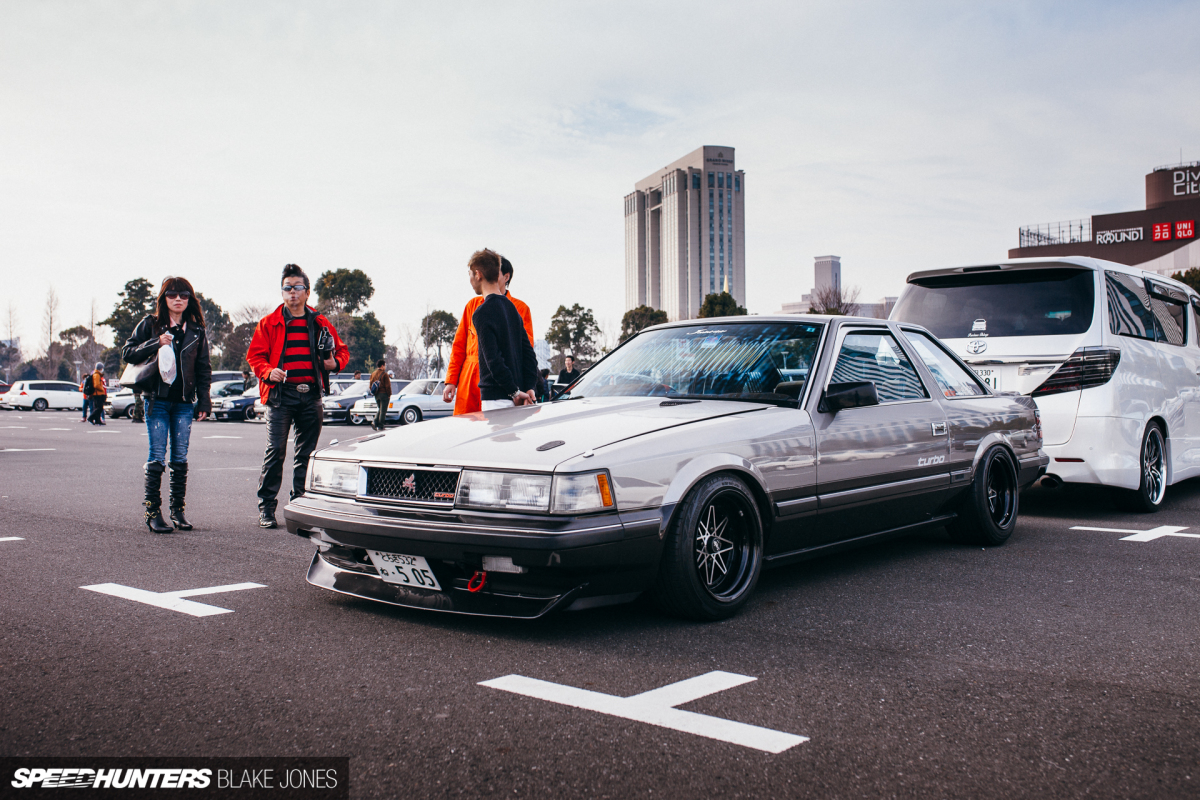 I've got a real soft spot for two-tone Z10 Soarers, especially ones as nicely modified as this. Somewhat surprisingly, the Work Equip 03 isn't a wheel I see much of, even at events like JCCA.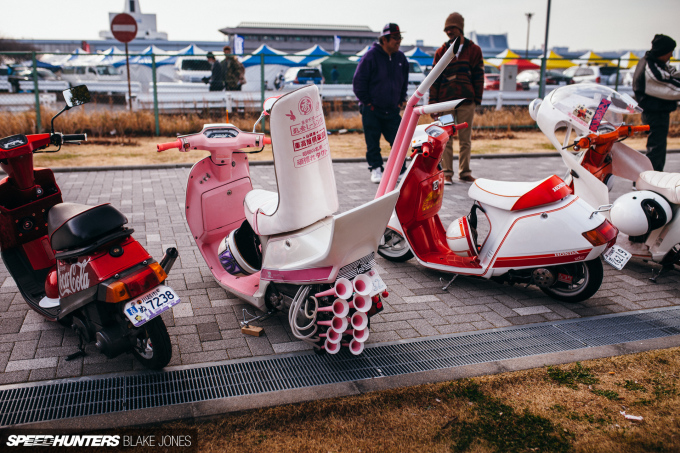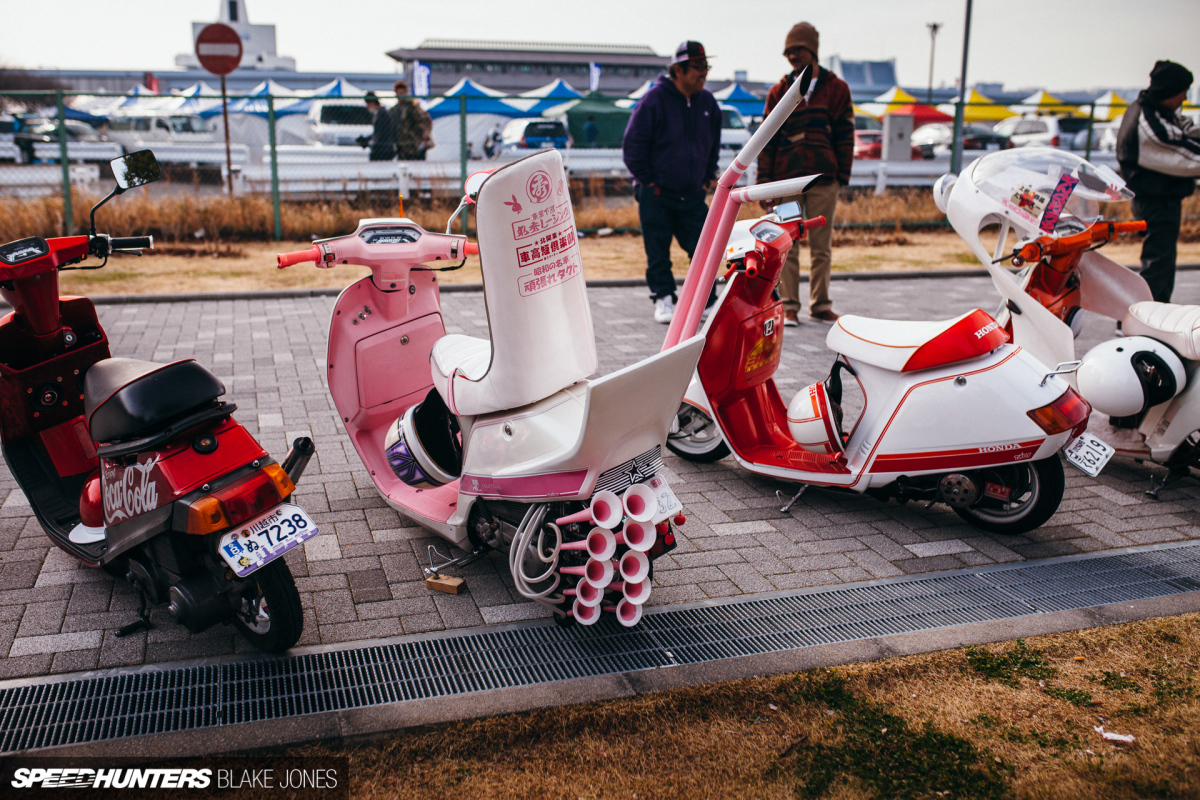 There was even a contingent of modified scooters that had come down for the event. 'Best in show' had to be the bosozoku-style creation with more horns than a church organ.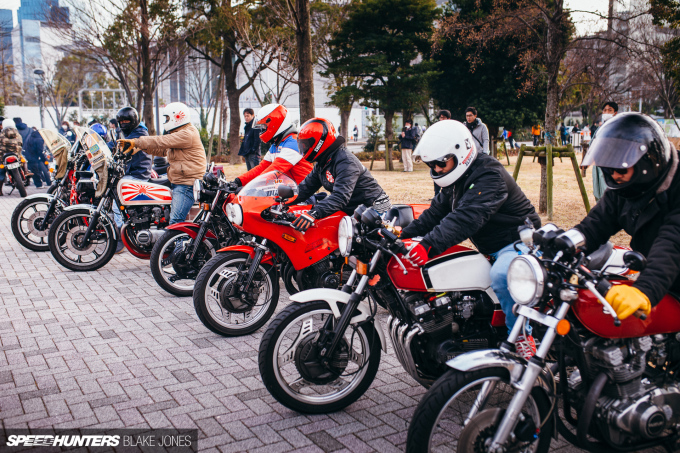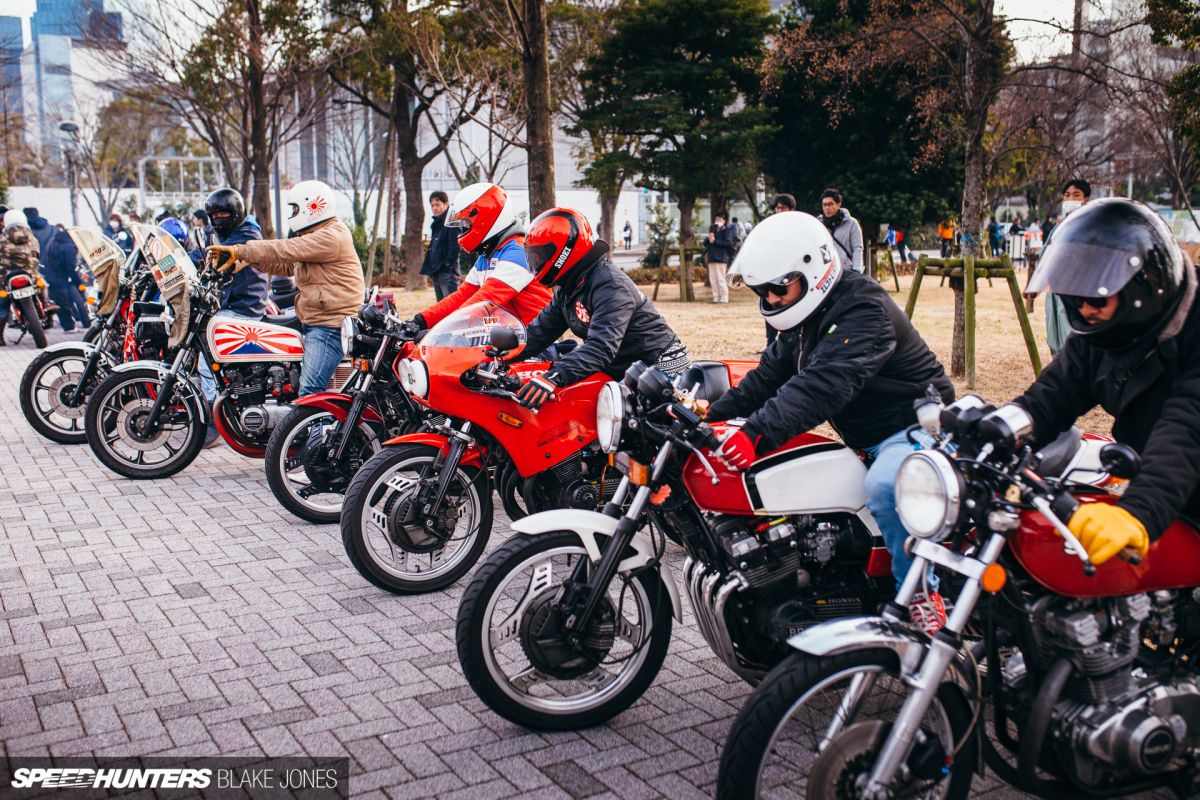 I hope our readers don't mind me sneaking bikes into this sort of event coverage. They are as much a part of the JCCA New Year Meeting as the cars, and it would be remiss not to mention the sound and colour they bring to the proceedings.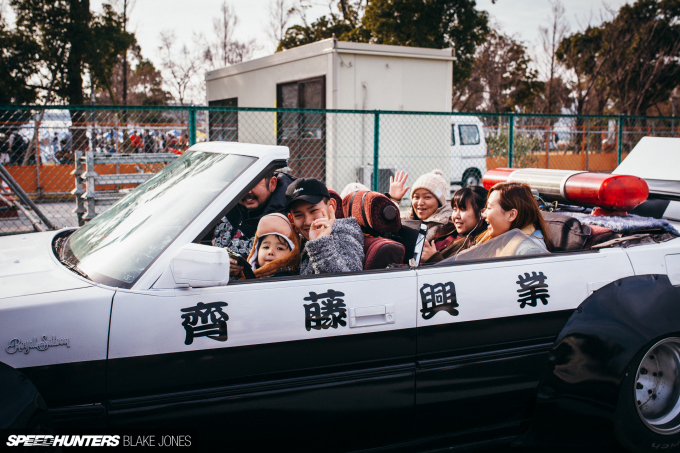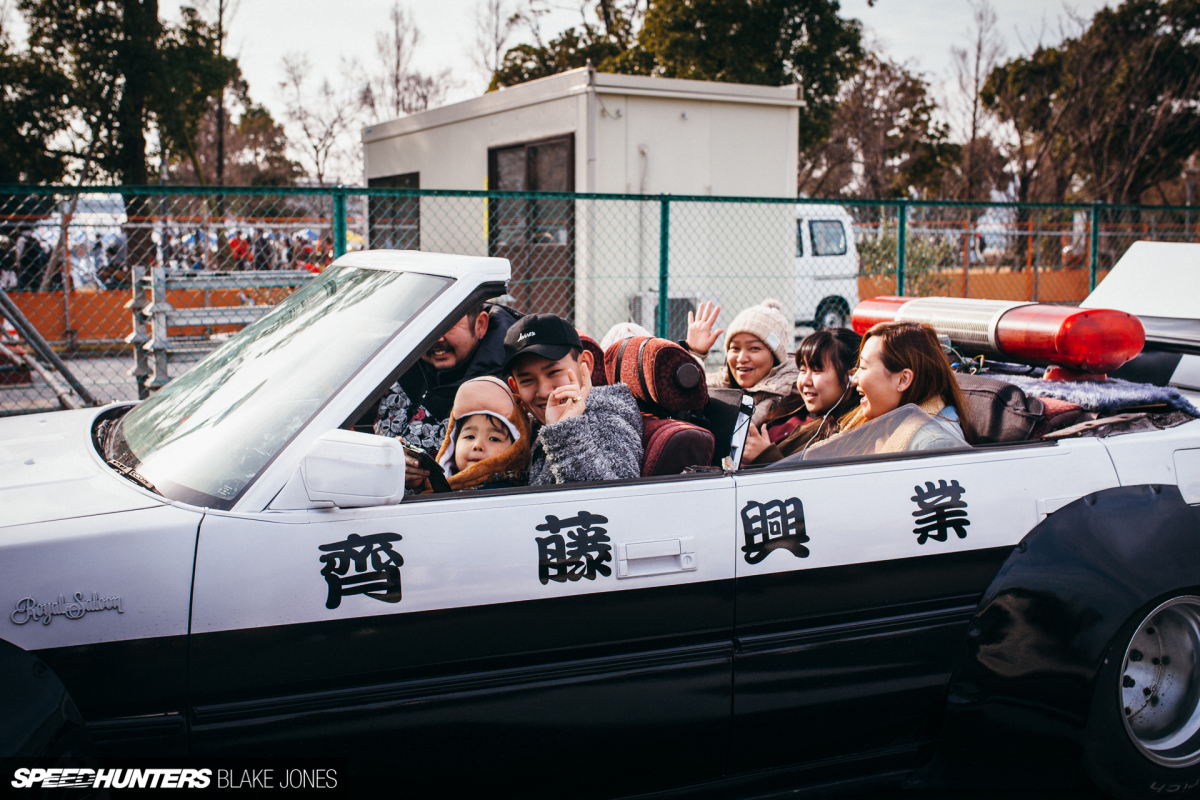 The atmosphere at these kyusha events is – without fail – overwhelmingly relaxed and fun. Whereas Tokyo Auto Salon has you squeezing past blustered crowds of amateur photographers to get a glimpse of a car, the owners at JCCA are more than happy to take their time to show off the details and personal touches of their rides. I really can't recommend this event enough if you happen to be in town in late January.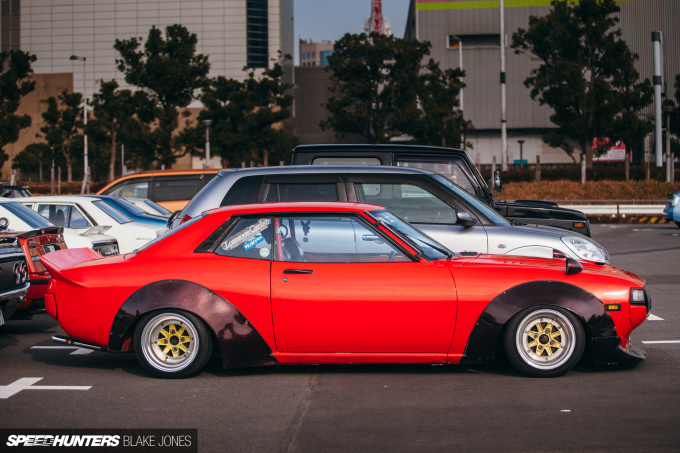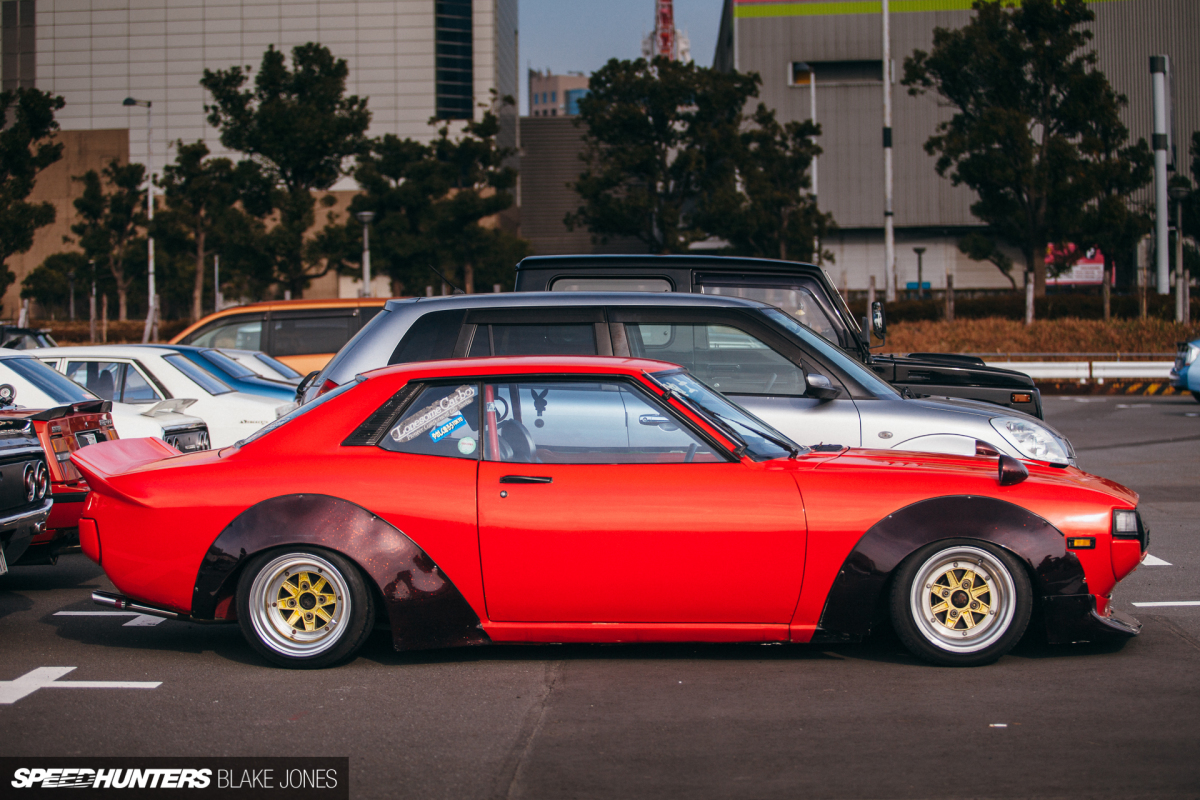 Nobody takes themselves too seriously, a theme fairly common amongst car enthusiasts in Japan. Rarely is there judgement or derision, just plenty of smiles and good times.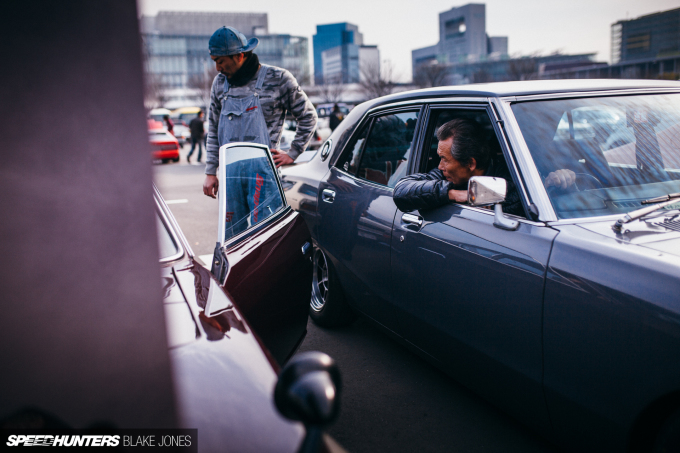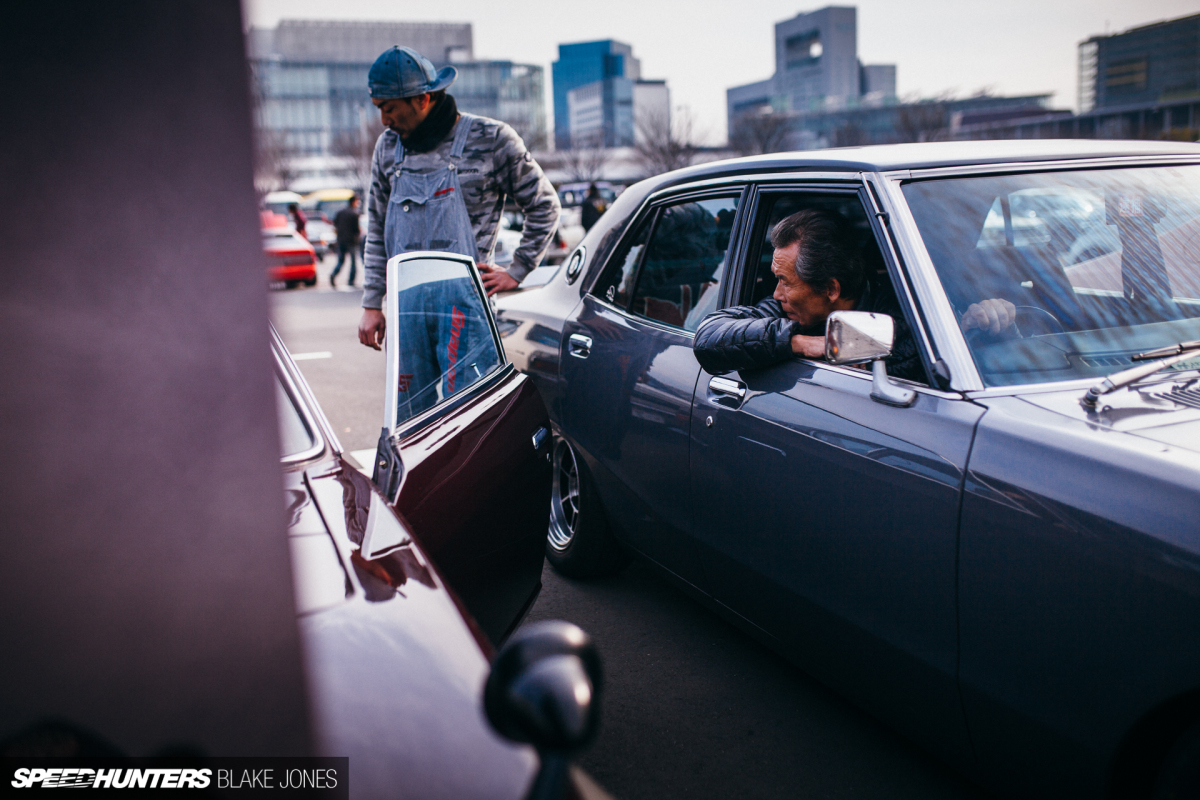 As these classic cars continue to age, obviously so do their conservators. The average owner age probably hovers around 55, but there seems to be young blood coming into the community and keeping the scene alive. The only issue is that most of these cars are now so expensive that they remain out of reach of younger fans.
The Roll-out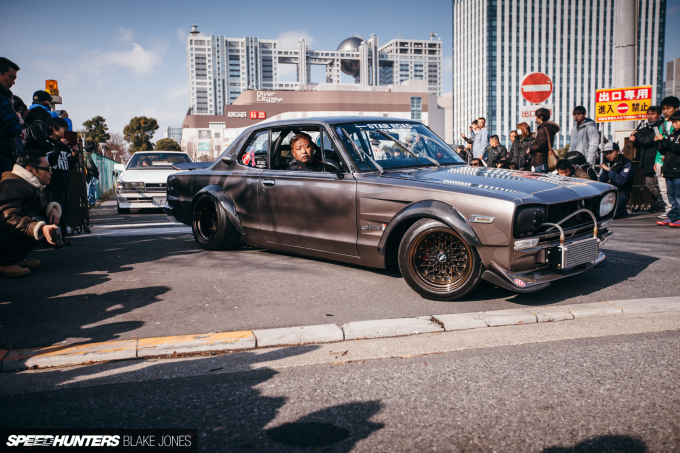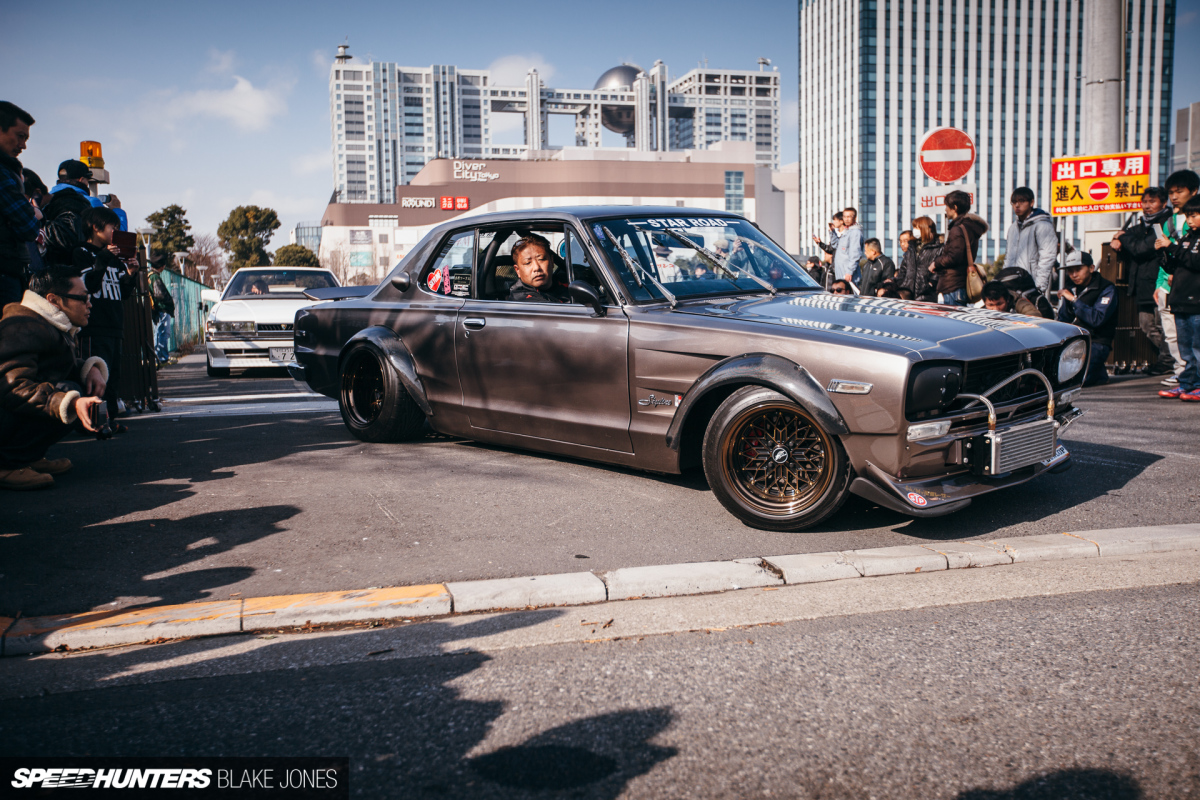 As I was making my way through the final row of display vehicles in the show my ears pricked up to a commotion building not too far in the distance. The unmistakable cacophony of barking exhausts and squealing tyres meant that the infamous JCCA New Year Meeting roll-out had begun.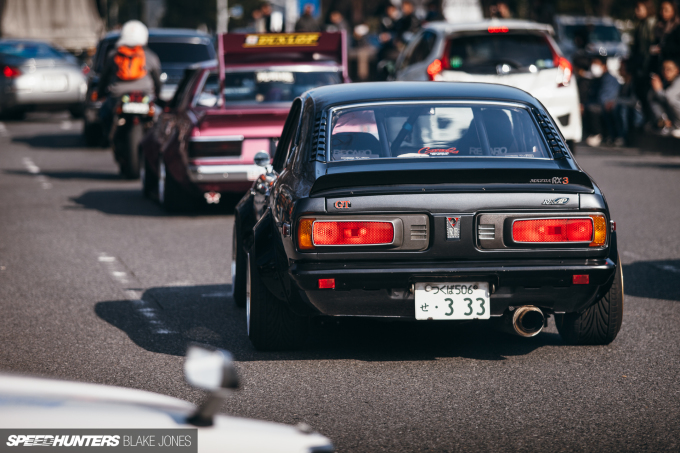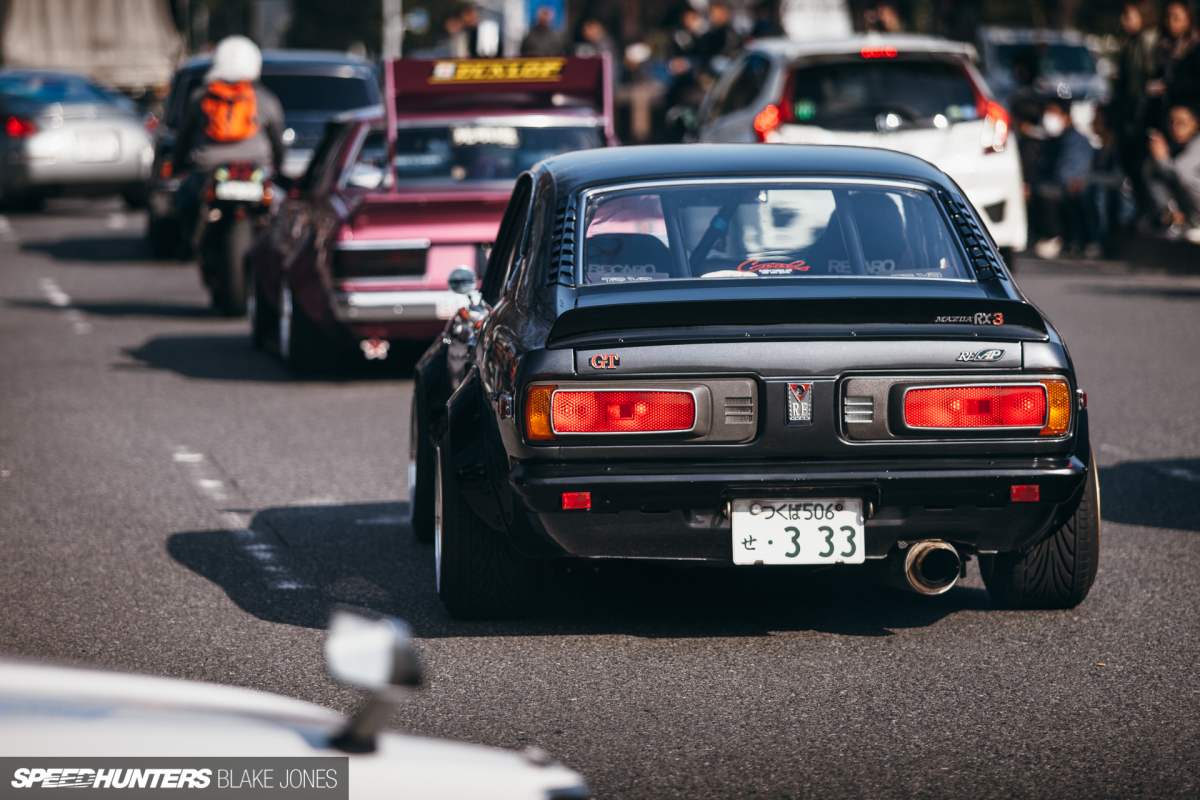 Early in the afternoon, the visitor carpark begins to empty out through the singular exit driveway in spectacular fashion, with a crowd gathering to egg on the drivers and capture the resulting madness on their smartphones.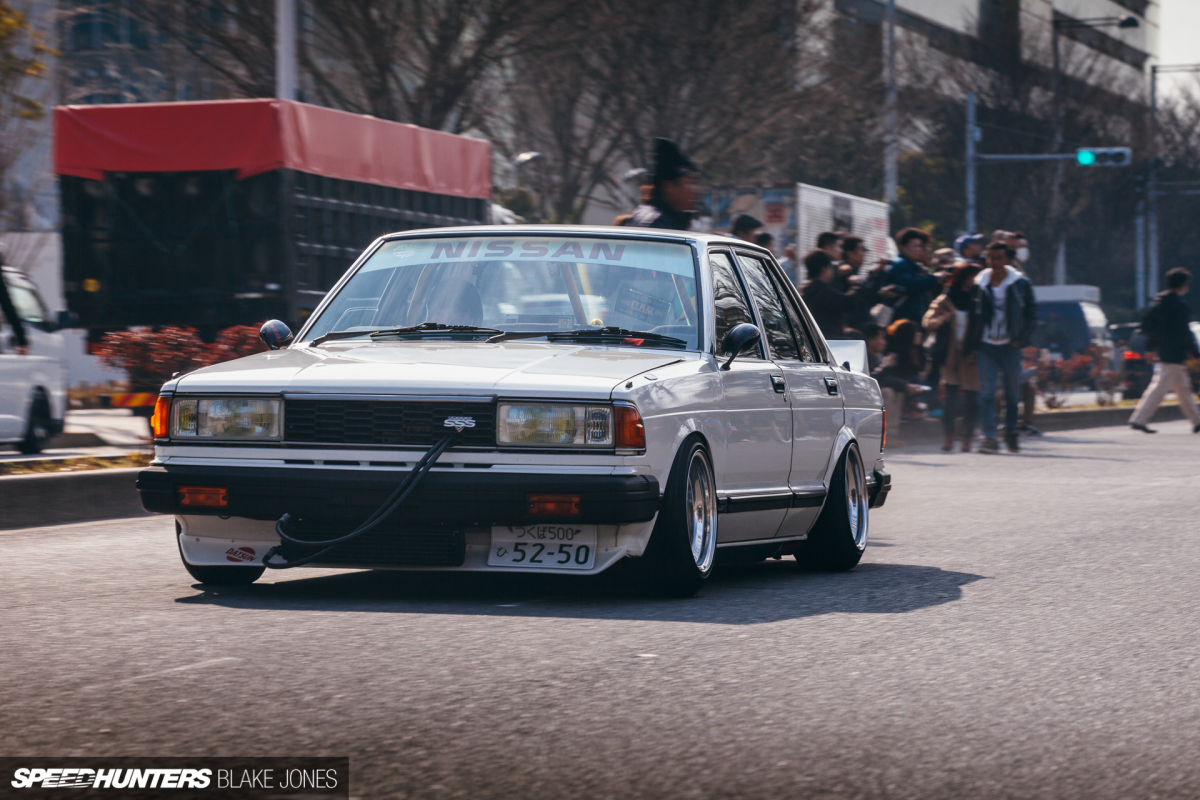 The crowd of onlookers were spilling off the sidewalk and onto the roadway, getting perilously close to the cars tearing out of the driveway. Thankfully, everyone went home safe.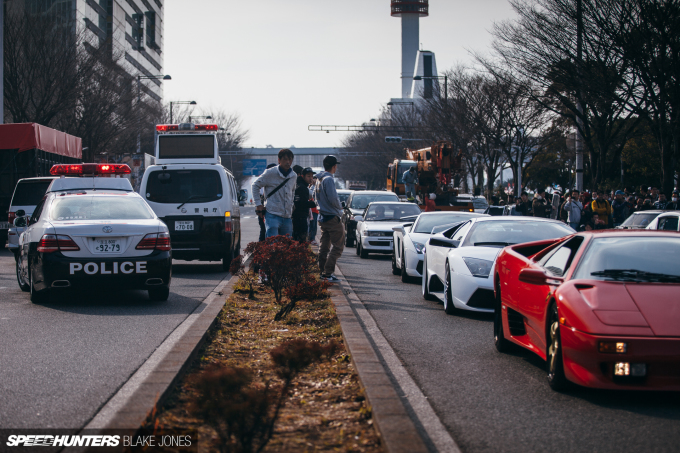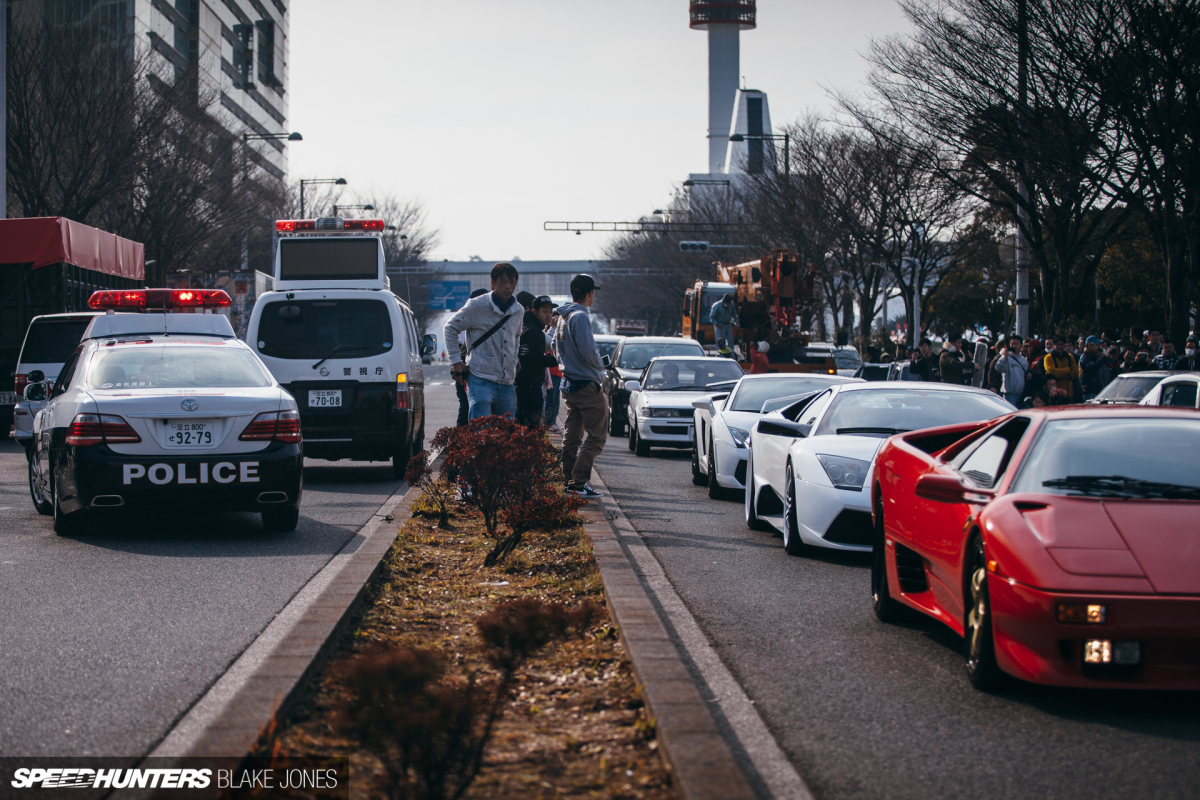 As you may know by now, the Police in Japan have a rather curious relationship with car enthusiasts that flaunt the law. I was asked to move along from my perch on the median strip, but the tyre-smoking drivers were left to their own devices. Perhaps it's just too much risk for the Police to intervene, or maybe there was a trap set further up the road…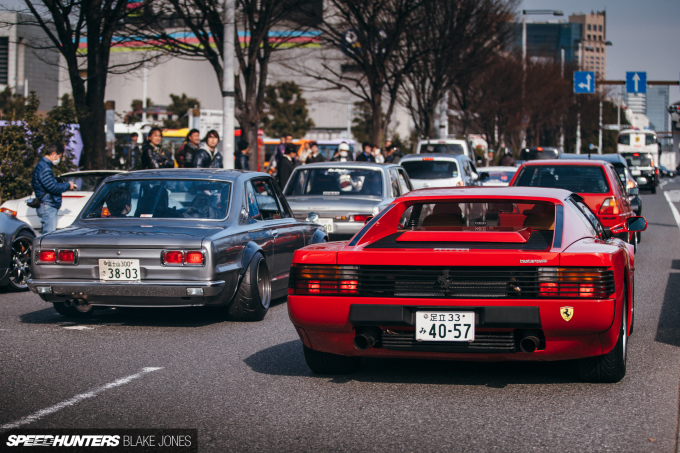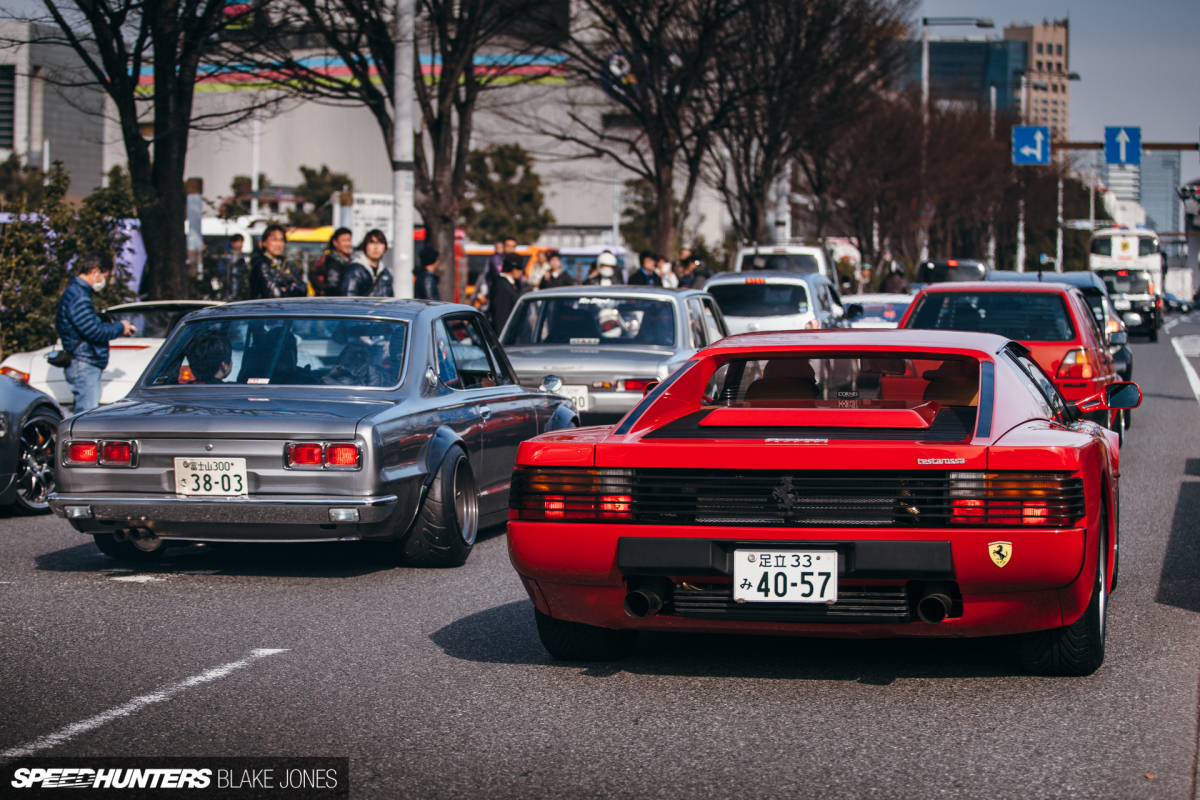 It was a treat to see two of my favourite car designs stopped next to each other in traffic, the Hakosuka's sultry curves contrasting nicely with the Testarossa's hard angles. Which would you choose?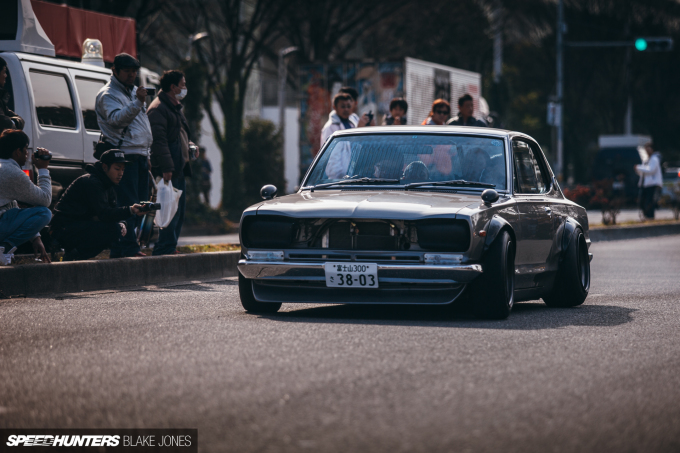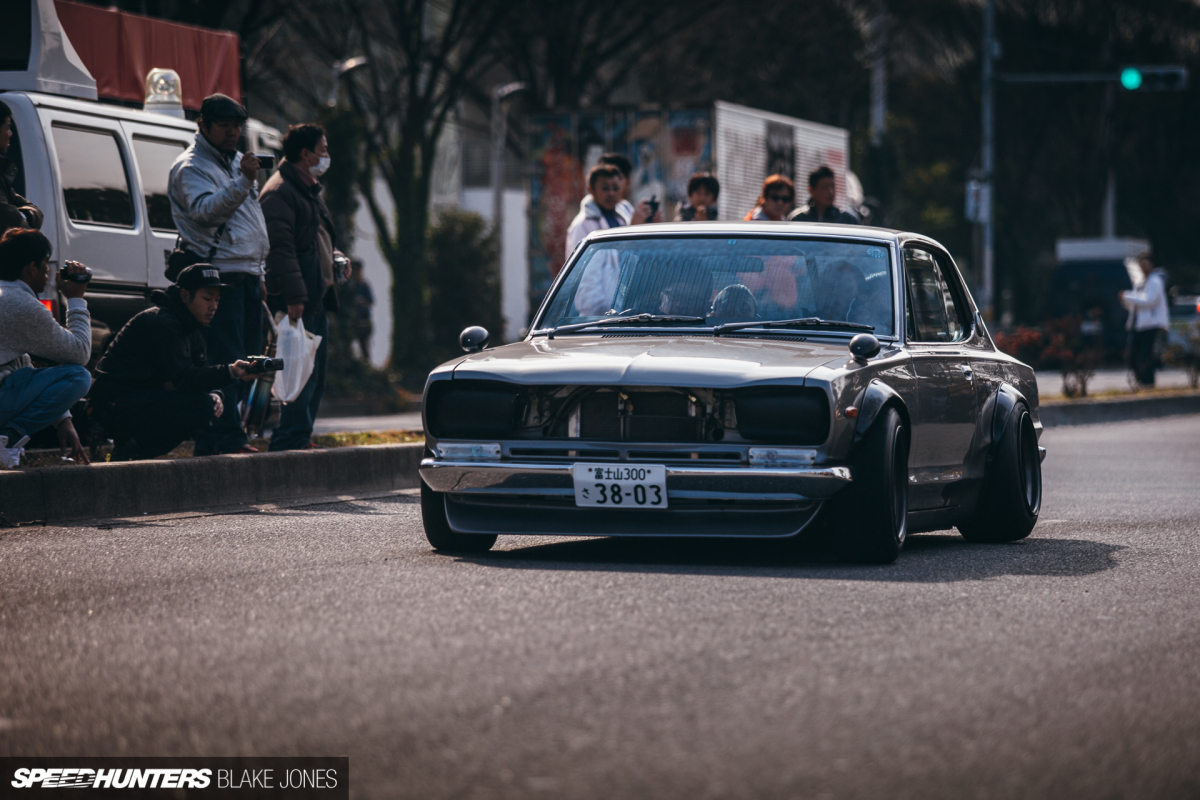 Even after all these years, I can't help pointing my lens at the first Nissan Skyline when I see one. Race-style headlight blanks look the part, but I guess you can't really stay too late at these car meets.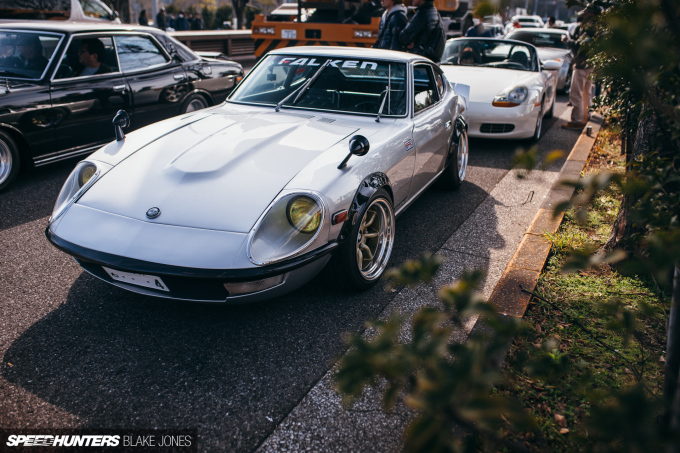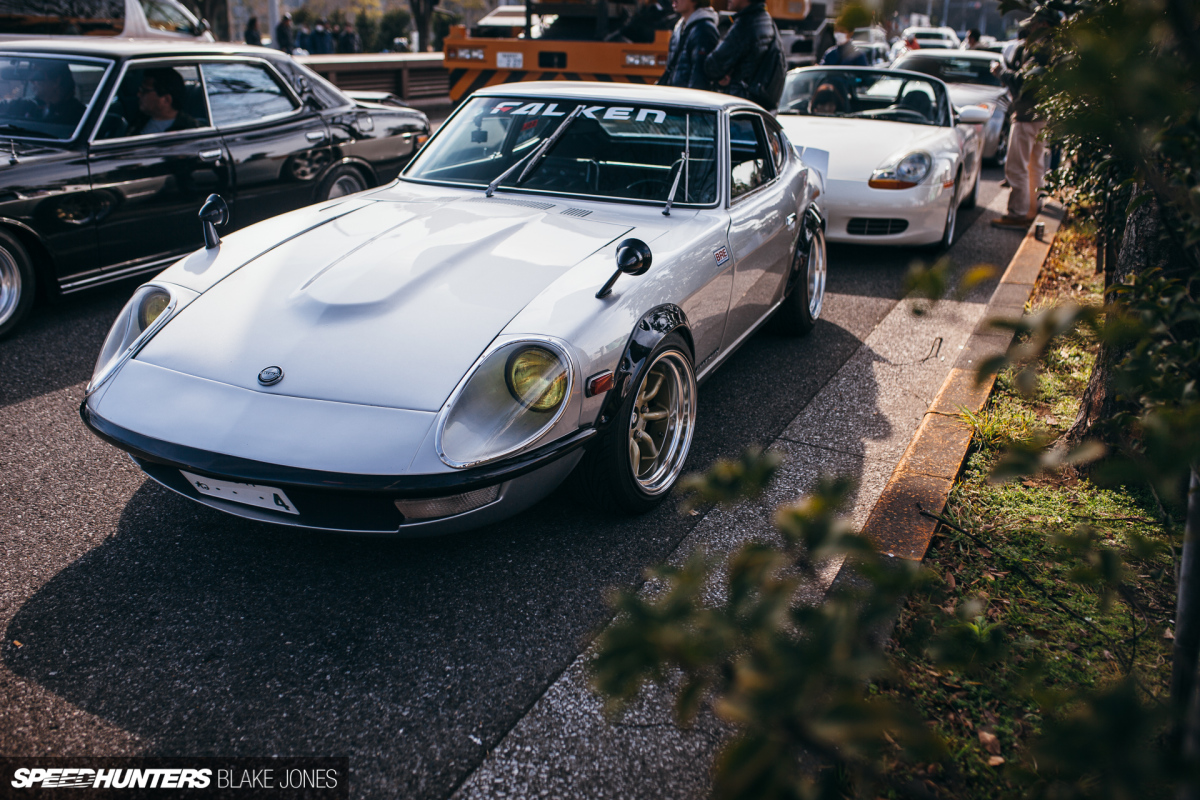 A nicely executed G-nose Z is much the same; it's impossible not to stop and stare. Will today's car designs have the same impact 40 years down the track? I don't think so.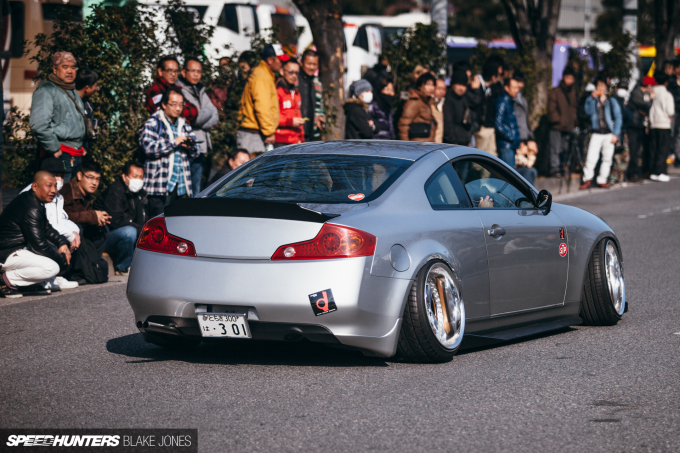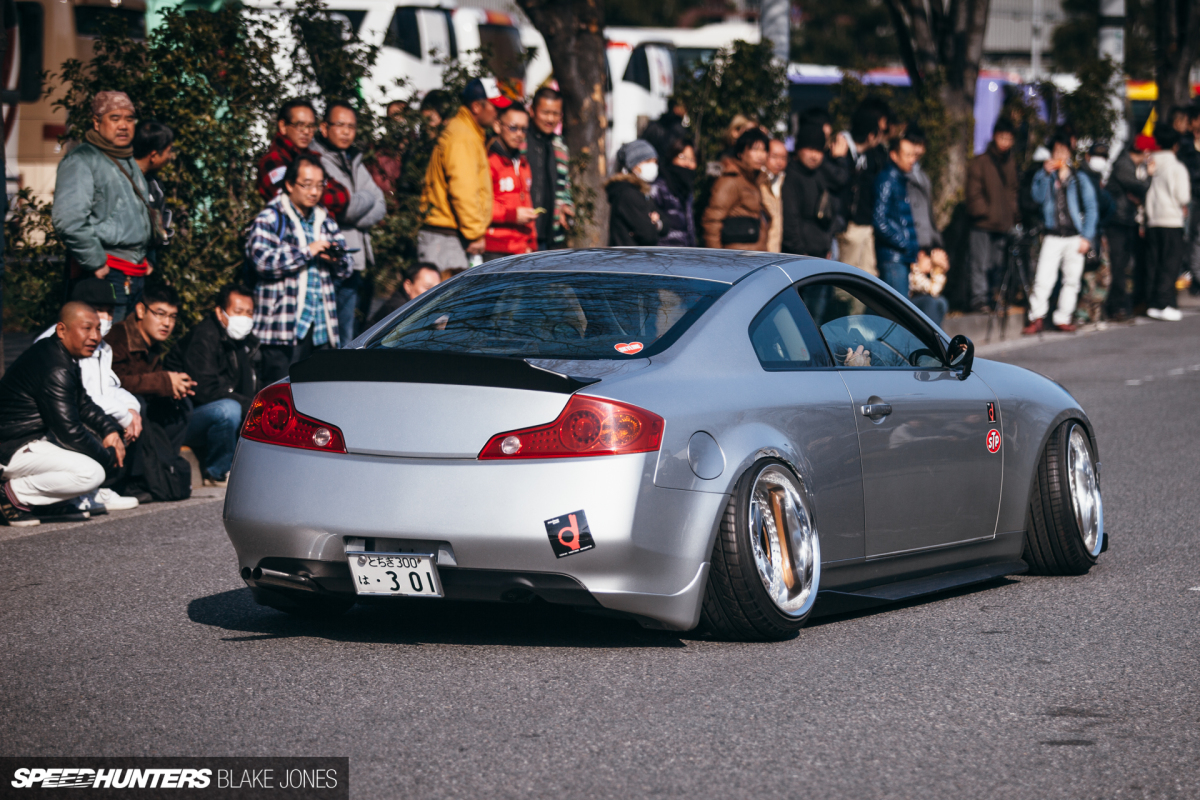 Although this was a classic show, there were a few examples of more modern cars leaving the carpark at the same time. This G35 coupe was sporting some kyusha-inspired modifications like the small-diameter shotgun exhaust, lip spoiler and, of course, that shakotan stance.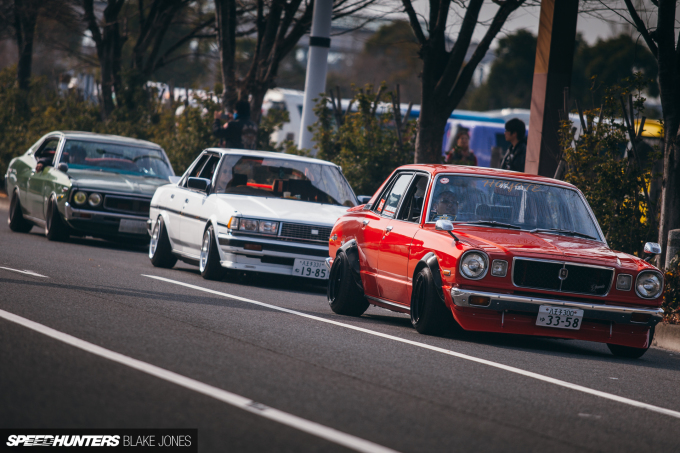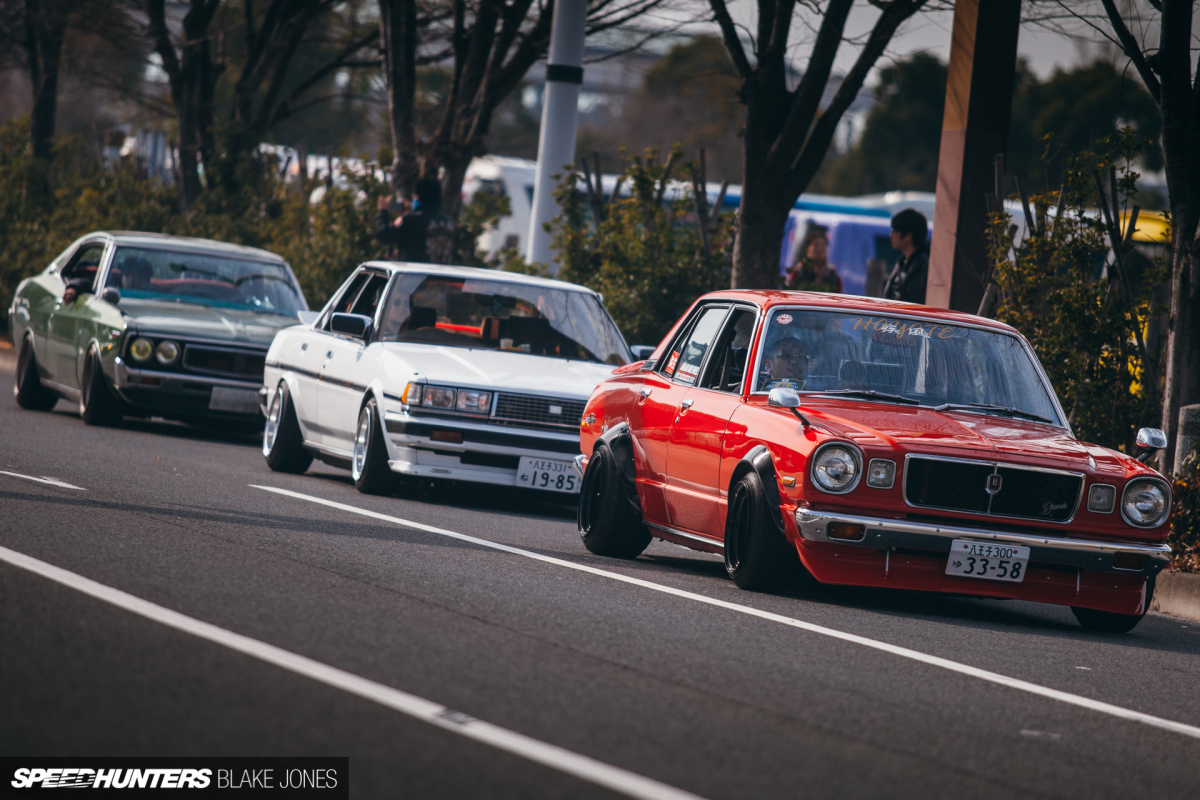 If you're looking for examples of wheel fitment done right, here I present three candidates. All of these cars manage to look aggressive without reducing themselves to undriveable messes. Take note, oni-kyan adherents.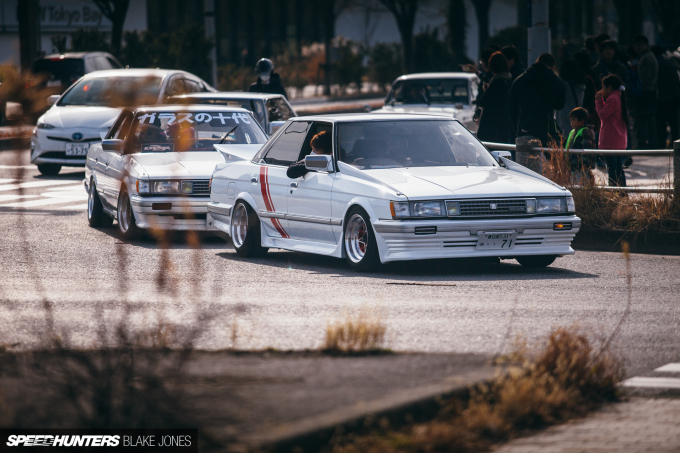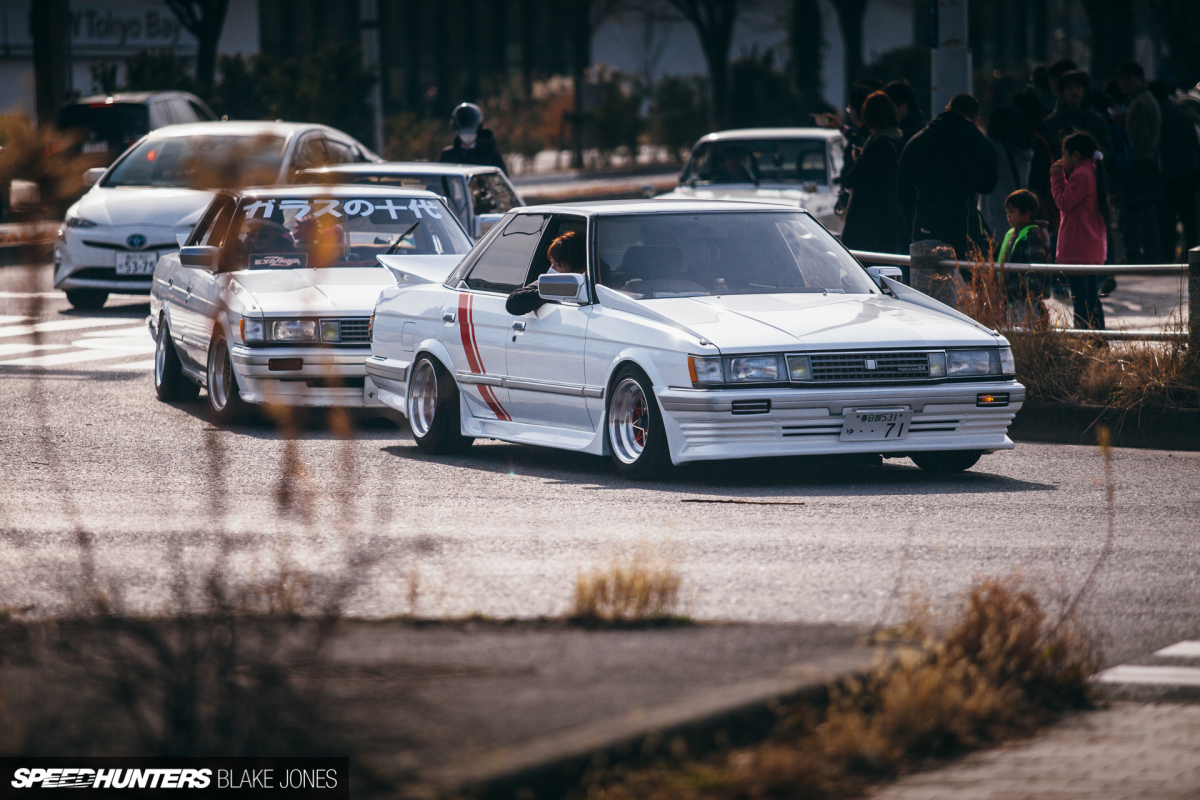 I know, I know, stance and speed don't belong together, but you can't dispute how great these boxy sedans can look with just the right amount of low.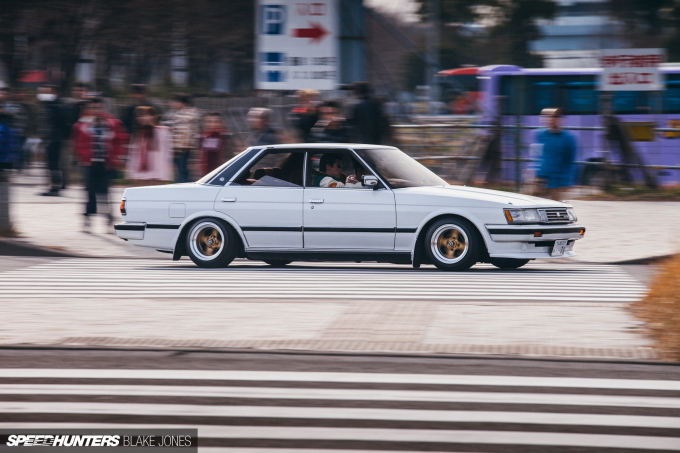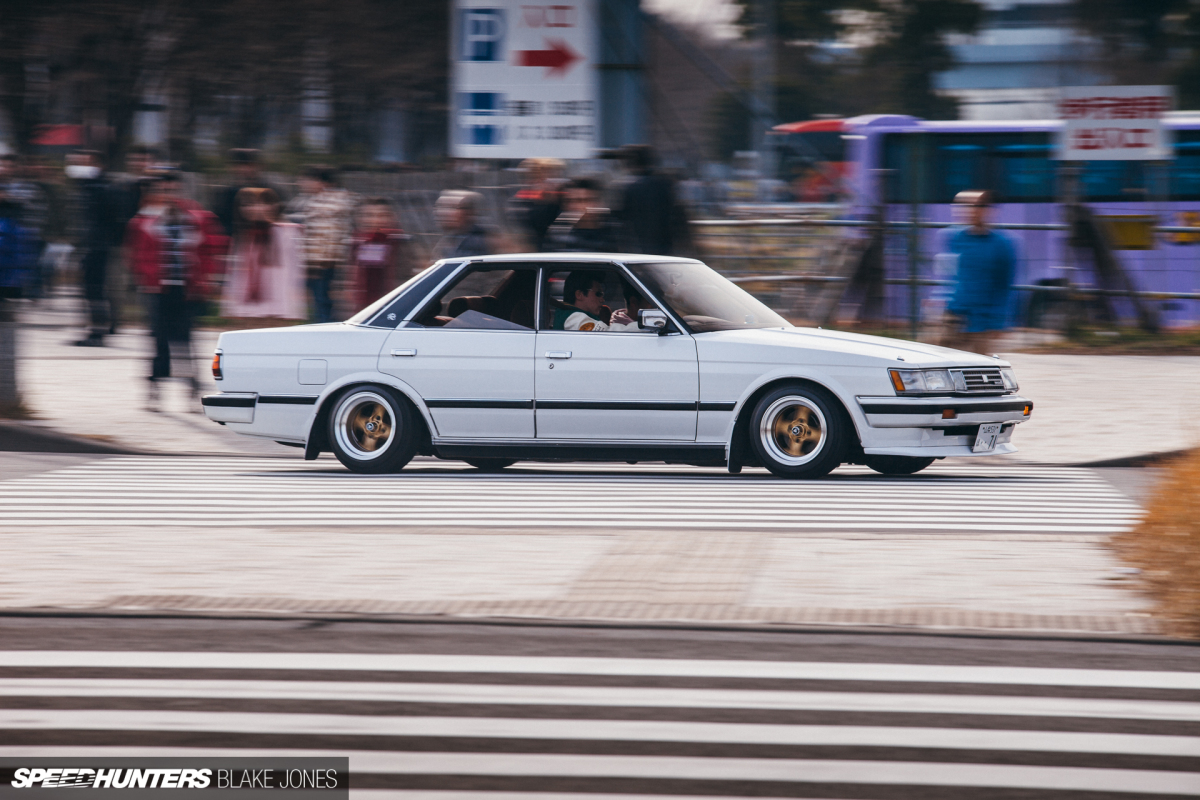 There was once a time where online coverage of an event like this would be, from a non-Japanese perspective, ground-breaking stuff. I just think back to excitedly tearing through Mike's coverage in 2009 and brainstorming ways to get my stock 1974 Mazda 929 looking as tough as some of these Tokyo rides, In 2017, kyusha culture has undeniably gone global, with Hakosuka and Hachiroku being almost universally understood anywhere in the world. Still, you really need to see it first-hand to truly appreciate the creativity, brotherhood and madness that is kysuha culture.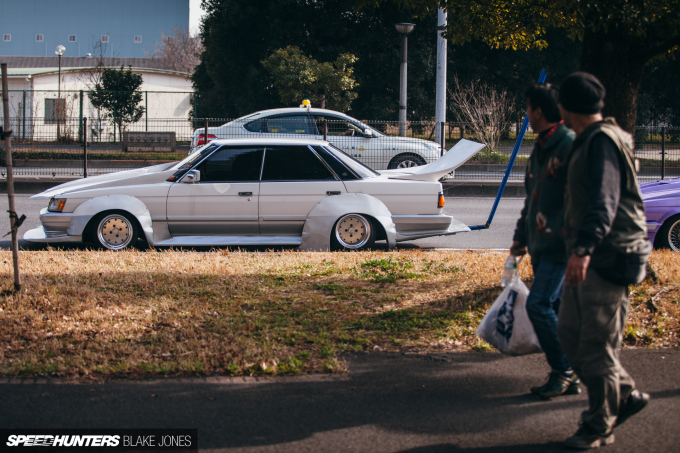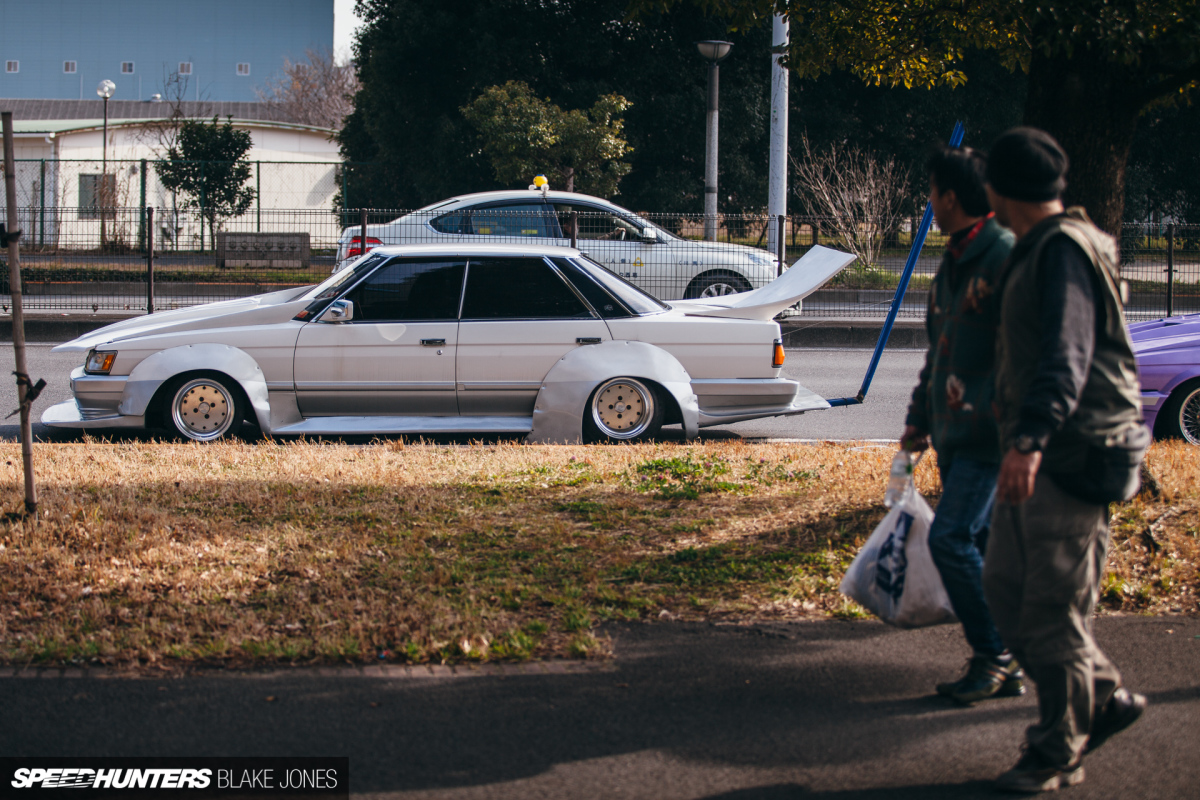 The JCCA New Year Meeting is truly one of those events where I just can't get enough. My camera's memory was close to full by the time I left and it was more than I could possibly hope to fit into one story. In addition to a few upcoming spotlights, I've filled up the bonus images chapter below with more from one of Tokyo's most colourful automotive events.
Blake Jones
Instagram: blaketjones
blake@speedhunters.com
Cutting Room Floor