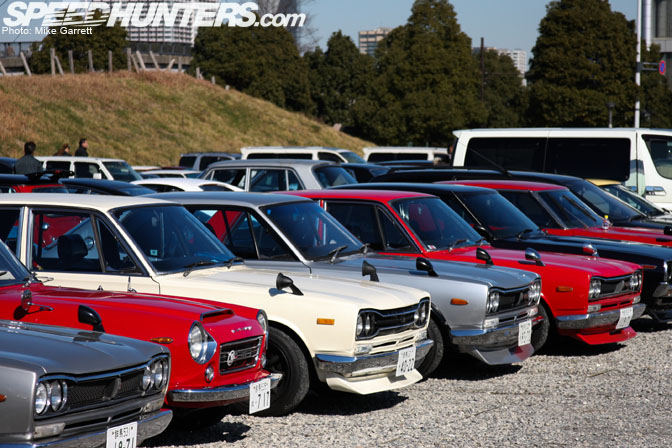 That's a pretty cool line up of cars isn't it? I suppose the fact that this was taken not in the show itself but in the parking lot next door shows just what kind of event the JCCA New Year Meeting is. Not to take anything from the actual show, but you could spend just as much time checking out the cars in the lots. A lot of people know this, because I saw tons of others strolling the parking areas taking photos of the machinery and "tailgating" with their buddies. Yep, this is Japanese classic car culture at its very best.
For years, the New Year Meeting has been one of the biggest classic car gatherings in Japan. All day long, the streets of Odaiba are filled with vintage cars cruising by with the sound of sidedraft carbs and musical horns echoing off the nearby skyscrapers. It's just beautiful.
Unlike Tokyo Auto Salon with its new models and trends, or a racing competition with results to report on, the NYM is much simpler. Essentially, its an overload of tried and true nostalgic goodness. For that reason, I'm gonna jump right to the photos because there's a LOT of drool-inducing stuff to post.
OK, on with the pics. You can probably tell that I'm really excited about this.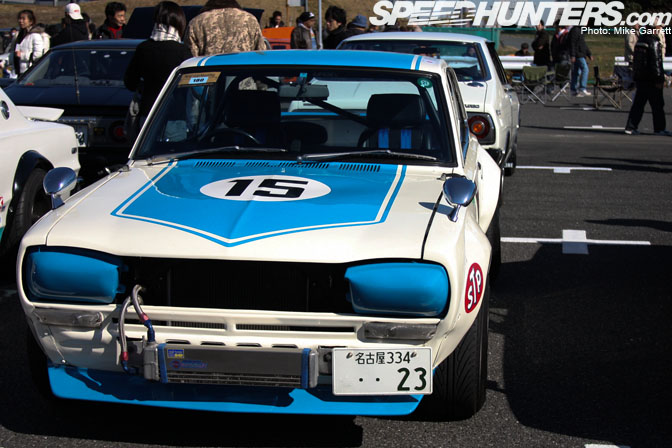 Just because the parking lots or full of treasures doesn't mean there isn't great stuff to see within the gates of the show. For example, this KPGC10 race car replica that came all the way from Nagoya.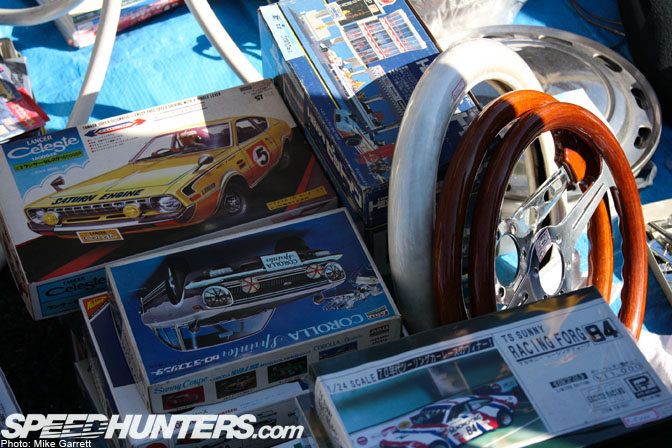 Just the swap meet is more than worth the price of admission to the show. You could literally spend the entire day just browsing through the selection of of old toys, plastic models, magazines, parts, and other period Japanese collectibles. If you've ever been to parts swap in your home country, just imagine a Japanese version of it.
Unfortunatley, this presented a big problem for me because I have already accumulated a huge amount of stuff that I need to take back to the states with me somehow. As hard as it was, I had to limit my purchases to just what I could fit in my small bag. I'm thinking I'm gonna bring a separate suitcase for when I come to next year's show…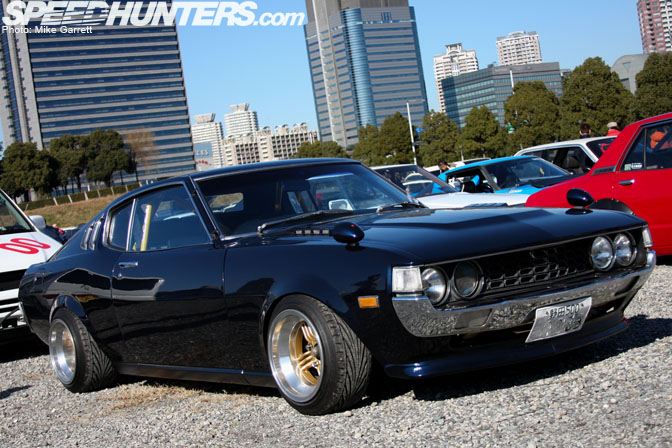 Here's one of your typical parking lot finds. An immaculate Celica LB sitting perfectly on a set of Techno Phantom wheels. THIS is why the New Year Meeting is one of my favorite events ever. I think I'm gonna do a desktop of this photo because I want to stare at this car everyday, I suppose you guys do as well?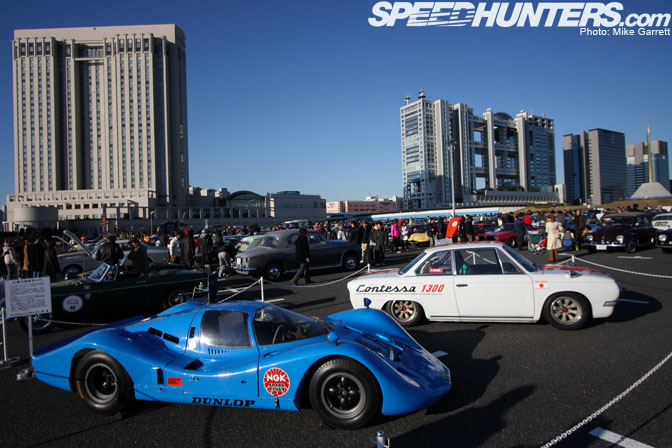 Besides the well-loved and popular stuff, you'll also find a lot of truly rare finds at the New Year Meeting. Here's an Isuzu R6 Coupe race car alongside a competition-spec Hino Contessa.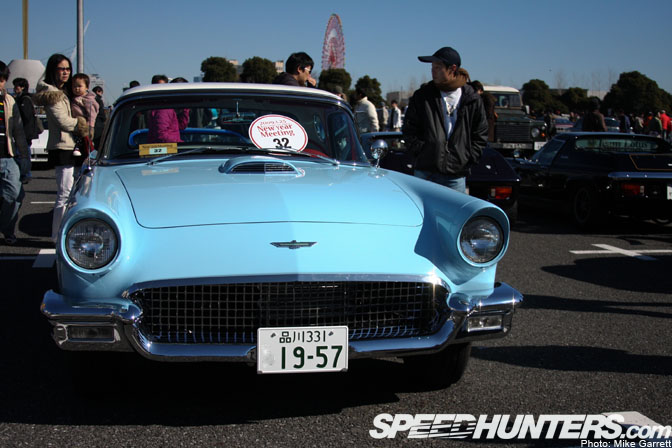 Japan has always had an infatuation with the American "good old days". How can you not like stylish cars like this '57 Ford Thunderbrid?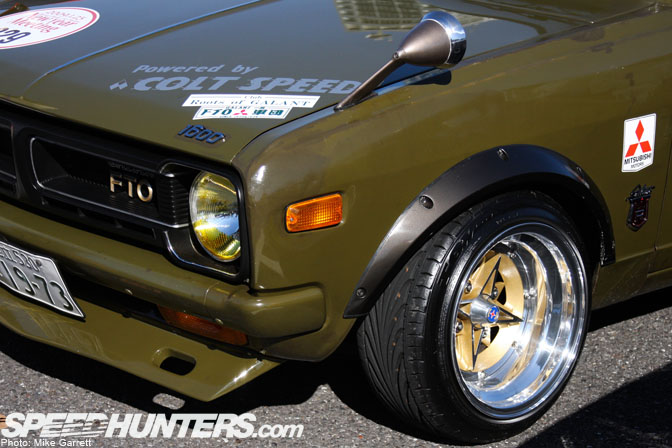 This Mitsubishi Galant GTO looks like it could be used by the Imperial Japanese Army.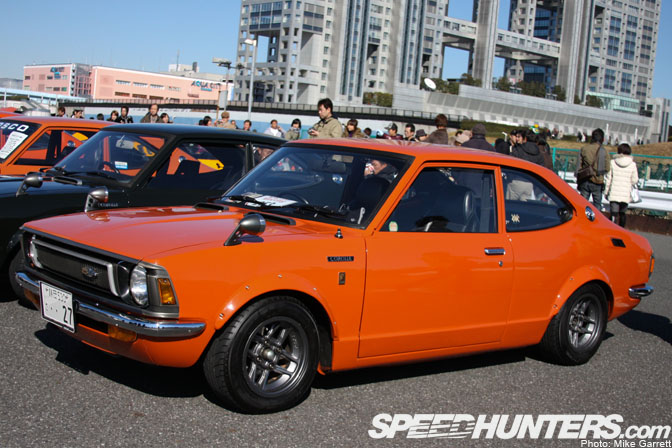 This was one of many fully restored TE27 Toyota Levins lined up alongside each other. I thought of Antonio when I saw this.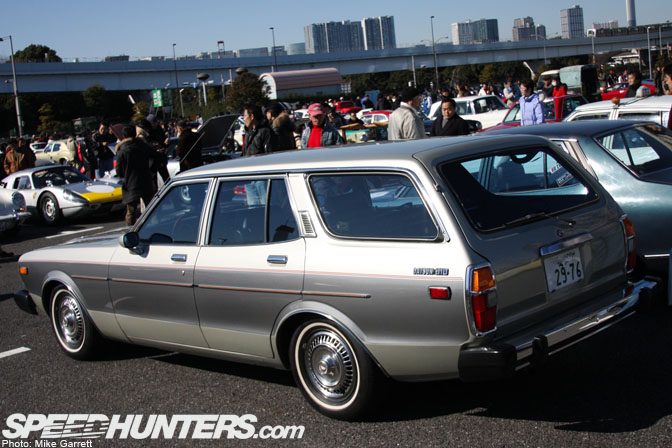 I found several LHD USDM Datsuns at the show, including this all original 810 wagon complete with bulky 5mph bumpers.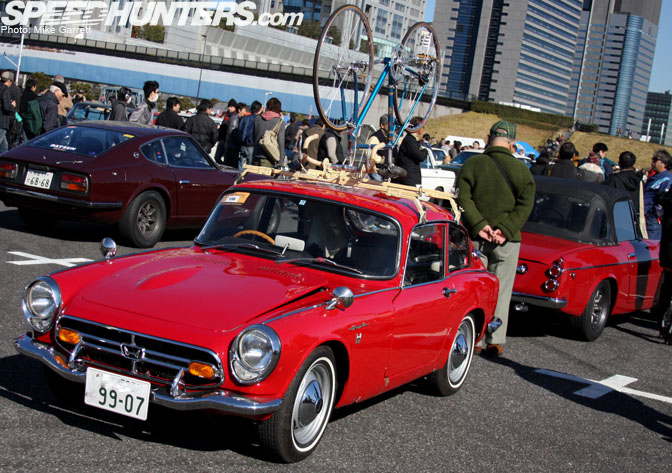 This Honda S800 Coupe is complete with the "JDM tyte" roof rack and accessory bicycle.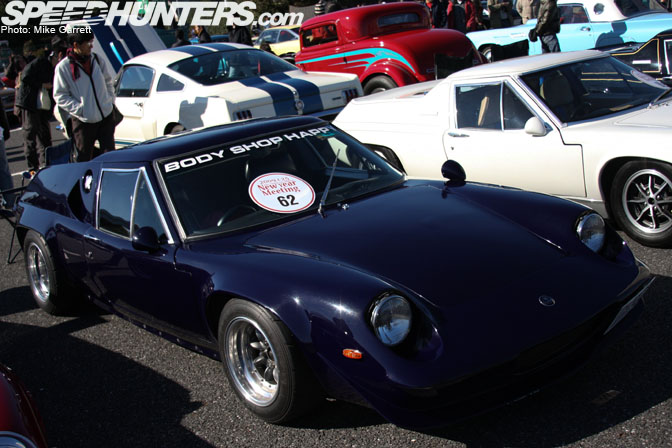 One of the many Body Shop Happy Lotus Europas. As sexy as these are, I don't think my 6'2" frame and this car would be a good mix. Hmm…I think I know why the Europa so popular in Japan now.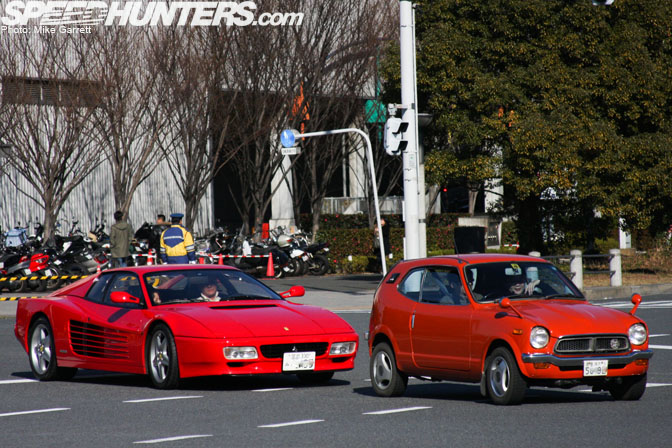 I think this photo properly sums up the WIDE variety of vehicles that converge on Odaiba for the New Year Meeting.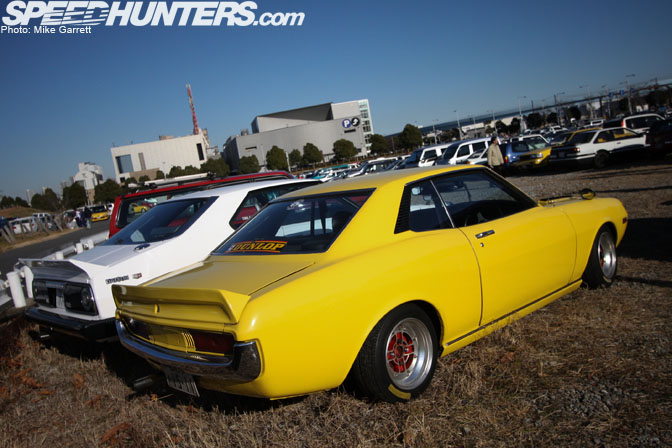 Another Celica found in the parking lot. The Nissans are always the most common, but this year seemed to have a surprising amount of awesome vintage Toyotas like this one.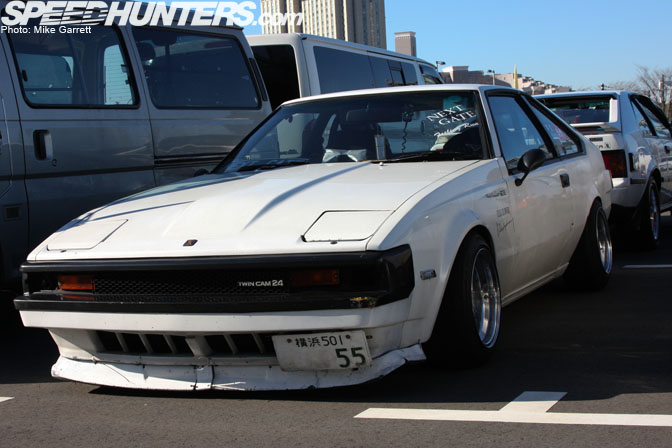 This Celica XX looks like it's seen some hard use, some of which might not have been in compliance with traffic laws.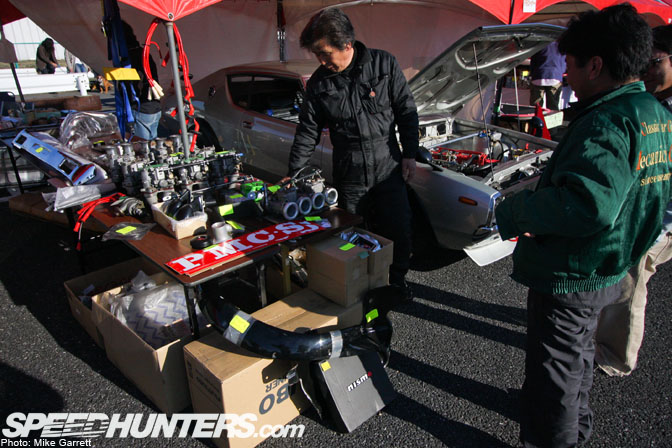 All of the big restoration shops had booths at the show. The perfect place to pick up that set of S20 carbs or GT-R fender flares you were looking for…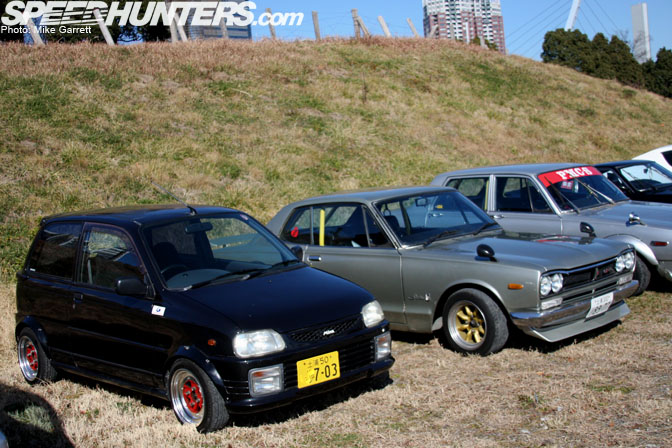 The kyu-sha style goes beyond the old cars. The parking lot was filled with compacts and keis with old school wheels and bolt-on overfenders like this SSR Mark III-equipped Daihatsu Mira repping for my "home area" of southern Ibaraki-ken.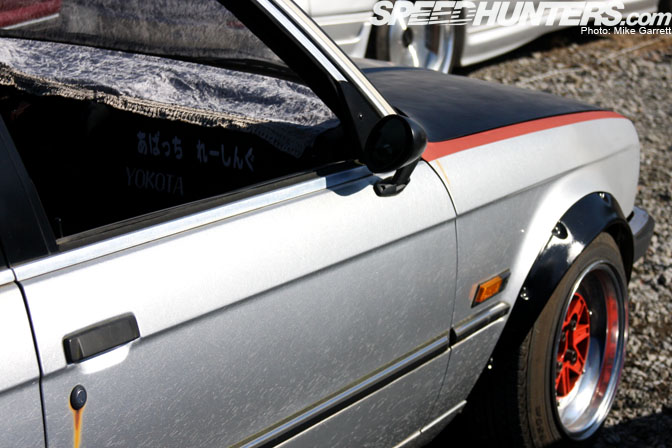 How many BMW E30's have you seen done up like this?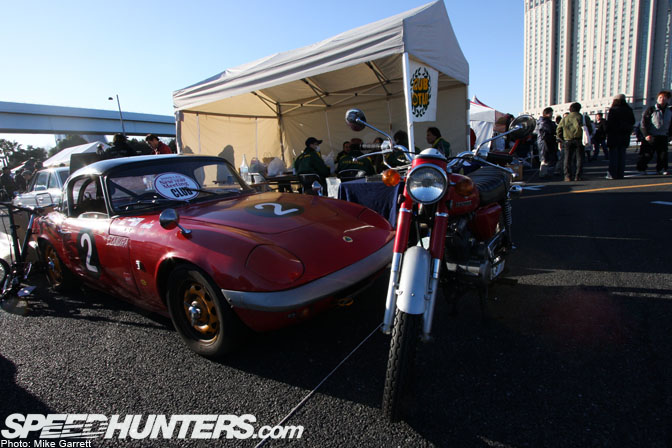 I'm a sucker for scenes of cool vintage cars next to cool vintage bikes.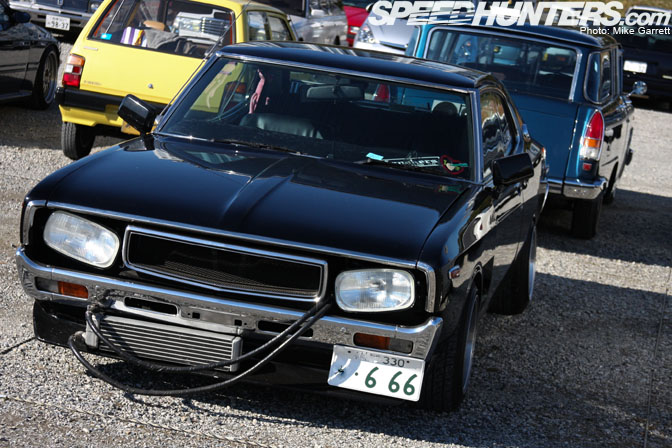 C130 Nissan Laurel done with proper "angry eye" headlight conversion, oil cooler, and a number plate to match.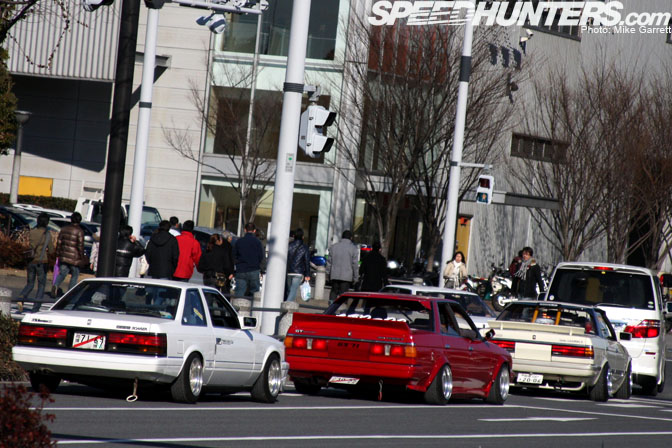 And finally, a scene showing a typical intersection outside of the New Year Meeting.
Stay tuned, much more is on the way.
-Mike Garrett