The Core Of The Tuner Scene
Arriving at Fuji Speedway during HKS Premium Day is akin to being slapped around the face with the best and most respected tuner cars Japan currently has to offer. Tokyo Auto Salon was good, it always is, but ladies and gentleman this is where it's at. This is the Japanese car scene as I've always known it; a colorful parade of horsepower, technology and engineering, plus a hefty dose of imagination.
With that in mind, I'm going to jump straight in and show you the goodness I came across; the cars that prove that at the end of the day nothing has really changed in Japan. Enthusiasts are still playing around with cool cars, making more power and going faster.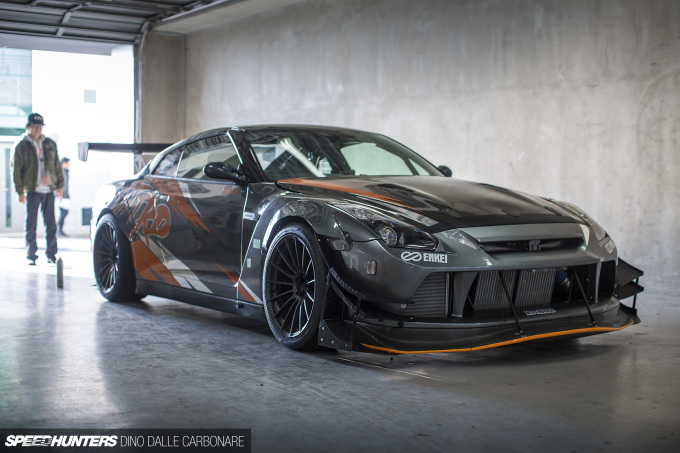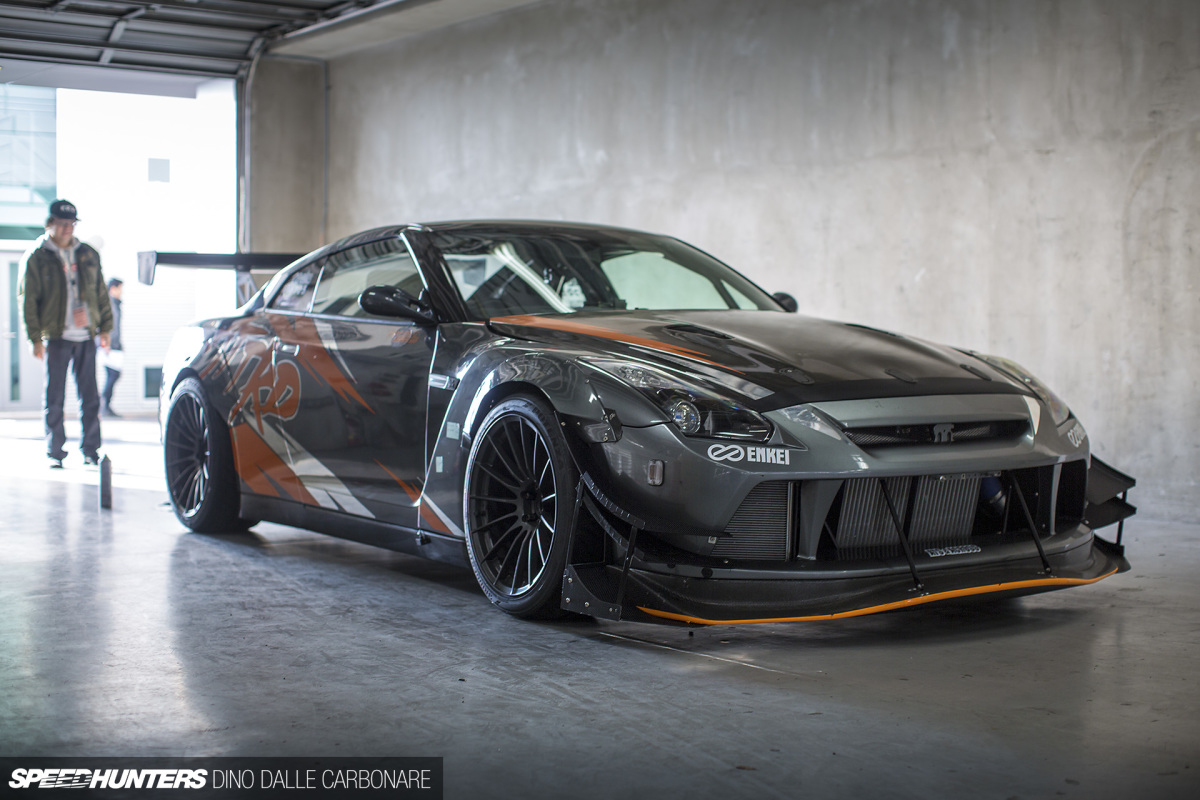 Autech Tsukada (ATTKD) was the first pit I visited. I was curious to see if they had further evolved their R32 and R34 demo cars, but it looks like the 2017 time attack season has been set aside for R35 GT-R development. We've seen this car at Tsukuba competing in the Super Battle and it's always been pretty fast, but with so many HKS-certified tuners in Japan going R35-crazy when it comes to Fuji time attack events, the san-go is the car to use.
The ATTKD R35 has changed quite a bit since I last saw it, now running more aero and widened fenders to accommodate the increased front and rear tracks. It was at Premium Day specifically to enter Option magazine's Fuji Superlap, an annual time attack showdown held within the HKS event to see who can push the lap record time lower. In fact, ATTKD held the record for some time with a 1:41 lap.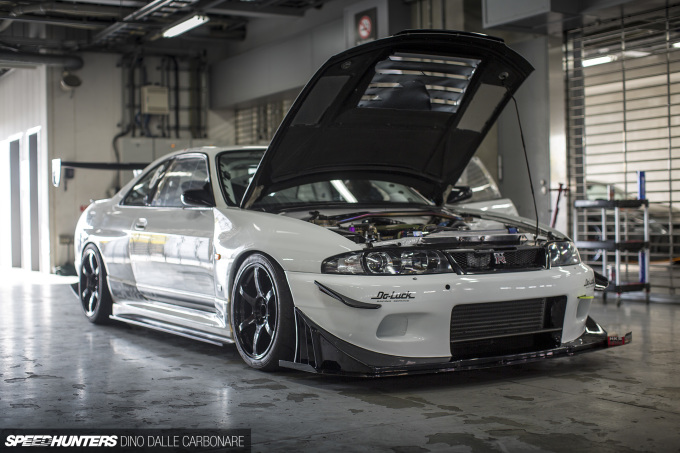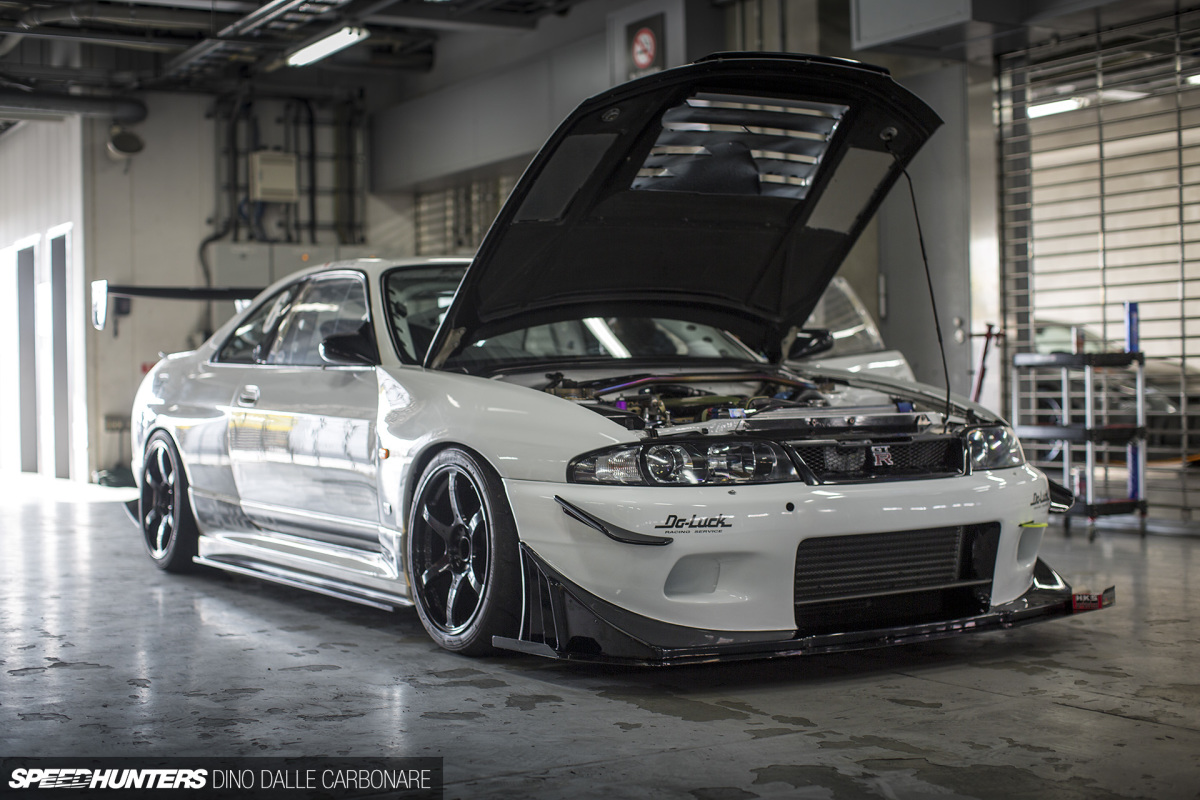 This year, Do Luck was able to achieve a 1:44 with its crazy BCNR33.
I've shown you this Skyline GT-R in detail in previous years, but to see it and other cars always going faster is nothing short of inspirational.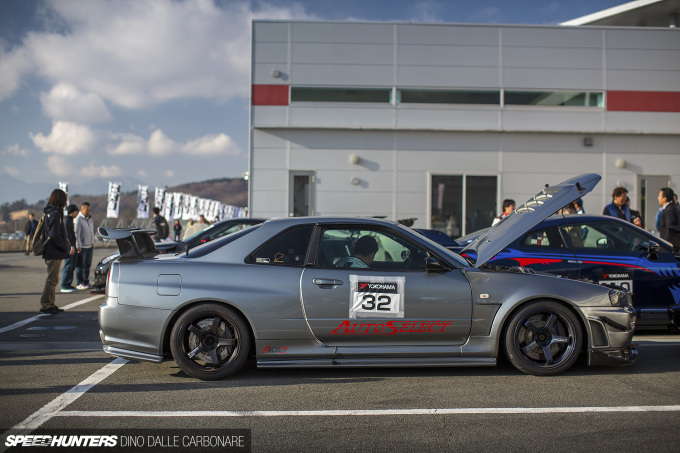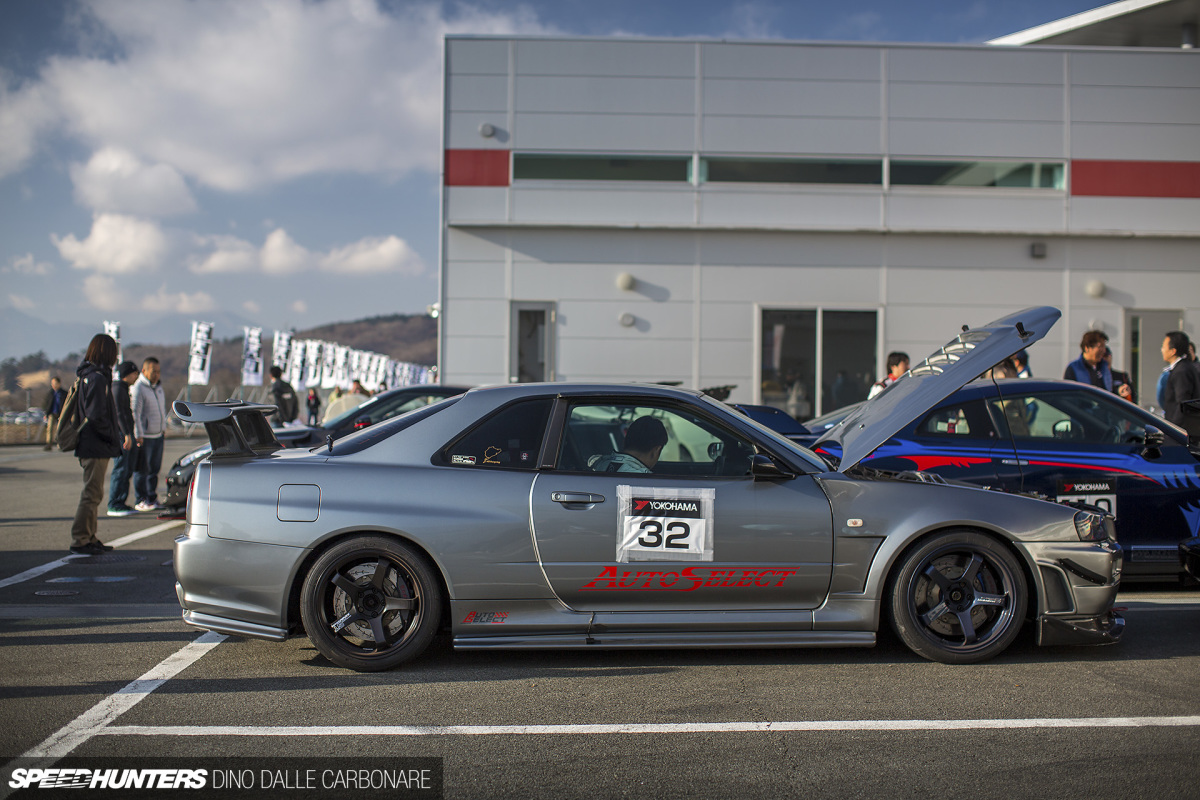 In the main paddock, I went over to the Auto Select group to check out the metal they had brought up from Osaka. I've always liked Auto Select's zero-bullshit approach to building cars, and through this philosophy they're continually churning out some of the wildest GT-Rs in the country.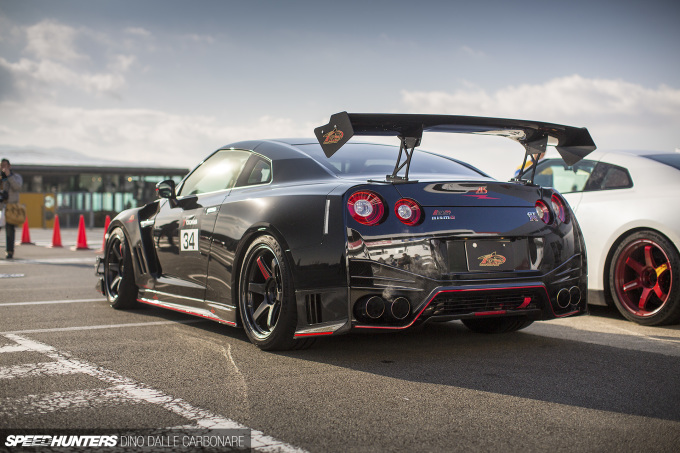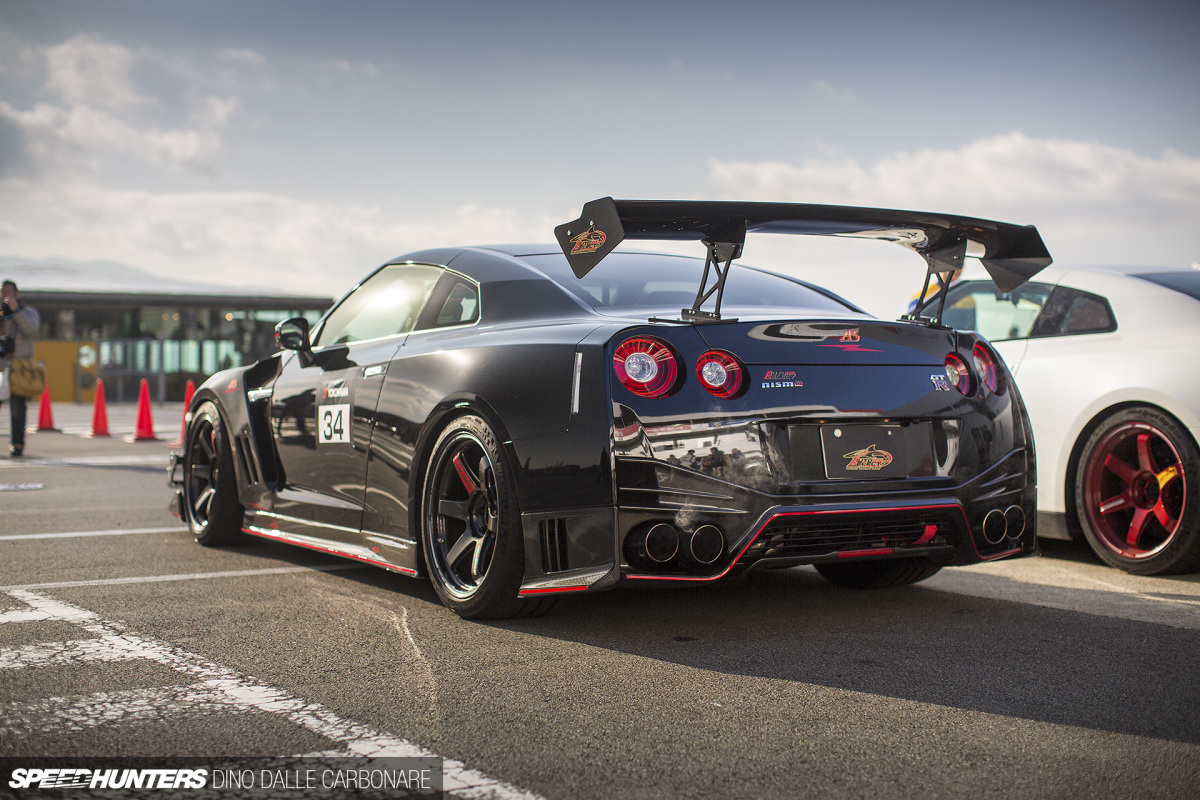 And Auto Select is taking the same approach with R35s too it seems; basing time attack builds on the Nismo version is beyond baller.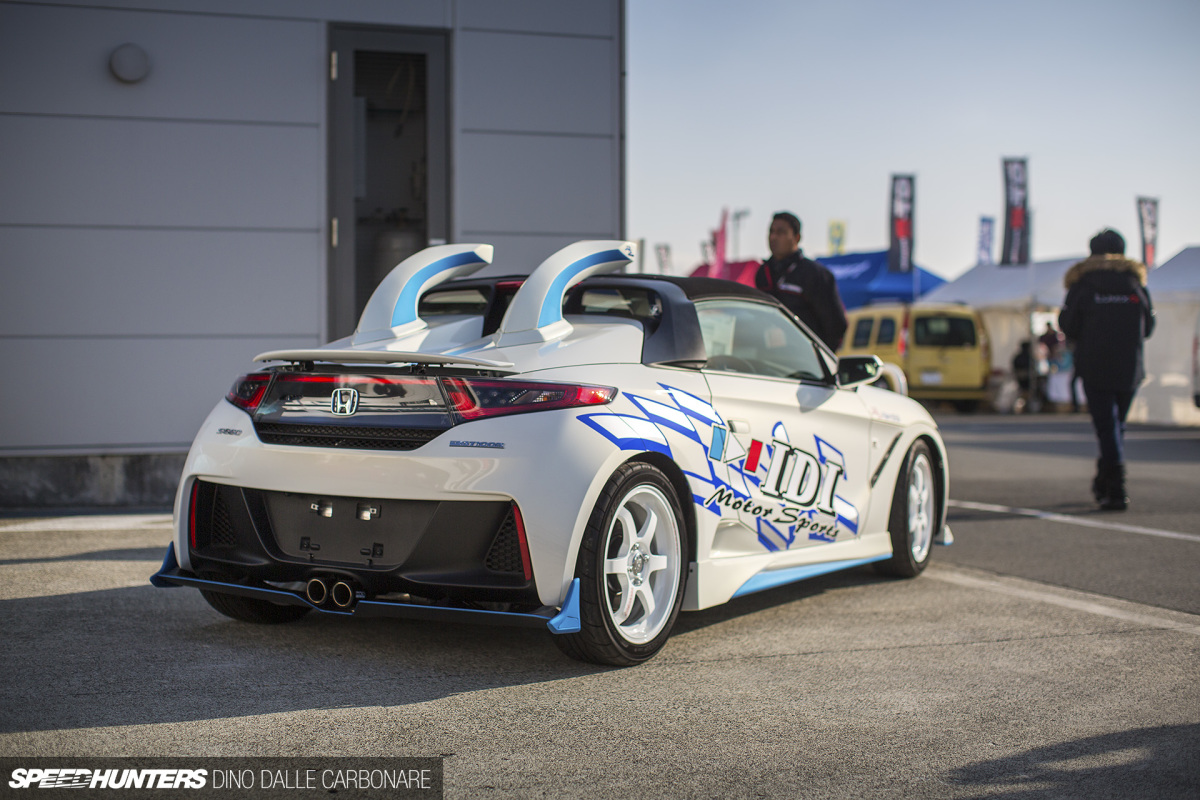 Remember RS Pantera's Honda S660 that I posted a few images of from TAS? It was only on display though, as pushing this car around Fuji's main course surely wouldn't be the most exciting thing to watch. Fuji Short Course on the other hand would be a great track for this little 110hp sports machine. Perhaps next year HKS could organize a race where all the tuners pit their S660s up against each other…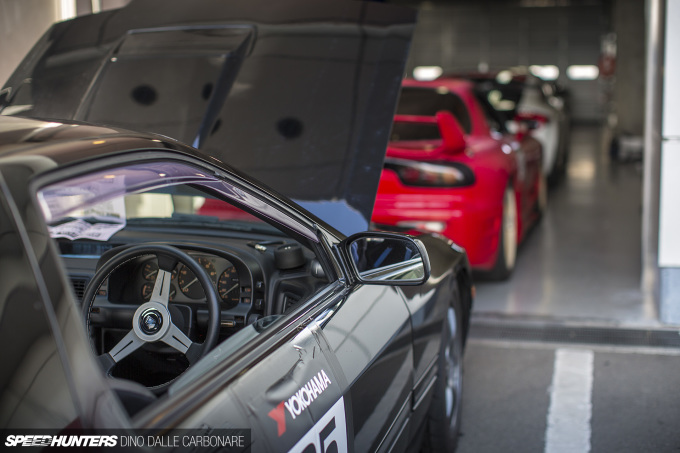 RS Pantera's pit was jammed full of rotary awesomeness in various states of tune, and all waiting for a chance to hit the track. While the Superlap event is the main attraction at HKS Premium Day, the Hiper Challenge is a timed track day session where shop customers can have a bit of fun racing against the clock.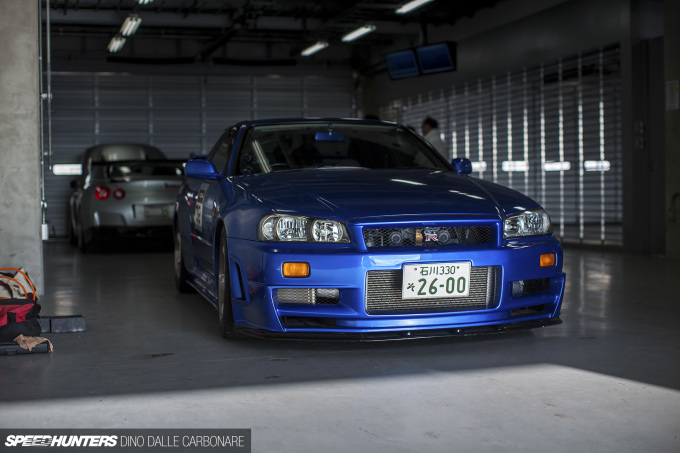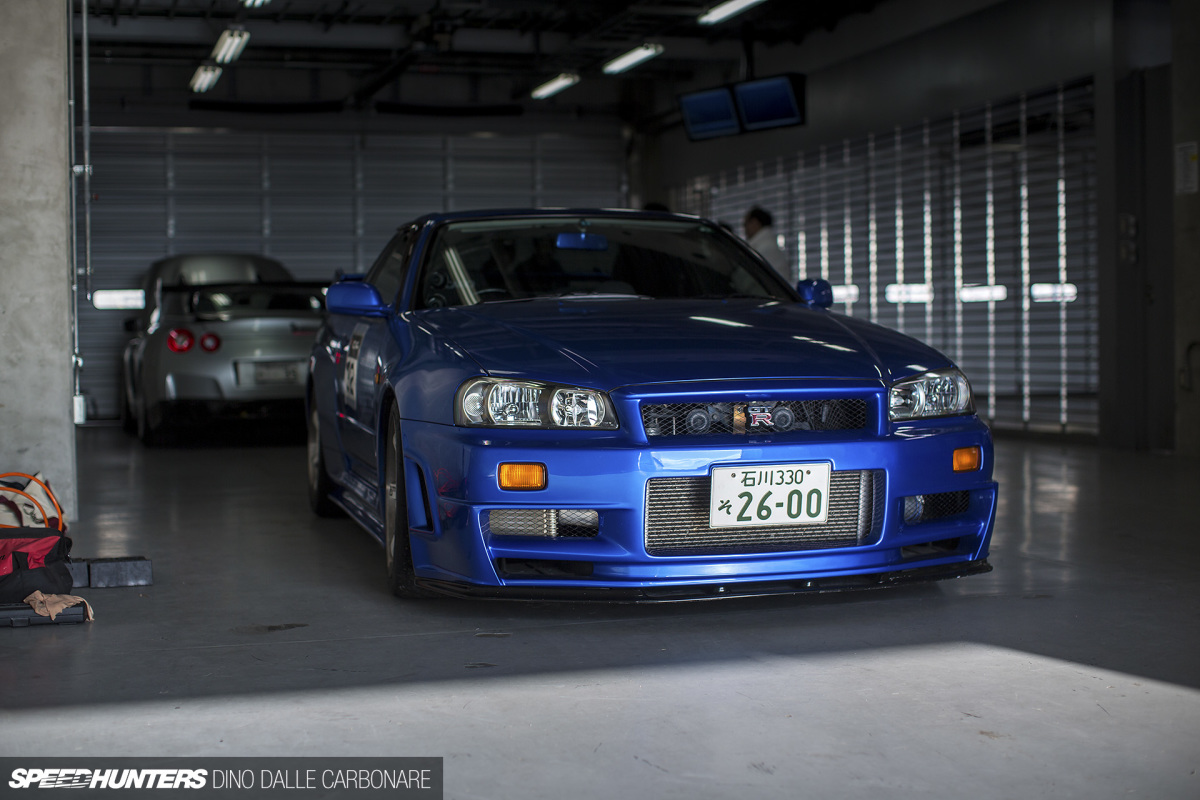 The lure, it gets me every time. A simple BNR34 with a Nismo Z-tune bumper will just pull me in from afar like nothing else. It might not have been a crazy time attack beast, but this example was clean and well modified. I'm not sure about the blue rear-view mirror, though.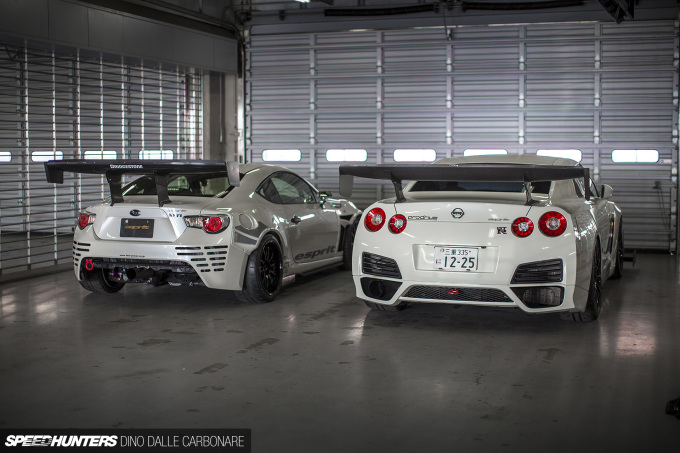 Direct from Suzuka was Esprit, one of the most track-focused tuners in the whole of Japan. Their cars are built to go fast and they are always at the top of the time sheet. They also had an interesting 86 project in their pit, right next to one of their R35 demonstrators.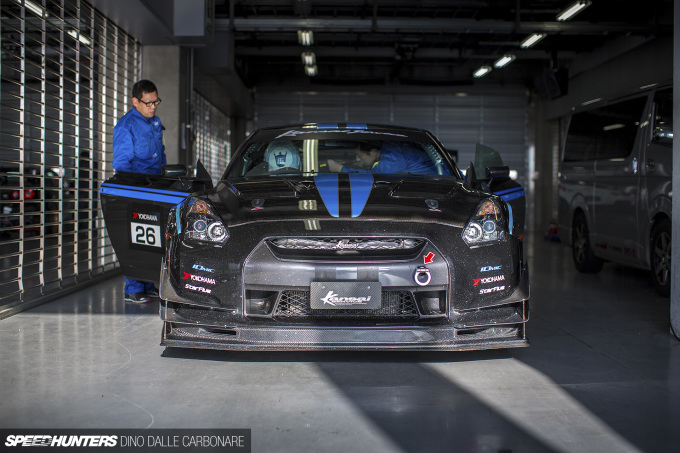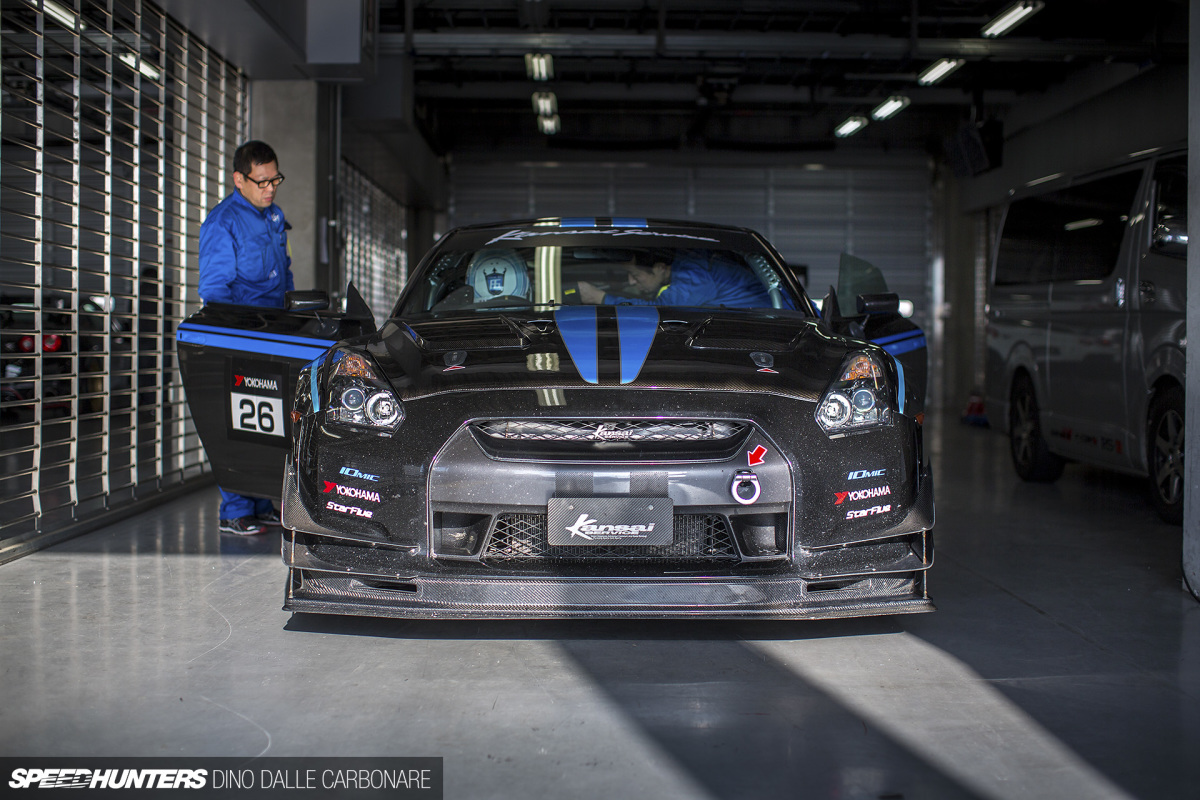 Kansai Service and HKS Technical Factory are the fiercest of rivals in the R35 world. Their cars both lap Fuji in the 1:41 zone, but are built with slightly different specs.
They look different too; the HKS car wears a full Varis Kamikaze-R wide body kit, which is far more complex than the more subtle-looking Kansai Service offering.
Garage Mak from Nagano also entered the R35 class this year with a new demo car they've been preparing. Lap times aren't meant to be released until the new Option magazine hits the stands as it is doing a big feature on this sub-event, and we can happily respect that.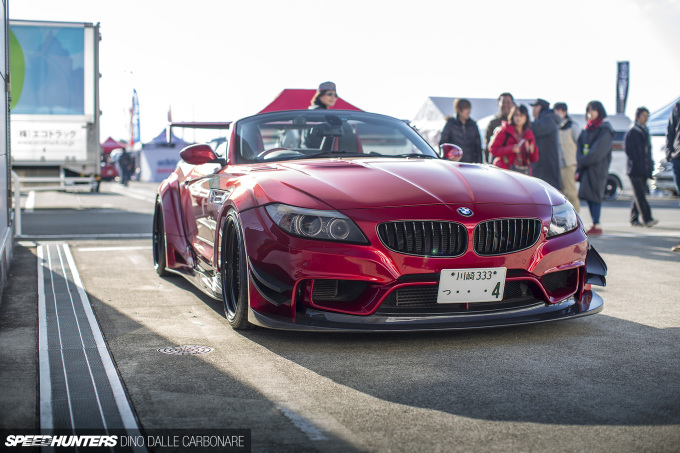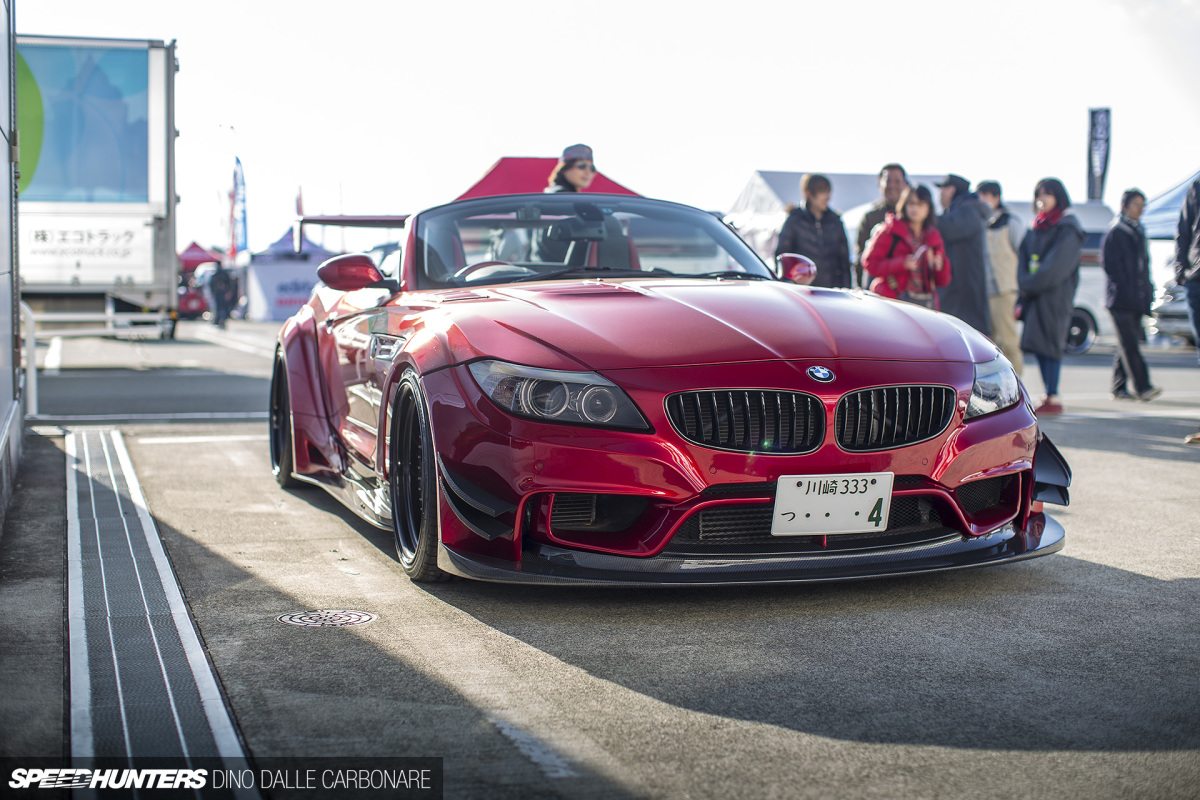 Speaking of Varis, check out this BMW Z4 I came across in the paddock. Aside from Varis's show cars, this is the first time I've seen one of their complete kits for this model fitted to a street car. The candy red paint looked phenomenal under the morning light.
And here is another Varis-made aero package, this time produced under the Ridox banner, Manabu 'Max' Orido's own brand. The subtle carbon details and redesigned bumpers and skirts give a dynamic edge to the Aristo like no other kit I've seen has.
Pit Walk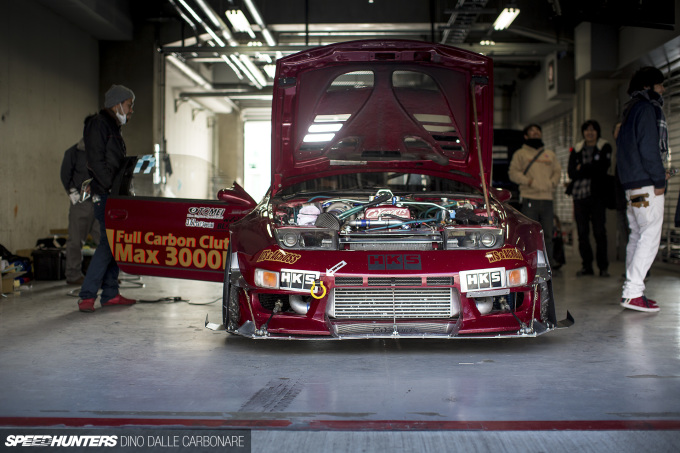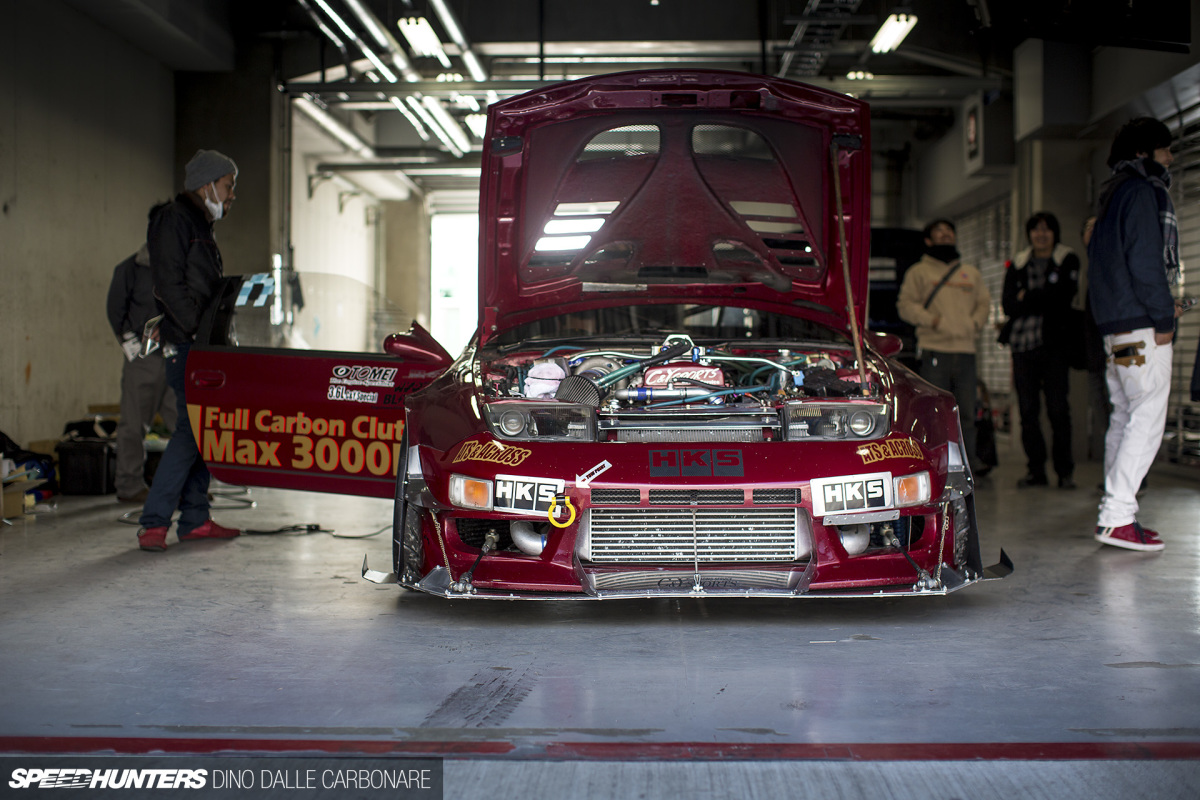 Talk about a blast from the past! Back in the day I visited C&Y Sports just outside Nagoya as I wanted to see their engine-swapped creations up close. I had heard about their 2JZ-powered AE86s back when they were in Okinawa and their 3S-GTE-powered S15 and a ton of others crazy cars they had meddled with, but this 2JZ-swapped 300ZX is a machine they had just finished at the time. It's certainly changed a lot since then, making the jump from a street car over to a dedicated track car, but it was so good to see it again, as it was catching up with the C&Y guys.
Subaru specialist S-Craft had a nice line-up laid out in the paddock, and while the Impreza STI with the WRC-inspired wing was getting plenty of attention, the lowered Levorg on Work rims was really doing it for me. Design-wise, it's a great looking wagon, a far more cohesive successor to the Legacy that the actual new-gen Legacy. But yeah, it's all CVT-equipped stuff now so they won't be getting more than a passing glance from me I'm afraid.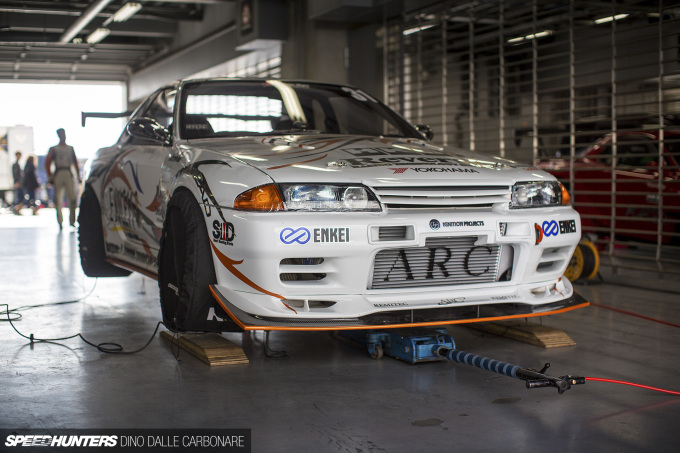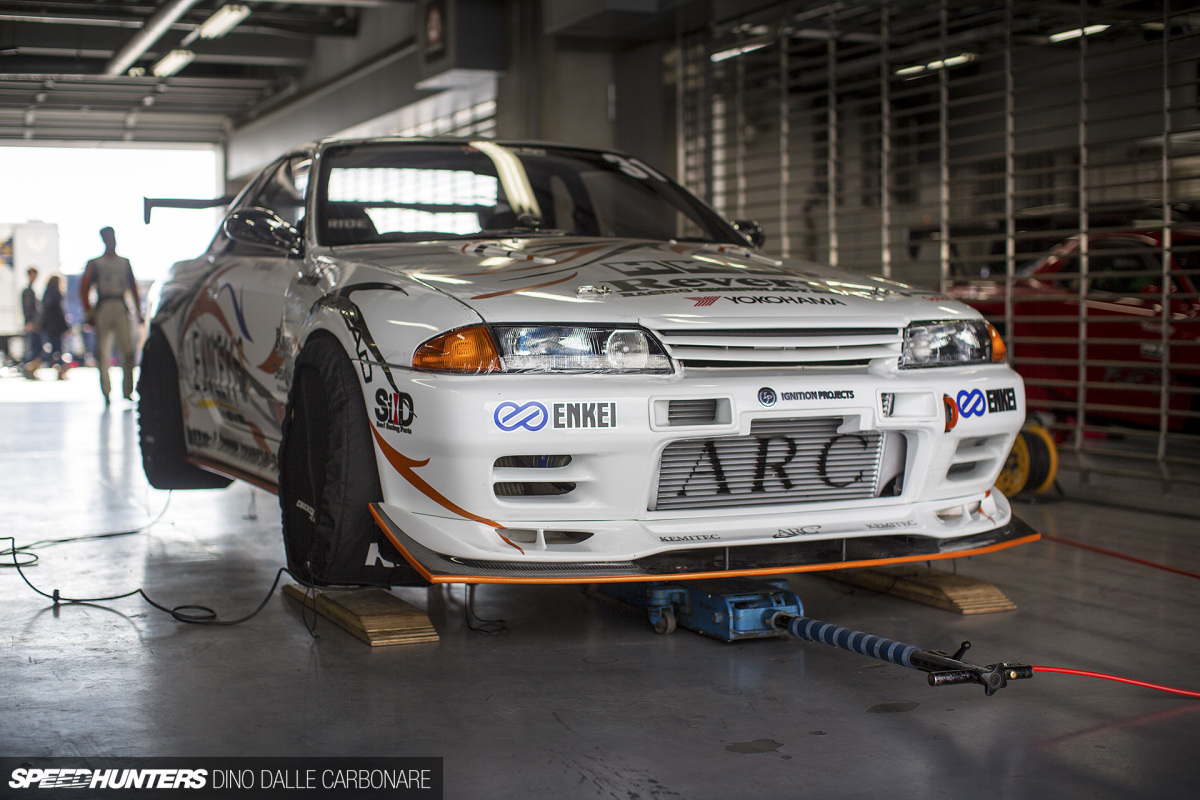 If there's a time attack event you can be sure Reverse will be present with their R32 GT-R.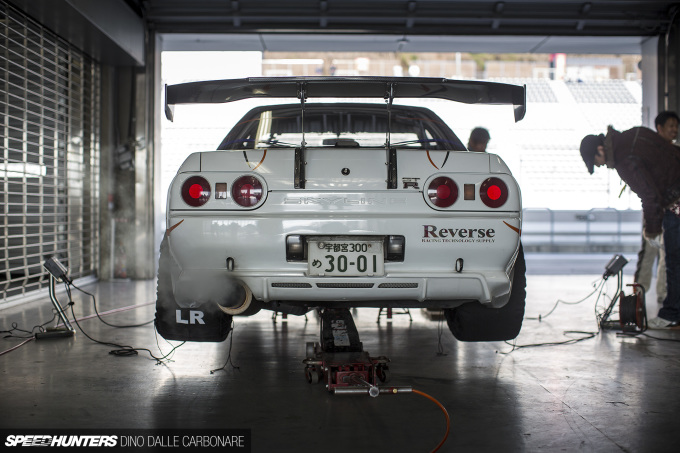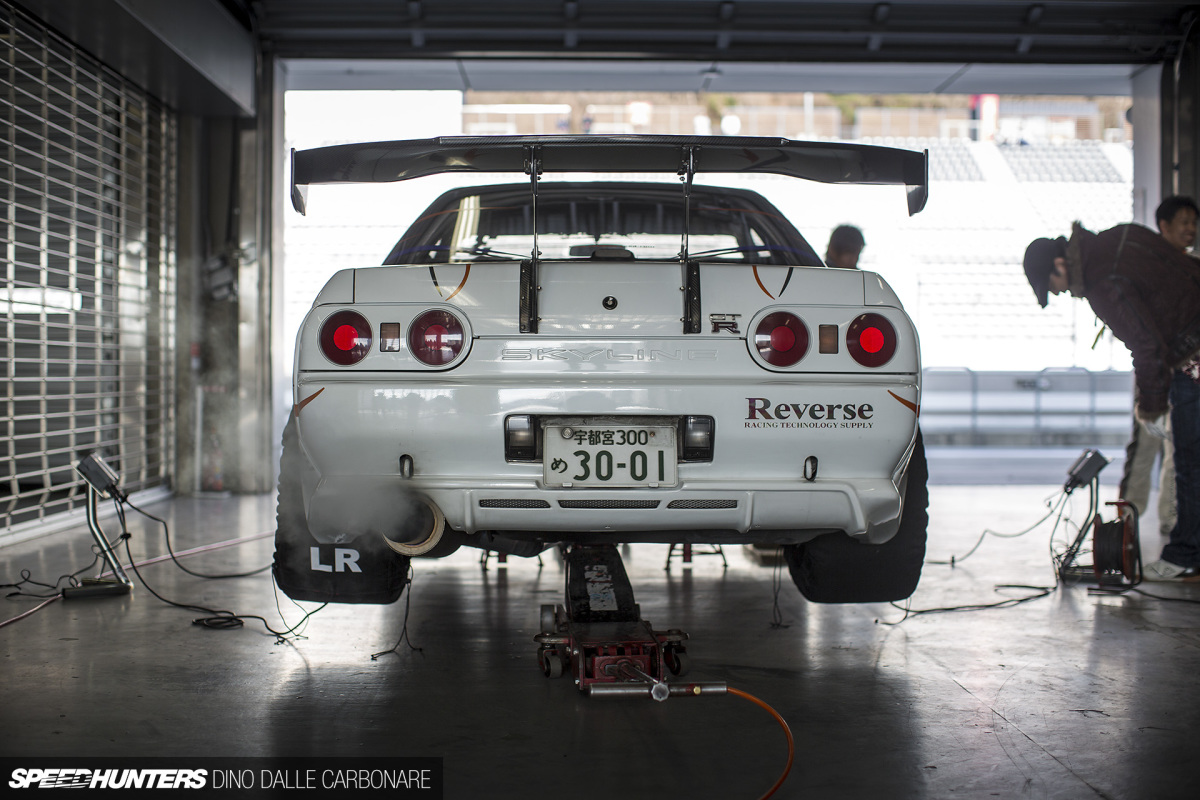 It's always cool to see this Skyline in person and be able to walk around taking note of all the changes. It keeps getting faster too; little improvement after little improvement, step by step and year by year. It's the way the Japanese like to do things. Sure, it'll never be as fast as something with a prohibitively expensive aero package, but the Reverse GT-R has an approachable feel about it which owners like myself can really relate to.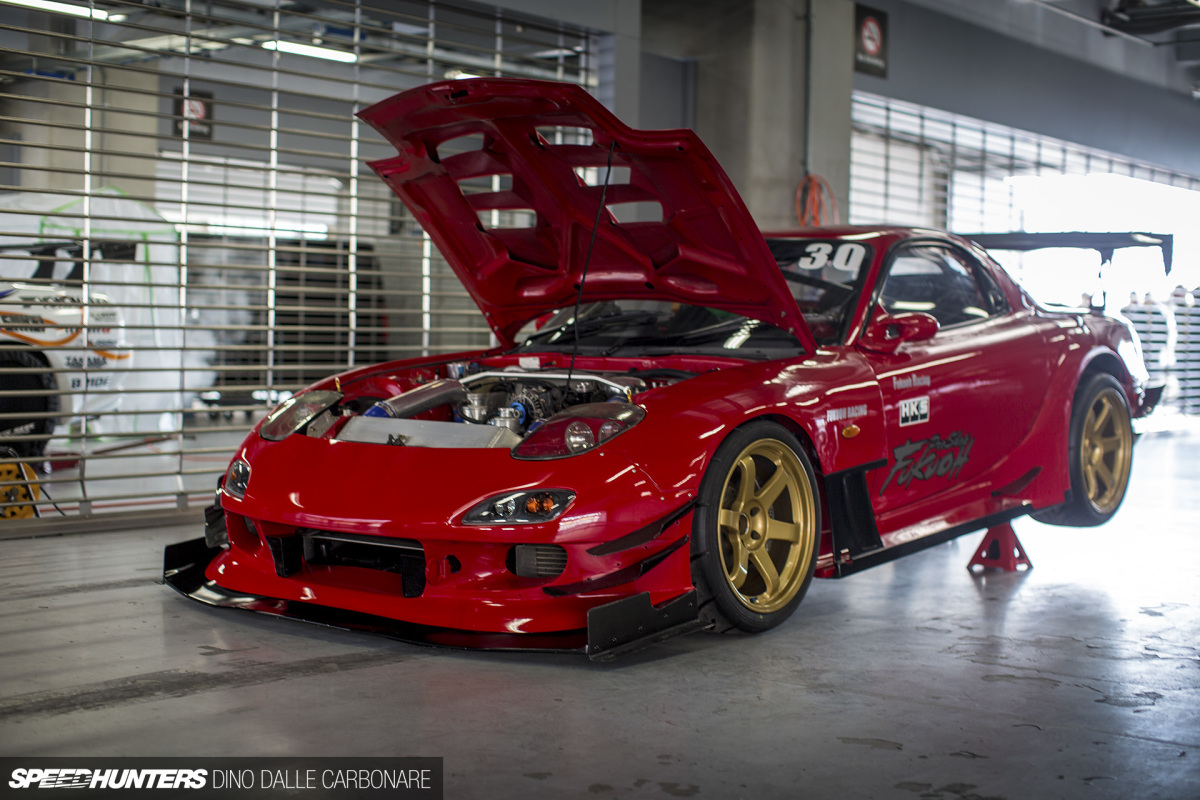 I shot this Fukuoh FD3S RX-7 many years ago, but it's just as fresh and contemporary today. It's one of those builds that just seems immune to looking dated.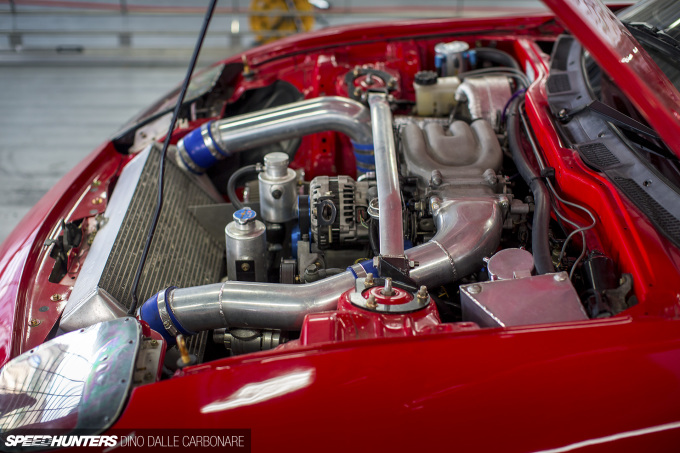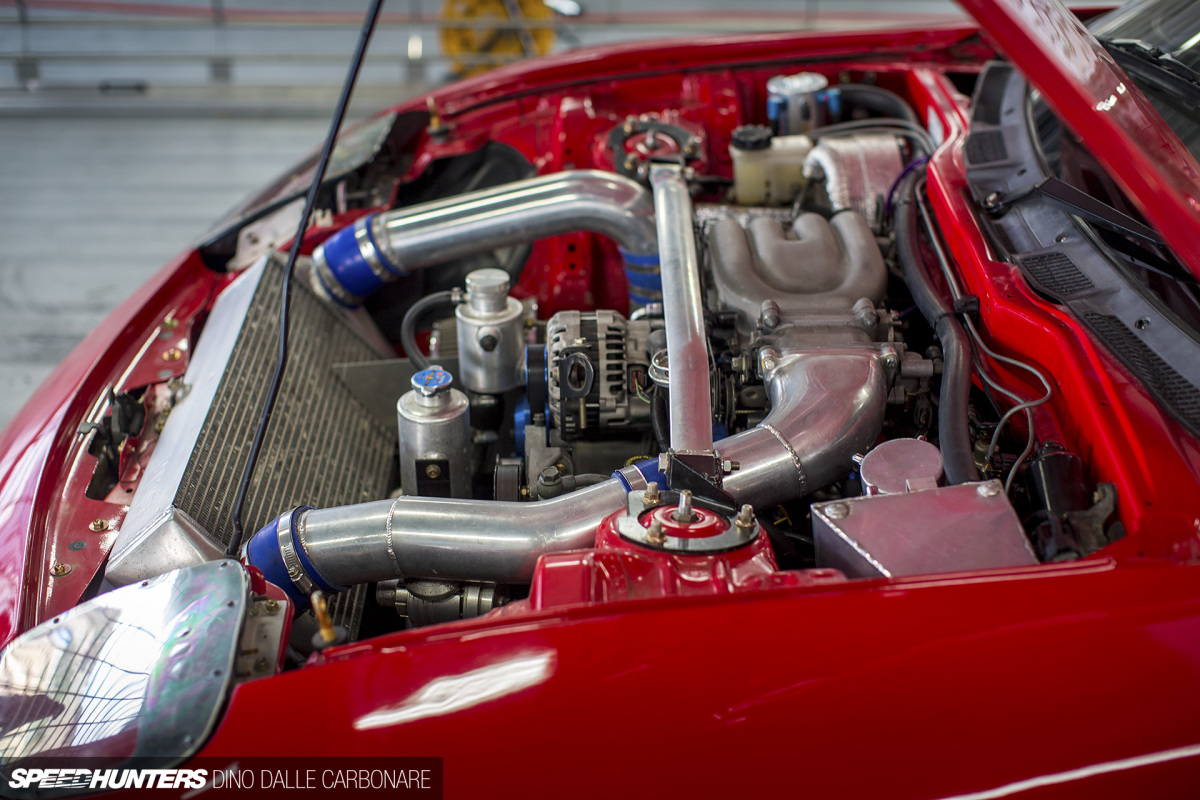 A simple recipe has been followed: style meeting performance, all topped off with very good execution and build quality.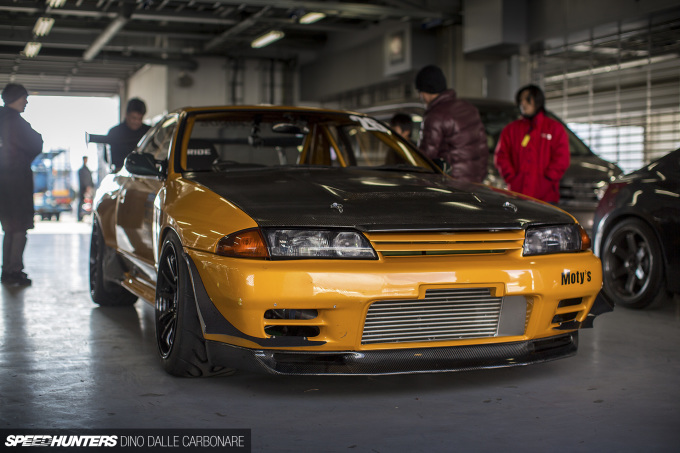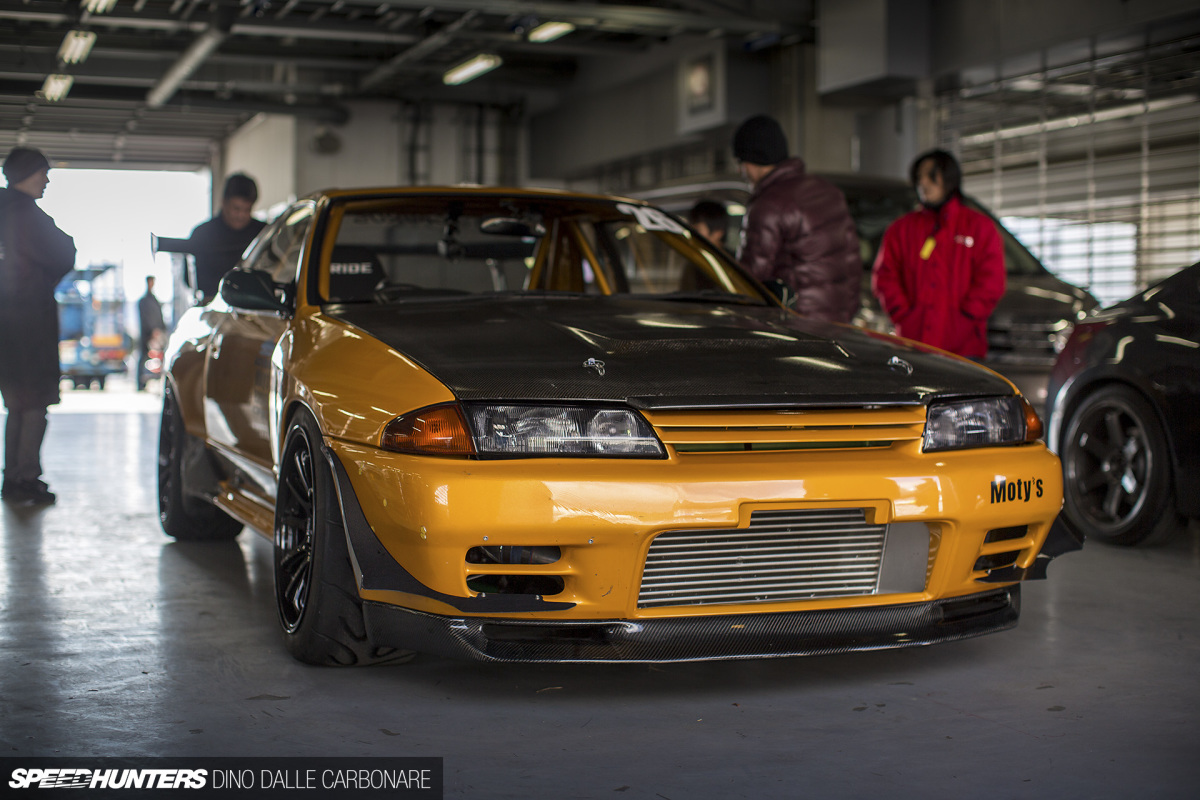 Very much along the same lines is this legend of Japanese tuning – the Garage Saurus BNR32. A decade ago this GT-R was one of the fiercest Tsukuba Super Battle contenders, but in the space of a year its lap times were annihilated by the aero brigade. It came right at the end of an era where outright power, suspension setup and mechanical grip were the three things you needed to go fast; downforce hadn't began being part of the equation. Seeing it at Fuji gave me goosebumps. I really need to drop by Saurus one of these days and see what they have been up to.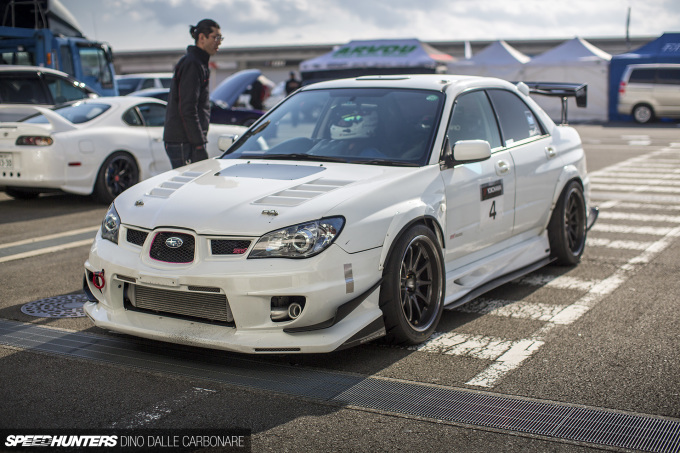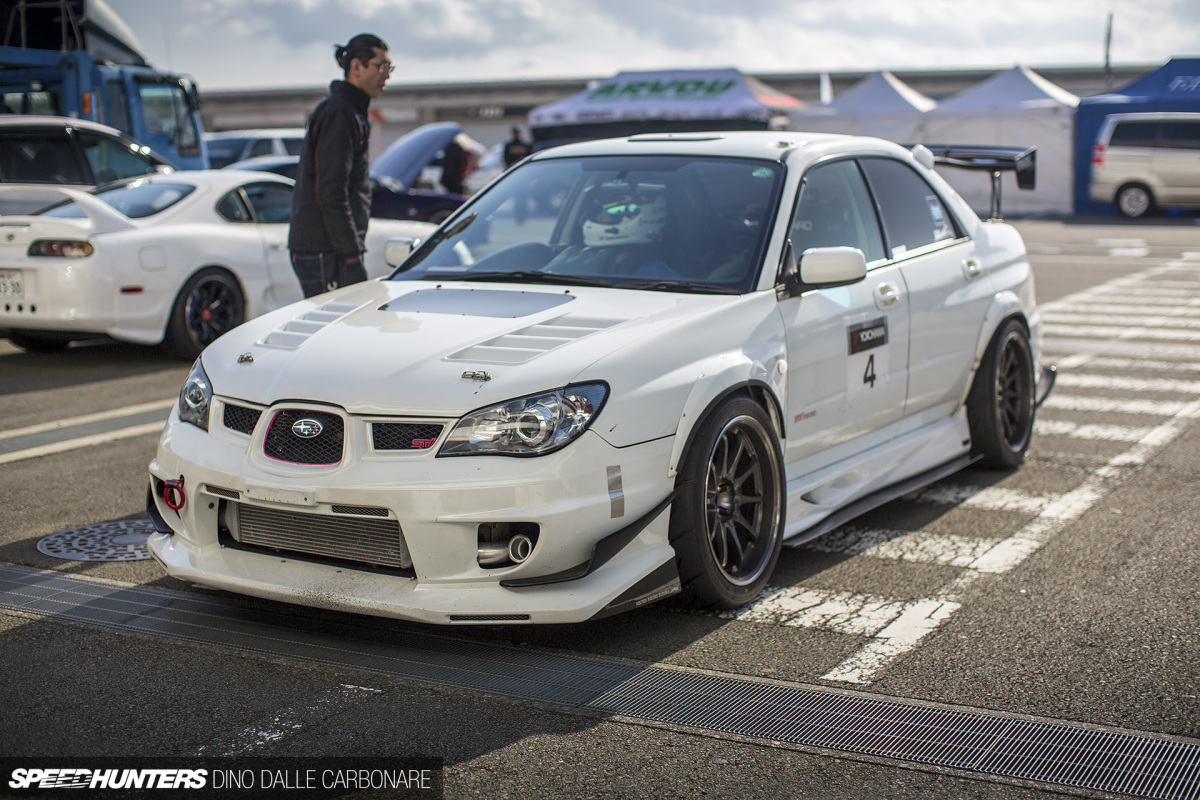 A few pits up was Garage G-Force, one of the most established Evo tuners in Japan, but not one to turn a blind eye to tuning the odd Impreza it seems.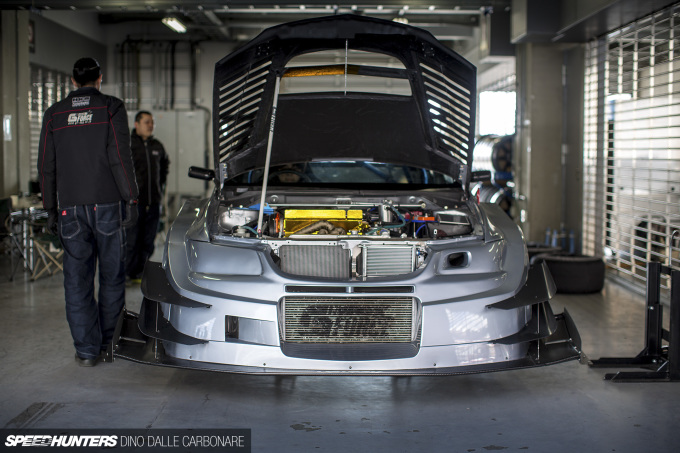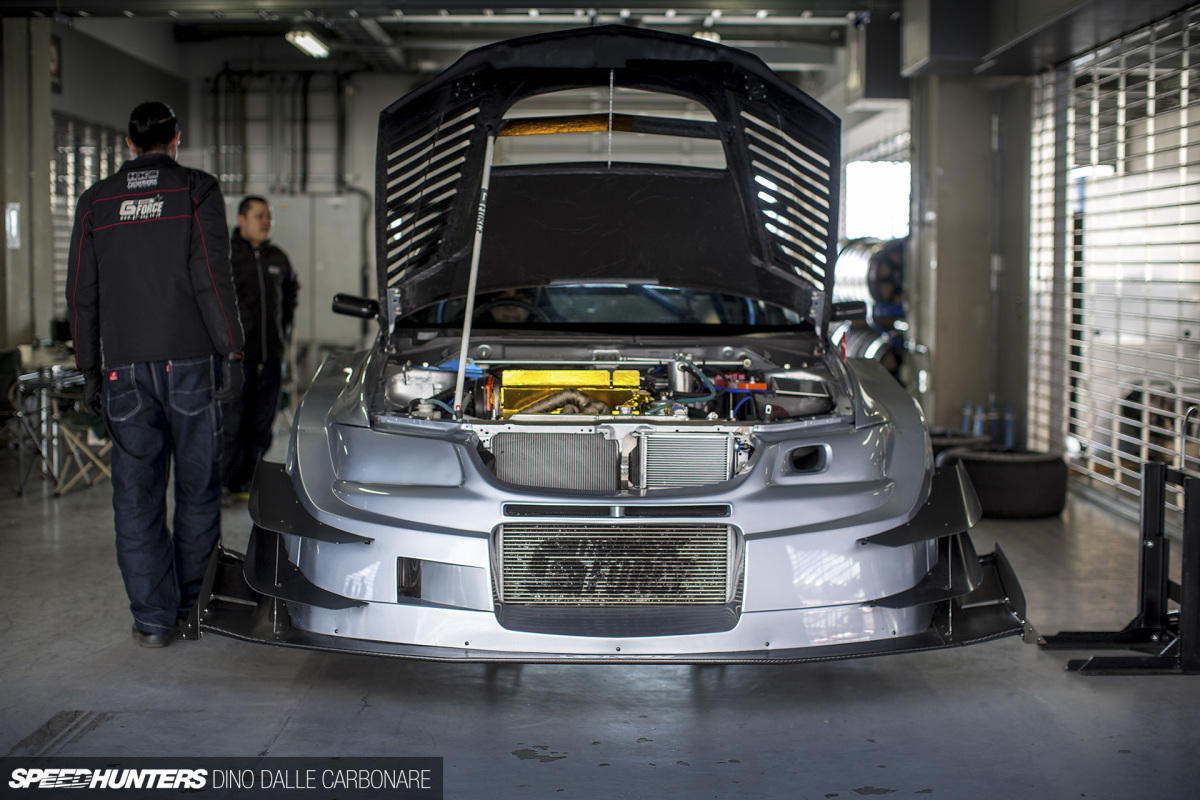 A couple of years back, Larry and I visited G-Force to feature some of their builds, but in the time since then their time attack Evo has evolved quite substantially.
Now sporting a redesigned front end and a big wing at the back, this thing looks like it belongs at WTAC. The engine, while still running the same manifold may be on a different BorgWarner EFR turbo, and there are lots of small changes that are visible if you compare it to my original 2015 feature. It's also ditched what it had left of the interior and has switched to MoTeC engine management.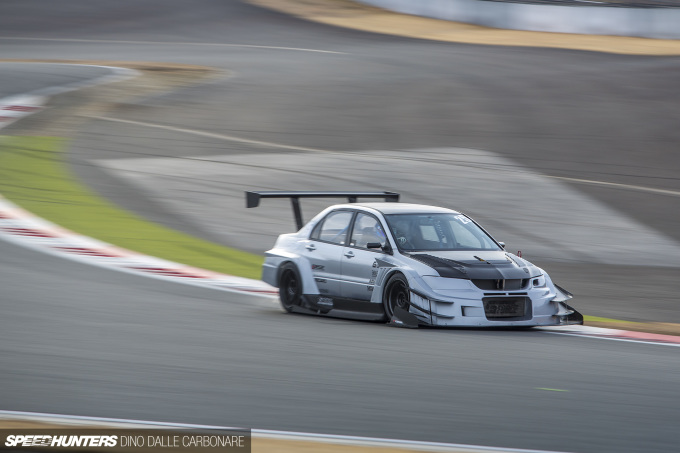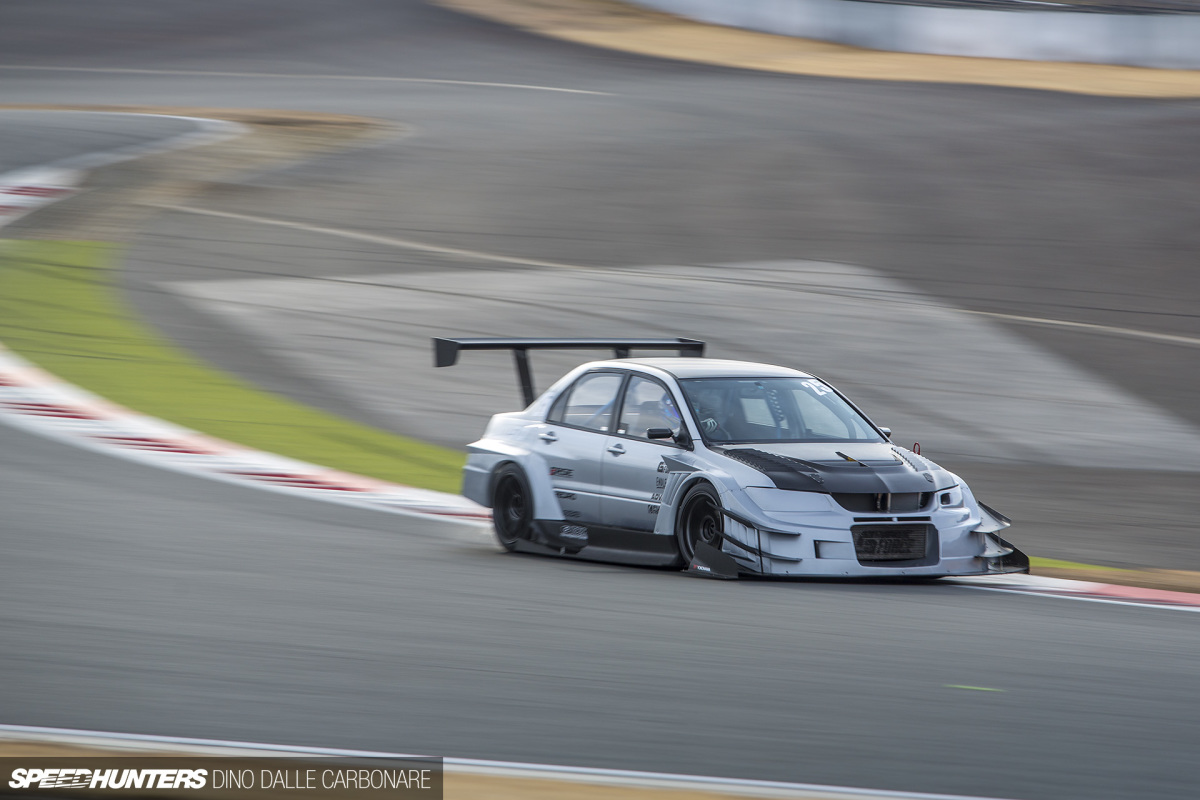 Running 1:38 around Fuji, it posted the fastest lap of the day. That's also a time that puts the Evo on par with Super GT GT300 class machines – just nuts!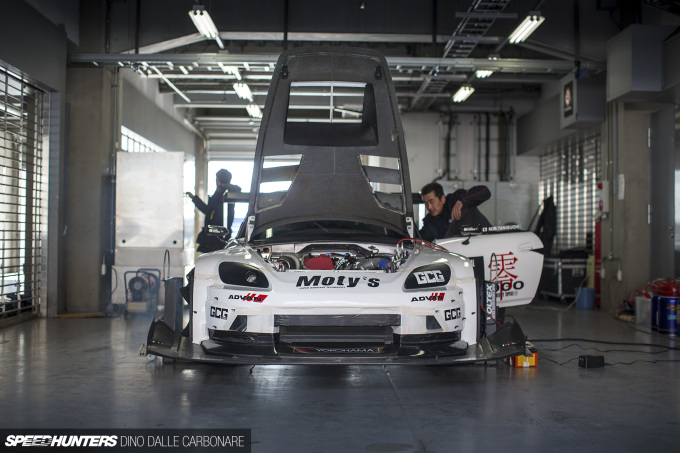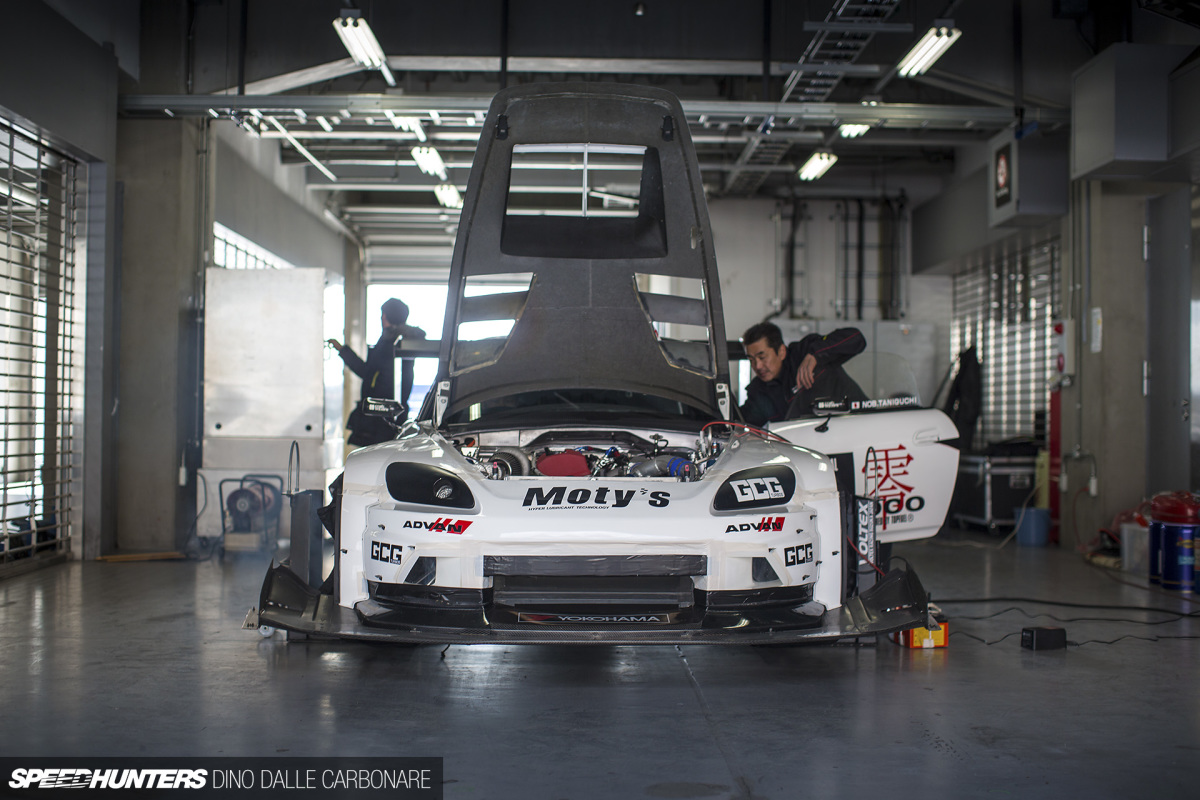 A hot contender at Tsukuba is the Top Fuel S2000. Sadly, the Honda's engine had blown a week earlier during some testing, so it wasn't at 100 percent for HKS Premium Day.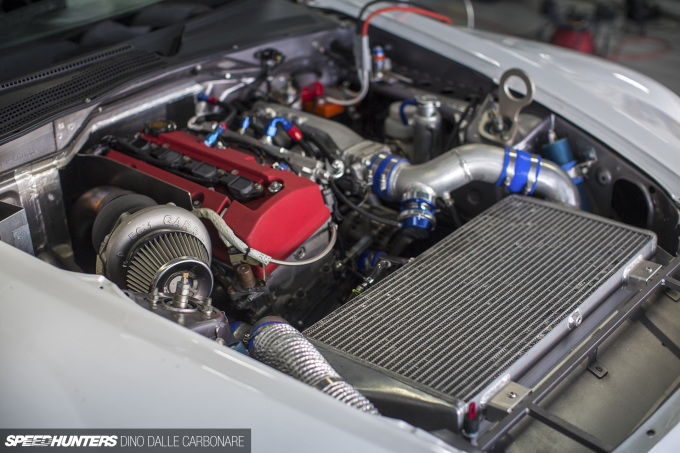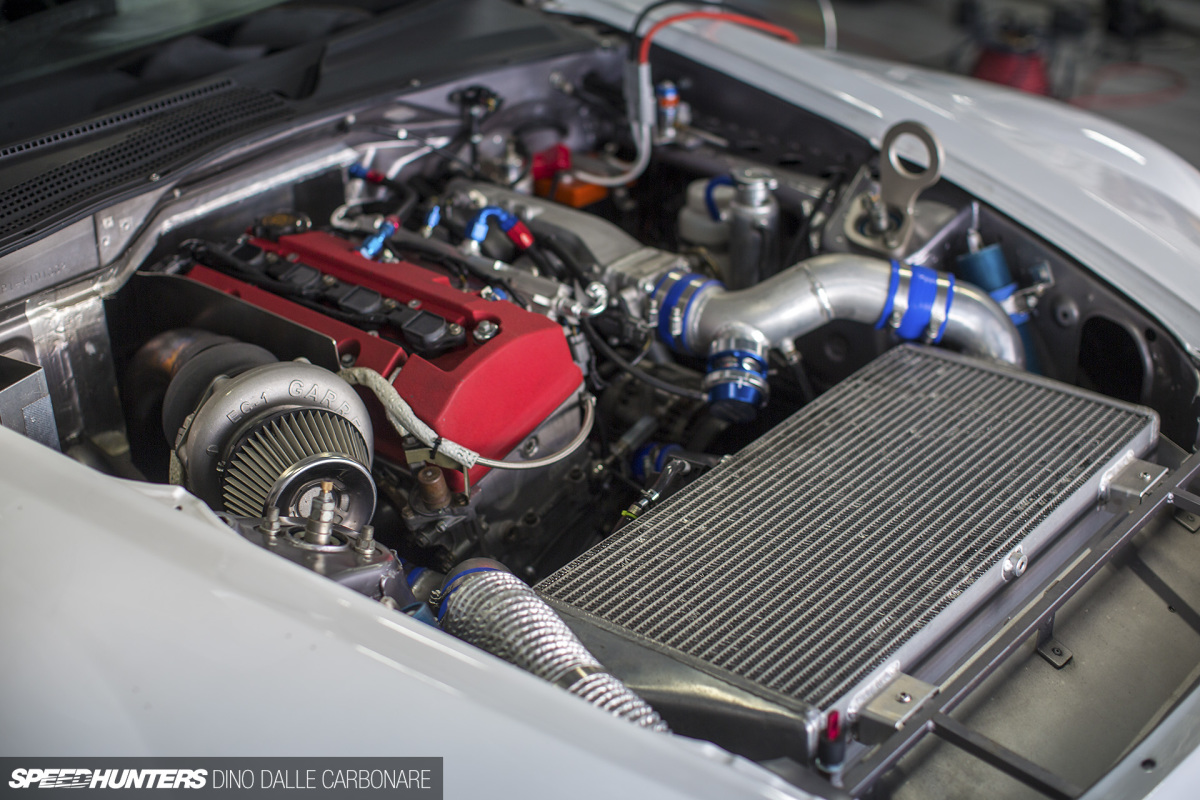 In fact, I never even saw it out on track during the whole day. Despite that, it's still one of the most recognizable JDM time attack machine of recent years, and speed-wise right on the heels of Under Suzuki.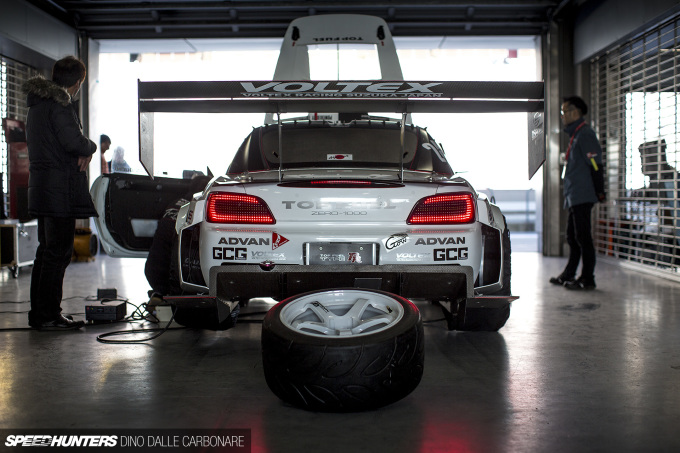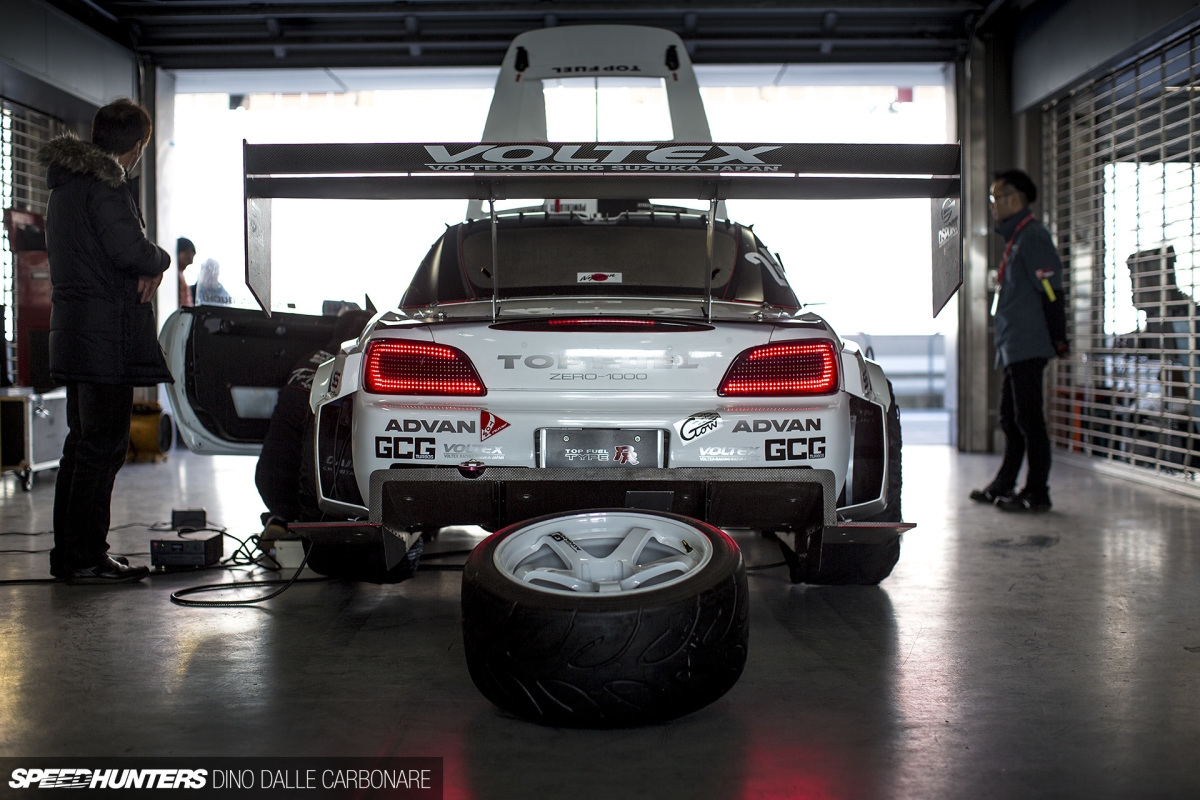 I've liked it even more since it started running Car Shop Glow LED taillights.
2017 & Japan Still Rocks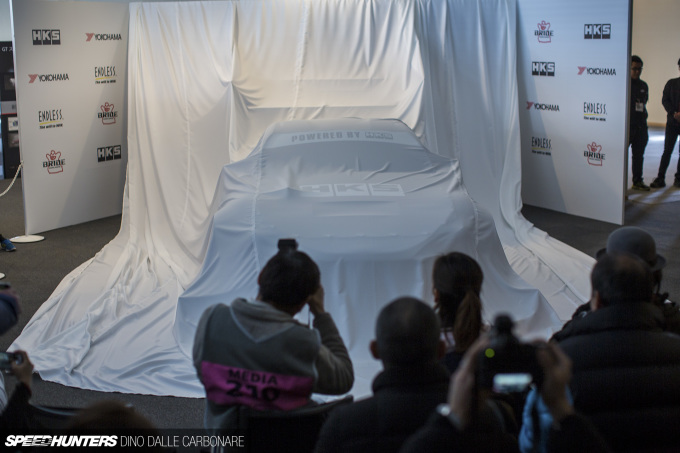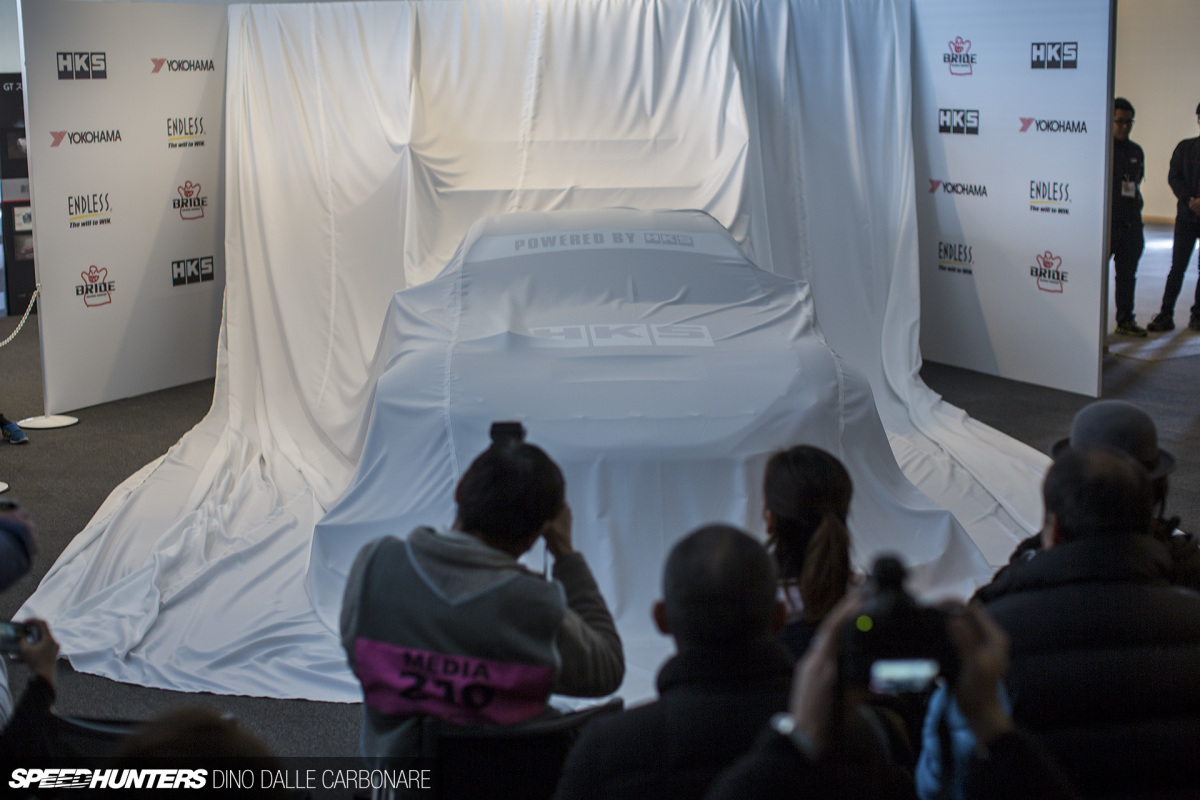 Even though the guys at HKS were super cool and allowed me as much time as I needed to shoot the GTS800 the day before the event, I thought I'd go and check out the official unveiling of the car. It was cool seeing the media, tuners and fans getting excited about this build; hopefully it gets more shops to go that extra mile and mount their own Tsukuba lap record challenges.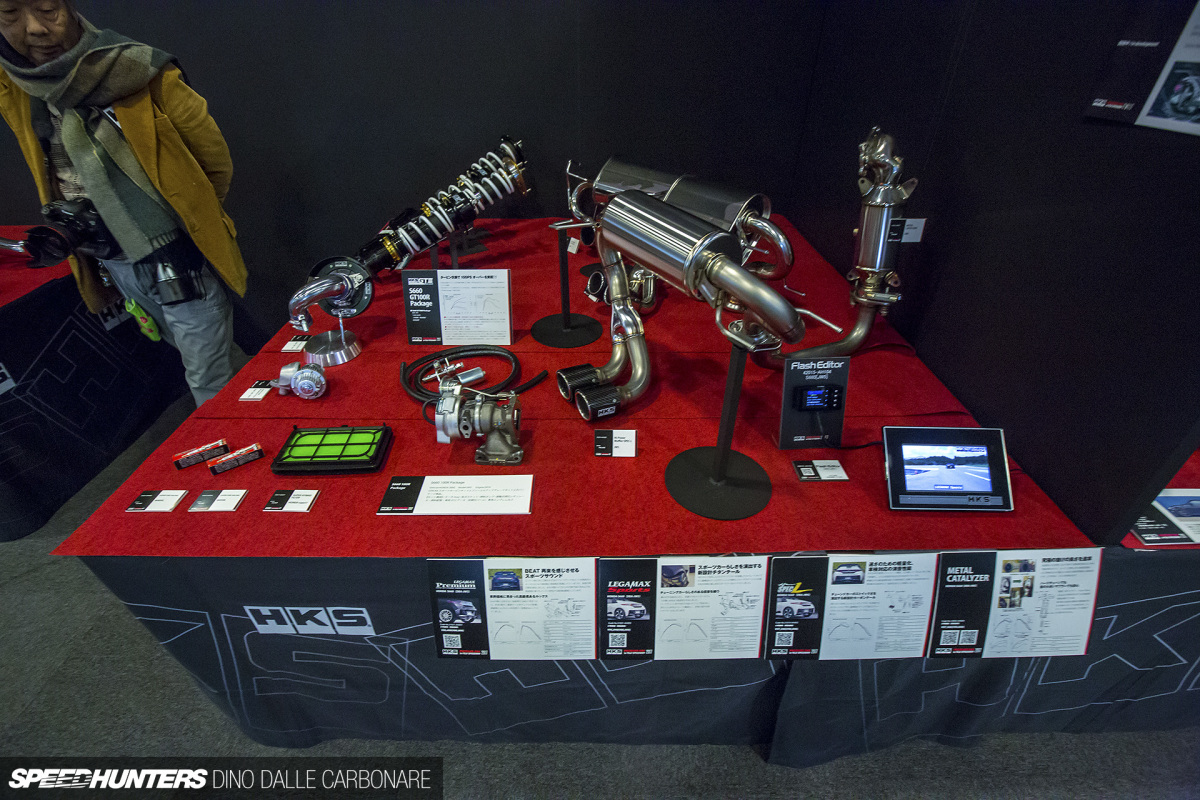 The GTS800 was on display in the HKS Salon, a big room usually used for hospitality, but for this event transformed into a display of all the parts HKS makes. I liked this little corner which was dedicated to the Honda S660.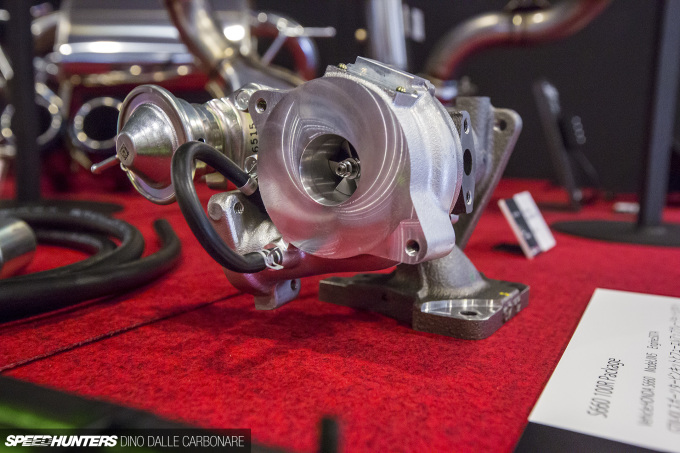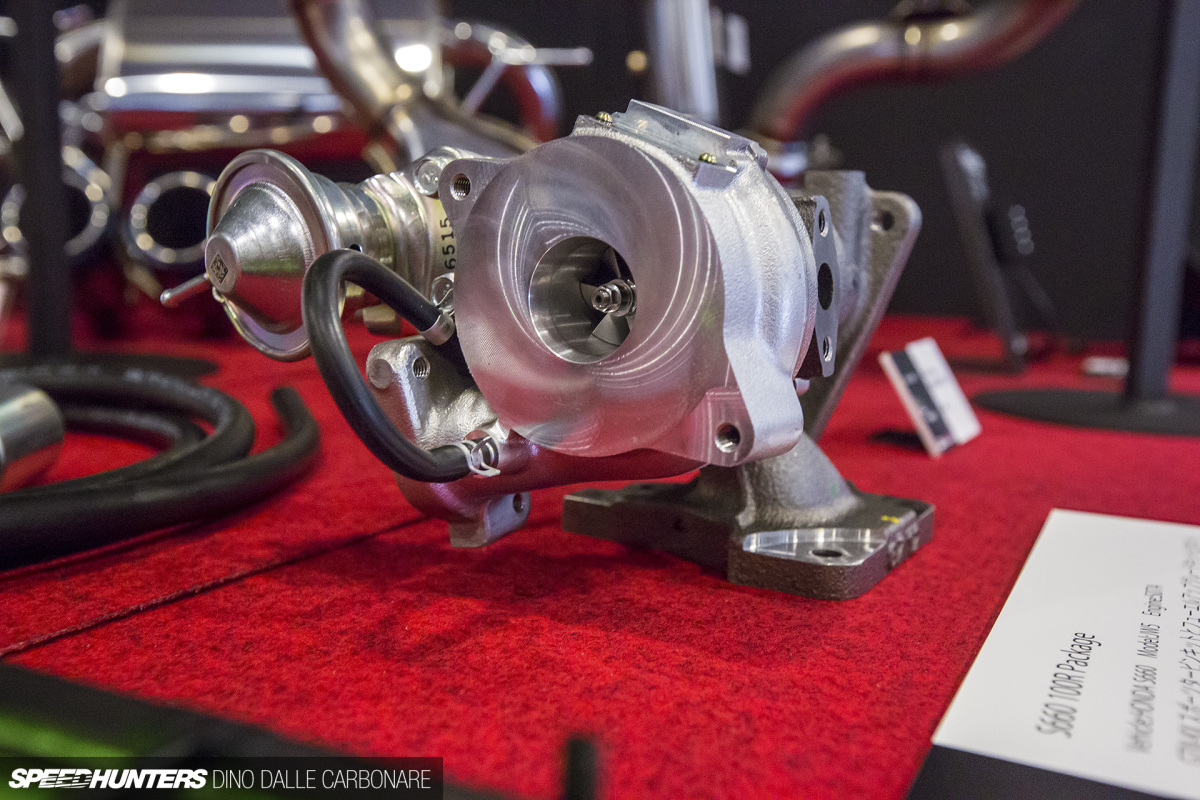 Check out the compact turbo HKS makes for the little three-cylinder motor. It's by far the smallest turbine I've ever seen, yet it's good enough to pretty much double the the S660's factory output. It also wins the award for cutest turbo ever!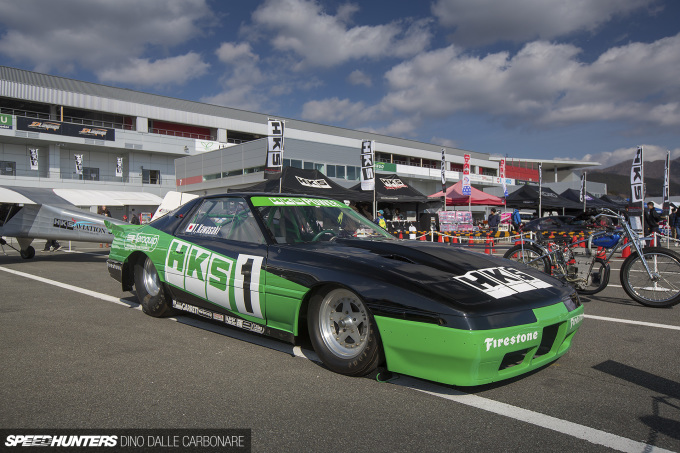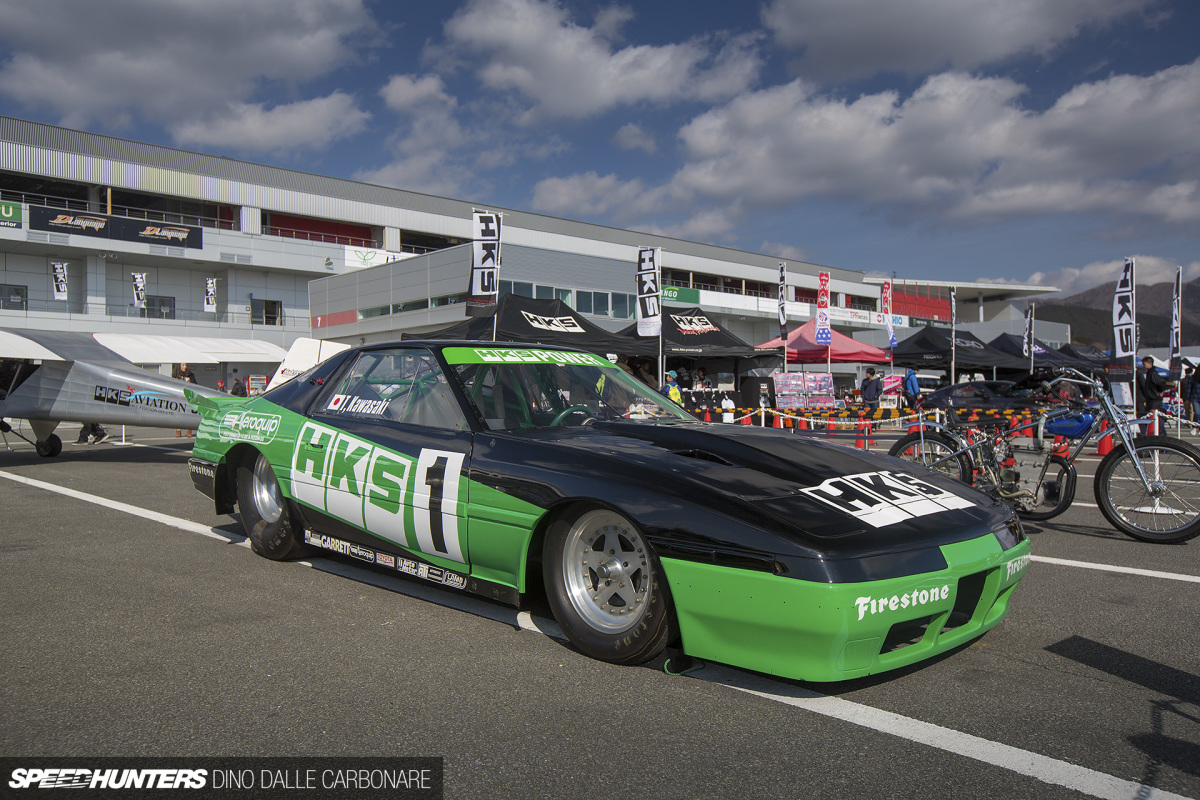 If you recall previous Premium Day coverage you'll remember that HKS brings out a bunch of iconic cars from its museum, machines that helped put the brand on the map when many of us were still in school or not even born yet. Much like this old Supra drag racer, once driven by the legendary Tetsuya Kawasaki.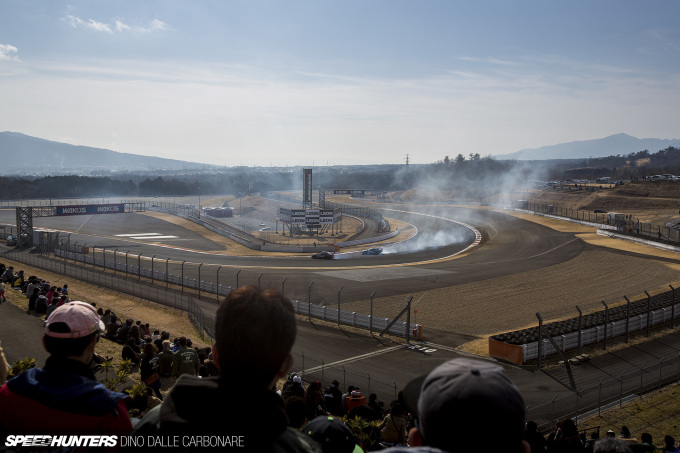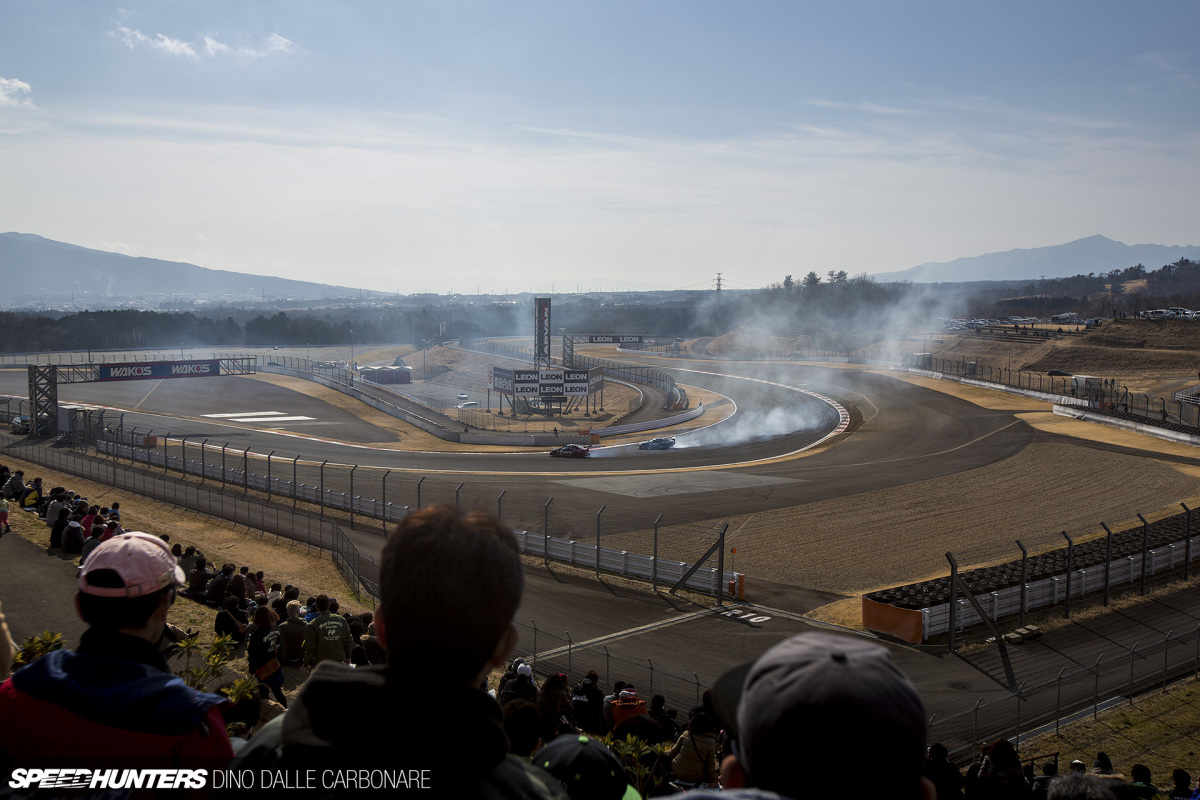 While the small drift exhibition with Saito, Taniguchi, and Orido was going on, I took the opportunity to have a quick walk through the paddock where the Hiper Challenge cars were parked.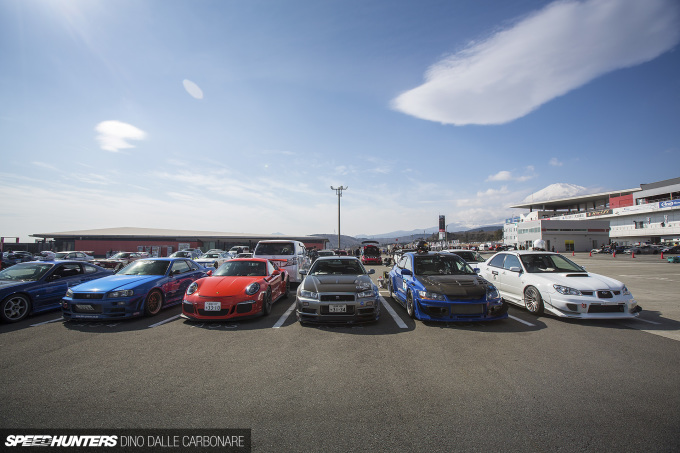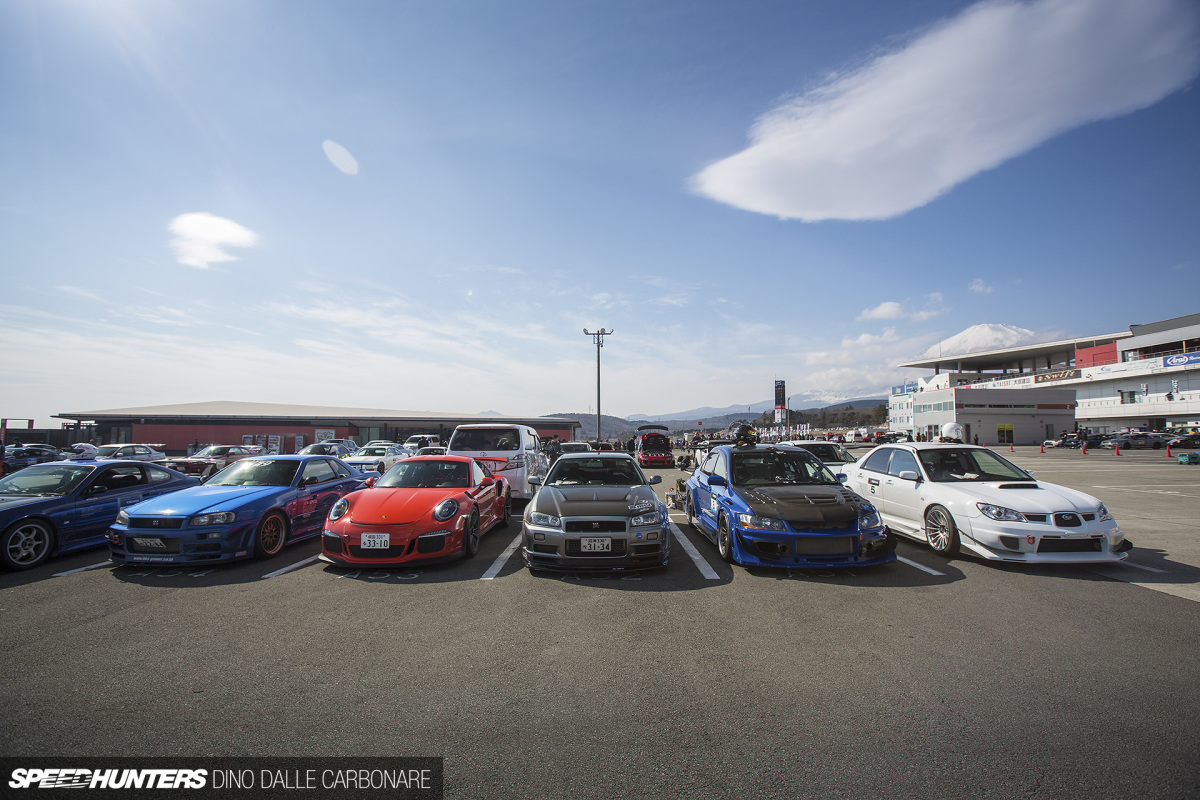 There is always so much variety here; this picture is a great representation of Japan's most popular track cars right now.
The Alfa Romeo Giulia was quite the surprise, but it just fits in so perfectly. After all, the Japanese are known for being some of the most knowledgeable and at times eccentric enthusiasts out there.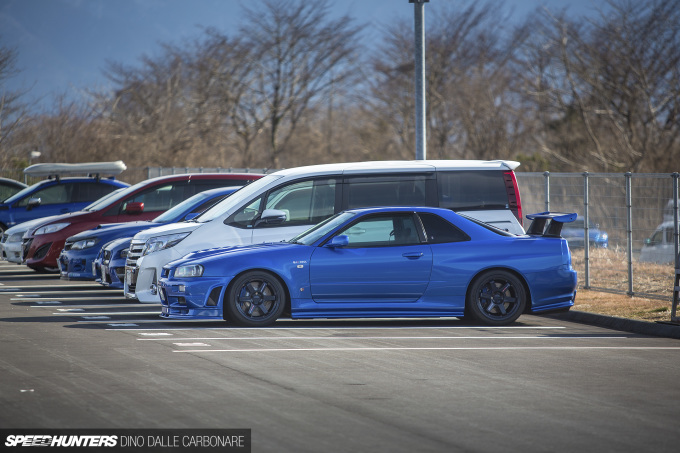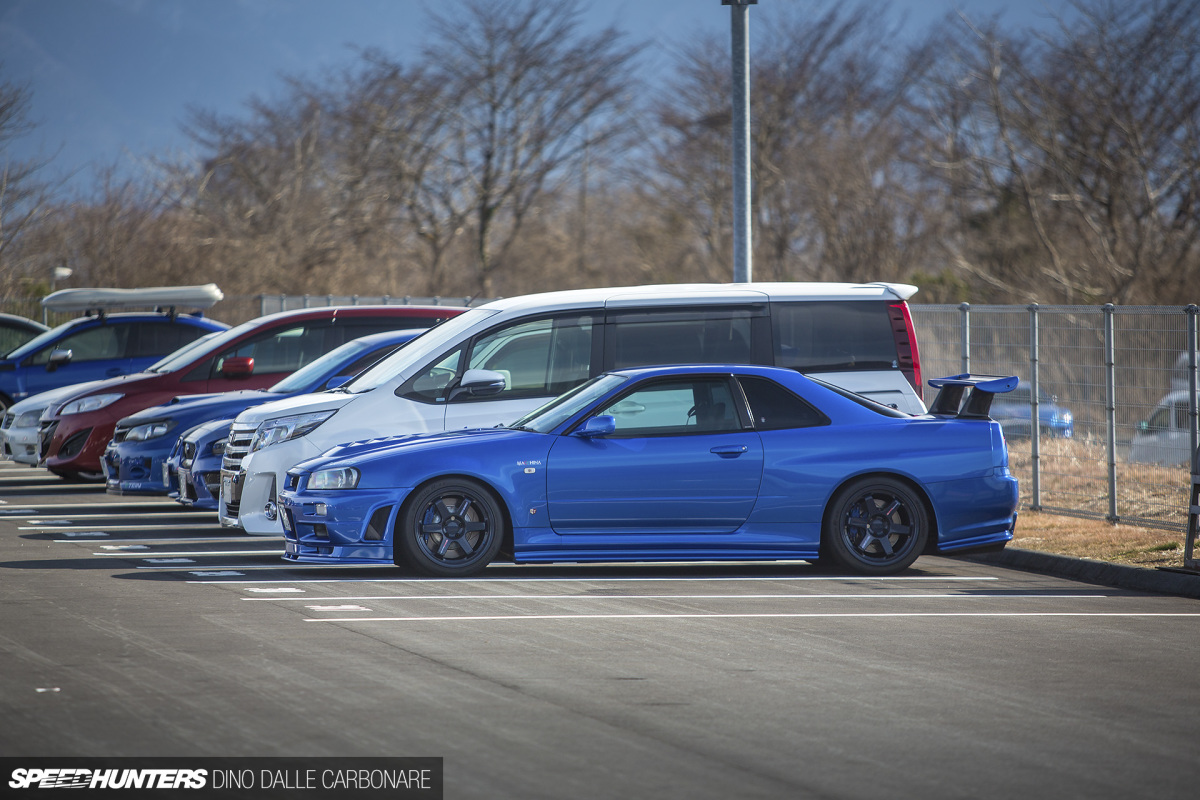 A stroll through the carpark is always a must; it's the best way to see what regular folk who attend this event drive and the sort of mods they do to them. Like this R34 GT-R, nicely tuned and sporting the holy grail of wheel upgrades, the magnesium version of the RAYS Volk Racing TE37. I hadn't seen a set in a very long time.
Advan GTs work so well on a properly lowered R35 GT-R, and that lip at the rear adds some real aggression to the car's big butt. Seeing as I got all critical with my comment of the S-Craft Levorg, I thought I'd add to it with a picture of a trio of modified old school Foresters. You just don't see owners of new-gen Foresters do stuff like this to their cars. Oh, and I thought I'd throw in an image of my trusty work chariot, the Speedhunters Legacy 30R which I will have to replace sometime this year as it's just not big enough to accommodate the family any more. Suggestions?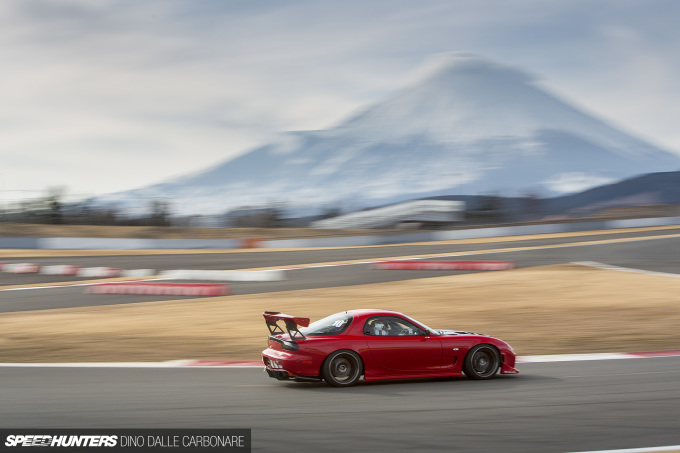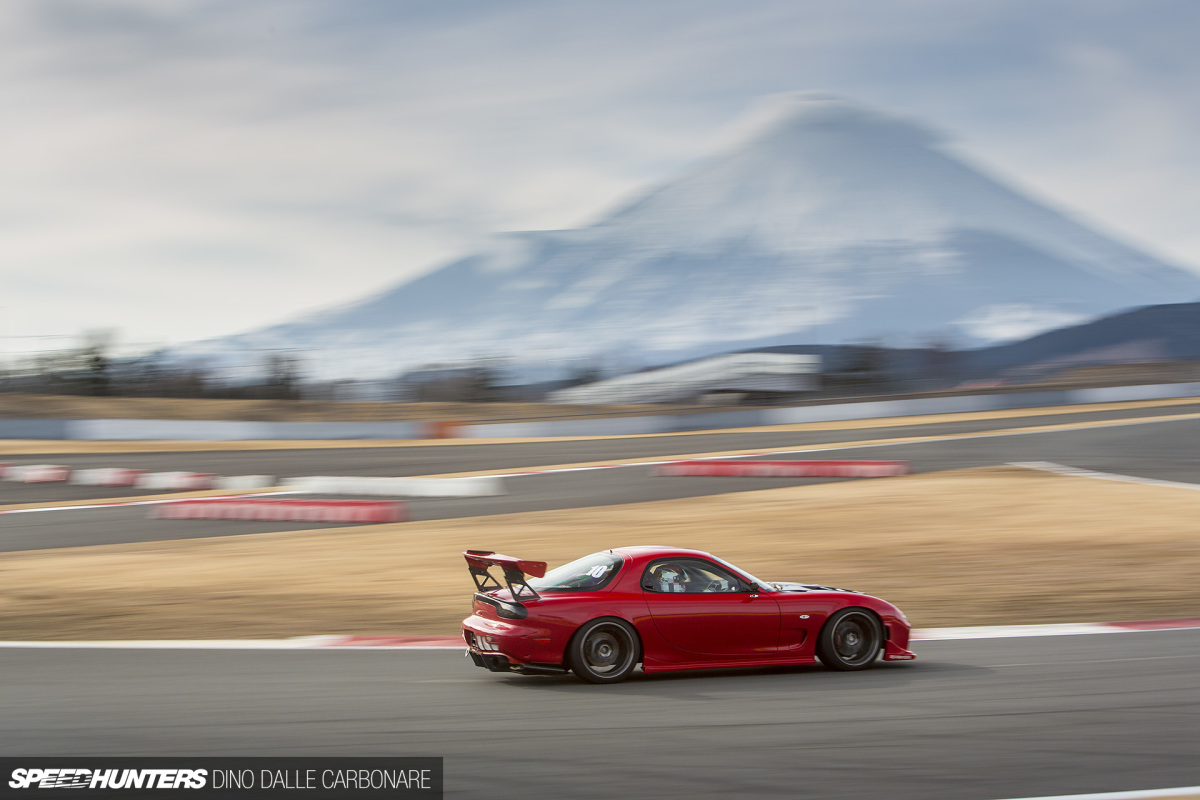 I spent the last part of the day walking down to the chicane to grab some action shots of demo cars like the RS Pantera 20B FD3S RX-7 doing their thing.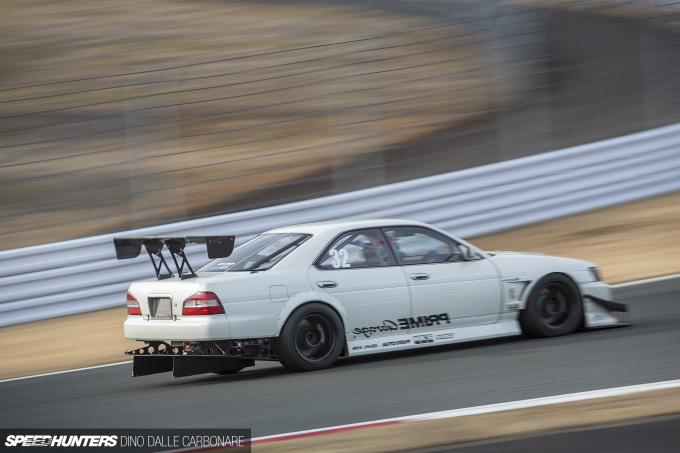 One of my favorite cars of the day was the Prime Garage C35 Laurel, not only because it's one of the most unnatural looking time attack cars currently active in Japan, but also because it just keeps getting wilder and faster. Just look at that rear diffuser treatment!
I've still got tons to share with you from this year's HKS Premium Day, including Taniguchi's new 86 drift car that Fat Five Racing built, as well as a powerful Supra and a few other tasty cars I came across. Stay tuned for those!
Dino Dalle Carbonare
Instagram: speedhunters_dino
dino@speedhunters.com