Where Drift Dreams Are Built
A couple of months ago I brought you a preview look at Daigo Saito's next D1 Grand Prix machine, a Z06-R ex-GT300 race car. With D1 changing up a few rules for 2017, mainly stating that engines may no longer be moved back into a chassis, Saito has obviously found the right solution in maintaining the sort of weight balance that he's come to love in his drift cars.
While it will be interesting to see him transform the ex-circuit racer into a fully-fledged drift car, what he had sitting around at his shop also proved to be pretty damn cool. I mean, this guy is the king of drift, so every car he surrounds himself with needs to be pretty exciting. Let's take a quick look around Fat Five Racing…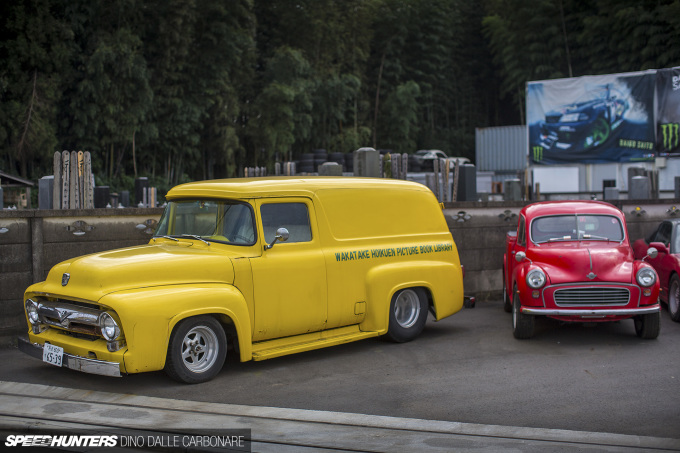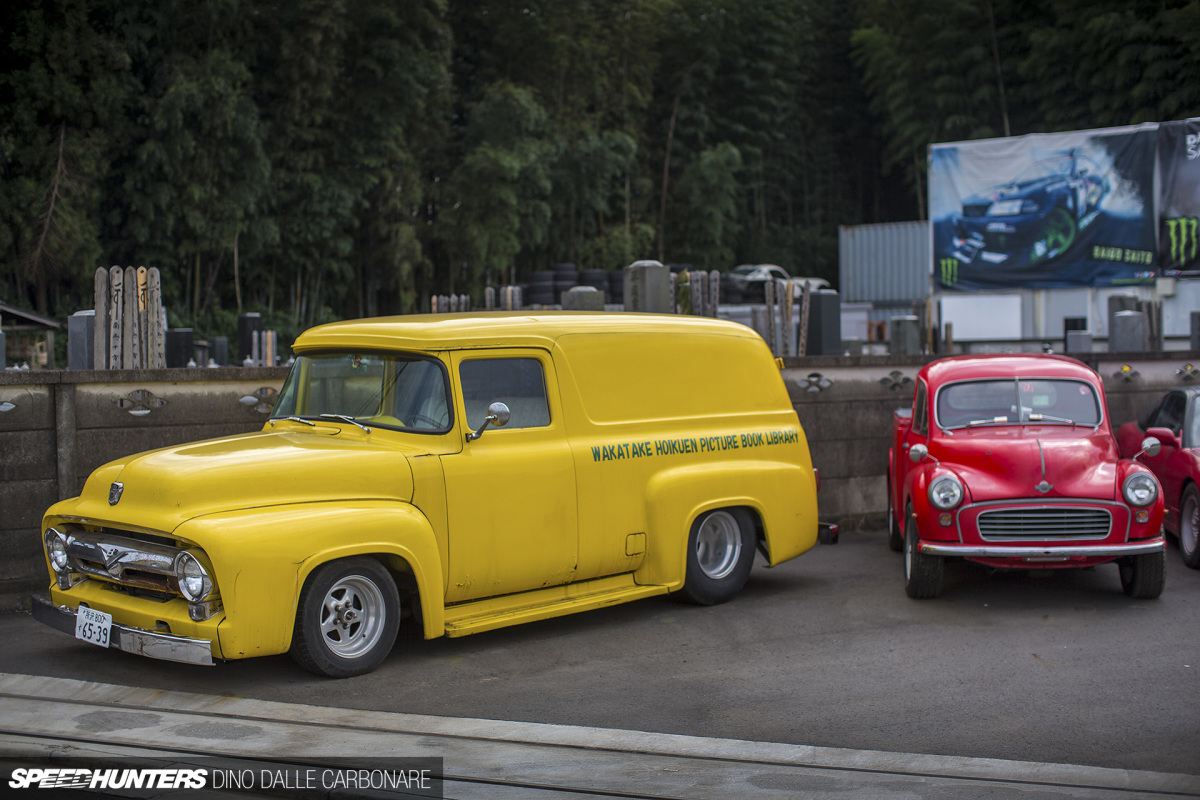 What surprised me the most since my first visit a few years ago with Larry, is that it looks like Saito's greatly expanded the operation. Fat Five has grown to be way more than just an extended man cave where one of the world's top drifters can play around with his project cars; now he's actually doing work and taking on builds for customers interested in having their cars prepared with the same philosophy that has always set his creations apart. Plus, in the yard in front of the actual workshop there's now a colorful selection of cars for sale.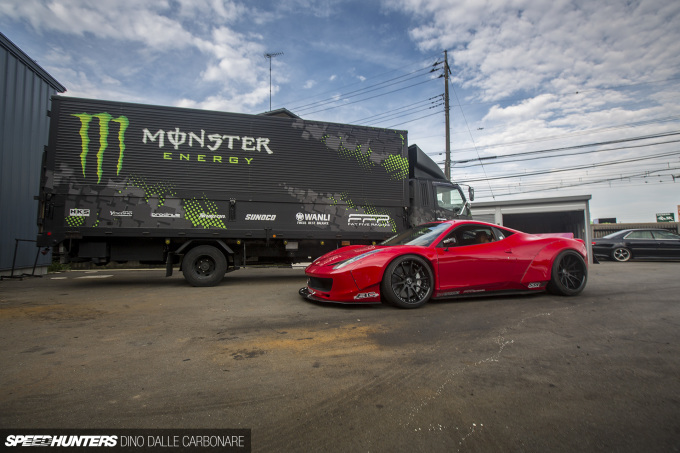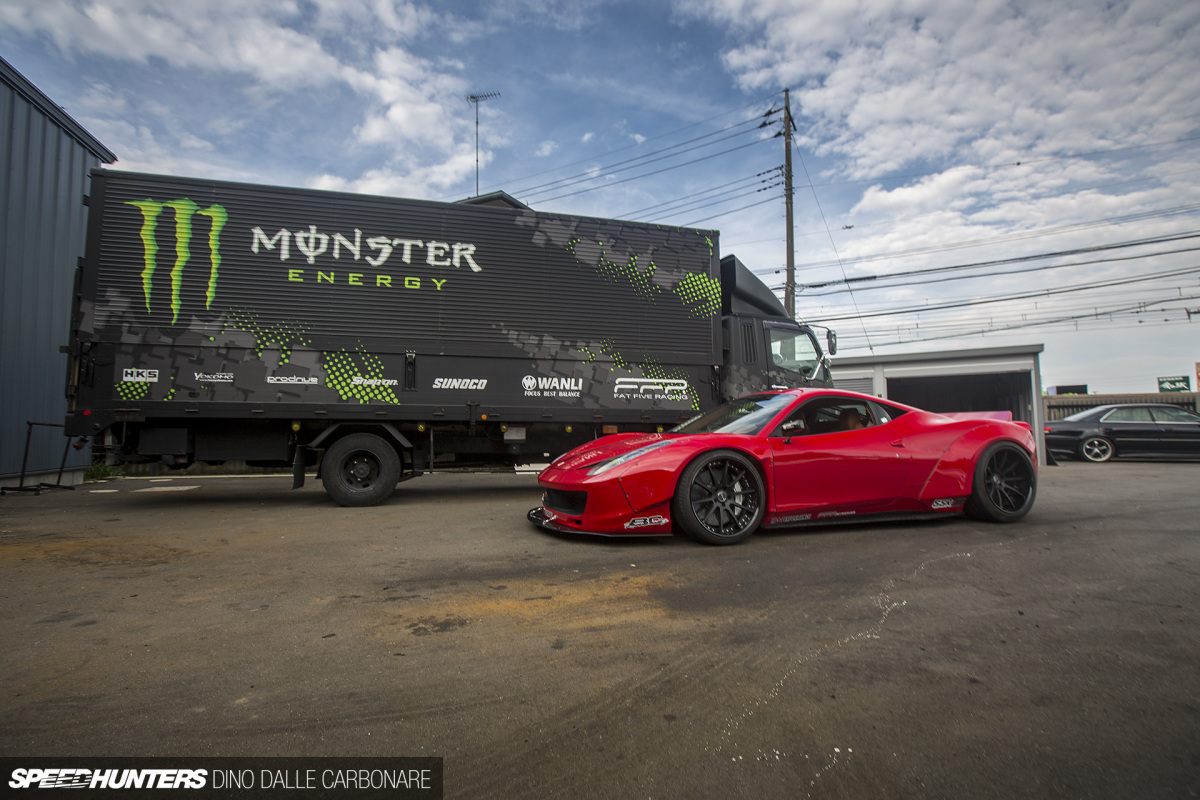 As soon as I drove in it was a little hard not to miss the bright red Ferrari 458 sitting next to one of Fat Five Racing's support trucks. Saito picked it up in a damaged state, but as you can see, it's really been given a new breath of life.
The whole point of the exercise was to fit a Liberty Walk aero kit and create a fun car to runaround town in. Job well done, I'd say!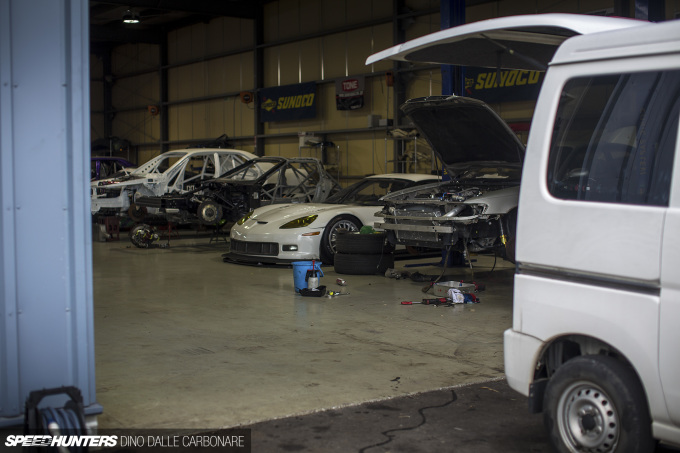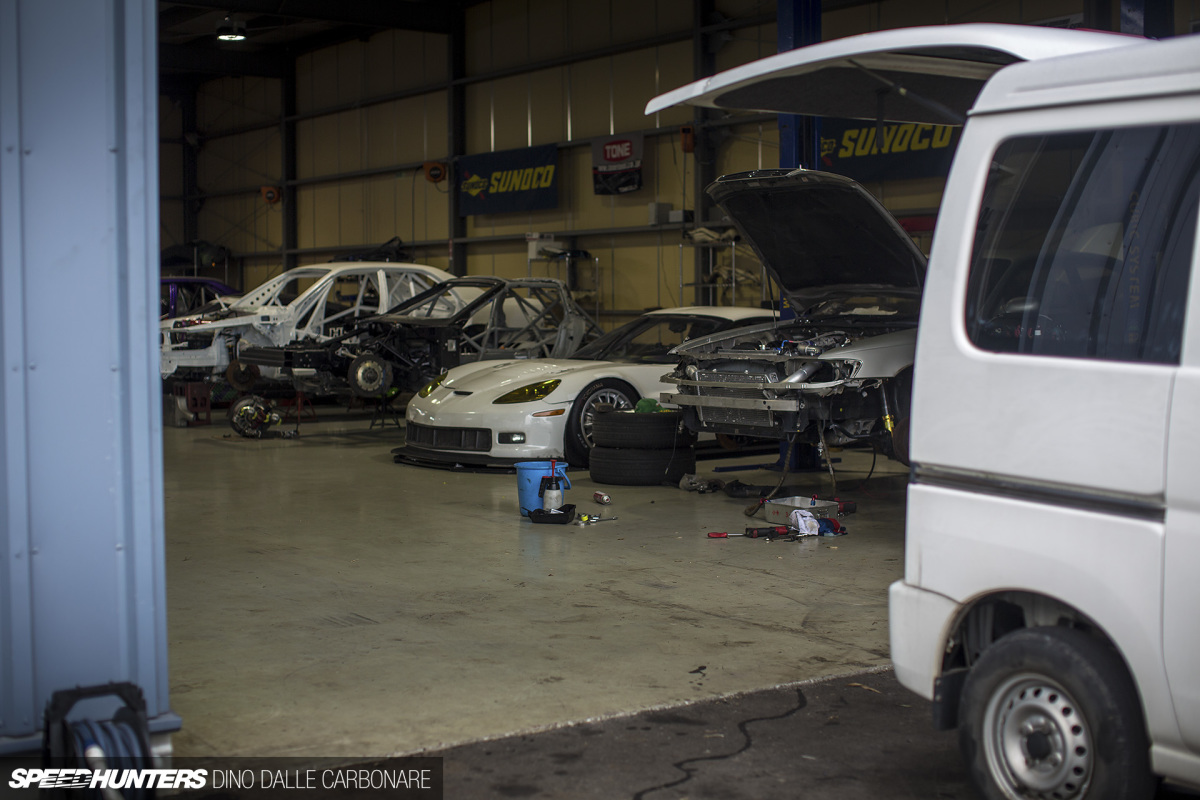 A quick look inside the main workshop revealed the soon-to-be-drifted GT300-spec Z06 and the spare chassis next to it. We'll venture inside shortly, but first there are a few more things I want to show you outside.
As I said, there were a lot of cars worth taking a quick look at, like this pair of JZX100s, the white car sporting wider front and rear fenders.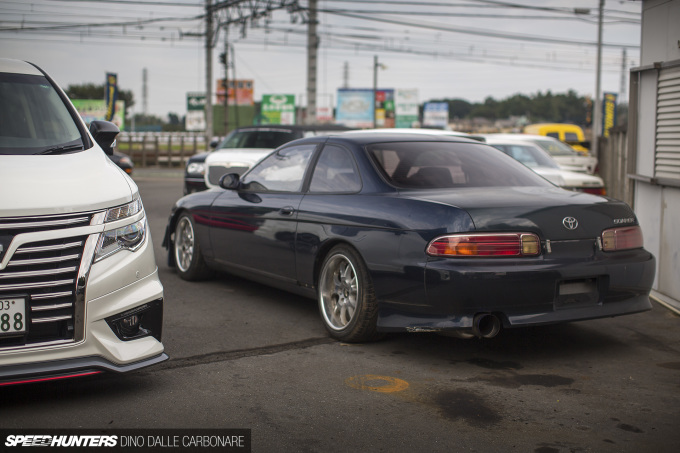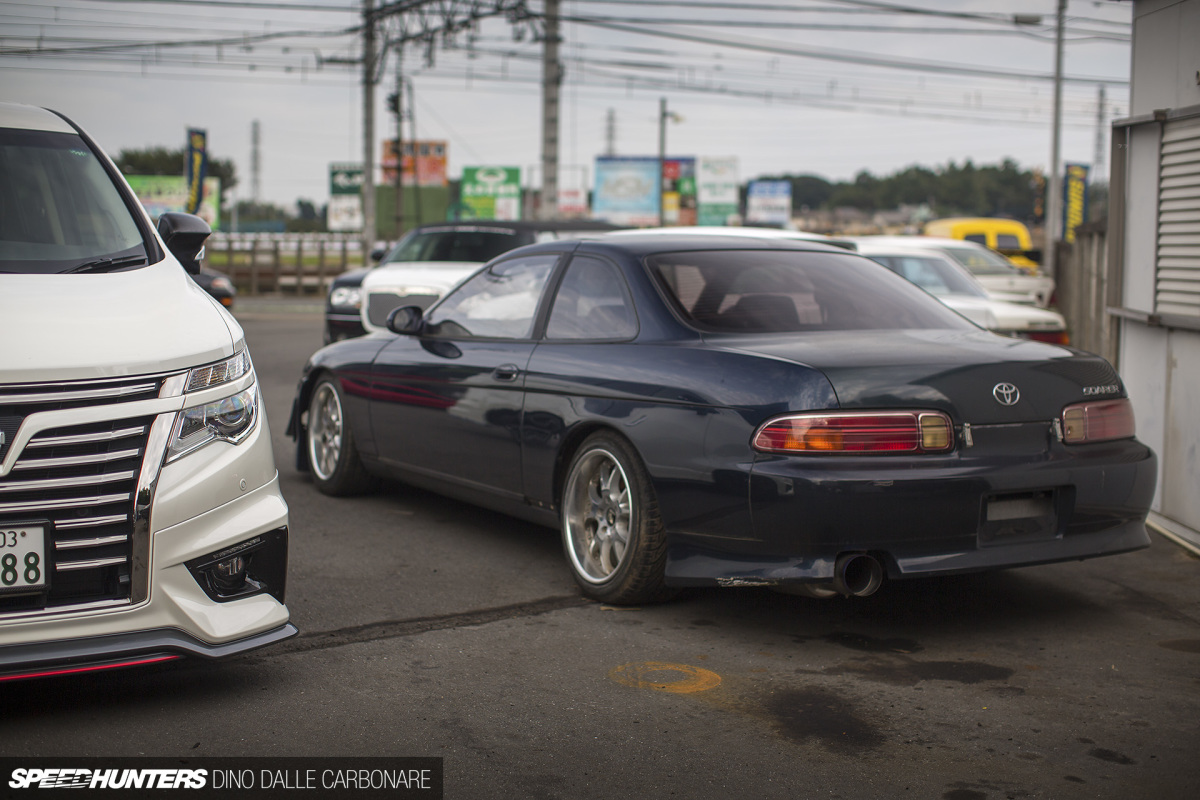 This Soarer could do with some more well-sized wheels, but the Z30 still holds a lot of allure.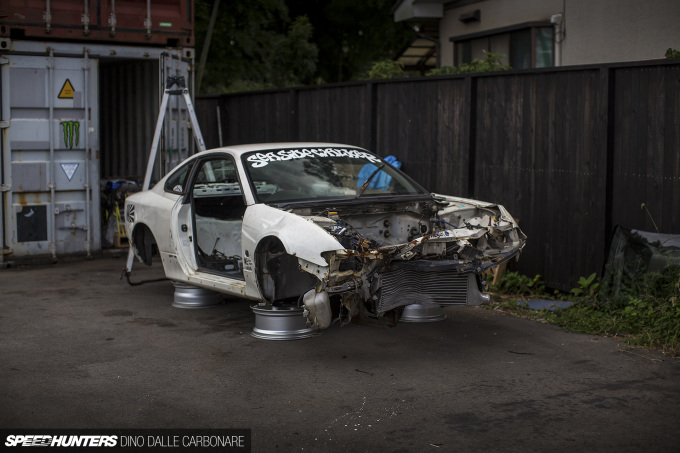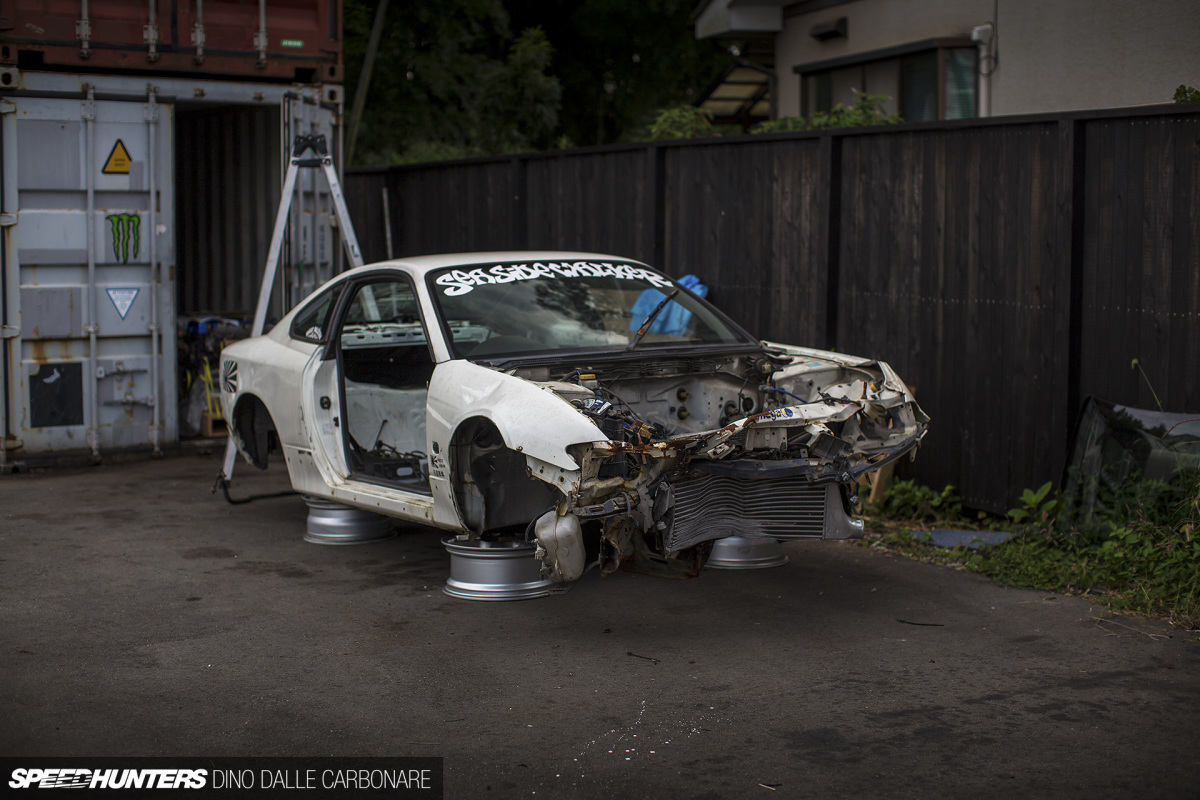 This S15 chassis sitting on four rims however, looked like it was well past its sell-by date!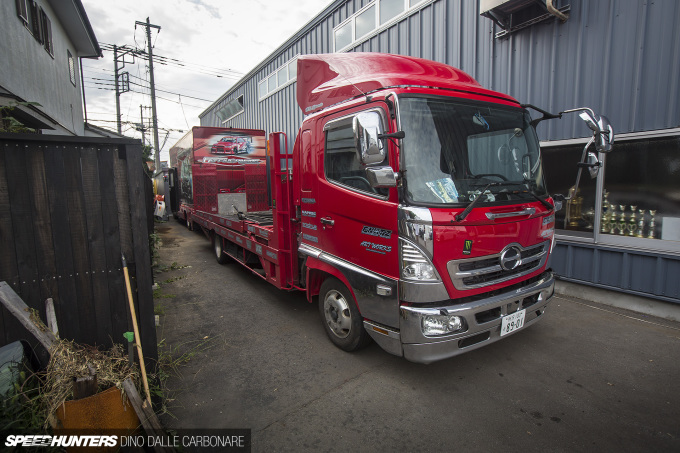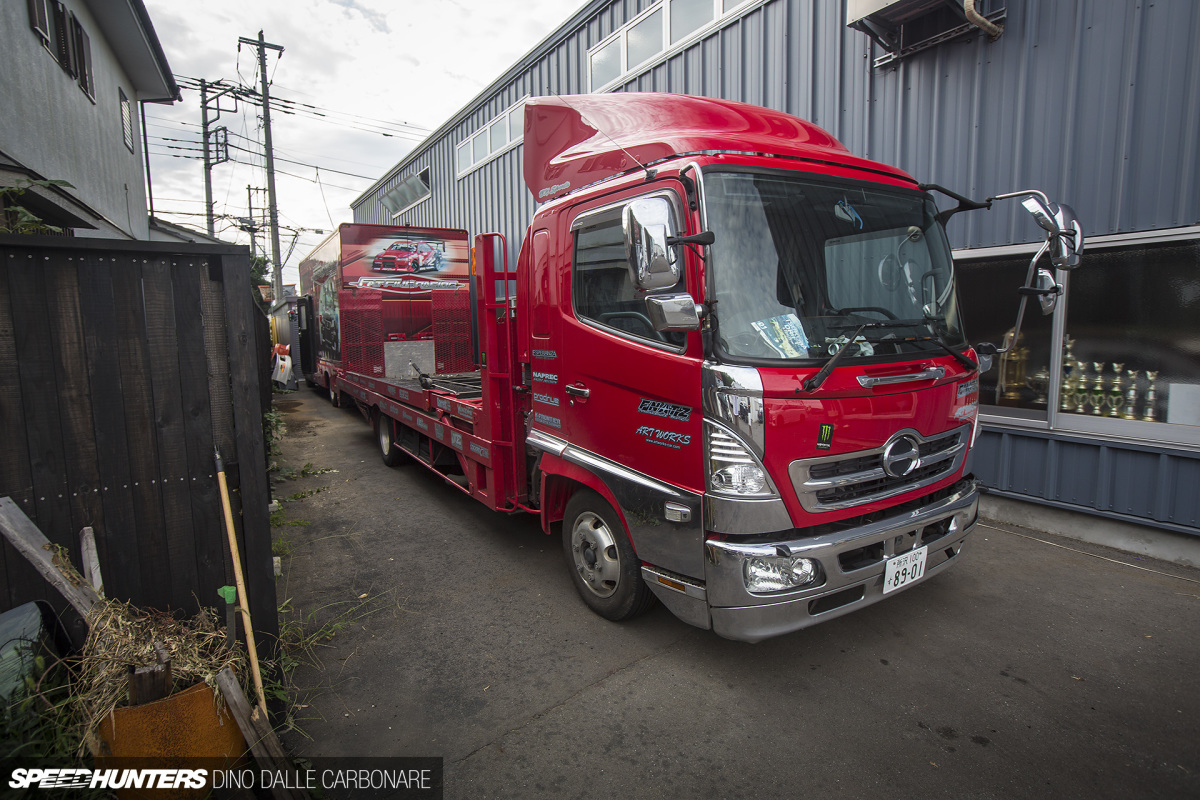 Down the side of the shop there's enough space for Saito to park another support truck as well as this cool JDM two-car transporter.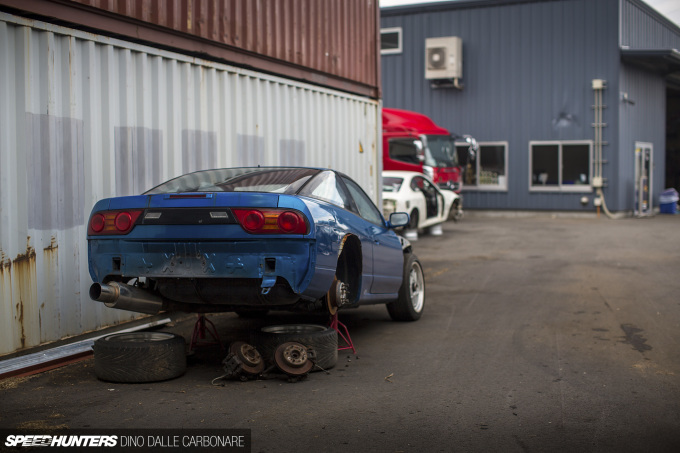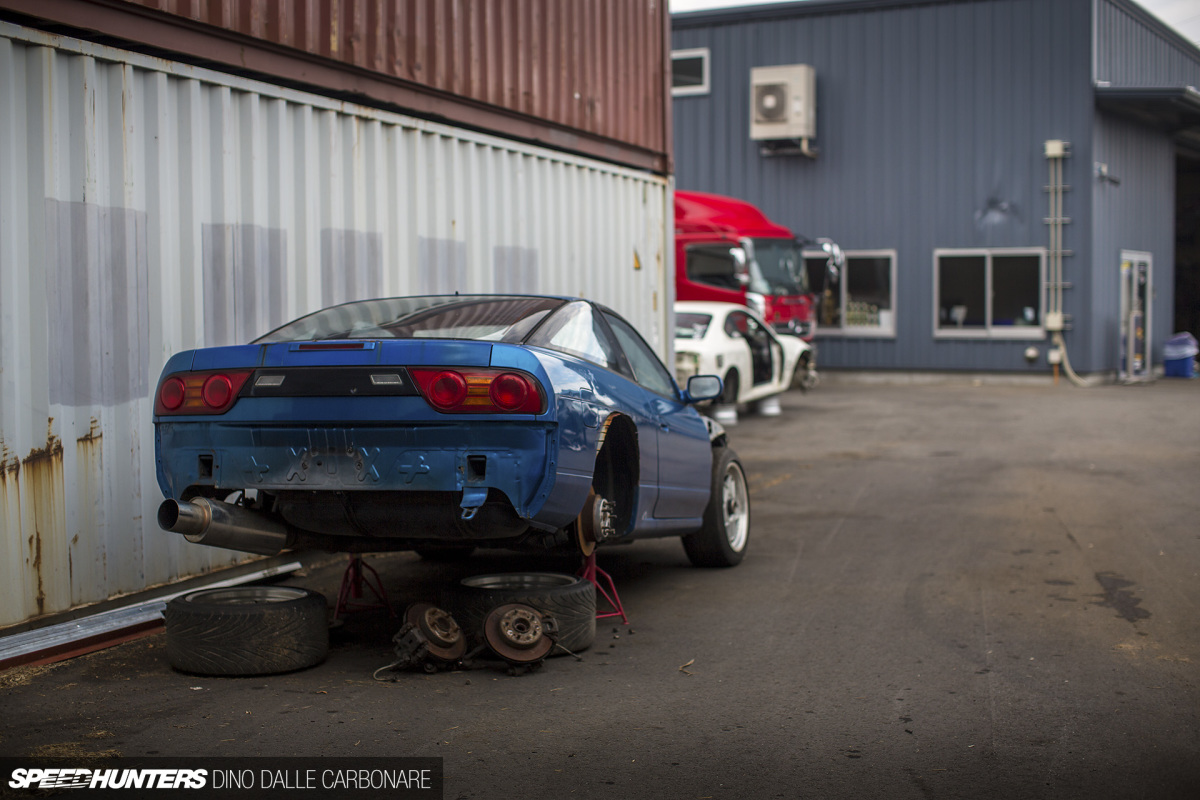 Alongside the stacked containers that double up as more storage space, there's always a bunch more donor cars in the process of being stripped down for parts. Maybe at one point they were practice cars, or Saito's friends simply dropped them off at his shop, but now they sit here awaiting almost certain death.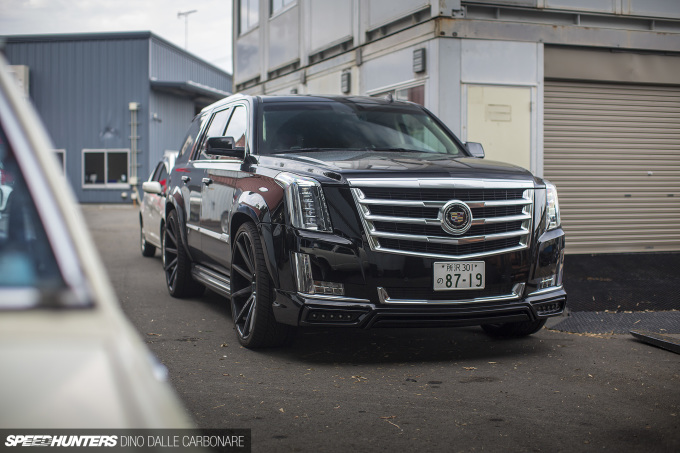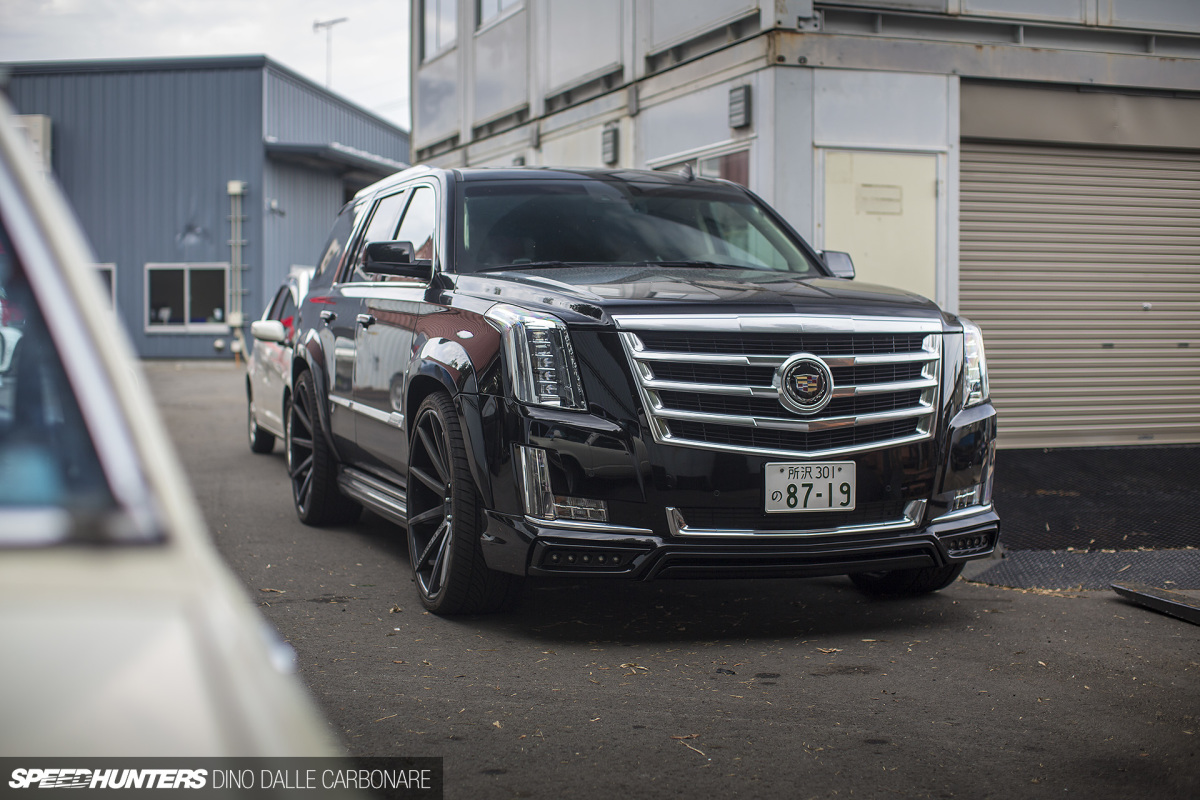 Ever wondered what Saito drivers as a daily? Yes, the 458 does get used often, but his go-to vehicle for the daily grind is actually this new-gen Cadillac Escalade.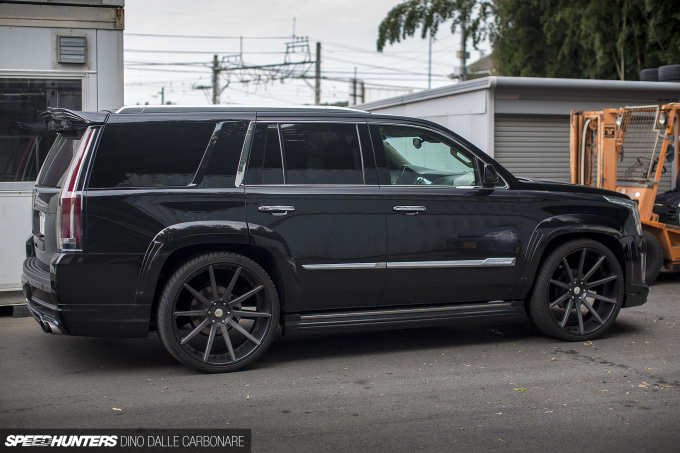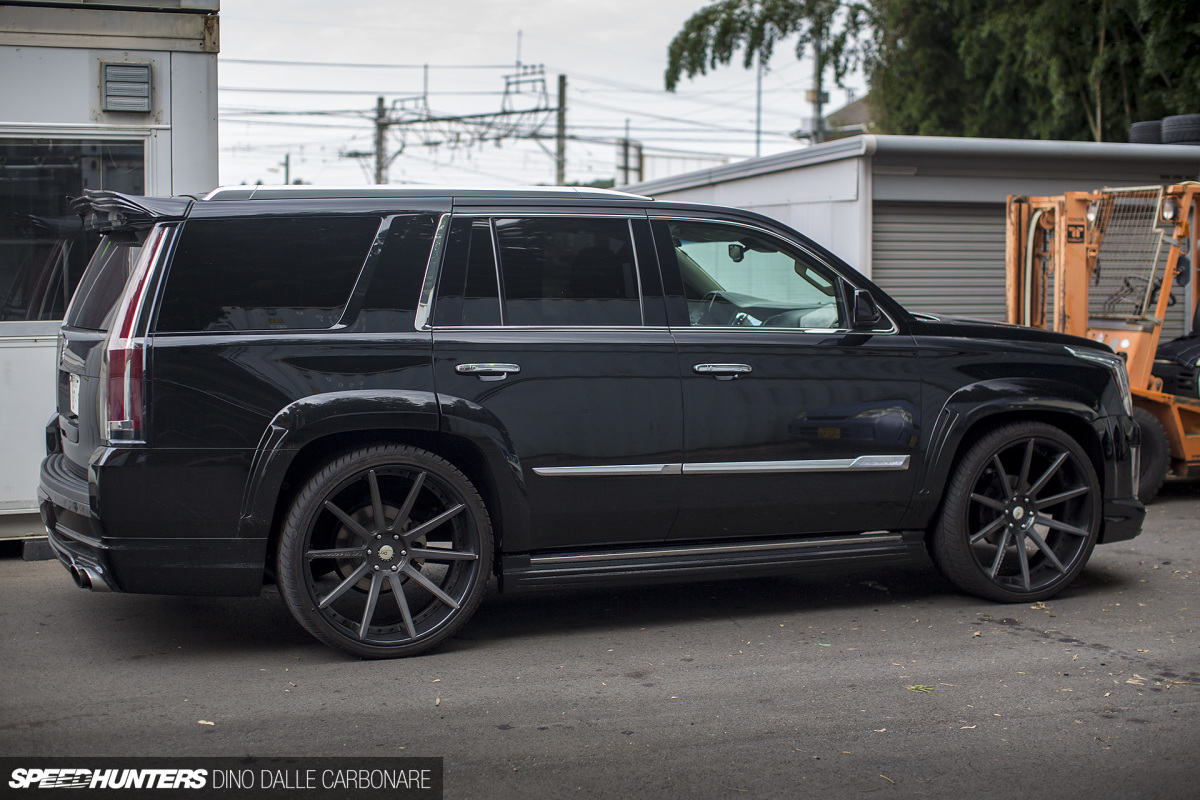 You wouldn't for one second think that he would drive something like this and keep it stock though, right? The massive body-on-frame SUV has been lowered on 24-inch wheels and fitted with over-fenders, a simple bodykit and an aftermarket exhaust. It probably won't be the most effective off-road vehicle after those changes, but there's no questioning the boost in style!
So Many Projects On The Go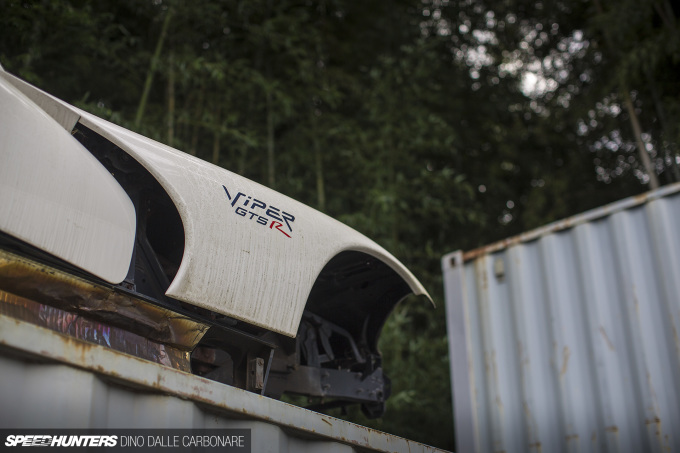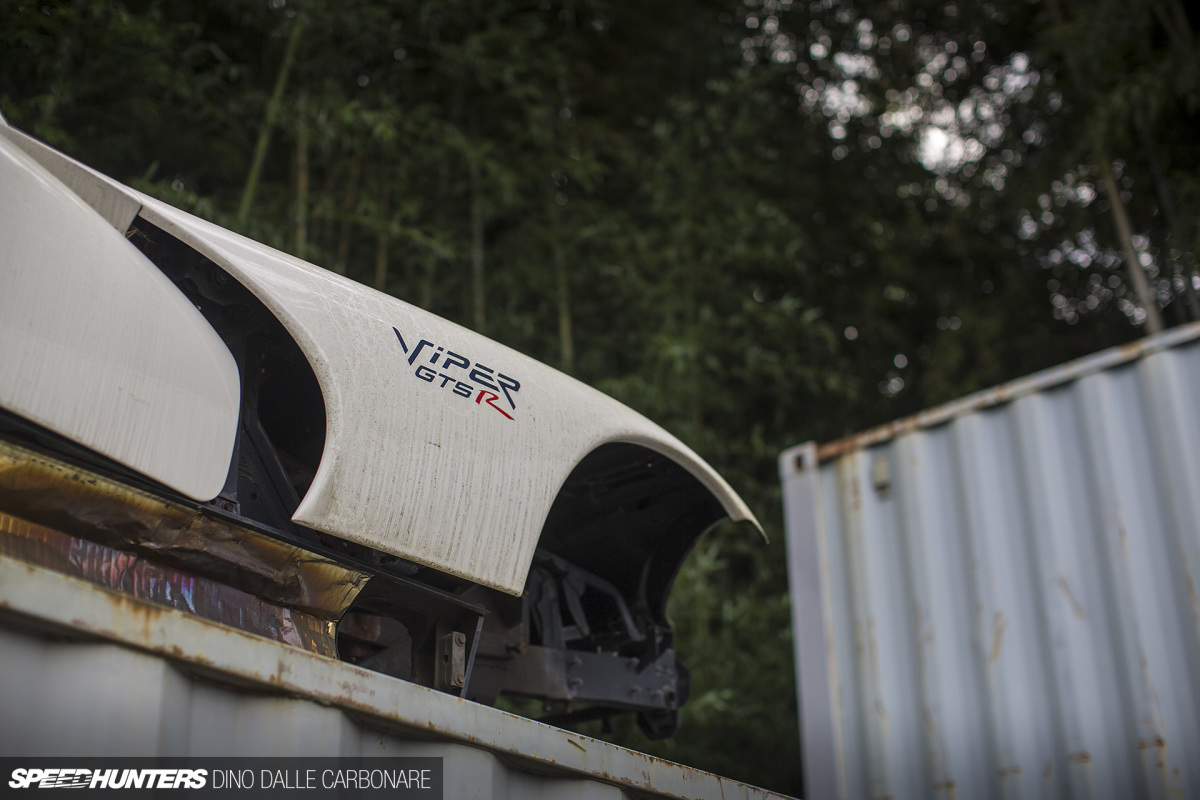 Another car from the US of A is the thoroughly weathered Viper GTS-R shell that's been sitting on top of a container for a few years now. That was another project that was meant to be turned into something cool and drift oriented, but it was probably way too complex to put into action.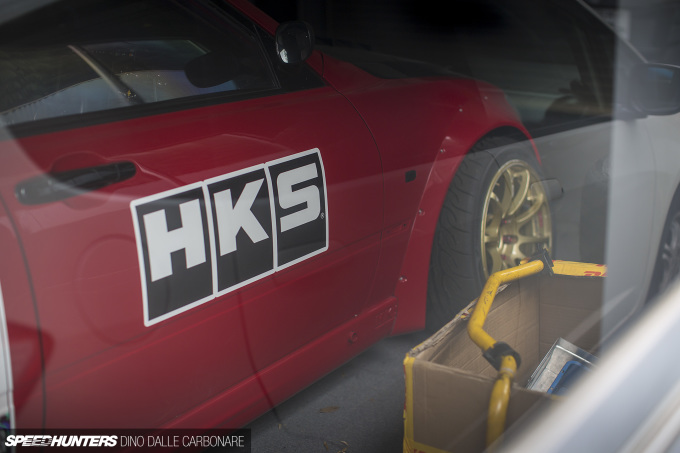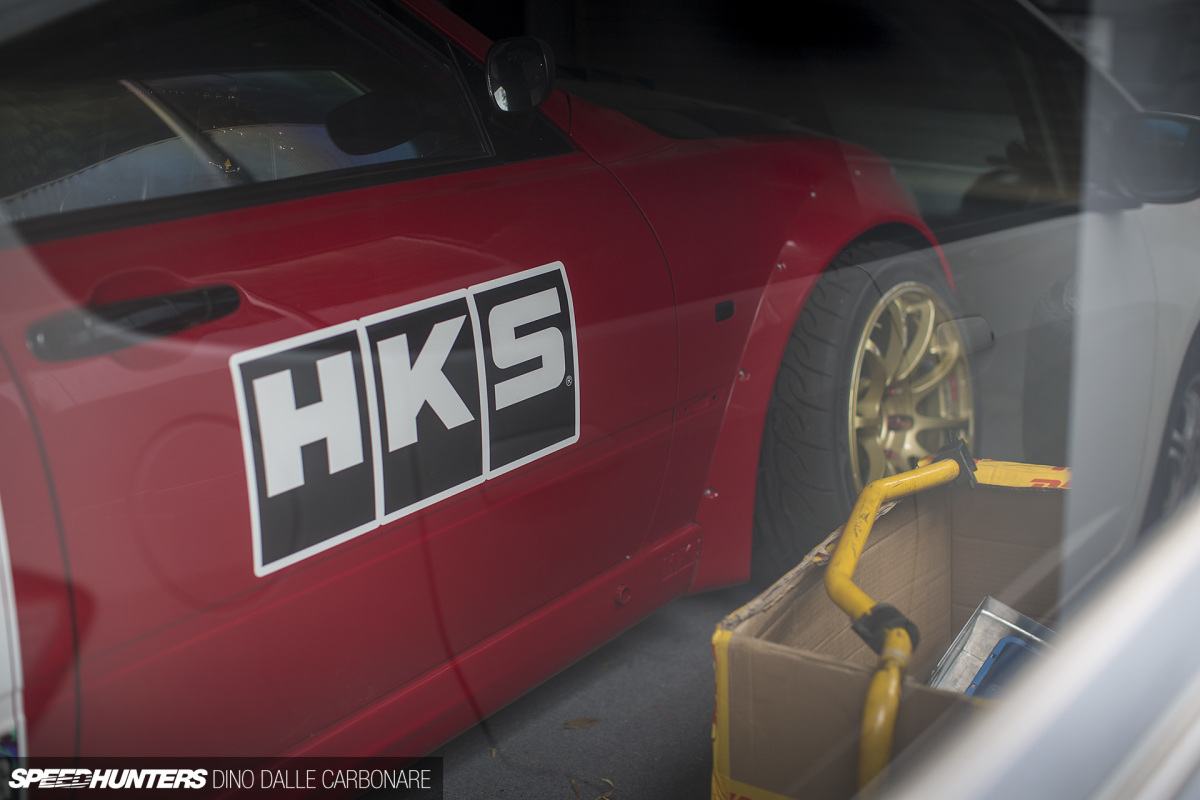 Something curious I found in the new pre-fab garages that have been built opposite the container stacks was this rather familiar red Toyota Altezza.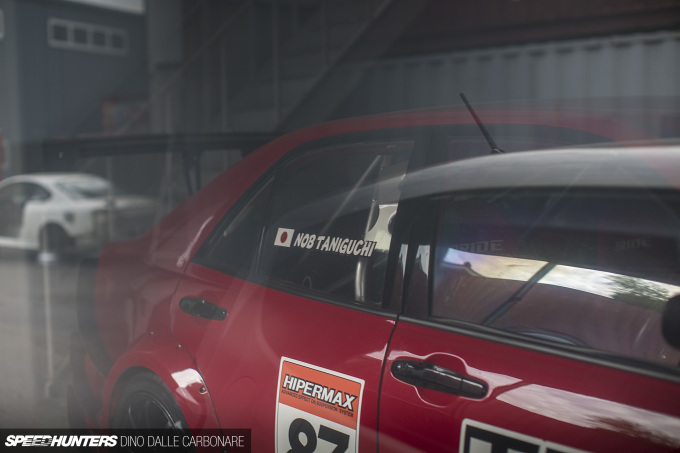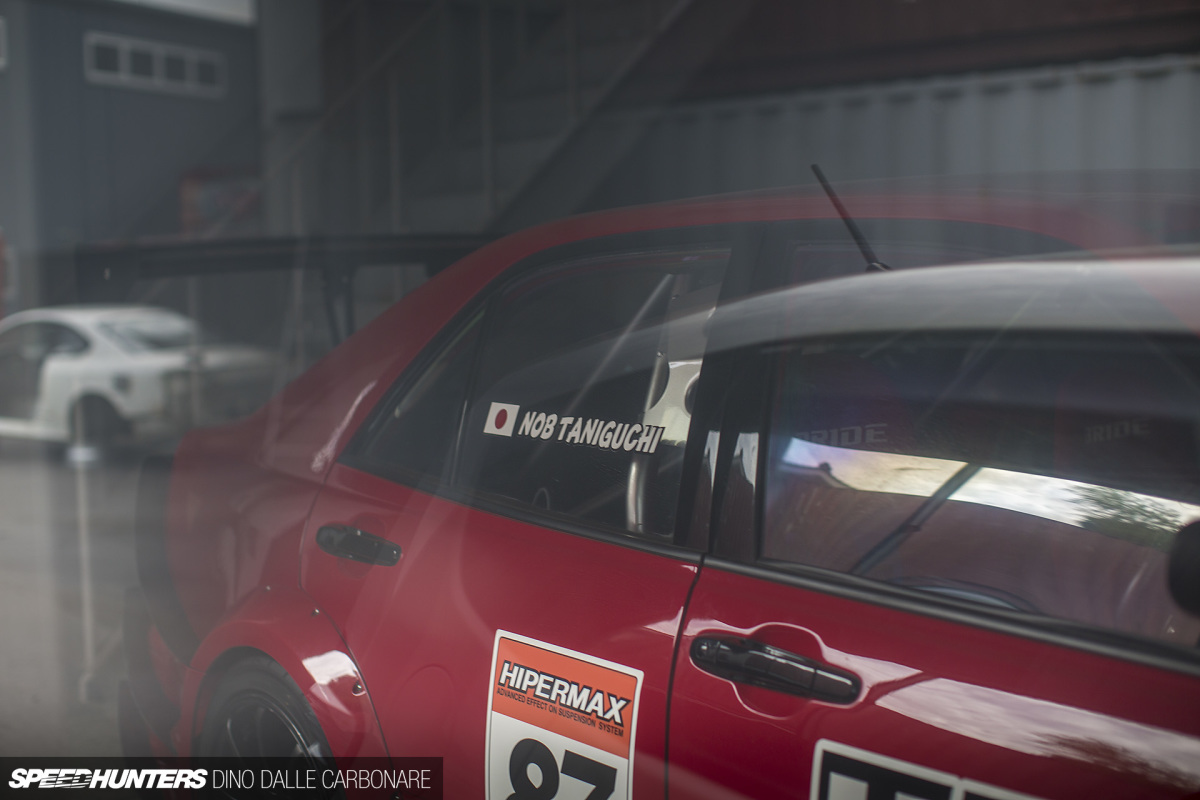 This is Nobuteru Taniguchi's HKS RS200 that was probably last seen at the HKS Premium Day back in 2014. Did Daigo buy it? Or is he evolving it for HKS? It's all a little hush-hush, but seeing that HKS are pretty adamant about stepping away from the ZN6/86 chassis, maybe Daigo has got some interesting plans…
We'll be seeing something else come of another HKS x Fat Five Racing collaboration at this year's Premium Day, which is coming up at the end of the month. It's got to do with drifting and Taniguchi – can you guess what it is?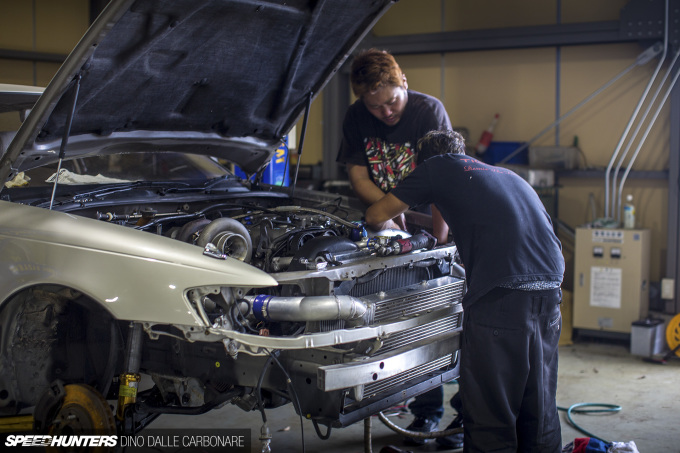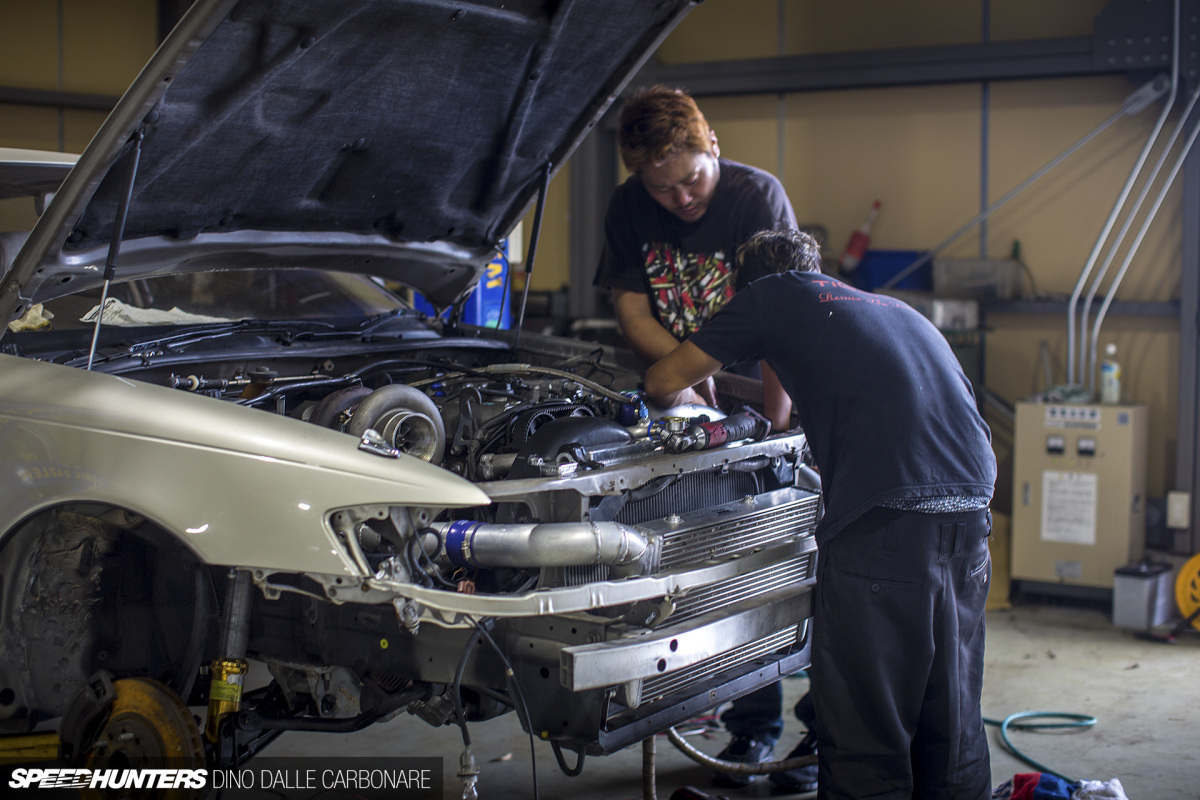 It was over to the actual workshop next where the man himself was busy working on a couple of cars alongside his mechanics.
One was this JZX90 which has obviously bought off a retired couple, still sporting the Toyota dealer option lace trim for the seat backs and head rests. Seeing the high-mounted single turbo sitting alongside the 1JZ certainly made for a comical contrast.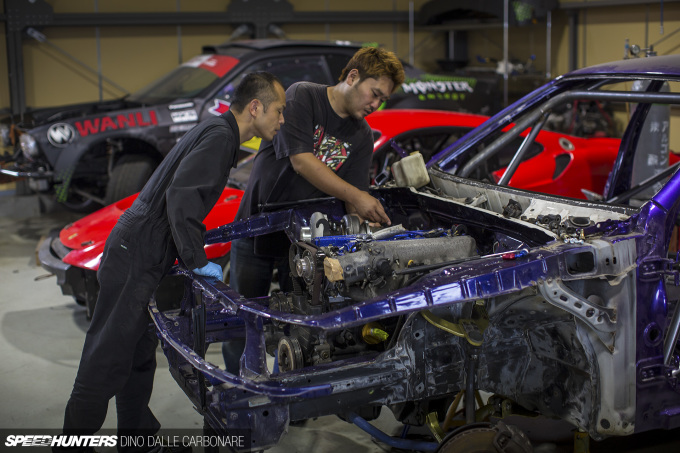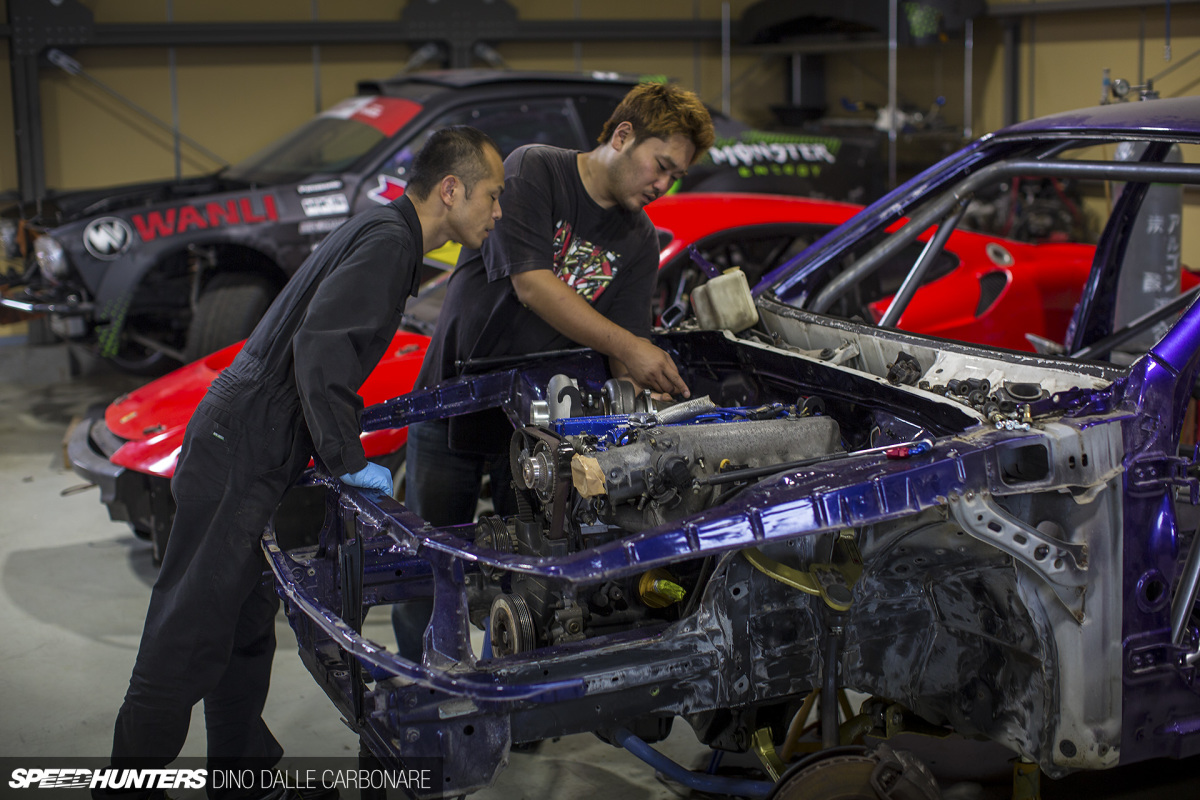 While the silver JZX looked like a fun street or practice car, there were a couple of far more serious builds in the works a little further down the garage line-up, starting off with this purple JZX100.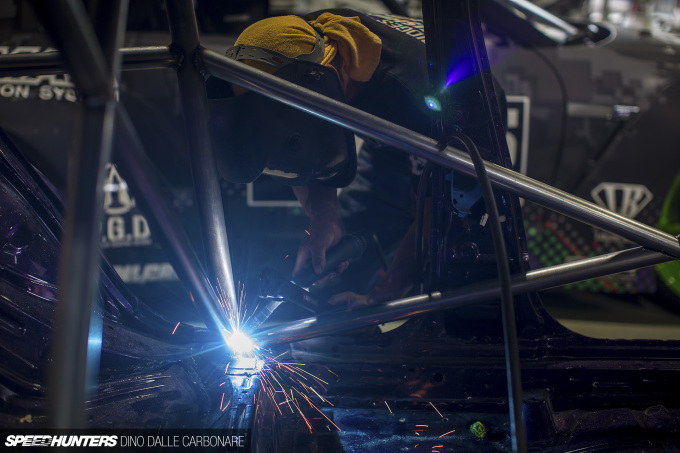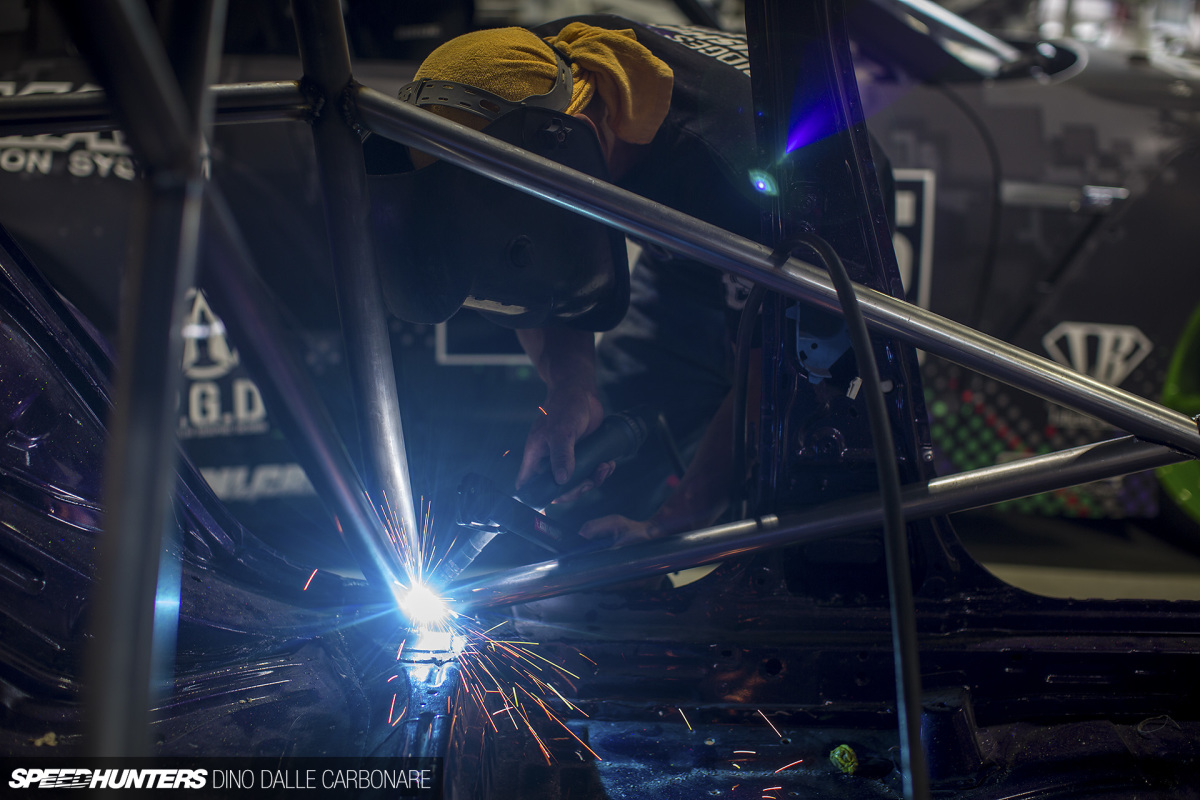 The bare chassis was being stiffened up with a custom cage and lots of spot welding.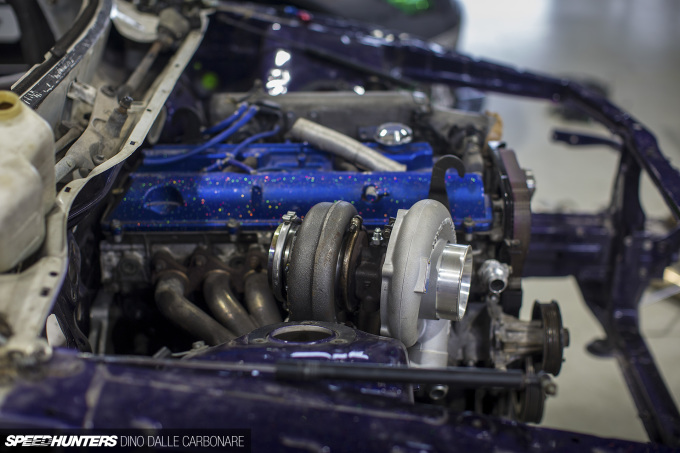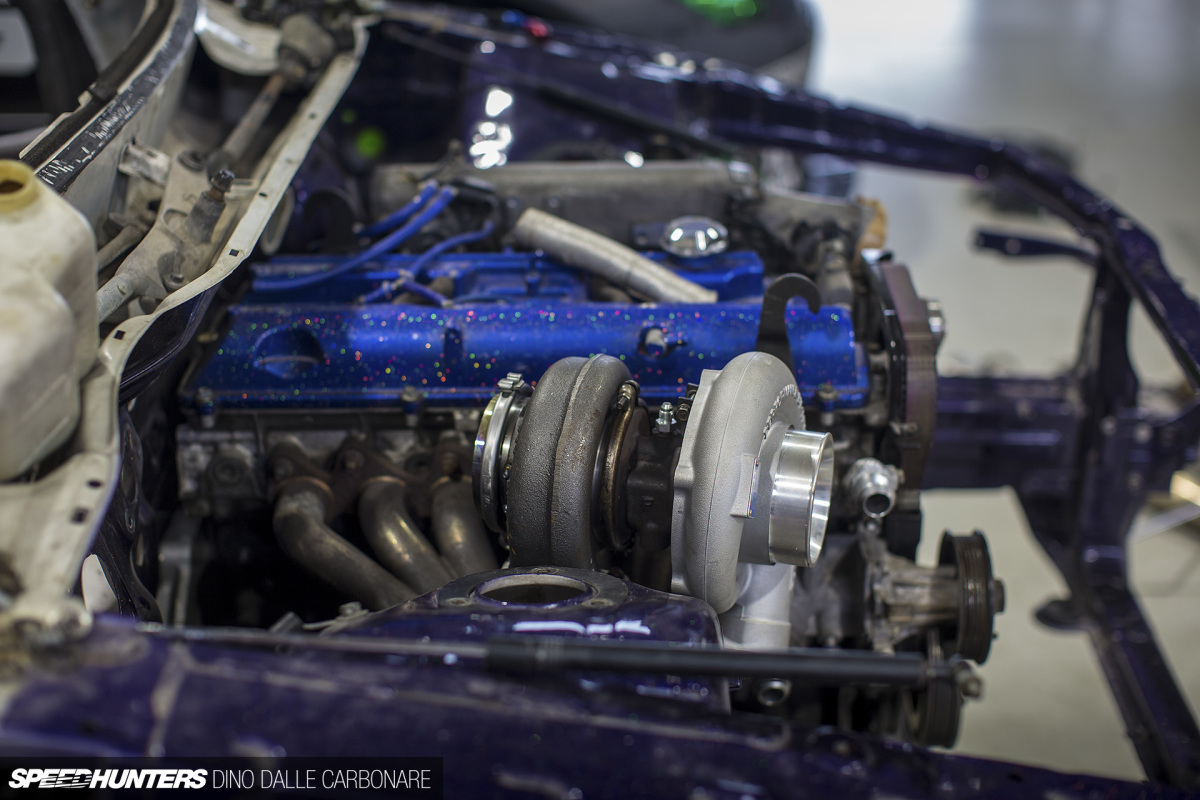 The motor had been dropped in the engine bay with its new turbo to check clearances.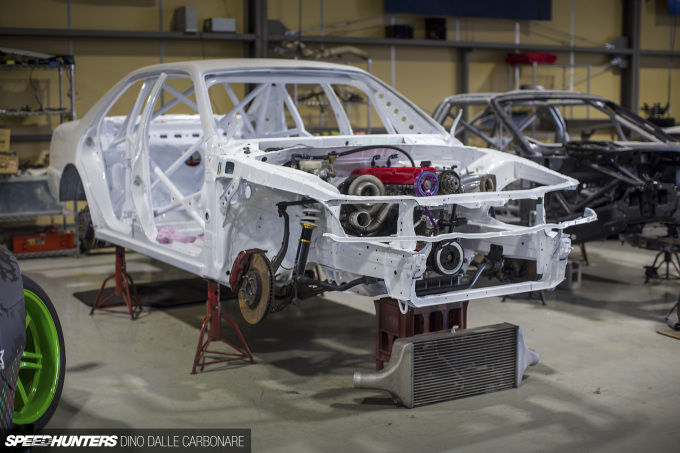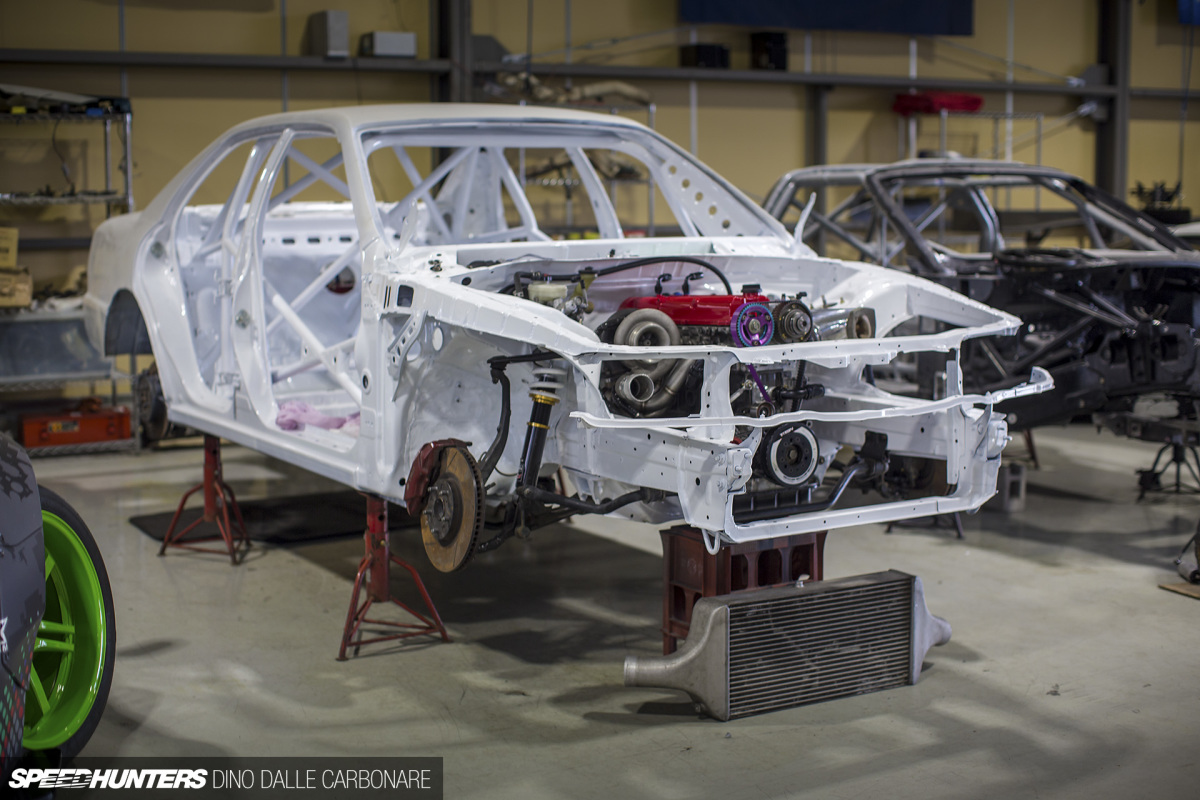 A couple of cars away was this JZX100 which was obviously a few more steps up the build process than the purple one. Sporting a fresh few coats of brilliant white, the chassis along with the cage and gusseting was looking very sexy indeed.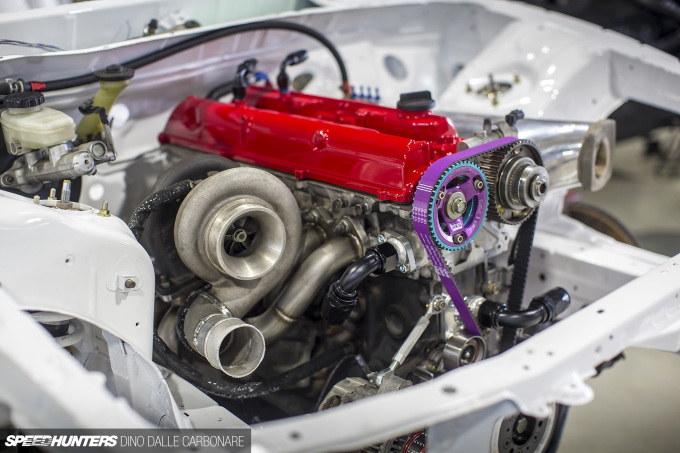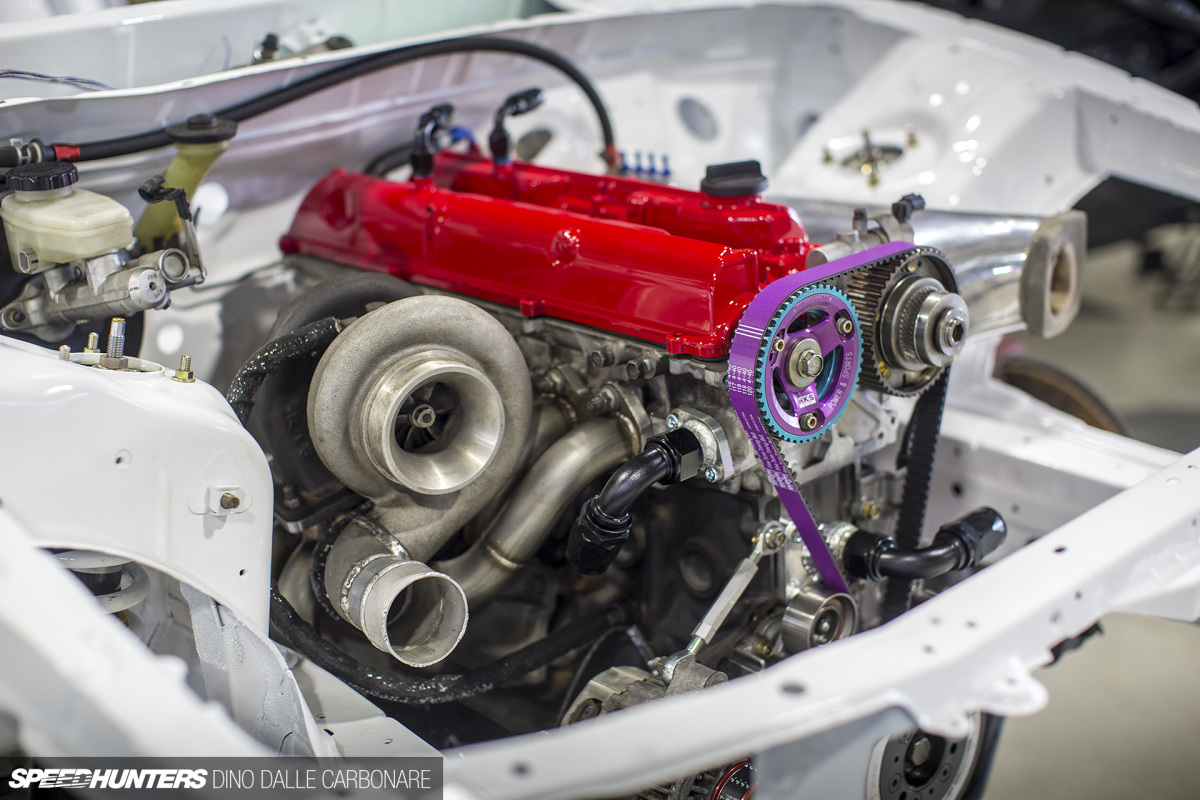 And the 2JZ was looking like it was mostly built up and requiring only to be plumbed up and wired in.
The Best Has Yet To Come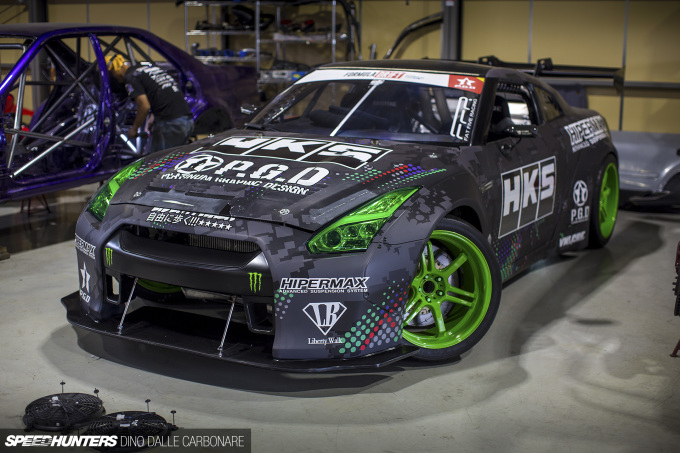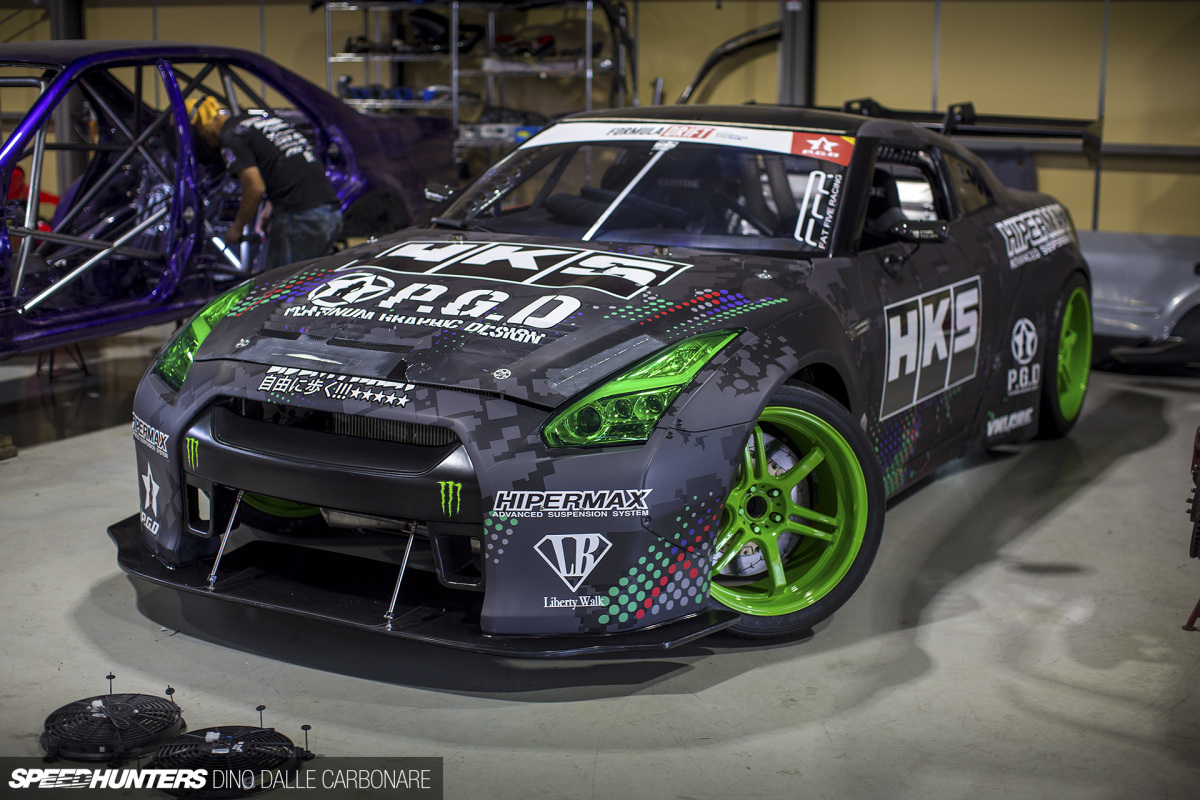 Sitting pretty was Saito's 1300hp Formula D R35 GT-R, the only Nissan in a what seemed a sea of Toyotas.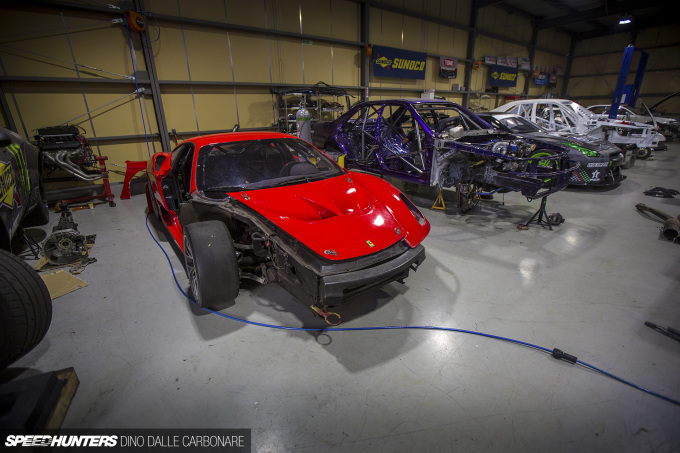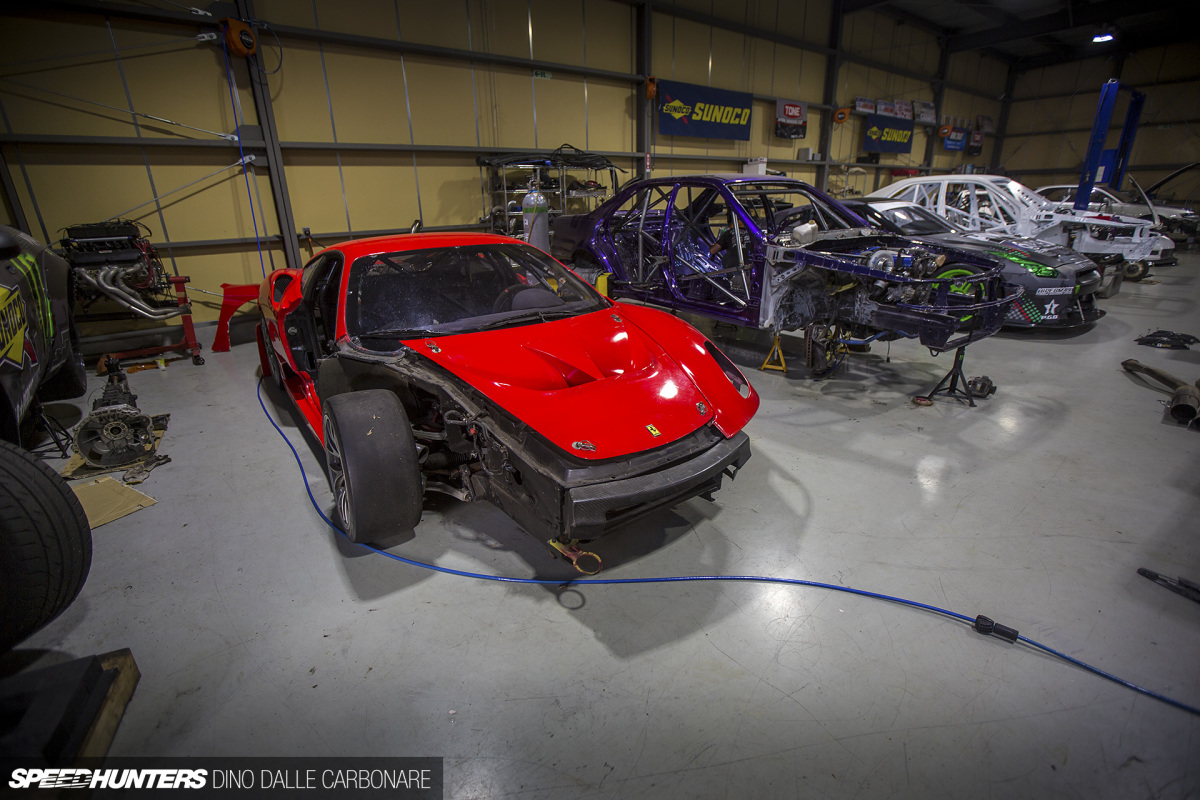 Oh, and a Ferrari!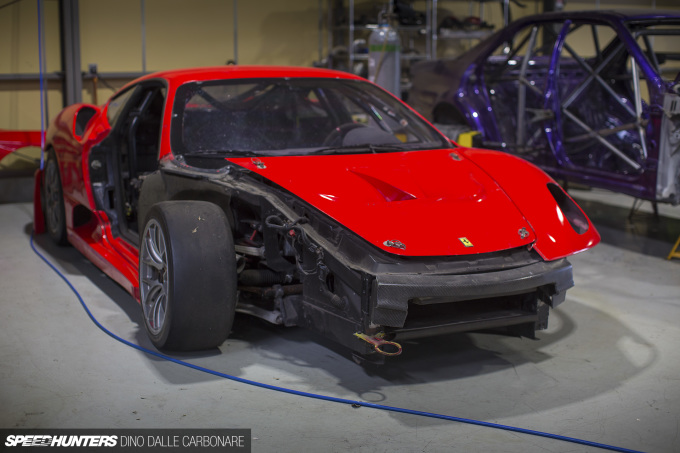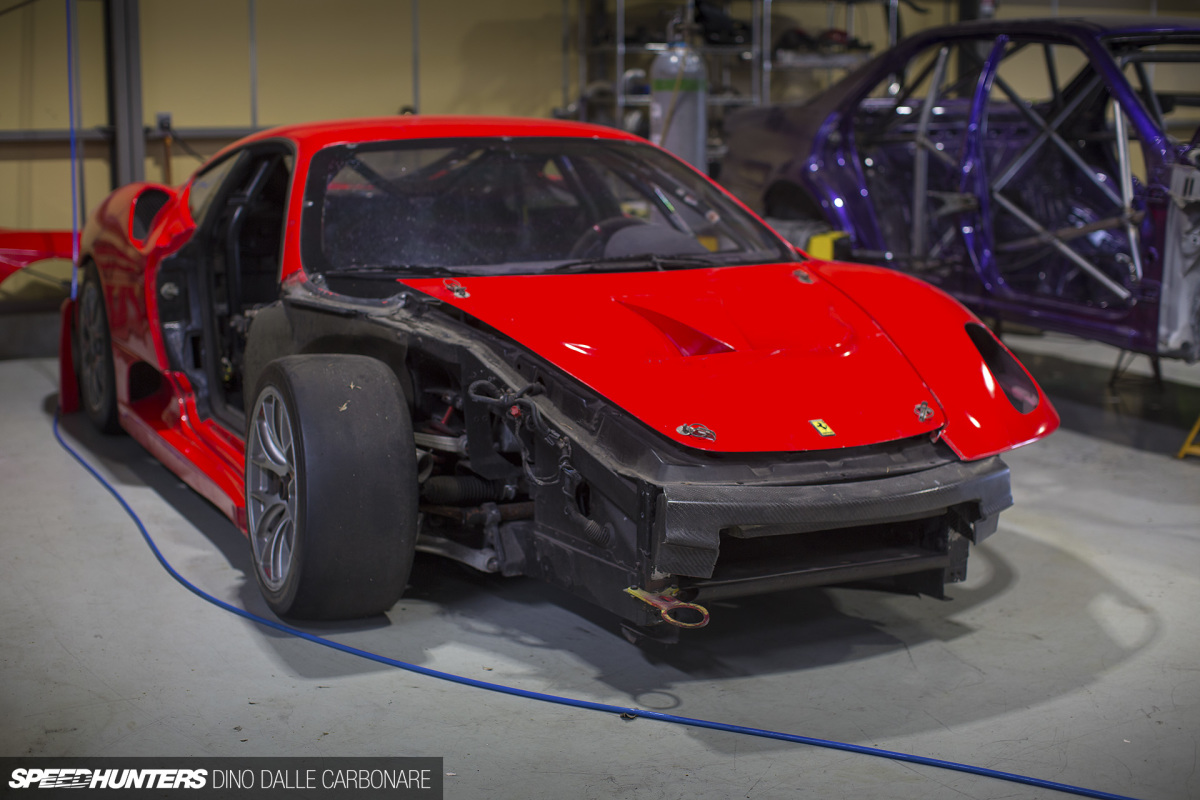 It's unclear what Daigo is doing with this F430 GT3. Maybe he's fixing it up to sell on, or perhaps he's doing the unthinkable and turning it into something to slide. Time will tell!
And that's one of the coolest things about Fat Five Racing – there's a huge variety of cars sitting in the shop, but you never know which ones will end up being transformed into crazy drift machines. It's obvious that Daigo likes to keep his options open.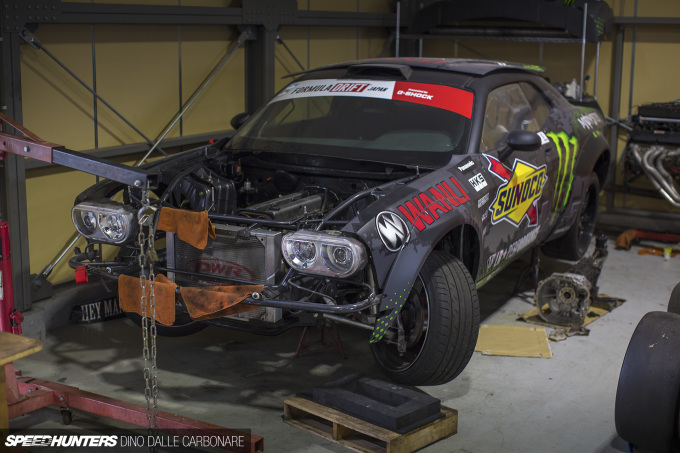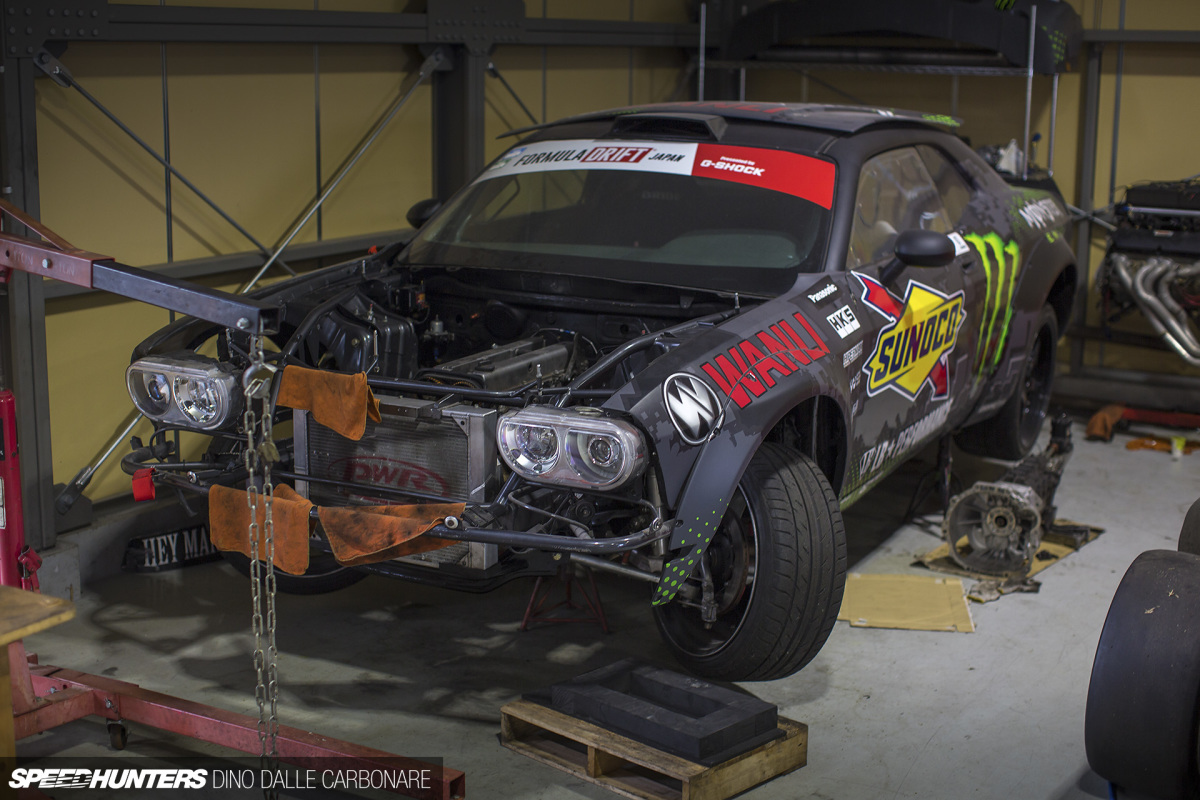 It reminds me of the Dodge Charger that never was…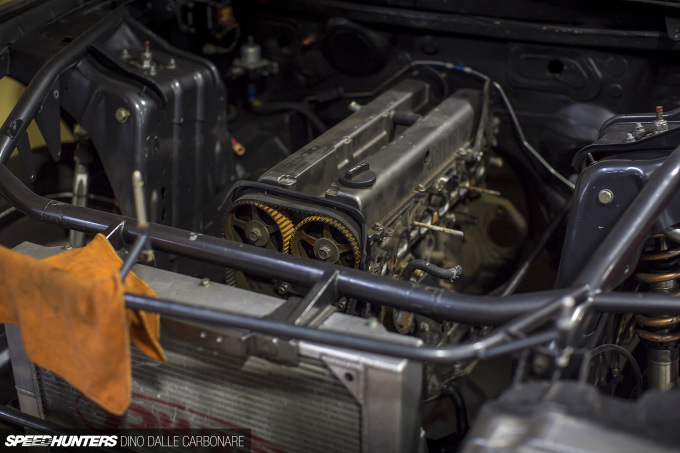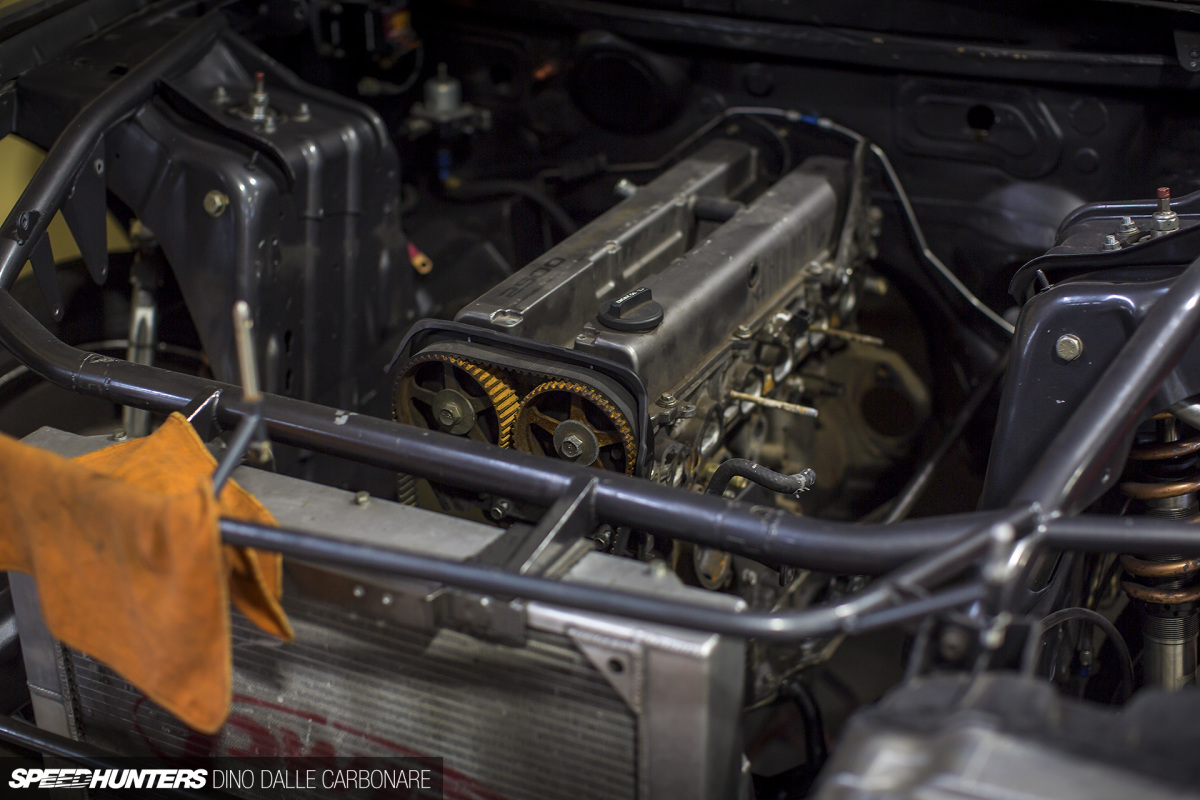 The last time I saw this car it was red and had a V8 in it, but that's not the case now, so the build has far from stopped. It just blows my mind how many cars Saito is building at the same time!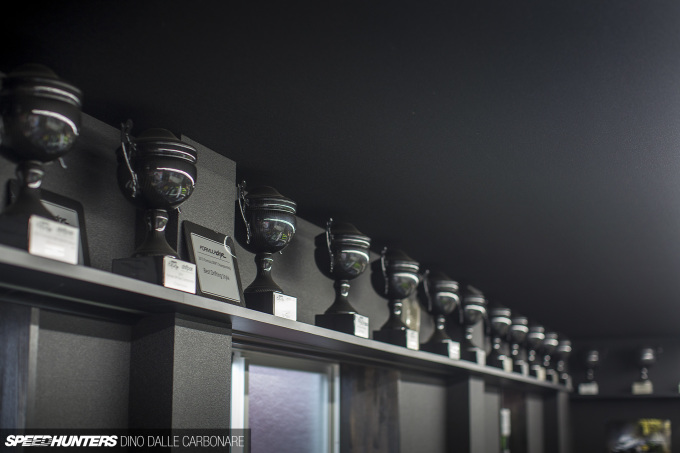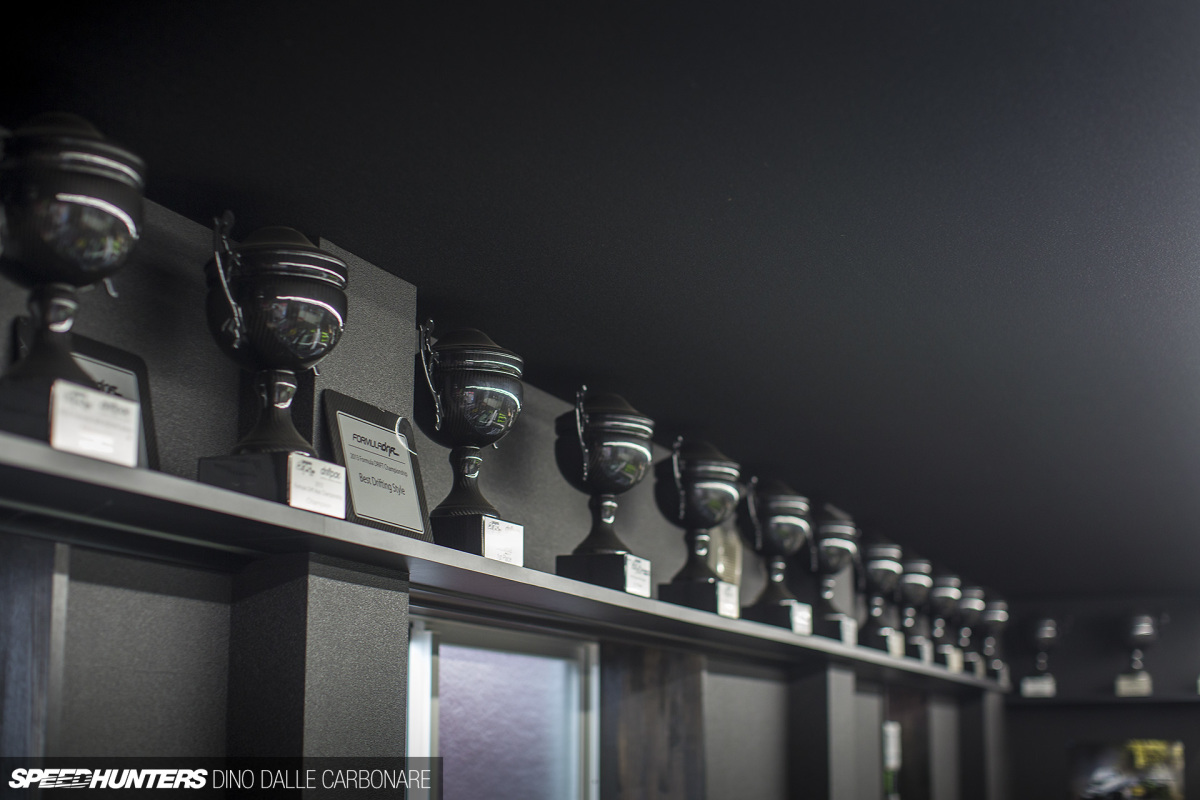 I finished up my tour with a look at the impressive line-up of carbon fiber Formula D trophies that pretty much go all the way around the office. This happened while Saito was bringing out his crazy D1GP JZX100; you know, the one without the intercooler. I thought it was about time I ran a feature on that car, a pretty epic machine that's now banned from D1. Stay tuned for that…
Dino Dalle Carbonare
Instagram: speedhunters_dino
dino@speedhunters.com