Welcome to possibly the most exciting car I've come across at SEMA this year.
An overstatement? Well, I suppose that all depends on what sparks your own interest, but for how cool glitzy show cars are to look at, nothing beats a decent dose of substance. And an all-wheel drive, turbocharged 4-rotor Mazda FD3S RX-7 has bucketfuls of the stuff.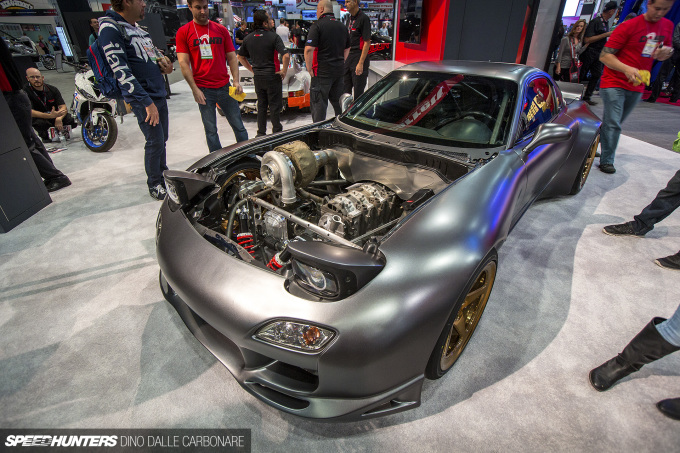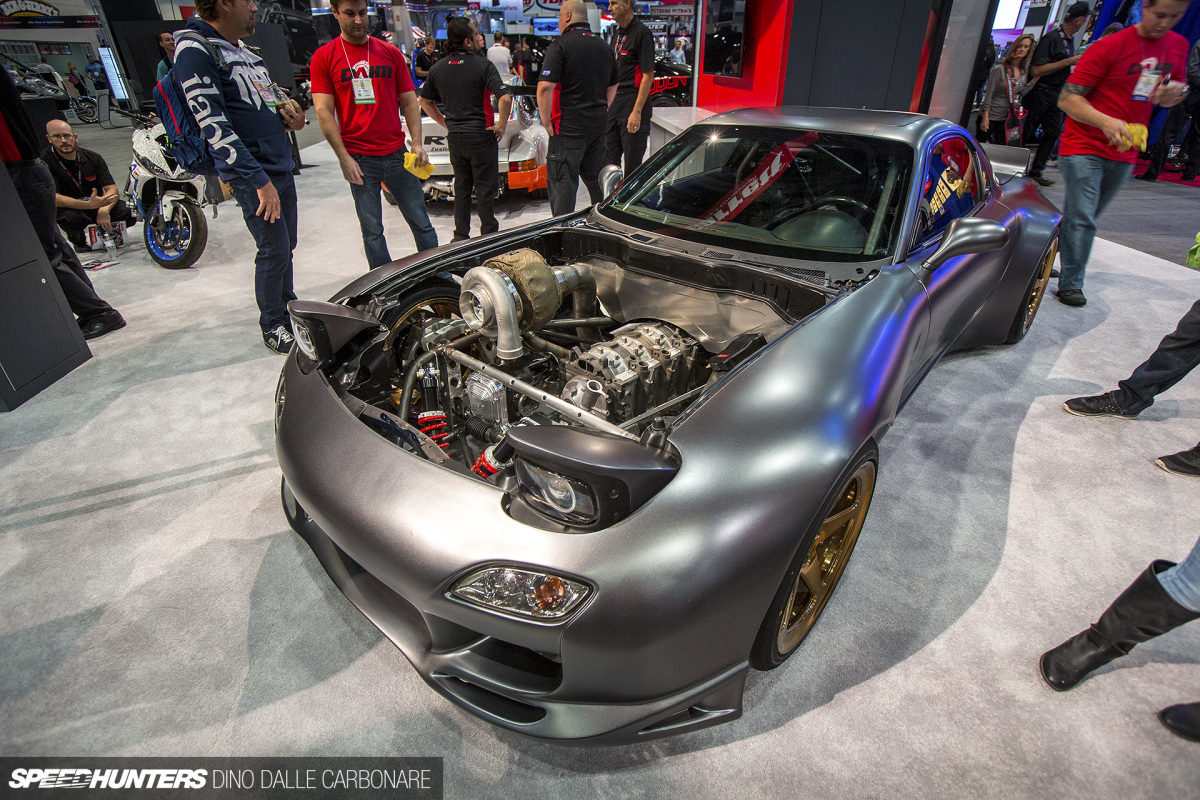 From afar, the car immediately piqued my interest. I remember thinking in my head, 'Wow, a wide body car without overfenders, would you look at that'. There aren't any screws or seams masking the unavoidable join lines, it's all smoothly blended into one piece of bodywork. Even the front fenders merge into the bumper.
It's all very interesting, but not nearly as interesting as what's going on in the engine bay…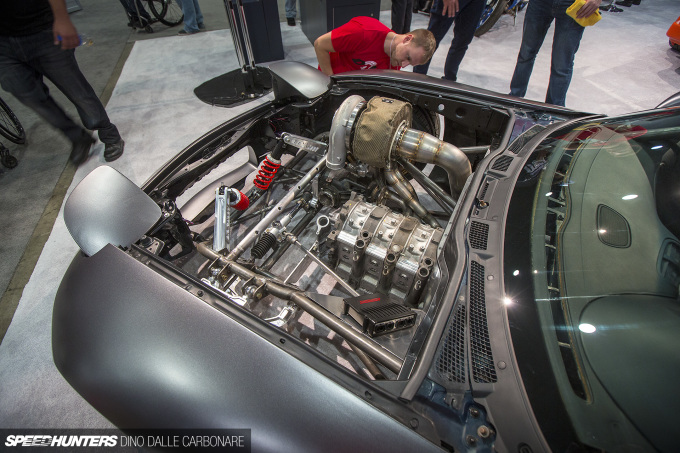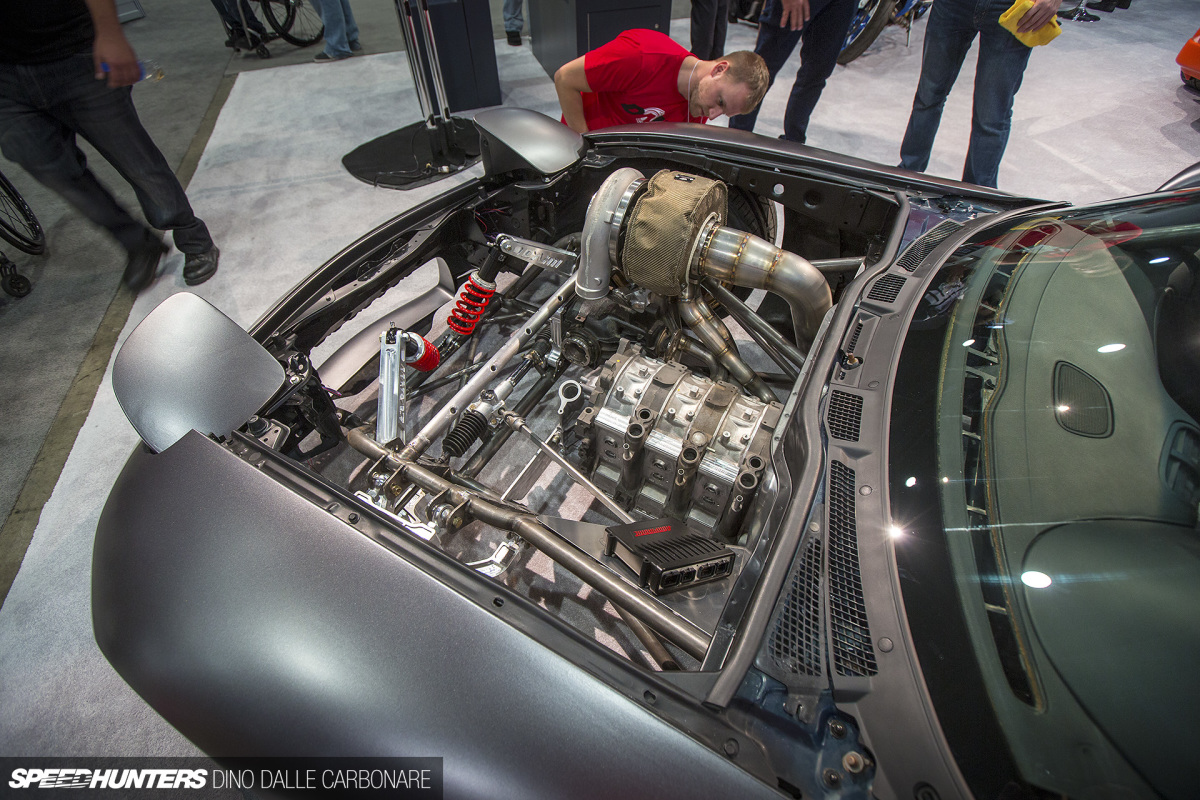 Yes, the car is far from finished, but I think it's far enough along that it deserves this spotlight. Is this the first-ever all-wheel drive FD3S RX-7? Or the first turbocharged 4-rotor-powered car with an all-wheel drive system? Yes and yes.
It's a pretty crazy layout to even be considering, but Rob Dahm, the owner and builder, set out to achieve something impossibly unique, and is now on his way to making it all work. The layout is simple in theory; the compact custom 4-rotor engine sits low, tucked deep back into the bay with an almighty Garrett turbo strapped to its side. The custom front subframe that holds all of the trick suspension bits and pieces also locates the front differential.
This will in turn be fed with a driveshaft from the transfer case mounted next to the gearbox. Pretty easy, right? Well, the idea was, making it work is another thing. As you can see, there was a ton of fabrication work required to perfectly position every key component of the driveline.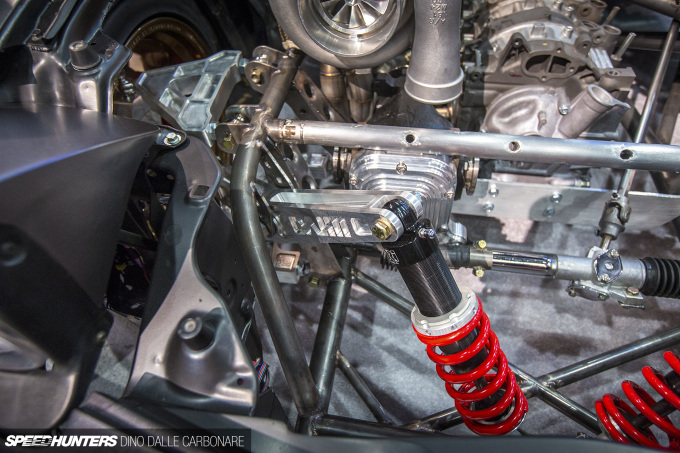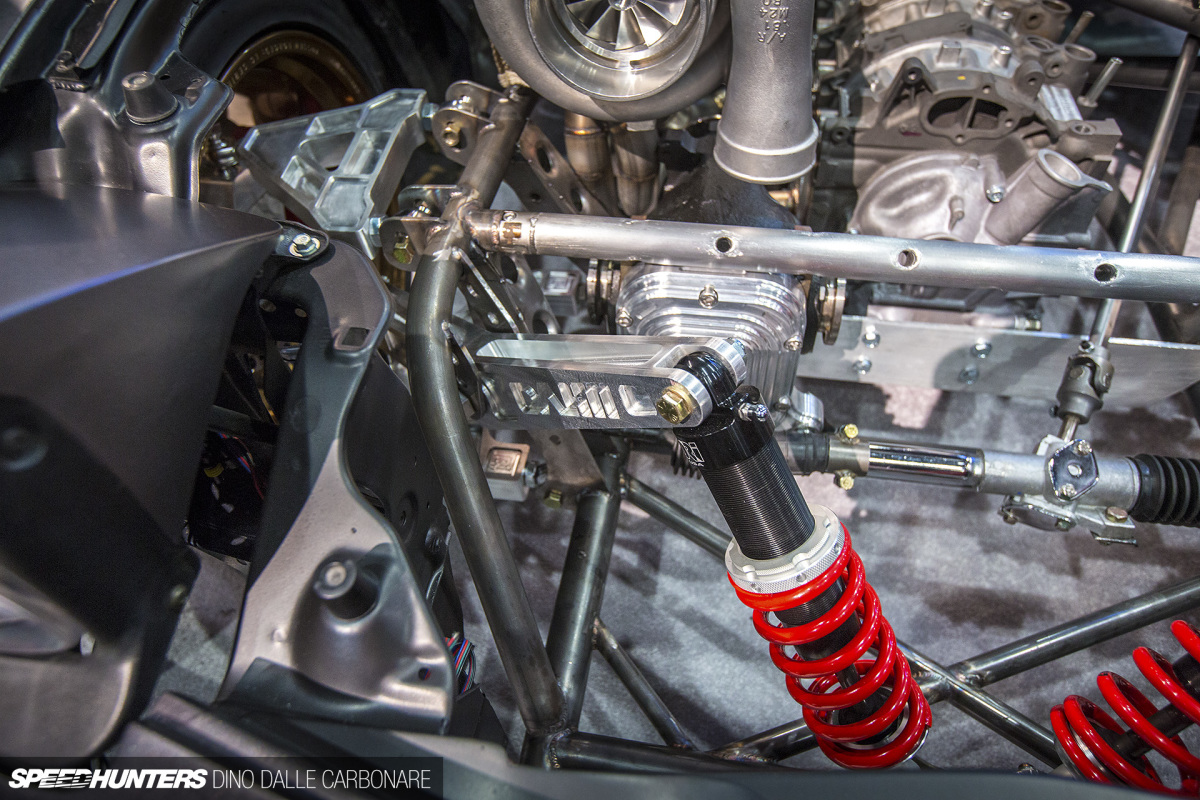 Then there's the suspension. Rob looked to the guys at Hoonigan Racing for this, and has ended up running with the same cantilever double wishbone front suspension used in the Hoonicorn.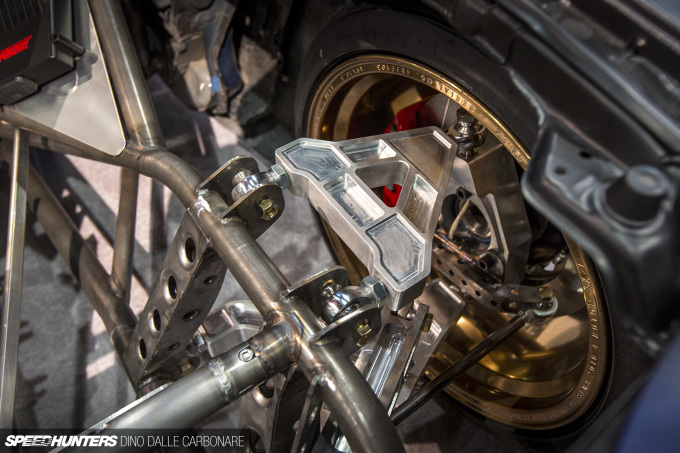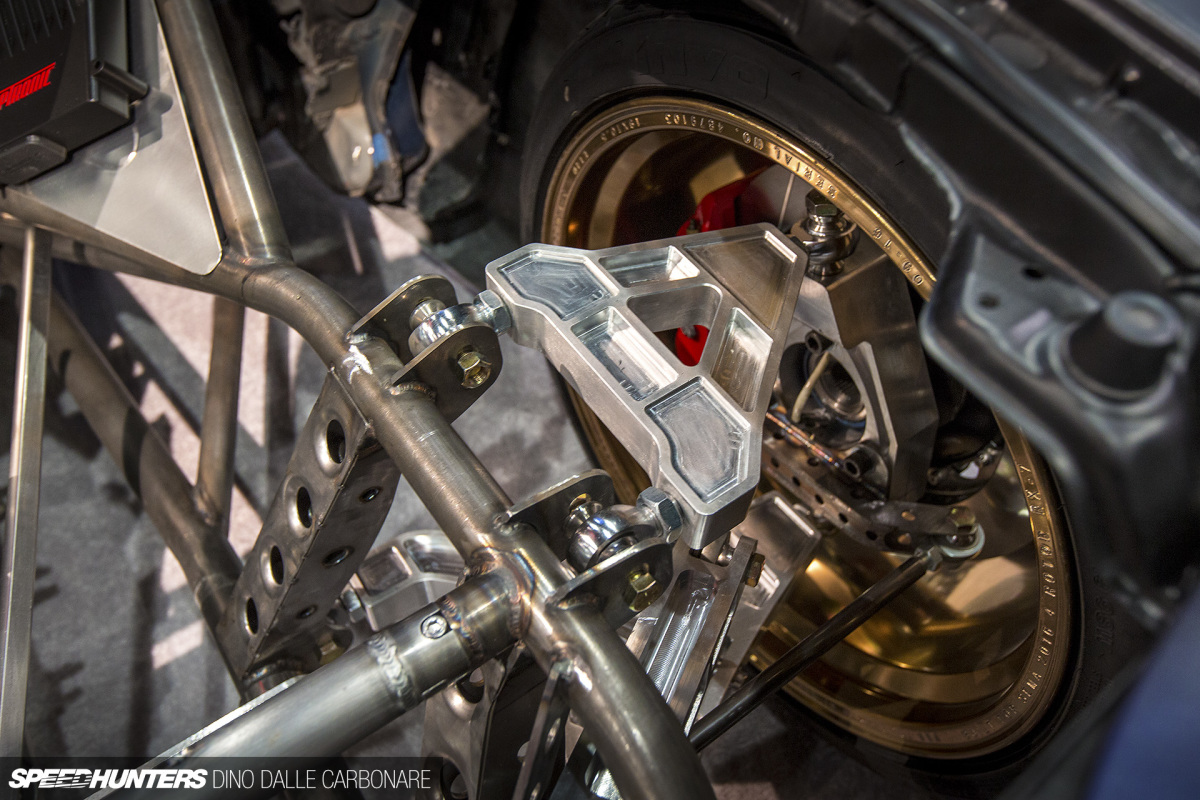 There is much billet awesomeness going on here, and it all hooks onto the tubular frame that makes up the front end structure of the FD.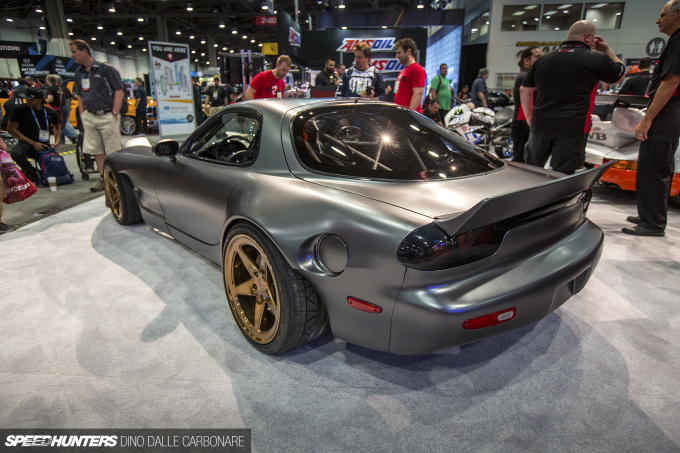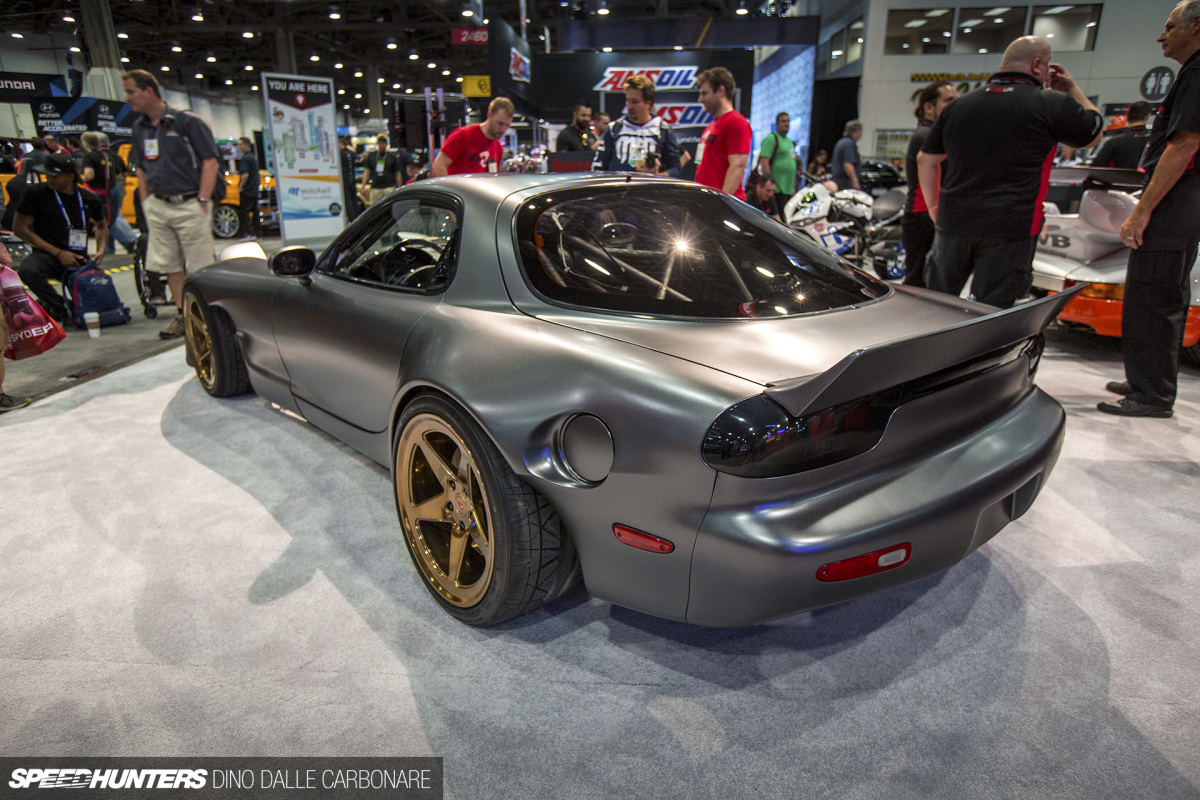 It will be very interesting to see how it all comes together in the end. Rob is thinking that he'll probably use the car for standing mile and high speed events to start off with – hopefully setting a few new records along the way – and then put the all-wheel drive to good use on the circuit.
Needless to say, this is one project we will definitely be keeping an eye out for.
Dino Dalle Carbonare
Instagram: speedhunters_dino
dino@speedhunters.com