A Mustang RTR Like Never Before
What's up Speedhunters! I am pumped to share some of the finer details around the Hoonicorn RTR that ASD Motorsports and RTR built for my good friend Ken Block so that he could shred downtown LA for Gymkhana SEVEN. If you haven't seen it yet (unlikely we know), here's a link for your enjoyment.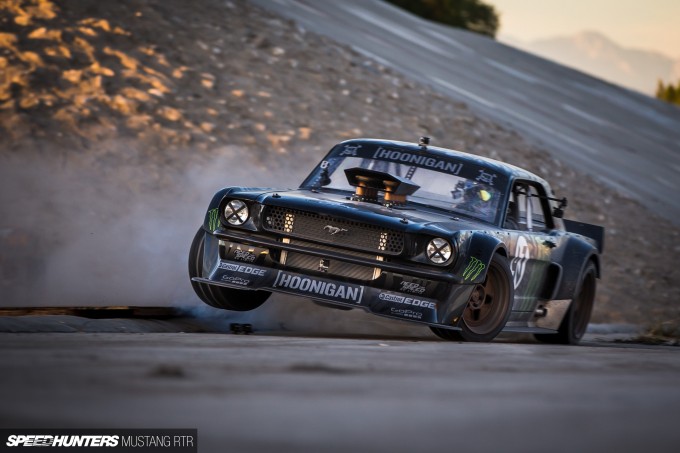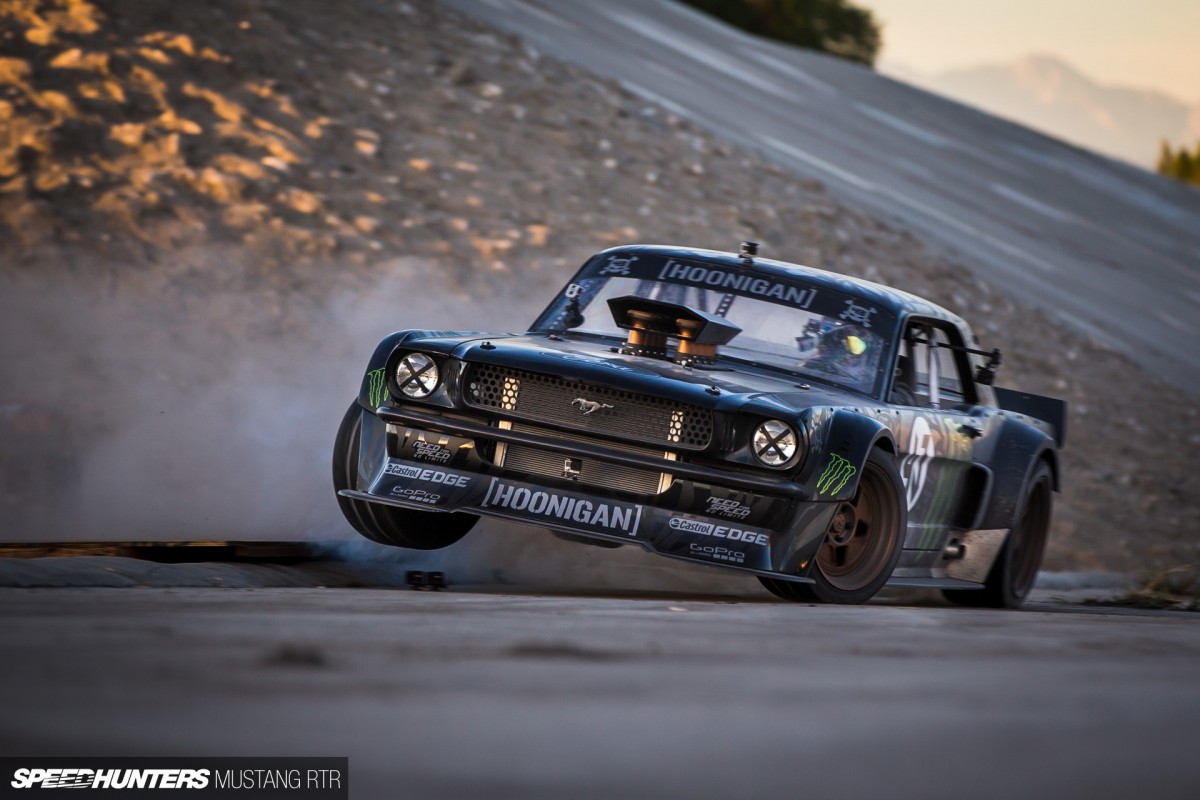 There is simply too much to share about this car and build (see the link at the end of the story for more photos), and without writing a novel I have done my best to showcase two years of work within the box we have to play with here on Speedhunters. As you go through the story you will have to excuse some of these photos, as I realize they are not the standard quality you are used to seeing on the site – but we did the best we could given the priority of building the car.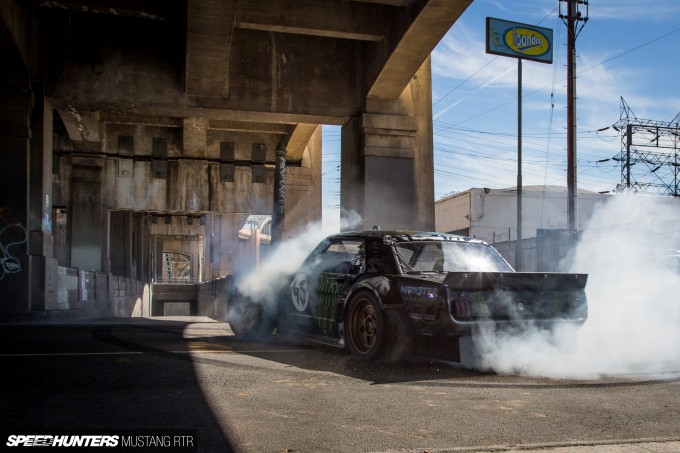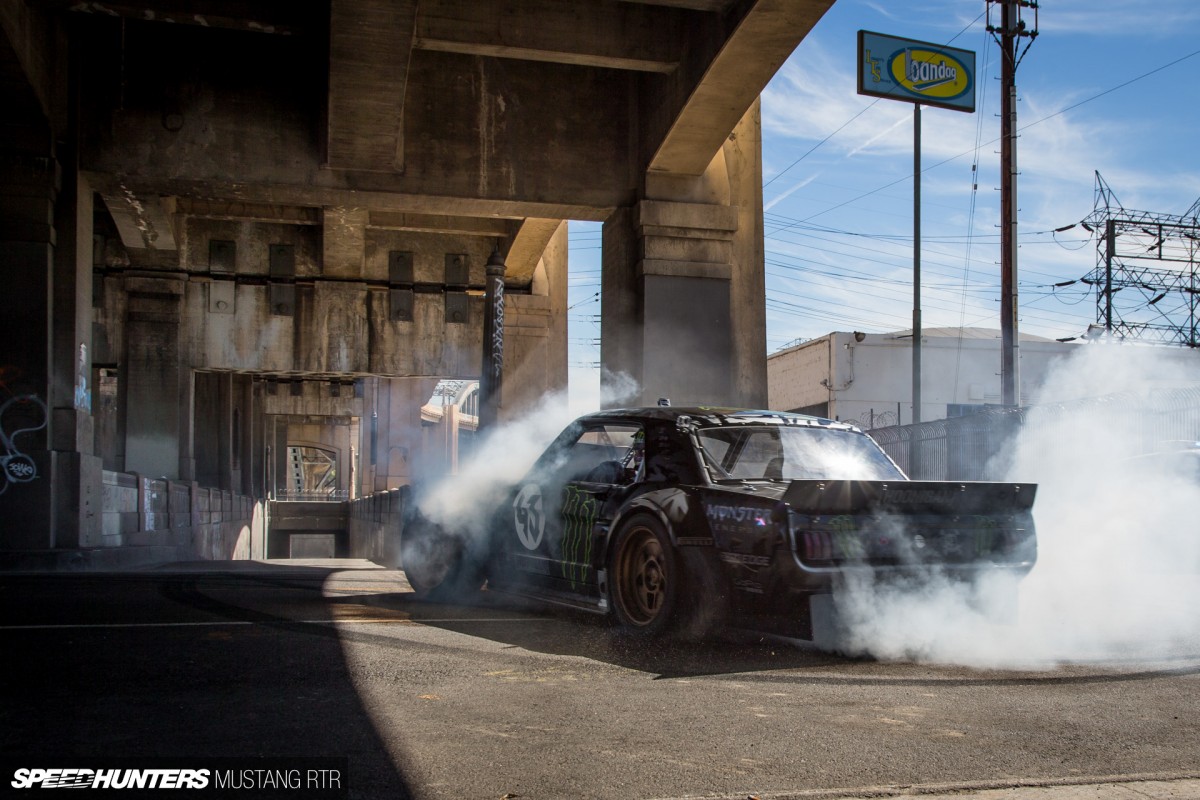 Ken introduced me to his idea of a four-wheel tire-slaying classic Mustang during a hangout session one evening at his home in Park City, Utah. He wanted a classic Mustang that looked period-correct and was absolutely bat-shit crazy. Low, wide, and a slayer of all tires summed it up. This beast needed to be reliable enough to support demos and video projects, but serious enough to win Gymkhana competitions. This got my brain going crazy with ideas…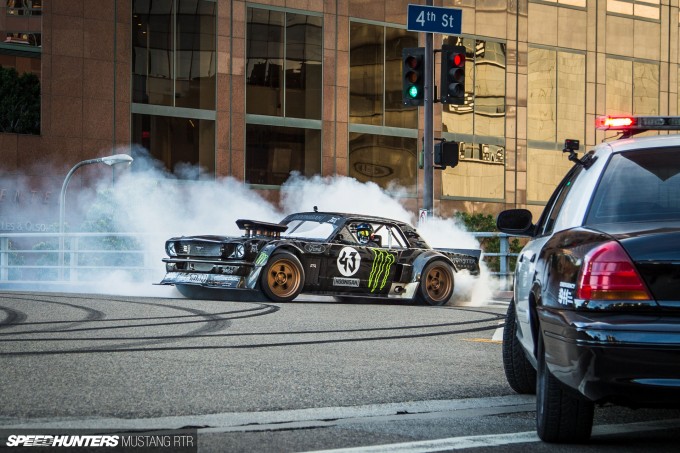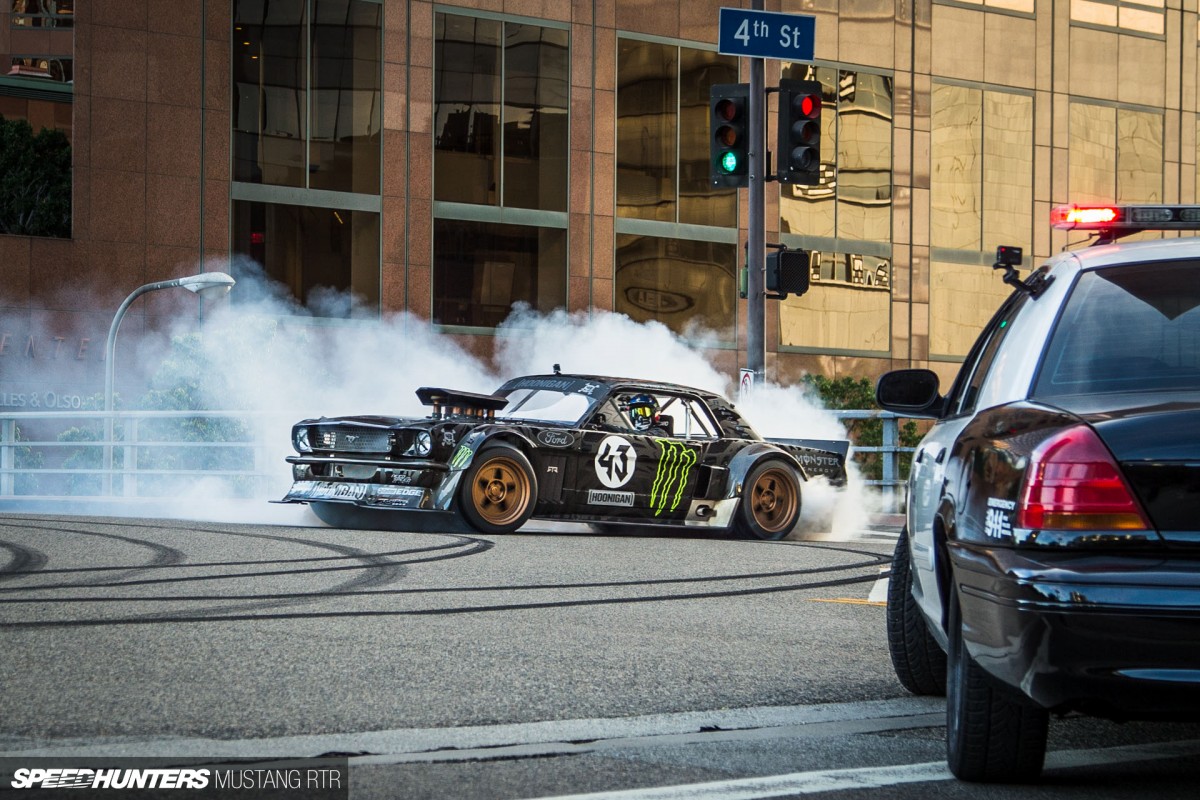 After a bit of wild brainstorming and idea spit-balling, Ken asked me if it was a project that RTR would like to take on. I was absolutely flattered that he had asked us to build this car and we absolutely wanted to make the insane concept a reality. That's pretty much where the 'Hoonicorn RTR' idea was born and the two-year-long project began.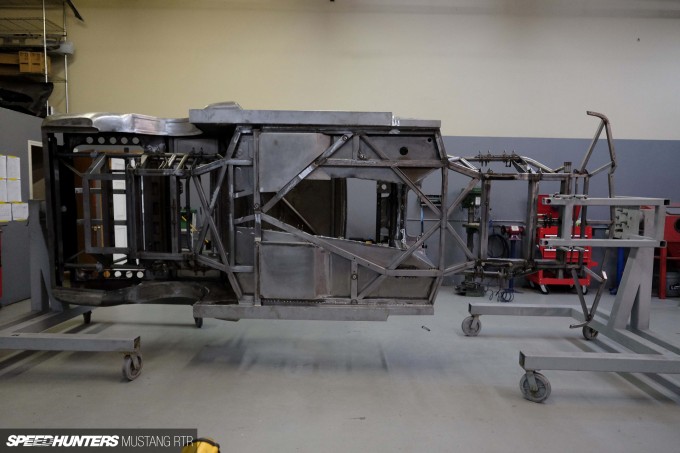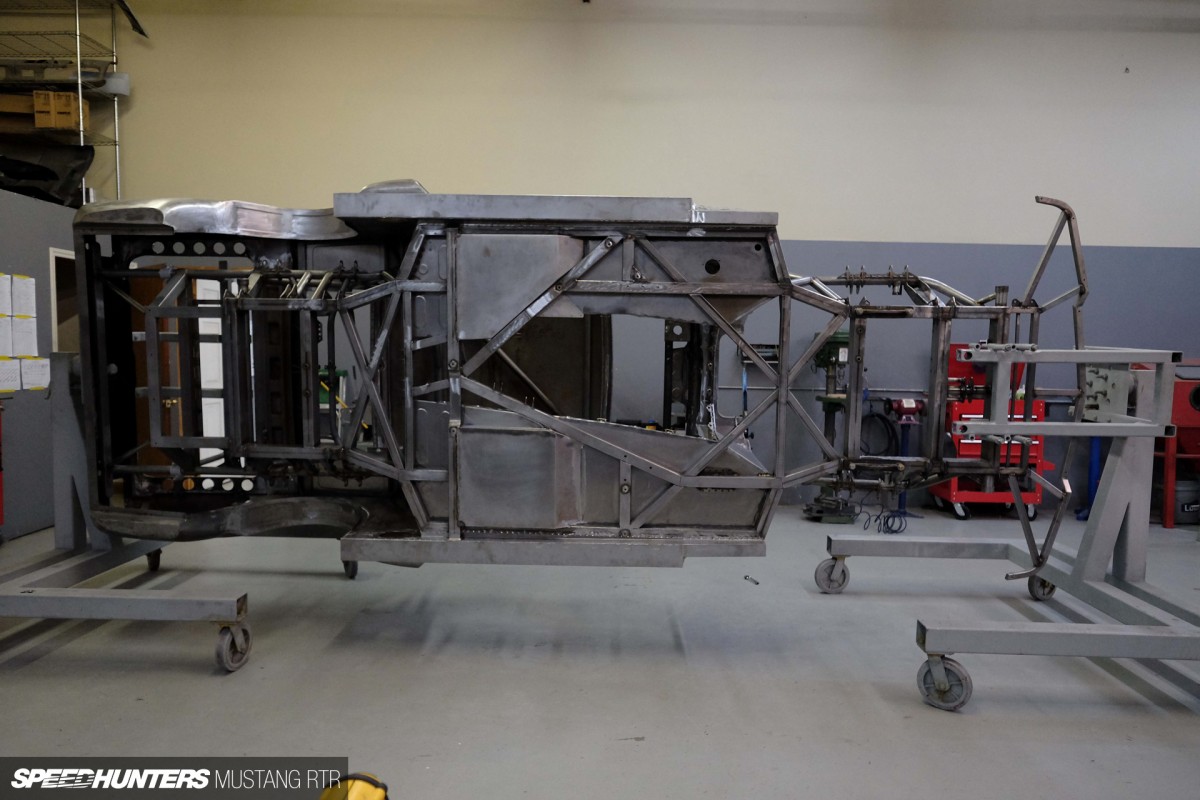 Over the last 10 years I have been fortunate enough to meet and work with some of the best in the business to bring wild ideas and my visions to reality. I am grateful that such talented people choose to spend their time supporting our project car builds and global motorsport activities. There was no question that we were going to require the best in the business to support this one-of-a-kind project every step of the way. Our first choice for the build was utilizing the talents of ASD Motorsports, a group that I have entrusted to support many of my projects and competition efforts since 2007. Ian Stewart, the owner of ASD, is an absolute genius when it comes to engineering, and the entire crew over there is unbelievable with metal fabrication and pretty much making any and all impossibilities come to life.
In translating the interior and exterior design from verbal concept to paper, we teamed up with Andy Blackmore, who I worked with on the RTR-X project. Andy and I connect very well and I knew he would be the best person to crank this off.  Ken and Hoonigan were handling the livery design and wheel design, so those were a couple things that we did not have to worry about adding to the plate.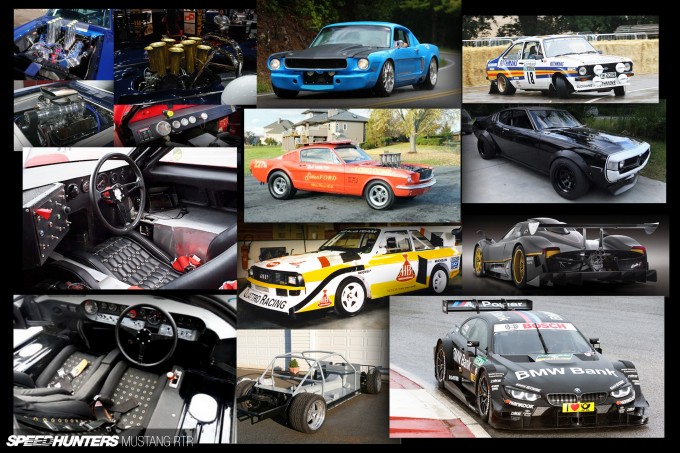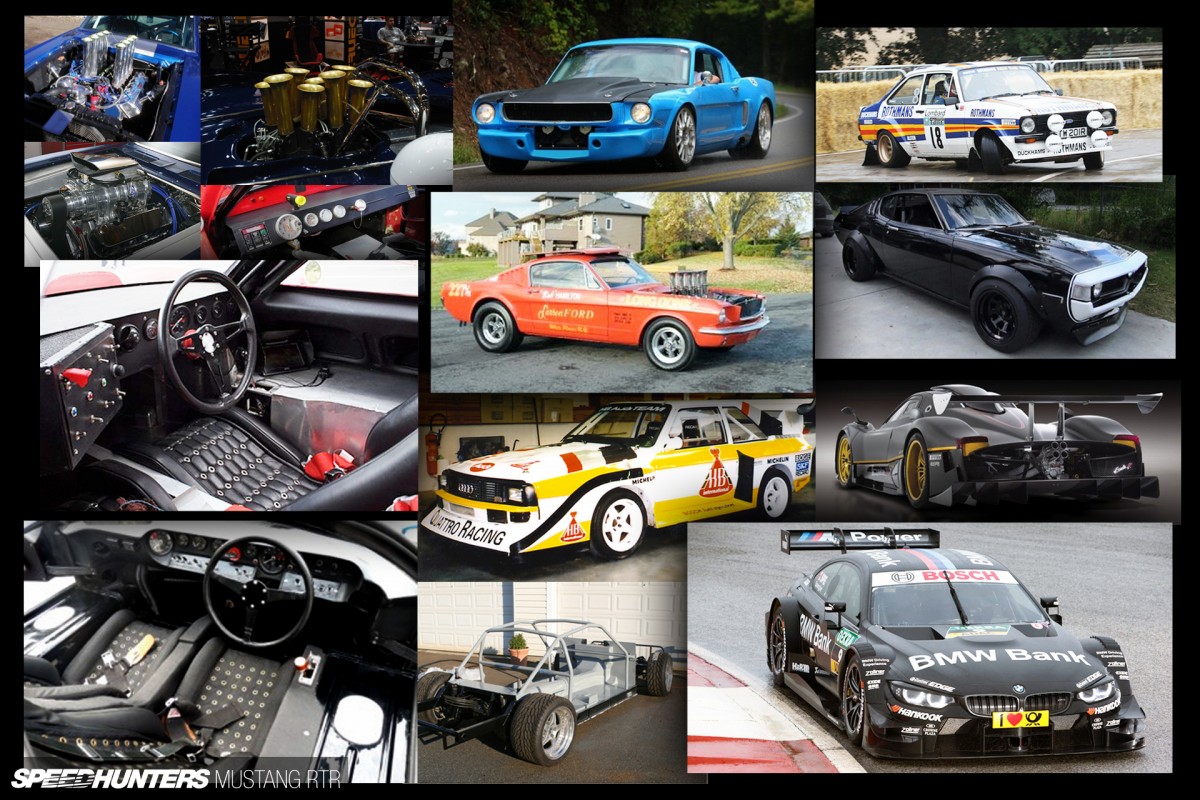 My brain buzzed for weeks as I compiled inspiration for the interior and exterior design. The excitement of what this project was turning out to be in my head was causing me to lose sleep. Once the inspirational elements consisting of Group B rally cars, DTM cars, Mad Max movie vehicles, classic American muscle, wild Japanese builds, and old school racecar interiors were collected, the very collaborative design effort between Ken, the Hoonigan team, the RTR team, Andy Blackmore, and myself began.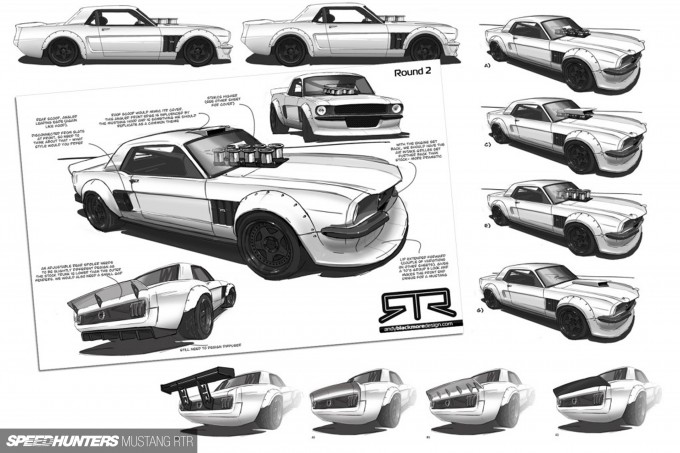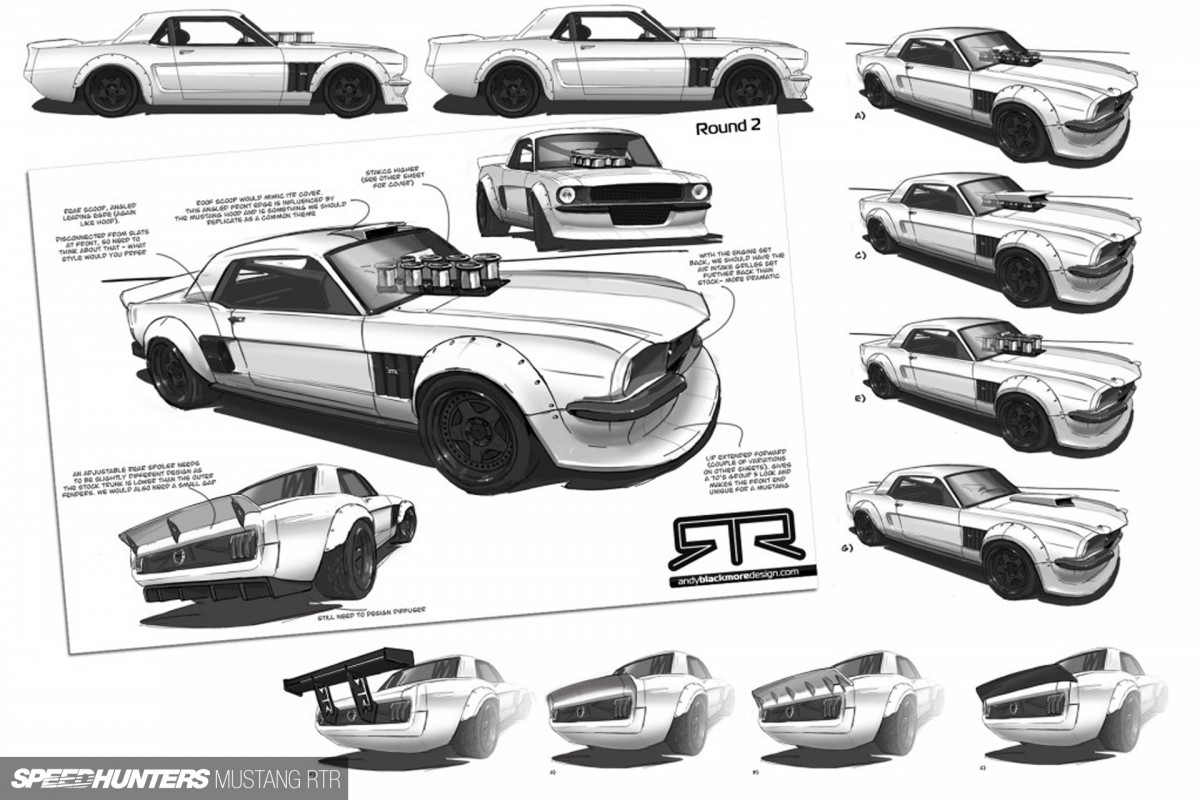 The design process was a long one, and it was constantly being critiqued and adjusted well into the first months of the build.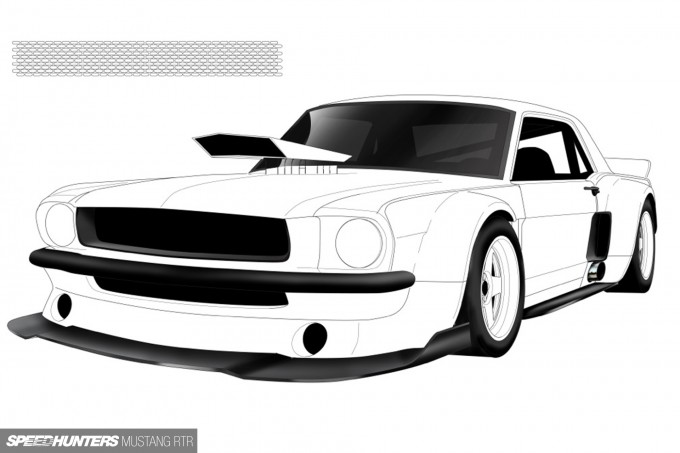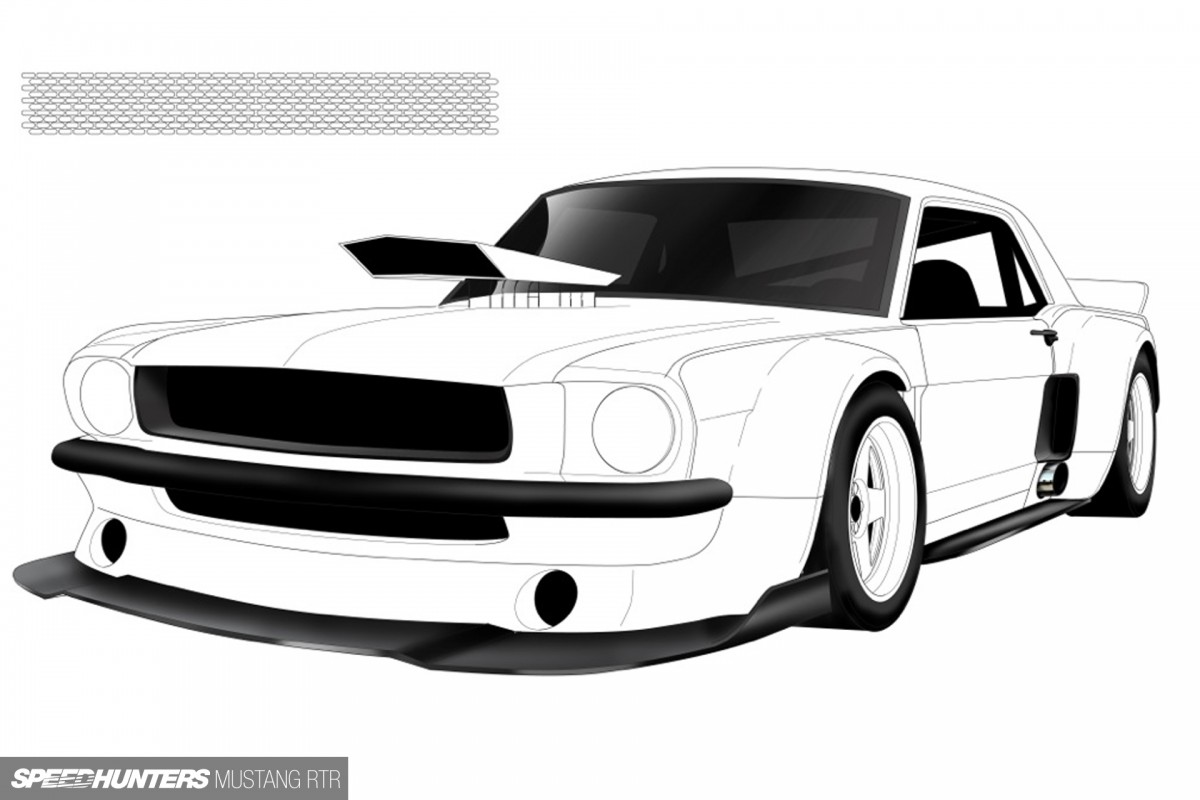 This was a simple result of having so many perfectionists on board, all with the passion to make this one of the most epic machines ever built.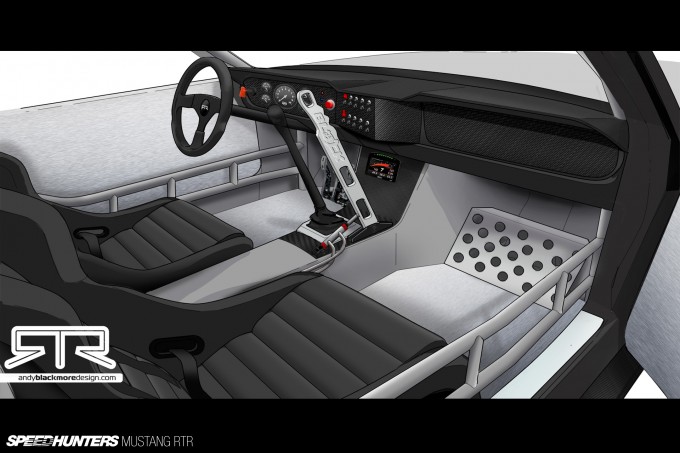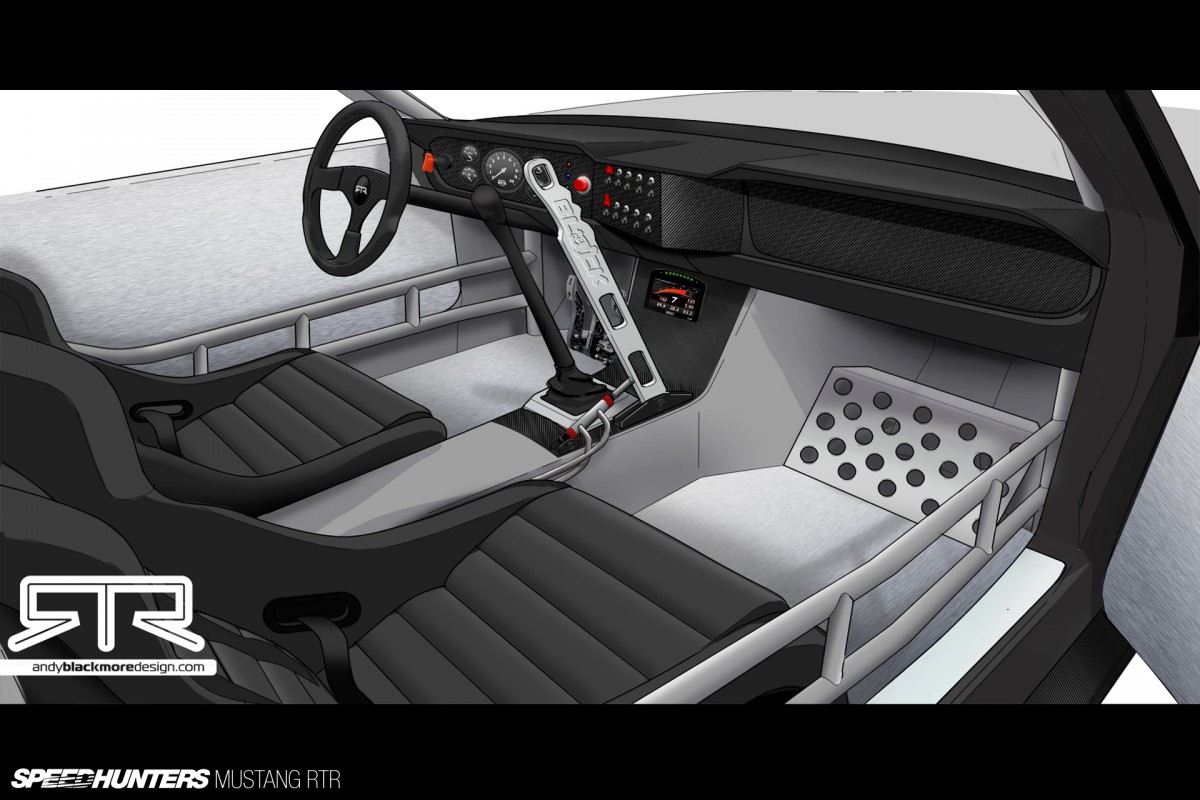 In hindsight, it was a very fun process to have the opportunity to narrow down the possibilities. For the most part, we were only limited by our imaginations.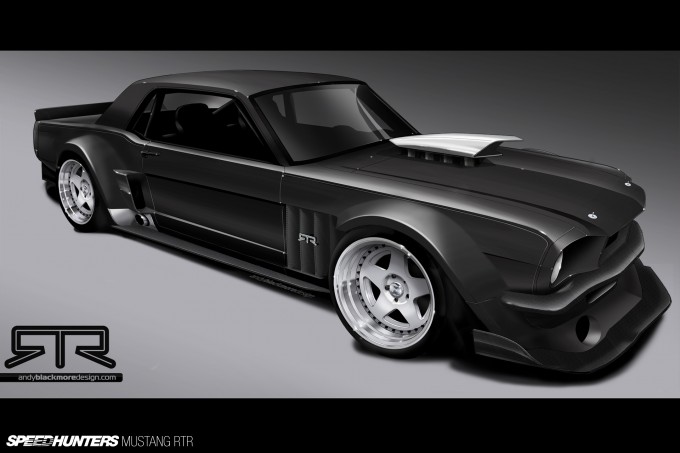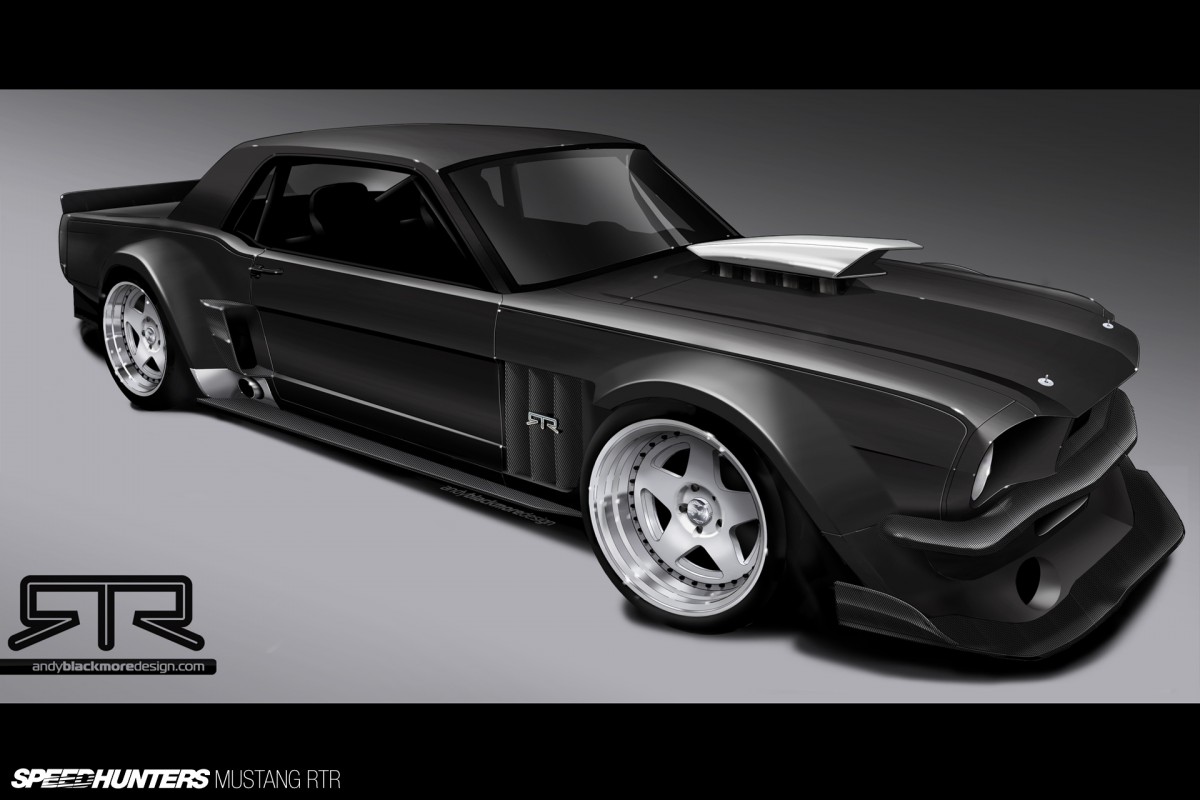 The design process continued until we had a truly unique concept that everyone involved was proud of.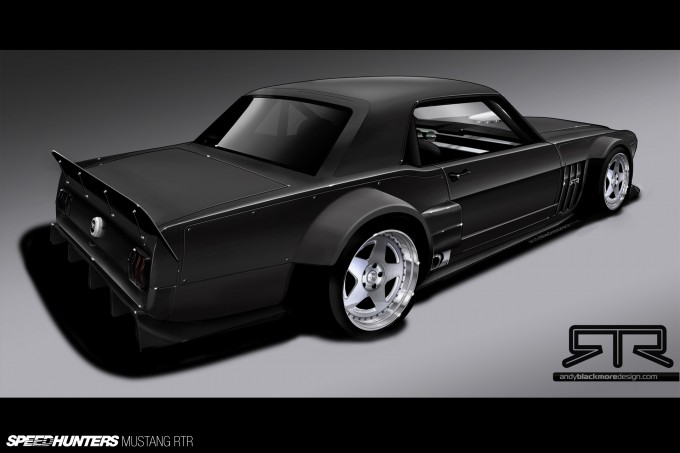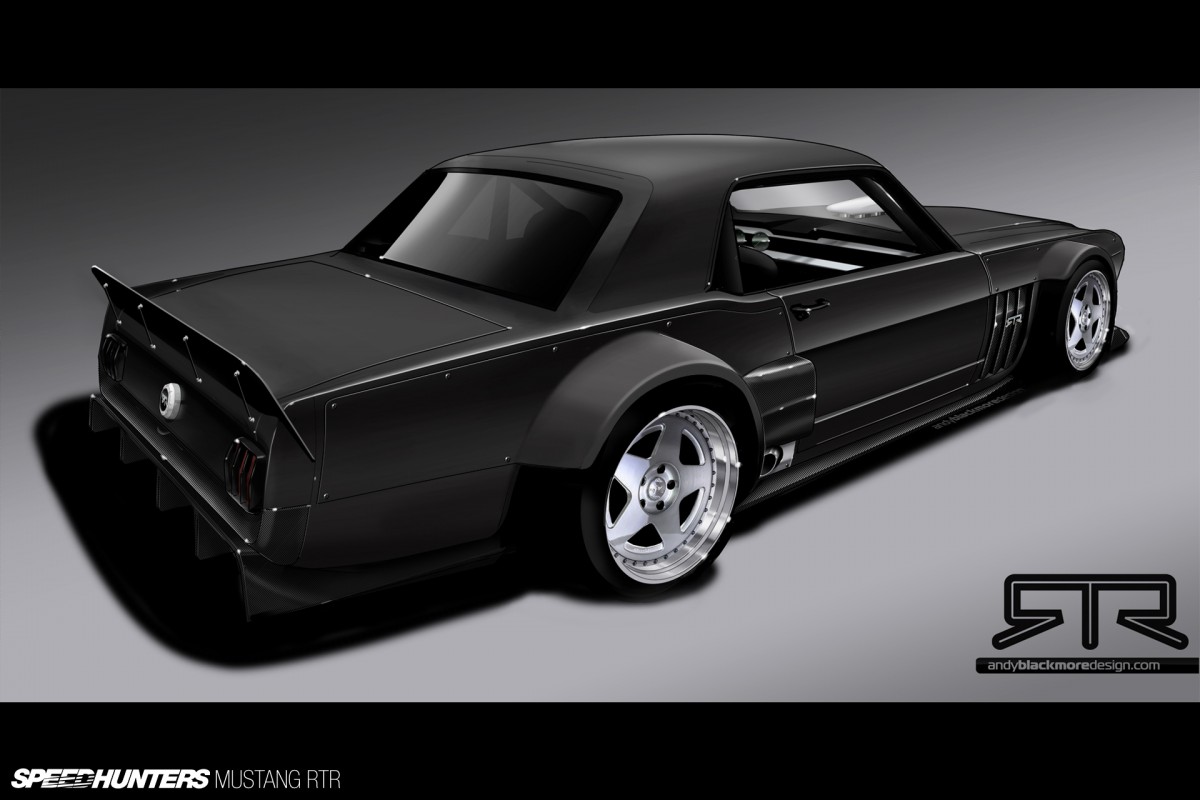 The process to get this final concept locked took us months.
Achieving The Impossible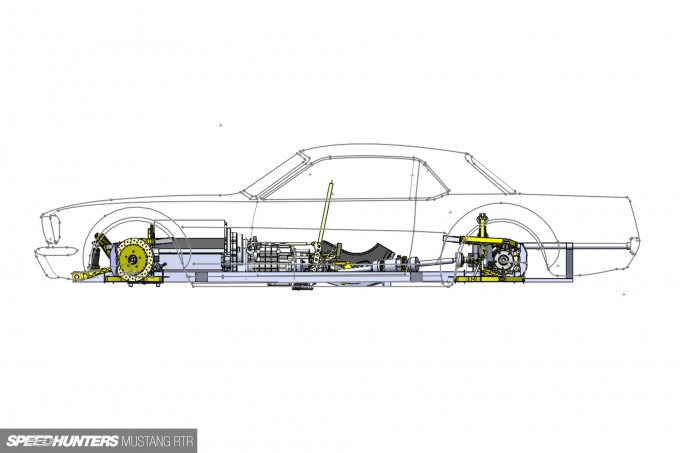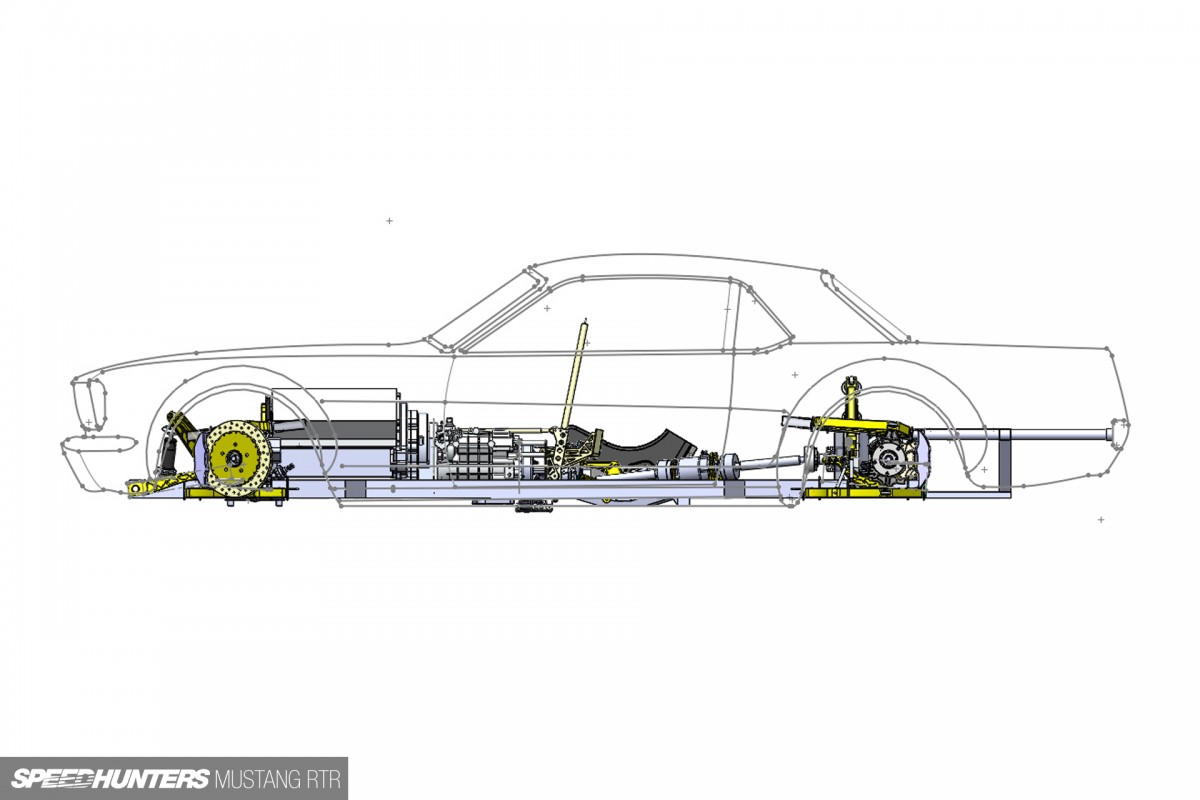 Obviously this project was an extremely technical one. We had to build a AWD racecar inside of an obnoxious, aesthetic-defined box.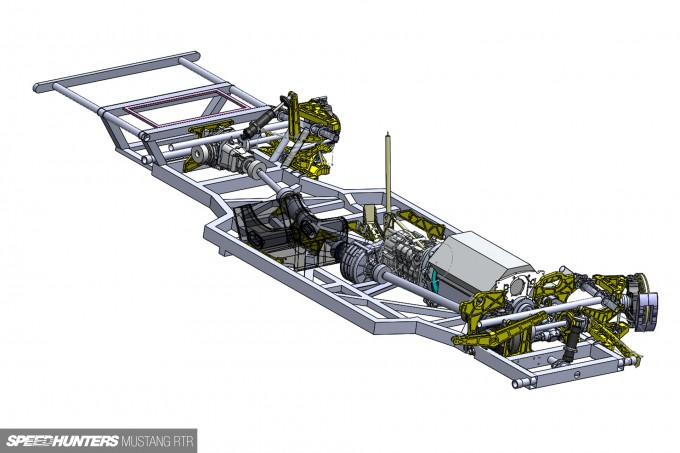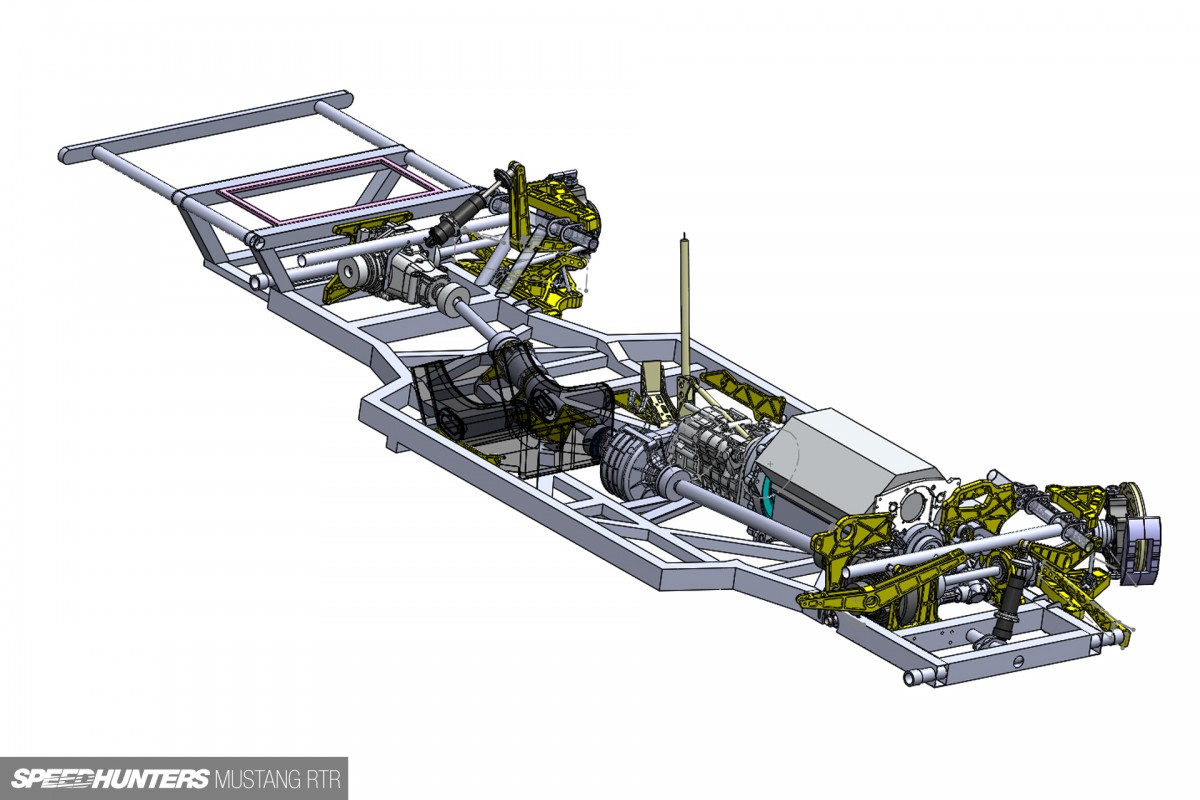 Traditionally, when a project is required to end up a fully-functional racecar the aesthetics are built around engineering needs. The process we embarked on was about as ass-backwards as it gets.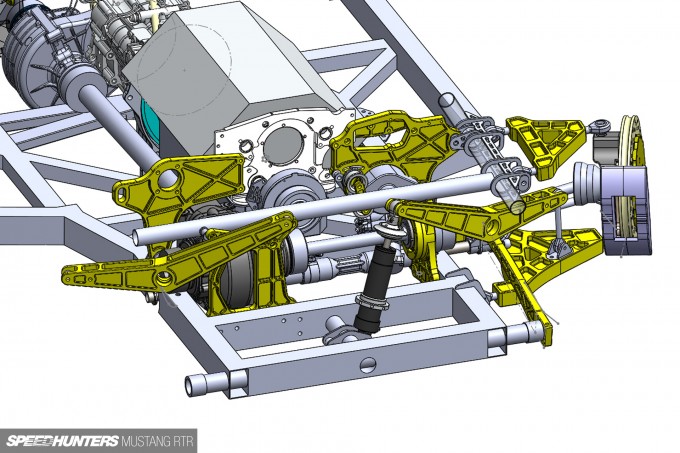 While working to lock in the aesthetic design, the ASD Motorsports team began designing the car from the ground up in CAD. This was the true start of making the dream a reality.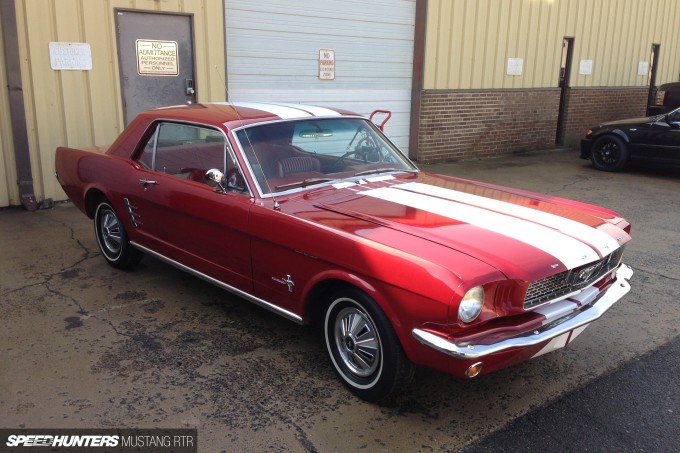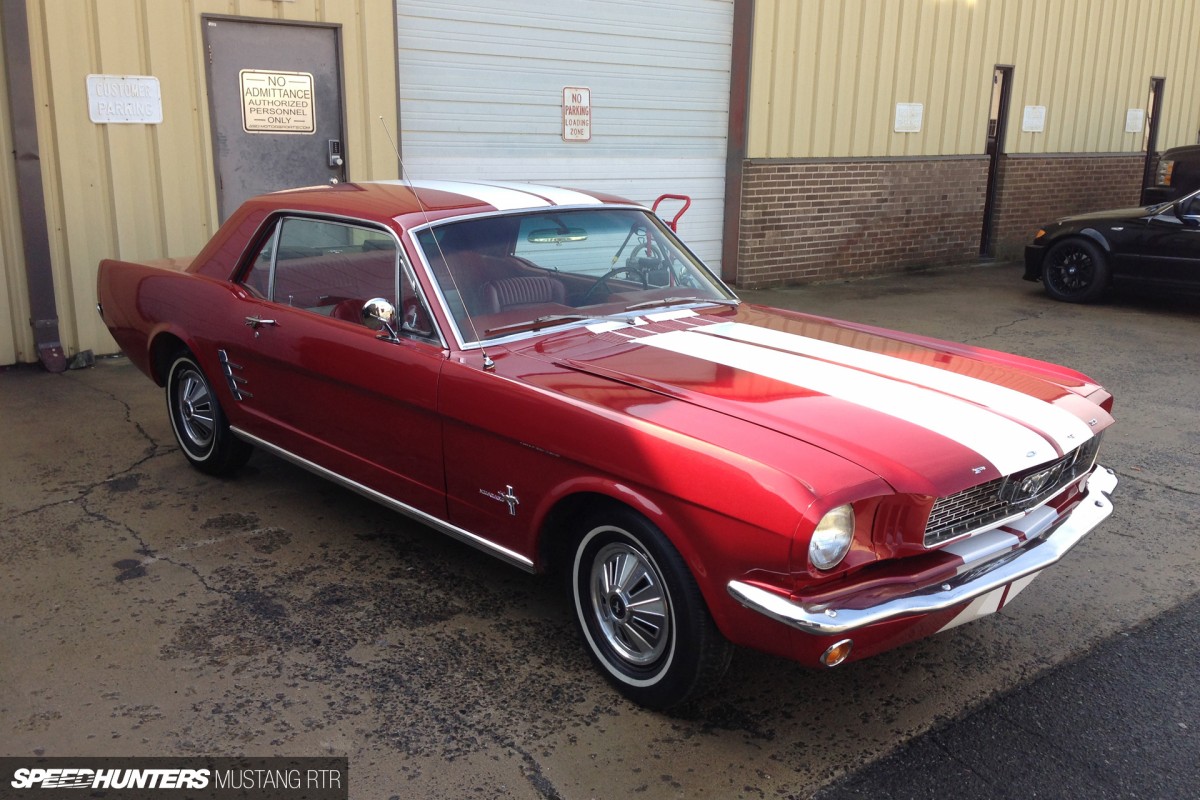 This beauty right here – 'The Unicorn' – was on eBay looking for a new owner to baby and nurture it. Well, it got a new owner, but the babying and nurturing was not in the cards. We had some other plans that we like to think offered the Mustang a better future. A future full of 100 per cent throttle usage, loud 8,000rpm-plus screams, clutch kicks, and other general smile-inducing, tire-slaying fun.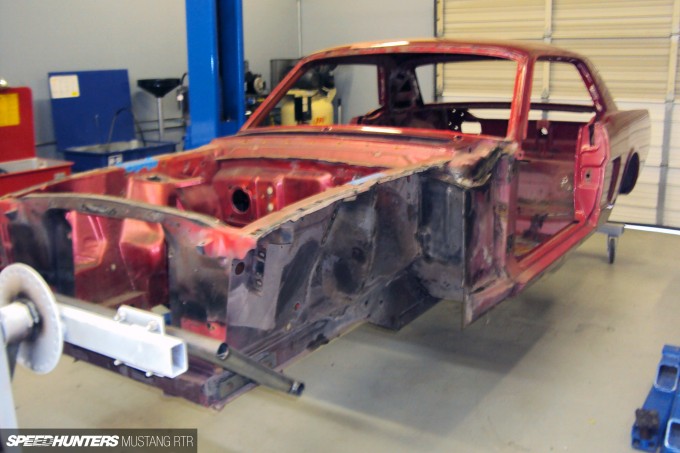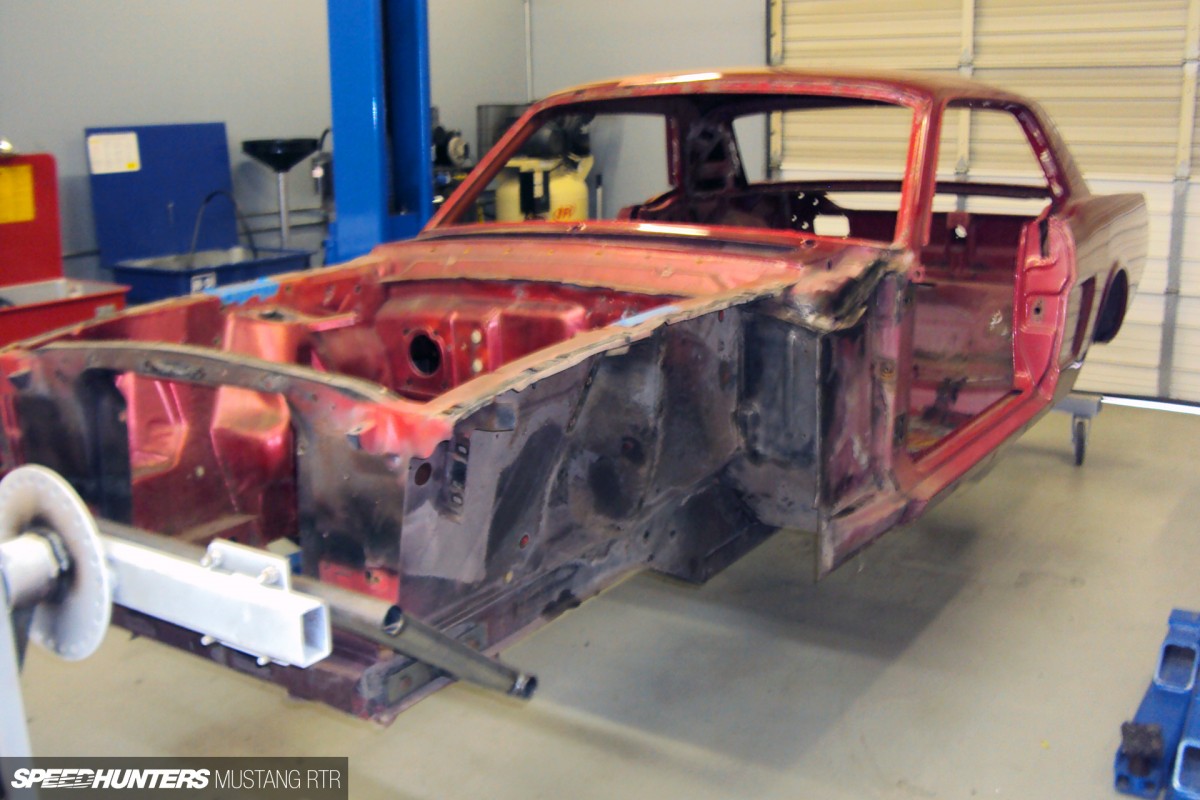 Following three months of CAD development The Unicorn went under the knife, being completely clipped from the firewall forward and totally gutted.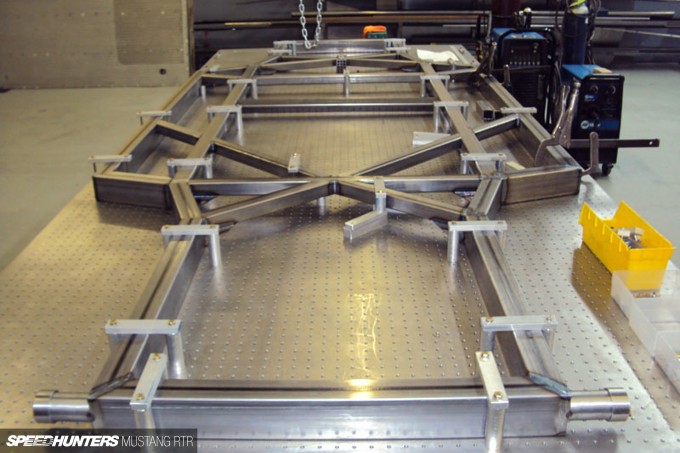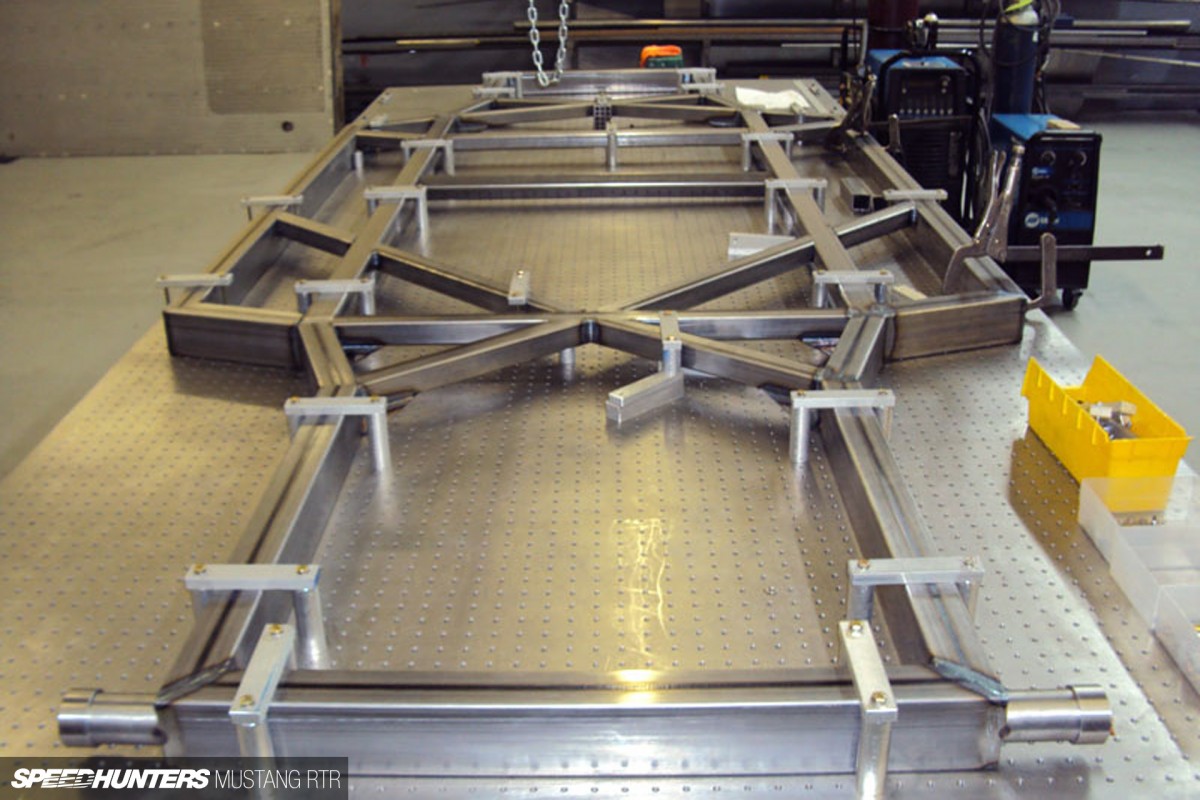 The Hoonicorn RTR started its life at ASD Motorsports, the same place many incredible world-first cars – including my championship-winning Ford Mustang RTRs – have been born.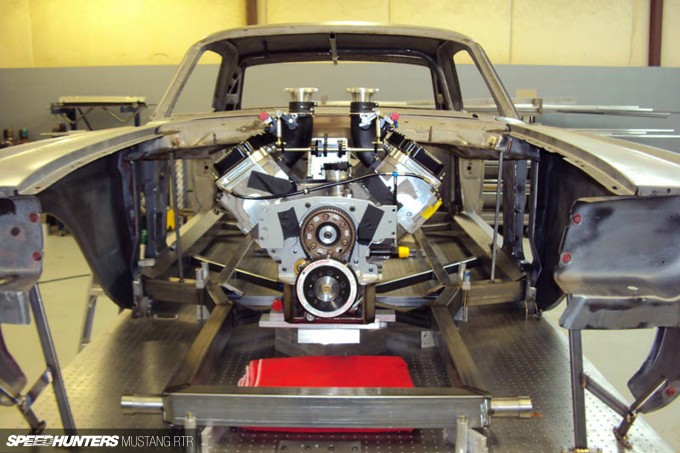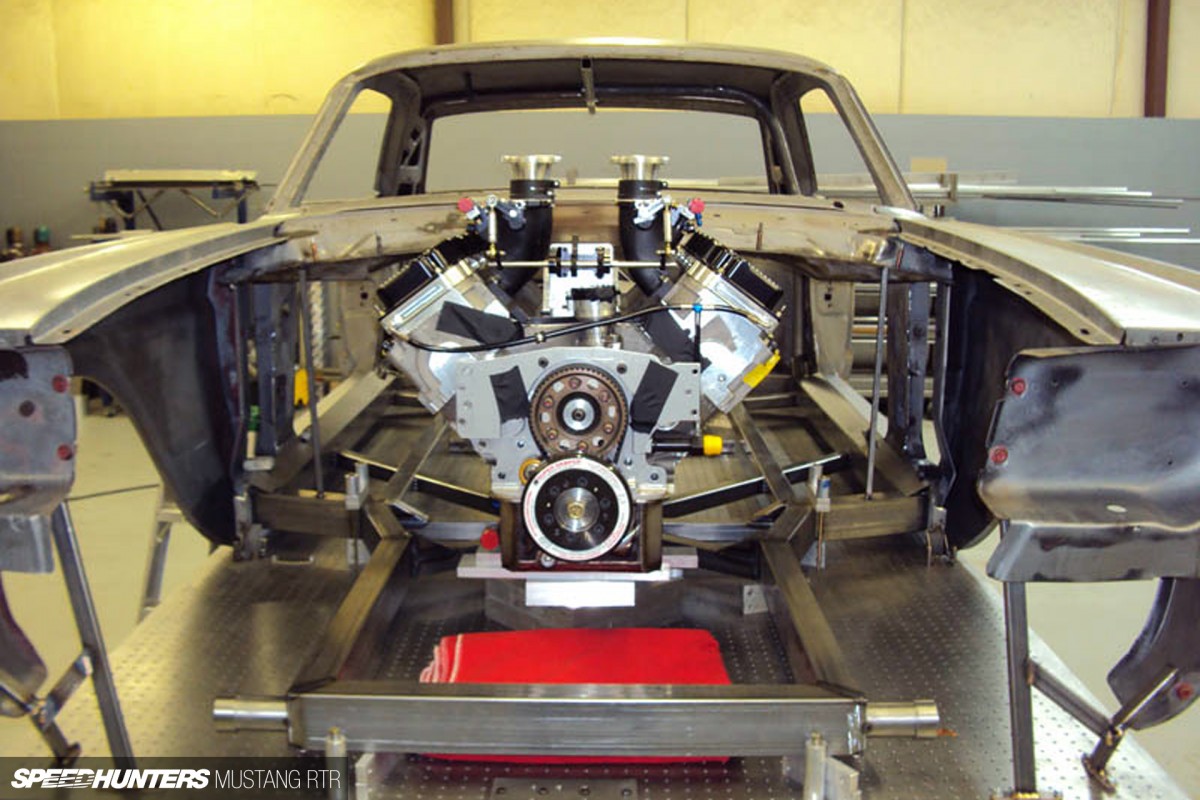 The body was then attached to the hand-built box tube frame, and the mock-up and initial component placement based on the CAD data began. Mounting the Roush Yates/Ford Racing 410 cubic inch V8 heart was one of the first things happened. This is same animal I have been using in Formula Drift for the last three years and it is an incredible engine. With 845 horsepower, over 700 ft-lb of torque, and capable of reliably revving to 9,000rpm, it was perfectly specced for what Ken 'The Rev Limiter Is My Best Friend And It Better Shoot Fire' Block had planned to put it through.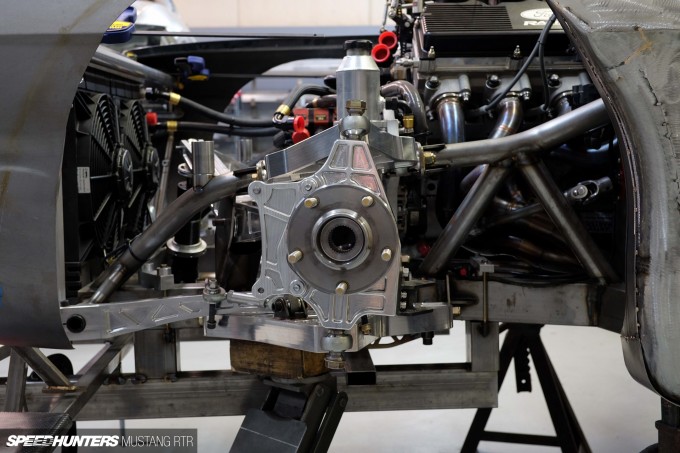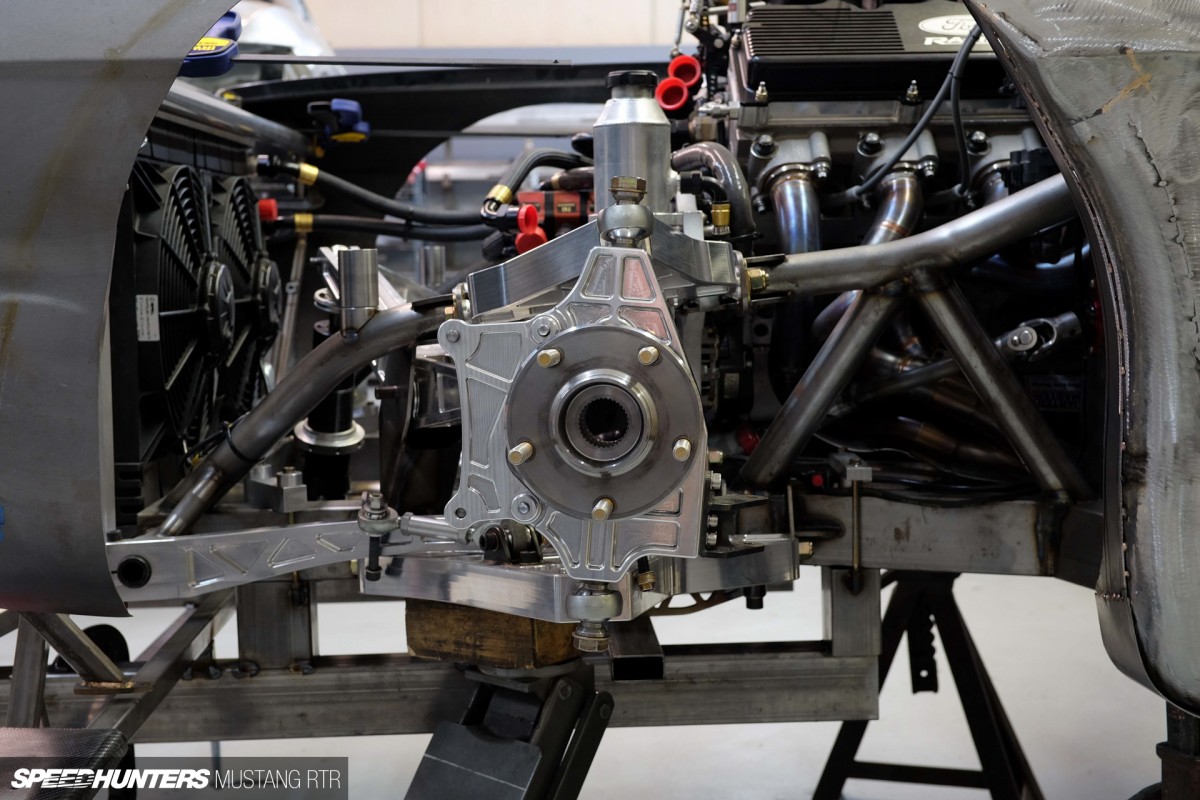 One of the biggest challenges created by the aesthetic box was the overall width of the car and the fact that we required some wheel lip up front. AWD cars work similar to FWD cars under throttle, and you will notice most front-wheel drives use high offset wheels to create the desired scrub radius. The small scrub radius would allow the Hoonicorn RTR to have great steering feel and no wheel-jerk under throttle. The target scrub radius of 850 thousandths of an inch and desired wheel profile was achieved by making custom uprights, rotor hats, and using thin brake calipers.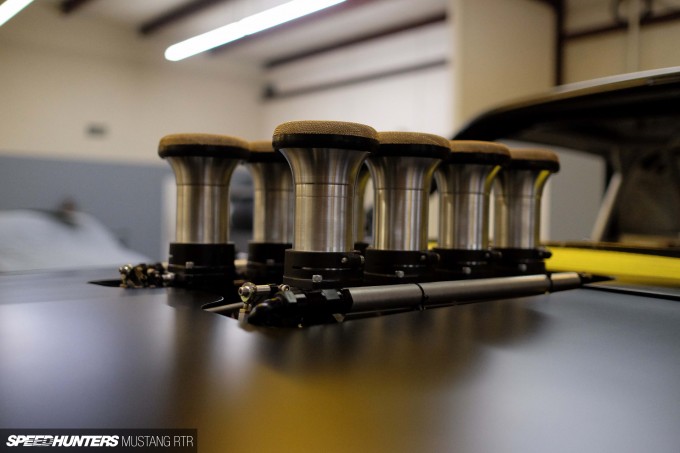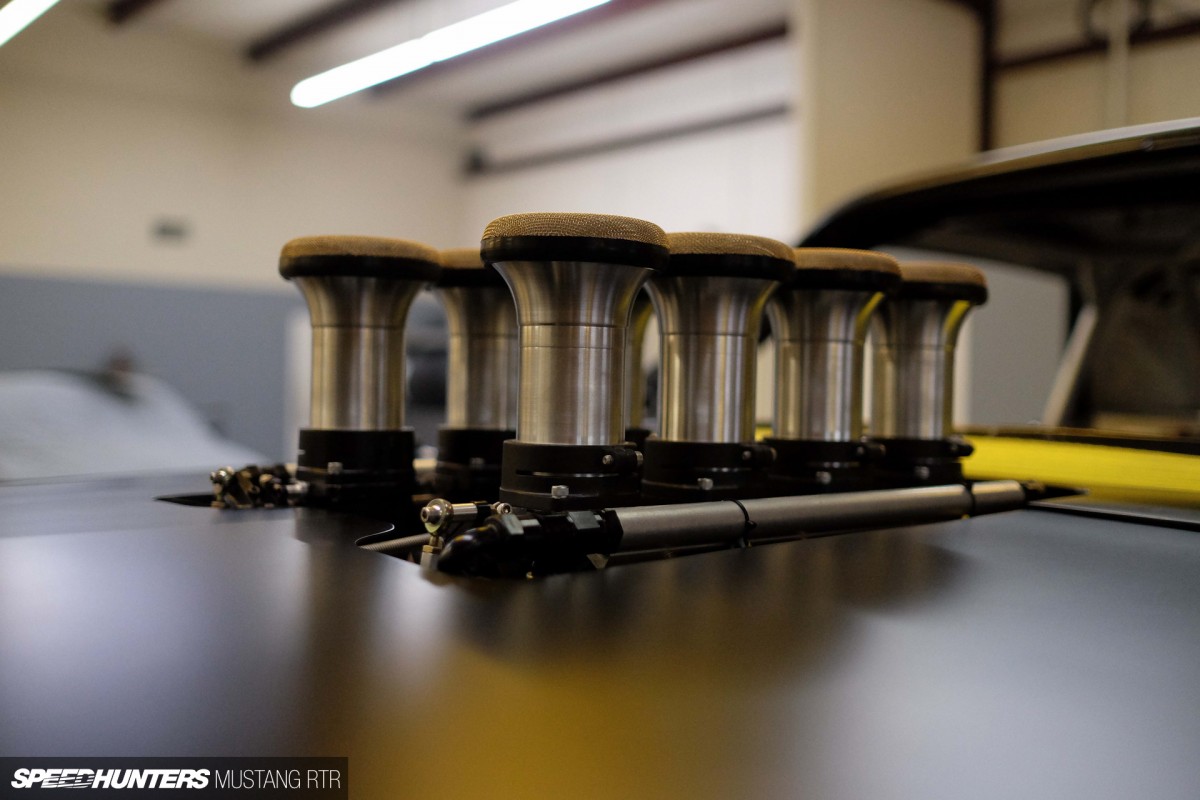 In addition to that challenge, we had caused another aesthetic-induced dilemma. The stacks and air scoop were required to stick out of the hood of course.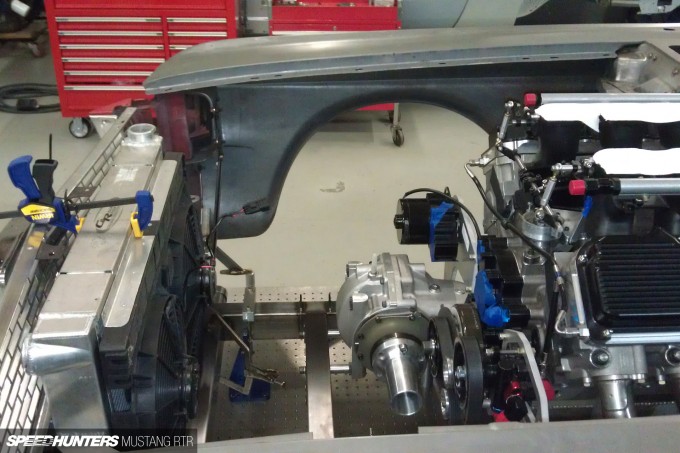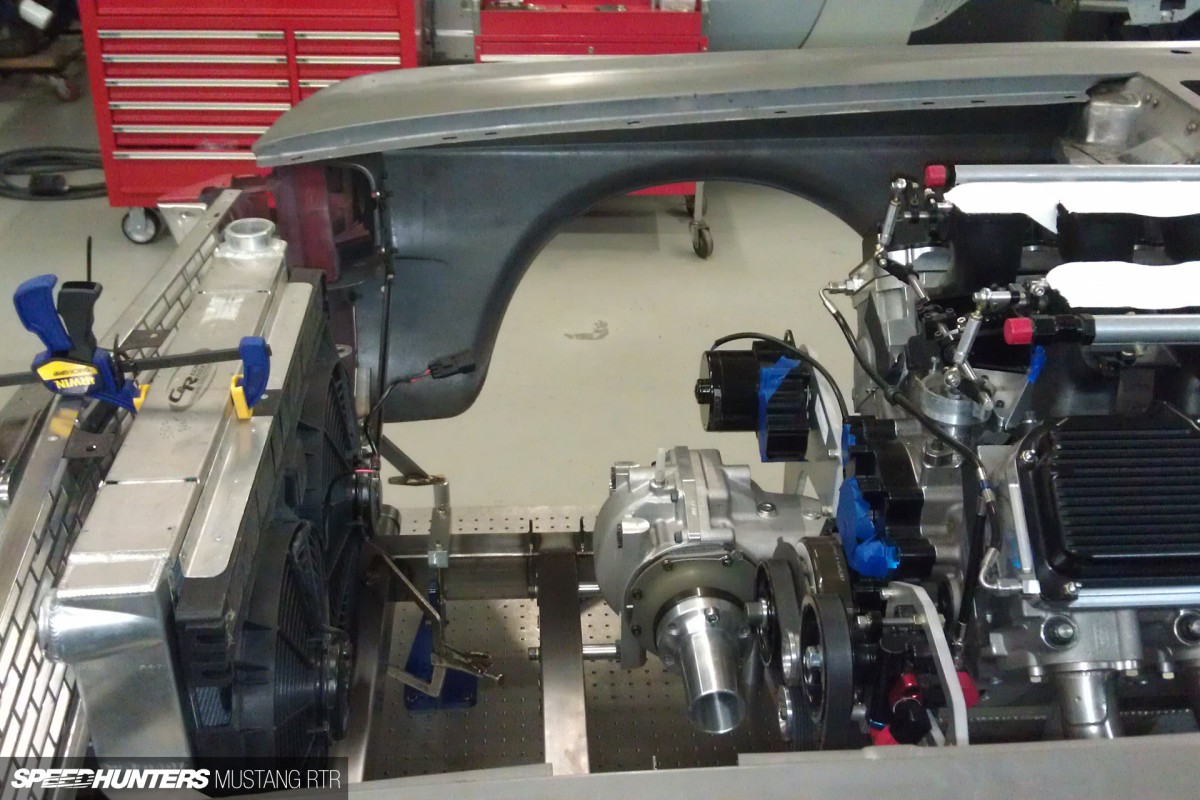 That worked great on paper, but in reality there was a Sadev differential that had to sit in front of the motor and locate at the centerline of the wheels.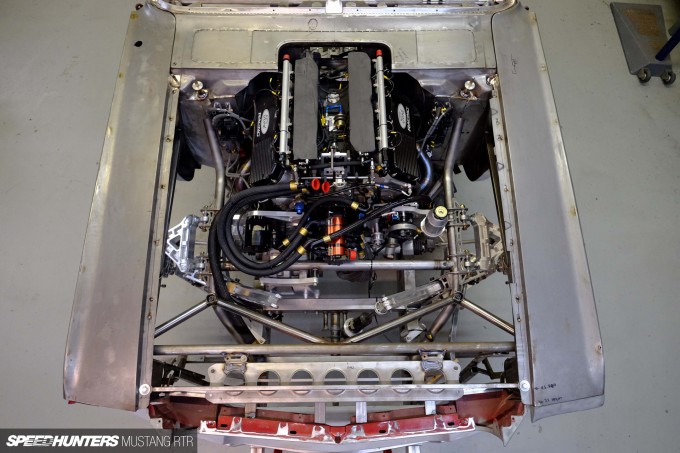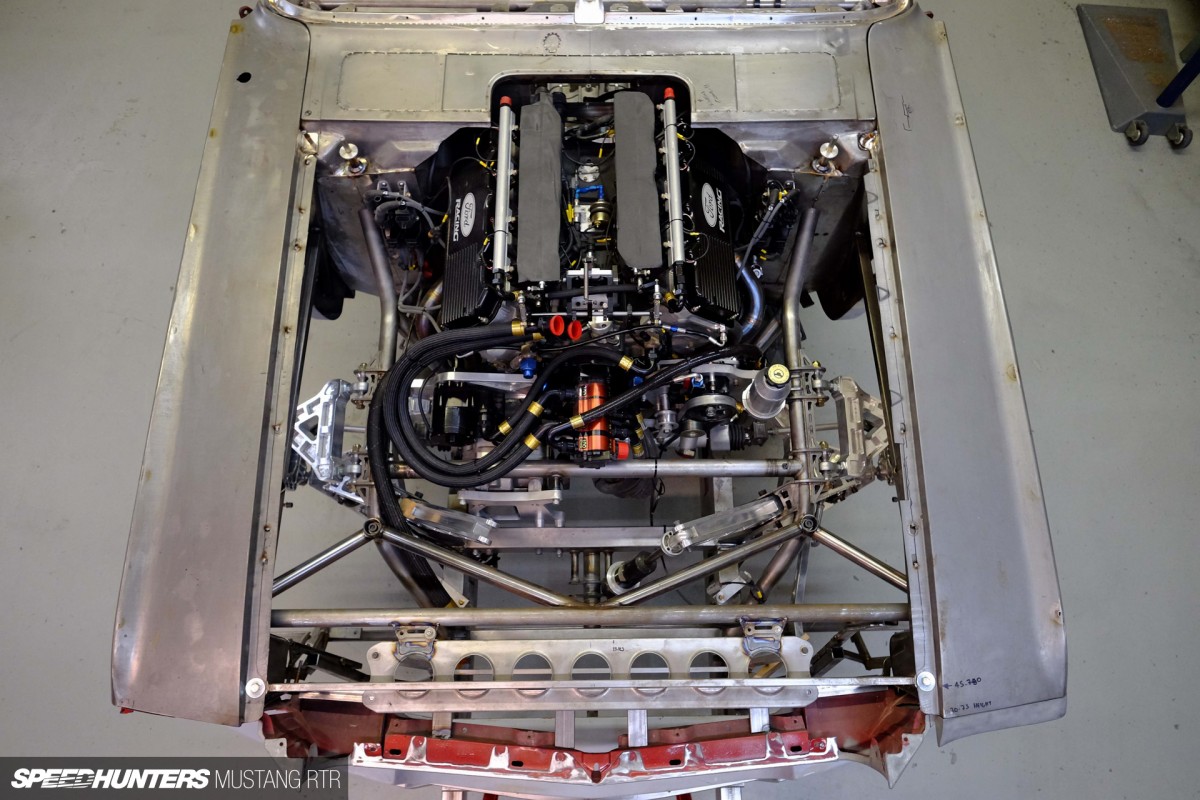 Without the stacks it would have been easy to just move the engine back, however the cowl defined how far rearward the engine could go. Standard catch 22, right?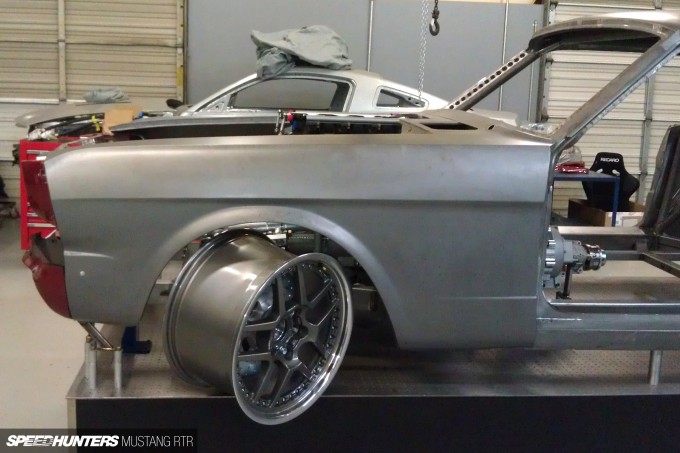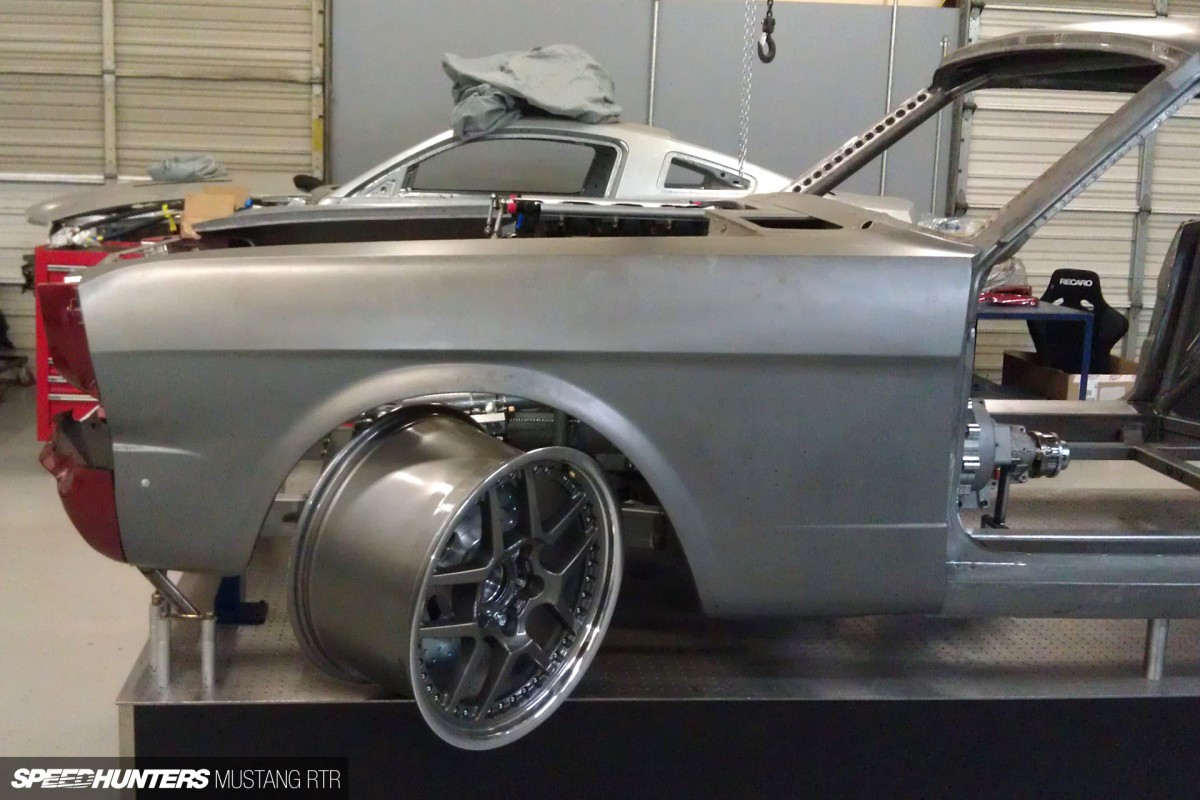 Well, the guys were able to make it work, if barely. This hurdle was overcome by moving the wheels on the body 1¼-inch and making a custom oil pan for front diff clearance. They were able to allow for 38 degrees of steering angle while maintaining perfect Ackerman geometry, which is crucial to rule out understeer in an AWD car.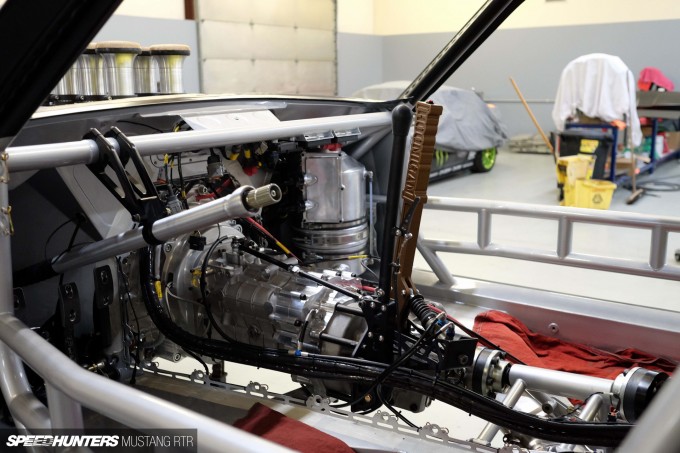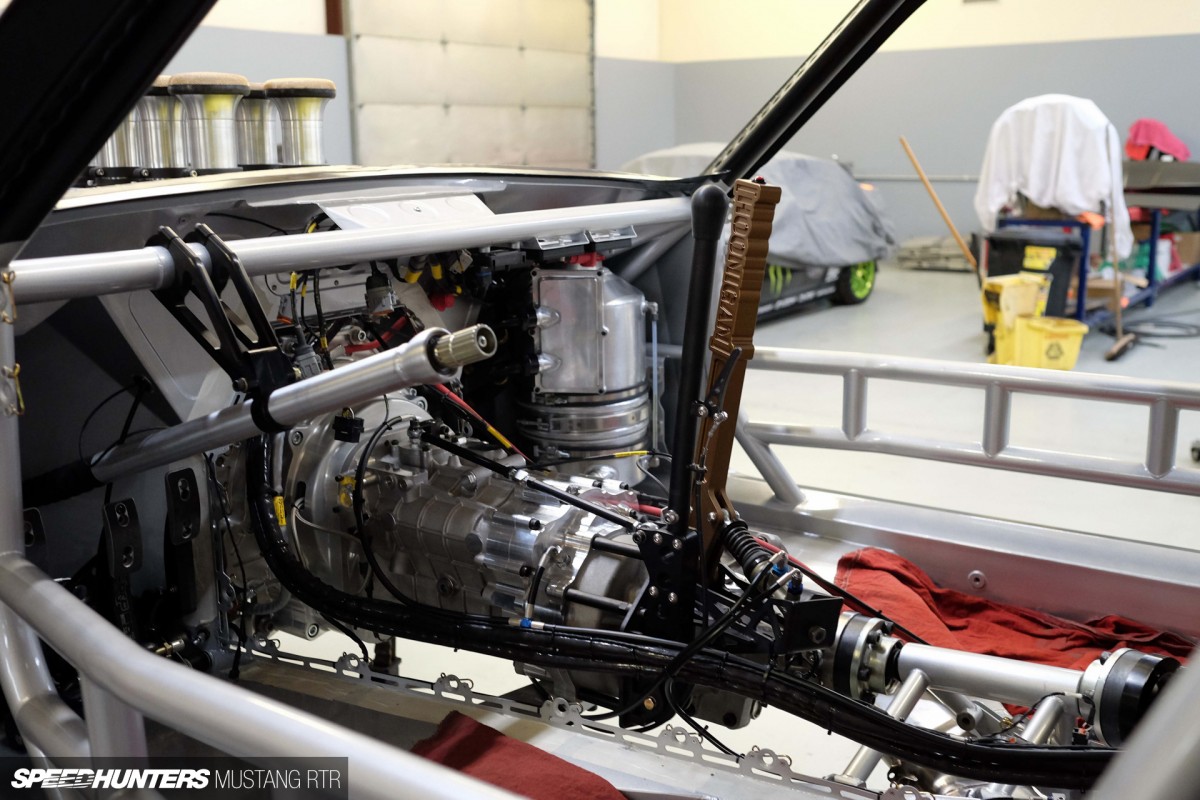 This beast here is the Sadev SC90 sequential transmission, which was designed for factory teams that compete in the Dakar Rally. Take note on the metal porn that is a 100 per cent custom CNC-machined bell housing built to locate everything exactly where it needed to be.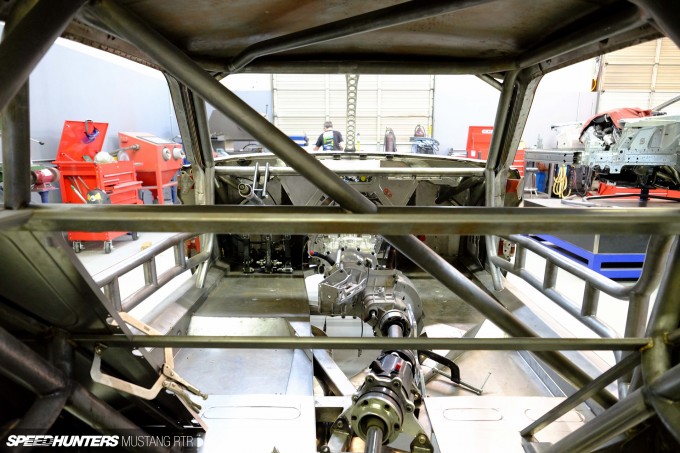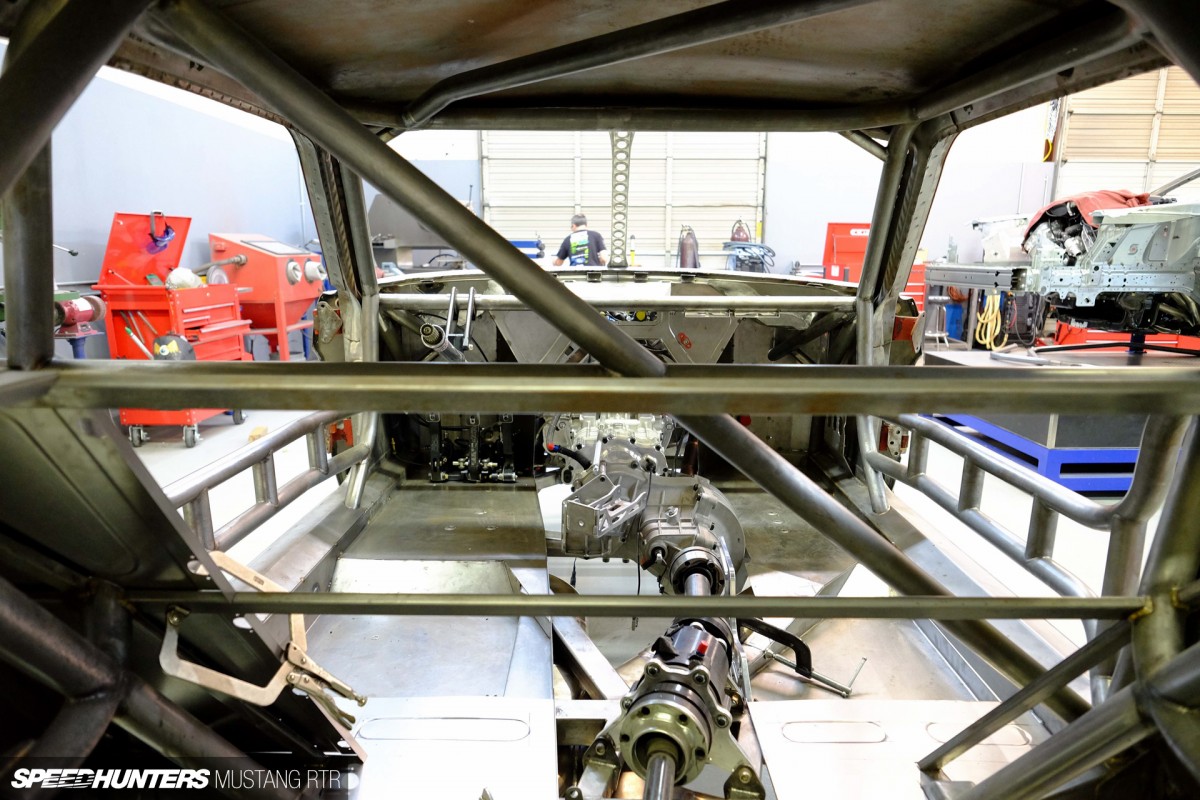 The snake that you see here is how the power gets to the ground. The load is transferred to the front and rear through a transfer case, and a driveshaft connects directly to the differential up front. Between the transfer case and differential in the rear is a driveshaft disconnect, which frees the driveshaft when the fun stick – aka hoon handle, aka handbrake – is pulled. Both of the differentials are the same Sadev units that Ken uses in his rallycross cars and the transmission is very similar – if only a bit beefier.  For Gymkhana SEVEN they were setup for 140mph wheel speed and power distributed at a perfect 50/50 split.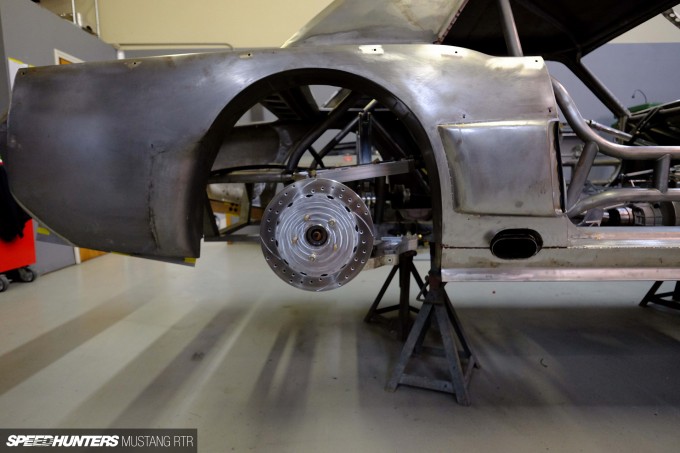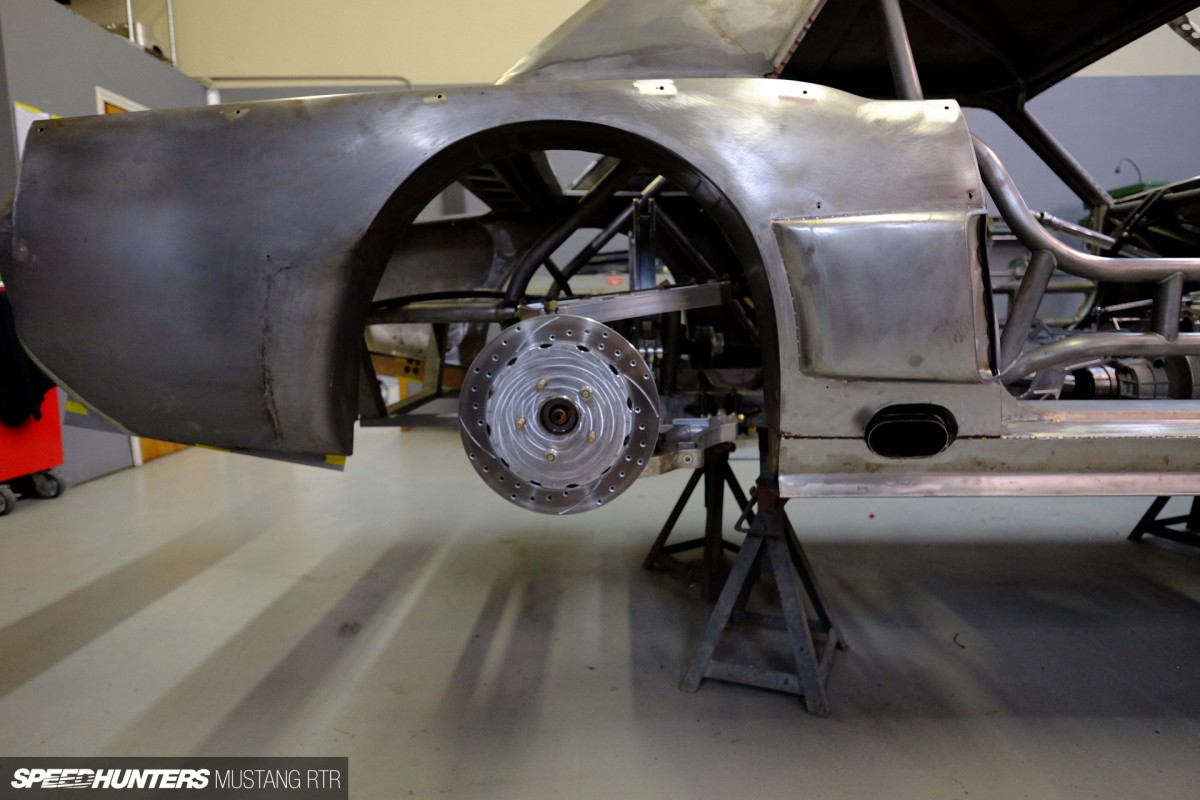 Now that the required components were located and mocked up it was time to start hand building the bodywork prior to it being made from carbon fiber.
The Beast Takes Shape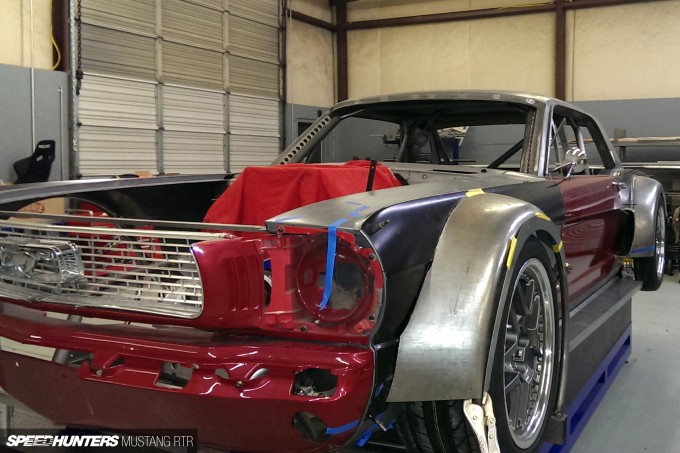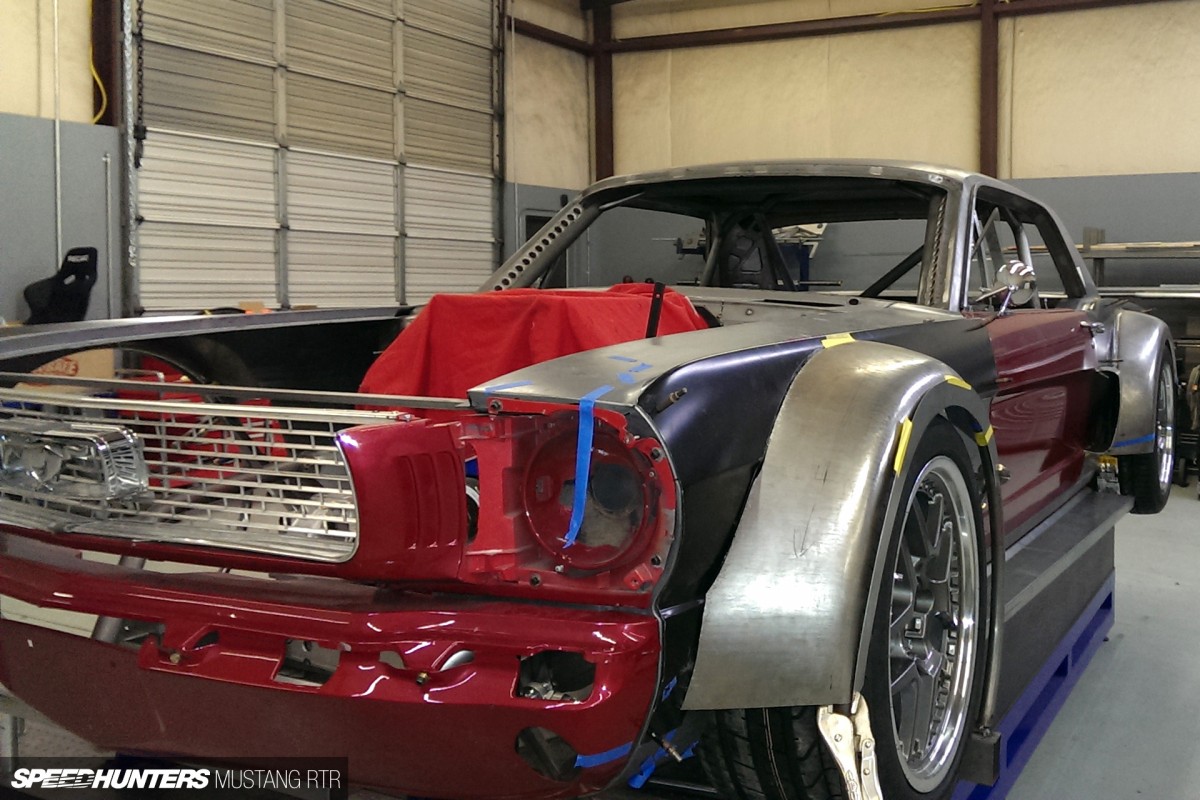 Right from the start, the plan was to make everything out of metal first. After fine tuning, these panels would then offer the best base to make the carbon molds from.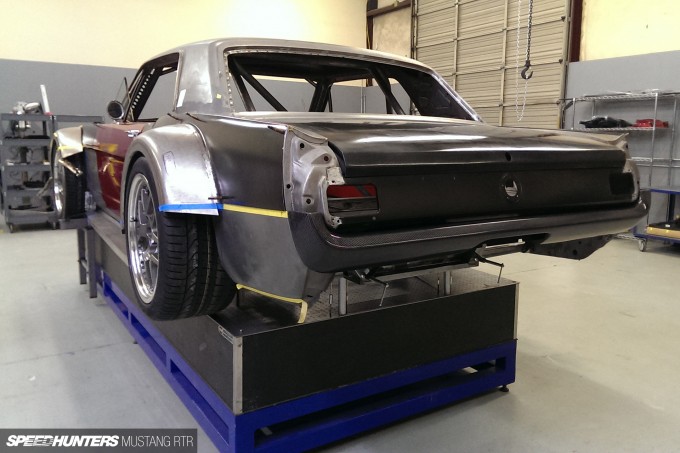 Burkes Metalworks of Christchurch, New Zealand, was tasked with taking the aesthetic design from paper and turning it into reality. Jason Burke the spent eight weeks to complete this task.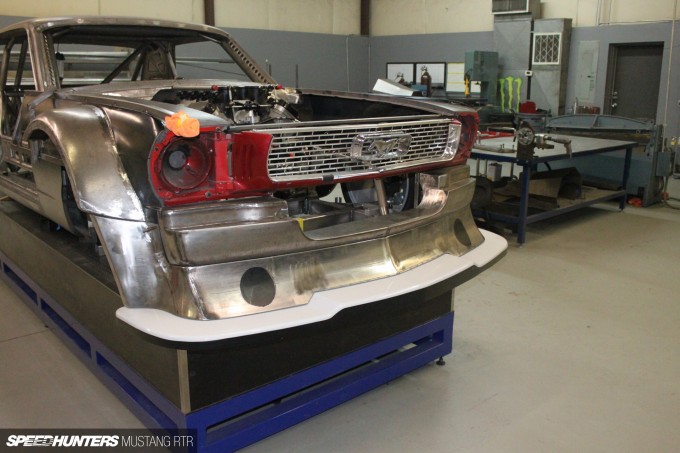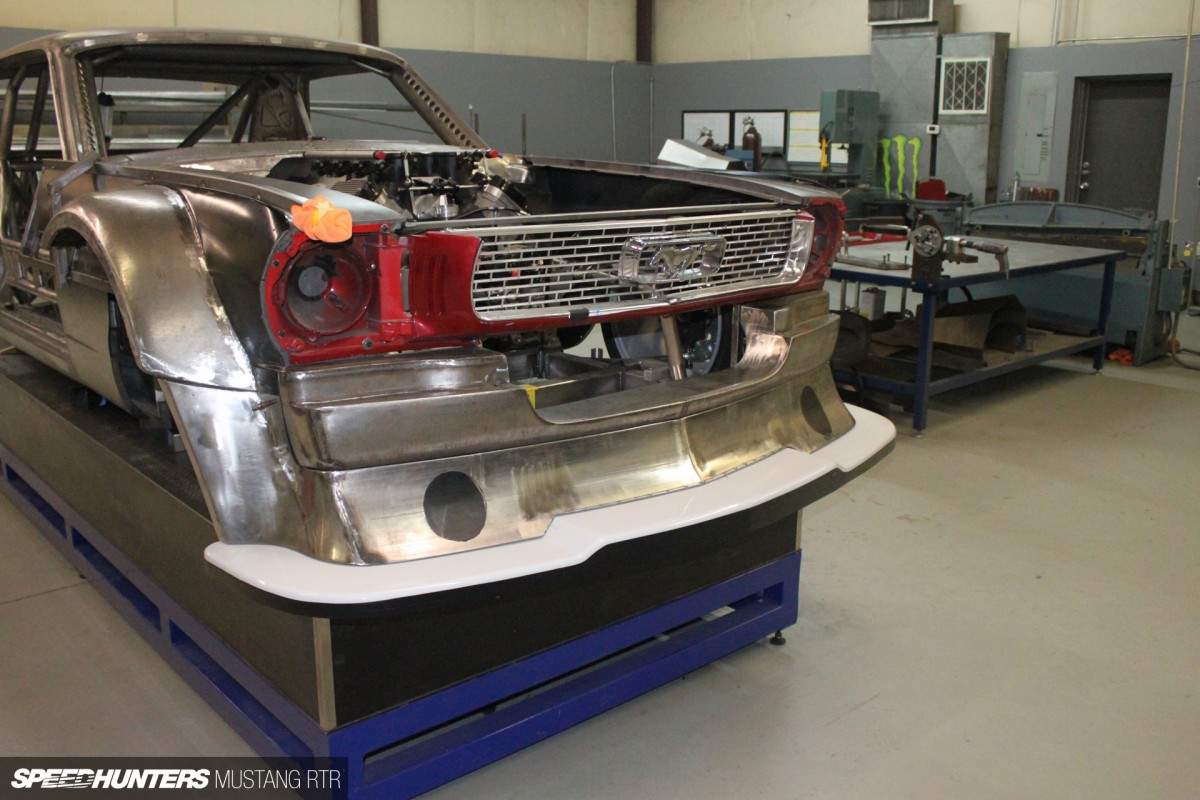 The end result is nothing short of mind blowing. Hand-forming metal like this is a dying art unfortunately, and nothing makes me nerd-out more then some beautiful metal work!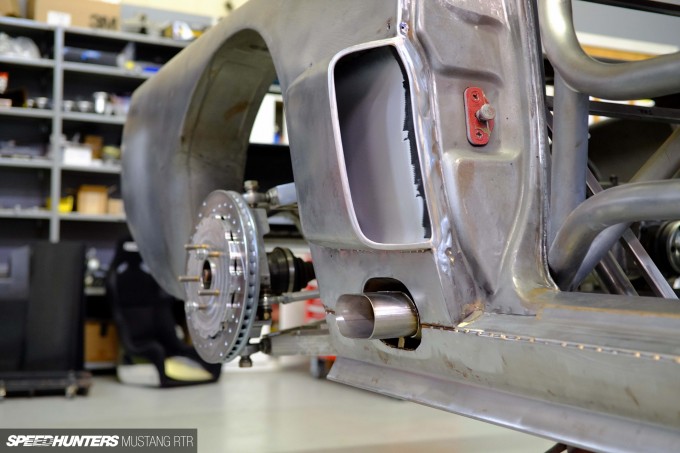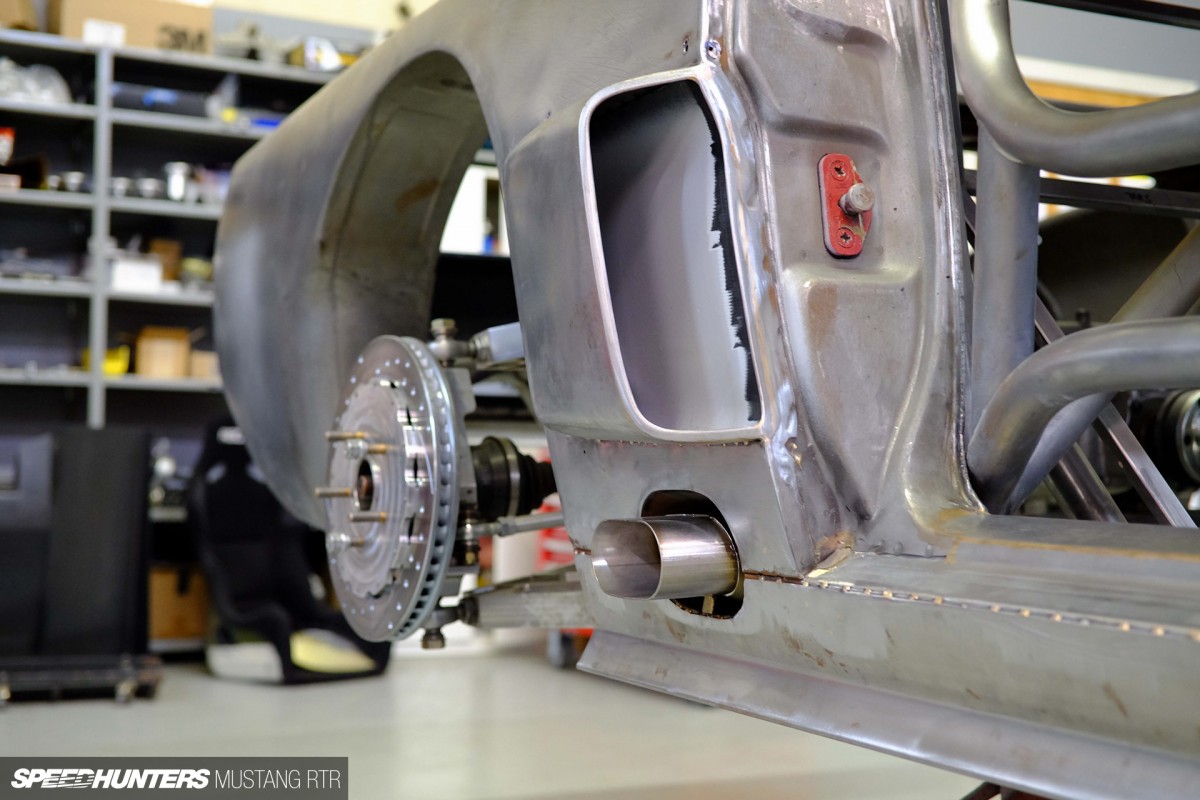 In addition to Jason's work on the body, just about every piece of hand-made metal work on this animal is stunning.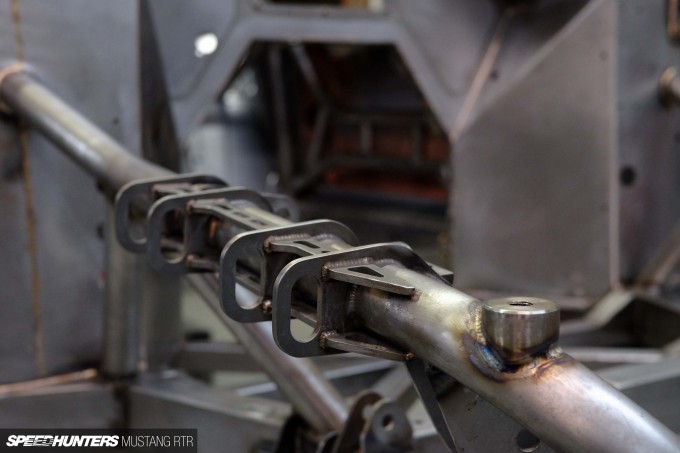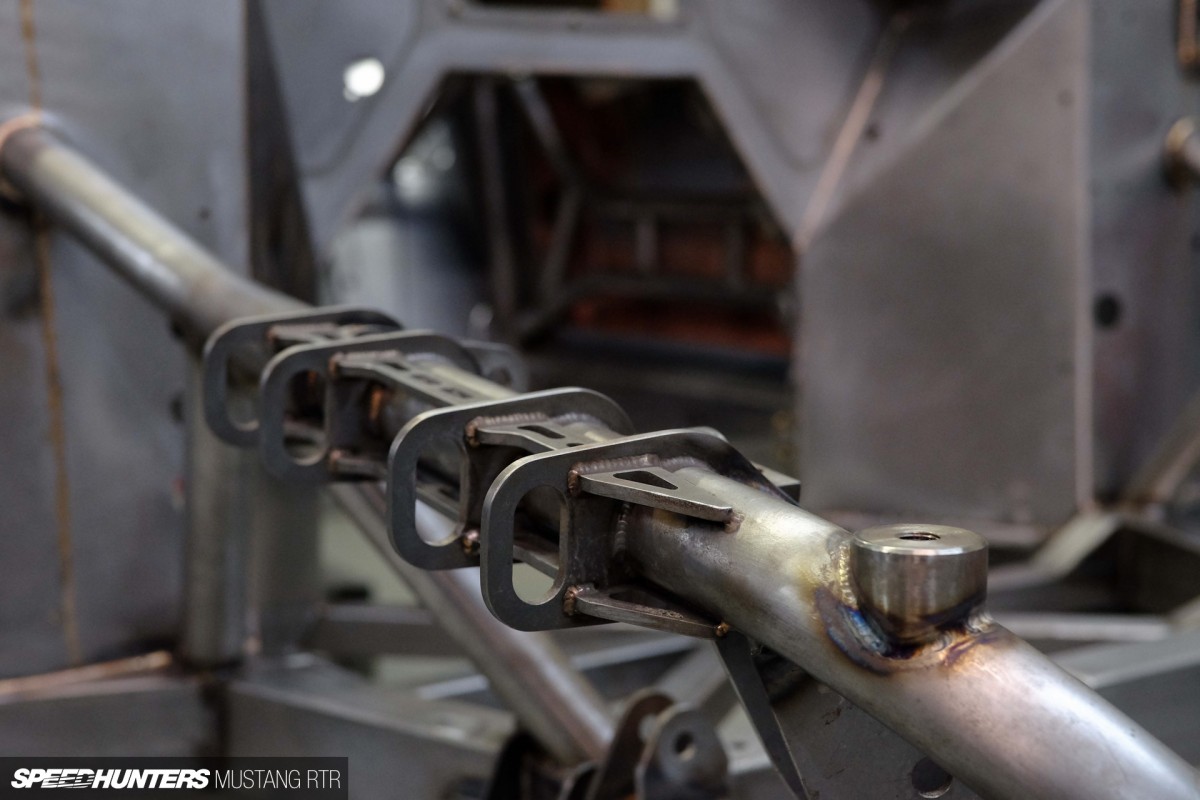 The entire car was TIG-welded with such perfection, and I feel like I could stare at these photos forever. It's seriously mesmerizing and similar to a dancing flame for me. You can tell the amount of passion and detail that the ASD Motorsports crew put into the Hoonicorn RTR. This level of detail is something that is so hard to find these days.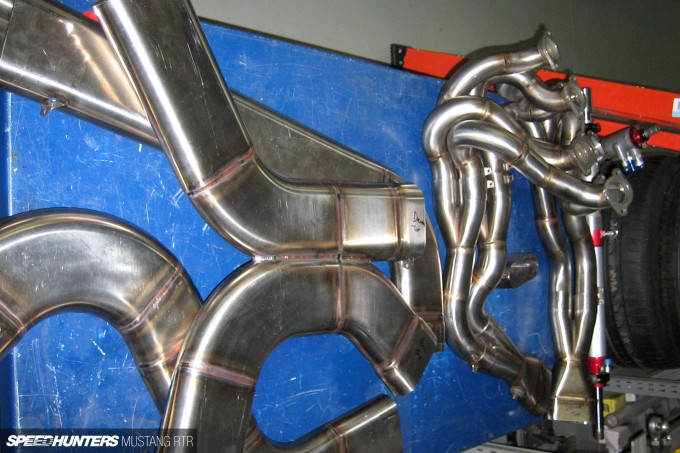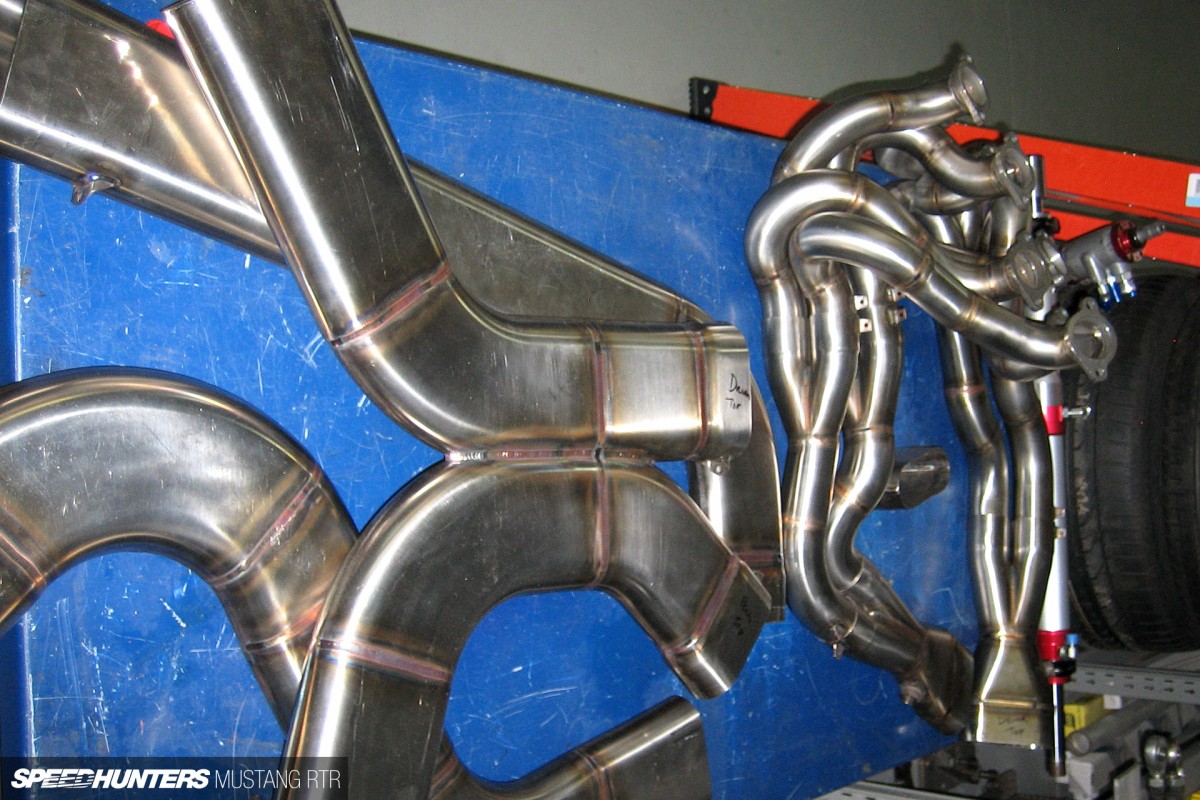 After a bit more metal magic…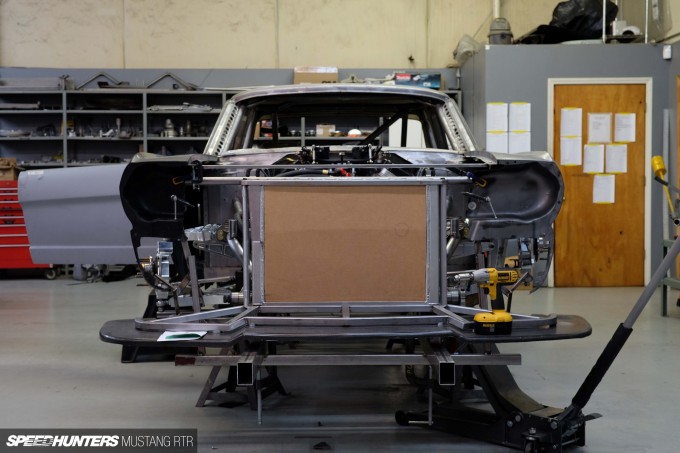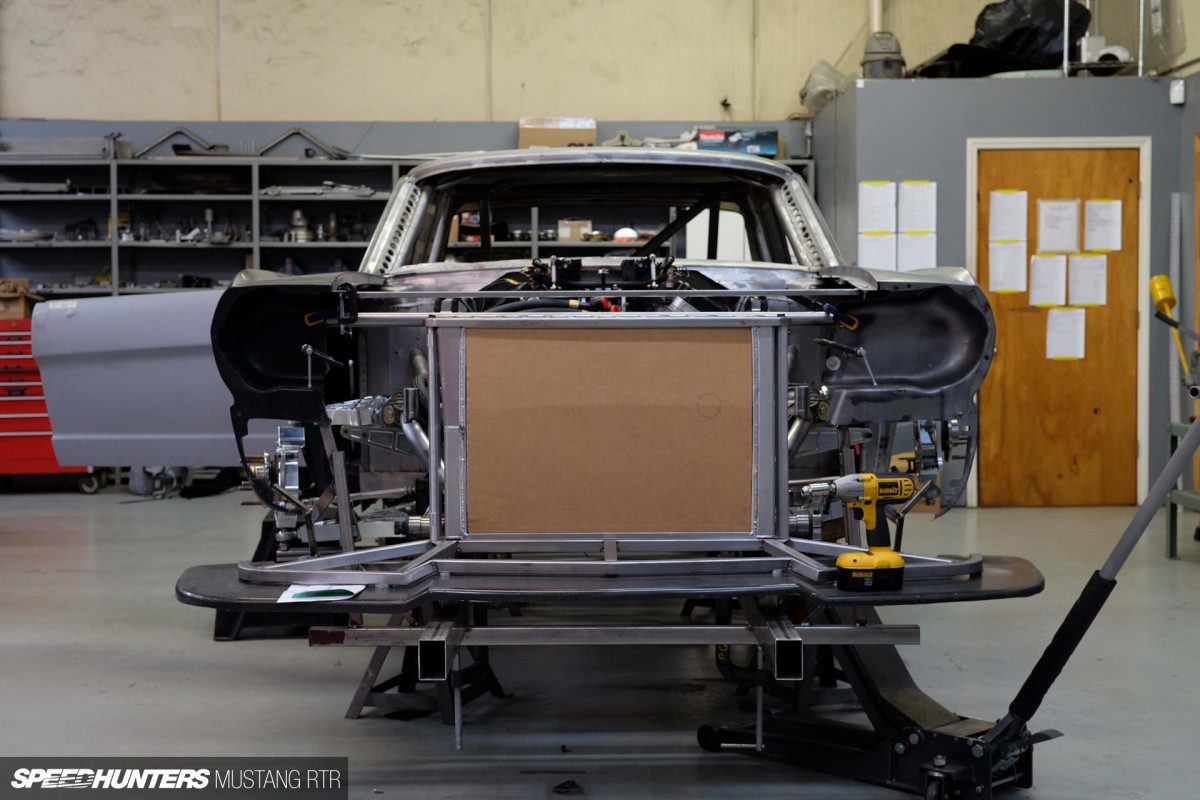 A massive amount of assembly and a tune of the MoTeC M1 engine management system…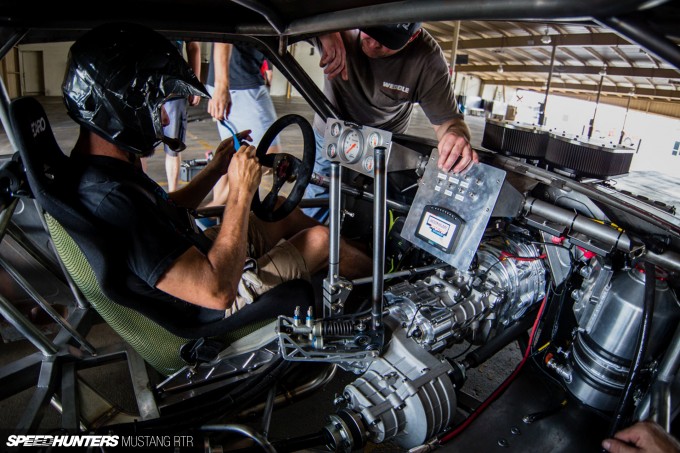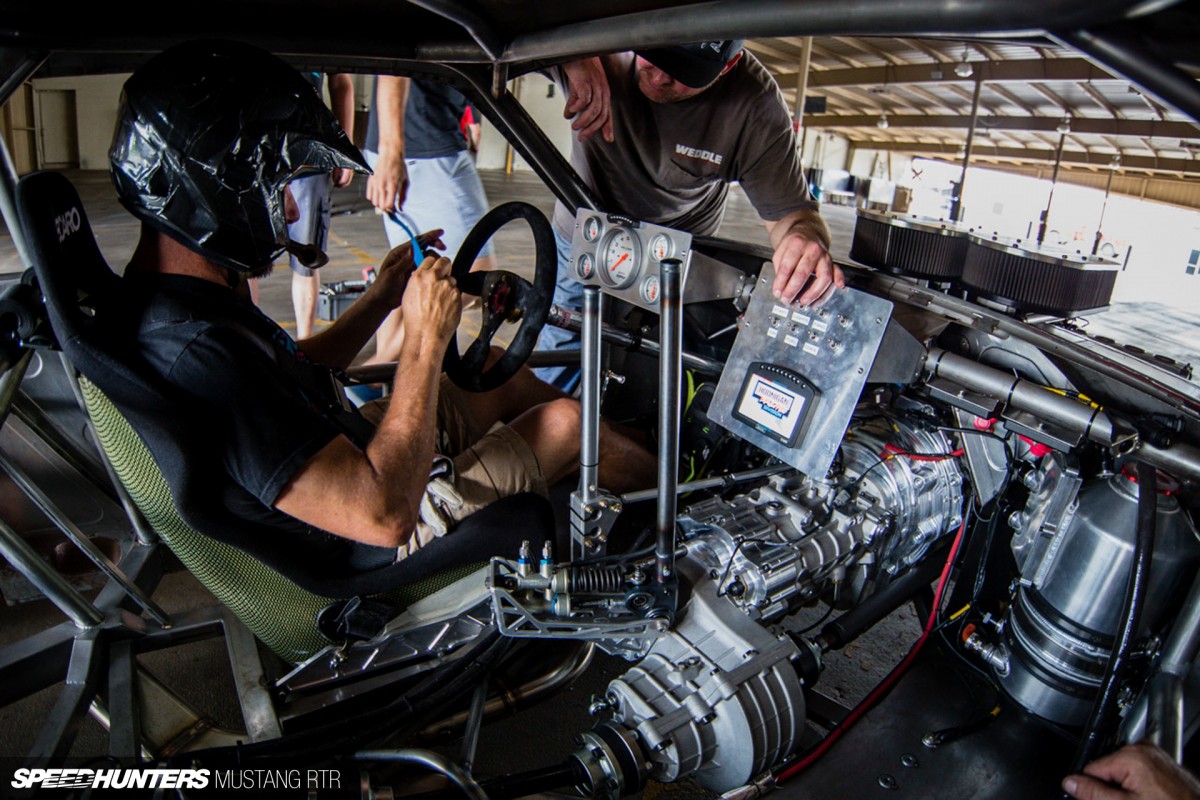 It was time for Ken to take the Hoonicorn RTR on its maiden voyage.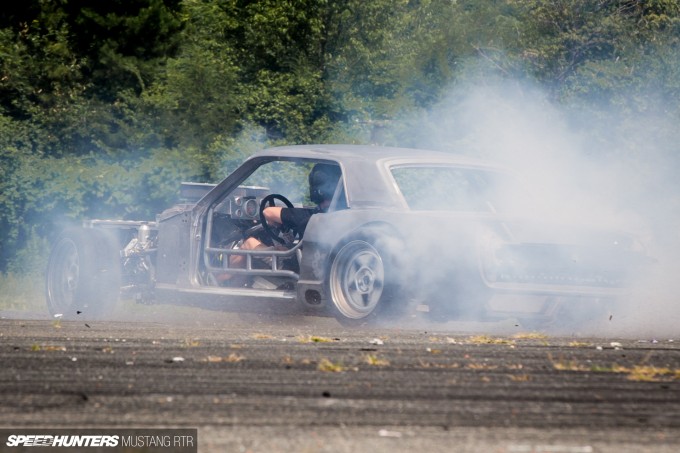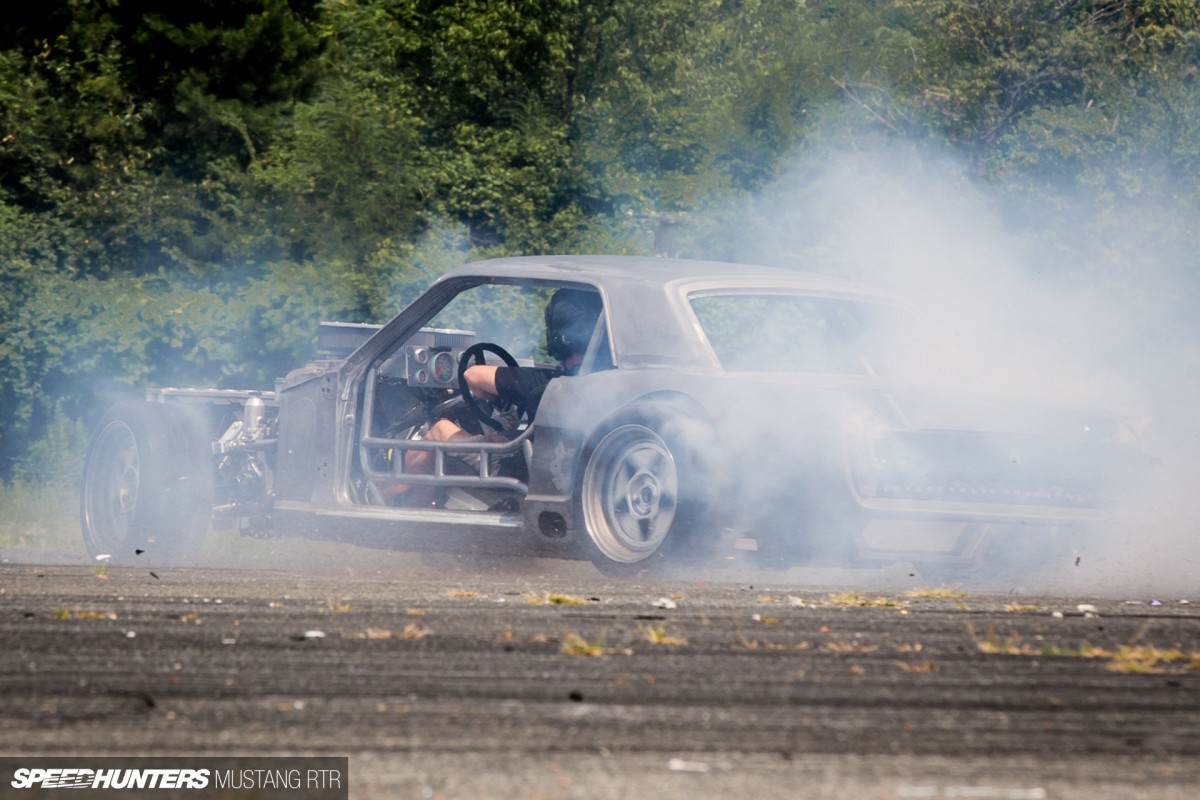 Right out of the box, he started throwing the car around like he had been driving it for years. This was very impressive considering the difference in this car's chassis and the power delivery is completely different to what Ken is accustomed to. One thing about Ken is that he has no fear. He is full-on behind the wheel and I love that about him. Perhaps that's why we get along so well? Looking at the lead image to this story, clearly he got very comfortable during the test. That's a great thing as this would be the only seat time he had in the car prior to shooting Gymkhana SEVEN! Ken's initial reaction to the car was "Holy f**k!" and he expressed that it drove better than he ever imagined it would. That's a pretty stout comment considering the car had just come out of the shop for a shakedown.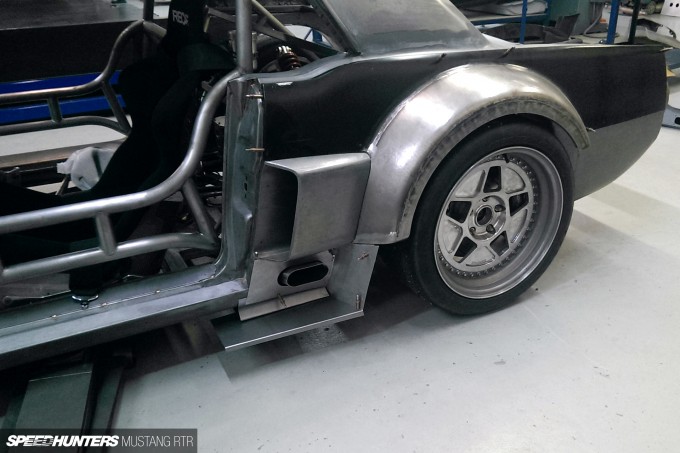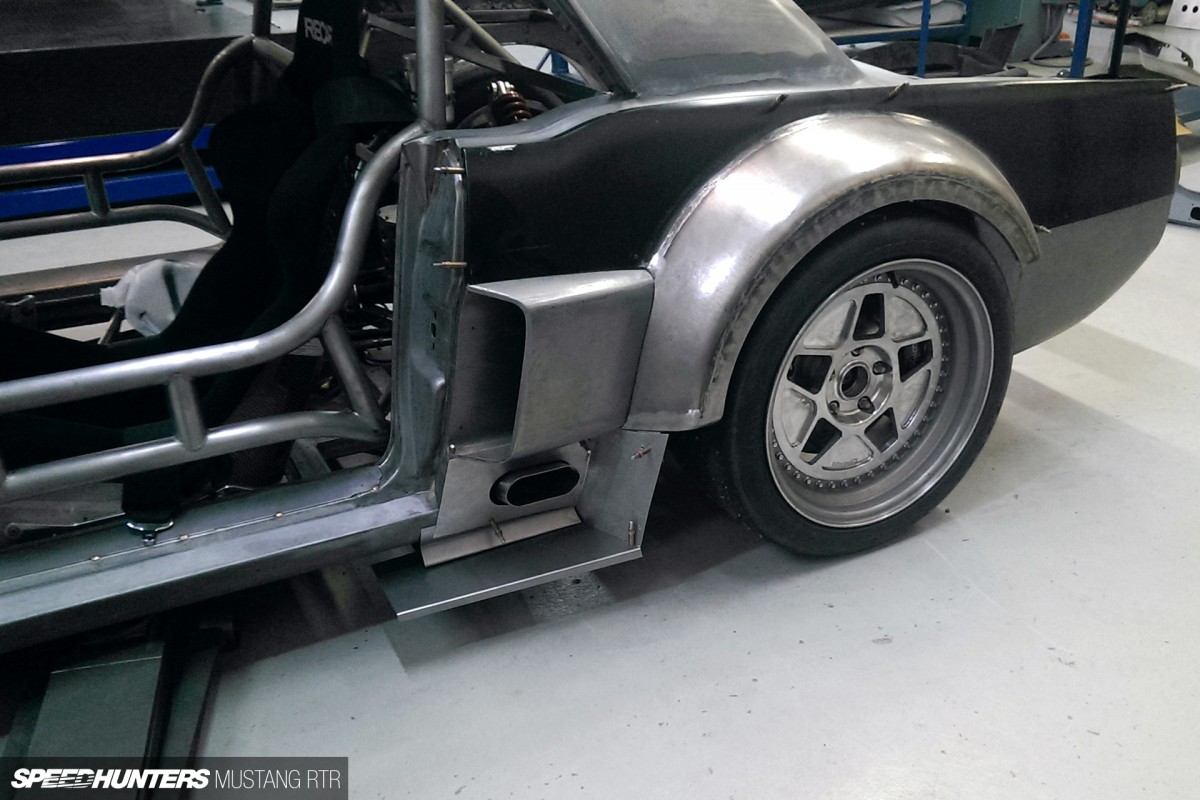 With only eight weeks until the Hoonicorn RTR had to be on set in LA, it was time to finish some of the detail work. That of course included some more metal magic…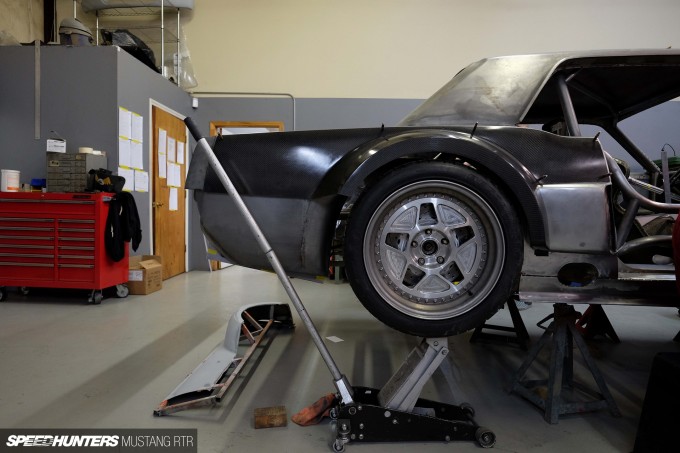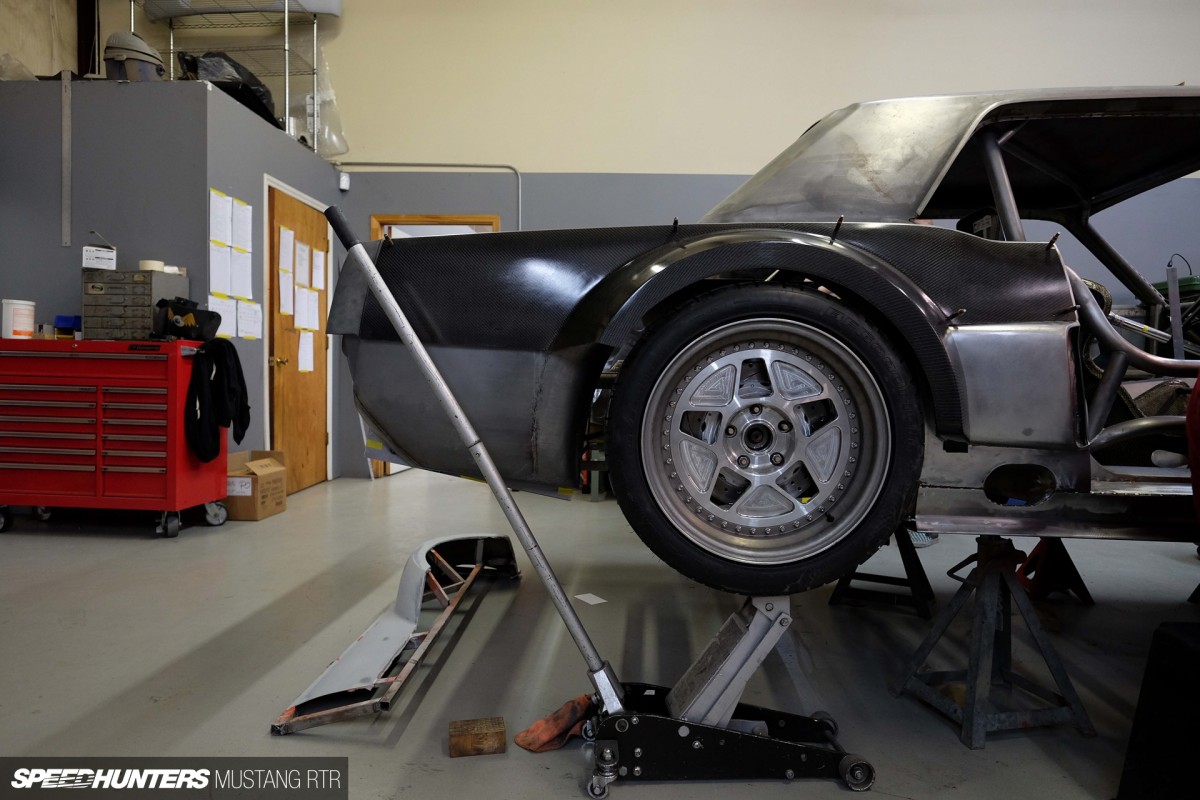 And test-fitting and mock installation of the carbon panels that had by now been made.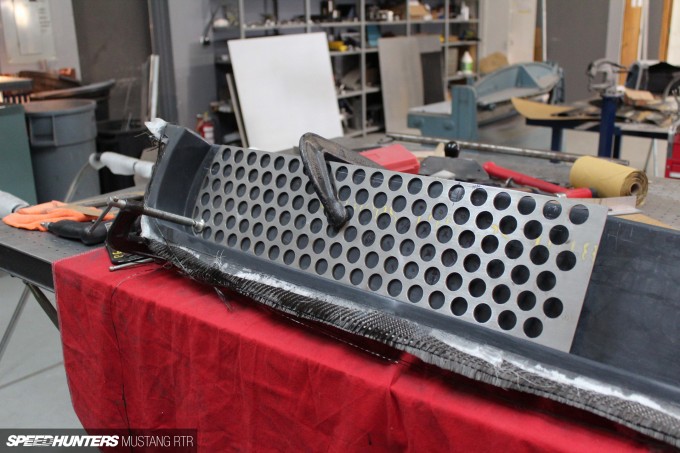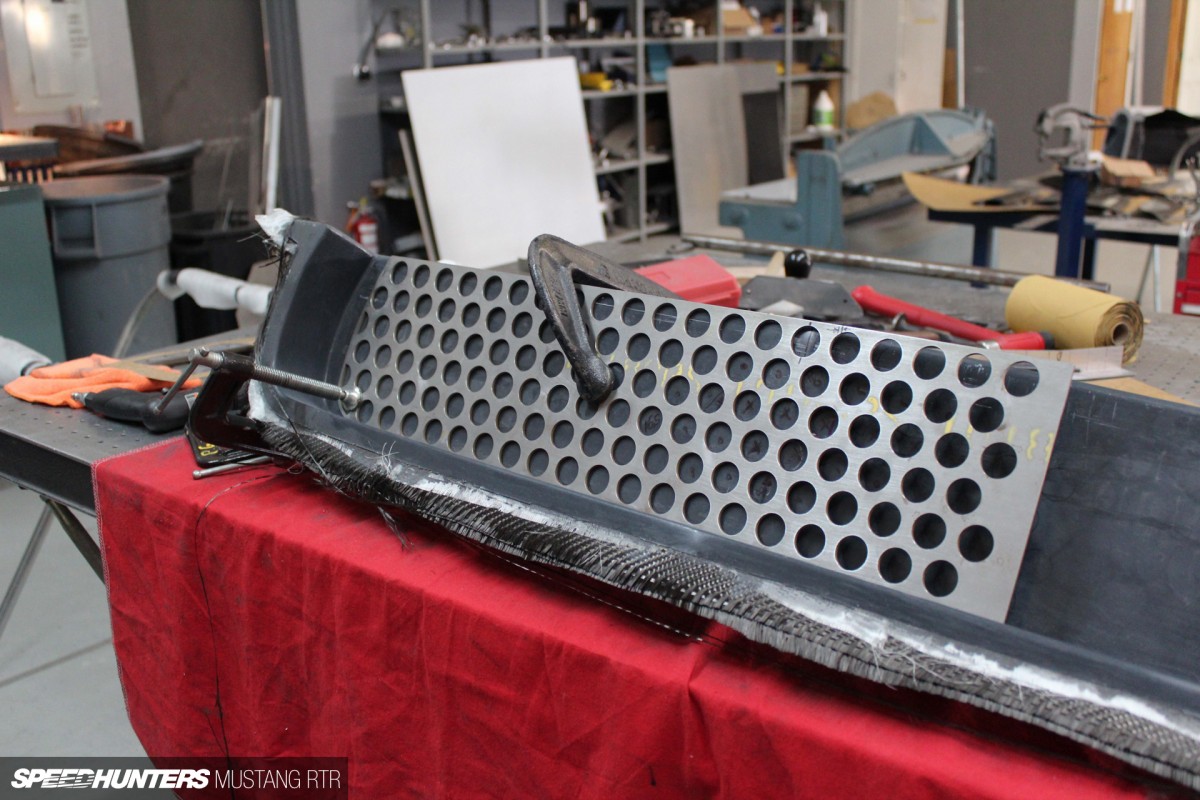 Every little detail was checked twice until it was certain that the car was ready to leave the fab shop.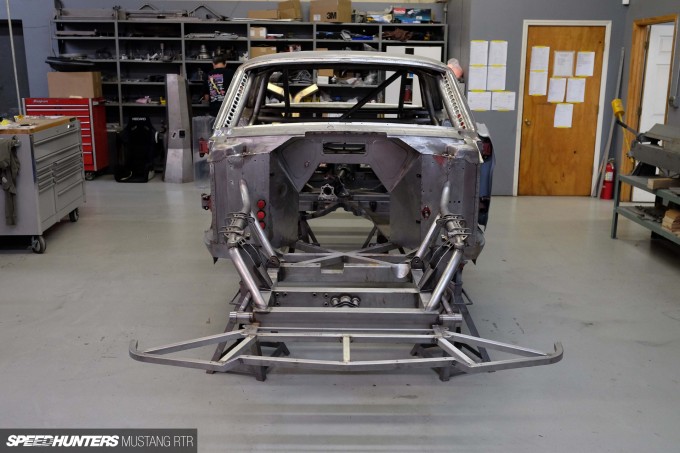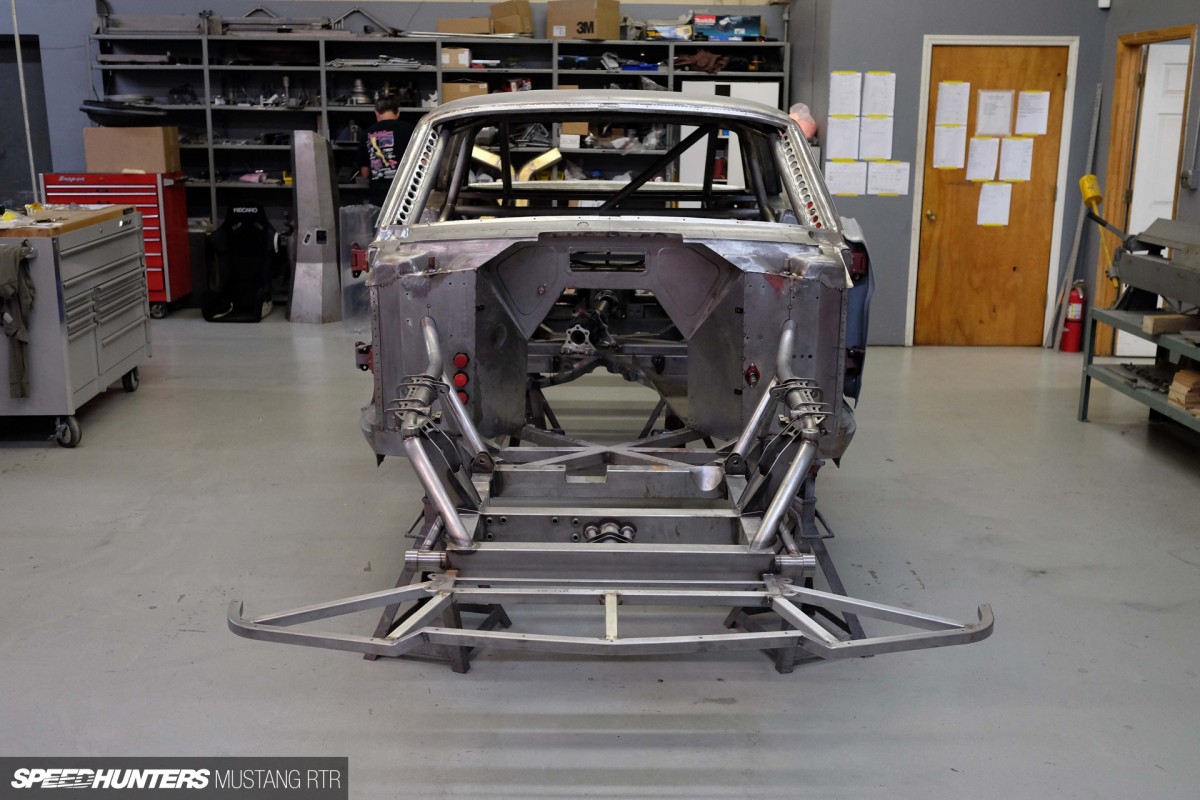 The entire car was then stripped down to bare bones and headed to paint. The chassis was painted silver and the body was painted satin black.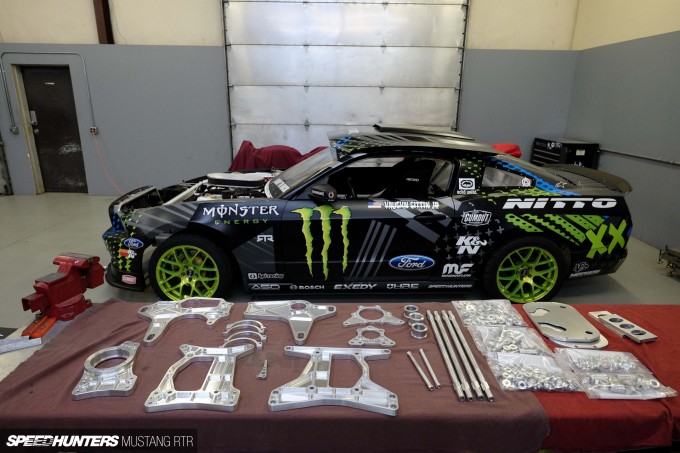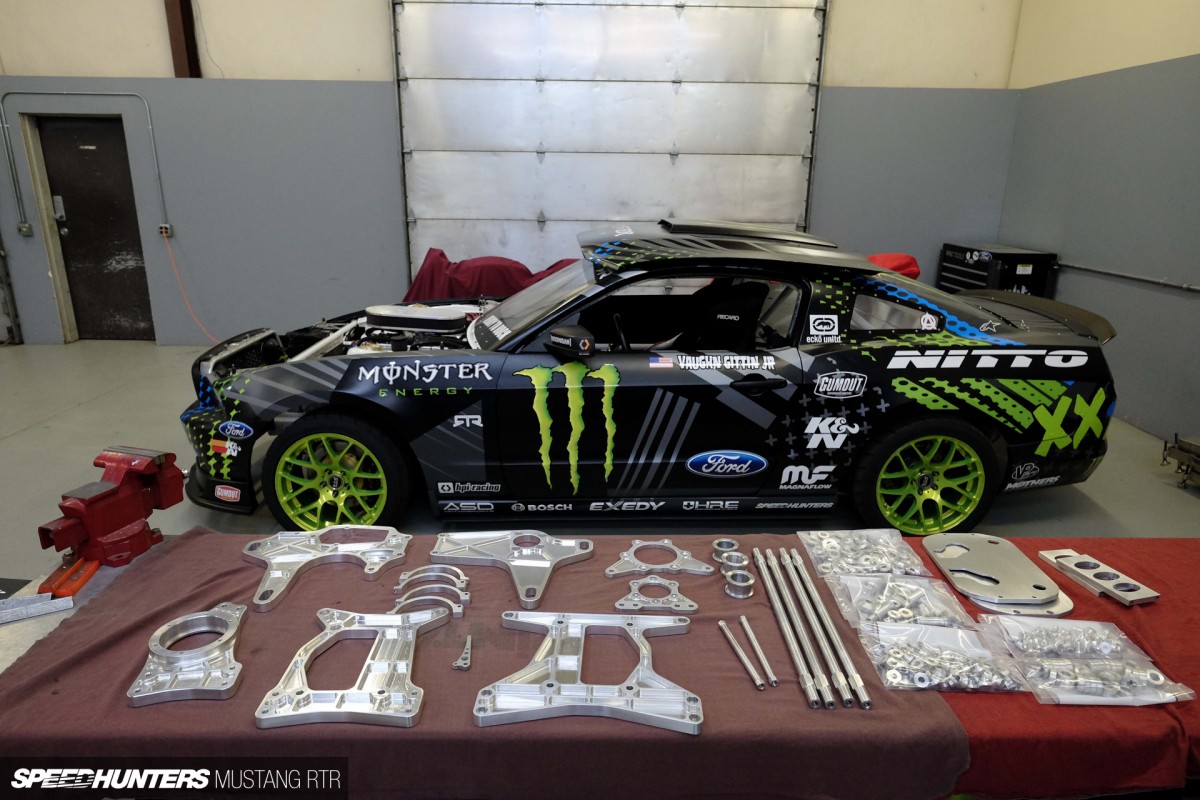 While this was happening all of the custom suspension parts and other machined bits were sent out for anodizing.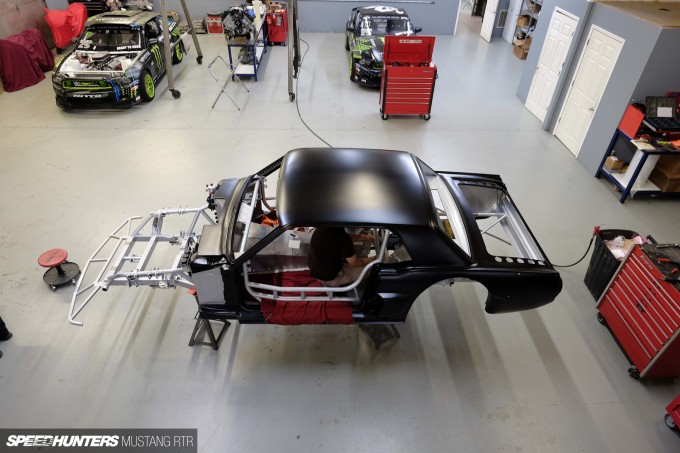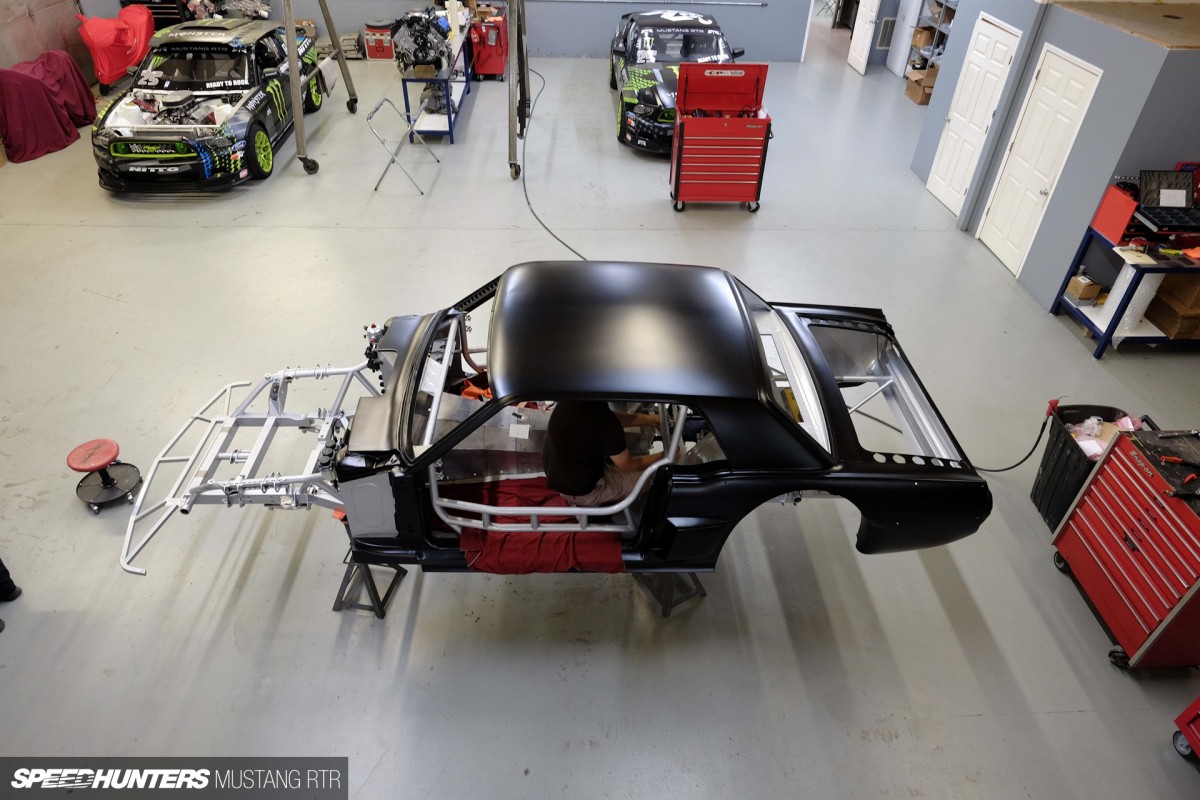 Immediately following paint, the Hoonicorn RTR was moved into the final assembly area.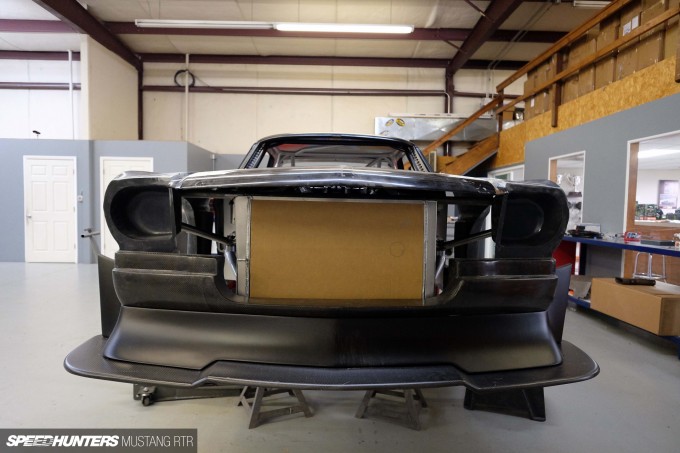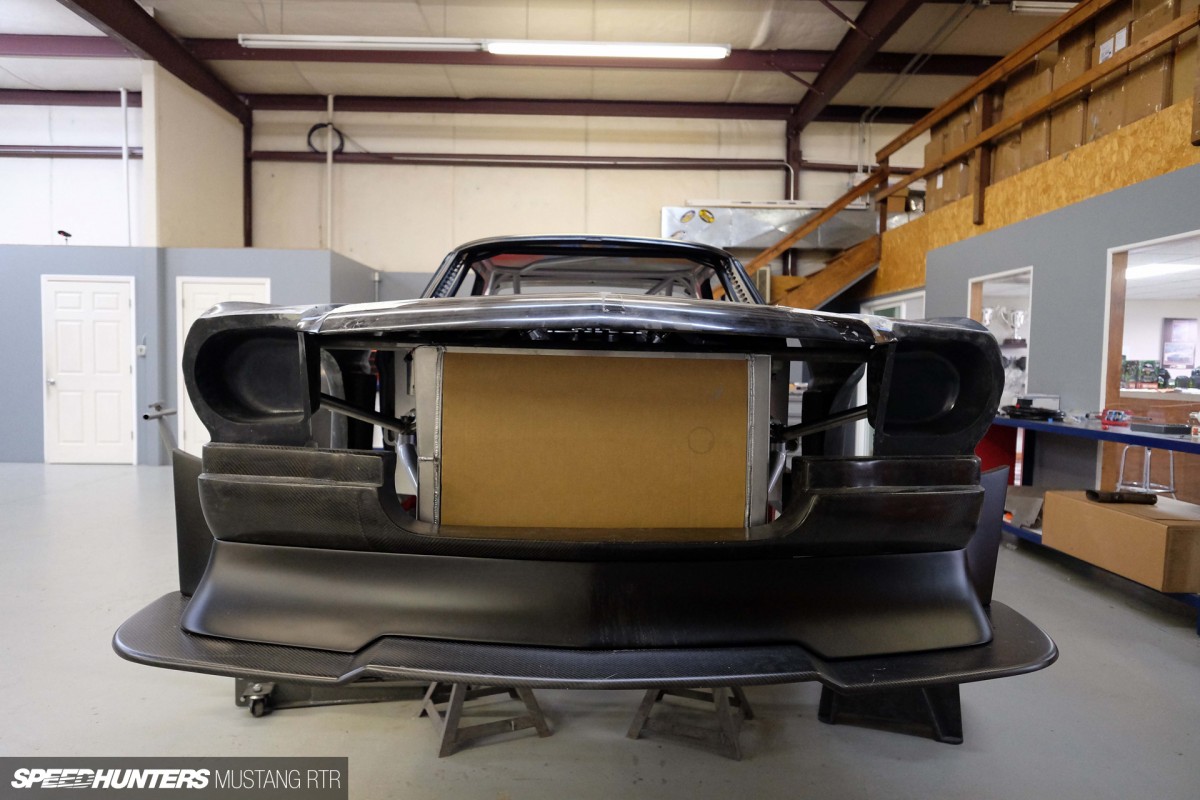 It was go time!
Final Assembly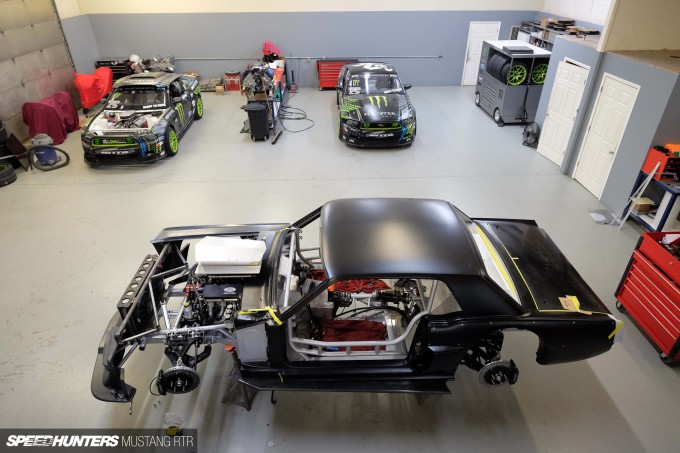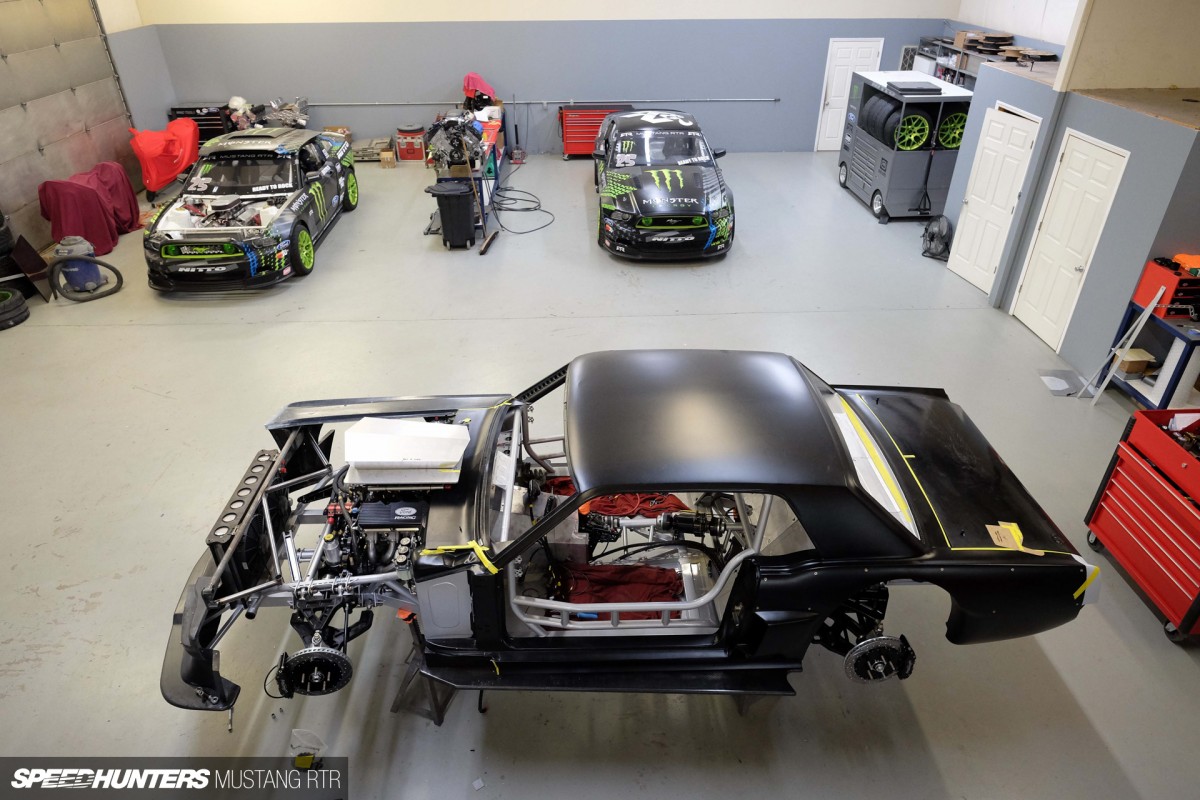 Piece by piece the Hoonicorn RTR was assembled for the last time.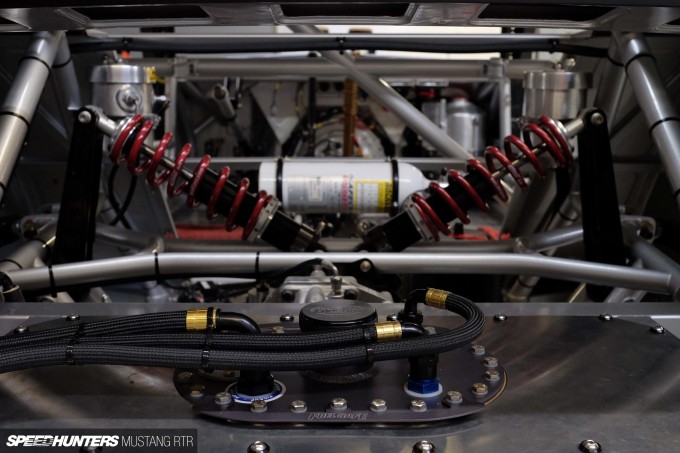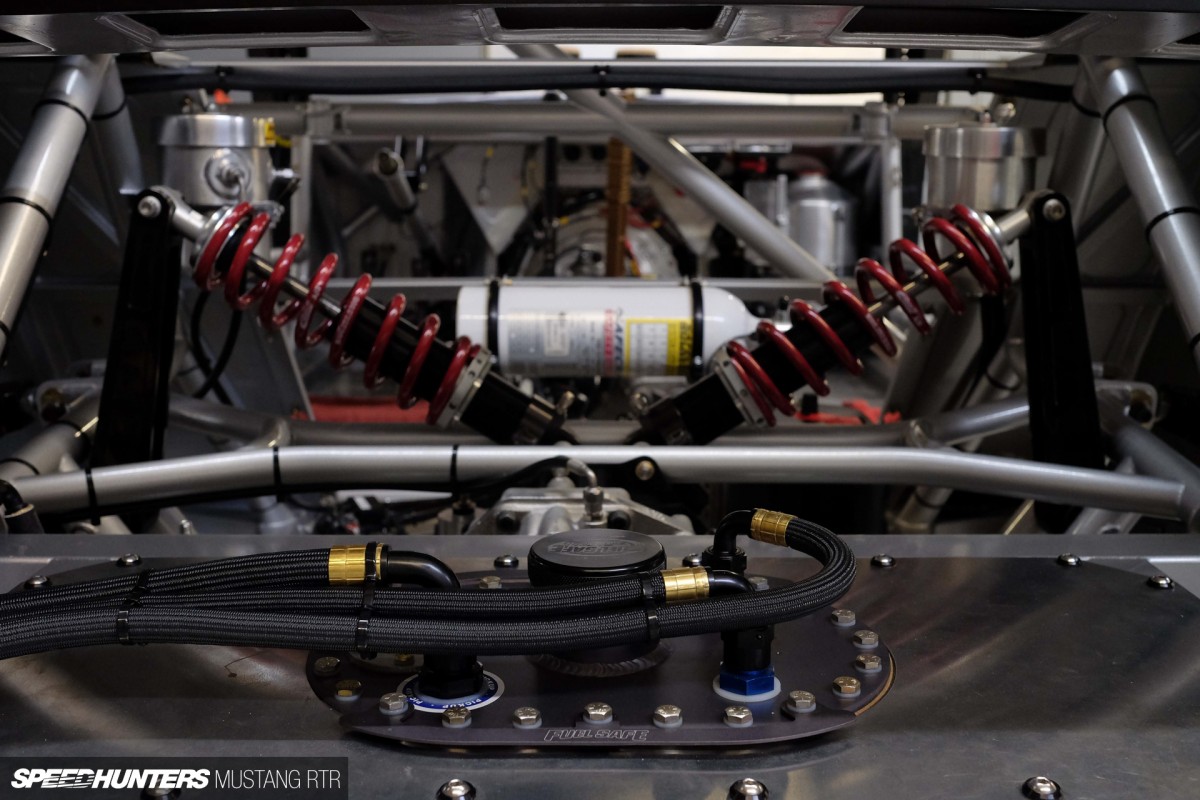 The cantilever rear suspension utilizing JRi shocks and the fuel system all slotted into place.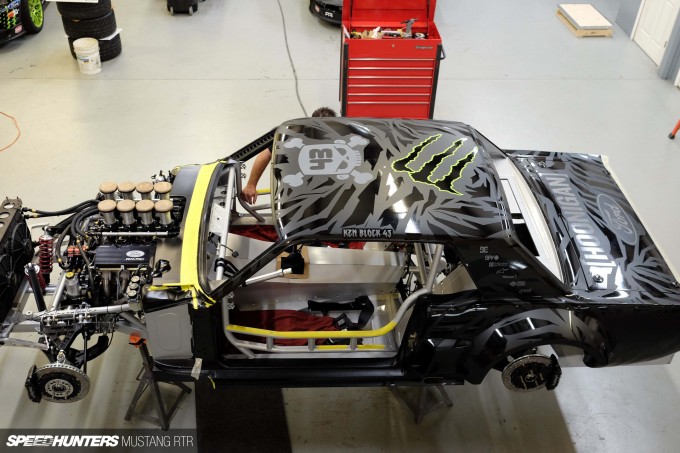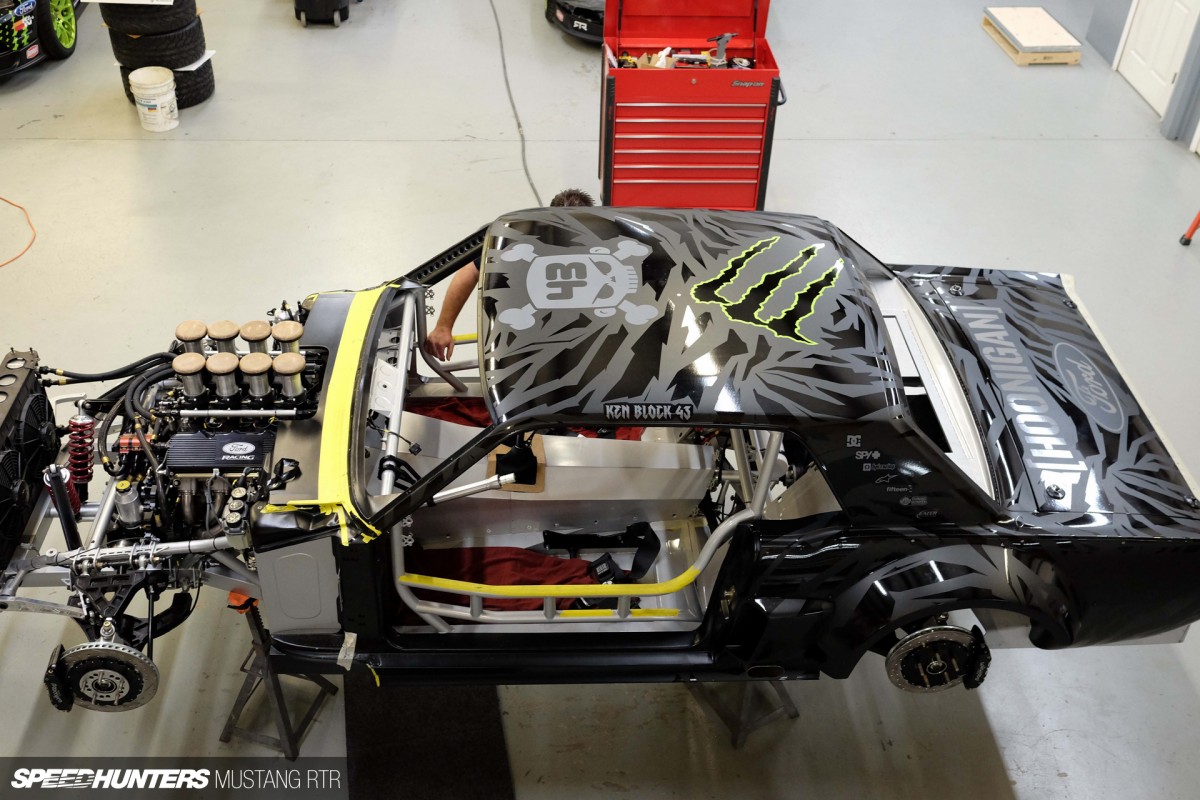 While assembly was going on, the vinyl was also being installed. Did I mention it was all hands on deck?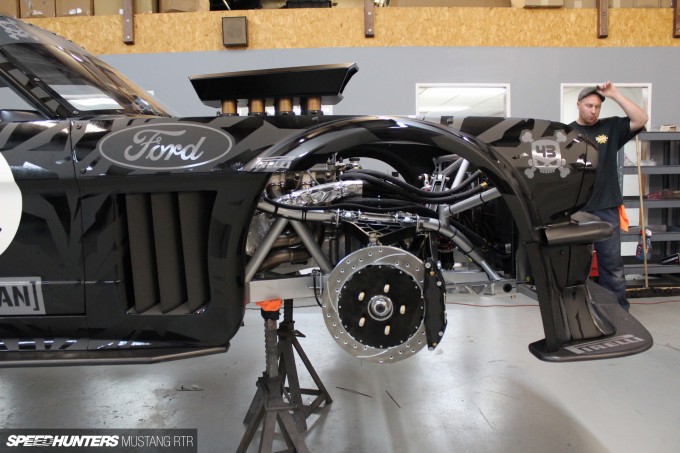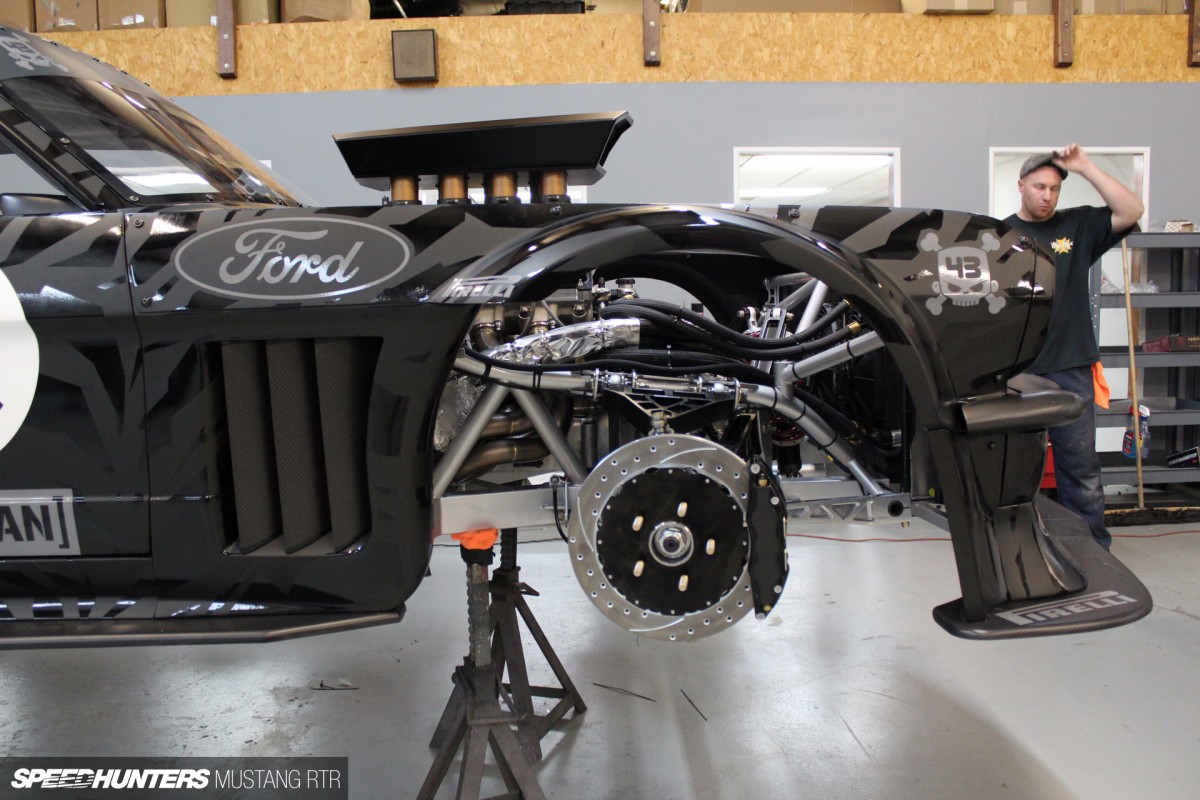 The tire smoke extracting gills are one of my favorite design elements on this animal.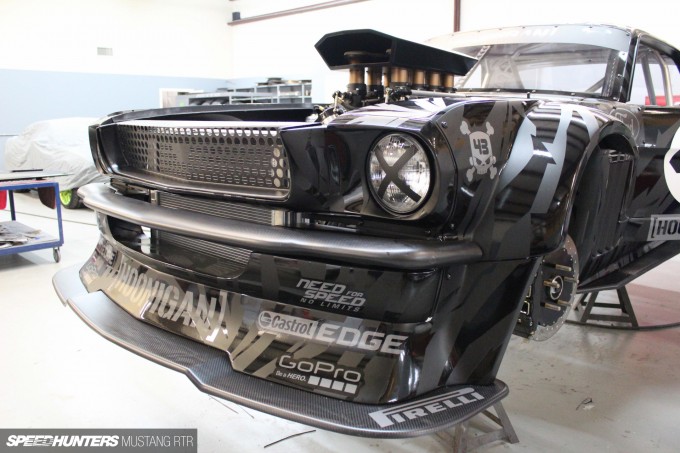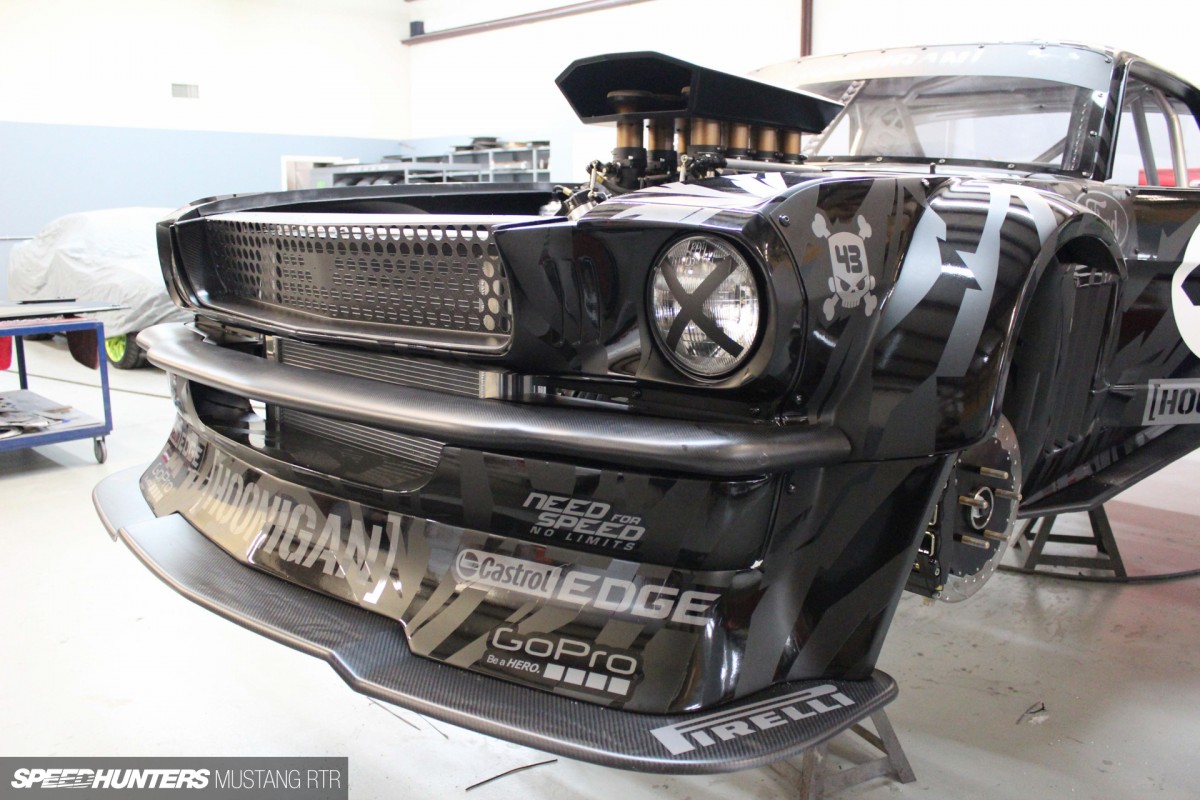 It was pretty surreal to see this wild front end become a finished reality, as just two years earlier it was only a dream. I absolutely love that hand-fabricated Mad Max like hood scoop in which the car can run with or without.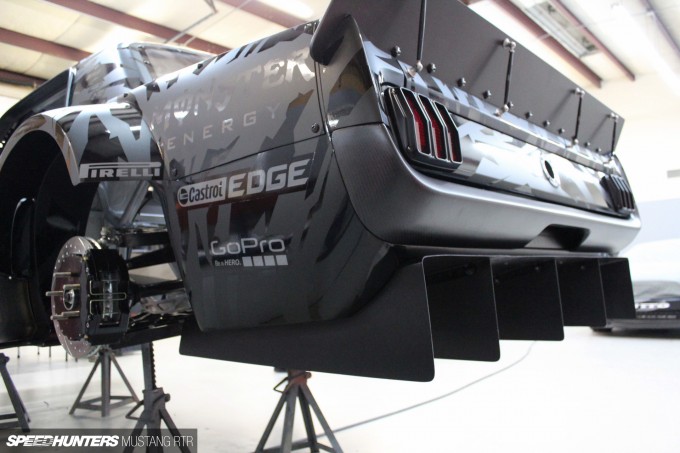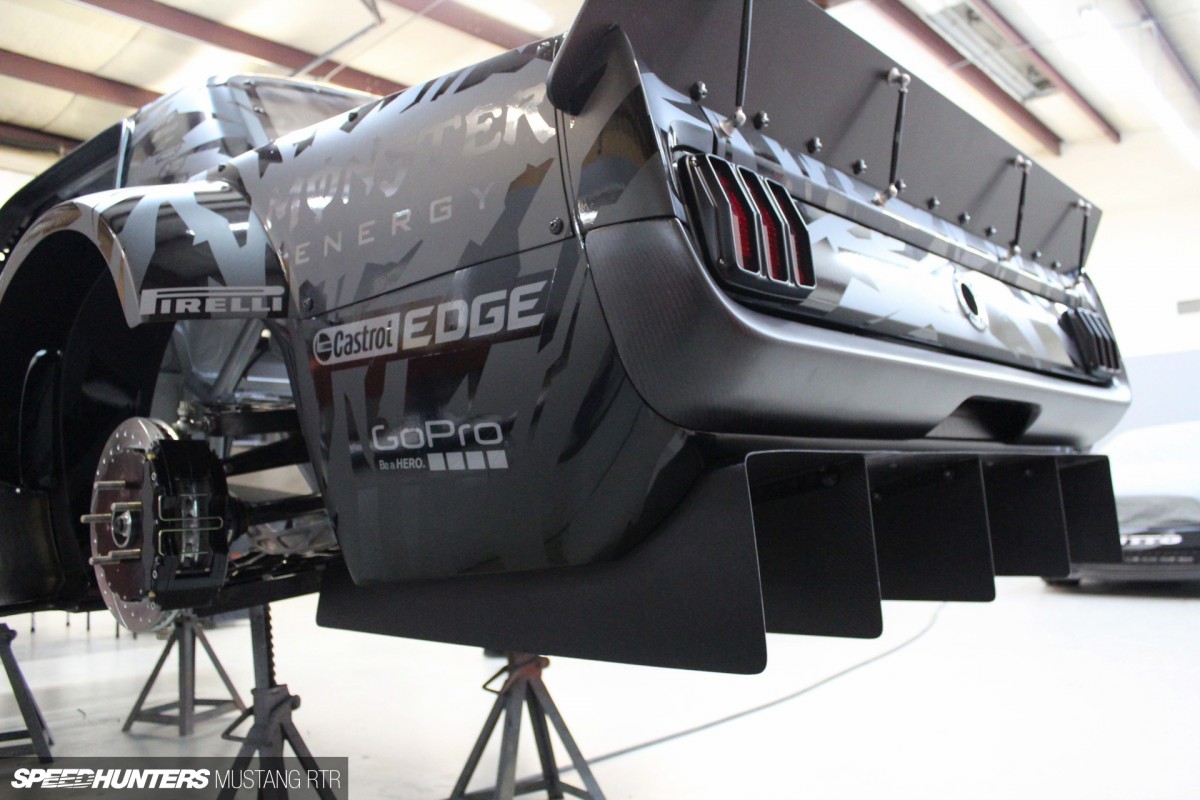 Every final piece came together just as we designed and dreamed it would.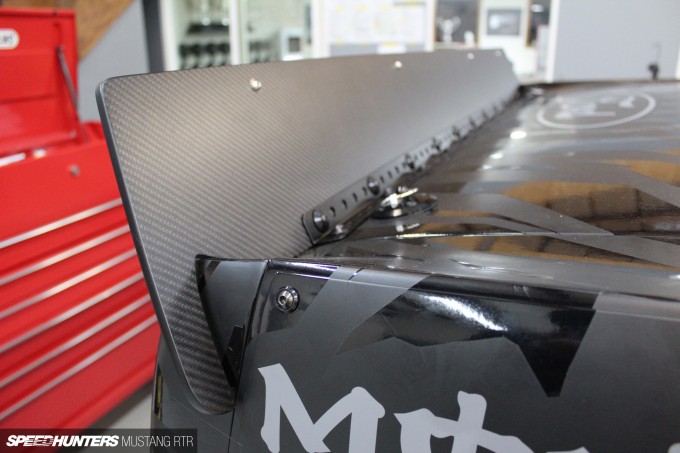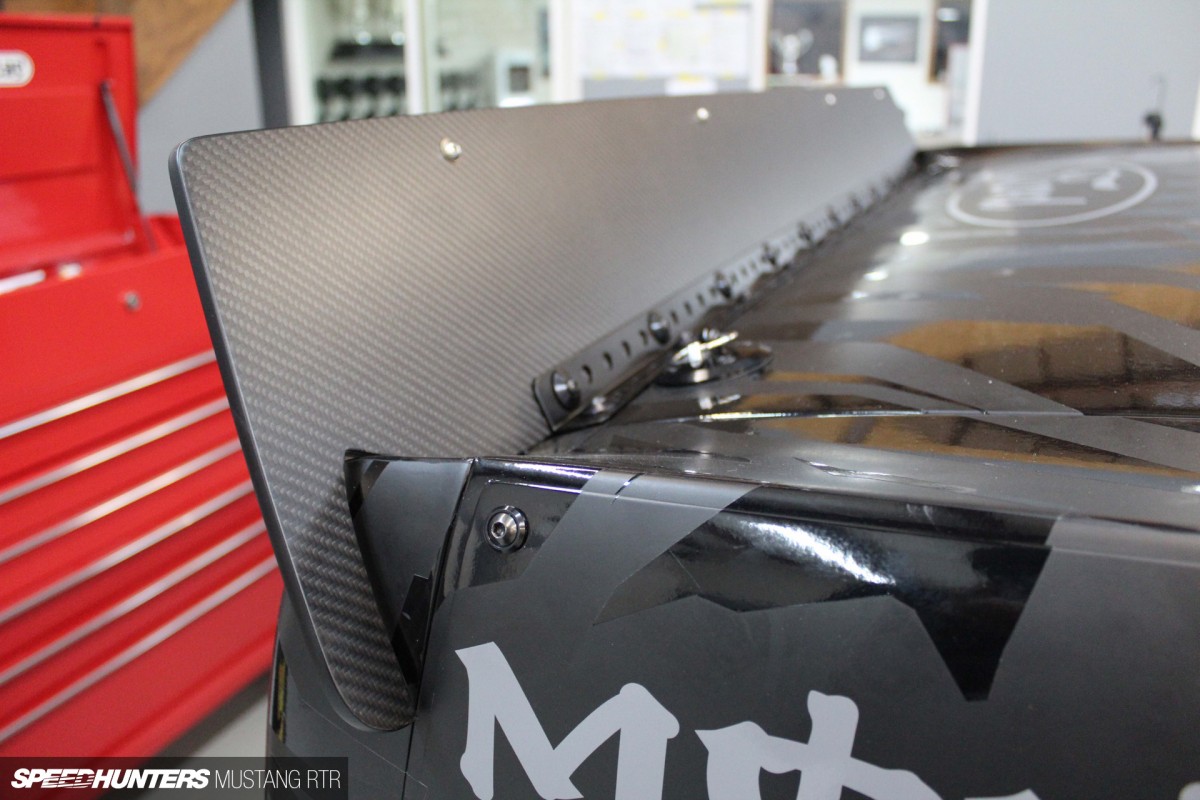 The finished specimen was a perfect execution of the aesthetic design we originally presented to the team.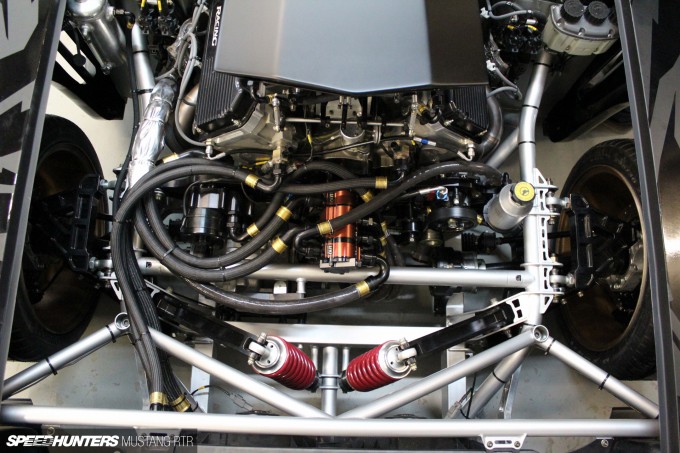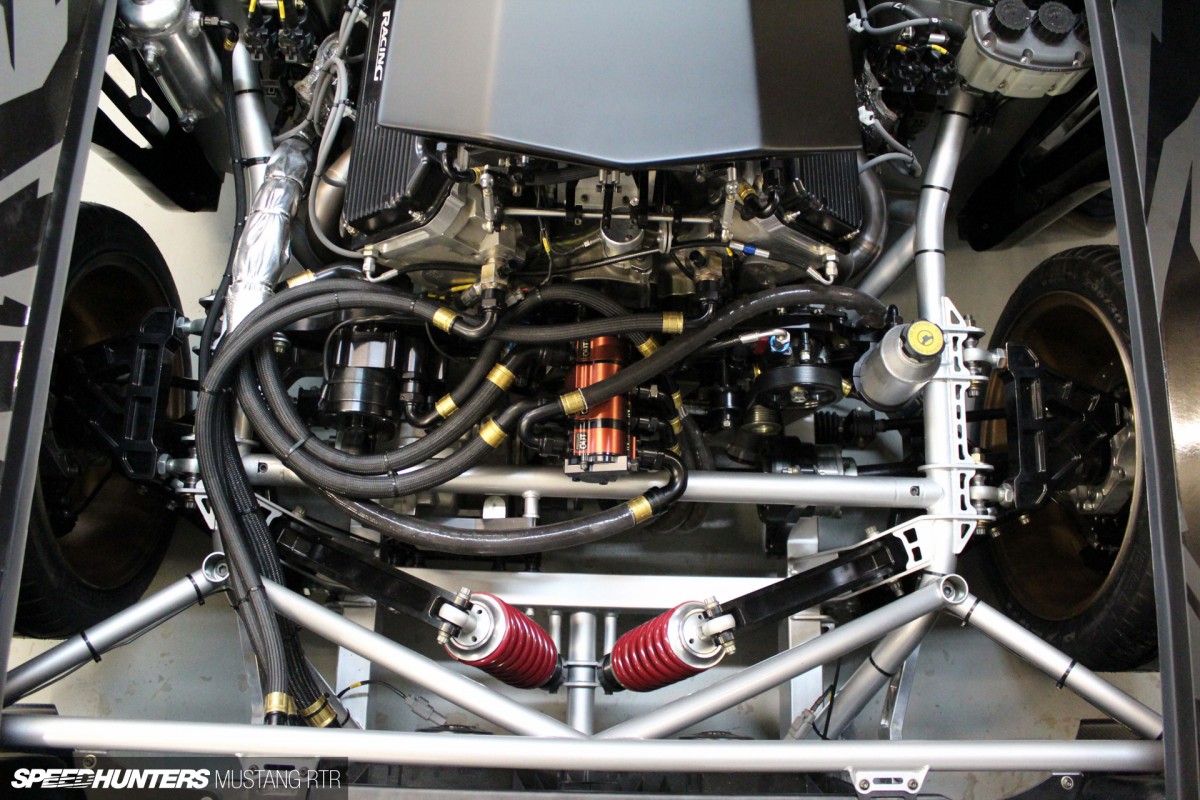 Every minor detail on this project was clearly done under a microscope.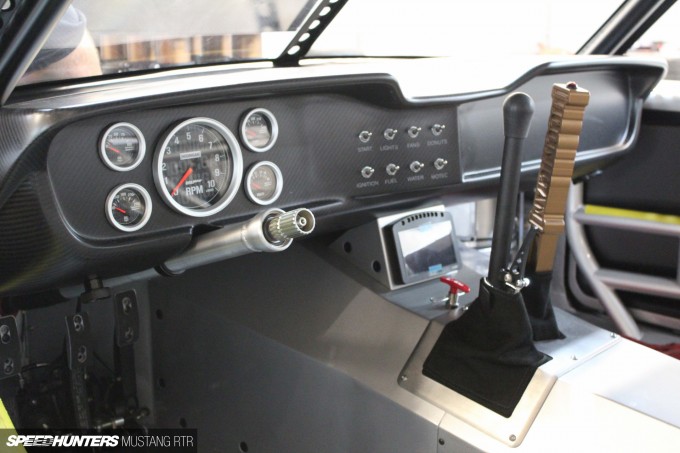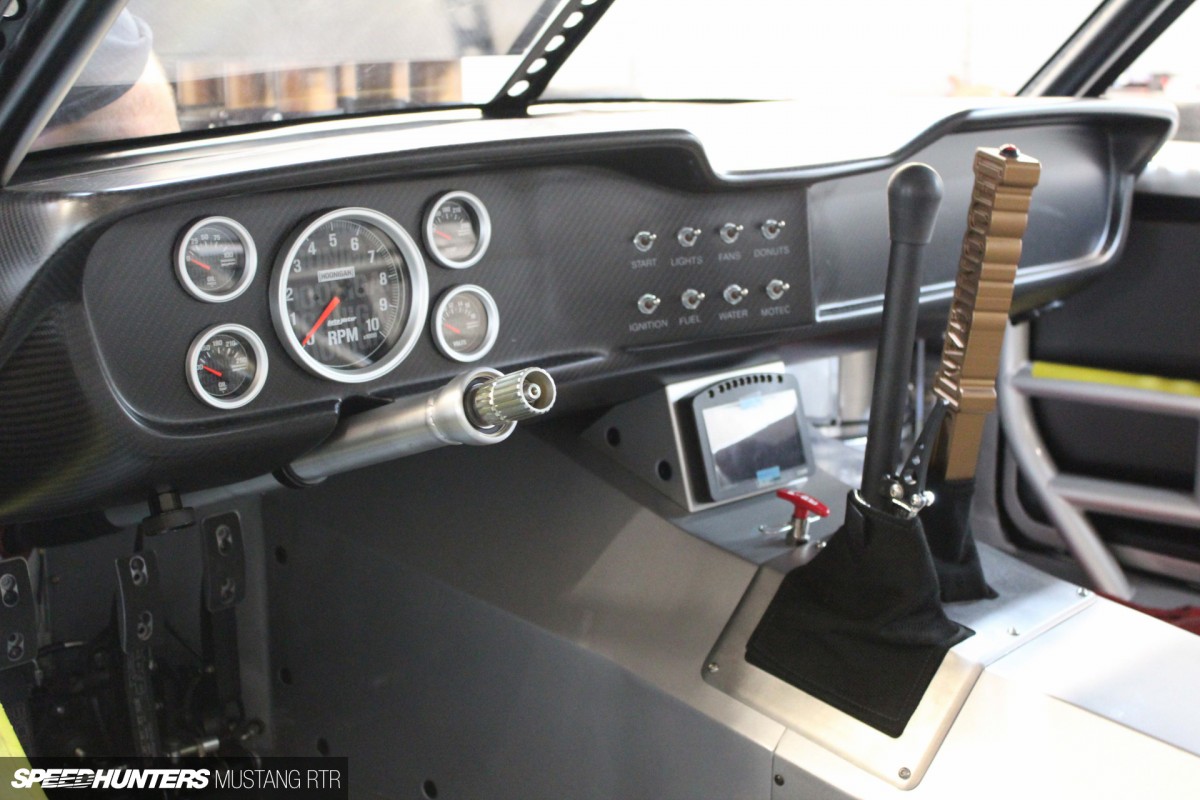 Custom Hoonigan x Auto Meter gauges for that period-correct look and a MoTeC C125 display to monitor some of the other required vitals. Every AWD Mustang has a switch for Donuts, right?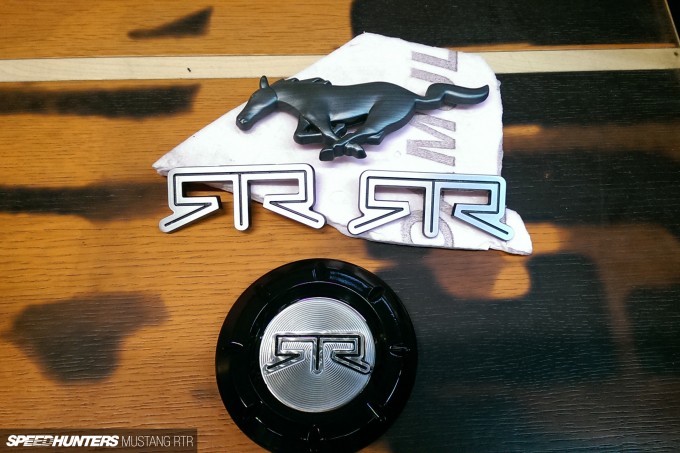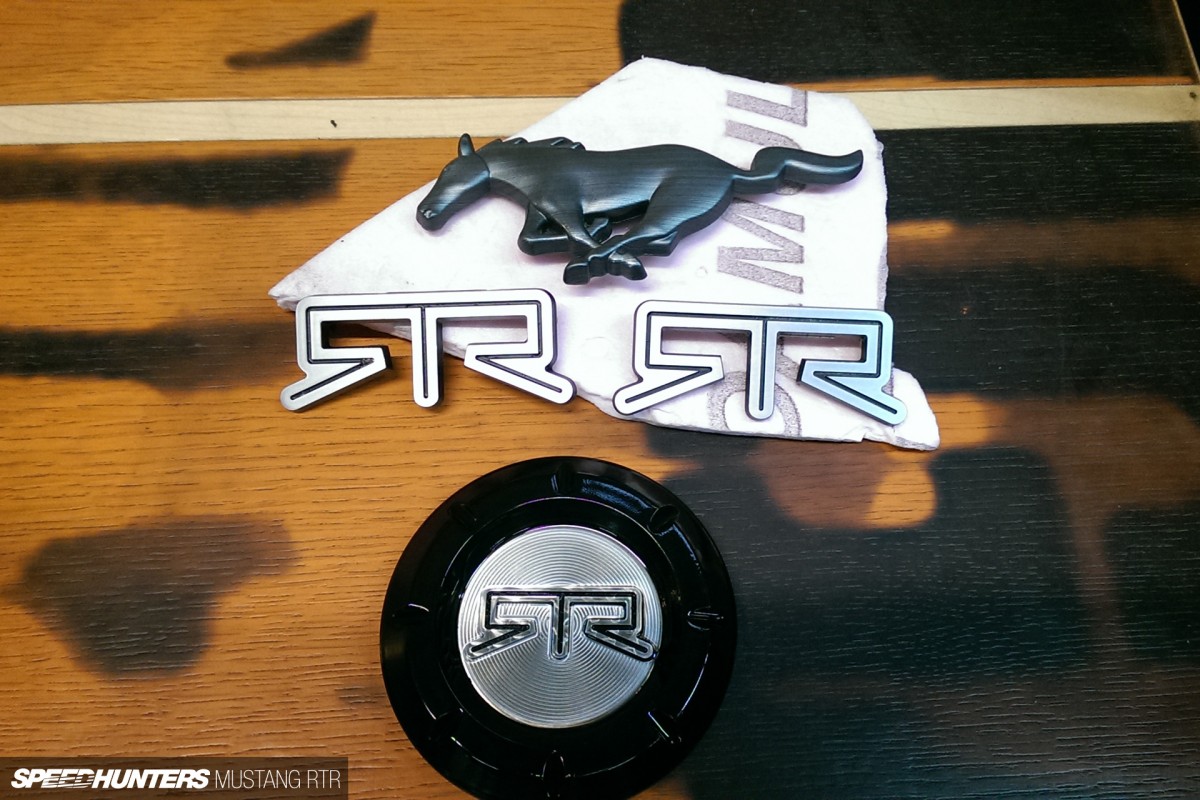 Everything was custom. Even the RTR badging are one-off machined pieces and the Mustang emblem was custom coated.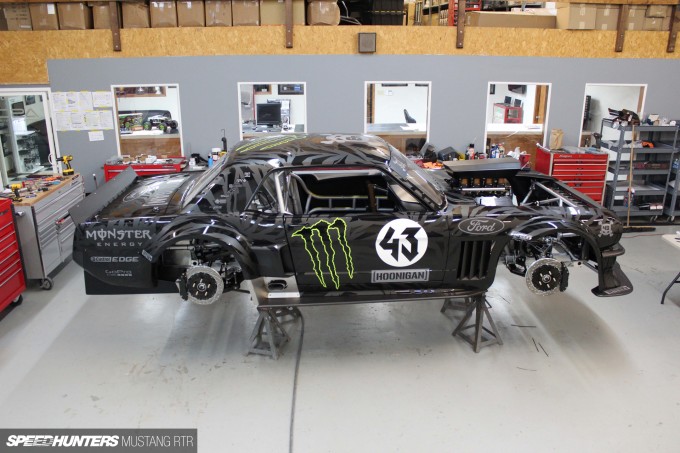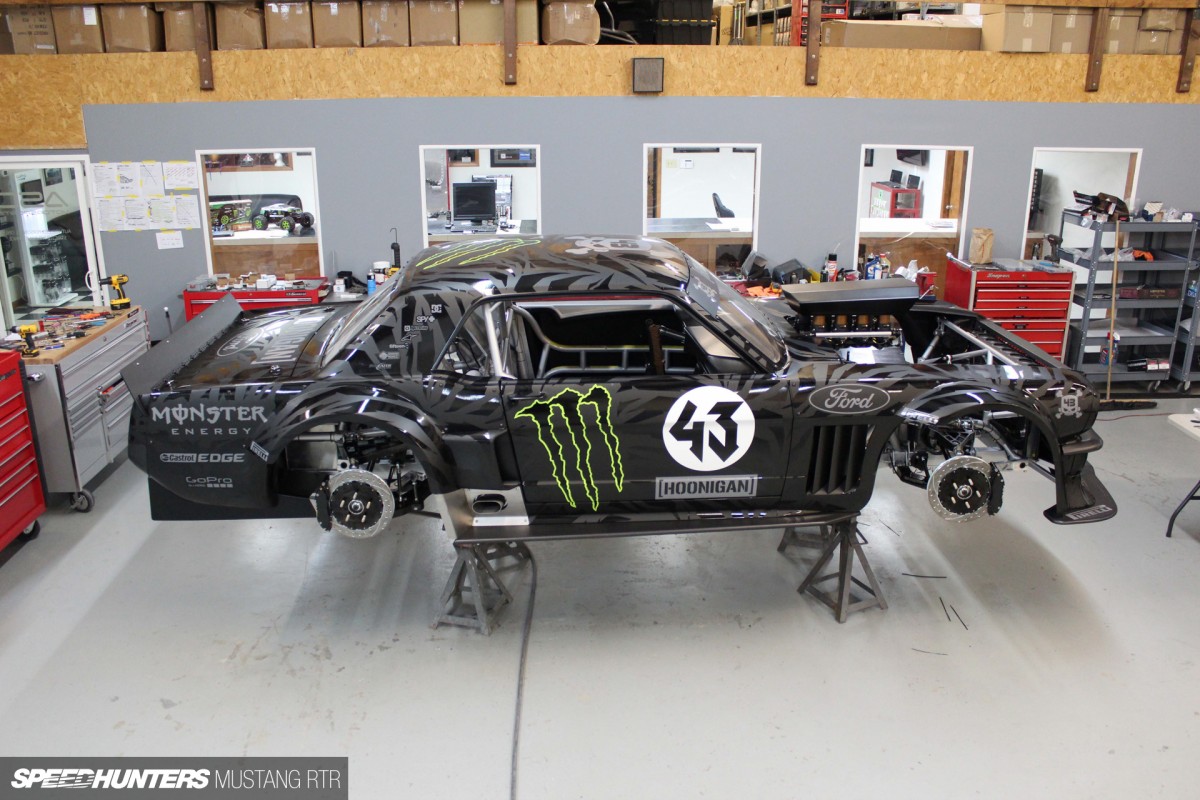 Following seven weeks of very hard work and long nights by an extremely talented team, it was almost time to send the Hoonicorn RTR on its way.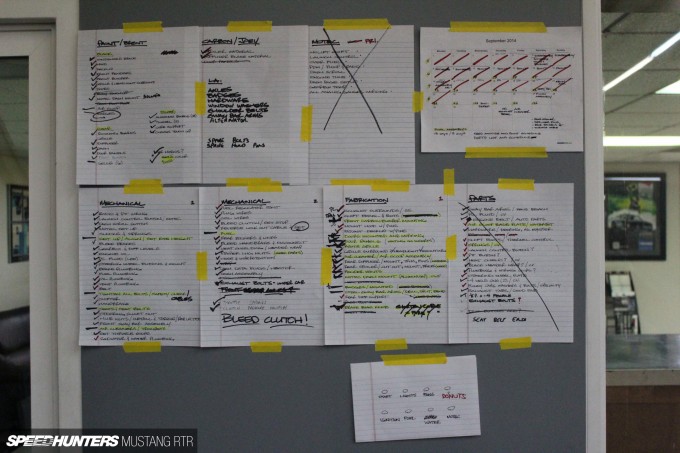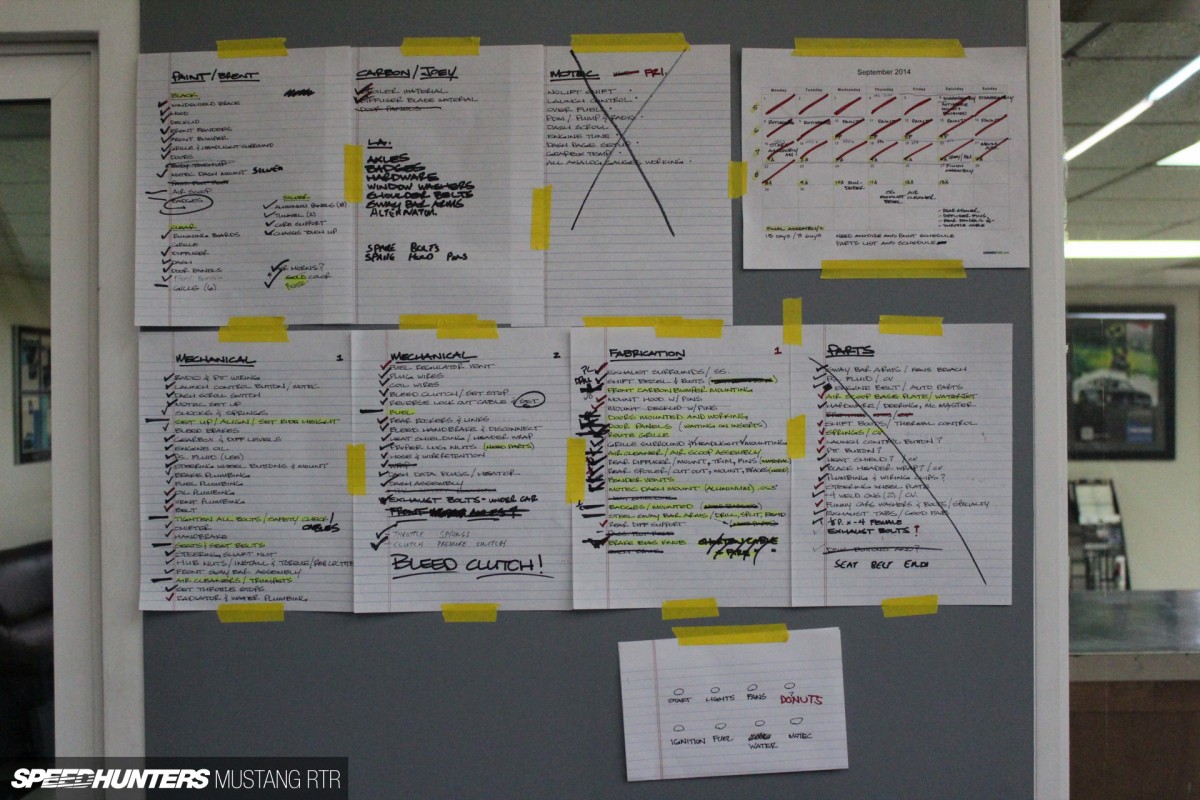 Following one final check of the massive to-do list, of course.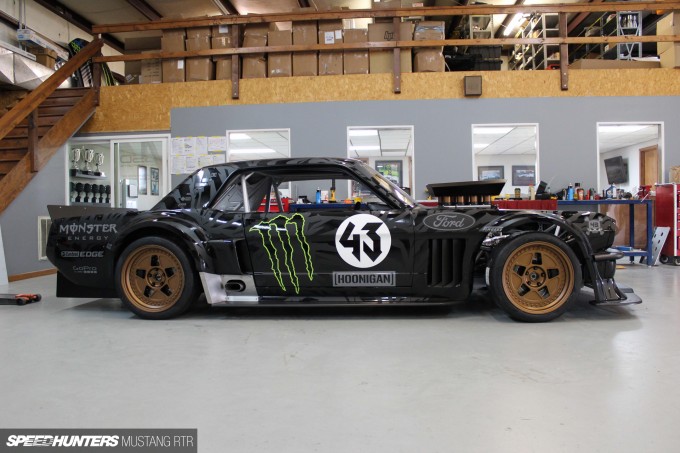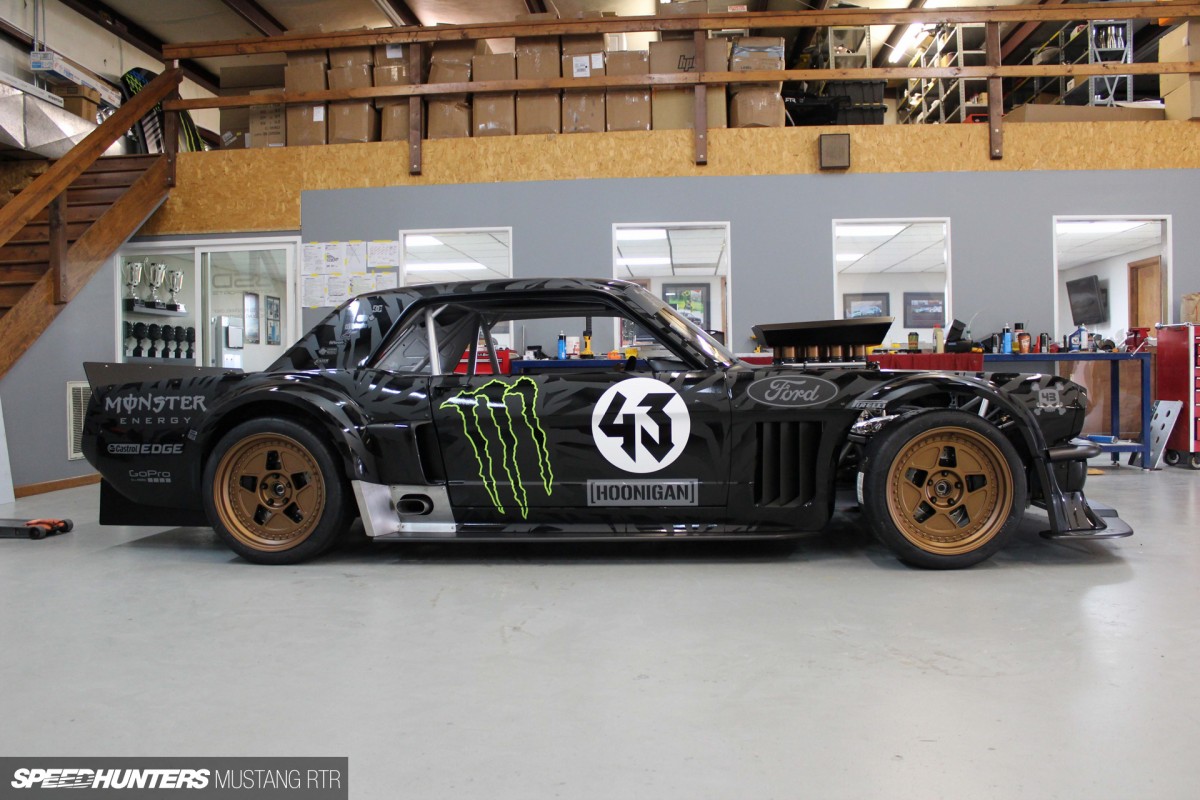 Finally, the world's first performance AWD Ford Mustang touched down. The Hoonicorn RTR was ready to be loaded onto the Hoonigan Racing Division trailer and pointed towards LA where the two years worth of groundbreaking design, fabrication, and overall awesome was to be flogged with my good friend Ken Block behind the wheel.
I am so proud to say that the Hoonicorn RTR ran flawlessly during the filming for Gymkhana SEVEN – it's massive praise for the build team. The absolute biggest reward was when Ken told me it was the most amazing car he had ever driven. Coming from a guy that drives WRC cars, that's an incredible statement. I am so honored Ken wanted RTR to handle this amazing project and I am so appreciative of the time and effort that the ASD Motorsports crew put in to make every piece of the dream come true. I cannot wait to see what else Ken and his team have in store for the Hoonicorn RTR!
Vaughn Gittin Jr.
Instagram: vaughngittinjr
Gymkhana SEVEN action images courtesy of Ron Zaras at Hoonigan Racing Division
For those of you that want some more details/eye candy, additional photos can be found on the RTR Facebook page here.