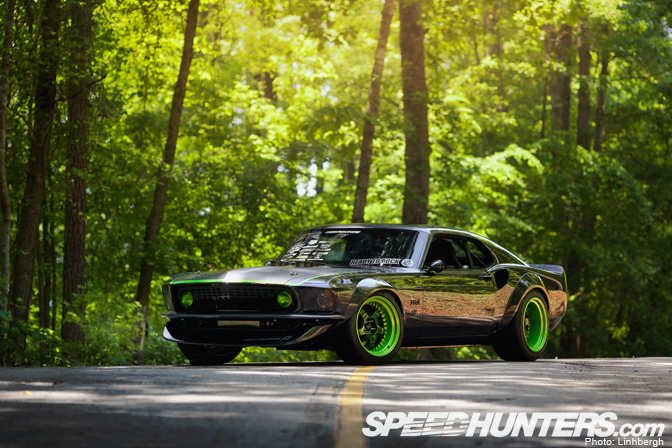 Where to start? That was the question that lingered in my mind when it came time to write up the feature on Vaughn Gittin Jr.'s Team NFS RTR-X.
Unlike a lot of the cars we feature here on Speedhunters, the RTR-X is something that many of you are already familiar with – whether you followed Vaughn's build posts, saw the car at an event, or even drove it virtually in an NFS game.
I personally became quite attached to the project as I photographed its construction from start to finish, and that's a large reason while I was called upon to write this feature.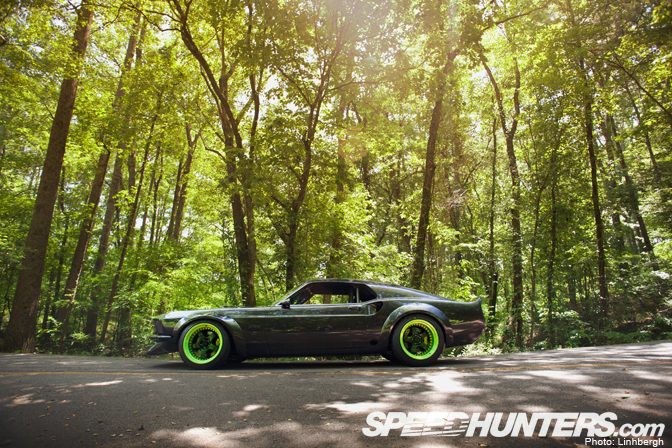 The RTR-X is not so much a car as it is a vision. A vision that's been brought to reality by an extremely talented group of people working together closely. Whether it was Vaughn leading the project, Andy Blackmore's creative talents, Gary Steen's amazing fabrication skills, or the long nights that Eric and Koz at Twins Turbo put in getting the whole thing to work.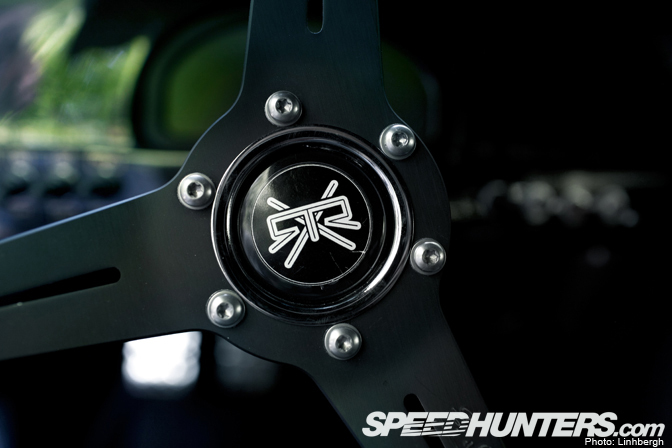 The goals for the RTR-X project were lofty. Not only would the car be a styling breakthrough, but it was designed to be driven hard – and driven sideways.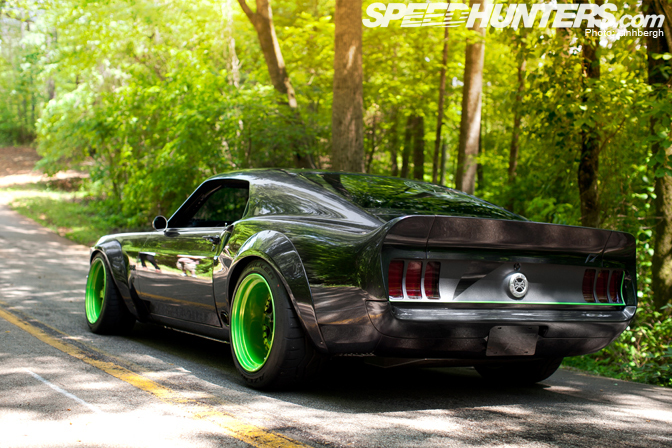 One of the things that struck me the most about the RTR-X is how it was literally built from nothing but a pile of new parts. There isn't a single original 1969 part on the entire car. It's a testament to just how far the performance aftermarket has come.
At the same time though, the RTR-X is anything but a catalog-built Hot Rod. In fact it's by far one of the most ambitious car builds I've ever seen.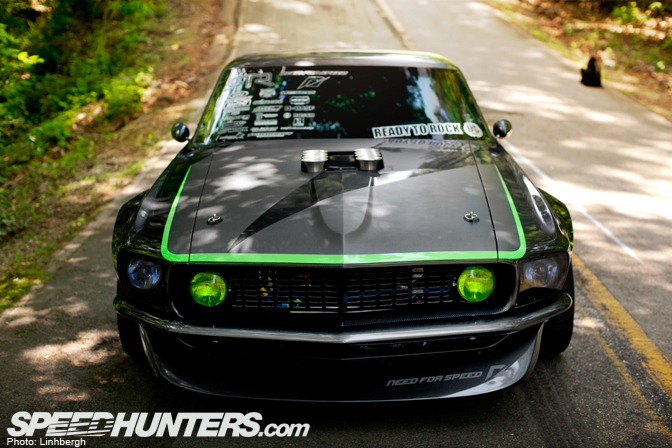 As soon as the new Dynacorn '69 Mustang shell arrived at Steen Chassis, the immense build process began. Within minutes the front half of the Mustang chassis was ripped off and replaced with a custom unit from Art Morrison.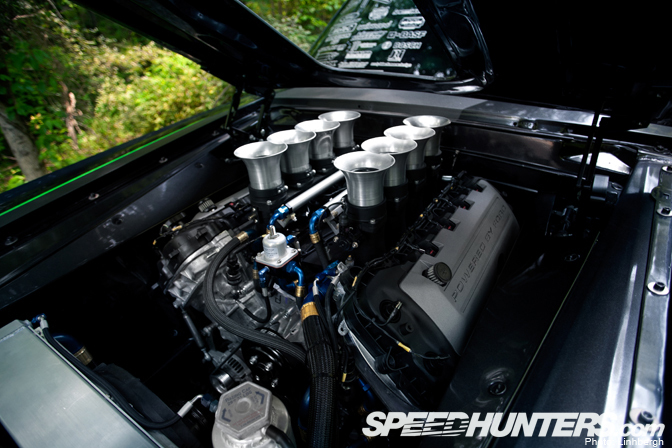 Behind every bit of work on the car there's a story that needs to be told – take the motor for instance. There are lots of 5.0-powered cars around these days, but when the build began in the spring of 2010 Ford's 5.0 motor was a new beast. Thanks to Vaughn's relationship with Ford Racing, the team was able to get their hands on the Boss 302R crate motor early on.
Once he had the motor, Vaughn worked closely with MoTeC, who developed the ECU for the car. The MoTeC M800 is actually the first stand alone system to work with the 5.0 motor and is capable of controlling each of the four cams individually.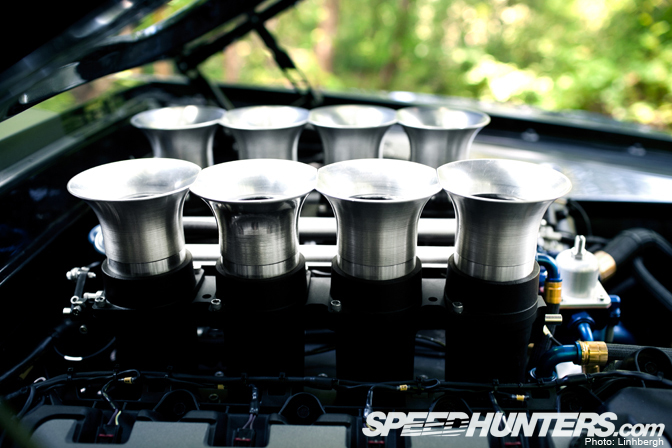 The RTR-X could have easily been powered by a fully-built supercharged or turbocharged Ford motor, but massive horsepower and torque was not the goal here.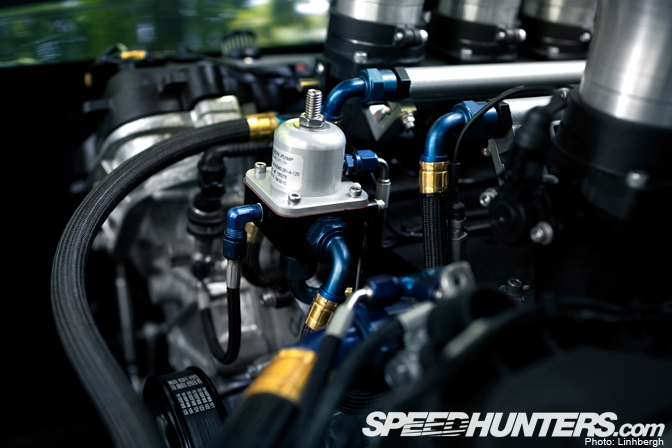 Its 401 wheel horsepower on 91 octane is not a big number by modern Muscle Car standards, but it's a perfect amount of usable, accessible power for this 3,160 pound chassis. It's hard not do draw comparisons from the high winding Boss 302 Trans Am racers.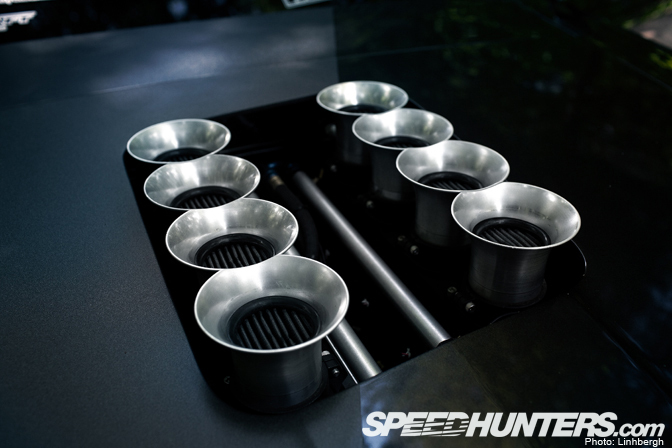 Not to mention, the car just wouldn't be the same without the Kinsler individual throttle bodies popping through the hood. This was in fact a design feature from the beginning. Also note the custom-built K&N filters in each throttle – another one of the unique details on this build and a necessity for keeping debris out of the motor.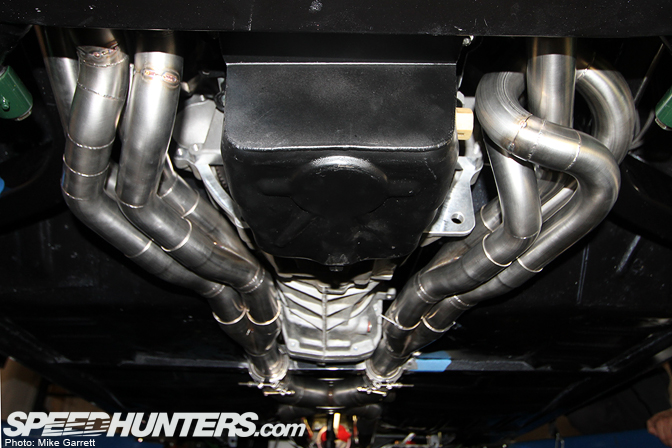 It's so hard to sum up all the work that's been done on this car in a simple feature. The headers are a good example of this. The boys at Twins Turbo put their skills to the test building manifolds that would clear the subframe when mounted to the wide 5.0 motor. The finished headers are pieces of art, but most people will never even see them.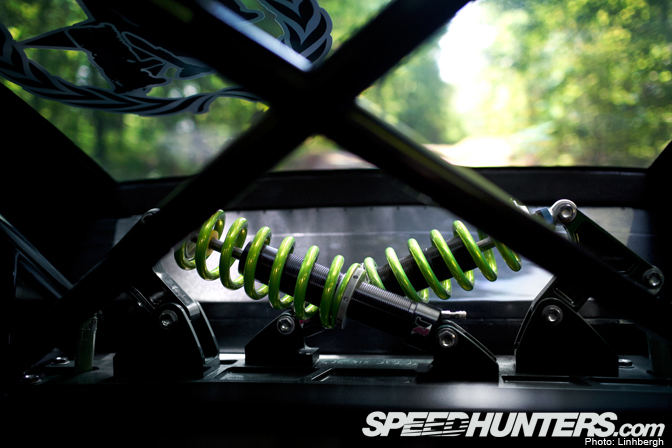 After seeing countless "needs more low" comments on the internet, Vaughn knew the RTR-X had to sit low and mean. At the same time though, it had to function properly. This would be no airbagged show queen.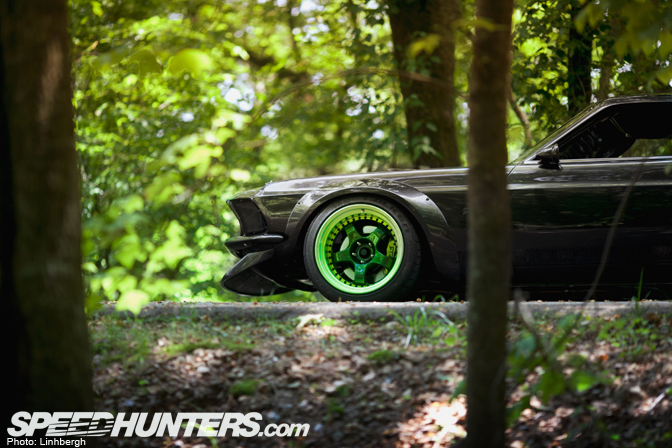 Up front the JRi coilovers work flawlessly in the Art Morrison subframe, giving a dramatic stance without sacrificing proper geometry or suspension travel.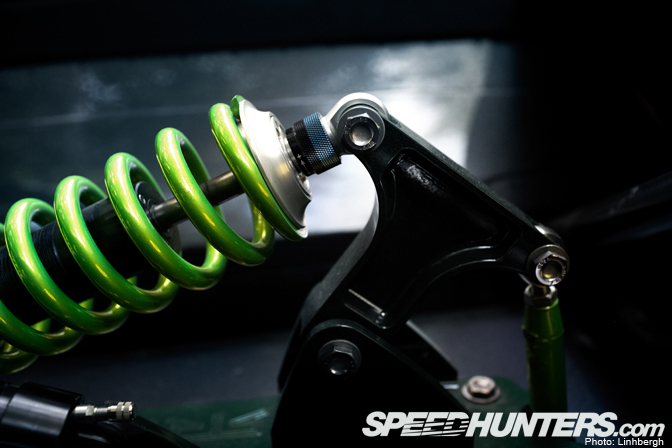 The same goes for the rear suspension, thanks to a Maier in-board cantilever setup and a custom three-link from Steen Chassis.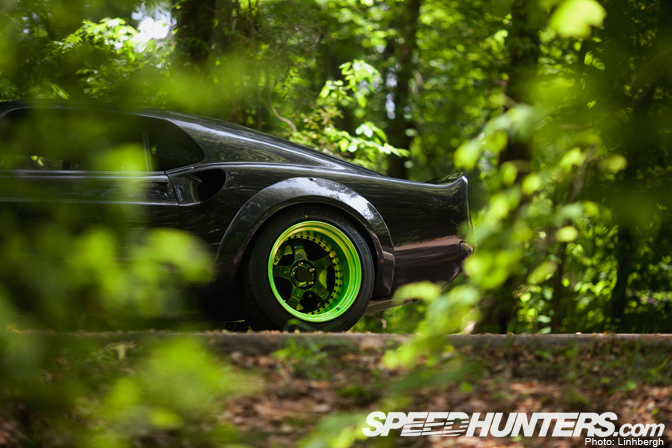 The wheel and tire setup was a key part of the build from the beginning. While some people fit the widest rubber they can, or alter their factory bodywork to fit a certain wheel, the RTR-X was literally built around its wheels.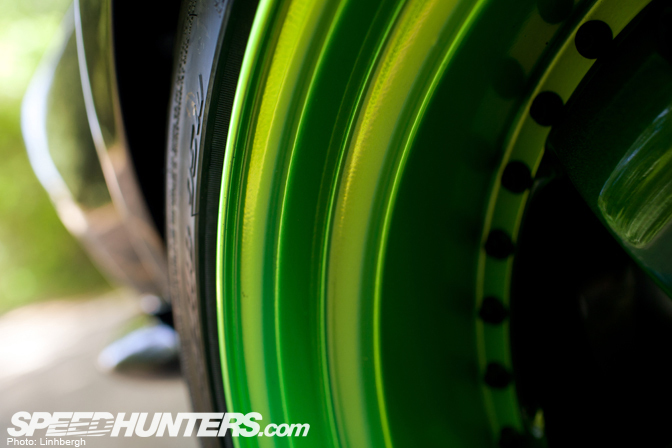 From the custom tubs to the perfectly formed flares, everything was done to make the Work Meisters look like they belong. In case you need a refresher on the wheel specs, try 18×10 -20 front and 18×12 -20 rear.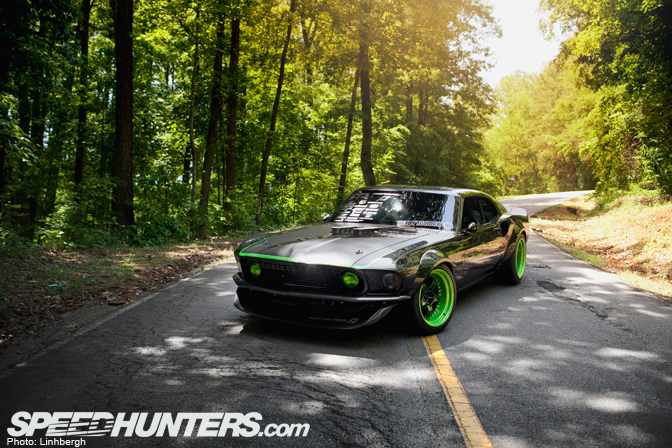 The bodywork is something that often gets overlooked on the RTR-X. Metal master Mark DeLong worked some magic when he filmed the seams, tucked the bumpers, and flush mounted the windows. He also formed the rear spoiler and side scoops by hand. Even more impressive is that all of this was done 100% in metal.
It was also amazing to watch the soft-spoken Abraham Morales hand-form the front spoiler and fender flares out of clay – all while Vaughn watched and made sure everything matched his original vision. It wasn't uncommon for this kind of thing to last until the wee hours of the morning.
Yet despite all the work done to the body, nothing looks out of place. Those unfamiliar with Mustangs might even think these are the factory lines.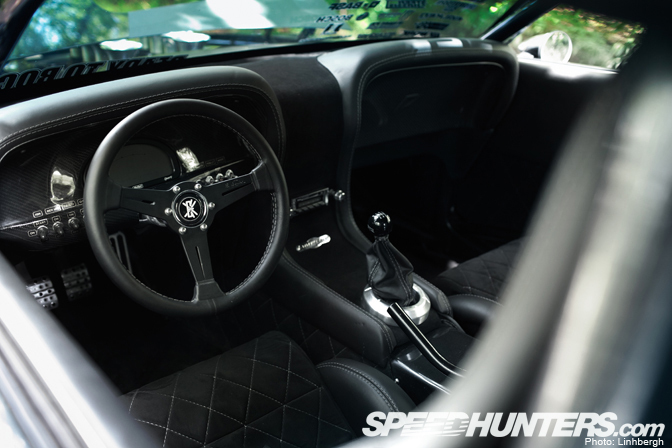 The interior of the RTR-X is a well thought out mix of both street car and race car elements.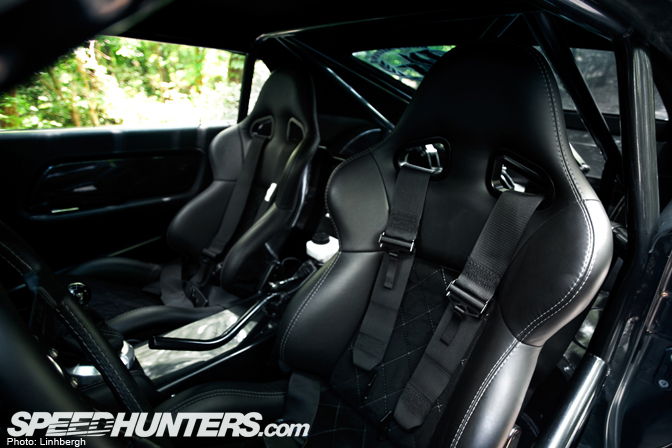 The team at Stitchcraft Interiors did a fine job giving everything a factory-like look. From some angles you might think you were looking at the cockpit of a modern sports car.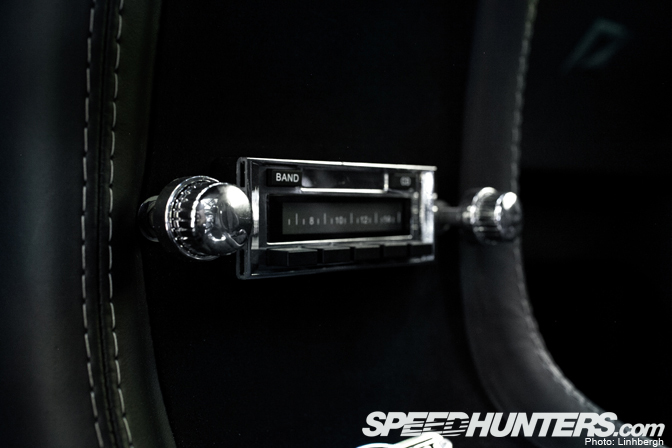 Vaughn wanted to make sure there was some sort of music to be heard when he drives the RTR-X.  This throw back style radio unit fits the bill nicely. All in all, the interior is quite civilized.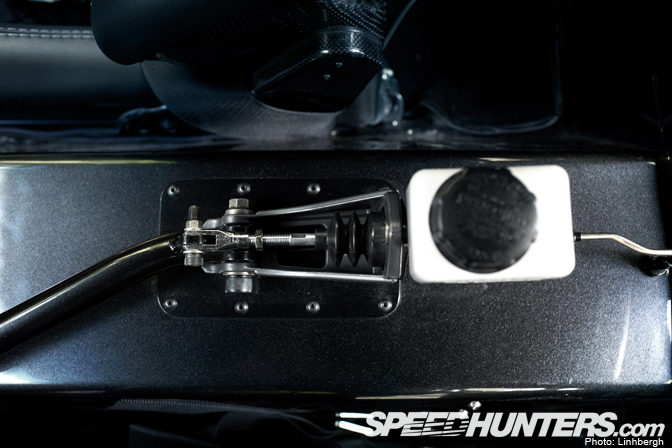 One look at the big e-brake handle though, and you know this thing was built for some tire-shredding fun.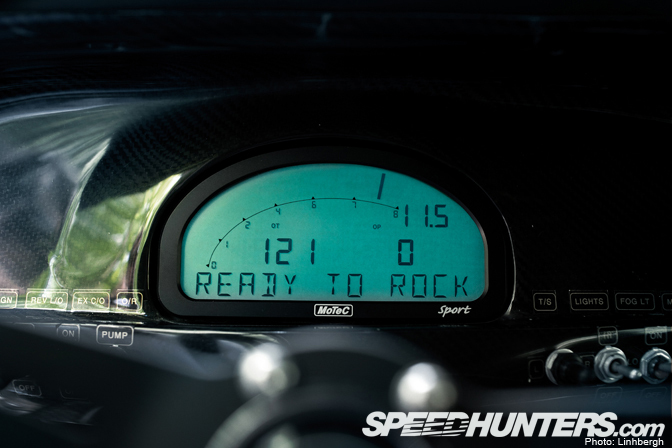 The display on the MoTeC SDL cluster says it all.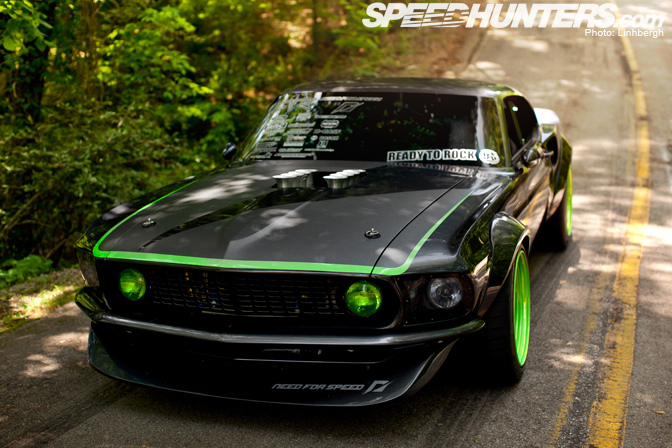 In many ways the the RTR-X is a machine that perfectly embodies the Speedhunters ethos.
It's a car that's been influenced by automotive subcultures from around the world – all of which are seen on this site daily. The RTR-X is part street car, part race car. It's even part show car. It's classic, yet it's modern. It's functional and it's extremely unique.
Most importantly, it's damn cool.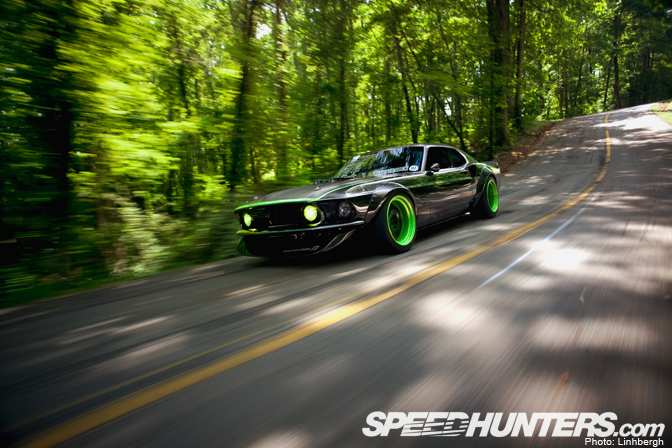 If just one vehicle could represent everything that Speedhunters is about, this would be it.
In that sense the RTR-X belongs to you guys just as much as it belongs to Vaughn Gittin Jr.
-Mike Garrett
Photos by Linhbergh
Specs
Base Vehicle
* Dynacorn 1969 Ford Mustang Fastback shell
Powertrain

* Ford Racing Boss 302R crate engine * Ford Racing Boss 302R1 six-speed transmission
* Motec M800 engine management
* Kinsler Individual Throttle body injection
* Ford Racing FR500s mufflers
* 72LB Bosch EV 14 Fuel injectors
* Bosch 044 Fuel pump
* K&N Air and Oil Filters
* Griffin Radiator
Chassis
* Art Morrison custom front subframe
* Steen Chassis custom 3 link rear with watts link
* Steen Chassis custom sheet metal work, tubs and cage
* JRi ST/08 Coil-Over Racing Shock Absorber
* Maier Racing "extreme rear suspension"
* Wilwood Brakes Superlite 6 Pro Spindle / RTR-X front Hub kit
* Wilwood Brakes Superlite 4 RTR-X floating rear kit
Wheels & Tires
* Work Meister Wheels 18×10 front 18×12 rear
* Falken Tire RT-615K 255/40/18 front 295/40/18 rear
Exterior
* BASF Paint products
* Custom metal formed rear brake ducts, and rear spoiler
* Custom over fenders and chin spoiler by Abraham Morales
* Shaved Drip rails
* Flush mount windows
* Tucked rear bumper
* Headlights and Tail lights by Classic Design Concepts
* Custom RTR-X Carbon Fiber grill and surrounding trim
* Custom RTR-X Chin spoiler and Fender Flares
Interior
* Motec Sport Dash Logger.
* Custom Interior by Stitchcraft interiors
* Sparco Seats and Harness's
Created By:
* Build by Twins Turbo and Steen Chassis Signal Hill CA.
* Design by Vaughn Gittin Jr. and Andy Blackmore.
* Metal body fabrication by Mark Delong and John Da Luz San Diego CA.
* Painted by Auto Explosion Gardena CA.
* Powder Coat by Liquid Powder Coat Yardley PA
* Carbon fiber work by Abraham Morales
Hi Jeff here love it any chance fender flares are in production now if not any chance u could give me a heads up on how I might be able to get a pair and if not anything that might be close I under stand if not produced just if something might be close from a factory car or truck or aftermarket I understand it would me to be modified just looking for a base more or less please get back to me I would forever be in your debt if u will thanks a lot for all your time on this again thank you sir thxjj
I got 1 it's a coupe tho but really what's the differance I can do the same mods. Been workin on it a lot lately and just lookin in on this for inspiration.
would love to have a car like this, except street legal..