A Little Slice Of Tokyo In Britain
Think 'Nissan Skyline' and where does your mind take you?
Is the first image that comes into your head that of a big-power BNR34 GT-R spooling up as it exits Tokyo's Tatsumi PA? Or perhaps it's an immaculate KPGC10 Hakosuka sat low and wide over a set of RS Watanabe wheels?
For me it's a simple one: a pristine R32 on a nice set of wheels with some tasteful and appropriate modifications in just the right places. A car that I could pull out of the garage on a nice weekend and enjoy some twisting B-roads with. It seems like I share the same vision as Rich Tapp, whose vibrant red R32 GTS-t most definitely caught my eye, and deserved admiration, at Players Show 10 the other weekend.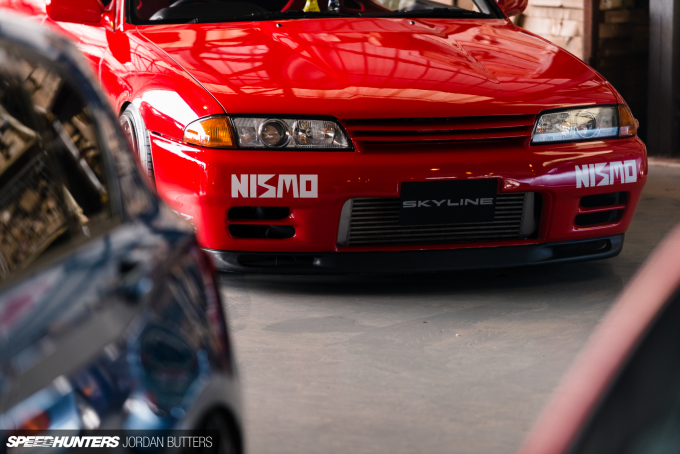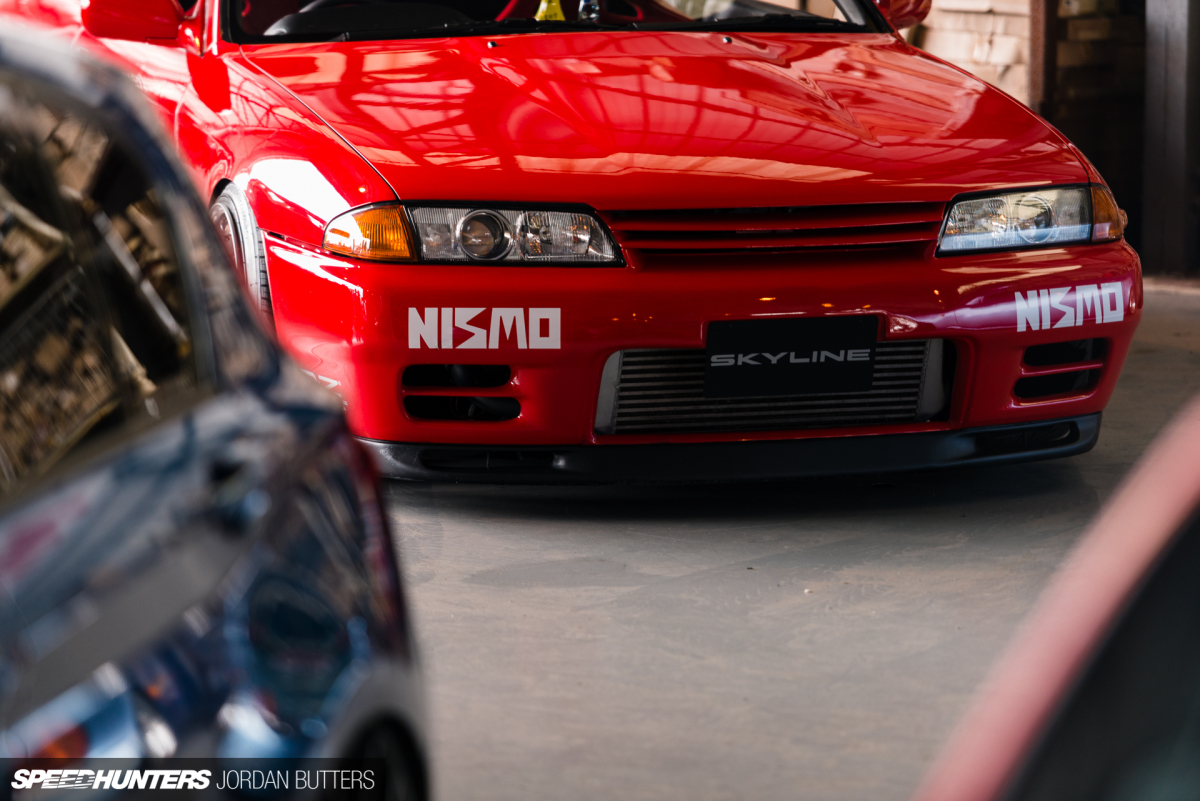 For many, the early-to-mid-'90s represents the golden age of the Japanese car scene. The likes of Nissan, Toyota and Mazda offered exciting and powerful rear- and four-wheel drive sports coupes that became the foundation for an entire aftermarket industry. In my eyes, cars from this era are not only fantastic driving machines, but they're also far better looking than any of their modern counterparts.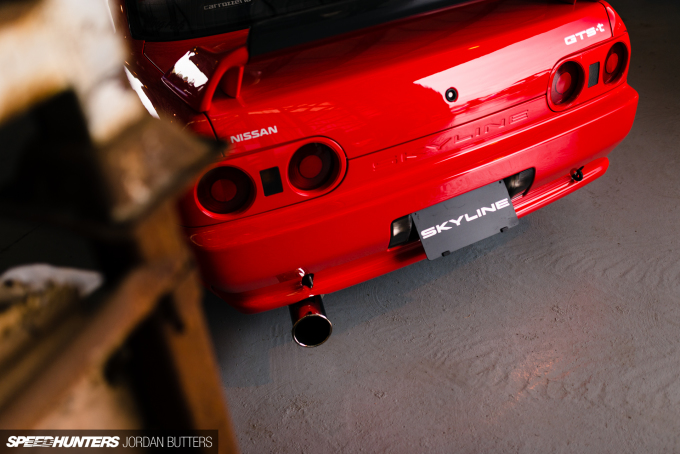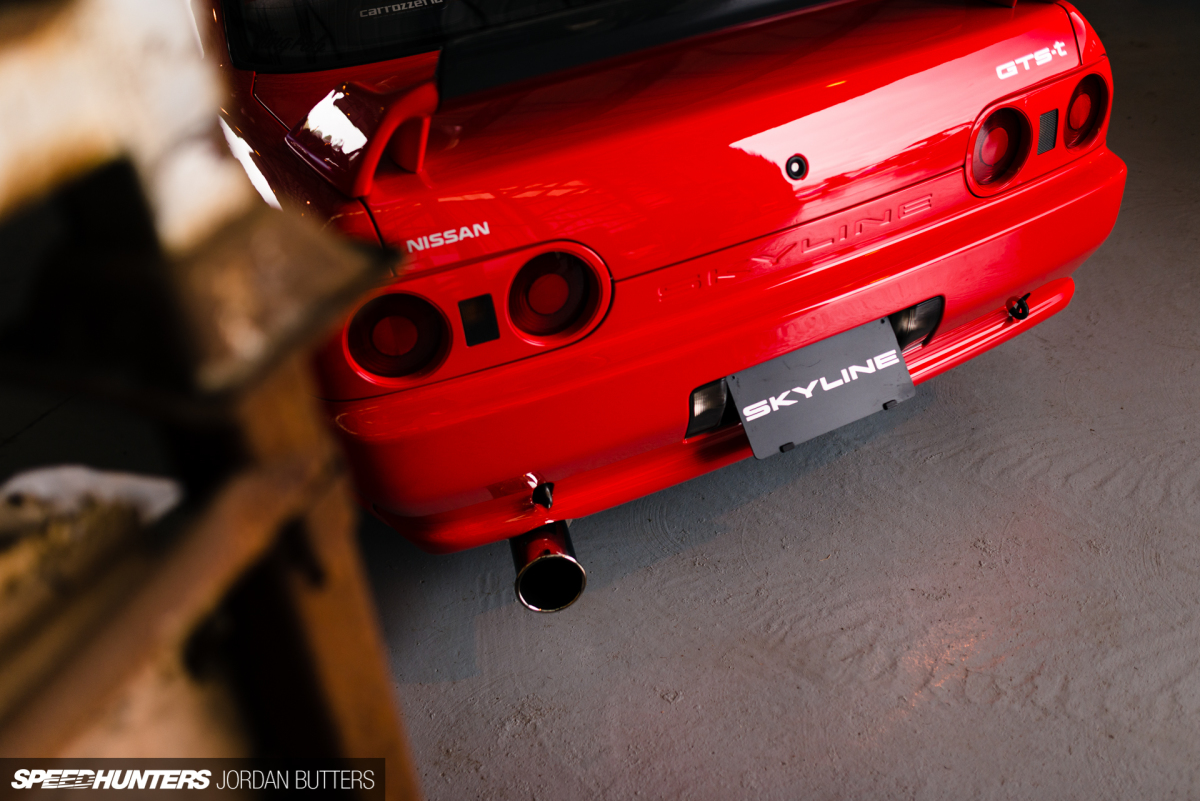 It wasn't always this way for Rich's R32 though. While it was a Skyline, it started out life as a gunmetal grey GTS, packing an automatic gearbox and non-turbo, rather lifeless, RB20DE engine, and he drove it every day. But after 18 months or so of ownership, an RB20DET and manual conversion was swapped into place, in the name of driving thrills of course.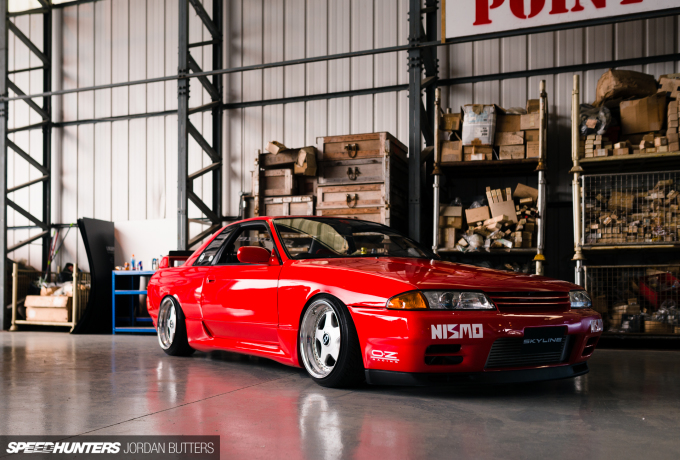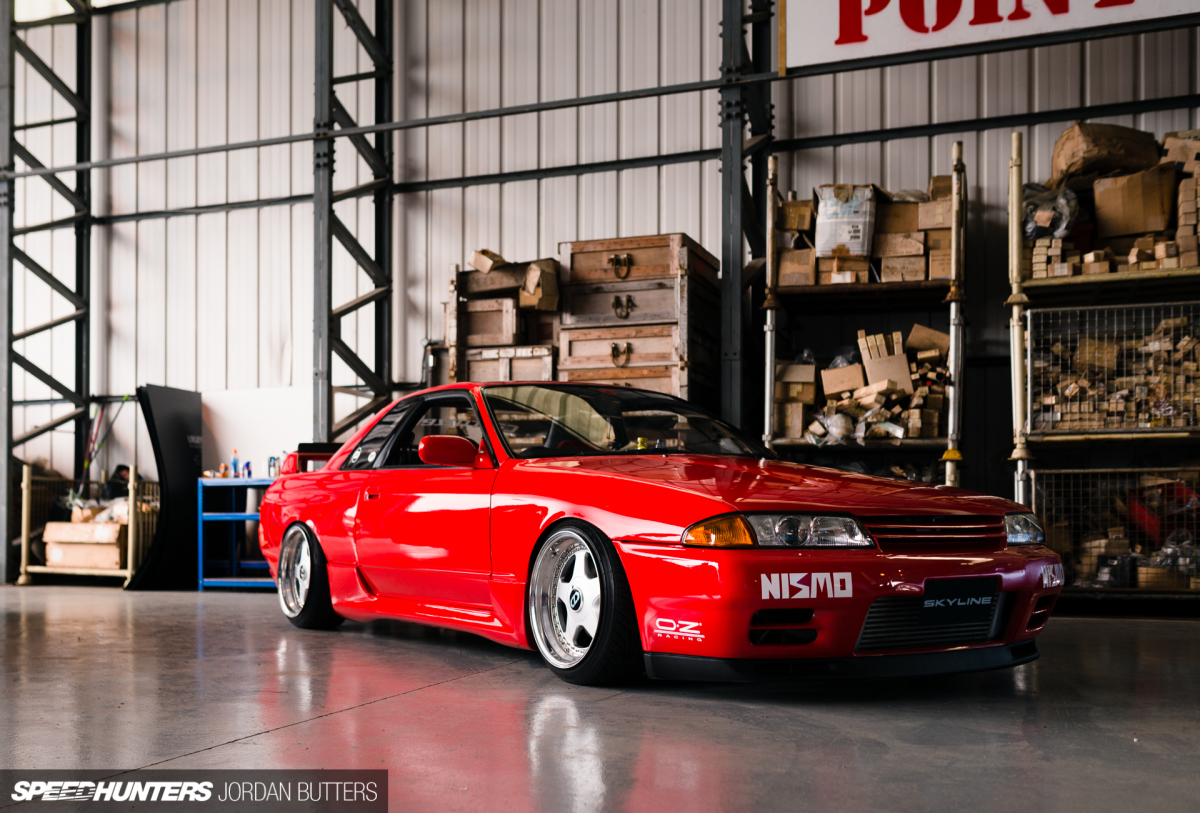 The Skyline's exterior has been tastefully overhauled with a smattering of choice parts. An R32 GT-R bonnet, front bumper, splitter, grill and rear spoiler were sourced and swapped on alongside a set of GTS-t Type M side skirts. The whole lot has been finished off in a brilliant shade of Mazda True Red.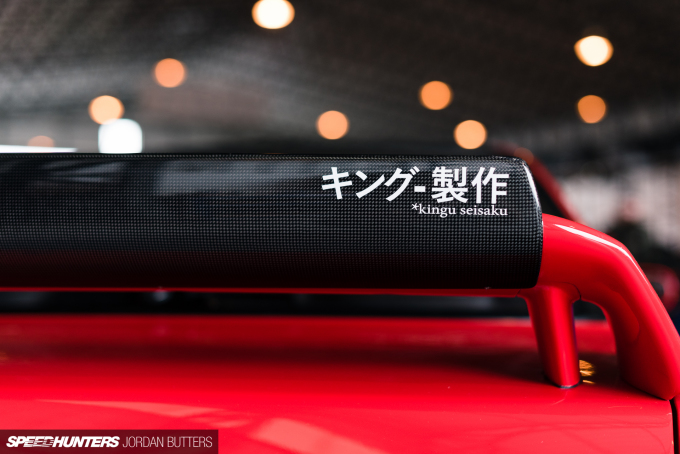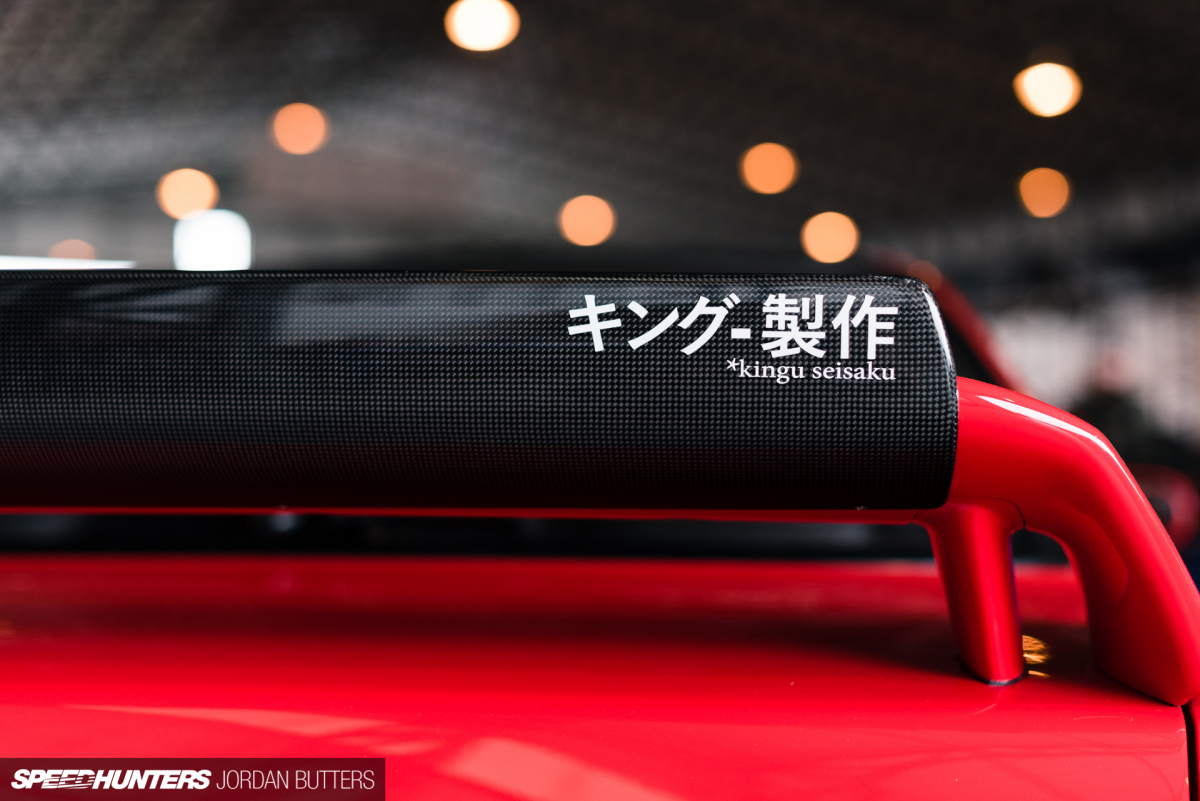 With what is possibly my favourite name for an aero part ever, the GT-R rear spoiler has been further improved with the addition of a Fujimara Auto Rocket Dancer Carbon Rocket Flap. Brilliant.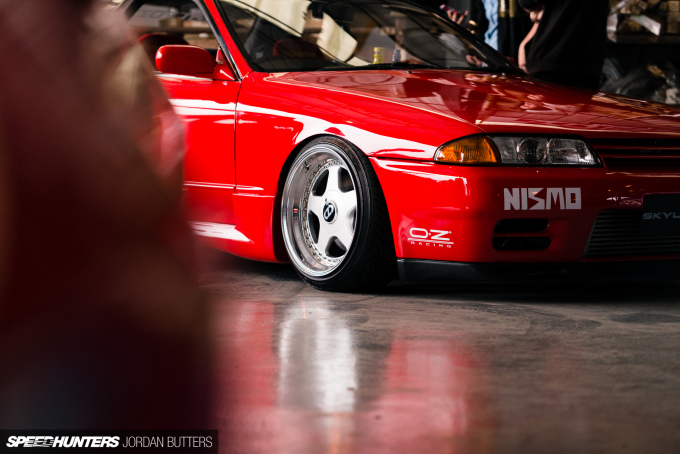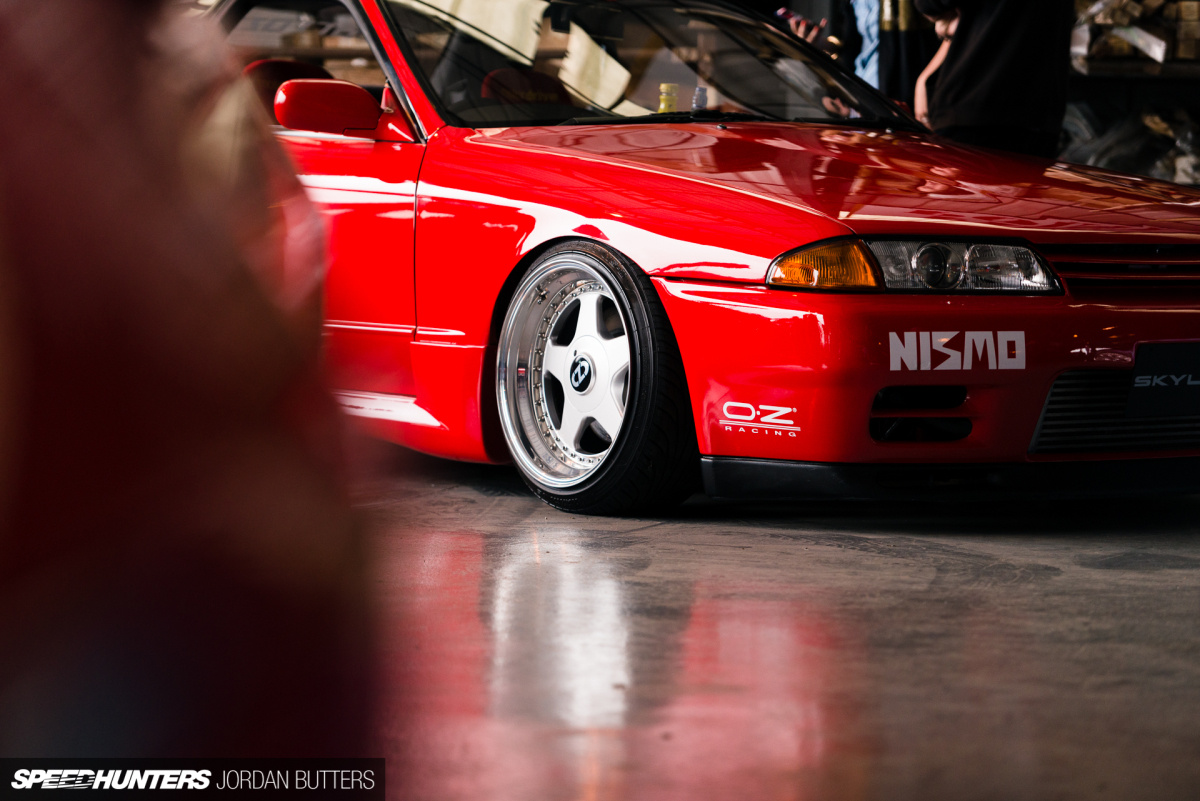 The front wings were flared and reshaped by hand while the rear arches were also flared and stretched to accommodate the 17×10-inch +12 OZ Futura three-piece wheels.
Rich tells me that the wheels themselves were custom made from a set of genuine Nissan-fitment 17×9-inch Futuras that were offered on a limited edition R32 GT-R – can anyone shed any light on this?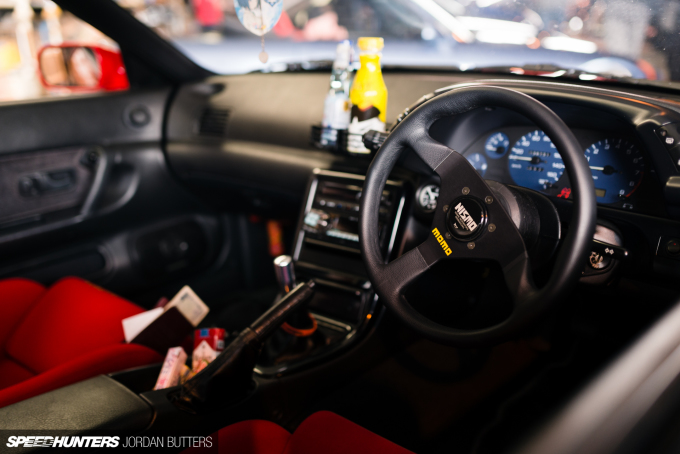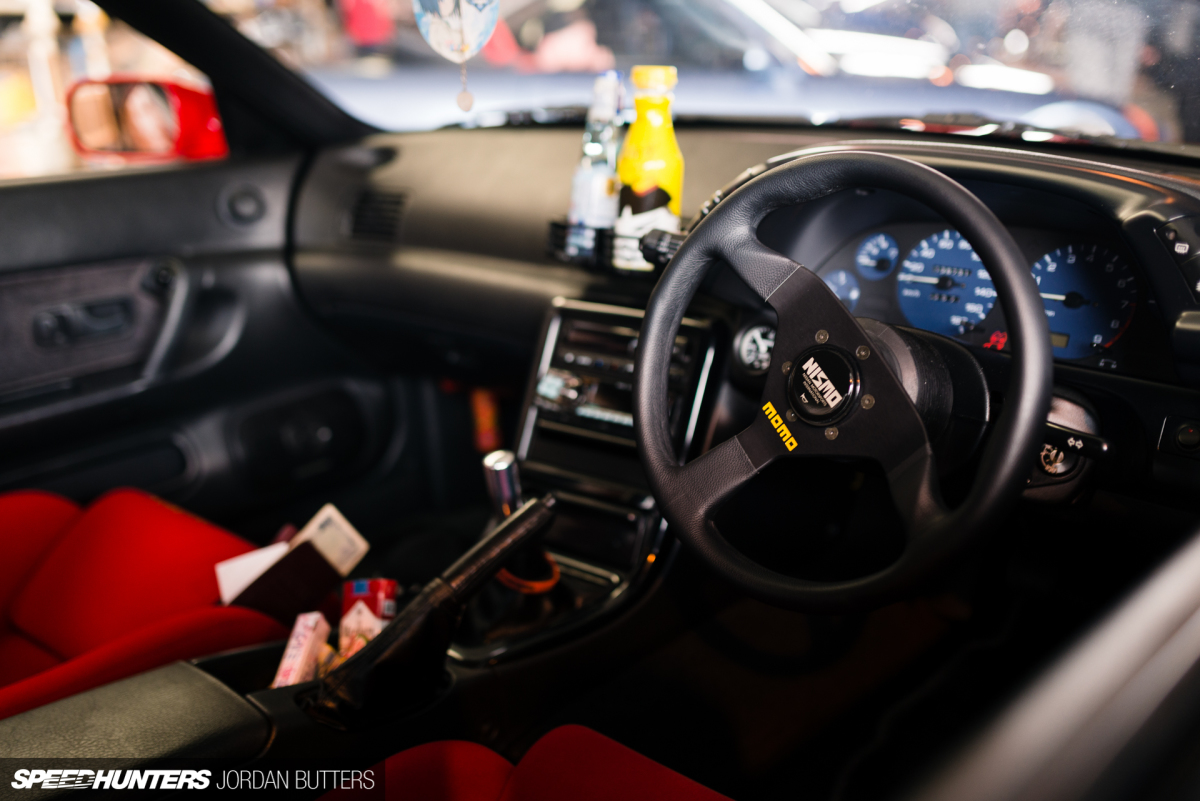 The modifications carry over to the interior where Rich has blended a collection of period-correct JDM parts with some motorsport-inspired additions.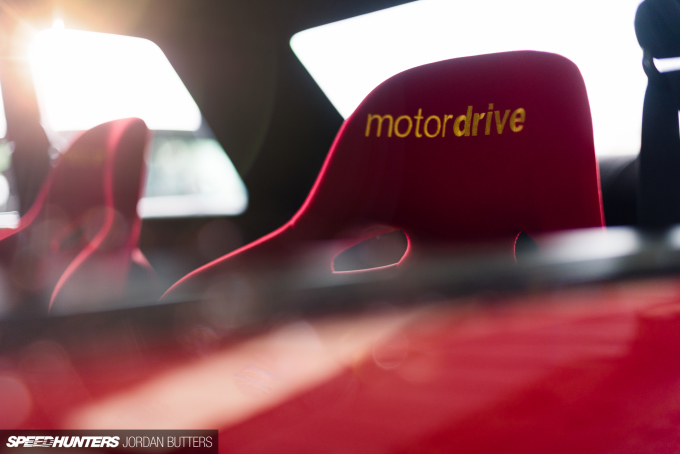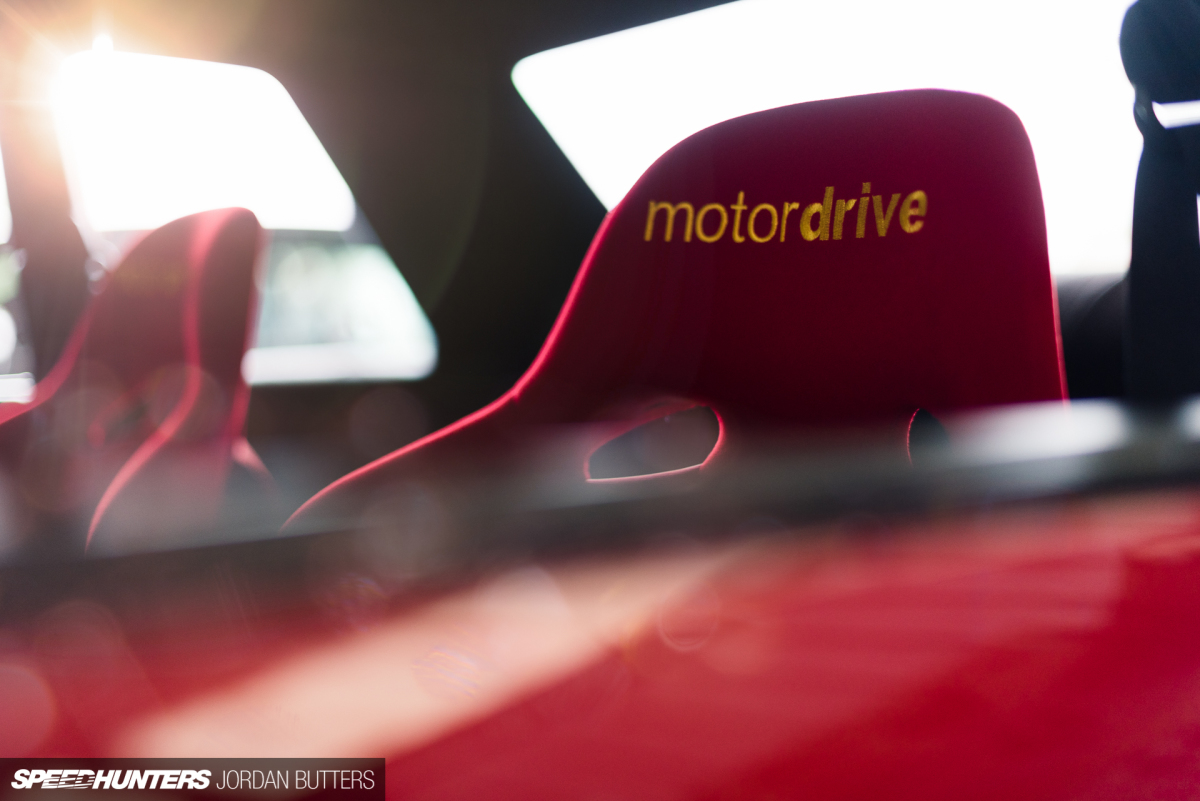 A pair of red Motordrive seats with Sabelt harnesses take pride of place, while a Momo steering wheel and Nismo gearknob keep Rich in control. An Alpine headunit and Carrozzeria illuminated rear shelf speakers provide the entertainment.
I also appreciated the odd JDM trinket that Rich had adorned the interior with at Players Show. It was like a small slice of Tokyo, in Essex.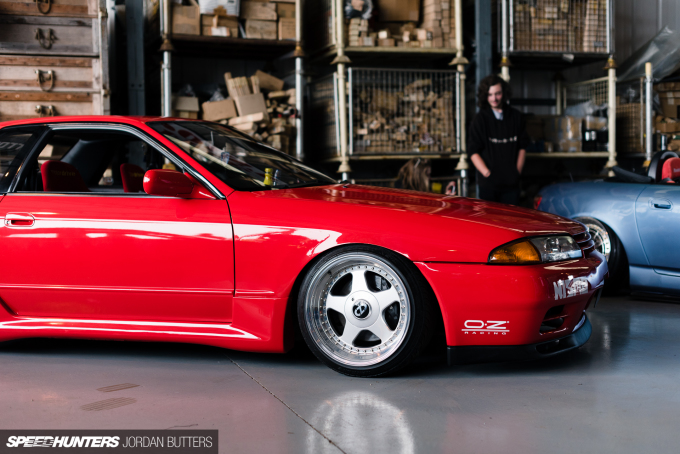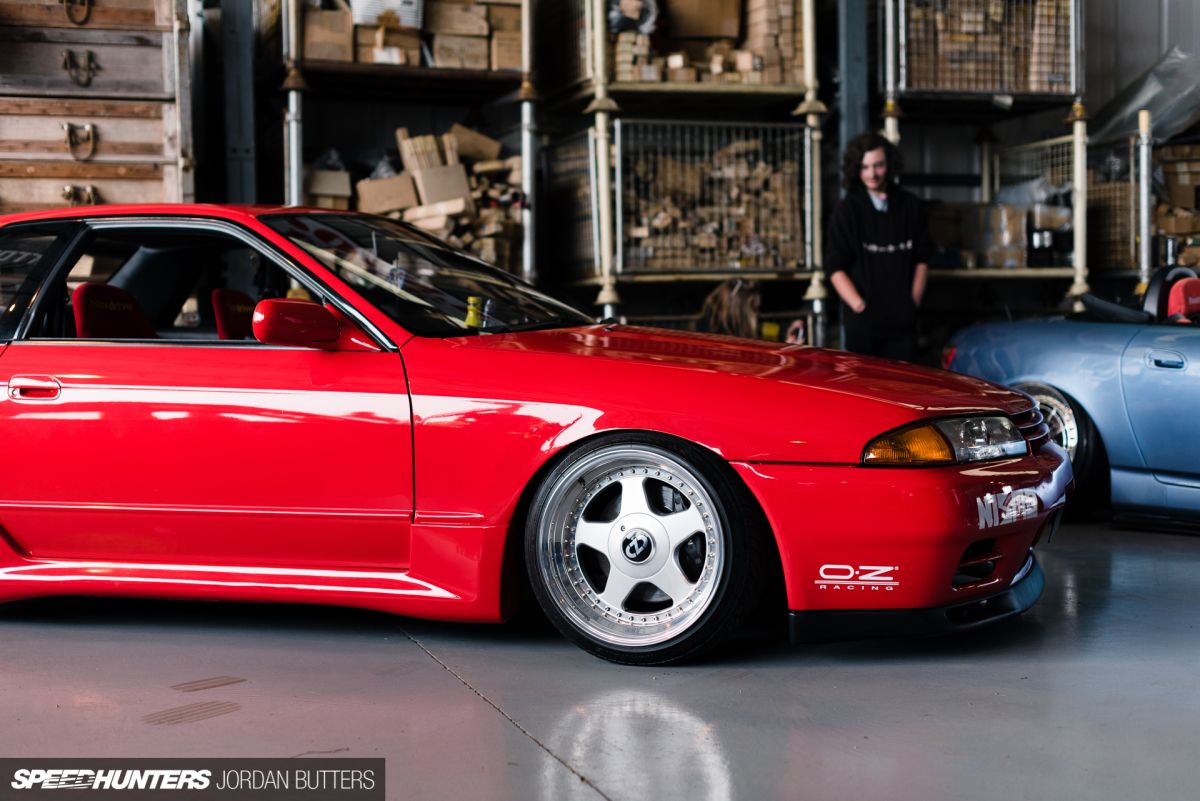 The Skyline has been brought closer to the ground by a set of Tein coilovers, Rich opting for GT-R units in the front as they offer a greater scope for lowering. The car is also poly-bushed all around to keep it feeling tight on the twisties, while an R32 GT-R brake setup has been swapped in to make sure the R32 stops promptly when it needs to.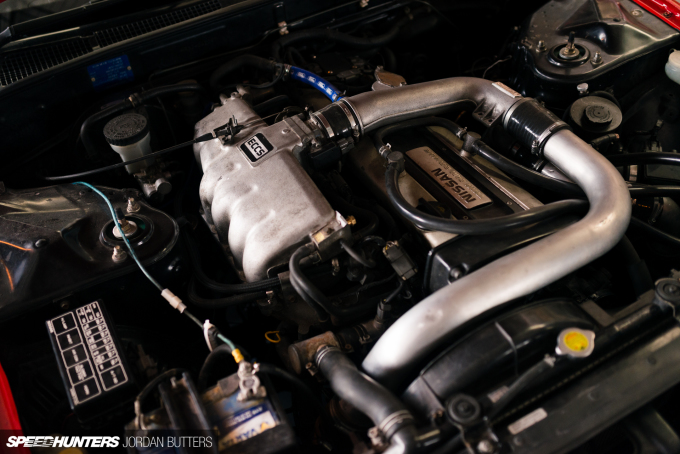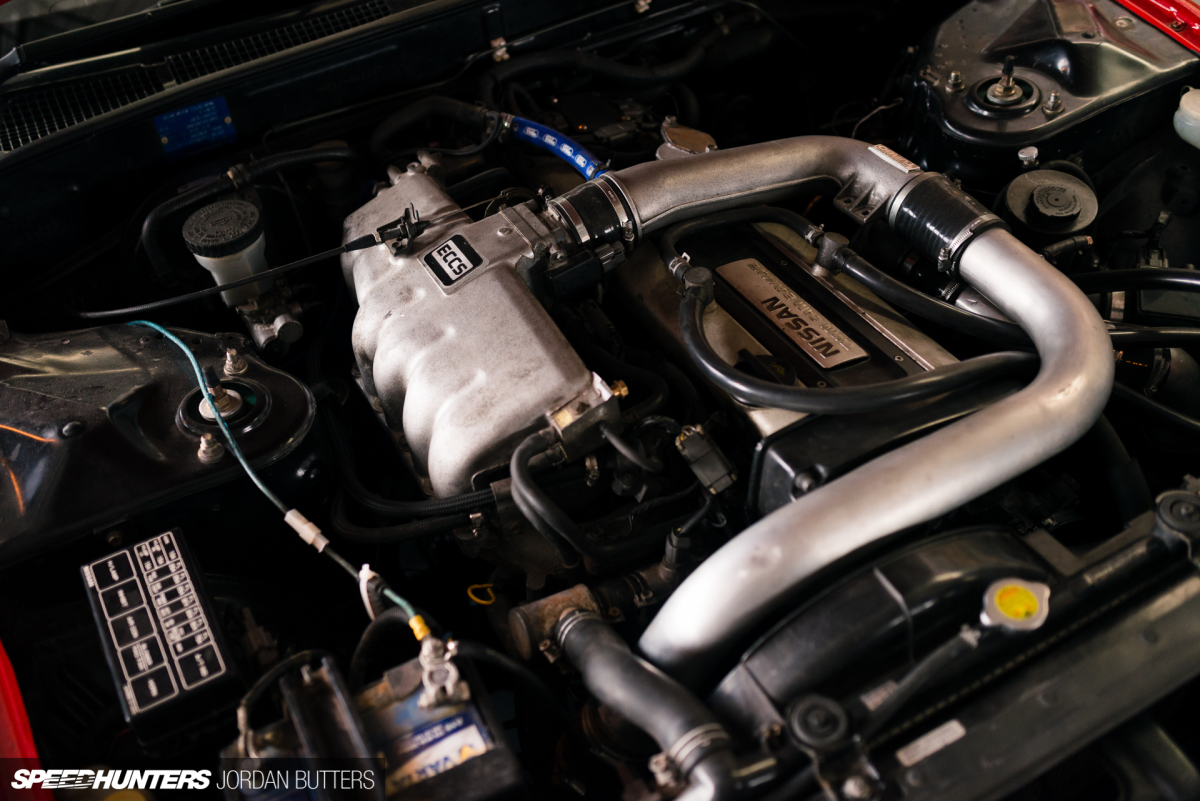 This is the second RB20DET that's found its way under the bonnet, after the first recently decided it had had enough of life. For the time being, things remains relatively standard, with just the addition of a full stainless exhaust system, A'PEXi intake, front-mounted intercooler and hybrid turbo. However, Rich has plans for a bit more power, and to tidy up and smooth the engine bay.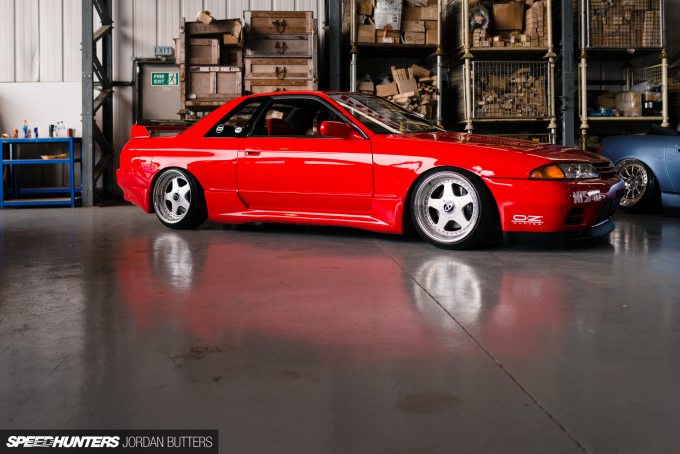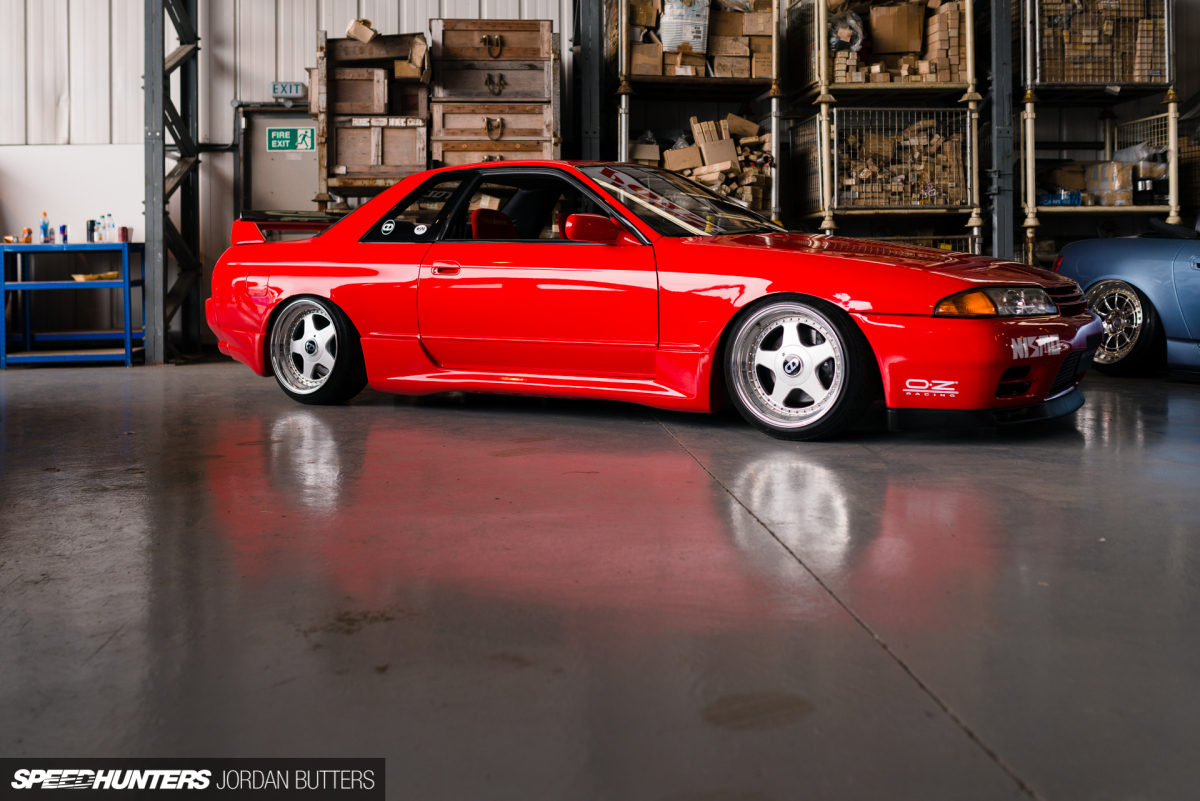 Less is definitely more when it comes to fun weekend toys like this. I can't think of a single thing I'd change.
Jordan Butters
Instagram: driftagram / jordanbutters
Jordan Butters Photography
Cutting Room Floor