First You Gotta Fix What Breaks
Since my first post on Project 33 I haven't really been doing much driving. I guess it comes with the territory of having a modified car – every once in a while you have to sacrifice some time with it in order to fix issues that pop up. That's pretty much where I've been for the past month or so.
As previously mentioned, ever since I bought my R33 GT-R more than 10 years ago, I've been going to Nissan Prince Tokyo Motorsports Factory (first located at Nissan's dealership in Shinagawa, and now recently relocated to Sakura-Shinmachi), not only to get both maintenance and tuning work done, but also just to hang out. These guys are all gearheads and it's always fun to just drop in for a chat. I always walk away having learned something obscure about Nissan or the GT-R.
This trip, however, wasn't a drop in for a nerd-out session. I needed to go pick up my car as they had found a solution for what should have been a minor warranty claim. Being mid-week, I invited Dino along on the pretence that NPTMF was now the closest Nissan service center to him, so I would be more than happy to reintroduce him to the staff there. In actuality, being a hot day I just wanted a free air-conditioned ride out there…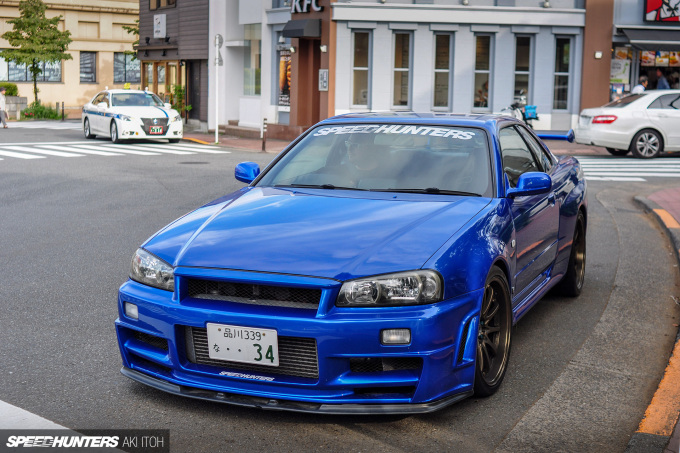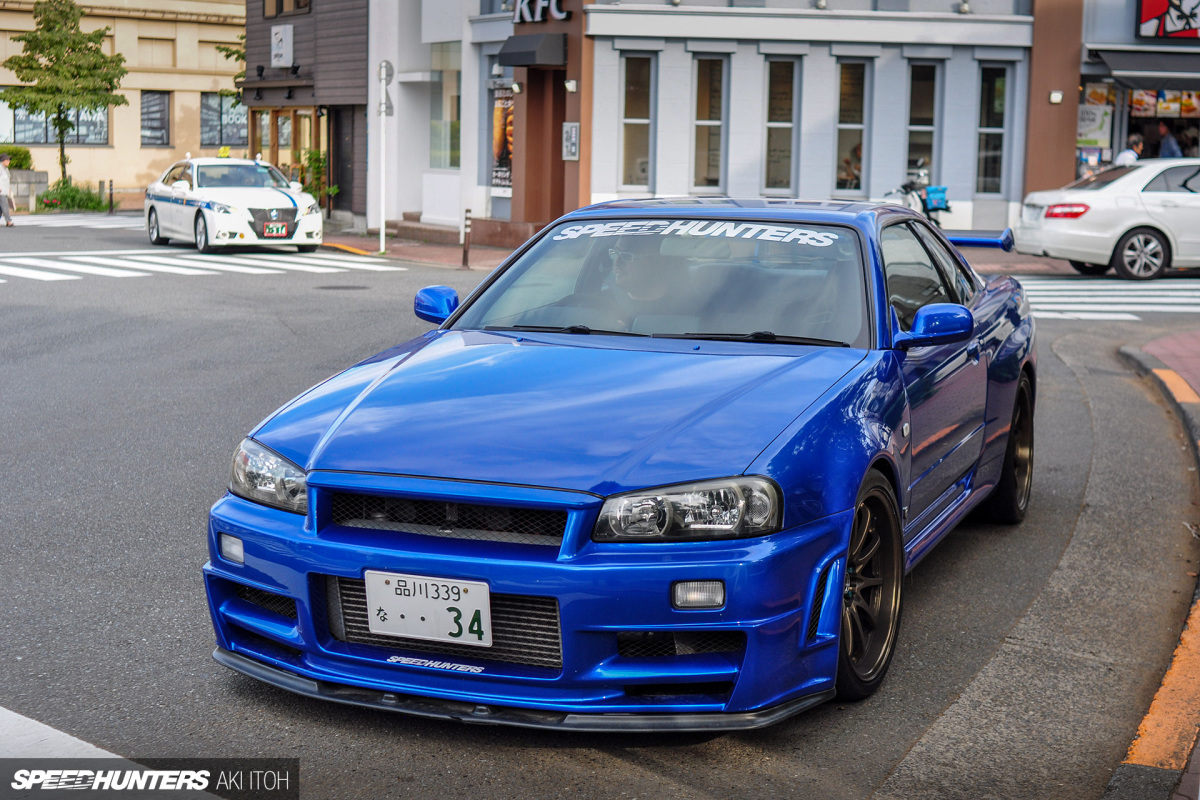 So I left work early and took the train to Denenchofu station, where I found Mr. White Eyeglasses already waiting for me. I was hoping for one of his exotic press cars, but this blue Datsun thing would have to do. Oh well, so much for my Ferrari dreams…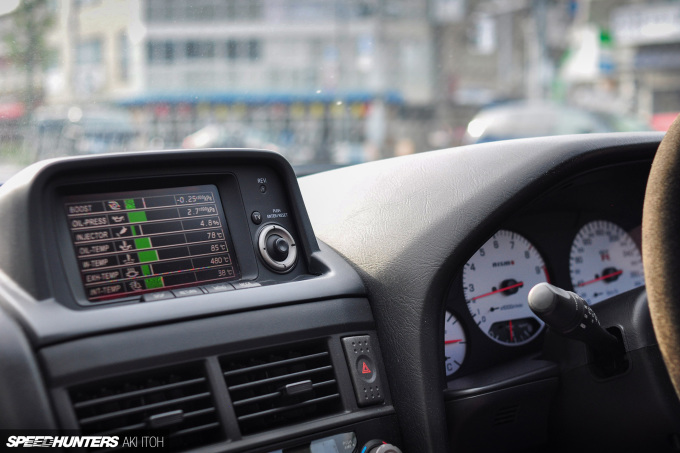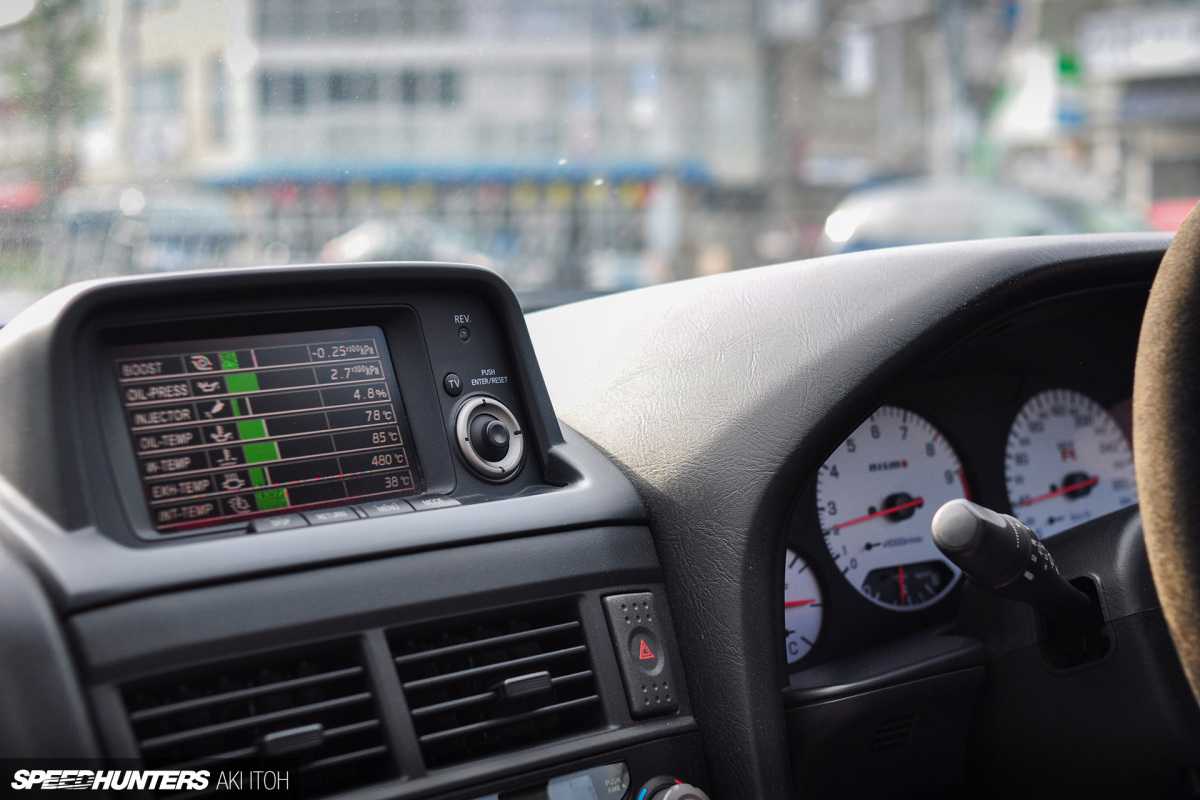 As we drove towards the dealership, I had some fun trying to mess up his late '90s tech Multi-Function Display (found only on the BNR34 and not on the earlier R32 and R33 GT-Rs), by randomly pressing the buttons while twirling the joystick around. I can see the appeal to the PlayStation generation. It's a bit dated, but part of the 34's charm I guess.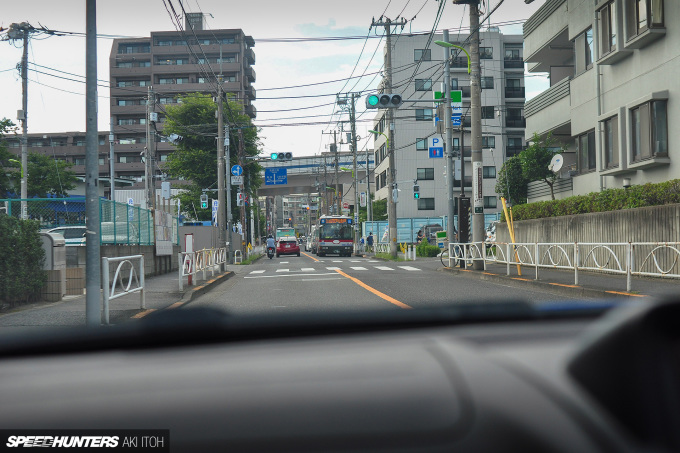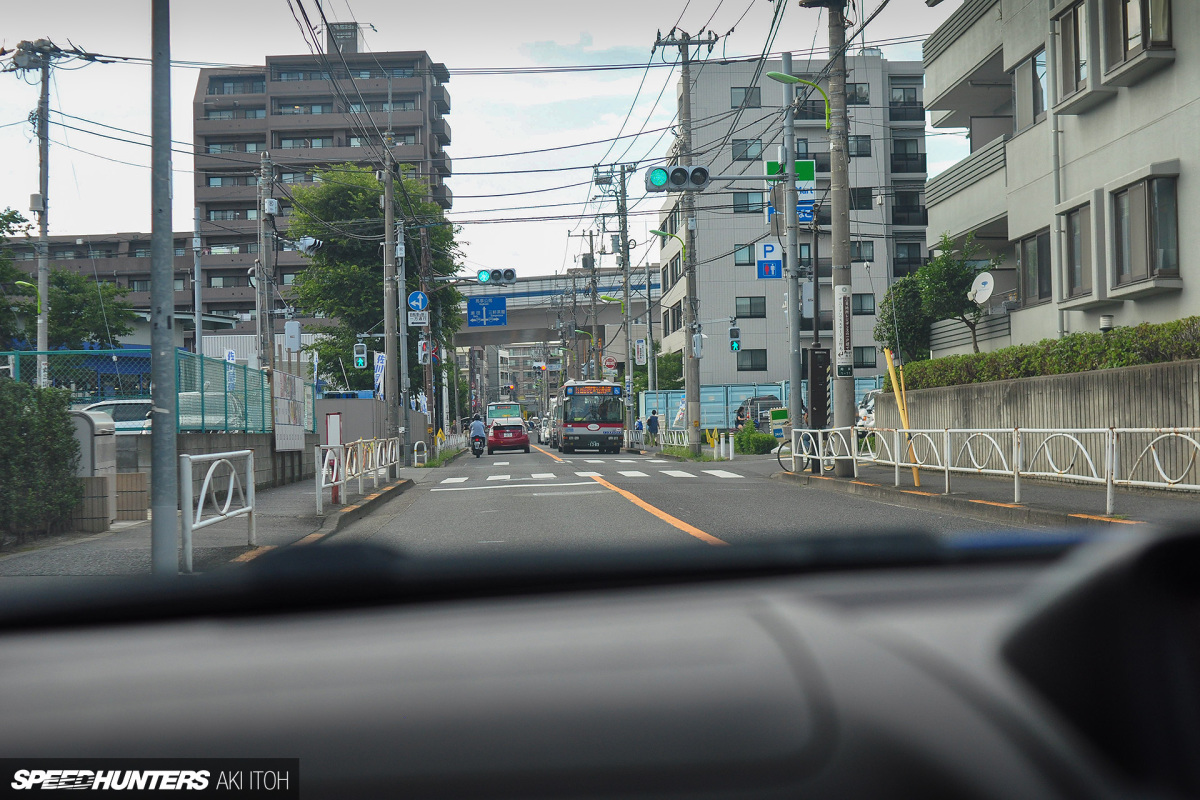 We ended up taking the side streets to avoid the perpetual traffic jam on Kanpachi Dori; even those vaunted Italian driving skills don't help much on crowded Tokyo streets.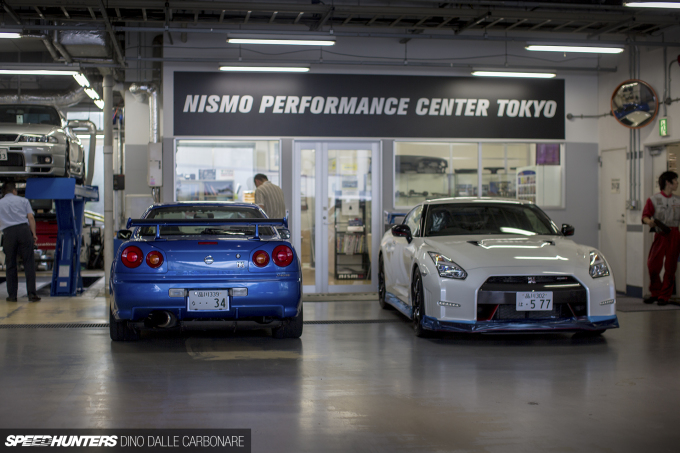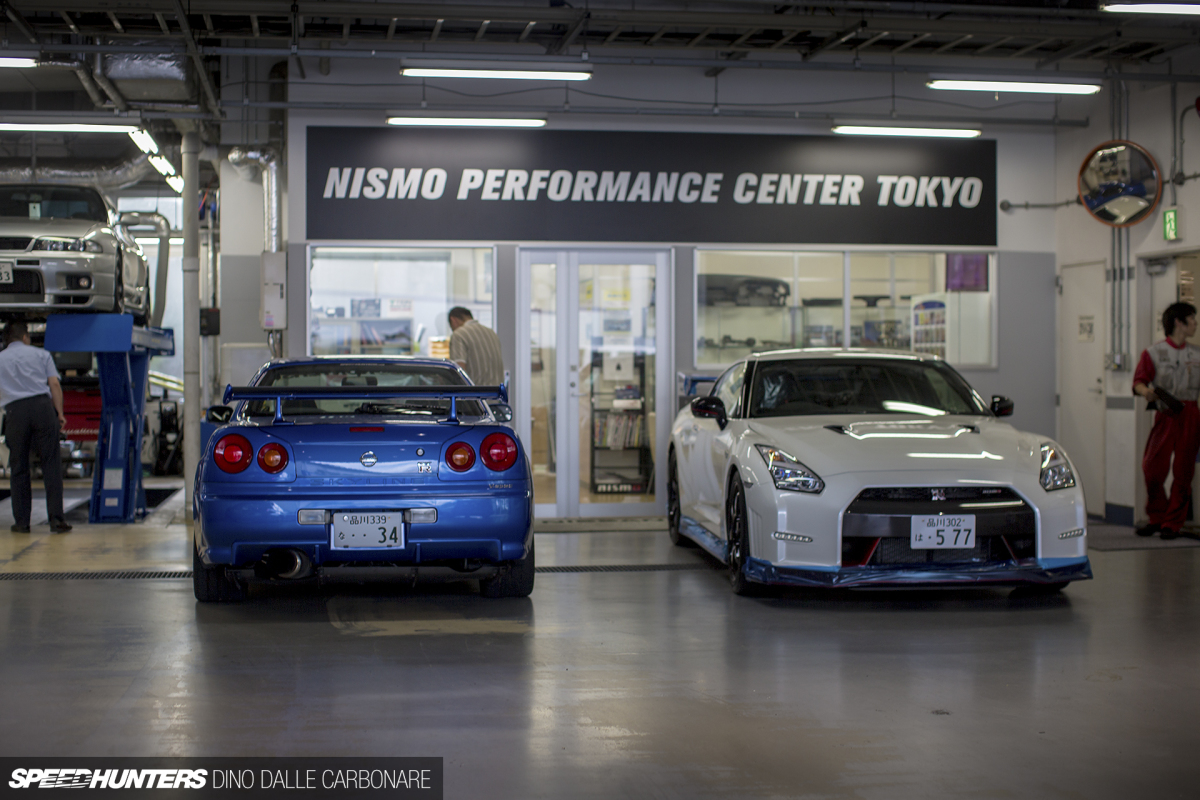 On arrival we parked next to this new 'used' 2016 Nismo R35. It still had the pre-delivery plastic on all the outside carbon bits, along with most of the interior. I wonder how they are going to sell this when the 2017s have just gone on sale…
While the signage says 'Nismo Performance Center Tokyo' this is actually where Nissan Prince Tokyo's Motorsports Factory (herein referred to as NPTMF) operates out of. Although in Japanese, here is a link on its history – these same mechanics used to work on the N1 Taikyu GT-R race cars in the glory years, when each Nissan Prince dealership fielded their own race cars and support teams. Additionally, most Japanese GT-R owners tend to get their cars serviced at the dealer, so NPTMF's mechanics work on these cars all the time. In other words, these guys are some of the world's top GT-R mechanics, with skills honed both on the racetrack as well as on a daily basis.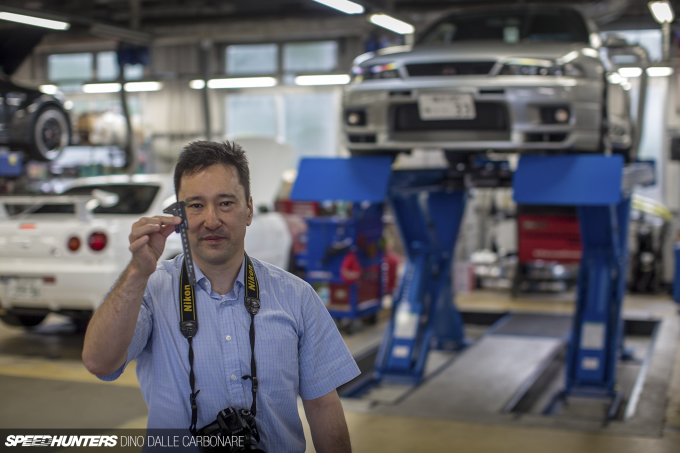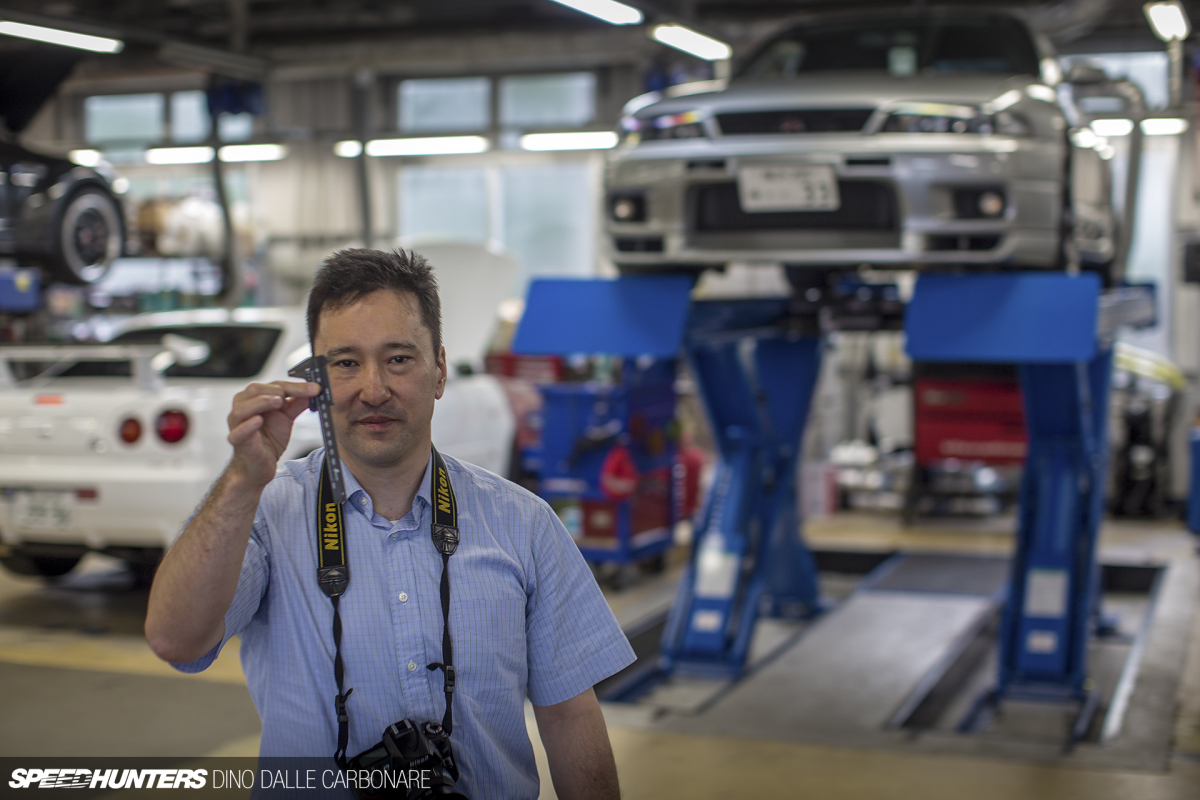 Now, although Dino always tries to make me look like more of a geek/otaku nerd than him by taking photos like this, the reality is I didn't really know how to use the calipers I'm holding. Plus, he insisted I bring my DSLR – honest! When I challenged him if he knew how to use the calipers, he gave one of those indignant Italian snorts. "Of course!"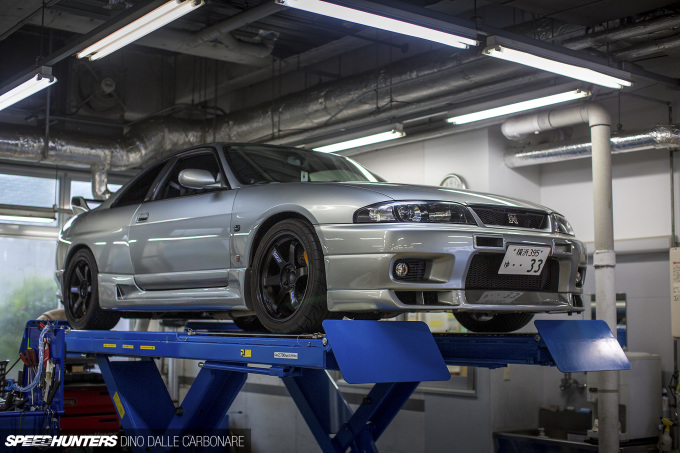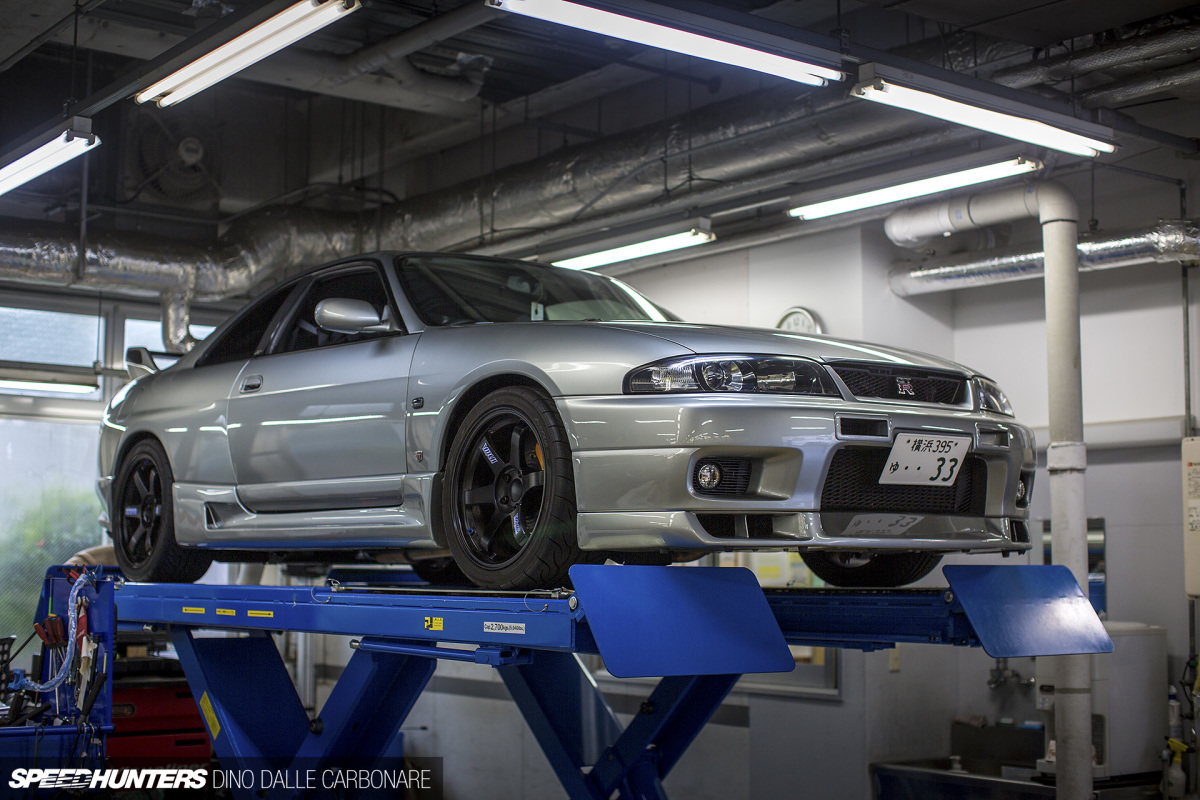 I had actually taken my car in last week for a long overdue laser wheel alignment, and asked them to check into something that my local tuner had mentioned a few weeks back. By the time I arrived, my car was already on this lift, ready to be inspected.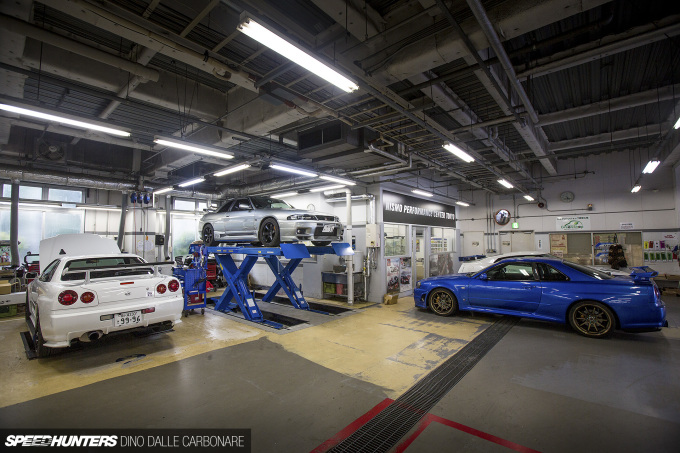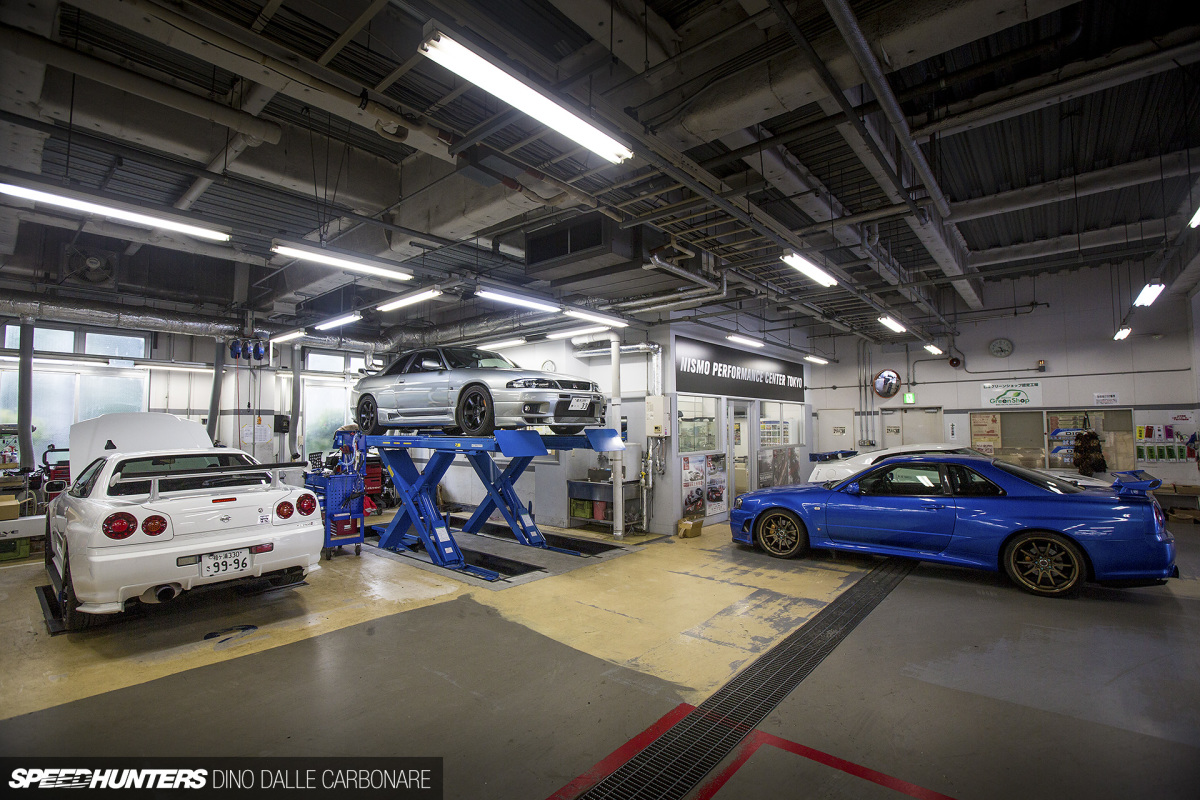 Even though well worn, these service floors are clean enough to eat off of. I see at least 1600 horsepower in this photo.
Problem & Solution: Superlative Service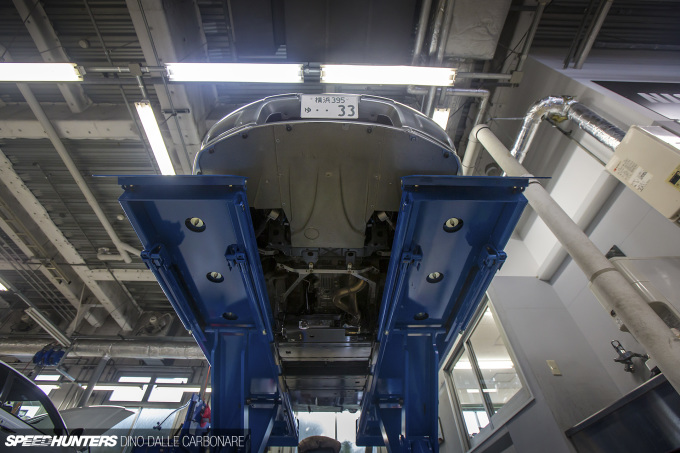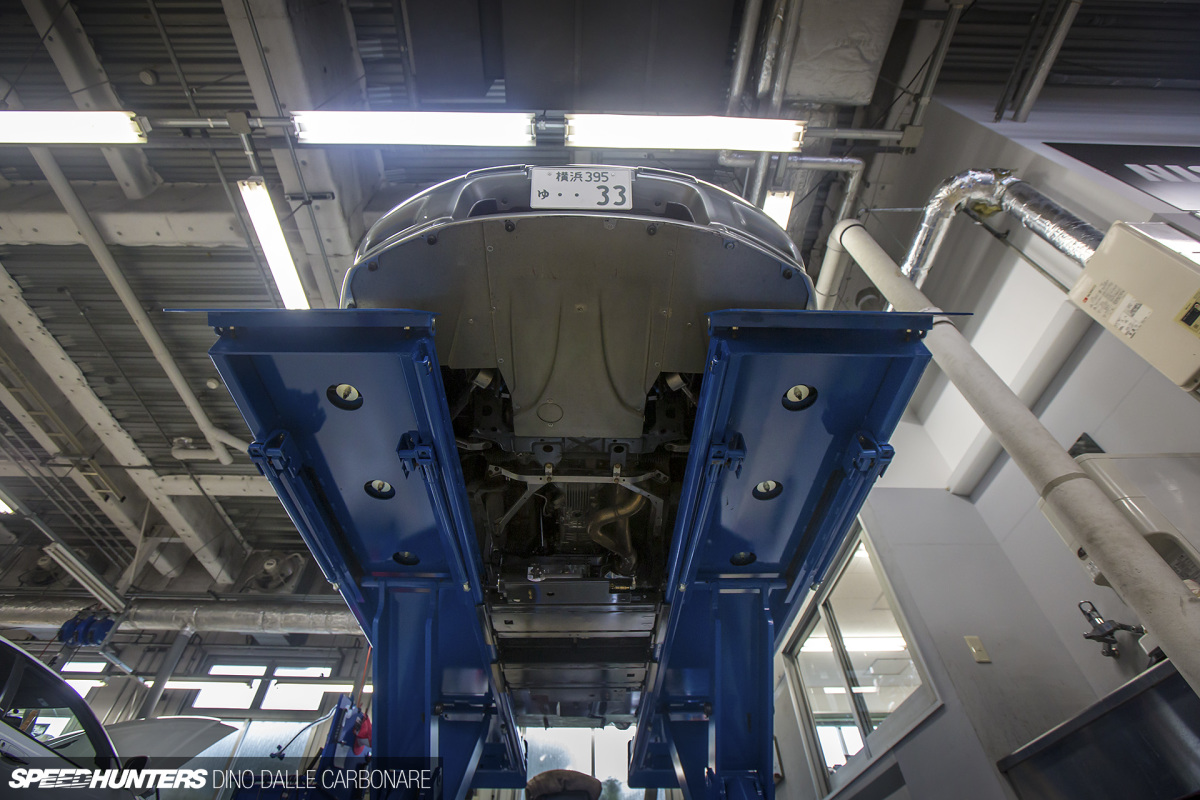 My major car related expense last year was the installation of Nismo's Getrag transmission conversion kit for the BNR32/BCNR33. Expensive, but because I wanted brand new and Nismo (OEM) quality, I took a chance and handed over the credit card. Eleven months and 731 kilometers later – yes, while I'm still breaking in the 6-speed Getrag – my local tuner spotted oil leaking from the new transfer case…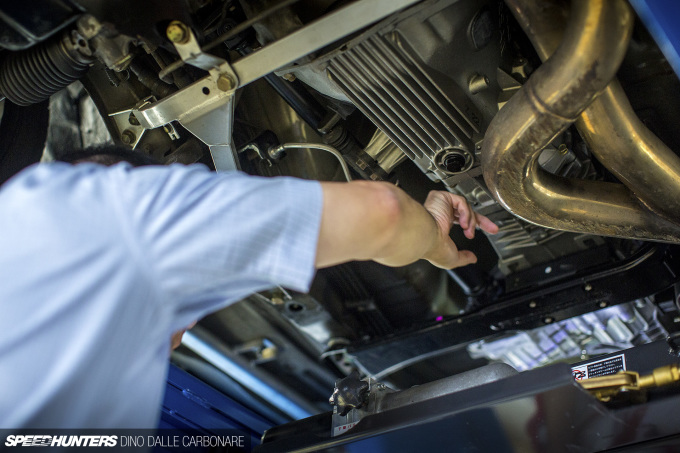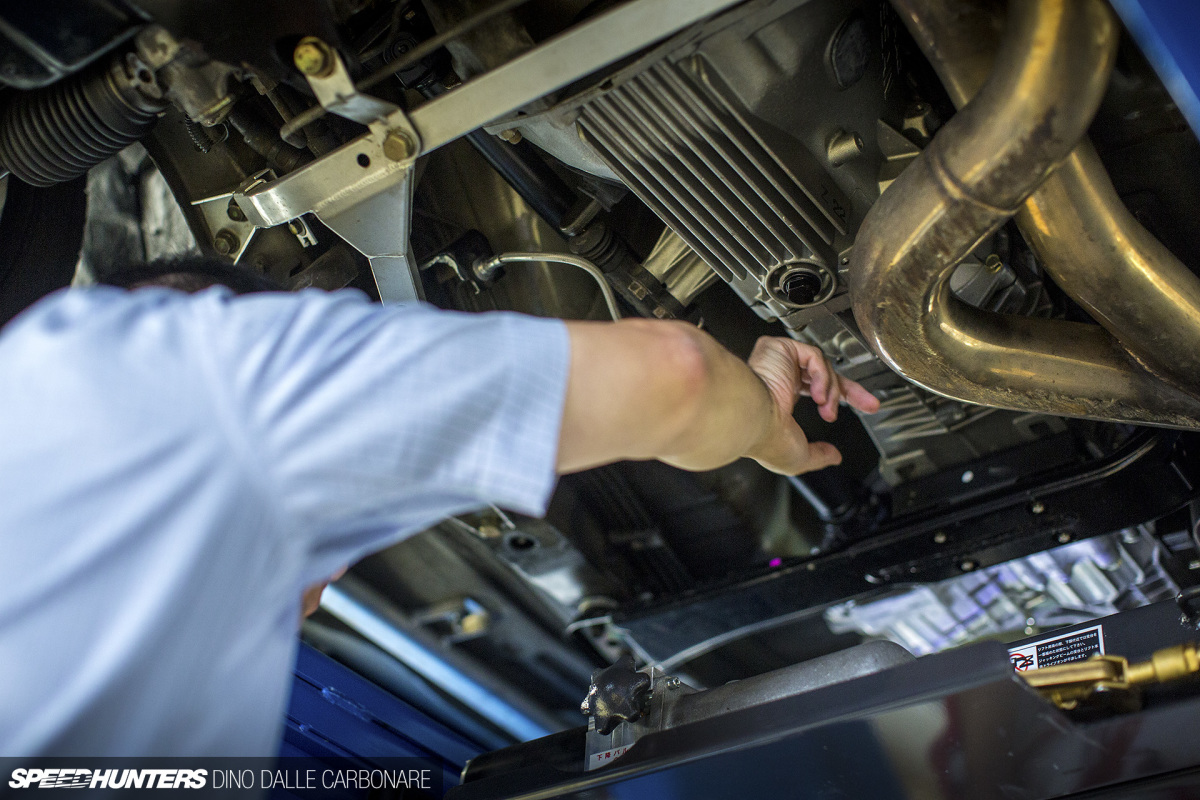 Unfortunately for me, my understanding is that despite photographic and written evidence from NPTMF, Nismo refused to replace or repair the transfer case under warranty. So the first thing I did once I got under the car was to inspect the bottom of the transmission and transfer case to see if the NPTMF techs had been able come up with a solution.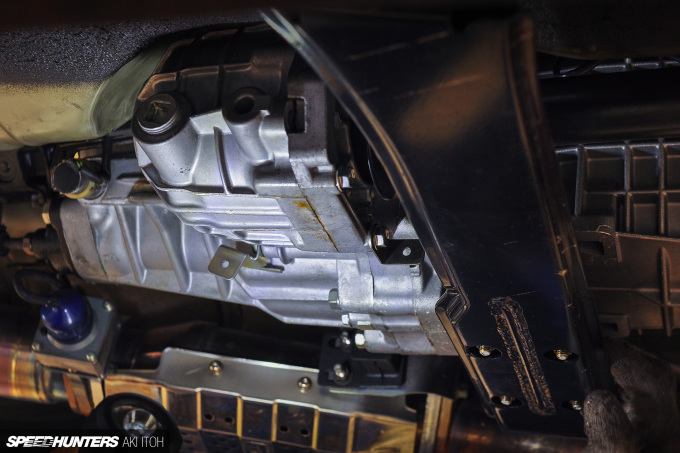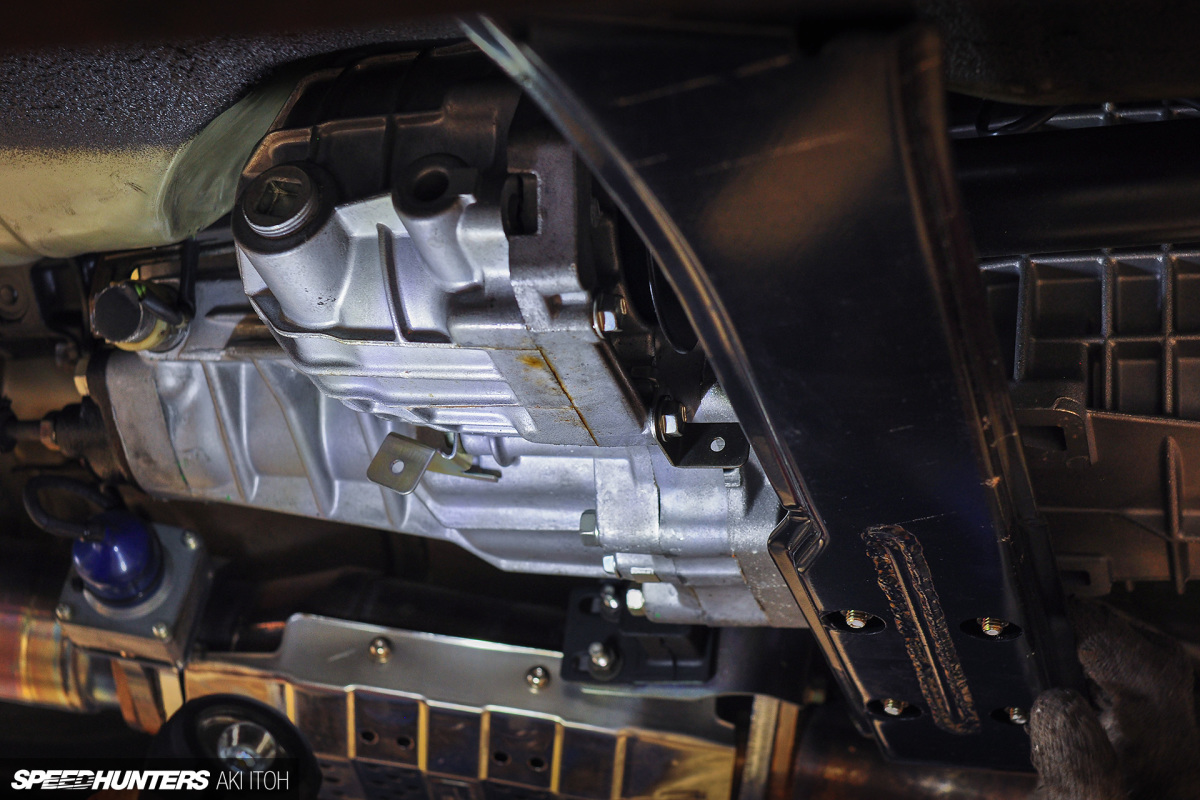 This is how the transfer case looked prior. Only 731 gently driven kilometers, no track days, and brand new parts; this is unacceptable under any standard. NPTMF suspected that the seal had failed or was improperly applied at manufacture. How would you have reacted?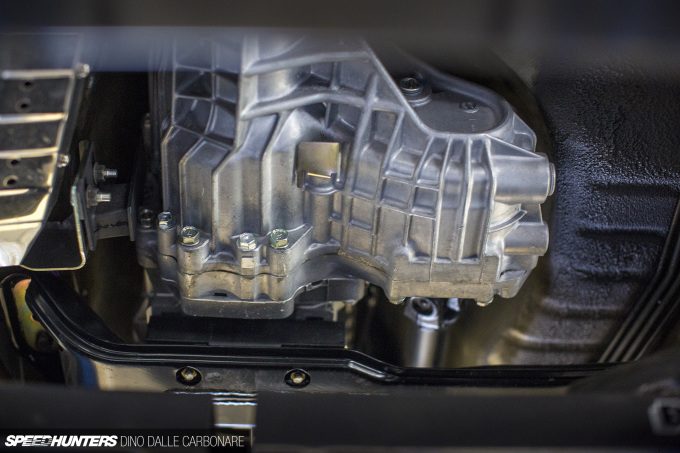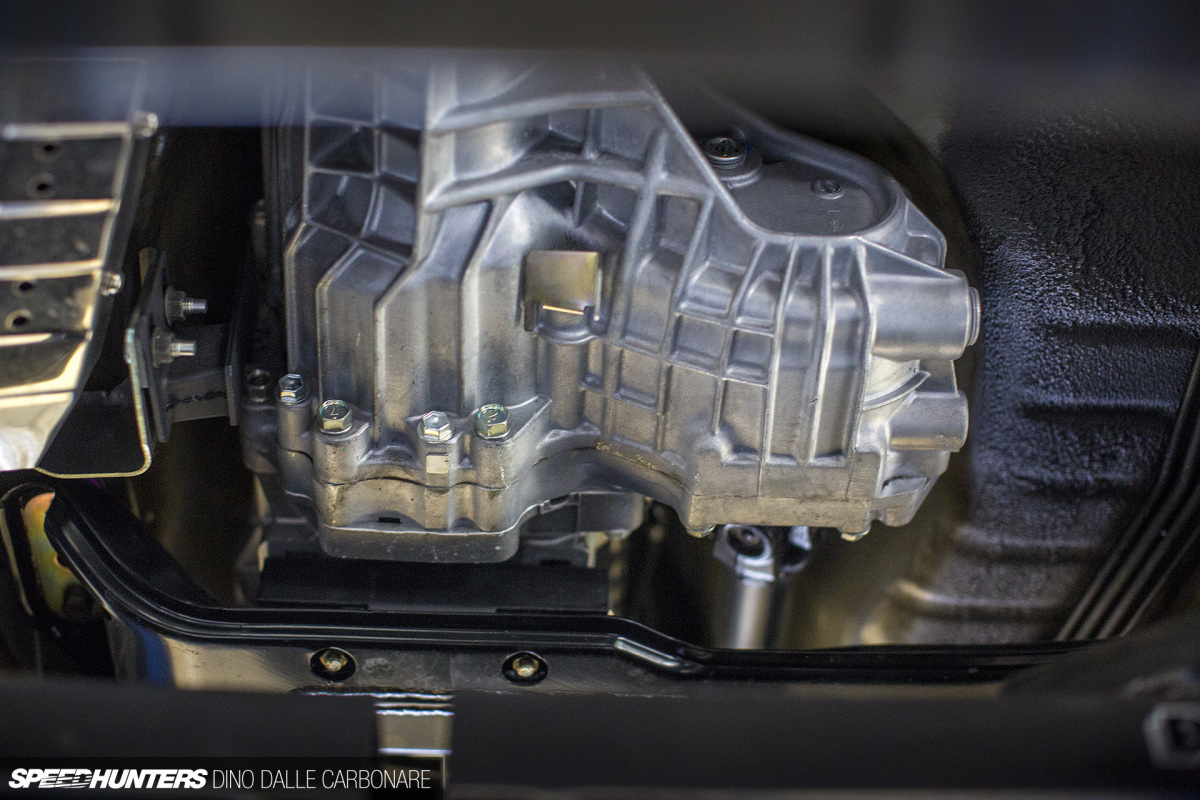 Luckily, NPTMF's technicians solved the problem by taking matters into their own hands. Basically they opened the transfer and applied sealant along the entire seam. They bolted it back together and let the sealant dry, and then test ran the car to ensure no further leaks. On close inspection, the sealant looks to be the same as the material used elsewhere throughout the transmission. I was happy with the fix, and even happier when NPTMF refused to charge me, saying it was "their responsibility" to me as they had done the install and I was their customer.
Time To Nerd Out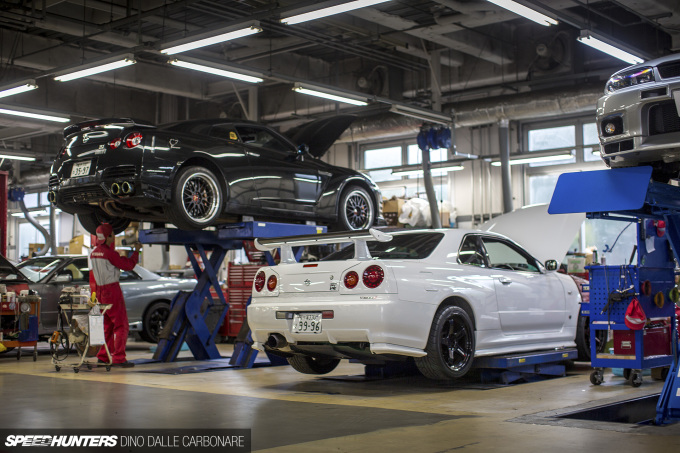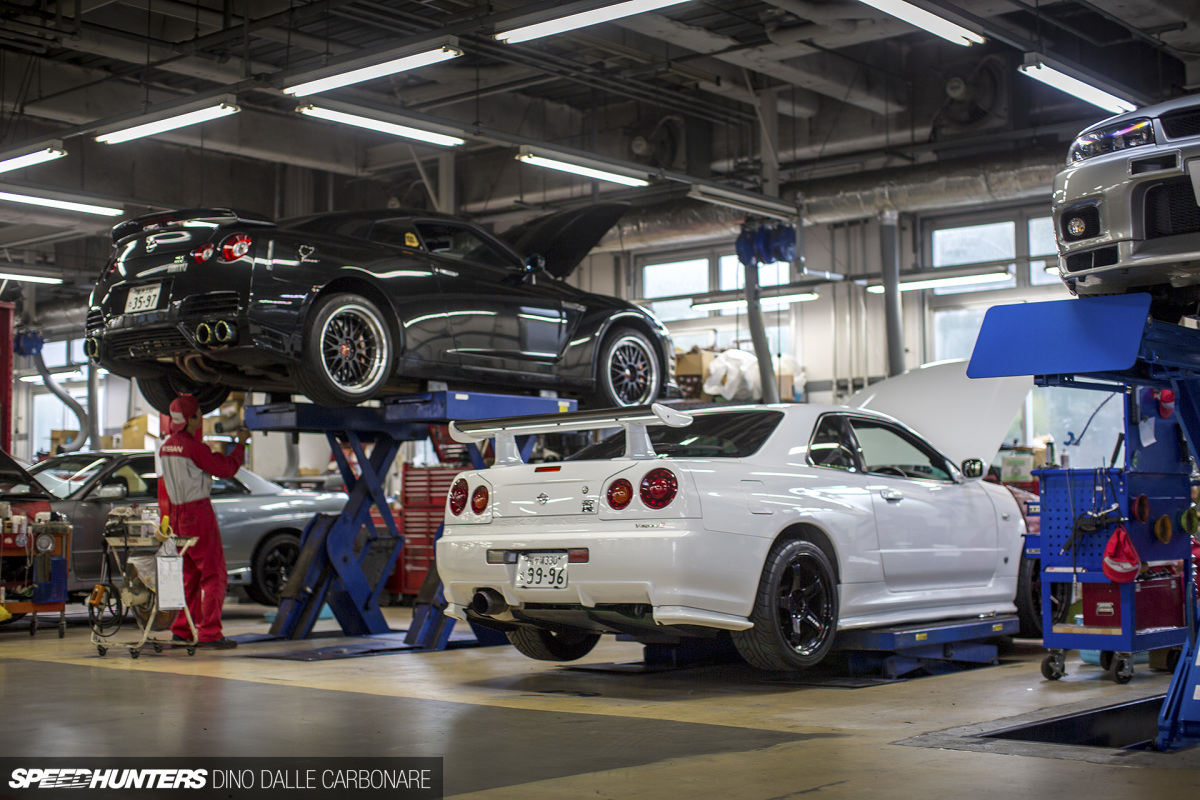 While this had been going on, Dino was wandering about freely, first admiring this white R34 GT-R V-spec II. From engine bay to wheels, the car was a rolling Nismo parts catalog.
Nismo does have the reputation for OEM quality tuning parts, but it tends to be a pricey (and not necessarily the best, as I learned) way to do things.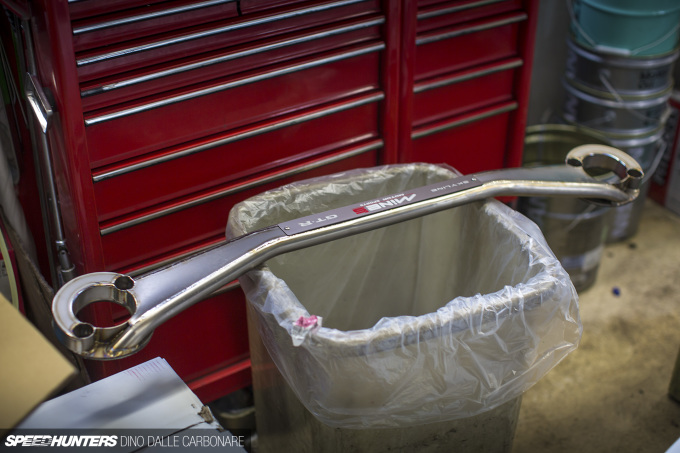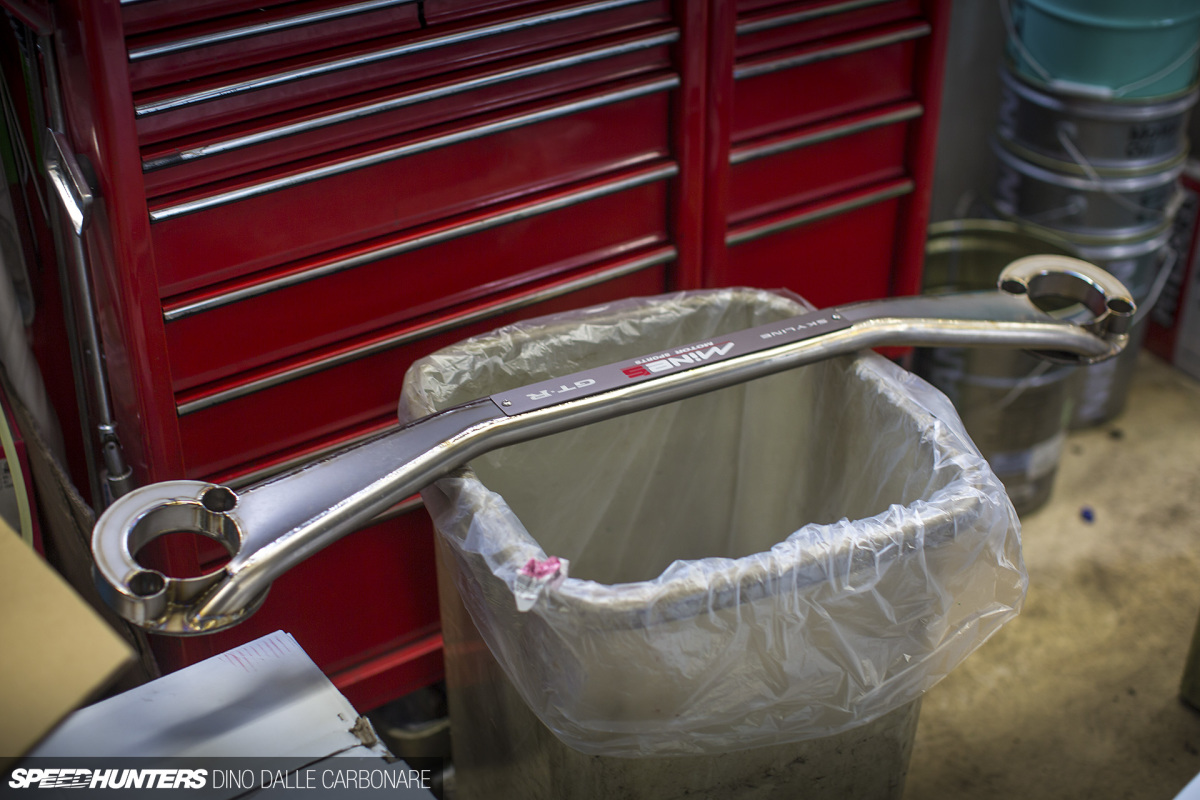 Dino apparently thought this meant that the techs were getting ready to throw this Mine's titanium tower bar away. Out of the corner of my eye I spotted him trying very hard to convince one of the techs to thus let him 'borrow' it.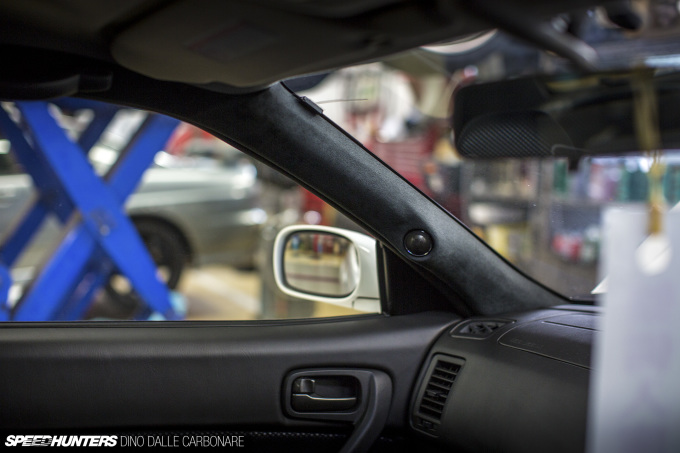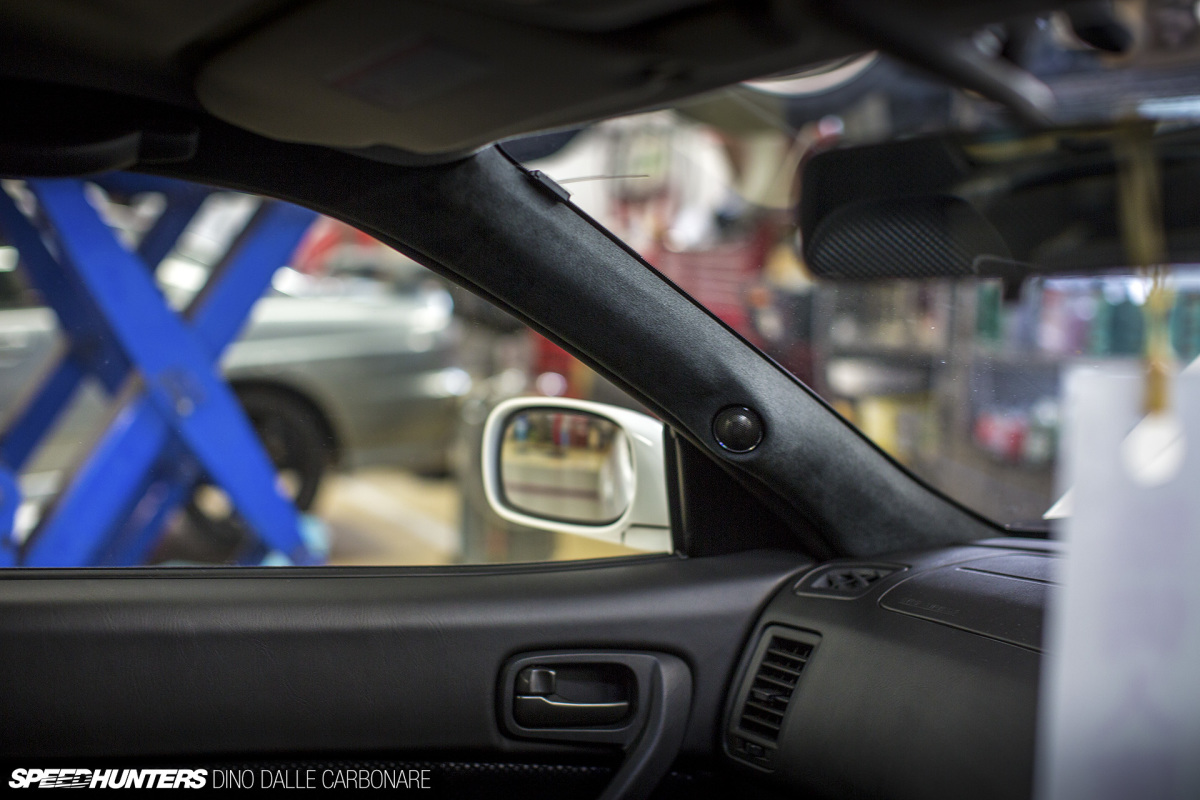 This car also had a Worx Auto Alarm sticker on the side window, and when we peered in we saw evidence of Nakamura-san's handiwork. Check out those pillar-mounted tweeters, all wrapped up in Alcantara.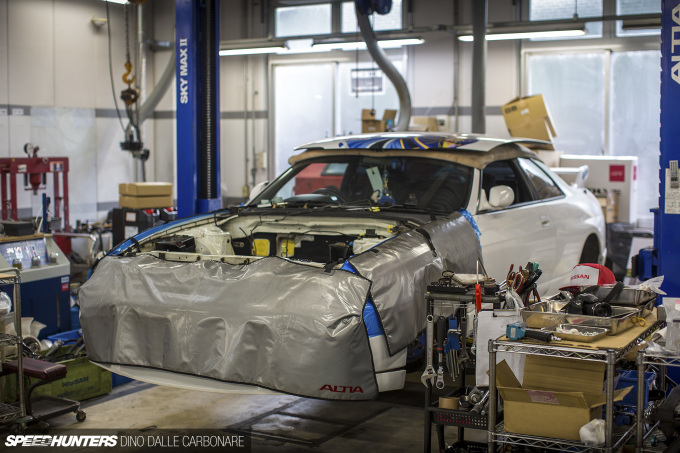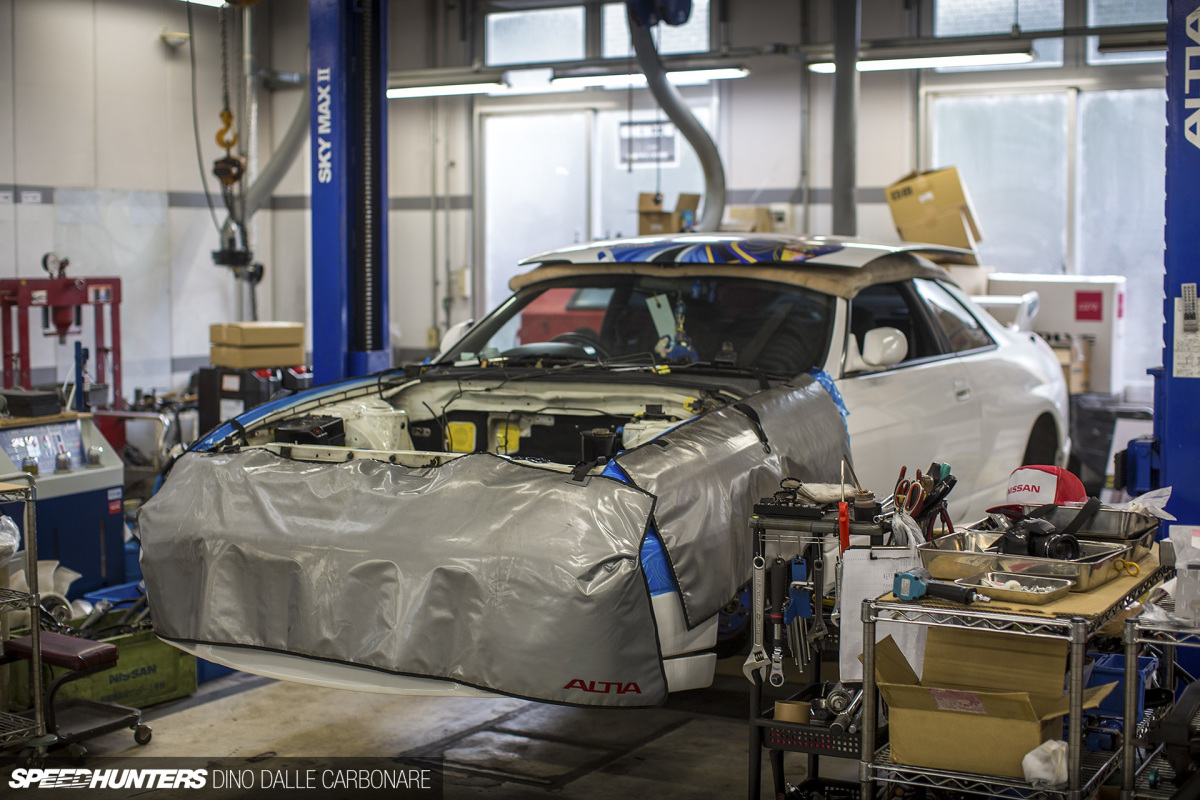 After checking out the 34 for myself, I gravitated to this zenki R33 GT-R that was undergoing an engine transplant.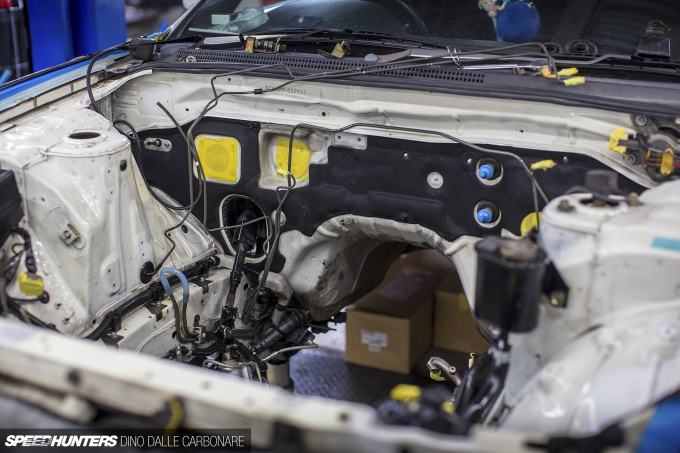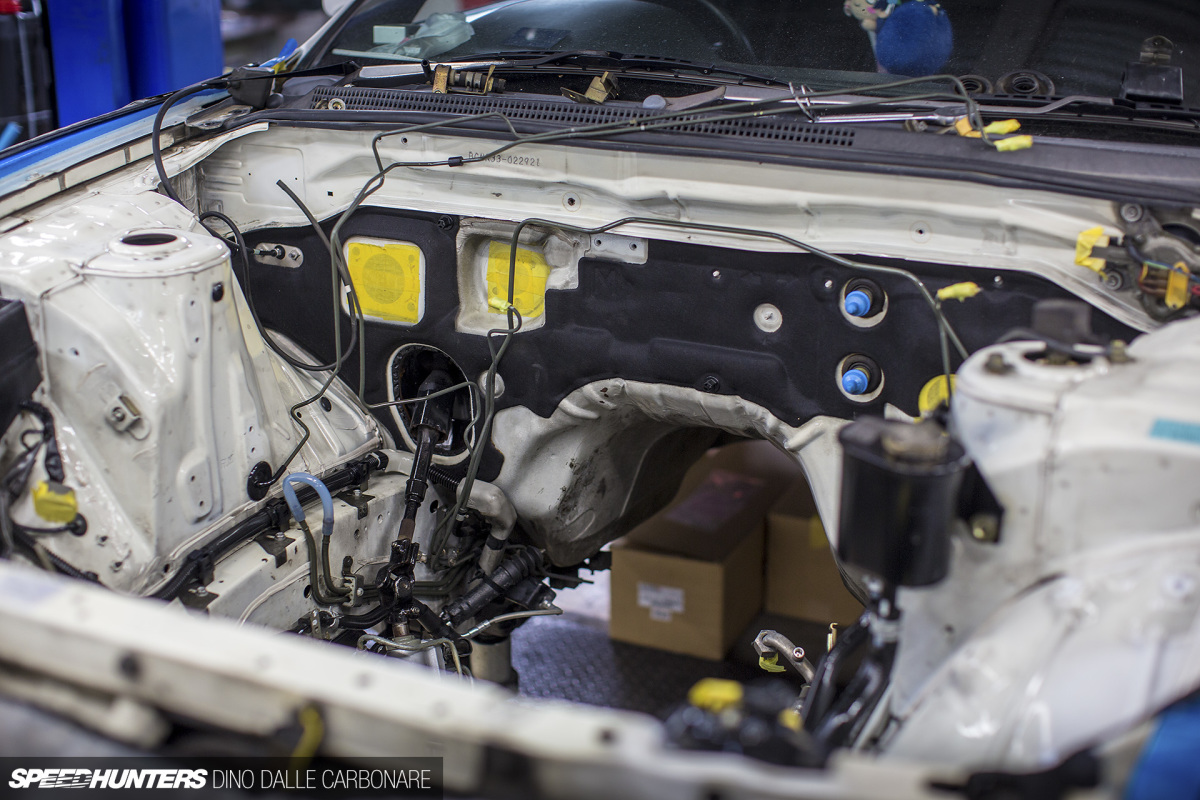 With OEM parts for the R32, R33 and R34 GT-Rs rapidly disappearing from inventory, and no apparent plans by Nissan to ask its suppliers to resupply such parts, lots of owners are now taking the plunge to get things completely replaced or overhauled.
Going into the white 33 was this brand new RB26DETT – one of the last of four in Nissan's entire inventory. It's pretty much stock, except for a pair of Tomei turbine outlet pipes.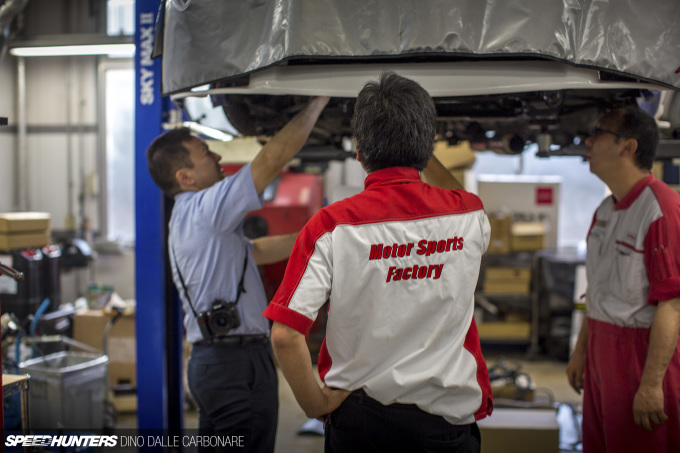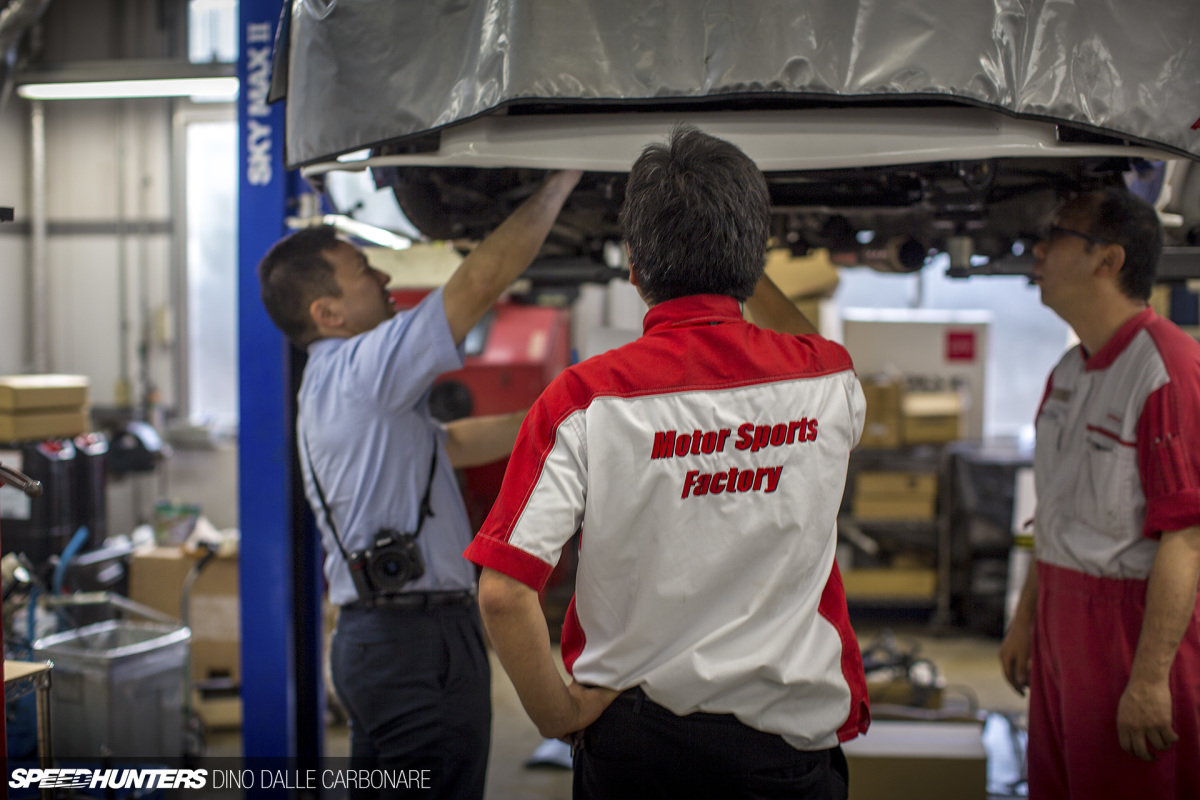 Despite what it looks like, I am not working on this car. Rather, I was only trying to use those measuring calipers to gather some data – my car has the under tray which prevents easy access to this area. See how Kuwasaki-san, on the right, and Yamazaki-san, center, are watching me very carefully.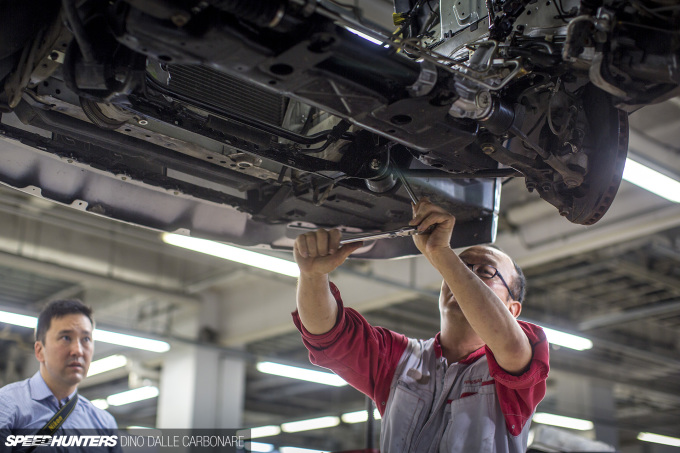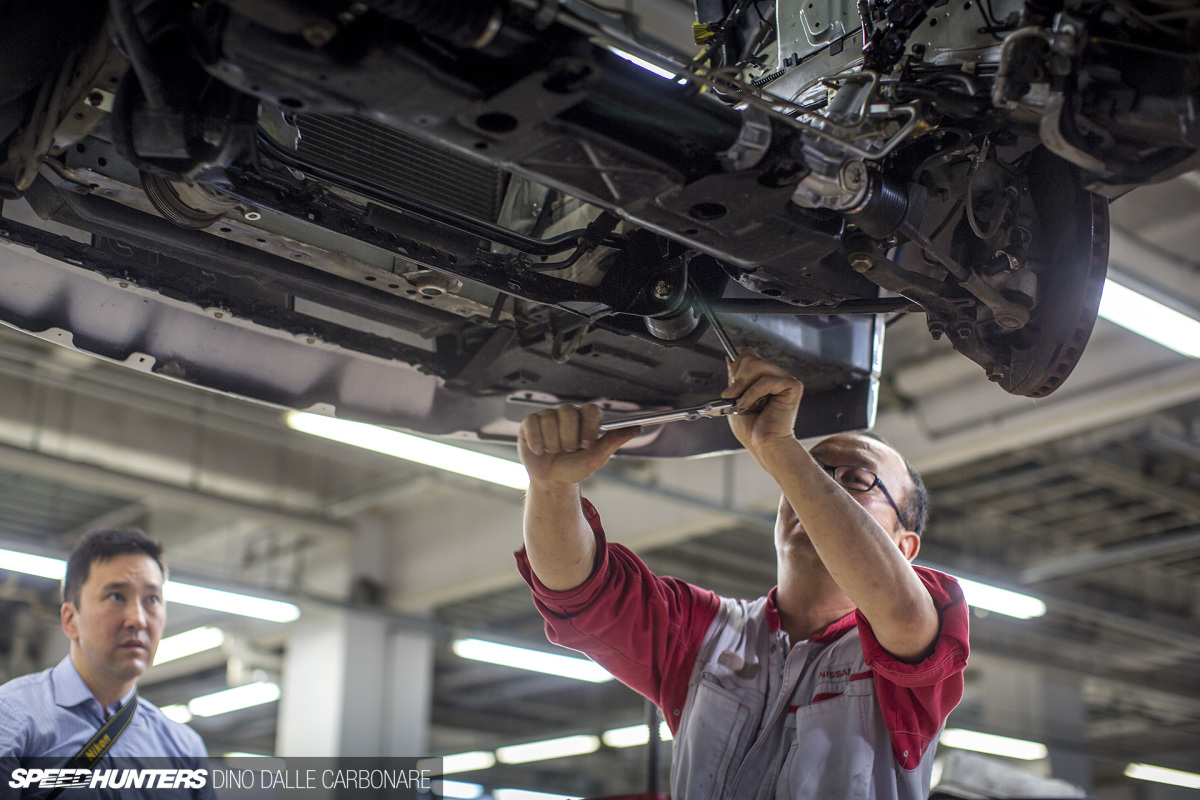 Seeing me fumble, Kuwasaki-san decided to hurry things along by removing the part I needed.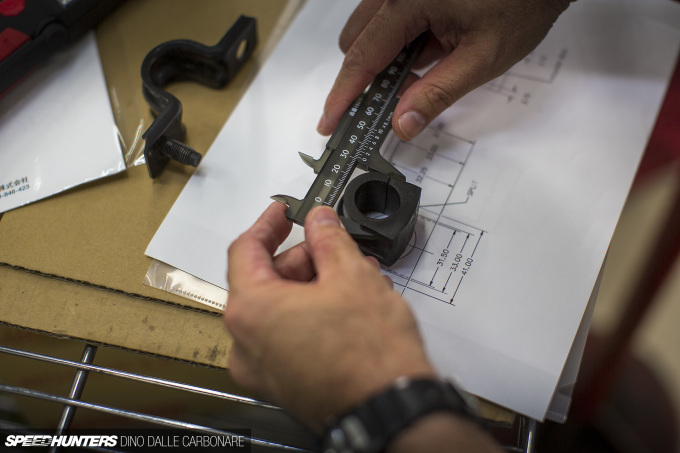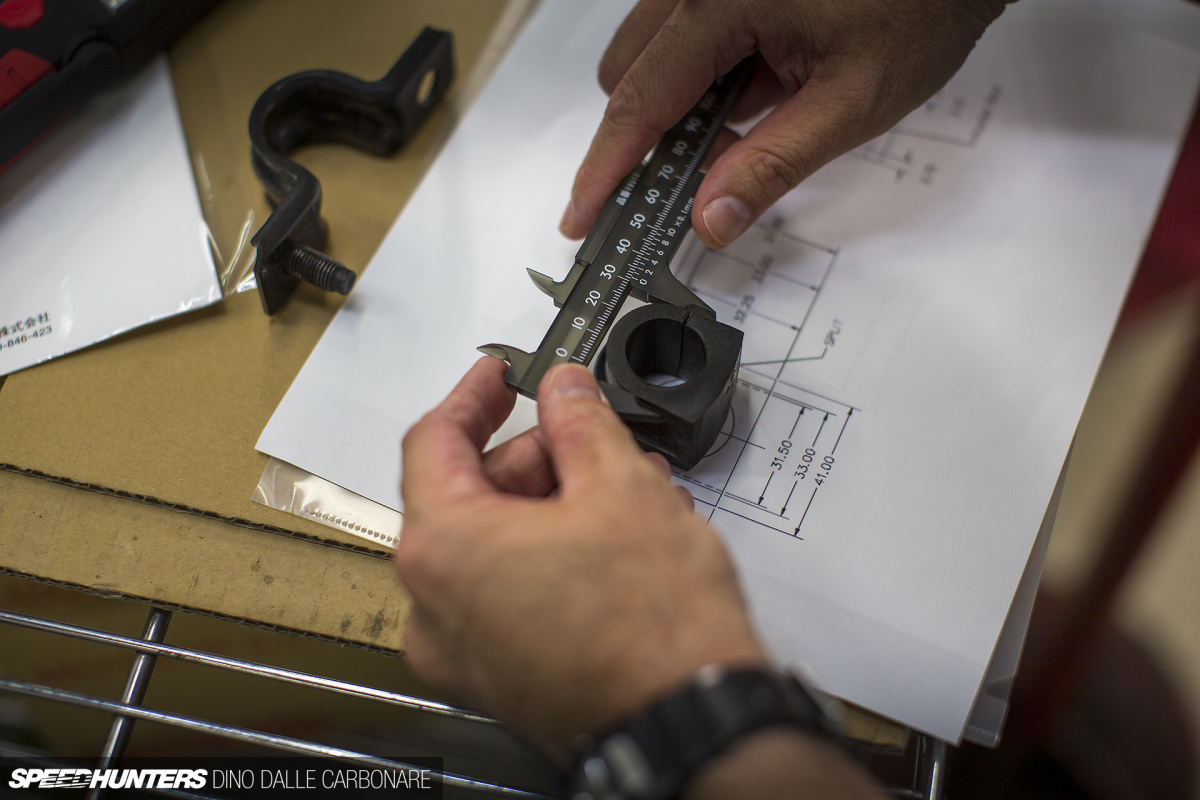 Here I am struggling to measure this bushing, verifying data for an upcoming Project 33 idea.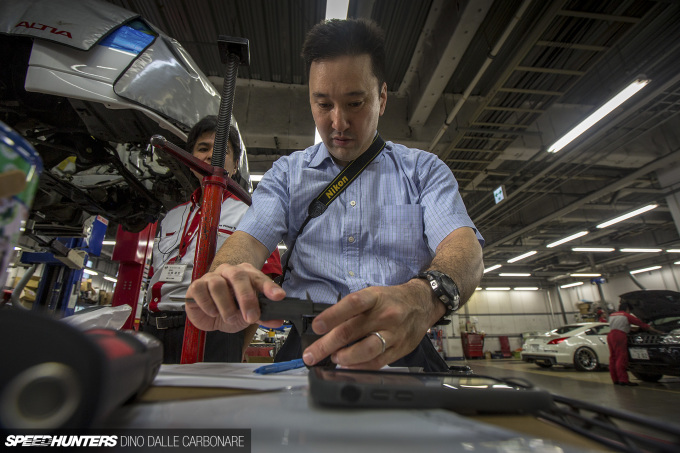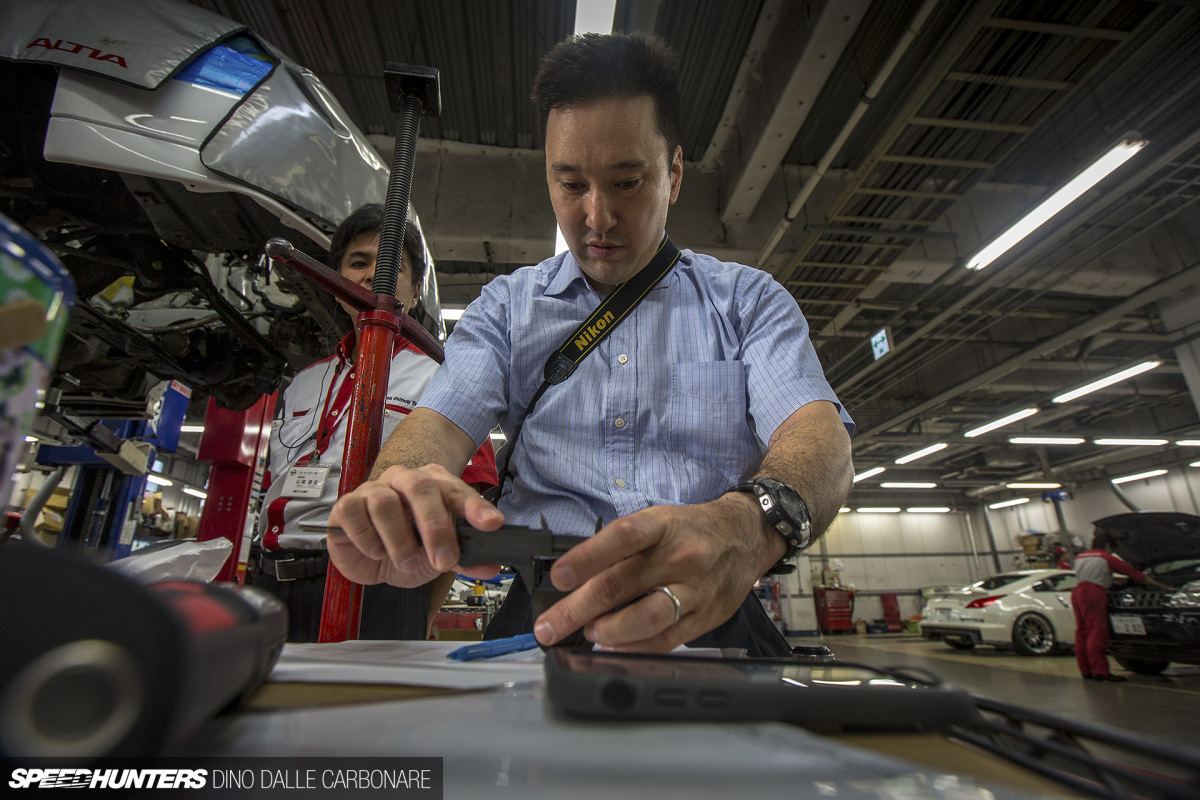 Dino literally got his camera in my face, breaking my concentration. Yamazaki-san's expression says it all… 'What are you doing?'
Cooling Off & Rolling Out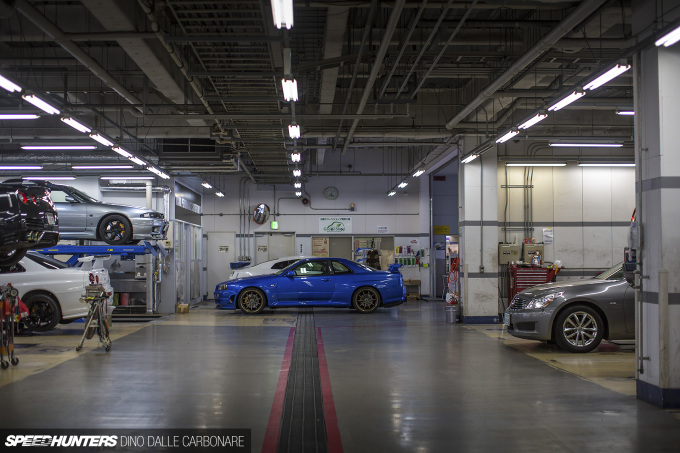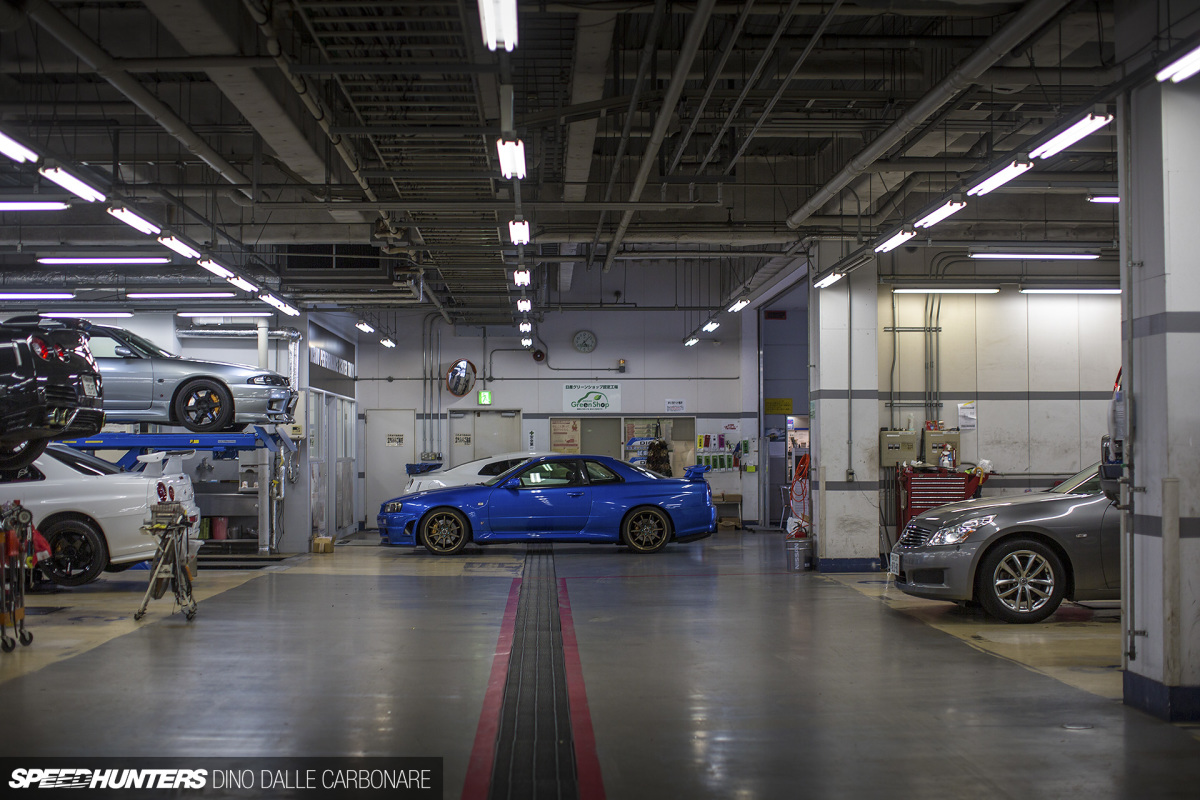 As we walked back toward NPTMF's waiting room, it dawned on me how busy these guys are. On the left are the NPTMF-dedicated service bays for performance cars; on the right are service bays those for the dealership's 'normal' customers.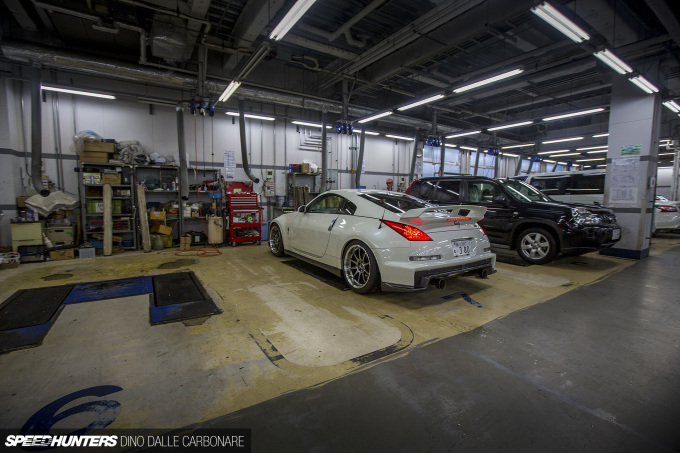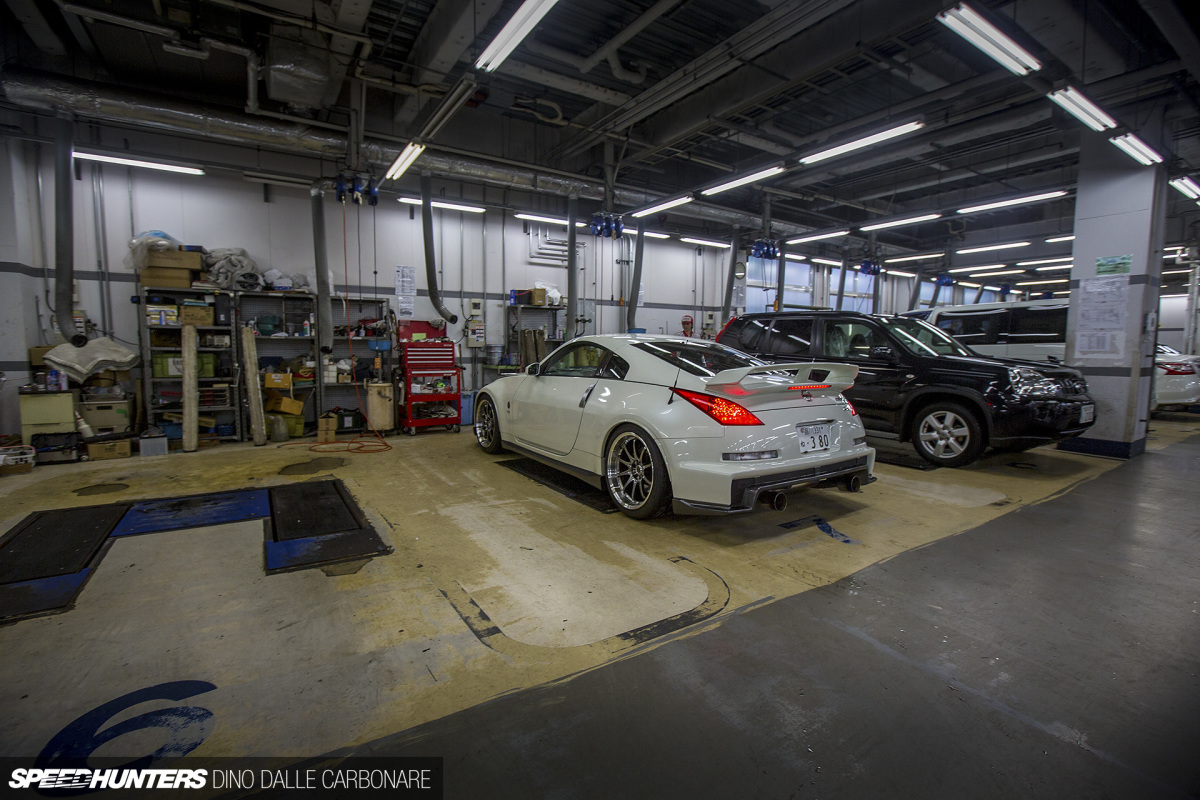 But sometimes when there's an overflow, NPTMF's technicians service cars like this beautiful Nismo 380RS on the normal side.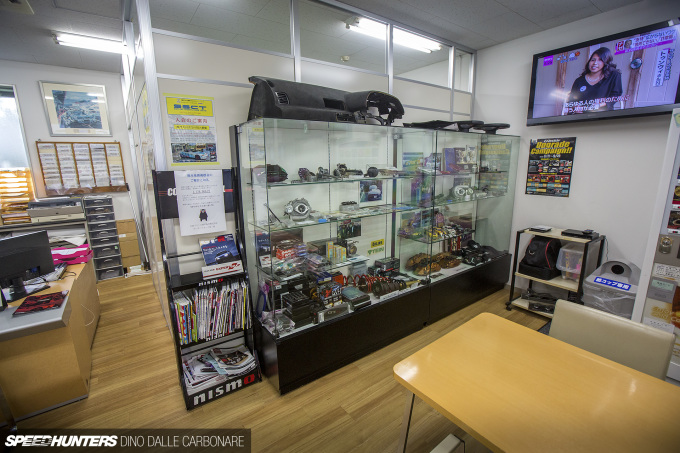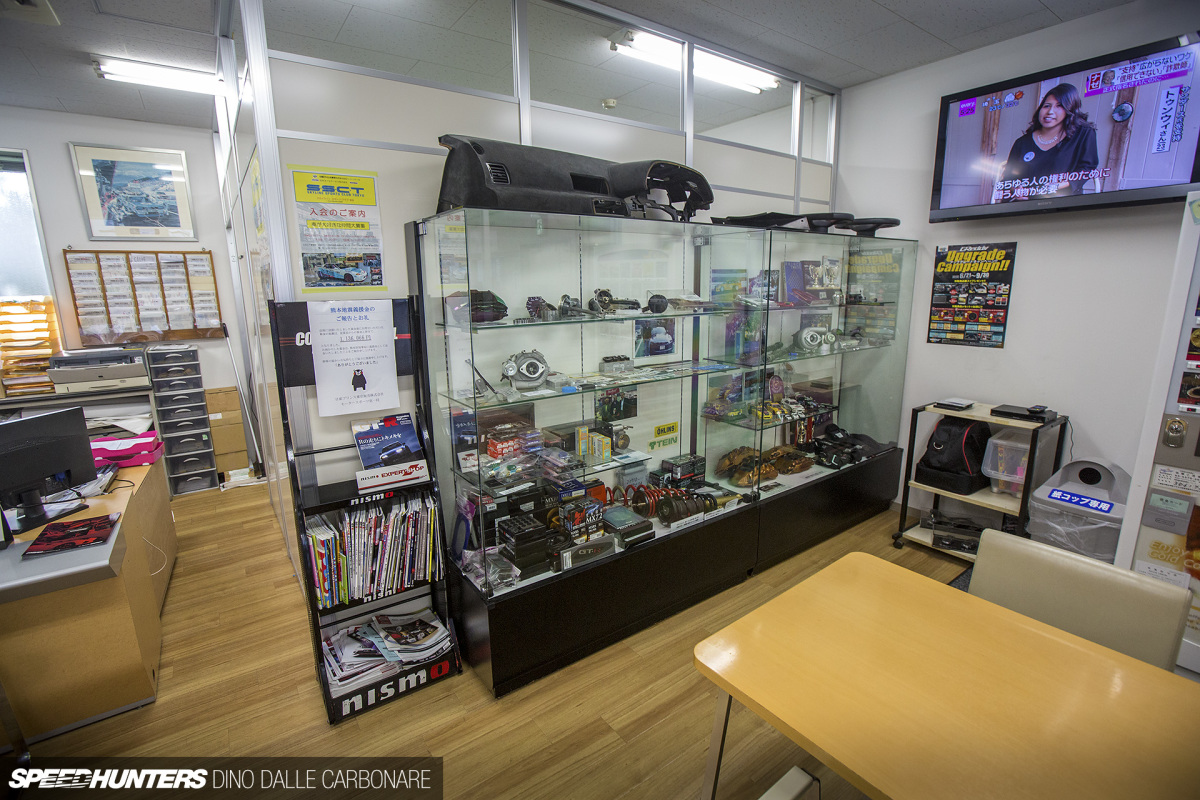 The air-conditioned waiting room, with its free cold drinks, was a welcome relief from the hot and humid garage environment. There are lots of books, magazines, catalogs and Nissan nostalgia to keep you occupied as your car is worked on.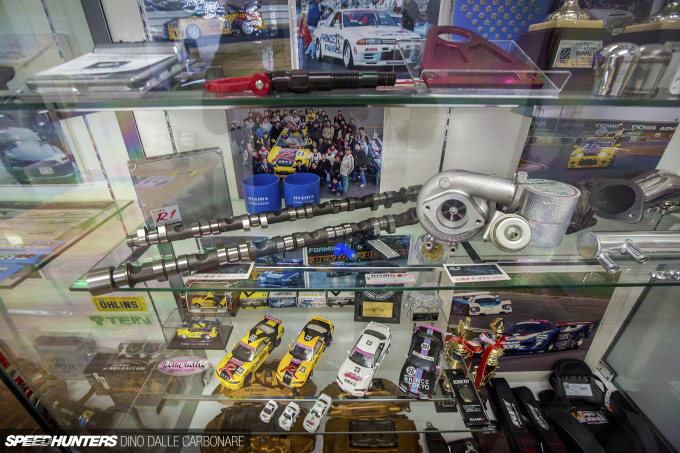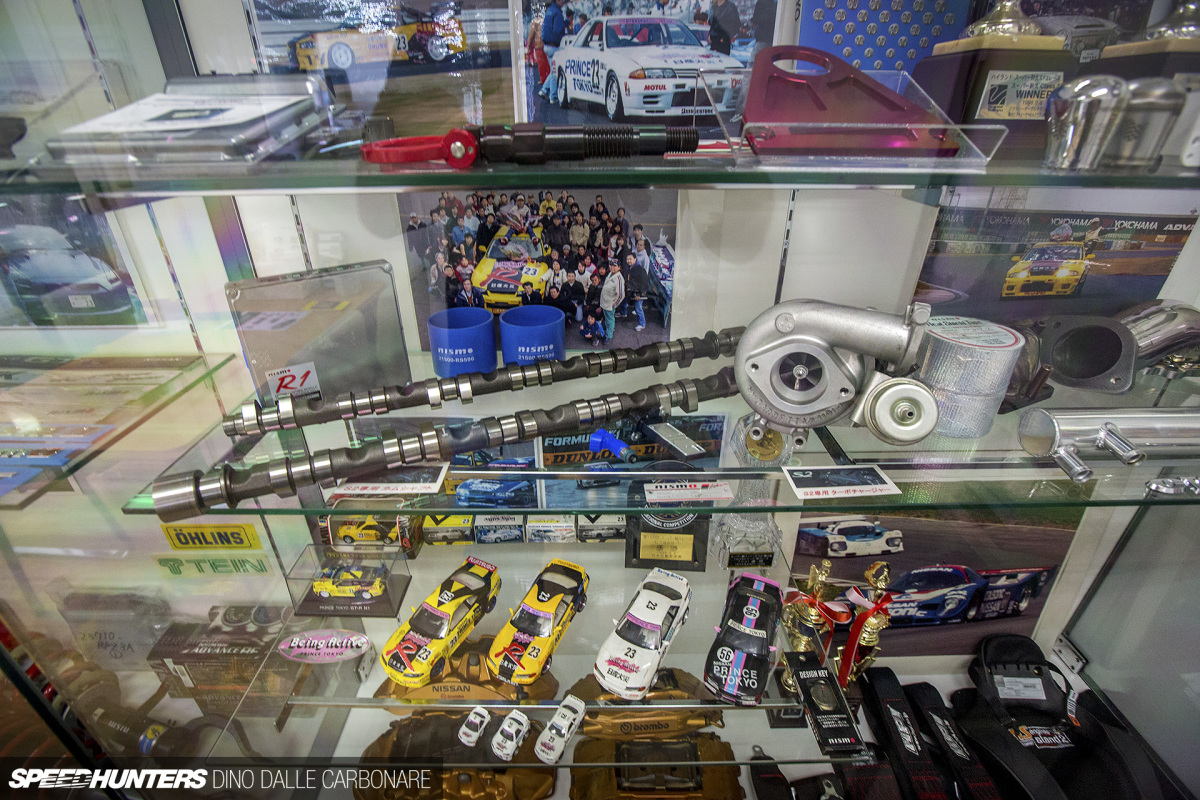 In addition to the Reimax shift knobs and several Nismo bits, such as the red anodized rear tow hook from Nismo's BNR34 CRS car, this display case contains scale models of the N1 race cars the NPTMF mechanics supported back in the 1990s.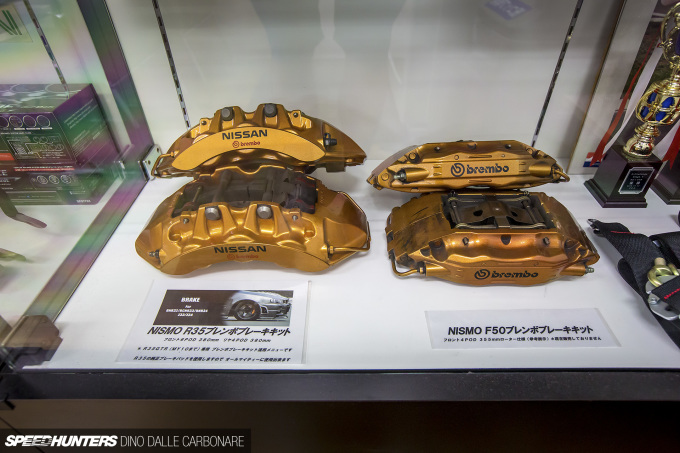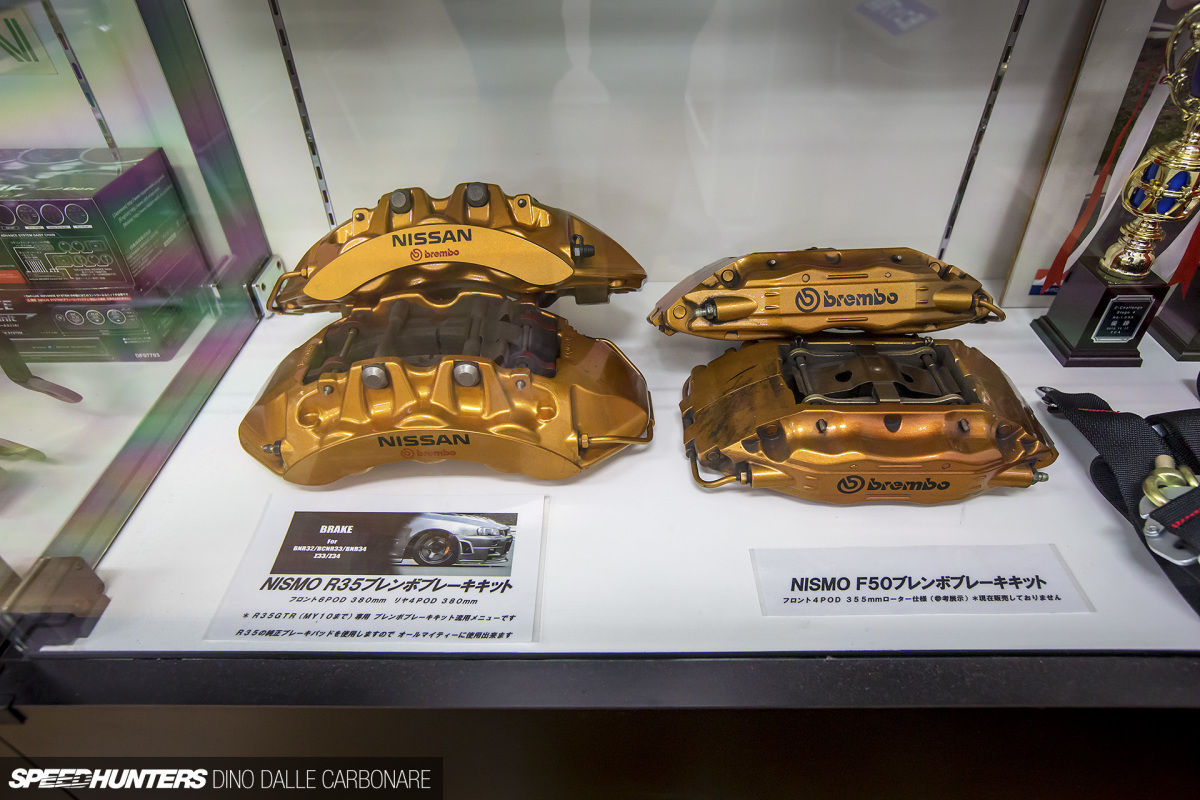 Which would you choose for your RB26 GT-R? Nismo's F50 Brembo brake kit (expensive) or its R35 Brembo brake kit (even more expensive)?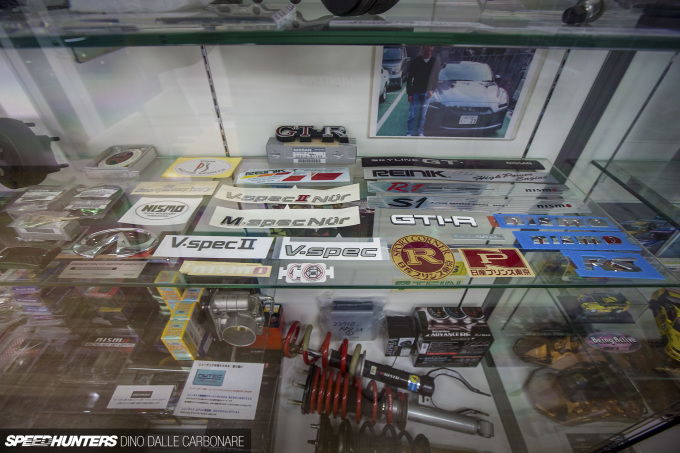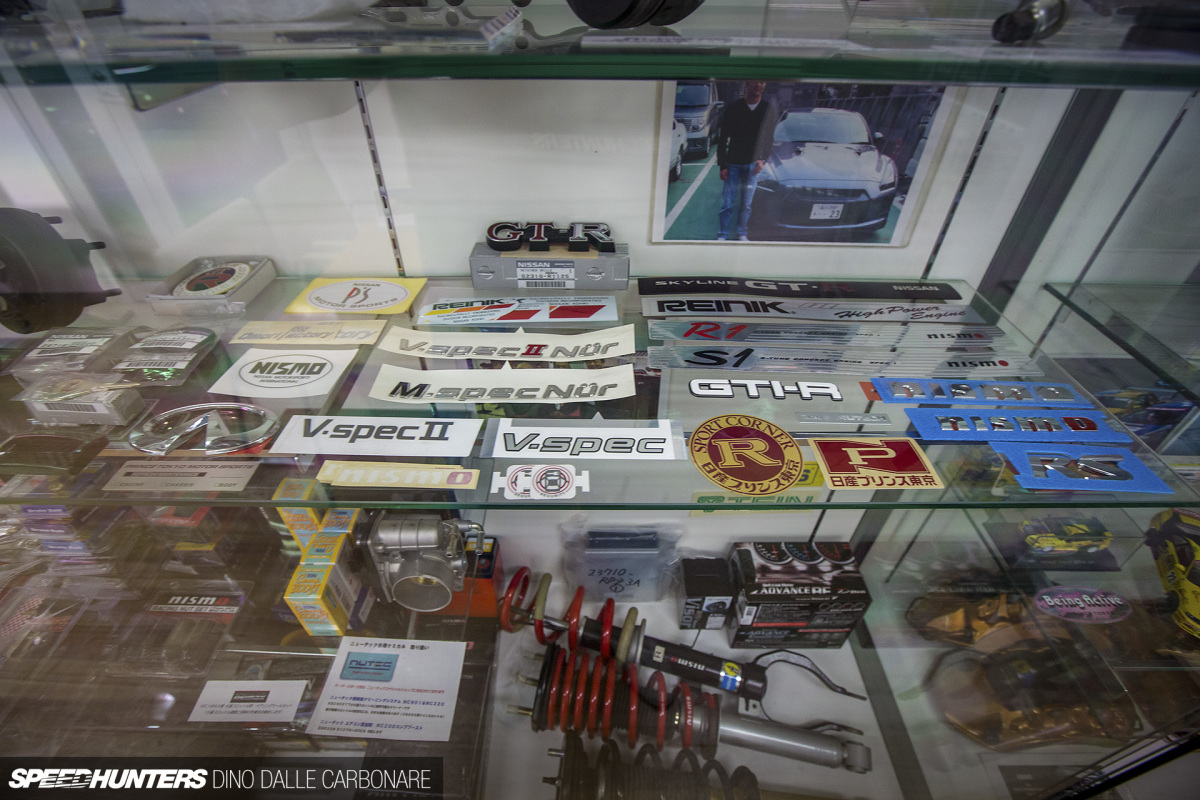 The ultimate nerd/otaku emblem/sticker collection. I heard Dino muttering something about the various V-spec stickers…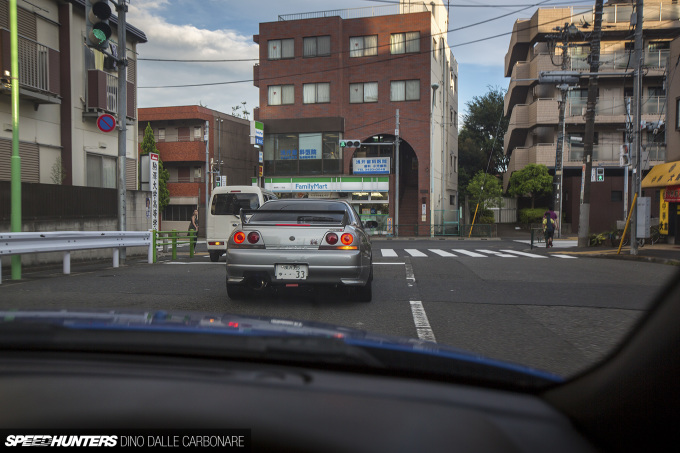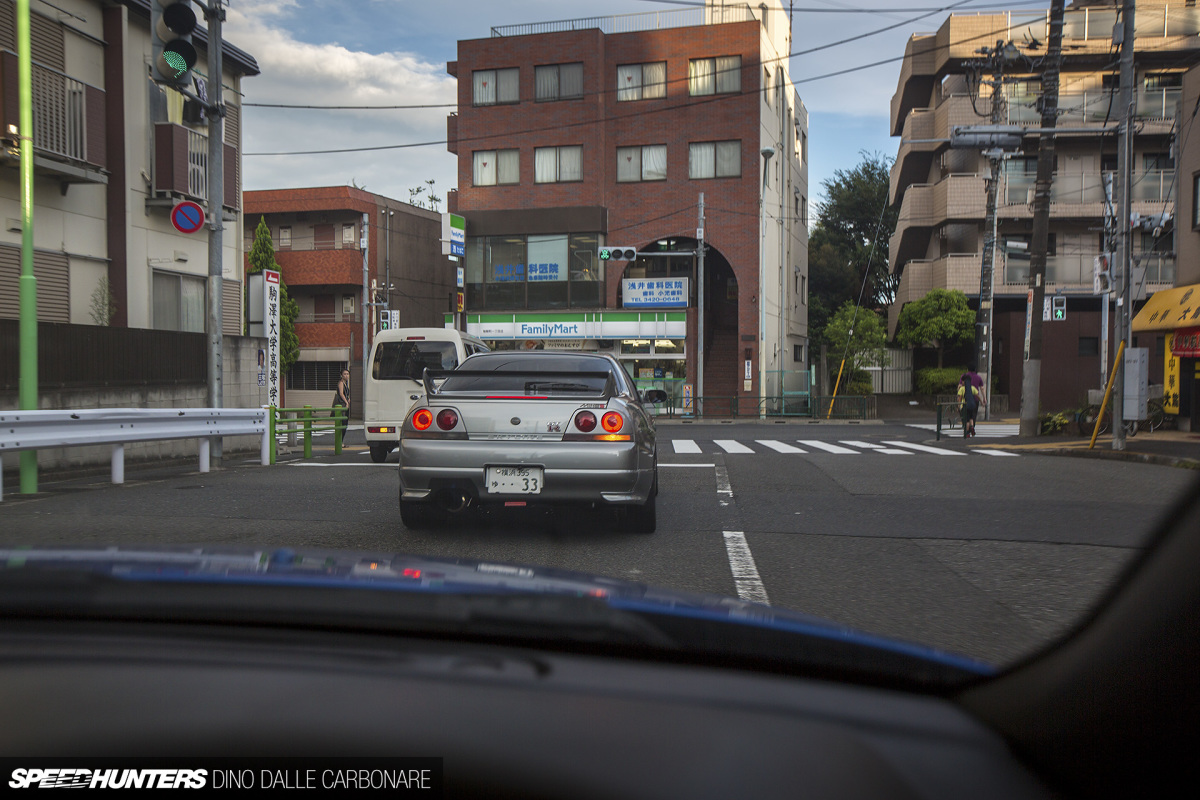 We finally said our thanks and goodbyes and headed out. I was happy to be back in my car, enjoying not only its now super accurate steering, but also relieved that one potentially troublesome problem had been solved. Now, I can finally get back to the upgrades I have in mind for Project 33.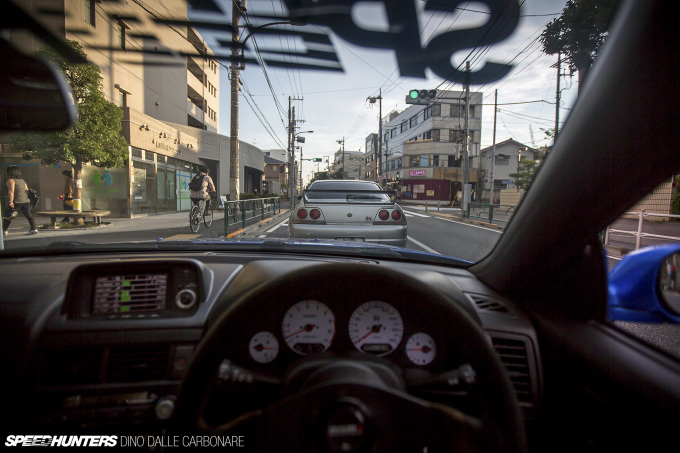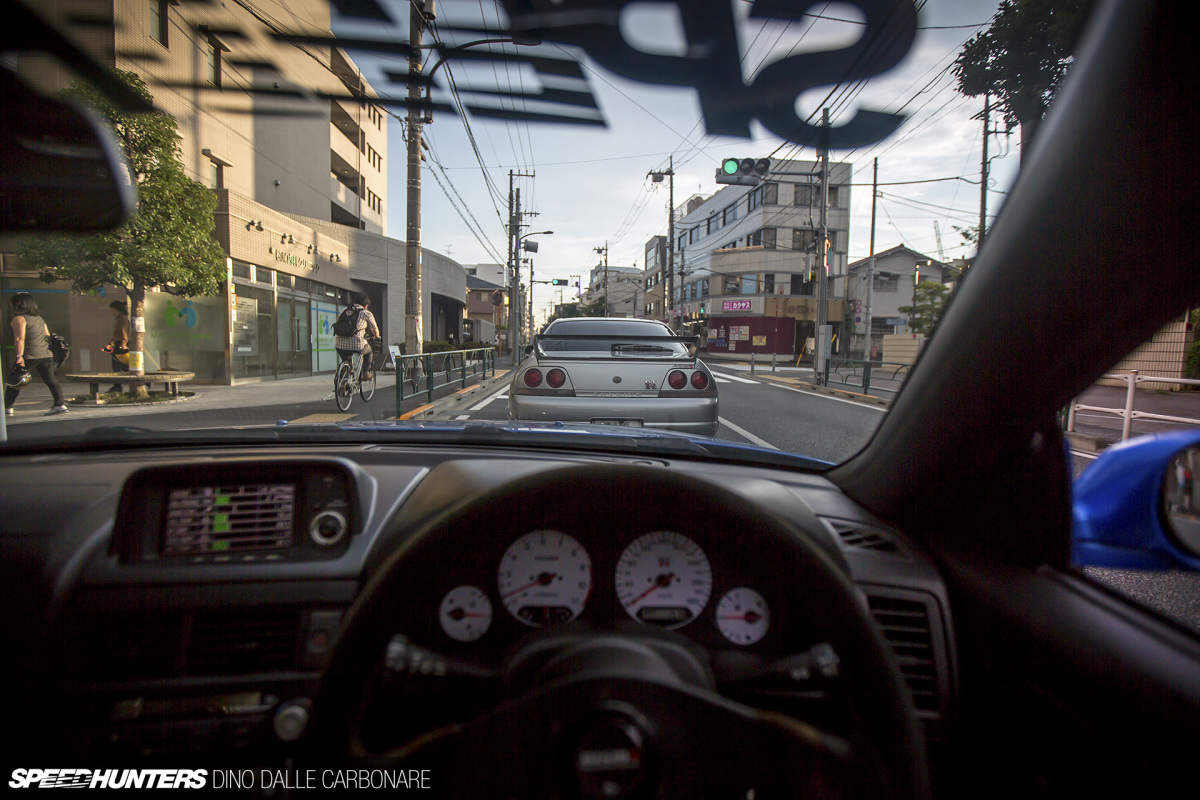 My thanks not only to Nissan Prince Tokyo for letting us visit, take photos and examine stuff, but also of course to fellow GT-R nerd/otaku Dino for driving and taking some great photos. In the next post I hope to be able to show everyone one of the several projects I am working on… Meanwhile I hope you all enjoyed seeing what a visit to a GT-R dealership in Japan is like!
Aki Itoh
Instagram: aki_itoh
aitoh@hotmail.com
Photos by Dino Dalle Carbonare
Instagram: speedhunters_dino
dino@speedhunters.com