Perfecting The San San
Another GT-R project on Speedhunters? Well, why not!?
Dino: I've been chasing fellow GT-R owner, Aki Itoh, for almost a decade, continuously pestering him to allow me to feature his immaculate BCNR33. And when I say immaculate, I really mean it. Until I met him I thought I had a bad case of OCD, but I quickly learned that my quest to keep Project GT-R in tip-top condition while evolving it to the ultimate specification (if there ever is, or will be one) was nothing compared to what Aki gets up to in his garage in the wee hours of the night.
After some time, it became obvious that I would never be able to feature Aki's car; there'd always be one more thing that he needed to do. So I did the next best thing – I invited him to come on board Speedhunters and keep us updated on his latest upgrades and the shenanigans he gets up to with his pride and joy. So without further ado, I'll let Aki introduce Project San San…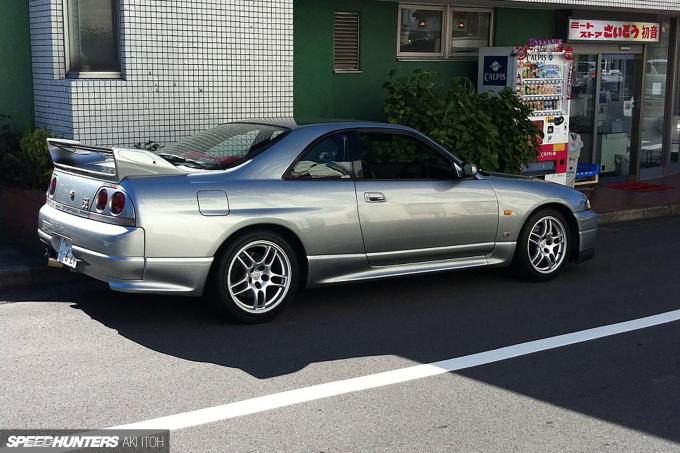 Aki: As Dino says, he has – for as long as I have known him – been asking me to let him do a Speedhunters feature on my car, a 1997 Nissan Skyline R33 GT-R. Frankly, up until now I haven't been interested, for two reasons. First, because I have my own blog and Facebook page that I maintain which attracts enough readers who appreciate the car and my journey with it. Second, and more importantly, because I'm simply not done with modifying and improving it. My thinking is (still), if I am going to have my car featured on Speedhunters, then I'd want to show everyone a proper finished product. And because with a Skyline GT-R one is never really finished, it would have never been featured, so long as I am alive .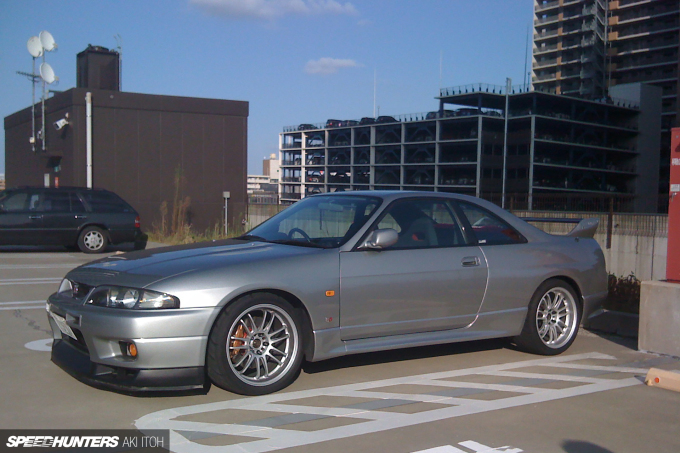 So why have I now decided to allow my adventures with this car to be posted on Speedhunters? To be honest, I think it's because many of you readers have asked me to. It's also because there appears to be a growing interest in the second generation (RB26DETT engine powered) Skyline GT-Rs, and I want to show that like its R32 and R34 brothers that get a tad more attention, the R33 cars are fantastic as well. We can argue this ad nauseum, but with all the modern upgrades now available for these Rs, it almost boils down to which look one likes the best.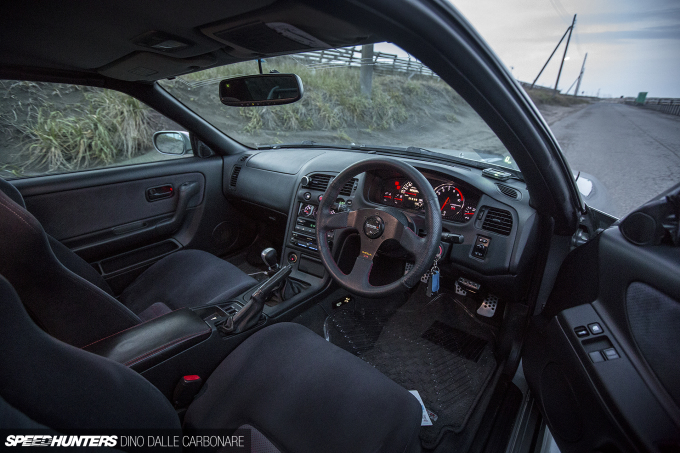 Anyway, first a bit about myself. Despite my name I was born, raised and educated in the United States, and moved to Japan for work, back in late 2003. It also means that my way of thinking about cars incorporates both American and Japanese styles. For those of my friends who know me well, they will say without hesitation that my Japanese style manifests itself in that I am extremely detail oriented and obsessed with cleanliness (to the point of declaring that I have OCD), and that I like to buy the best genuine products available (no fakes!). My American style I think shows itself in my willingness to be different and creative in how I choose to modify my car. I also like to actually work on my car and get my hands dirty, instead of paying someone to do the work for me. For those who have read my blog, I think you will agree that this dual cultural nature approach is indeed me and has resulted in a unique car that hopefully everyone can appreciate.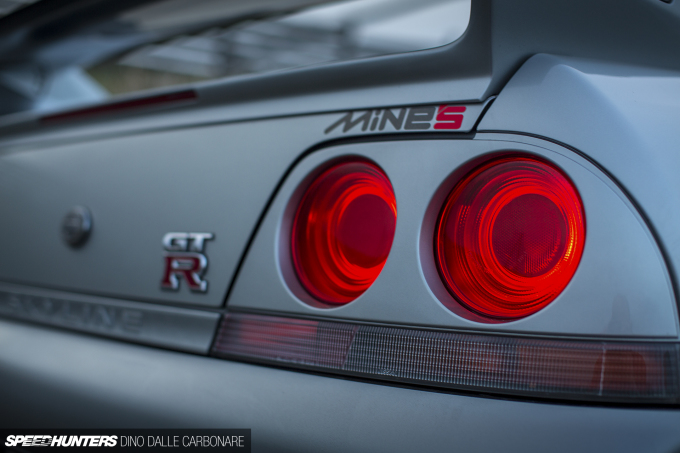 Although my blog contains details on my car since I had a hand built Mine's engine installed in late 2007, for the first time ever this is how my journey began.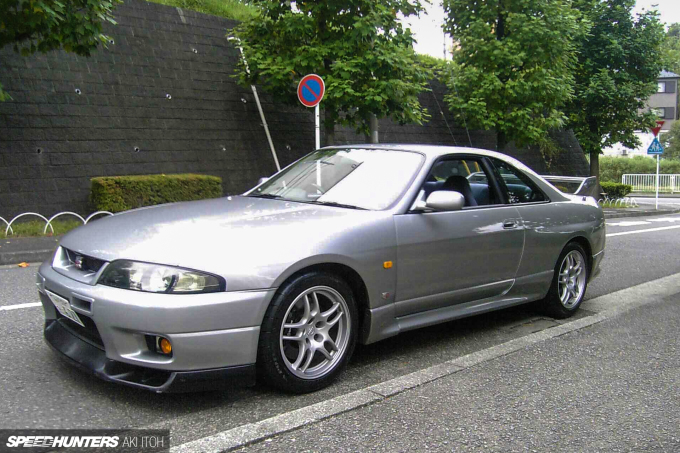 I bought my GT-R used in June 2005 after only doing some simple research. First, I wanted to get a car I could not buy, even used, in the US. Second, I had been in Japan only three years by that point, and given the possibility of returning to the United States for work, did not want to spend lots of money buying an R34 GT-R (even back then pricing for top quality was high). While I could have bought an R32 GT-R, a friend advised that buying a good one would be tricky (the cheap ones being crashed, or excessive mileage, etc.). And for less than the price of a low mileage R32 GT-R V-Spec II, I could buy a kouki (Series 3) R33 GT-R, not only with dual airbags, lower mileage than most R33 GT-Rs, but also with those much brighter Xenon headlights. Plus, the two N1 bumper vents (made standard on the 1997-1998 models) looked cool. And then, looking at the print and video ads when the car was sold in Japan new, I decided to go with silver because it looked cool in the ads. I didn't understand what the V-Spec model was, nor how certain colors are less common. But the past is the past.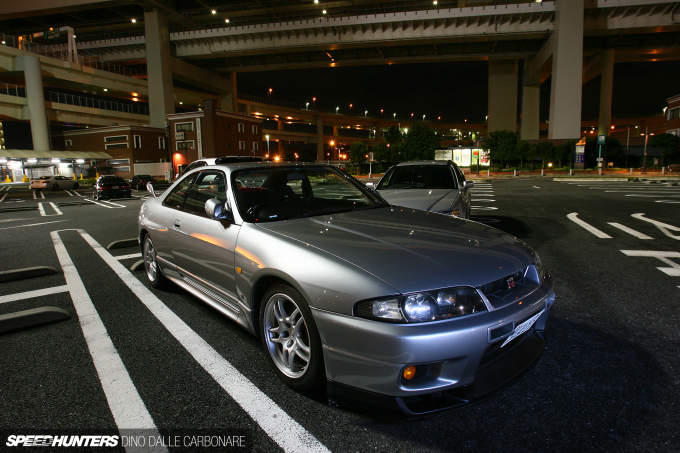 My first modification to the car after driving around 'full normal' for a few months (of course I detailed it immediately once I bought it) was to have a Pioneer navigation/AV system installed. There is no way I could survive driving around here in Japan without one, even if I can read Japanese. The first mechanical mod was to change out the standard suspension to the Nismo S-Tune package. The closest 'tuner' to me when I lived in Tokyo was the Nissan Prince Motorsports Division in Shinagawa, and so not knowing anything, heeded their advice as I gradually made modifications, hence, the penchant for Nissan/Nismo parts, at least initially. This is why I ended up with the full Nismo Circuit Link set up on my car. I also had the Fujitsubo Super Legalis R stainless steel exhaust on my car as well, because Fujitsubo and Nissan Prince Tokyo have a long relationship going back to when Nissan Prince Tokyo fielded an N1 racing car. Other early modifications included an HKS oil cooler, carbon fiber rear wing with small Gurney flap that I sourced from Yahoo Auctions, and an HKS Kansai carbon fiber front under diffuser.
Bye-Bye Engine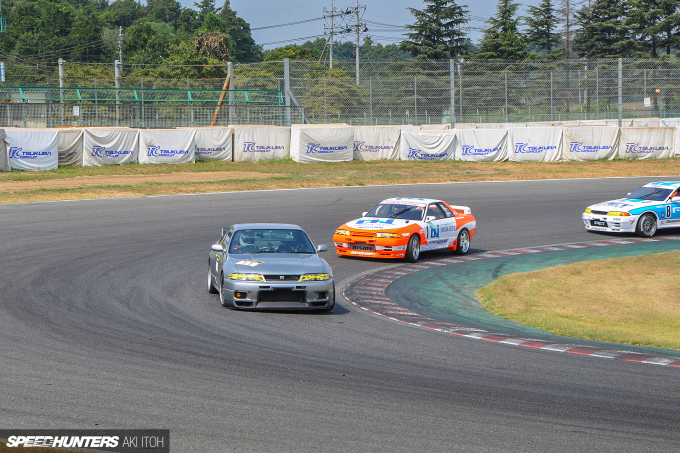 And then, after a few track days at Fuji Speedway and Tsukuba, it happened; I blew the engine. I remember exactly what happened, too. I foolishly downshifted from fifth into third into the first corner at Fuji, but without adequate use of the brakes (which were fading), trying to scrub off enough speed by engine braking. This caused the engine to over-rev, the oil pump to break, and the engine to lose all oil pressure, then seize. Dead.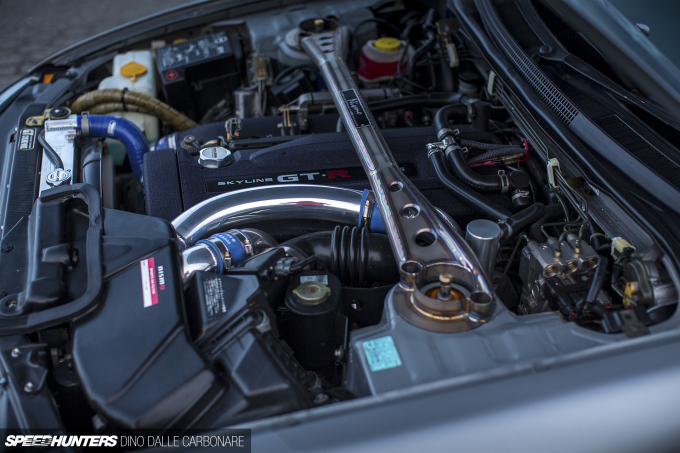 A few months later, the engine bay of my car looked like this.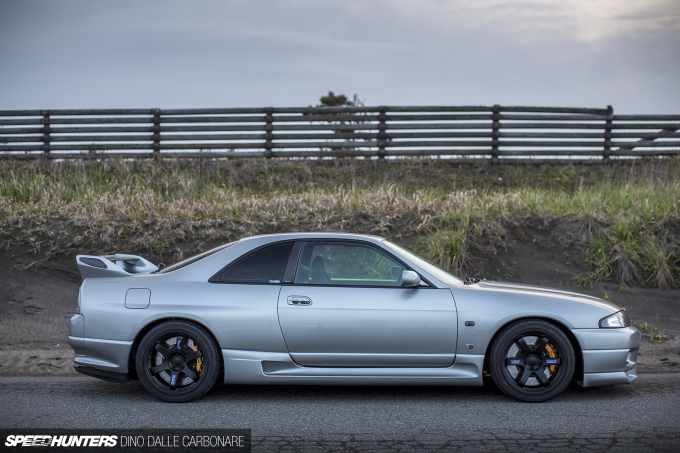 From that day back in late 2007 to the present, I've been, as my budget has allowed, steadily modernizing and refining the car.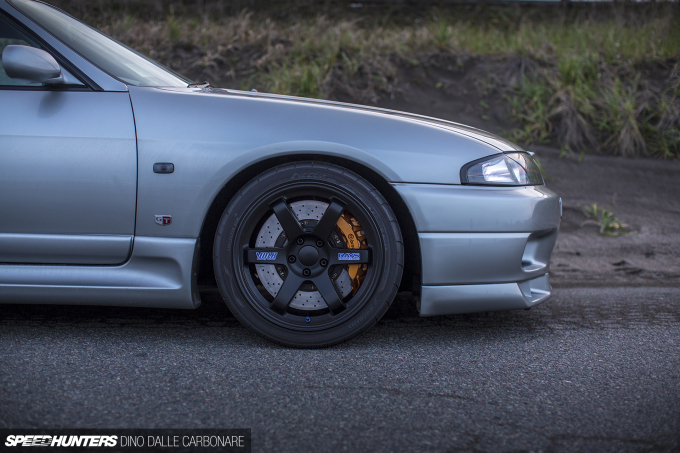 This includes improvements to body rigidity (all Nismo braces offered, the Nagisa fender brace, Spoon Sports Rigid Collars, Yamaha-built Nismo performance dampers, Nismo titanium strut tower bar, S15 trunk brace), along with a proper OS Giken LSD and Ohlins DFV coilovers.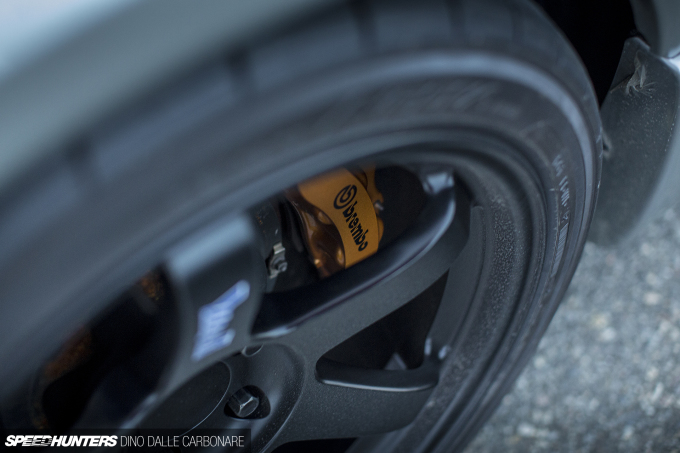 Braking was always a big one on the list, and after some time I decided to adapt R35 brake calipers and rotors even before Nismo offered them. Replacement of the analog 'pendulum in oil' G-sensor for Do-Luck's digital and configurable G-sensor (DTM II) followed.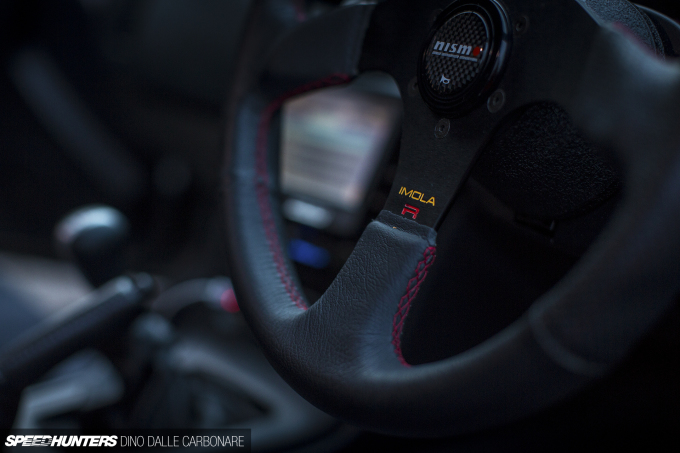 I also replaced the OEM steering wheel with some Italian flair (rewrapped by Robson), and some LED upgrades both inside and out.
The Pursuit Of Balance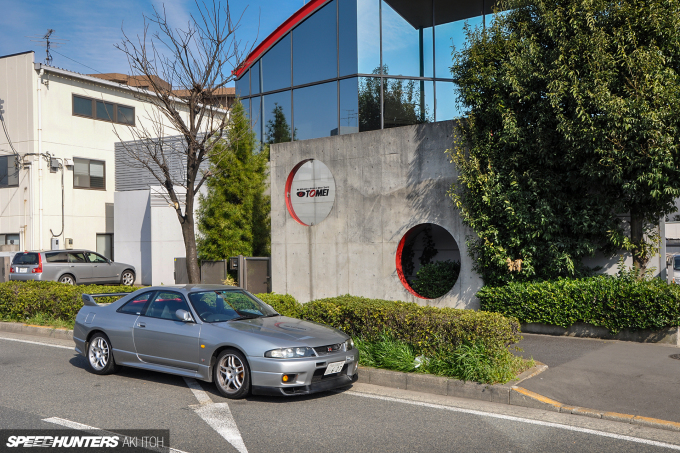 I was also invited to have my car serve as the jig for all R33s when Tomei Powered developed its titanium exhaust series (Tomei Expreme), so naturally I fitted my car with one of the first ones.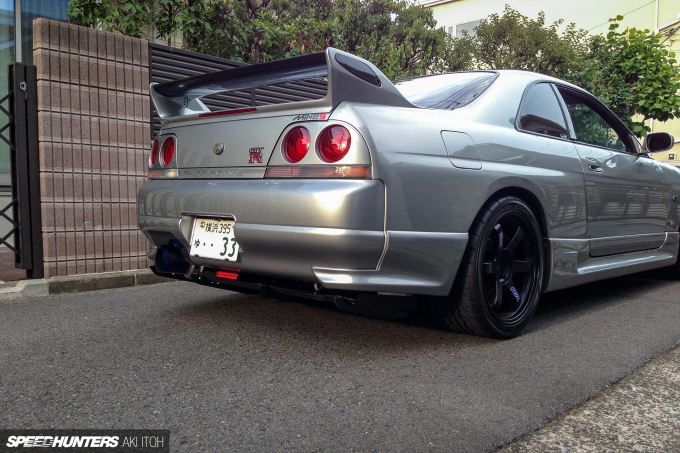 Aesthetically, I'm a big believer in keeping the OEM look as much as possible. So, besides the aftermarket carbon rear spoiler wing, having the rear windows tinted, and recently the addition of Nismo 400R side skirts, most of my efforts have been to keep the car as clean as possible. I've also attempted to add some improvement to underbody aerodynamics with the addition of the OEM R34 GT-R V-spec rear carbon diffuser.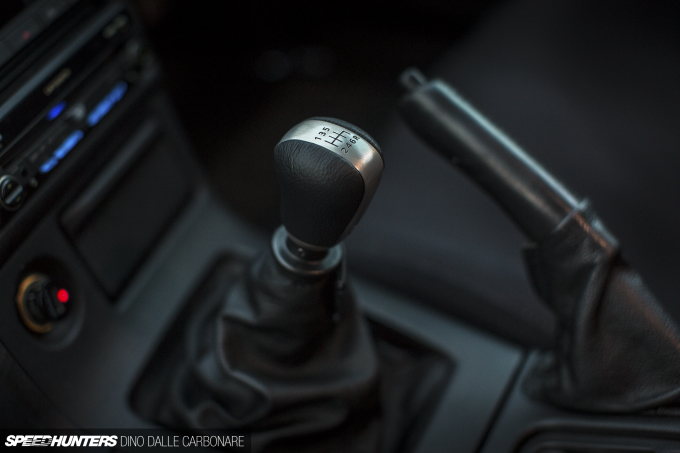 Last year I finally bought a second car for daily use, and so the only major modification I made to the GT-R in 2015 was the BNR34 Getrag 6-speed transmission conversion offered by Nismo.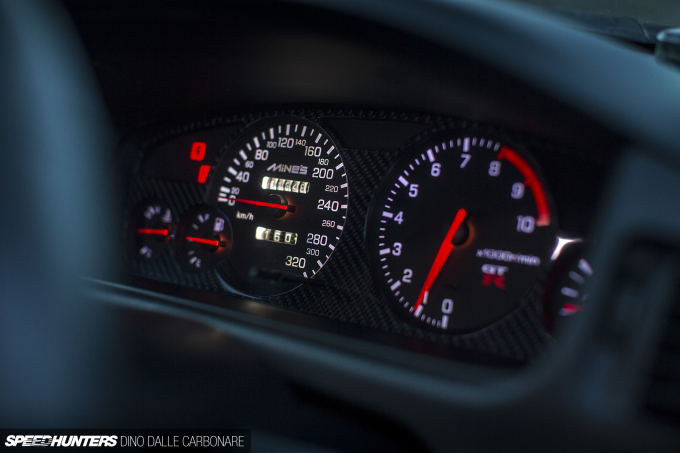 My current modification wishlist includes modernizing the engine ECU (currently the custom VX-Rom that came with the engine), improving/modernizing the interior and the stereo, and refining certain bits and pieces. I am open to suggestions you guys have!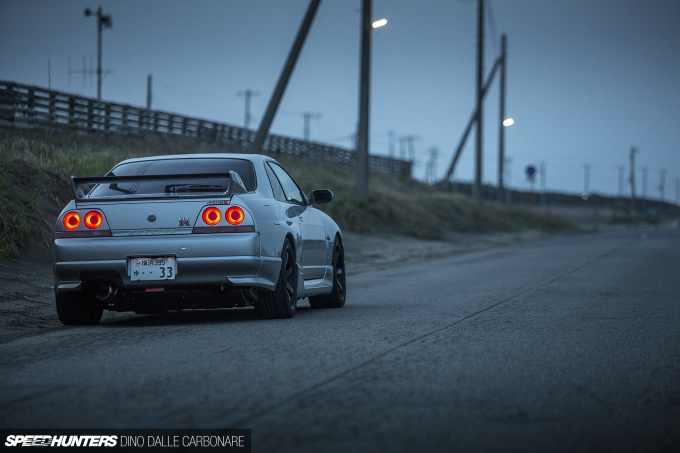 Anyway, I hope this serves as a good introduction and that my efforts will help popularize the R33 GT-R.
Aki Itoh
Instagram: aki_itoh
aitoh@hotmail.com