A Nation's Pride
Global Warfare brought perhaps the largest international drift battle since the inaugural Red Bull Drifting World Championship in 2008.
With 15 nations represented, it was certainly the largest event of its kind that Europe has ever seen. And what for? We've spoken ad infinitum about Ireland's unbeaten winning streak in the past, to the point where even some of the Irish were hoping for the stretch to be finally broken, including IDC boss, David Egan.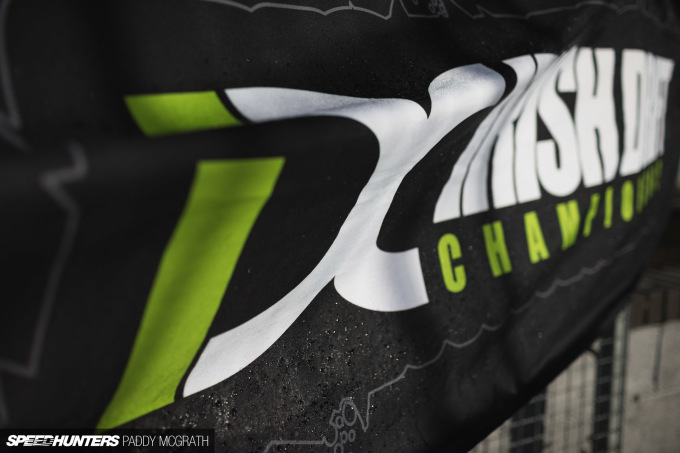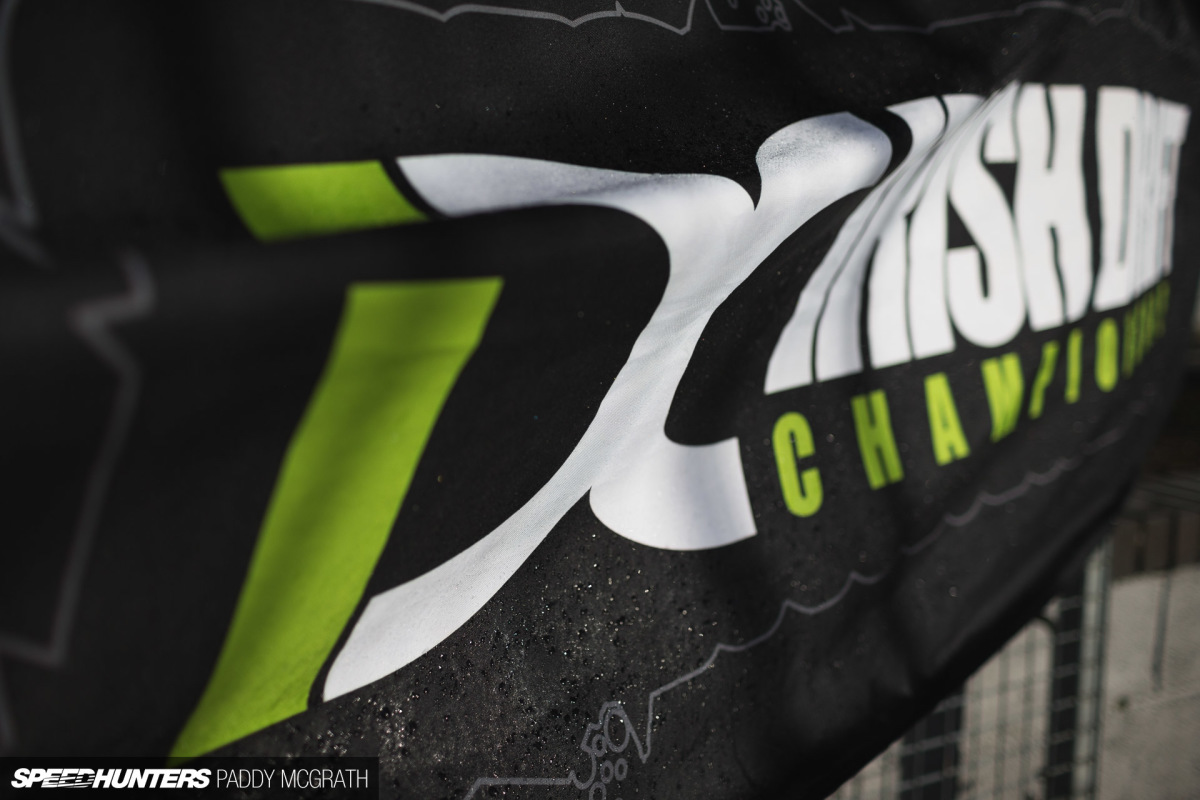 You might think it's strange that some were praying for their defeat, but the narrative is getting old and being beaten would ultimately benefit Ireland by forcing us to focus and improve after reflecting where it all went wrong. Year after year though, and the unbeaten streak continues to extend; a run of success that no other major drift series can boast. Not Formula D, not D1GP, none.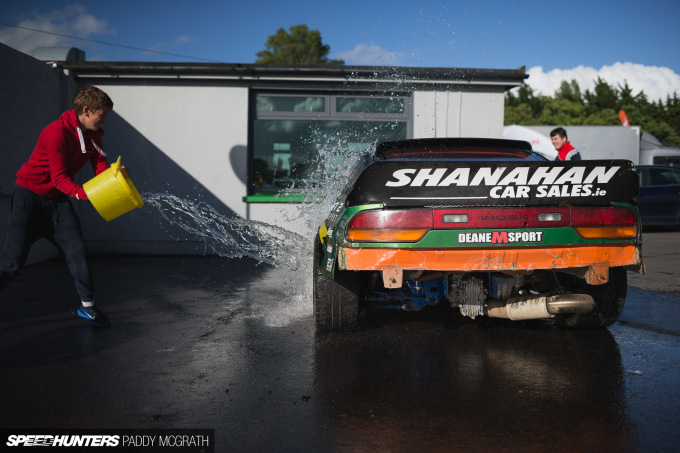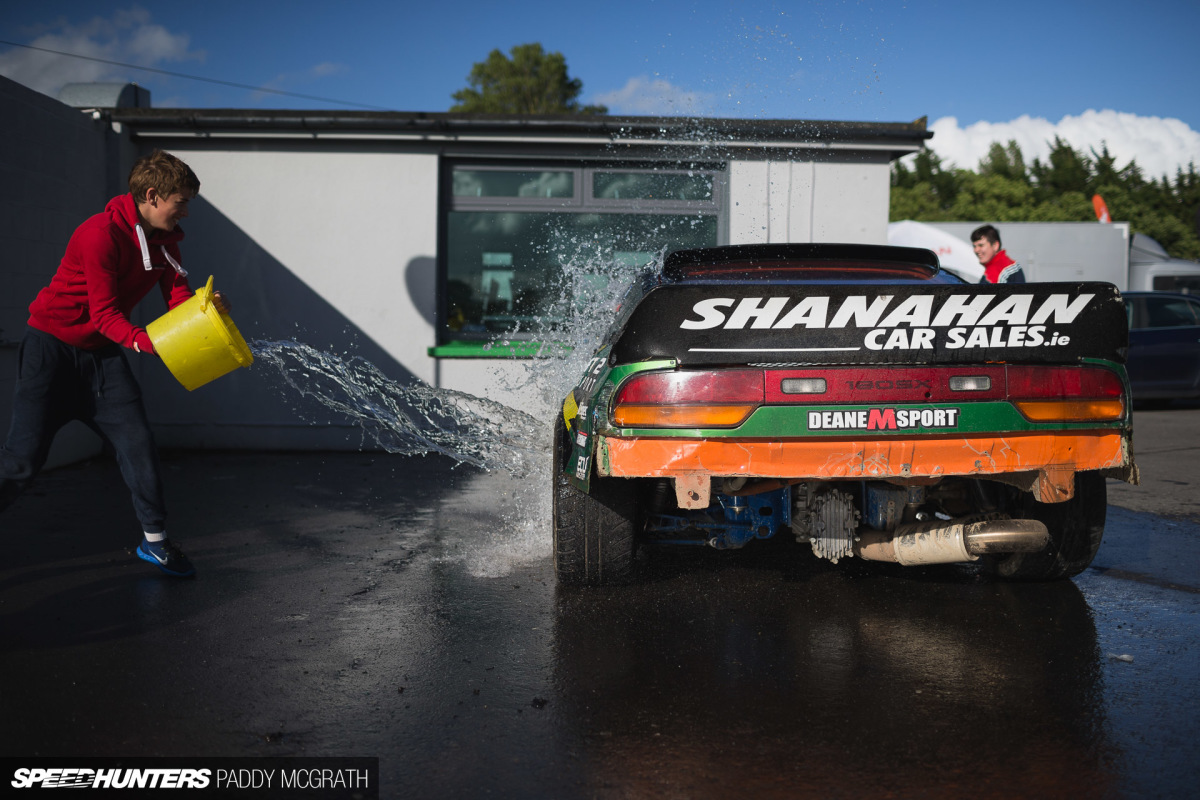 For quite a few years, I've patiently waited for this defeat to come. Even recently, I was fully behind Forrest Wang finally taking the scalp that so many other drivers had tried, but failed, to claim. Forrest came close, to his credit, but the top step of the podium eluded him.
It was only after Forrest's defeat though, that I took stock of the situation. I've never really belonged to anything and the Irish drifting community is family to me. It sounds corny, but where others had their local sports teams growing up, I had these guys and girls instead. There's a bond between us that has been formed over the course of a decade, which is, for all intents and purposes, unbreakable.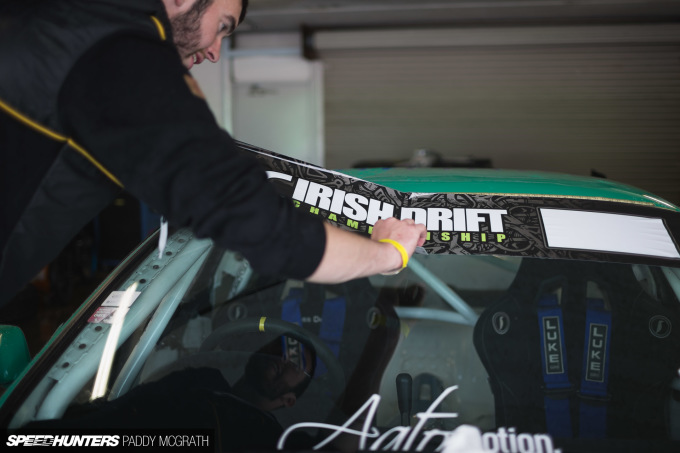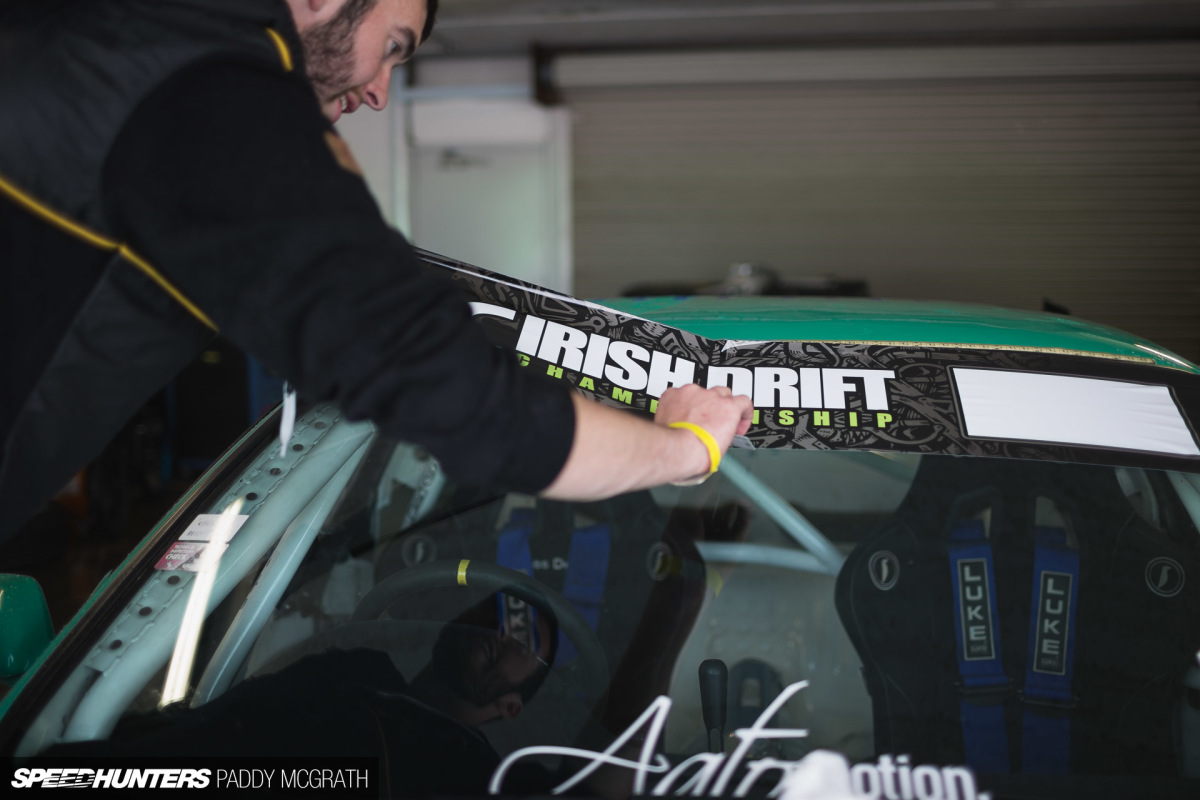 Whether you're a newcomer or a veteran, everyone is immediately made part of the family. It's this cohesion and togetherness that has made us so strong. We're used to having to fight for everything, with drifting considered the outcast of the Irish motorsport community, itself the outcast of society in general. Nothing has ever come easy.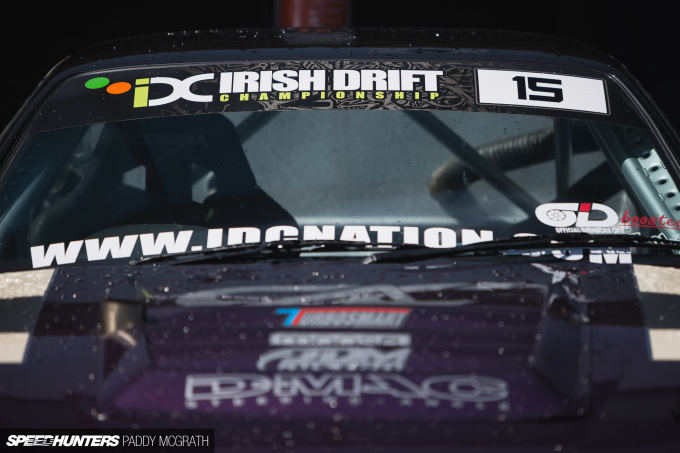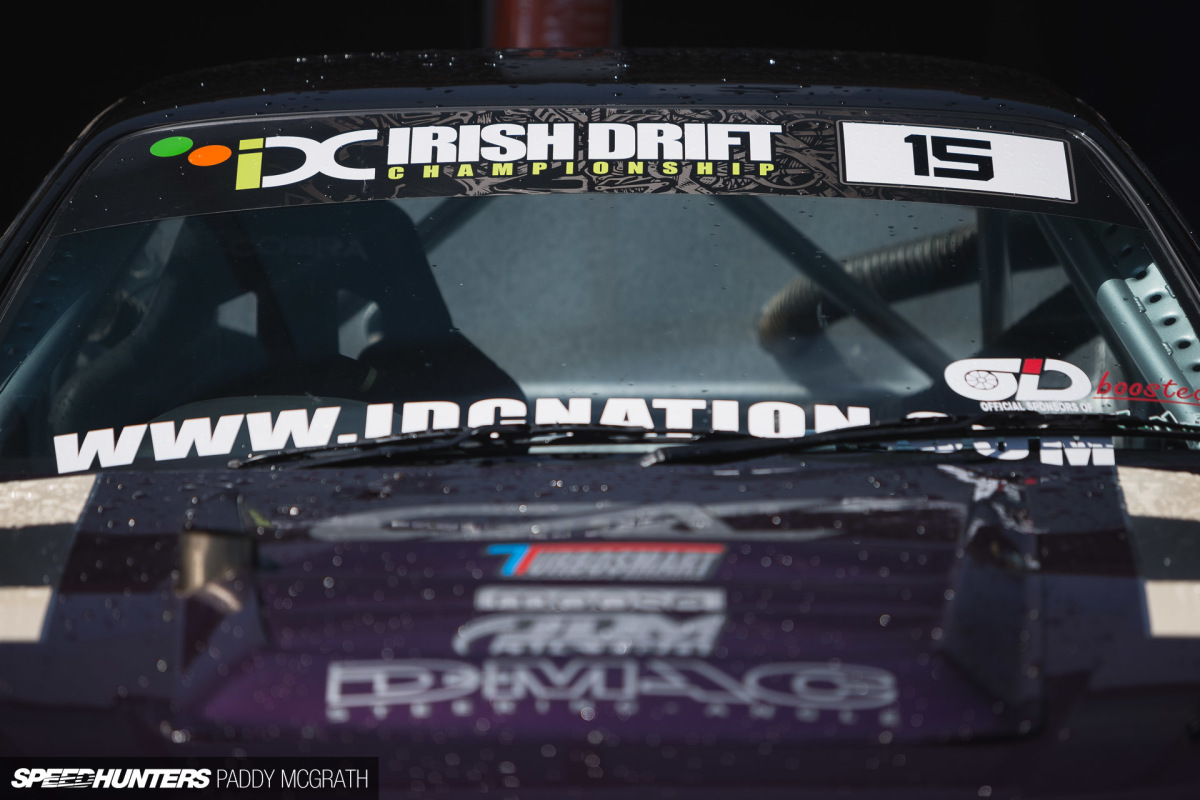 With a small population – less than that of Manhattan – comes a minuscule resource pool. With limited access to finances, venues, sponsors and spectators, we've had to constantly think outside of the box. IDC in particular have had to be especially creative in this regard. The launch of IDC Nation was a master stroke. By launching a subscription-based service which hosted every event's livestream, plus an awesome full length documentary, it allowed the series to expand its viewership worldwide.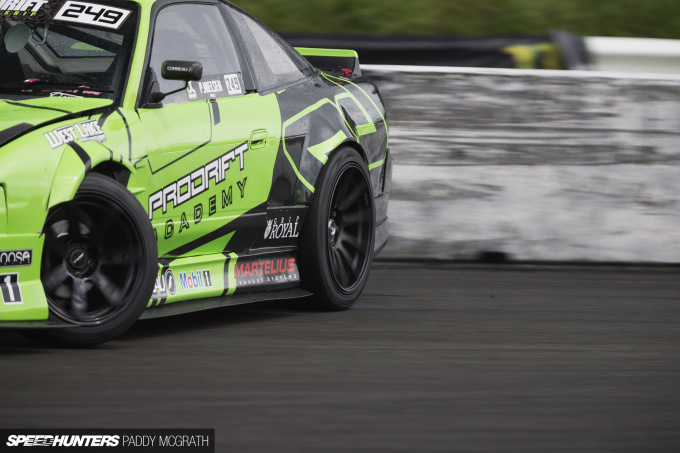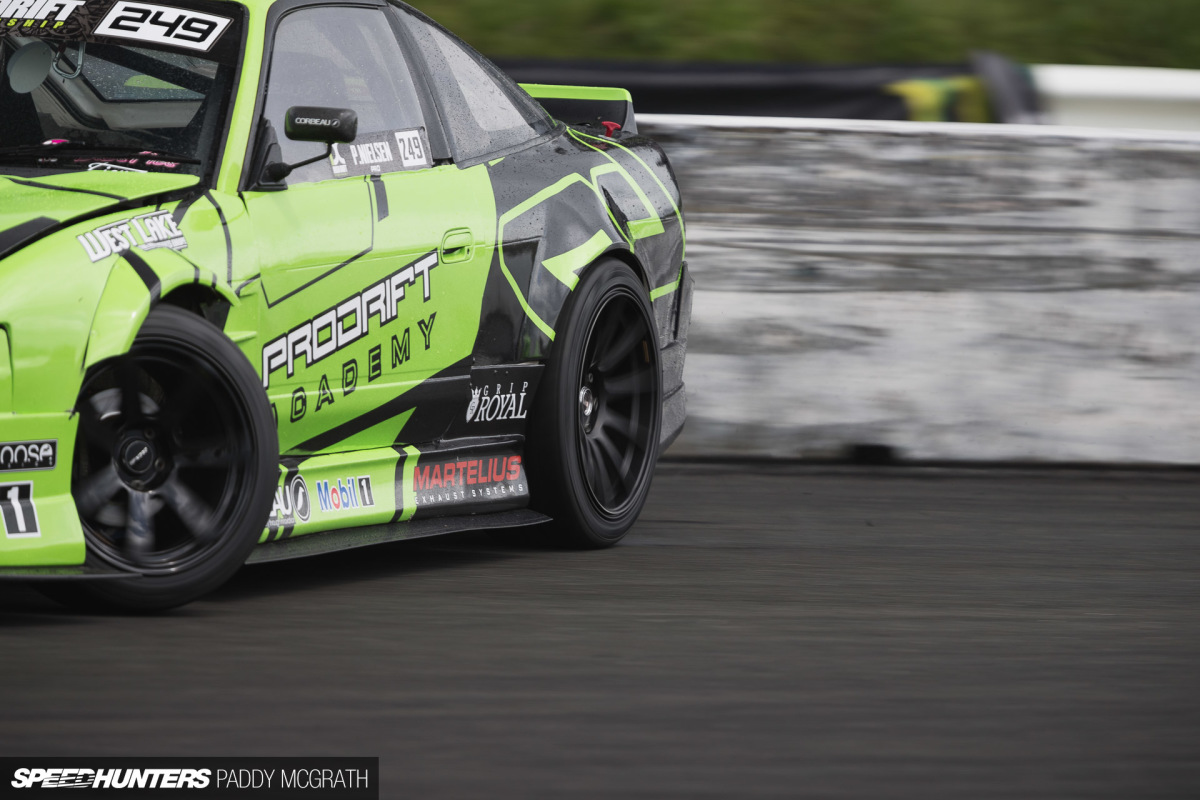 The real beauty of this service though, is that the money raised from subscriptions are pushed directly back into the series by bringing over guest drivers and to support the drivers already competing as best as possible. The ultimate goal is to be able to pay a roster of drivers a wage to compete doing what they love; to give back to the very people who make it happen.
It's probably obvious by now, but yes, I am incredibly biased on this matter. I think IDC is the best drift championship on the planet right now. It strikes that perfect balance of top level driving, but remains connected to drifting's roots. Going into Global Warfare III, I was quite firmly behind the Irish, whatever was to come.
I just don't think anyone expected it to play out like it did…
The Drift Allstars Invasion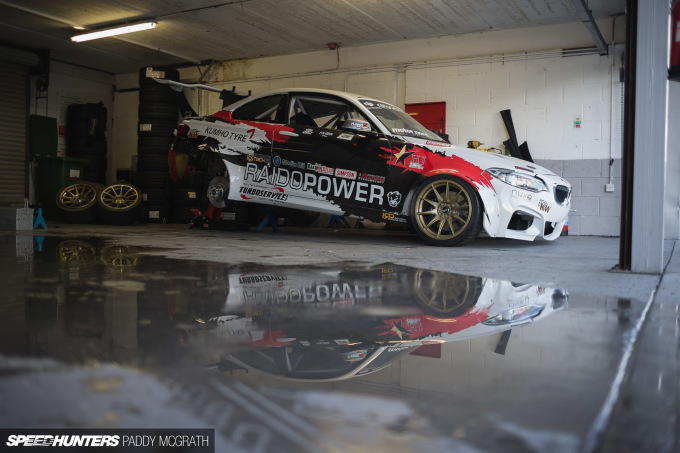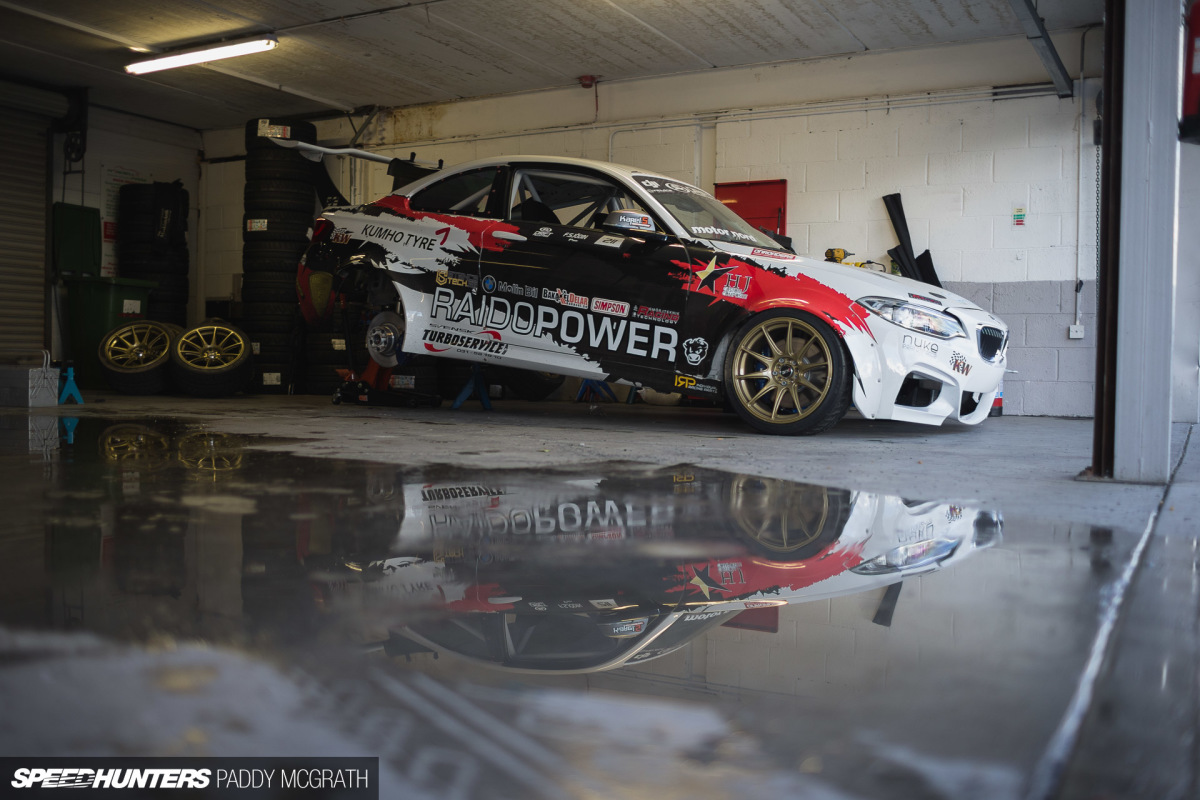 More so than previous events where an outsider attempted to defeat us on home soil, I was particularly concerned about the quality of the opposition this time. Primarily, because I had seen the majority of these drive (in person) before, and secondarily, I had often touted a few of them as being capable of beating us.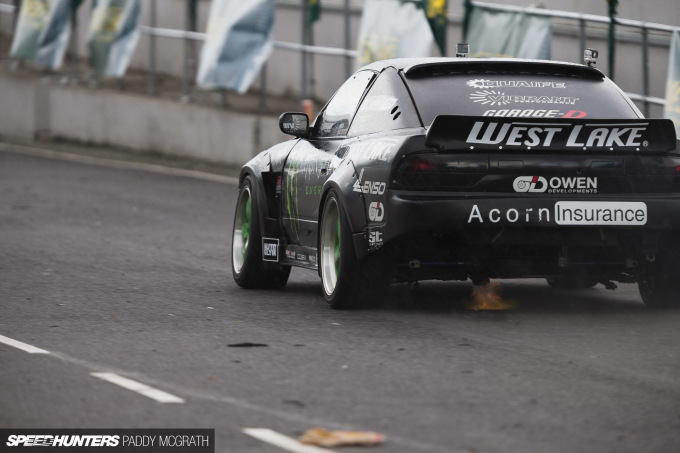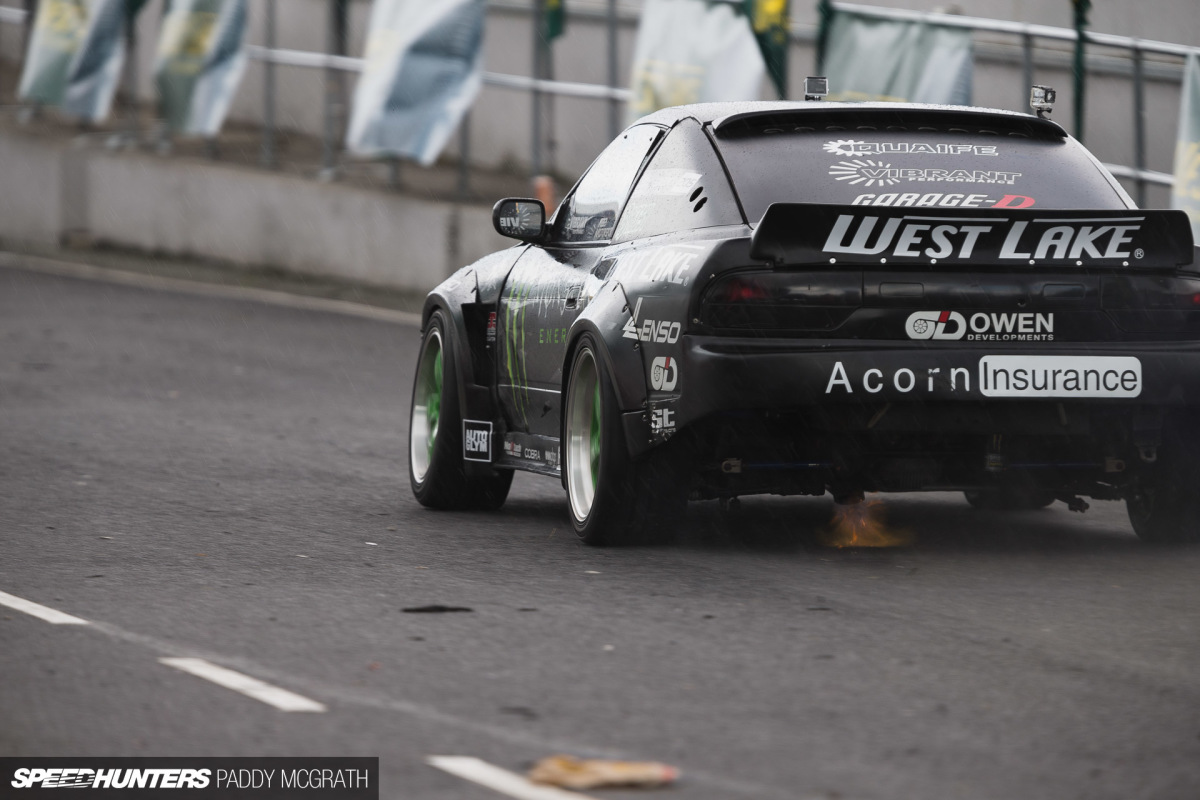 Then there were those who had recently stepped up several gears; Steve 'Baggsy' Biagioni being one who impressed all weekend. He's really found a new turn of speed and aggression and opened a lot of eyes from the get-go on Friday evening practice.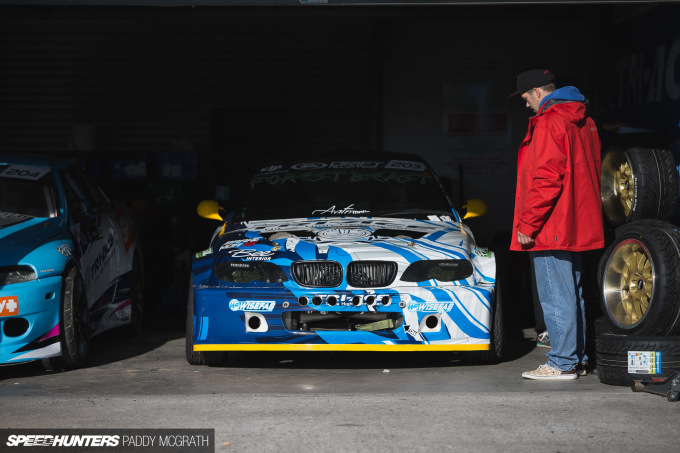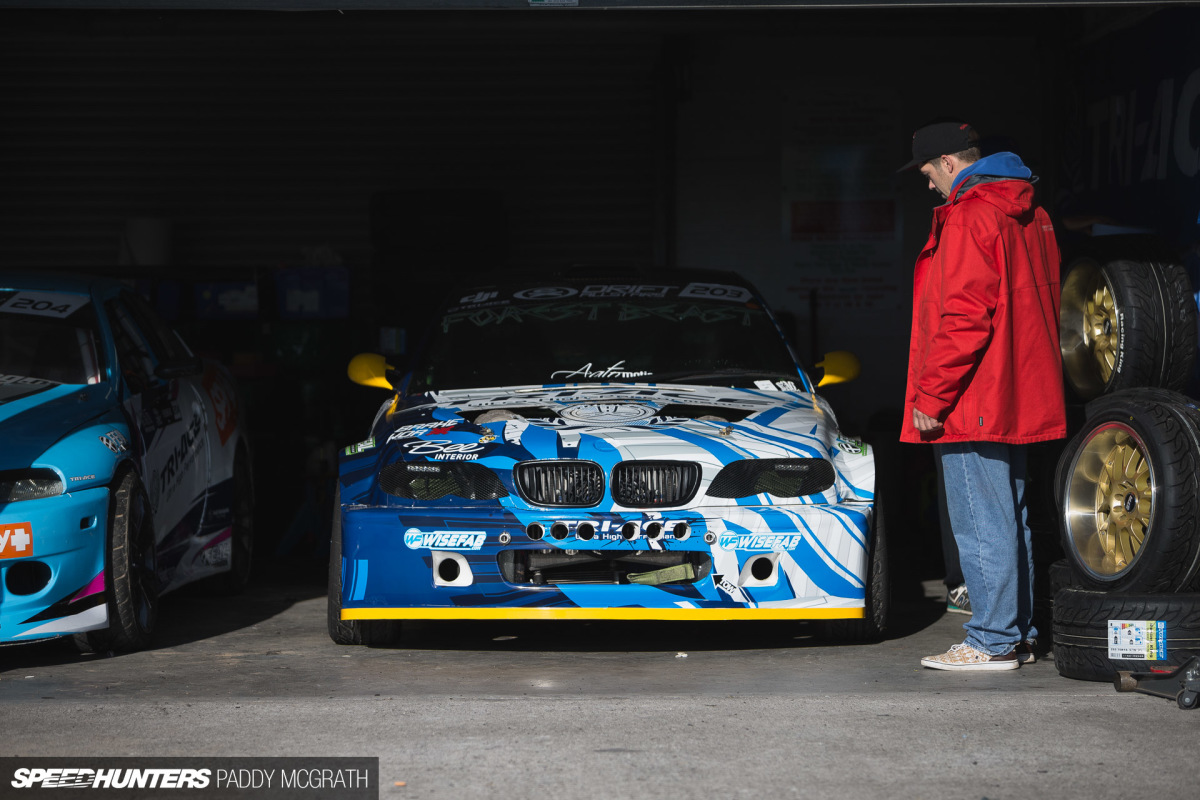 Janis Eglite is someone whom I've been fond of for quite a while; he's aggressive but knows exactly just how aggressive he needs to be. His twin-turbo LS-powered E46 is more than up to the task.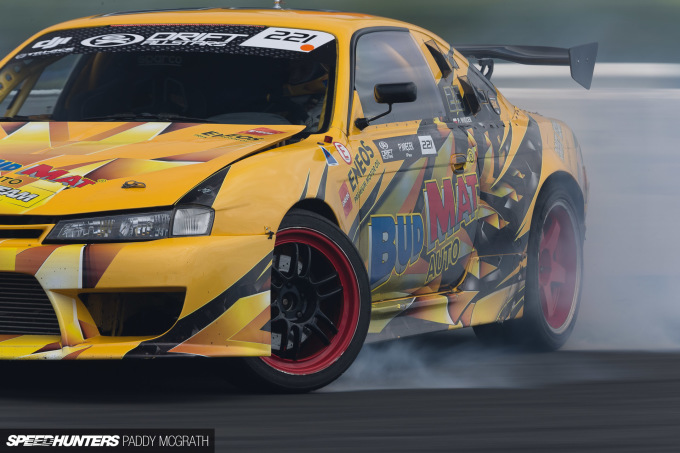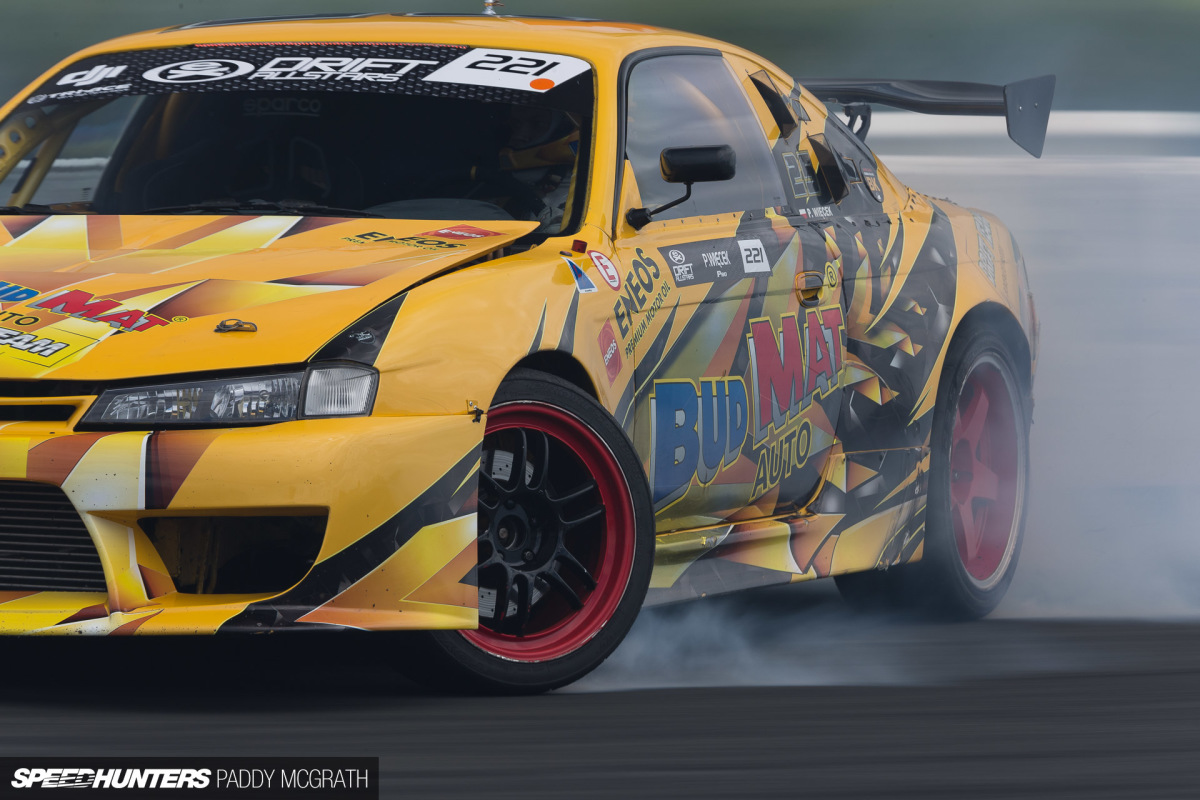 I said this in the preview, but Piotr Wiecek was the one that really scared me going into the weekend. His aggression in battles is second to none and he's beaten our champion, James Deane, on more than one occasion.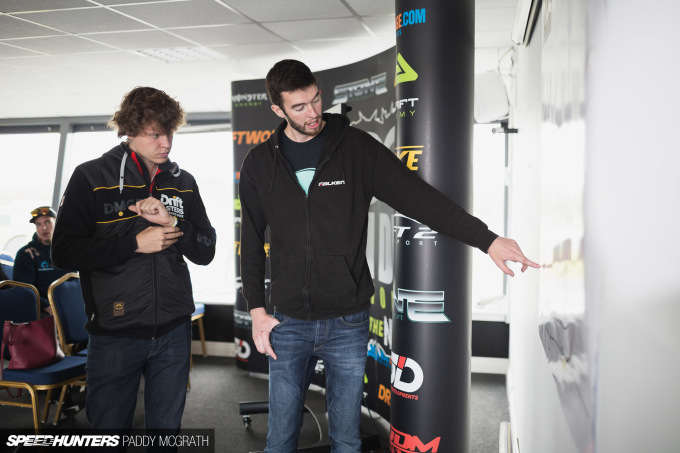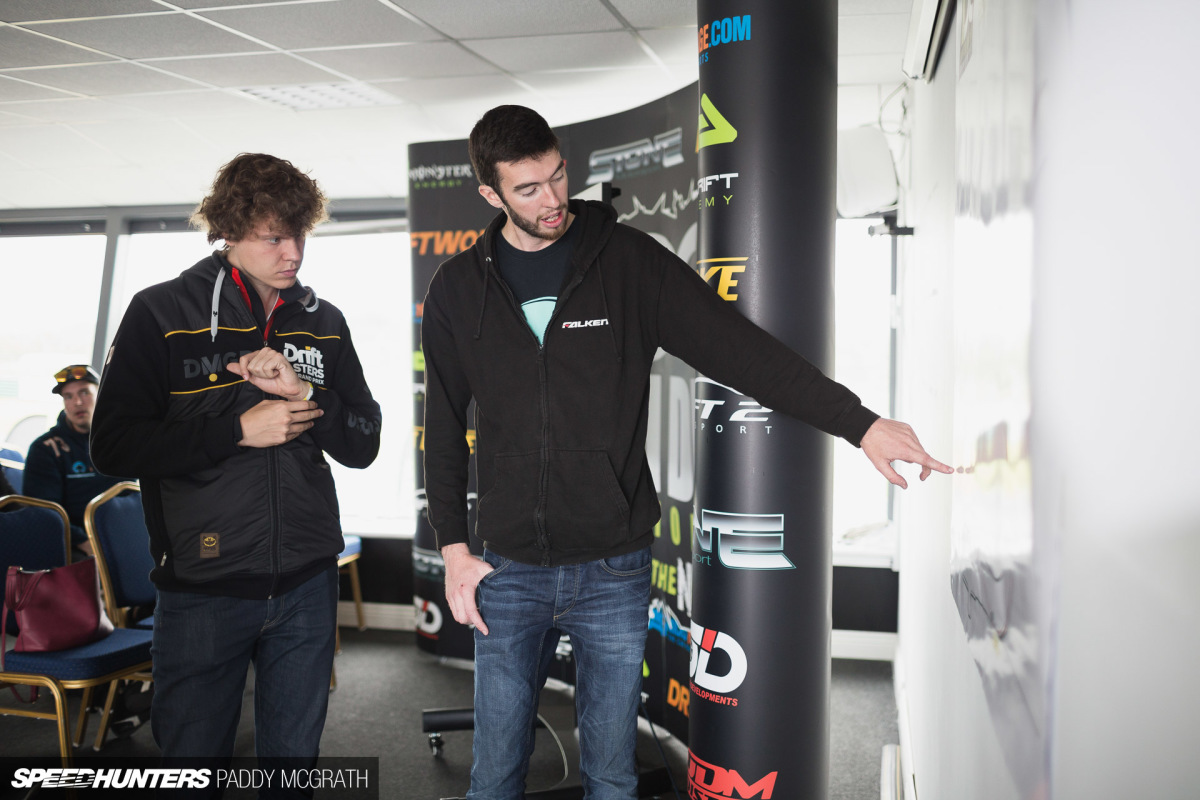 You might have expected some animosity between the rival camps, but I don't think there was anything extra that the hosts could have done more to help the visiting drivers. This is Deane talking Wiecek through the course and making sure he understood the judges instructions.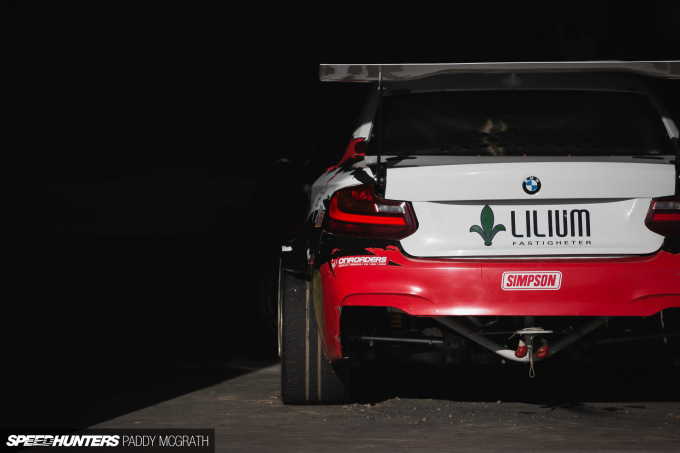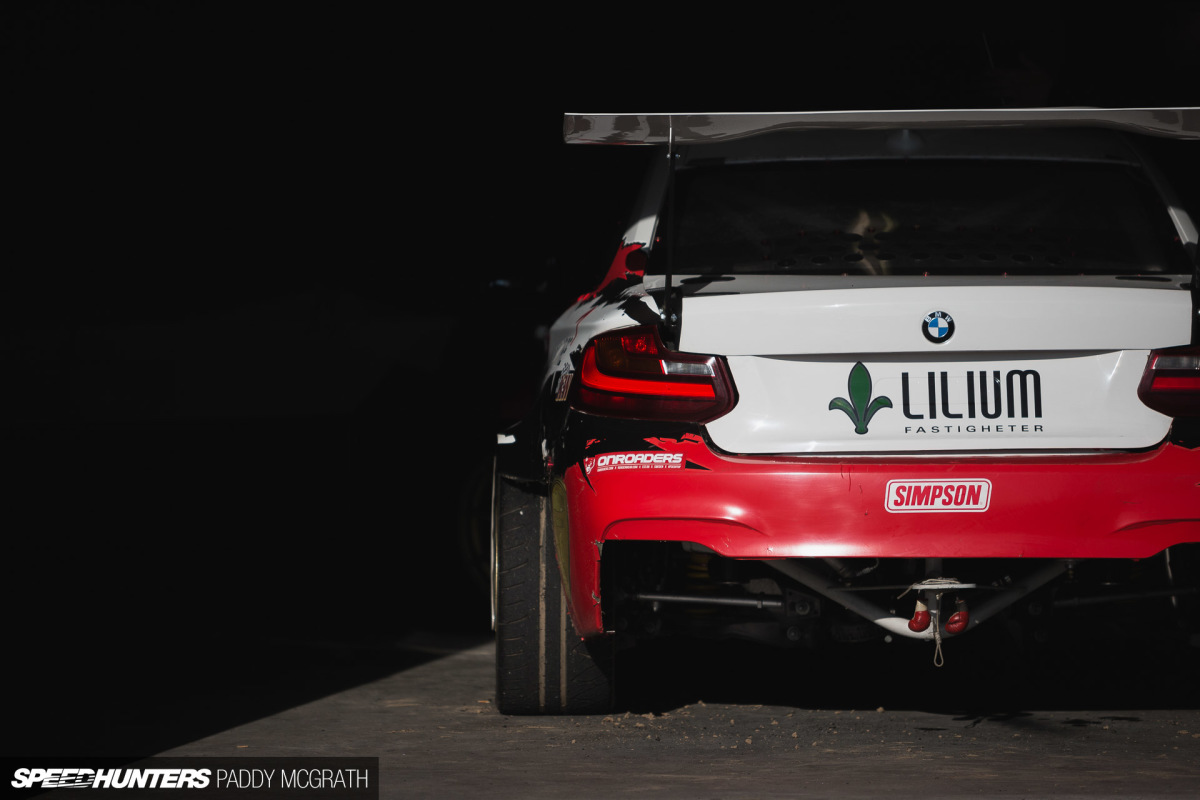 Not for the first time, but by far on the largest scale, the contenders from abroad would all be driving their own cars. It doesn't matter how good a borrowed car is, it still takes time to learn and to get comfortable with. By driving your own car, on your tyres, with your setup, there's zero room for excuses by the time the event ends on Sunday evening.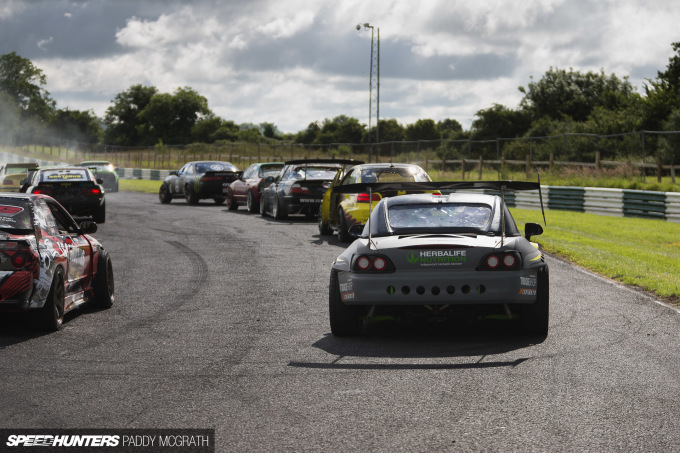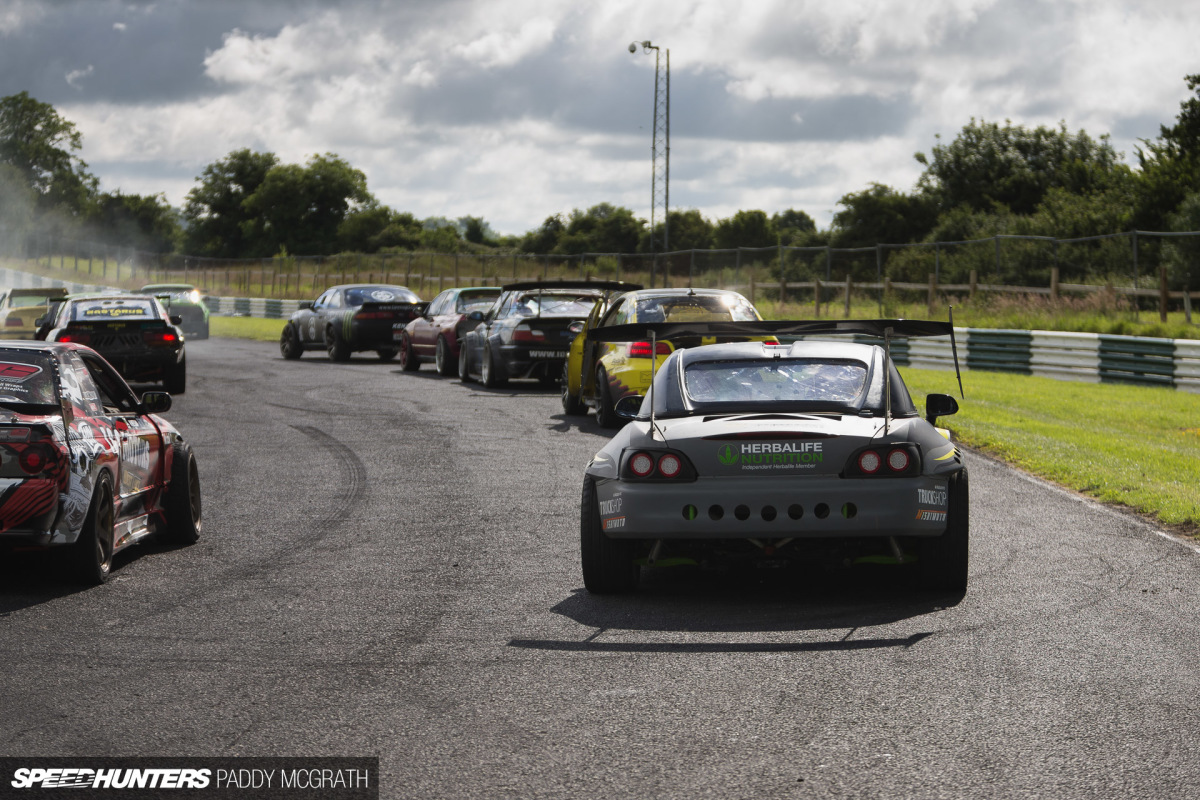 I would be quite interested in hearing what Formula D or D1 fans make of this grid?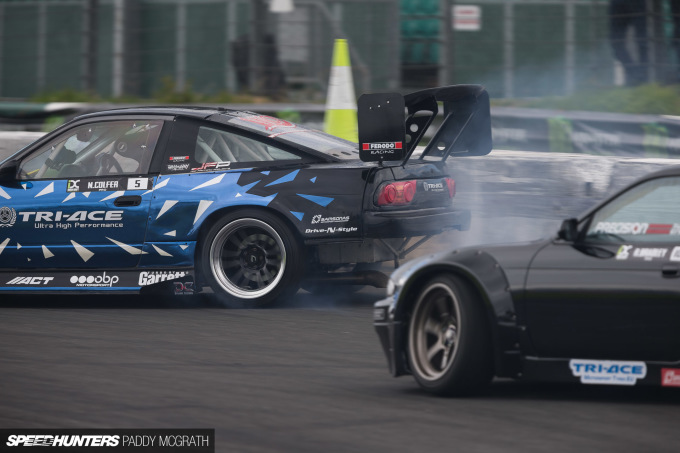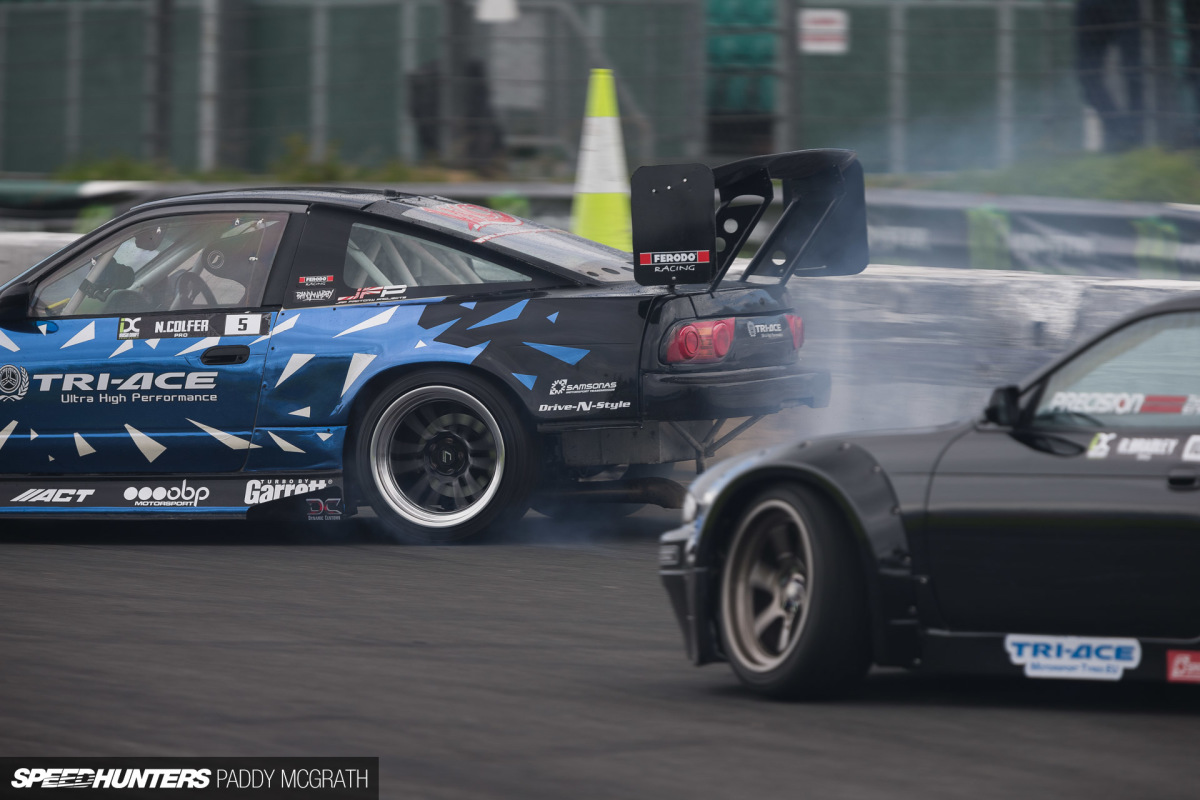 I think there's a good variety of style, a lot of which seems to be a natural evolution of what we first saw in Japan all those years ago. The 2JZ is the engine of choice for the vast majority of Irish drivers, along with those still committed to the RB series and even the SR20DET. The lowest powered car on the IDC pro grid is a 198hp BEAMS 3S-GE-powered AE86, which still puts up a fight far bigger than it ought to be able to.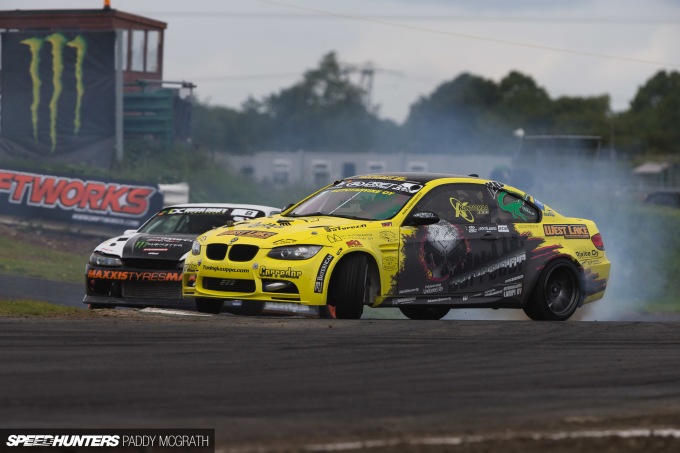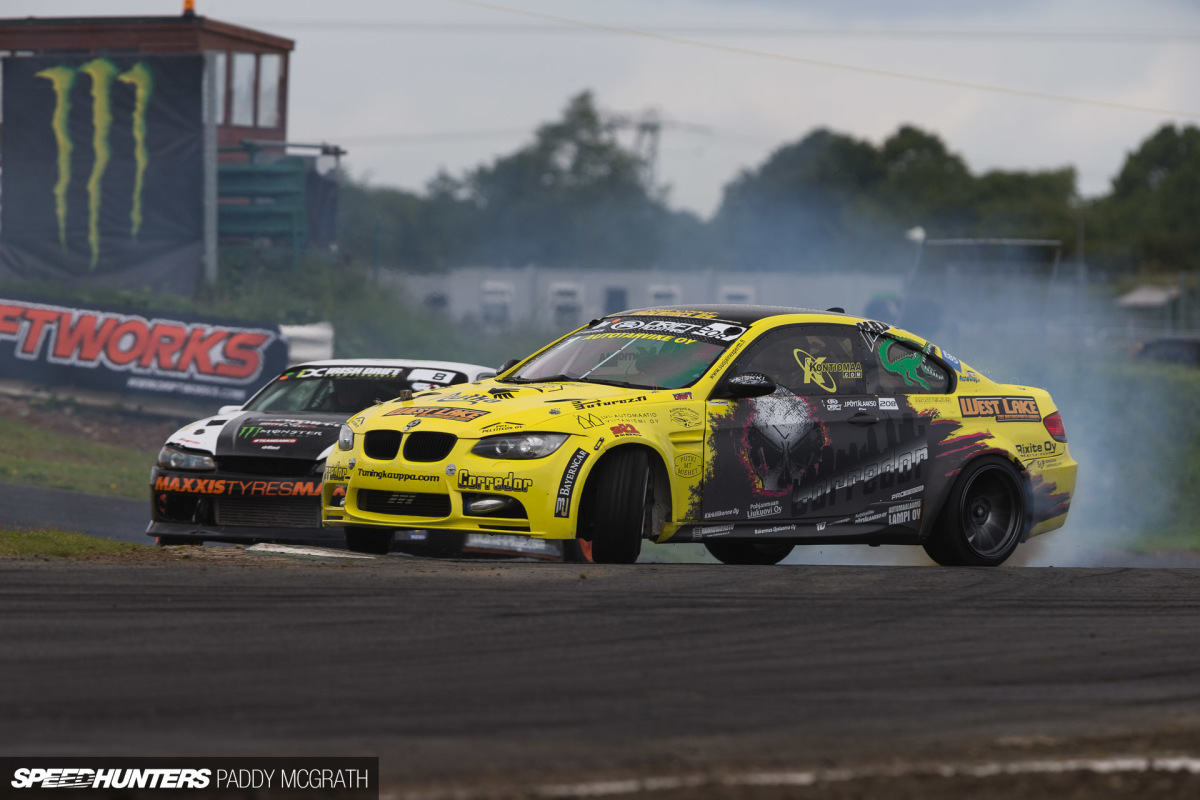 The Drift Allstars side is an assortment of a little bit of everything, although turbocharged V8s are certainly at the fore.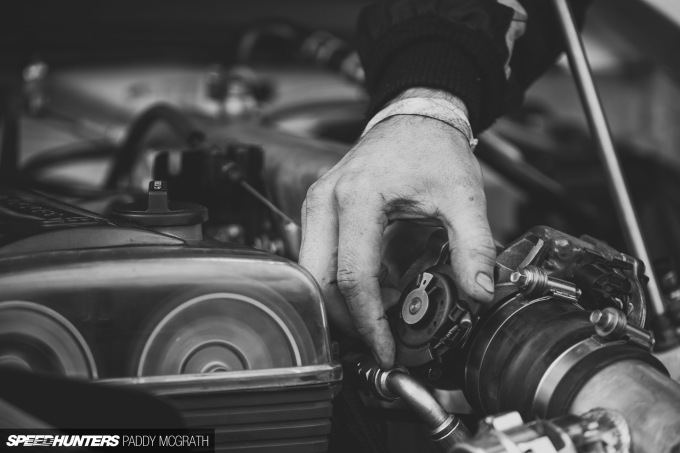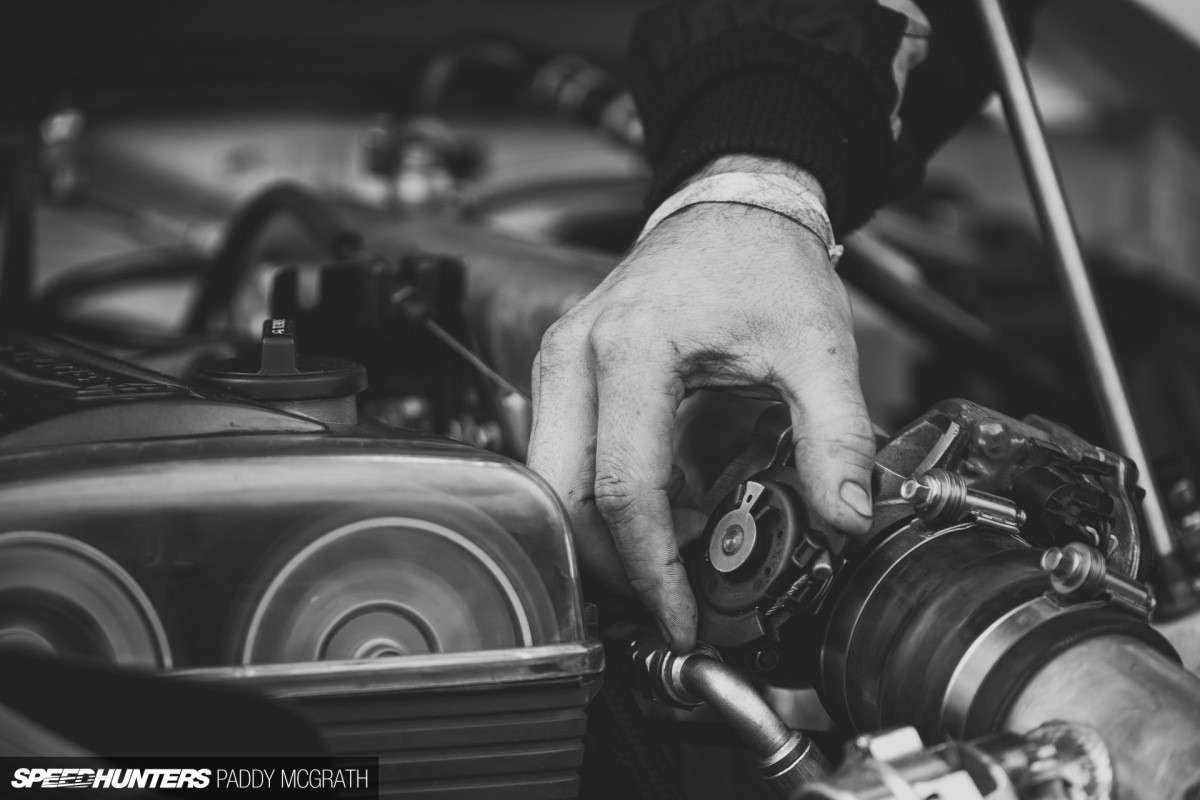 It was a tough event on cars for all involved, with more than one weekend-ending failure before the competition started in earnest. Some managed to struggle through, quite admirably.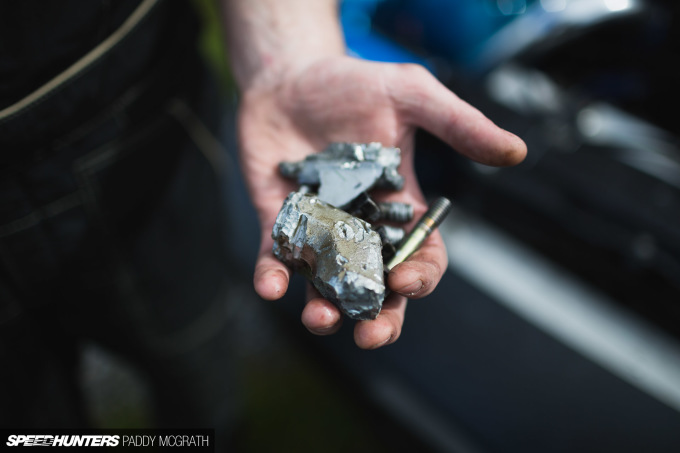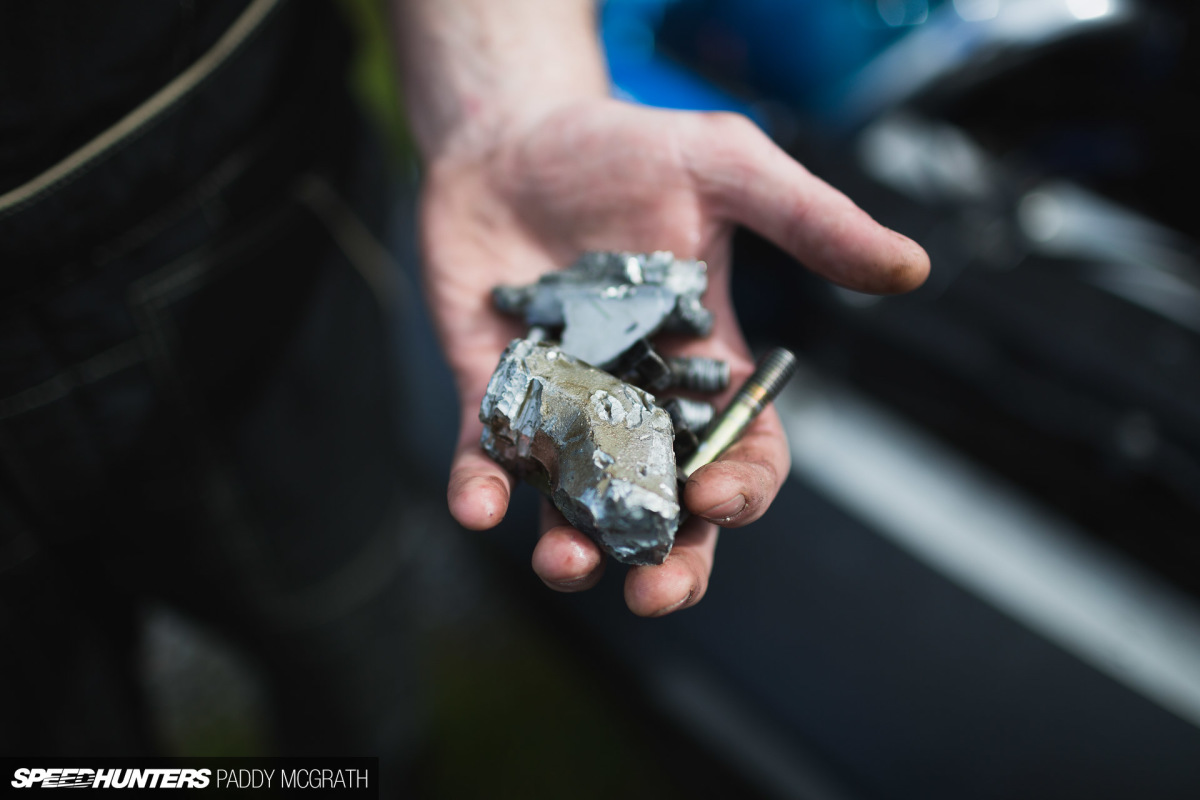 Others were not so lucky. It's hard not feel sorry for those who don't even get the opportunity to qualify, especially after the countless late nights and significant expense involved in getting a car ready. As tough as it is, that's motorsport.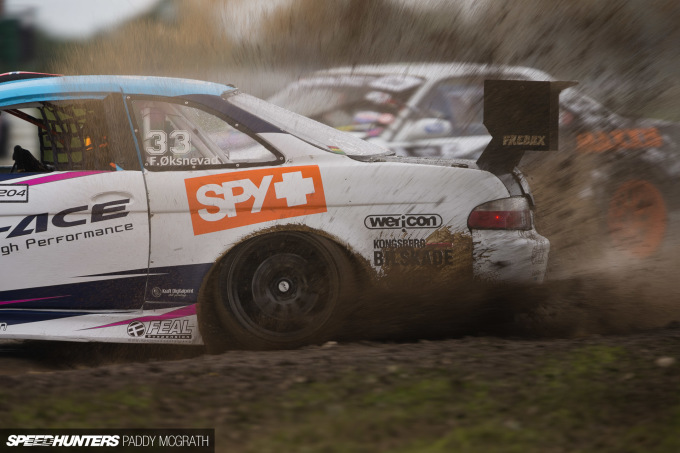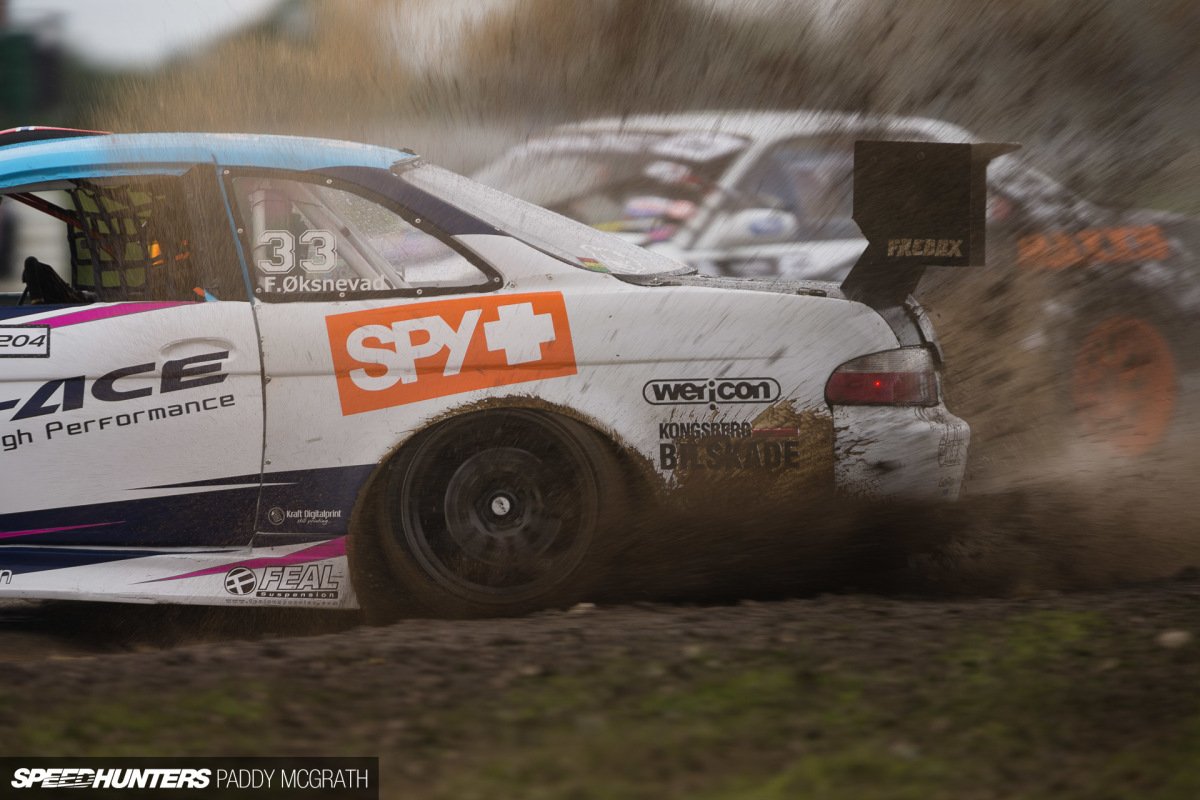 Changeable conditions over both days of practice only increased the difficulty of learning the course for the newcomers, with one lap being dry and the next being slick with a brief but significant amount of rainfall. There's not a single inch of forgiveness in this layout either, with a tough outside clip after a very fast and blind entry. Fredrik 'FredOX' Øksnevad wasn't the first and certainly wouldn't be the last to perform a little bit of landscaping at Mondello Park over the course of the weekend.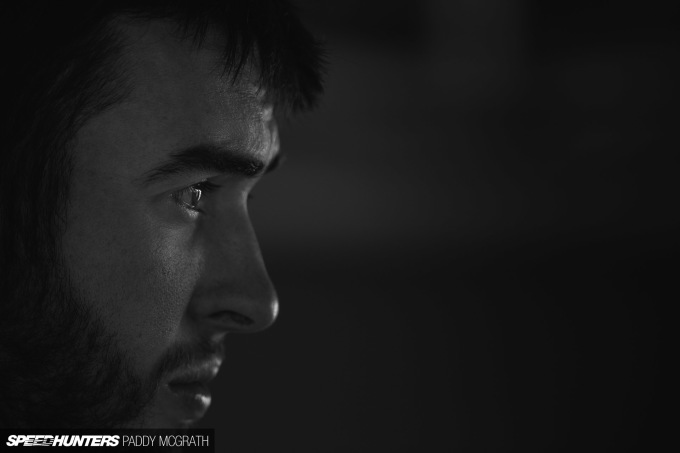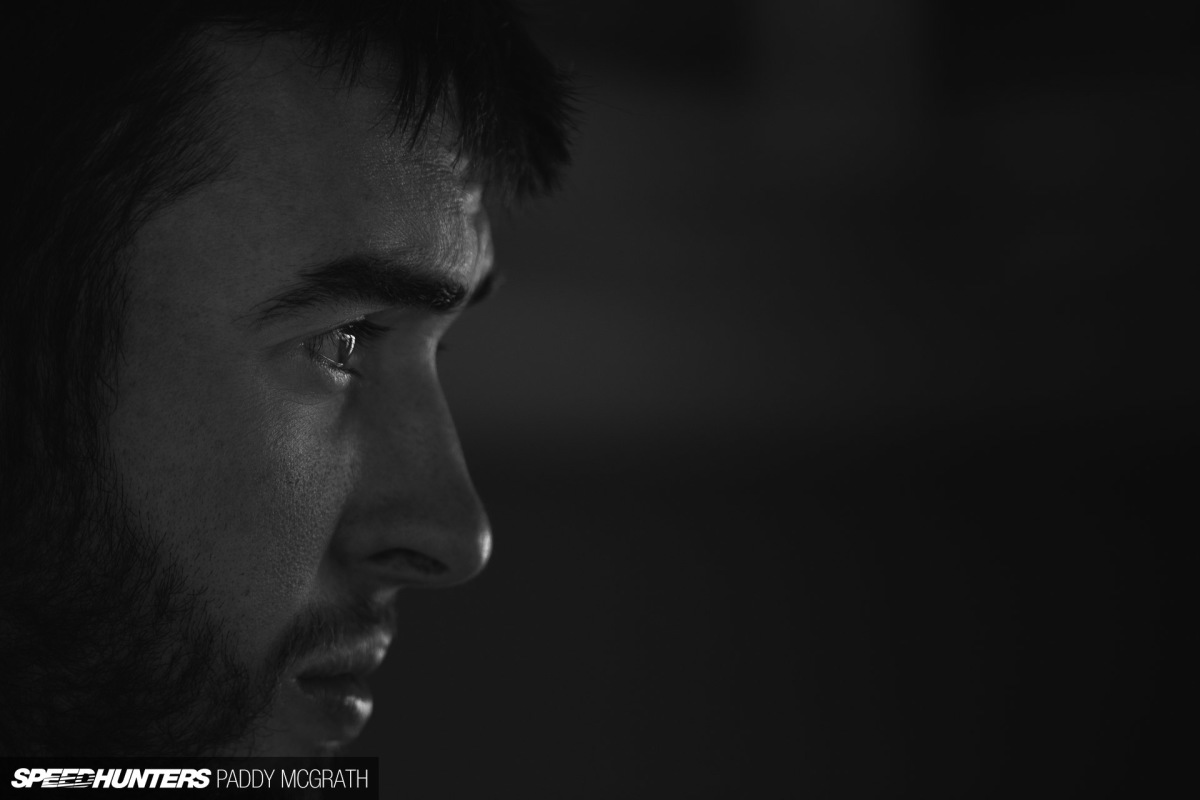 Post Saturday practice, there was certainly a realisation amongst the Irish that there was more than enough talent in the Drift Allstars camp to knock us off our perch. There was some comfort knowing that we still had Deane on our side, but from my own perspective, I felt we were putting a lot of pressure on one driver to protect the streak. Before the podium celebrations on Sunday evening, even 'The Machine' would fall foul of an uncharacteristic mistake that would see him defeated. This was anything but a typical IDC weekend in Mondello Park.
COYBIG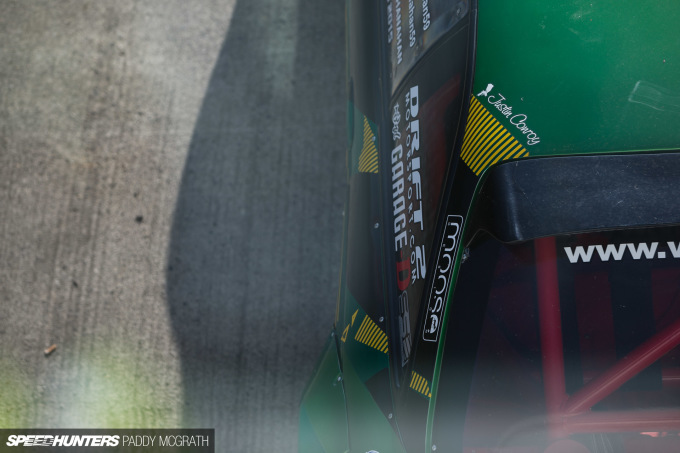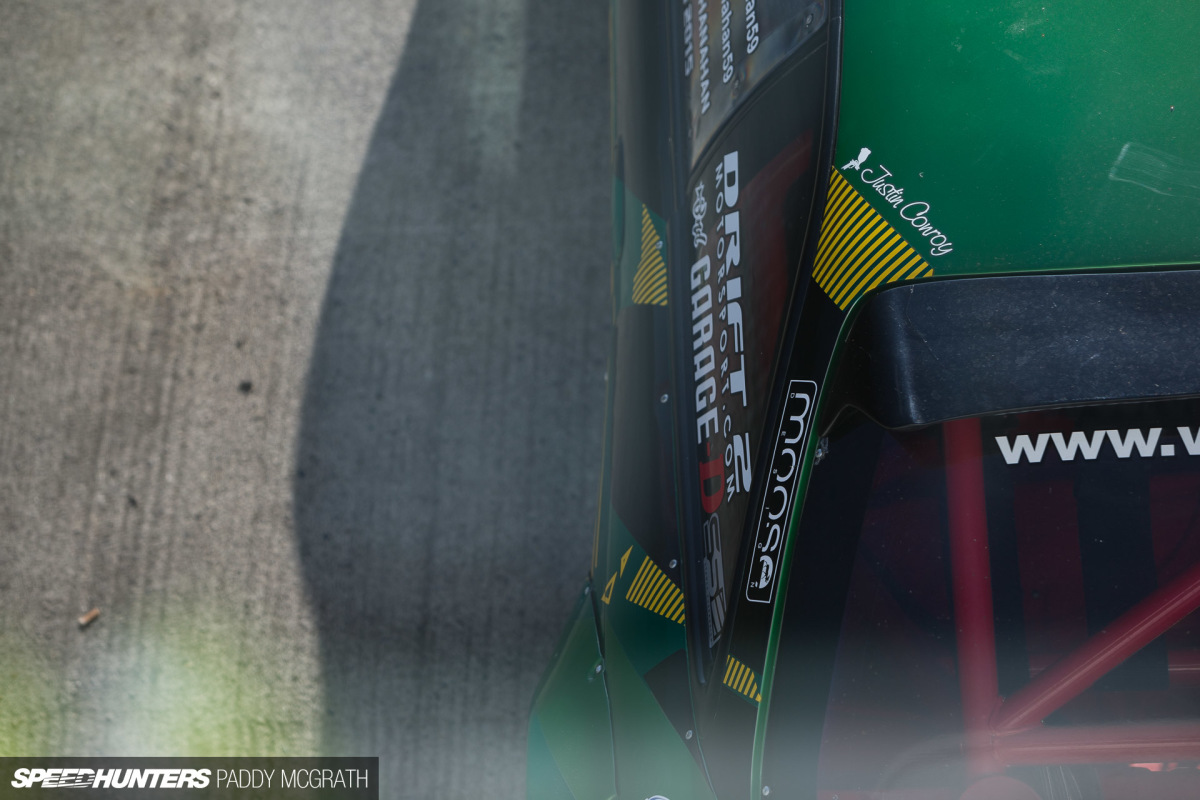 Where Friday and Saturday had been unpredictable with regards to weather, Sunday was consistently dry all day, changing between sunshine and cloud cover, but with no rain in sight.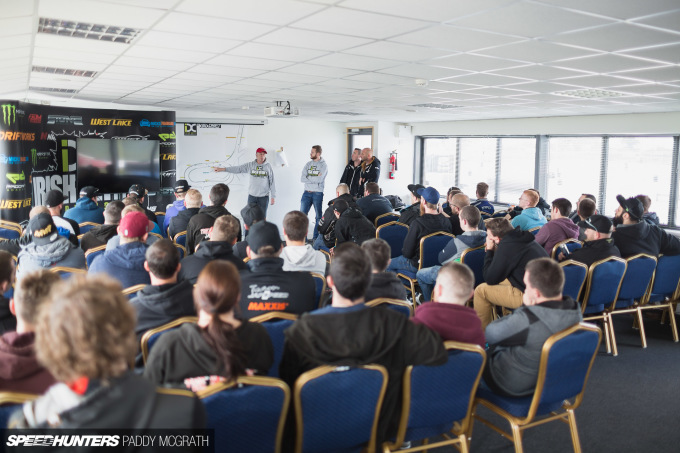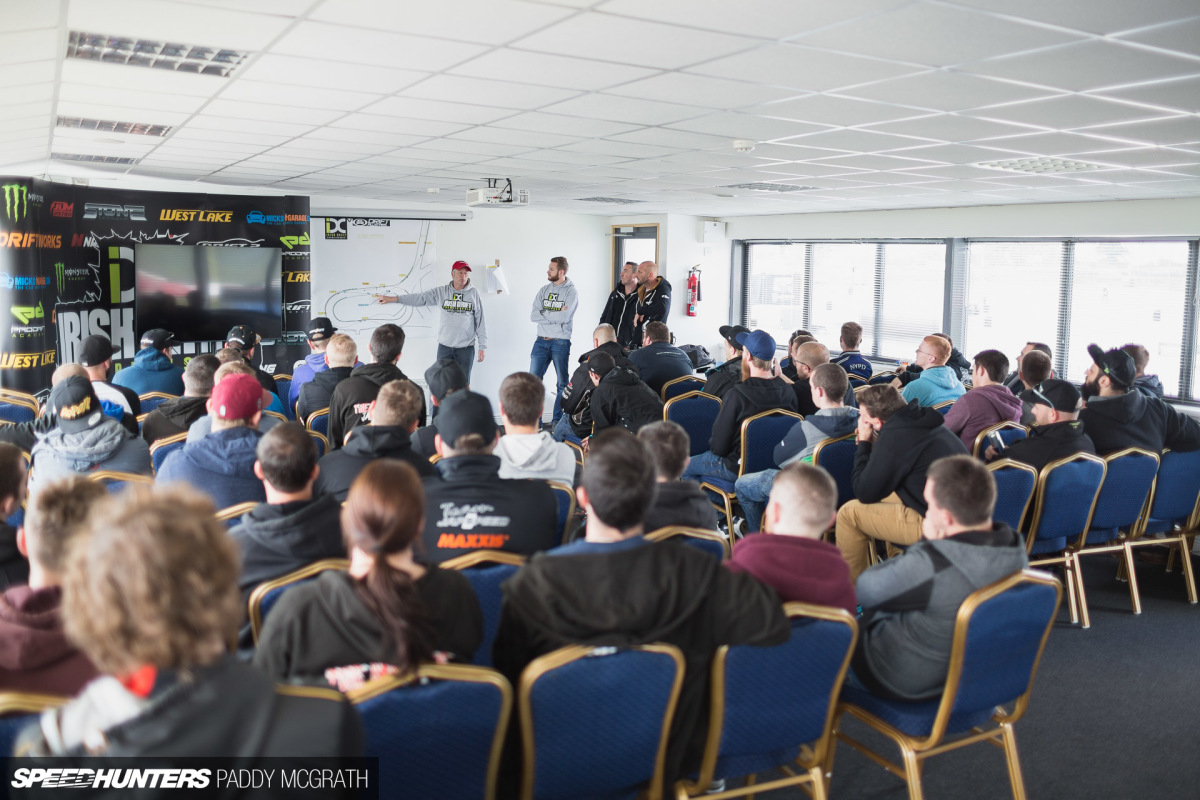 At this point in the weekend, there could have been no doubt as to what the judges were looking for. Two Irish judges, Kieran Hynes and Kevin O'Connell, would be joined by Drift Allstars judge, Olaf Commijs. Personally, I reckon Hynes to be the best judge I've ever seen oversee an event, and even his plea to the international guests was to listen to what he wanted from them, and that in truth, he couldn't care less if the winner was Irish or anything else. The winner would be the person who could deliver what he wanted.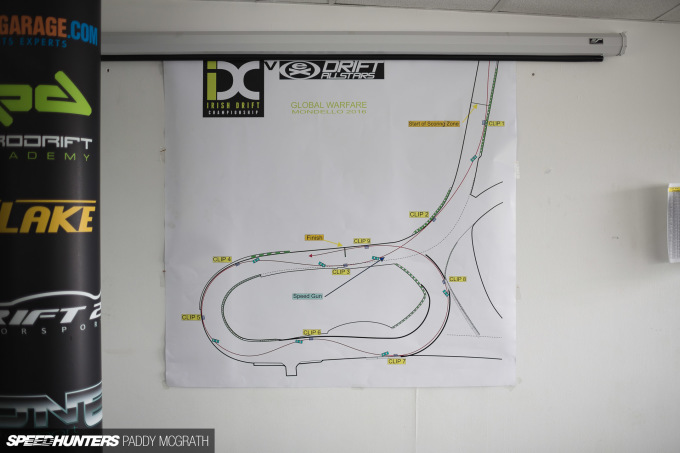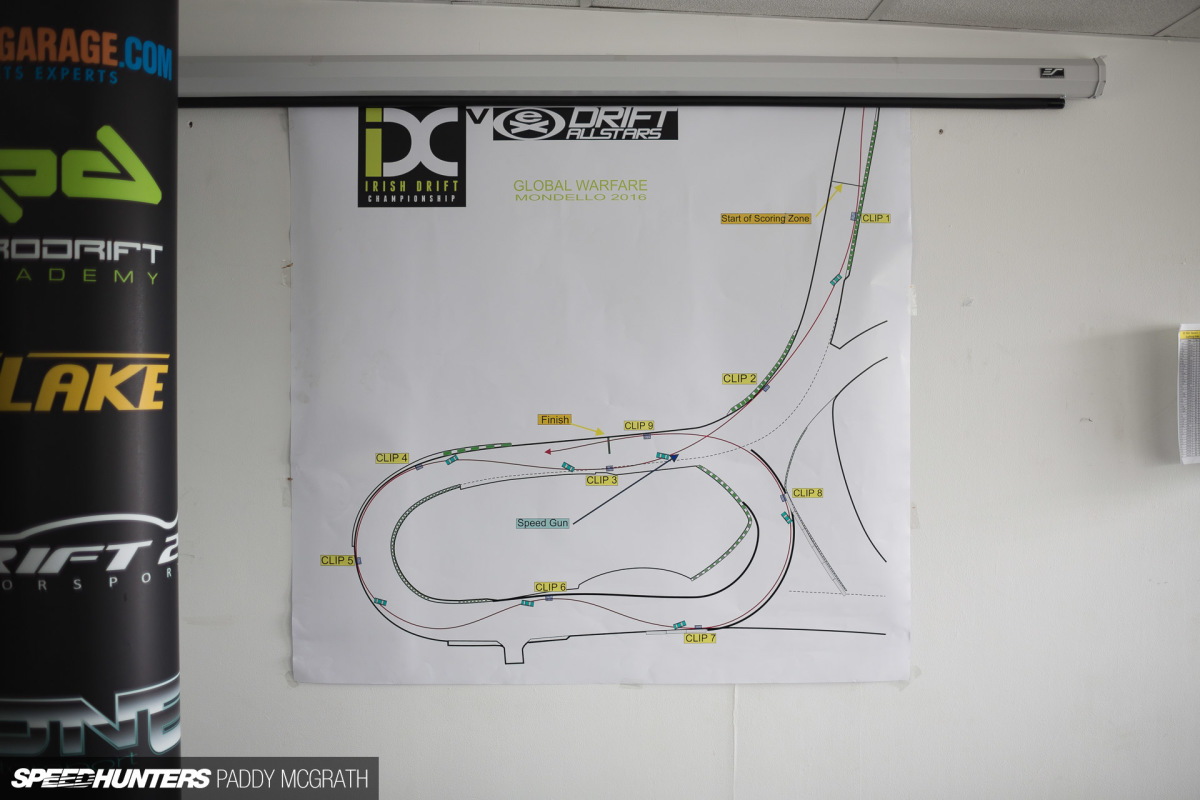 It might sound simple enough, but in the heat of competition, it's all too easy to default back to autopilot and disregard the specific requests of the judges. Nine clipping points, eight of which were outside clips, made up the Global Warfare course. Vehicle speed would be ascertained at the second clipping point, which would add or deduct points from a run depending if a driver was over or under the target speed.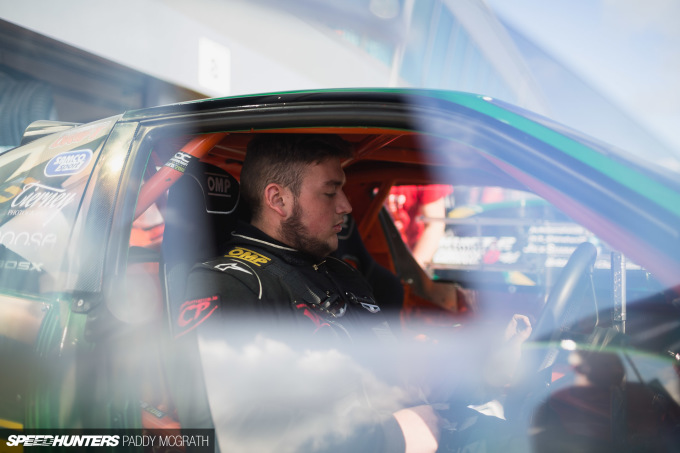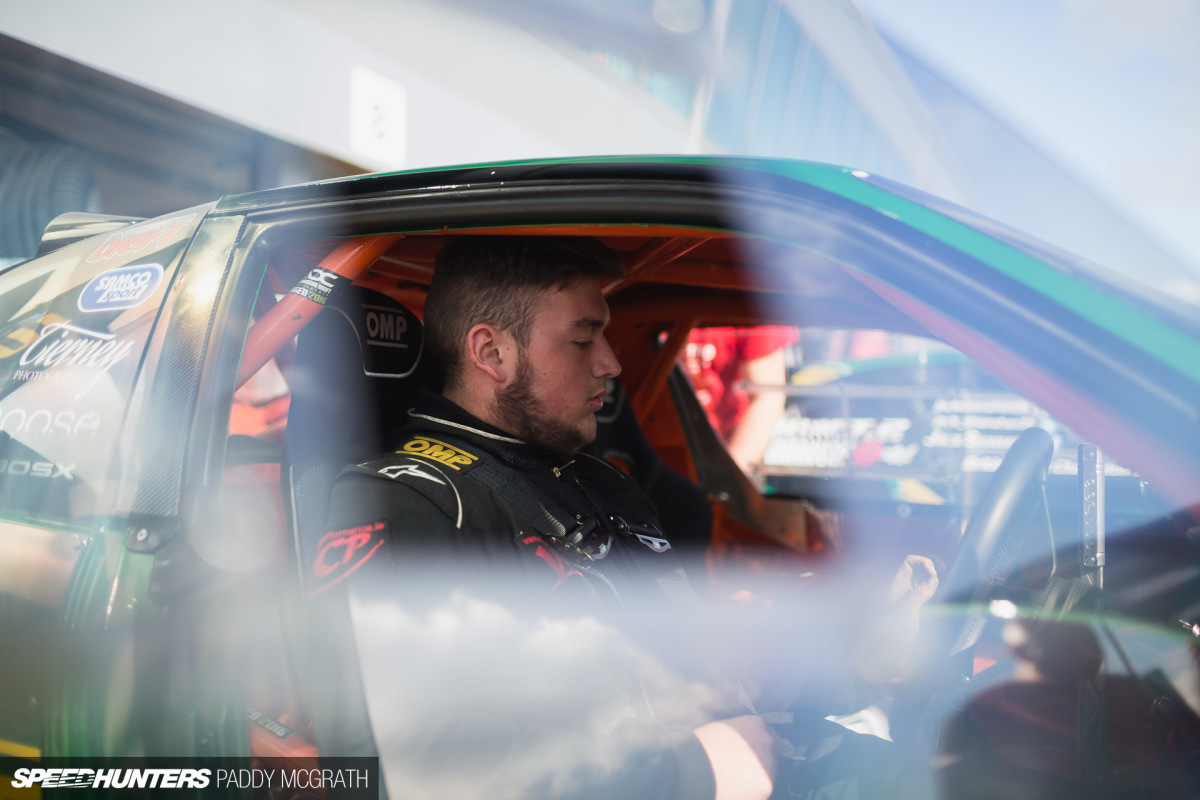 The time for talk, friendly or otherwise, was over.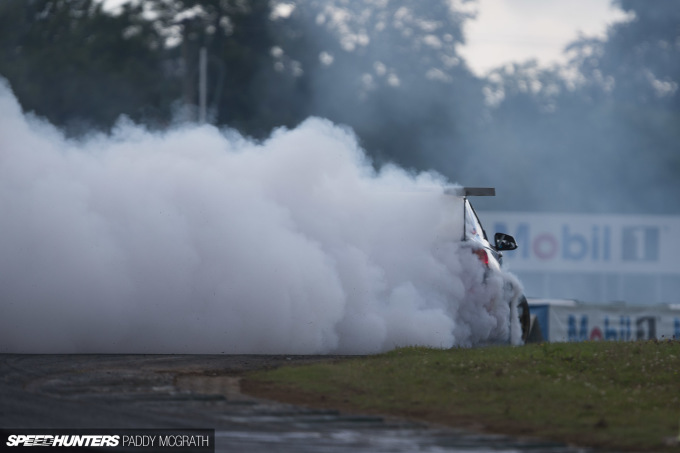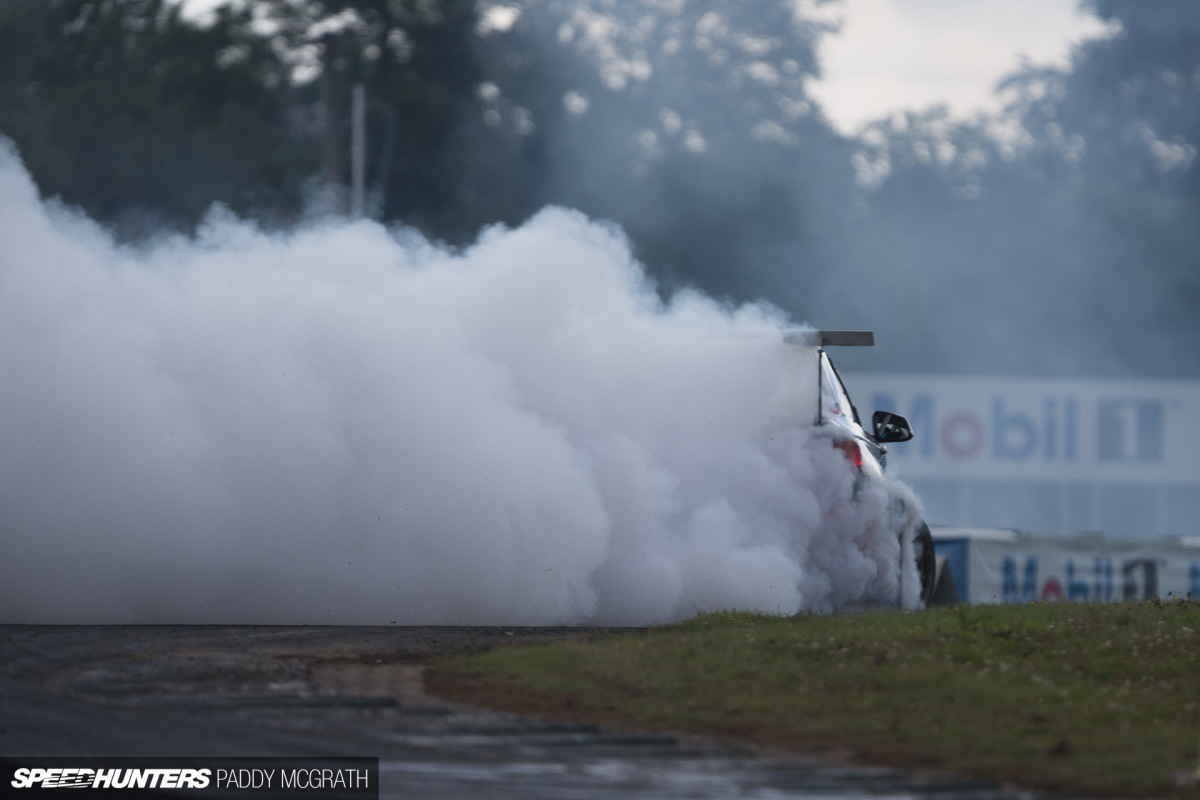 Qualifying can be a little bit boring when you're watching from a fixed position; it's difficult to see a driver's line throughout the whole course and to gauge how well one driver had done versus another. It was immediately obvious though that everyone was pushing as hard as possible.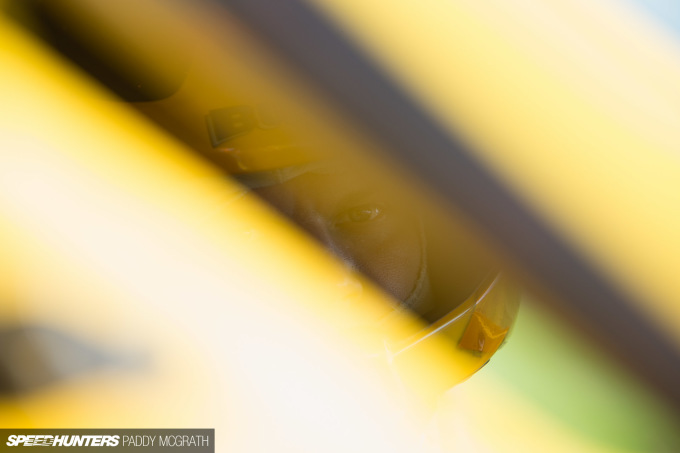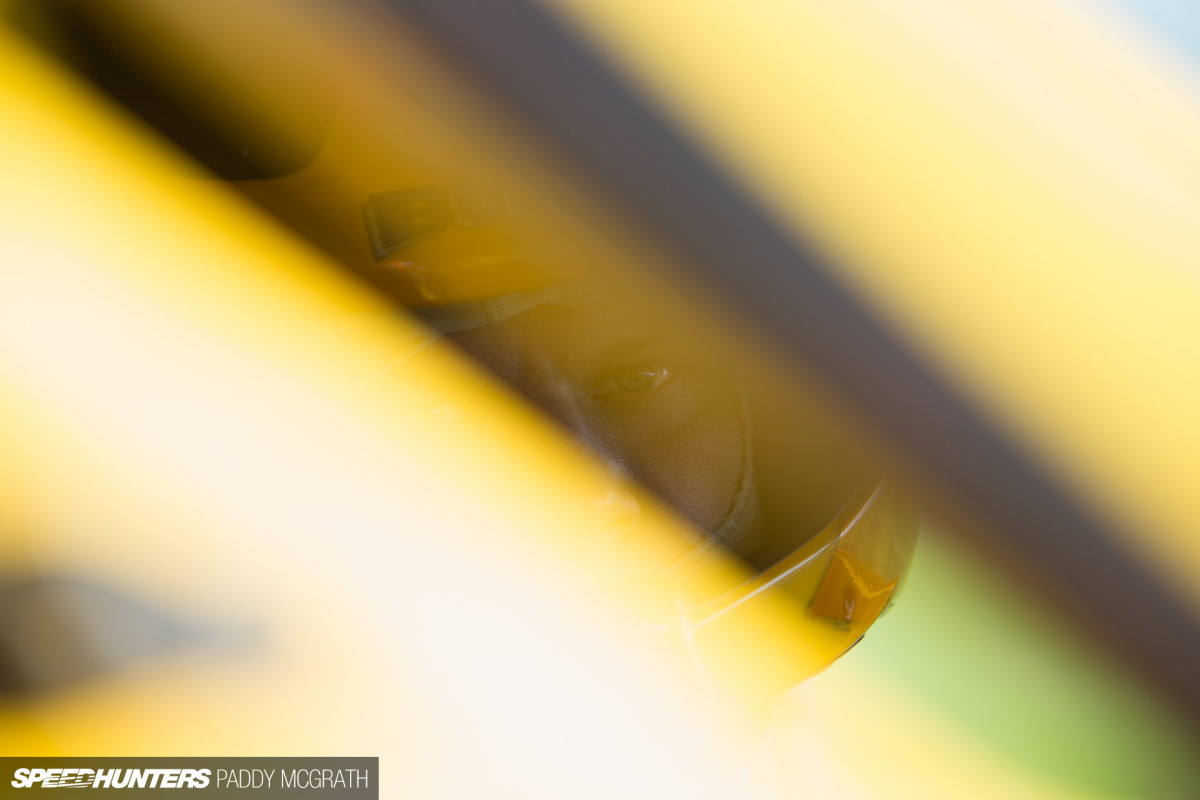 On the start line, there was very little fooling around for the cameras.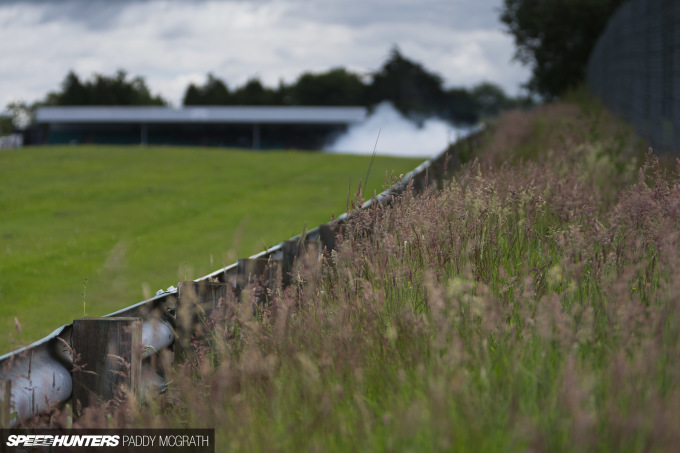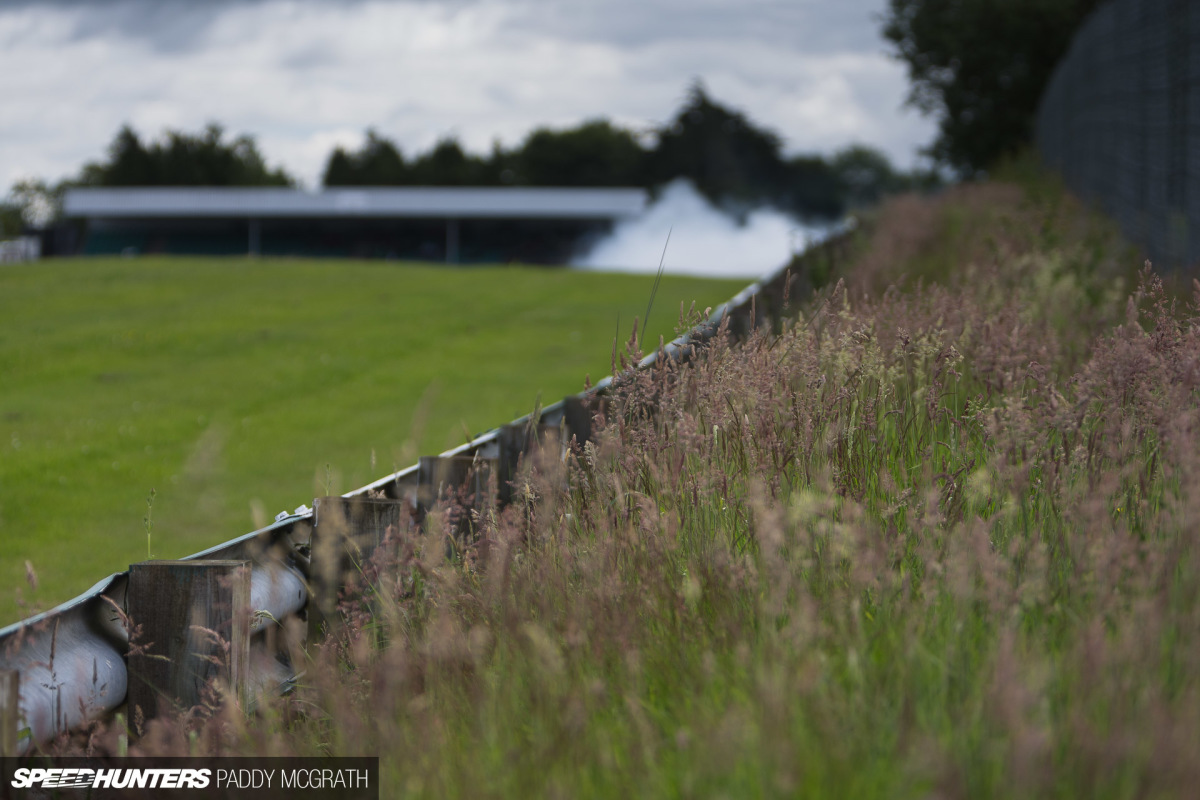 Once the cars disappeared over the horizon from the start, all that could be seen was a trail of smoke rising and nothing else. It was eerily quiet, just the sound of cars idling with very little talk.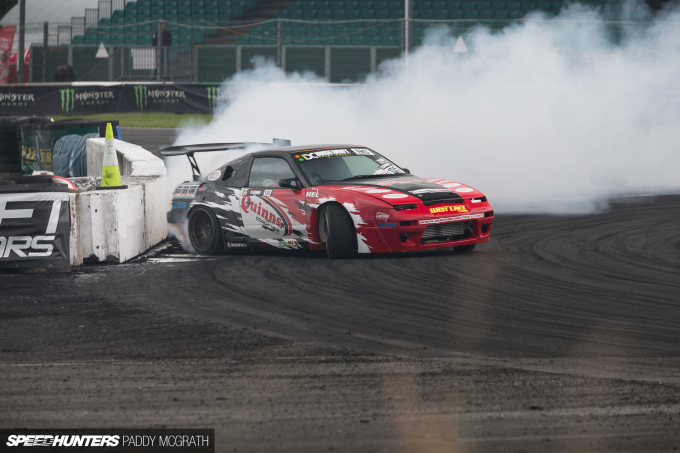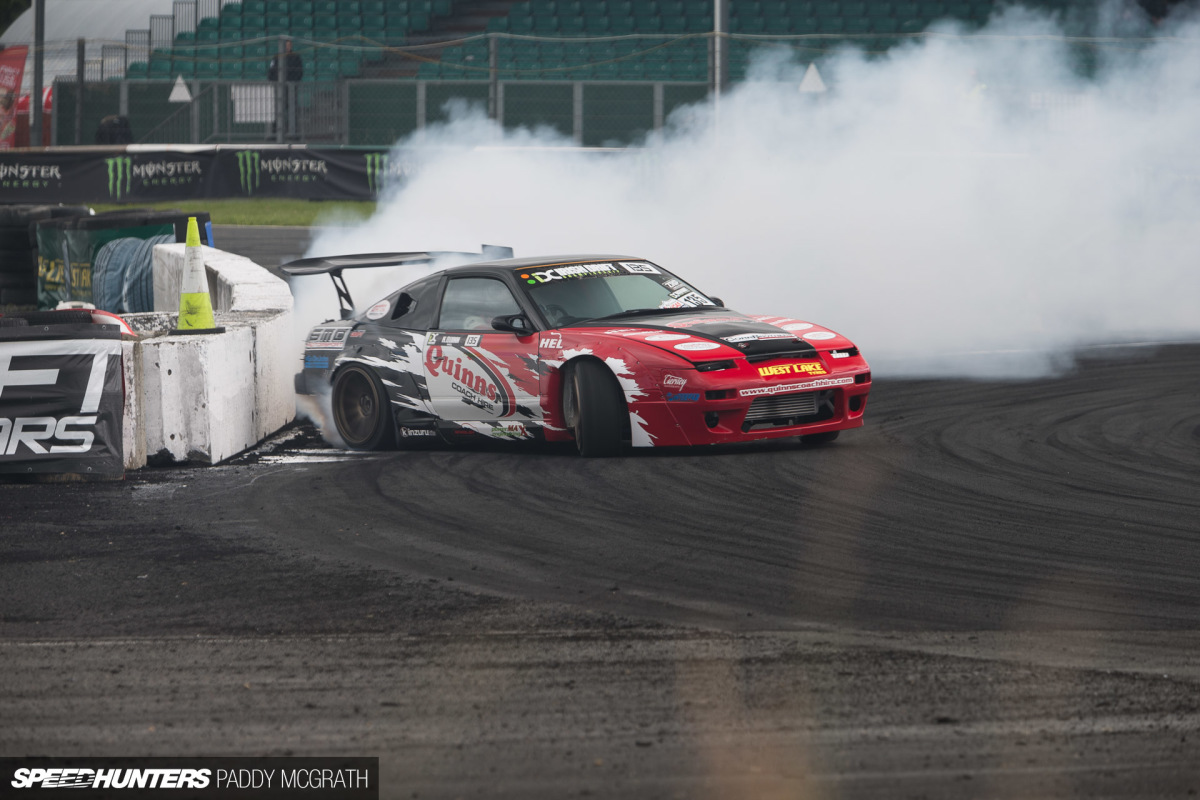 What I found to be strange was that a typical 'banker' lap was not enough to progress to the Top 32. Anyone who qualified, had to push for it.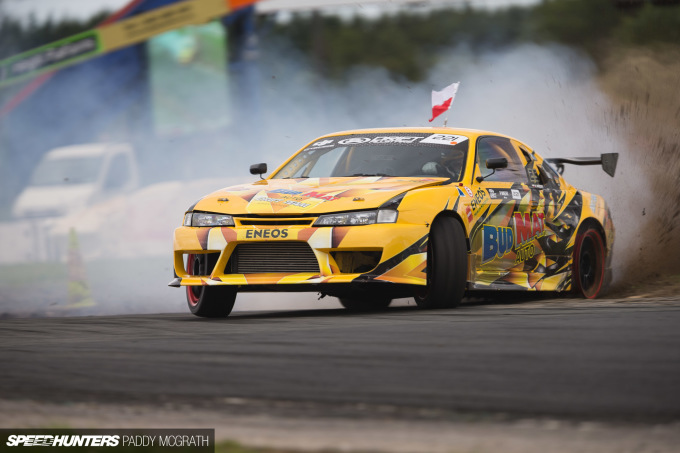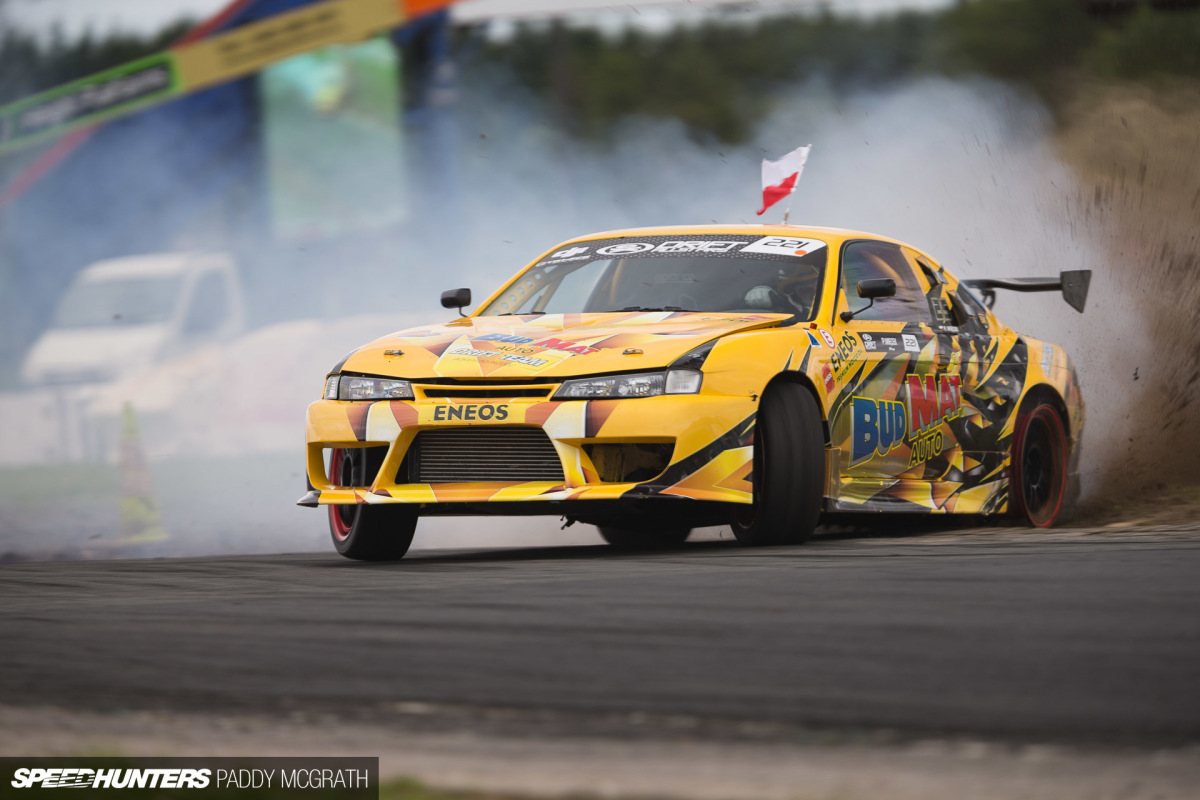 Wiecek debeaded a tyre on his first run, but somehow completed the course on three wheels and still managed to qualify 7th. Was the pressure showing?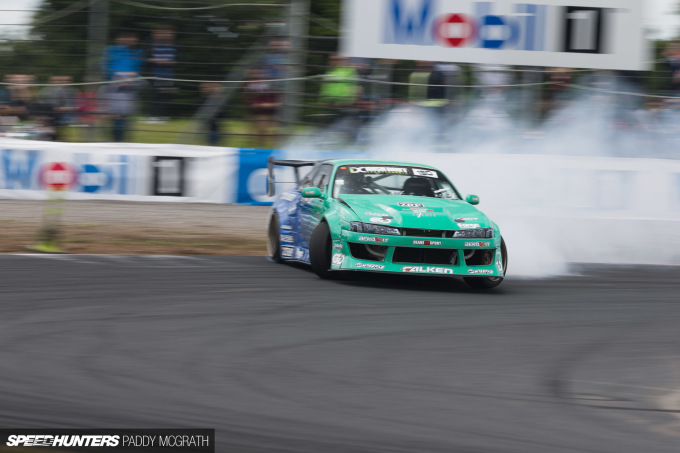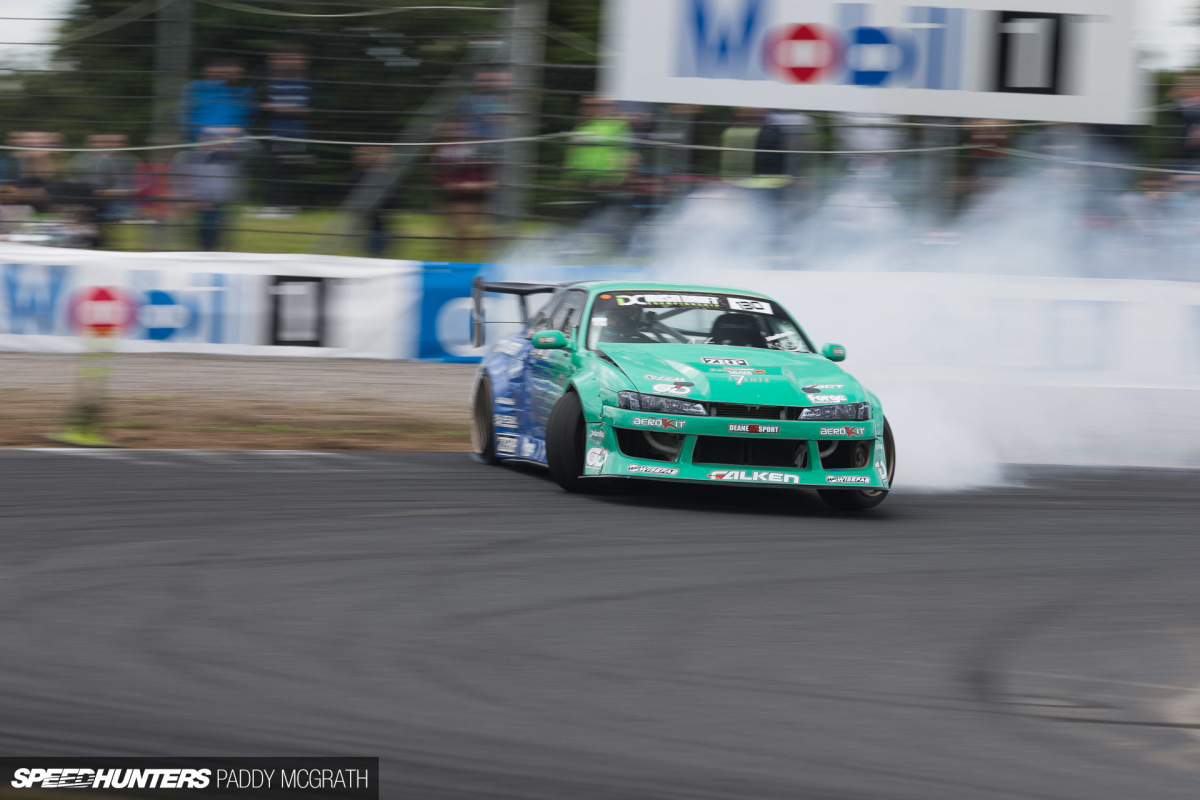 Deane's first qualifying run was the epitome of precision. It immediately put him top, where he would only be surpassed by his own second qualifying run.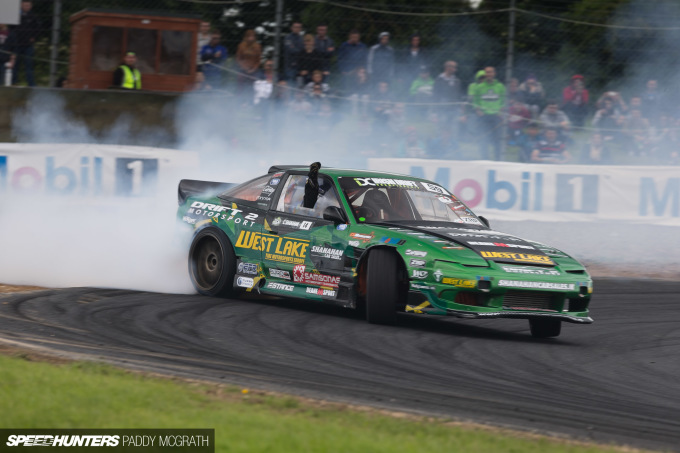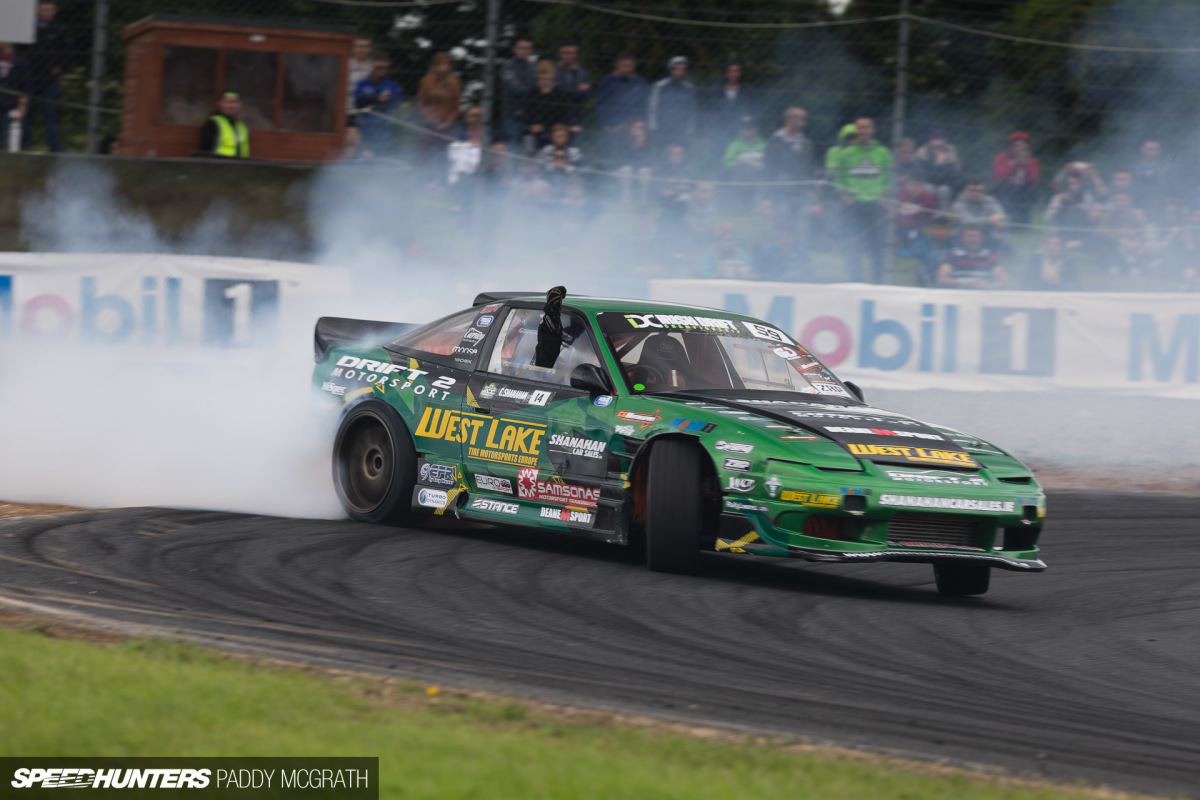 After a tough start to the season, 16-year-old Jack Shanahan pulled off his own dream qualifying run with a double-clutch-kick-and-flick-backwards entry. So happy was he, that he smacked the roof of his car in delight through the next set of clipping points. It was enough for second place by the time qualifying had ended, and an Irish one-two.
It had to be emphasised to some that an event isn't won during qualifying, although it can certainly be lost.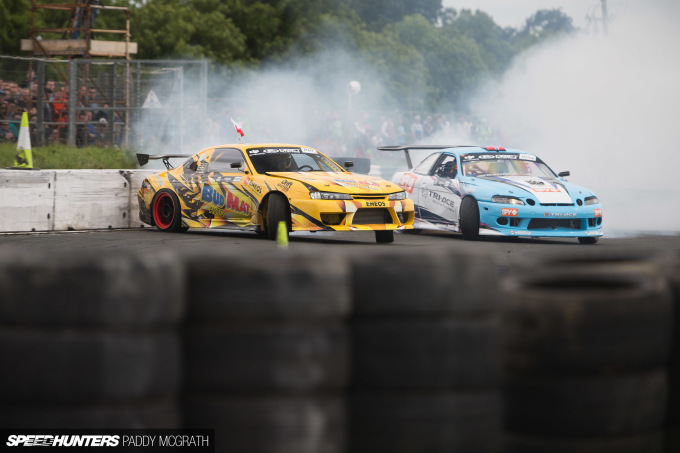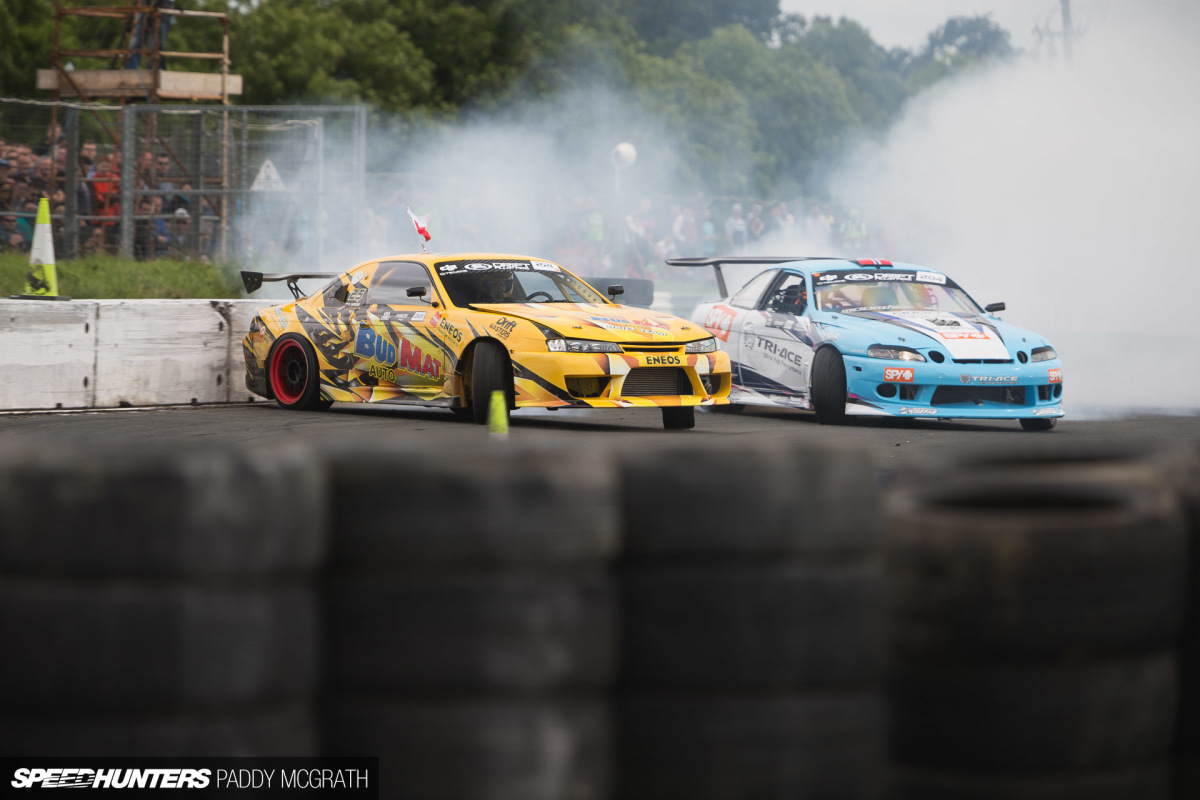 It's the battles that count. In possibly the upset of all upsets, Wiecek was eliminated at the Top 32 by FredOX, who drove like a man possessed all weekend.
I gave FredOX a bit of stick before the event, but he proved me wrong and delivered time and time again throughout the battles. His shirt throwing skills do leave a lot to be desired though.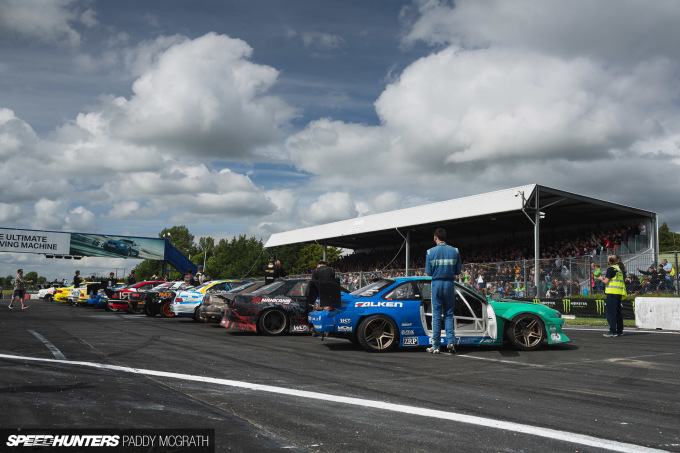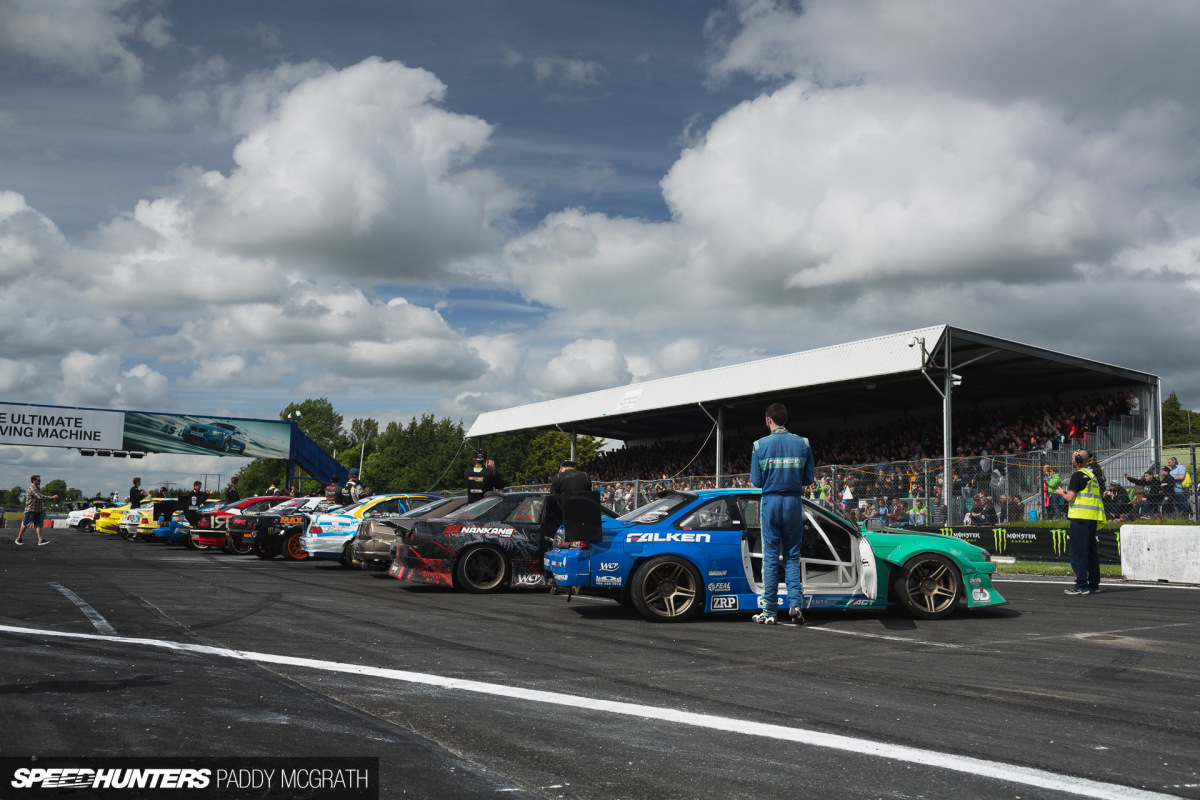 At the Top 16 stage, seven international guests remained against Ireland's nine.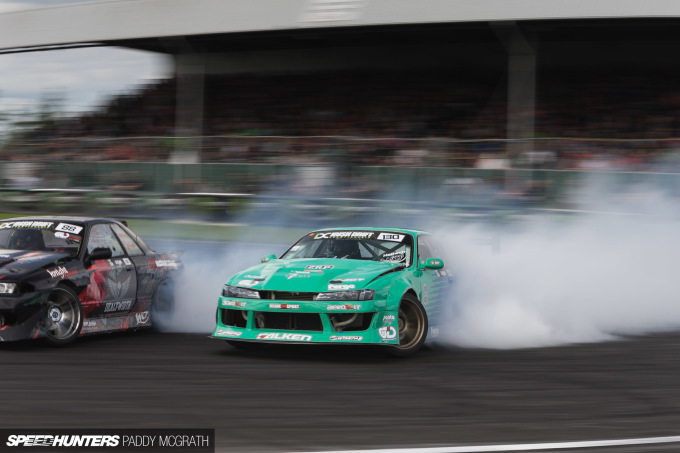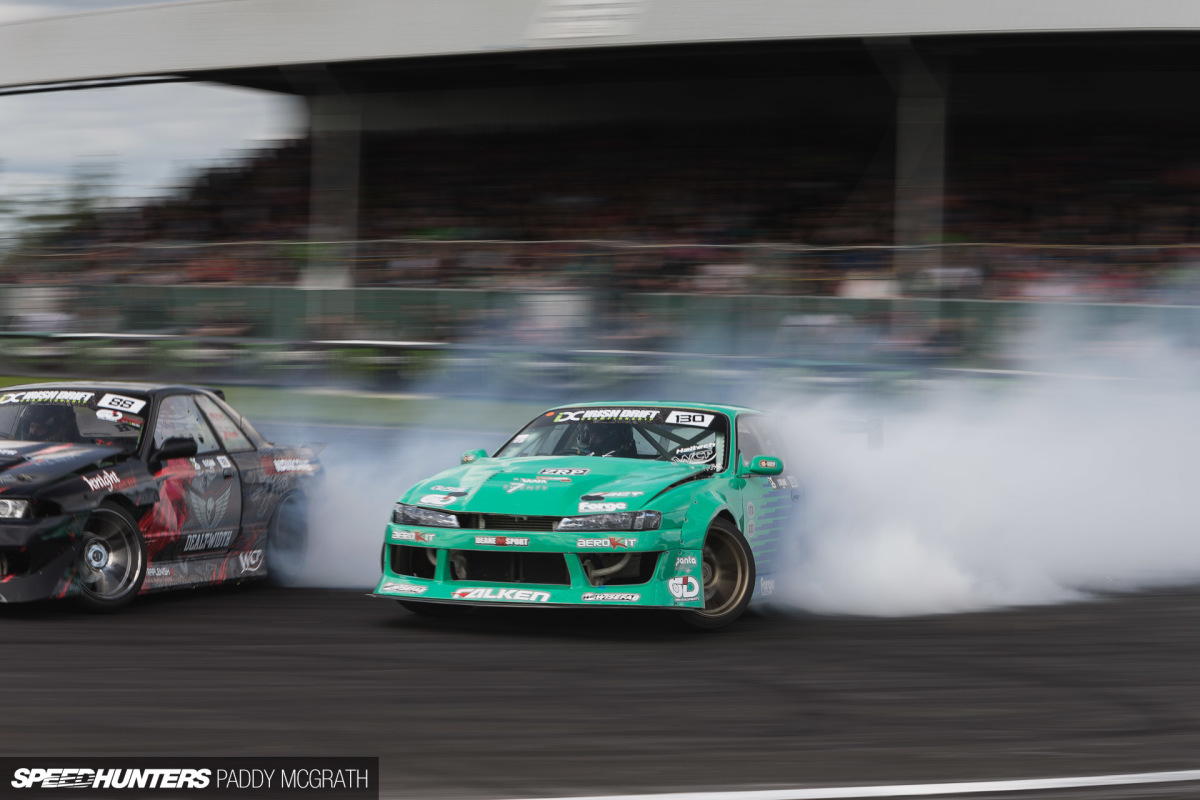 Come the Top 8, it would be four versus four.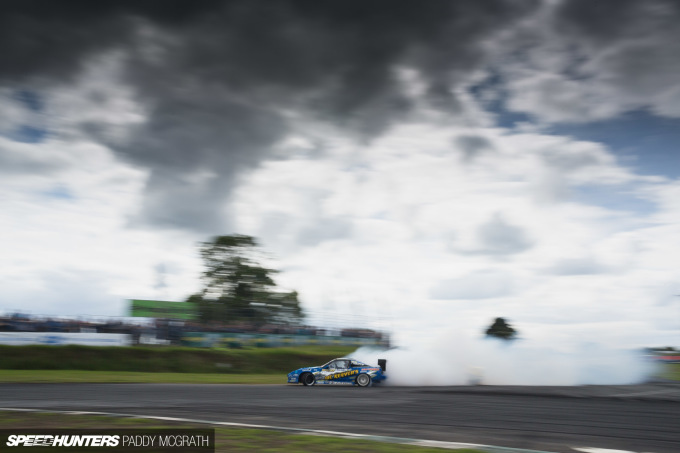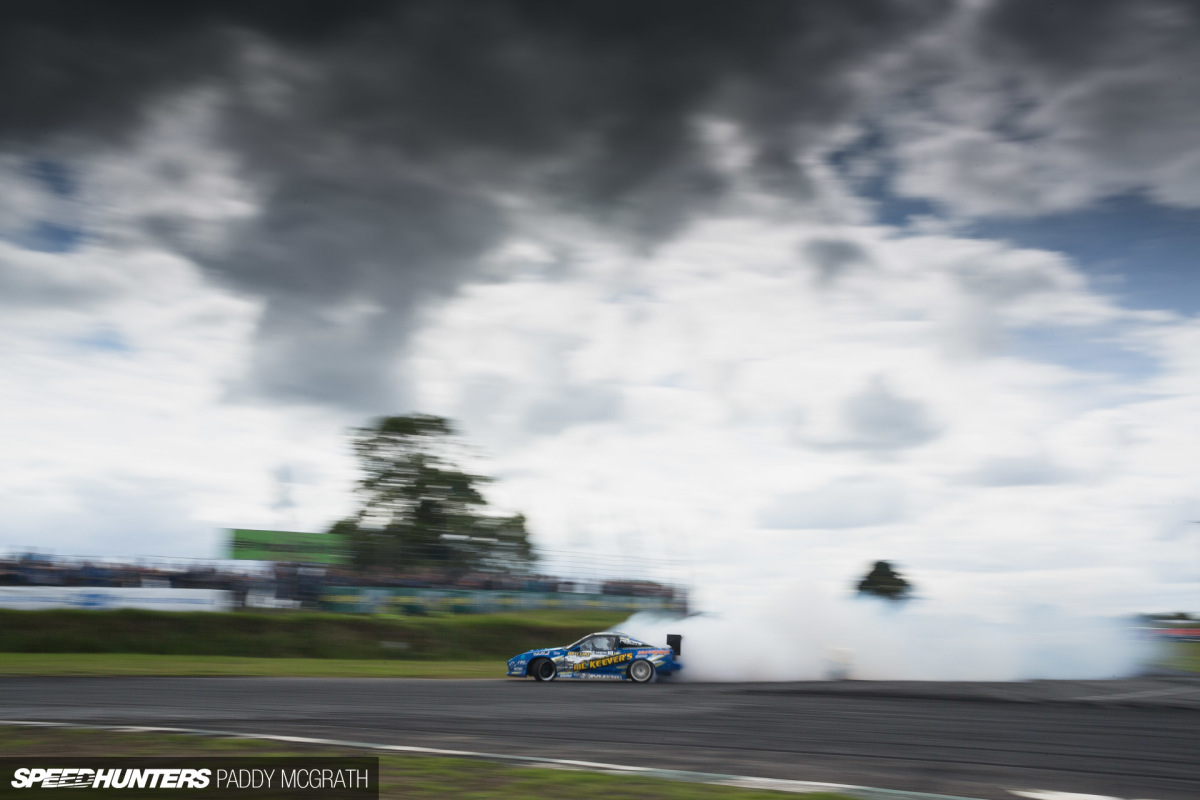 It was at this point that the international drivers took their first big victory.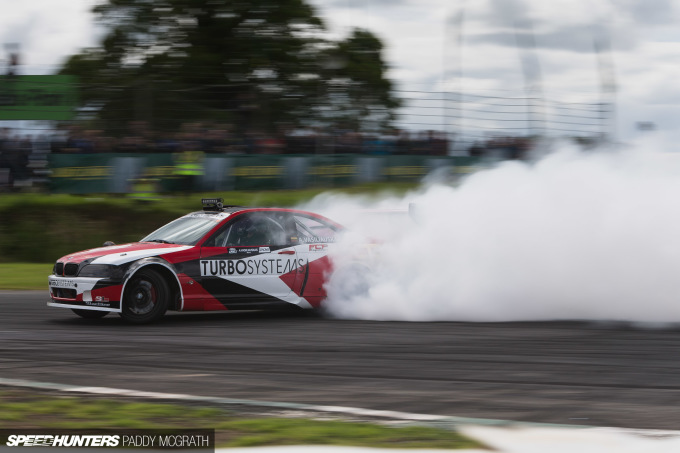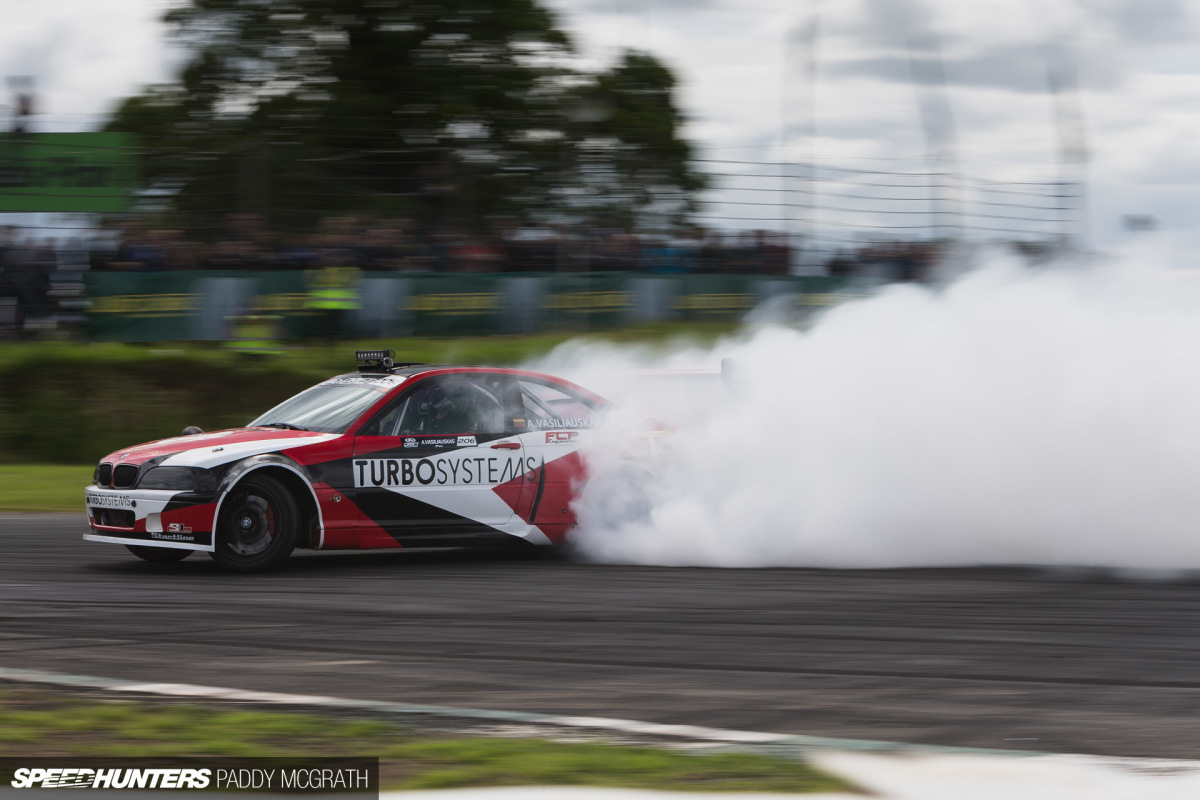 Andrius Vasiliauskas would defeat current IDC points leader, Duane McKeever. I'd say it was a surprise, but it wasn't; Vasiliauskas impressed on every run all weekend. He might have been unfamiliar to the Irish crowd before the event, but they won't forget his name in a hurry.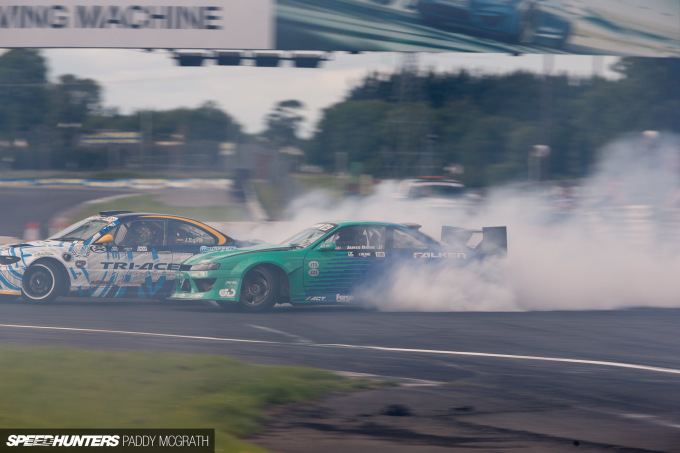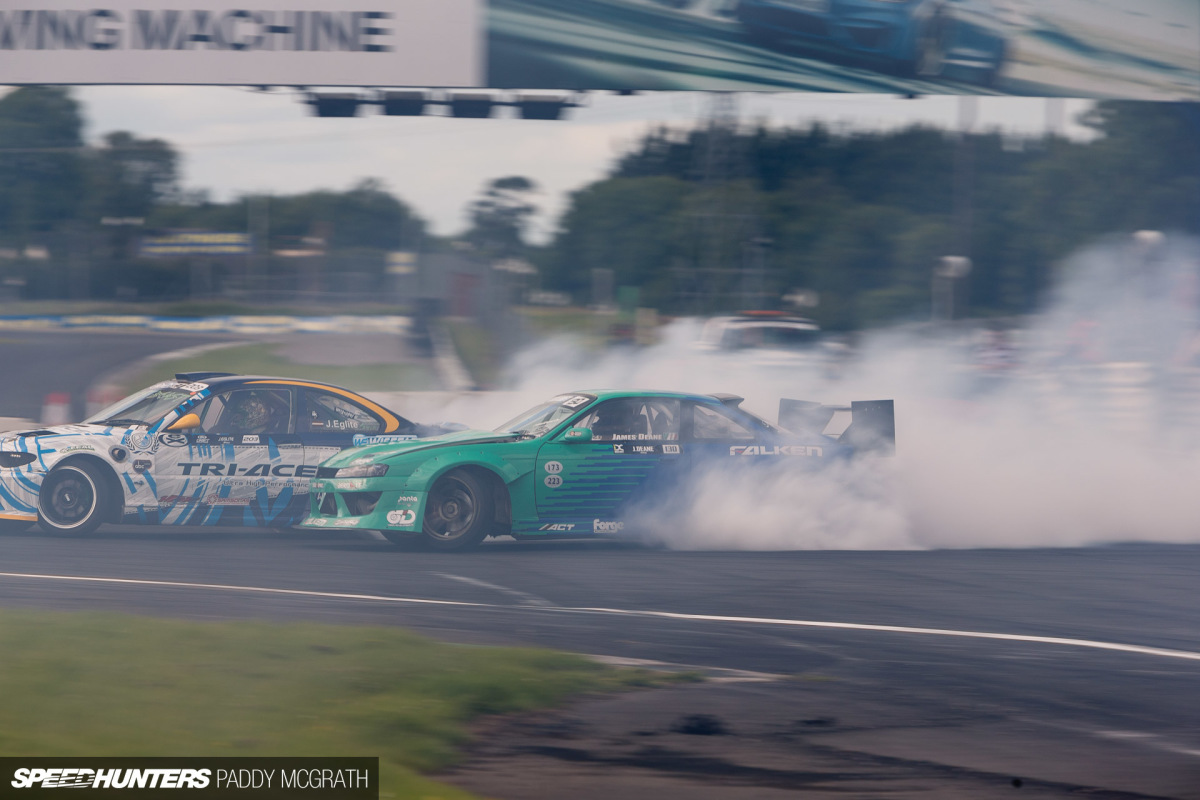 It was however, the only win for DA in the Top 8. Deane would beat Eglite over one set of battles, Shanahan would send FredOX home, and a resurgent Mike Fitzgerald would narrowly beat the incredible Dutch driver Sebastian Fontijn, who was driving for the first time on proper semi-slick and 265 section tyres.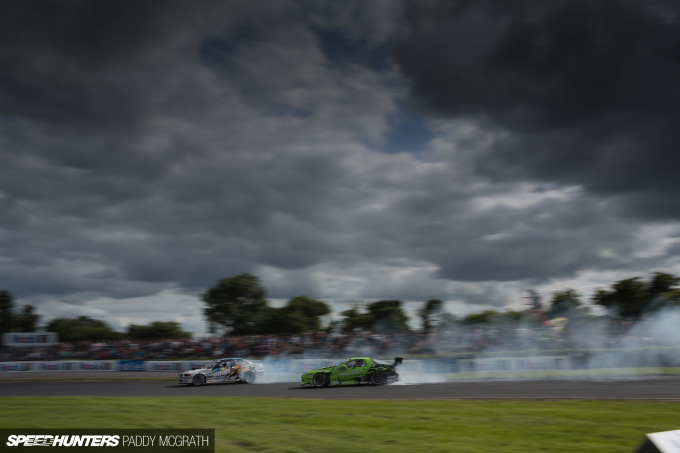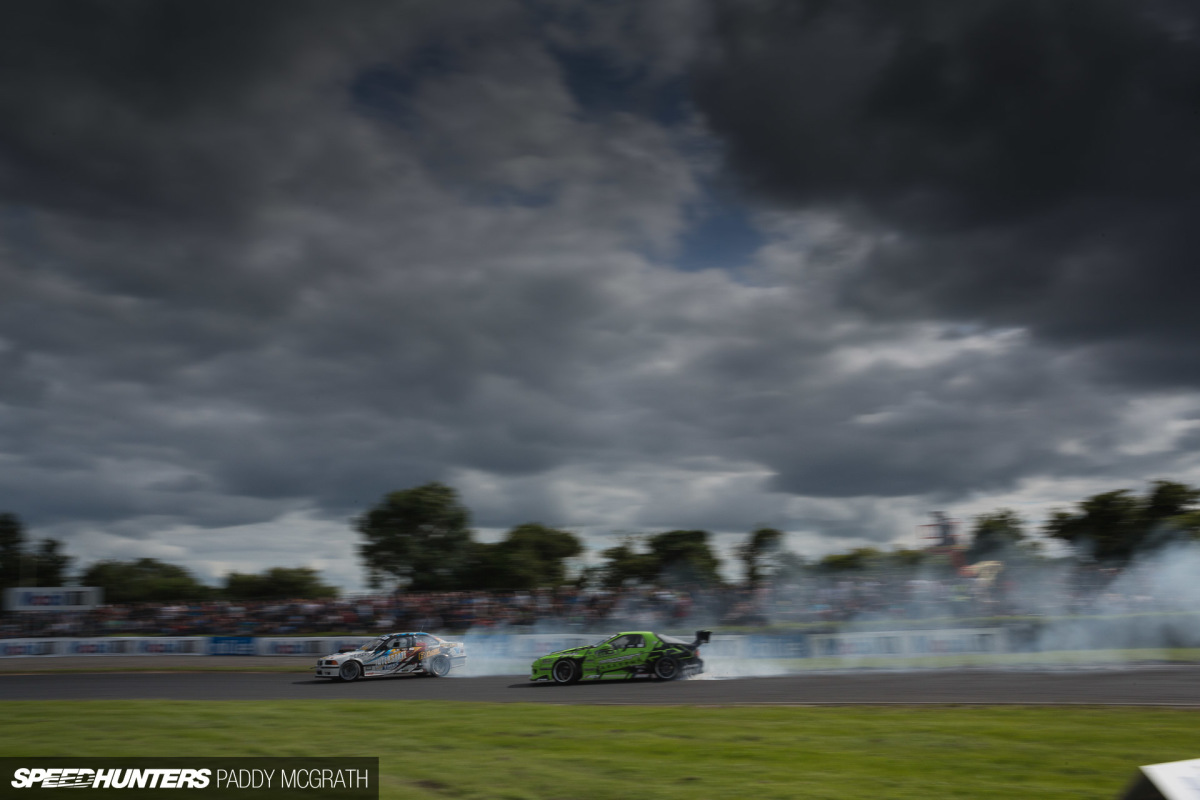 Fontijn was many fans' favourite of the weekend, putting up a fight that no one expected.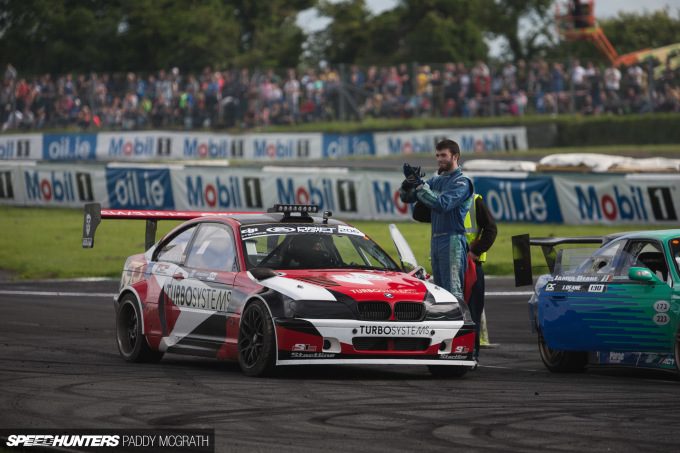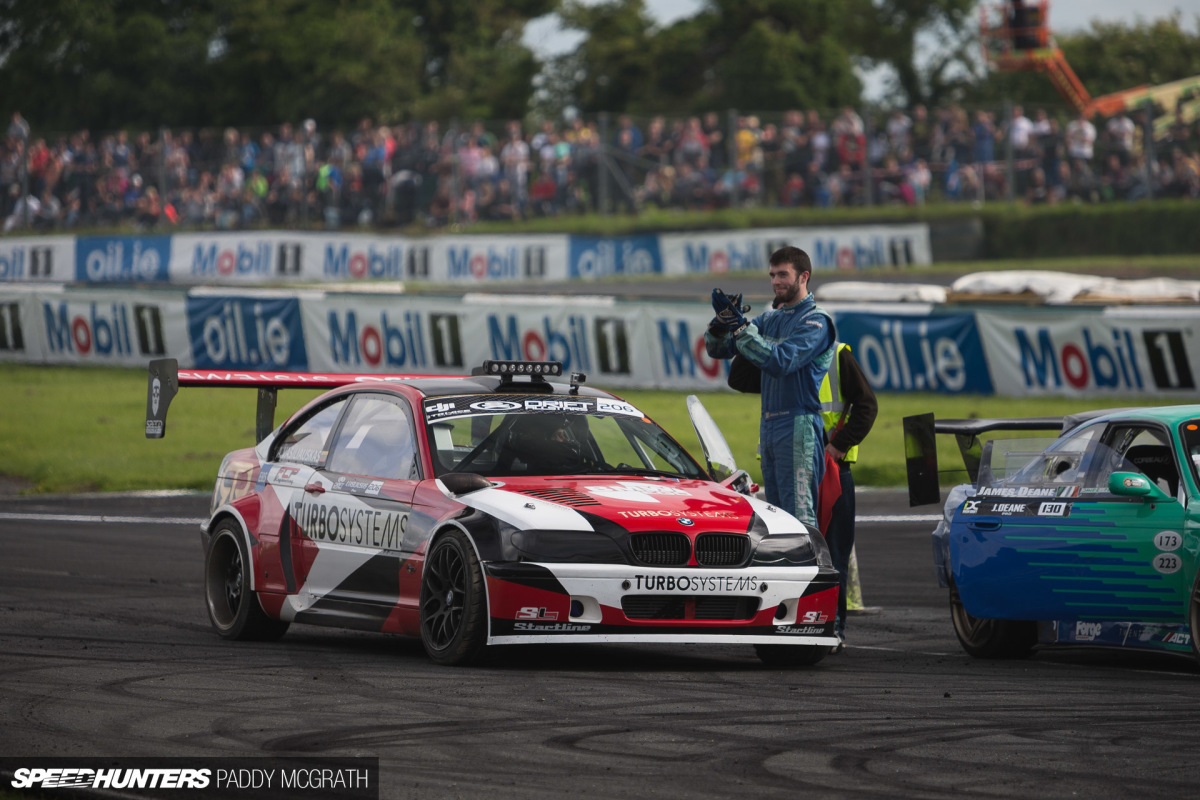 With a trio of Irishmen remaining, Vasiliauskas was the lone international driver with everything to do. Paired against Deane in the Top 4, he entered hard behind the Falken S14 through clip one. I couldn't see through the smoke, but Vasiliauskas either suffered a suspension failure due to no fault of his own, or due to hitting Deane. But the damage forced an immediate loss of control whilst Deane carried on as usual.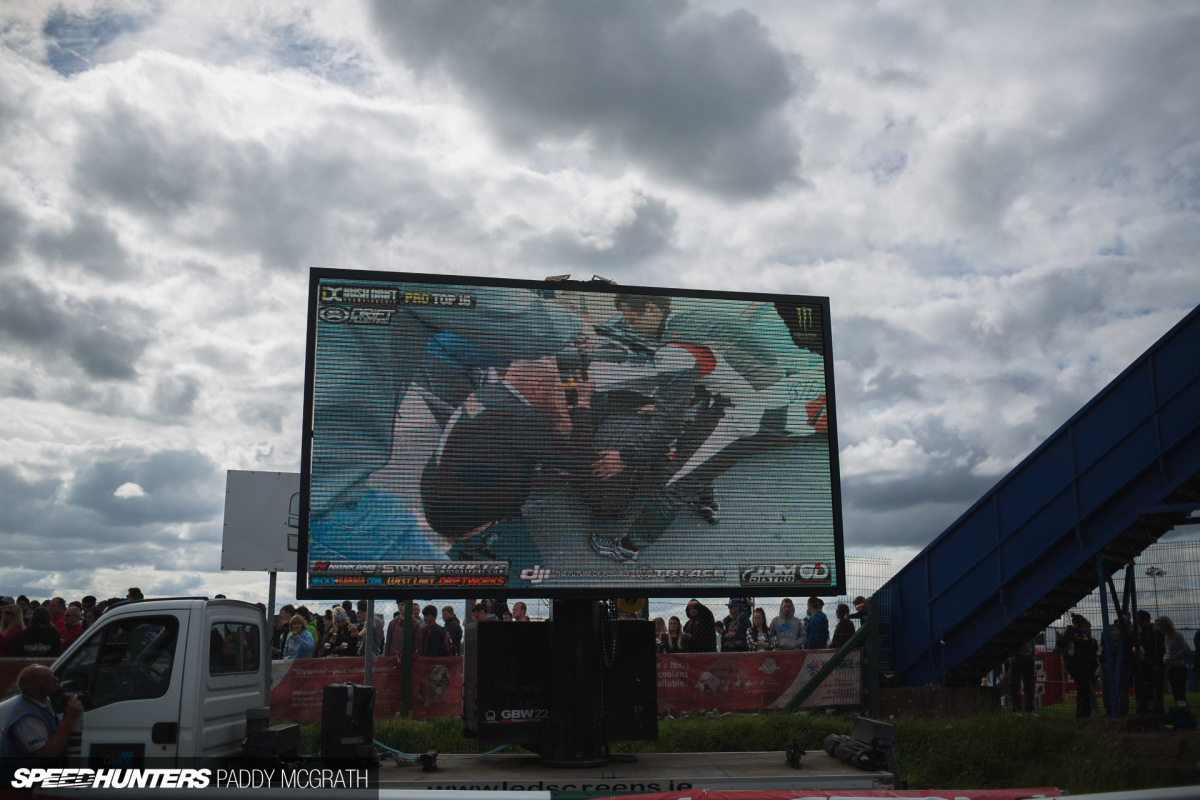 With a five-minute rule called, Vasiliauskas returned to the pits to make some sort of effort at fixing the car for his lead run. Have no fear, as John Shanahan (Jack's father) was first on the scene to assist in the repairs. John has an outstanding reputation for doing everything and anything to try get another competitor back on track. As someone remarked in the spotters area, he's also the only man who can align a car with a hammer.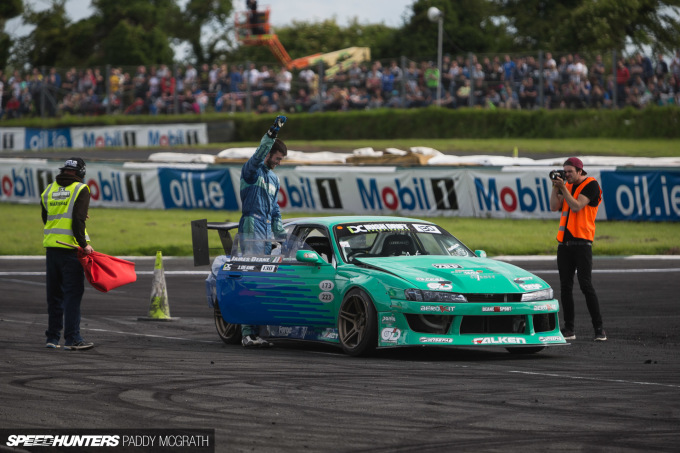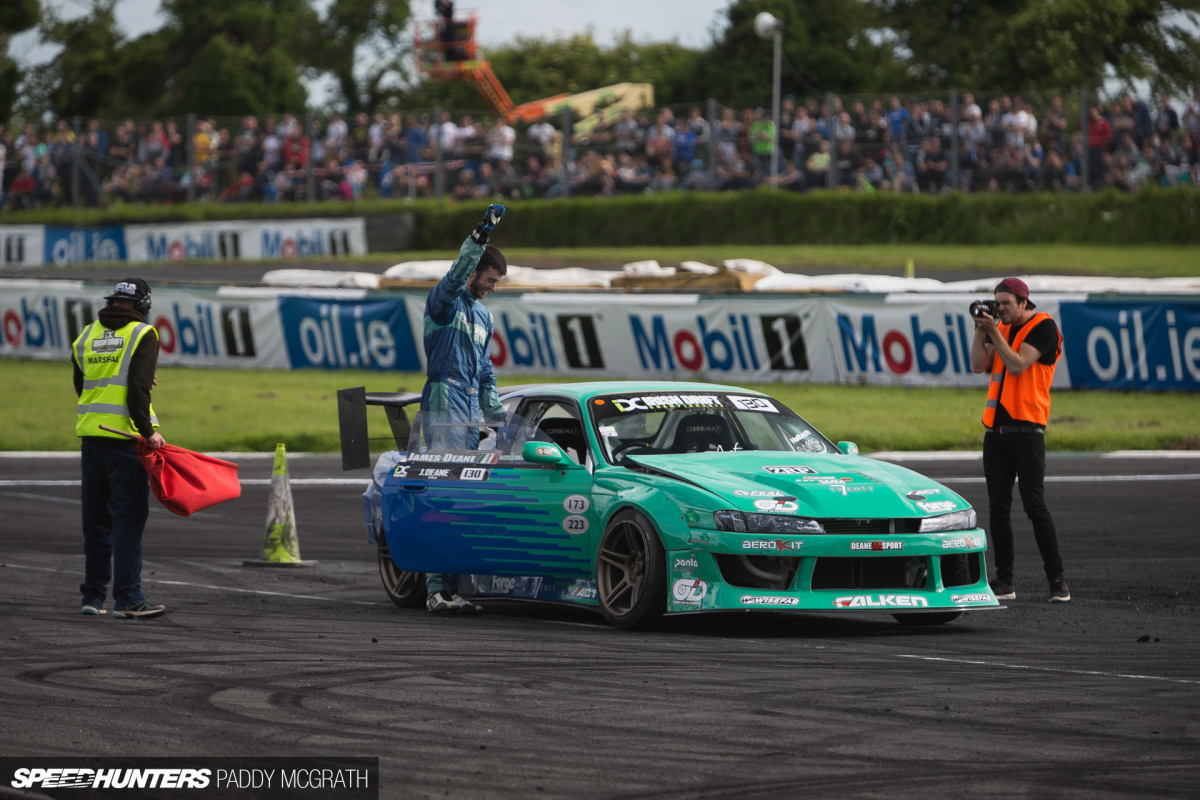 Vasiliauskas would make it back to the start line, but couldn't put in a controlled lead run and conceded defeat. By the time we had reached the final, Ireland was already assured of maintaining its unbeaten run. Vasiliauskas, however, would stand on the third step of the podium by beating Mike Fitzgerald in the runner-up battle.
The story doesn't end here, there was one more twist in this tale…
Master & Apprentice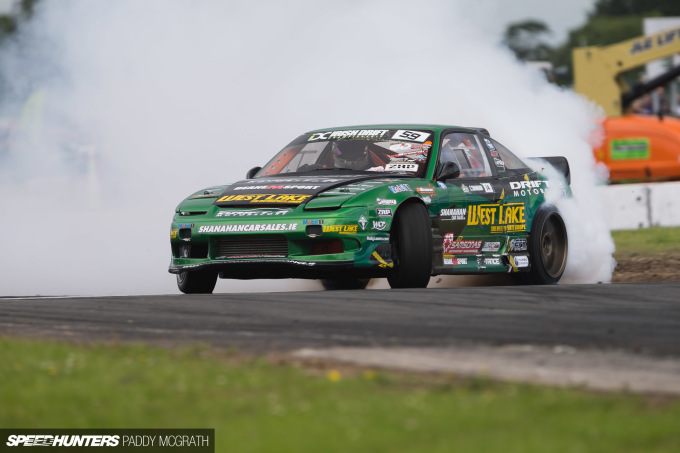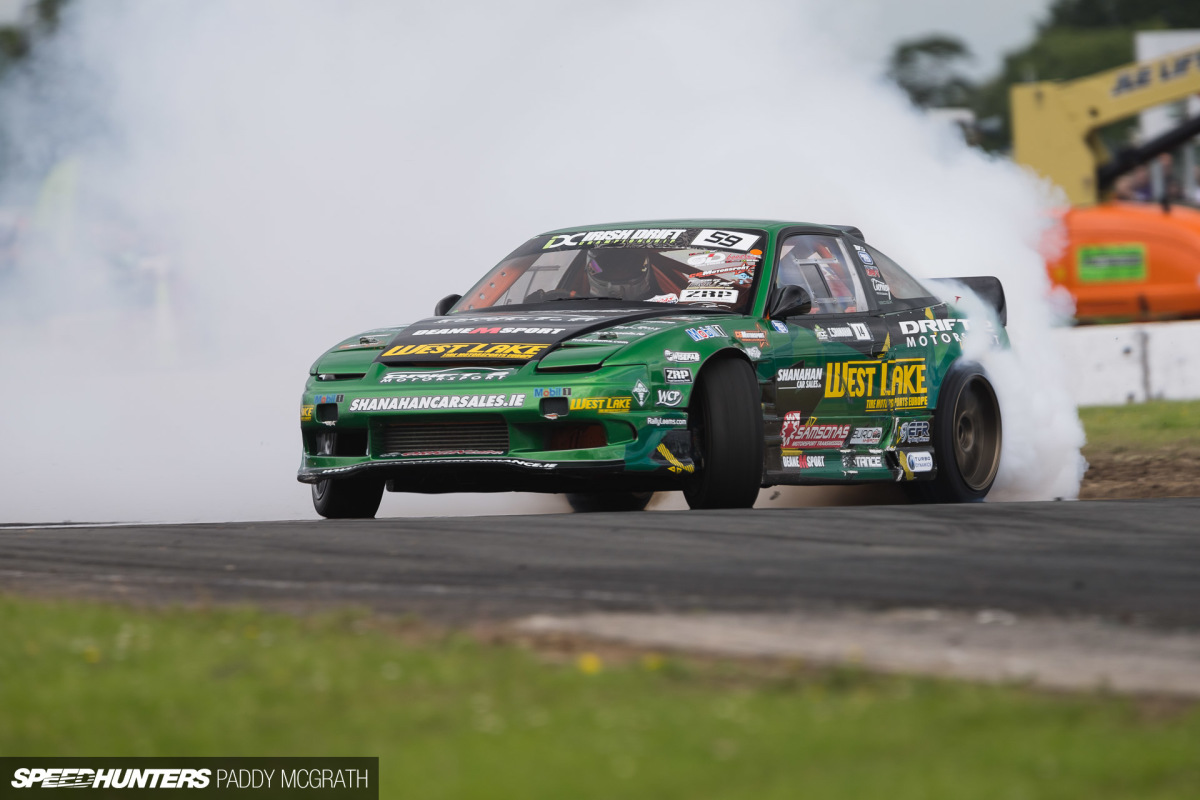 Whilst it would be Ireland versus Ireland in the final, it was a little bit more complicated than that. Jack Shanahan, at 16 years old, is already a British Drift Champion, but he had never won a round of IDC nor had he ever beaten James Deane in battle. It's even more complicated than that, as James Deane is Jack's mentor.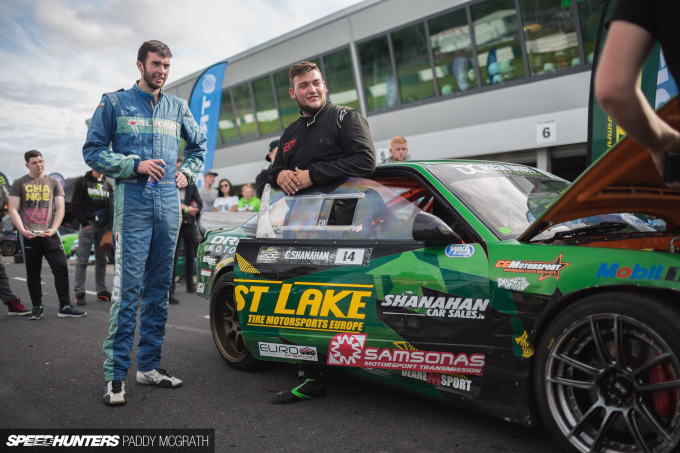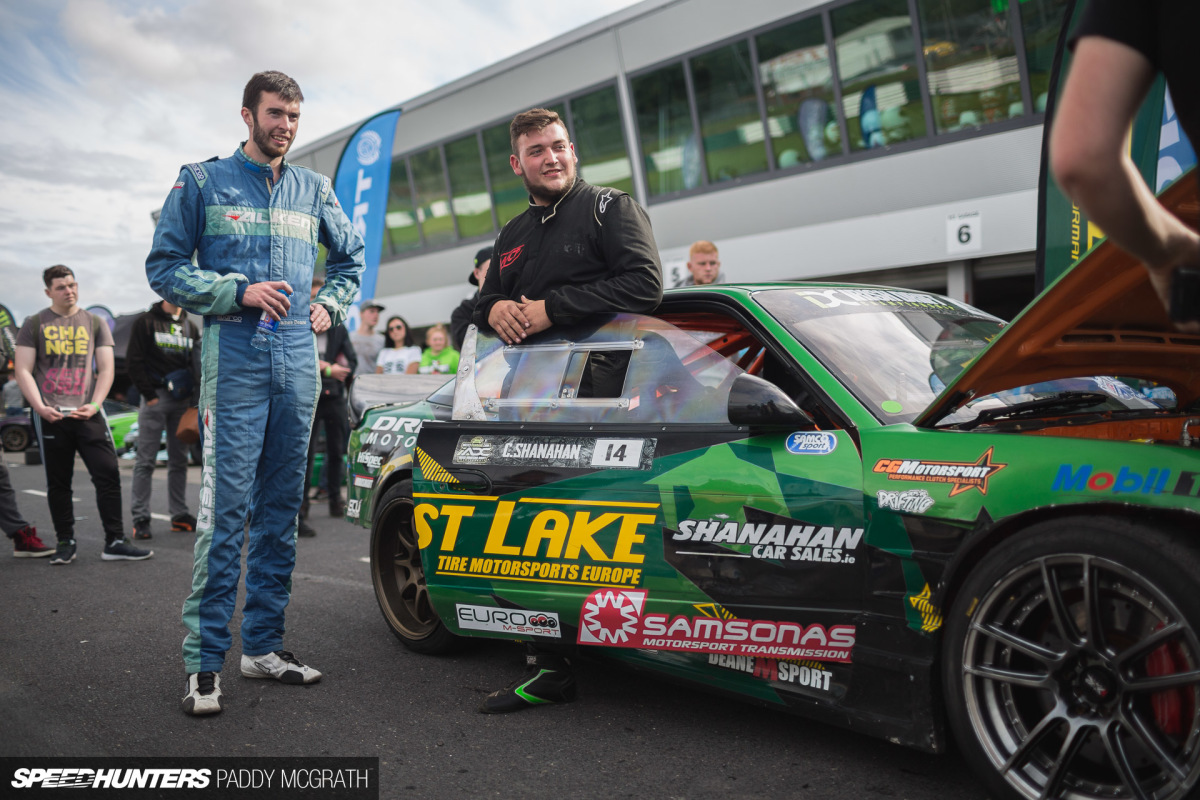 Their relationship is a special one, with huge amounts of respect between both drivers. In saying that, Jack would do anything to claim his first IDC victory and James was only too aware of it.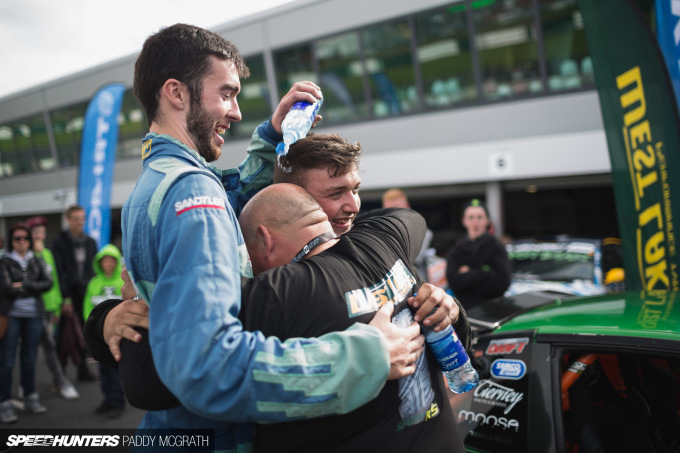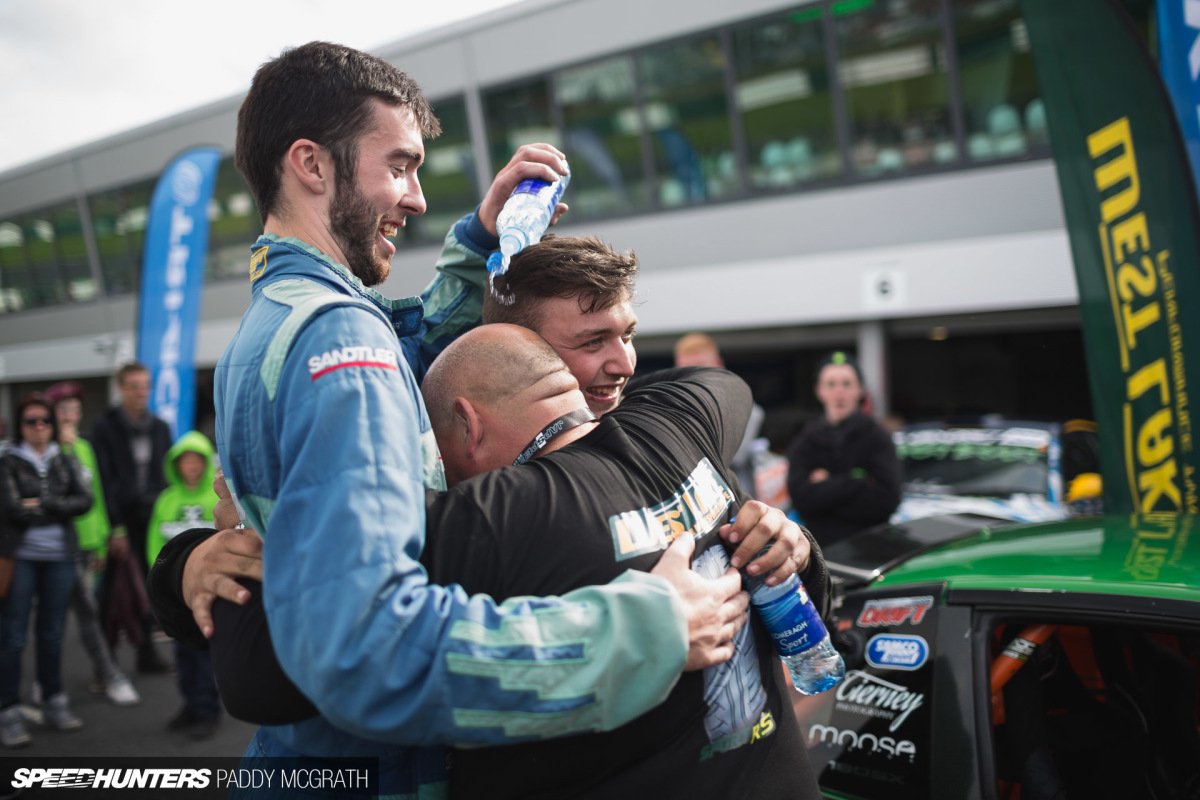 Before the final, Jack's father was quick to embrace both drivers before they took to the circuit for the last time at Global Warfare. These are two families united by drifting, both on and off the track. John Shanahan did plead with James do let Jack win, just for a change, but it was cooly rebuked by James with a simple message: "If he wants to win, he'll have to earn it."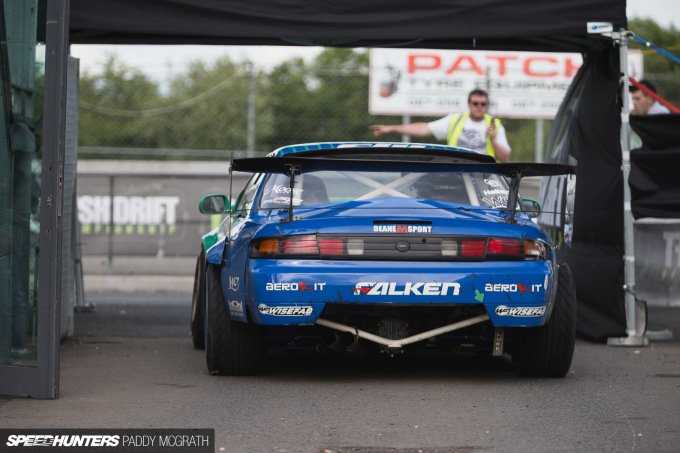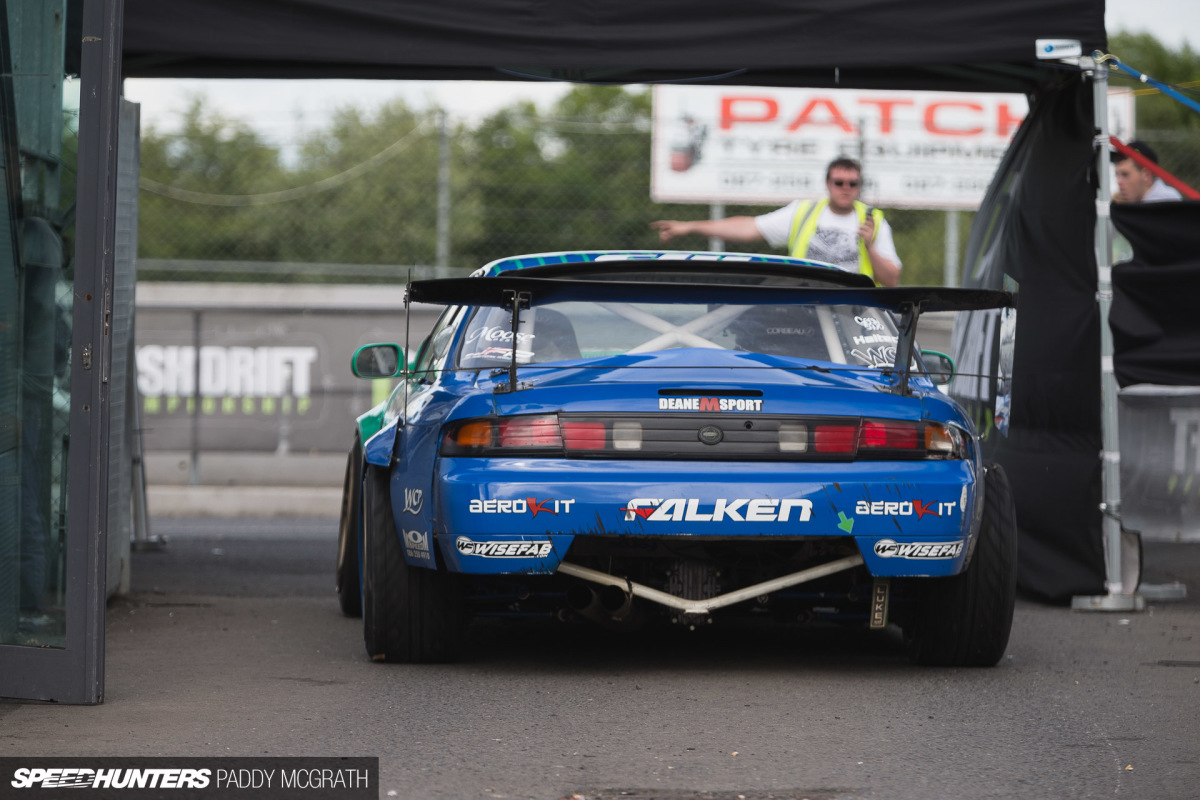 With that, both drivers headed to the start line.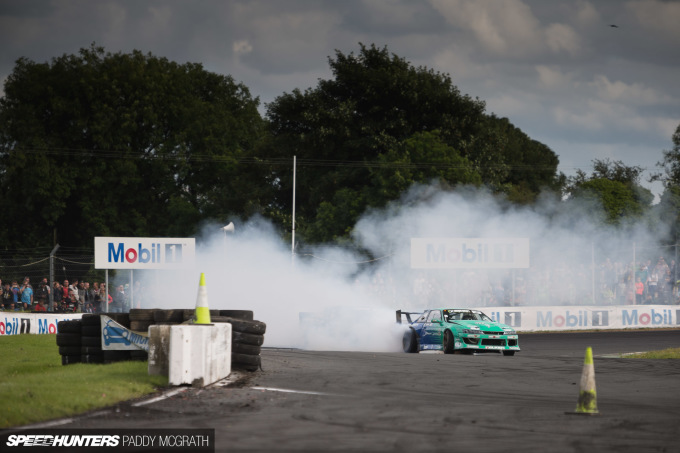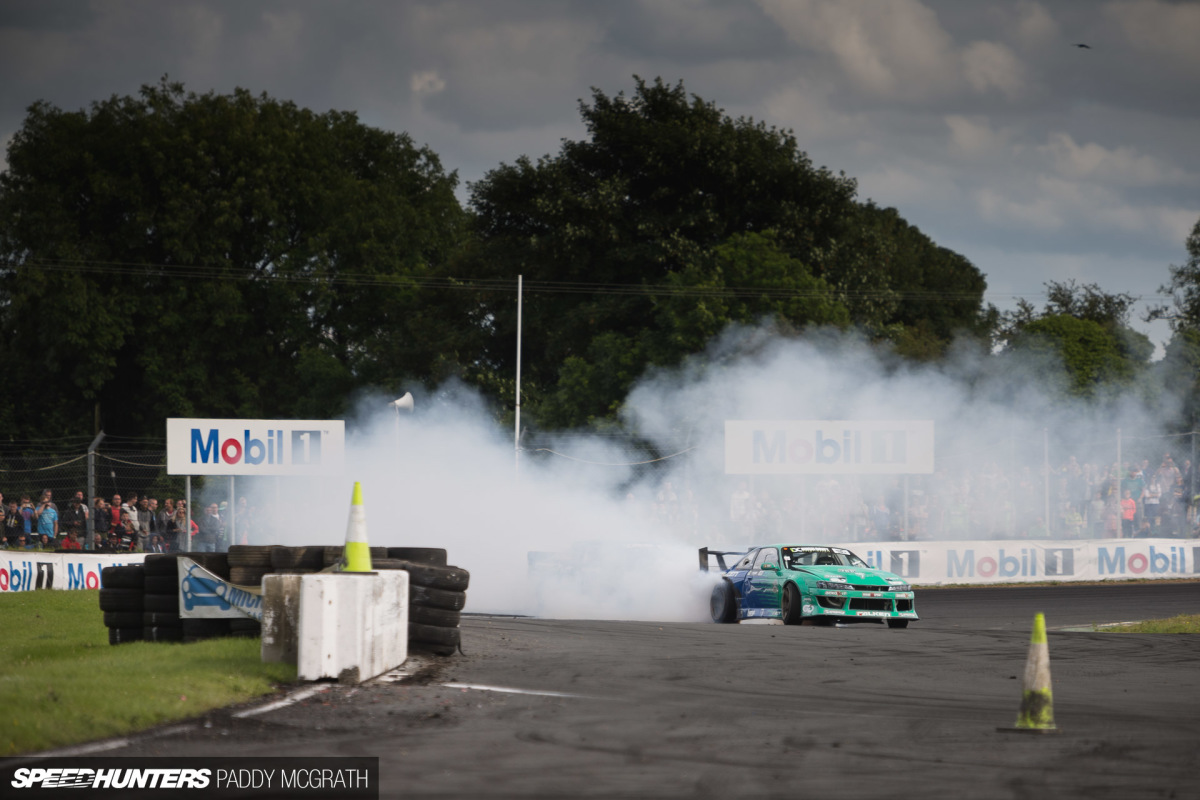 By the time I reached the track, it was already advantage James Deane after the first run. I was told that Jack missed a gear on the run up to the initiation and fell far behind the always consistent Deane. The Shanahan's were already conceding victory at this point.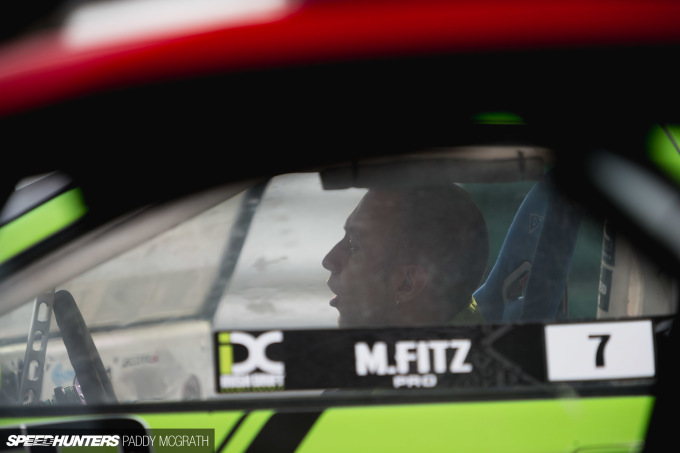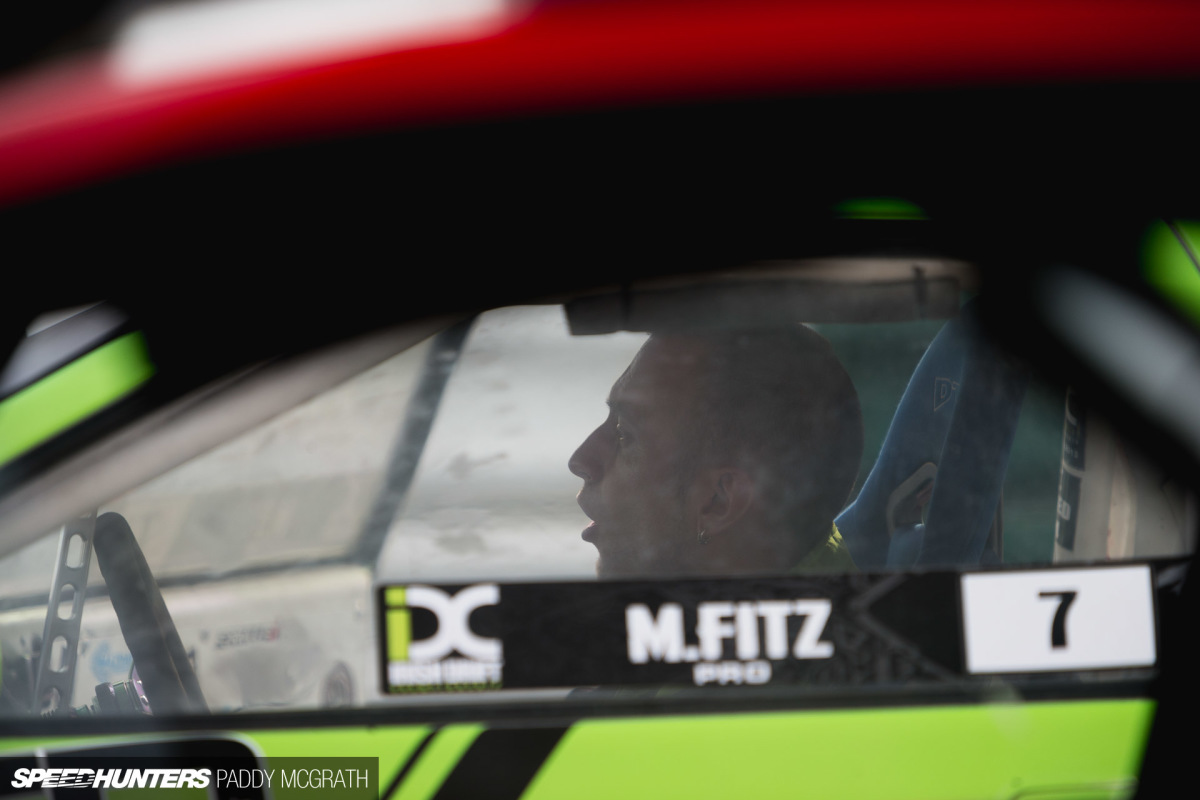 I guess this look on Mike Fitzgerald's face though, tells you that something never seen before had just happened.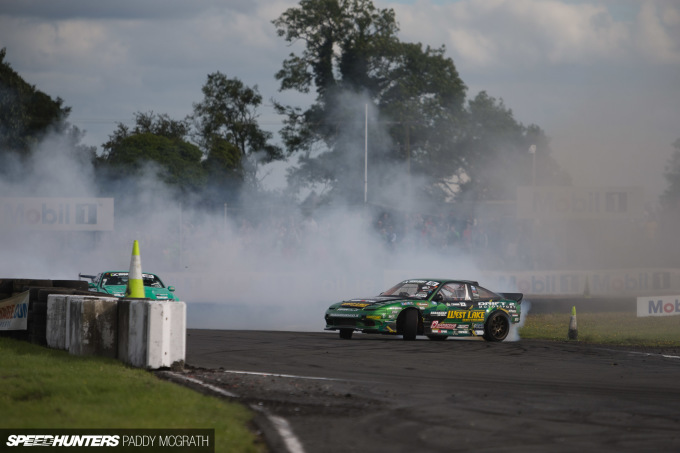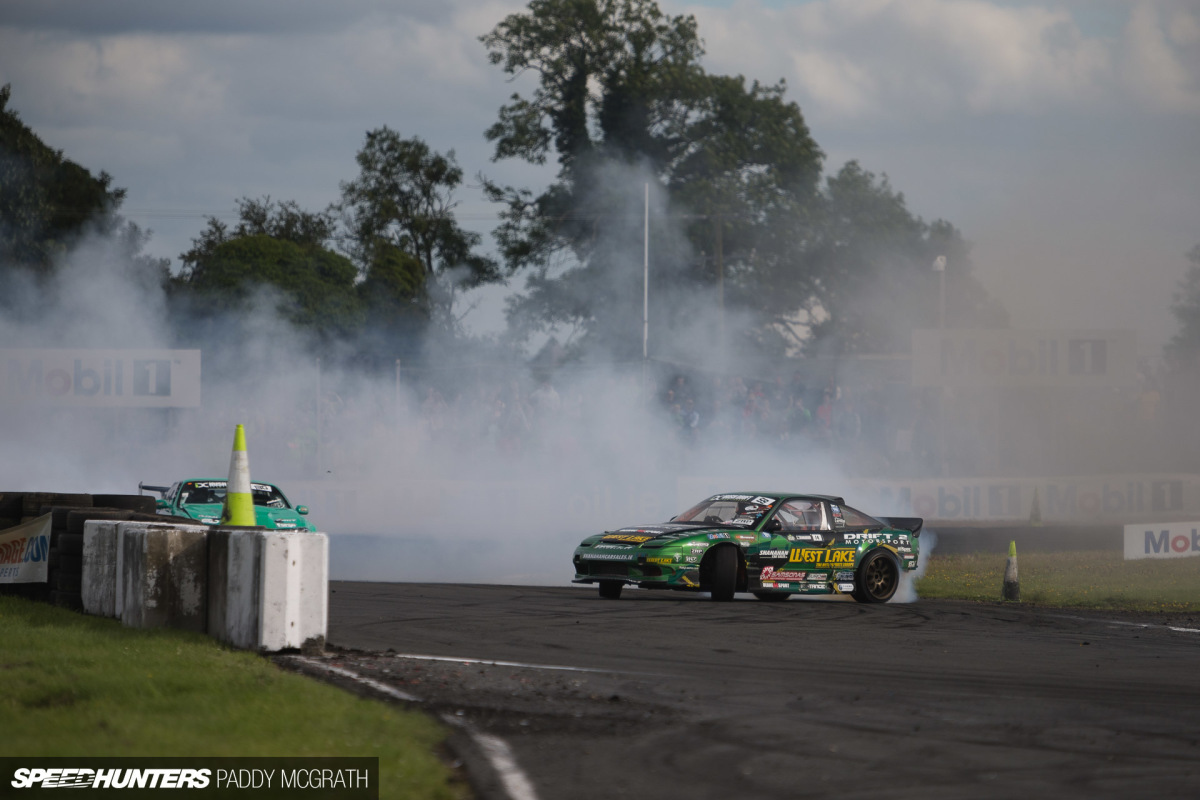 Fuelled by anger at his own mistake, Jack threw caution to the wind and went in harder and faster than anyone else had all weekend. Deane was caught off guard, got caught on the marbles and washed out off course and into the dirt.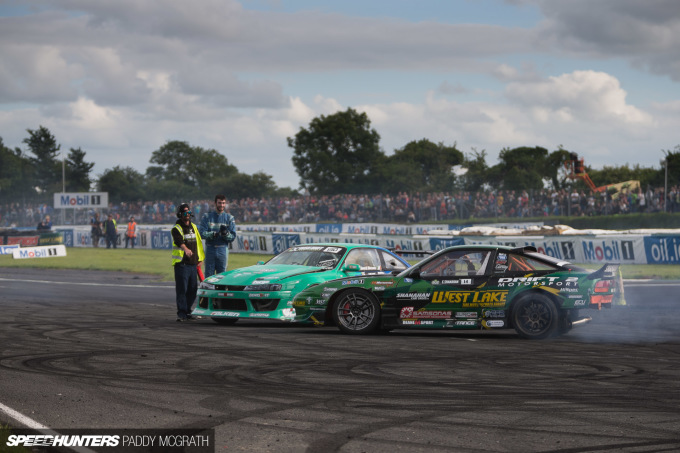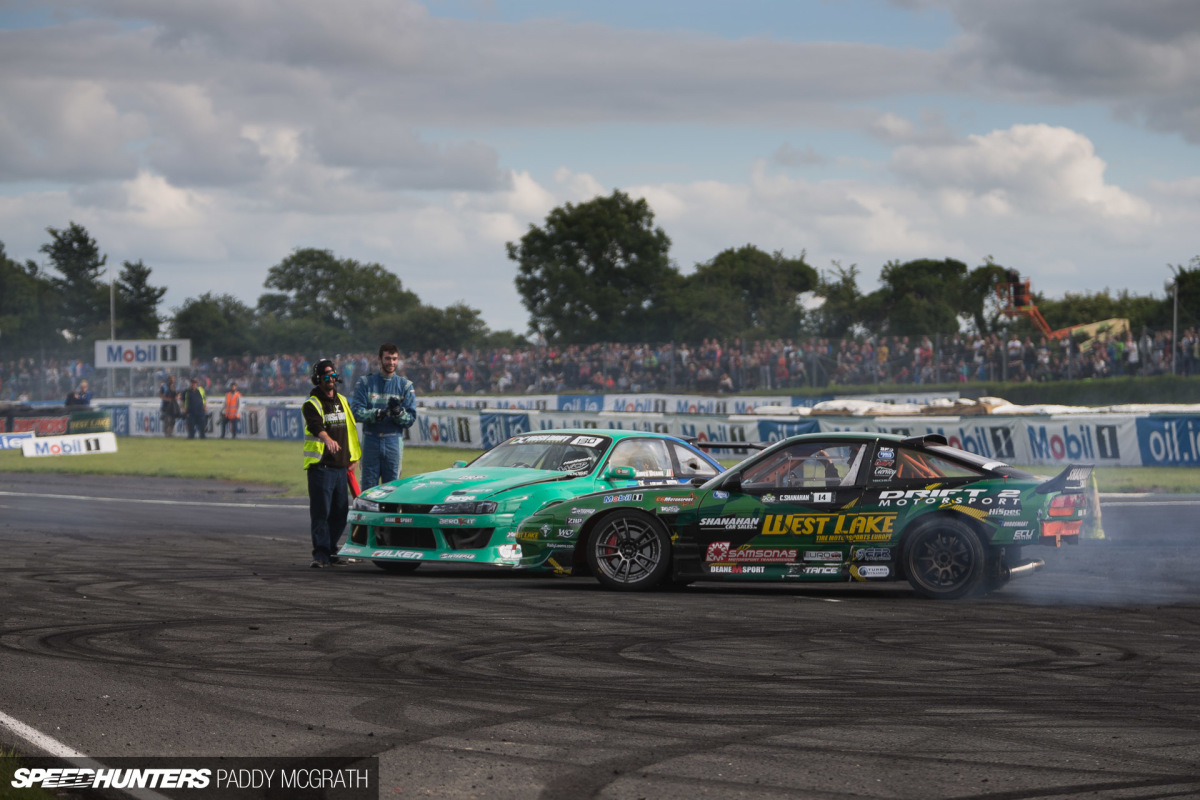 There was no doubt who the happiest man in Mondello was at this point, although it's debatable who the second happiest was.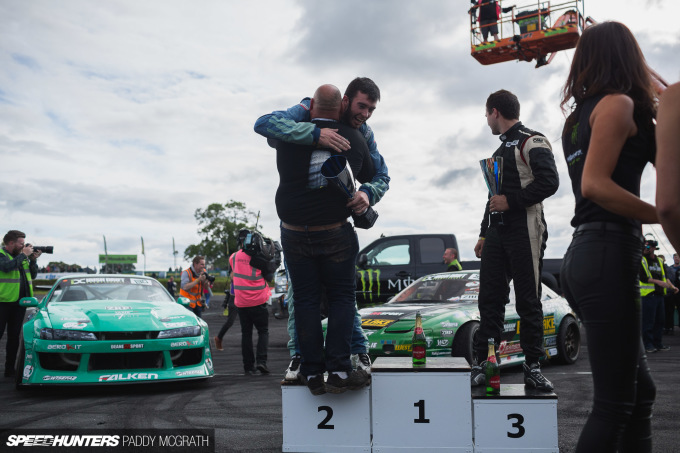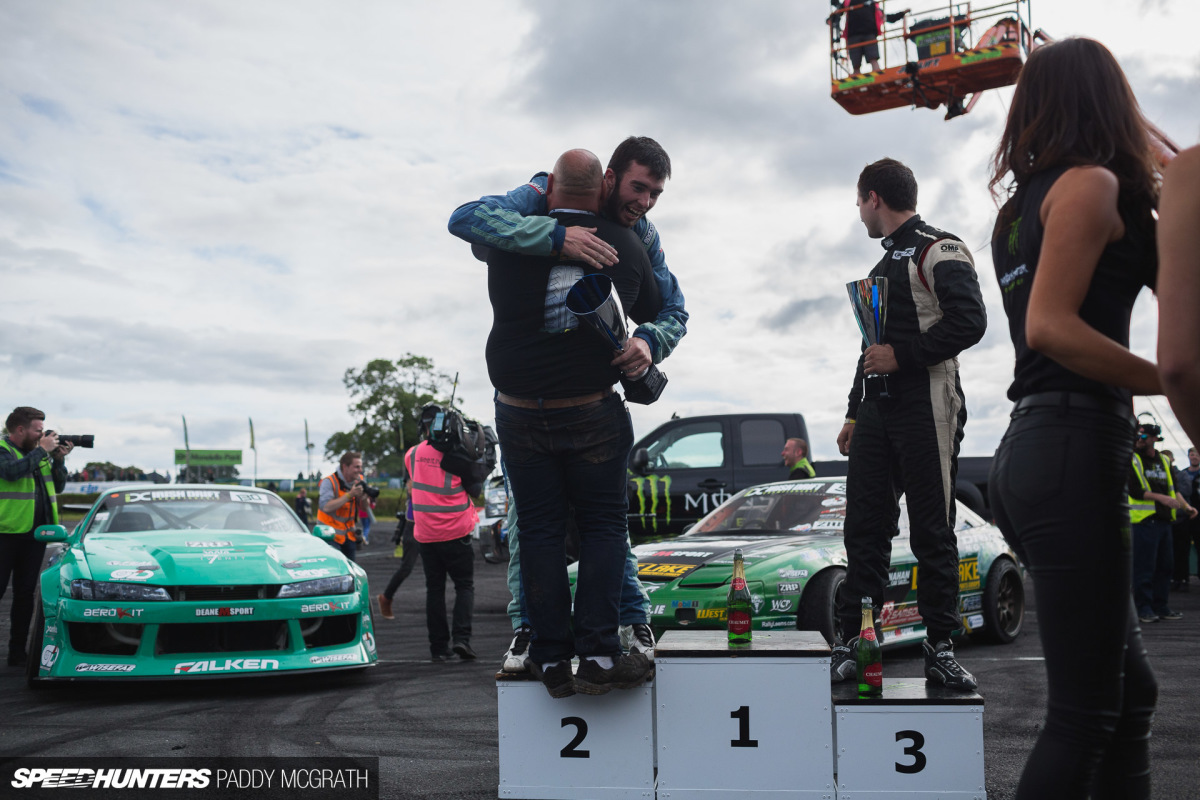 I don't think I've ever seen someone lose a final to be so genuinely happy for the winner. Jack had done the seemingly impossible and forced James into a mistake.
Jack had earned his victory.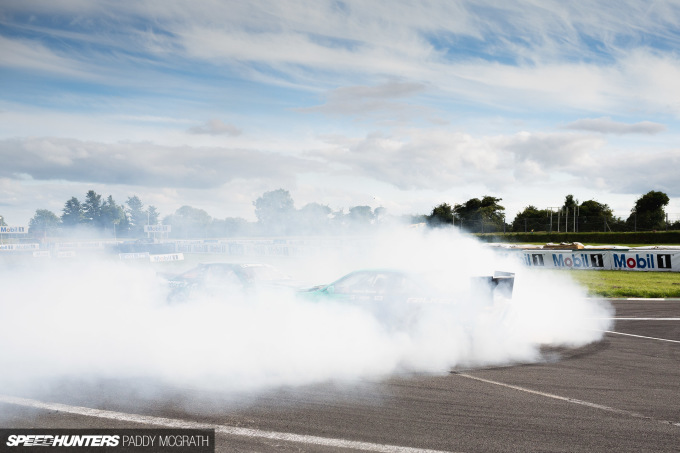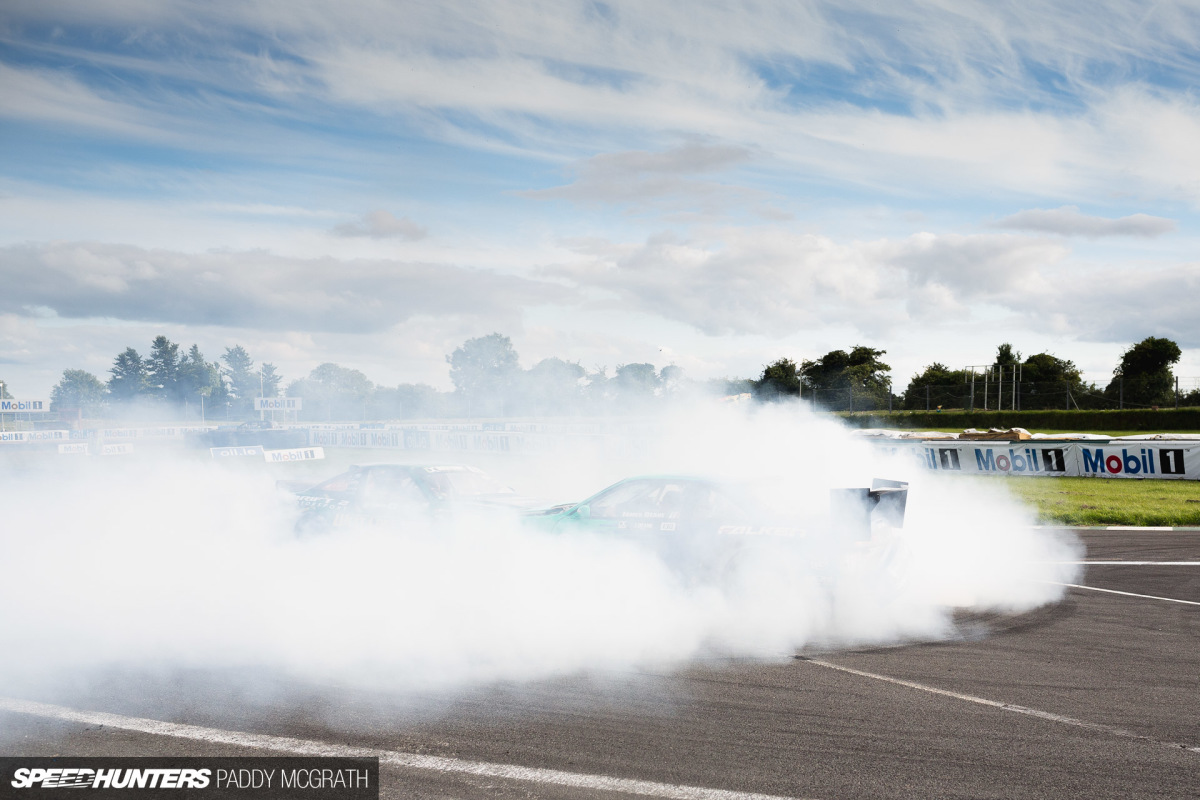 I always thought that the Irish needed a defeat to evolve as an even better force in the drifting world. I guess a good scare at the hands of some incredibly talented competitors seems to have had the same effect. Three Irish drivers in the top four is a pretty strong endorsement of the standard here, but I do find myself asking: what's next? How do you possibly surpass this level of achievement? How do you better this amount of action and excitement?
More importantly, who's next?
Paddy McGrath
Instagram: pmcgphotos
Twitter: pmcgphotos
paddy@speedhunters.com
Cutting Room Floor