Well, Maybe…
When I sat down in the paddock suite above the pit lane at Mondello Park to talk to David Egan, organiser of the Irish Drift Championship, he should have been feeling pretty smug with himself. But he wasn't. Coming off the back of a record-breaking season for IDC, he was already busy building on next season's plans. What I found to be quite funny was that whilst he was dealing with someone on the phone about next season just minutes earlier, he was also organising his small storage unit whilst working on his own drift car at the same time.
"Welcome to the new home of IDC," he says with a smile. "Well, here and that container over there."
From a humble, two car pit garage in Mondello Park, which has only been recently re-appropriated as the headquarters of the Irish Drift Championship, David will formulate his plans for the 2016 season. It'll have to be better than good too, because 2015 was an absolute stormer.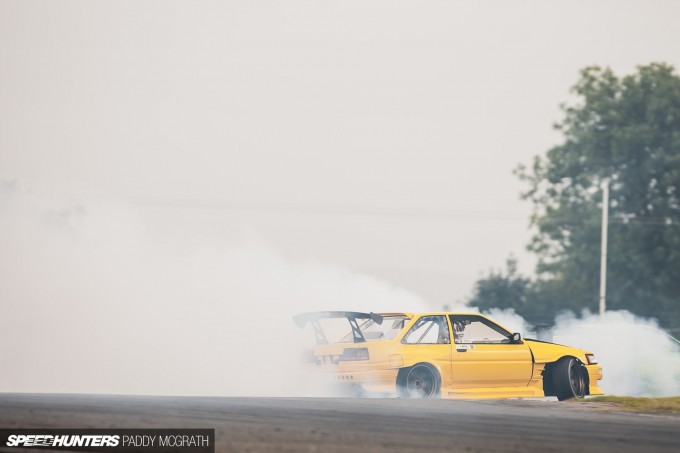 DE: "It's been a fantastic season. I think it's definitely been the best season in the five years that I've been involved in the sport here. It's been the most stressful too, without a doubt. I think the first year I understood how to run a successful drift championship with regards to the basics and how it works competitively, but to take risks, that's where you gamble financially. That actually puts the series into risk at times because you're basically saying that I'm going to build something and people have to come to it. If they don't? We're in serious, serious trouble.
"But when I look back at this season, it has been incredible. When I look at our figures, our social media and our live-stream, it's just way beyond where we thought we would be. It's almost unbelievable. I can't comprehend it. When we came to the final round and Mondello turns around and says that we've broken the attendance record for the place, you don't expect that. You expect a good crowd, you expect a good event, but to break records and have half a million people watching online this year from all over the world."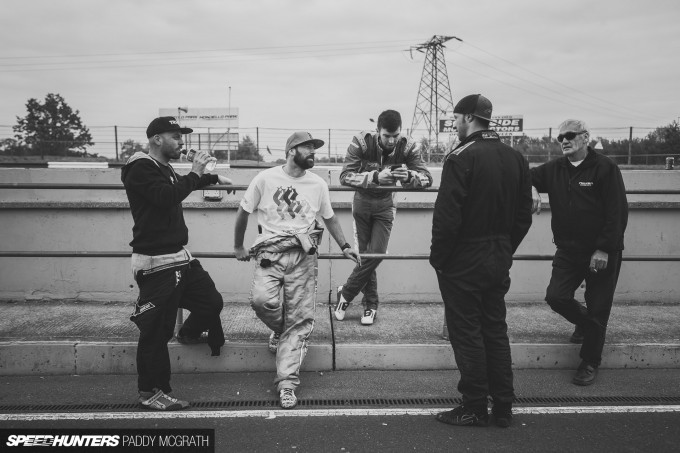 It hasn't been easy, or has it ever been. Ireland is a small country, with a small population which in general doesn't have much love for motorsport.
DE: "I think the IDC has its challenges. We only have one circuit and a small population, but we have an amazing community to work with. If this community feels that IDC is pushing things in the right direction, they rally behind us. They come to the events, they push as far as they can and they promote it on their social pages without any prompt from us. It's a real national pride thing. When people ask me why is IDC so successful, I always answer that it's because it shouldn't be. We don't have big budget sponsors, we don't have the race tracks to go to so it makes you the underdog. And I think this is across all sporting platforms in Ireland. Because there's a minimal population, everyone feels like they're an underdog wherever they go. So, what we tend to do as a nation is rally behind the underdog and that's why IDC has been successful. The drivers, the fans, the media came together and decided that if we pull together, we can create something that the whole world will see.
"I think the fans are more a part of the series than any other series because the drivers aren't superstars, they're are nine-to-five guys, who know the fans. They go drinking together, they have fun with each other and can chat with each other on Facebook, because there's not an elitist element to it. This is what makes the sport so approachable. When someone comes to an event and gives their €20, they feel like they're a part of it and that they're contributing to it. Our fans are the most important part. Some series', their driver entry fees and sponsors can cover them for the year and anyone who comes through the gate is a bonus. With IDC, we have to have a certain amount of people come through the gate or else we make a massive loss. It goes to show the confidence that IDC has in the fans to come and support the series."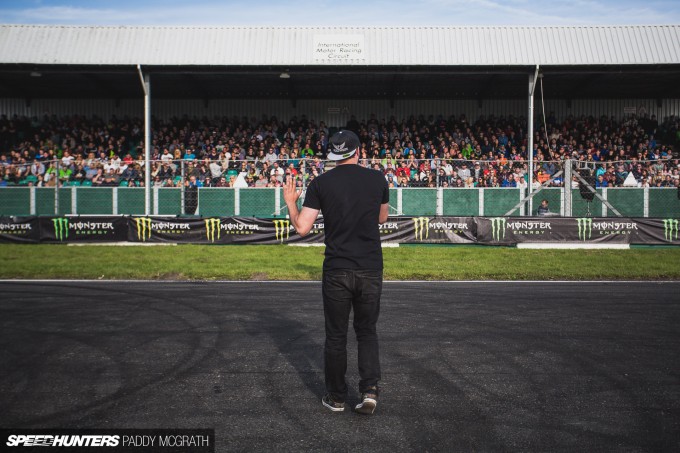 David has some pretty outlandish views on how drifting should be run. It was his own words that inspired an article earlier this year entitled 'Drifting Is Not A Motorsport'.
DE: "I've always said, I don't have a massive interest in motorsport. I have a massive interest in entertainment. I've looked at the likes of the WWE and thought why do millions of people watch this, knowing it's fake and knowing that the same thing is going to happen over and over again? But the reason they watch it is because it's entertaining and the way it's presented is entertaining. From a commentary standpoint, it's why I still commentate on the events, because I know the stories that the regular guy doesn't. I talk to the drivers every day and I know if there's been difficulty or something going on that I can relay it to the listener. I rarely go into the detailed specs of the car or the who's beaten who because I'd rather go into why each battle means so much to a particular guy and I like to emphasise that these guys are putting their lives and souls into it. I want the casual viewer to see each battle as two people against each other, rather than two cars. It's about the people involved."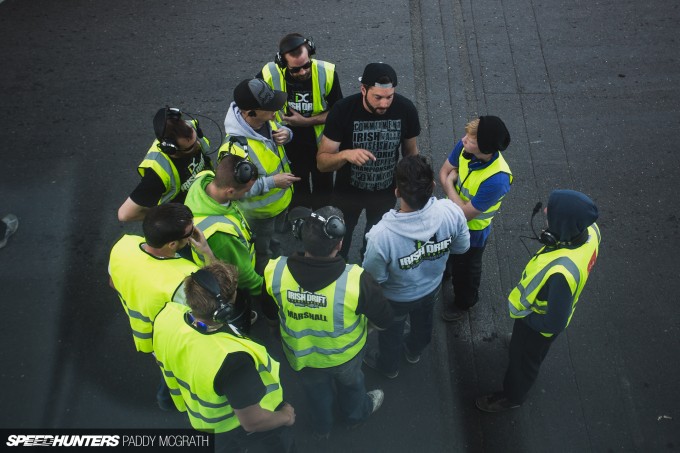 DE: "We're lucky that we're not like other forms of motorsport. We don't have a governing body. If I want to change the rules mid-season, I can. All I have to do is to explain to the drivers why I'm doing that, why it benefits the show and they generally just agree with that. They trust that my judgement is the right one. We've changed from Top 24s to Top 32s to Top 16s all in one season, to keep the show fast moving. We've very little breaks in IDC, we have action all the time and that's the important part. We've introduced the pit cam this season because I felt that those five minute rules dragged on but if we put a camera on them, those five minutes became entertainment. You see the guys rallying around the car, people panicking and the emotion. People were going home talking about the five minute rules where last year the crowd would just sigh in disappointment when a five minute rule was called. Now, people are sitting up, they're getting excited because they know someone is coming with a hammer or something. I think the five minute rule between Fink and Shanahan was gold this year. I mean, you had our scrutineer hitting the car with a trolley jack, you had Jack getting out and checking his and Fink's tyre pressures. That's what people talked about afterwards, the sportsmanship.
"For me, the entertainment was the key. That people weren't bored. Because you do get bored at drift events, there's only so much you can watch of drifting until you think that you've seen it all before. But if you make it a character-based entertainment product, no one gets bored."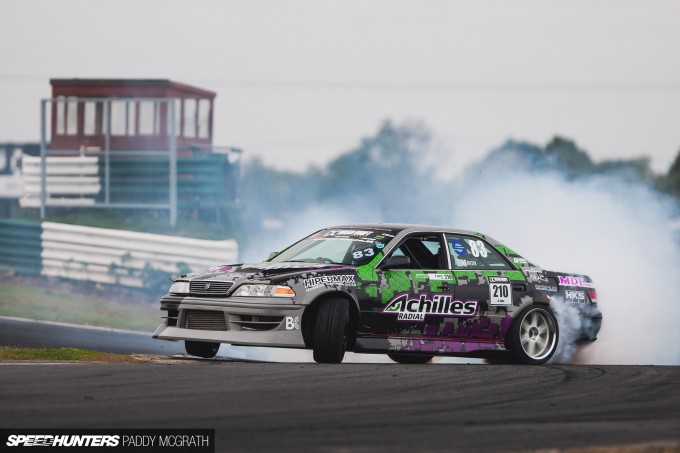 Probably the biggest story in Irish drifting is the much talked about 12-year unbeaten streak on home soil. It's not without its detractors though, with some claiming that judging bias will prevent anyone from beating the Irish at home. David doesn't agree with these theories.
DE: "I think that's nonsense. I wanted an international driver to break the unbeaten streak. I think people have to accept that it's a judged sport and we judge IDC a certain way which maybe different to how some of these guys are judged in other series'. It's explained to them at the start of the event, in detail at briefing, that this is going to be how it's judged. To turn around and say that it's not judged their way is arrogant, because they're coming to an event where this has been the way it has been judged for 10 years. It's never changed.
"Sometimes the judges will make decisions that aren't perfect, in any series. I always use the example that the biggest sport in the industry is soccer and they still have one guy deciding what happens on the pitch. Even if they have 70 cameras, even if they can go to 27 replays, they still make him make that decision because it's not cold and calculated because it's a humanistic element, as opposed to a clock in say time attack. But it's certainly not the case that a judge may favour a certain driver. I can say that from the judging team this year that I know they've been unbiased and I know they take it personally when that has been questioned.
"From a judging perspective, there's maybe one or two calls a season where some may question the decision, but our judges will explain their decision, in massive detail, at the time of the decision. In many series', the judges don't have to explain themselves but we go straight to ours and ask them 'why did you make that decision?' They'll give their opinion, and you can argue it, but it's their opinion. If they were trying to be biased, it would be difficult if you had to explain and make up something on the spot in front of over 100,000 people. So, they know what they're saying is their opinion and they know that they'll be scrutinised so they have to give an honest opinion and back it up."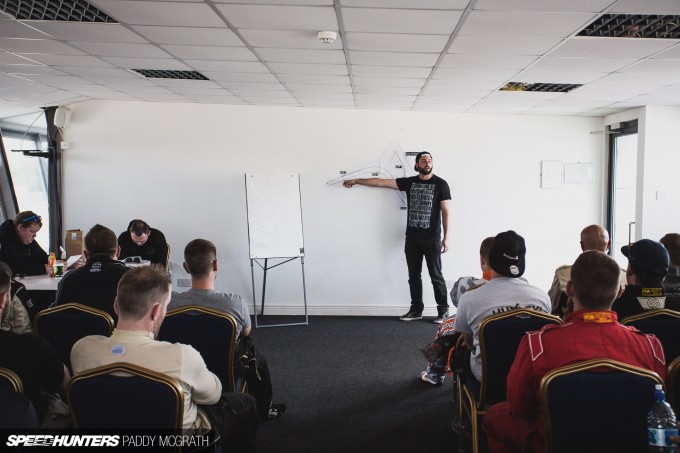 DE: "We brought in assistance for the judges, in the shape of the live stream replay and that was the difference maker. A judge can watch the run with his own eyes, then he can watch it from two different angles, repeatedly, and slow it down. A couple of years ago they were making a decision on a 30-second run, now they're taking five minutes to scrutinise every detail of it to make the right decision. An assistant is only another opinion, and I think three opinions is enough. If you start adding to it and end up with a committee making a decision, it's going to get out of hand. I think that now, much to my annoyance, in IDC, they won't make a rush decision. If we're running out of time or I just want to move the show along, they'll take the time they need to make sure they've made the right call.
"Kieran in the tower has been judging for 11 years now. It's not like there's anything he hasn't seen before or any eventuality that he hasn't come across during a battle at this stage. He's making the calls on his experience but he's also making the calls based upon what he's explained to the drivers. It's at this point that the line blurs between what the people watching online who think a decision is wrong and what the judges decide. But these people aren't at the briefing when it's explained when you shouldn't do this or that or what's emphasised. I look back at the battle between Deane and Carter last year, where it was emphasised during every briefing that you cannot pull the handbrake during the first corner, whatsoever. If you do, it was going be awarded as almost a 10-0 because the car behind cannot adapt to it, and that's what he [Carter] did. When you look at it in normal time, it looks like Carter had the advantage in that battle because Deane wobbled, but because they watched on the replay and slowed it down and saw the handbrake come on, he instantly was awarded an 8-2 against him because it was reiterated so much by the judges in the briefing. Maybe next year there's the possibility that we might live stream the briefing."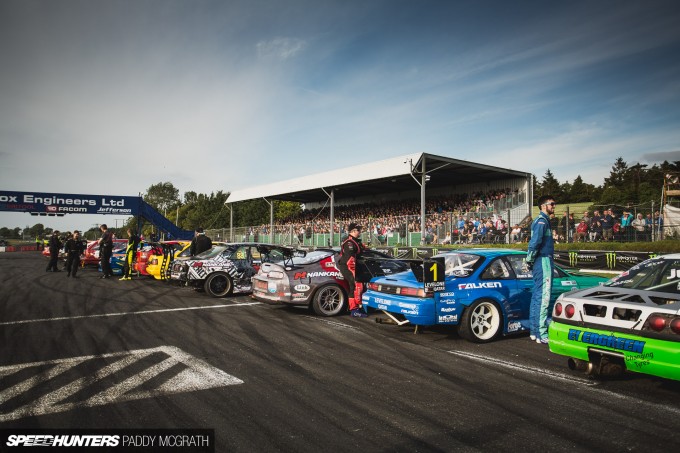 Does he think the Irish can be beaten?
DE: "I'm worried they can't, because I'm running out of people to bring!
"I think they can. I think it'll take the right guy in the right car to do it. But, if you're talking about if the best Irish guys can be beaten here, they can. I've watched it happen this year a few times. James Deane lost to Barry Leonard, Tomás Kiely lost to Daryl Barnett and Jack Shanahan lost to Barry Leonard. They can be beaten, but it's going to take a special driver with the right frame of mind to do it. I don't think it's going to be an easy task because I think that national pride feeds our drivers a lot more confidence, that the nation is relying on them and that the support is more behind them than their competitor.
"I would say Matt Carter has come the closest of anyone to beating the Irish. I think he had James Deane on the ropes, I think he lost because of a technicality, but when it comes down to driving ability, I think he had James rattled. It was the first time I saw James wonder what was going to happen.
"If Forsberg hadn't had that engine failure, I think it would have been done. I would have looked at that top four, where Forsberg had beaten McKeever and Carter was on fire. Forsberg made the final, Carter could have beaten James and that could have been it done. It would have been a toss up between them but I think it was incredibly lucky for the Irish.
"I thought it would have been closer this year, with three or four international guys in the top eight that it would be a good dice until the end but that didn't happen at all. I mean, three Formula D drivers didn't make the Top 16, but there's only so much you can do. You can give them the car but they have to perform on the day."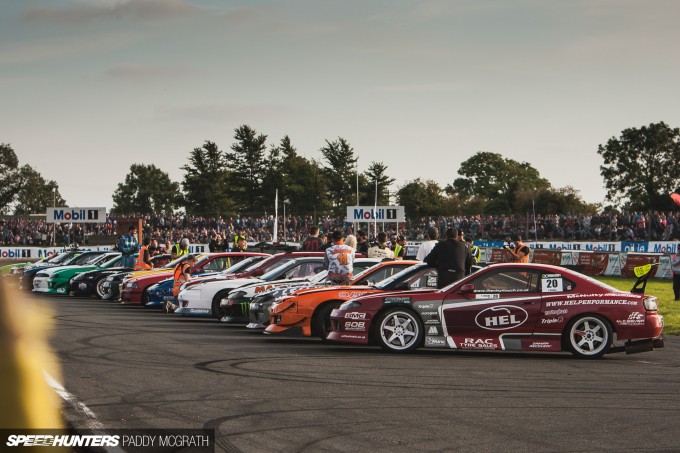 Is the best way to beat the Irish then to commit to an entire season?
DE: "Absolutely. I mean, firstly, they have five chances. But, secondly, it's not as rushed. They can build a program and something that makes sense to them. They have time to test. A big issue for international drivers, whether they drive their own cars or hire a car, is that they have to arrive and drive. Everything's a panic if there's an issue, they don't have the time to align or set-up the cars properly for the event.
"The other issue, and I spoke to Robbie Nishida about this after Japfest, is that a lot of international drivers don't appreciate how difficult it is to win here. They think it's a propaganda scheme, something to do with hype. When Ryan Tuerck came here, he said his car hadn't a hope of winning. Nishida said his car hadn't a hope of winning. When Robbie came to Global Warfare last year, they shipped cars for this year based on that event. When they arrived this year, the whole world had changed and their cars were absolutely at nothing. They were completely underprepared. I think yeah, with the right car and the right preparation it can be done.
"If someone wants to win, they have to deserve it. If you're coming to Ireland and wanting to win, you can't rely on 50/50 decisions. You need to come here and blow everyone away. Nobody has ever done that here."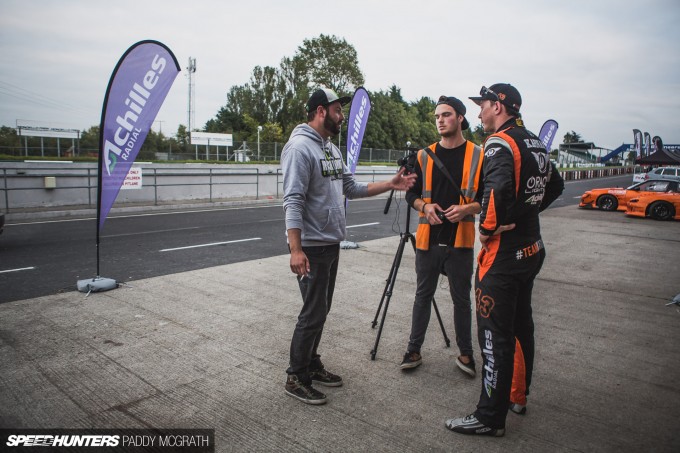 Making the Irish championship relevant on an international stage has been no mean feat. It has taken huge amounts of work and dedication, with more still to do. David was keen to repeatedly acknowledge and appreciate the commitment and passion his staff put into every event.
DE: "After a good event, you're almost ready to take the praise from it but you immediately think that if anything from this point forward is worse than this, it feels as if the series is going backwards. I look at a season where we've done an indoor event, where we've brought seven or eight Formula D drivers across, where we've shipped cars from Japan and where we've broken attendance records wherever we've gone, we have to do all of that and more or else people will think that we've taken a step backwards and don't see the progression."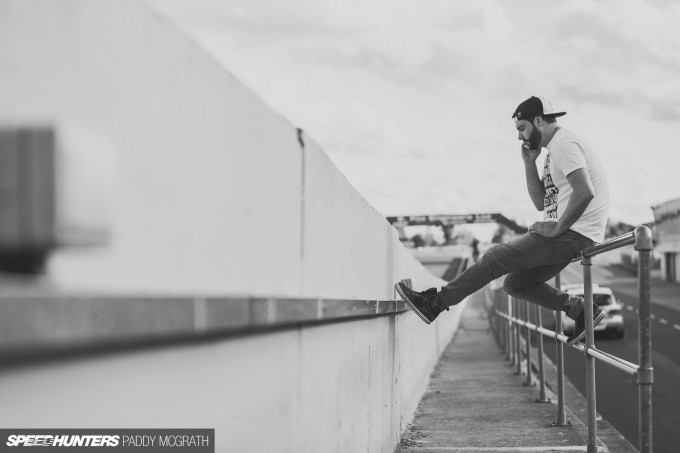 DE: "I think a lot of championships have really good formulas, but consistently have that formula every year and I think that for me, is stagnant.
"The Monday morning after Japfest we immediately started on our plans for next season. I think when we announce what we're doing next year, it's so far above what we've done before, it's not even comparable. We're going to do things that we've never done and take even bigger risks. There's a lot of announcements coming in the next three months that will change IDC completely. That's not propaganda, it's just stuff we've never done before. That's the way it has to be. I think our drivers are ready for it. I mean, you're talking about a bunch of guys in 350 horsepower cars who aren't afraid of the likes of Fredric Aasbø or Daigo Saito, because they want their shot at them.
"To date, it's like I've been playing on a roulette wheel and every gamble has paid off. So far."
Paddy McGrath
Instagram: pmcgphotos
Twitter: pmcgphotos
paddy@speedhunters.com