Getting Fitted
The world us enthusiasts inhabit today is very different to it was ten years ago. As aftermarket magazine after aftermarket magazine has switched off the printing presses for the last time, the internet has filled the gap in getting the latest car builds into the hands of young men and women, and – in Australia at least – the love for modified cars remains as strong as ever.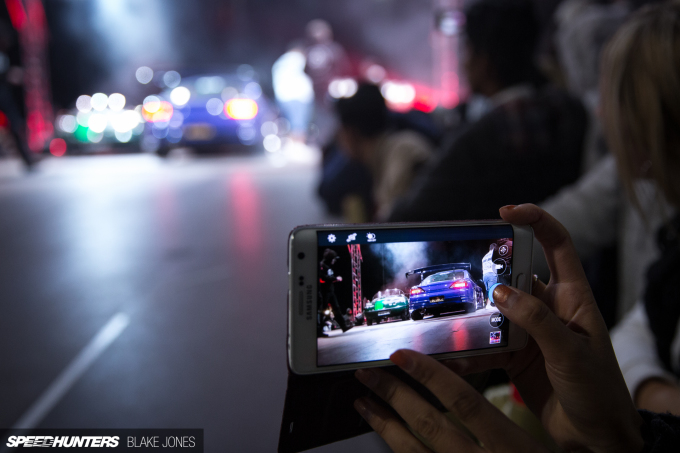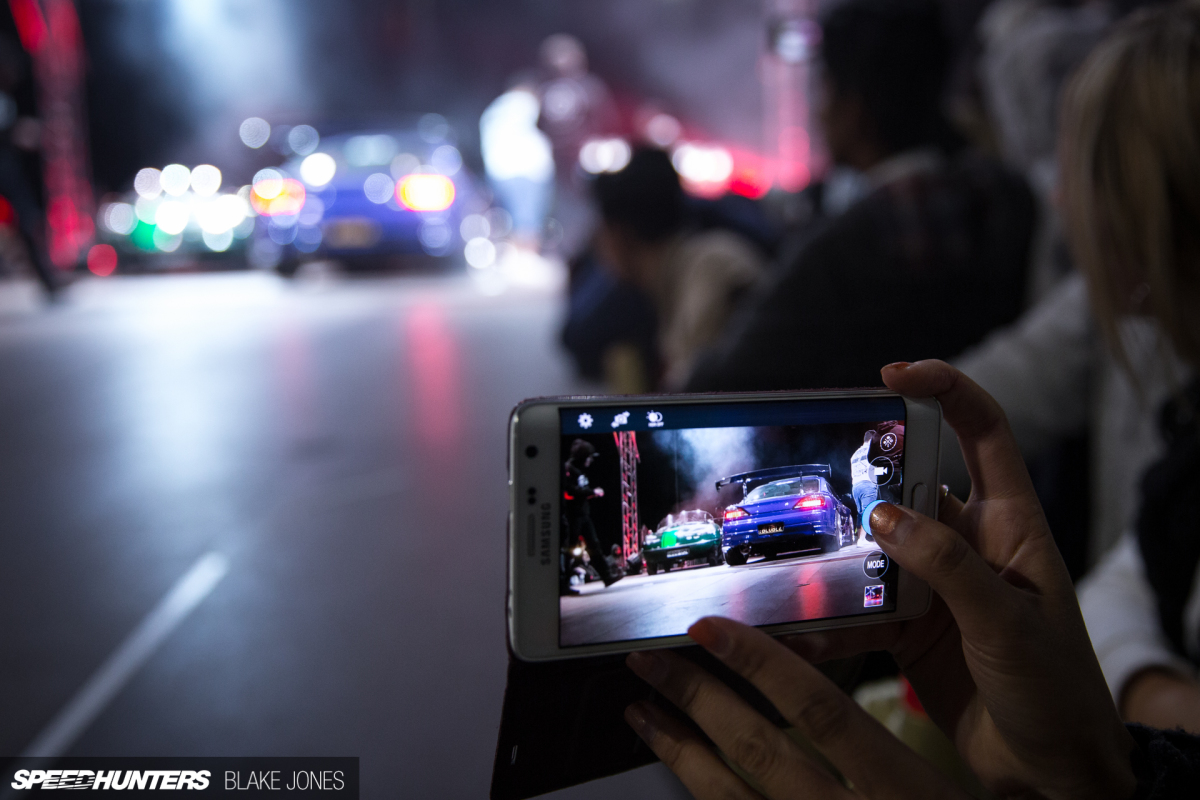 But back in the day we had shows; big shows – massive shows. In Sydney, Autosalon would take over some of the city's largest exhibition halls for a weekend, giving punters a chance to get up close and personal with the all the custom builds of their dreams. We can all look back and laugh at the styles in vogue at the time, but you can't argue that there was a good time to be had for owners and fans alike.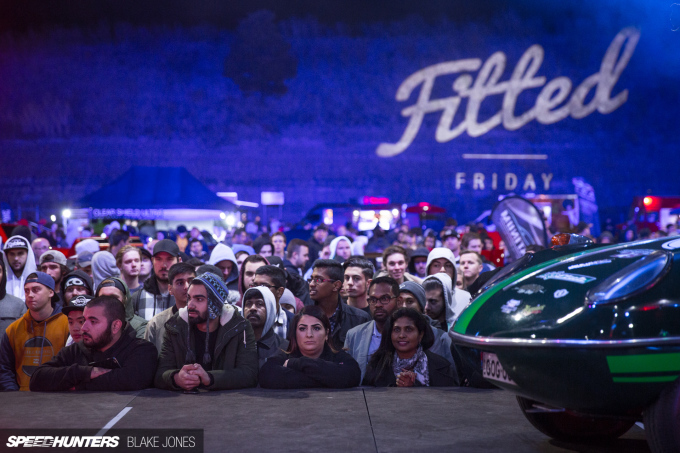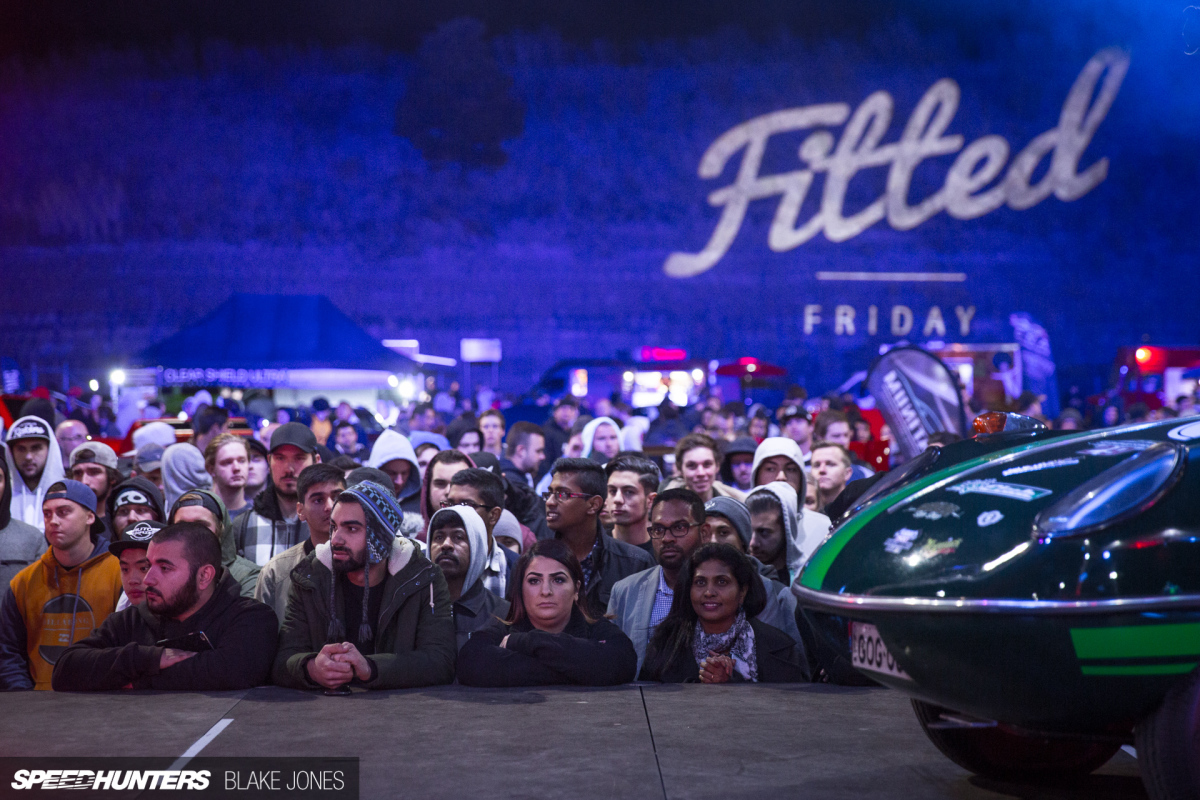 Some of the great classic and muscle shows have managed to persevere and even grow thanks to an unwavering fanbase and a little innovation from management. But for years, fans of tuner cars had to make do with a patchwork of informal gatherings held in carparks, liable to be shut down by security or police.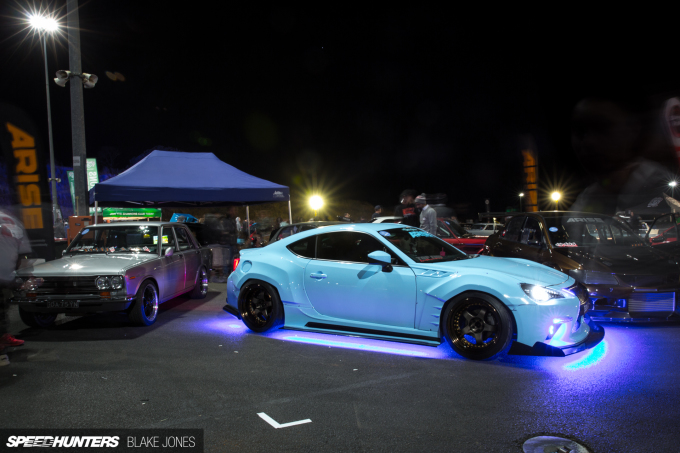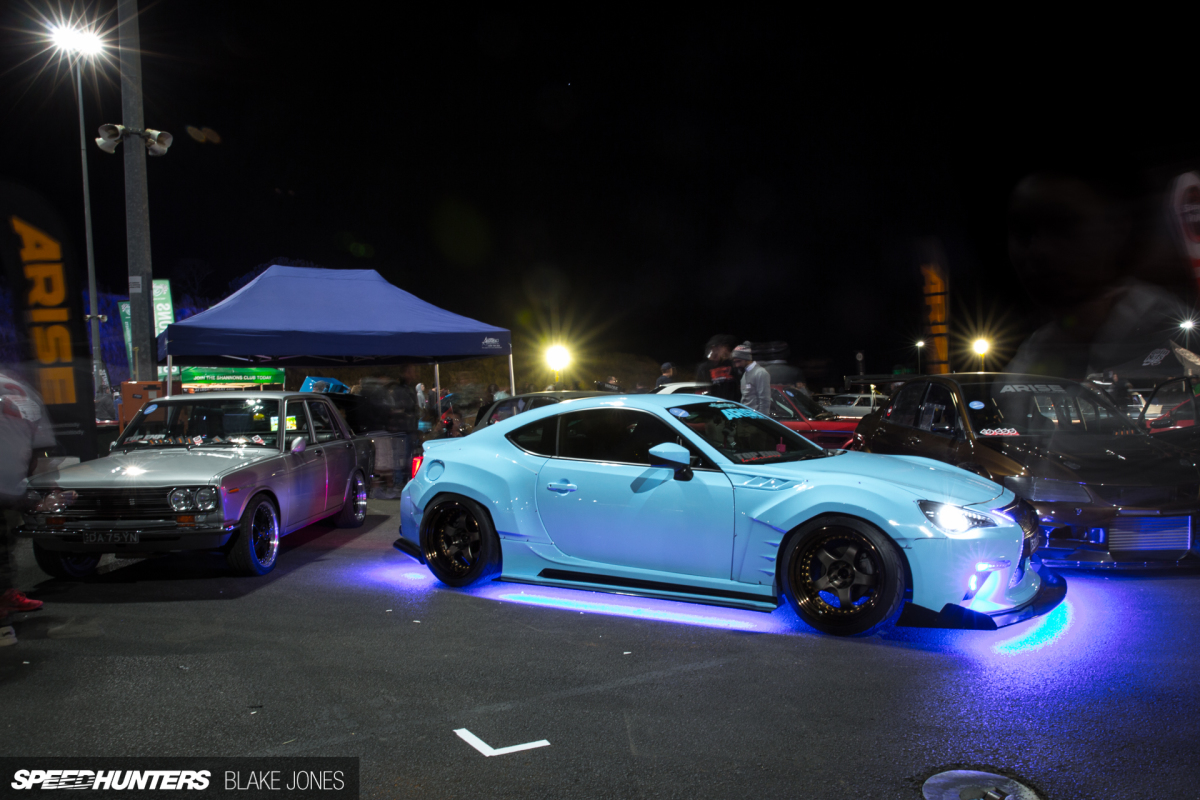 But on a frosty Friday night in Western Sydney, Fitted Friday IV proved that we might just be getting our mojo back. Oh, and if you missed the memo, we're also getting under-glow back. Yes. In the words of organiser Tarik, "Fitted Friday can come in to terms with anything from a drag car to fitment on a lowrider… everyone has a different term for fitted and we bring them all together for Fitted Friday".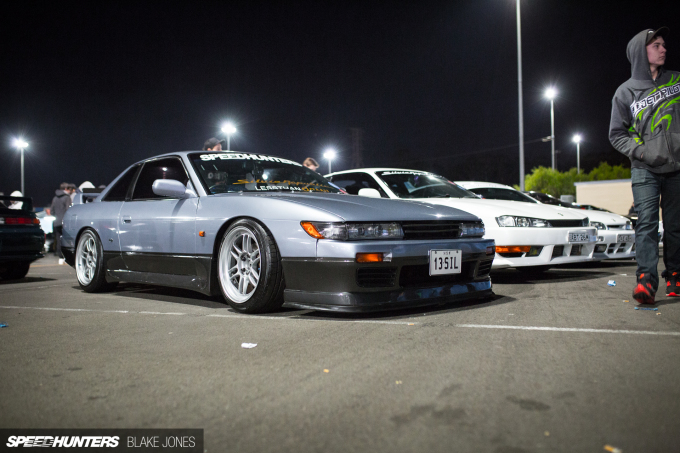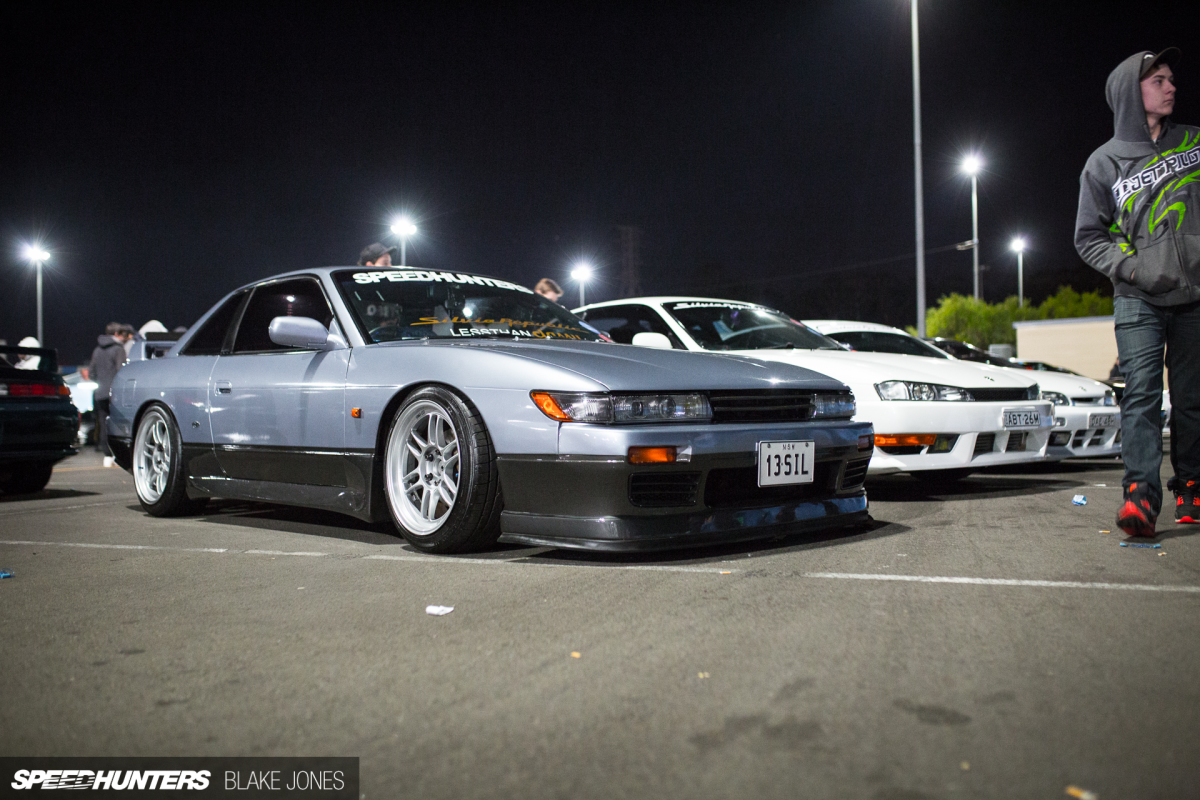 Yes, this is a passion project for the Fitted Friday team, who wear the badge of 'true car enthusiasts' with pride. So while Paddy busied himself with all that being an International Guest Judge entails, I decided to get my lens in front of some of the diverse rides that came out to be a part of this new era in Sydney's tuner scene.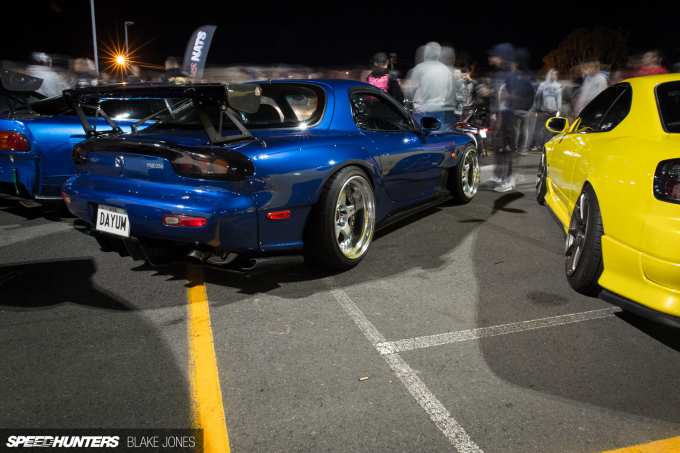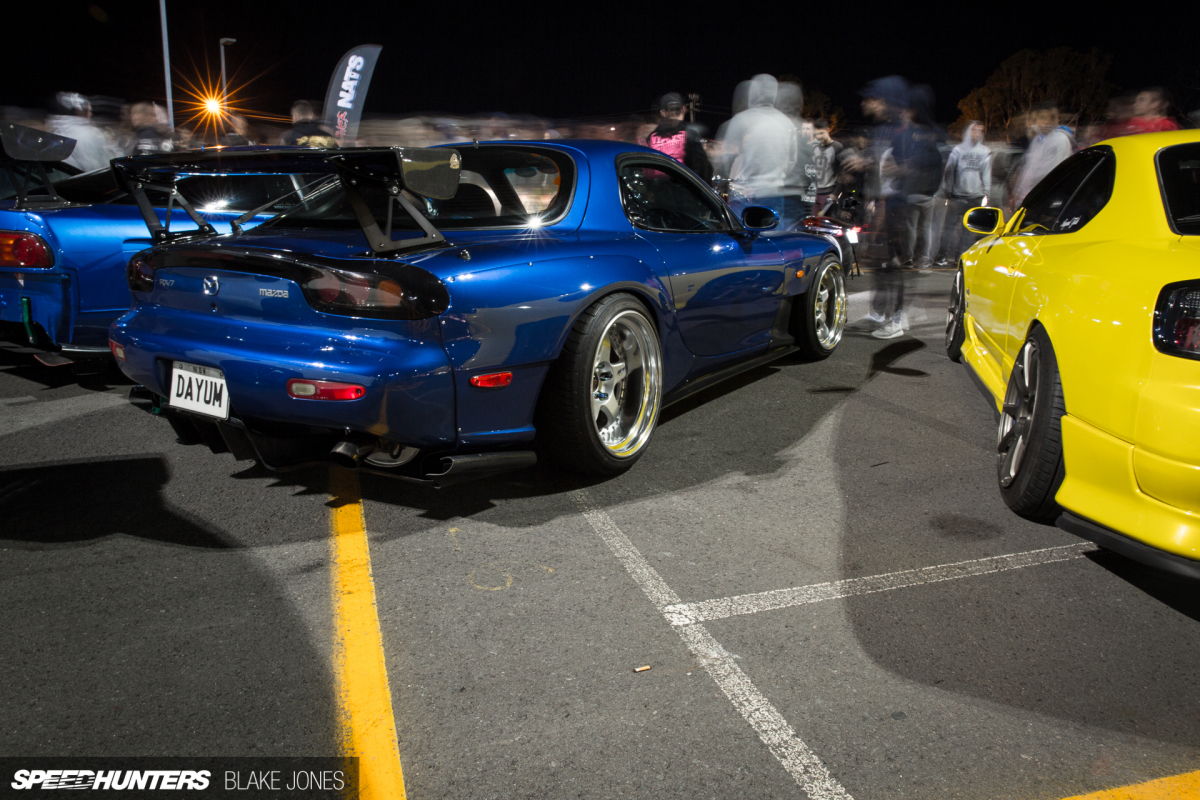 We're quite fortunate in Australia that Japanese performance cars have always been fairly plentiful; but in contrast, obtaining top-shelf JDM parts has always been a relatively complex and expensive affair. Thus, a wide-body RX-7 sporting the right mix of carbon and polished metal is always sure to draw a crowd.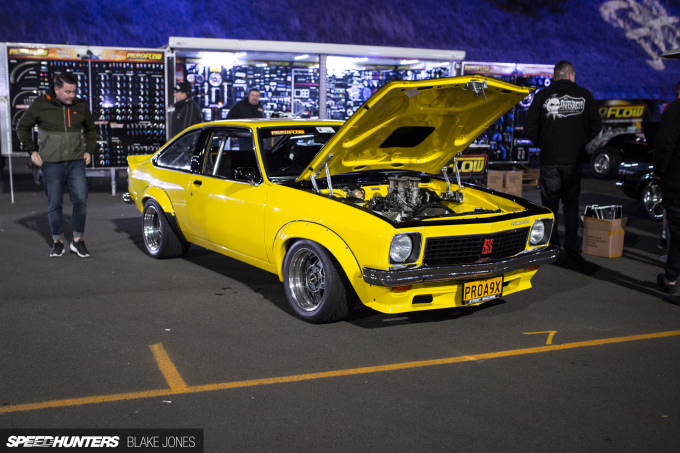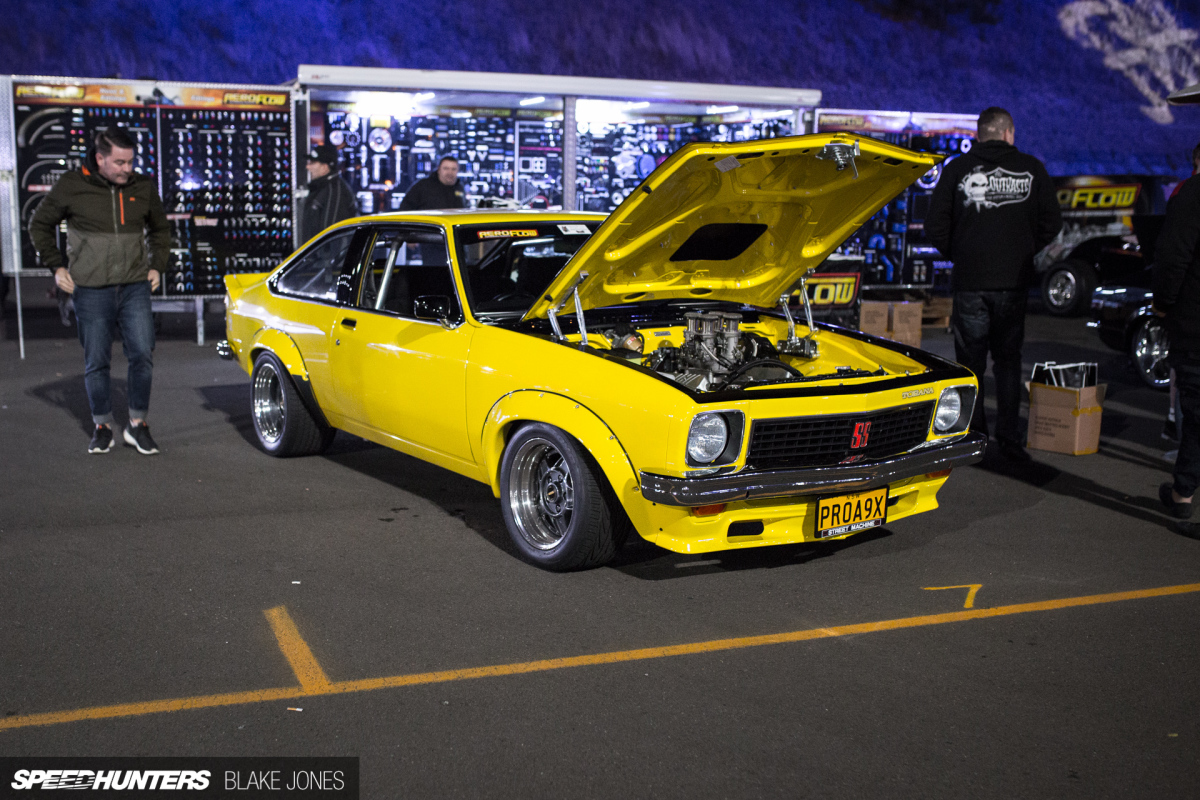 There was plenty of diversity on display in the form of classic Australian muscle (as above, a Holden Torana A9X)…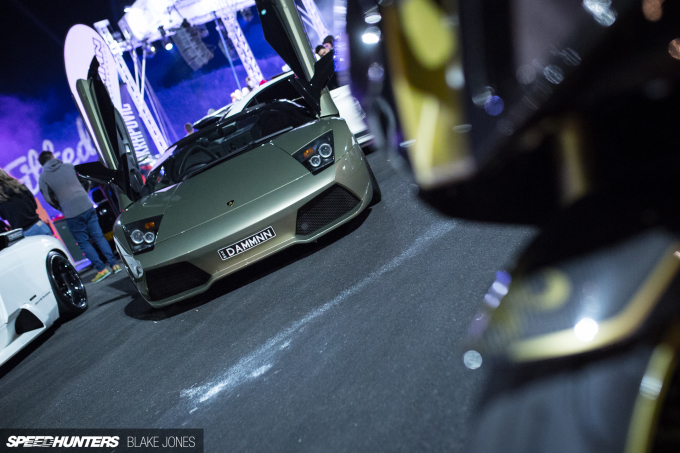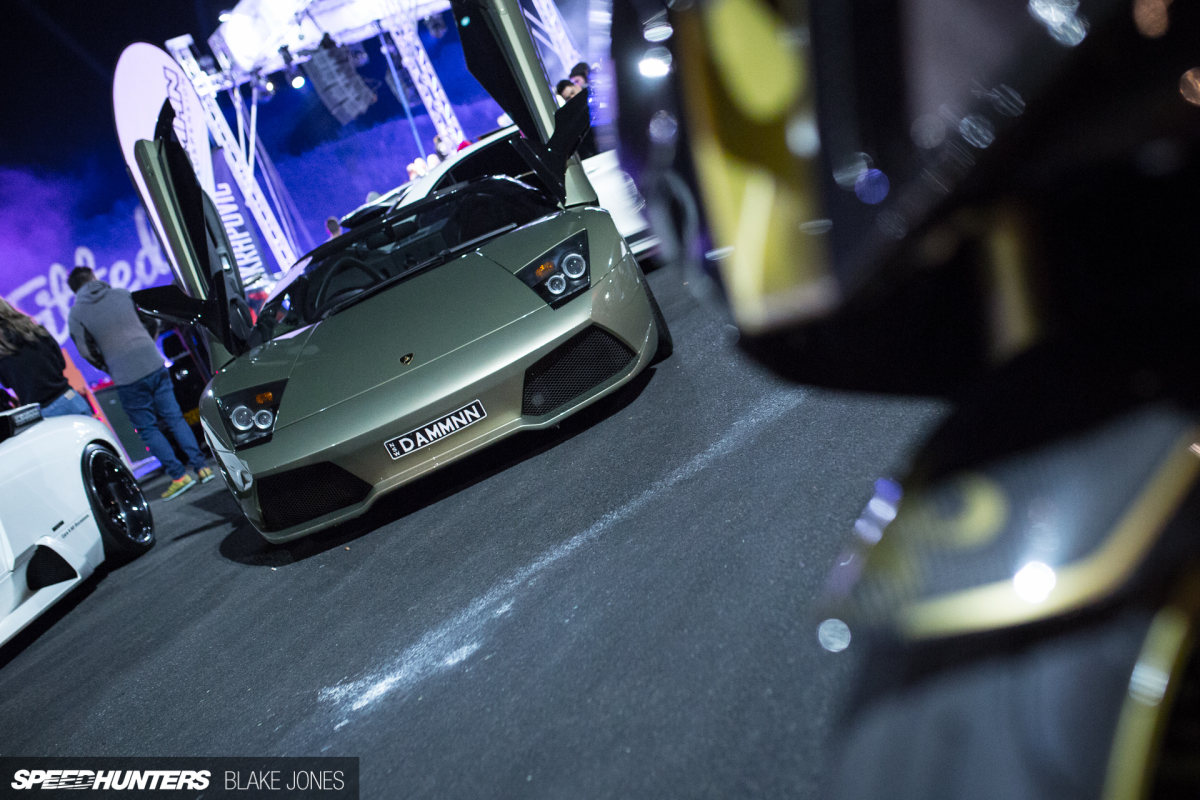 With exotica adding a touch of European flair to the proceedings. Over 200 cars travelled from as far afield as Melbourne and Brisbane to join the festivities.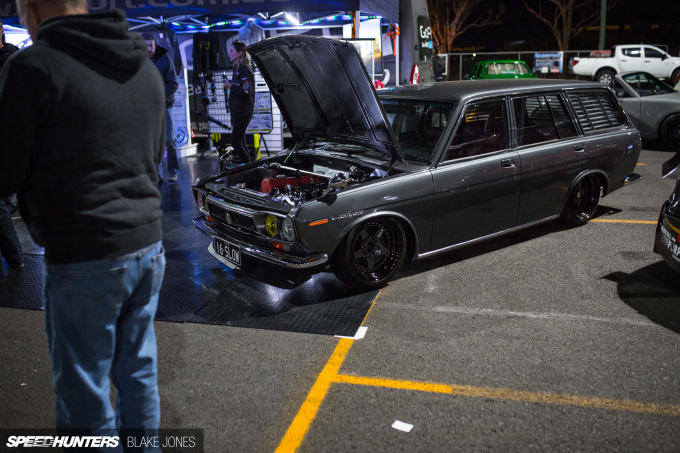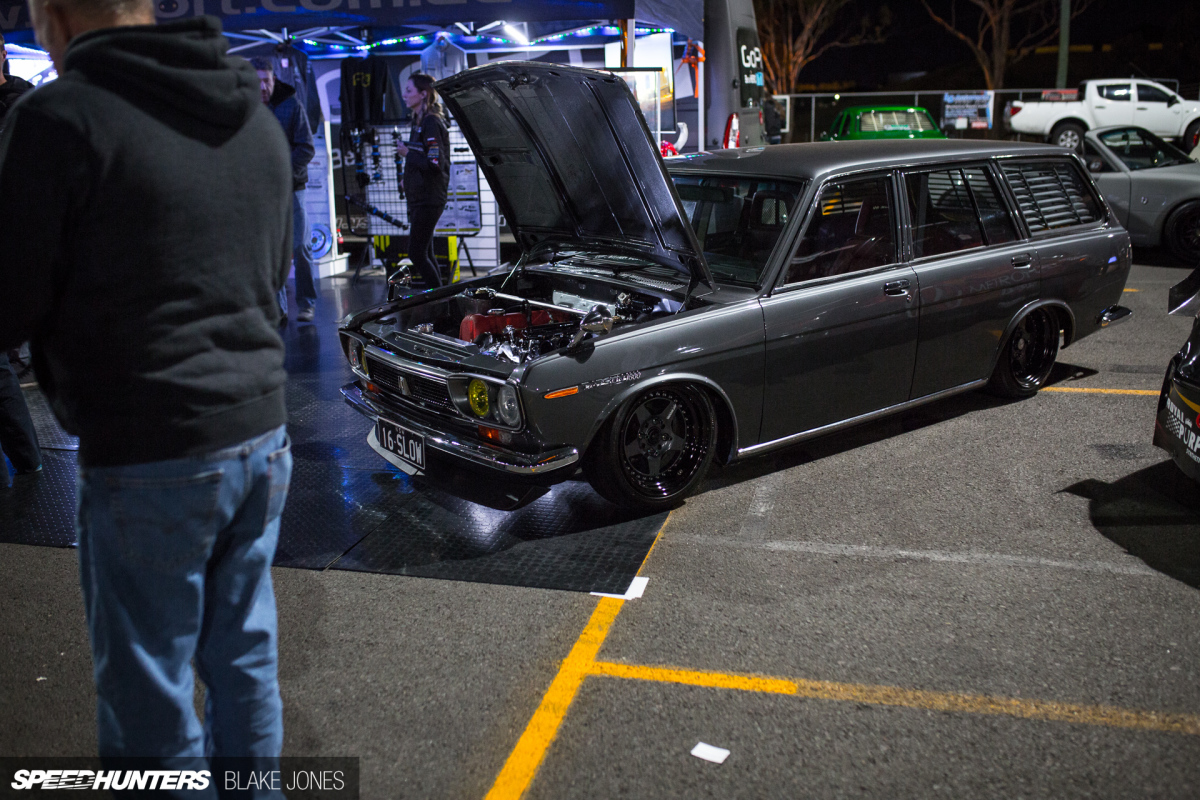 It was great to see V-Sport's John Healey and his aired-out Datsun 1600 Wagon – a car I featured a few months back. Since our shoot, the Datto has gained a front splitter and some beautiful headers that really finish off the engine bay nicely. V-Sport was amongst several traders mixing it up with punters on the night, with many bringing along shop projects to get potential customers excited.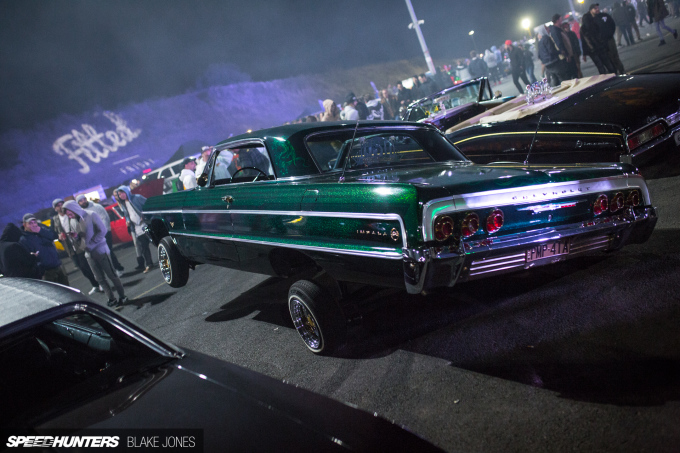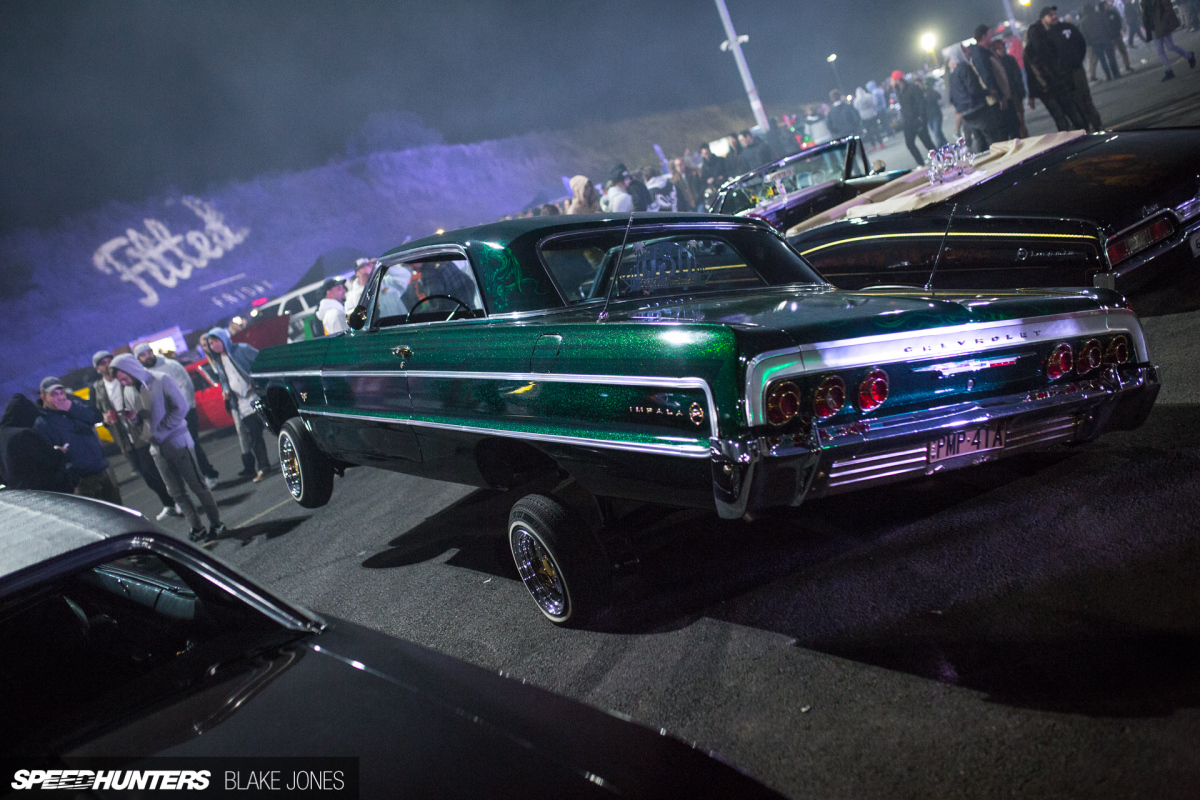 Offering a slightly different angle on proceedings were a few eye-popping lowriders from Sydney's small but passionate community.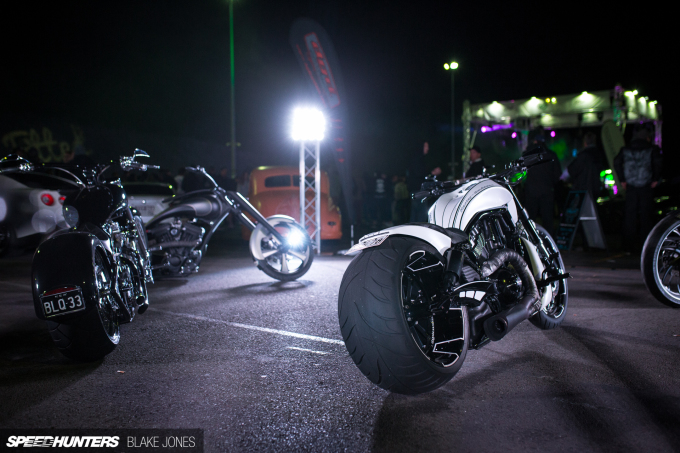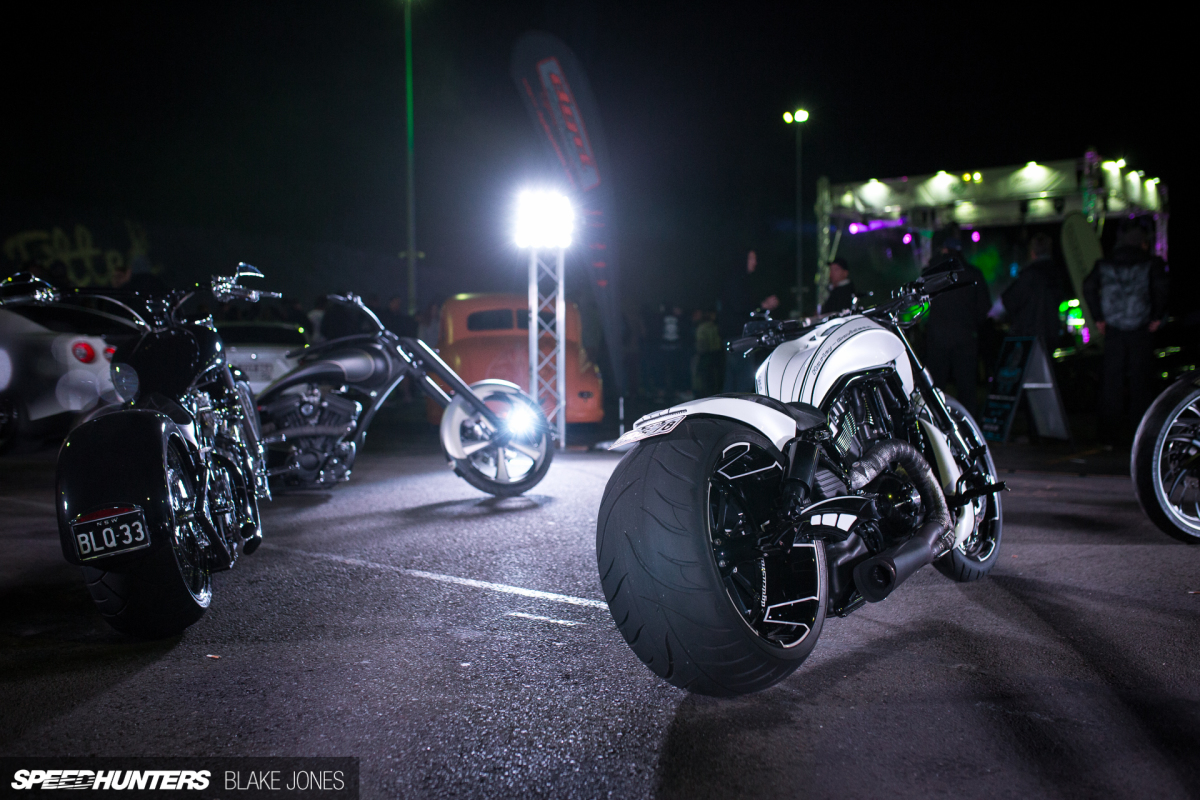 And rounding out the eclectic attendee list were a crew of custom Harley-Davidsons modified to look good and make a lot of noise; riding dynamics… questionable!
Fun For The Whole Family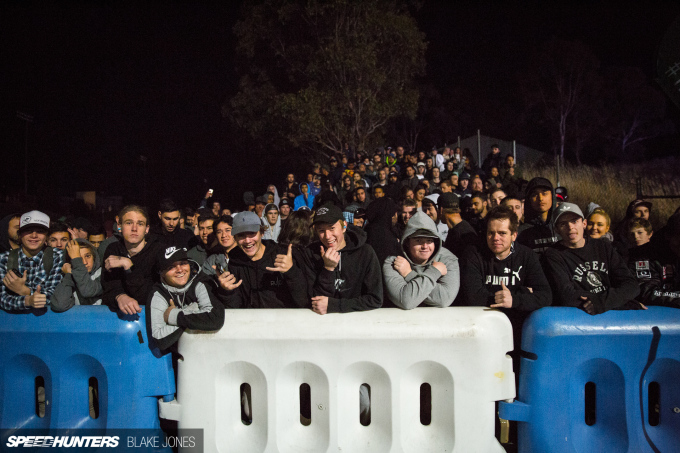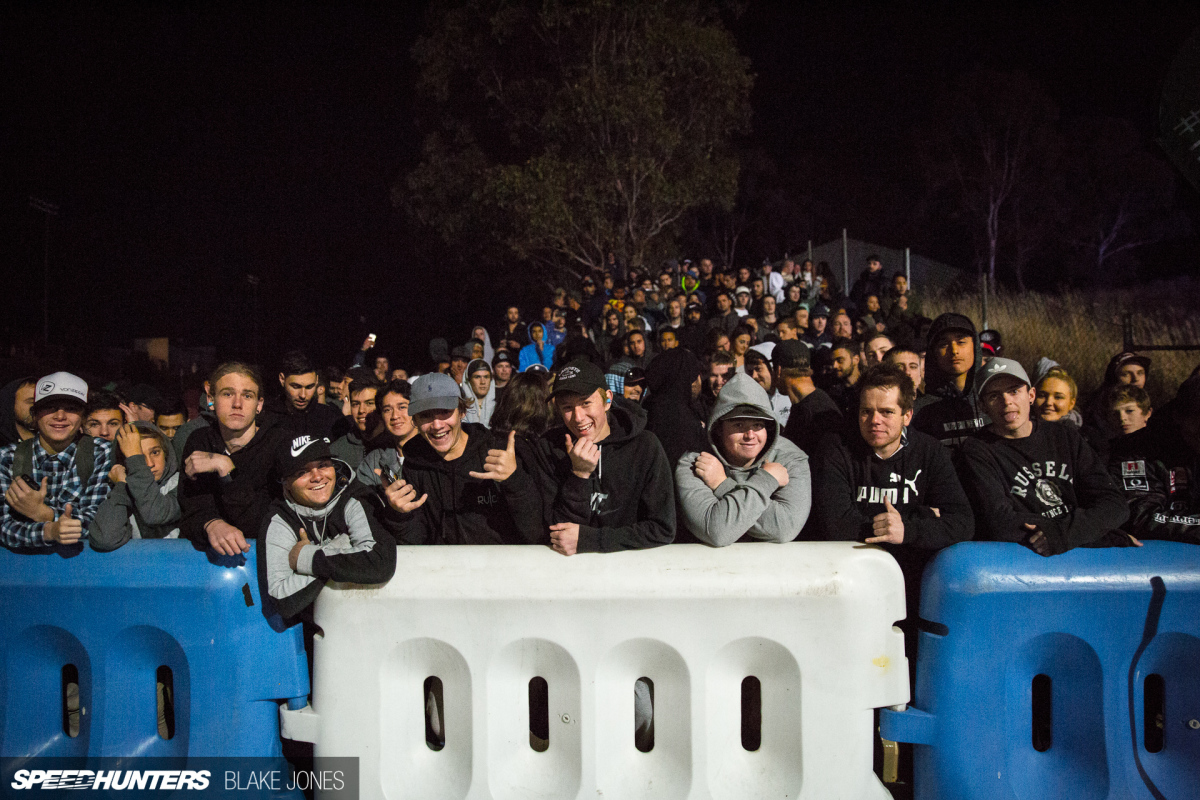 In addition to bringing a wide and varied brace of automobiles out of hiding, the organisers of Fitted Friday are intent on offering an event experience that goes beyond. I said last year that the event got as close to a scene out of The Fast and the Furious as I'd ever experienced, and this year the bar was raised even further to keep the legions of car-loving youths pumped full of energy.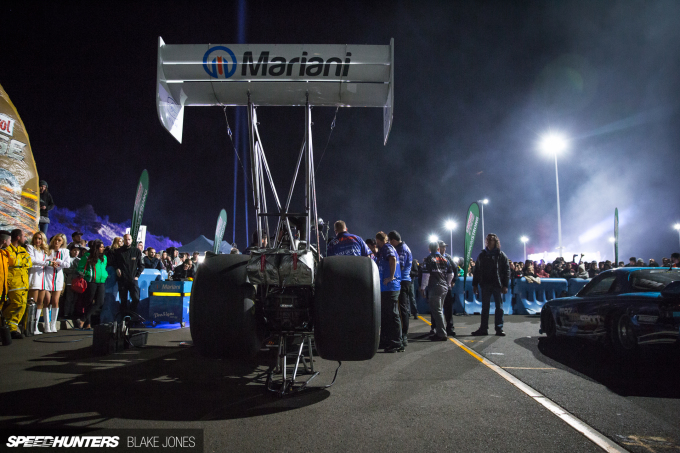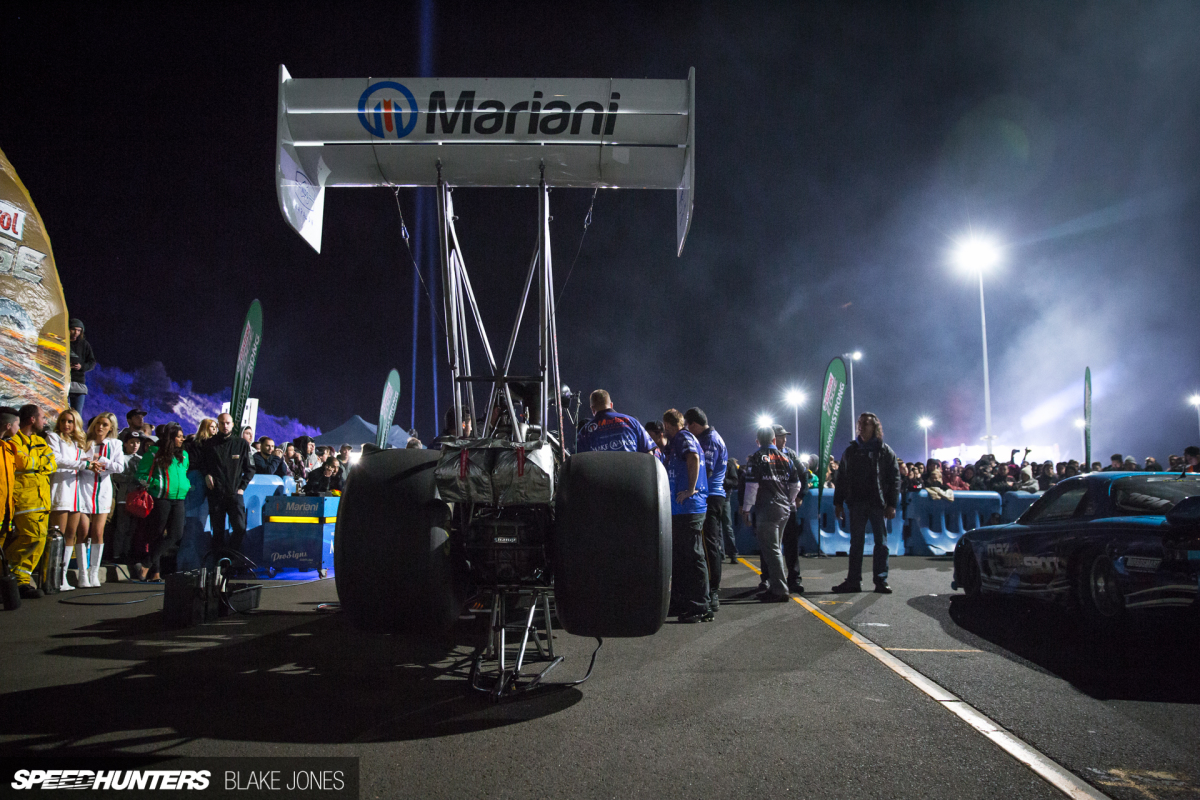 One of the big drawcards of the evening was the 2-step challenge. Within a circle of temporary barriers sat two drag racing machines – a top fueler and RX-7 – the former surrounded by frenetic mechanics prepping the 10,000 horsepower machine as the crowd was gradually drawn in by the commotion. Basically, this was an opportunity for punters to experience these two machines clearing their throats at close range.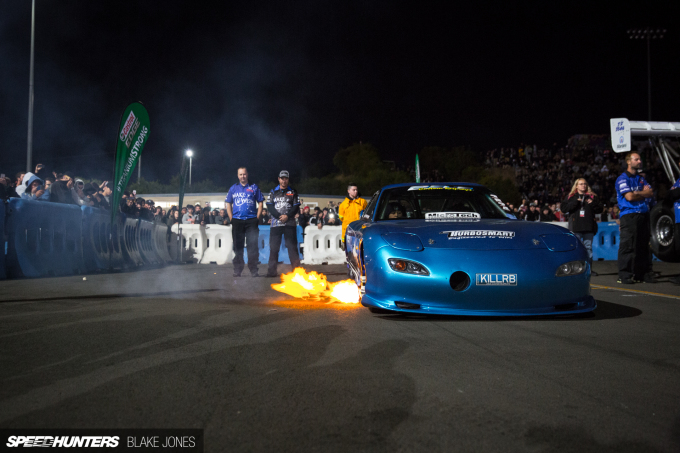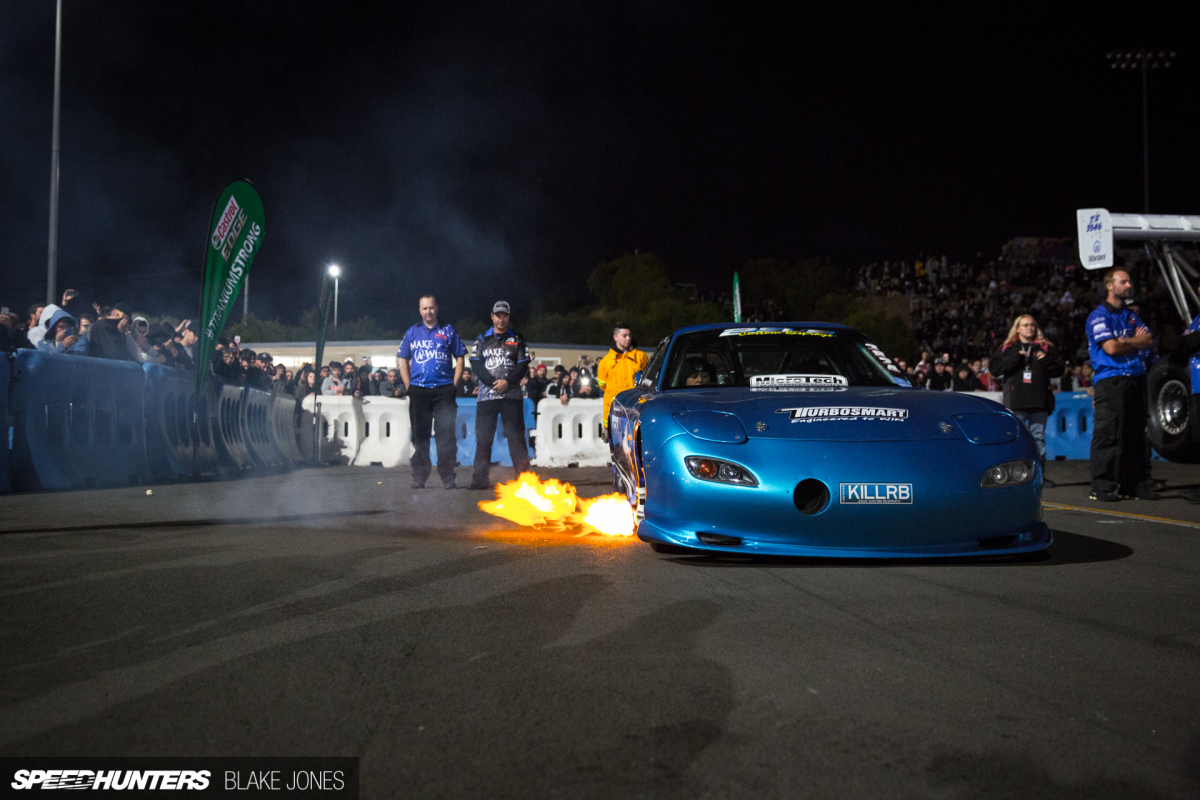 As the 1300hp turbo 20B inside the Mazsport FD3S warmed its internals, flames began to sputter out the side-exit exhaust. Considering the brisk weather, I was welcoming the warmth radiating outwards as the RPM crept higher and higher…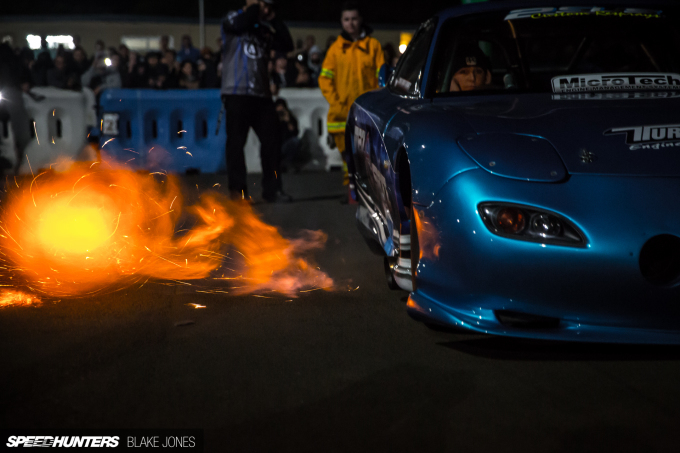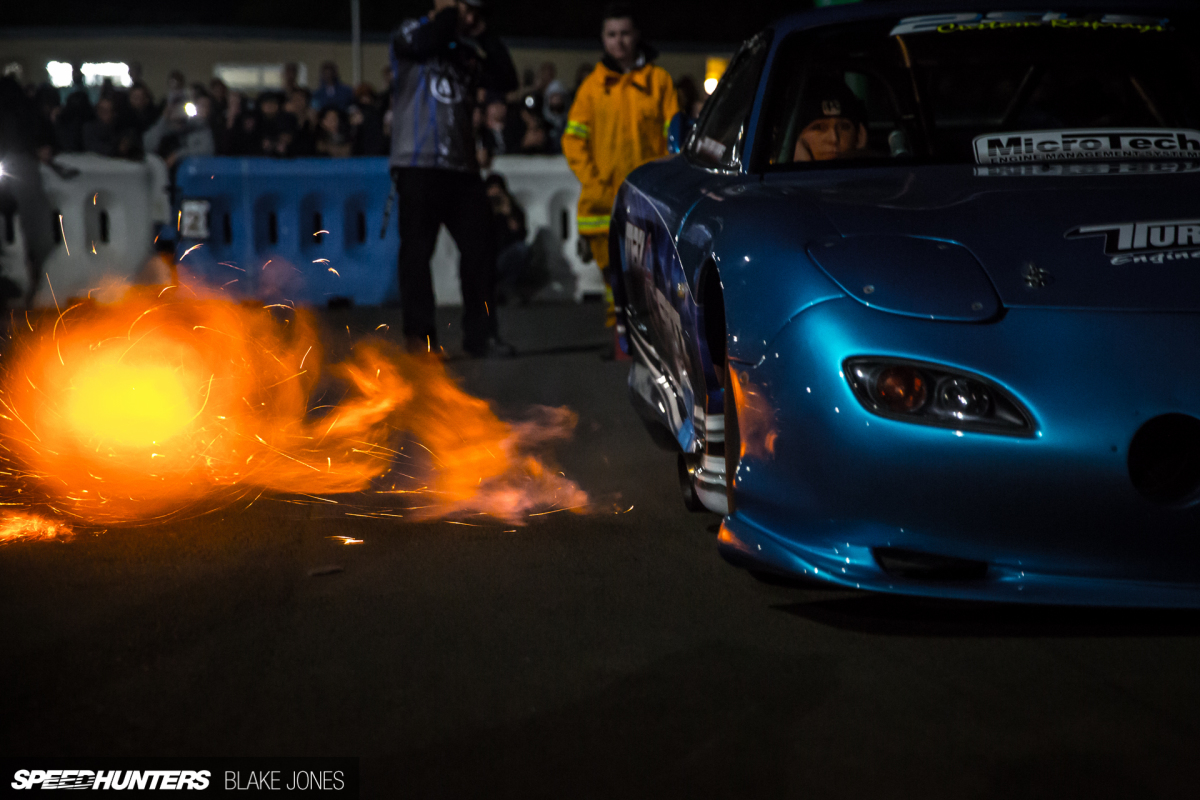 That was until the RX-7 made its final 2-step crescendo! This photo was shot with one hand as I tried to use the other to cover both my ears at once. Yeah, didn't quite work out.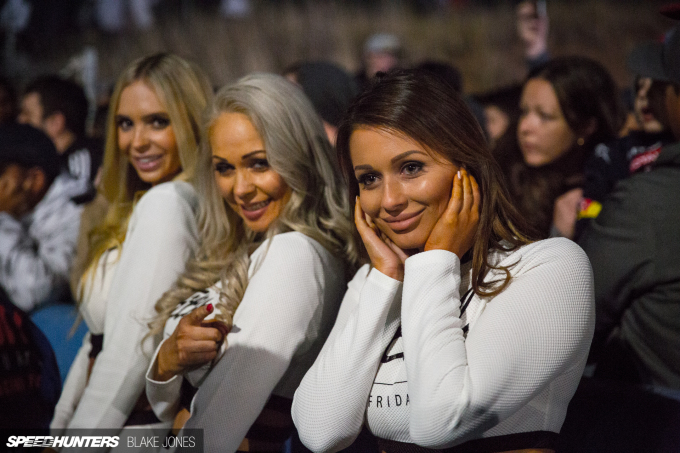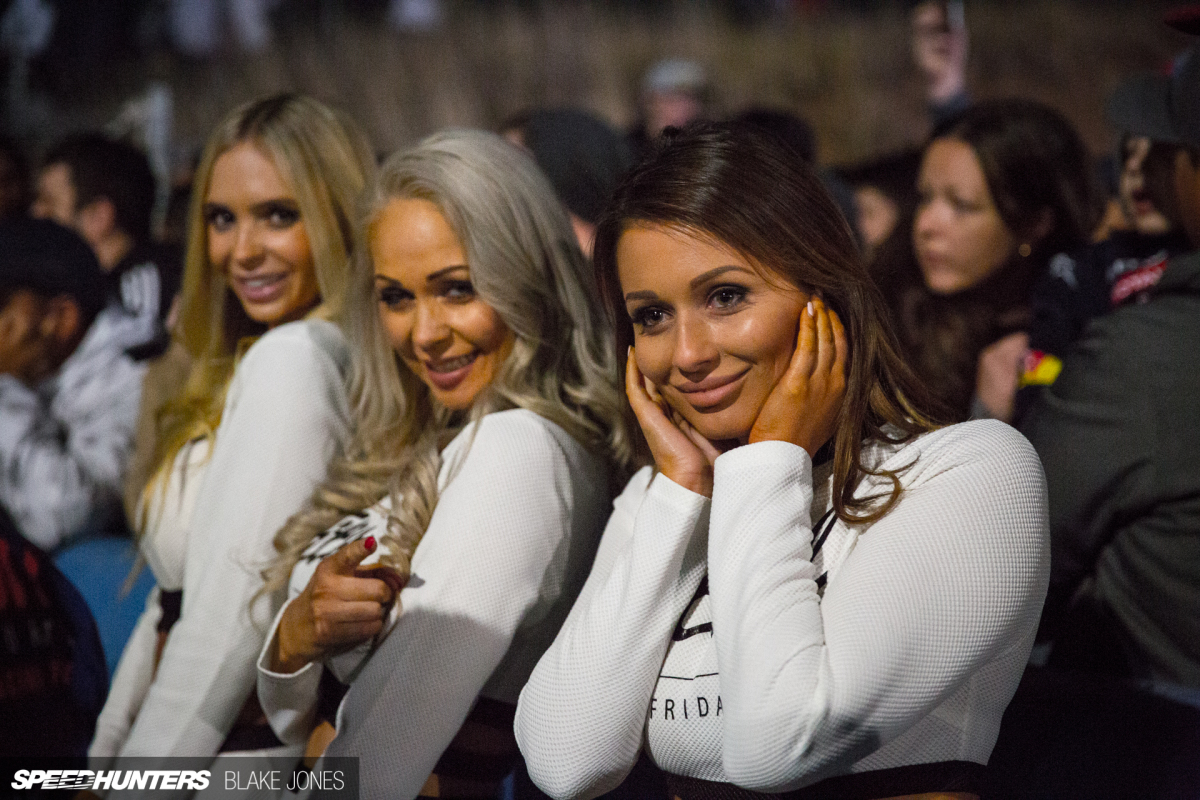 That's a better technique! No pics of the top fueler in action, sorry – I value my hearing a little too much.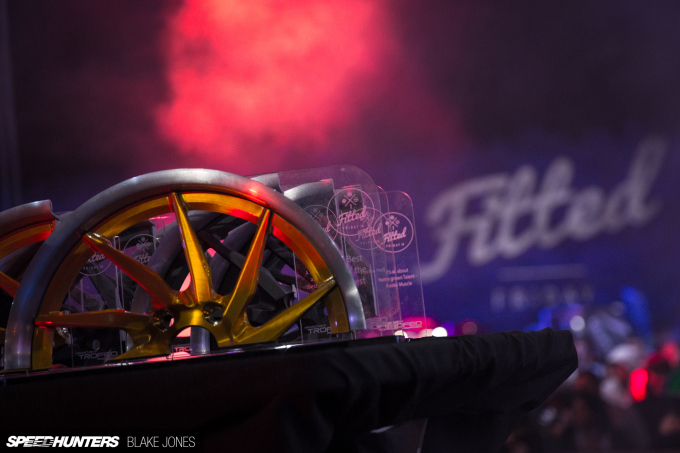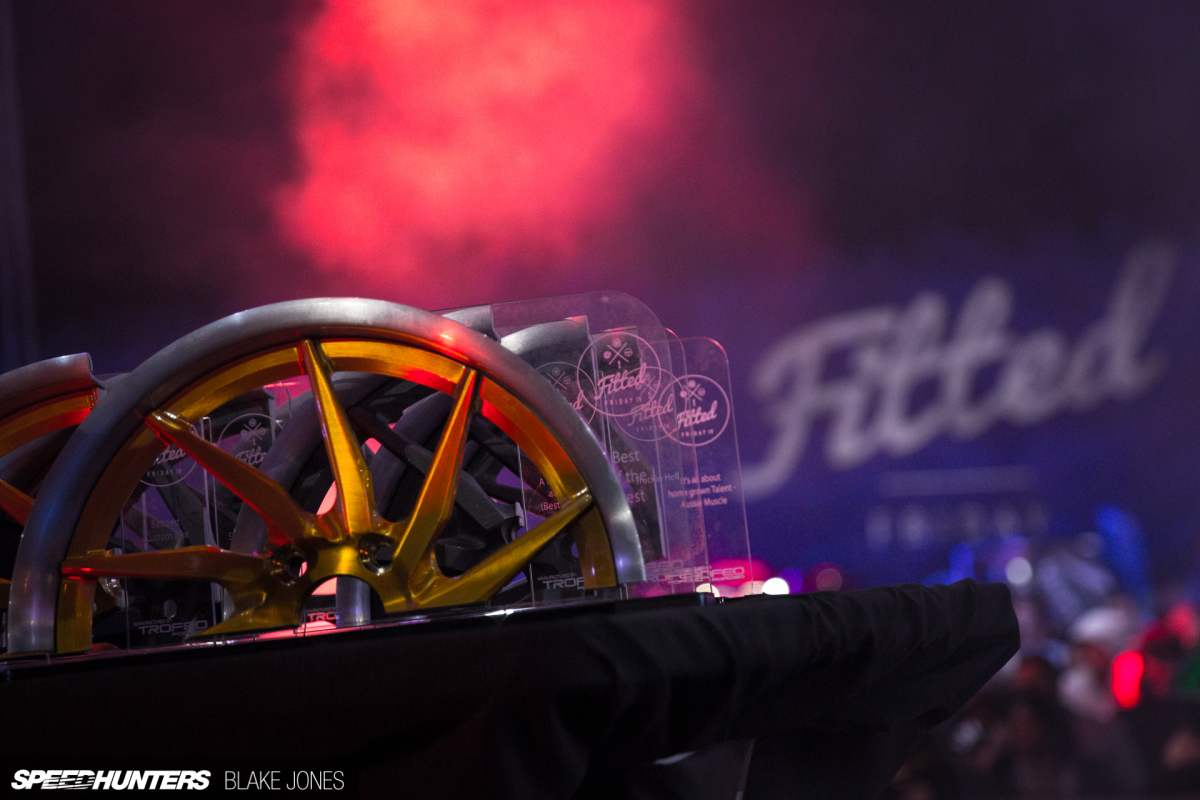 The other big spectacle was happening up on the main stage, which as you would have seen in Paddy's story was no small affair, standing 1.2 metres high with 17 metre ramps. All night, DJs pumped out the latest tracks, only pausing for the all-important unveilings and award presentations.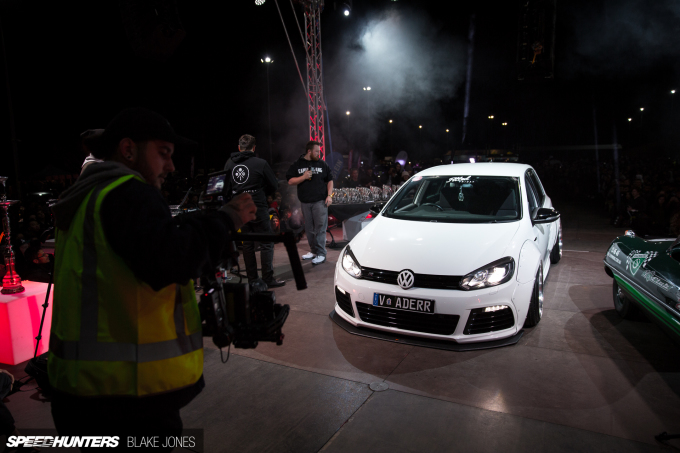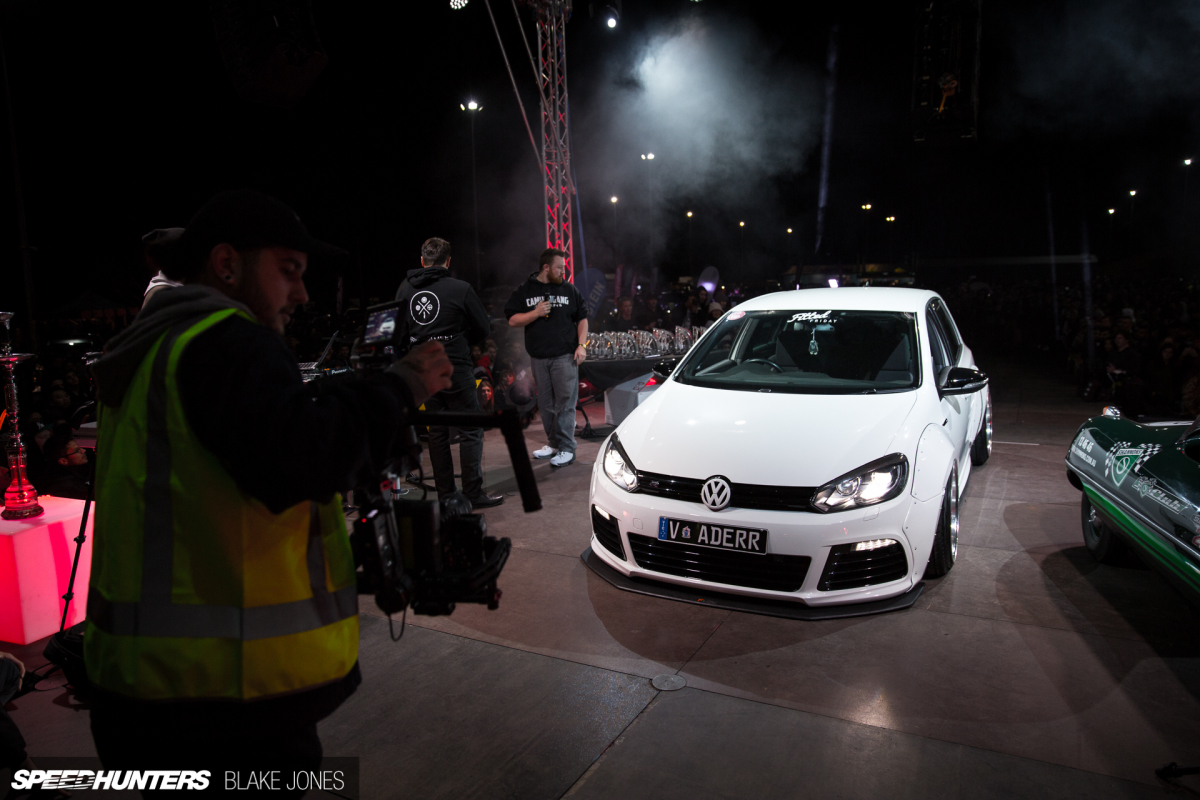 One-by-one, Australia's latest builds rolled up to the raised platform, proud owners beaming from the driver's seat. After a quick interview, they'd be off again and back into the crowd to be photographed and admired.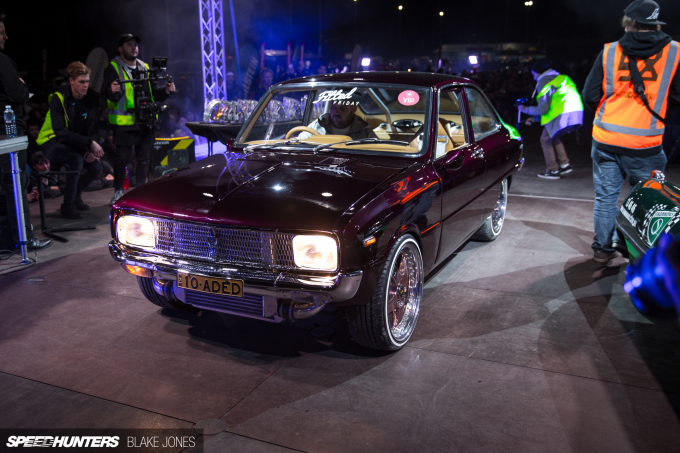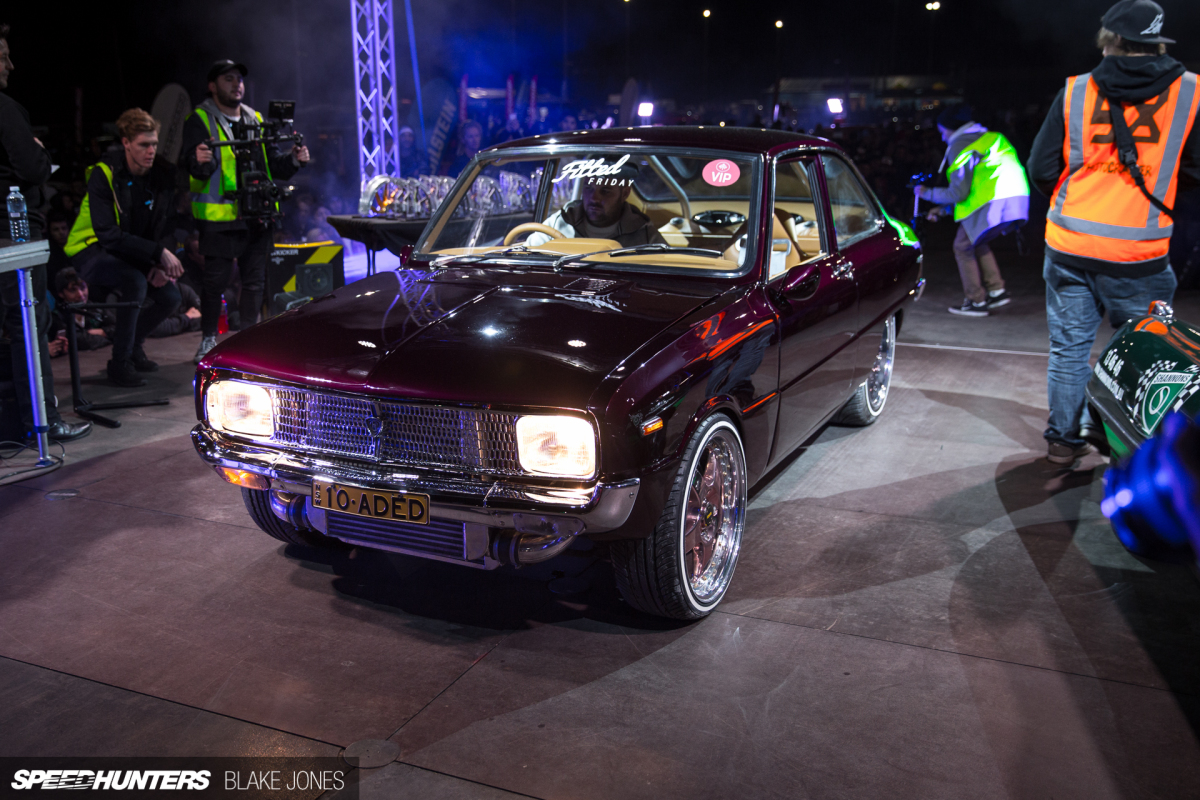 In total there were nine unveilings: two S15's, a Camaro, two Aussie muscle cars, a widebody Euro, and two rotaries – not to mention the custom bikes. How's that for variety! We love a good rotor build here in Australia, and no doubt Paddy will be diving a little deeper into some of these wildly overpowered creations that seem to have no real peer anywhere else in the world.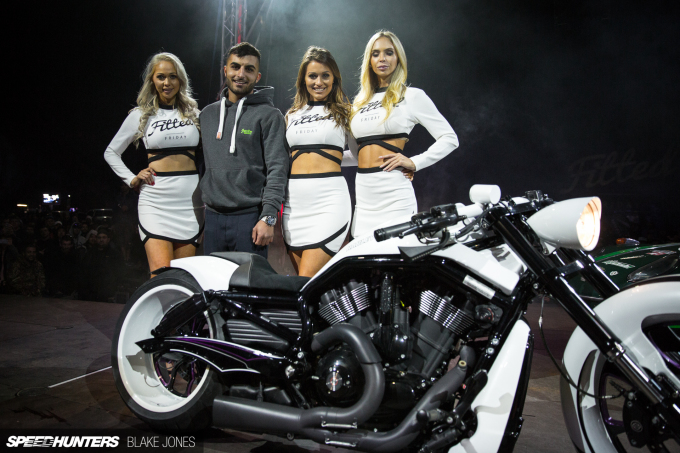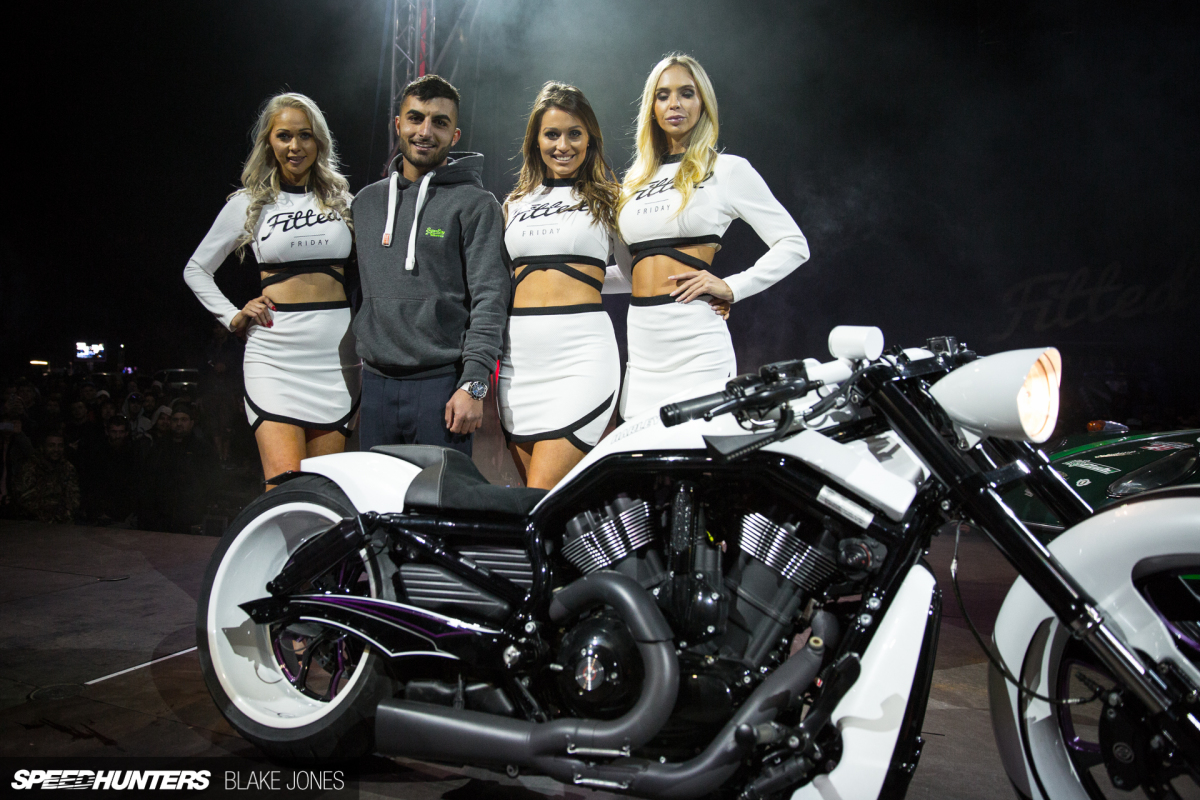 For this owner, it was the first time seeing his bike; its builder had worked away in secret for weeks prepping it for the Fitted Friday debut.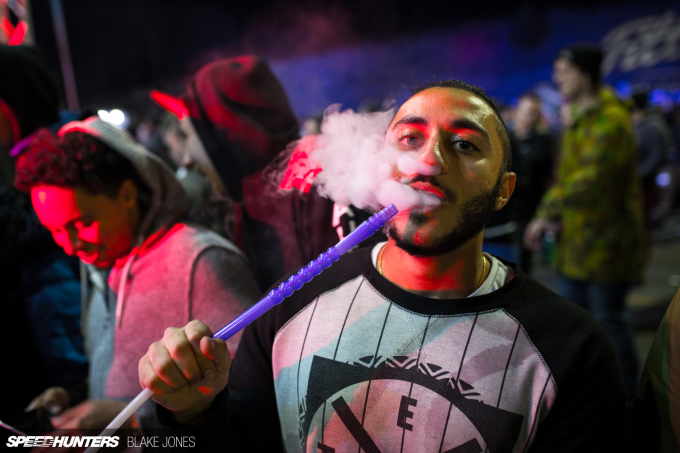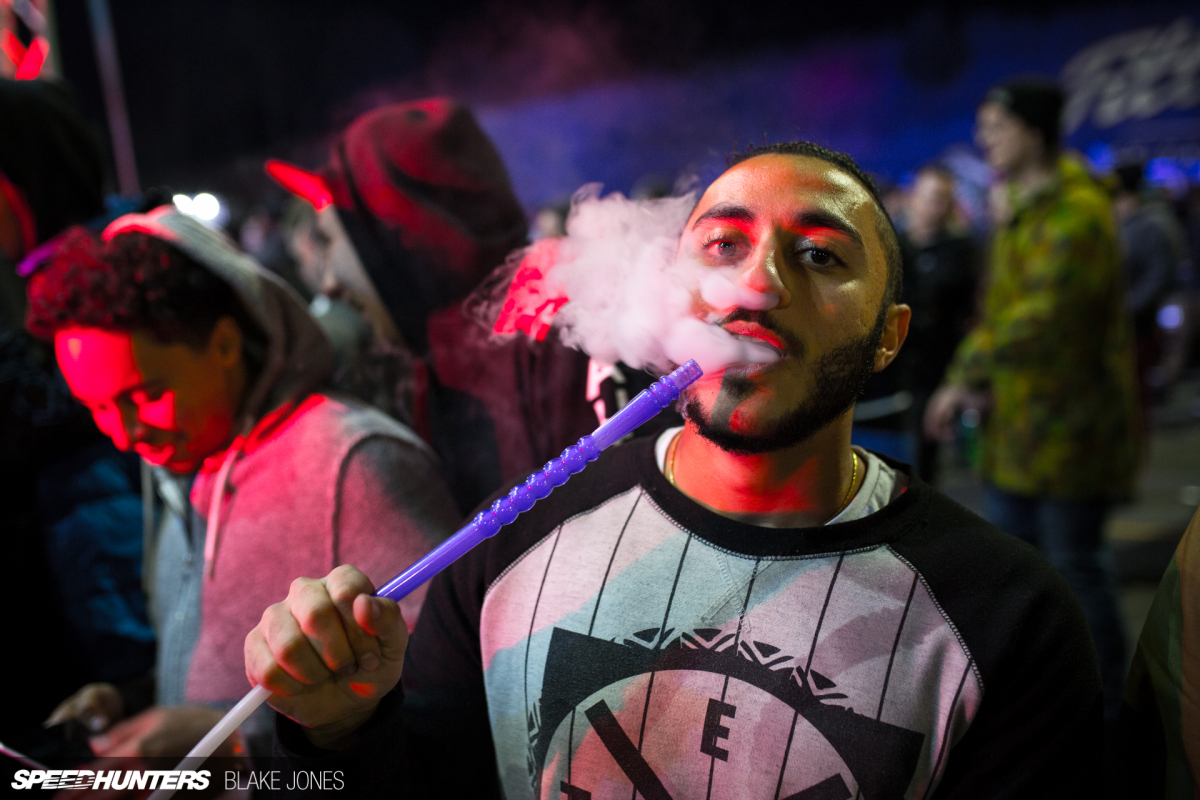 Props must go to the organisers in particular for instilling fun and culture back into the Sydney car scene. There was a genuine positive vibe amongst all in attendance, and troublemakers (who can quickly upset security and police) seemed absent.
Fitted Friday Favourites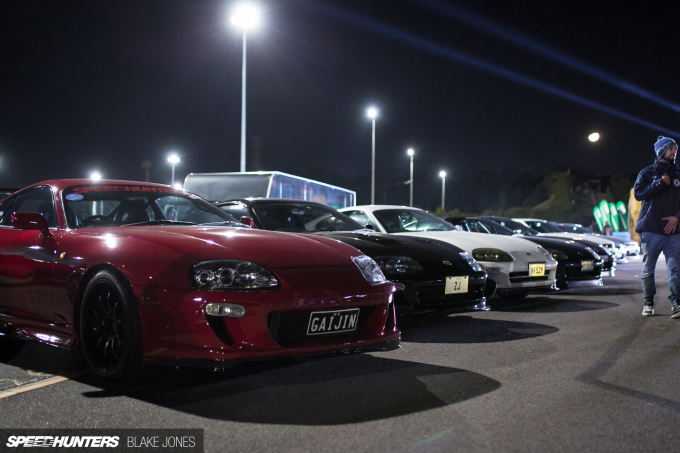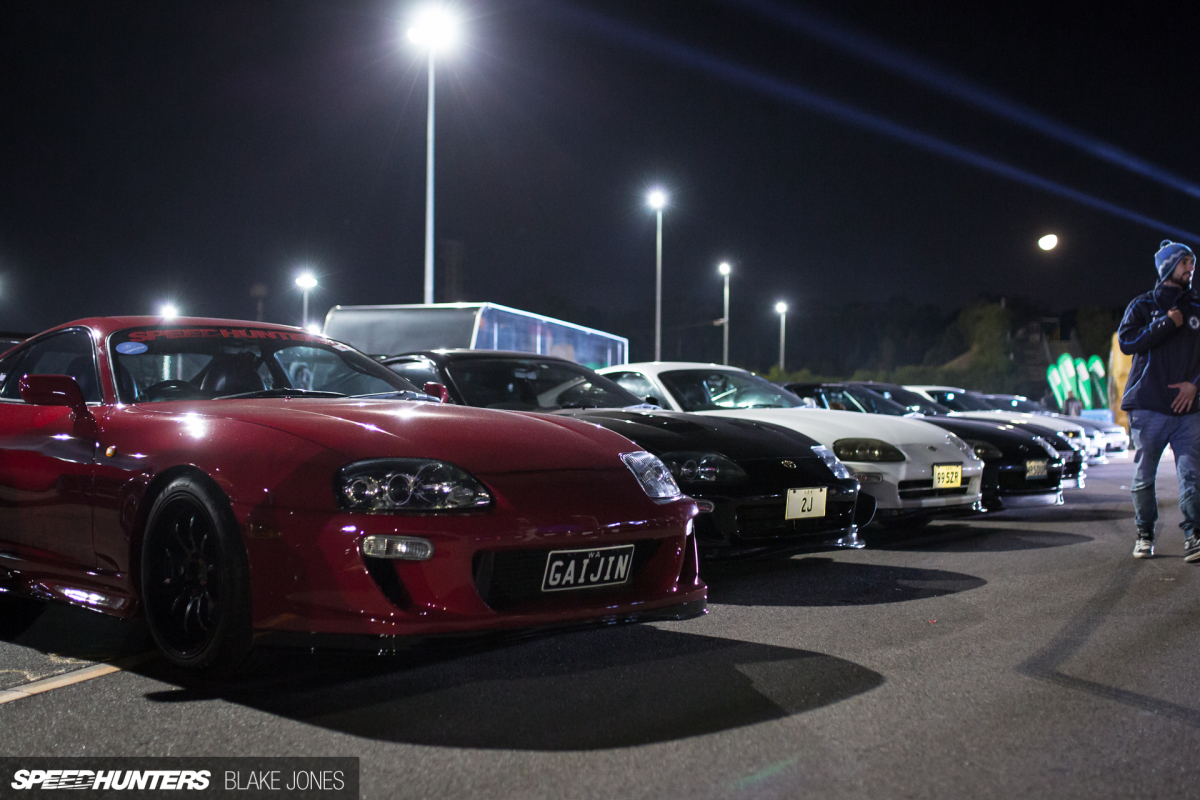 A nice line-up of Supras lurked near the food trucks, so I made sure to loop back for a closer look when my fingers were no longer coated in delicious French fry seasoning.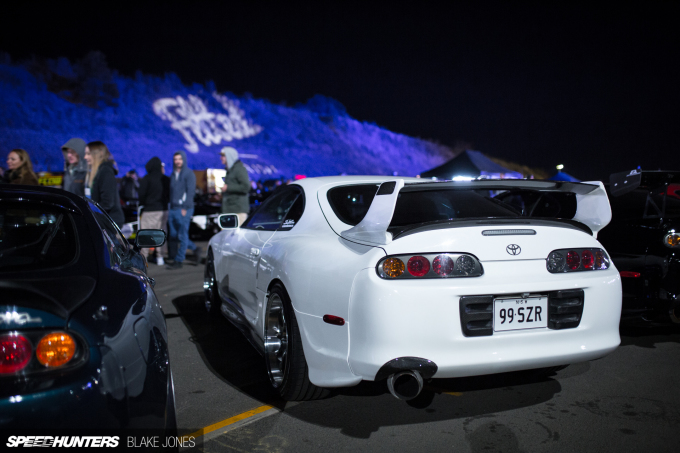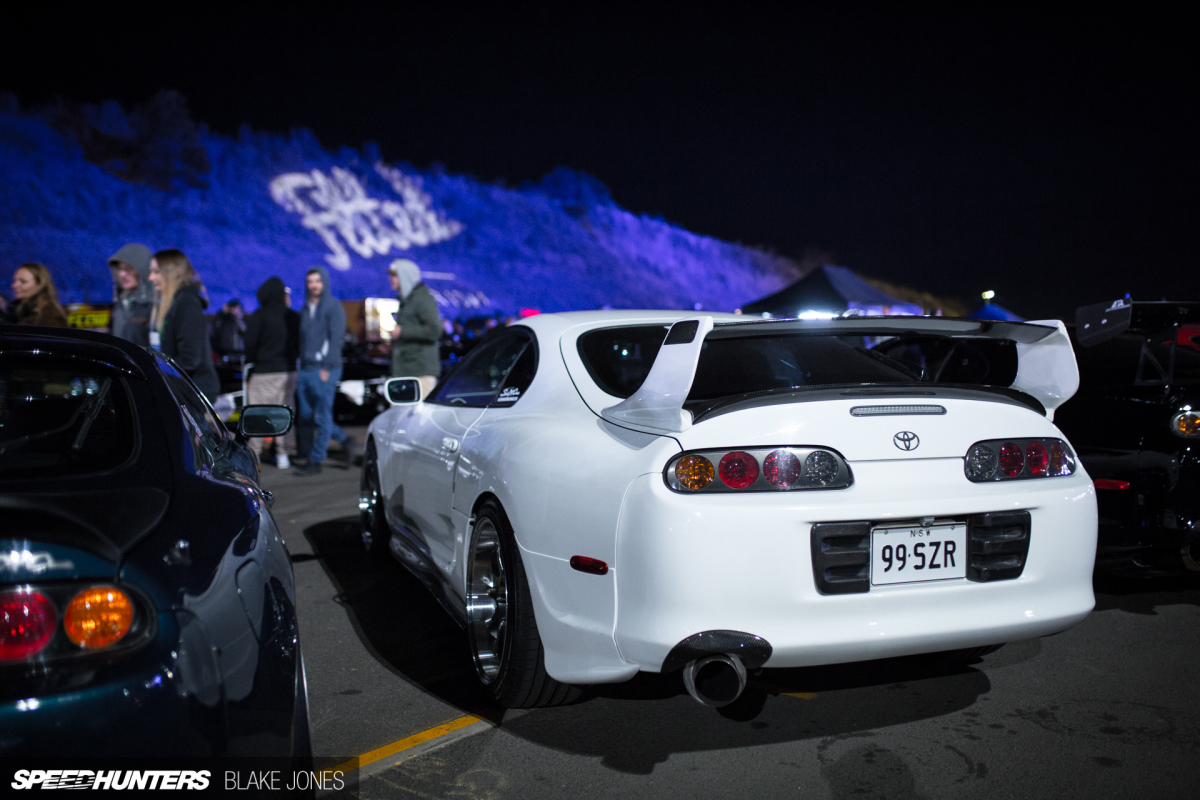 In my opinion, the Supra can look really special with just a few touches, and this naturally aspirated SZ-R demonstrates it perfectly.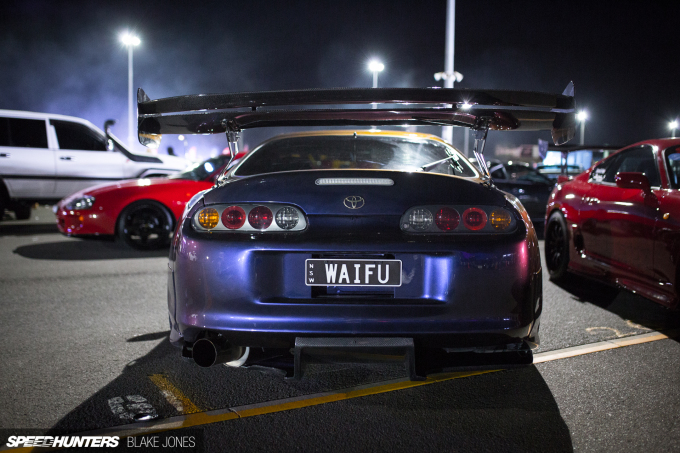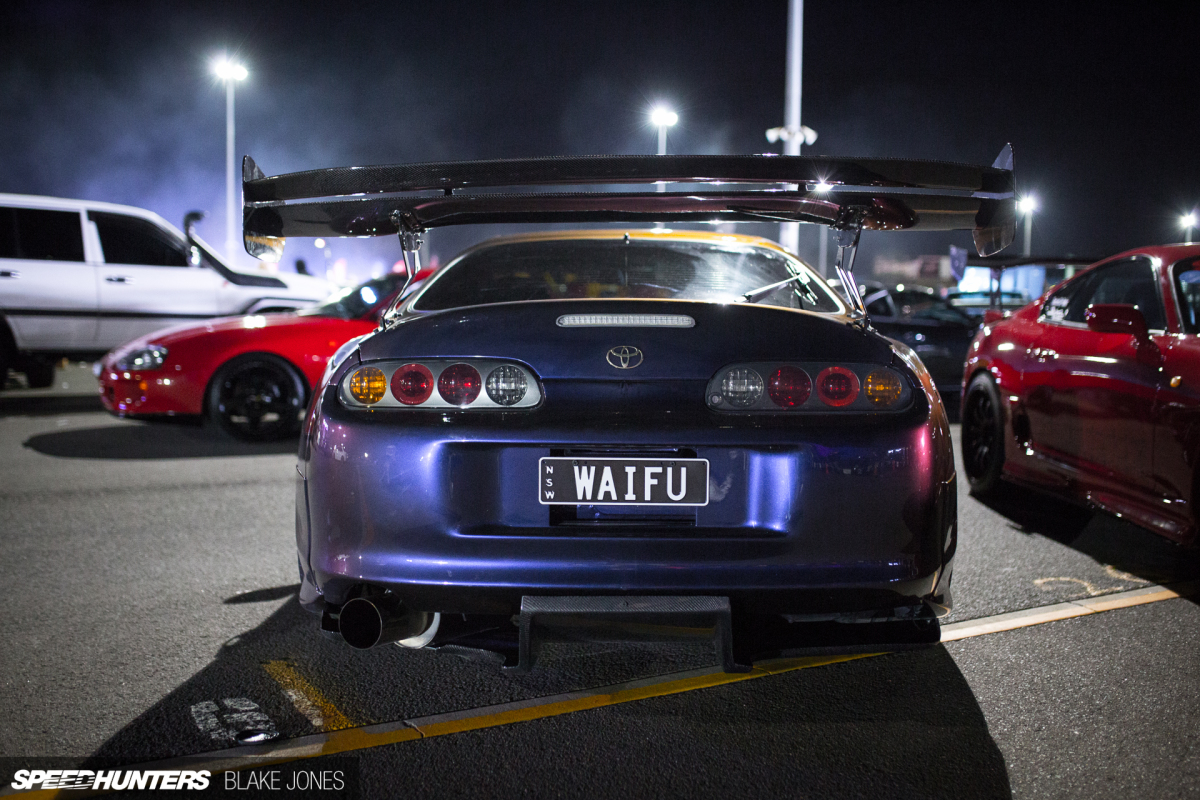 You can also go all-out with a race-inspired approach, although I'd be interested to hear what an aerodynamicist has to say about those bent wing stays!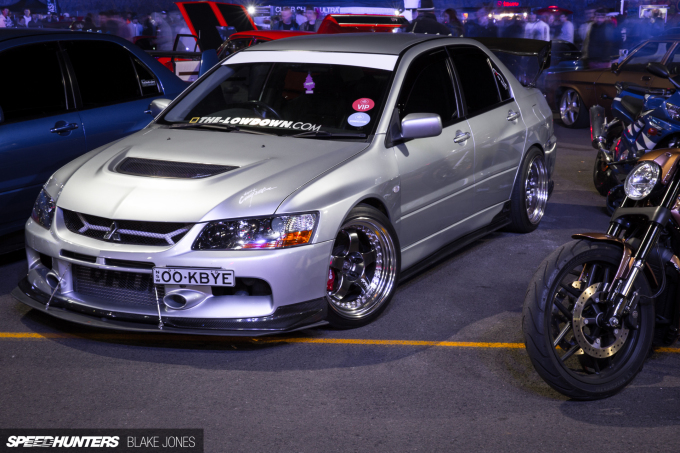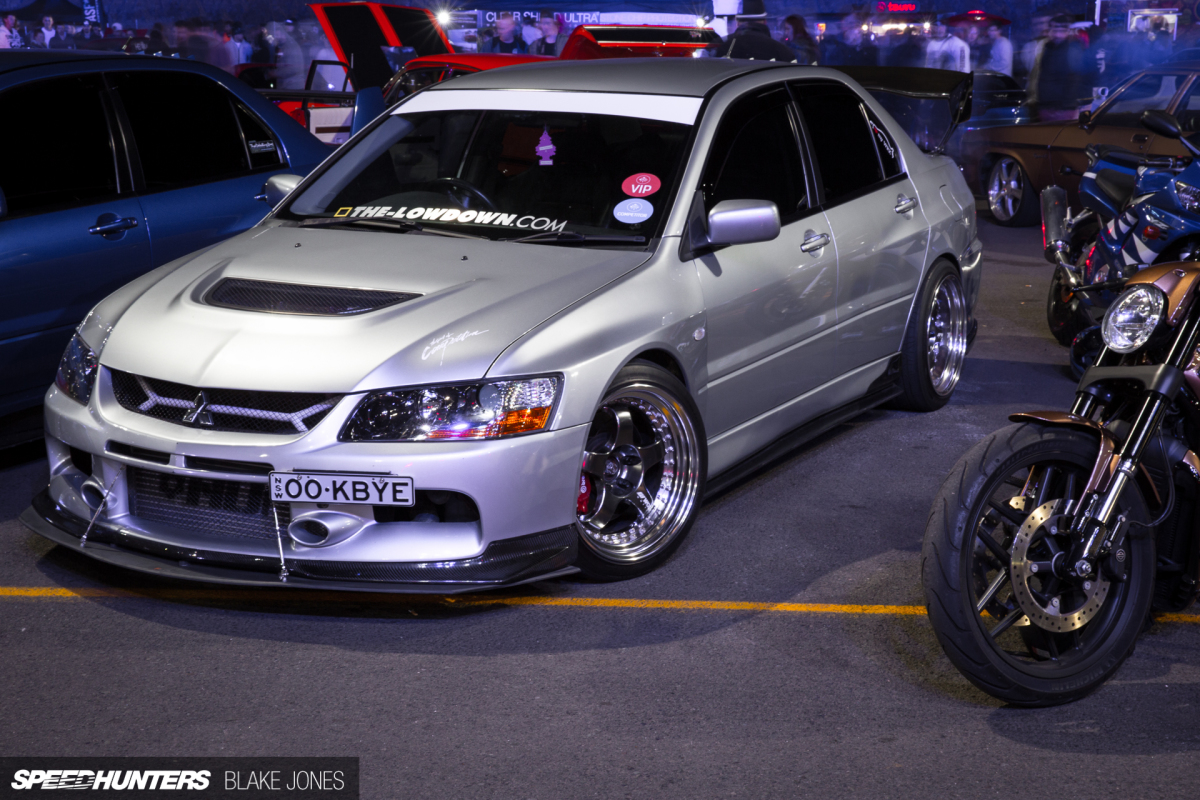 This Evo straddled the line between race and street-style very effectively.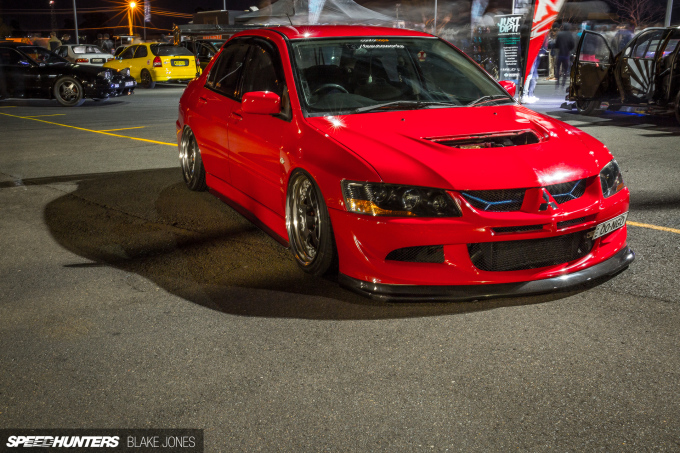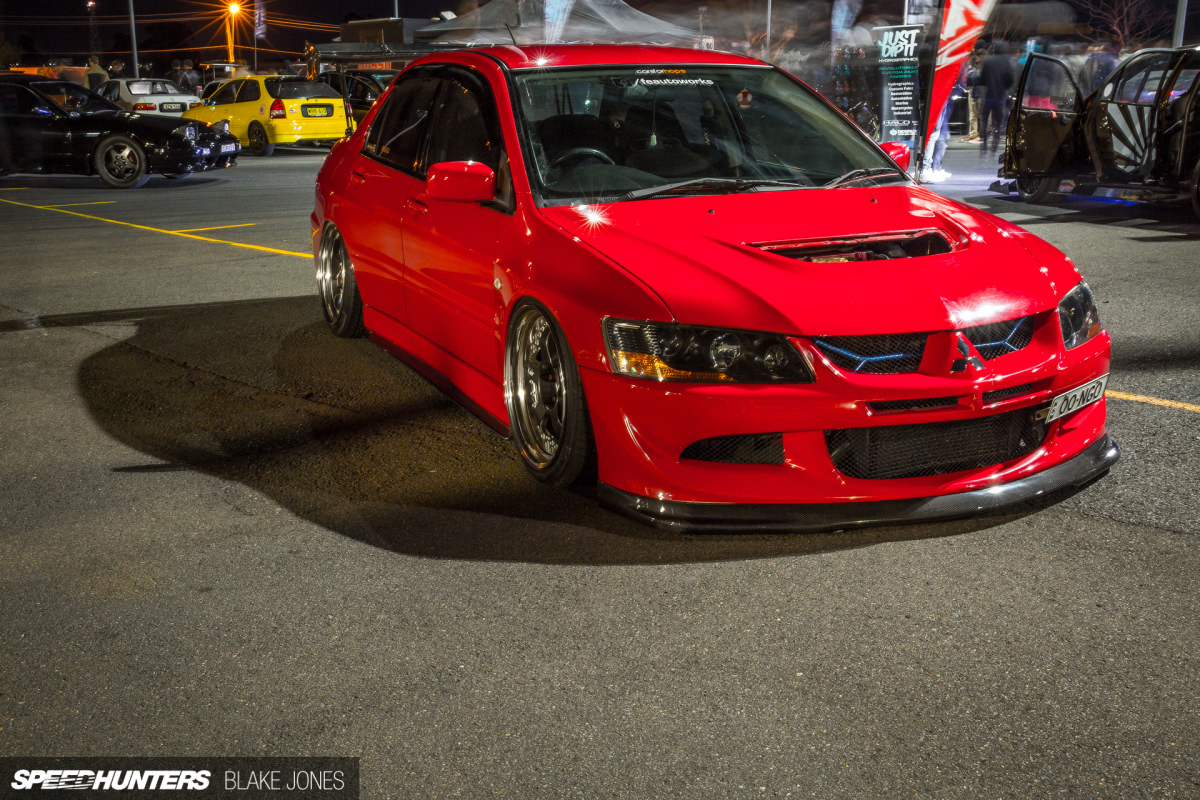 However, absolutely slamming a pure performance machine is maybe a step too far. I can't deny this looks pretty mean, but won't somebody think of the lap times?!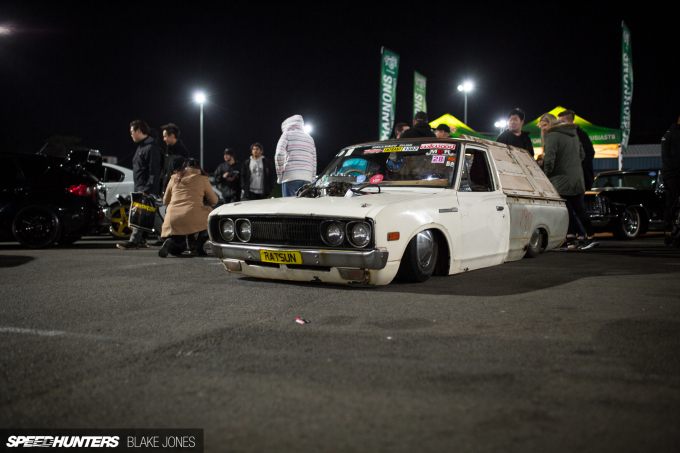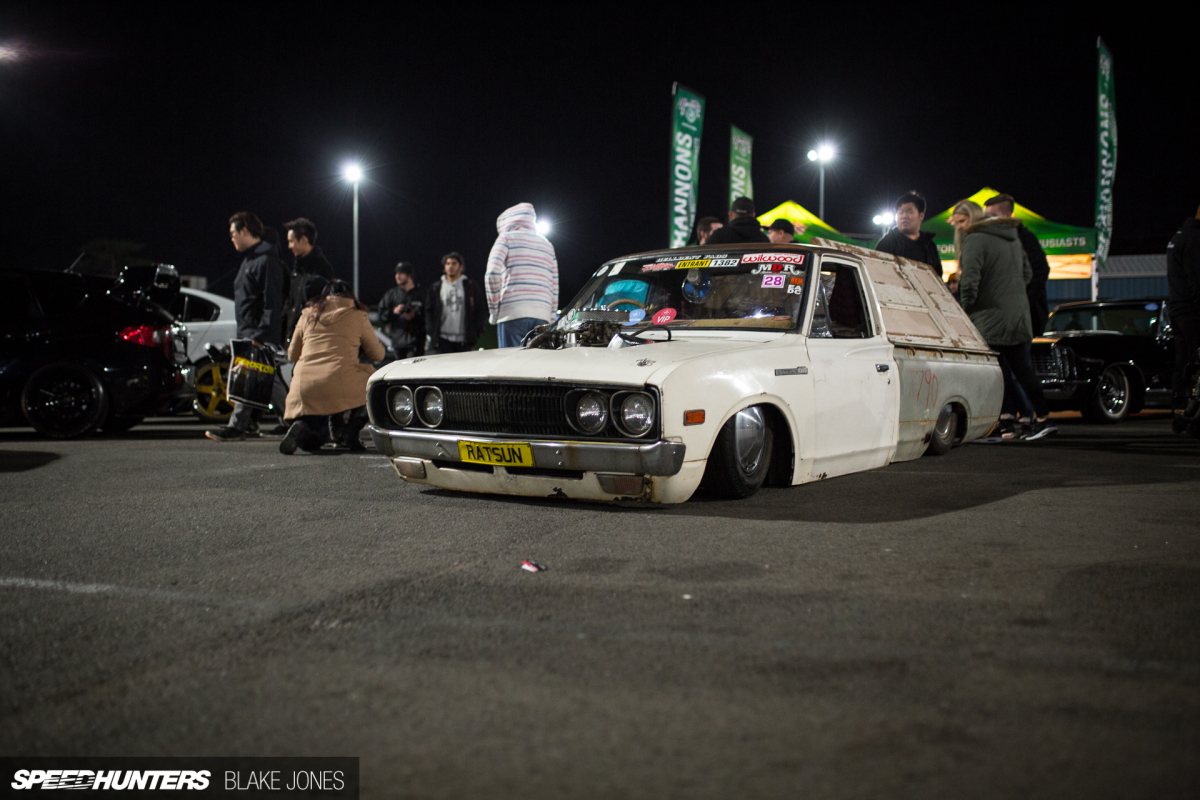 No words can describe this Ratsun – a car I initially missed all together due to the fact it was sitting so low. No doubt a significant amount of chassis work has gone into achieving this ground-scraping stance.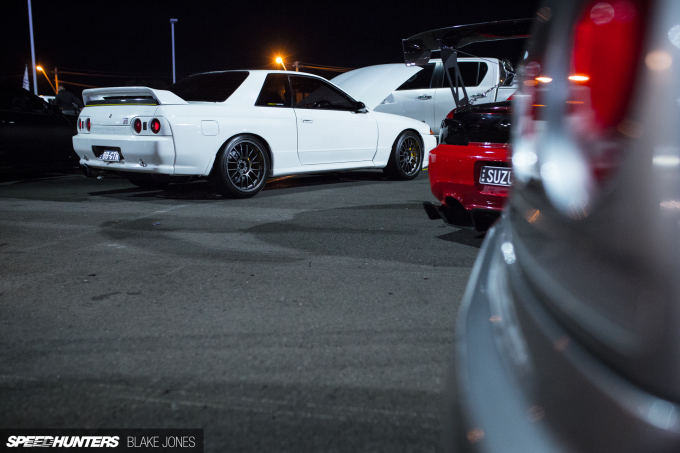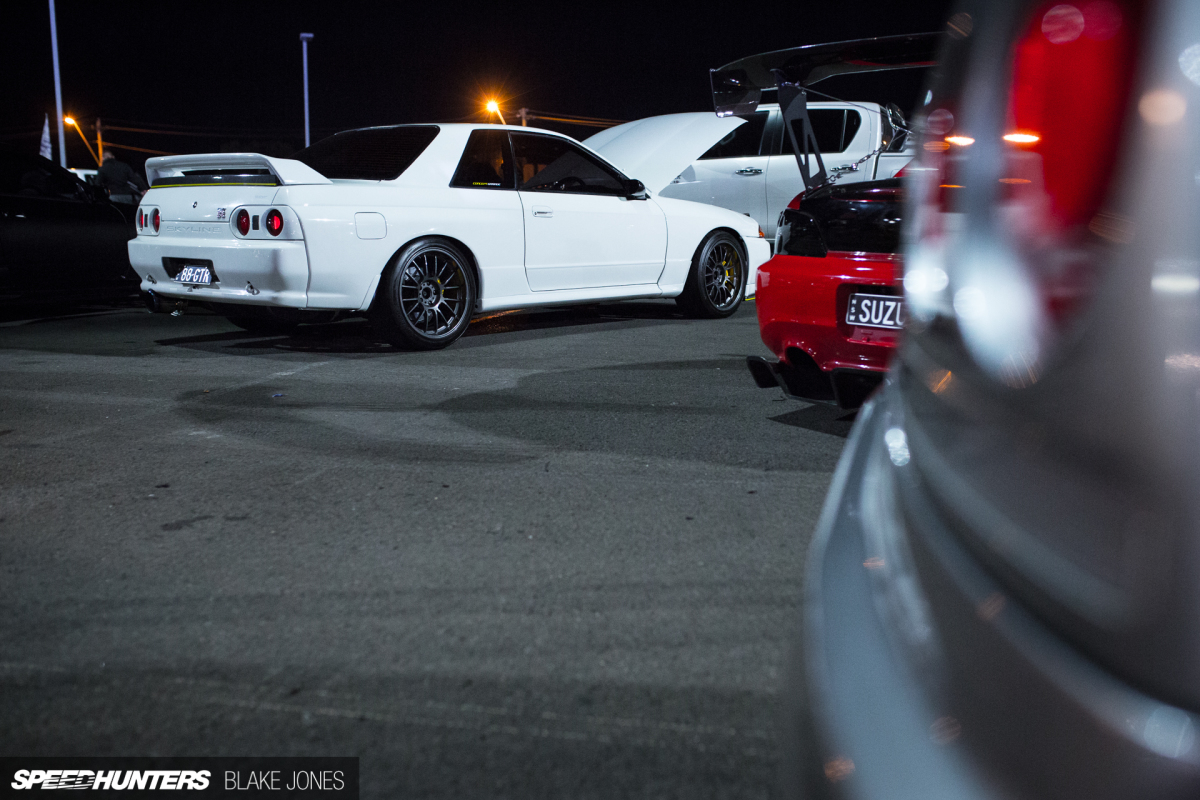 GT-R fever is truly catching on in the US since the importing floodgates have opened, but the BNR32 has been a common sight in the Australian tuner scene since the '90s. You really can't beat a stock body with nice wheels; this one actually stood out amongst the more modified metal purely because it was so understated.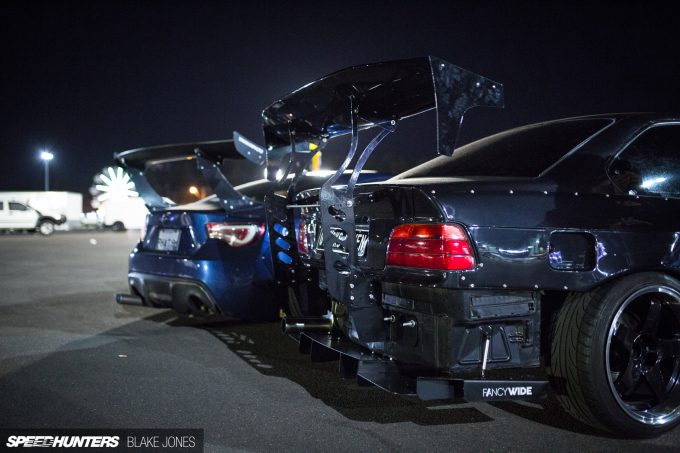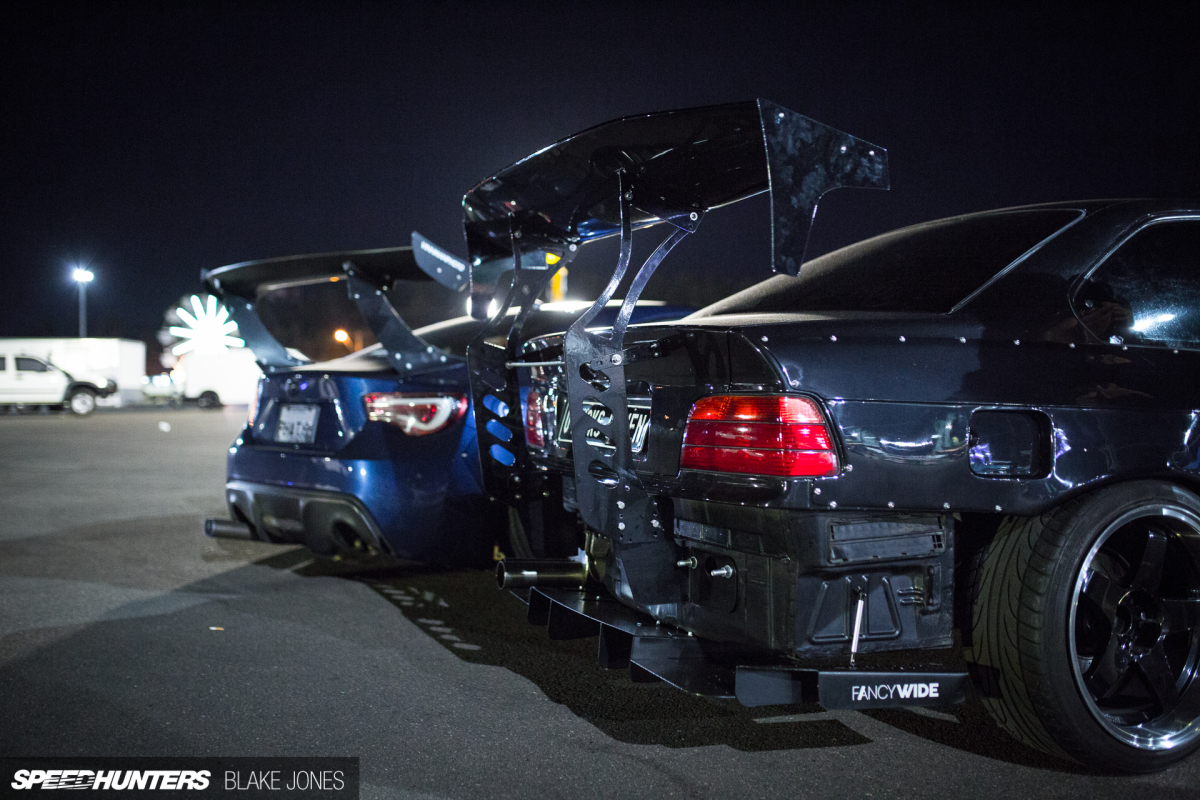 Throwing subtlety to the wind were these two bewinged bretheren – an E36 328 and Toyota 86 owned by two owners that started the night as strangers but finished friends.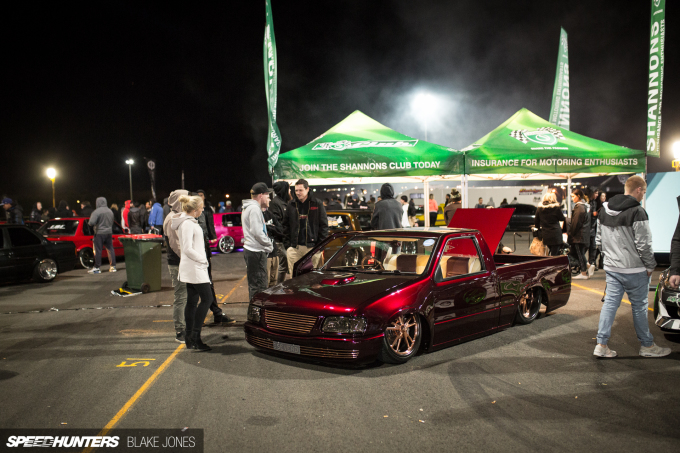 A car I've been meaning to track down since mid-last year is Michael Ellard's Holden Rodeo, so I was very happy to spy it out front of the Shannons Insurance tent. We'll take a closer look in a later spotlight.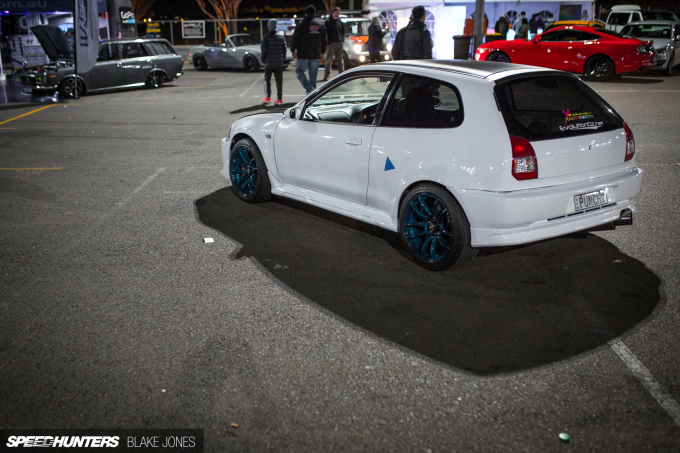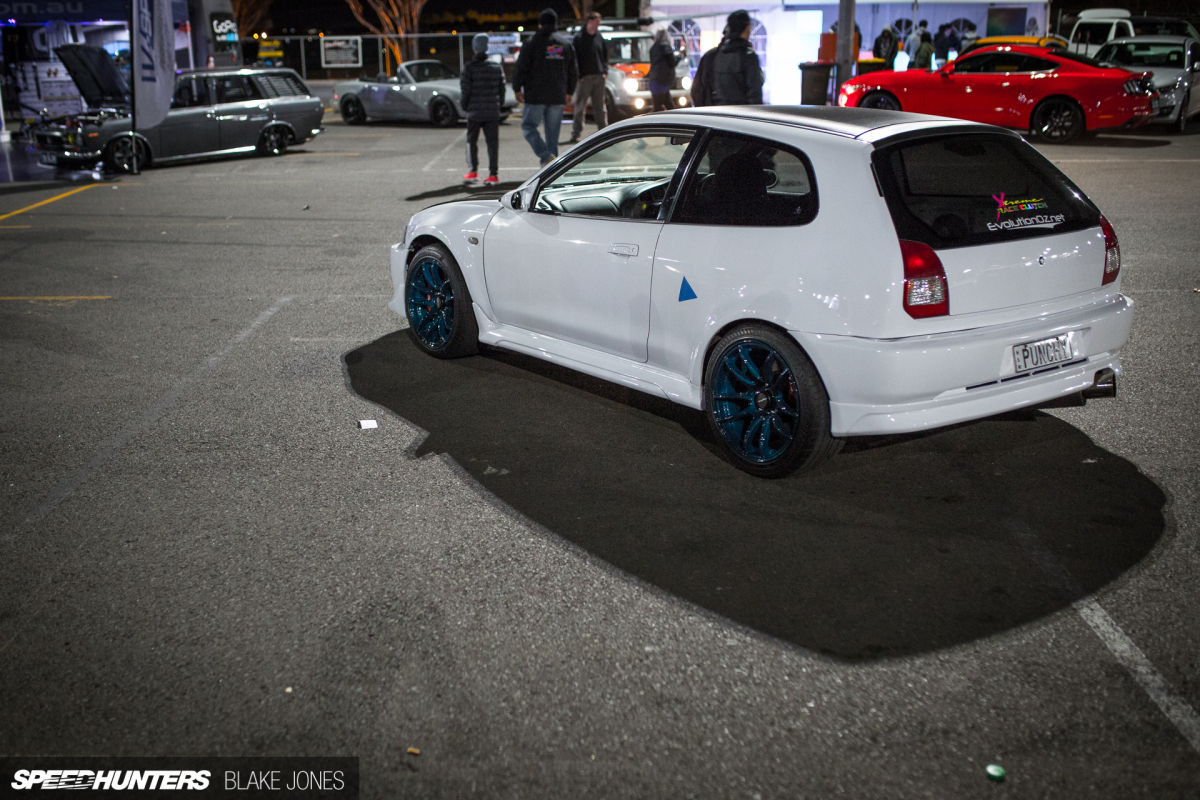 I'm not sure how well this will translate to the rest of the world, but what you see here is a Mitsubishi Mirage. The Mirage is renowned for being A) a cheap first car; B) going from A to B without much fuss, and C) completely forgettable. However, this particular Mirage packs a powerful surprise… Again, stay tuned for a closer look.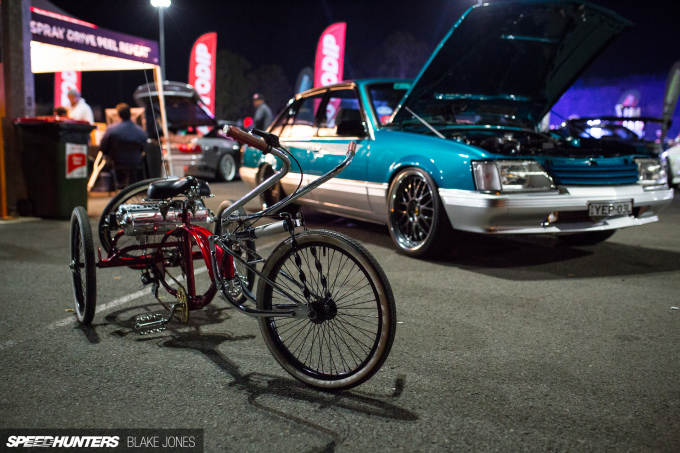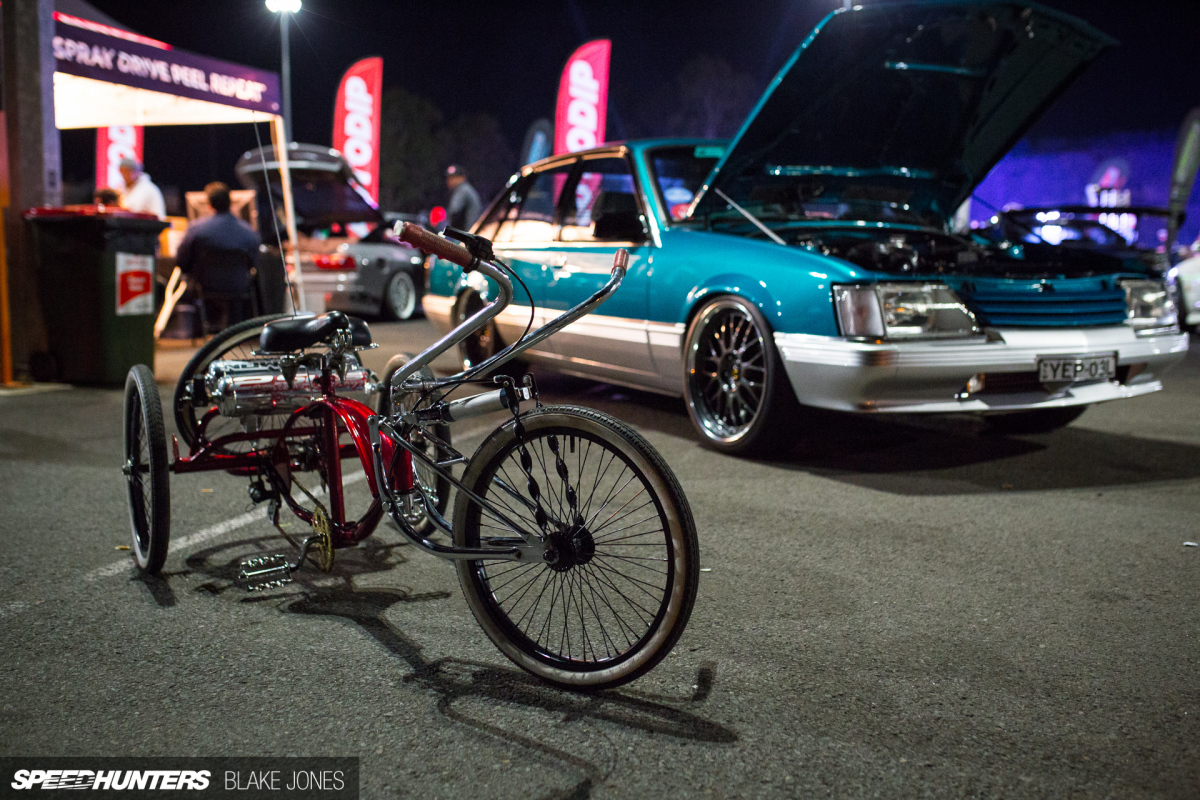 For a local like me, it was great to see how the Sydney tuner scene seems to be growing; but what I'm most interested to see is how a boy from the far-off shores of Ireland reads the unique thing we've got going on down here. There's plenty more to come from Fitted Friday IV over the coming days and weeks…
Blake Jones
Instagram: blaketjones
blakejones.90@gmail.com