Thinking Outside The Box
You know what the best advice anyone can give you is? Be yourself. It's simple and to the point, and in my opinion it's at the core of what any successful individual strives to do, be it on a personal level or when he or she is applying it to a business. And there is a lot of this happening in Japan for the simple fact that it's a country with a culture that doesn't really judge. This in turn has a massive impact on the way people approach life, business, styles and so on.
Imagine how free your mind would be if you didn't have to try and adhere to preconceived ideas. You'd be able to express your most inner self. And that's precisely what Satoshi Nakatogawa has done with his venture, S&A Auto Create.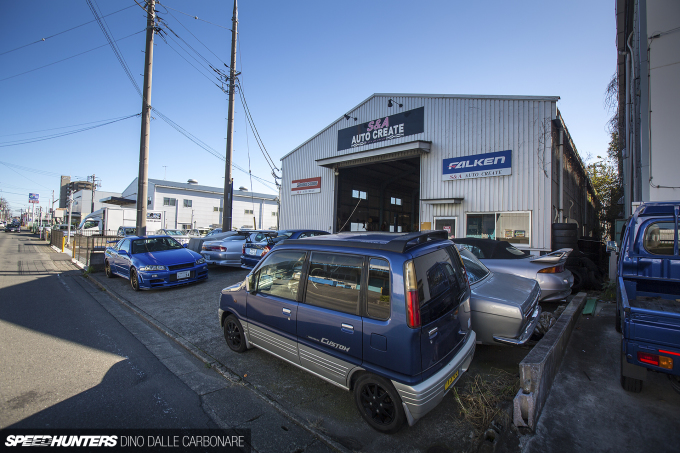 This isn't a place that likes to do things the conventional way, so it's not somewhere that everyone would want to go to. Despite what I've said above, the Japanese do have a thing about brands, and there are some out there that put too much emphasis on name value over actual skill and custom work. But that's fine, each to their own. It's precisely this variety that keeps the car culture so diverse and helps it evolve.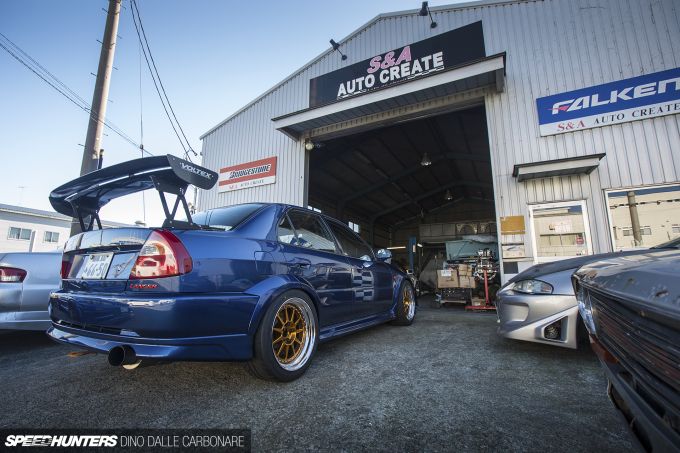 The type of individual that goes to S&A Auto Create wants to achieve something unique. This of course suits the pickier type of customer who knows exactly what they want, and wants it done right. On the other hand, there are also those people that show up and completely trust Satoshi to do whatever he likes with their car after they've given him some general guidelines and goals they'd like to achieve.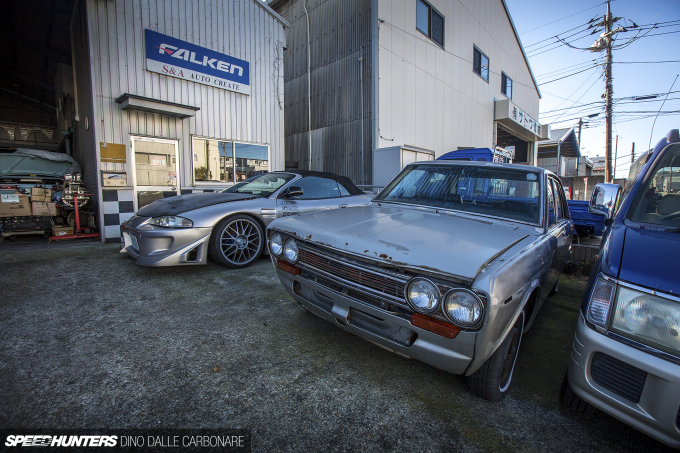 And since he applies his know-how across such a vast variety of machinery, Satoshi's shop, located in Kanazawa Prefecture, is always an interesting place to visit. You really never know what you're going to find.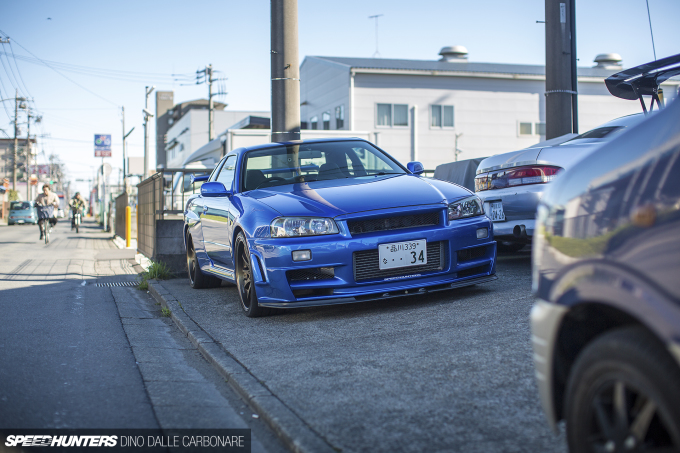 Since I had just fitted Turbosmart blow-off valves to Project GT-R a few days prior, it seemed like the perfect occasion to take it out for a little drive.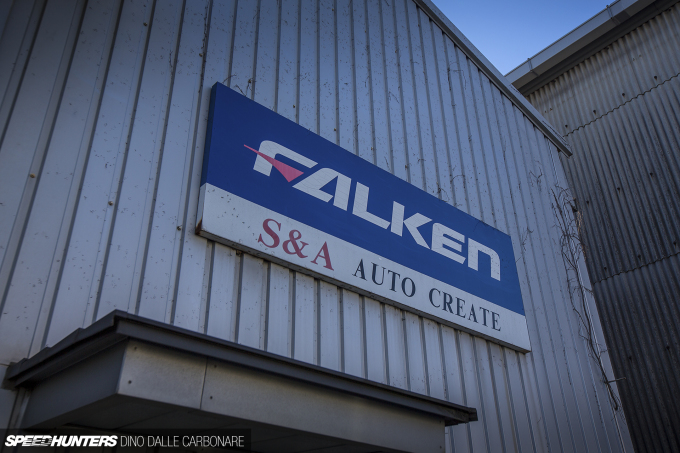 S&A Auto Create is your typical countryside workshop; there are cars everywhere out front and inside you'll usually find a bunch of customers chatting away – all around a kerosene heater if it's winter, like it is now.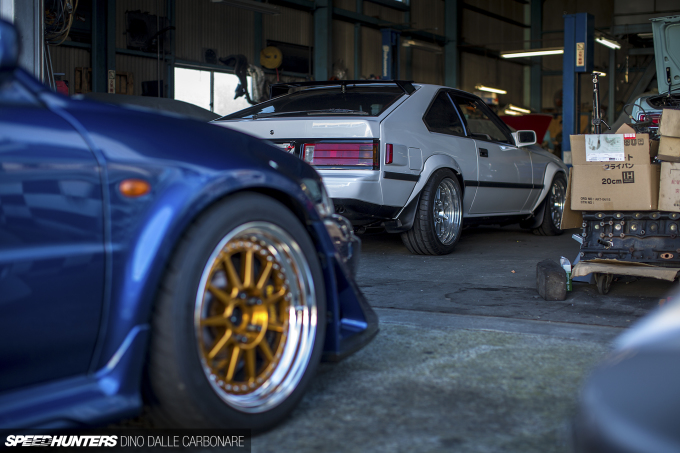 The main purpose of my visit was to feature three S&A cars, and hopefully you've already checked out the features of the blue Mitsubishi Lancer Evo VI TME, the F20-swapped Celica XX, and the spotlight on a customer's Toyota Cresta.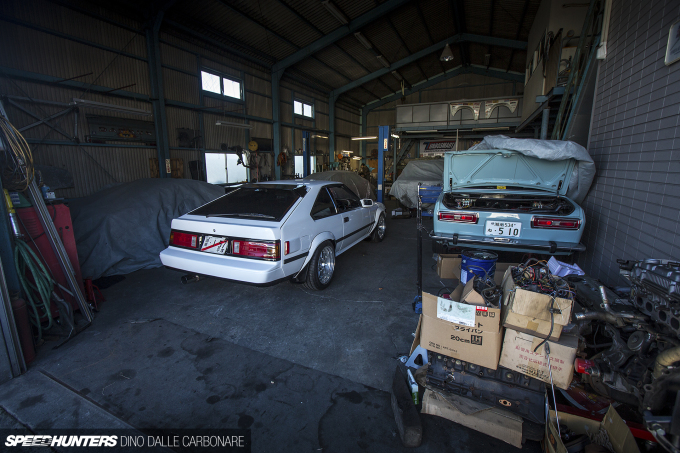 However, within a few minutes of arriving I instantly knew that the shop was going to make for a nice tour. I mean, don't all Japanese shops?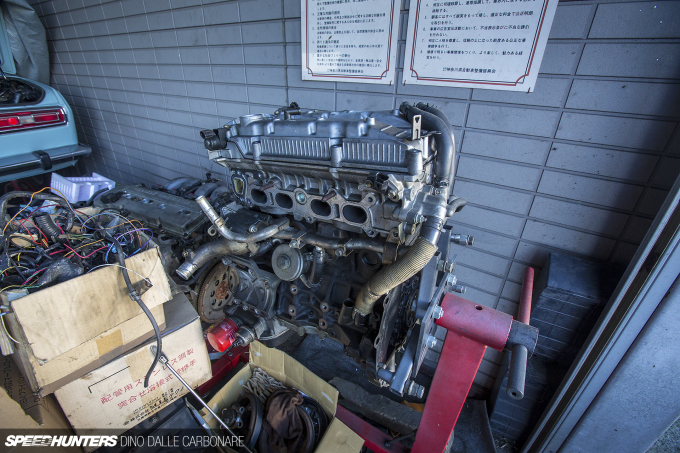 On the way into the main workshop I came across a bunch of engines and various other bits and pieces.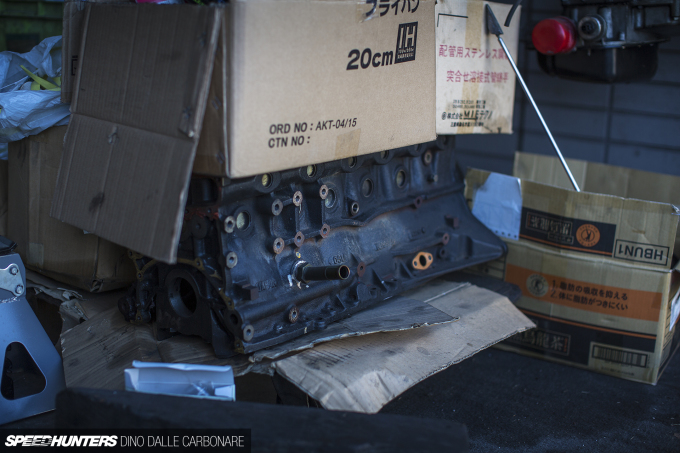 Seeing as one of S&A Auto Create's specialties is swapping different engines into all manner of chassis, it wasn't much of a surprise. I did spot a couple of RB26 blocks, and instantly wondered what they will end up being used in.
Packed Full Of Goodness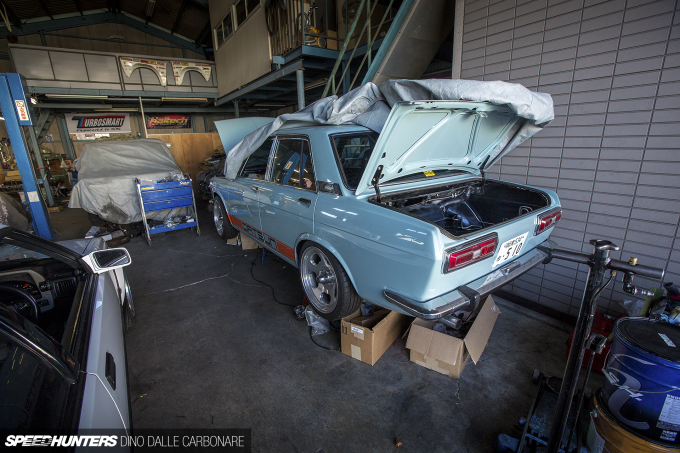 A project that Satoshi and his team are almost finished with is this Datsun 510, as seen in the opening picture.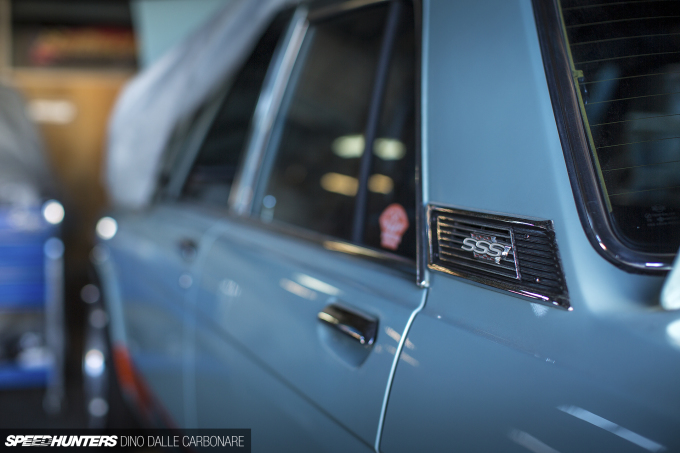 The car has been given a pretty extensive restoration; the bodywork straightened and smoothed out before being repainted in a rather catchy shade of baby blue.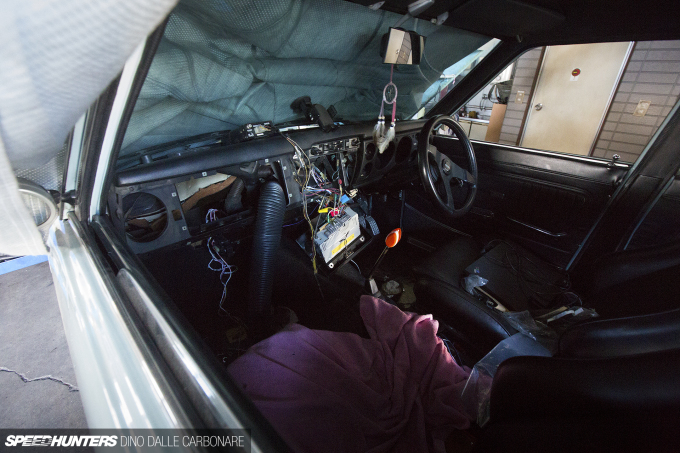 There's still some work to be done in the interior to clean it up, including some trim replacement and electrical.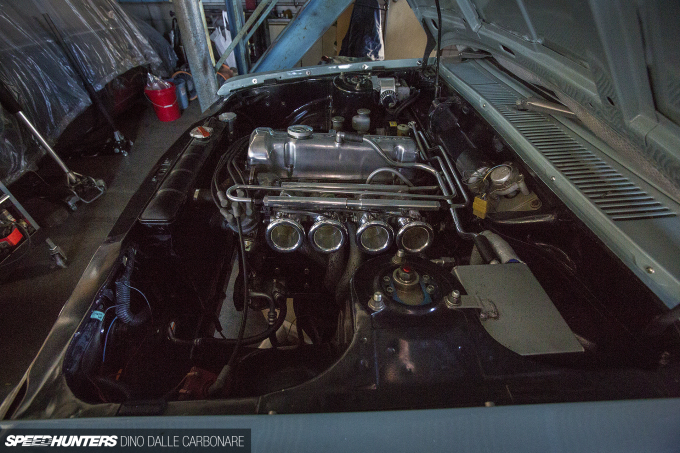 The engine, however, looked very much completed. No swap here though, just a well tuned L16 breathing through some trumpets.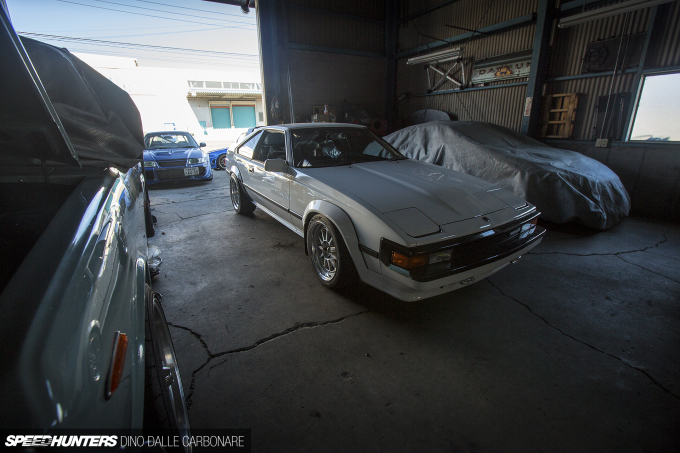 Even though I'd just spent quite some time shooting it, I couldn't keep my eyes off the old Celica XX that had just been brought back into the workshop. There is just something so appealing about a simple '80s car modified this way; angular lines contrasting against modern wheels and an aggressive stance. Knowing that under that stock steel hood is a true screamer of an engine is the icing on the cake.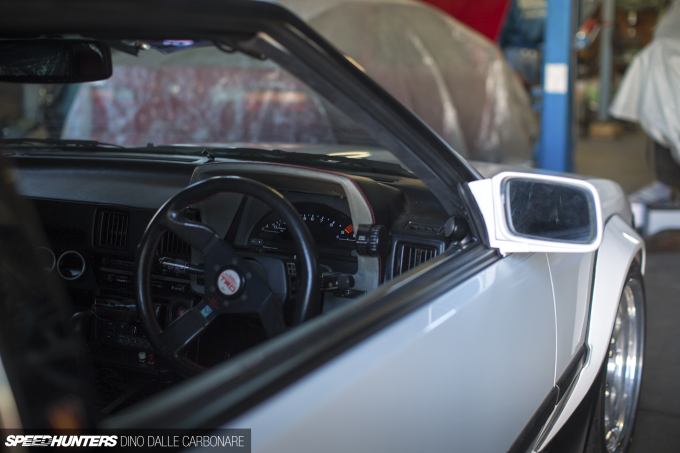 Seeing a Honda S2000 instrument cluster transplanted into another car's dash never really gets old.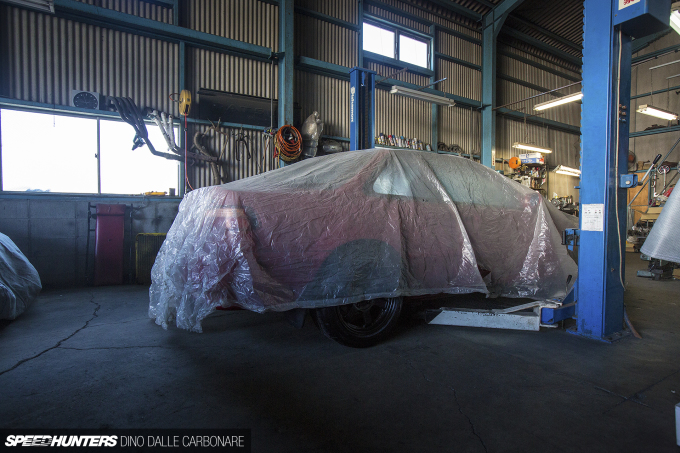 As I moved through the main work space I spotted a red DC2 Honda Integra under a thin plastic sheet. Satoshi told me he would uncover it later, so I made my way over to the far corner of the area.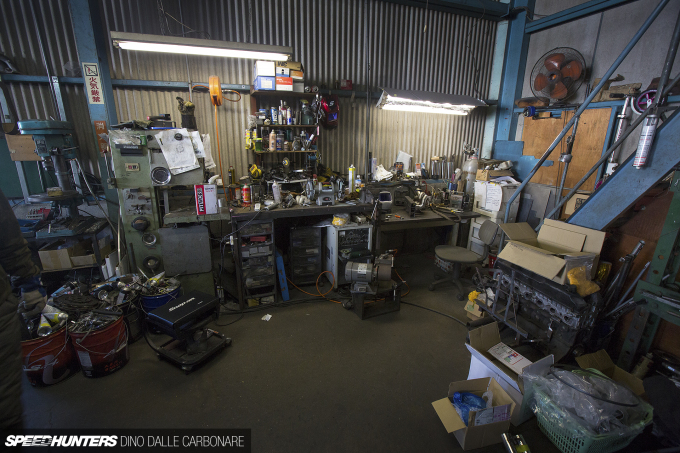 This is where the magic happens at S&A. It's where all the custom fabrication is done and where engines get taken out and swapped into other cars.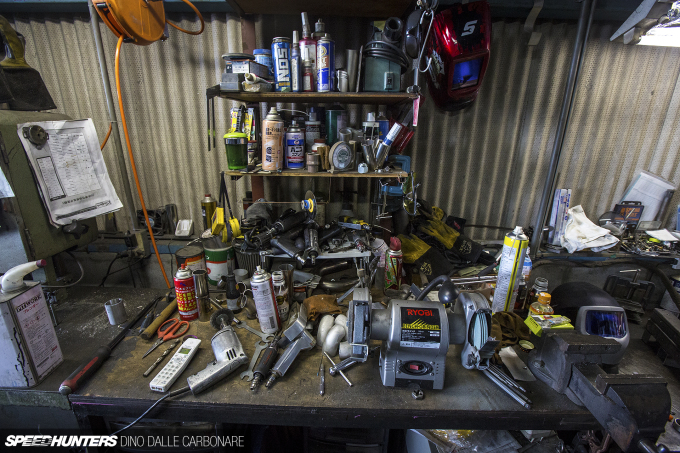 You sense that a lot of work gets done here; a space where S&A's creativity is unleashed and ideas are talked over and executed.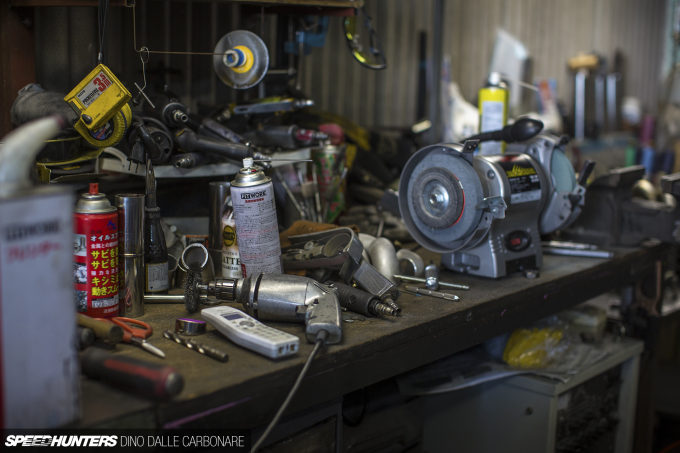 I love seeing a work table like this; it sends all sorts of visuals through my head and you can imagine what happens here on a daily basis. Satoshi was a little concerned that it might all come across as being messy, so I reassured him not to worry as it gave a true sense of how the shop operates; something that couldn't possibly be put into words.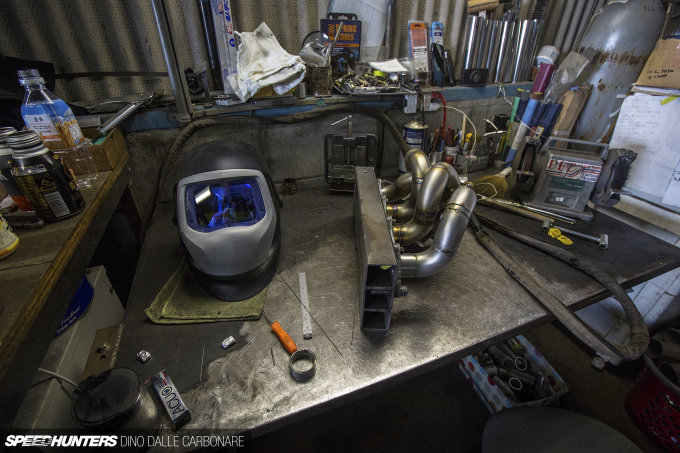 The metal table is the welding space; one of Satoshi's specialties is fabricating custom exhaust manifolds from scratch to fit various applications. It's a necessary skill to have when half of the cars you build run swapped engines, not to mention the amazing bodywork shaving and tucking work that his colleague undertakes for the most demanding customers.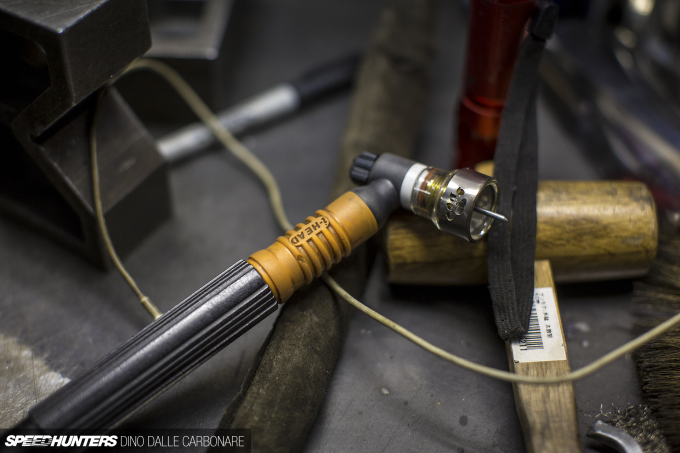 That in itself defines S&A; taking the extra time – at a very high cost – to perfect the details. This is a shop that can create a show car engine bay, but maintain all the functionality of a motor that's setup to deliver stupid amounts of power.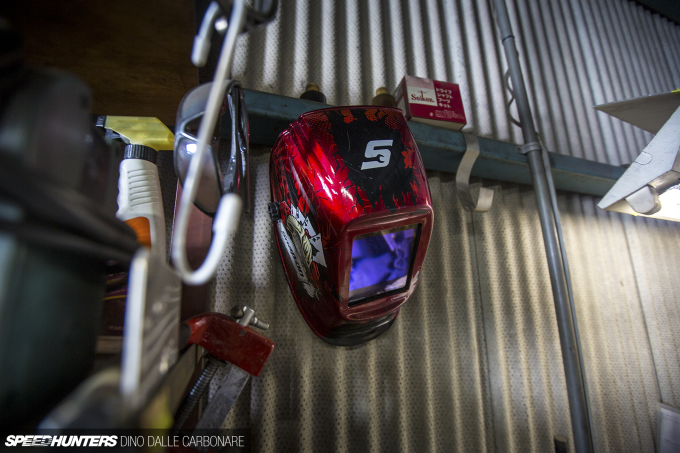 To me, what S&A does here epitomises what the Japanese tuning scene should be – the know-how of building bad-ass cars, but at the same time not forgetting the finer details. I really hope more tuner shops in the Japan follow this lead.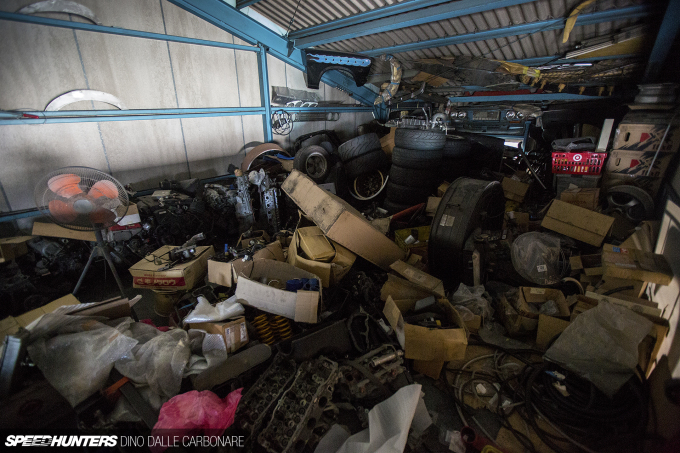 The furthest section of the shop has a mezzanine above it where parts are stored. It might not be much to look at, but there was a lot of very cool stuff up here.
It's All About Being Different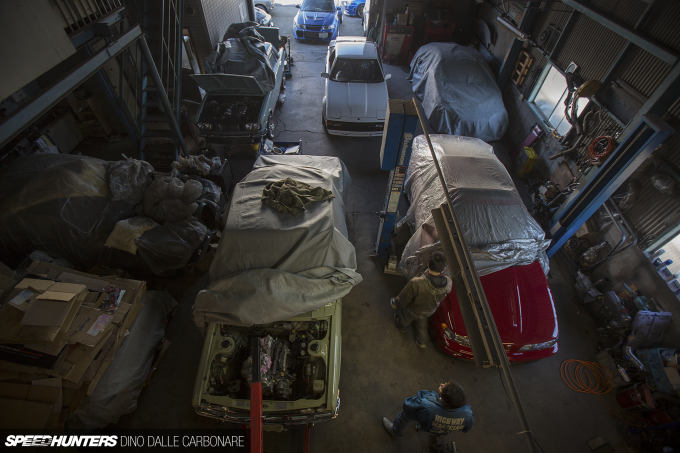 By Japanese standards, S&A Auto Create is actually pretty big. The workshop is able to accommodate six or seven cars in a way that they can all be worked on.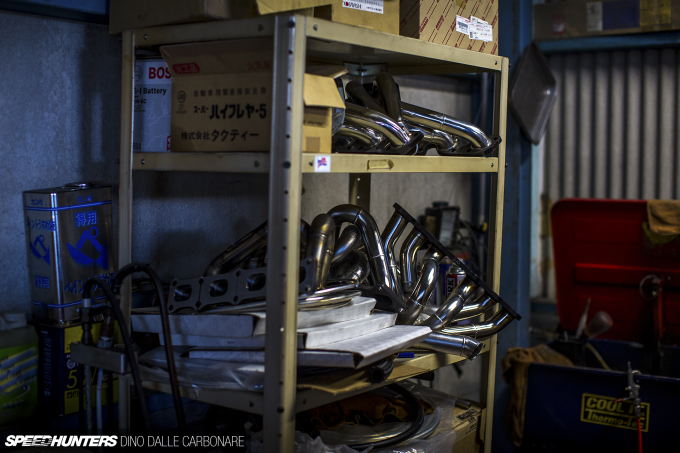 Underneath the mezzanine is where the engine building area is located. There are various shelves stacked with all sorts of parts, like this one that stores headers Satoshi has crafted.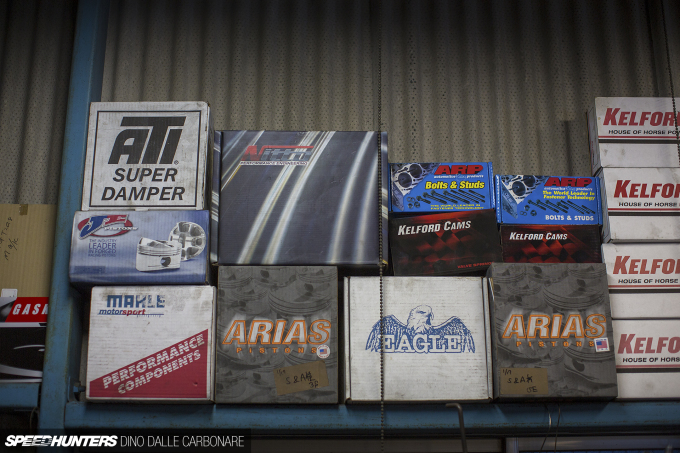 S&A likes to look aboard for inspiration, and in doing so Satoshi finds cool and different parts to use in his engine builds.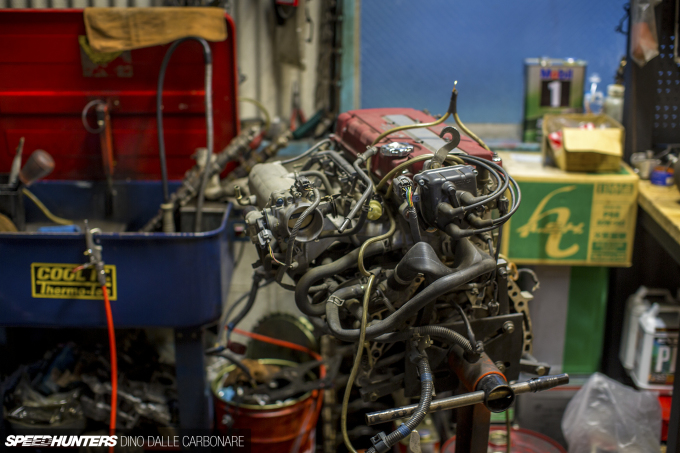 I spotted this Type R-spec Honda B-series engine in position for a strip down. I wonder what chassis this will end up being dropped into?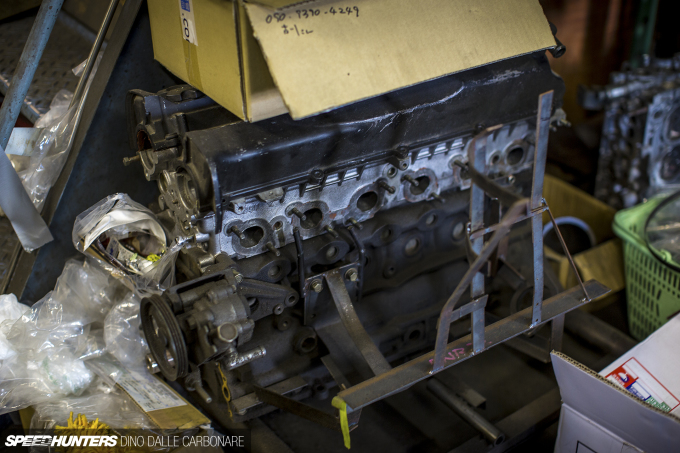 And another RB26. I would really like to see what the guys at S&A could do to the engine bay of an R32, R33 or R34 to get rid of all the factory clutter.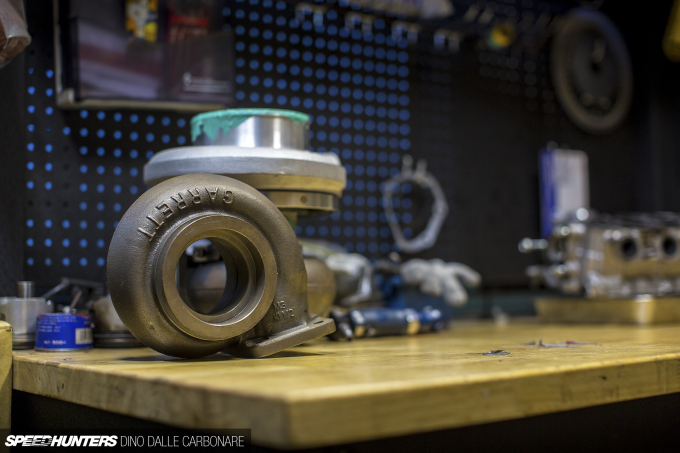 Now that's a big snail!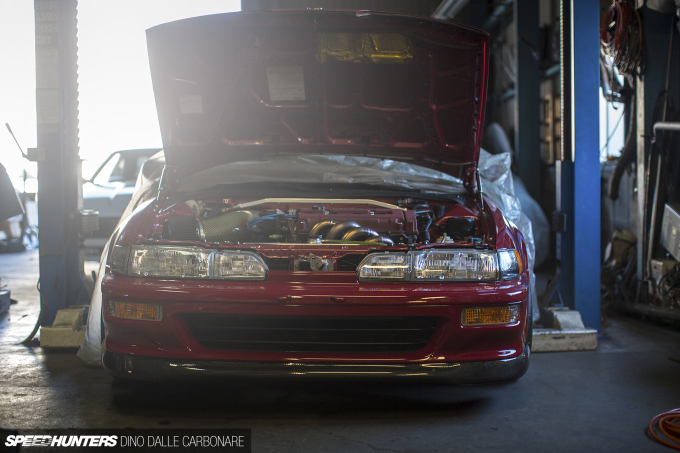 While I was getting lost in the details and tripping over stuff in the engine build room, Satoshi quickly uncovered the DC2 and popped the hood.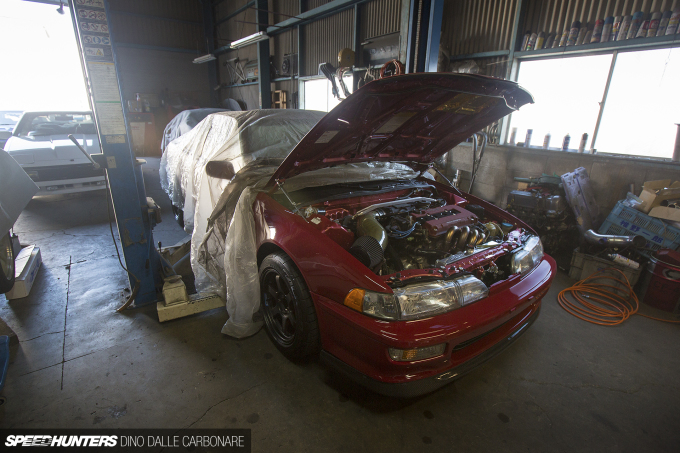 The orange corner indicators made the car look a little unusual I thought…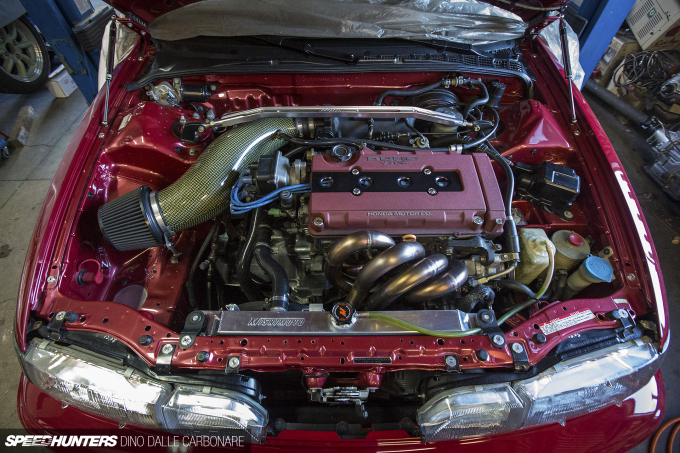 It wasn't until I had a proper look that I realized I was looking at a USDM Integra. But that wasn't too much of a surprise really, as the Japanese love to stand out and import left-hand drive versions of popular cars like Type Rs, just so they can have something a little more unique in their hands. The DC2 is running one of Satoshi's custom headers and a full-straight exhaust system, plus an intake sporting a carbon-Kevlar chamber and cone filter.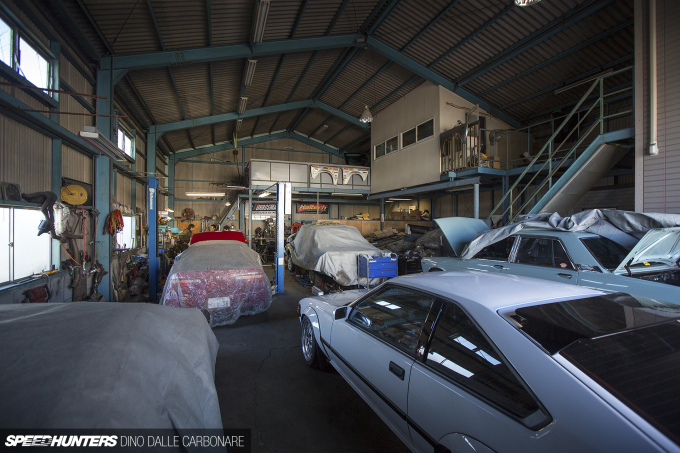 It's places like S&A Auto Create that always leave me wondering 'what's next?' The thing is, most of the cars that Satoshi builds always end up taking quite some time to put together due to the sheer work that goes into them – especially when the customer specifies a full engine bay tuck and shave.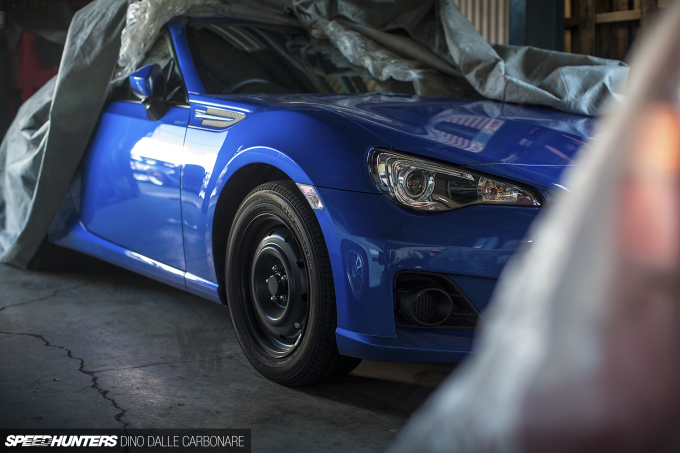 One car I know will be coming soon is this Subaru BRZ. The brand spanking new base has just been picked up for a rather unique project that will be running forced induction – probably based around a twin turbo setup on the base FA20. How about that for something different, yet totally in line with the out-the-box approach Satoshi and his crew have become known for.
Dino Dalle Carbonare
Instagram: speedhunters_dino
dino@speedhunters.com