Team Monster
Motorsport photography is, in my opinion, simply the best form of photography. Running around trackside, looking for that totally awesome and unique angle, then capturing the vehicles' souls. I love it. One form of motorsport photography that I love more than anything else is desert racing photography. What makes it fun? Well, to start with the race cars don't run on an actual race track. Instead, they run giant loops around the vast desert, and there's no such thing as a safety barrier. It's impossible to actually see every part of the race when spectating because of the sheer size of the desert, and the chance of getting lost is pretty high because the GPS barely works. It's also surprisingly easy to end up on the track when you don't know where you're going.
King Of The Hammers is one of the few races that fits into that category of desert racing, except there is more to it than just the desert, which is why it's so great. As many of you guys know, Larry been hunting speed at KOH in Johnson Valley every year for four years now, but this year we decided to tackle the event tag-team style, following the Monster Energy drivers for Friday's main Ultra4 race.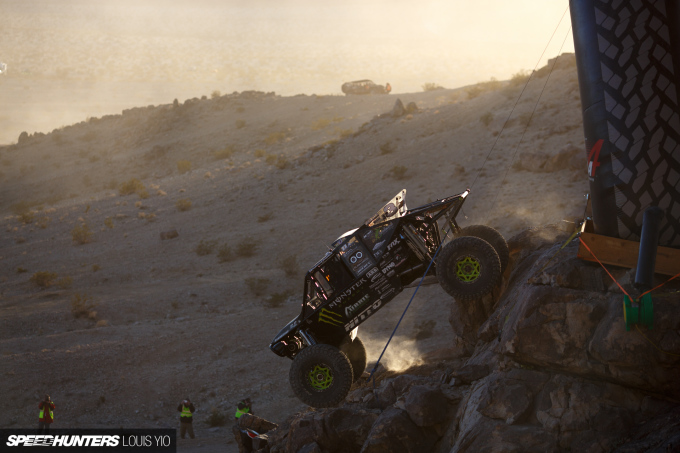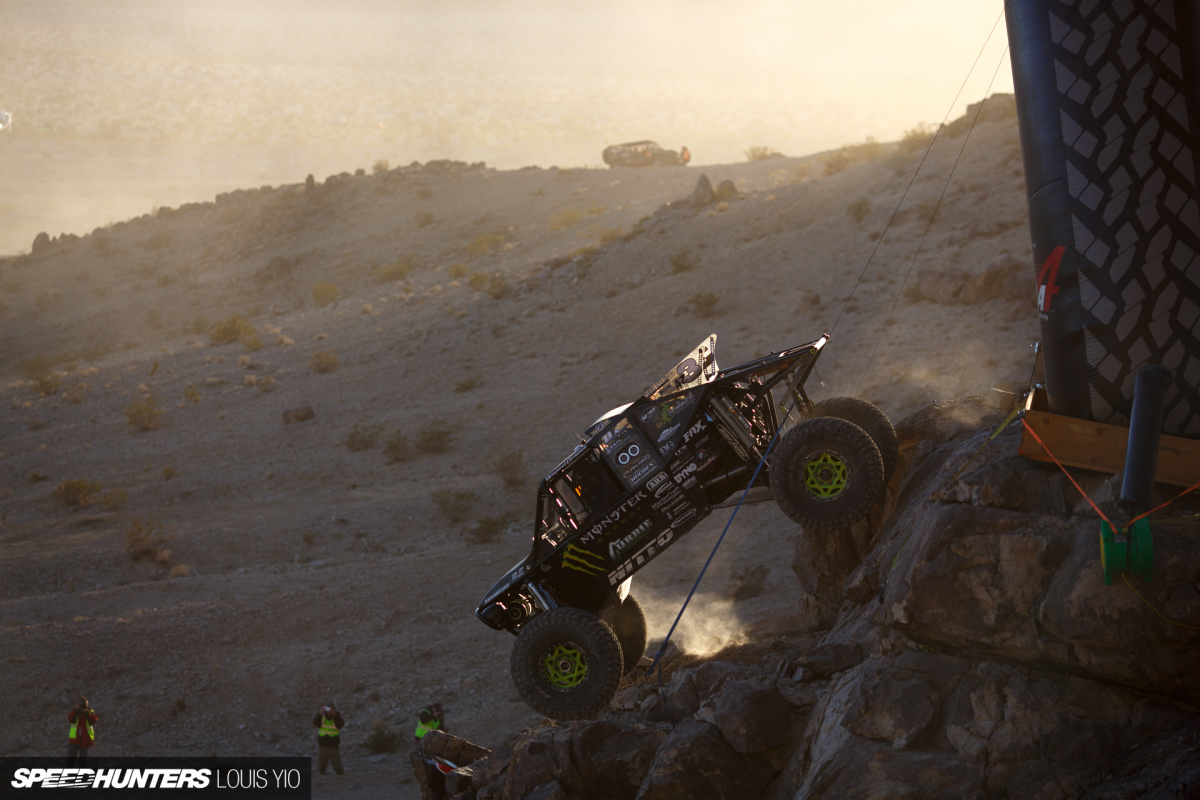 The Monster drivers include the Campbell family which consists of Shannon, the father, Wayland, Shannon's son, and Bailey, Shannon's daughter. Shannon Campbell is one of the top Ultra4 drivers and has been crowned King Of The Hammers not once, but twice. With a father this talented at off-road racing, it's no surprise that Wayland and Bailey are catching up at an extremely fast rate.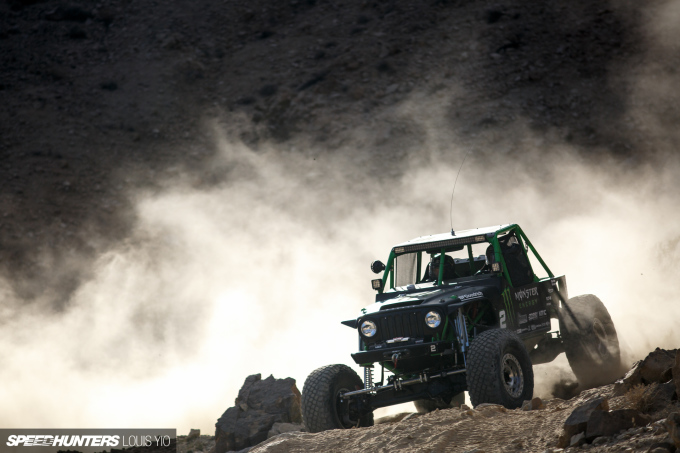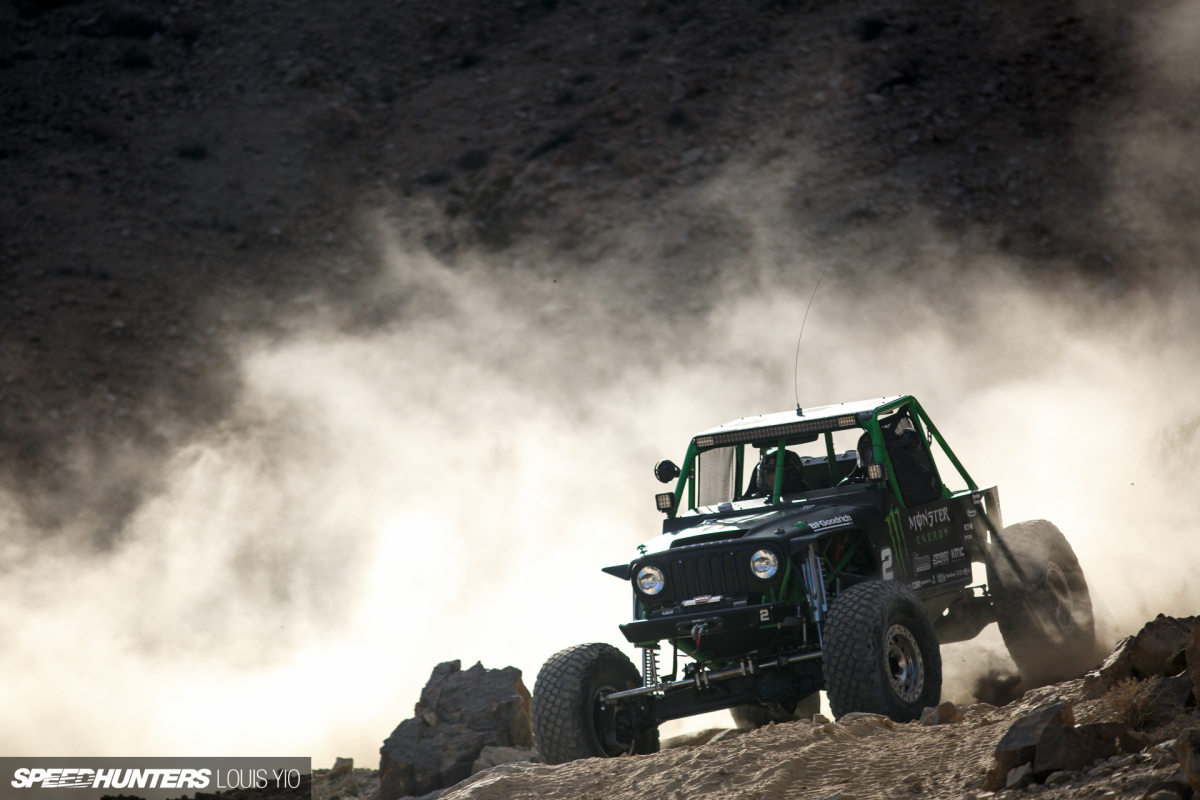 Then there's Casey Currie, a real cool guy and massive Jeep enthusiast. Fun fact: he helped out a bit with Vaughn Gittin Jr.'s Ultimate Fun Haver.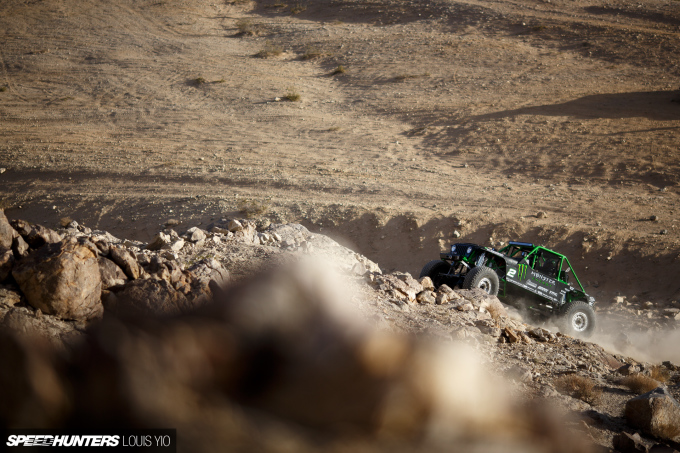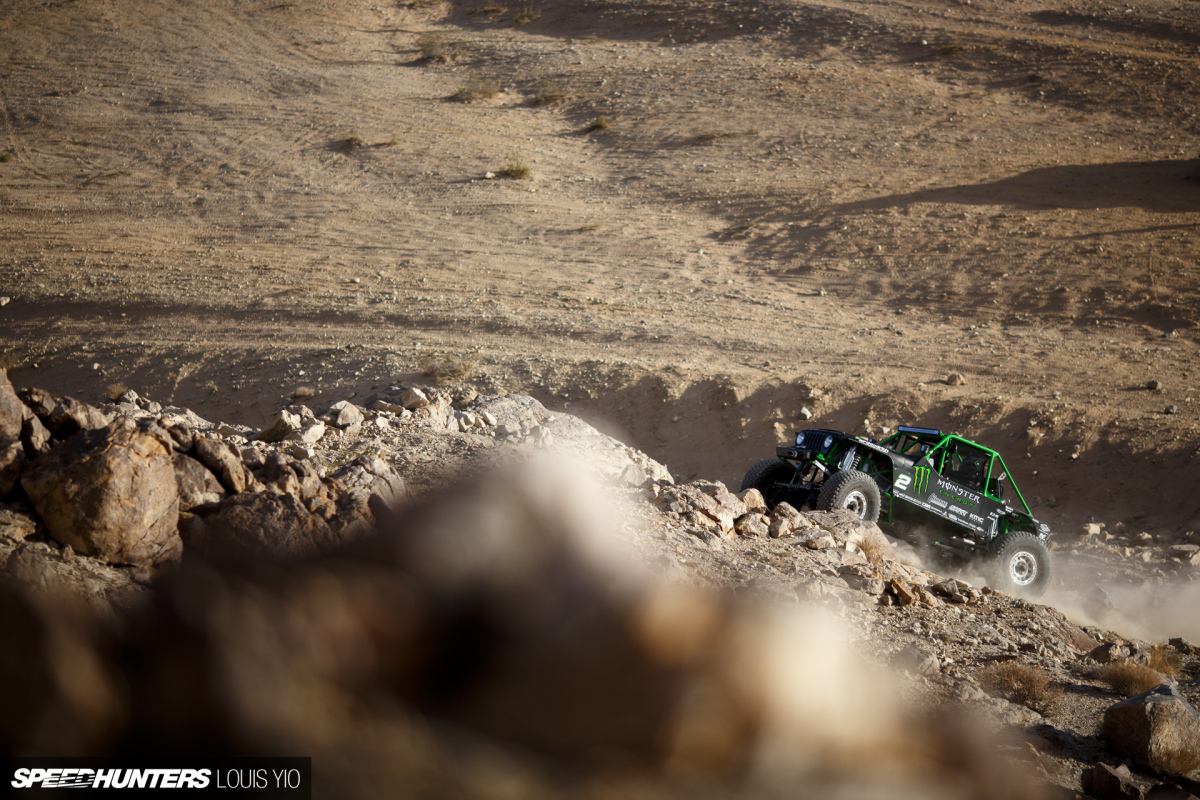 For the Monster drivers, it all started around Tuesday/Wednesday with qualifying.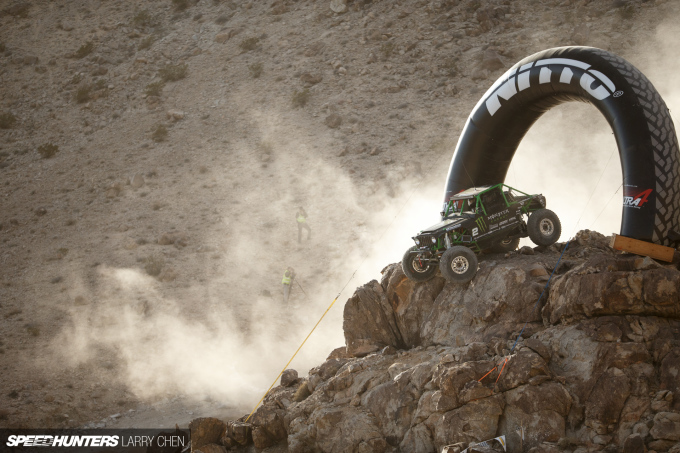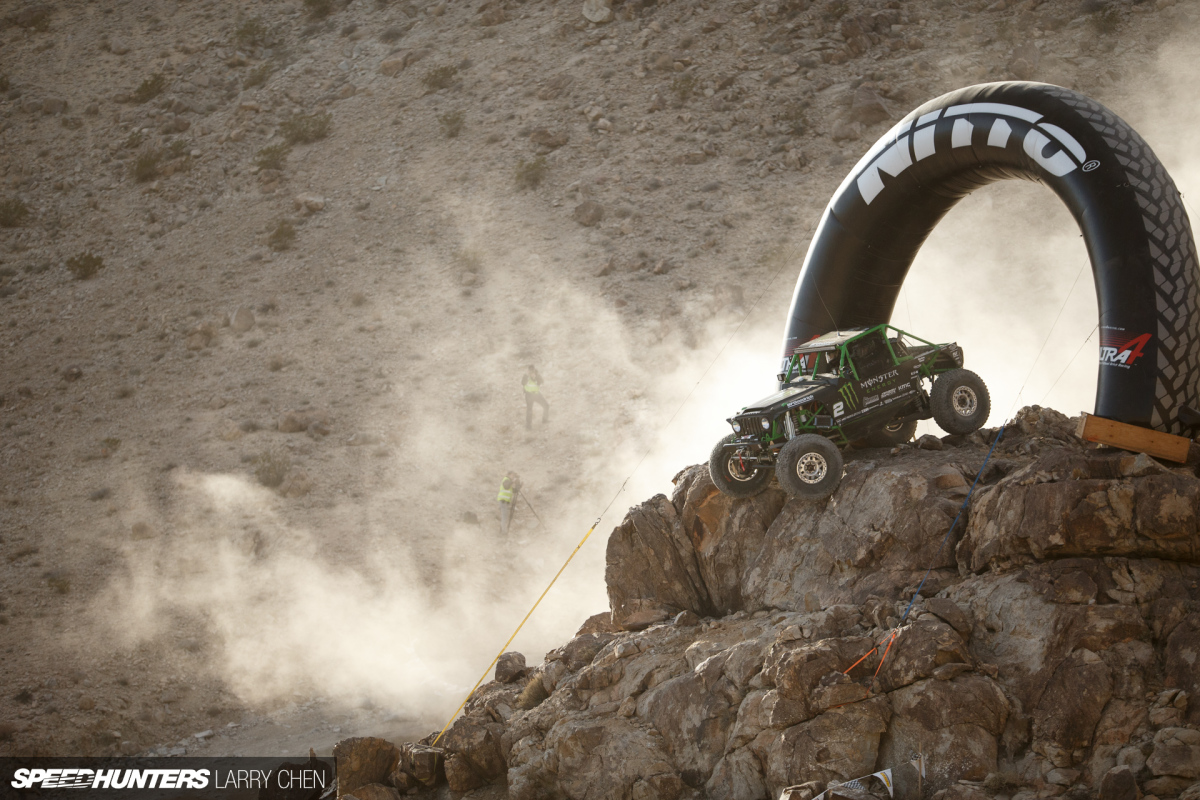 Unlike traditional track racing where drivers are allotted a certain amount of time to attain their fastest lap possible, Ultra4 allows the drivers one single lap around the qualifying course. One lap.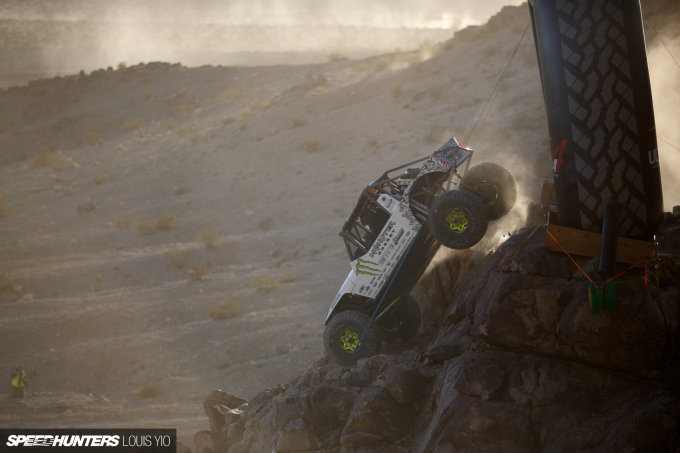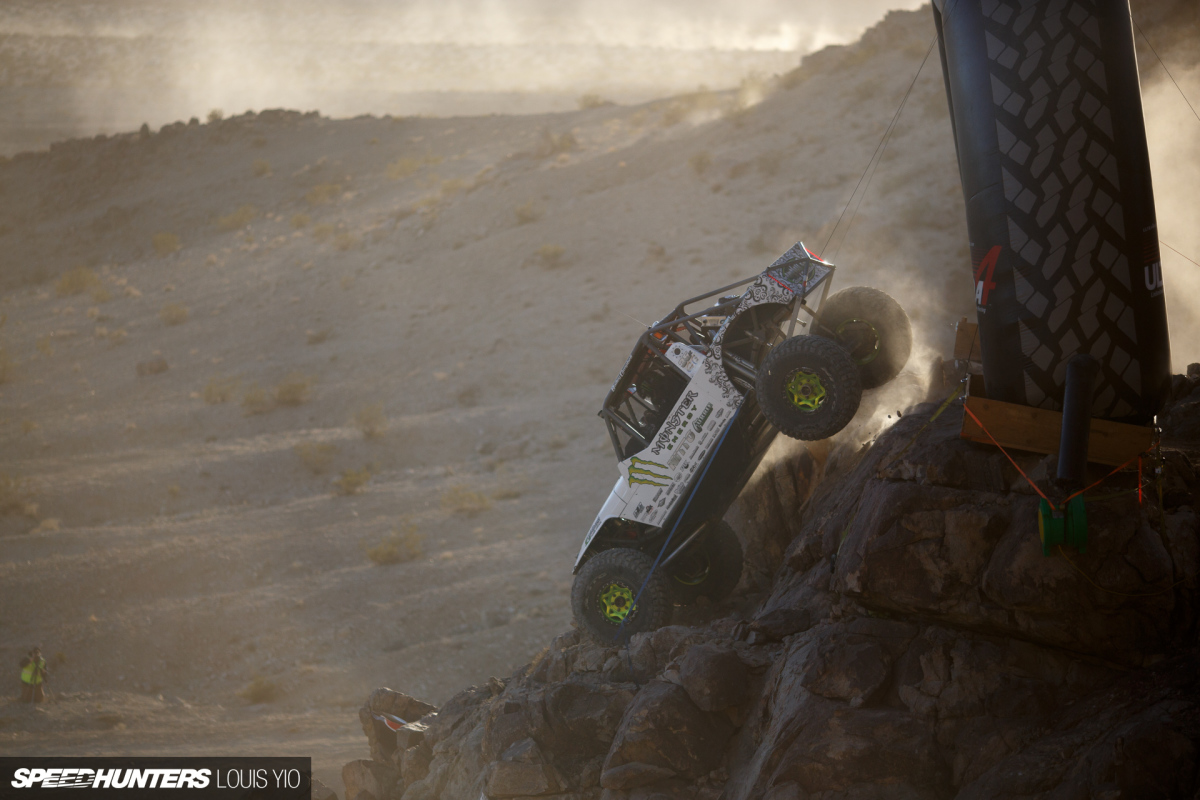 Any sort of mistake will cost the drivers, and this year's qualifying course proved to be an exceptionally dangerous one. If you look at the two photos above, you can see what's known as 'The Waterfall', which is quite literally a vertical drop. My heart skipped a beat when I saw Bailey almost flip over during her descent. Both Shannon and Wayland qualified within the Top 10 with Casey right behind them. Bailey qualified 33rd, which was still ahead of another 70 drivers.
Race Morning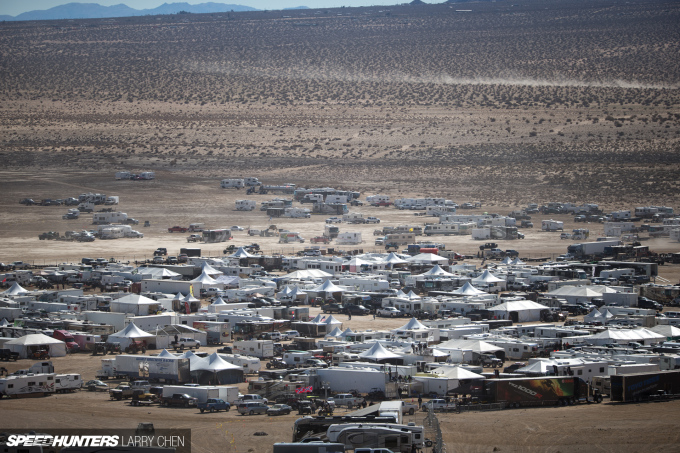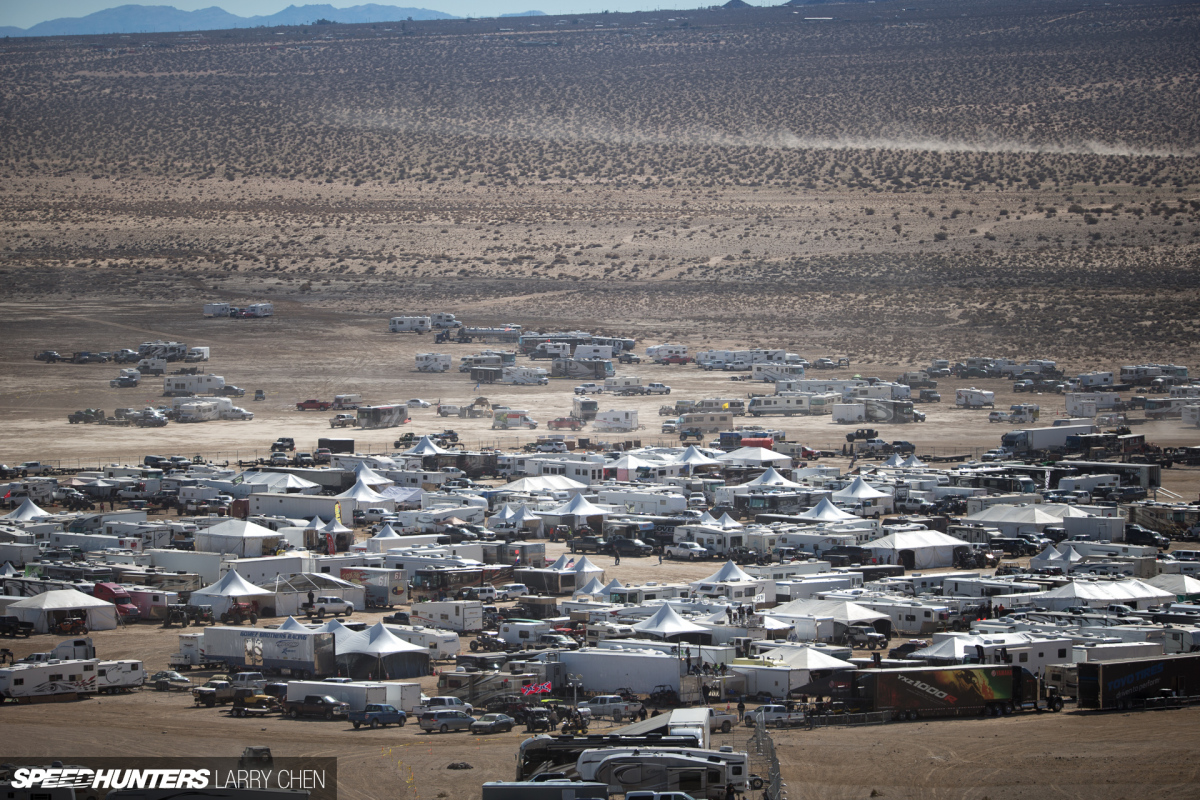 Race day came quickly, and with over 50,000 people in attendance, this year's KOH was definitely the biggest one yet.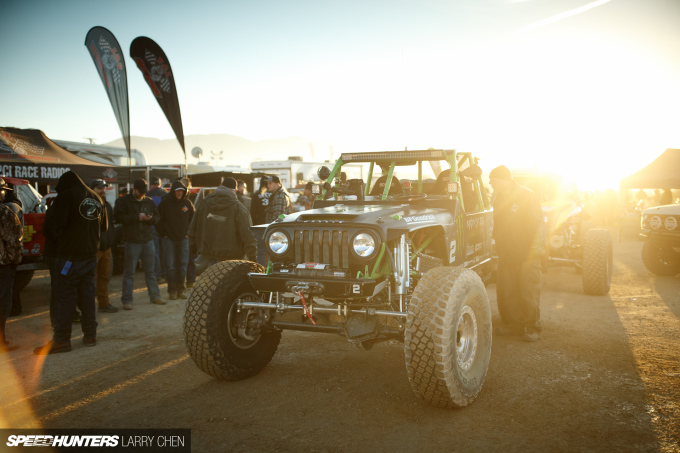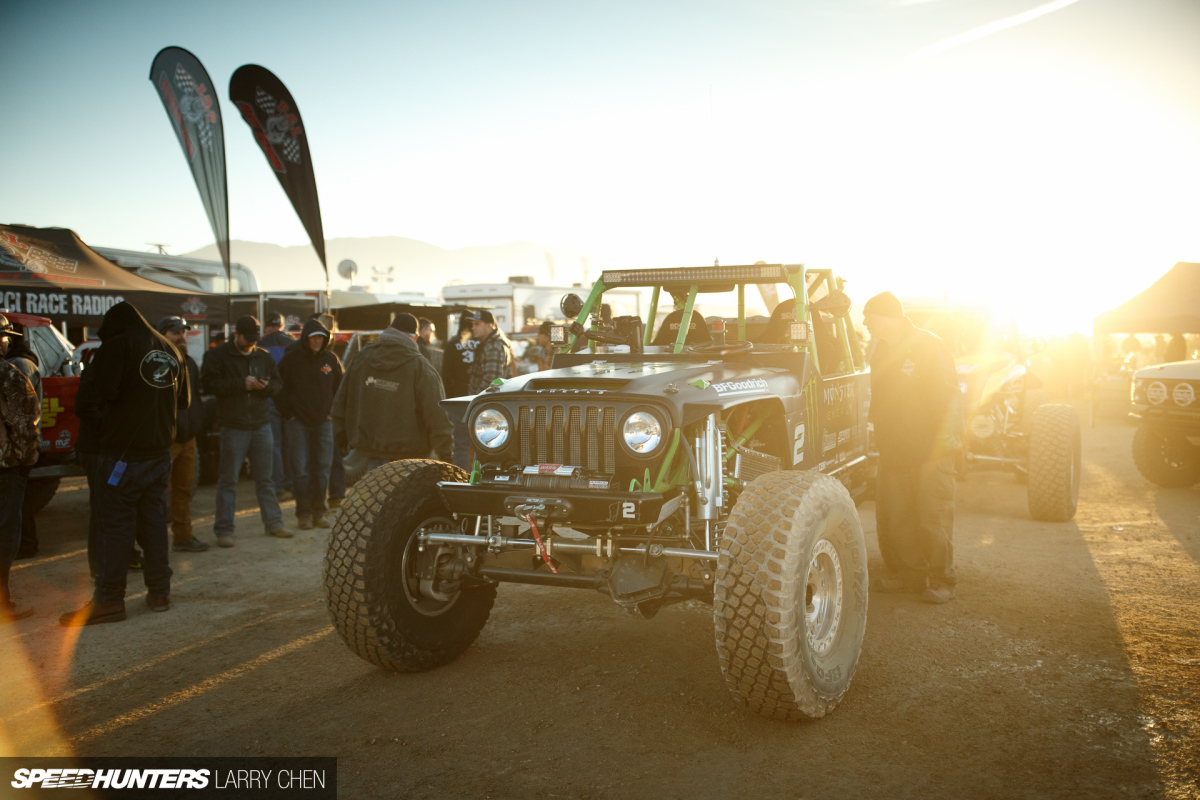 The morning pre-grid line-up is one of my favorite things about KOH; all the drivers getting their rigs into qualifying position order from around 6:00am. It's the perfect opportunity for a few sunrise photos, the only downside is that the temp can be around 35F (1.5C).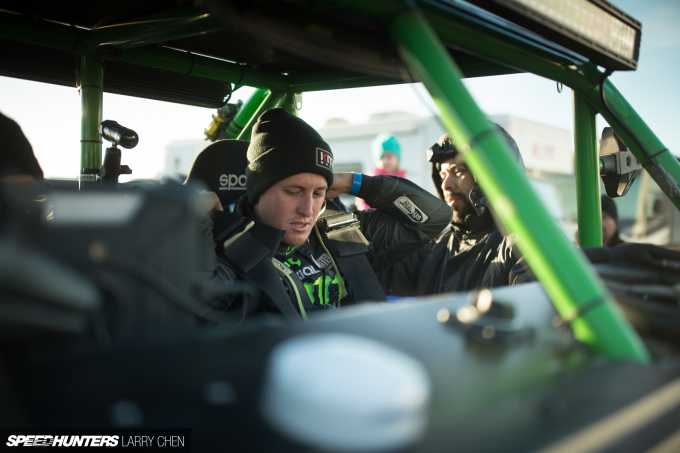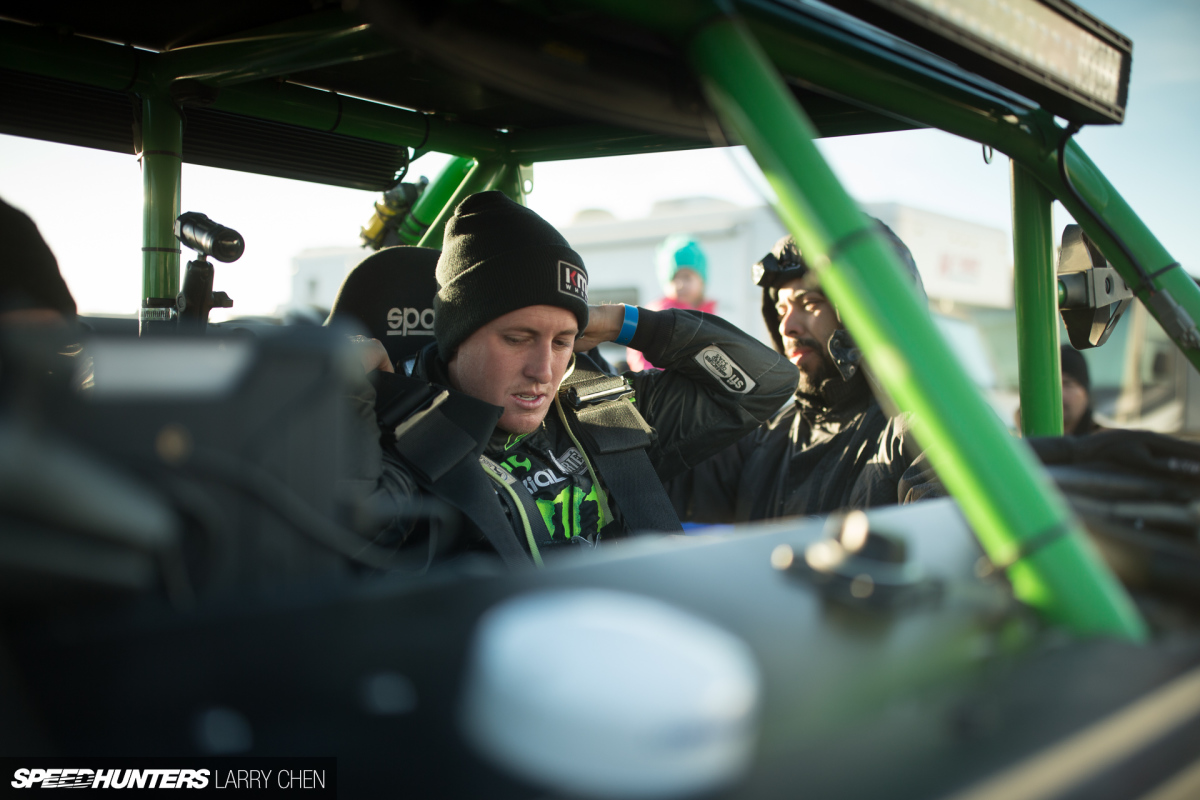 It's a nice little calm before the storm where drivers can relax and talk to friends, family, and fans before heading out.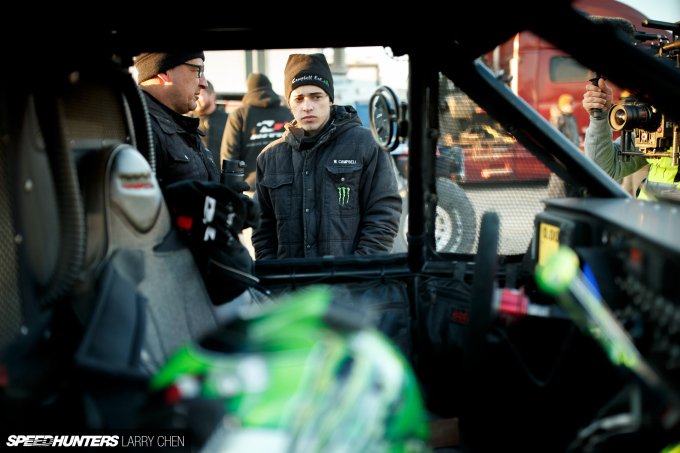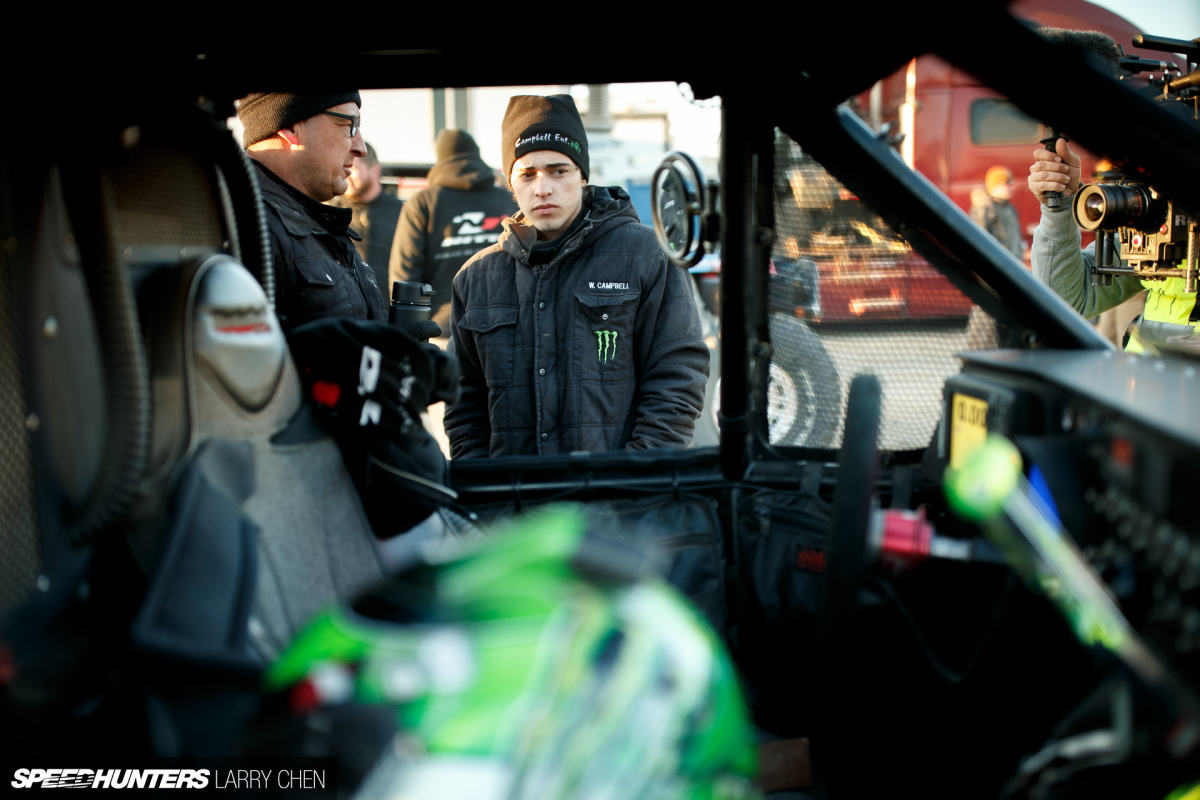 As the clock slowly ticks towards the 8:00am start you can feel the tension building up for the drivers.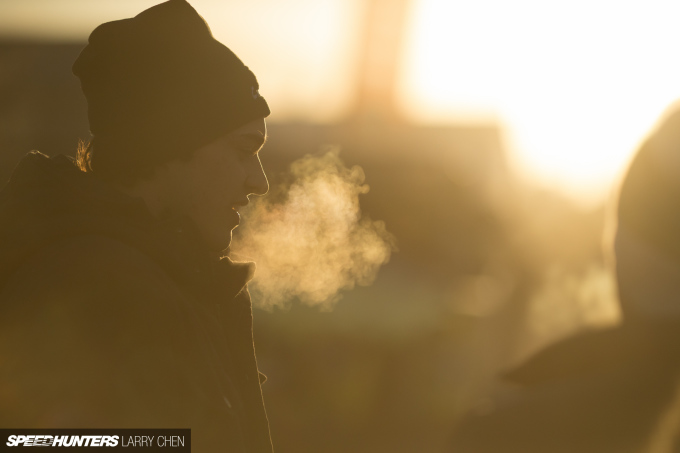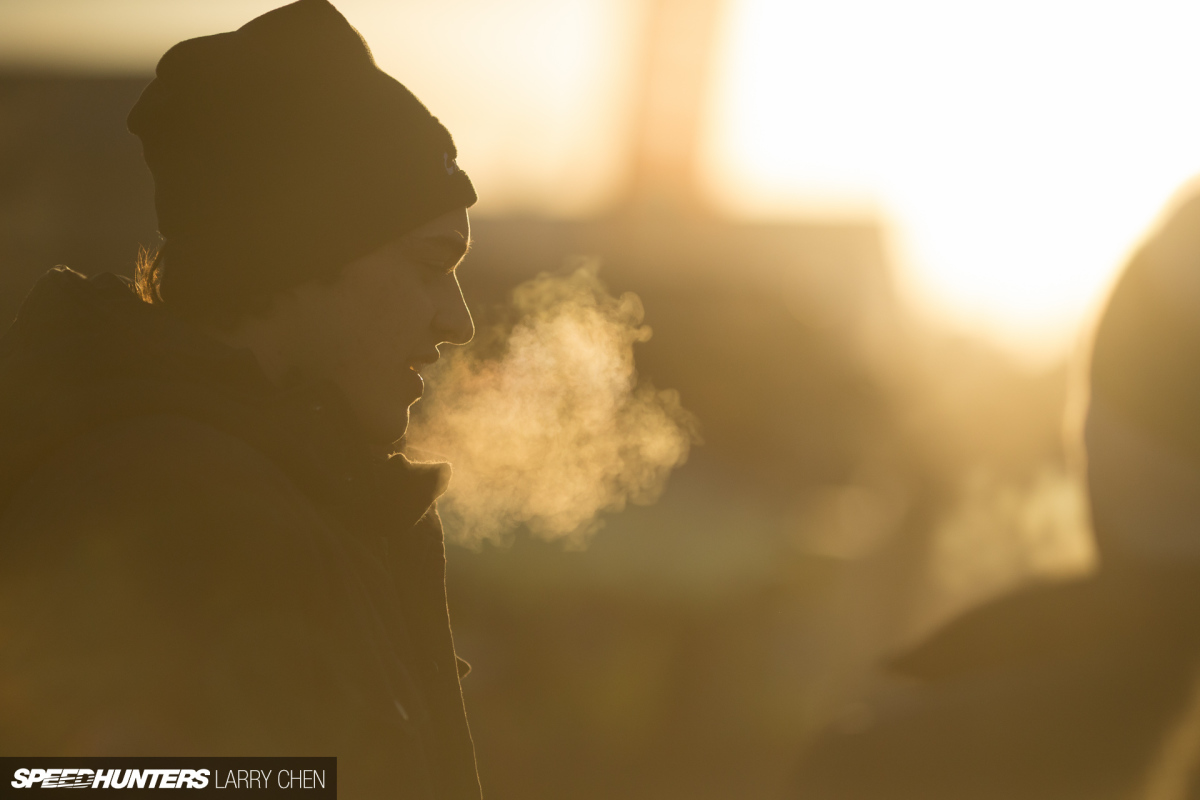 I can't imagine what they all go through in the final moments before the green flag drops.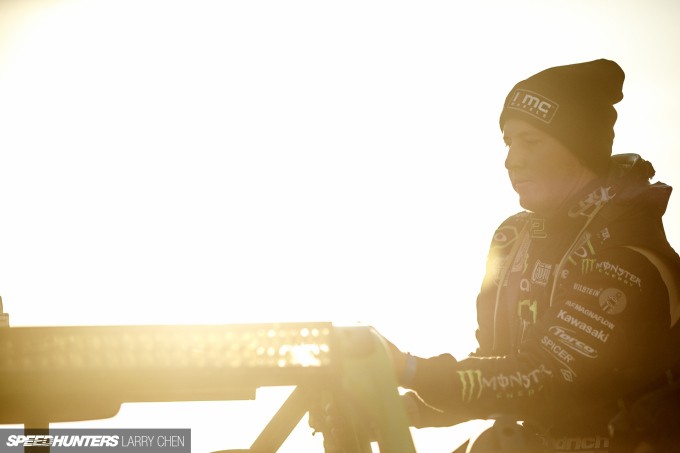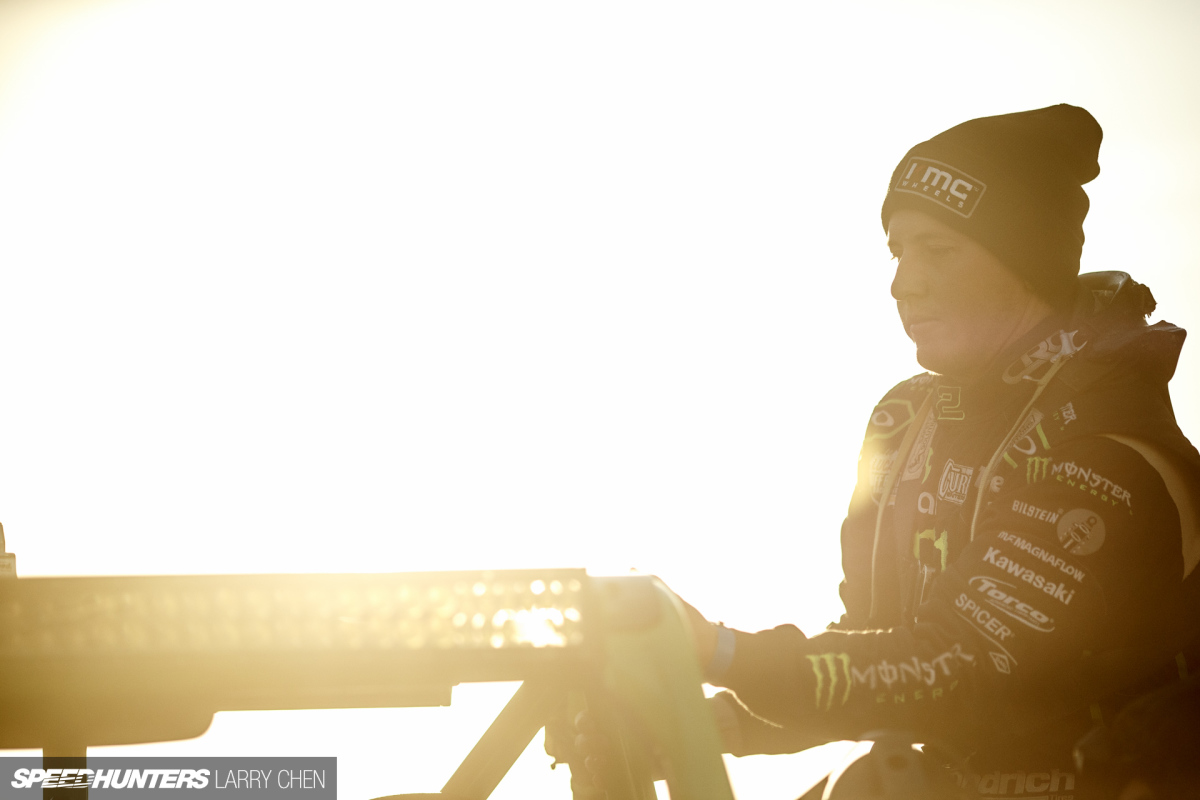 One by one, the drivers climbed into their rigs…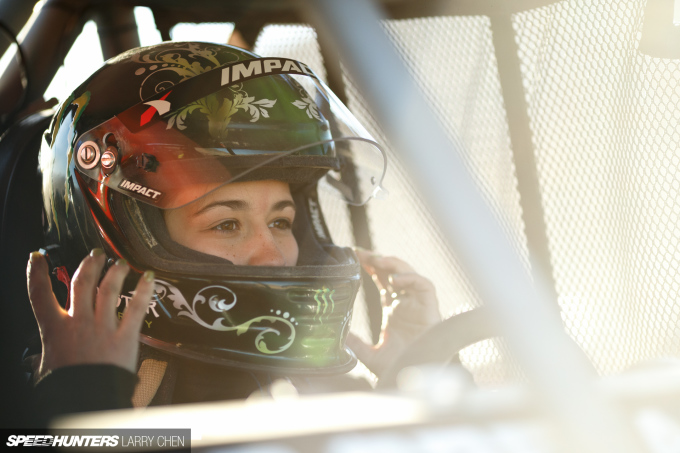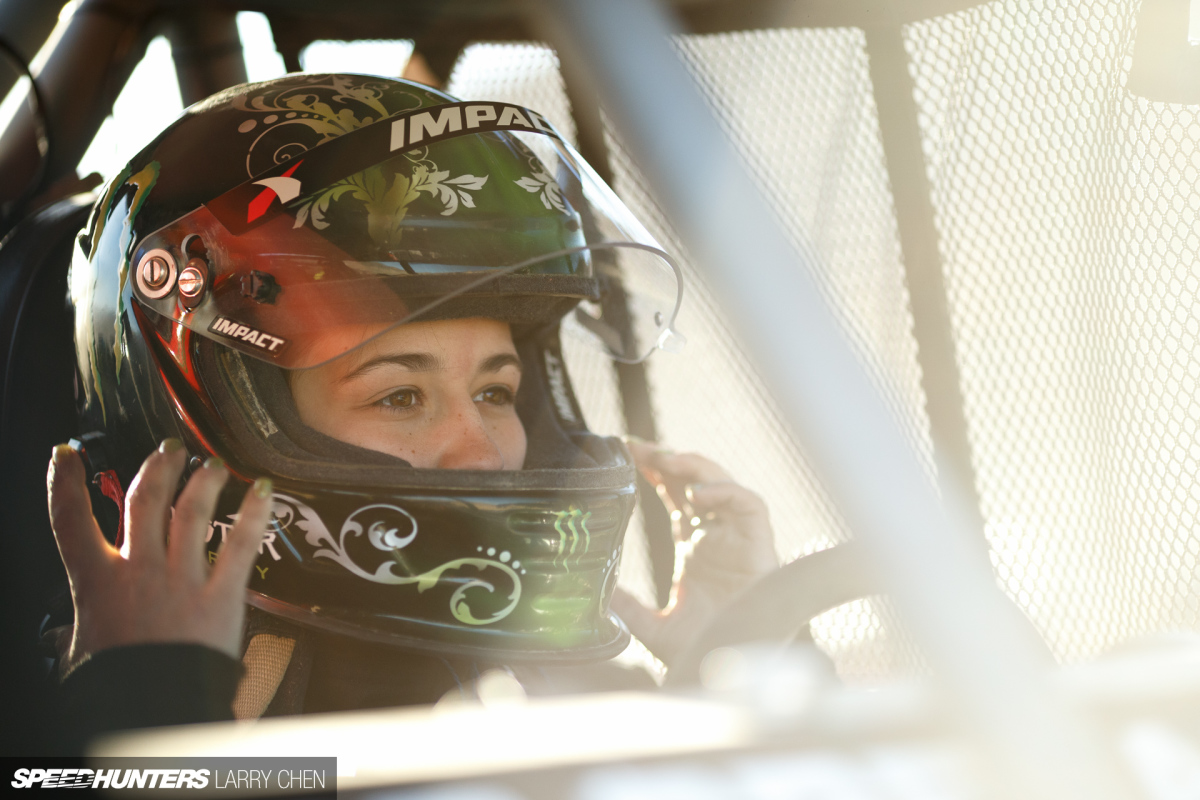 And buckled up and put their helmets on.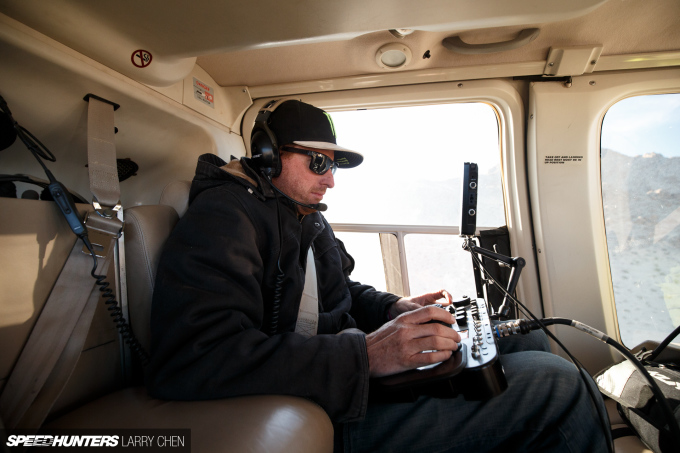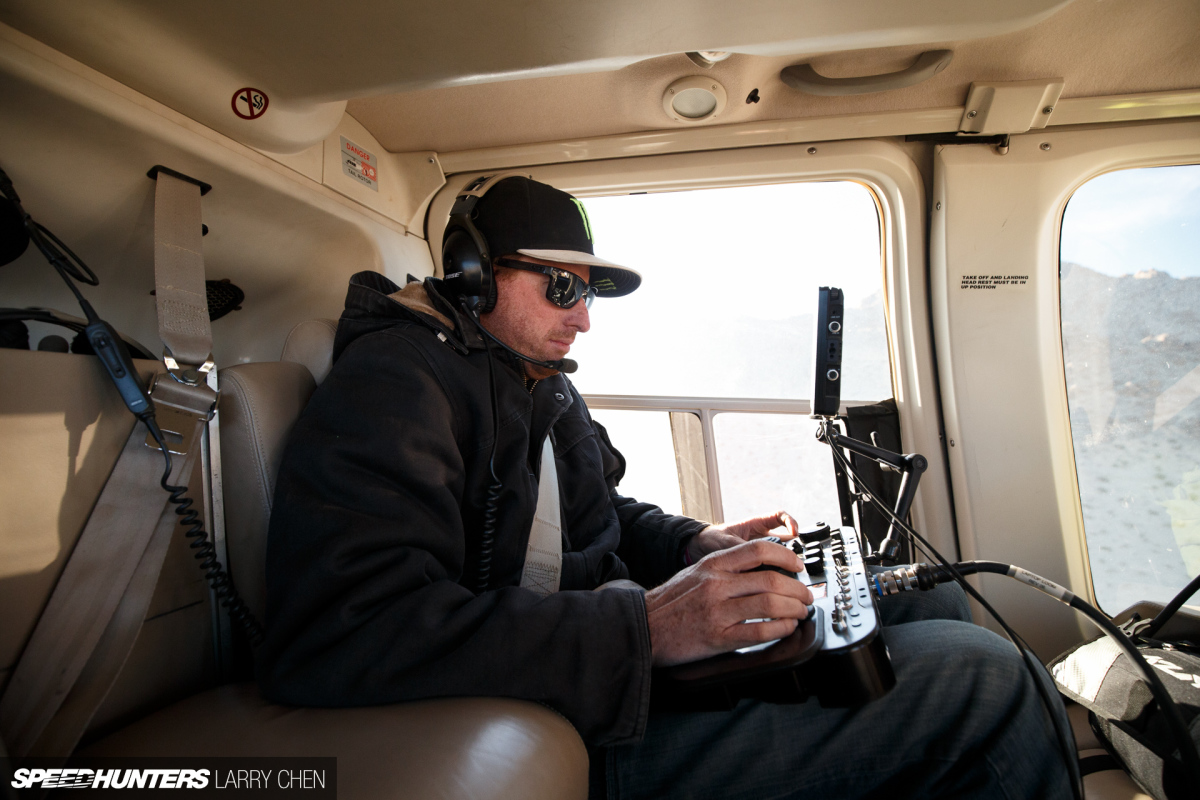 Larry was fortunate enough to get a ride-along with Eric from Tempt Media; guys who make really sexy videos.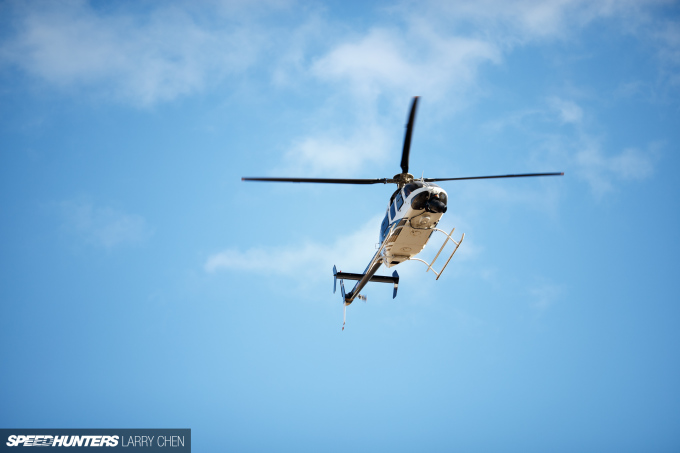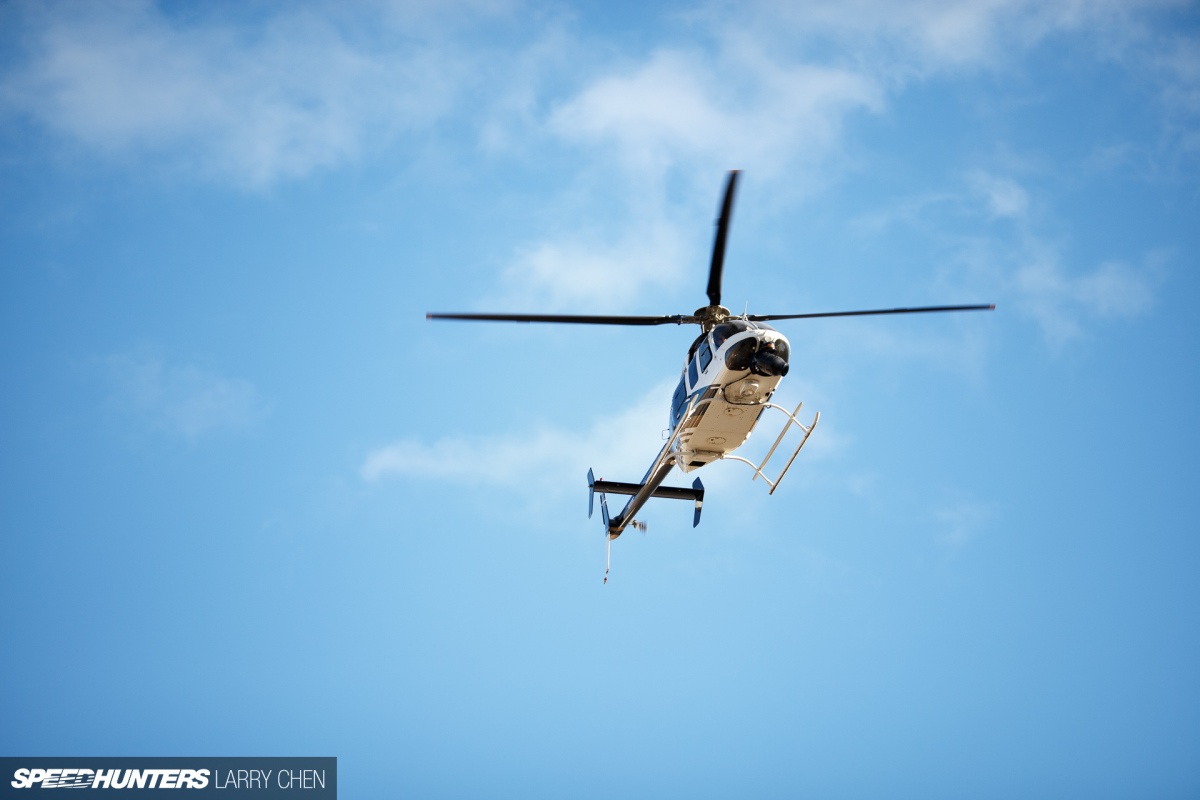 They shot with the same Shotover F1 gimbal used for Targa Trophy Megarun a few months back, and attached it to this flying box thing.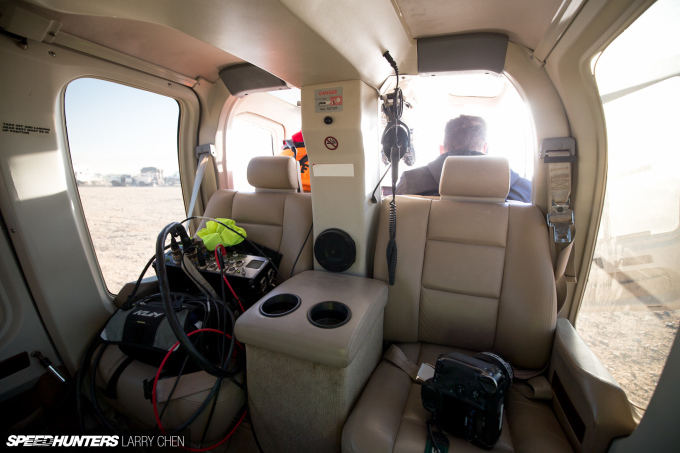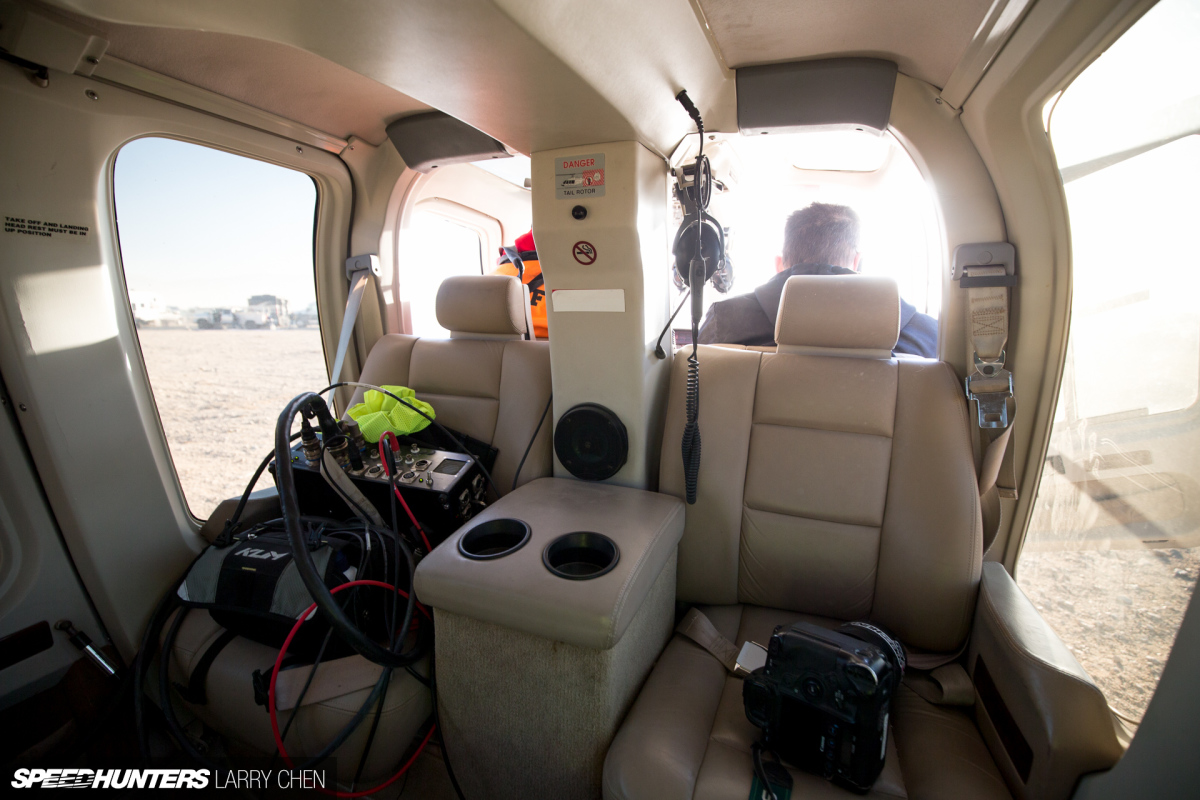 Larry tagged with Eric in the heli for the first lap; following the drivers through the biggest desert section of the race.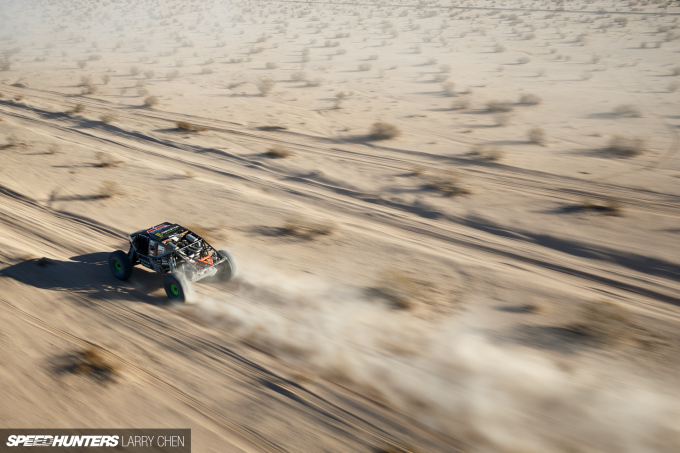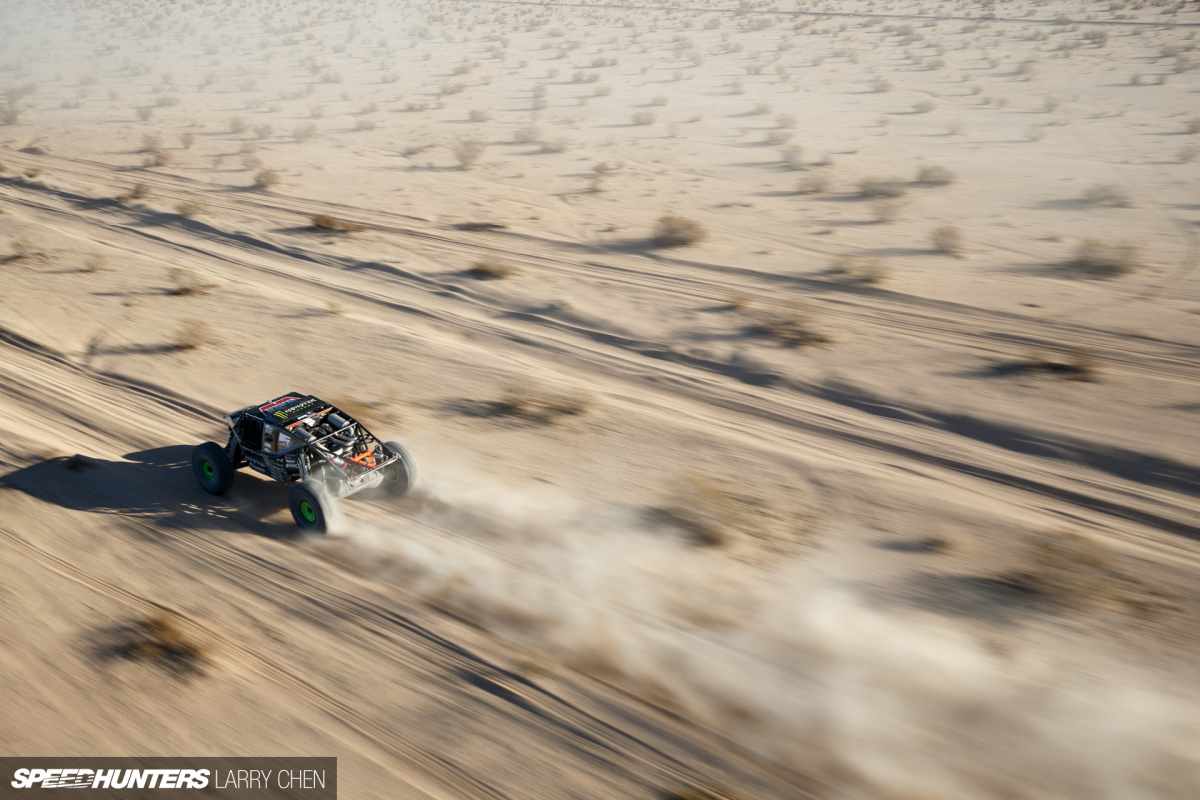 Very few, if any, spectators and media make it out this far into the desert.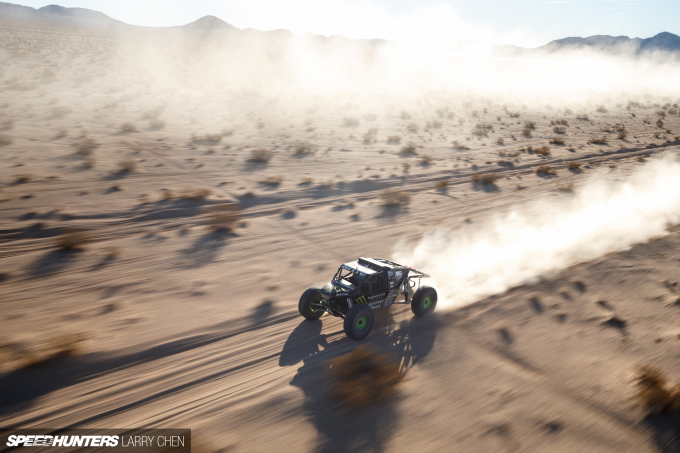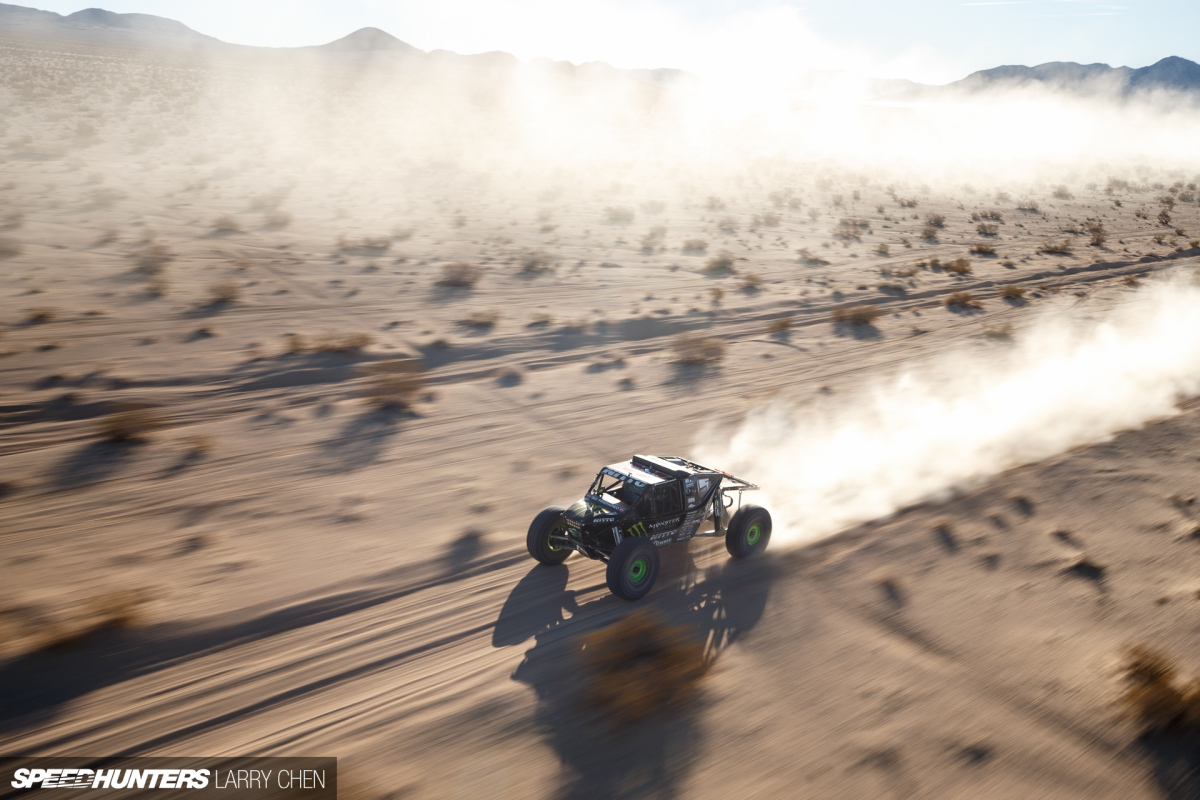 Being in the heli really helped Larry get pictures from a unique vantage point.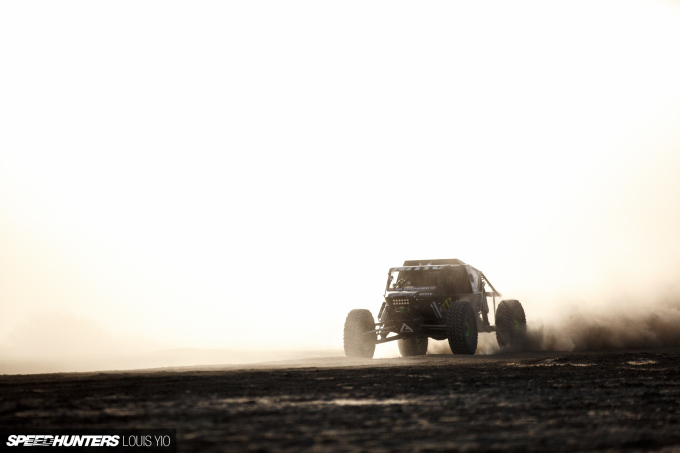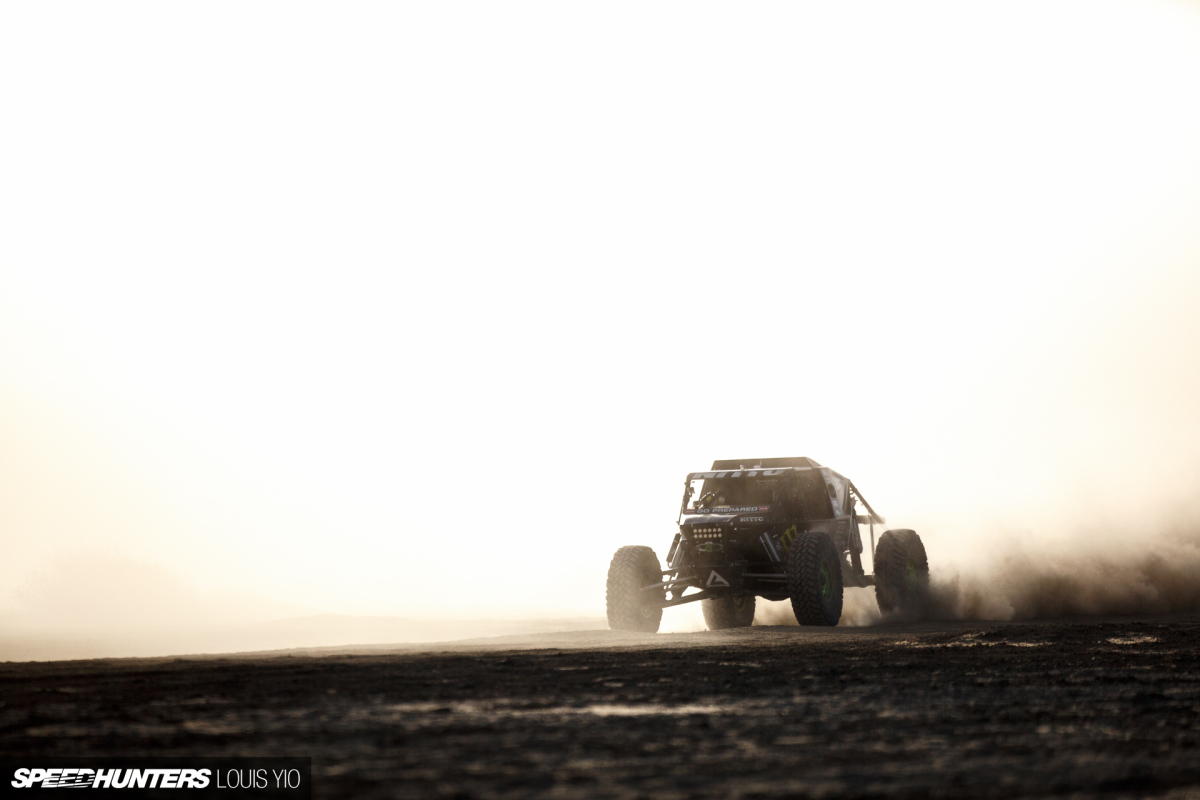 While Larry was enjoying his joyride for the first lap, I headed out to the dry lakebed just north of Hammertown to catch the first few drivers.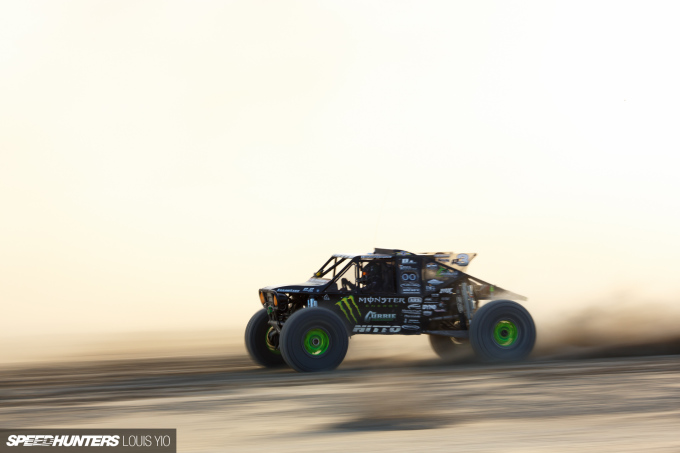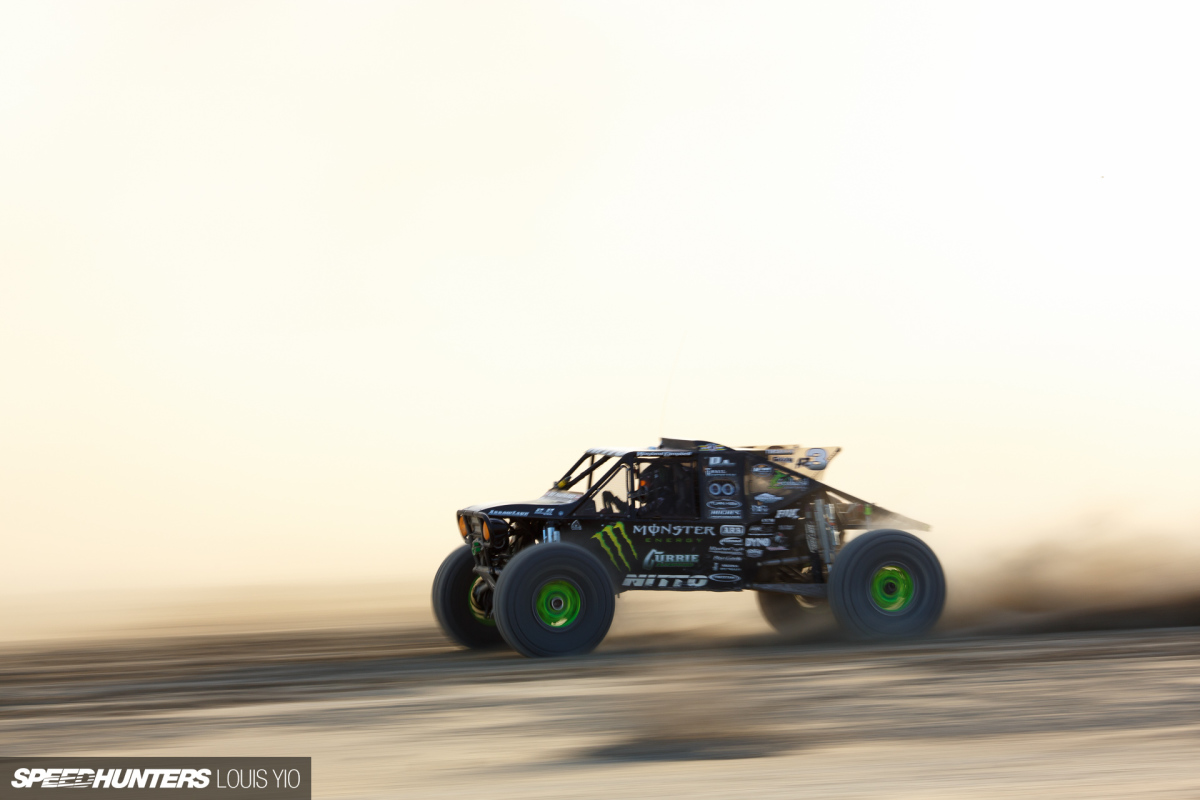 The drivers floor it at over 100mph on the lakebed and kick up more dirt than you'd ever think. After Shannon and Wayland passed me, I couldn't see anyone else. I was able hear the cars drive by, but I couldn't actually see anything other than a cloud of dirt.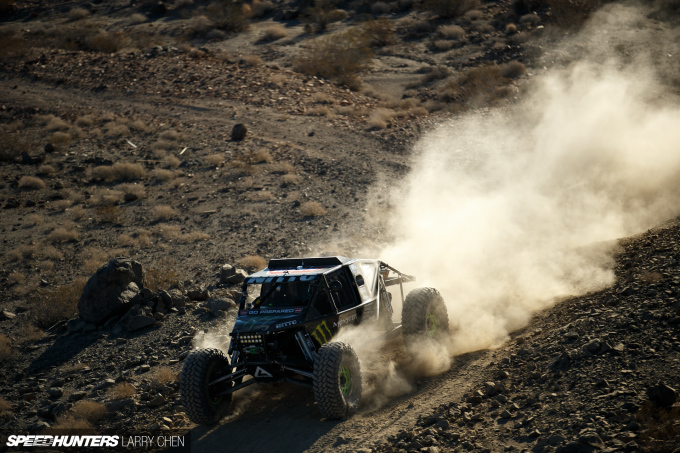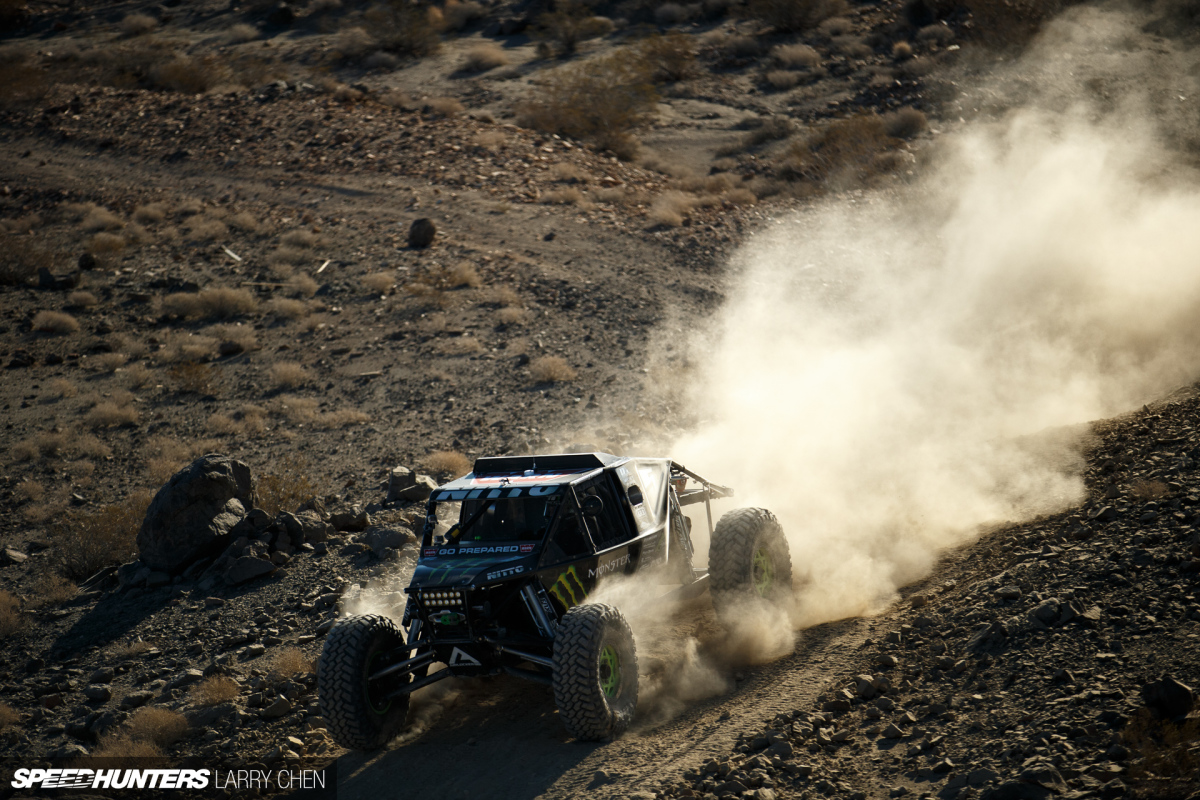 While I packed my things and headed towards the pits, Larry, in the heli, followed Shannon as he continued on with his first lap.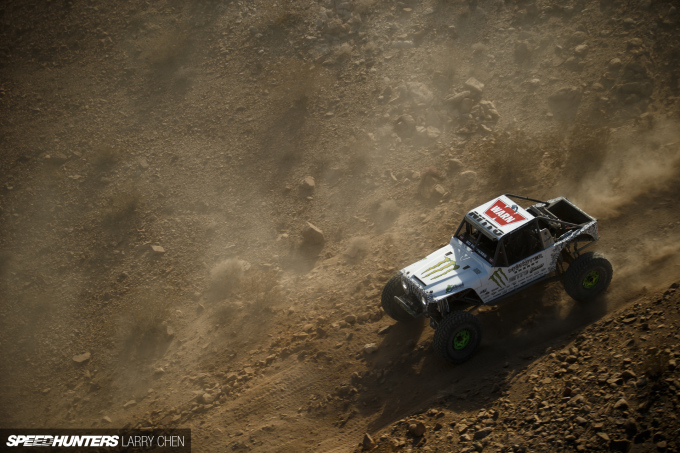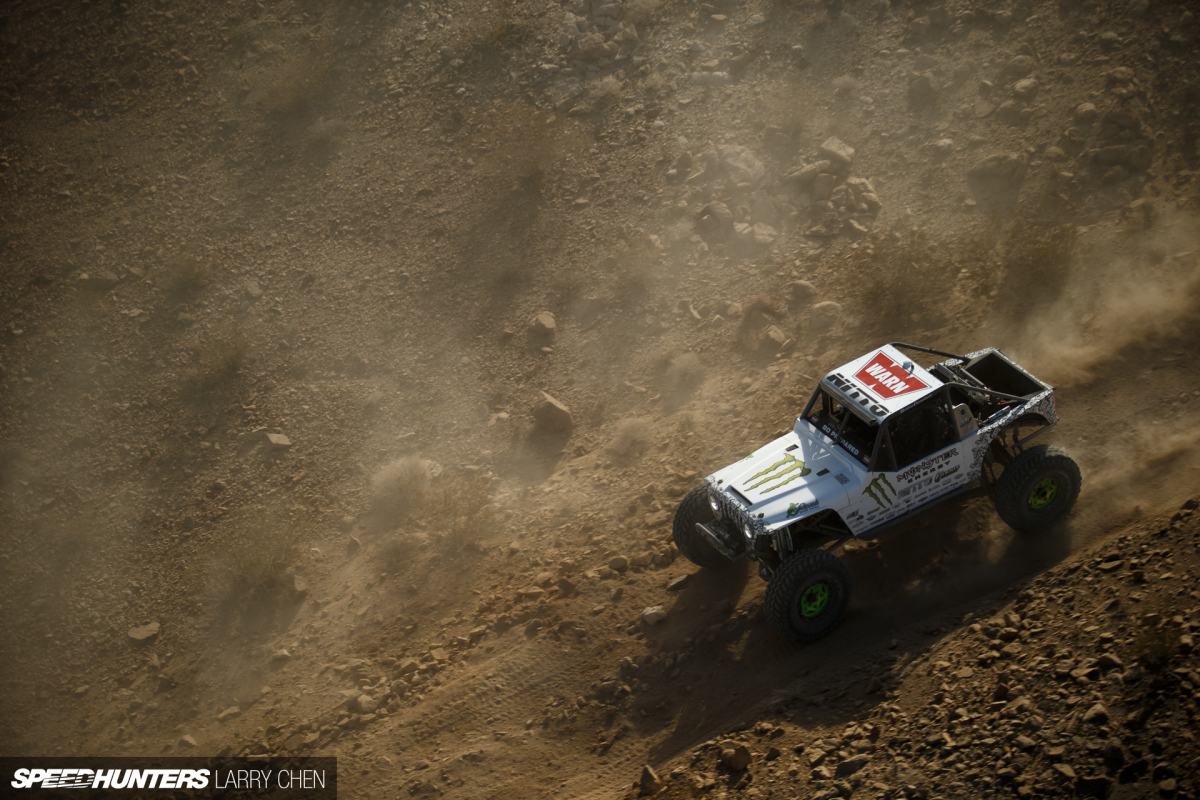 Bailey very quickly made her way towards the front pack of drivers.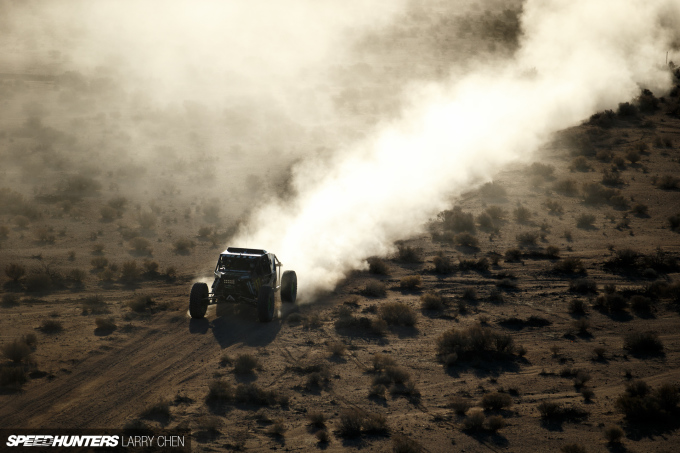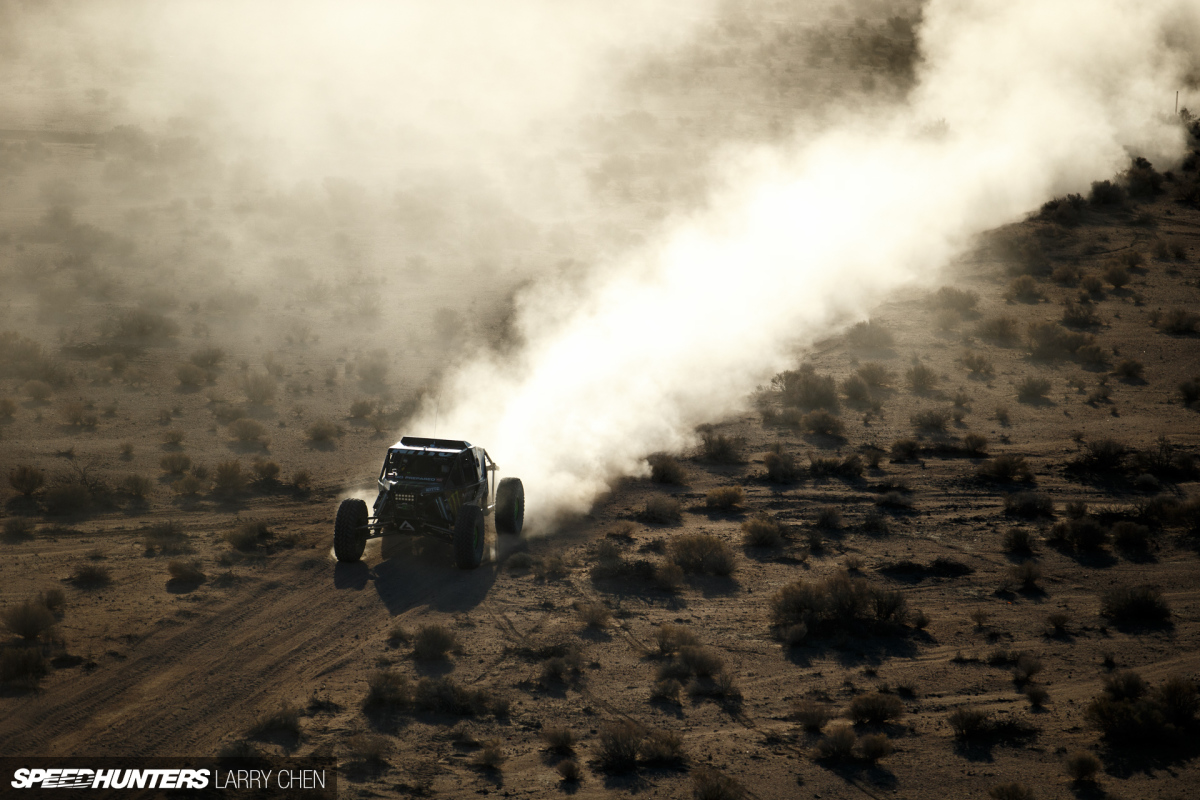 In less than an hour, the lead drivers were making their way towards the first pit stop.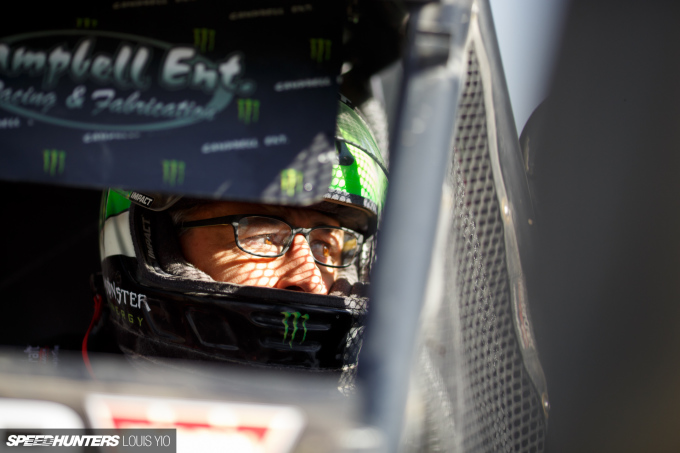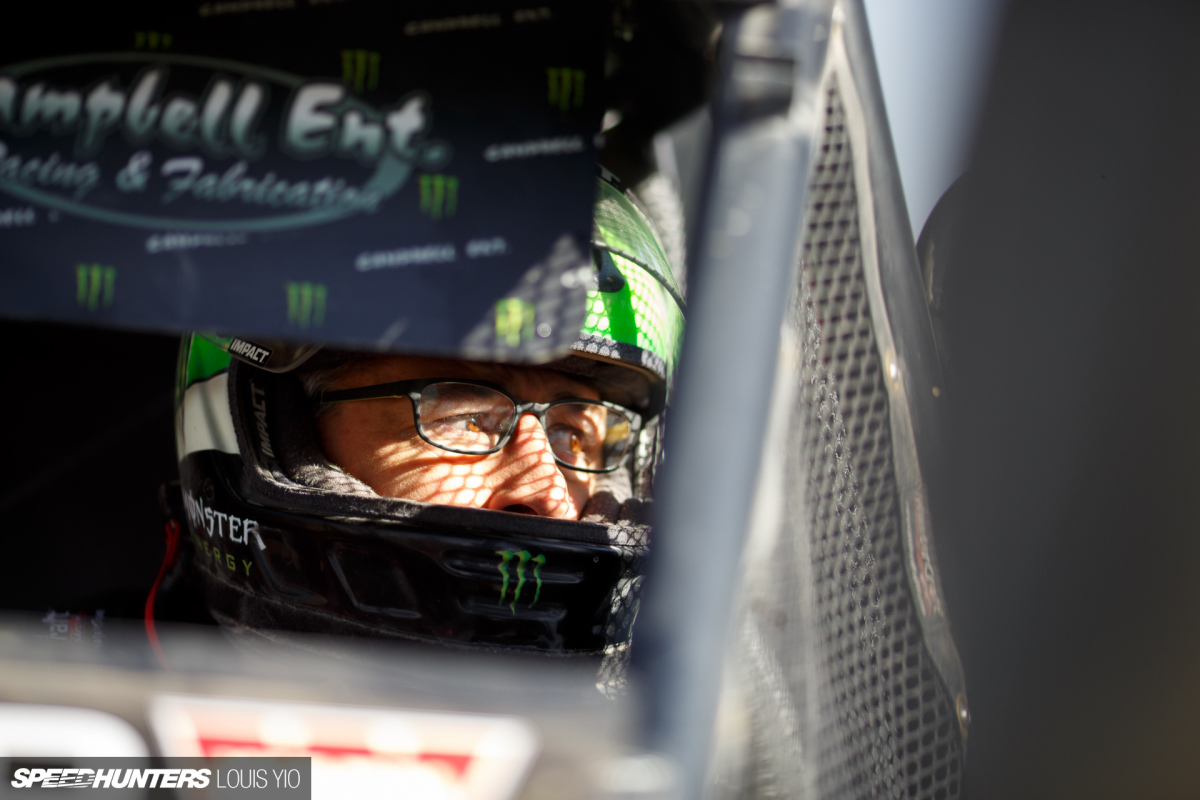 Shannon made a very quick stop and only required a top-off for his fuel.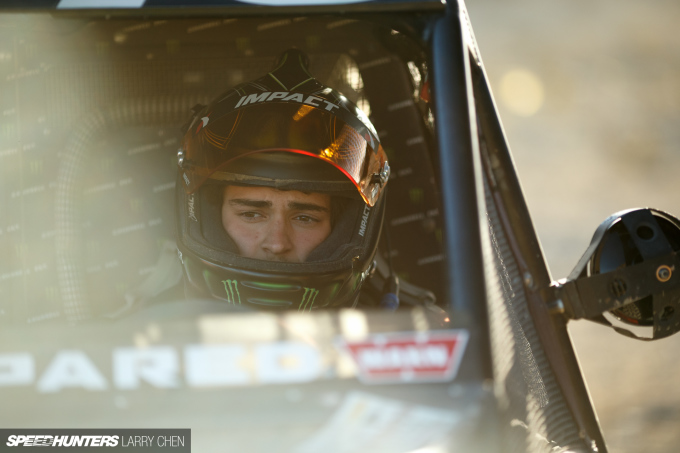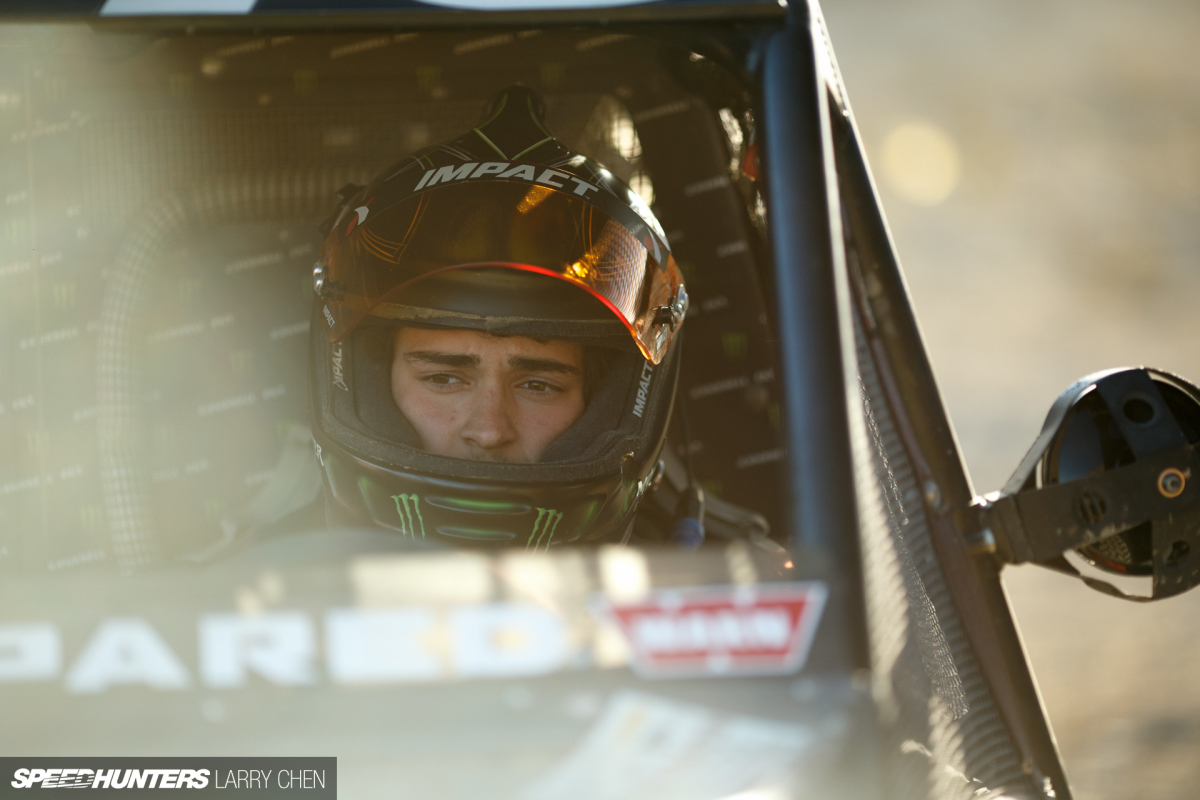 Wayland, on the other hand, needed to swap his alternator, which stalled him for about 10 minutes.
The Clawhammer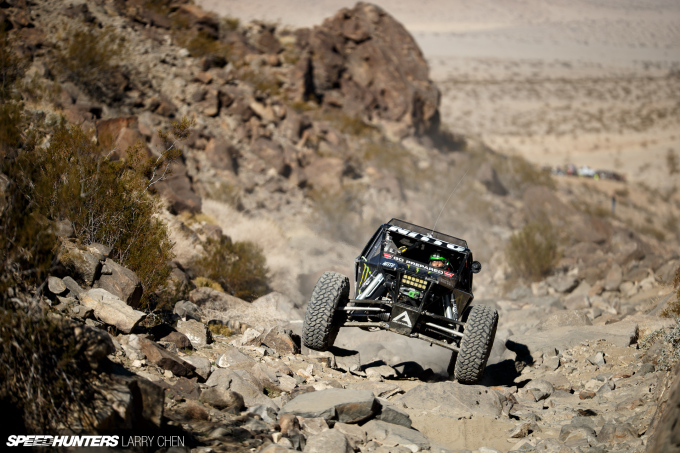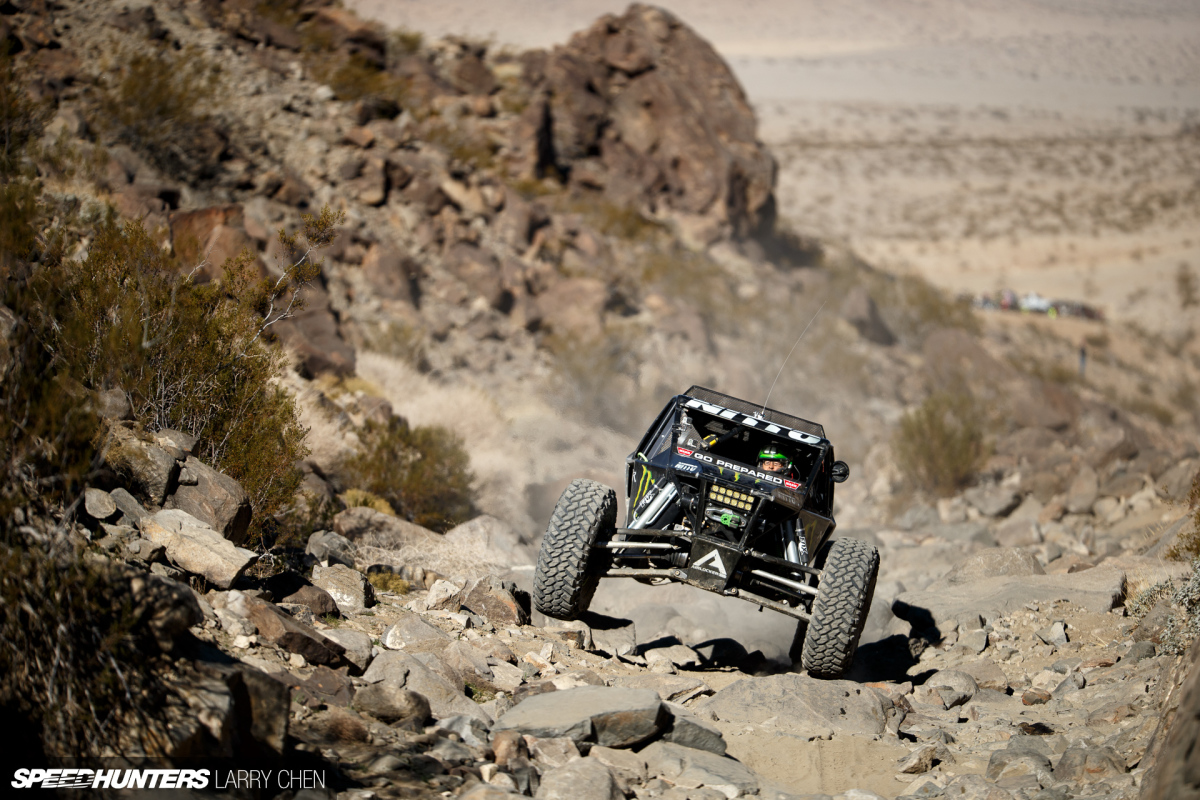 The moment Larry jumped off the helicopter, he ran for the Jeep that Casey Currie had kindly let him borrow for the race, and bolted his way towards 'Clawhammer'.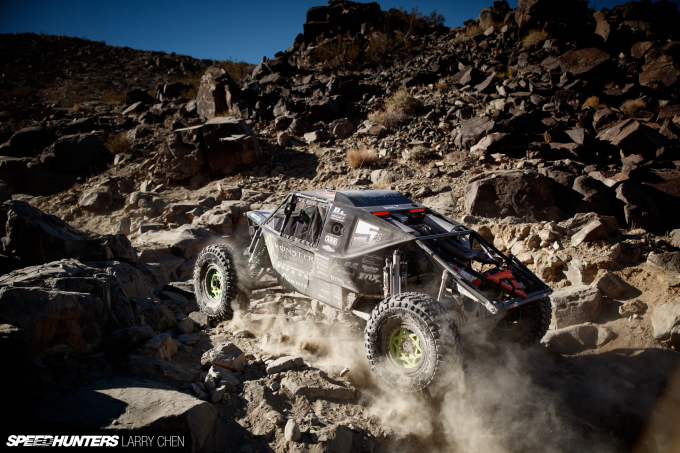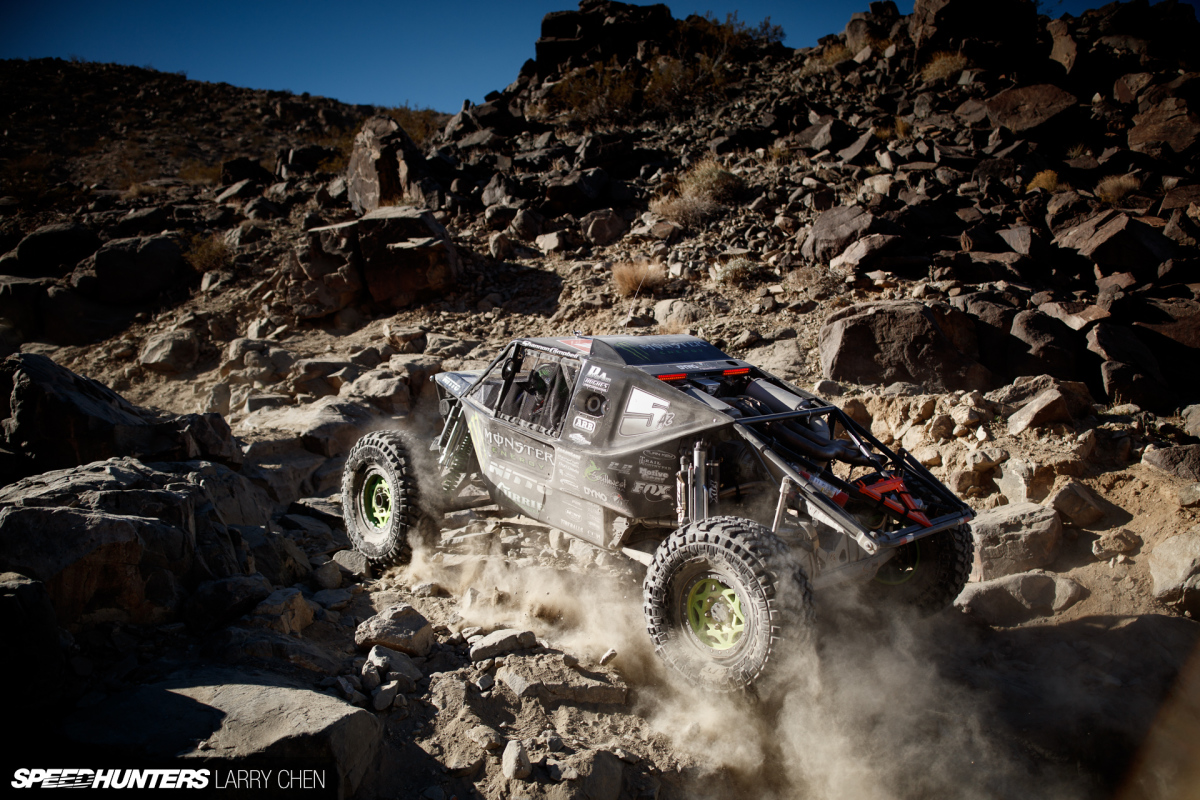 He made it just in time to see Shannon fly by.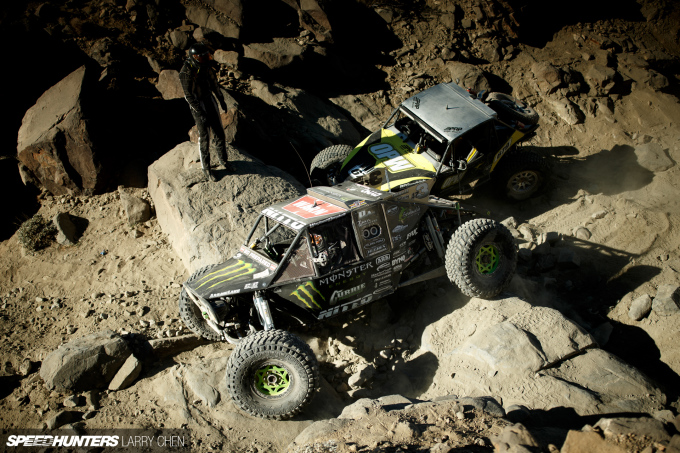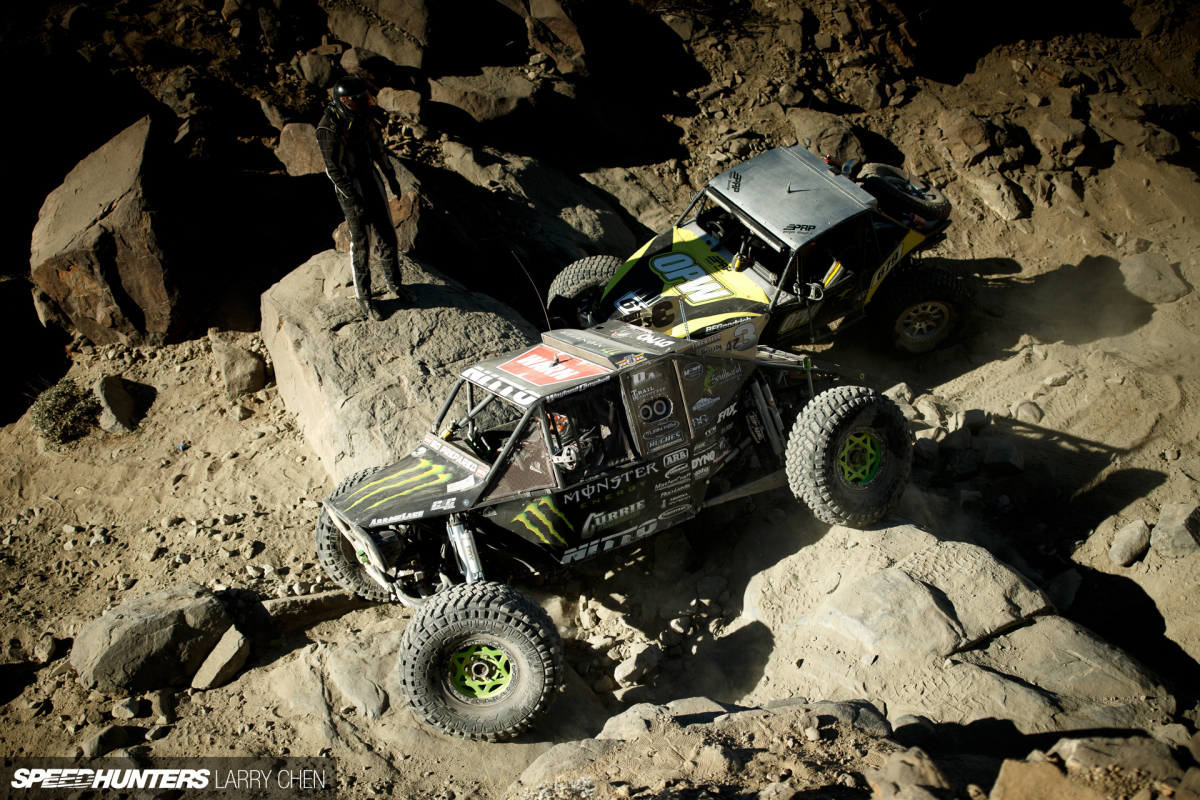 After getting his alternator issue sorted, Wayland turned things up to 11 and quickly caught up behind his dad.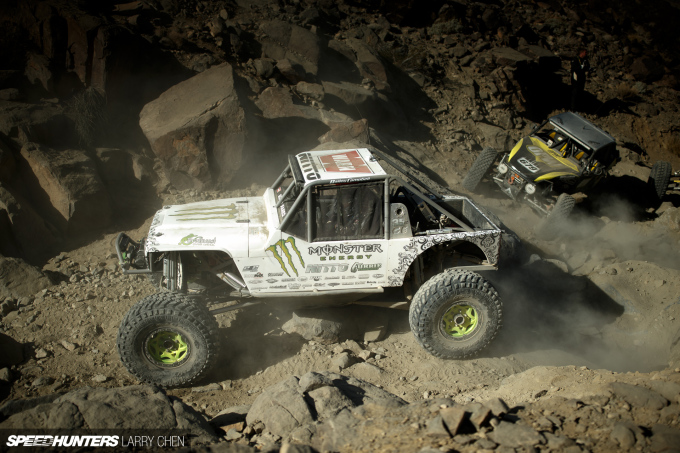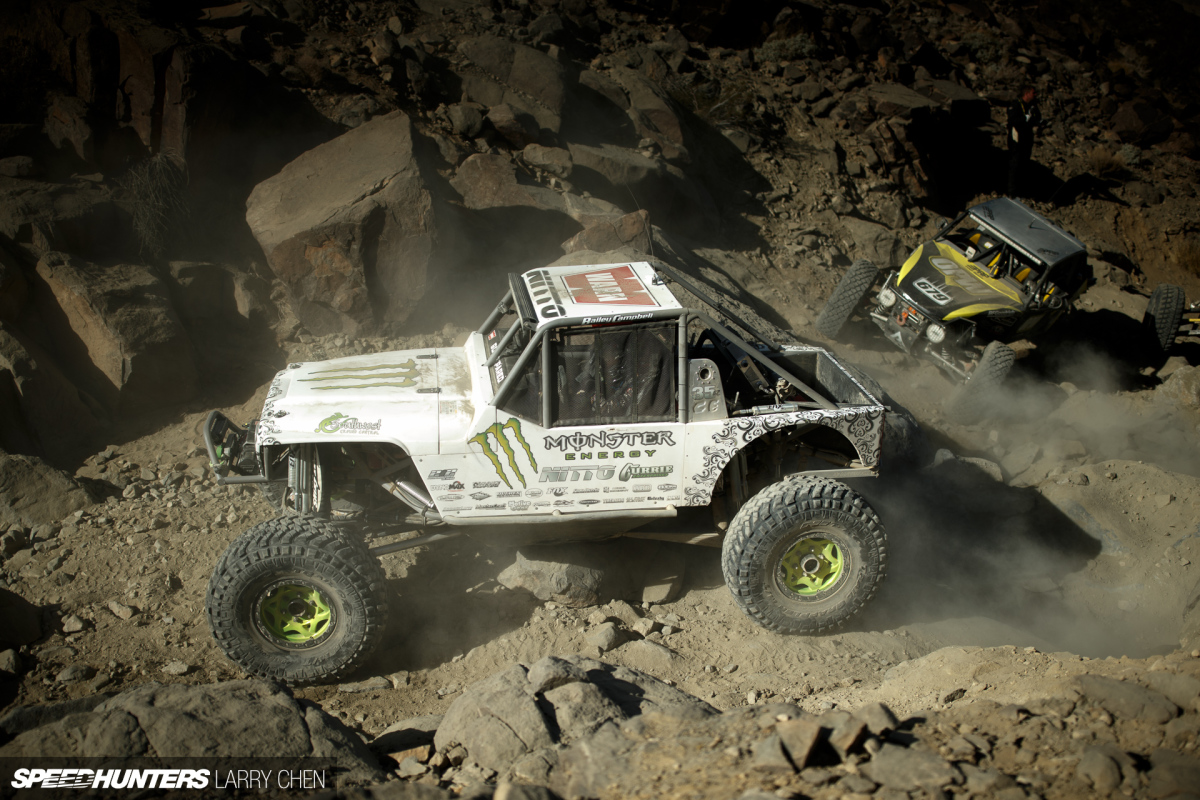 And Bailey was able to crawl up behind Wayland.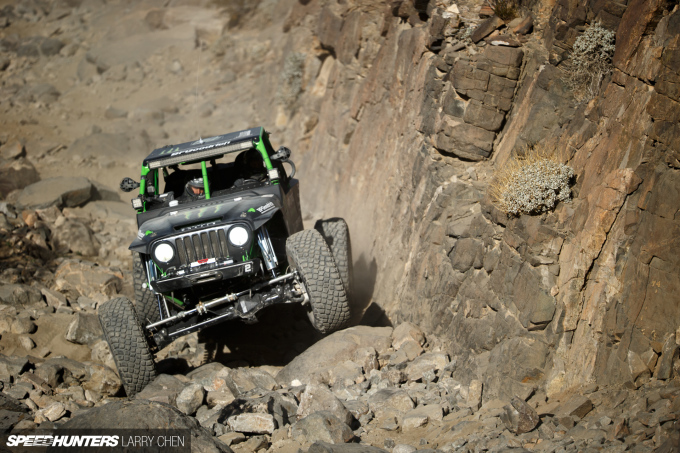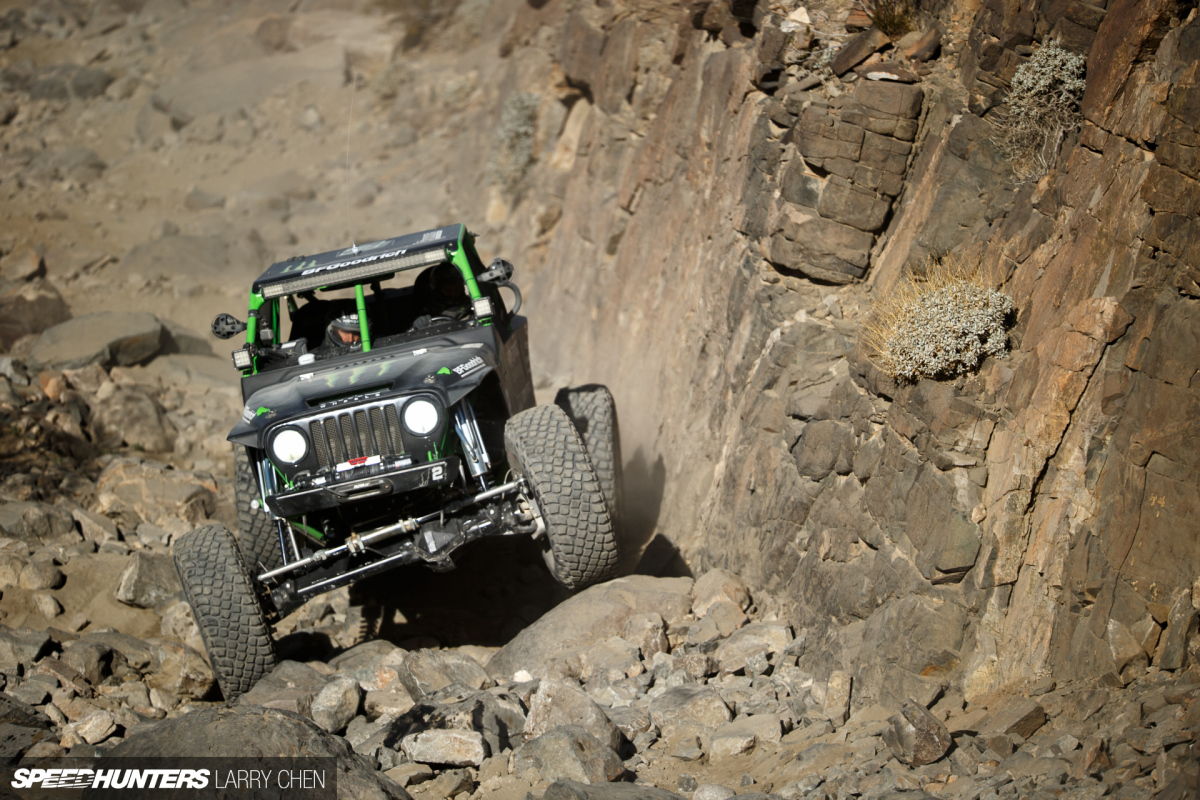 Casey decided to take the infamous 'Backdoor' obstacle on his second lap, and in doing so had fallen back a few positions, right behind Bailey, by the time he got to the 'Clawhammer'.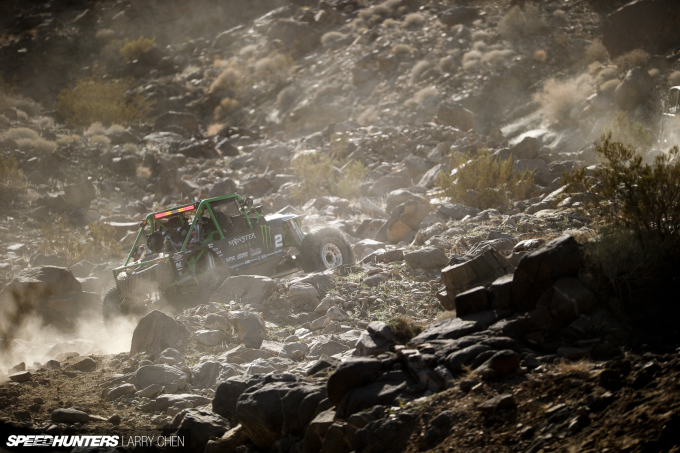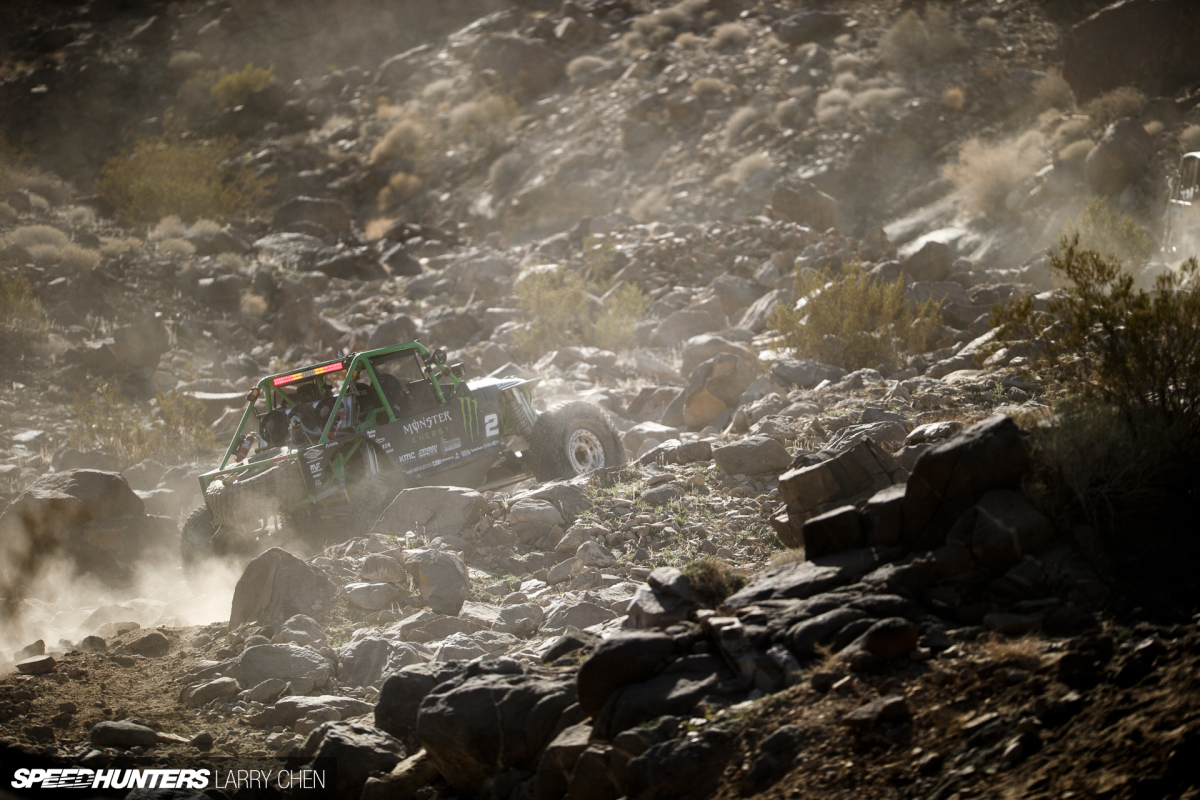 But because Casey is Casey, he flew through like no other and regained some position in the process.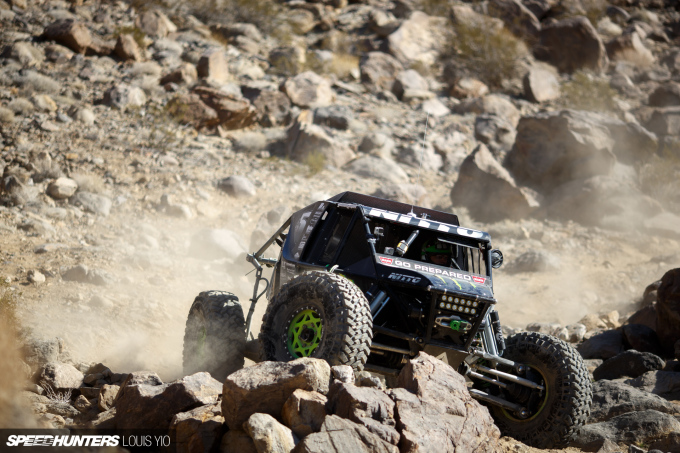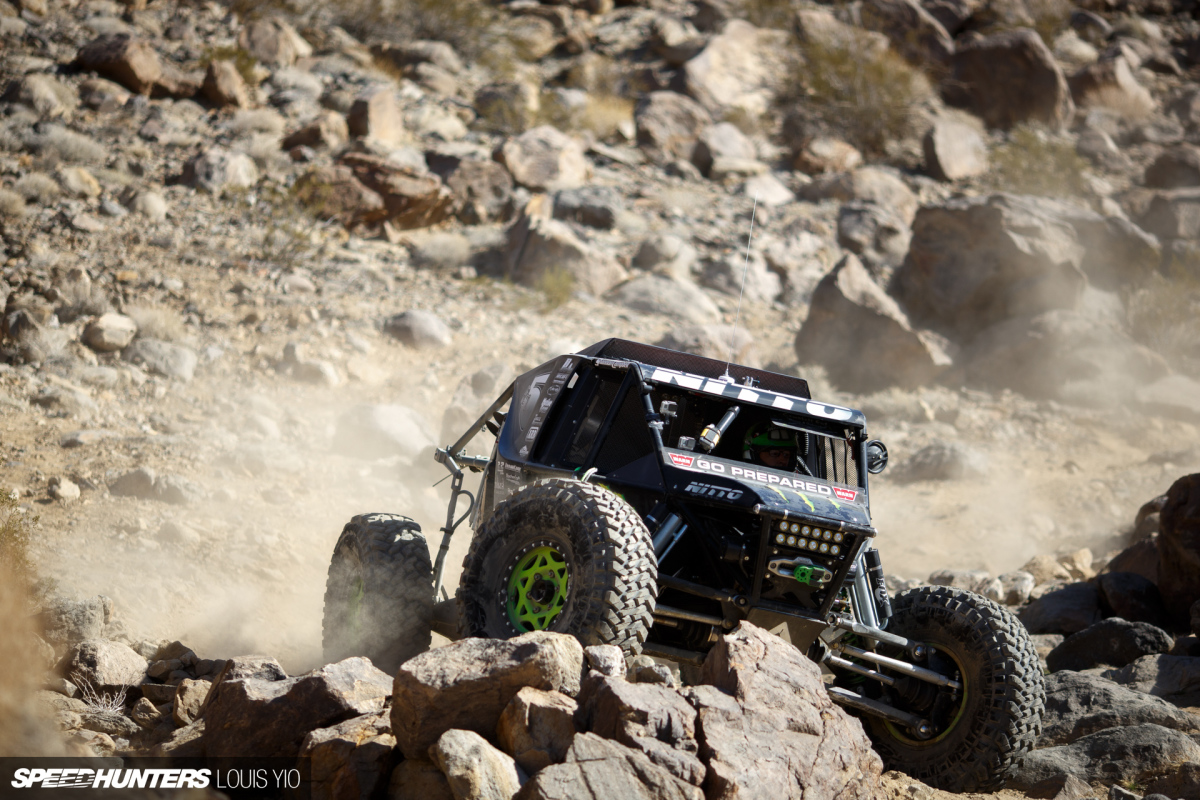 After I hit the pits, I flew over to 'Jackhammer' where I waited for what seemed like five minutes before Shannon, who was the physical leader at this point, came bolting through.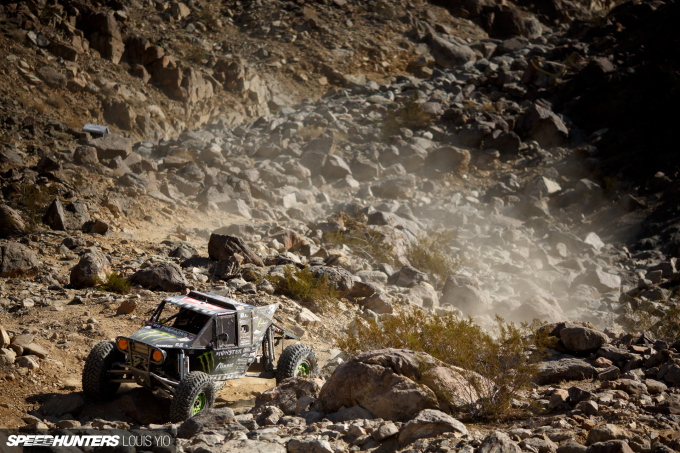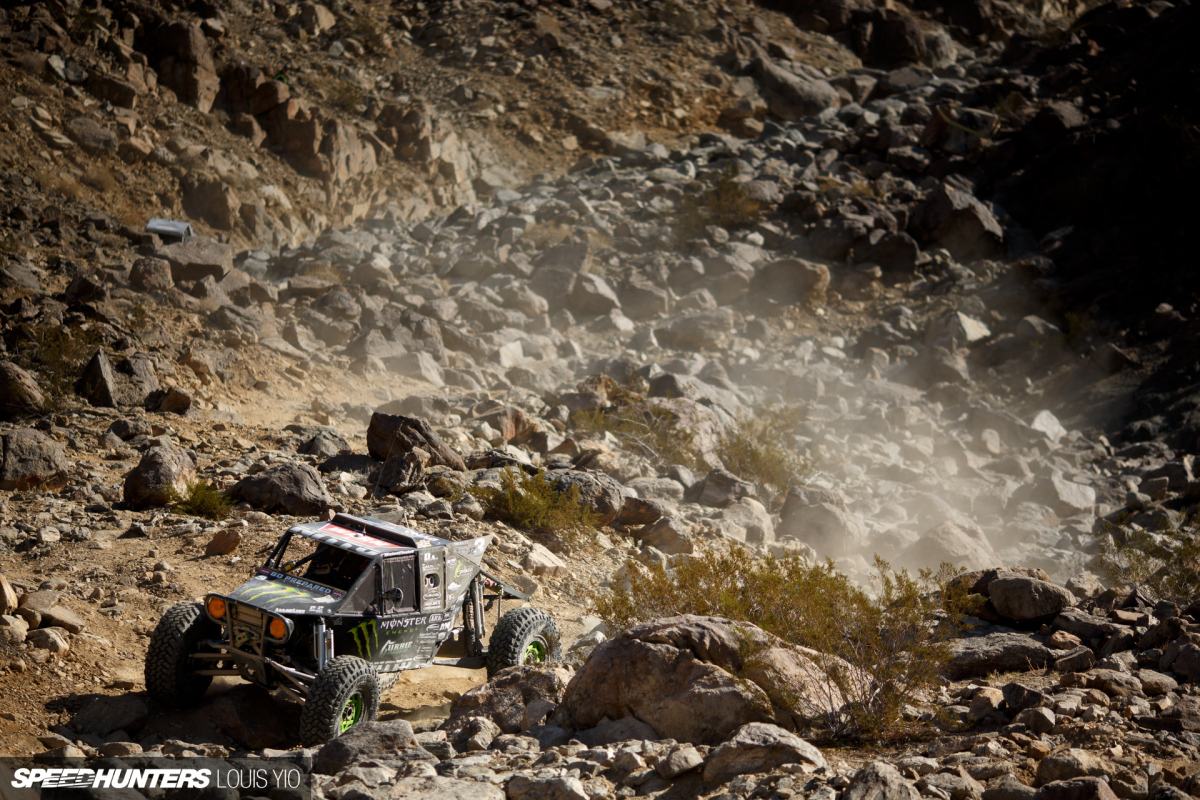 Because of last year's fiasco that caused a 50-car pile up, the race organizers decided to have drivers go down Jackhammer instead of up, which proved to be a better idea.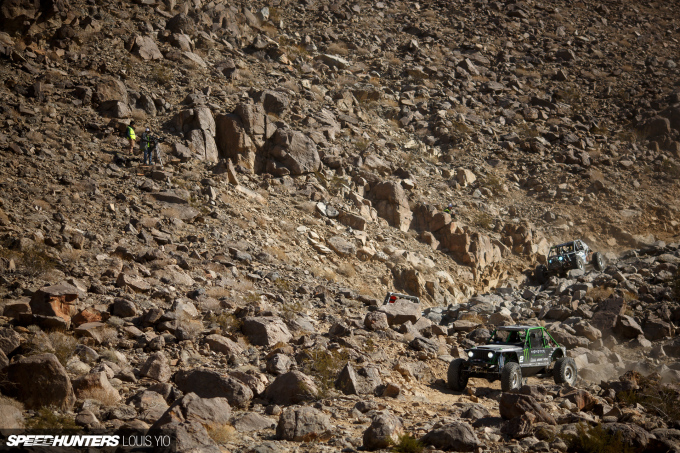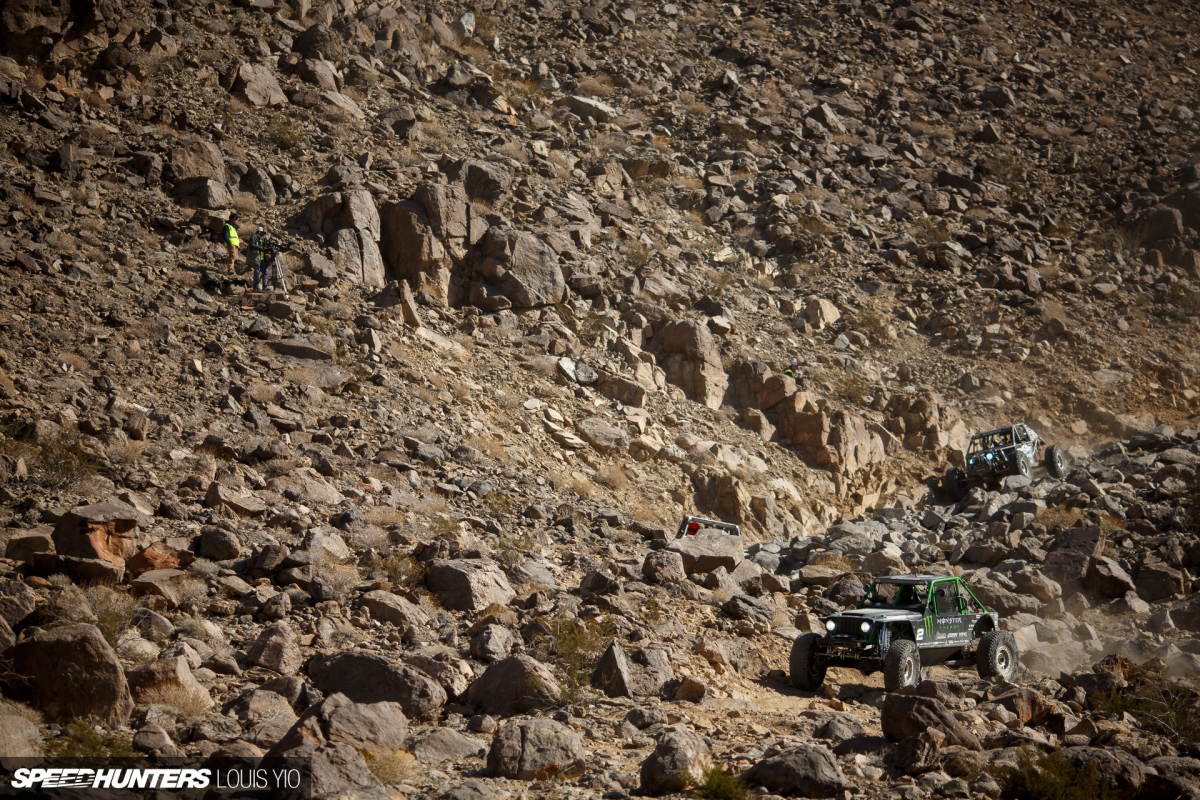 All of the Monster drivers were a mere 15 minutes apart at this point in time.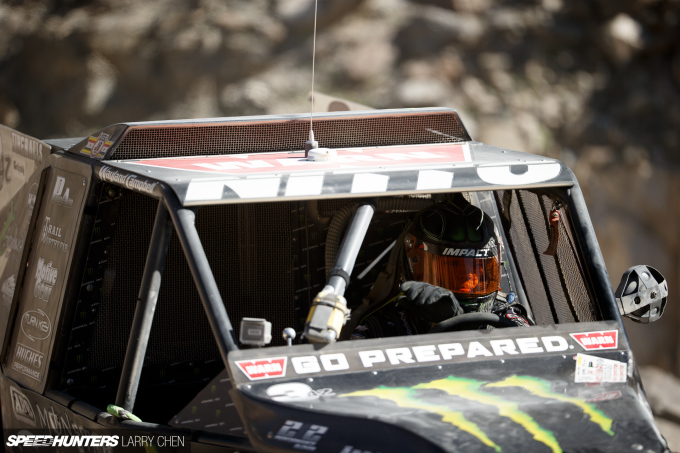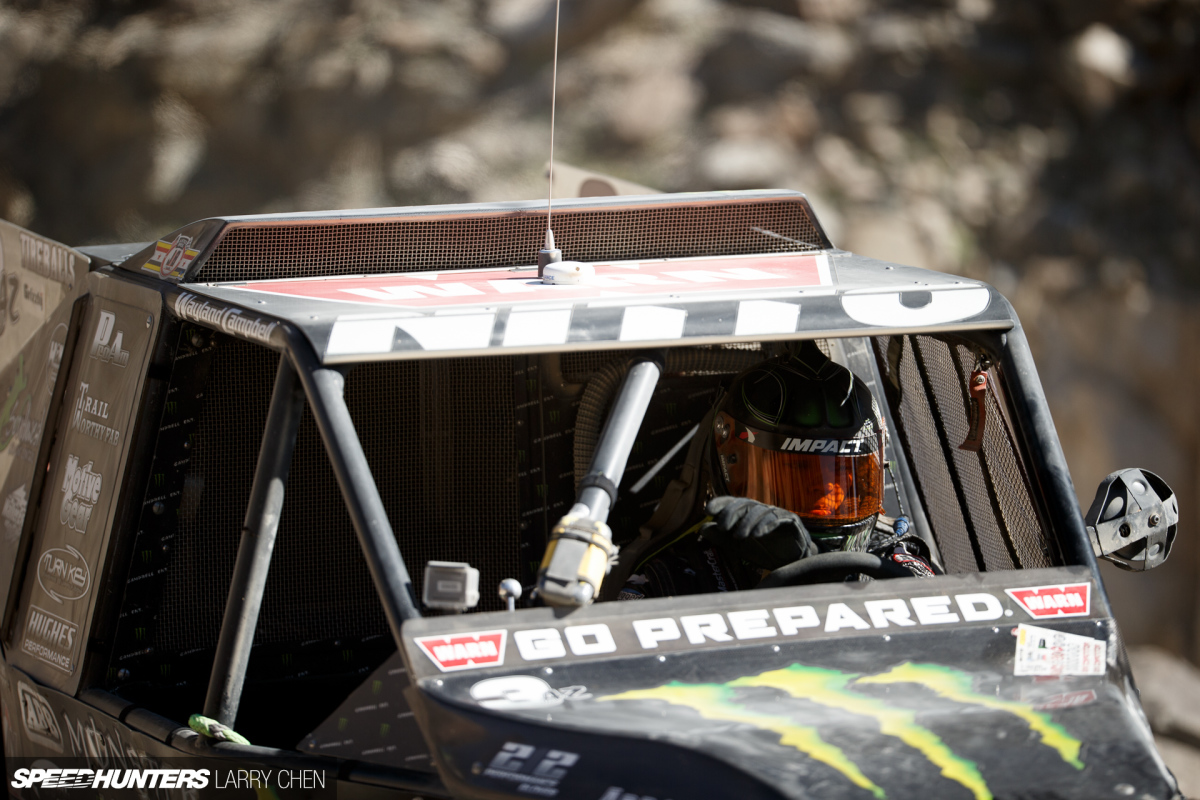 While I was catching the action over at Jackhammer, Larry floored it in the Jeep to 'Aftershock' to catch the drivers again.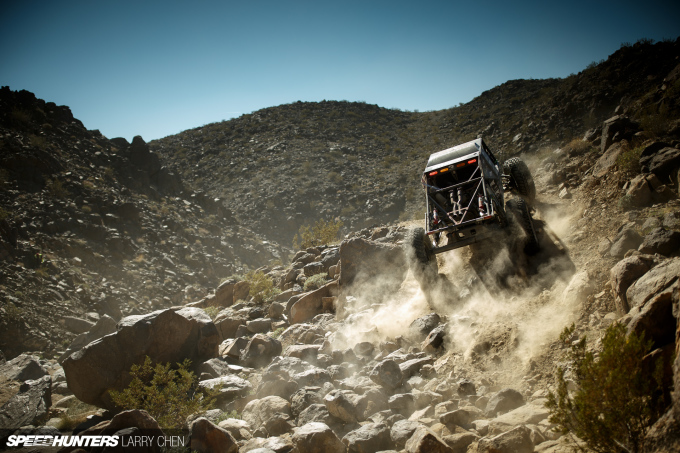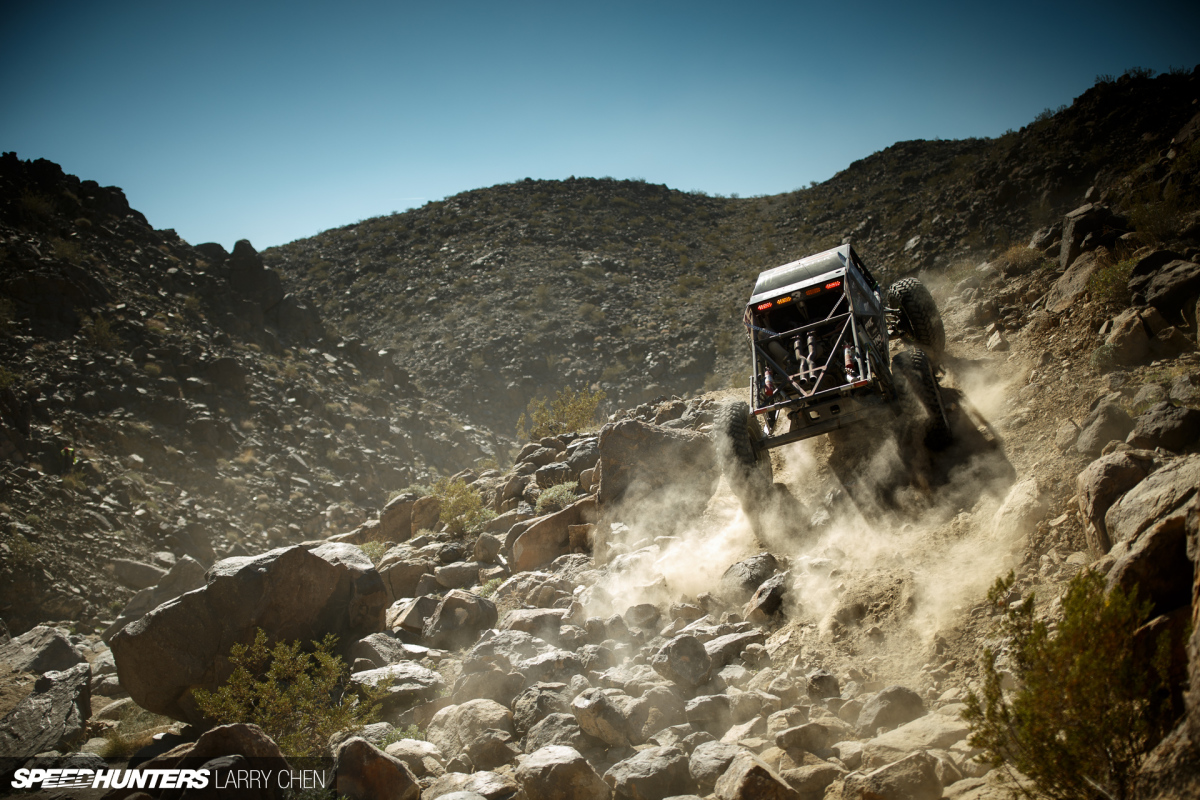 Aftershock is an obstacle that literally no one except the competitors themselves is ever at. It's almost impossible to get to for most people, and it's also really easy to end up on the race course if you try.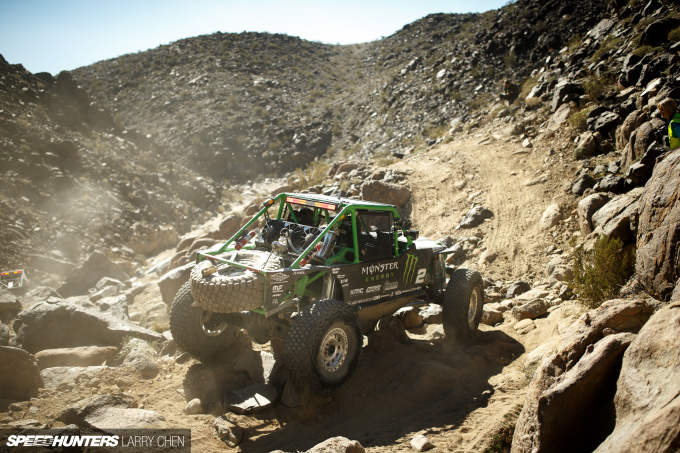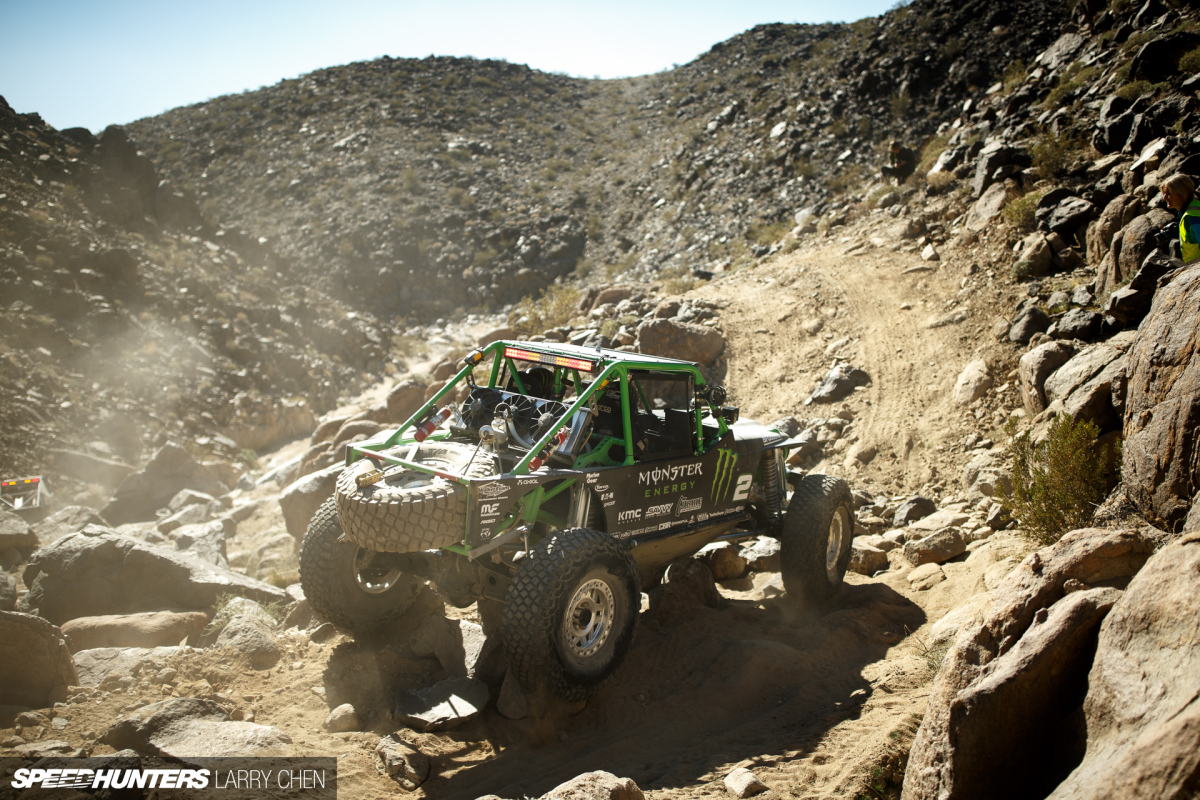 Again, all the Monster drivers were still tracking within minutes of each other.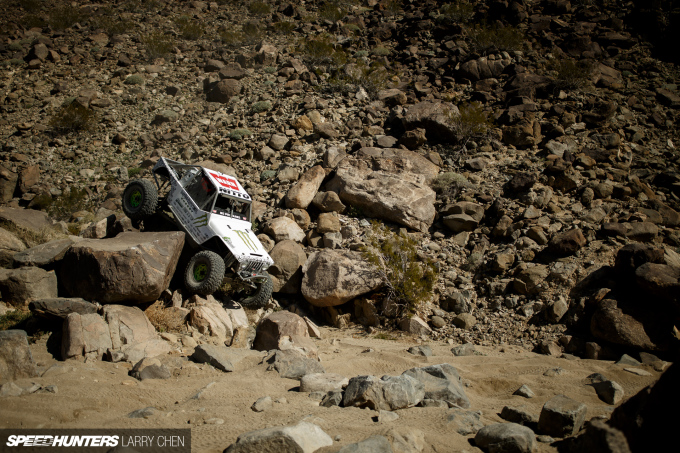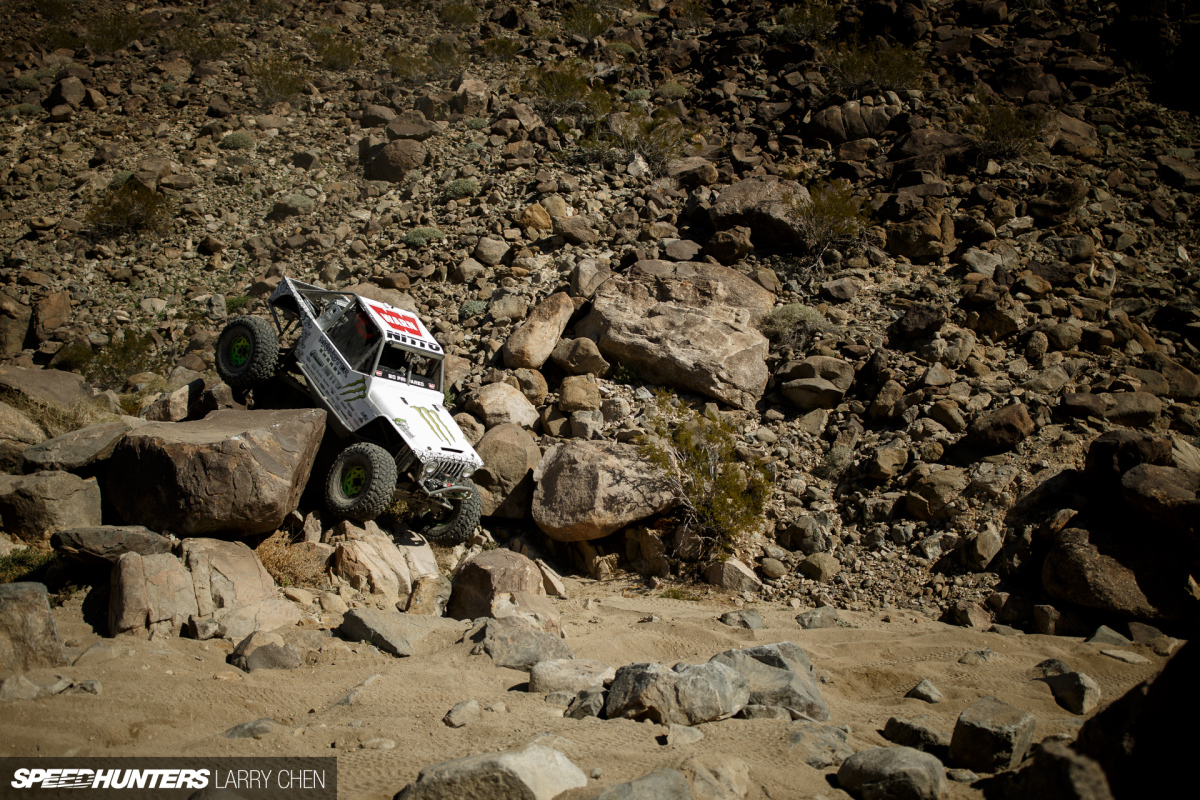 Bailey was the only Monster driver that had a small issue when she approached Aftershock.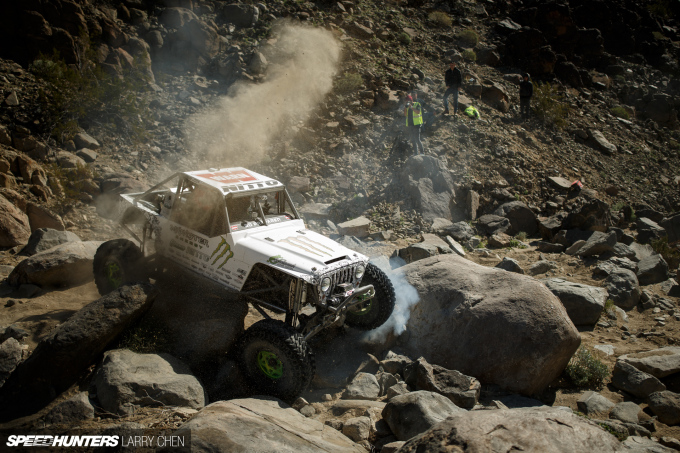 But it was nothing that a small burnout couldn't fix.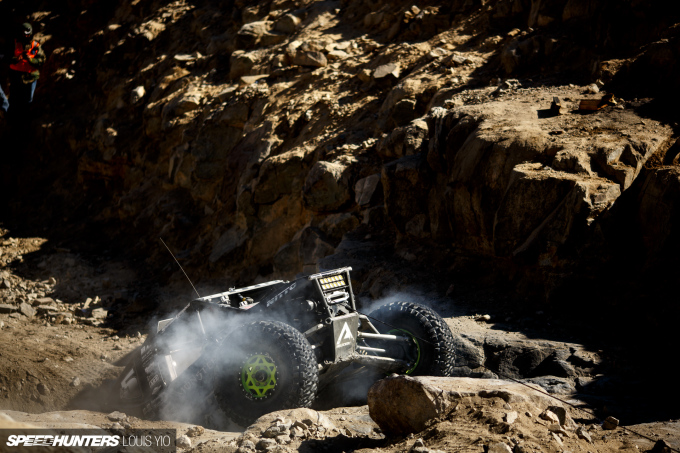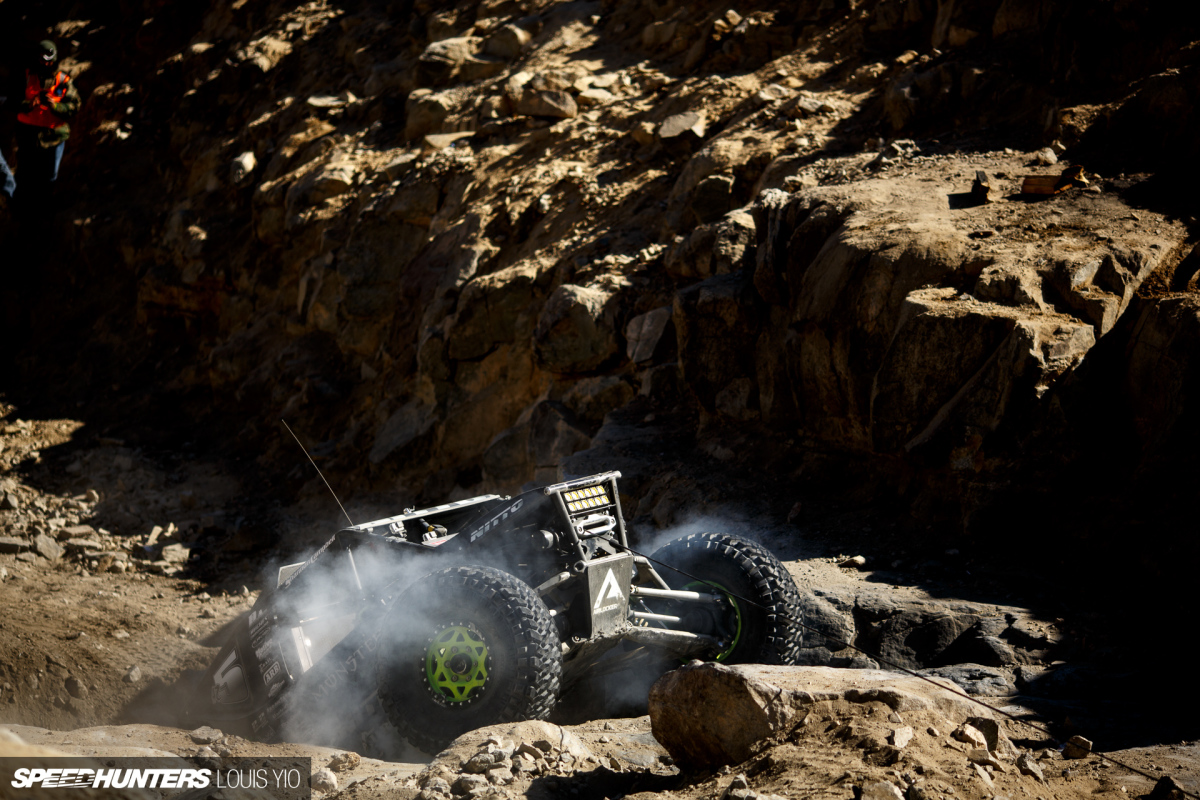 While Larry was making his way back from Aftershock (it's a pretty long drive), I headed to the Backdoor to catch the Campbells going through. Shannon was the first to arrive, but right off the bat things were not looking too good for the two-time King.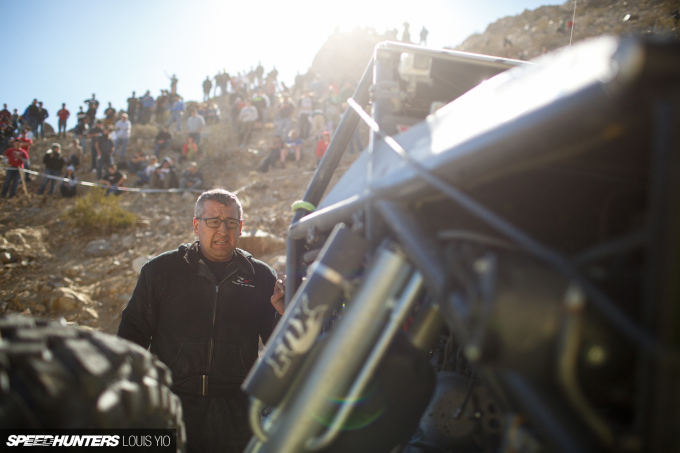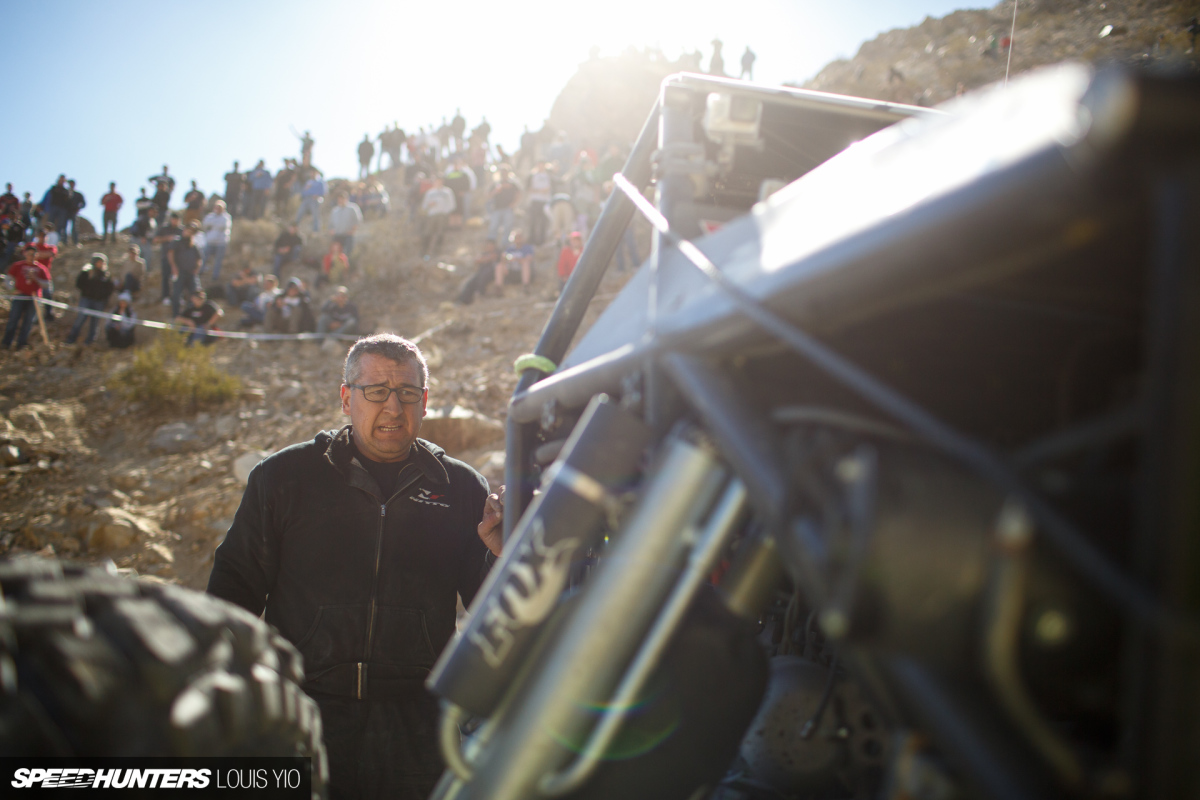 After making it up the main obstacle, it was revealed that Shannon's right rear axle shaft was broken, essentially making the car three-wheel drive. He pulled off to the side and hammered down on repairing the rig.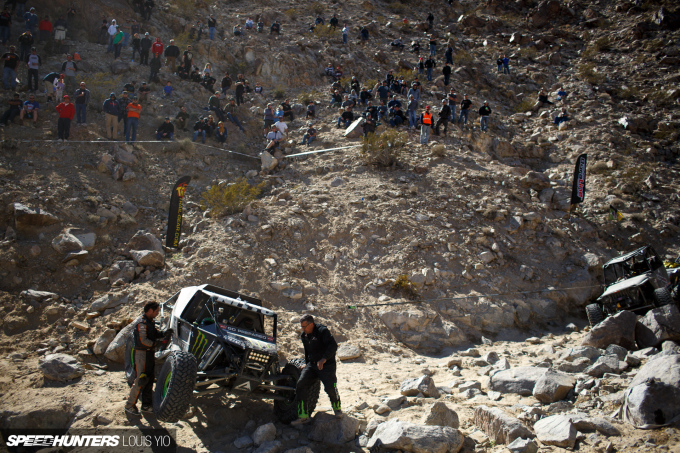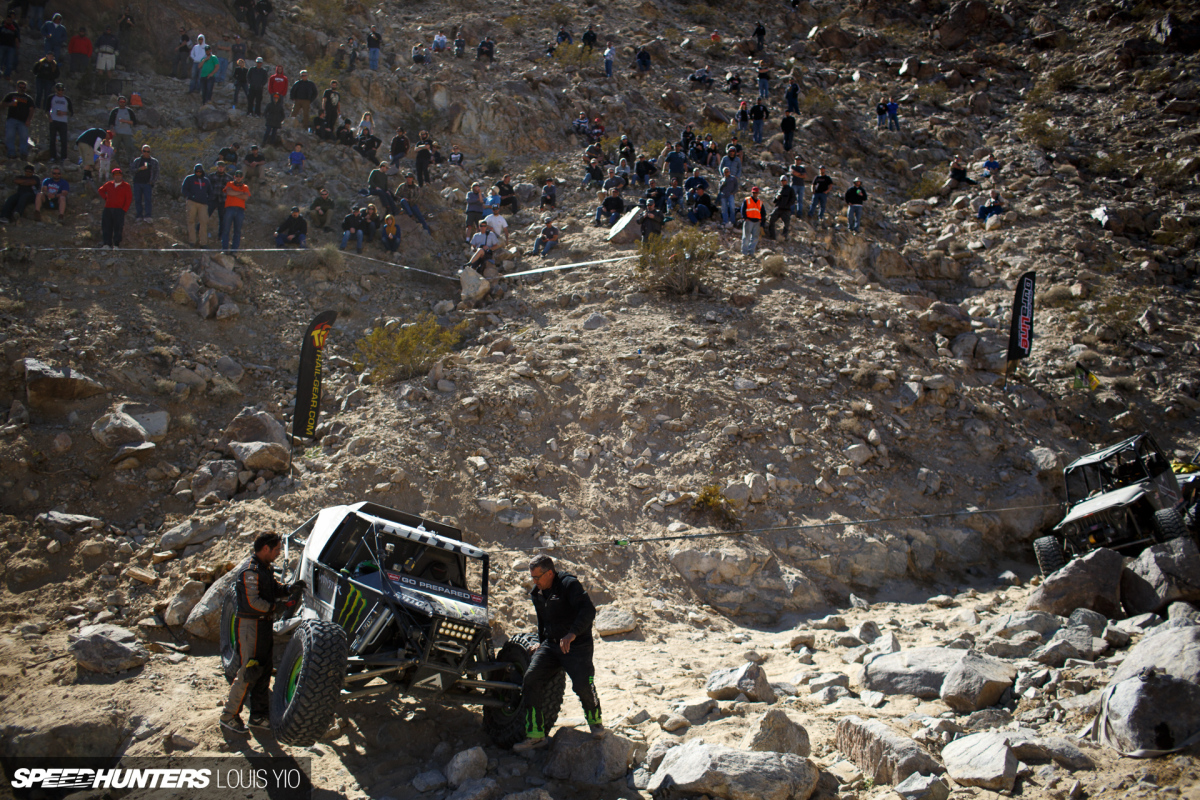 The camaraderie between drivers was evident in this image. The co-driver from another rig hopped out to help Shannon with repairs.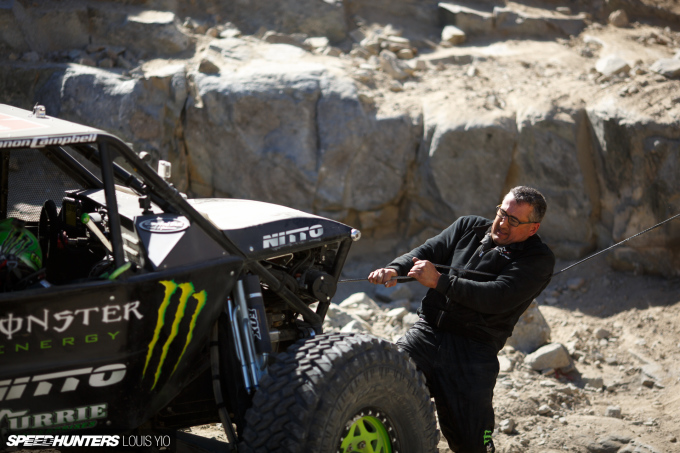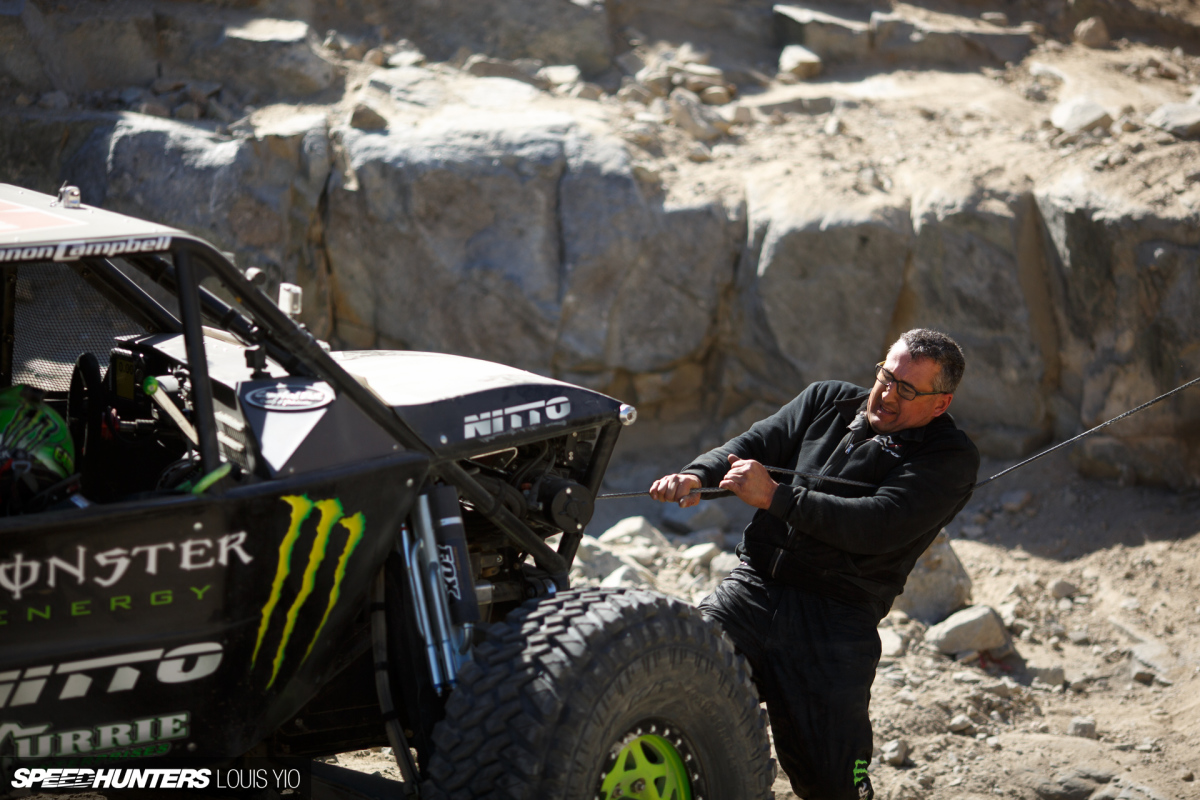 Wayland wasn't too far behind Shannon and soon showed up at Backdoor. Shannon dropped everything he was doing to immediately help his son winch up.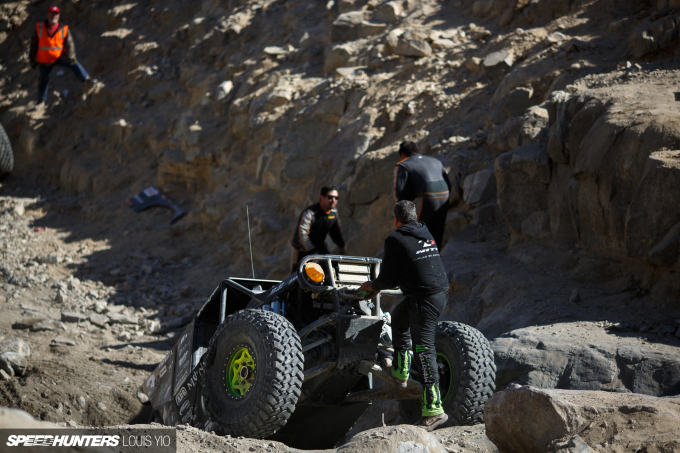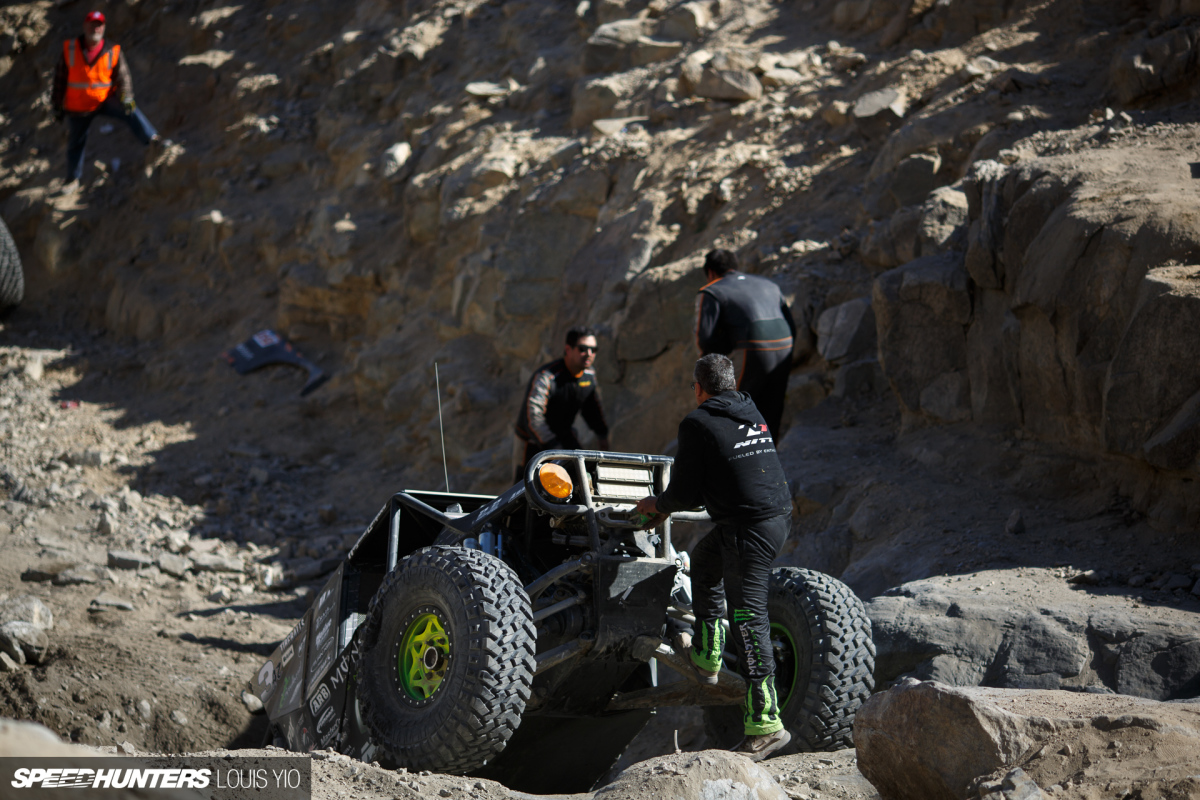 Within a matter of three minutes, Wayland was out and on his way to the next obstacle, 'Resolution'. At this point, Larry arrived at Backdoor so that I could head out to 'Chocolate Thunder' to catch up with Casey and Wayland. And yes, we had this entire tag-team photo thing planned out. It was awesome.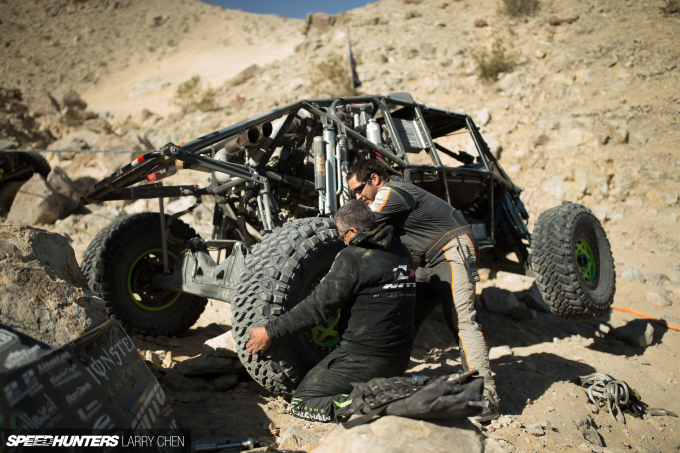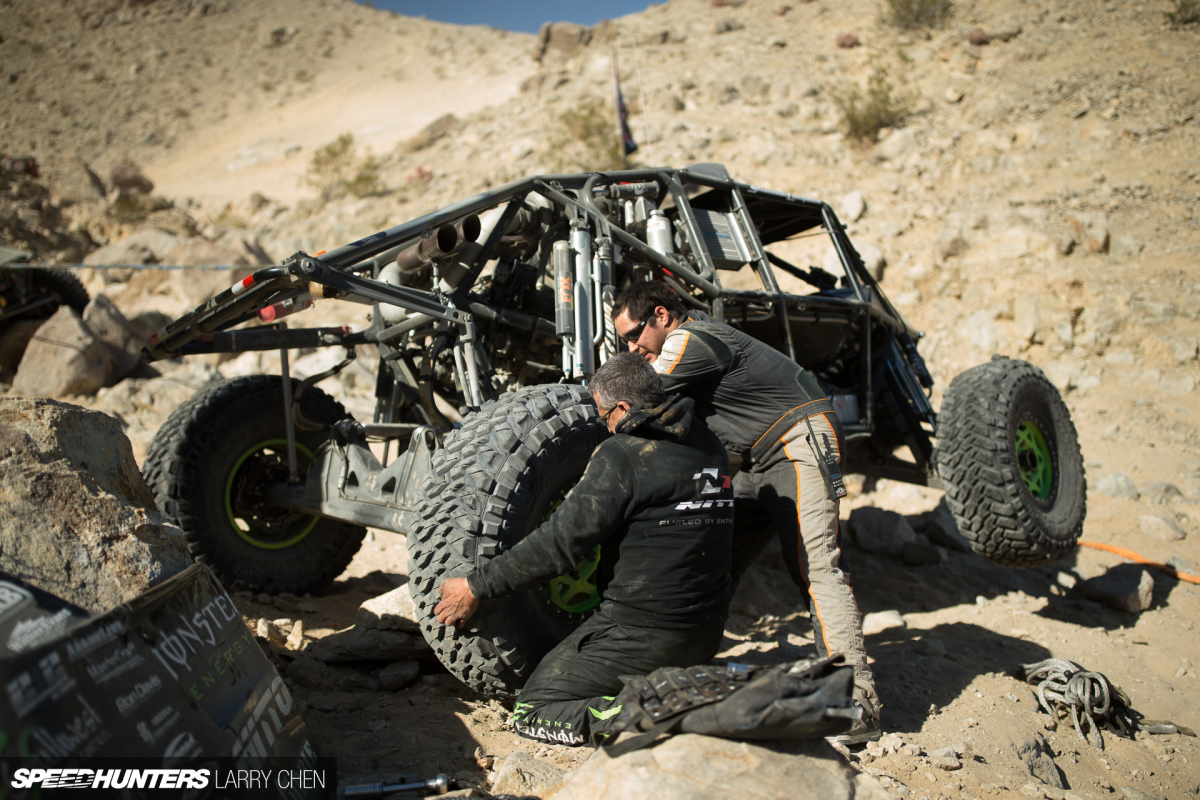 Back to the repairs; I was not lying when I said another competitor's co-driver was actually helping out. In fact, he was completely hands on.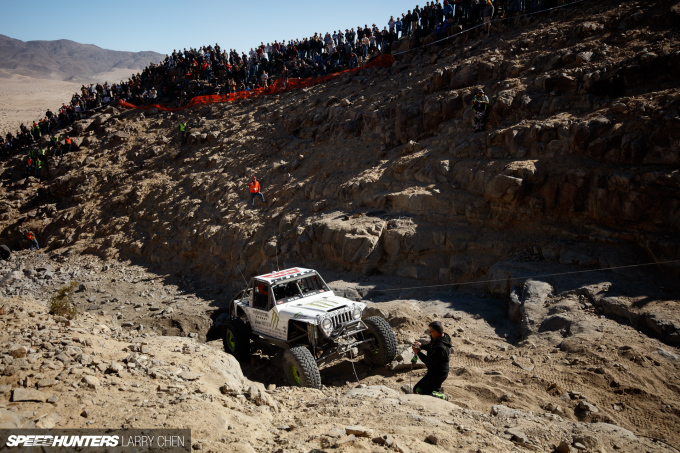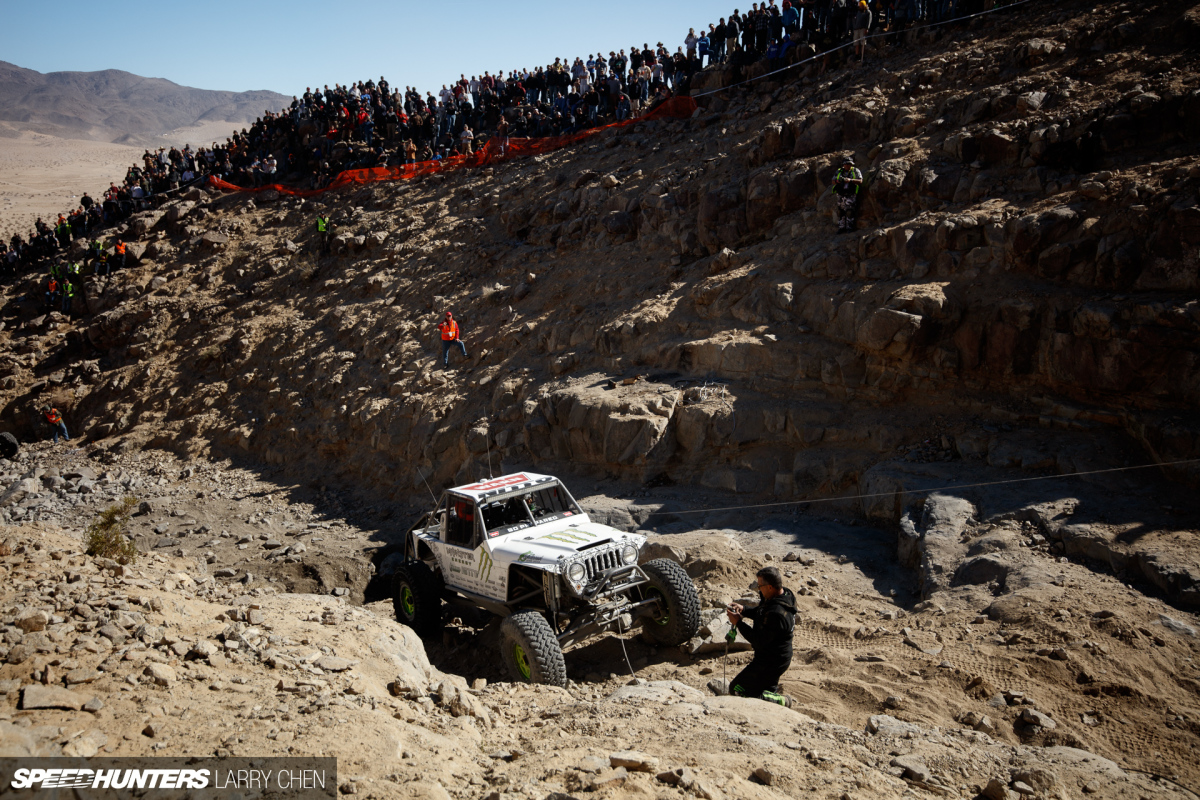 Bailey quickly showed up right after Larry arrived and just like with Wayland, Shannon dropped everything he was doing to help out his daughter.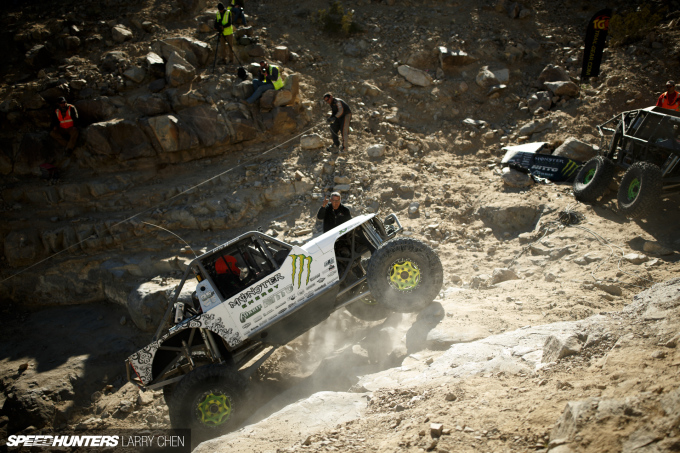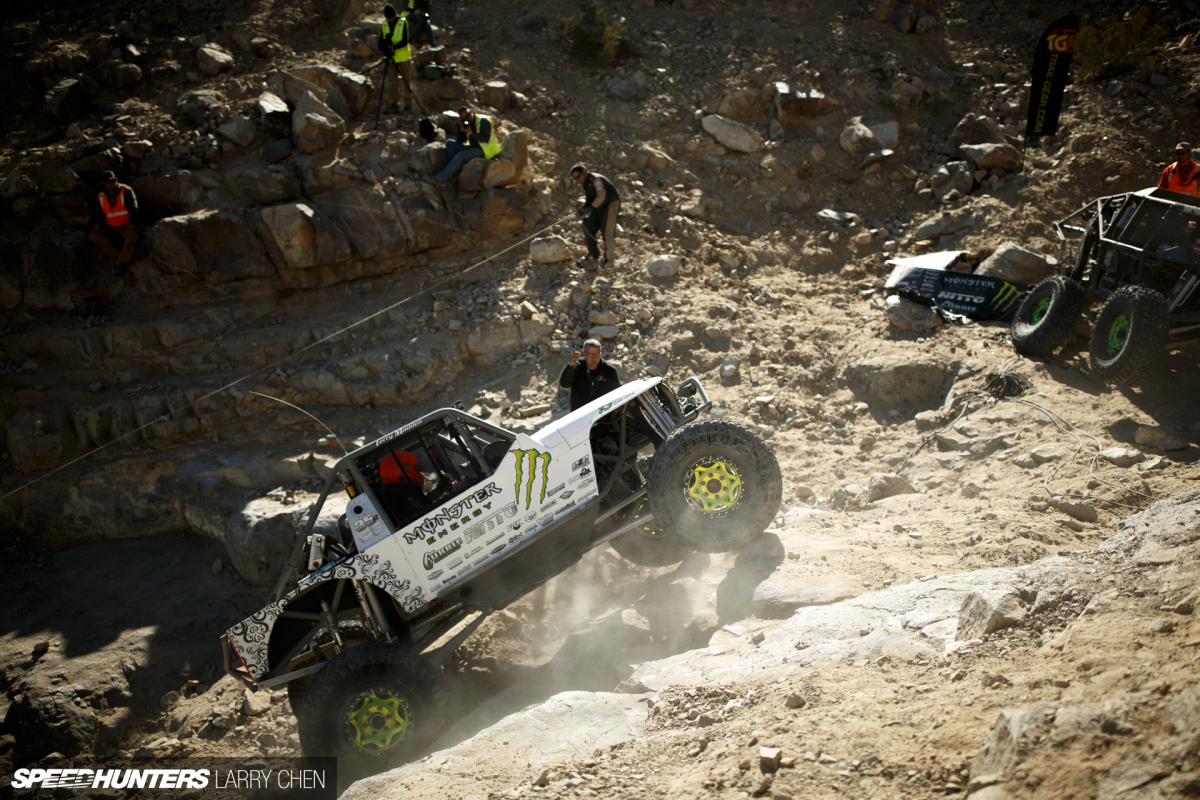 And just like Wayland, Bailey was out and on her way towards Resolution within a few minutes.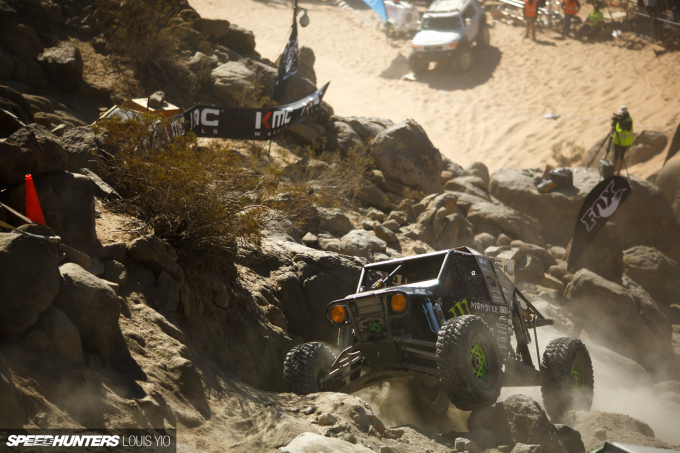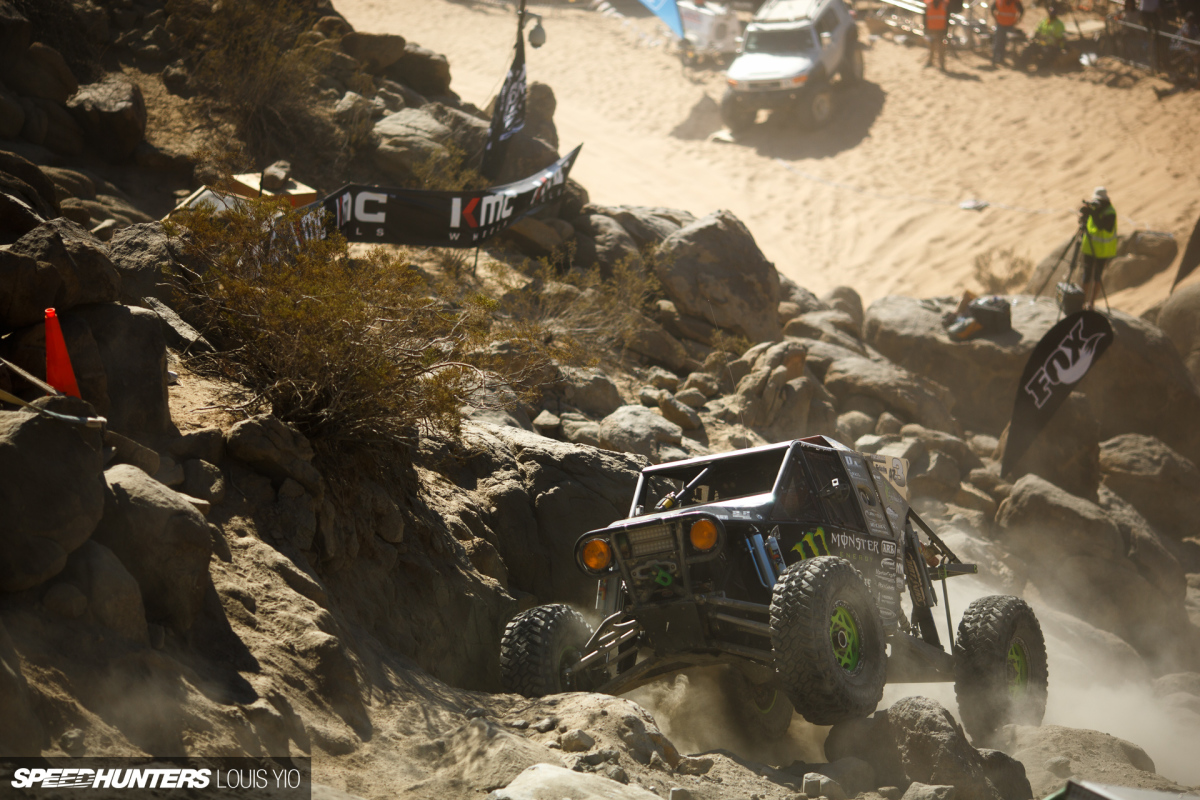 I managed to make it to Chocolate Thunder just in time to see Wayland make his way through. This obstacle has the biggest spectator attendance with thousands on hand to check out the action. If you aren't a fan of big crowds I'd recommend going to Jackhammer. You need to be a little more careful when driving there, but it's still 100 per cent possible with a rental car.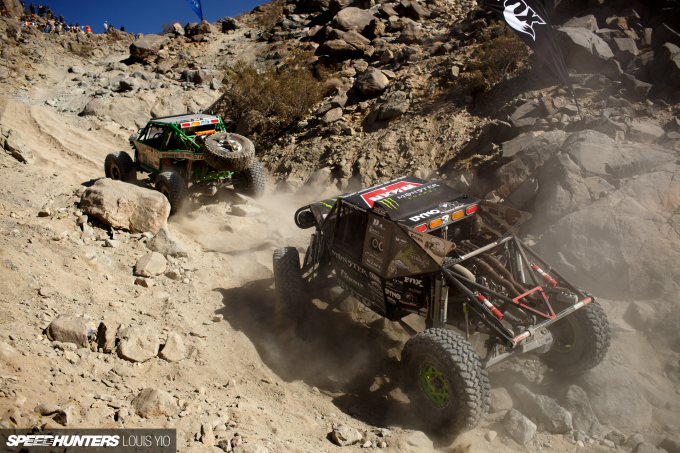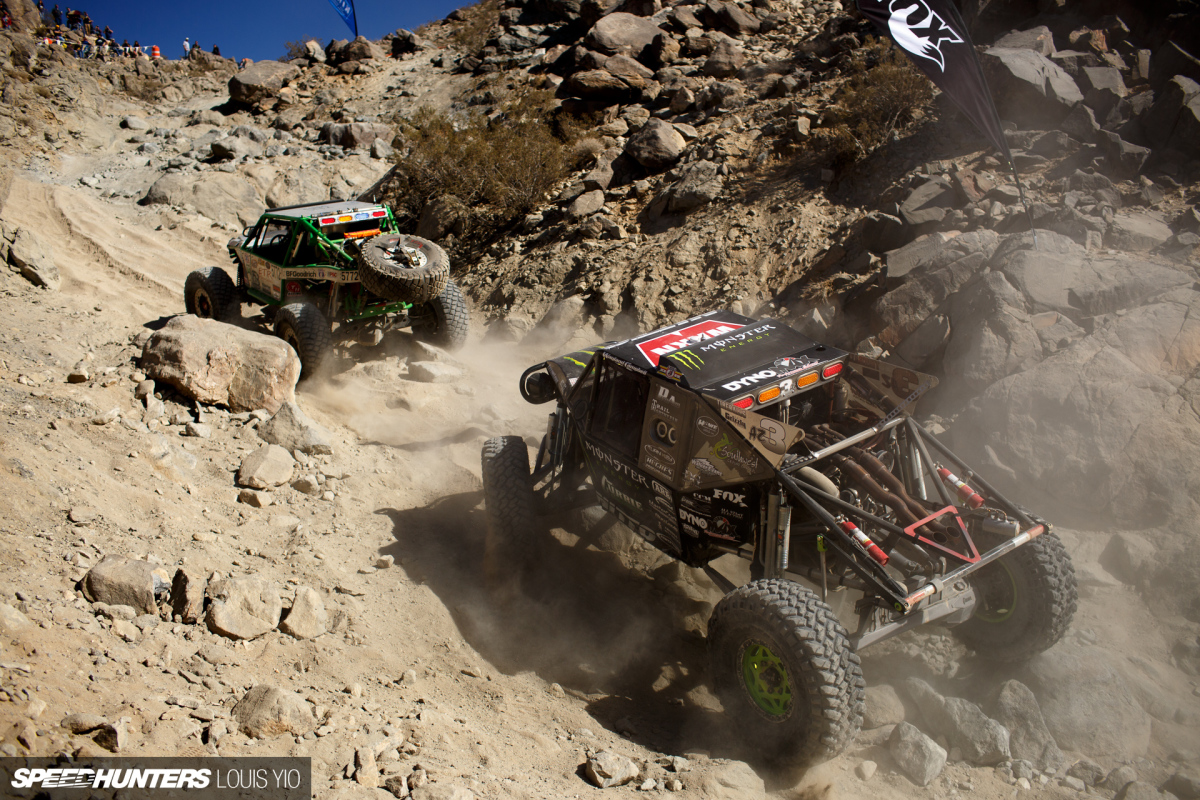 I caught Wayland pass and expected Casey to be nearby, but didn't see him. After both Bailey and Shannon passed through, I started to wonder what had happened to Casey. A few race marshals at Chocolate Thunder were nice enough to get a location on Casey and told me that he'd been stuck at Clawhammer for about an hour. I packed my things and headed to Claw in search of Casey.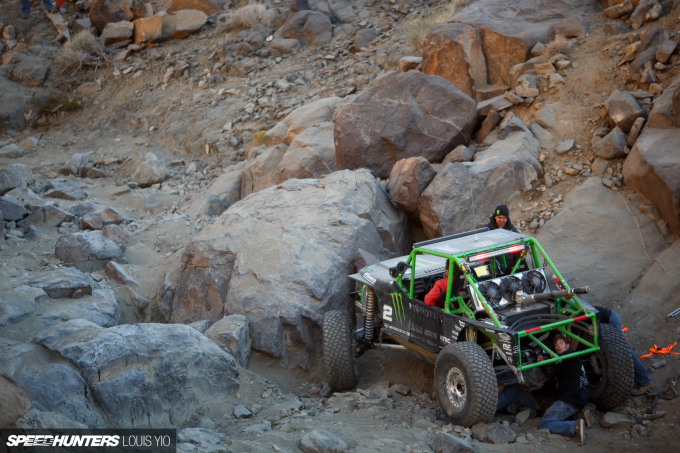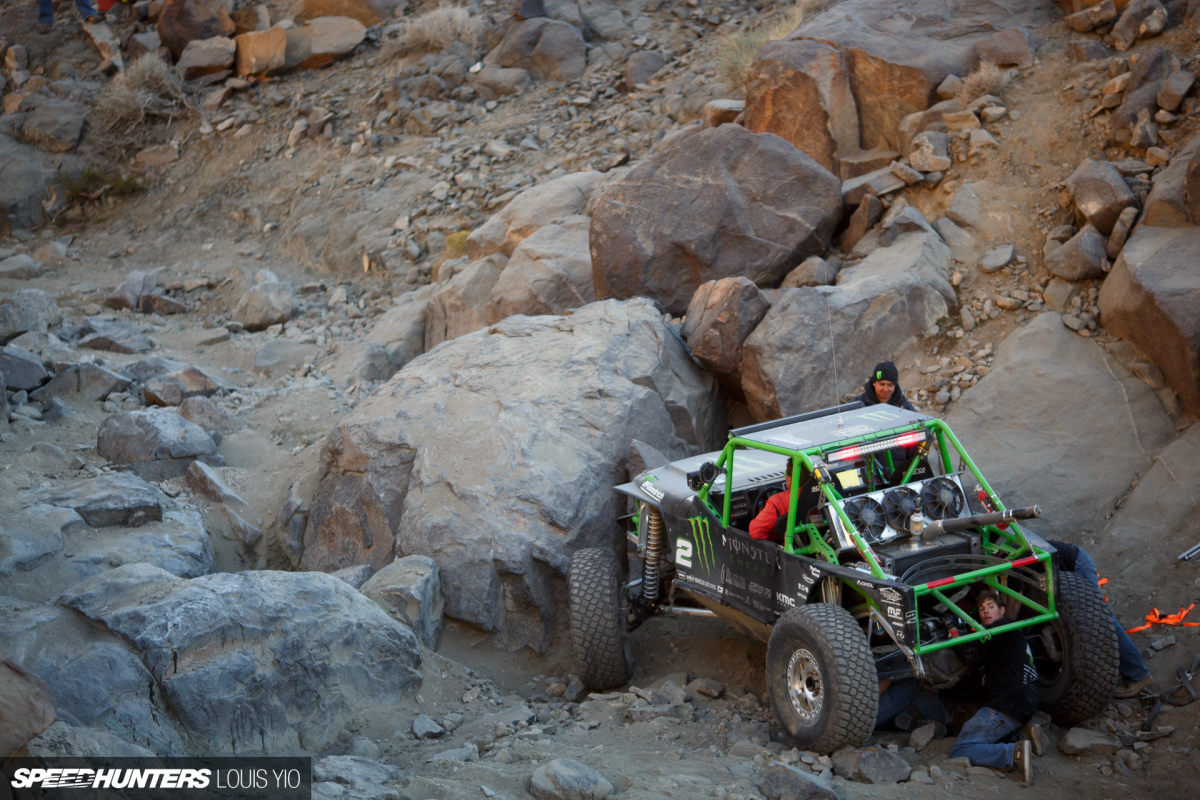 While running in third place, Casey had hit a rock too hard, breaking his shock shafts. This eventually led to a broken drive shaft.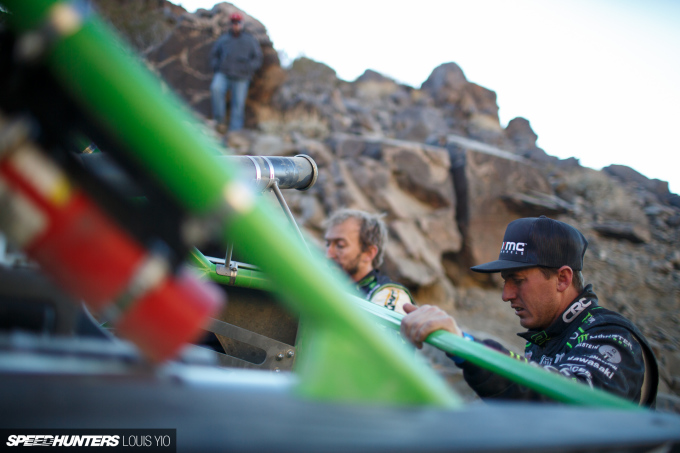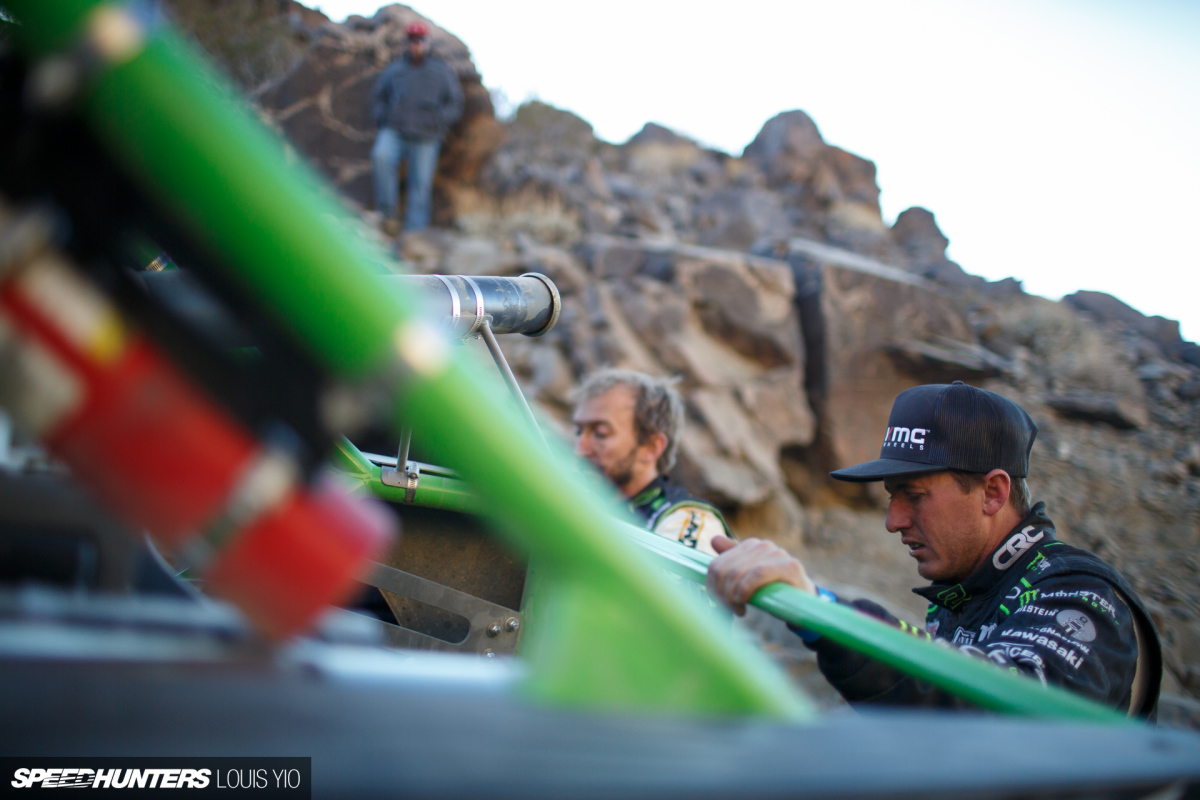 He was less than 60 race miles away from the finish, but you never know when disaster will strike while attacking the Hammers.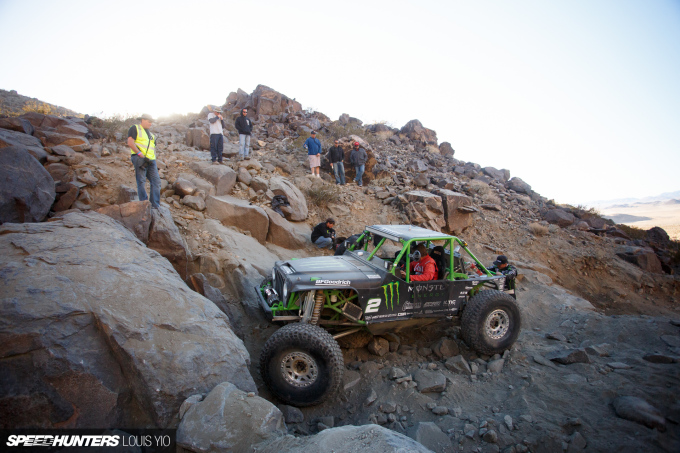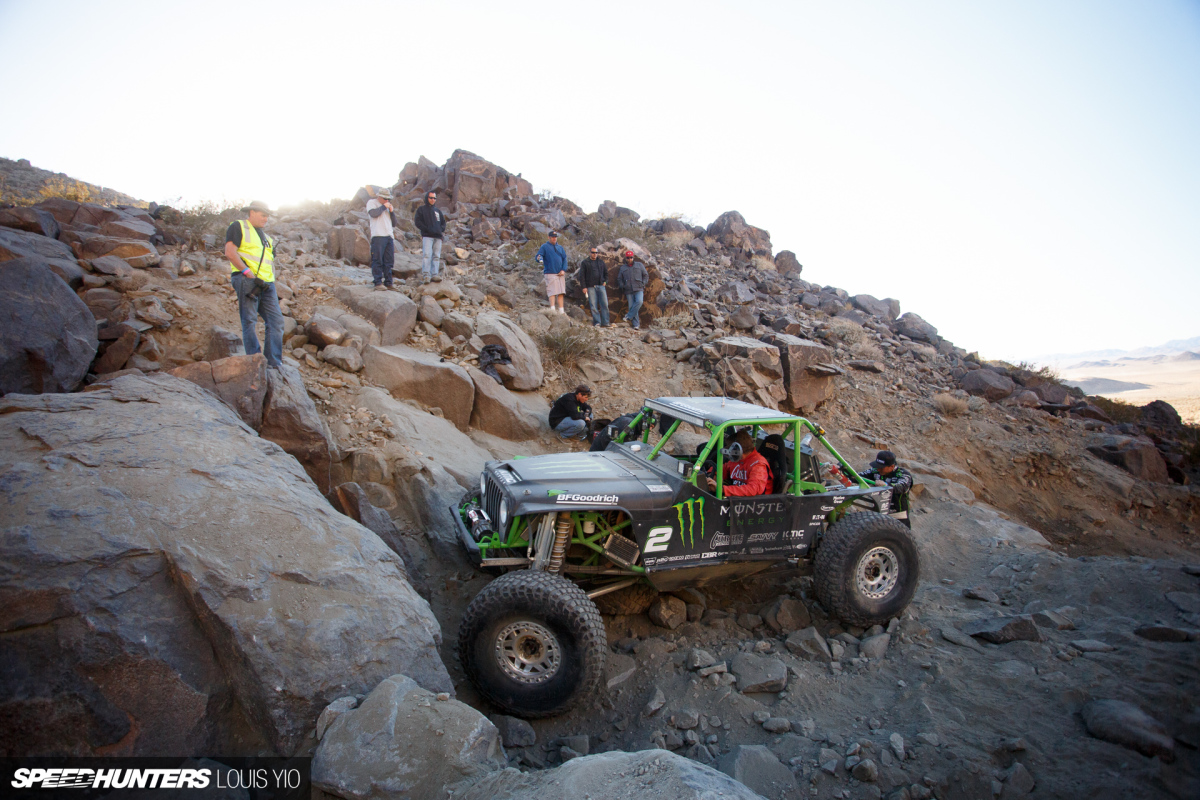 The event isn't known as one of the hardest single-day races for nothing.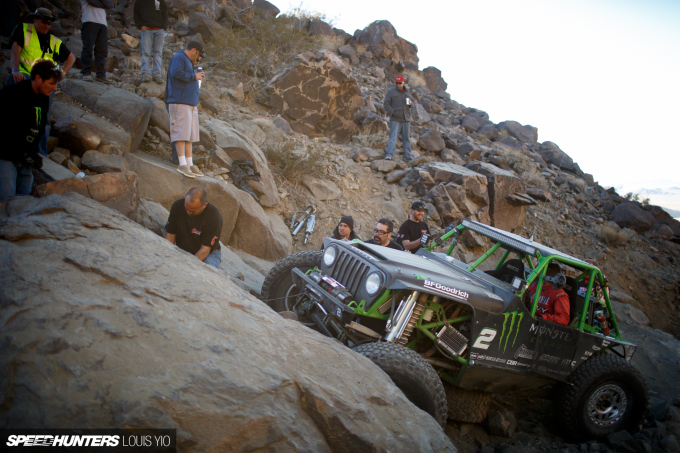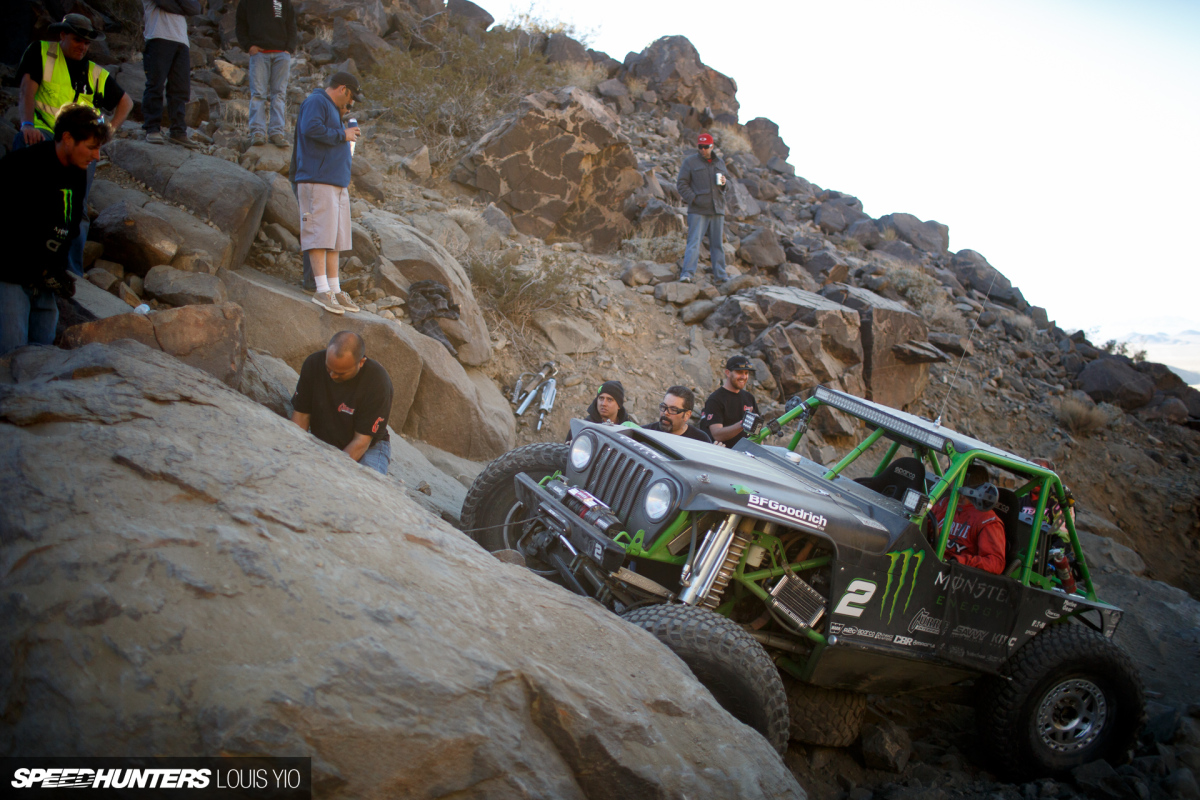 Best of luck to Casey and I hope to catch him again at the Mint 400.
Desperate Final Dash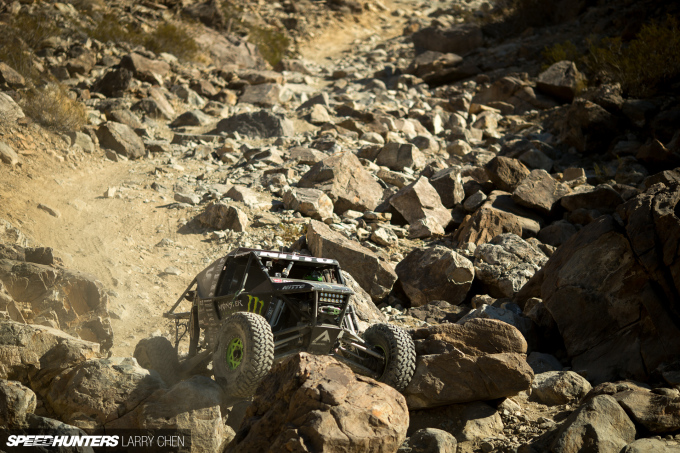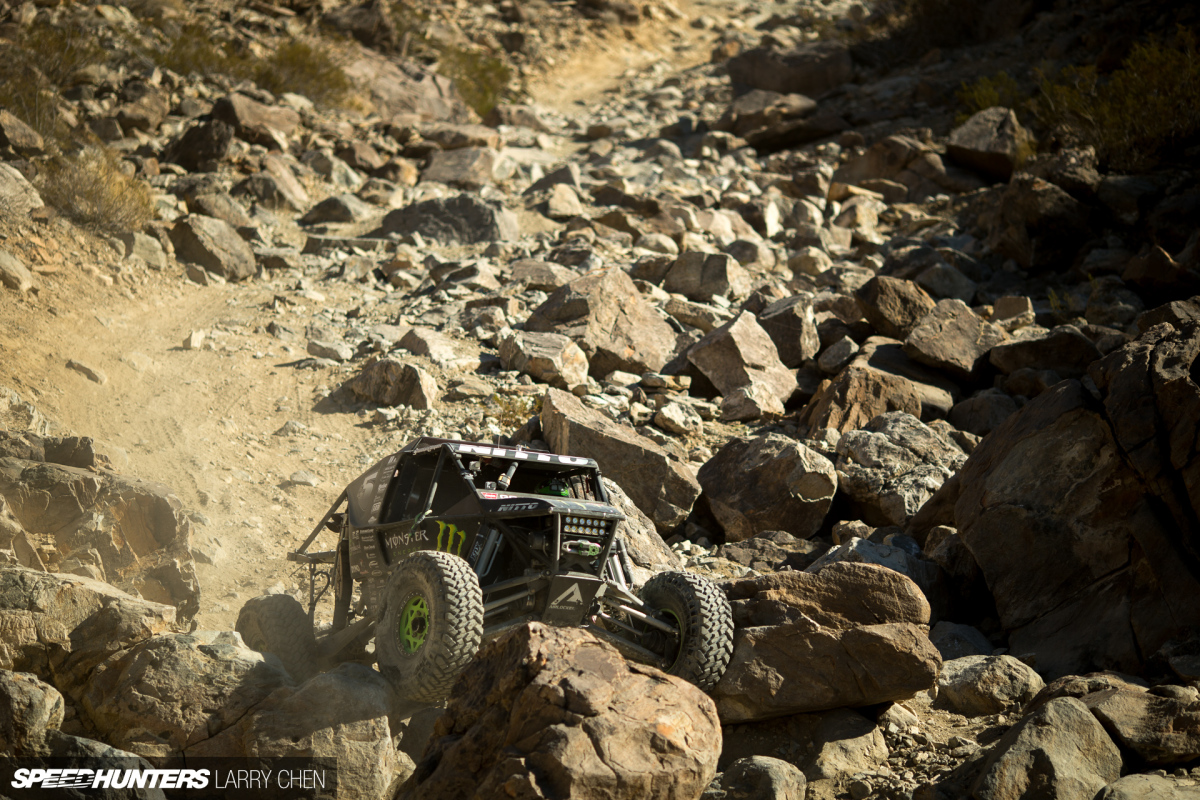 Back to the race; after Larry finished up at Backdoor, he headed to Jackhammer where he saw Shannon killing it with the descent.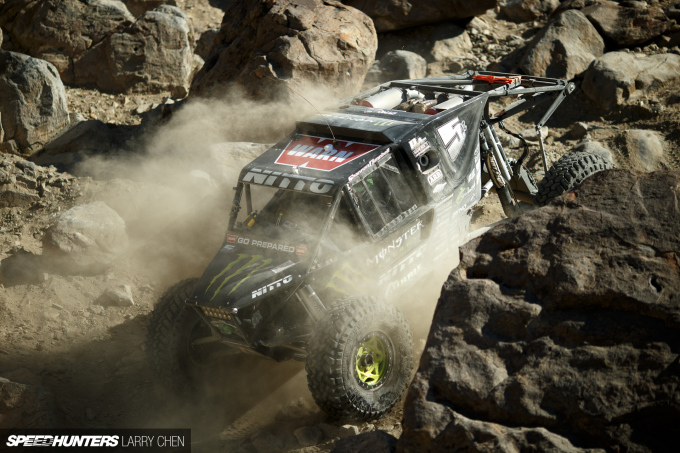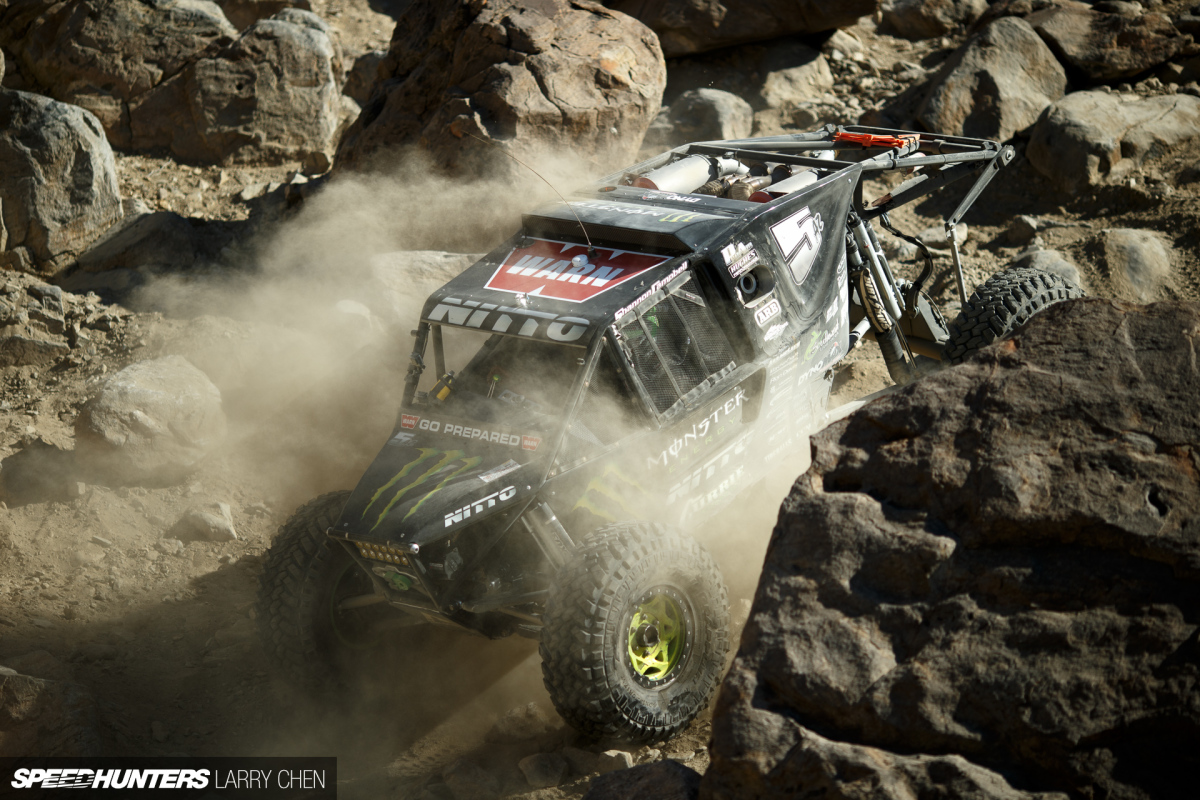 Shannon was in full-on nitrous mode and just attacked all the obstacles like a monster. It looked like he was flying over the rocks.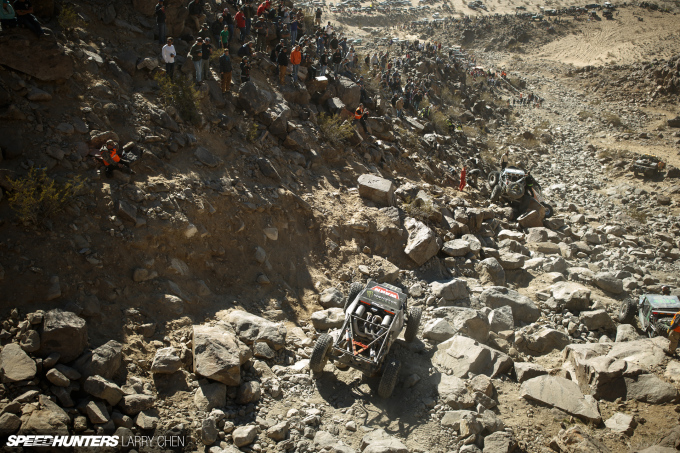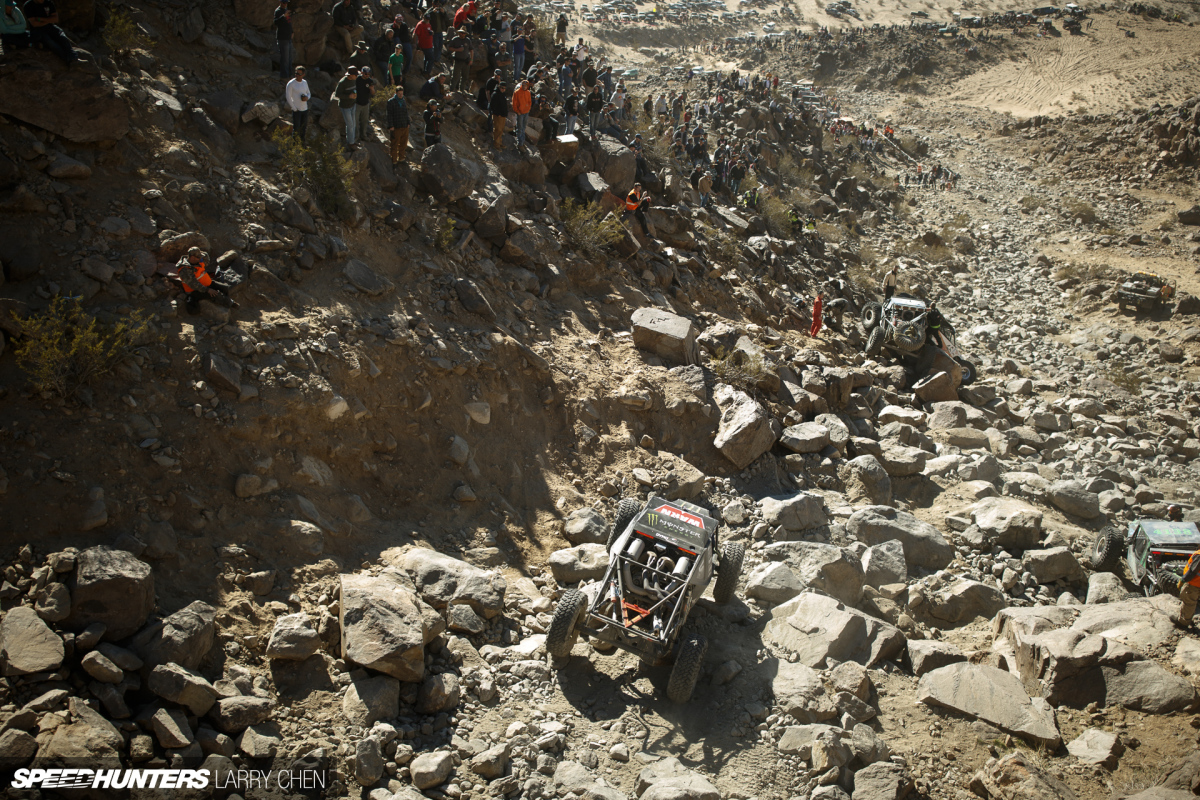 Where was Wayland in all of this? He was physically in third place going up 'Sledgehammer' (right after Jackhammer) when he broke his driveshaft. Sledgehammer is known to be one of the harder obstacles, so drivers only have to go through it on their final lap. Wayland jumped out of his rig to help not just his father and daughter, but also a number of other competitors too. If that's not a true sign of sportsmanship, I don't know what is. In between all of this he fixed his rig with the help of another competitor and managed to finish the race in 15th place.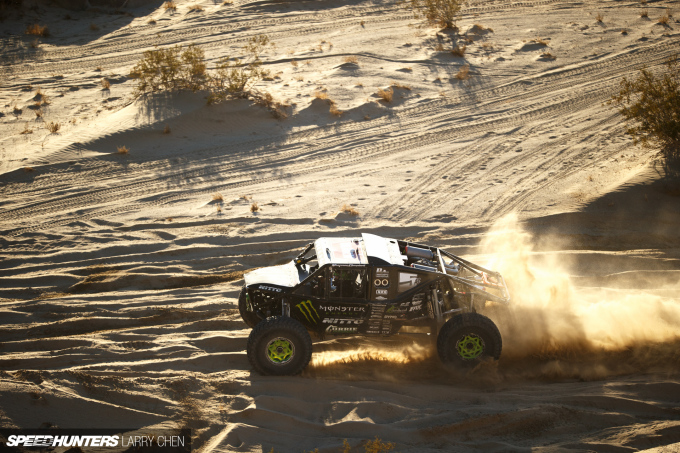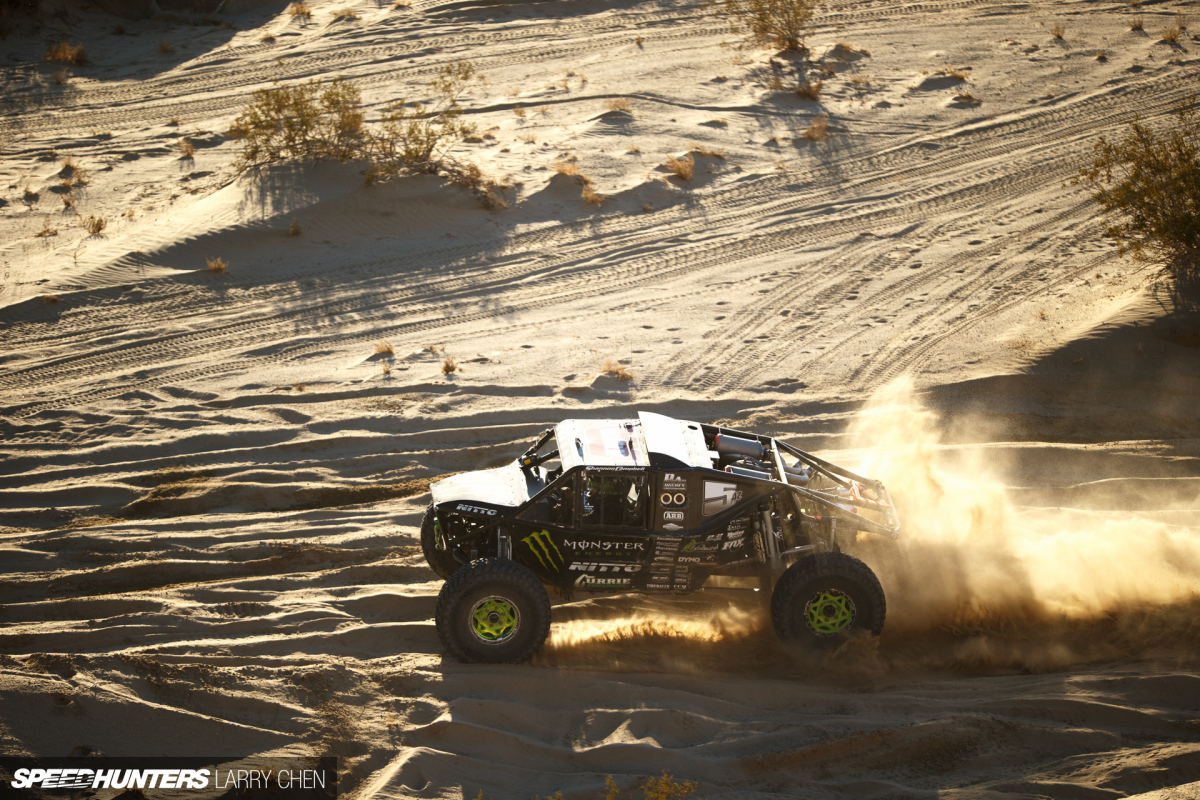 While I was at Clawhammer checking up on Casey, Larry headed out west to mile marker 57/58 to catch Shannon and Bailey finishing up their third and final laps.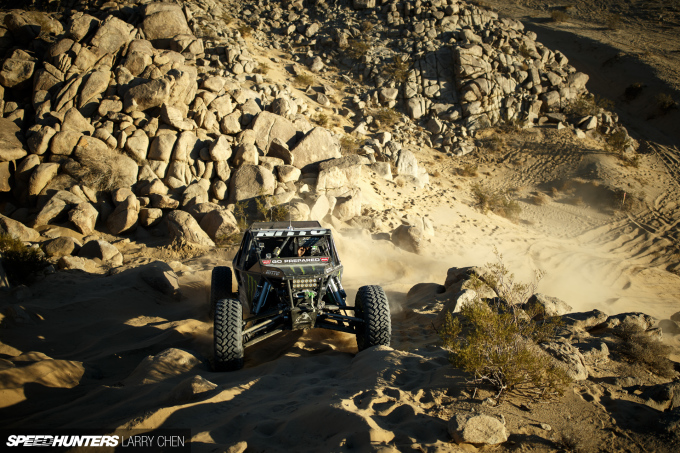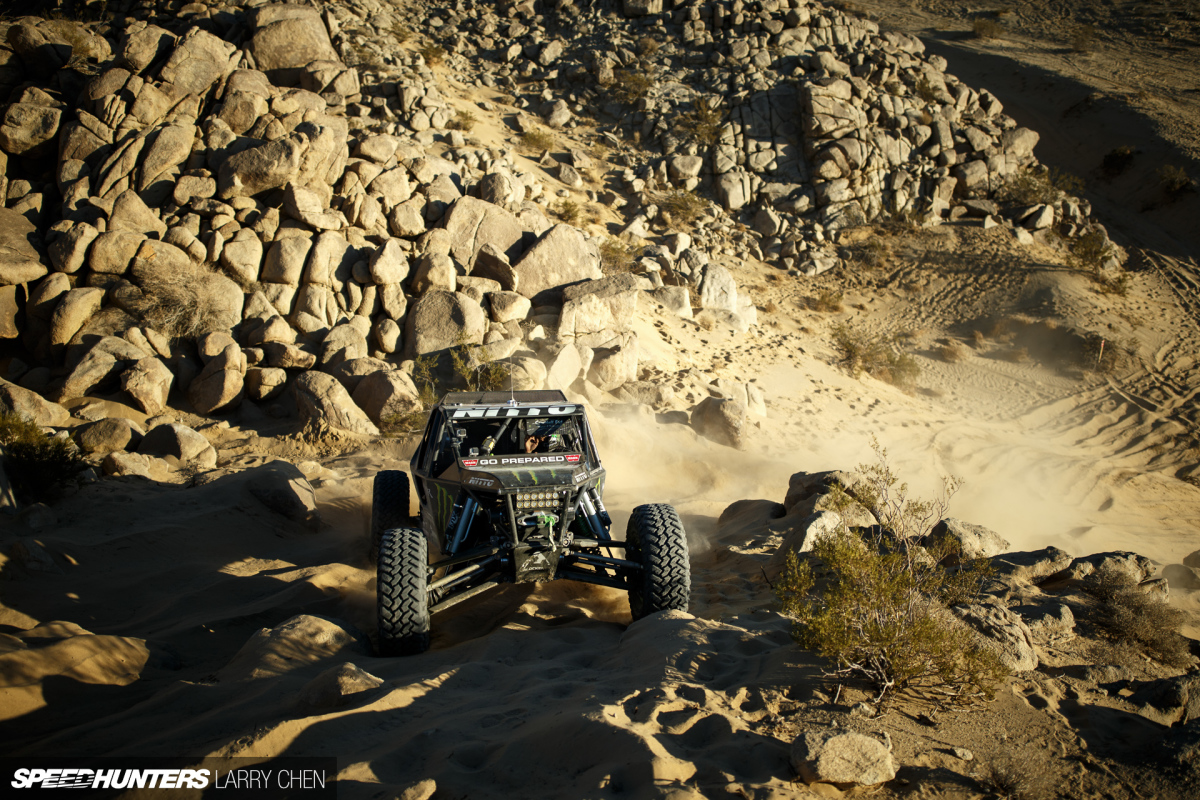 Mile marker 57/58 is a great area to spectate from, so if you guys have a capable vehicle it's definitely worth checking out. What makes it great is that the two routes that the drivers take are fun to watch. They either take the rock-laden way, or go full throttle up a sand dune.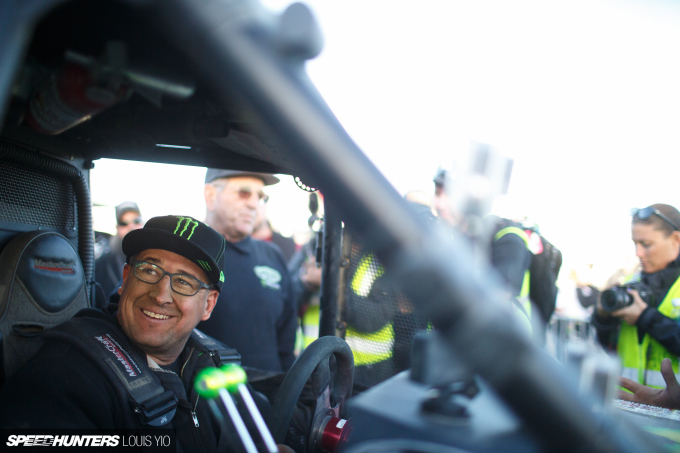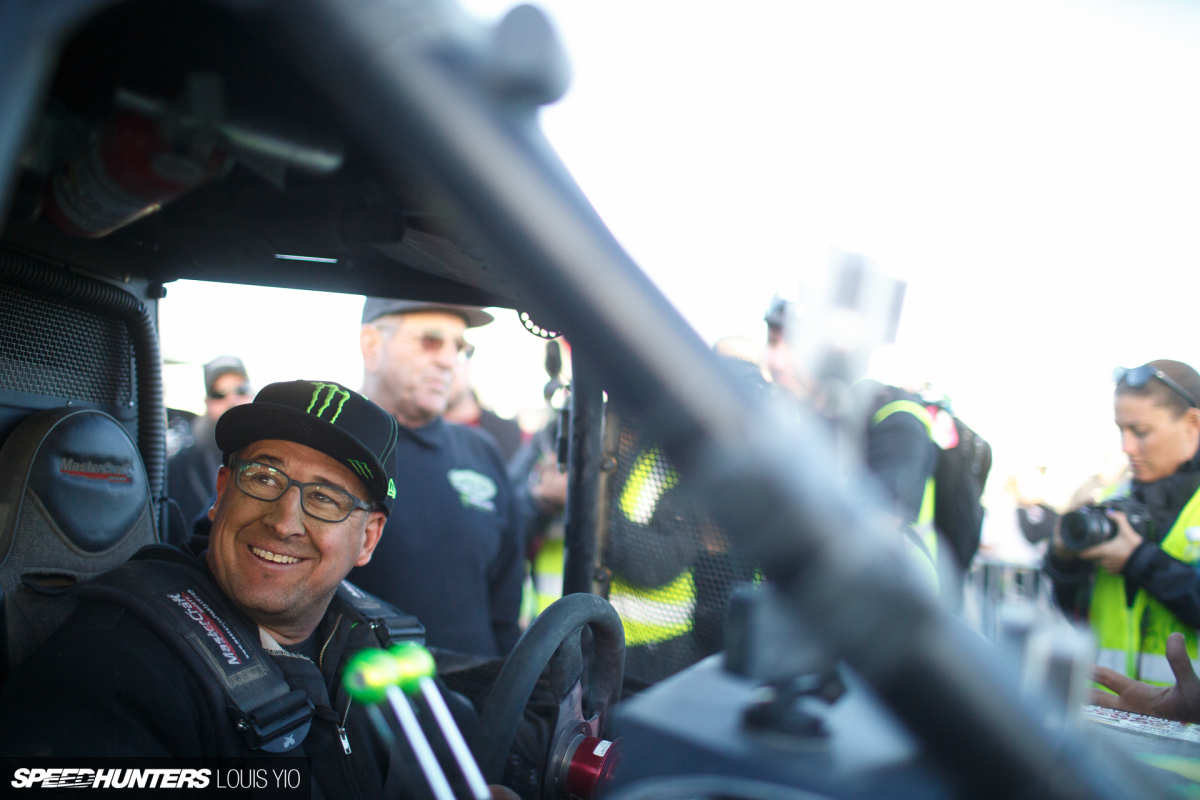 After Clawhammer, I spiritedly drove to the finish line. Despite being stuck for almost an hour at Backdoor on his third lap, Shannon was able to finish the race in fourth place. That just goes to show how good of a driver he is. Maximum attack all of the time.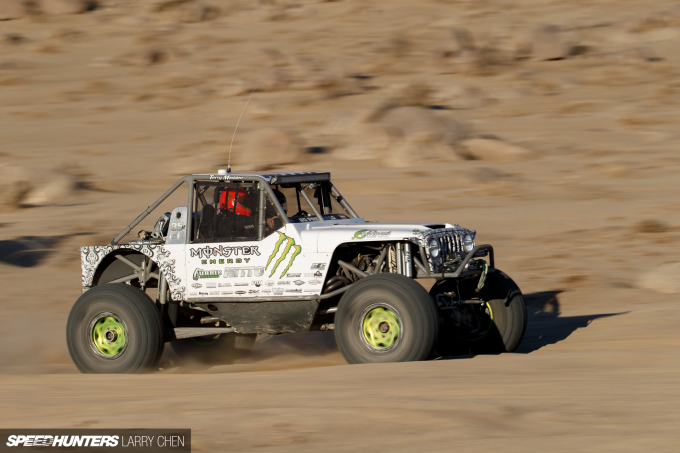 What surprised me even more was the position that Bailey finished in.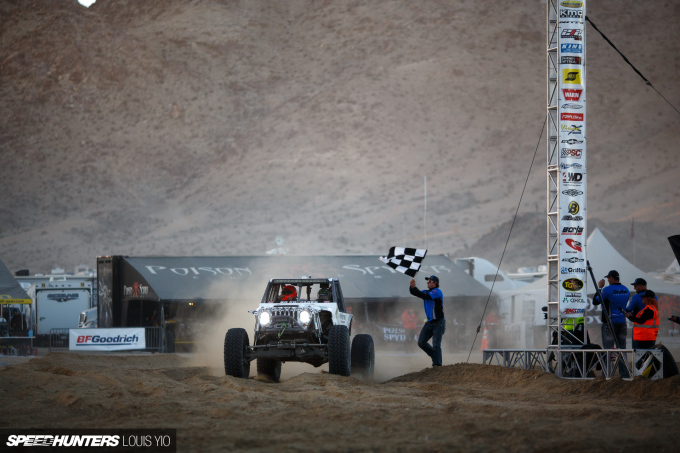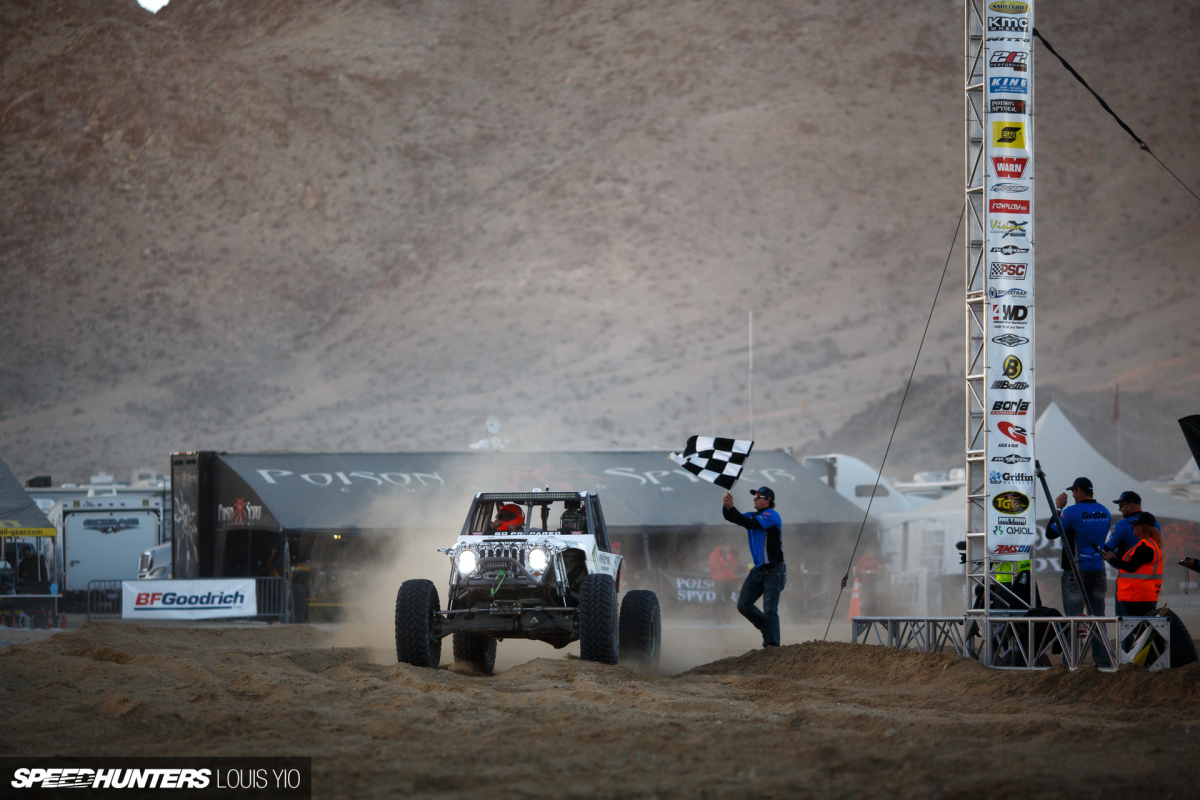 About 20 minutes after her father crossed the line, she took the checkered flag for fifth!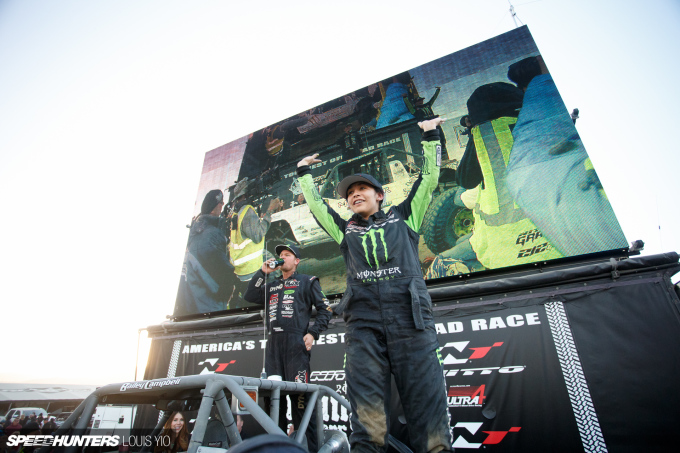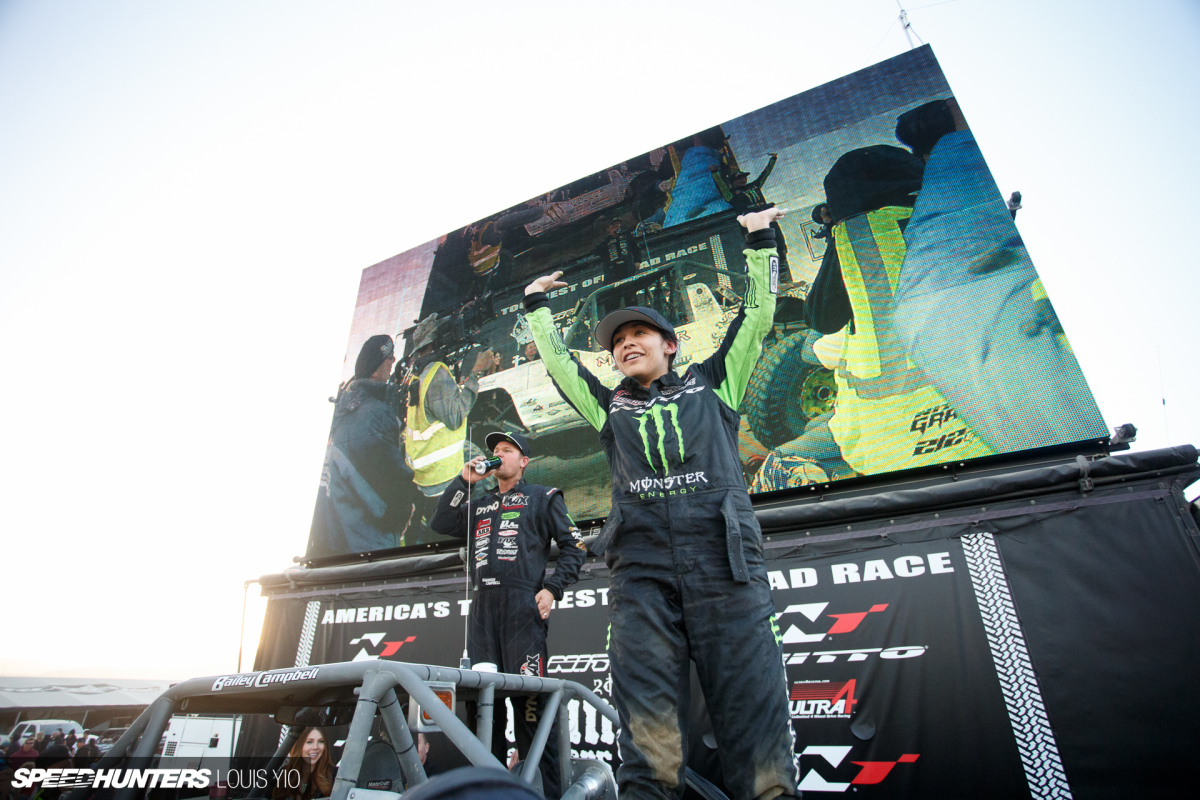 A 4th and 5th place finish for father and daughter was definitely a surprise for many people.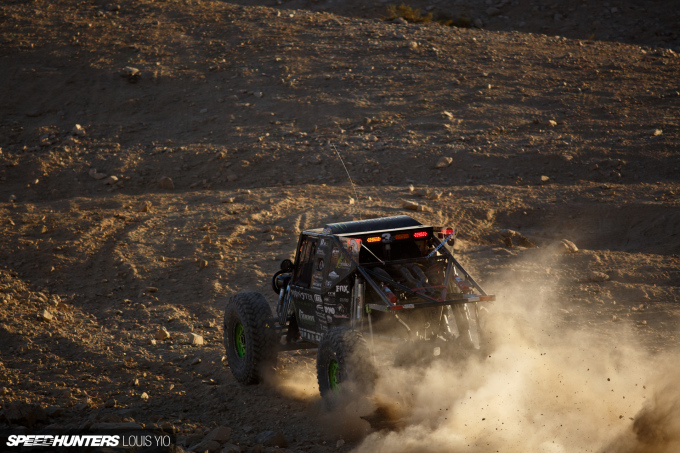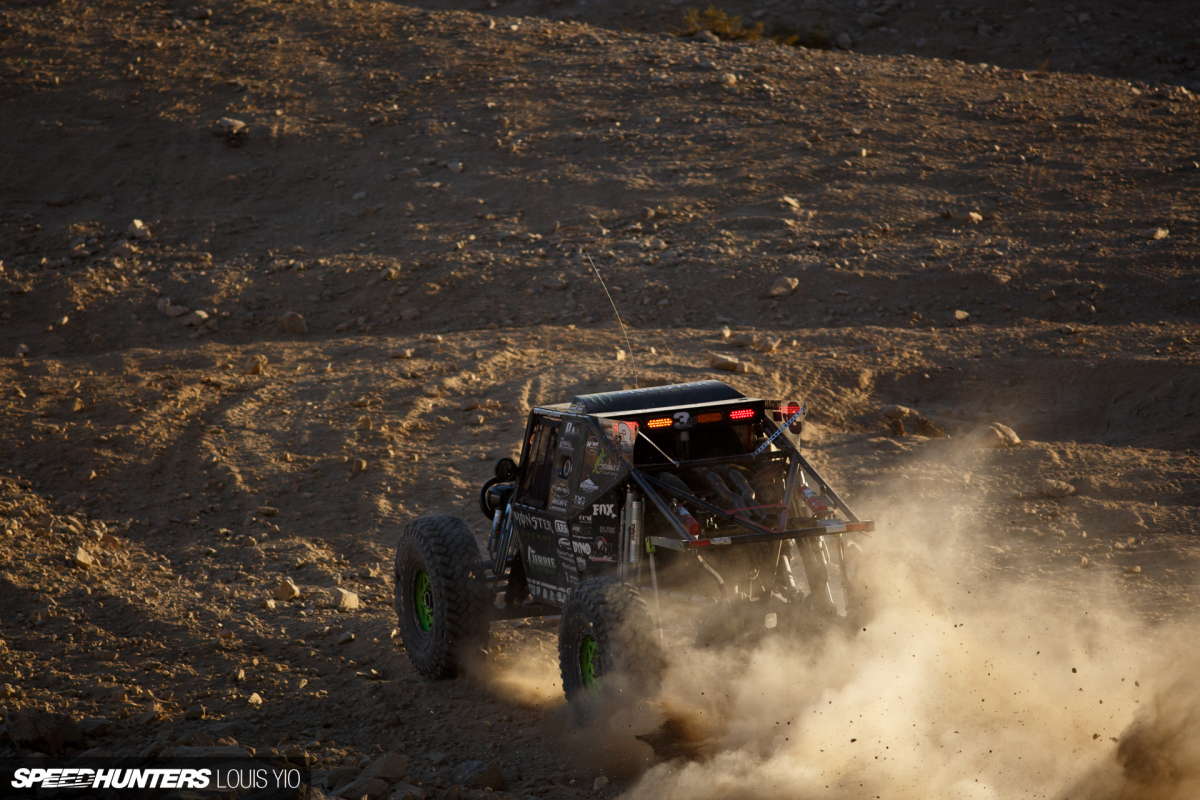 As I mentioned before, Wayland ended up in 15th. In my opinion, he might be the bright future of Ultra4 and desert racing. The drivers he helped at Sledge, the way he drives, and the teacher he has all leads to it.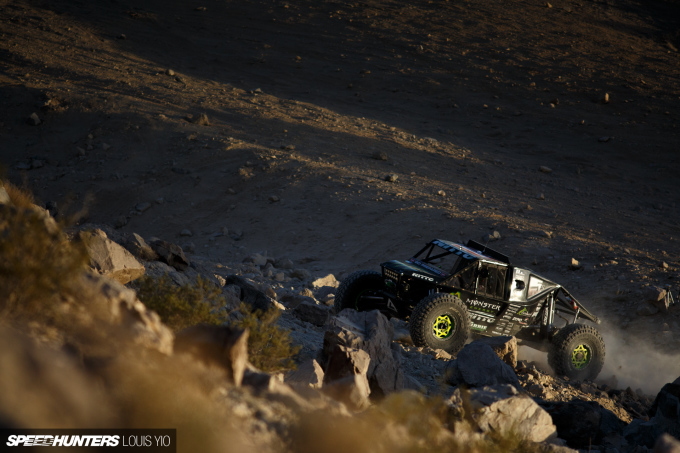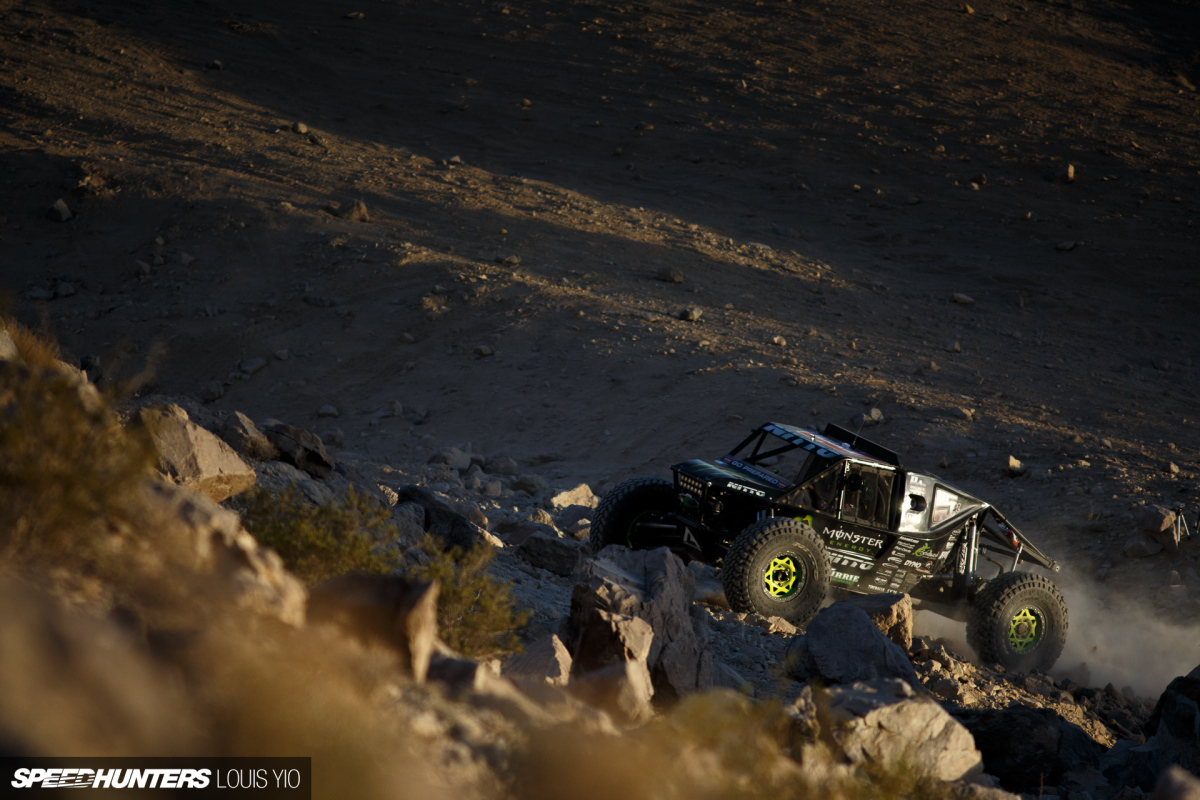 Out of over 100 competitors, only 31 drivers finished the race before the cut-off time. King Of The Hammers isn't like anything you guys have seen before, and anyone around the Southern California area should definitely come to Johnson Valley and witness this race in person. I like to call it Burning Man with rock crawlers.
Louis Yio
Instagram: lusciousy
louis@speedhunters.com
Additional Photos by Larry Chen
Cutting Room Floor