Fun, With A Capital F
What is a fun haver? Better yet, what is the ultimate fun haver? Drifting is fun, jumping trucks is fun, shooting up sick dirt roosts is fun as well, so why not combine all of those things into one? That's exactly what Vaughn Gittin Jr. did when he set out to build his ultimate fun haver. He started with a 2015 Ford F-150 EcoBoost and it just went kind of nuts from there…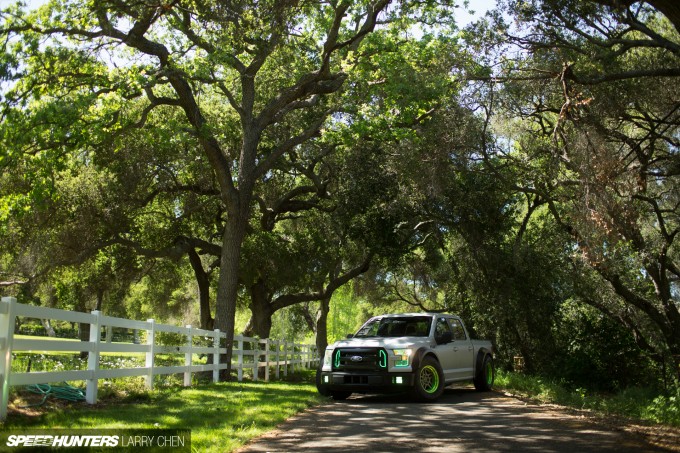 Officially dubbed as the 'Ford F-150 Ultimate Fun Haver' the truck sits very nicely, thanks in part to air suspension. Because, why not?
This is the perfect demo vehicle in that you can experience a little bit of everything while on board – check out the video above to see what I mean.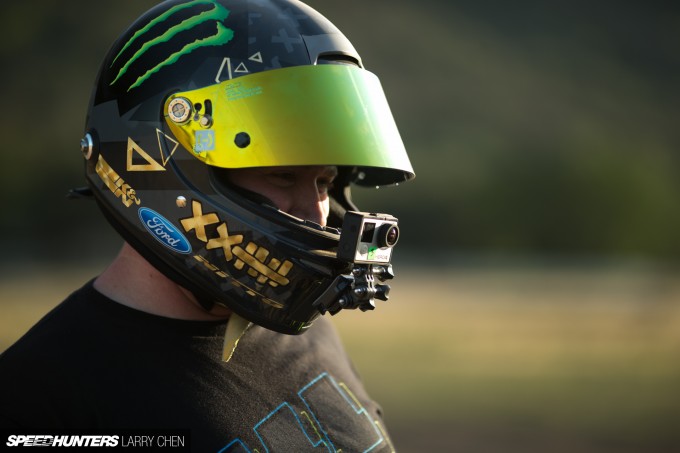 I don't really know what goes on in Vaughn's head when he's thinking of these new ideas, but seeing as the RTR brand has taken off in the Mustang world, I am guessing he wanted to try a shot at the biggest market in North America.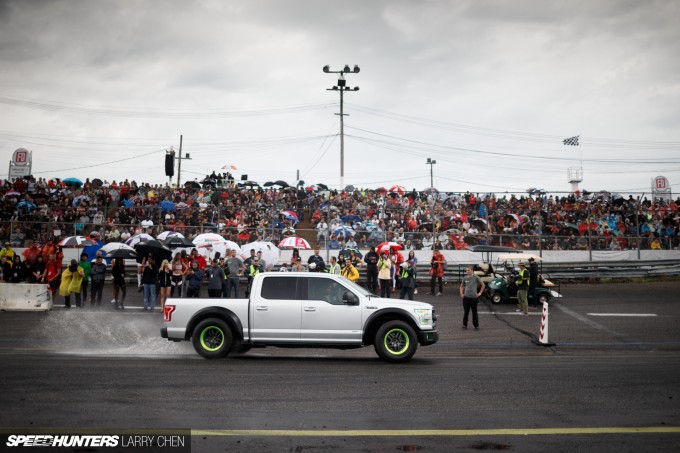 After all, USA is the land of the free and the home of pickup trucks.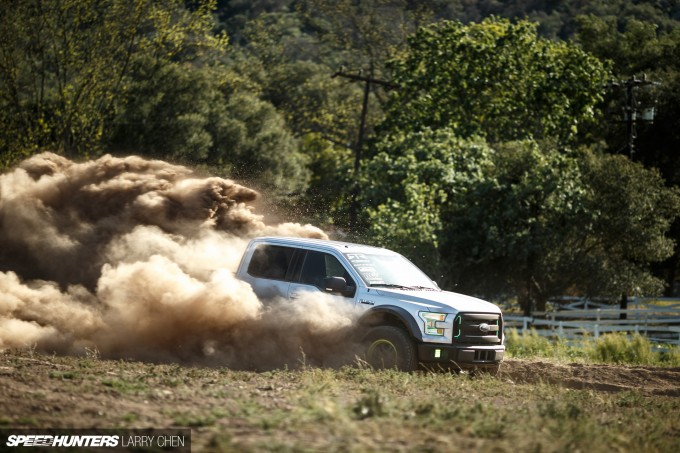 I had a chance to check out the Ultimate Fun Haver for the first time at Hoontown, USA, which is a ranch in Southern California.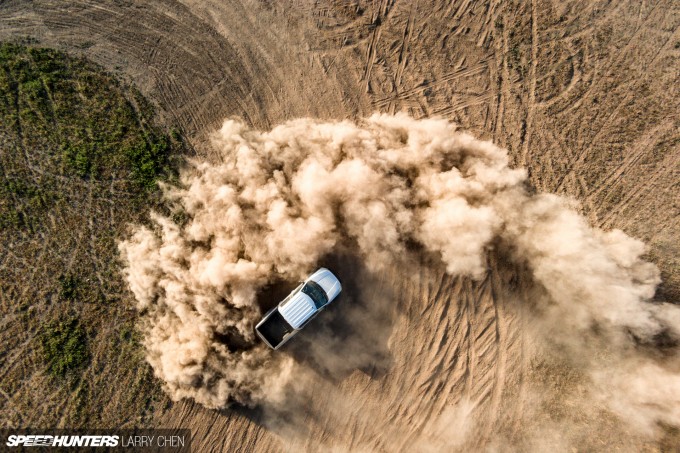 Hoontown is basically a big dirt lot with a few jumps, and it's an automobile killer.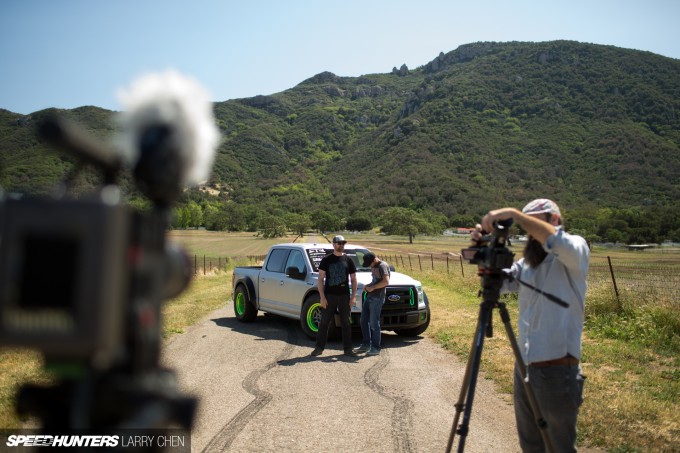 That, of course, makes it the perfect location for a quick video shoot.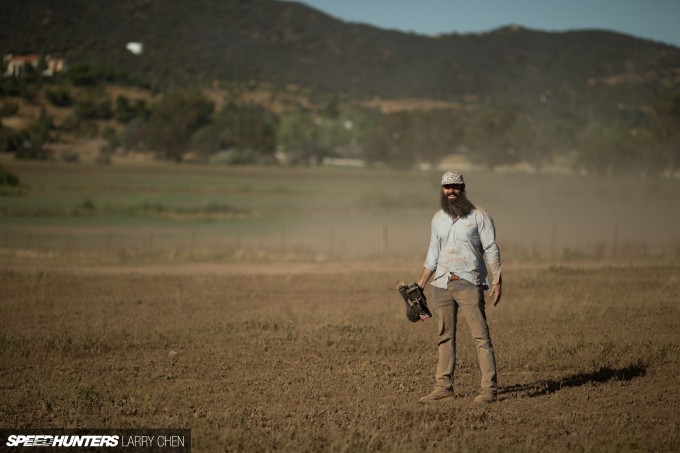 The director? None other than Andy Laputka, one of the key brains behind pretty much all of Vaughn's video projects.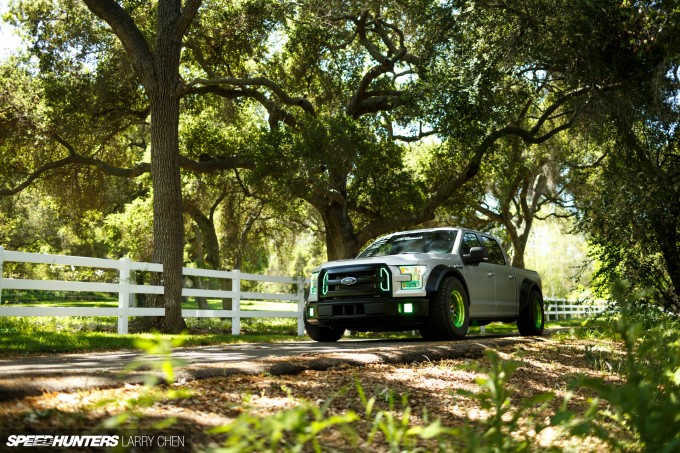 The truck itself was built by Kibbetech Offroad, which engineers race trucks for desert-running or whatever else you fancy in the off-road world.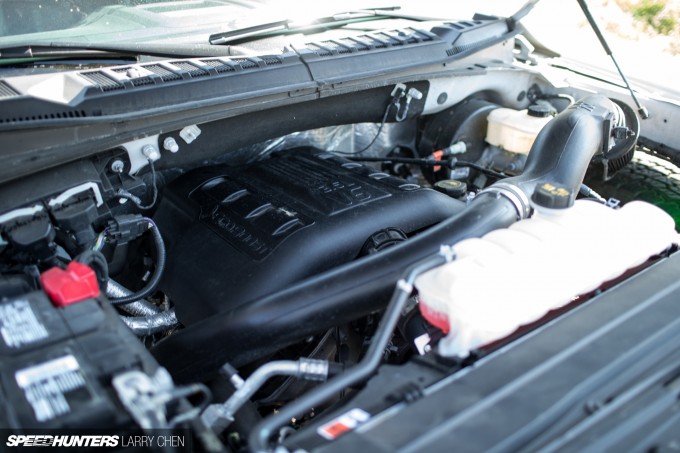 The motor is a Ford 3.5-liter EcoBoost V6, which of course is twin turbocharged and direct injected.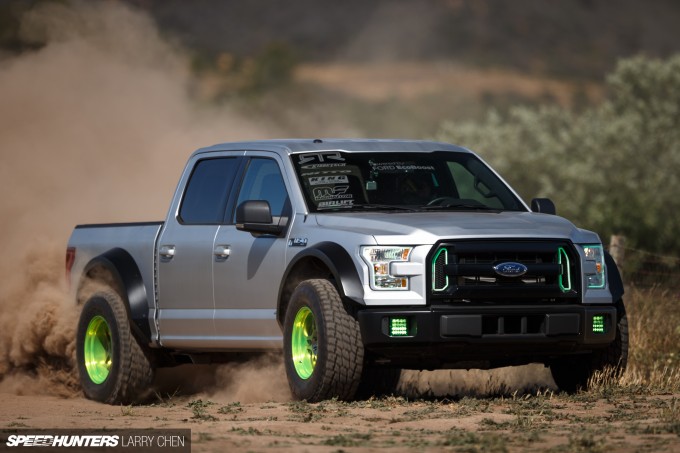 With some mild power adders including a Magnaflow exhaust and a K&N intake, the truck has some serious grunt. It also sounds awesome.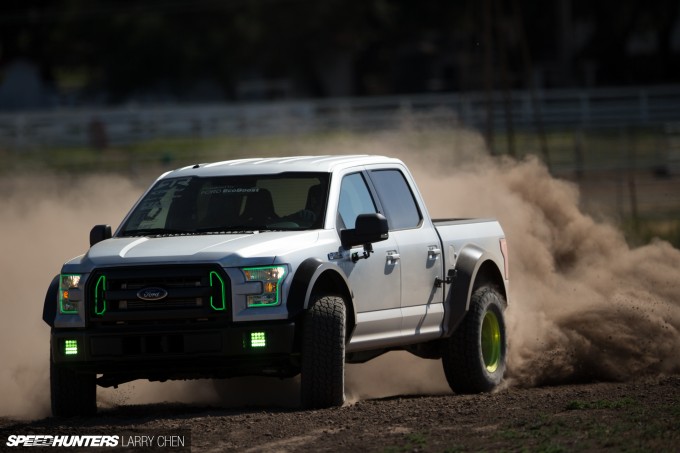 With the addition of a Full-Race intercooler and an ECU tune from Revolution Automotive, you can hoon all day long without interruption.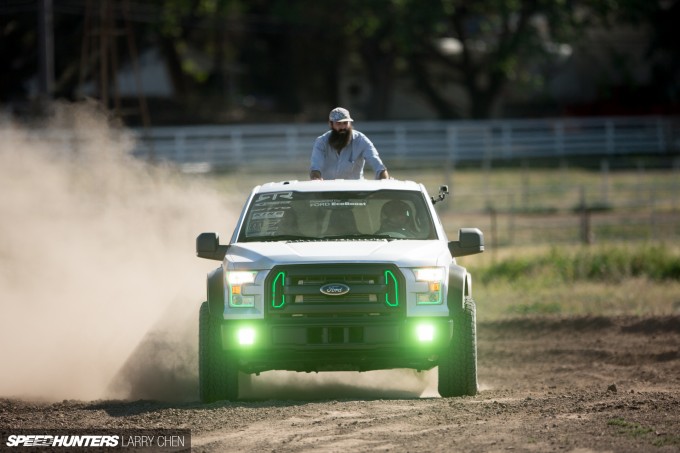 While the power was impressive for a near-stock truck, what really impressed me was how it handled in the dirt and on the road. Since I shot this feature though, the RTR team has installed some larger turbos for development purposes, and Vaughn said he is aiming for over 500ft-lb of torque at the wheels.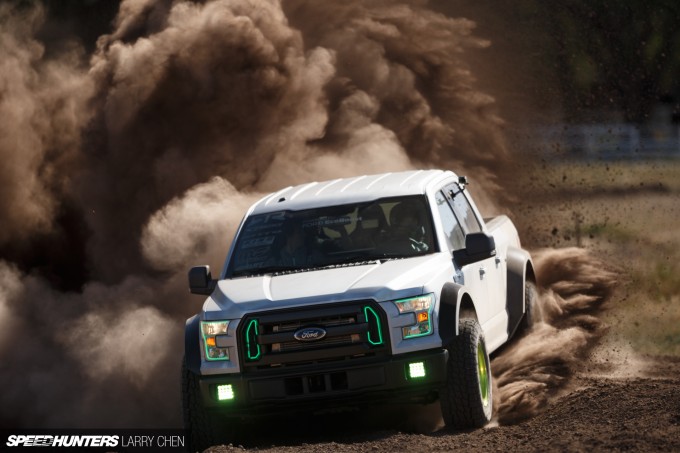 The airbags were made by Airlift Performance, but Kibbetech mated those with King Shocks dual bypass shock absorbers in the front and triple bypass shock absorbers in the rear.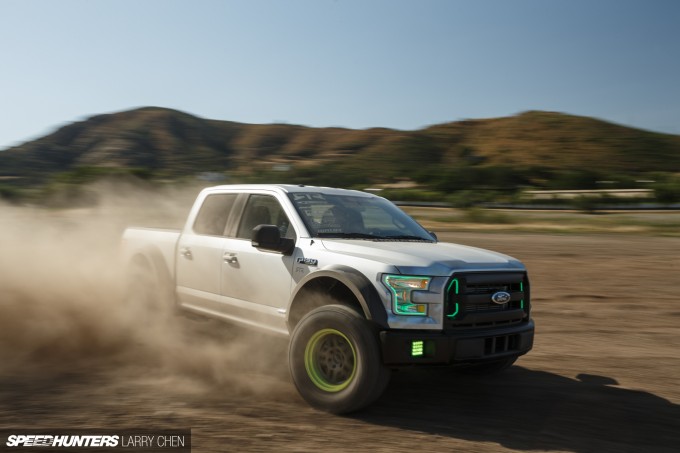 This has resulted in 12 inches of travel when fully lifted, which is more than enough to do some serious off-roading.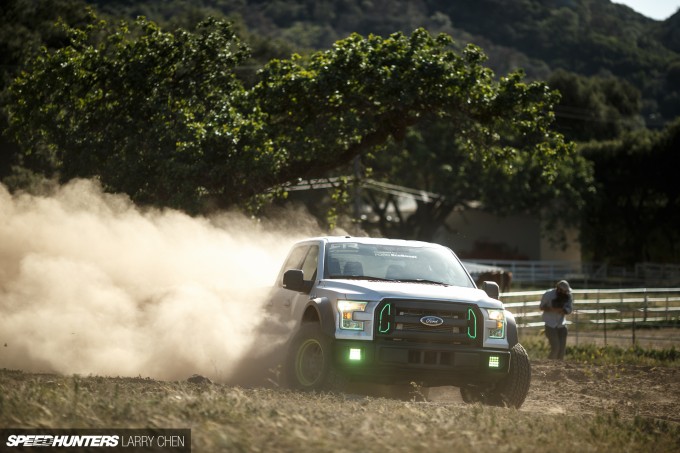 In addition to the massive King shocks and Airlift airbags, Kibbetech also built a beefy custom radius arm with panhard bar rear suspension.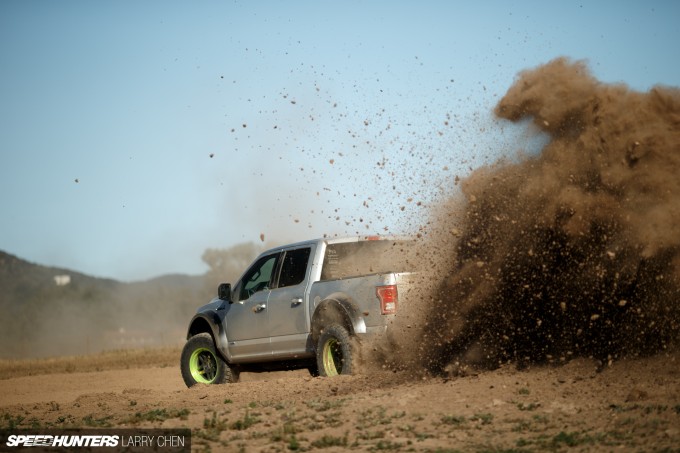 To handle all the power and abuse at the rear wheels, a Currie Enterprises full-floating F9 rear end was also installed.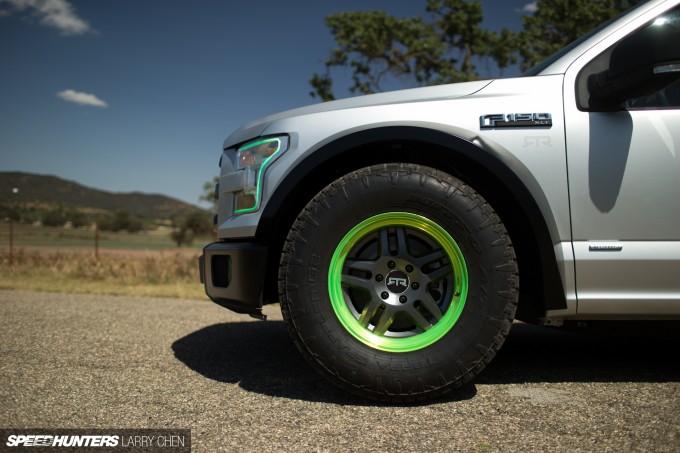 Vaughn went out of his way to make sure the exterior reflected the theme of the truck as well, first commissioning Auto Explosion Custom Auto Body to create some one-off flares, then wrapping the F-150 in XPEL Stealth protection film and adding custom RTR 18×10-inch wheels fitted with 35-inch Nitto Terra Grappler tires.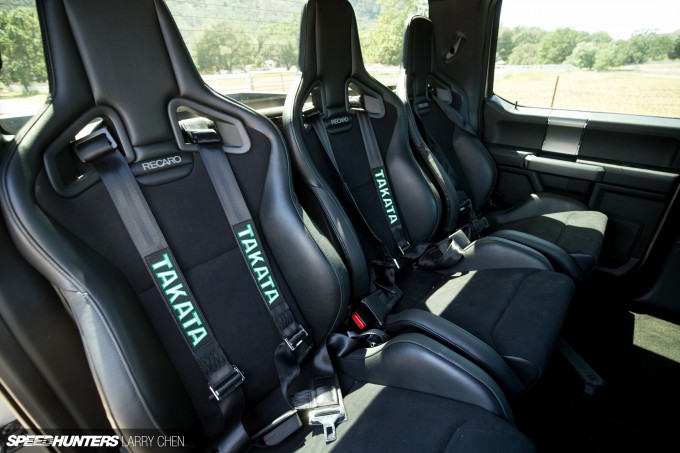 The interior has form and function as well with five Recaro Sportster seats flanked by Takata Racing harnesses. Because you don't want your passengers to flop around all over the place when you're giving them the ride of their lives.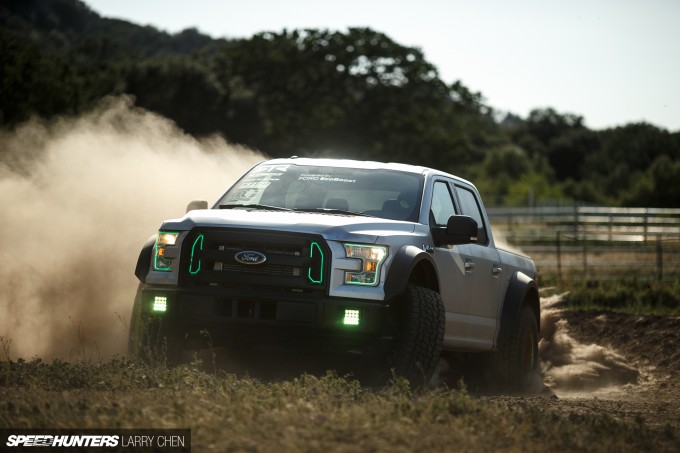 Aside from the seats, the only other interior modification is an Autosport Dynamics handbrake, which of course is perfect for initiating drifts on or off-road.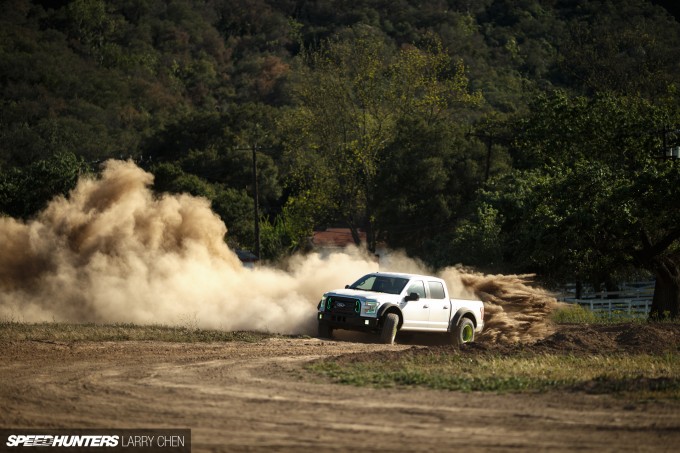 So what was it like to ride in the Ultimate Fun Haver?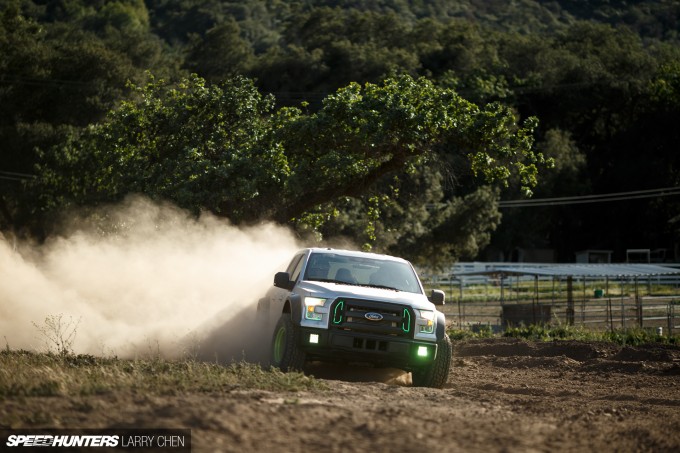 With Vaughn behind the wheel, very smooth.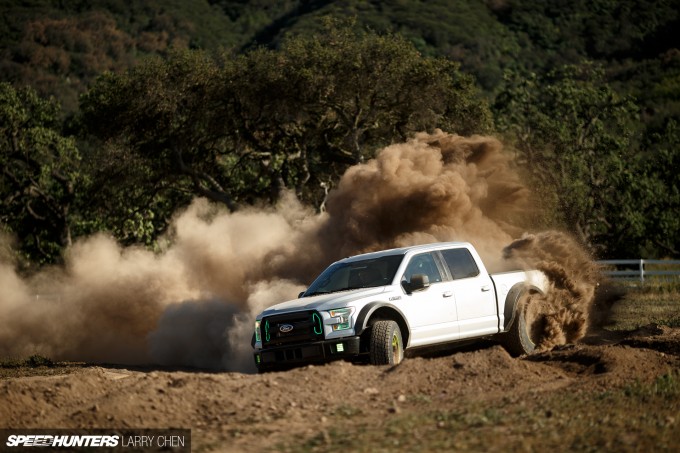 He easily transitioned between drifts and basically linked-up every single corner that Hoontown had to offer.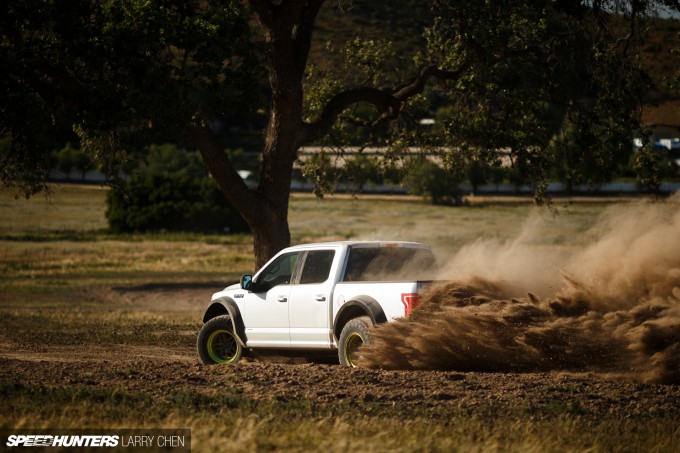 While kicking epic roosts whenever he lay on the throttle. It was interesting to hear turbo noises from a pickup truck too.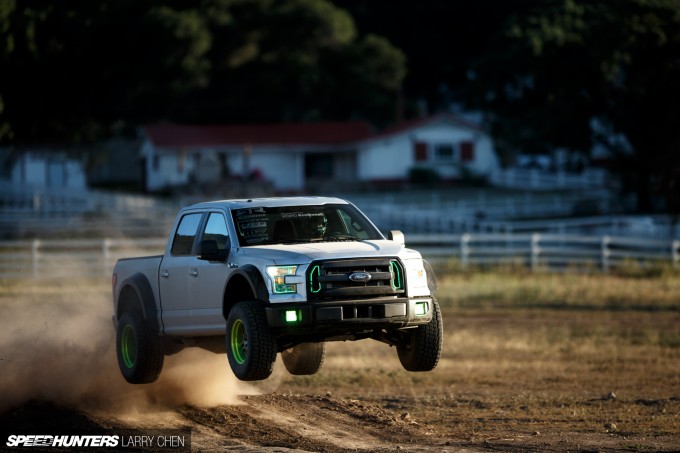 So what about the jump? Well, we went off it a few times and the big Ford landed very flat every time.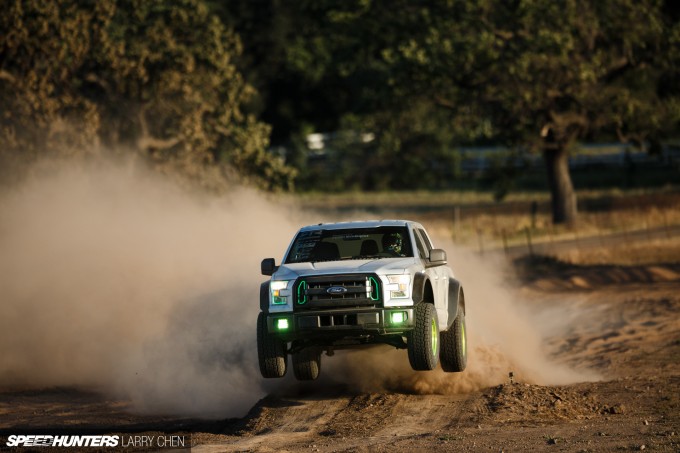 Although, I do have to say that it was an uneasy feeling being in the air.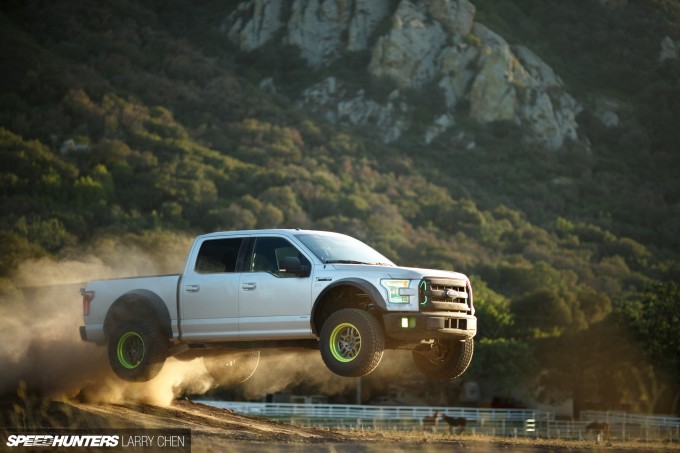 I guess it's just something that you have to get used to, but aside from a funny feeling in my stomach each time we took flight, you really couldn't tell that the pickup truck was four wheels up.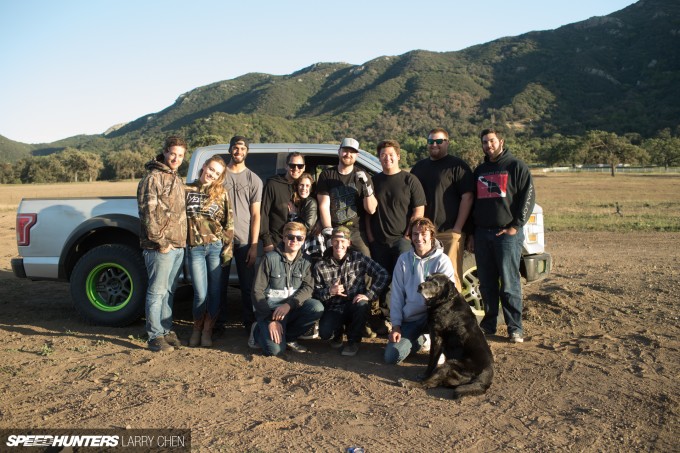 That's it for another successful day at Hoontown, USA, but no dead vehicles this time around.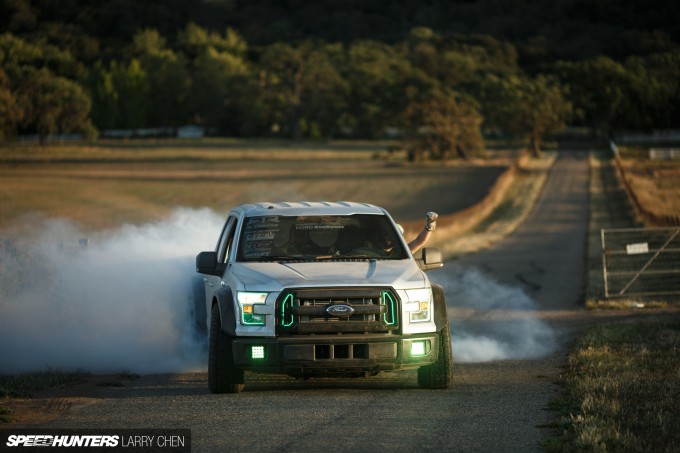 And why not finish the day with a little sunset burnout!
It was a fun video shoot, but more importantly I had a chance to experence the Ultimate Fun Haver myself. Which makes me wonder what Vaughn Gittin, Jr. is going to come up with next…
Larry Chen
Instagram: larry_chen_foto
larry@speedhunters.com
Cutting Room Floor