Denver To Aspen
Drive. At the end of the day, that's what a car is meant to do. The thing is, though, many people see cars only as a tool to get them from point A to point B, and driving as a chore. We here on Speedhunters see cars differently. We have a special place in our hearts for them. We can't help but look back after we park our cars at the supermarket and simply grin and enjoy the fact that we have that amazing piece of machinery. A love of cars is something we, as Speedhunters, were born with.
Driving, however, is the essence of why we love our cars so much. We can't get enough of the music our cars make when revving. We can't wait for the next opportunity to get back in our cars and start the engine up. Shifting through the gears, clenching onto the steering wheel, eyes wide open, staring at the road ahead. That adrenaline rush we get from behind the wheel is unparalleled to anything else.
The love for driving is what Targa Trophy is all about.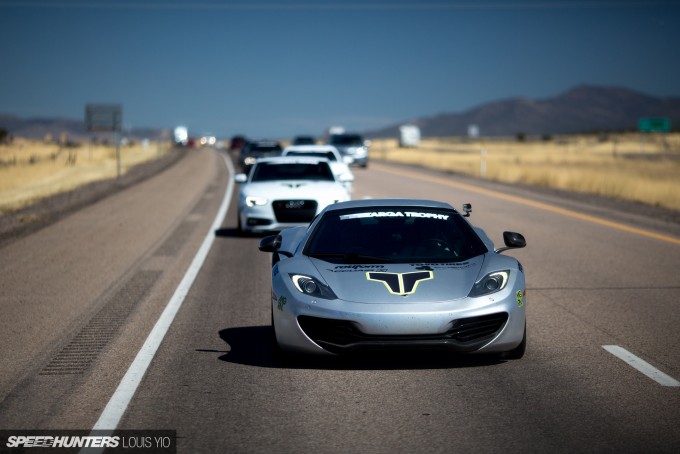 Targa Trophy hosts rallies that take drivers on amazing roads throughout the United States. 'Megarun' is its multi-day road rally that spans across multiple states, and I was recently invited to cover the second annual event.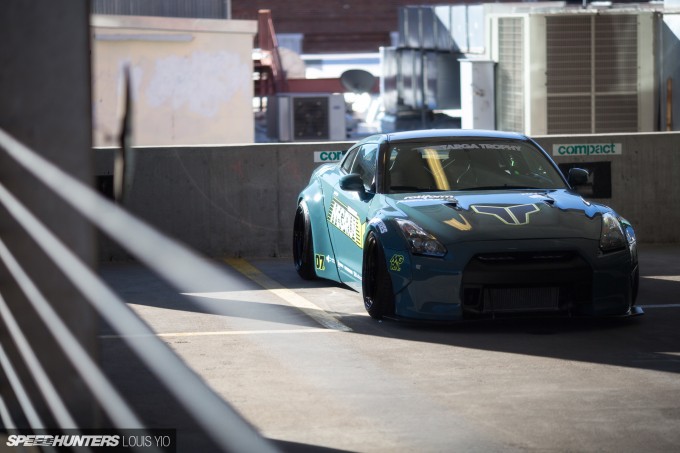 Having done a couple of SCCA-hosted road rallies in Southern California, I thought I had a pretty good idea of what to expect. Boy, was I wrong. Unlike many road rallies out there, Megarun not only takes drivers on amazing roads across the US, but via the most scenic and beautiful places the country has to offer. It's definitely not a highway drive from city to city.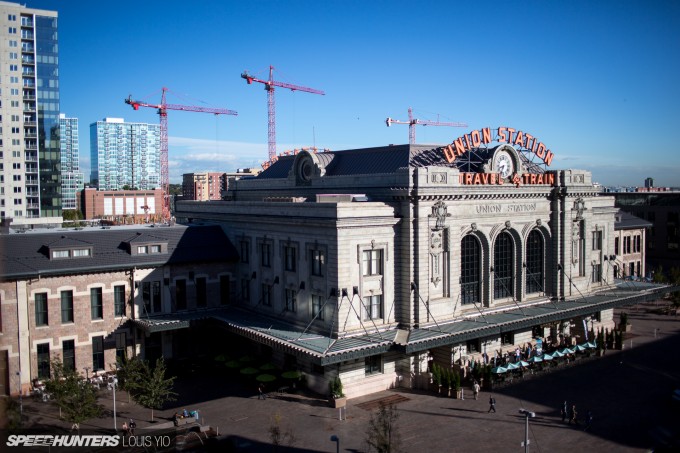 The first day of the rally started at Union Station in beautiful Denver, Colorado. I'd never been to Denver before, so it was definitely a nice change of pace compared to Los Angeles where I live. The final destination for the first day would be Aspen, Colorado, the Mile High City.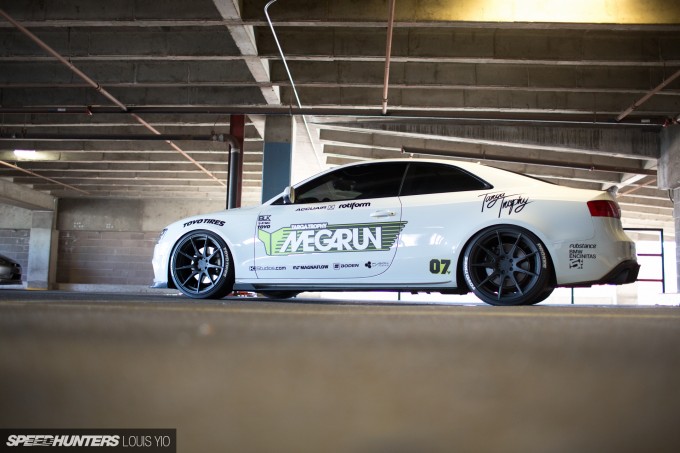 Because I didn't have a car of my own to drive in the rally, I decided to ride shotgun with GRC Lites driver Miles Maroney.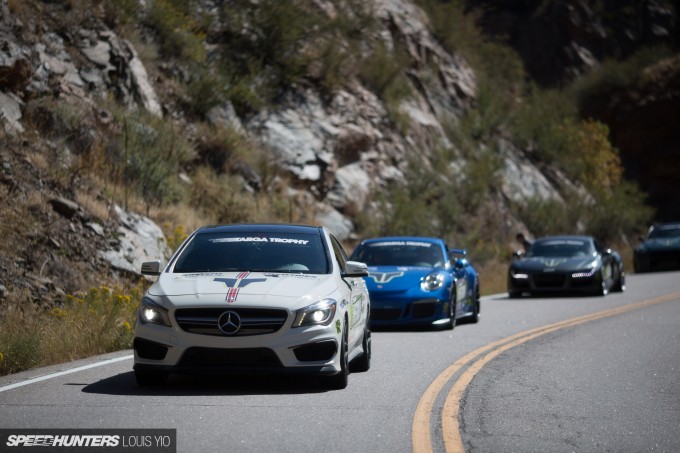 I was excited to see where we were headed on the first leg of the trip. I soon found out that our destination was the one and only Pikes Peak.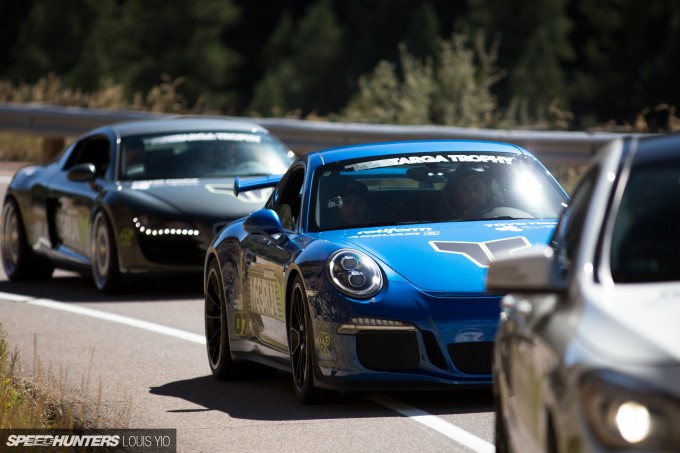 Denver is almost 100 miles from Pikes Peak, so there was still a good drive ahead of us.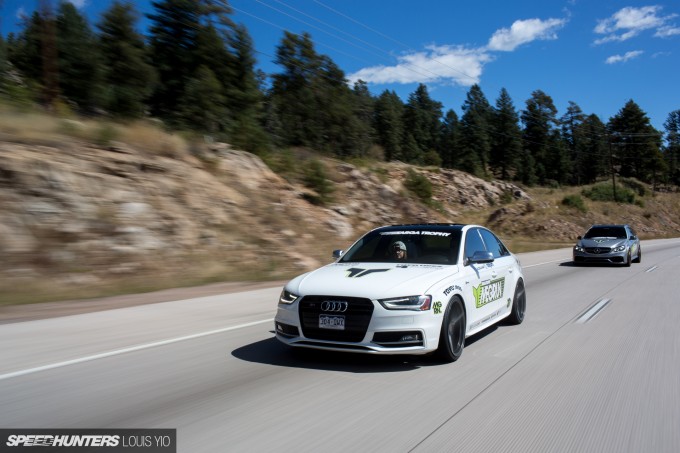 Roughly 30 minutes into the rally, I shot this picture just as my glasses flew off my face. They didn't survive. Luckily, I'm not completely blind and try to be optimistic, so I did my best to not let it bother me.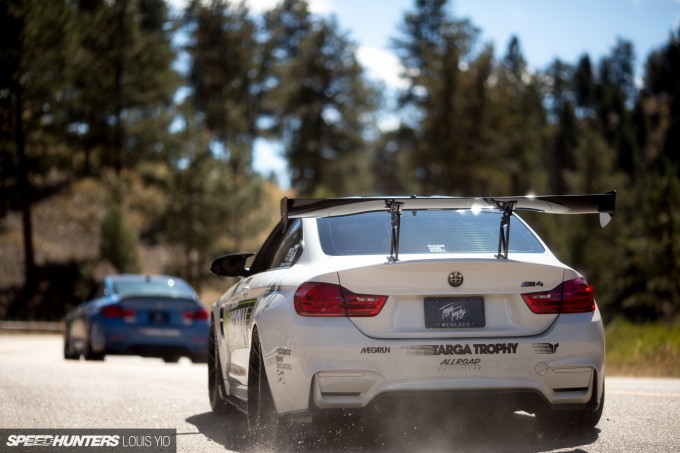 We made a quick pit stop, picked up some ice cream to ease my pain from losing my glasses, and continued on.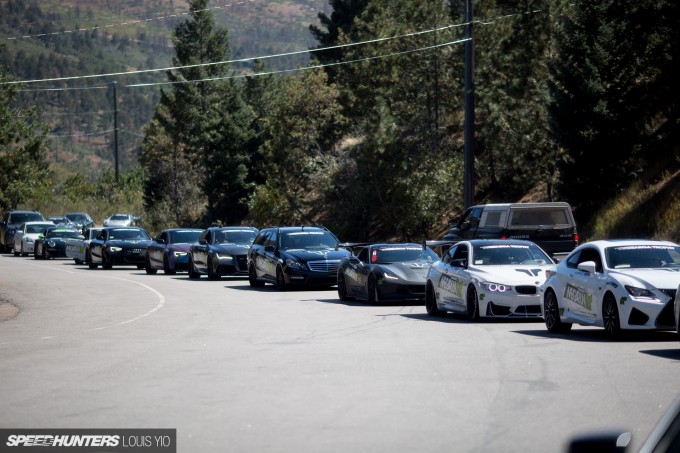 Because Pikes Peak is a tourist hot-spot, we encountered a little traffic at the base. Many people know about Pikes Peak, whether it be because of the famous hill climb or its elevation of over 14,000ft.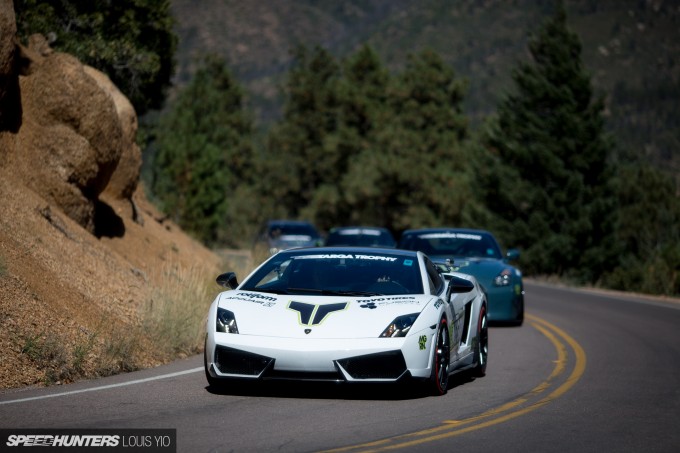 As we started heading up, we were surrounded by trees.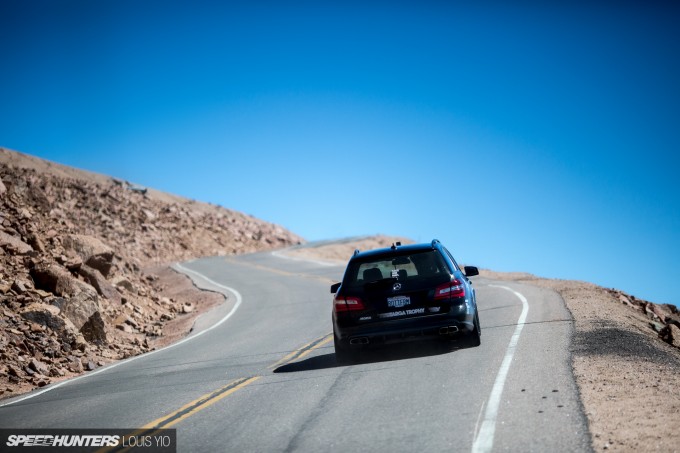 But the closer we got to the top, the more barren the landscape became.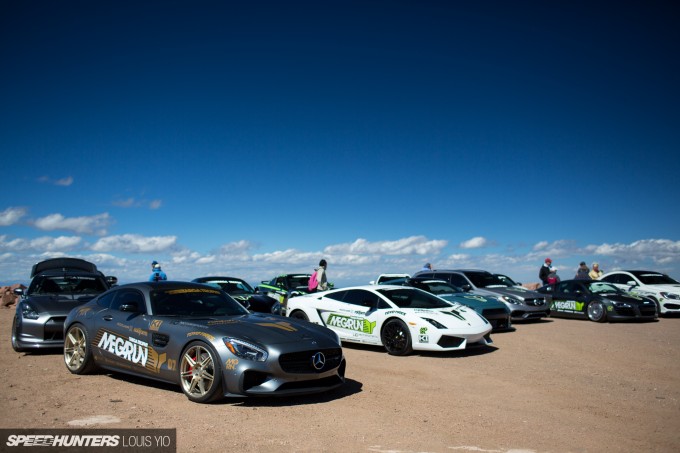 Visiting Pikes Peak has always been a bucket list item for me, and even though this wasn't hill climb week, I was still happy. Sadly, we were only at the summit for about 30 minutes. With the lack of oxygen at this altitude, no one wanted to stay longer than they needed to.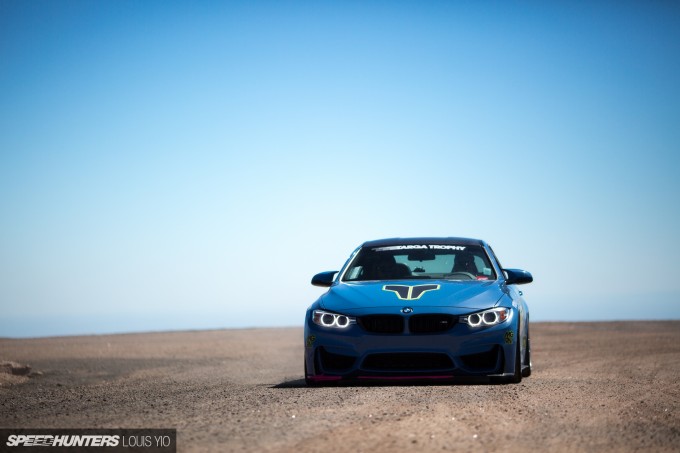 After a quick lunch, we all headed back down. I definitely need to go back, and hopefully during the Pikes Peak International Hill Climb week. We recently ran a feature on a Scion FR-S that drove in this year's PPIHC, which you can check out here.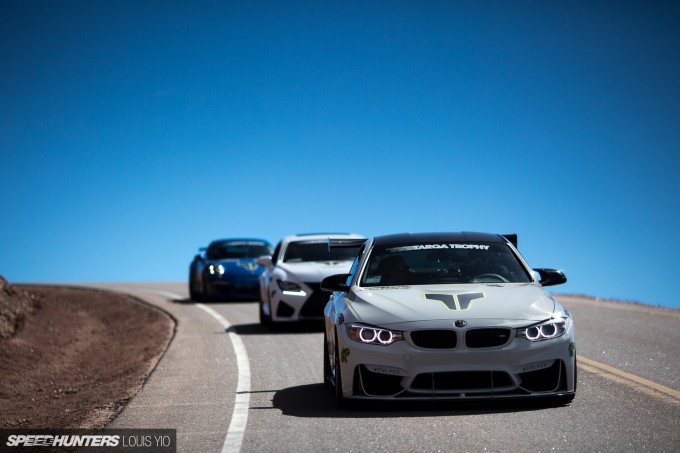 The whole high-altitude thing hit me hard and I was knocked out in the car for a good 10 minutes before we reached the base.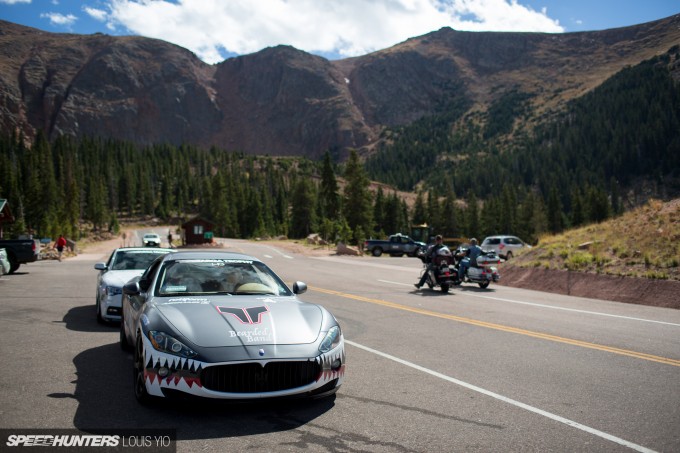 There, Park Rangers advised us to park our cars off to the side of the highway so our brakes could cool down for a bit.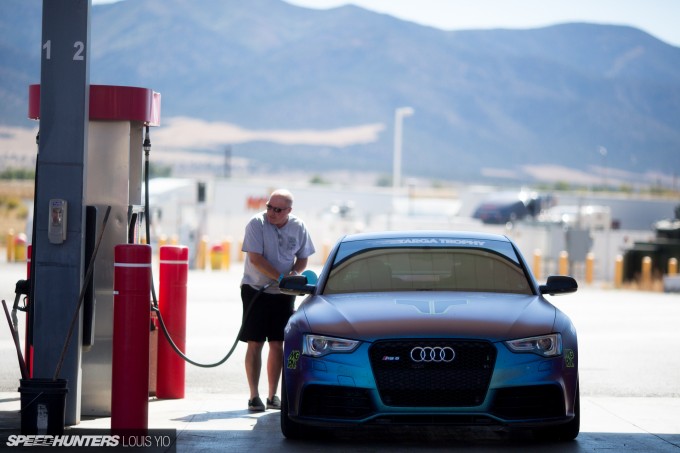 The first of many gas stops.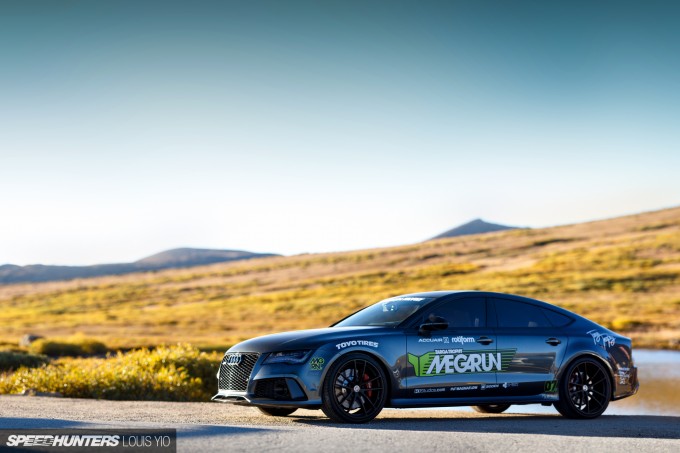 Because there were more than 30 cars in the rally, I decided to change it up and ride in this 750hp AWD Audi RS7 for the next stretch. I'm going to say this right now: when stock, the RS7 might be the best-sounding street car of all time. Of all time! While driving next to Gallardos, GT-Rs, R8s and other luscious cars, the Audi RS7 had the sweetest sound, hands down. I want one. No, I need one.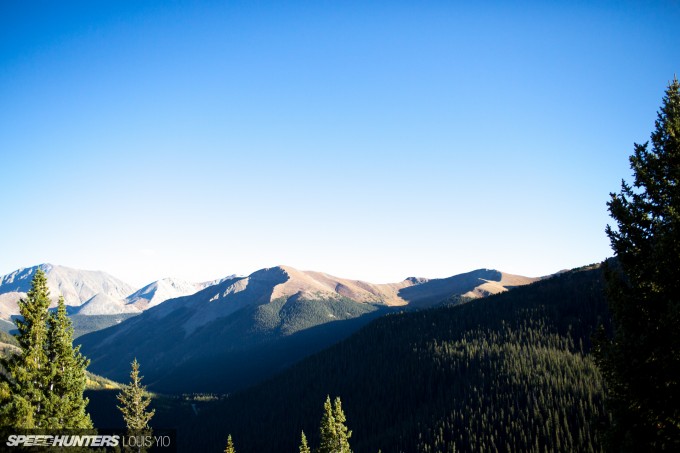 The last leg of the first day took us through Independence Pass. At over 12,000ft in elevation, this is one of the highest paved roads in the United States. The scenery here was breathtaking to say the least, and I had never seen such vibrant colors from the trees and vegetation. Because it's so high up, the road can't be accessed during peak winter season because of all the snow it receives.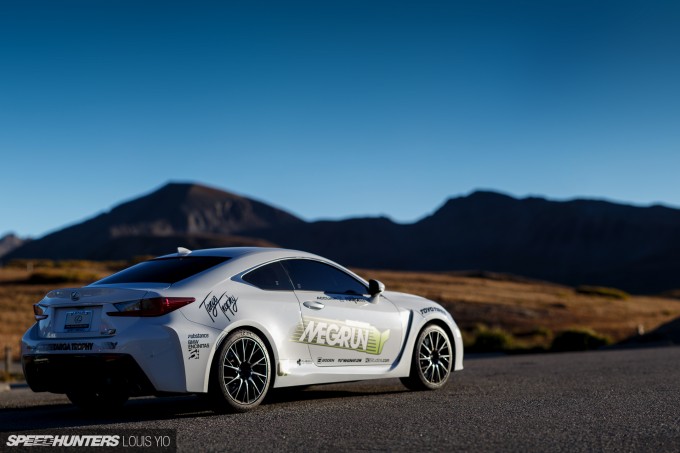 After one last pit stop for the day, we moved on to Aspen.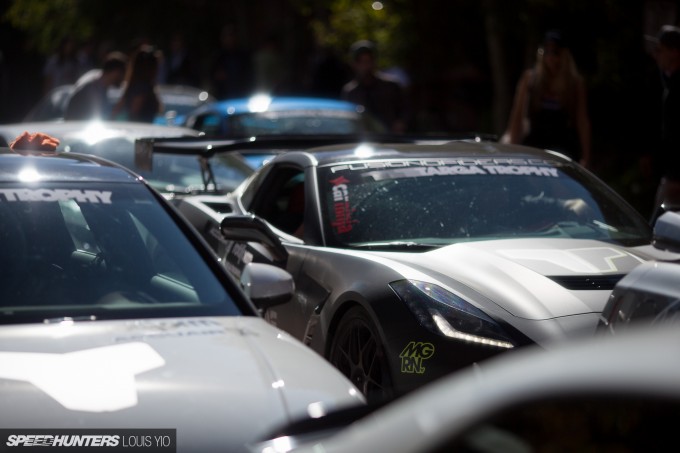 When we arrived at the hotel, all the cars filled up the driveway, kind of like a giant meet in a small confined space.
Aspen To Park City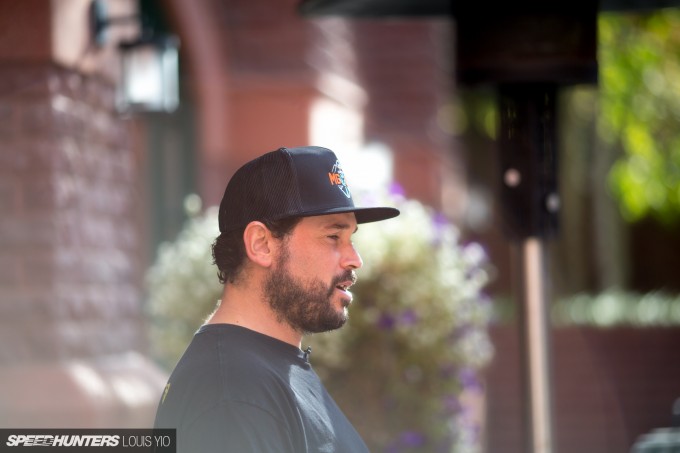 The second day of the trip was definitely an interesting one. Our end goal would be Park City in the wonderful state of Utah. Jason, Targa Trophy's founder, informed us about the route in the morning driver's meeting, and then we were off.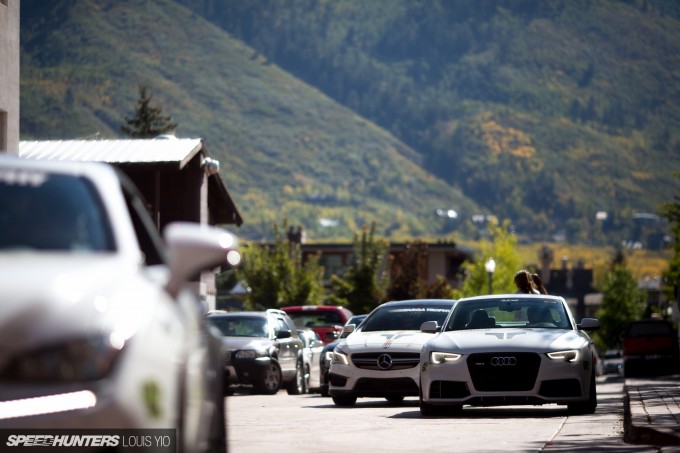 Leaving proved to be difficult as we were all parked so close to each other. At least it looked really cool.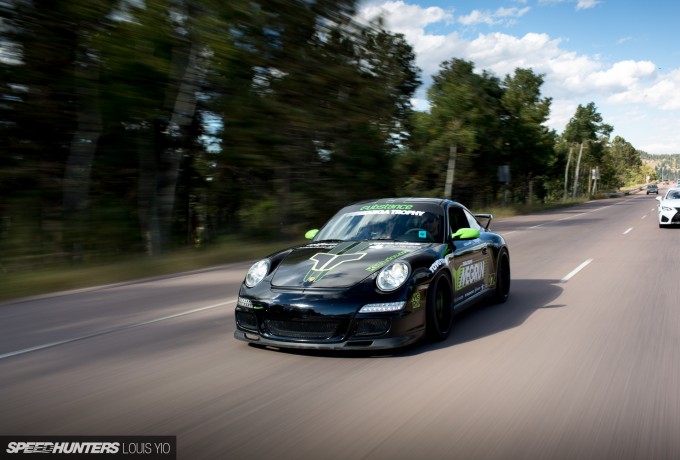 Again, I jumped into a different car, this time a Porsche 997 GT3. The GT3 is, and will always be my dream car. I just have to have one. Sure, it's not as practical, comfortable or as fast as the Turbo – and it costs more. But it's a GT3.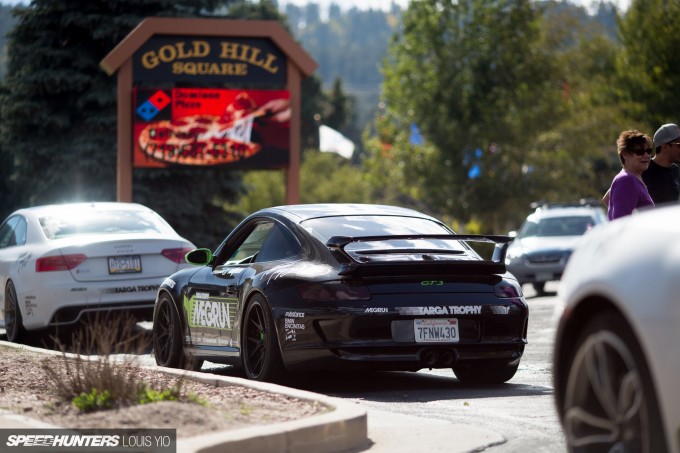 Although Dan, the owner of the 997, was was part of the rally, he told me that he just wanted to enjoy driving on the beautiful roads and didn't care too much about winning. For many, that's what this event is all about.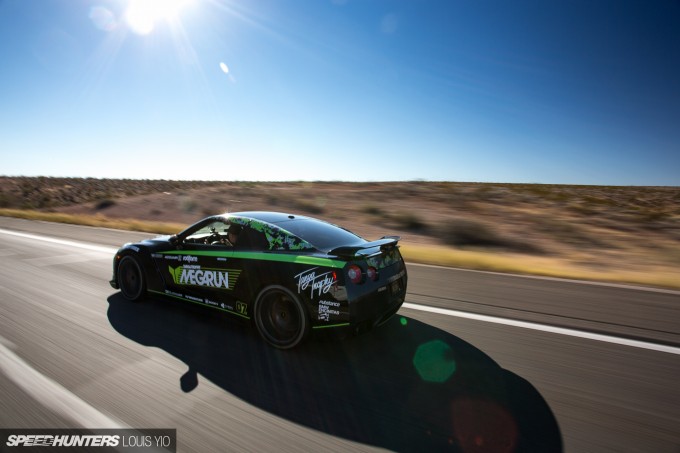 Unlike the first day of the rally, the second day took us through some drier terrain. Because we were one of the last cars to head out, we took a small shortcut that according to Google Maps was supposed to save us about three minutes. I honestly don't know how, but we ended up making a big jump on the pack and caught up with the fast guys in front. Let's call them the wolfpack… These wolfpack guys were driving fast – proper fast. While everyone else was keeping it under the limit, these guys were driving at the dizzying speed of 55mph, kind of like those three fellows from the UK on that one TV show about cars.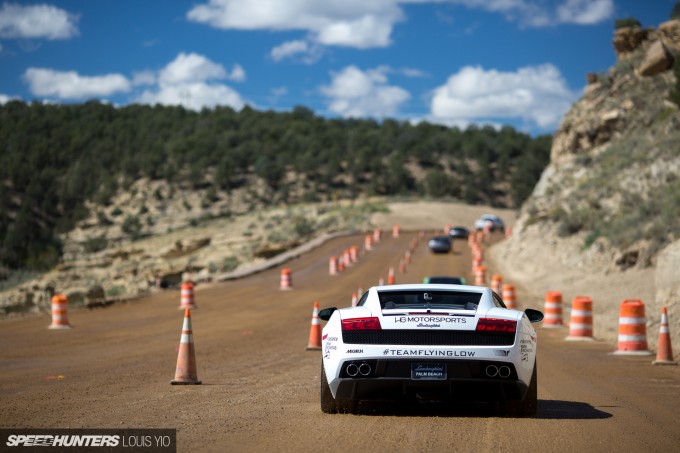 Jason informed everyone in the morning driver's meeting that there were two routes we could take. One would take us straight to our checkpoint in the little town of Rangley (Hwy 13), while the other would take us through some twisty roads (with dirt), but end up at the same place in roughly the same amount of time (County Rd 5). We opted for the dirtier option. This is probably the first and only time you'll see a Gallardo driving in mud for more than 10 feet. You saw it here first! If you ever see it happen again, let me know.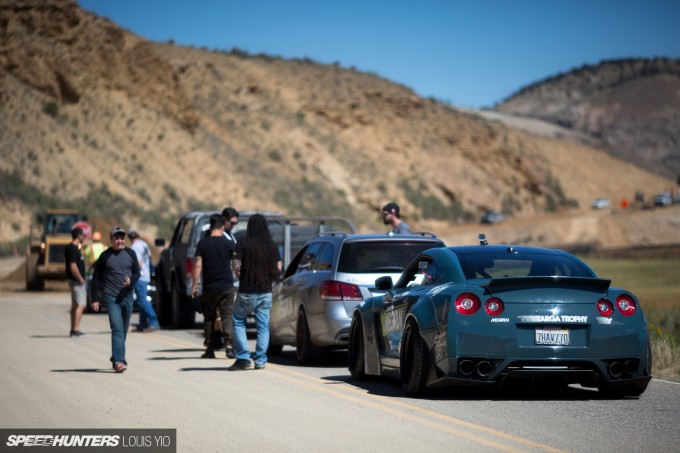 The presence of dirt was because of construction that was going on at the time. Smooth roads don't pop out from nowhere.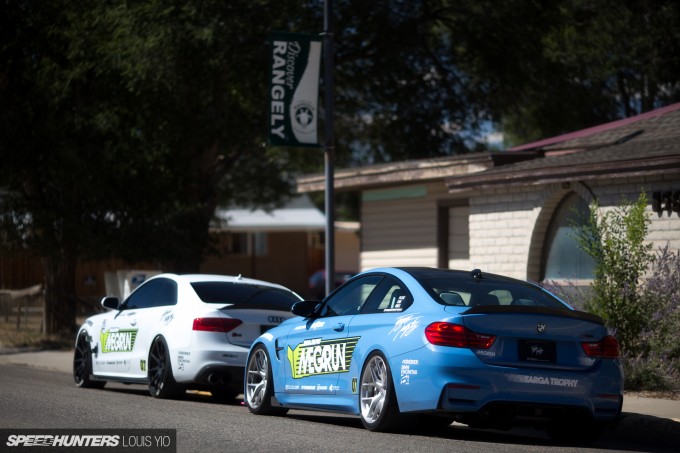 We stopped for lunch and then continued on our way.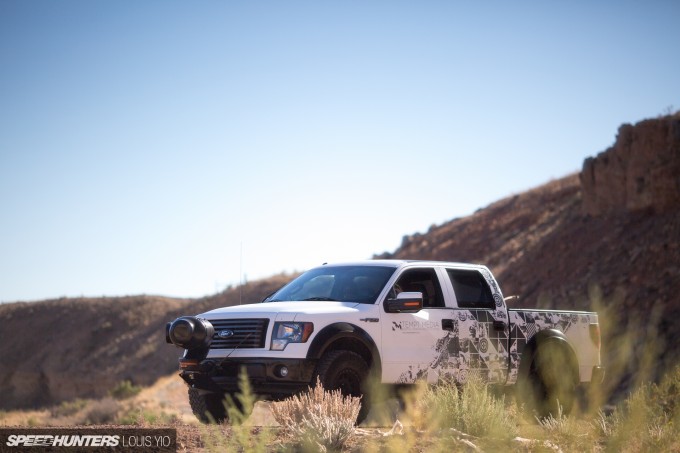 Once again, I decided to ride in another car, this time a Ford F150 driven by the guys at Tempt Media who were making a cool little video for Targa Trophy. Because of the front attachment on the car, the F150 was 'technically' the most expensive car in the rally. That thing is a Shotover F1 – a gimbal (which houses a camera) that's usually mounted under helicopters for aerial shots.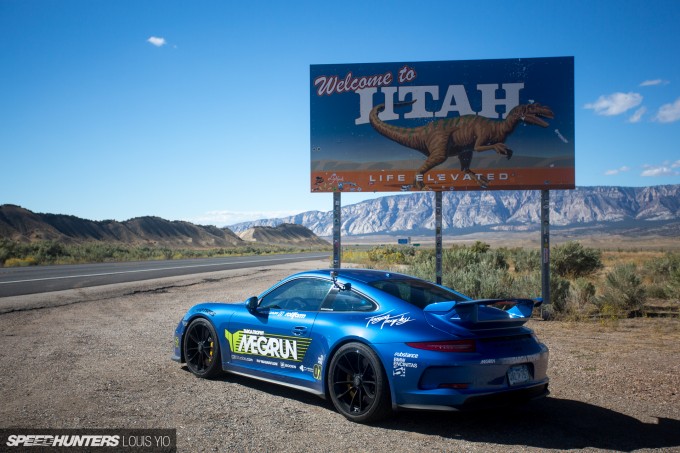 We eventually hit the Colorado/Utah border and were greeted with this awesome sign that I'm sure Dino would approve of. The view from this location was absolutely breathtaking.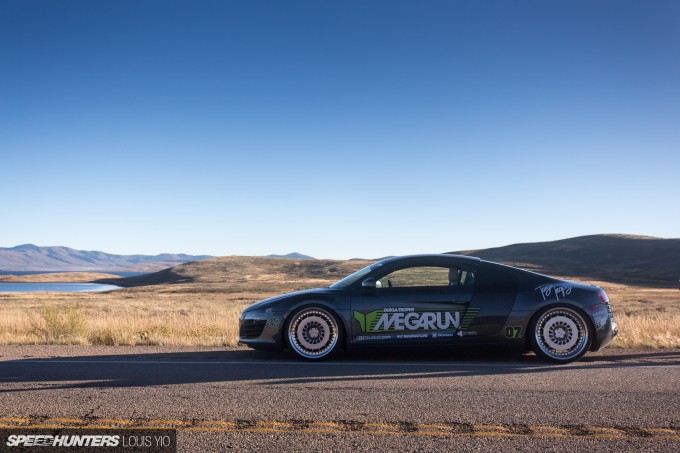 Everywhere we looked, the surrounding landscape was amazing. I seriously couldn't hide my smile.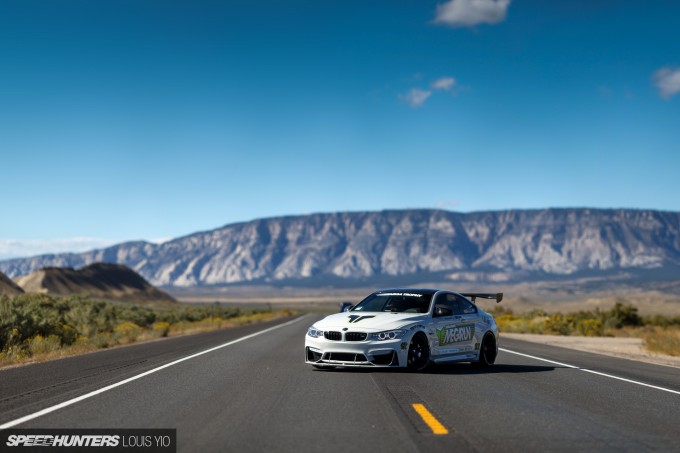 I couldn't pass up this opportunity: ridiculously long and straight road, beautiful mountain in the background, and someone willing to let me use their car for the shot. By the way, expect a full feature on this BMW M4 in the near future.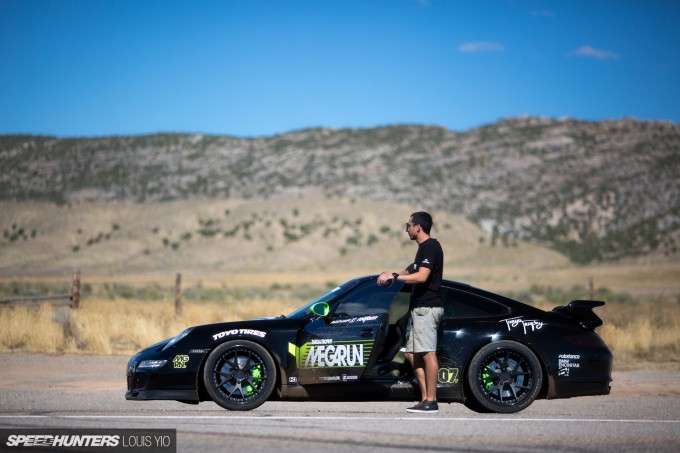 As we made our way into Utah, we were informed that Dan's 997 GT3 had broken down.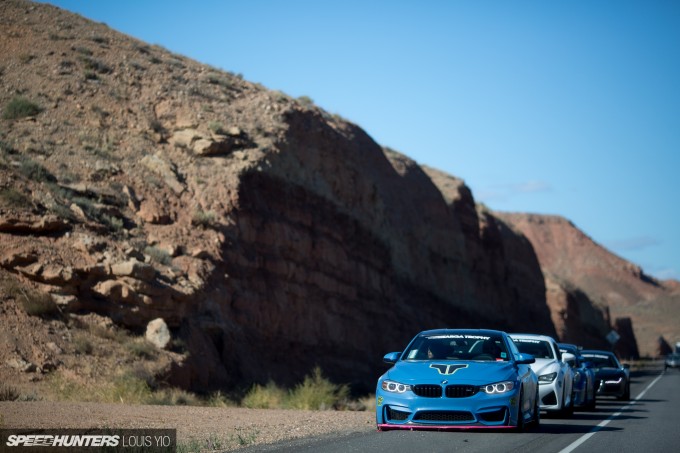 We stopped for a bit and Jason asked a few guys to stay back with Dan to sort out the issue while the rest of us moved on. We were still about three hours away from Park City, but word came through that the wolfpack had almost arrived.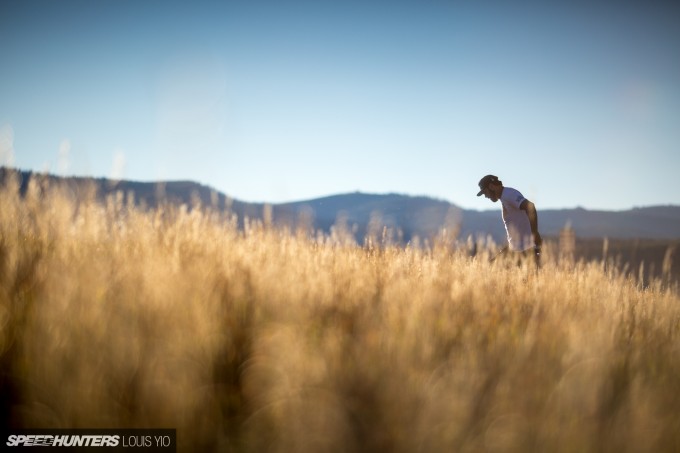 As the sun was winding down, Jason decided it was the perfect time for pictures and videos. The Tempt guys and I took advantage of the glorious golden hour and racked up as many sunset shots as we possibly could.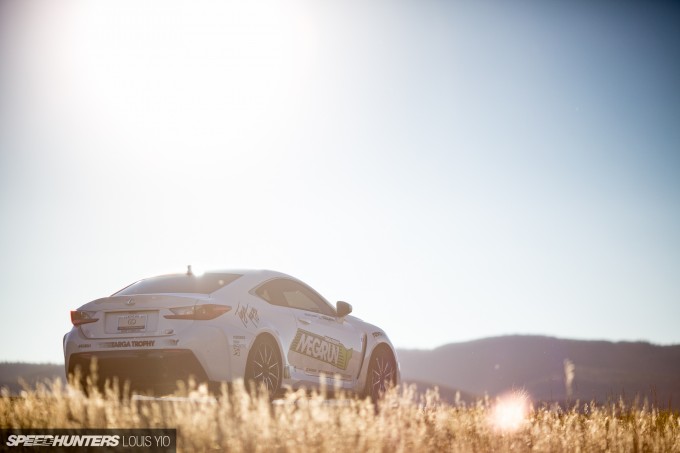 I can't include everything, so make sure to check out the Bonus Images chapter at the bottom of the page.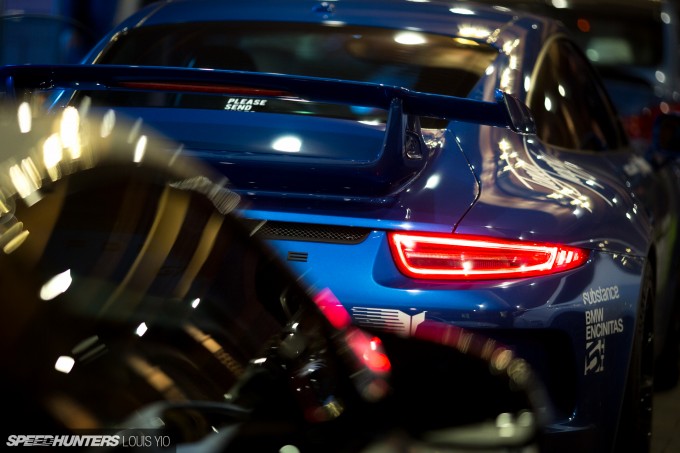 We finally made it to the hotel in Park City, and again, had all the cars park right outside the hotel.
Park City To Las Vegas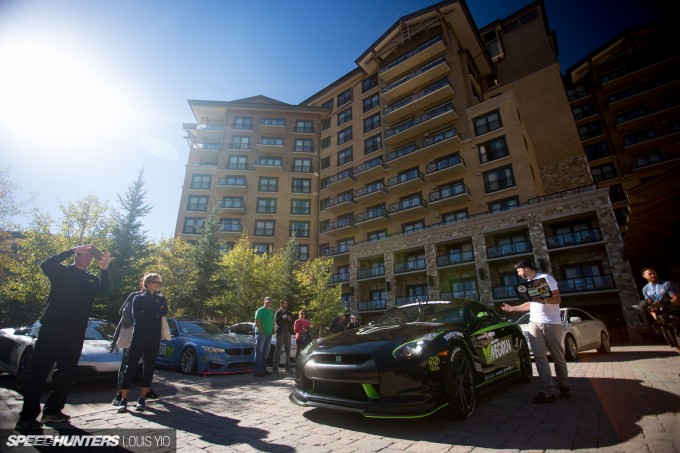 The third and final day took us from Park City to Las Vegas. I was fully expecting this day to be as beautiful as the two other days. I mean, after seeing an awesome dinosaur welcome sign, you kind of have to expect the best.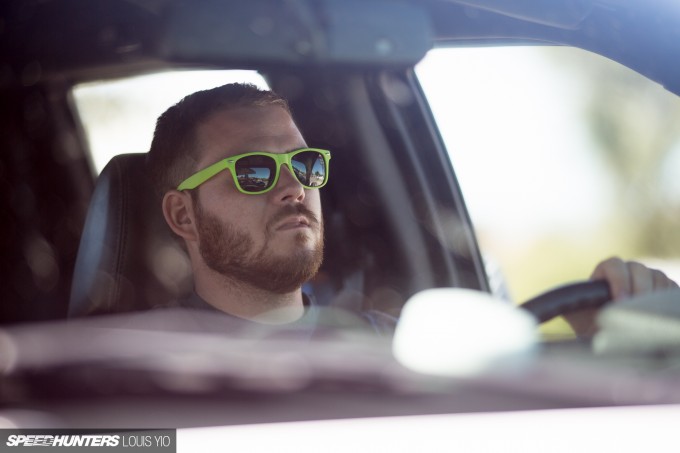 I decided to stick with the Tempt Media guys again this time because their goal was to shoot the wolfpack. We spent most of the first two days in the middle and back of the group, so we hadn't collected nearly enough footage of the mysterious wolfpack that no one had really seen. With Bryan behind the wheel…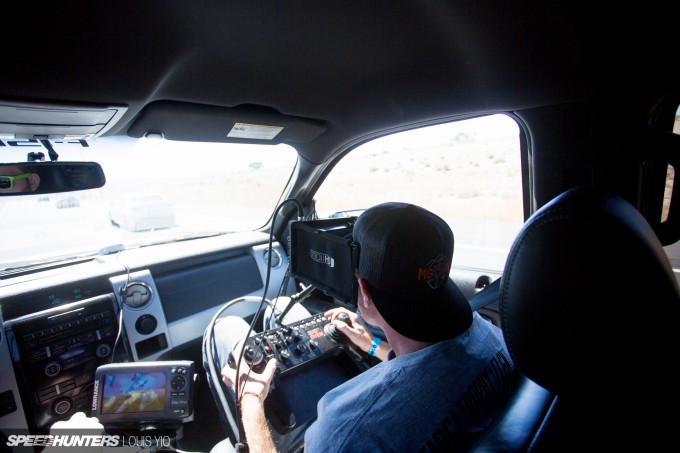 And Eric behind the F1 camera, I knew it would be a good idea to stick with these guys on the final day.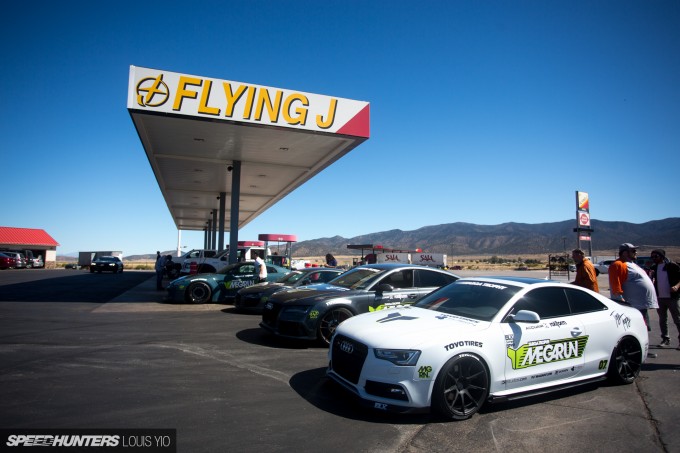 We had probably stopped at over 9000 gas stations by this point of the rally.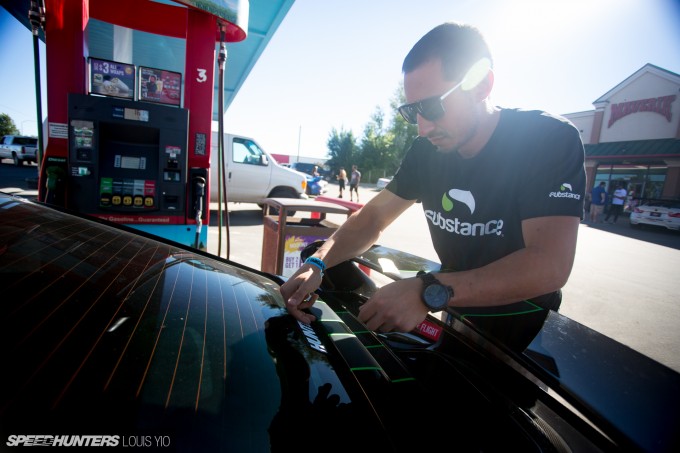 I made good use of the time and handed out a few of our new Hunted stickers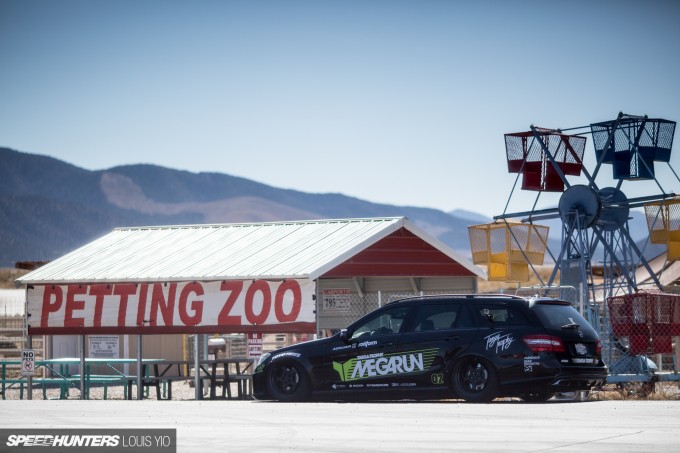 Our first stop on the last day took us to this completely random petting zoo, right off 15 Fwy that leads directly into Vegas.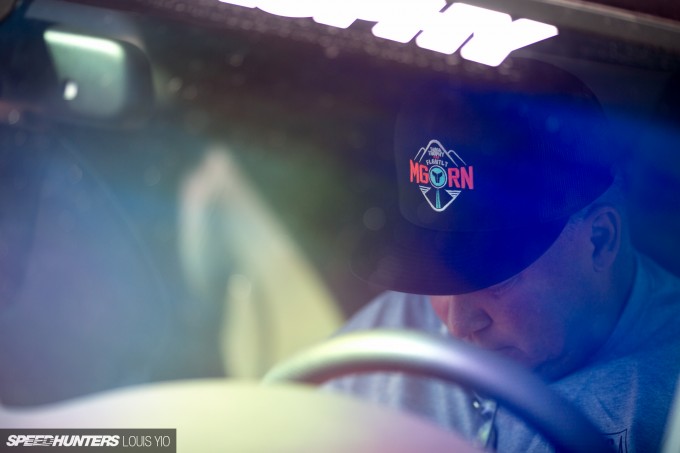 This is Megarun though, so we only continued on the 15 for another couple minutes.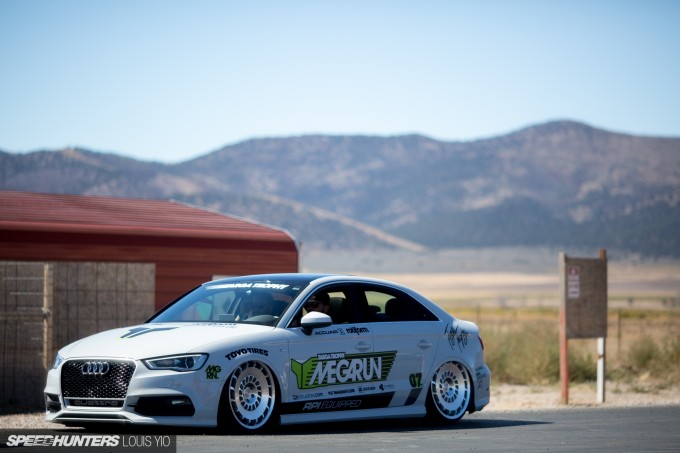 These guys came all the way from Canada to drive in the Megarun – that's dedication.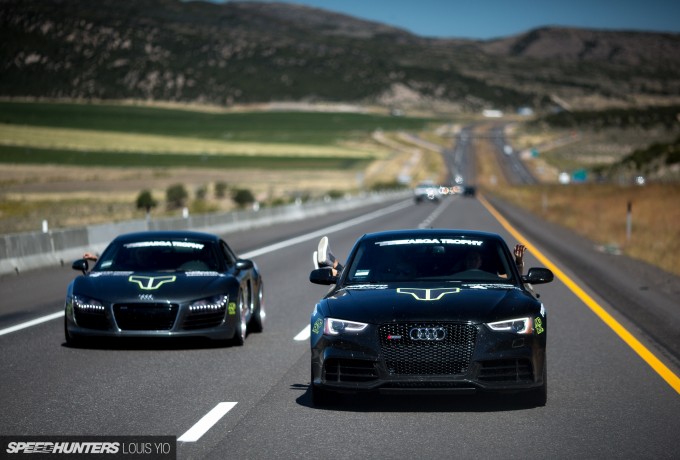 As we continued on the 15, I realized that the driver of this RS5 was the only female behind a wheel in this year's event.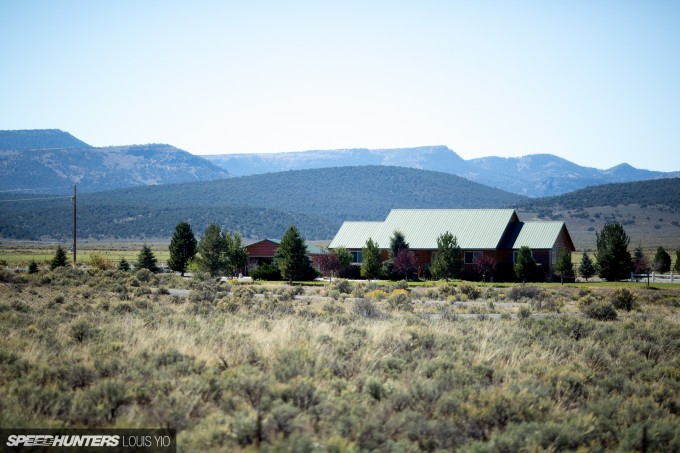 We eventually took an exit and headed into Dixie National Forest.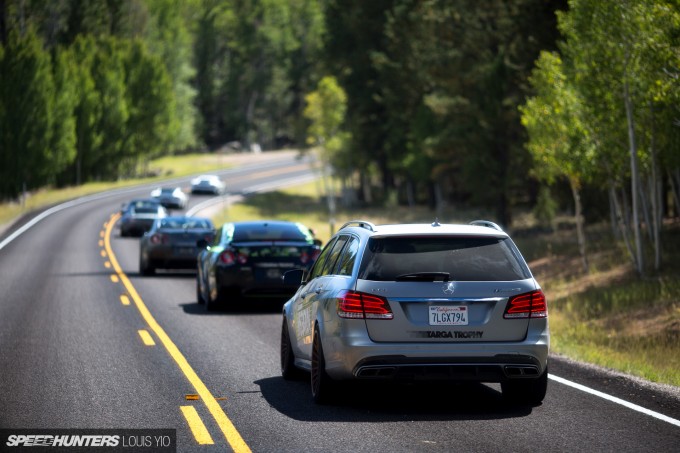 Have you guys ever seen the Japanese videos where Tsuchiya and his posse drive through forests on really narrow roads? This was basically the American version of it, except with slightly wider and smoother roads.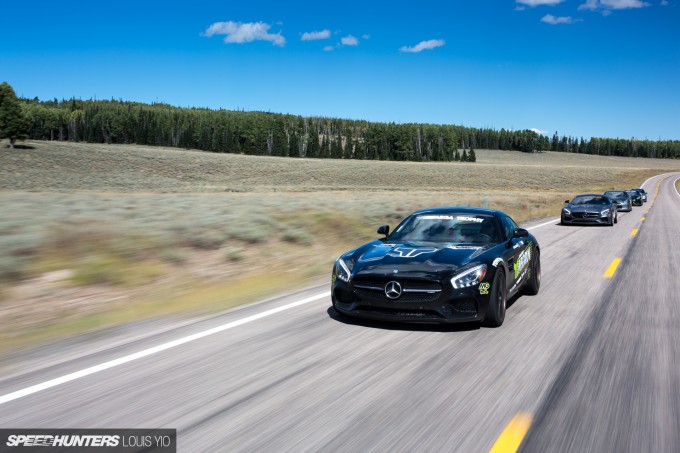 There were two Mercedes GTSs out in full force during this rally. These guys were part of the wolfpack so I'd only caught a glimpse of them before this point.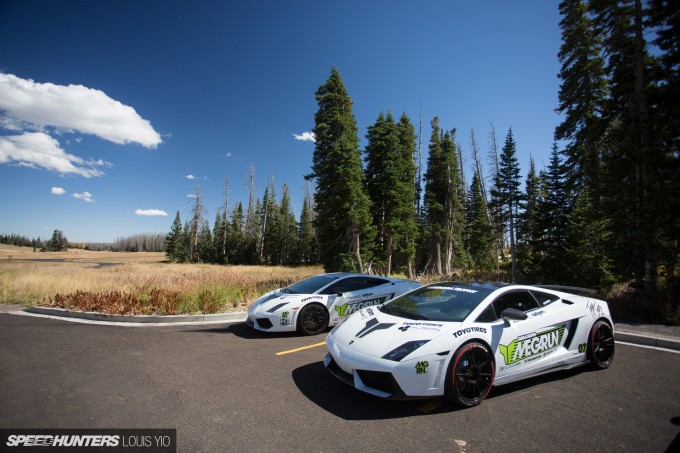 In front of the two Mercs were these twins, leading the wolfpack.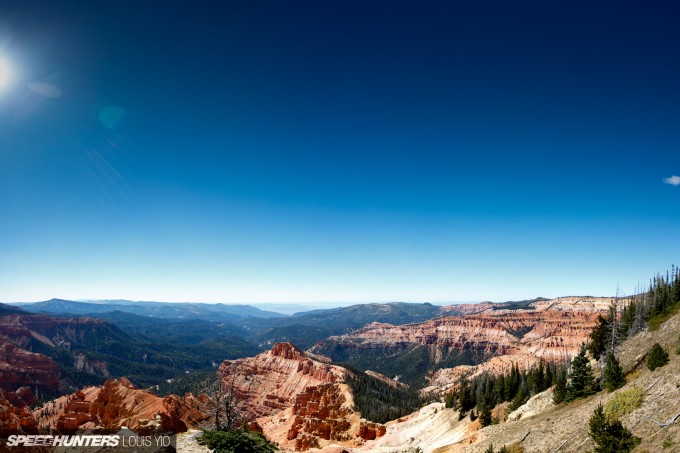 We were greeted with this amazing view at our checkpoint, the Cedar Breaks National Monument.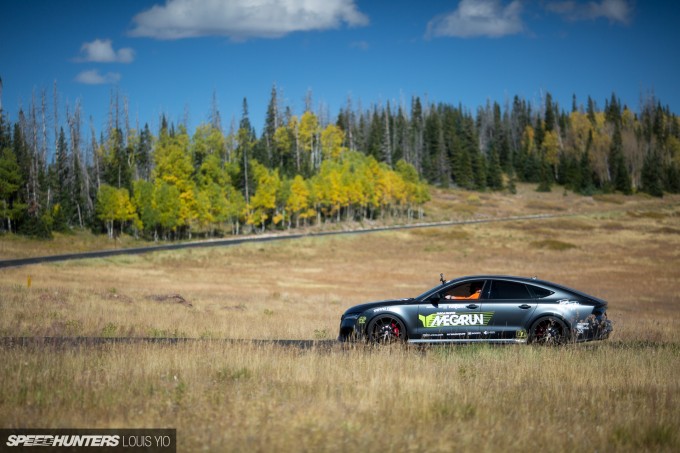 We all agreed that it was the most beautiful checkpoint of the event, and then continued on our way. I don't know how, but the RS7 somehow caught up with us too. Oh wait, 750hp… I keep forgetting.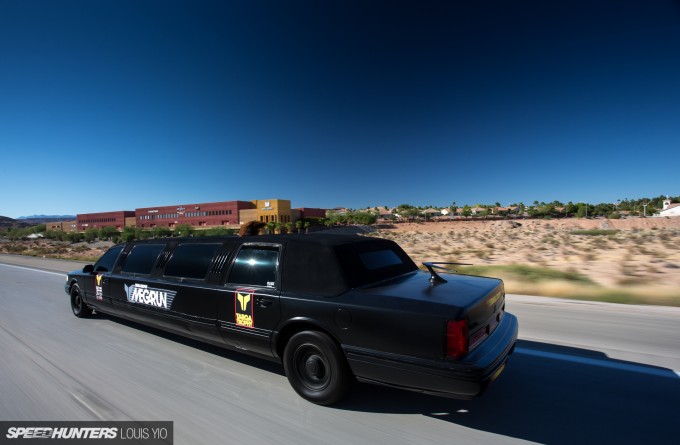 About an hour away from Vegas the coolest car of all time showed up right next to us. Yes, that's a limousine with Targa Trophy Megarun decals on it. These guys weren't actually part of the rally, they were just some local supporters who wanted to say hi. The driver pretty much had to have his foot to the floor just to keep up with us and the wolfpack, though.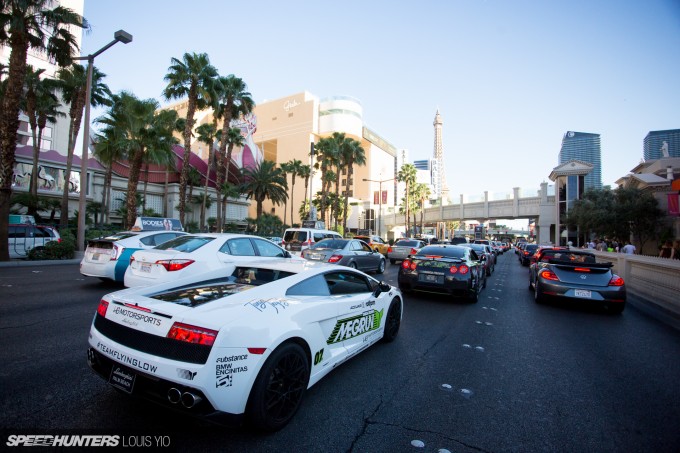 Eventually we made it to the Vegas strip and finally hit the traffic we were expecting. Following three days of congestion-free roads, the last mile of the rally saw us stuck bumper to bumper. Ugh! Oh wait, I'm trying to be optimistic. The traffic did allow us to finally drink our waters without spilling them…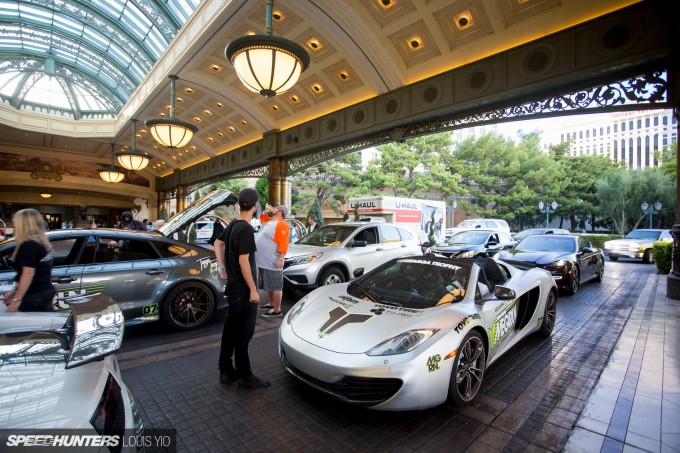 After arriving at the Bellagio and getting out to do our 'I've been in a car for way too long' stretches, we found out that the winners of the rally were the two girls cruising in their Audi RS5 in the back of the pack. The goal of road rallies isn't to get from point A to point B in the fastest time, but rather, as close to a specific time as possible.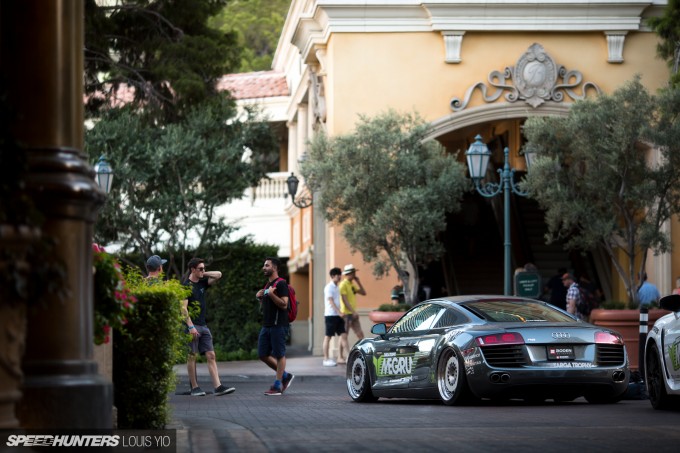 Shooting this road rally was definitely challenging. There were so many shots that I wanted to get, but I physically could not execute them because I didn't have a car of my own in the event. We live and learn, so hopefully I can do something like this again, but with a bigger bang.
Jason and everyone from Targa Trophy, and all the drivers who put up with me during the rally helped me out tremendously. Thanks guys for an amazing experience!
Louis Yio
Instagram: lusciousy
Cutting Room Floor