All-Terrain Dreaming
I love cars. If I didn't, there's no way I could have this job. But rather than just having a deep appreciation for automobiles, I also pride myself on being very open-minded when it comes to different styles and genres of vehicles. I can't be one of those guys devoted to just one brand or type of car, and should someone give me a garage to fill with 10 vehicles of my choice, each one would be completely different from the others.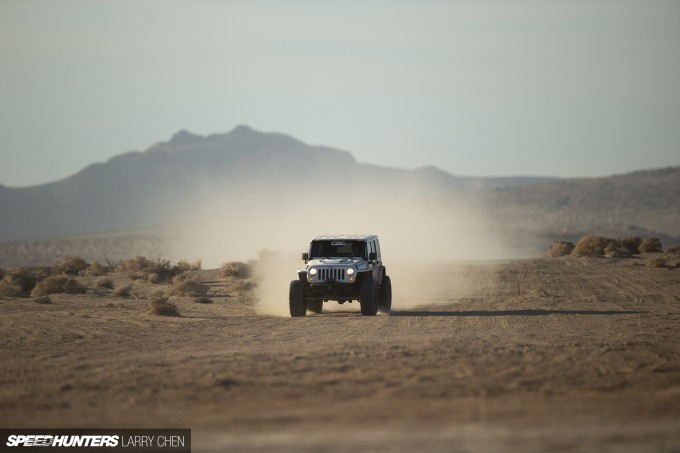 In one corner of this dream garage you might see a '70 Dodge Challenger. In another you might find a '32 Ford Roadster and in another there might be an AE86 or a Kenmeri Skyline. Daily driver? Something like an Mercedes-AMG E 63 wagon would be quite nice.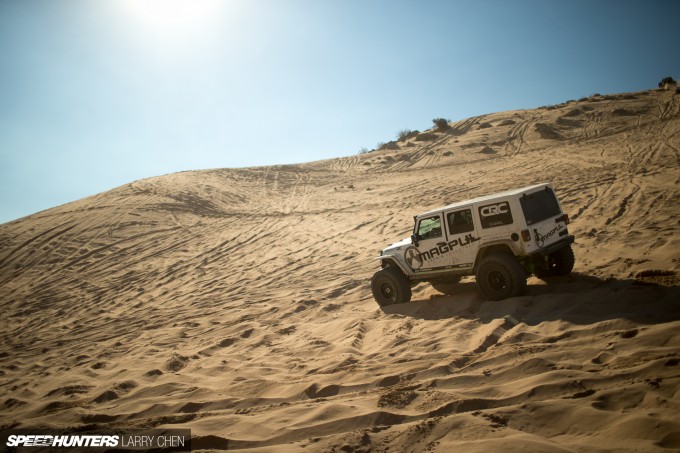 The point is, I dig all sorts of cars and it's impossible for me to settle on just one. I just can't stop my mind from wandering back and forth.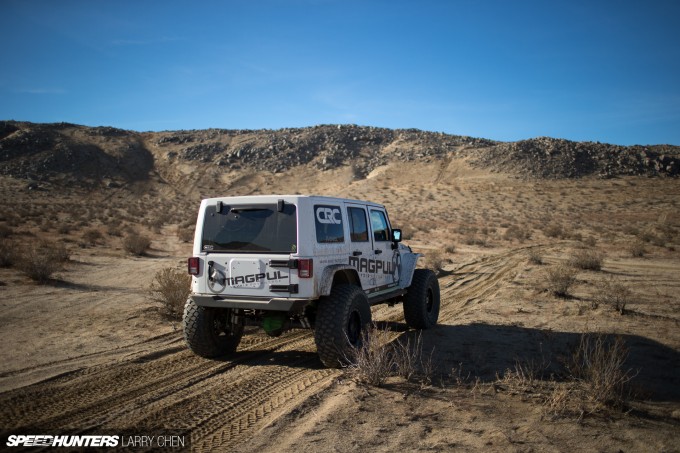 But for as varied as my interests are, there are still areas of motoring culture that I'm a complete stranger to, and one of them is motorcycles. Sure, I love the style of vintage choppers and bobbers, cafe racers and old Japanese street bikes, but for a number of reasons I've never had a strong urge to ride or build one myself. I'm perfectly happy to enjoy them from afar.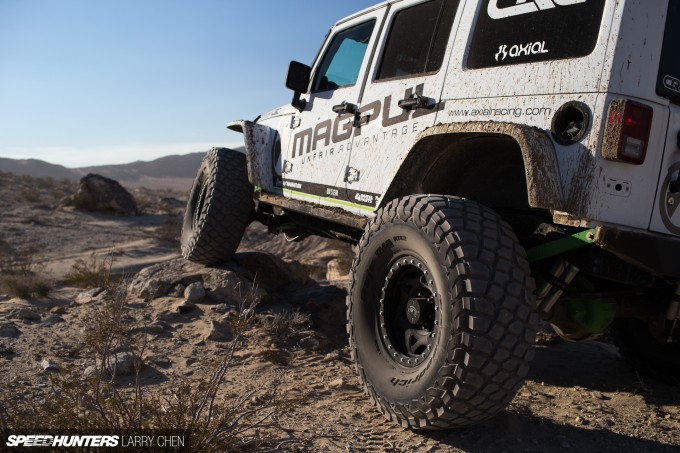 Then there's off-roading. As with motorcycles, this is an area which I'm a complete newbie to. In fact, my primary experience with all-terrain driving is mashing the nitro button on off-road video games as a kid.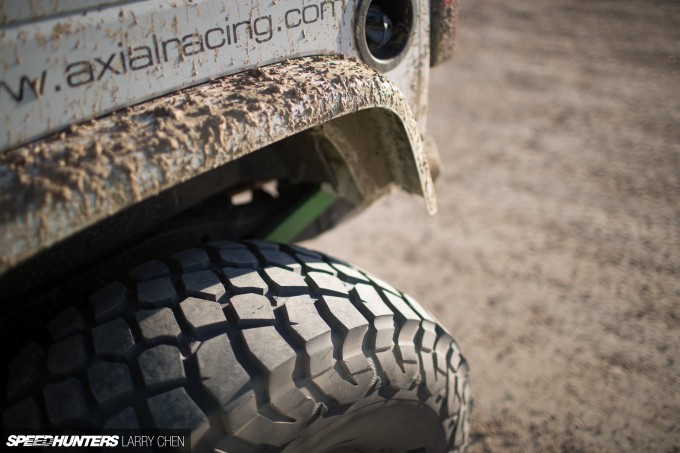 But unlike motorcycles, off-roading is something I'd like to try for myself at some point. I know a number of people who build and drive 4x4s in addition to their traditional road-going projects and it seems there's a lot to like about it.
No Limits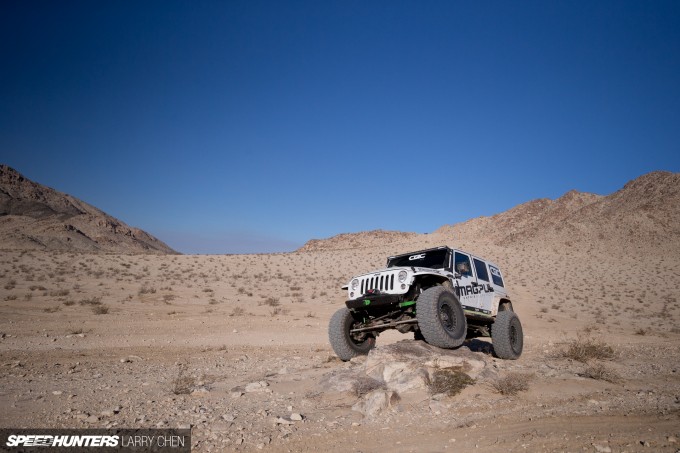 First you've got the machines – and many of them happen to be damn cool. Yes, you've got your parking lot queens that never get dirty, but any crowd will have its posers. A legit off-road machine is something to behold.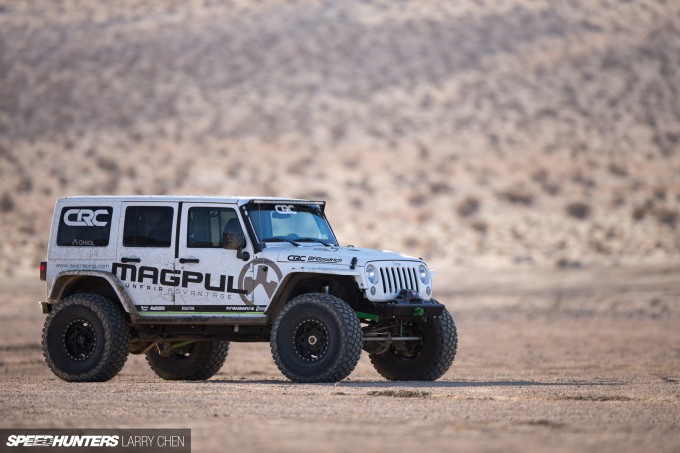 That brings us to a radical four-door Jeep JK built by Casey Currie – a name which off-roading fans are surely familiar with. Casey is one of the most recognized competitors in American off-road racing and comes from a deep gearhead background.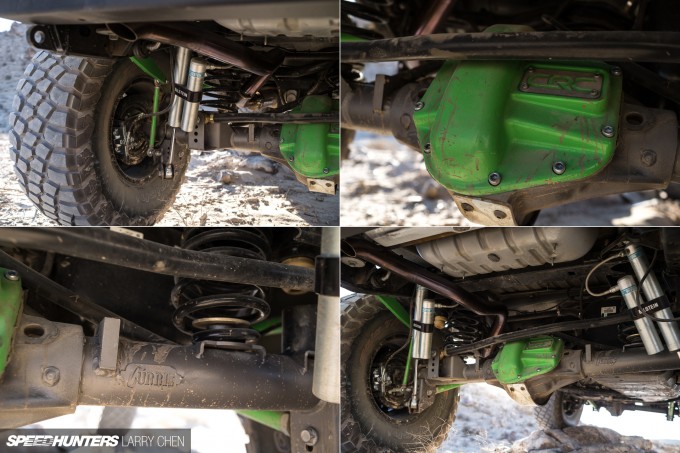 The family business, Currie Enterprises, has been building high performance rear ends for over 50 years and Casey first started racing dirt bikes at the age of 5 before moving to off-road vehicles at age 16. Today he can be found competing professionally in the Lucas Oil Off Road Racing Series, at Baja and more.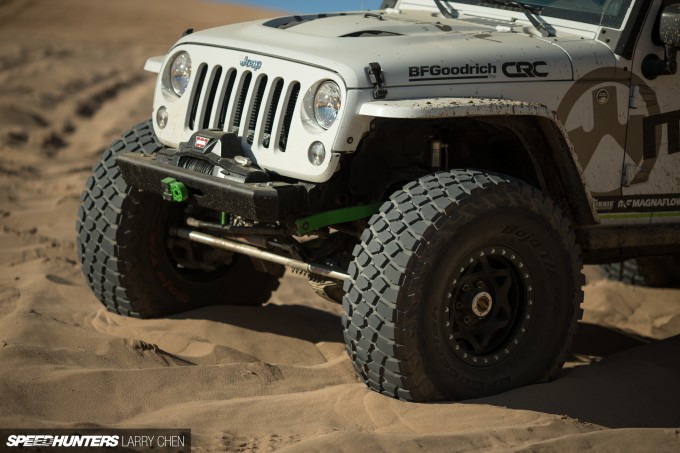 I was going to call this JK one of his 'street' builds, but that wouldn't make sense at all because this thing was definitely not built for pavement. Instead, this production-based machine was built as a go anywhere, do anything four-wheeler.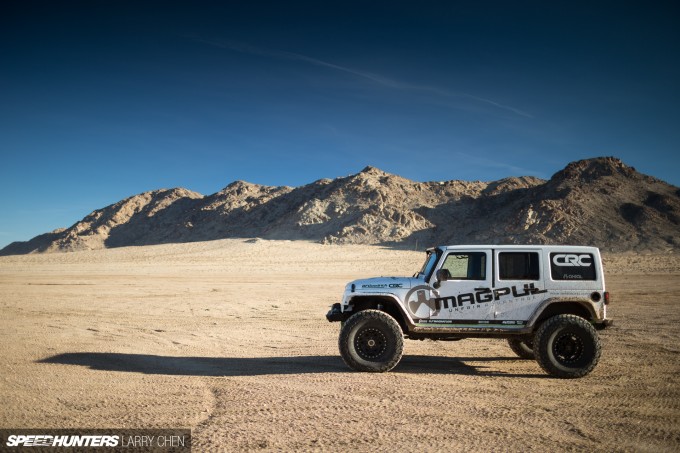 And that's actually one of the things I find most appealing about the off-road scene. While the traditional car hobby has a strict barrier between what can happen on a closed course and what can happen on public streets, off-roading is much more open. You need not go to a sanctioned event to truly enjoy the hobby.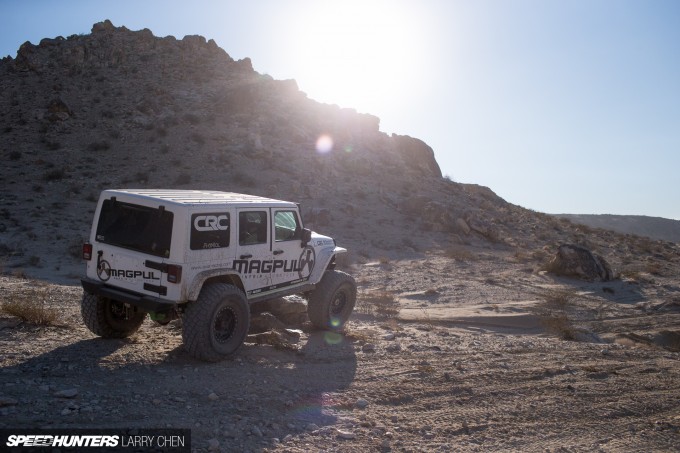 Rather than being limited to a small section of pavement, off-roading seems to present endless possibilities. In fact, the only limits seem to be the capability of pilot and machine.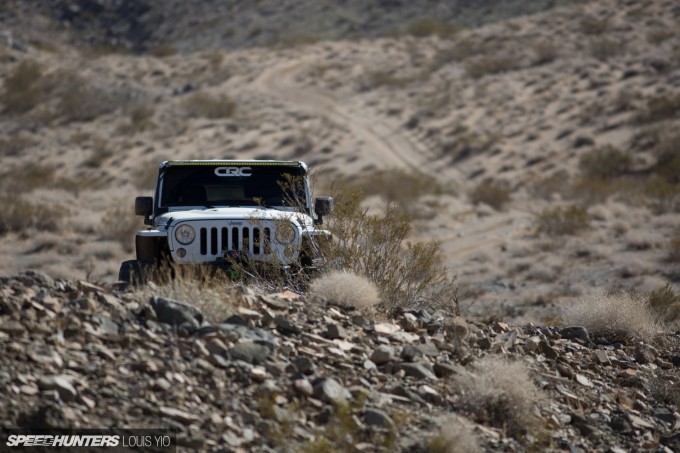 When Casey began this build his plan was to go a little over the top. He wanted a machine capable of handling anything the environment might throw at him, and not just over short trails but at grueling proving grounds like the King of Hammers and Mexico's legendary Baja events.
Fully Equipped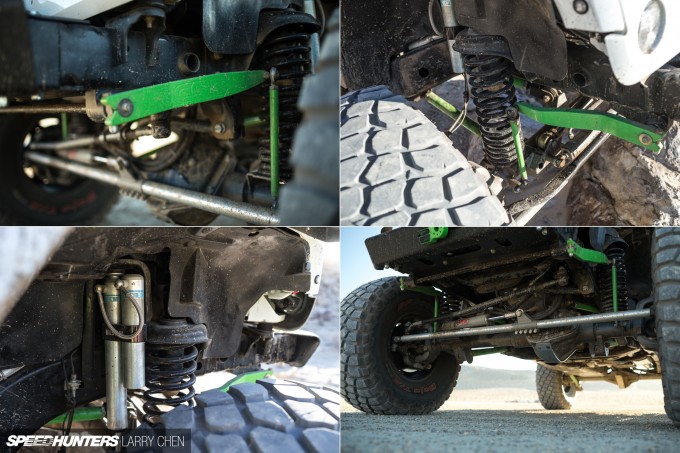 Starting with a stock JK, Casey stripped the Jeep down and proceeded to apply the tricks he's learnt from his years of playing with off-road machinery. He began with a four-inch Currie Enterprises lift kit with Bilstein shocks and added custom aluminum and billet suspension arms. Everything was then mounted to the chassis with custom-made housings for a wider stance.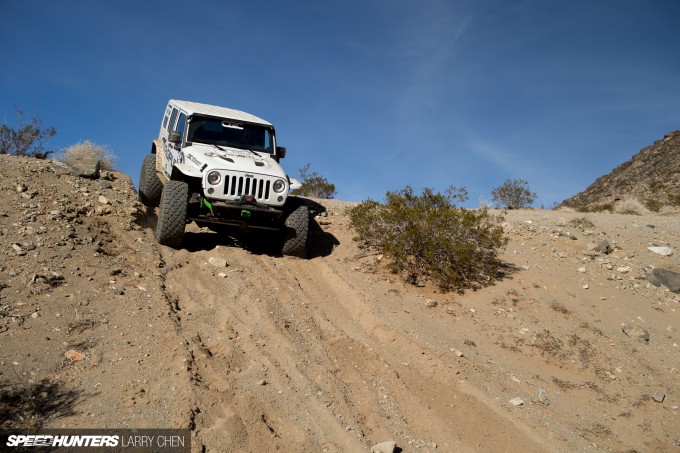 In the drivetrain department Casey fitted Currie Enterprises Rock Jock differentials in the front and rear with Spicer drive shafts. The final gear ratio is 5.38 with ARB lockers at both ends.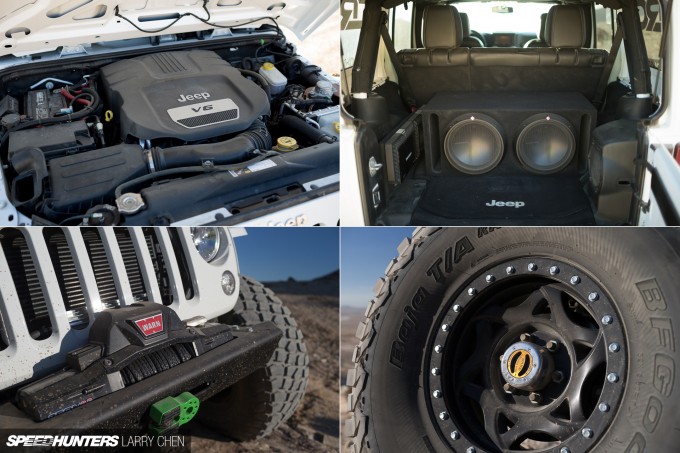 As for the powerplant, the V6 engine has been fitted with an R2C air filter and a Magnaflow exhaust but has otherwise been left stock to ensure reliability when out in the wilderness.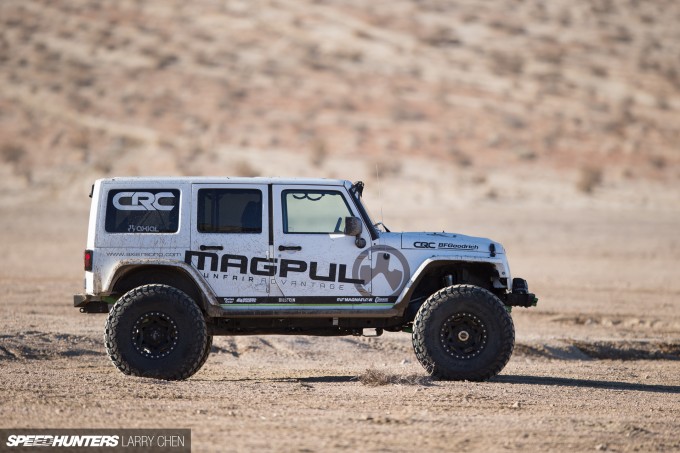 From the beginning Casey knew he wanted to fit a radical wheel and tire setup, and he made sure the Jeep was prepared to fully accommodate some big rubber. The wheels are 17-inch Walker Evans bead-lock type and the tires are monstrous 39×17 BFGs.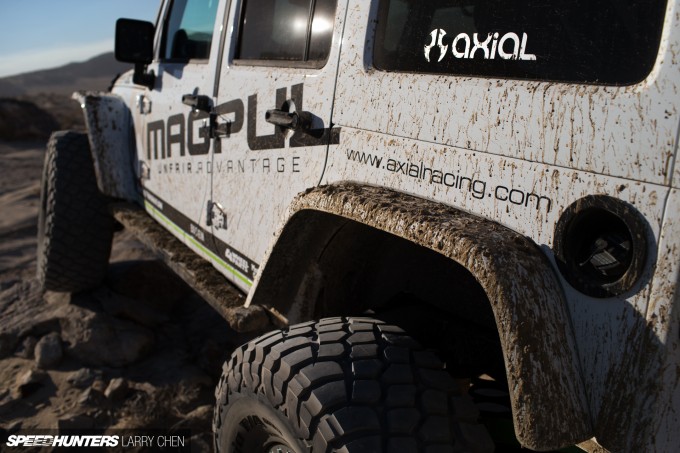 To fit the tires Casey did significant trimming to the body and then fitted a set of MCE fenders to keep everything high and tight. He also added a set of CRC bumpers and rocker guards.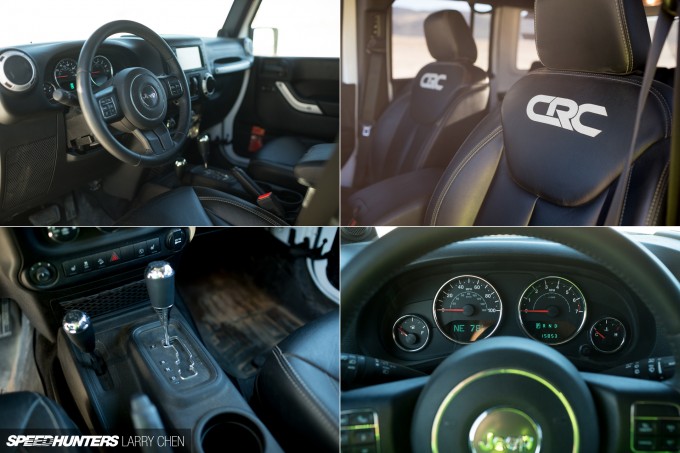 Inside you'll find all the creature comforts you'd expect from a modern Jeep. Care was taken to ensure the cabin is a comfortable place to be during long off-road expeditions.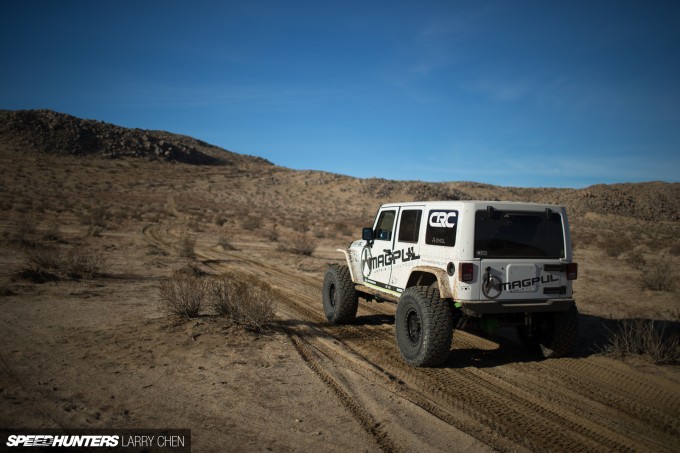 After completing the build early this year, Casey has already taken the Jeep to King of Hammers, Moab in Utah, and Baja where he logged over 2,000 miles across the rugged Mexican terrain. It seems that he's indeed succeeded on his mission to build the ultimate wheeler.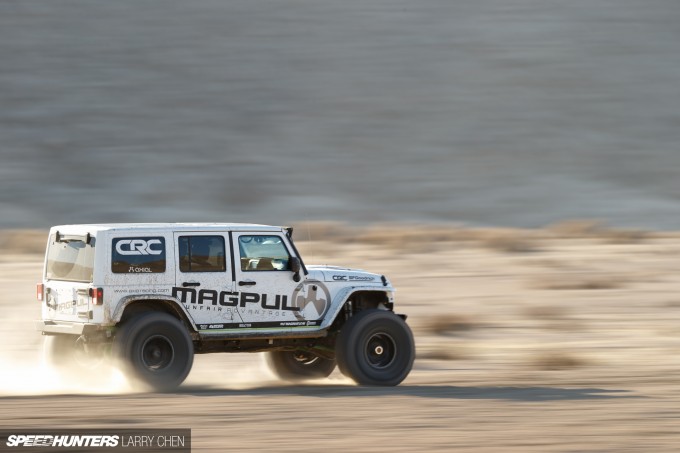 Right now I've got a couple of road-going project cars in need of attention, but hearing about Casey's Jeep is one more factor that has me thinking I need to try this off-roading thing myself at some point.
Boy, I hope my wife doesn't read this!
Mike Garrett
Instagram: japanifornia_media
mike@speedhunters.com
Photos by Larry Chen
Instagram: larry_chen_foto
larry@speedhunters.com
Cutting Room Floor