Origins Of Necessity
An obvious perk of being a part of the Speedhunters team is the exposure to some pretty special automotive creations. Cars with backstories dripping with character and tales of glory, others with bloodlines so steeped in prestige lesser vehicles seem to cower in the streets as they glide by. Then you get the fresher style of build, those engineering tour de forces bristling with quality craftsmanship and at the cutting edge of automotive trends.
So why are you looking at one of the most modest production cars manufactured Japan in during the early 1980s then? Allow me to introduce the creatively entitled 'Project KP61′. 
Almost 10 years ago to the day, this diminutive red hatchback came into my possession. Suffice to say, things have since progressed past any original intention, so pop the kettle on and brew up a cuppa, this could take a while as there's a lot of catching up to be done.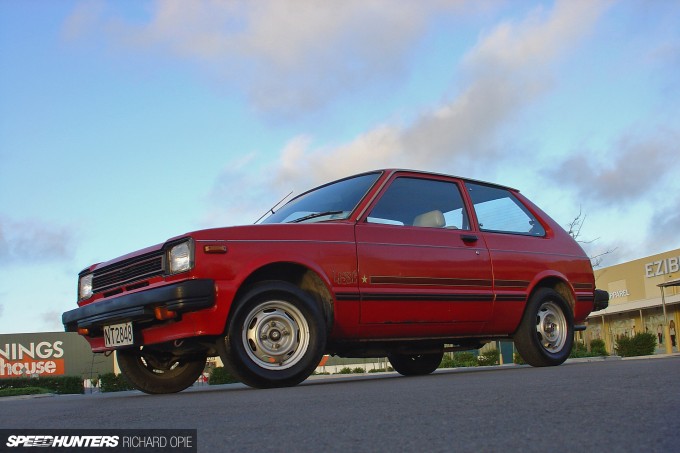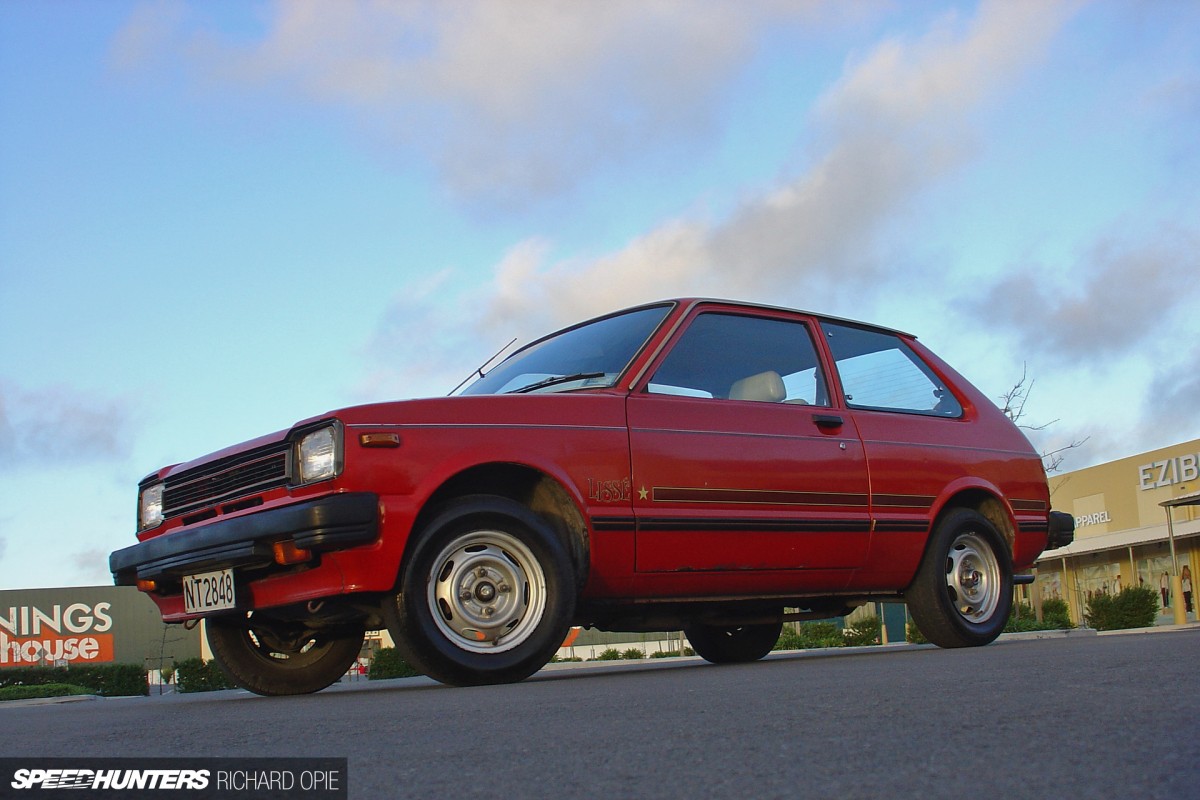 I sort of became a KP Starlet aficionado by accident. In 2004, I was living in New Zealand's South Island, Christchurch specifically, and studying at Canterbury University. My daily driver was an '83 Alfa Romeo Alfasud which I'd restored alongside my father whilst in high school – a vehicle that I treasured above all other possessions. A hare-brained idea formed that I needed a rougher car that I could subject to the daily rigmarole, park anywhere I liked and generally not give a damn about. This prompted the purchase of my first KP Starlet – a decrepit 1981 model that cost a meagre $100.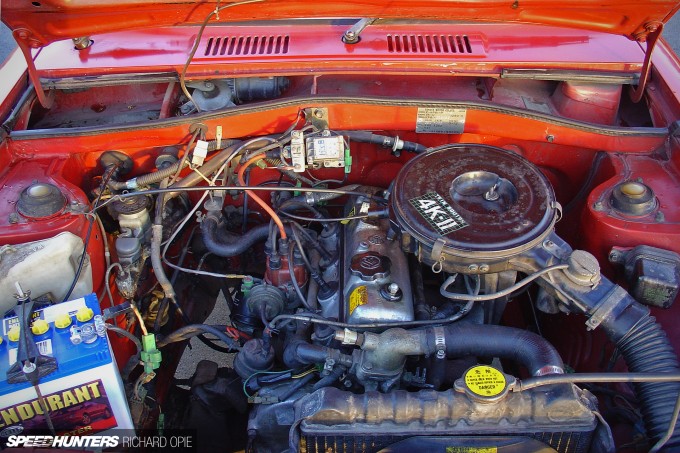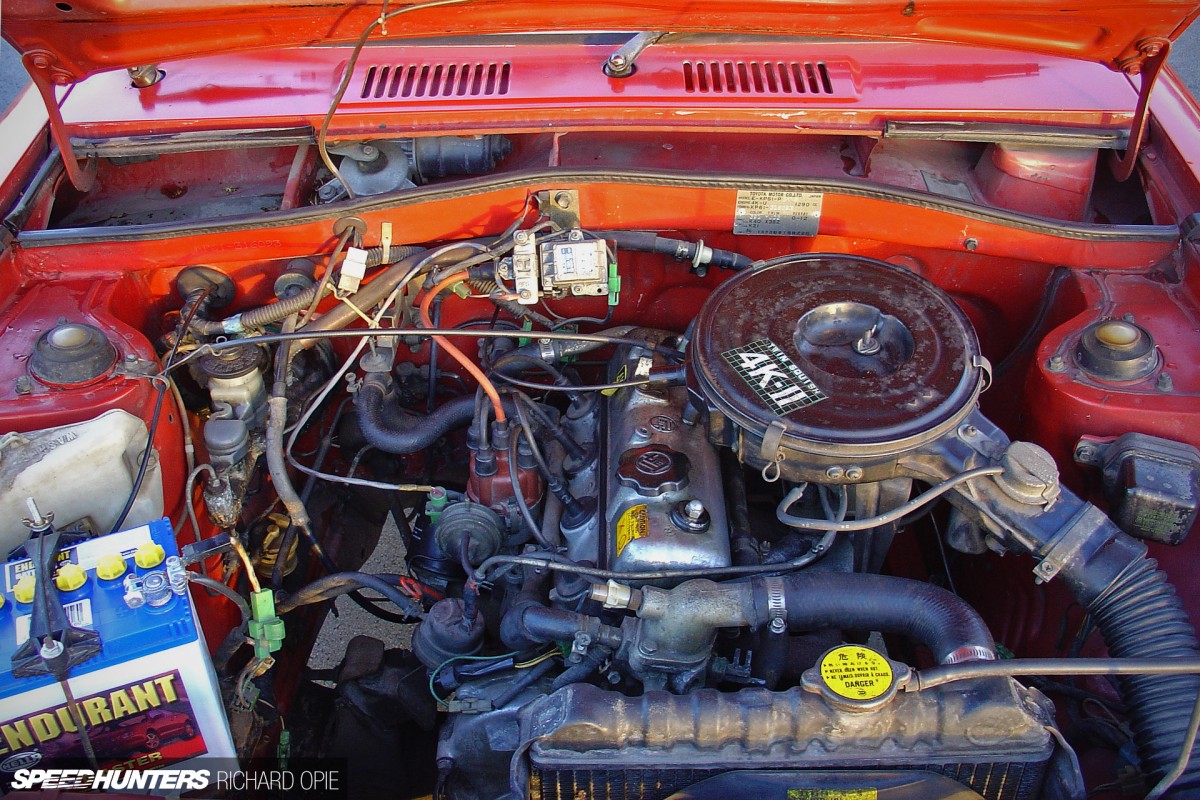 Even though it was run-down, looked disgusting and had a 1,000cc 2K pushrod engine better suited to producing some form of stitched garment, unbeknown to me at the time that car made a hell of an impression. Fast forward a year or so, the KP was long gone and I was pining for another. The problem? Student income, or the lack of it. Nevertheless, armed with a dose of optimism and a steely resolve to obtain another example, I eschewed the obvious choice of the internet marketplaces and went straight to the trusty Buy, Sell, Exchange classified ad paper, obtained at 6:00am in the morning – a tactic favoured by the keenest of bargain hunters.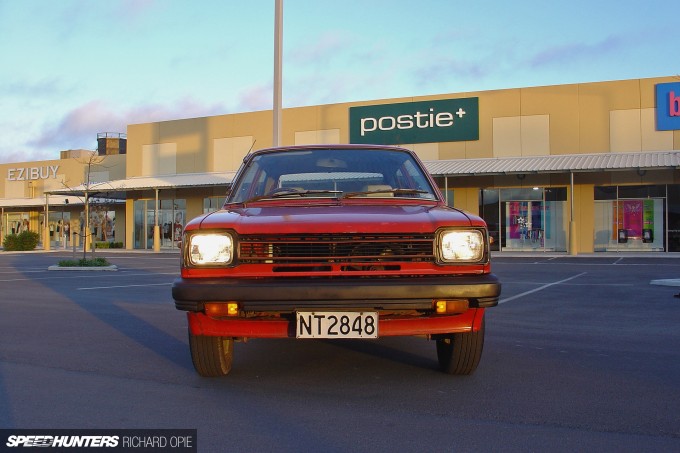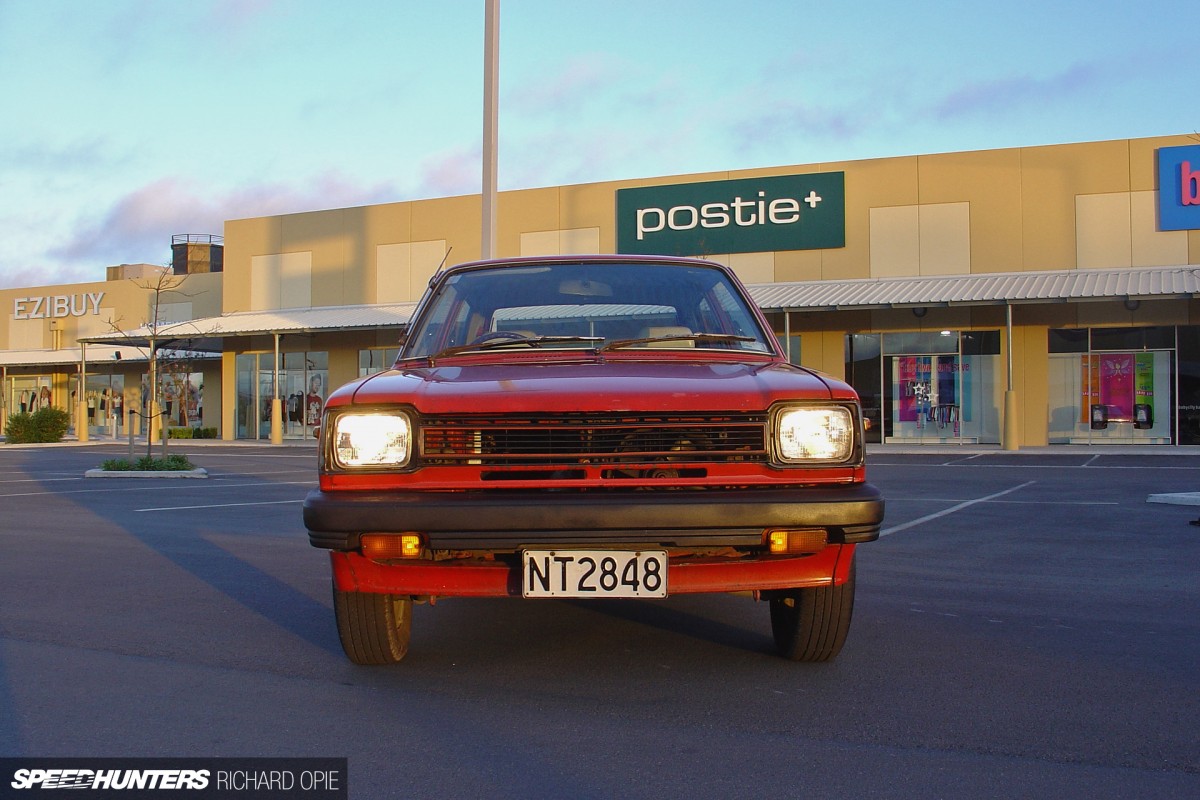 I can still quite vividly recall the somewhat ambiguous text submitted by the seller. 'Toyota Starlet. 1981. Runs well. WOF. Rego. $500 obo.' Not much to go on, but at least there was a contact number, which I promptly dialled with what little prepay credit I would have had lingering on my mobile account at the time. This was exciting. As the dial tone buzzed in my ear the classifieds became illegible in my trembling hand. "Hello?" 'Uh. Oh. Hi, yeah I'm, uhhh, I'm calling about the Starlet you have for sale?' The voice on the other end regrettably informed me that no, I couldn't look at the car then and there as it was a workshop courtesy car, but come 5:00pm I was more than welcome to rock on down and check it out.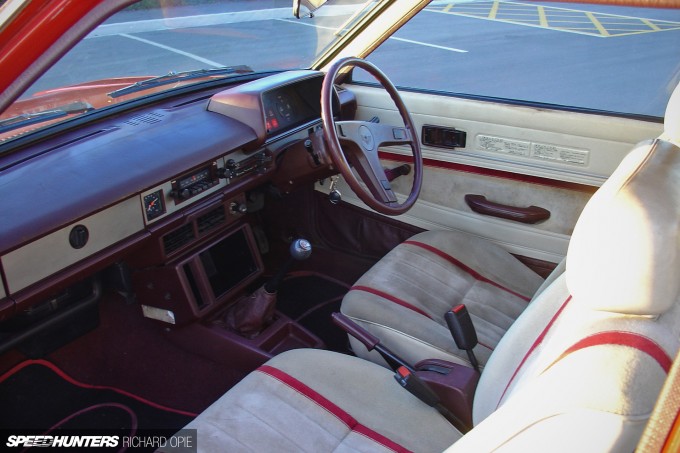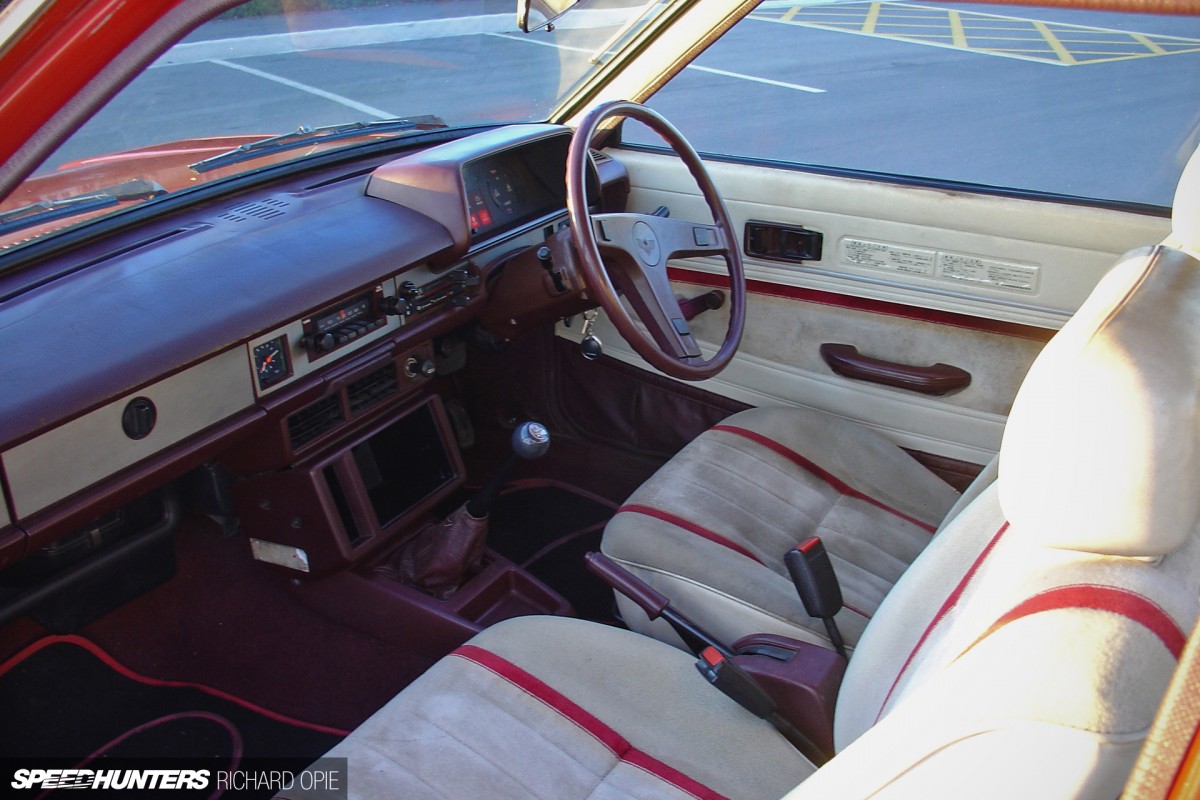 I'm not sure I achieved a whole lot that day, Linguistics 201 definitely went in one ear and out the other. All I could focus on was making it to 5:00pm and picking up my new Starlet. Suffice to say, eyeballing the small crowd that was also present to view the car didn't really make my day. But I'm born of proud negotiating stock, so I put on my bravest face and swaggered through the assembled throng to be confronted by a slightly beaten up, but otherwise original 1981 KP61 Starlet 3-door. In fact, it was more than that, this was a Japanese market model blessed with a higher spec than New Zealand new cars, namely a 4K-U 1,300cc powerhouse and a K40 4-speed gearbox. Perfect.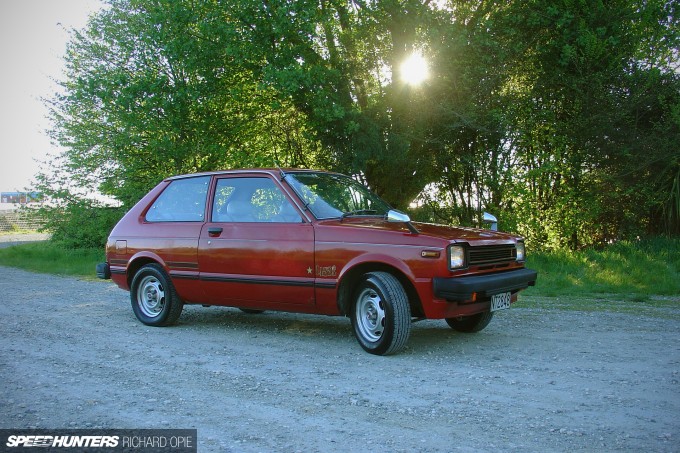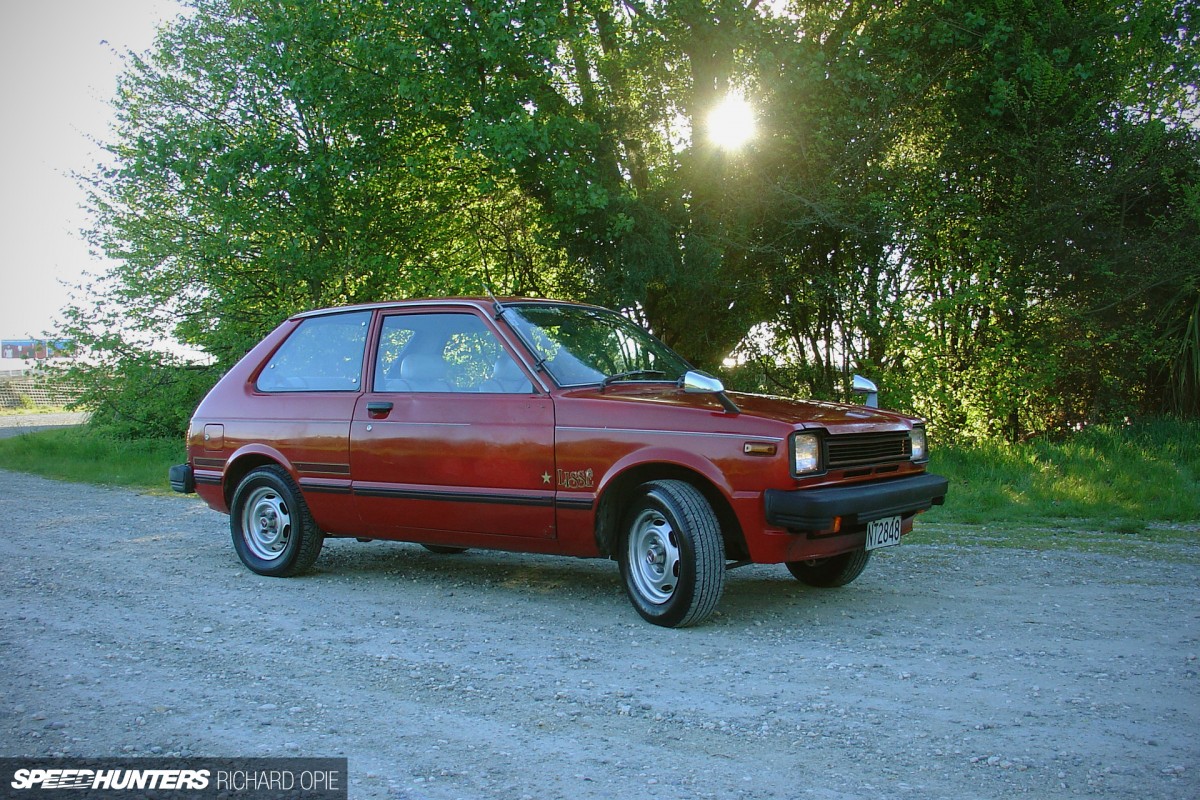 Quick thought was the order of the day. While the other would-be buyers milled about pointing out the patchy paint and dents I went straight for the keys, and the resulting 30-plus-minute test drive. Not to test the car, more to test the resolve of the competition. Trundling back to the seller's address most had dispersed, aside from two other die-hard parties. I'm not 100 per cent certain what happened to one of them, but essentially it all came down to a stalemate between myself and one other. My student budget was extremely limited. All the other chap would have had to do to secure the car was offer $510 and I would have been out.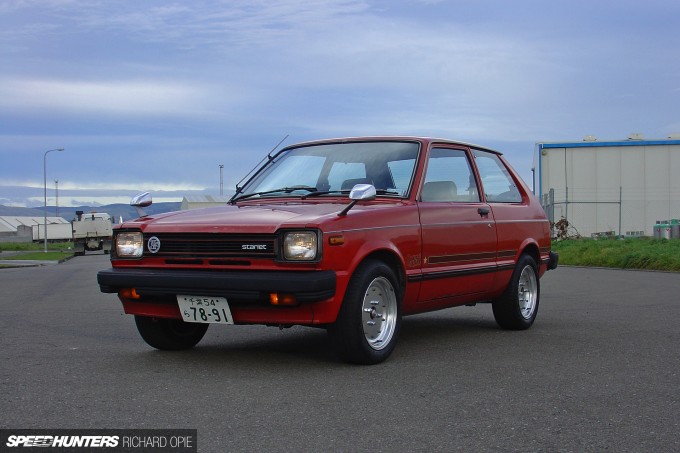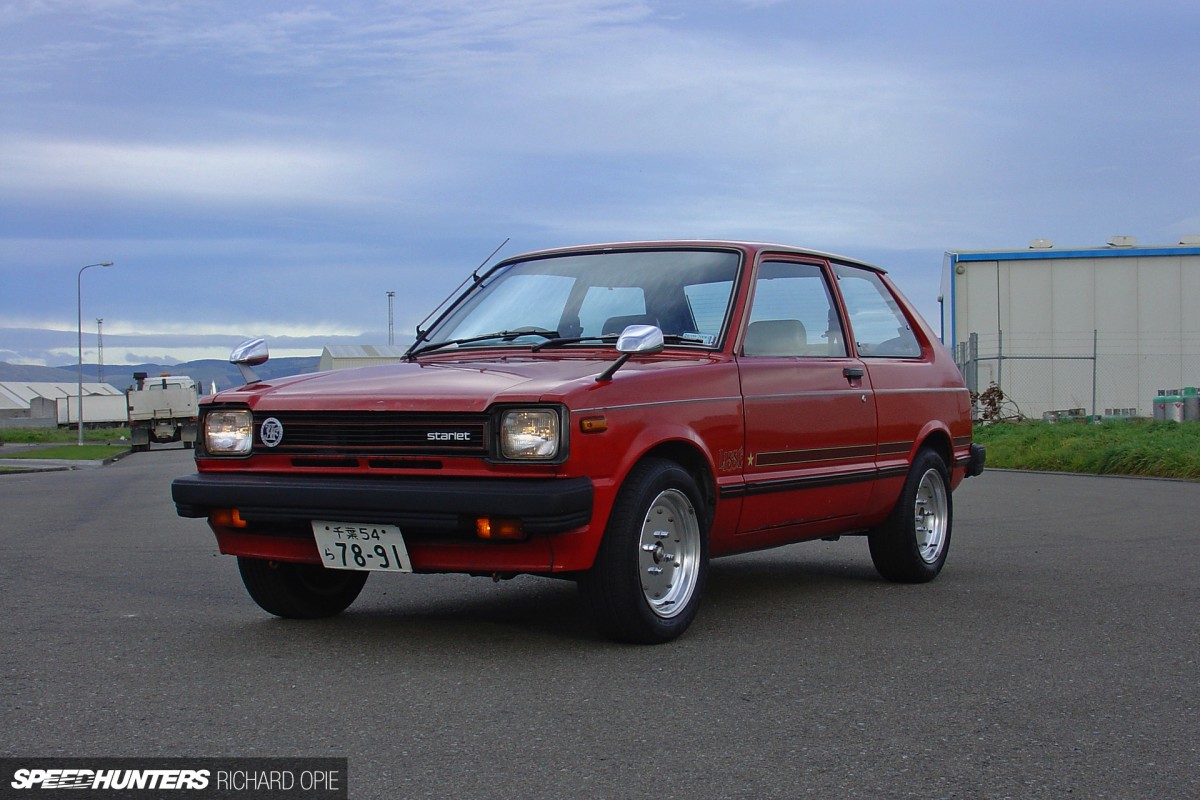 But instead we settled on a game of rock-paper-scissors to decide who would be the one handing over the folding. A swift 'rock' followed by a crushing blow of 'scissors' saw me win the 'best of three' showdown, and I was soon driving home in my newly-acquired KP61 dream machine – after I'd cheekily negotiated a cheaper rate, of course.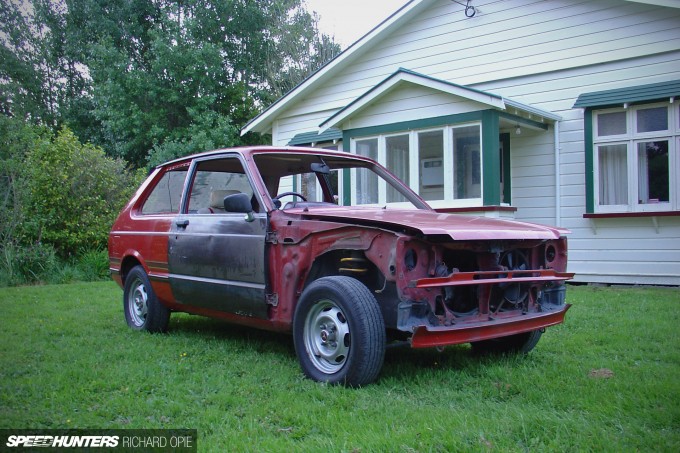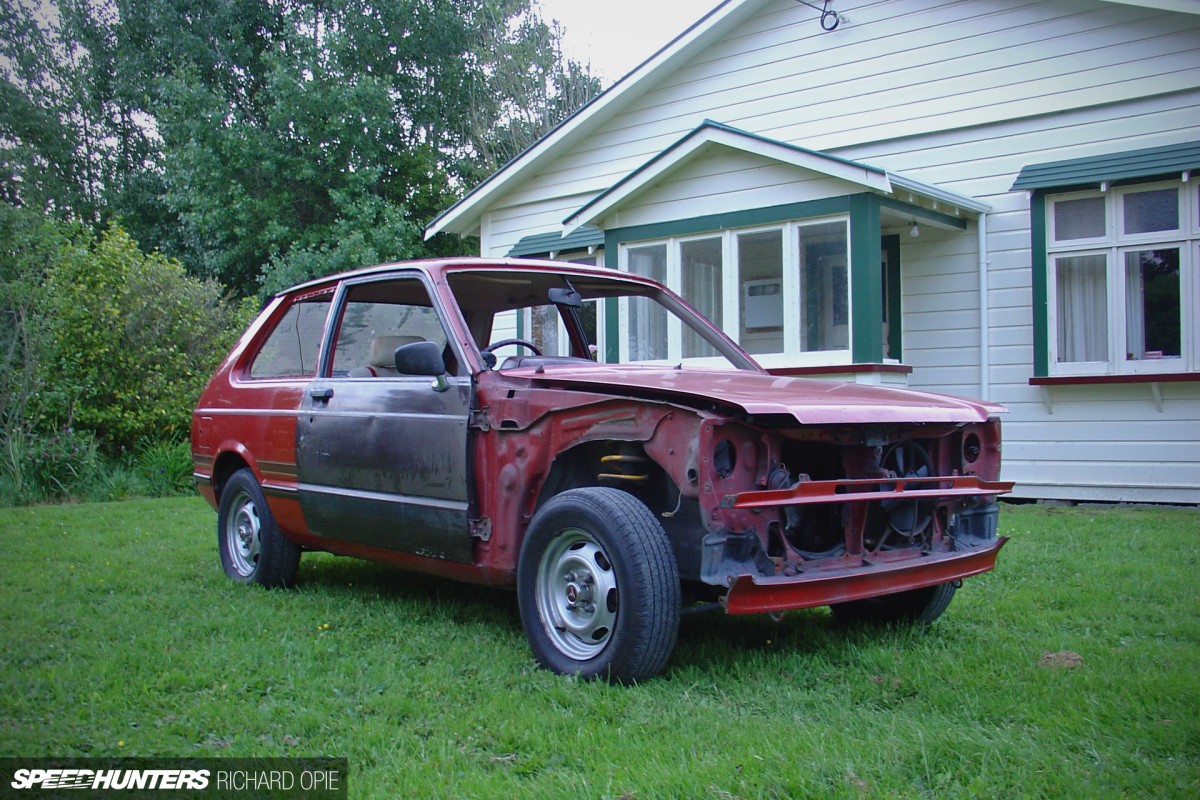 Aside from the addition of a set of SSR MKI wheels (which kickstarted a retro Japanese wheel addiction), the car remained largely untouched. Maintenance items were changed regularly in order to keep it on the road. New shocks and springs and brake pads were also fitted while the car served its intended purpose well, ferrying me to and from uni, work and even the occasional city cruise at night.
Fast forward a further two years. Study was behind me, I'd started earning a full-time salary following a shift back to my hometown and the poor old KP was starting to look shabbier, not to mention showing concerning signs of rust.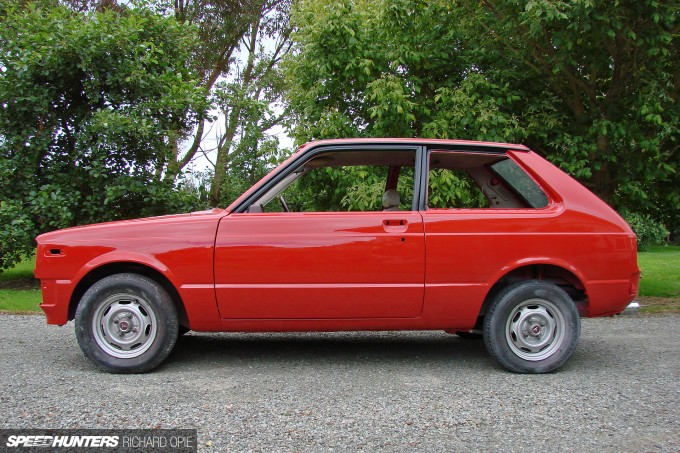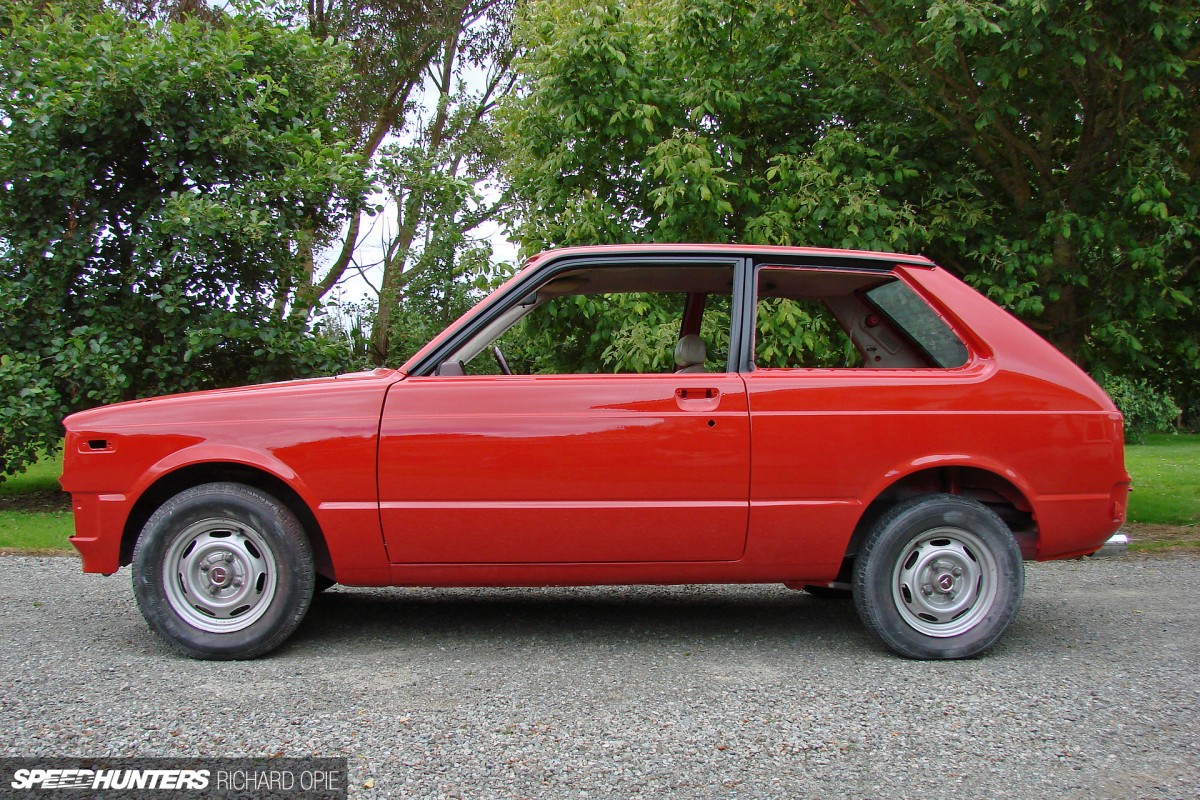 With newfound cash superpowers, what better move than to strip the whole car down and give it a big refresh. After sourcing replacement bolt-on panels (ones without rust or previous body filler bodges), the Starlet found its way to a family friend, who conveniently happened to be a panelbeater. A quick massage (it was actually quite straight) and a coat of factory red paint saw the car arrive back at my parents place ready for reassembly.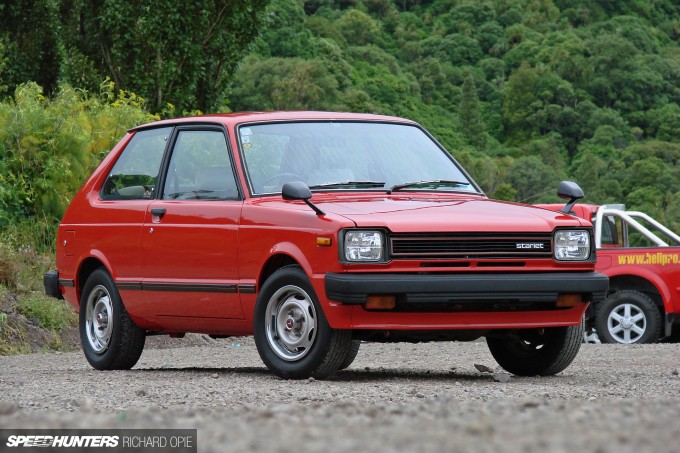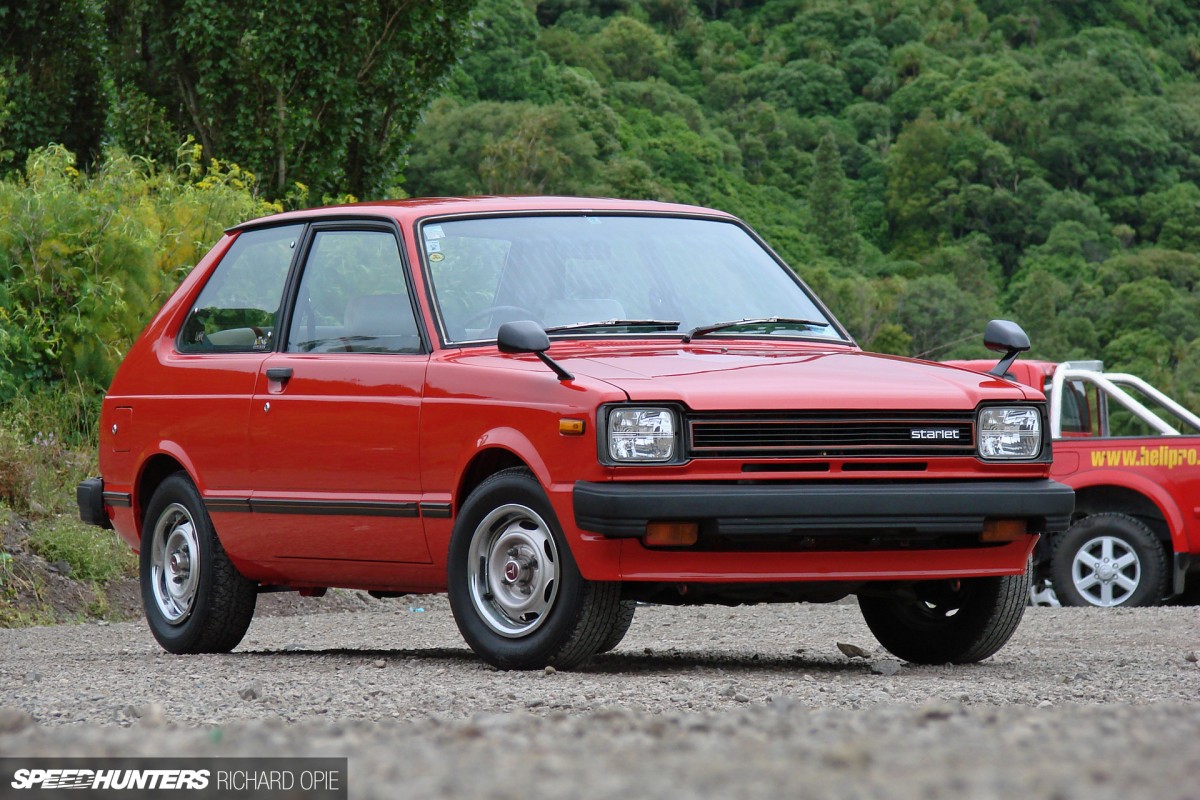 Under the cover of my parents' barn and aided by some valuable lessons learned during the restoration of my old Alfa Romeo eight years prior, the process took me something like 18 hours in total. While the shell was off being pampered, I'd spent hours in front of the TV stripping, cleaning, repairing and ultimately refinishing what I could of the weathered trim. Bagged and labelled fasteners also accelerated the reassembly process. The reward was an appearance that looked close enough to showroom fresh.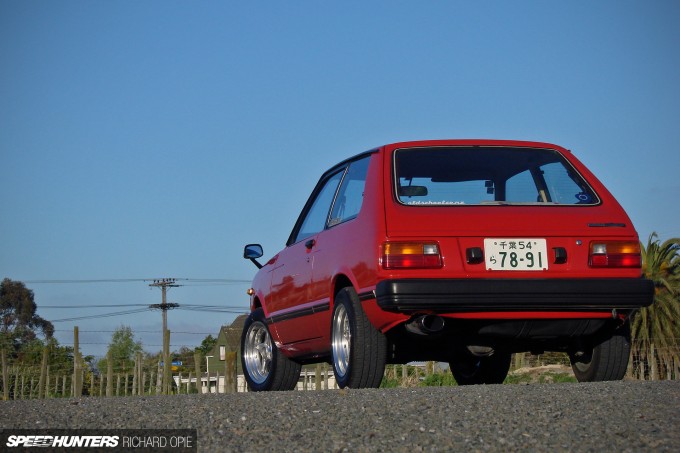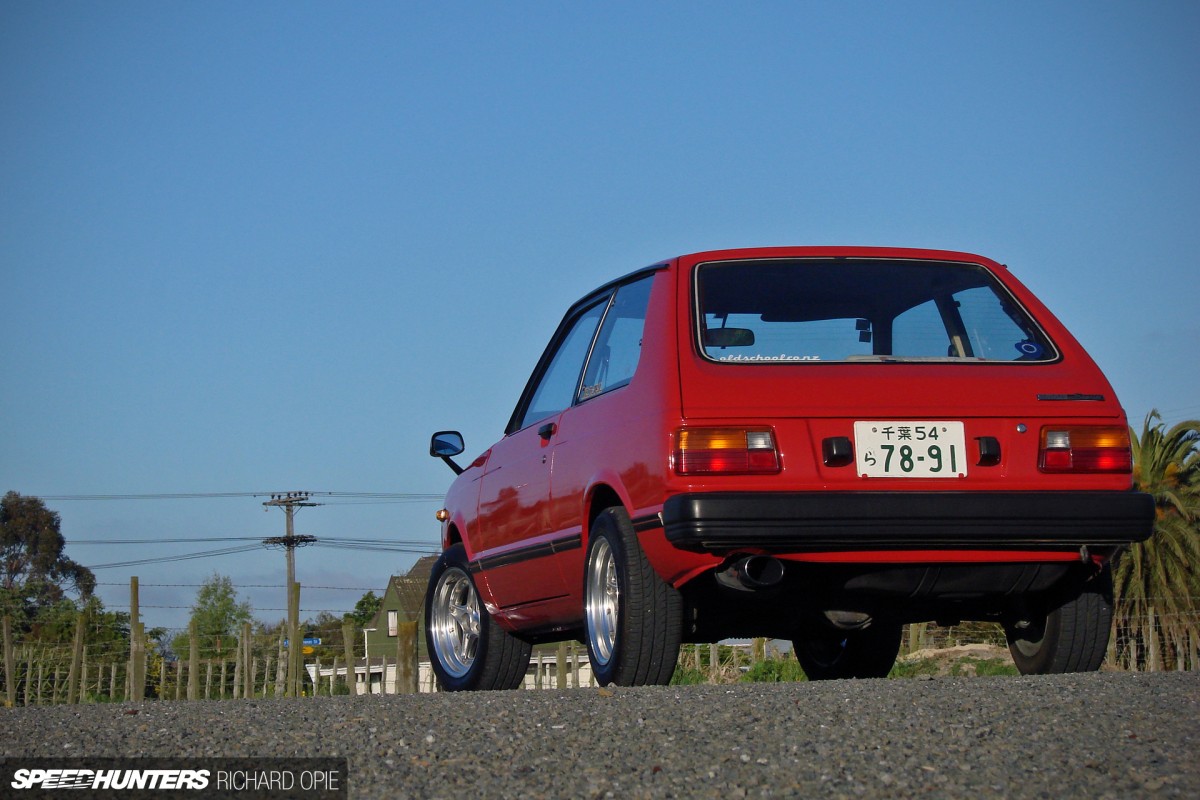 But, like any human with a fetish for all things internal combustion powered, the urge to tinker prevailed. Among the many wheels the car wore over the next couple of years was this set of particularly rare SSR Star Bright 14-inch 3-piece examples, the acquisition of which is a story in itself.
So, Like, It's A Project Now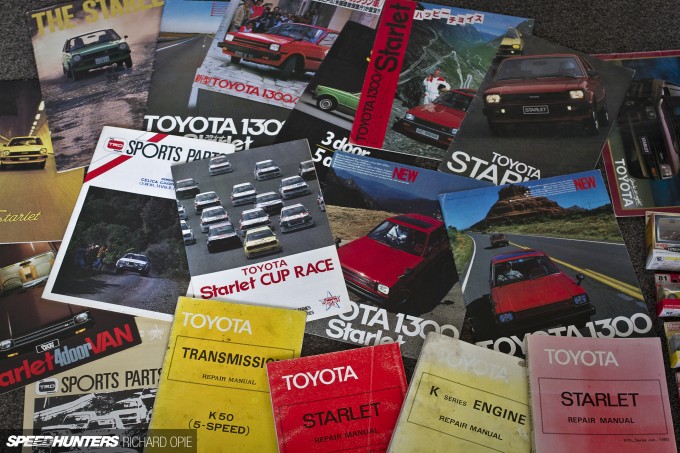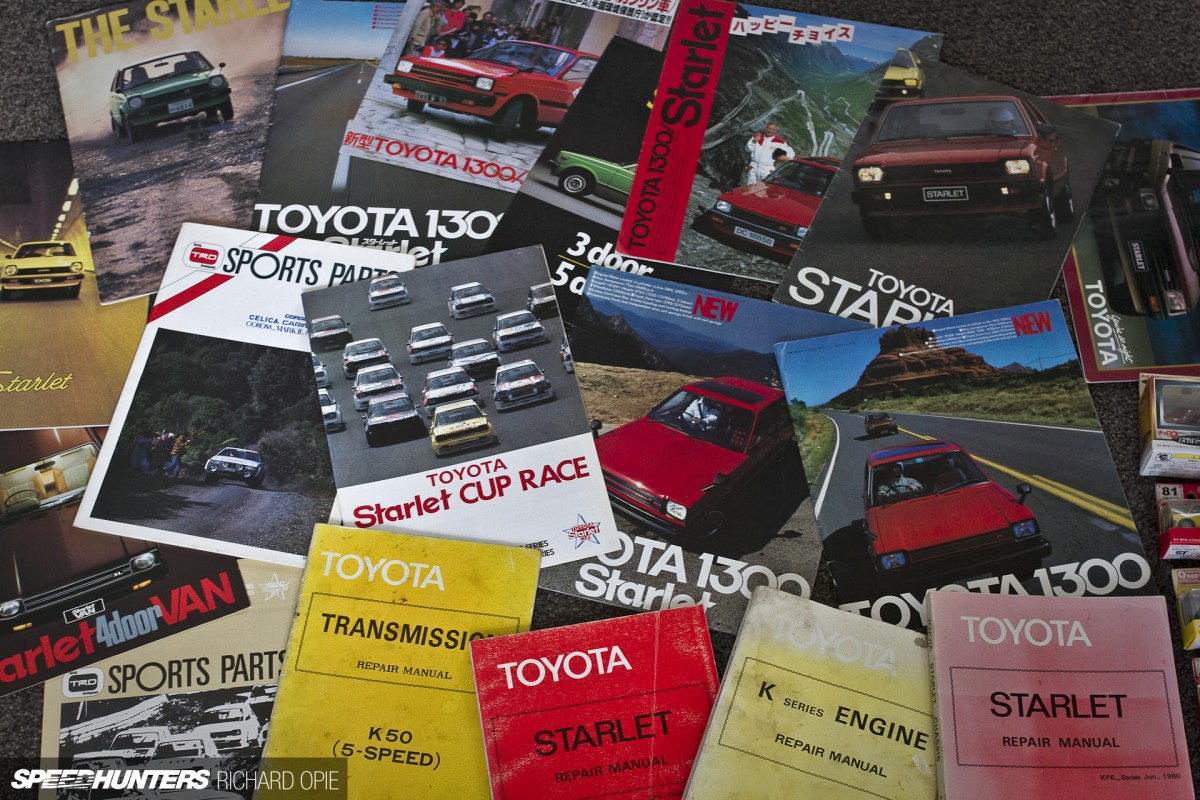 Total immersion in the Starlet lifestyle followed, as the shot above illustrates. Like some kind of rabid completionist, I spent the next couple of years tracking down sales literature, parts catalogues, workshop manuals and a myriad of rare Japan-only parts. All this among at least four separate project cars including a DC2 Honda Integra Type R, a CL1 Honda Torneo Euro R and a couple of old British barges.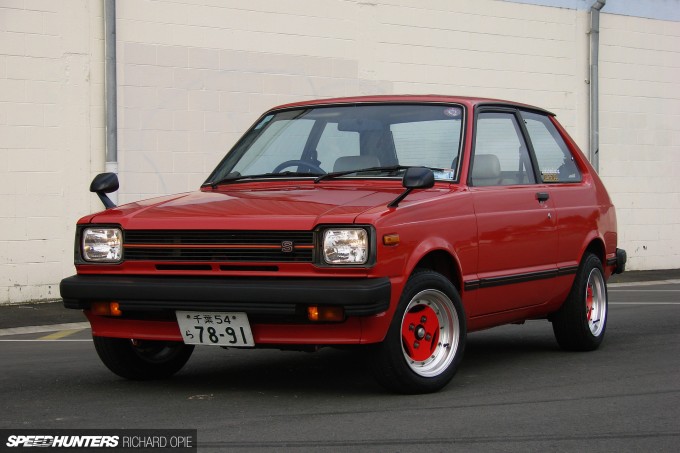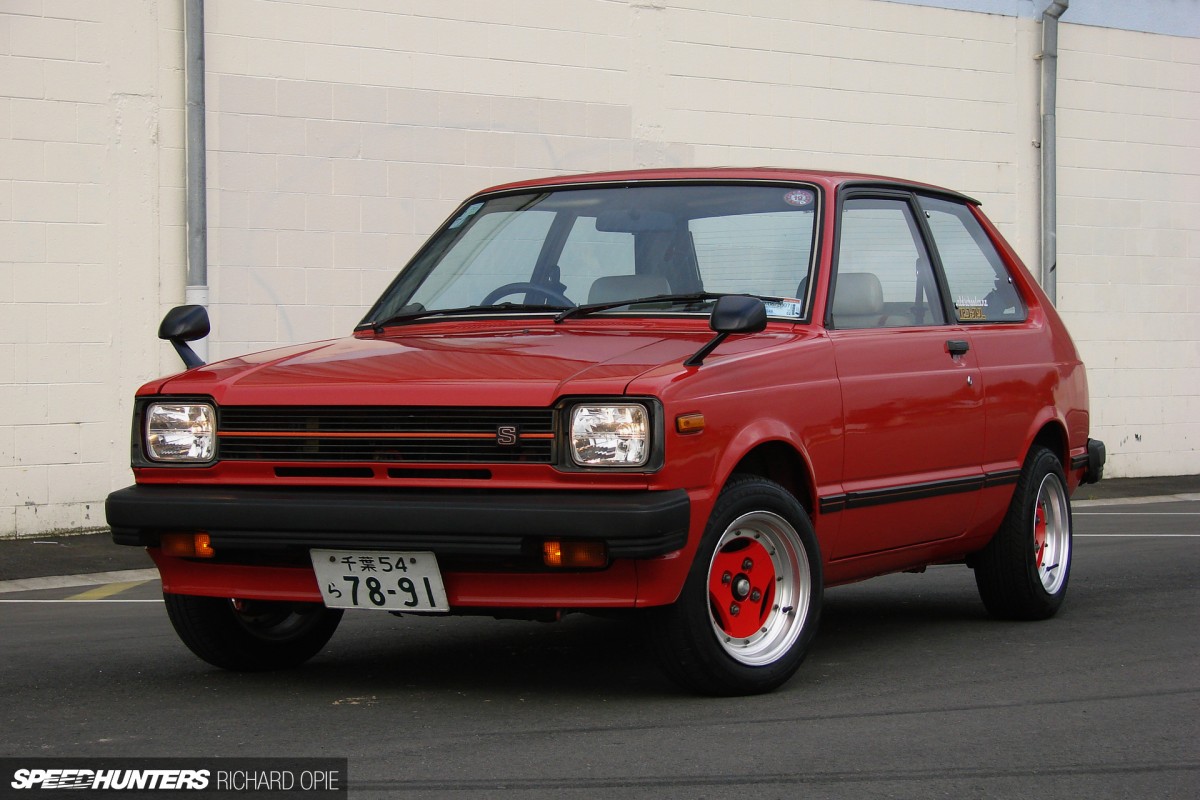 Case in point, I'd long craved the aesthetic of a Starlet 'S' badged grille, something eventually acquired through pleading with a roadside seller to whip the one from his car and swap it with a standard item. And cue more wheels; these Advan A3As arrived to me in a very sorry state, but were brought back to an acceptable level of finish by hand. In this guise the car made a 1,200km round trip to the 2010 4&Rotary Nationals to be a part of a club display put on by local Toyota K-series enthusiast group, Club-K. For the most part, the 29-year-old mechanicals fared well, or at least right up until the last 20 or so kilometres from home when the bottom radiator hose decided being watertight wasn't something it was into.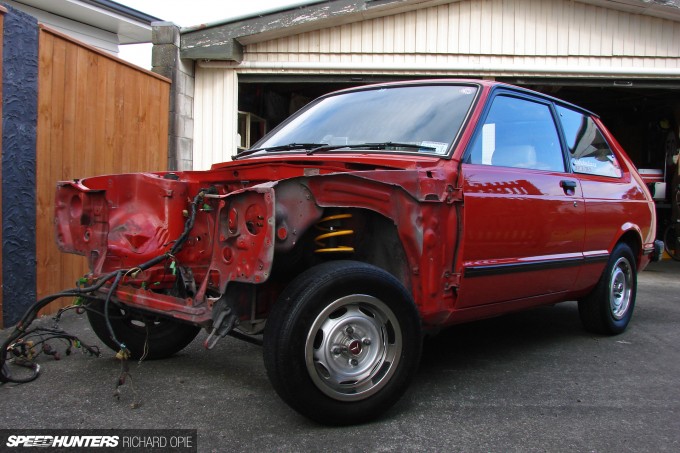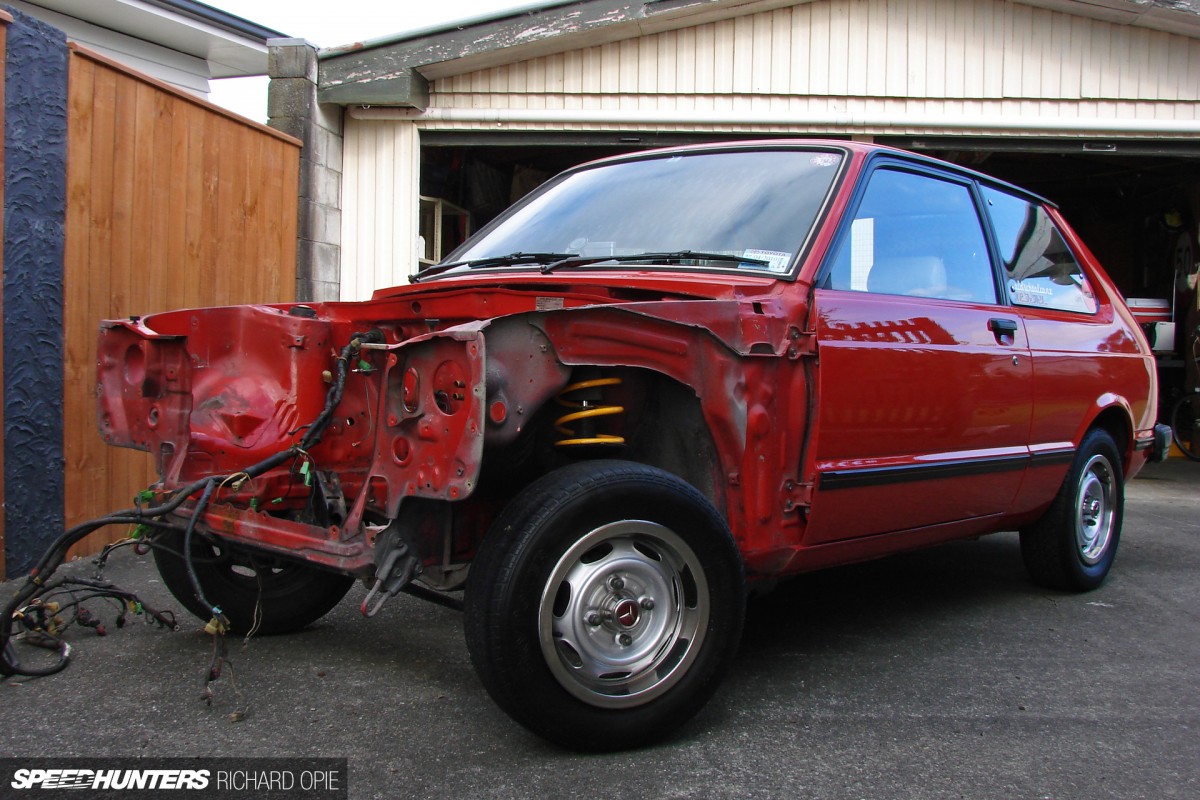 Every project has a defining moment, right? Well, a simple hose failure defined the future direction of the car. I'd only ever intended to pull the radiator and a few bits and pieces out to clean it all up and carry on. But aided by pleasant weather and a few bottles of cold beer, everything forward of the A-pillars was soon cast aside and the engine bay readied for paint.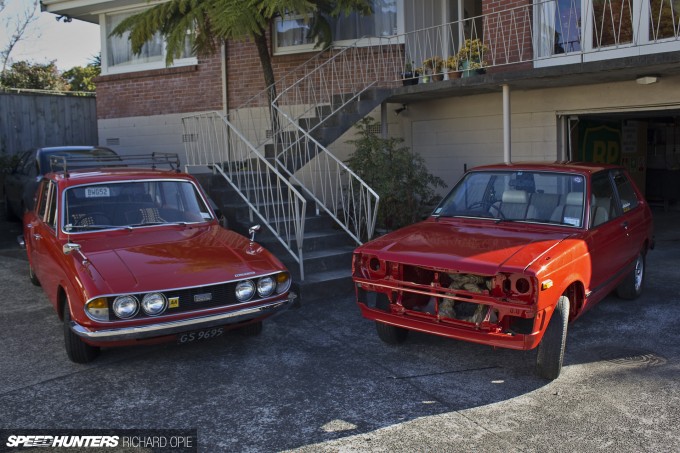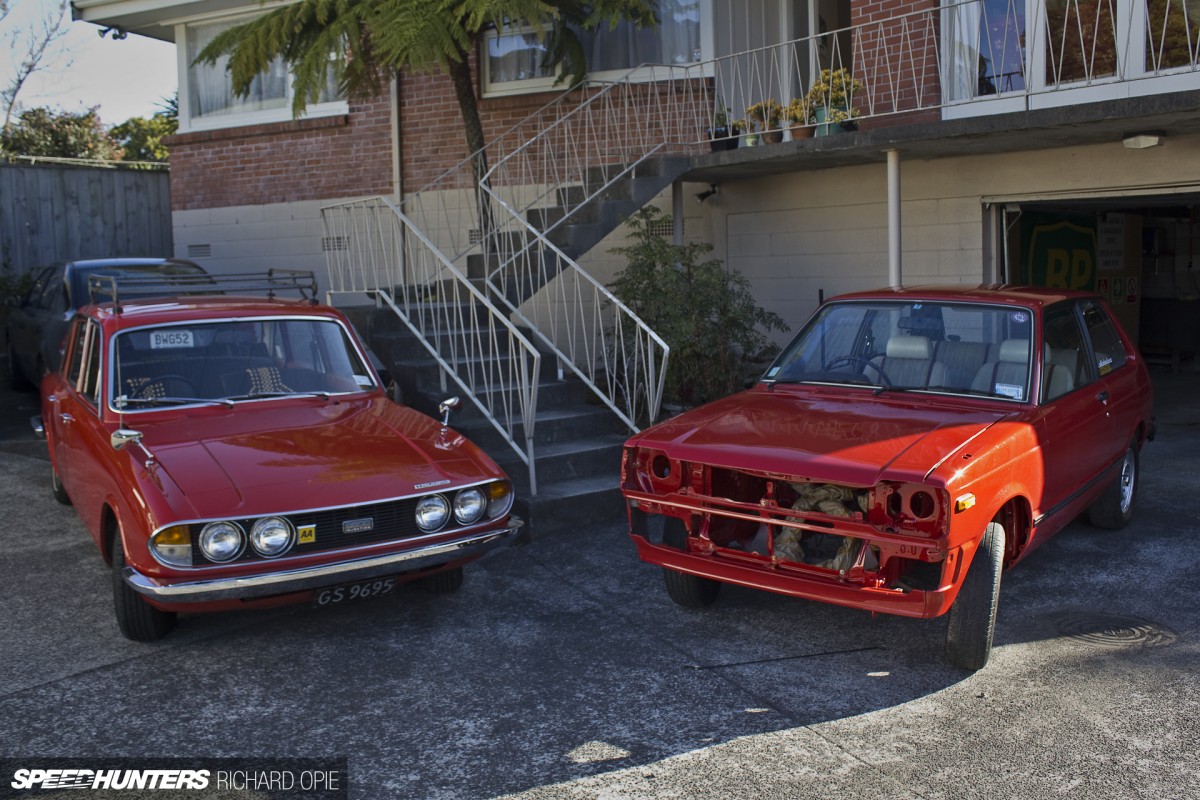 Of course, to complicate matters I moved towns again, and right when the car was away at the panel shop being painted. But we got it up to Auckland several months later, and I was finally able to lay my eyes on the refinished bay.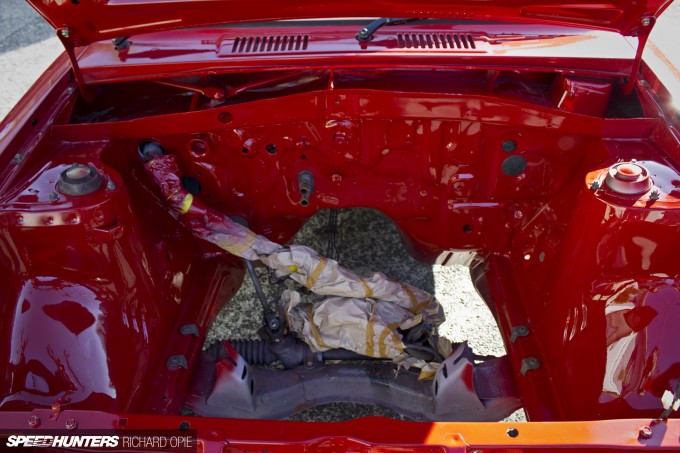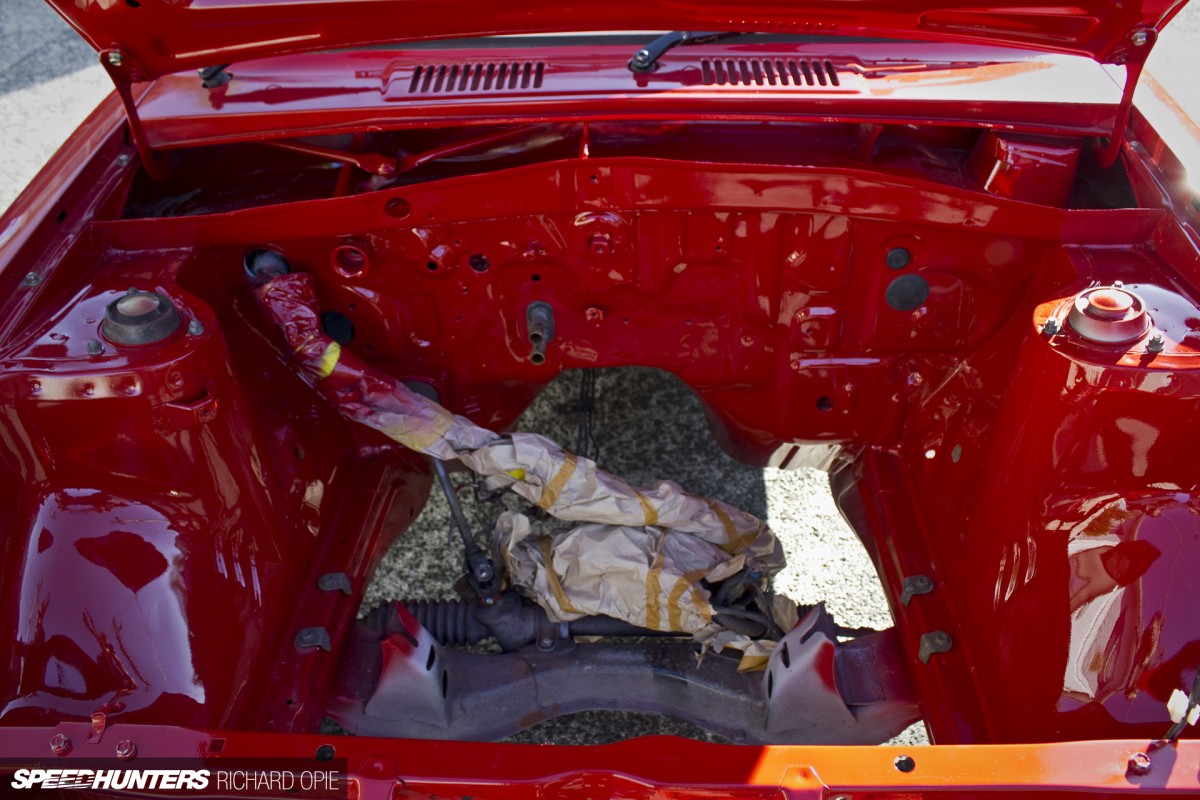 Popping the bonnet revealed a space that was barely recognisable. Deletion of the battery tray and other unnecessary brackets followed by some smoothing had absolutely transformed things. It's worth bearing in mind that at this stage I'd decided the KP was going to be powered by a hot Toyota K-series engine.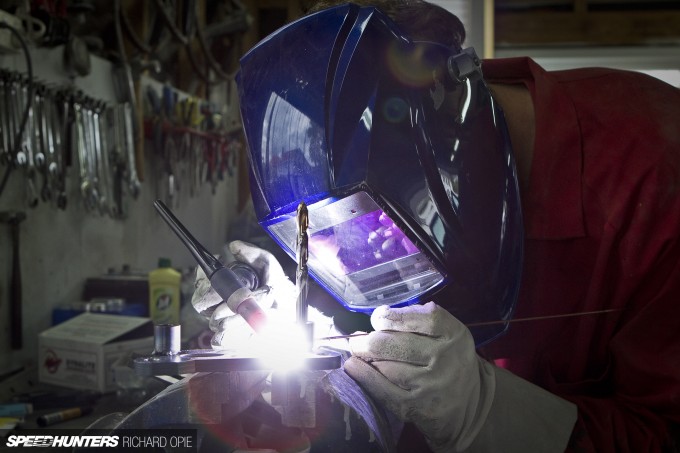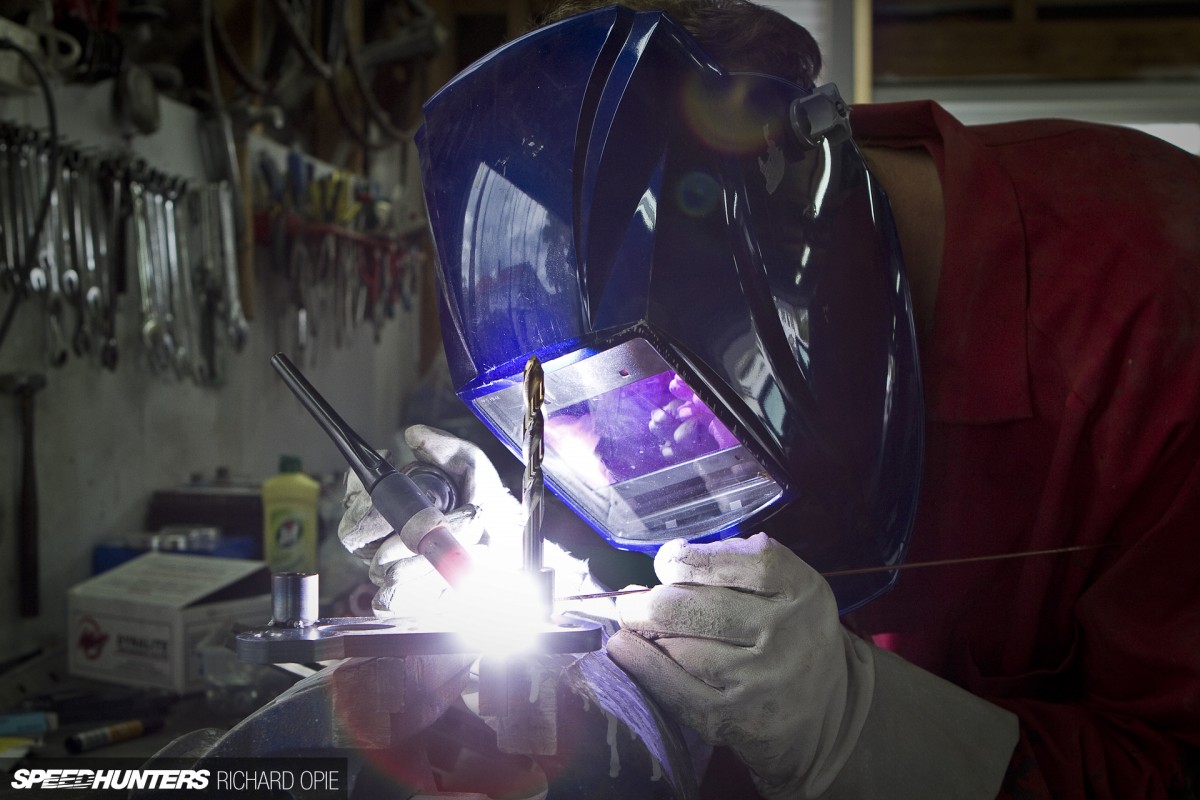 With the move came the beginning of a friendship with someone I consider myself extremely privileged to associate with. Let's just call him 'Sheepers' for now. As well as being a fellow foamer for all things retro Toyota (and you'll get to see some of his projects later), Sheepers is a man possessing of well developed talents in both solving problems, and the ability to translate my ambitious ideas into practice through the shaping of bits of metal. Not to mention gluing them together with his magical metal glue gun.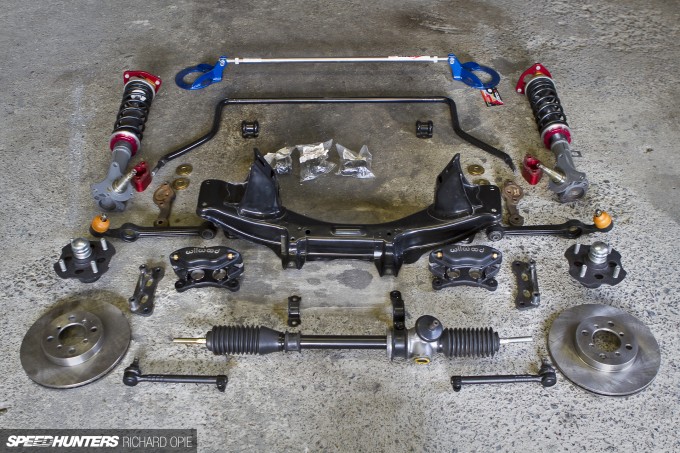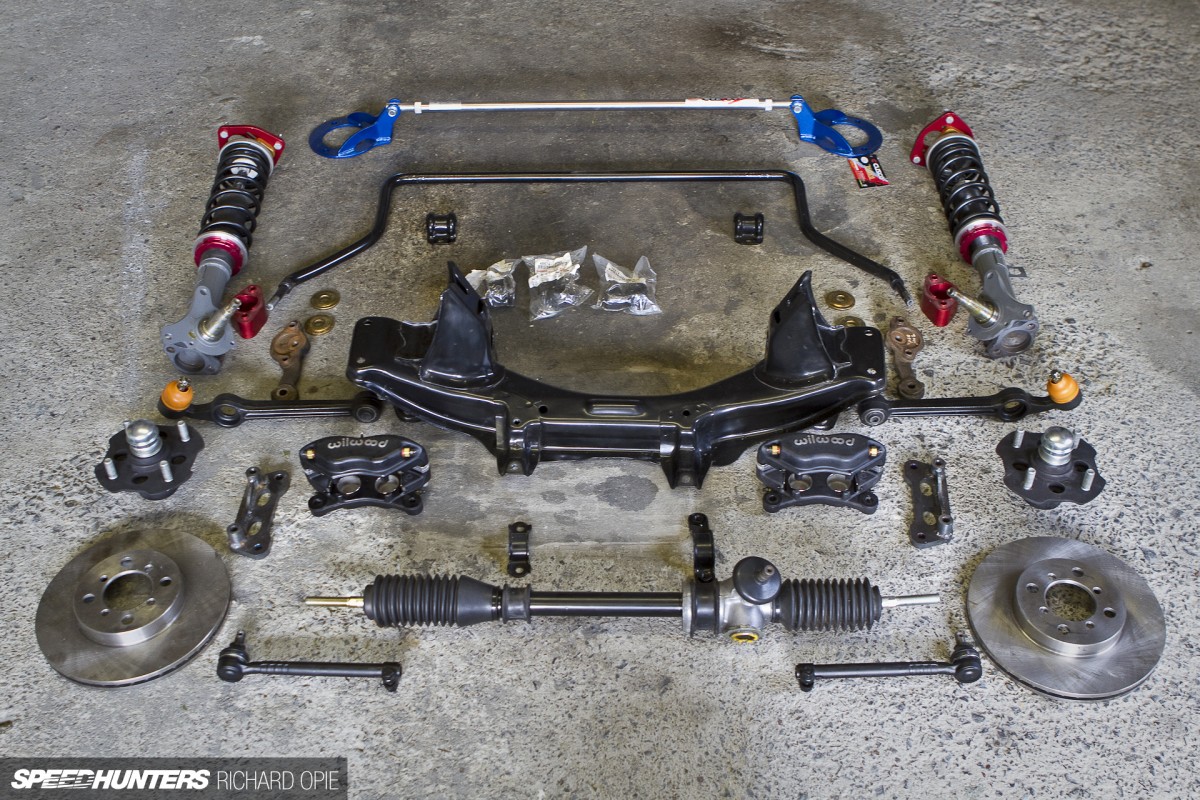 Things had become serious. Inspired by Nigel Petrie's Engineered To Slide Hilux, once the fabrication work and refinishing was completed on phase one of the front end setup, I snapped this 'exploded' shot of it all. Note the coil-over struts, home-made a few years back using cast-off parts, while everything else is either brand new, custom (brake caliper brackets) or refurbished.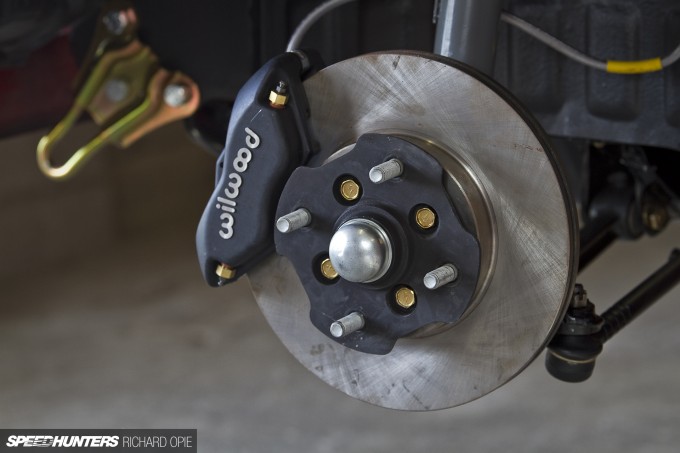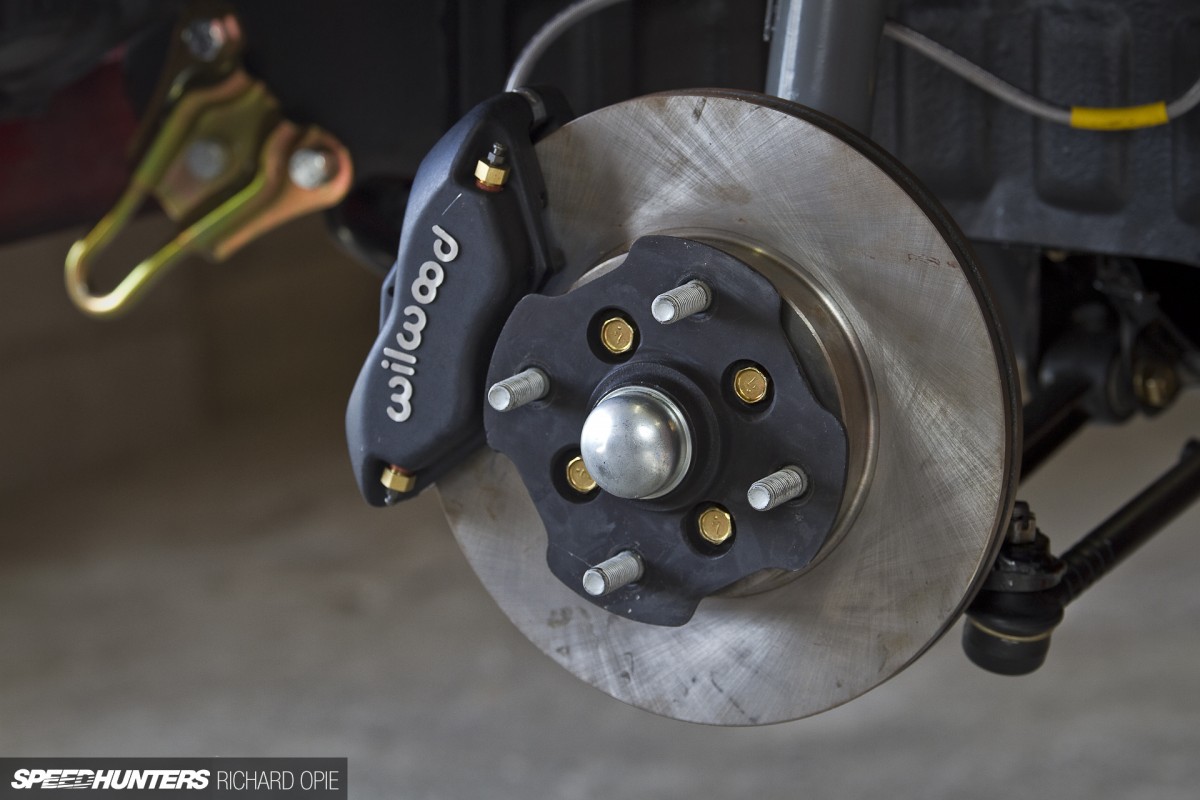 I'm a pretty firm believer in paying thorough attention to detail. This front brake upgrade was designed to mount a larger 256mm vented rotor in the factory position behind the hub. The reason being, I wanted no increase in track, as low-offset wheels were a definite future addition with no alteration to the factory guards for a period look. Crucially, they also fit inside the confines of a 13-inch wheel.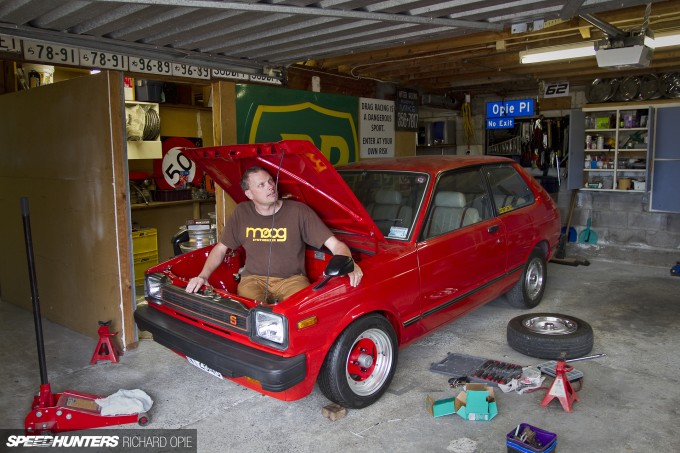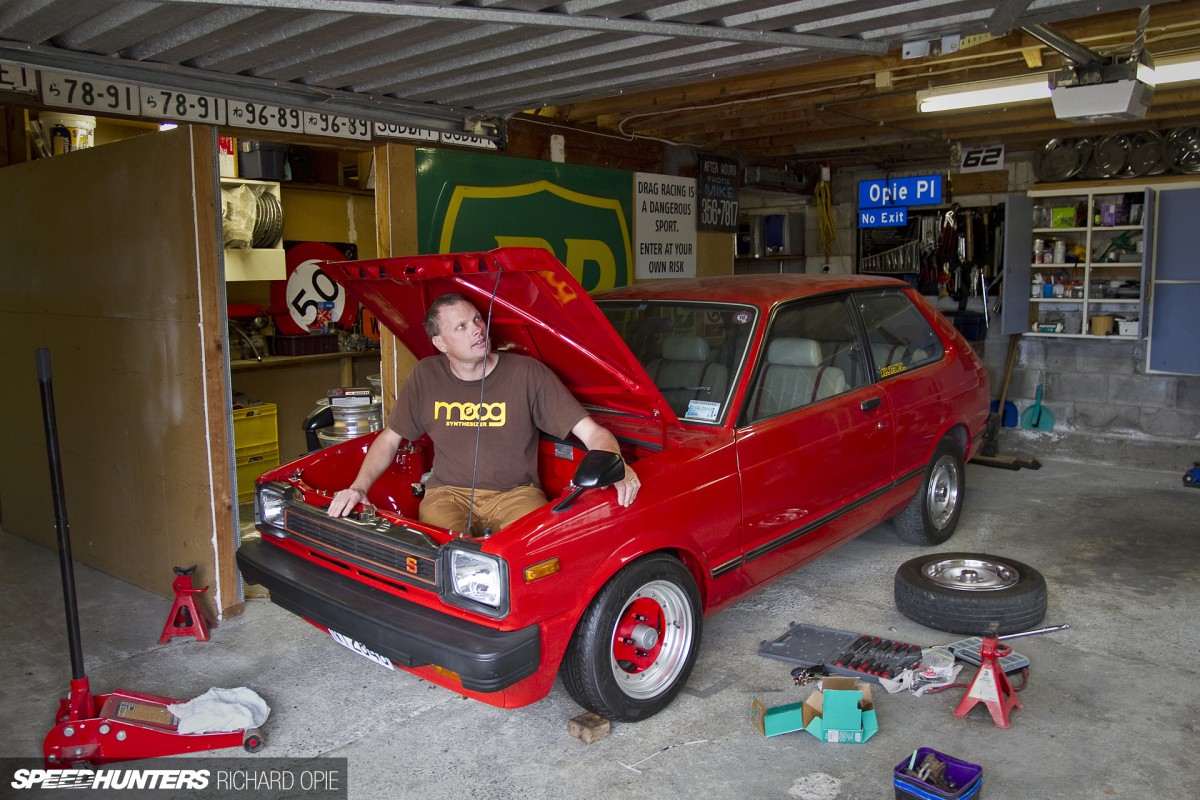 What better way to simulate the weight of an engine and test the travel of the front struts than coerce your tame fabricator into the engine bay. I can't promise any engine noises weren't made at this point. You'll note the rear end is still up in the clouds at this stage, because I hadn't really figured out a plan of attack for that.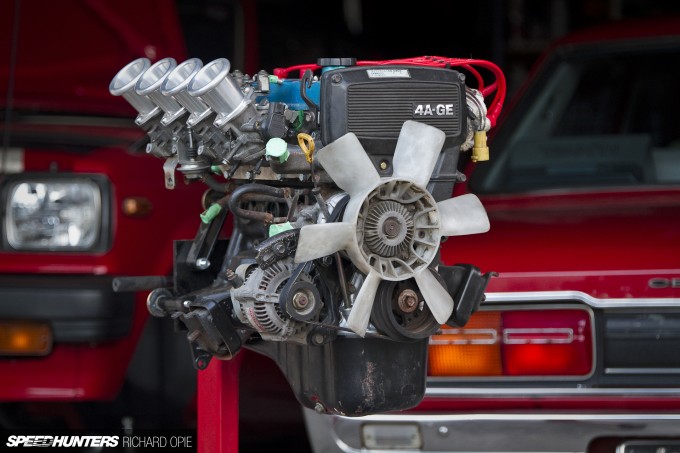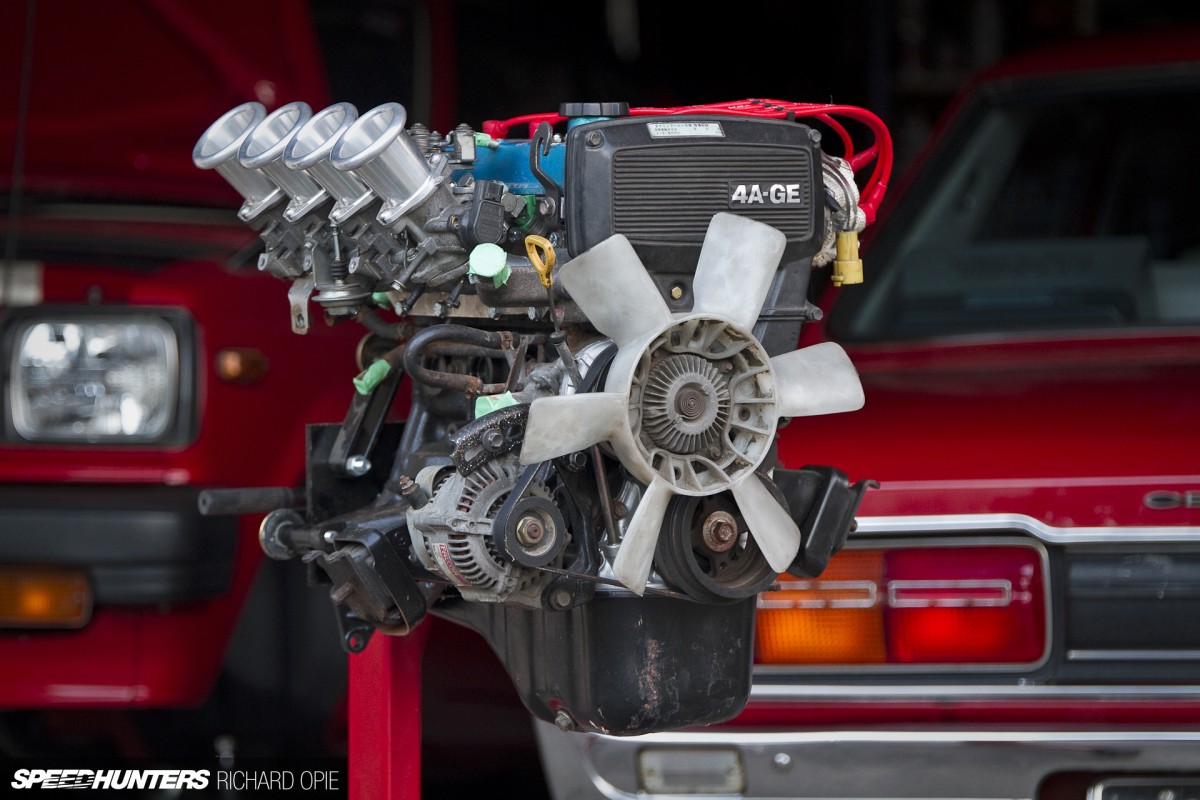 Until this showed up. Yes, the whole notion of running a built K-series engine went up in smoke with the impulse purchase of a rebuilt (with receipts of course) 4A-GE engine featuring a balanced rotating assembly, high compression TRD pistons and the obvious ITB setup. Not to mention the T50 gearbox and T-code AE86 disc brake axle that came with it. Things just shifted up a gear, and if I'm being honest, a clear vision had finally formed for Project KP61.
Further Down The Spiral…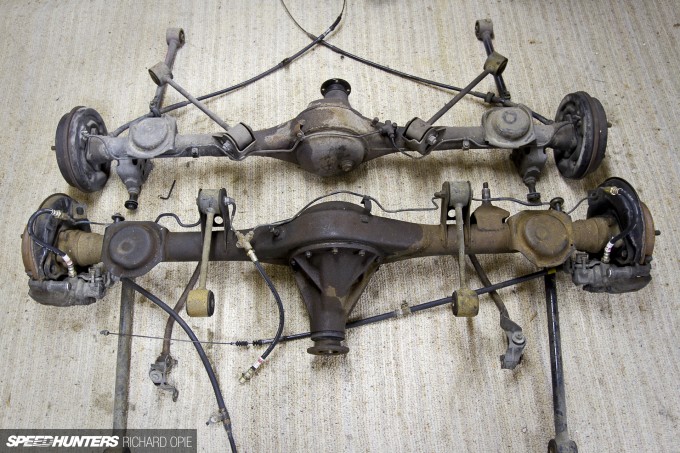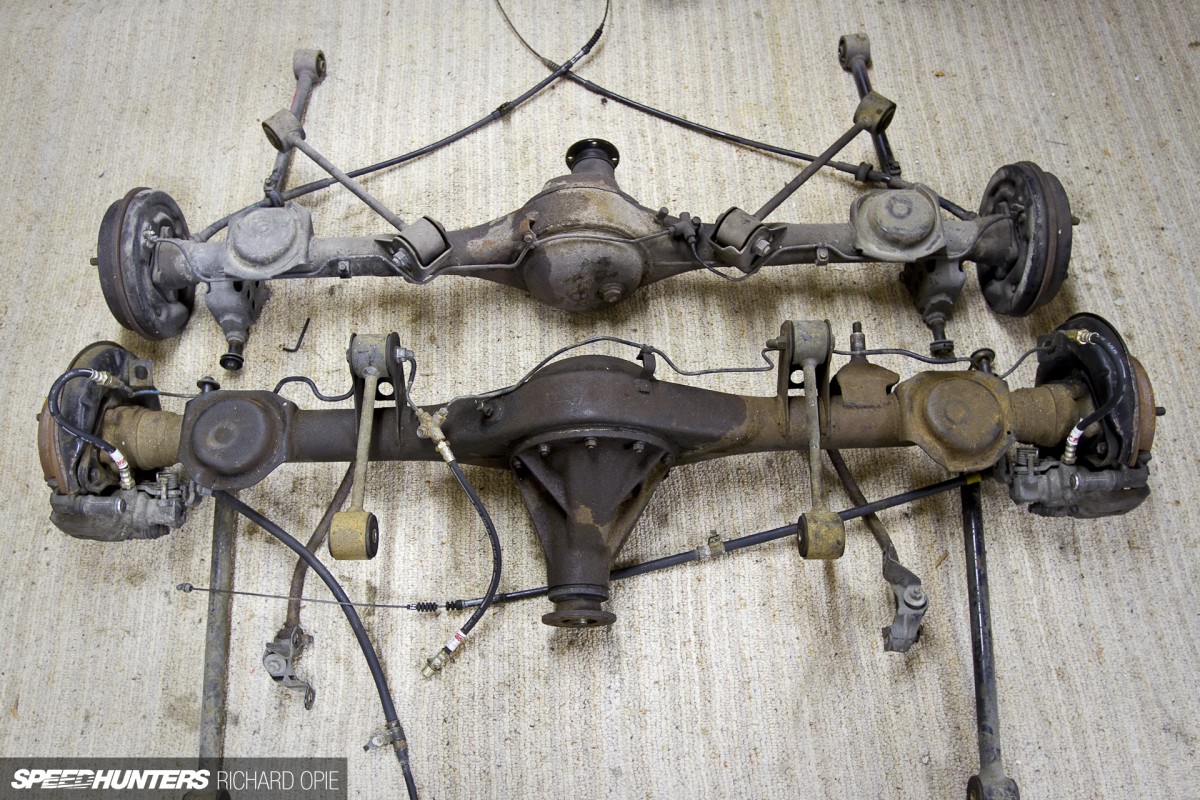 Finally, I hear you say, we're getting into the nitty-gritty. The first plan of attack was the rear axle. Above is the stock KP item, while beneath is the AE86 unit. At around 60mm wider the new, stronger axle needed shortening.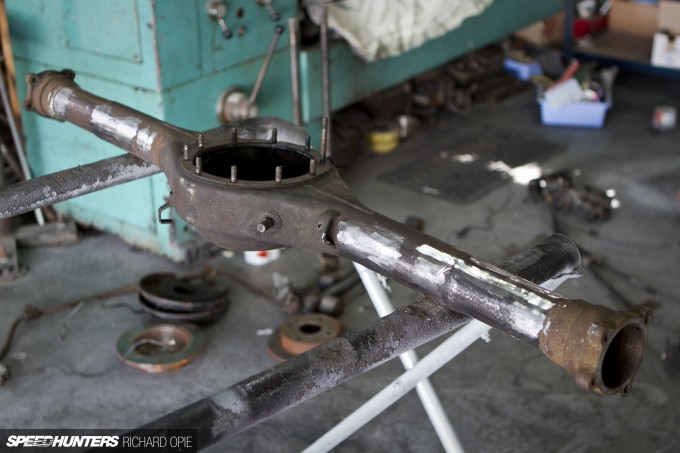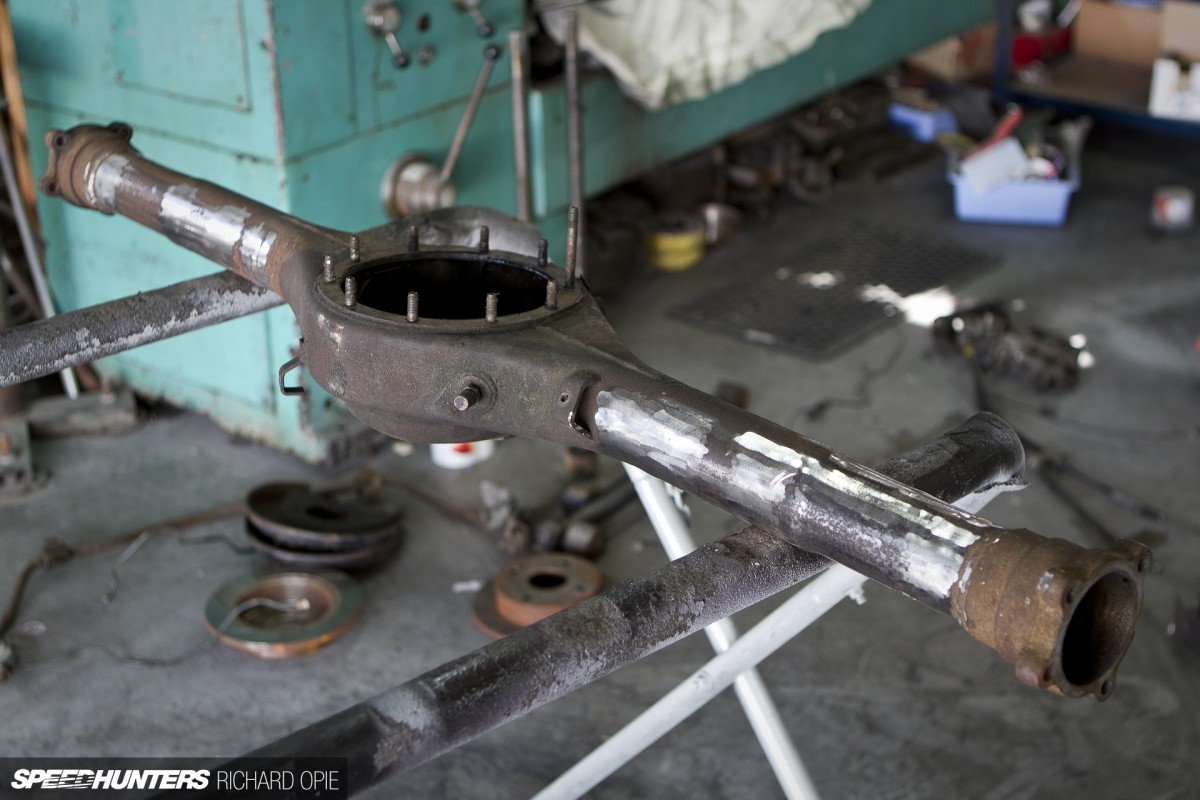 The KP61 axle uses a 4-link triangulated arrangement, while the factory AE86 setup employs a parallel 4-link with Panhard rod. So the mounts needed to go to make way for a system better suited to the pick-up points available on the Starlet body shell.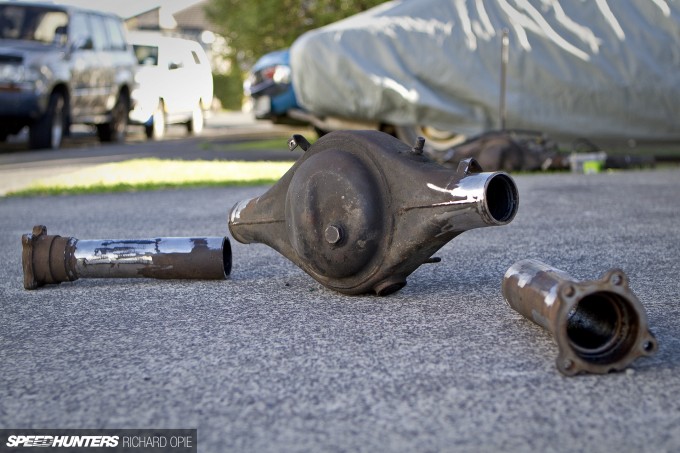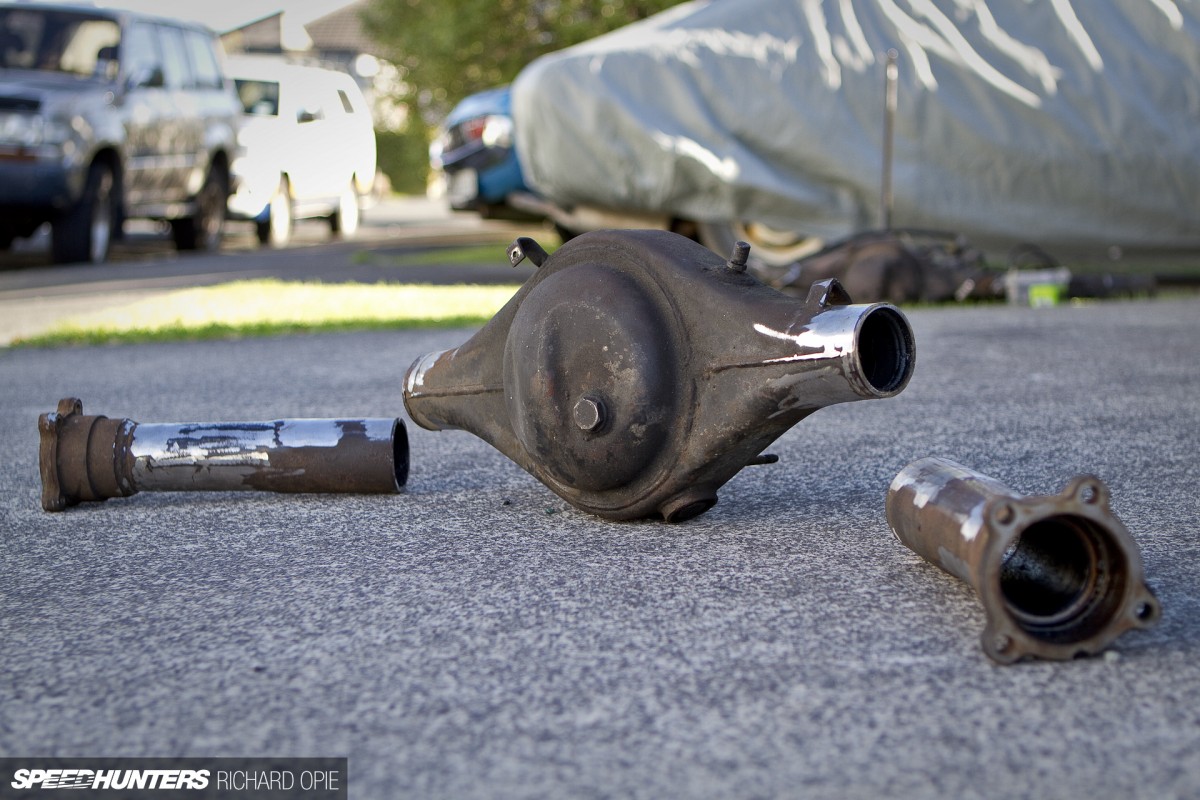 No more mounts? Measure twice, cut once on either side and the resulting kitset diff leaves you wondering why you just chopped up a pretty desirable old Toyota part. With a view to gaining some space in the rear arches, the housing was actually narrowed to be 10mm shorter overall than the factory item.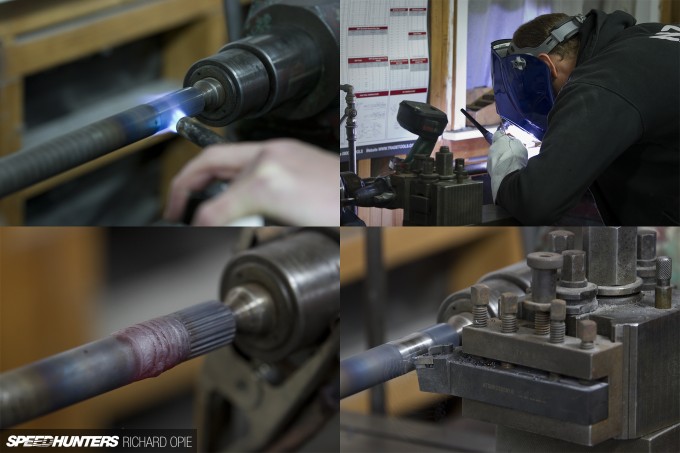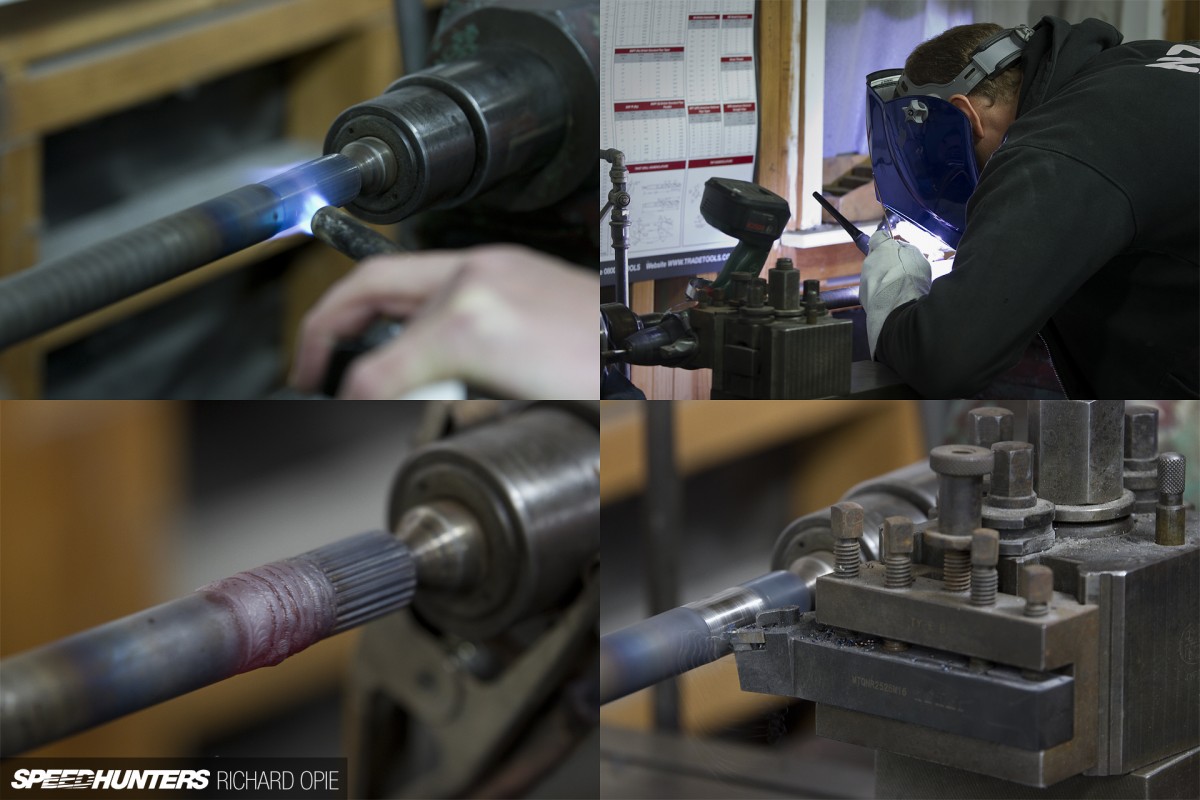 As well as a shortened housing, the axles themselves require some length to be cut out. Without going into too much detail, even though the spline on the ends looks to the naked eye like it matches the diameter of the shaft itself, the roll-forming process, by which it is factory formed, leaves a diameter slightly larger. Which means in order to be able to machine a new spline onto the shortened axle, building up of the material via a spiral welding process is required. Following the machining of the axle to correct diameter (bottom right), new splines were cut by a specialist.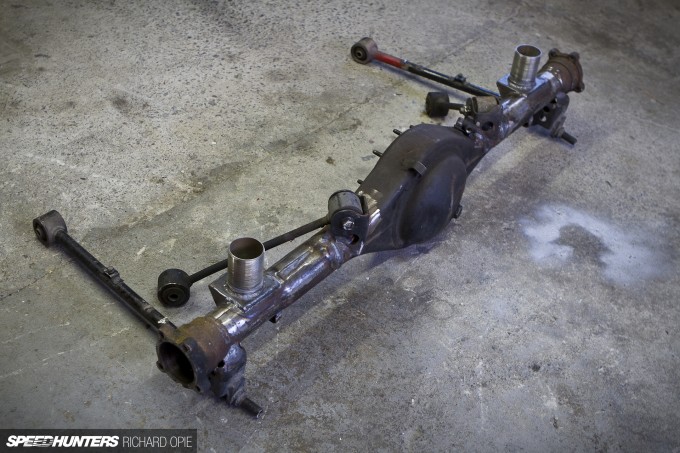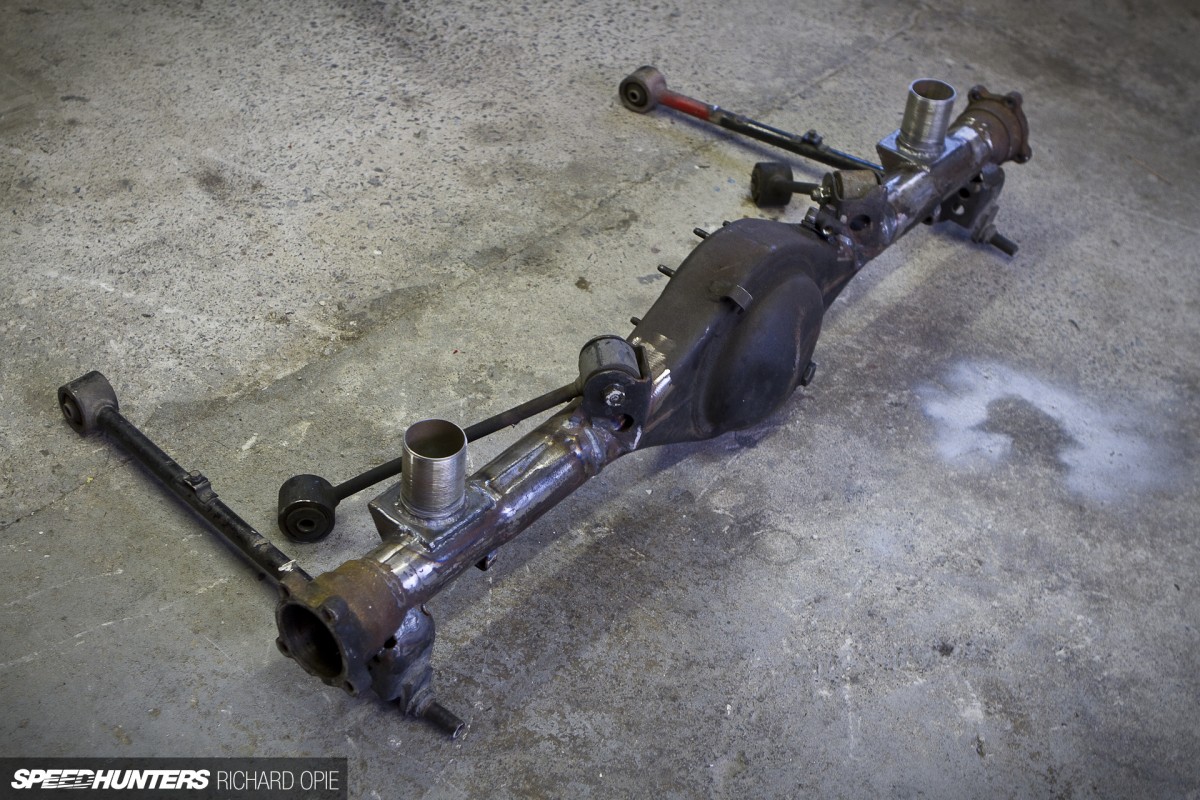 When the grinding dust settles, the end result should be something similar to this. Factory 4-link mounts aligned and attached to the newly shortened housing, as well as new adjustable spring perches matched to upper spring seats fabricated and welded into the original spring towers of the shell.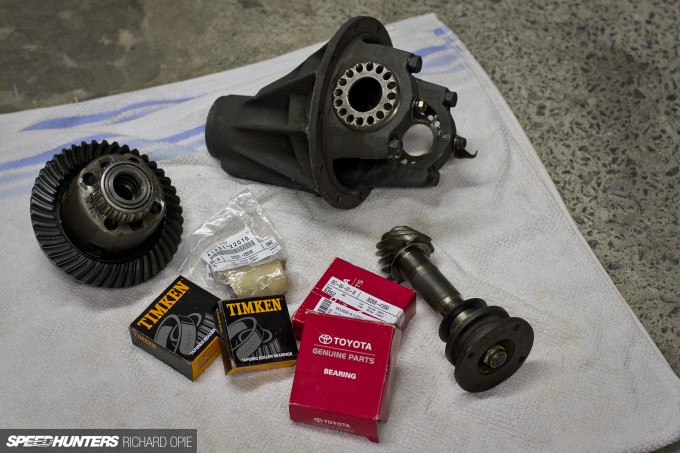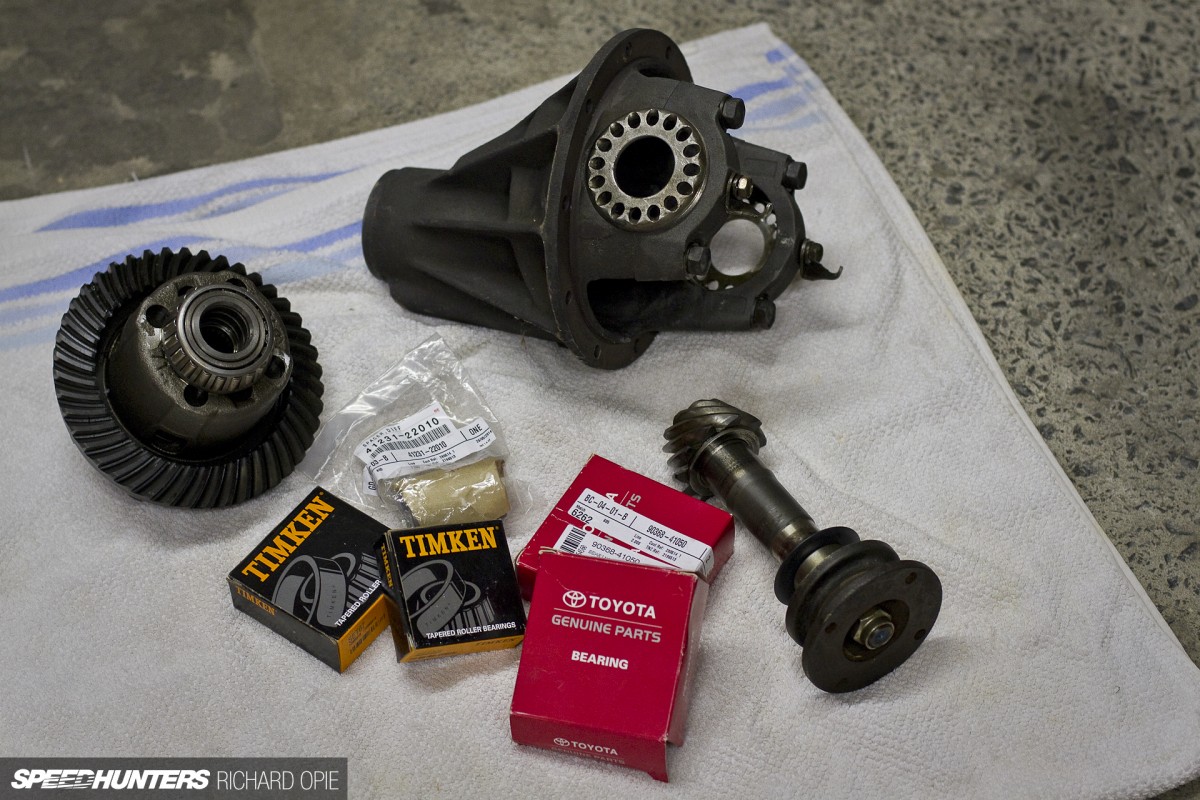 Filling the housing, a reconditioned TRD 2-way LSD unit in a 4.3:1 ratio. New bearings throughout, as well as brand new axle bearings at the outers of the housing.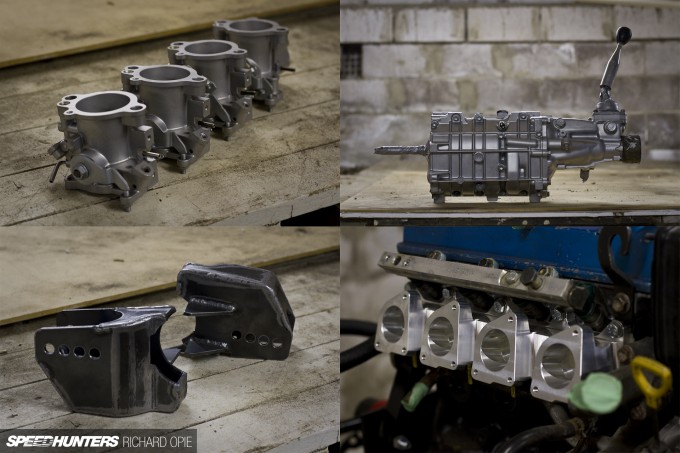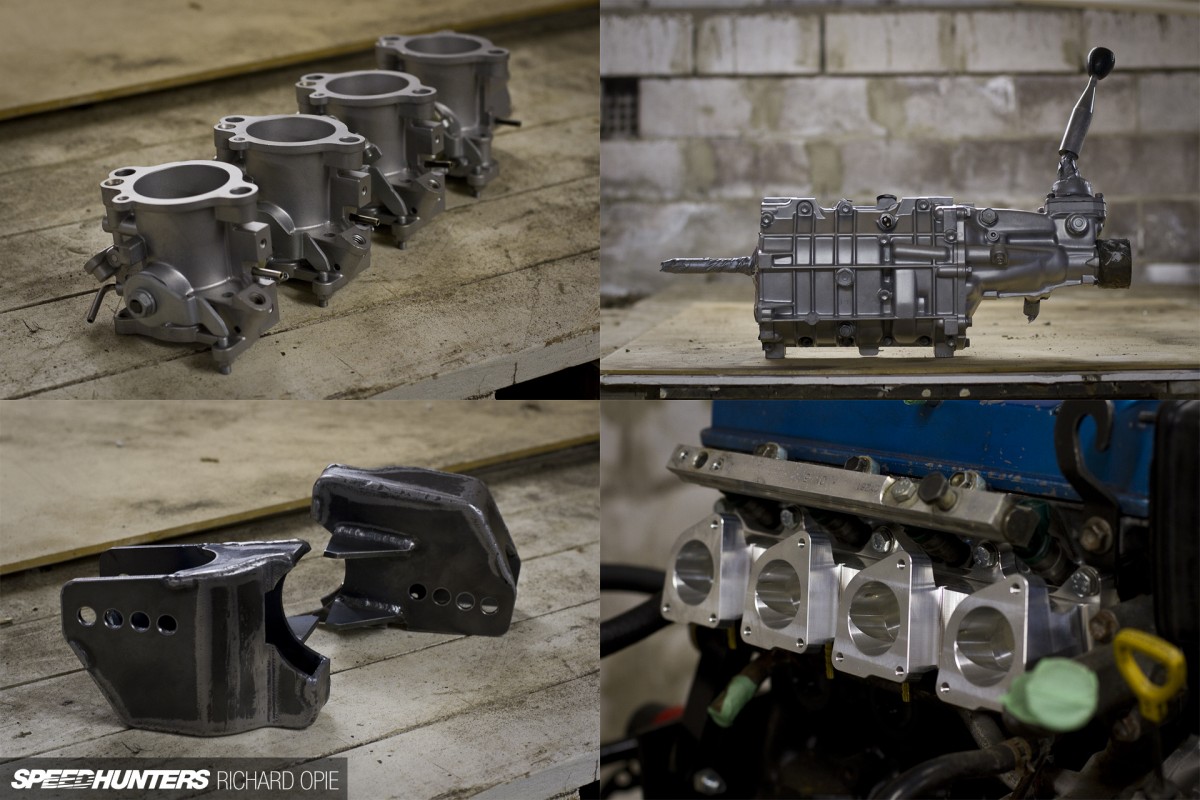 In the interim, further acquisition and tidy up work was happening in the background; freshly vapour blasted (a process using high pressure water and a superfine blasting media) throttle bodies and T50 gearbox, a Techno Toy Tuning billet ITB manifold and a redesign of the bottom 4-link brackets joined the fray. As well as now being a Low Volume Vehicle (LVV) certification compliant item for road use in New Zealand, the new mounts also incorporate an adjustable traction bracket setup to fine-tune the behaviour of the diff under acceleration.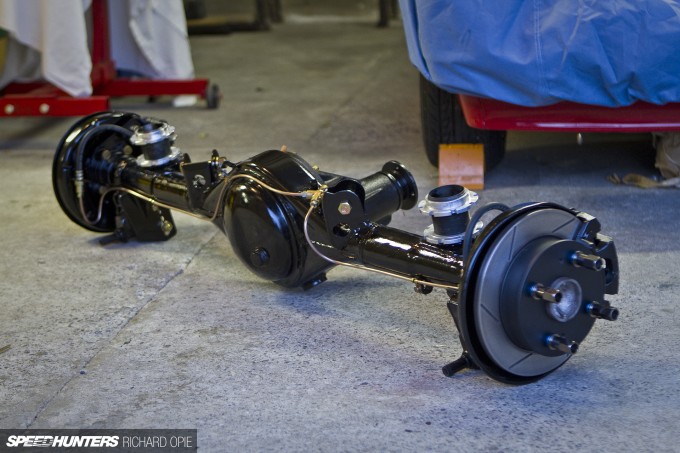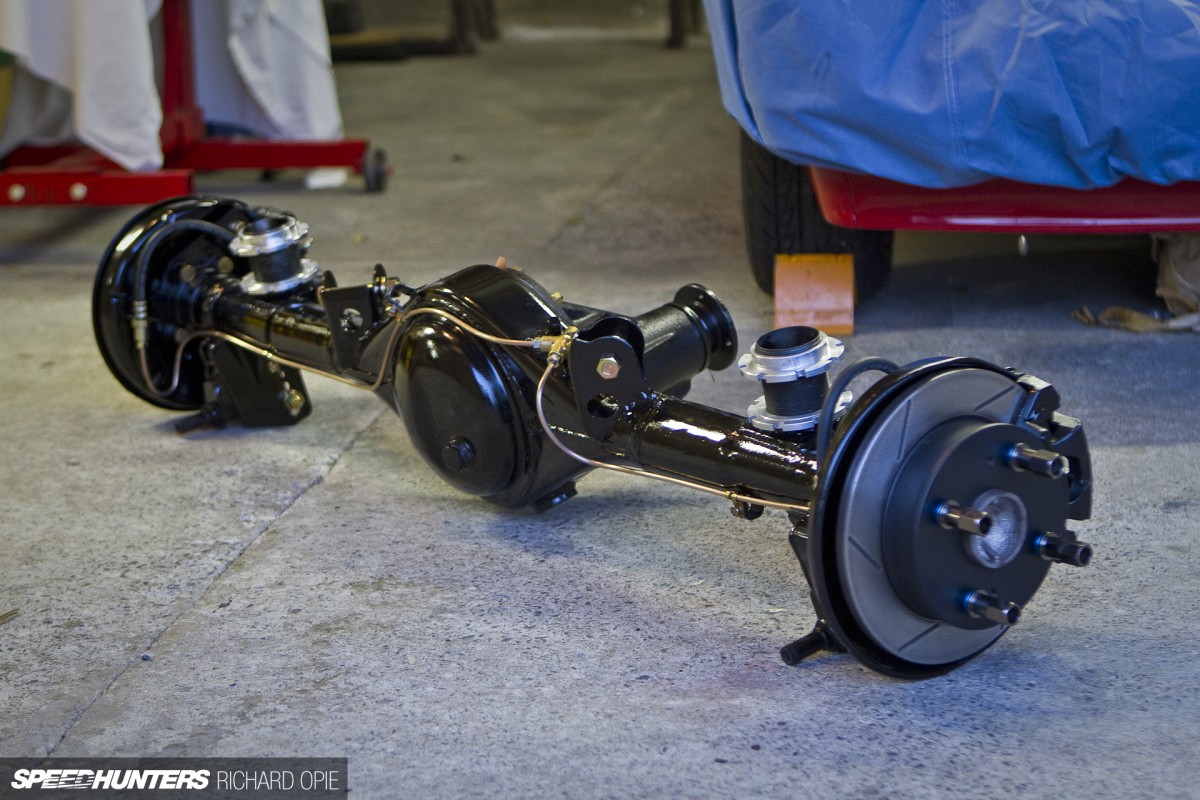 Painted and assembled in the shed, the diff was just one of those achievements worthy of staring at for an extended period of time. In keeping with all other fasteners throughout, the nuts and bolts received a gold passivate treatment. Fresh brake lines, slotted rotors and reconditioned calipers finish off what is now essentially a brand new, yet custom item.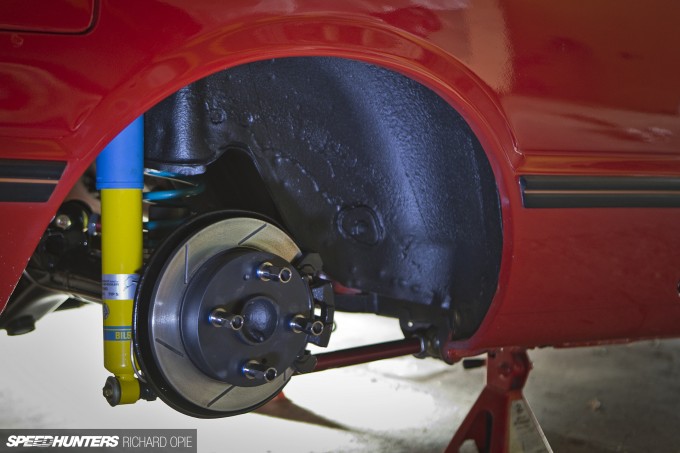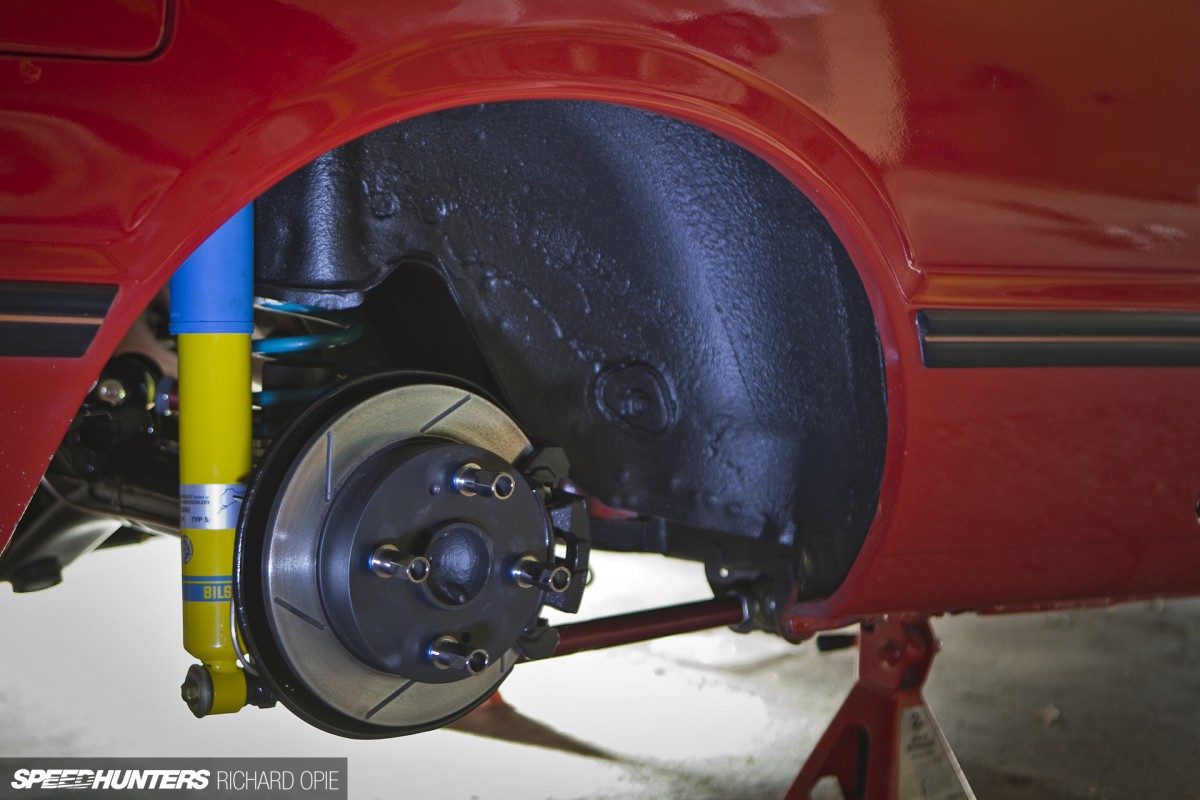 Keeping everything in check is left to a custom-built pair of Bilstein dampers, originally intended for an AE86 but valved to suit the rear 250lb spring rate. And peeking past the hubs, the Techno Toy Tuning billet adjustable 4-link arms are visible. While they'll probably be a noisy item on the road due to spherical bearings, the ability to finely adjust the pinion angle is something I wanted to achieve to keep driveline issues to a minimum.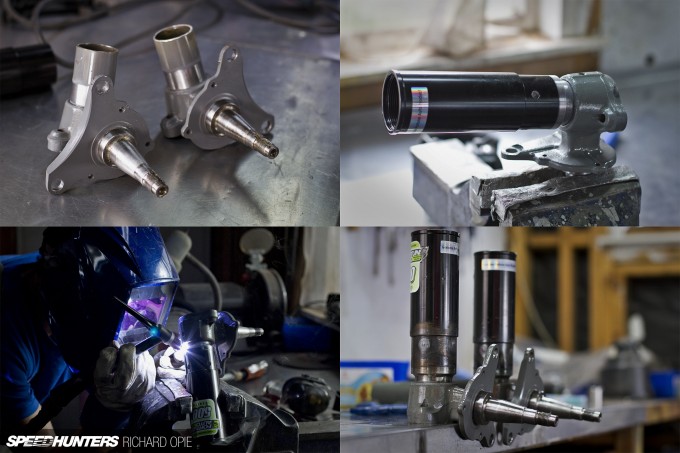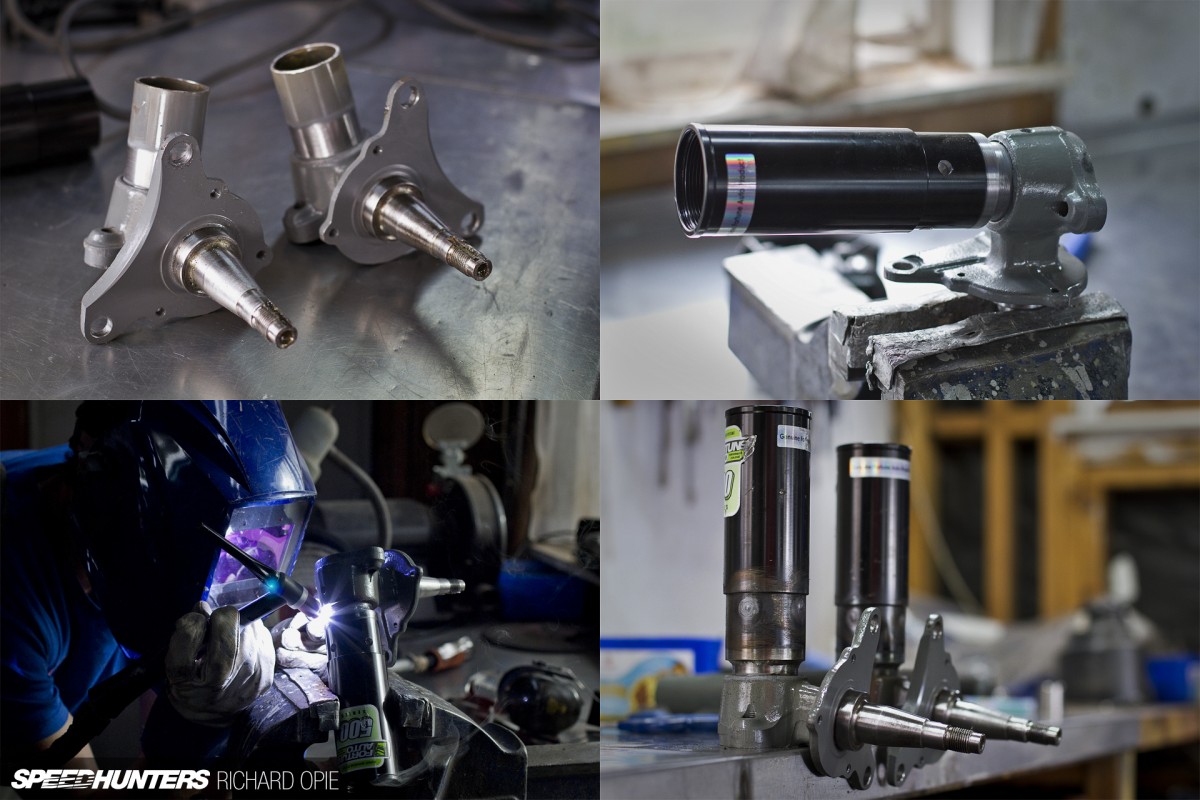 While the rear was nearing completion, attention was again turned to the front. Those early coilovers I'd knocked up years ago? They just weren't going to cut it with limited travel at the ride height I wanted to achieve. Enter Fortune Auto and a pair of its 500 Series front units, specced with the shortest MacPherson strut shocks available and a weld-on threaded bottom section which was added to the strut tube in accordance with LVV guidelines. Plug welds around the diameter, and TIG-welded lower sections staying 10mm away from any cast material.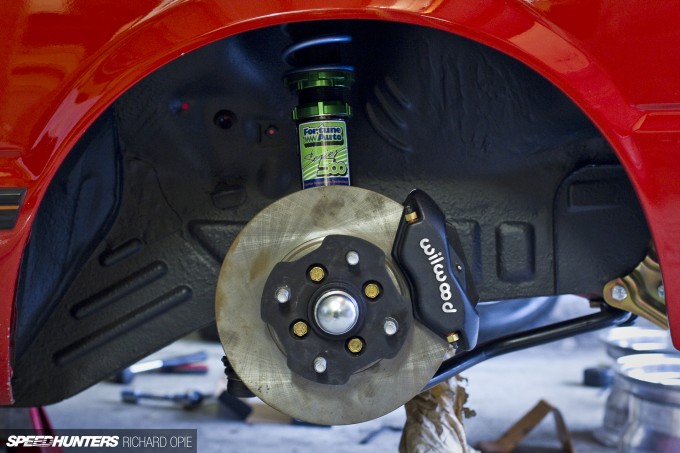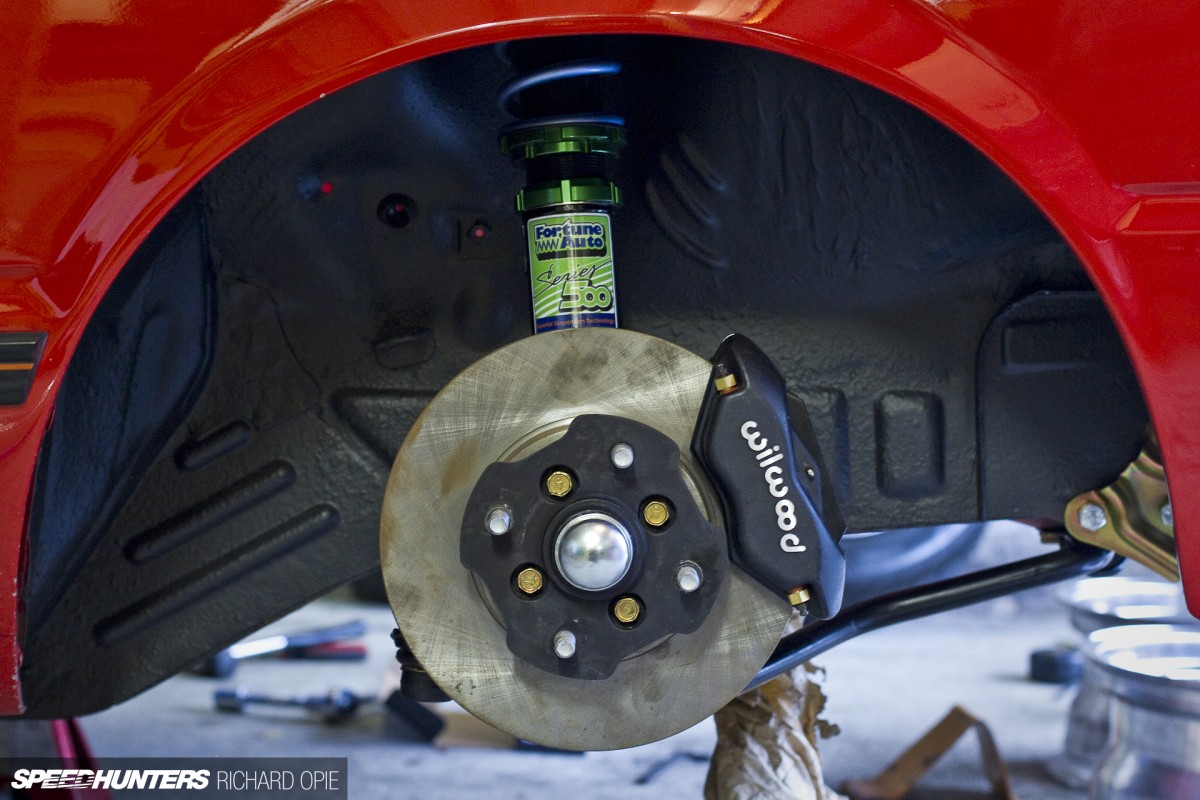 All dressed up with nowhere to really go… yet. With so much more opportunity to fine-tune the ride height without sacrificing travel, I'm really looking forward to seeing how these units perform. The front springs are Swift 275lb items.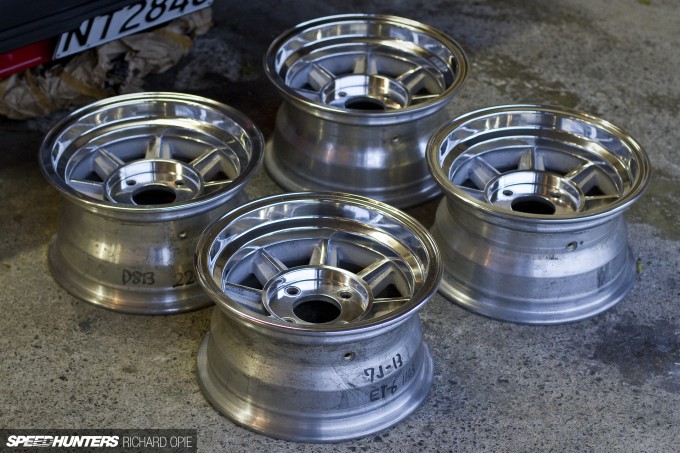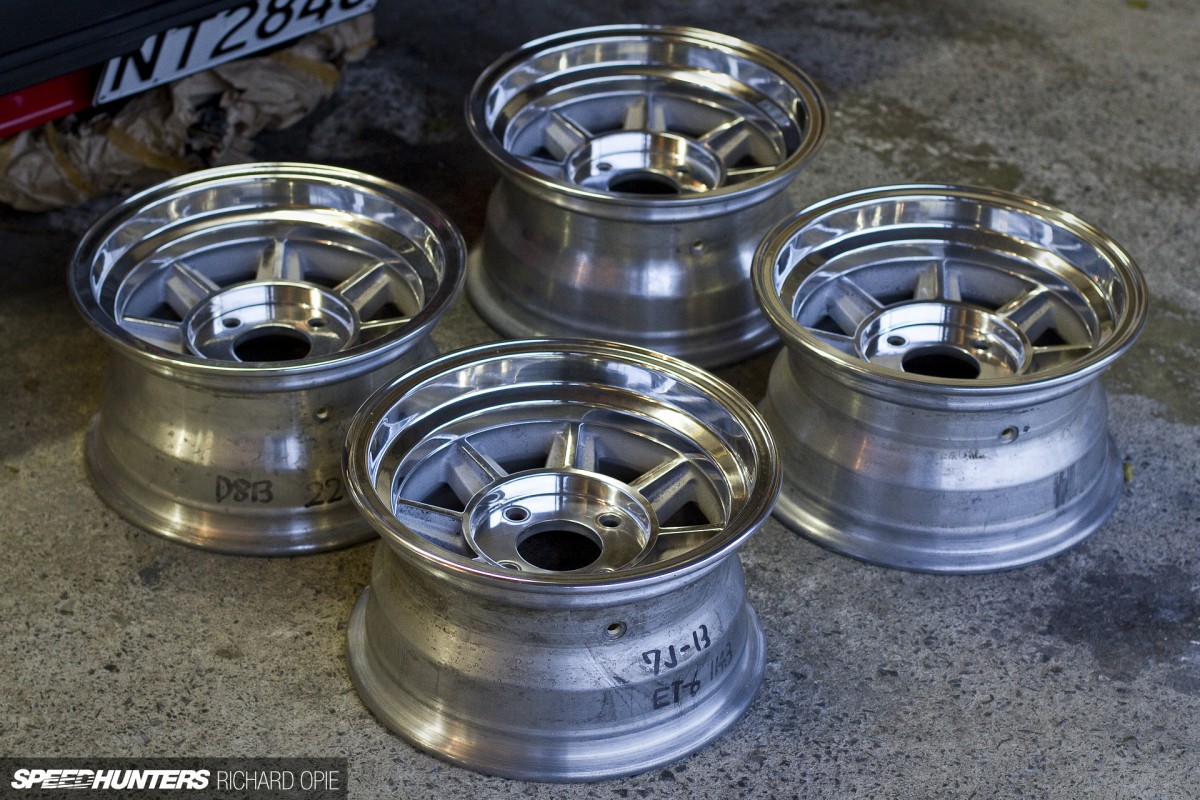 Nearing 10 years after the original purchase of the car, the wheel addiction still lives on too. The most recent addition? A restoration of what I view as the perfect set of rollers for a KP61. These Hayashi Street STs measuring 13×7-inch all around with offsets of +8 front and -6 rear arrived on my doorstep from Japan in a sorry state. After a media blast and polish things were looking up.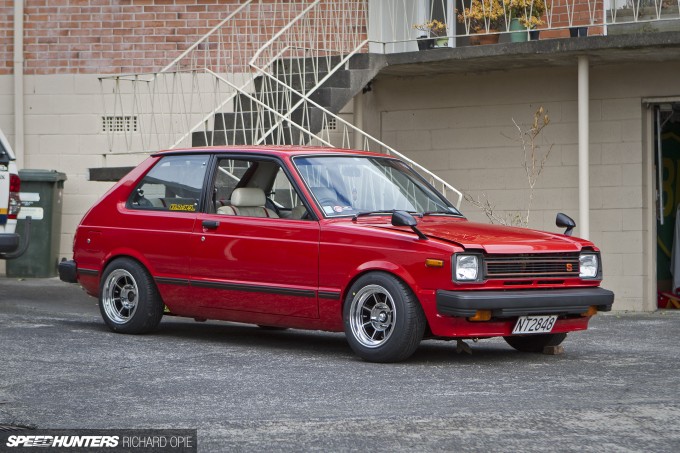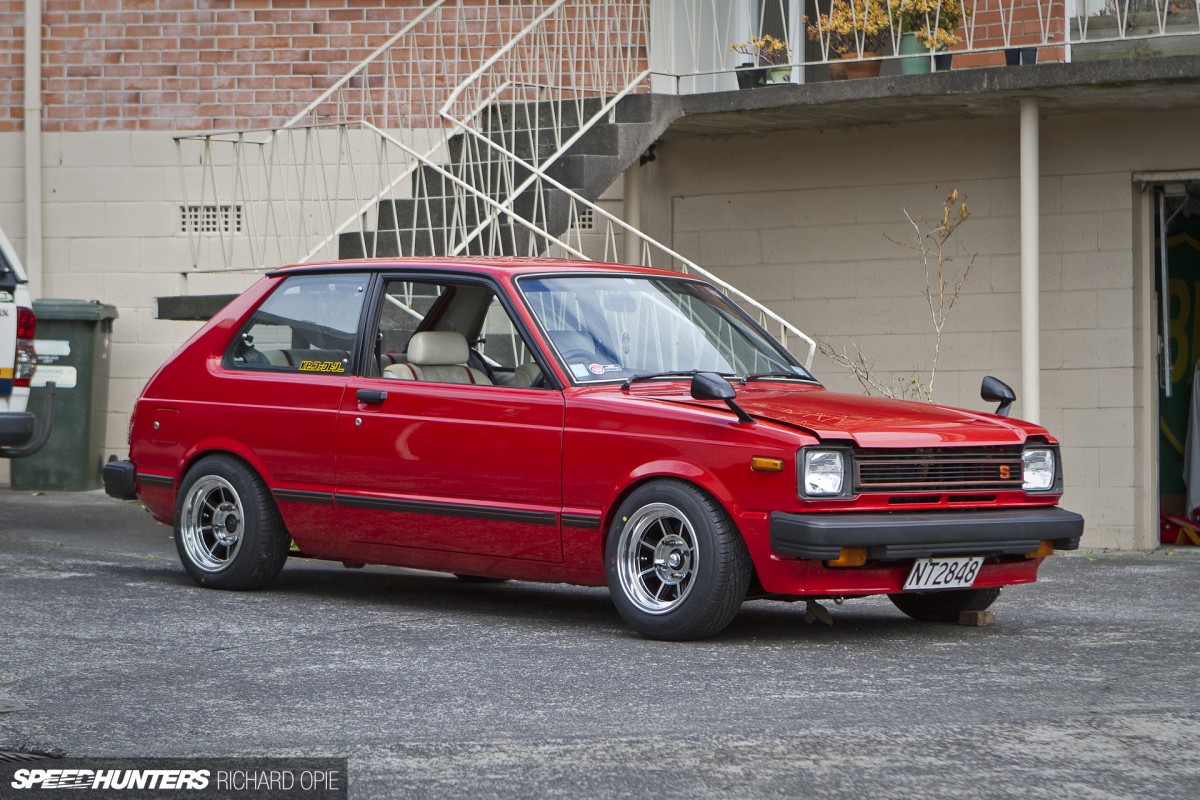 With a final application of paint, new metal valve stems and paired with a meaty set of Yokohama A539 tyres in 175/60 flavour, I finally had the period street-racer look I wanted for the car.
Some ride height tweaking will be required once the engine is in, but for now it's moments like these that reaffirm there is in fact a light at the tunnel's end, and when you break out into those rays, things are going to get very, very fun.
Richard Opie
richy@speedhunters.com
Instagram: snoozinrichy