The Hills Are Alive
As surprising as this might be to some, the concepts of driving hard and owning a low car are not mutually exclusive. Although I do understand why some would have this preconception, as it's rare to see a car that has been lowered with proper consideration for the changed geometry and road compliance.
I'm a huge fan of low cars, which will come as no surprise to a lot of people. Cars just look better low, it's science*.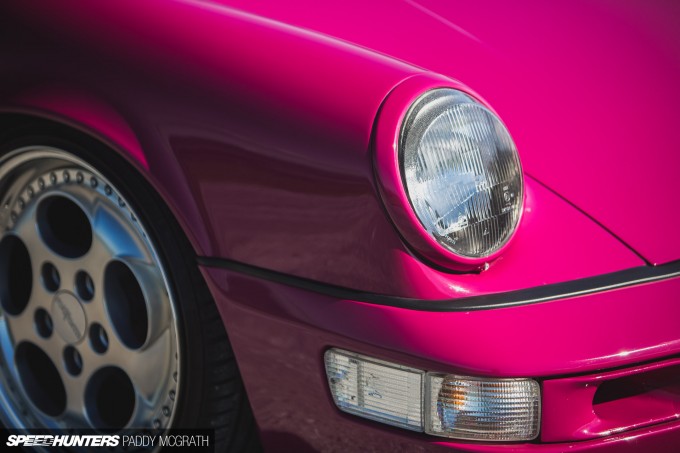 However, I feel that a lot of people who don't share my enthusiasm base their opinions on cars that are poorly lowered. And to be fair, there are a lot of them out there. But there are a lot of good ones out there too and these are the ones worth exploring and talking about.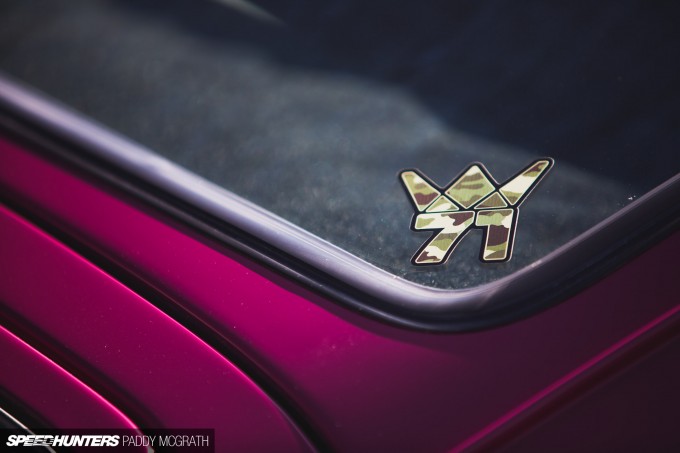 This is one of the good ones.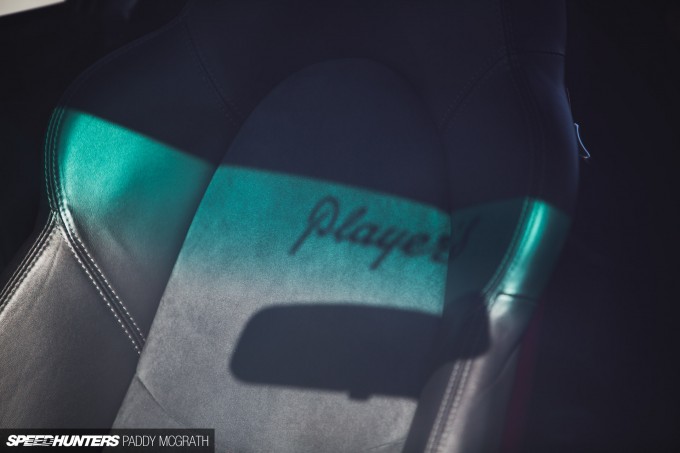 I know this because I know the gentleman who built the car. I know his past, his level of experience and his genuine passion for making sure that everything is done right. I also know that to get to this particular photo location, he had to drive over 935 miles across several countries and almost infinite combinations and variations of road surfaces. He then had to drive back.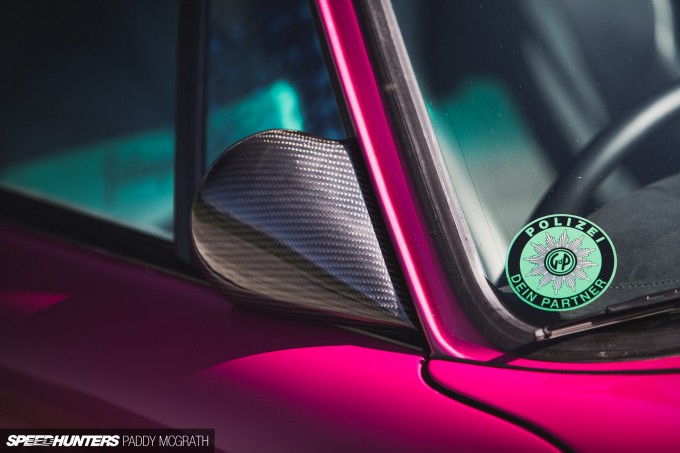 It would be criminal to describe this as being just a low Porsche. It's an exercise in subtle but choice modifications; a car where every change has resulted in an improvement. With 300hp from a glorious sounding flat-six, it's the perfect car for cruising across Europe to a place called Wörthersee…
From Passion To Career
I first met Rich at Ultimate Dubs in the UK several years back, where we arranged to shoot a particular supercharged Golf at his workshop a couple of days later. Since then, we've travelled to Austria together in 2013 before we met again at Wörthersee earlier this year. You might remember his red Cayman which has made an appearance on here a couple of times, but his real pride and joy is this 1993 911 Type 964.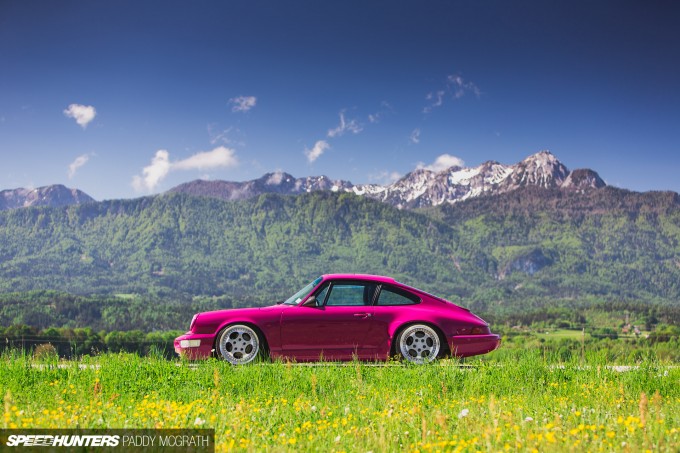 To understand this car better, you have to know a little bit about Rich. With eight years at BMW, followed by 11 years at Porsche and counting as a senior technician, you might say he has a little bit of experience with Porsche platforms. Not to mention his time spent with the Carrera Cup GB cars and the Porsche Super Cup cars.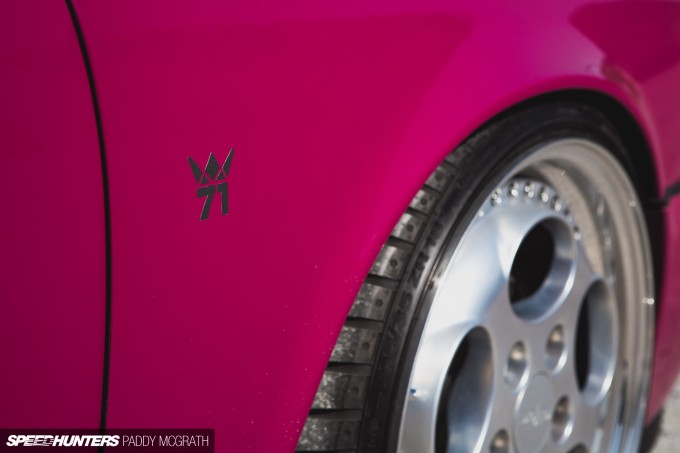 Around four years ago he established Milestone71, a Porsche and VW Group specialist tuning shop which deals with everything from classic air-cooled Porsches to Carrera GTs and the most recent models in the Porsche line-up. What Rich and in-turn Milestone71 are particularly fond of though, is researching and developing how to get the very best – from both a performance handling and safety aspect – from Porsche vehicles which are being run in an ultra-low setup.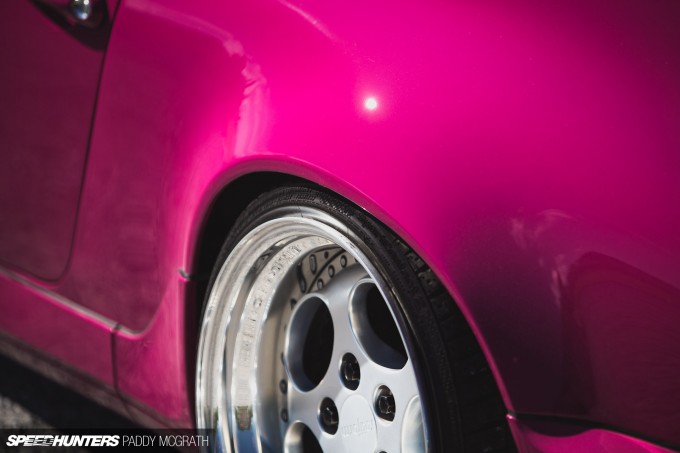 It was through Milestone71's official role as an authorised KW Suspensions Ultra Low dealer and installer, that Rich was able to perfect the setup on his own 964.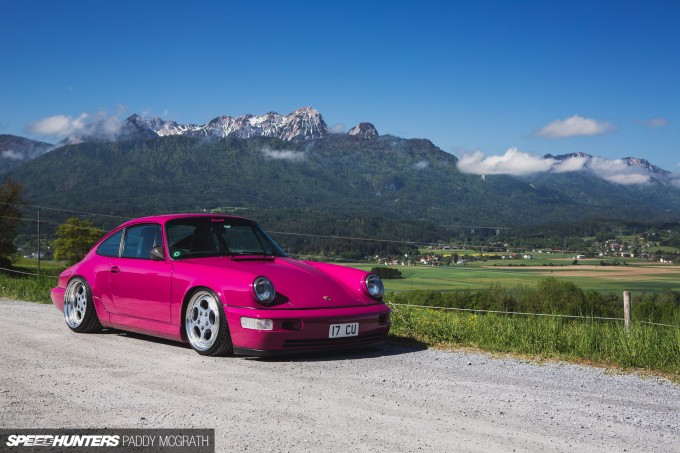 Starting with KW's Variant 3 Ultra Low coil-over system, which in itself allows maximum damper travel whilst retaining a low driving height, Rich specifies a custom spring rate with KW for this application.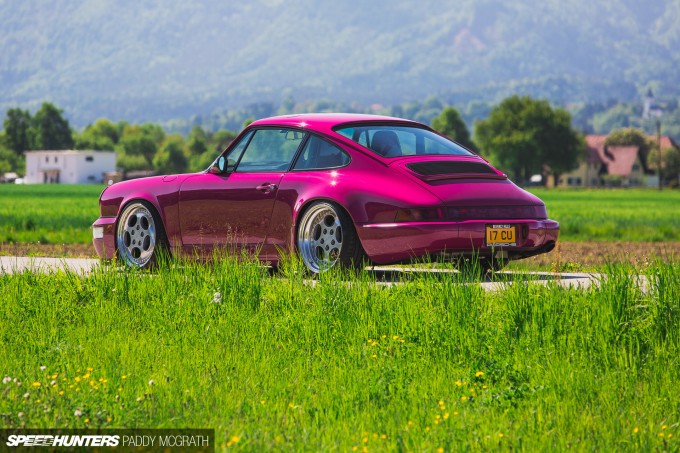 With the system installed, Rich has developed a geometry setup that completely eliminates bump steer, a symptom which typically plagues lowered 911s. Most will use a more solid suspension bushing for a more performance-orientated feel, but Rich chose to retain the factory bushes – refreshed with new items throughout of course – as he believes they give better road compliance.
Another element is the use of modified Carrera 2 'rubber-type' top mounts at the front, again which result in better compliance on the road and a more comfortable drive.
(Unfortunately, we couldn't get under the car to show you this setup at the time of shooting, but we're going to try get some shots from Rich which we'll post in the comments section below.)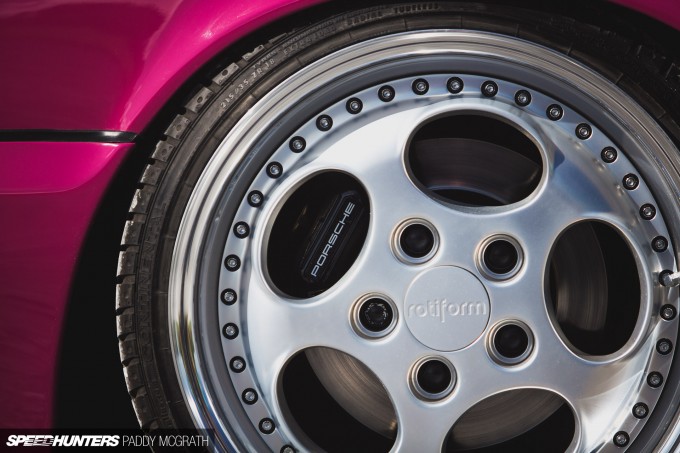 So whilst the car may look like it's about to chew its own fenders off, the reality is that it simply doesn't. Correct wheel and tyre combinations also play a part in this, so the custom-built Rotiform STRs had to be a millimetre-perfect fit on this car. And they are.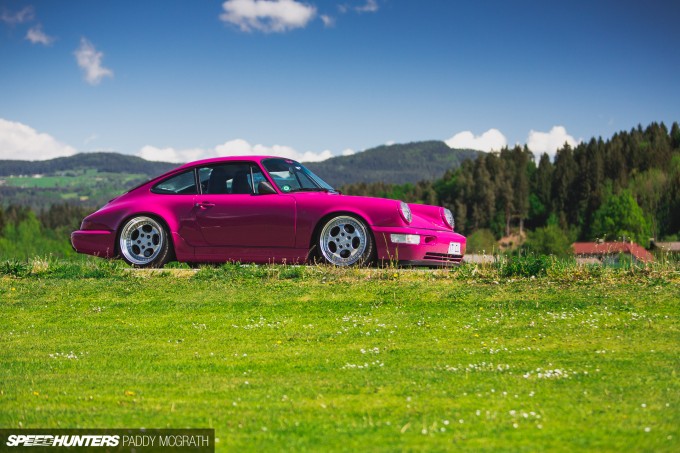 If memory serves me correctly, the car used to be Guards Red, but after a couple of years Rich wanted something a little braver. Technically, the car is still a shade of red, that is, Rubystone Red to give it its proper title.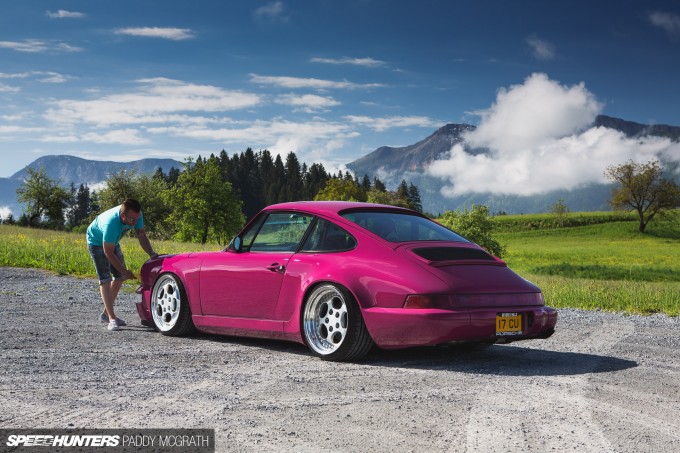 It's rare that we talk about paint finishes on Speedhunters, but the paint here is the epitome of flawless. Under the harsh sun, high in the Central Alps, everywhere the sun hit the paint showed not a single blemish, scuff or swirl mark.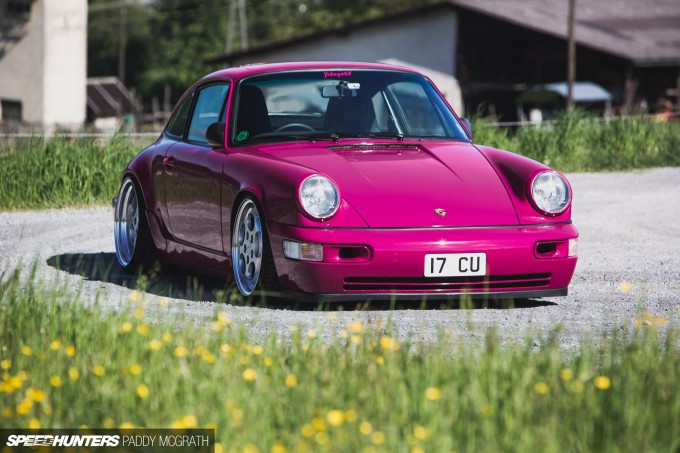 For a car that's in regular use, I think that's an incredible accomplishment. Anyone who cares about their paintwork will acknowledge the amount of time and effort that goes into maintaining the perfect finish, which is usually overlooked by the majority of people. Honestly, I'm a little jealous.
Sophisticated Fun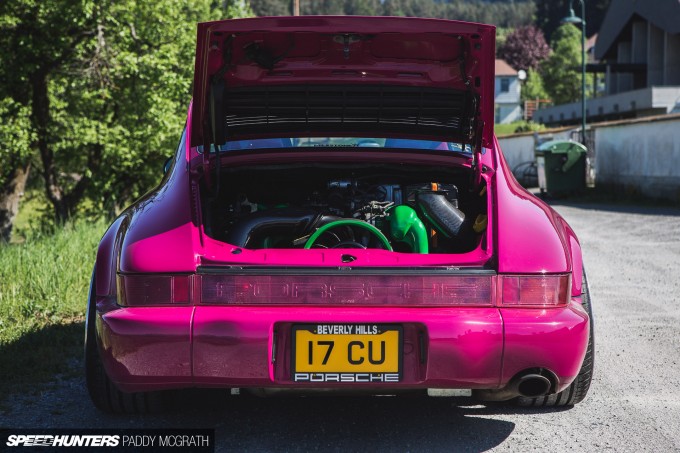 I always flinch when I realise that I have to shoot the engine bay on a 911, as there's typically not much to see. The incredibly economical packaging that Porsche has perfected over the decades prohibits any sort of mechanical voyeurism.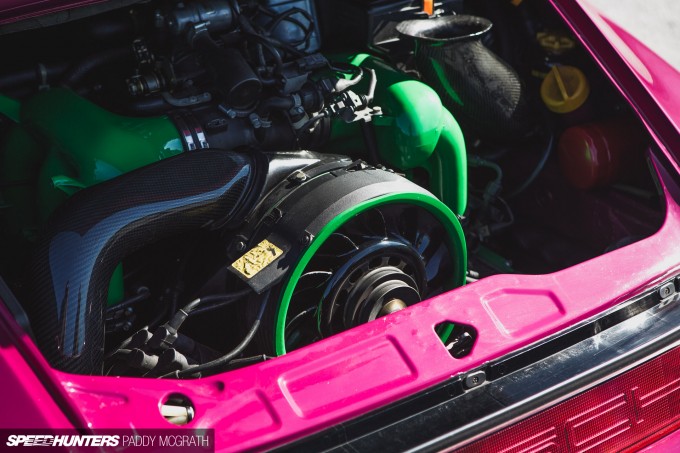 That doesn't change the fact that there has been plenty of love and care put into this 3.6-litre flat-six. Rich completed the complete rebuild of the engine himself, which features lots of custom work and 964 Cup and 996 GT3 components. The pistons and con-rods have been balanced and weight-matched, whilst the barrels have been weight-matched too.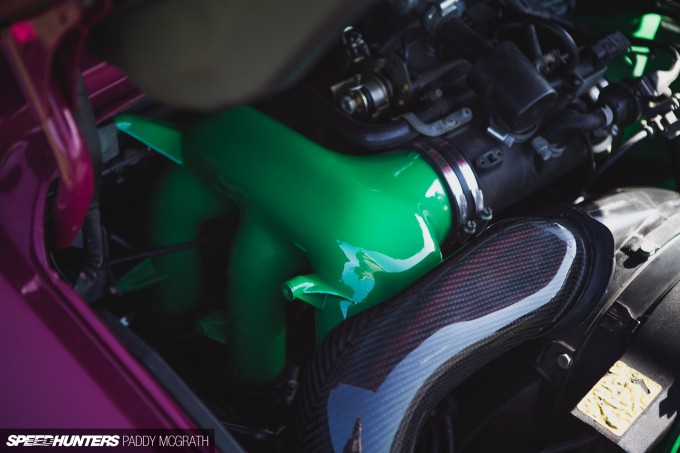 The cylinder heads have been mildly ported and polished. Rich says that it's key not to go overboard with this aspect or else it hinders heat dissipation.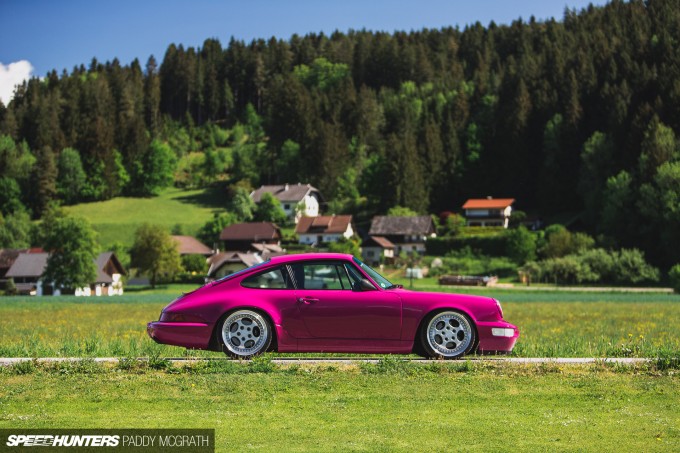 The gearbox has also been rebuilt using modified 2nd and 3rd gear synchros from a GT3 and a 997 GT3 limited slip differential. The result of these rebuilds and extensive care result in around 300hp being transferred from the engine to the road.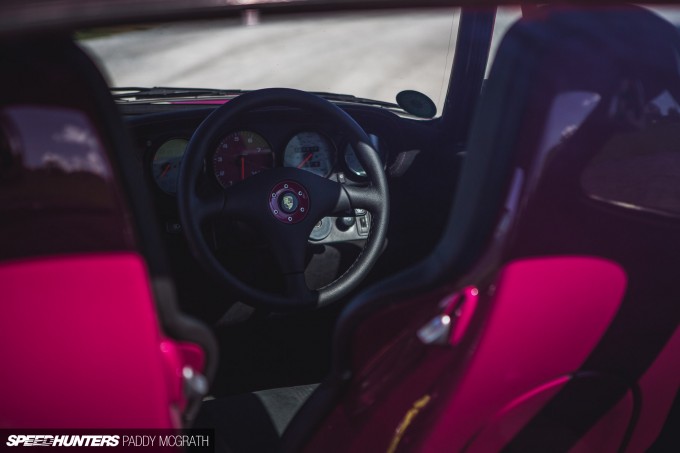 The interior is pretty neat too and has been created specifically for the purpose of travelling long distances in comfort.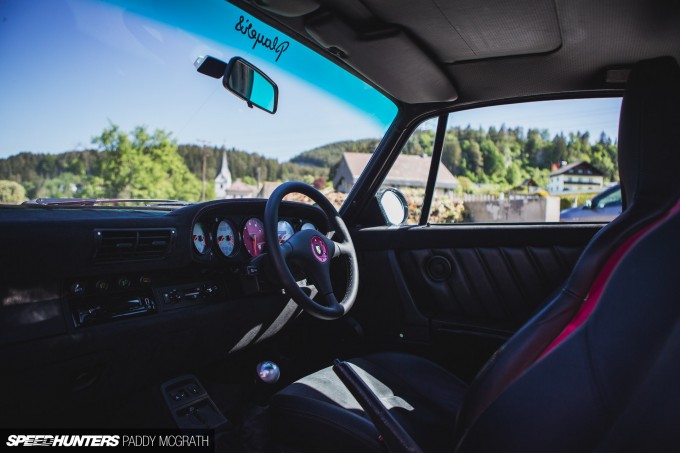 The lower half of the dashboard is from a 993 and the seats are adaptive sports items from a 997, the backs of which have been colour-coded to match the car's exterior.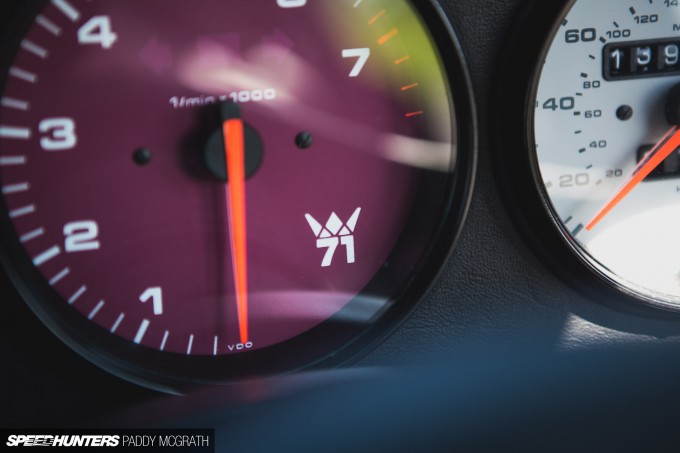 As has the custom tachometer, which features a vertical drop needle and the Milestone71 logo. It's a small but nice detail that sums up the car.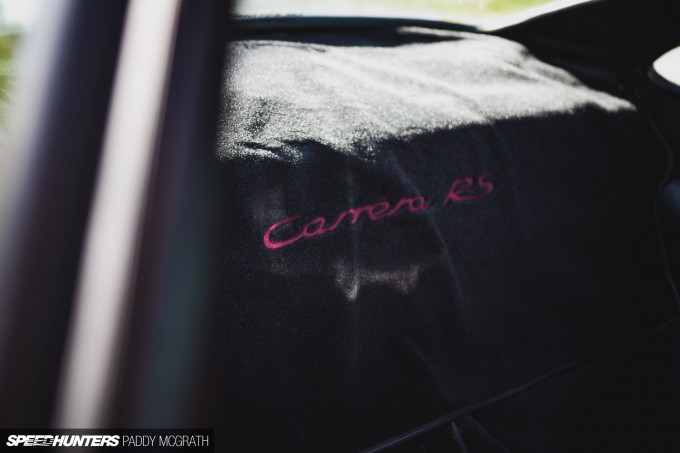 The rear seats have been deleted with a 964 RS carpet set in their place. Rich was very enthusiastic about this carpet, probably a little bit too much so…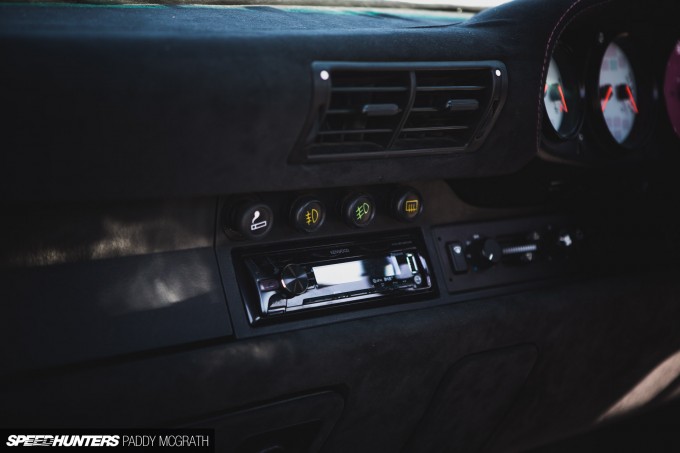 I quite liked the stealthy approach to the in-car entertainment setup. The simple Kenwood DAB head-unit feeds a Rockford Fosgate amplifier, two speakers and a subwoofer enclosure which is hidden in the glovebox. Again, it's tidy, unobtrusive and serves its purpose very well.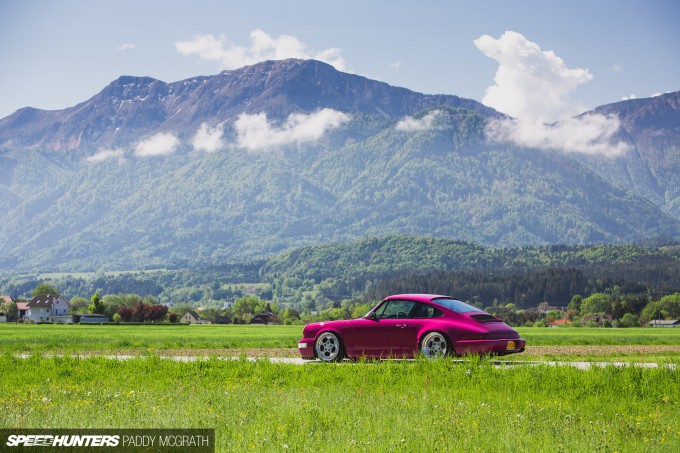 This car very much appeals to me. I like how it's low slung but still remains functional. I like that it's narrow-bodied and maintains the original silhouette. I like that it retains its original character with a few modern creature comforts and the benefits of years of research and development. It's sophisticated, it's fun and I can't imagine a situation where it would ever feel out of place.
Most of all, I like that it's a car that's built to be driven. And does it drive…
Paddy McGrath
Instagram: pmcgphotos
Twitter: pmcgphotos
paddy@speedhunters.com
*It's not science.
Richard Payne's 1993 Porsche 911 Type 964
Numbers
Max Power: 300hp, Max Torque: 320Nm, Weight: 1350kg
Engine 
Milestone71-prepared 3.6-litre F6, balanced/weight-matched pistons & connecting rods, weight-matched barrels, Milestone71 de-cat, Milestone71 Cup exhaust with Cup final silencer
Driveline
Rebuilt OE gearbox with modified 2nd & 3rd gear synchro from GT3, 997 GT3 LSD
Suspension
Milestone71 spec KW Variant 3 Ultra Low coil-overs, new OE suspension bushes, Modified Carrera 2 front top mounts (rubber type), monoball type rear top mounts
Wheels/Tires
Front: Rotiform STR 18×9-inch wheels, Contintental 215/35R18 tyres, Rear: Rotiform STR 18×10.5-inch wheels with four inch lips, Continental 255/30R18 tyres
Exterior
Full re-paint in Porsche 964 RS 1991/92 Rubystone Red (Stern Rubin), front plate recess shortened, RS brake ducts, clear indicators, tinted headlamps, front side repeaters removed, 964 carbon Cup mirrors, 993 door handles, 993 rear side windows, 964 RS lightweight rear window, US-spec rear bumper
Interior
Porsche 997 adaptive front seats with colour coded rear seat shells, rear seat delete, RS rear carpet set, 993 under-dash section, dashboard & door tops re-trimmed in Alcantara, 993 RS steering wheel, Marble Grey instruments, custom Milestone71 colour-coded tachometer with vertical drop needle, carbon fibre centre console trim, 993 Turbo S gear knob, one-off stereo install with hidden subwoofer enclosure under dash, Rockford Fosgate speakers, Rockford Fosgate amplifier, Kenwood DAB head-unit
Porsche 911 related stories on Speedhunters
Cutting Room Floor