Do you remember the first car magazine you ever bought? Mine was a copy of Mini World in 1996 and I remember it vividly. On the cover there was a really cool yellow racecar that was completely stripped-out and barely road legal. In fact, I'm not sure if it was road legal at all. It was kind of irrelevant though, because way back then I was just 15 years old and too young to drive. But inside my head I pictured myself driving that yellow Mini racer on the streets. And if I closed my eyes I could be in the driver's seat attacking the twisty B-road that led back to my house.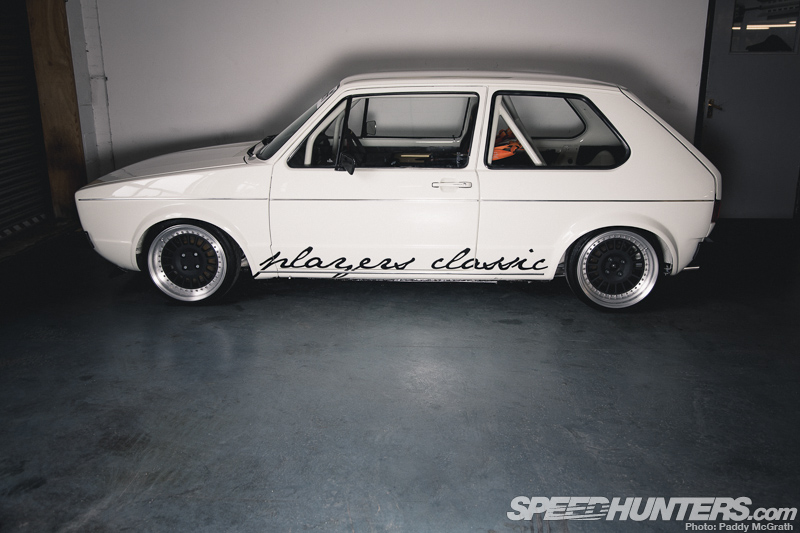 Those early automotive dreams resulted in me having an affinity for pretty much any car that's stripped-out and caged-up. Perhaps it's why I like Jamie 'Jaymac' McToldridge's Mk1 Golf so much.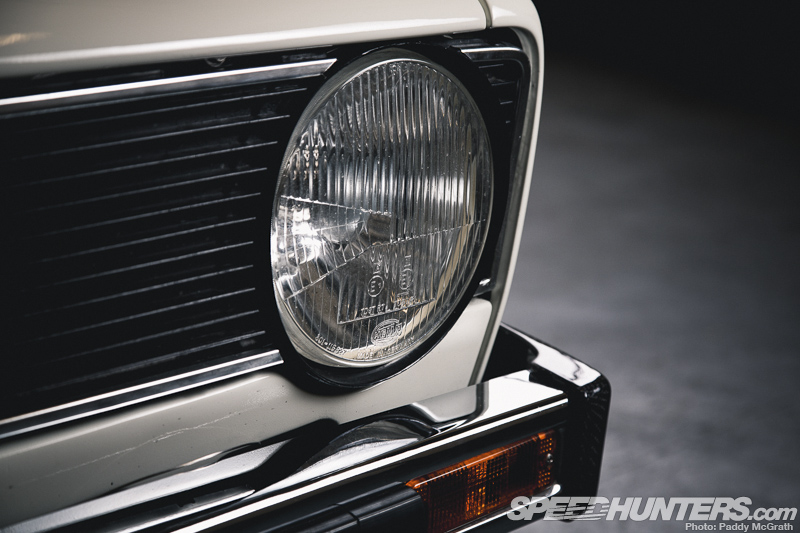 Or maybe it isn't. In fact, I am going to go with the latter. The bare innards and the roll cage are not the most attractive feature of this car. For me the main event sits firmly behind these lights…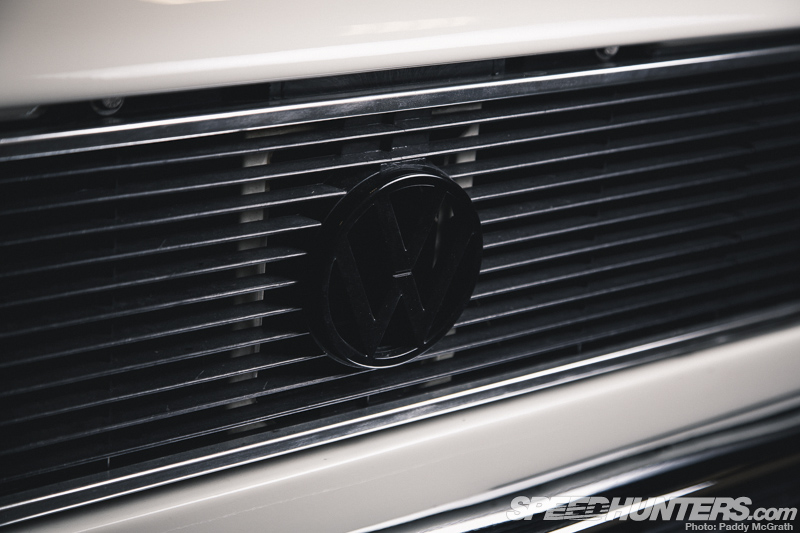 … and this grille. The supercharged G60 motor that powers this car is a Volkswagen enthusiasts' dream. In the grand scheme of things these engines aren't particularly powerful, but that doesn't matter so much in this case. Why? Because G60 lumps sound incredible and over 260 horsepower in a car that's very lightweight can be an enormous amount of fun. I shall get to the engine in a bit.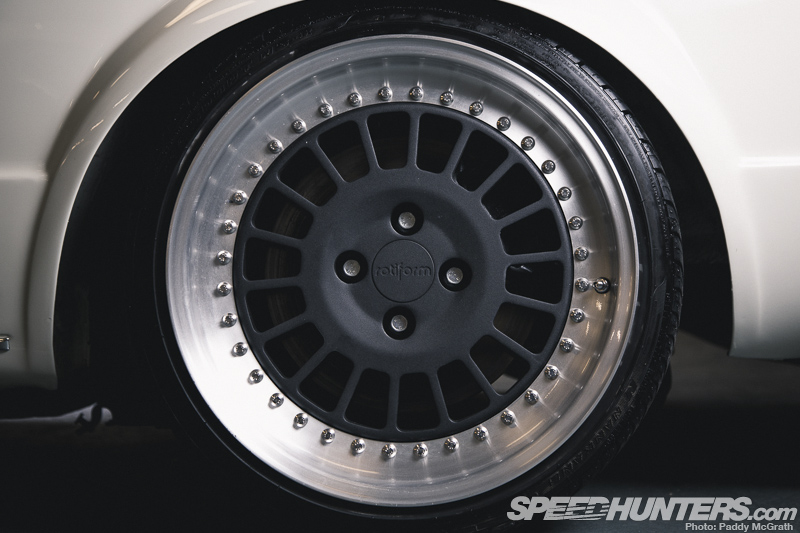 While we're on the subject of weight – or lack thereof – it would be wise to talk about these simple (but very effective) Rotiform IND wheels. Rolling stock is a vital choice for any car, but Volkswagen owners tend to be particularly fussy. The 16×7-inch wheels up-front tip the scales at just 14.9 pounds (6.7 kilograms) a piece. The more girthy rear wheels, measuring 16×8-inch, aren't much more. I've always loved it when people mix textures when building cars. Brian at Rotiform worked with Jay to create these one-off wheels that feature lovely crackle black centres that contrast perfectly with the understated brushed dishes, which have been clear coated to help cope with the harsh UK weather.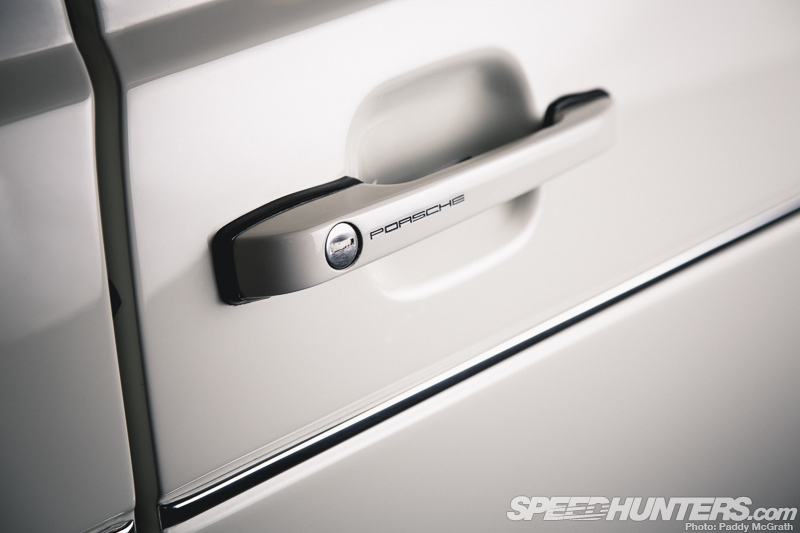 Details. It's the little details that are important with vee-dubs. Handle swaps have been the norm in the VW scene for as long as I can remember. People used to go to great lengths just to get a certain handle grafted onto their car's door. Audi 80 door handles were a super-popular choice with Golf and Corrado owners – anything to get rid of the OEM door openers and smooth out the lines of the car. The effort involved in fitting 'aero-style' filler caps and other such modifications is starkly contrasted by the approach of today's Volkswagen tuner. Now it's all about keeping things simple. Jaymac's done this with the Porsche handles, which add an extra dash of retro to the build.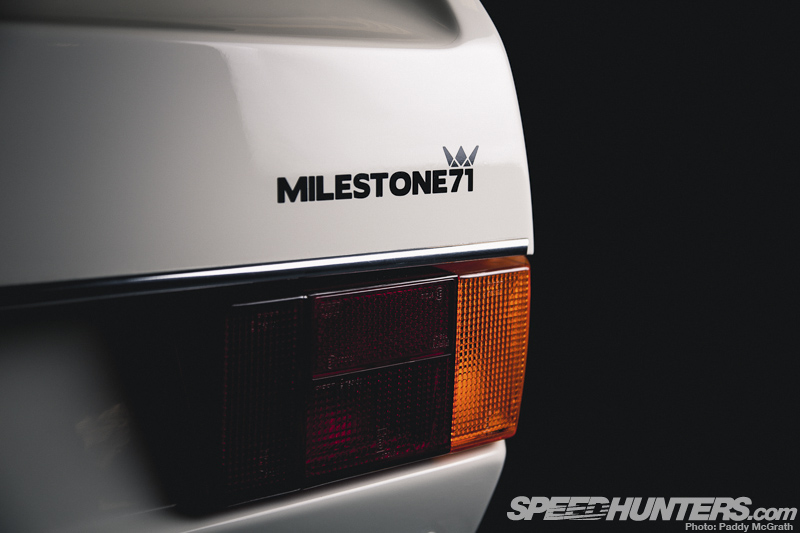 When I say "Jaymac's done this", what I actually mean is that his friend Richie Payne at Milestone71 has done this, and, well… pretty much everything in fact! Rich has been responsible for multiple late nights putting the car together.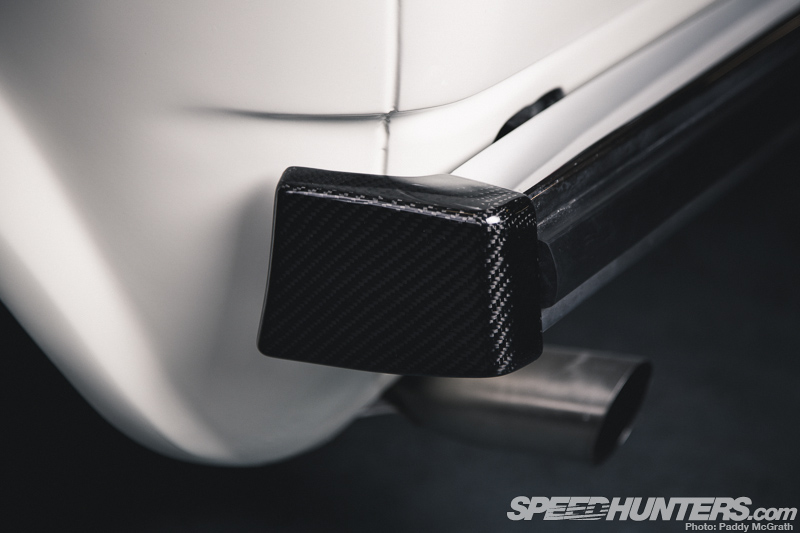 Carbon fibre end caps adorning the front and rear chromed small bumpers have been produced by Paul at C6 Carbon. The thing about the Volkswagen scene you have to try to understand is that, for the most part, it's about style. Form over function is rife. Quality is very important. But above all, it's about having fun. This, for me, is what I love about the VW scene. I think it's fair to say that's what almost all car culture enthusiasts seek to gain from their vehicles and the automotive adventures that play out in the lifestyle we lead: fun.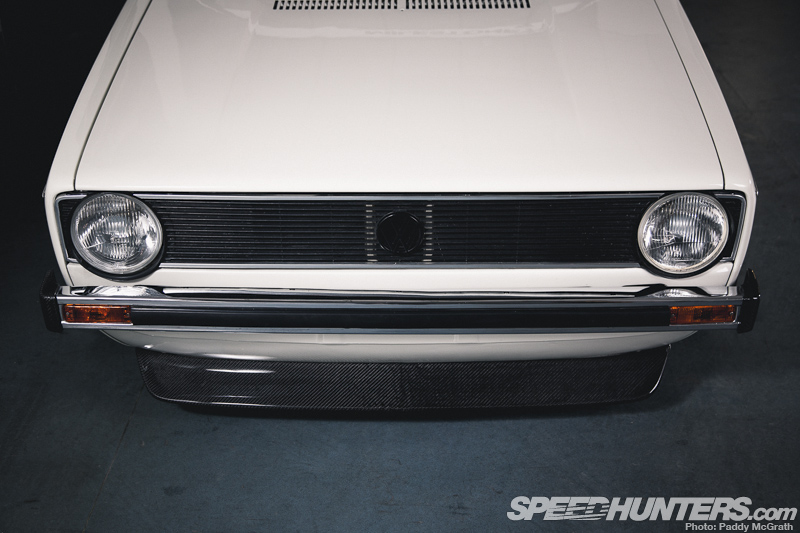 In fact, the whole ethos of the Golf GTi was based upon delivering a rewarding and enjoyable driving experience and the car was built to deliver the ultimate fun factor. Granted, Jay's Mk1 didn't start life as a GTi, but the Swallowtail has been put together with this mindset. At the business end the carbon fibre duckbill spoiler is absolutely stunning, but it's all about the 'charged lump that the beautiful front end masks.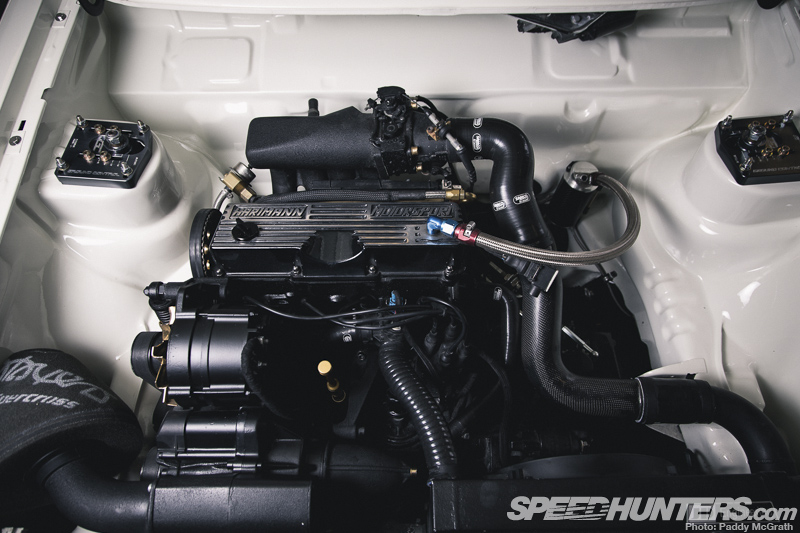 This motor is like an old friend to Jay. It's also one of the more serious G60 supercharged engines you're likely to find in a Mk1 bay. Originally though, the engine was in Jay's highly controversial 'Zero Lip' beige Mk2. It was during this lifetime that the engine was tuned at JD Engineering in Holland. I went along to check out the mapping session and the 1900cc block, complete with a whole host of other top-of-the-line performance parts, worked together to produce 268hp and 314lb/ft of torque. The sound it makes is intoxicating. I literally cannot put into words how amazing the noise is that this engine produces. If you get to any major VW shows in Britain this year then make it your mission to hunt Jay down and get him to fire it up!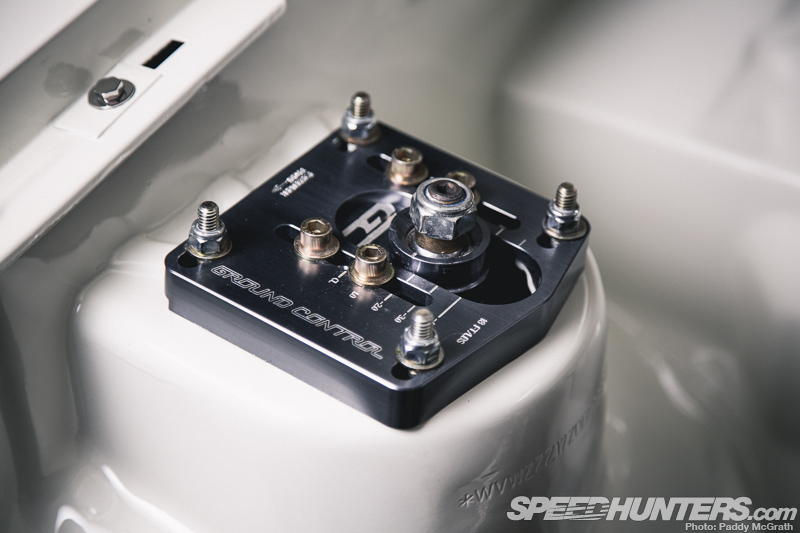 Chassis wise, the Mk1 sits on KW Automotive Variant 3 coilovers, which were specially sourced by Richard Good at KW UK and feature Ultra-Low damper bodies. These, teamed with Ground Control top mounts, result in a car that can still run super-low to the tarmac while having a large range of damping. The engine bay, and the rest of the car's beautiful paintwork, can be accredited to Tony Payne, Richie's father, who is one of the most respected Volkswagen painters in the UK. As you would expect, the job is absolutely killer and keeps the original identity of the bay alive.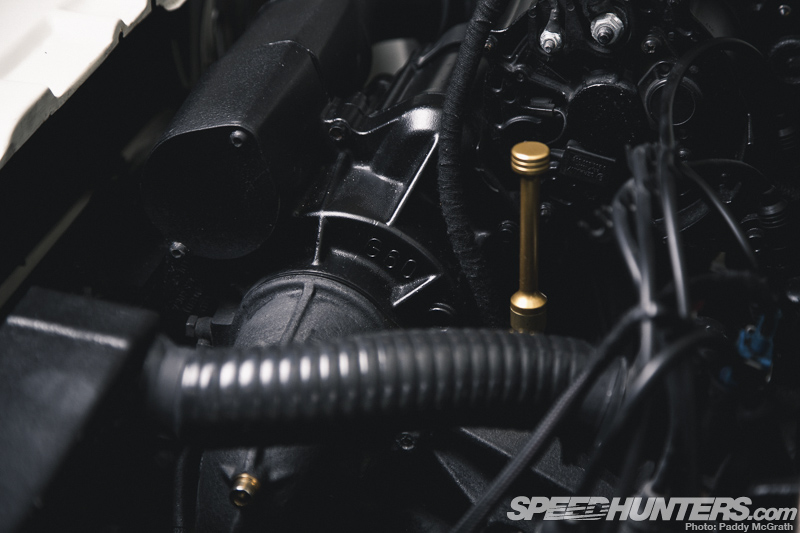 And here's where all that noise comes from. The G60 supercharger has been fully reworked and features a toothed belt system with a 65mm pulley all gold-anodised with a boost return kit. SamcoSport coolant and boost hoses are used for reliability and there's a Forge Motorsport oil cooler to keep temperatures in check.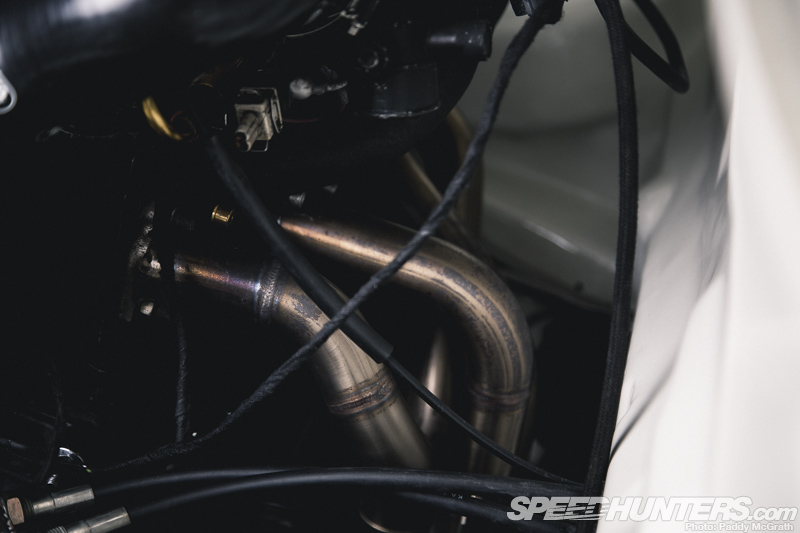 The custom Edwards Motorsport exhaust manifold sports an equal length design and looks very cool too. Sorry to go on about the sound, but on initial start-up this car emits the most aggressive note. Its exhaust system barks fiercely showing the motor's intentions and reminds you how awesome this G60 power plant is.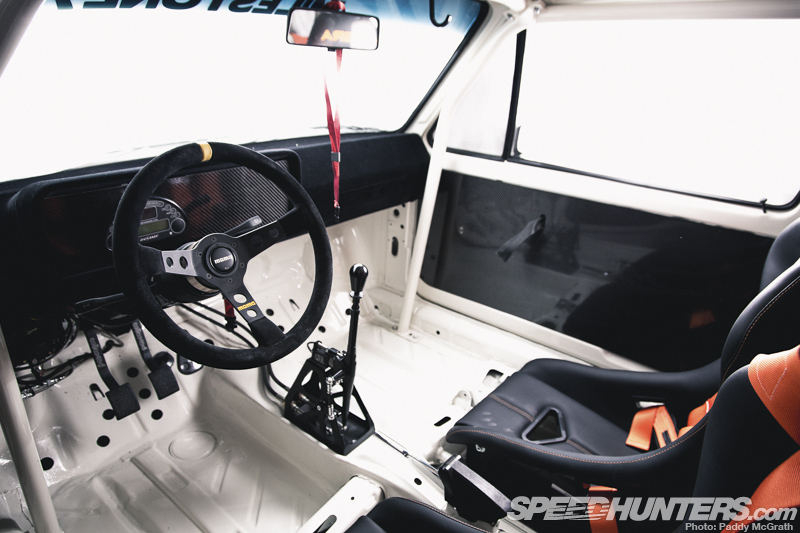 The driving seat is a pretty sweet spot to be! Black and orange with a dash of yellow all against that VW Pastel White hue results in a quality combination. This is the epitome of minimal!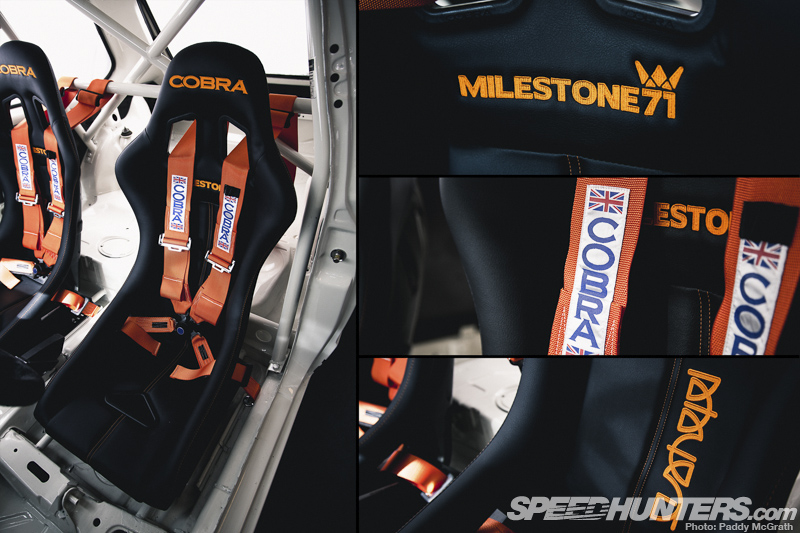 The specially made Cobra FIA Historic seats are a fitting choice and look absolutely spot-on. Again, the weight of these seats is pretty mimimal and they work very well with the build that Jay has executed.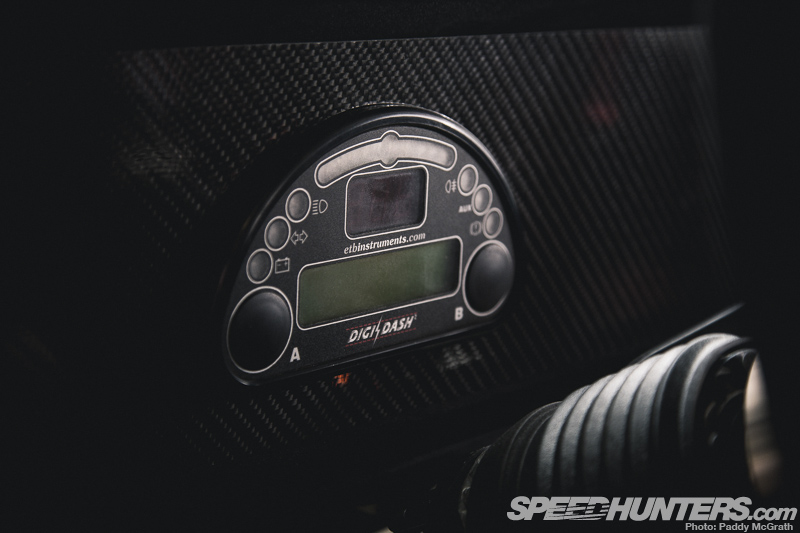 More minimalist action; this time the instrument pod has been redesigned to feature carbon fibre and a more up-to-date ETB DigiDash2-LITE, all of which have been integrated into the Series-1 dashboard.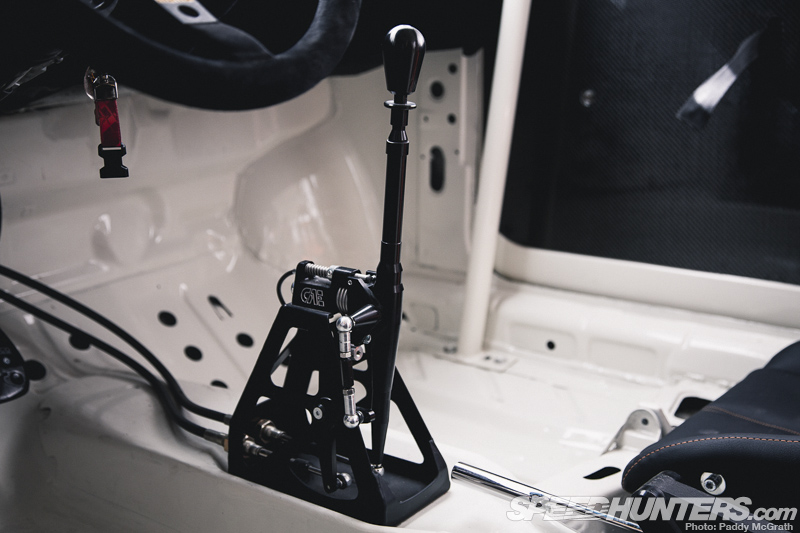 Now this is a real sight to behold. Despite looking like a sequential item, the CAE Automotive shifter retains the OEM H-pattern, but reduces throw and increases gearbox feel. In my opinion, it really is the best looking shifter you can buy for the Mk1. I'd kind of like one of these in my house – I'm not sure what for yet, maybe it could be redesigned to help me freshly squeeze oranges every morning? To be honest, I really don't care – I just want to look at it every day. Anyway, it's my favourite thing about the interior by a long shot. Even the cage and the stripped-out-ness pale into comparison. Once strapped into the awesome Cobra seats, my eyes just remained constantly glued to that superb piece of engineering by CAE.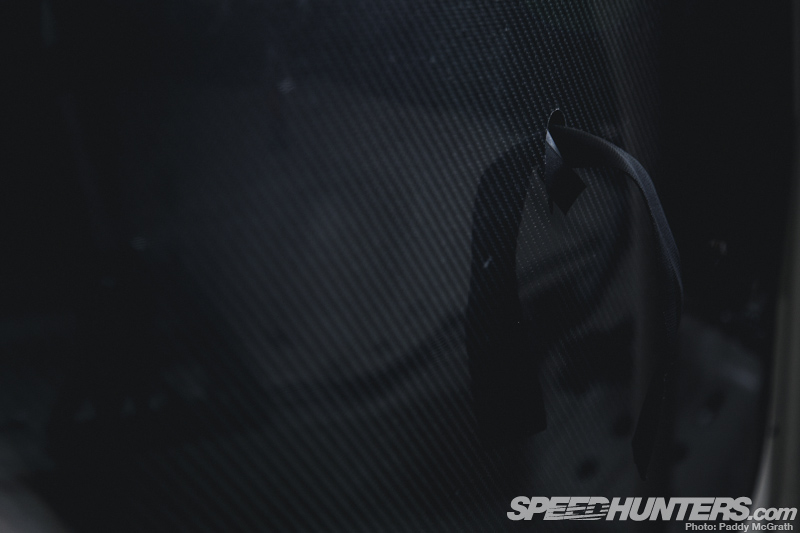 Anyway, I'm sure you've firmly established that I like that shifter thing. Moving onto this piece of carbon fibre door card complete with no-frills puller-opener device. To be honest, I am not sure what else to say about it, but I'm into the photo that Paddy has taken, so it seems a shame to just delete it from this story because I am coming up short on words to type. So feel free to enjoy the arty photograph of this piece of black gold.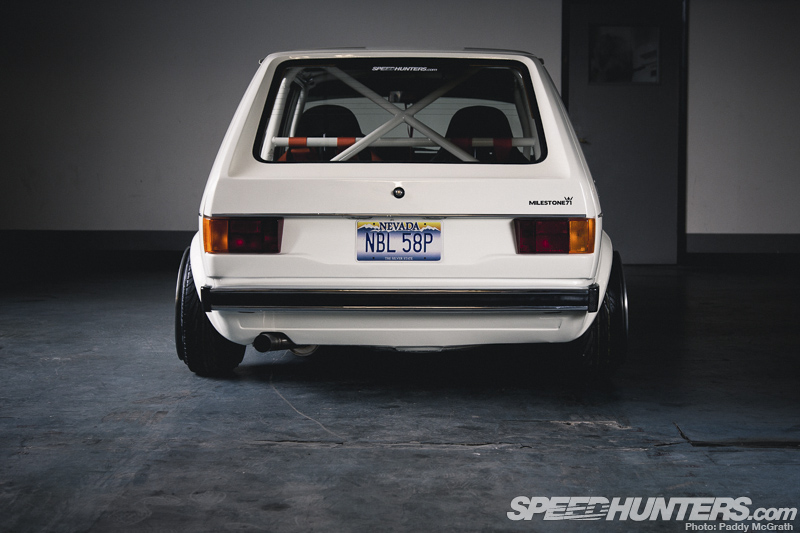 Vehicles registered in 1976 here in the UK got a 'P' registration plate. In the '70s the registration letter came at the end of the plate. Later on the letter would be swapped so it came at the beginning of the plate. I find it pretty cool that in the United States, so many different licence plate options are available (and for such low cost compared to UK prices). On this side of the pond a registration number is only ever issued once for the whole of the UK and personal plates, or 'vanity plates', are quite strictly controlled by a specific set of rules. The Nevada plate on Jay's Mk1 ties subtly into the whole 'Players Show' vibe. Players was founded by Jay and his friend Carl Taylor just over seven years ago. Carl has built some mental VAG cars in his time, including his recently-featured Audi RS4, and between the two of them they clearly have the knowledge of how to put on an awesome car show.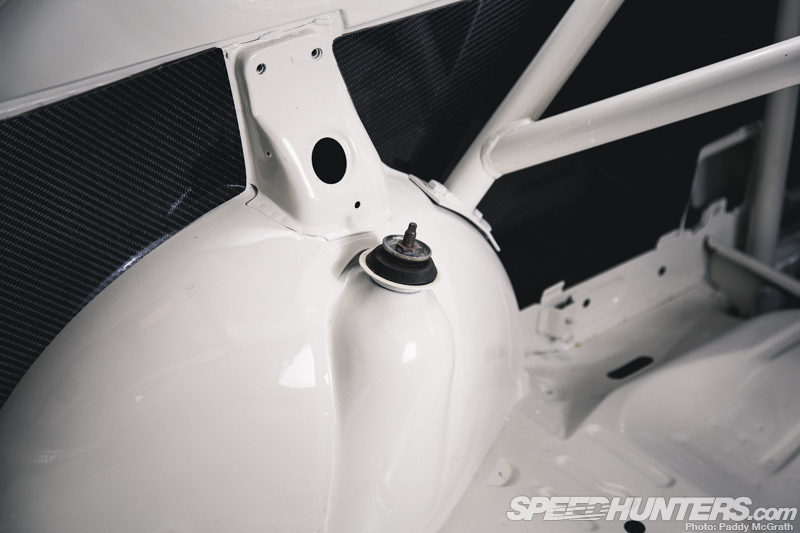 Over the years many cars have been put together by Jay and Carl to promote the Players brand. This year sees the duo turn things up a notch and bring the first show of its kind to Goodwood Motor Circuit delivering a brand new car culture offering called Players Classic, which Speedhunters is excited to be an event partner. Jay's Mk1 is going to receive further changes before being taken on track at this event, and again, this will be a cool opportunity to check out how the 'charger sounds at full chat!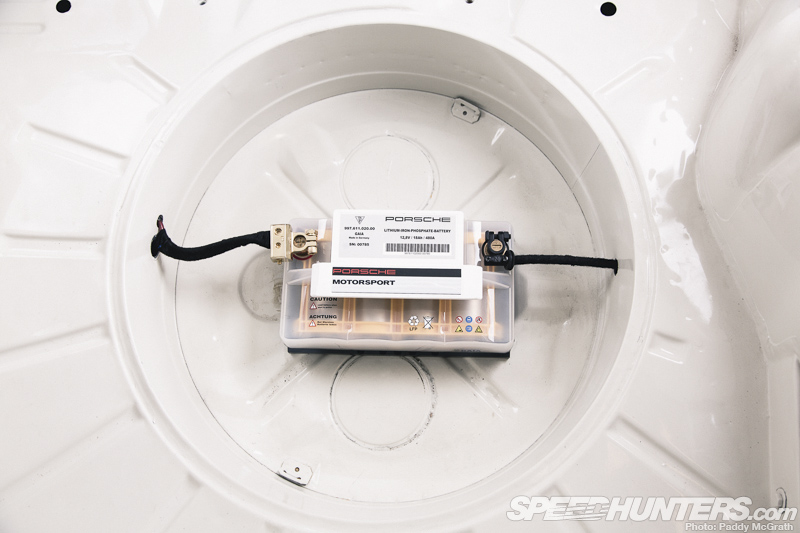 The whole Volkswagen tuning ethos has always been at one with using OEM parts from different marques. Back in the '80s and '90s Mercedes-Benz and Porsche wheels were often fitted to VWs to gain a different look with a sort of original feel. This Porsche Motorsport battery not only works nicely with Milestone71's roots as a Porsche specialist (Richie is a factory Porsche trained technician), but it also keeps up a long VW tuning tradition of adding top-end parts from car brands that have business ties with the Volkswagen Group. I could talk about the weight reduction or distribution benefits the battery has, but in the world of Volkswagens it's more noteworthy for being straight-up cool!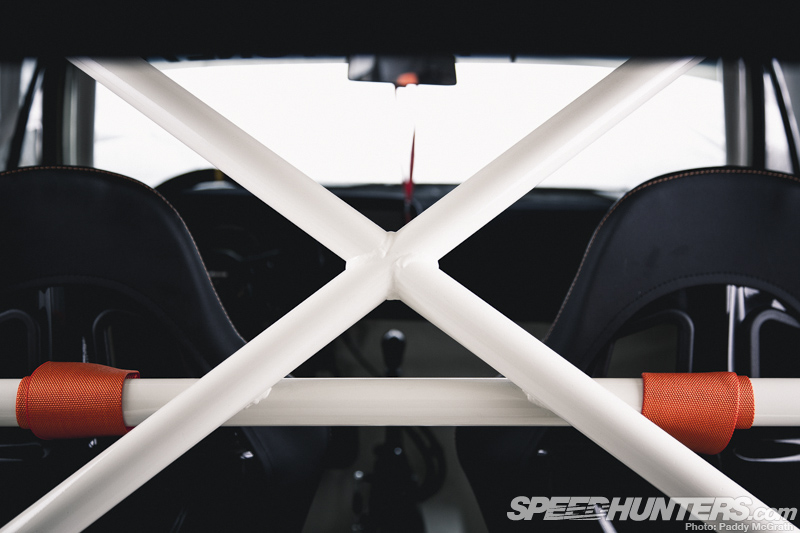 If I were 15 years old again, this would probably be my ultimate daily driver. I'd make sure that this view of the cage, and the sweet looking Swallowtail rear end, would be all that other drivers would ever see. Man, I really love track-inspired cars. At shows like Autosport and any circuit-related event, I can just stare at the stripped-out interiors for more time than I care to share with the world!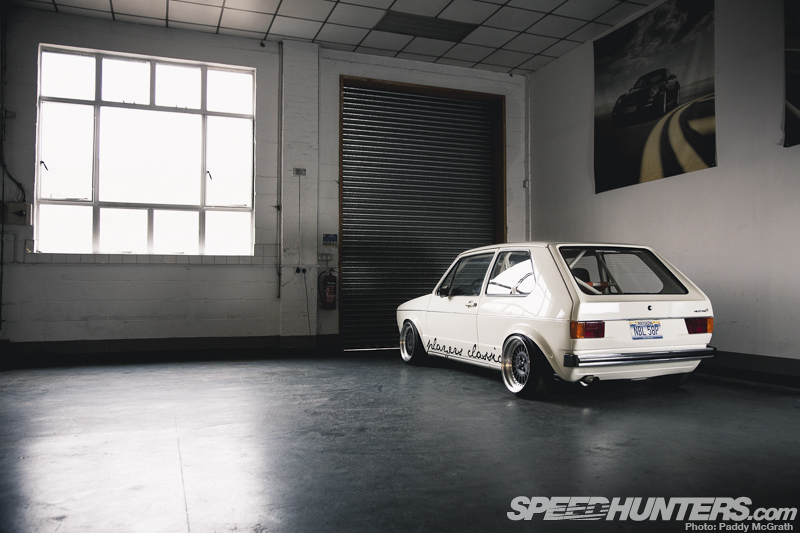 The day I bought that copy of Mini World, my passion for cars and the culture surrounding them, was increased massively. From that moment on it became my mission to build, own and drive some crazy vehicles on a regular basis. Jaymac shares that exact same thought process and his Mk1, along with the success of the Players Show, is a testament to this passion. It's going to be interesting to see how this car evolves over the forthcoming months and more importantly, how it sounds howling around Goodwood. In the meantime, just close your eyes and imagine driving this stripped-out weapon on your favourite piece of twisty tarmac…
Ben Chandler
Twitter: @Ben_SceneMedia
Instagram: @ben_scenemedia
Photos by Paddy McGrath
Twitter: @PaddyMcGrathSH
Instagram: speedhunters_paddy
paddy@dev.speedhunters.com
Jamie 'Jaymac' McToldridge's Mk1 Volkswagen Golf
Numbers:
Max Power – 268bhp, Max Torque – 314lb/ft

Engine:
Bored out 1900cc block with lightened & balanced bottom end, Schrick baffled sump & windage tray, Wossner custom-spec 83mm pistons, Wossner rods, CNC big-valve head, CNC match-port inlet & custom smoothing, custom-spec Schrick camshaft & gold anodised vernier pulley, HTN finned rocker cover, heavy-duty paddle clutch, gold anodised BBM billet fuel rail & 3.5-bar fuel regulator, stainless braided hoses throughout, W5DPO G40 spark plugs, red top fuel injectors (#30), full-blend R1+ supercharger with gold-plated solid tensioner, G-Werks toothed belt pulley system with 65mm pulley gold anodised and boost return kit, Custom SNS management chip, Pipercross induction kit, SamcoSport coolant and boost hoses, billet oil dipstick, custom alloy top-fill radiator, inlet manifold / cylinder head / supercharger / alternator and ancillary brackets powder coated in Harley Davidson black crackle wrinkle paint, carbon boost pipe and oil cap, Forge Motorsport oil cooler, custom Edwards motorsport stainless steel equal length exhaust manifold and system, mapping by JD engineering in Holland

Driveline:
Heavy-duty paddle clutch, shortened and carbon fibre dipped driveshafts

Suspension/Brakes:
KW Automotive V3 Ultra Low coilover system, Ground Control top mounts, carbon fibre dipped wishbones, ARB & TCAs, Wilwood Ultra Lite front brakes, Scirocco 16v rear brake set-up, braided brake lines

Wheels/Tyres:
Rotiform IND 16×7″ (front), 16×8″ (rear), Nankang NS2 165/40R16 tyres (front/rear)

Exterior:
Full respray by Tony Payne in Volkswagen Pastel White, smooth engine bay with wire tuck to inner wing, relocated throttle cable, brake servo delete, custom Wilwood pedal box, chrome small bumpers with carbon end caps by C6 Carbon, Porsche door handles, carbon flag side mirrors

Interior:
Completely stripped and smoothed and painted floor, flocked series 1 dash, ETB DigiDash2-LITE in carbon surround, carbon door cards, Cobra FIA Historic seats, Cobra 4-point harness, Safety devices 6-point cage, CAE tower shifter