If I could use some words to describe this car, they would probably be 'high impact', and 'maybe not for everyone'. Personally, I absolutely love the look of this amazing machine, but then I could be accused of being very slightly biased.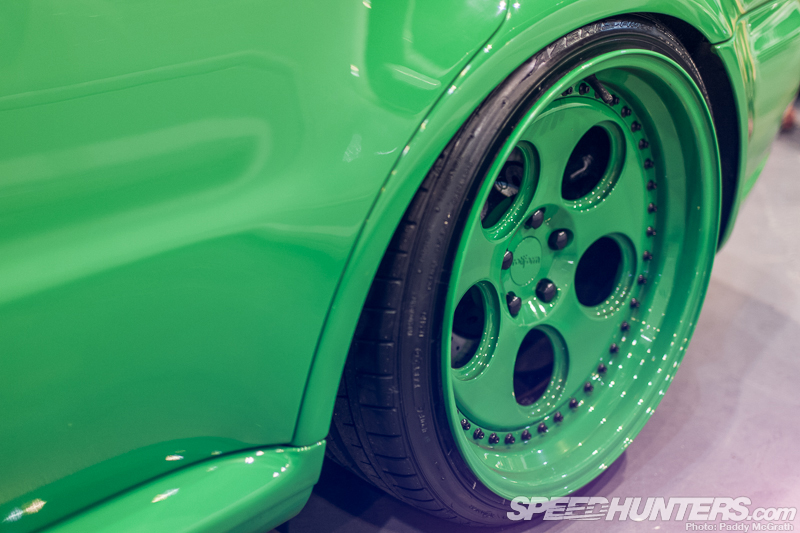 Why? Well, I kind of feel like I'm this B5 Audi RS4's godparent. Allow me to explain… One morning in the middle of 2011, I picked-up Carl Taylor, co-founder of Players Show, and we headed to London's Heathrow airport. Our destination: Edinburgh, Scotland. Our objective: to purchase this RS4 Avant.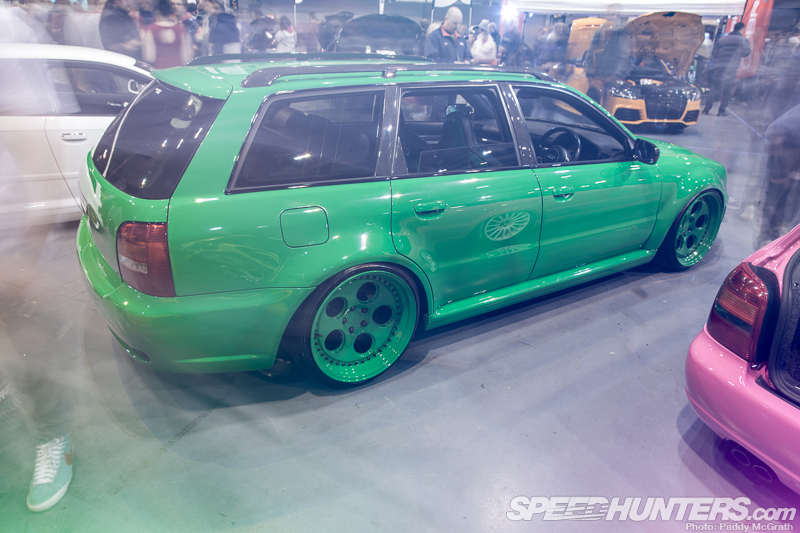 After some negotiation tactics that involved pretending we had booked return flights just in case the car was not as described by the seller (it wasn't). And explaining to the owner that the service history was somewhat questionable (it was). Carl had saved £1,500 on his new Audi and we had ourselves some transport back to London.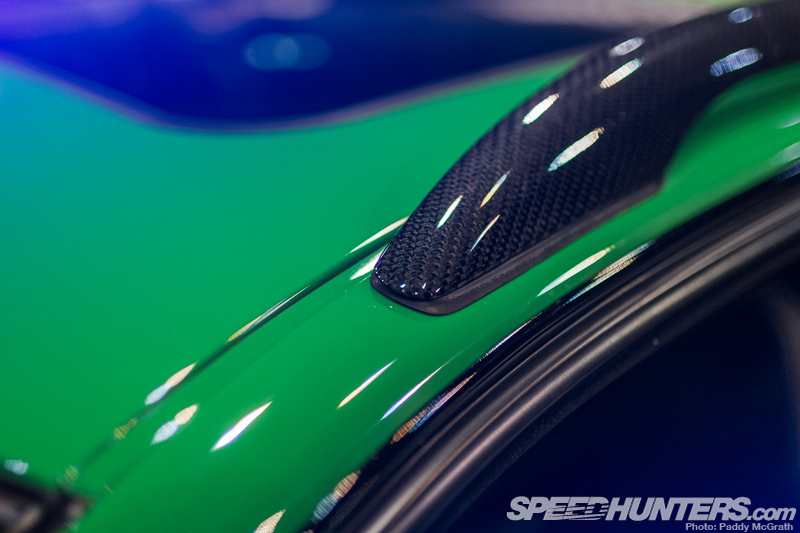 To be honest, that's kind of where the money saving ended. Anyone familiar with B5 RS4 ownership will know that these cars rhyme with 'expensive'. Things can go wrong with these unpredictable vehicles fairly regularly. When they're working properly, these cars are nothing short of awesome. But they require constant love and care.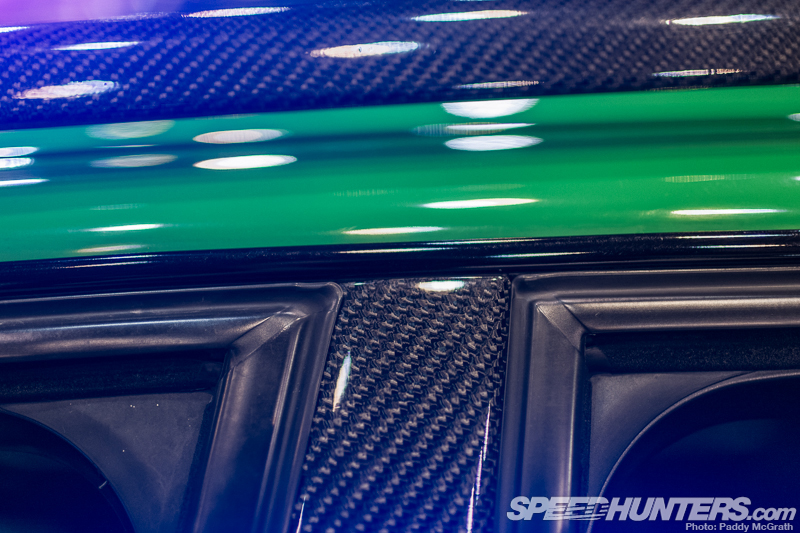 Purists will cry into their cornflakes when I say that this car was originally Nogaro blue – widely considered to be the best colour this RS model rolled off the production line in. But the paint was far from good and on our drive home the vehicle was booked in for a re-paint with legendary Volkswagen body man, Steve Denton of Style Haus in Northampton.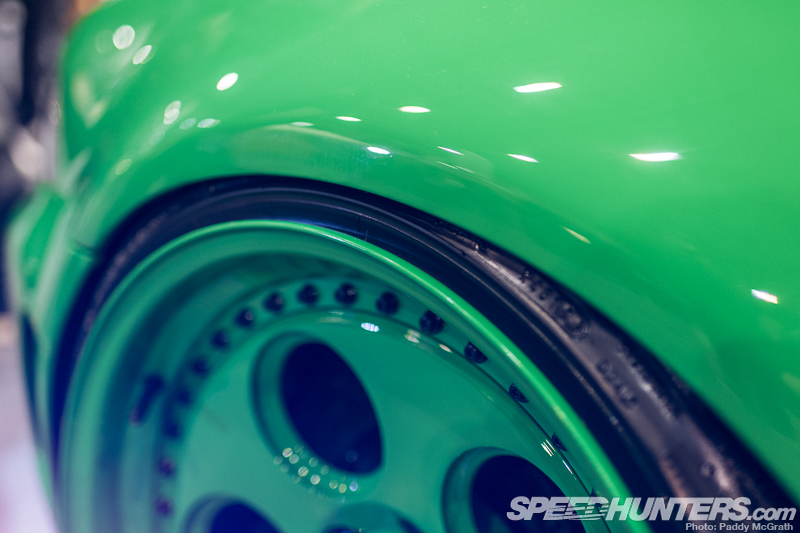 A dream-worthy automotive shopping list was drawn-up and quickly parts began to arrive. KW Variant 3 coilover suspension, new discs and pads for the 380mm Movit brakes up-front, a stunning set of 3-piece Rotiform SNA wheels and a couple of gallons of Porsche GT3 RS Orange paint.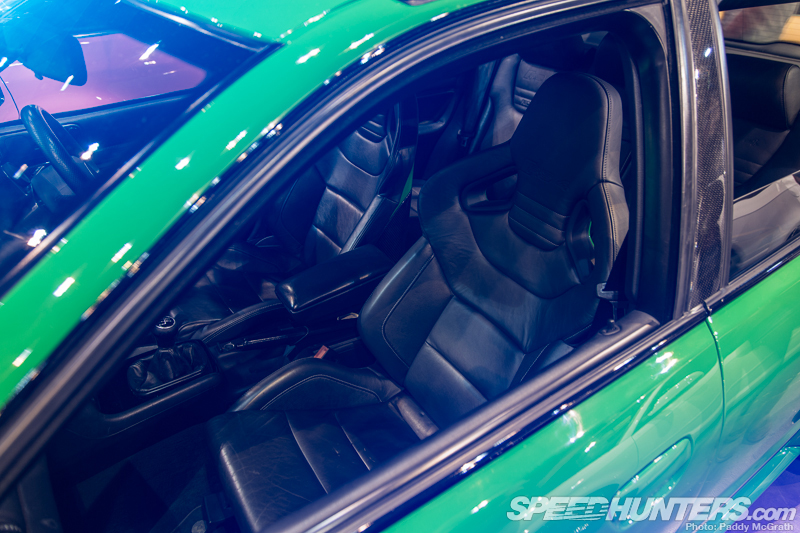 The awesome B7 RS4 Recaro seats were sourced, Kenwood multimedia was installed and the exterior trim was treated to lashings of carbon fibre to match the OEM carbon interior parts that this car left the factory with. If this car was going to make an appearance on the show scene that year, then things had to happen fast.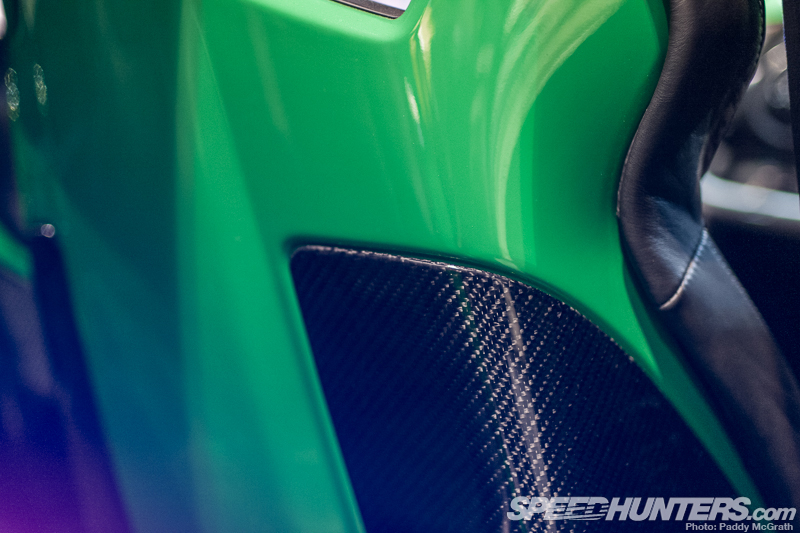 Denton shot the paint, Carl's friend, Aaron Smith, expertly assembled the list of quality parts and the attention-grabbing car was the perfect vehicle to help with promotion of the annual Players Show.
httpv://vimeo.com/36692534
The car debuted in this guise over at the popular M.I.V.W. show held in the Netherlands back in the summer of 2011. A similar look was kept until February 2012 and after Stephen Brooks featured the car in a tongue-in-cheek film shot in Paris, Carl had gotten bored with the colour.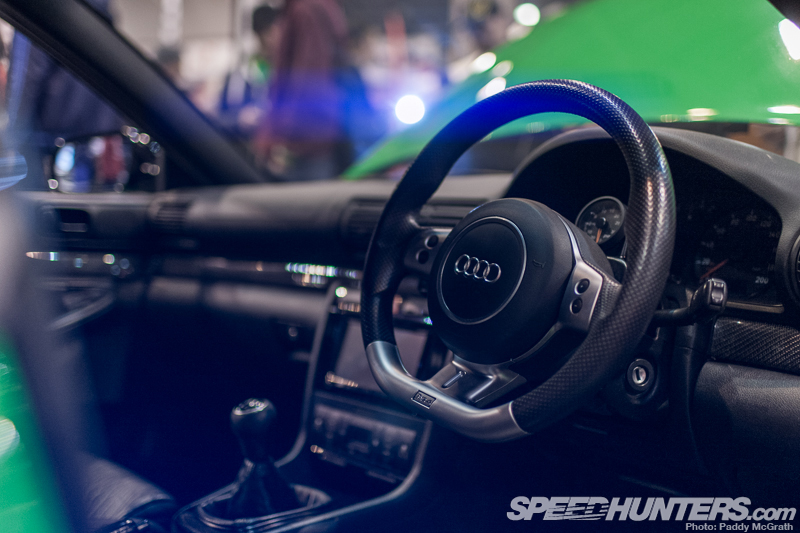 It was time for a new look. The orange was done with, but the GT3 RS theme would still live to see another day – this time in green. Just before Ultimate Dubs 2012 the car was fully repainted by Denton again and a fresh set of Rotiform wheels were added to give a fresh look. On its black rolling stock, this time the car looked a little more understated – well, as understated as a bright green RS4 Avant could ever be.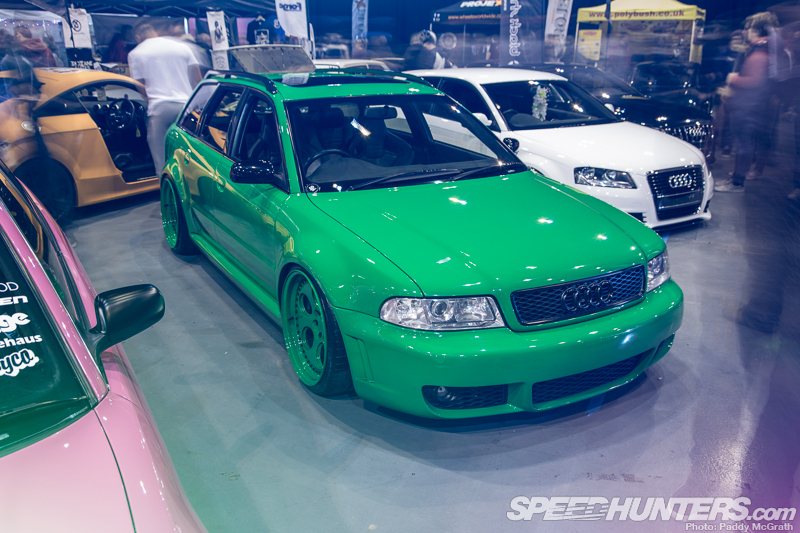 Then things got expensive. Last year's Wörthersee road trip was when the RS4 went very badly wrong for Carl, indeed. The 2.7-litre motor had some serious bottom end issues and had to be sent back from Austria in a covered transporter.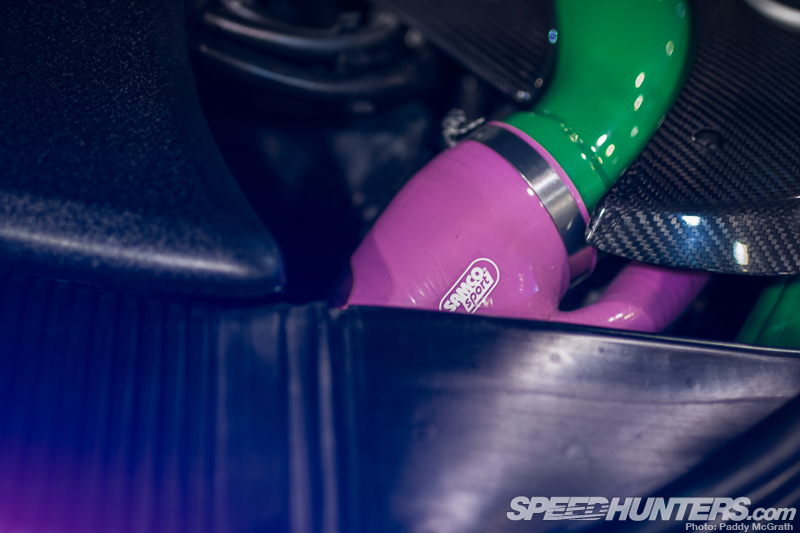 Every cloud has a silver lining though, and after six months off the road – a full motor rebuild with some custom pistons and rods, upgraded turbochargers and a LOBA Motorsport clutch – the green machine is now being run-in before mapping.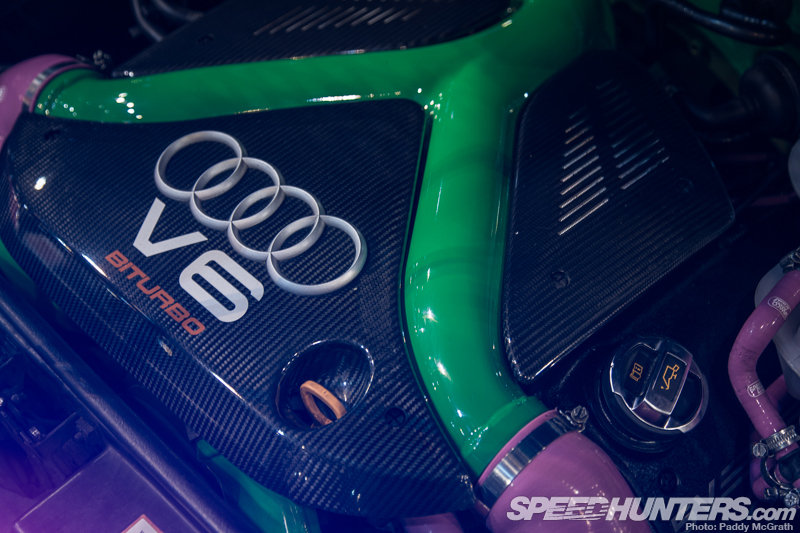 The motor should be good for over 600bhp, but will probably be run at around 500bhp for reliability purposes.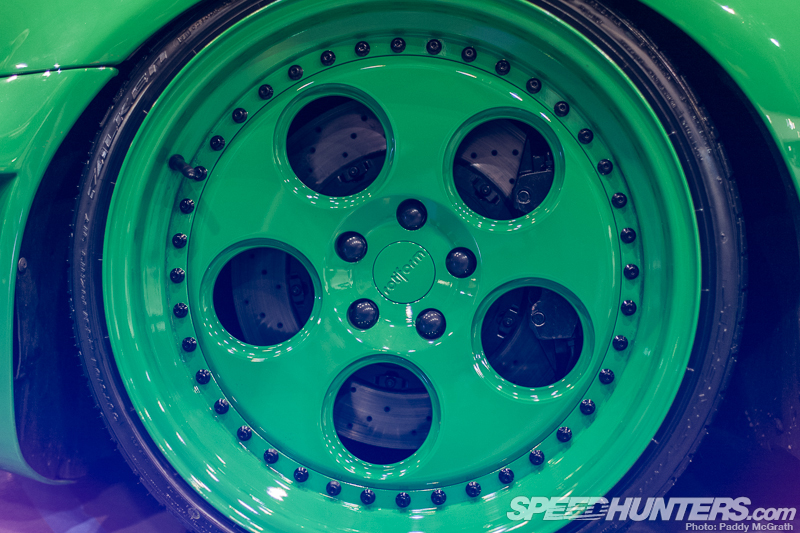 I think the current guise of this car is my most favourite, but then I have long been a fan of 'green-on-green' wheel and bodywork combos. The 19×11-inch Rotiform DIA wheels all round feature some lovely contrasting black bolts. It's the intricacy of this wheel design teamed-up with the simplicity of the body that sets this car off perfectly in my eyes.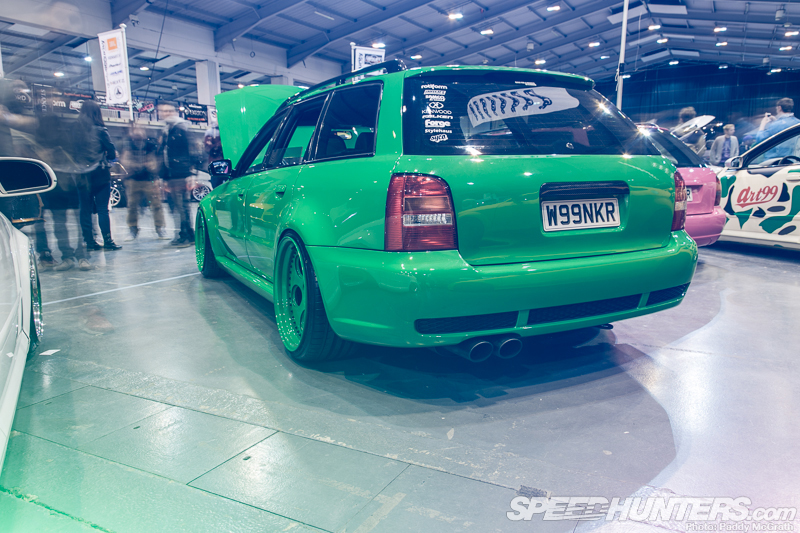 For some, this block colour will be a little too much. But for Carl – who has had a long history of very, shall we say, 'out there' automotive creations – this build is positively refined. I am genuinely excited to see what path this vehicle takes over the forthcoming year. Much like the B5 model RS4, Carl Taylor has a very unpredictable personality, so quite literally anything could happen.
–
Words by Ben Chandler
Photos by Paddy McGrath / paddy@dev.speedhunters.com