Goodbye Toyota, Hello Mopar
For the last few years I've had an idea brewing in my head. An idea for a project car built partly on nostalgia and partly by the desire to try something a little different. Well, a couple weeks ago I acquired that project car, and I'm extremely excited to tell you all about it.
But first, there's another vehicle I need to address.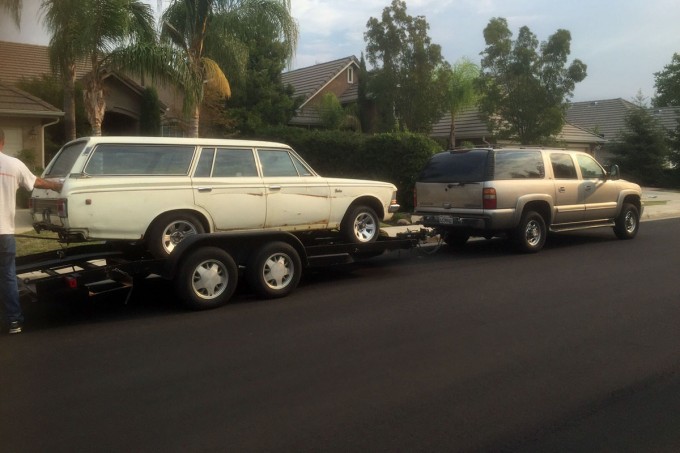 That would be my 1969 Toyota Crown station wagon, which I bought nearly three years ago with hopes I could give the rare Japanese classic another chance at life. When I picked up the wagon I knew it was going to need a lot of work, and that nothing would come easy. But after watching the Crown sit for so long while I tried to figure out how I could see the project through with my relatively limited budget and mechanical abilities, I began to realize I may have gotten in over my head.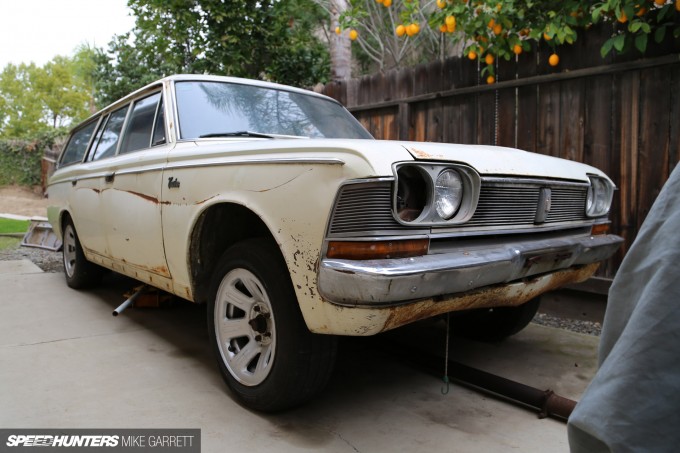 As much as I loved the Crown for its uniqueness, that same obscurity made for a pretty impractical project car. First off, there's parts availability, which is zero. Going to a swap meet or junkyard to find something you need? Not going to happen. Maybe those are just excuses, after all, anything is possible if you want it badly enough. With the right fabrication skills or engineering mind the Crown could be made into something amazing, but I'm afraid I'm lacking in both of those areas. The other option was, of course, to pay someone to do it, and if I had the money I would have loved to do that. But at this point in my life it's just not feasible to commission a full-on build of this magnitude.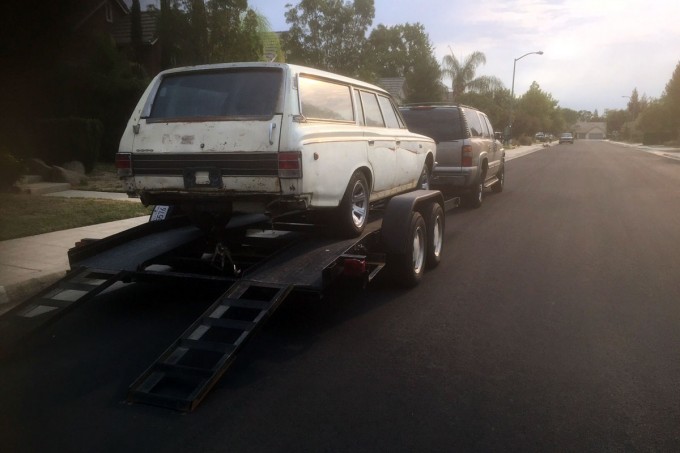 So a few weeks ago I made a tough choice and put the feelers out to see if anyone would be interested in buying my Crown. Despite its rarity, the car is worth very little in the monetary sense and I wondered who else would want it. But to my pleasure, I was quickly contacted by an acquaintance who was interested in taking on the project. A deal was made and soon I was watching the old Toyota being loaded up on a trailer and driven away to its new home in Southern California. I was disappointed and maybe even a little embarassed, but I know the wagon is in the best hands it could be in. In fact, you've seen the work of the new owner here on Speedhunters before, and based on what he's told me it's going to be incredible when he's done. I'm not sure if he wants his plans out of the bag, so I'll just leave it at that for now.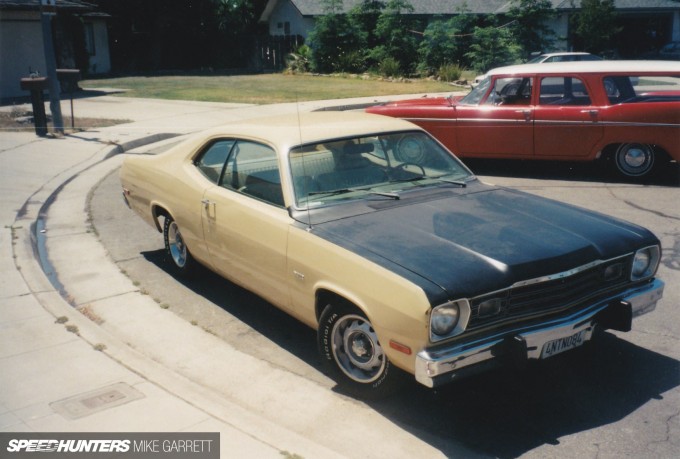 Being the crazed individual I am, before the Crown was even gone I was hunting around for an ideal project to take its place. As much as I enjoy having Project EcoBoost as a daily driver, I love old cars. I knew I wanted something that was cheap, but wouldn't need to be totally rebuilt from the ground up. The car would also need to be from 1975 or earlier so it would be exempt from California's smog laws. I also wanted a car that you can actually find parts for, be them new or used, stock or aftermarket.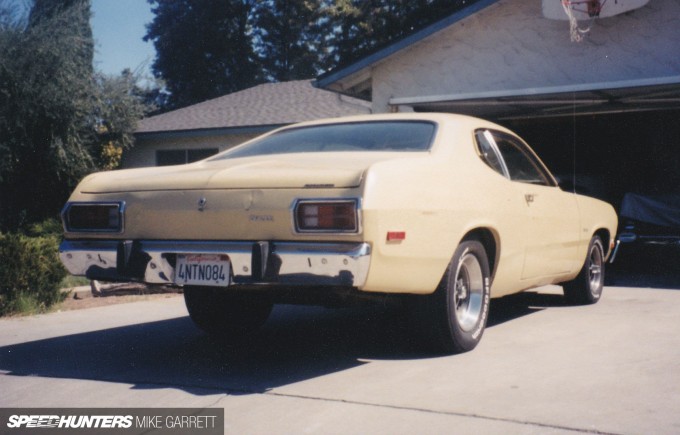 There were a few different cars I considered. Air-cooled Volkswagens and a number of Japanese machines from the early '70s crossed my mind, but there was one car in particular I kept coming back to. The Chrysler A-Body platform – more specifically the Plymouth Duster and its Dodge counterparts, the Demon and Dart Sport.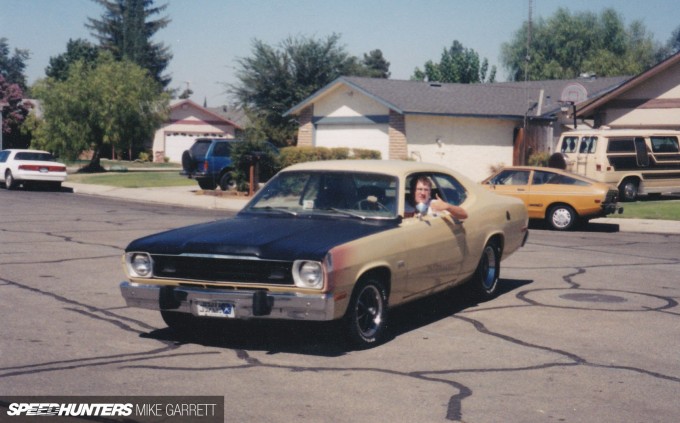 The second car I ever owned was a 1973 Duster with a 318ci V8 that I bought for $600, repaired with the help of my dad and drove to high school. I've always gone through cars way too fast to really get attached to one, but I've always told myself I'd get another A-Body some time. My old Duster wasn't fast and it wasn't that nice, but I had a ton of fun with that car.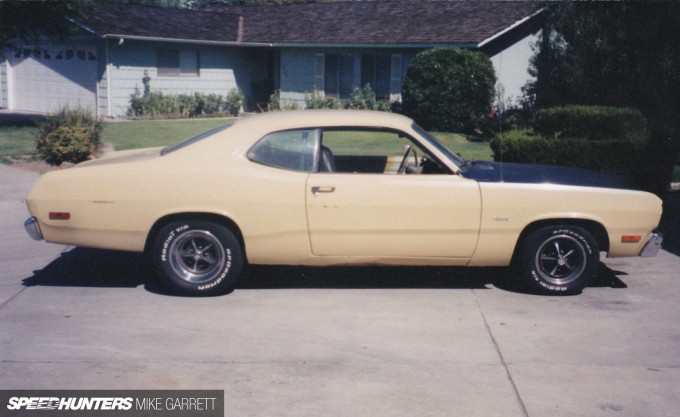 As with any old car, the values of decent A-Body Mopars have steadily been going up, and today the same money that would have gotten you a nice daily driver 15 years ago might now only get you a car that's been rotting in a field for a while. During my initial searches, I began to wonder if I could even find anything that was roadworthy (or near to it), but also affordable.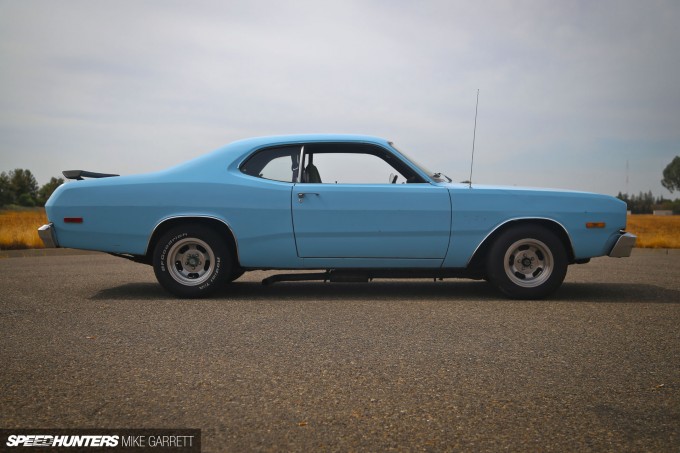 With the Crown out of the way I ramped up my internet searches, and one night a few weeks ago I came across a car which seemed to be exactly what I was looking for. It was a 1975 Dodge Dart Sport, it looked decent in the photos and the price was right. Best of all, it was located only 20 minutes away from my house.
The Perfect Project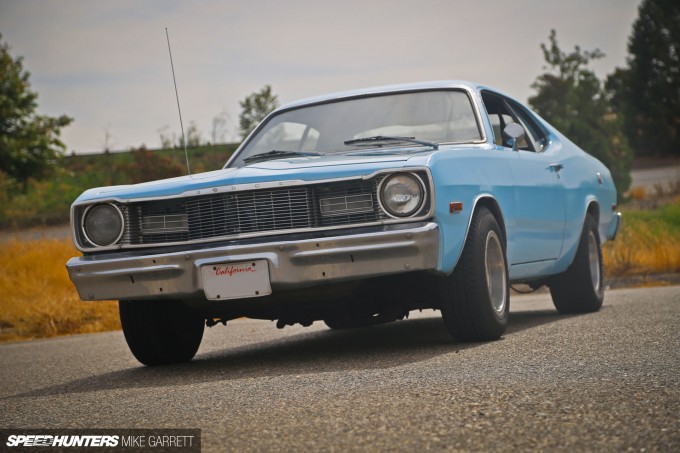 I showed up at the owner's house early the next morning, not really sure what to expect. We all know sellers have a tendency to make their cars seem far better than they actually are, but I arrived and found a car that was almost exactly as I hoped. The guy had owned the Dodge for about 15 years and had slowly fixed it up before parking it in his garage around five years ago.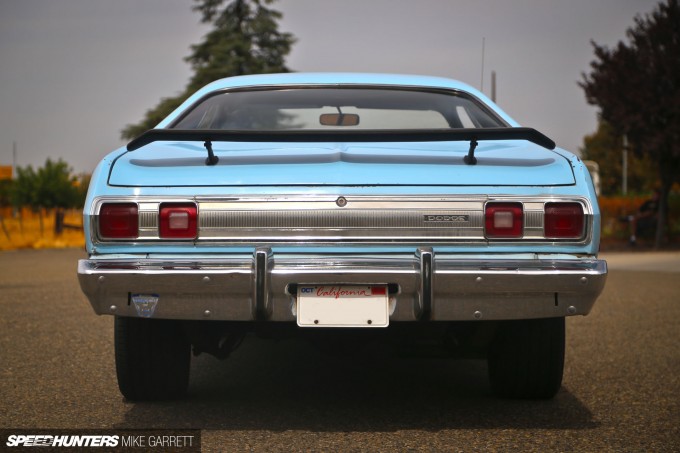 Needing to make space, he pulled the car out, cleaned it up, put in a new battery and got it running again. Then he put it up for sale, hoping to pass it on to someone who'd give the Dodge the love it deserved rather than flipping it for a quick buck.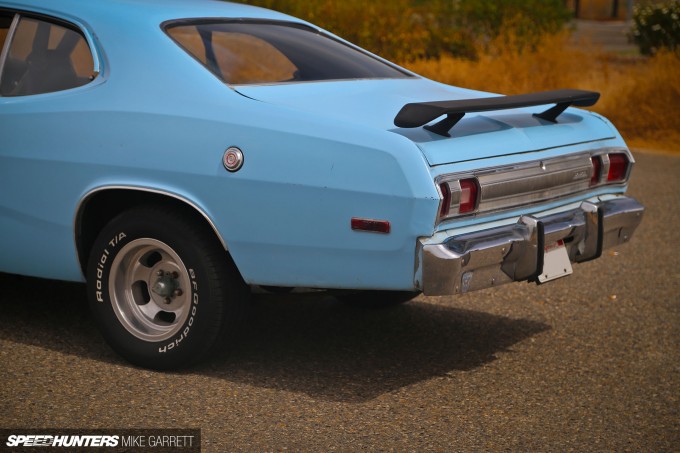 It wasn't a show car by any means, but there was virtually no rust and no signs of crappy bodywork. Cosmetically, it was very solid.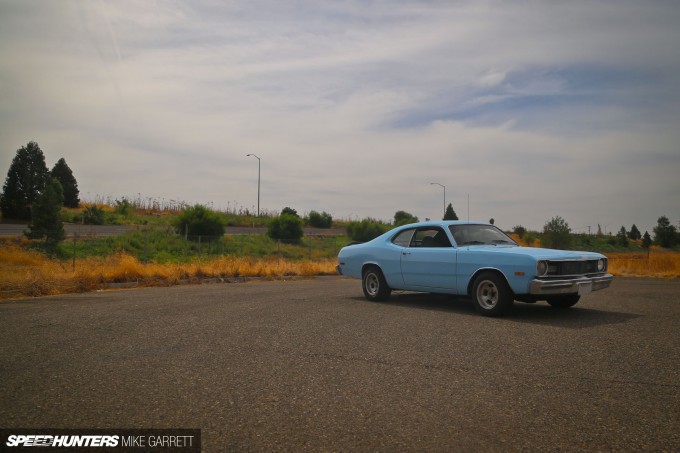 It was obvious the car needed some work, but from the moment I hopped in and fired it up, it just felt right. All the memories of being 17 and cruising around with my buddies came rushing back to me.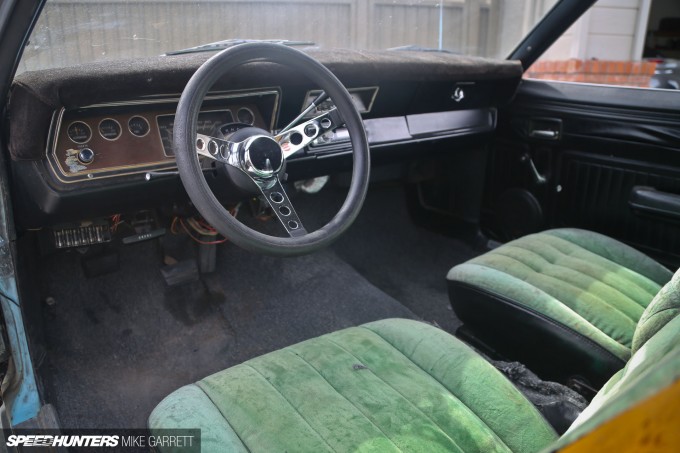 More important was the fact that it seemed well-suited for a project car. It was nice enough to not need total restoration, but not too nice as to worry about playing around with it.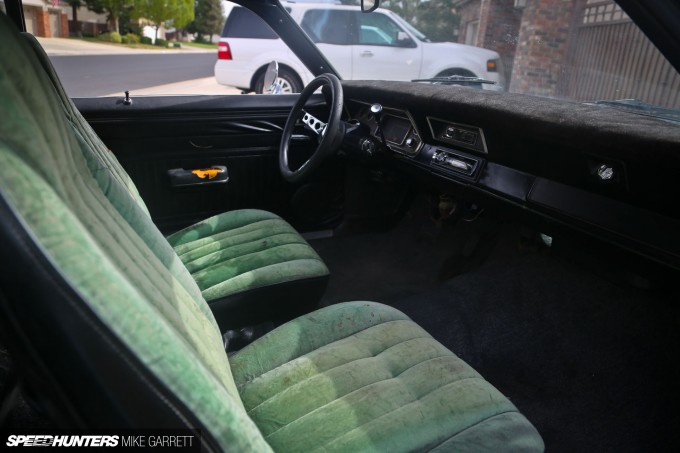 The interior was far from great, but at least it wasn't full of dirt and spiderwebs. Check out the sweet green bucket seats which long ago replaced the factory bench.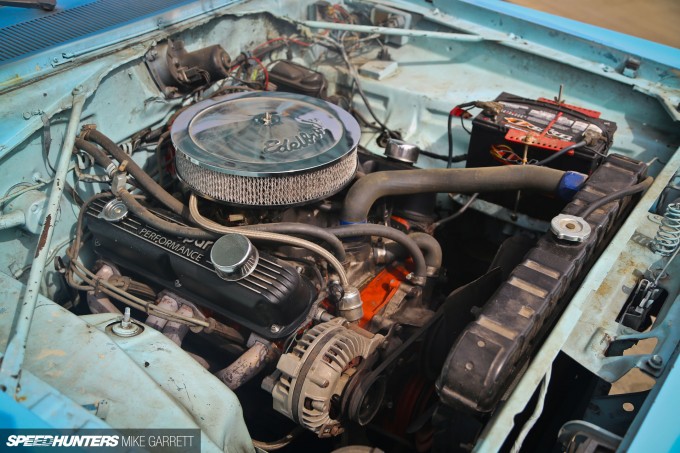 Like many Dodge Darts sold in the '70s, this one was originally powered by a slant six engine, but that motor is long gone. In its place sits a 340ci small block V8 pulled out of a '71 Challenger. There are a few aftermarket additions, including an aluminum intake, Edelbrock carb and a set of old crusty headers.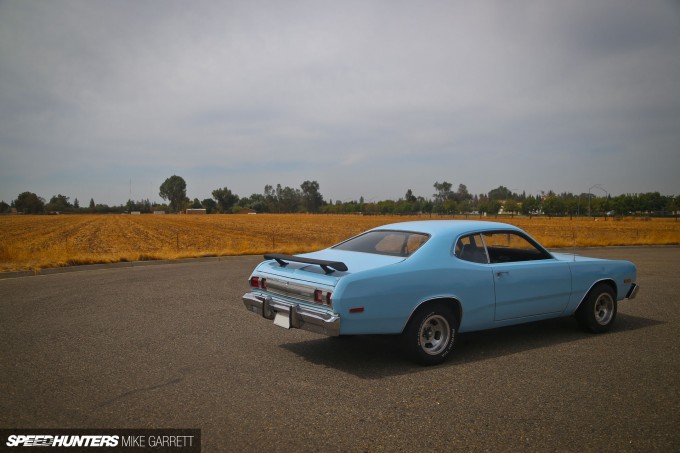 Along with the V8 swap, the drivetrain had also been beefed up with a 727 TorqueFlite automatic transmission and a heavy duty 8.75-inch rear end, although highway gears and an open diff mean it's not quite ready for the race track just yet.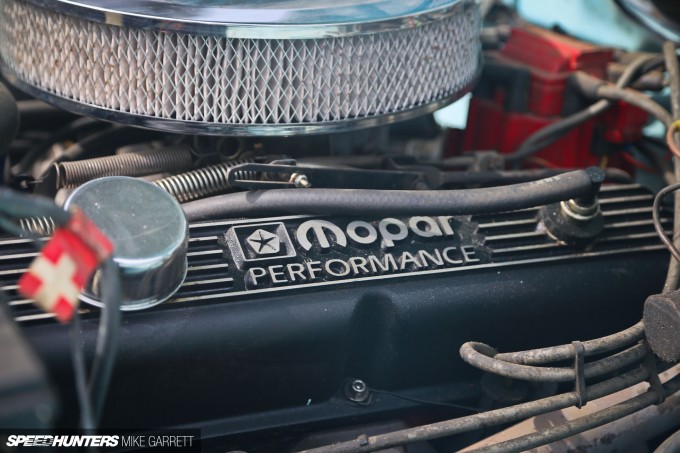 While the 340 under the hood seemed like a big plus, there were still issues that would need addressing. Namely, a very loud exhaust leak coming from the right side of the engine, a rotting exhaust system that should be replaced sooner rather than later, and a transmission that didn't deliver especially crisp shifts.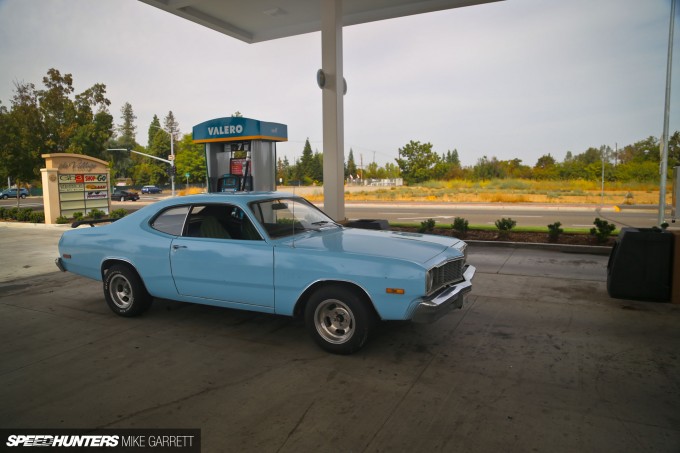 Even so, I was looking at a running, driving, pre-smog, A-Body that was in very solid shape. The owner's phone was ringing off the hook with other people wanting to come check it out, so I decided to go for it.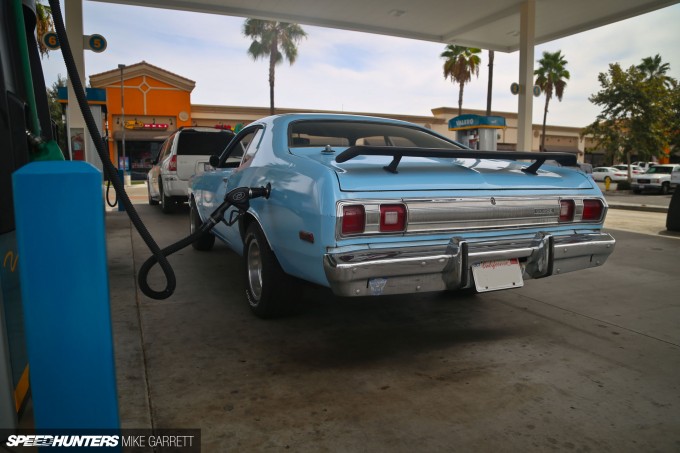 $3,000 later I was driving my 40-year-old Dodge home, my mind racing with all the possibilities this car offered. Riding down the road with the windows down and Skynyrd on the radio, it felt damn good.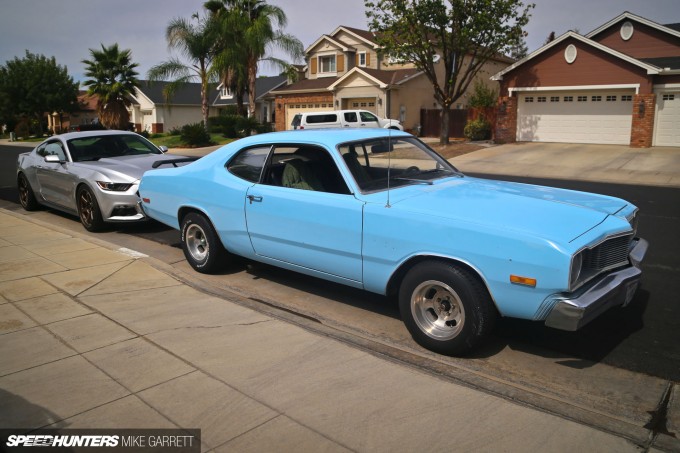 Now that I've got it home it's time to figure out exactly what the hell I'm going to do with this thing. But regardless of the long-term plan, the first order of business is going to be fixing that exhaust leak, fitting a decent exhaust system on it and hopefully finding out more about the health of the motor.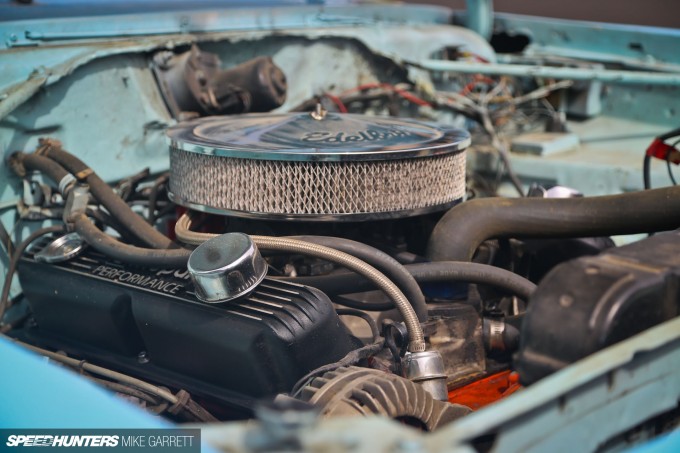 In terms of the engine, I know I want to stick with a Mopar V8, but whether I stay with a carbureted small block or get adventurous and attempt a Gen III HEMI swap is yet to be decided. And while the car currently has an automatic trans, converting to a manual gearbox is something I'd very much like to do. Addressing things like the floaty suspension and antiquated four-wheel drum brakes are also high on the to-do list.
Global Inspiration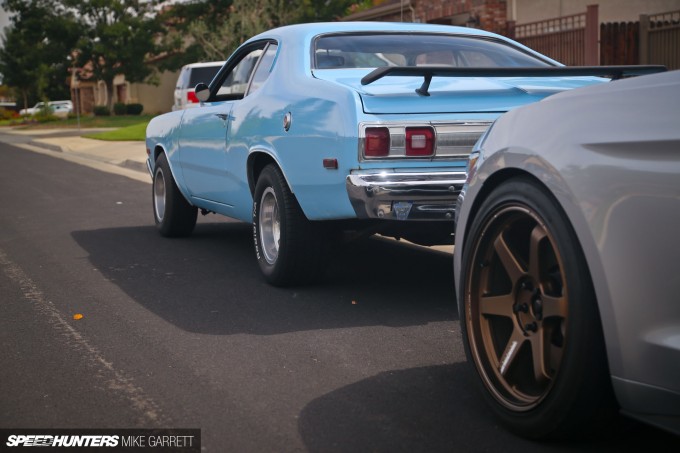 On the broader side of things, I'm hoping to do something with this car that will bring a few of my favorite automotive genres together; specifically old muscle cars, vintage race cars and modified Japanese kyusha.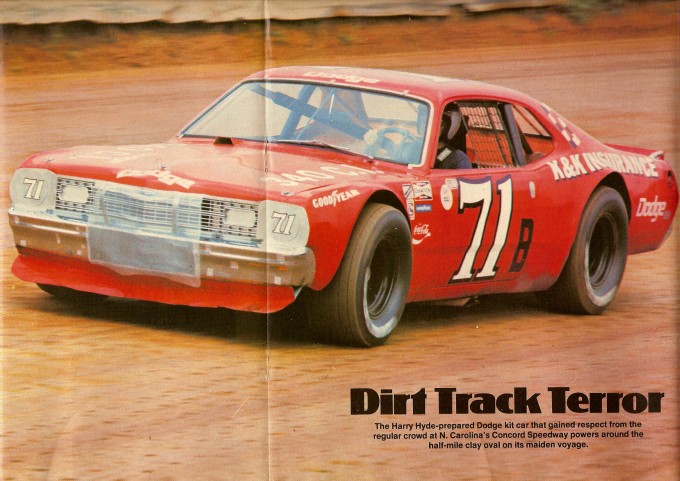 I've always liked the look of stock cars from the '60s and '70s, and having a bit of old school NASCAR influence might be a cool thing. What do you think?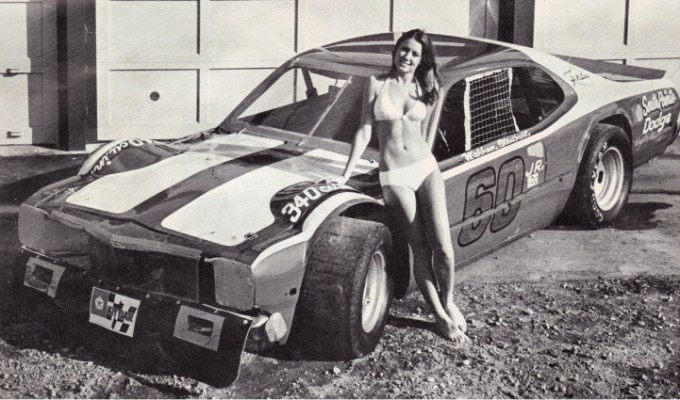 In fact, during the 1970s, Chrysler offered ready-to-run stock car packages with bodywork based on the Dart Sport. Obviously this is a full-on race car, but there's still plenty to draw inspiration from.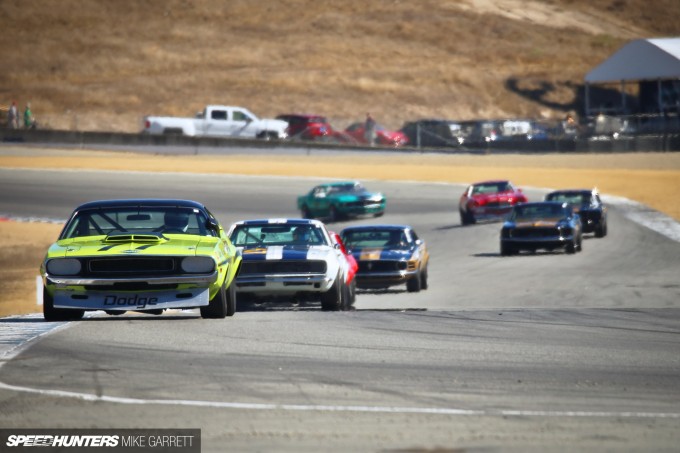 Then, of course, there's late-'60s and early-'70s Trans-Am racers, some of the greatest American racing cars ever to take to the track. It's not only the style of these cars that's great, but their simplicity and especially those high-winding small block power plants.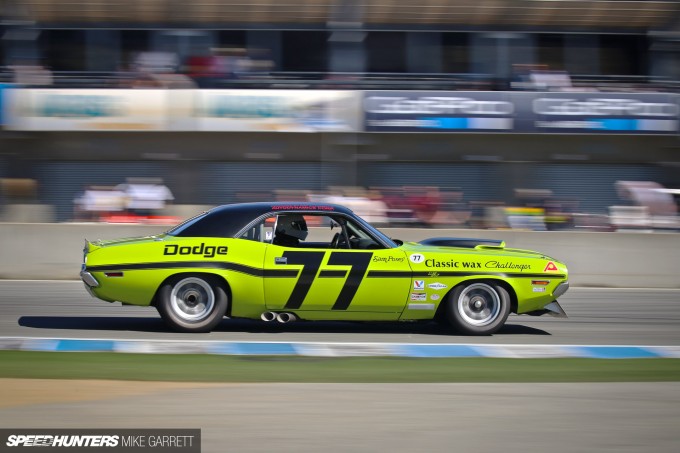 While the E-Body (Challenger and 'Cuda) was the chosen platform for Chrysler's factory efforts in the Trans-Am series, the smaller, lighter A-Body could borrow heavily from these machines in terms of overall vibe. Or if you want to step back in time a little further, a recently-featured '66 Barracuda road racer is another car to lift from.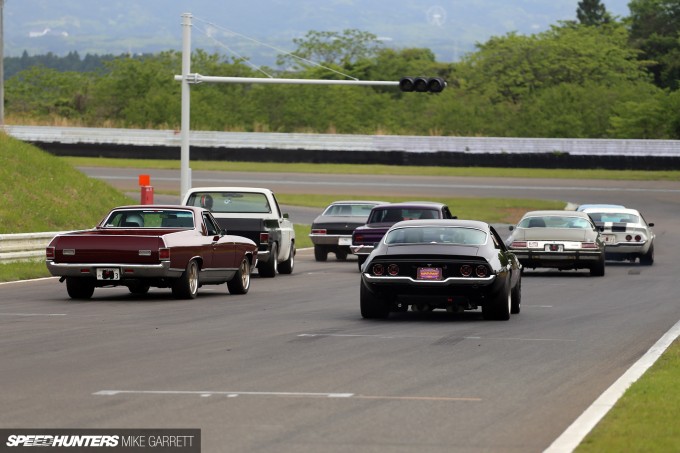 Interestingly, one of my biggest inspirations to pick up an old American car came from an experience in Japan. I'm talking about the spectacle of the Stock Car Club of All Japan race series.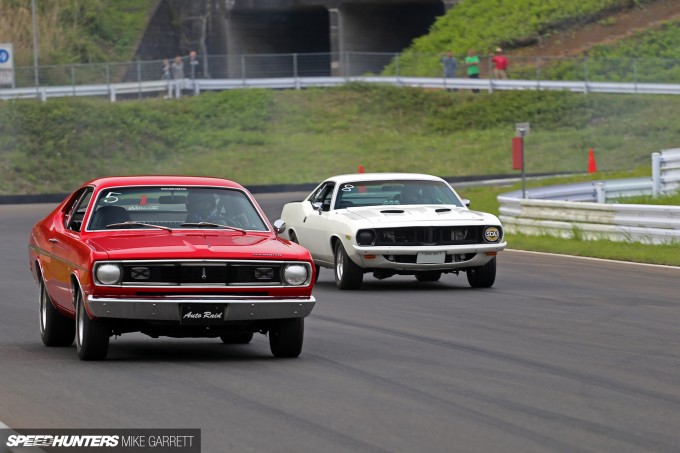 There's just something fantastic about the way these American car enthusiasts go about their hobby, hitting the track together and generally having a blast. They also prove you don't need massive modifications to have fun in an old muscle car on a track with corners. What's not to like about a bit of body roll and some oversteer?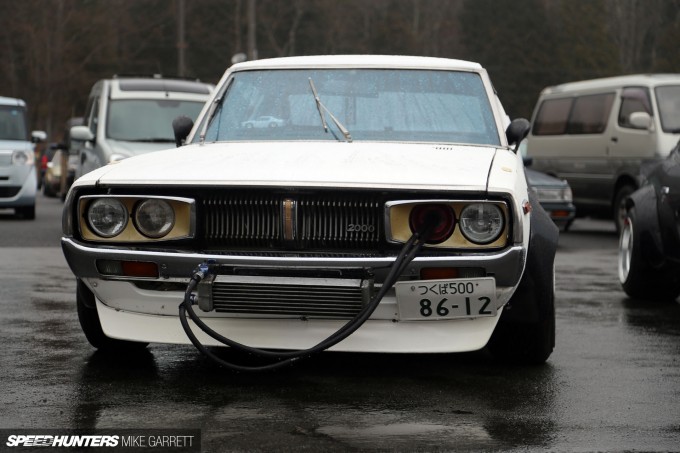 That's far from the only Japanese influence that will be part of this project. In fact, one of the things I'm most excited about is bringing some old school Japanese street racer style to this American-made machine.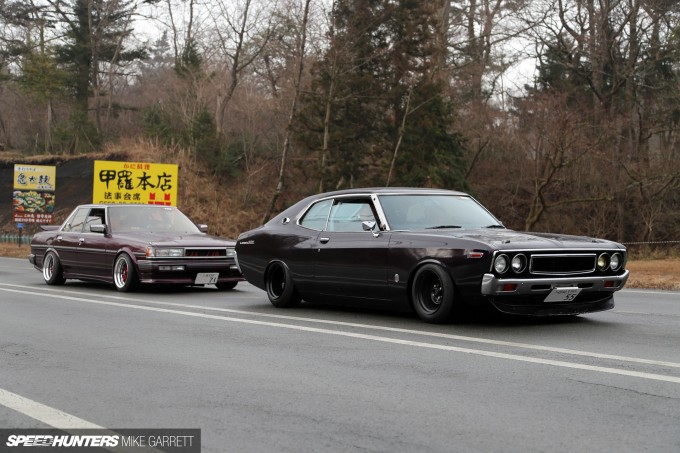 One of the things that first started attracting me to 1970s Japanese machines like the Nissan Laurel, Nissan Skyline and Toyota Celica LB, was the way they looked like scaled-down versions of American muscle cars.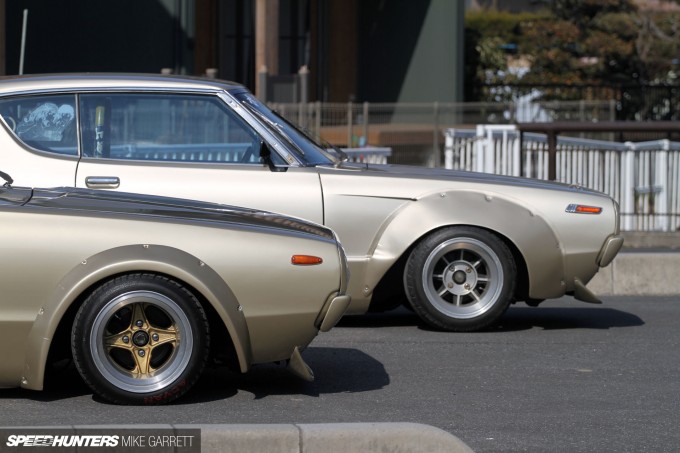 Then you have all the incredibly cool and unique modifications that are made to these cars – the wide wheels and stretched tires, the low ride heights, and the race car inspired bodywork.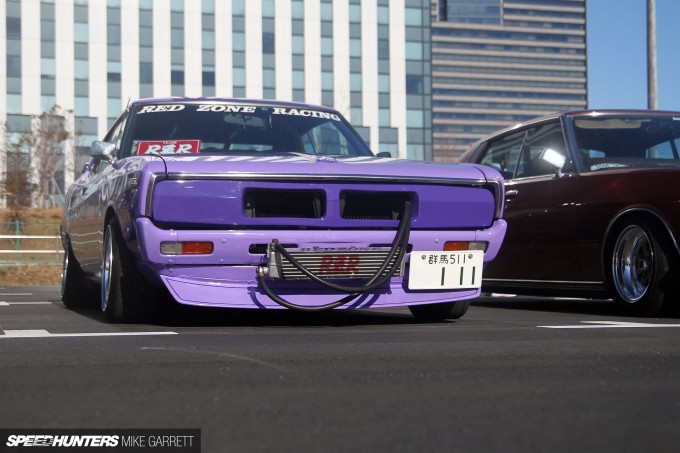 Whether the goal is full-on Kaido Racer or modest street machine, what's to stop someone from applying these same touches to an American machine from the '70s? I'm going to try and find out…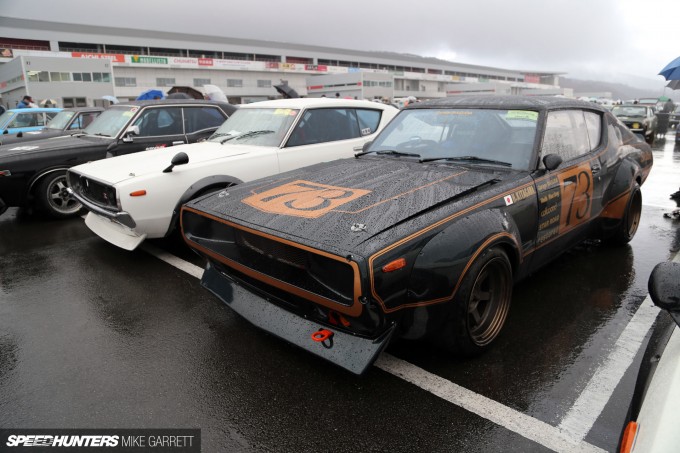 Sure, a Kenmeri Skyline or Butaketsu Laurel might be more compact than my Dart, but there's a lot of similarities when it comes to the shape. And the A-Body is still one of the smaller and lighter 'muscle cars' you'll find.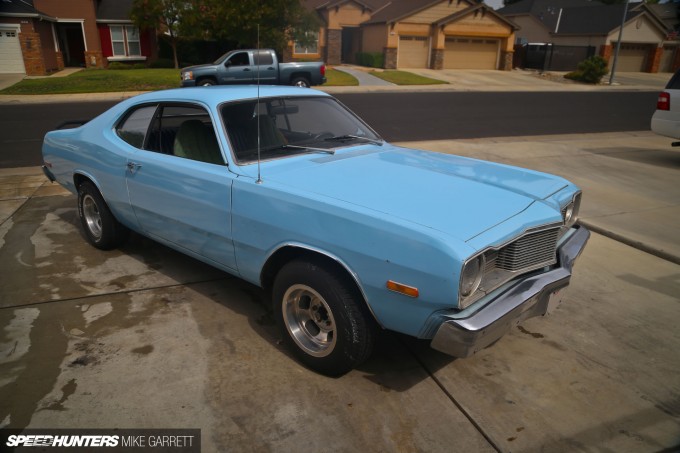 While my Dodge remains an open book as far as what exactly will be done to it, I've got a pretty good idea of what I'd realistically like it to be.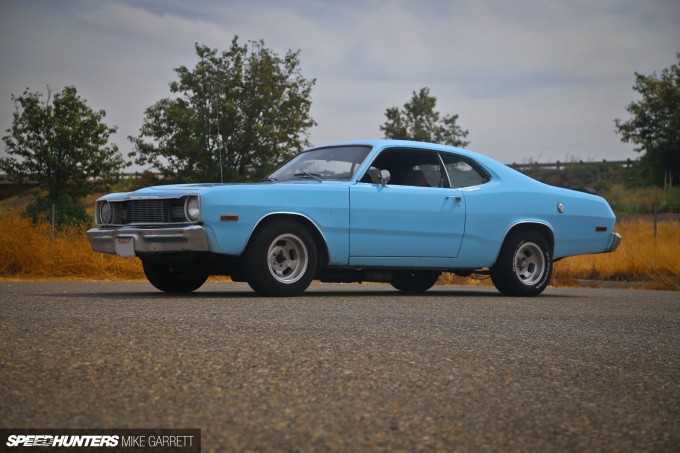 I'm not looking for a drag car and I'm not looking to build a pro-touring monster that can outrun a new Porsche at the track.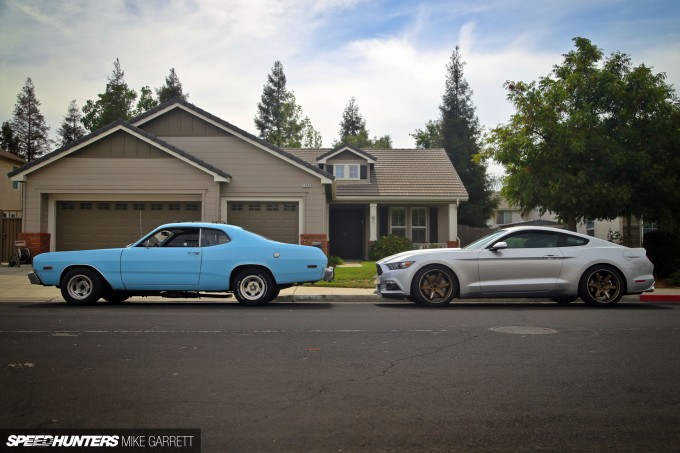 Instead, I want something that's well-rounded, performs nicely for what it is, can be used with ease on the street and has plenty of old school charm. Throw in some styling and influences that might be a little unconventional and I think we've got the recipe for a fun project.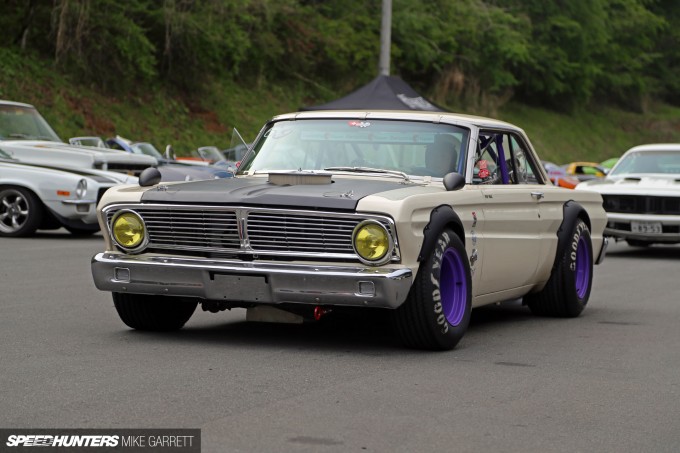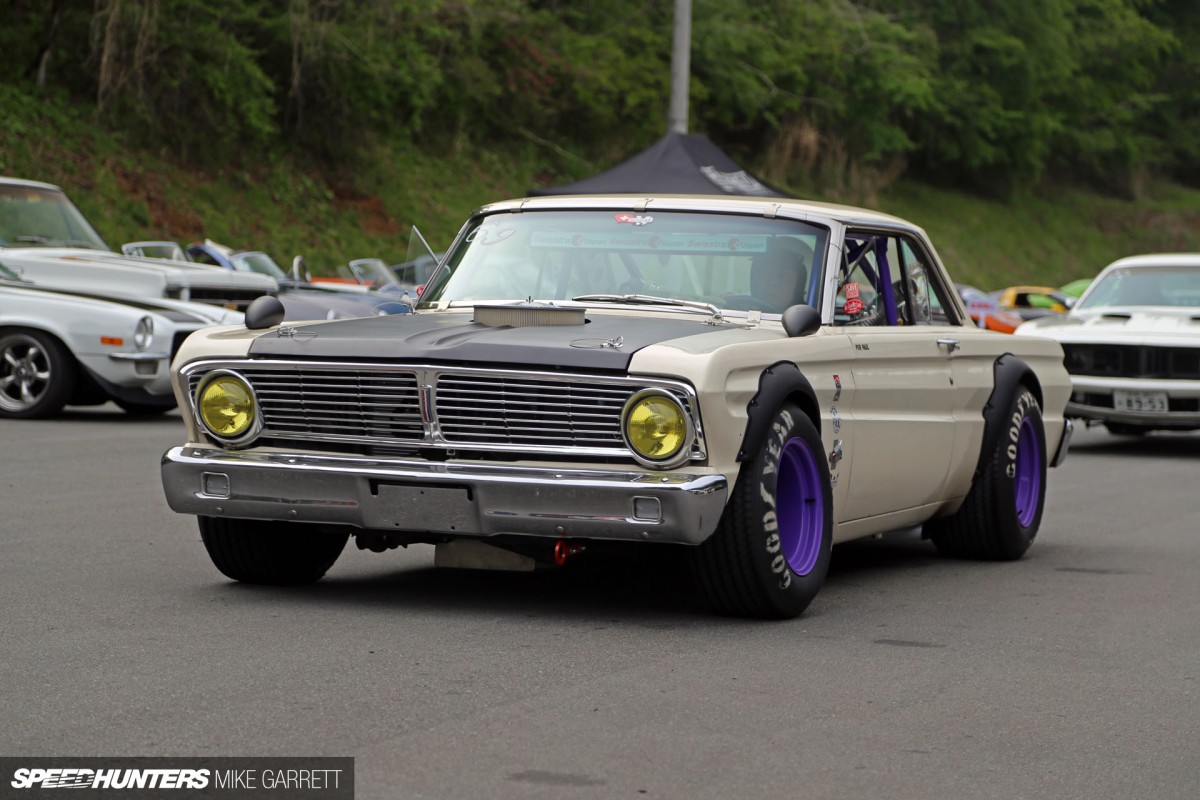 My friend Yuki Sakamoto's Ford Falcon race car is a build that I absolutely love, and one that manages to blend style and function in a very exciting way. His Falcon is geared a bit more to the race side then I'm thinking, but it's certainly a car that will influence my Dodge project.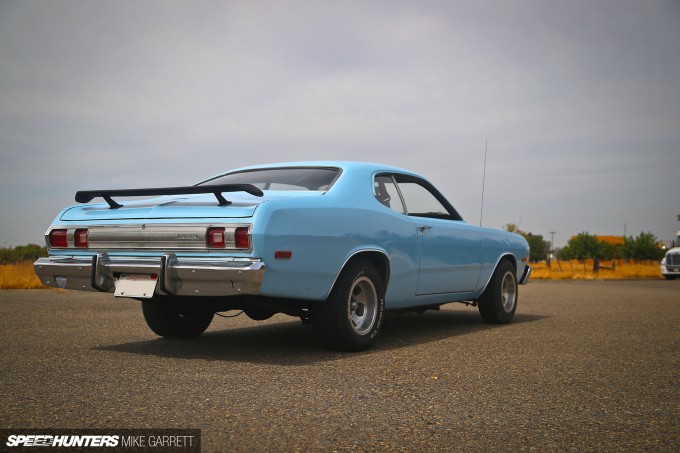 I guess all that's needed right now is a name, and I've already come up with one I like: Project Yankee. You've got the all-American meaning of the word obviously, and then there's the Japanese term yankii, a well known subculture with a fondness for modified vehicles – especially the vintage machines that will inspire this one. Pretty fitting, right?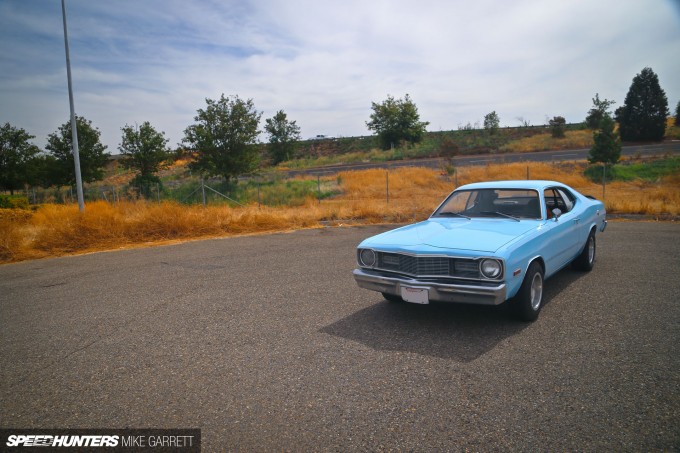 Anyway, that pretty much sums it up. The possibilities feel endless with this car, and I can't wait to get the project off the ground. I've already started gathering a few parts and have been in touch with some of my aftermarket contacts about some potential upgrades. So let's have some fun and maybe raise a few eyebrows in the process!
Mike Garrett
Instagram: japanifornia_media
mike@speedhunters.com