Japanese For Falcon
Hayabusa. What do you think of when you hear that word? If you are from Japan you might think of the JAXA spacecraft which bears the name, or the Hayabusa bullet train which speeds between Tokyo and Aomori every day. Gearheads though, will probably think of Suzuki's ridiculously-fast street bike that's been scaring the crap out of its riders since the late '90s.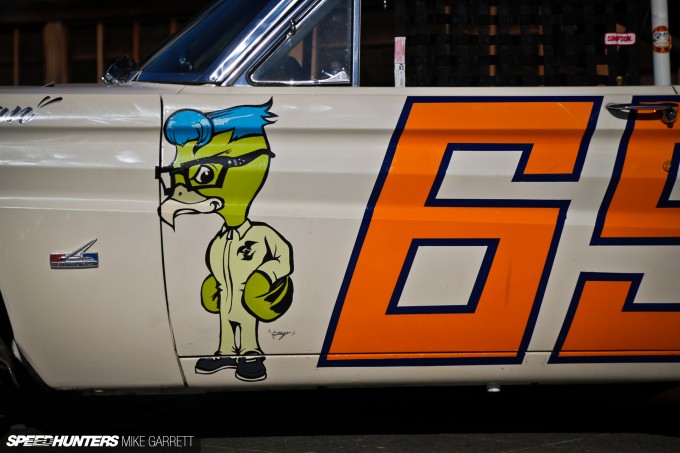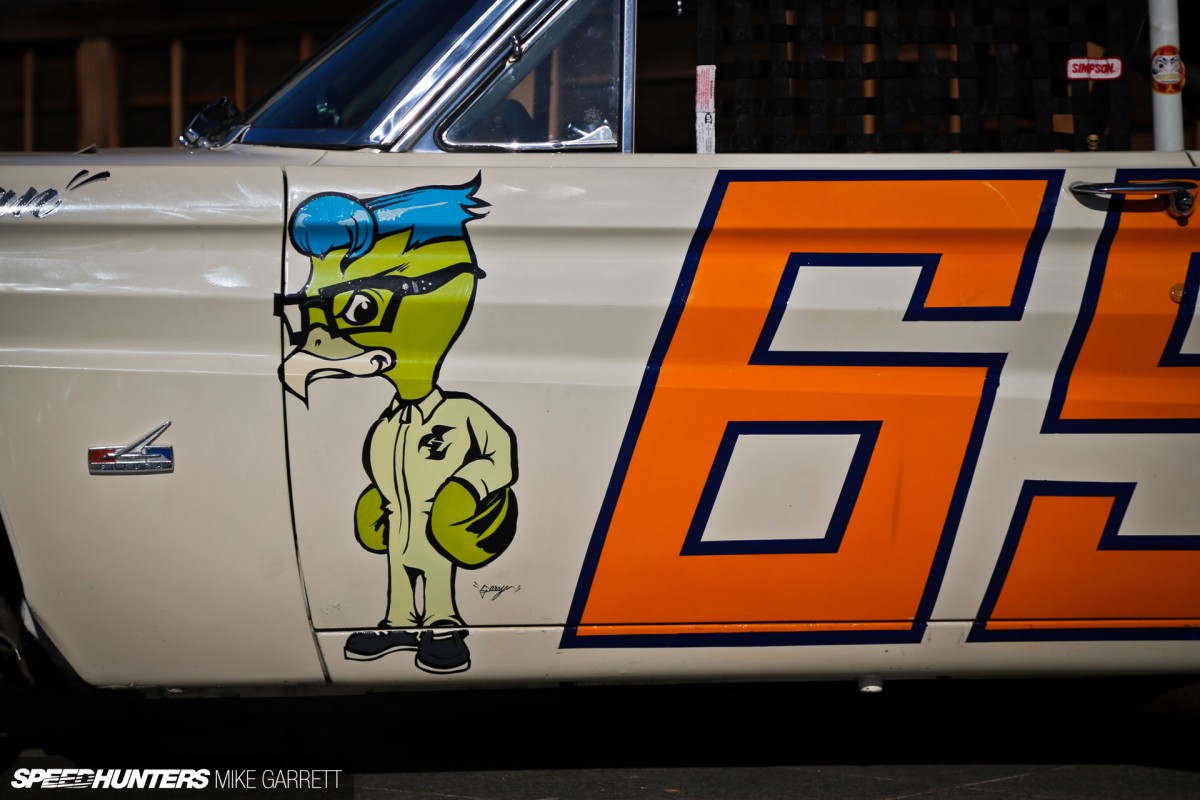 How about the word itself? If you didn't know, Hayabusa is the Japanese translation for peregrine falcon – a bird of prey which is known for its incredible speed. Did you know those birds can hit 200mph while diving on prey? Mind boggling…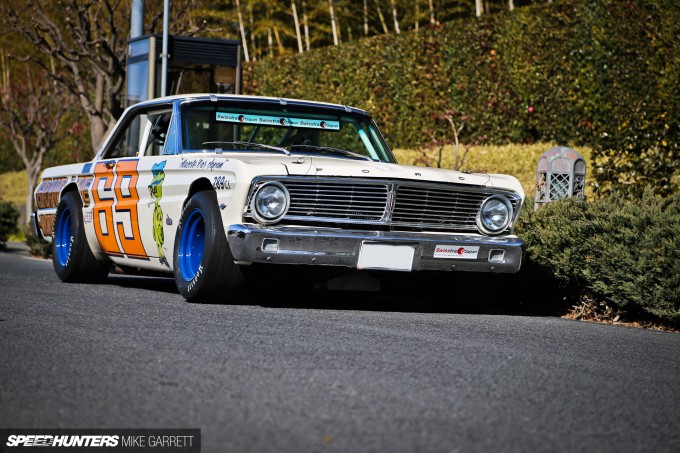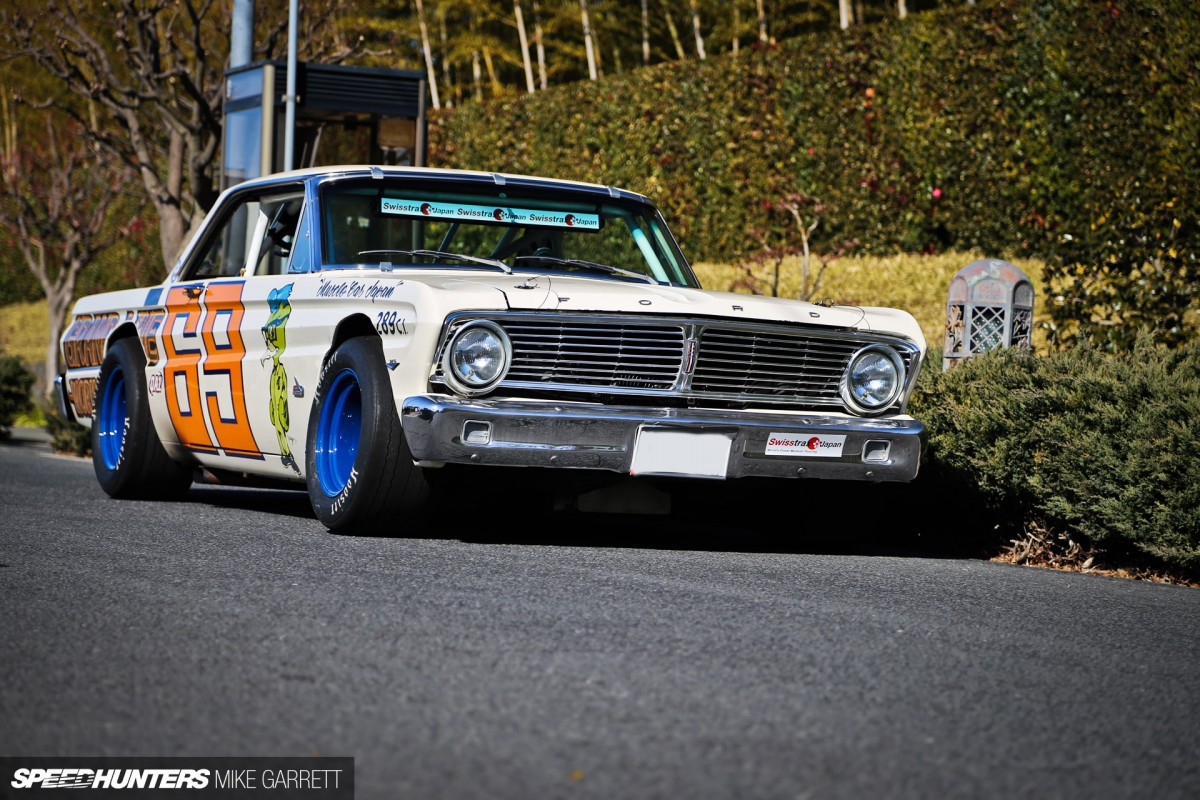 The point is, whether you are taking about a bird, a train or a motorcycle – the word brings to mind graceful movement and immense speed. What you are looking at here is another type of Hayabusa – one originally built in the US during the 1960s.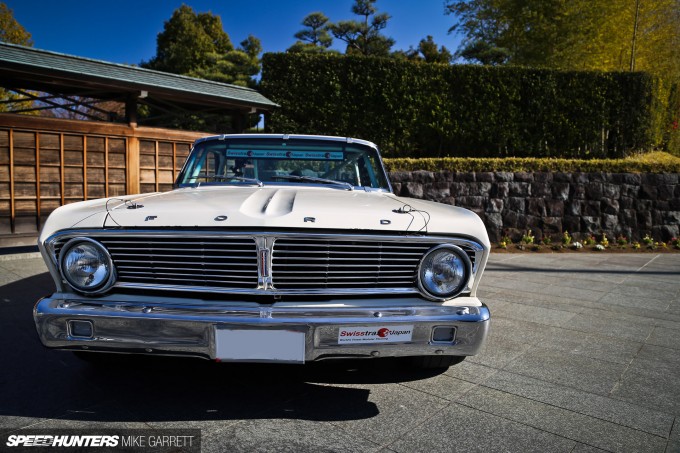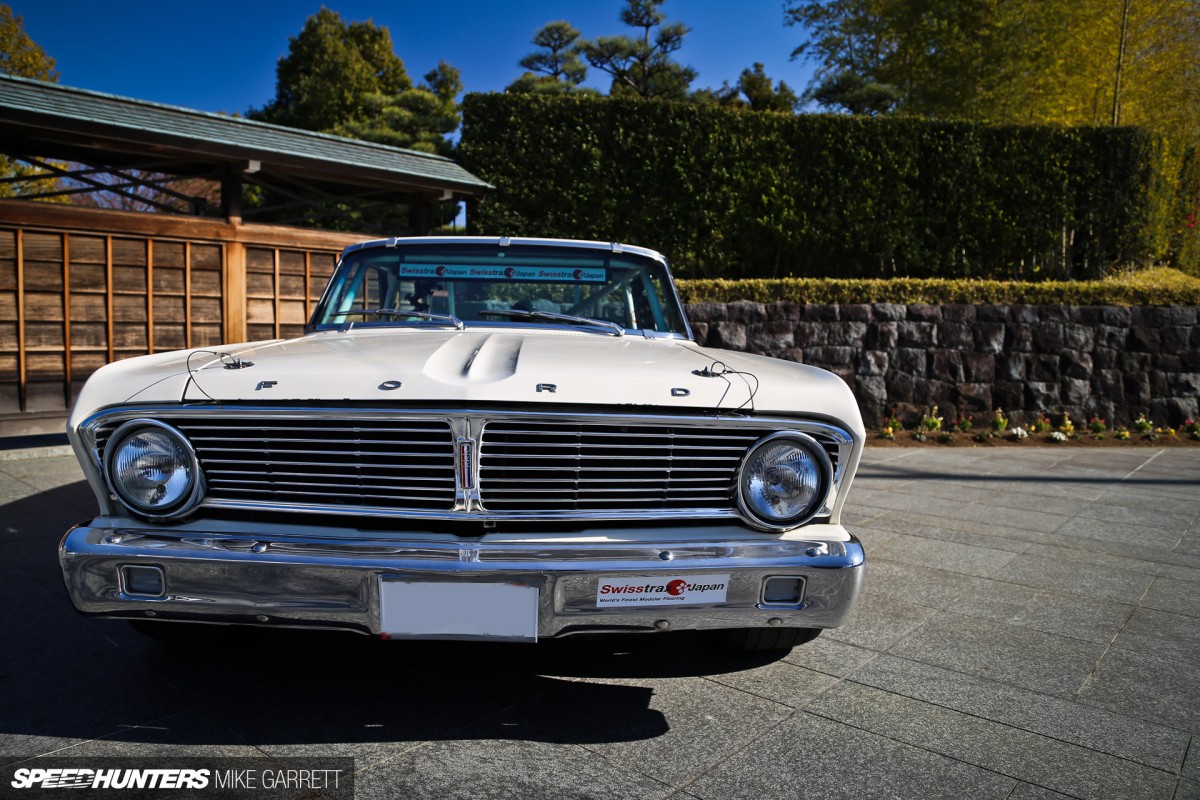 Yes, it's a Ford Falcon – the popular automobile that filled North American roads during the '60s and was also sold across the world in various forms during the following decades. For all its sales success though, the Falcon was generally seen as cheap transportation and not a machine of graceful speed.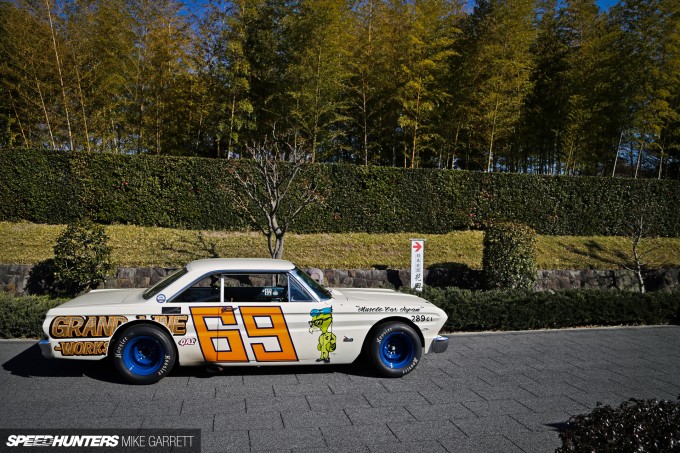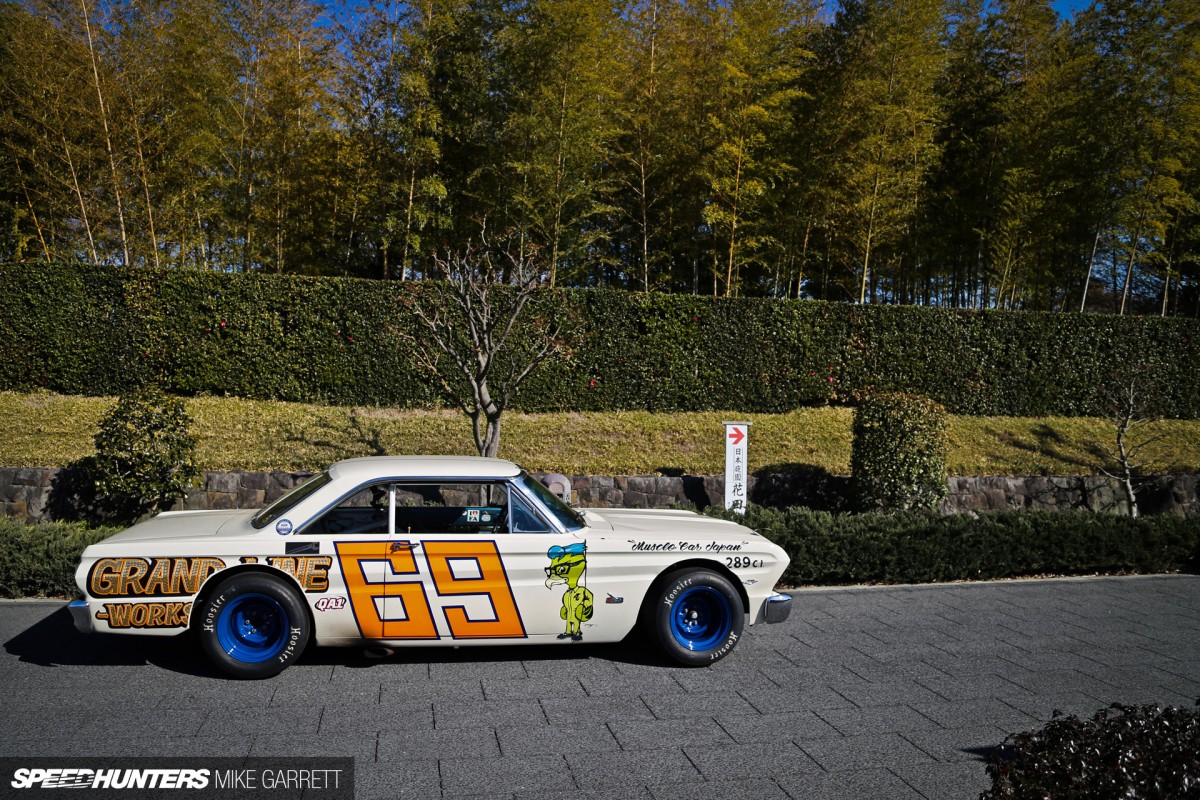 But despite its economy car roots, the Ford Falcon certainly has its enthusiast following – both in the states and abroad. It happens to be across the Pacific where I found this particular – and unique – take on an American classic.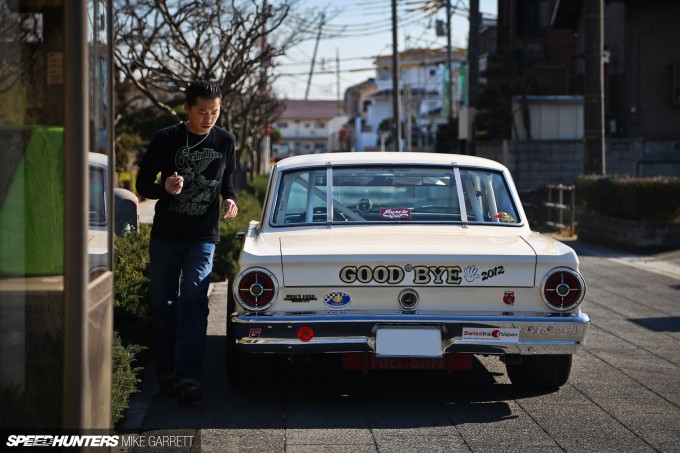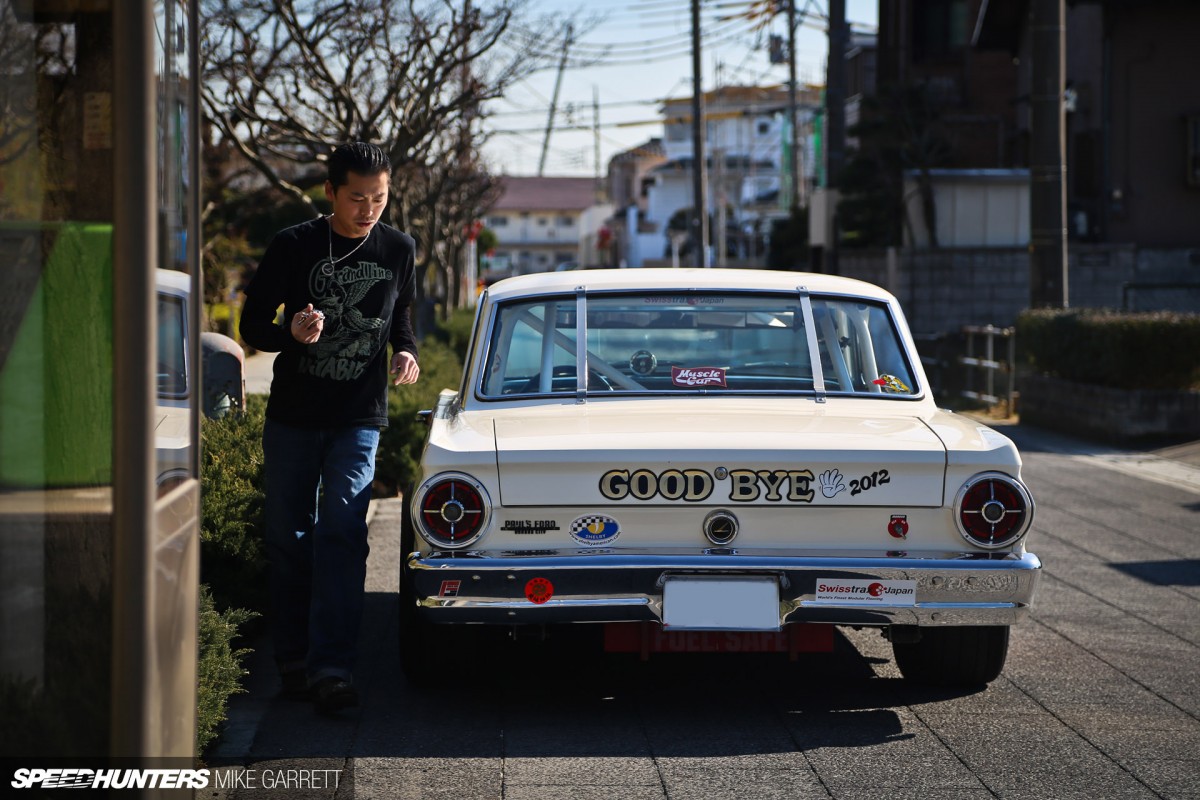 It's here that we meet Mr. Hisayuki Sakamoto of Saitama, Japan. Sakamoto-san is an architect by trade and a lover of all things vintage and American. He's also one interesting and incredibly cool dude, but I'll save that for an upcoming story where we check out his personal garage/hangout spot.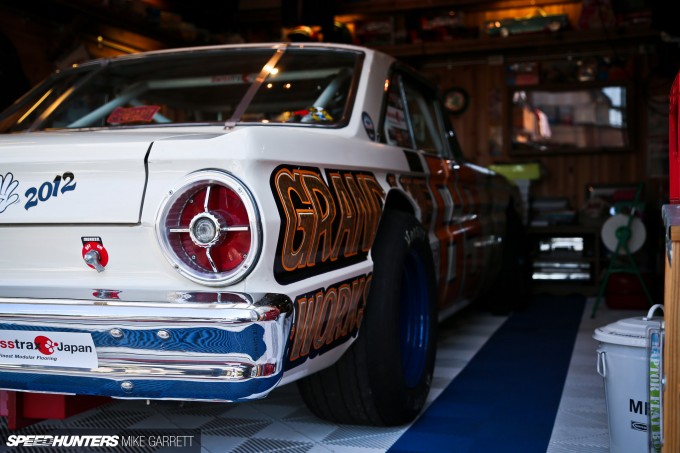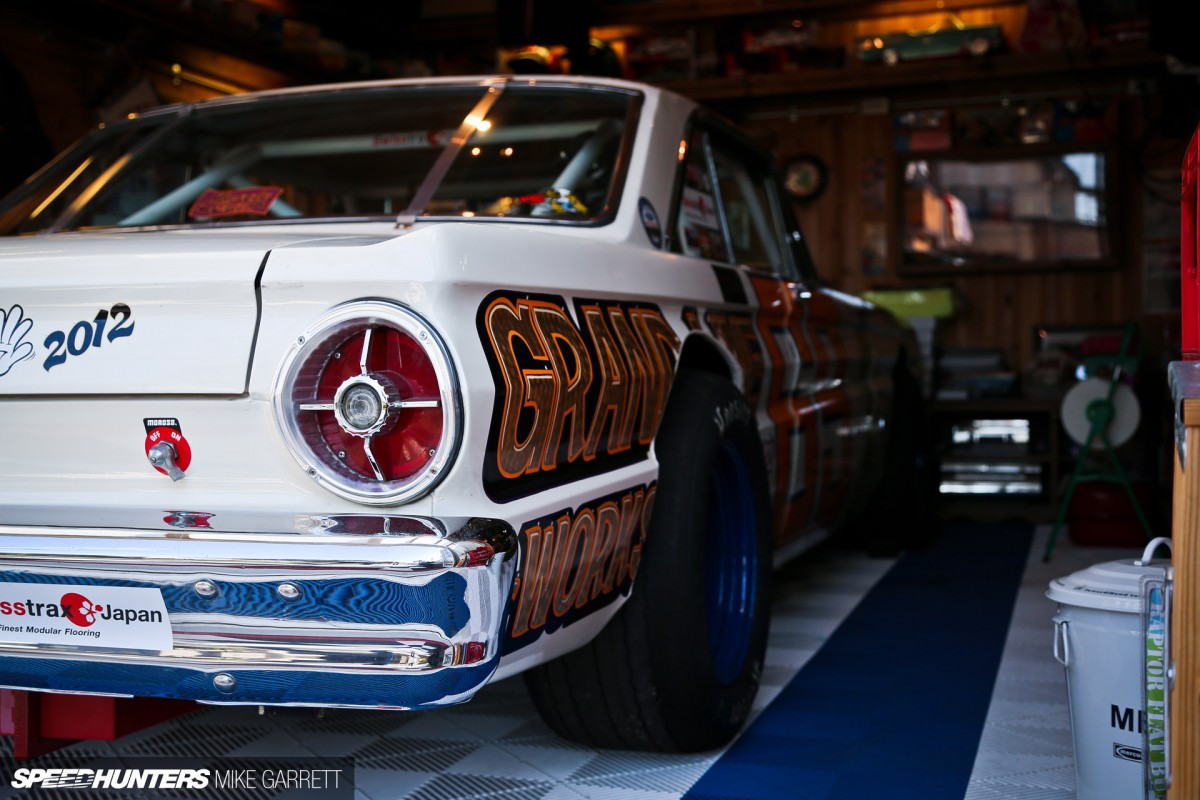 For now let's stay focused on his pride and joy: a 1965 Ford Falcon Futura two-door hardtop. Mr. Sakamoto has an especially big passion for old school motor racing, whether its NHRA, SCCA Trans-Am, vintage GT cars, and most of all '60s and '70s stock car racing. As is often the case in Japan, he's not just a casual admirer of this style – he lives and breathes it. One look at his Falcon and you know this guy is legit.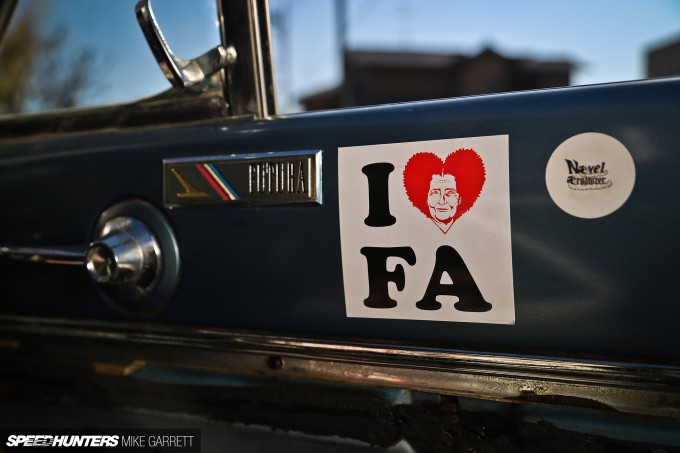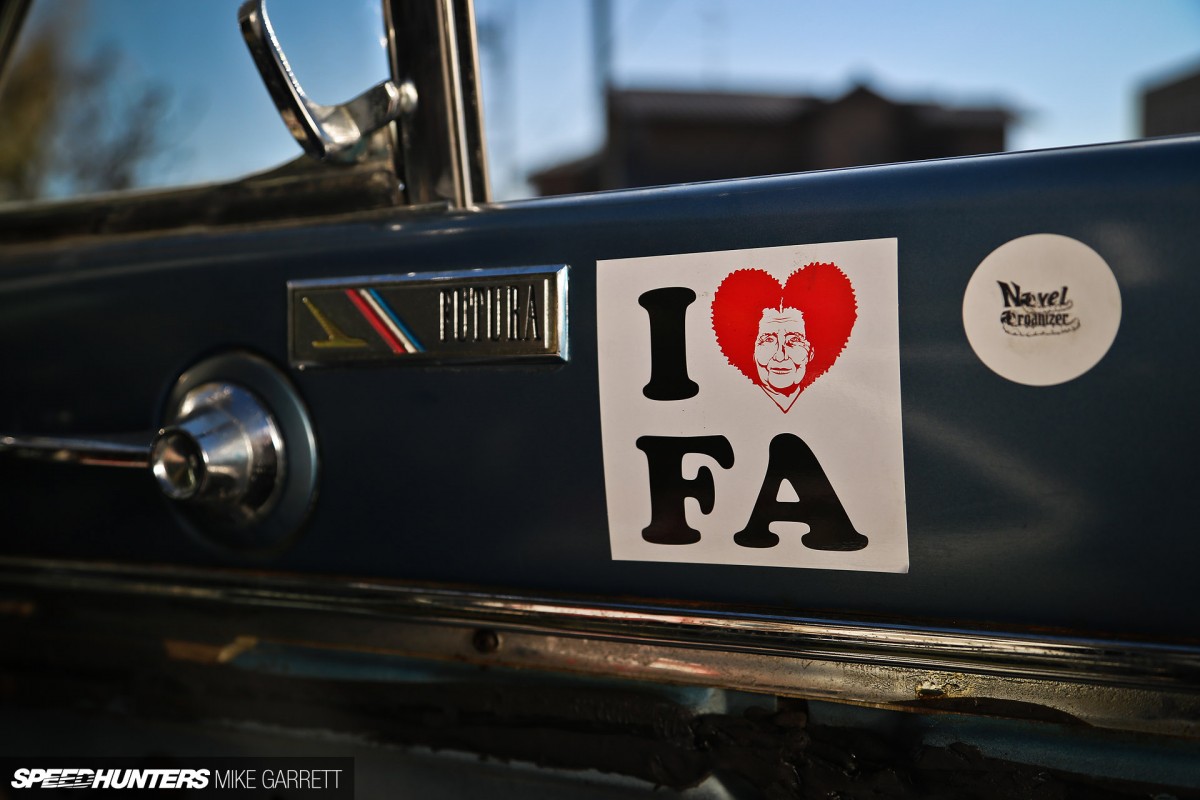 It wasn't like that when he started though. He originally bought the Falcon simply because he liked the style and wanted a cool car to cruise around in.
Built To Run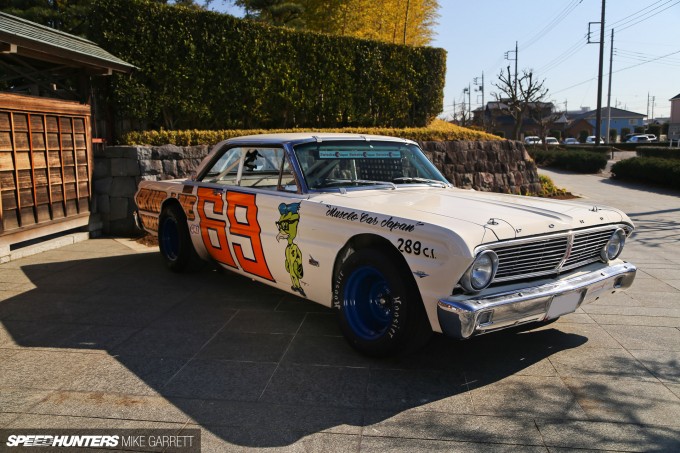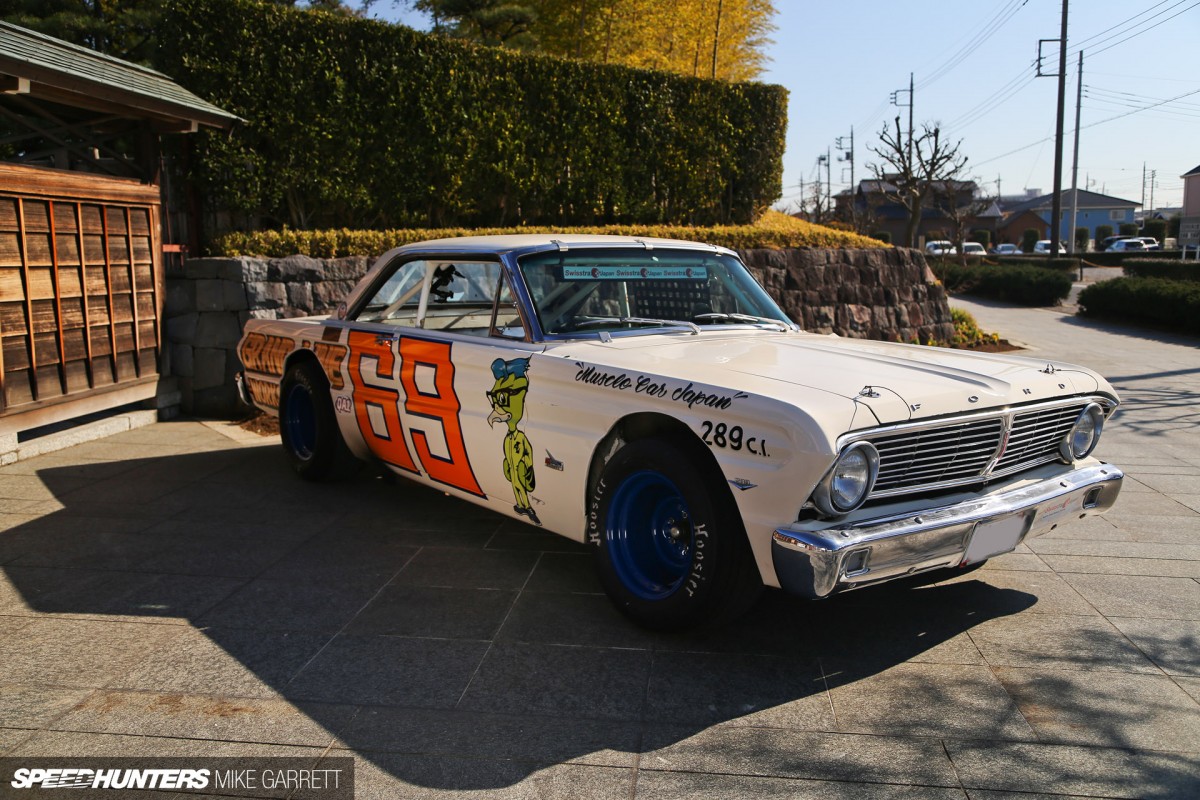 Over the years though, he became more and more interested in going fast. He attended his first casual track day and became hooked. Aside from that, he became fascinated by the historic side of American motorsport; studying old magazines and even visiting the US on business trips. Being very fashion-minded, Sakamoto wanted not only to make his Falcon capable on the circuit, but he wanted the distinct look and feel of a vintage American race machine.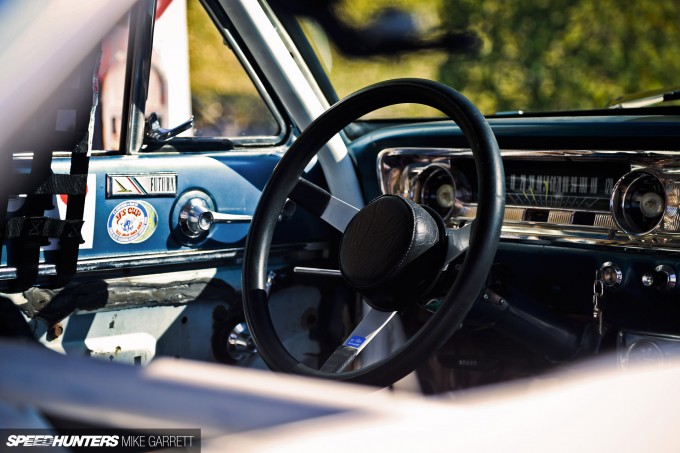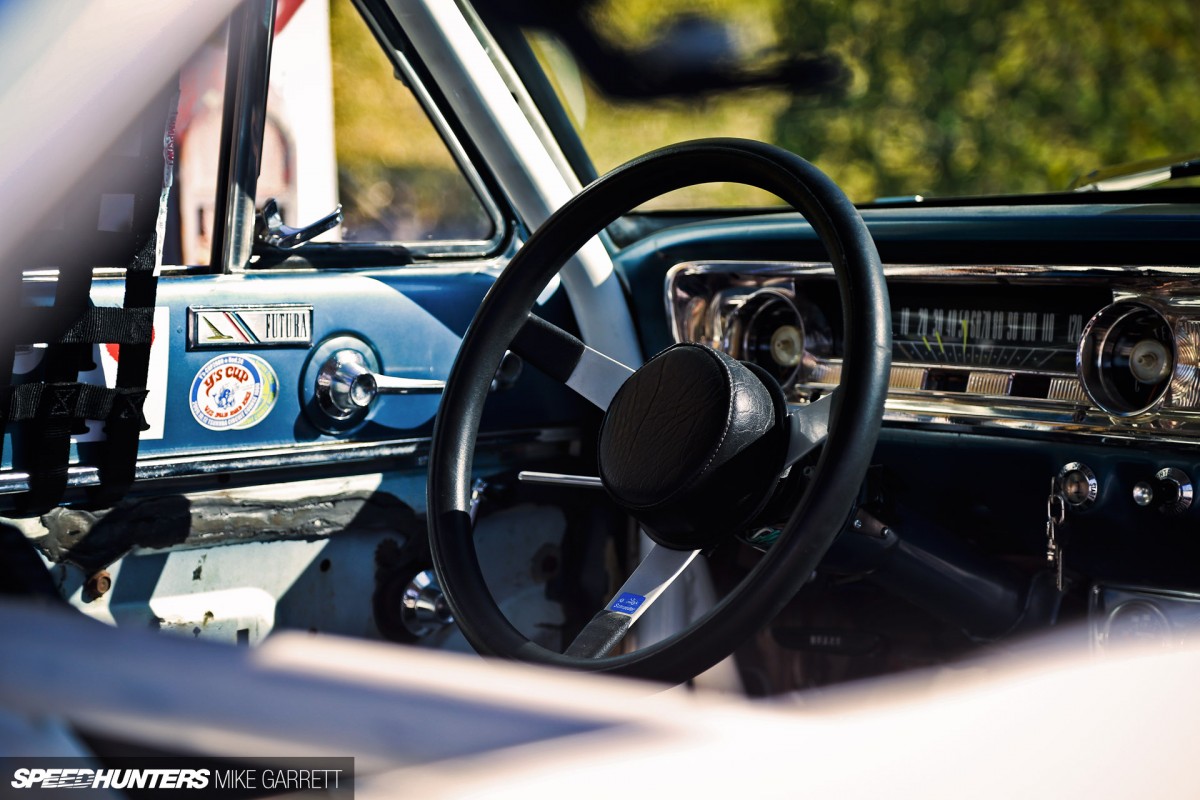 And while he's a fan of gassers and other classic drag machines, he mostly wanted a car that he could wind out on Japan's twisty racing circuits. It wasn't a tough choice for him to go with the wide and low style of 1960s-era stock car. Think of NASCAR at Riverside in the glory days.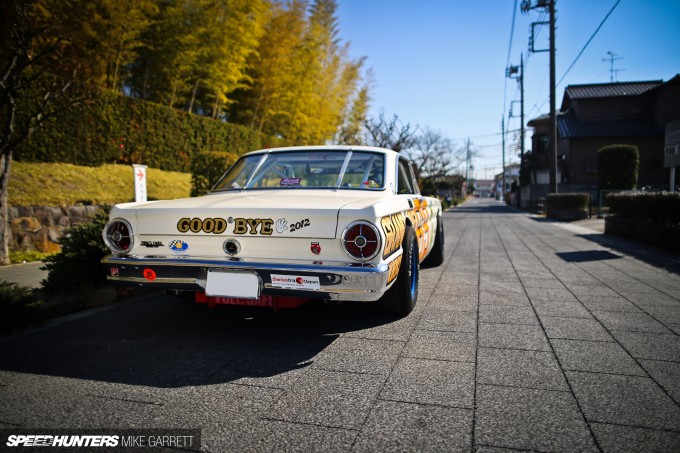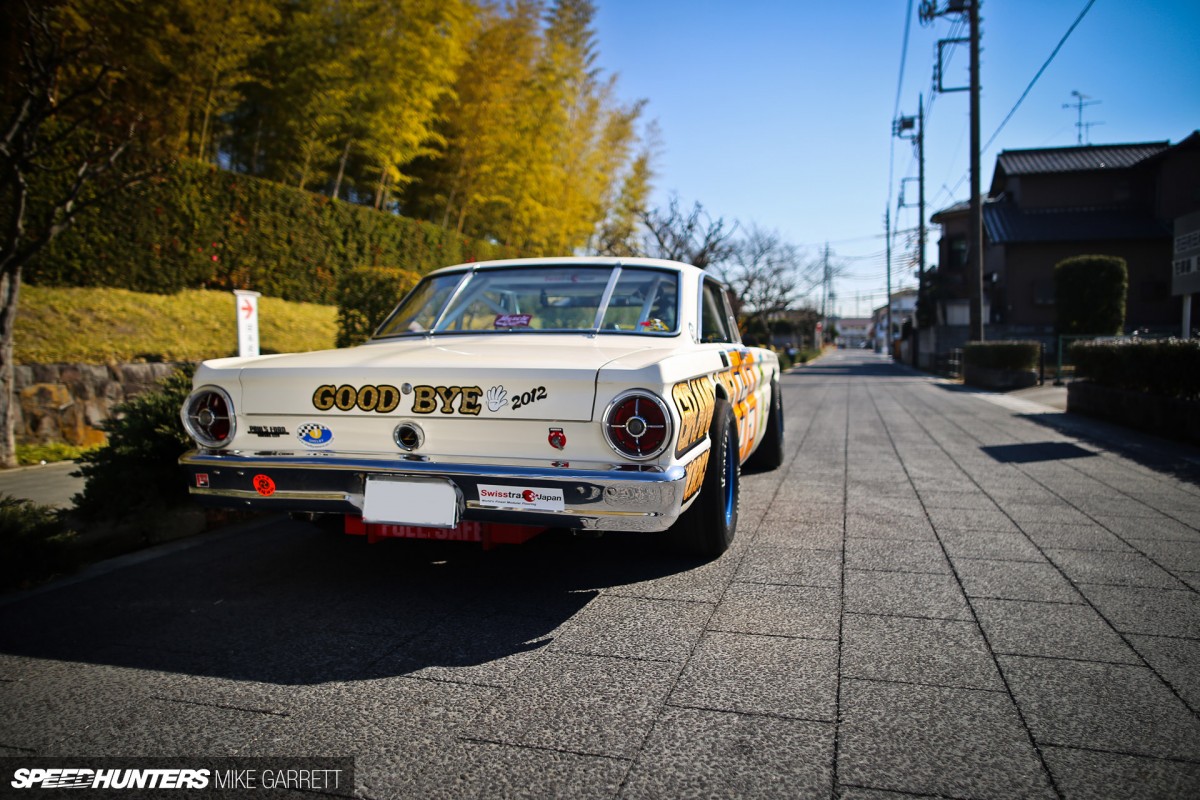 Vintage stock car fans will point out that it was the larger Galaxie that represented Ford in NASCAR during the mid '60s, but it really doesn't matter. His mission was never to build a perfect replica, and Sakamoto's lighter, more nimble Falcon perfectly captures the great style from the days when stock cars were actually stock.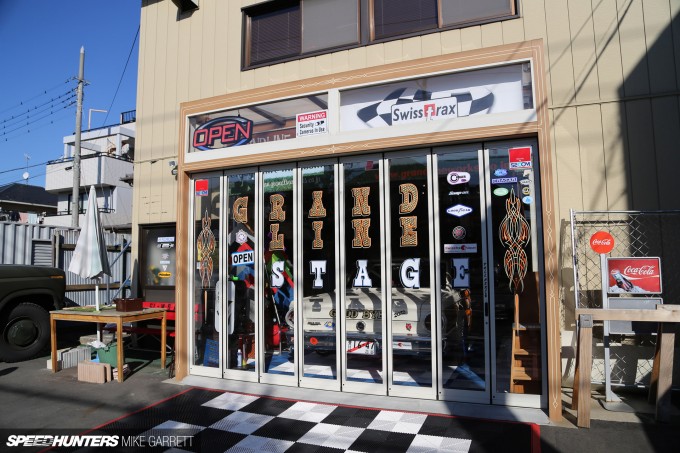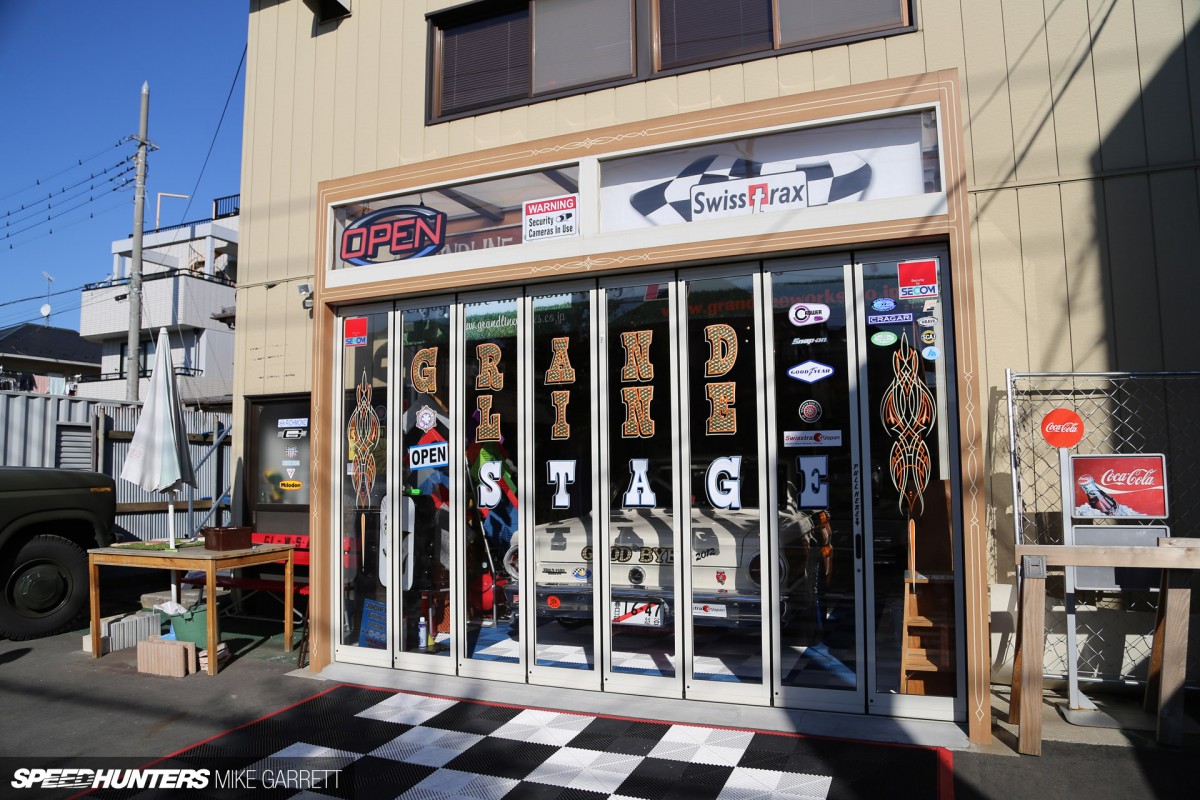 The style is important, of course, but over the years this car has evolved into so much more than a cool accessory for Sakamoto's garage. This Falcon has been built to run as hard as it looks.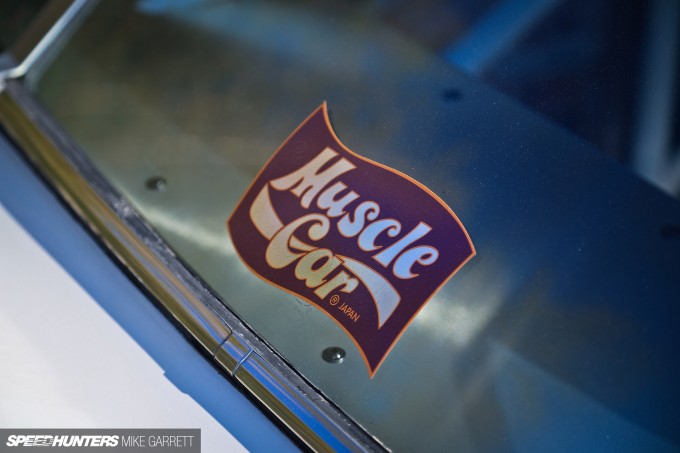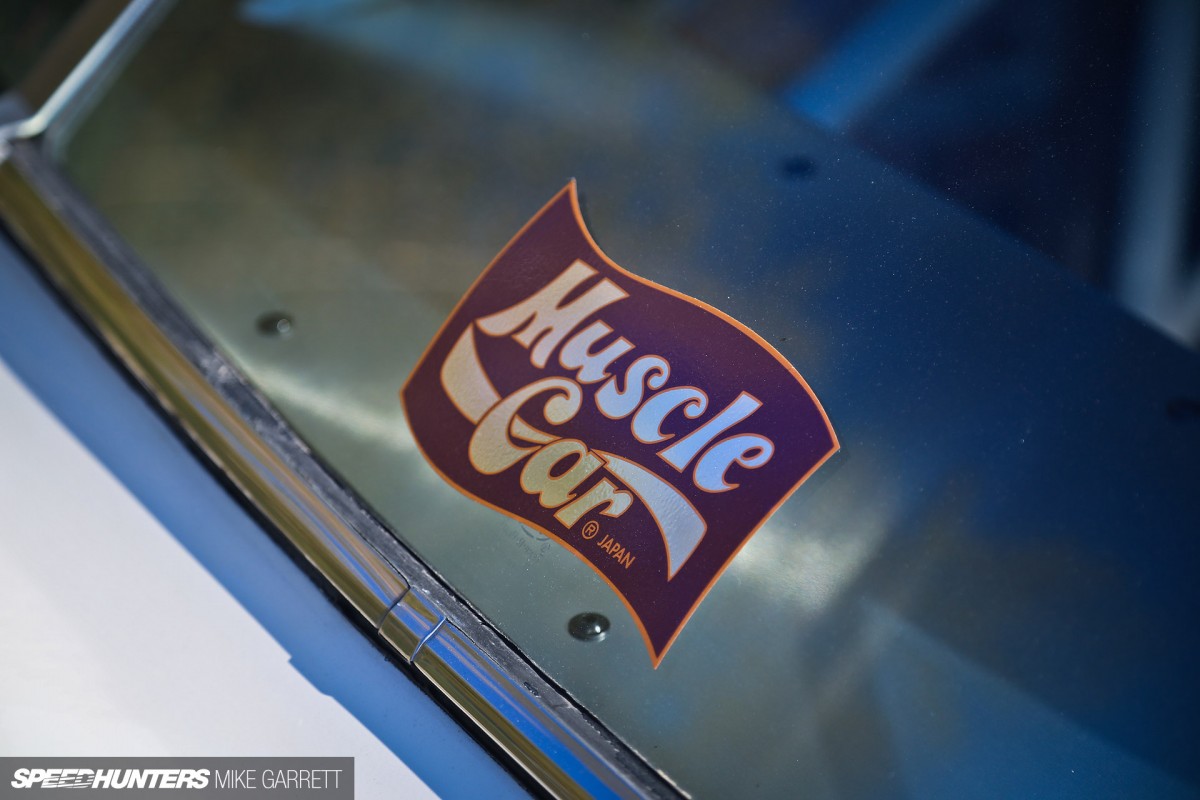 Much of the build was handled by a shop called Muscle Car Japan in Kanagawa. It's a place that's cranked out some very cool circuit-spec machinery and I'm very much looking forward to dropping by the next time I'm in the area.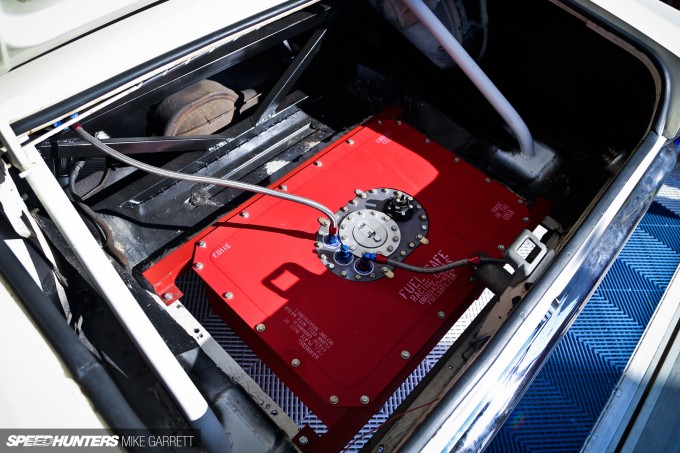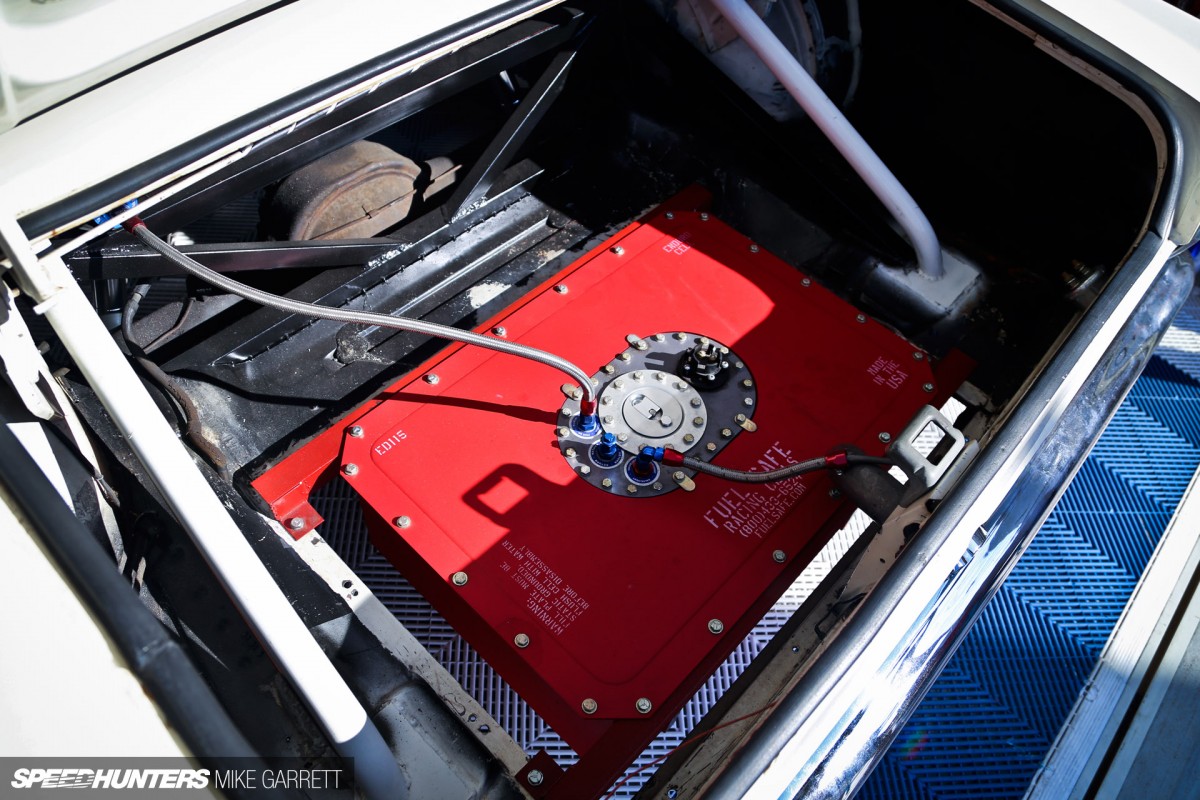 While it's got the look of a full-on race car, this is no tube chassis monster. MCJ has worked some nice tricks on the Falcon's chassis to get the car handling like it should. It's got a C-notched frame in the rear and the whole car has also been massaged to add stiffness to what was a rather floppy machine off the showroom floor.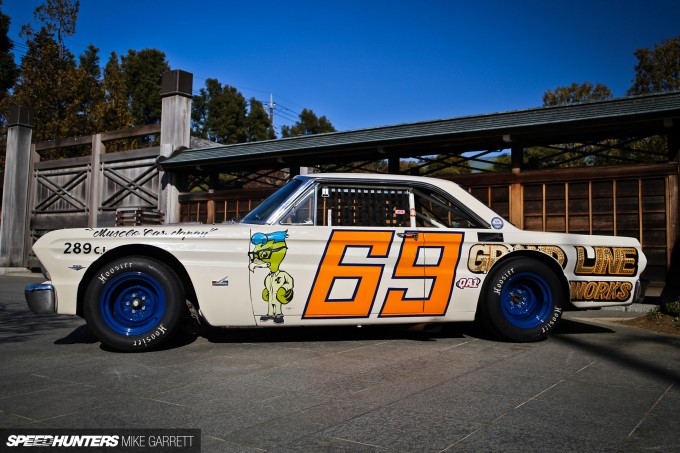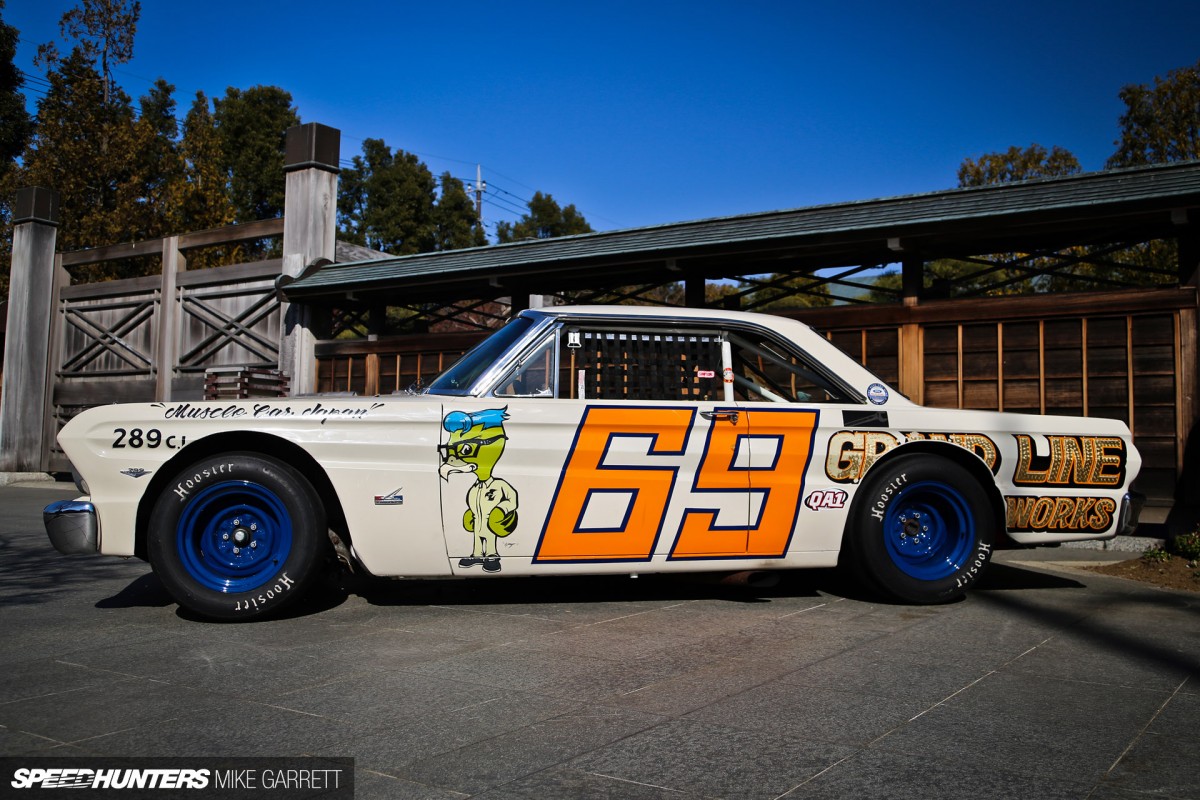 Of course, the Falcon shares its guts with the Mustang, and a fellow by the name of Shelby had no problems getting those things to take corners back in the '60s. Up front it's running factory spindles with relocated front control arms and short coil springs. HAL twin-tube adjustable shocks sit at each corner.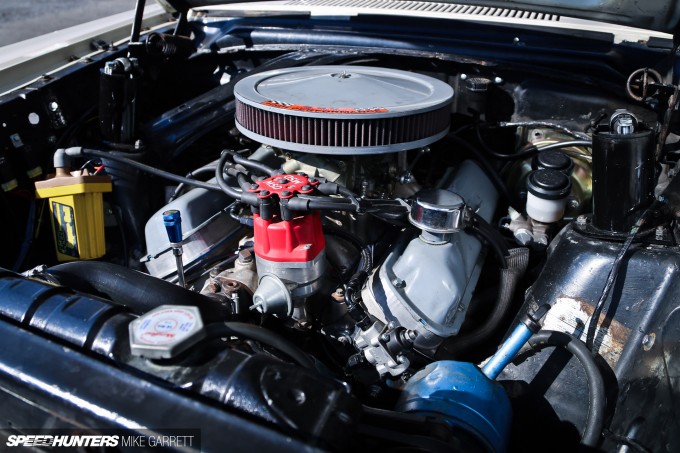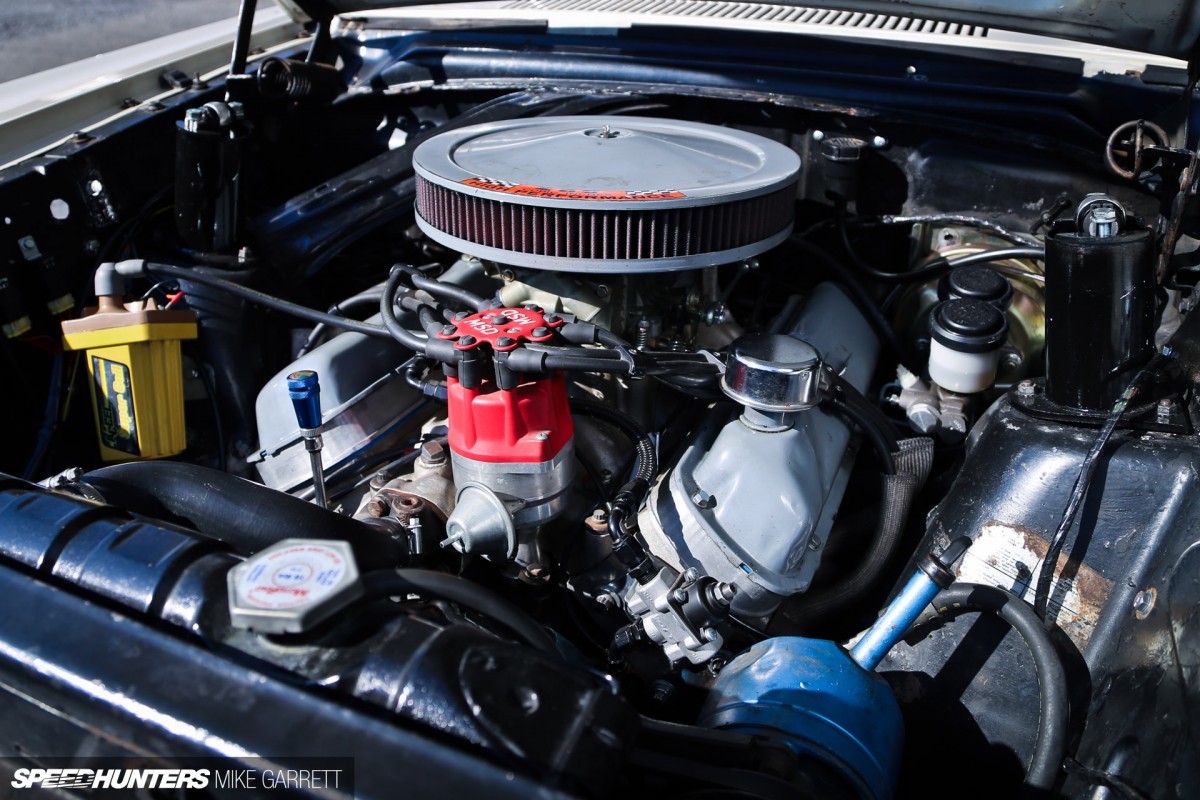 Under the hood sits Ford's proven Hi-Po 289 cubic inch small block – an engine that's powered so many great race cars over the years.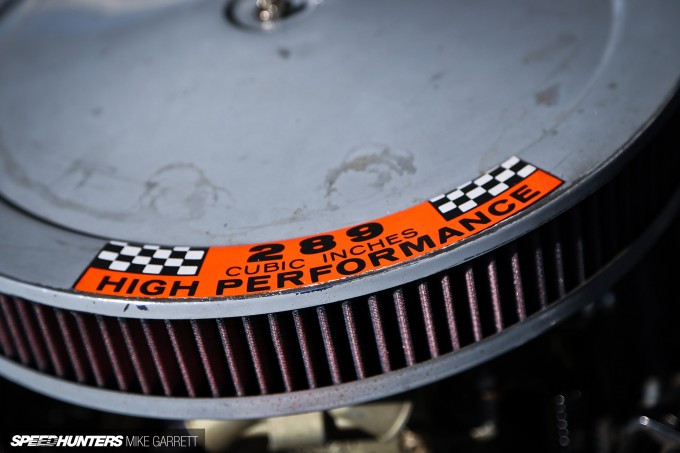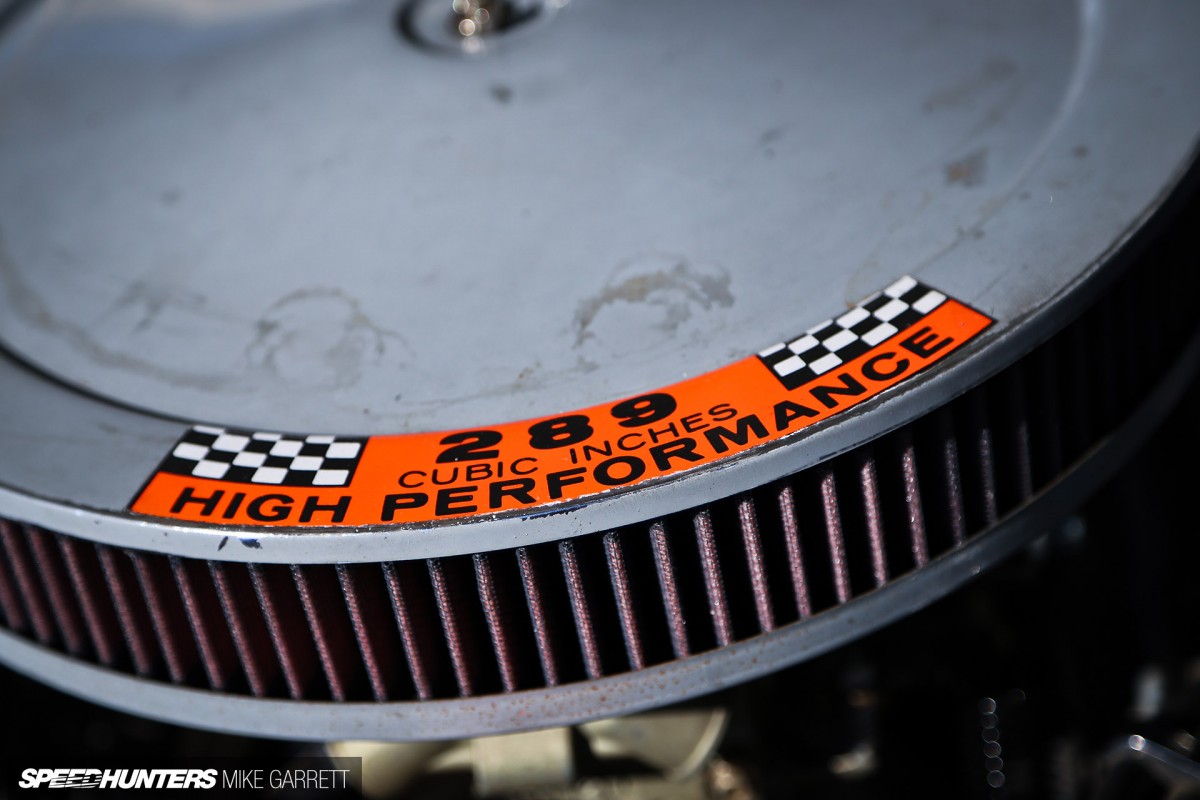 This one is running Crower rods, high compression 10.9:1 Wiseco pistons, K-Code heads with big valves, a Comp cam, and a Holley 770CFM carb sitting on a Parker Funnel Web intake manifold.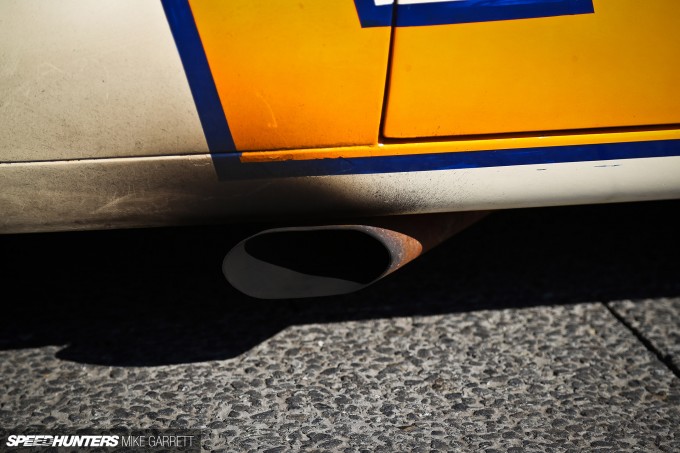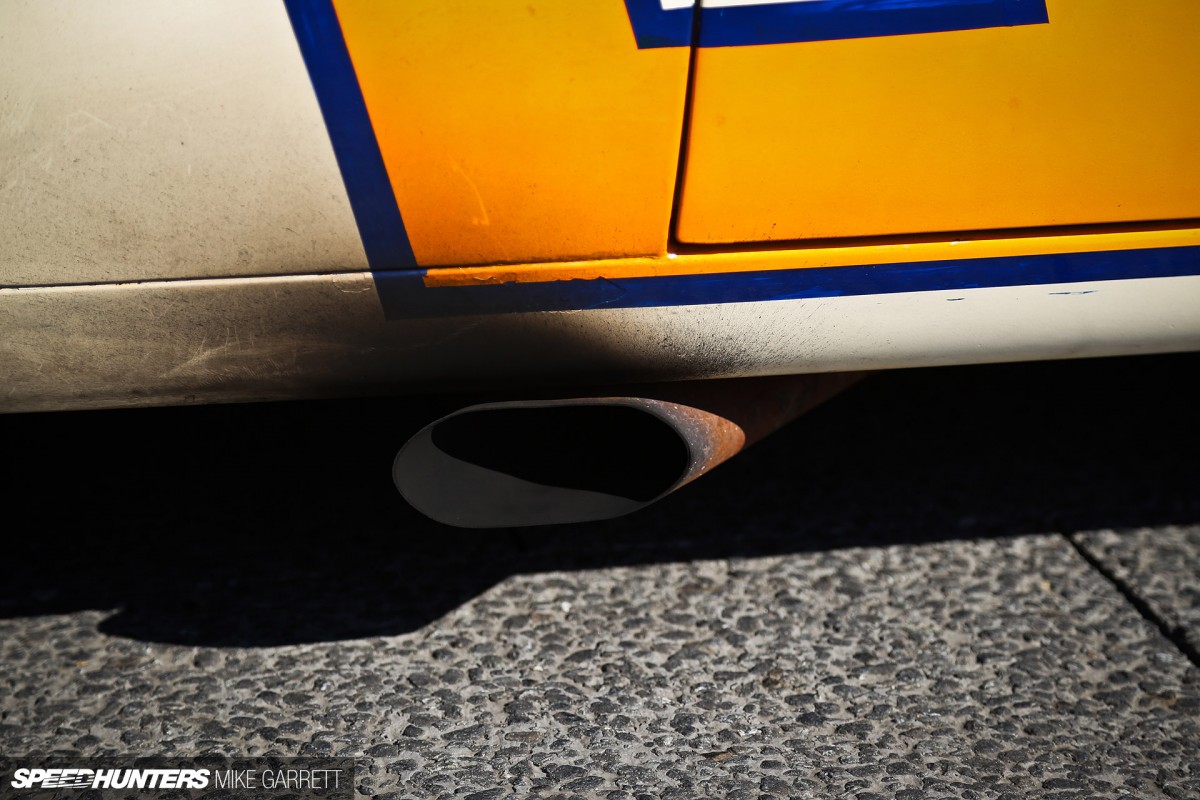 The headers have been custom-fabricated by Muscle Car Japan and they dump exhaust gases straight out out through a pair of four-inch pipes on each side. The sound is radical to say the least.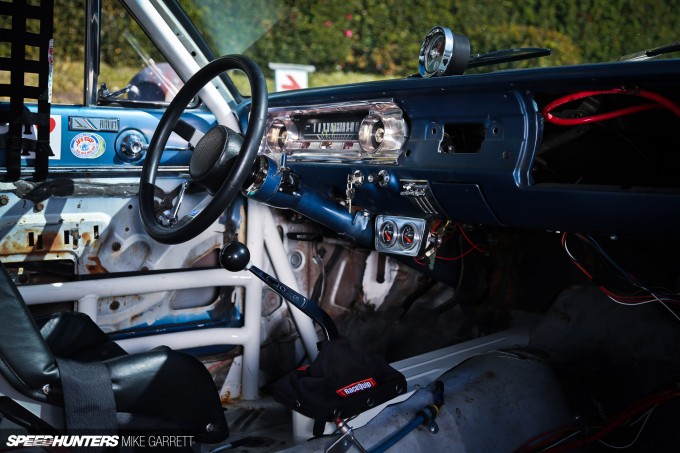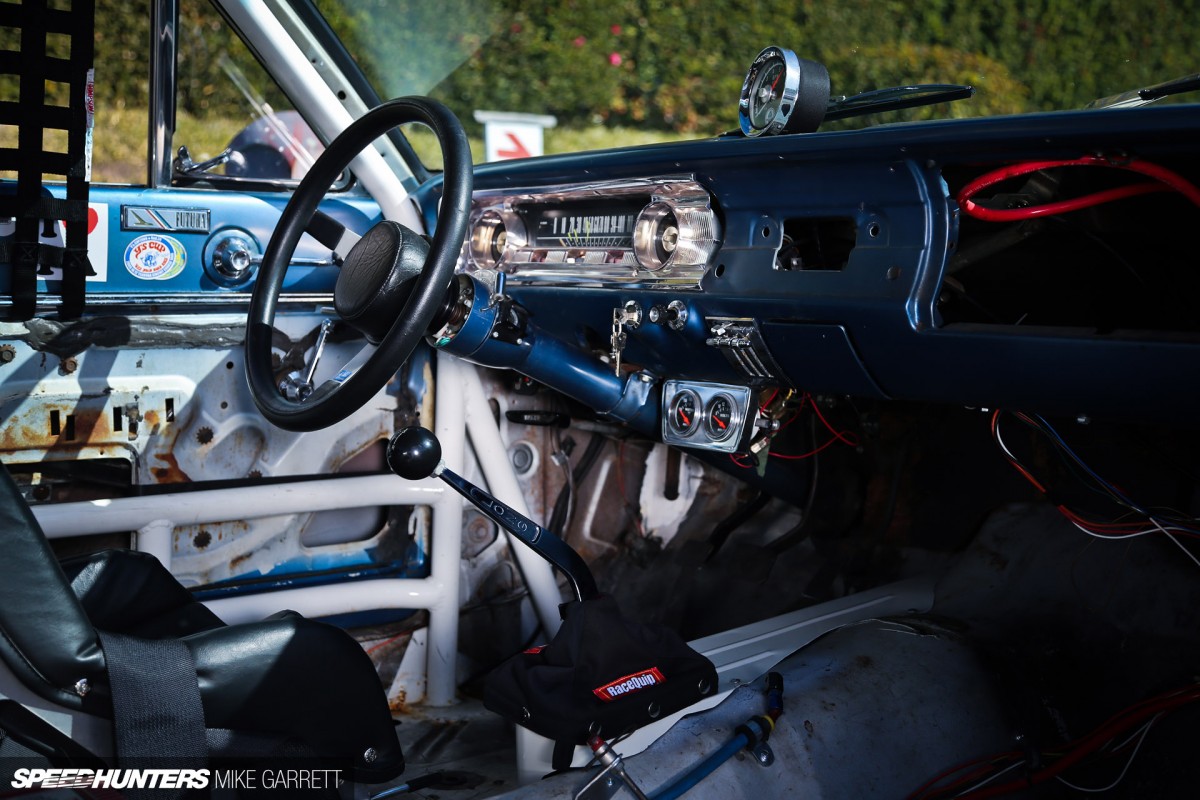 Both the engine and transmission are on solid mounts and that Long shifter operates a Jerico four-speed gearbox with a Tilton triple-plate clutch.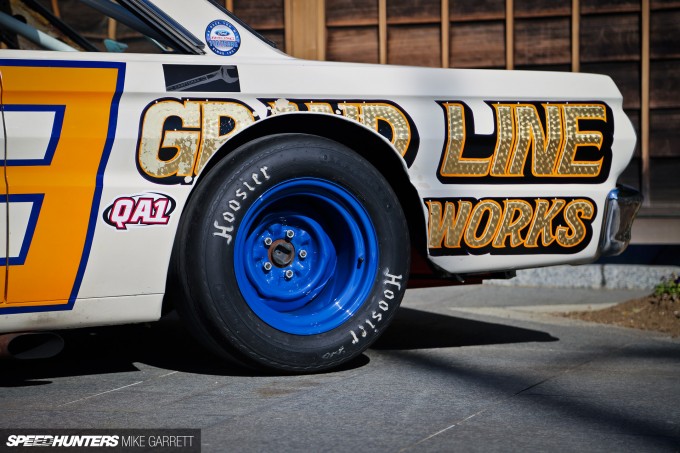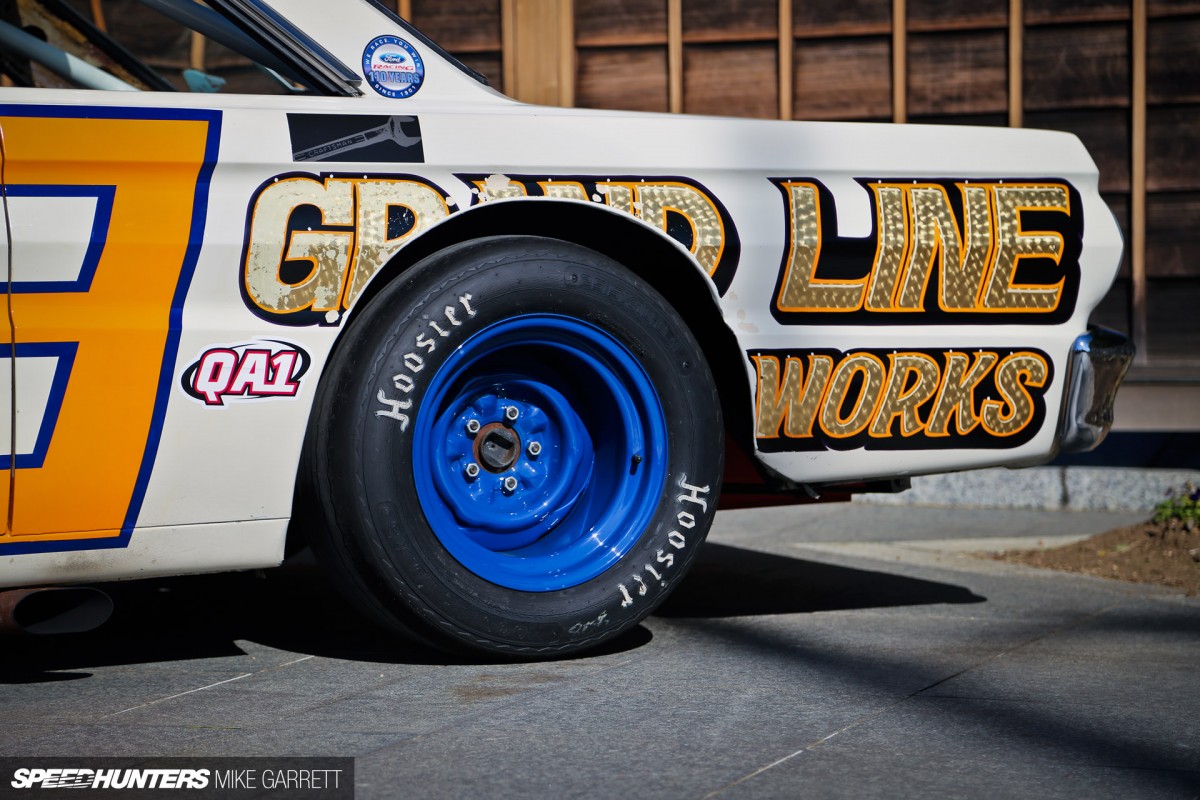 Power then goes through a custom drive shaft to a floating Ford 9-inch housing that features a Detroit Locker and 4.11:1 Richmond gears.
Hayabusa Spirit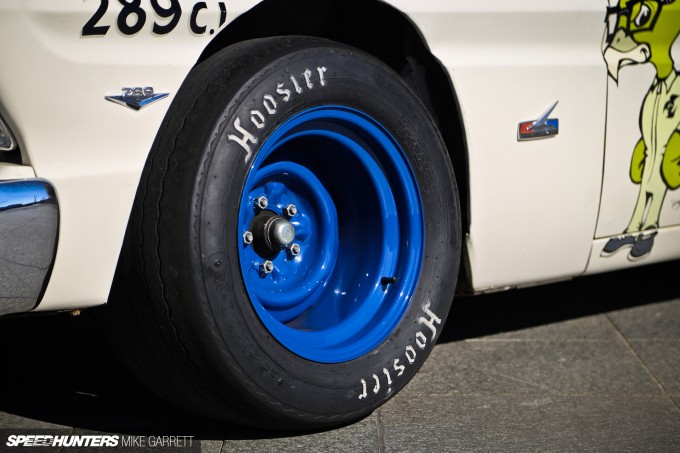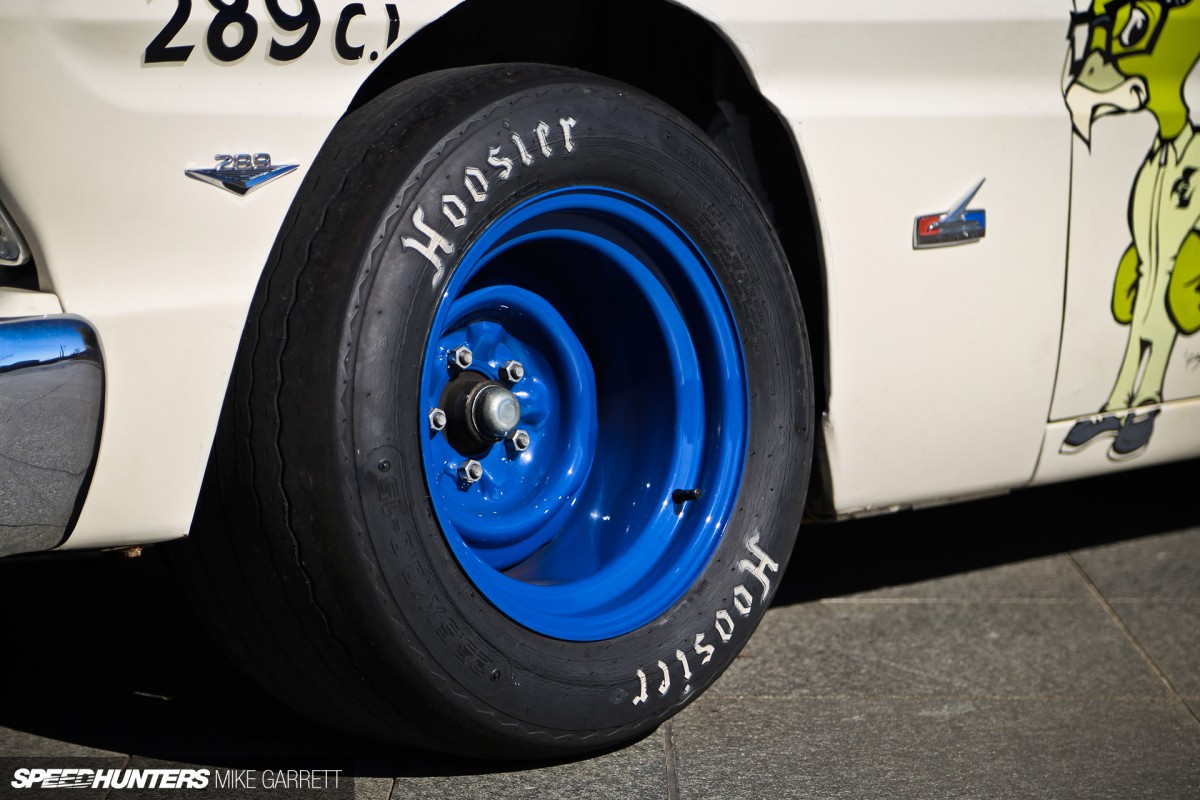 The car rolls on widened steel wheels – 15×9-inch at the front and 15×10-inch at the rear – with meaty rubber from Hoosier's Vintage & Historic line. Braking duties are handled by Outlaw discs at all four corners with a Wilwood proportioning valve and a C4 Corvette master cylinder.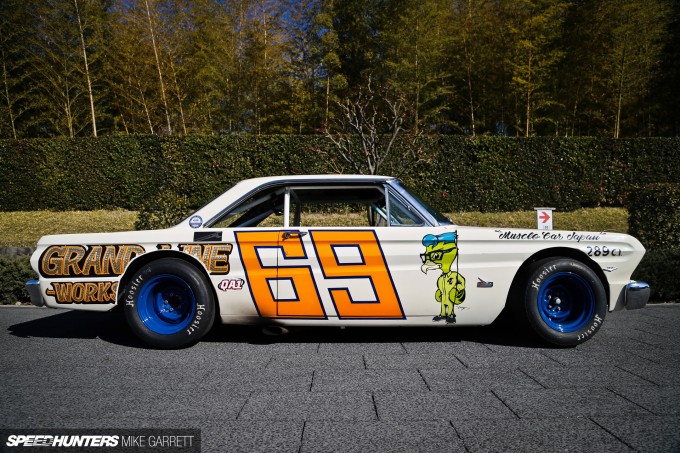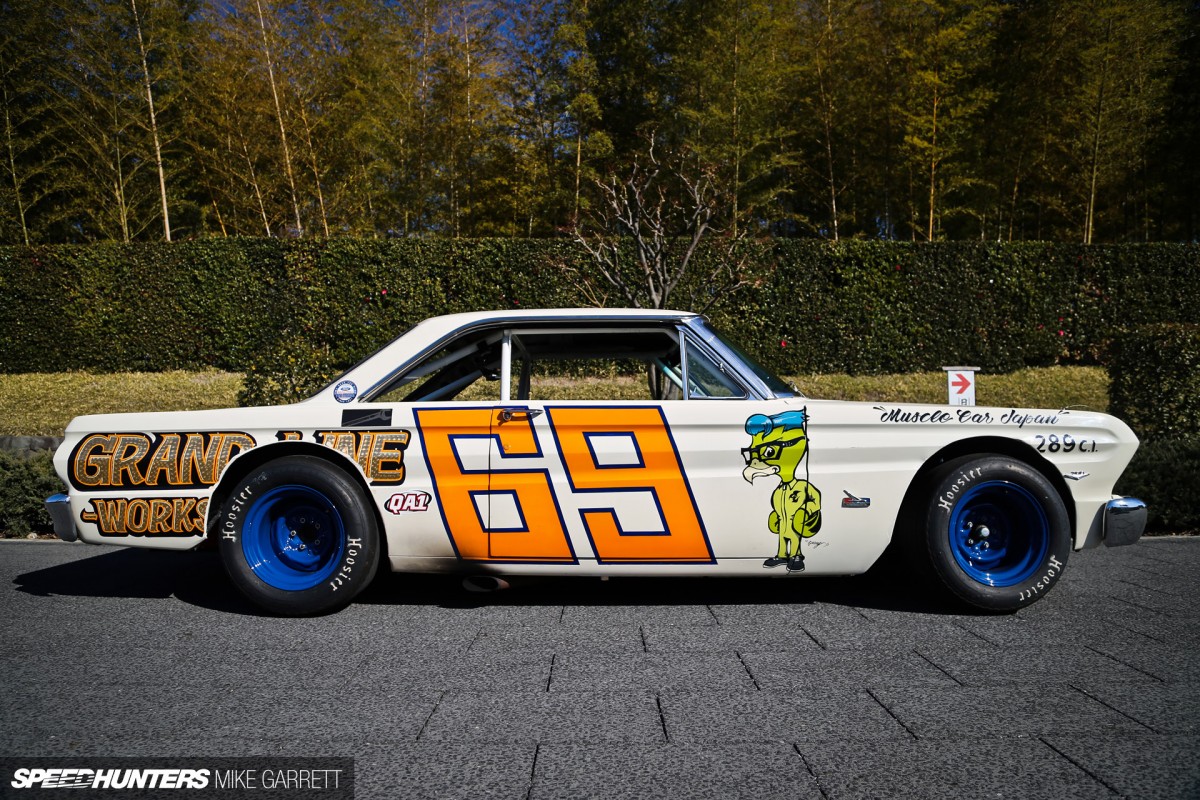 The body of the Falcon is stock, but the front and rear fenders have both been aggressively cut for extra tire clearance and for that tough stock car look. I'm a sucker for race cars with chrome bumpers, and with its bulging tires and exhaust-stained quarter panels this thing's got all the attitude of Saturday night short-track special.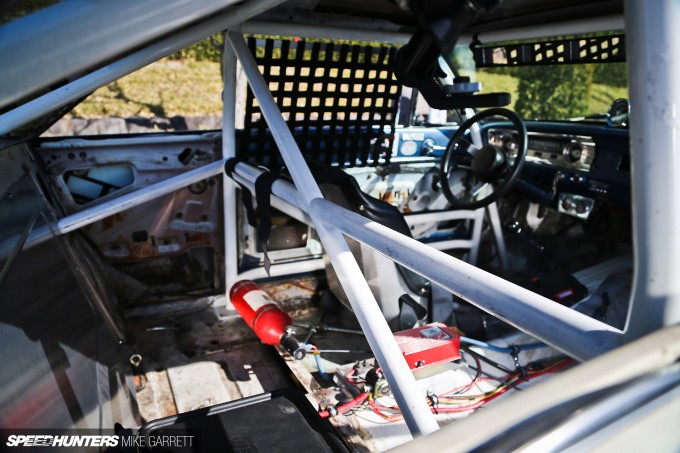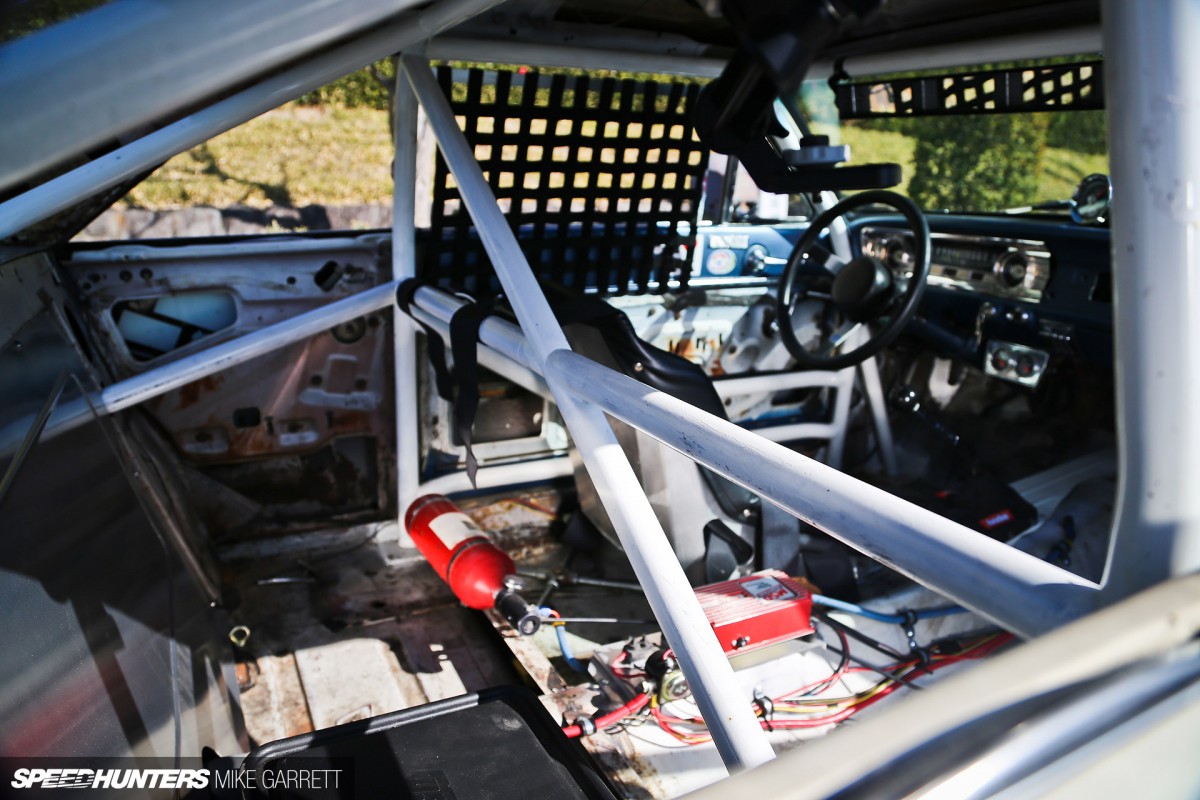 The interior has been largely stripped out and is equipped with a full 16-point roll cage and the other necessary safety bits for track days. Let's not forget the GoPro mount either.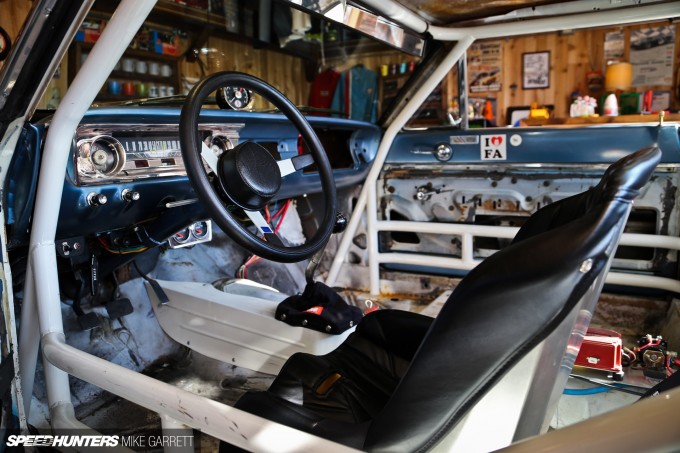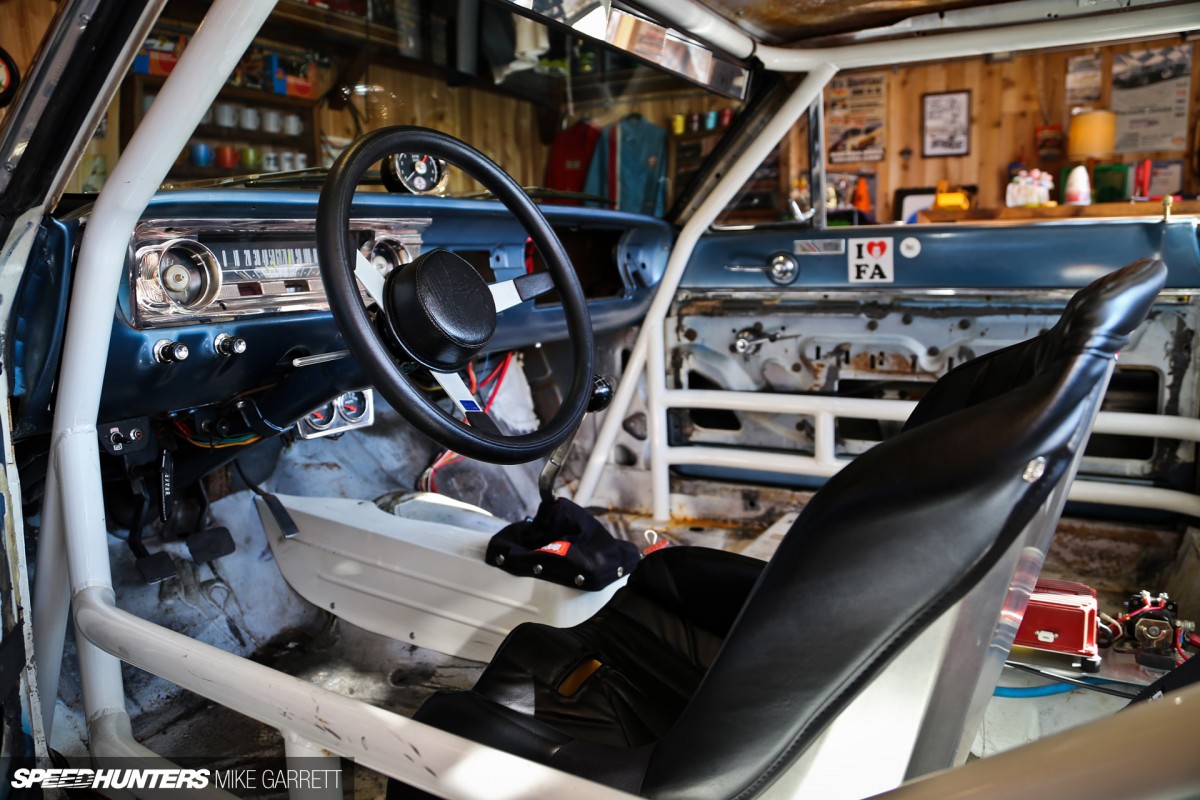 The Falcon's original instruments remain intact with the addition of a Shelby tach mounted atop the dash and a couple of additional Auto Meter gauges near the steering column. A single Kirkey racing bucket takes care of the seating requirements.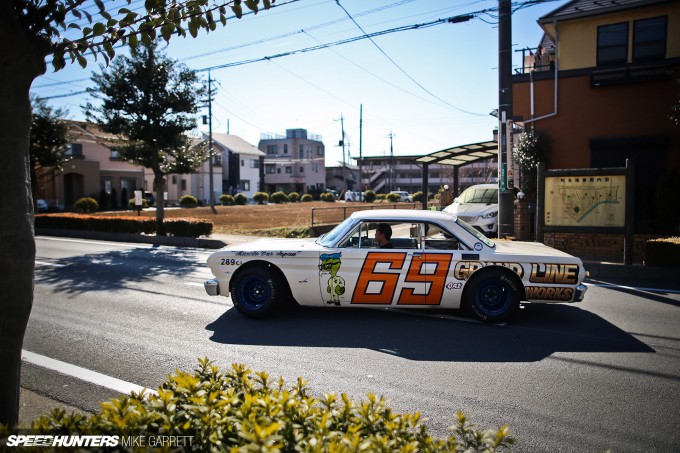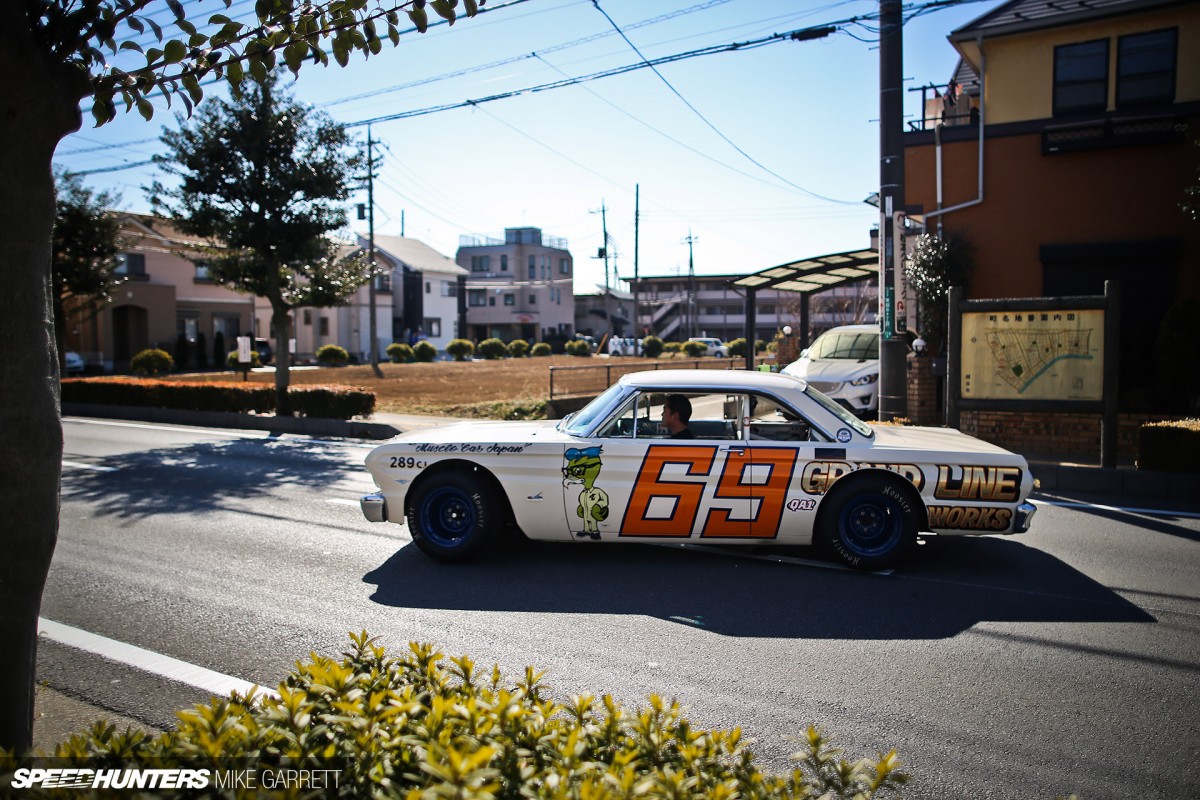 These days the Falcon doesn't see a whole lot of street driving, but when Sakamoto-san does take the car out it wakes up the entire neighborhood. If the thumping sound wasn't enough, the sight of this nostalgic racing machine rumbling among kei cars down a suburban Japanese street is just priceless. You can check out the car cruising down the expressway in this video the Swisstrax Japan guys put together during last year's Yokohama Hot Rod Custom Show.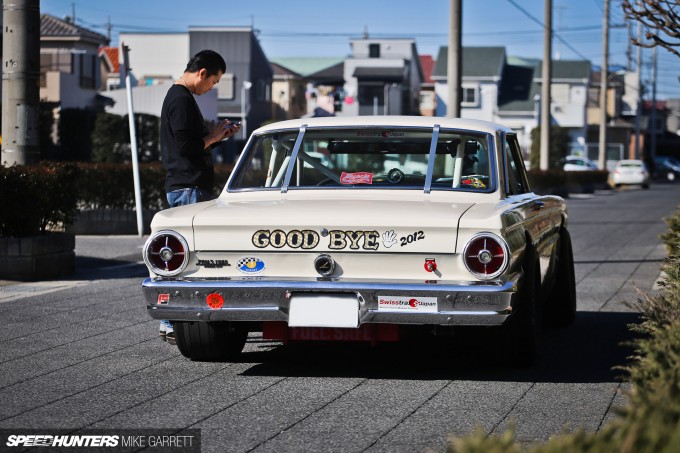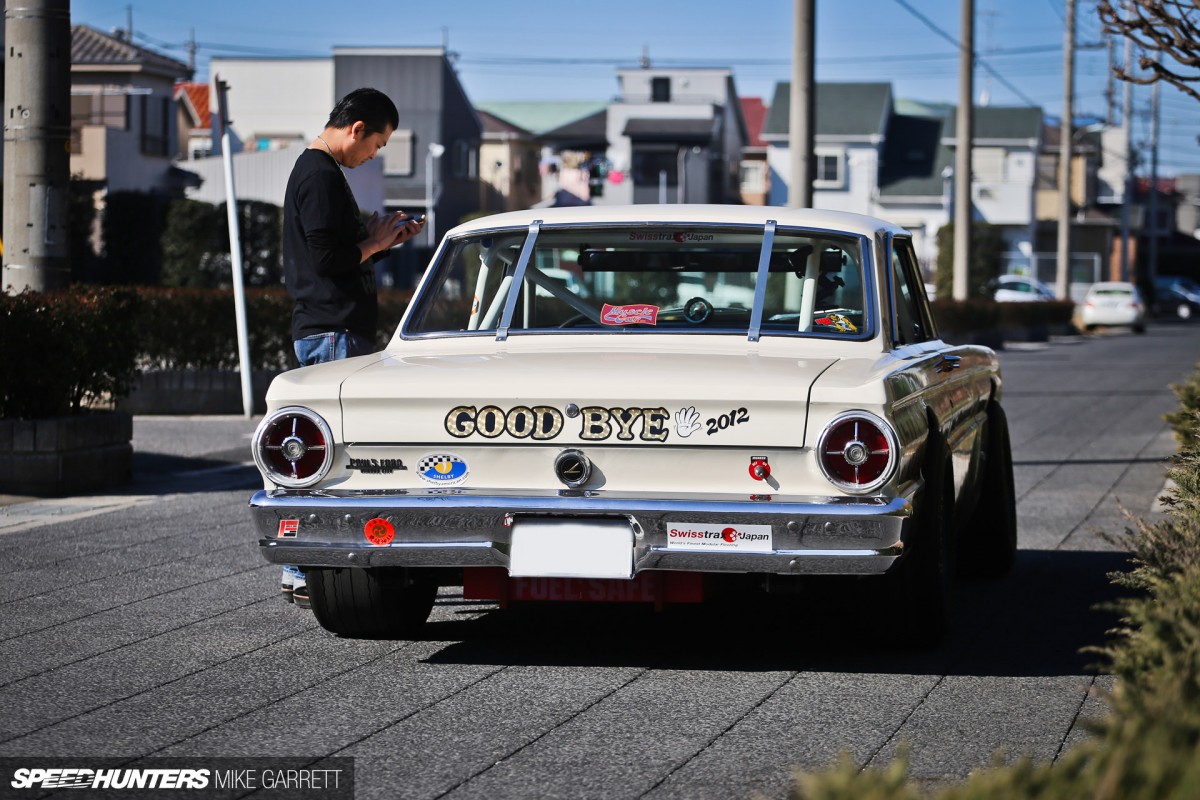 The car is most at home at track events at places like Honjo and Tsukuba Circuit where Sakamoto races with other owners of vintage machinery. Along with tearing the car down for a full rebuild this fall, Sakamoto-san also has plans to bring the Falcon to California to do some events on this side of the Pacific. I'm certainly looking forward to that!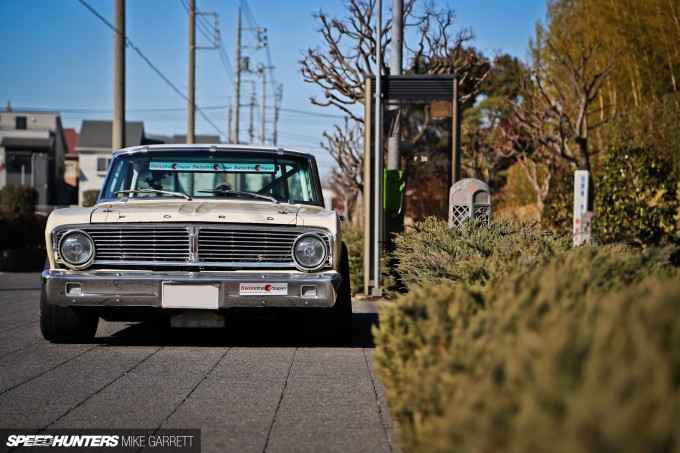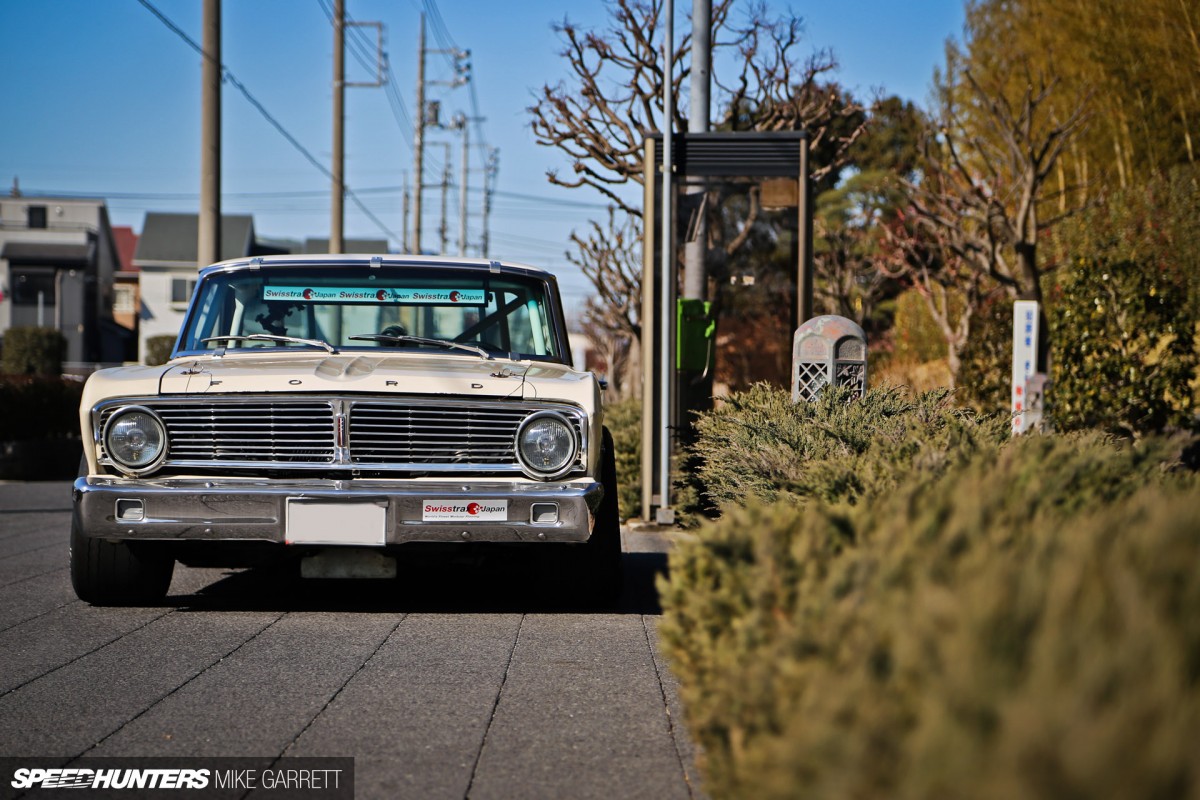 This might be an American-made car heavily influenced by vintage American motorsport, but Hisayuki Sakamoto has wonderfully woken up this sleeping Falcon with a good bit of the Japanese Hayabusa spirit. The result is another slice of international car culture at its very best.
Mike Garrett
Instagram: speedhunters_mike
mike@speedhunters.com