A Brief History
I'm not sure if there's a perfect country or place for a car enthusiast to live, but I do know that Ireland is definitely not one of them. I would actually go as far to say that our government actually go out of their way to make the lives of all car enthusiasts as difficult as possible. We have a motor tax system, which is specifically designed to push people into boring, diesel, economy boxes. We have expensive fuel and even more expensive insurance rates. We have a Road Safety Authority that is supposed to be helping save lives on our roads, but really they're just raising revenue for the government from mobile speed cameras, that do little if nothing at all for road safety. That's not to mention our generally poor road network, non-existent motorway services or roads built with public money being auctioned off to the highest bidder, who then sticks a toll on them.
In spite of this, Ireland's car culture thrives. Maybe it's our stubbornness to go against what we're told that we should do, but the adversity we face as car enthusiasts only makes our love and passion for cars (and bikes) even stronger. For me, it's why I've always wanted to go completely against society's norms to create something that I'm proud to call my own. Something that labels me as a car enthusiast.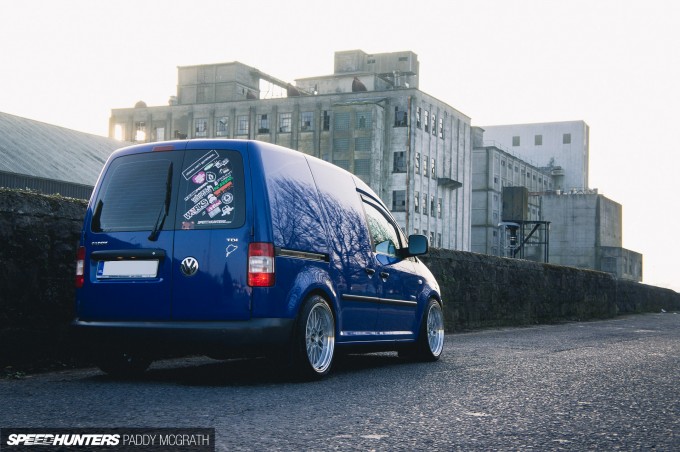 I don't have the most illustrious car history. It's quite brief too. My first 'car' was actually a Volkswagen Caddy van, which I purchased back in 2010 when I started my photography business. They say you never forget your first, and this rings especially true for the Caddy which earned the nickname 'Sudsy'. It started out as a standard Caddy 2K dressed in the livery of a local launderette – named Duds 'N' Suds, thus the nickname – and by the time I sold it in late 2011 it was lowered on coil-overs, wore 18×9-inch BBS LMs and had Golf GT seats. It was especially clean and I'd buy it back tomorrow, only it now lives in the UK and looks entirely different.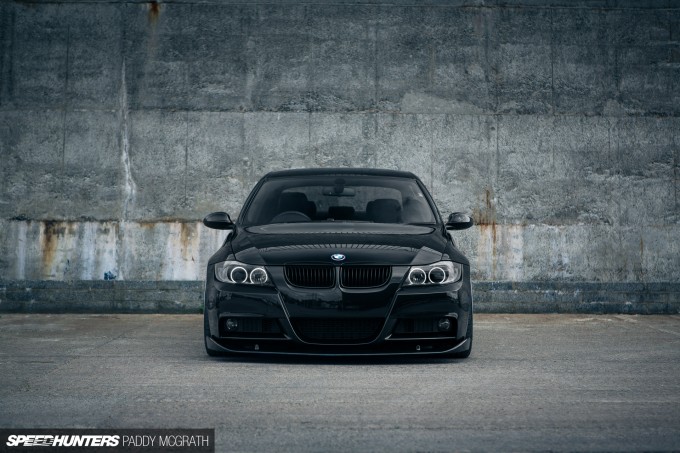 My first car was a 2006 BMW 320d Sport. I come from a car family which has a preference towards saloons and I always preferred the E90's shape over the E92. So when this came up for sale in 2011, I jumped on it as quickly as I could. It was a mechanically sound, but the exterior was rough around the edges. It was what my old man would describe as an honest car.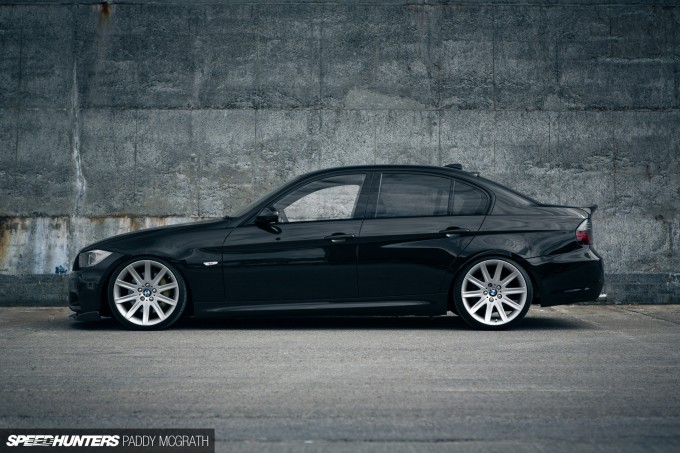 Over the course of the next four years, it would see five different sets of wheels, two different suspension setups, and two different exterior looks before I finally screwed my head on right and turned it into what I always wanted it to be. I sunk a lot of money into the E90 – most of it wasted on trying to do things the cheap way only to eventually end up doing them the right way at further expense. I learned a lot from the experience, mostly that in future it's best to things once and do it right.
By the time I finished, it was on 19×9-inch and 19×10-inch Style 95 wheels sourced from an E63 7 Series, and KW Variant 1 coil-overs. The exterior had been painted in parts and machine-polished everywhere else to achieve pretty much perfect paintwork. The black Sapphire Metallic contrasted with the carbon fibre touches.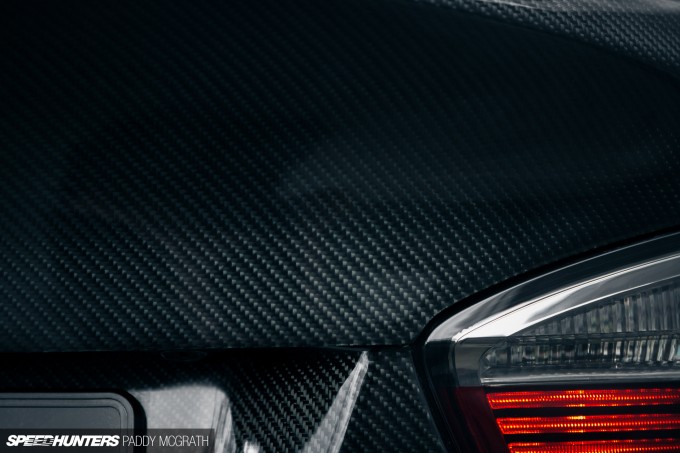 The boot-lid was complete carbon fibre, shaped in the style of the E46 M3 CSL item, as was the ACS roof spoiler. These parts tied in with the carbon BMW Performance diffuser and the rare carbon Hartge Japan front splitter, which took the guts of three years to source.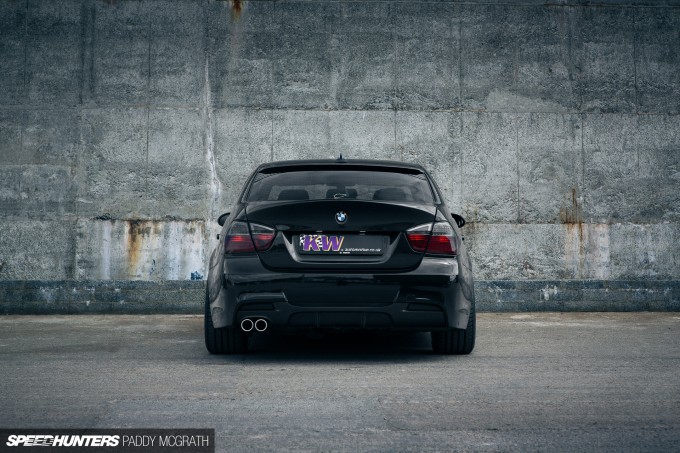 That's not to mentioned the all-LED tailights, the custom-built Lightwerkz headlights or the BMW Performance brakes and Forge Motorsport stainless brake lines.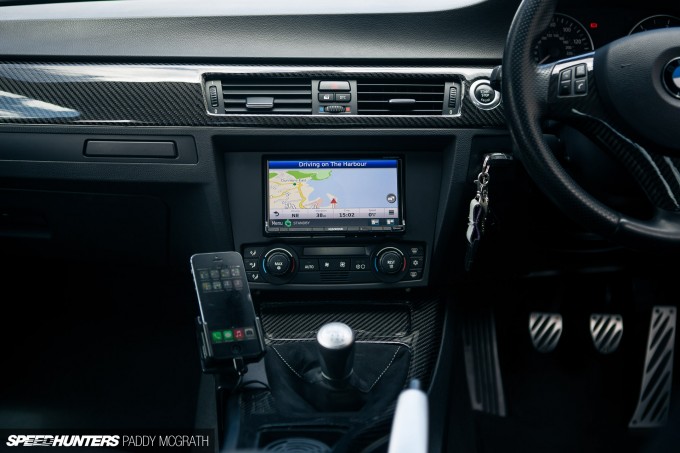 The interior was re-trimmed in genuine carbon too, and instead of iDrive I retrofitted a Kenwood DNX7230 unit with pretty much every media input and output you could ever want along with a built-in Garmin sat-nav. The 6-speed manual was operated with a BMW Performance shifter before being replaced with a Macht Schnell MS97 tall lever. By the time it was finished, it was every bit the car I had ever wanted. It was quick – at least by Irish standards – with 200hp and 300lb/ft. The torque made it ideal for daily driving and suited the nature of the car to the ground. I even set a couple of lap times around the Nürburgring Nordschleife with it on a European adventure a few years ago.
But, and it's a big one, there was one issue I could never get past: the diesel motor. As reliable and frugal as it was, it just wore thin cold starting it every morning to hear – and feel – that tractor-esque idle. It eventually broke me and I made a decision to sell it and pursue a car I never thought I would. A Golf GTI.
Welcome To The Family, Kid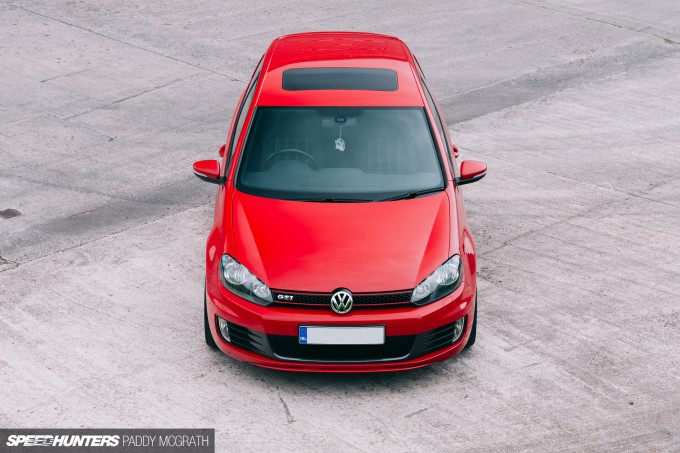 I'm trying to think back to the moment when I knew that a Mk6 GTI just had to be my next car, but I don't think there was one. You see, I don't believe the GTI to be a car that you fall in love with at first sight. It doesn't create a certain amount of immediate lust inside you like other cars do. Instead, it slowly grows on you until you get to the point where you realise there is no better car to do all things.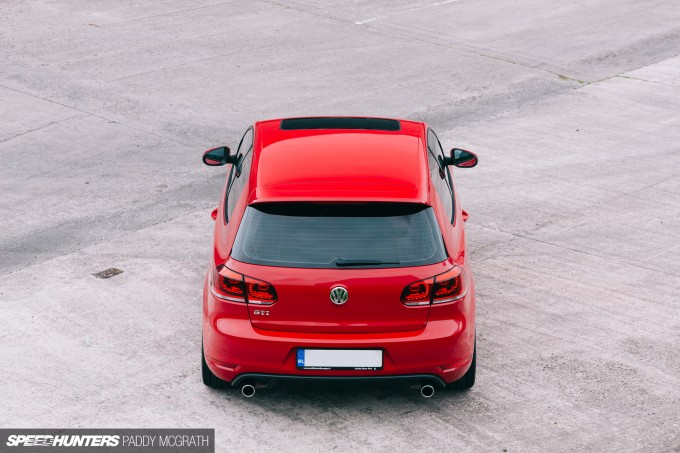 During my Speedhunters hiatus last year, I spent some time working with the awesome people at Volkswagen Ireland, whom I'm still very fond of. They know who they are. Late in the year they politely loaned me a new MkVII GTI with the Performance Pack for a week to see if I could live with a GTI on a day-to-day basis. Whilst a whole other level of performance up from a MkVI – that LSD makes a huge difference – I was amazed by the versatility of the MkVII. Unfortunately, the seven was and remains out of my budget but the MkVI was just getting to the point where if I made a lot of sacrifices, I could just about buy one.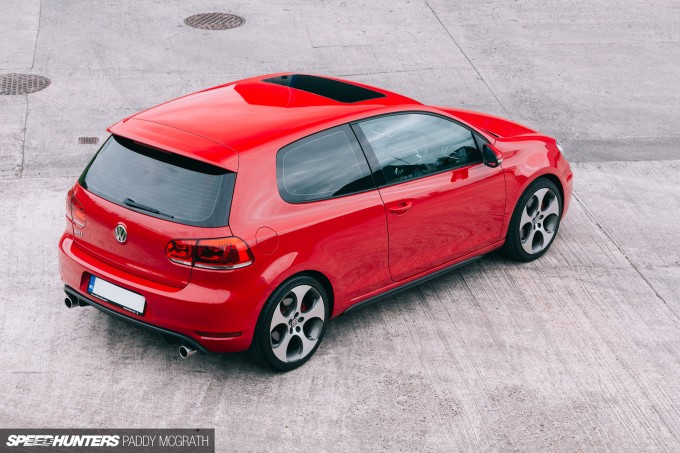 Eight months of searching later and I was honestly ready to give up and keep the E90 indefinitely. You see, the MkVI GTI had a relatively short production run which just happened to coincide with Ireland's crippling recession. With the aforementioned government policy of forcing people towards boring diesel cars, no one was really buying GTIs at this time. In fact, there was usually only two or three MkVI GTIs for sale in the whole country at any one time, compared to a seemingly endless pool of MkVs.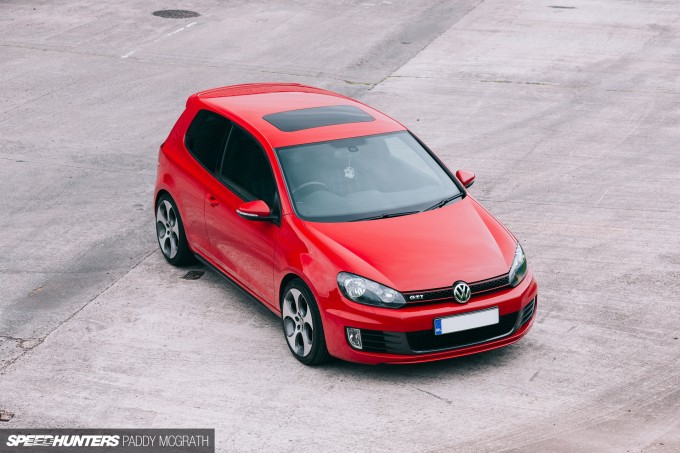 It was on a grey Monday morning, when I felt all hope of finding one was all but gone, that I made a quick trip across the River Liffey to a Volkswagen main dealer near the airport. I don't know how it is in other countries, but usually when a young guy walks onto a forecourt to look at any sort of performance car, the salesman can't get you far enough away from the premises quickly enough. The opposite of this occurred at McAllister Volkswagen. I immediately met the salesman, Rob, who I had spoke to over the phone, as he walked over while I parked my E90. He told me he liked the BMW and was quick to talk about his own 1.8T Corrado project car he was building for the Irish Touring Car Championship.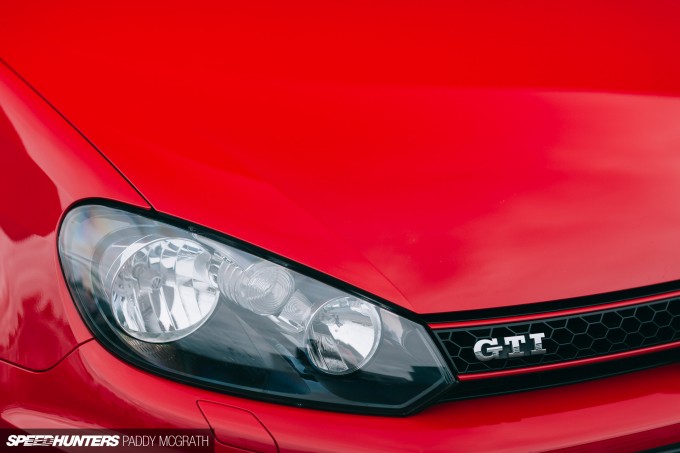 There was never a salesman type of talk at any stage – he already knew what I wanted and amongst his first questions was what I had planned for it down the road. He understood exactly why I wanted this car and what I was going to use it for. Before I knew it, I had a deposit down, my E90 sold and I was driving this low mileage MkVI GTI with full history back home.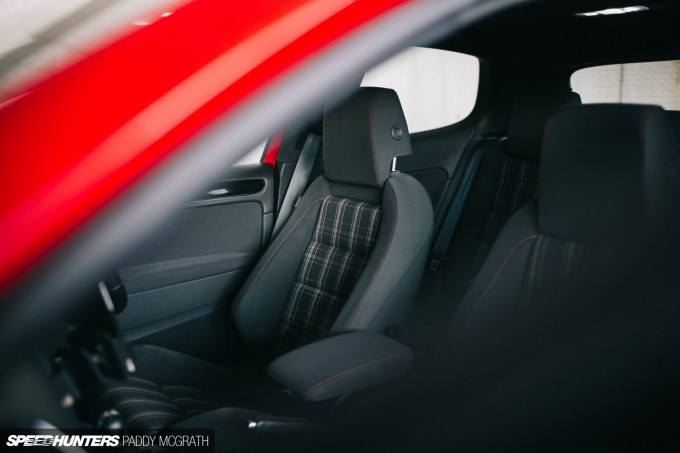 So, let me give you a quick rundown of the basic specification. It's a 2010 car with a factory sunroof and painted Tornado Red. It has the cloth tartan interior (which was an absolute must for me) and McAllister Volkswagen was kind enough to retrofit Bluetooth with A2DP into the car for me. Make no mistake, it's a basic car but it's exactly what I wanted.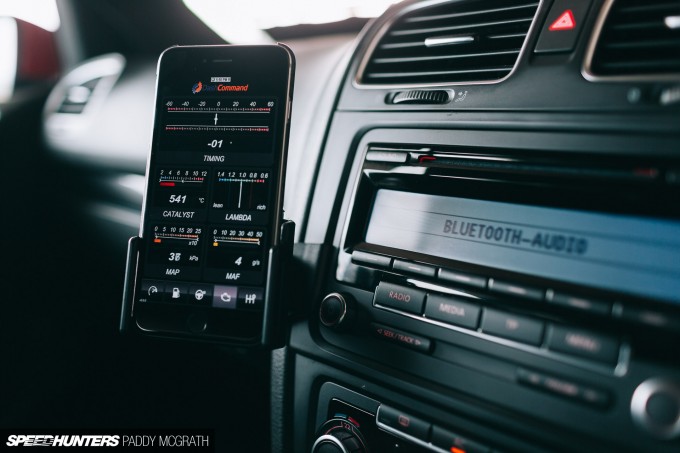 Whilst the standard radio leaves a lot to be desired, the retrofitted Bluetooth compensates for a lot of its shortcomings. I can stream music (well, all audio from the phone) and my TomTom navigation app wirelessly, so it's more than enough in the meantime. The ProClip phone holder fits perfectly and matches the interior trim too. What's all that information on the phone?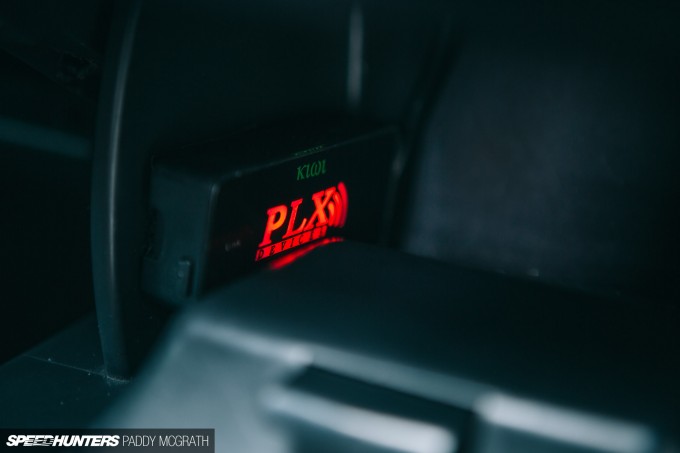 One of the things I brought over from my E90 was this WiFi OBD-II reader which broadcasts the car's vital information via its own network. With the appropriate application, you can decipher, log and track pretty much all the data read-outs from the car. You can live monitor boost, intake temperatures, coolant temperatures, engine speed, catalyst temperatures, MAF readings, timing and about a thousand other things which I'm still not quite sure of. You can also record hot-laps at your local track and time 0-60mph sprints. It can also read and clear common trouble codes. It's a nifty piece of gear that works very well and quite reliably too.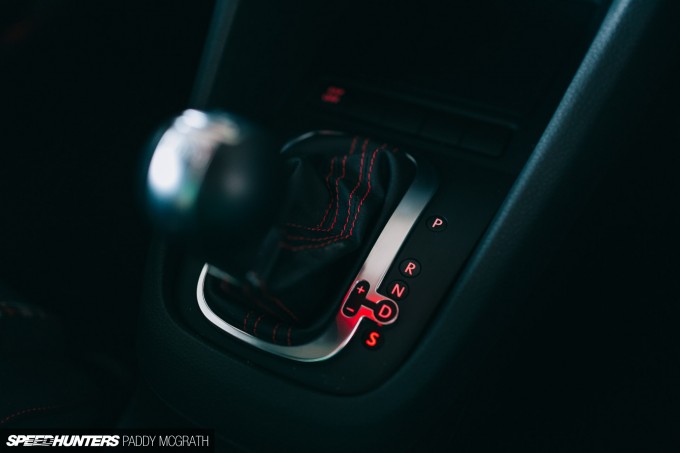 The MkVI is also a DSG car, which will likely offend everyone who has never driven a DSG car, but has an opinion anyways. I wasn't really fussed if I got a DSG or manual, but now that I have the DSG, I don't think I could ever go back to a manual for a daily driver. It's so effortless when you just need to commute, and once you slide the selector across into manual mode the car is absolutely ballistic through the gears. There's no way in hell you'll change up or down a gear manually as quick as the DSG can, not to mention that you can never miss a gear or fluff a shift. I'll admit to enjoying a perfectly timed rev-matched manual downshift as much as the next guy, but I'll take the trade-off for a DSG every day of the week.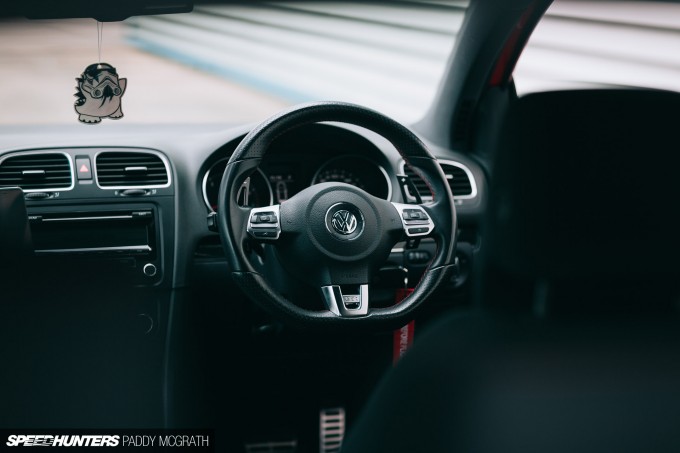 If I was to pick my one favourite part of the car, it would probably be the steering wheel. I think it's absolutely perfect. It's size, shape and thickness along with the MFSW controls are just right. I have since fitted DSG paddle extensions which add a slightly more tactile experience to manual shifting, but I can't see anything else I would change on it.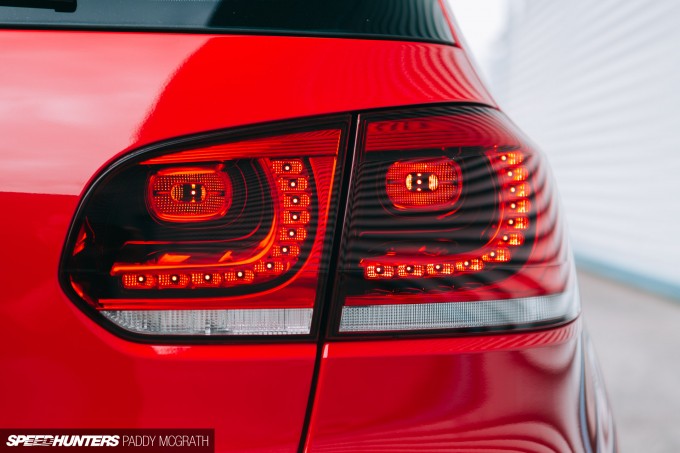 Another area where I've made an upgrade is the rear lights. I've swapped the dated-looking originals for OE LED tails which completely transform the rear of the car. No wonder Volkswagen made them standard not long after introducing the GTI.
Preventative Maintenance On The Flipside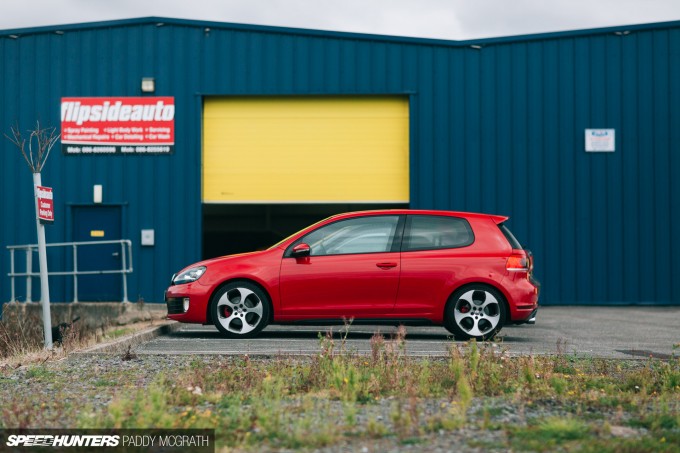 There are two things that are certain in life besides taxes and death. That is, no car is perfect from factory and us Speedhunters never have any spare time. There are many people who have helped me out with my cars in the past, and I'll talk about them all at some stage in the coming months, but I'm going to start with someone I've known for years and who has recently opened his own workshop in the south east of Ireland.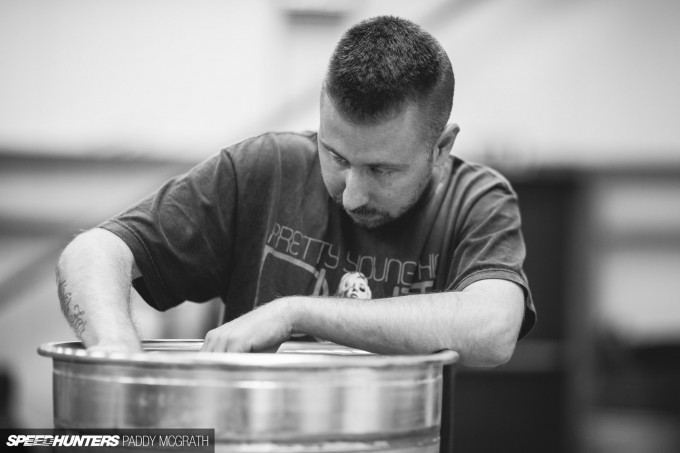 Philip 'Flip' Morrissey is not just a business guy, he's a proper car guy and someone I'm proud to call a friend.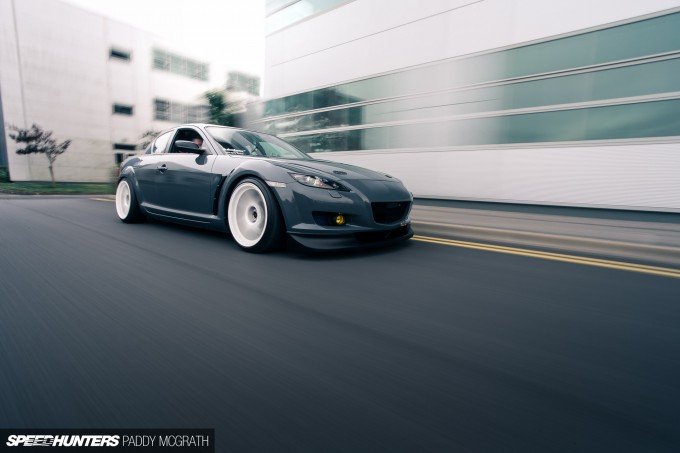 His self-built RX-8 might be his current pride and joy, but he has a strong history of impressive Japanese cars. His old EK9 Civic Type R made it as a Speedhunters spotlight way back when, and there's always interesting projects heading into the workshop or about to be rolled out.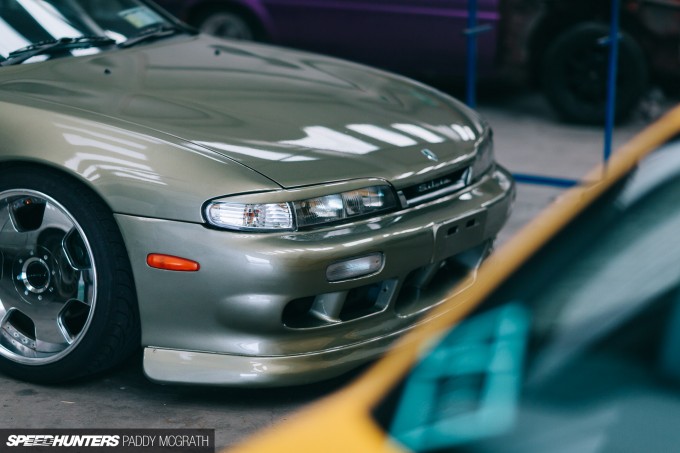 This Navan-kitted S14 is a lesson in smooth and cleanliness. I think a spotlight might be in order once the owner puts the finishing touches to it.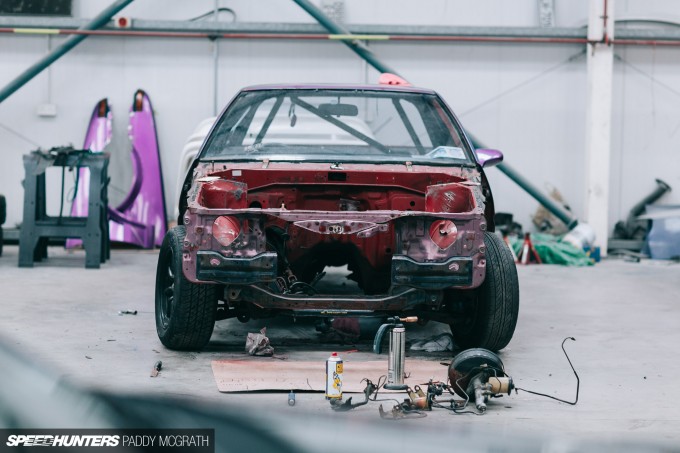 Or what about this AE86 with an awesome history – one of five 'T50′ team cars from Japan which previously featured on an Option video. The car is in the midst of being restored to its former glory and is one I'll be keeping an eye on in the coming months.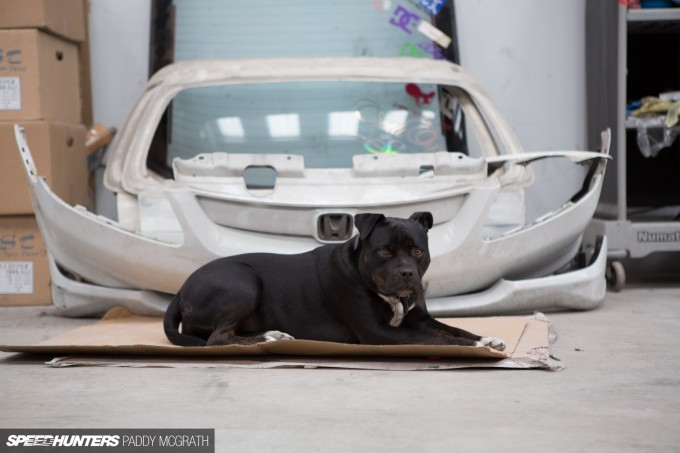 And then there's the greatest shop dog ever, who goes by the name of Kouki. She likes chasing rabbits and stealing sandwiches. Tuna, no crust, of course.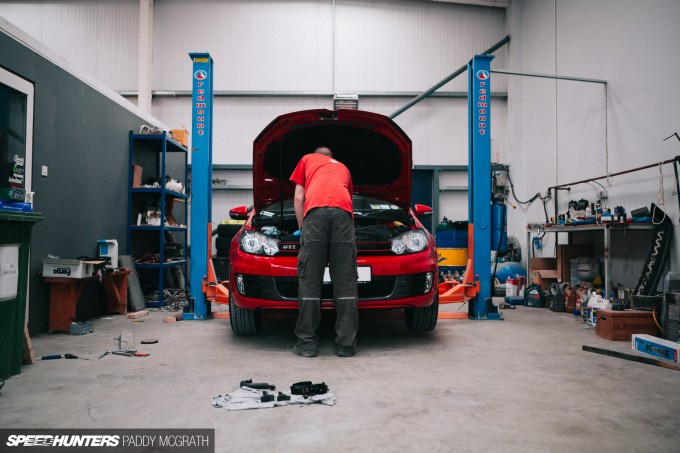 Anyways, back to the Golf…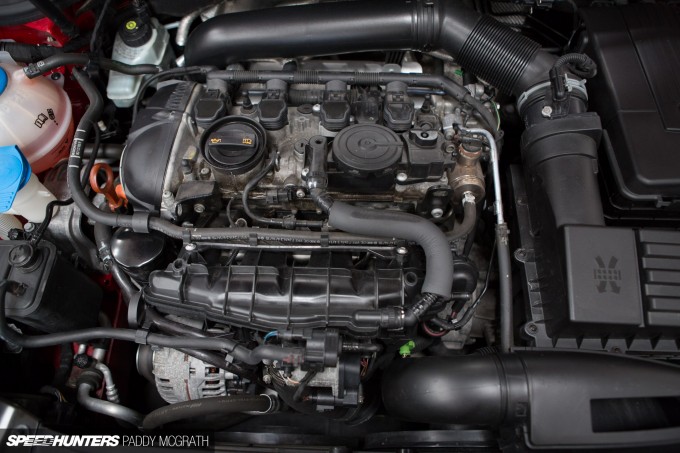 Two of the main areas I wanted to apply the preventative touch to were the factory PCV system and diverter valve setup. The former recycles blow-by from the crankcase back into the intake manifold to be re-burnt. The issue lies with the fact that the CCZA engine has direct injection, and as such, no fuel is ever sprayed past the valves. With the blow-by being misted before the valves, this leads to carbon build up on the valves themselves and an eventual loss of performance.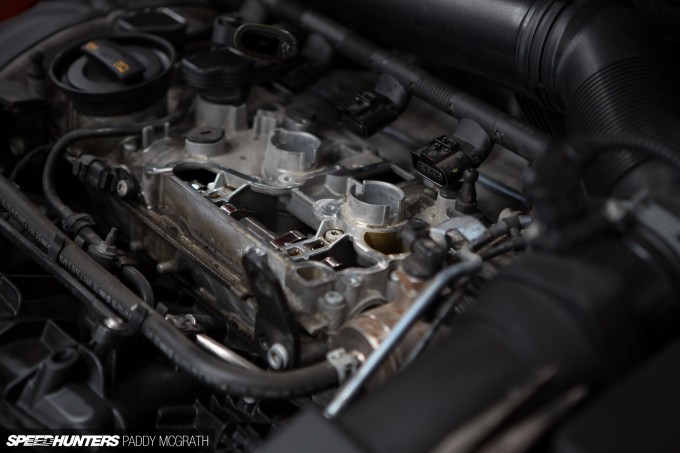 With the coil harness disconnected and two coil packs removed, the standard PCV system easily bolts off the top of the head.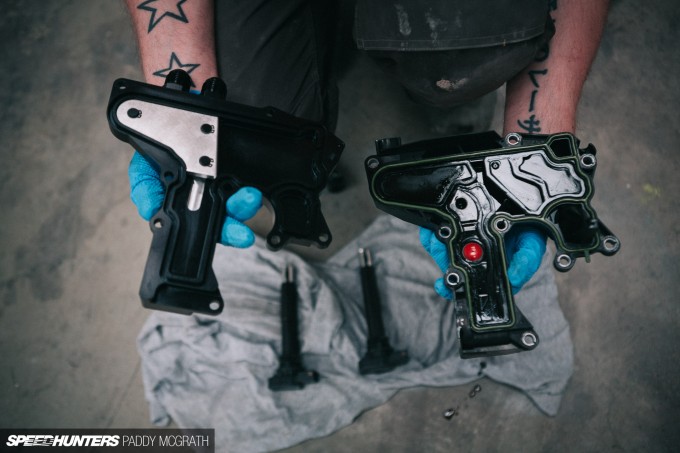 Here you can see the new Forge Motorsport PCV bypass system on the left and the original system on the right.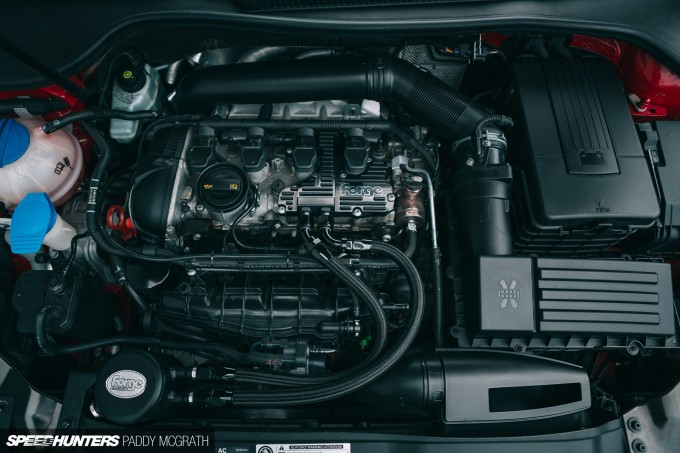 The biggest difference with the Forge System is the addition of a catch can which takes the aerated fuel, oil and water vapour out of the loop before they can cause carbon build up. I've had the system installed for about two months now, and the amount of sh*t that it has removed from the engine has been impressive/horrific in equal measure. There's not a lot of it, but it's nuts to see the sort of stuff that's been blown back into the engine. It does add an extra maintenance step to the car, but it's easy to monitor as there's a sight glass on the side of the catch can and it's straightforward to empty with a drain on the bottom.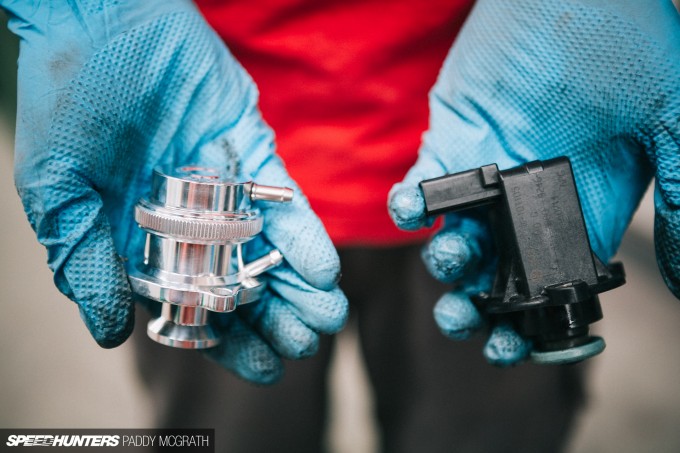 Another issue is the stock diverter valve. Being a 2010 car, my GTI was fitted with a diaphragm-style valve which are prone to leaking and failing prematurely. Again, I went with another Forge Motorsport part in their piston-type recirculating diverter valve. It works much like the factory valve, but is more reliable and responsive. As it's recirculating in design, it dumps excess air back into the intake manifold rather than the atmosphere.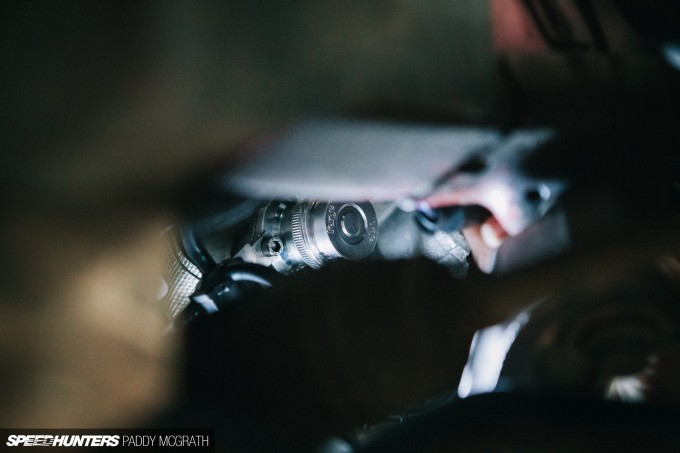 I hadn't really realised how much of a negative impact the OE diverter valve was having on the performance of the car. With the new item in place, the car is a lot more responsive and holds its boost much better up in the revs. Previously, you could feel the car dying off slightly as the revs increased – but not any more.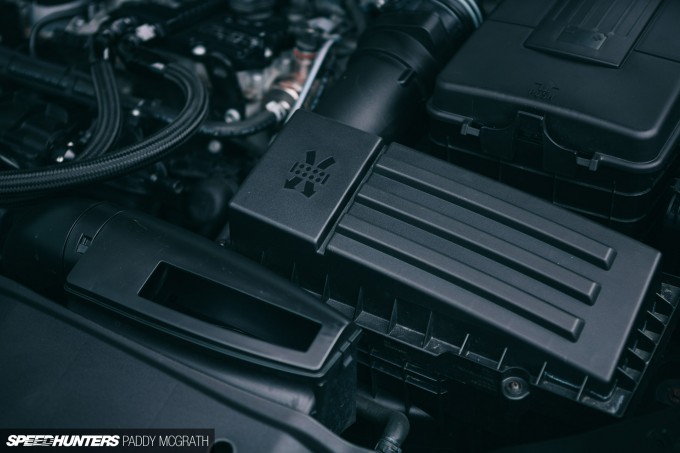 When my next paycheck arrives, I'm going to address what I feel is a huge restriction on the engine in the shape of the standard air intake. I'm currently leaning towards an APR Carbonio Stage I intake, which replaces the front section of the intake with a direct system, but leaves the MAF and OE pipe which feeds into the turbocharger in place. My plan is to heat-wrap this second section of pipe to see if reduced inlet temperatures will help performance in any way. An upgraded air intake is mandatory – along with a downpipe – for my stage two engine performance goal, which should see around 280hp. I've no real plans for aiming for silly horsepower numbers as I think it'll ruin the driving experience unless I can source a limited slip differential for the DSG gearbox.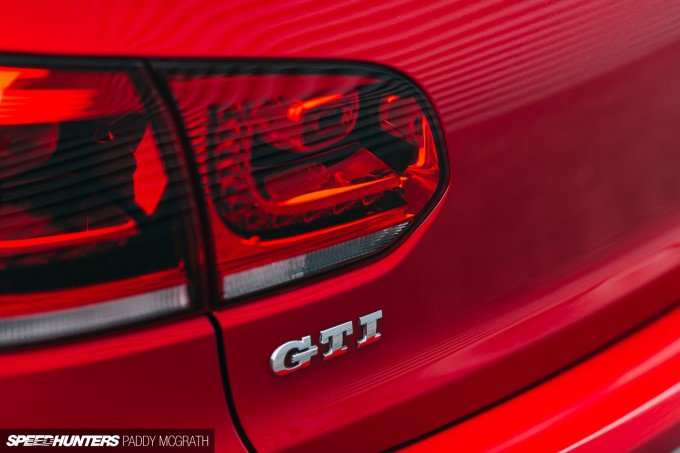 My ultimate plan for the GTI is quite sedate. The reason I bought the car is because there's nothing else out there that can do everything, and do it well, quite like a GTI can. It's this versatility that I want to enhance but never compromise. I will of course, in time, add my own styling touches like I did with the E90. I would like to inject a little bit of Japan into the car, but I want to do it the right way.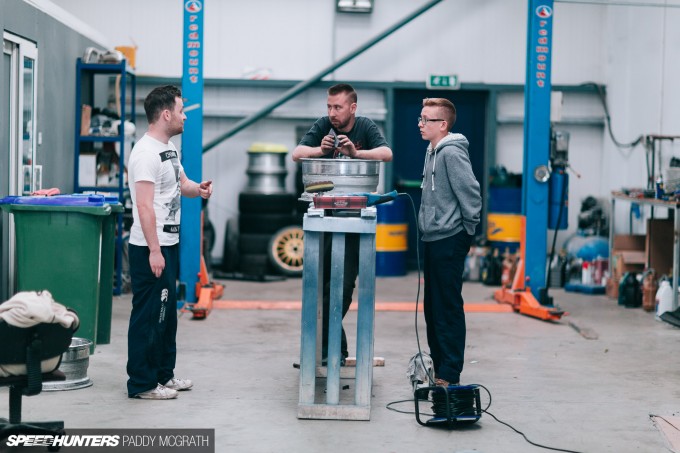 Cars for me are not just about going fast or showing off. They're the beginning of a conversation, they're how we meet like-minded people and how we create friends for life. Cars are about the people and are how we would like the world to see us.
It's going to be a long and slow road with Project GTI and I'm genuinely really looking forward to talking with you about my experiences and to hearing your input and opinions along the way. I didn't realise how scary a proposition it was to write this post for you until I sat down and fired up my laptop. Our cars are a part of who we are, so please be gentle.
Thanks for reading.
Paddy McGrath
Instagram: pmcgphotos
Twitter: pmcgphotos
paddy@speedhunters.com
Cutting Room Floor