Rare Beef
Take an ultra-rare factory built British classic, wedge a 650hp blown V8 in the front, leave it in bare metal to show the world your skills and then hot rod the crap out of everything else.
This is a lesson in not giving a rat's ass to what people think and turning your dream into reality. It drives purists mad, but could this Jensen FF be the best muscle car ever?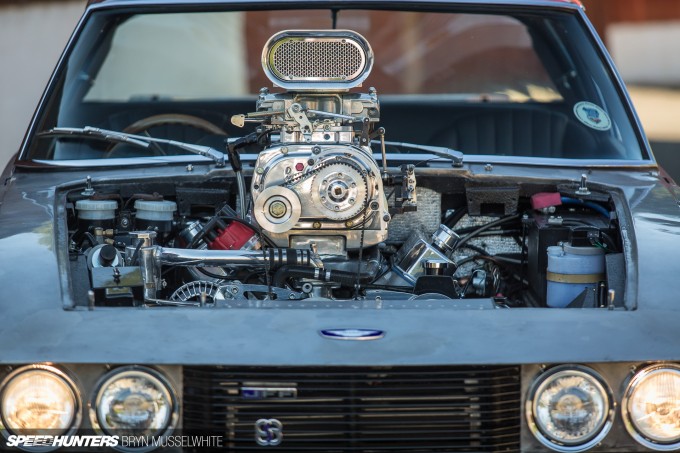 I didn't mention it was 4WD either, did I? Because there is so much going on with this incredible build, it slightly blew my mind when I first found out about it. That was roughly two years ago now, when the guys behind the Bavarez name got in contact with Speedhunters.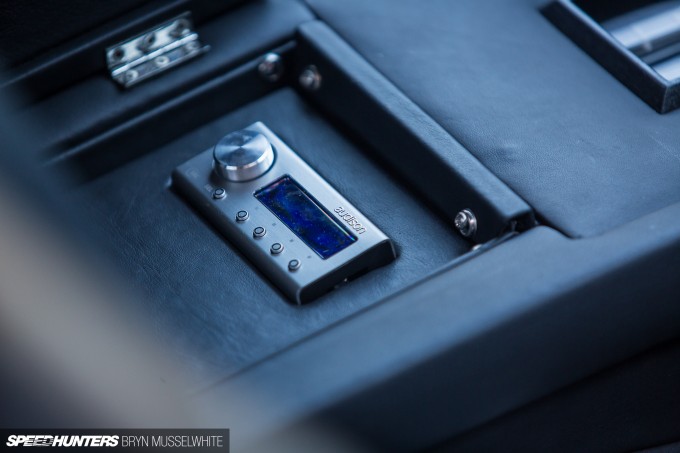 Since then I've had time to take it all in, but if this is fresh news to you, brace yourself.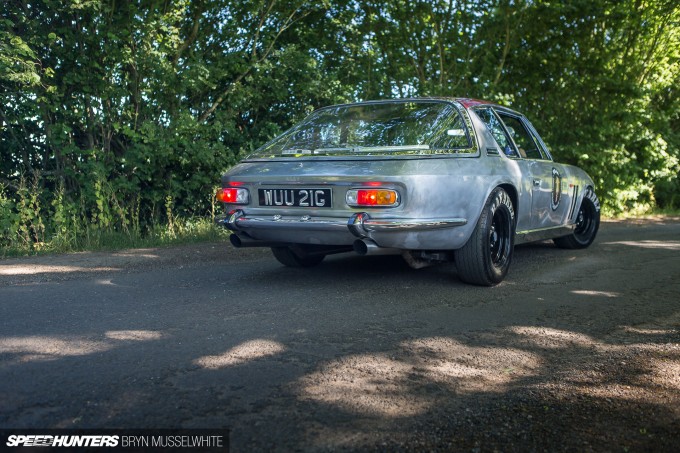 For once, instead of somebody building this in a workshop a long-haul flight away, here it was roughly 15 miles from my home. Really? I live in the heart of British motorsport country, but this is something else. Jonathan also got pretty excited when he saw the bare shell at the 2013 NEC Classic Car Show.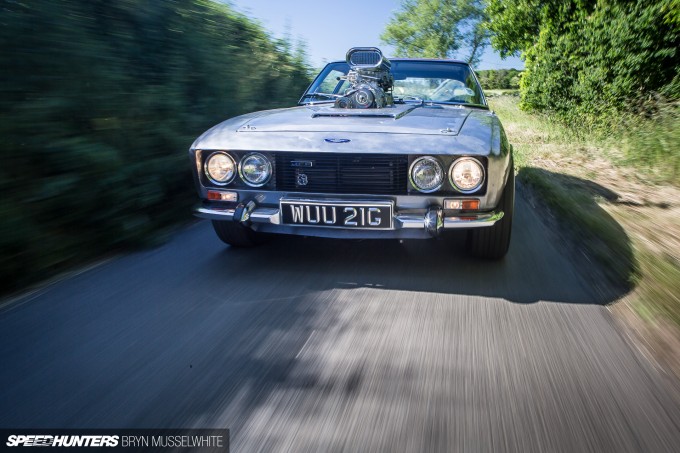 He then saw it again in November 2014, when it looked almost the same as it does today. But it's taken until mid-summer 2015 for us to be allowed to shoot the car. Gregg and the team at Bavarez are meticulous in their approach, and anything less than a fully-functioning, kickass hot rod was not going to be acceptable to them.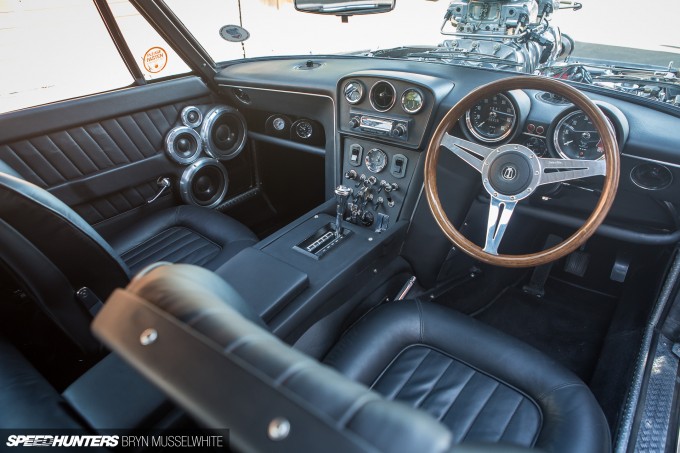 So I sat patiently waiting for the day when I could drive the short distance to their workshop and take it all in. Which I've done now, so let's get down to the details…
I'm thinking that if you've read this far you're here for the long haul. And because this is no backyard, overnight project, I pinned down Gregg, who physically built it with his team at Bavarez, and Mike Robins, who actually owns it and has mixed in with his own ideas, to help me tell the story.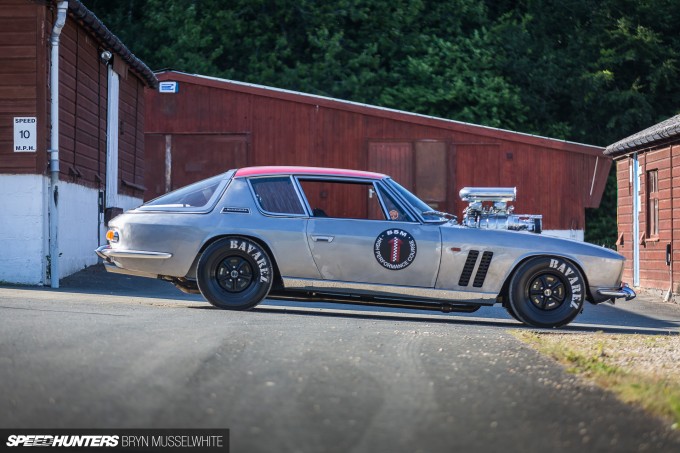 Inspiration has literally come from everywhere, and this one's got the lot – an off-the-wall base vehicle hidden away from sight for decades, and even jet fighter parts.
A Dash Of Mustard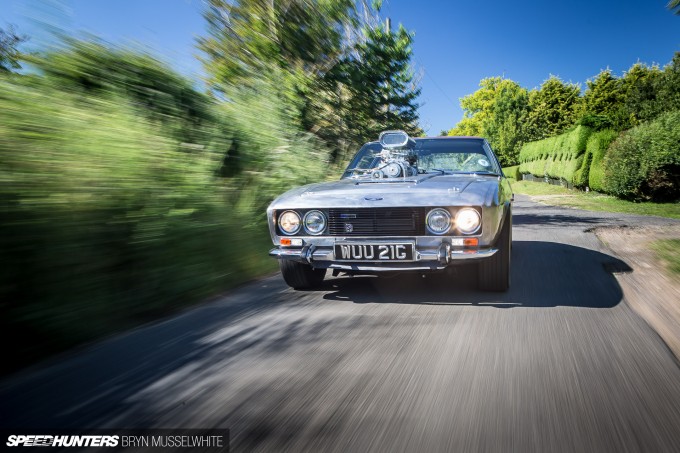 So what is an FF? Jensen was a UK-based car manufacturer that could have still been here, but didn't quite make it. It was successful with this model, so called because of the Ferguson-manufactured 4WD system. There were about 300 made between 1967 and 1971, and they all came with Chrysler V8 power. Although they look similar, this isn't an Interceptor, which was 2WD.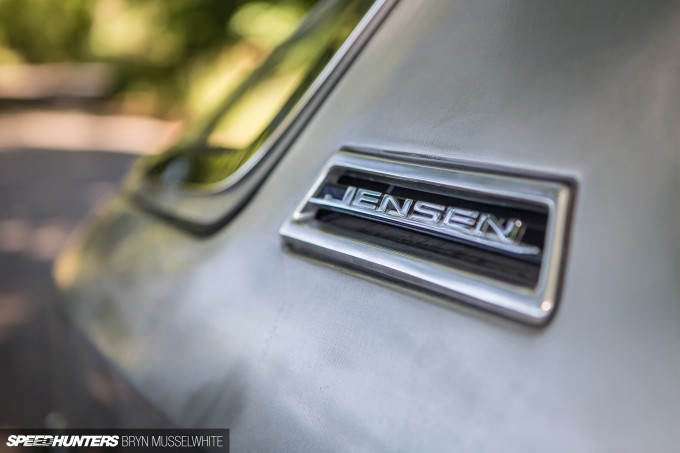 Mike's father had a business unit right opposite the Jensen factory gates. Although production had ceased in the '70s, parts and service was still active when the shape was burned into his brain. "I remember often seeing and hearing the Interceptors roaring along the road with their distinctive panoramic rear windows," Mike says. "I loved the cars and never forgot about them completely." That kind of stuff stays with you.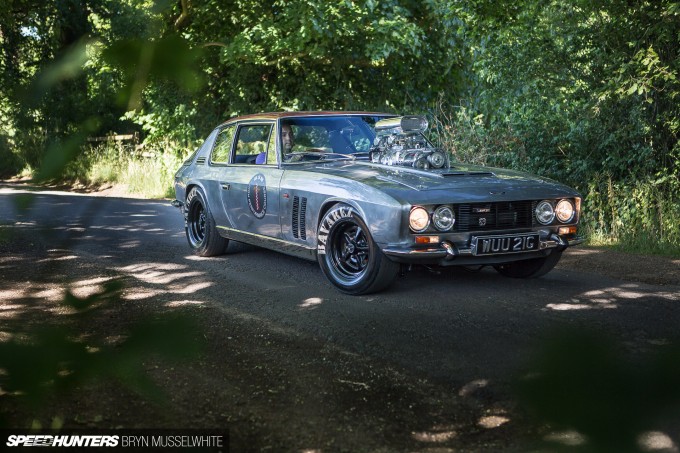 Mike's first build was a resto-Cal style '67 Beetle, which was inspired by a beach buggy project his dad did way back in the day. Talking about that, Mike says, "The VW scene has always embraced customisation and as a consequence, it's in my blood."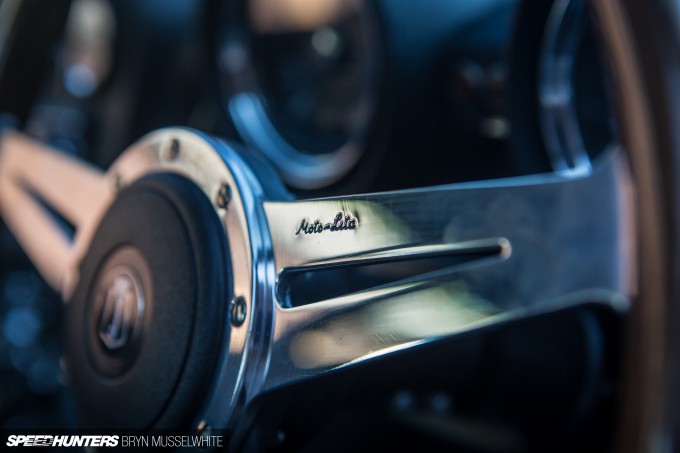 With life going pretty well, Mike moved through some fun stuff. "There was a VW Golf VR6, Porsche Boxster and 911 Carrera 4 Cabriolet, Mercedes CLS 63AMG, Range Rover Vogue, Aston Martin Vantage and DBS, and a Bentley Azure," he says. "I enjoyed the prestige marques, but in the end I started to think that classic cars might be more fun."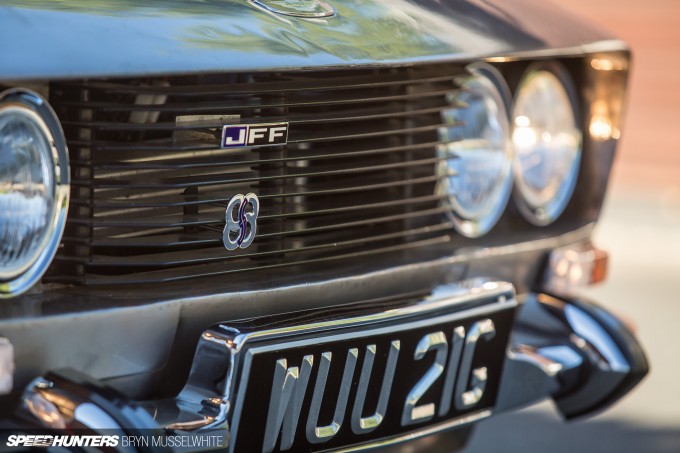 The thing is, unless you get it right, an older car can be a minefield of pain just waiting to explode. So when Mike came across a company re-manufacturing Jensen Interceptors with LS engines and modern running gear, it all fell into place. As he says, "All the cool of an old car, but without any hassles."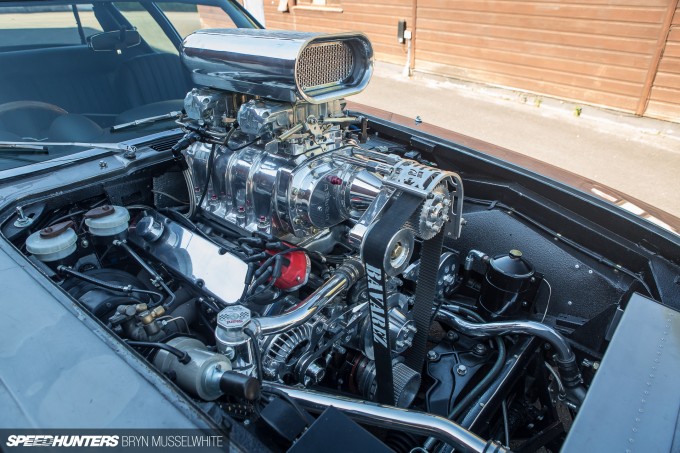 That Interceptor 'R' was delivered in 2012, and along the way Mike met Gregg, which is when they discovered a mutual interest in custom builds and slightly off-the-wall stuff. Gregg says that Mike's R, which he was instrumental in building was lower, louder and faster than the others they built. Gregg laughs when he tells me, "We told him it would be harder to drive like that, but he said he didn't care."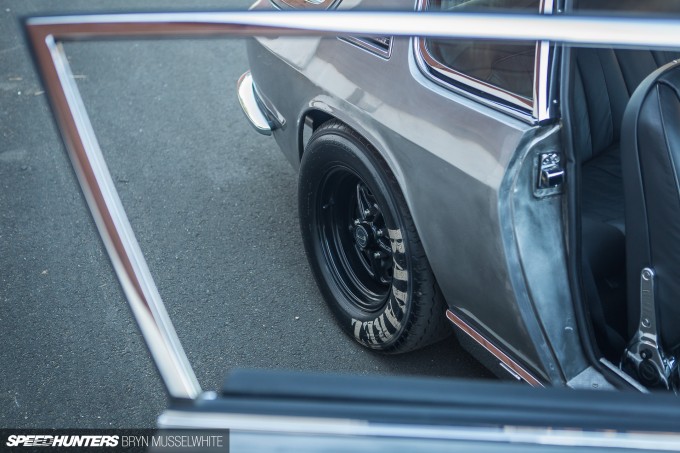 By now Mike had joined the owner's club and thrown himself into Jensen ownership. I guess when you come full circle, or become the guy you saw in that car when you were kid, it must be all the cooler to realise you're in charge of what you want.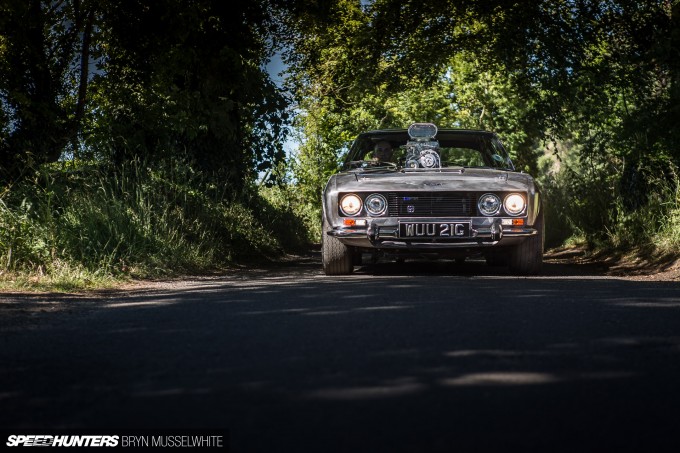 That's about the time that Mike realised he wanted an FF. It was the ultimate for him, but not the sort of thing you could pick up easily. And this is when Gregg came back into the story. "I got a phone call from Alan Crisp who owned this car for 30 years, he had it as a holiday car," says Gregg. "He was only the second owner and it had done 80K in a very short time, and it had come off the road in 1989." Admitting he was never going to get around to restoring the Jensen, he'd decided to sell. With that, the basis for a radical build was on its way to the workshop.
All The Trimmings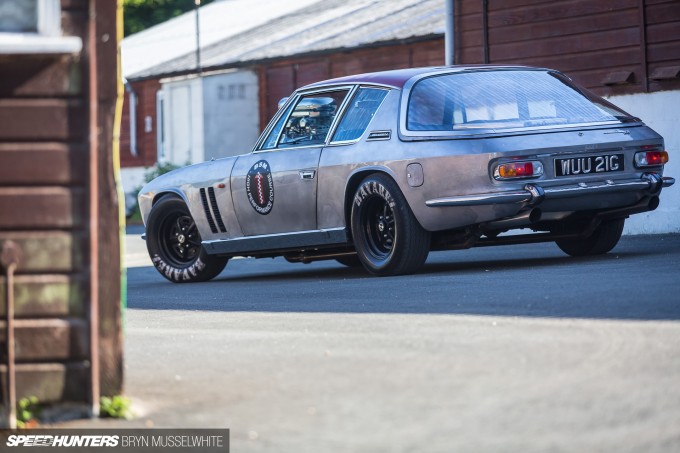 From the pictures I've seen it was rough – really rough. The the kind of base that would usually scare even the most hardened restorer. Although Mike had asked Gregg if he'd ever seen a rat Jensen, this was something else. After blasting, the plan changed from leaving it how it was to not having anything left. What's been rebuilt on the body? Everything apart from the wing tops, and the front and rear panels.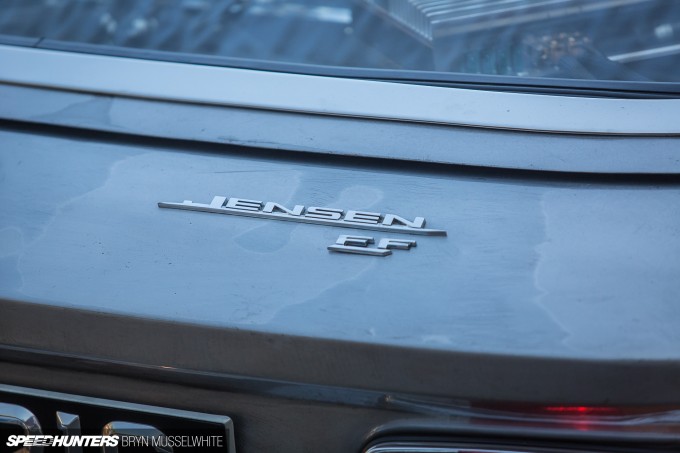 So how much time does Gregg reckon went in to the metal work of the body shell? 1500 man hours, including six weeks on the bonnet alone – enough reason to leave it in bare metal. "By not painting it, we've created a car that people like to touch and to handle," says Mike. "The surface is organic and approachable and it's a talking point. So is the supercharger, so are the period-inspired BSM decals on the doors and so is the full leather interior with the enormous speakers."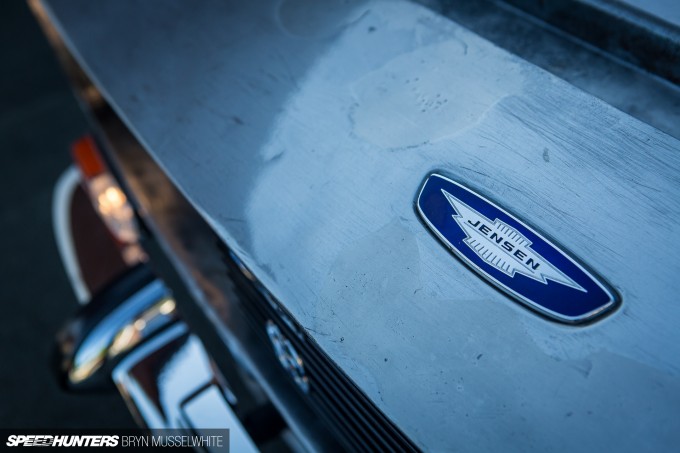 It would have been a crime to cover up all that incredible lead-loading and craftsmanship, and being close to the FF you really do get sucked in to wanting to touch it, chasing the fine lines all over the body which have been left by the metal working. It's hard to imagine it in any lesser condition, but take a careful lap and you realise just how much is new metal. After being involved with more Jensen restorations than he can remember, Gregg says that he's seen them in all the colours of the rainbow, but never bare until now. That was another motivation to add some clear-coat and go for a brew.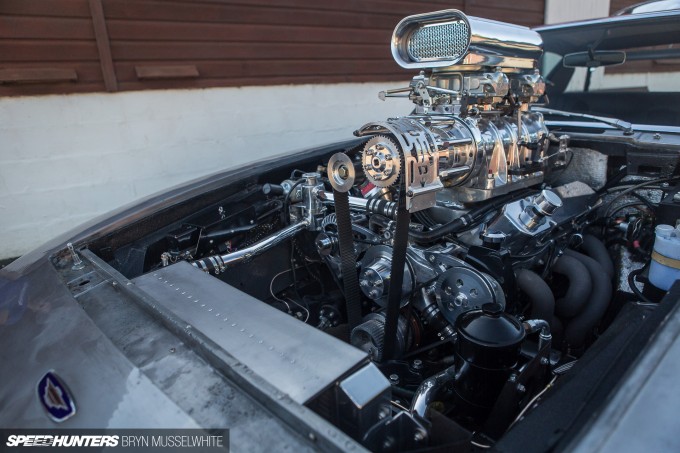 The assault on the senses keeps coming – just look at that stack of an engine for a start. The block is the one that came with the car, so it's a true matching-numbers build. But from there on it gets funky…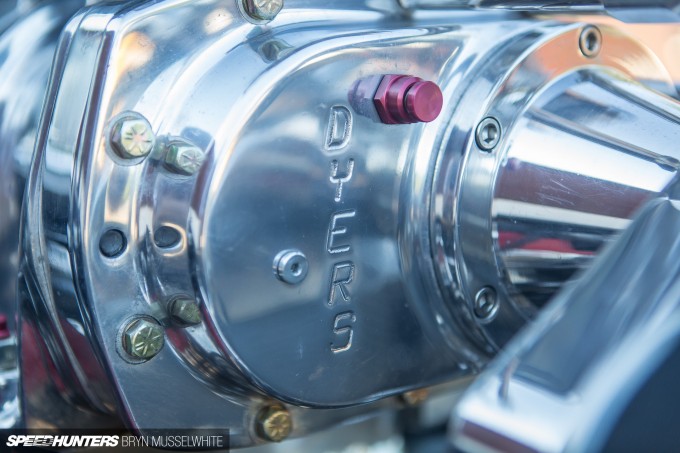 The Dyers GMC supercharger has been built up from a fresh housing shipped in from Chicago, which is possibly where it had been sitting for 40 years. This is the proper old school muscle way to extract power, and for Gregg it was all about stacking it up high in an over-the-top, in-your-face way. You could say it's the opposite of a sleeper. There's a dyno-proven 650hp to use right now, but Mike wants more… Gregg laughs!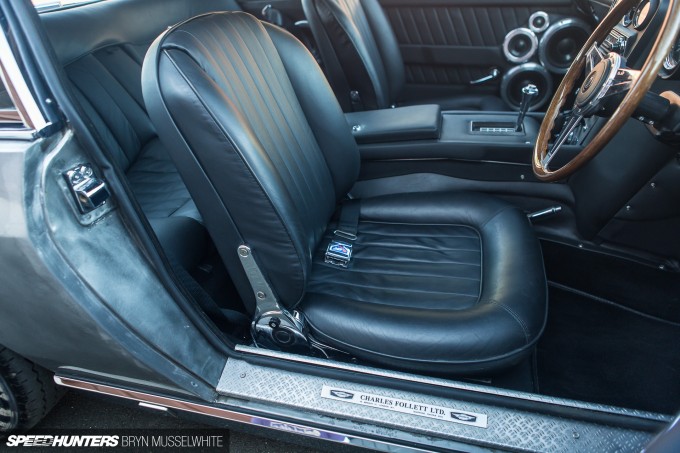 Look inside and you'll see what are possibly the rarest option ever – these seats, which are actually made by Recaro. They were offered only as an option on the FF, and the original owner of this car was the only person to tick that box. You can see here how the transmission tunnel steps down and out to accommodate the ground-breaking 4WD system. But this configuration also meant it wasn't practical to build the FF in left-hand drive, which severely limited foreign sales.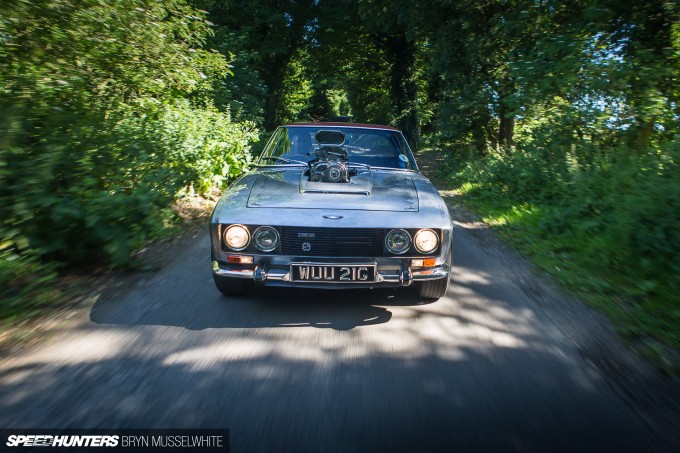 Look at the front of the car and you'll notice that the engine is off centre to allow the power to be fed back to the front. "The engine is offset, and it's not even straight, says Gregg. "Jensen just stuck them in there on rubber mounts, so we when we solid mounted it, it was a nightmare." You might think with this amount of work Bavarez would have modified the mounts to align properly, but I'll let you in to a secret… One day, this car might be returned to stock with a concours-level restoration. So nothing has been modified on the shell in a way that takes away from the originality. Just don't tell the purists or they'll start rubbing their hands waiting for the redemption to start.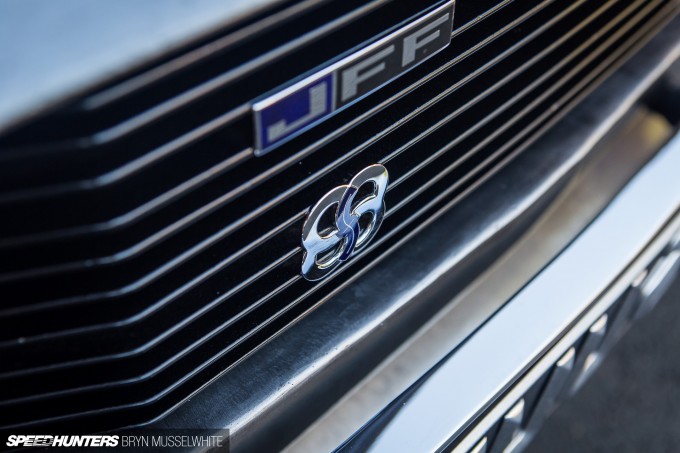 That 4WD system is pretty amazing considering that the design is coming up on 50 years old. Based behind a TorqueFlite 727 automatic with uprated internals, there's the Ferguson 4WD transfer box and two chains which drive 1-inch diameter front and rear diffs. With an LSD out the back and an open diff up front it's three-wheel drive at all times!
Waste Of A Good Car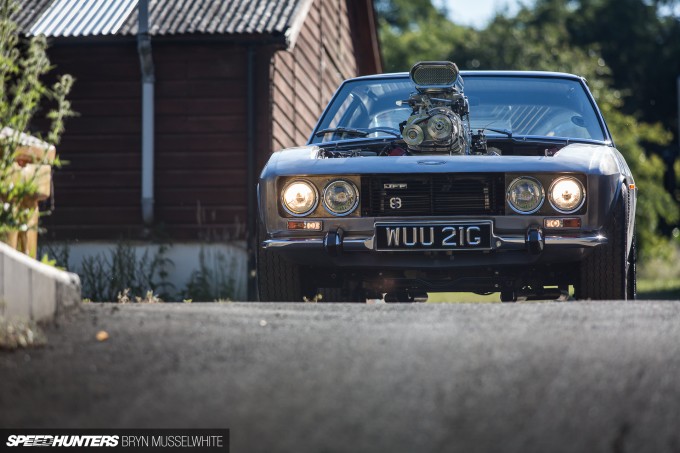 I've tried to give you an idea of just how rare and special this build is, how involved it's been for all the team and how incredible it is in person. But short of writing a few stories on this Jensen, or you seeing it yourself, it's something I genuinely think you'll struggle to get a hold on. It's part classic, part muscle car, part European exotic, hot rod… I mean, come on – how many labels do you need? You'd think everybody would love it, right? Not quite…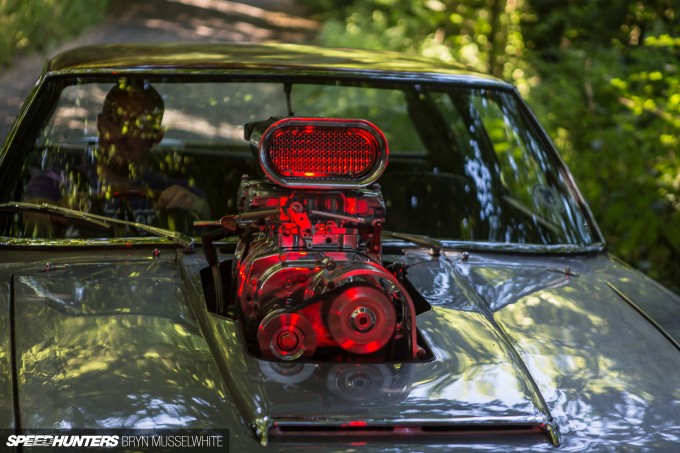 As always with something rare and now increasingly valuable, there are these things called owner's clubs which will always have an opinion on what you've done. And as you might expect with a radical build like this, the Jensen guys have been quite vocal. Mike and Gregg really seem to enjoy it though.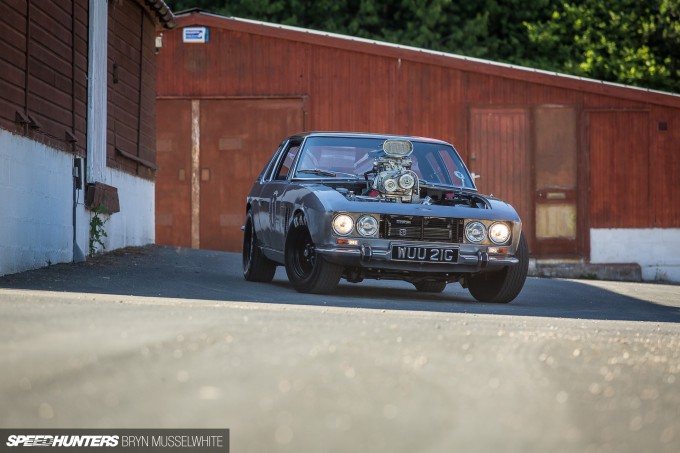 Not that this project has been about winding people up – life is too short for that. No, it's just been an amusing side effect for the team. When they went to the NEC Classic Car Show I linked to earlier on in the story, they lifted a bunch of owner's club forum quotes off the screen and had them made into Bavarez-branded t-shirts, which they then sold.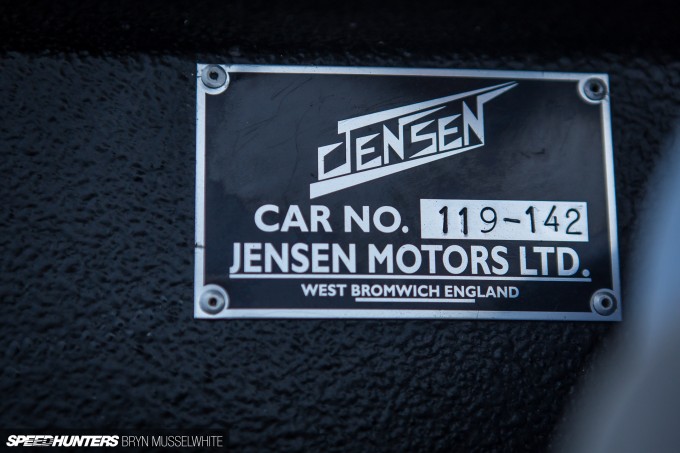 So what gems did they end up getting printed? How about 'Waste of a damn fine car if you ask me!' or the surprisingly original, 'Hole in bonnet, hole in the wallet', and of course the predictable and never old, 'It's too low, it's too loud'.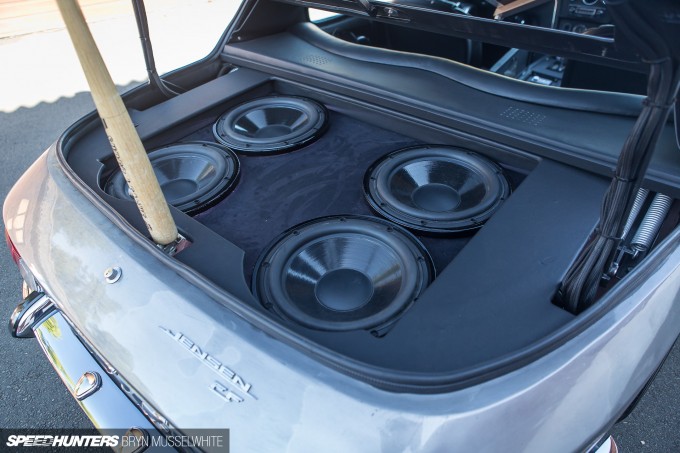 Ironically, I think it's this irreverent sense of humour which gave birth to project in the first place. Thankfully, two like-minded souls met to make it happen. Then you add in the skilled teams around them and many, many outside people who came in and added invaluable skills, like John Sleath, who took care of rolling road tuning/taming the FF. There are simply too many to list here, but each one of them has got as excited about the build as I was waiting for it to be finished.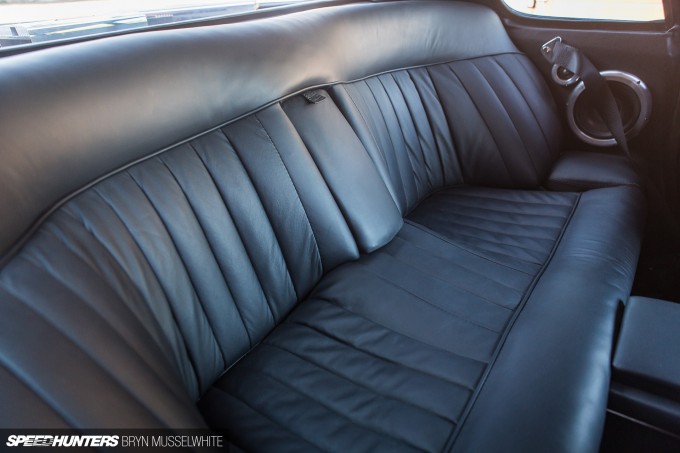 The more you see of the FF, the more incredible it becomes. The sumptuous Bridge of Weir leather that covers the standard interior is an indication of how well observed the whole thing is (that's a company who supplies everyone from Jaguar Land Rover to Aston Martin and Volvo with hide). Can you imagine it stripped out with bucket seats? No, me neither. Big muscle car interiors were originally always somewhere that alluded to power but kept you in comfort. Why have no interior when you have massive amounts of horsepower to pull it all along?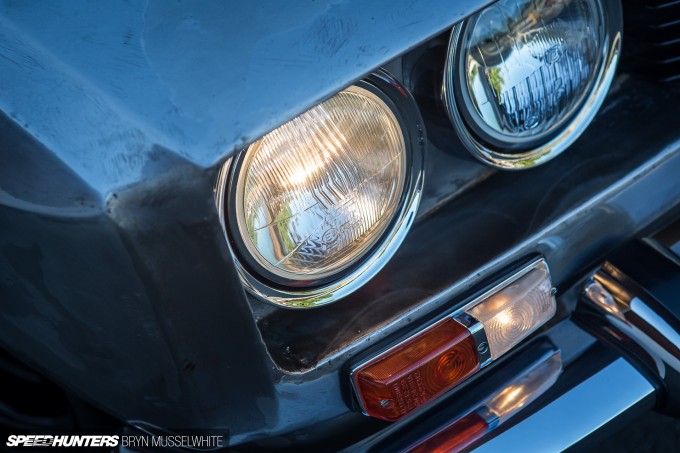 As for the bodywork, it's not been chopped about or added to. The lines are still the true ones drawn out by the designer, which means one day the car could be returned to stock.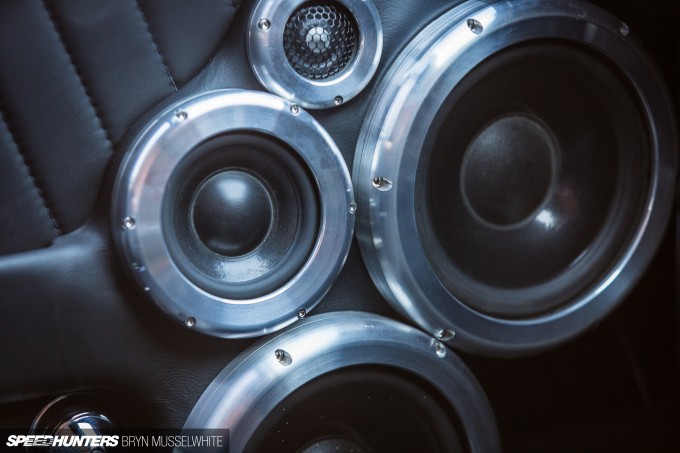 But that's a long way off yet – Mike wants to have fun with his freshly-finished build first. With hints of fighter plane in the bare metal finish, his love of audio kit and that crazy powerplant combined with the rarity of the base car he choose in the first place, there's a lot to keep him occupied for a while. Especially as there's another killer project already in the planning. All I'll say is a matching V8 van, which I'll be back for a look at in the future…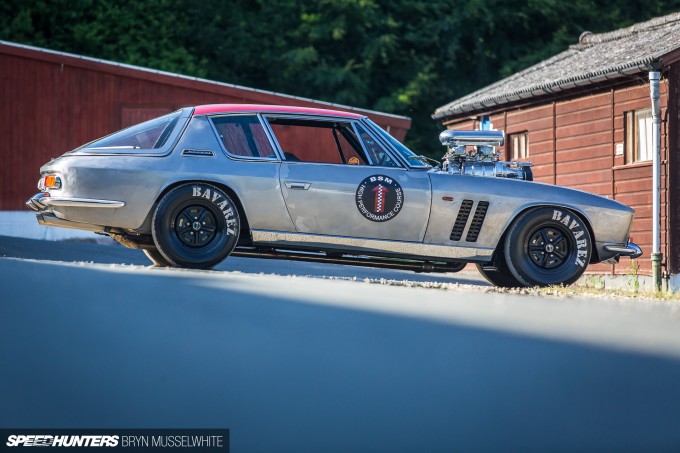 So is this the best muscle car ever? It might be. For me it's got all the right ingredients. Oh, and those BSM logos hark back to a high speed driver training campaign when the FF was new, just as one last reminder that not one detail has been left to chance or made without good reason.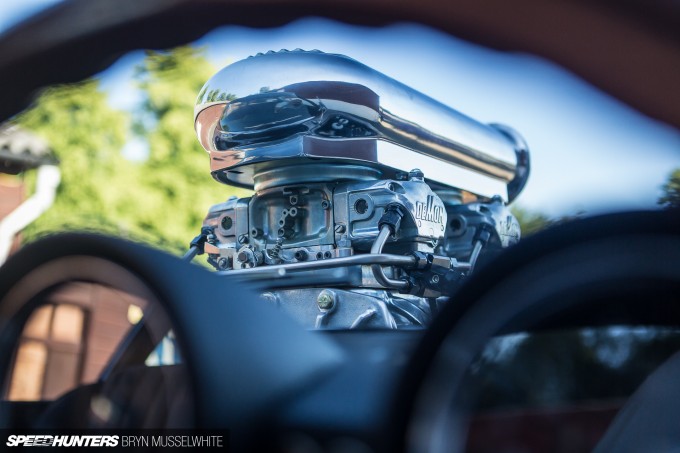 So for now, this is my number one. Until some twisted, sick, brilliant and gifted minds put something else together for me to drool over that is. What do you say Mike? Gregg?
Bryn Musselwhite
bryn@speedhunters.com
Instagram: Twospeedbryn
Cutting Room Floor