Angel delight
Delight. That's the most appropriate word that describes a day out at the UK's Classic Motor Show. I experienced nothing but delight on my long journey around the many halls of Birmingham's NEC for this year's show. I shouldn't have been surprised, of course. There had been a year and many events between this one and the 2012 show, but even so, I think I'd forgotten just how much joy was likely to be shipped in from around the UK and Europe. And what joy there was…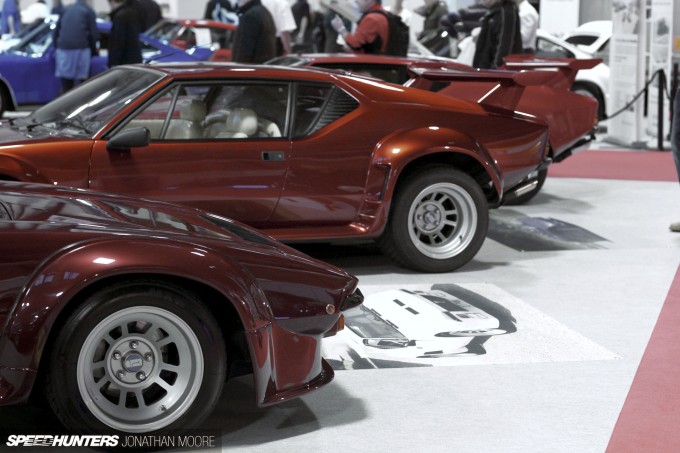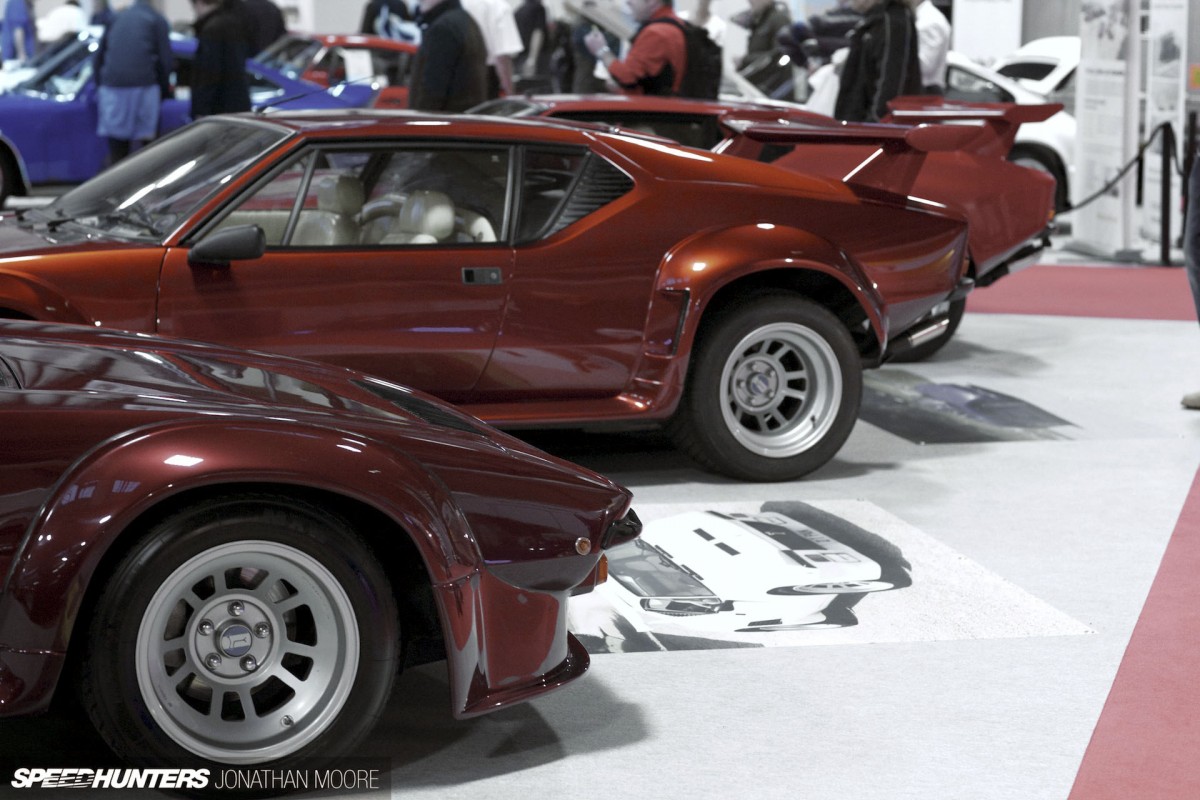 Even the post-apocalyptic, sickly yellow pallor of the sodium spots in the ceiling of all but one of the NEC's halls couldn't prevent that feeling (although the one space with white lights was a relief). The problem was, as ever, one of time. The three days of the show were barely enough to cover all that was on offer.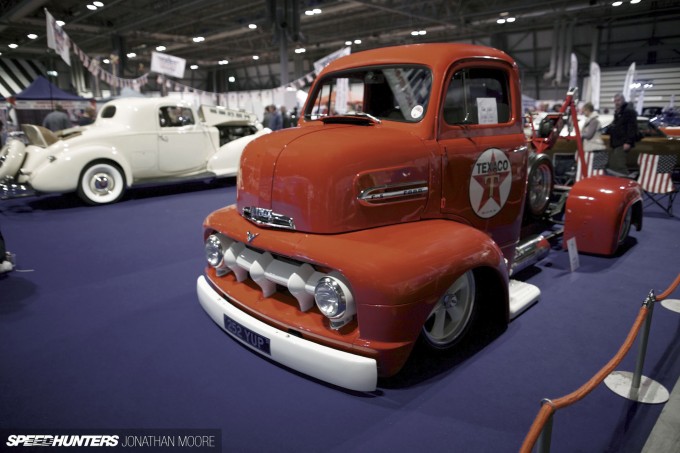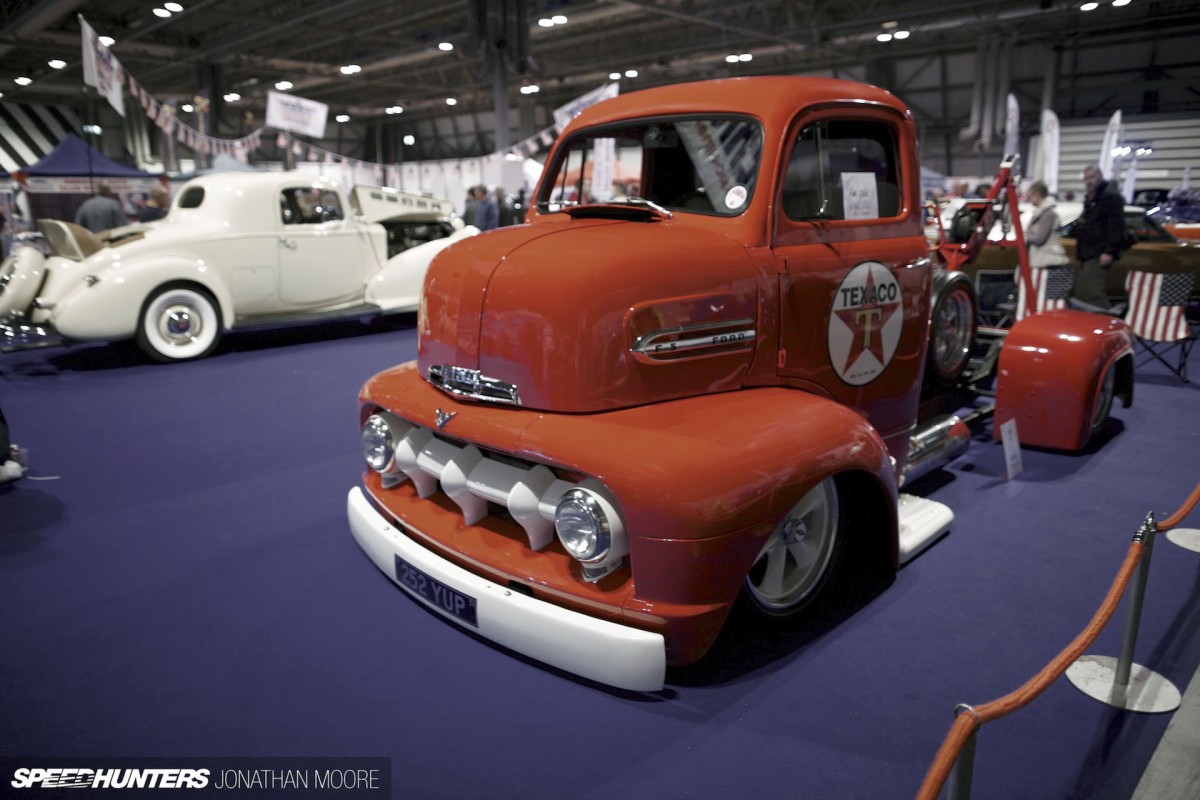 It was listed that over 1,500 cars and bikes were spread across the myriad stands, and I have no reason to doubt that. For every sight worthy of a shutter click there was always another one waiting.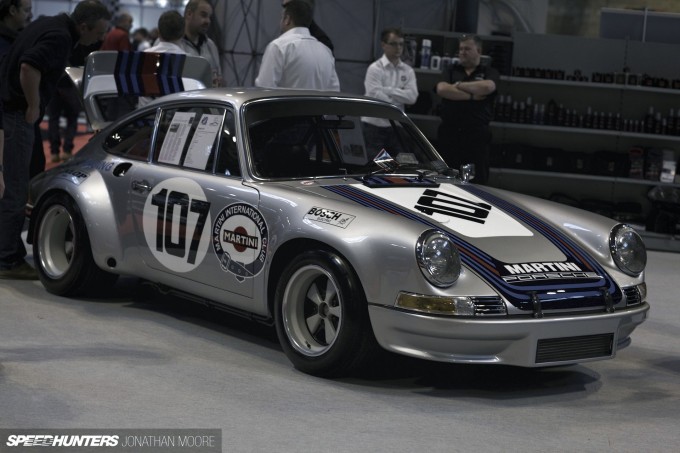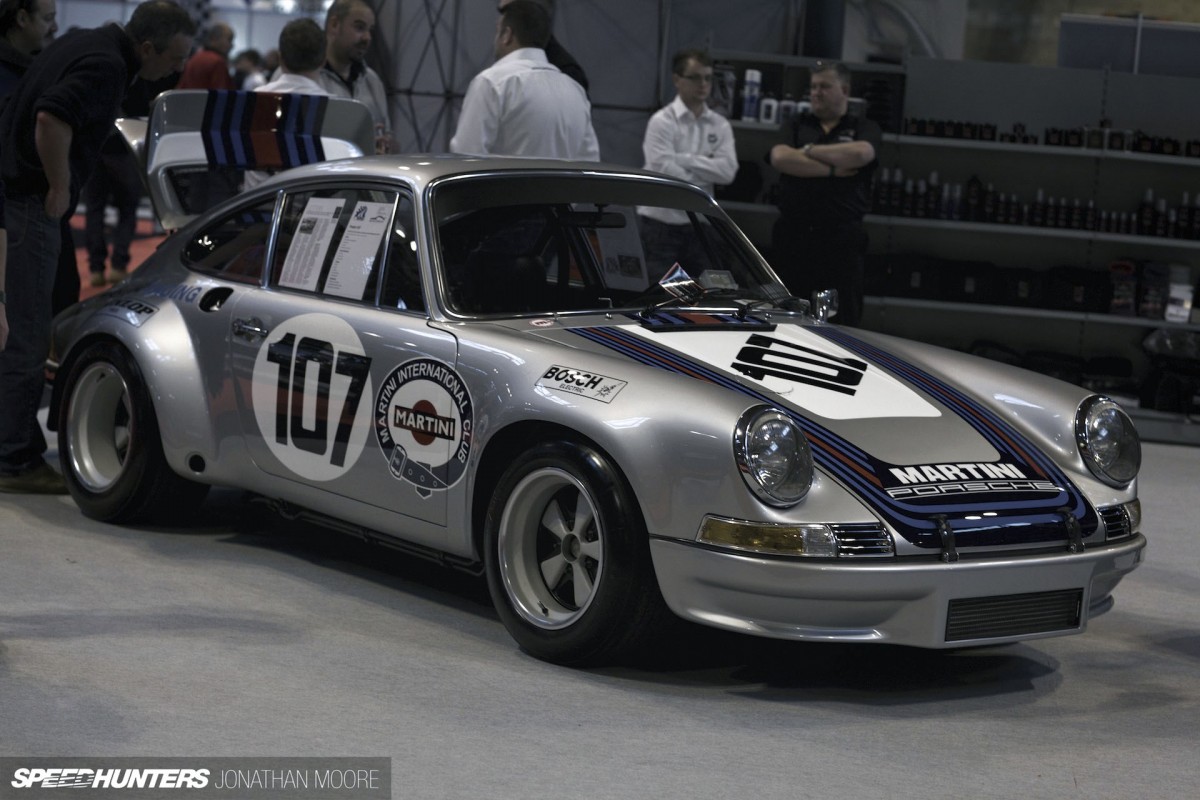 This year it appeared to be even more diverse, effortlessly criss-crossing styles and genres – and most importantly featuring seemingly negligible repeats from the previous year. Same marques, clubs and series perhaps, but fresh line-ups were to be found almost everywhere. History shouldn't stand still, after all…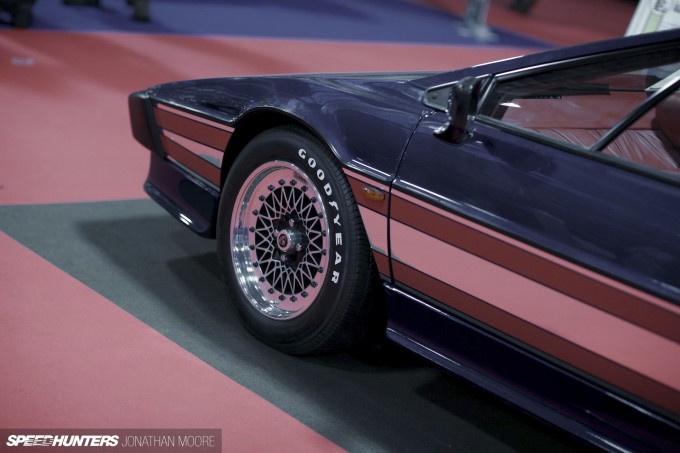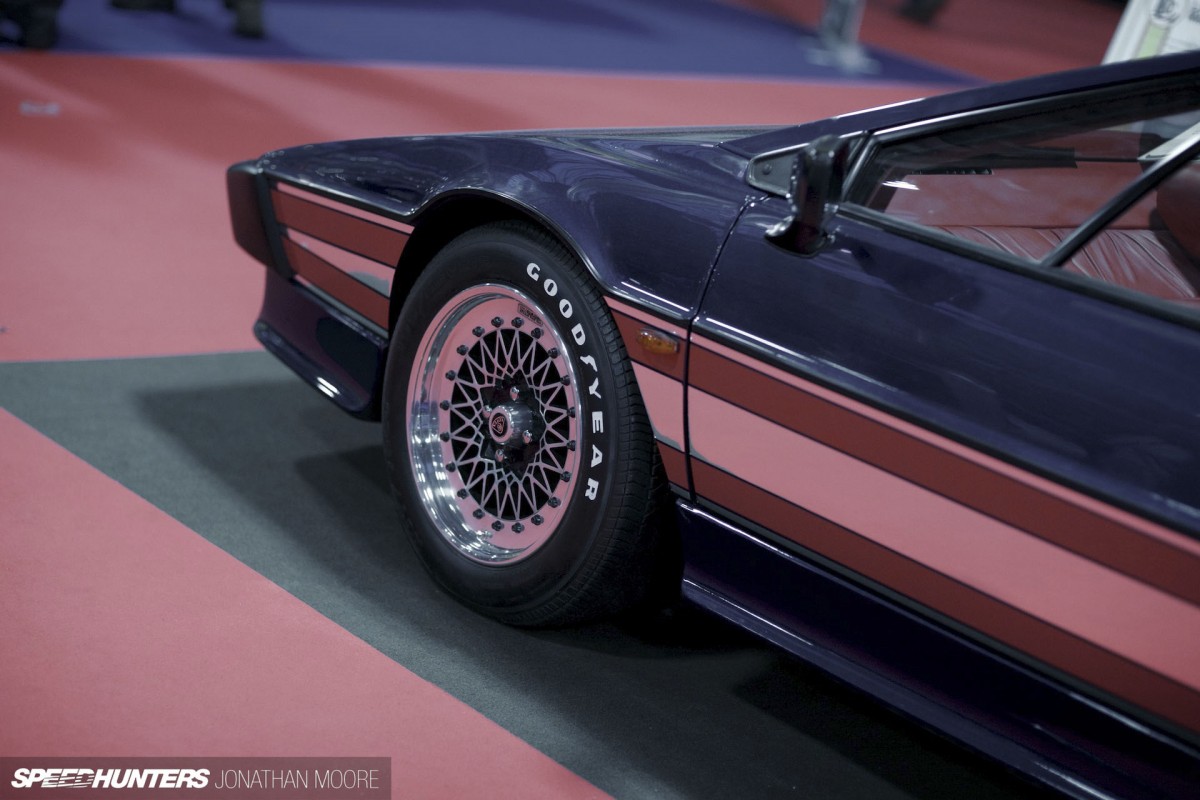 Rather than it being a case of, 'Yes, I remember this from last year…', at almost every aisle I was greeted with fresh surprises: new variants on an old theme, restoration glories, limited edition rarities and old classics.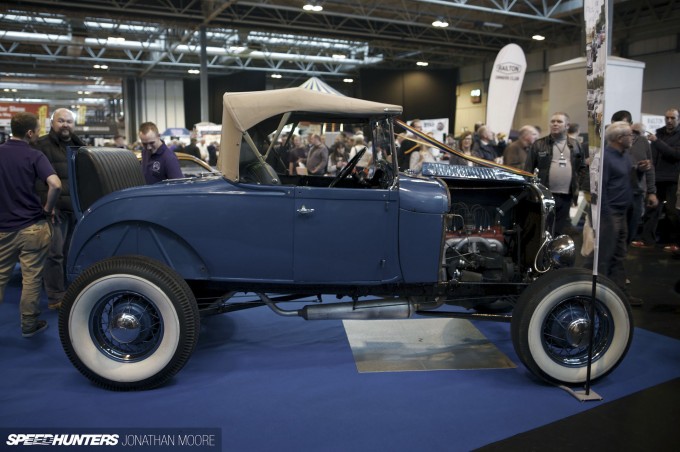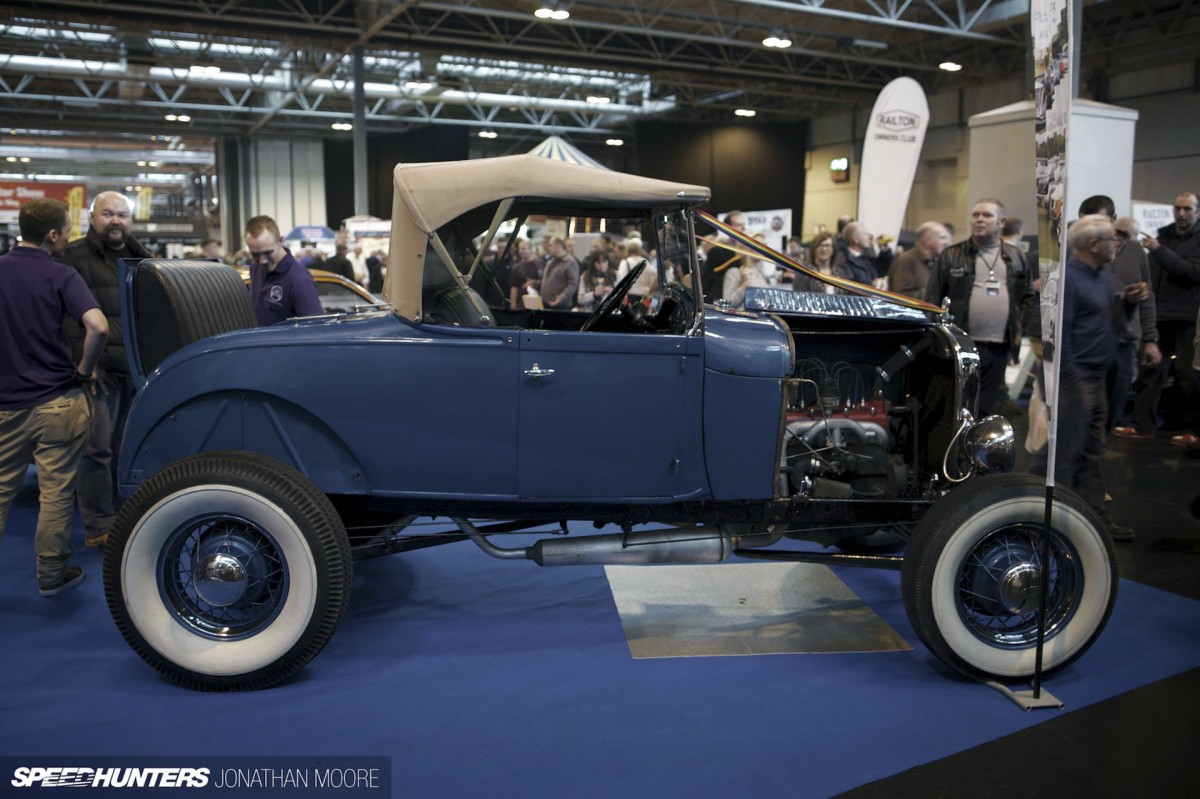 That's the glorious thing about the Classic Motor Show: it's such a broad church. I'm sure that a fair percentage of people buy a ticket with one era in mind, but I can't imagine that anyone stuck to one marque or model. As I wandered happily around, I'd constantly come across rally guys checking out hot rods, or Ford fans fawning over classic bikes.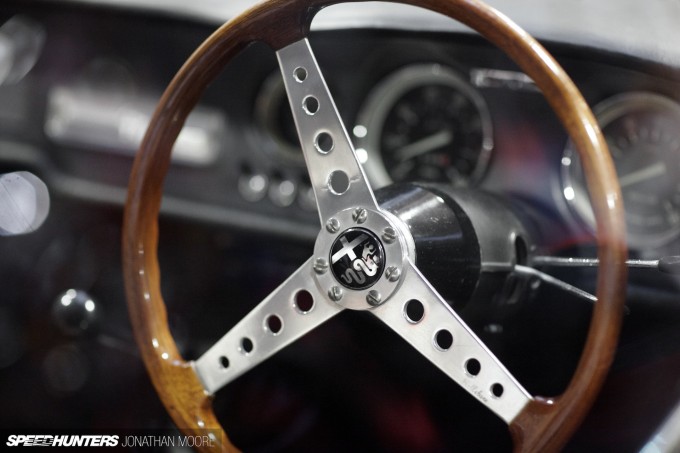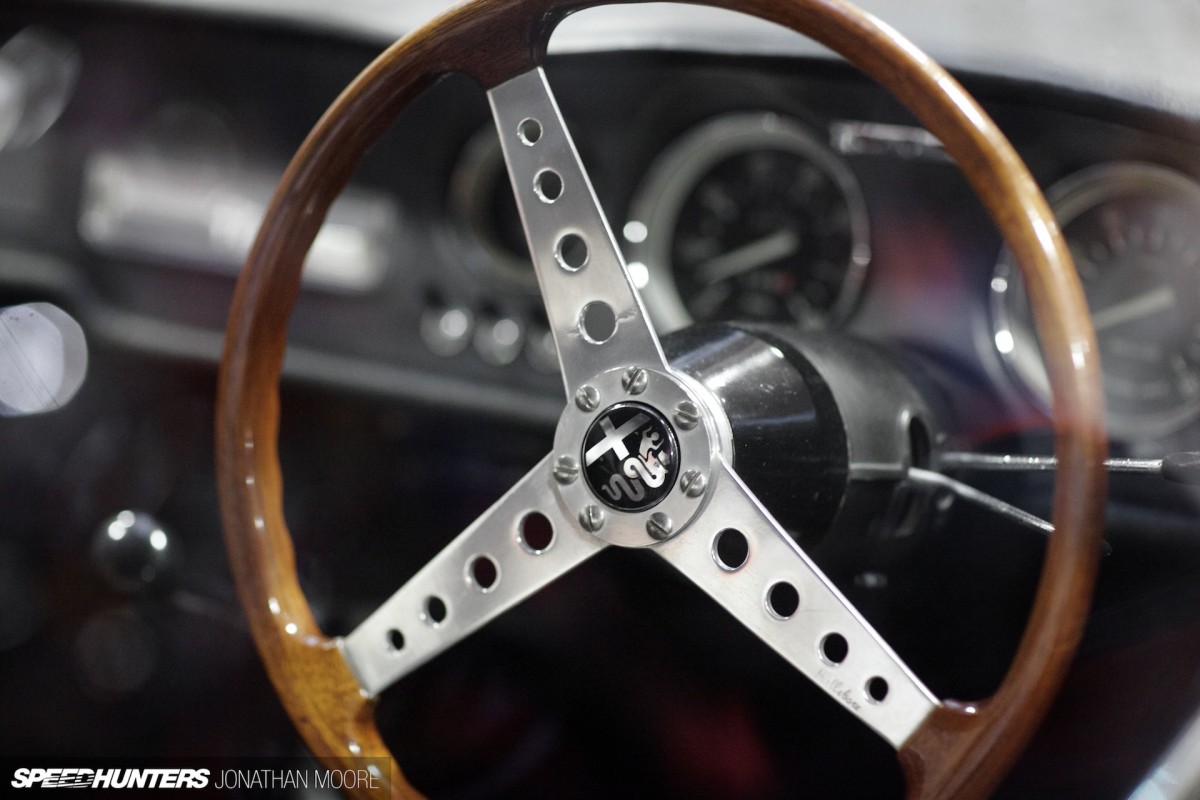 With the overwhelming amount of incredible machinery on show there was a constant tide of people moving between spaces, soaking up the various themes on offer. Each manufacturer and associated club had its own designated area, though despite the size of the show the number of stands meant that everything blended together into one several-kilometre-long display of a hundred years of the automobile.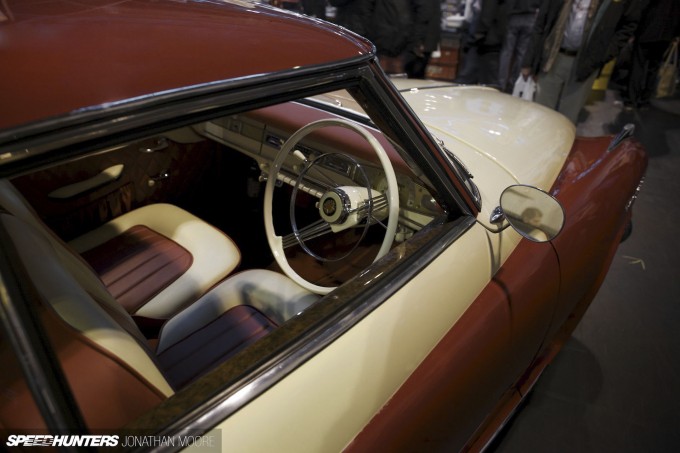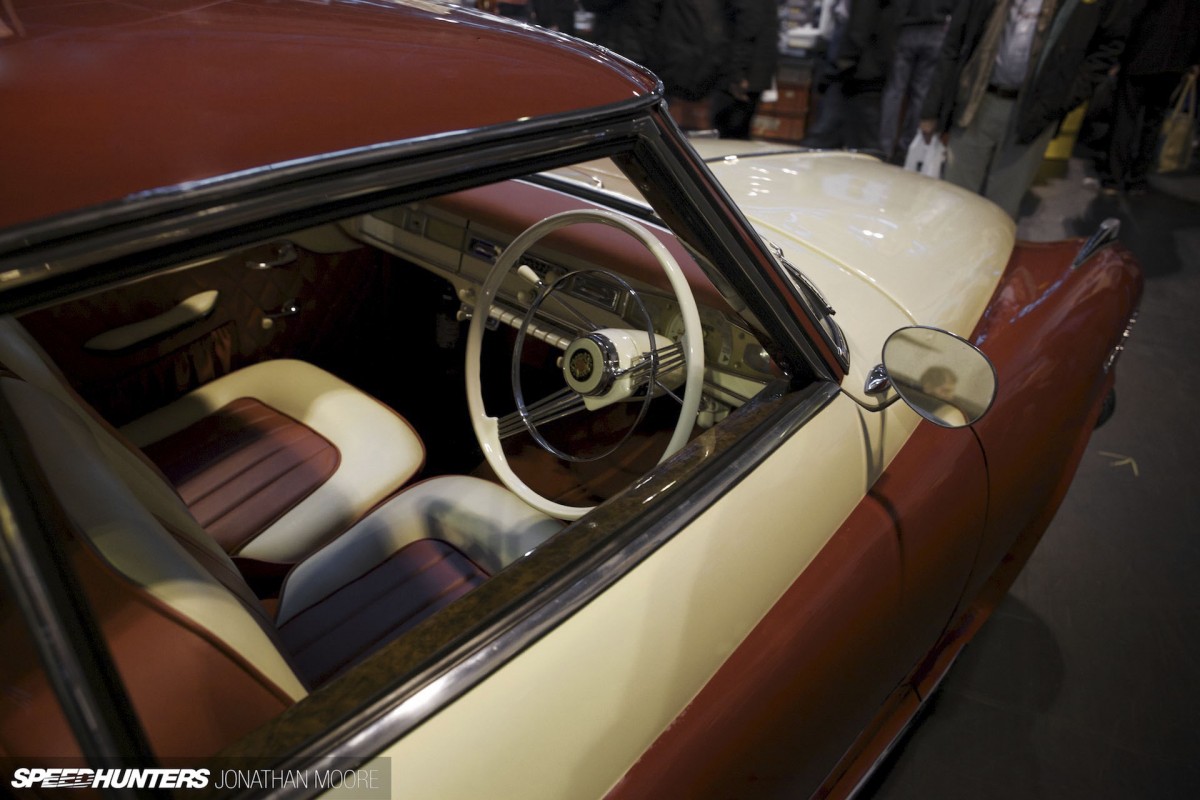 It's funny what leapt out at me. I mean, everything was worth taking time to check out, but some cars had that extra something. Sometimes it was colour: like this rhubarb and custard themed Borgward Isabella Coupé.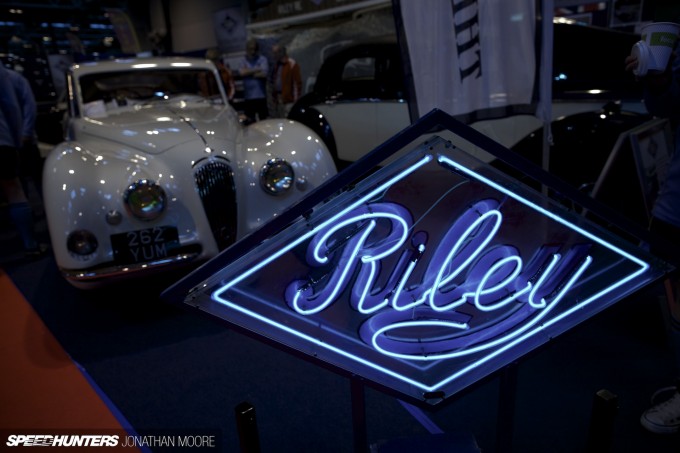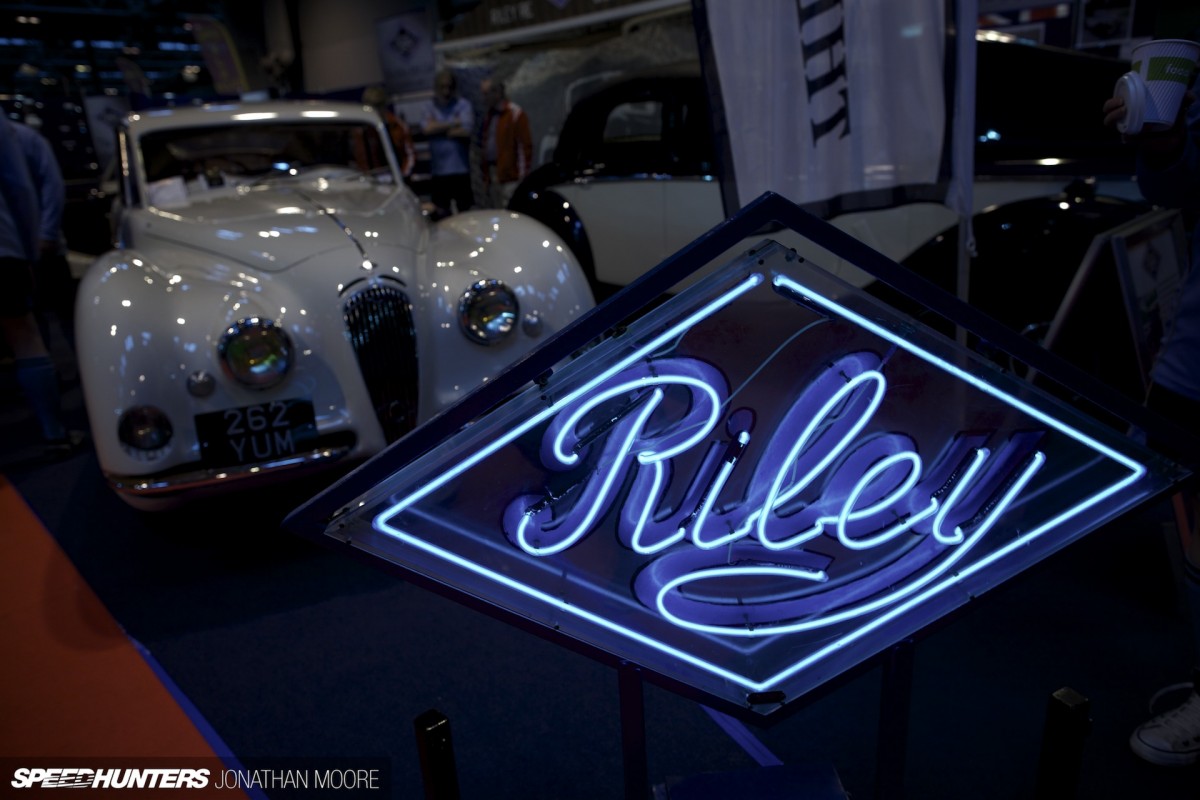 But mostly it was shape. Sure, some I expected to see – the long nose of an E-Type or the aggressive lines of a CSL – but more often than not it would be a car that I couldn't identify that stopped me in my tracks. Frequently, there was also surprise at the badge the car carried…
Heading to intercept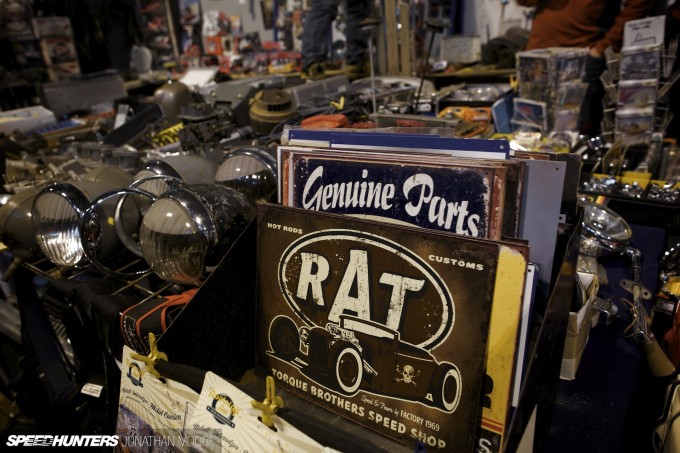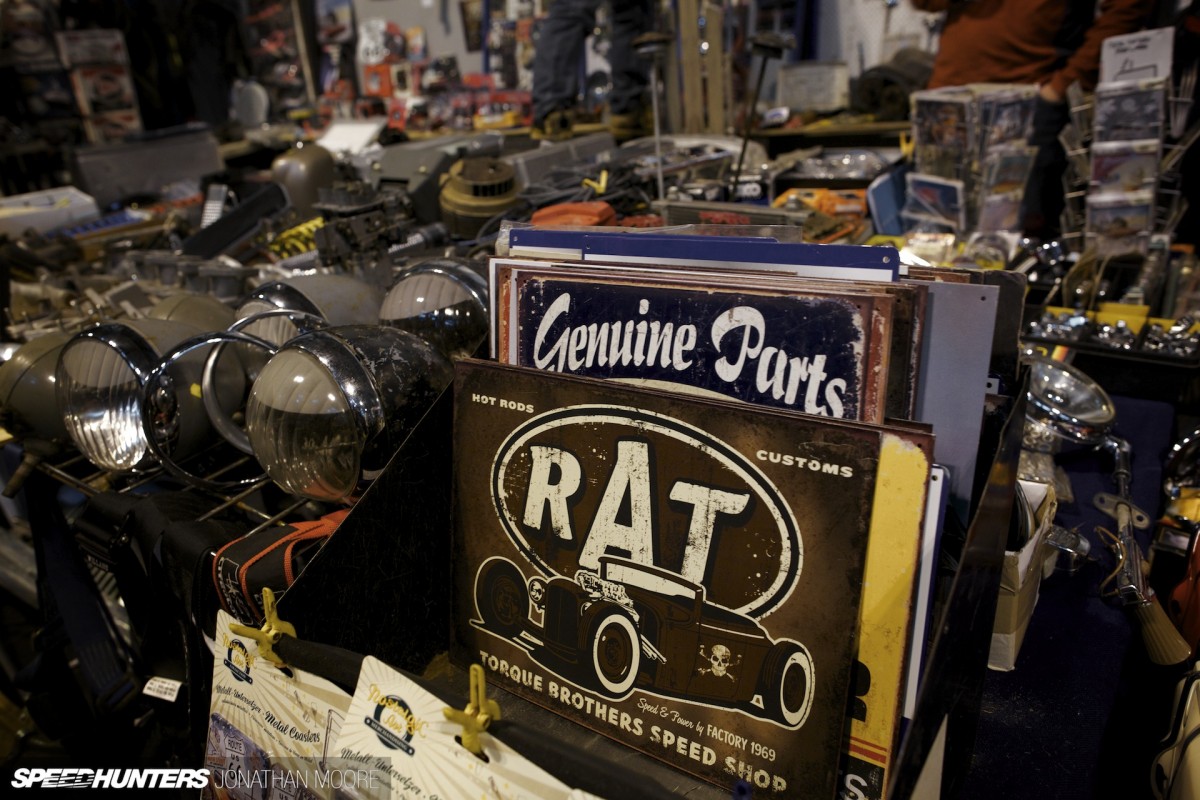 Tackling the halls in a semblance of order meant kicking off with the auto jumble, though danger that way lay. I have no will-power at the best of times, so when confronted with such an array of automotive ephemera as well as books and toys, well, things were always going to be difficult… And potentially expensive.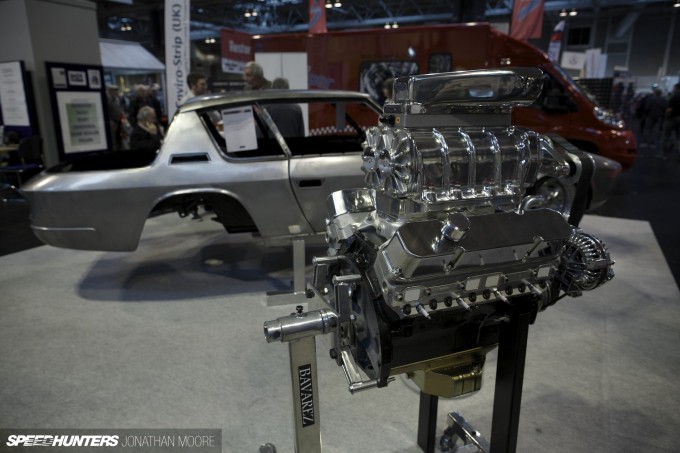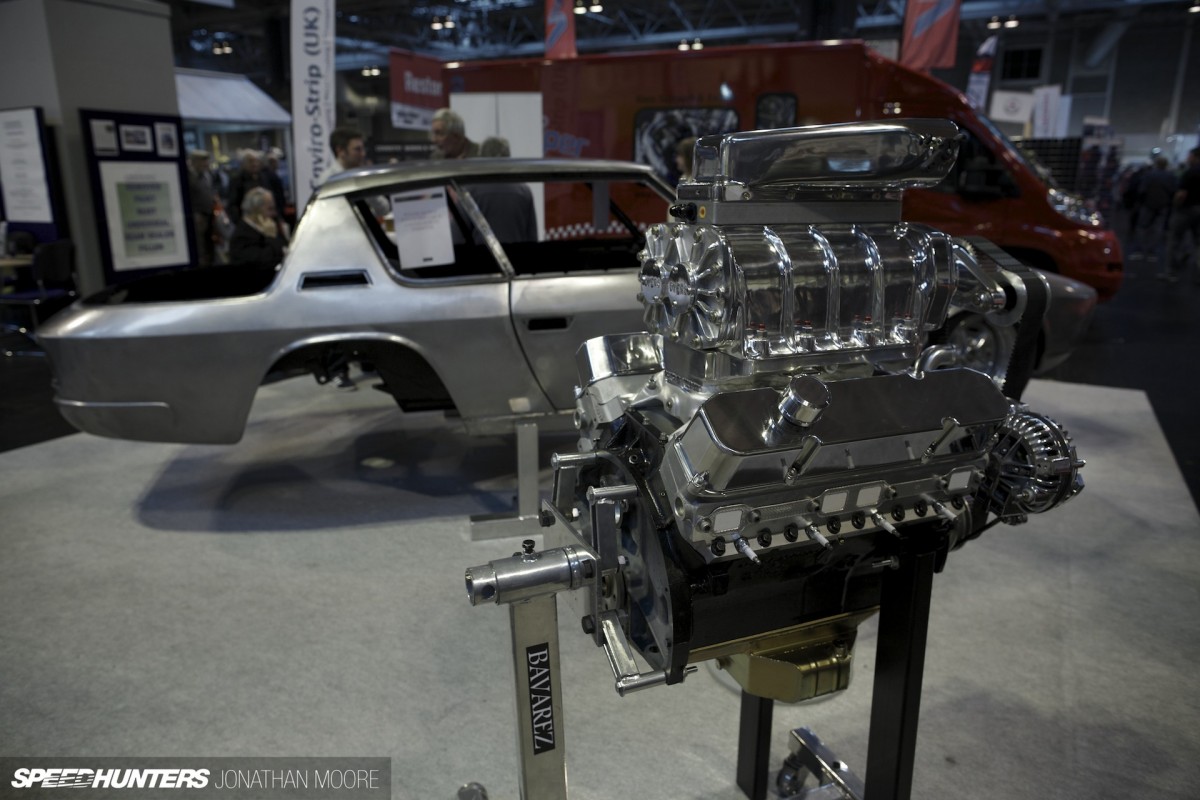 Still, at least once clear of the auto jumble there was more than enough to keep the mind focused on the task in hand. So back to the Jensen in the opening picture: this was one of many moments in the day where I felt like I'd been yanked back on the end of a leash. What on earth was going on here?! I asked the team behind it, Bavarez: the short answer is that it's a ground-up restoration of an Interceptor with a difference – this supercharged Chrysler V8 Death Star of an engine being the major difference. The long answer you'll have to wait for: we're preparing a feature on this monster-in-waiting.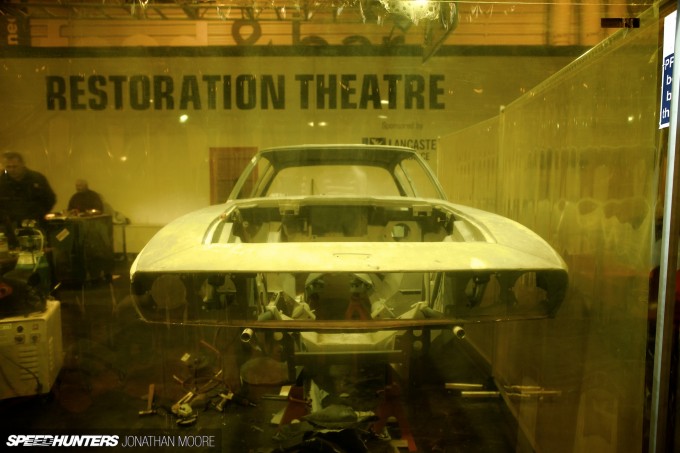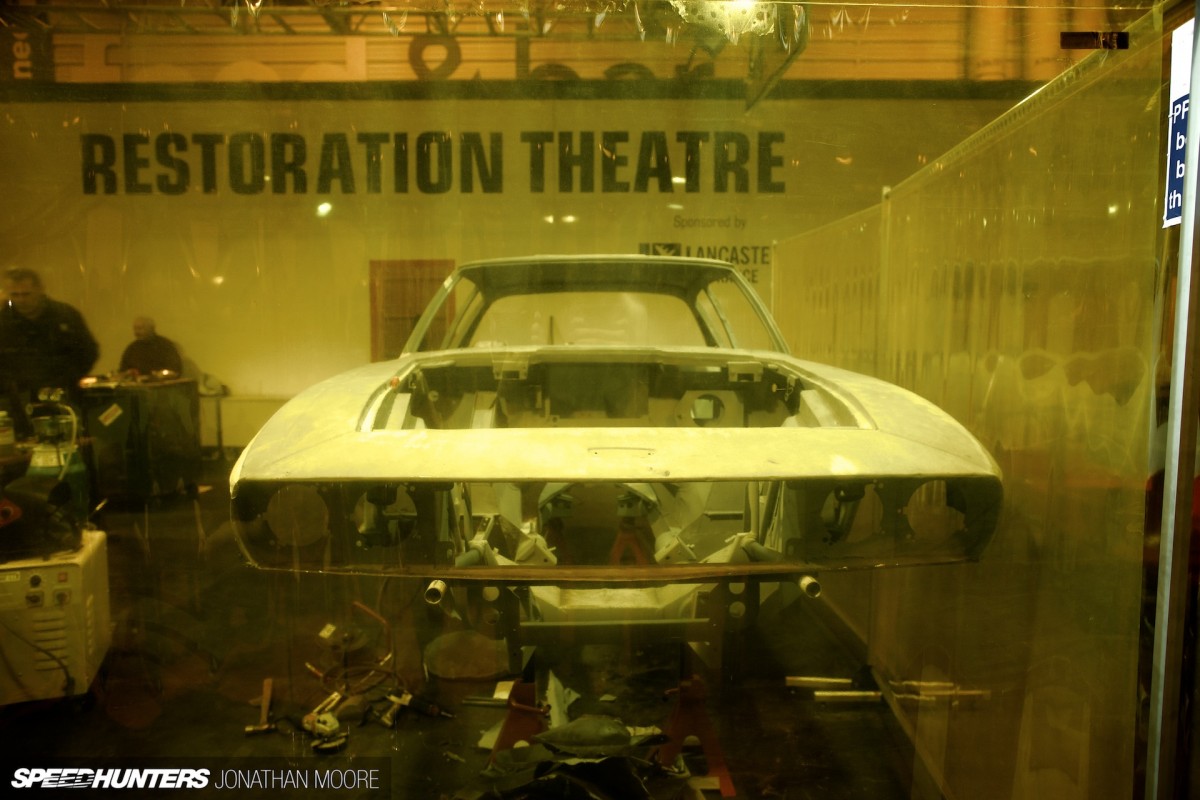 I've always loved Jensens, representing as they do a quite exotic look and feel compared to other British sports cars of the time, and this year's show seemed awash with both pristine examples and restorations in progress. The main demo area had a live project on the go for the crowd to enjoy, with a very sorry-looking shell having been stripped right back and in the early stages of the many wrongs done to it over the years being righted.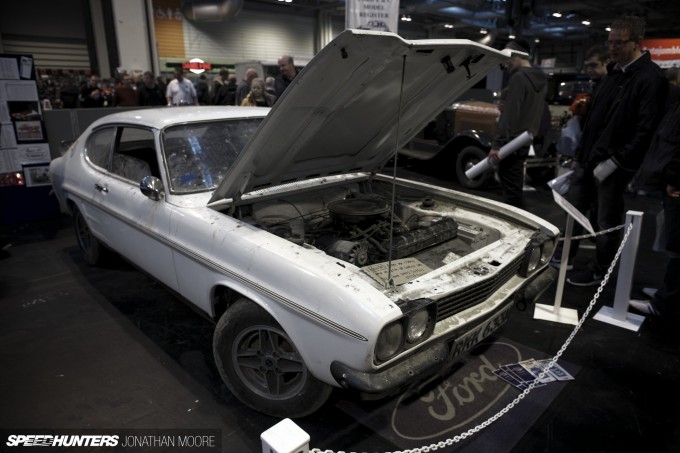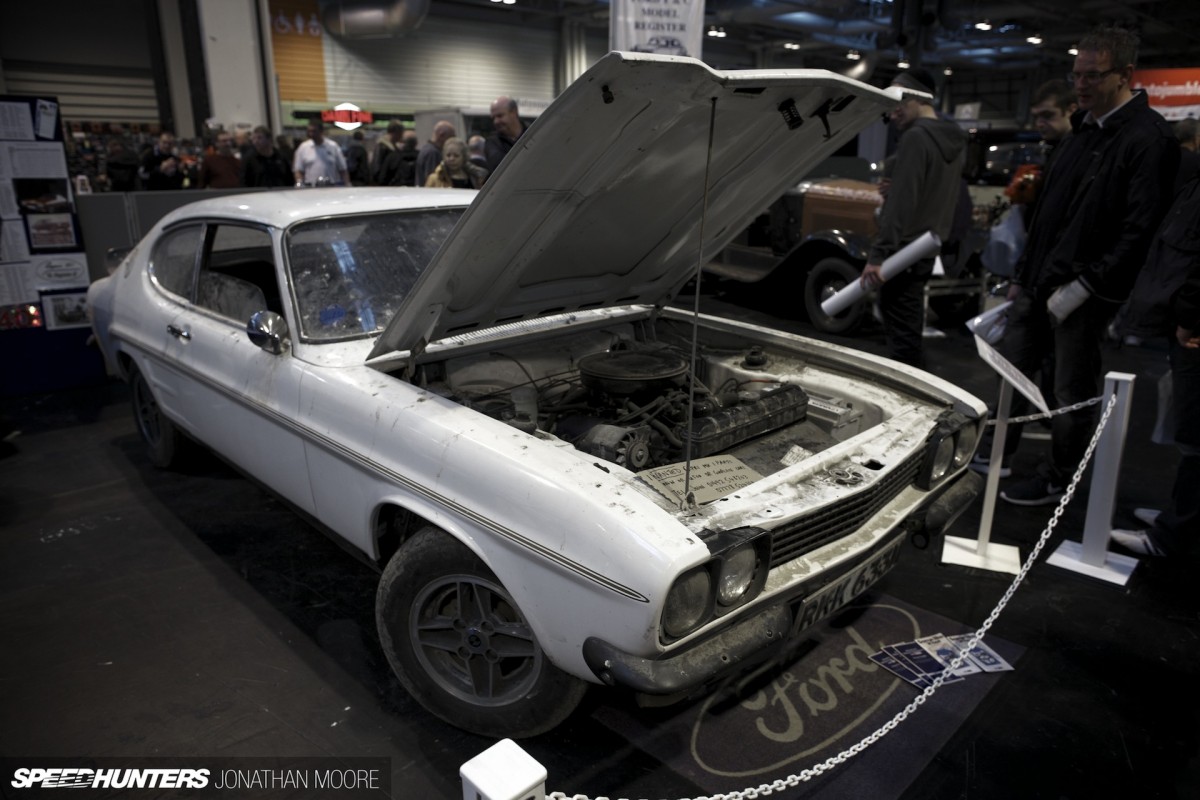 That's another of the great aspects about the show. Much as it's not about one automotive genre (or even number of wheels, with a whole hall dedicated to bikes), the Classic Motor Show wasn't only about the finished product – more, it was about how you can get there. There were barn finds aplenty to discover (and potentially take on). Barns would be a recurring theme…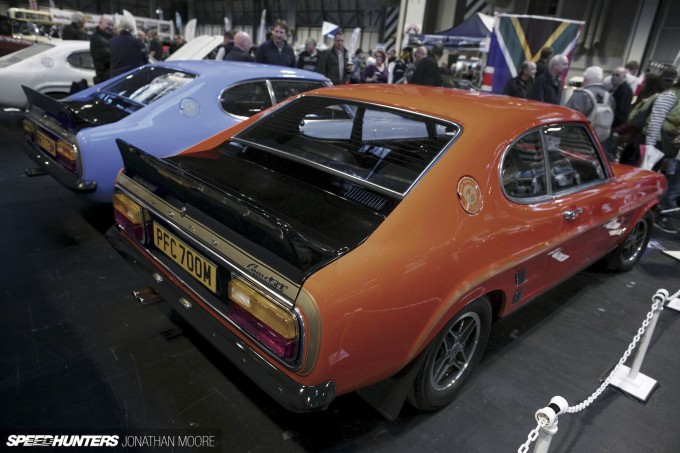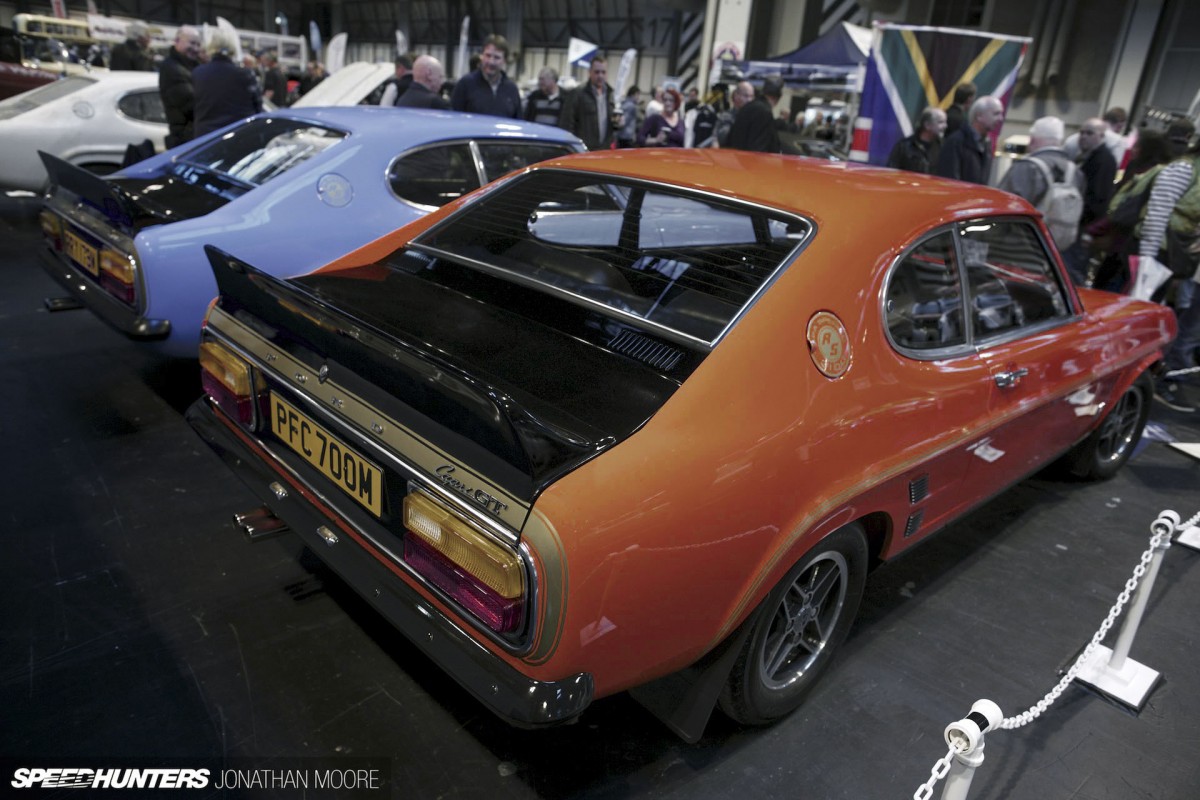 The Ford Capri was the hot coupé of Europe in the '70s, alongside the Opel Manta. The Capris seemed a bit tucked away here last year; in 2013 there was a whole platoon taking up centre stage, of all generations. I've never seen so many RS3100s in one place! The barn-find was backed up by at least four others – only 249 were built in period, and it was Ford's fastest production car at the time.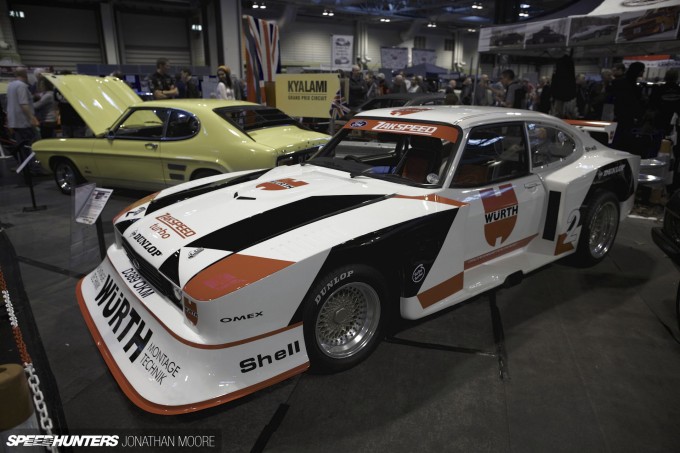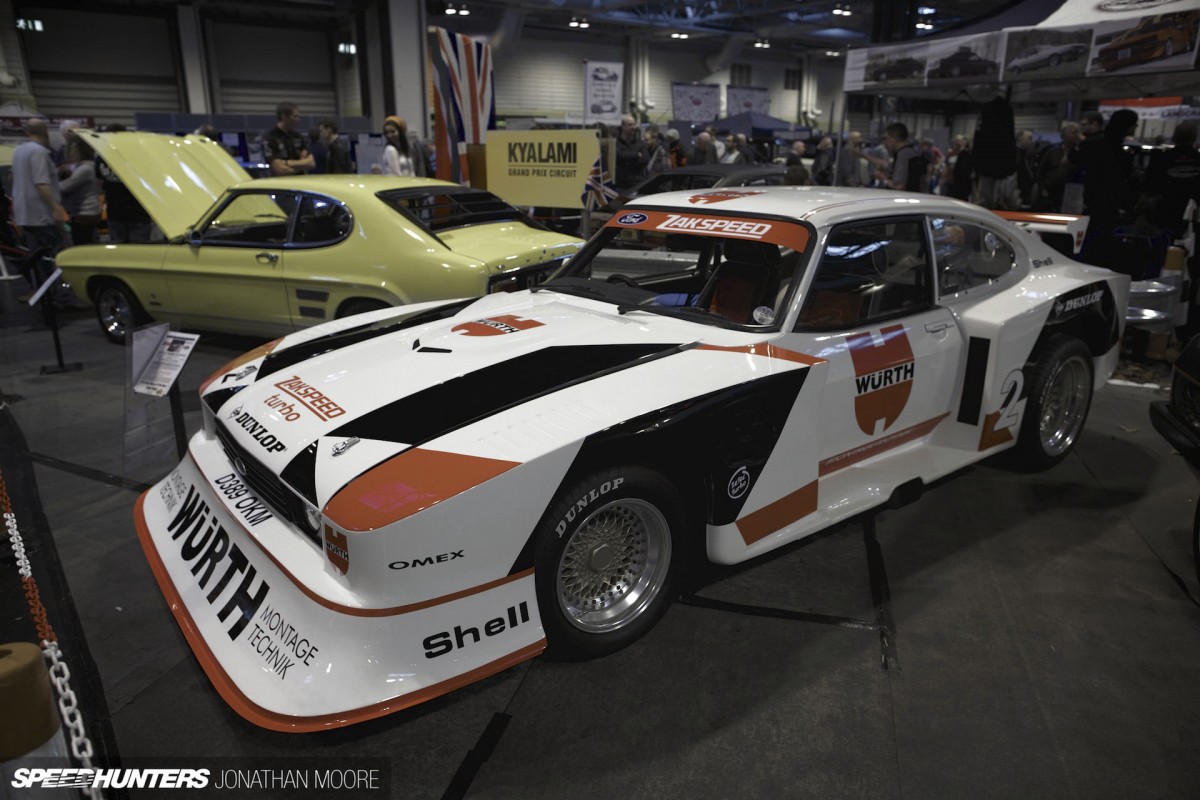 I couldn't miss this livery – my heart skipped a beat… Had Zakspeed transported their maniacal DRM Turbo car across? It's actually a loving recreation, looking pretty good (except for missing the enormous wing of the original, but I guess that's down to road restrictions) and sporting a decent turbo under the long bonnet. Behind it was another interesting Capri: a South African Perana MkI. South Africa is a popular place to source period classics, their rather more conducive weather preserving models that often rusted to pieces in seconds back in Europe.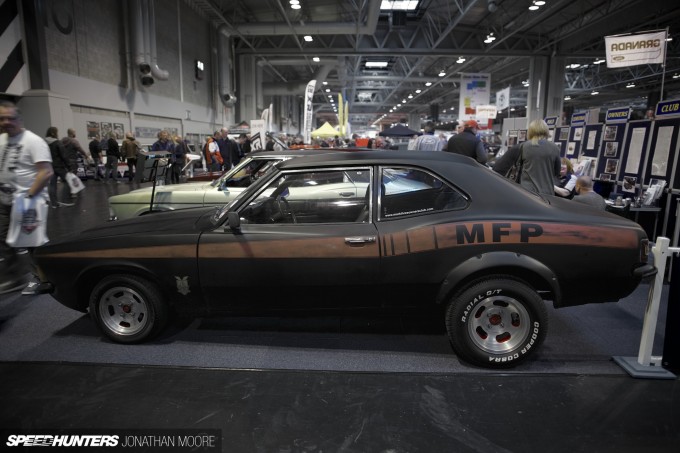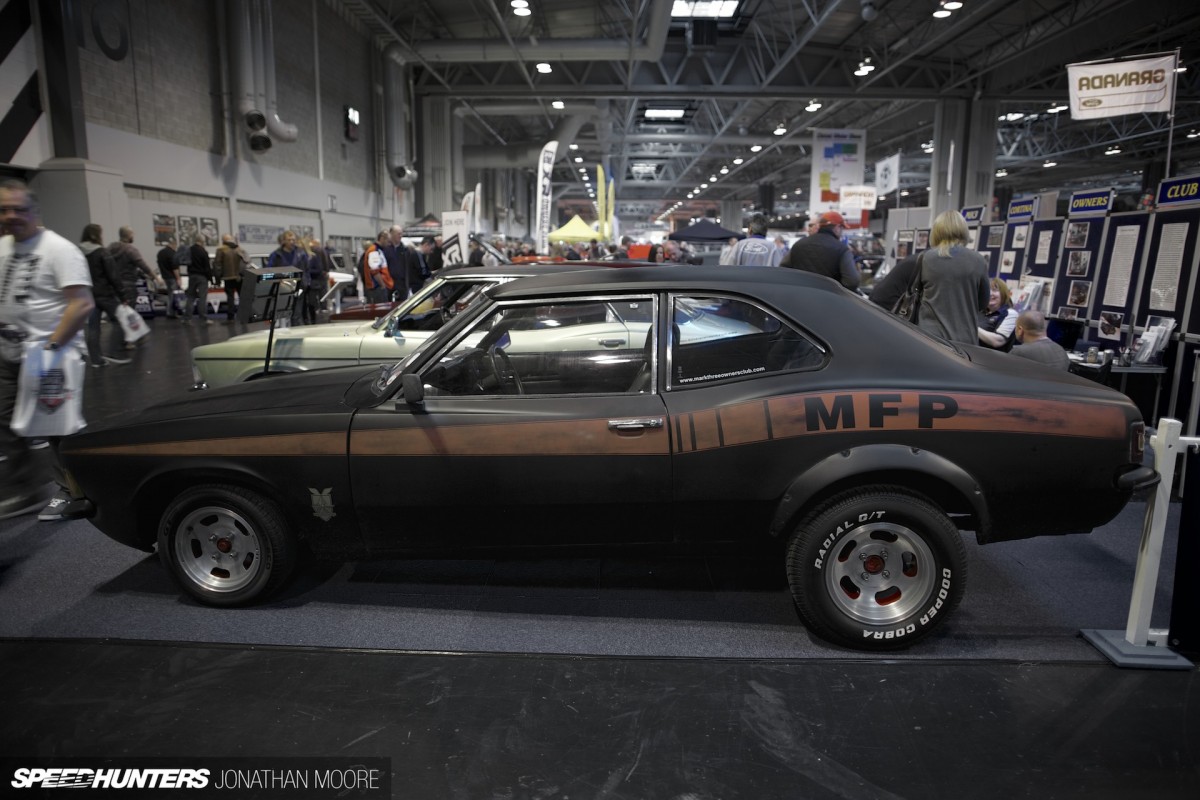 Again, no marque line-up ever seemed to have the same car or style twice: forecourt spec or condition was never an entry point. I loved this jacked-up Cortina L reinvented as a Mad Max-style 'Interceptor'. It's got a skull shifter knob as well. Fitted with weapons, it would be ideal for South London.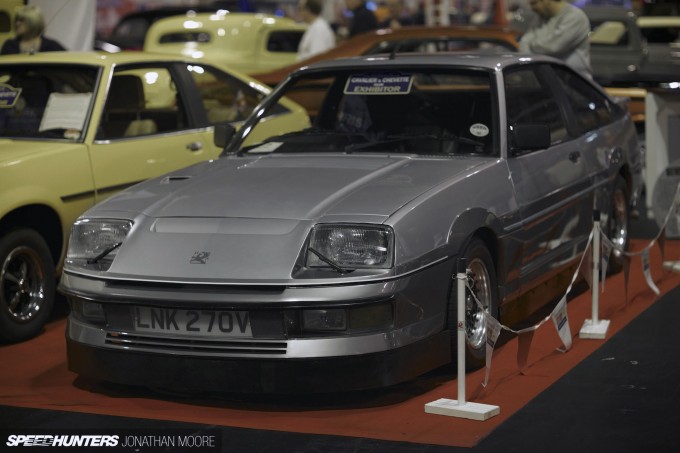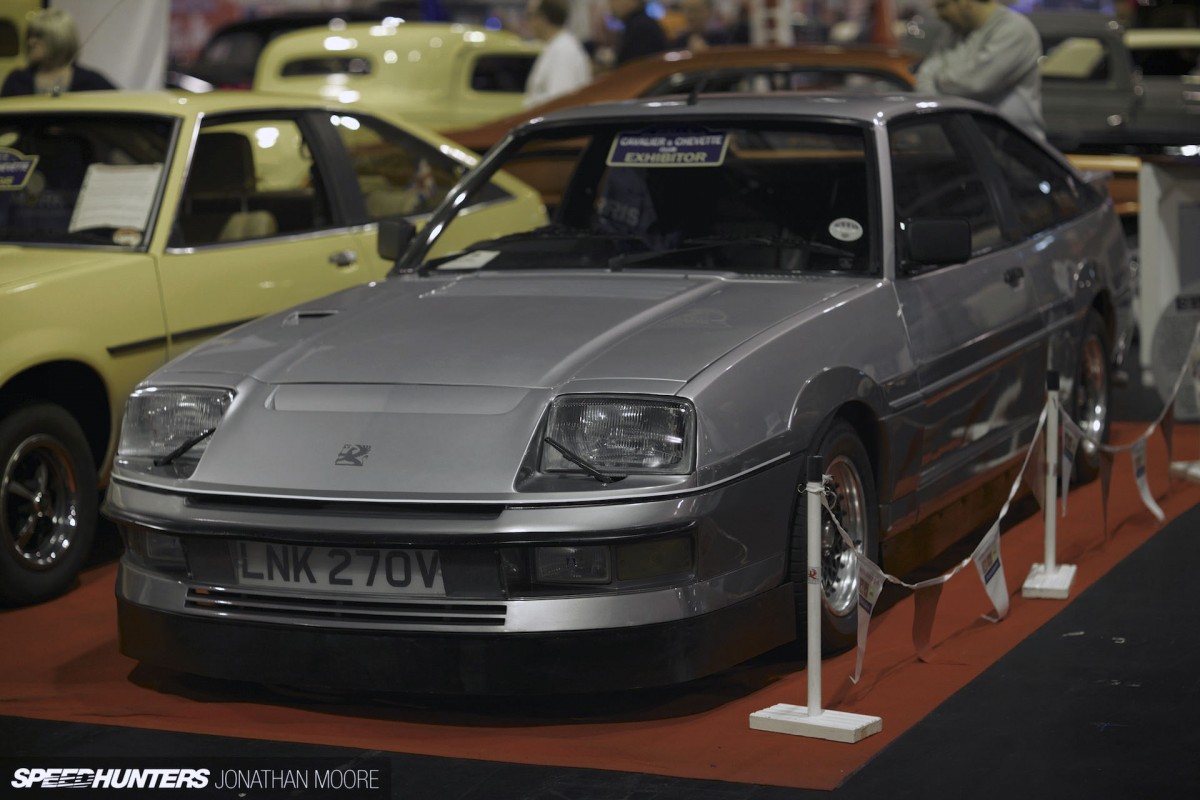 Okay, so Vauxhalls may have a bad rep in general, but it's not all deserved. This rather impressive Cavalier coupé, the Silver Aero, was a one-off styling and tuning exercise aimed at the 1980 International Motor Show. It mounted a 2.4-litre turbo with 150hp; the idea was to sell the kit as an upgrade to existing Sporthatch owners, but the project never took off.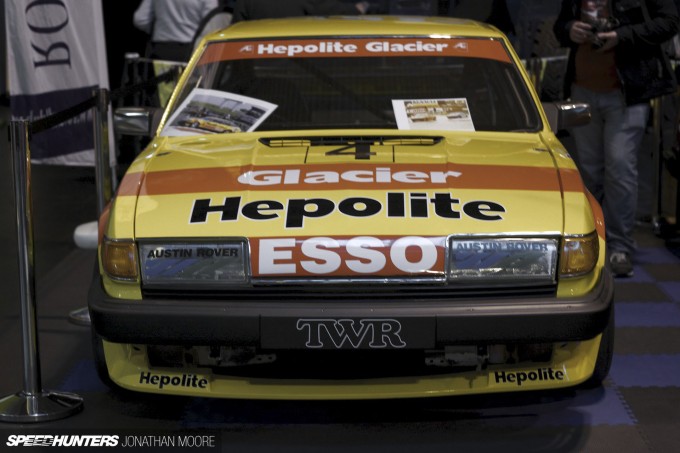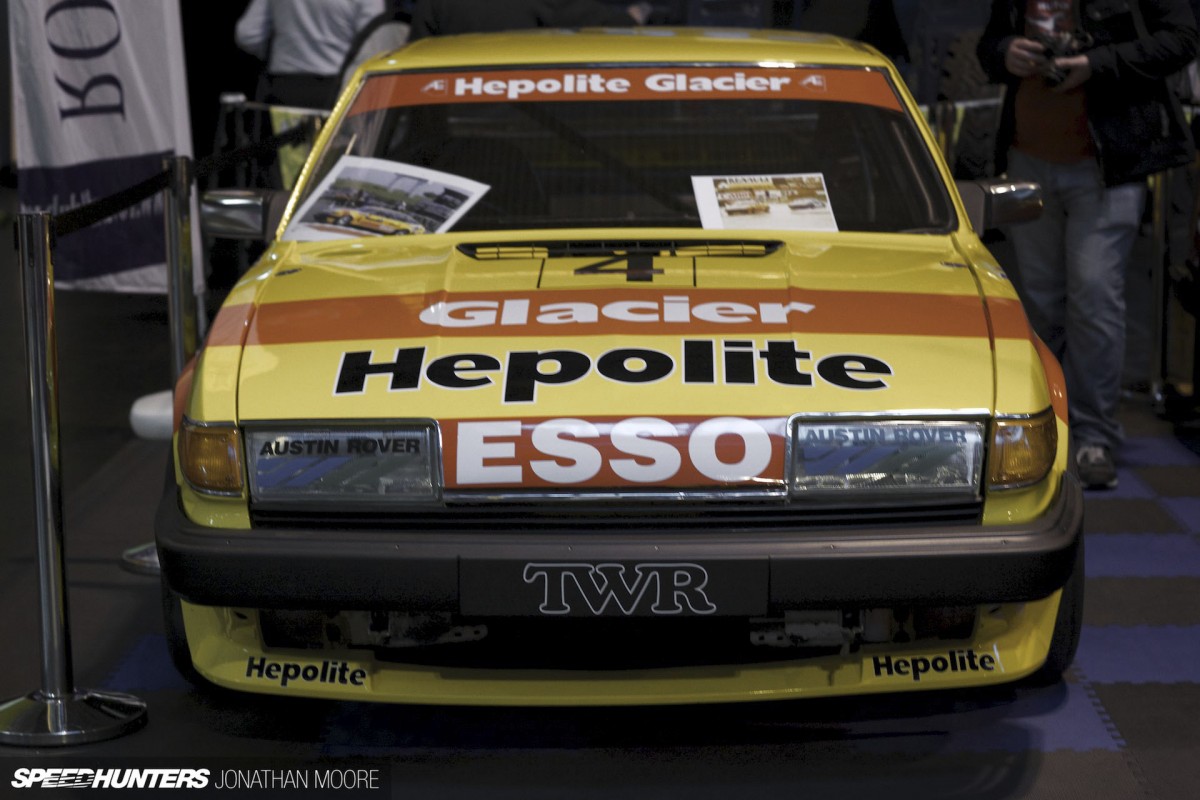 I readily admit that I can be easily won over by putting a saucy bodykit on a car, particularly if it's for racing. The Rover 3500 SD1 proves that sometimes even that trick isn't necessary: all it needed was a livery, and there you go. This is an original Group A car from 1983, recently restored. Where was it found? In a barn! Where are all these barns, I ask?!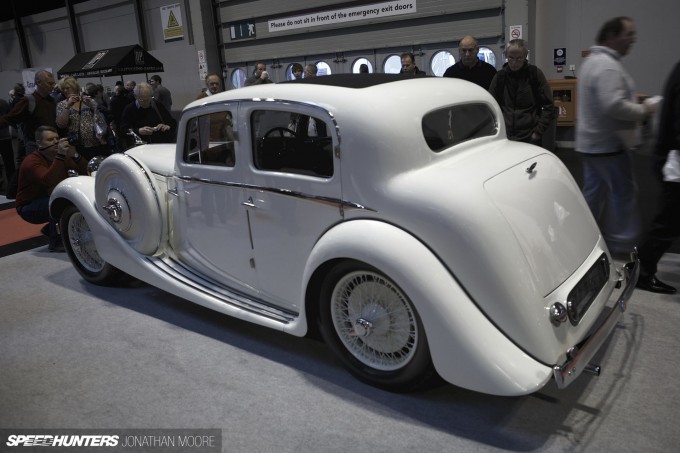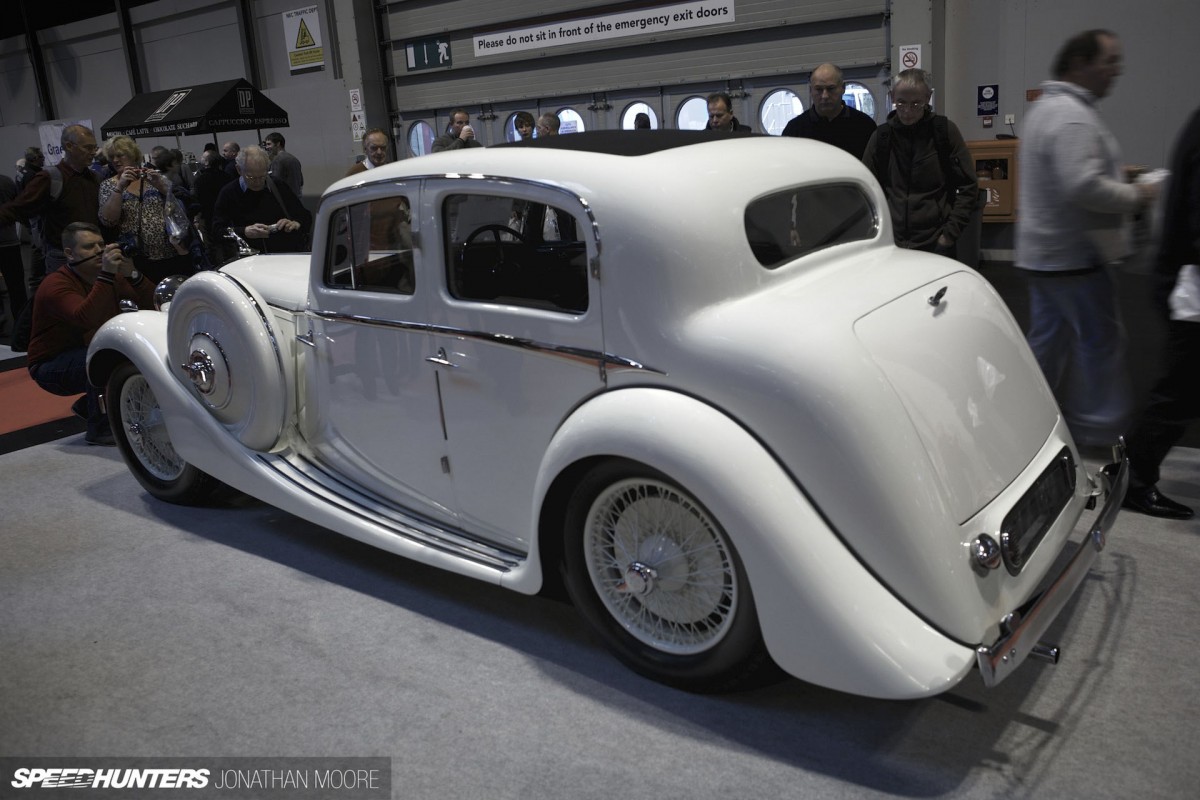 The more I come across 1930s cars, the more I'm falling for them. Compared to the base simplicity of the '20s and boxy austerity of the '40s, cars from this decade are some of the most elegant, refined things to ever cruise a boulevard. Another car to stop me in my tracks (the neck was already starting to hurt) was this 1937 SS Jaguar 'Coach-built' saloon. Although in utterly original (restored of course) condition, is it just me who thinks that it has a custom feel to it?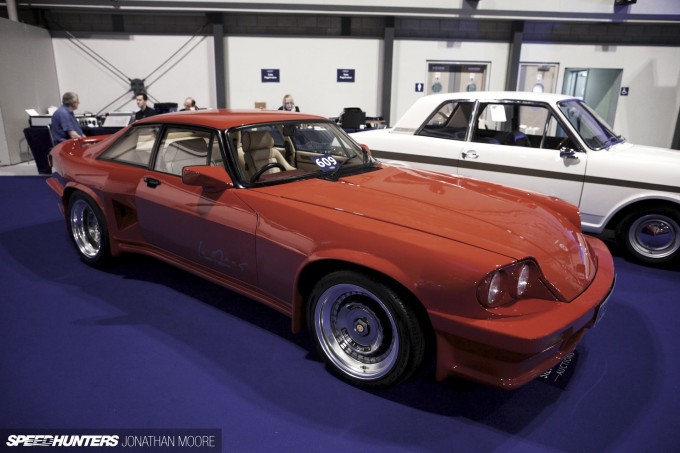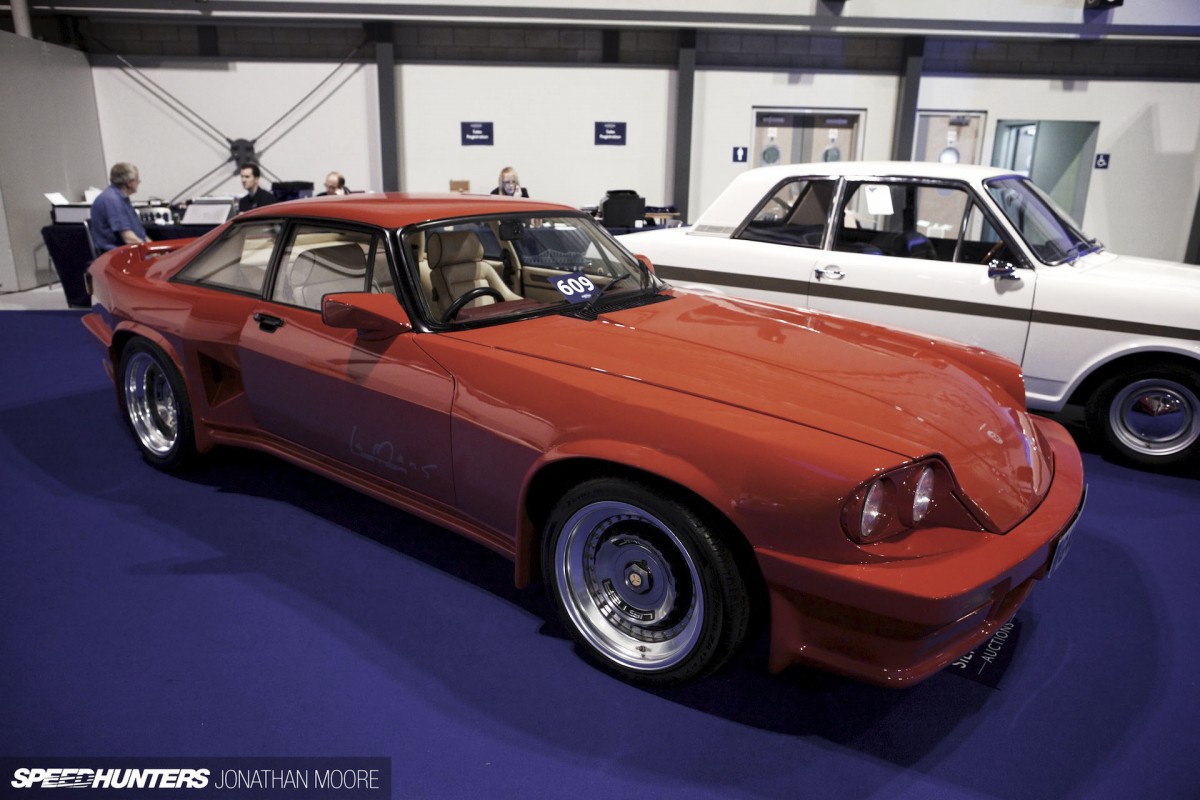 But then here are some seriously custom XJS Big Cats. Firstly, a Lister Jaguar. Seven litres of V12 power produced over 600 glorious horsepowers: this thing would have to be heard to be truly appreciated. Lister Cars built 20 Le Mans Coupés, complementing a run of roadsters. Brutal things all.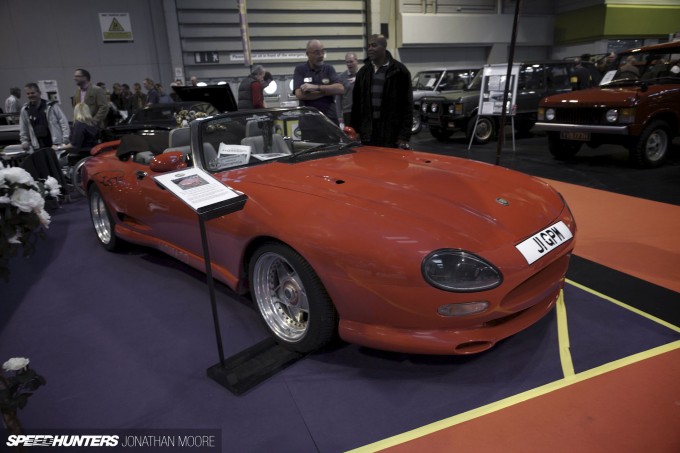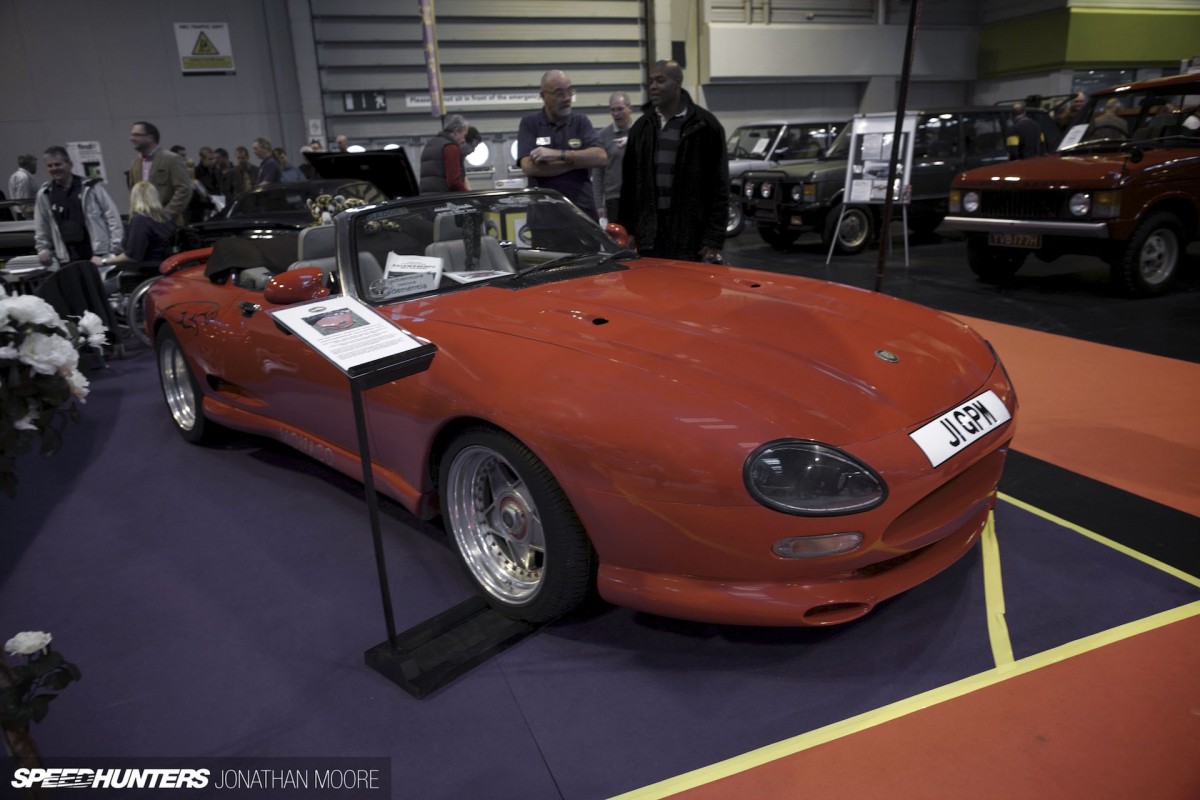 This second XJS variant came from the following year, 1991. Just a round tenof the retro-styled Paul Bailey Design Monaco were built.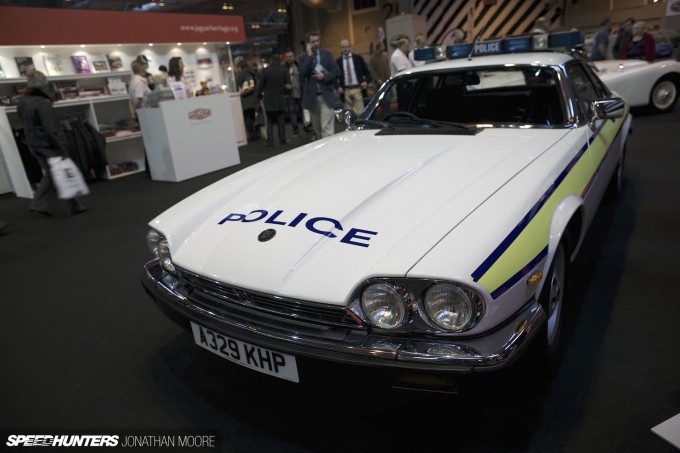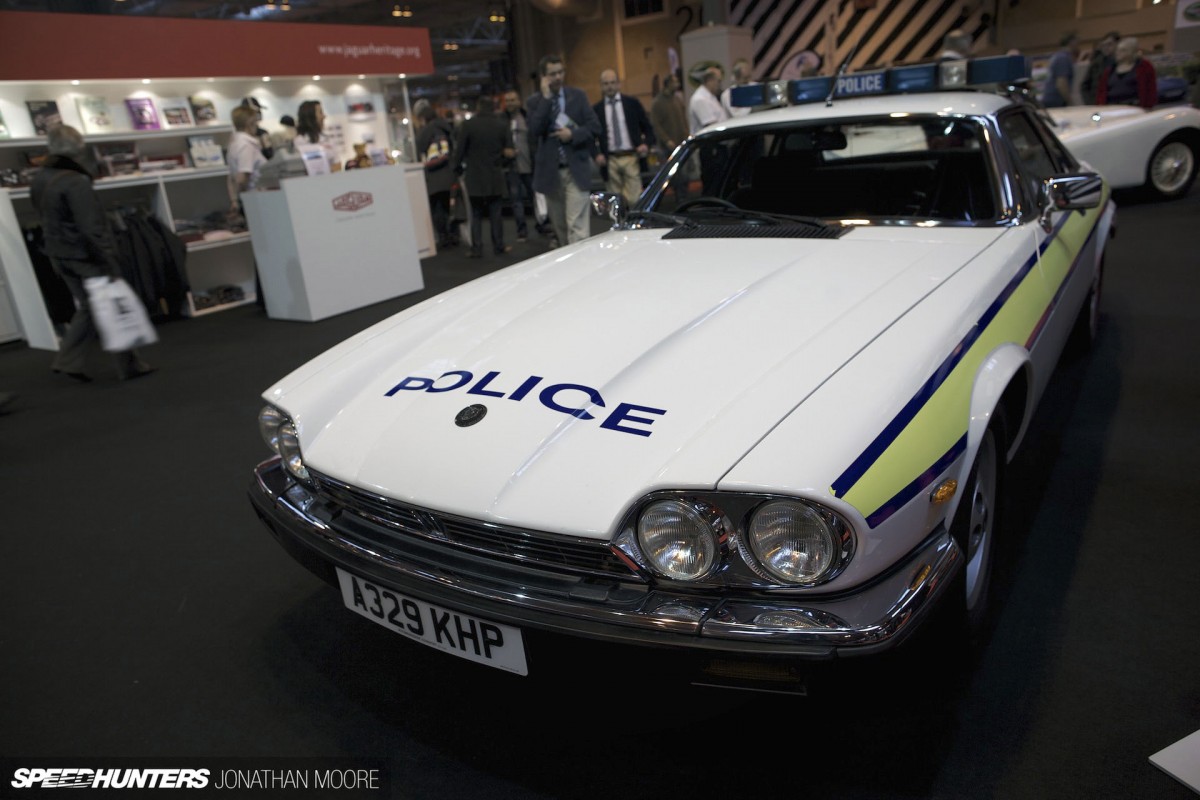 With Jaguar returning to its sporting roots in recent years, this was a handy reminder of something that I'm sure struck fear into plenty of UK motorists in the '90s: an XJS pursuit car. It's a fair cop.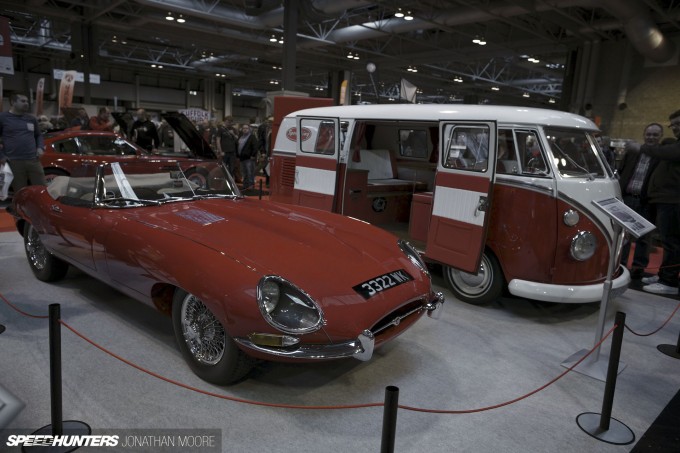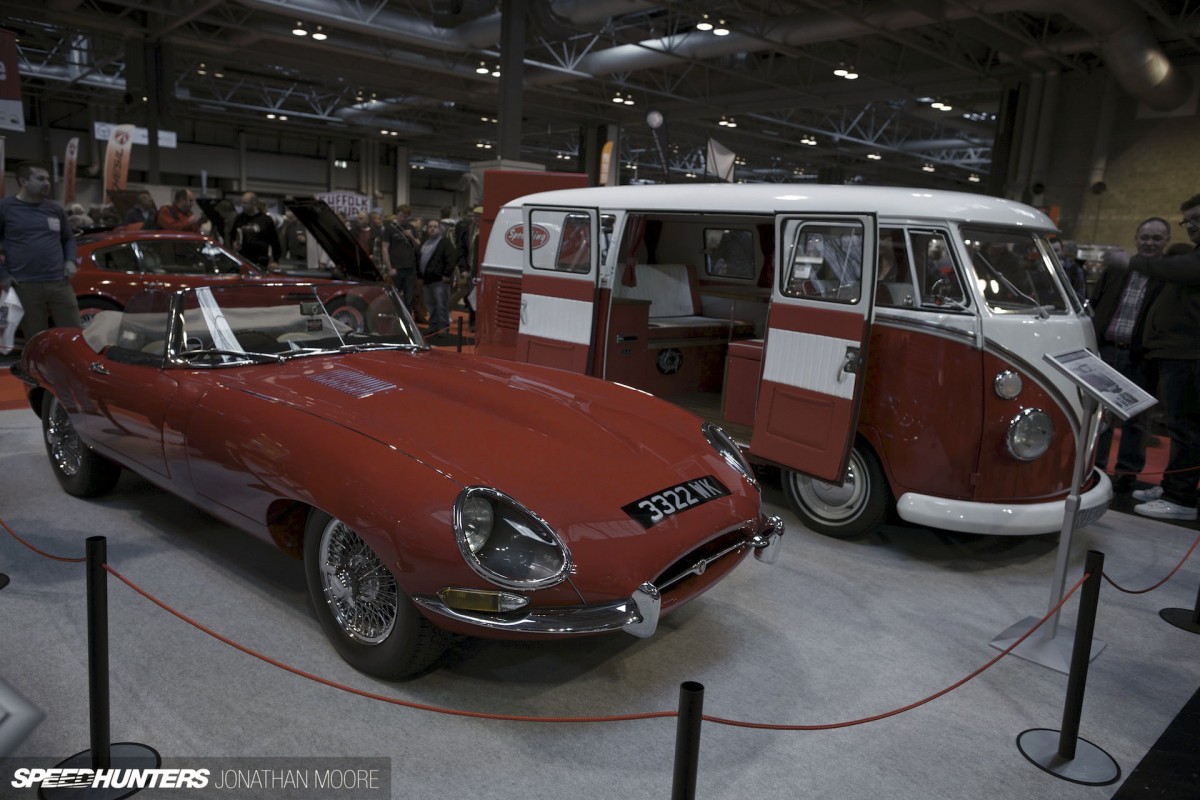 This seemed a pretty perfect combination: the Camper for the overnight stay on, say, a beautiful Mediterranean beach and then the E for some gentle cruising around the Monaco foothills…
The leftfield, the rare and the exotic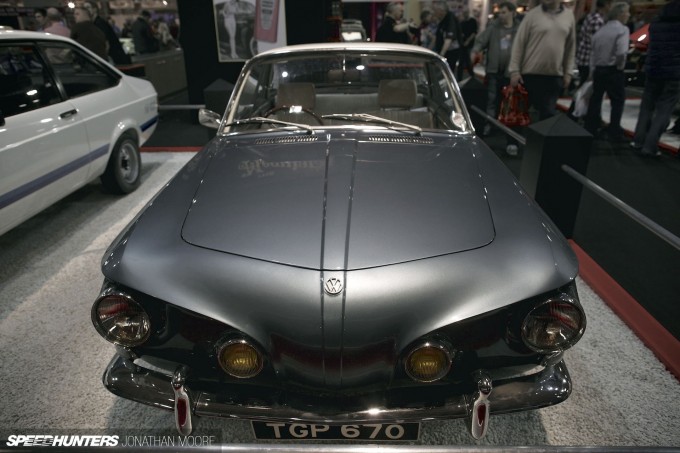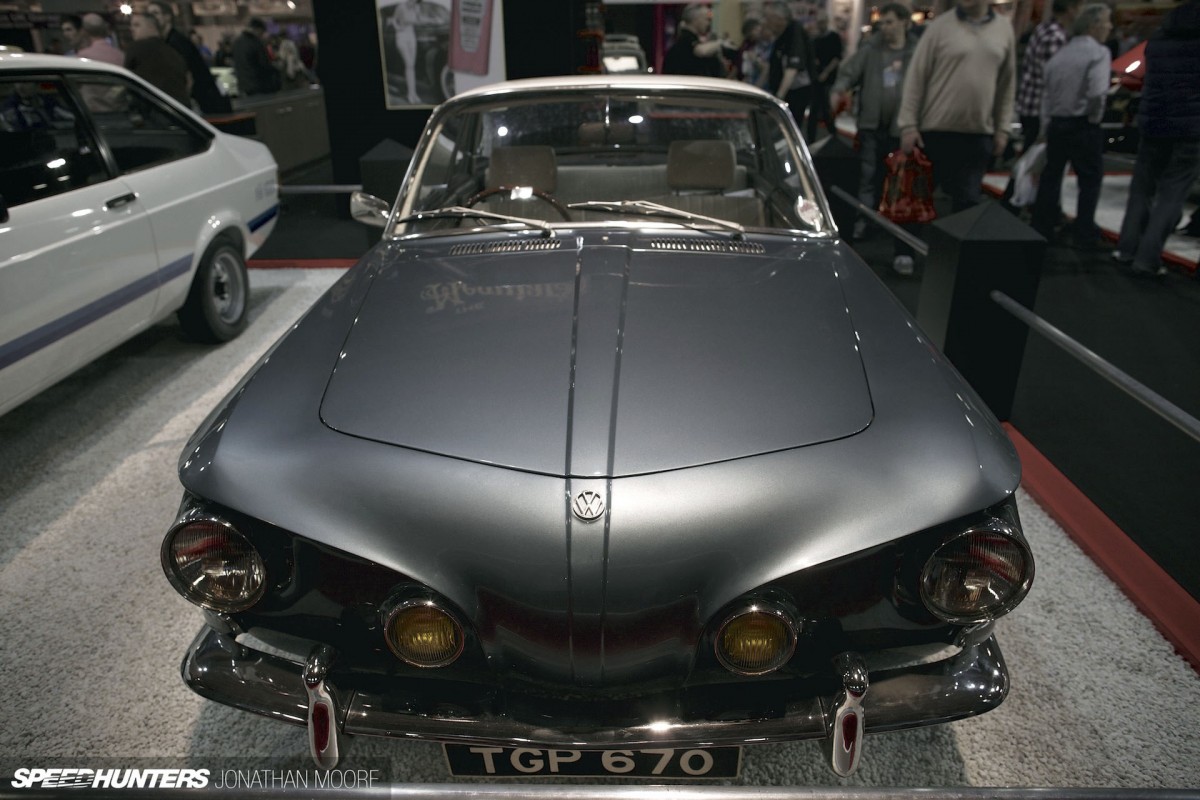 As ever, it was the less common examples of marques that caught my eye the most. This award-winning 344 Karmann Ghia from 1969 was utterly stunning.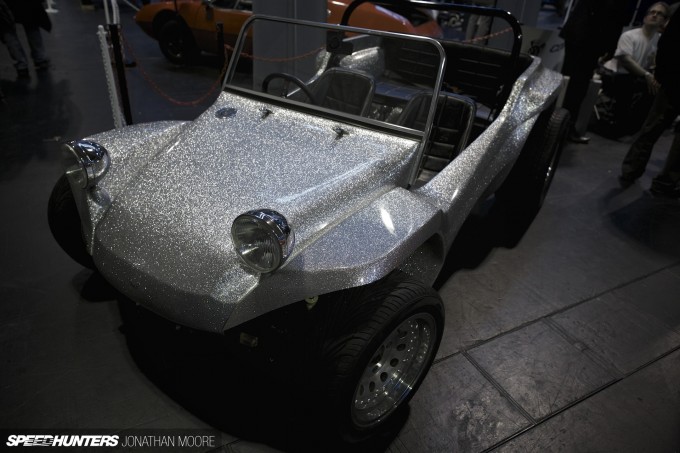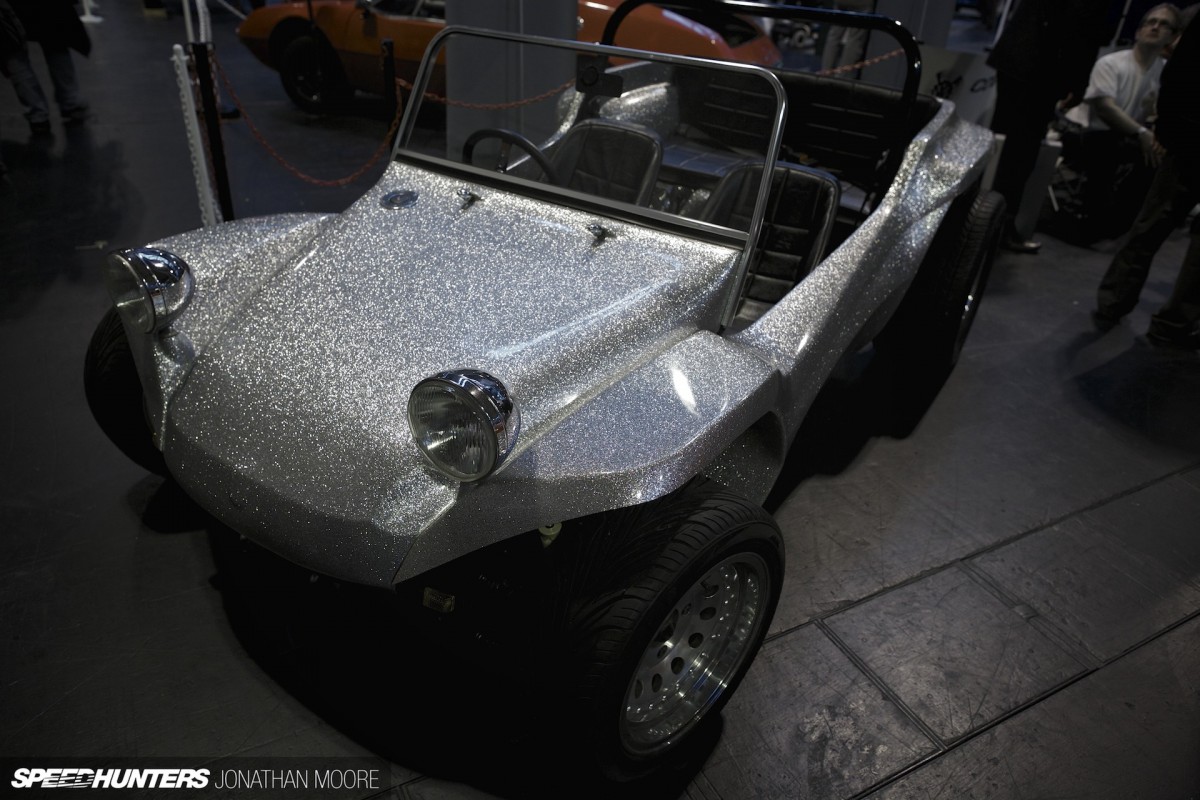 Perhaps more sparkly than outright stunning was this Beach Buggy, but having seen our own Bryn Musselwhite's Buggy sitting idle in his workshop and having a serious case of Buggy lust from childhood, I'll take one however they come. It just needs pennants! And sunshine.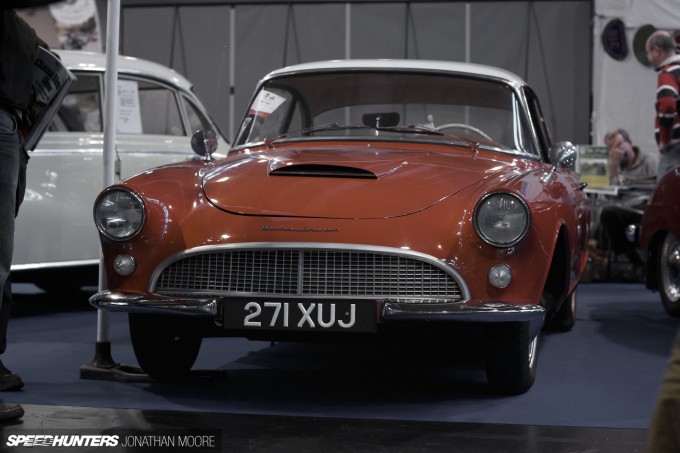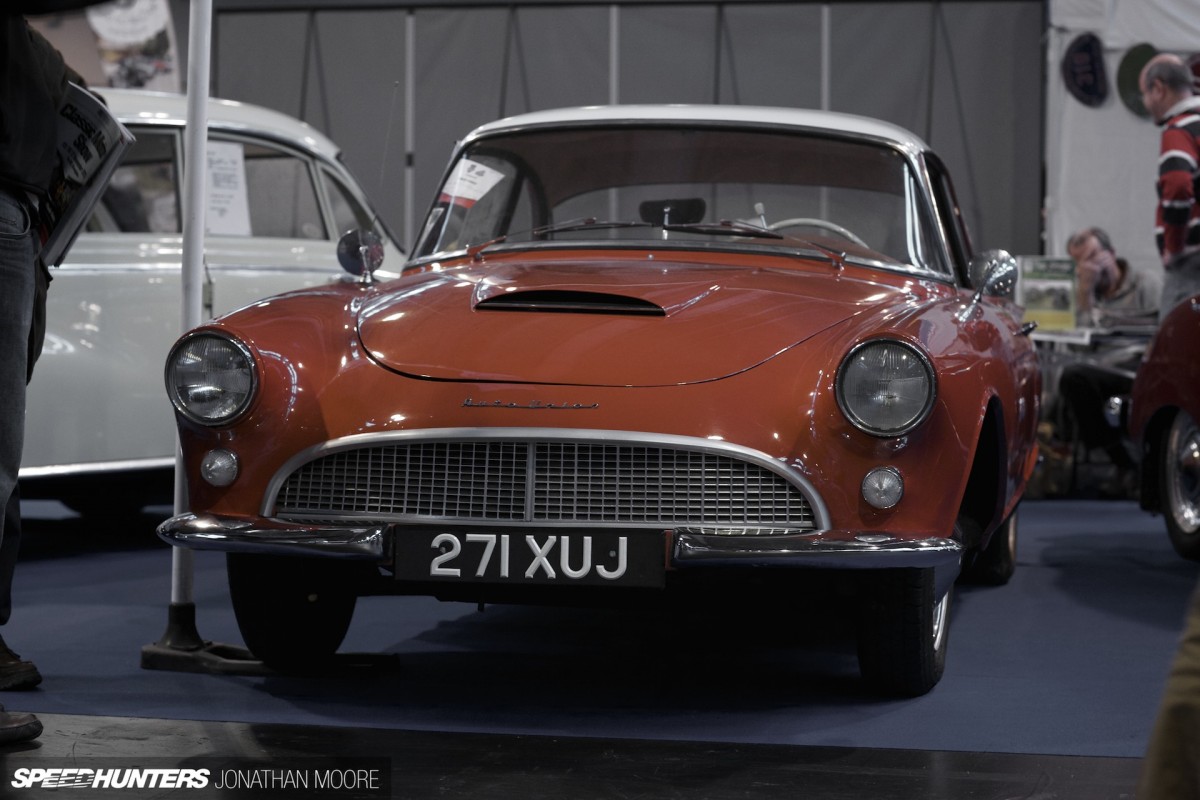 Next up, yet more cars of the Scooby-Doo, double-take kind. This car was part of a trio of Auto Unions: I'd mistaken the car to its left for a Morris, but the four rings gave it away. I'm so used to thinking of Auto Unions purely in racing terms that I forget the large quantity of road-car output; a helpful family tree in the window of one helped explain the complexities of mergers and acquisitions that led to the famous brand.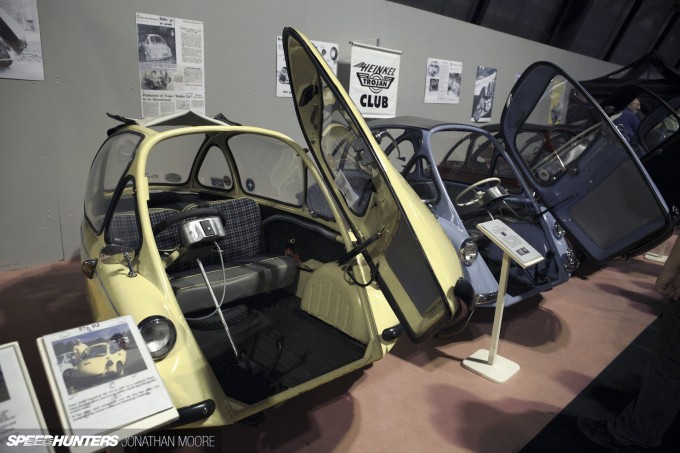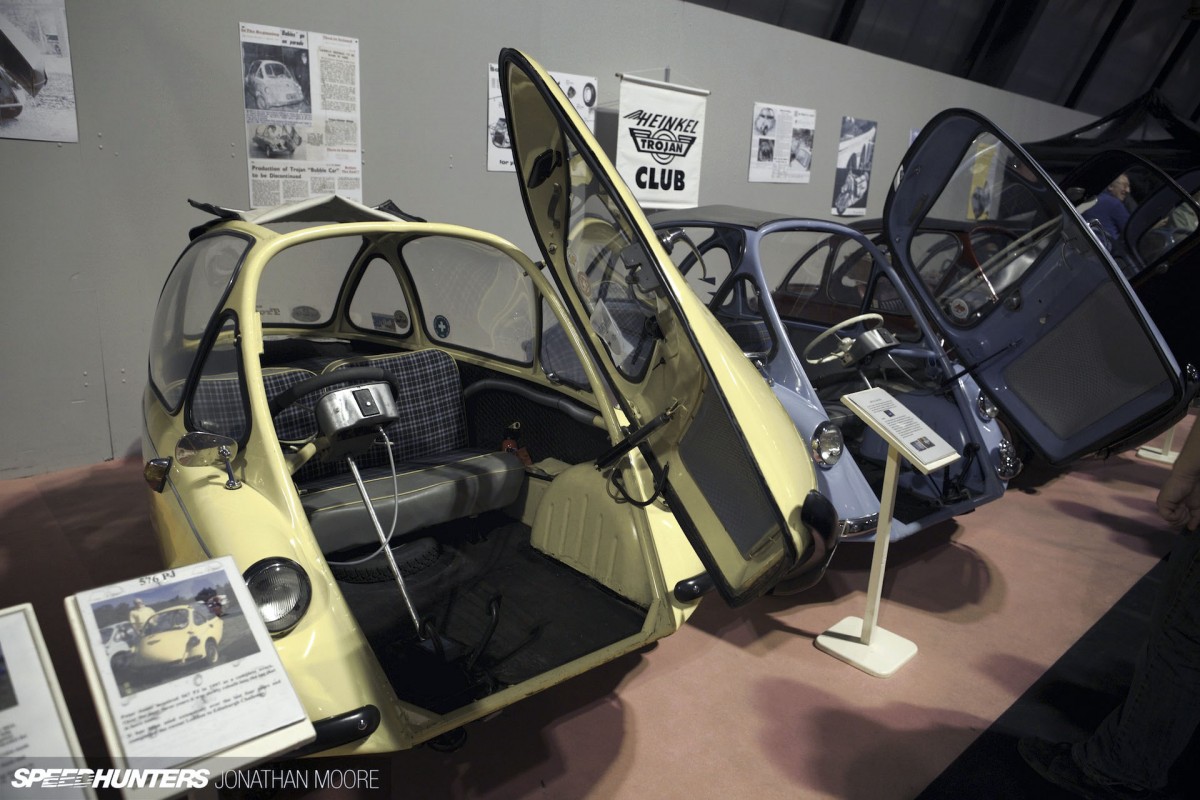 More quirky German material, this time in the form of a whole line of Heinkel Trojans. Trike format and with the big front-opening door, these were built under licence in the UK during the 1950s. You might be able to park in a small space, but you'd never be able to get out…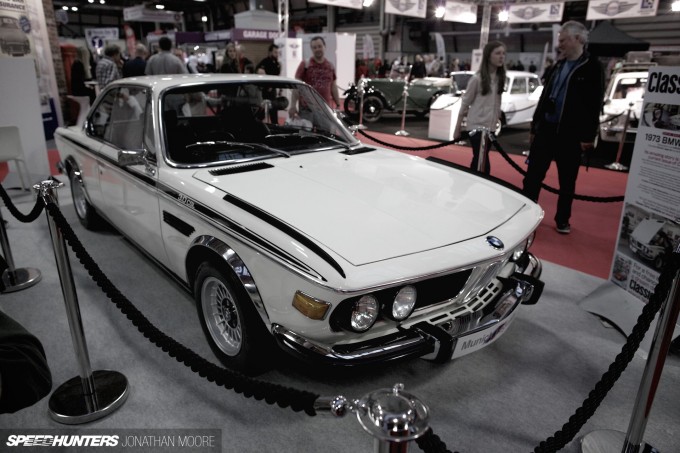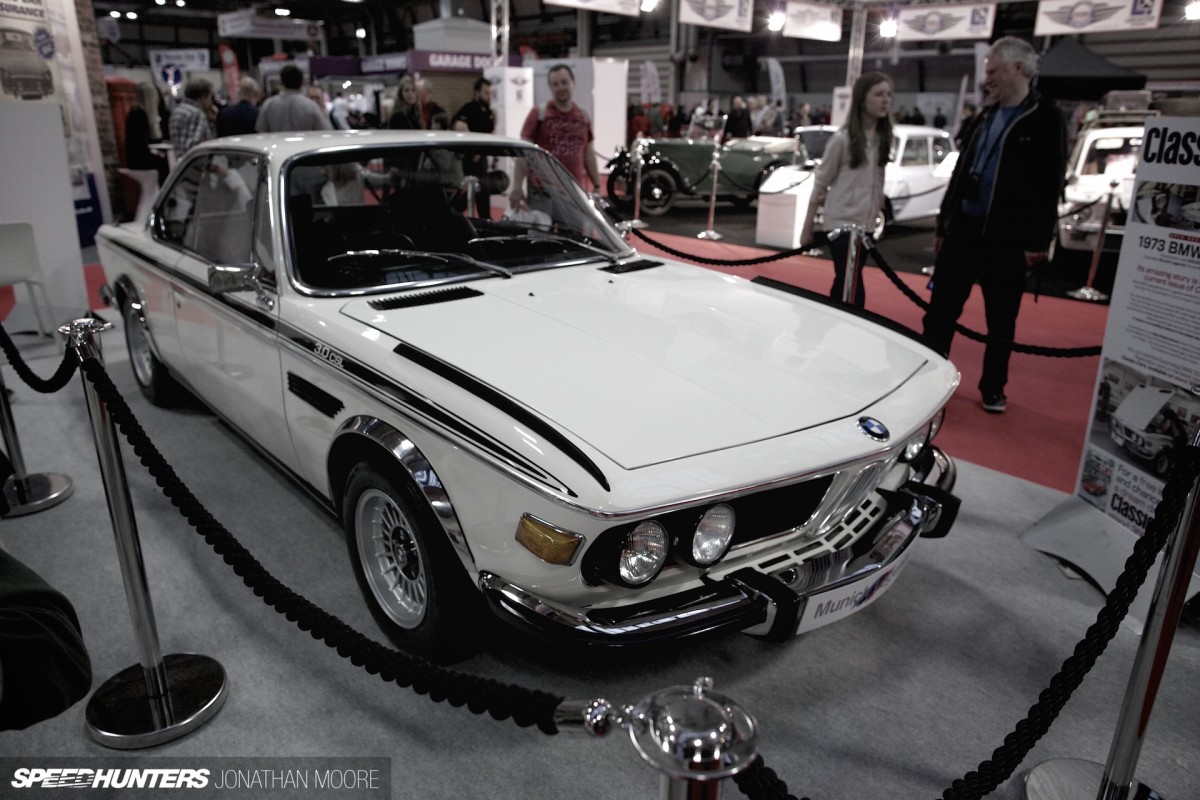 BMWs of varying age and range were dotted around, with some beautiful examples on show, but easily the best was this iconic 1973 CSL, which had recently completed a major restoration to original condition.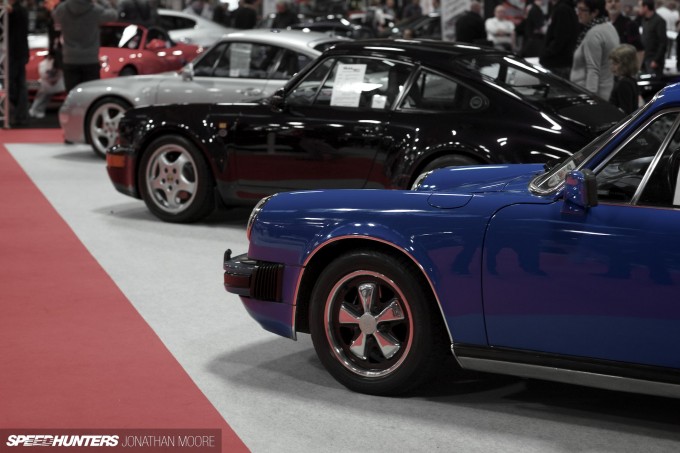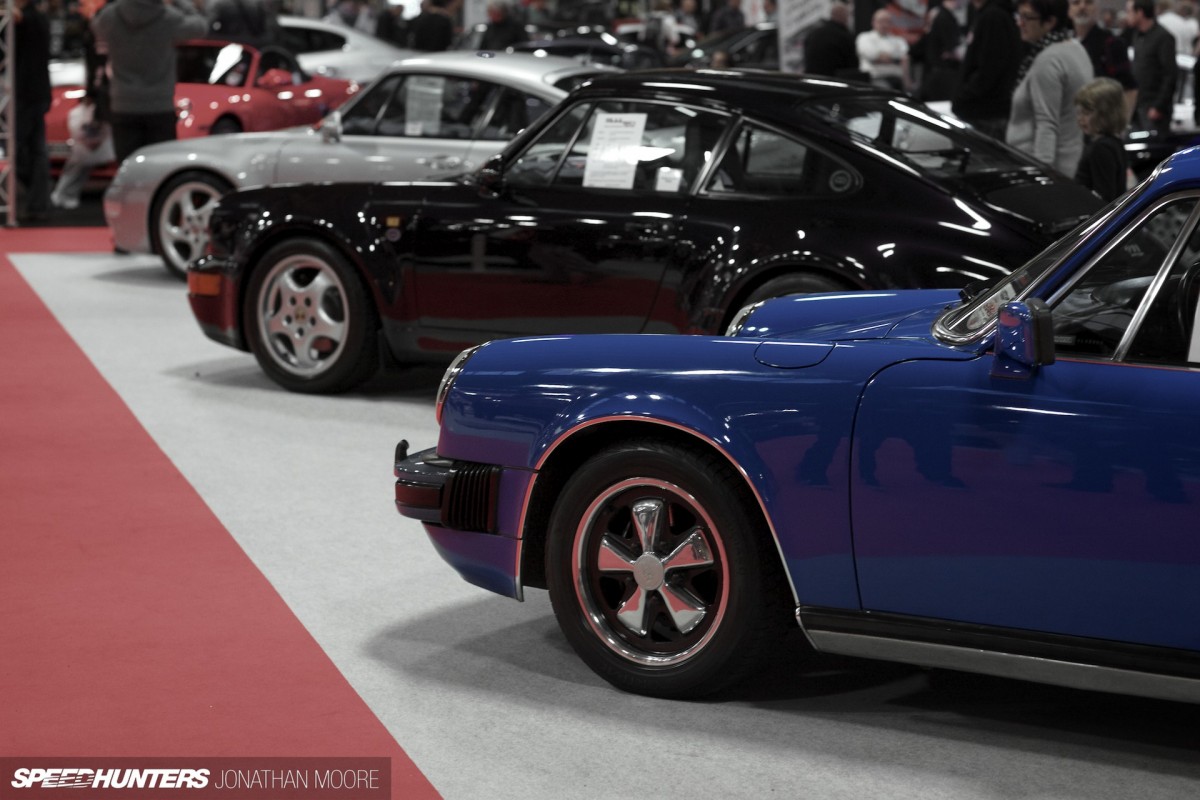 Porsche celebrated their 50th anniversary with a comprehensive line-up of 911s, with the generations lined up.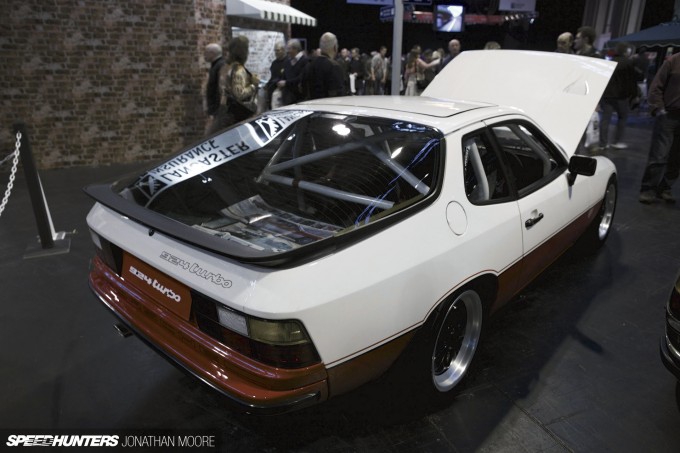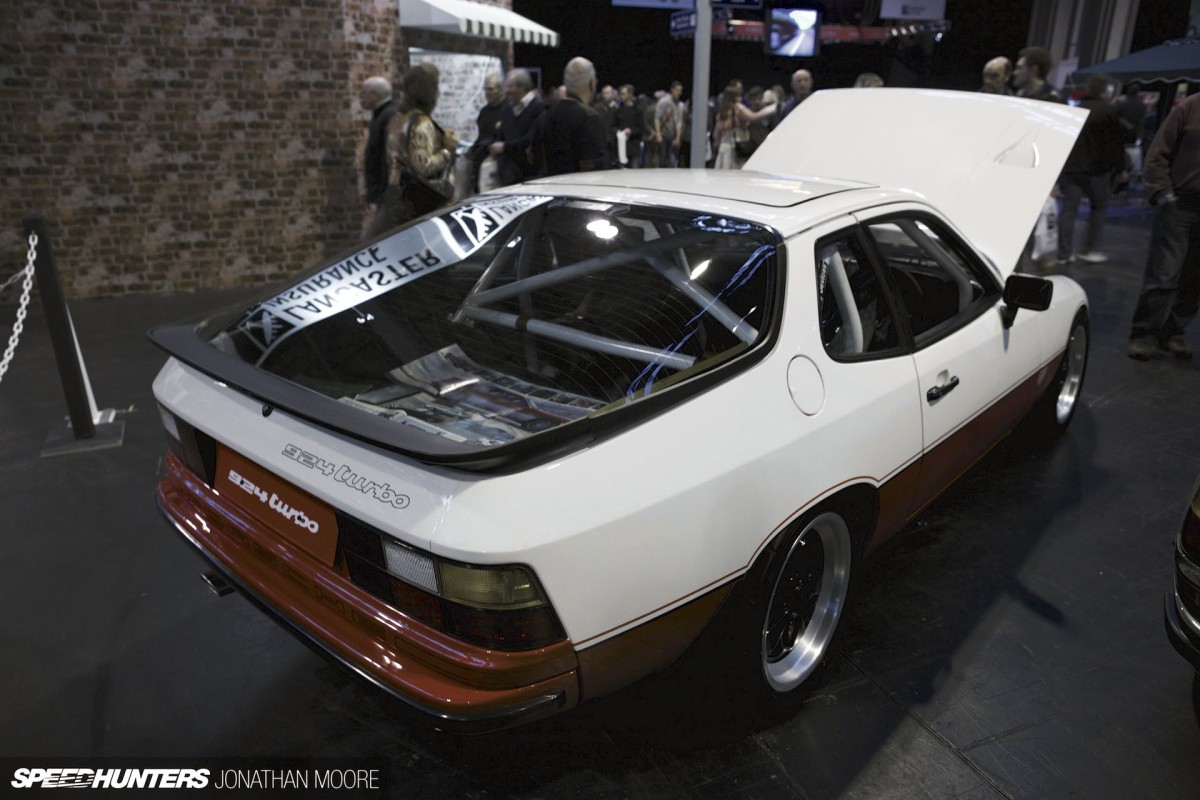 But I was most taken with this pristine 924 Turbo, another to have undergone a comprehensive and loving rebuild.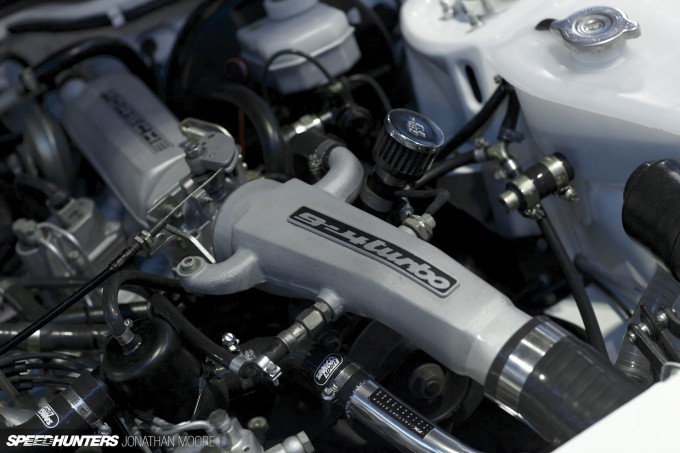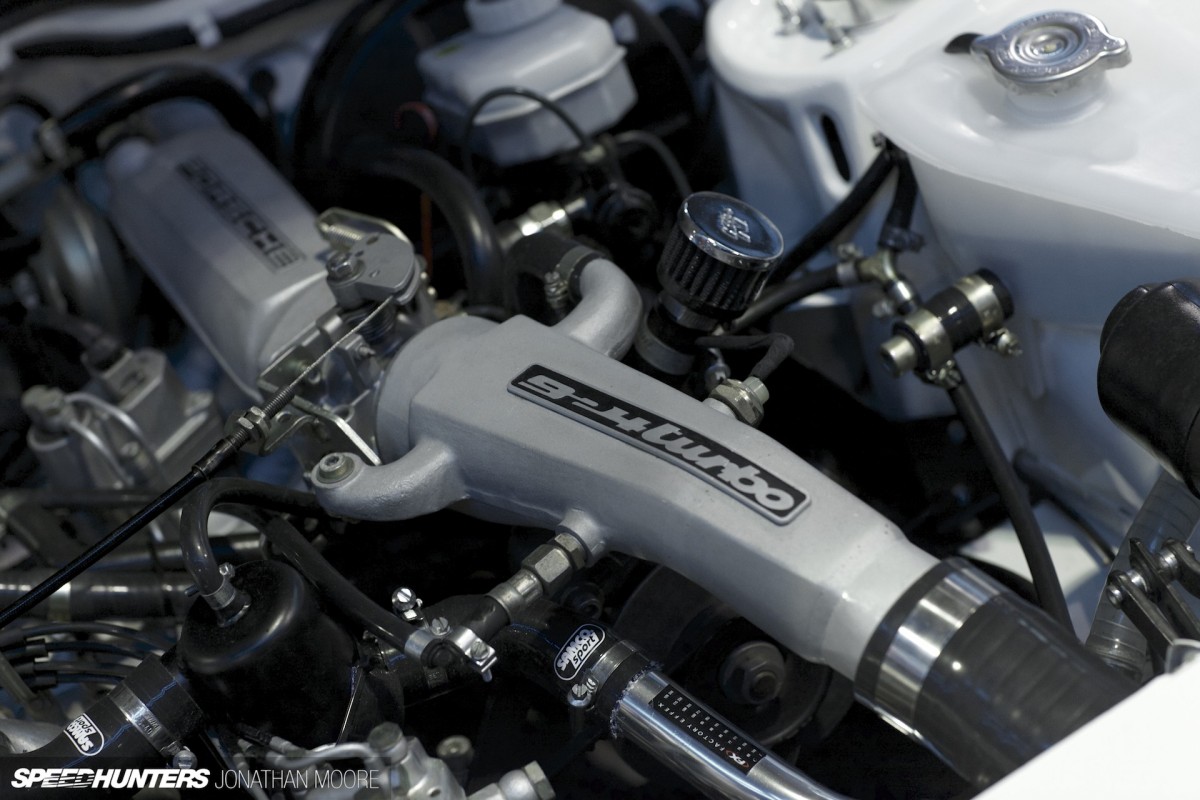 The 924 is typically under-rated, but the turbo version provided the perfect, cheaper bridge between the entry level 924 and the 911.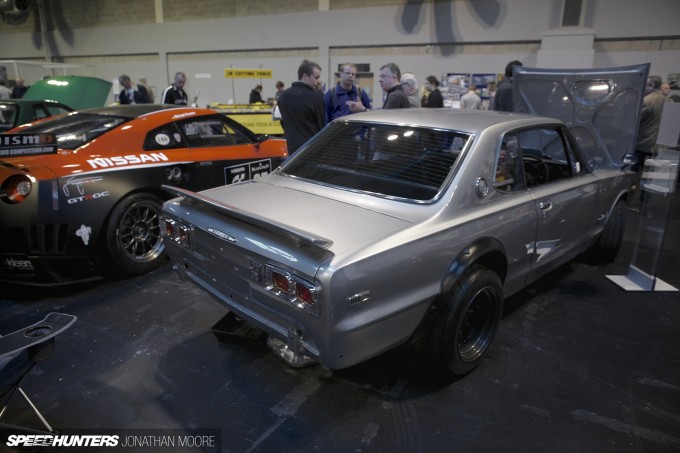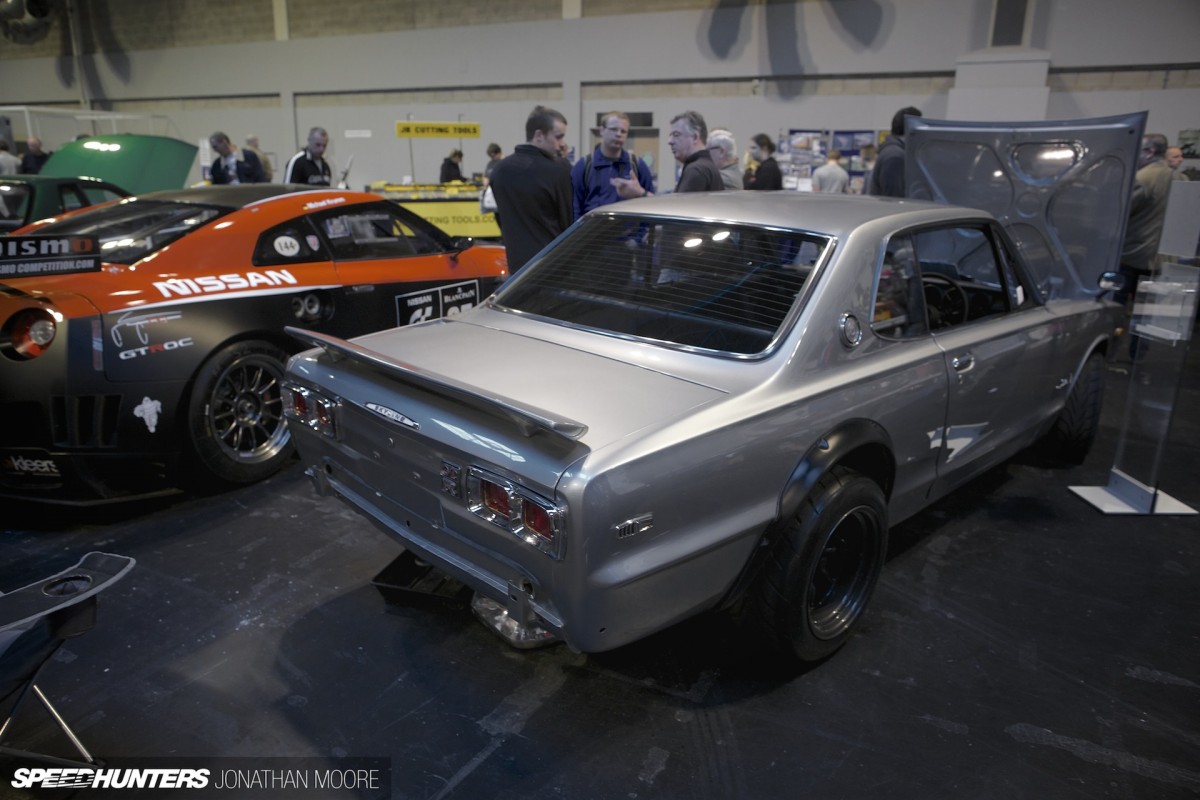 Modern racer R35s seem to be a constant at almost any show I go to, but the 1971 Hakosuka next to it was getting as much if not more attention – it's a rare thing to see in the UK. This was a 2000GT, again just restored, and on sale – as many cars were. Oh to have a much, much bigger wallet.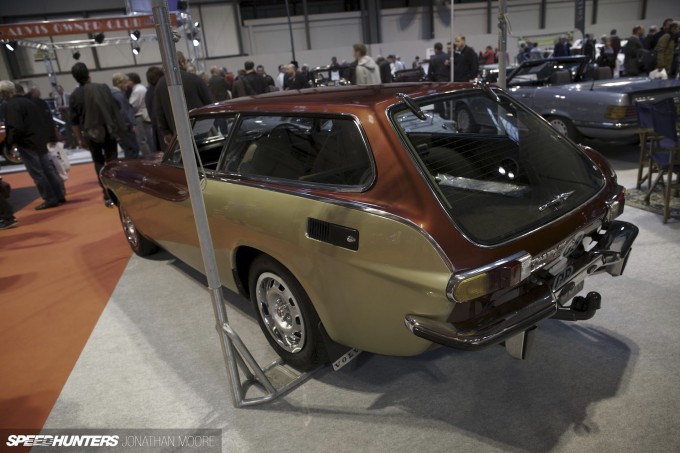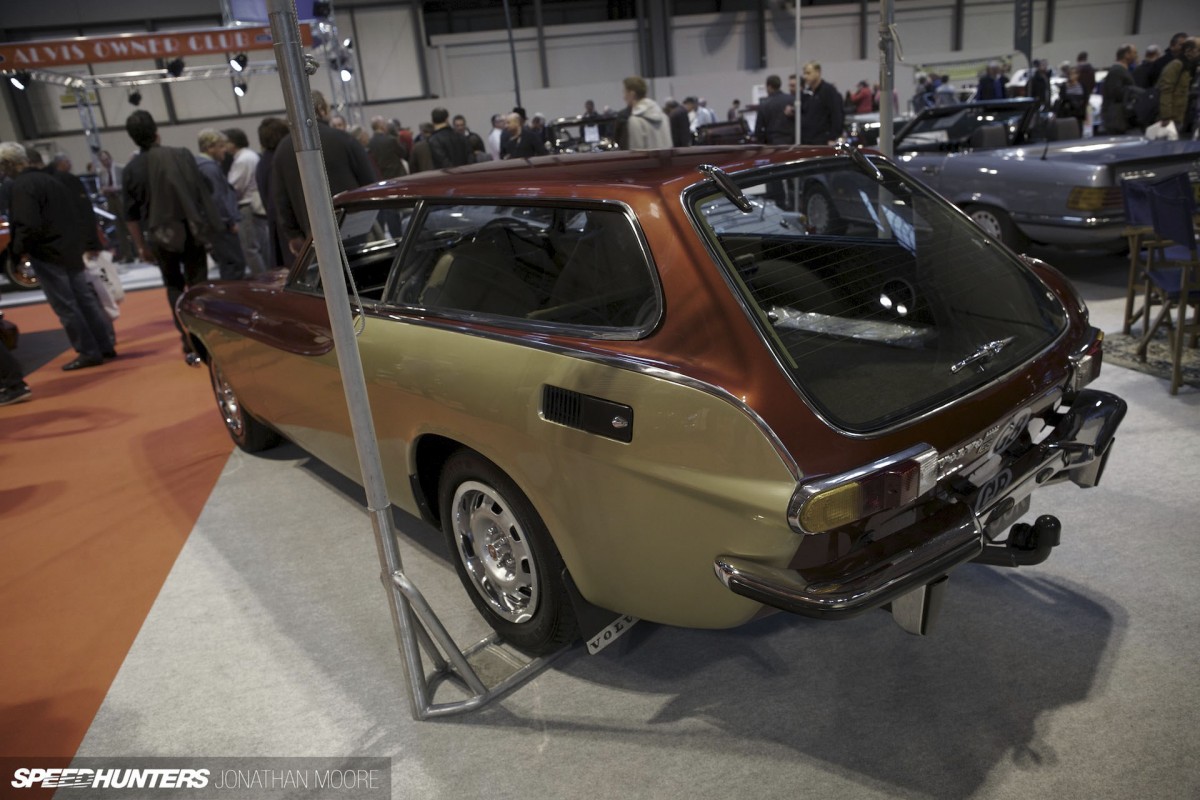 I came across this car from the rear angle first: the big area of glass and gleaming two-tone paint meant I couldn't miss it even from a distance. 'It looks like a modern Volvo', I thought…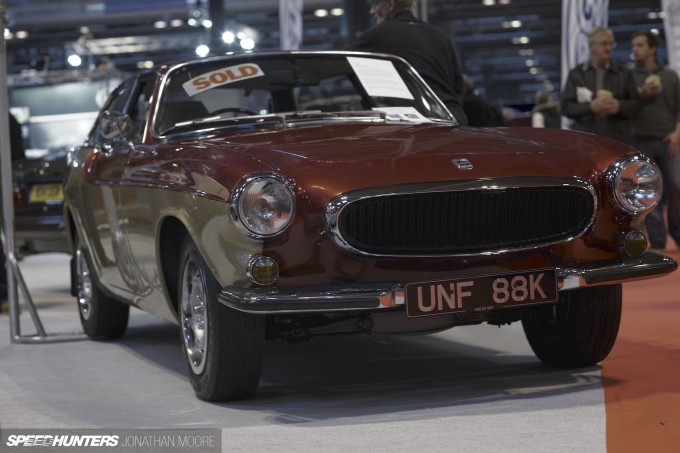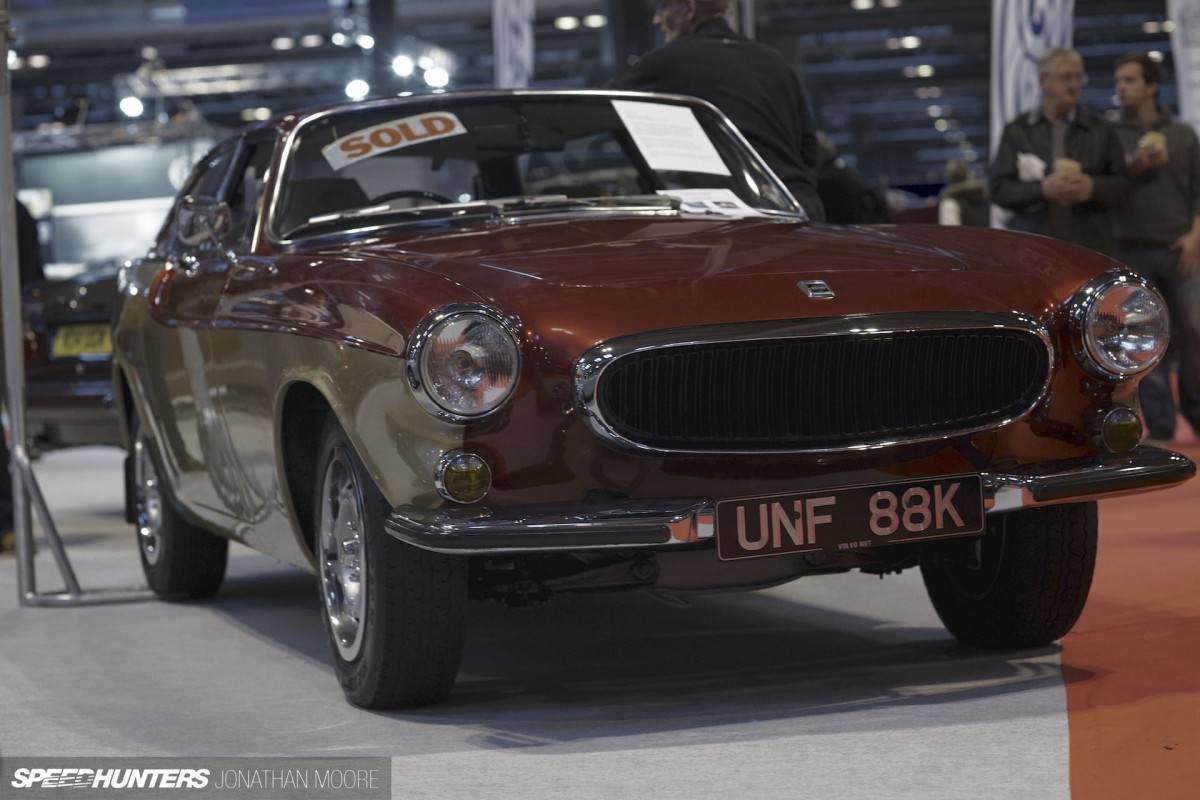 Well, okay, of course it's a P1800, and a beautiful one at that, but it was more that I'd never thought that the design of the rear and flanks of the modern Volvo range could have been inspired by this classic model.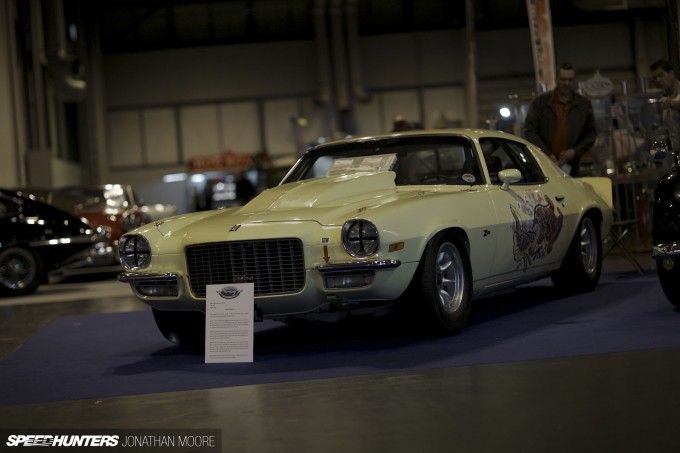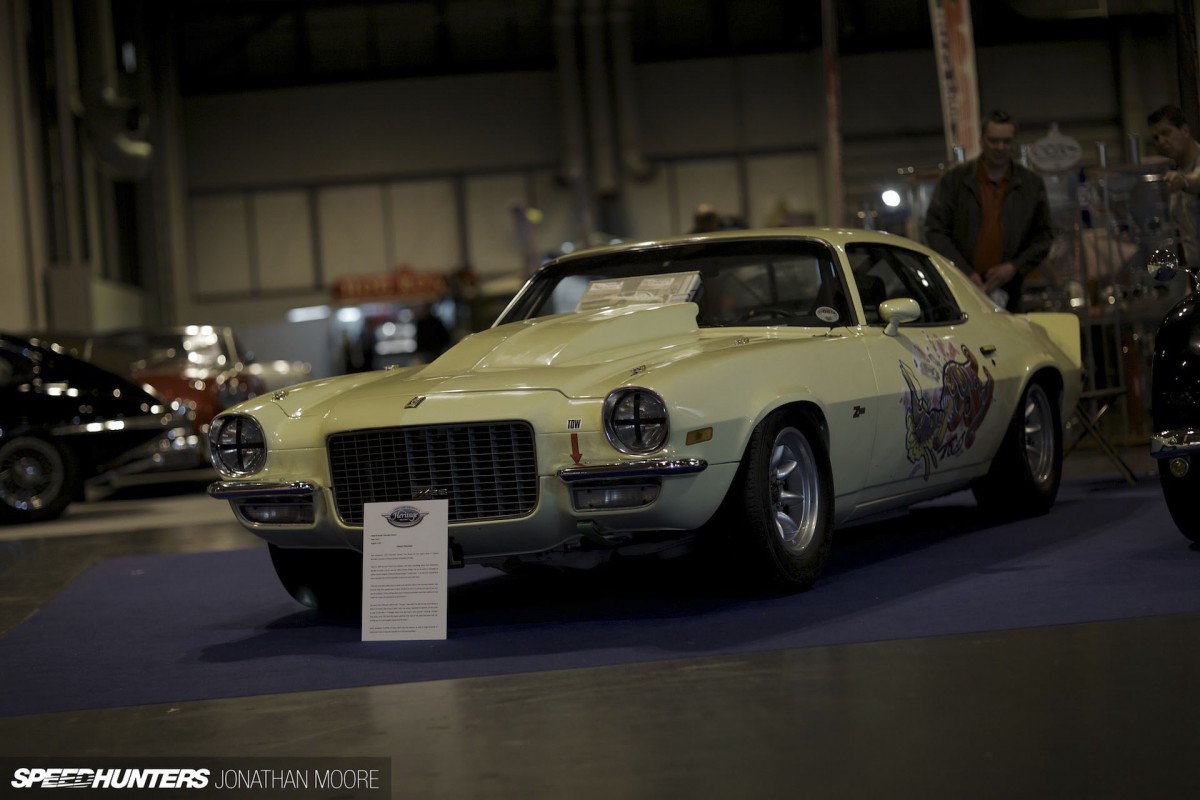 American muscle has always been popular over on this side of the pond. American airbases from the Cold War saw a big influx of metal in period, and as in Europe there's always been a fascination with cars which dwarf their equivalent models over here. US machinery was allocated the far portion of an entire hall, with '50s cruisers and big name models like Corvettes in the spotlight, but the various Camaros on offer in the other halls were the ones that hooked me in.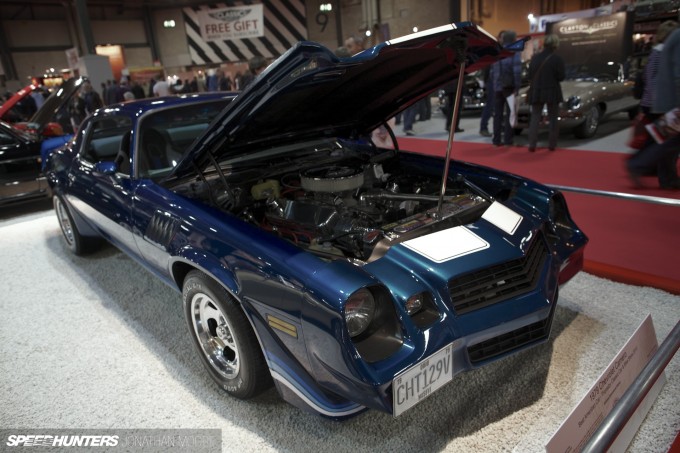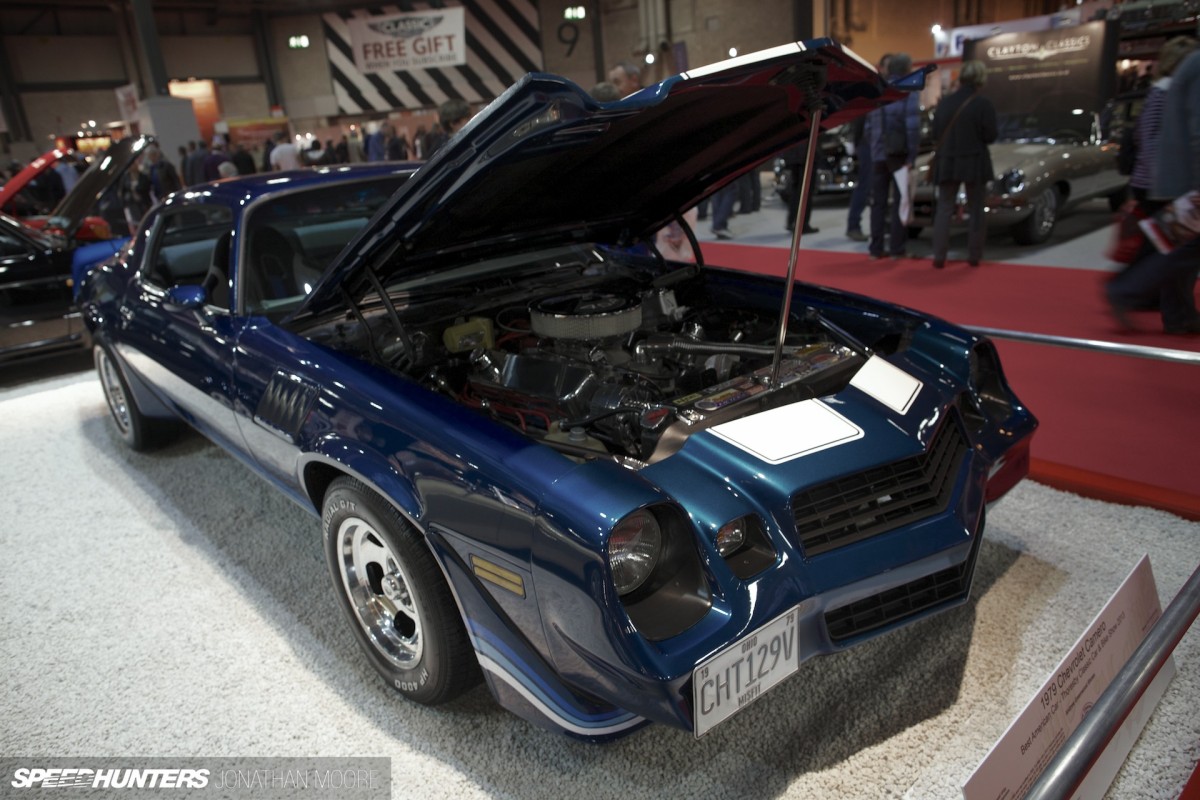 This Corvette-engined '79 Camaro was another show award winner, and certainly a stunning rebuild. It's a toss-up between this and a Trans-Am for my favourite '70s muscle car.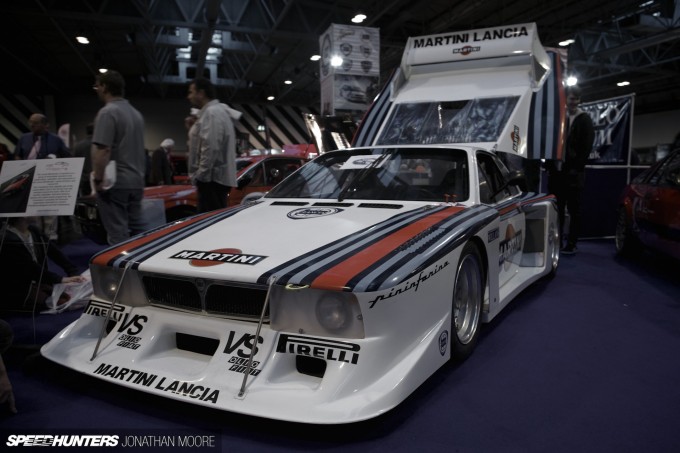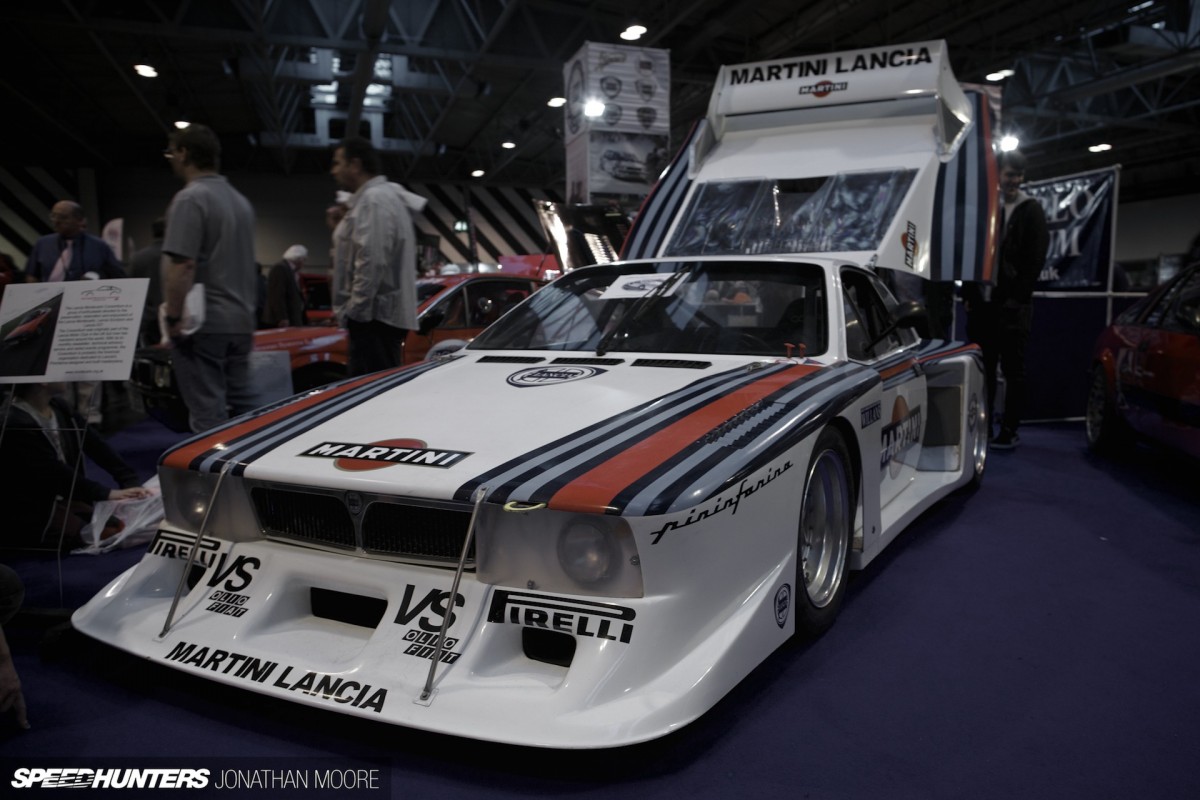 By this stage my neck was pretty much shot. So this car really didn't really help. I'm a huge fan of Group 5 and DRM racers. I love the Lancia Beta Montecarlo. Put a Martini livery on, and that's pretty much the pinnacle. So this car was my star of the show. I'd never seen one in real life; it might not be the genuine article, but by god it's close, being built up in the same way as the original race cars.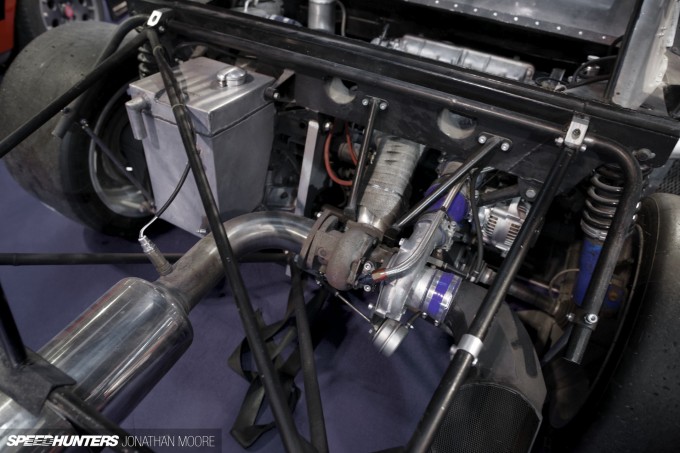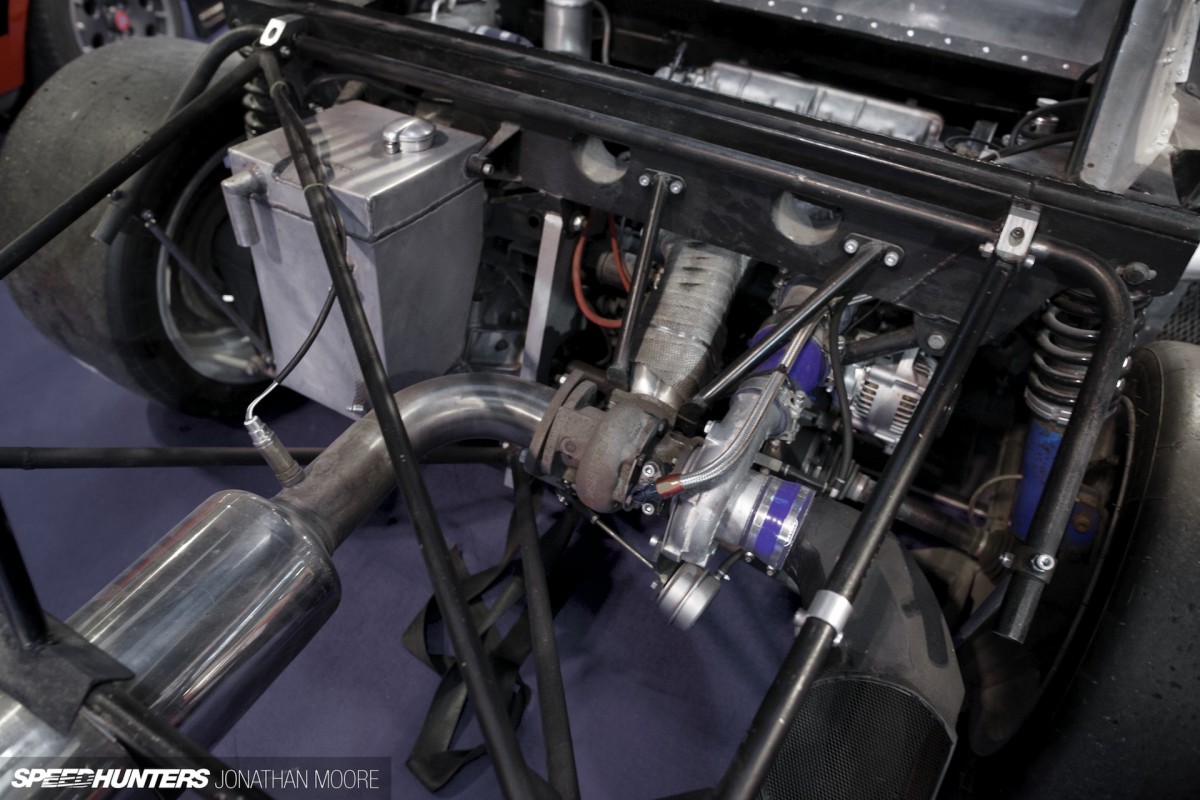 The engine is a proper four-cylinder turbo, and the whole things looks utterly authentic. Security almost had to restrain me, so I was forced to leave… But it won't escape: I'm tracking it down. I need more time with car. On my own….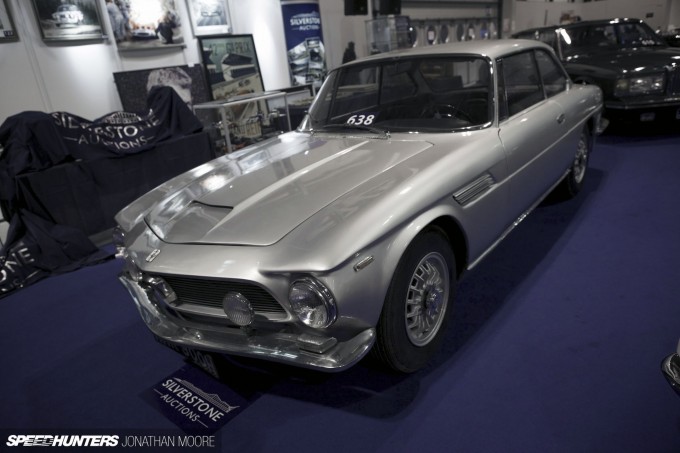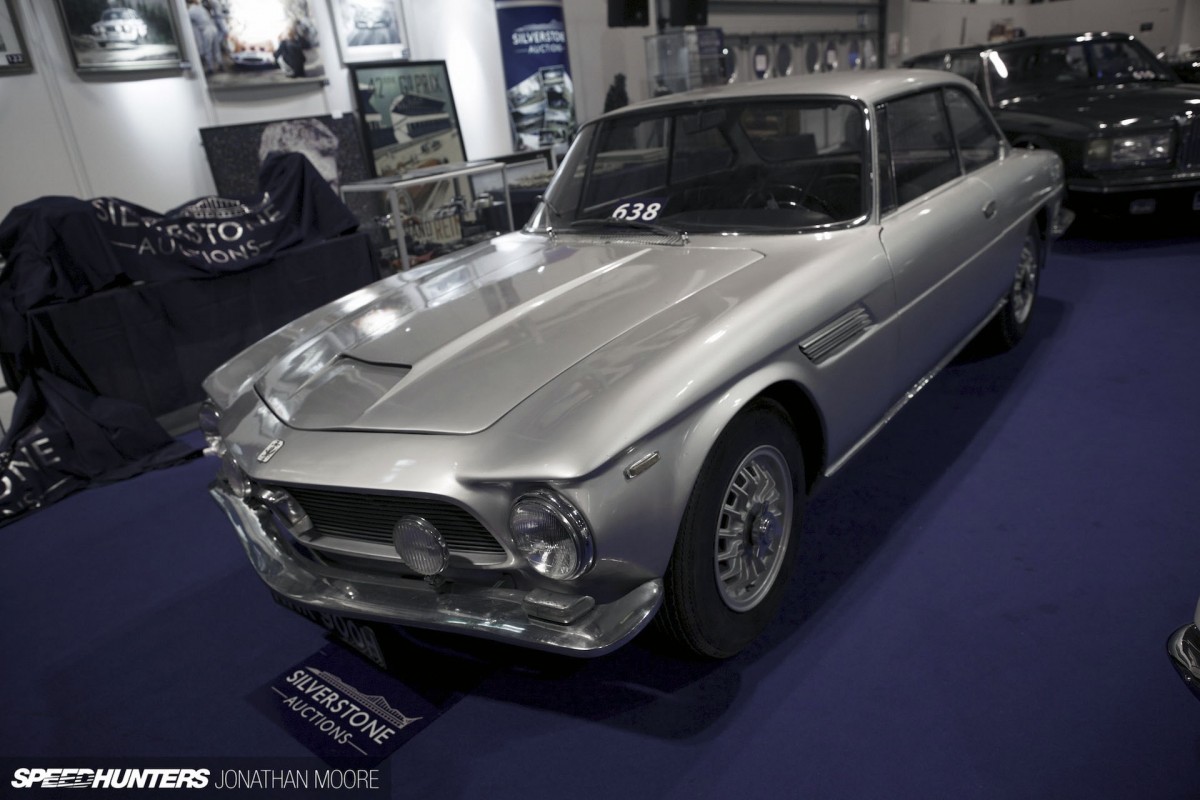 If there's one thing that almost ranks up there with seeing rare cars I thought I'd never see in the flesh, it's seeing cars that I'm either not that familiar with or have never heard of. The ISO Rivolta GT lands in the former category: I know the marque, but seeing one of these Italian beauties is rare. The names behind the company tell you all you need to know: Giugaro, Bizzarrini, Bertone… and Chevrolet! Surprisingly for a svelte Italian GT, it's an American V8 under the hood. Unsurprisingly, it's been stored in a barn. For 35 years.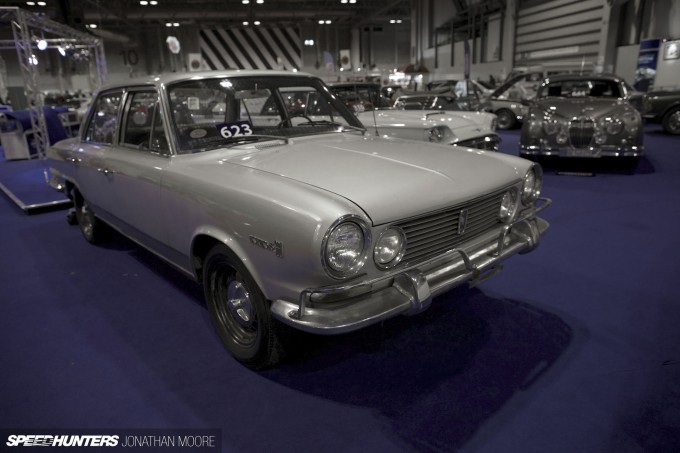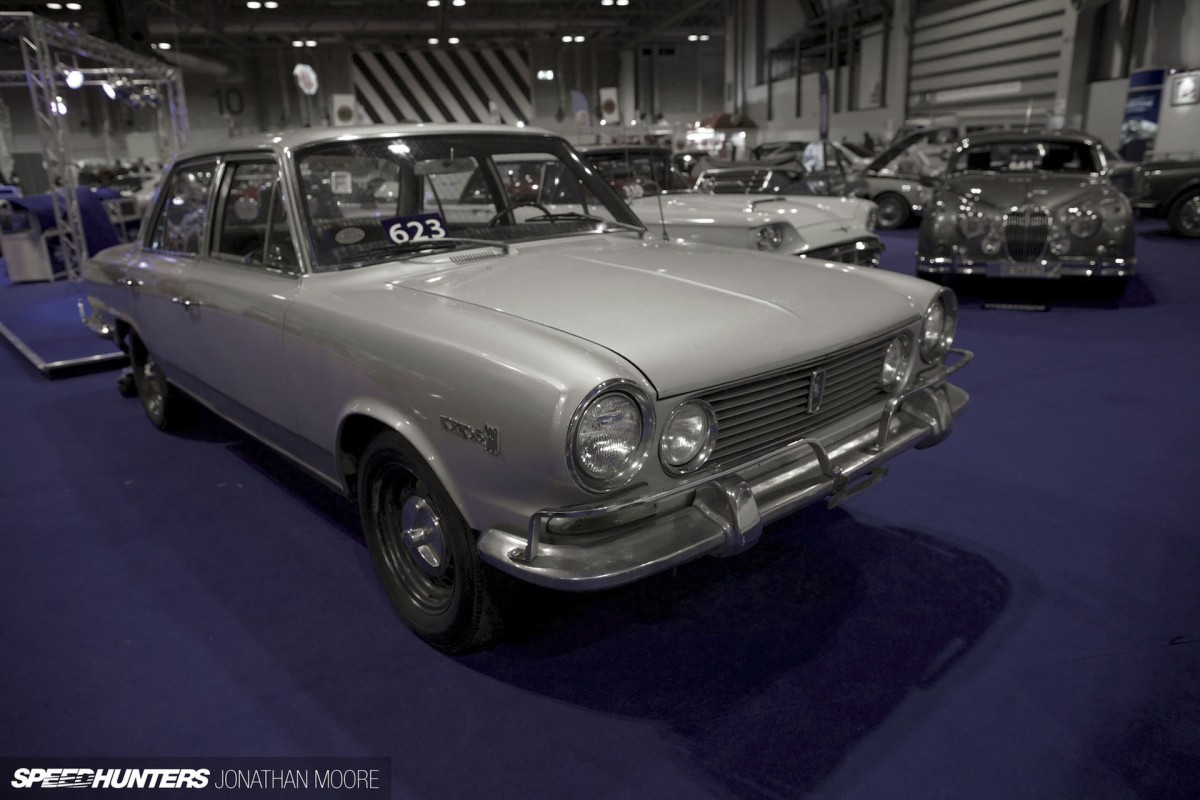 Then there was this IKA Torino 380S from 1970, which I'm happy to admit I had never heard of before CMS. It was owned in period by none other than Juan-Manuel Fangio, which is some recommendation. IKA stood for Industrias Kaiser Argentina, and Fangio was actually involved in its design – he also roped in Pininfarina to help. Both these cars were in the Silverstone Auctions corral, and part of the leftovers from the weekend's hammering – the majority awaiting collection, but some with post-auction knock-down prices on display. I say 'knock-down'…
British brutes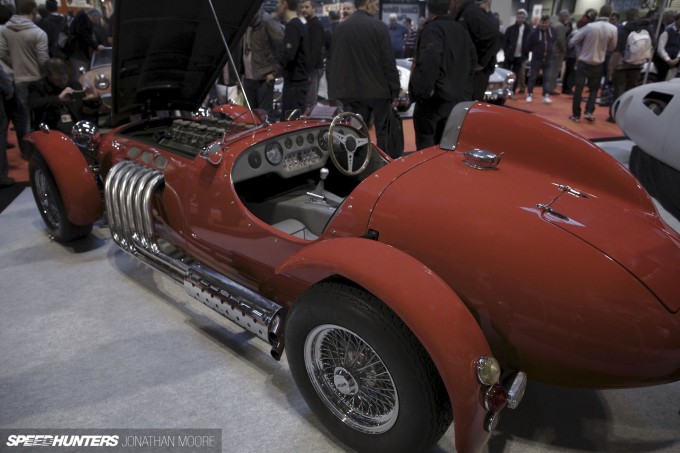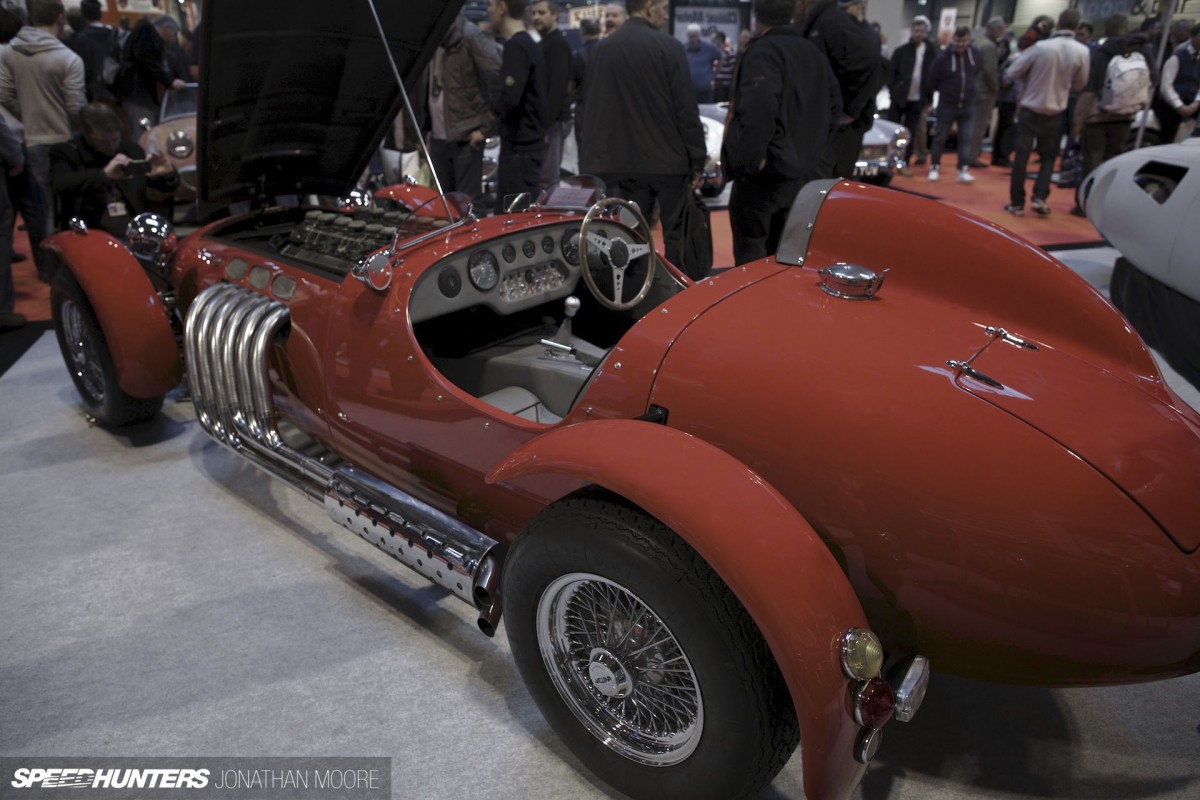 This Ronart looked epic, like a Caterham had mated with a hotrod crossed with a '50 Le Mans racer. Under the bonnet, a massive Jaguar V12 – just look at the pipe-work. This thing was savage!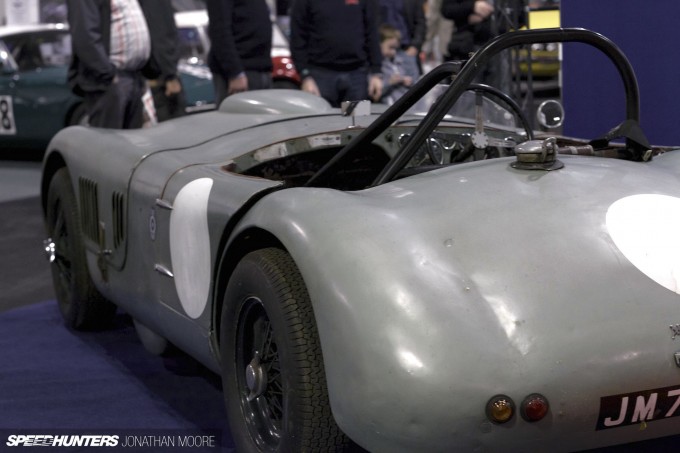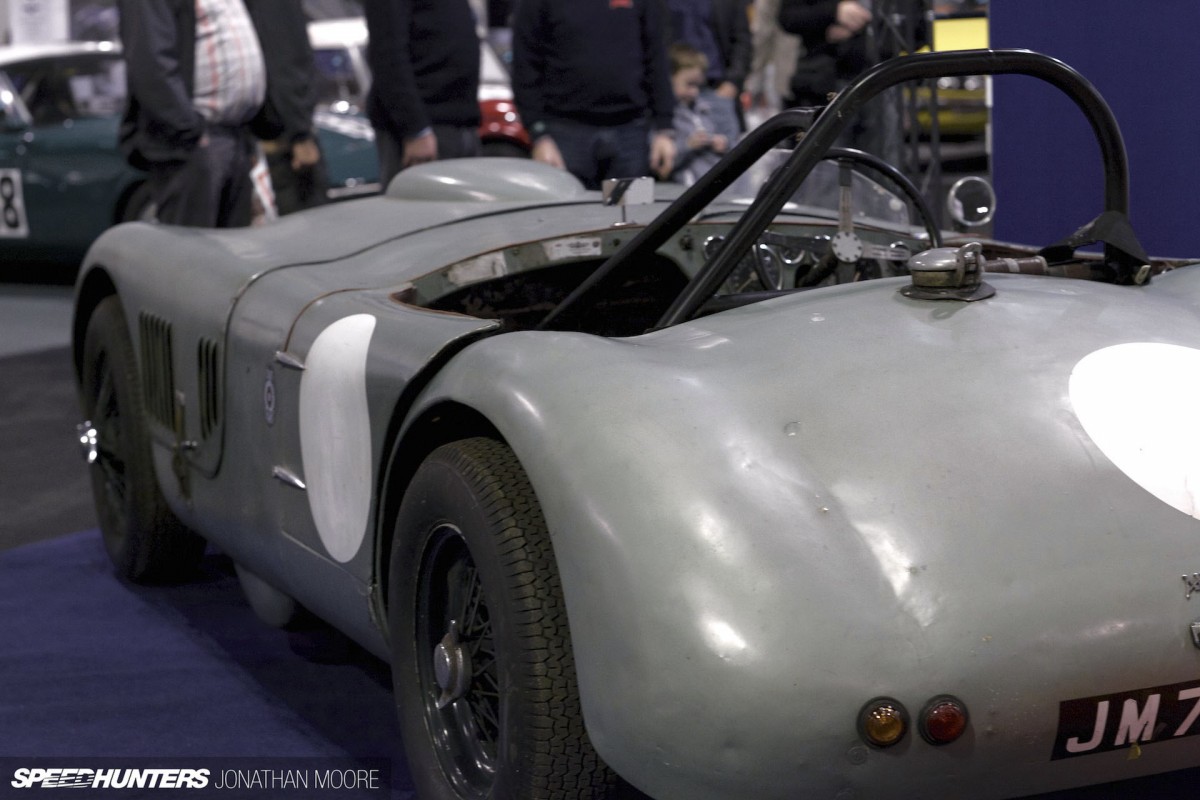 Putting big American engines in small British cars during the '50s and '60s was all the rage, and Allard were the masters of it. One of my must-see highlights at each year's Goodwood Revival is to see the incongruity of an Allard in a virtually constant drift, its rear permanently lit up and its V8 barely contained under the long hood. This is a J2X Le Mans, featuring a 5.4-litre Cadillac engine.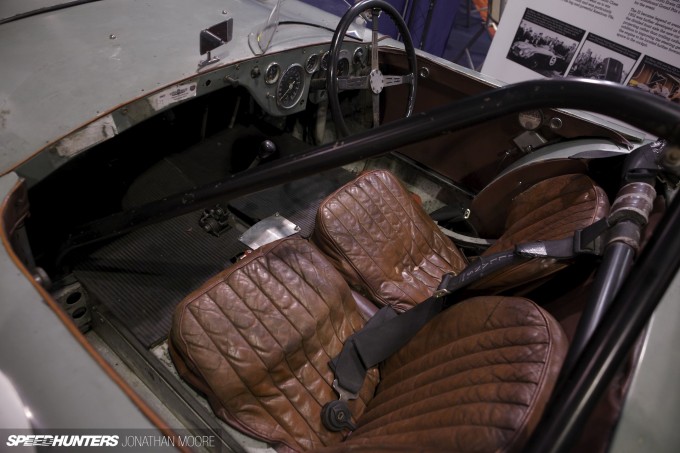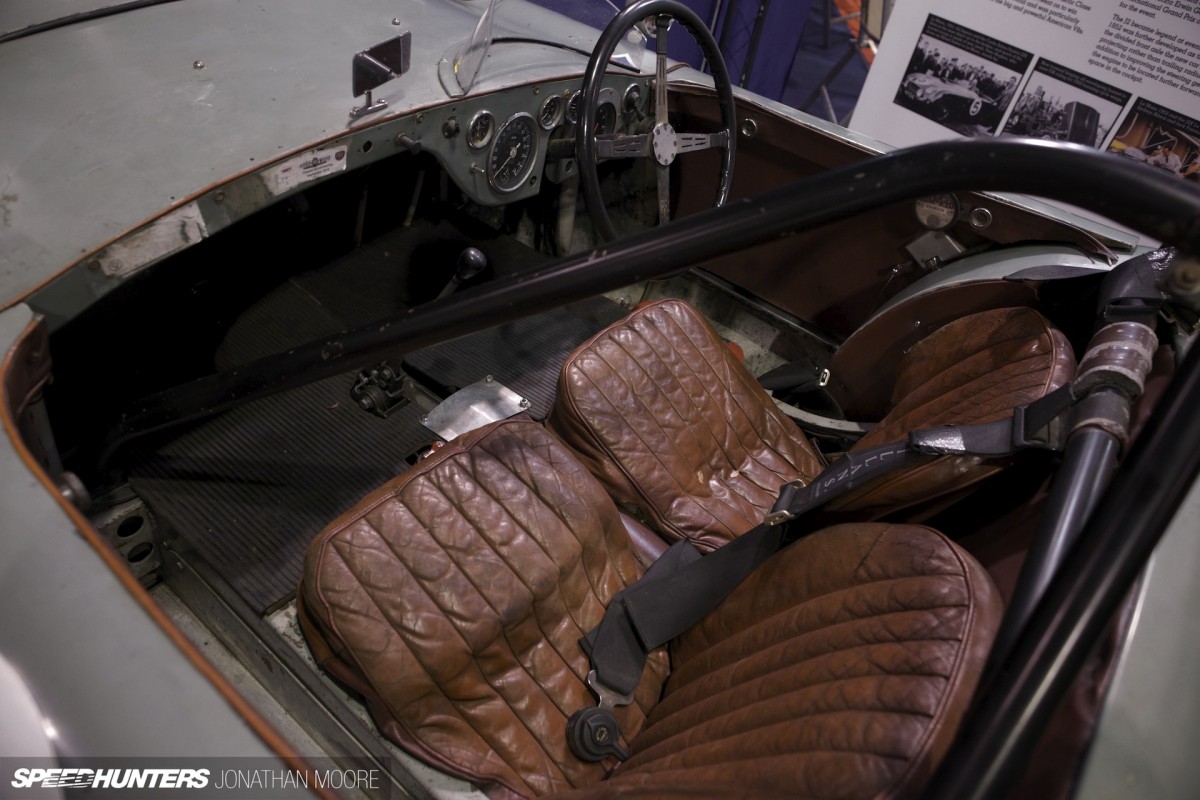 For a car described as being 'immensely powerful', this basic cockpit and two-hoop roll bar arrangement looks a tad under-specced. But still, Allards were driven by Zora Arkus-Duntov and Carroll Shelby in period…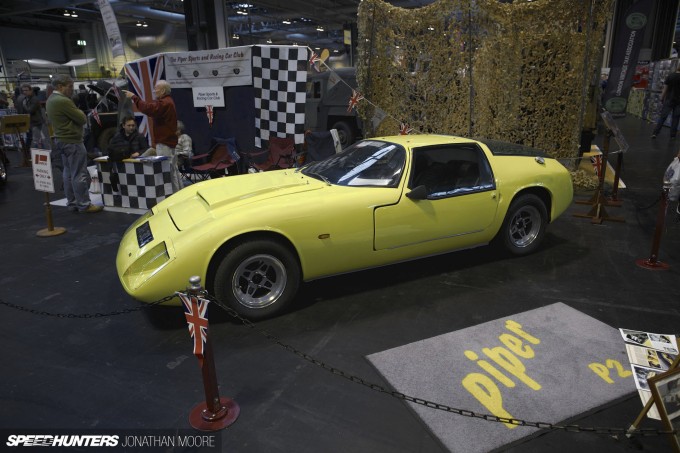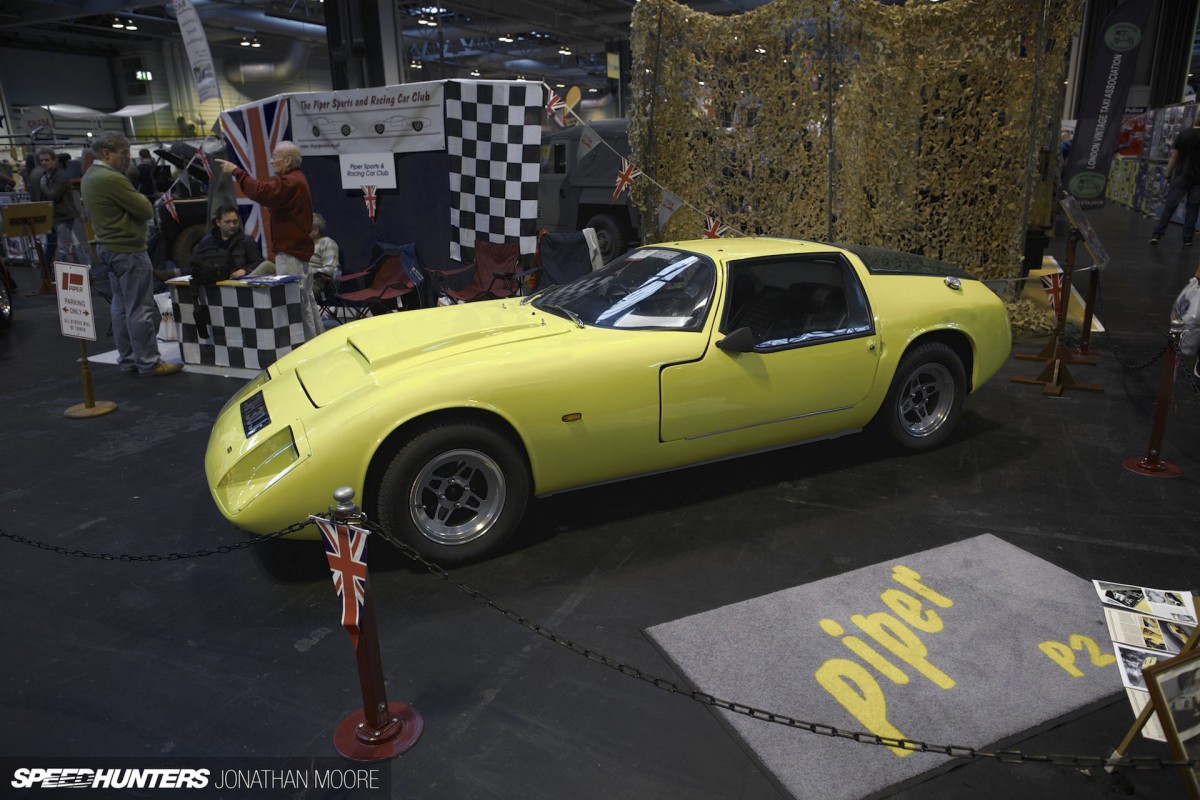 Artisan manufacturer presence continued with the diminutive Piper P2: a race-bred low-volume special from 1971 powered by a Lotus Twin Cam 1600.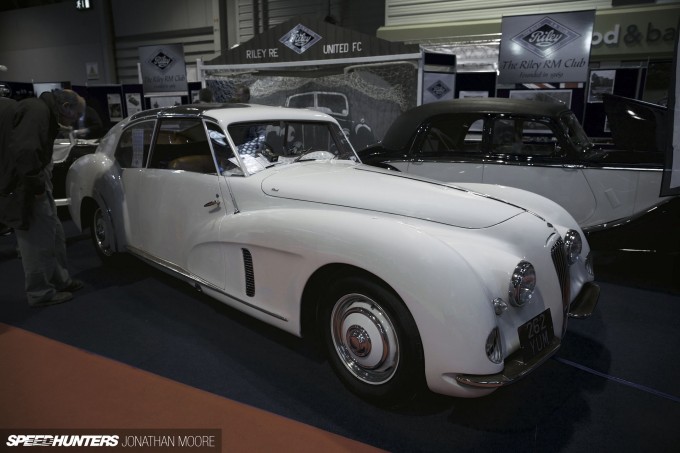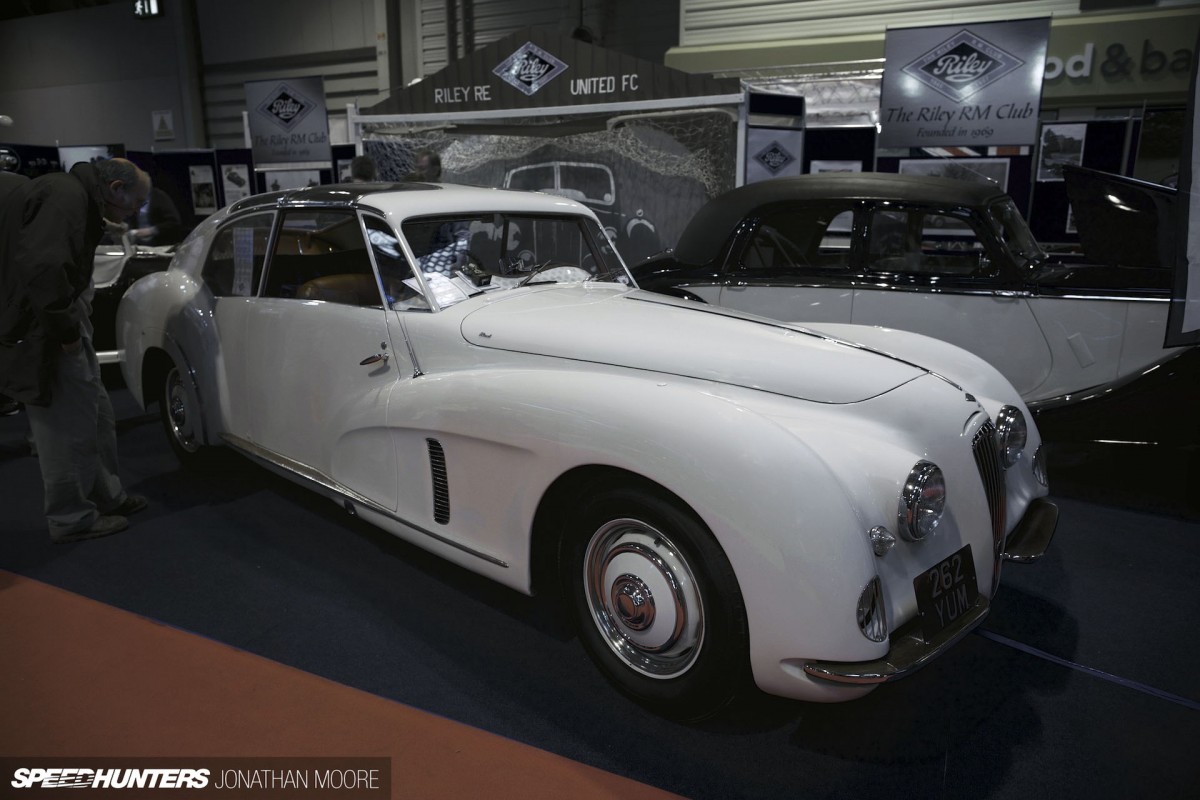 The 1930s don't have the exclusive call on elegance, although this 1948 car calls on a lot of the Art Deco style that was so prevalent in the Inter War years. I wasn't the only person to think that this car – a Riley Transformable – was utterly beautiful. It was commissioned and built by Walter Kong, a Swiss coach builder, and based on the running chassis of a Riley 2.5 litre.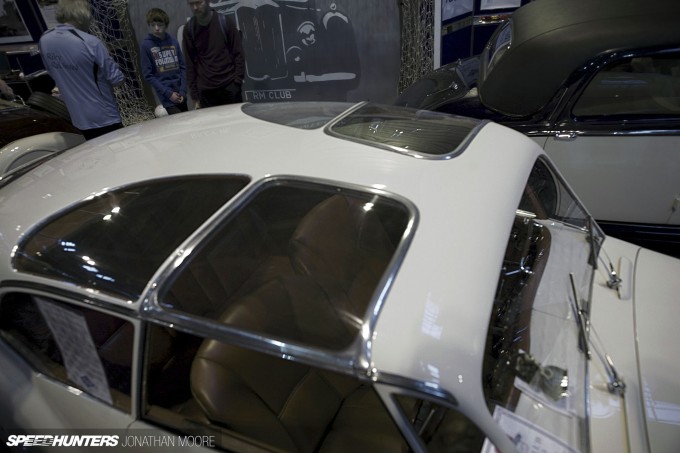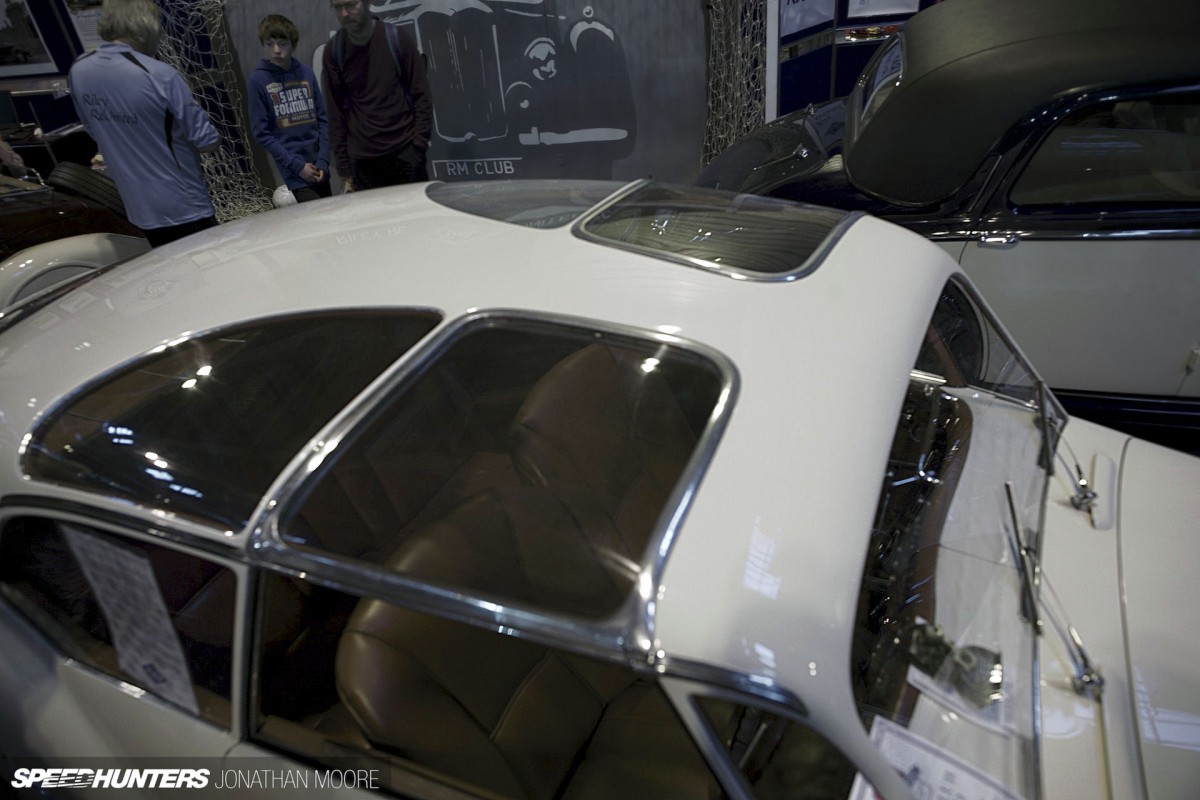 Everything is hand-crafted and bespoke: the glorious panoramic roof (silk covers are stored in the boot), the sculpted side scoops (rather Corvette like), aluminium, low-drag body and suicide doors.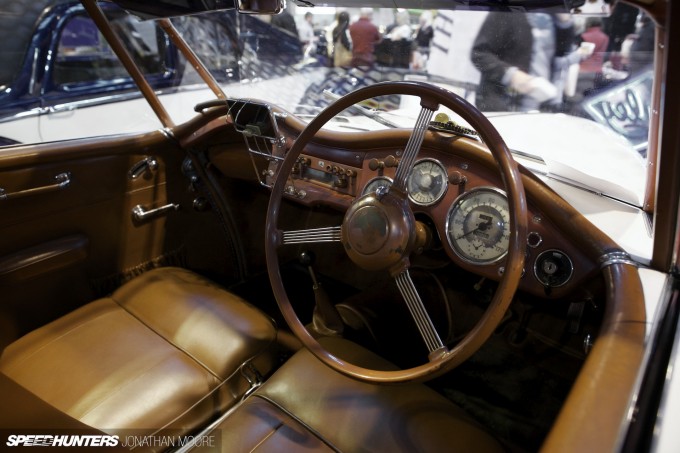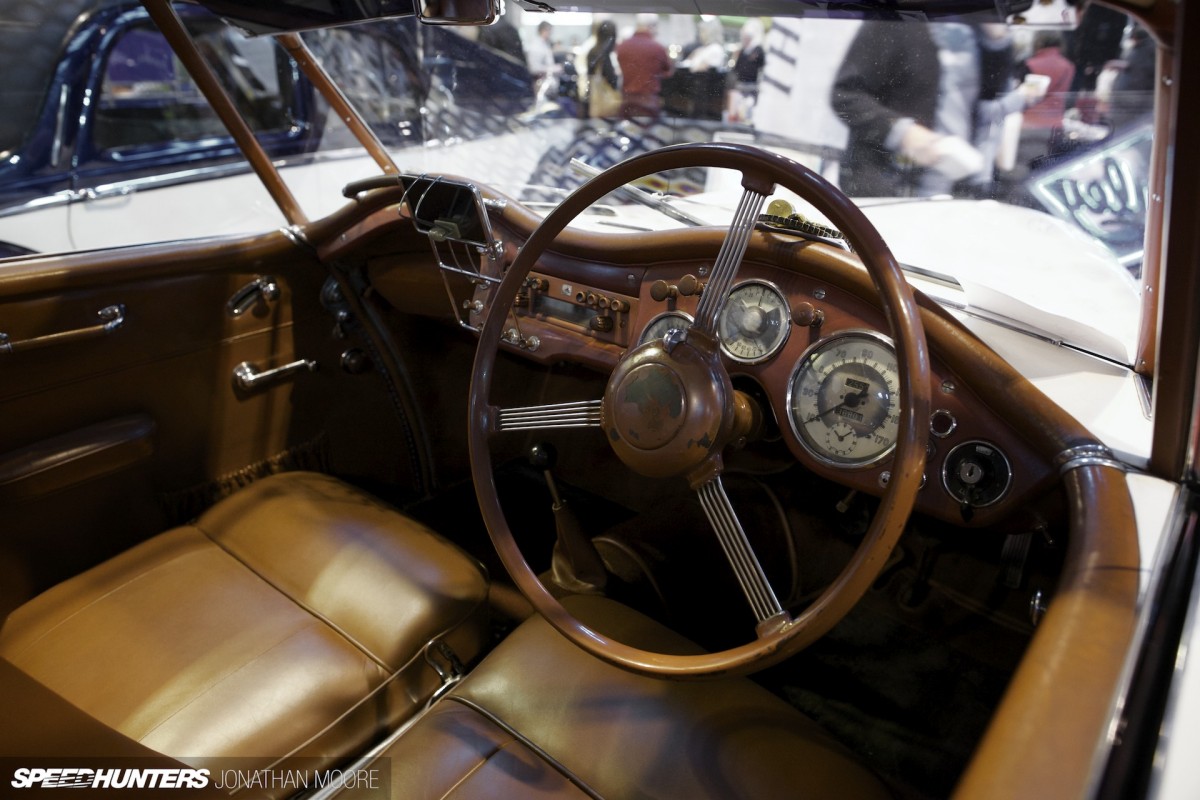 Surprisingly, this car is in completely original condition: despite having led an active life, the Transformable has only undergone regular maintenance and still looks immaculate – perhaps the Swiss mountain air really does promote longer life.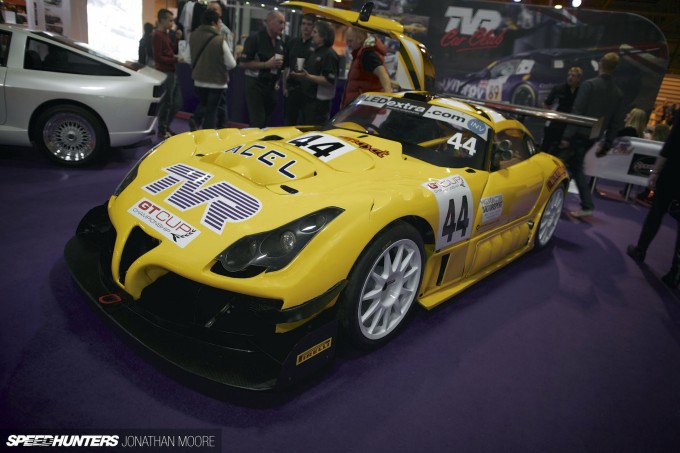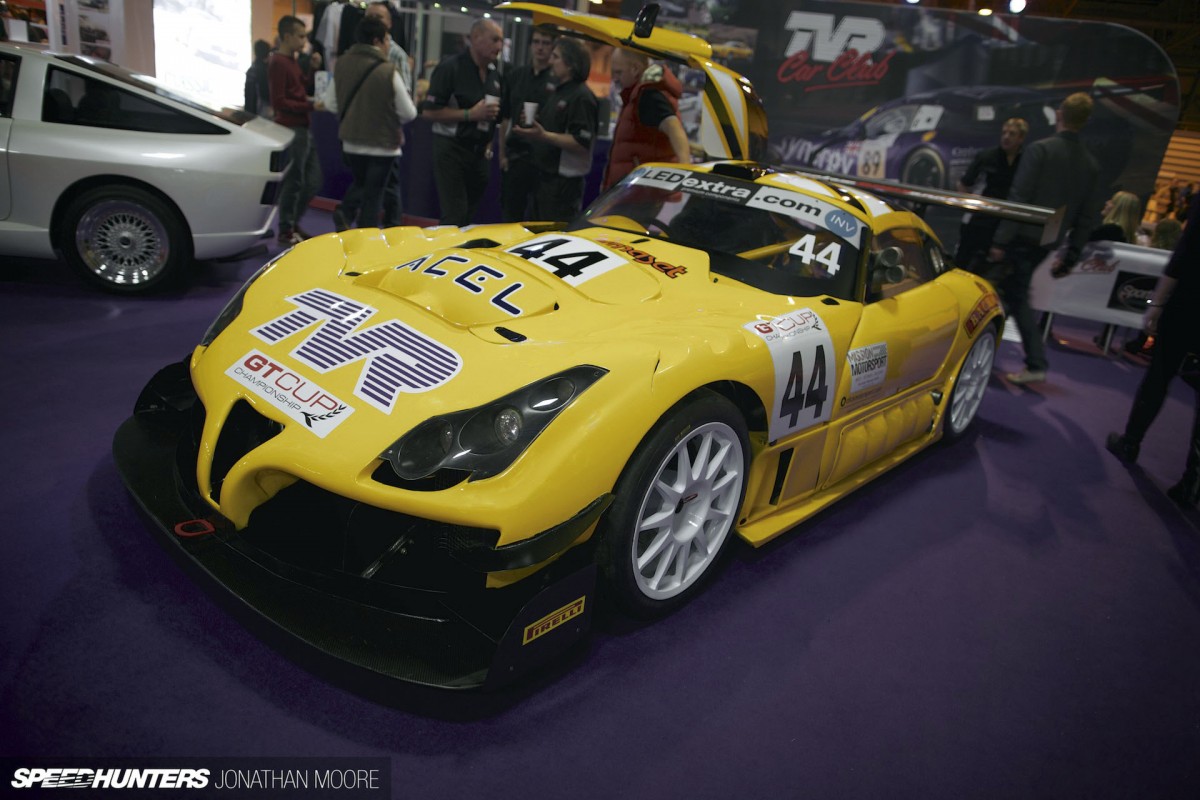 From gentle elegance to sledgehammer power: TVR is a byword for furious noise and speed, and the TVR stand seemed to prove that the troubled brand is on the verge of another upward swing. The Sagaris GT seems like the natural successor to the savage Cerbera Speed 12 GT1.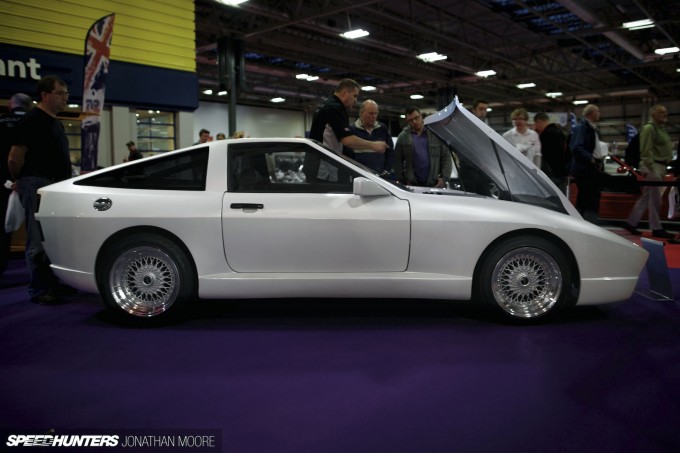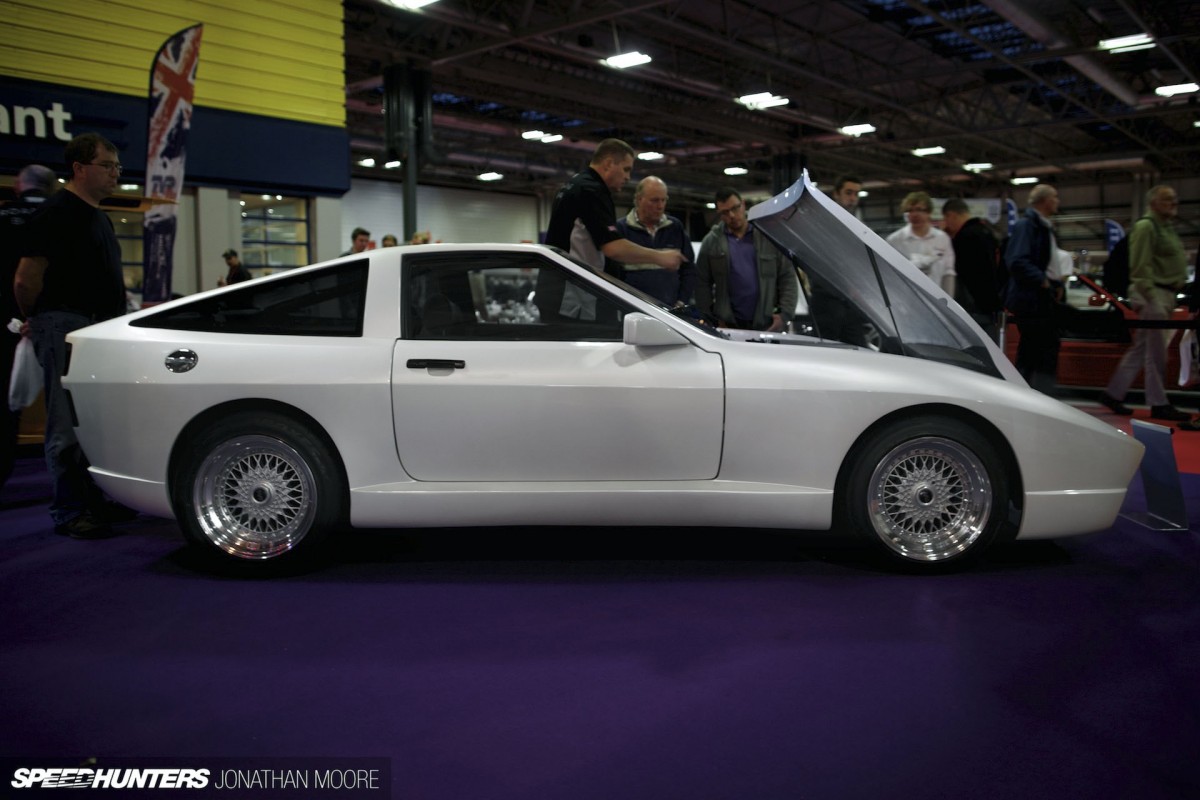 TVR might have had an up and down history, but everyone loves an underdog, especially one who's self-effacing. This is the TVR White Elephant from 1988, a one-off built for the company chairman, using a five-litre Holden V8. It was rescued from TVR as the company collapsed in 2004 (found in the car park rather than a barn for once) and has recently been lovingly restored.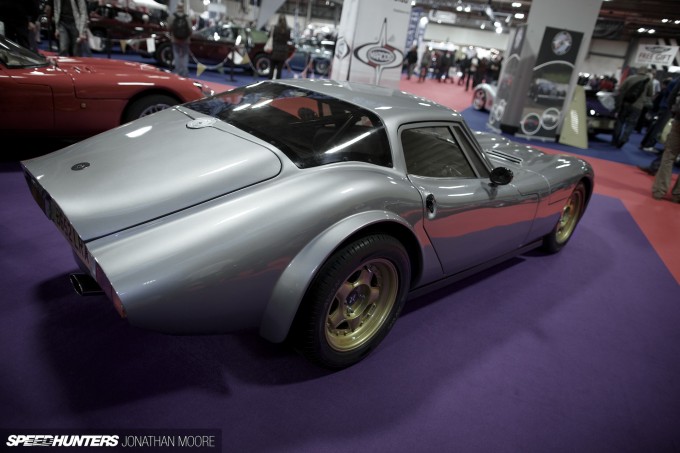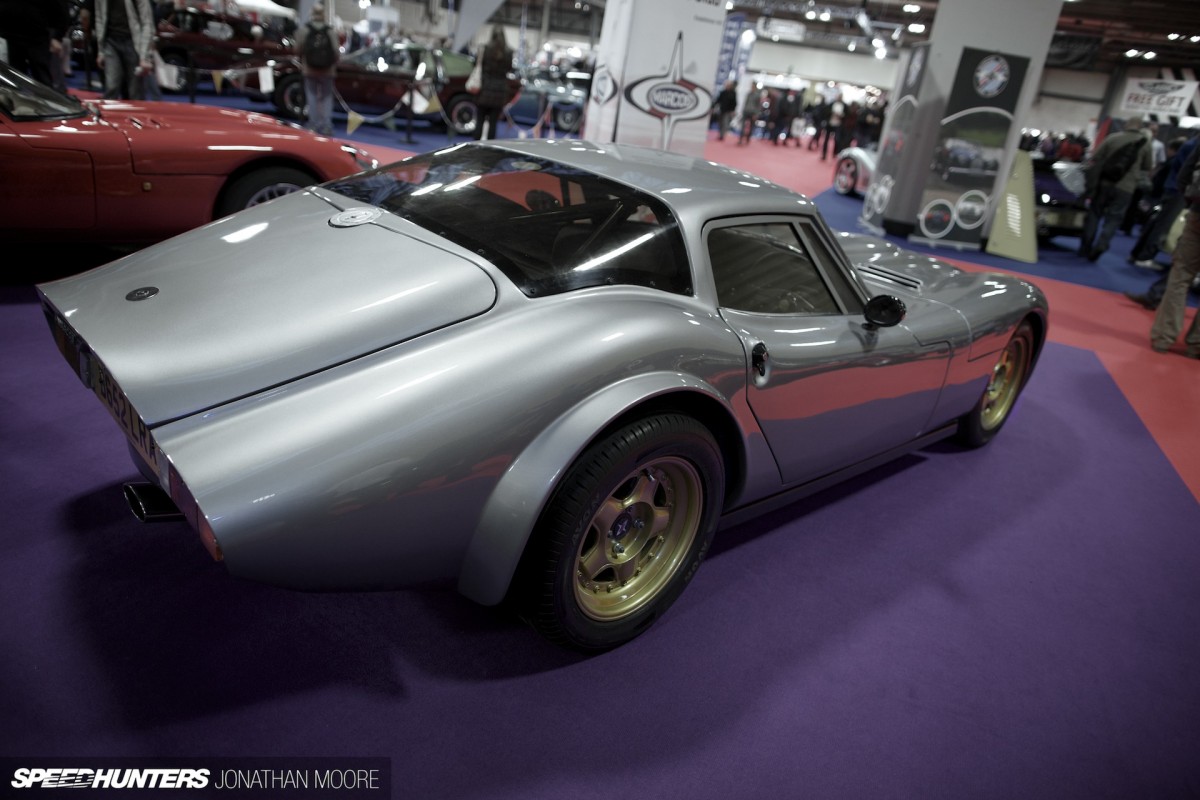 Similarly, Marcos have produced some iconic cars but have the same history of administrative misfortune. I thoroughly enjoyed pouring over an 1800GT at Brands Hatch during the summer, but this rebuilt Mantula street car reminded me how intertwined their DNA was to the race cars.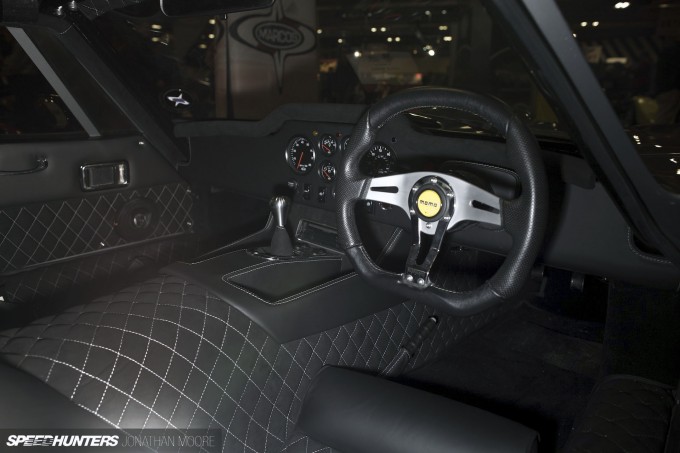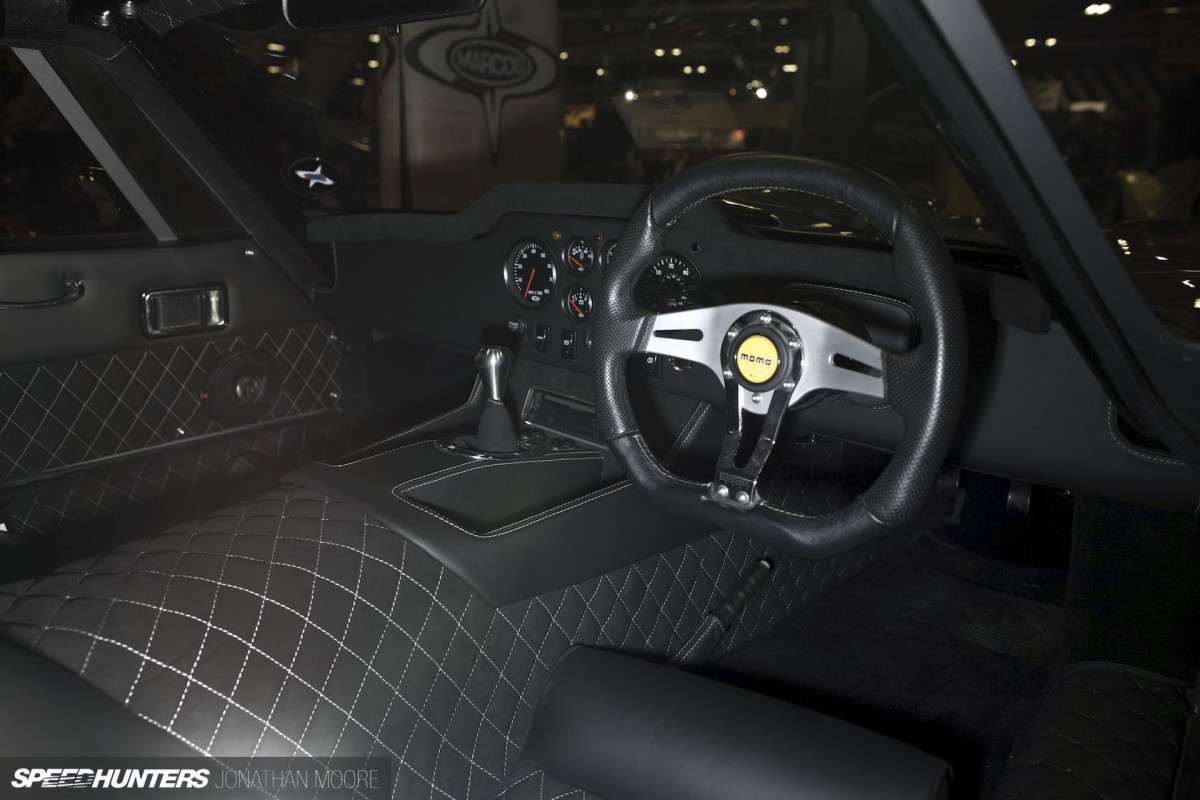 Inside, the stunning diamond-stitched interior highlighted how the cockpit is mostly transmission tunnel: you're tucked down, sitting with your backside virtually touching the tarmac and a bonnet that stretches in front of you like a supertanker.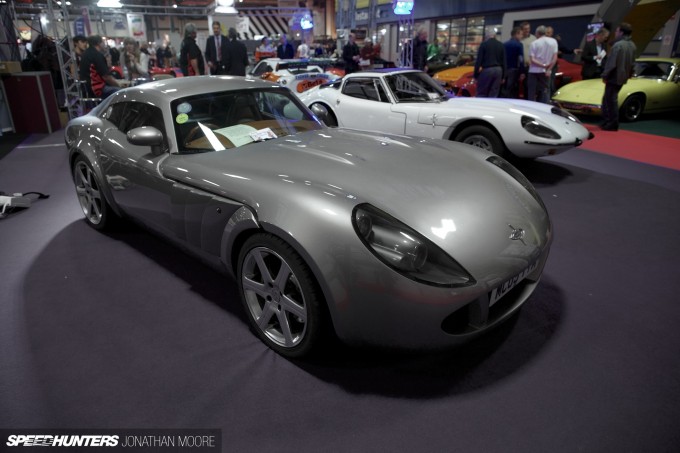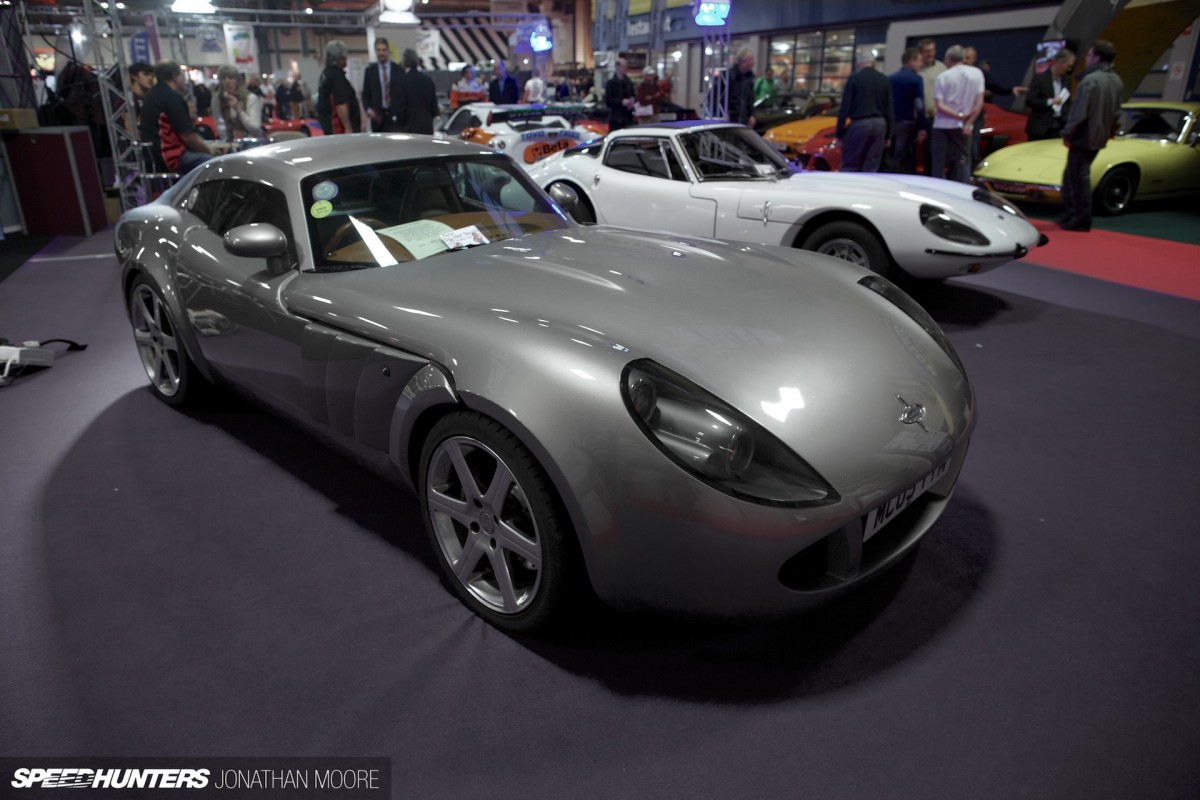 They've always had a unique feel to them: even the final model before the company's last-decade collapse, the TSO, followed the mould – though with more TVR influences, a result of a number of ex-TVR personnel switching across. Unfortunately that was a case of leaping from one sinking ship to another…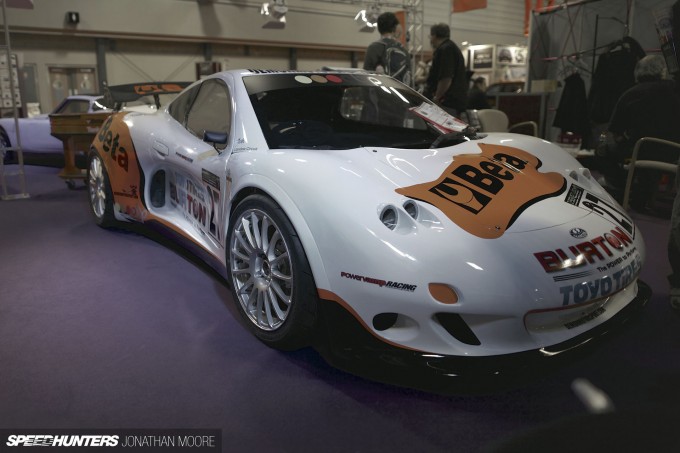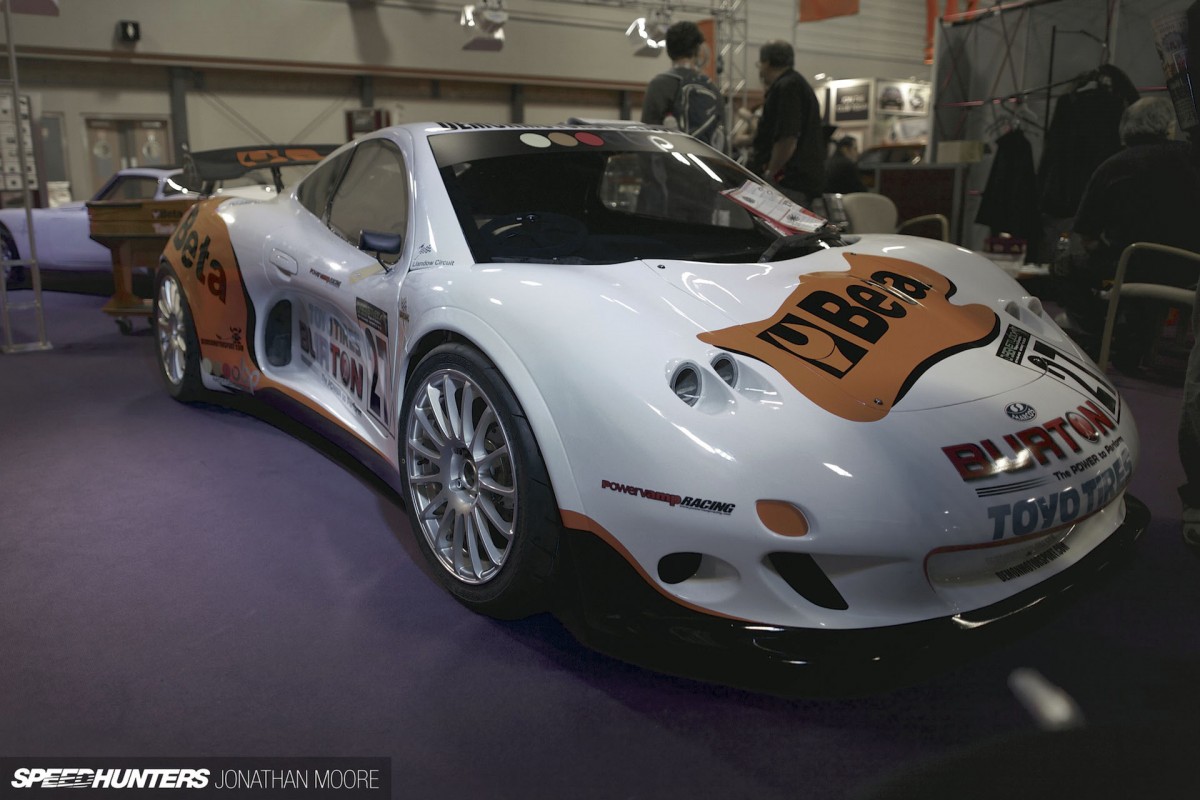 But as with TVR there's more positive news: in the middle of the Marcos stand was this car – with a familiar badge. A new team has bought up the rights to the Marcos name, and are starting up production of a new and very different track-orientated sports car. Purists might be spitting into their beer, but I'd rather see a name continue than die out…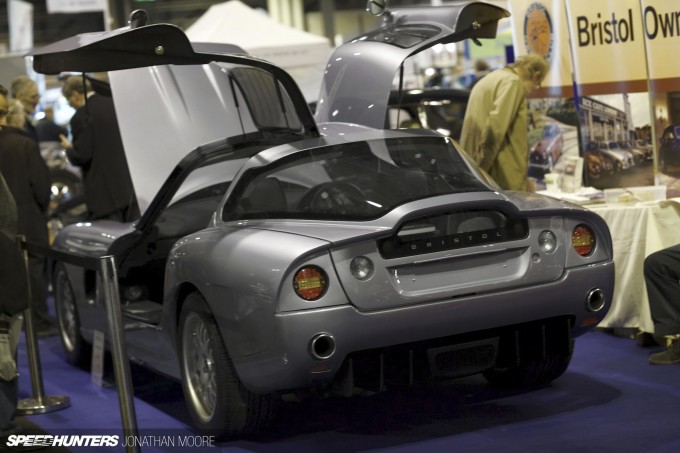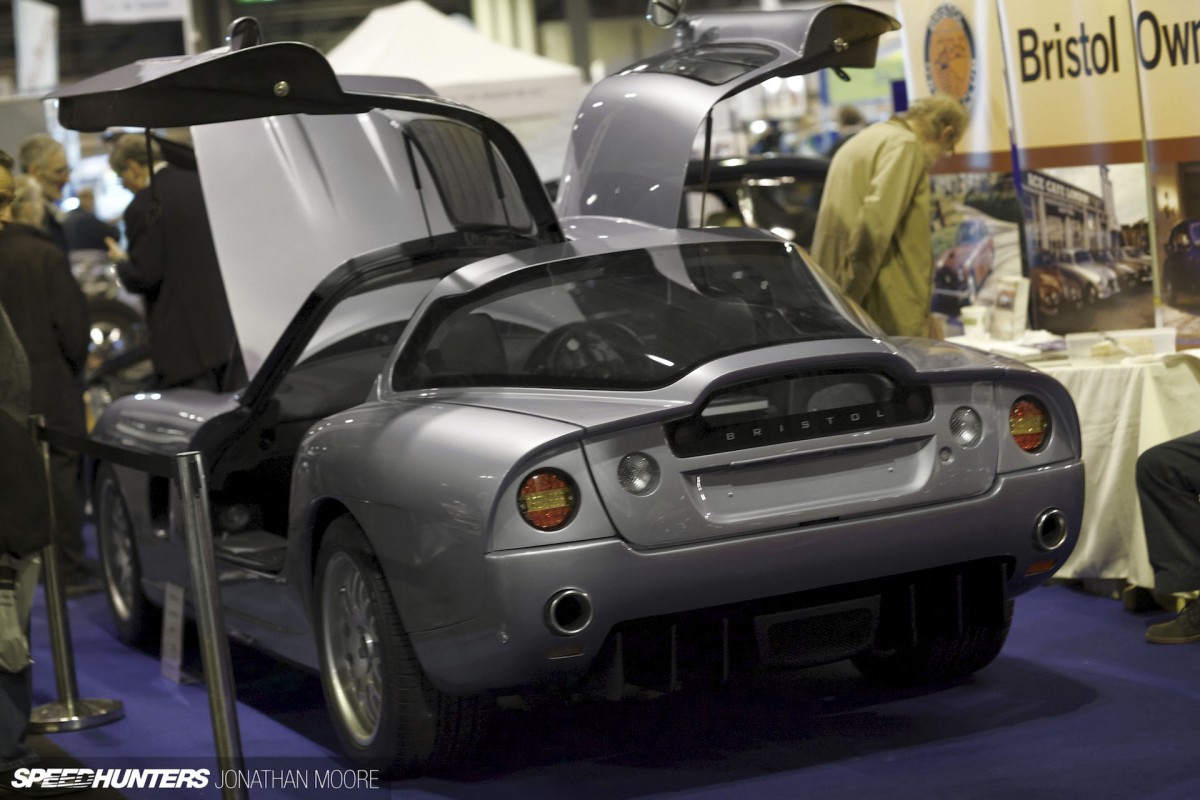 I'll finish off with a stunning British supercar from a spectacularly left-field manufacturer. Bristol cars have a long history of producing quirky, hand-built, bespoke luxury cars, but the Fighter was a real departure even for them. Like a proto SLS crossed with a Viper, the Fighter was certainly named appropriately.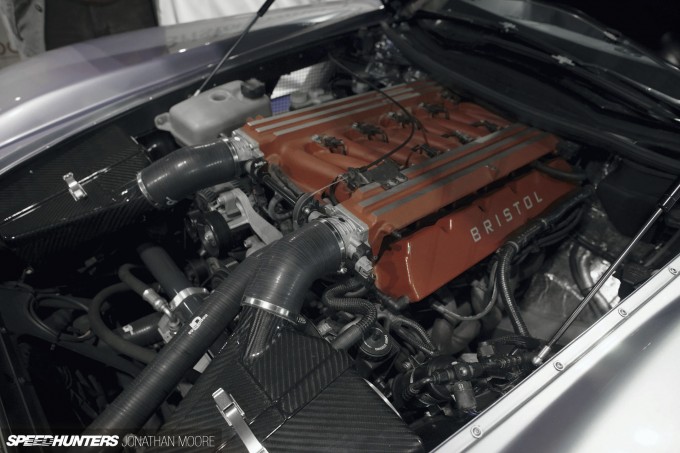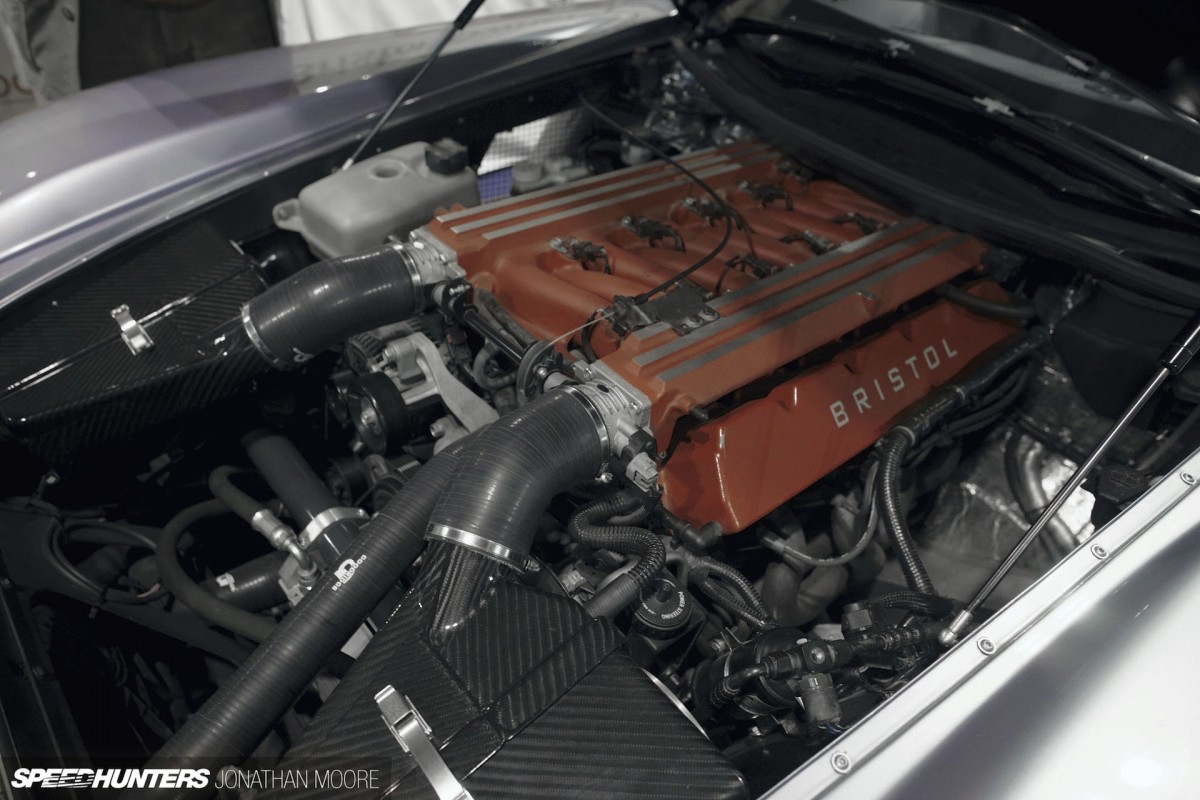 I don't mention the Viper name idly: the eight-litre V10 up front is taken from the SRT line but modified by Bristol to produce even more power. Oh, there's a turbo version that makes over 1,000hp as well. Epic.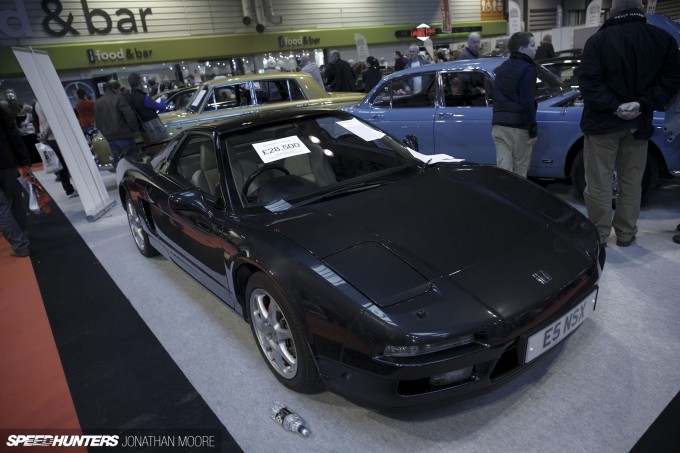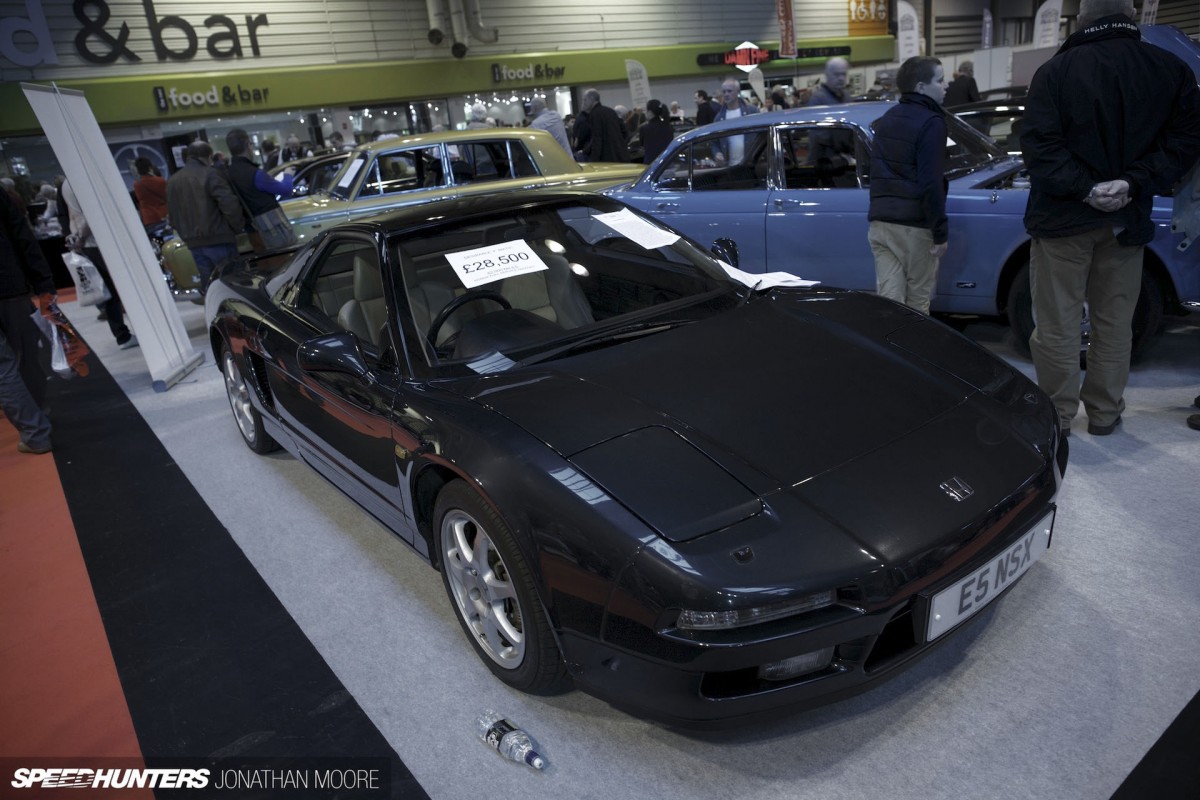 Another Classic Motor Show, another full-house of tired feet, tired eyes and deliriously happy mind full of images. 19,000 footsteps and 14km later, as I dragged my tired feet back to the car park I kept thinking back to the hall packed with cars for sale, and an NSX on offer for what seemed an insanely good price…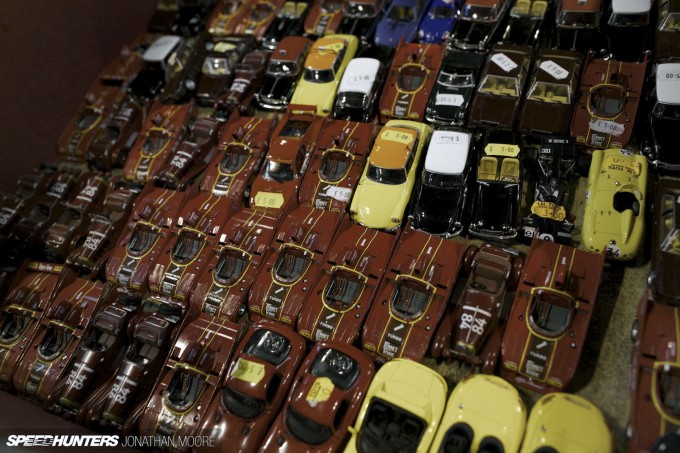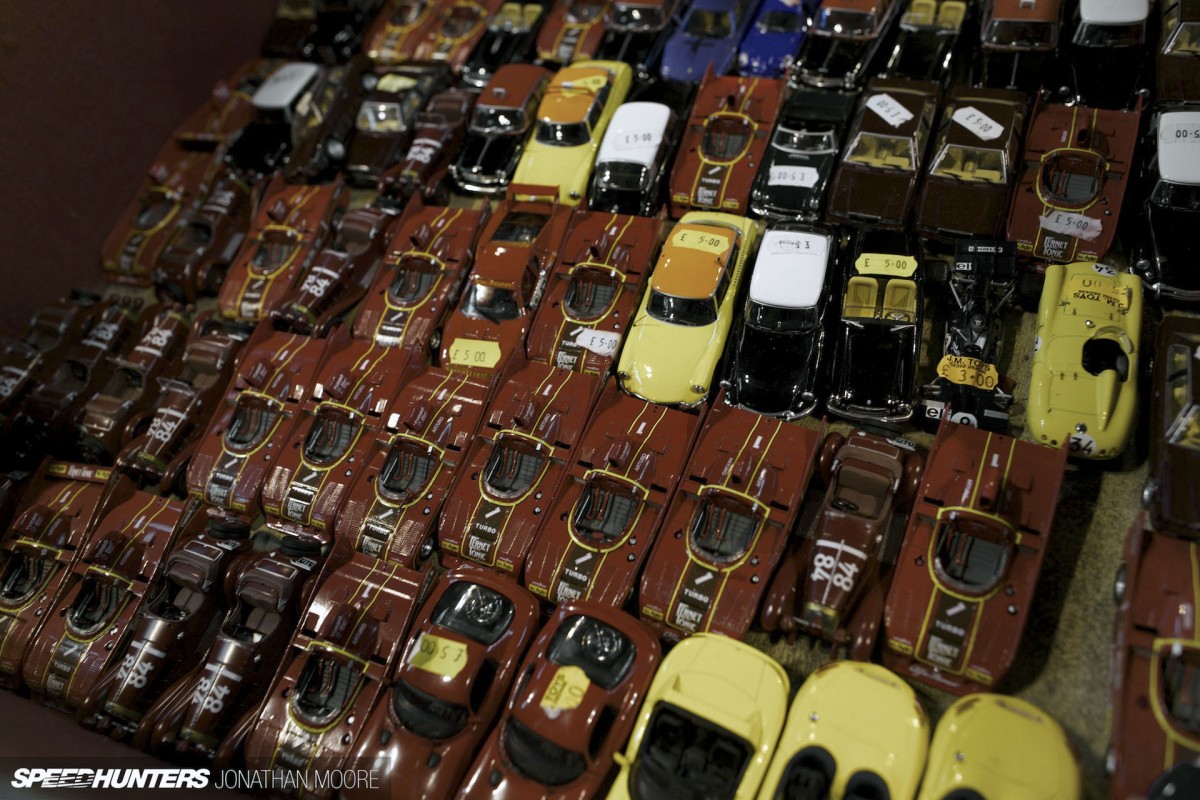 Luckily my temptation had been limited to the auto jumble; I left without buying the NSX. Or, for once, any books. Model cars were a different thing though. Oops.