Trying to pick out cars worthy of Spotlights at this year's Classic Motor Show led to a list that was just a bit silly long. So many of the pure restorations would be worthy in their own right, showing off thousands of hours of passion and dedication, but straight-up rebuilds were only a part of the story.
What you might not be expecting were cars like this, the Bavarez Jensen FF.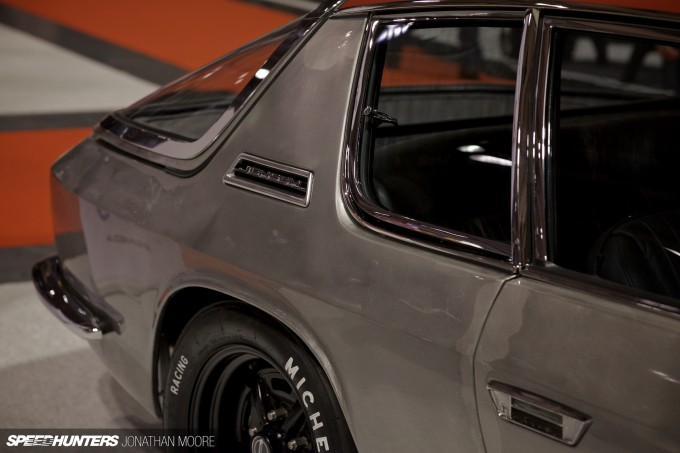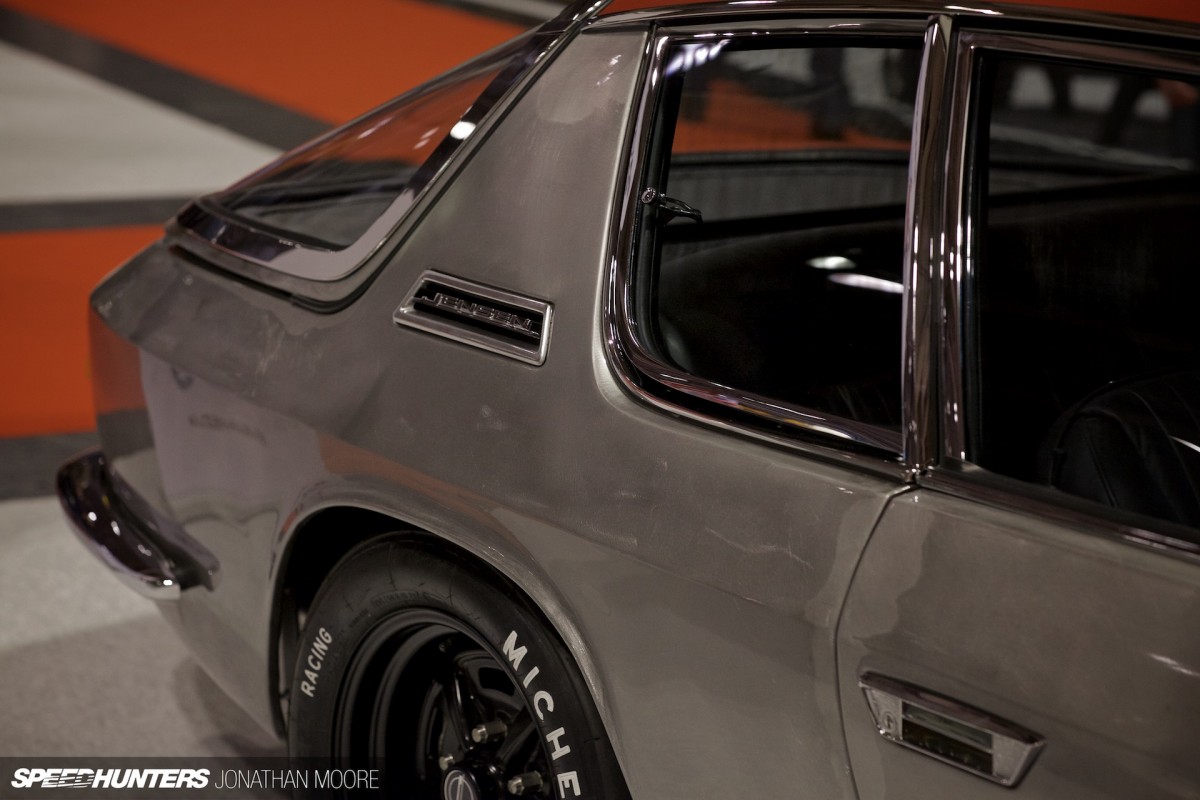 This was my first glimpse of the FF in its completed state; sited by one of the NEC's entrances, it was a case of bees around honey – the car attracted a constant crowd. Last year they showed a restored bare metal shell with a massive Chrysler V8 sitting intimidatingly next to it. Fast forward a year, and this is the result: a marriage of power and glory, making the most fearsome four-wheel drive grand tourer on the planet.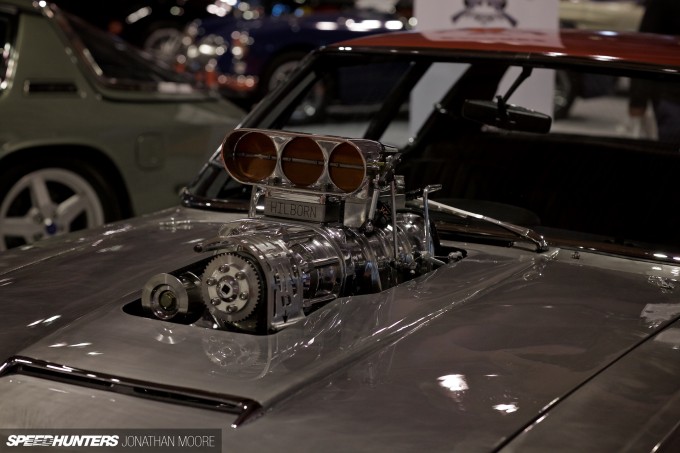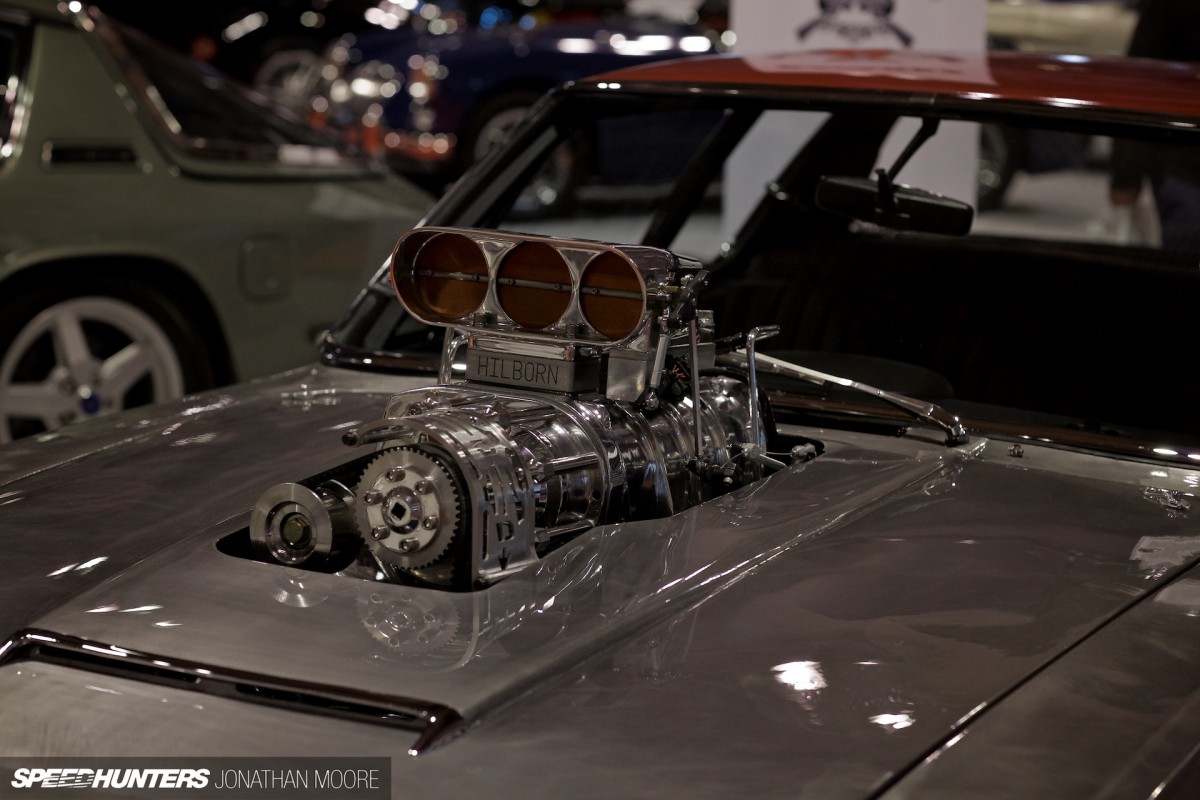 Four-wheel drive? Yep; Bavarez stuck with the layout, helped by the elongated original design that gave them enough space to fit their supercharged 1968 383ci Chrysler V8 in there – horizontally, if not vertically.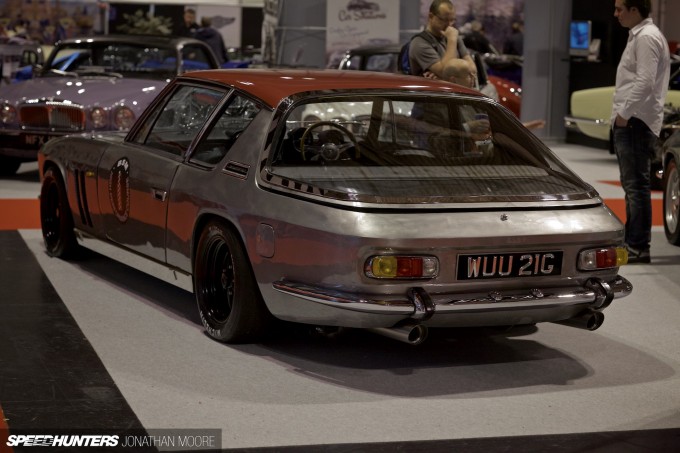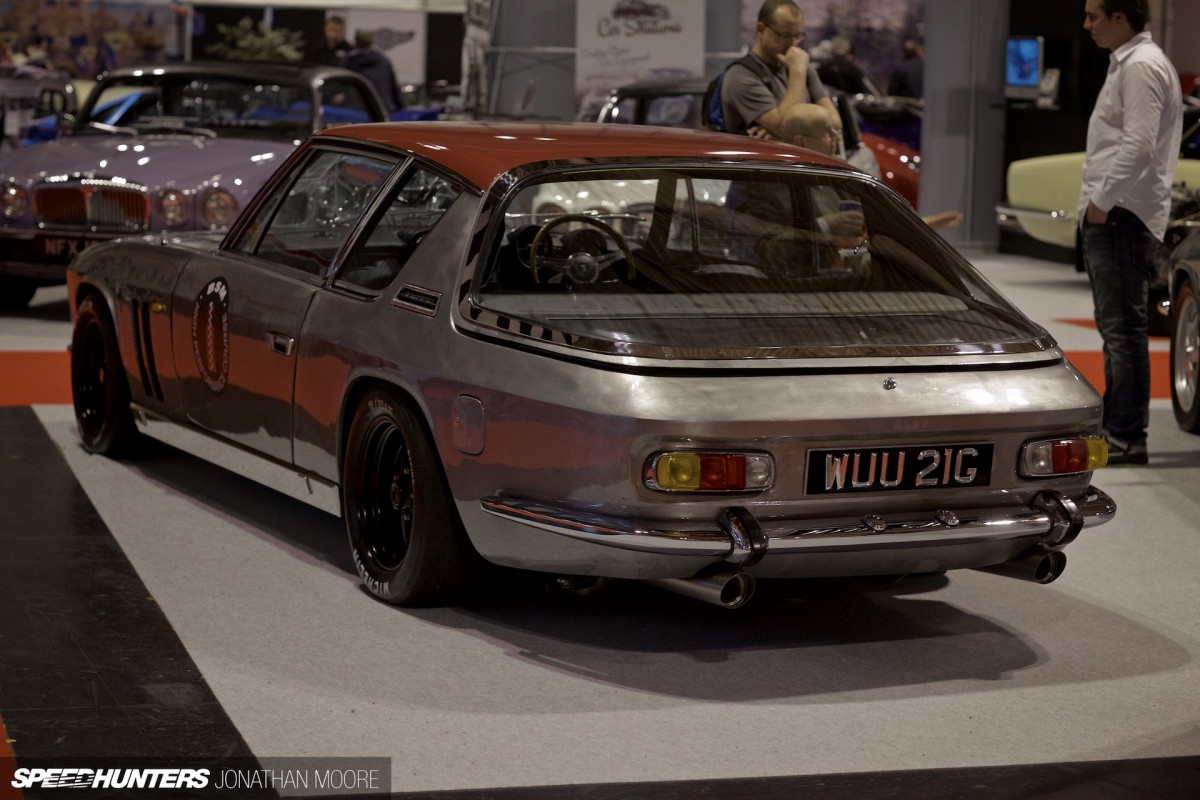 Bavarez have sensibly not messed with the FF's stunning lines – those of an Interceptor put to the rack – and instead concentrated on how to present it in a manner that is somehow both contemporary and classic. What a success. The enormous curved panoramic rear is counterpointed by the low-slung ride and dragster-style wheels, complete with their old school Michelin Racing markings.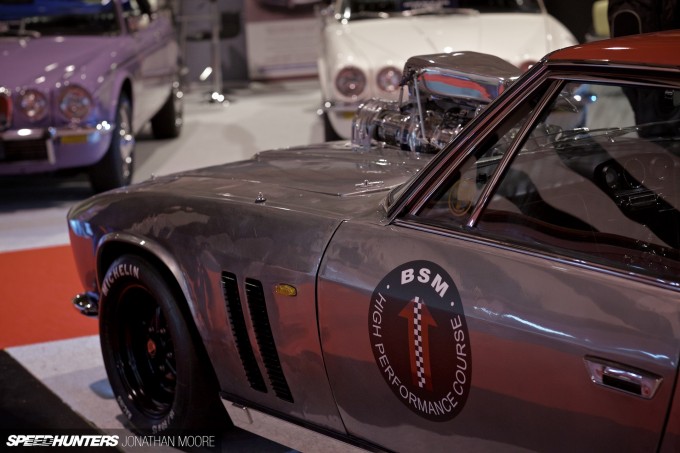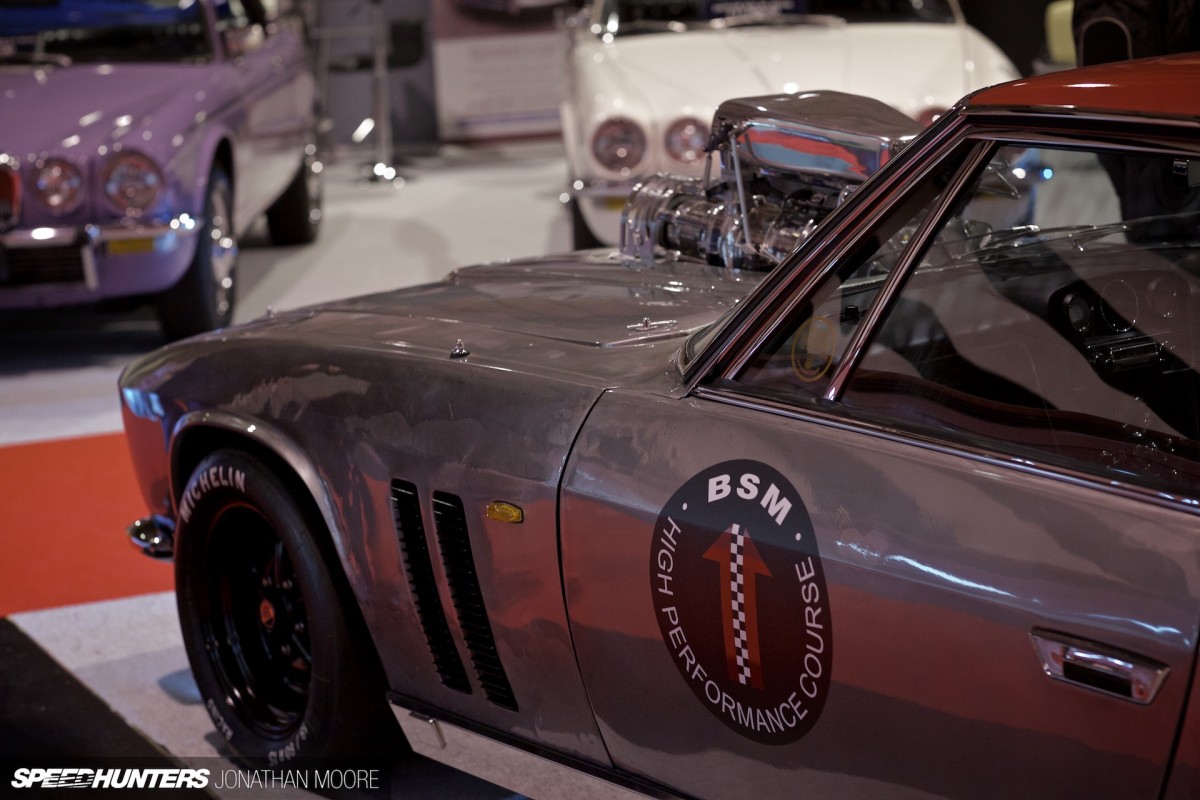 It's been a true labour of love. Bavarez described the shell as being nearer to lace curtains than a solid piece of metal when they stripped it back, and they had to hand craft new panels from front to back.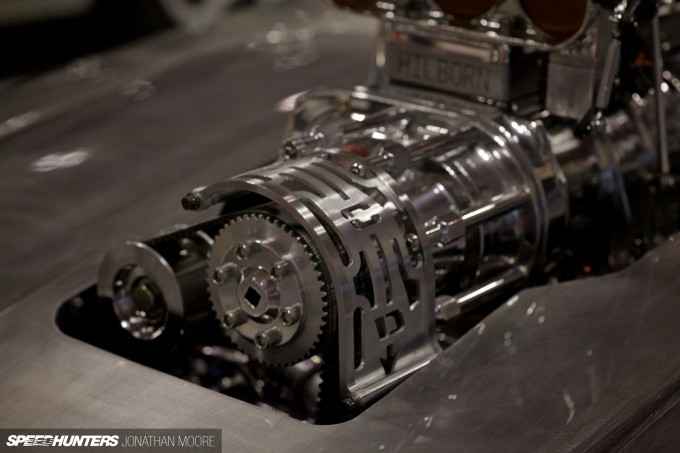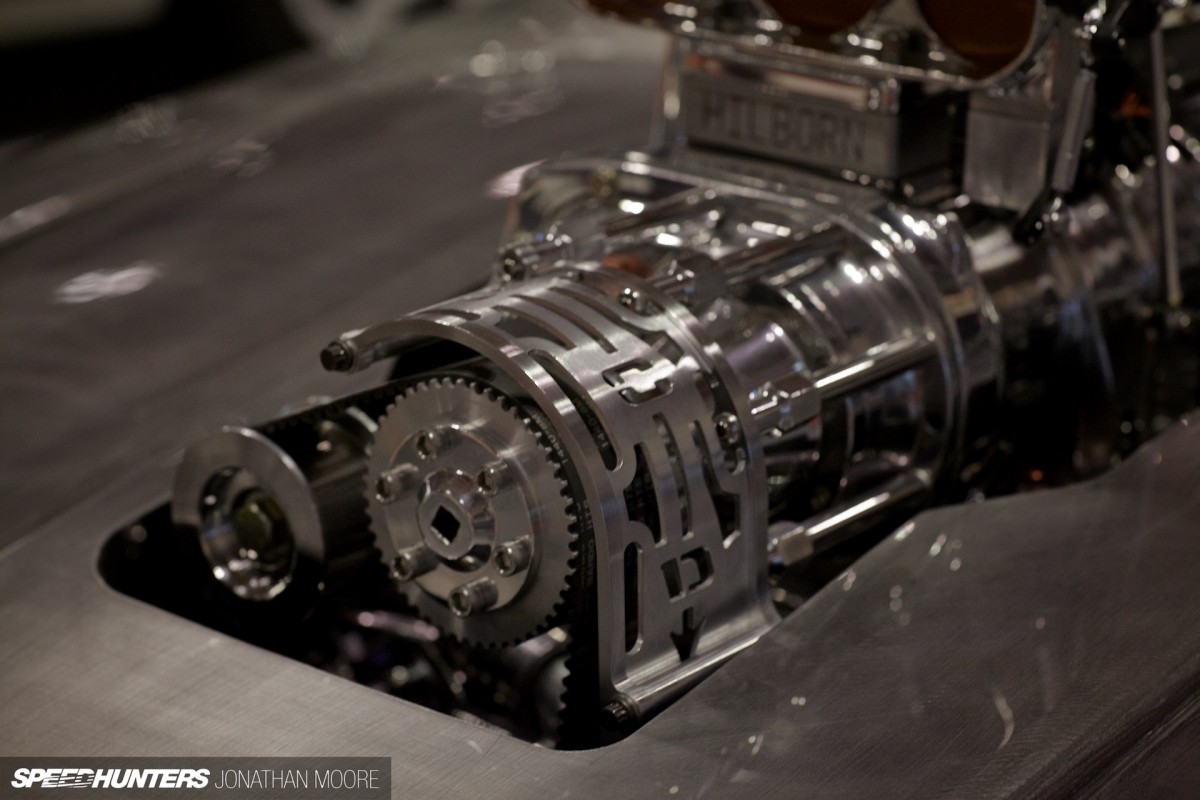 The bare shell has been coated with a special varnish, whilst the exposed upper section of the engine is like a steam punk howitzer. The next thing to do is see – and hear – this car in action, and shoot it under rather more agreeable lighting conditions. This is only the first step on this FF's evolution from basket-case barn find to barnstorming beauty, so we need to act fast to capture it in its current, brutal guise.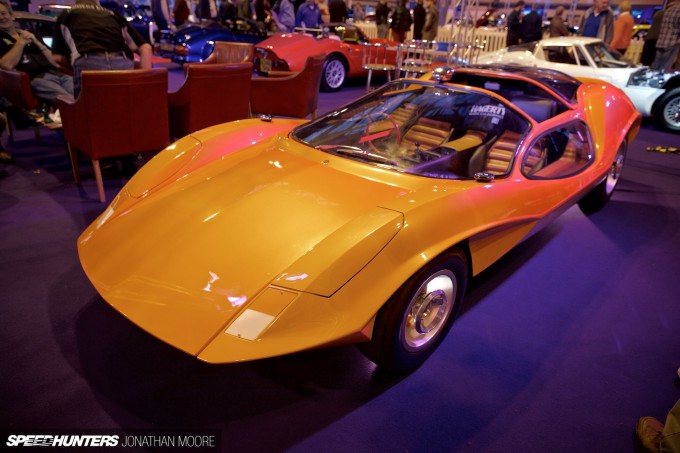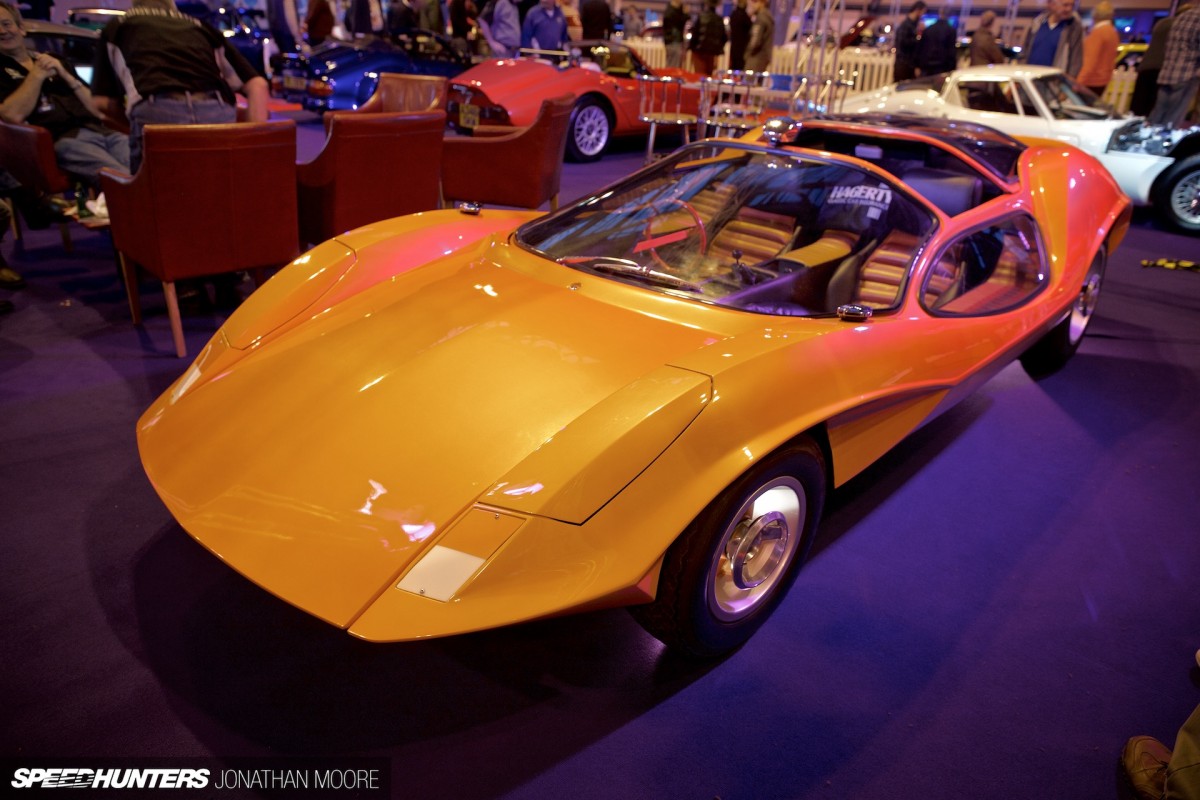 More gleaming craziness was to be found on the Marcos stand. This was a real case of pinching yourself – surely this was just a piece of science fiction film madness?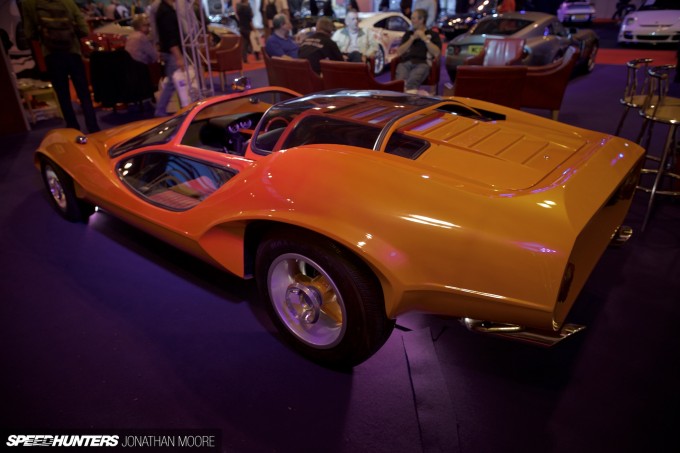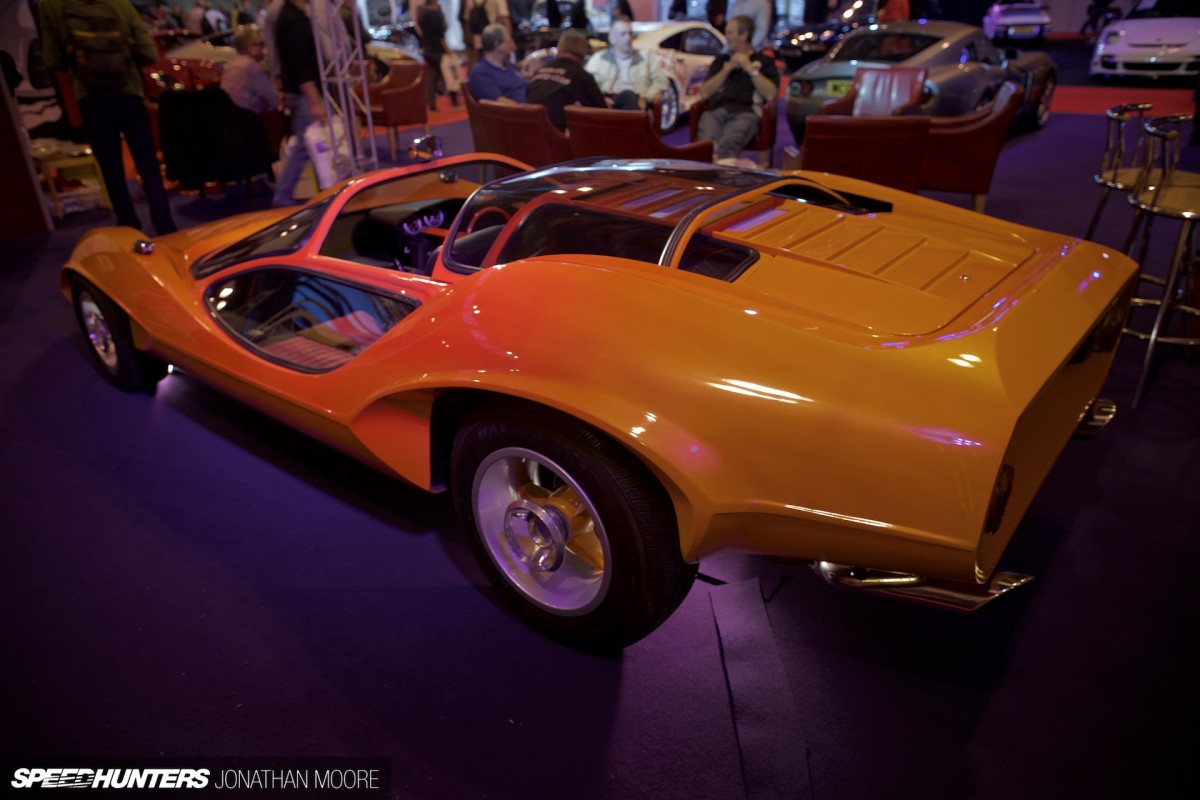 Its appearance in A Clockwork Orange aside, the Probe 16 from 1969 was a very real, if totally off-the-wall, exercise in extreme styling design. It was penned by Dennis and Peter Adams, who had previously worked for Marcos – hence it appearing on that stand.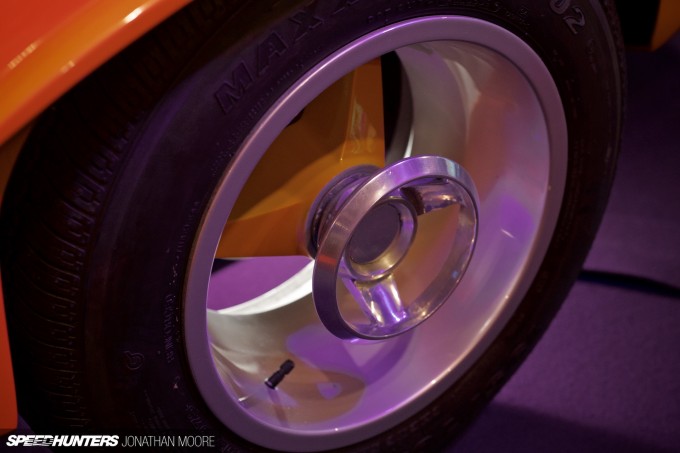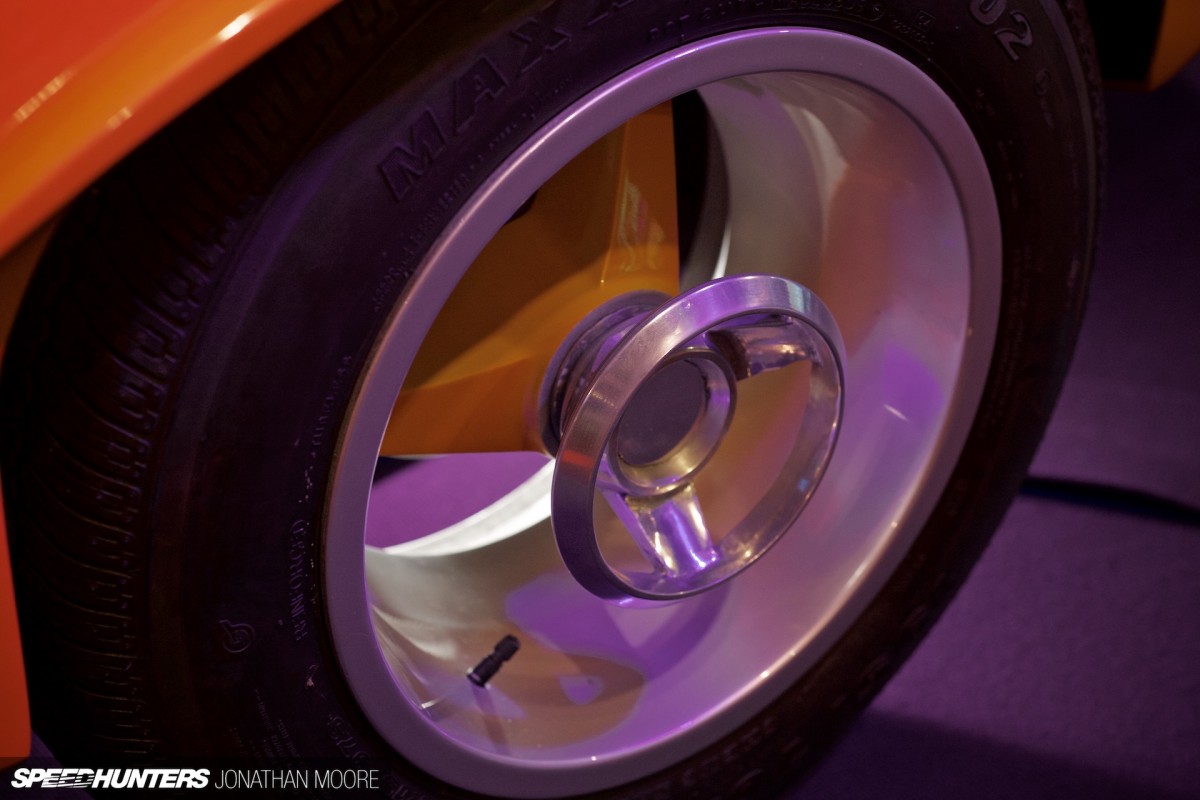 The brothers Adams were also responsible for the more angular but equally extreme Mantis XP prototype racer.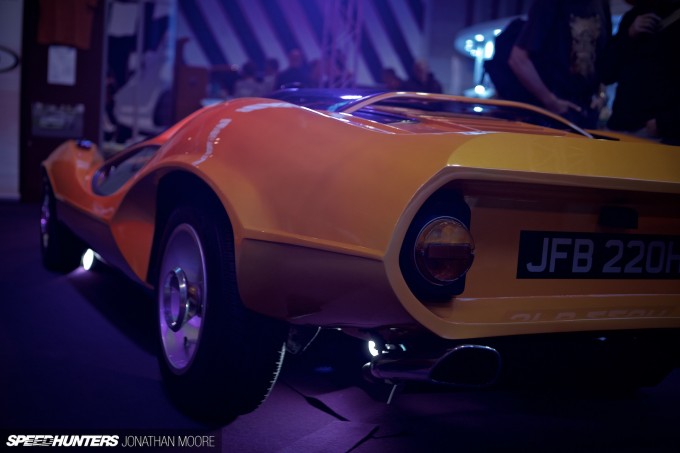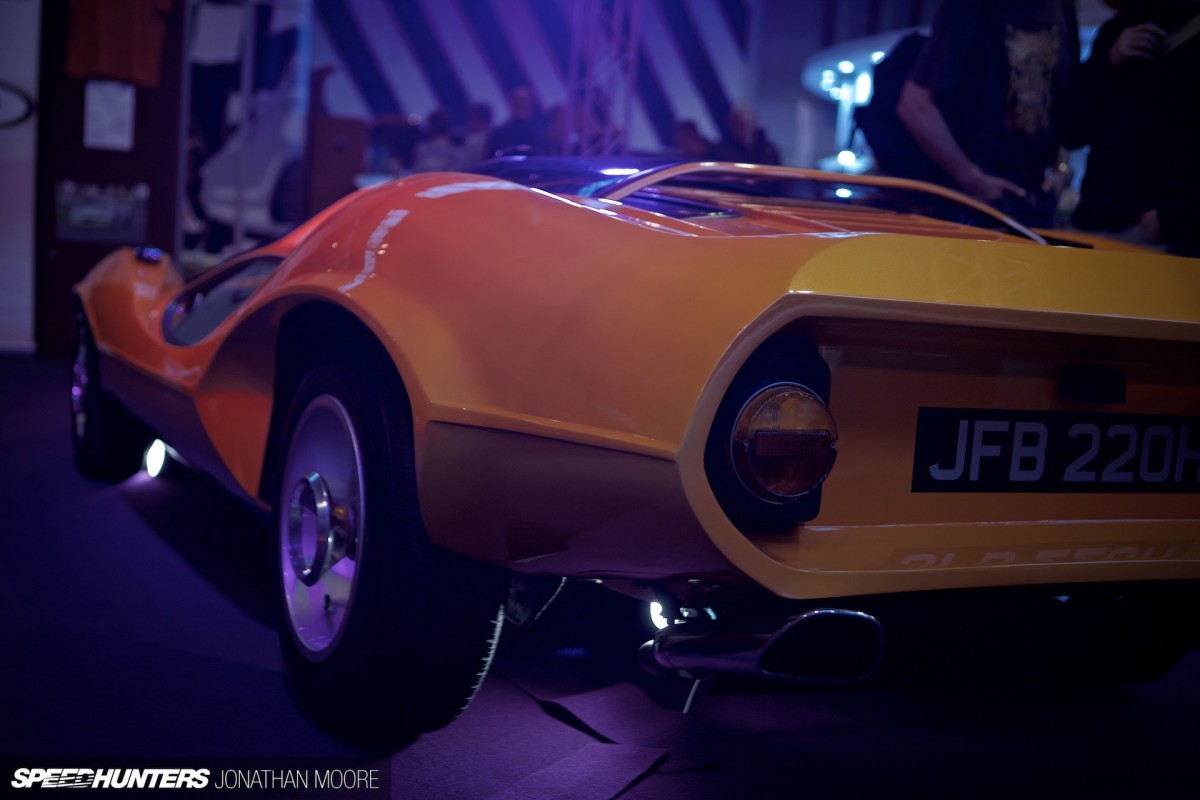 Three Probe 16s were made in total, featuring wooden monocoques and GRP bodywork typical of Marcos at the time. This was just one model in a line of futuristic cars that they designed.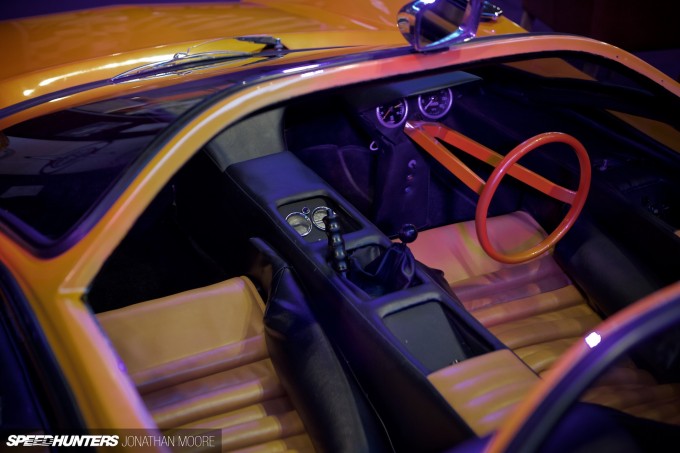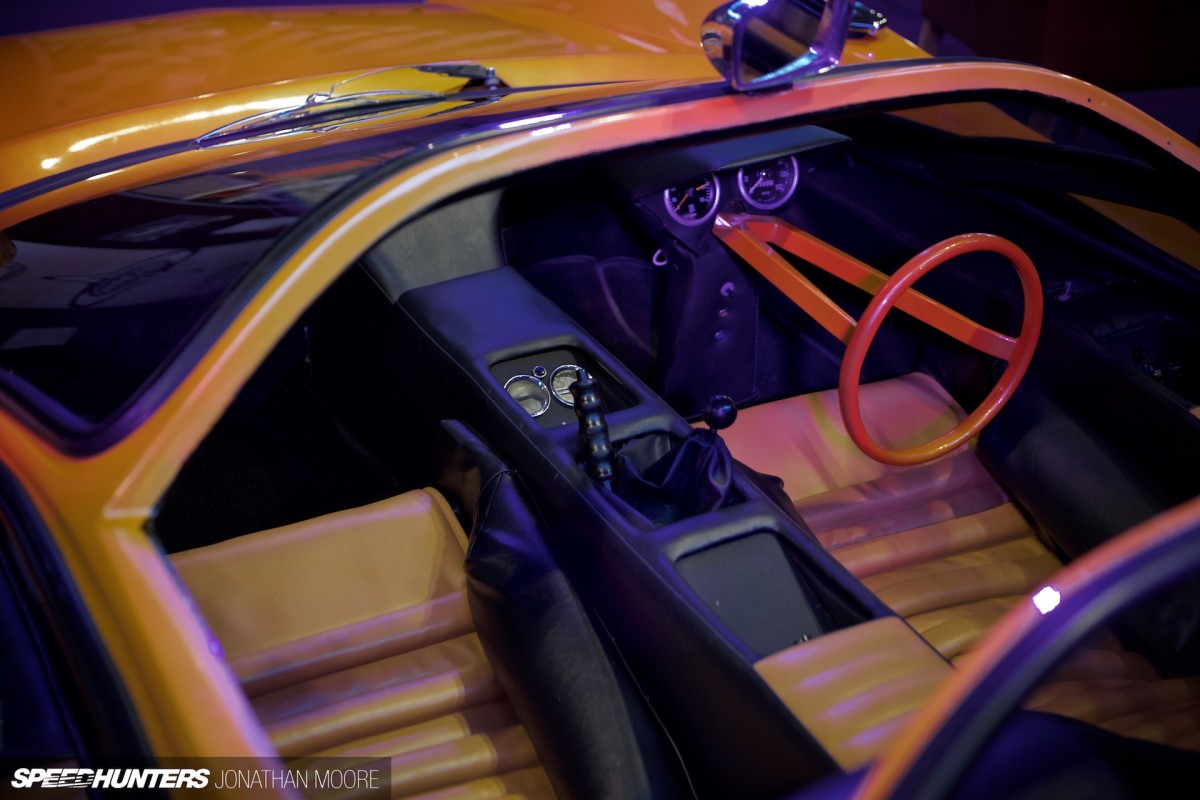 The interior is a riot of '60s sci-fi tech; the roof over the insectoid glass area of the cockpit slides back electronically and headlights are mounted in extraordinarily long pop-up pods. This Probe 16 was beautifully restored about a decade ago, and it's as radical (and yes, bonkers) now as it was 45 years ago.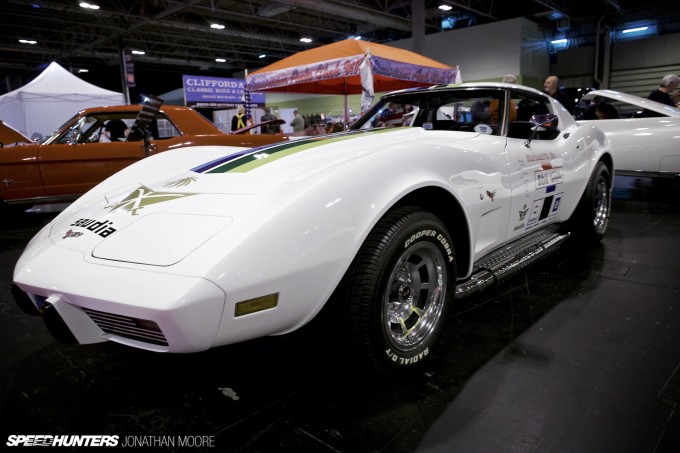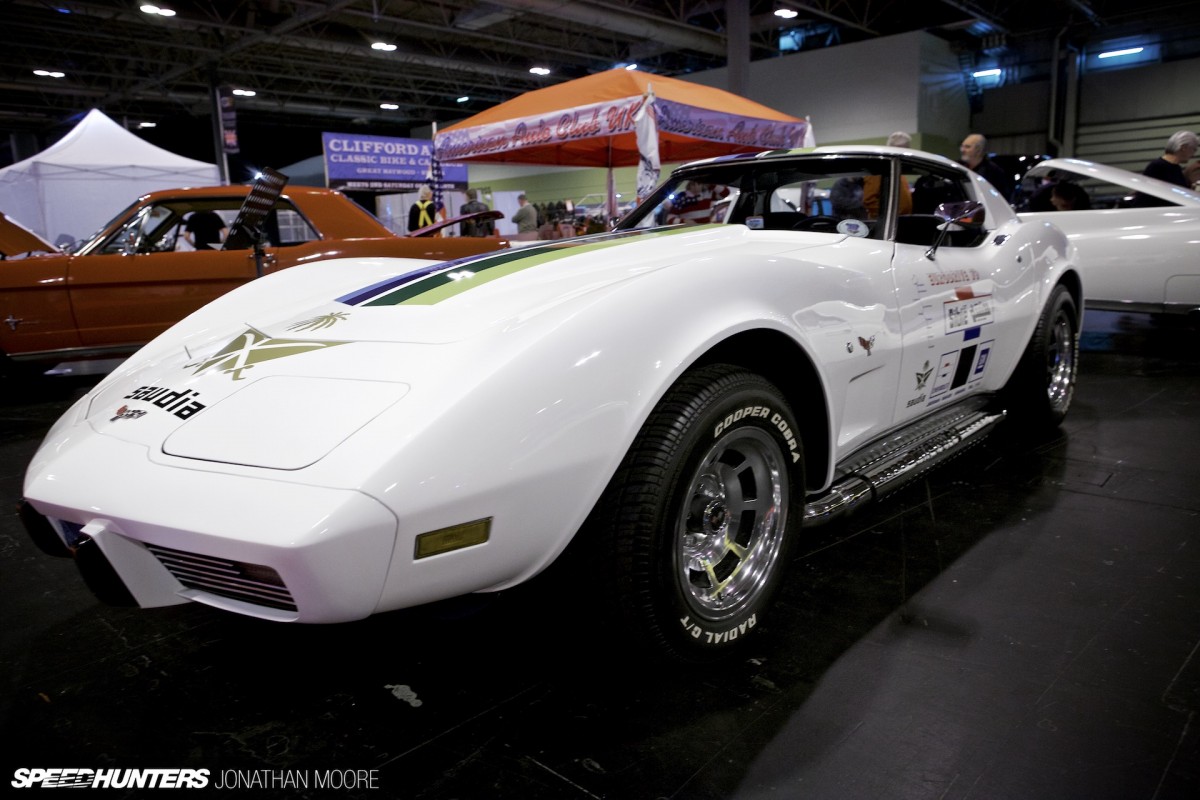 Back to earth for a moment, for this C3 Corvette. I'd seen this car before and loved the retro livery, but hadn't realised quite what a rich history it had and why the Saudia logos were there for a reason. This was truly one of a magnificent seven, with a story just as epic.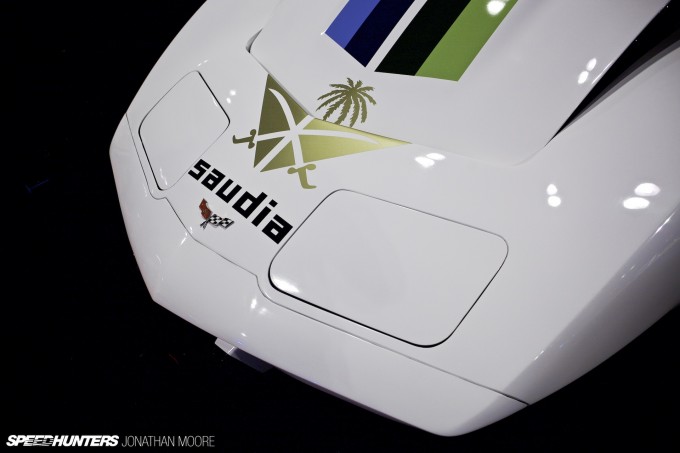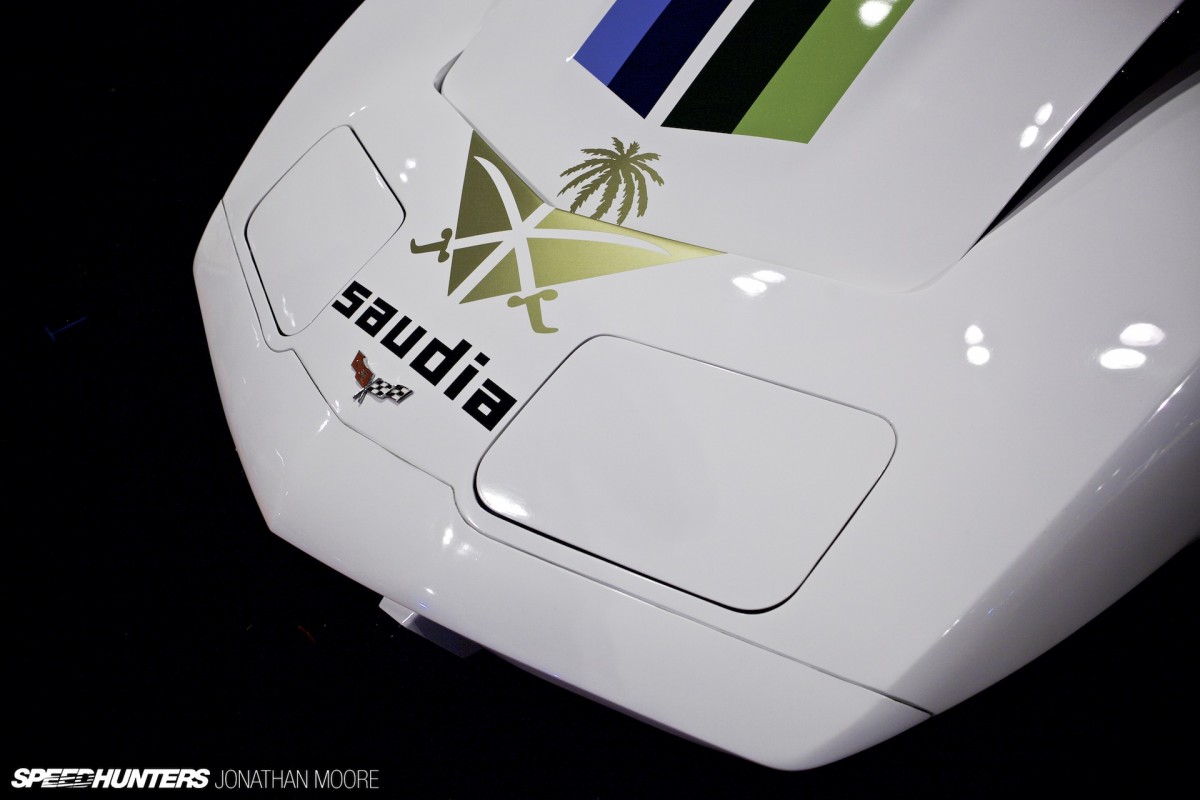 1979: a shipment of unsold Corvettes had been gently broiling under the Saudi Arabian sun, when a group of British engineers working for the local national airline came across them. Bought for a song, they somehow got their employer to come in on an amazing idea to get the seven cars back to the UK. It's the kind of thing that you could only dream of happening…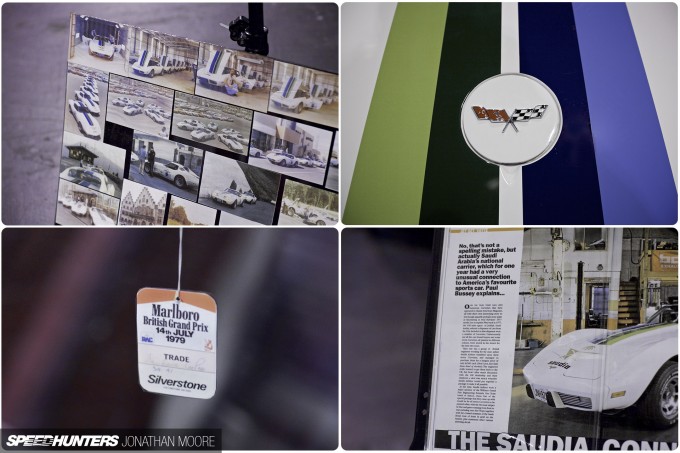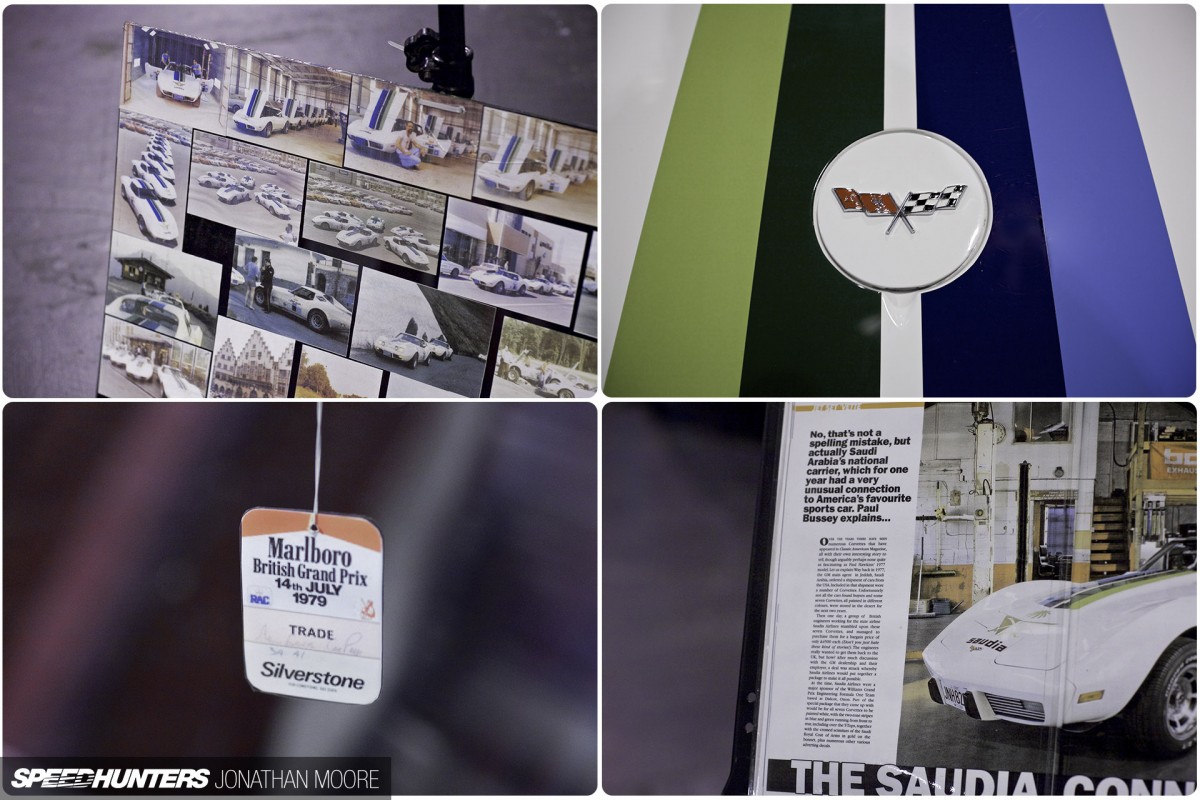 Saudi Airlines sponsored the Williams Formula 1 team at the time, so the agreement was for Corvette, repainted in Saudia liveries, to take part in a truly awesome road trip that would start in Jeddah, cross by boat to Athens and then travel up through Europe to end up at Silverstone for the 1979 British Grand Prix.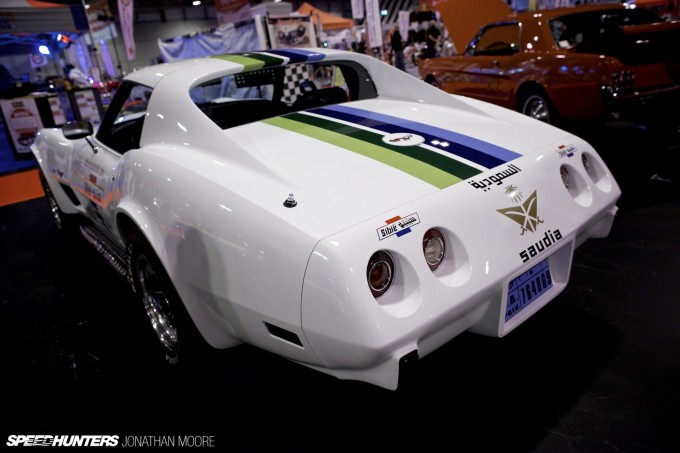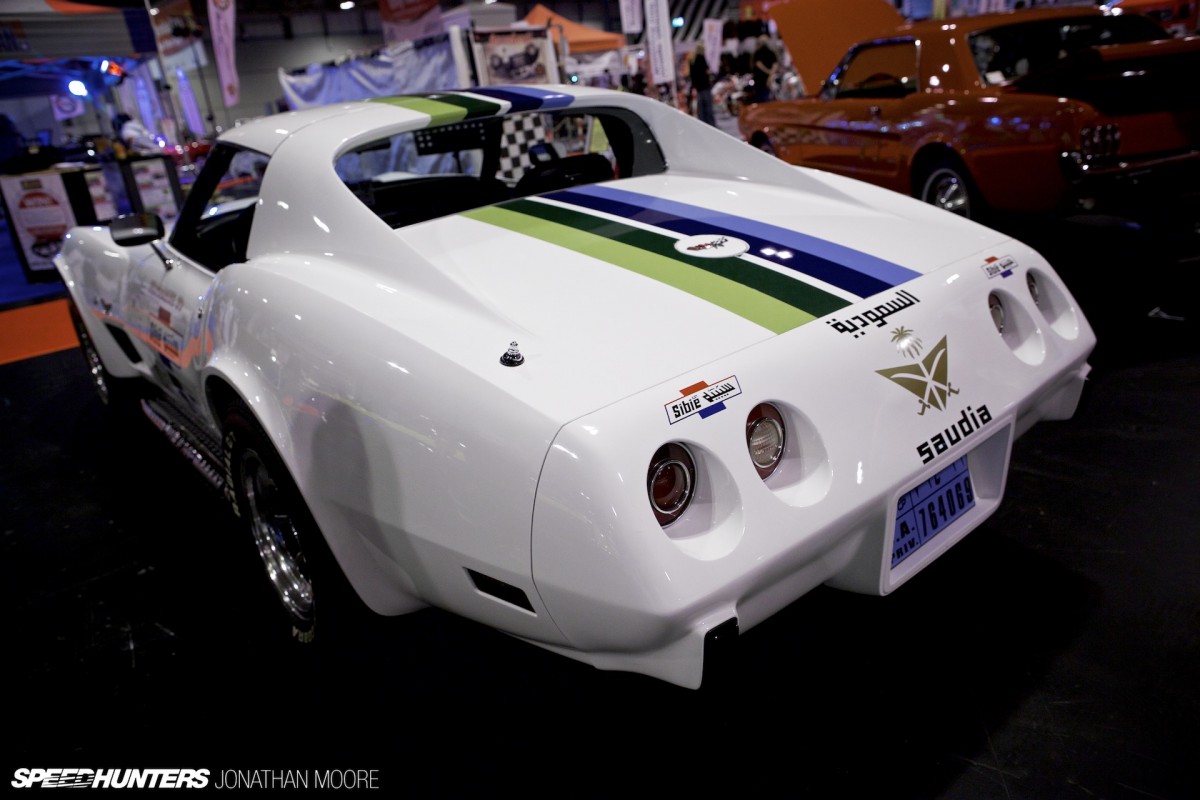 This is one of the only survivors of that trip, immaculately restored to its original condition.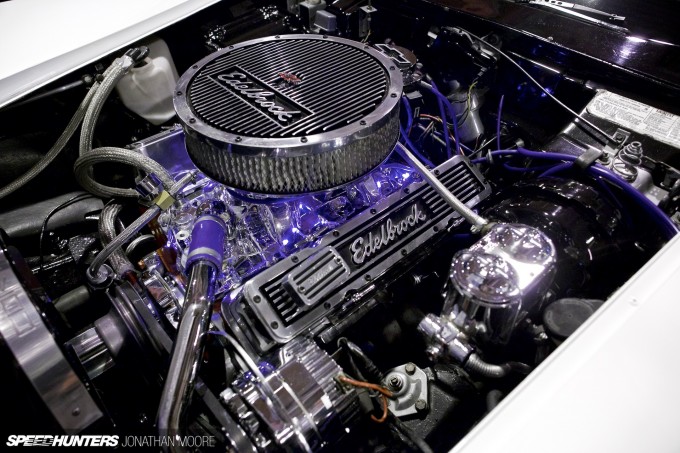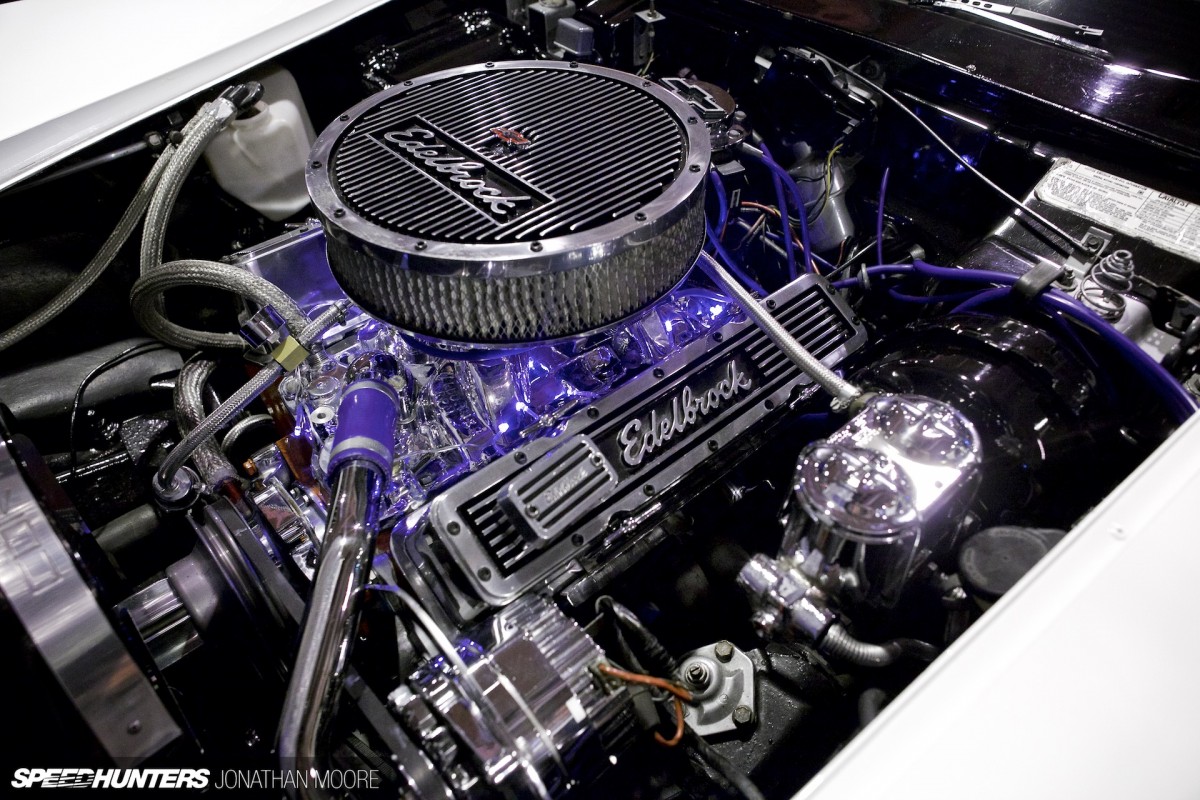 I'm a sucker for a C3 anyway, so combine it with this shining Edelbrock V8 and the awesome story, and you've got one hell of a Corvette to cherish.
An Armed Escort & Major Minor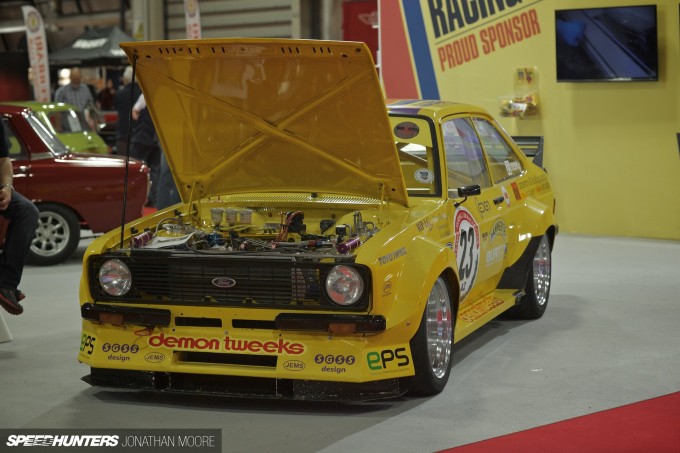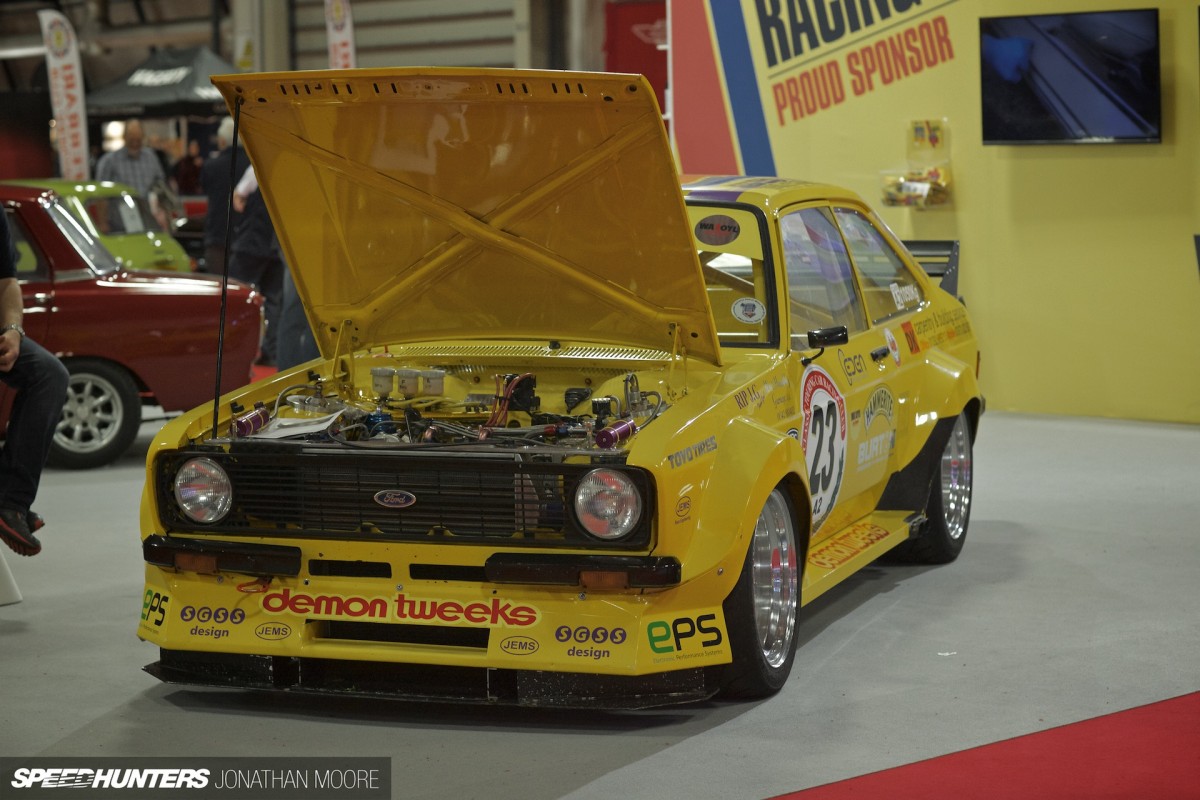 In my main story from the Classic Motor Show, I mentioned that anything with a Classic Touring Car Racing Club roundel on the side would always be worth checking out. This MkII Escort is a case in point.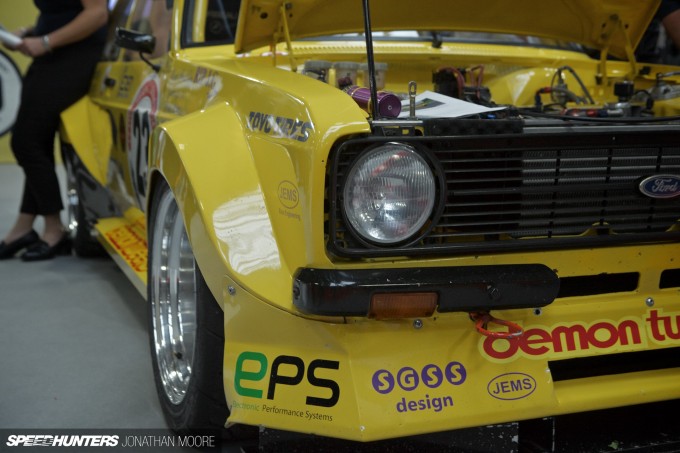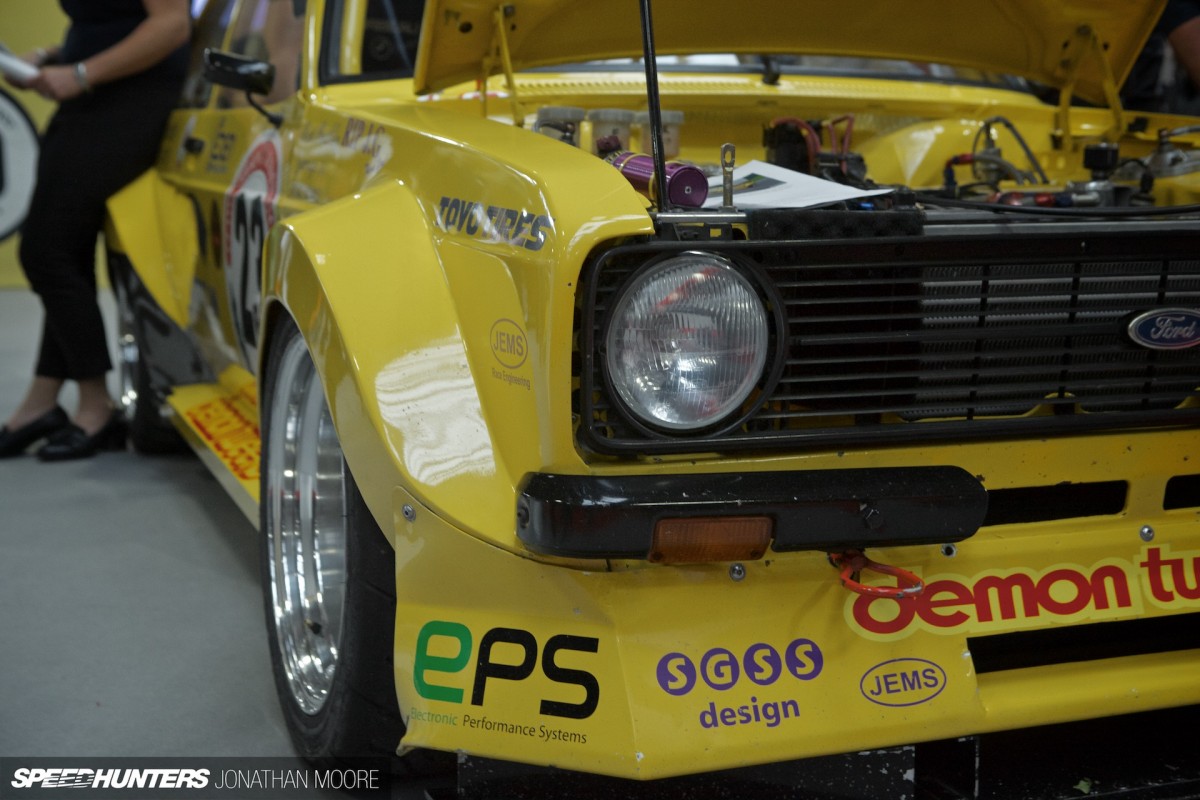 Even from a distance this yellow peril was obviously something out of the ordinary. The aggressive bodykit and buff aero was there for a purpose too…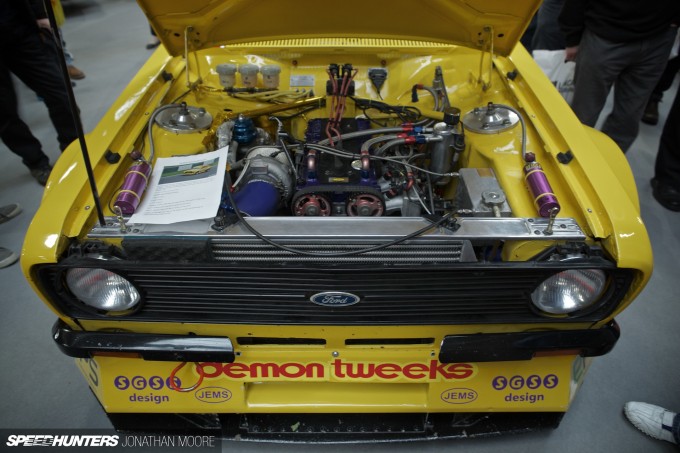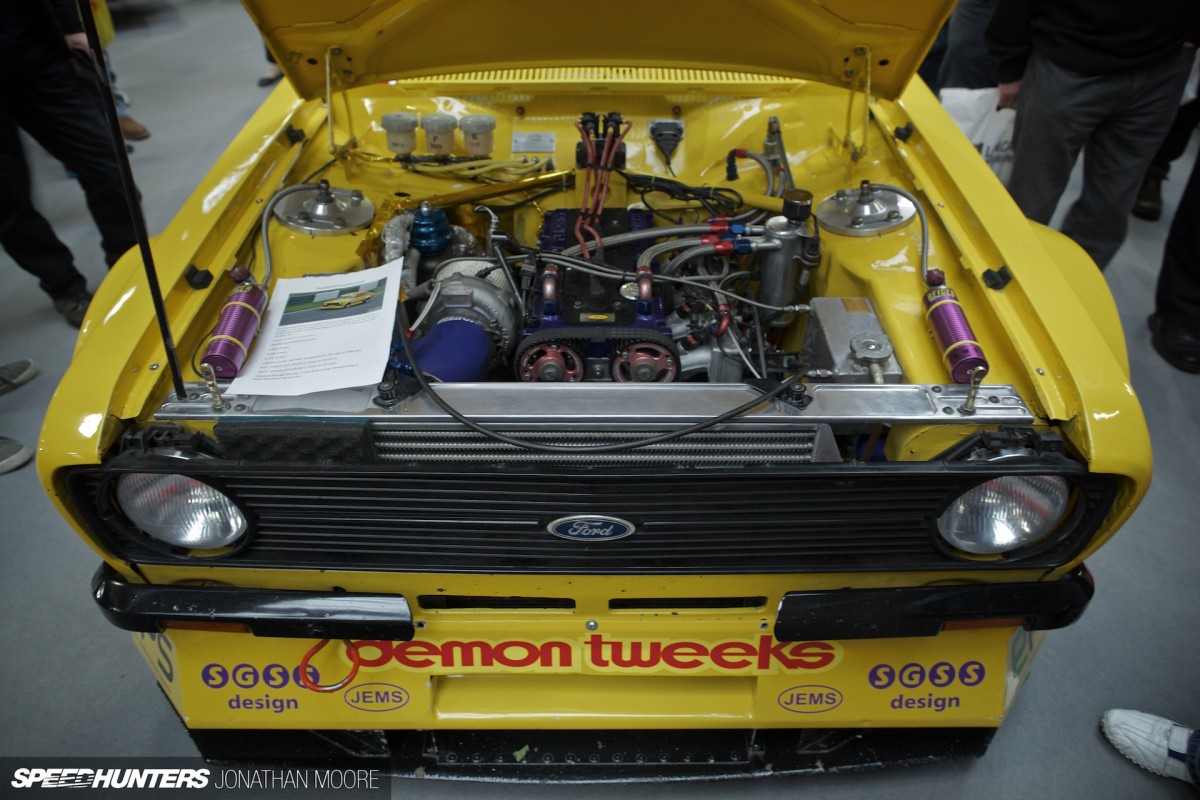 That's because this Escort packs a frighteningly powerful Cosworth YB Turbo under the bonnet, with nickel liners, a billet crank and connecting rods, forged pistons, a big Garrett turbo… the list is endless. It's a beast – and a championship-winning beast at that.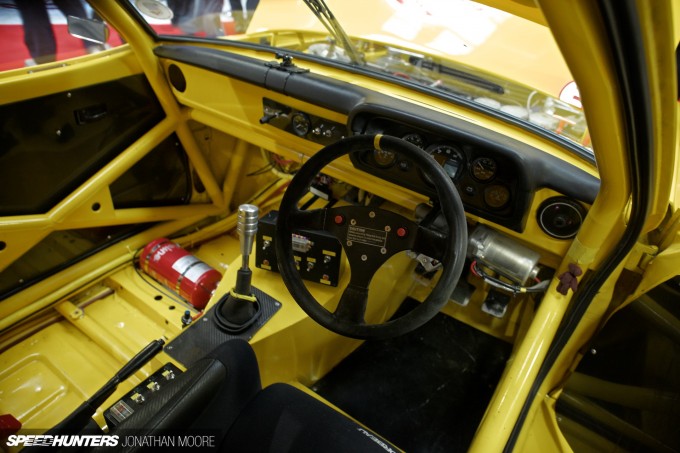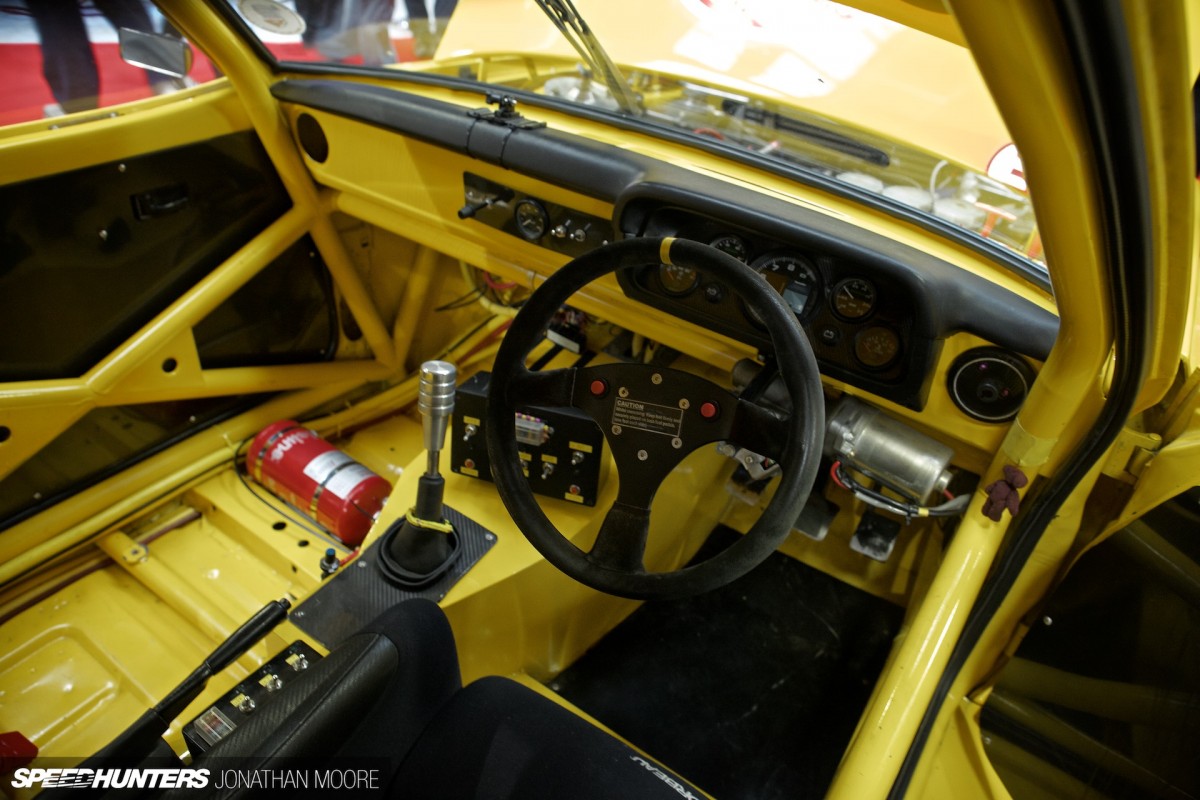 Wealden Racing have been campaigning this car for almost two decades, and it's just been getting faster and faster. It's now up to 500hp, will do a standing quarter in 11 seconds and gets to 60mph in 3.5 seconds. I need to see this thing race next year…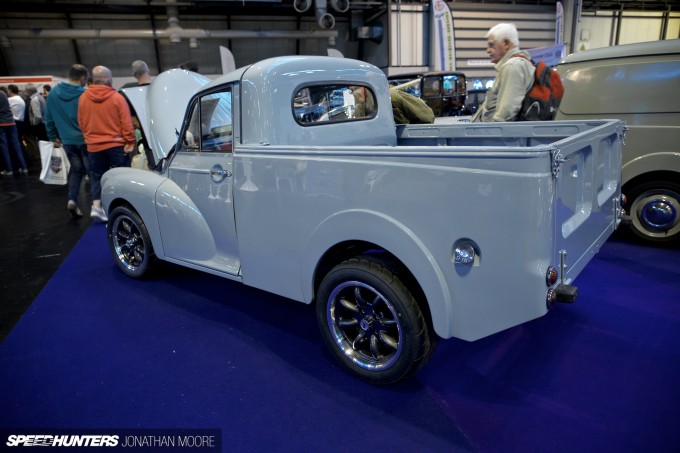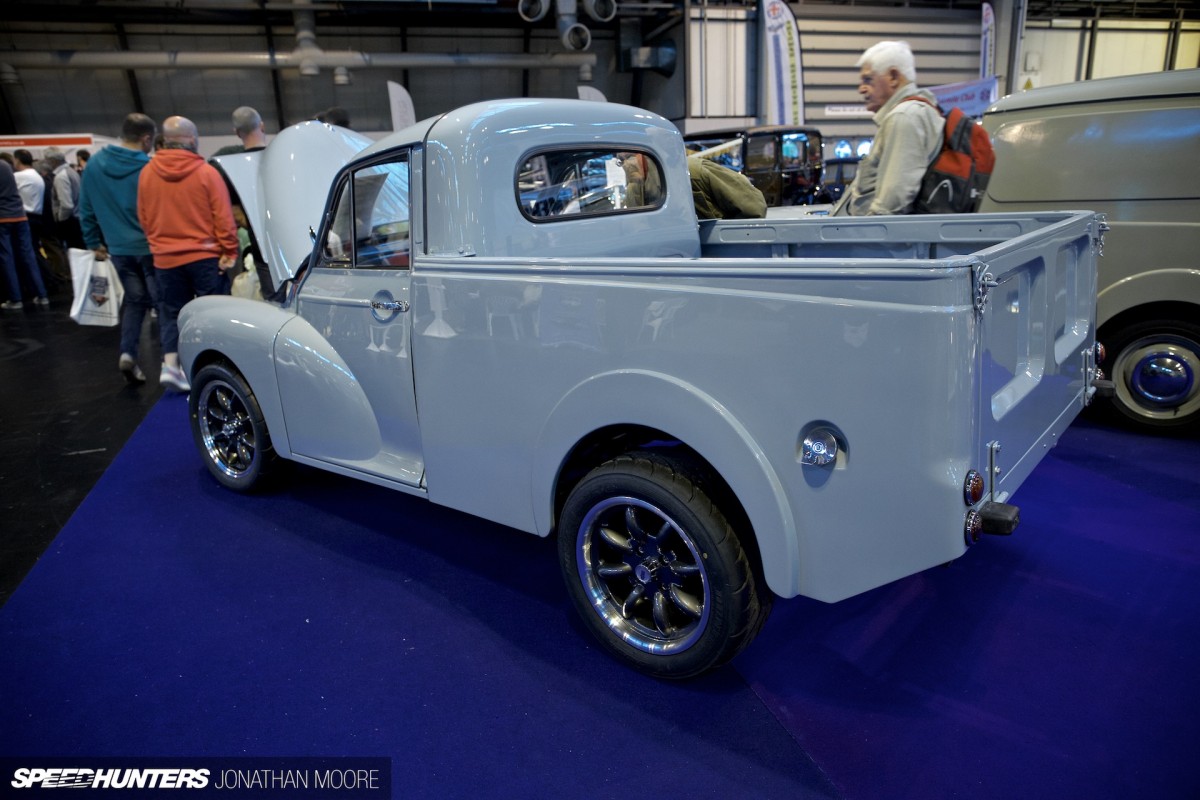 Morris. It's not normally a name that you associated with speed – quite the reverse. It's why I'm so pleased to be coming across increasing numbers of modified builds and even drag cars based on the humble Minor, Britain's mass-produced answer to the Beetle.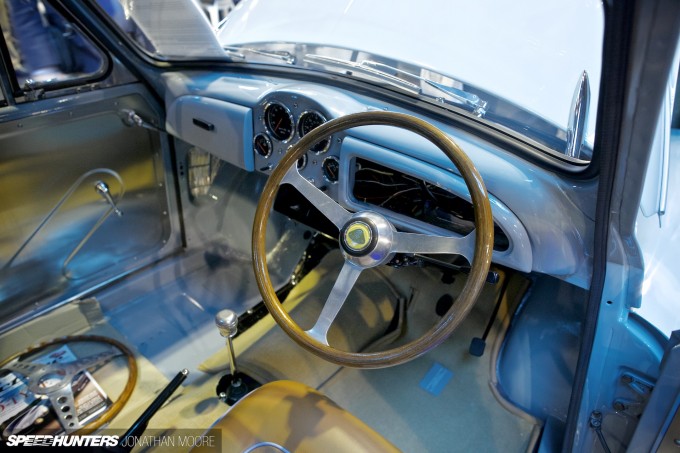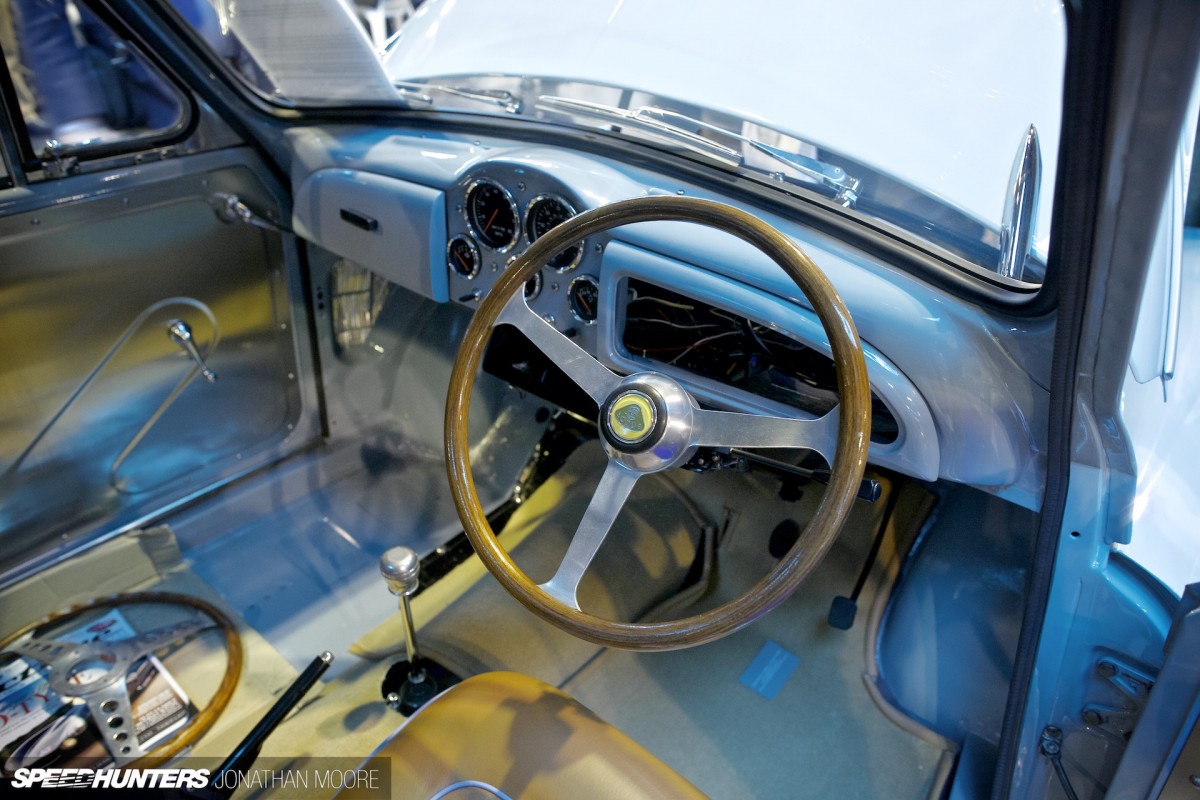 The Light Commercial Vehicle pick-up variant was made in period, but never like this… Arise, the spirit of Colin Chapman, and inhabit this Lotus Morris Minor!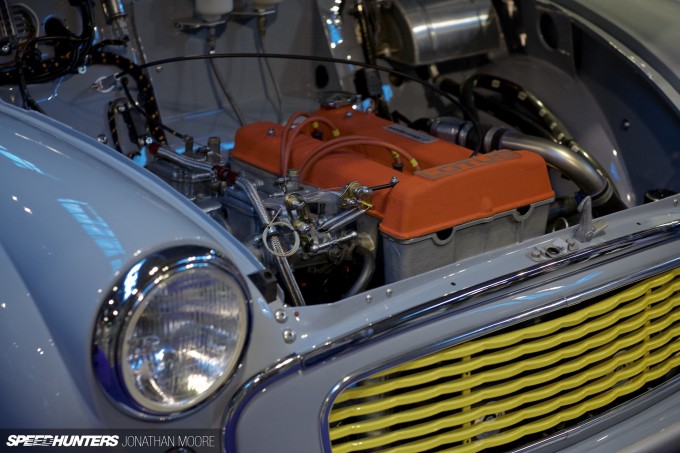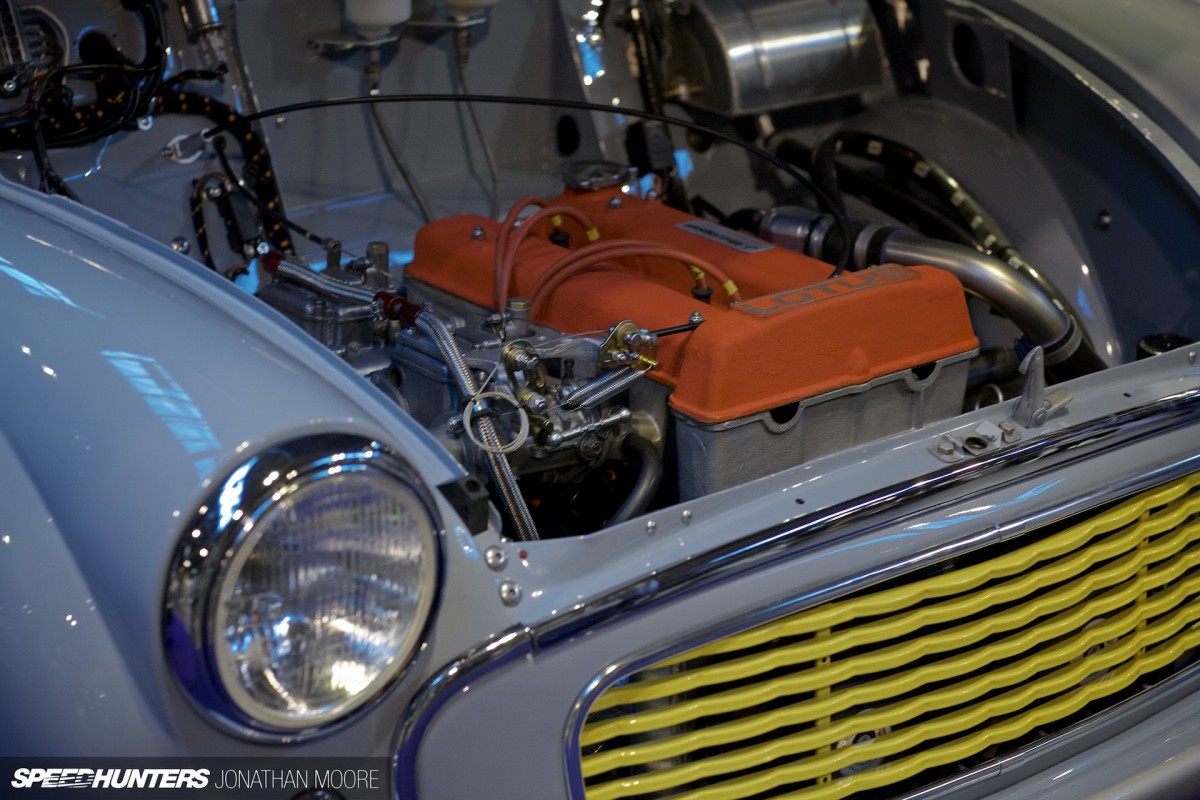 The owner restored the Morris over a period of half a dozen years, sourcing NOS panels and equipment (even the chassis is a proper original part), whilst planning the pièce de resistance: a fully rebuilt Lotus Twin Cam.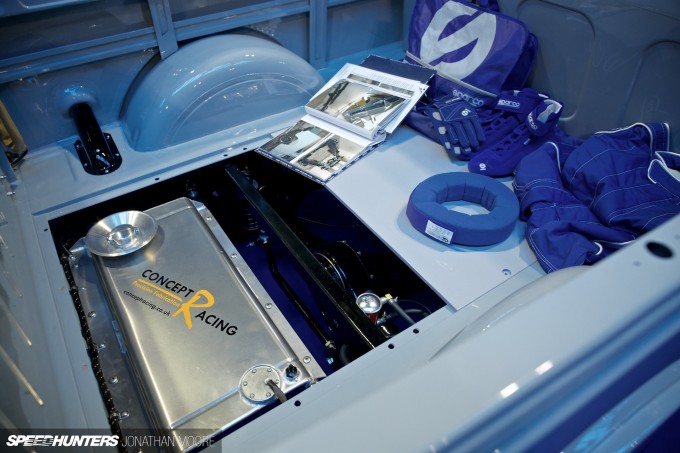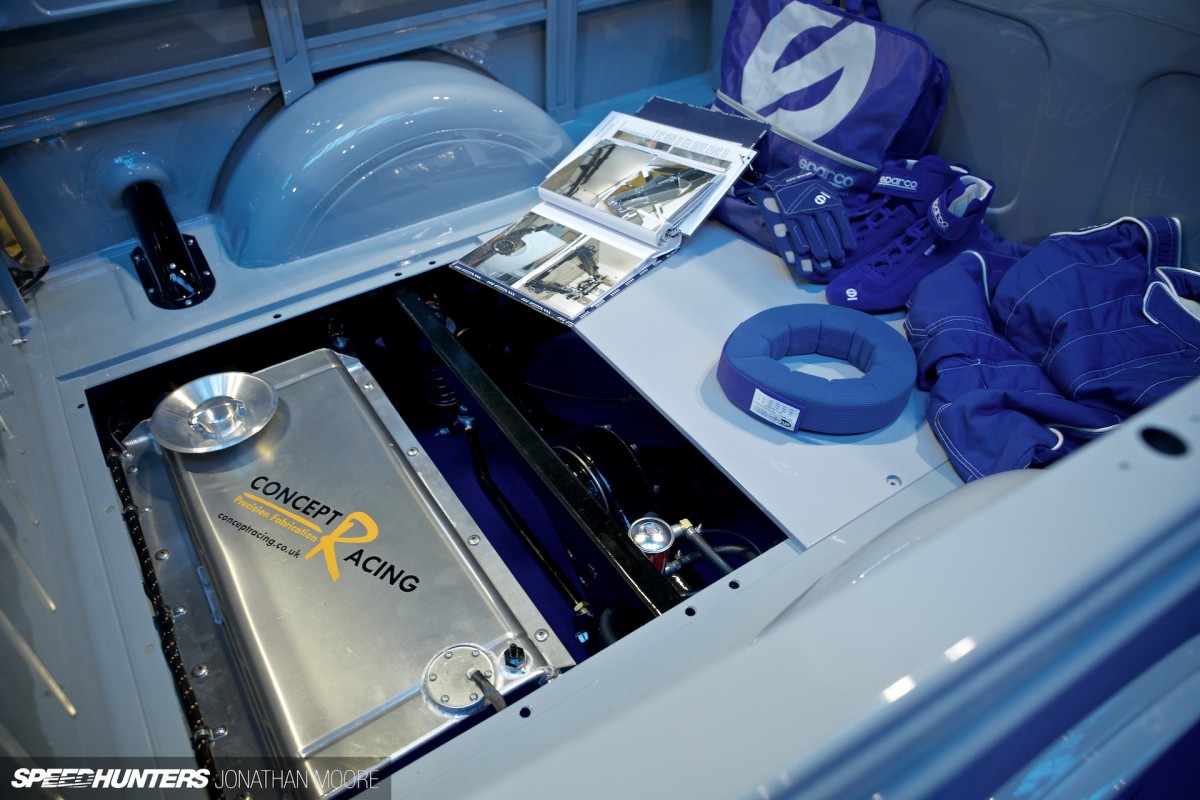 The Twin Cam has been bored out to 1660cc, features forged pistons and a head upgrade, lightweight crank and high-lift cams. To balance out this new-found power up front, the Morris has an AP Racing competition clutch, a Quaife diff and the back-end from an Escort.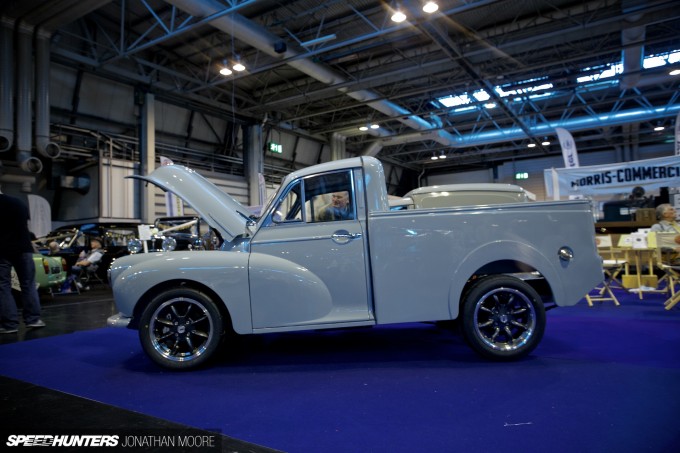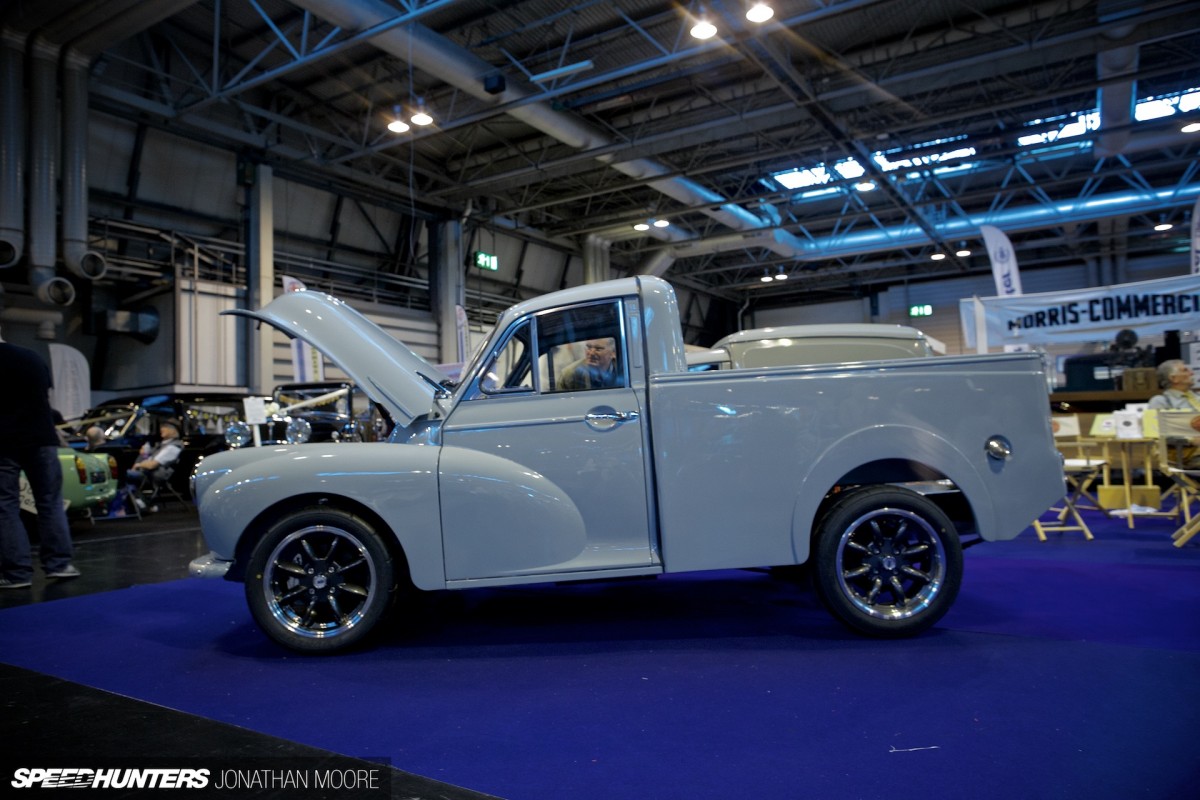 In the slightly jacked-up rear was a scrapbook documenting the build, which gave a good idea of just what a heap the owner started with. Top marks for this one.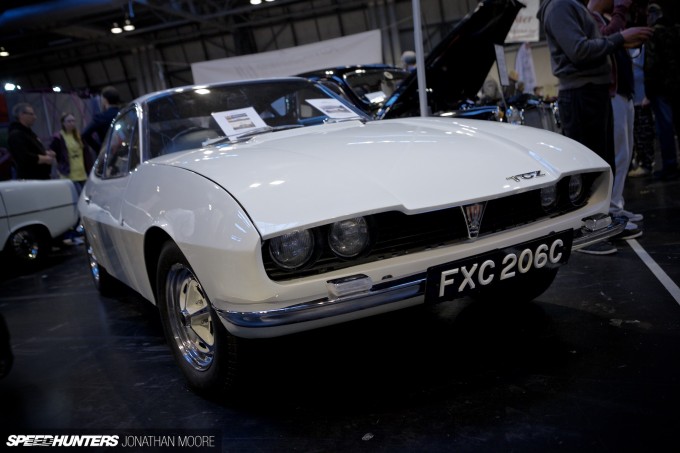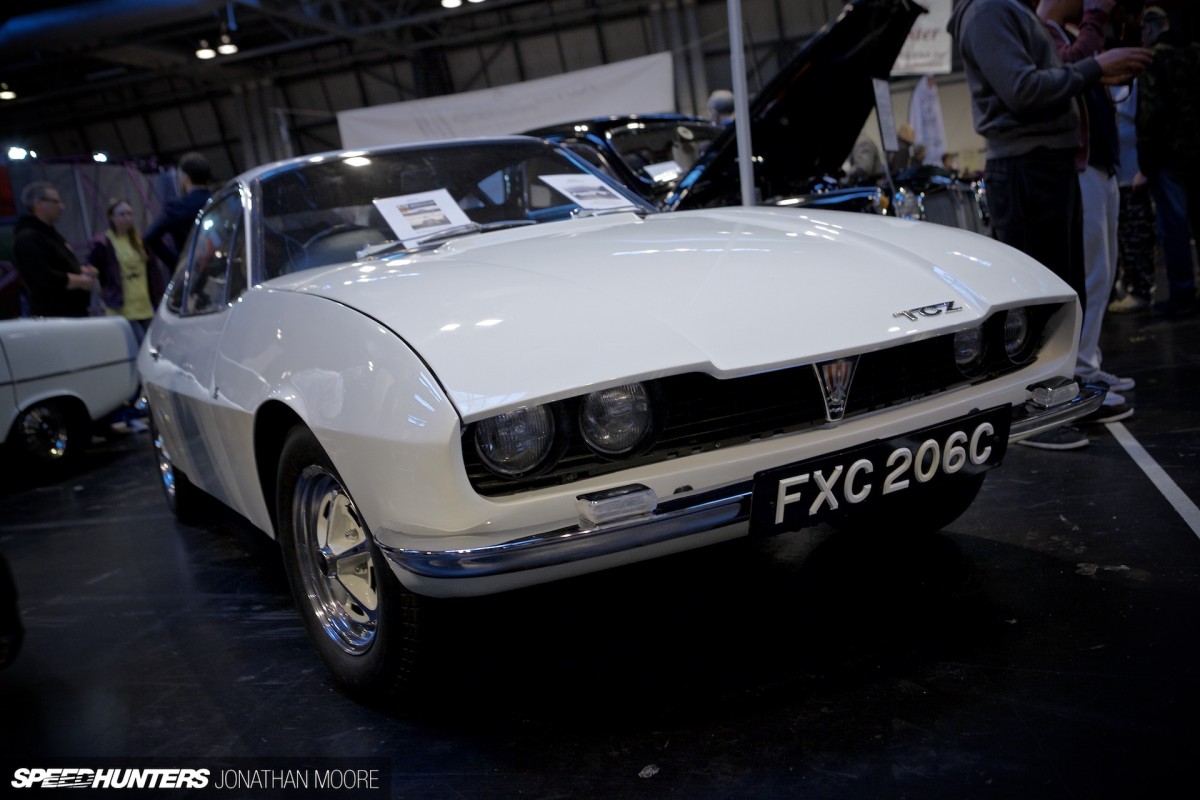 Italian coach builders feature large in the history of the British automotive industry and there's always been a strong link between the two which has led to some well known collaborations. I mentioned a number in the first story, which name-checked the likes of Giugiaro, Bertone, Touring and more. But there were two cars I had never come across before bearing the iconic Z for Zagato.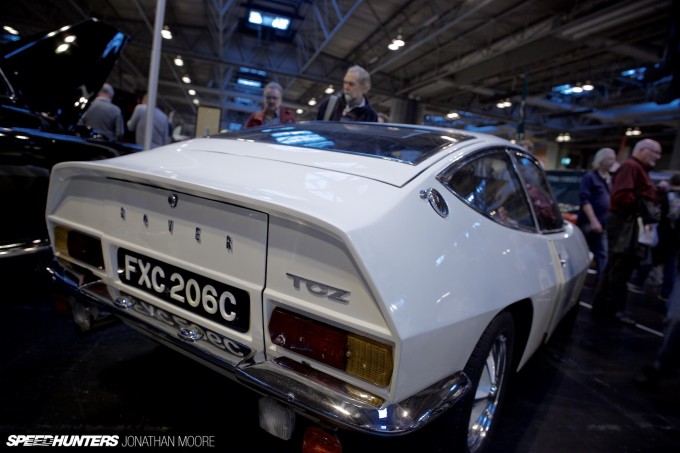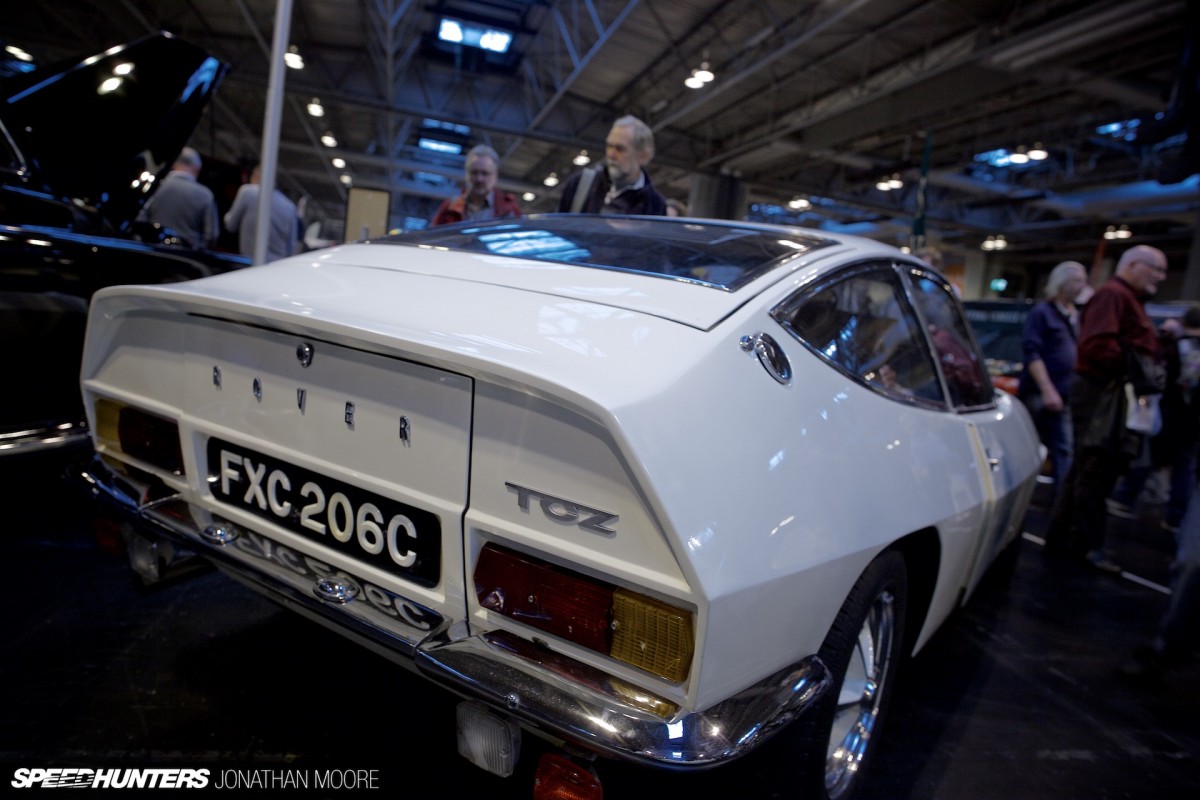 The first was a Zimp: a Hillman Imp reworked by the same Zagato designer responsible for Aston Martin's beautiful DB4 GT. The second was this: the TCZ. But this fastback coupé was a Rover. A Rover?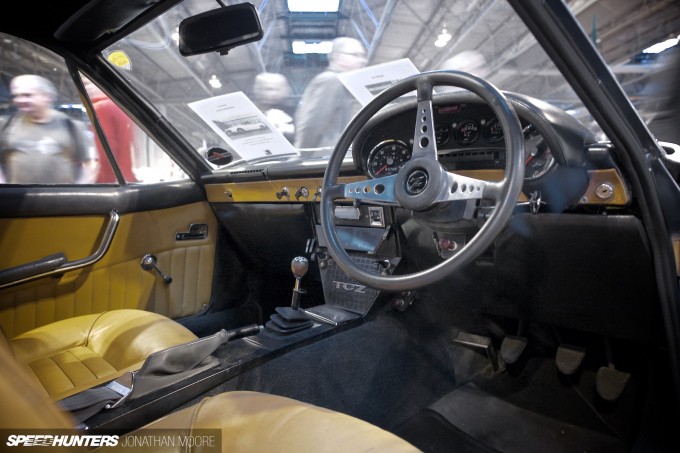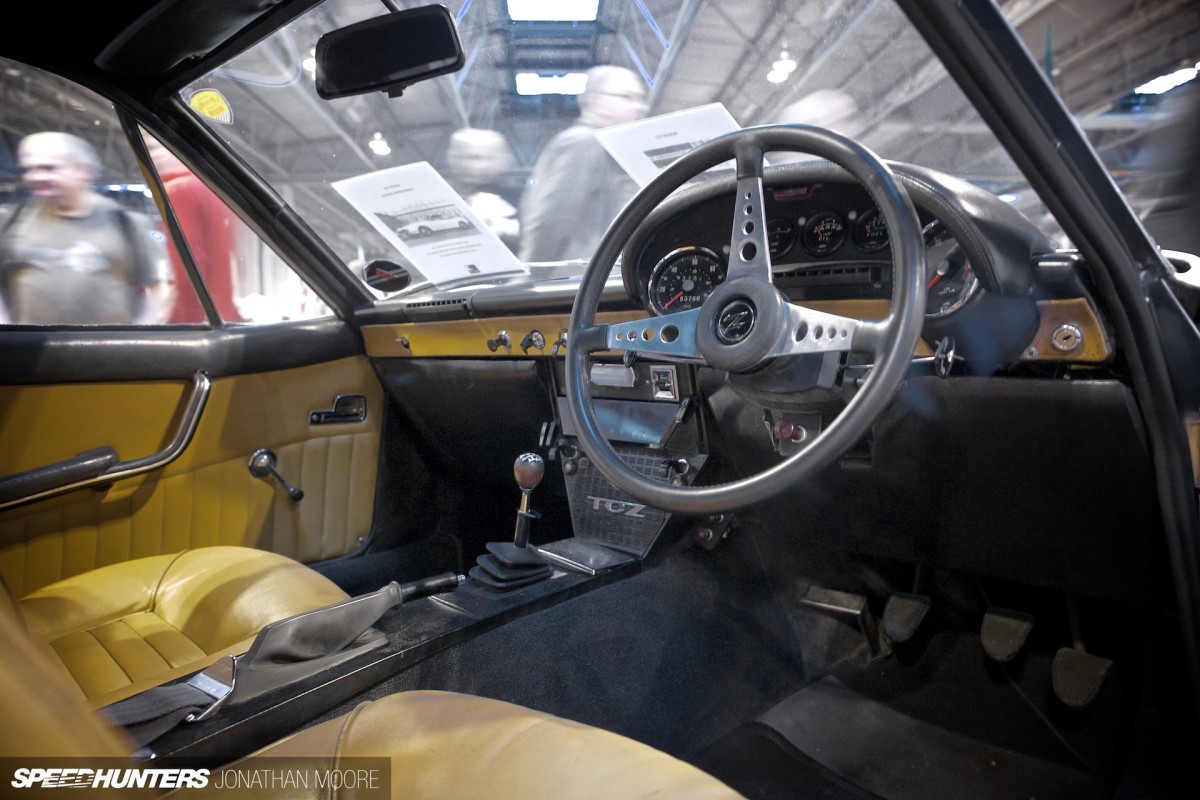 The Rover TCZ concept was presented at the 1967 Turin Motor Show, the compact coupé was based on a Rover chassis but then sprinkled with Zagato fairy dust and a lightweight alloy body. Inside, the TCZ also showed its Italian flair over British reserve, with a much more sporty layout.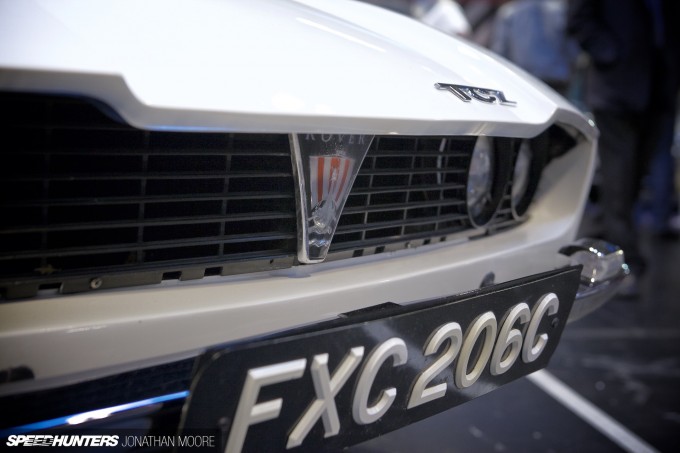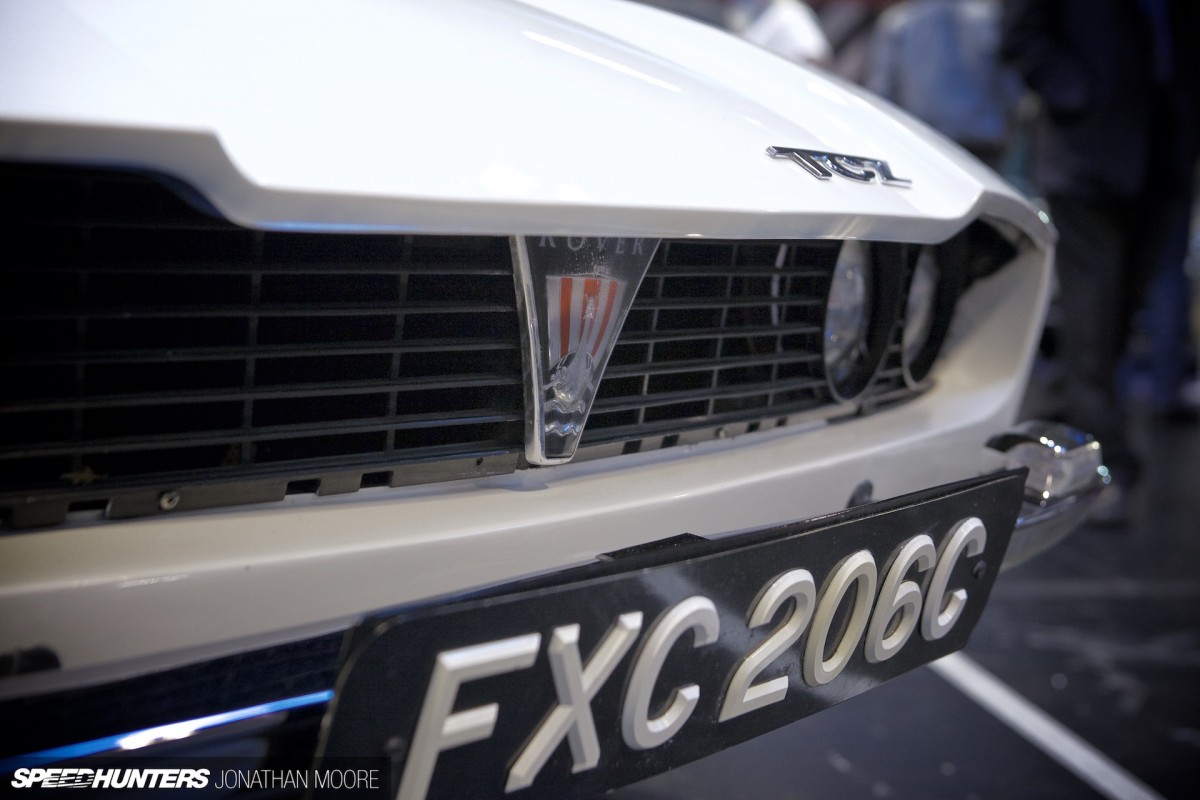 It used some standard parts, like a P6 grille and lights, but then disguised them under typical Italianate tricks, such as with the overhanging bonnet line which reminds me of an Alfa Montreal.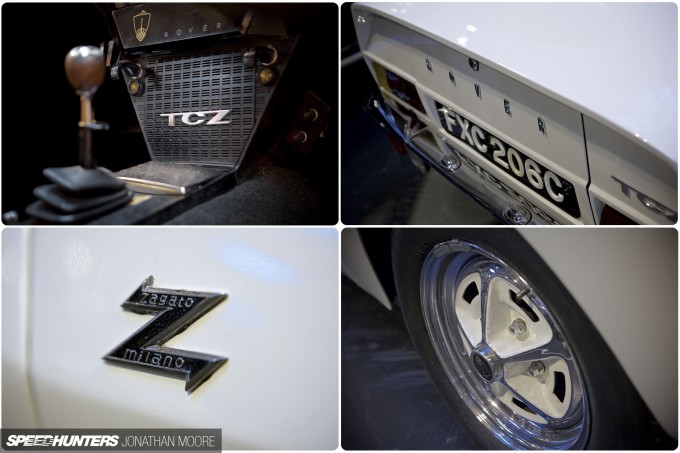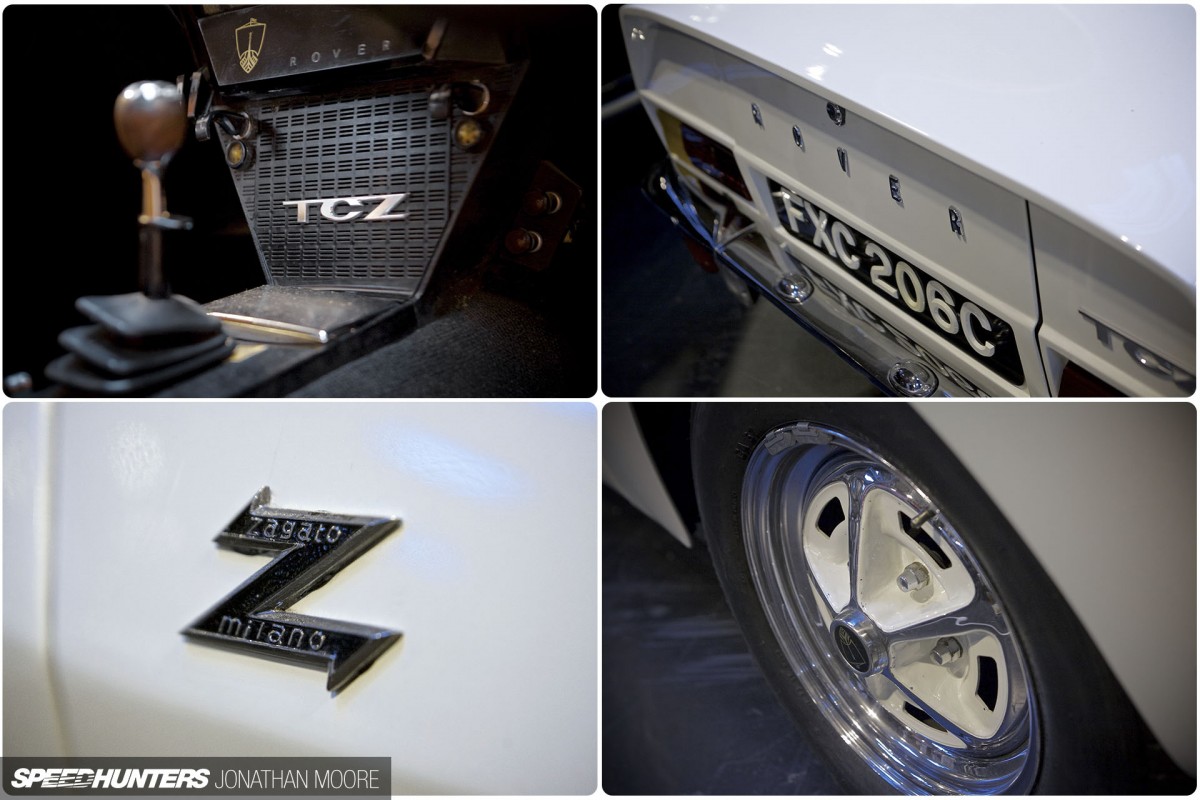 The high rear gives it real coupé class, and it shows the wedge shape emerging that would come to dominate the next decade. A 120mph top speed wasn't shabby either, for 1967. The car wasn't taken through into production though, and this remains the only example.
Go Small But Go Wide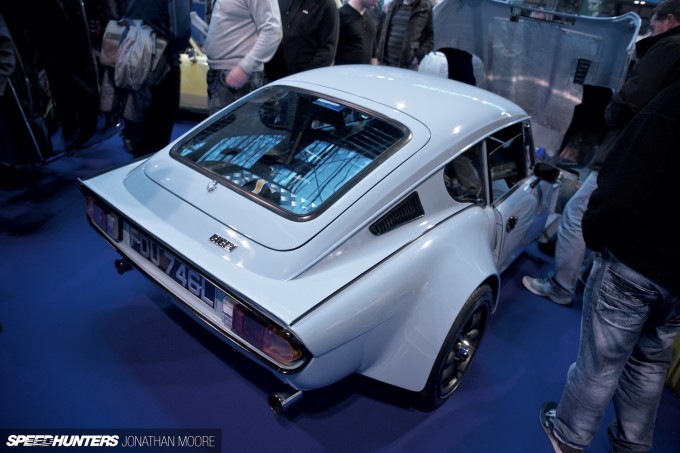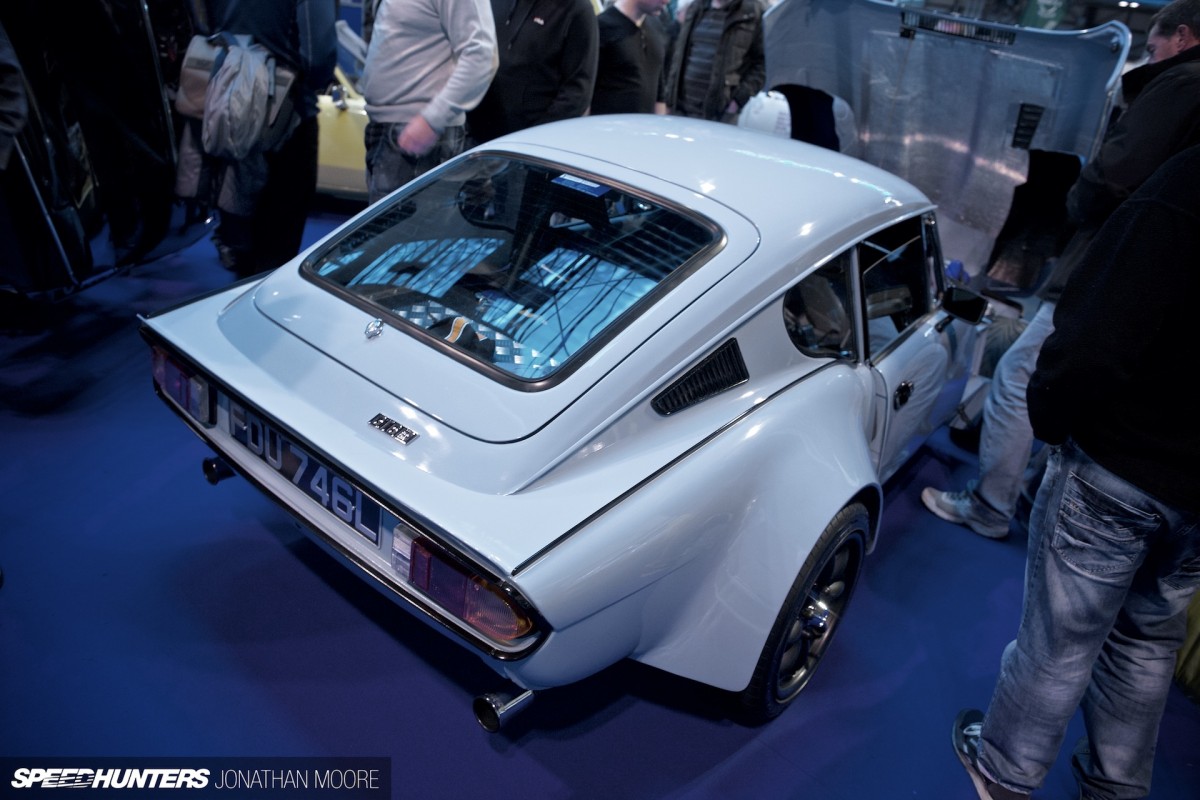 A TR7 might perhaps seem a more obvious starting point for fattening up and up-gunning a classic Triumph, but this GT6 Mk3 really stood out. If something so small and so low could do that…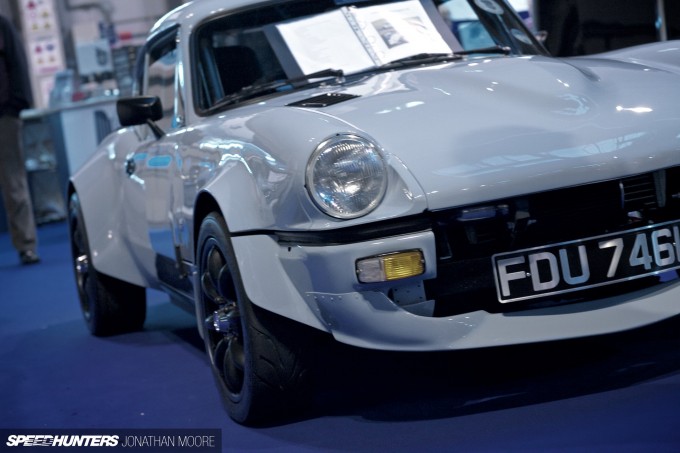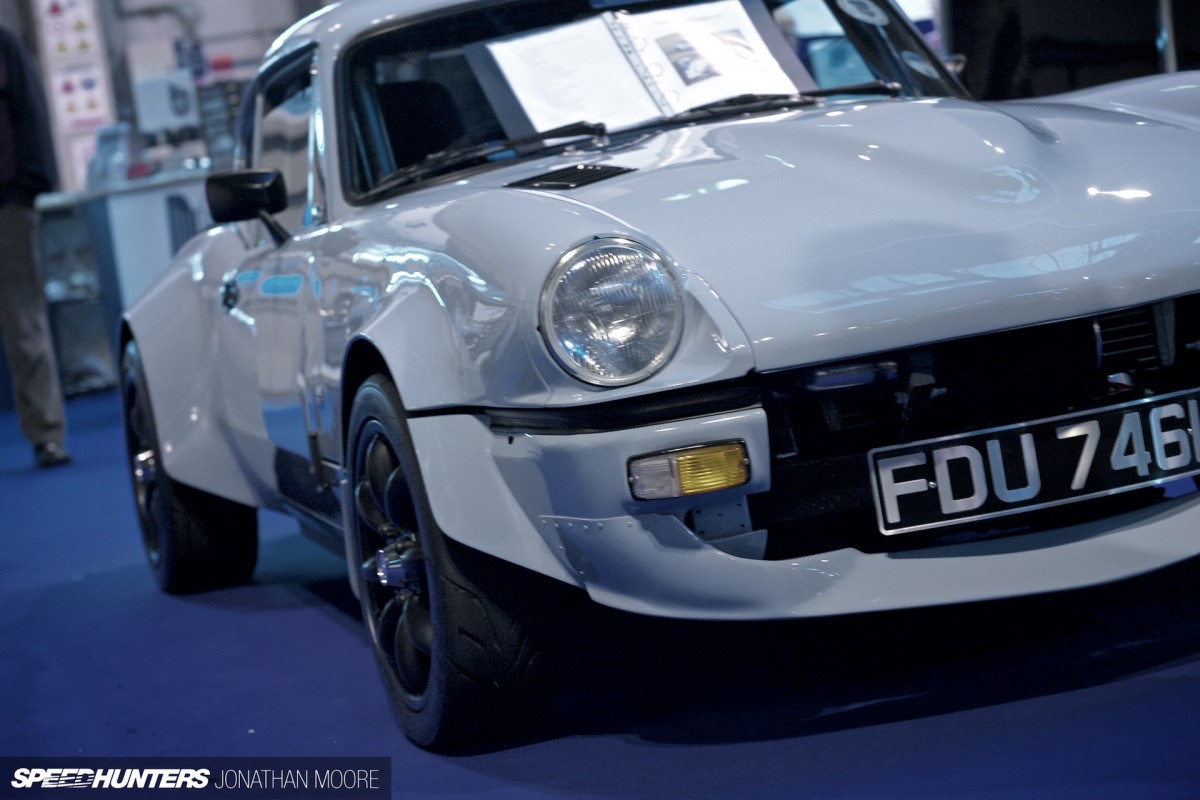 The GT6 was the coupé version of the classic Spitfire and a pretty cool little pocket rocket in standard form. But this one had been completely reinvented.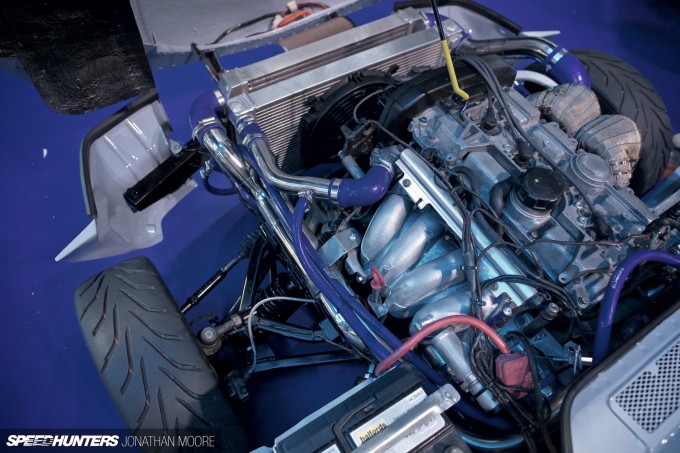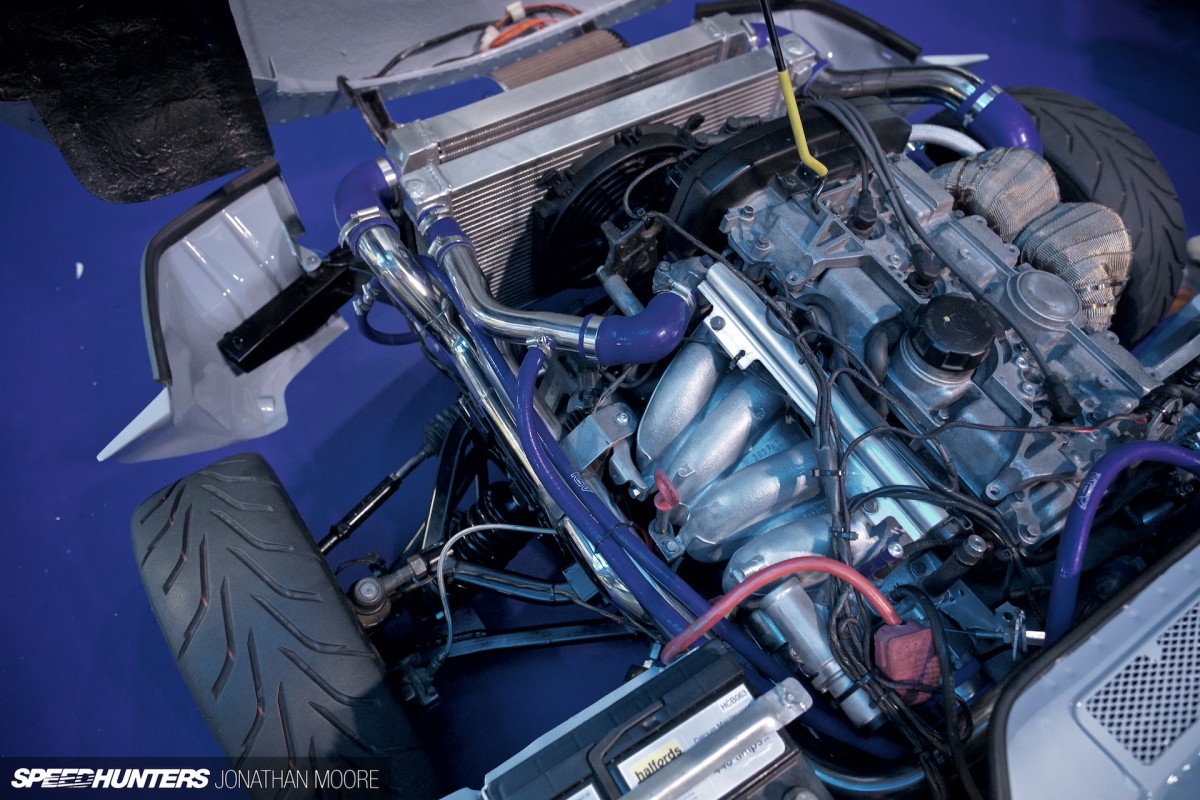 The awesome wide body kit wasn't just there for show – under the bonnet was a modified Volvo S40 unit pushing out almost 300hp.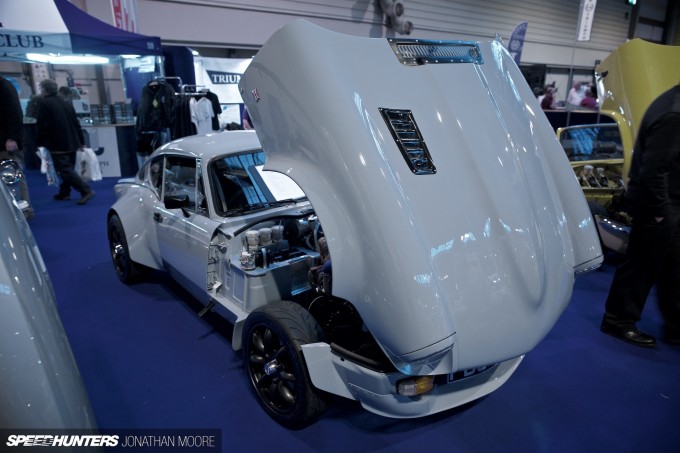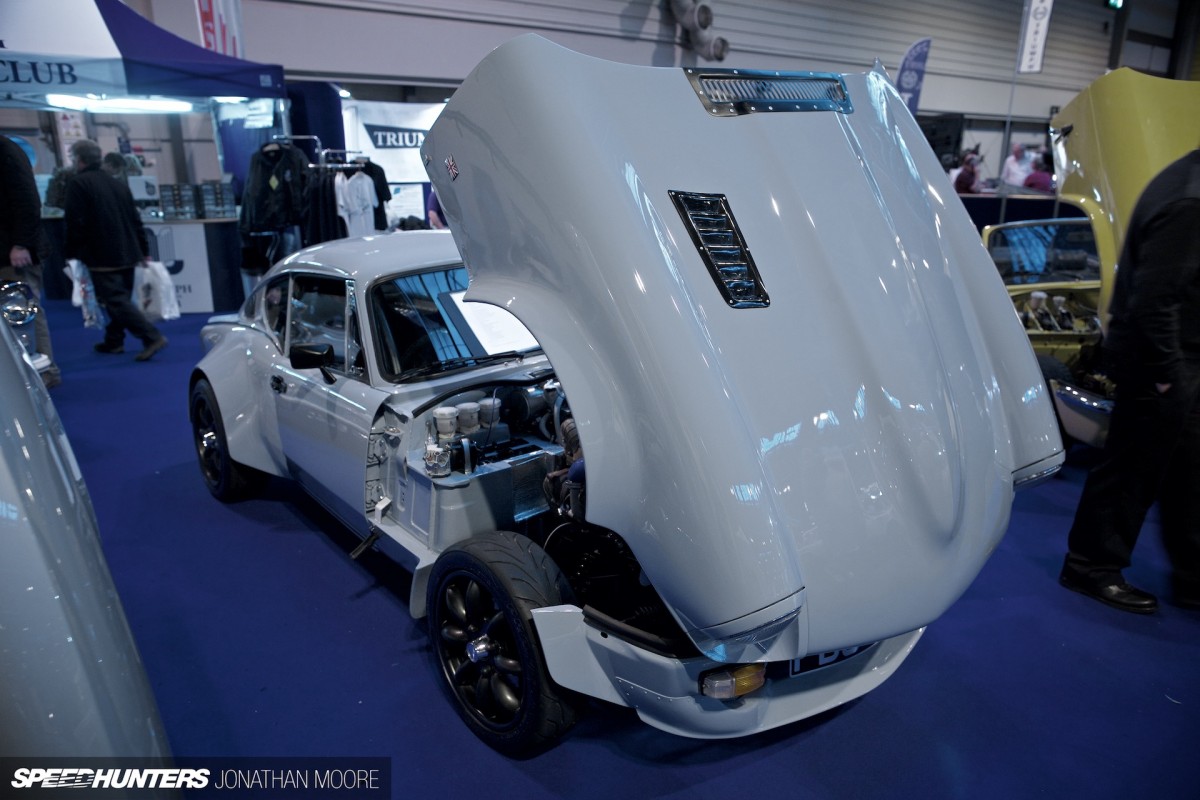 Everything has been upgraded for performance. The running gear has been taken from various more modern Fords, and it packs double wishbones front and rear plus adjustable springs and dampers.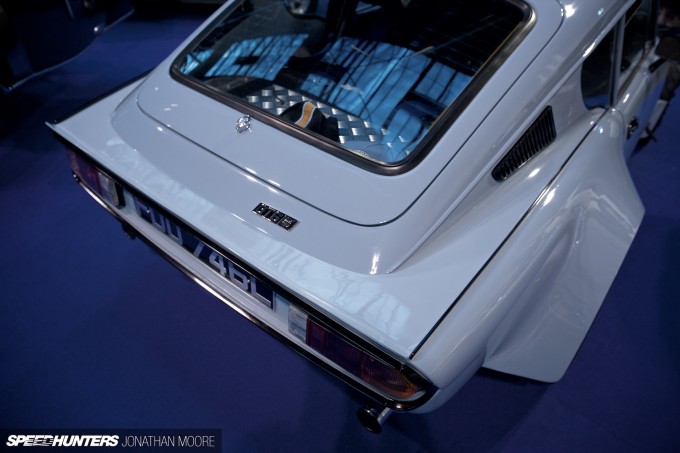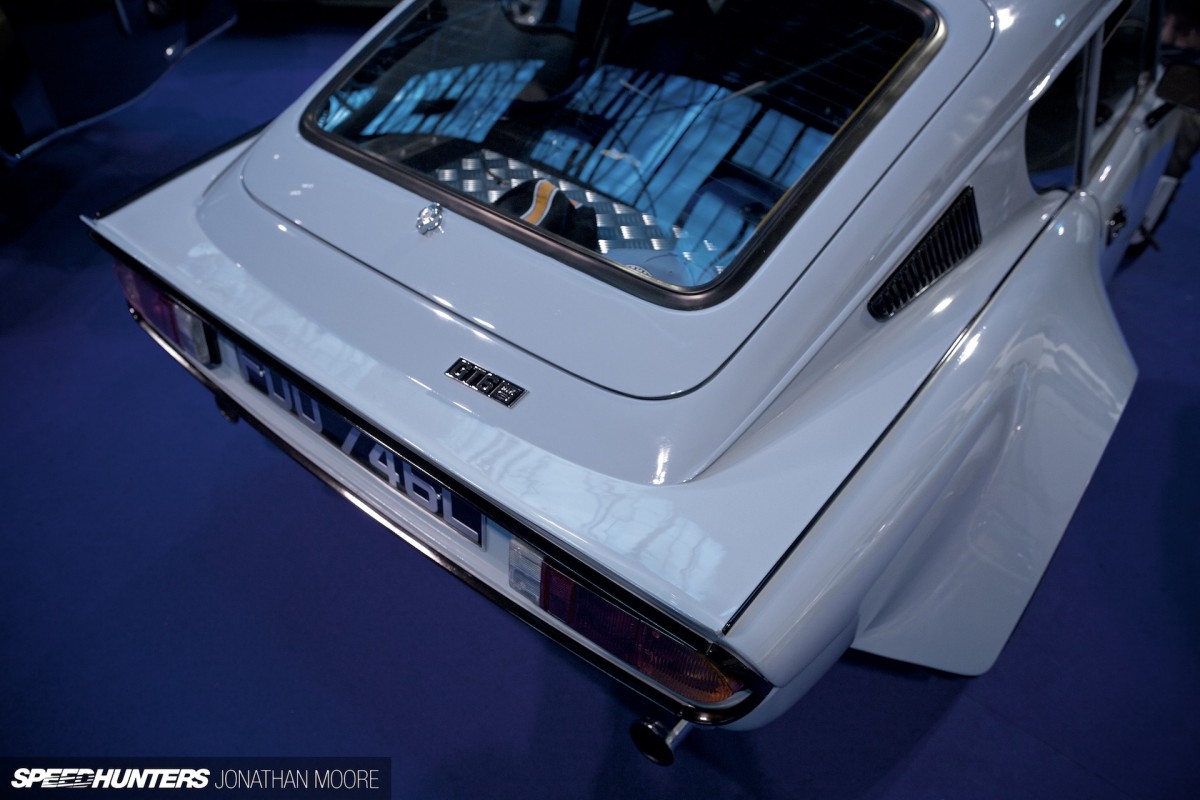 Just how low it was is demonstrated by the fact I didn't have to do anything except point the camera down for this shot… It's going to be an awesome track weapon that'll humble many a supercar owner!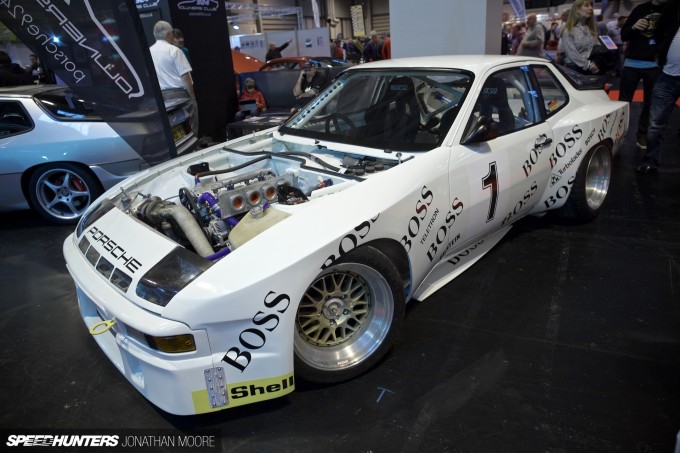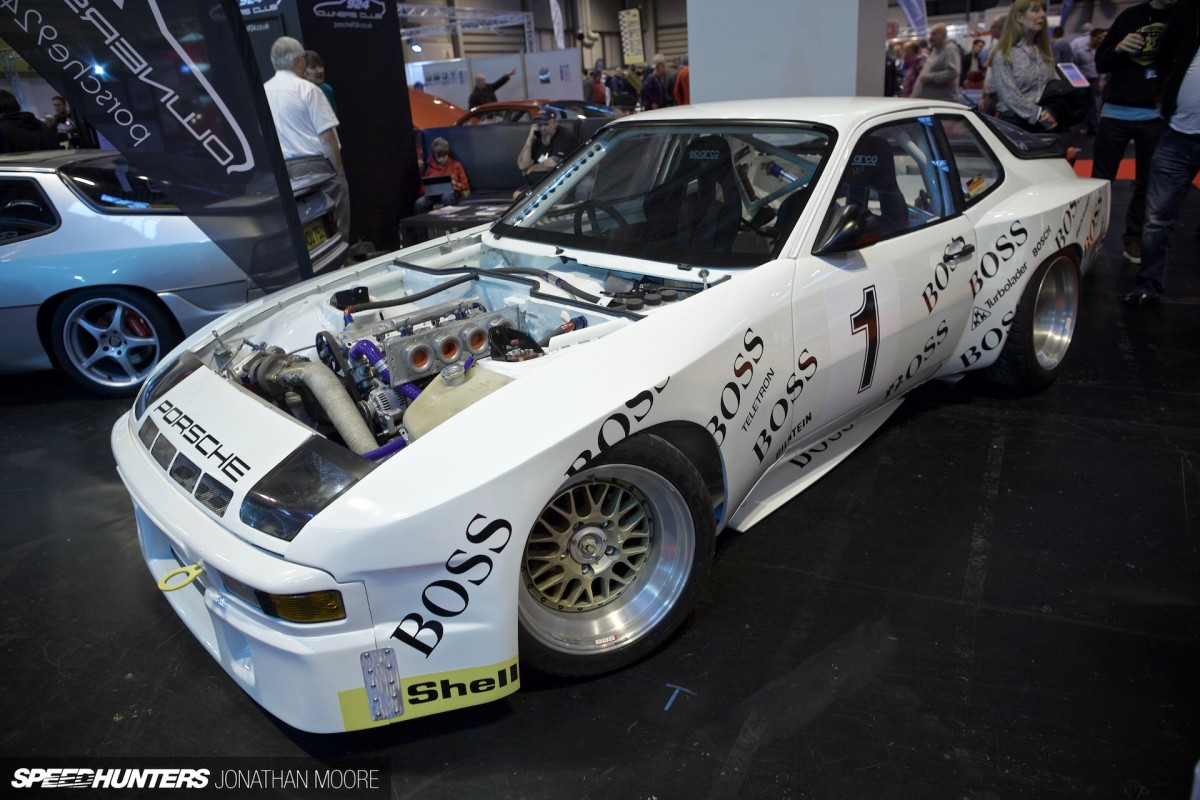 Finally, a great homage to an underrated part of Porsche's racing history: a 924 Carrera GTP.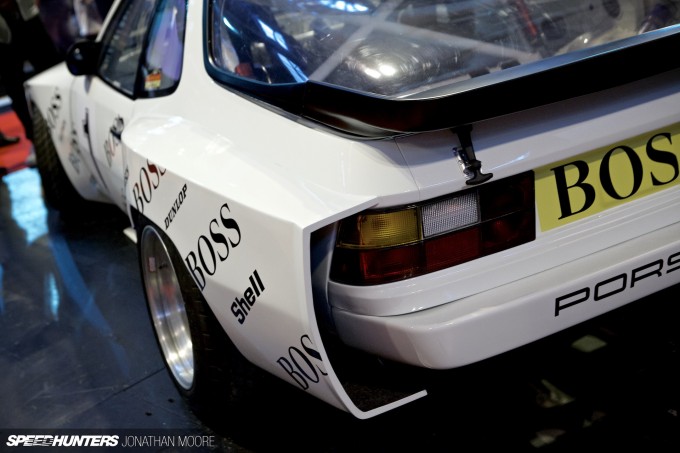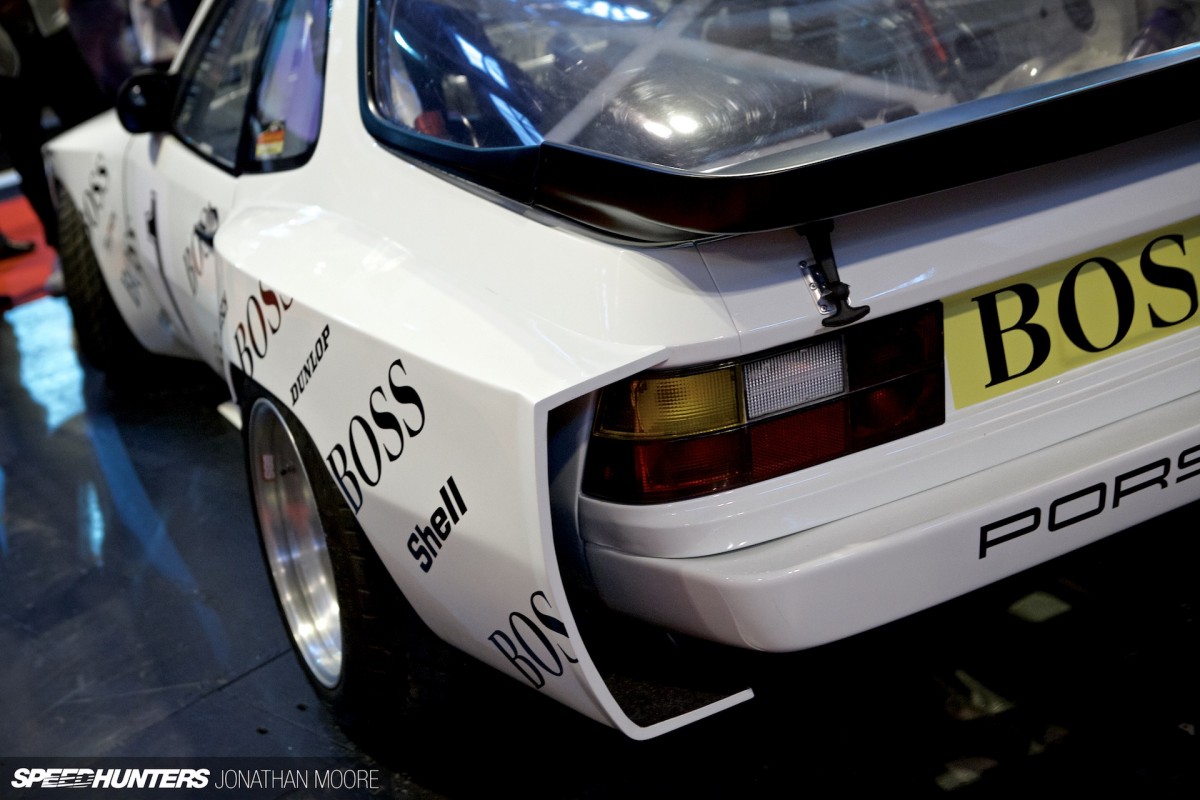 The original this car is based on car sits in the Porsche Museum in Stuttgart – actually a 944 prototype that was entered at the 1981 Le Mans 24 Hours.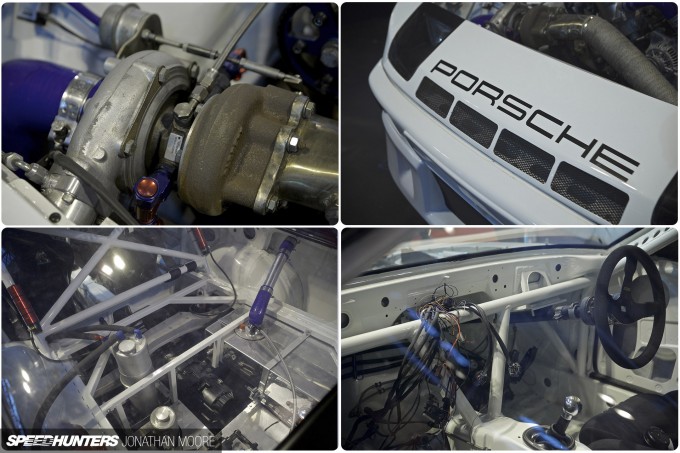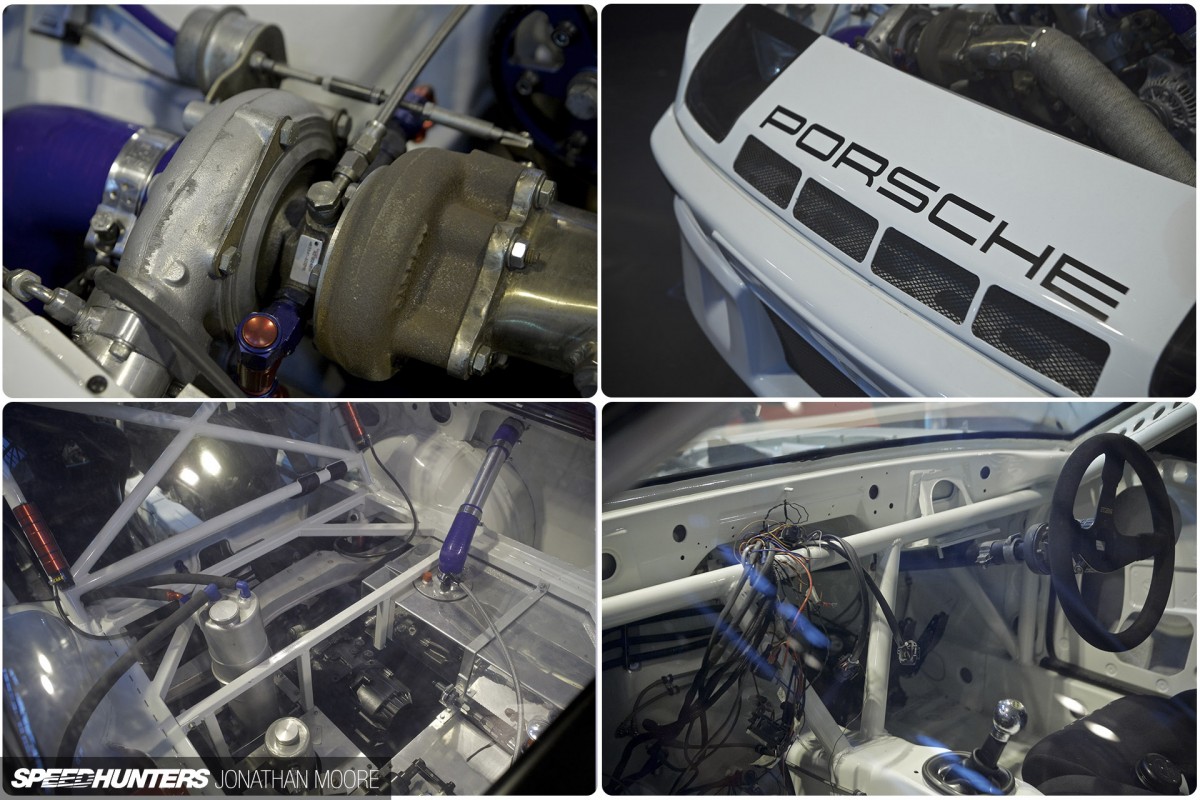 The owner was overly modest about his achievements so far. It's work in progress, but already looked pretty damn authentic from the outside whilst looking appropriately effective under the skin.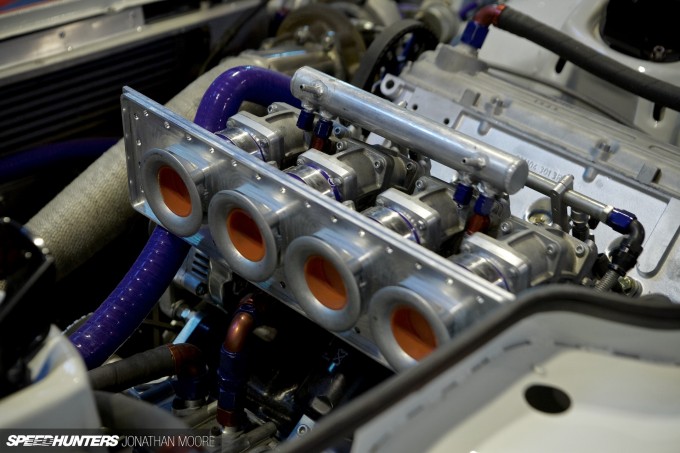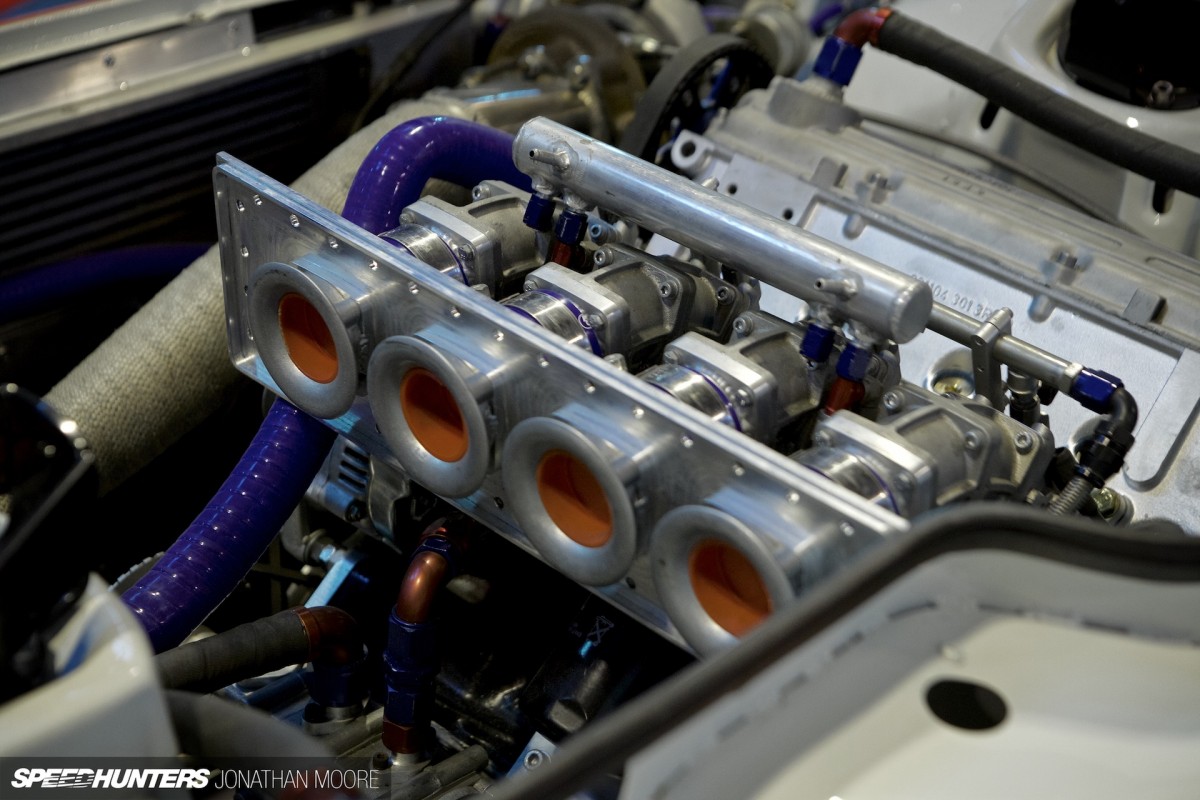 The aim is to create a capable trackday car; a 924 is already a good starting point (far more sensible than a 911, you could argue), and the sizeable turbo that feeds the inline four will provide plenty of power. I also love the proper race-style heat lagging around the intercooler pipe.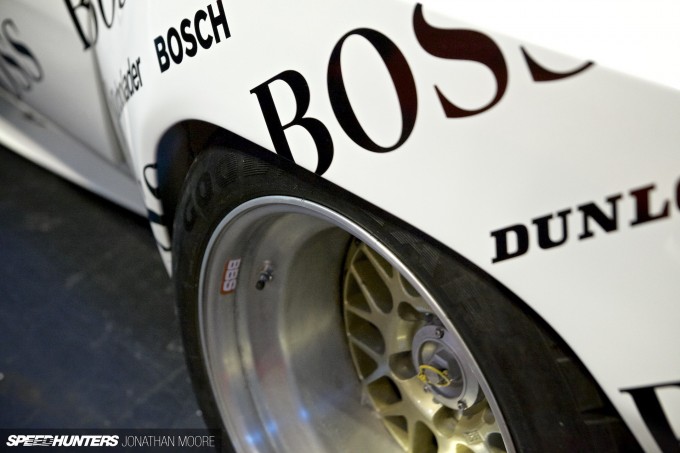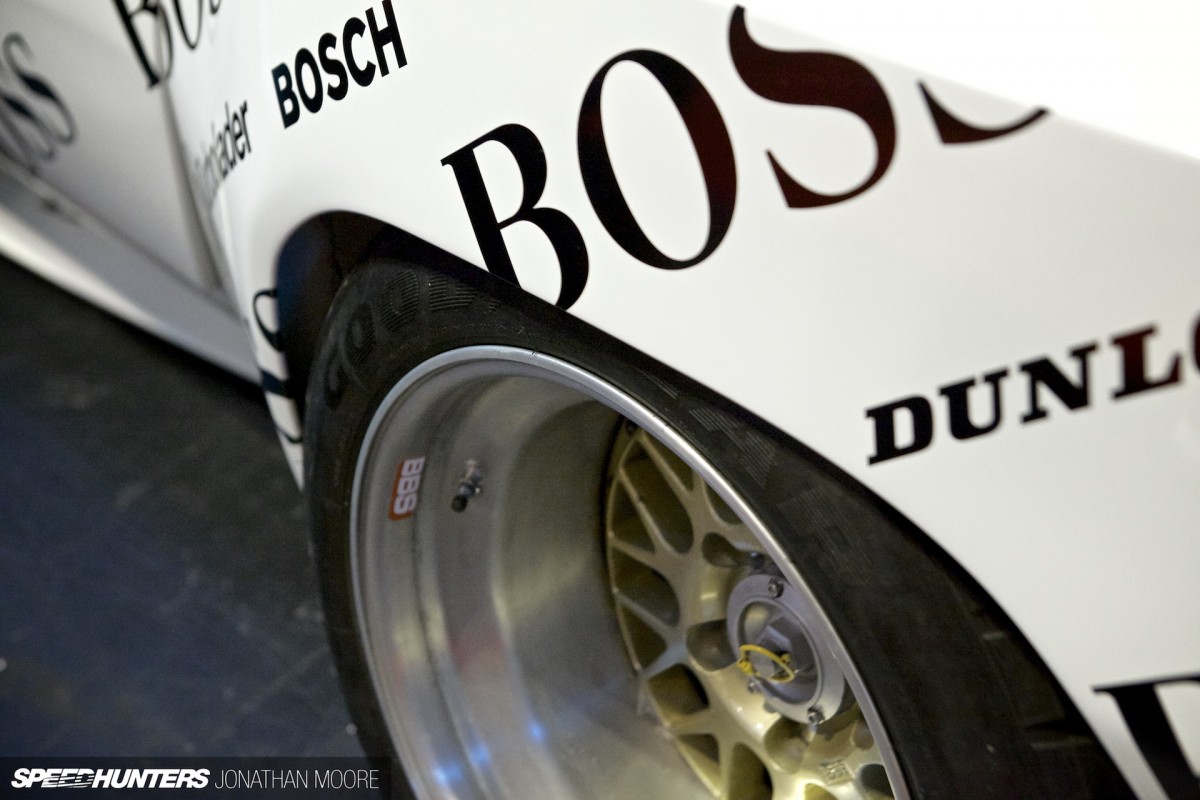 The flared arches are filled out with, of course, split-rim BBS wheels on a wide track. What other choice could there be?!
Jonathan Moore
Instagram: speedhunters_jonathan
jonathan@speedhunters.com