Dream Machine
The year was 2004. The place – Southern California. Mickey Andrade had recently relocated from Ohio to help Falken Tire run its new American drift program, which at the time included a number of cars and drivers from Japan. During a trip to a local parts importer to grab some components for one of these JDM drift machines, something caught Mickey's eye…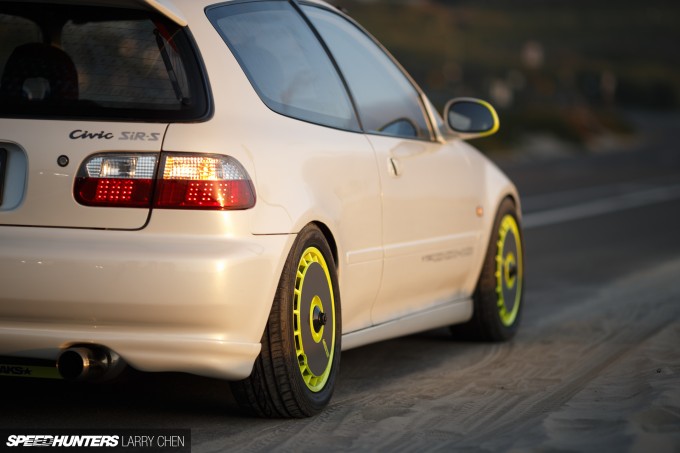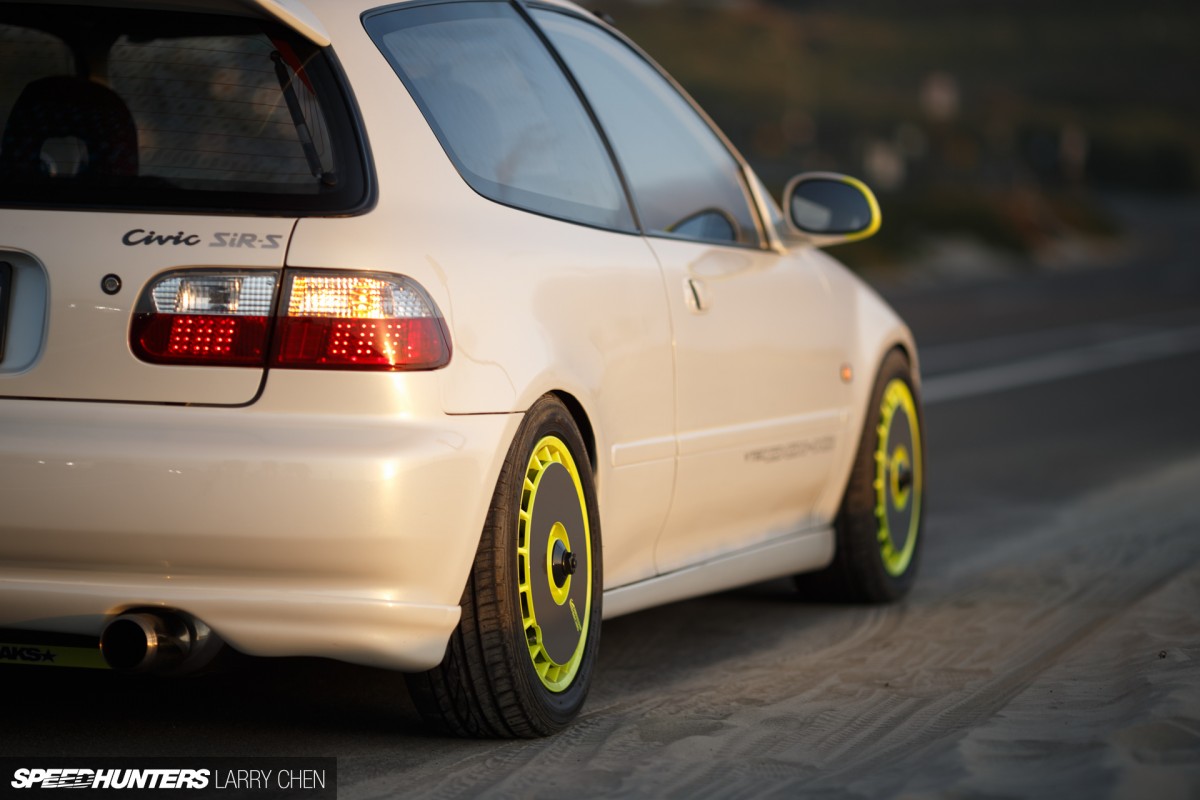 It was a bare shell that had been completely stripped, but Mickey immediately recognized what it was. Before coming to California he was a Honda maniac, and the lines of the EG6 Civic were immediately recognizable – even with the rough condition the car was in. He went over for a closer look.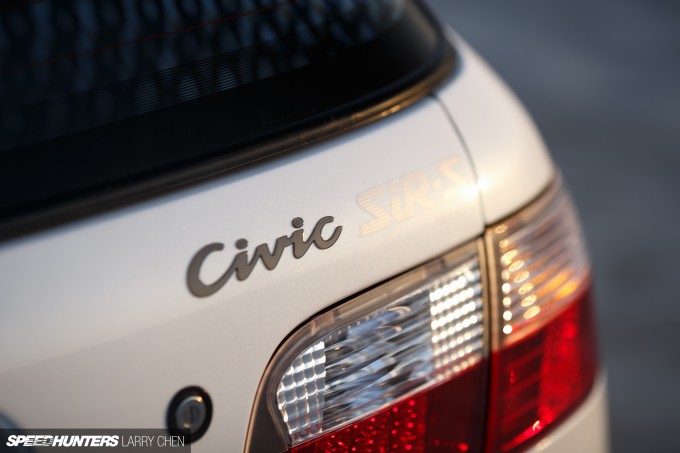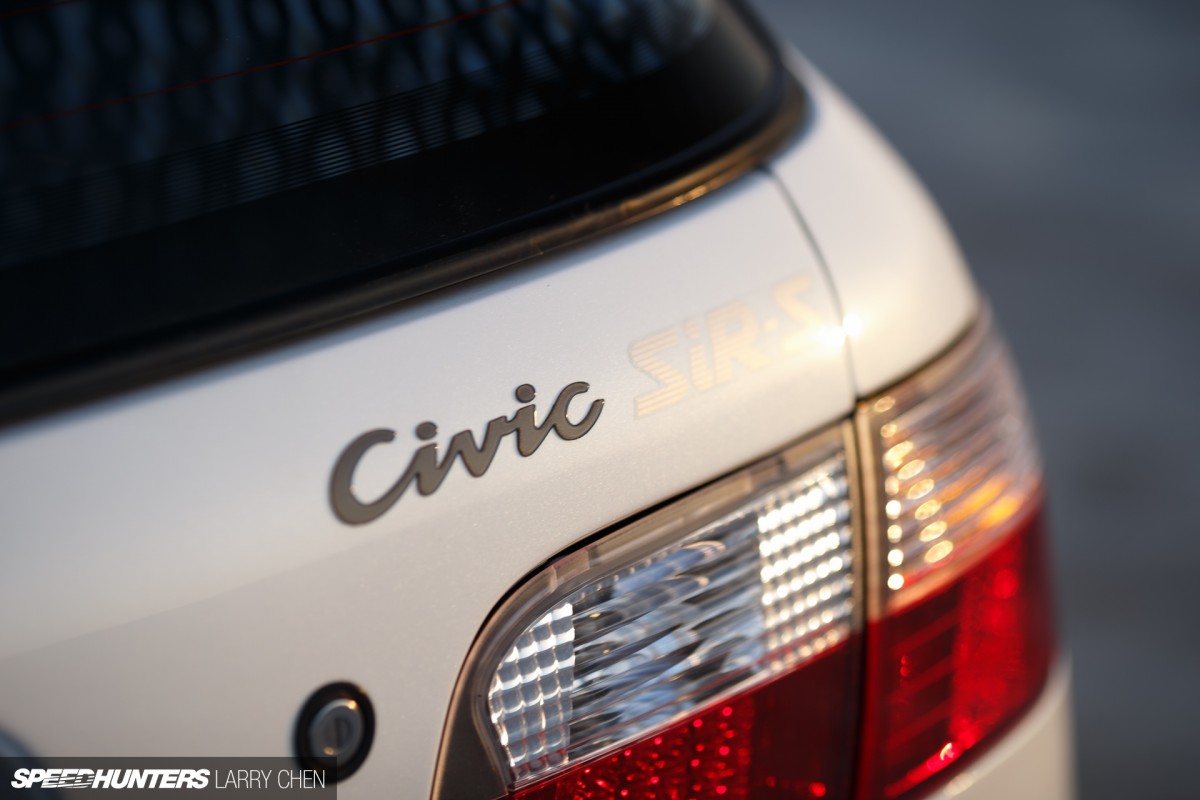 Mickey always wanted an EG Civic when he was younger, but never had the means to own one. When he got closer to the shell he realized that he'd stumbled across a very rare machine: a 1993 Japanese market SiR-S to be exact. Only a few thousand examples of the higher equipment level model EG6 were ever sold.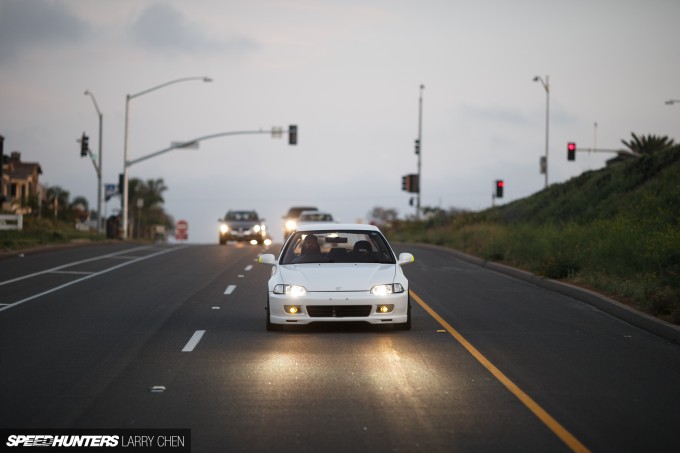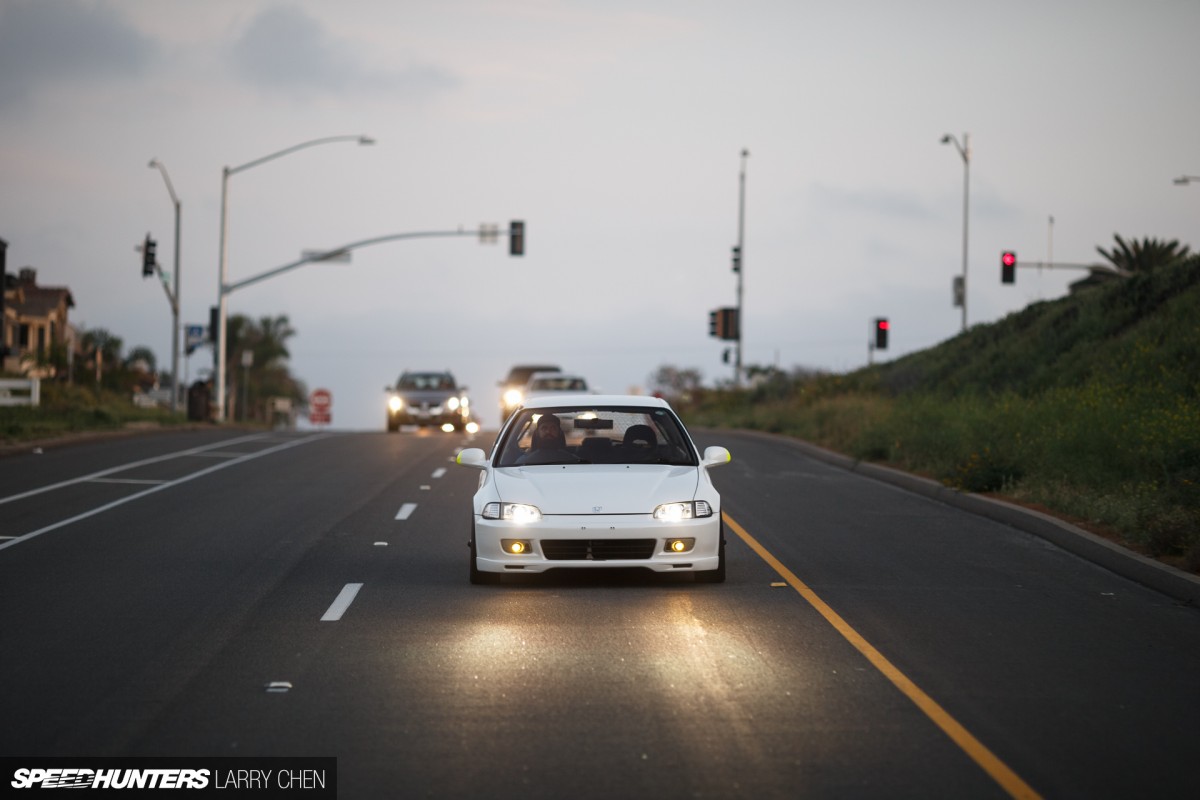 Like many JDM vehicles that wind up on US shores, the right-hand drive EG6 had been brought over as a parts donor and had already been stripped of anything of value – including most of its body panels. Still, Mickey couldn't help but ask the owner of the shop what he was planning to do with the Civic. He'd long dreamed of owning a JDM machine, and being a Honda fan the EG6 SiR-S was something extra special.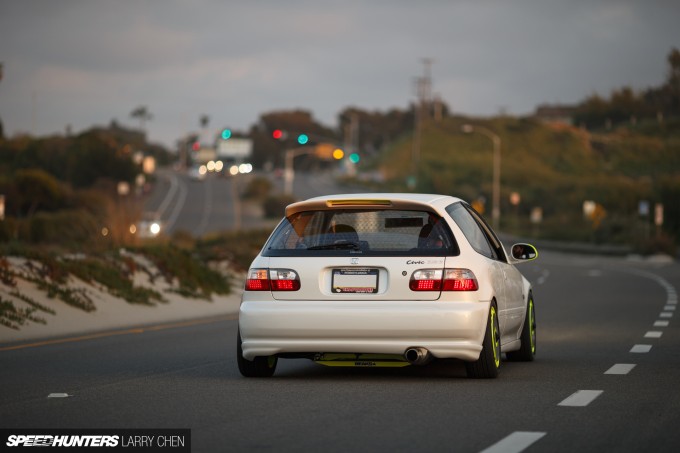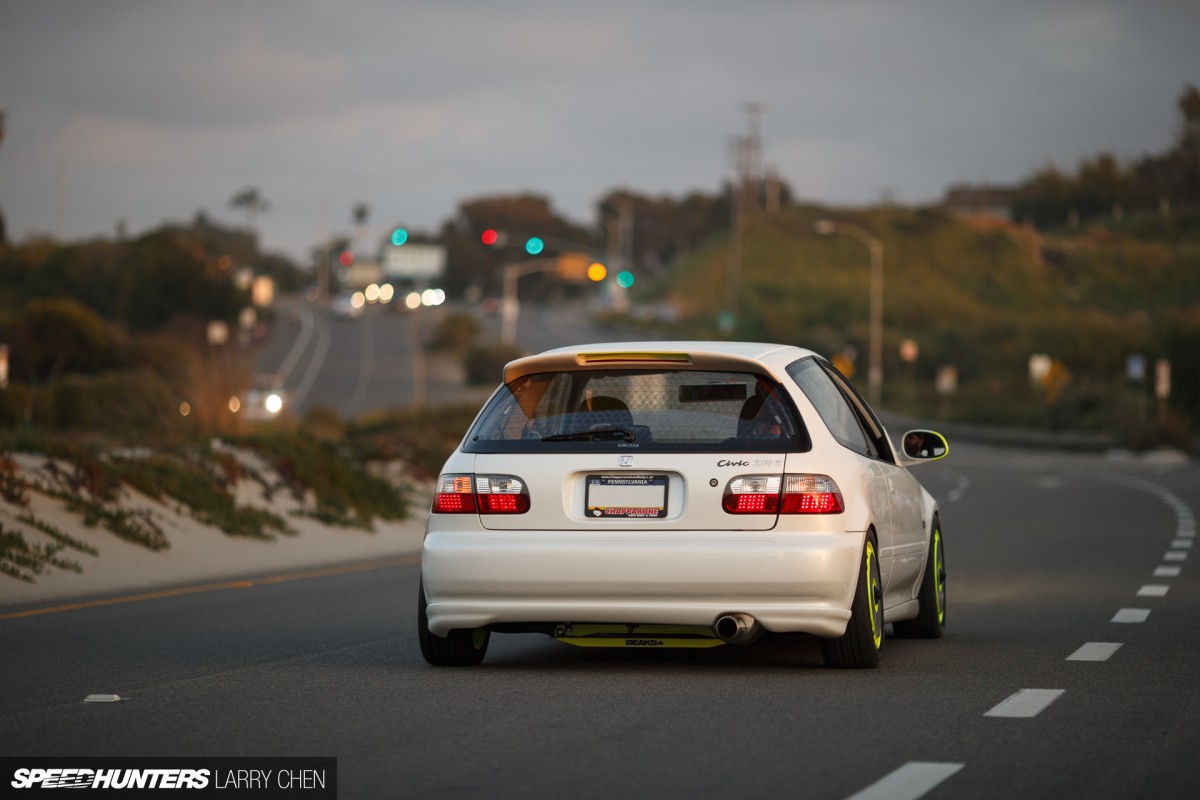 With nothing left on it to sell, the bare chassis was destined for the scrap yard. An opportunity had presented itself, and although Mickey didn't have a lot of money, he knew this could be the first step of making his JDM dreams a reality. As it turned out, the owner was actually looking for a new set of tires for his SUV, and knowing Mickey worked at Falken he proposed a trade: the EG6 shell for a fresh set of rubber.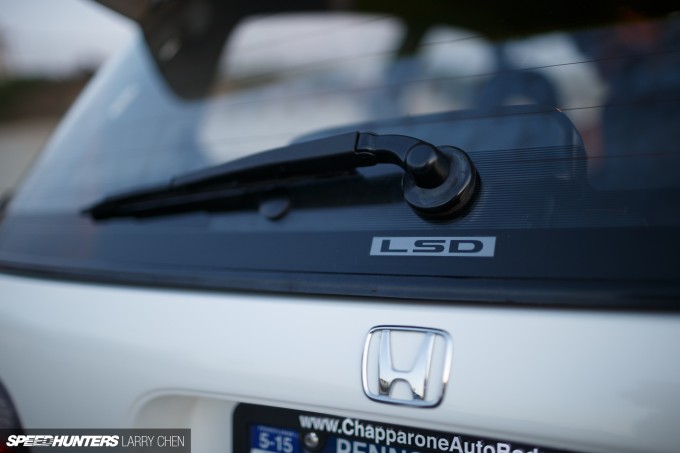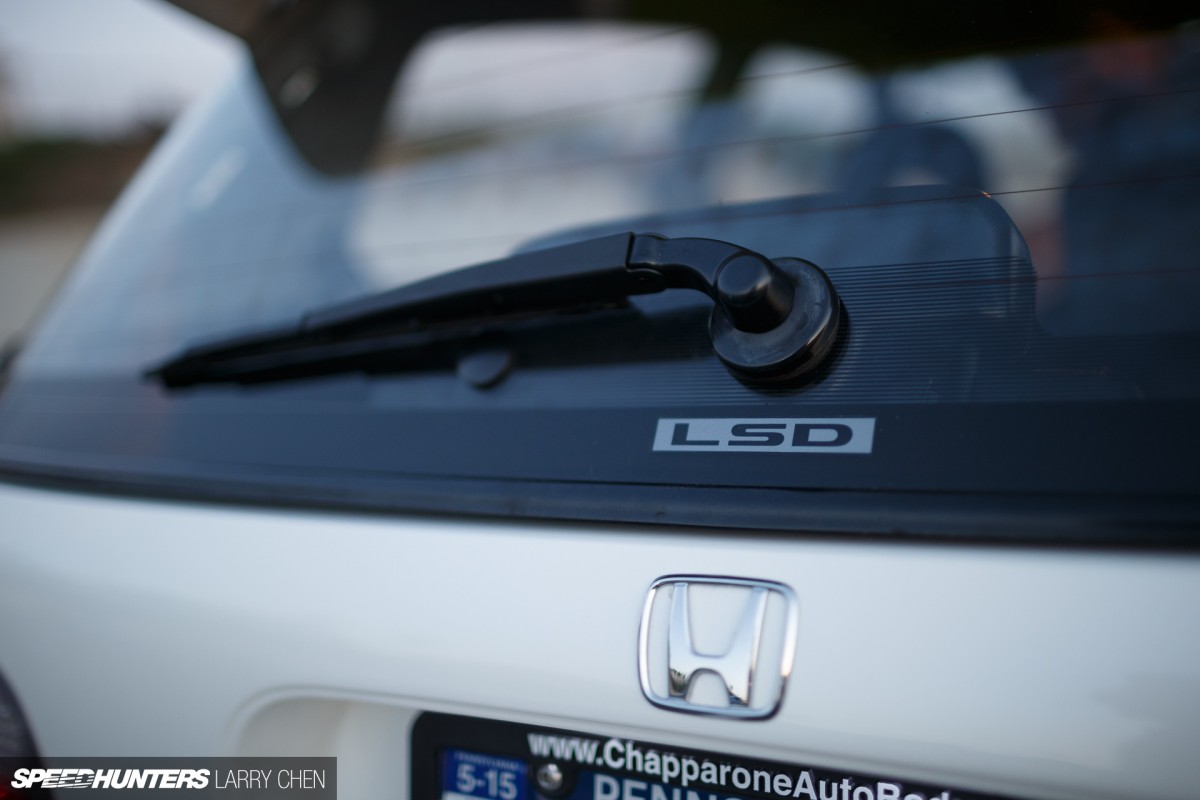 Jumping at the bit with excitement, Mickey asked his boss if he could buy a set of tires with his employee discount and got the okay. A deal was made and he became the owner of a genuine JDM EG6 – albeit one that would need an incredible amount of work if it were ever to see the road again.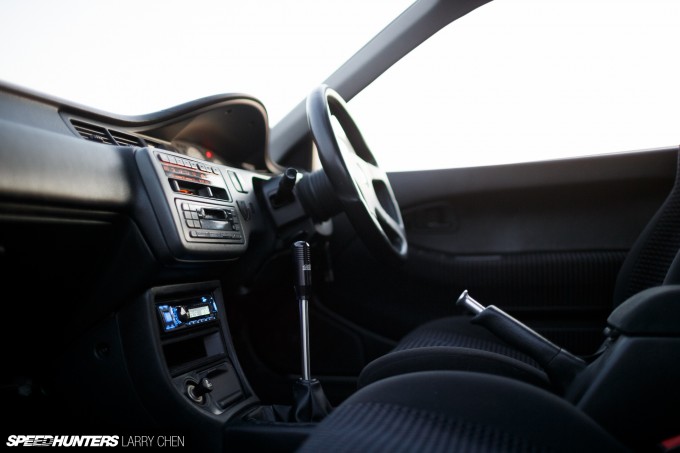 Mickey didn't have the funds to start building the car immediately, and the Civic would end up sitting for several years before he was ready to tackle the project. Finally in 2010, he knew it was time to bring the old Honda back to life.
Resto-mod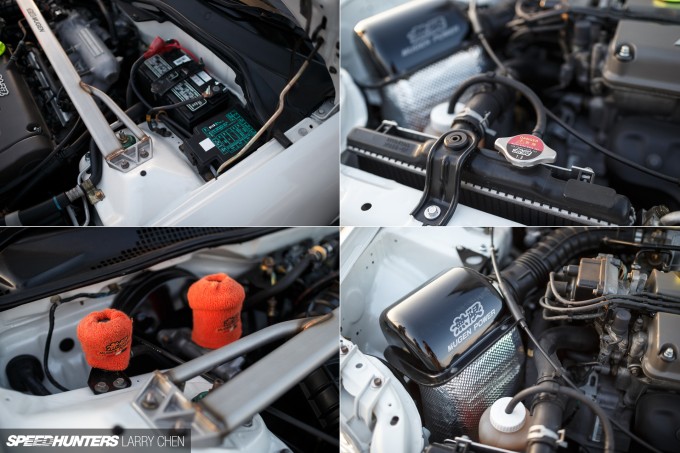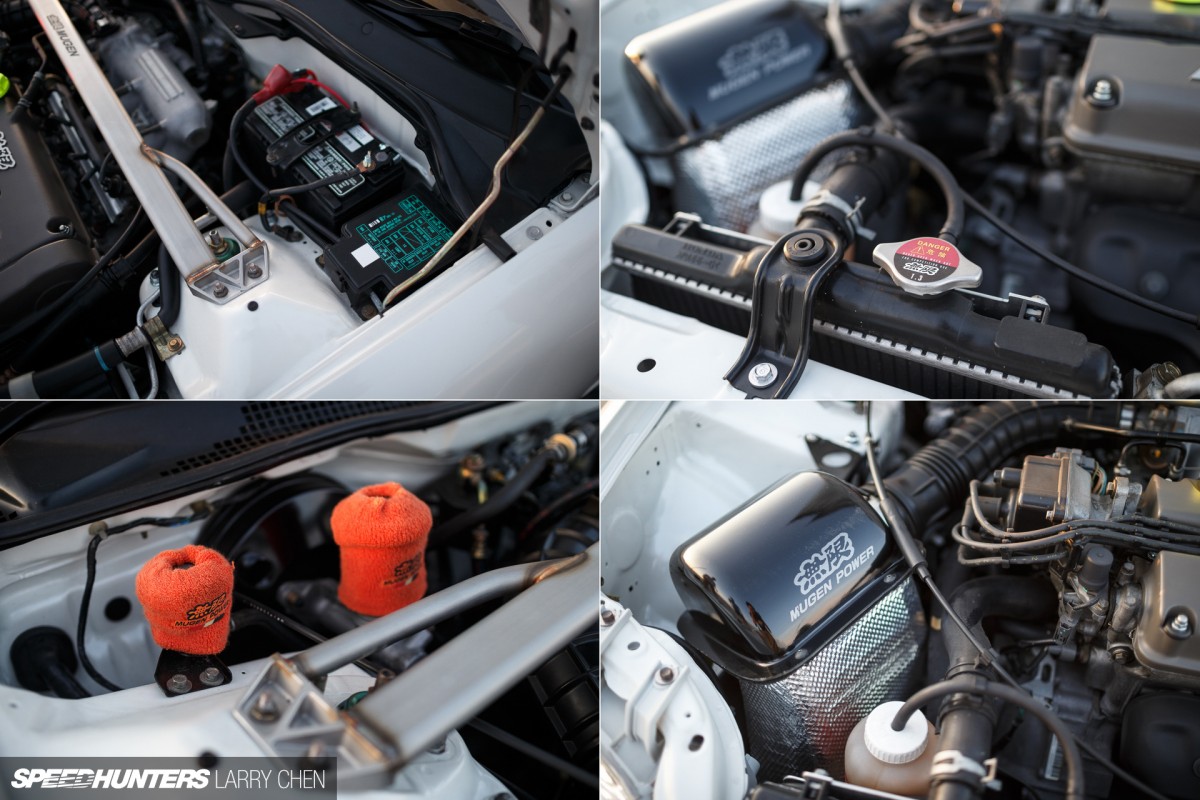 Initially Mickey considered using the Civic shell to build a dedicated track car, and given the amount of work needed that would have been the easiest choice. But he reconsidered and decided to accept the challenge of rebuilding the EG6 for street use.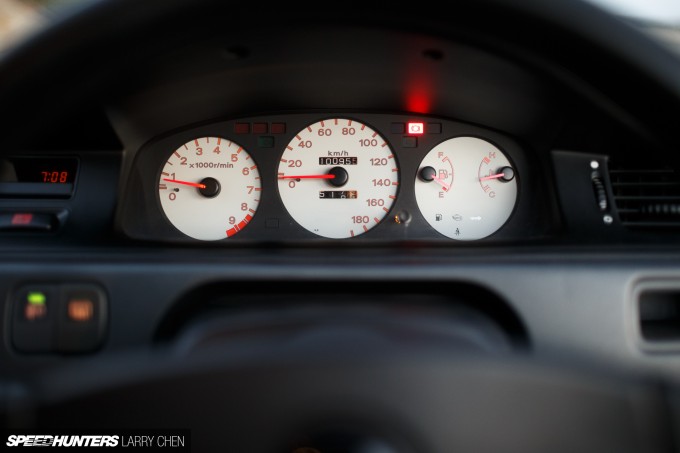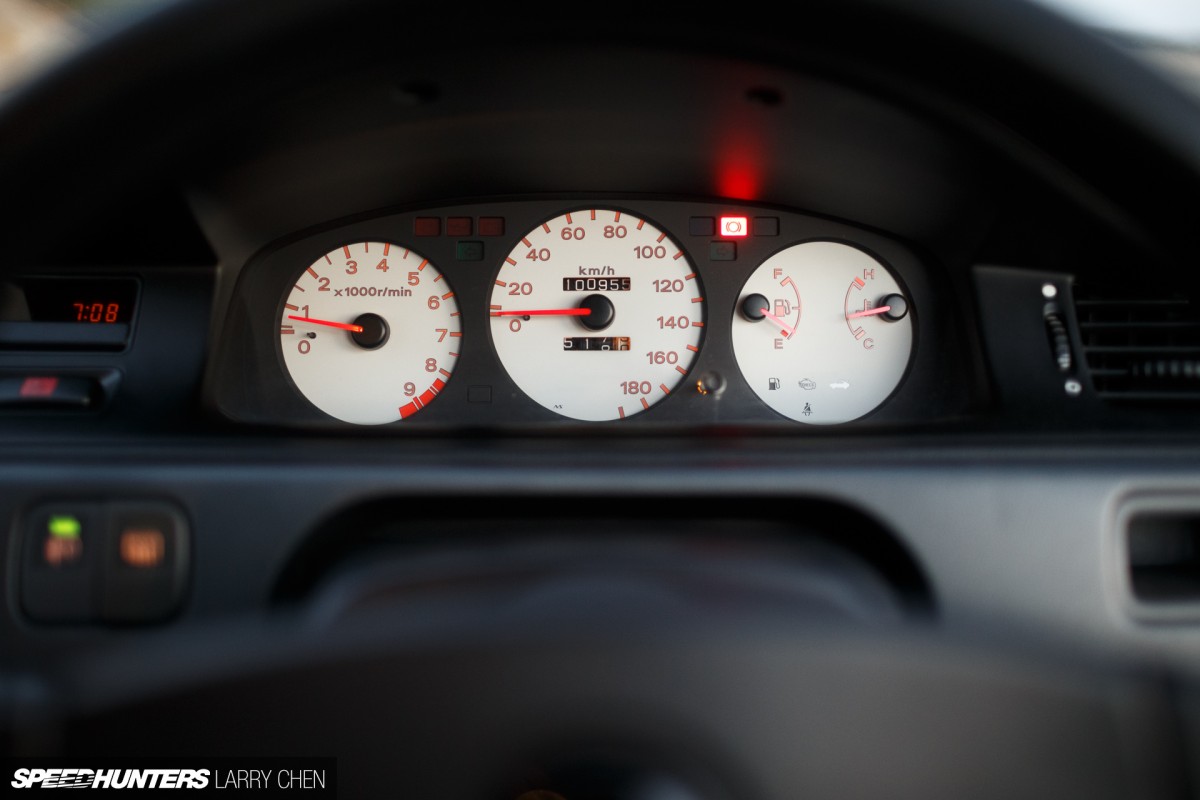 But Mickey didn't just want to get the car on the road again, he wanted to build an ultra-clean, fully-restored street machine that fully embraced the classic 1990s JDM look. Given that he was working with a bare shell, he knew he'd have his work cut out for him.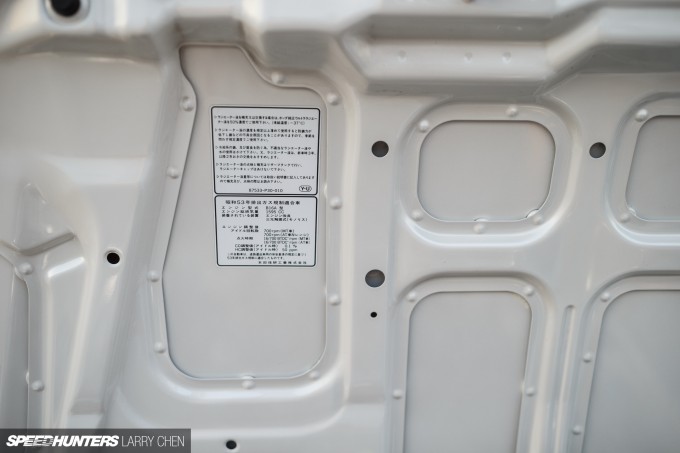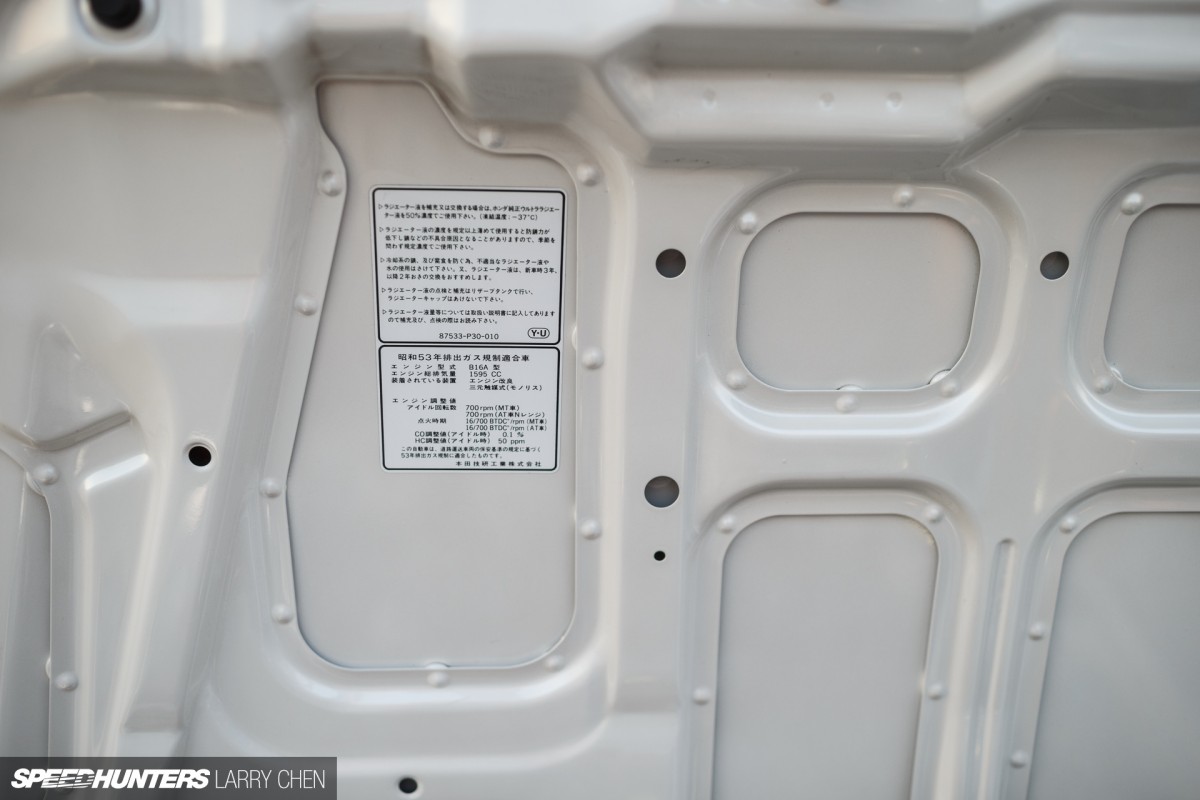 And thus began the long journey of gathering parts to bring the car back to life. For Mickey this was actually one of the most rewarding aspects about the build, as he hunted down rare parts both in the United States and across the Pacific in Japan – meeting many fellow enthusiasts along the way.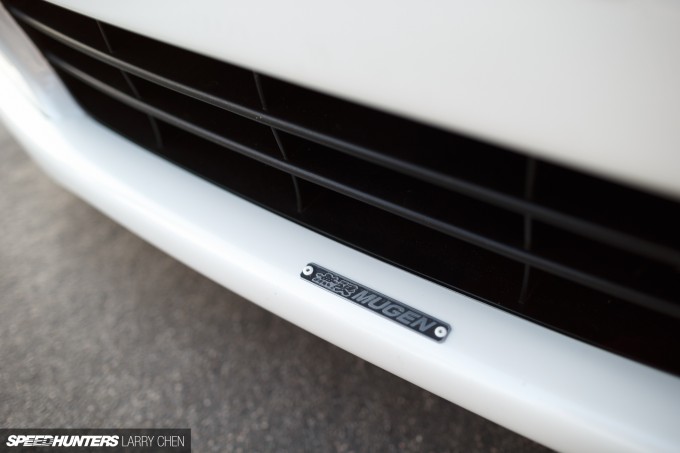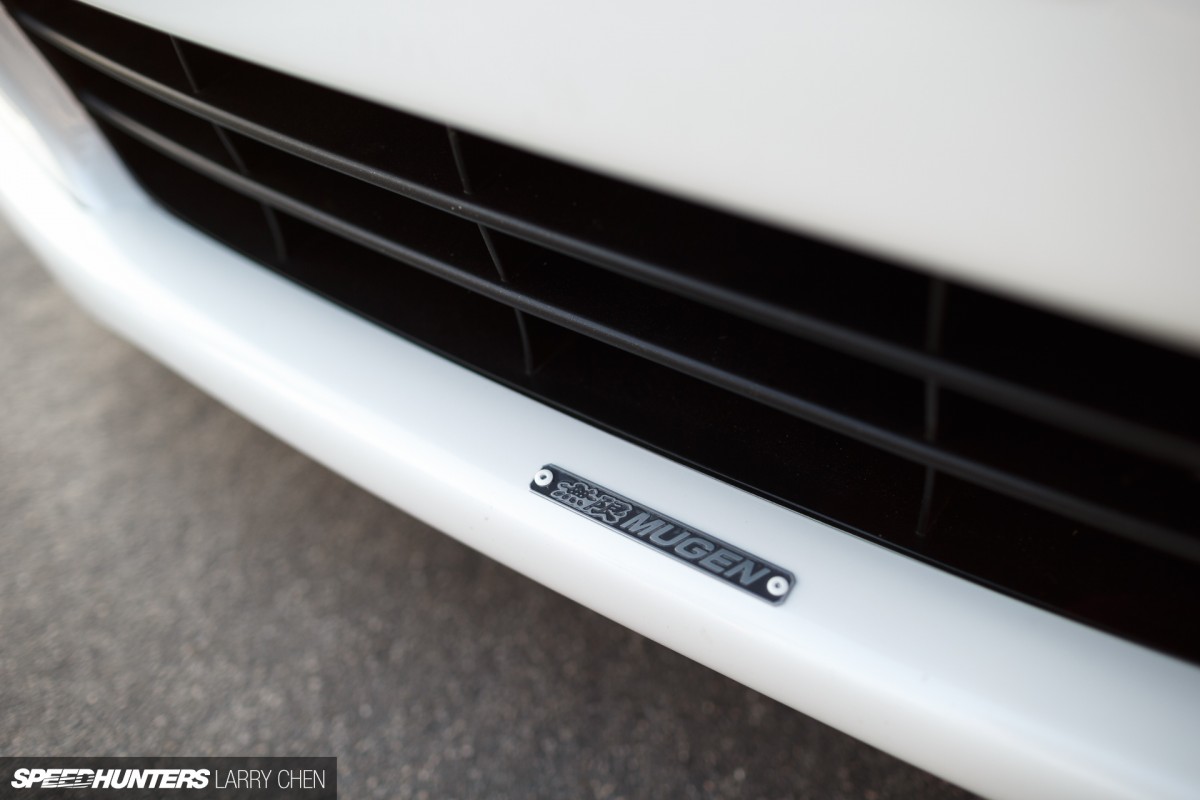 Given that he was working with a rare JDM car, Mickey wanted to skirt the boundaries between a full factory restoration and a custom build. He'd always had a thing for Mugen parts and especially loved the fact they could be dealer-ordered in Japan. During the build he ended up sourcing a number of rare Mugen bits, including a front lip spoiler, side skirts and twin-loop exhaust system.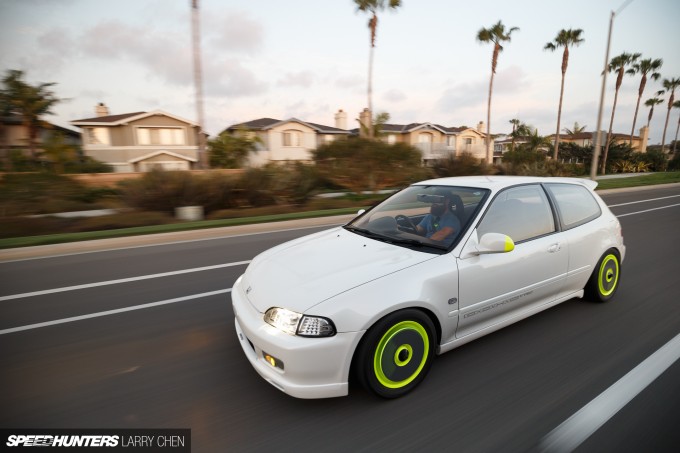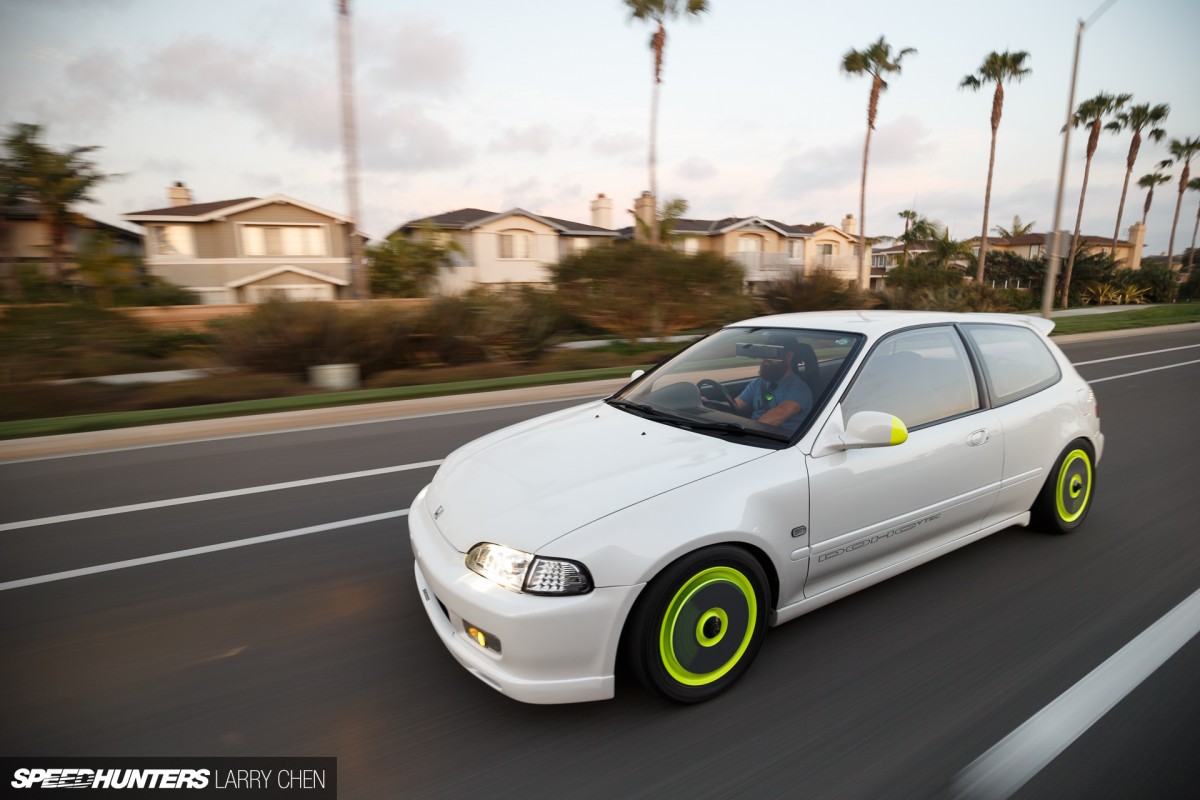 What's equally impressive is the attention to detail Mickey paid during the restoration. For starters, the car was stripped down to bare metal, fitted with new rubber moldings all around, as well as new OEM Honda hardware.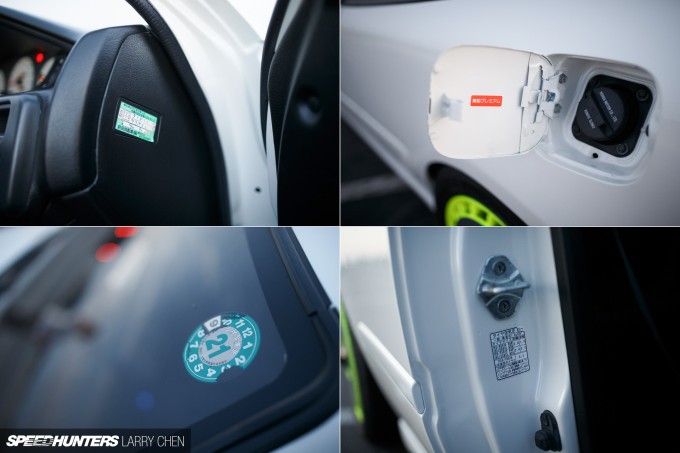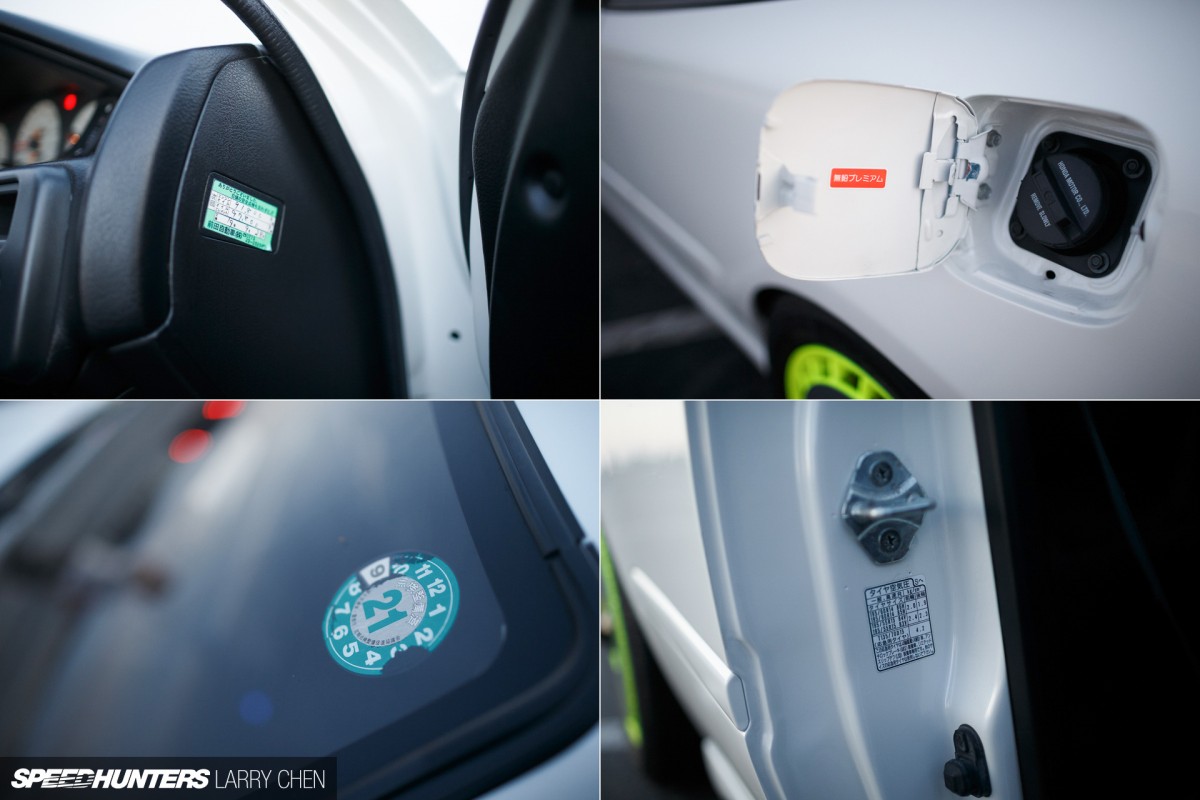 The difference is in the details, and Mickey's build is full of them. He painstakingly tracked down all of the correct Japanese decals for the car and even went as far as restoring the infrared keyless entry system which was unique to the SiR-S model.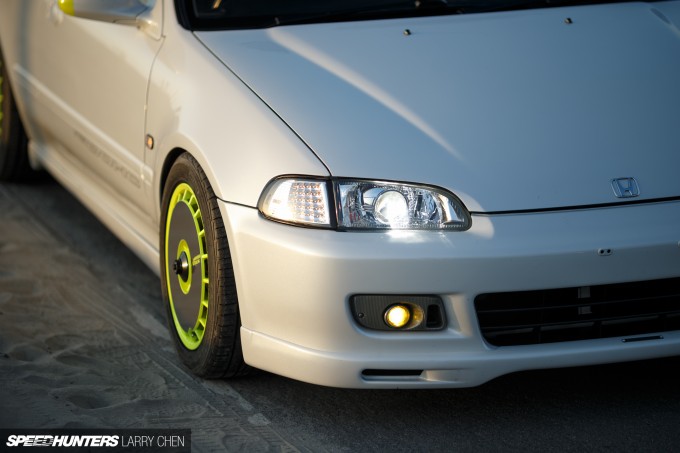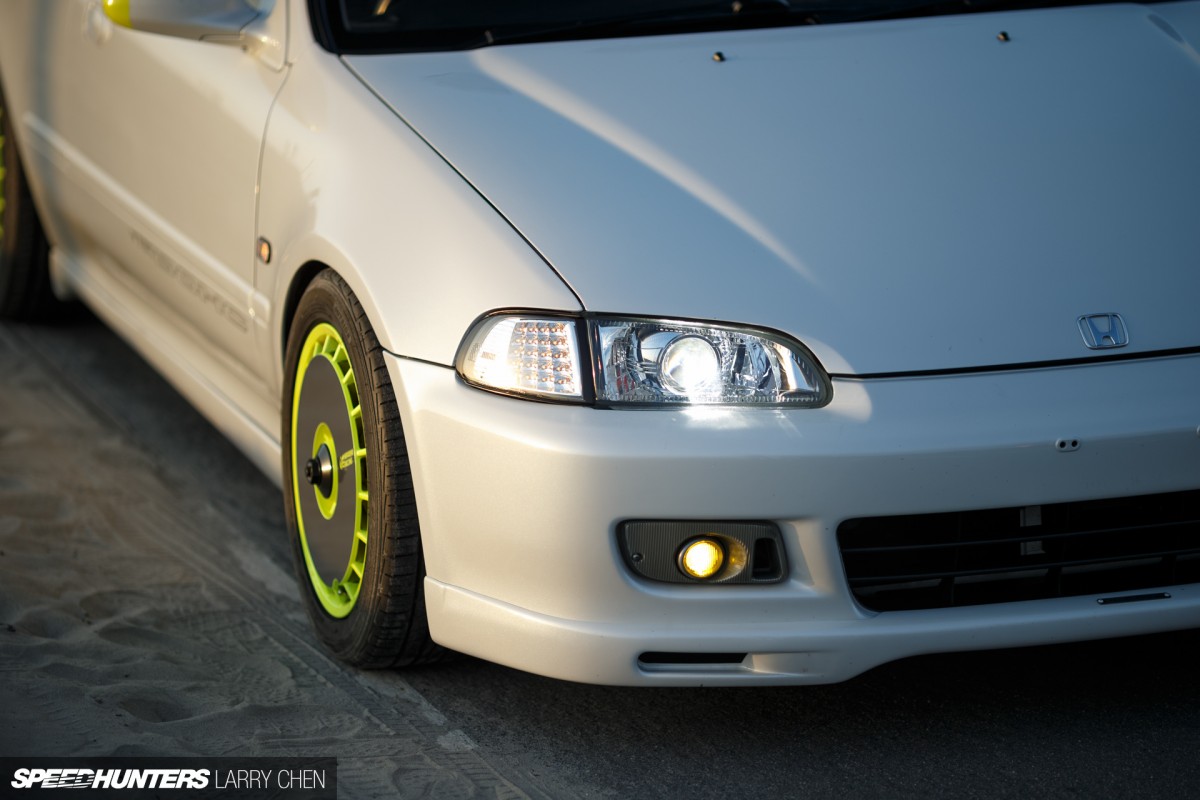 Although Mickey has primarily used period-correct parts for the project, the one area where he's modernized the car is in the lighting department. Up front are retrofitted HID projectors in glass housings with LED corner lights, while LED tail lamps are used out back.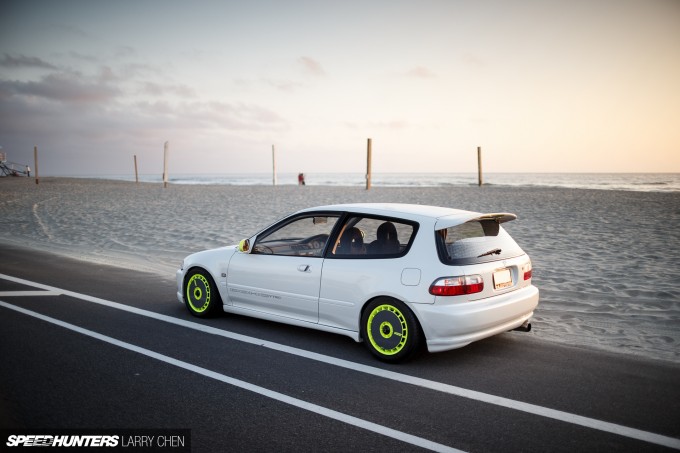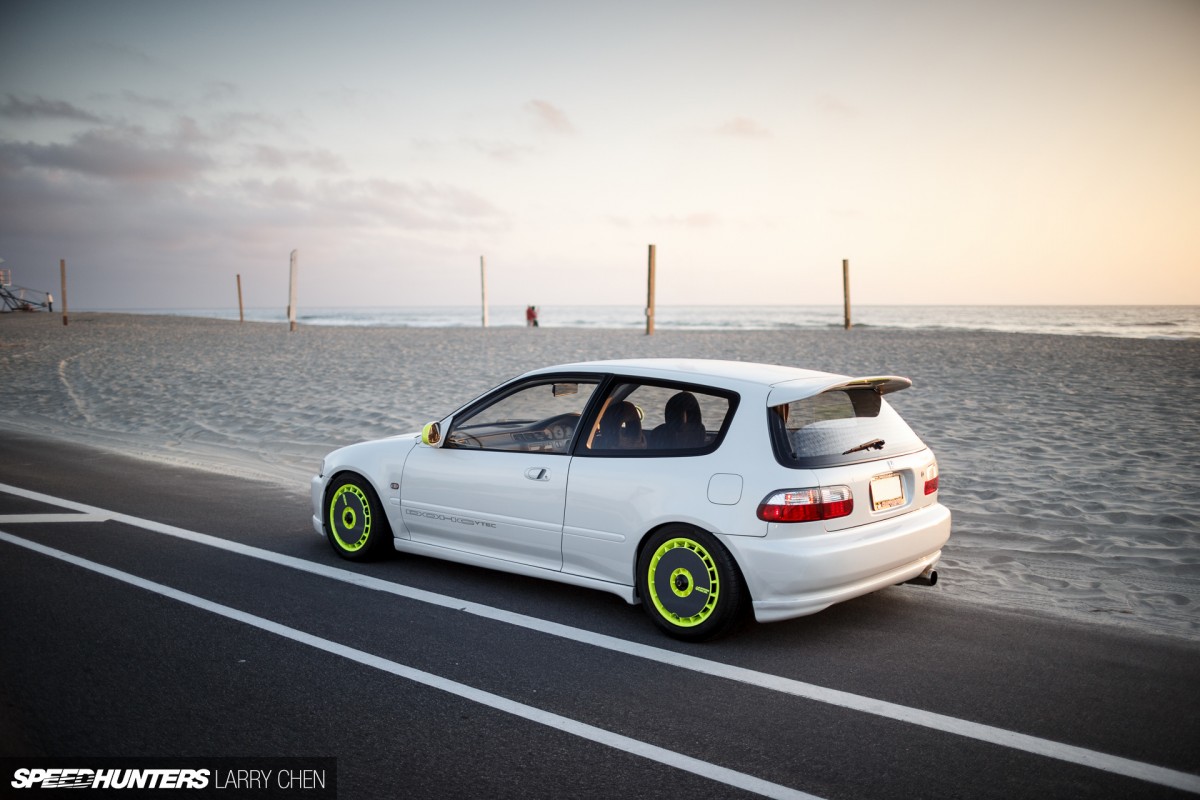 The body itself is set off by a few coats of Toyota Blizzard White Pearl that was applied by Chapparone Auto Body in San Diego. Just before the car went into the paint booth, Mickey actually saw a white Prius driving down Interstate 15 on the way to Vegas, and he liked the color so much he called the body shop and had them change the mix right then and there. Also of note are the hyper yellow accents, which are something seen on many of Mickey's projects including his BMW wagon and the AE86 we recently featured.
Period Correct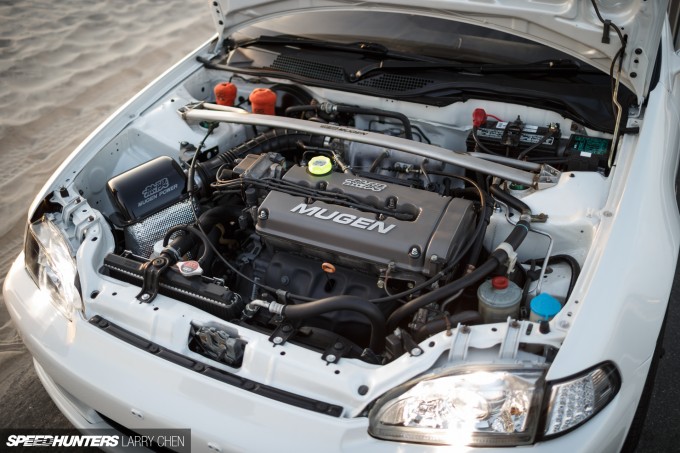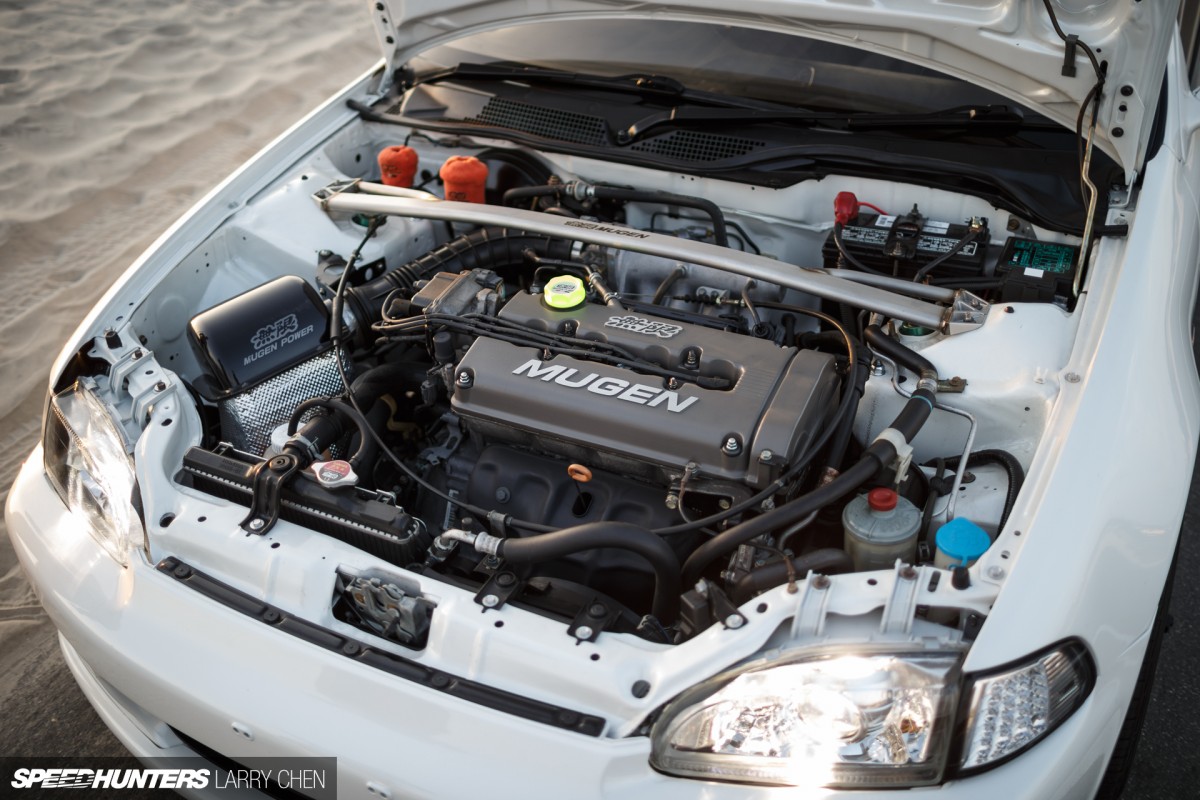 Under the hood Mickey has stayed true the Civic's SiR roots using a B16A DOHC VTEC motor and a 5-speed transmission with a retrofitted Carbonetic LSD inside.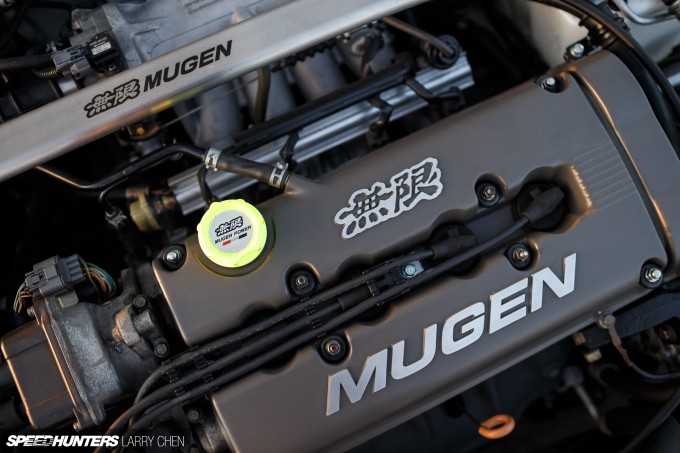 The Mugen love continues in the engine bay with a rare Formula valve cover which he scored from a local guy in San Diego, a Mugen intake adapted from a DC2 Integra, along with a first generation Mugen strut tower bar and a hyper yellow Mugen oil cap.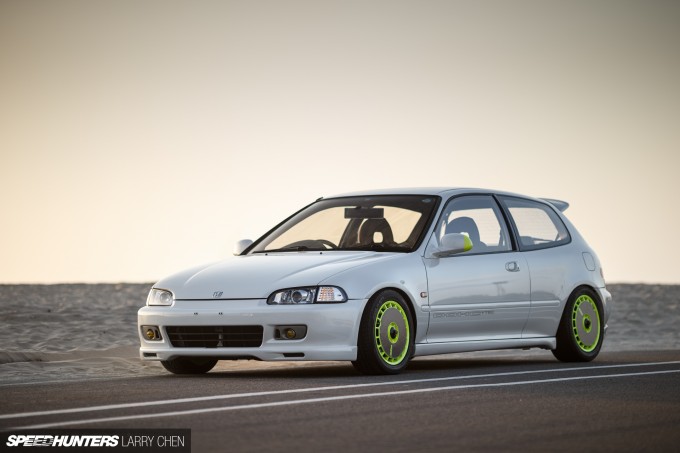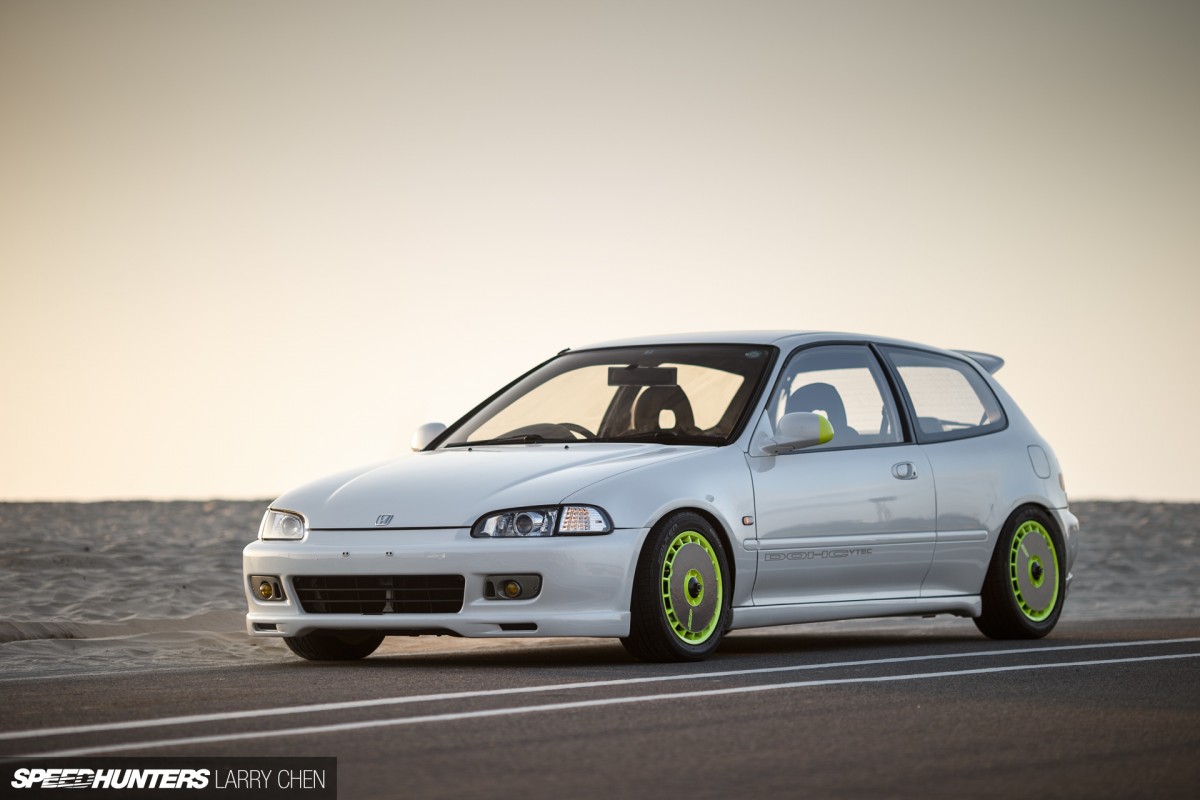 The most unusual part of the car might be the wheels – NOS Hayashi Racing Venturas with a center locking system. Mickey actually found the complete set while he was working for HRE Wheels – the company which Hayashi Racing evolved into.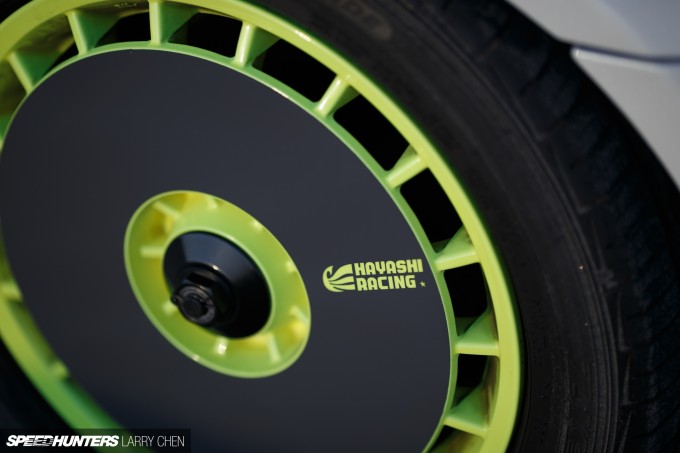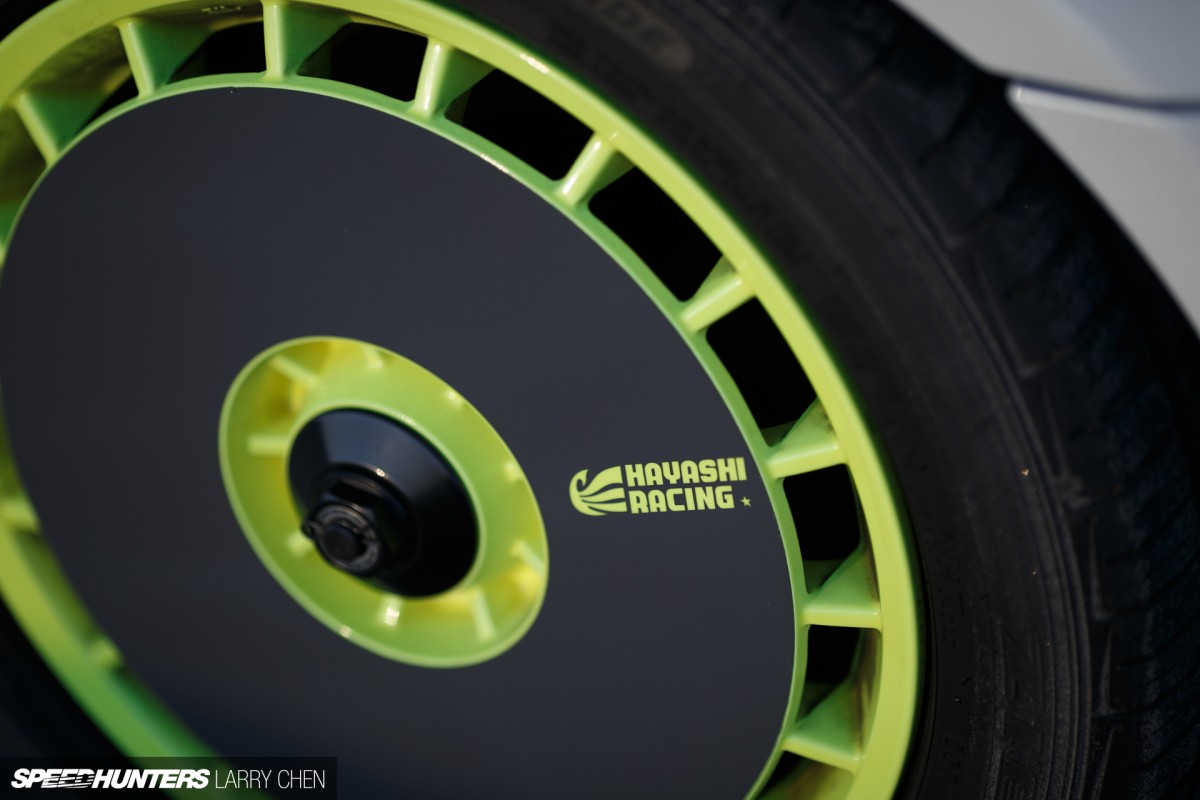 The wheels were originally made in 1984 and the center locking system uses a 4×114.3 bolt pattern. Of course, the EG6 comes with the more common 4×100 PCD, so to solve this Mickey retrofitted hubs and brakes from an early model DC2 Integra Type R, which used the 4×114.3 pattern. I don't think he has to worry about going to a meet and seeing someone who has the same wheels as him.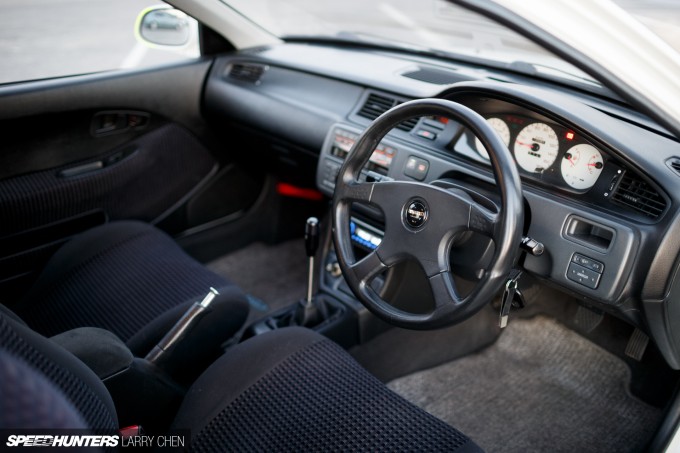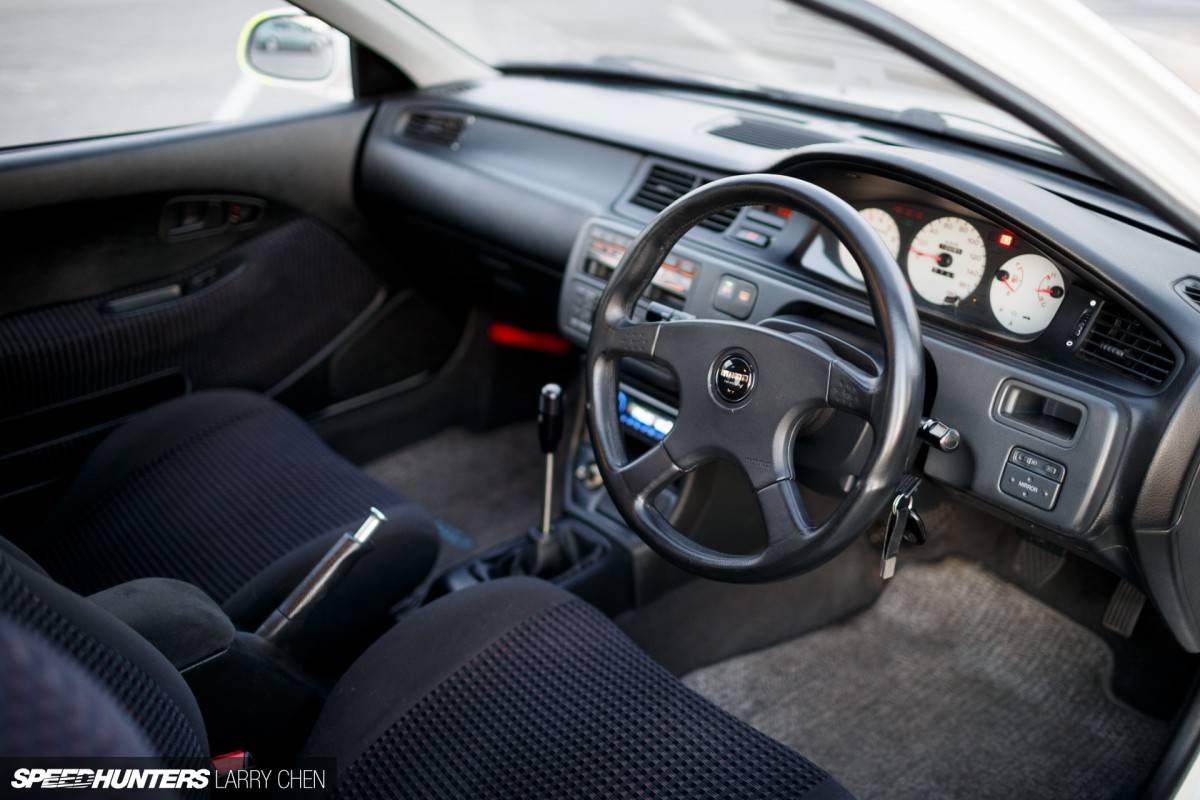 There's nothing quite like the attractive simplicity of a 1990s Honda interior, and rather than going wild with aftermarket parts Mickey has gone with a very OEM-themed look here. The steering wheel is an original Momo SiR-S piece and he's used the checkered upholstery pattern from a 25th Anniversary Edition Civic.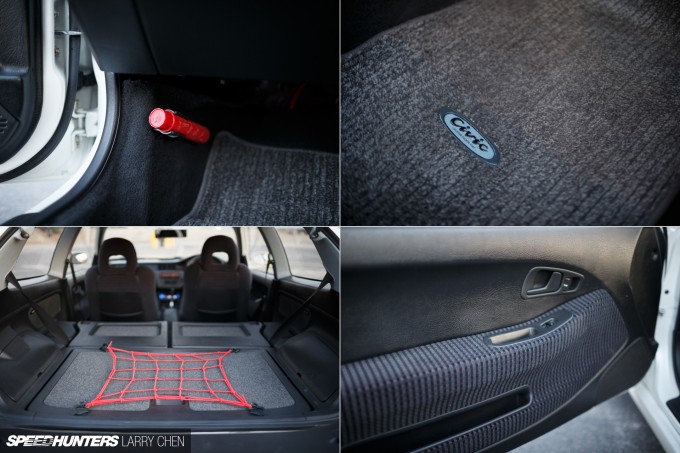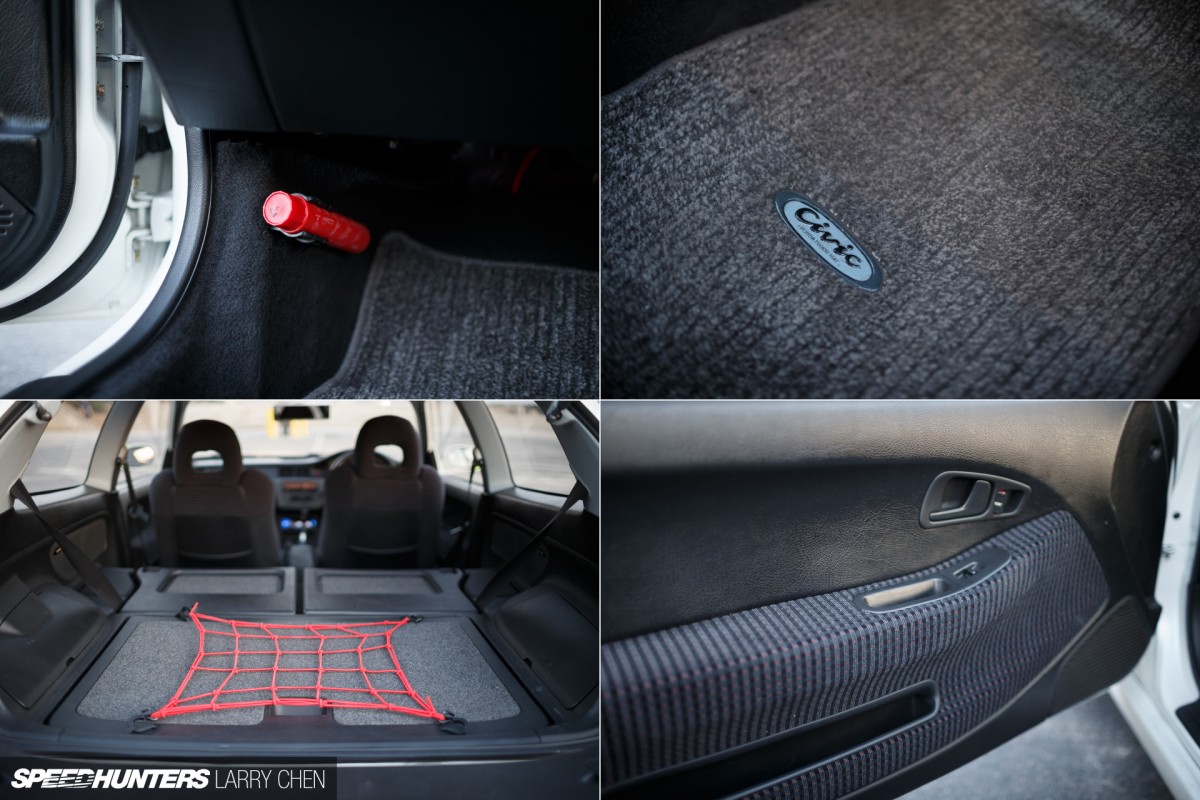 Other rare JDM details in the cabin include a Gathers tape deck, a Honda H.O.P. center console, cargo cover and cargo net. Not surprisingly, the pedals and shift lever are from the Mugen catalog.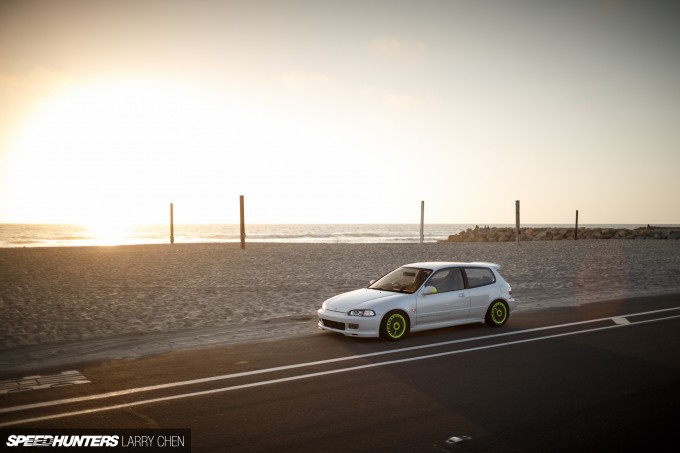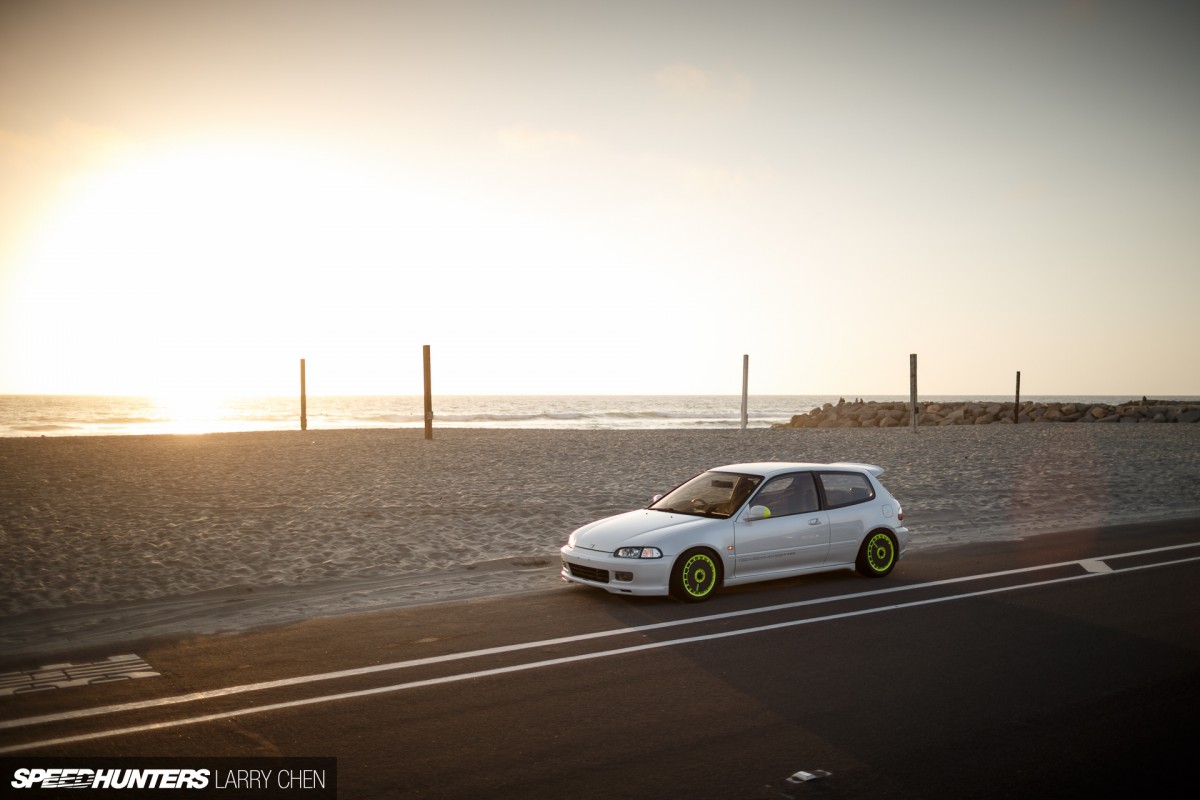 He might have originally acquired the EG6 in trade for a mere set of tires, but Mickey tells me he's invested more on this project than he could ever hope to get back out of it. That's no problem though, because he doesn't ever plan on selling the car.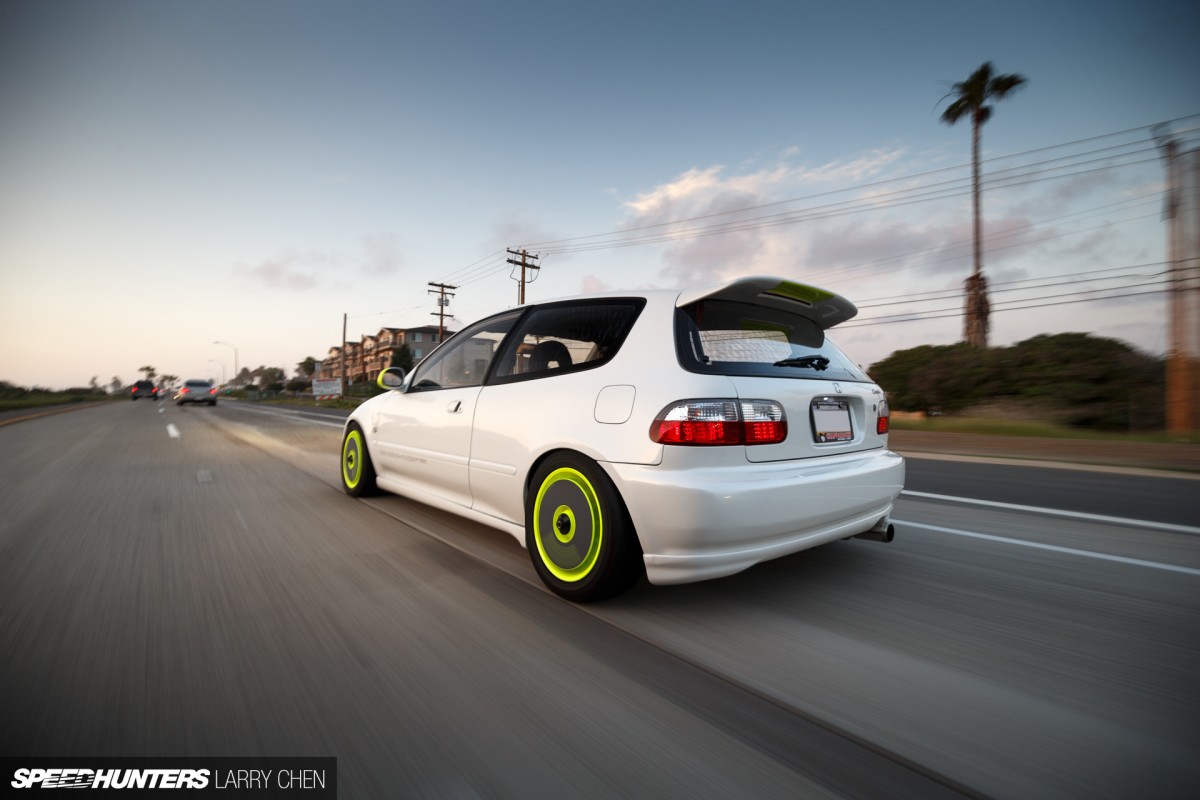 A traditional classic car collector might scoff at the idea of restoring a Honda Civic from the 1990s, but as time goes on I can only see this kind of build happening more often. I for one fully welcome more high-quality, detail-oriented JDM resto-mod projects like Mickey's.
Long live the '90s!
Mike Garrett
Instagram: japanifornia_media
mike@speedhunters.com
Photos by Larry Chen
Instagram: larry_chen_foto
larry@speedhunters.com
Mickey Andrade's EG6 Honda Civic SiR-S

Engine
Honda B16A VTEC, Mugen Formula valve cover, Mugen Gen 1.5 hyper yellow oil cap, Honda OEM high tension cords, Mugen Gen 1 DC2 intake, Mugen twin-loop exhaust
Driveline
Y1 5-speed manual transmission with Carbonetic LSD, Feel's stainless steel clutch line
Suspension/Brakes
Tein Type Flex coilovers w/pillow ball upper mounts, Mugen Gen 2 front strut bar, Mugen Gen 1 rear strut bar (not installed in images), Buddy Club RCAs, Buddy Club camber adjustable upper control arms, Buddy Club rear camber adjustable arms, ASR hyper yellow rear subframe brace, ASR 24mm sway bar & bushing kit, Beaks hyper yellow lower arm bar
Wheels/Tires
Hayashi Racing Ventura CD with 2463 CenterLock System 1984 NOS 15×6.5-inch +25, 195/50R15 Falken Ziex tires
Exterior
Stripped, paint removed, & repainted (Toyota Blizzard Pearl White 070) at Chapparone Auto Body, San Diego, CA, new rubber moldings, nuts/bolts & seals replaced with new OEM Honda parts, bronze tinted glass, roof & door moldings color matched, OEM SiR-S specific infrared keyless entry handle and key fob – working condition, retrofit glass headlights with DDM projectors and 5500k HID lighting, retrofit LED corner lamps, LED taillamps, Mugen front lip spoiler, Mugen side skirts, Seibon TP-style carbon fiber rear apron, Honda H.O.P. window visors, J's Racing FRP rear wing with 3rd brakelight provision over 2-piece zenki wing, all exterior decals replaced after repaint with NOS Honda JDM decals
Interior
Momo/Honda H.O.P. SiR-S leather steering wheel & boss, 25th Anniversary checkered interior upgrade, Honda H.O.P. center console, Honda Gathers OEM tape deck, Spoon convex blue tint rear-view mirror, Alpine CDE-153B bluetooth headunit, Alpine speaker upgrade in OEM housings, Honda H.O.P. rear cargo net, Honda H.O.P. rear cargo area cover, Mugen pedal set, Mugen Gen 1 shift lever (black), JSPFab lengthened B&M short shifter
More Honda related stories on Speedhunters
Cutting Room Floor