The Bronze Seven
This FD3S Mazda RX-7 really doesn't need much of an introduction – it's one of many cars over here in Japan that I've had on my 'to shoot' list for far too long. But finally, after the stars recently aligned, I managed to get the cool guys at Car Shop Glow to bring their time attacking Mazda to a quiet location away from the hustle and bustle of Tokyo's daily chaos.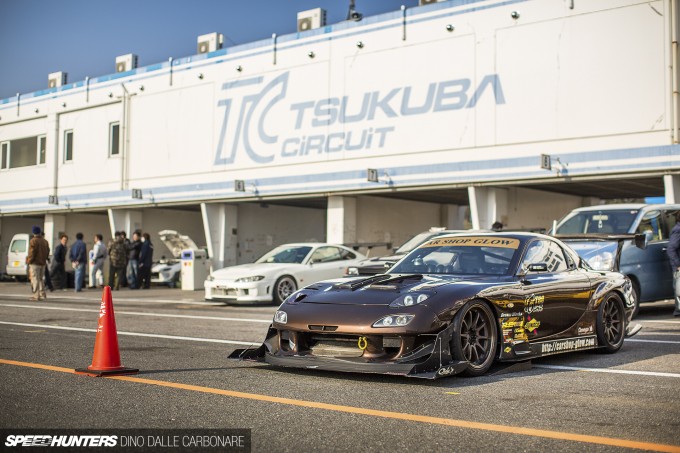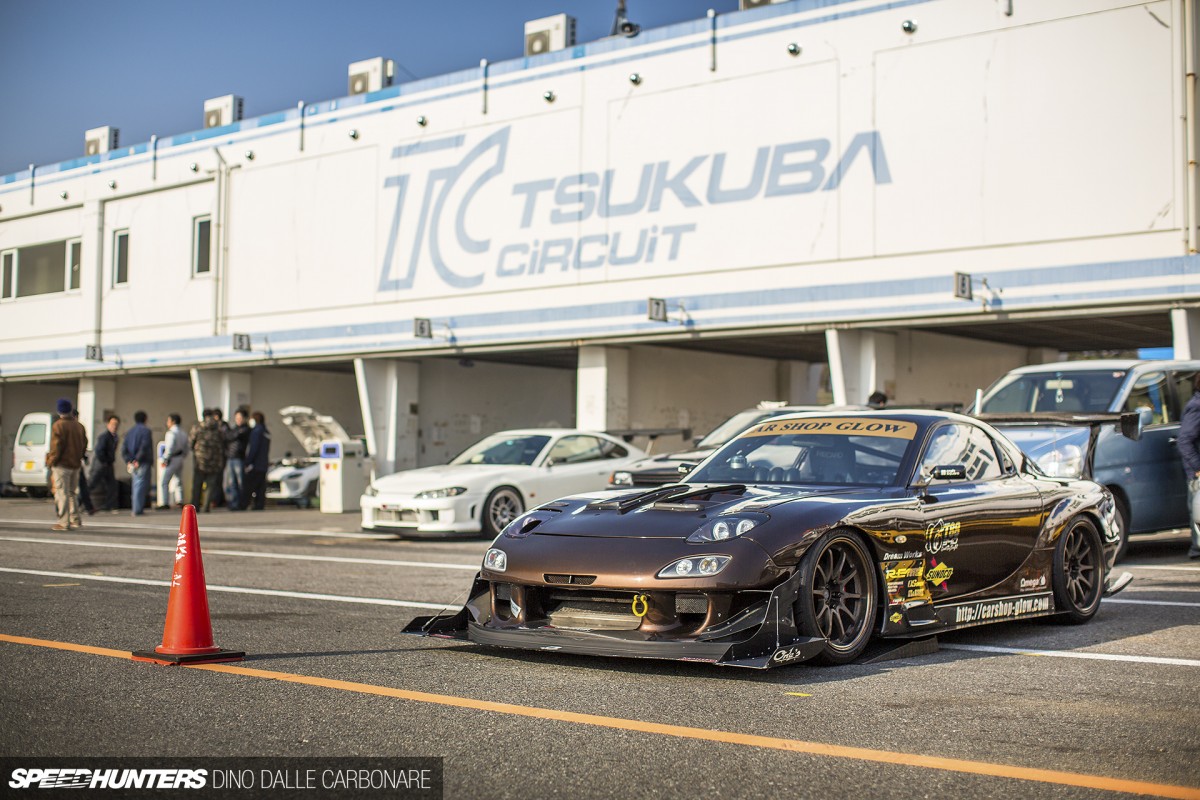 I can remember the first time I laid eyes on this RX-7 – it was probably the second Battle Evome round that I ever covered, and it sat dramatically lit by the first few rays of morning light breaking over the horizon. The custom bronze color shined and reflected, and I instantly thought, 'damn that 7 looks hot!'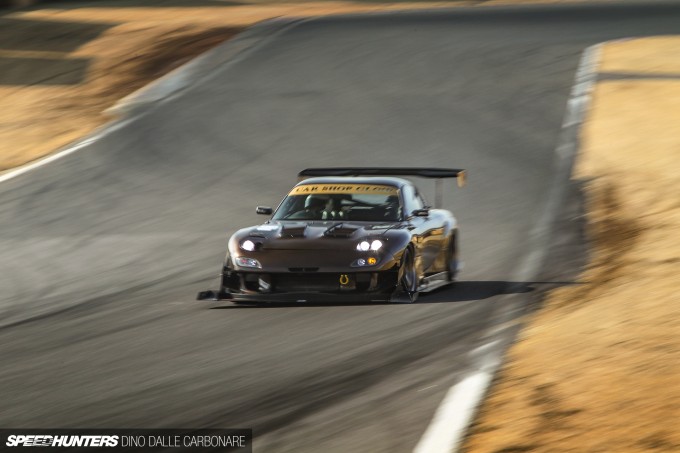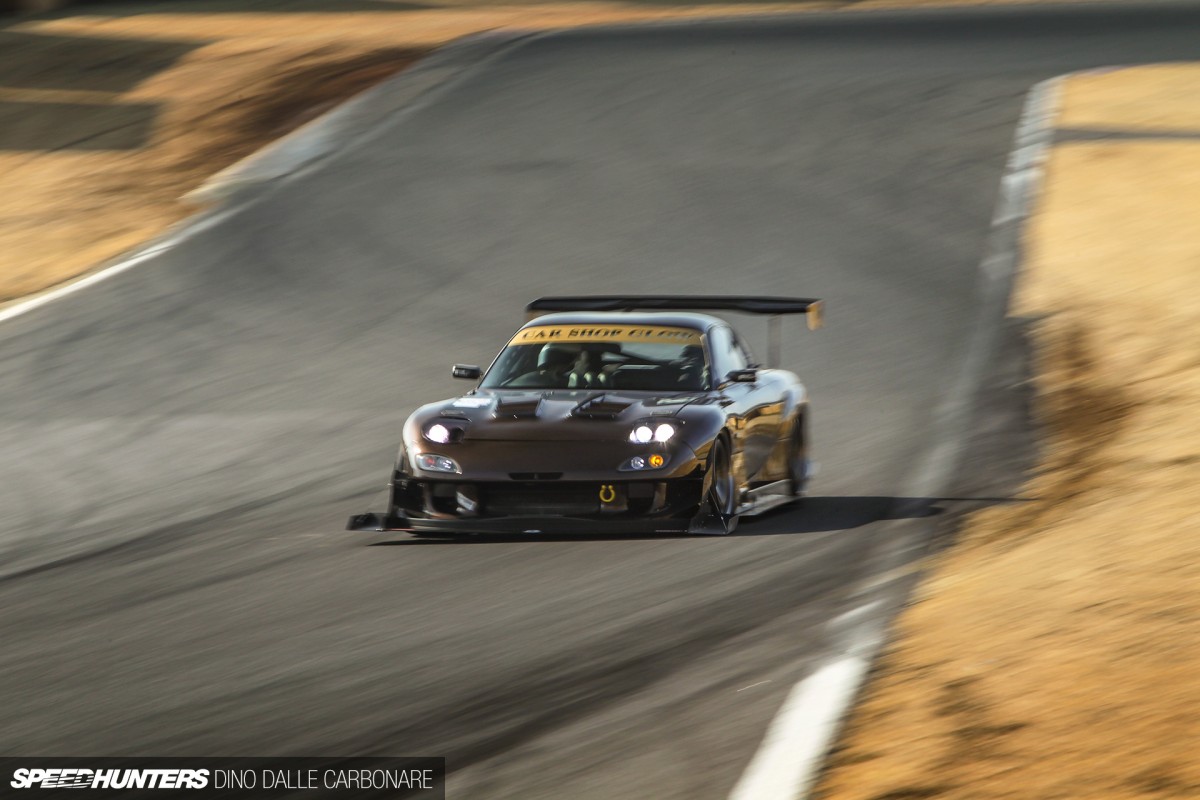 Like all the cars that participate in Battle Evome, it's evolved over the years; aerodynamics maximising its performance all the way down to a 56-second lap best at Tsukuba Circuit. That, my friends, is very fast – especially considering that it's not driven by a pro driver, but rather the man that runs Car Shop Glow, Yukimitsu Hara.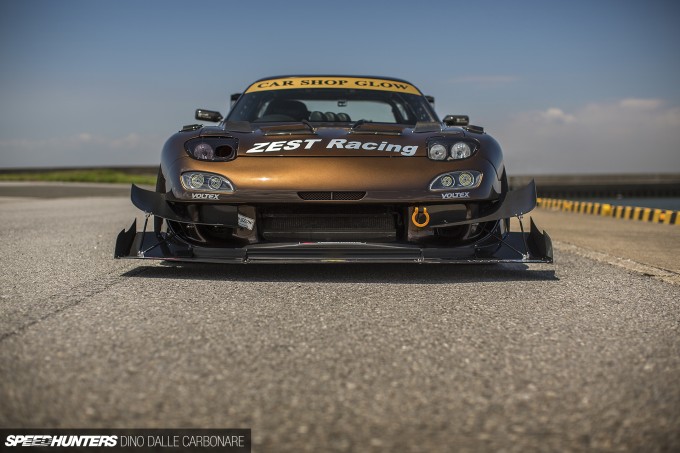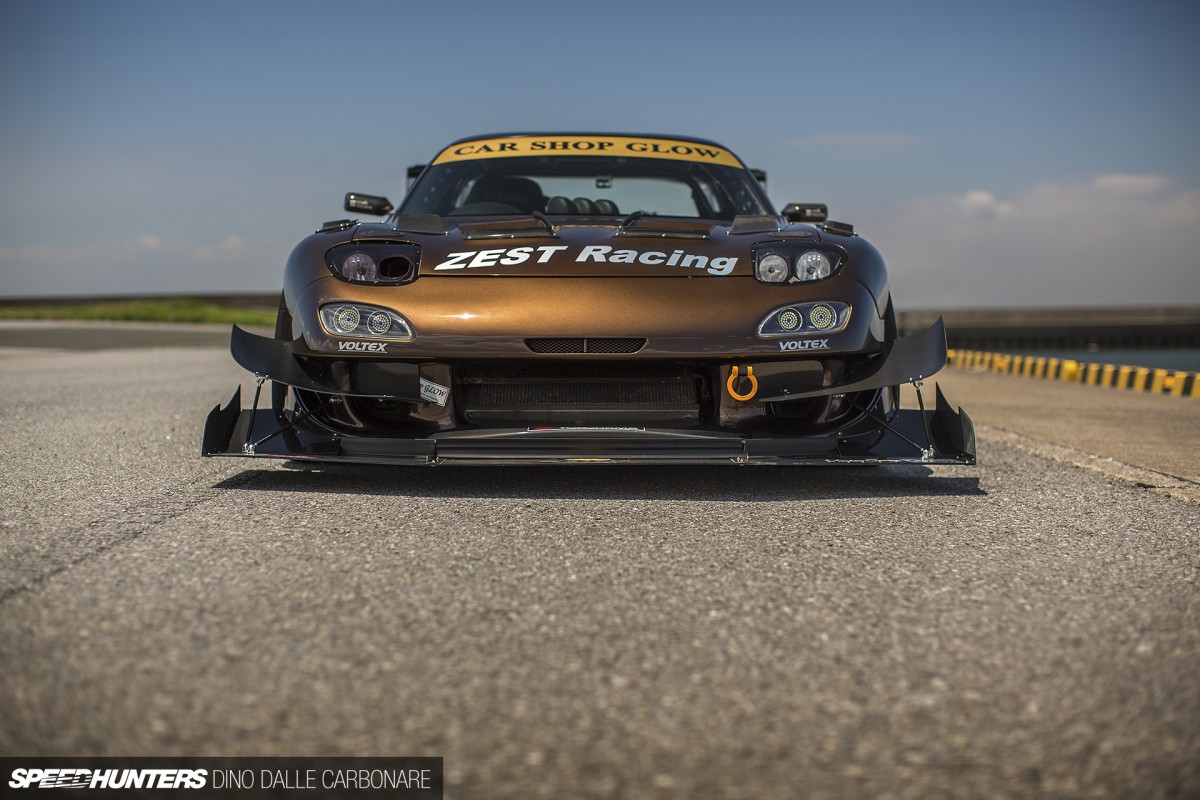 And the most surprising thing of all is that Car Shop Glow can't really be classed as a tuner, as its main business revolves around custom automotive LED solutions and light upgrades. Hara-san, however, likes to race, and time attack is of special interest, leading him to transform this RX-7 – which was once his street car – into something that's far more track focused than road friendly.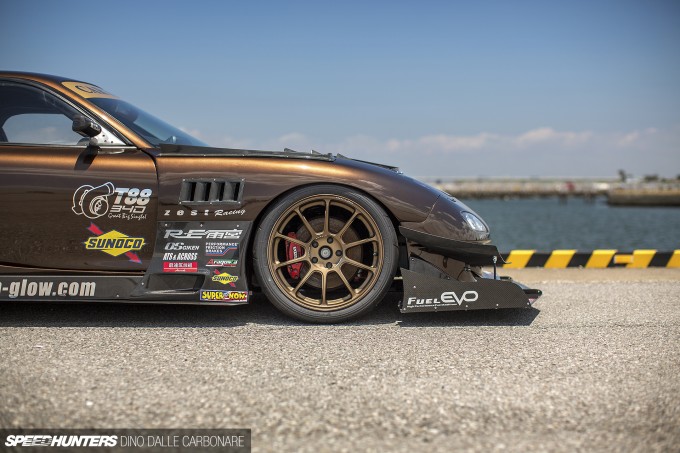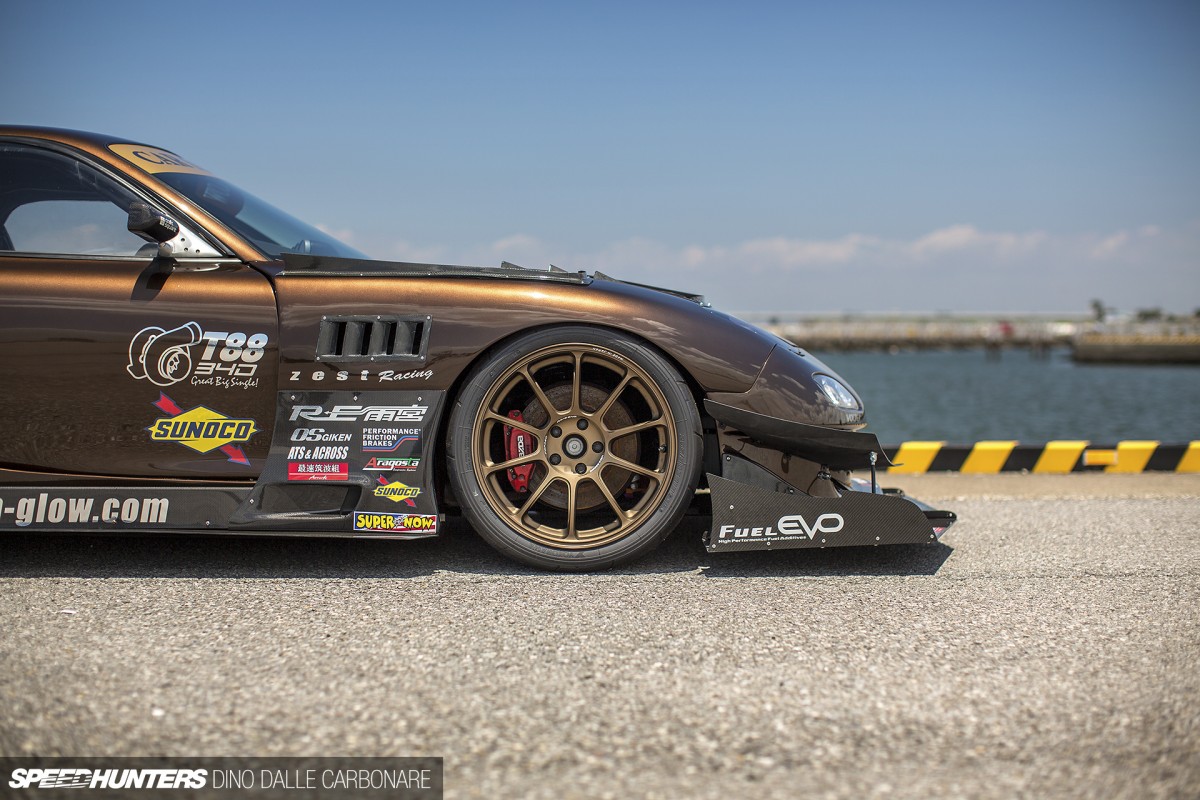 The bronze FD3S may still be fitted with a navigation system, speakers and even an ETC machine for paying highway tolls in Japan, but the days of taking it out for a brisk Sunday drive are all but over.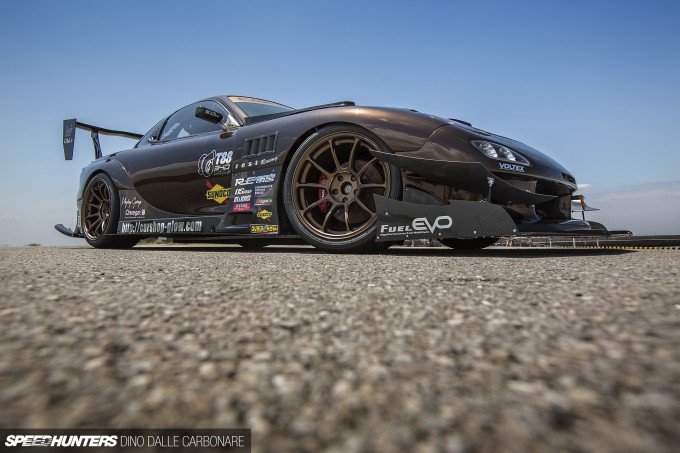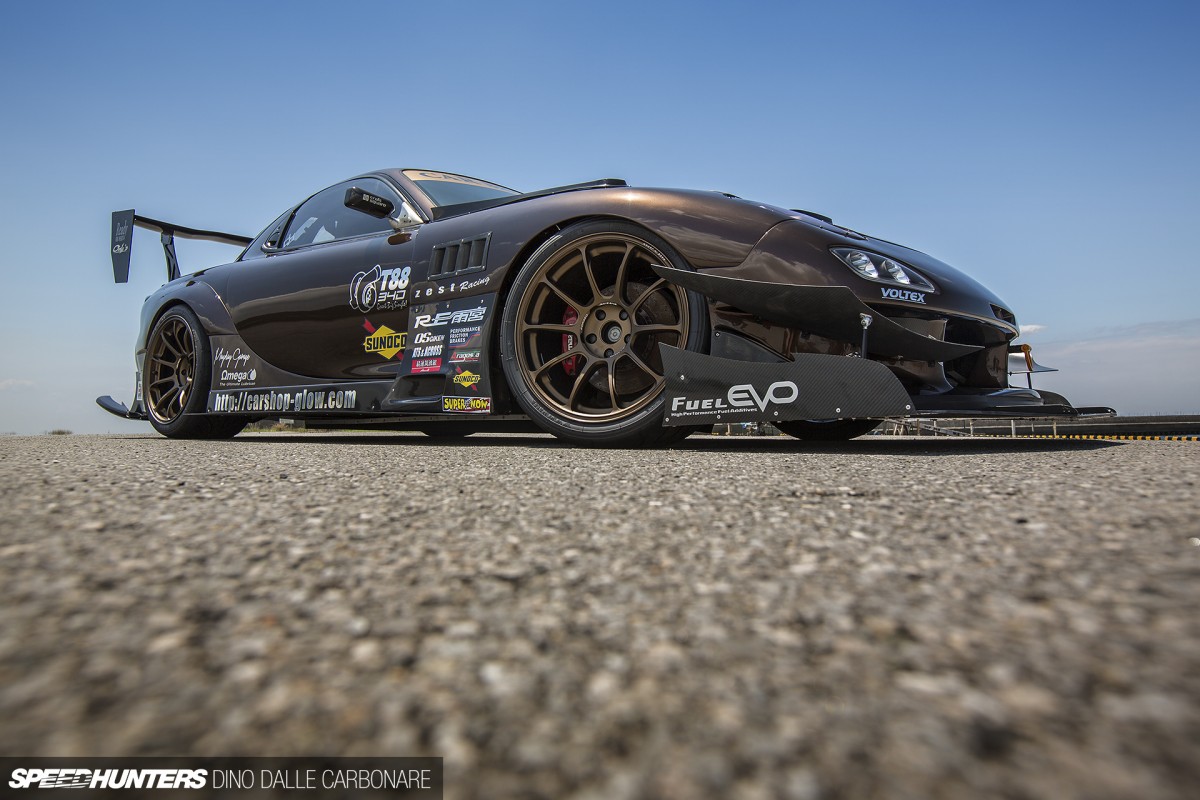 The Mazda sits low on a set of Aragosta dampers custom setup by Pisto Racing. Suspension links are rose-jointed and every bushing has been replaced with a polyurethane equivalent, or where possible solid mounted to the chassis.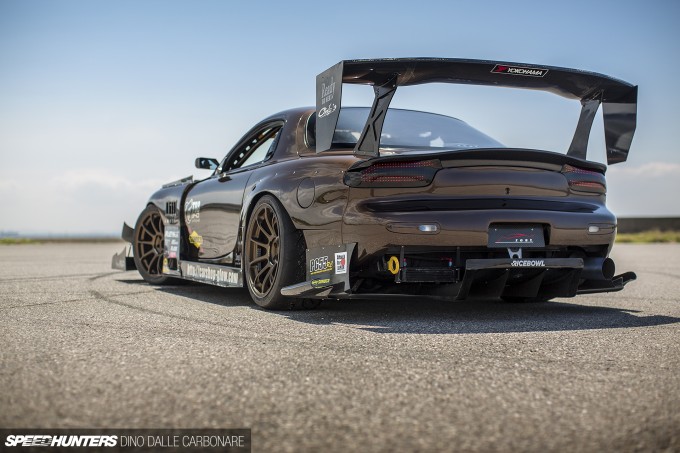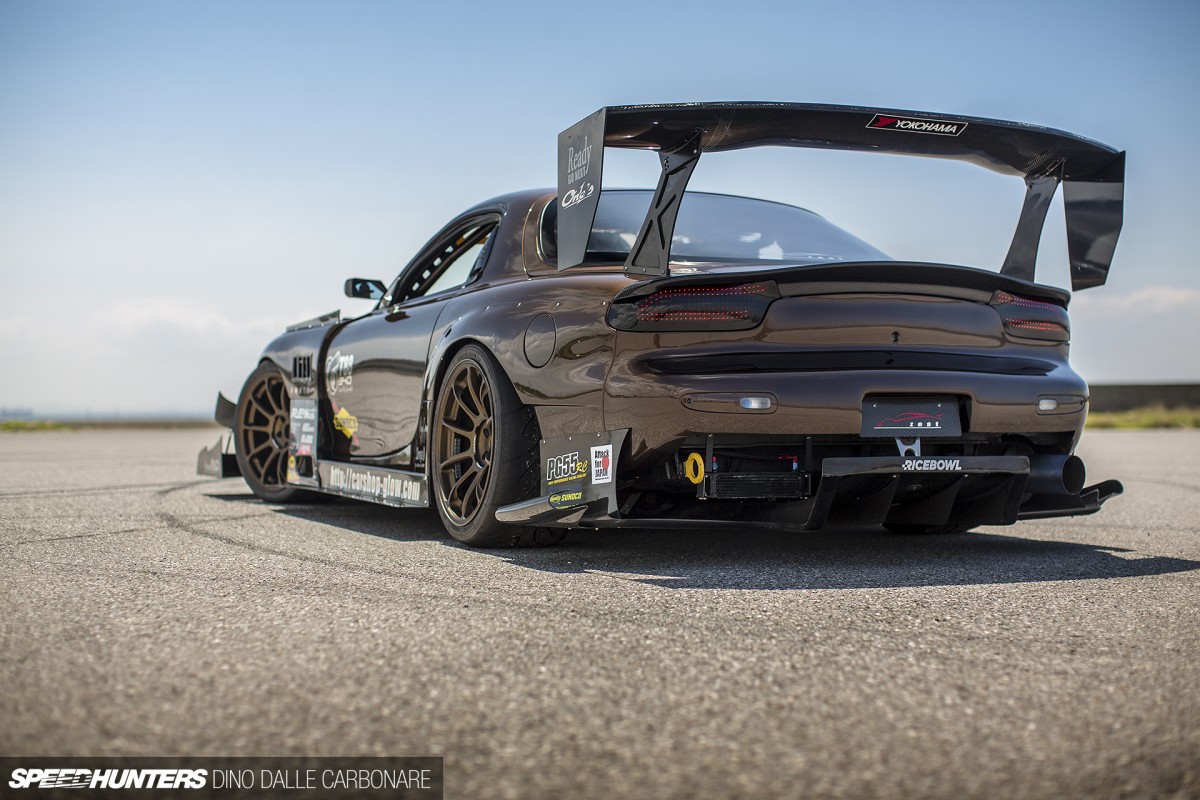 As I alluded to a moment ago, the way the RX-7 cuts through the air has been refined over the years with a host of upgrades that build on the already-impressive RE Amemiya AD GT widebody kit.
Everything is beautifully and exquisitely executed; Car Shop Glow taking pride in the wet carbon parts they are able to create nowadays.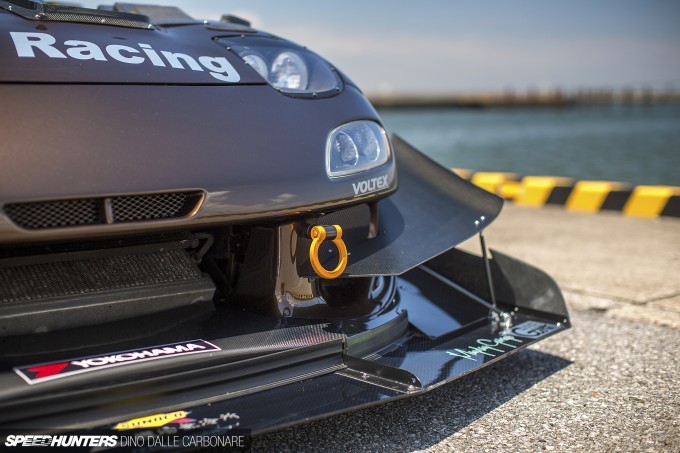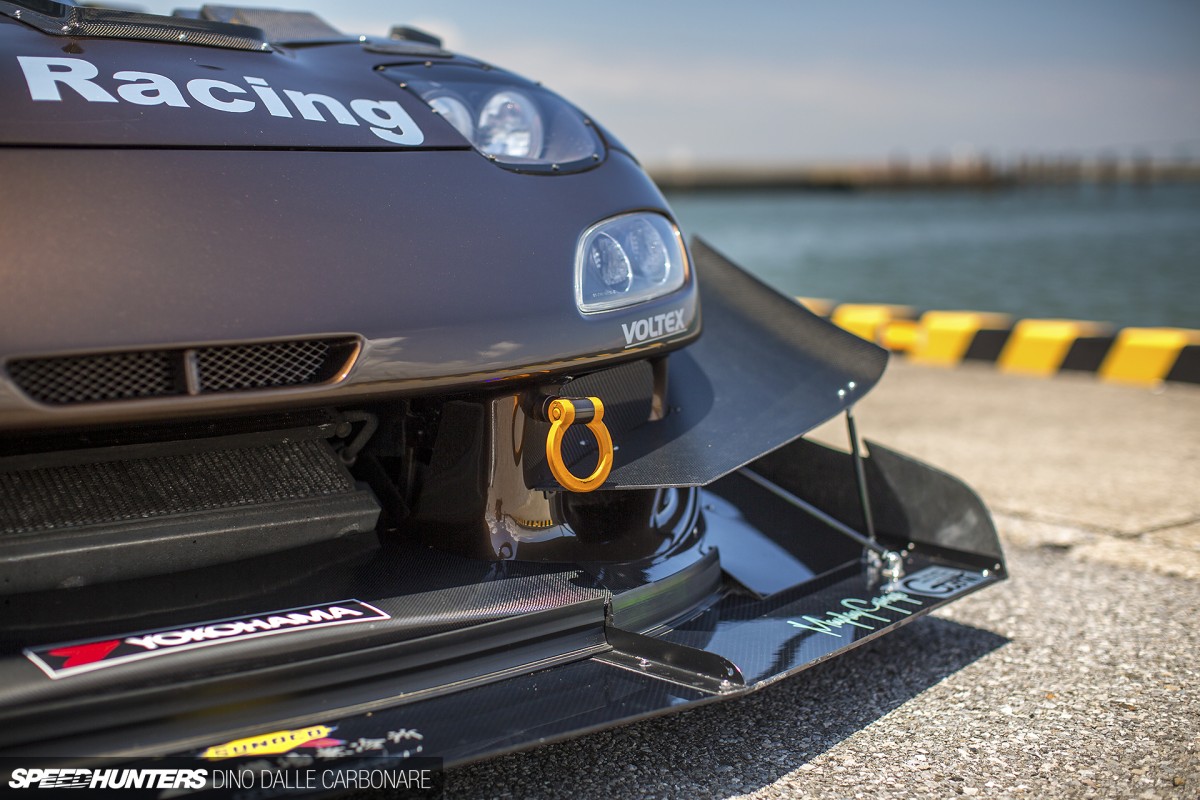 But let's take a closer look – firstly up front where the RE Amemiya bumper is easily recognisable thanks to that signature central air intake. Everything else, however, is masked by some serious looking aero additions.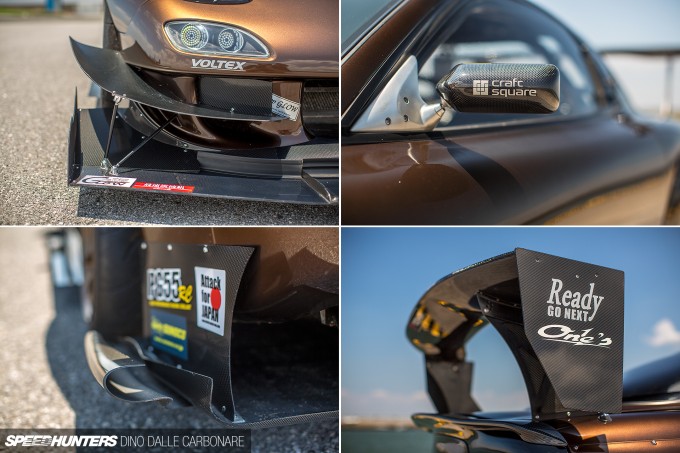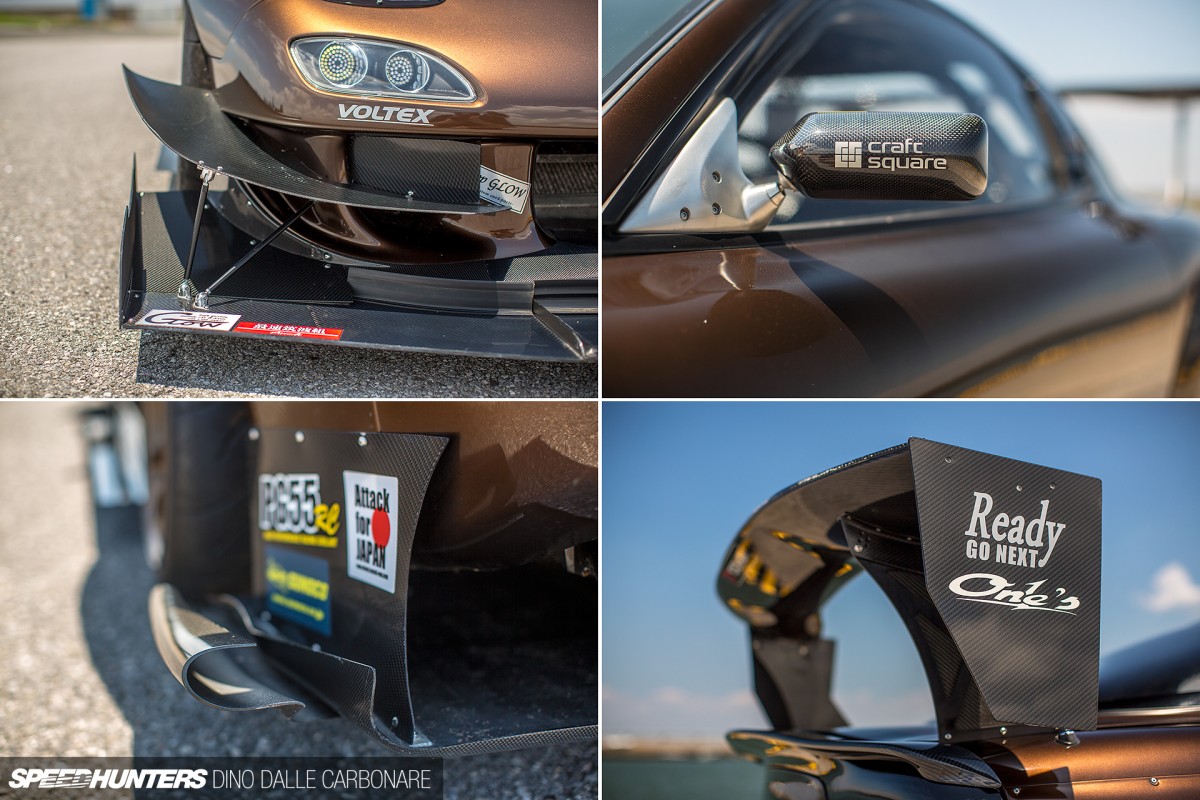 The big main splitter is capped at each end and joined by a pair of canards that are hinged in place with support bars to ensure that flexing is kept to a minimum. It couldn't be a serious JDM time attacker if it didn't trade its side mirrors for a pair of Craft Square carbon items, which will instantly change the profile of any car – as they do here. An RE Amemiya diffuser has been modified and joined by a pair of vortex generators, while a Car Shop Glow carbon wing graces the FD's deck.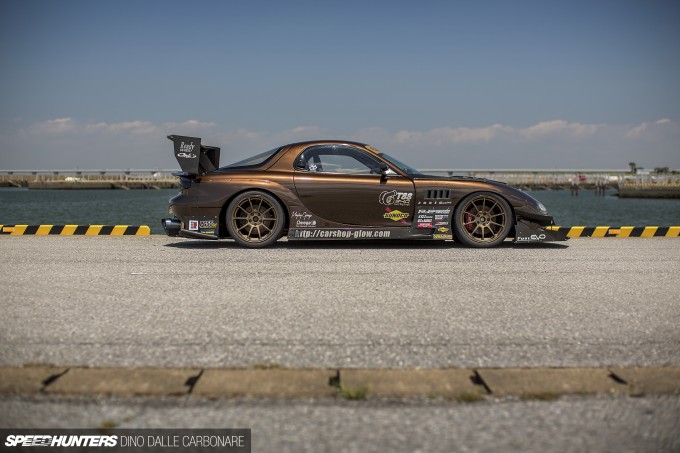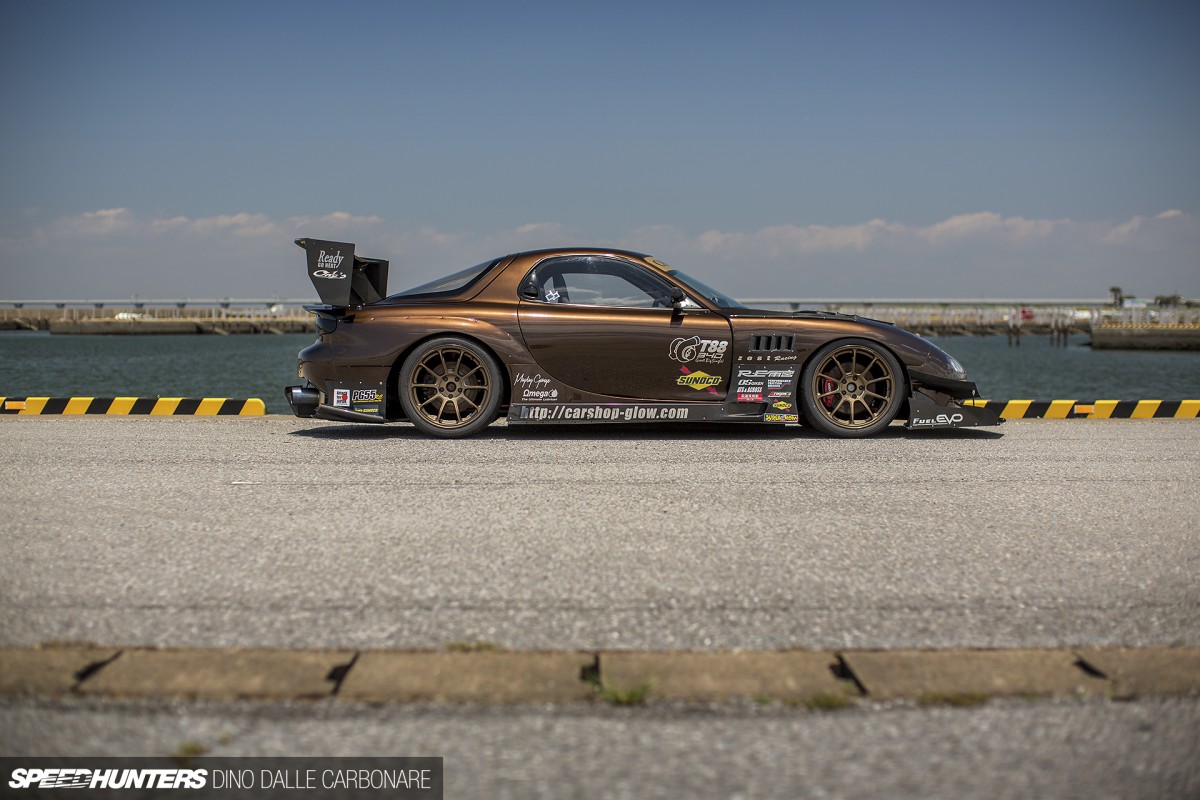 It all combines to create a focused machine that oozes presence and requires time to fully take in. The more I looked at it, the more details and small touches I noticed.
All In The Details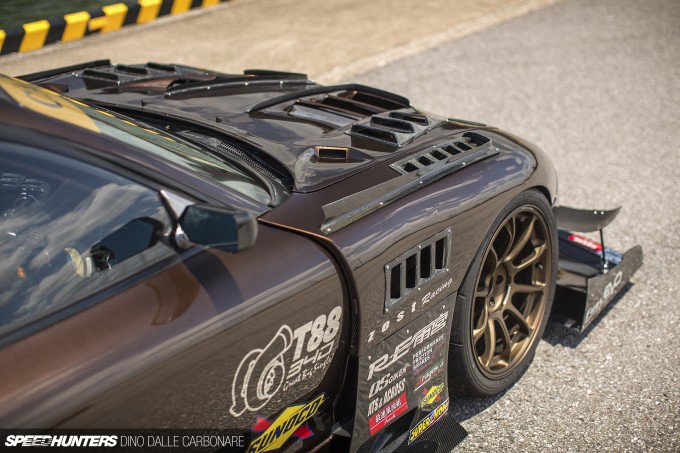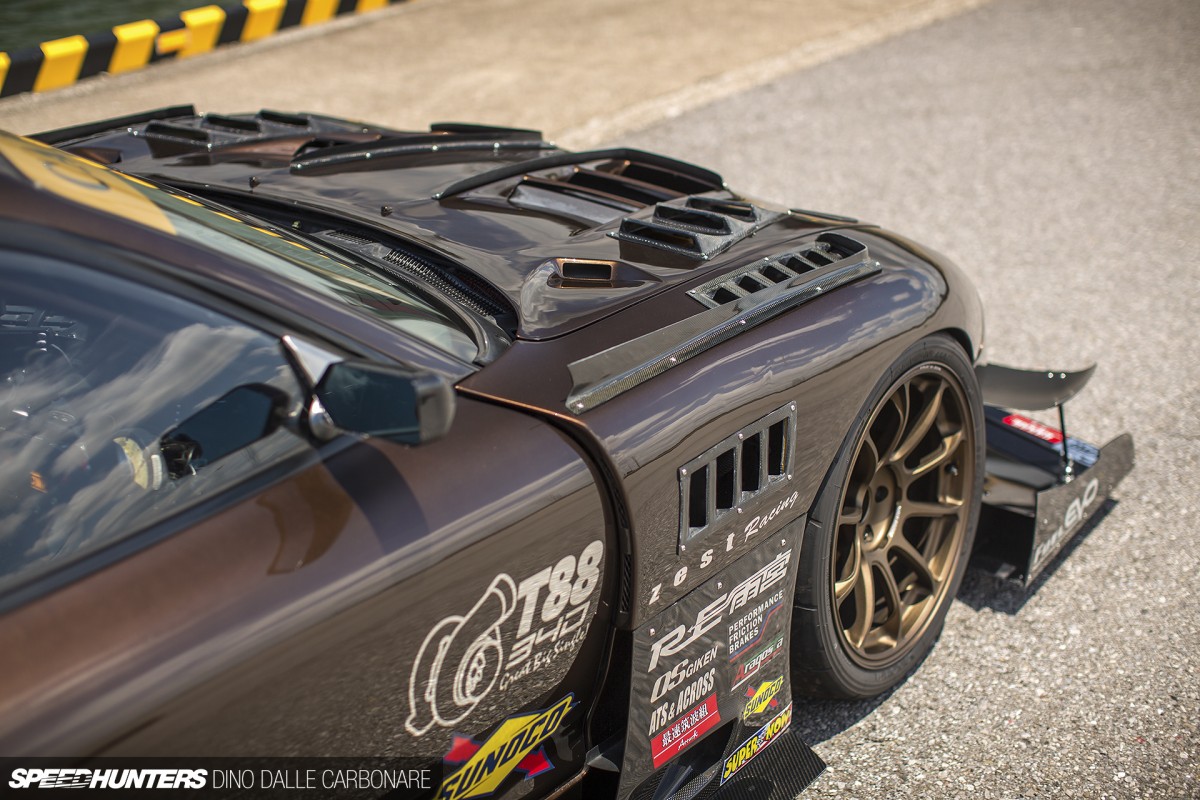 From this angle, for example, I was blown away at the amount of air outlets that have been worked into the front end. As Andrew Brilliant has always told me when attempting to explain some of the secrets of aerodynamics (which I can usually follow for about 30 seconds before zoning out), you have to dump as much air as you're taking in, and do so as smoothly as possible while using it to your advantage. Or something like that anyway! The FD's front end definitely channels air away from the engine bay as well as the wheel arches, which have recently been fitted with louvered side and top outlets in an attempt to find more front end downforce.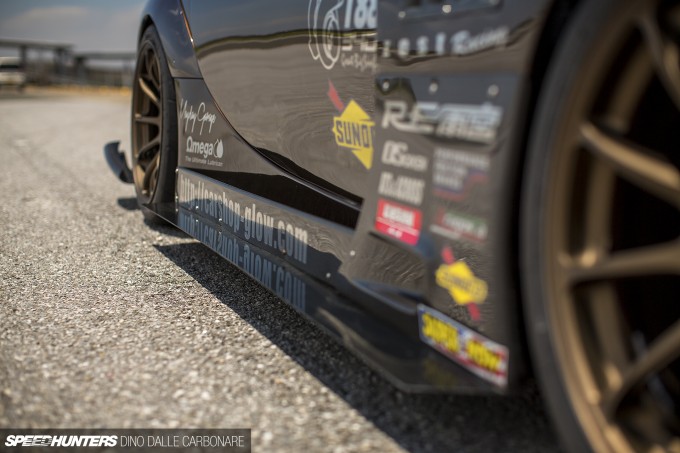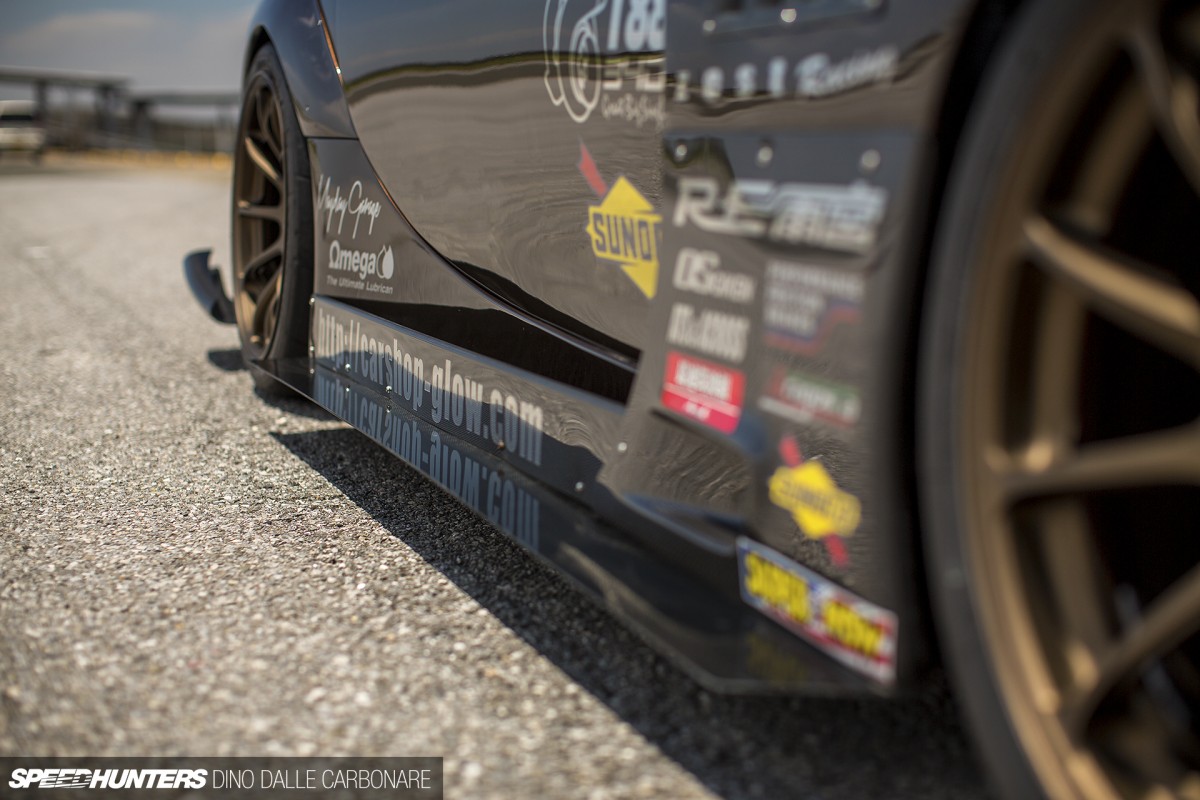 The air that flows around the profile of the car also needs to be managed in a smart way, and here additional skirts do just that.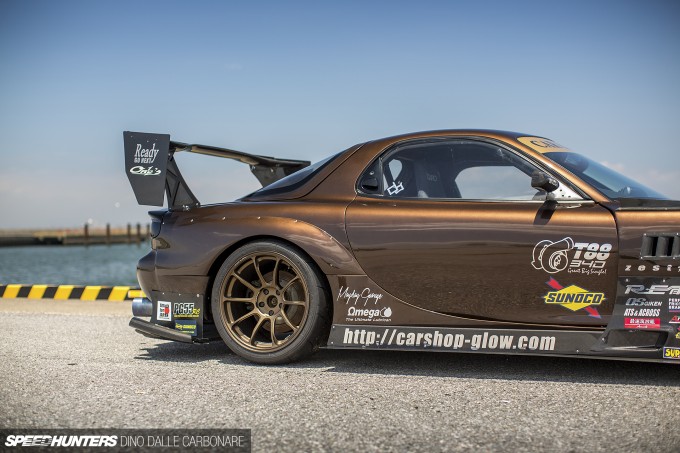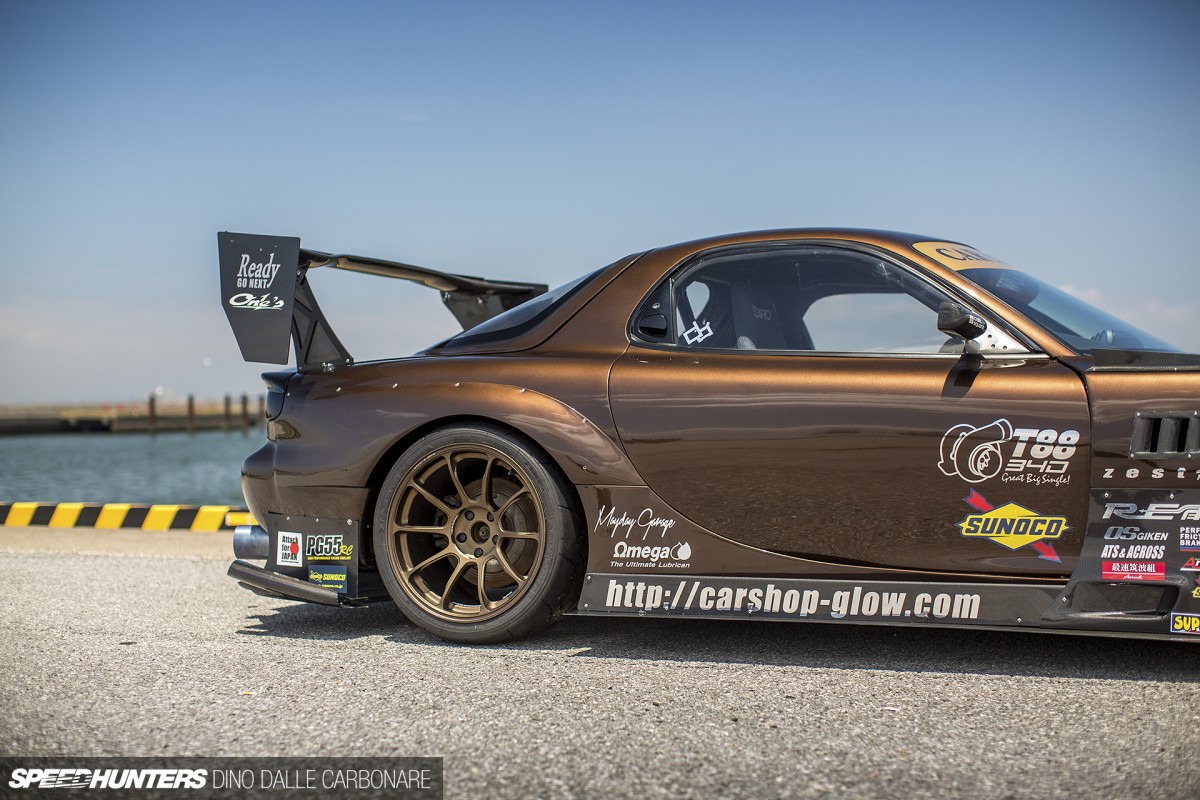 They meet at what is one of the most popular rear over-fender sections for the FD – it's simple, but it adds so much effect to the overall stance of the car. The candy paint is something I have to elaborate on too – the base bronze hue is actually inspired by a Nissan Cube color, but there's extra metallic flakes added to really make it pop.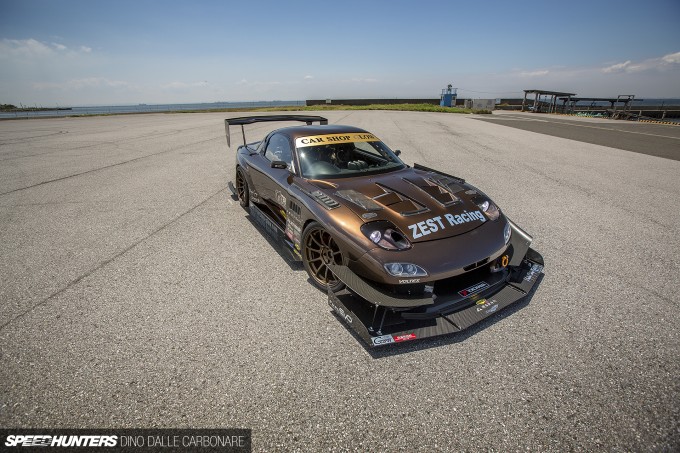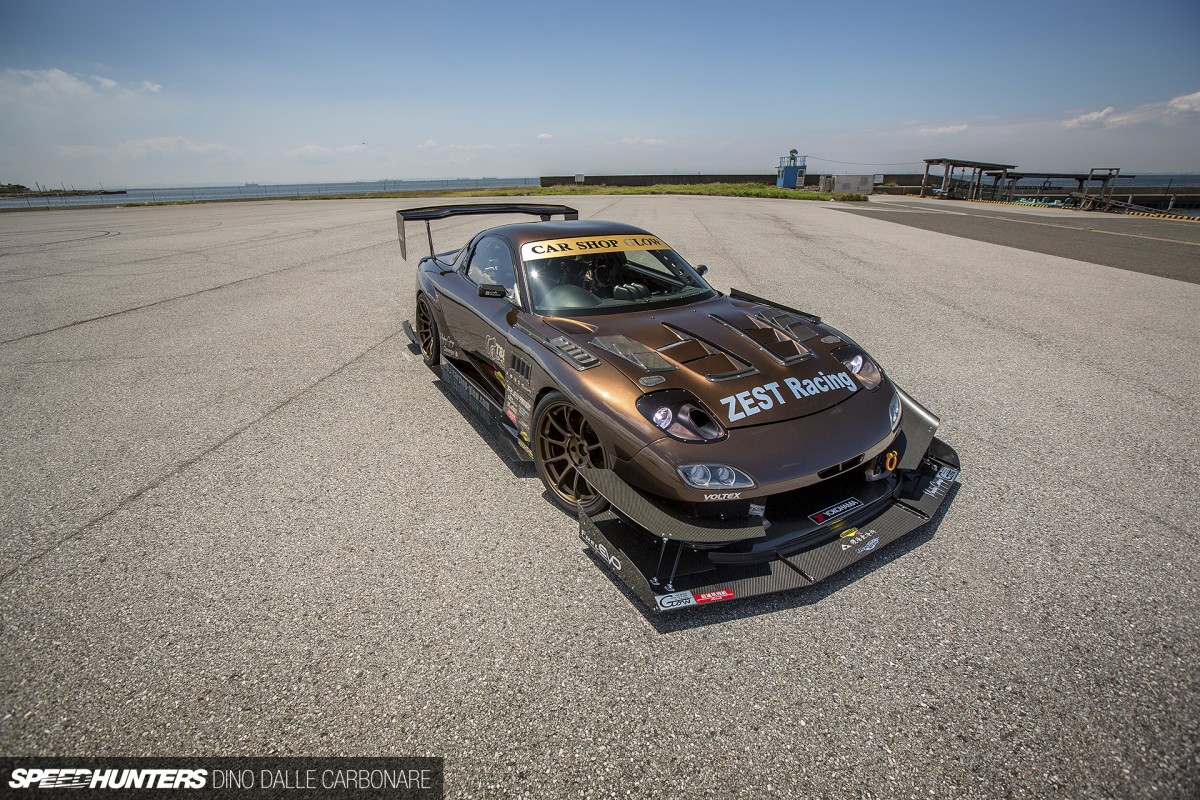 Finishing things off are RE Amemiya fixed-projector units in place of the original pop-up headlights and Car Shop Glow's latest LED small light and indicator units.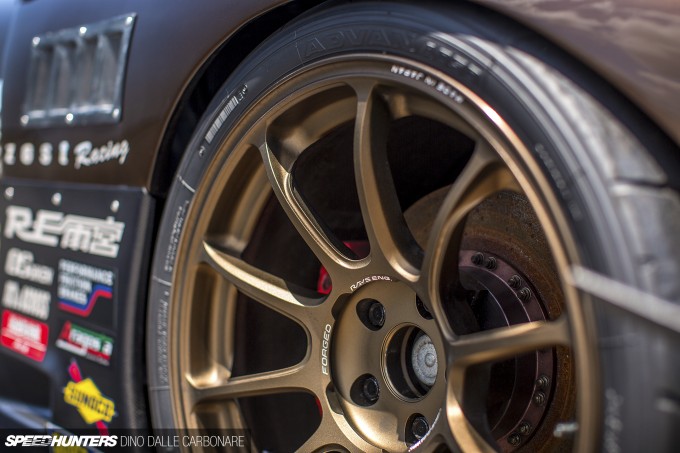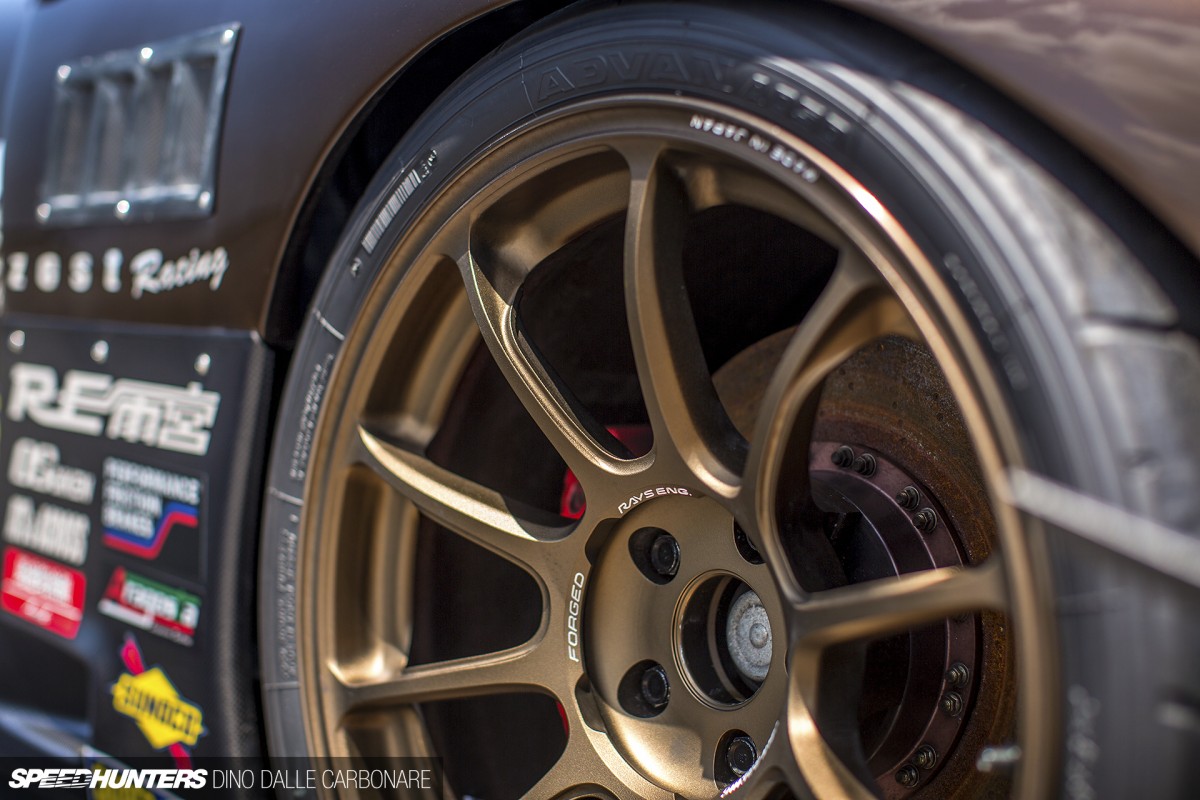 Then of course there are the wheels. Up until a while back the RX-7 used to run on one of my favourite wheels out there: the Volk Racing CE28N from RAYS. It's now sitting on a set of ZE40s, which are not only stiffer but also quite a lot lighter too.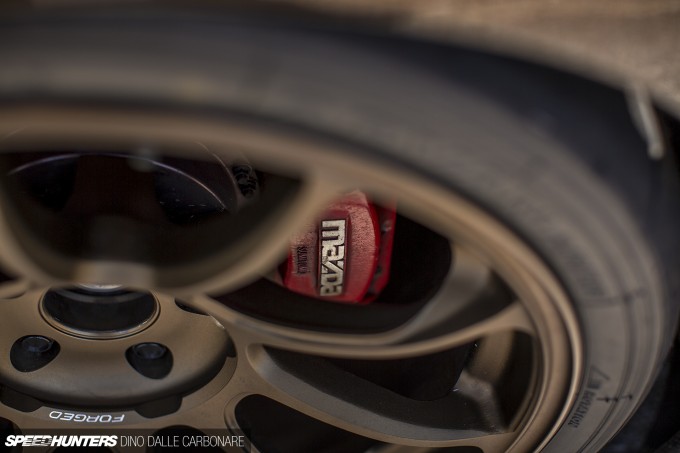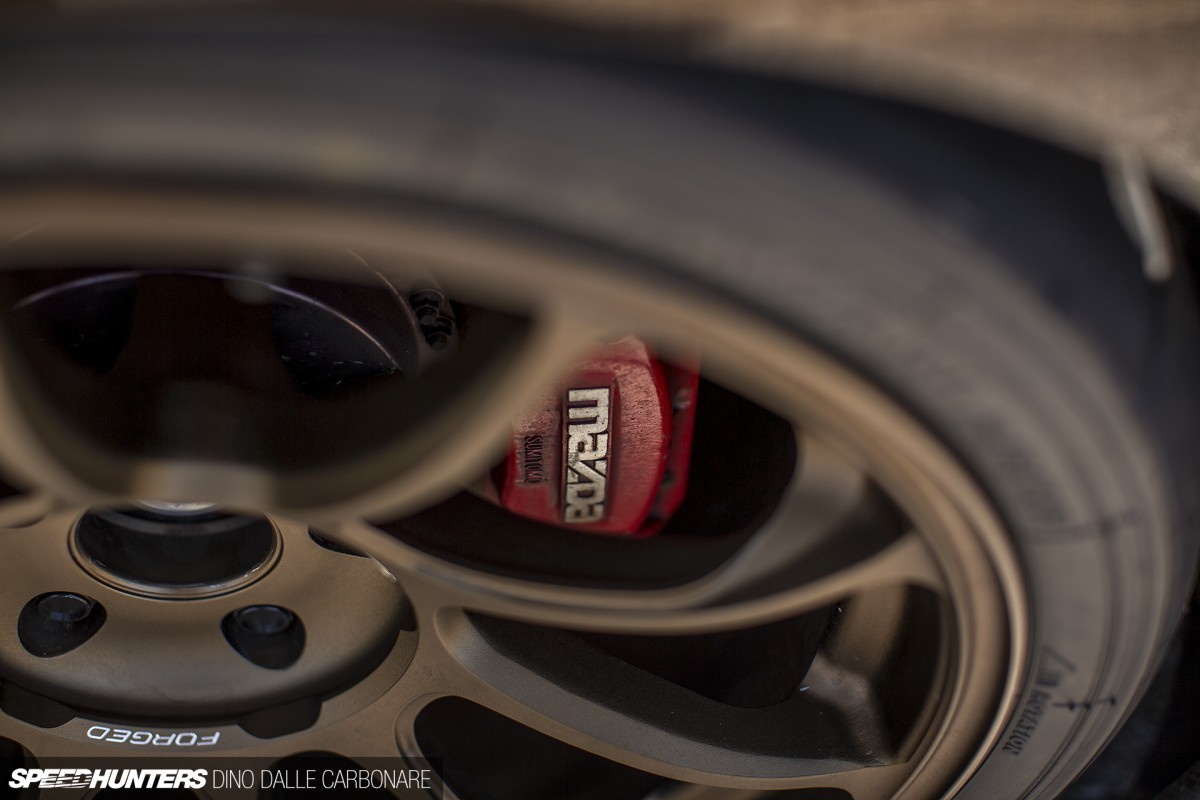 Then we get to the brakes, and this is something that always makes me chuckle when it comes to RX-7s. This is a 56-second car at Tsukuba – 56.4 second to be exact – yet it manages to achieve this time running stock brakes. Okay, so the front rotors are of a higher spec as they are off the shelf PFC items, as are the pads front and rear, but that tells you all you need to know about racing and tracking a lightweight car. Good luck running sub 60-second lap times at Tsukuba in a GT-R with factory stoppers!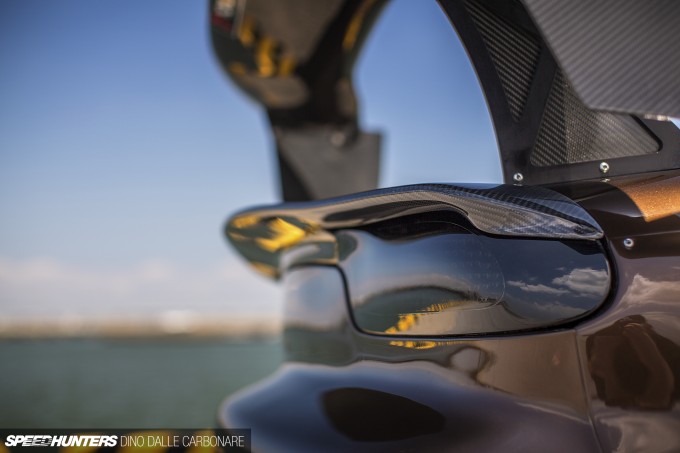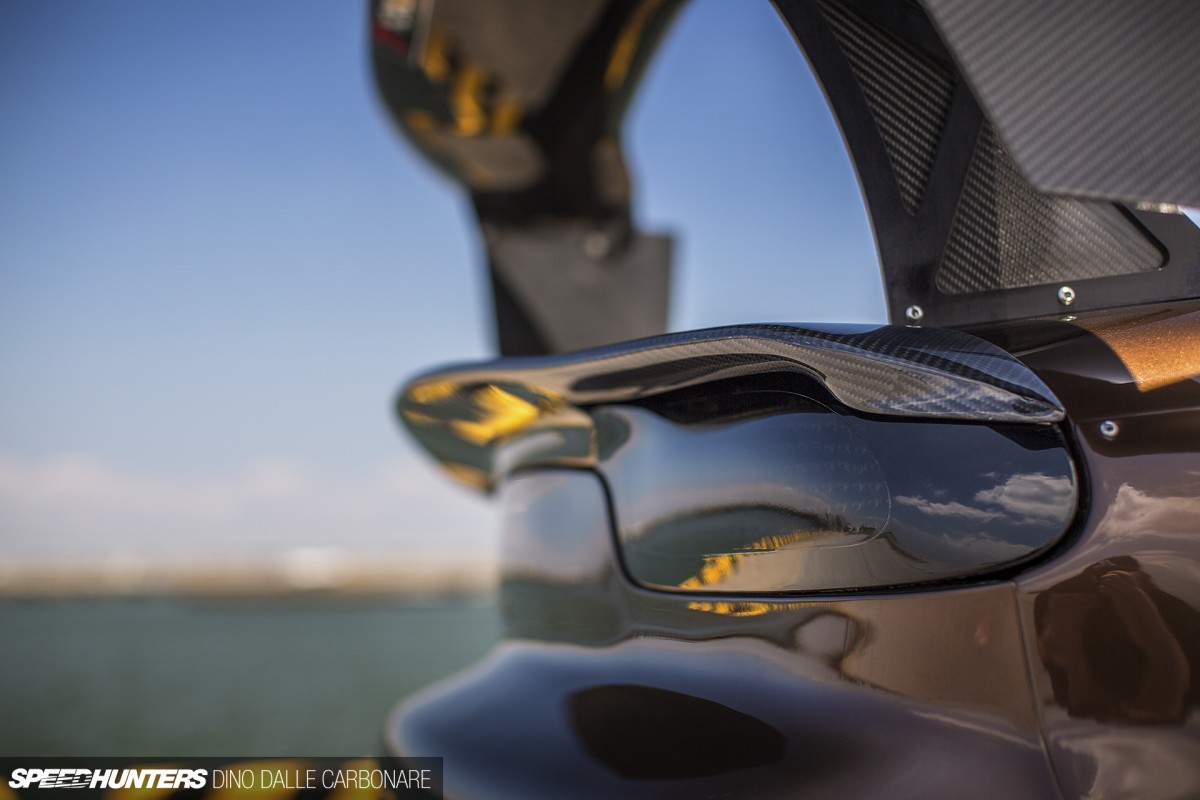 Soaking in the details I also spotted what looked like another new addition to the back of the car: a moulded wet carbon trunk spoiler which wraps around the RX-7's taillights.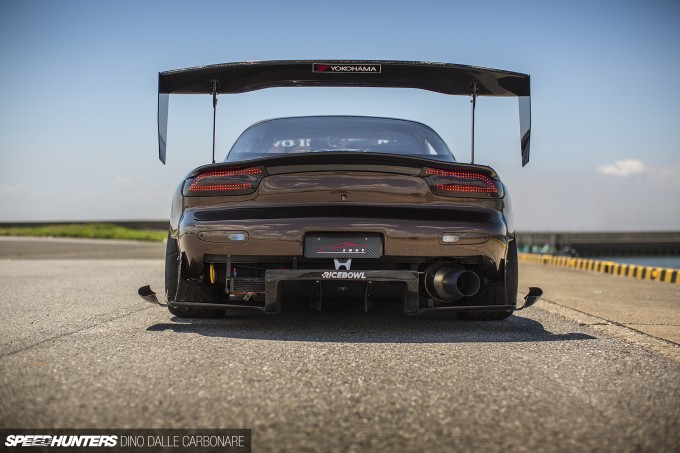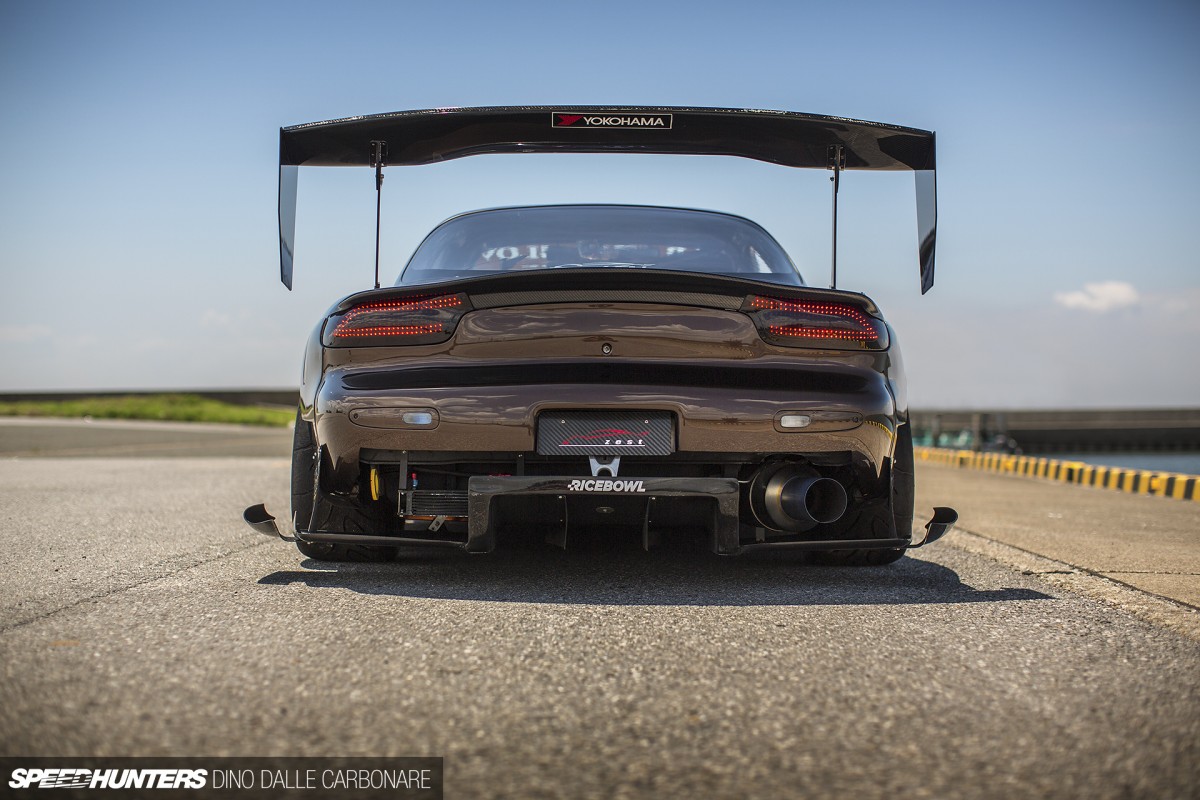 The lights contain custom Car Shop Glow LED inners, resulting in a unit which is gaining quite a lot of exposure thanks to social media. I've begged Car Shop Glow to create some cool LED solutions for us R32/R33/R34 GT-R folk, and we might be in luck as I'm told something's already in the works.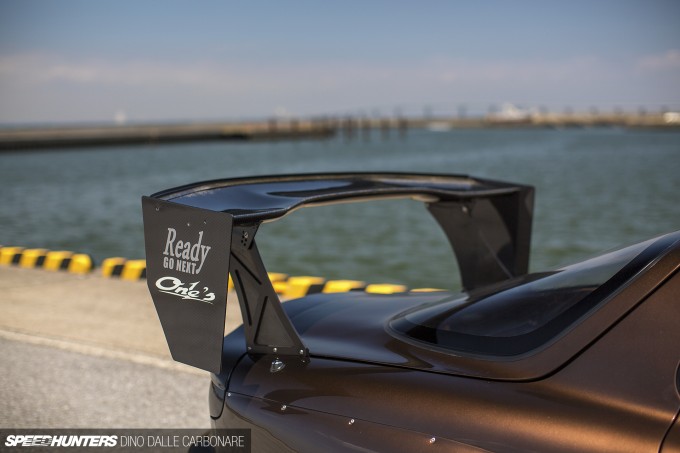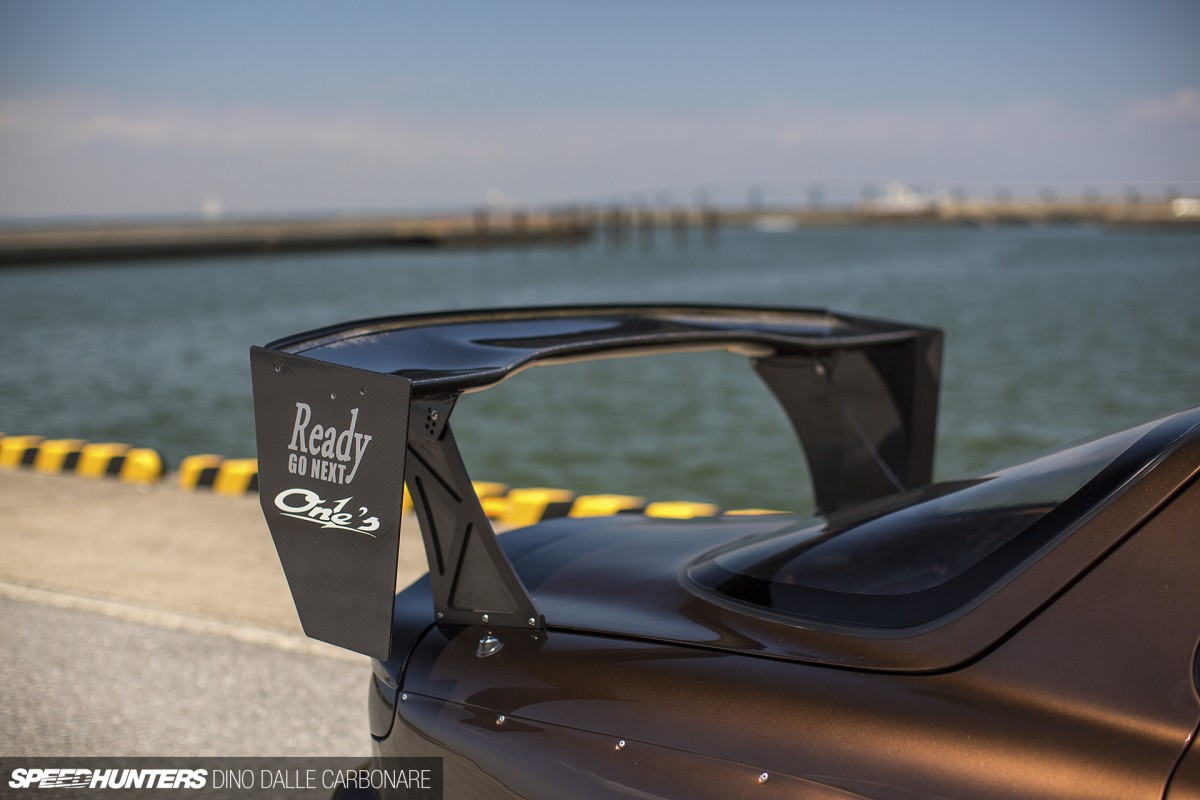 Here's another angle of Car Shop Glow's custom carbon fiber rear wing which features some large end plates. It sort of reminds me of the Do-Luck wing on the R34 GT-R – just an extended high-mount version of it.
Then Comes The Power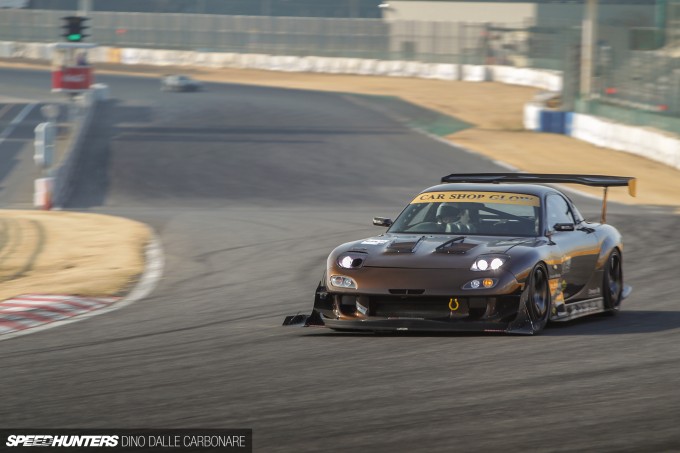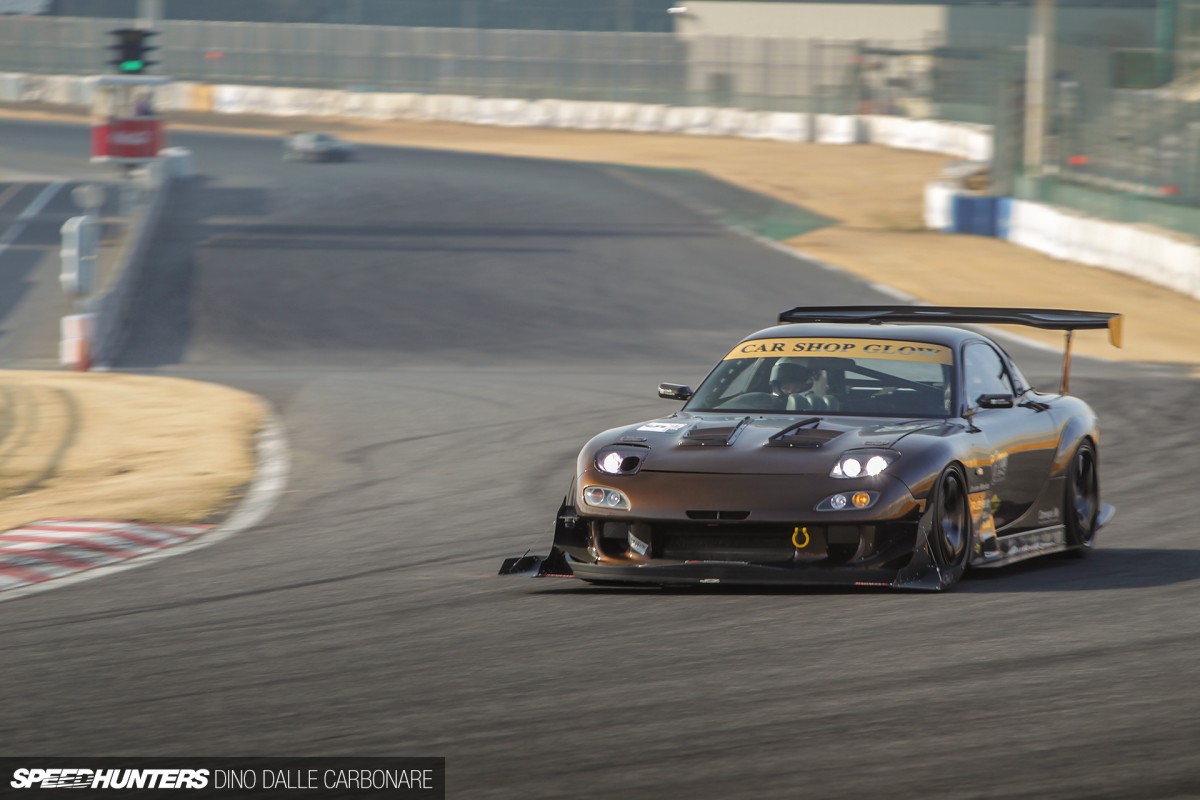 As you can see from this image of the RX-7 from the last time I saw it out at Tsukuba, the wing is a new addition and something they're trialling to see if it makes an actual difference through the corners.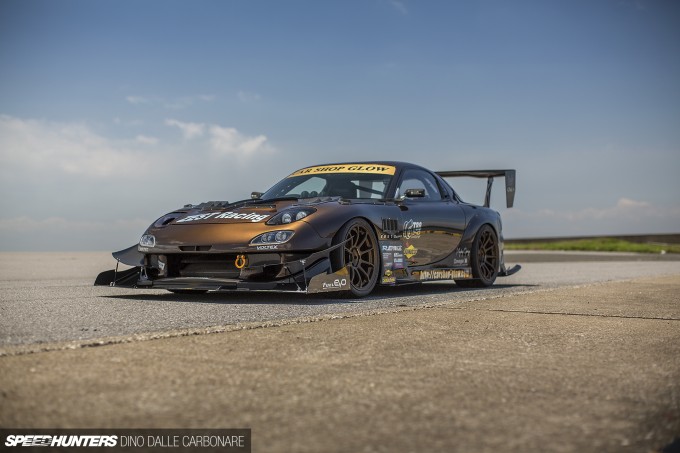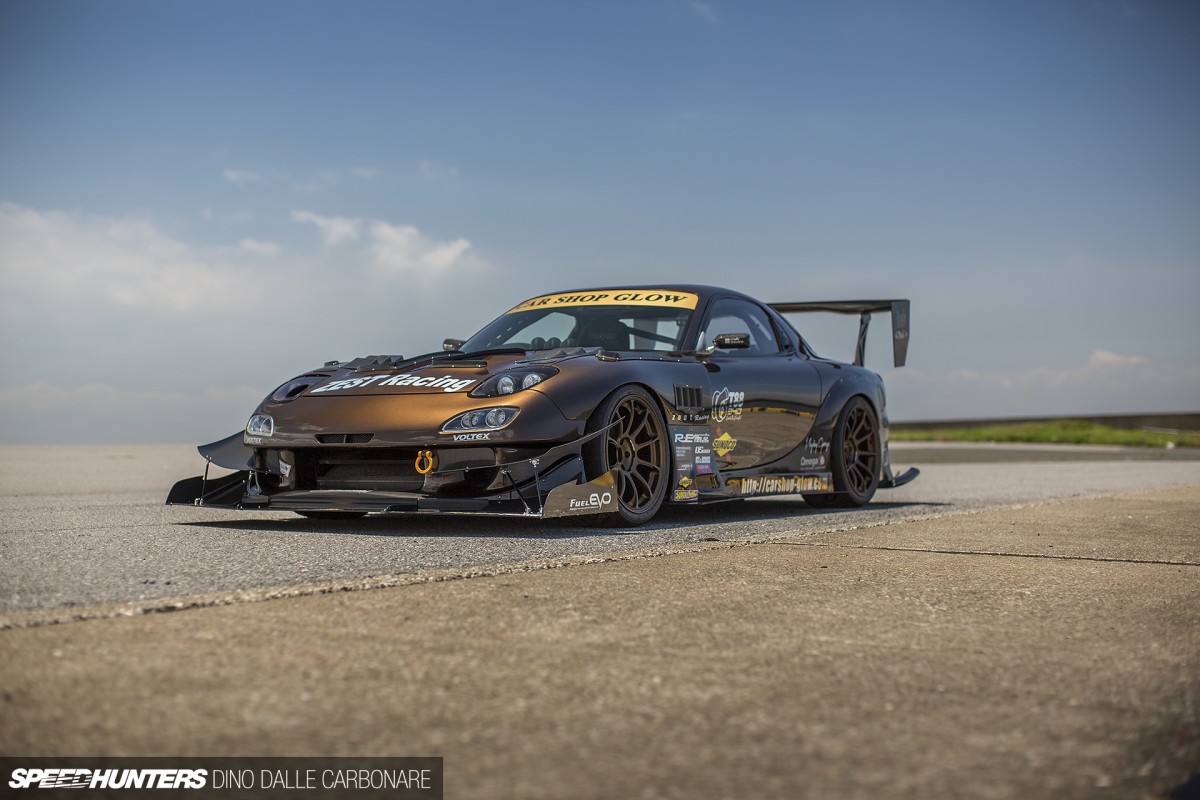 We've pretty much established that this car manages to break the mould when it comes to standing out in a sea of tuned FDs that Japan continuously throws at us. If you don't know what I'm talking about check out the 7's Day content that I've got coming for you soon…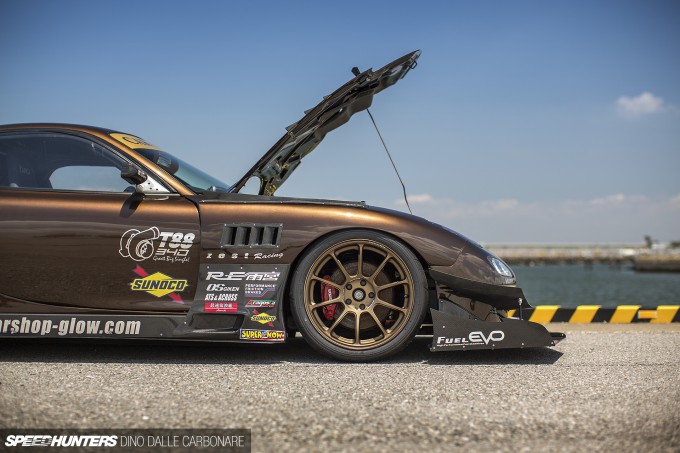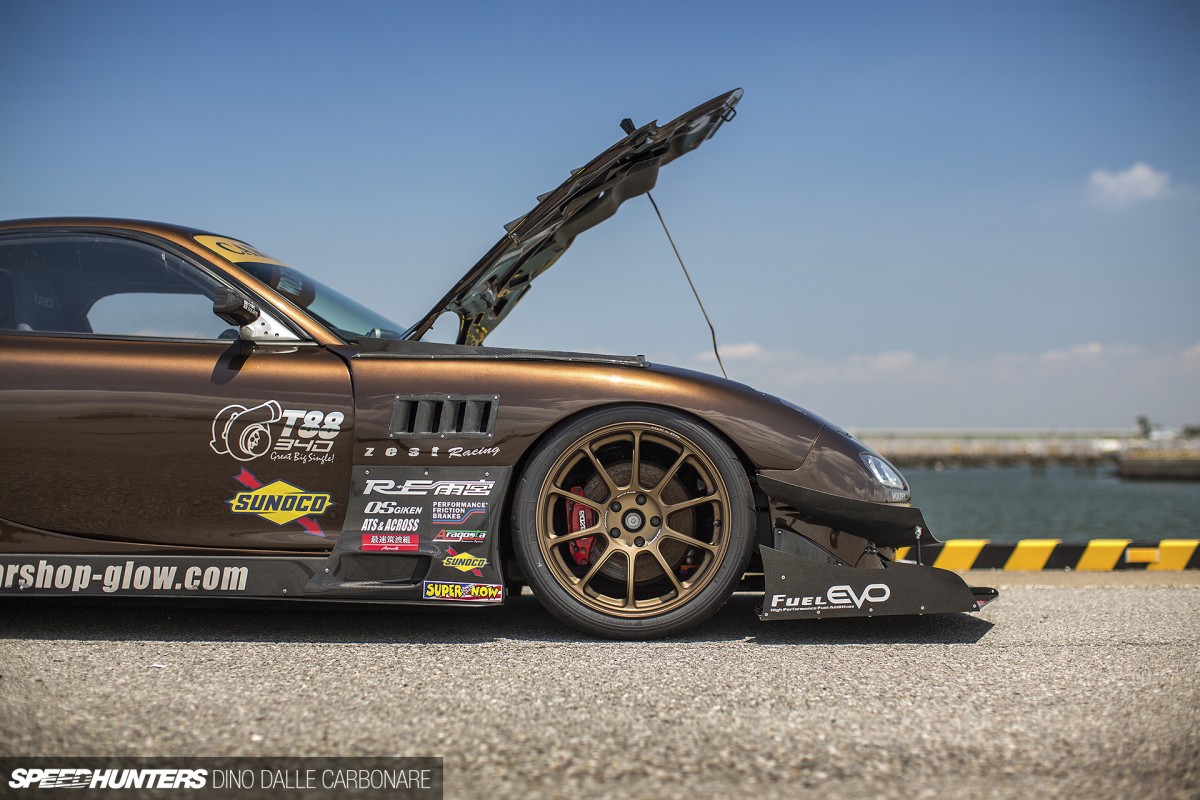 But the thing that makes this RX-7 the performer that it is, is what it's running under the vented bonnet.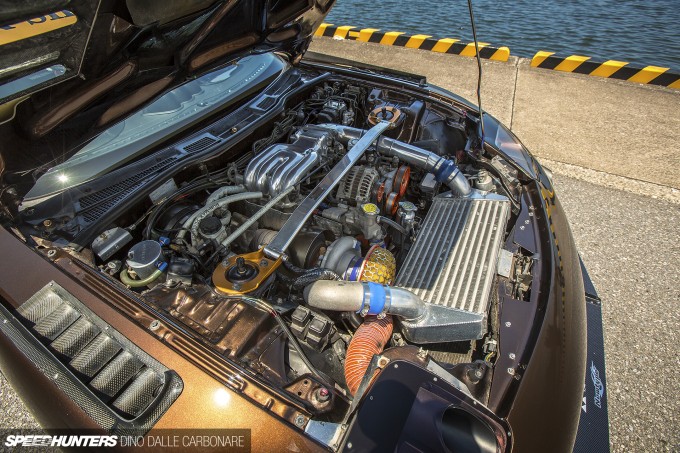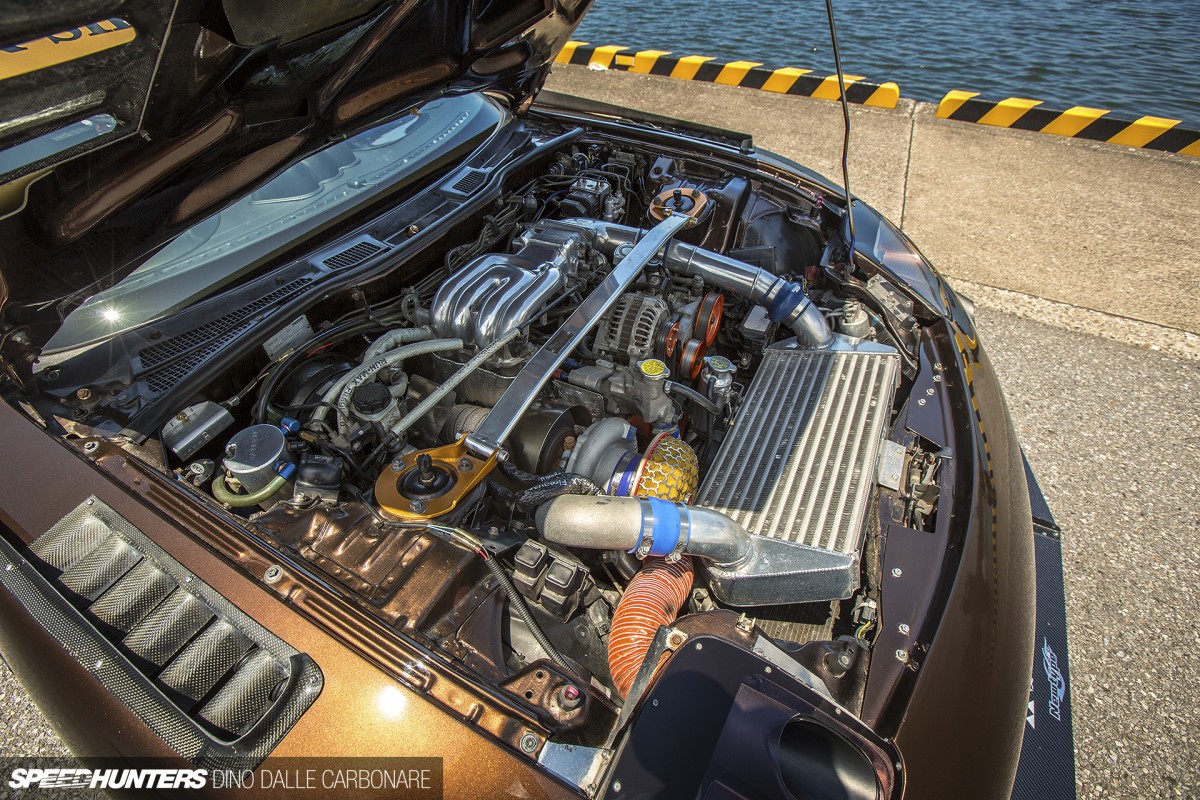 An engine of this nature is definitely outside of Car Show Glow's realm, which is why they collaborated with rotary specialist Zest Racing in Chiba.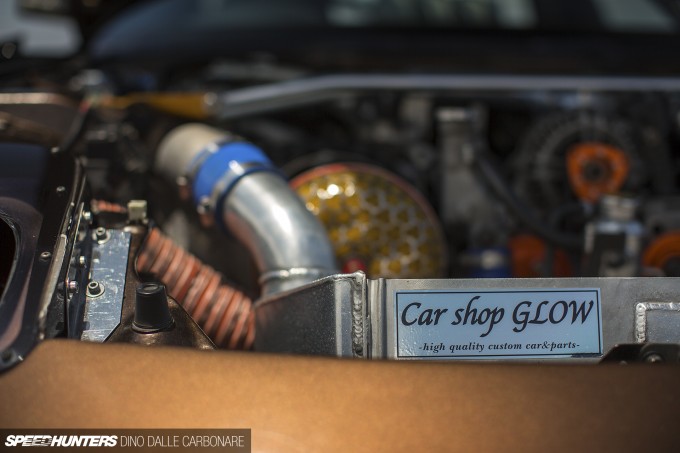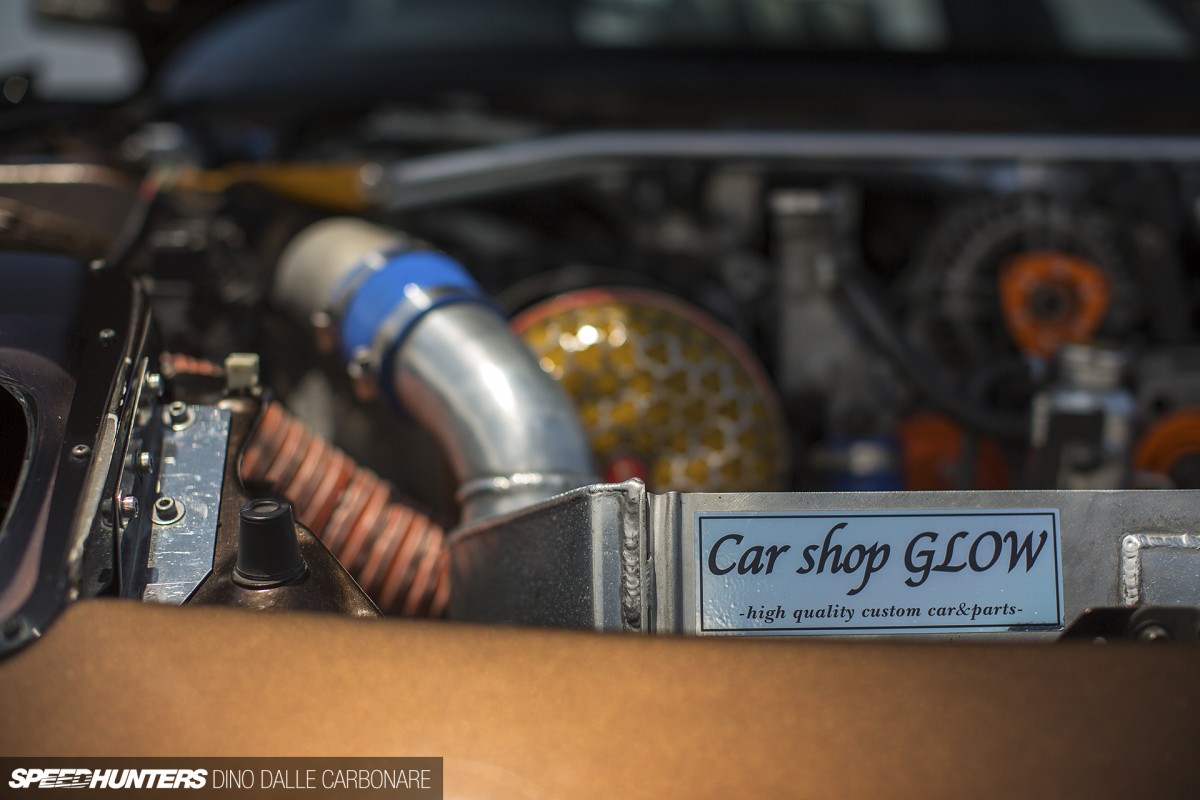 Zest have provided the sort of power and delivery that a car competing in time attack needs, so you won't find a 3-rotor monstrosity developing four figure output, but rather a well-tuned 13B that ticks all the right boxes. The bridge-ported engine produces 530hp thanks in part to a giant Trust T88-34D turbocharger, but to not dull out the fast spooling and responsive nature that rotary engines are known for, Zest came up with a custom V-mount setup for the intercooler which keeps the pipework as short and as straight as possible. An HKS F-Con V PRO engine management system handles the fueling and ignition and is able to extract a usable torque curve which peaks at 6,900rpm with 490Nm.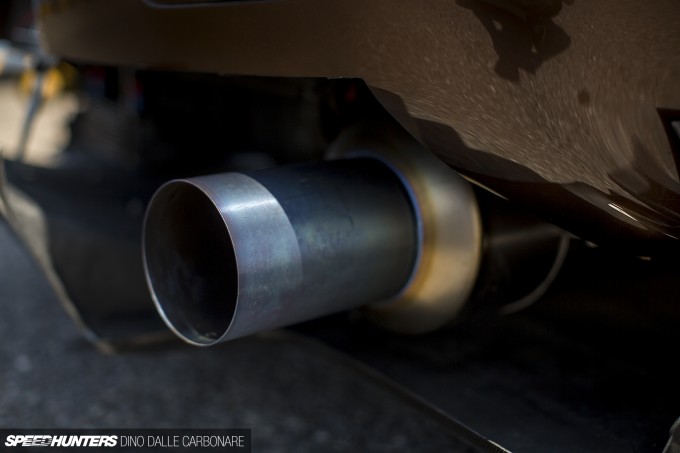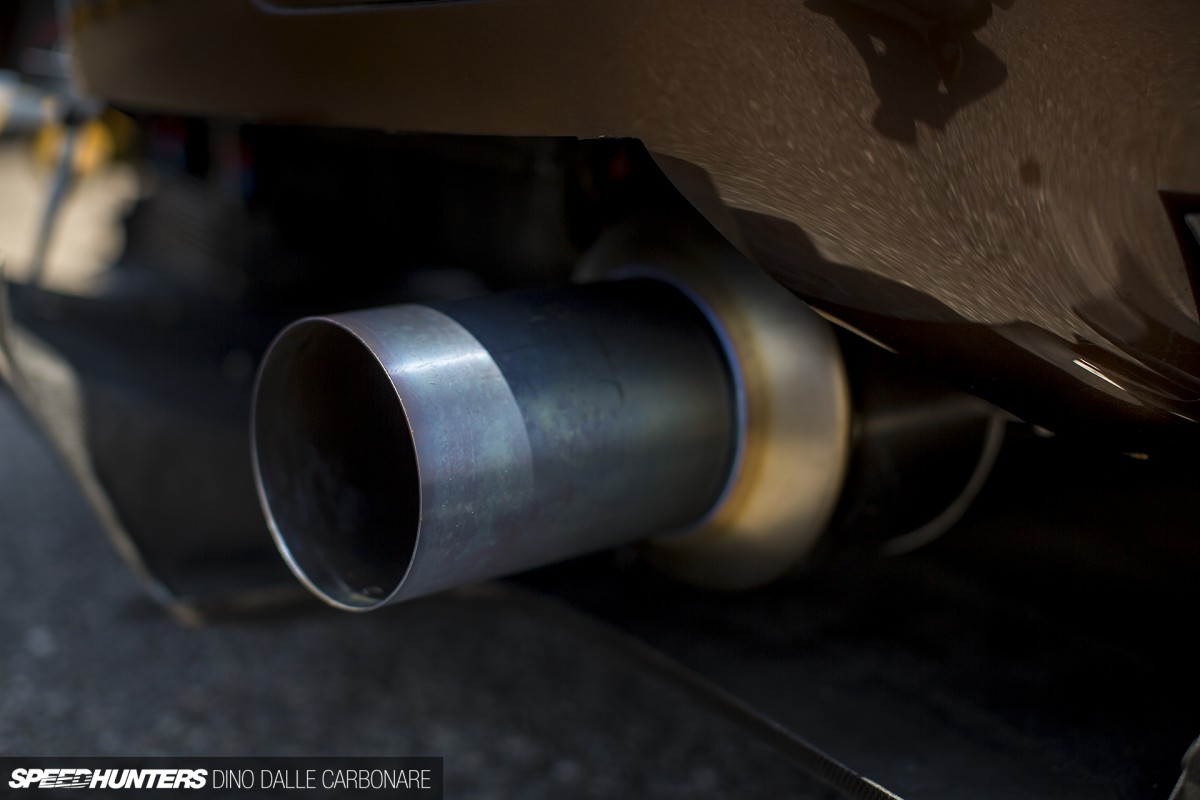 Zest also fabricated a straight-through titanium exhaust with an extra-long silencer to clear the bumper and diffuser.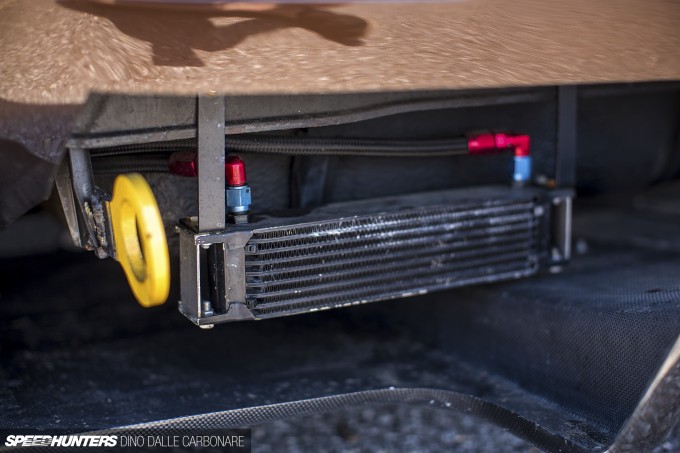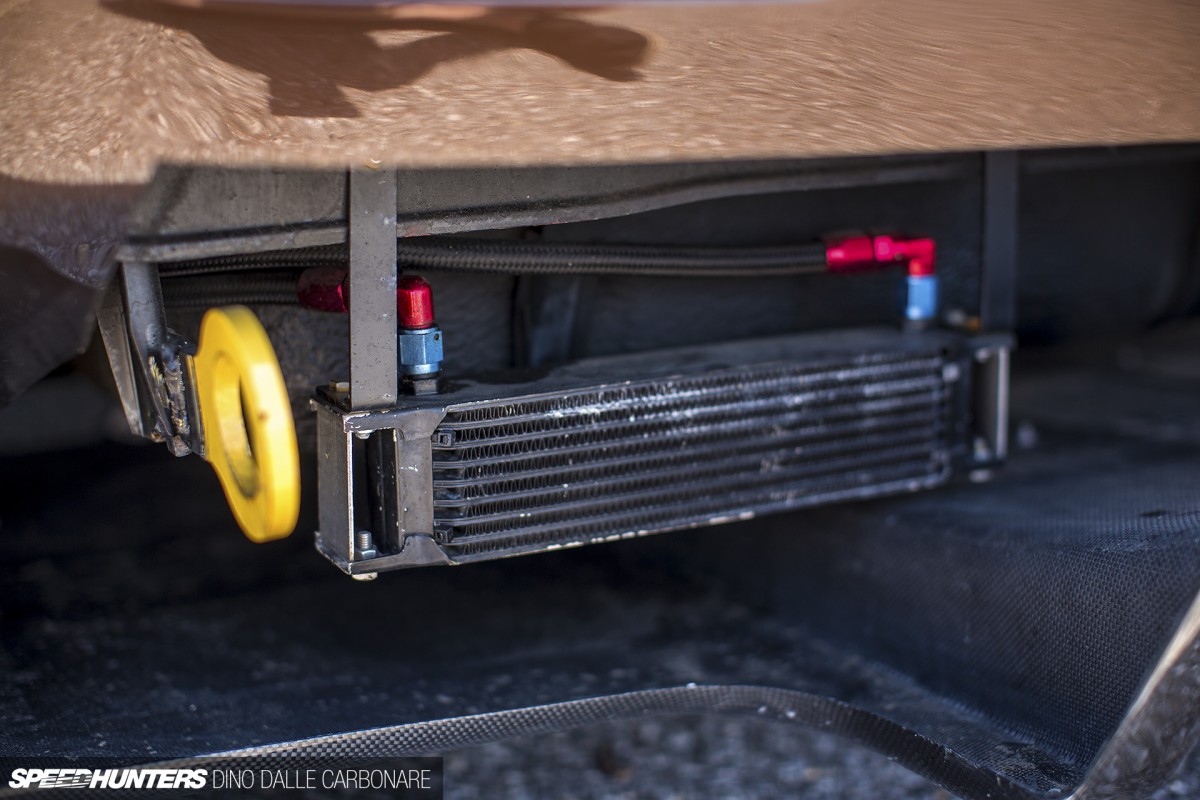 Opposite the exhaust outlet the airflow originating from under the car is put to good use running through a small but efficient transmission cooler.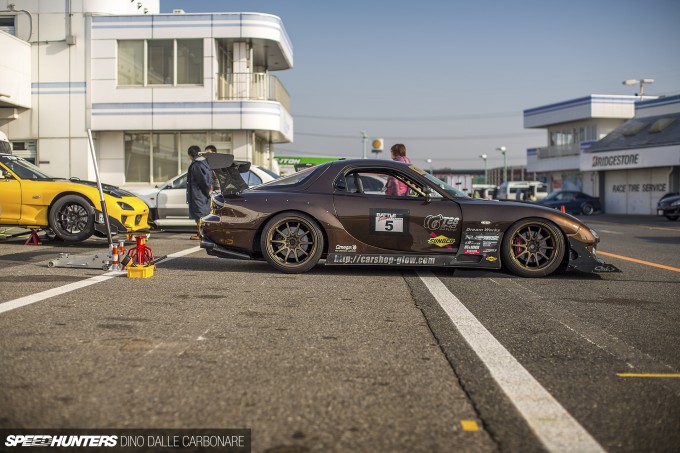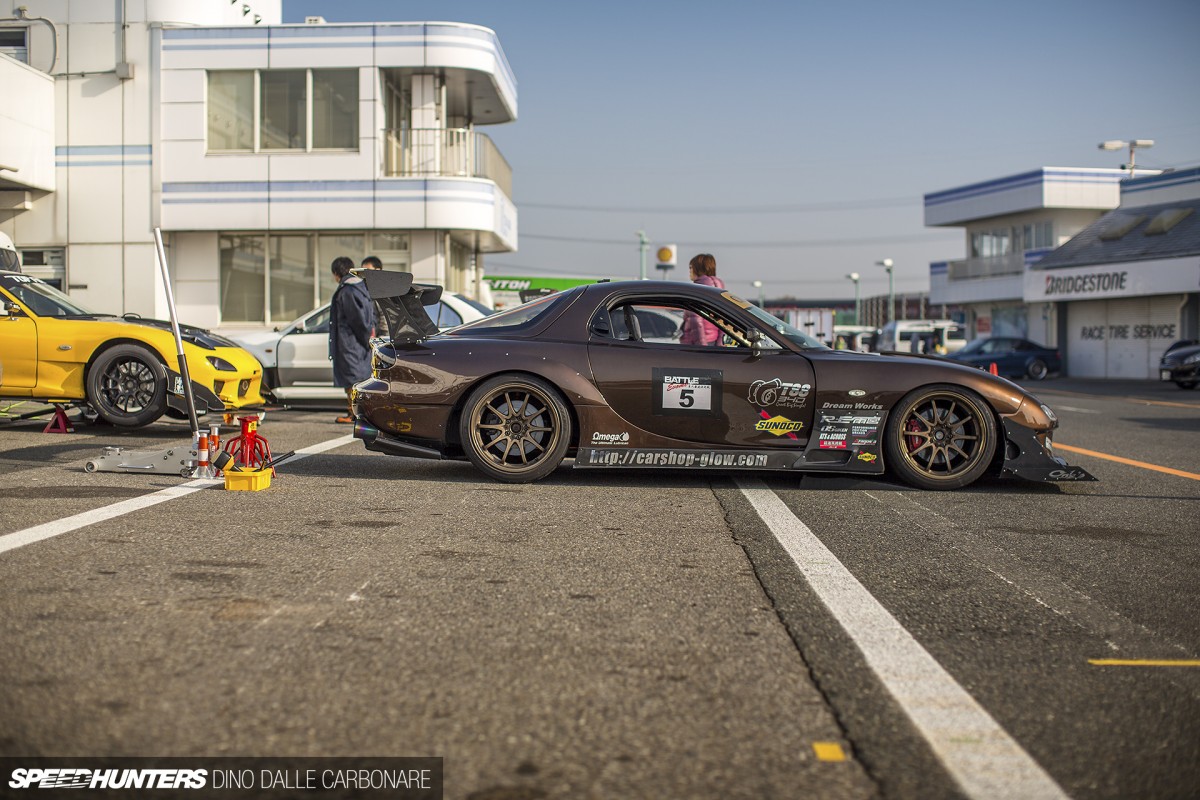 Hara-san will continue to perfect his FD with the immediate goal of breaking the 55-second barrier. That of course won't be the end of it – it never is – as the love and attraction for time attack naturally makes you want to see how far you can push things.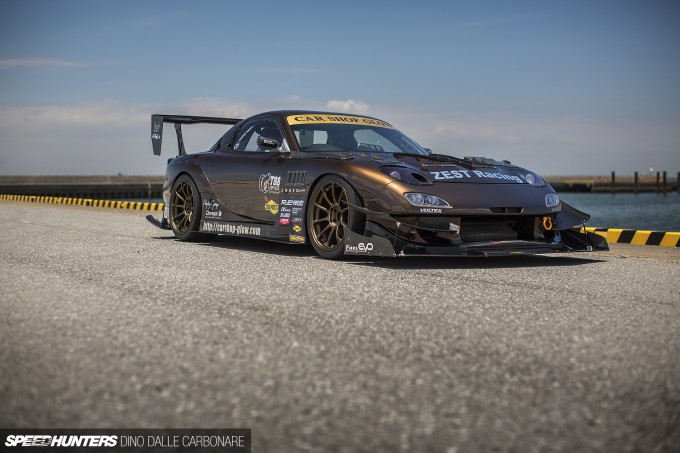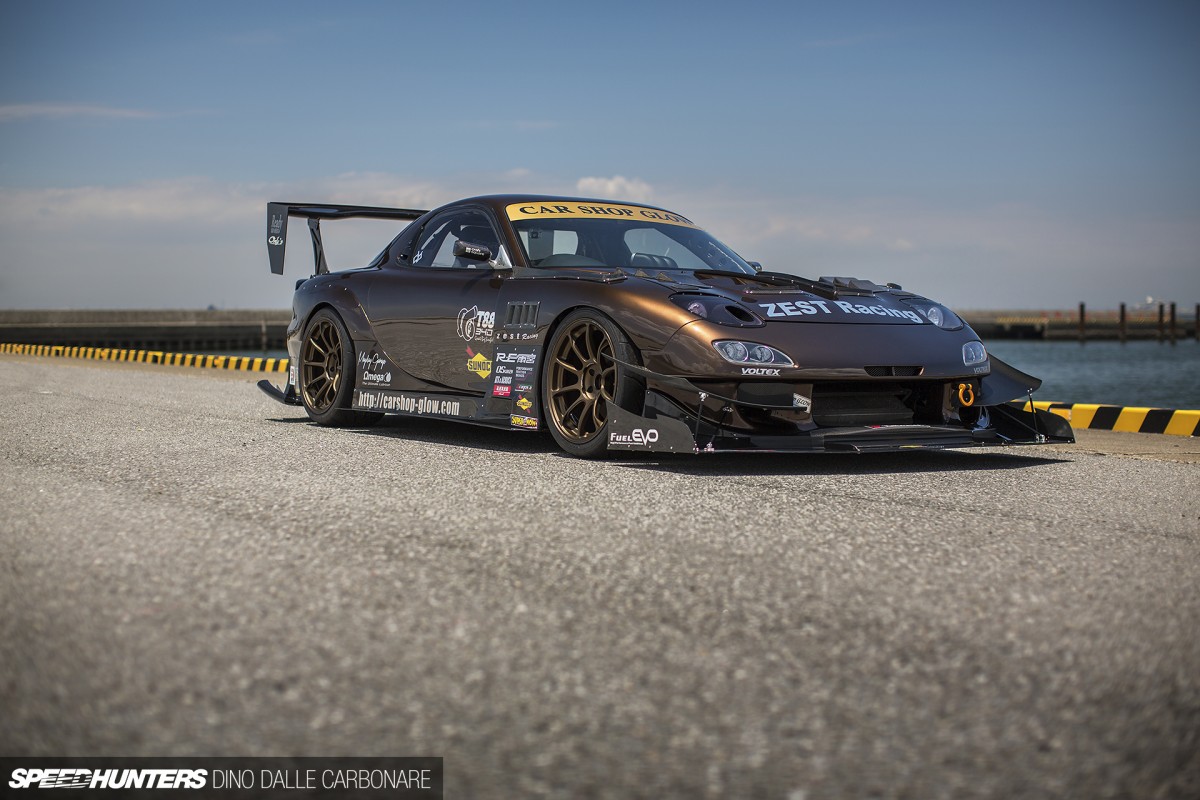 Like a lot of privately-run time attack cars, the Car Shop Glow FD competes in a number of events. Next season I'm planning to stop by an Attack meet, which is quickly becoming the series to participate in.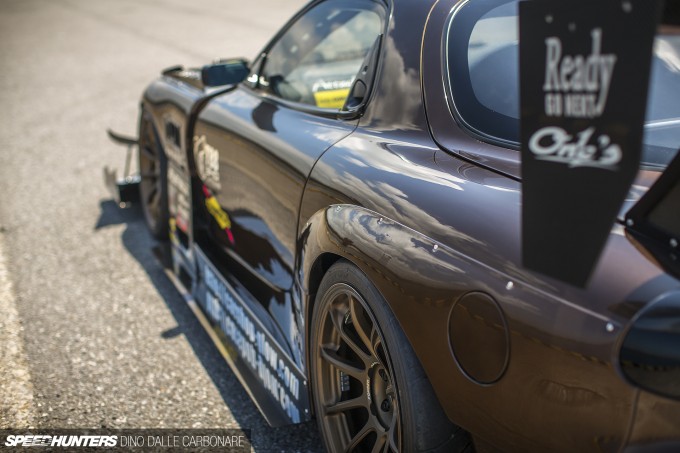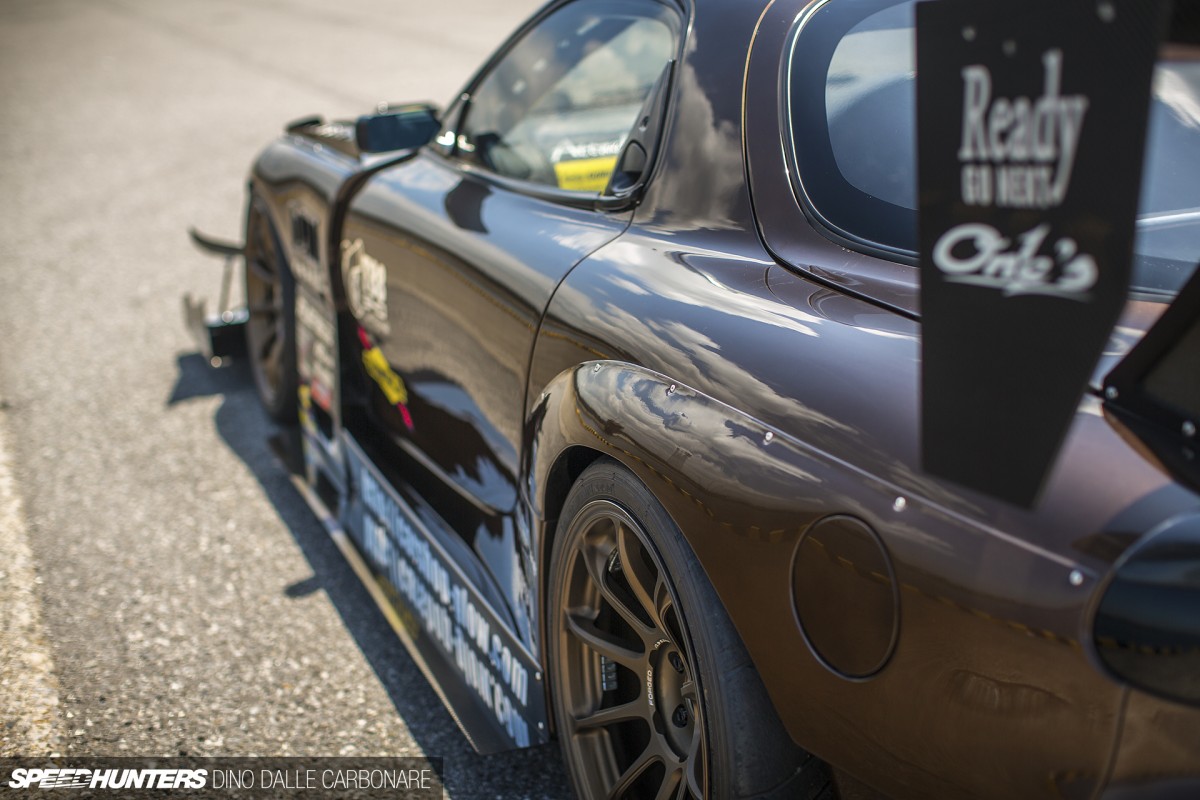 By then there's a good chance that Hara's FD will be producing more power and torque, and will perhaps have a new transmission to replace the current HKS 6-speed dog box.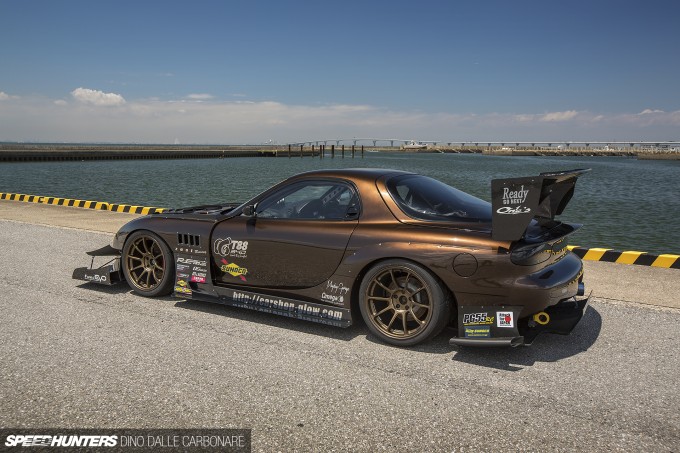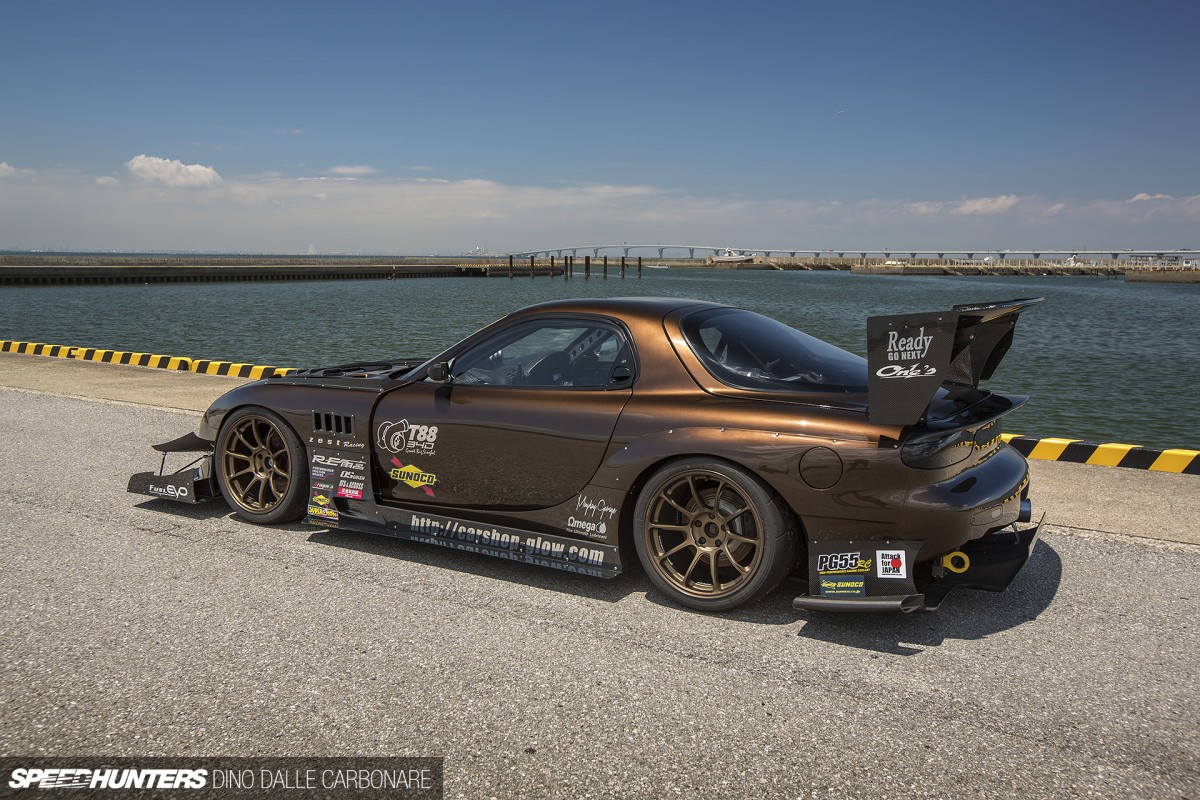 No off-season goes by where the car isn't enhanced or developed in some way. It's the core of this discipline, and to see people and shops put together these sort of machines continues to be the most inspiring thing in the Japanese tuning scene.
Rotary Obsession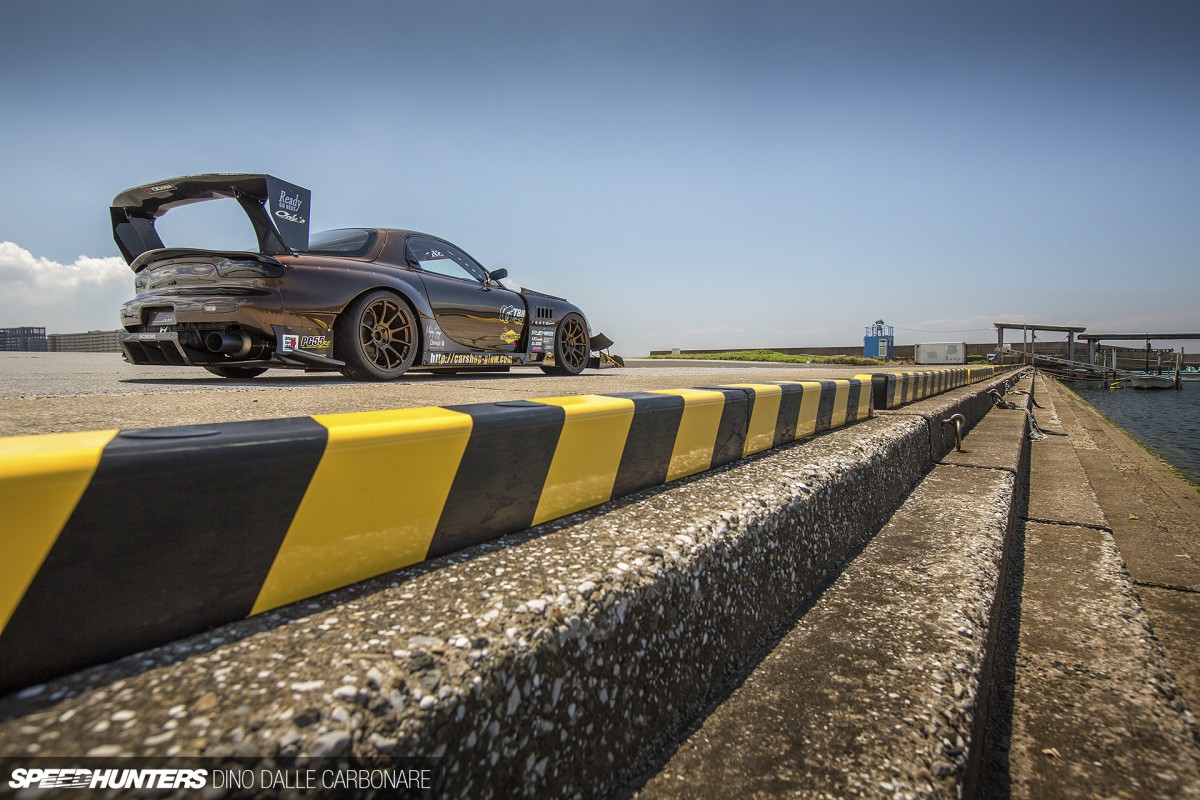 Unlike in other countries, time attack in Japan is still very small. Aside from what are essentially small track day events and magazine sessions organized by titles like Rev Speed and Option, there is nothing like a national series. That's exactly why no big-name tuners or parts makers are involved anymore, which on one side of things is a bit sad and depressing, but on the other side keeps this sport at a grassroots level which helps make it all the more special.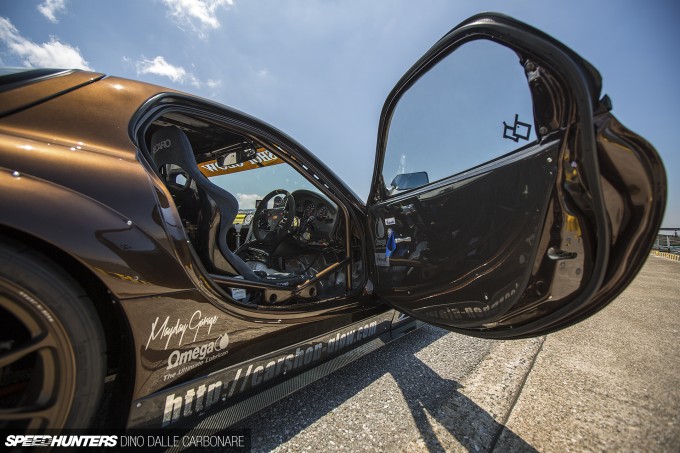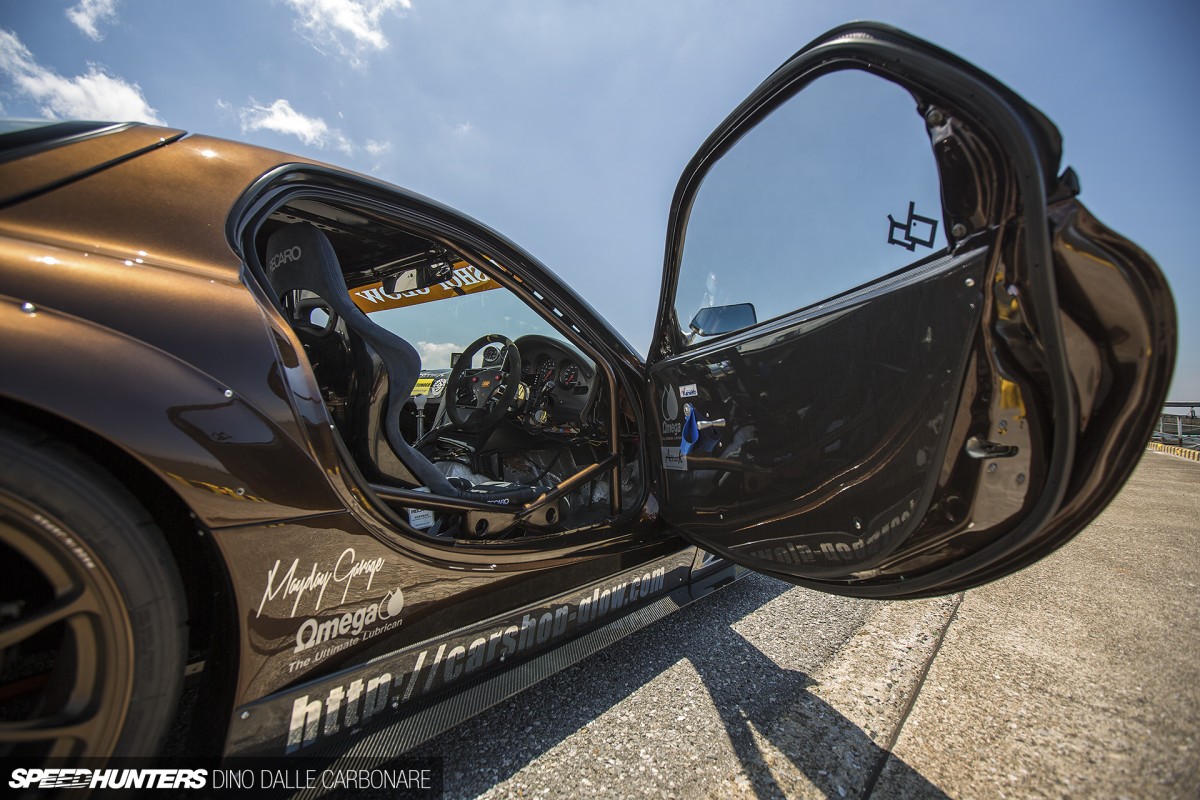 There are a couple of aspects of car building that Japanese tuners and builders lag behind in – one being engine management solutions, and the other interior and chassis prep. As far as the latter is concerned, the Car Shop Glow RX-7 is on another level, something that becomes obvious once you open the door.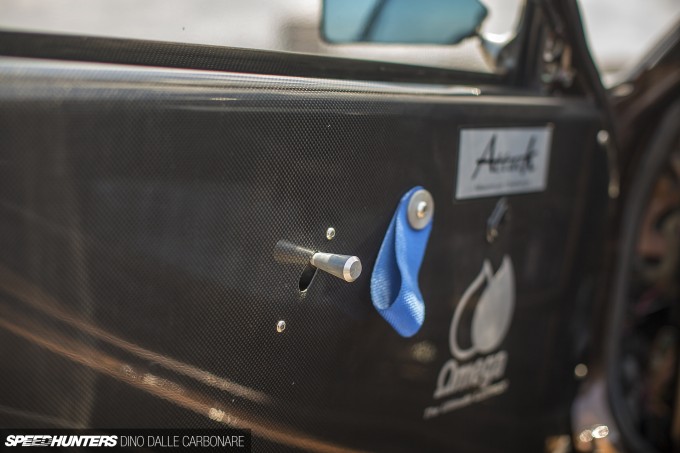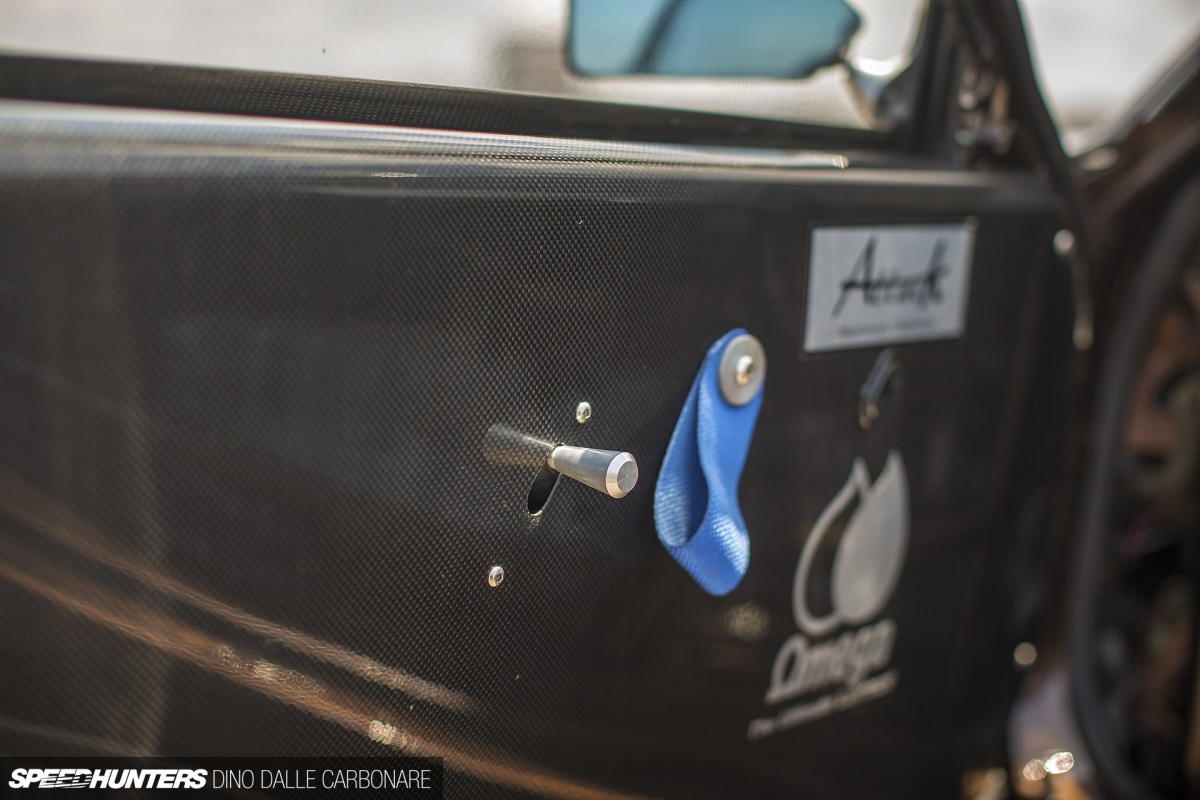 The metal outer shells remain, but the inner trims have been removed and replaced with lightweight carbon cards.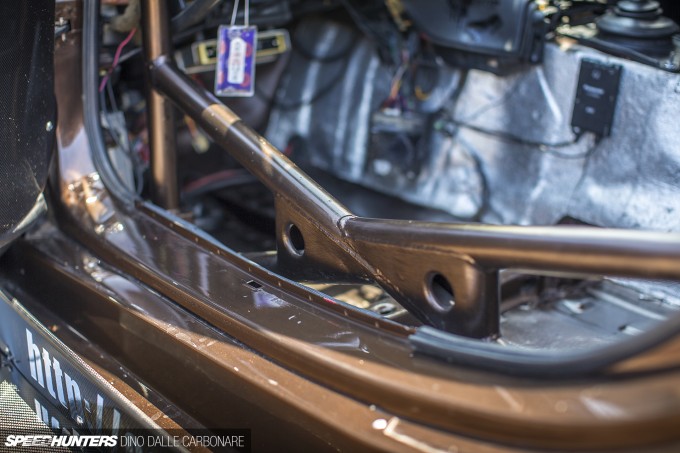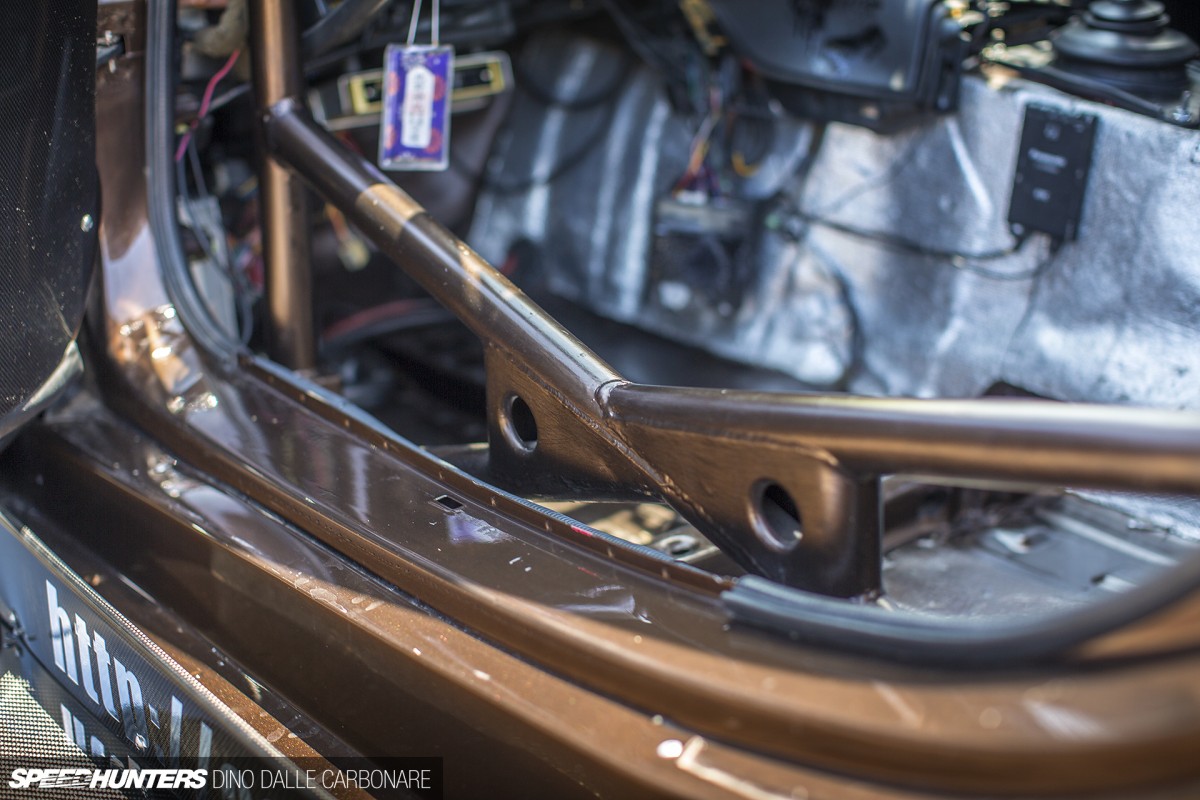 There's a custom cage which is welded to the chassis and boxed up and gusseted in various locations for added strength and rigidity. It really helps get the most out of the FD's shell, which by modern standards is lacking in the stiffness side of things.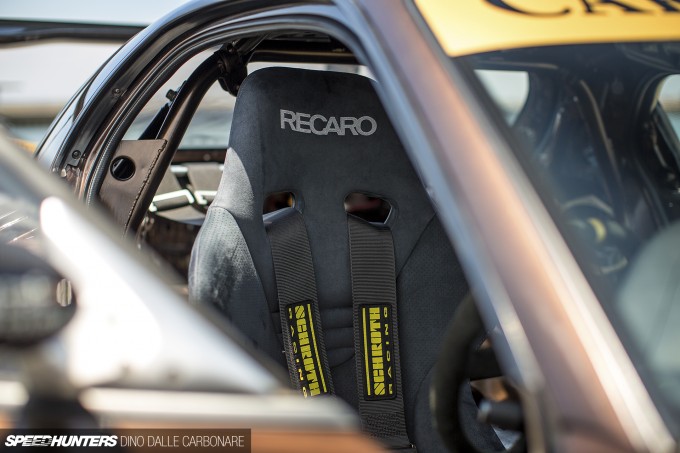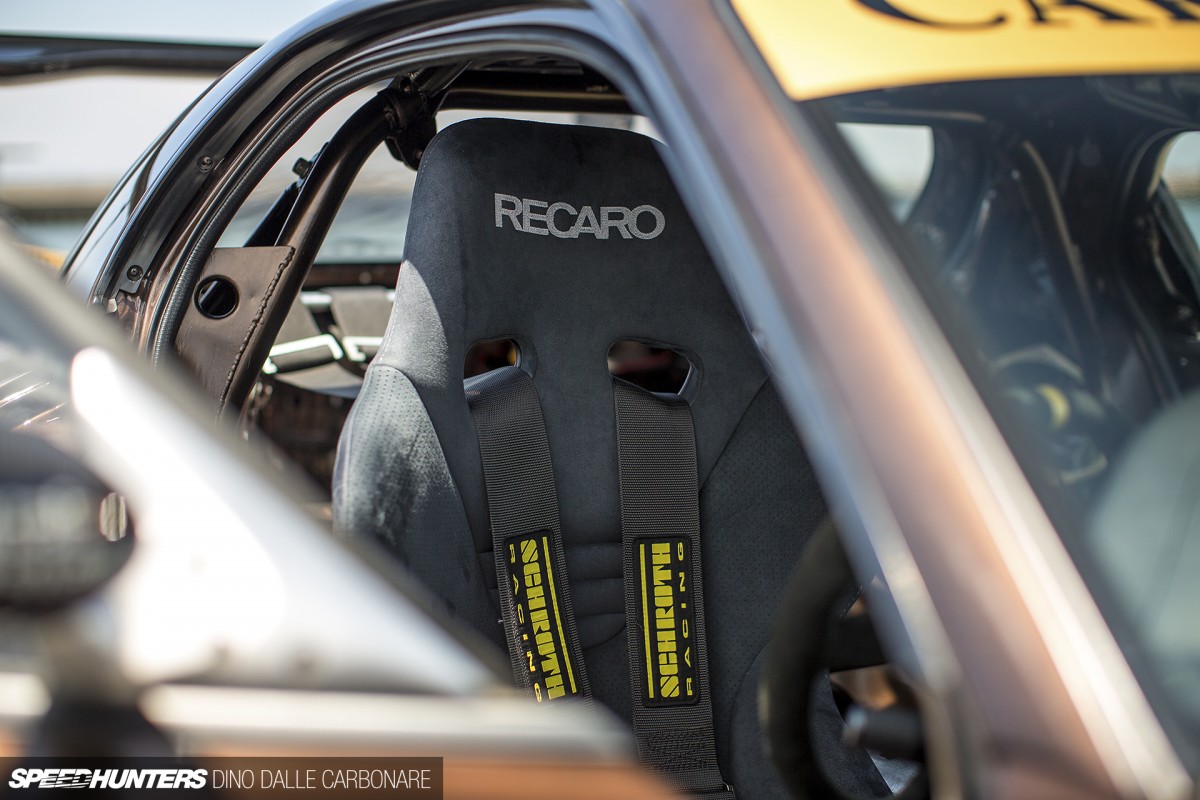 The cage extends rearwards behind the Recaro driver's seat to join up to the rear strut towers.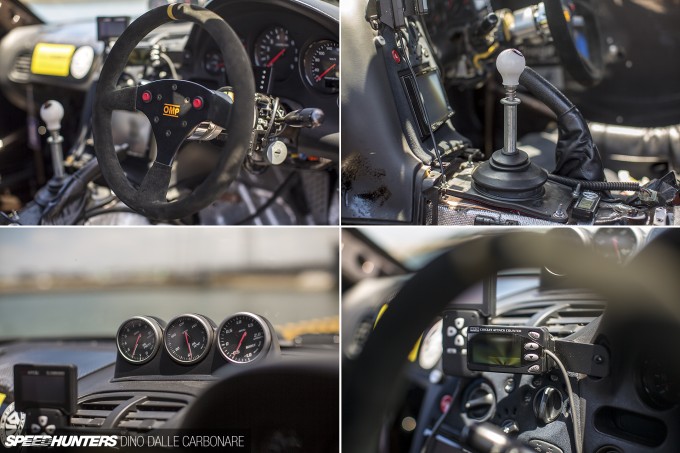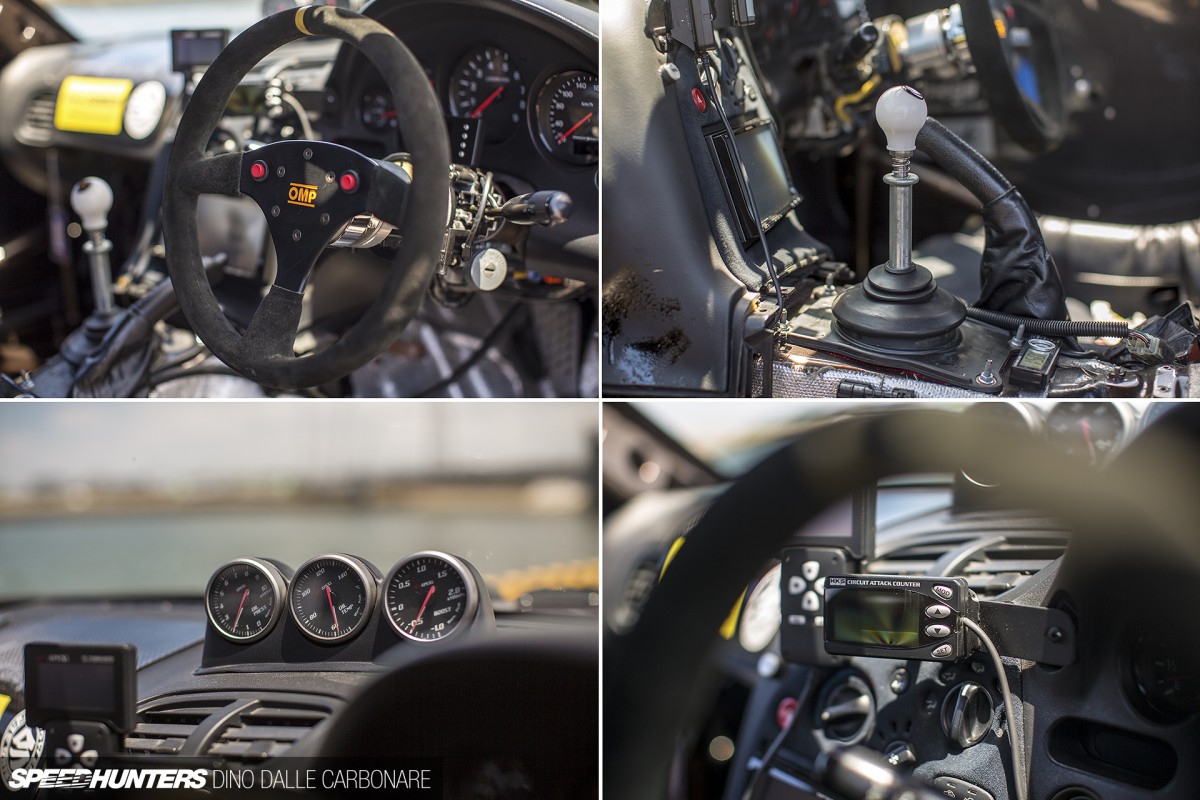 Only the main dash and center stack section remains; every bit of additional trim having been removed to expose bare metal. But in true JDM style there are a few electronic additions in the mix, including an HKS boost controller, HKS Circuit Attack Counter lap timer and three A'PEXi gauges. You can also see how the double-DIN navigation headunit has been left in place – something that's pretty strange to see in a time attack car, but a reminder of what sort of machine this RX-7 once was.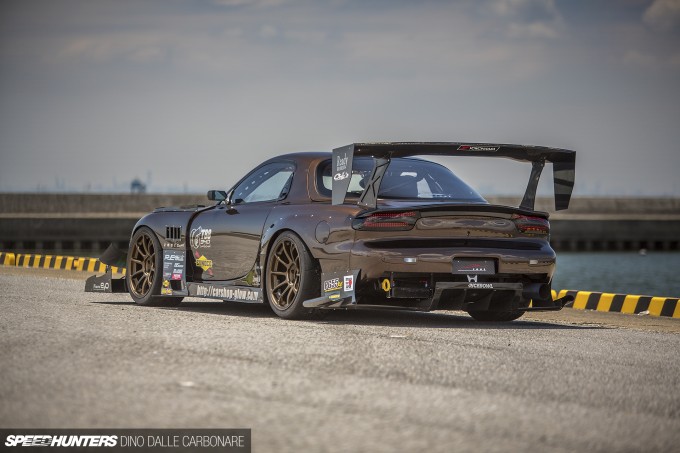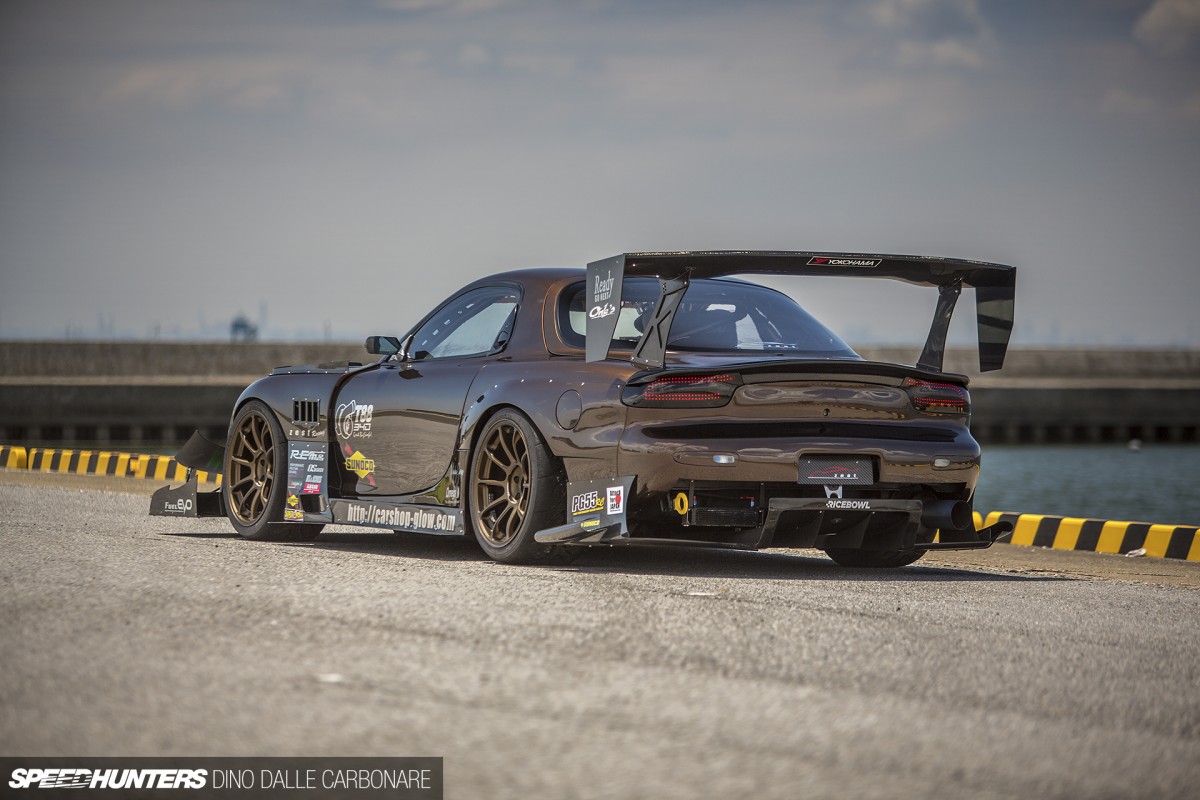 Car Shop Glow's FD3S should serve as the perfect starter for some real rotary goodness we have coming for you. 7's Day is upon us and we plan to hit up Daikoku and Umihotaru as usual, to give some love to the iconic Mazda model.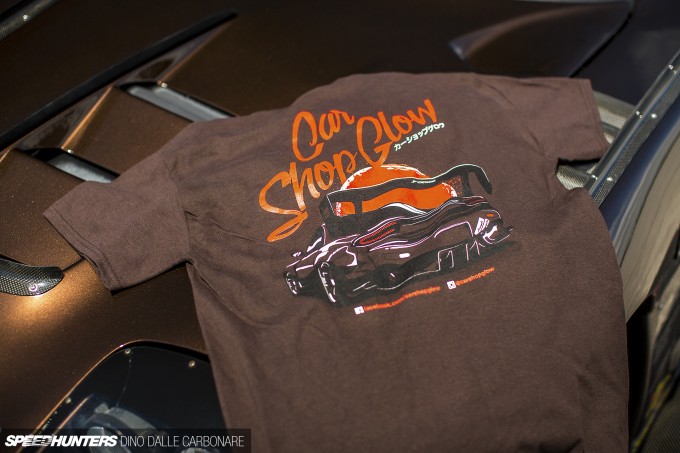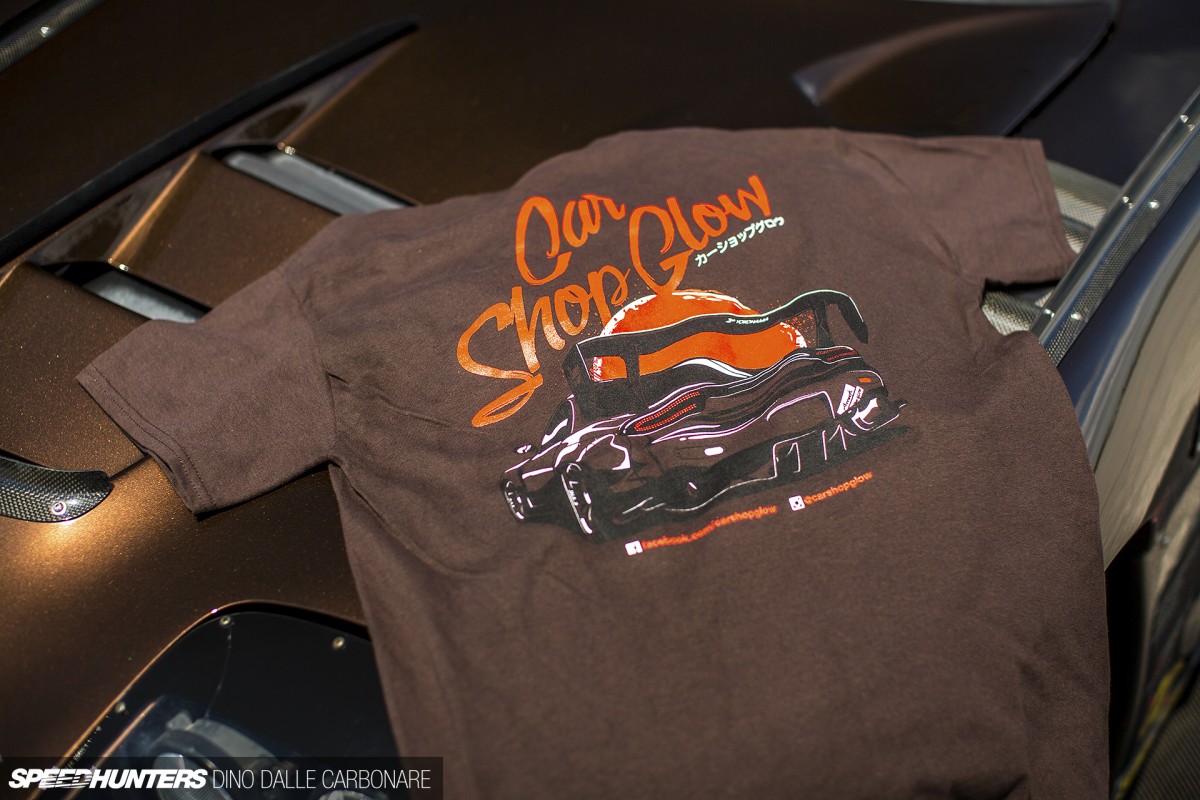 While Mazda enjoys the limelight now that its new Roadster/Miata/MX-5 is hitting streets around the world, I hope it won't forget about a very special group of diehard supporters – a rare breed that will probably never give up on their passion for the Wankel engine.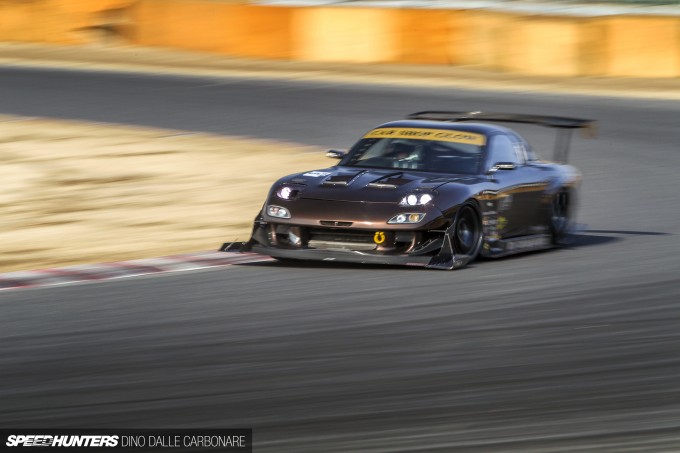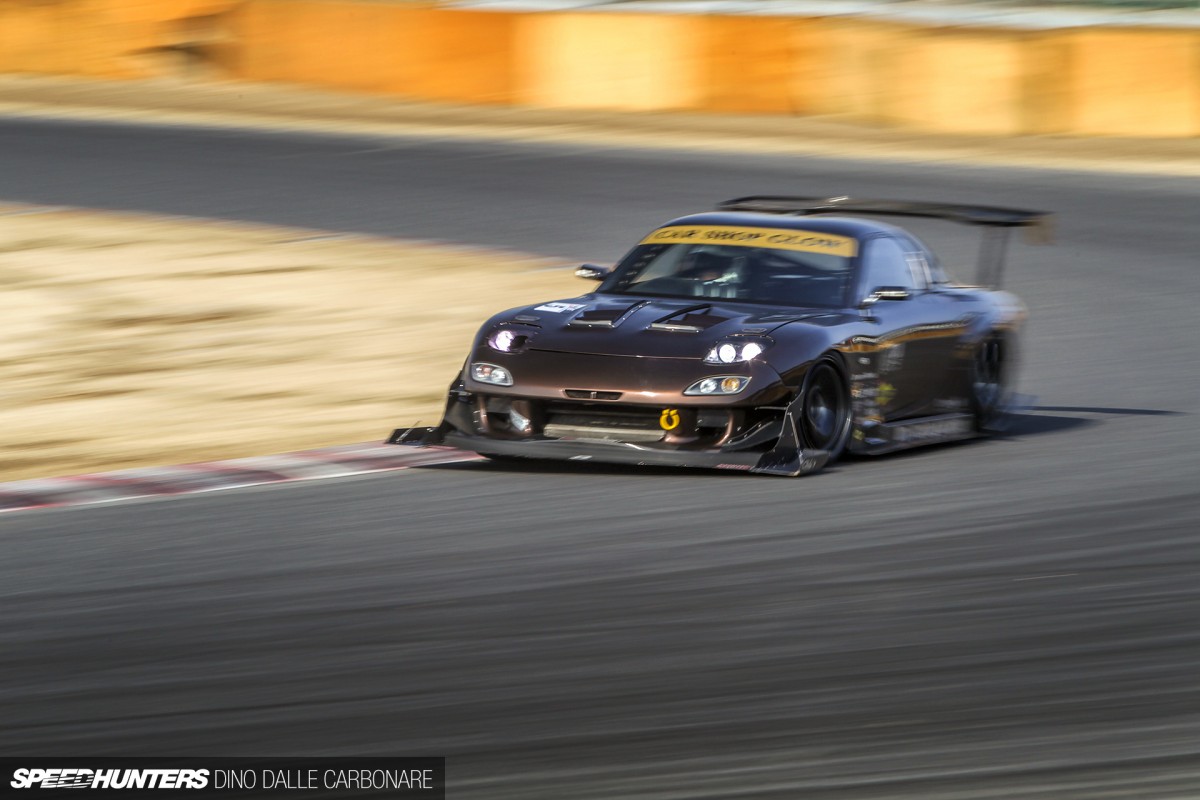 As long as guys like Hara-san at Car Shop Glow and other rotor-heads around the world continue to show how this timeless classic remains more than relevant in today's tuned car world, the RX-7 will shine for many years to come. Even if Mazda may or may not have given up on it…
Dino Dalle Carbonare
Instagram: speedhunters_dino
dino@speedhunters.com