The Kings Return
As you've already seen, this past weekend was the kick off for the 2015 Formula Drift season at its traditional home on the streets of Long Beach. And while the drifting competition was certainly the headline act of the weekend's program, it was really just one part of this important event that brings so many car enthusiasts to Long Beach every April.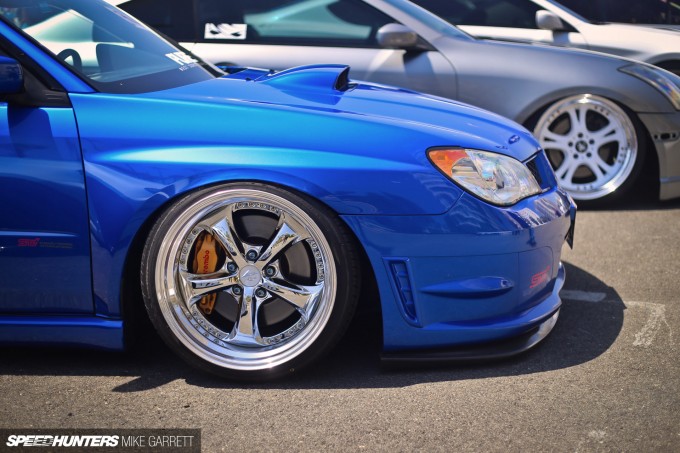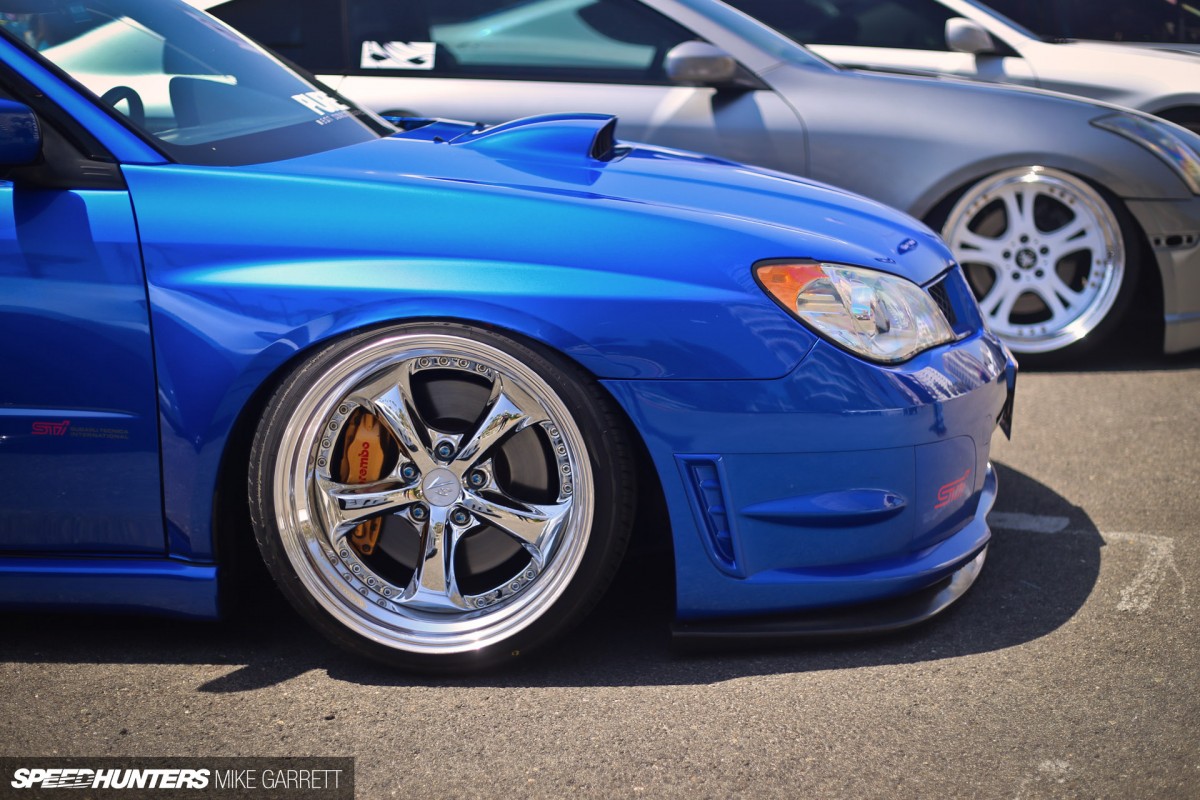 Even if you aren't interested in clipping points, qualifying scores or tandem brackets, the Formula Drift weekend still offers a lot for the car lover to see. Not only can you get an up close look at the array of drift cars in the paddock, there's also a large number of demo cars and company booths to enjoy. And then there's the Offset Kings car show, which really is large enough to be considered an event in itself.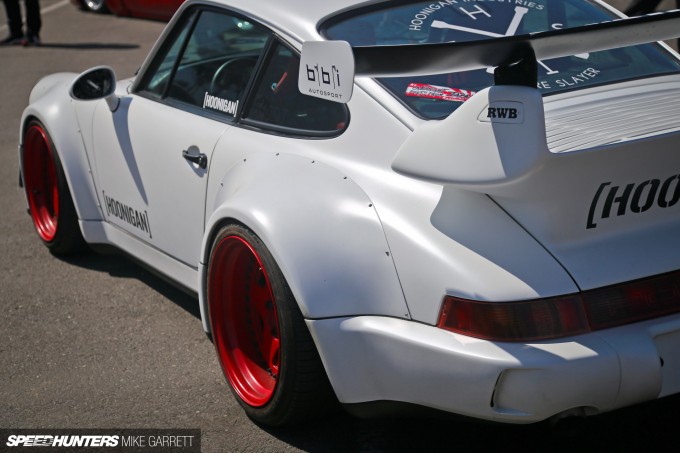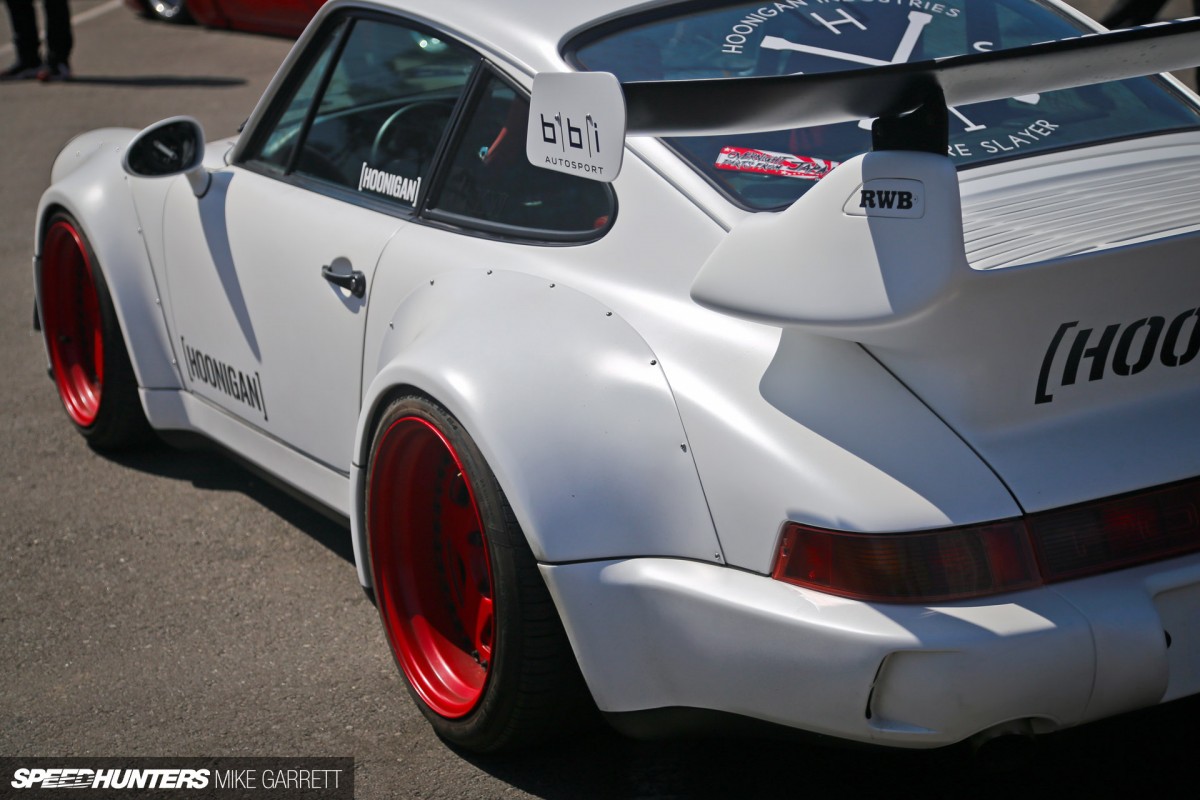 Being one of the first big events of the show season in Southern California, you can always count on a large turnout of vehicles to be nestled in the tire smoke, and the 2015 Offset Kings Long Beach showcase was no different.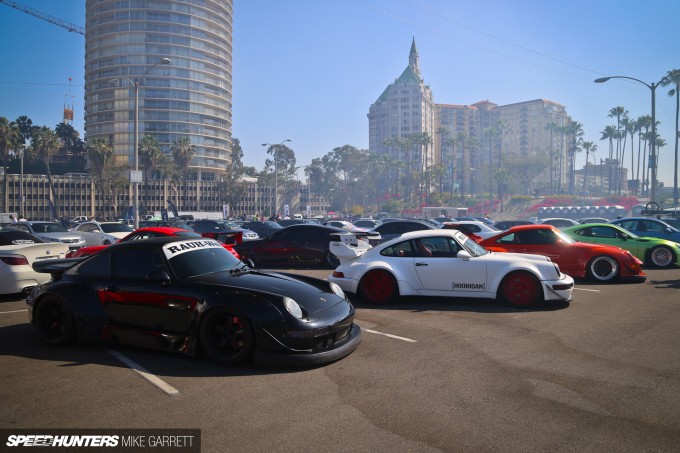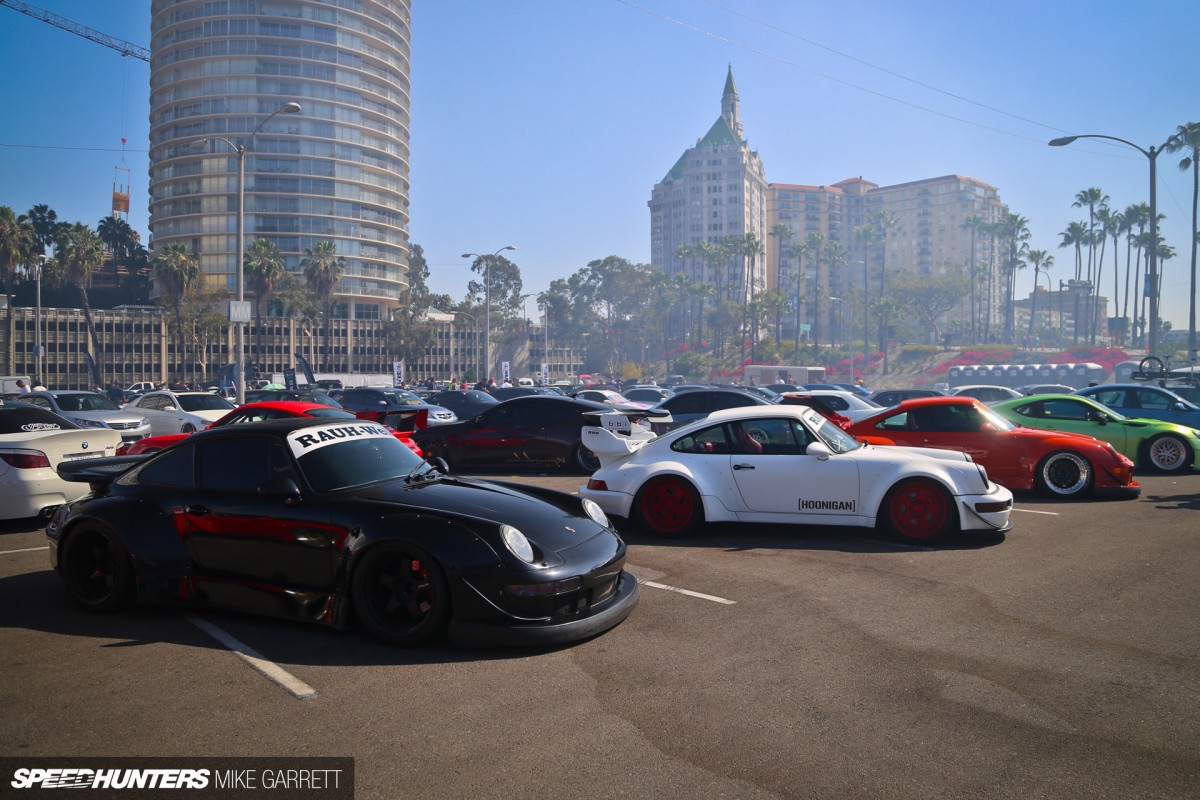 Along with a strong line-up of both new and familiar show cars, the Long Beach event also featured a special display of RWB Porsches, representing a solid chunk of Nakai-san's creations for the US market.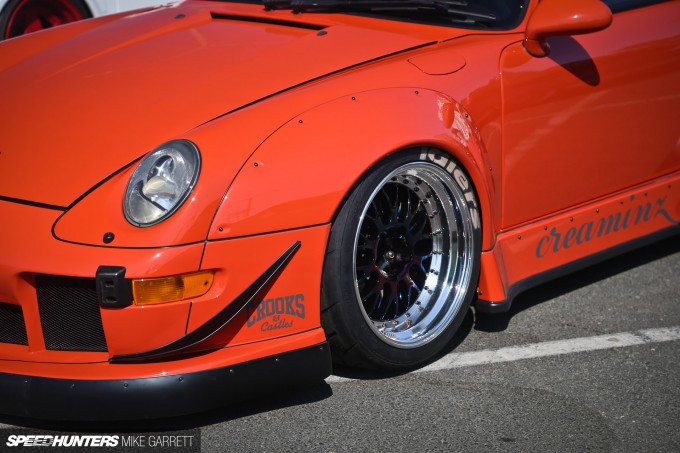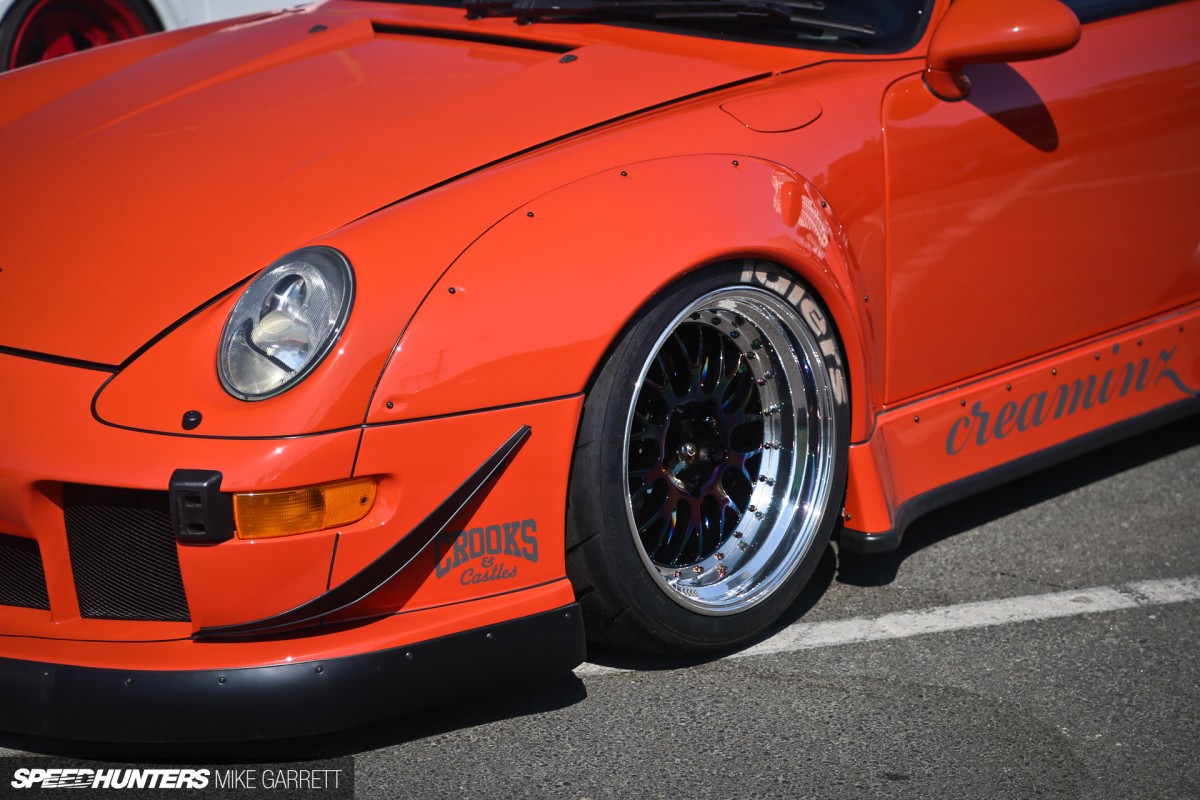 I'm told there are about 20 RAUH-Welt Begriff cars spread across the United States these days, and with five examples on hand this was easily one of the largest RWB gatherings seen on American shores.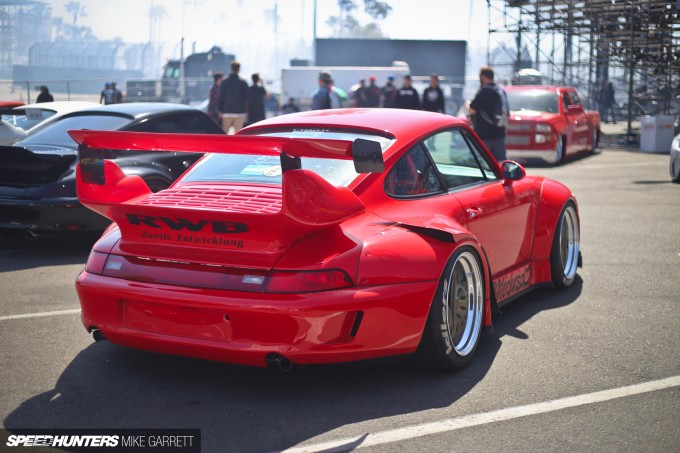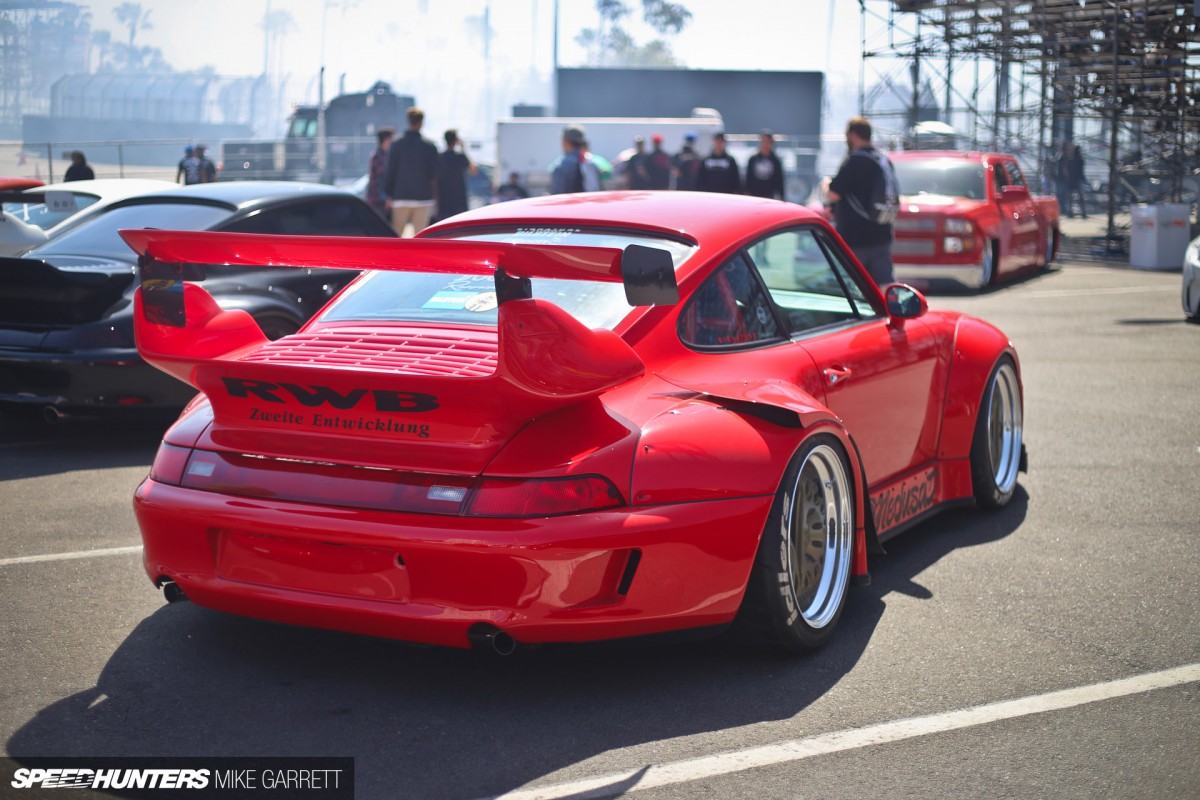 For me it's been a little over seven years since I first encountered Nakai and his radical Porsches at Tsukuba Circuit in Japan, and despite the overwhelming coolness factor, I still never could have guessed his work would become recognized on an international level.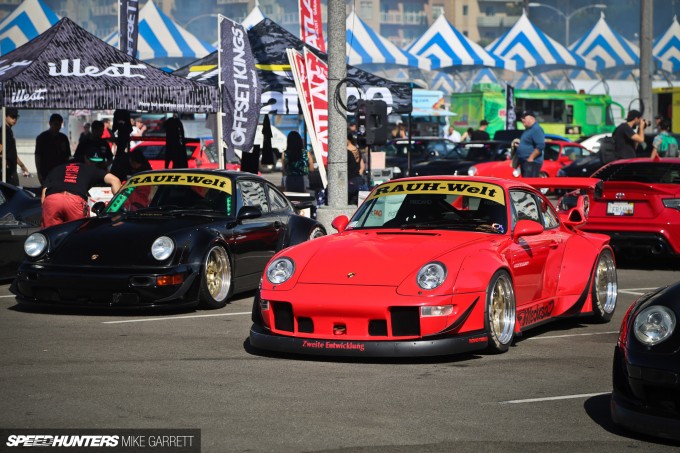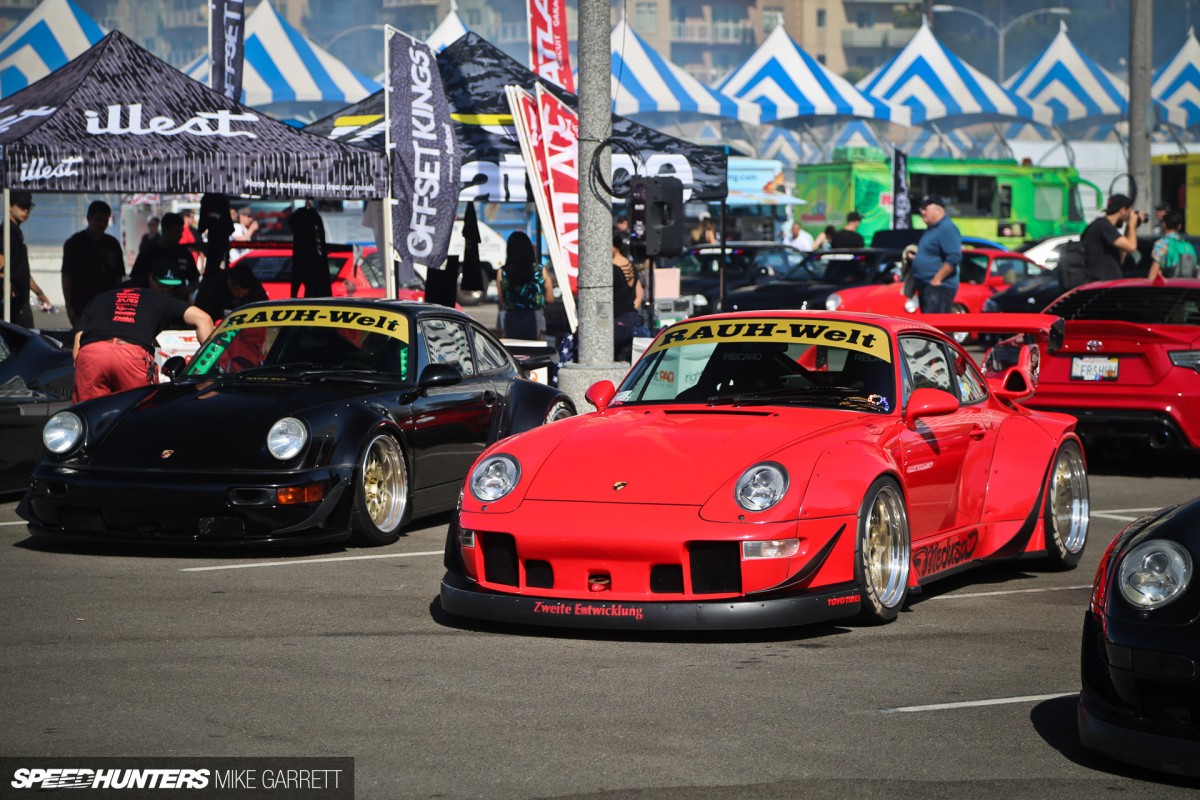 But then again, it shouldn't be surprising. Whether it's at the track in Japan or on the sun-baked streets of Southern California, the RWB look is as iconic as it gets in the modified car world.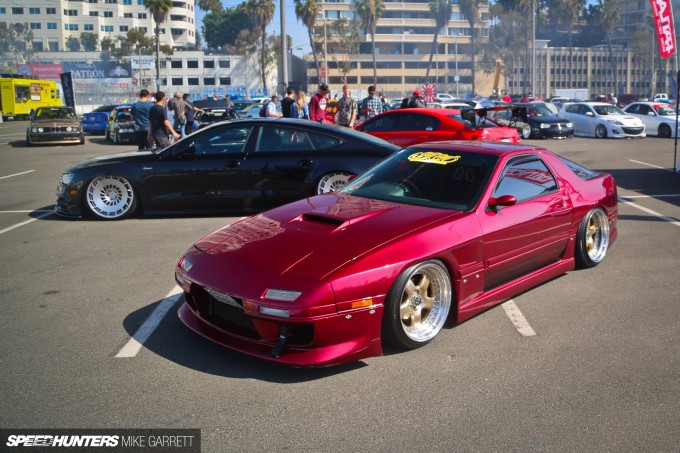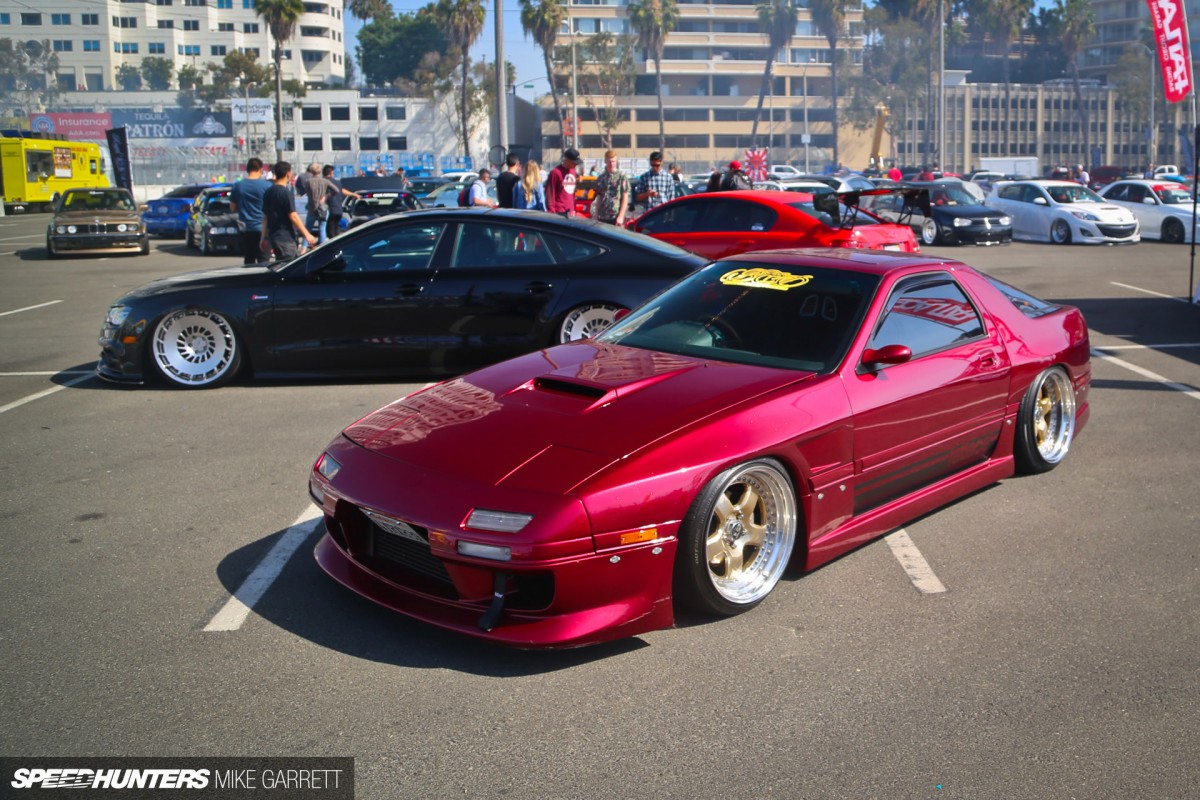 Speaking of iconic, I think the term could also be used to describe this FC3S Mazda RX-7 displayed at the Fatlace booth. There's no shortage of these cars around, but seeing one as clean as this is a rare occurrence.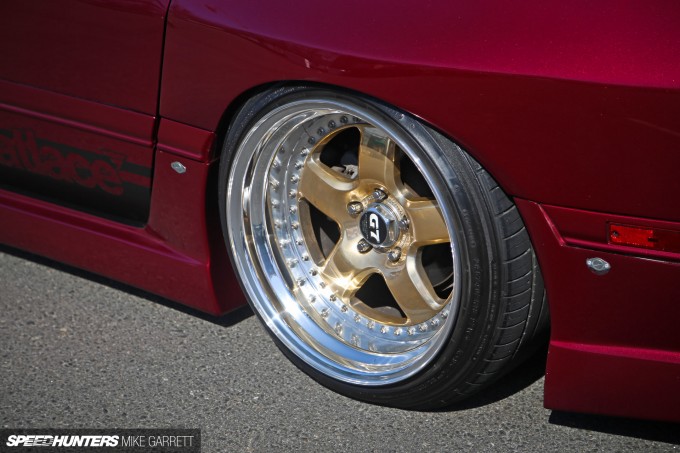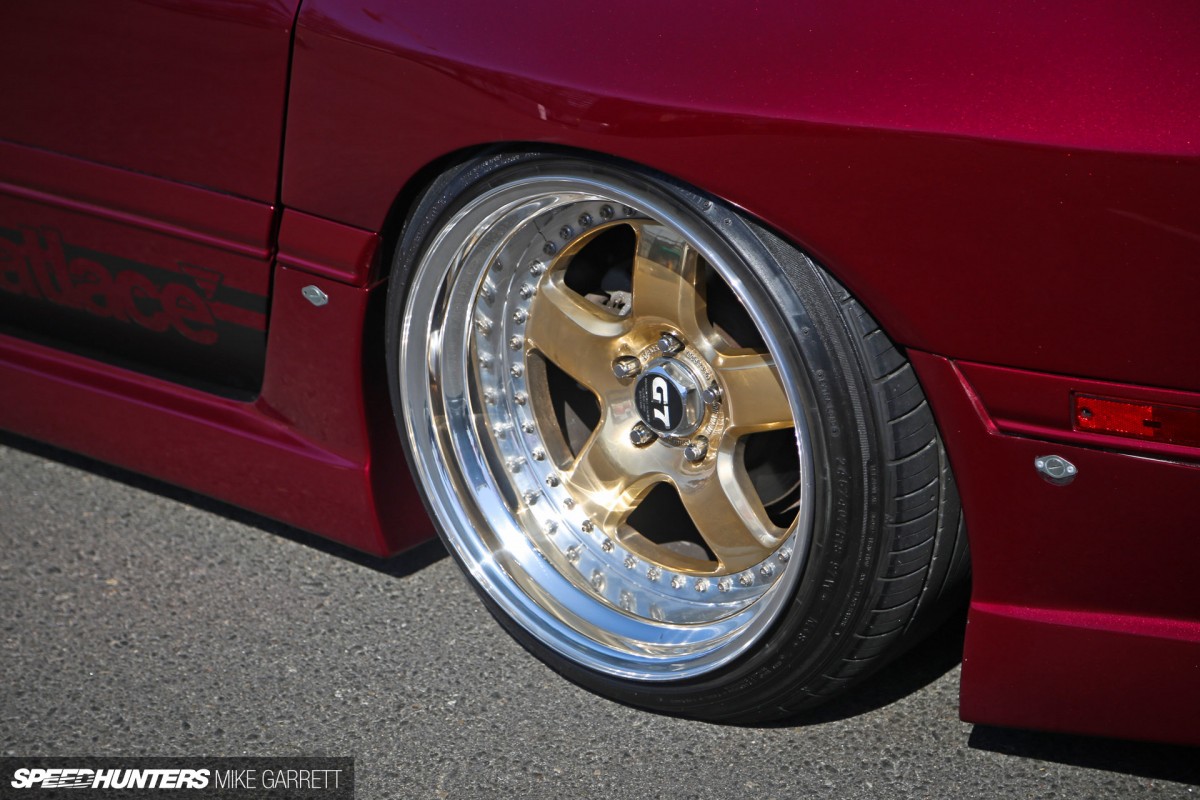 The color choice and widebody conversion were impressive, but for me it was the Panasport G7 wheels that sealed the deal. Dare I say that these are some of the best-looking and most under-appreciated wheels of all time?
Trend Hunting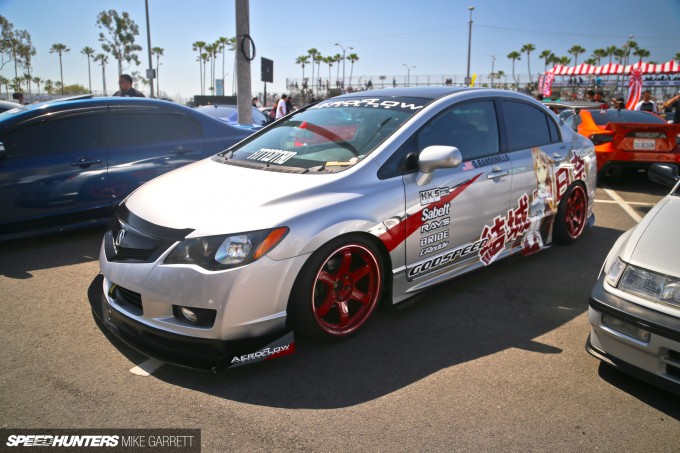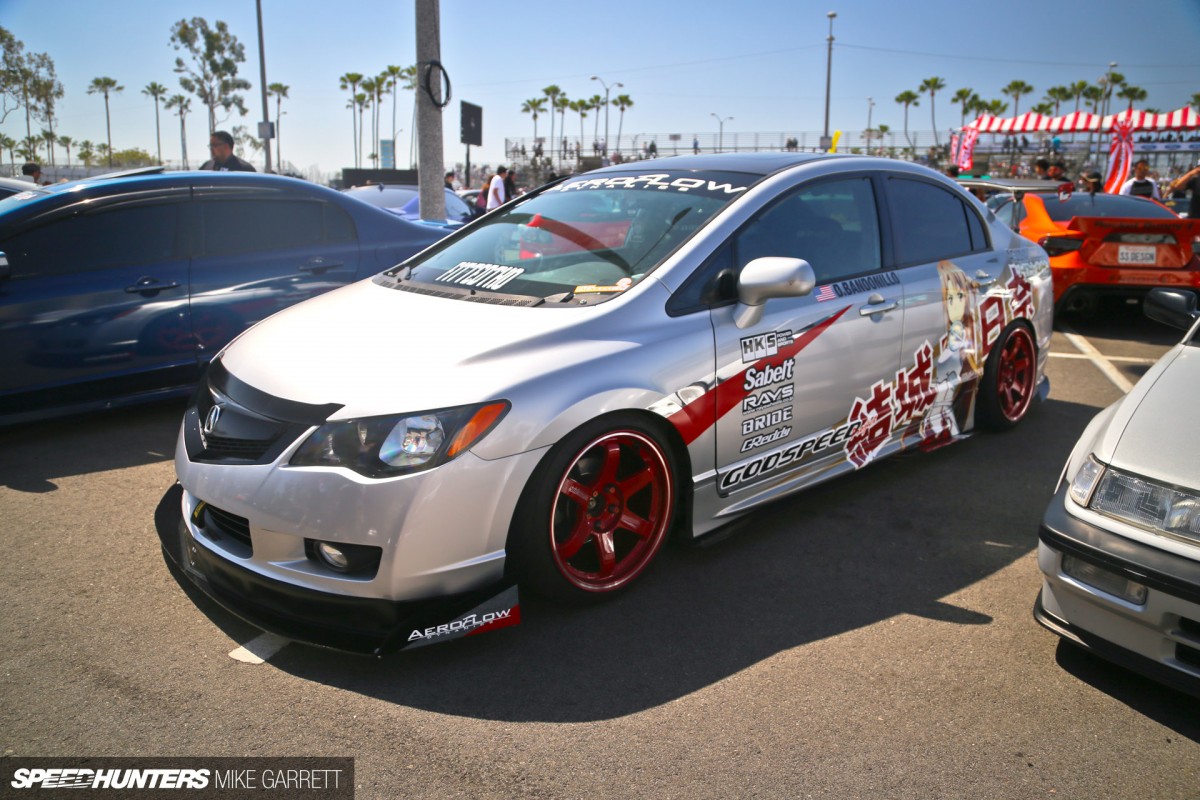 Rather than just wandering around looking at the cars, one thing you can always do at events like this is scope out new automotive trends. And they always seem to pop up in fashion-conscious Southern California.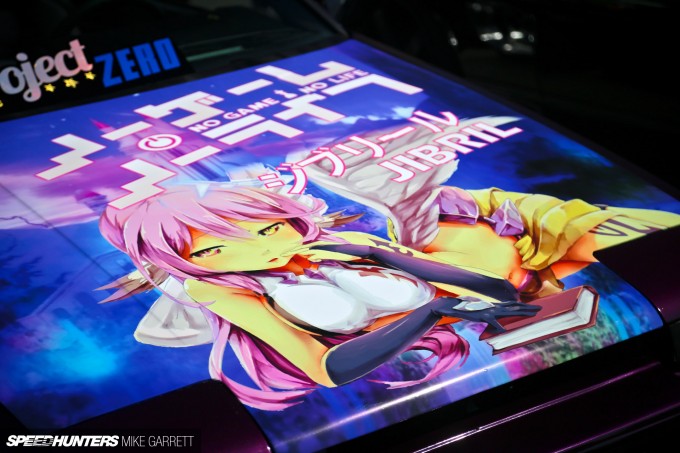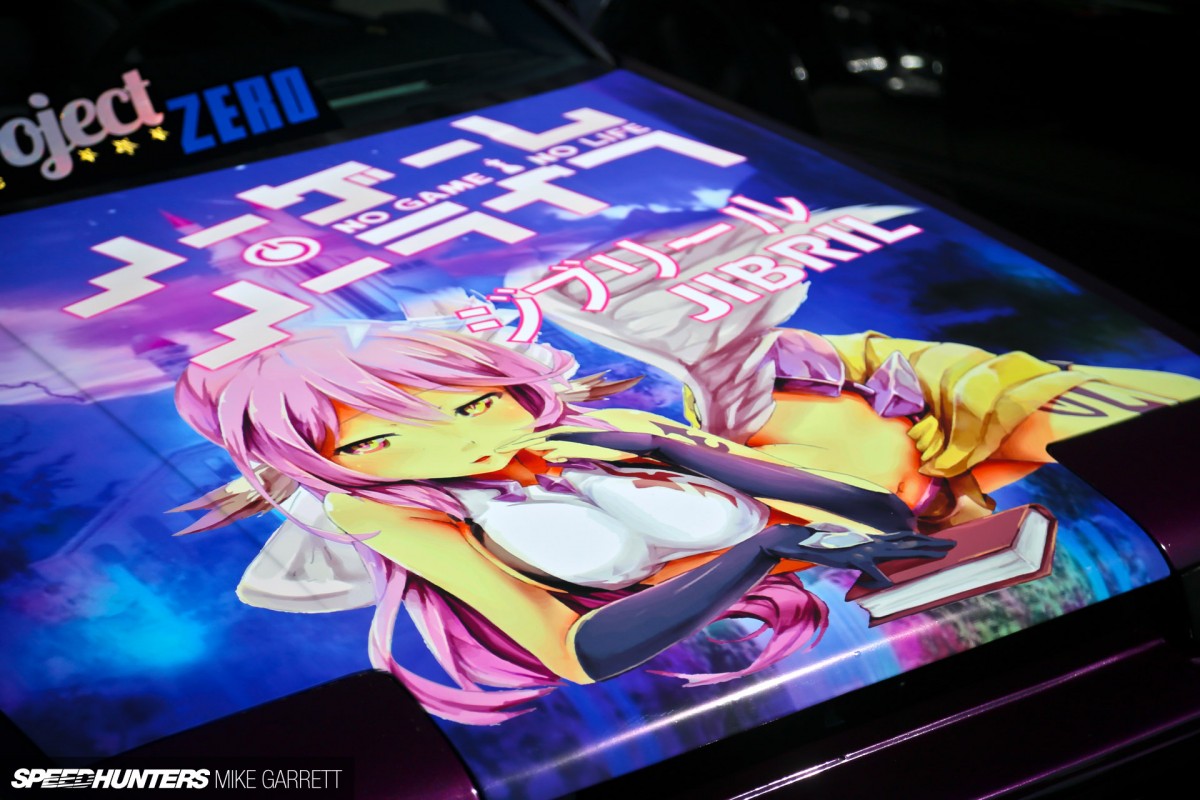 The Itasha movement been happening in Japan for years, but like many styles born out of that country, it's now made its way across the Pacific to the US.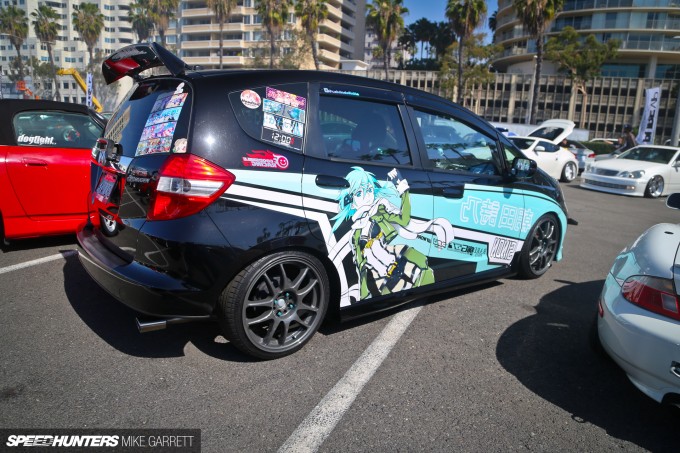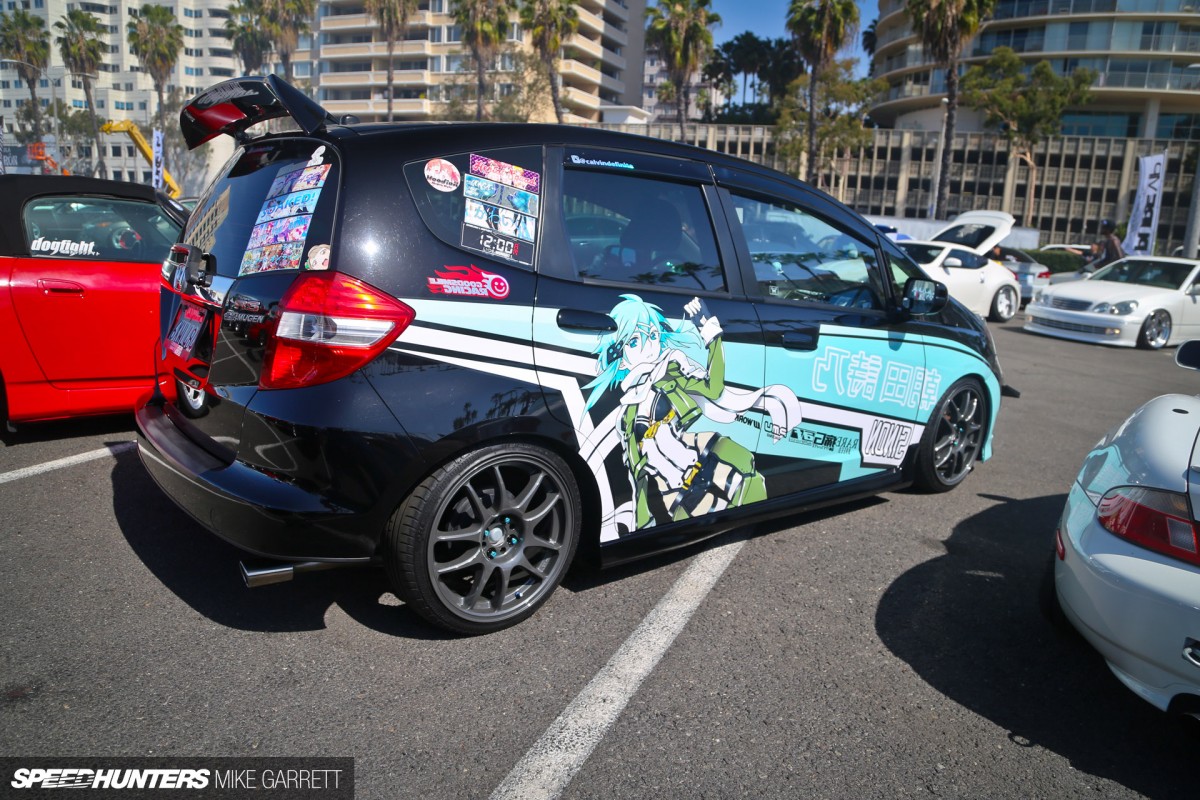 There were several cars with anime-inspired graphics schemes at Offset Kings, and there were a few times I thought I was at the UDX Parking Garage in Akihabara rather than the Long Beach waterfront.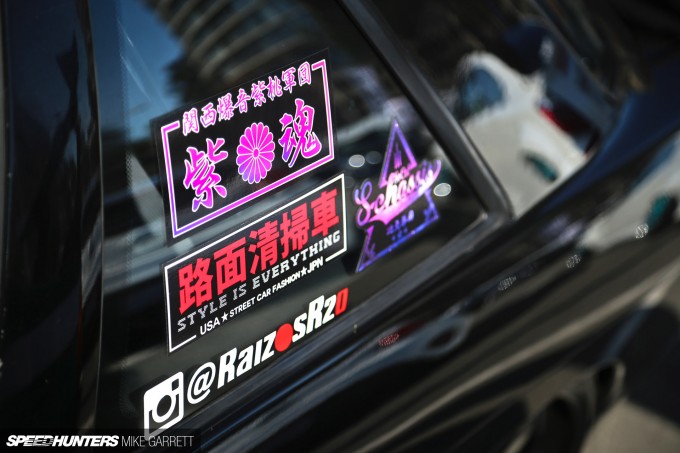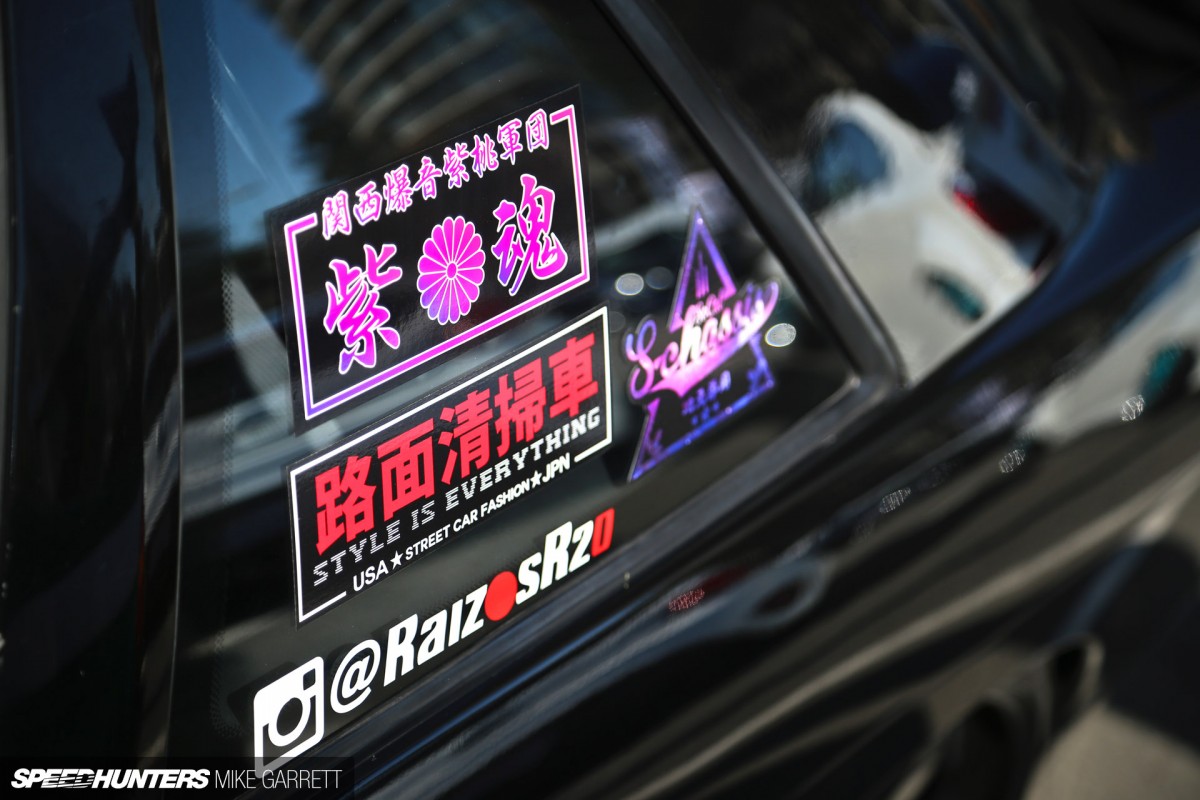 Fans of Japanese car culture across the world have always looked toward the motherland for inspiration, but the Japan influence seems to be especially strong when it comes to sticker designs. They were everywhere on Saturday.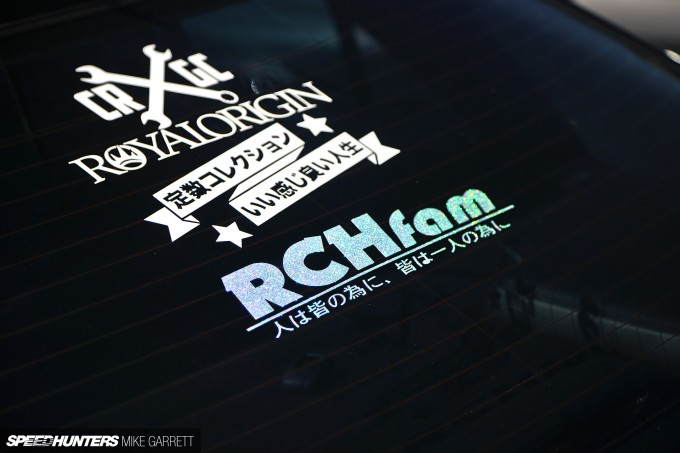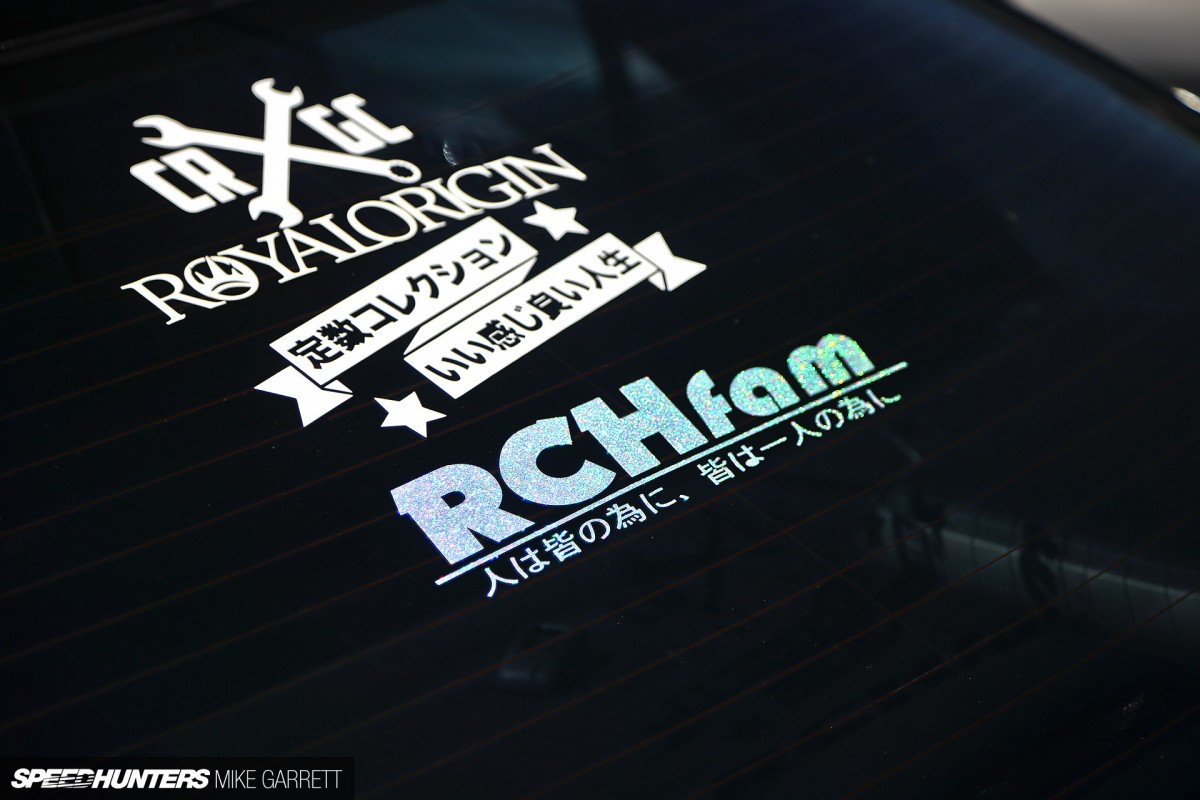 While I'm not sure how many people know what any of these decals actually say, it's all part of the fun that is trans-Pacific car culture.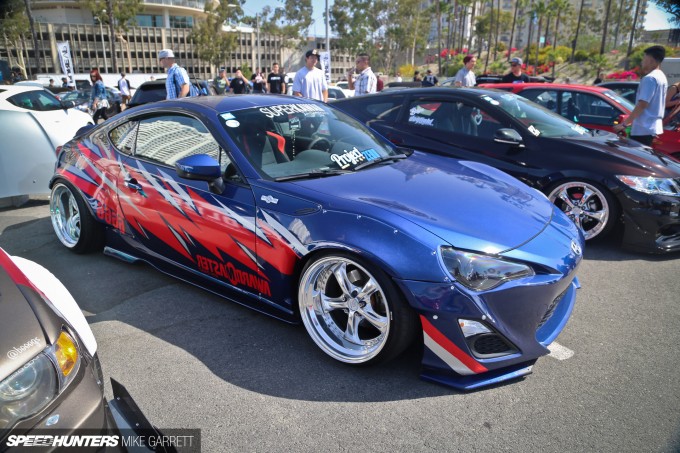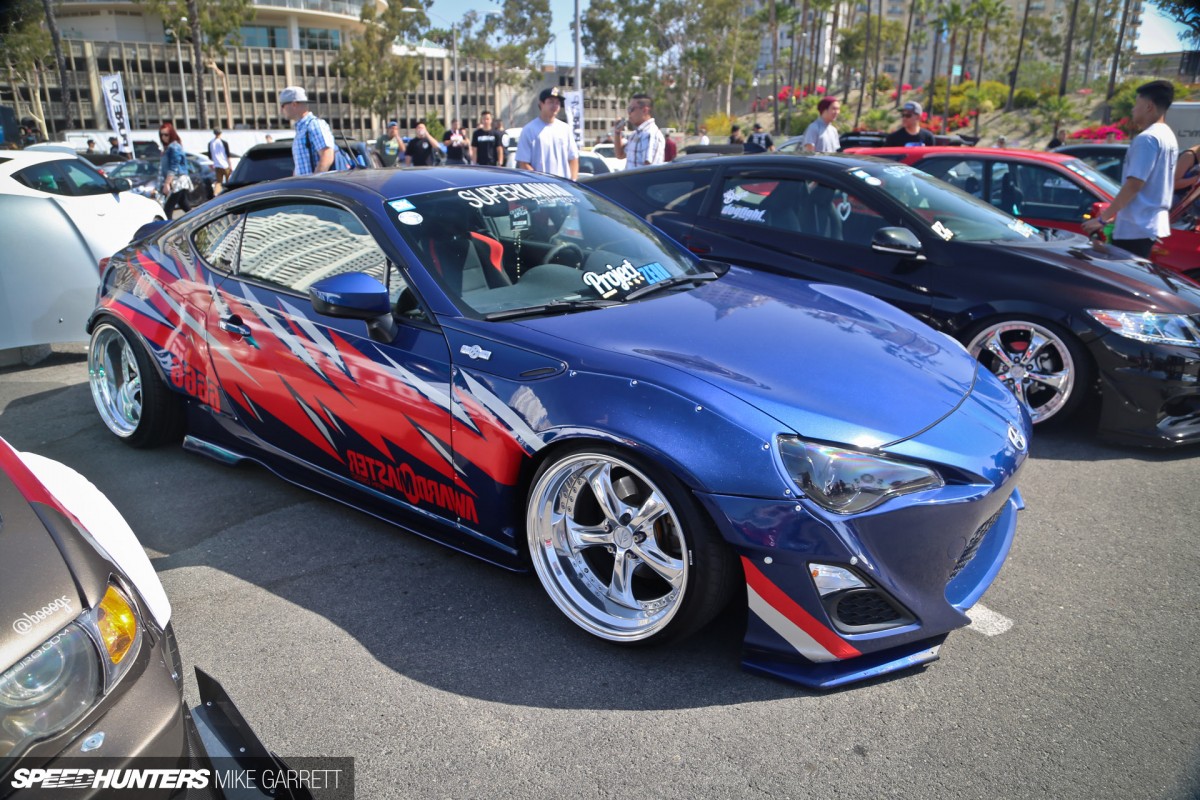 Of course, there were other Japanese influences besides anime characters and kanji stickers. This Rocket Bunny equipped FR-S was sporting a circa-2001 D1GP graphics scheme to compliment its deep-barreled Work VS-KFs.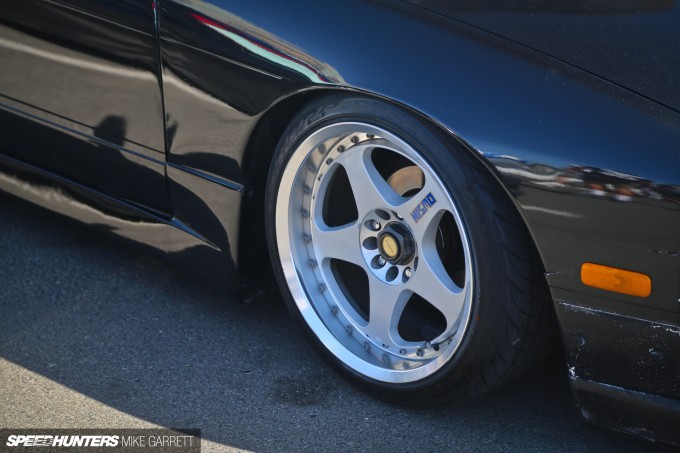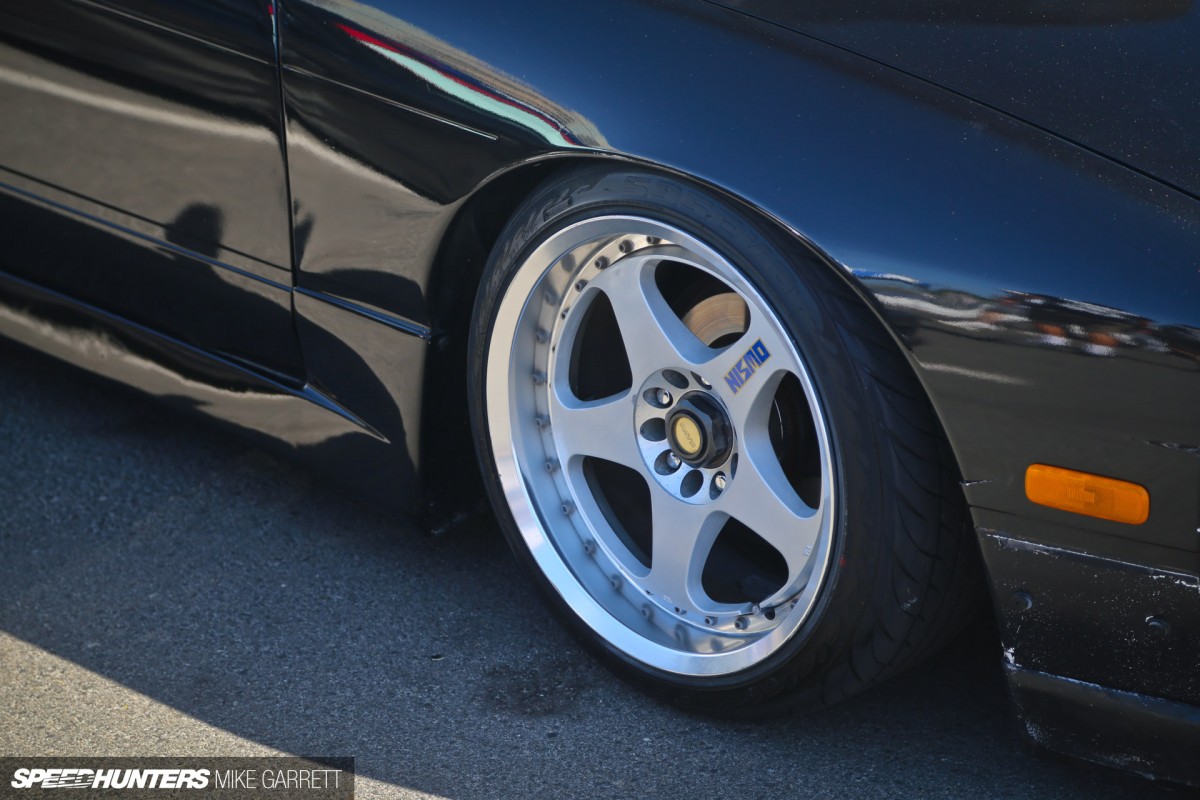 Aside from the aforementioned JDM influences, I also noticed what seems to be a revival of 1990s styling – particularly when it comes to wheels. Here we have a set of Nismo LM GT multi-piece wheels on an S13 for a very period-correct look.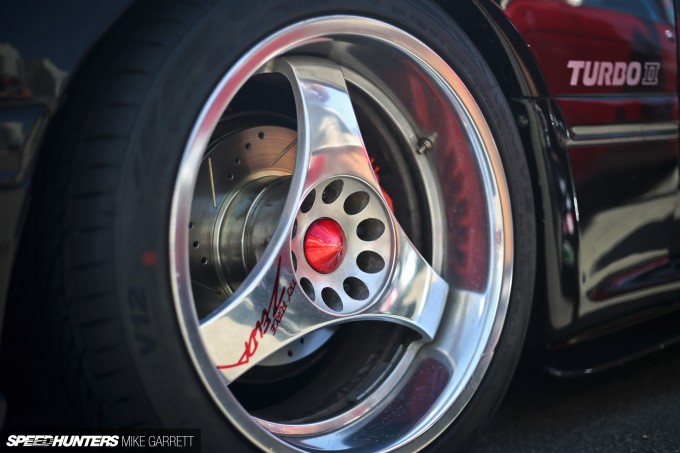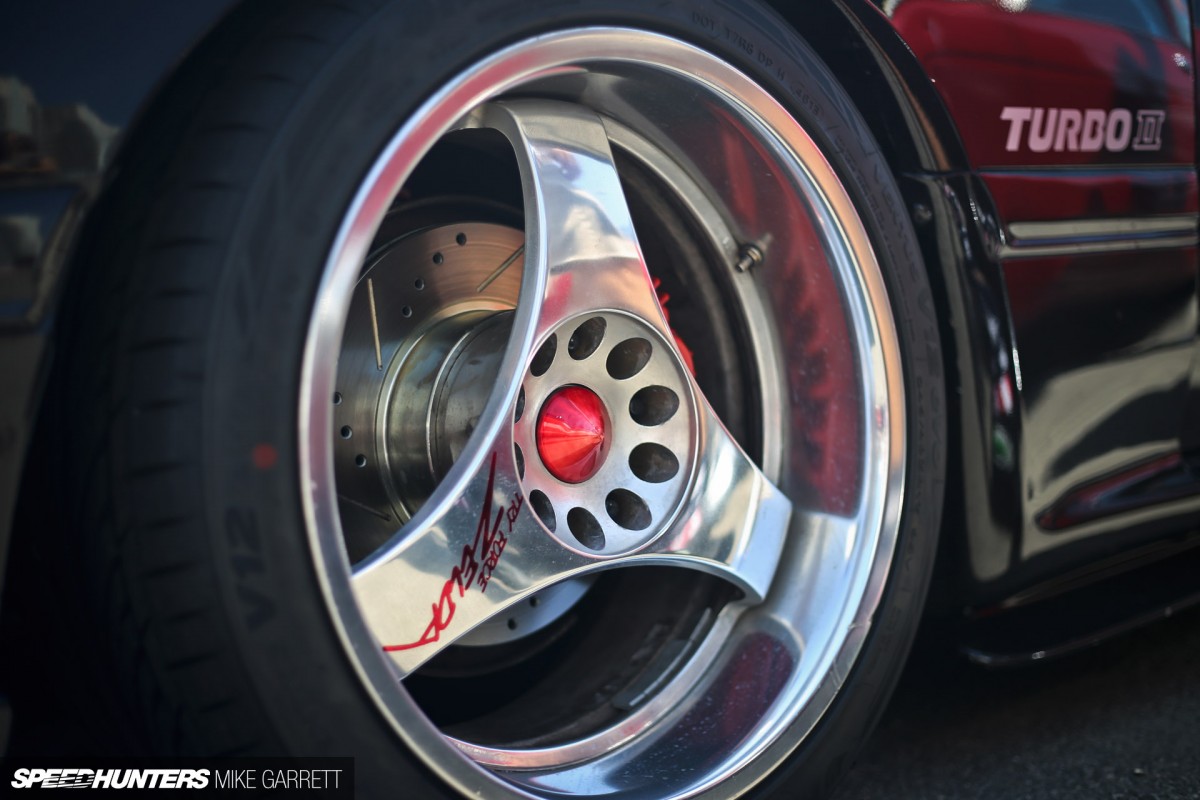 It doesn't get much more '90s than three-spoke wheel designs, and the Try Force Zelda wheels on this FC3S are just one more example of nailing the look of the era.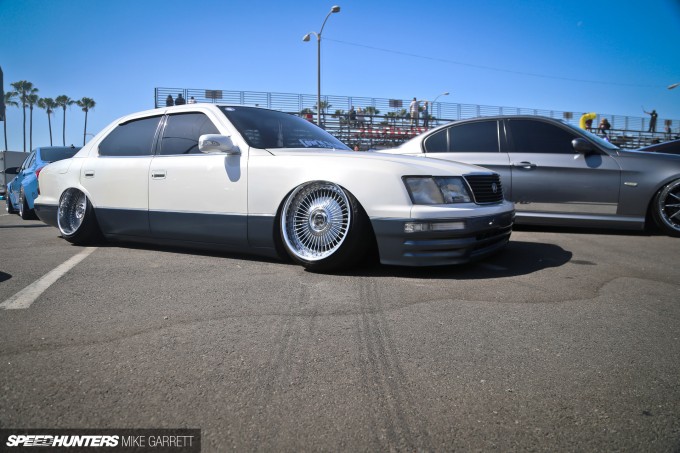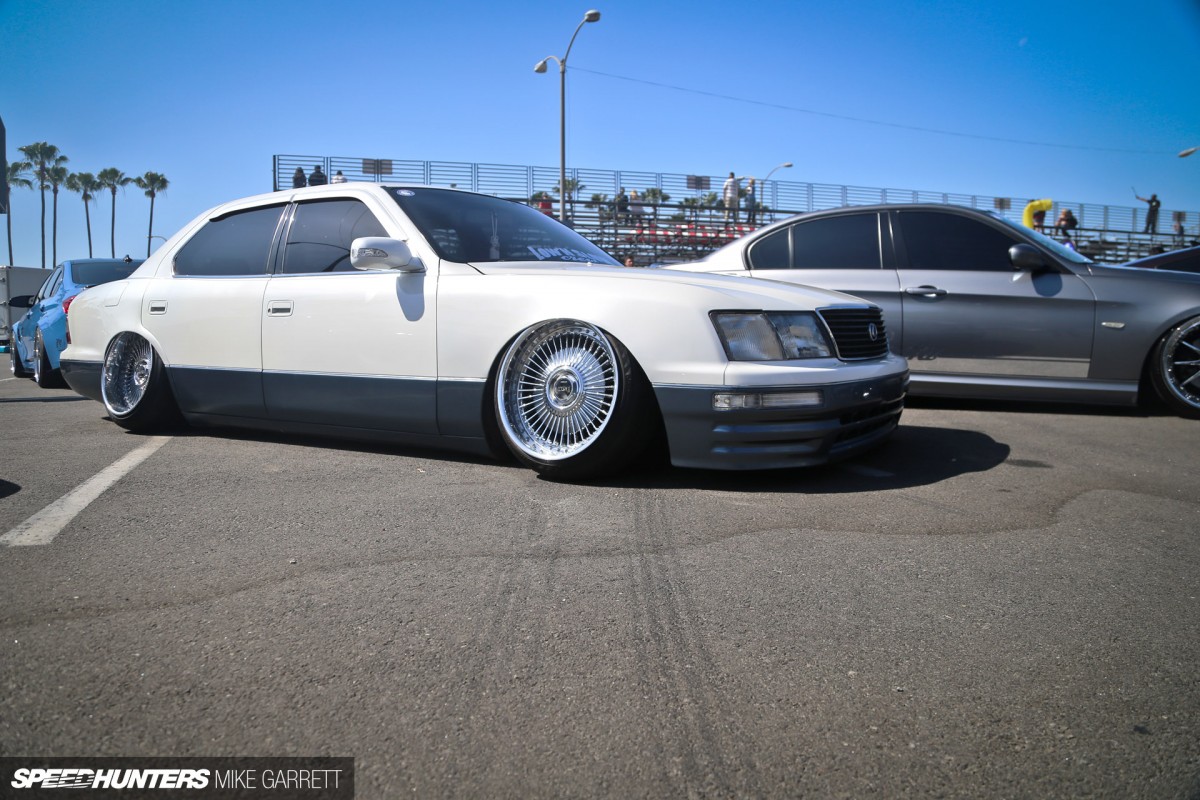 Despite its Japanese origins, the Work Emitz is one of those wheel designs that feels right at home on the streets of Southern California, and they match nicely with this stock-bodied LS400 for an old school VIP look.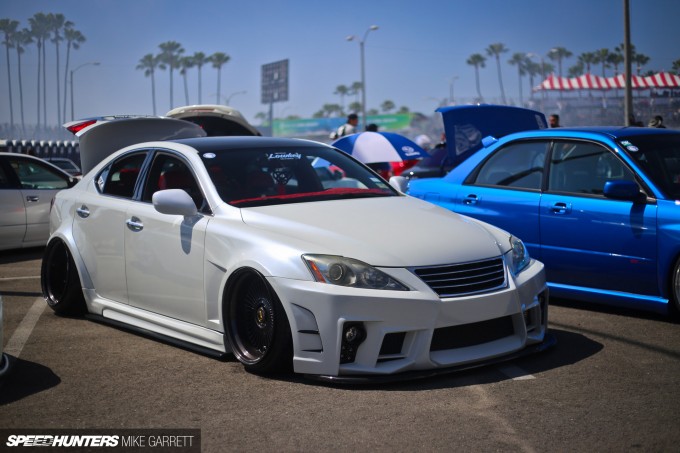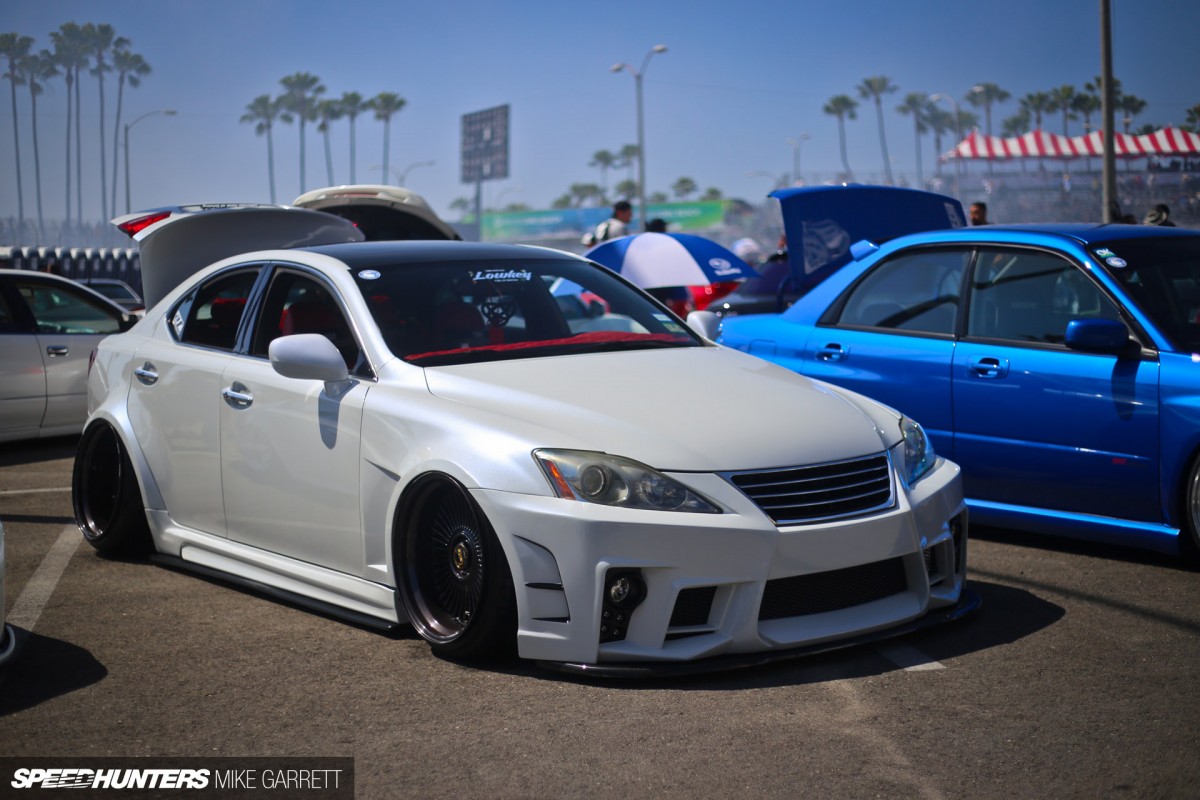 Of course, there's no rule that says wheels must match the era of the car they're installed on, and in this case we have the same Emitz wheels mounted on a much newer Lexus IS.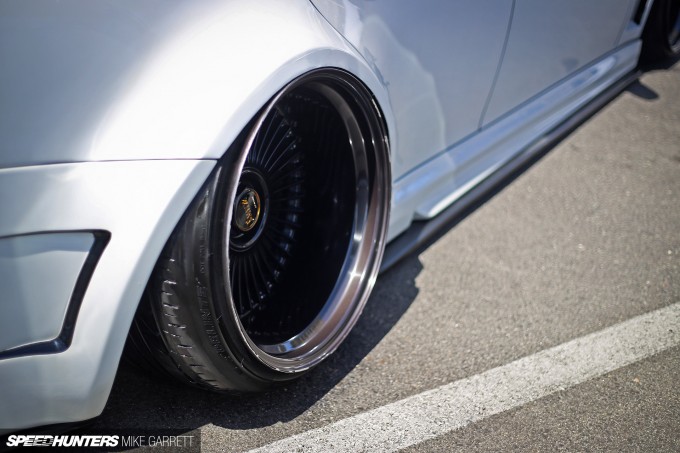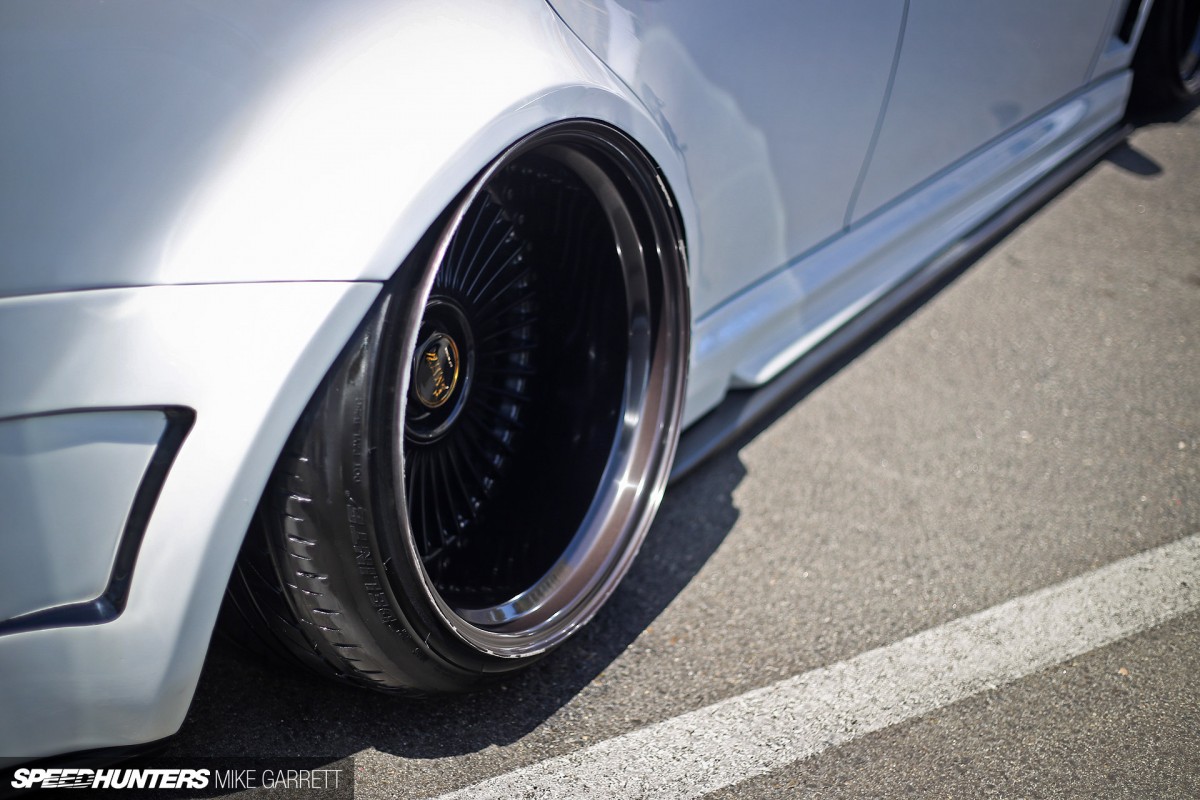 This particular set has been completely customized, and the widened fenders of the Lexus are quite literally sitting on top of the wheel lips. Offset Kings indeed.
Picking A Winner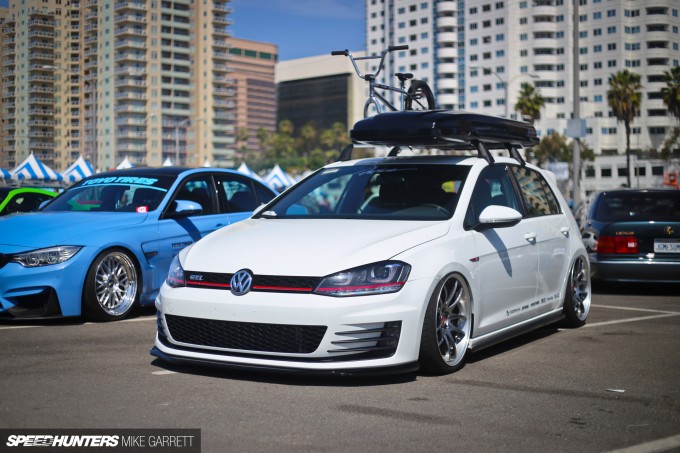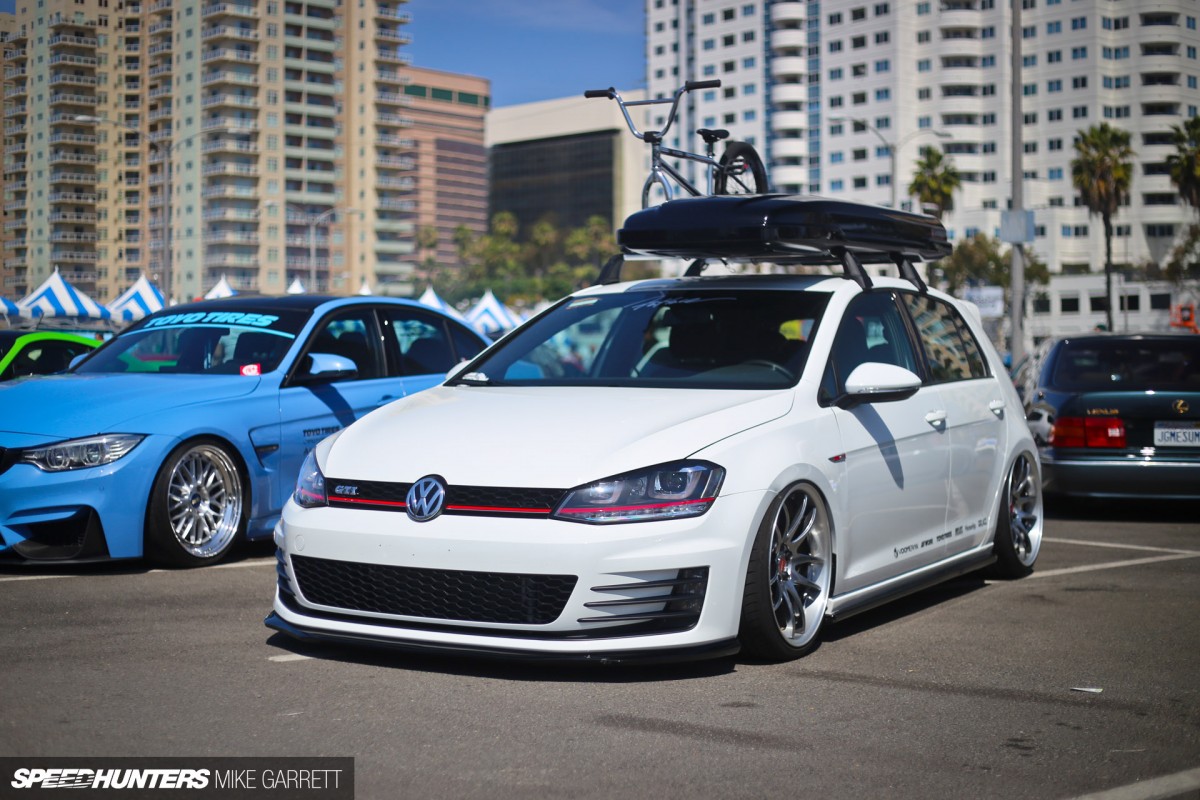 While Japanese cars made up the majority of the show's line-up, there was a very strong selection of European machinery as well – including Fatlace's own Mk7 GTI project car with Work wheels and Voomeran styling from Japan.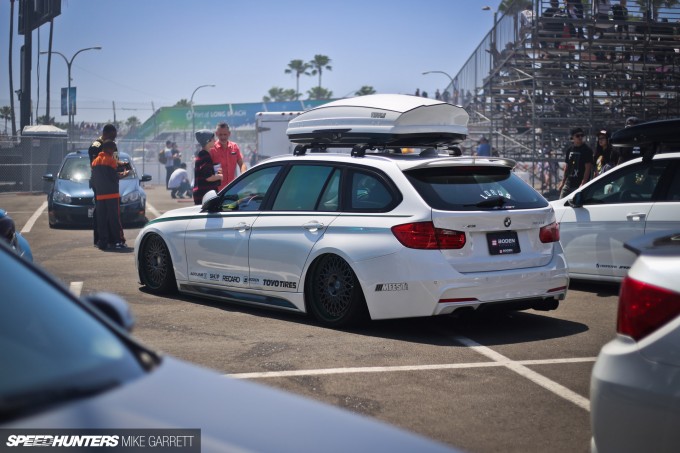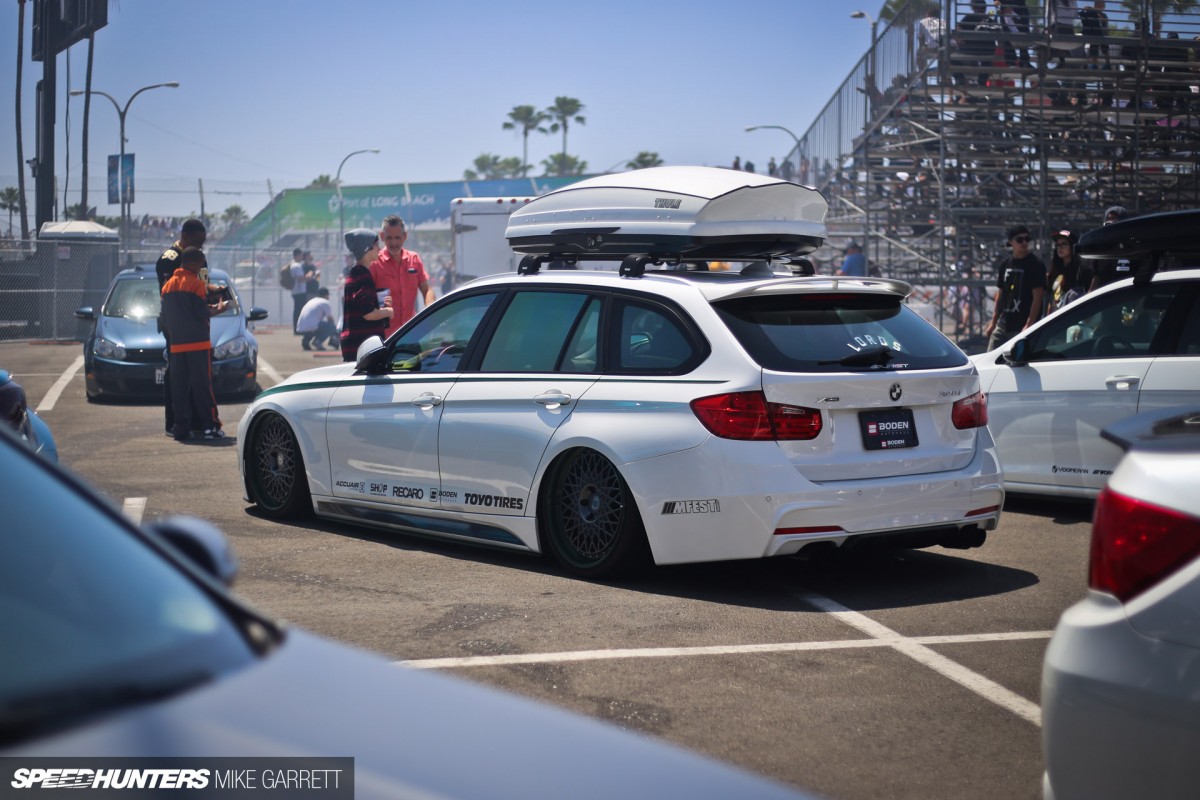 There's never a bad time for a slammed station wagon, and the long-roof BMW 3 Series from Boden Autohaus was easily one of the day's coolest with its airbags and 20-inch HRE Vintage Series wheels.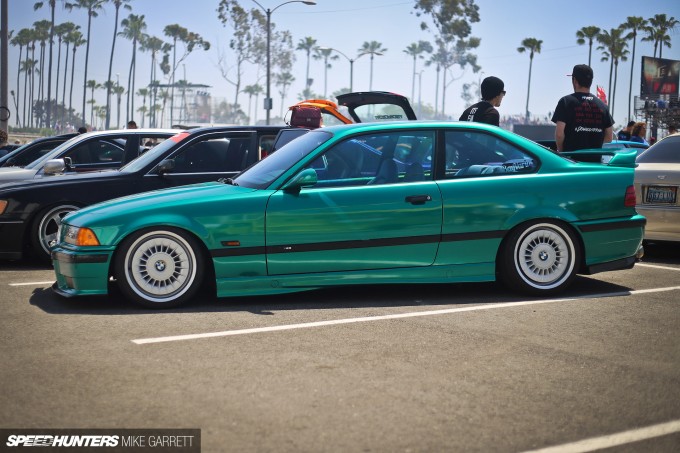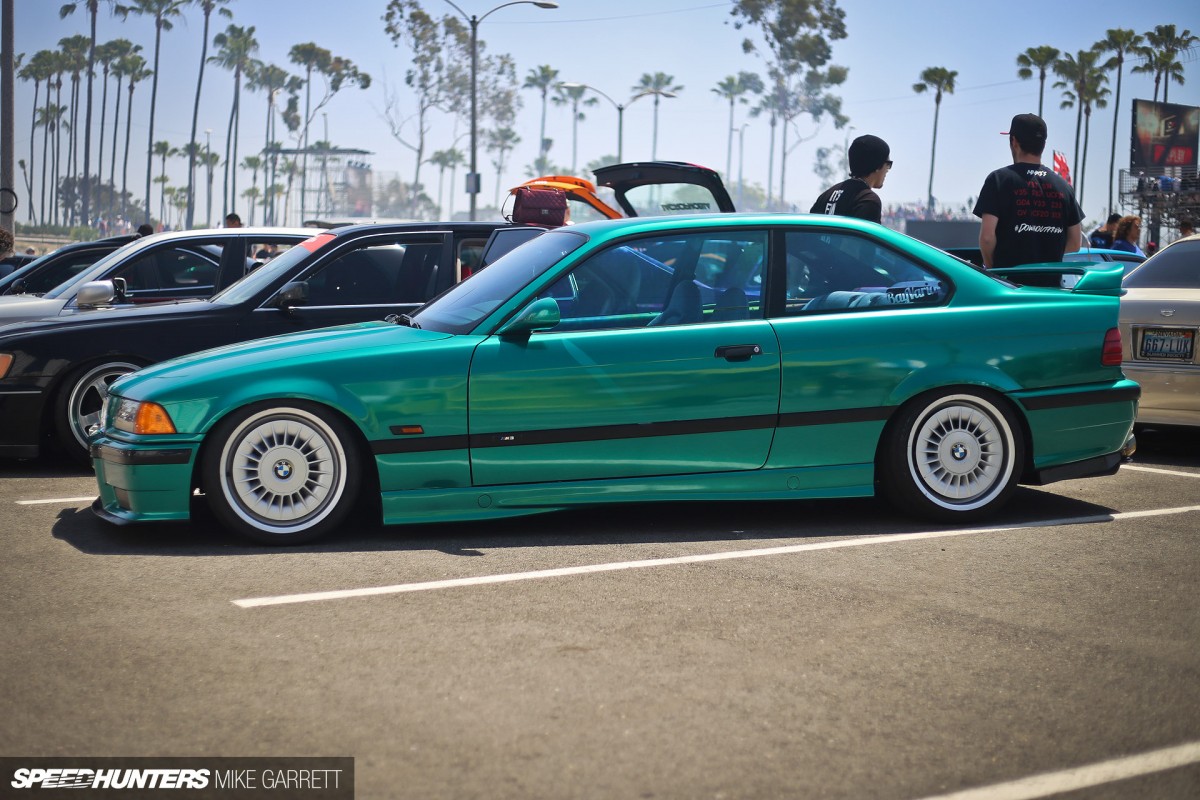 Did someone say vintage? This unusual E36 was another car overflowing with '90s style.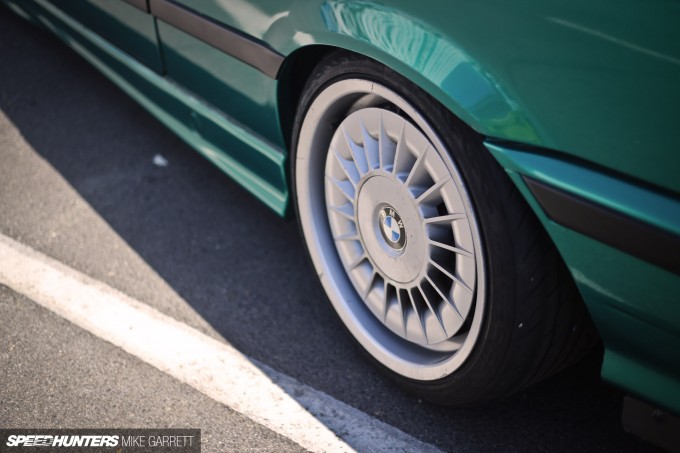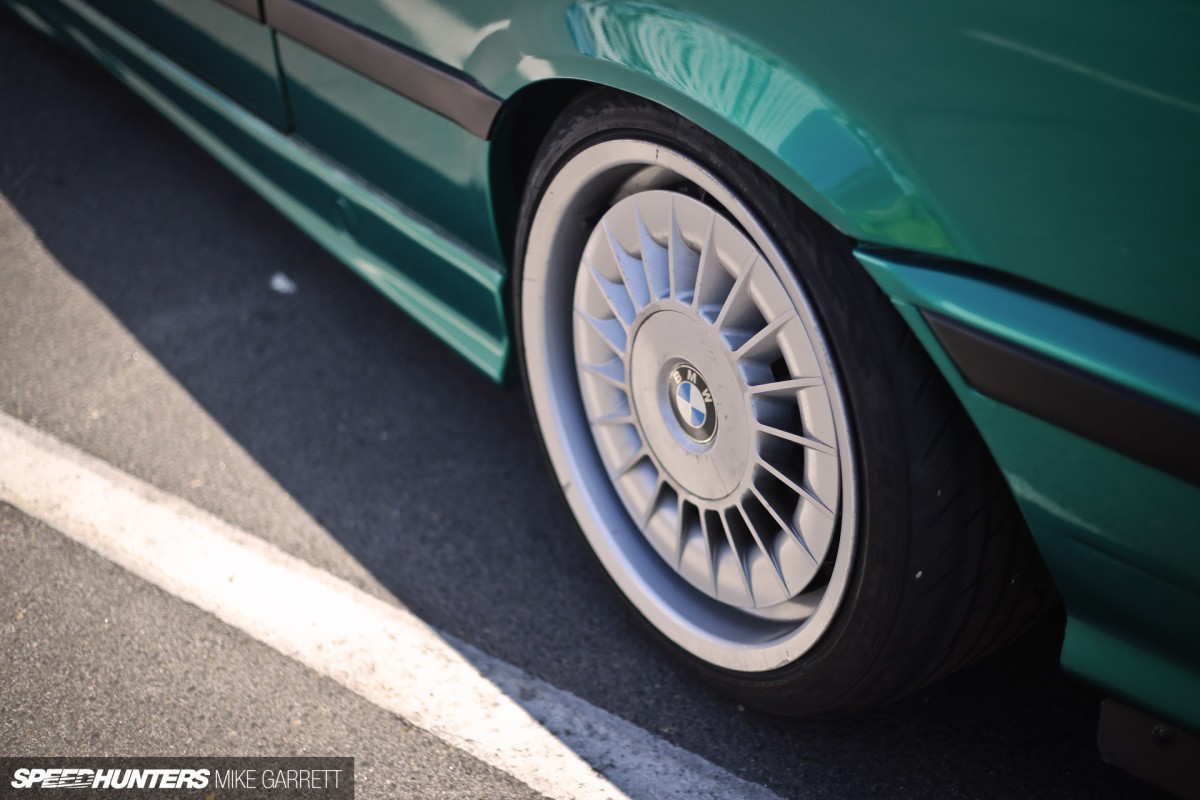 I'm not actually sure which part of the car was more retro – the turquoise body color or the turbofan covers over the wheels. Either way, it certainly stood out from the crowd.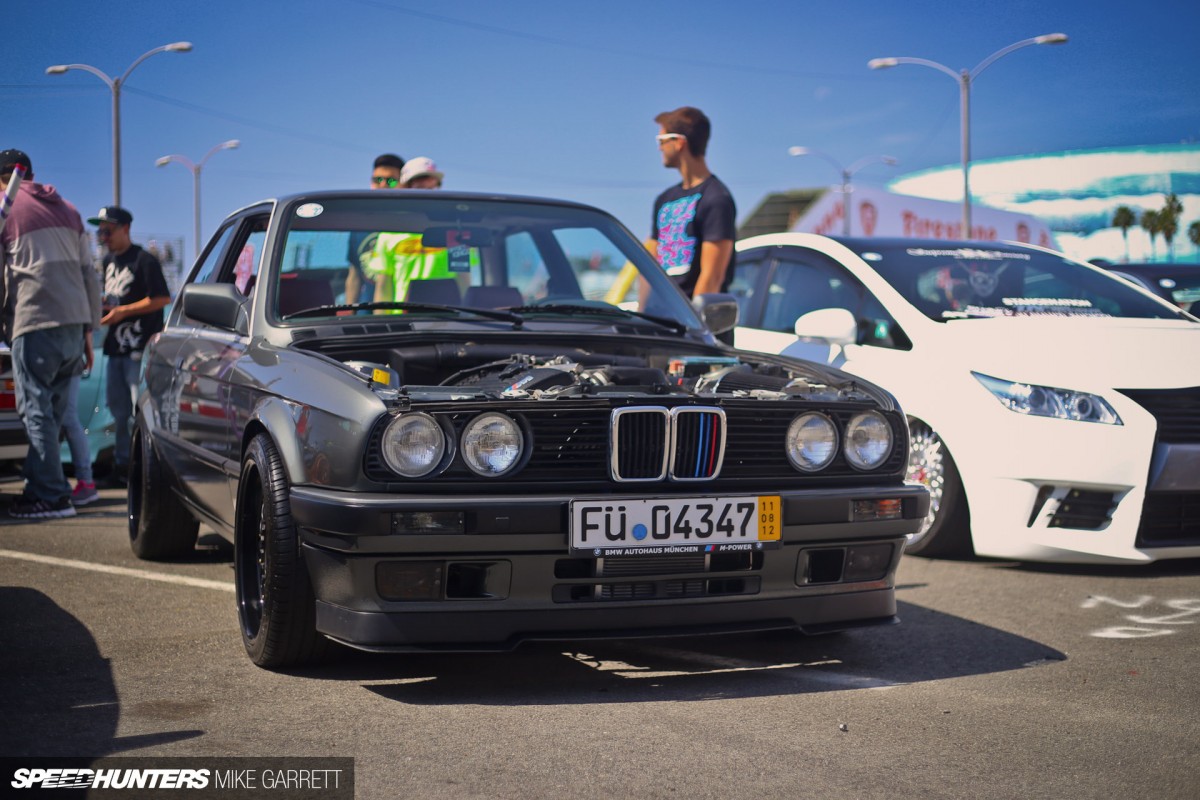 While many of the cars at this particular show were geared toward aesthetics more than athletics, that's not to say there weren't some legitimate performance builds among the bunch.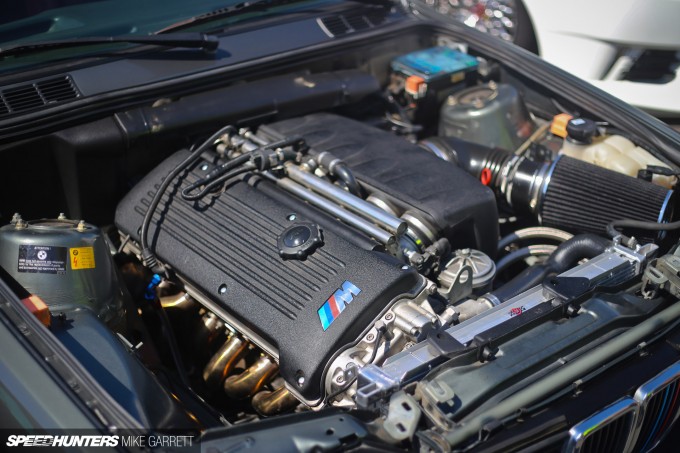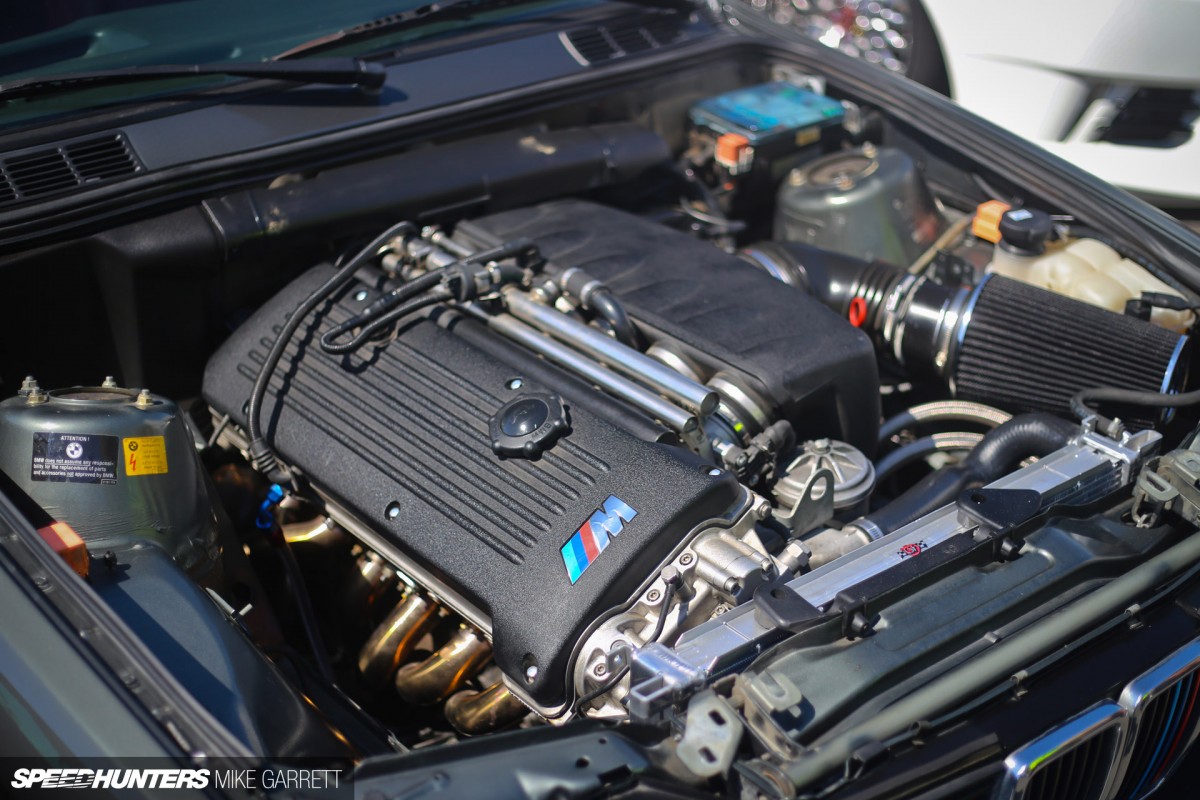 This BMW E30 not only had an immaculate exterior and treatment, it also had an E46 M3 motor lurking in its engine bay. In terms of swaps that will still appease the purists, it doesn't get much better than this.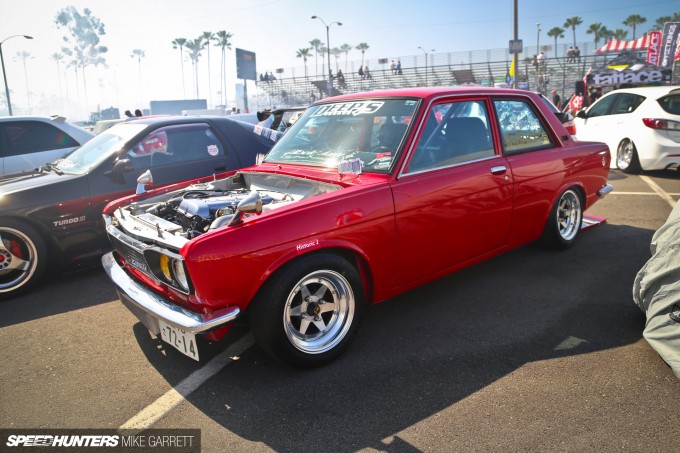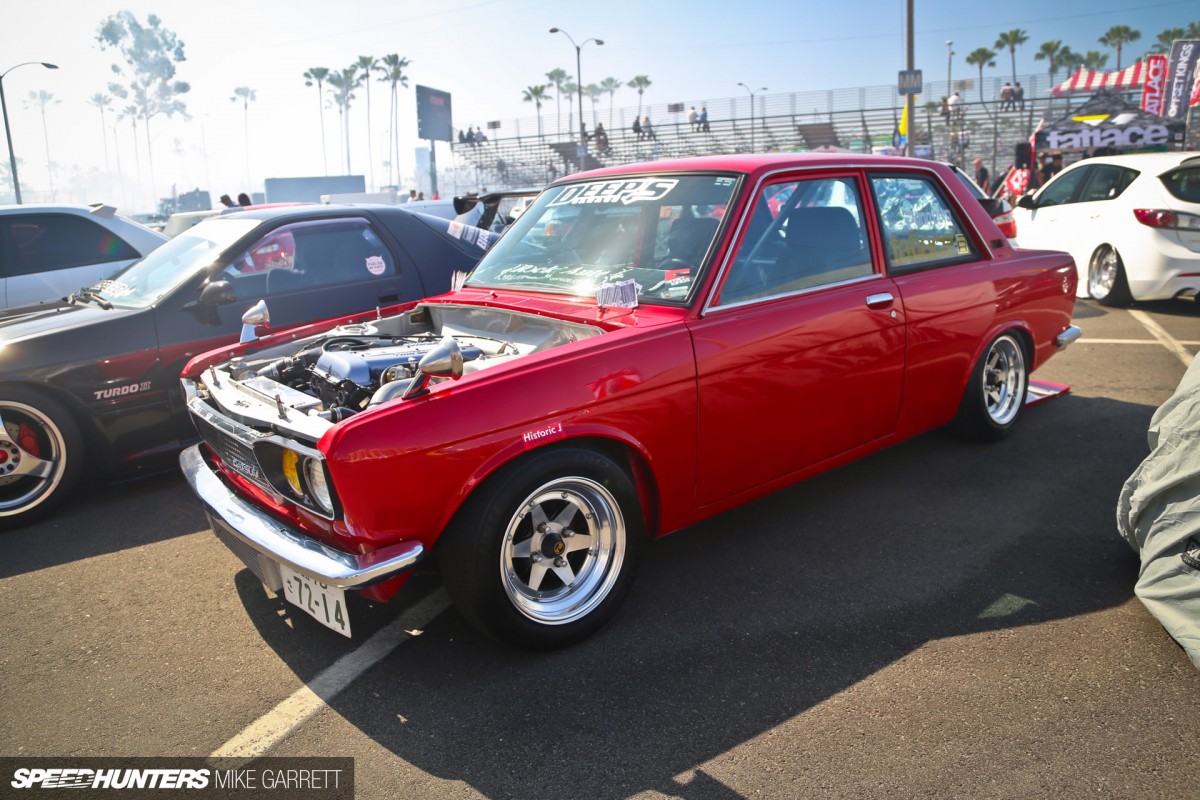 Another old school machine with some serious updates under the hood was this tidy little Datsun 510 on a nicely restored set of SSR XR4 Longchamp wheels.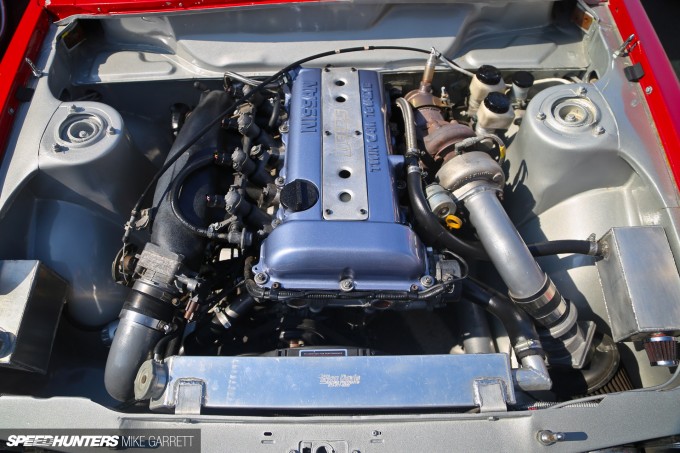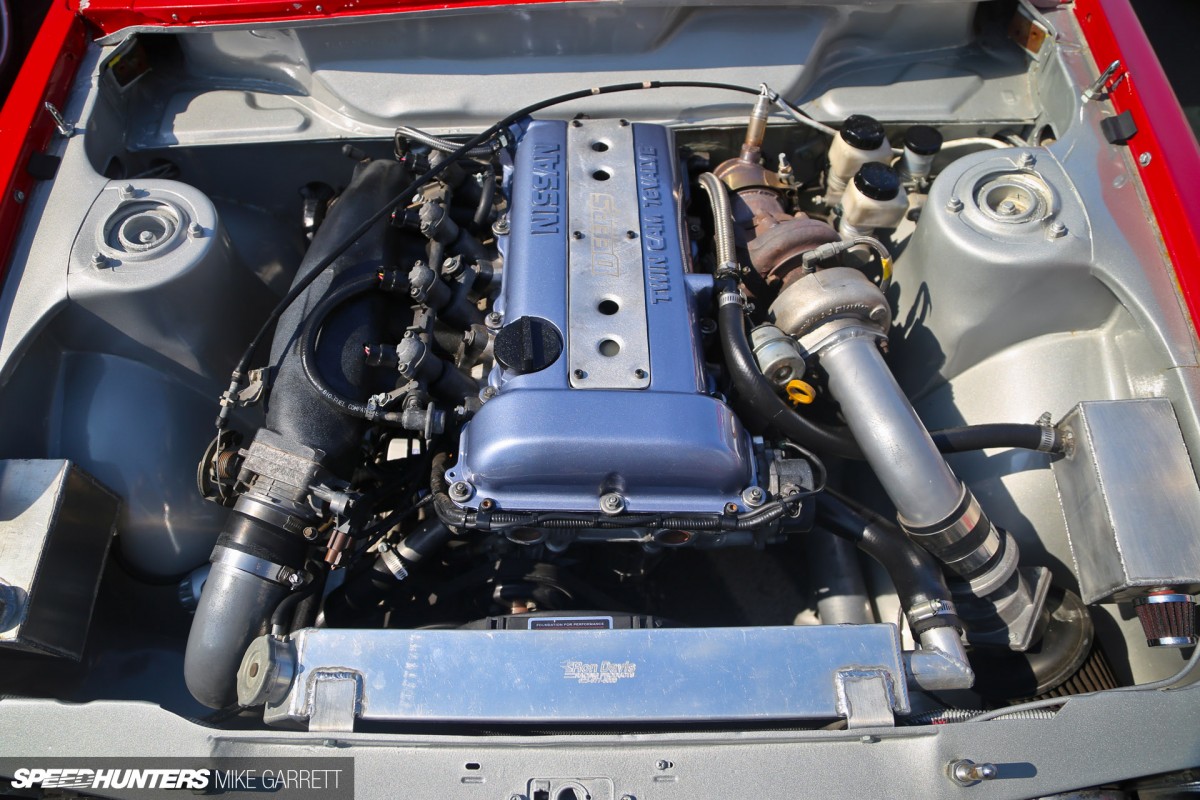 The SR20DET swap beneath the hood was the perfect way to complete the package. E46 M3-powered E30, or SR-swapped 510? Talk about a tough choice…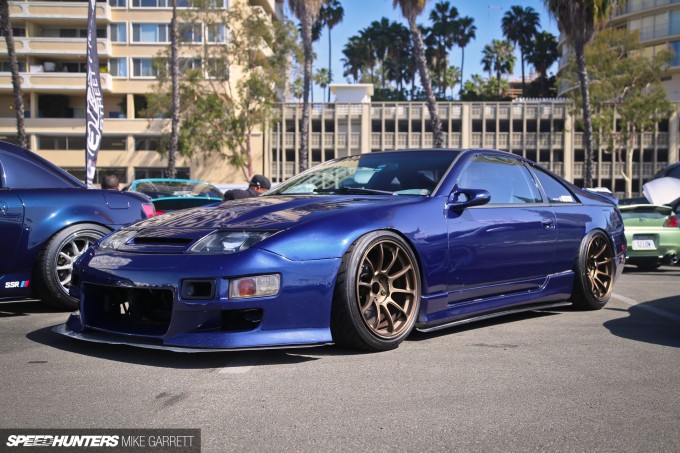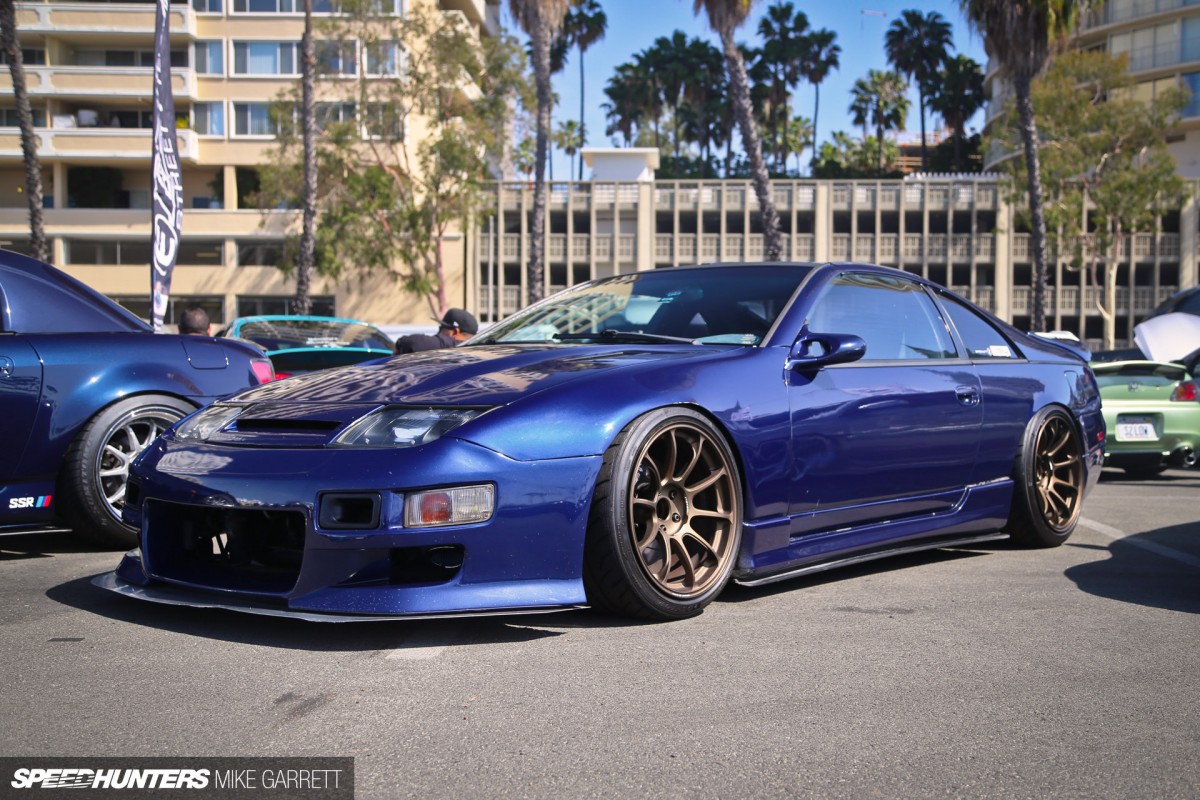 Want to do a 300ZX the right way? You could certainly take a few tips from the owner of this Z32 dropped low over bronze RAYS Volk Racing ZE40s.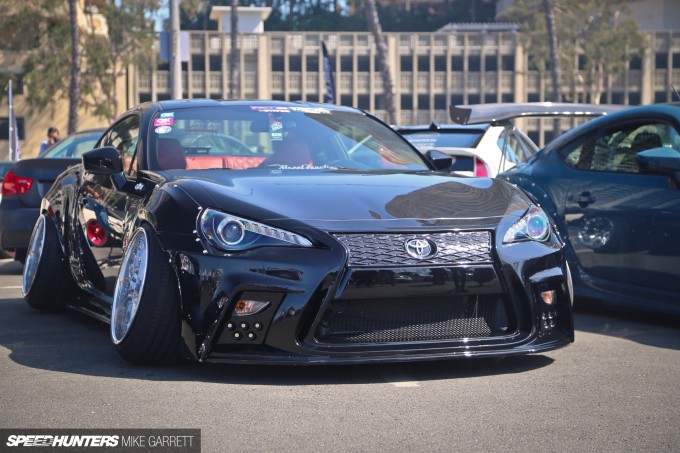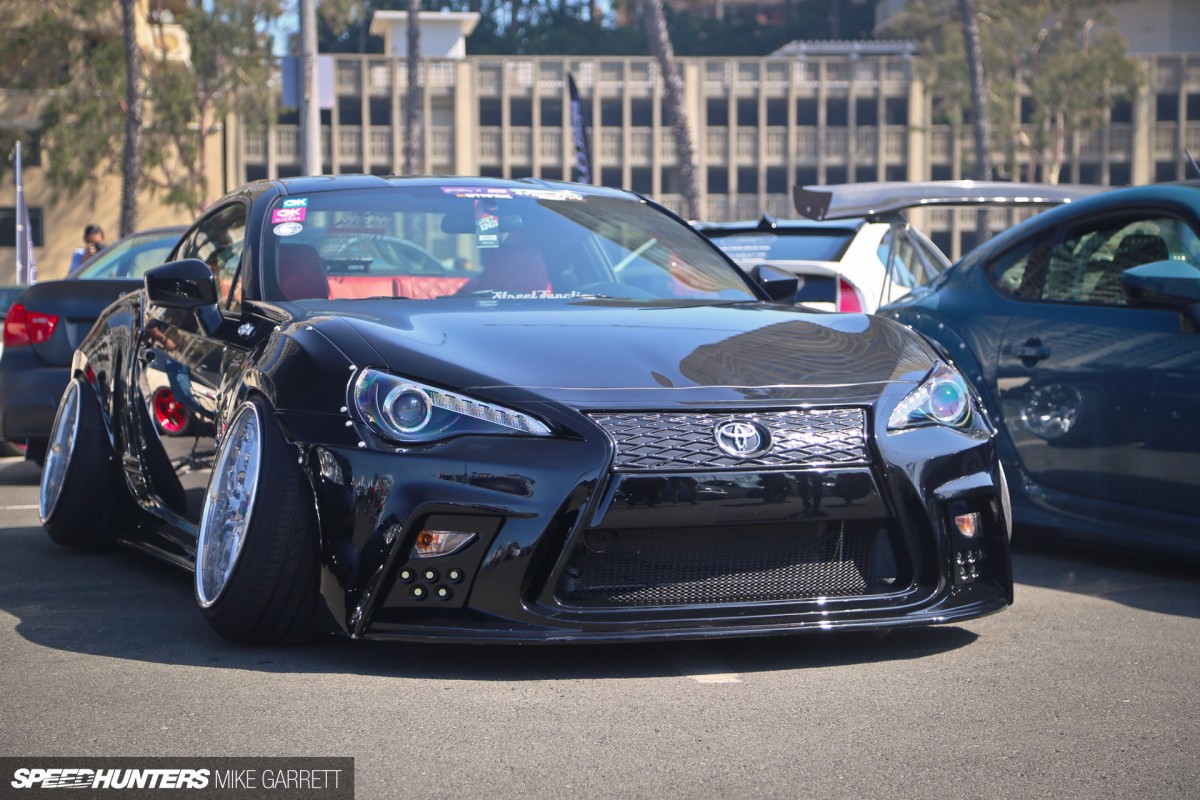 Of course, as part of our relationship with the Offset Kings tour we were tasked with selecting one car as the #FeatureThis award winner. At the end of the day it was the unorthodox, VIP-influenced style of Robert Sia's Scion FR-S that won us over. Aside from taking home the Speedhunters award, Robert's car will also be getting a full feature, which you can look forward to in the near future.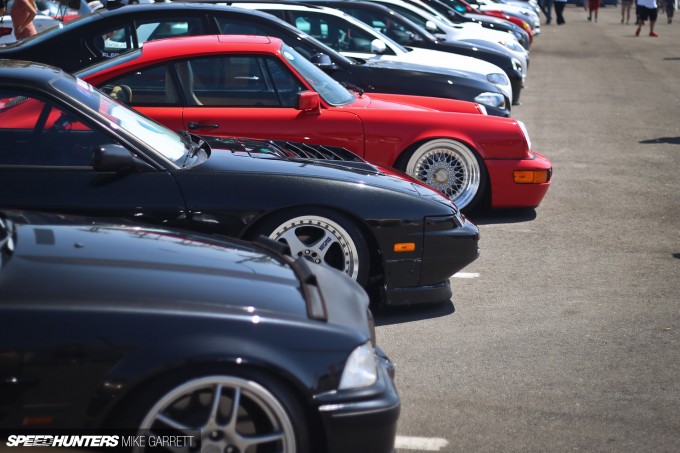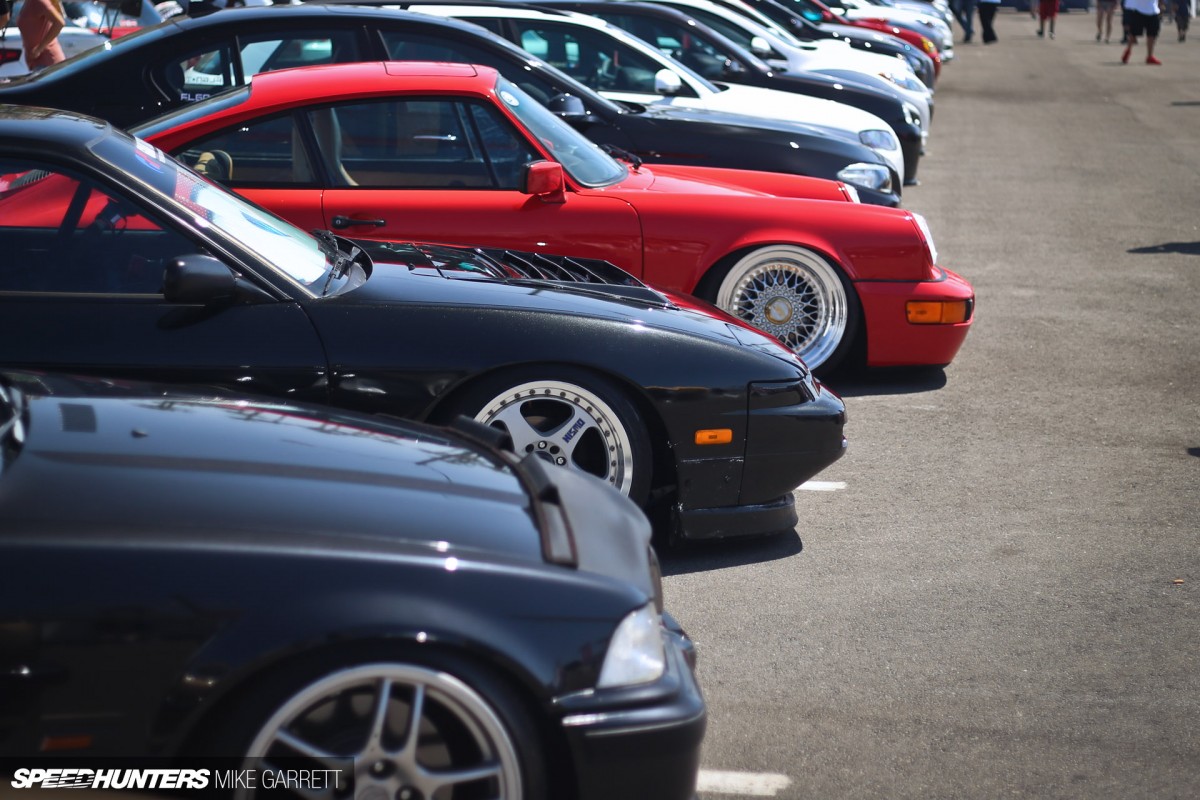 From the RWB gathering to '90s throwbacks and plenty of Japanese street style, this year's Offset Kings Long Beach show was a perfect compliment to the spectacle that is a professional drifting event.
See you at the next stop!
Mike Garrett
Instagram: speedhunters_mike
mike@speedhunters.com
Cutting Room Floor