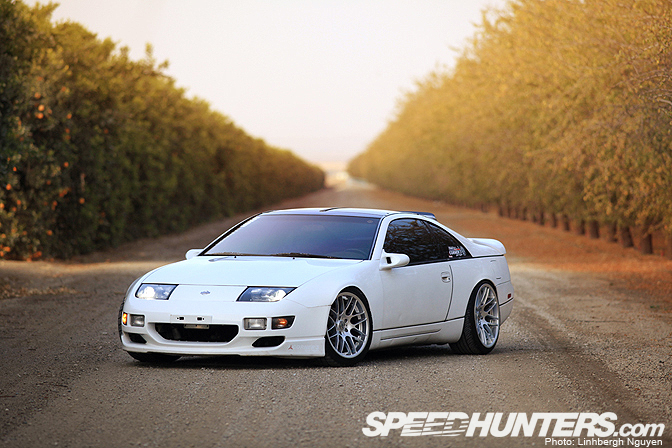 The reader and demographic divide caused by this month's theme led to some very heated debates, but here's a car that I'm sure would please both parties. Let me introduce you to Edgar's Nissan 300z, or in car nerd terms, a Z32. Just like every other slammed car that we've featured this month, this car's recipe follows the simple rules of the late model import slam: keep the body clean, fill the wheel wells completely with wide wheels, and drop it like its hotter than Marilyn Monroe in the film Some Like it Hot!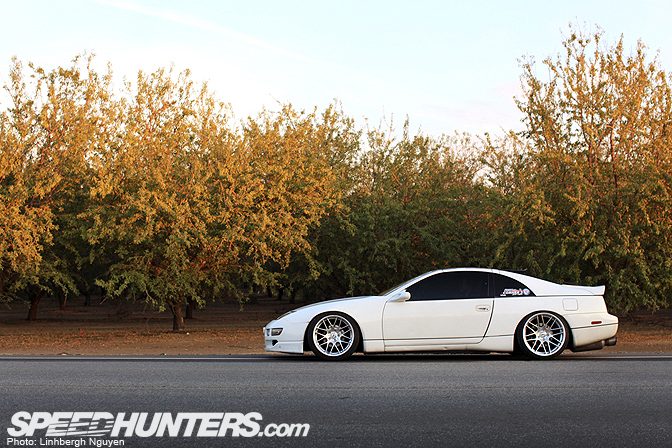 Edgar's Z32 is a perfect compromise between the hellaflush-like styling and performance-oriented fun. Let it be known that it leans more on the side of fun than that of looking hard while parked, but let's not get you performance-minded folk overly excited just yet. This car is a joy to look at.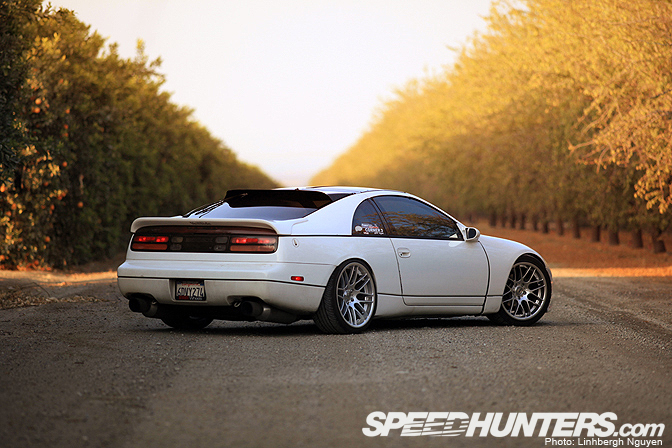 This Z32's stance has been brought to you by Powertrix Ultralite coilovers. The drive to the shoot location was 90 minutes north of Los Angeles, and we encountered all sorts of road conditions during the drive there. We drove on the smooth, newly repaved roads, bumpy horse galloping pavement, and of course, the multitude of infamous Los Angeles potholes, and the Powertrix coilovers proved to be a fairly competent coilover for daily driving. It was just smooth enough for the Southern Californian roads, yet stiff enough to have fun with.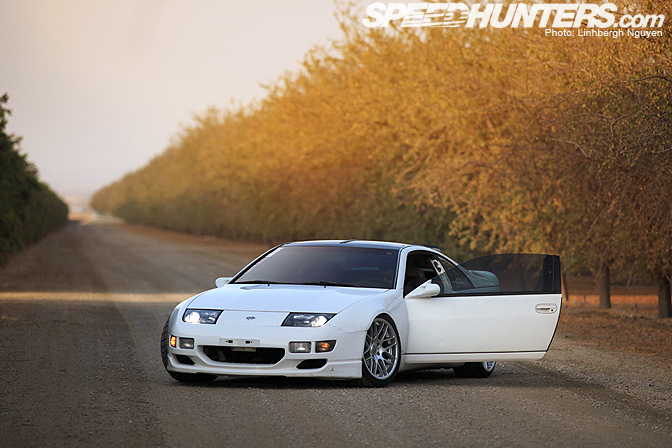 The car may look like it just looks great standing still, but let's not forget that the owner enjoys driving this car as much as he enjoys standing back and admiring how aesthetically pleasing it is. Let's hop in this fine Z32 and take a drive with Edgar shall we?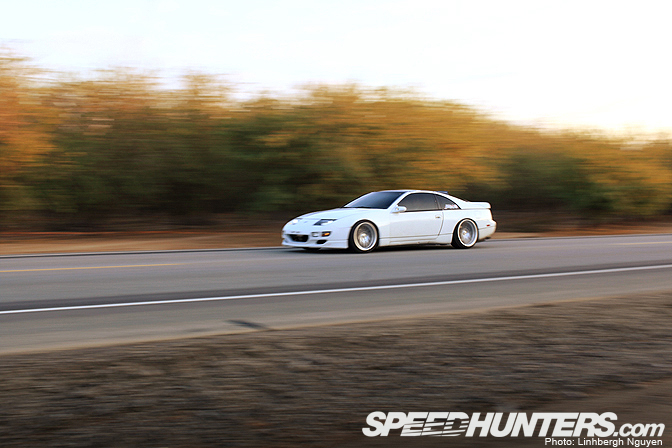 Even when rolling, this car looks hard. But, this is no mere weekend cruiser….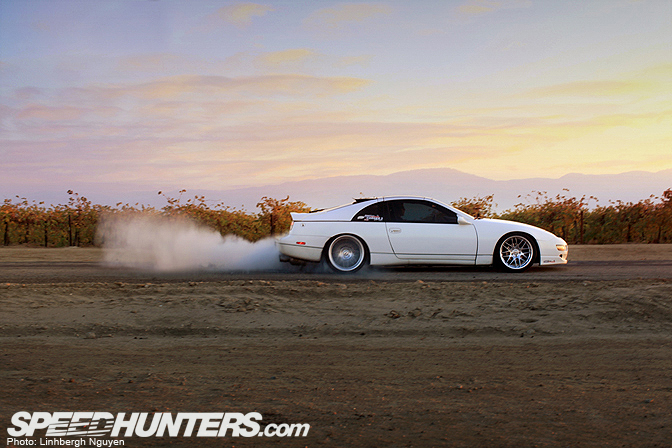 During the shoot, the car suddenly started spewing white smoke from the rear of the car!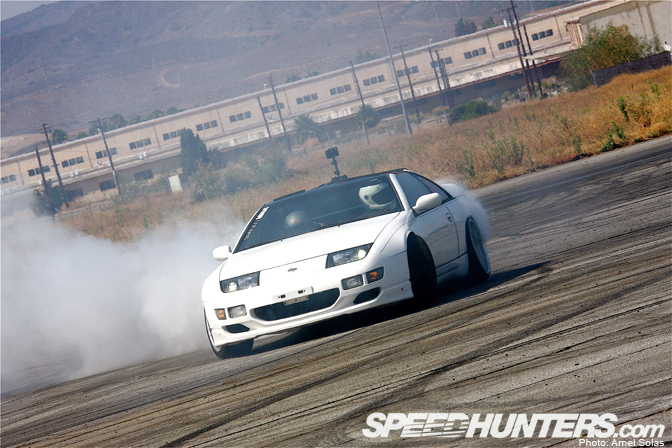 This is the result of Edgar's compromise. He loves a great looking car as much as the next guy, but he equally loves burning up rubber! Edgar takes the Z32 out to as many local drift events as possible.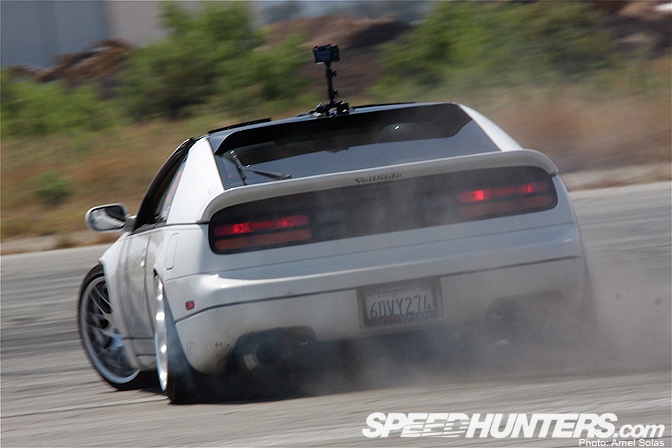 Doesn't it look just fantastic sliding with such a stance? No offense to any of the professional drifters reading this, but this is what drifting is all about: looking hard and awesome while sliding sideways.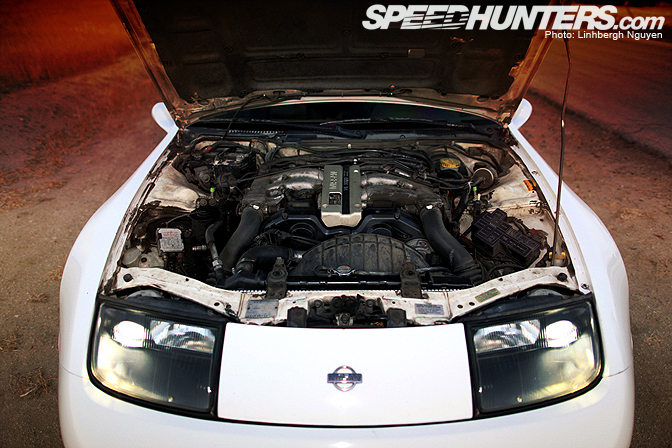 Now what's powering the clouds of tire smoke? A stocker than stock, and extremely dirty, 3.0 liter VG30DE.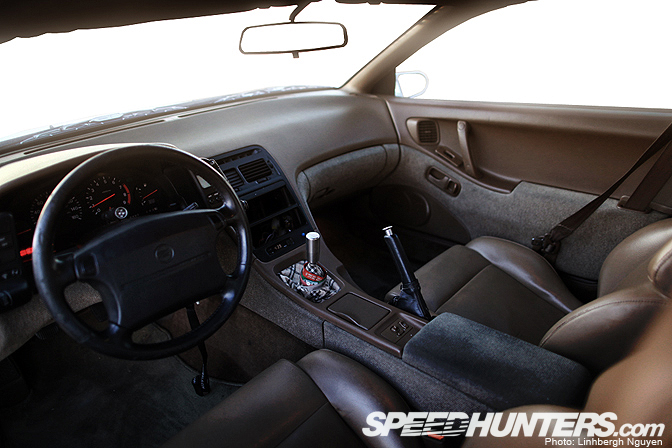 Even the interior has been kept fairly stock with the exception of a Nismo Titanium shift knob coupled with a Burberry shift boot cover and a cusco drift knob. When I talked to Edgar, he mentioned that every car owner should be allowed one "rice" mod; his is a Gizzmo launch controller. This enables him to make large backfire noises and blow out large fireballs from his exhausts on command!
Oh, you can also see a Gizzmo shift light on top of the steering column.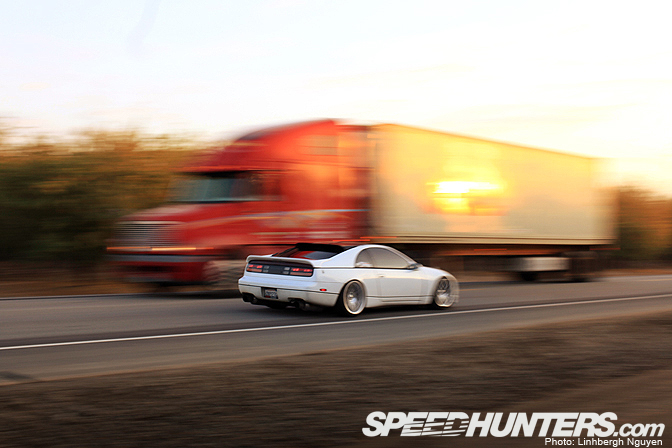 I love this car in motion as much as I love it when it's standing still….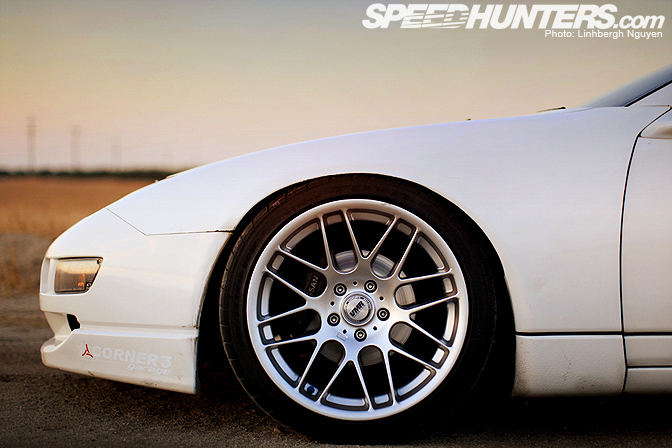 Edgar is currently rolling on a set of VMR VB3s in 18×9.5″ +8 in the front and 19×10″ +10 in the rear. The staggered sizing looks fantastic!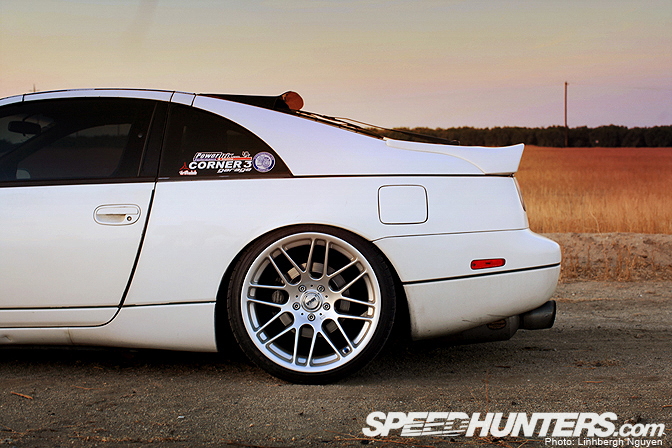 The wheels are wrapped with 255/35/18s Toyo R1-Rs up front, and 255/30/19s Kumho SPTs in the rear. The car also sports two different spoilers; one for the on the trunk lid, which is a Veilside EC-1, and one unknown brand on the roof.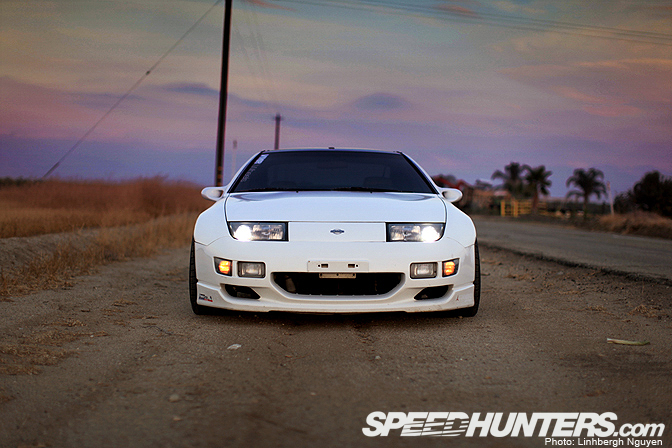 The original factory front bumper was replaced by a JDM spec front bumper.  Ganador side mirrors replaced the original factory mirrors.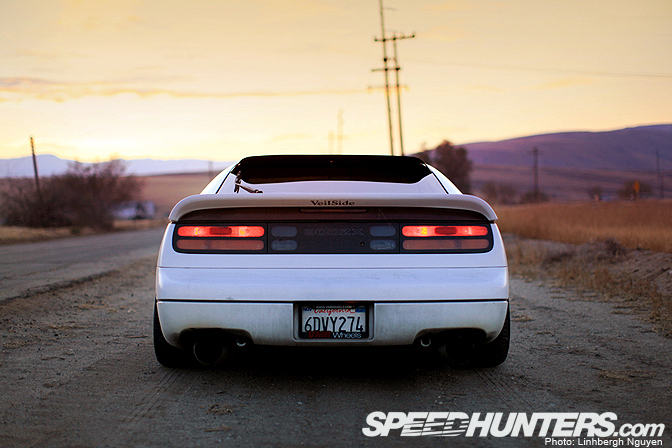 When Edgar was looking around for an exhaust, he knew exactly what he wanted: a Veilside Evolution, after he heard a soundclip of it on the internet. After some far and wide searching (including endless searches through Yahoo! Japan), he was able to finally acquire this rare piece.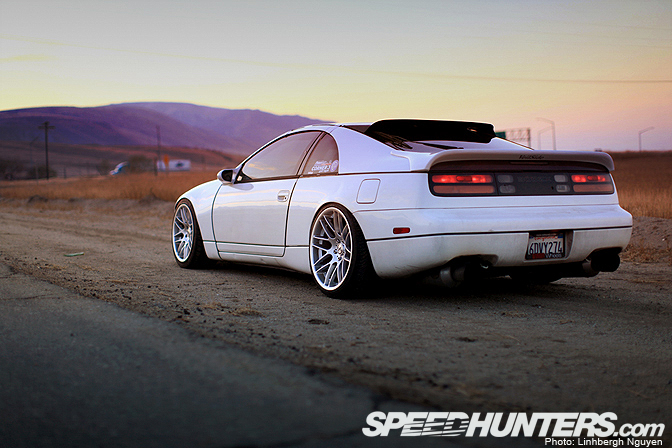 This car really does look good. Knowing that it can also go fast around a corner AND be able to break the rear end loose and slide away adds to the overall appeal.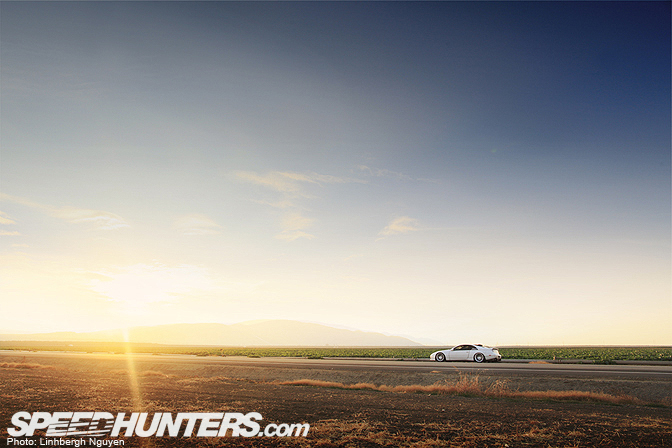 This car was built as a dual purpose car; it's a hard looking street car, yet also a weekend track car. Its most important role, however, is that it does everything Edgar does throughout his days, weeks, and months; to and from classes, work, the track, car meets, grocery shopping, the girlfriend's house, and even 3 AM emergency runs for women's hygiene.
But, you know what? Despite its compromise and dual purpose-ness, it's still slammed.
-Linhbergh Nguyen
Special November Slammed themed stories on Speedhunters
Complete spec list:
- Powertrix Ultra-Lite coilovers
– Powertrix front upper control arms
– Peak performance tension rods
– Peak performance toe rods
– SPL outer tie rod ends
– Tein 350z inner tie rod endsp
– VMR VB3 18×9.5 +8 19×10 +10
– 255/35-18 Toyo R1-R
– 255/30-19 Kuhmo SPT
– Endless SS-S brake pads
– Apexi filter
– Rps segmented flywheel
– Rps sport 6 puck clutch
– Z1 one piece driveshaft
– Veilside evolution exhaust
– 99 spec front bumper
– Ganador mirrors
– Veilside ec-1 spoiler
– unknown roof spoiler
- Nismo titanium shift knob
– Cusco drift knob
– Shiftboots.com Burberry shift boot
– Gizzmo shift light
– Gizzmo launch controller