Feeling The Buzz Again
I hate going to Geneva for the International Motor Show. The curse of going on the press days causes an unstoppable reaction in me. We're supposed to be all objective and professional, judging cars with sober reflection and maybe even a hint of distaste when we spot some detail or another. People turn up with clipboards and tape measures, for pity's sake. But me, I almost start weeping uncontrollably even as I get through the doors for the first time after another 12 month wait. Geneva is a temple to the automobile, and any attempt at professional distance or cynicism melts away in an instant.
I have no defence. I get the same buzz that I did when I was 10 years old and utterly overwhelmed by being taken to the old London Motor Shows. If you profess to love cars, then going to Geneva (or any other major motor show for that matter) has to be on your bucket list.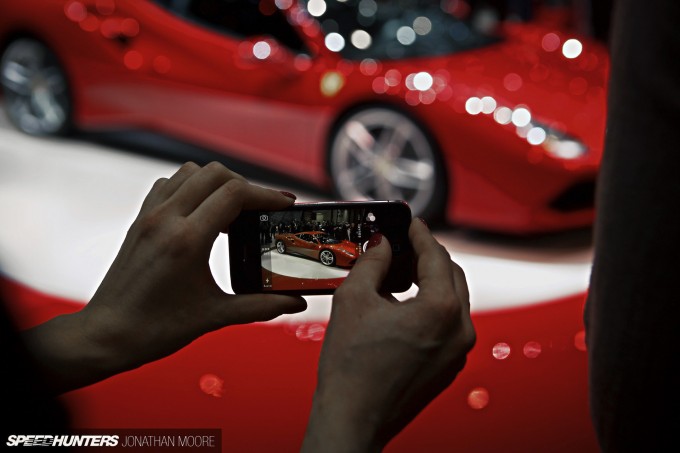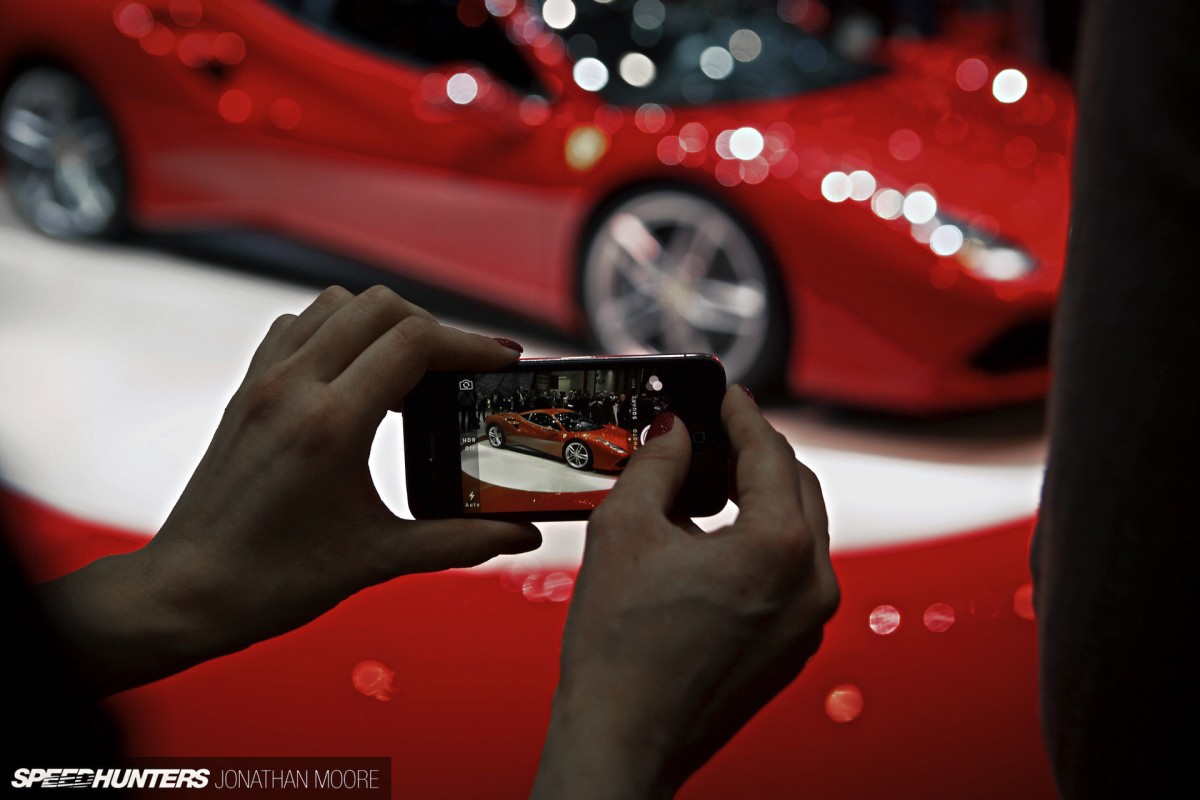 Geneva is now just one of many international shows, but it's still the one. Major launches do get pushed to other territories, particularly those of emerging economies, but a Geneva reveal is still a big thing.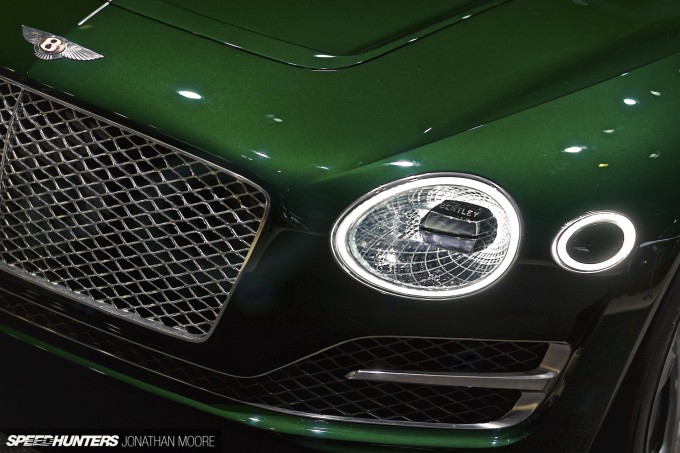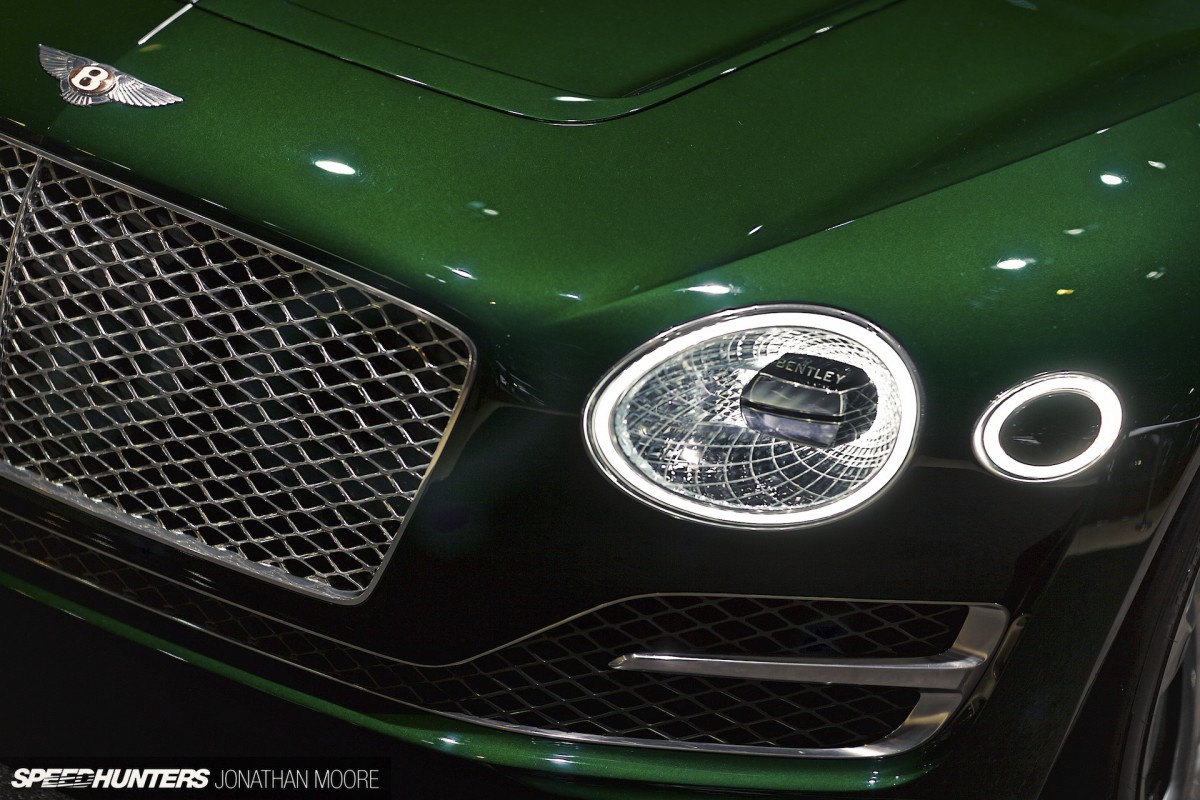 Like so many music festivals, the schedules keep being pushed forward, with official launches on what's supposed to be the set-up day now becoming the norm. The two days which are for the press and business is now really three, in an effort to cram everything in before the show opens for its main run at the public.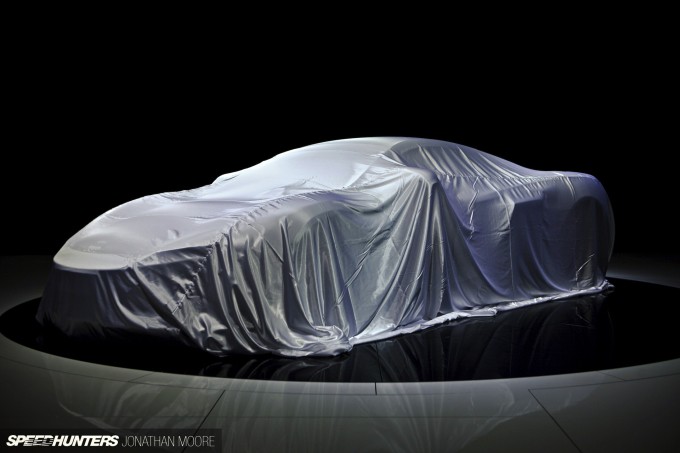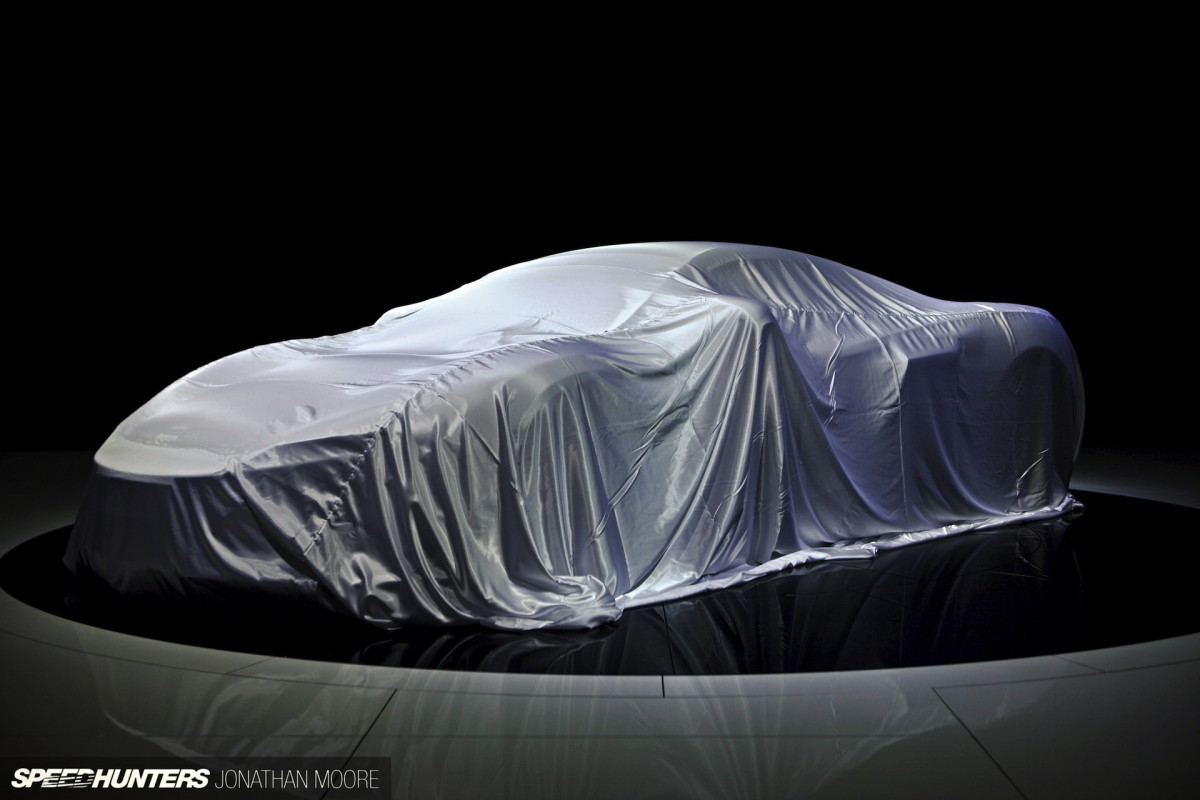 Initially the majority of cars lay under wraps, awaiting official reveals – or the inevitable embargo-breaking post, with certain stands hidden behind black drapes that cascade from the high ceiling, creating little secret worlds that are peeled back only for the invited. Luckily for us, that often includes Speedhunters…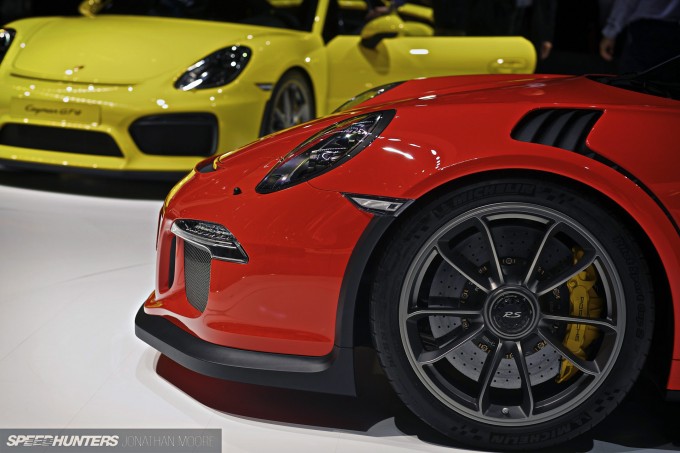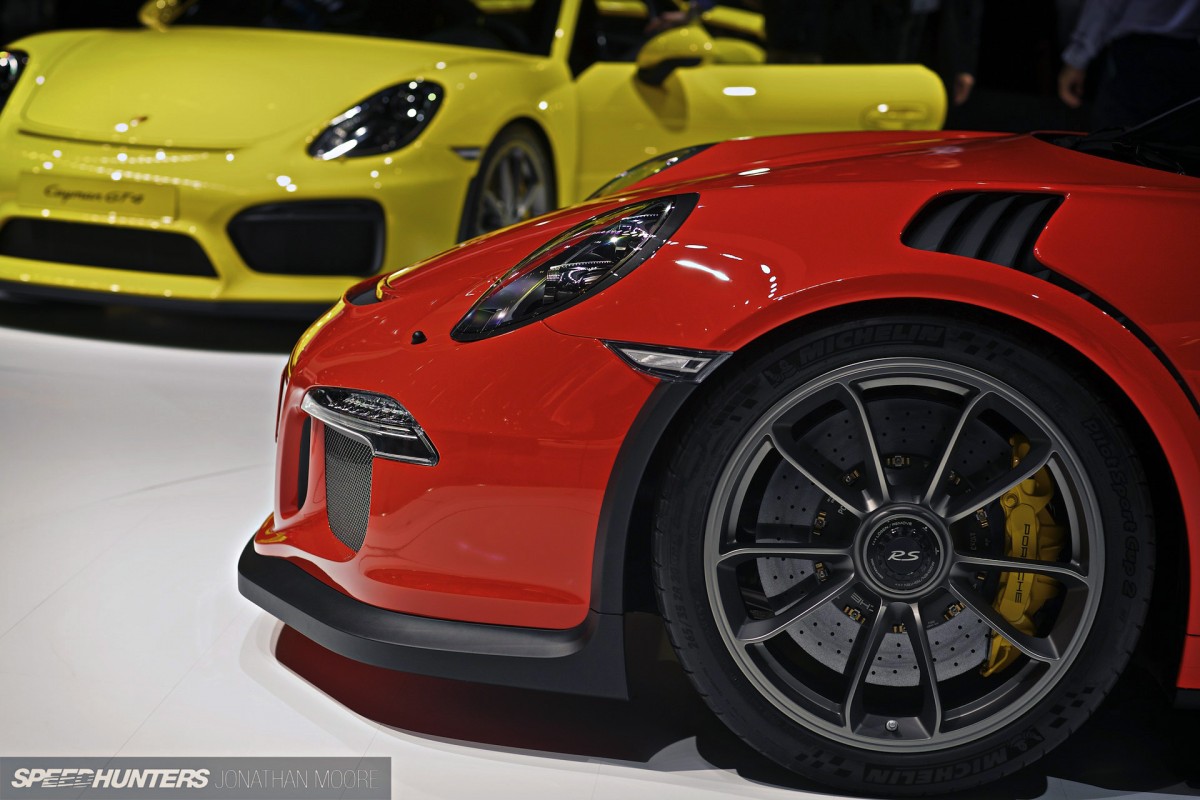 Last year I talked about the apparent death of the naturally aspirated sportscar – and indeed the seeming death of the sportscar as a general concept. Many stands in 2014 seemed to have been doused in a wash of corporate boredom, cars as transport mechanisms.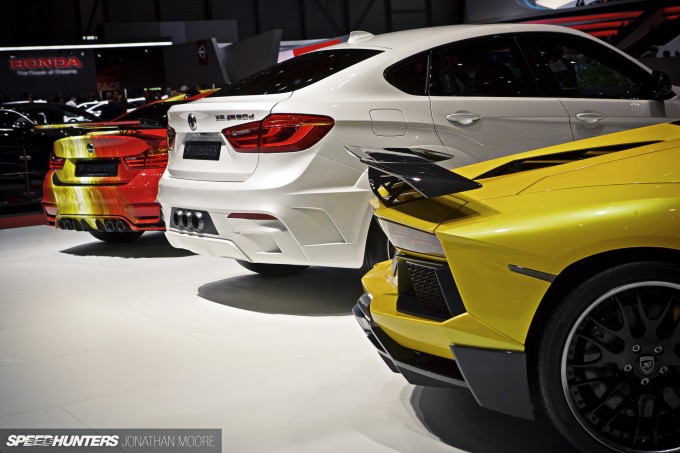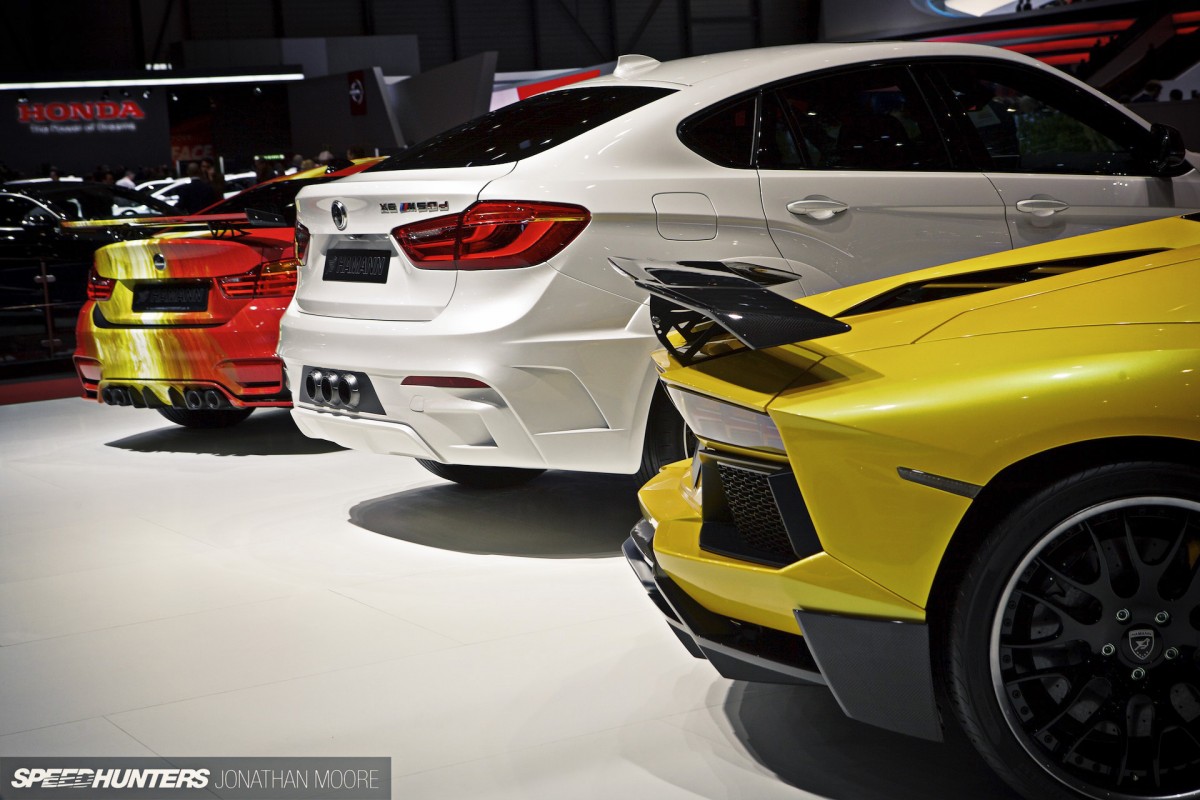 The 'E' words were the only ones to be uttered (economy, electric, environment), in contrast to the year before and the slew of hypercars and tuner madness that slayed the show.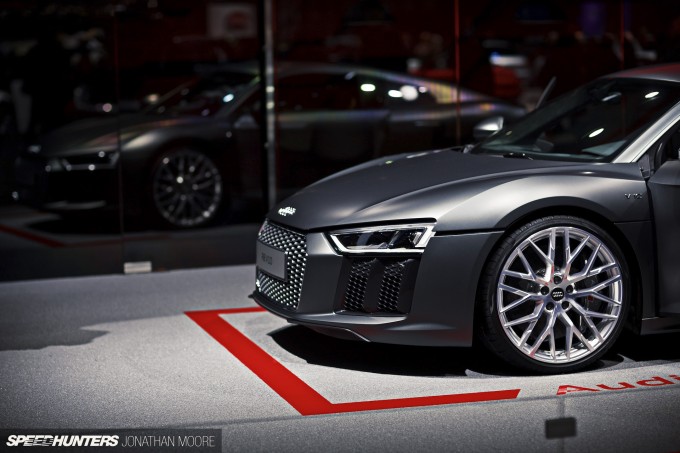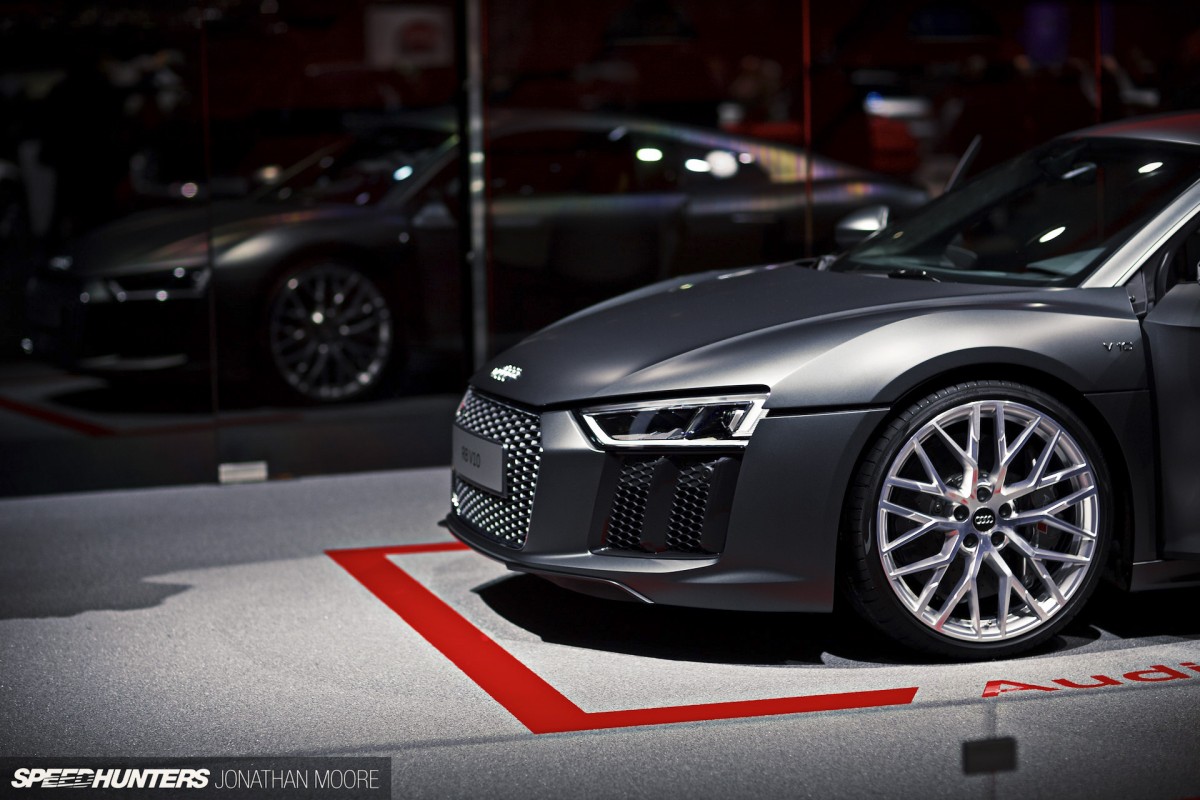 I'd taken note of the new cars due to be unveiled at Geneva 2015, sure, and there were plenty I was excited about. The latest Audi R8, a new McLaren, a race-focussed Aston Vantage and more.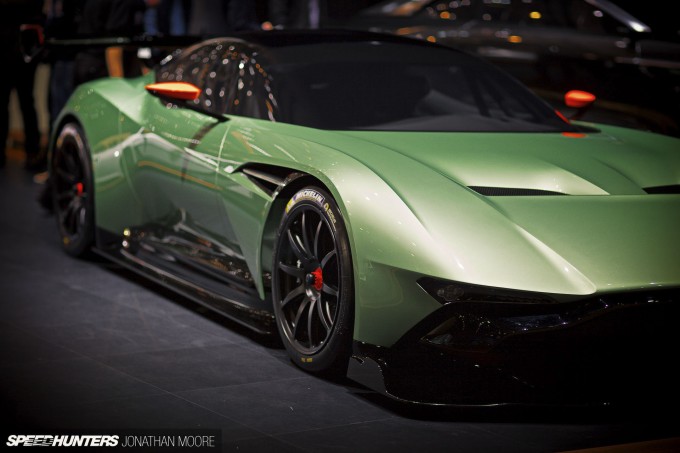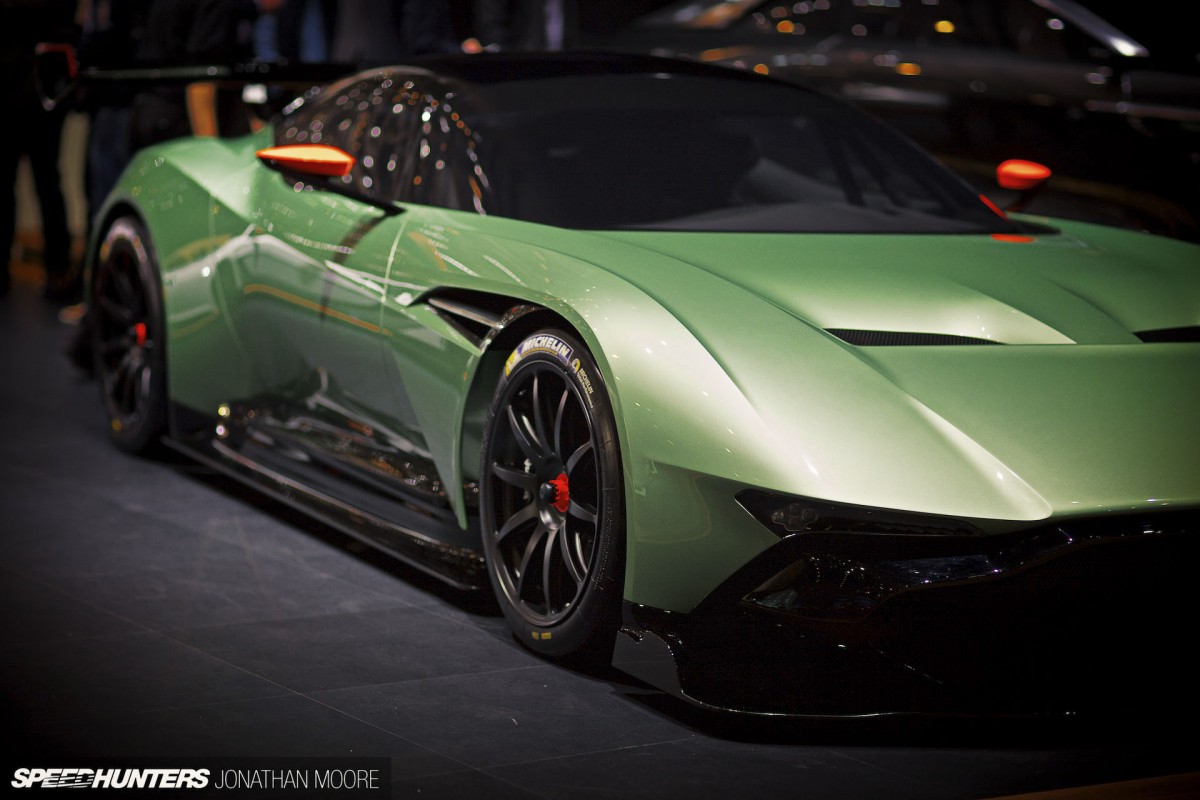 But then in the run up to the show the world went mental. Suddenly military dropships were coming down from orbit bearing a slew of outrageous machinery. I was outflanked in an instant: the Koenigsegg Revera and P1 GTR on one side, the Glickenhaus SCG003 and Aston Martin Vulcan on the other. I was going to need a new tactic.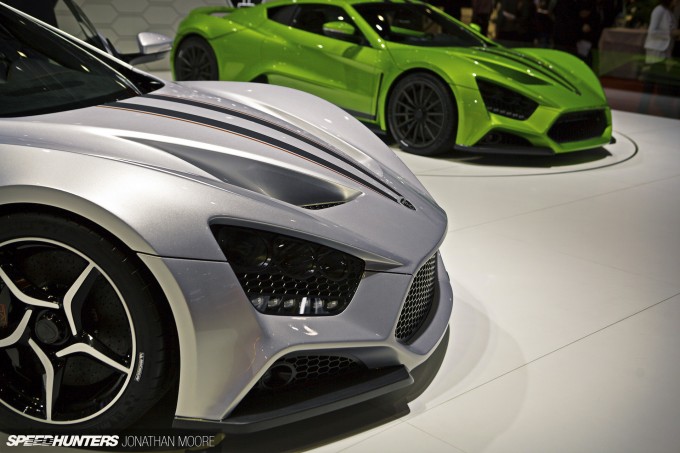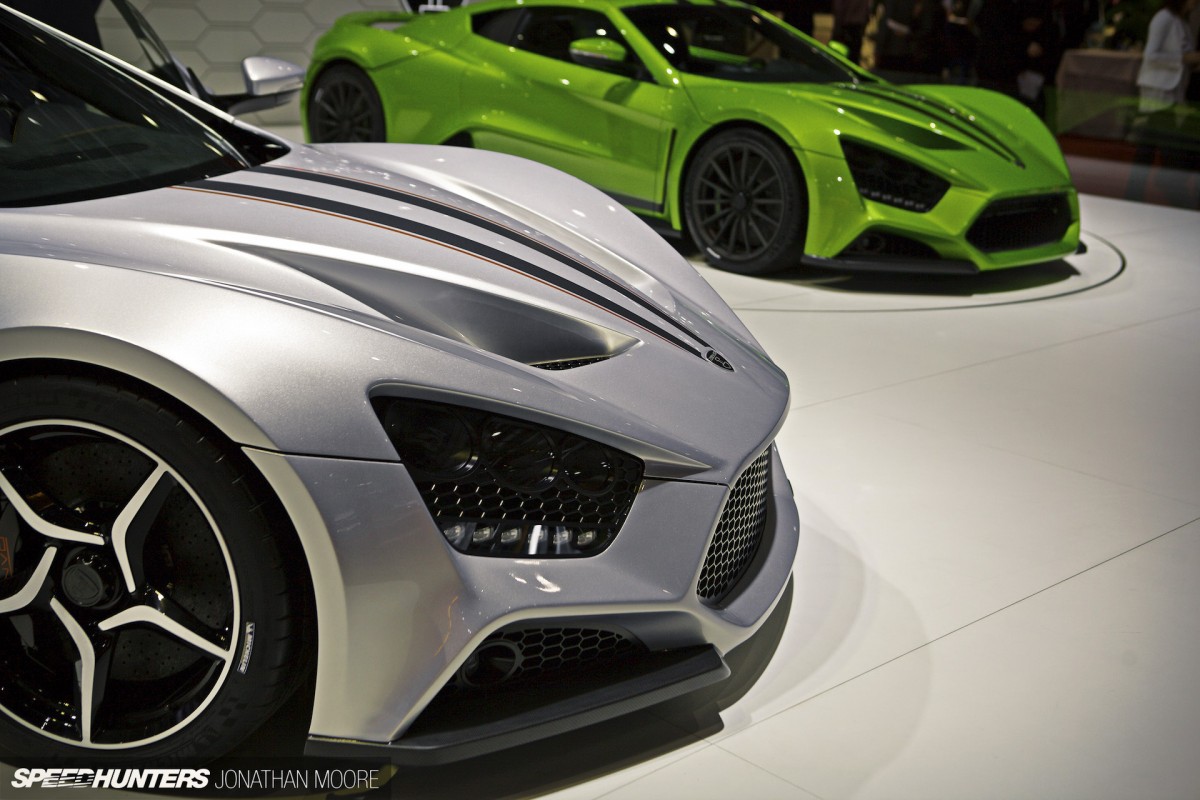 I didn't stand a chance. The cars kept coming at me. The sportscar was dead? Right. Not a chance. From the niche to the mainstream, the Zenvos to the Audis, sportscars are very much back on the menu, boys.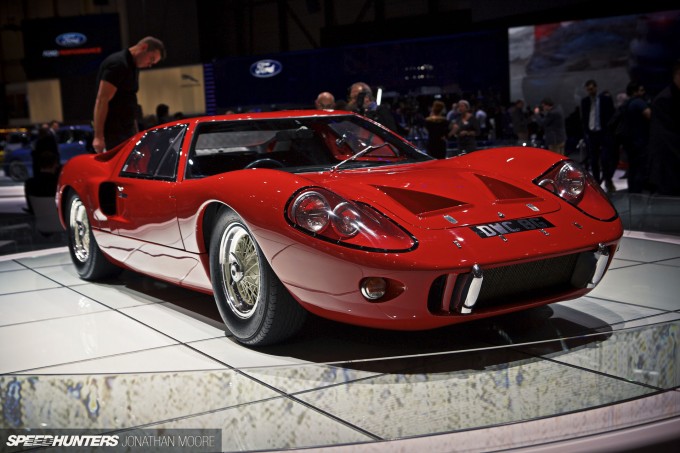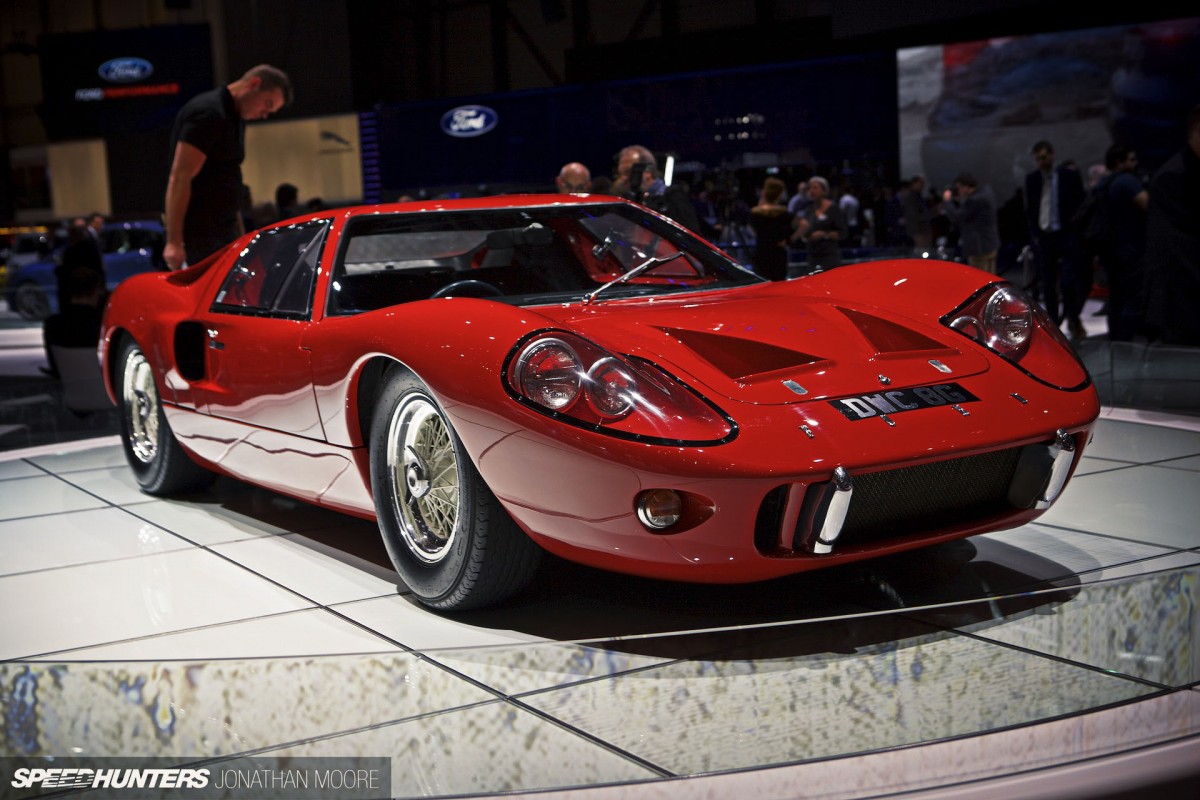 So to the floor, and I'll start with… a car that's almost 50 years old?! Well, you can tell we're not a news site. This of course is a Ford GT40, a Mk.III from 1969 – one of just seven road-going versions. It highlighted a renewed emphasis put on heritage: Ford were just one of many brands to put an old car on show to mirror a new model – they also had an original Mk.I Ford Escort on a pedestal for the opening day to further underline Ford's sporting pedigree.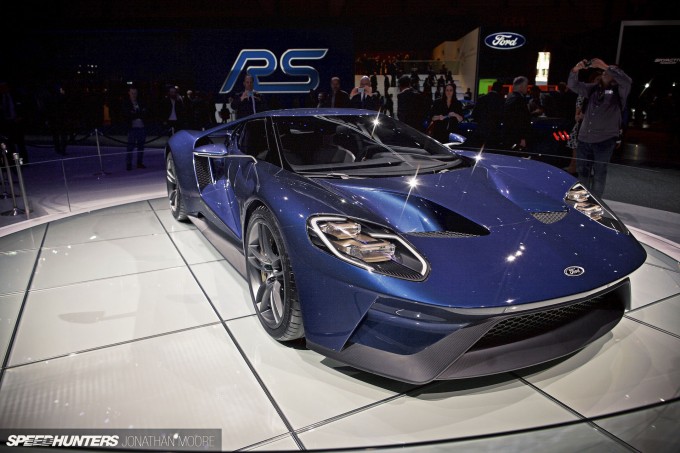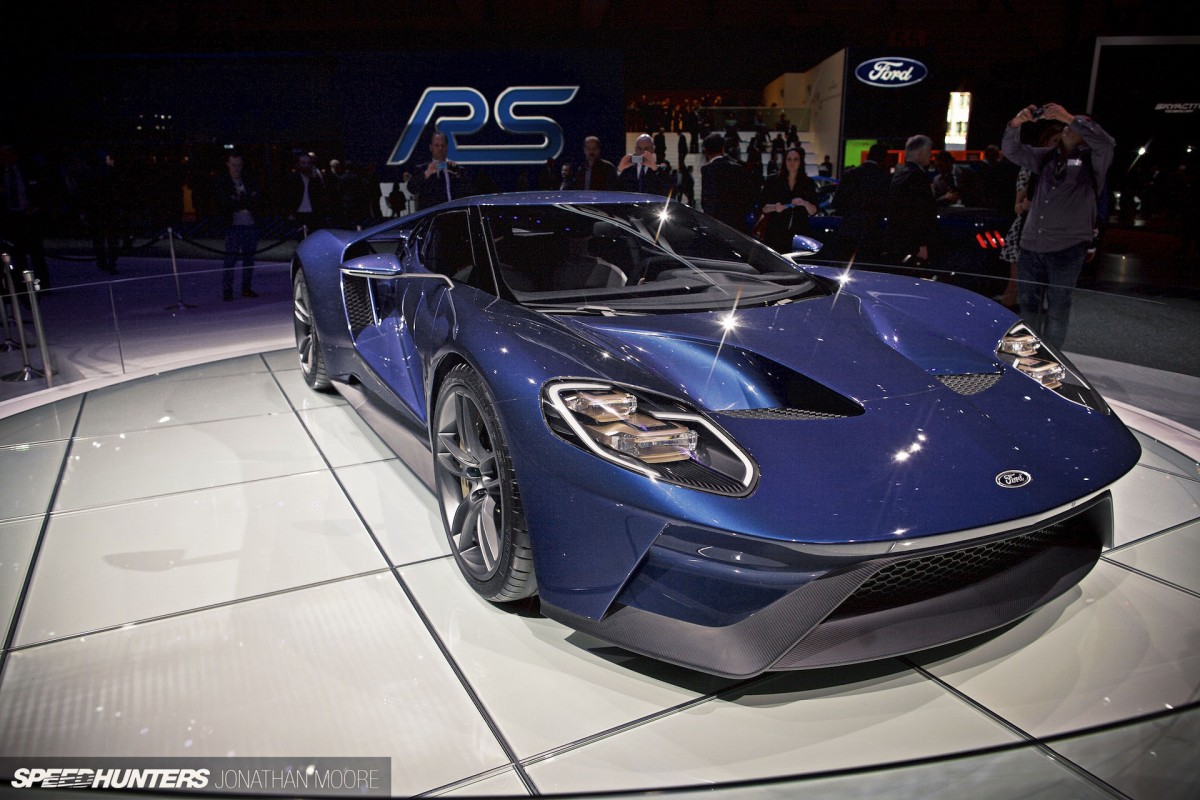 The lineage was in place for the European reveal of the new, new Ford GT – a 600hp, carbon-fibre bodied supercar – which made its debut back in January in Detroit at the North American International Auto Show.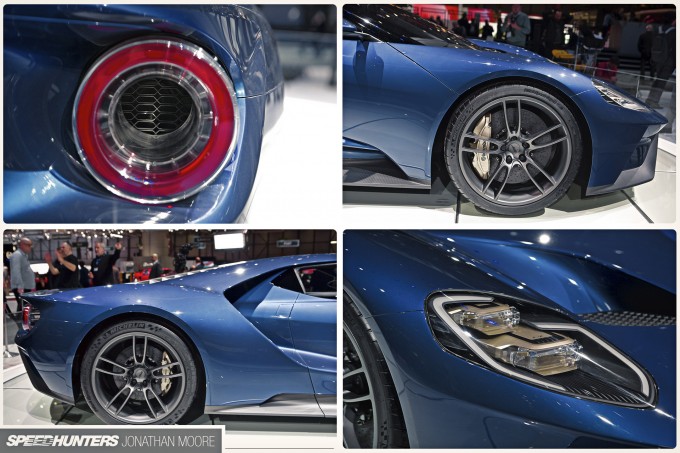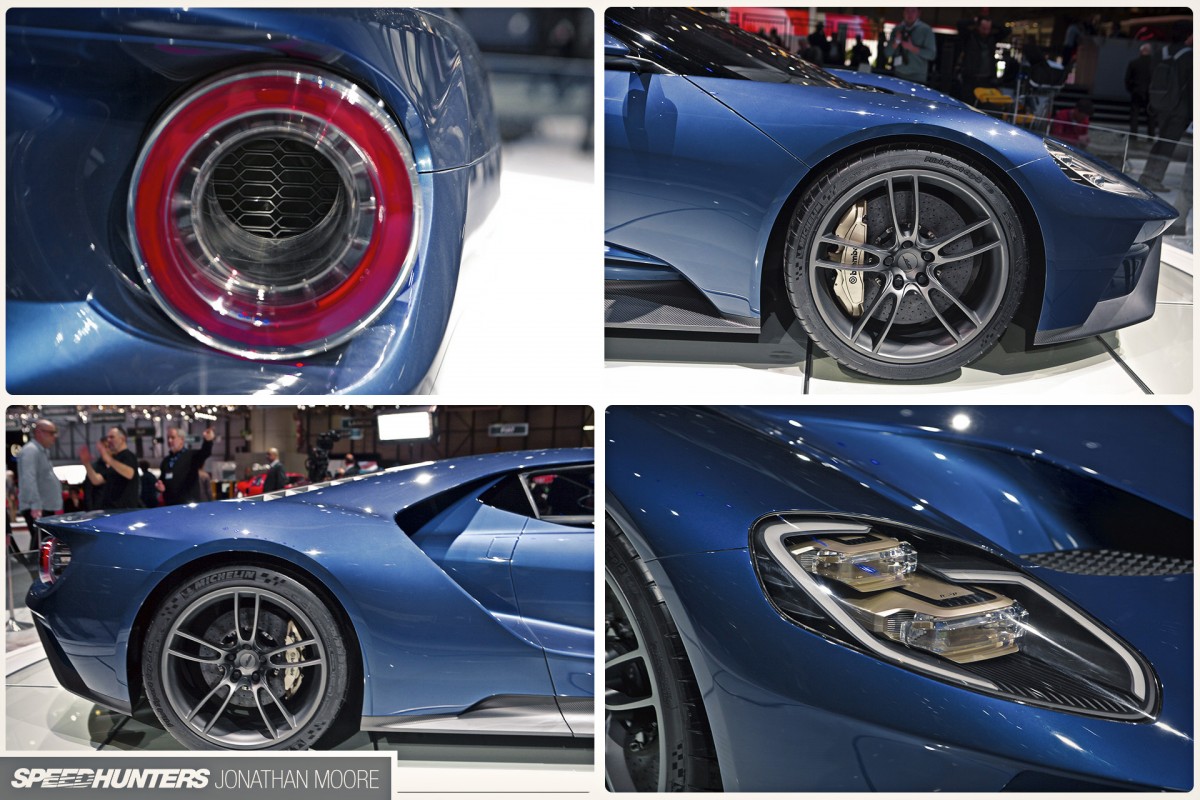 It's a fine looking machine, a proper halo car for Ford. Like the previous GT that celebrated the GT40s fourth decade, this fifth decade reinvention is another brute. The aesthetic is pushed even further – if you could squint at the 2005 GT and see the original, you'd have to try even harder with this one. But I like that. It's not a wishy-washy homage in carbon – this is a pure-bred thug of a car, and that's the heart of the original that was the most important thing to replicate.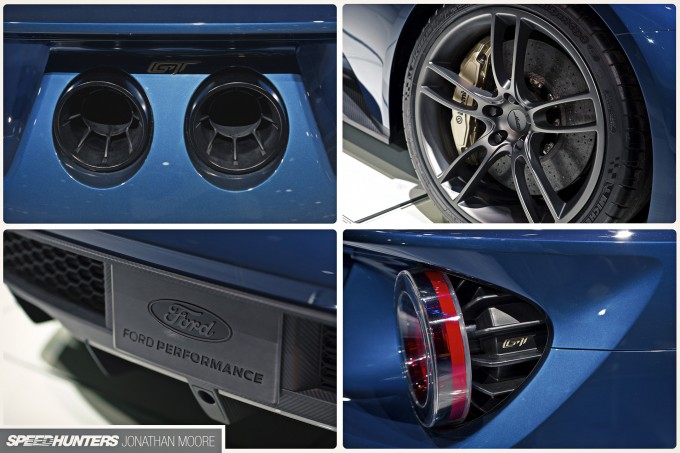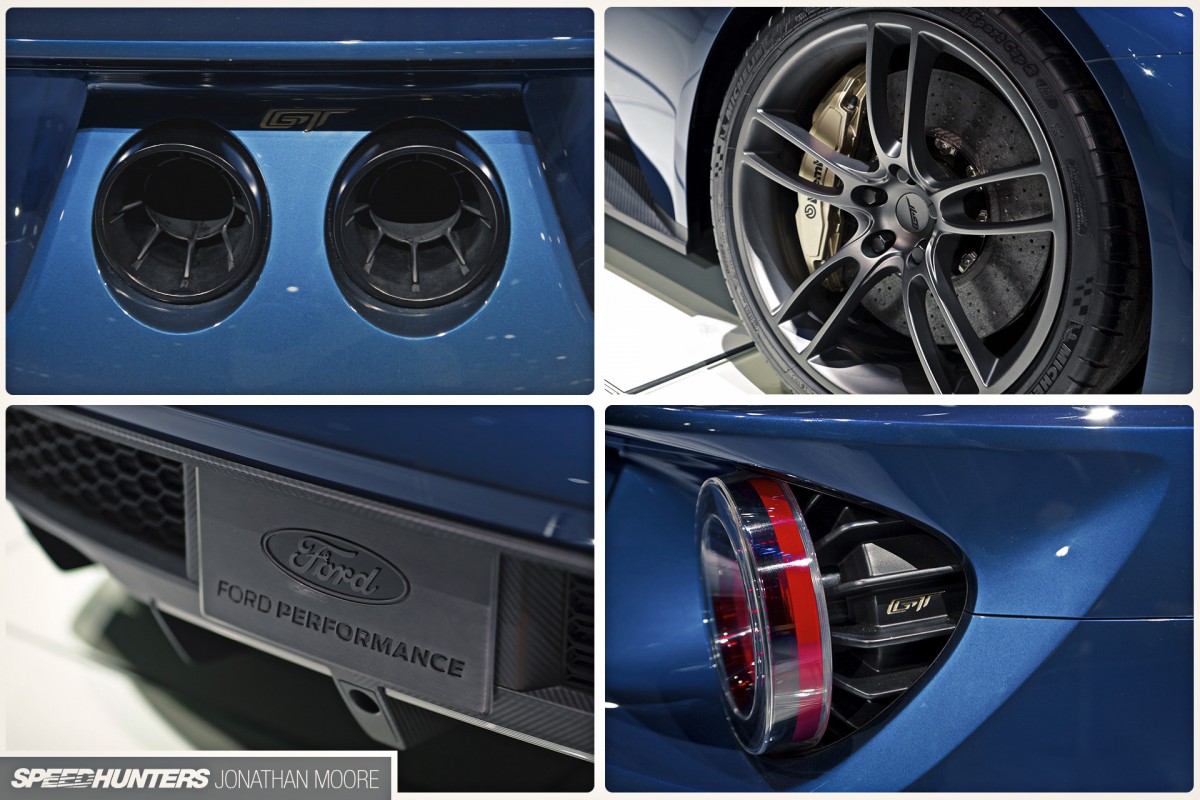 The engine isn't a surprise, but it does show intent: a smaller, more efficient twin turbo V6 rather than the brute force V8 of its predecessors. 1966 is the key year when you consider this car – the time when Ferrari prodded Ford just one time too many, prompting the Blue Oval to carry out a massive attack on Ferrari's territory of the Le Mans 24 Hours. This means it's pretty much a slam dunk that we'll see a racing Ford GT at Le Mans next year.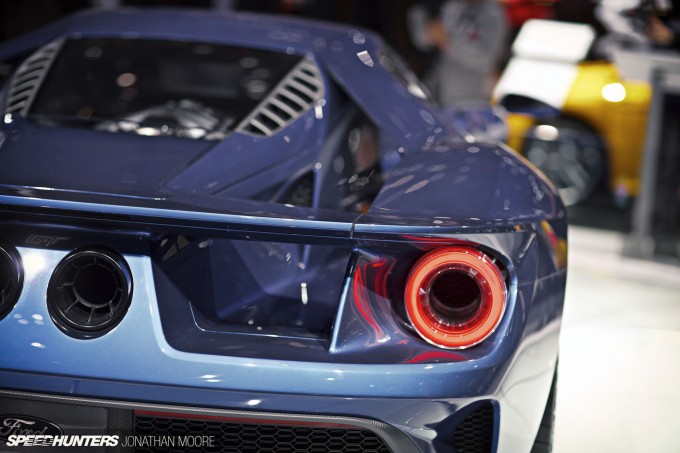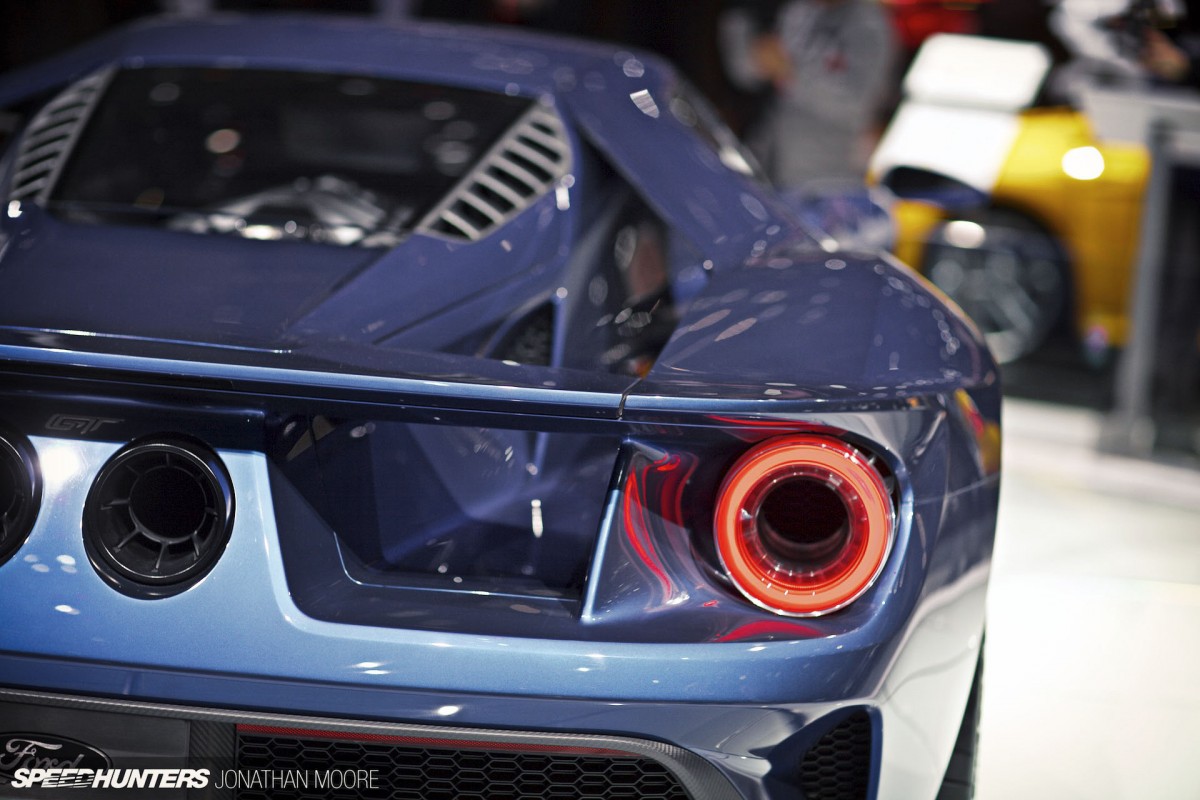 It almost makes me wish for a last-minute rules revision that kills LMP1 and makes GT the top category – just for one year!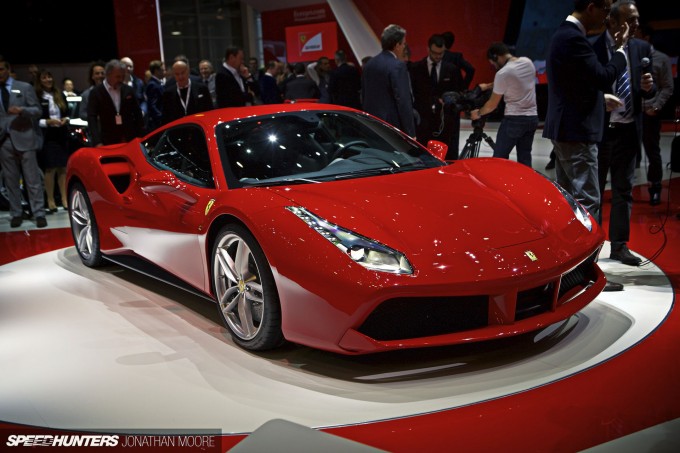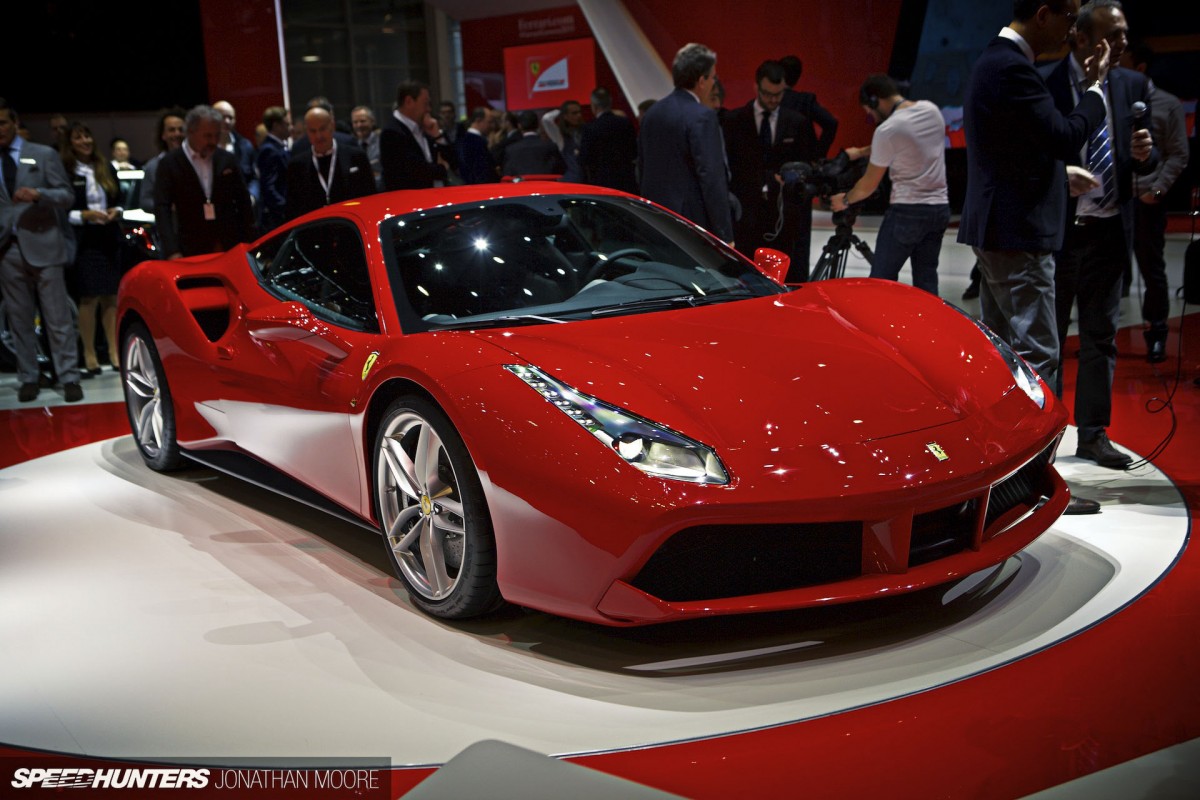 So those guys in scarlet? Well, they also had a new stallion to unleash – the 488 GTB. What I like about the new Ferrari is how understated it is, relatively speaking. There are very clear, defined lines, very few big intakes or aero appendages – and yes, I take that the gaping nose and rear high-side intakes are hardly subtle, but they're rather… sculptural?
Carbon Dating & Hybrid Assault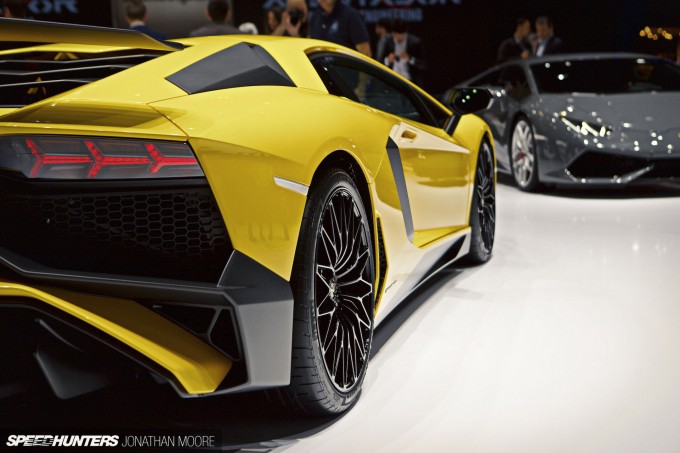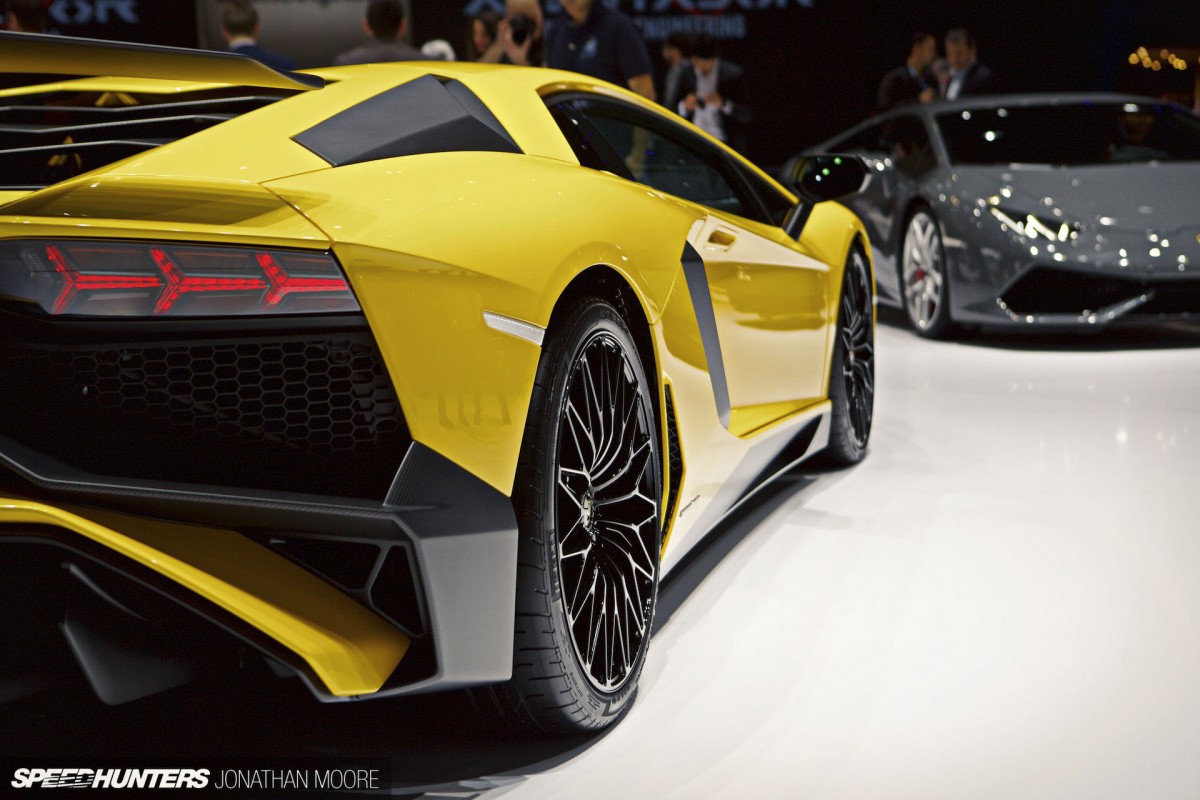 What were the other Italians up to? Taking pride of place on the Lamborghini stand was their new Aventador SV, an even sharper, harder version of their flagship flame-throwing battle cruiser. Of course it's more powerful, but the aero is where the leg work has gone in, reducing weight whilst adding downforce. Even the rims are special lightweight pieces, using ultra-thin radials that make them look almost like old-fashioned spokes.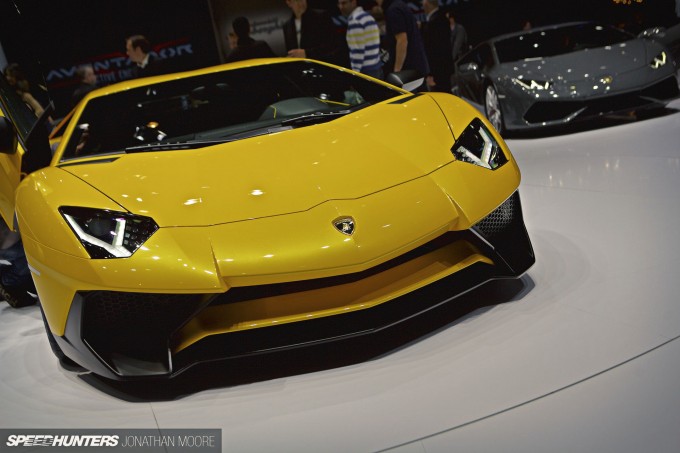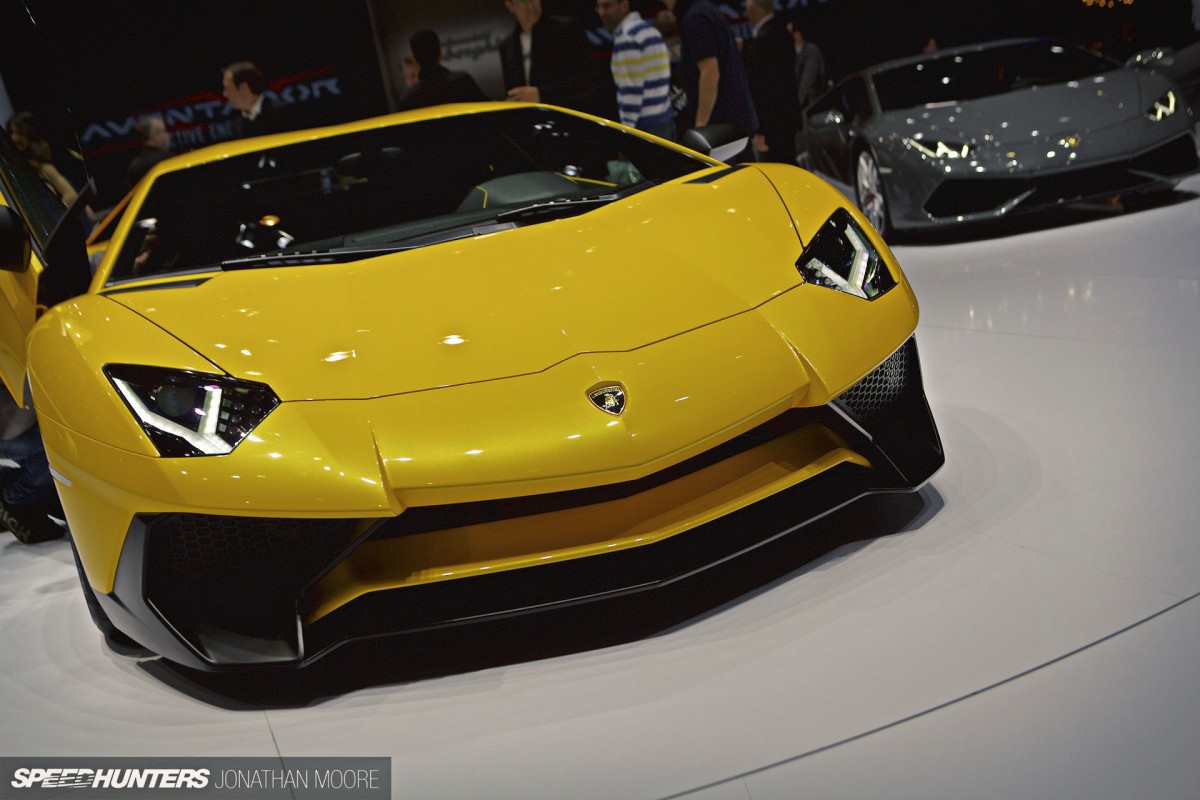 An interesting thing is Lambo's innovative use of carbon fibre: forged carbon. No, they're not faking it, more they're using a process for the engine bay of the Huracan that uses fibres rather than twill sheets, allowing even more flexibility of use and giving the carbon a completely different look. Gone is the geometric pattern, in comes an almost wood-like texture.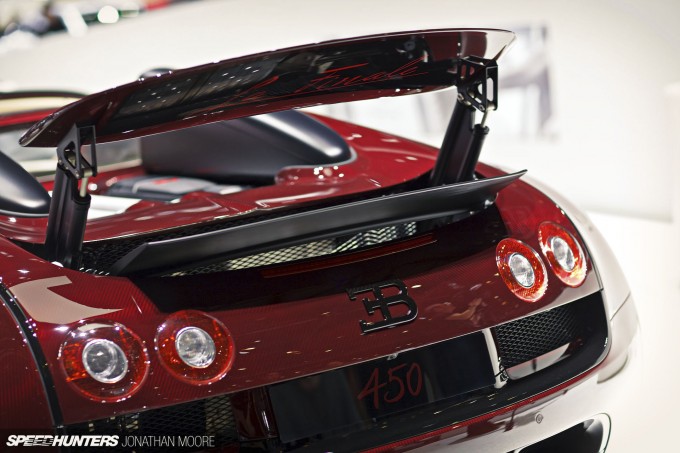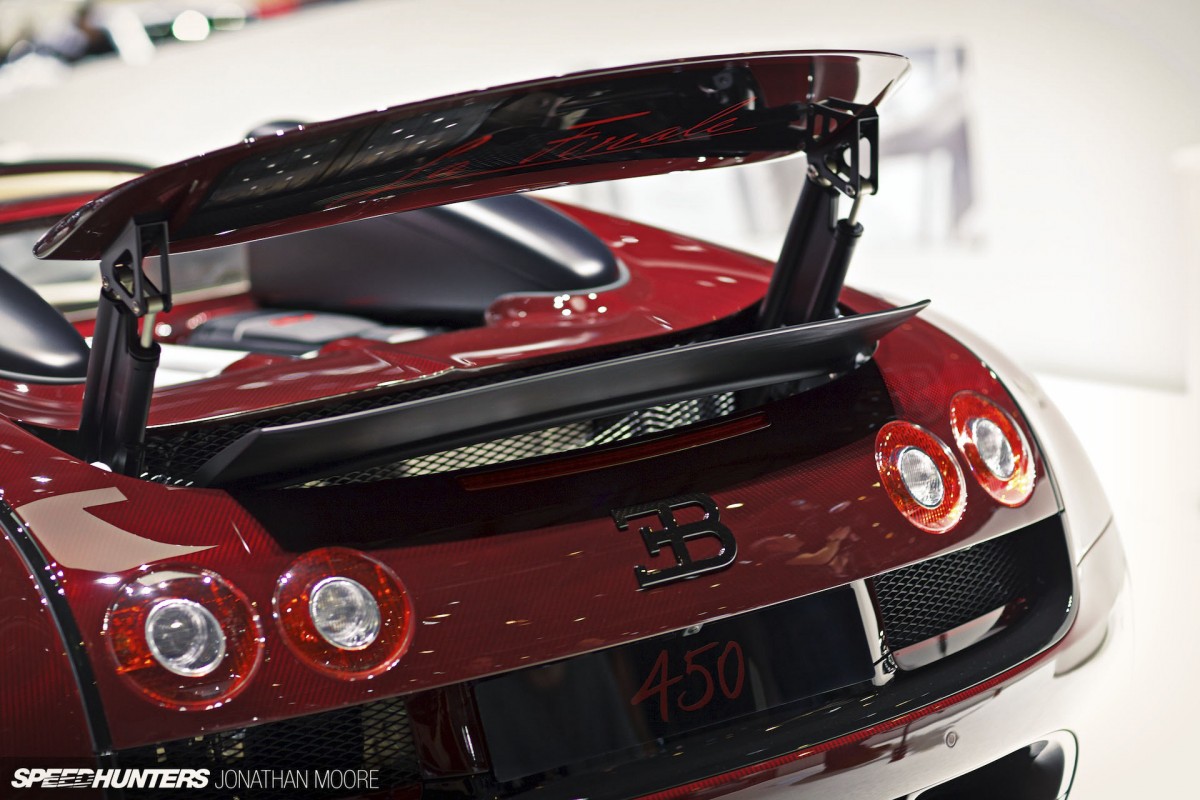 Across the way, Bugatti touted what they called their last ever, really final, promise, Veyron. A grandfather amongst hypercars now, for me the decade-old Veyron somehow lacks the impact it once had. There's no longer the wow factor when you see one – certainly not when the car opposite is a Koenigsegg Regera. What next for Bugatti? It needs to be something spectacular, that's for sure.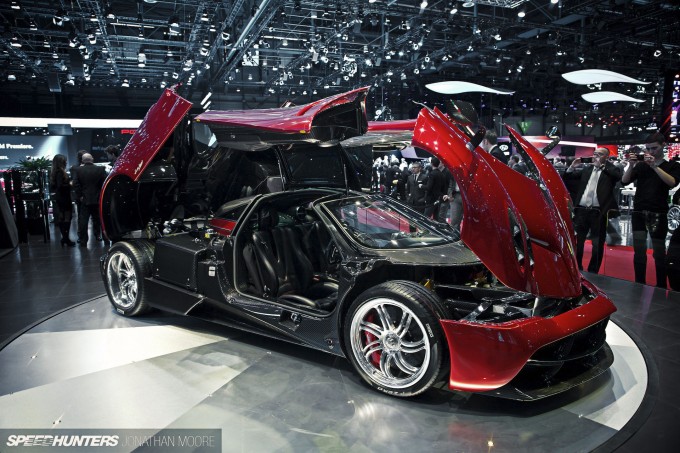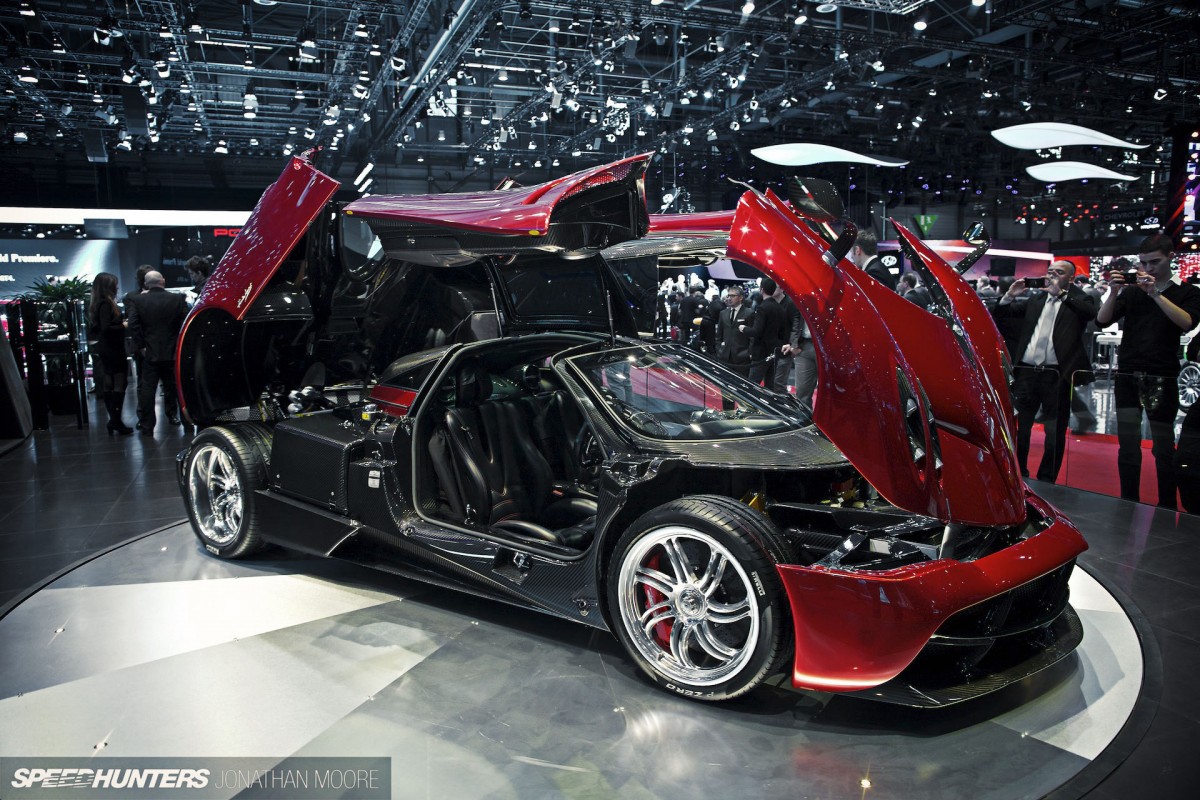 Our friends at Pagani are in a similar position for different reasons: the Huayra is now official sold out after just over two years in production, and they're also moving onto a new model. For Geneva they give the Huayra a last hurrah, showcasing one model with a track pack update and a second using their carbon-titanium body panels tinted blue – both as stunning as ever.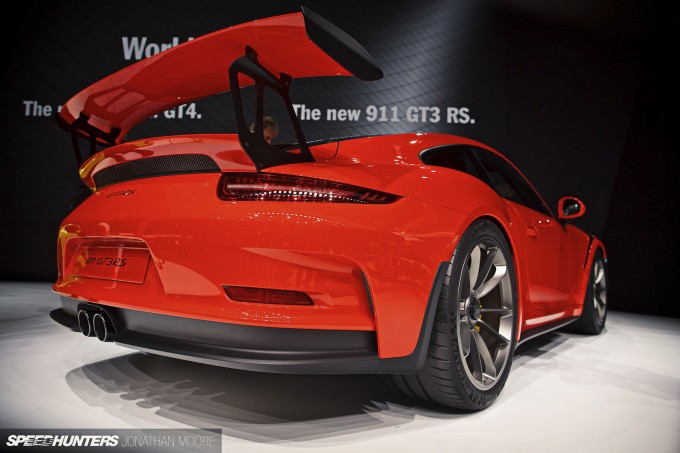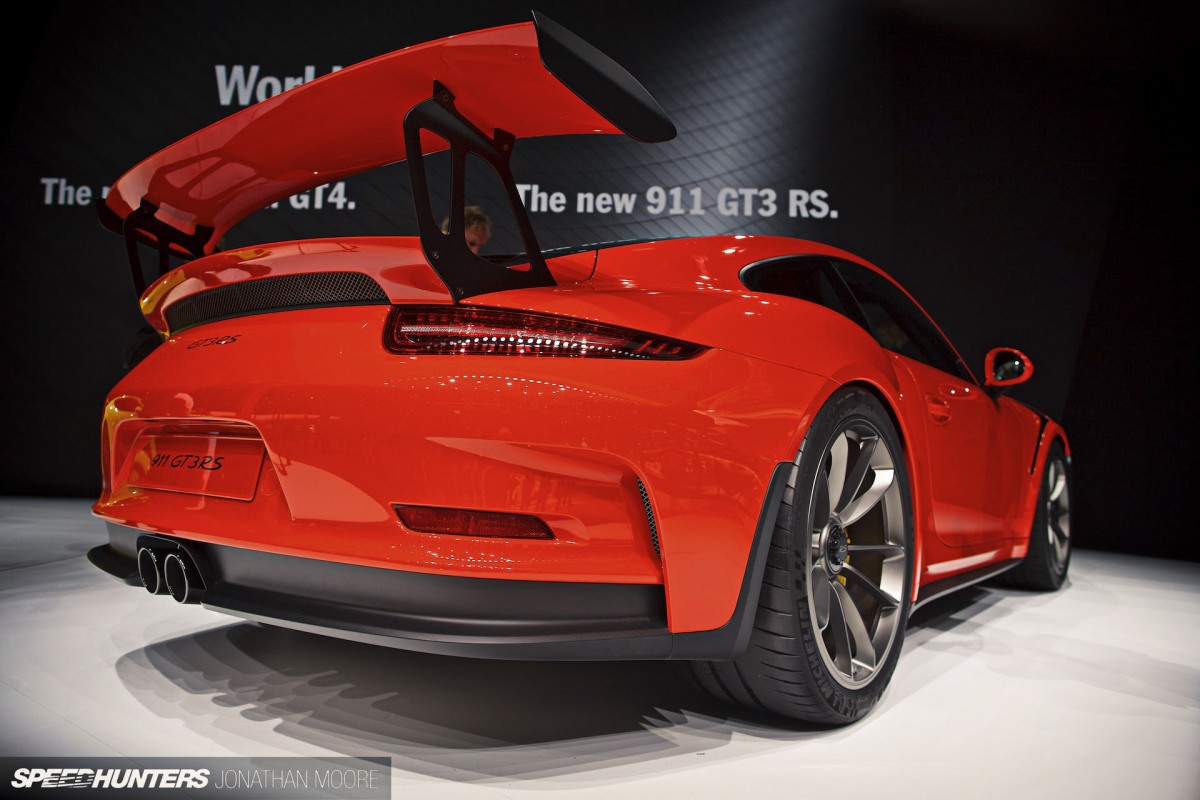 Porsche's new 911 GT3 RS was looking appropriately aggressive, with everything as it should be for a GT3 model: massive, overblown, super-wide – and normally aspirated. Apparently it's now even faster around that ubiquitous unit of modern performance, the Nordschleife. Maybe that's what we need to do – take the fastest car as a figure of 1 Nordschleife and measure everything else against. 'This car has 493hp and 1.3 Nordschleifes'…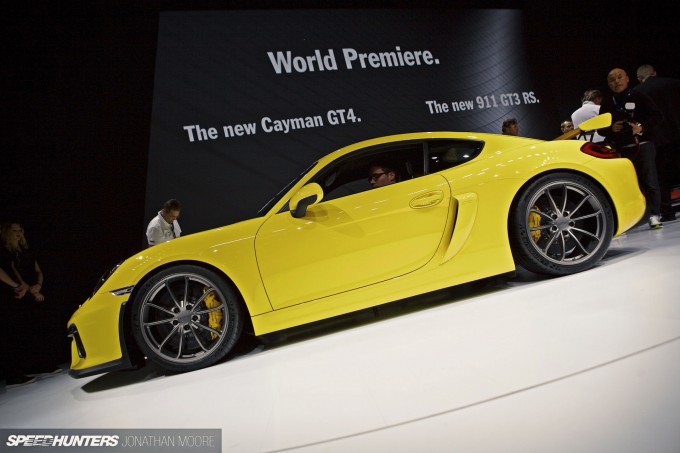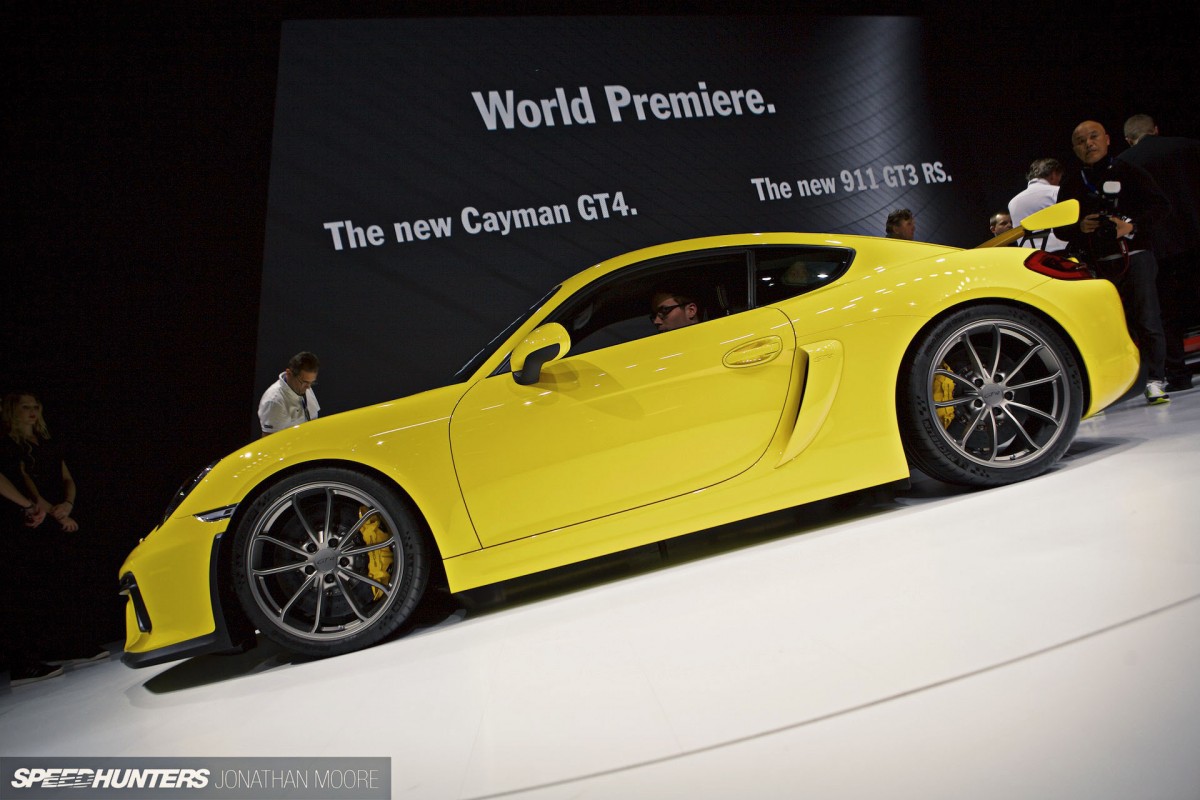 The problem they've got – and it's not a bad problem to have – is how good the Cayman is. Styling-wise, seriously, this is really now a mid-engined 911 isn't it? Front, 911, middle, 911, rear three-quarter, okay Cayman, rear, 911. Which is probably what they've been aiming to do, slowly bringing us with them as they transform the 911 into a mid-engine platform?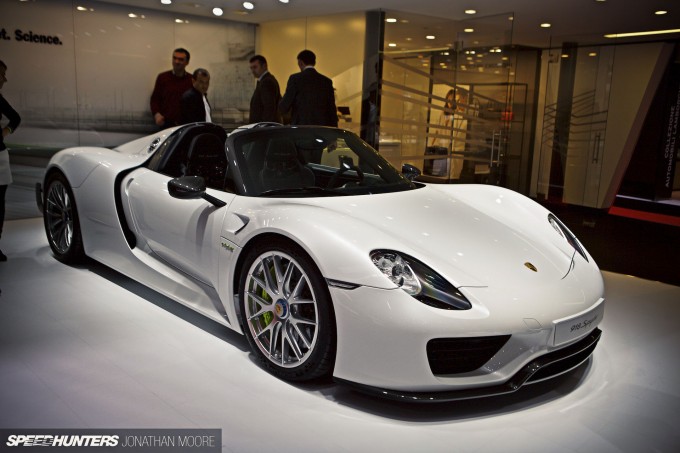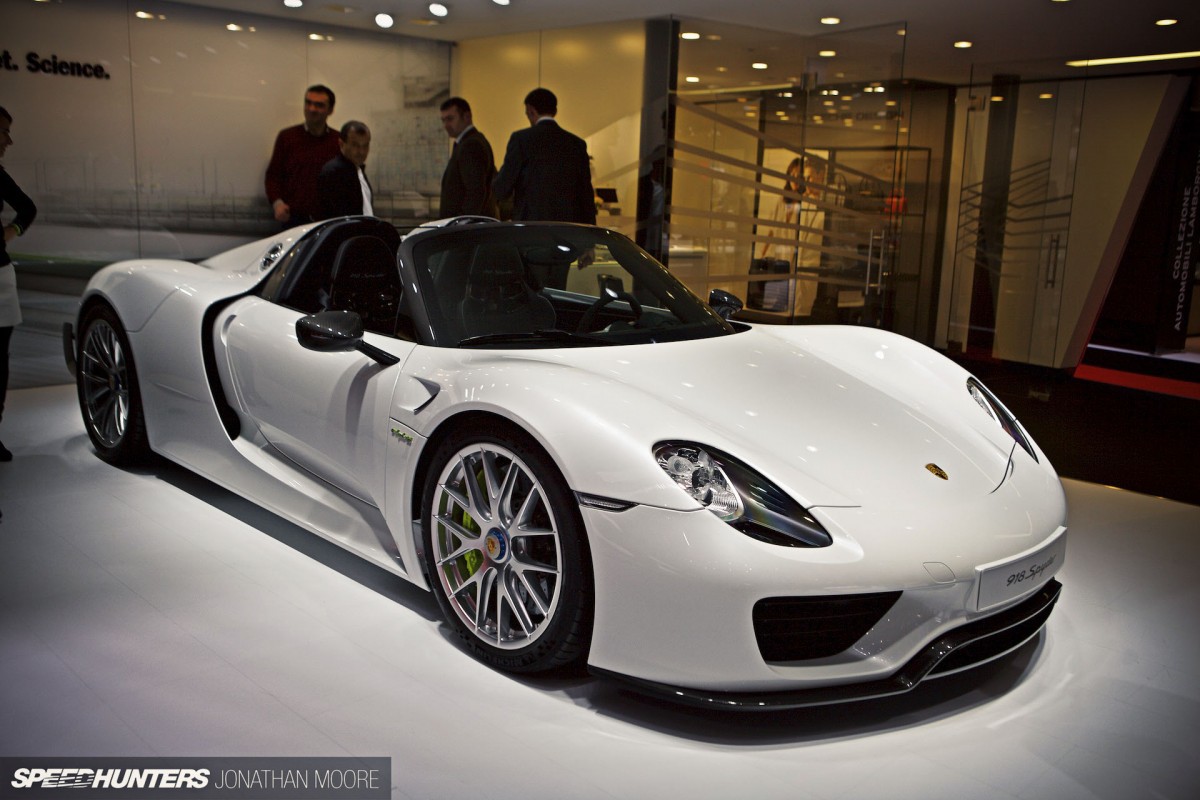 A single 918 Spyder was parked off to one side, almost anonymously – which is a strange thing to say about a car which goes toe-to-toe with the fastest cars on the planet. Maybe it shows that this high-end stuff is still seen as a bit niche for even Porsche, that they're not so fussed about competing in that market when their bread and butter is so iconic?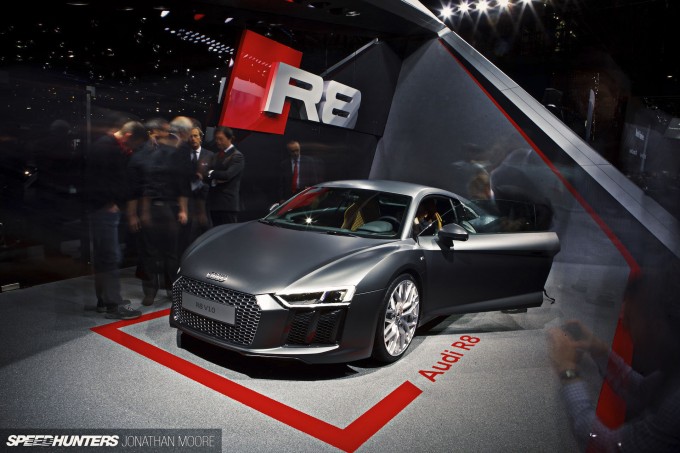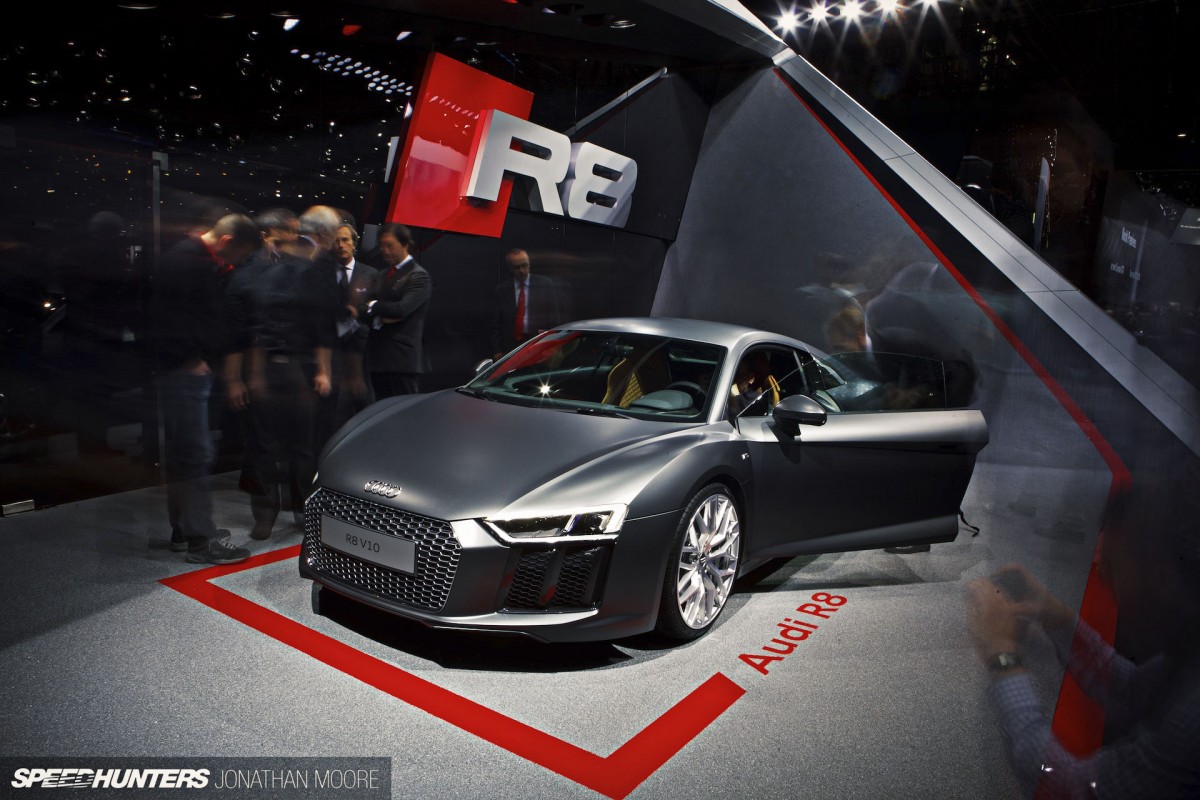 Audi's new R8 seems like exactly the right direction – more chiselled, far more aggressive. It's the problem I've always had with the TT, that rounded jelly-mould style of older models, but the new R8 sports a look that just looks… faster. On the opening day of the show you couldn't move on the Audi stand for R8s.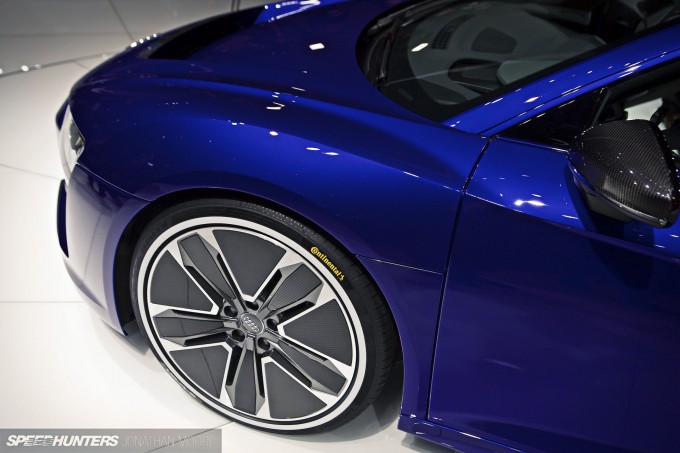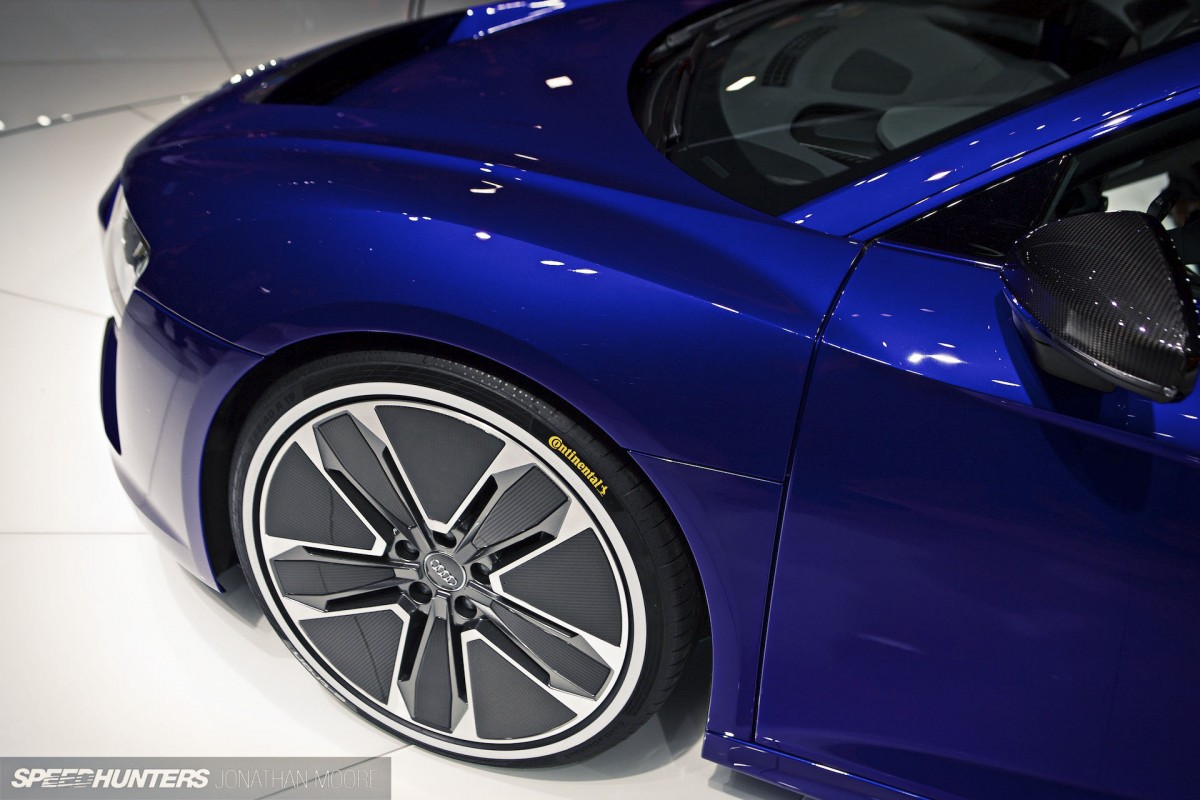 The standard (if you can call a V10 weapon 'standard') and Plus (205mph, 3-second 0-60) were great, but there were two variants that really caught the attention. Firstly, the electric blue e-tron quattro, with its beautiful carbon-shrouded rims. But this is another car that proves that full electric trickery is a perfectly acceptable alternative to pure petrol power. 456hp and 678ft-lbs of torque from the rear wheels is balanced with torque vectoring to handle that high voltage delivery.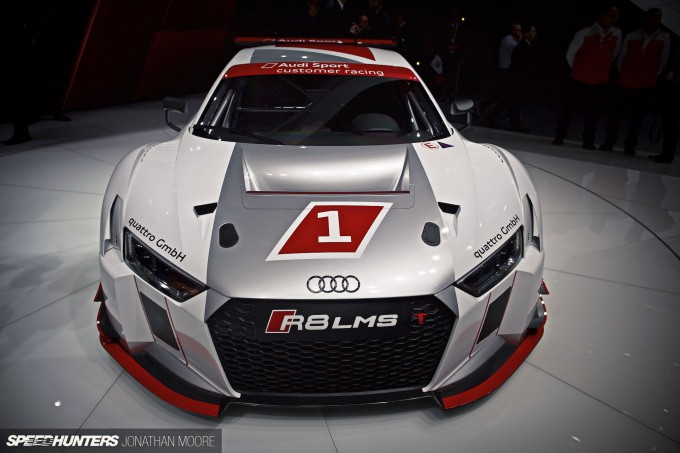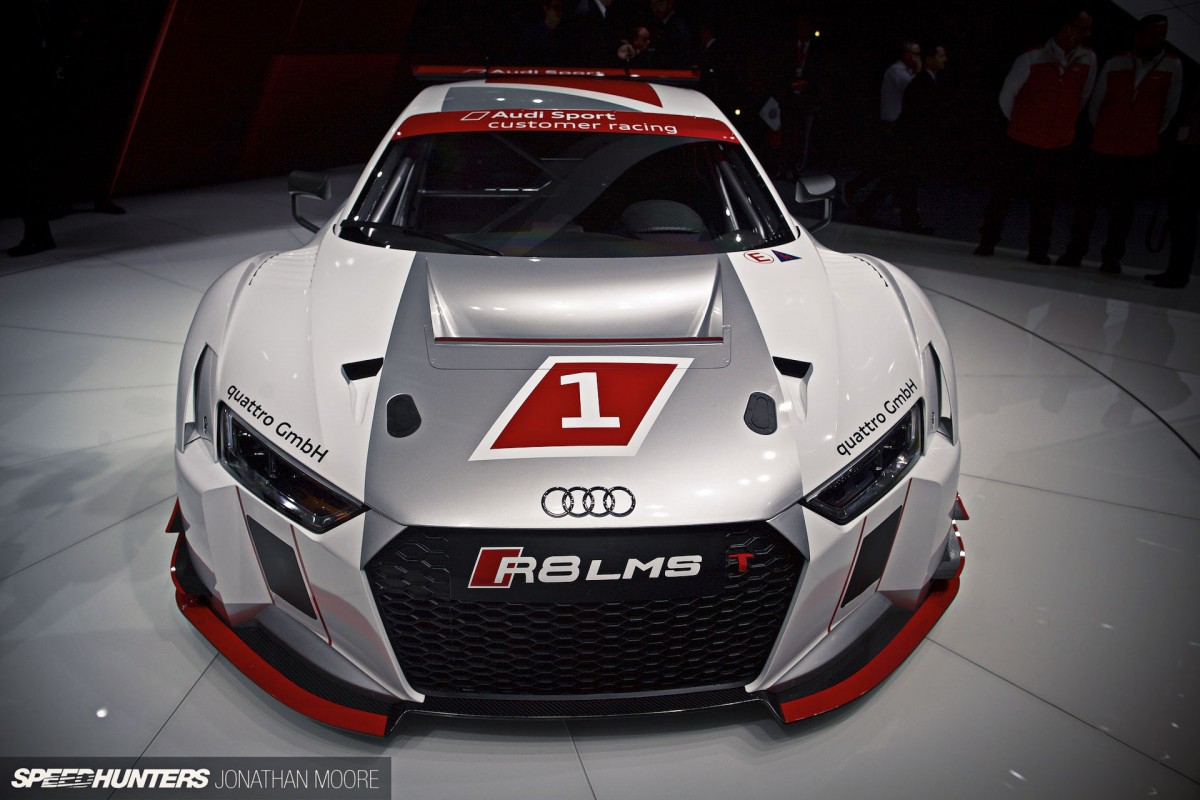 The GT3 racecar also featured prominently, and no surprise bearing in mind the hundreds of the first-gen racer that Audi sold. The angles work even better on the GT3, with the gaping nose well framed by the sharp aero.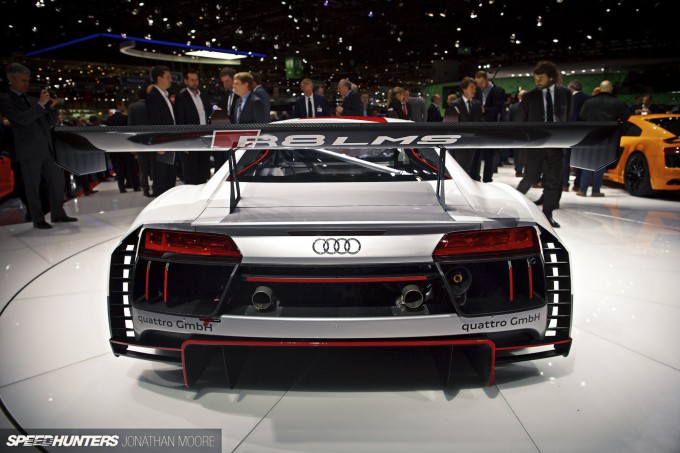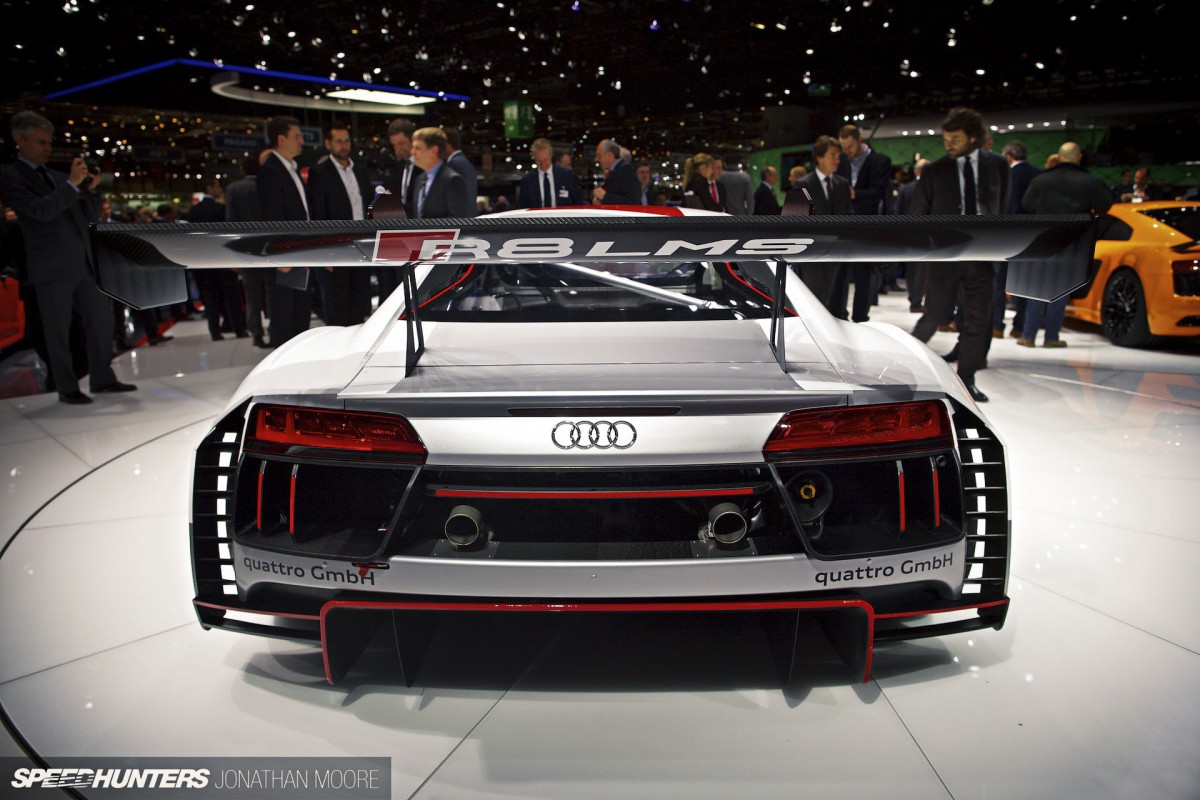 The rear: like a shredder. A shredder of air. The typically huge rear wing sits over a less-than-subtle tail treatment, in aesthetic terms at least. It reminds me of the extreme look of DTM racers, but here with even more pure function. I like my racecars to look like they mean business!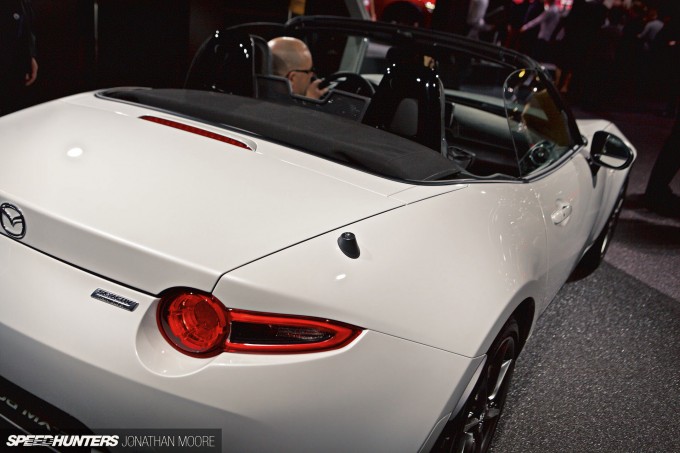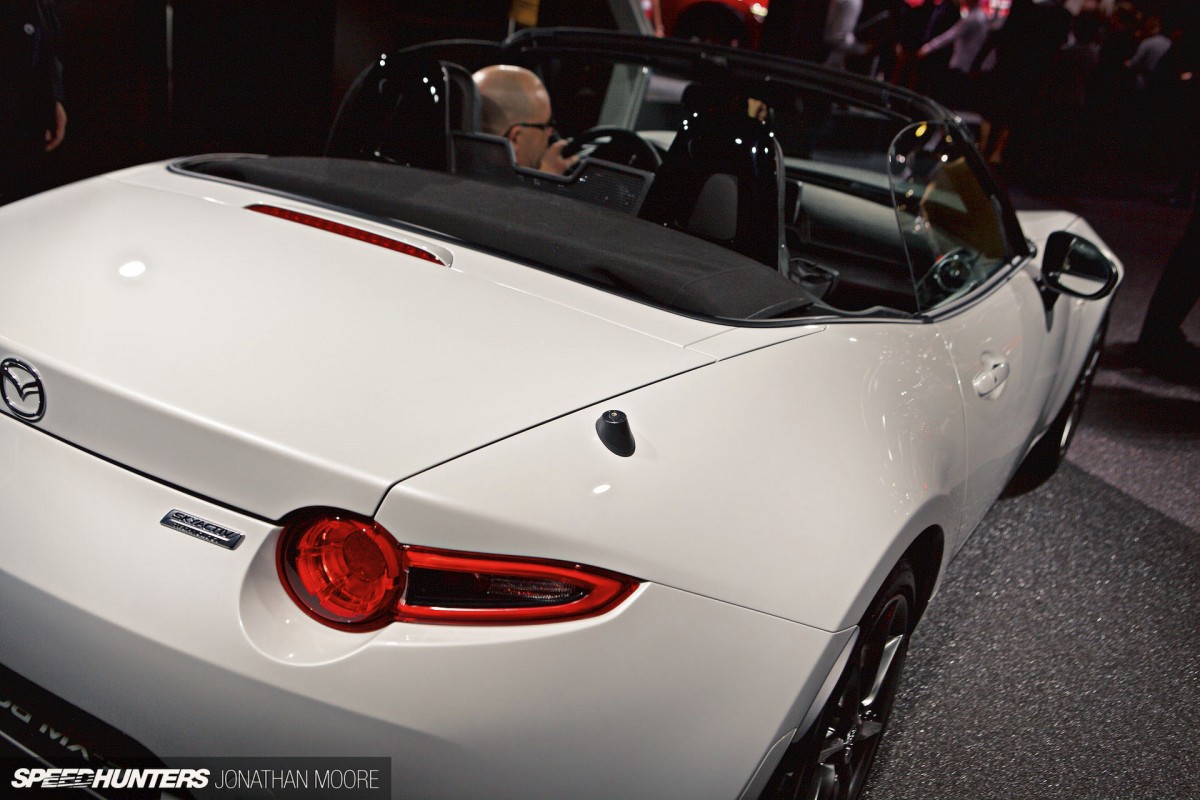 Mazda's new Miata/MX-5 also came blinking into the light at Geneva after its reveal in Paris last year. It's hard to believe the model is now 25 years old. I can't help but also spot design cues from other cars in MX-5s, but I'm sure that's deliberate on the part of the Mazda designers. This time I get Jaguar or maybe BMW from the rear three-quarter and lights… Then again, I saw Viper in the lat model, so what do I know?!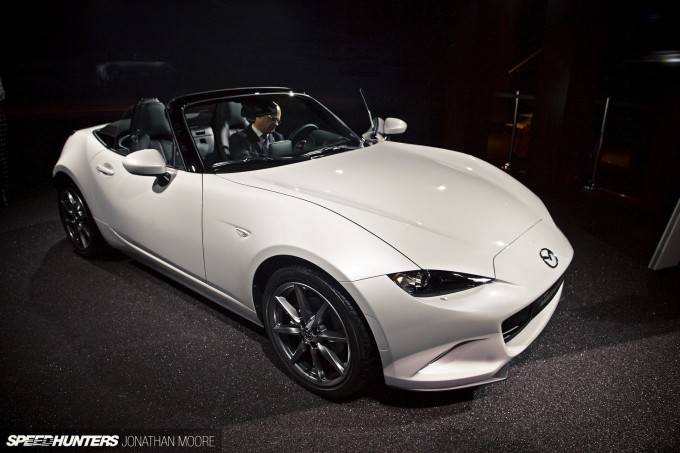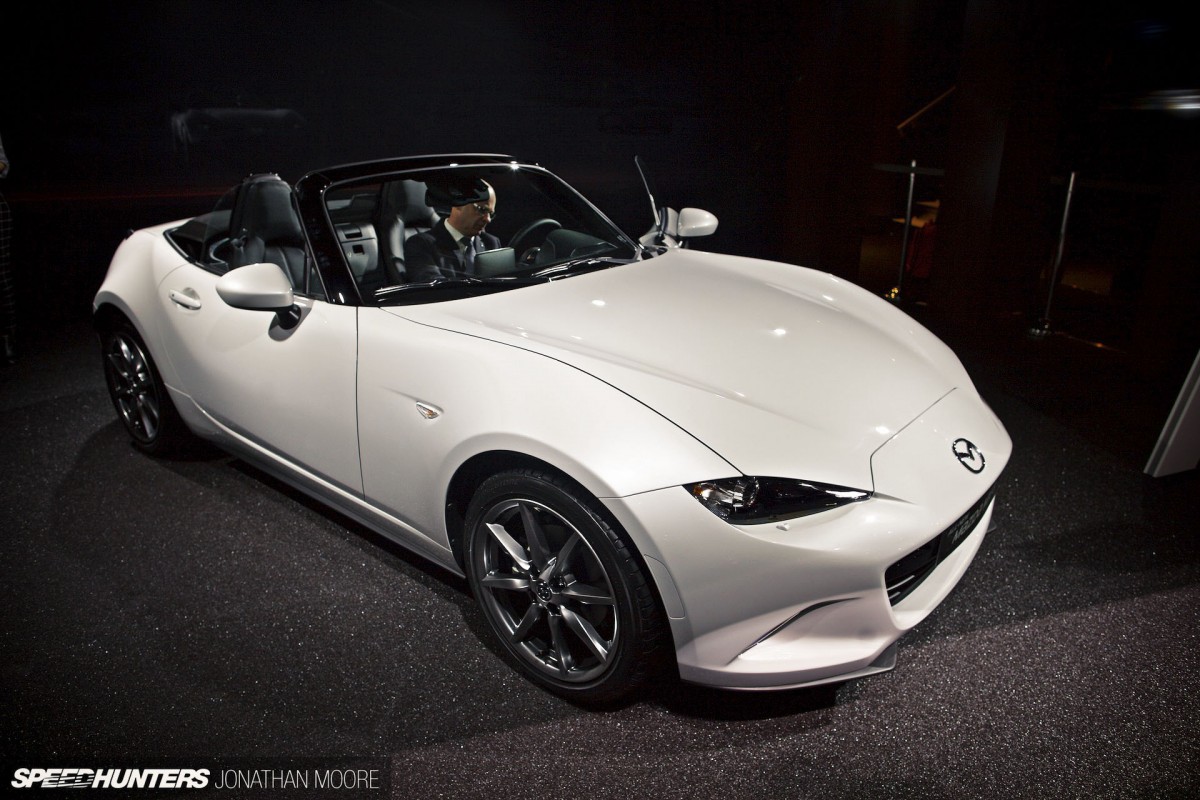 The front continues the general trend towards sharper lines, but there's also a lot of sharp programming. I-this and I-that – I wonder how the influx of technology will impact what has always been a quite pure, affordable little driver's car?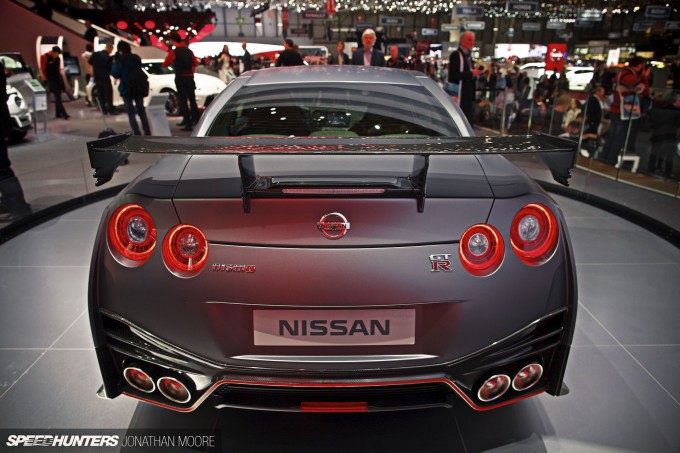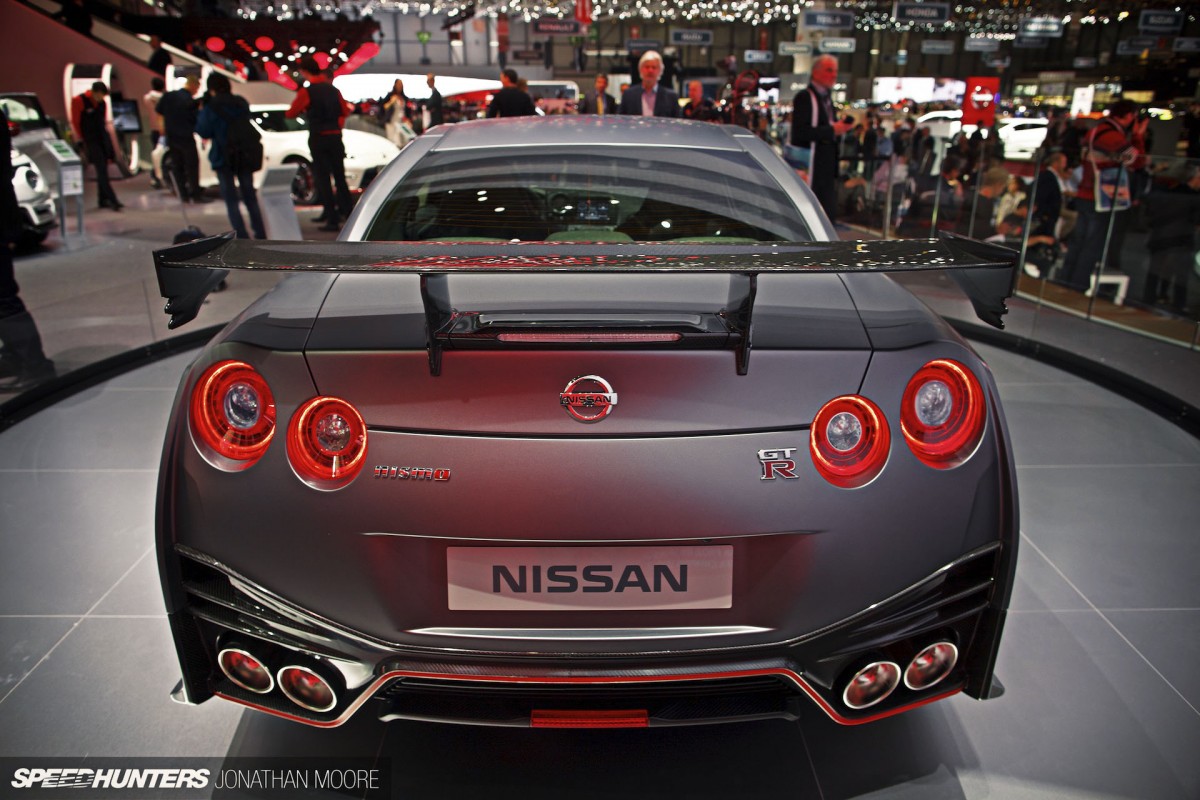 Nissan's stand showed some of the larger companies mild schizophrenia, not entirely sure if they should be pushing power and glory or restraint and economy. Their latest Nismo GT-R has grown yet more aero appendages, with a particularly hardcore rear treatment. It stood next to Nissan's new LMP1 contender, which in the flesh is even more amazing than I dreamed possible. More on that in another story…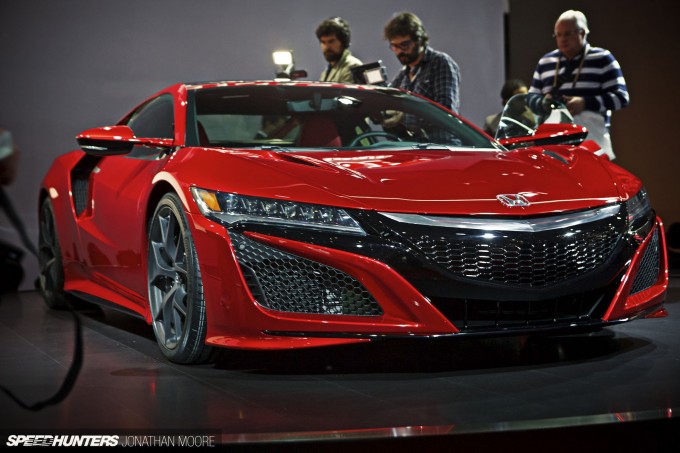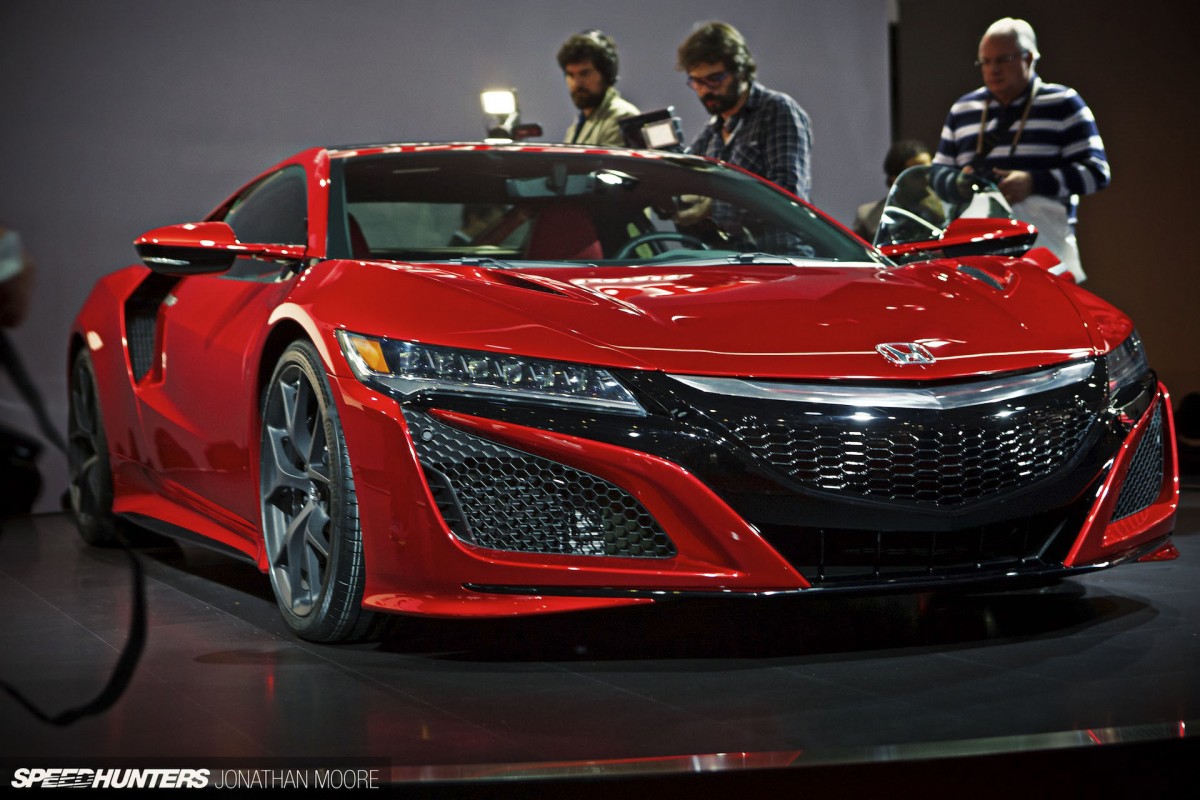 Although factory-tuned GT-Rs seem to drop like autumn leaves (or fresh snow, as we were in Geneva), that car still had impact and caused gravitational pull. In contrast, I was shocked to find that the production NSX from Honda was just… there. The first time I saw it a couple of years back I was stunned. The second time impressed. The third year… Maybe it's because it's been in gestation for so long?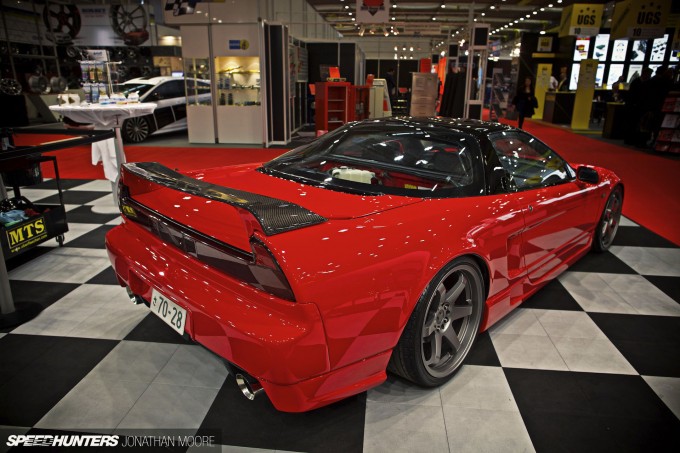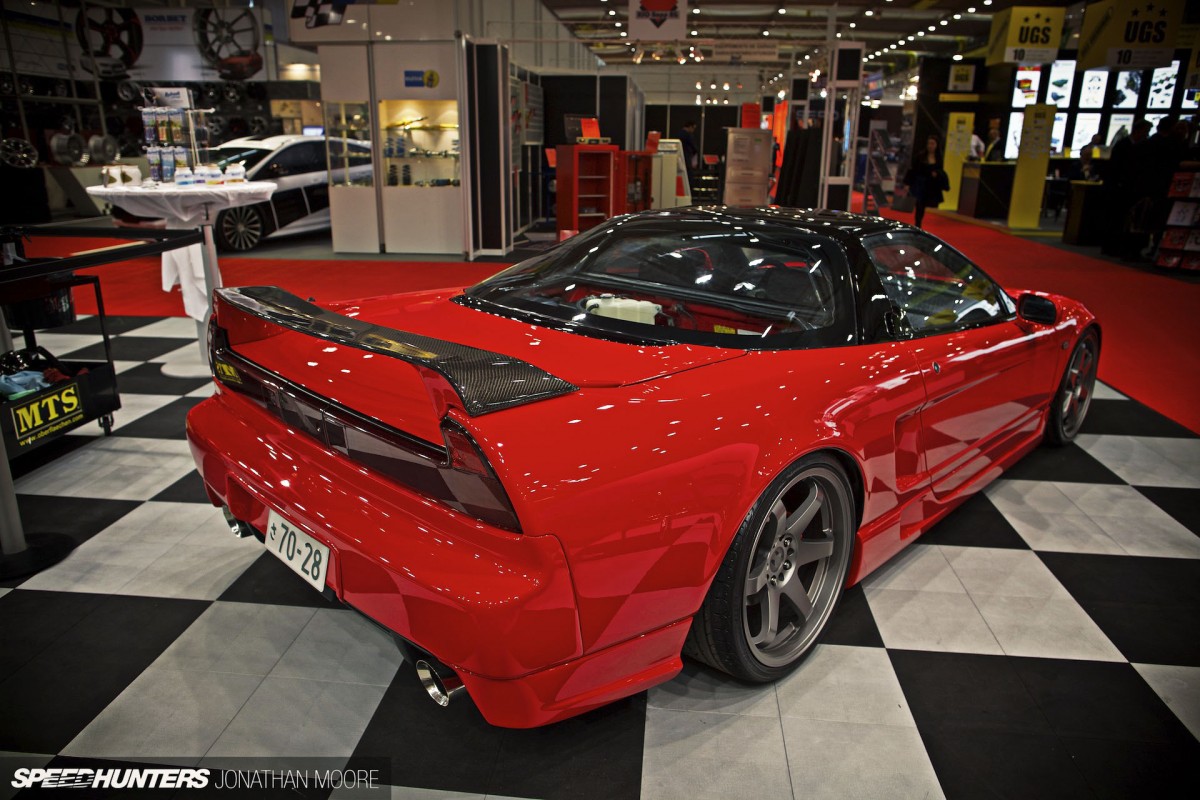 Another problem might have been the original NSX on show down in the equipment sales dungeon, buried away in a far-away hall…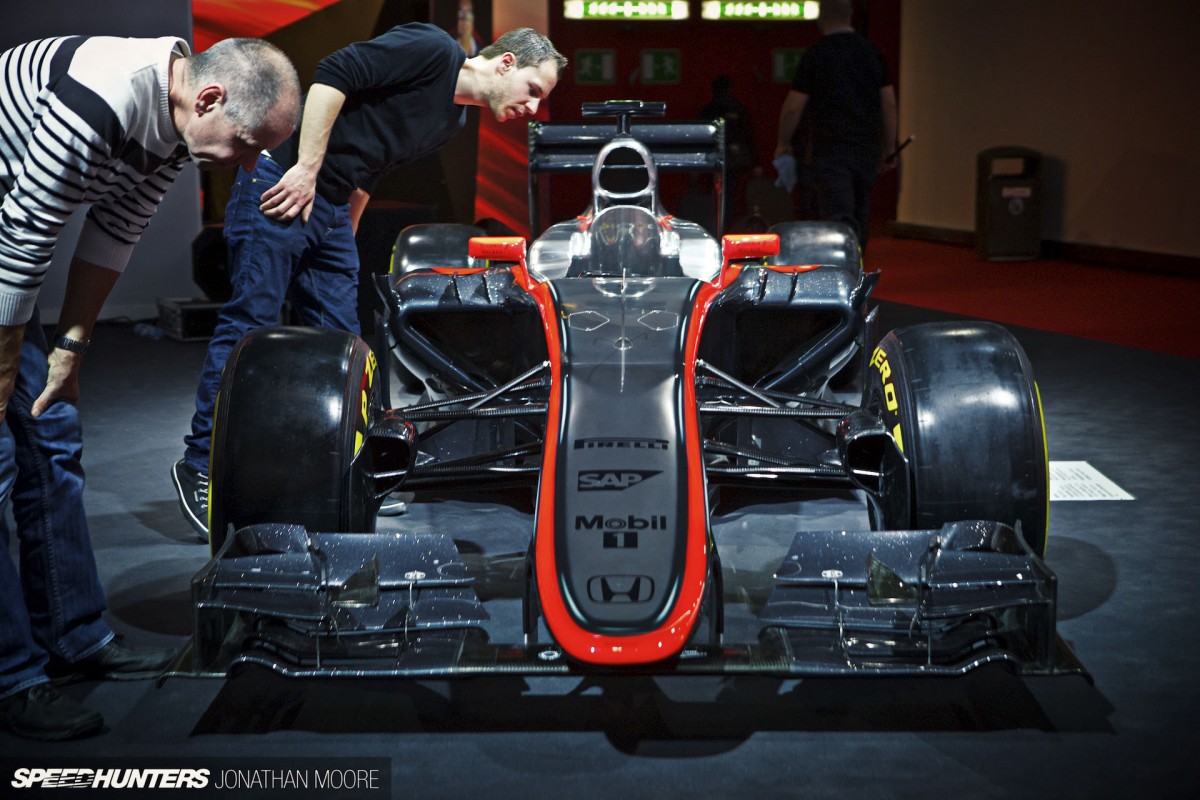 Honda's renewed partnership with McLaren was also on show, in the form of their MP-30 challenger for the Formula 1 season. I can't believe the season starts next weekend! I'm not sure Honda will have a lot to cheer about in the opening races, but obviously this is not a pairing you'd ever write off…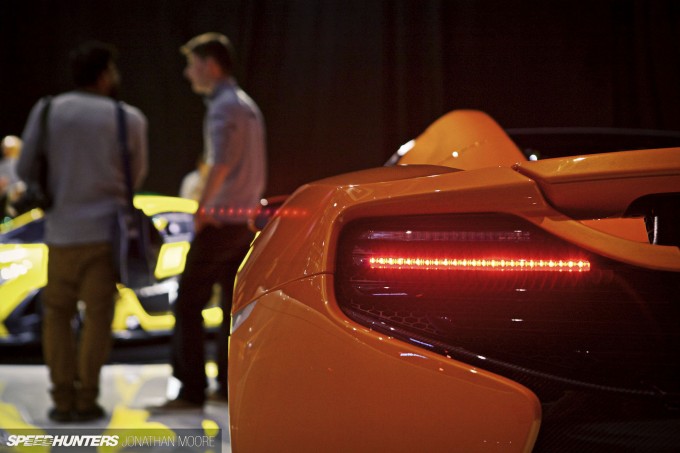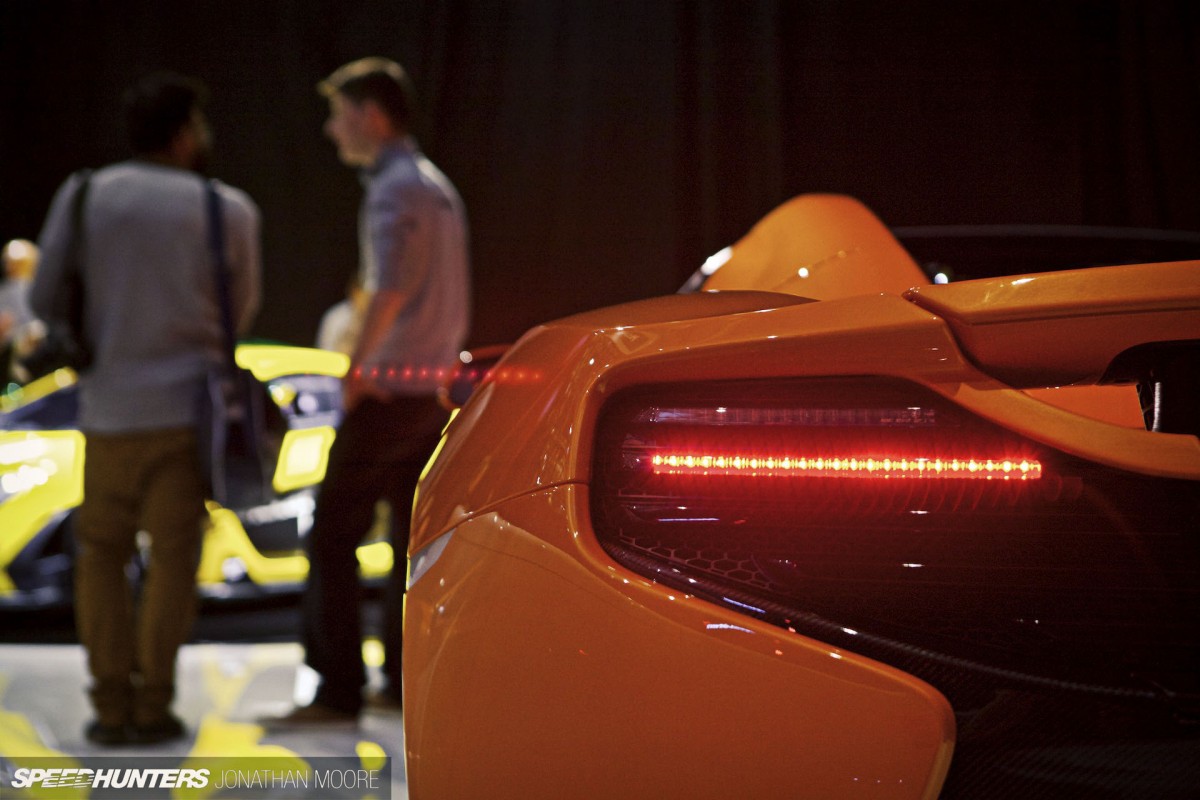 McLaren's stand was one of those shrouded by drapes on the pre-opening day of Geneva, prepped for a teaser launch of the 675LT ahead of the official reveal the following day.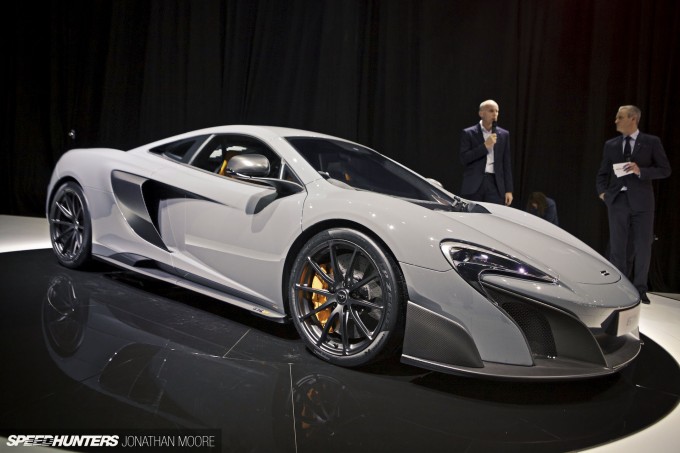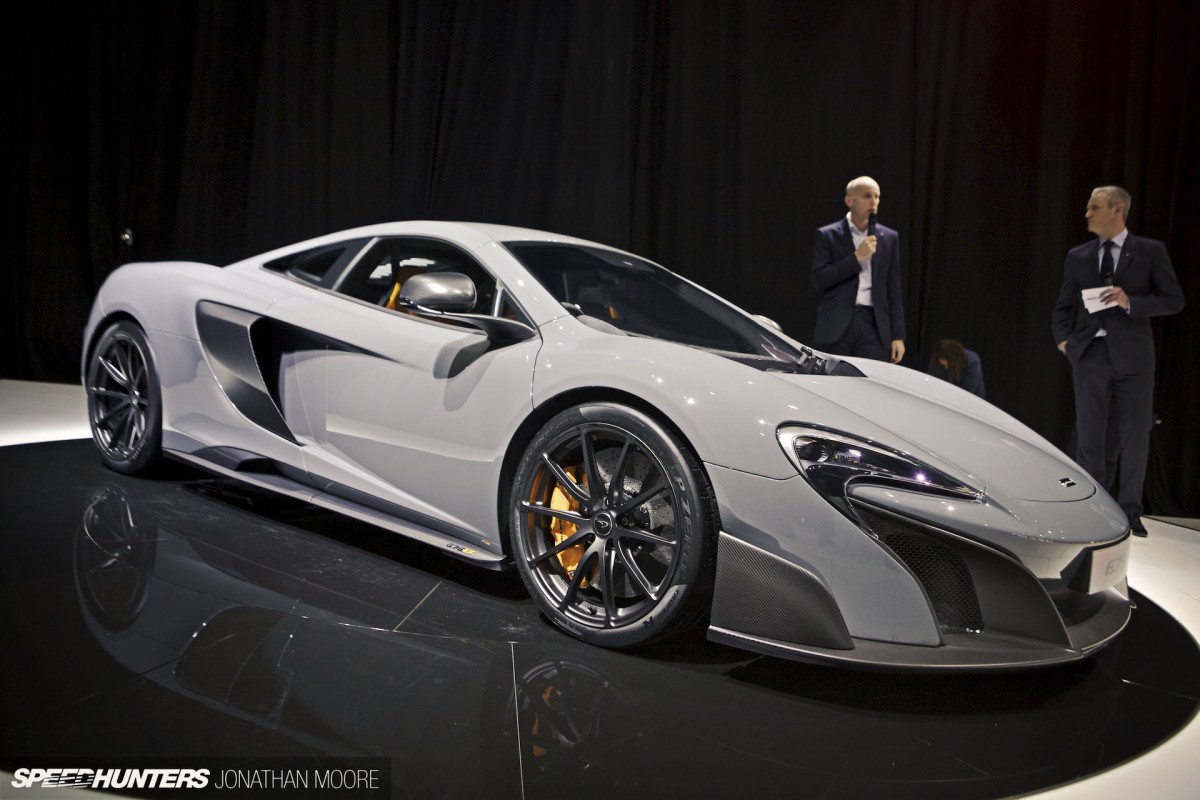 The car is part of McLaren's 'Super Series', as opposed to the 'Ultimate' of the P1 and the upcoming 'Sports' which will be kicked off with the baby P13 in April. To use the term Long Tail might be pushing it, though it is definitely longer than the standard 650S. The air-brake wing is considerably larger, aero hardened up and weight stripped down (100kg in fact) – all the stuff you'd expect.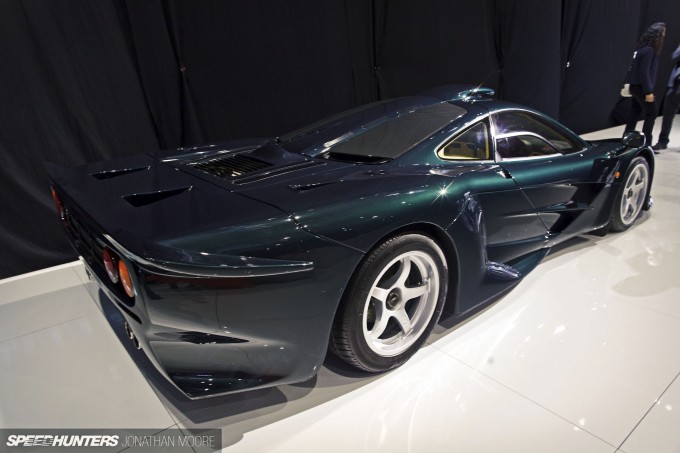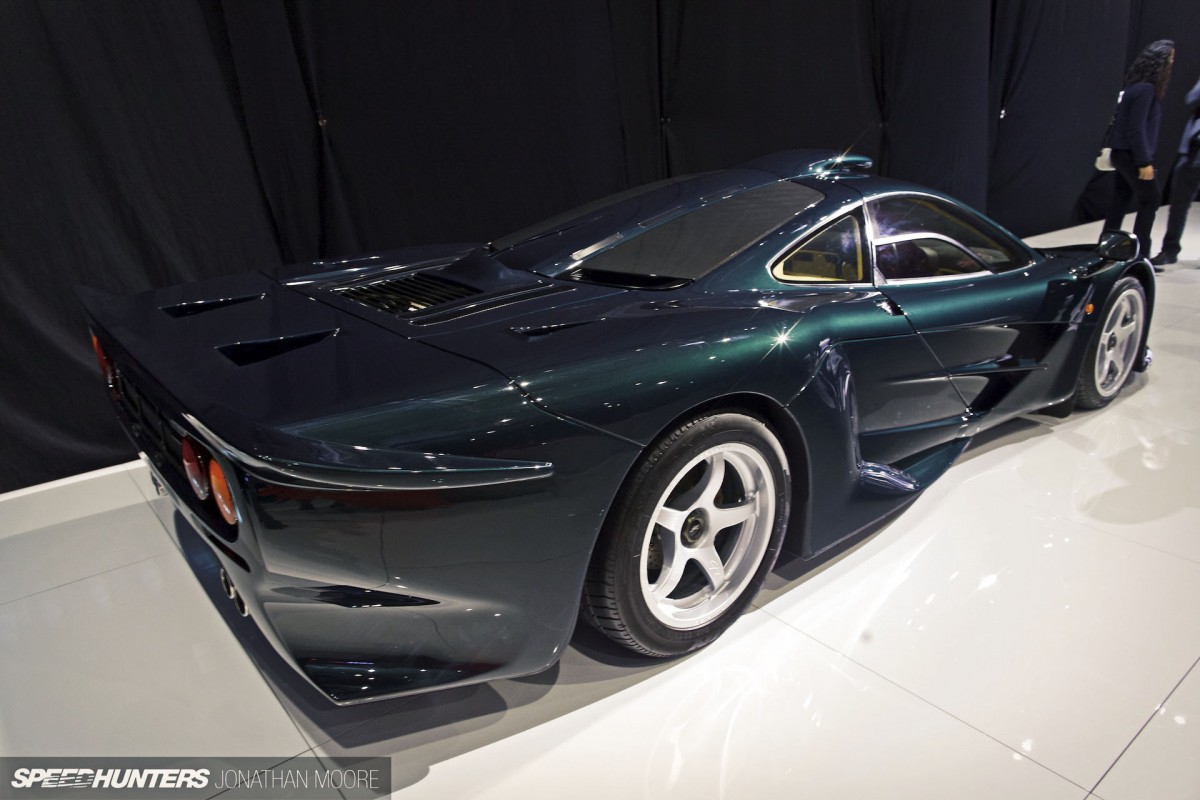 As with the Honda, although even more directly because of its location right next to the newer model, the problem here was having an original F1 long-tail on show! Now that's a long tail…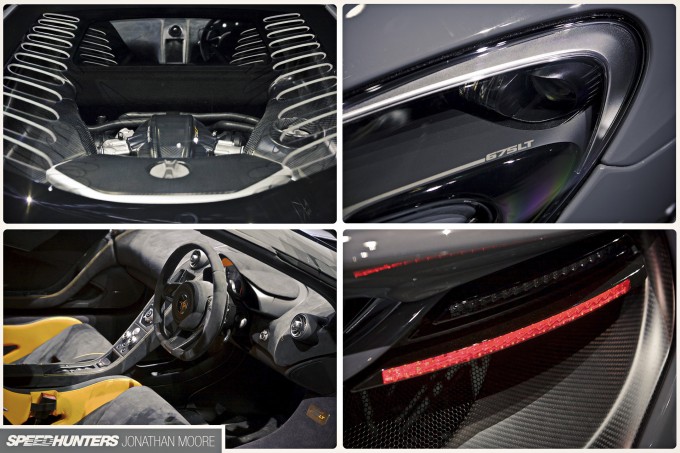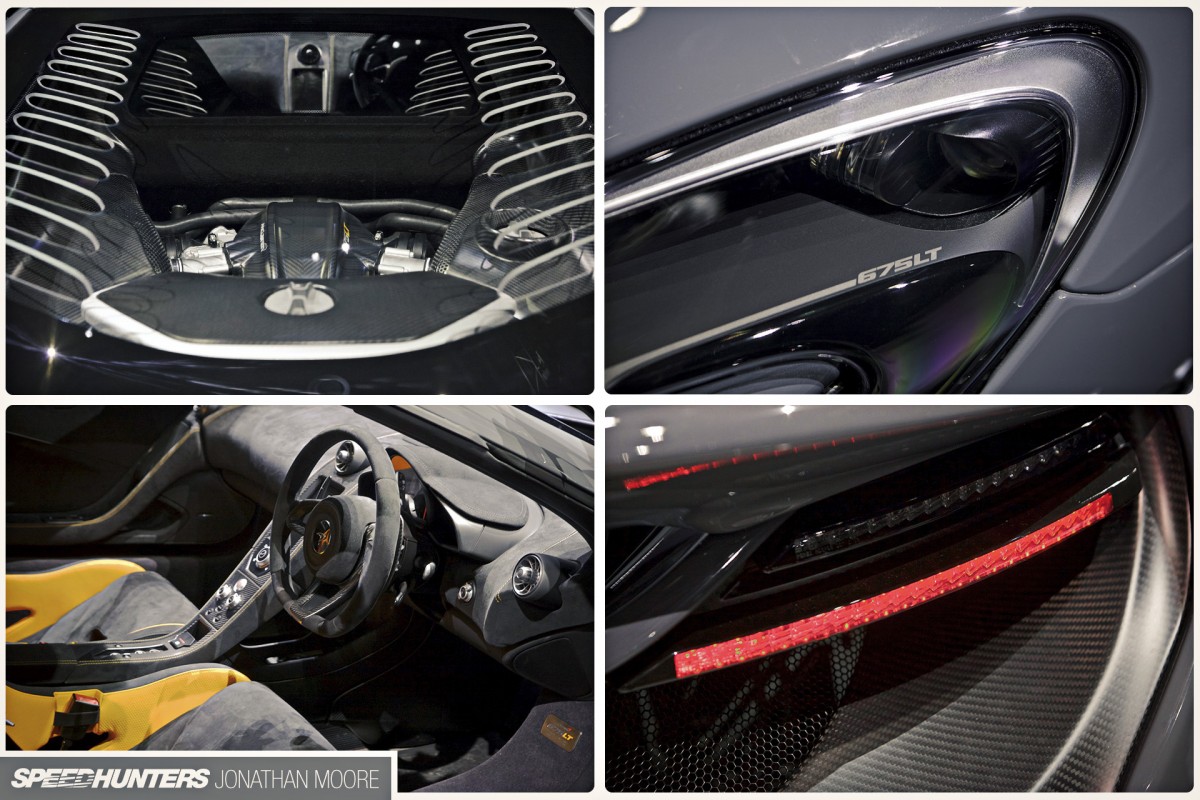 However, the 675LT was looking spectacular. The uprated turbocharged V8 nestles under a new polycarbonate screen, and all the detailing has made the car even more muscular. It's funny how almost 'classic' an MP4-12C now looks! Just 500 675LTs will be offered, interestingly available with liveries that are inspired by past racing McLarens – the P1 GTR was a kind of shop window for that.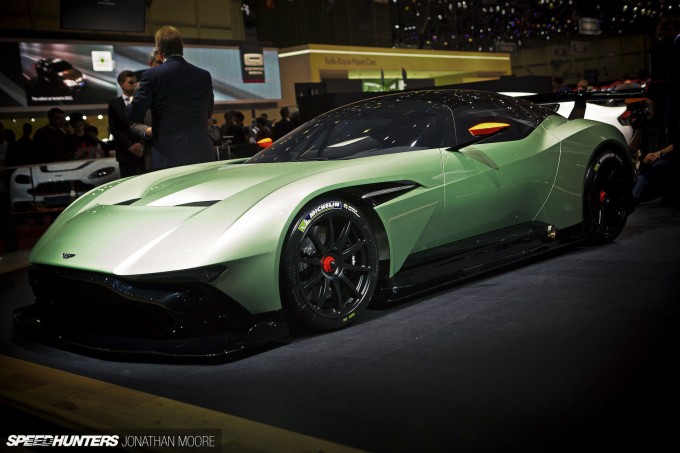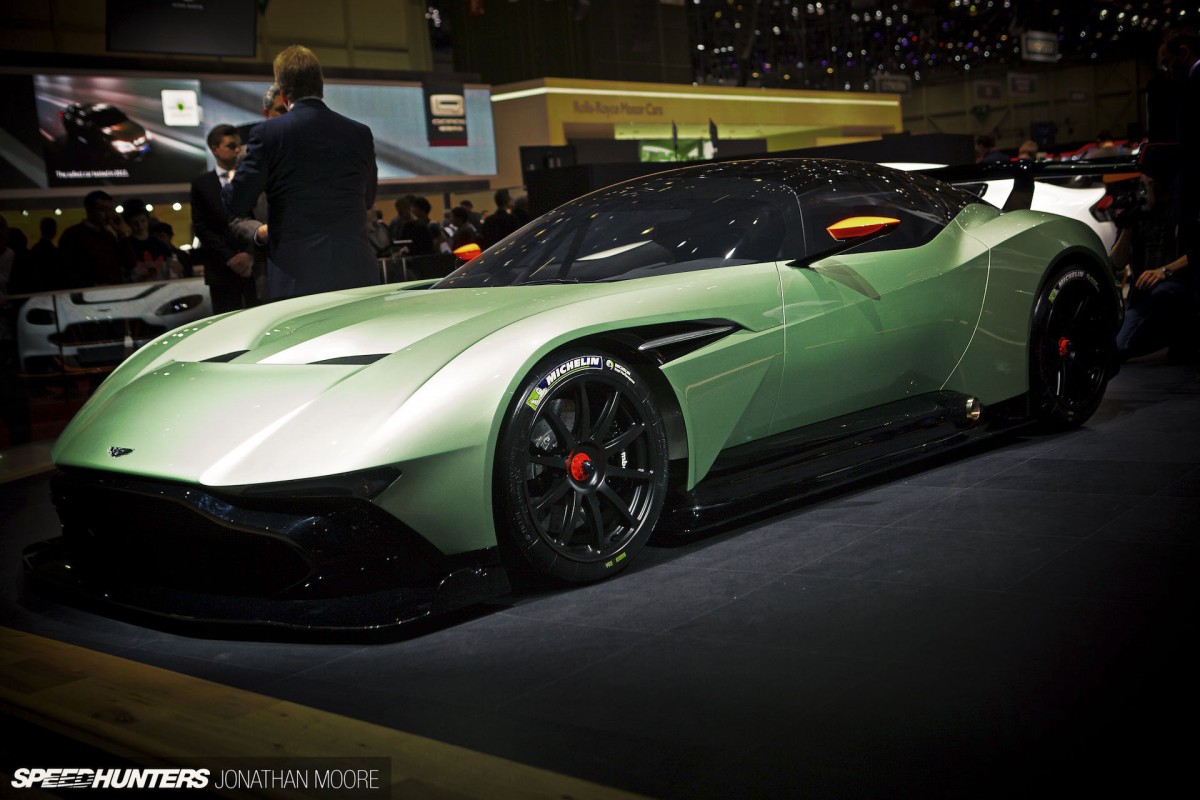 Taking things several steps further were fellow Brits Aston Martin, with their utterly out-there Vulcan. This futuristic racer couldn't be more of a departure: traditional Aston styling cues were few and far between, hidden in the shadows beneath the extremes of bodywork.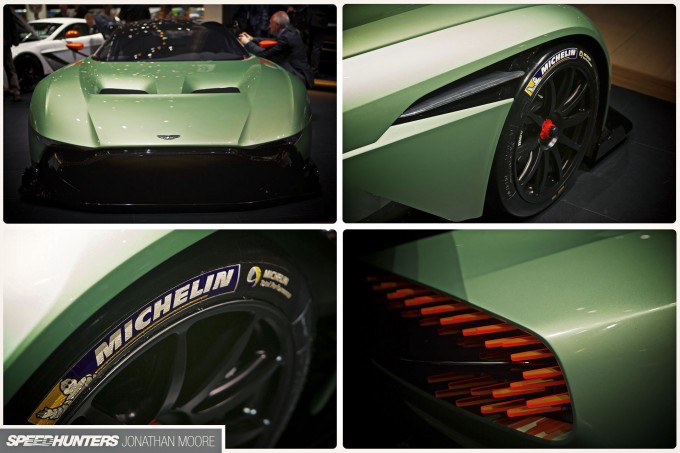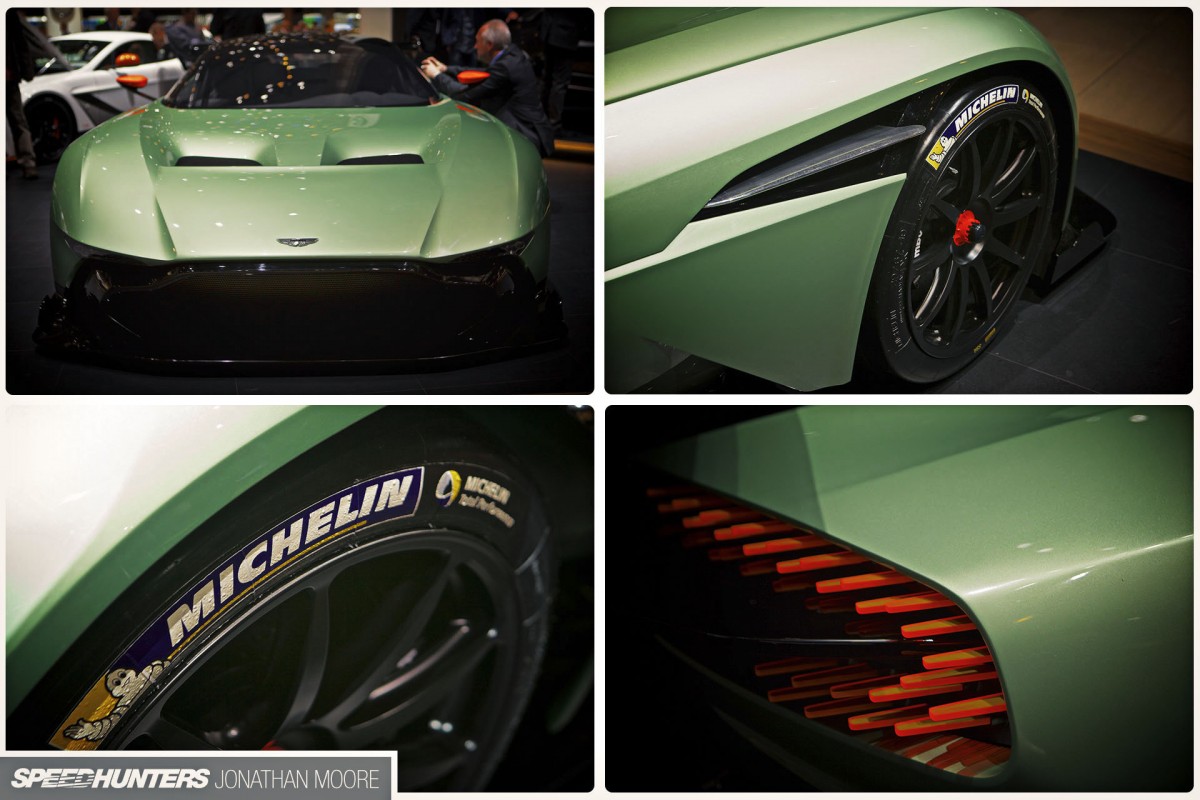 Named after the famous nuclear bomber aircraft that used to be based at AM's Gaydon factory site, it's got the visual impact of its namesake. The sci-fi taillights come from the concept shown off at Goodwood and you could land a Vulcan bomber on the bonnet such is its length. Underneath it, an 800hp 7.0-litre V12. Imagine the noise, the flames! The technnology – and then the hand-painted, old school logos on the tyres!
24 will be built, in reference to Aston's stomping ground of the Le Mans 24 Hours, for an unspeakable price. The good news is that unlike the P1 GTR, although the Vulcan is sold as track-only it can get type approval for road use, and it's fully FIA compliant. Could we see some rich, glorious maniac race it in the wild? Let's hope so…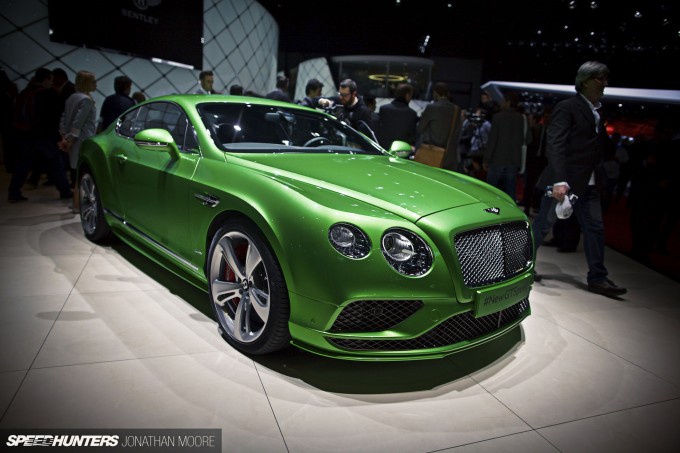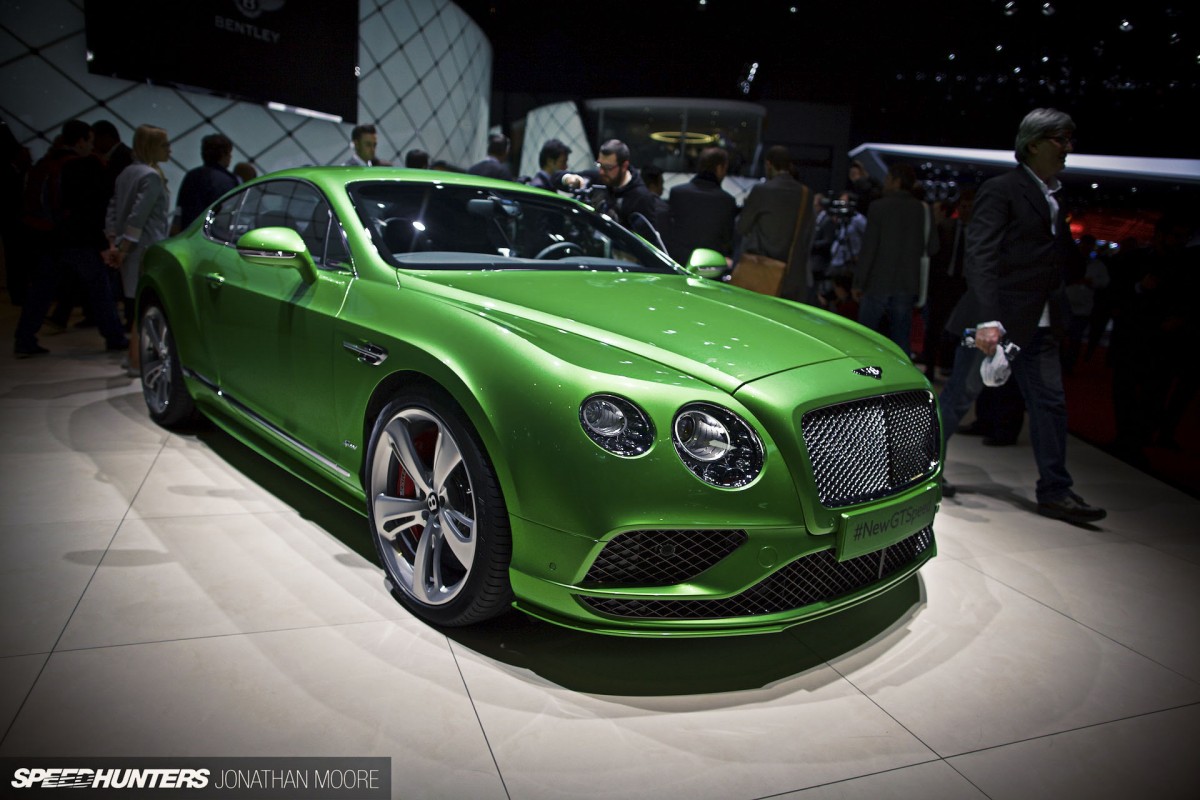 Even bigger, even more bluff, the Bentley stand was as unsubtle as ever.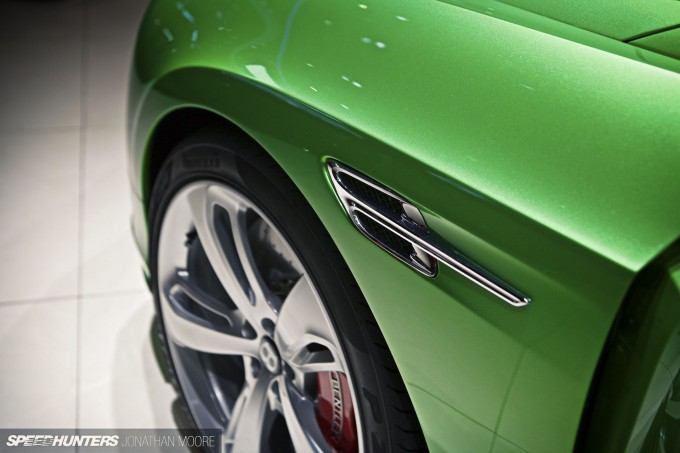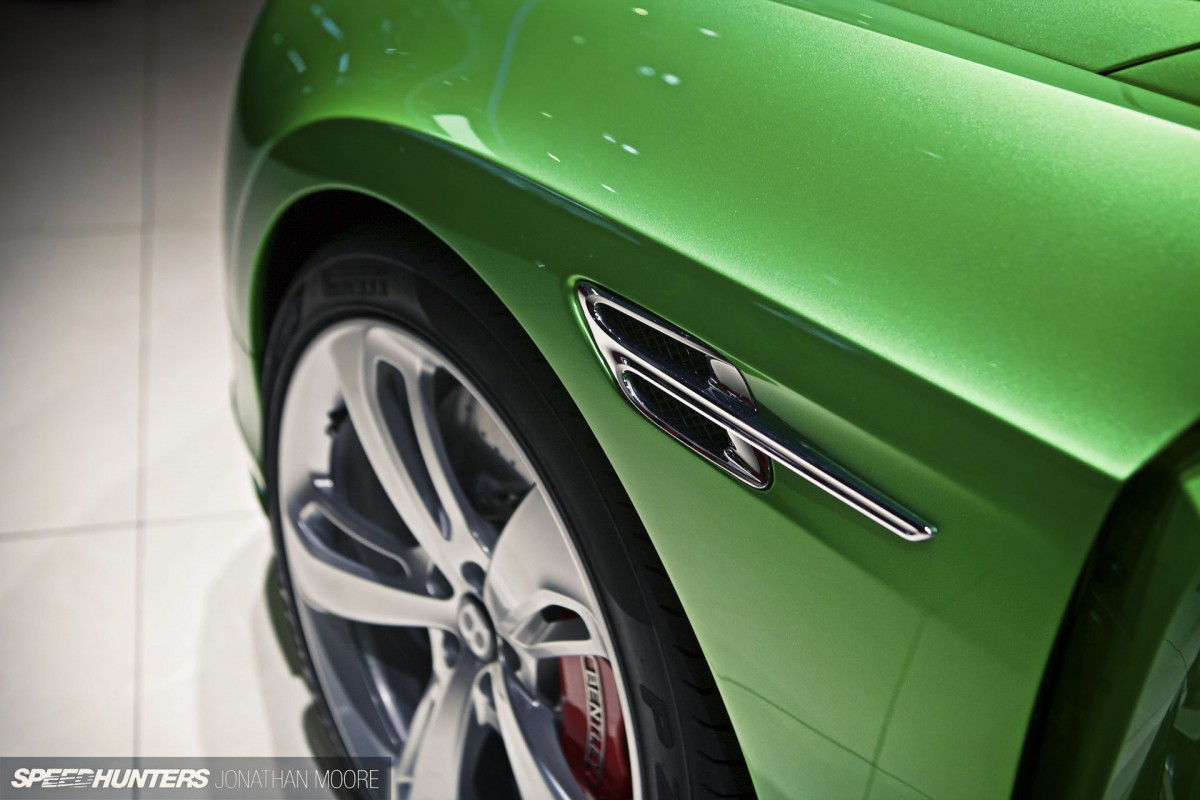 The new Continental GT Speed is yet faster, pushing this 2-ton behemoth to past the 200 miles per hour mark. It must be like riding a Space Shuttle… As ever, the detailing is beautiful, the shaping precise and graceful.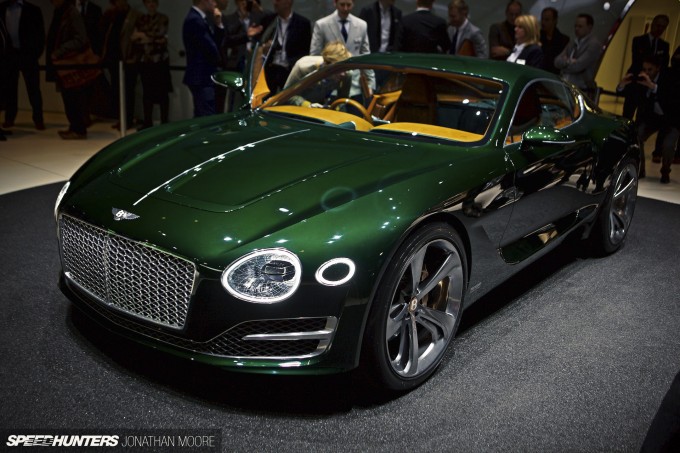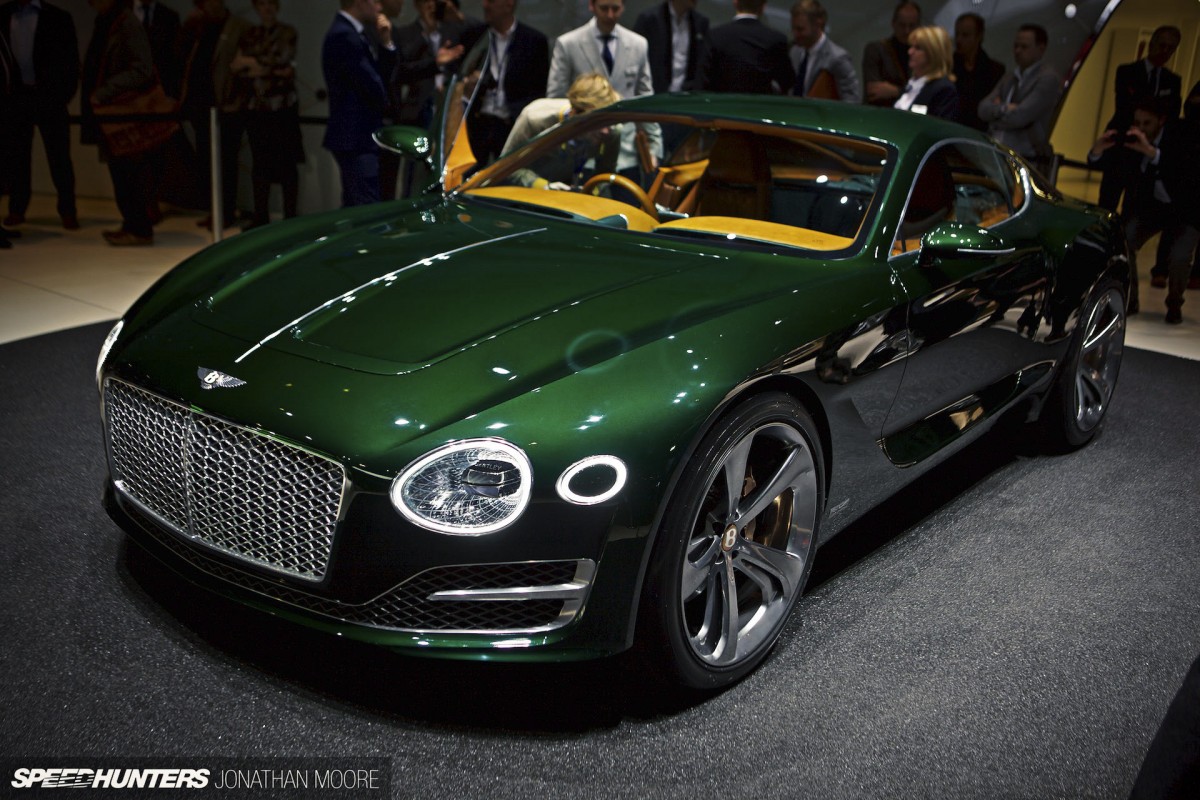 Even so, I was taken by surprise by the beautiful, swooping apparition next to it: the EXP10 Speed 6. This is the two-door 'baby' coupé concept that was promised, and I think it's incredible. Overblown, a mad mix of old and new, and all the better for it.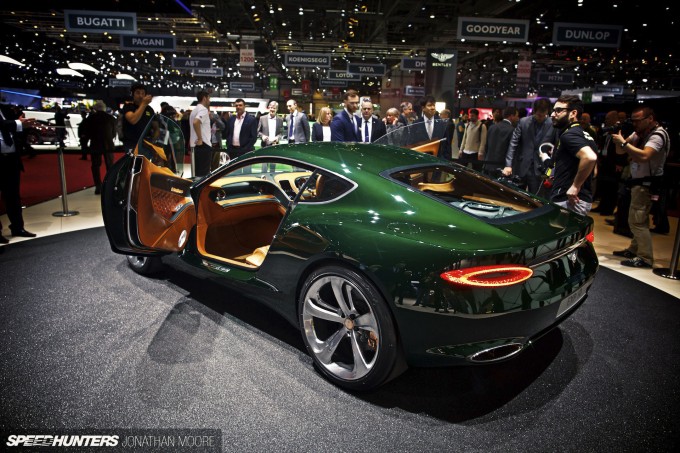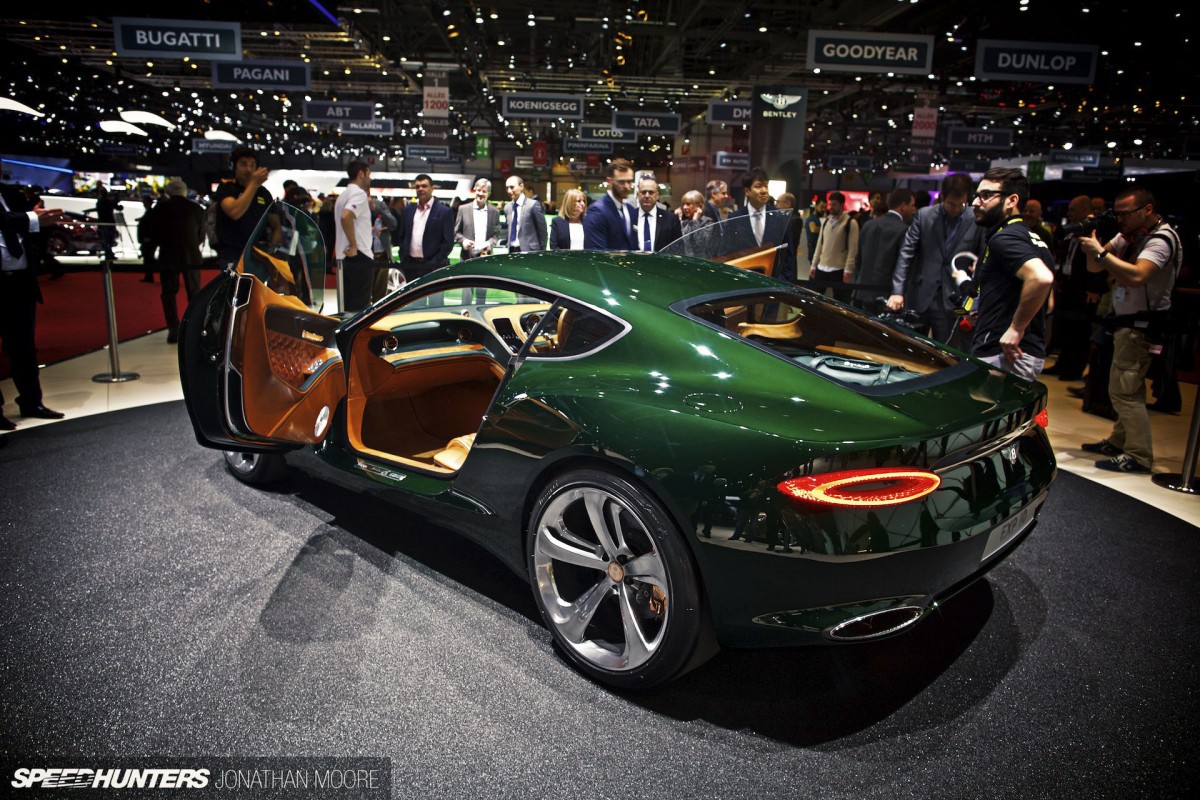 The matrix grille (which has a '6' etched in and only visible from certain angles) is flanked by hypnotic, teardrop lights, and where everyone uses carbon and the like, Bentley tout their use of… copper. And cherry wood. It will be a hybrid, though that's just detail. The old man vision of Bentley is rather a thing of the past!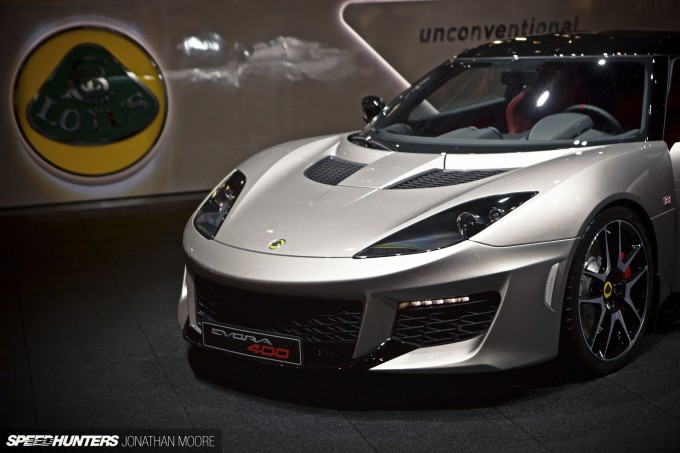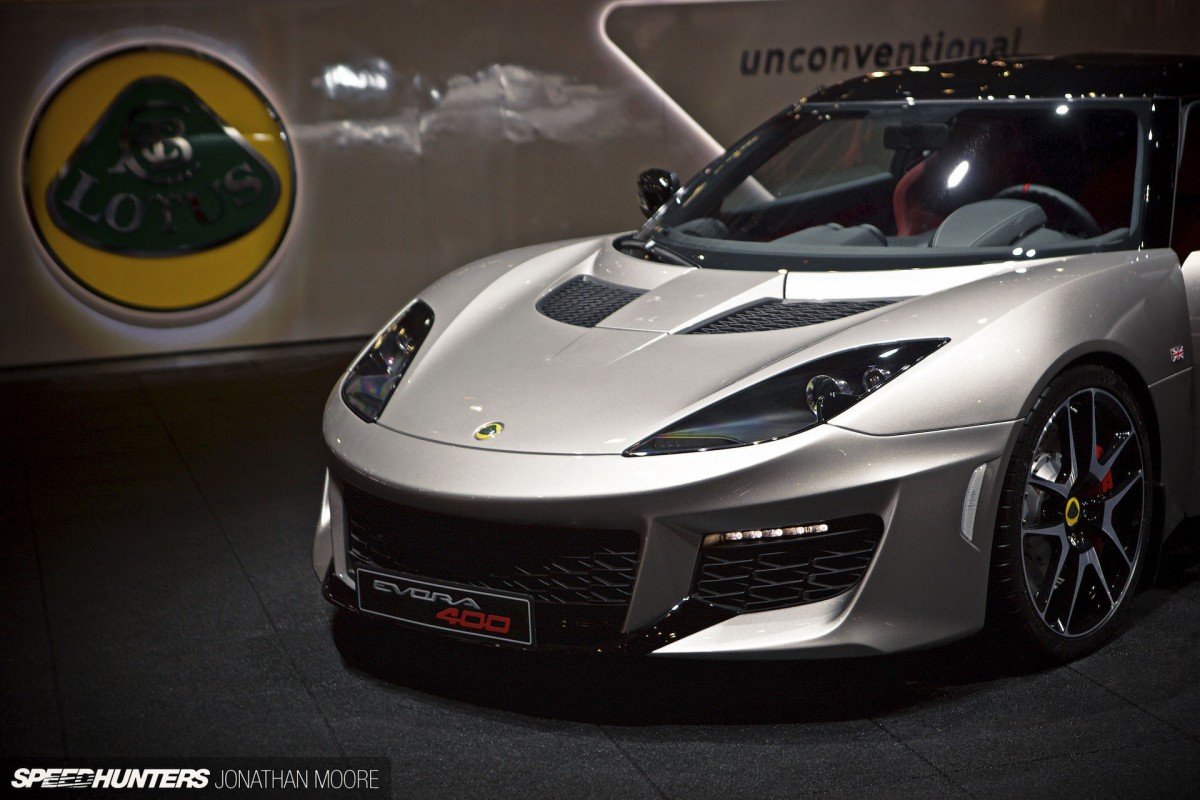 Lotus unveiled their newest Evora, the 400, which adds to the list of cars that have had a chisel taken to them. The Evora is still one of the best cars I've ever driven, but the aesthetic of the nose always bothered me – a little too soft and rounded. The 400 nails that straight away, and then nails most other cars on the road. Lighter than ever, it delivers an obvious amount of horsepower, but the it will be the chassis that defines the 400 as a phenomenal driver's car. It's another great sign of the latest Lotus management concentrating on what they do best – hopefully another step on their road to recovery.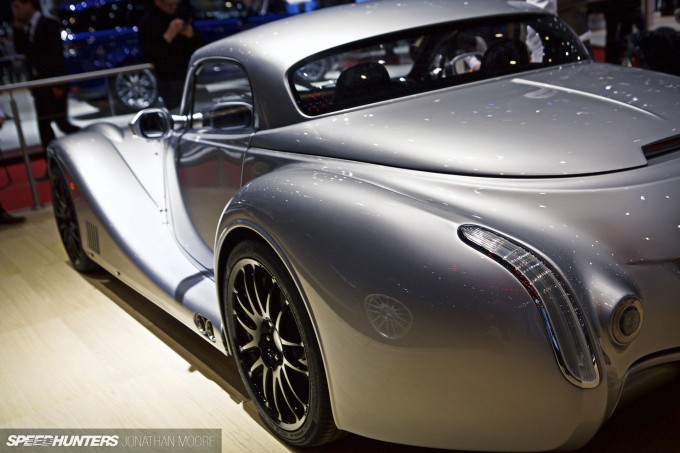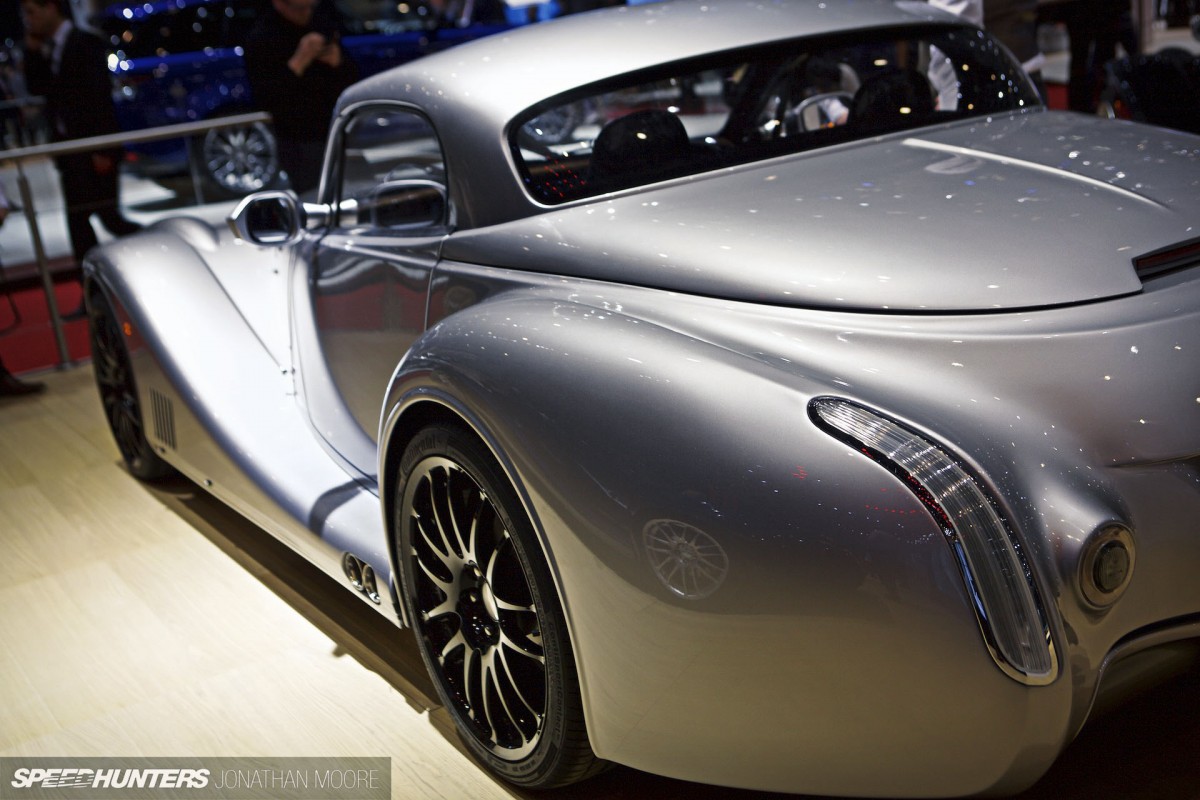 Morgan have also revised their bonkers-good Aero 8, taking the top off their art deco street crusher. So, it's got less metal, so must cost more right? No, as usual Morgan don't follow the accepted market approach, and have made the new model considerably cheaper than the old one! They are amazing; I fell completely in love with them during my factory tour and drive in the Plus 8 Speedster, and now can't really see the point in any regular, tick-box modern sportscar…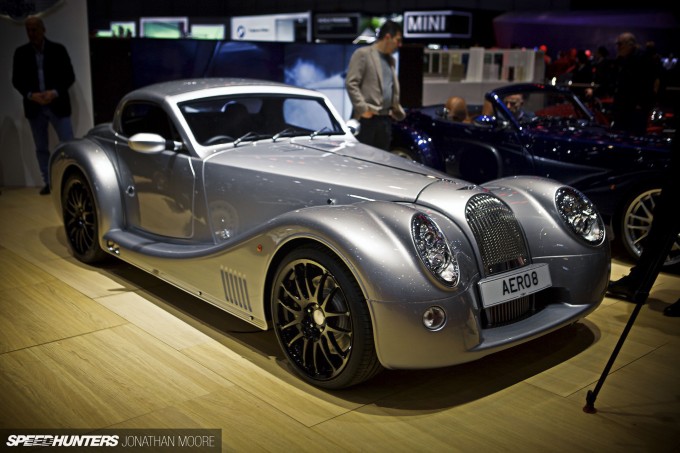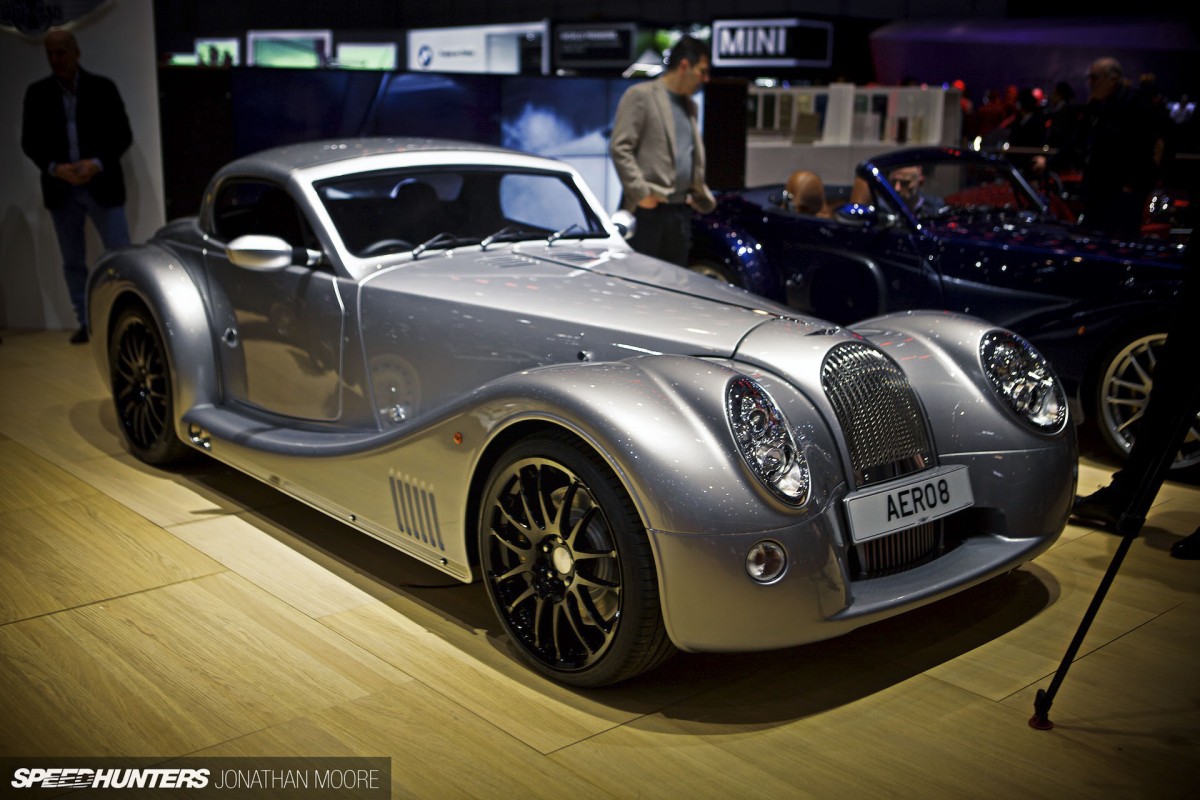 The new Aero 8 is as low-slung as ever, and the side-pipes will channel the thundering V8 as far as neighbouring countries. It's a roadster, but comes with an optional hard top for that coupé look that sits perfectly in the design. It's as art deco as ever, with the sharper bonnet line accentuating that look if anything. Dare to be different – and succeed!
Making Your Own Marque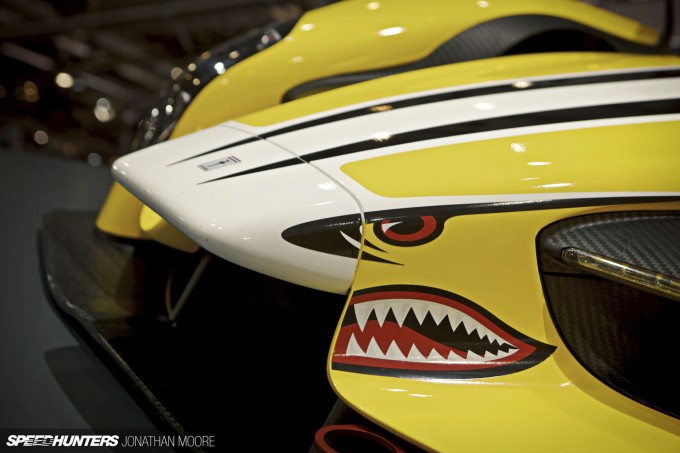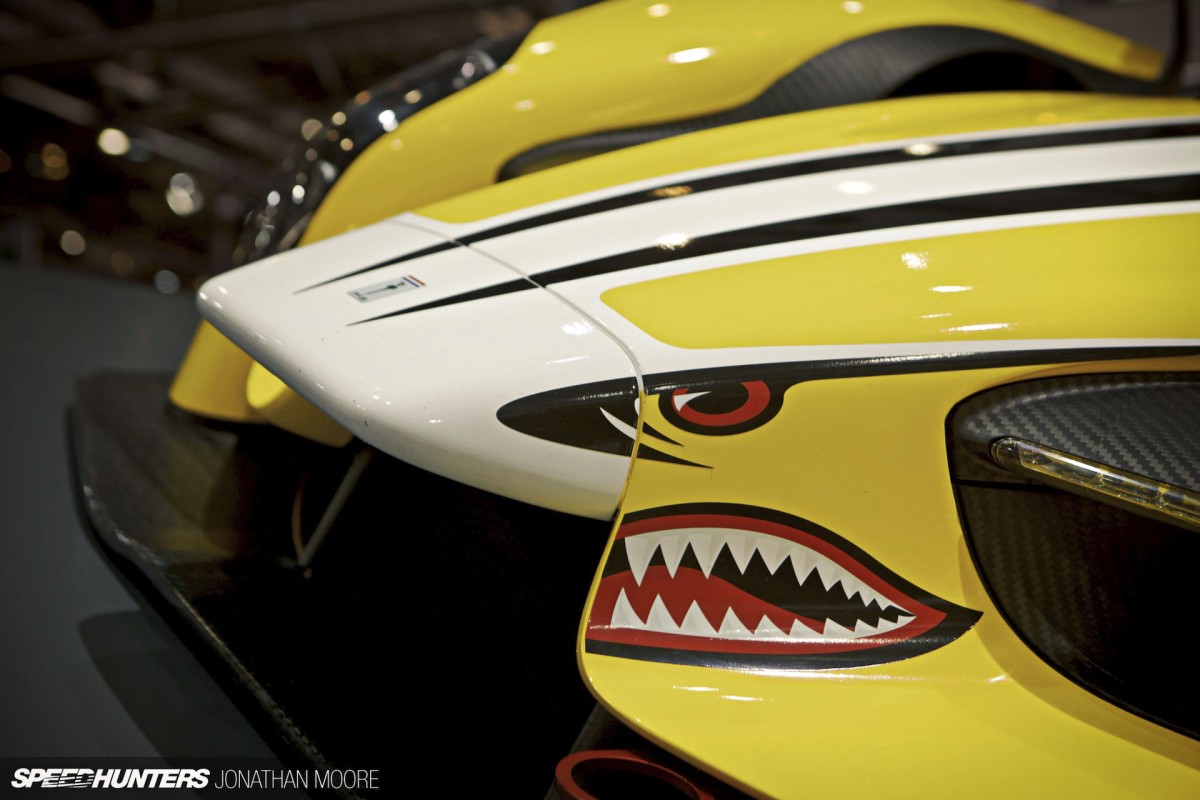 We've looked at the big guns and the specialists, now the guys who keep them all on their toes – the independents and even individuals who often come up with the most exciting machinery there is. For Geneva, the highlight was easily Jim Glickenhaus' SCG003. One man's vision and dedication, this really is a two finger salute to the establishment. I looked at the road car earlier, but here's a bit more of the race version.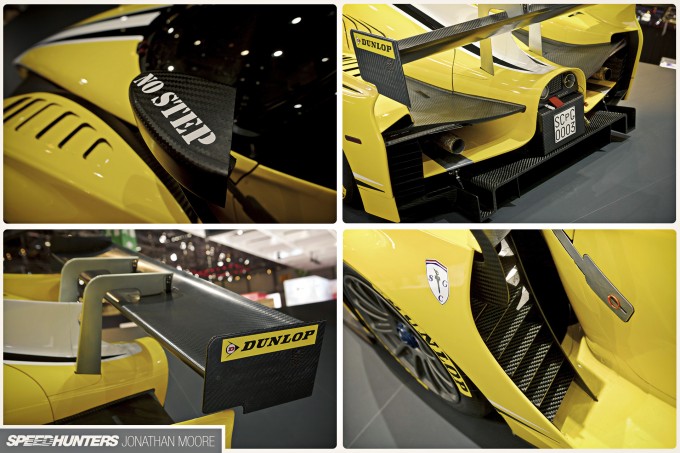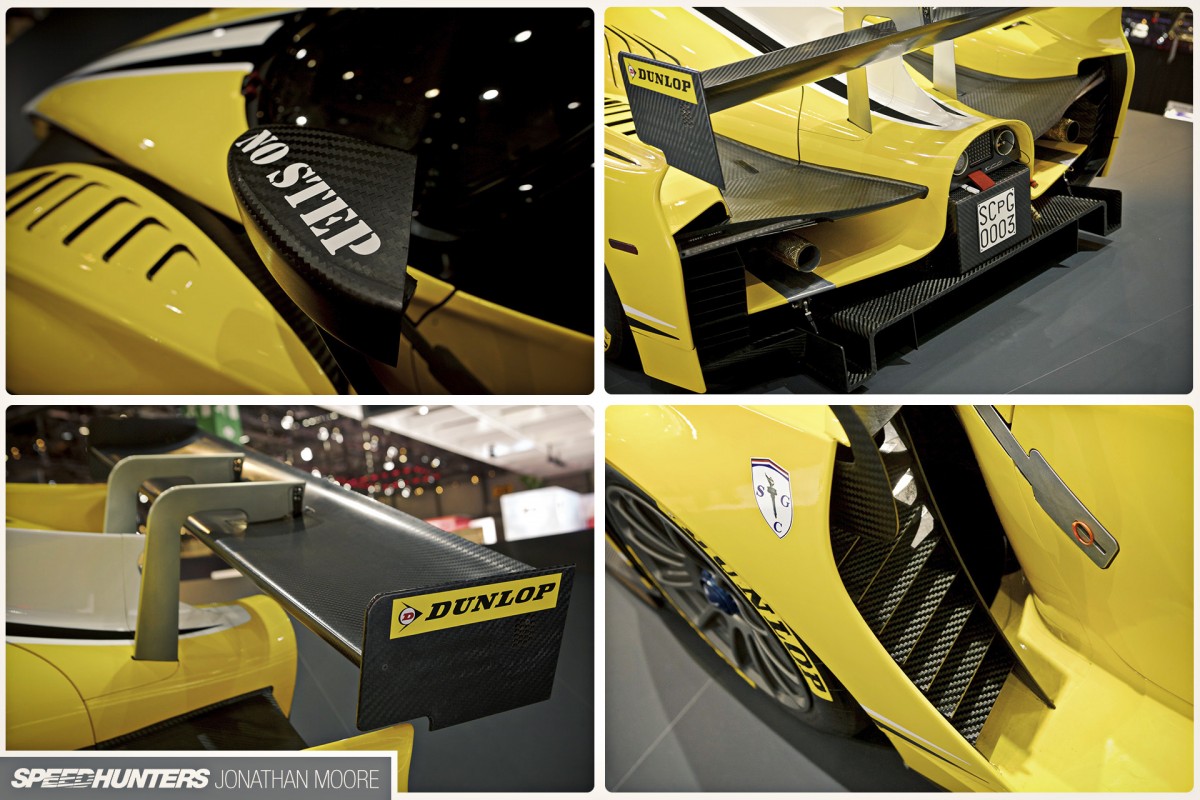 As I've already mentioned, there's very little difference between the Straddle and Competizione models; the rear wig and exhausts are the major points. All that other aero is there on the street car as well, so it'll be at home in Jim's native New York as at its spiritual home of the Nürburgring. This could end up being a 1 Nordschleifes kind of car…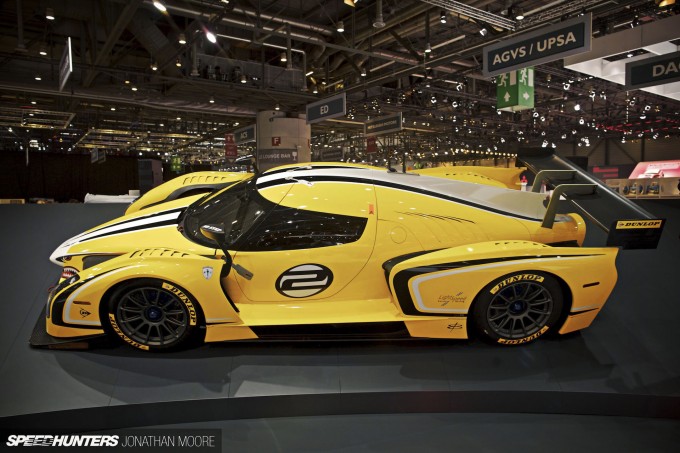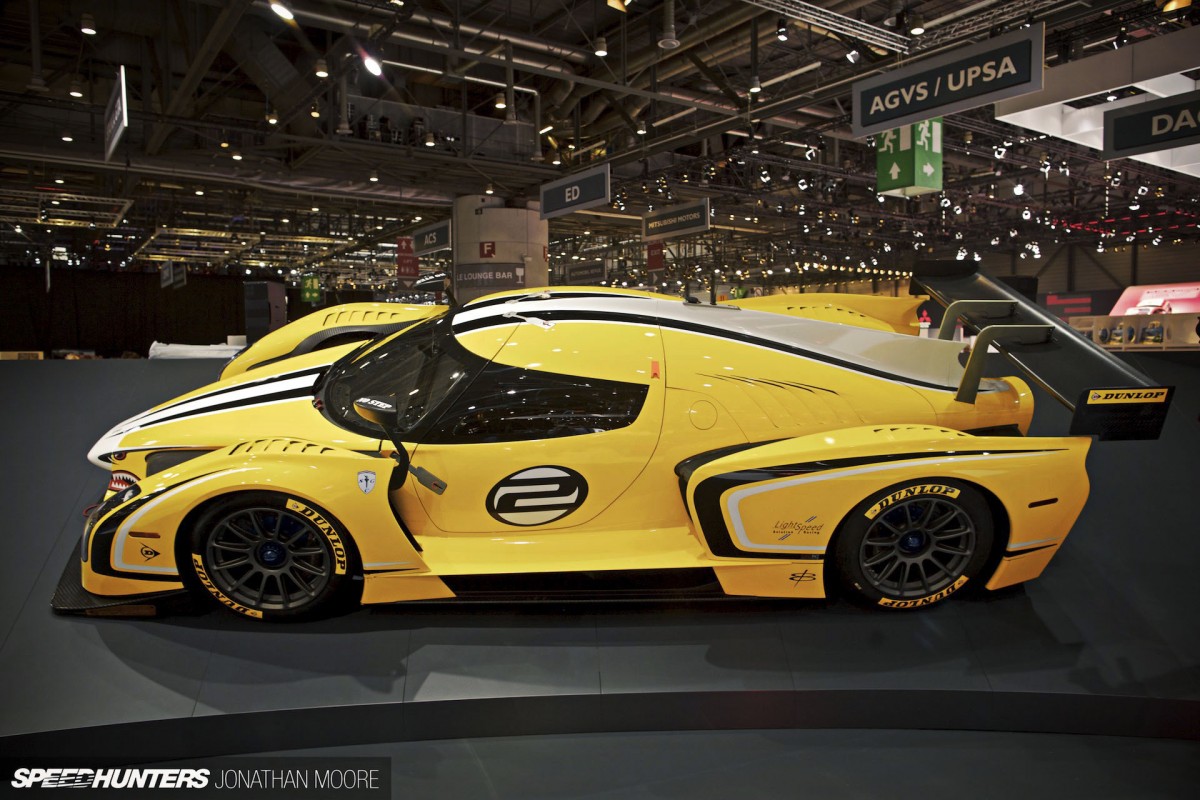 I wonder how it'll do in New York traffic – though it's the right colour to pick up cab fares. Not so much luggage space as a Crown Victoria, I'll grant you.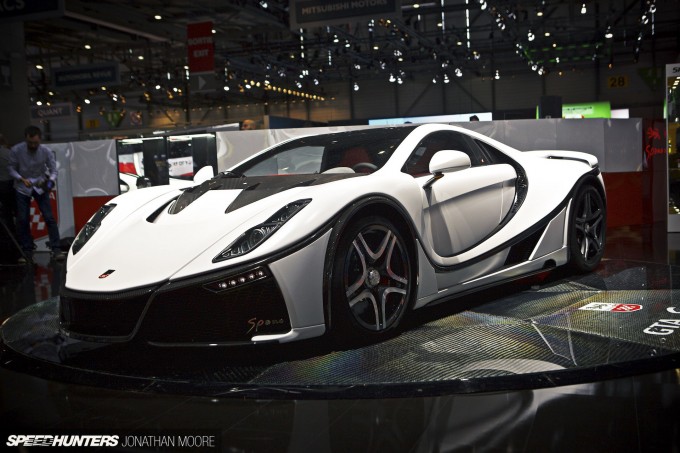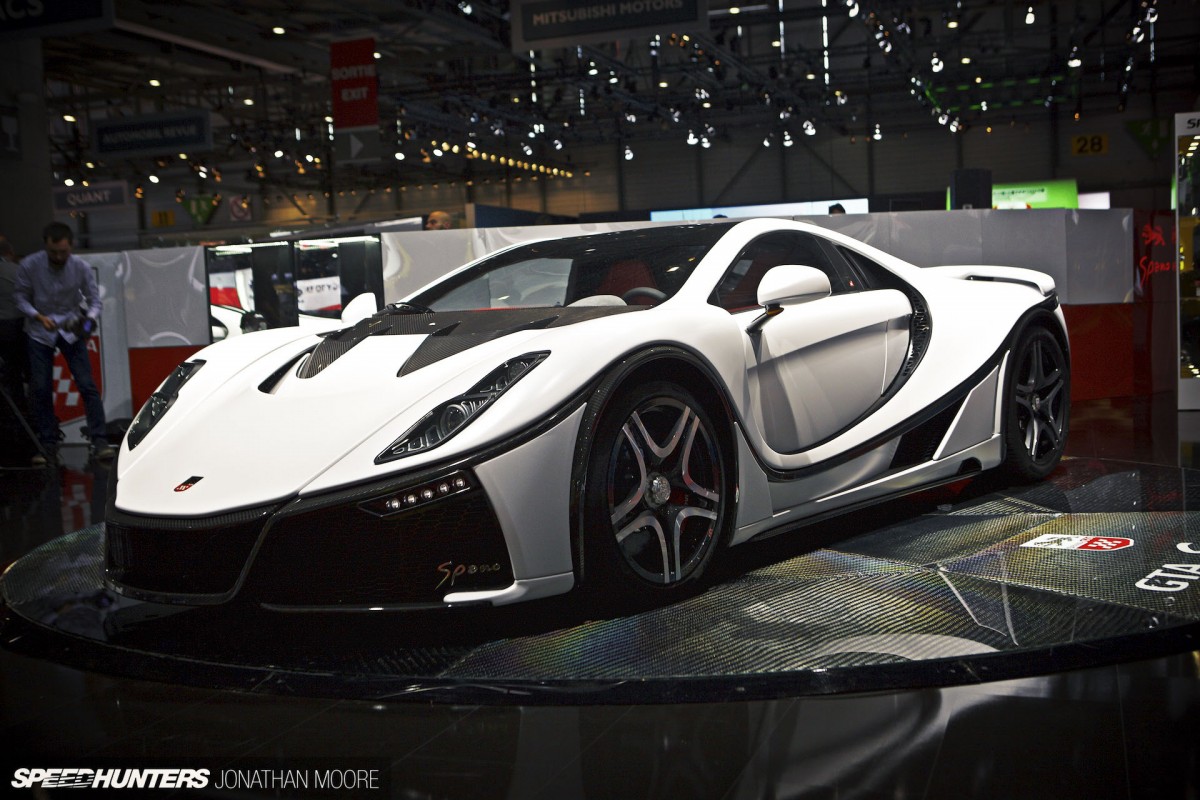 Another thing I really enjoy at Geneva is seeing the evolution of boutique brand machines. The Spania GTA Spano has always looked interesting, but now it looks effective. The ovoid sides are now more coherent and integrated, and the nose – you guessed it – more angular and aggressive.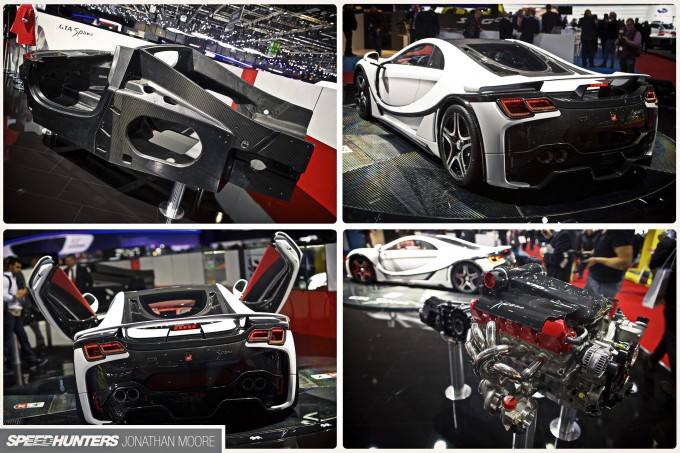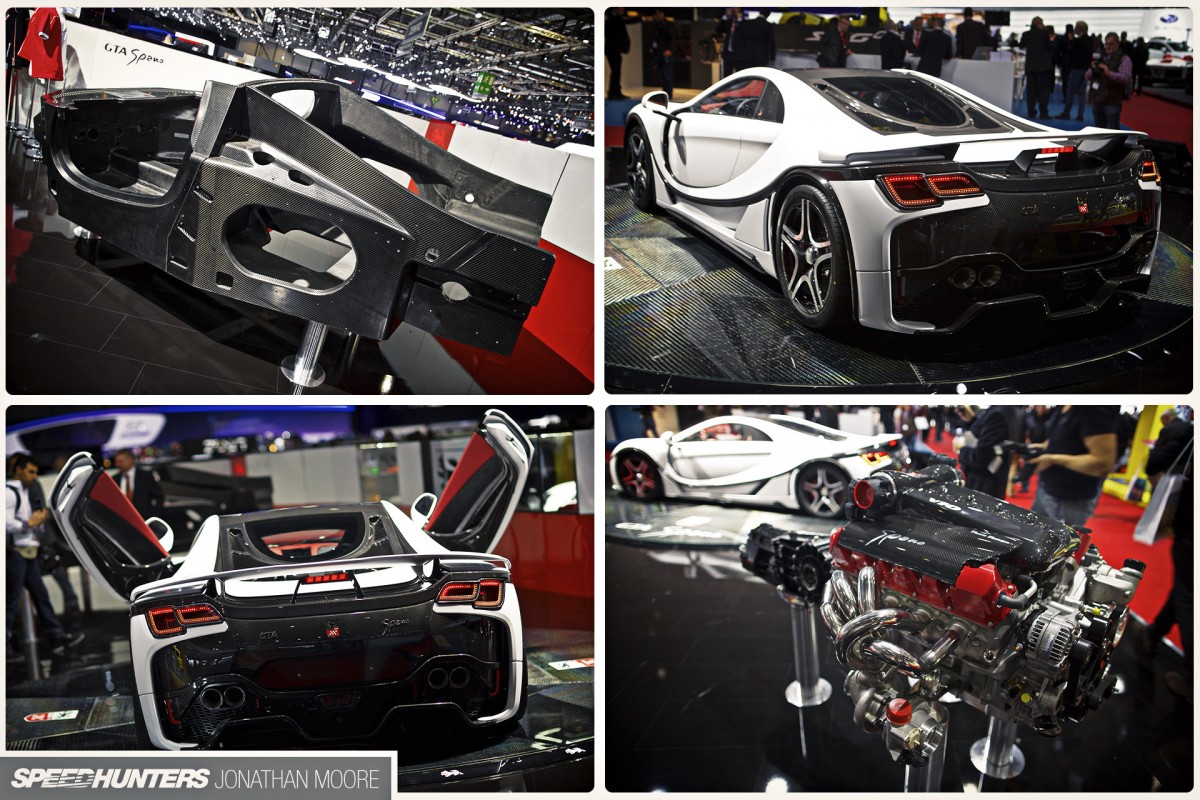 This Spanish supercar is based on a composite monocoque that incorporates graphene, an allotrope of carbon apparently for those chemistry fiends amongst you, and uses an uprated, 925hp twin turbo V10 from the Dodge Viper in tune with a carbon-synchronised gearbox.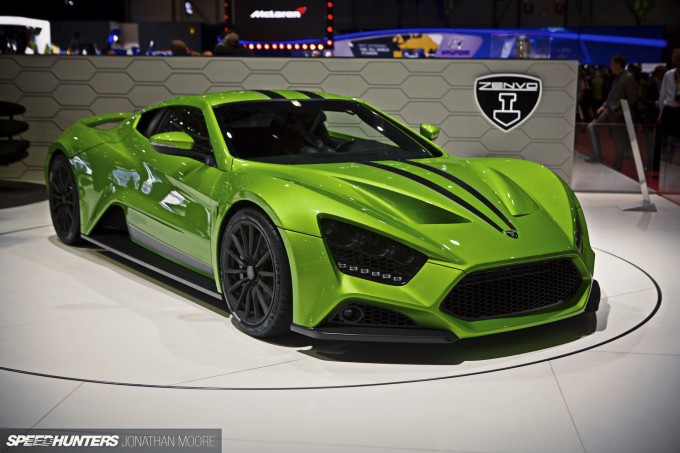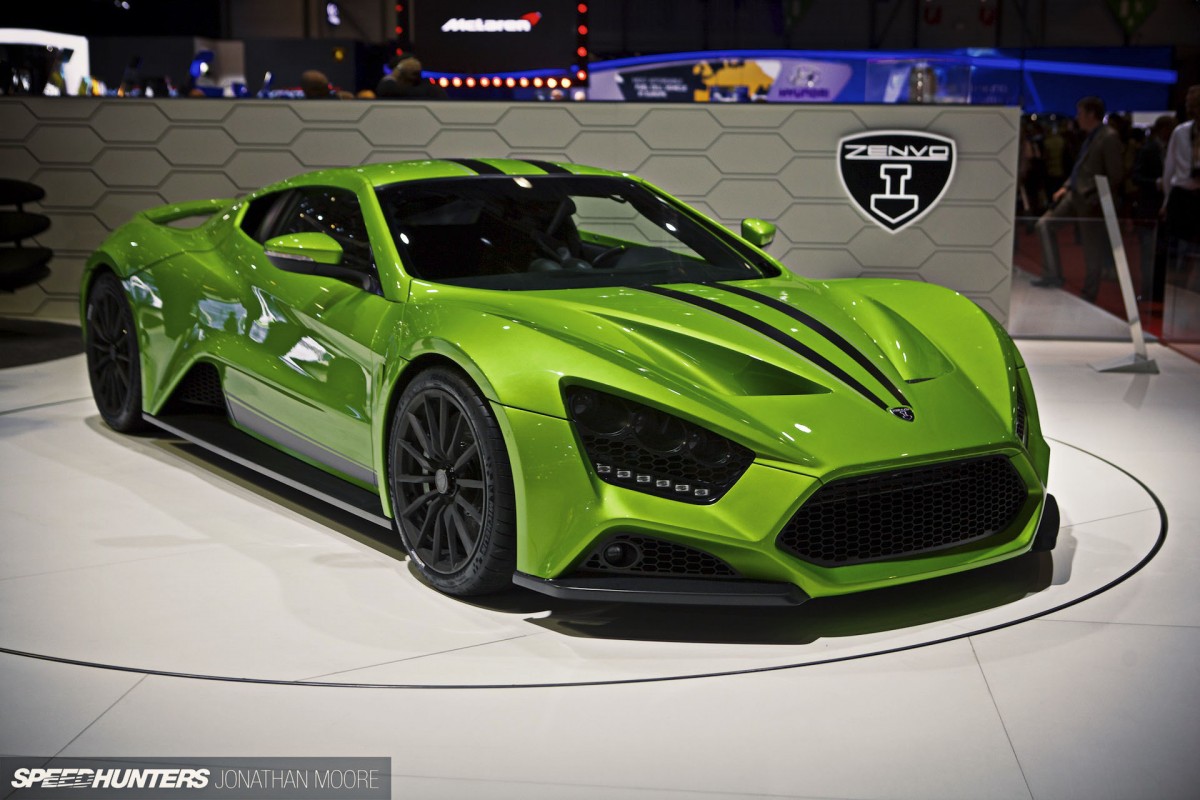 Ditto Zenvo: another year's development has honed its edges in every sense. The 1,100hp Danish ST1 features the fastest single-clutch transmission in the world, so the maker's say – everyone needs their sell line of course. But whatever, you can't help but will on these independents to keep delivering – even if their production numbers are in single figures for the time being. Pagani wasn't built in a day, after all.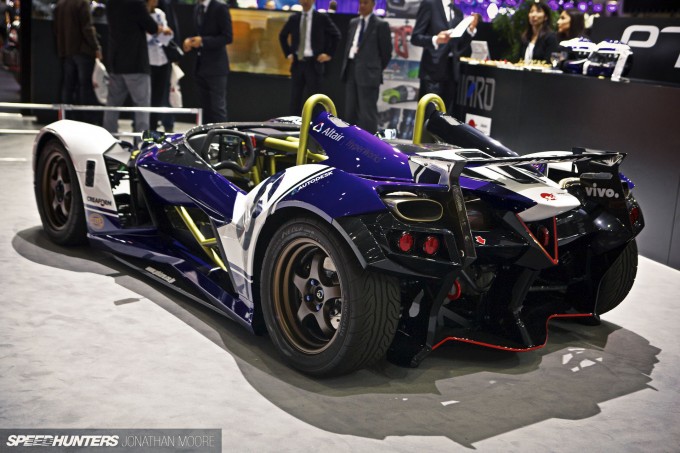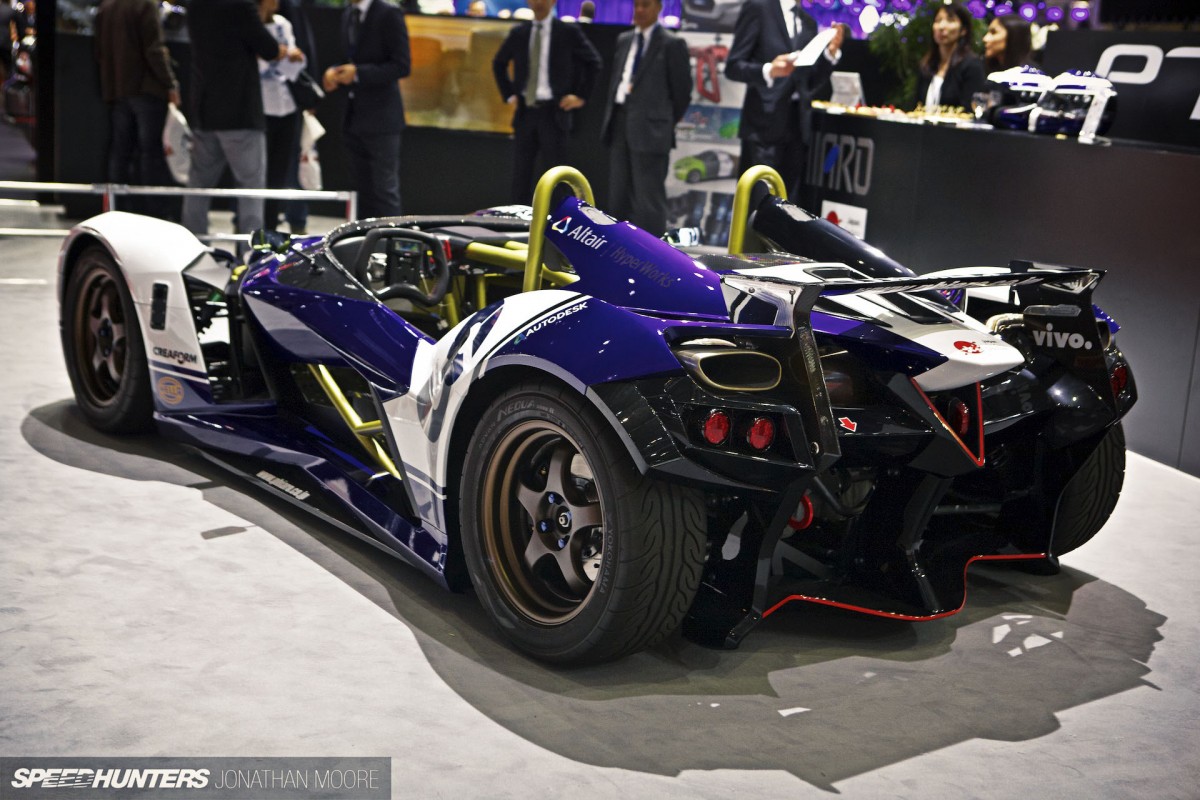 Amongst all the carbon and horsepower figures, it was refreshing to see a car with a pure soul – a lightweight bundle of space-frame entertainment. This was the 600kg Phiaro P75 Cipher from Japan – another new player in Geneva, looking to muscle into the burgeoning track day special market. Squat and purposeful, with double wishbone suspension to keep everything planted, the Cipher really was a contrast to everything around it.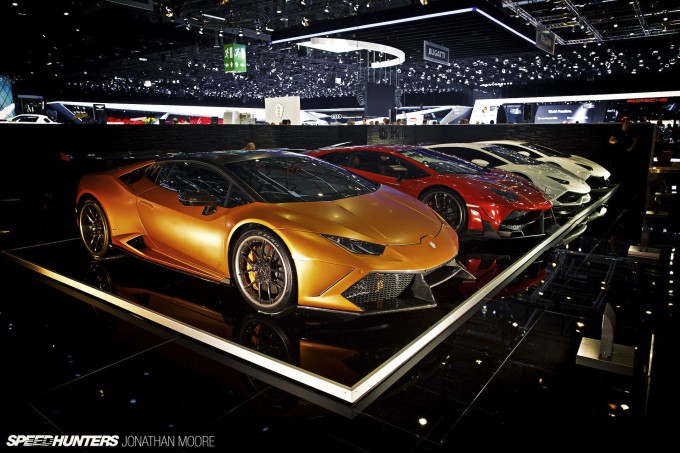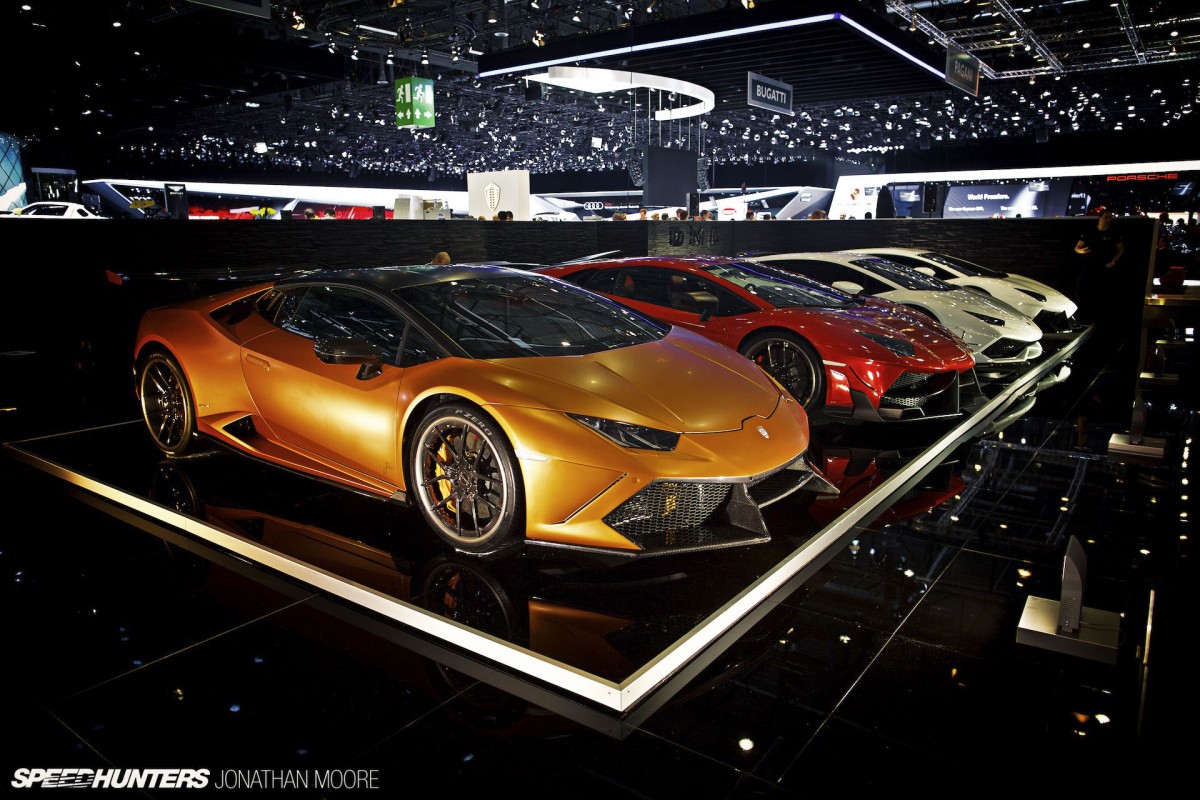 Tuning houses are almost forced to go to extremes these days, such is the base ferocity of even factory models. Lamborghini tuners DMC opted for a stealth approach to their stand, with low-key lighting meaning you could almost walk past without noticing it – except for the small matter of a quartet of stunning raging bulls. The orange apparition is the Homagio Stage II, based on the LP-610-4 Huracan.
The Aventador Edizione GT next door meets FIA racing regs but stays street legal, upping power to a crazed 1,000hp whilst keeping it nailed to the road or track with an enormous quantity of aero and uprated suspension parts. The upgrades are the price of the cars again, but if you're in the market that's probably not an issue…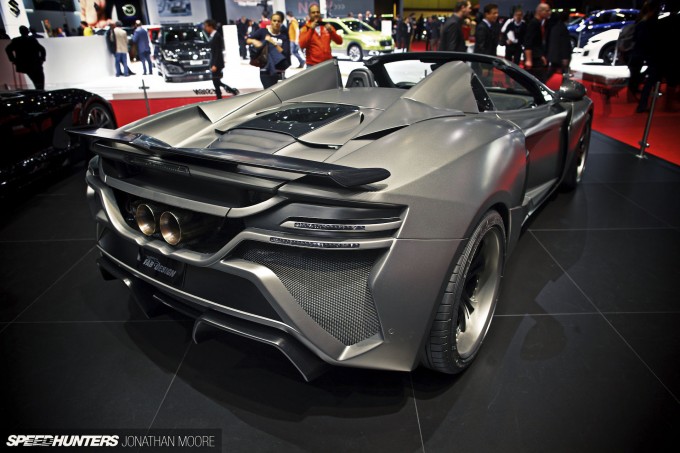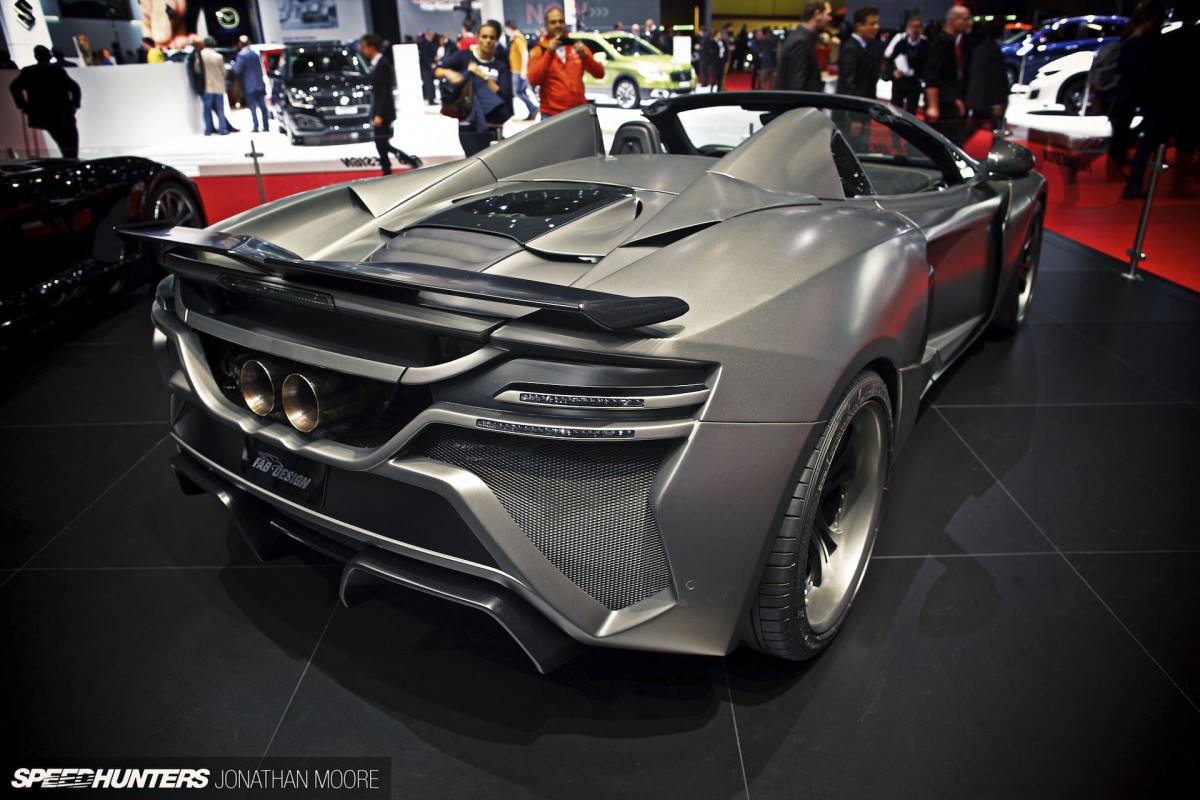 The Germans seem to have this high-end tuning and personalisation thing to themselves, at least at Geneva. FAB Design showed off their steroidal Vayu RPR, which from a distance I didn't even recognise such was its stealth paint and bodywork mods… This heavily revised, wide-body 650S is more standard at the front but packs 1000 horses out back – seemingly the standard now.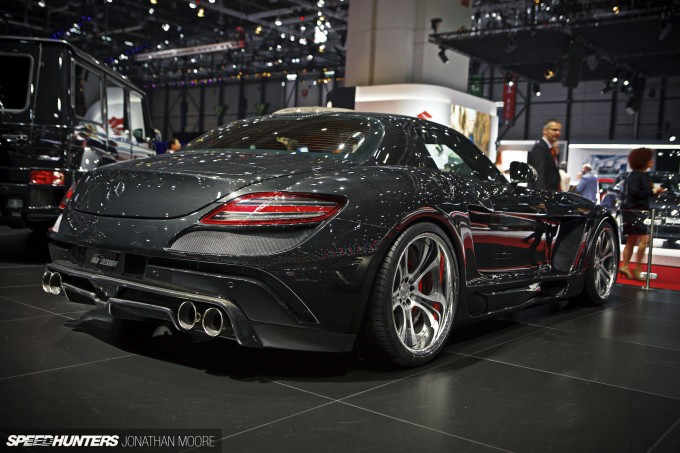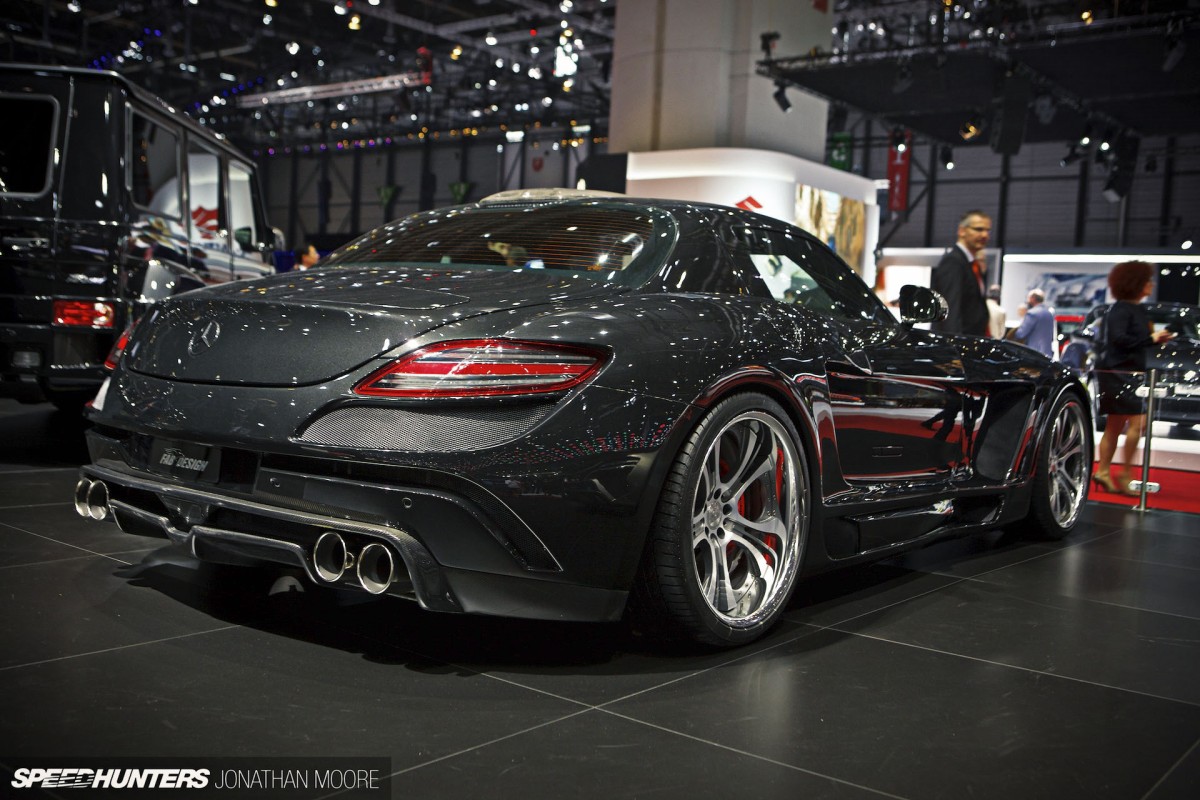 Too much is never enough for FAB – take their Gullstream Coupé…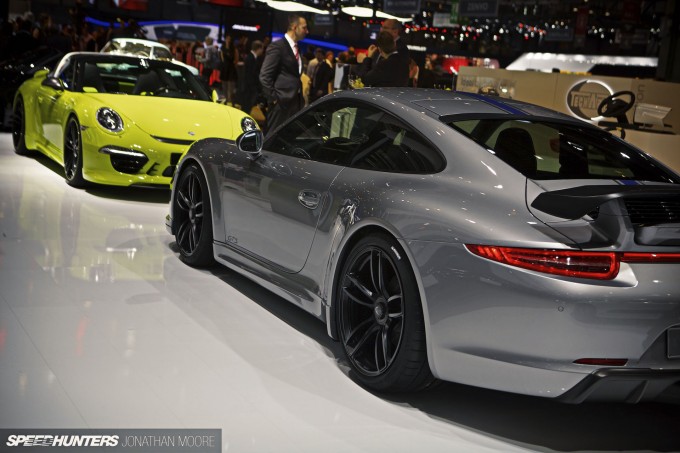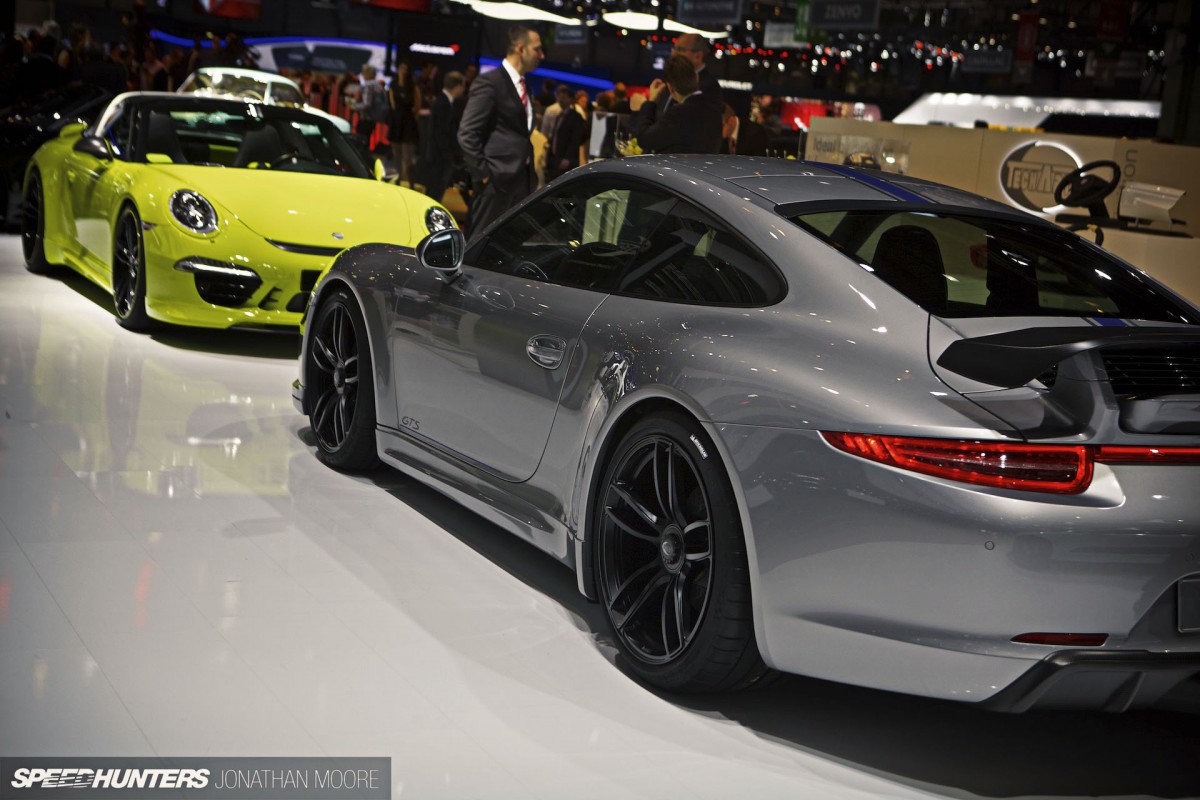 Porsche prepping at Geneva was supplied by specialists TechArt, who balance their bodykit treatments with some serious under-the-hood workings. The TechArt Coupé is based on the Carrera 4 GTS, adding in an unexpectedly practical electro-hydraulic nose-lift system to go with the extra downforce and handling. These are people who maybe understand race trailers!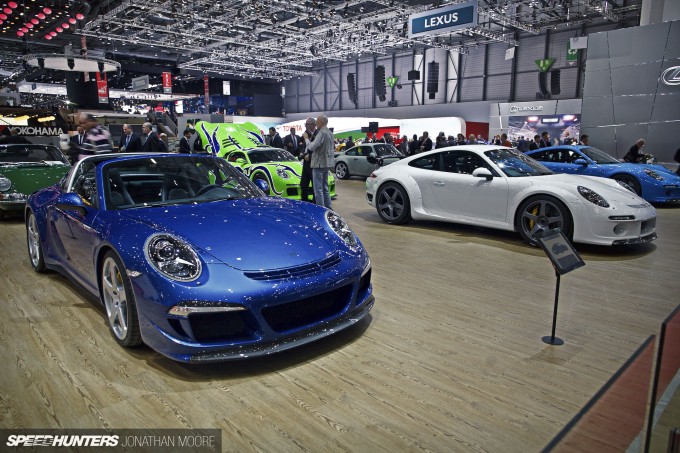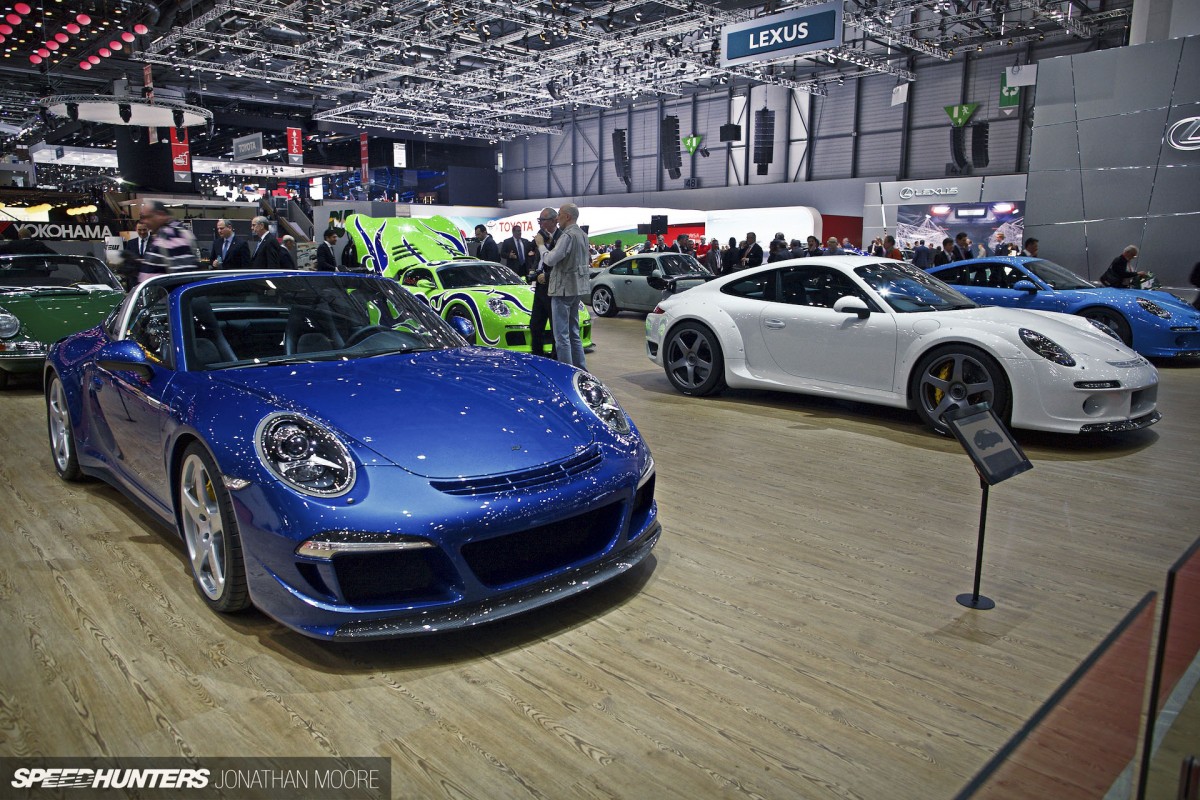 Legendary Porsche tuners RUF still rule the roost, especially as they let their designers loose on every possible era of Porsche and use their long experience to reinterpret the brand's heritage. Their 630hp Turbo Florio pre-empts a factory Targa-top and integrates the classic, wide silver C-pillar look.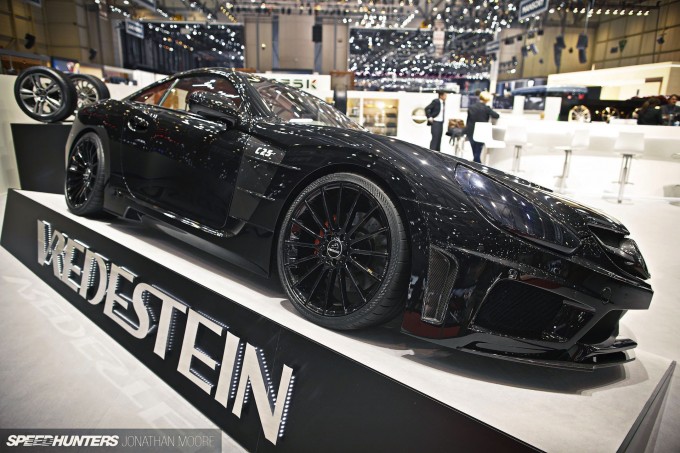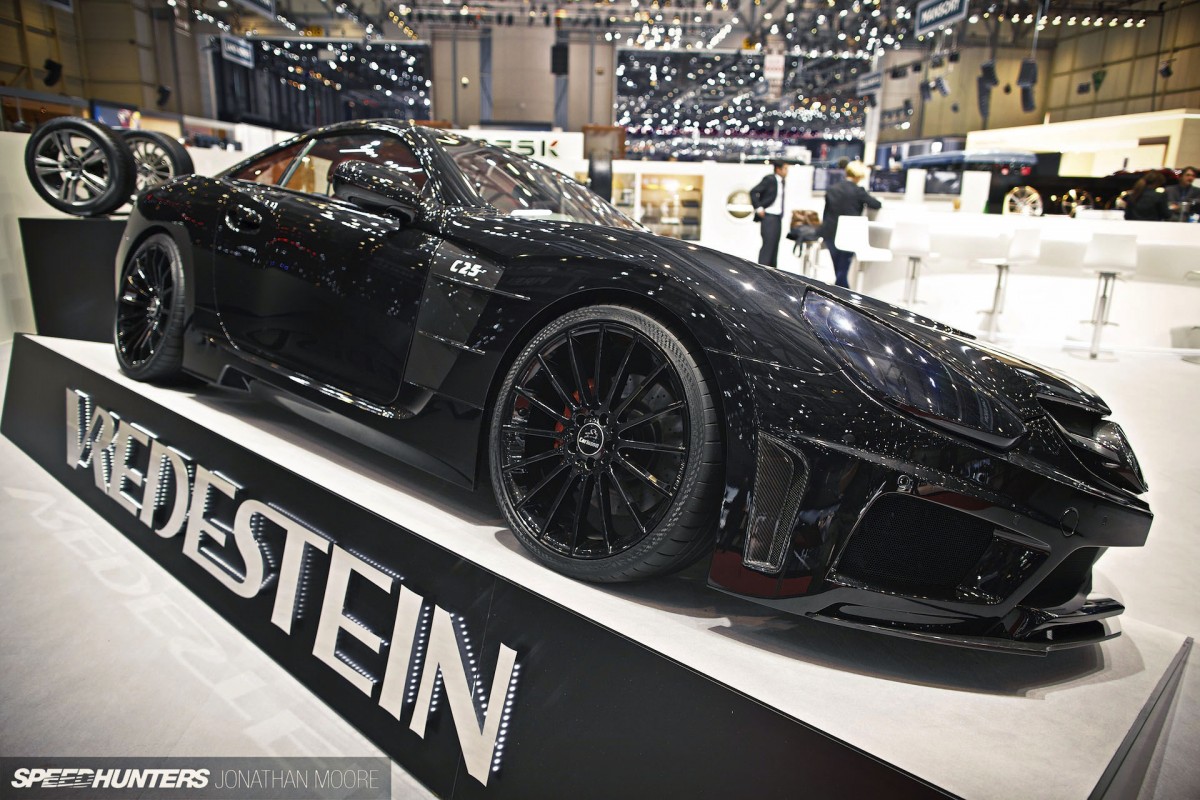 To finish up, another final edition model, this time from German Merc specialists Carlsson. 25 of their 220mph-capable, C25 Super GT Final Edition cars will be hand-built to order, a carbon-bodied SL with 160kg stripped out and the liberal application of carbon fibre to go with an optional 753hp V12 and carbon ceramic brakes.
Geneva 2015 seemed to be a place of final countdowns, which makes 2016 even more enticing. In the meantime, there's still a whole lot more from the world of concepts, tuners and stylists to come…
Jonathan Moore
Instagram: speedhunters_jonathan
jonathan@speedhunters.com