Walking round the massive, starry halls of Geneva, the names hanging from the roof are all the ones you'd expect. Multi-million pound corporates, the elites of the industry who have stands awash with slick suits and beaming, enhanced smiles. There are guerrillas in their midst, the low volume mavericks like Pagani and Koenigsegg who have steadily built up reputations over the last decade or so to now stand shoulder to shoulder, stand by stand with those power houses of the industry.
But now there's a new player in town – someone who's built his own bespoke carbon-monocoqued supercar and is planning on jump-starting straight into becoming a constructor, damn the status quo. Ambitious doesn't begin to sum up Jim Glickenhaus.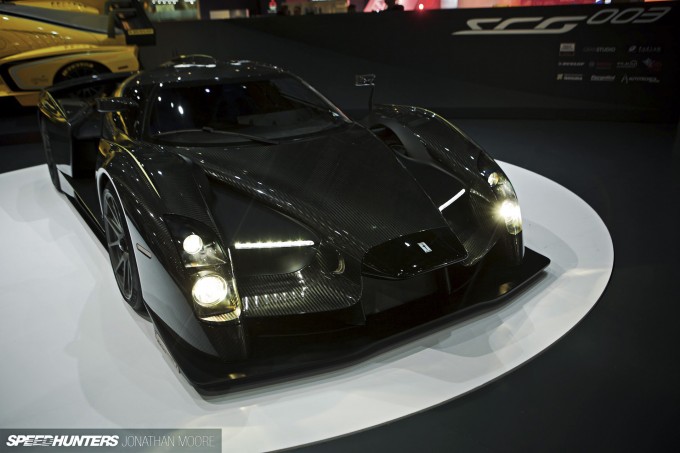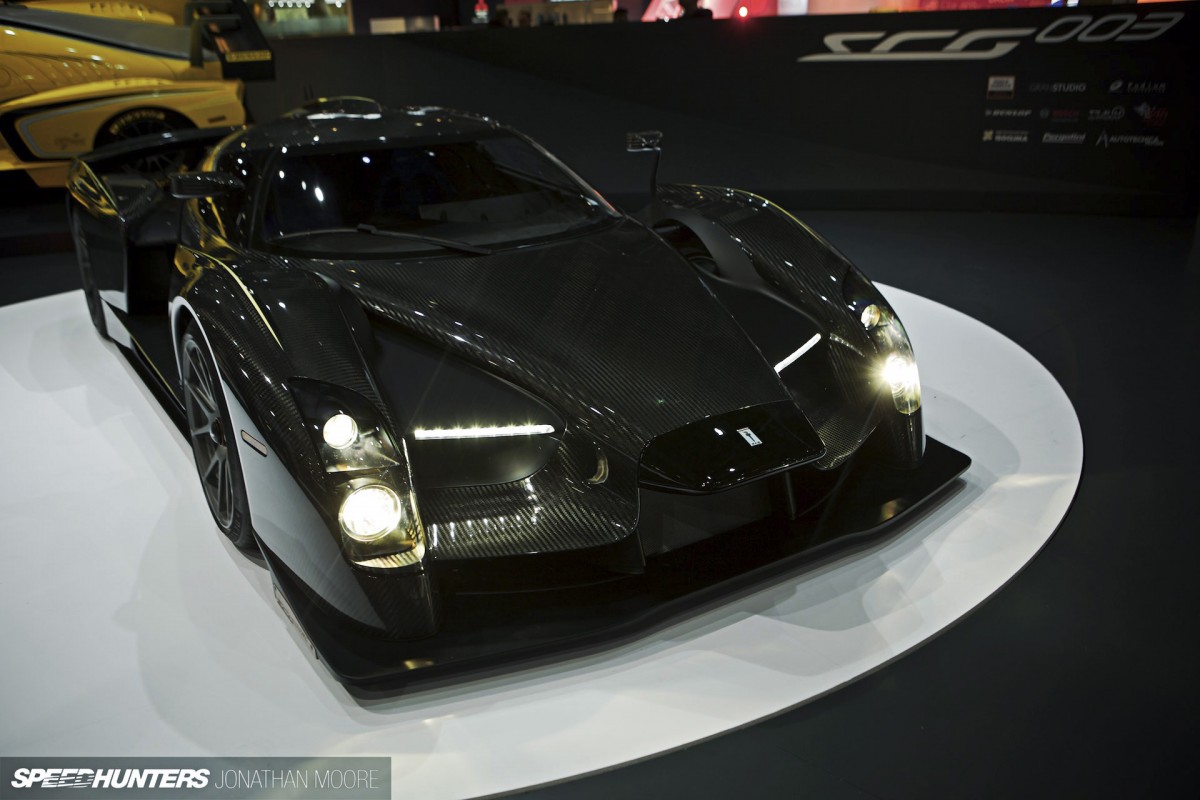 Suspended from the ceiling among all those other names, the Scuderia Cameron Glickenhaus sign guides you to their stand in the middle of Hall 2. Italian coach-builders Touring and Giugiaro are nearby, and rightly so given Glickenhaus' penchant for all things Latin; the inspirational Sbarro school's latest creations are opposite. They're all penned in by the football pitch-size displays of Subaru, Opel, VW and Skoda.
On the CGS stand, not one but two incredible pieces of stunning automotive carbon sculpture, road and race examples of the SCG003, Glickenhaus' third and most determined project. It's coming to kick the establishment in the backside.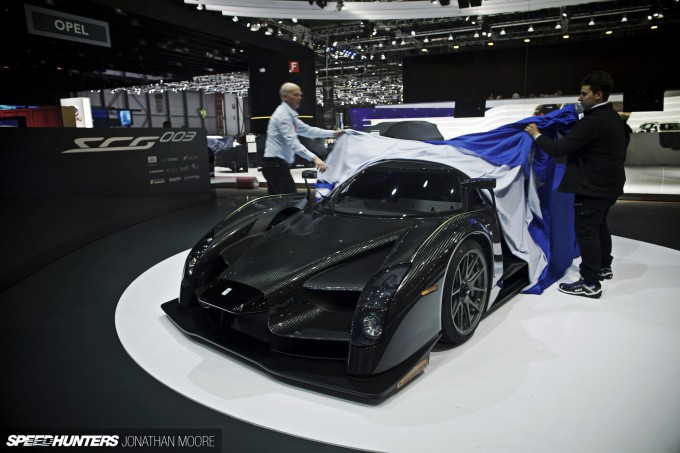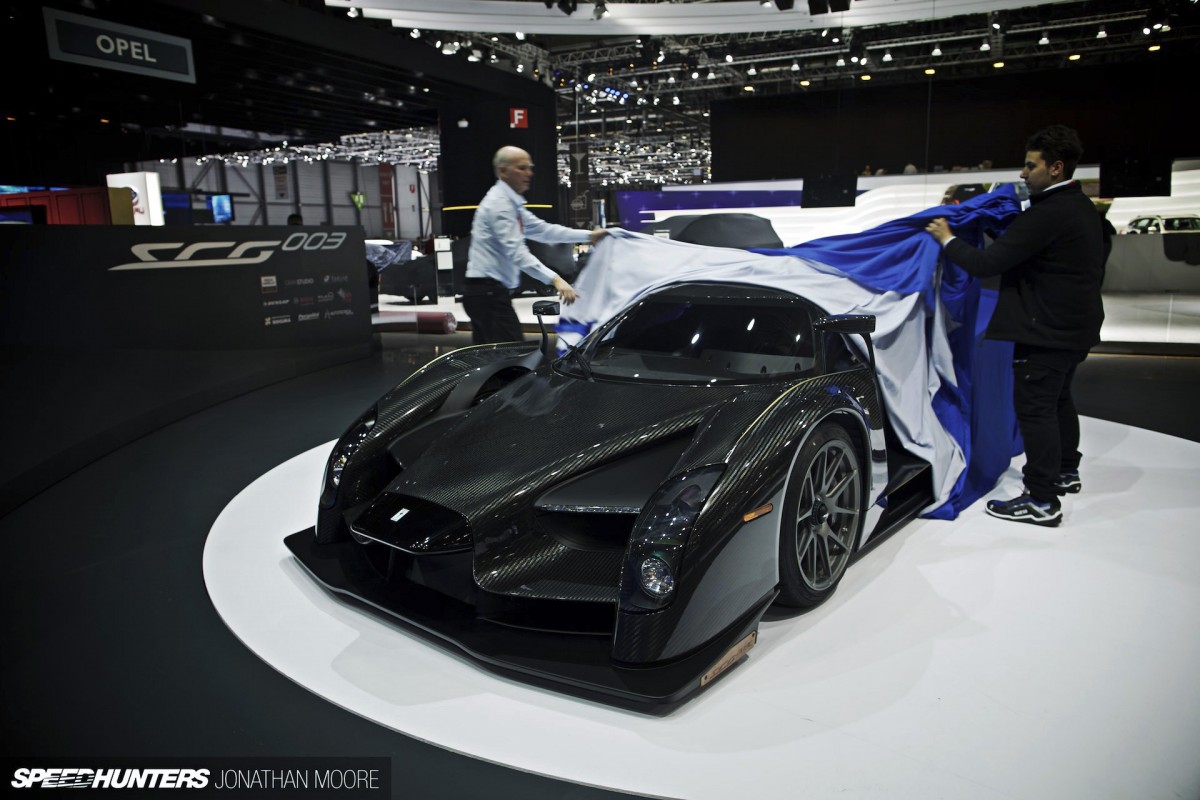 Revealing the cars at Geneva was no accident – it was a pure statement of intent. At the same time as announcing the build programme, there's also the announcement of the car's first race in three weeks time at the VLN opener at the Nürburgring. Bang. No messing about, no secret testing, no coy leaked releases about how it might be faster than Car X or Y around the Nordschleife – straight into the crucible of competition. The message is: come join us – if you dare.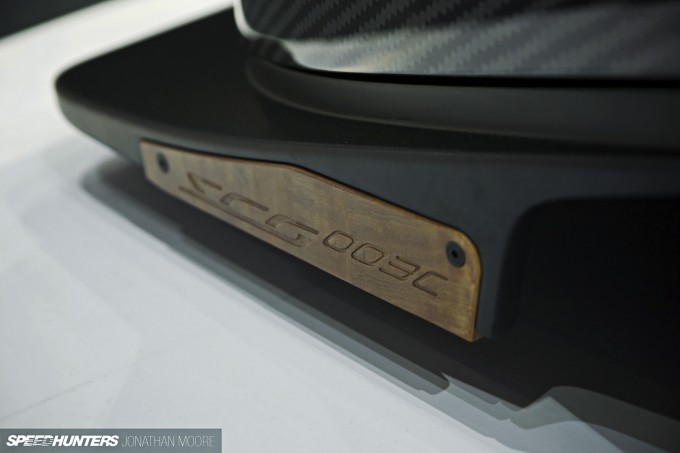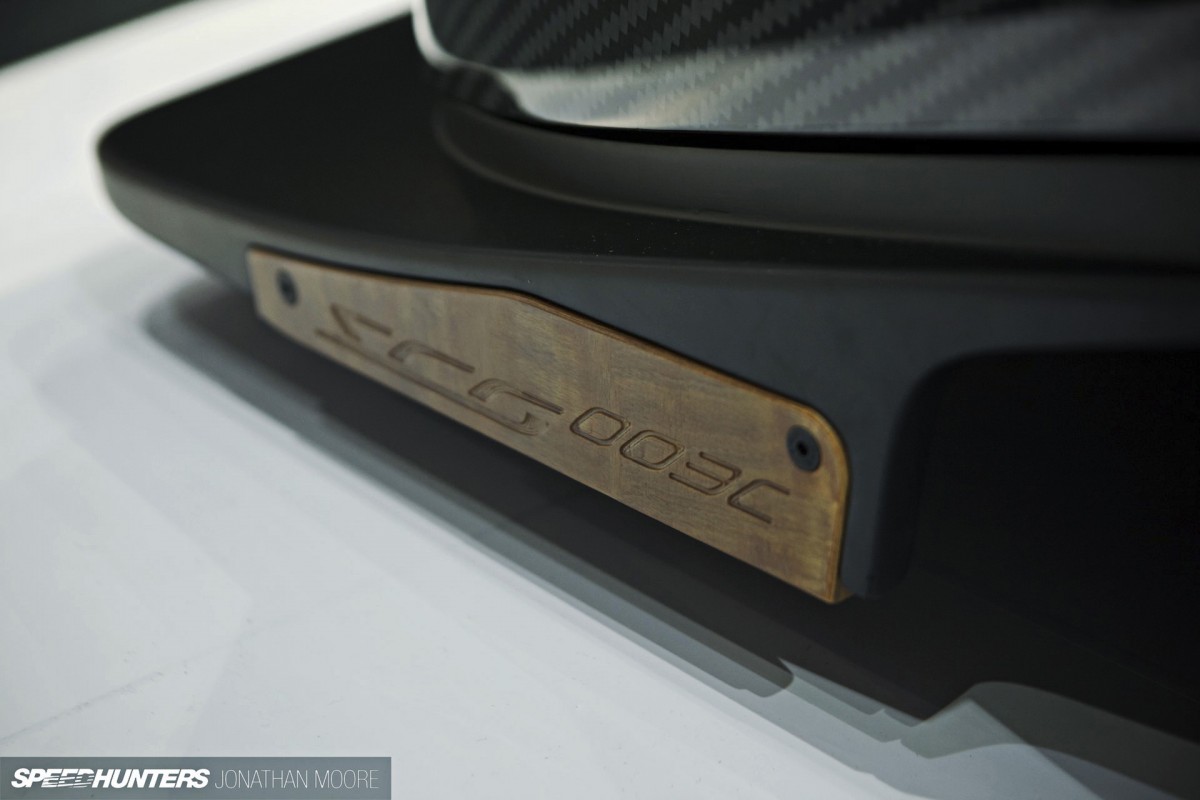 Jim Glickenhaus obviously relishes the situation, after all, he's a bona fide car nut. He may have the money – that's a given – but what he does with it is just inspiring. The SCG003 is about sharing the passion of racing, and why his previous racer, the P4/5 was such a fan favourite. Forget the multi-million pound cars the elite buy but then either never drive in anger or physically can't without support – or even permission – from the factory.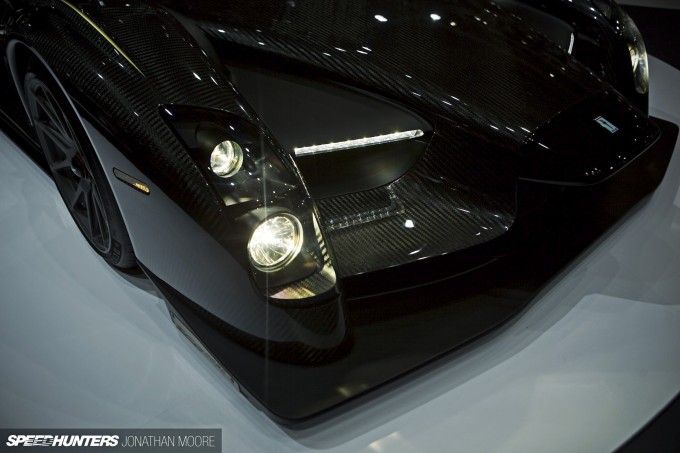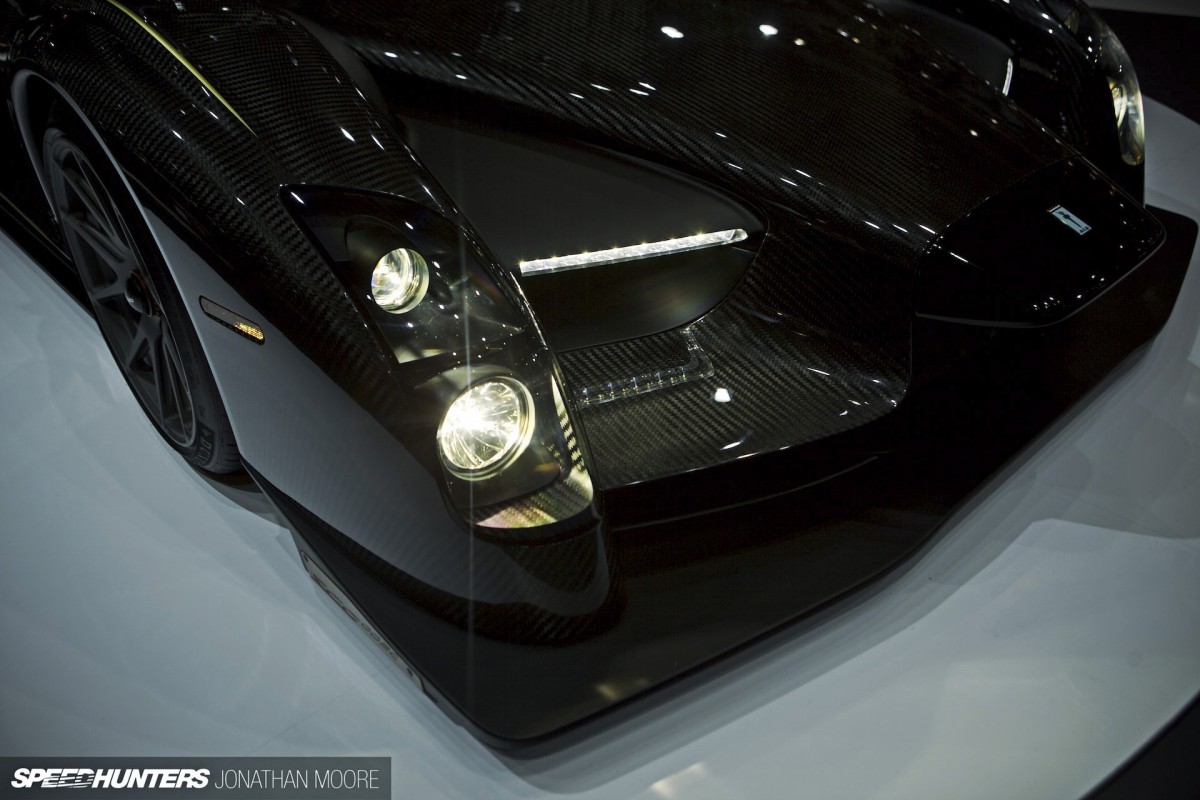 The car uses specifications which mirror current LMP1 prototype regulations – you can see elements of that in the headlight clusters for instance – but with a design that looks back and forward. Ultra modern in aspect, it also harks back to the glory days of GT1 cars of the mid to late-'90s. Hyper-coupés, GTs on steroids rather than all-out prototypes that fall well outside what you might see on a road.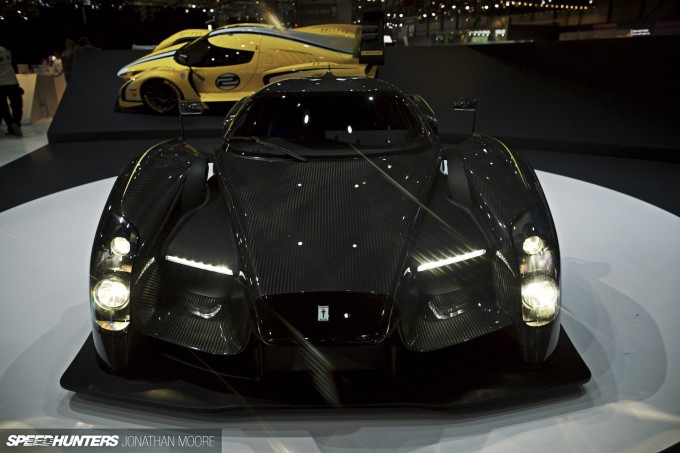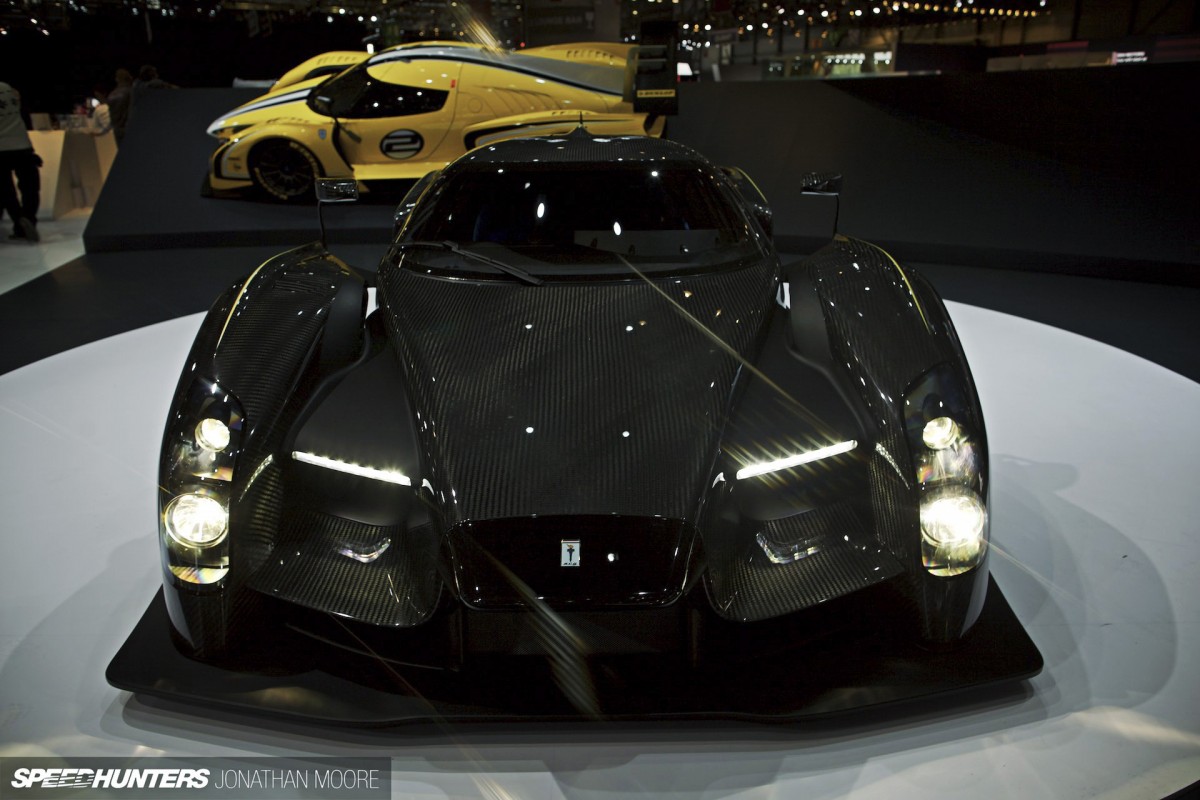 There are road and race car variants of the SCG003, Stradale and Competizione… No, scratch that, there's a car which can be a road or race car. To prove that, at this year's Nürburgring 24 Hours Jim is planning to get up on race morning, grab a coffee, head out to the car park and jump in his raw carbon SCG003S road car. He'll drive to the Nürburgring on the regular public roads. They'll then swap the street-spec wing for the big high-level race version, bolt on slicks and… go race. For 24 hours. Hotel, road, track. It's what this car is all about.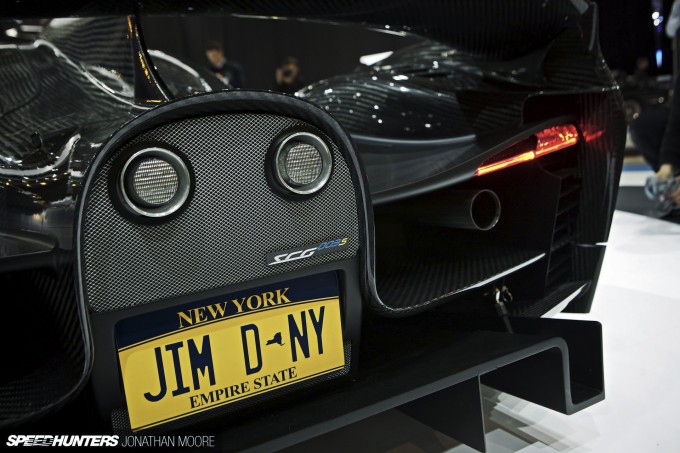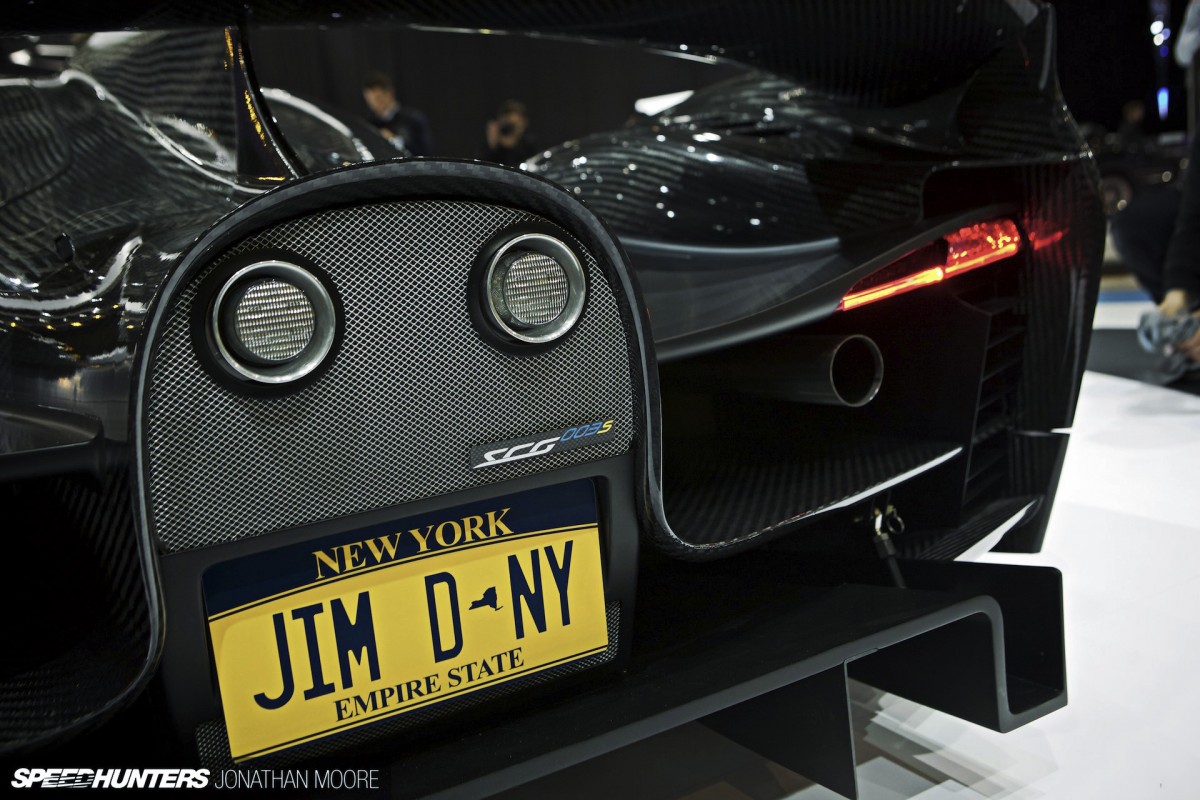 Talking to Jim, you quickly get caught up in the excitement of the project – a dream for most made reality.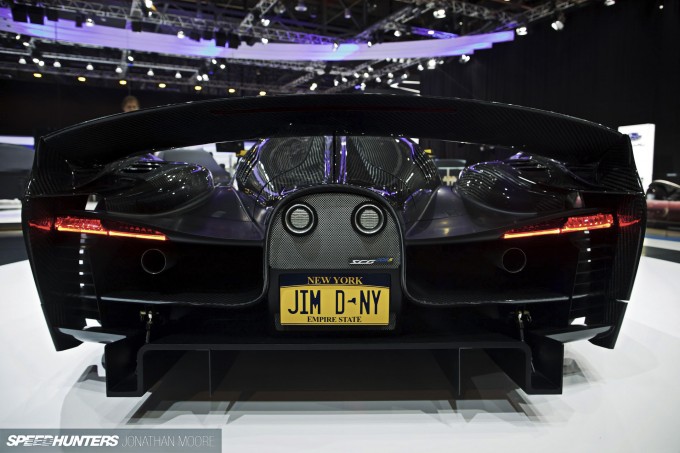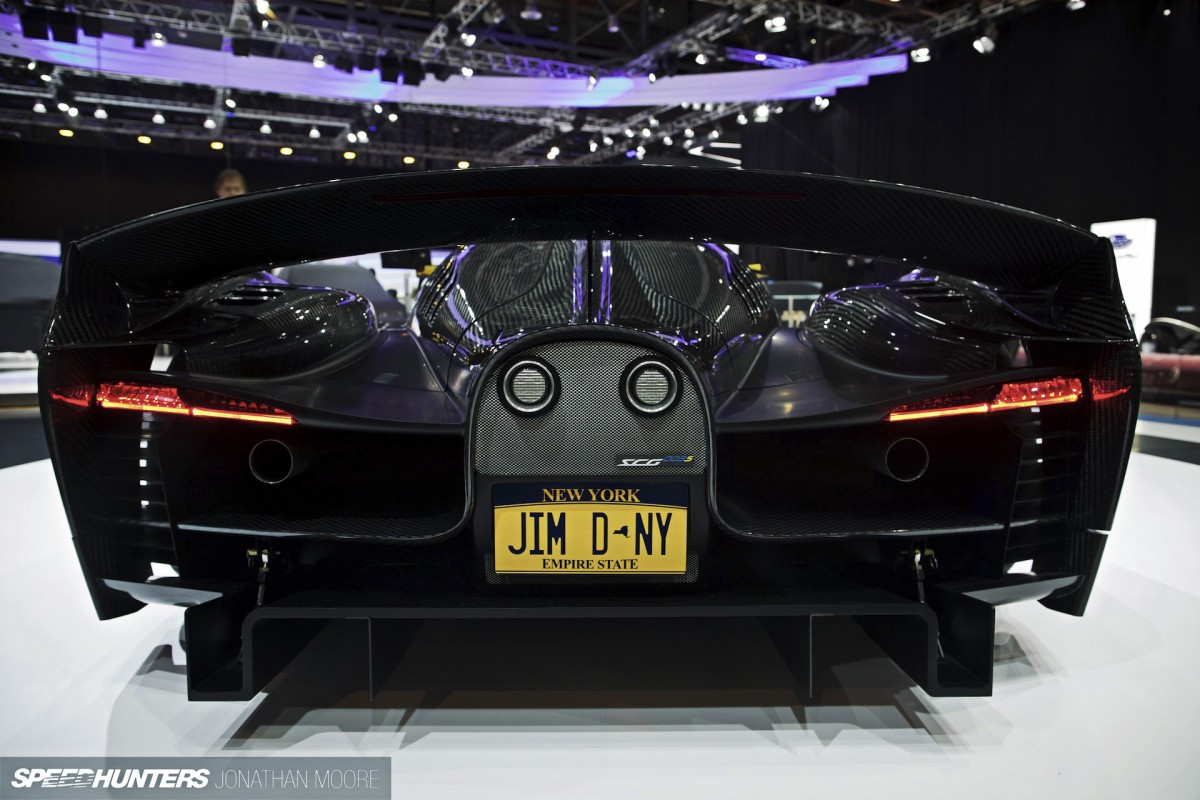 For the SCG003 he enlisted the help of Torino's GranStudio design team, headed up by ex Pininfarina Design Director Lowie Vermeersch – Dino introduced the project to us last autumn, and he'll be going into more detail on the car's evolution and build in an article coming up in the near future. With a wry smile Jim admits that he could be seen to be stealing Pininfarina's design team one member at a time…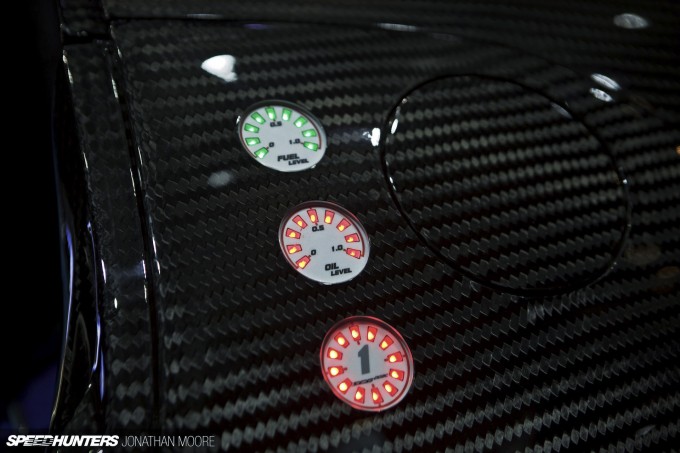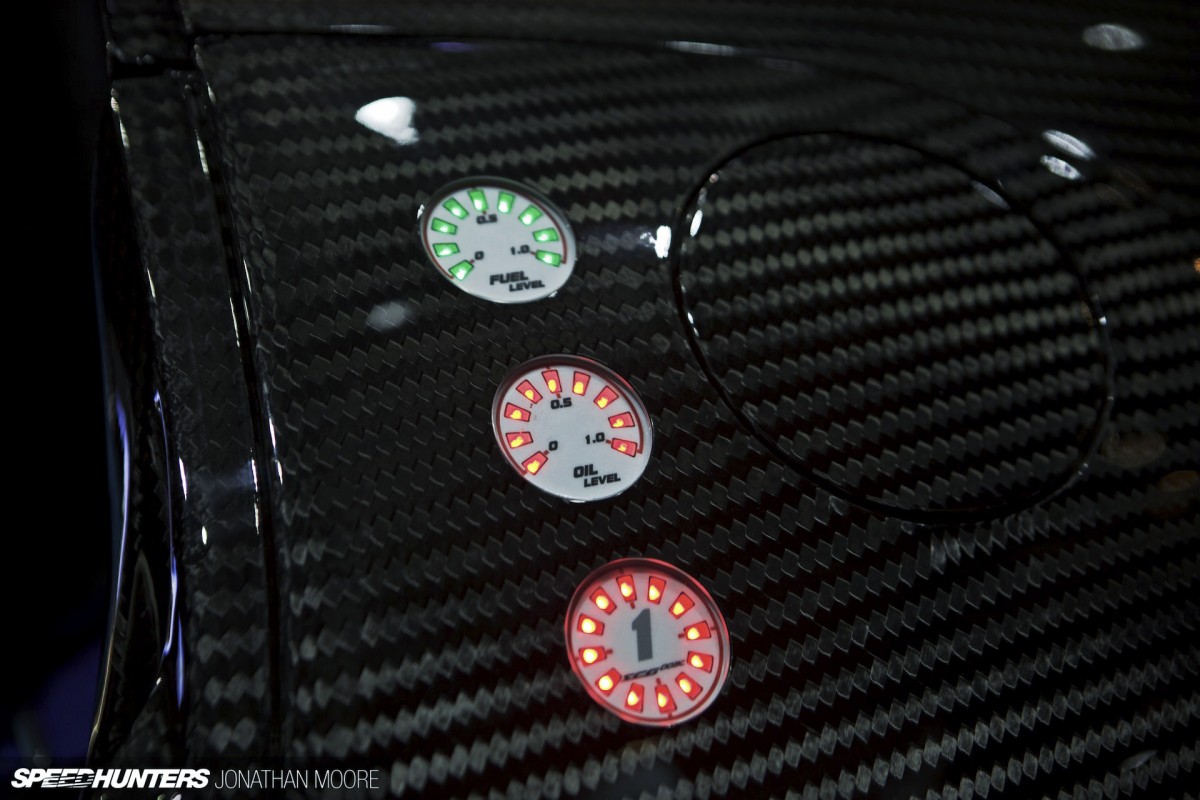 Over its carbon chassis is wrapped a cloak of even more carbon. There's beautiful detailing, and even little playful details like the illuminated gauges that are mounted on either side of the cockpit.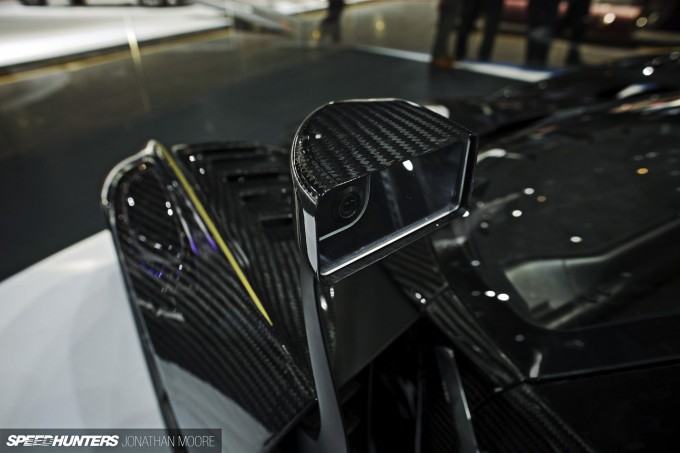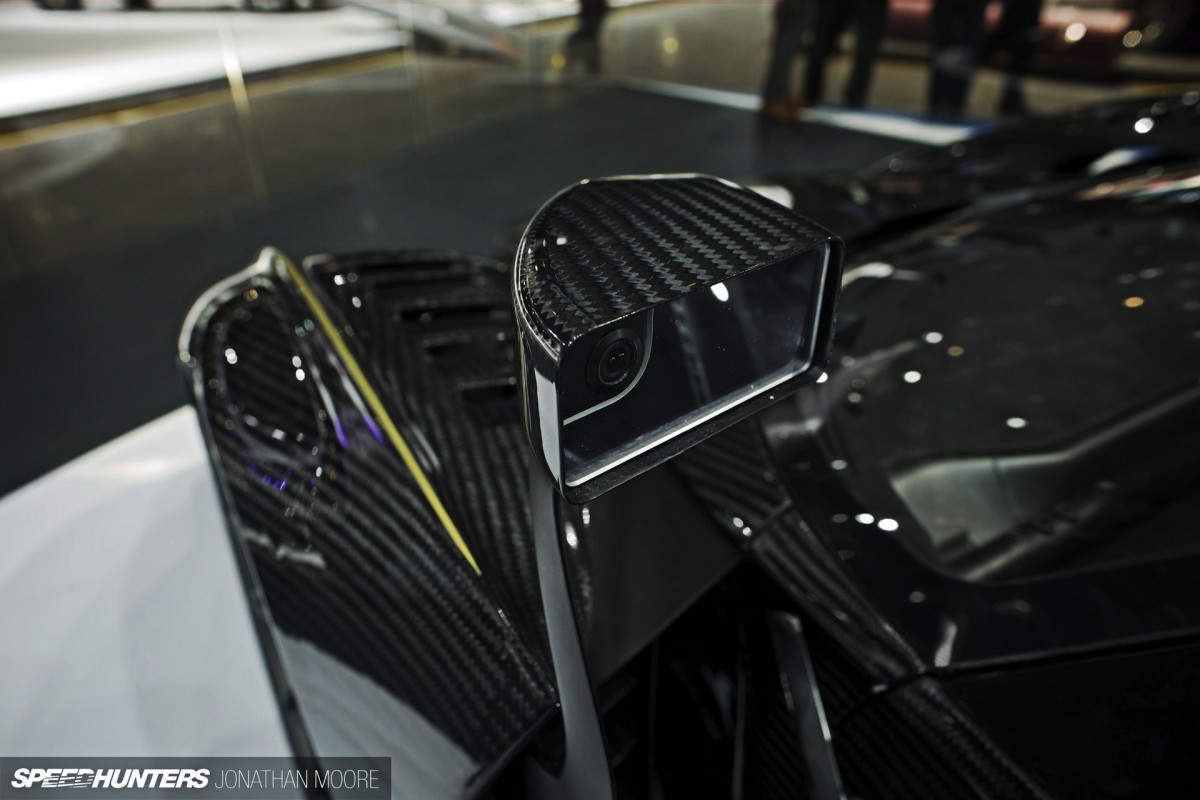 There are mirrors, emerging from the finned recesses of the front fenders – but even they've got a trick up their sleeves.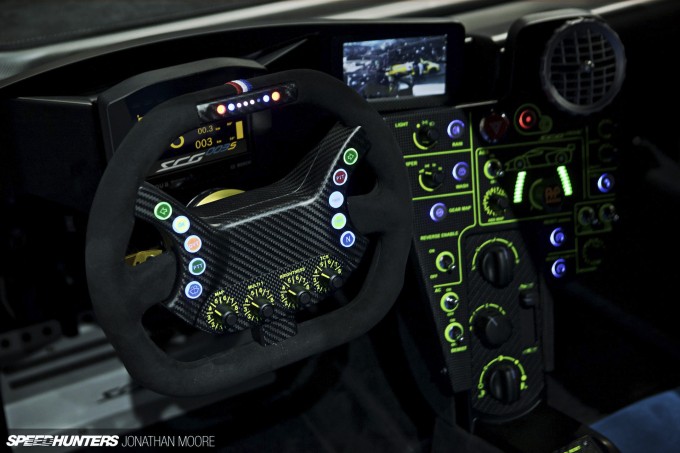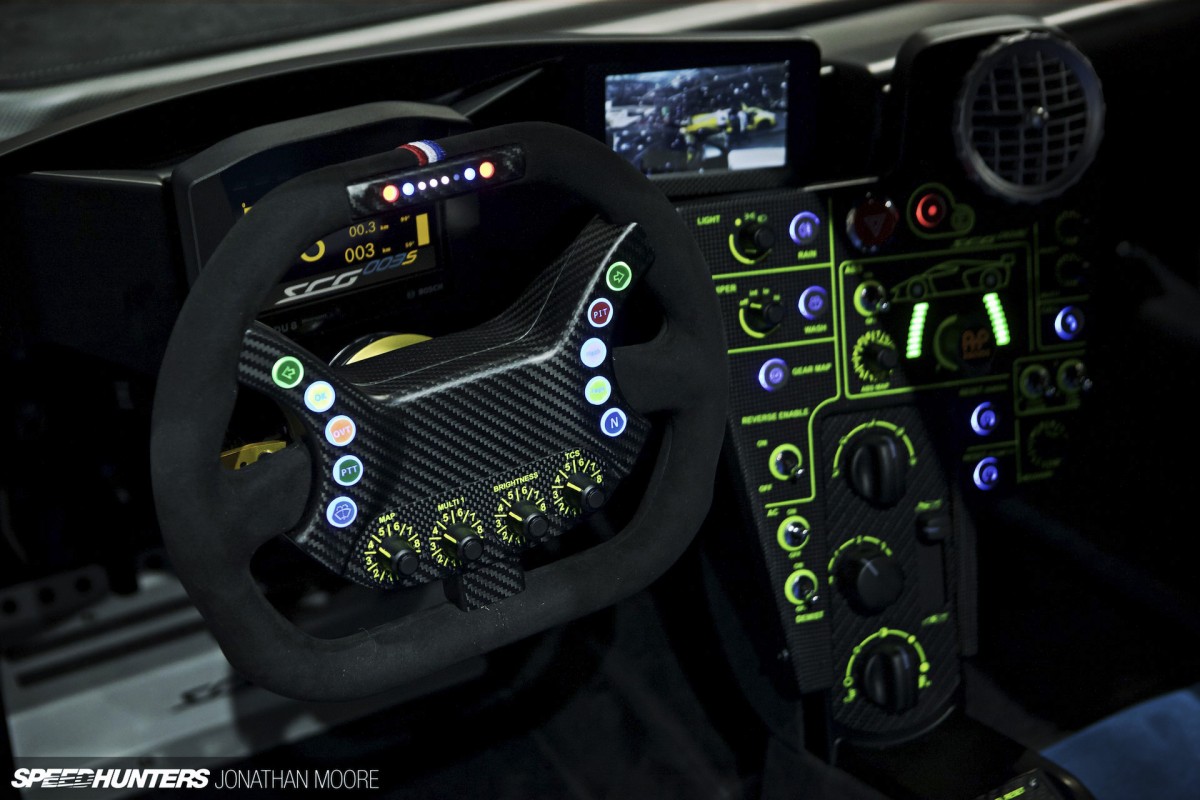 Either side of the wheel are small monitors displaying a video feed from cameras in those mirrors, giving a much more dynamic and spatially natural than the single central screens used on a number of other GT cars. It can be upgraded to use a similar radar system to highlight cars around you, as used on the Corvette GTs. There's a whole lot more going on – but I'll leave that to Dino to explain and give context to.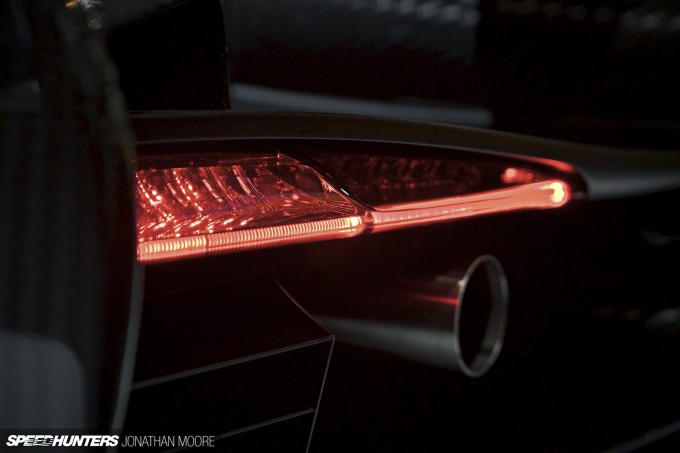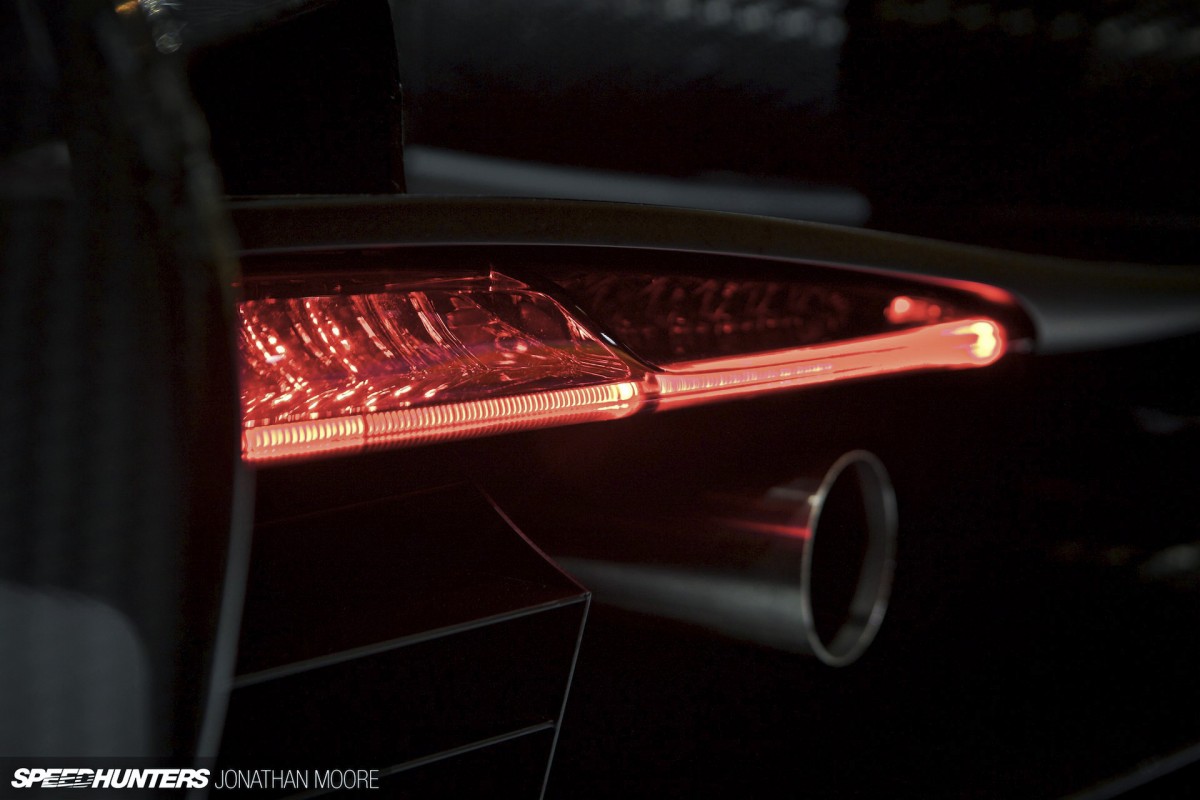 Power comes from a 3.5-litre, twin turbo V6 derived from a Honda Performance Development unit. The numbers aren't blistering in context to something like, say, the Koenigsegg Regera, but this is a performance car built to run at race speeds – for 24 hours. Practical things like ease of repair and maintenance were higher on the list for the CGS003 series.
Jim's already got a full race programme lined up, where fans will get to enjoy the car whilst they continue to develop it. There's a wider goal though, another 24-hour race in France. The big one: Le Mans. If they build enough cars for homologation purposes there's every chance he could get the green light for an international programme – and that will be something that will really get the fans in the tribunes cheering. I'd be one of them.
Jonathan Moore
Instagram: speedhunters_jonathan
jonathan@speedhunters.com