Ice Drifting
I always look forward to receiving calls from Speedhunters driver Vaughn Gittin Jr., because it's almost always an invite to shoot something interesting. Whether it's drifting through fire, playing with a variety of past and present Mustangs, or just hanging out in his backyard, good times are guaranteed. So it was only appropriate for him to invite me to check out his first experience at drifting on ice.
With the new Formula Drift season just around the corner, Vaughn used the opportunity that this little project presented to reveal his 2015 livery. And he did it with some serious style using a Prototype Competition 2015 Mustang RTR, which was the same body as the Spec 5 concept, but with a new purpose. I honestly think it's one of the best looking Mustangs ever.
The Ford Racing video above does an awesome job of highlighting Vaughn's adventures on the ice, but seeing as this is Speedhunters, I'm here to show you what happened behind the scenes.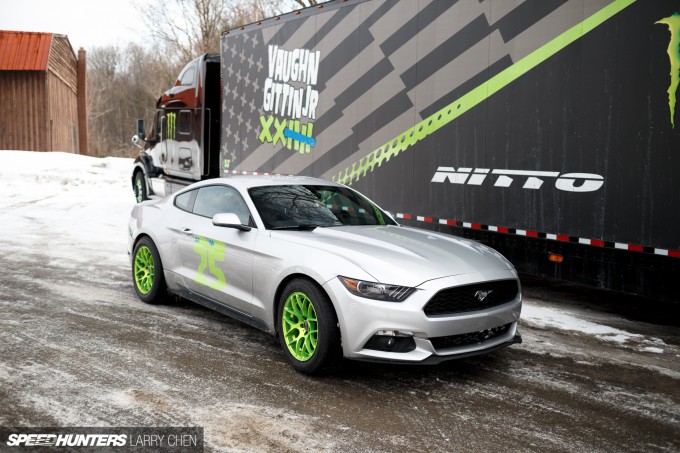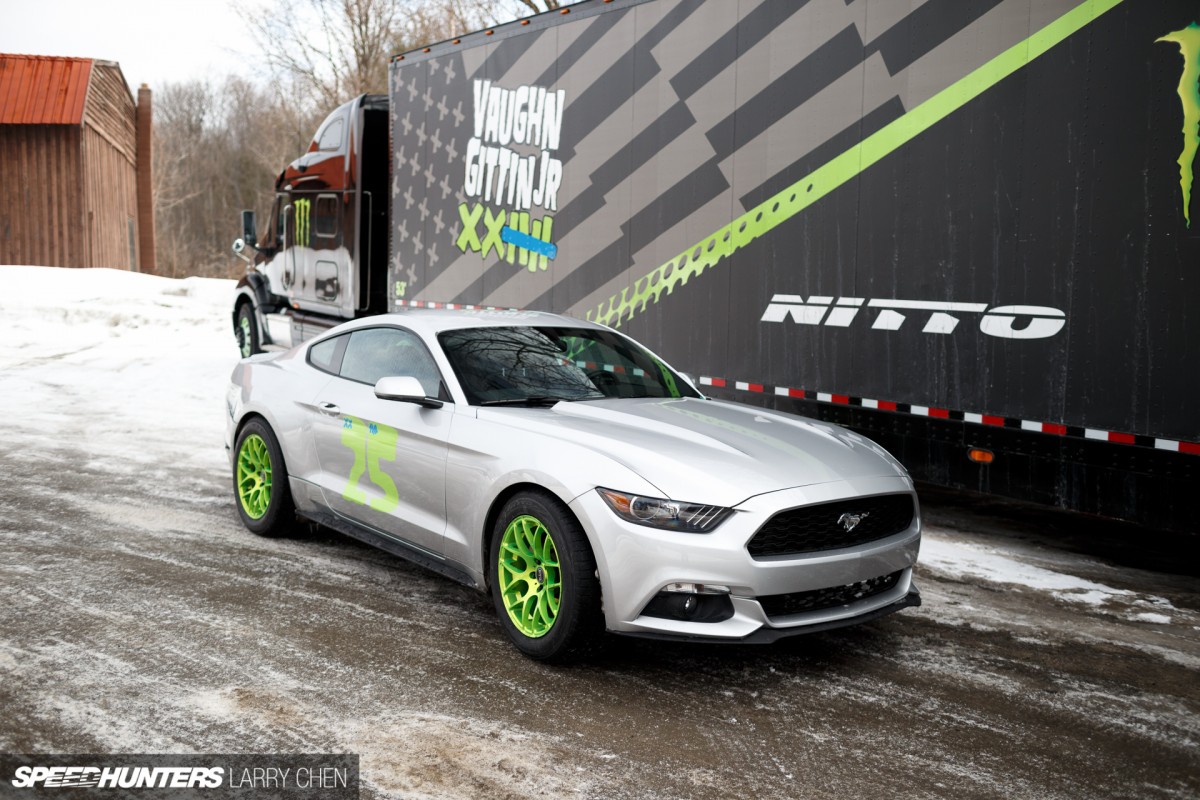 It was back in February when I got a call from Vaughn telling me that he was planning to enter an amateur ice race with a bone-stock 2015 EcoBoost Mustang. Then, the day after the race, he would attempt to drift the same course, but this time from behind the wheel of his Prototype Competition Mustang RTR.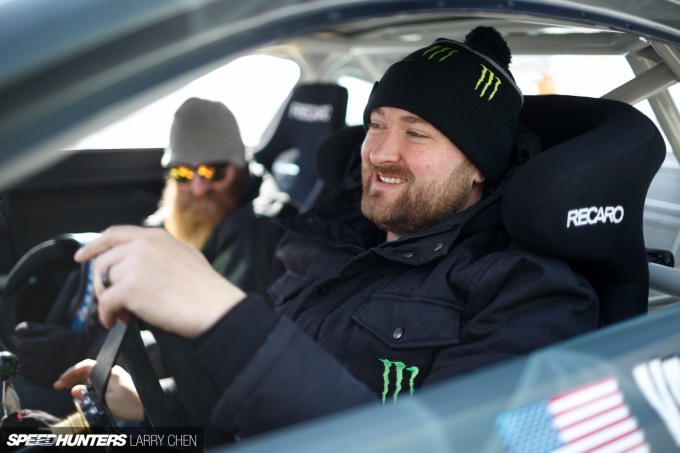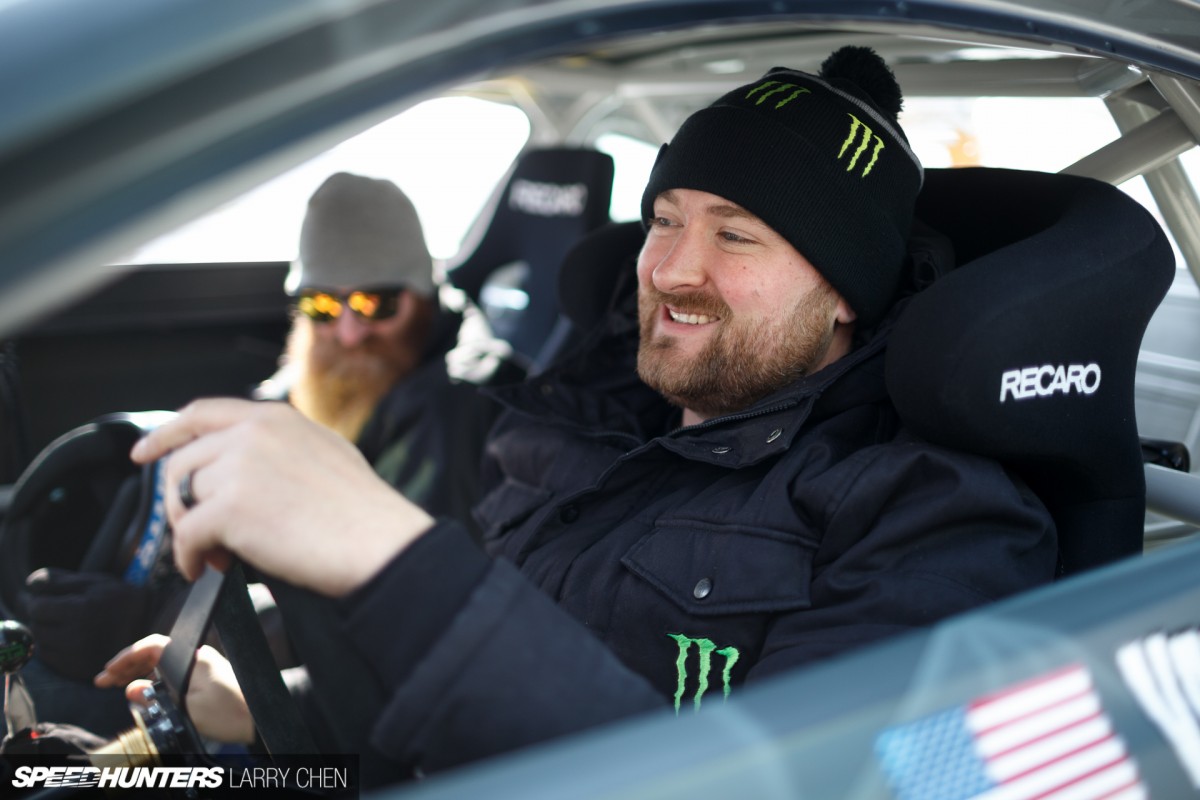 I actually couldn't make it to the race due to previous obligations, but Vaughn let me know that I missed out on a hell of an event, with serious battles going on between the factory-spec turbo Mustang and a bunch of front-wheel drive Geo Metros.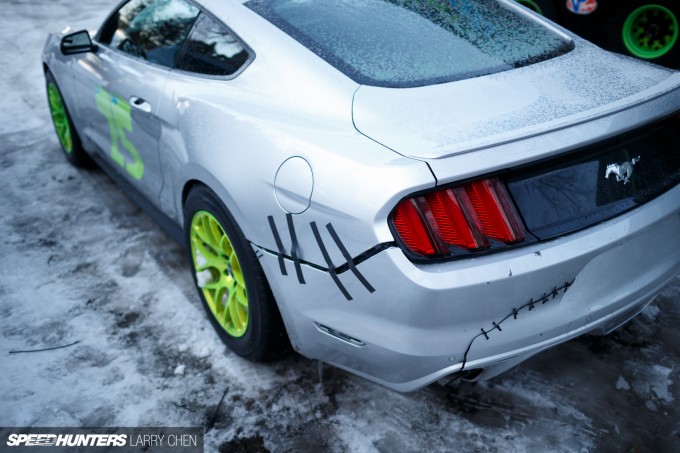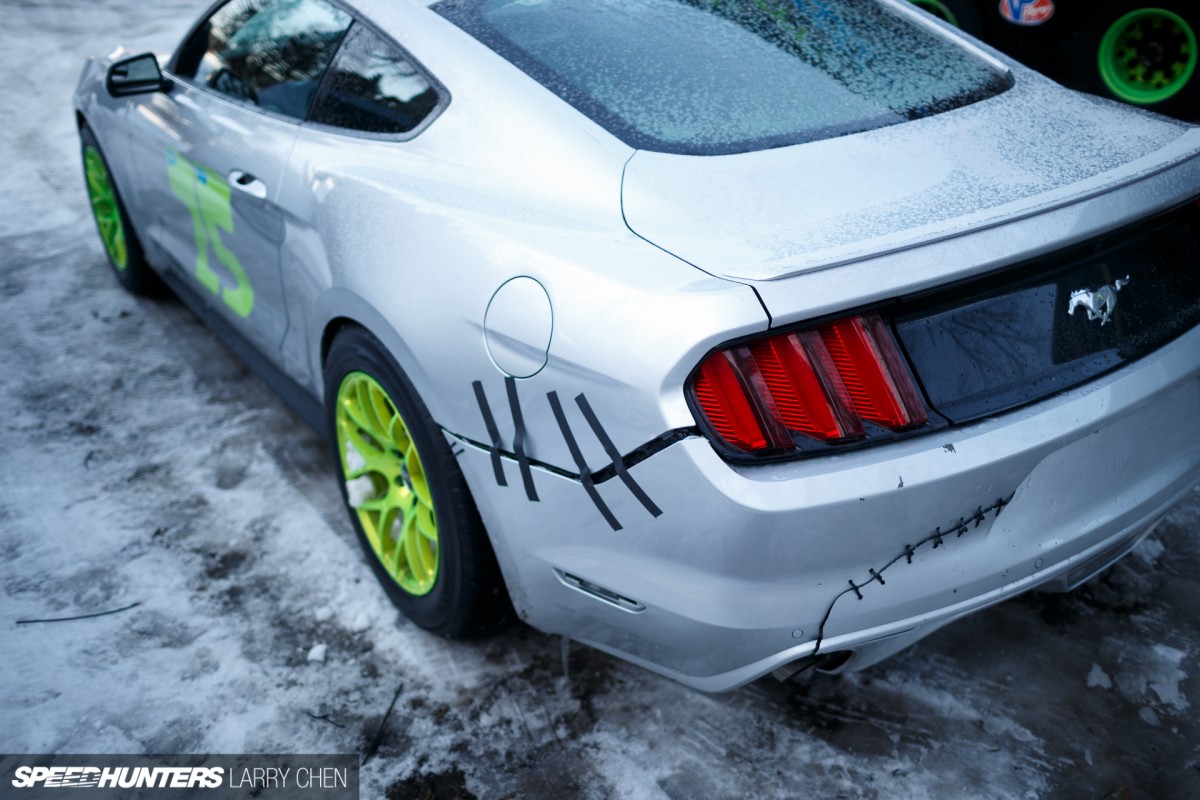 Even though the EcoBoost Mustang had more power than most of the cars that Vaughn was racing against, it didn't really matter due to the stud-less snow tires they were limited to using. Grip – or a lack of – was the equalizer for the "rubber to ice" class.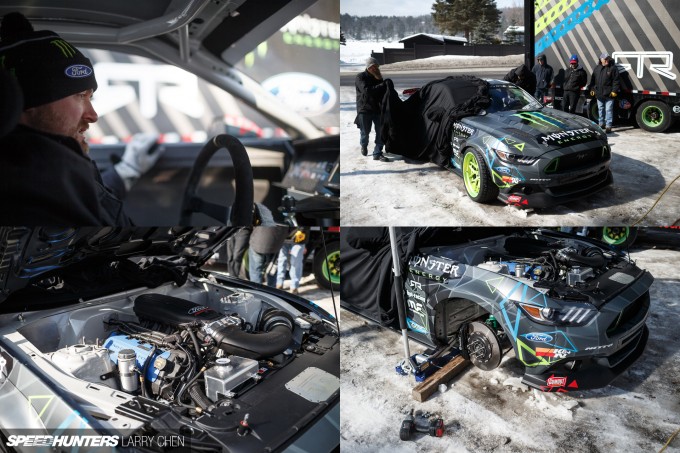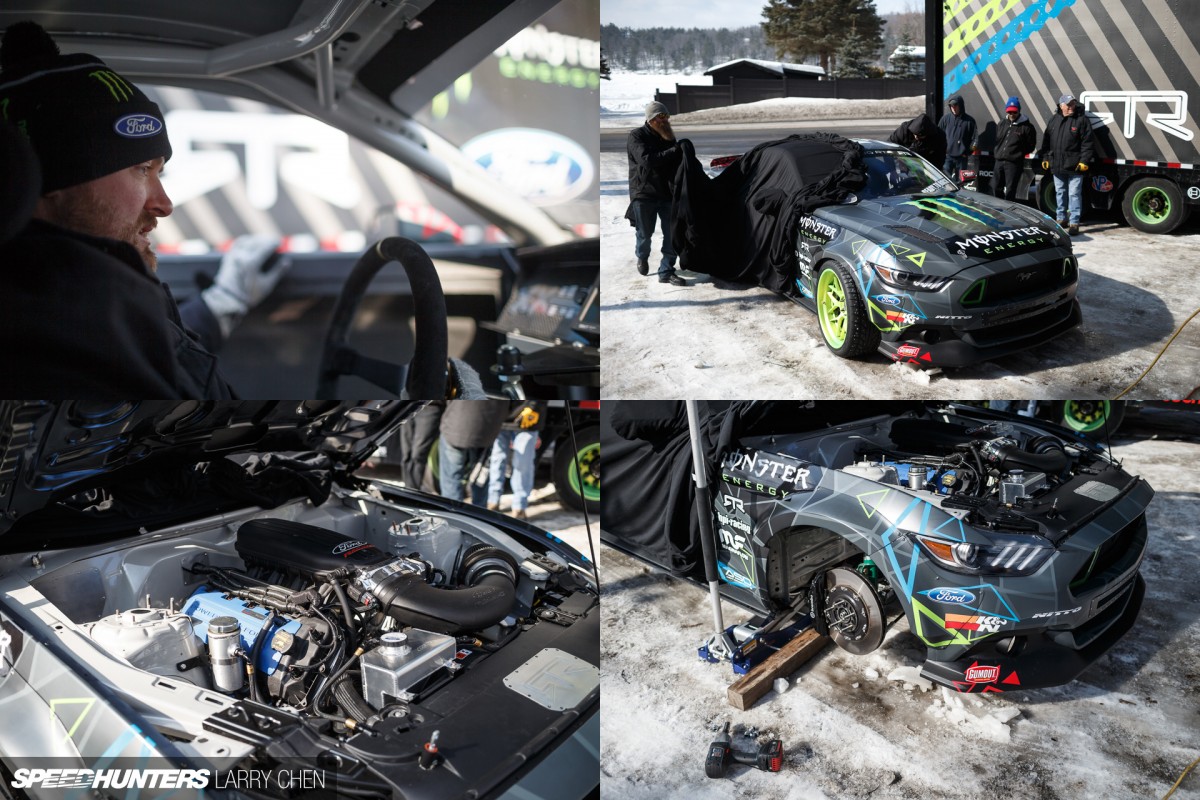 I had to walk around the car a bit to soak it all in, but I fell in love with it right away. Popping the hood revealed a Ford Racing 5.0L Aluminator V8 XS crate engine that will happily rev to an ear-shattering 8,000rpm. It's more than enough power to break the tires loose on pavement, which means it would do the same on ice, right? This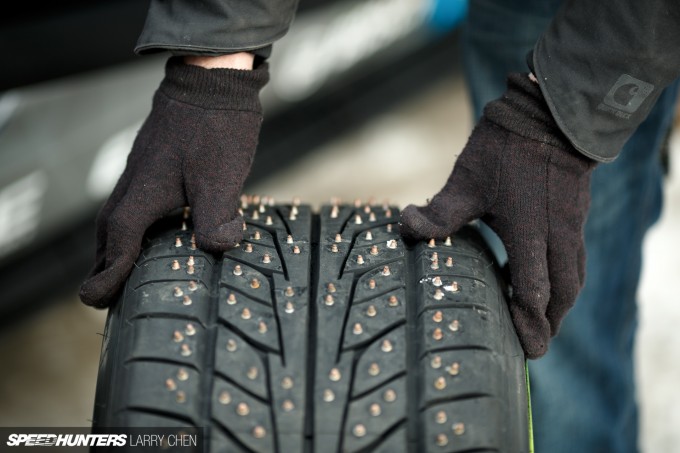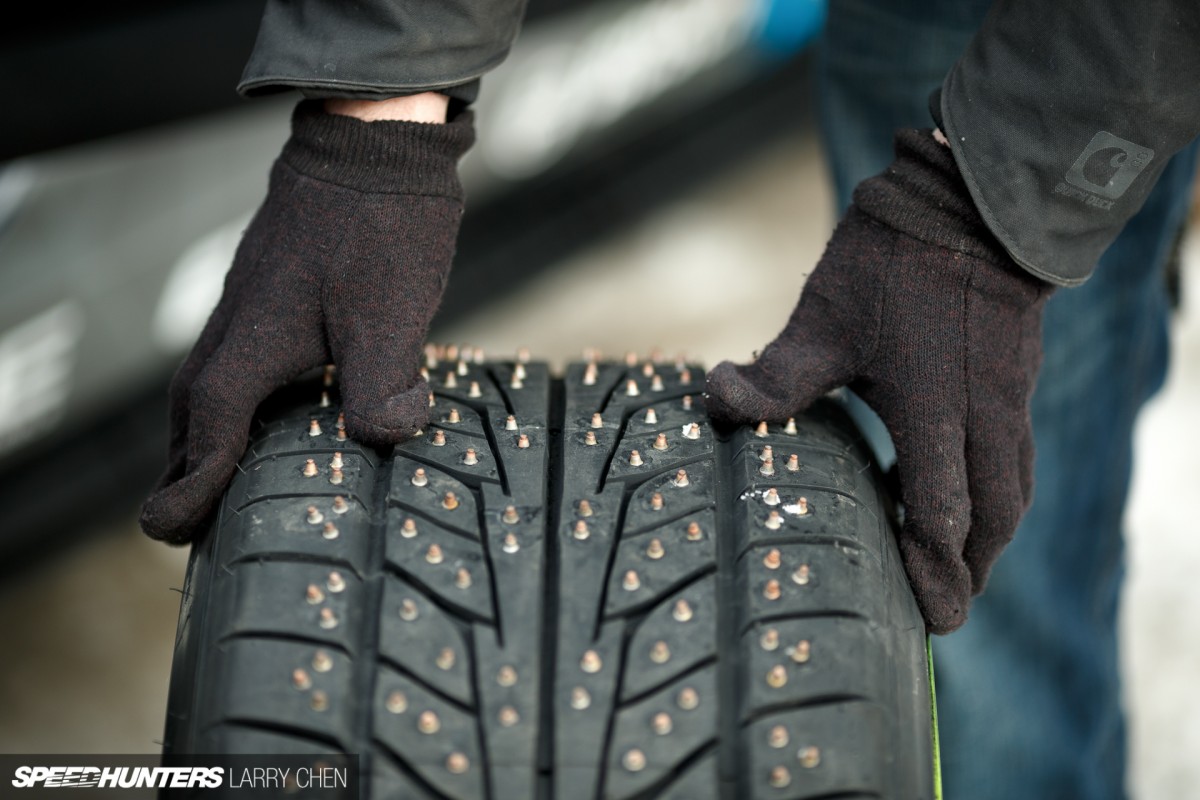 Enter the one-off Nitto ice tires – each one fitted with 800 carbide studs specifically designed for ice racing. That's 3,200 studs in total for the set, and traction for the 3,000lb (1,360kg) Mustang.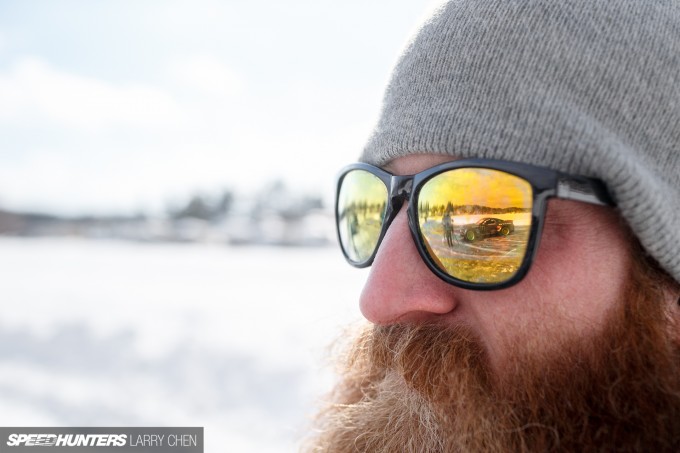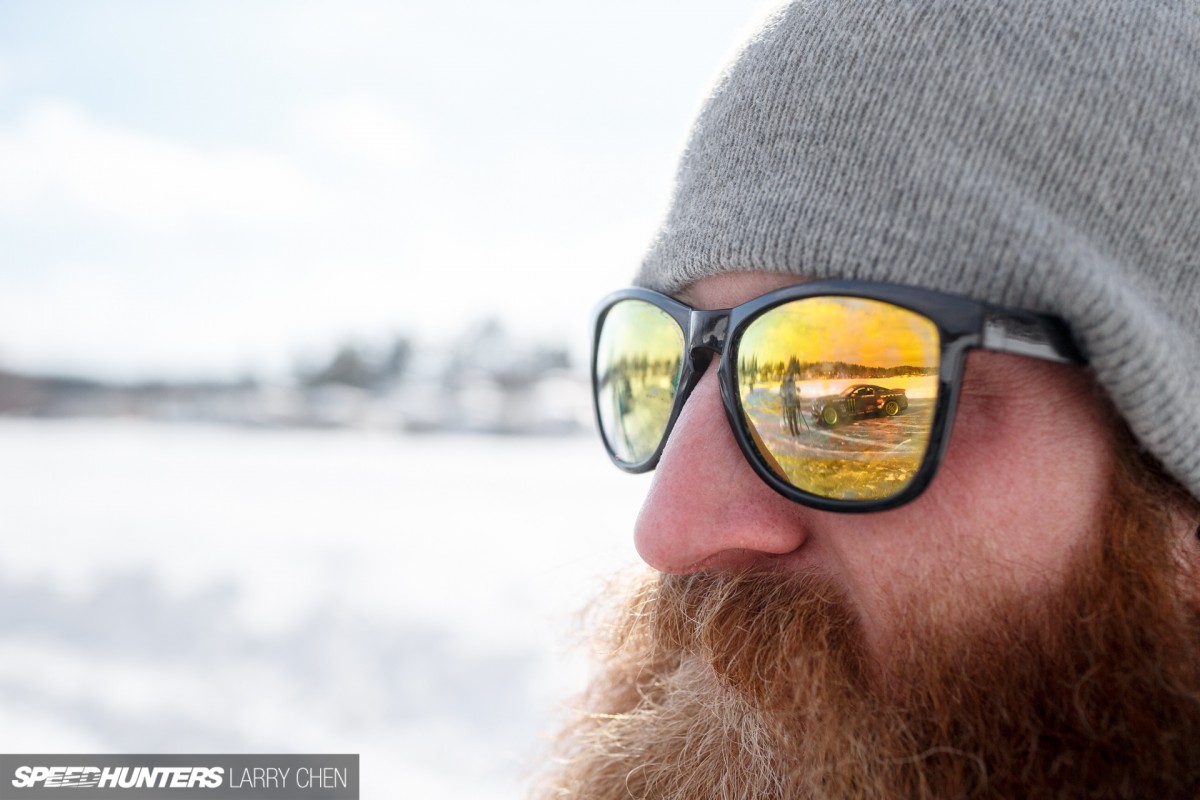 The brainchild behind the customised Nittos? That would be Ryan from Pryme Tire. And yes, he had to drill 3,200 individual holds and glue each stud in one by one with his own hands to make up the awesome set. Interestingly enough, making ice tires is what he actually does for a living. He'd just never turned his talents to anything as wide as these before.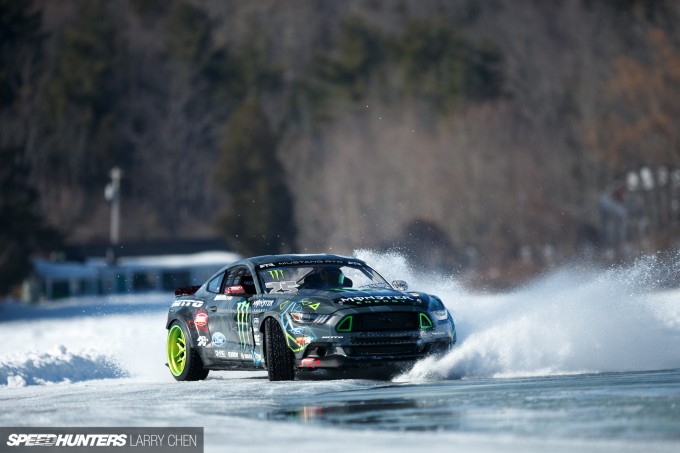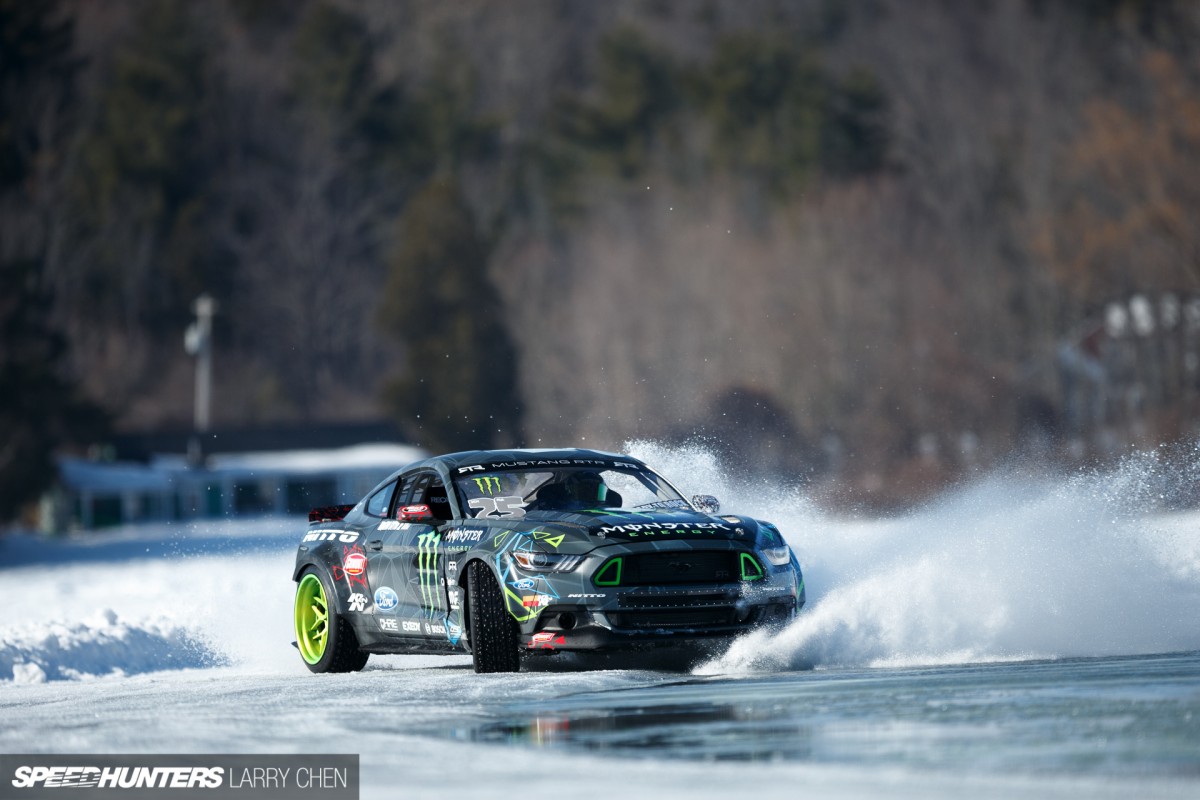 As you already saw in the video, the studs ripped the ice surface a new one – and then some.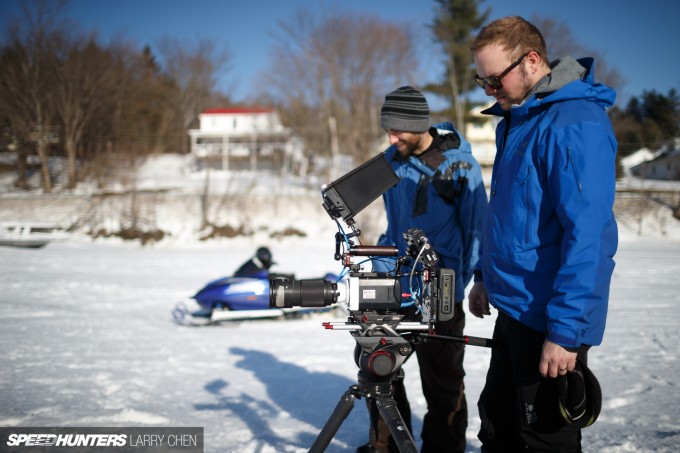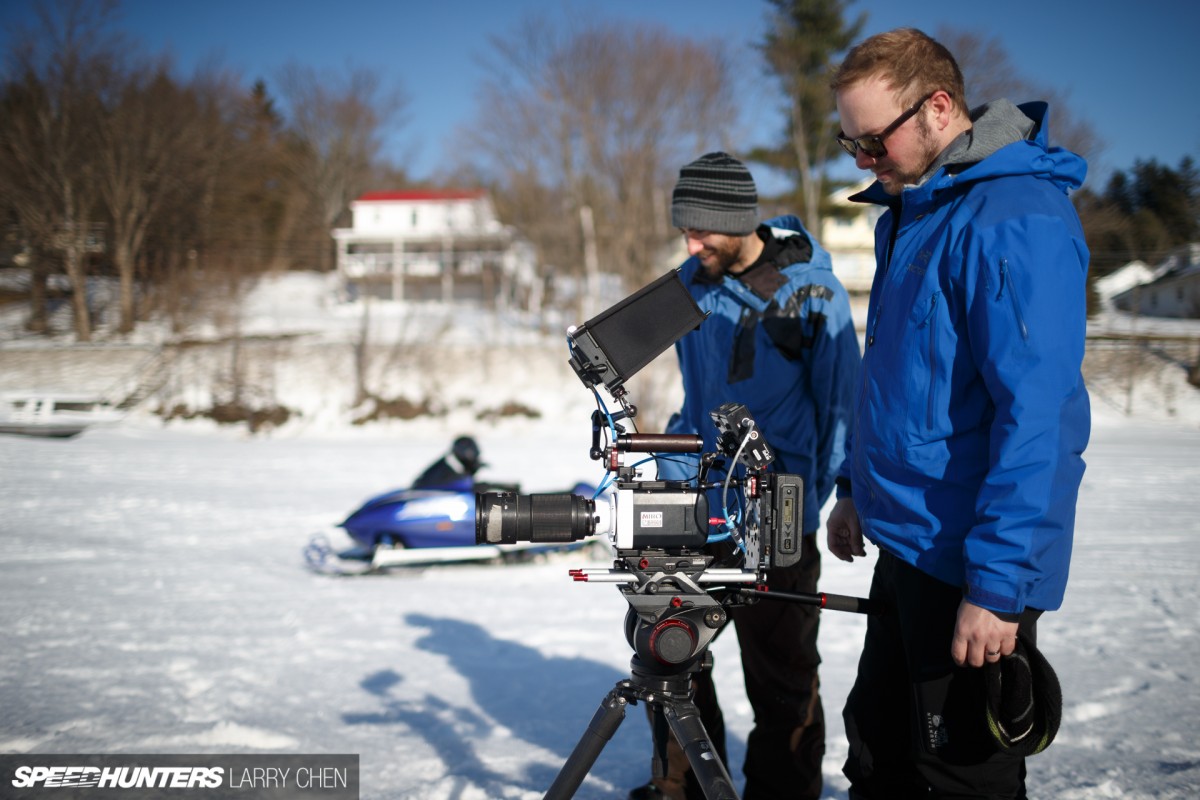 Taking point on video was my good friend Matt Johnston of Wagon Attack fame.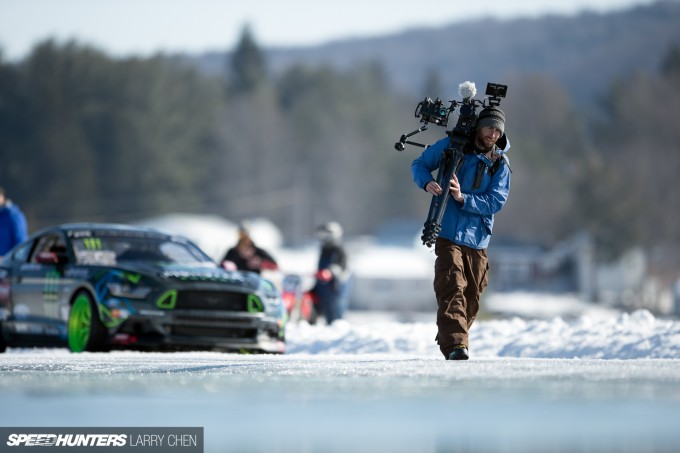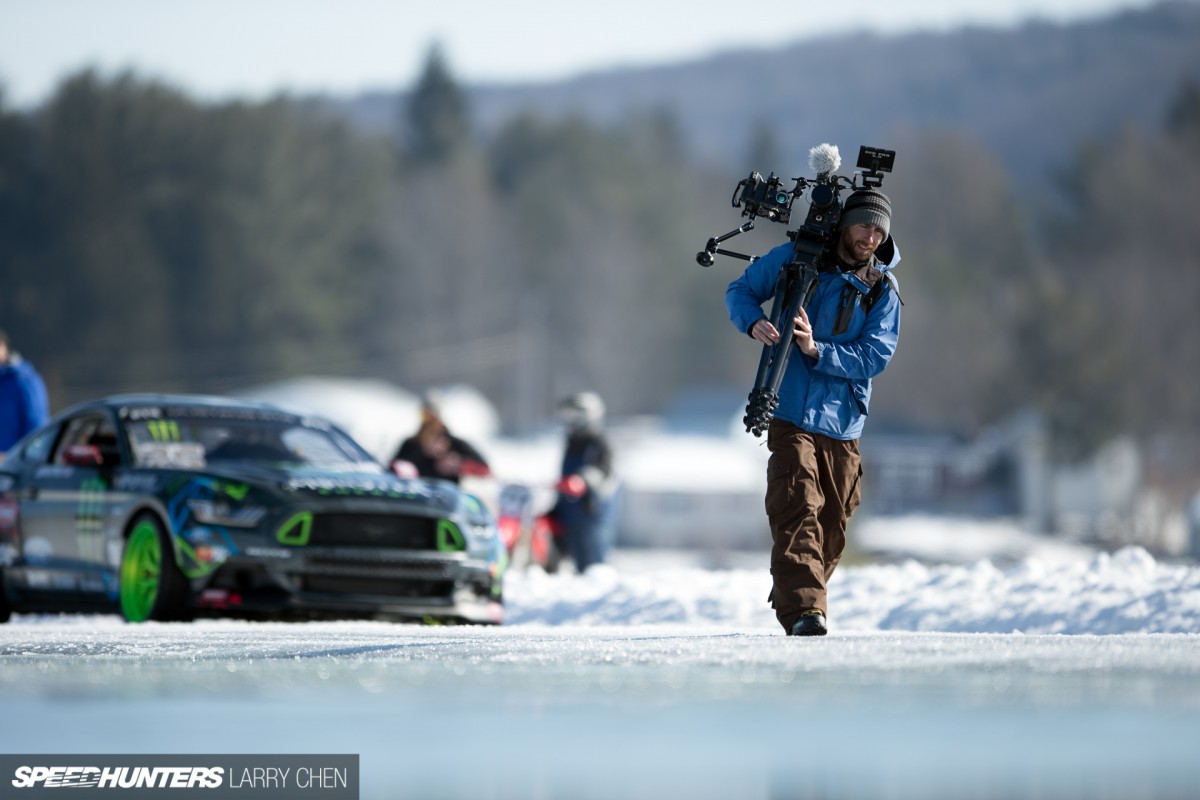 Also along for the ride as a camera operator was Will Roegge from Keep Drifting Fun.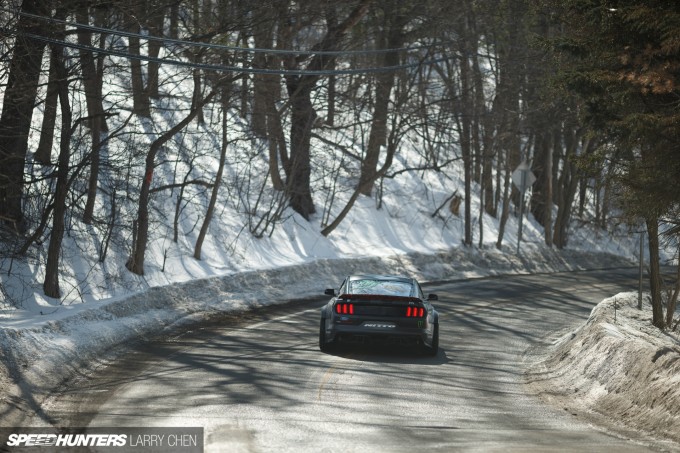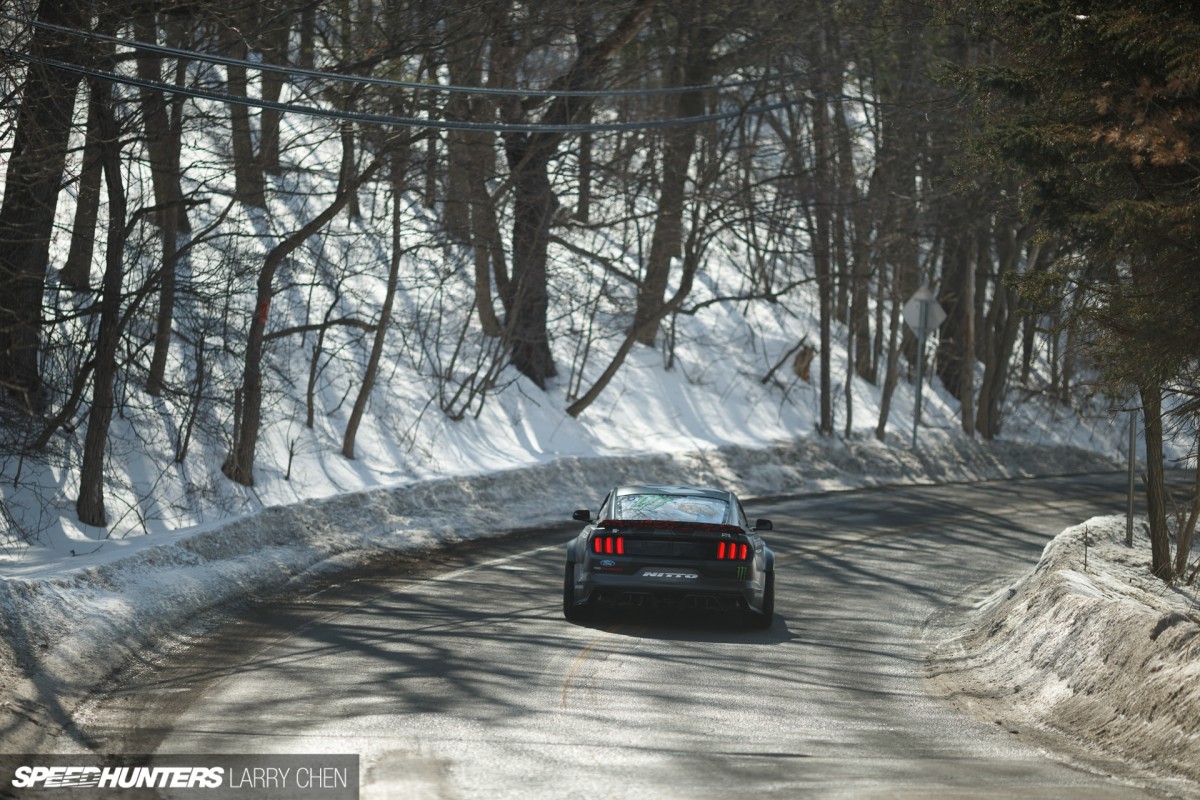 After the studded tires were mounted up, Vaughn drove slowly and carefully on the road down to the frozen lake.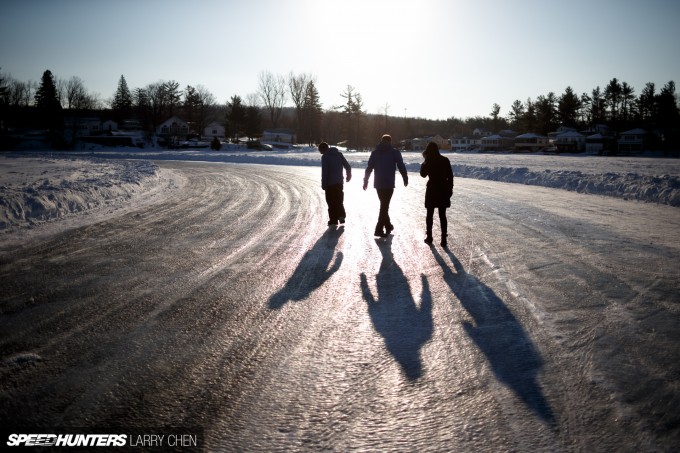 The location was Warners Lake in East Berne, New York. The previous day's action was actually the last ice race of the season in all of the lower 48 states, and any other events held in the United States would be all the way up in Alaska. So this was the perfect location for Vaughn to try out some ice drifting.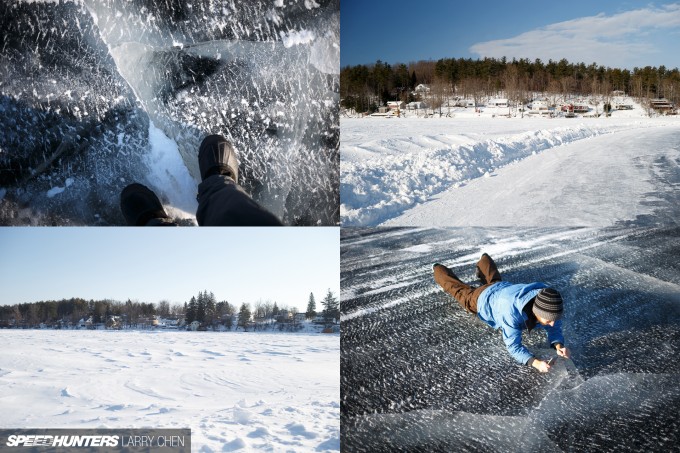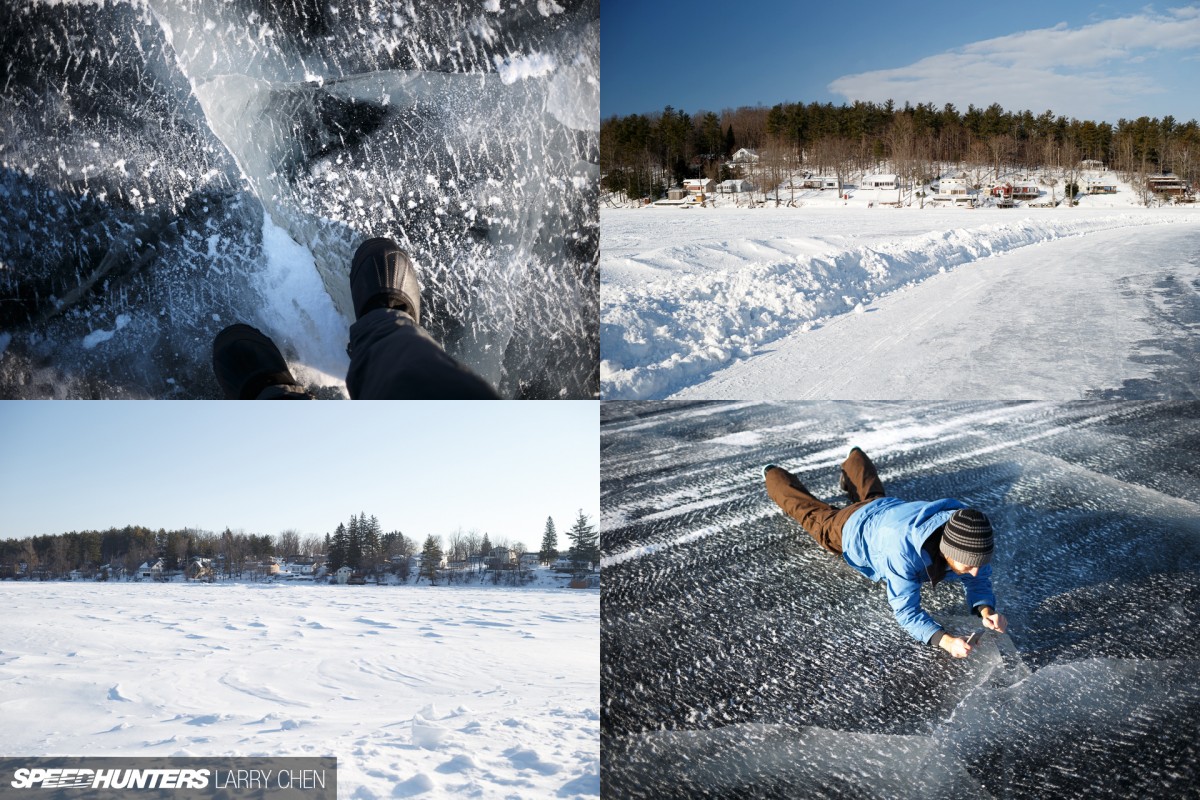 Being a Southern California boy, I only get to use my snow boots when I shoot these types of events, and that's normally only once a year. At Gatebil on Ice last year, I was left with a pretty harsh impression after I fell through the ice up to my waist. This time I told myself that I would not break rule number one, which is of course, 'Don't fall through the ice'.
Rule Number One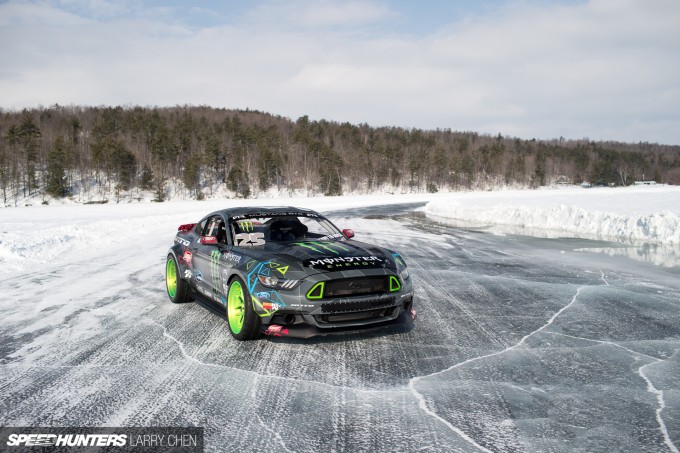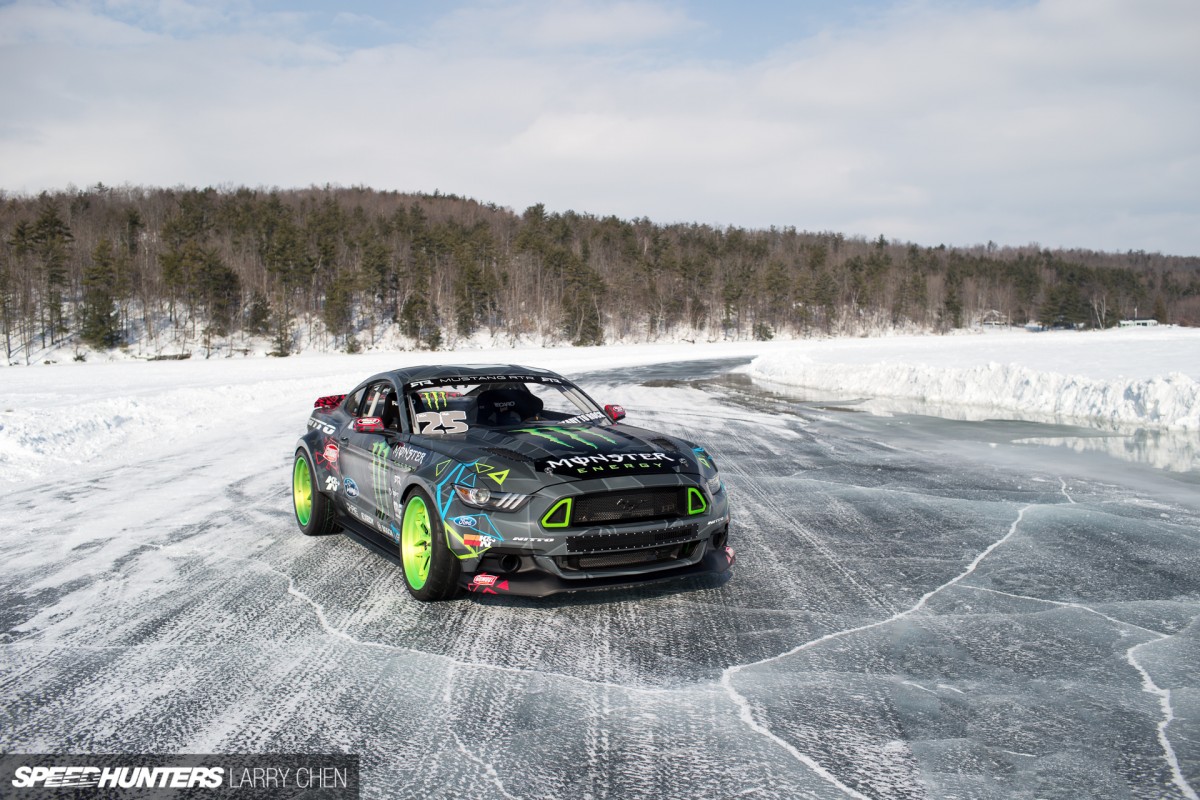 Of all Vaughn's liveries up until the 2014 Formula Drift season, his 2012 look has been my favorite, and I didn't think he would be able to top it this year. But I was wrong. The 2015 Mustang is super aggressive, and I just love those green RTR fog lights.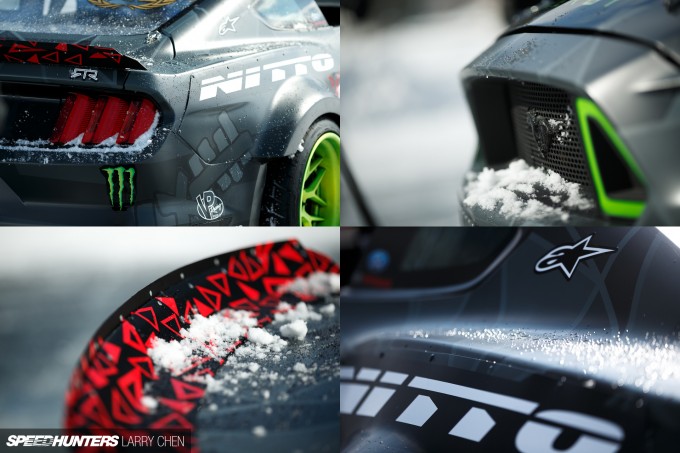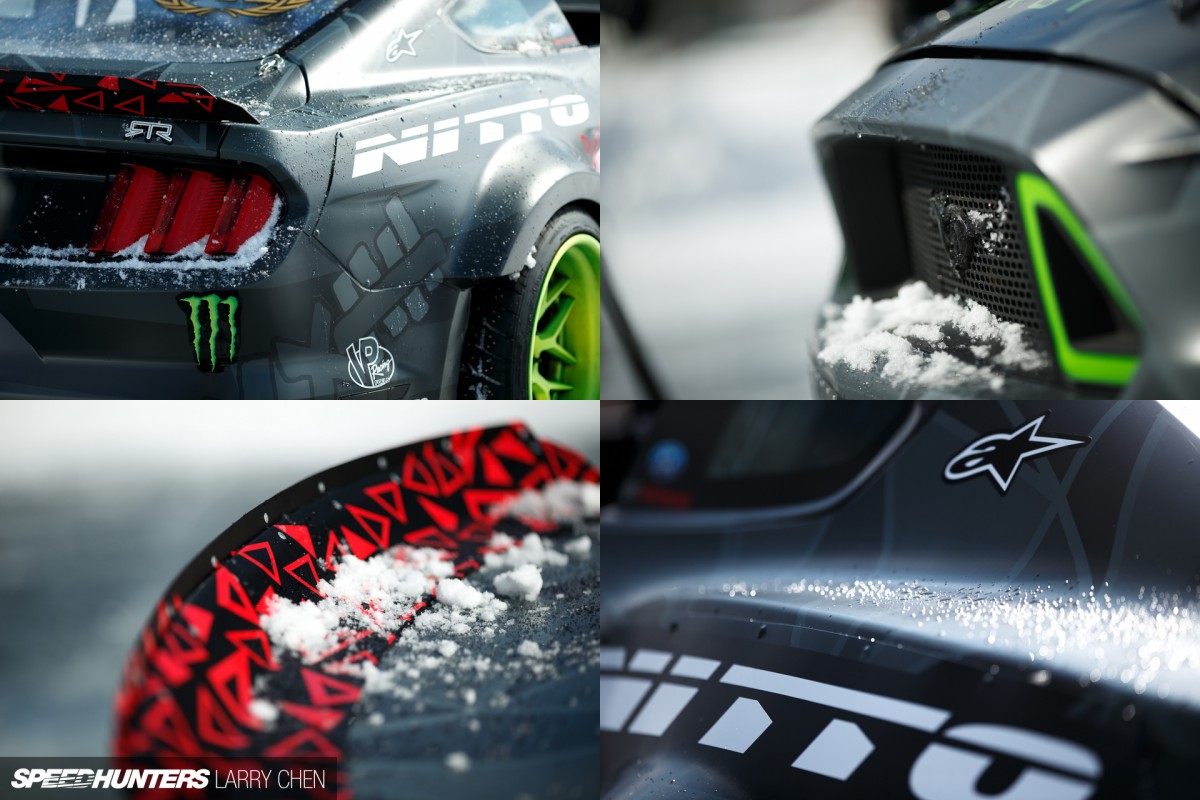 The red accents are a cool touch too, and just what the gray and green color scheme needed. What a great looking drift car.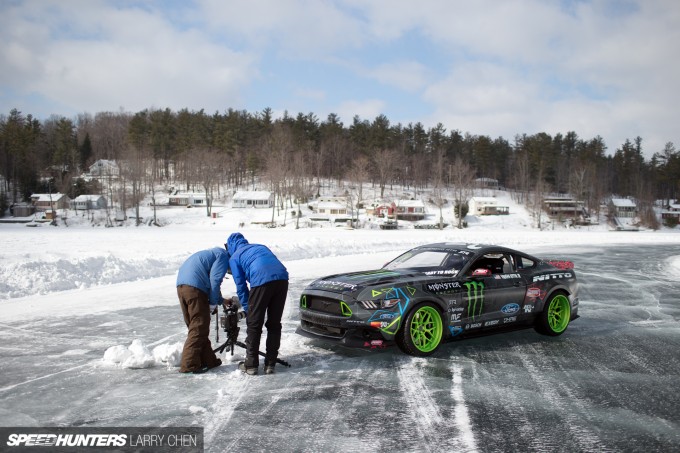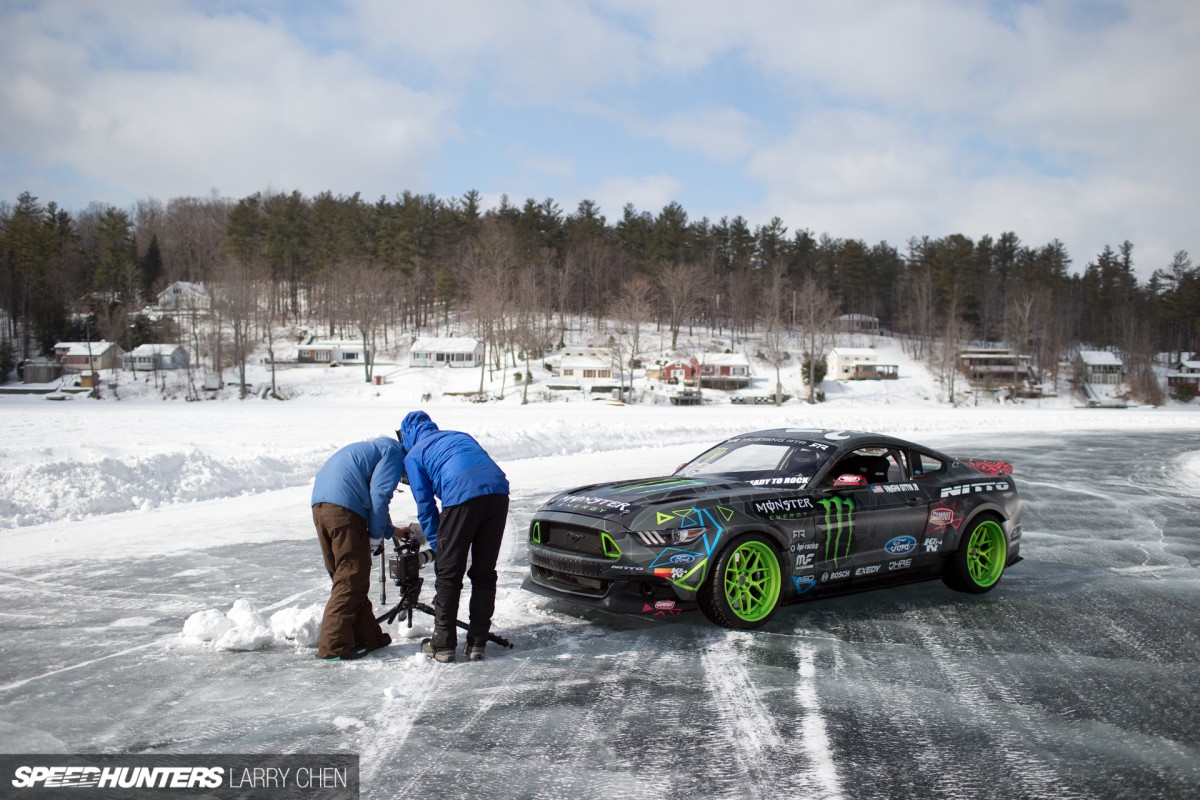 As the boys were shooting their static shots, a slight problem began to develop.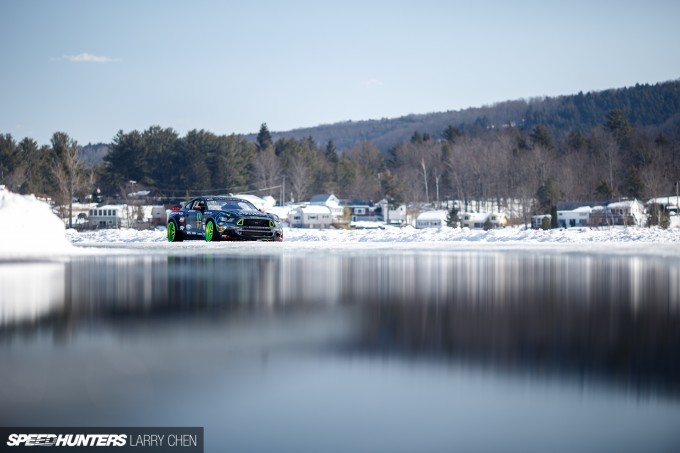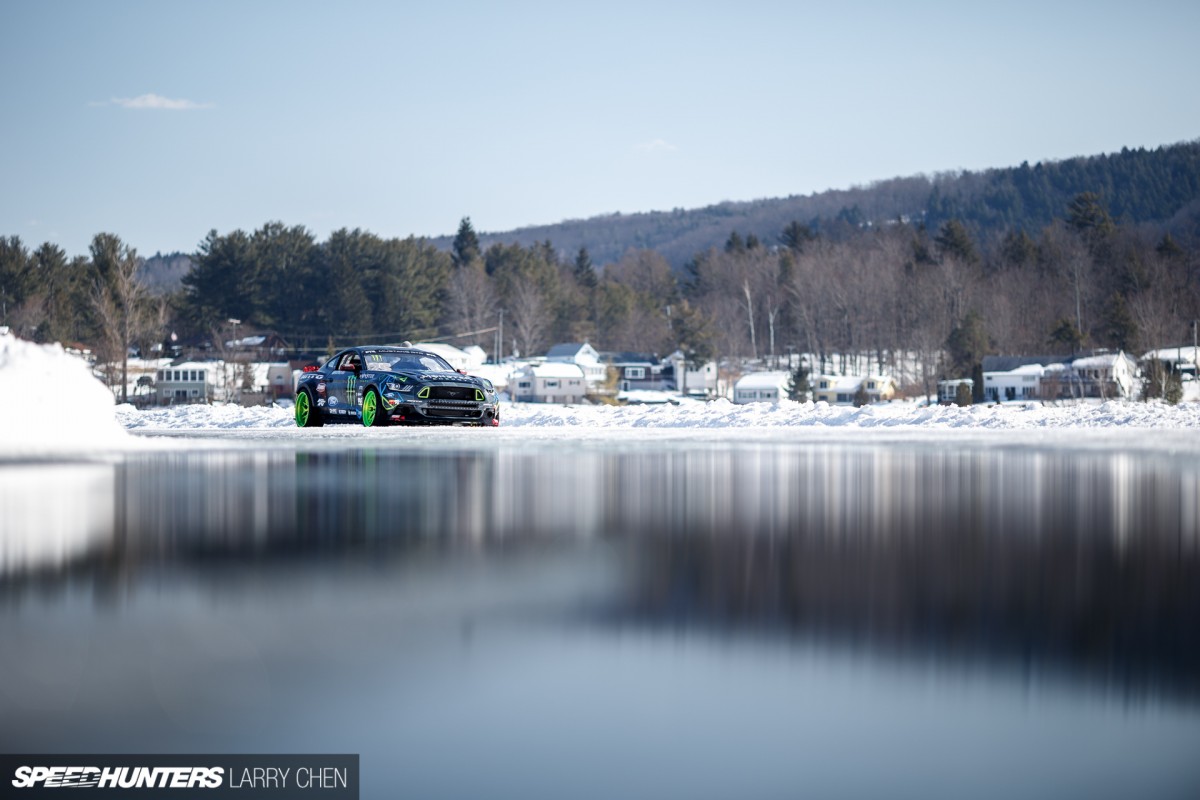 The day was unseasonably warm, and the frozen lake started to turn back into… well… a lake.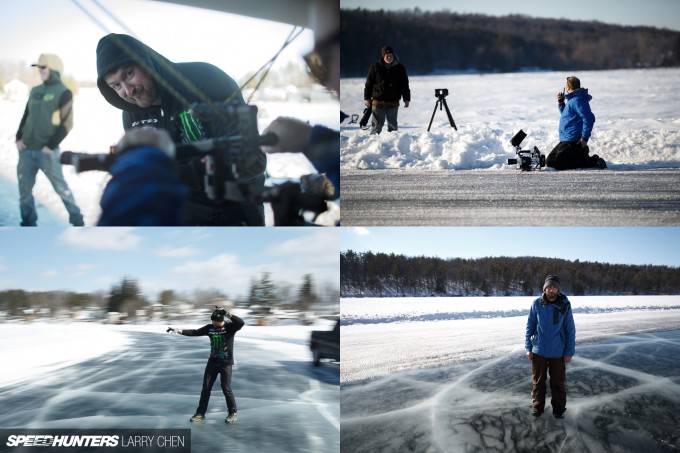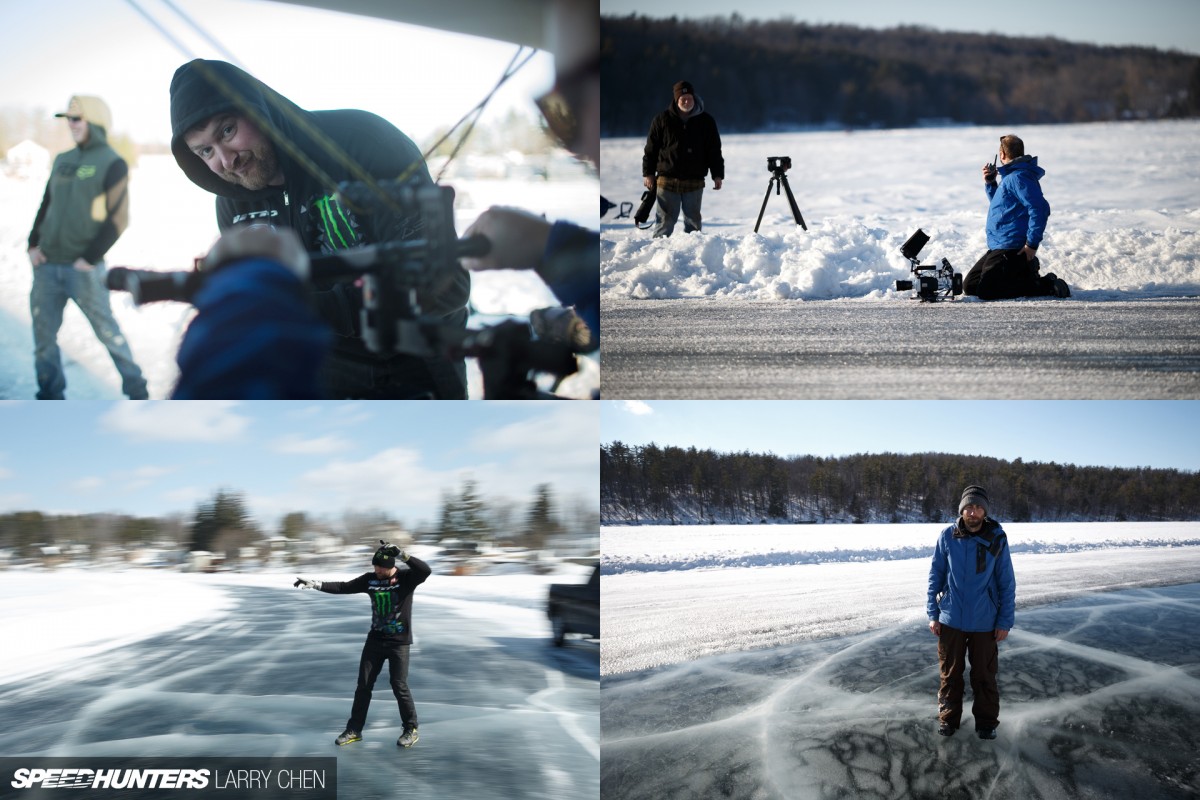 But nothing could stop us now. As the ice surface began to melt away, it became super-easy to slip and slide all over the place, which meant that I slammed my behind on the ice numerous times.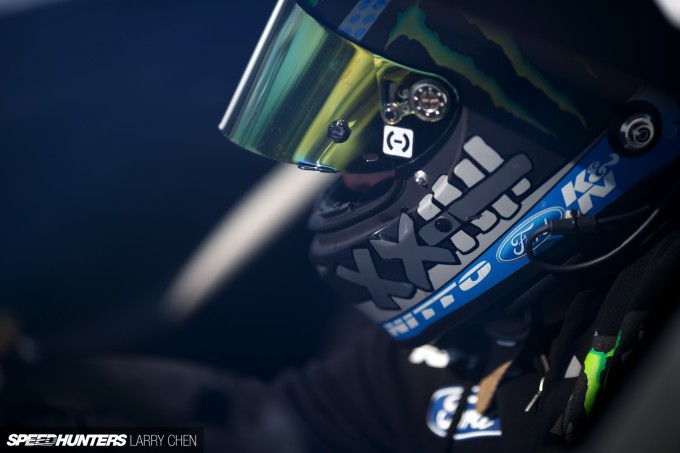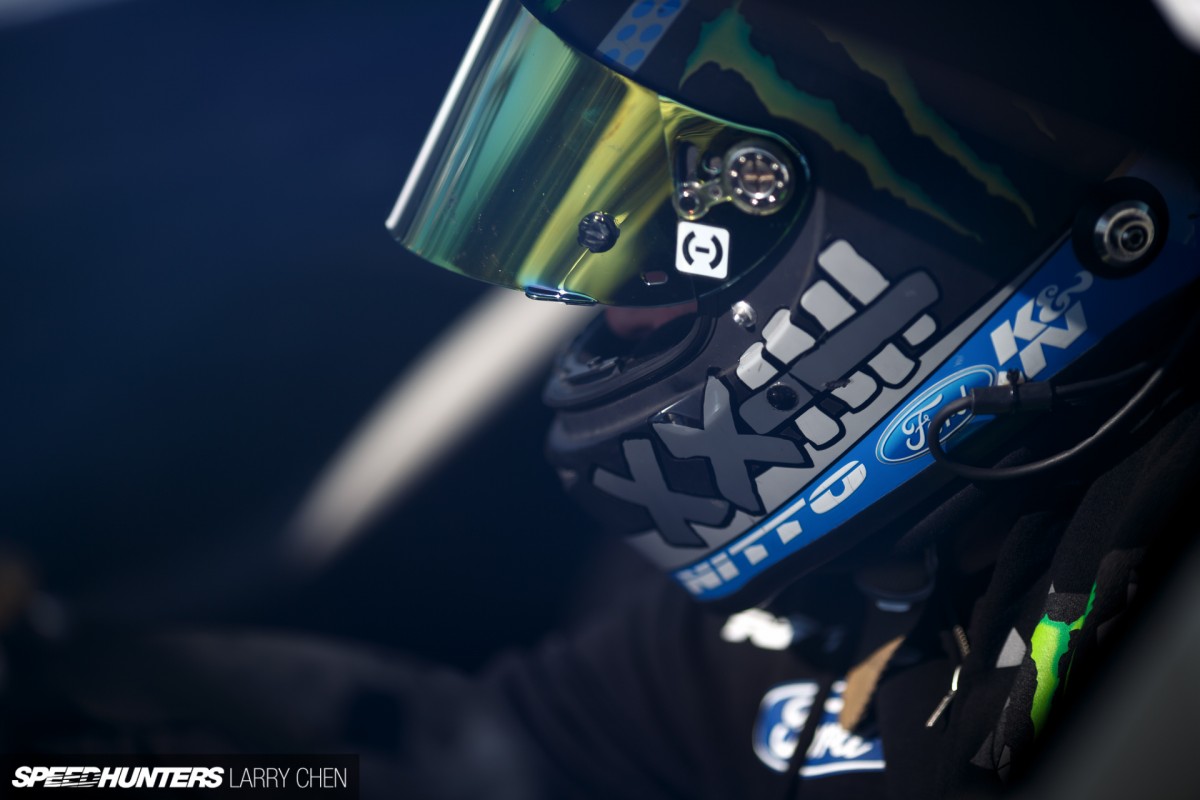 With all the beauty shots in the bag it was time for Vaughn to suit-up and try out this ice drifting thing. It's best to get all the static shots out of the way just in case body panels start flying off.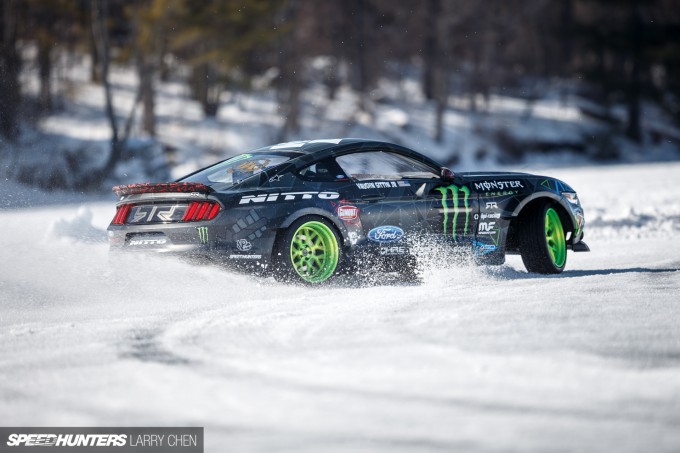 And just like that Vaughn was drifting at full noise around a long right-hand sweeper – third gear, limiter, bam, fourth! You can see the studs just ripping through the hard ice.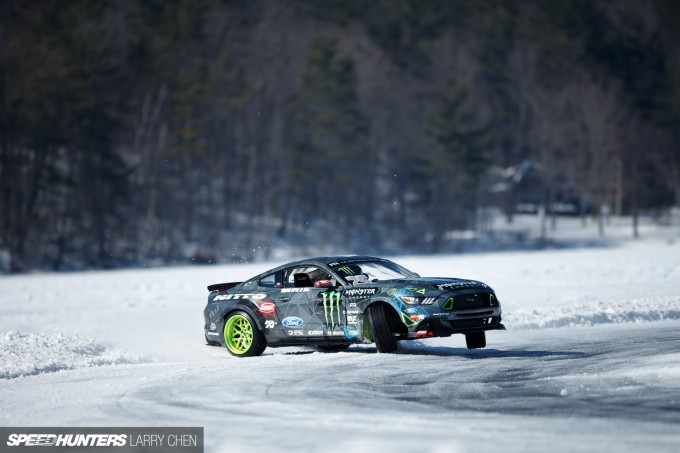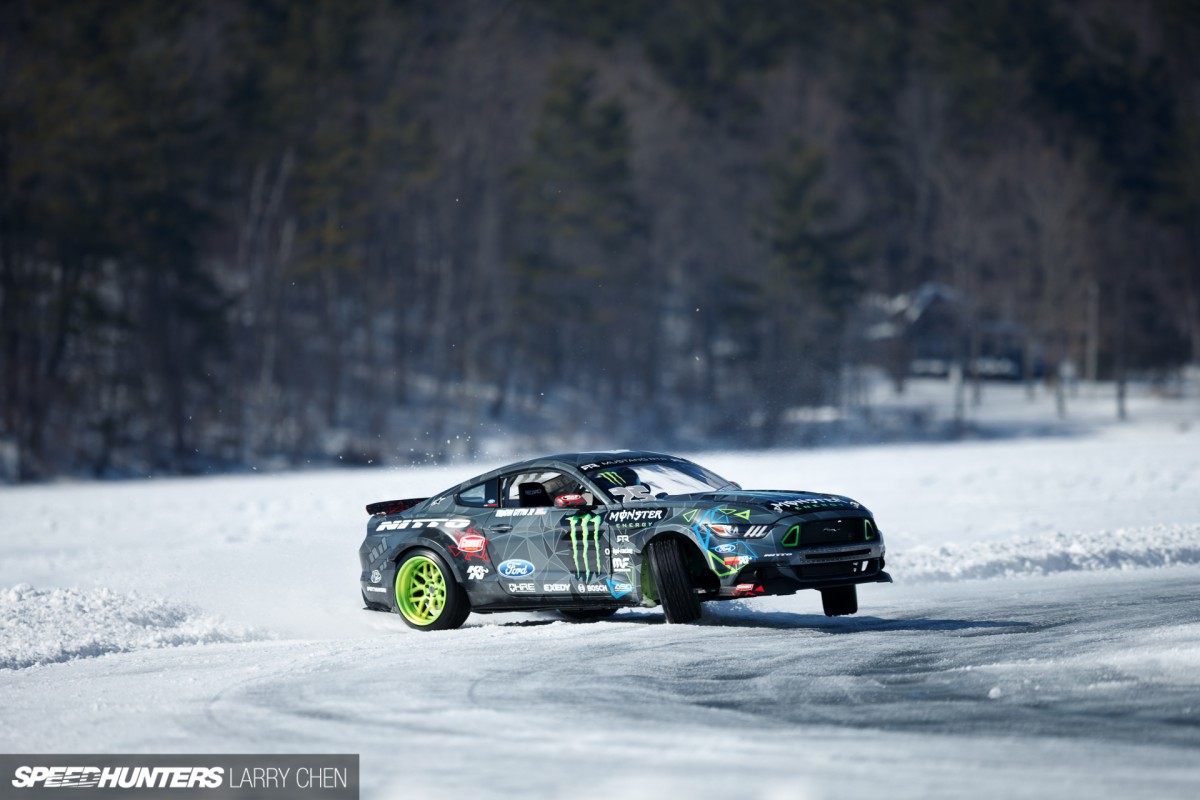 Vaughn was initially impressed by the amount of traction that was available, and compared it to drifting on asphalt. Just look at the incredible amount of grip that he had coming around this corner in maximum attack mode.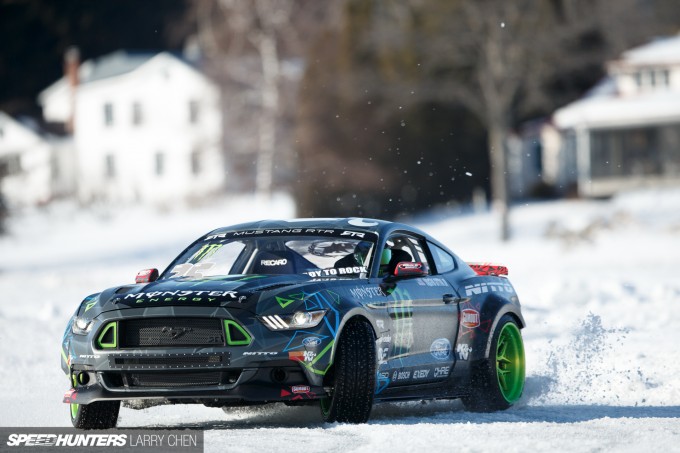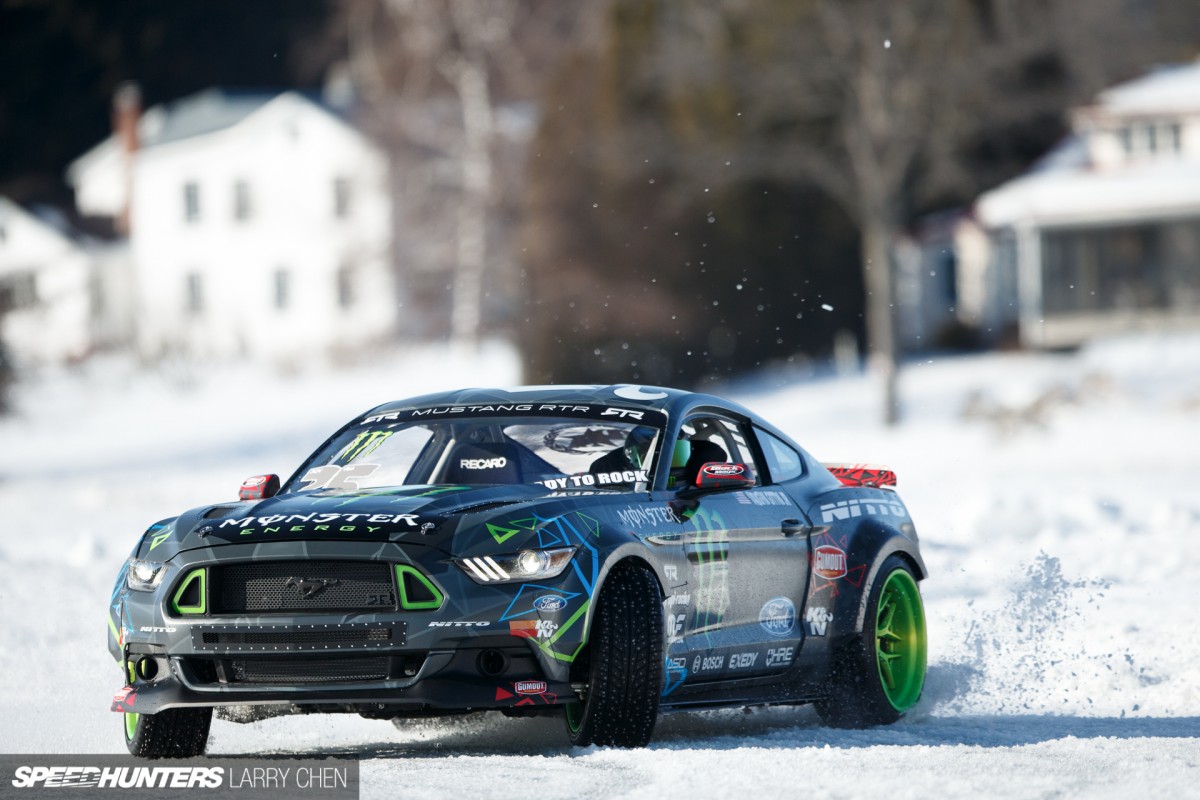 While Fredric Aasbø and many of the Gatebil regulars having been drifting on ice for years, I always see them using WRC tires. But they're usually only around five or sixes inches wide at most, and actually make the cars look a bit funny to be honest.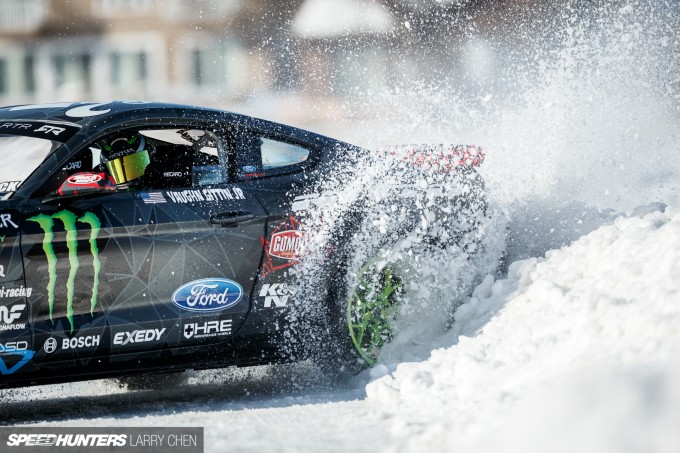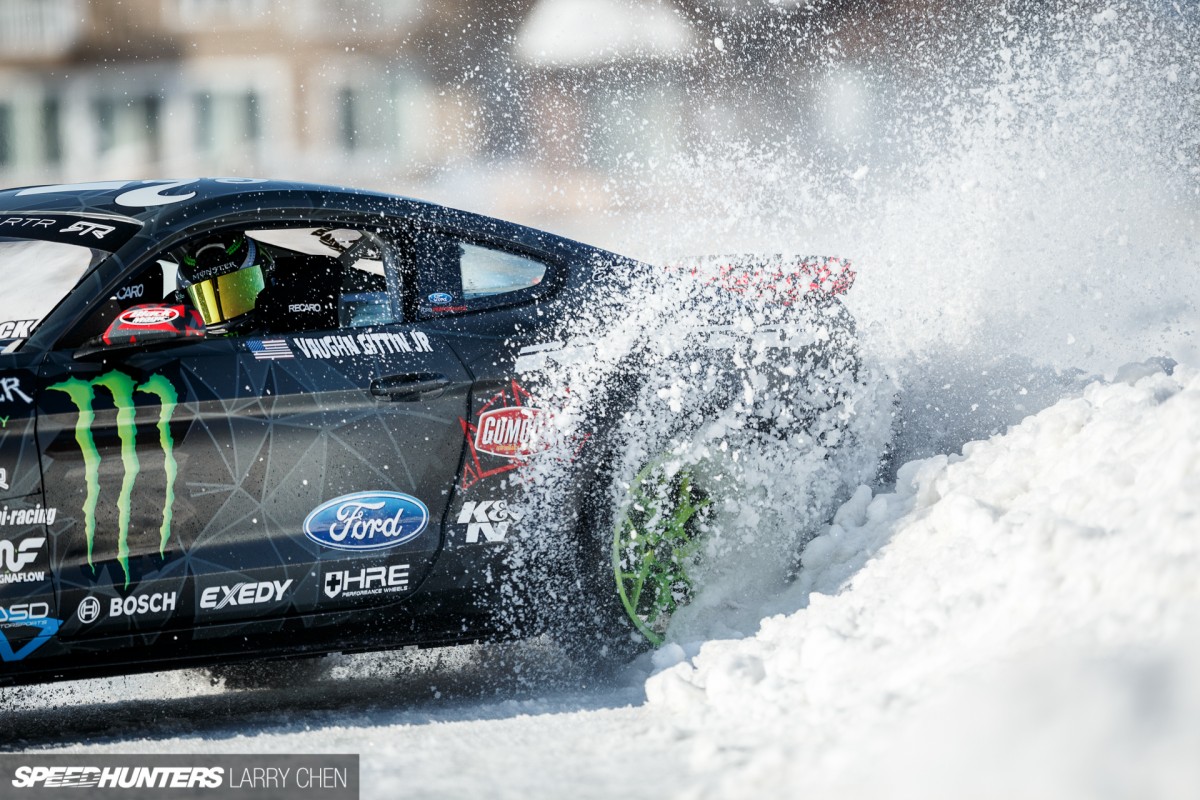 Vaughn's Mustang was ripping it up with the same size tires that he normally drifts on – albeit fitted with more studs than any WRC tire could ever hold.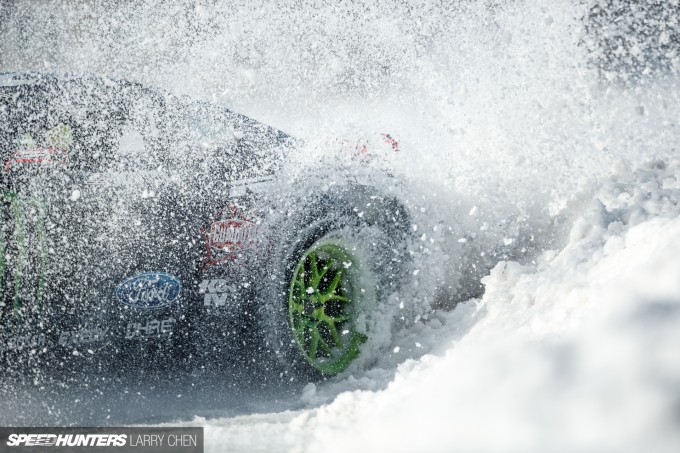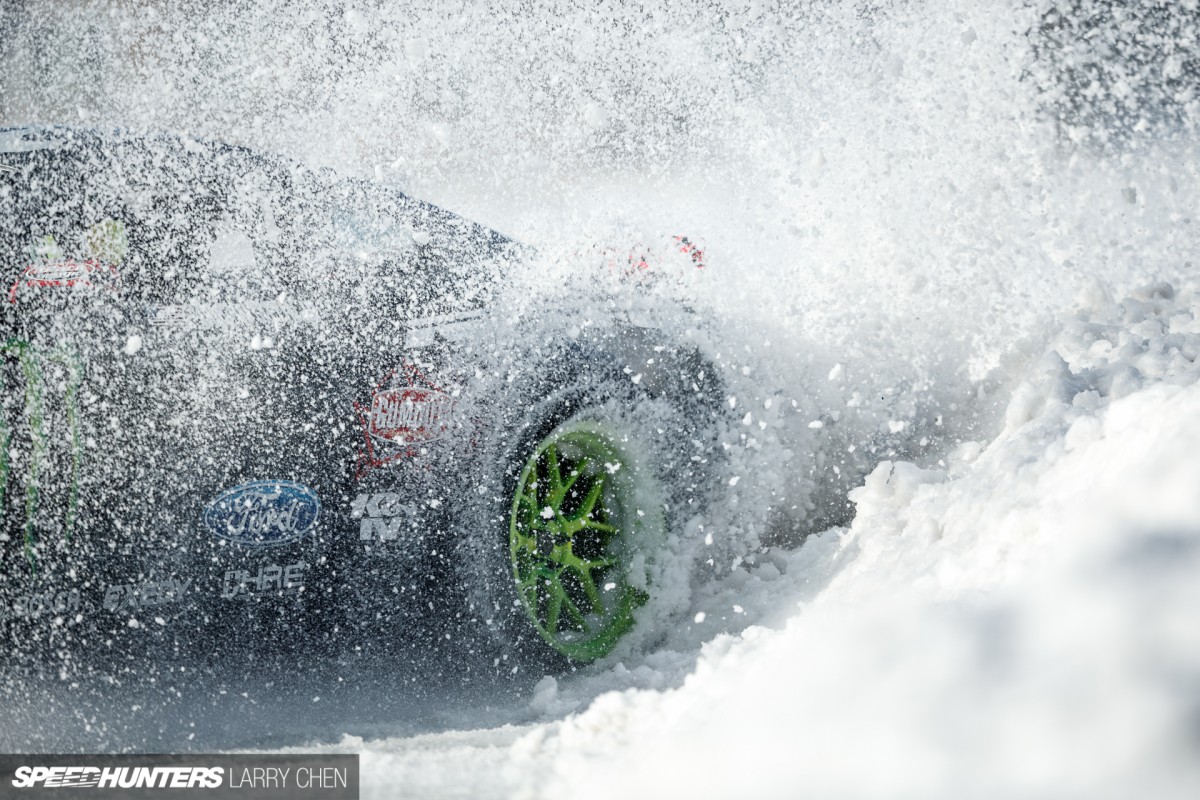 The sheer amount of ice and snow the tires could move was nothing like I have ever seen before. The wheel speed was super intense because it was a bit counter-intuitive to asphalt drifting, in that the faster the wheel speed the more forward bite there was.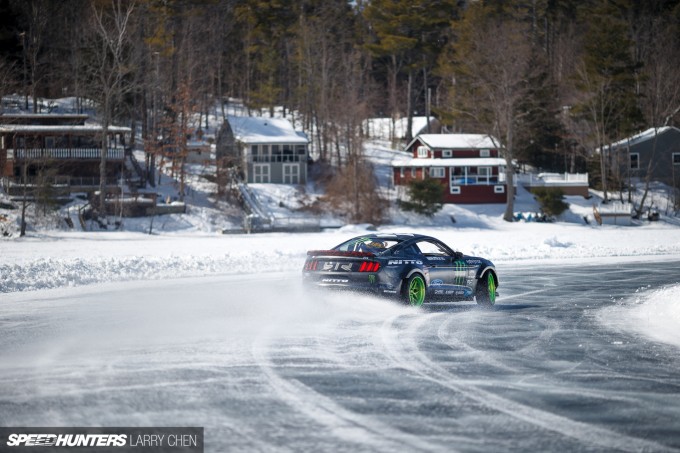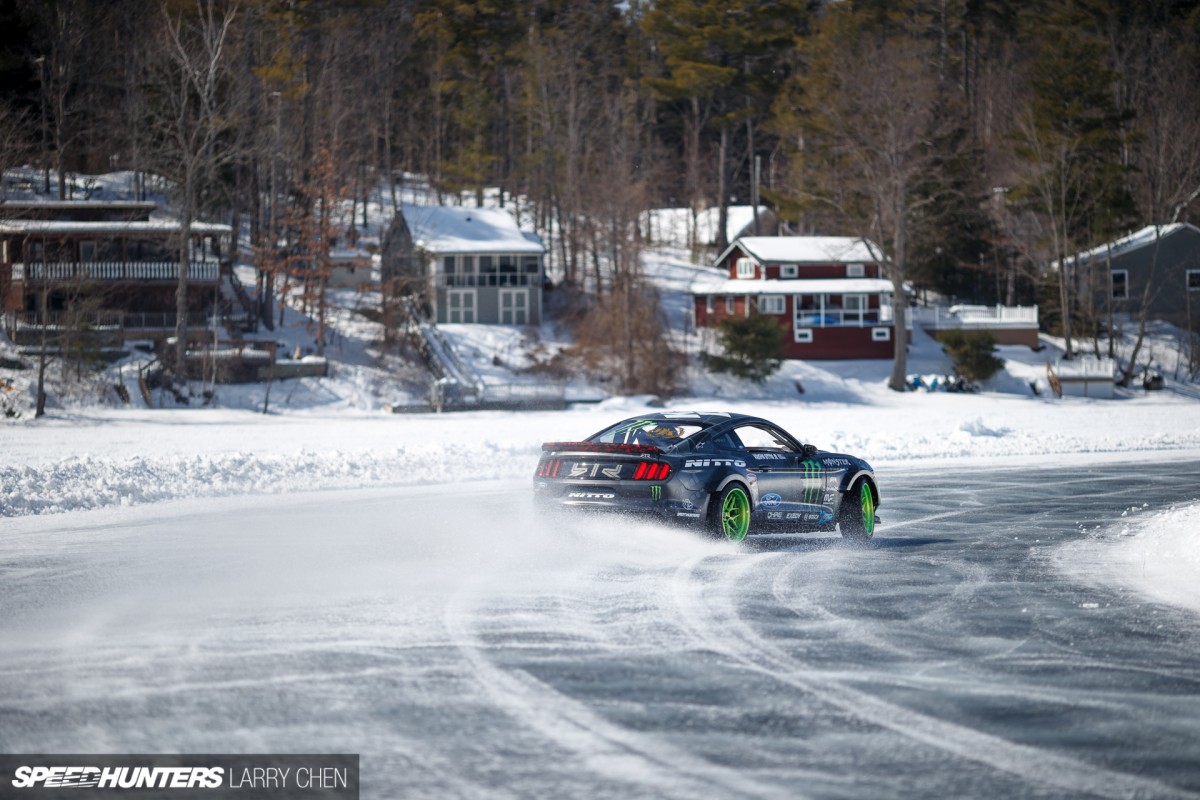 What was also crazy to me was how hot the tires and studs were after just a lap or two around the course. You would think that drifting on frozen water would keep the tires cool, but the amount of friction that the studs create while chipping away at the ice makes them very hot.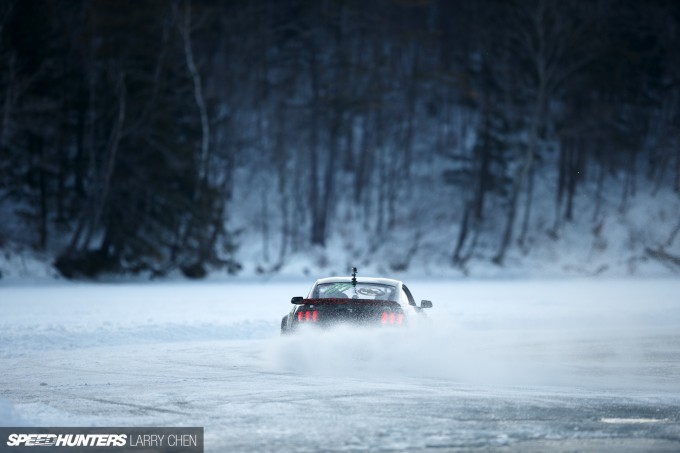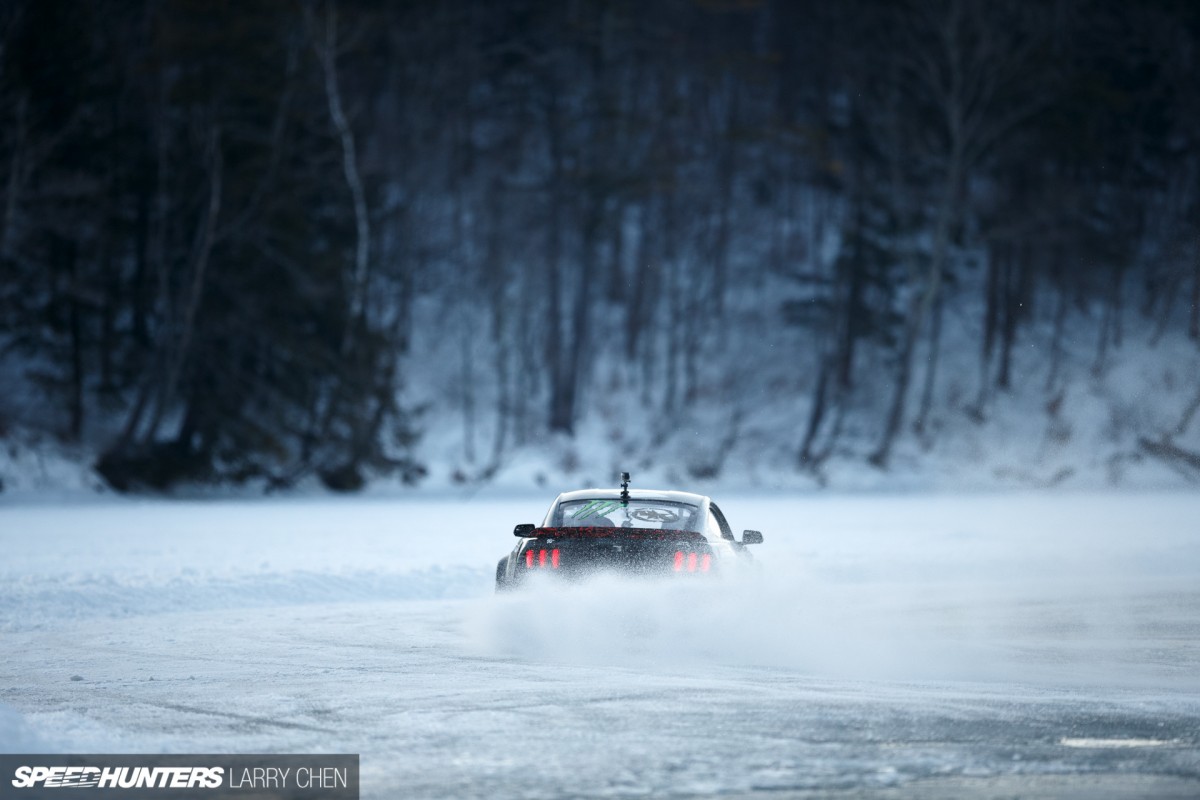 This is also how they eventually work their way out of the tread, because the studs melt the surrounding rubber. You better believe that I turned my face away from the ice spray whenever Vaughn drifted by. I would not want to take a 100mph carbide stud to the face.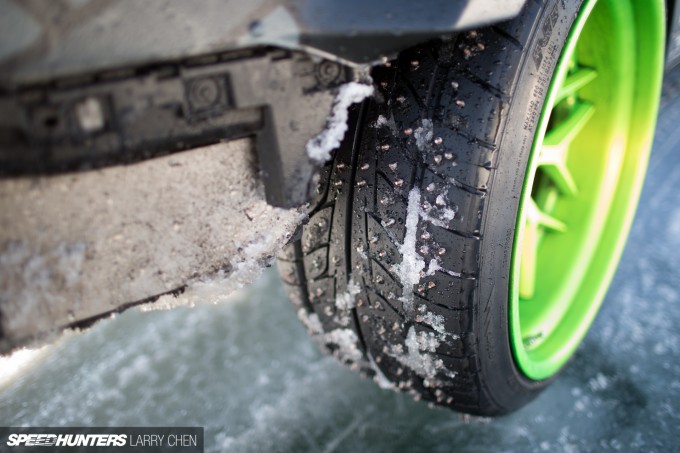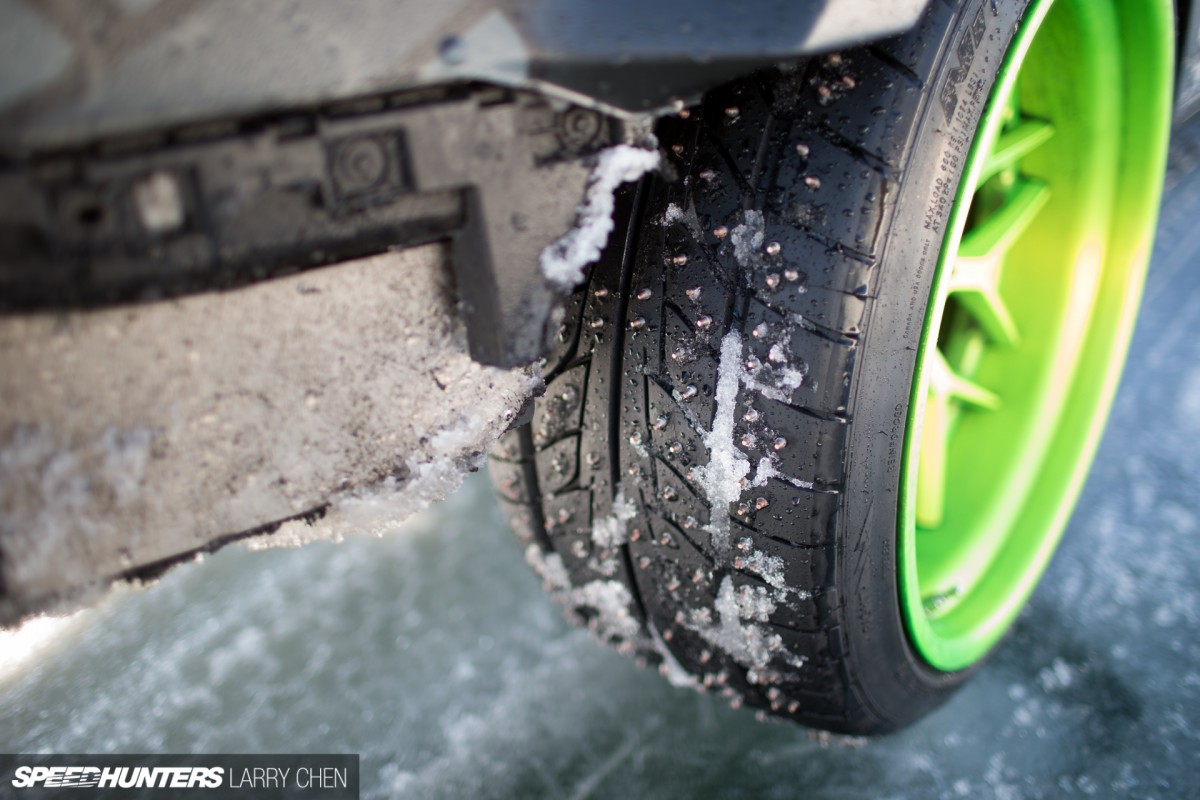 There was one thing that was overlooked by Vaughn and his race team, and that was how much slush all those studs would kick up into the rear bumper.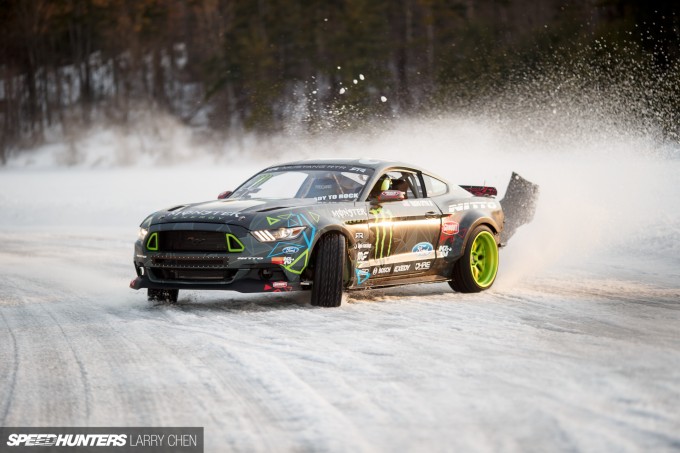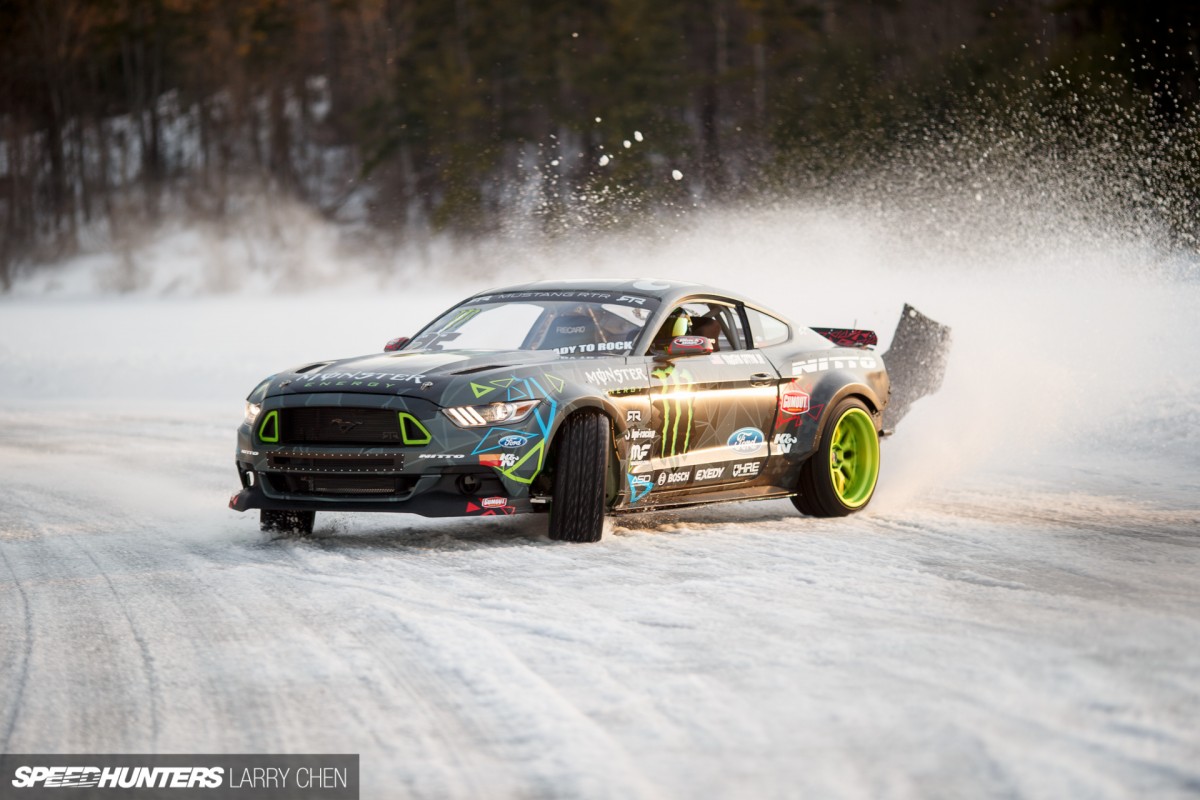 Because there were no mud flaps or ice guards of any sort, as soon as Vaughn reached speed and floored it, the ice spray would just shoot the rear bumper off. It was the coolest thing ever.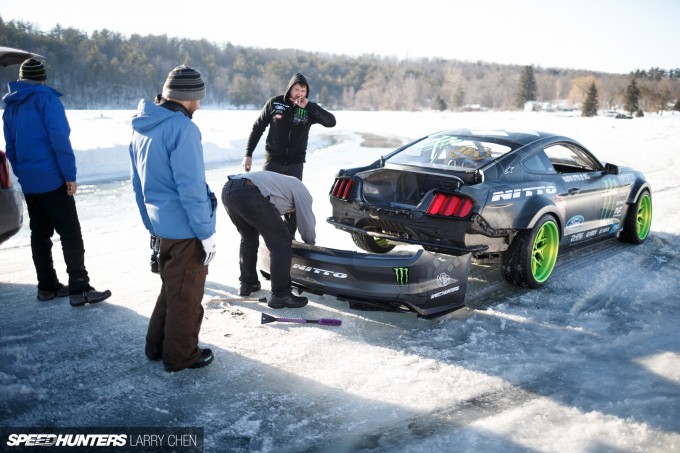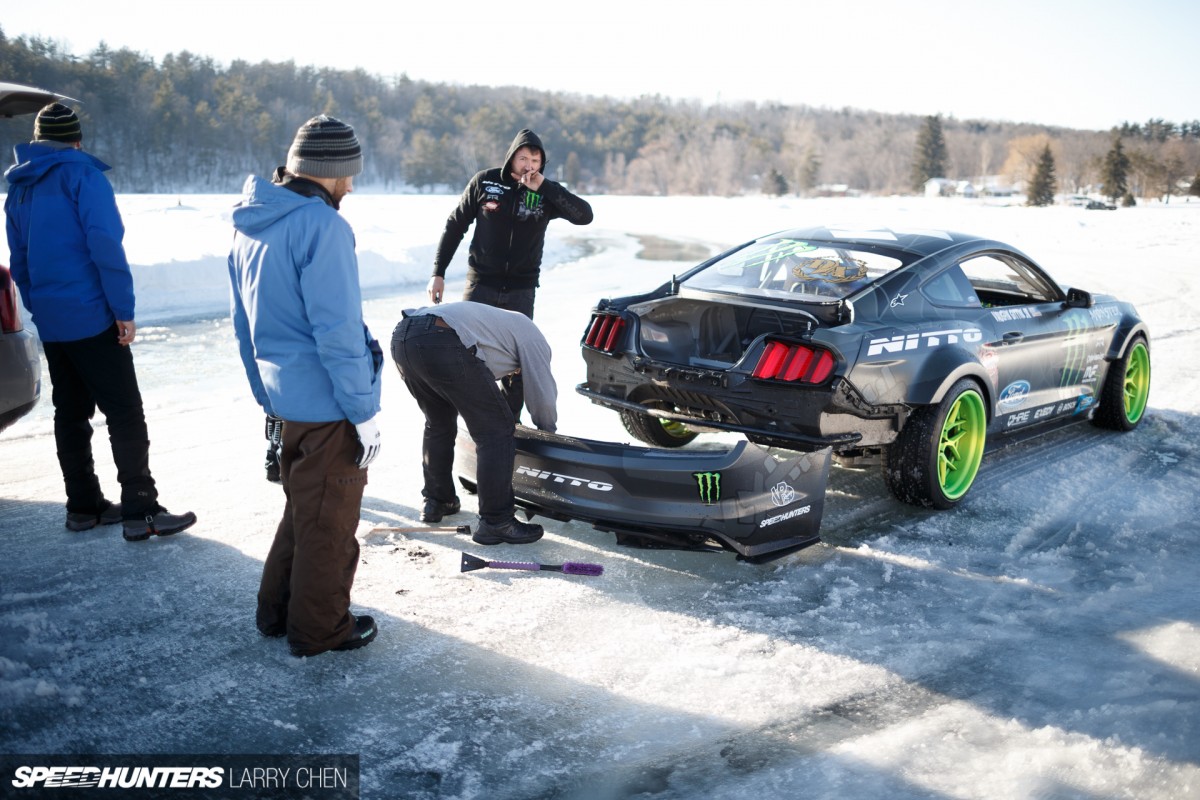 Time and time again the crew reattached the bumper, only to have it fly off on the next lap. Eventually they just gave up and let Vaughn drift without a rear bumper. It was just one of those things that couldn't be foreseen.
Not So Frozen Lake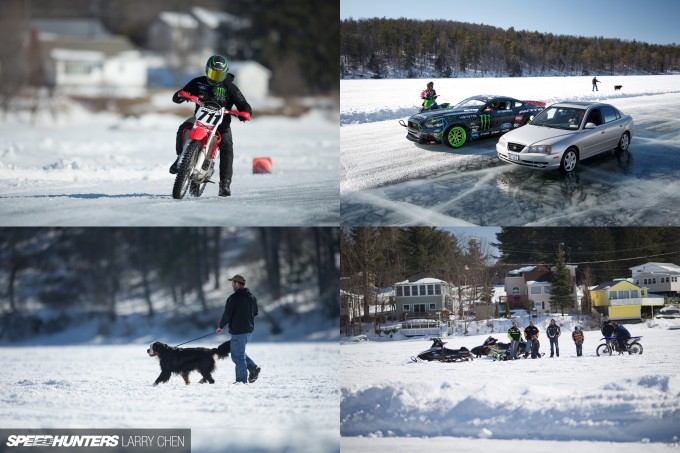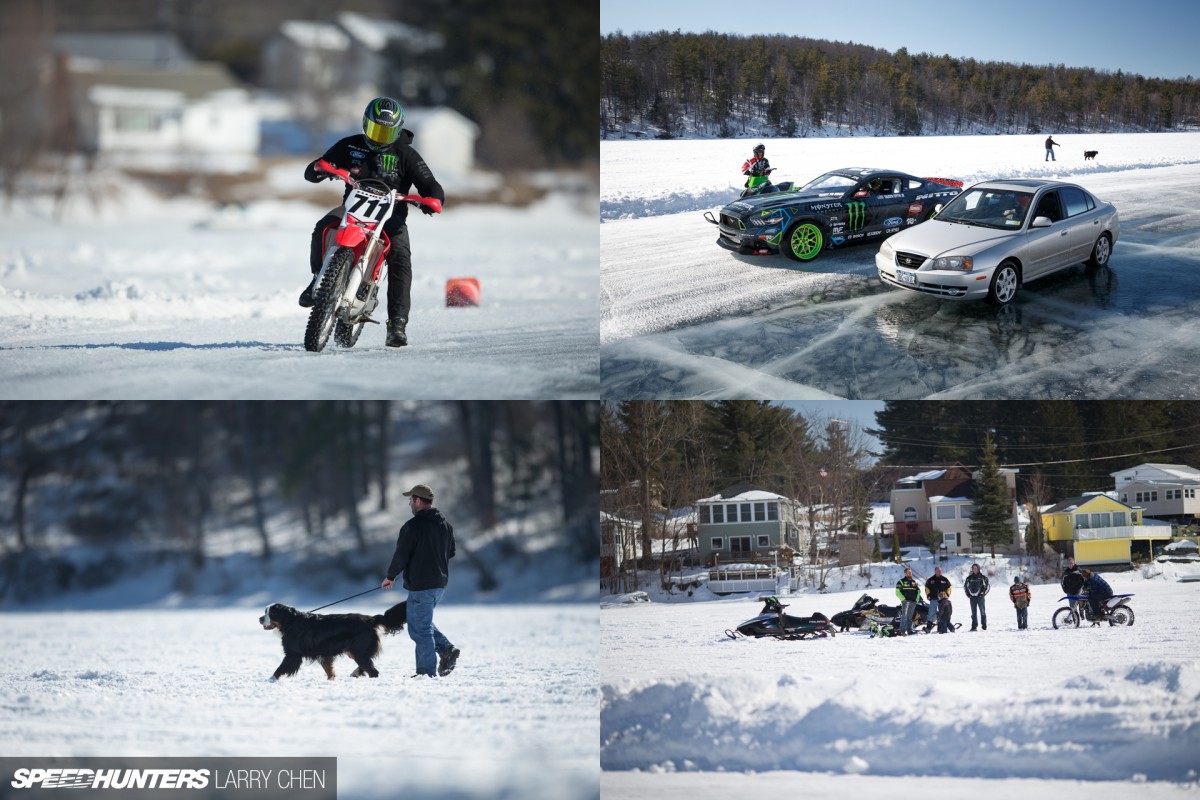 Because it was a public lake surrounded by houses, the locals came out to watch. People were walking their dogs, and some even drove up on the ice track just to say hi. One of Vaughn's fans even let him have a go at riding a motorcycle with studded tires.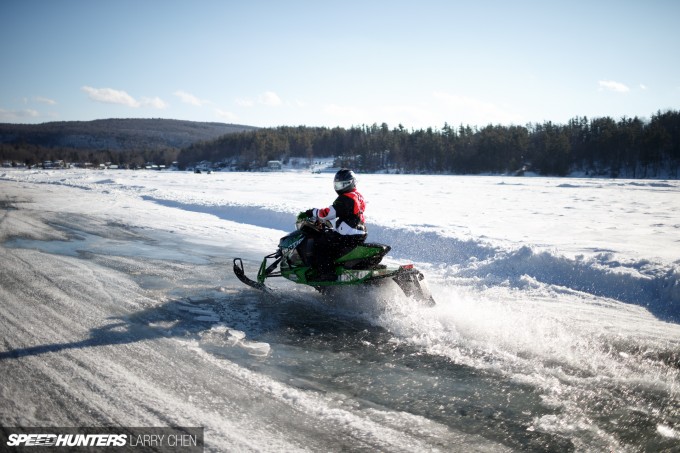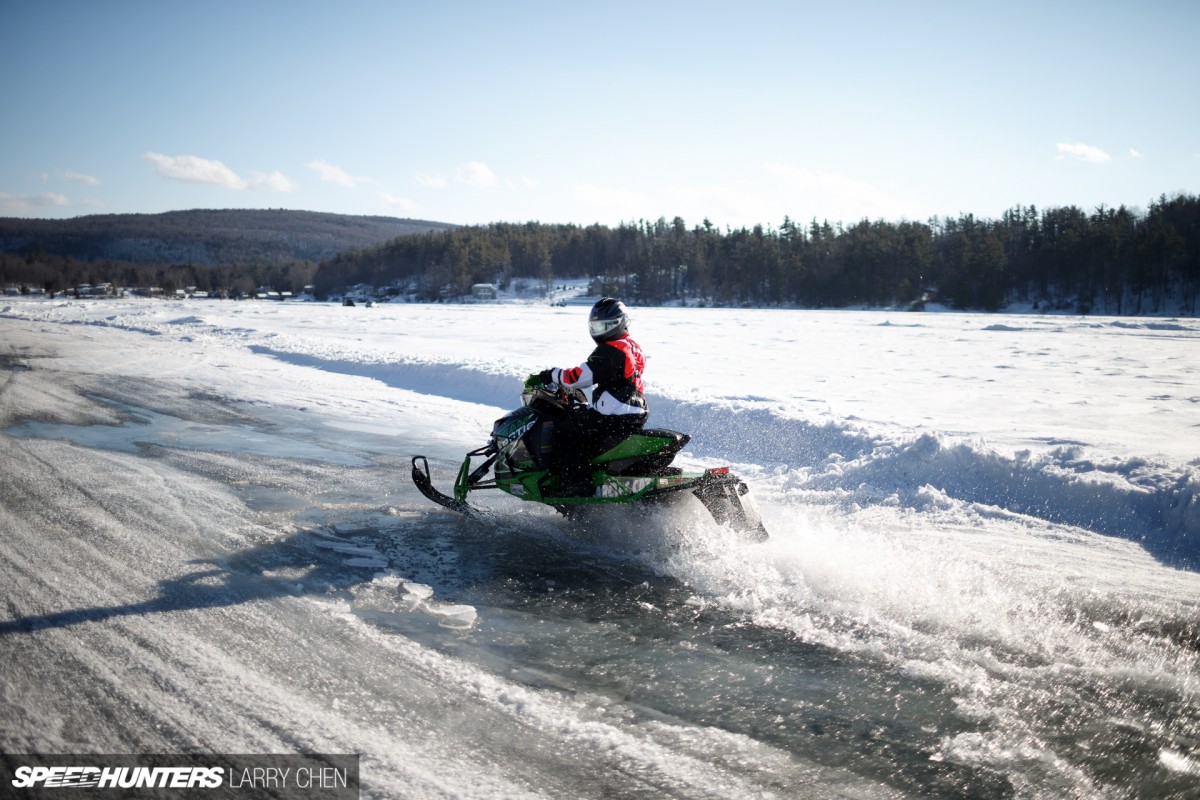 By now it was later in the day and Warner Lake was getting dangerous – but the locals were loving it. There were some super-sketchy spots where I could actually see water bubbling up through human-sized holes in the ice.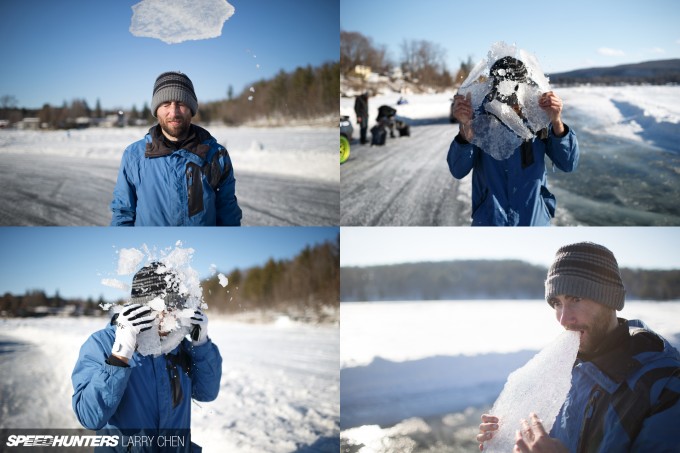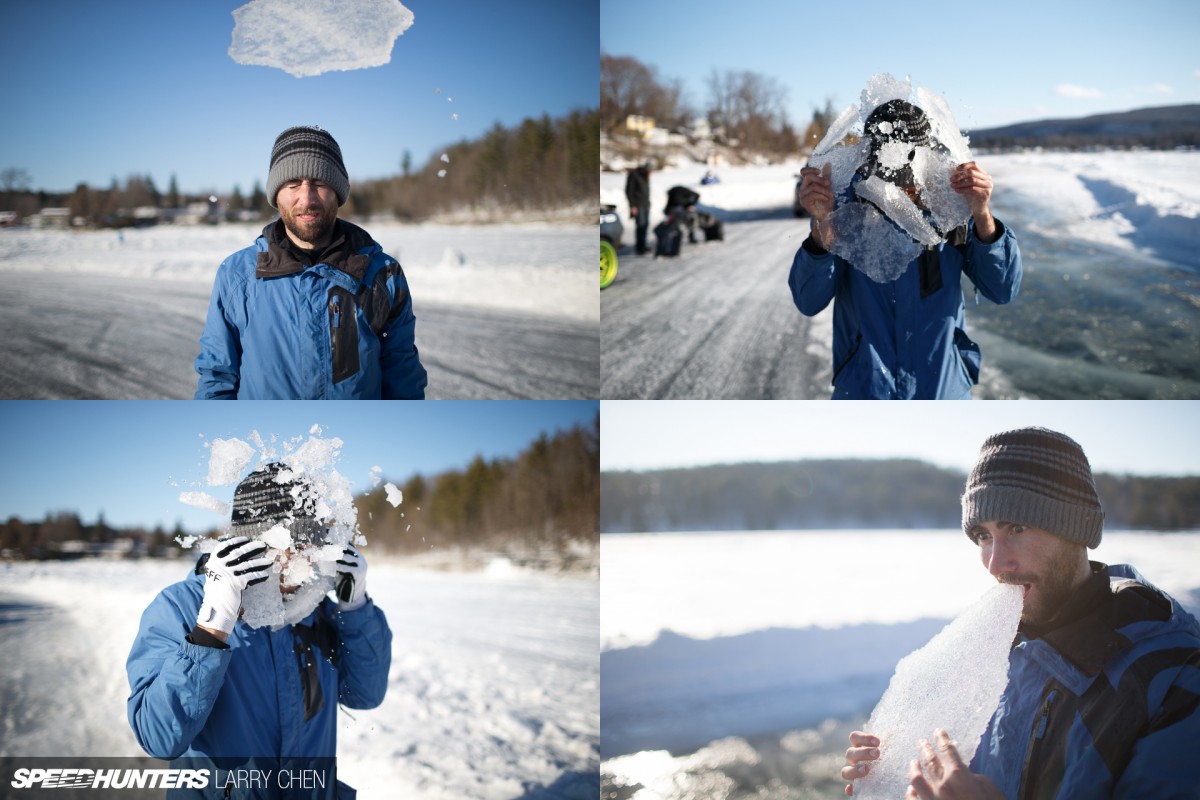 The thin layers of water that came up quickly refroze into very thin sheets of ice, which Will proceeded to use for head-butting practice.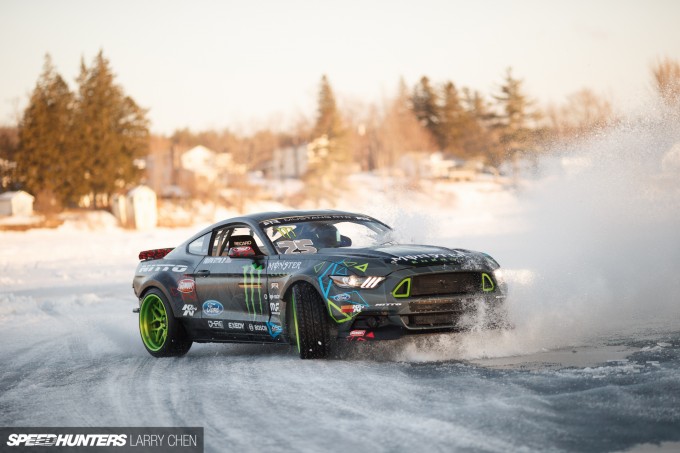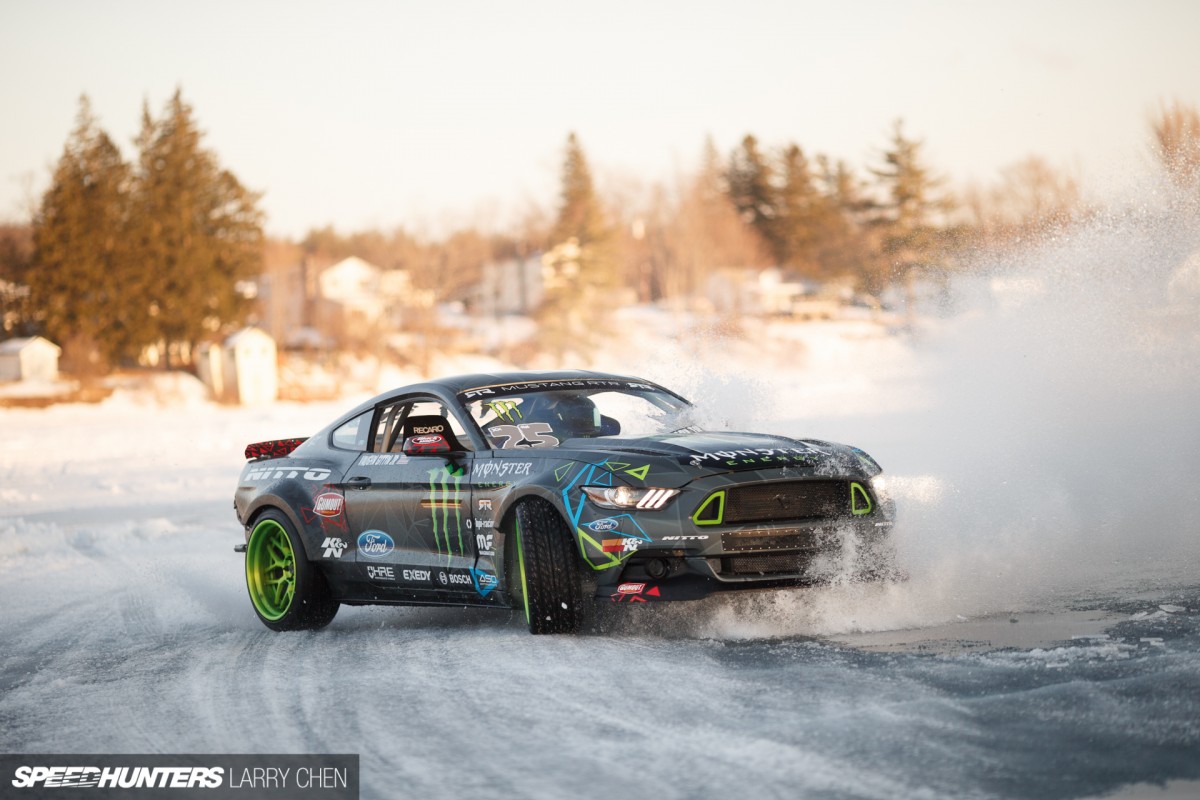 By the time the sun started to set the ever-growing water obstacles were becoming harder to avoid. But Vaughn was having way too much fun to stop drifting.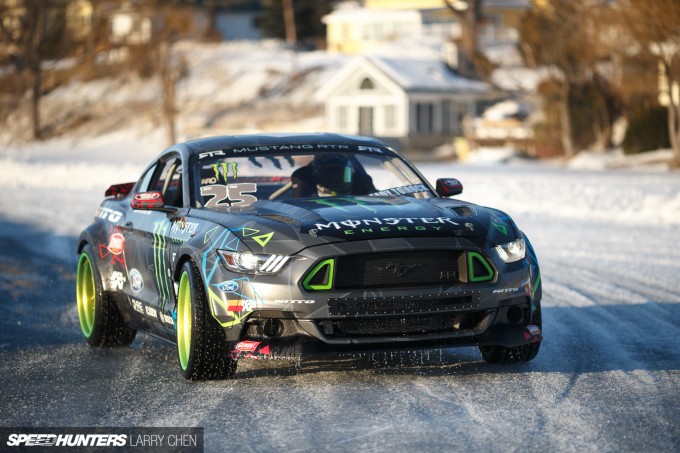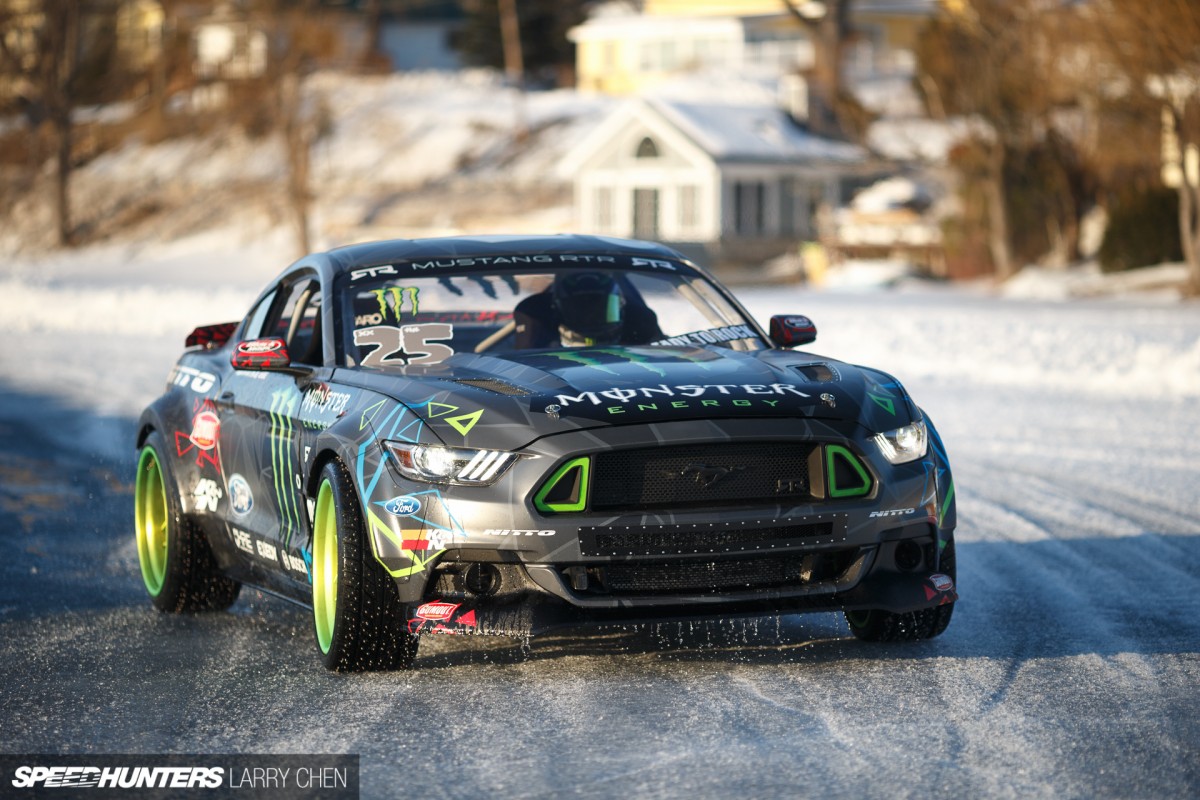 Even after one lap the water was pouring out from beneath the car. While it was a steep learning curve, Vaughn seemed to get the hang of it pretty quickly.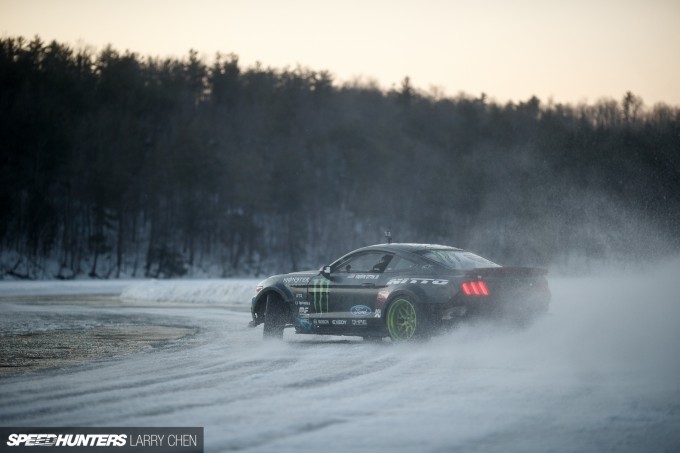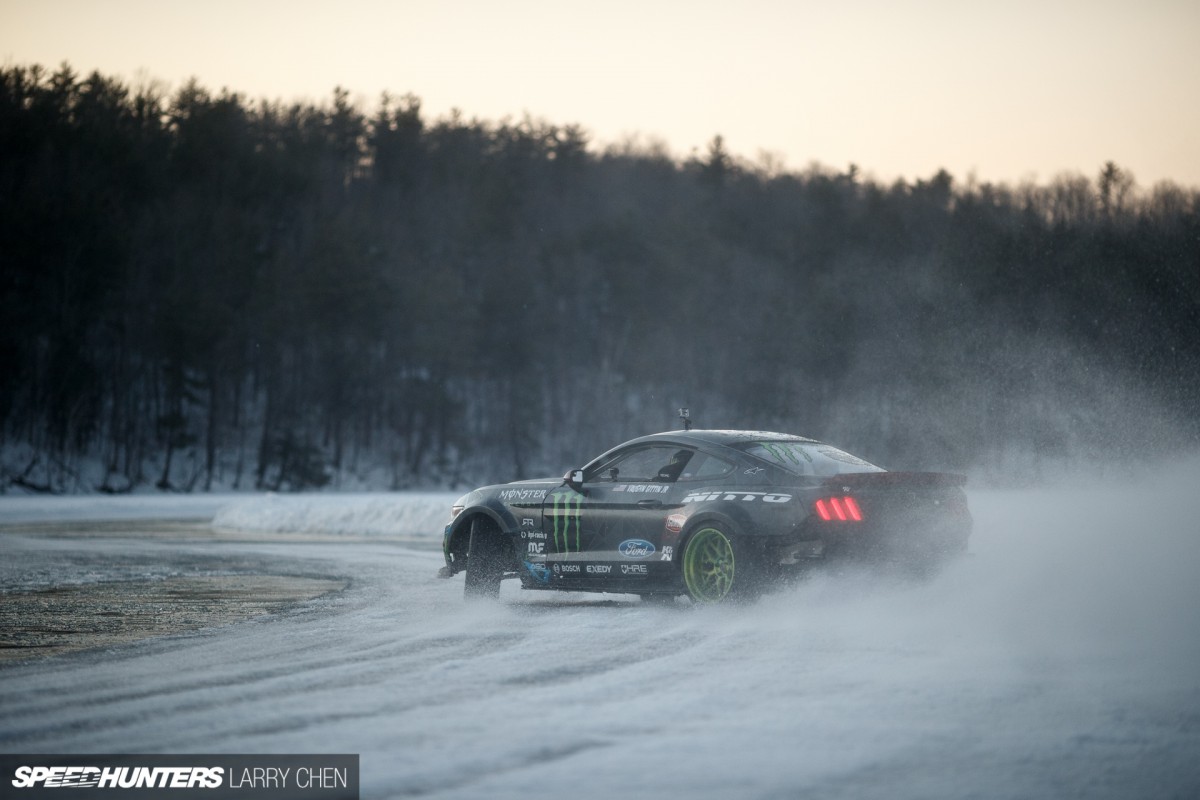 The light was almost gone, so it was time for a few more laps.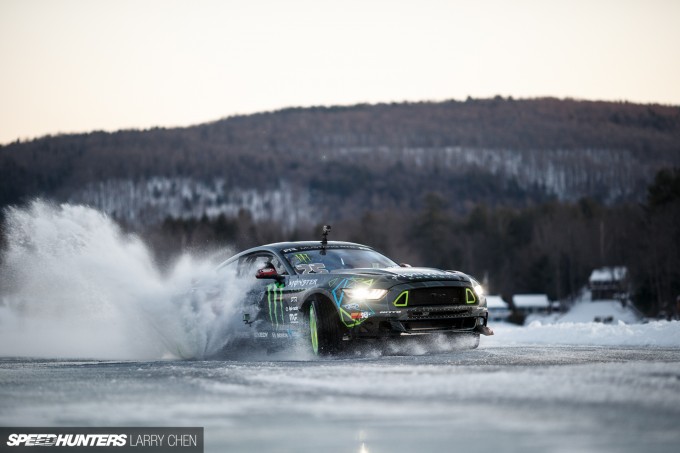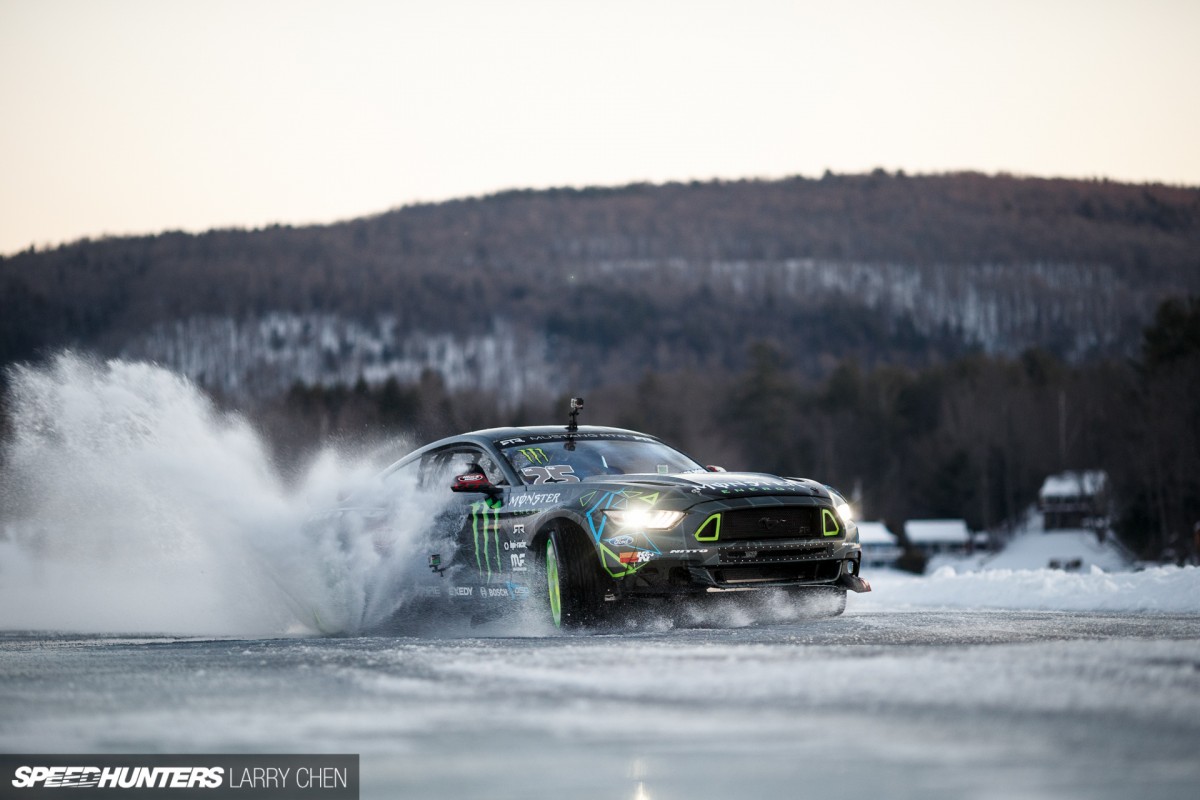 The Monster drifter purposely initiated into the largest puddles he could find, which shot water in every direction.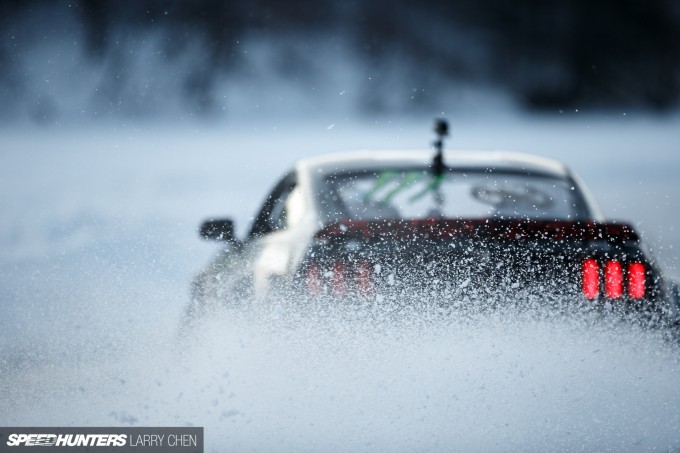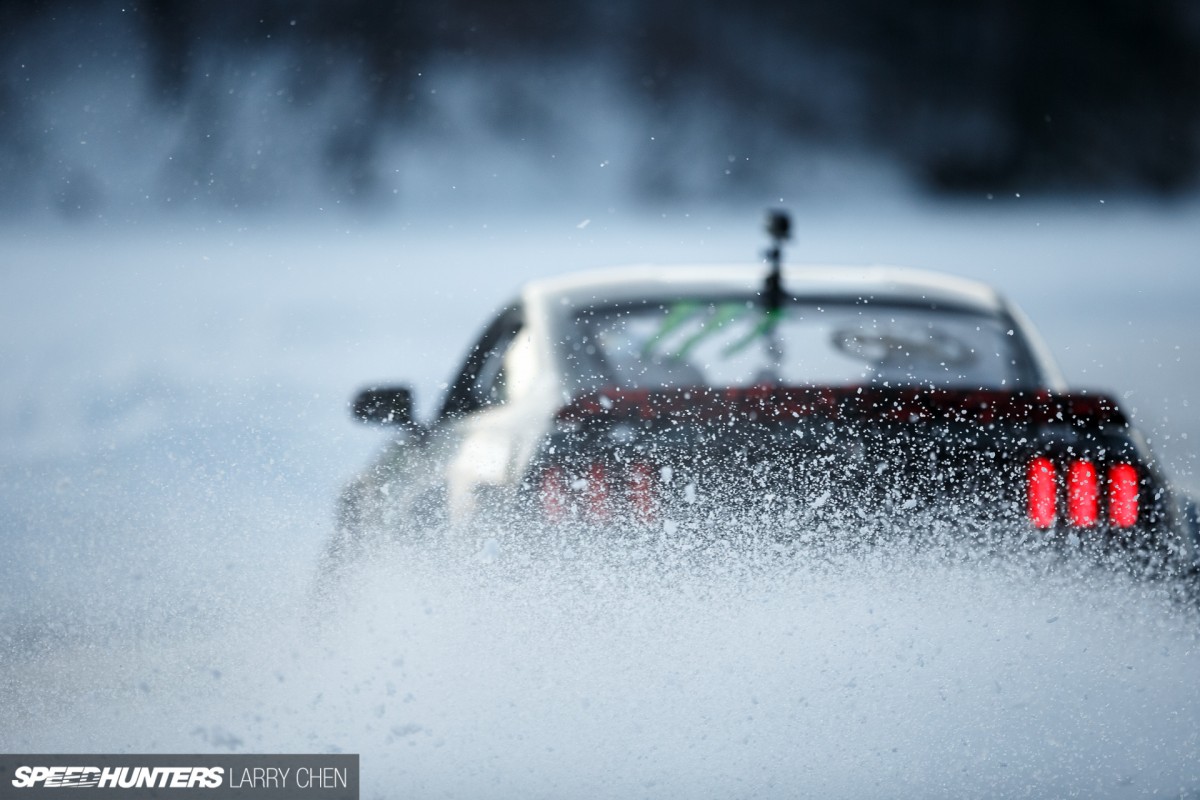 He drove a few more laps until it got dark and then we all called it a day. Vaughn and the rest of the crew were pretty much soaked by now, but it was totally worth it.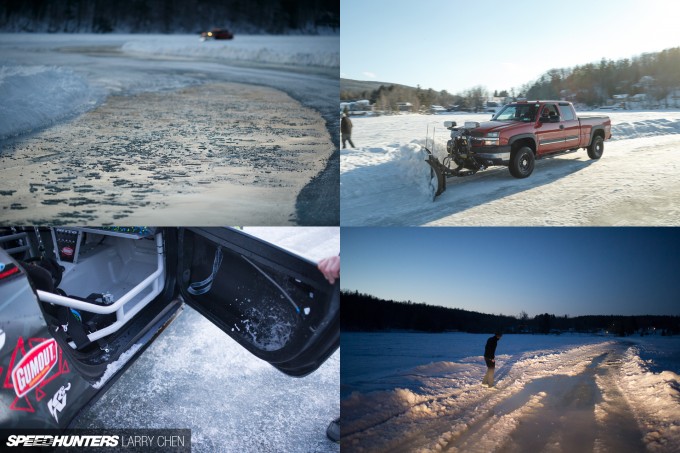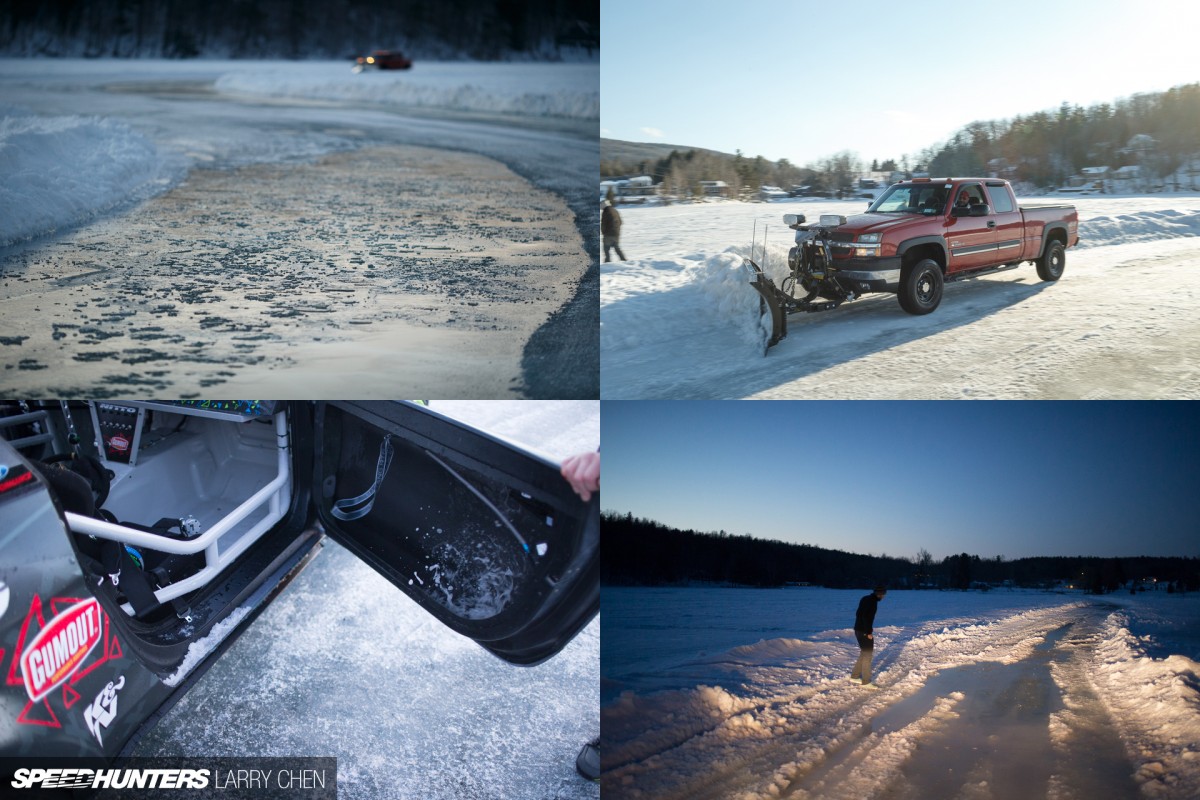 There was only one last thing to do, and that was to get ourselves safely off the lake. We were all a little worried though, as the truck that had been plowing new tracks for us throughout the day as the existing course became flooded, sunk-in trying to leave the lake and was subsequently damaged. There was so much water everywhere, including inside Vaughn's fiberglass doors. We actually had to walk the makeshift road ahead before we drove on it – just to check the integrity of the ice. The cautious approach lasted a little while, but then we just floored it and eventually navigated our way off the ice without getting stuck or being sunk.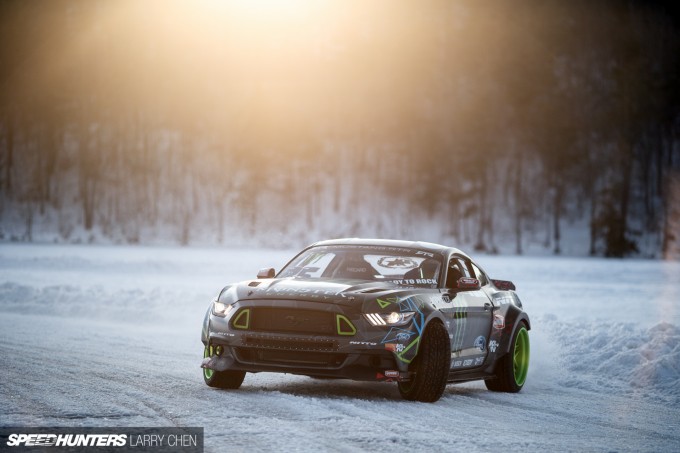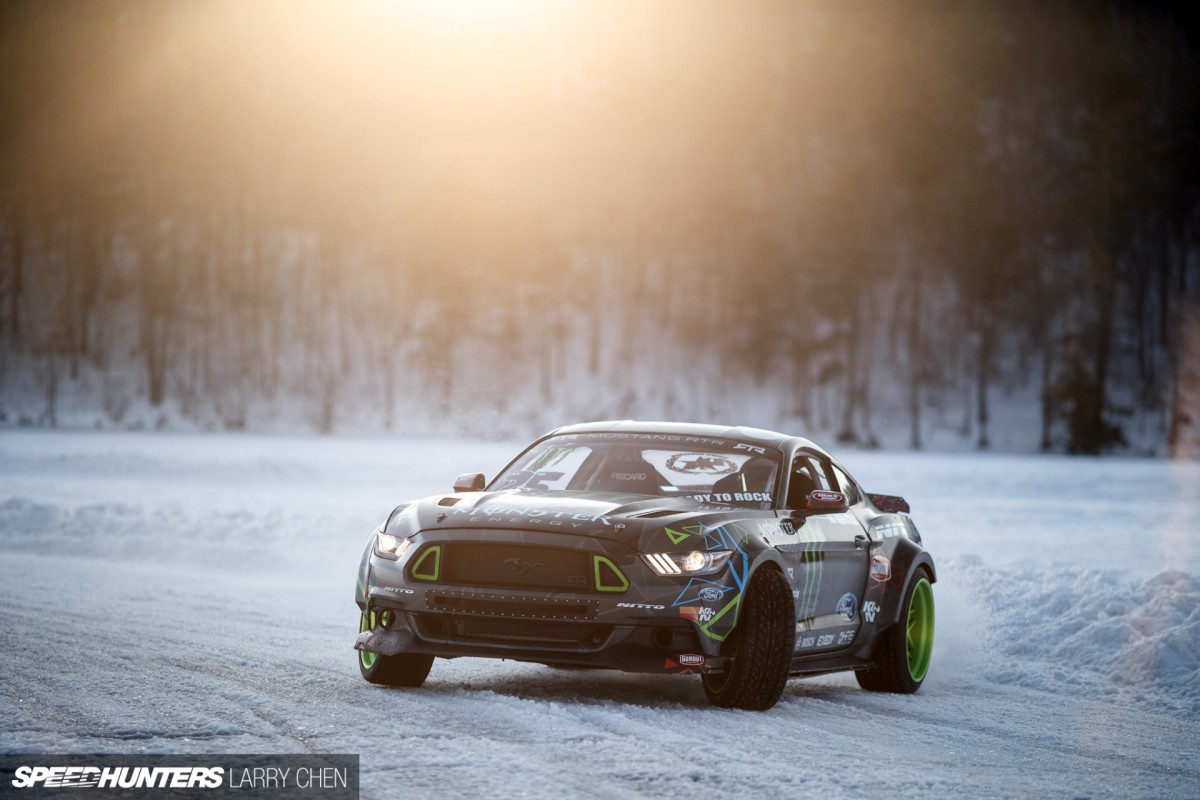 Over dinner we all talked about how cool it would be to have an actual drift competition on ice. Of course, this would mean Vaughn would have to bring his proper competition car out, and the event would also have to be held during the peak ice racing season in the middle of winter. Just imagine it though… How cool would it be to see full-on Formula Drift cars going door-to-door on a frozen lake! As long as no one breaks rule number one, it would be an awesome time.
Would you put on your thermal underwear, fluffy earmuffs and three coats, and head out onto a frozen lake to watch it? We would!
Larry Chen
Instagram: larry_chen_foto
larry@speedhunters.com