Meet Your Maker
Race Retro is Europe's biggest winter show for historic motorsport, and one of those shows which is always a pleasure to attend, packed with classic racing goodness and inspiration in equal parts. Every year I revel in the changing line-ups of cars on show, reflecting the popularity of classic racing series and the breadth of what the term historic means. The general theme is accepted as being today minus 20 years. That means a whole world of machinery – the best part of a century of competition to soak up.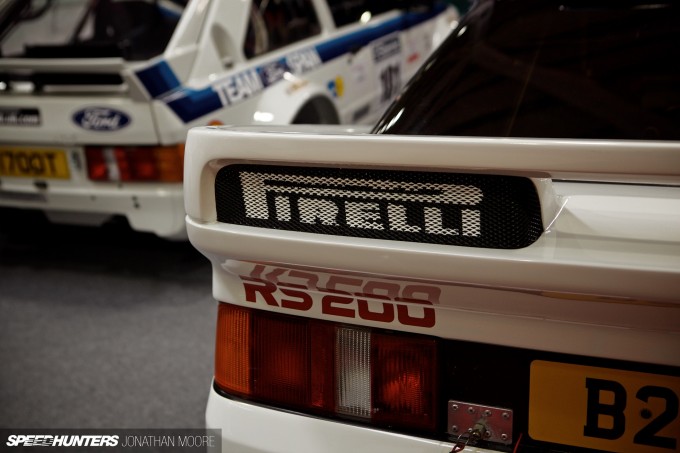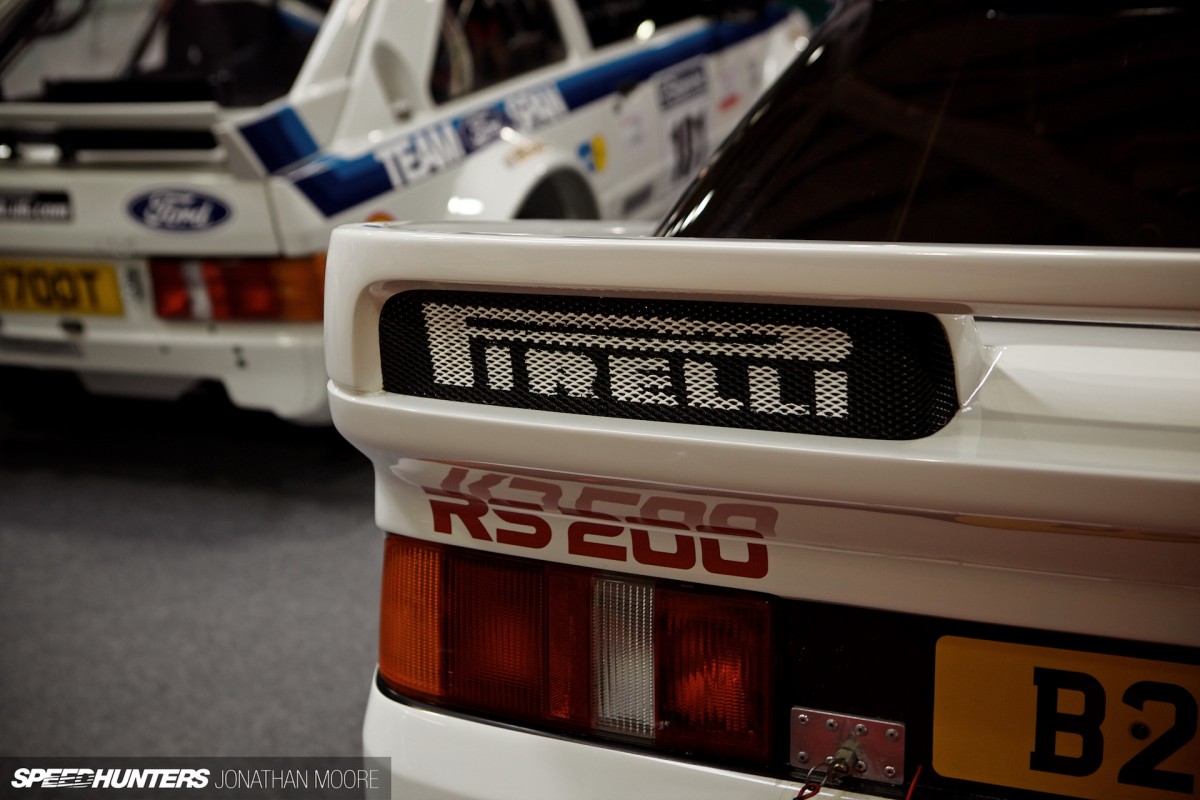 Race Retro always has the cream of rallying greats on display, from Minis to Group B monsters, with the added bonus that a lot of the cars would be thrown around the grounds of Stoneleigh Park over the coming days. Static is one thing, but you can't beat a bit of sideways. As ever though, there's was a whole lot more to see.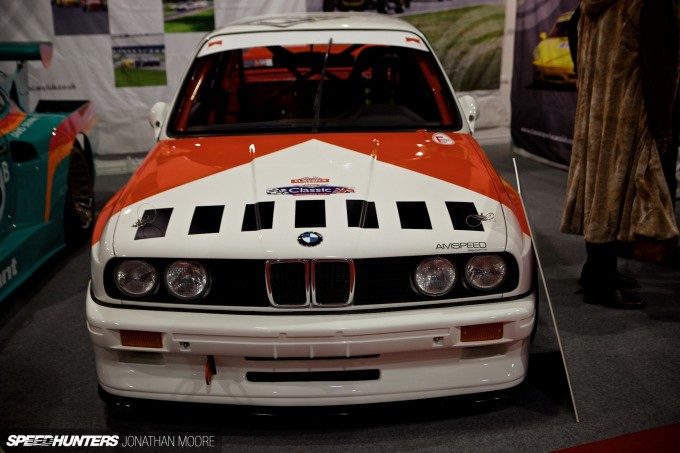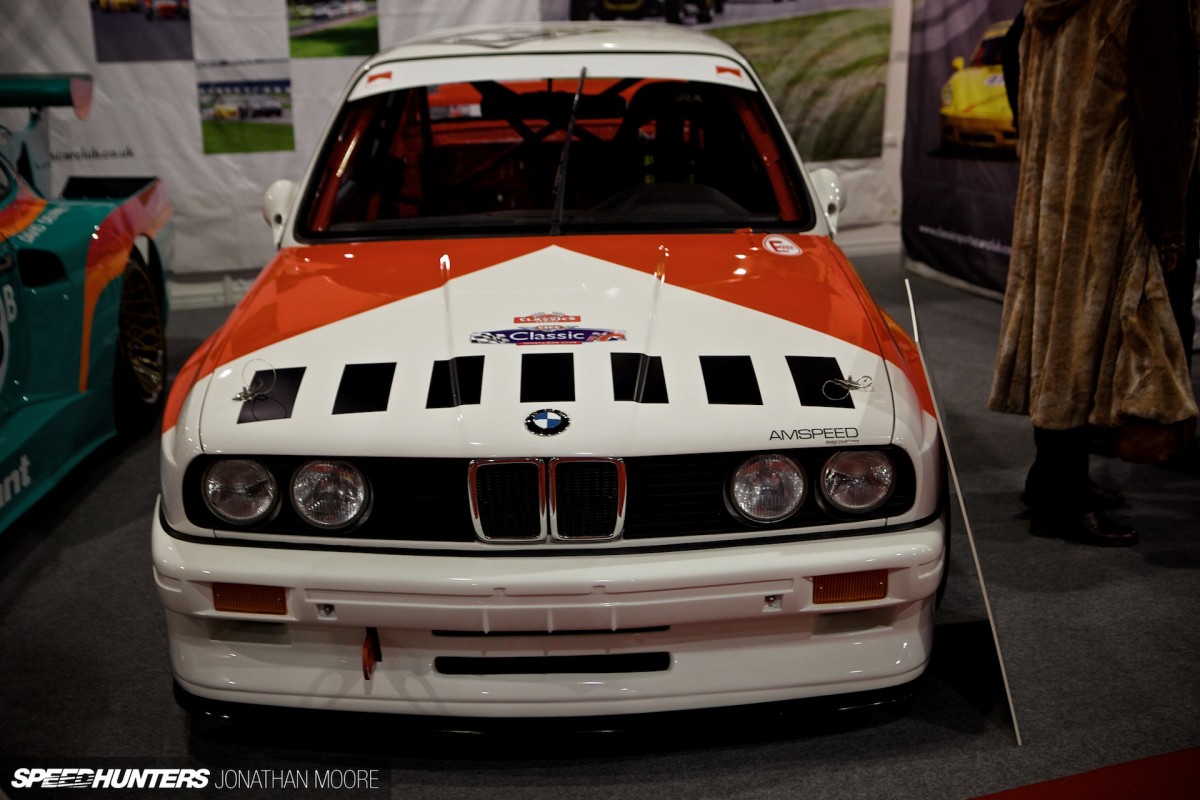 Much as the cars on show provide a glorious and nostalgic look back at decades past, this is no collection of museum pieces. Race Retro is all about showing off what you could be using to rip up a stage or tear up a track in the year ahead.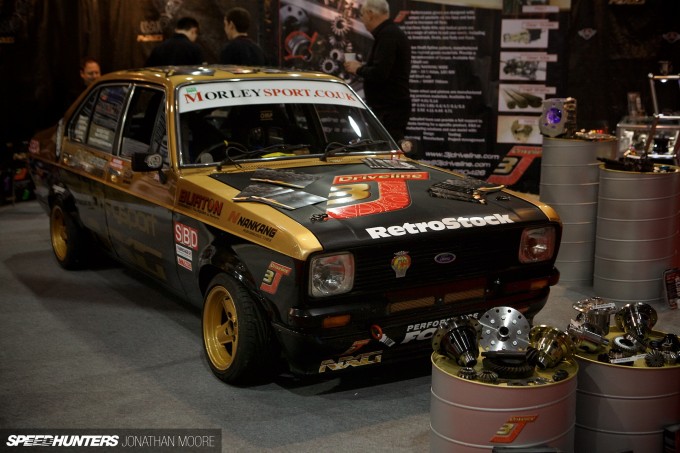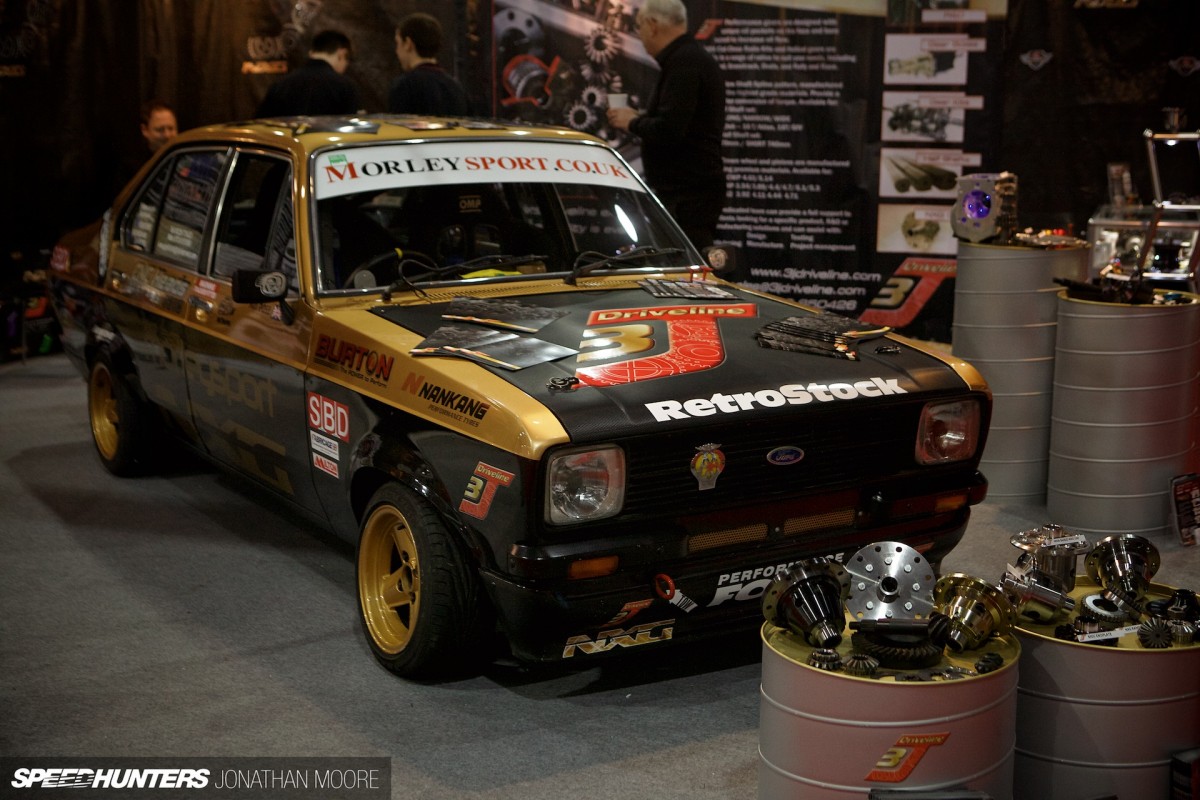 The show has a simple message: get in, get racing, old school style. In what doesn't matter.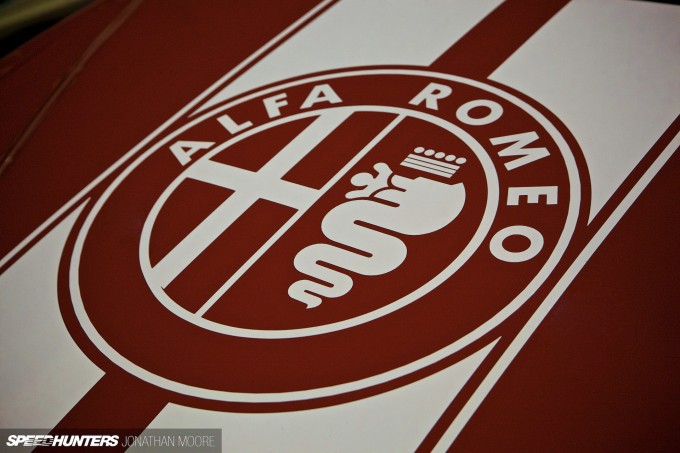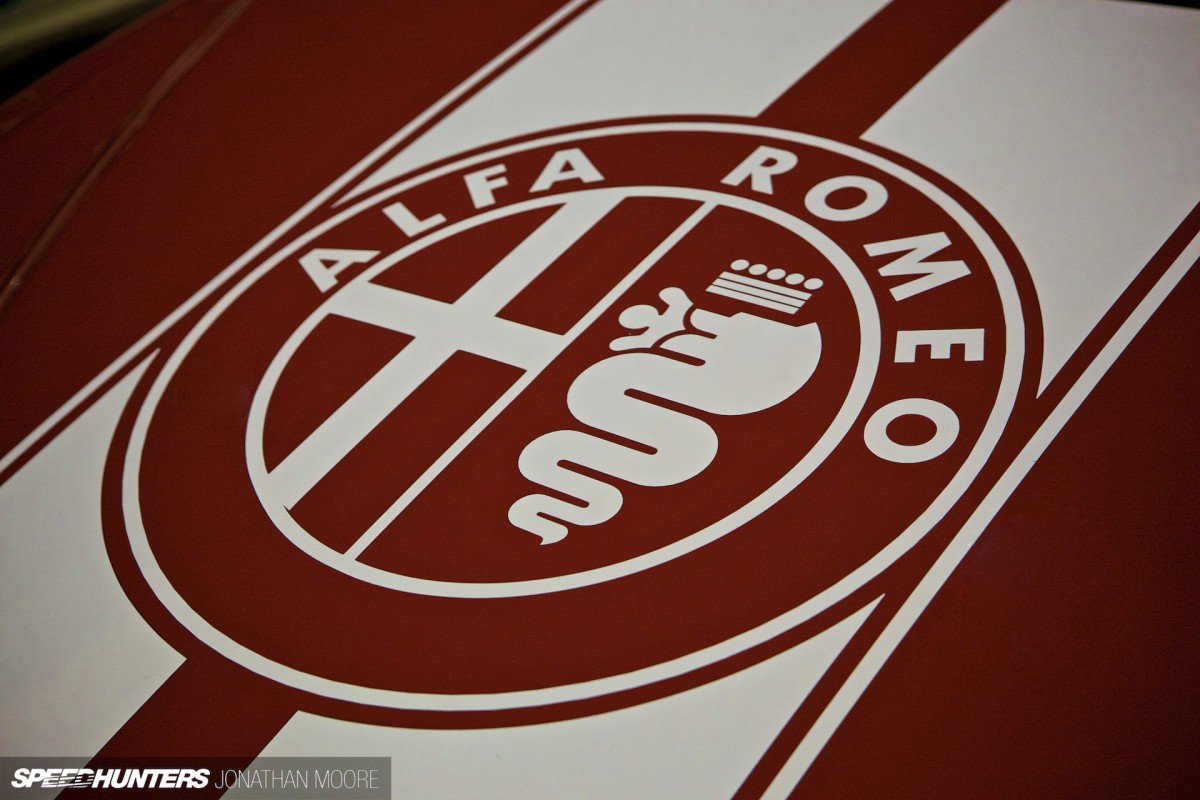 The problem is deciding what exactly to get in! Too much choice can be a difficult thing to deal with…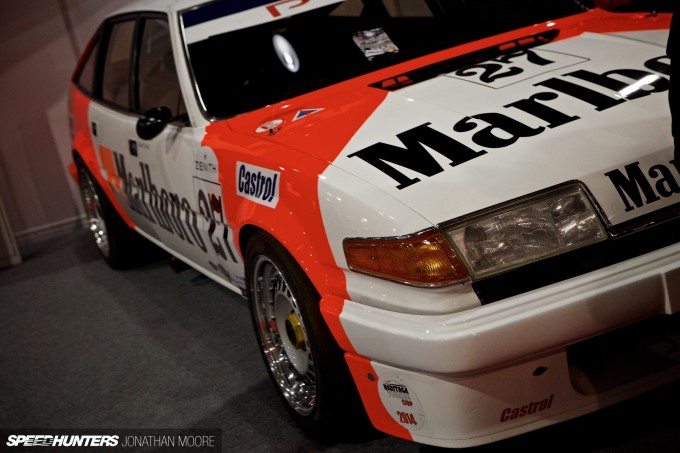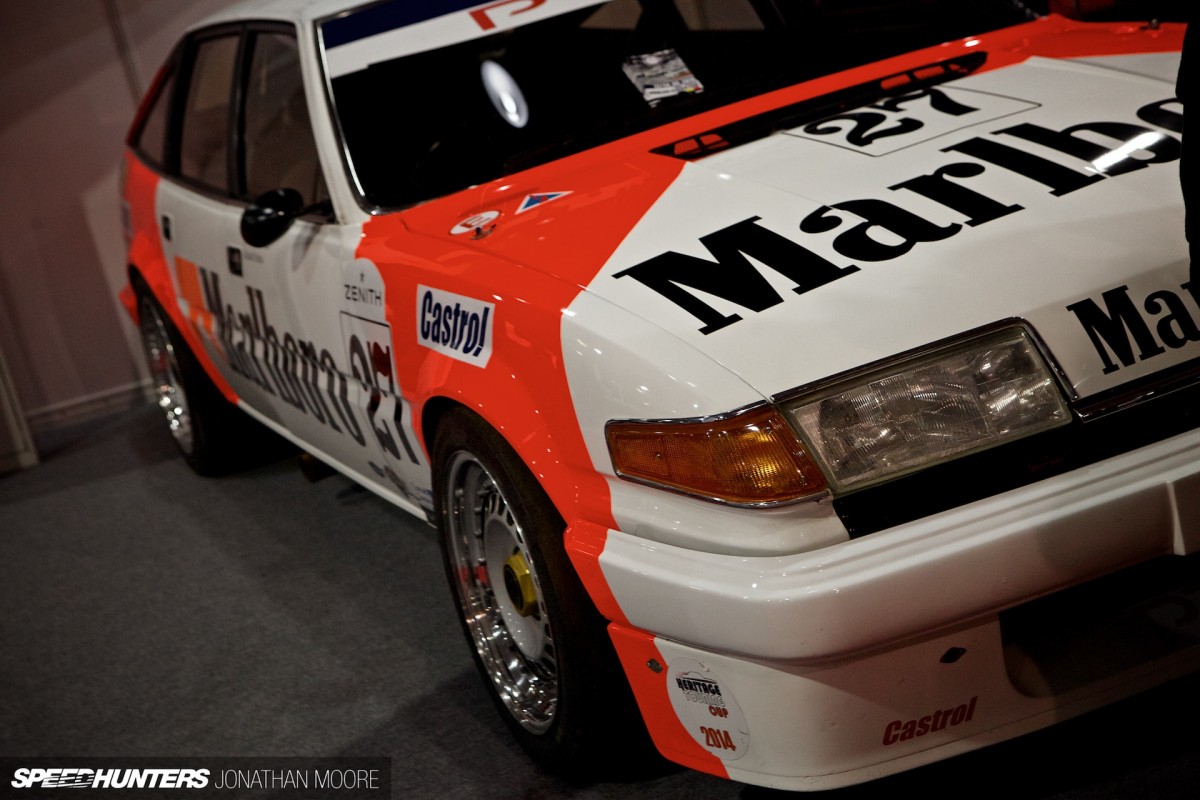 If last month's Autosport show allowed the ambitious racer in you to take your pick of contemporary series, through a riot of carbon and wings, Race Retro dialled back both the age and the technology – and that's no bad thing. For instance, take this massive Rover SD1 tourer: big on the outside, seemingly even bigger on the inside, where the driving seat looked tiny mounted in such a vast space.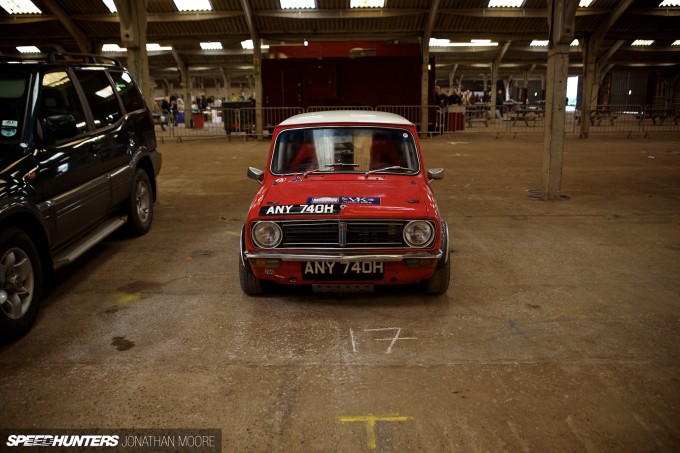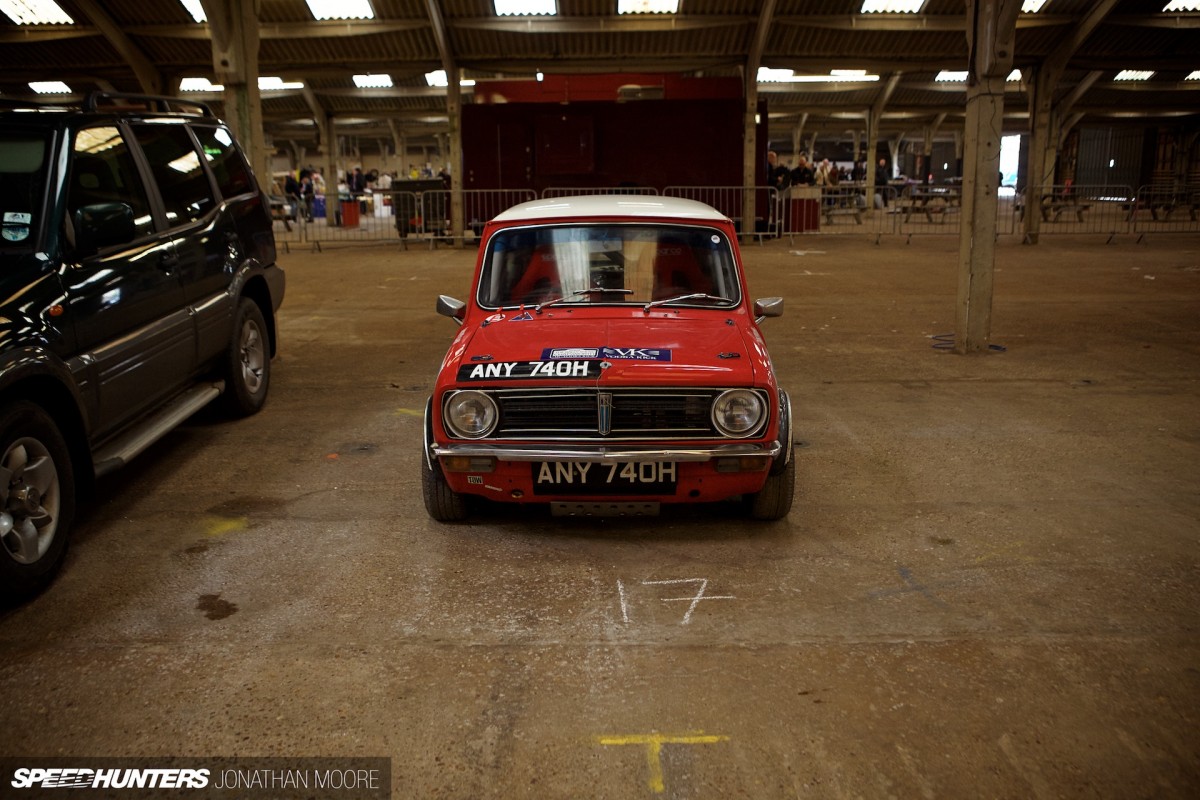 You could fit a Mini inside the Rover, I reckon… This Clubman barely came up to the waist of the SUV it was parked next to.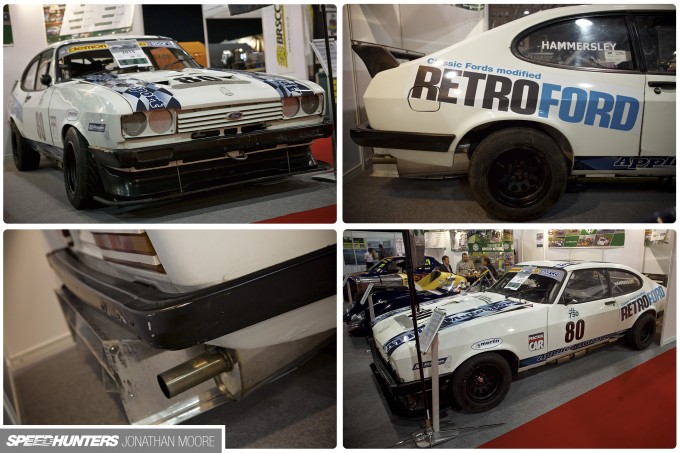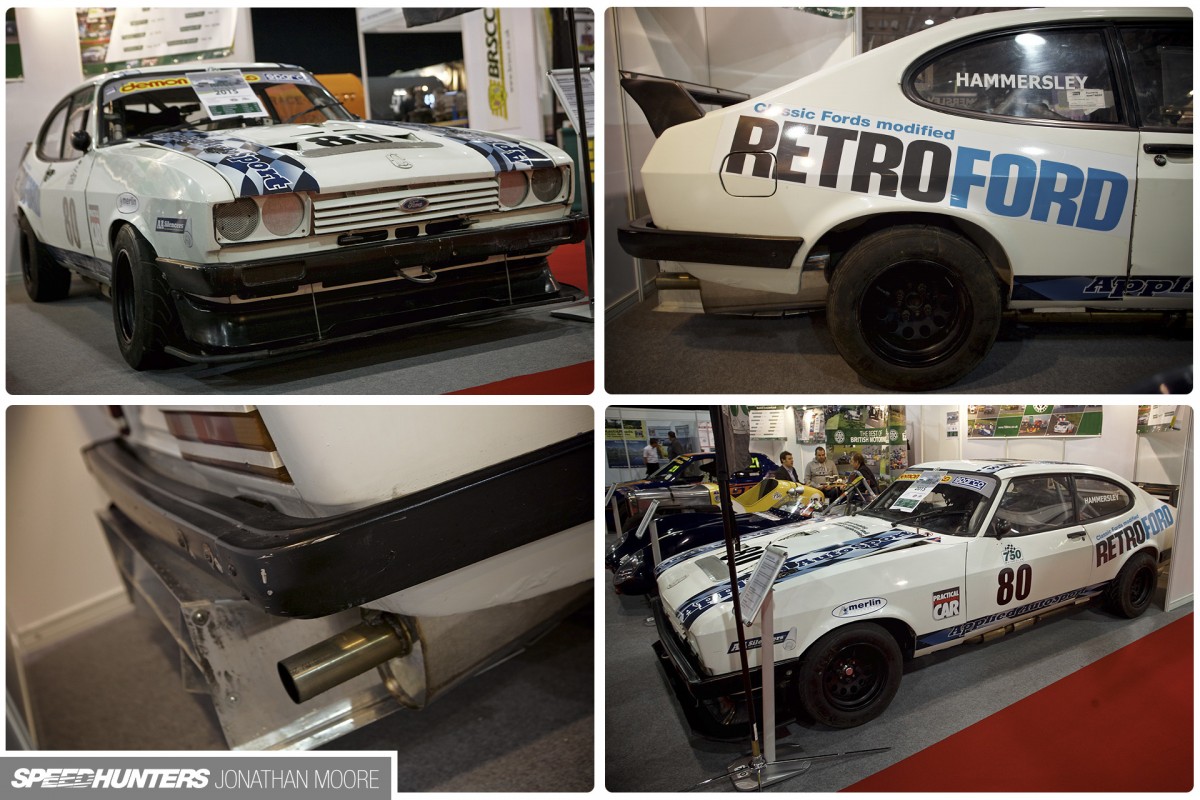 I have a deep-rooted love of Capris, having been carted round Europe in one as a child, but I'm not interested in seeing classic cars maintained as pristine exhibition pieces. This is more like it, a fantastic example of a big bang for a small buck: a Capri with some home-built aero and a massive V8 lump up front.
The Capri races in Bernie's V8s, which is part of the UK's 750 Motor Club package. They're the masters of start-up racing, promoting a number of series with low-cost entry points. How can you not like a series whose basic regulations are these:
1) No slicks and wings
2) No kit cars
3) Convertible cars have to have windscreens and roofs.
4) No whingers and moaners
Sounds good to me.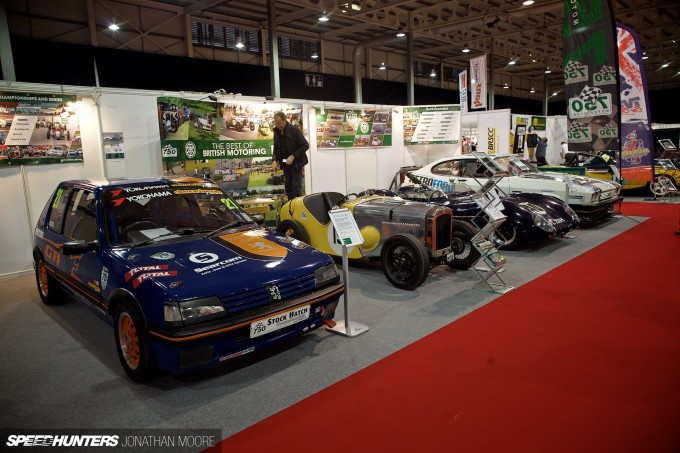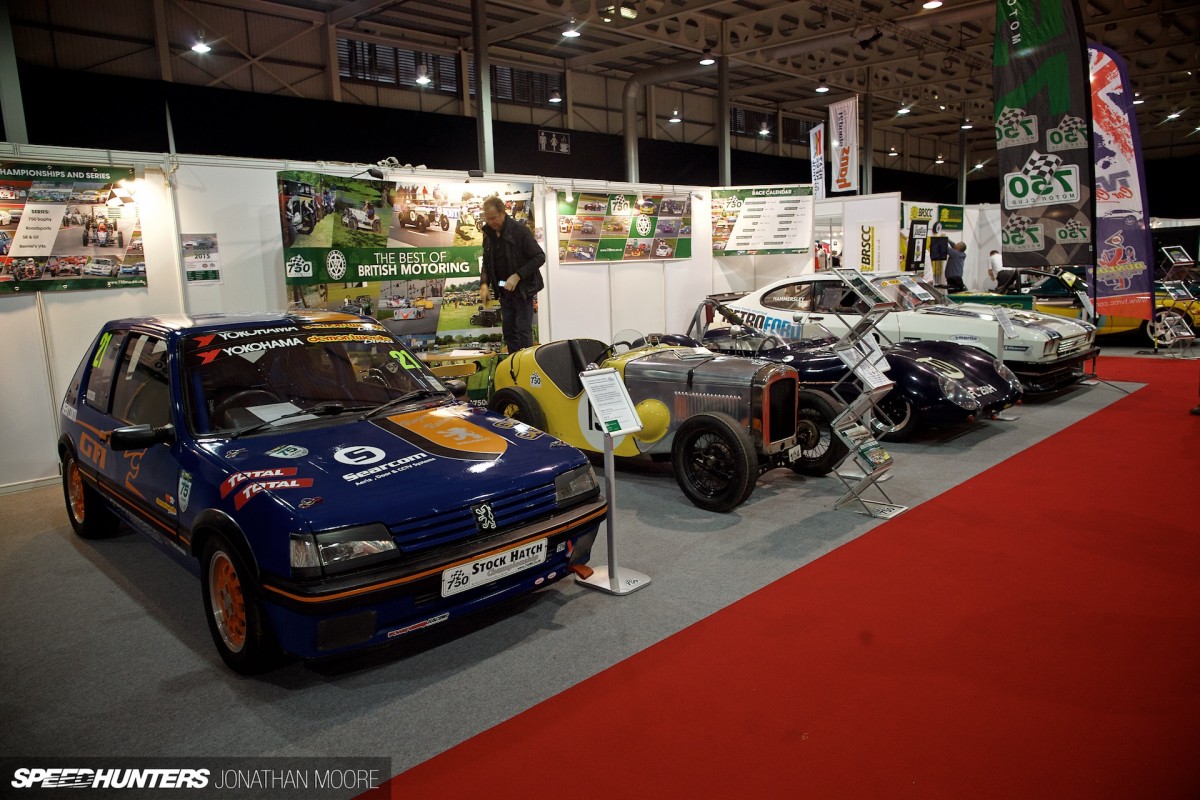 Built, in-build or in pieces, you can decide what, where and when you want to race. Or of course, you can just enjoy looking around, which is perfectly fine too!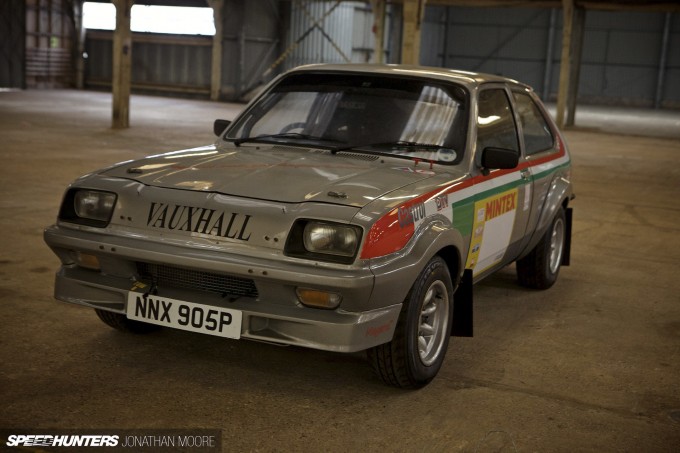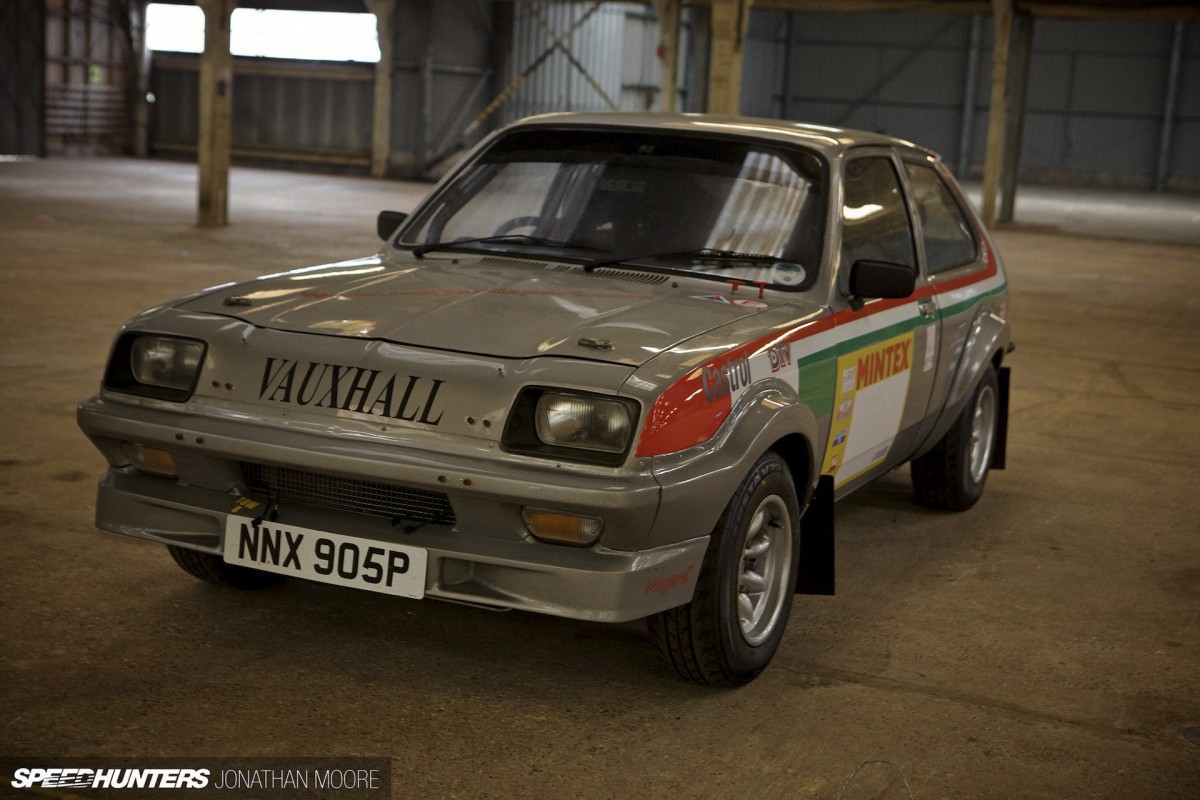 There are those obvious glory periods to celebrate of course, like those Group B monsters. But I find the real value is when you discover something new or unexpected, where something stops you in its tracks with a 'I never thought I'd think an – insert car name here – was this cool!' moment.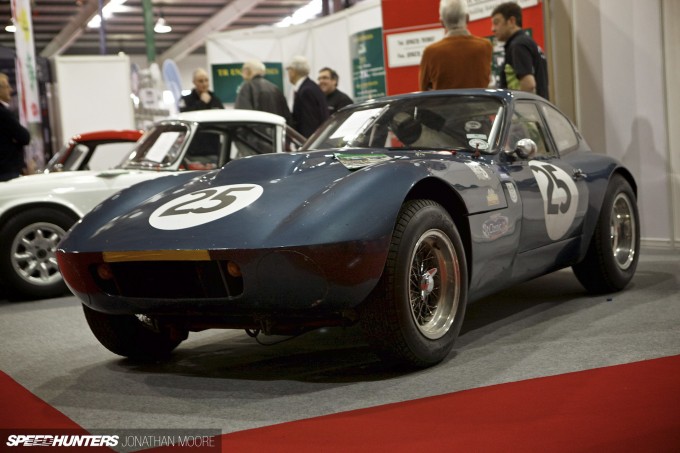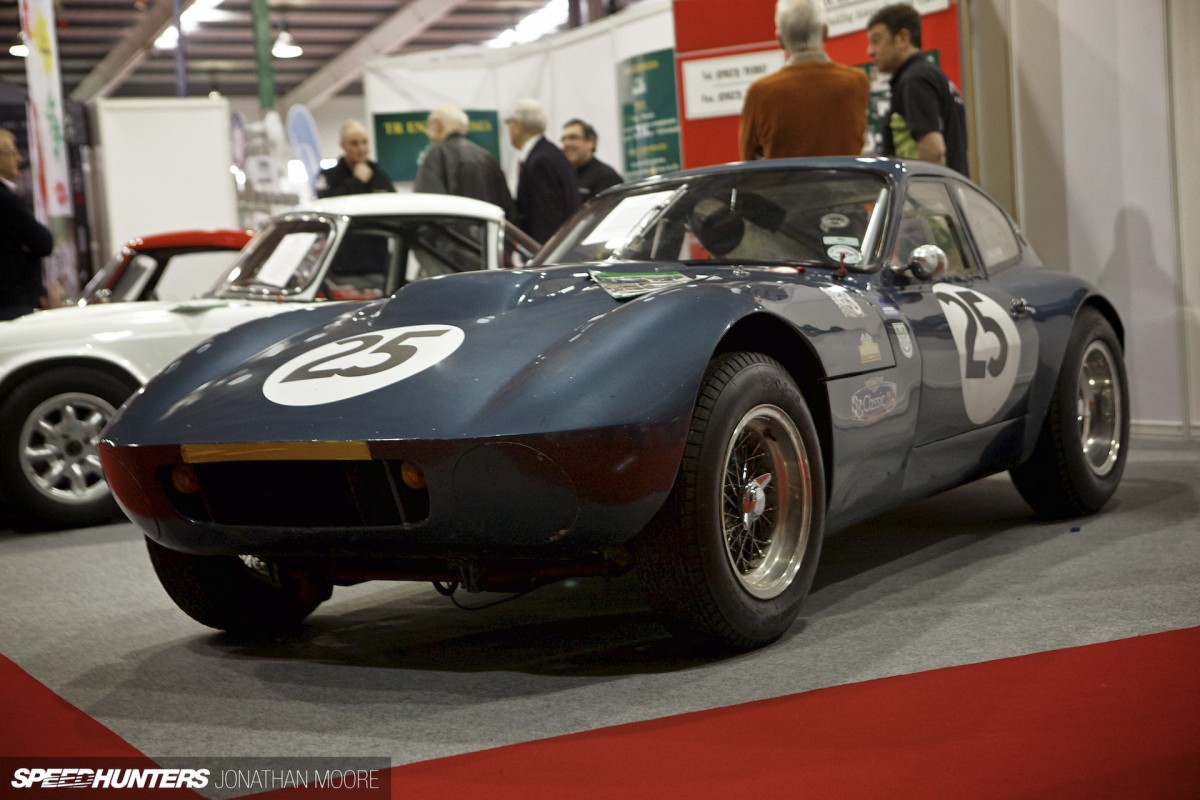 I had plenty of those this year, such as with this… Corvette? Cheetah? Morgan? What was it? It was actually a Triumph TR4 SLR, sporting a one-off, custom-built, low-drag body made back in '63. Three more bodies were built and mounted on Morgan chassis, but this is the only pure Triumph version. The curvaceous body looks amazing, with just the right amount of fender flaring, the long and wide rear hiding deep-dished rims with spoked centres and knock-off wheel nuts.
This restored racer can also claim to be the last car to have left the line at Goodwood's final race back in 1966, starting as a scratch entry during the track's original period in action.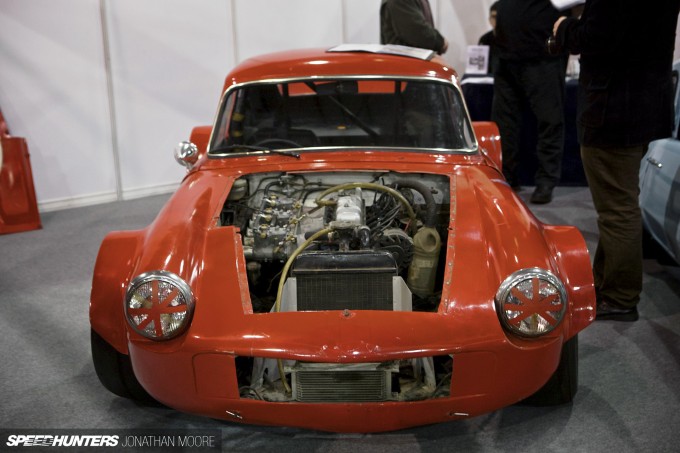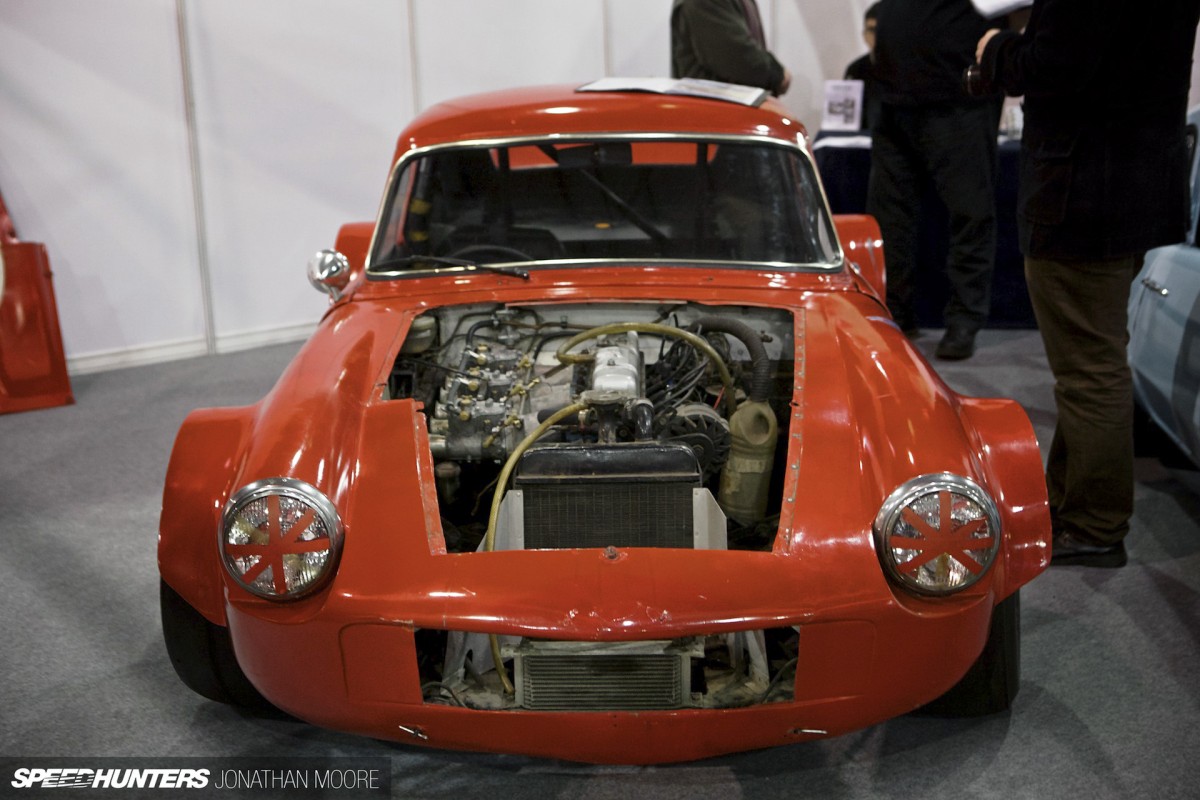 Triumphs are going up in my estimation – and hopefully in yours too. I loved the wide body reinvention of a GT6 that was I picked up at the Classic Motor Show back at the tail-end of last year, but here was a period version in all its sightly battered glory.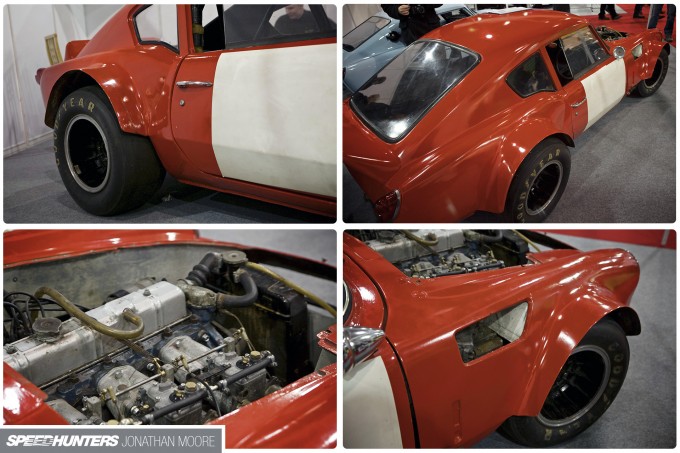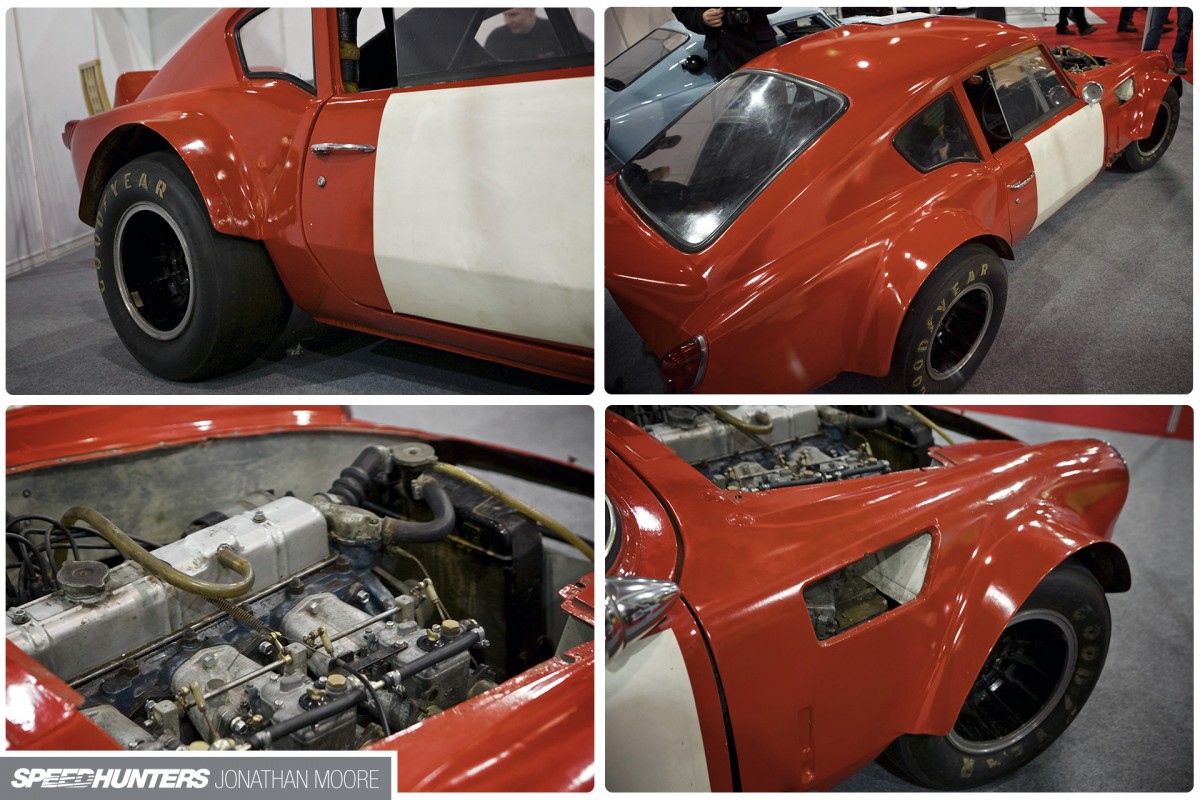 It might have been need of some TLC, but you can't argue with the competition stance, awesome chopped arches and the bulging old-style race rubber. Rough, but ready.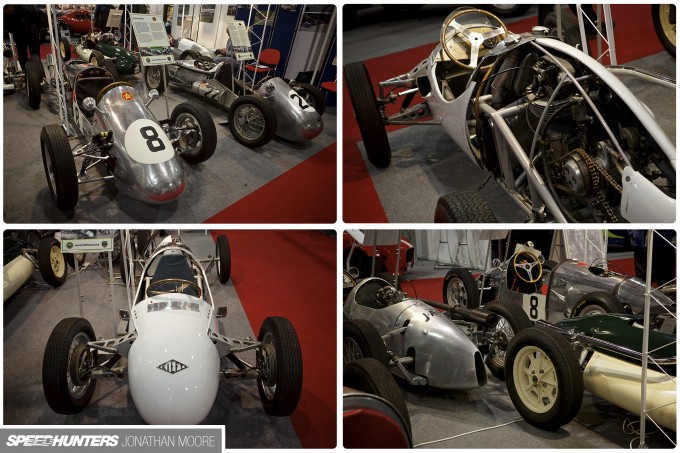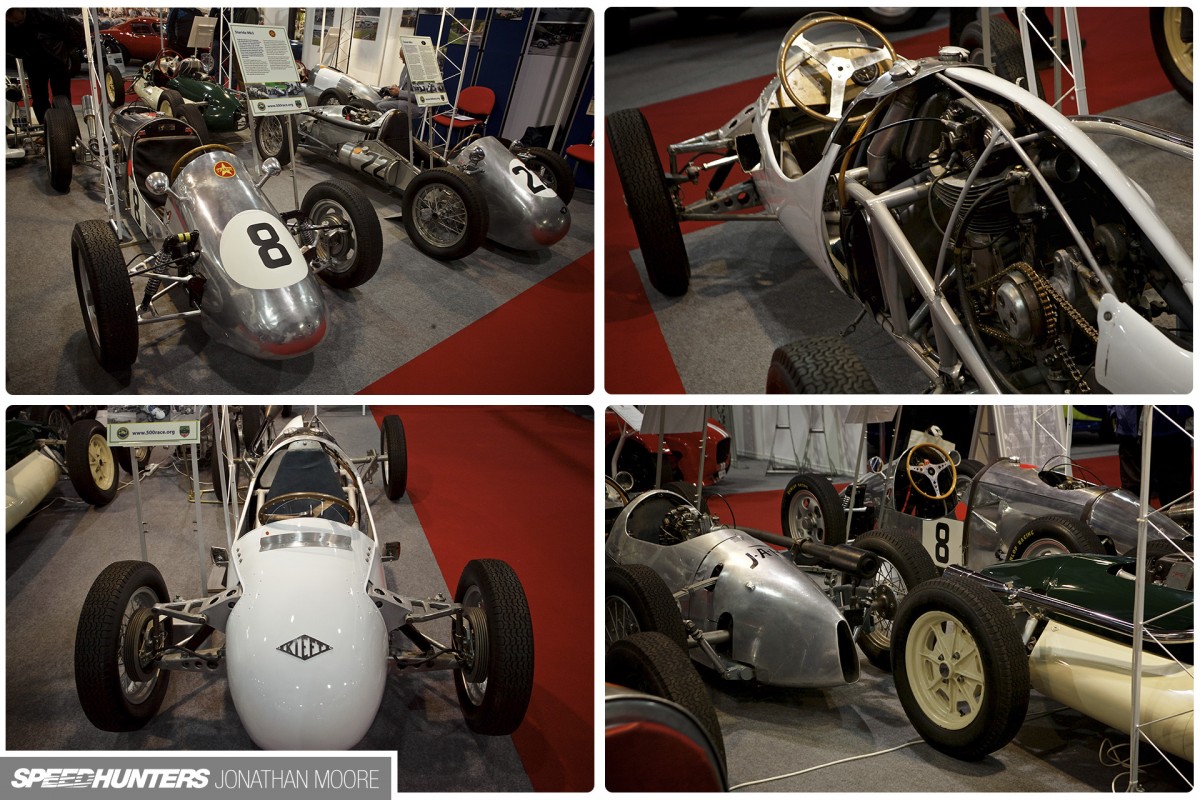 My innate distrust of period British cars is lessening these days, as I come across more and more exciting builds that prove the late '70s meltdown of any semblance of quality in British sportscars was an exception rather than the rule.
Moving back further in time, how much fun do these little 500cc bike-engined racers look? Especially when you see the names, which included Comet and Staride. Far out, you can tell it was the '50s!
The Race Retro Continuum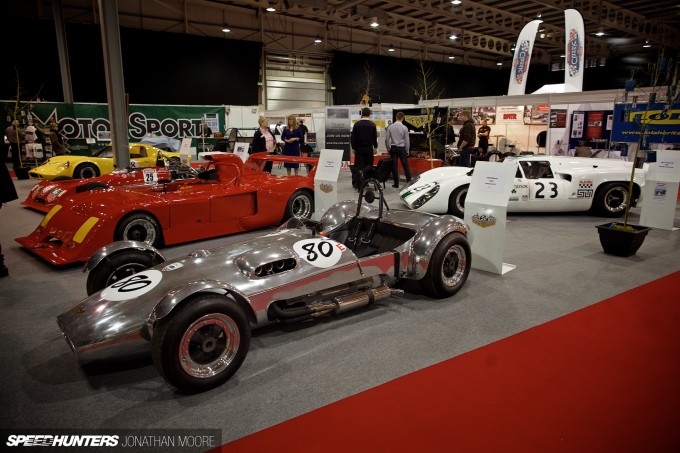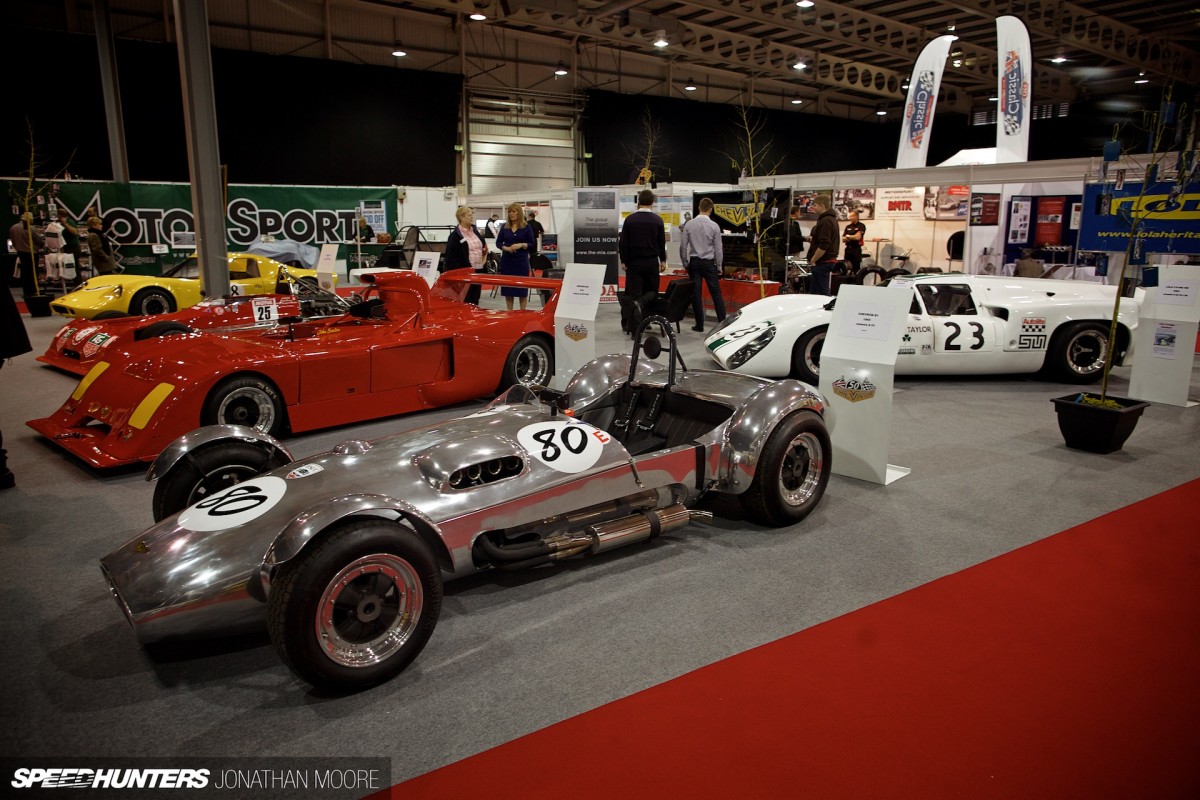 Being 50 seems to be all the rage these days. We've had iconic brands and models like McLaren and the 911 hitting that half century in recent years, and 2015 provides serves up another batch of anniversaries, including Shelby's Mustang, the GT40 and Alfa's GTA. But there's a less known brand also worth celebrating: Chevron.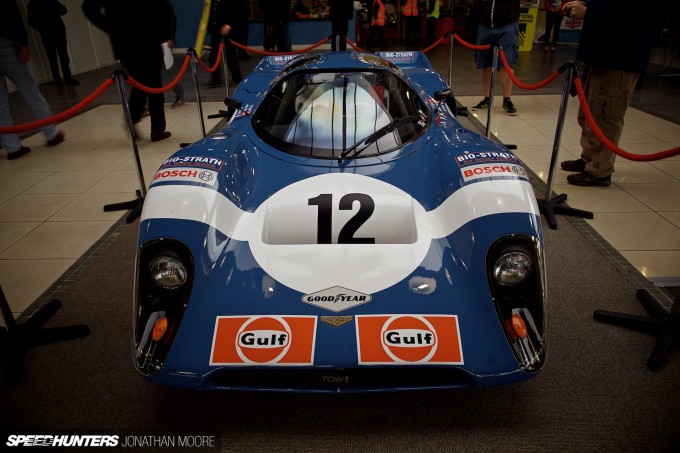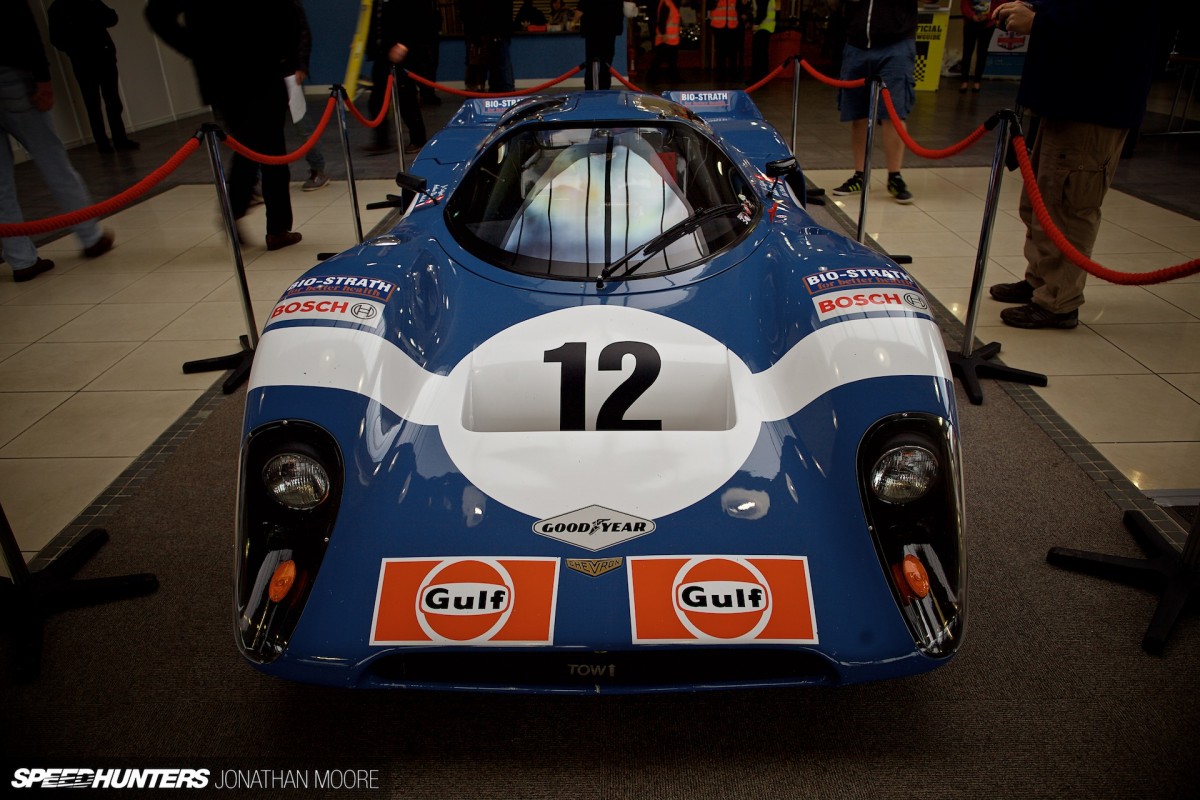 Alongside many single seaters and wedge-shaped sports prototypes, they also vied with fellow Brits Lola for making one of the prettiest sportscars of the '70s, the B16.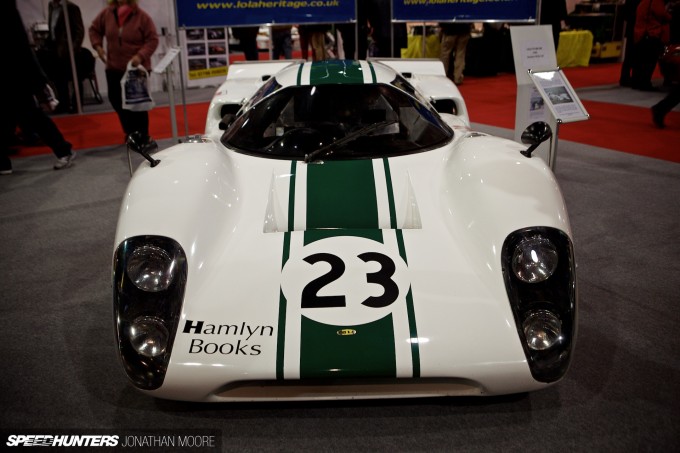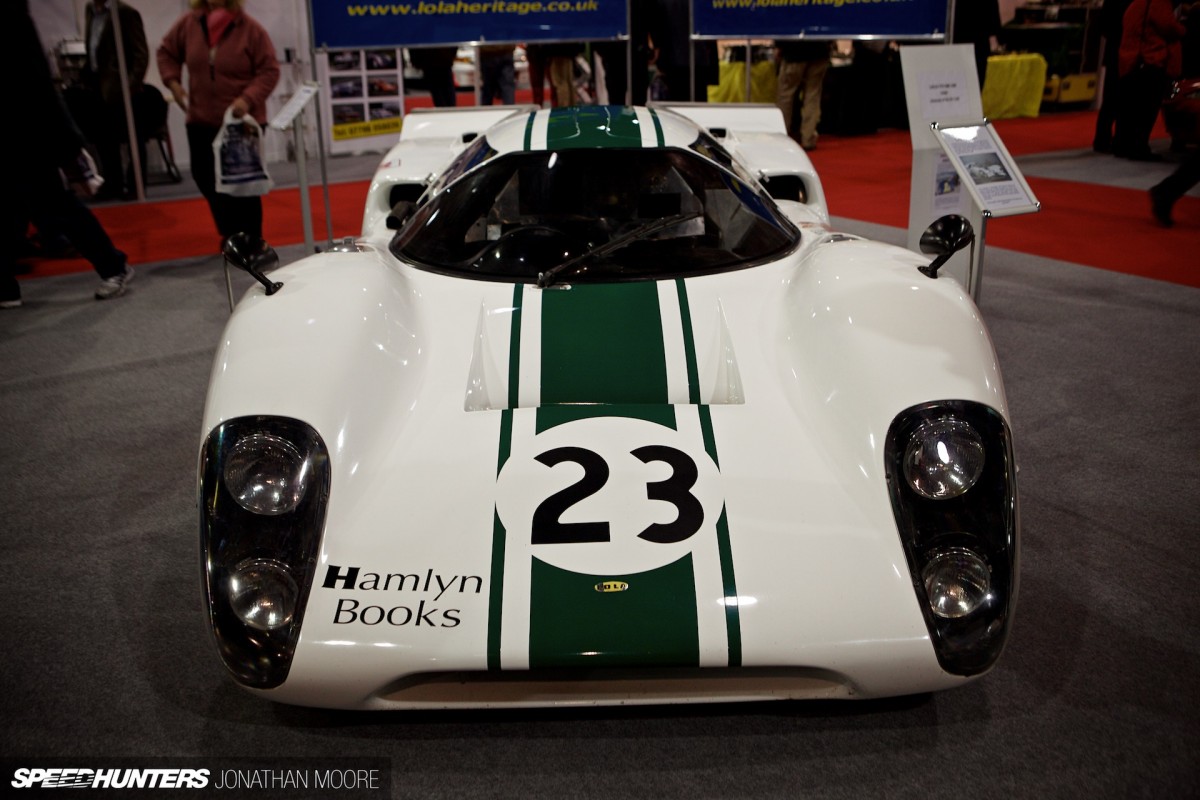 There's definitely a visual connection between the Chevron and Lola's beautiful T70 – of which there were plenty to hoover up at Race Retro.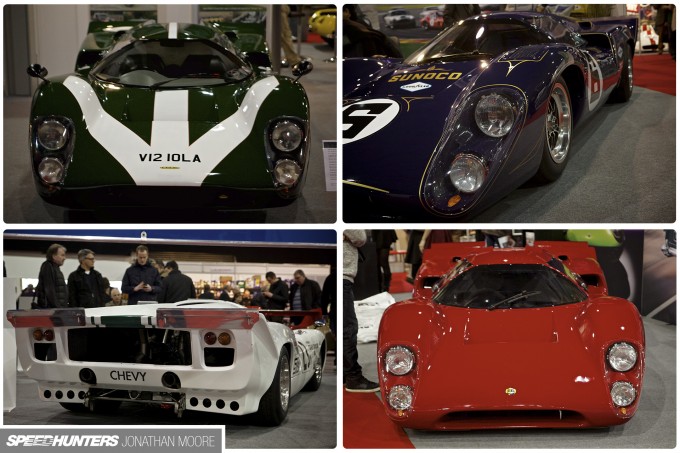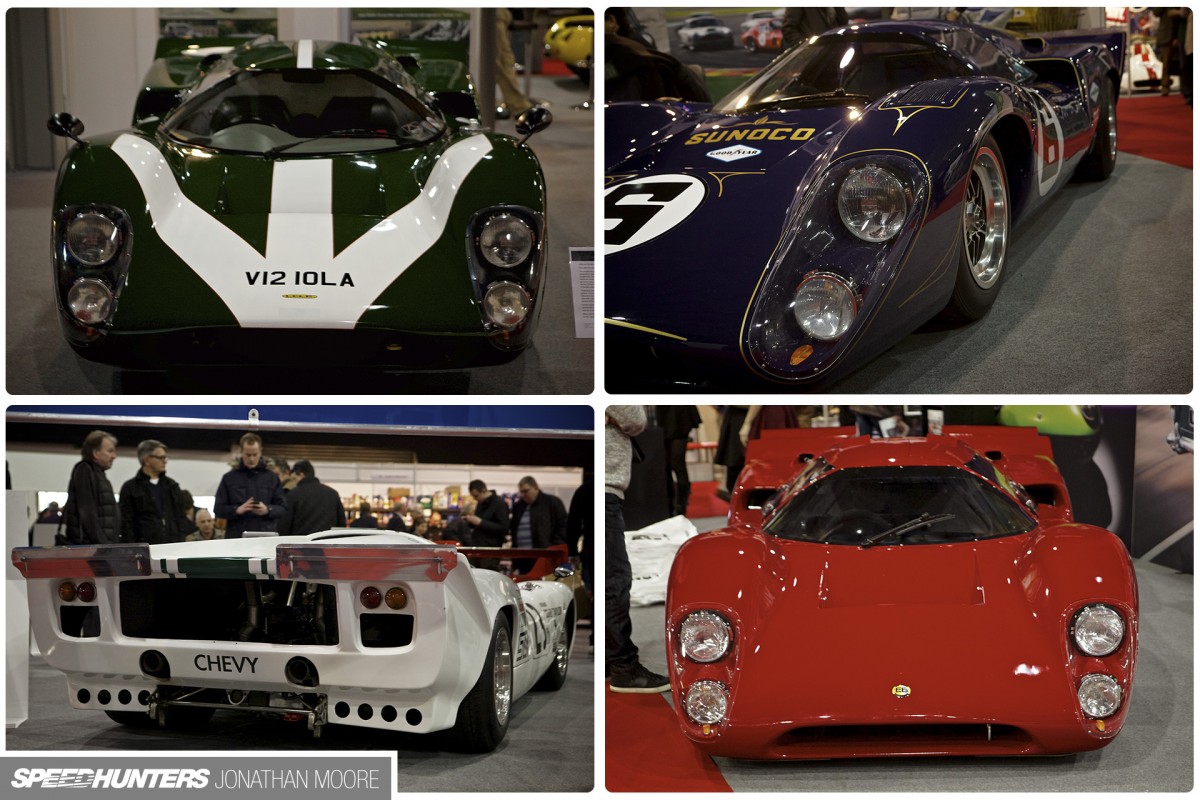 Few were originals, although plenty of 'real' T70s are being thrashed around the world's racetracks despite their value. It's a sign of their reborn popularity that continuation models are now being made, using original drawings and materials. The top left car is actually a road-car conversion: 500hp of supercar-scaring V8 power. With a CD player.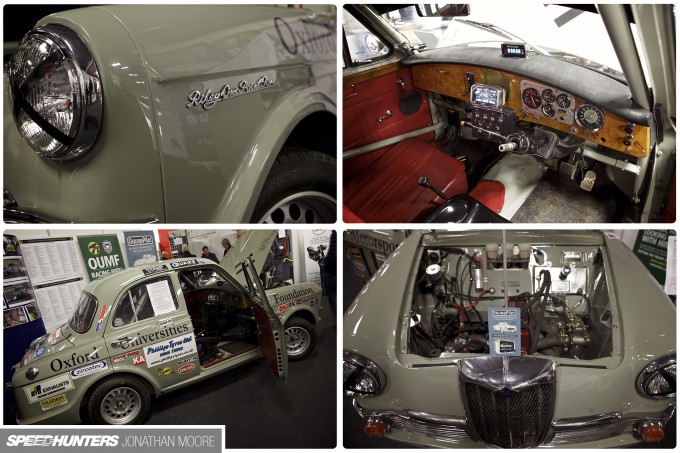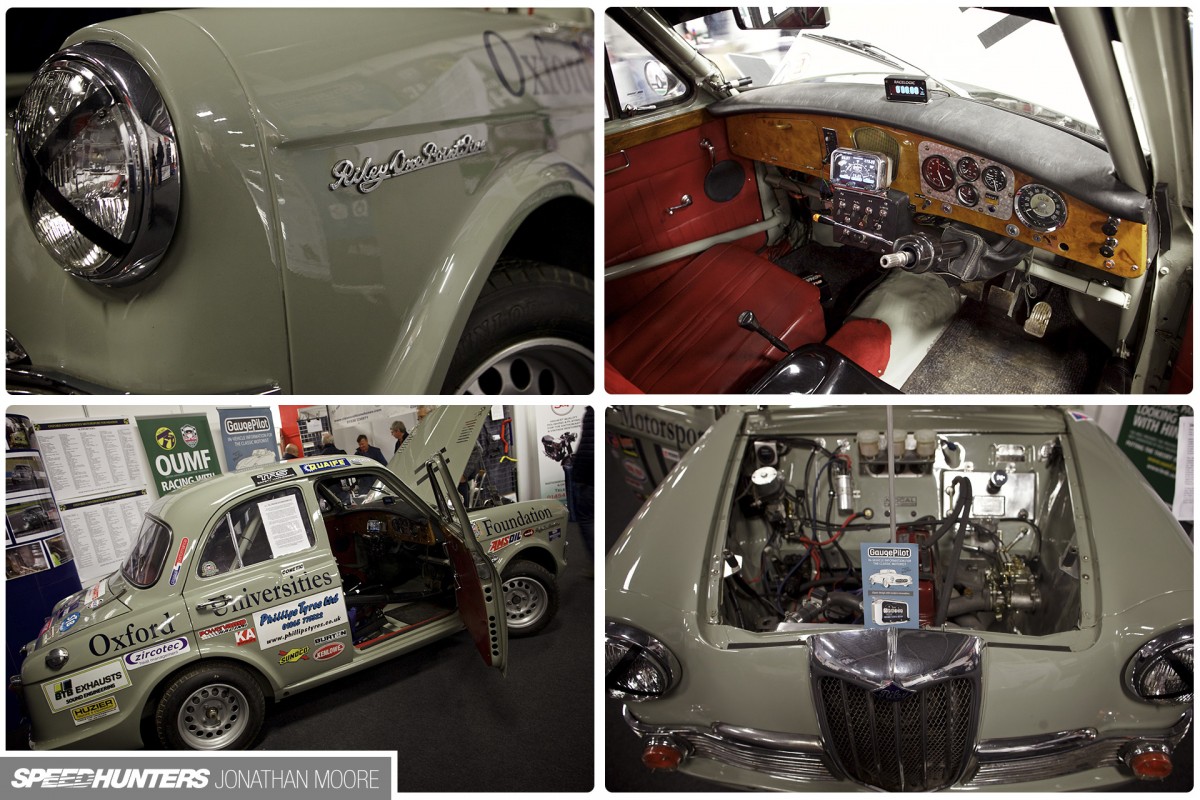 But if the rarefied atmosphere of those kind of prototypes is out of the reach of most of us, not to worry – classic cars don't have to break the bank. I saw this cute little Riley as a bare shell back in 2012, from where it's been built up by students at the Oxford Universities Motorsport Foundation, learning as they went. It shows that walnut can have a place in a racecar…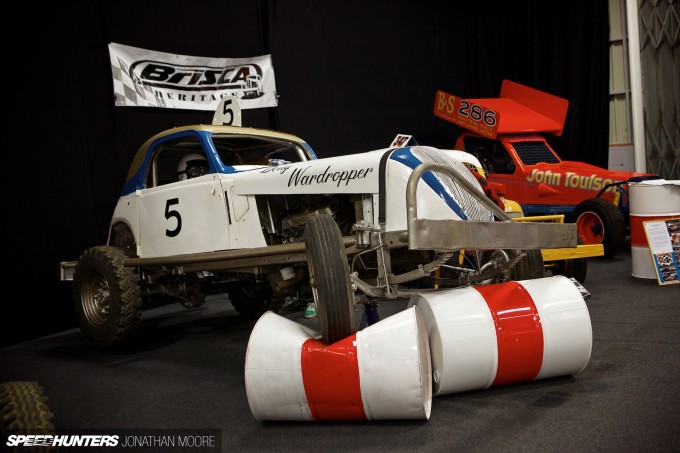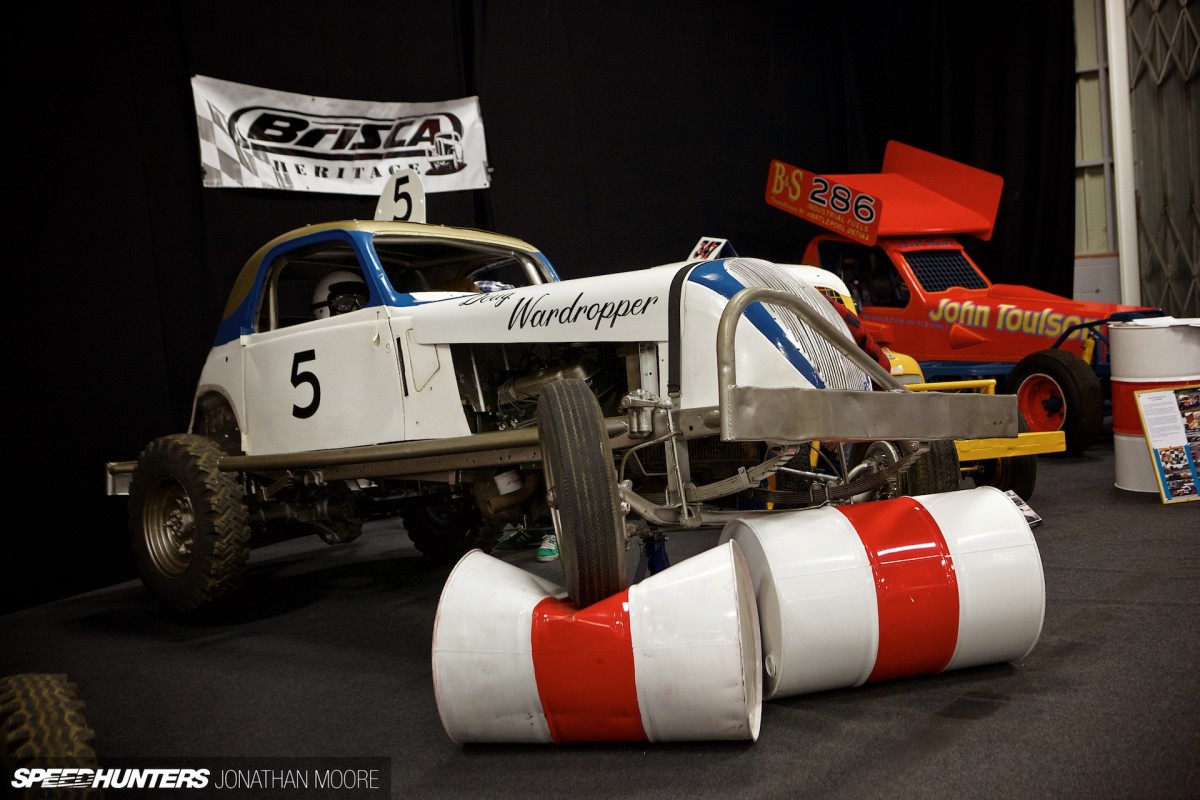 There's always a corner of Race Retro dedicated to short-track racing – classic stock cars from the '50s and '60s that showed that getting down and dirty wasn't exclusive to the US. This year I will check out the UK scene.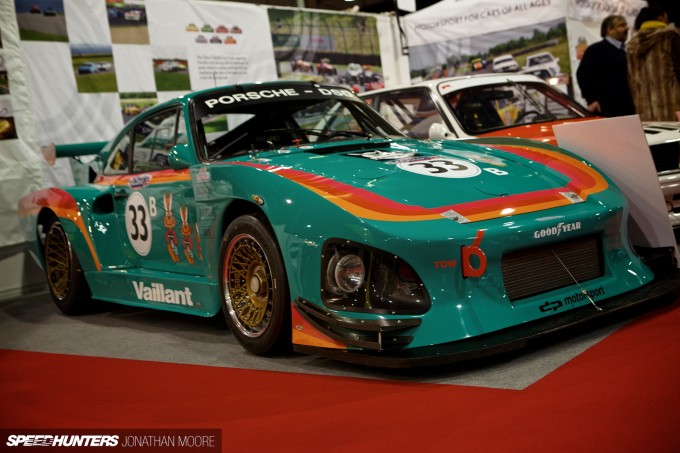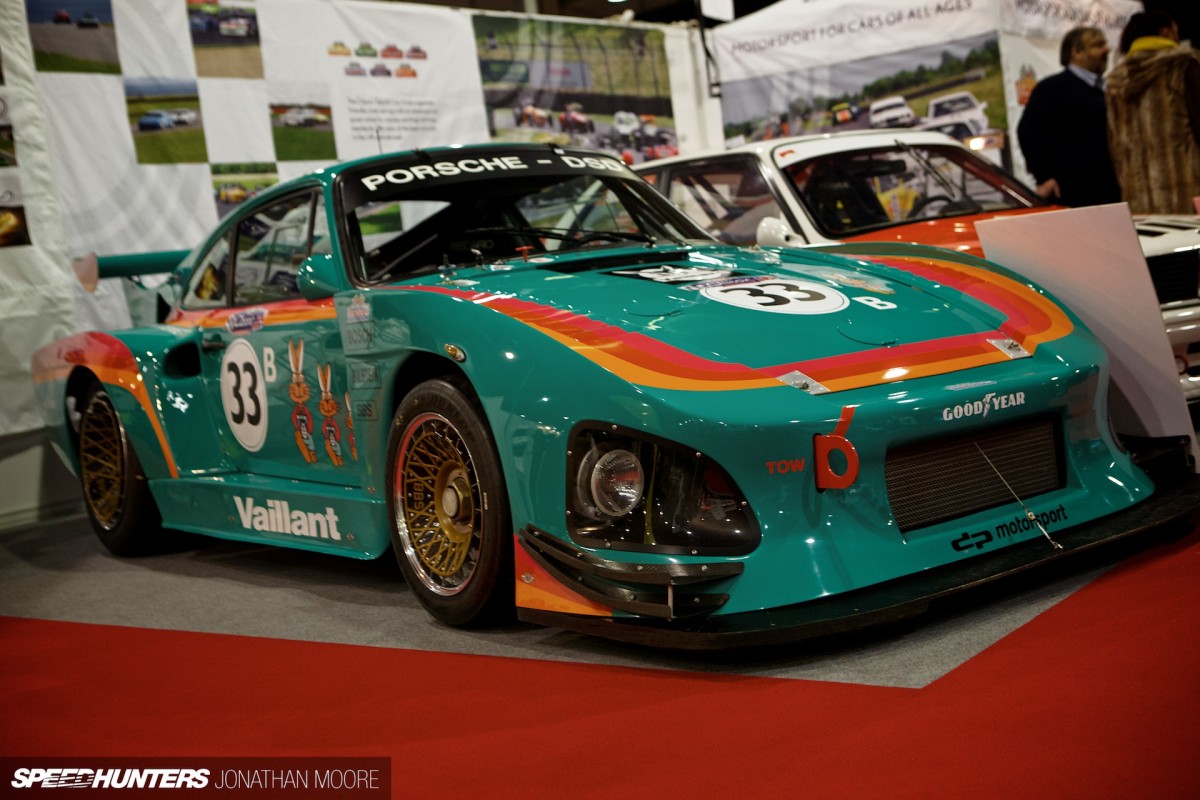 Replicas and recreations are all very well, but they can mean that the default reaction to seeing a rare car can now be to doubt its authenticity up front – a mistake with this Kremer Porsche 935 K3, I was pleased to find out. Running in factory team Valliant livery, it's the next generation up from the K2 I saw at the Kremer workshop a couple of years back.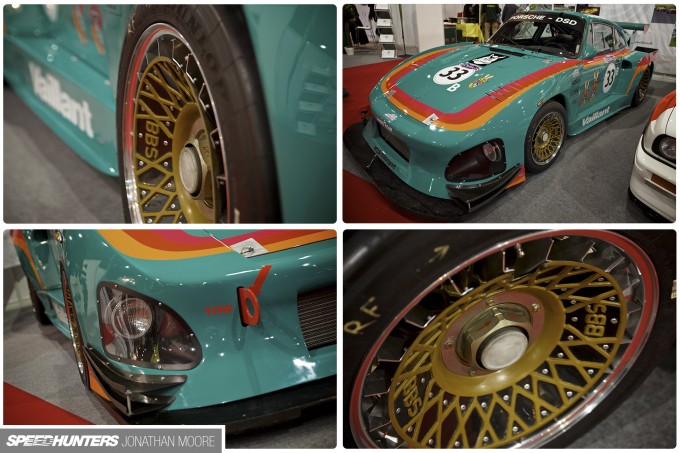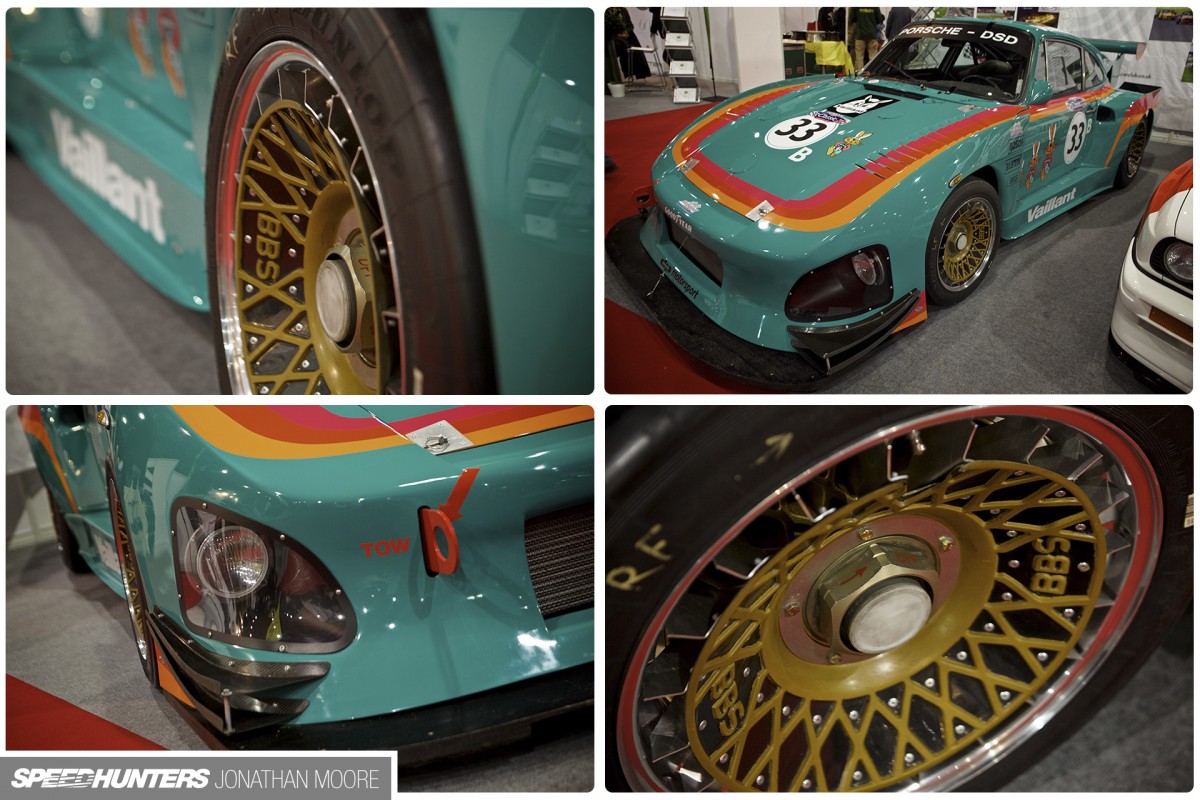 This 935 was brought back from Japan and subjected to a nut and bolt rebuild in 2010. It's a 600hp flame-thrower of a car… Hitting 185mph in one of these must be terrifying, like trying to hold on to an angry Tyrannosaurus.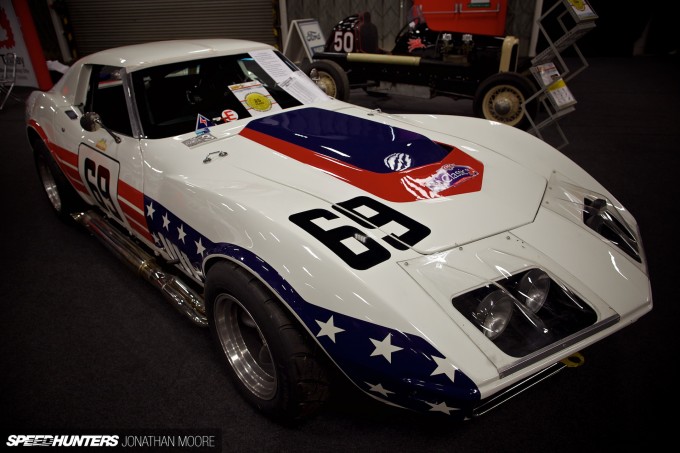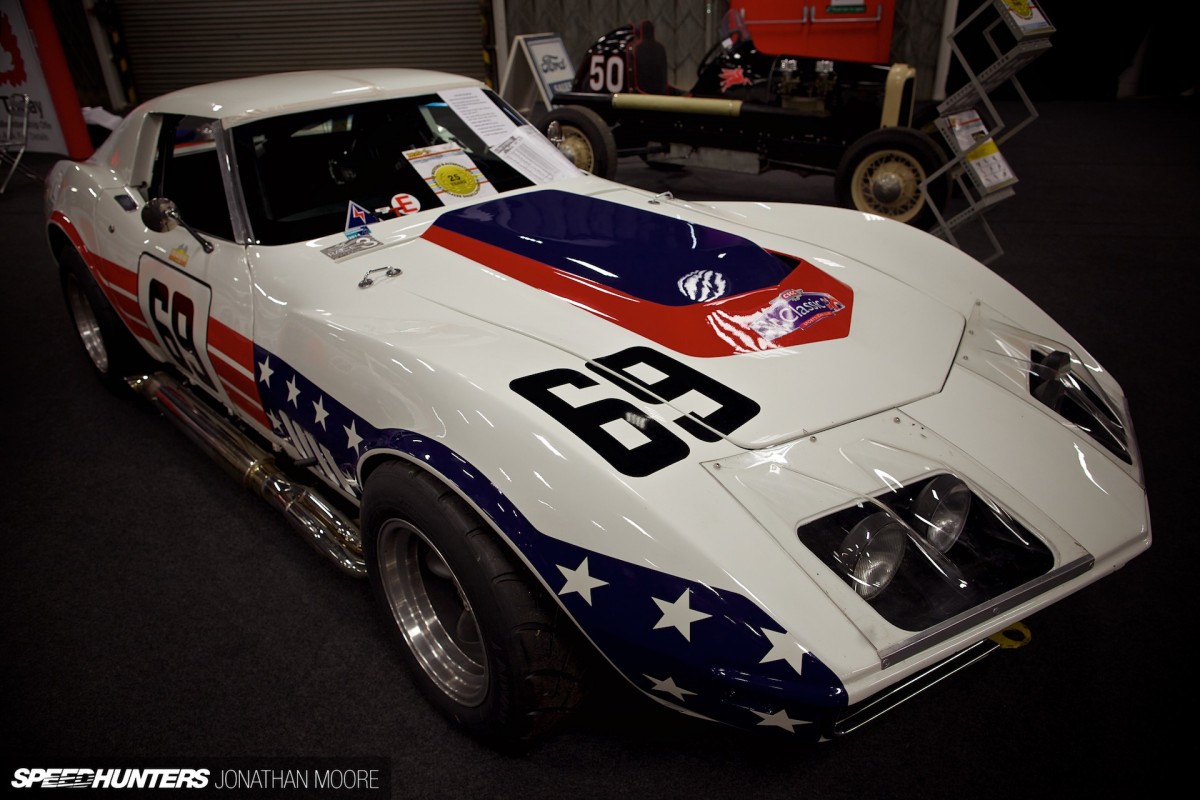 Similarly, this C3 Corvette was genuine with a proven history – it was a '69 race car with a big block 454 V8 up front. It won in period – and it still wins now.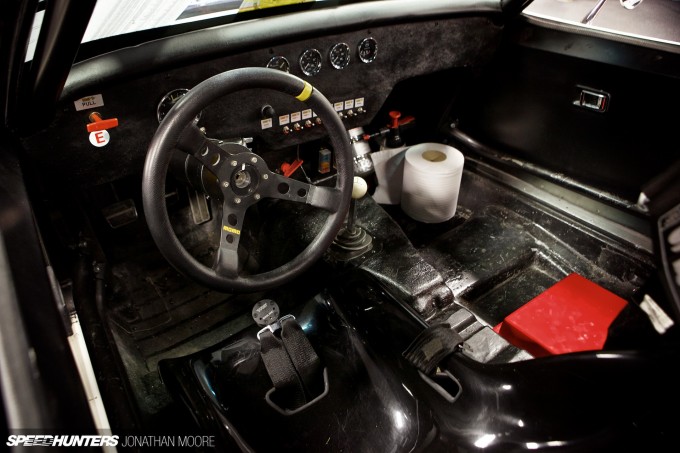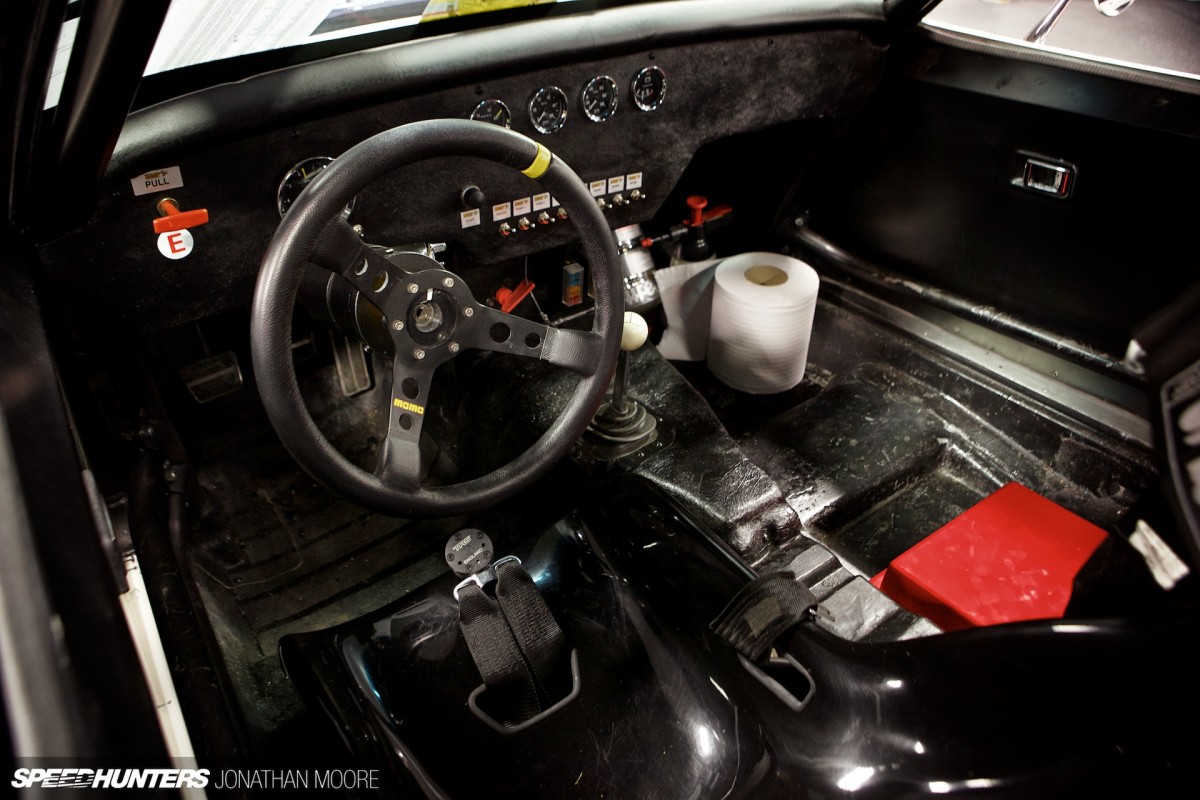 As with the K3, I wondered if the roll of towel was in the necessary for the effect the car had on the driver…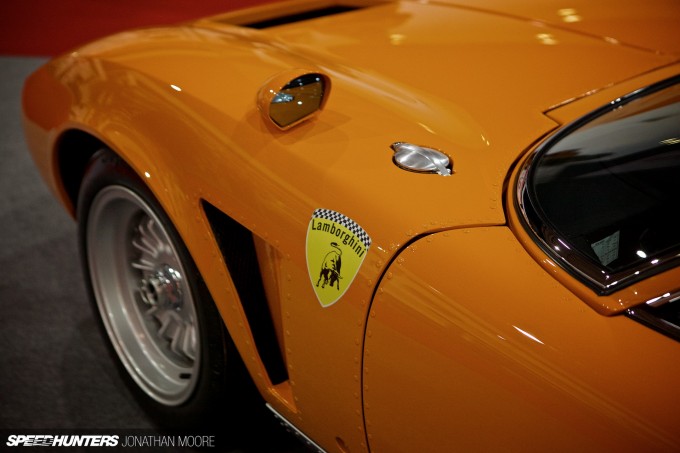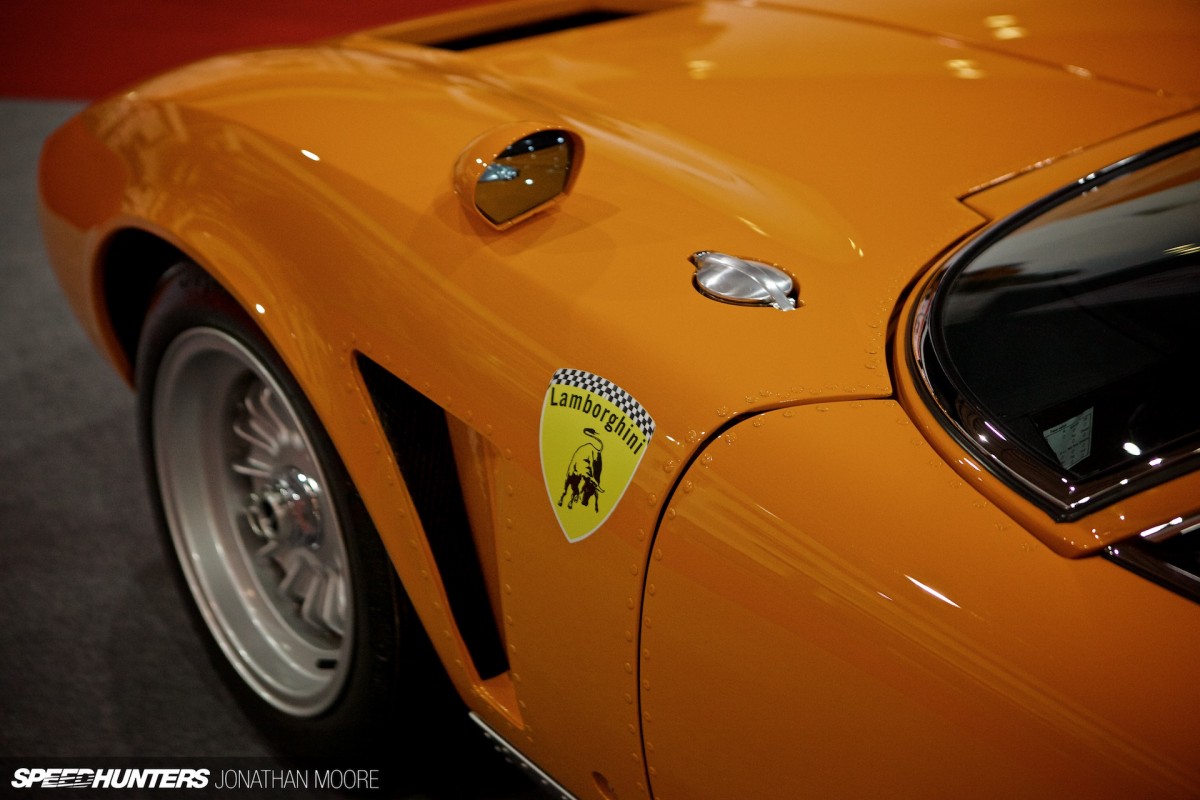 There were a small number of cars which wouldn't likely be tearing up a track any time soon. But then when they're pushing against the value of an authentic Lamborghini Miura you could forgive the owner for wanting to keep it in one piece.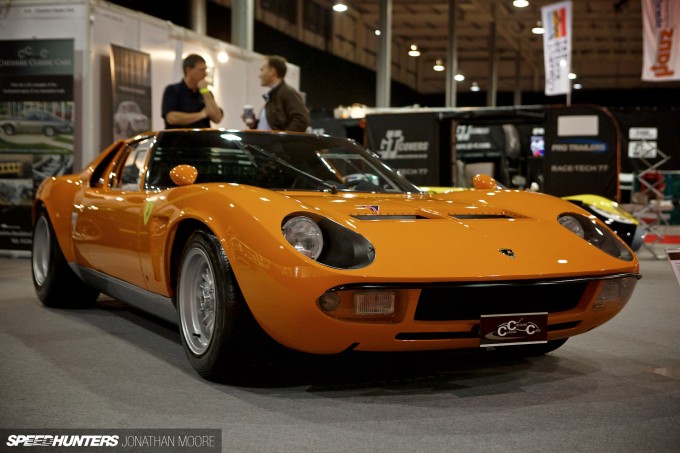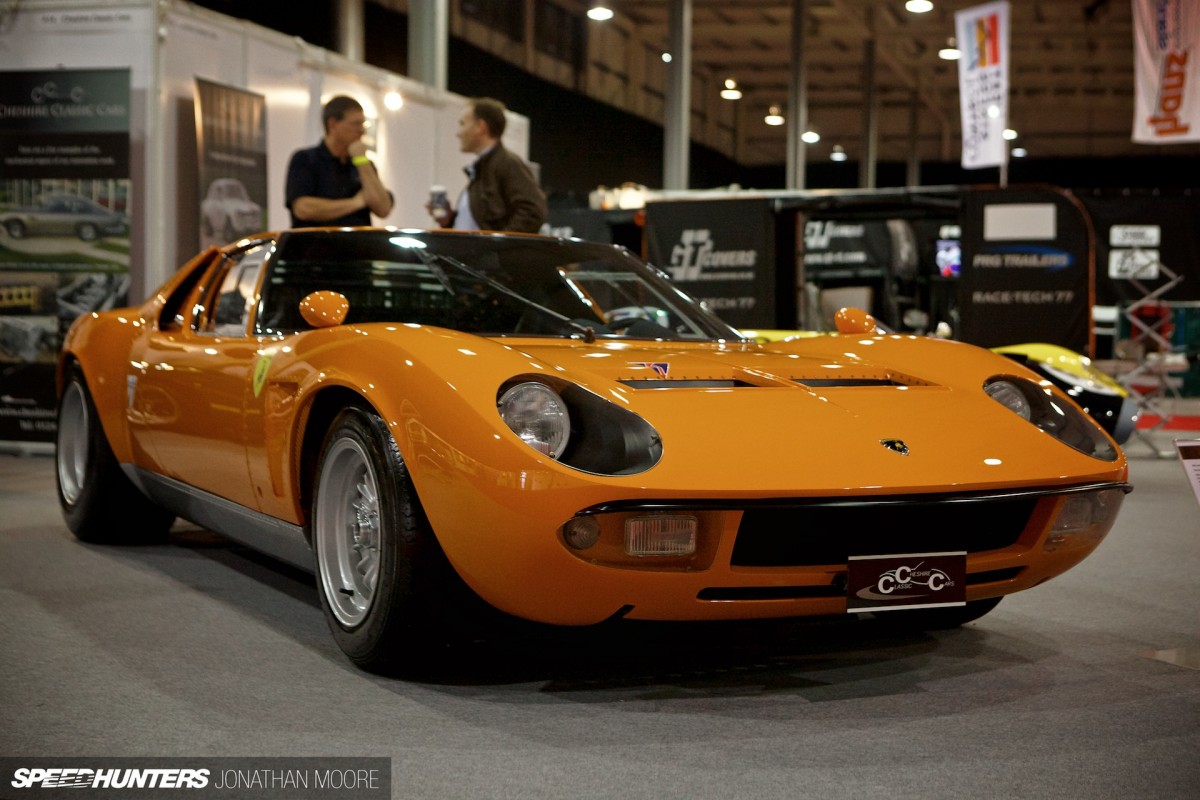 Any Miura is a joy to behold, but this was a 1969 S variant – and then some. Even harder and faster than standard in period, but now taken even further with a modern update on the period Jota spec – the hypercar of its era. The V12 SV engine sounds glorious, of course, but it's more the subtle styling updates that give it a slight modern edge whilst not messing with the sublime lines.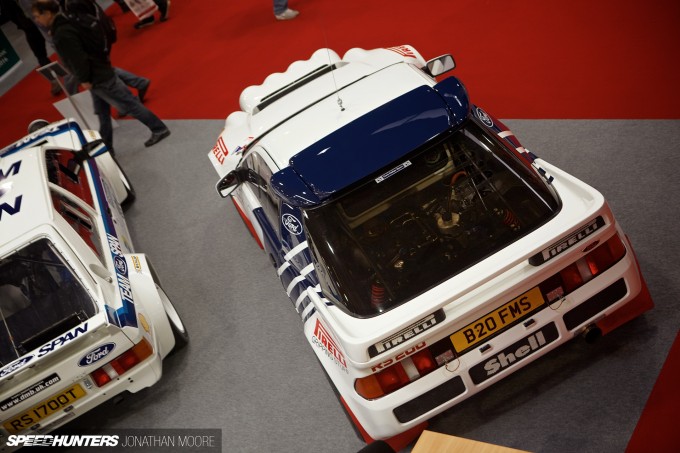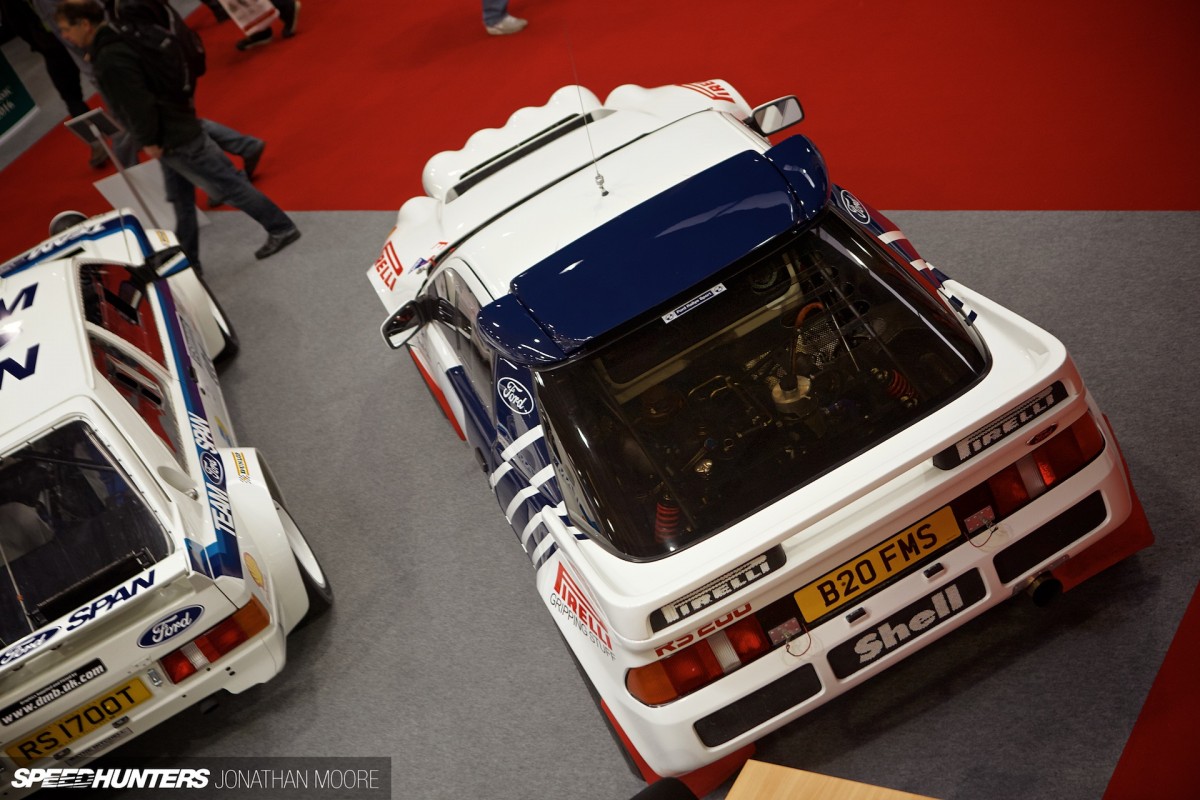 No matter how hard I try, the historic rallying stand pulls me in like a tractor beam. The default factory RS200 had some new friends this year though, like the MkIII Escort RS1700T.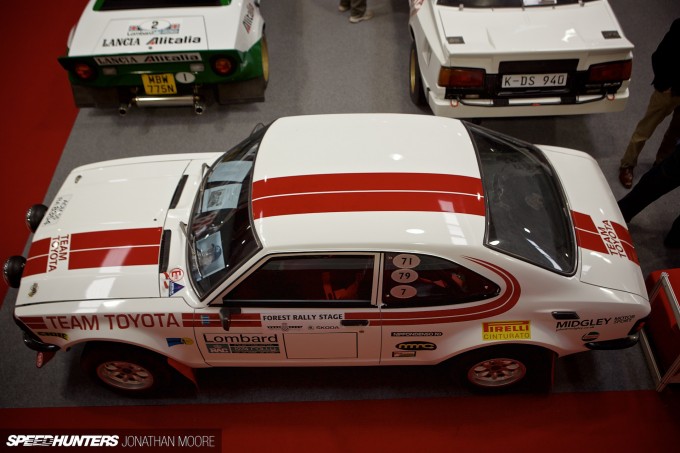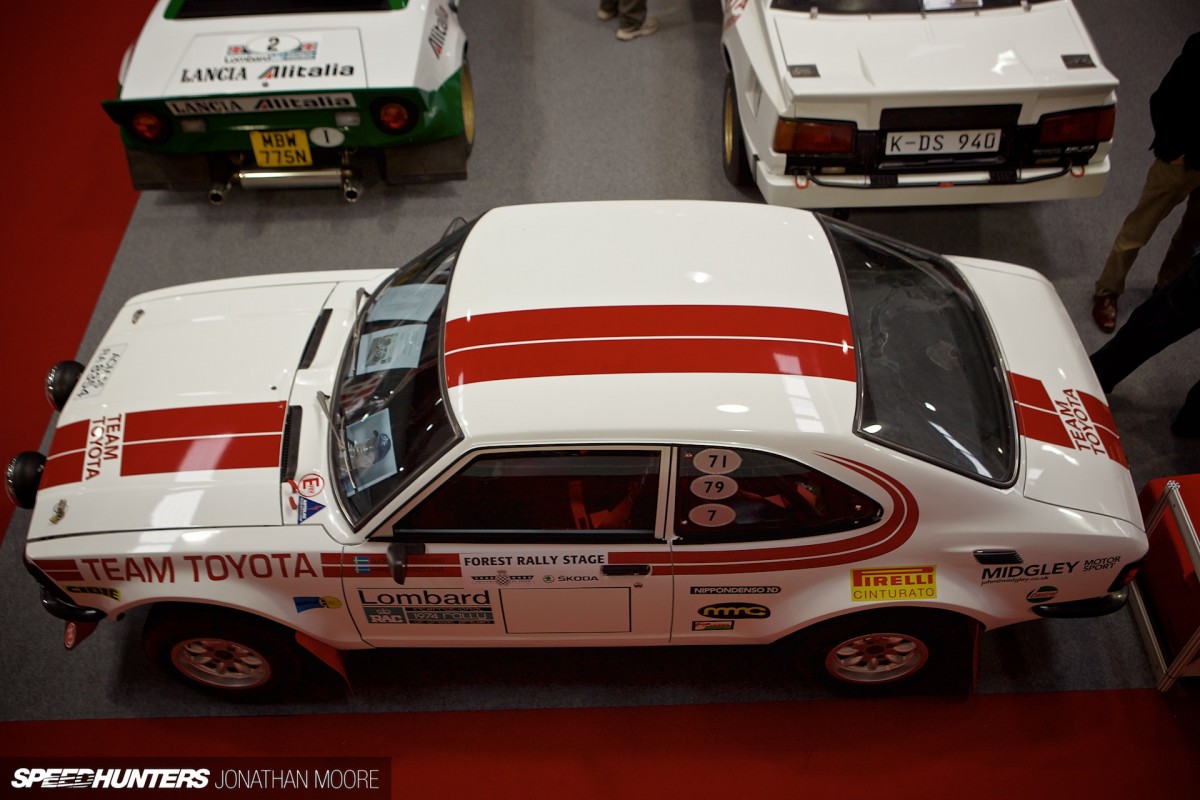 I was wracking my brain trying to remember where I'd seen this Group 4 Toyota TE27 out in action: I could picture it flying through the air in a cloud of dust. After a bit of archive searching, of course it was at the Goodwood Festival Of Speed, where it was being shot-blasted by stones. With hindsight it would have been easier to look at the sticker on the car – but too easy perhaps… How it's continually returned to this near concours condition I don't know.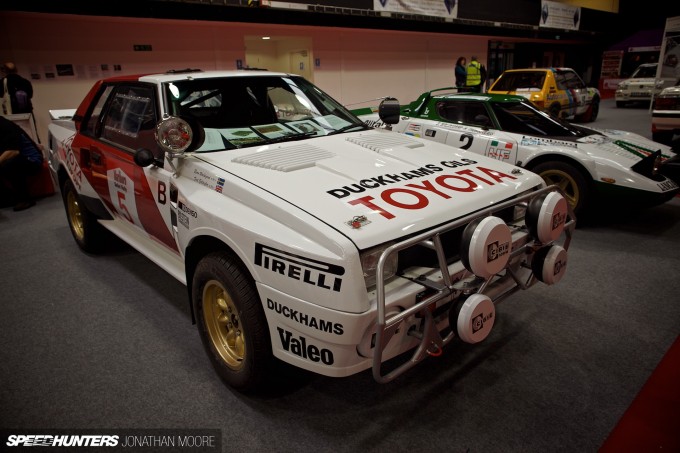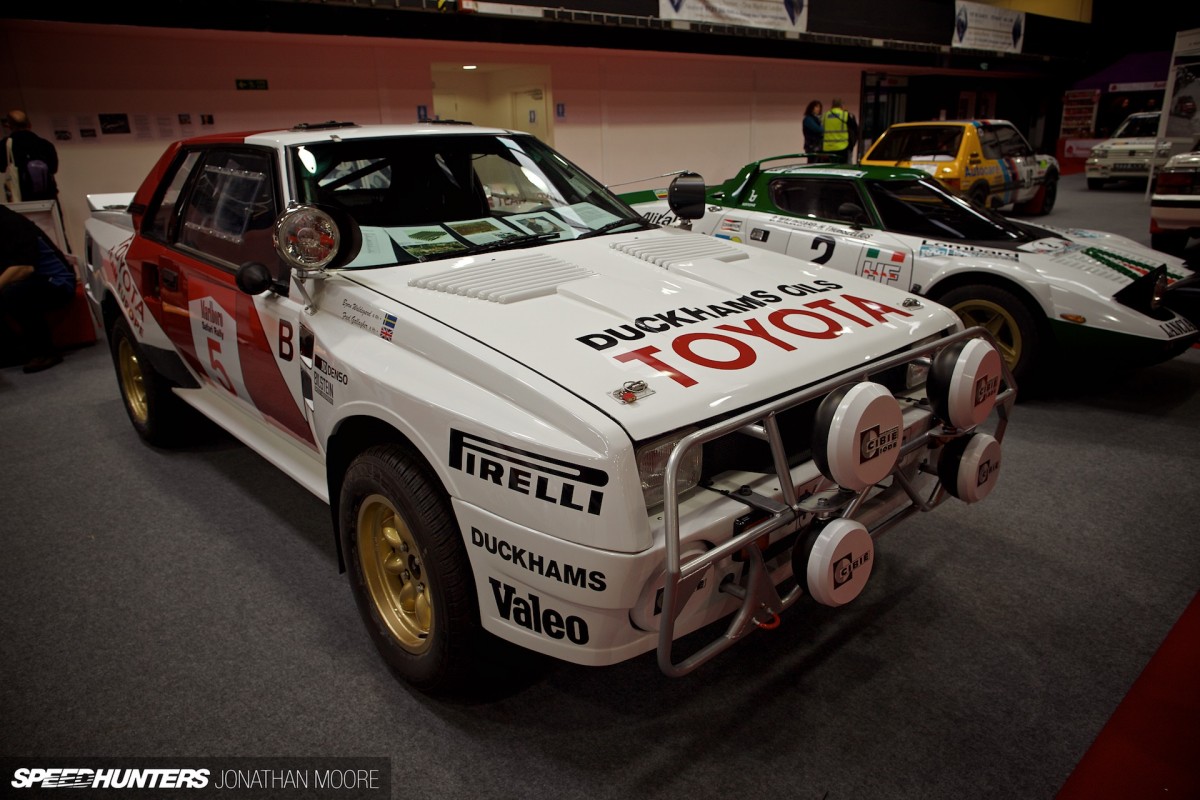 The jacked-up presence of the Celica Twin-Cam Turbo behind it was quite the contrast: so high, so… big! The fact it not only looks like, but actually was built like a tank paved the way to its success in the brutal environments of the Safari Rally.
All Creatures Great & Small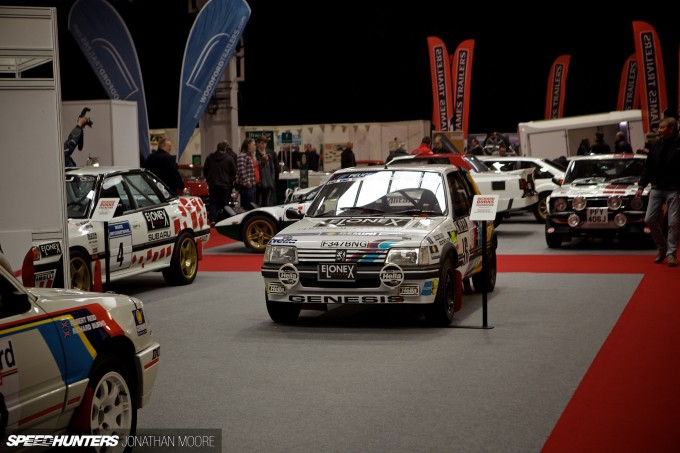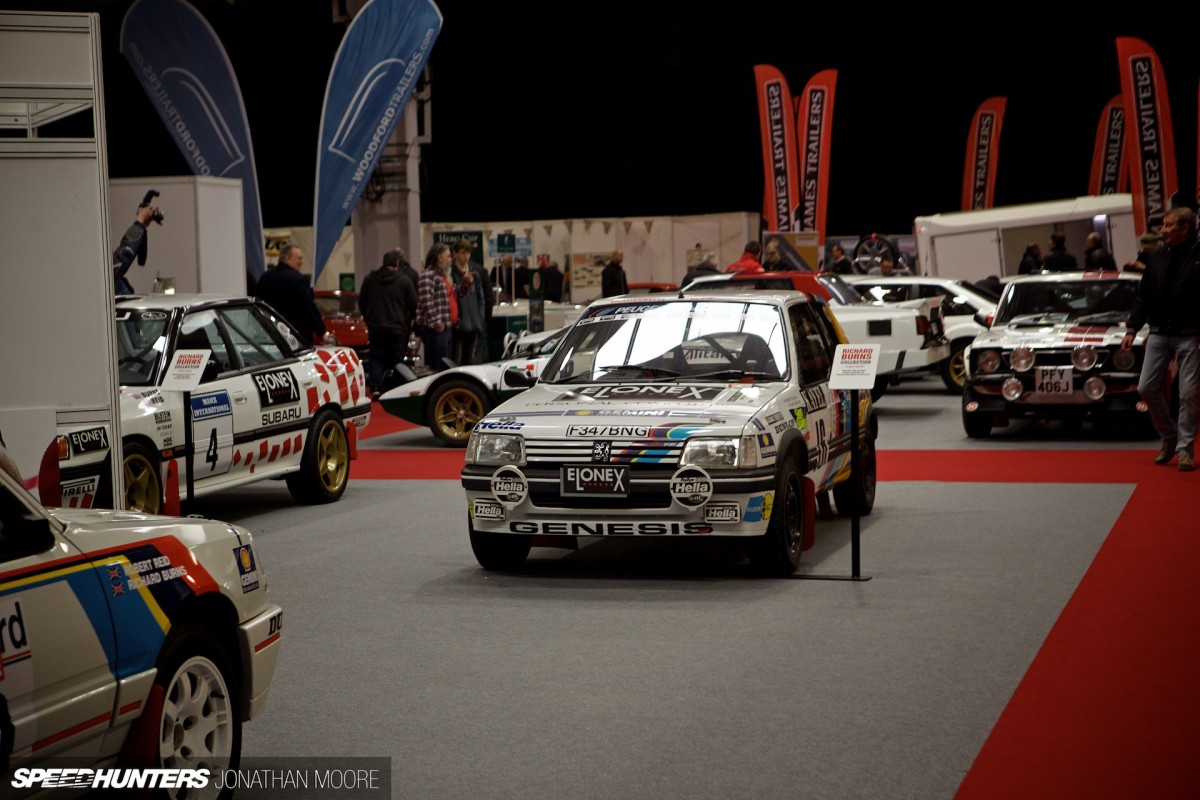 Race Retro pays tribute to legends each year, of both cars or the nuts behind the wheel. This year a collection of the late rally legend Richard Burns' cars were displayed, starting off with some a pair of his Peugeot GTIs: a 205 and 309.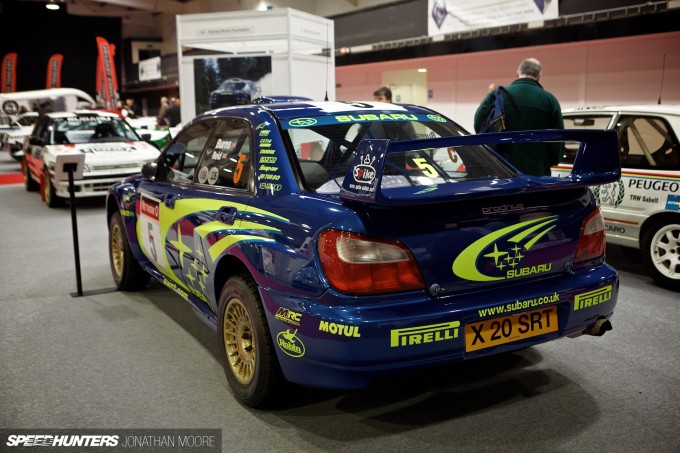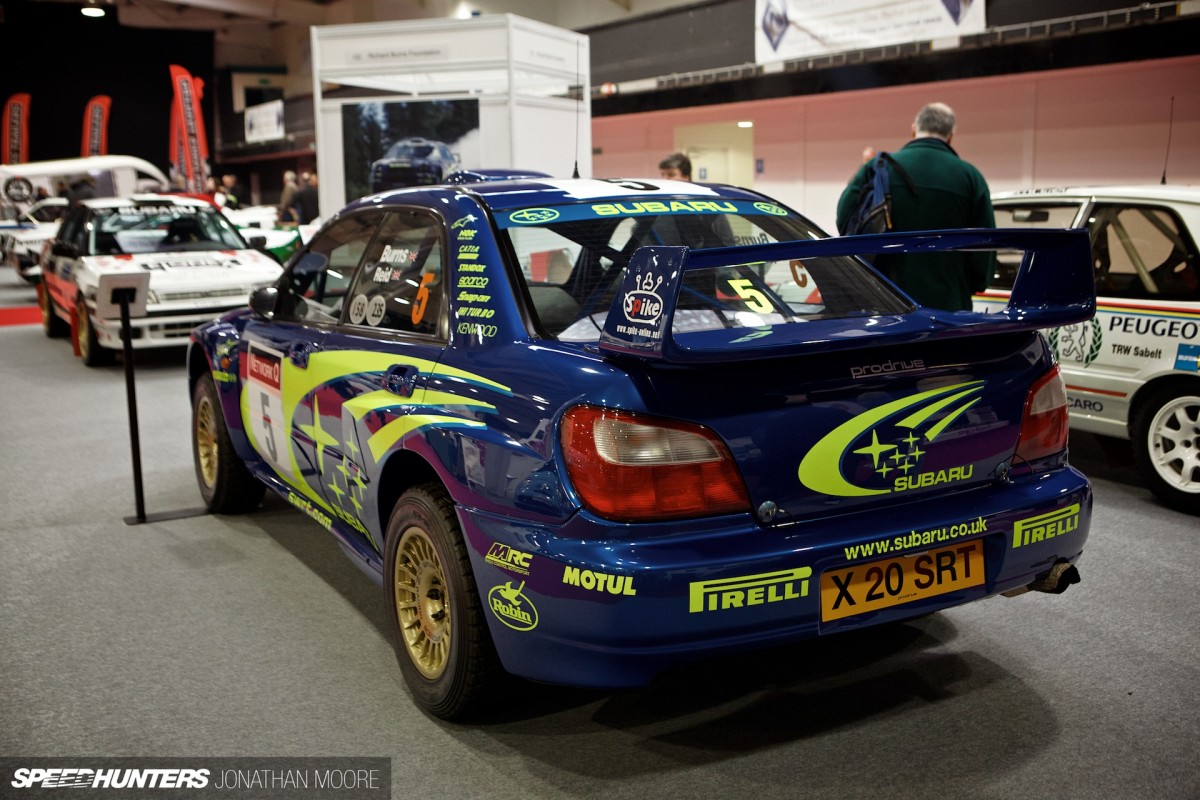 The Brits love of Imprezas is in no small part due to having not one but two WRC champions who drove Subarus during their careers: Colin McRae and Burns.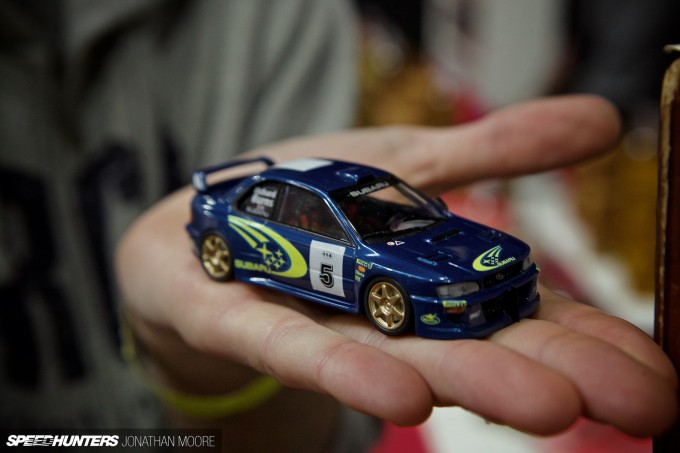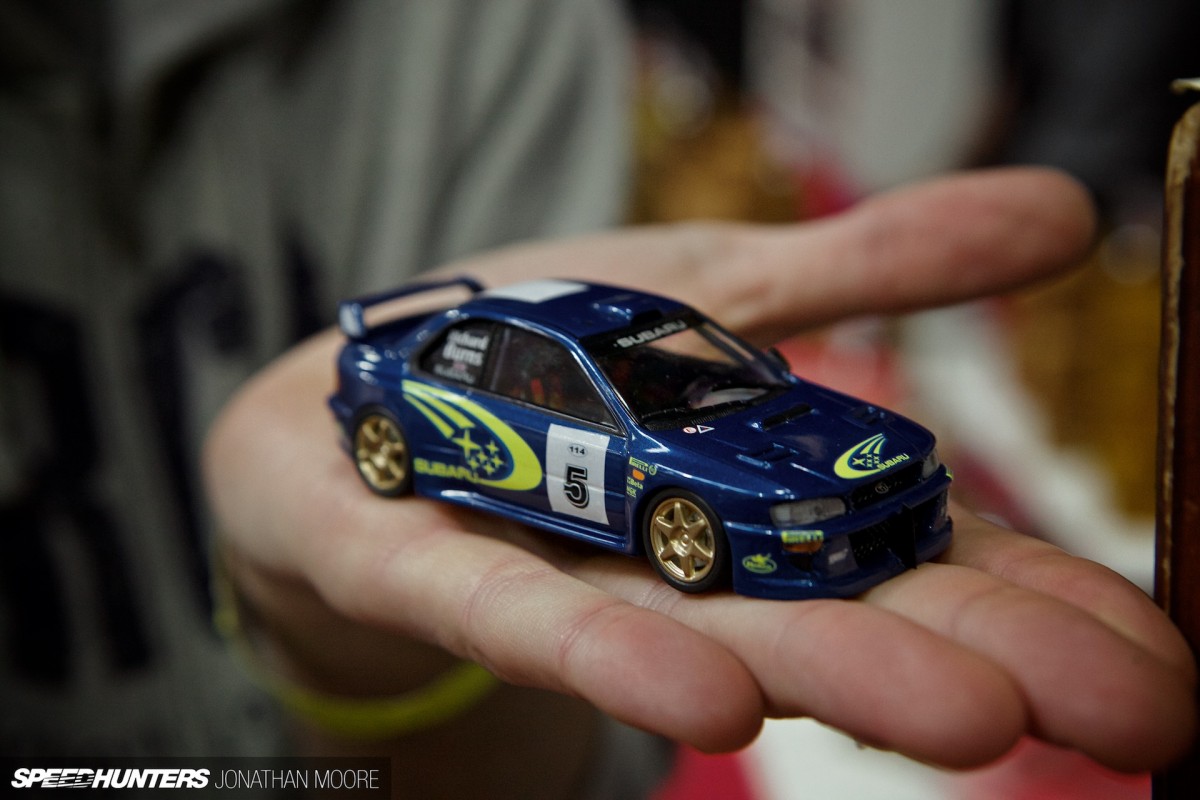 When your hero's driven so many cars, how would it be possible to amass a complete collection of his machinery? Well, how about big love at small scale. The Richard Burns display was supported by some of the members of the DieCastRallyModels forum, who brought along examples of their passion that included an incredible line-up of almost every major car variant Burns rallied.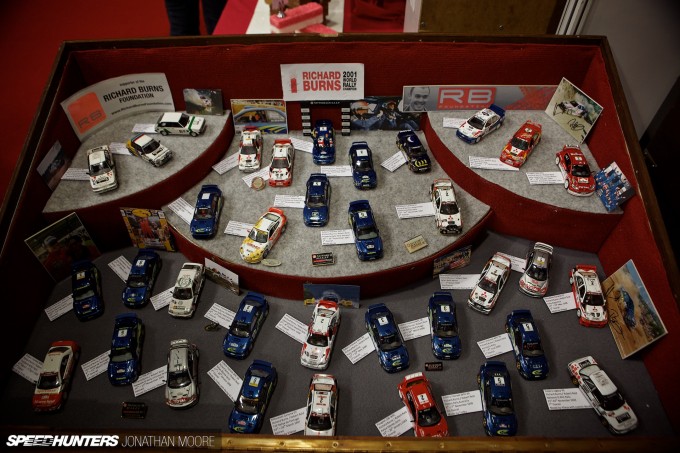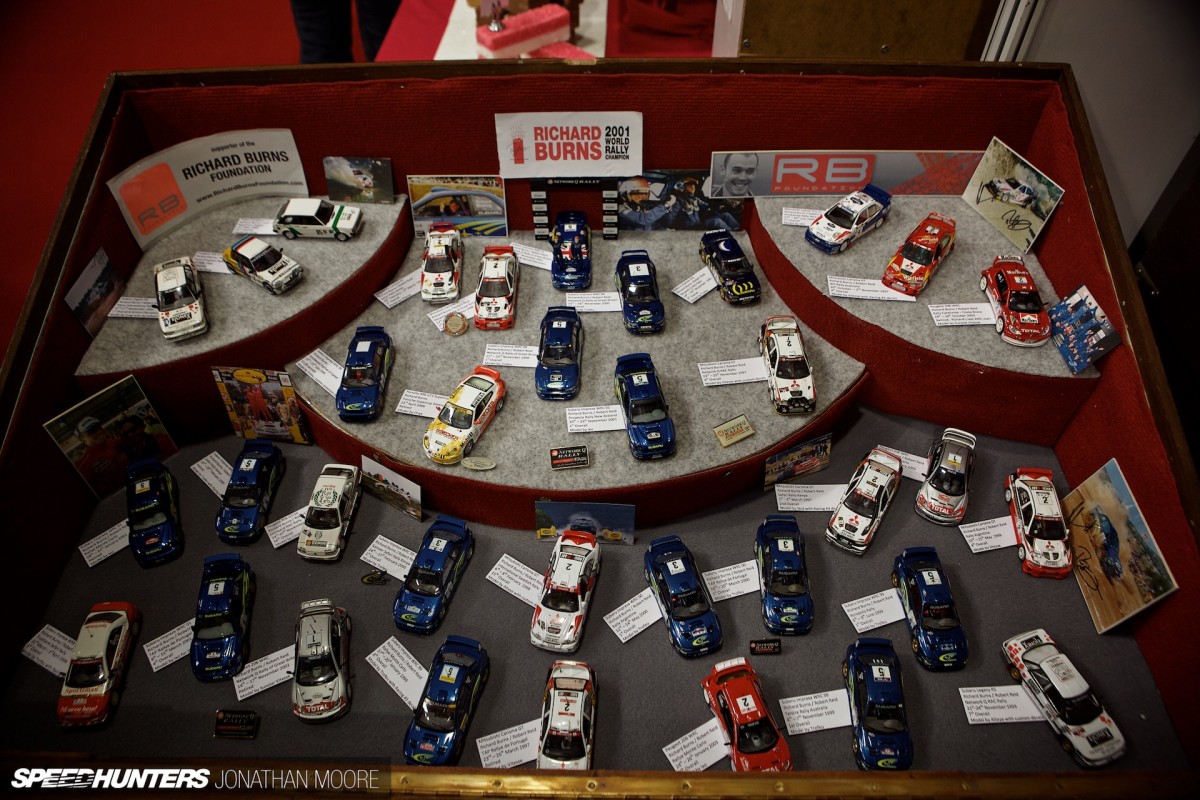 Taking die-cast models as a base, Dave Cox and his fellow modellers then meticulously recreate not just liveries but body kits and details. As a variation on the intricacies of plastic model kit building, this kind of completist hobby really appeals to me. In a very dangerous way. Garage space is expensive; shelf space can be expansive…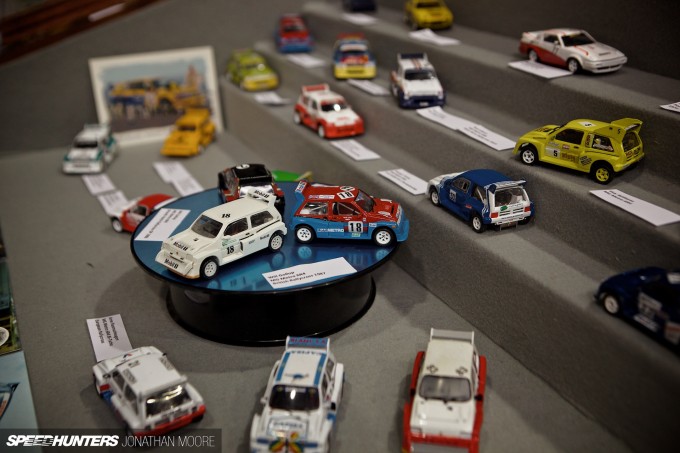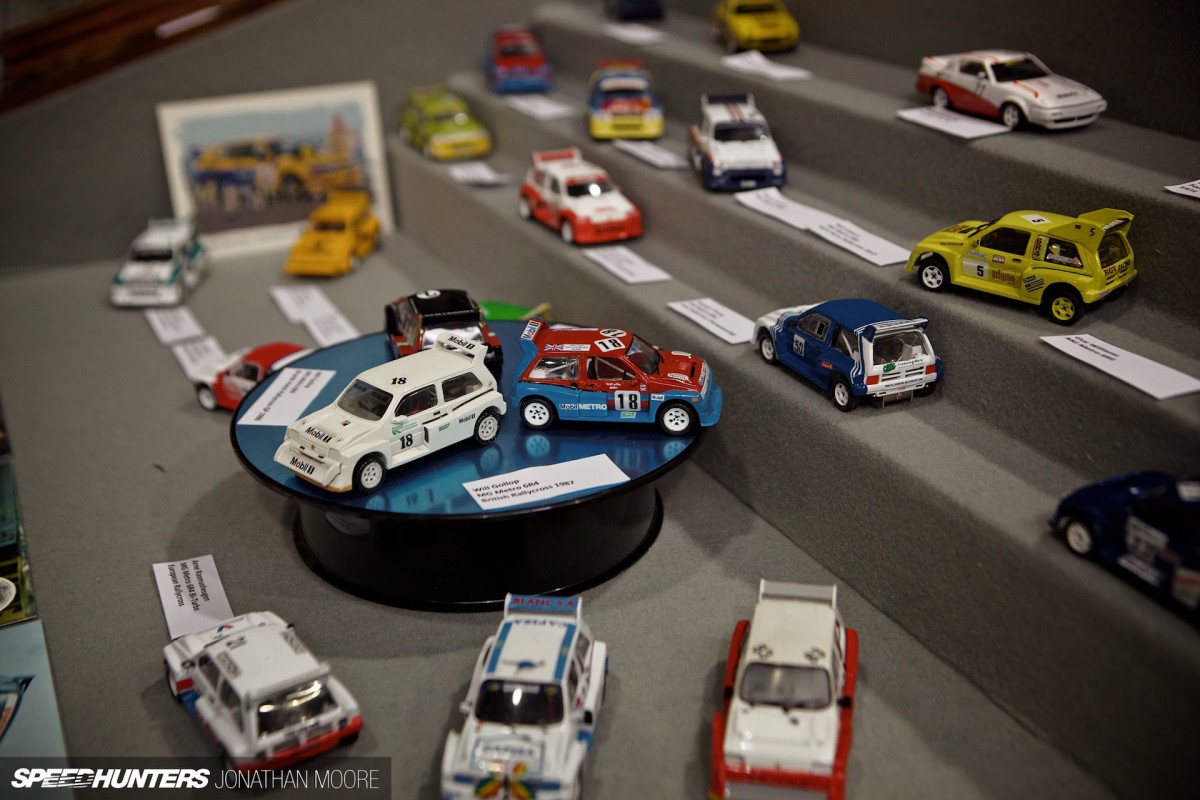 Opposite was a cabinet full of Metro 6R4 models. I used to do exactly this kind of with F1 cars when I was young, using the models that were available to make the ones that weren't, like the twin-wing Toleman TG183 that Senna drove. Happy days!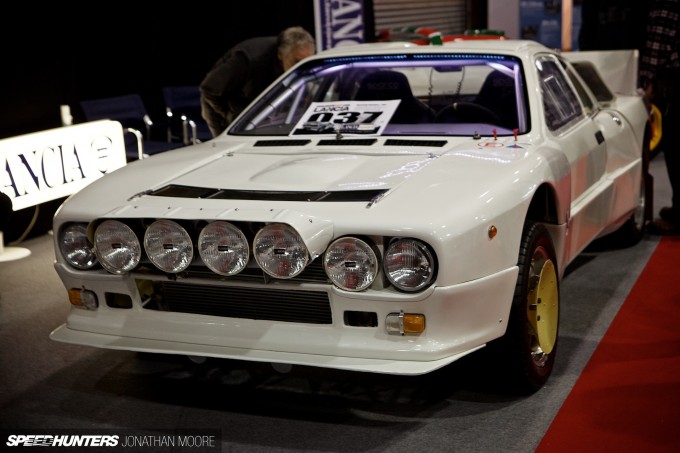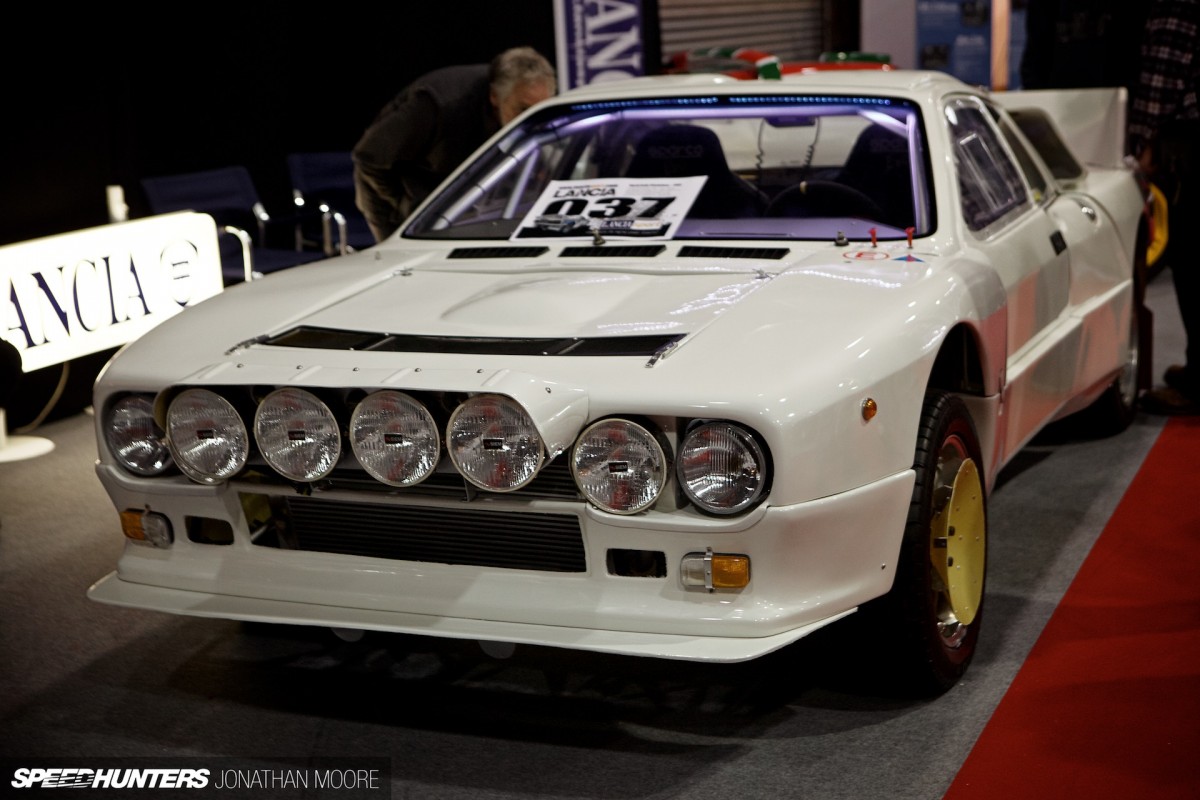 From small scale models back up to full-size kits. The Lancia Beta Montecarlo celebrates its 40th anniversary this year and though the road car might have a bad reputation for low build quality and rust, but the Pininfarina design can't be knocked and the two competition silhouettes it spawned – the Group 5 Turbo and rallying 037 – are true icons.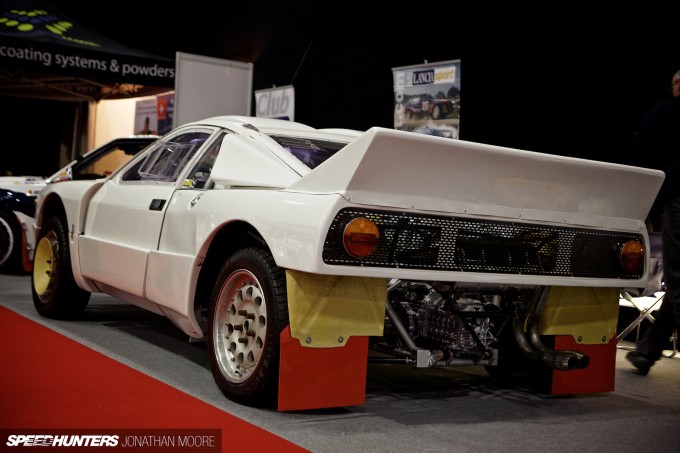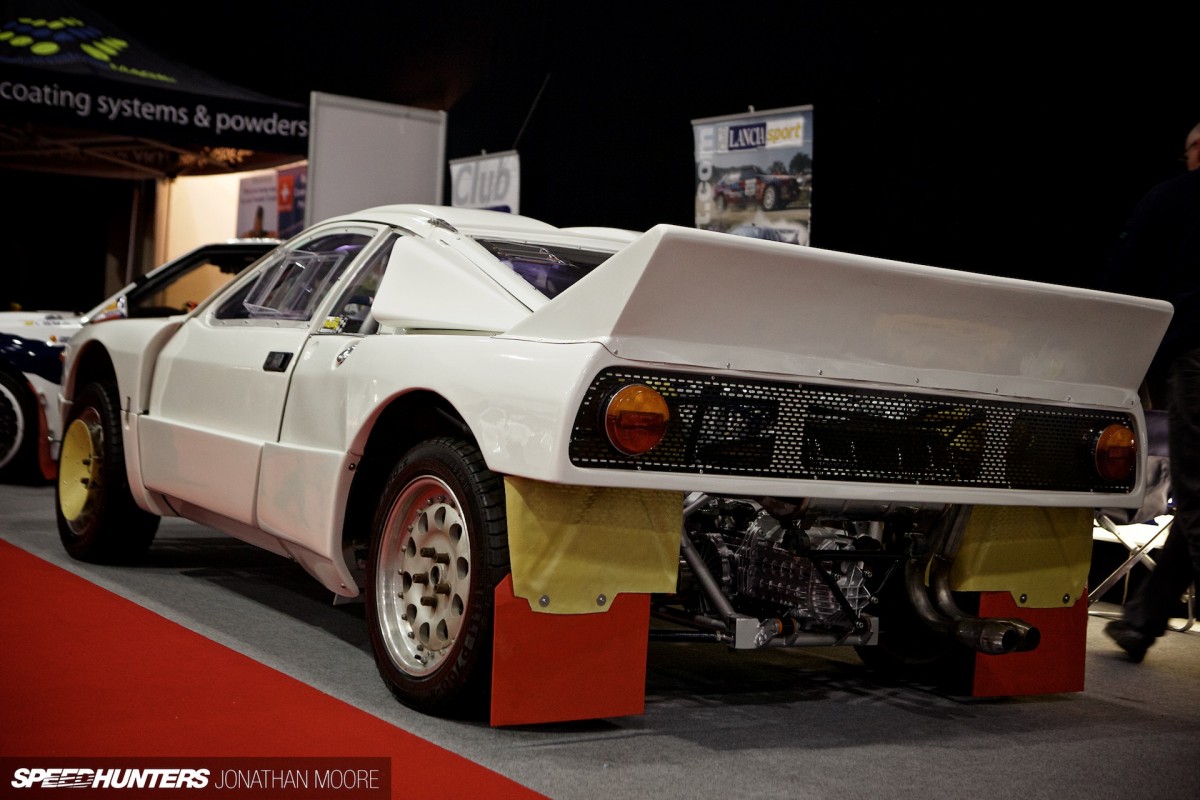 Rally Legend Replicas have already created kits to recreate Lancia's fearsome S4, based on a Delta chassis, and this 037 follows the same approach of staying true to the original wherever possible whilst providing a relatively affordable way to own this epic rally car.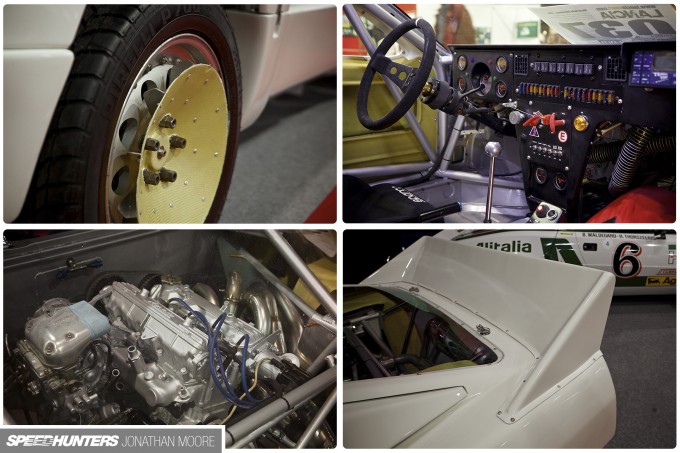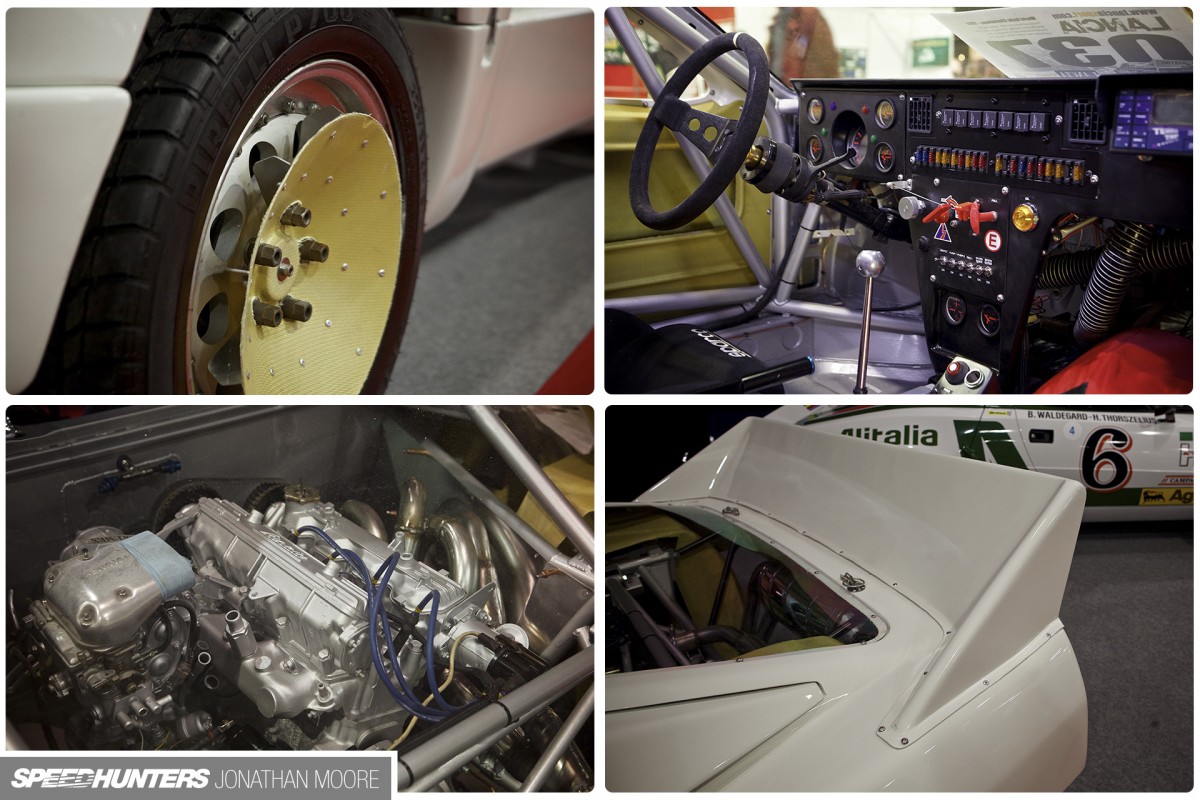 Starting with a reinforced and caged Montecarlo chassis, panels made from original moulds are used and the engine is a supercharged Beta Volumex 8-valve mounted longitudinally – the original 16-valve is horrifically expensive…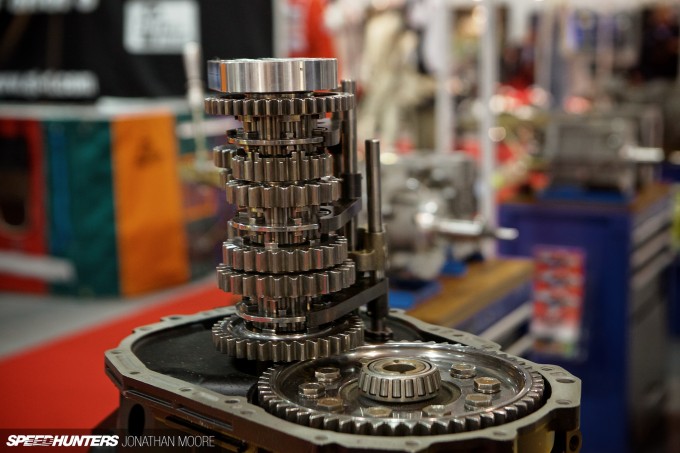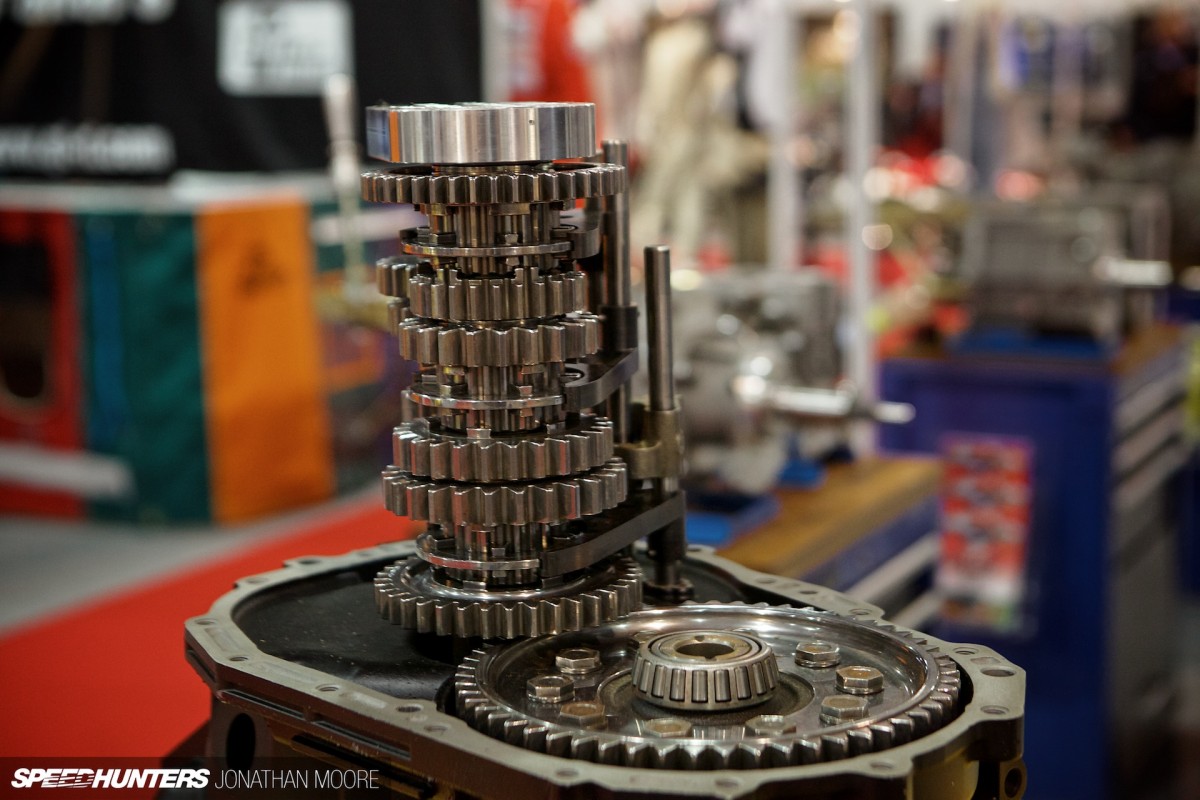 Fighting the urge to get over-excited about the idea of owning an 037 replica, I staggered off to uncover the other half of the show, where you can really get to the nuts and bolts of classic competition car ownership.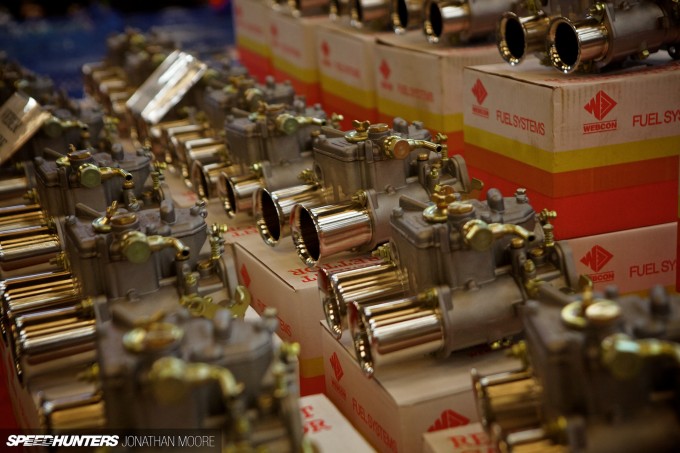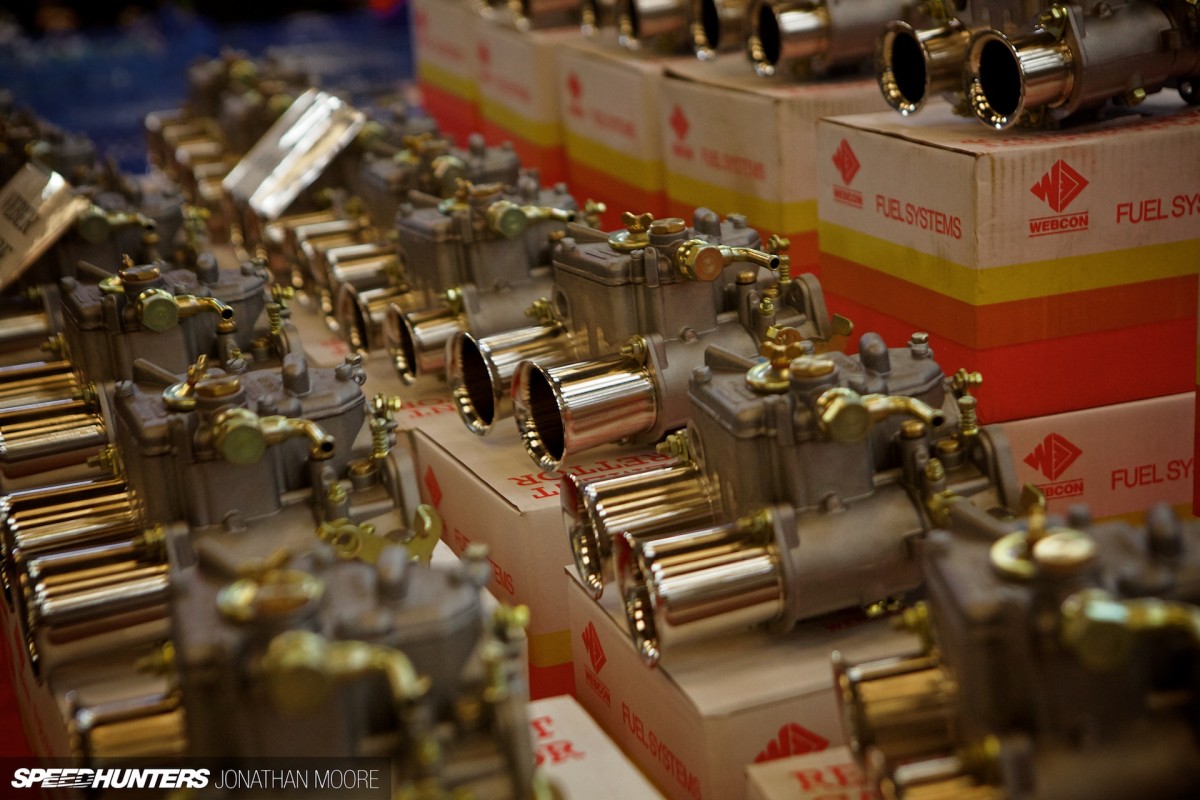 There's a huge industry supporting the retro racing scene, dedicated to supplying every conceivable part. With most historic series mandating original specs are adhered to, that means there's never a computer in sight. Mechanical rules; simple engineering wins. Beautiful things, Weber carbs…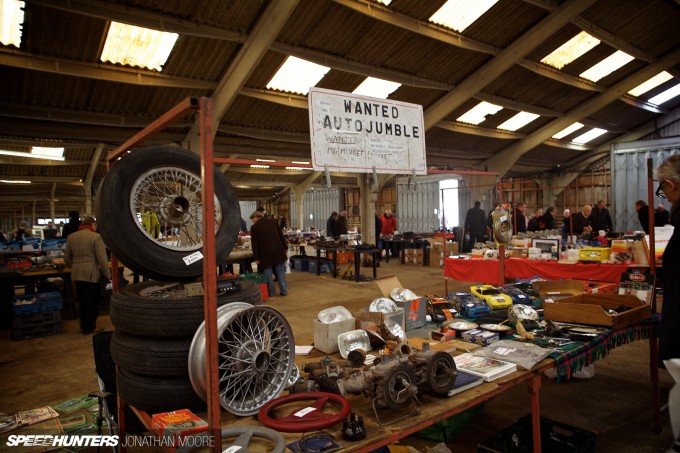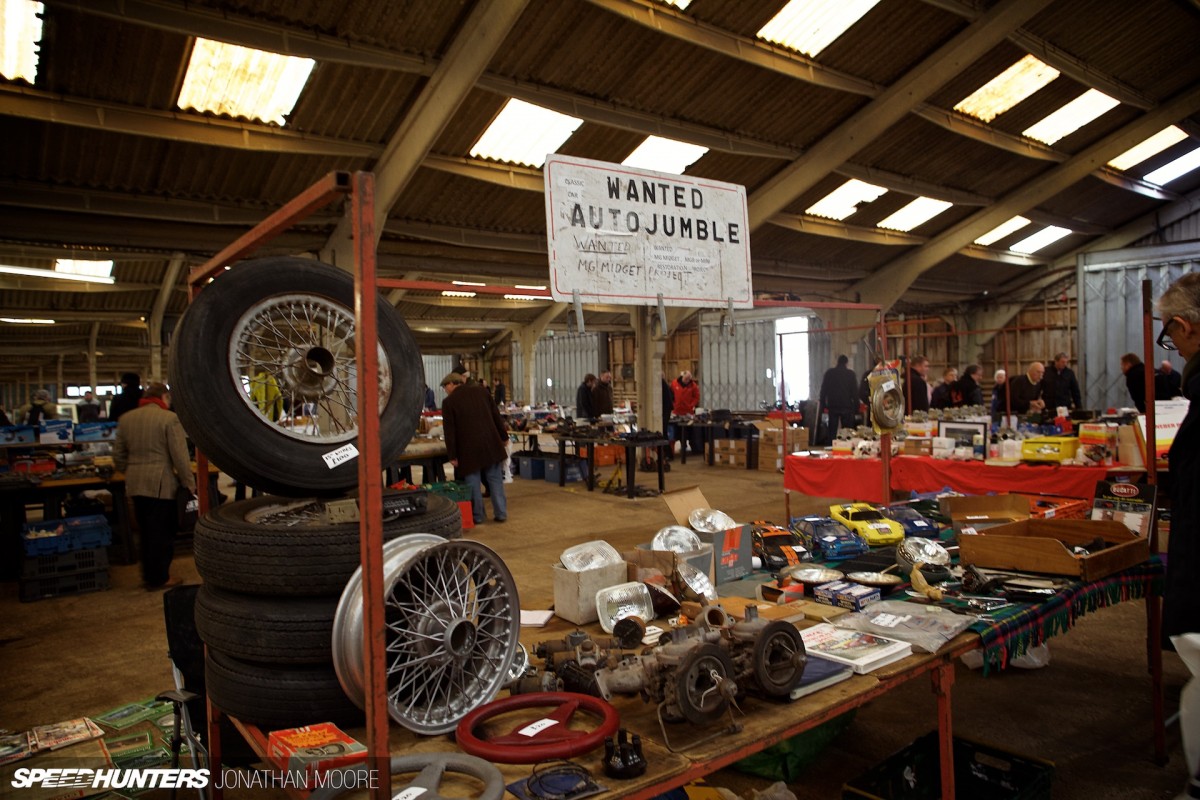 Outside the shining new-ness of the manufacturers of engine components, the restoration specialists, tyre constructors and so on, the auto jumble was like a treasure trove, where you never know what you might stumble upon. It wasn't always about selling – a show like this was going to be the perfect place to do a bit of quid pro quo.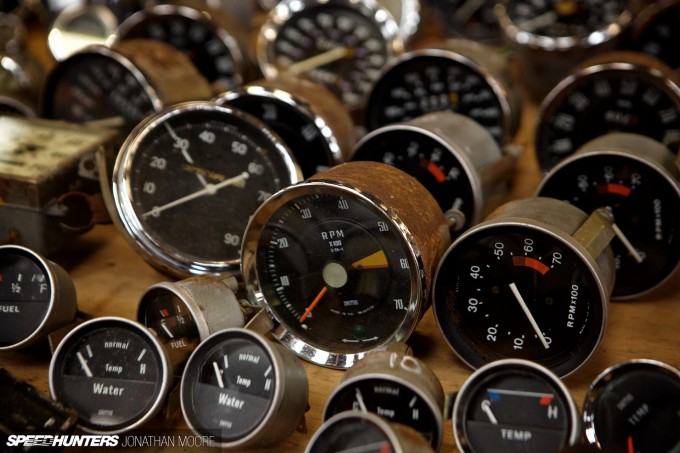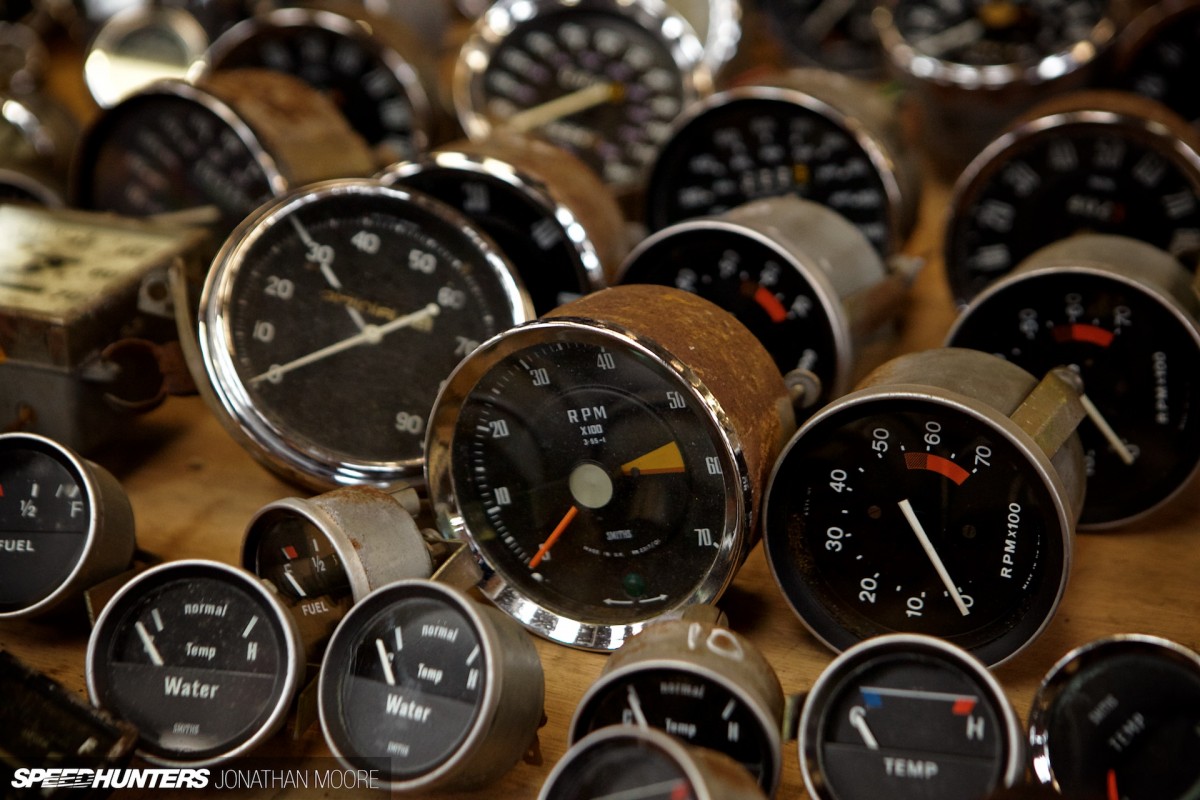 If it wasn't for the fact that someone, somewhere was probably searching for exactly this speedo, it would make for a hell of a display piece…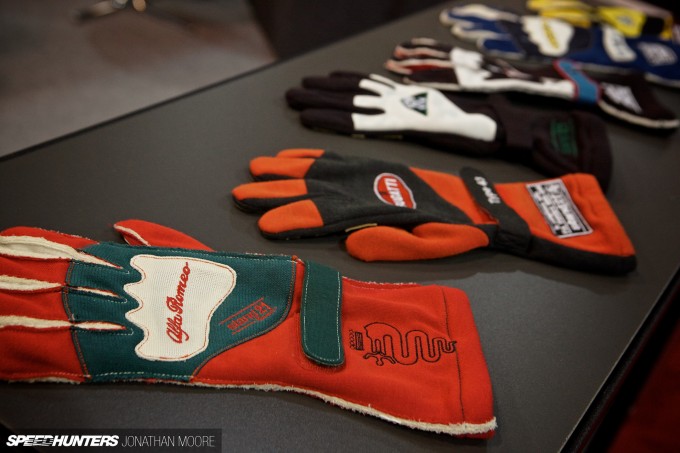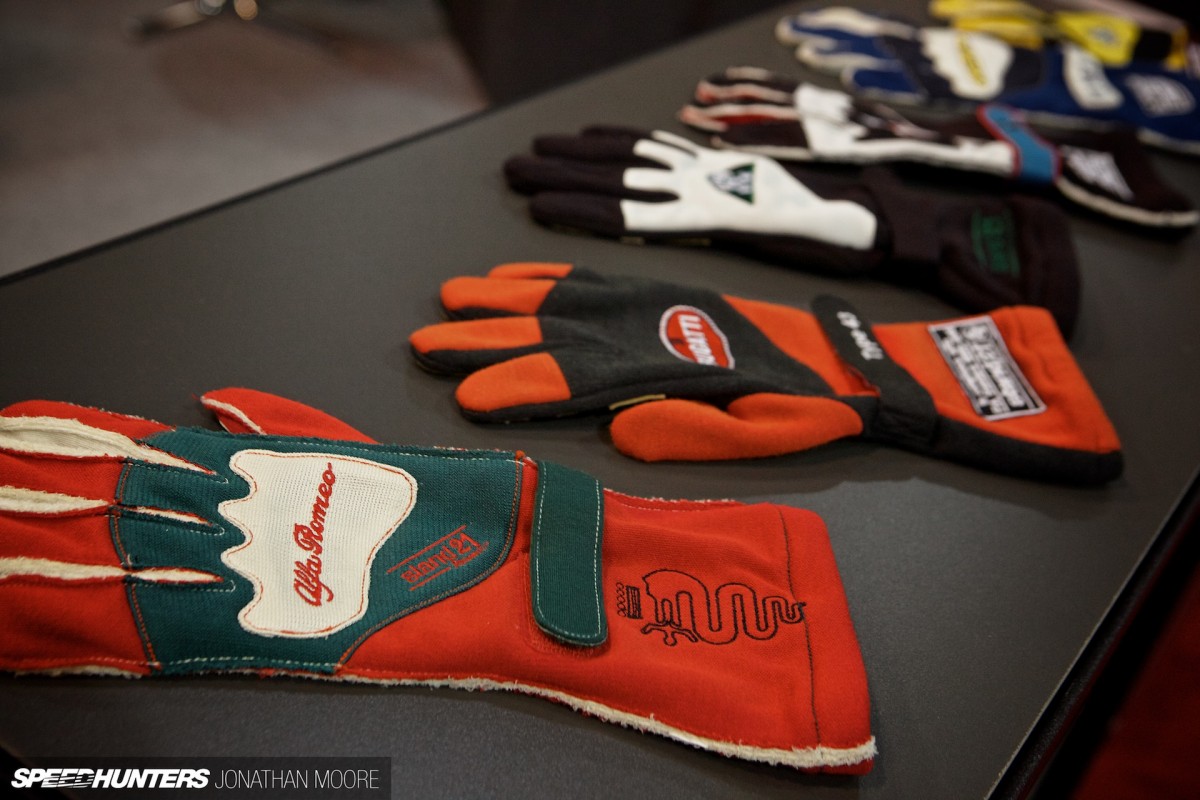 So if people weren't just looking about, they were building; and if they weren't building, there were likely driving.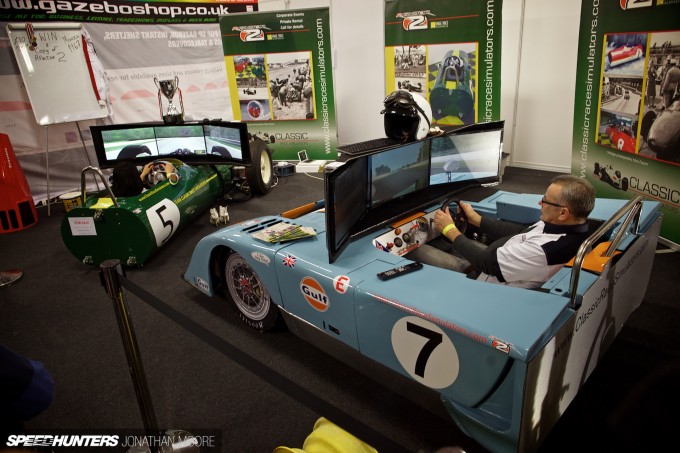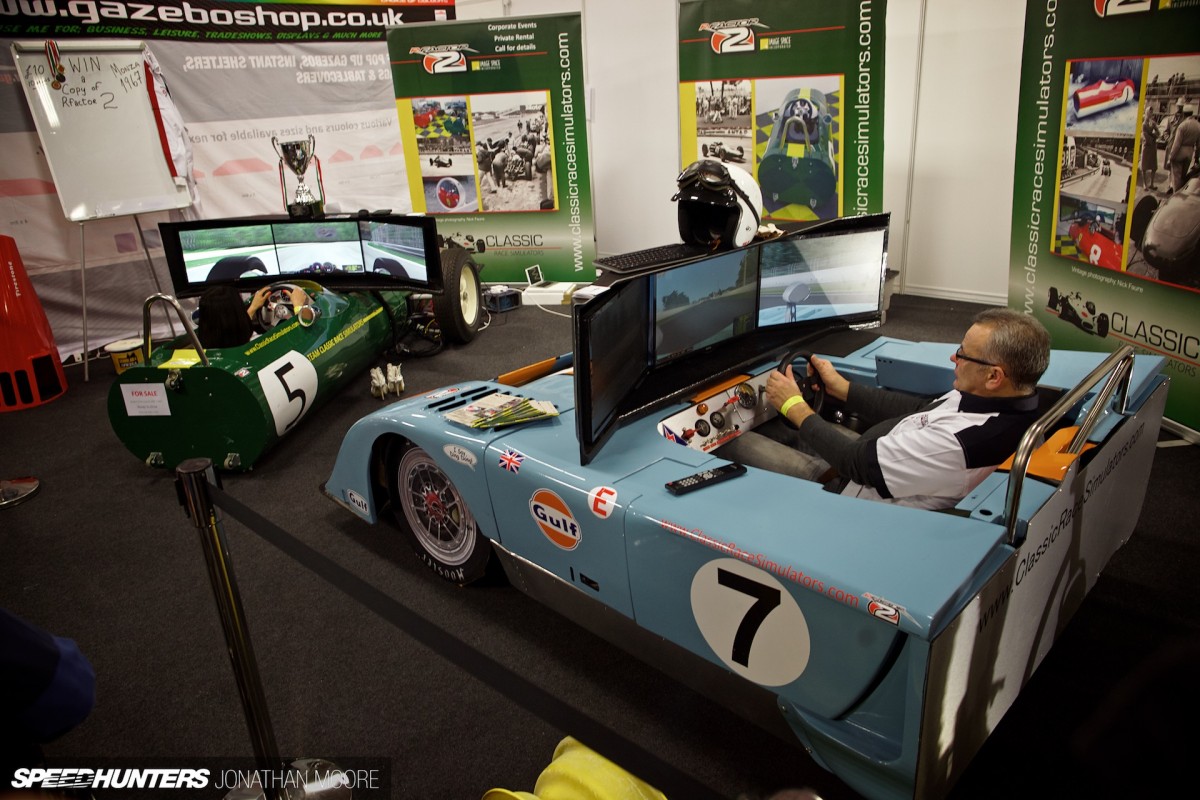 It turns out there maybe is a place for computers in the world of classics… Though if you can afford a simulator rig like one of these you can probably afford a club-level racer!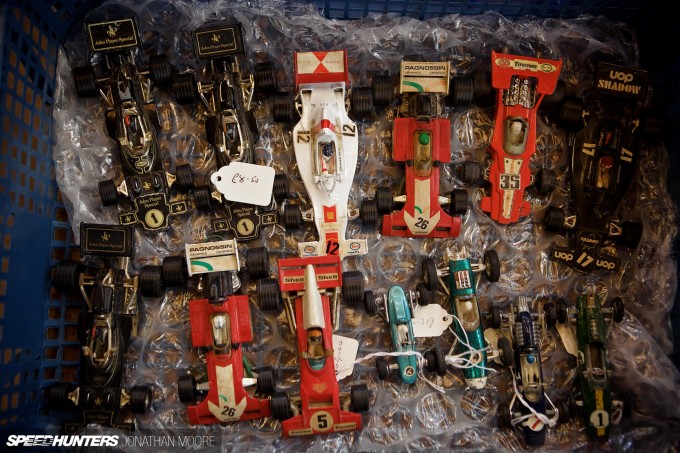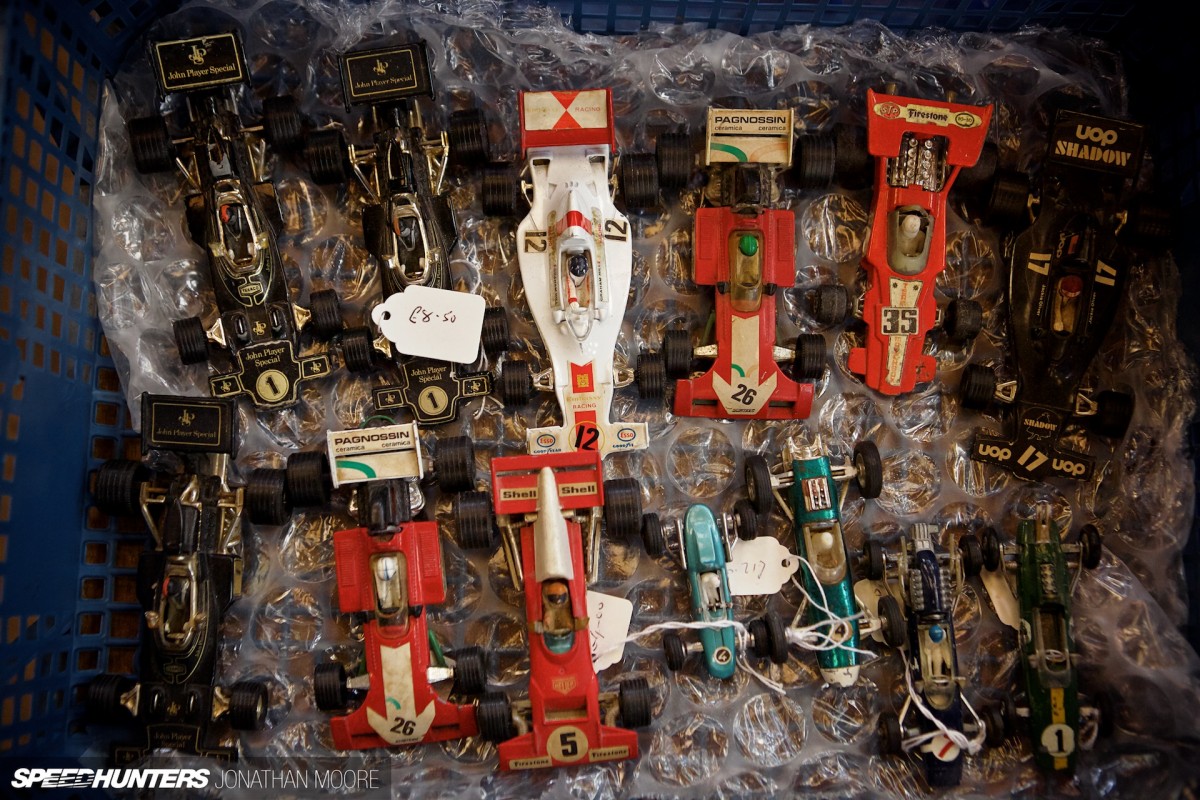 So it was back to the rooting around in the auto jumble, full of nostalgia at the thought of exactly one of these Andretti Lotus 72s sitting on my shelf at home.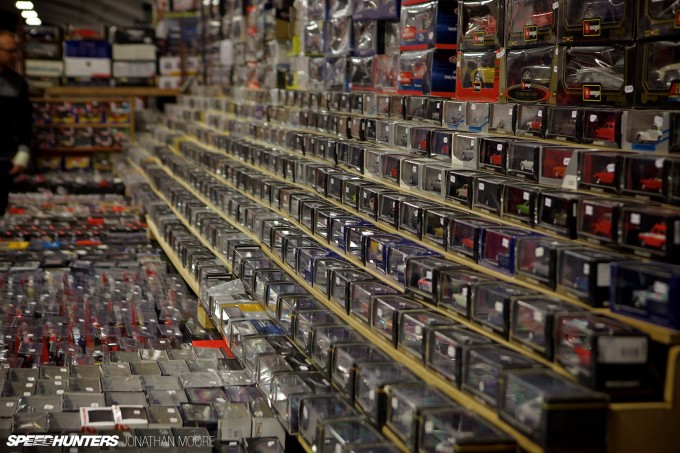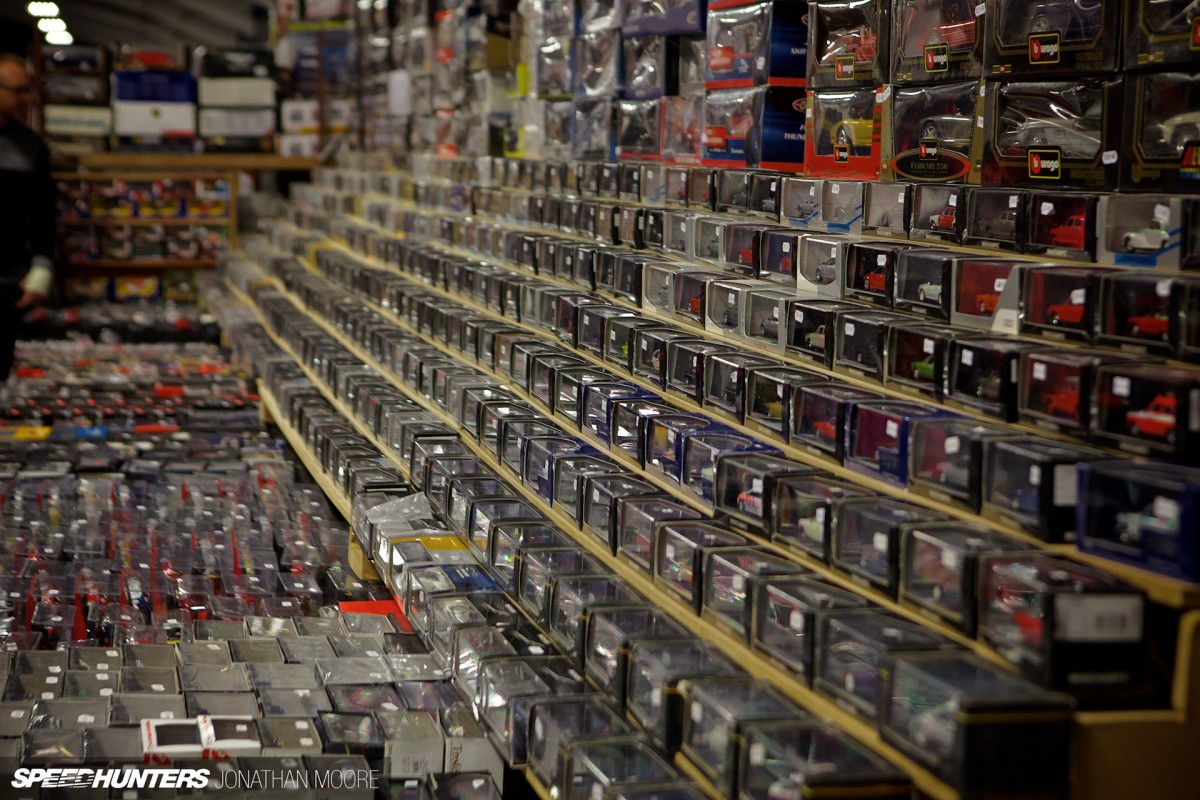 It's just as well my shelves and garage aren't yet expansive… It's just great to see that every year yields up fresh surprises, new builds and rebuilds, people following their passion to create replicas of cars they idolise and the continuation of the general atmosphere of enjoyment and positivity that pervades the classic racing scene. Retro racing cars to be raced anything at but retro pace? You've come to the right place.
Jonathan Moore
Instagram: speedhunters_jonathan
jonathan@speedhunters.com