A Karts To Riches Story
Hardly have we rubbed the sleep from our blurry 2014-spec eyes than the Autosport Racing Car Show drops by to slap us awake and remind us that there's no such thing as an off-season any more. UK's annual motorsport jamboree was packed with a better-than-normal array of goodies last weekend, covering the entire spectrum of racing opportunity – whether you want to go round corners, through forests, sideways, straight-on for a quarter mile or any combination thereof.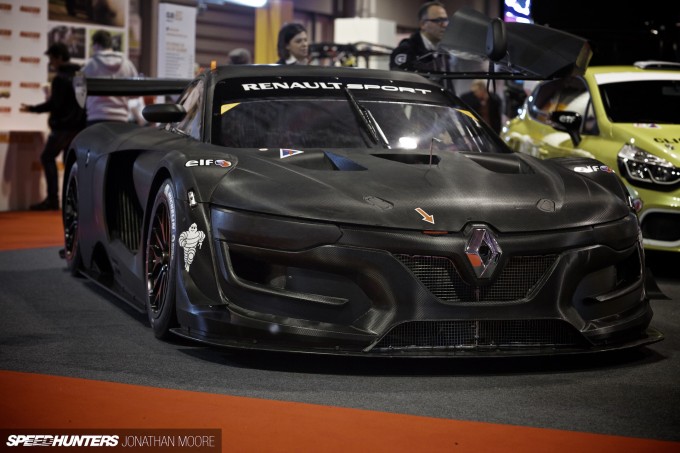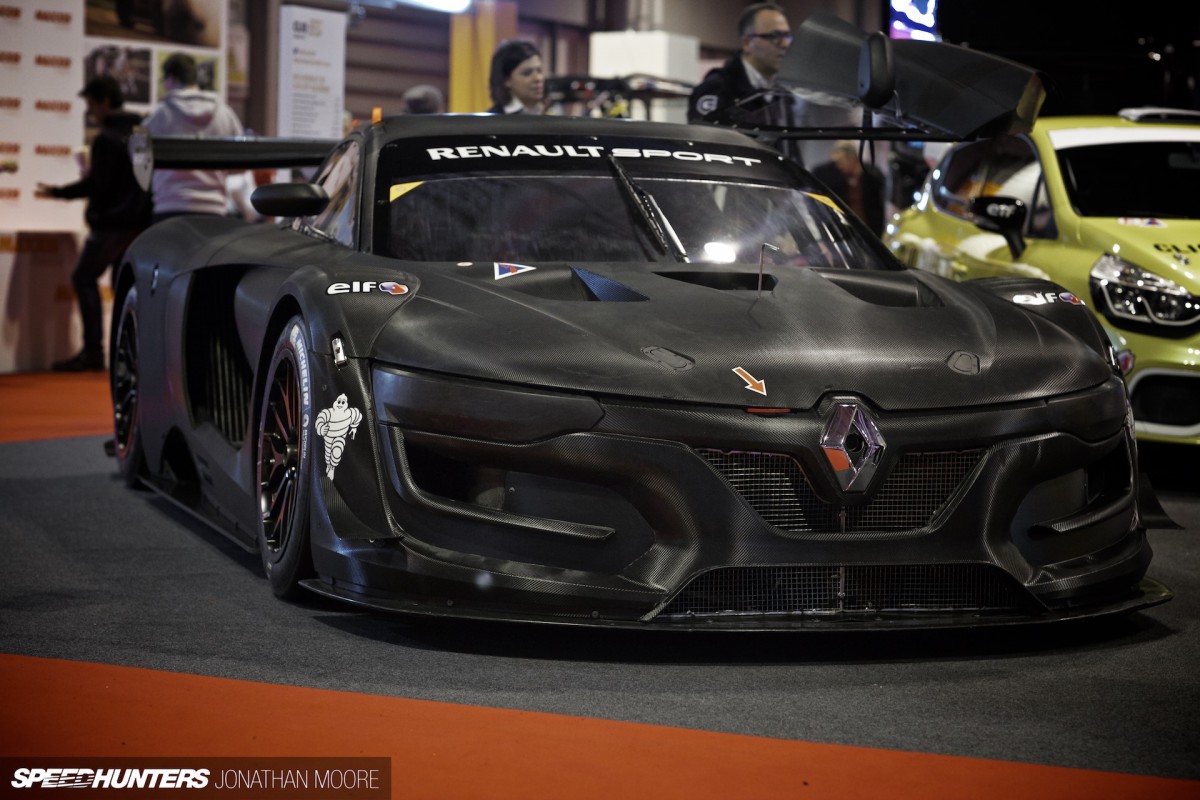 Autosport is the place to check out the latest offerings from teams big and small in all their glory – from full-on carbon stealth racers to back-shed steel-and-fibreglass specials. Although it's usually the latter that provide the most excitement and interest, this year there were a couple of big-hitters who had obviously been hard on the juice in the run-up to 2015.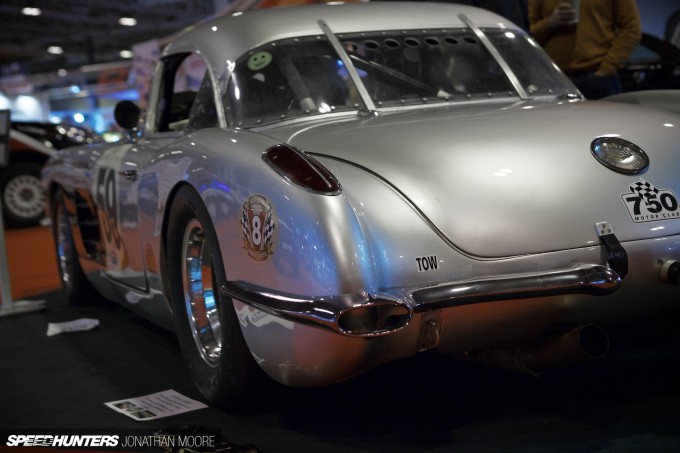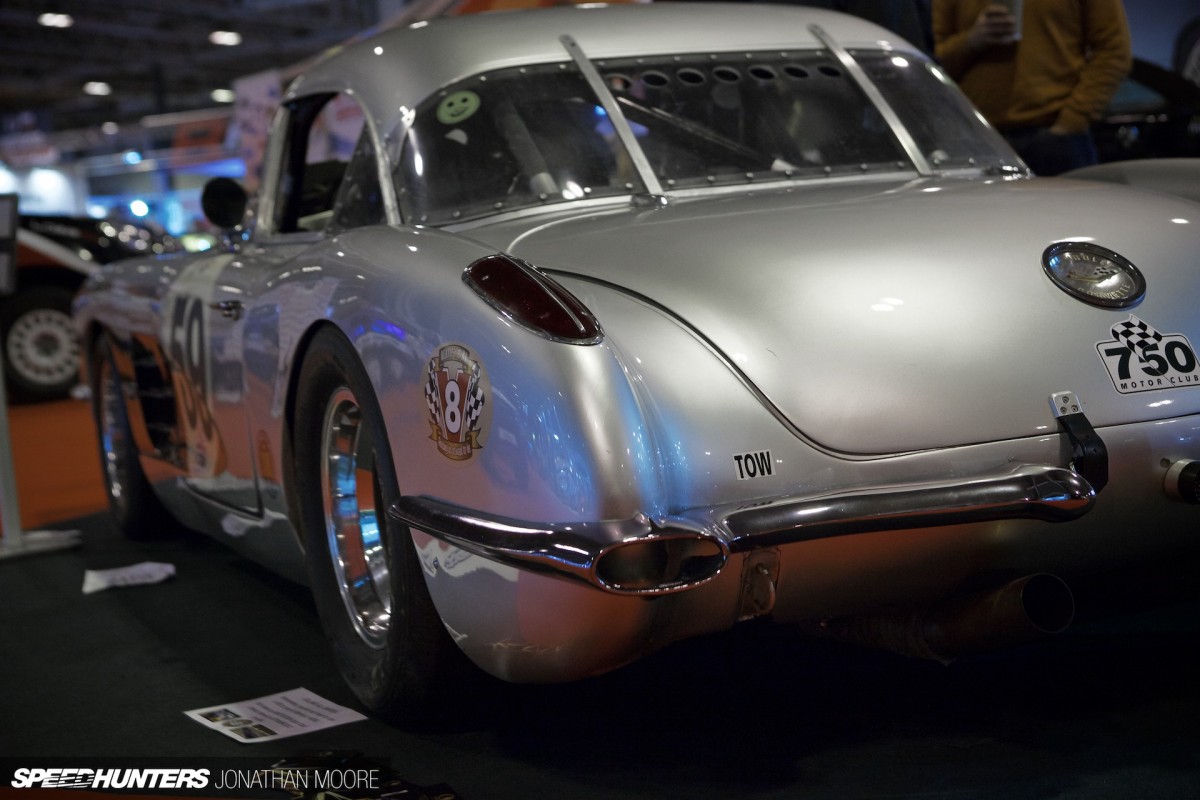 Historics are seemingly still where it's at though. It wasn't a surprise to see racing following street trends, with an an every increasing number of classics-based series on the prowl for new acolytes. And that's the rub. It's easy to treat Autosport as a kind of museum-in-a-hall (which in itself is no bad thing), but it's really about getting people involved.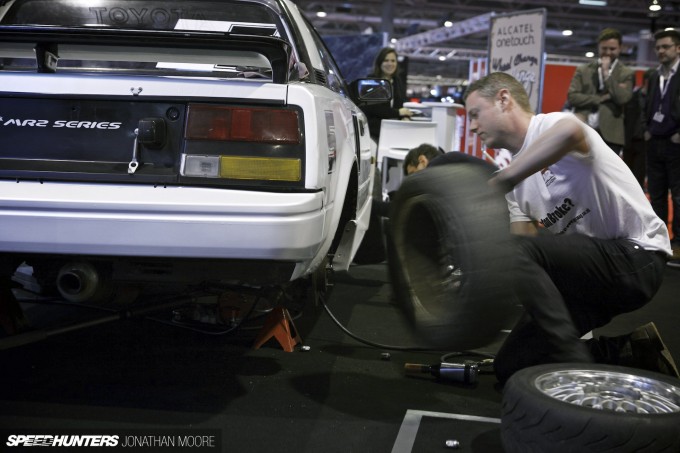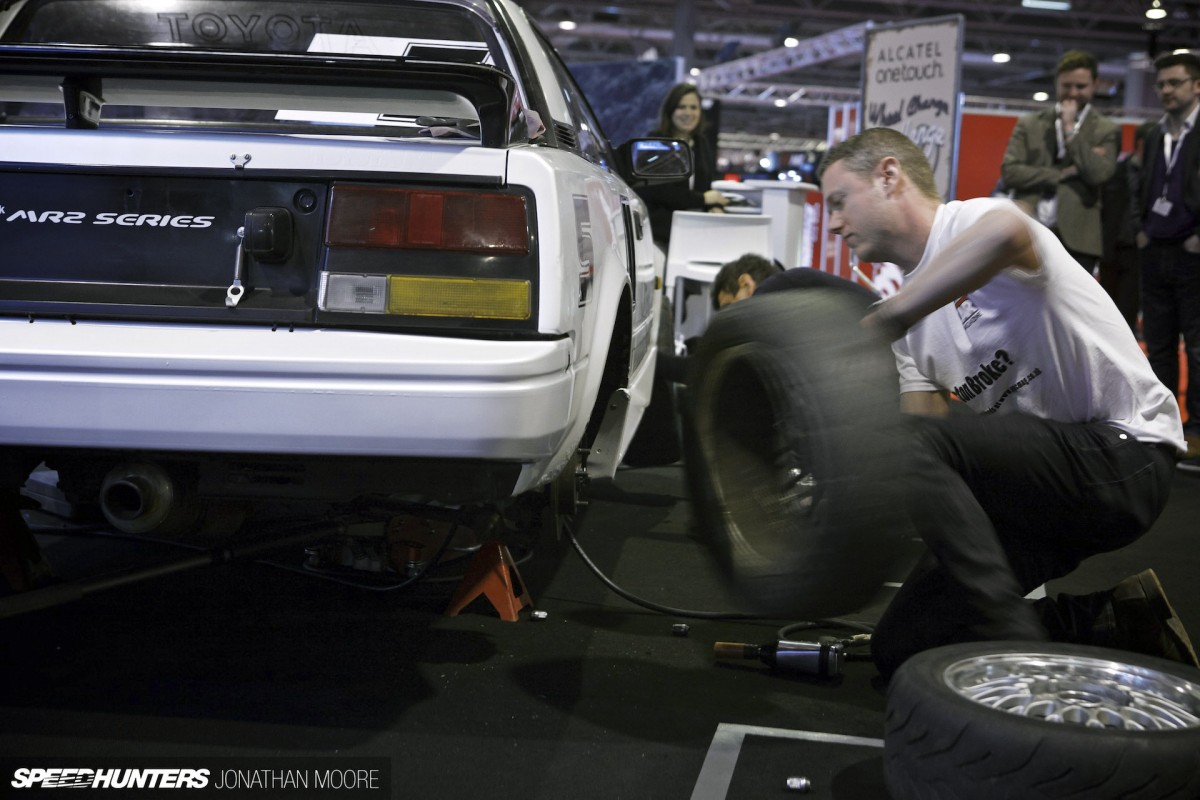 It's also about getting people out on a rally stage. Or onto a drag strip. Or with an airgun in their hand. Or whatever. This show is about getting you behind a wheel – whether one that you turn to make a car steer or the ones that actually do the steering.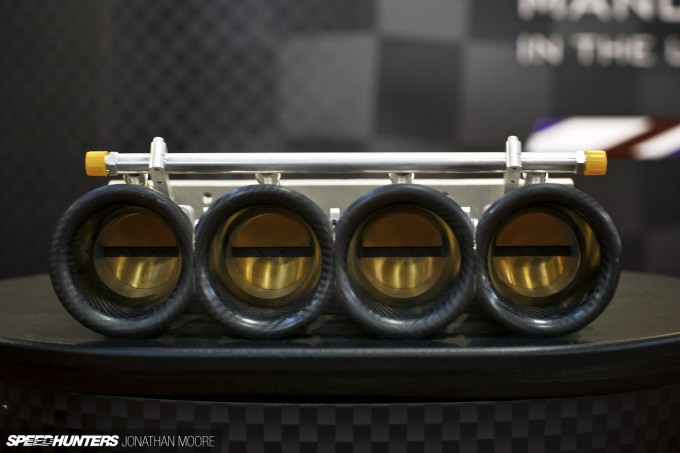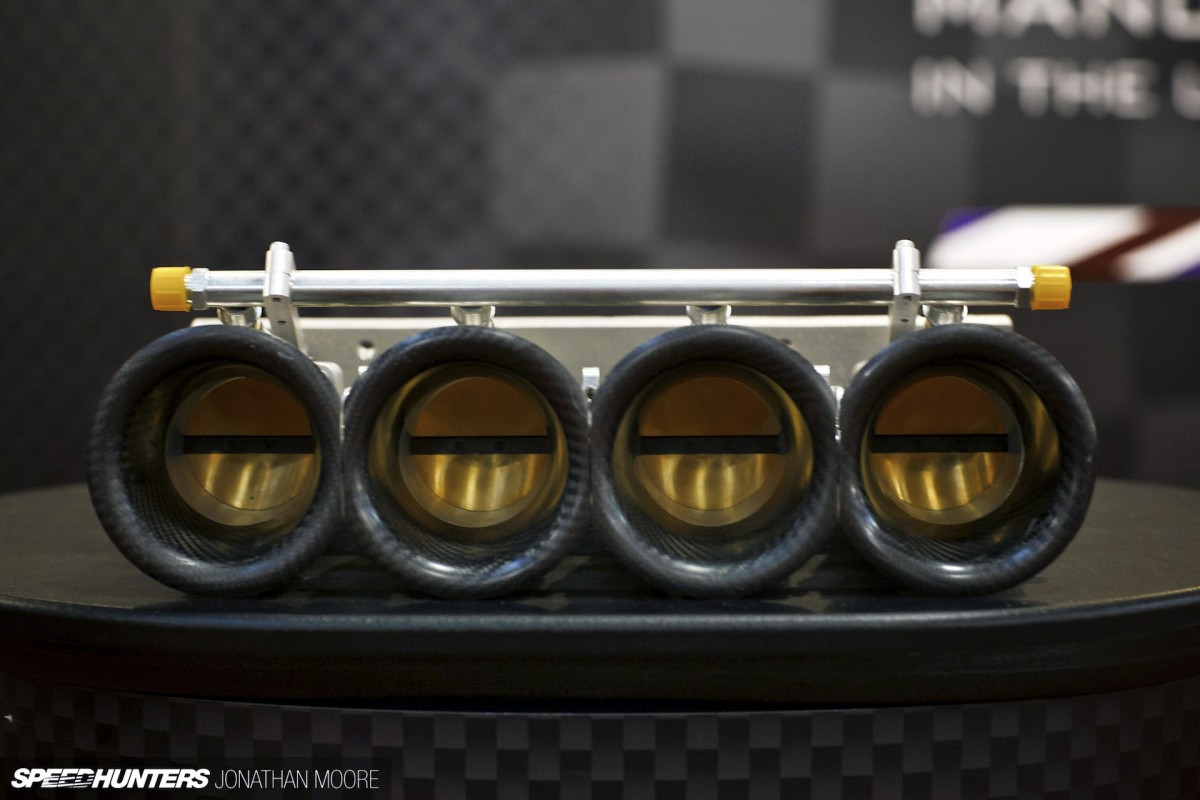 Autosport is also very strong on the building and tuning of performance and competition cars, and supporting that side of the industry. Hence there's an entire hall dedicated to engineering, though it's a shame it was only open for the two trade-only days.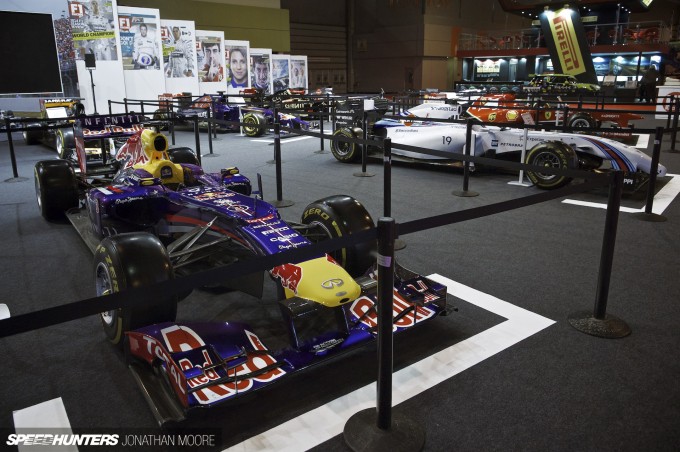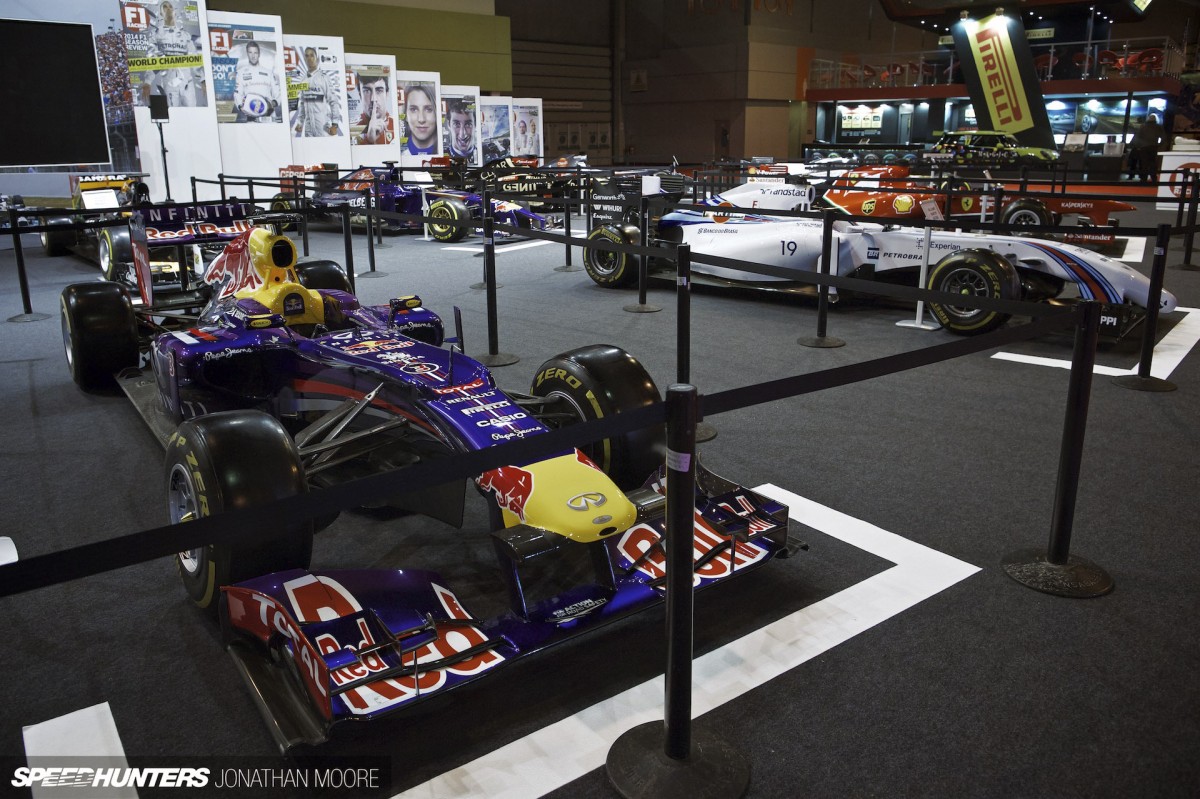 In the midst of all this good stuff, what was once the major draw – the line-up of contemporary Formula 1 cars – seemed like a side-show… Although playing the usual game of 'spot the year of all the different aero parts used on the cars' is always mildly entertaining.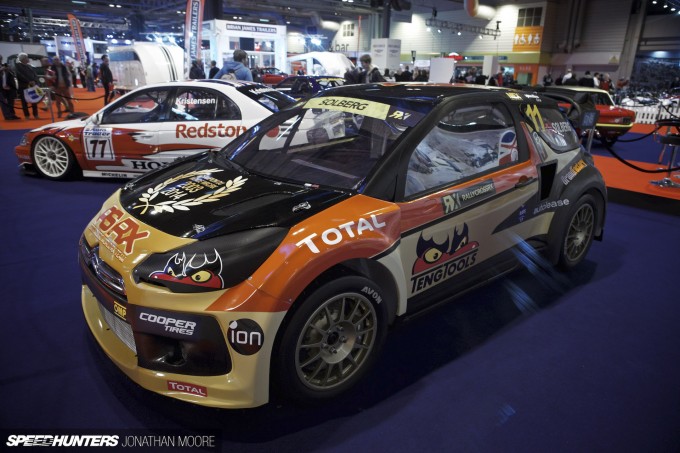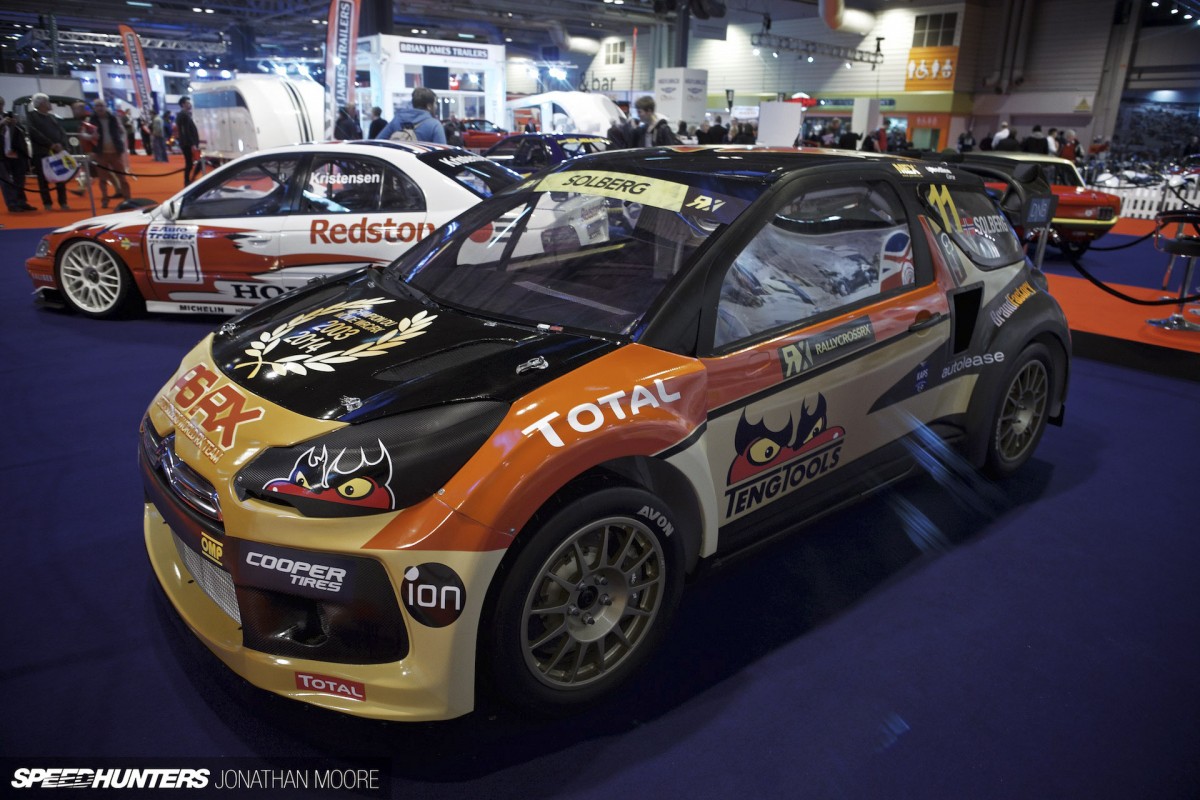 Personalities abounded, it was great to see championship-winning cars from the present and past. But it was even better to see the drivers themselves discussing their mounts in detail.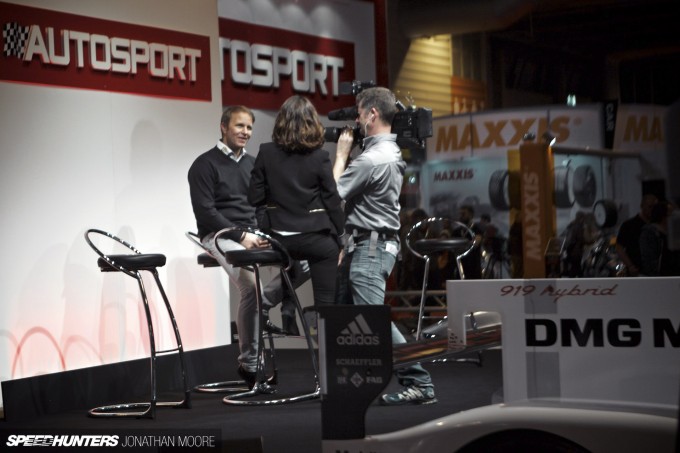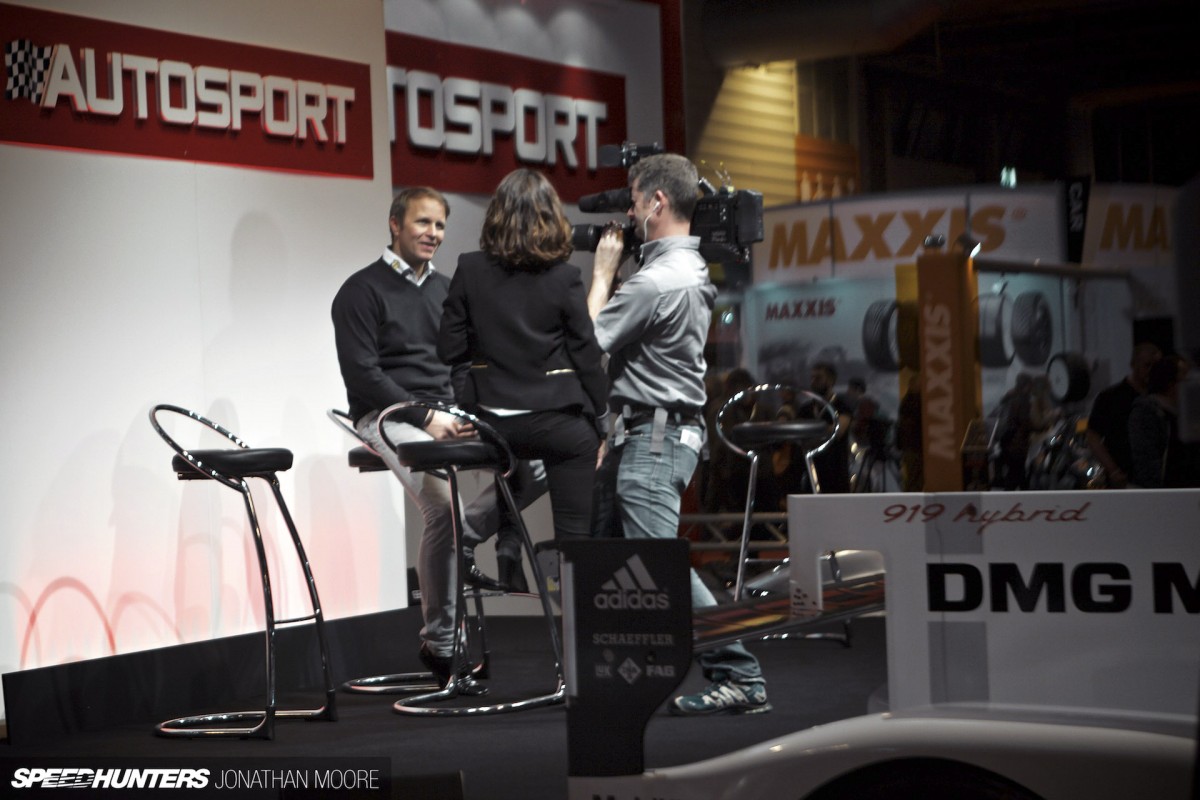 Several stages were dotted about the hall, all with a pretty constant round of racer celebs being interviewed (like WRC and now World Rallycross champion Petter Solberg here) – the plus being that drivers could then often be seen wandering the aisles to take a look around for themselves.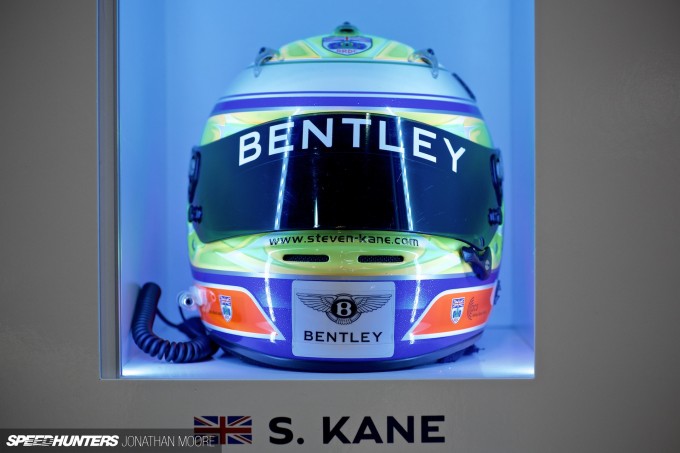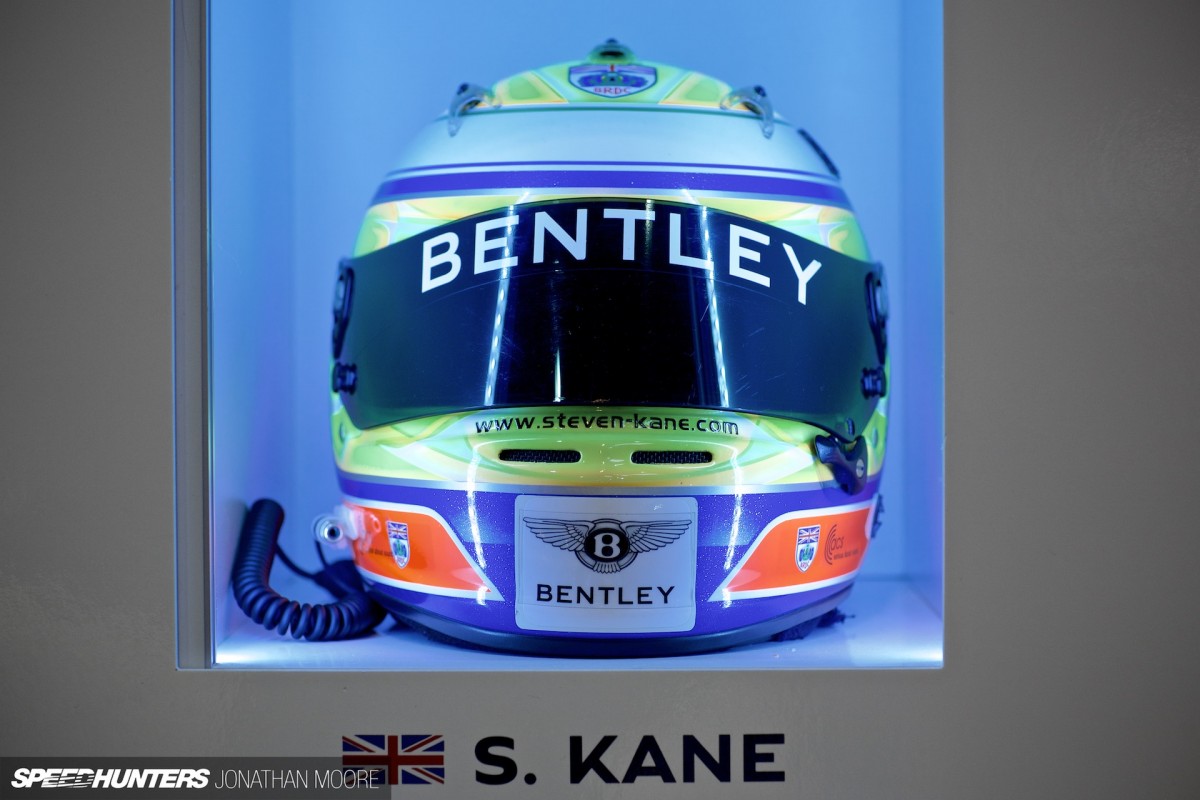 How do we get to be like those guys, drivers representing the pinnacles of their respective disciplines?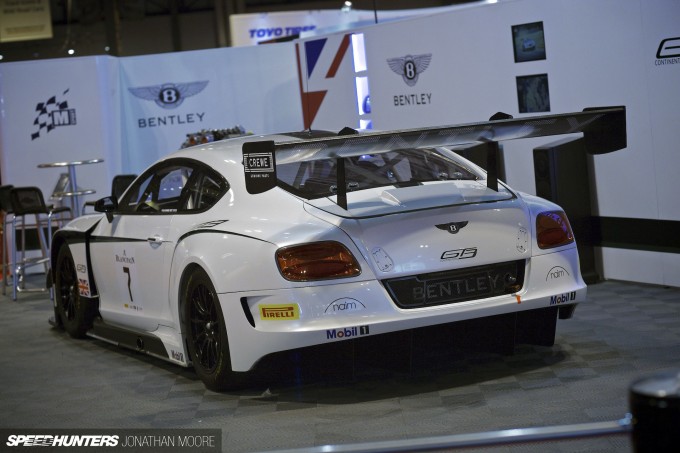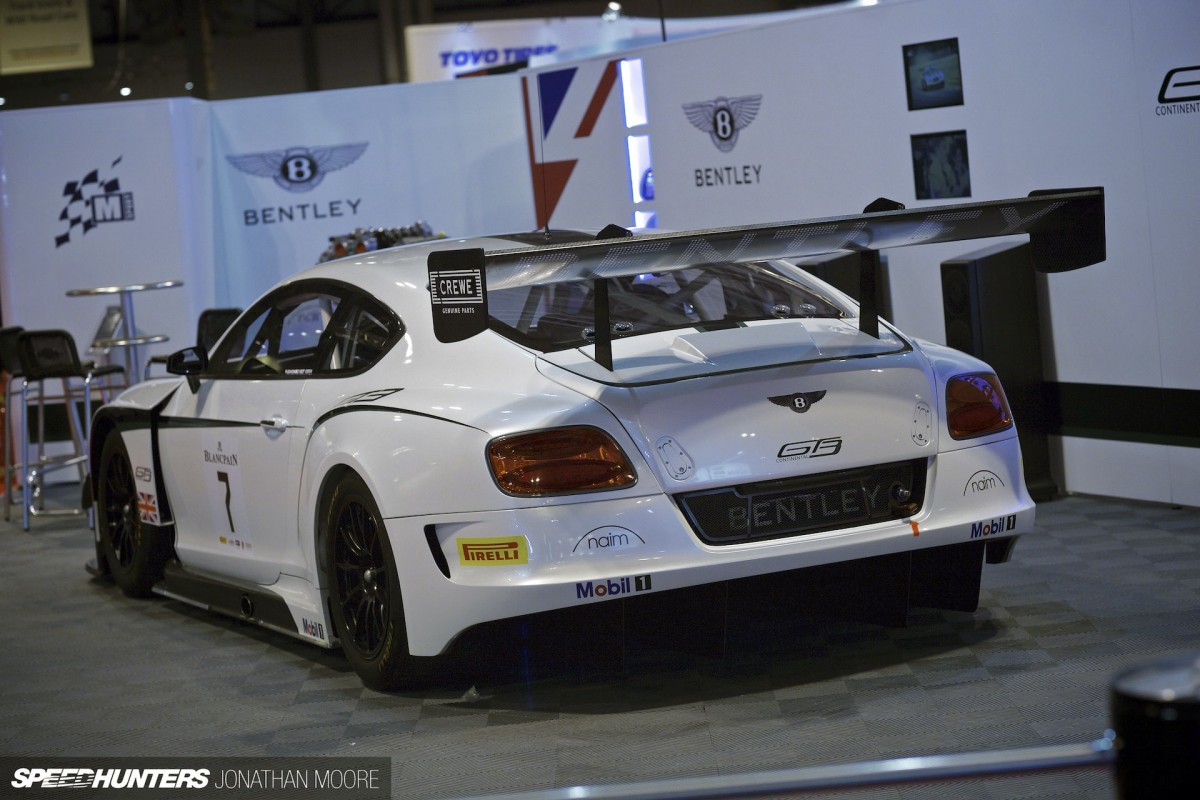 Well, some of the cars they drive were at Autosport. But the number of people in the market for, say, a Bentley Continental GT3 is by definition on the small side. What about the rest of us? What was there for normal people? Size – and prohibitive cost – isn't everything, surely? This year's Autosport provided a very reassuring answer to that question.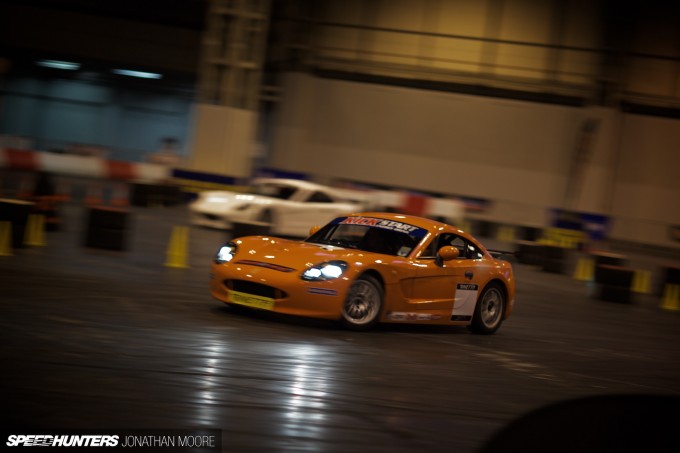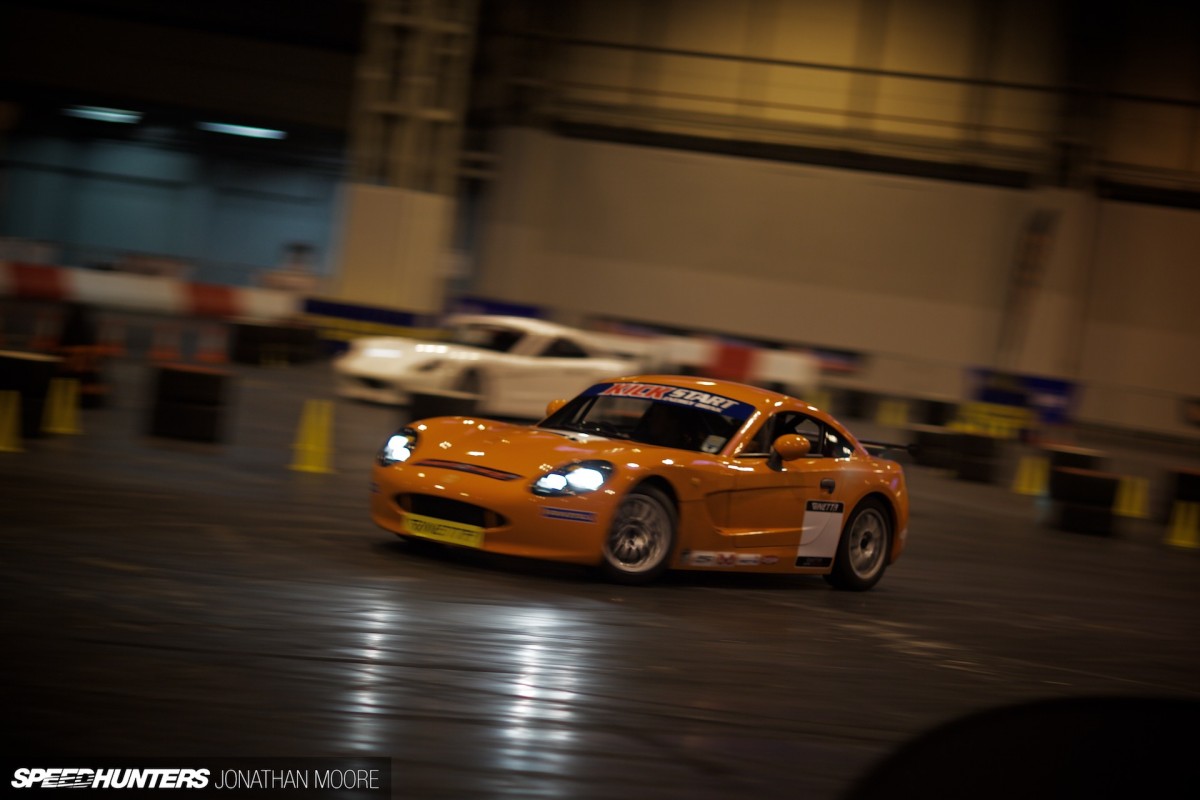 This time around I took a more circumspect approach to the show, trying to not be too distracted by all the awesome but basically unobtainable machinery, and to look at the show from the way it's supposed to be: about demonstrating the plethora of ways to be involved in motorsport from grass roots up.
It started even before you got into the main show hall at the NEC, with a local club organising an autocross course around a car park. Indoors, more engines revved as Ginetta G40s pinballed passengers round a tight track laid out on an adjoining hall's slippery surface.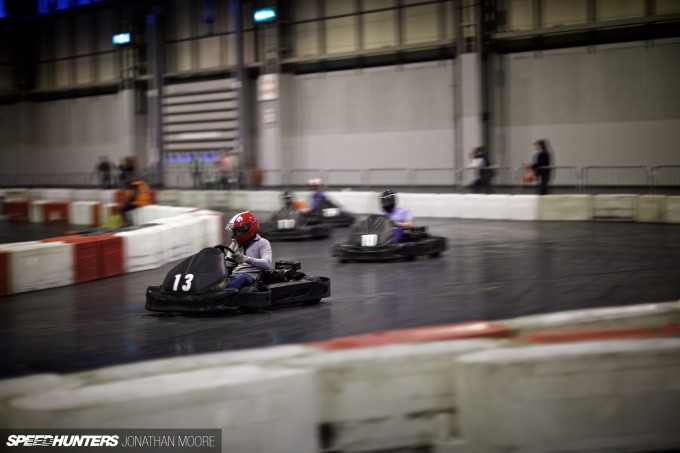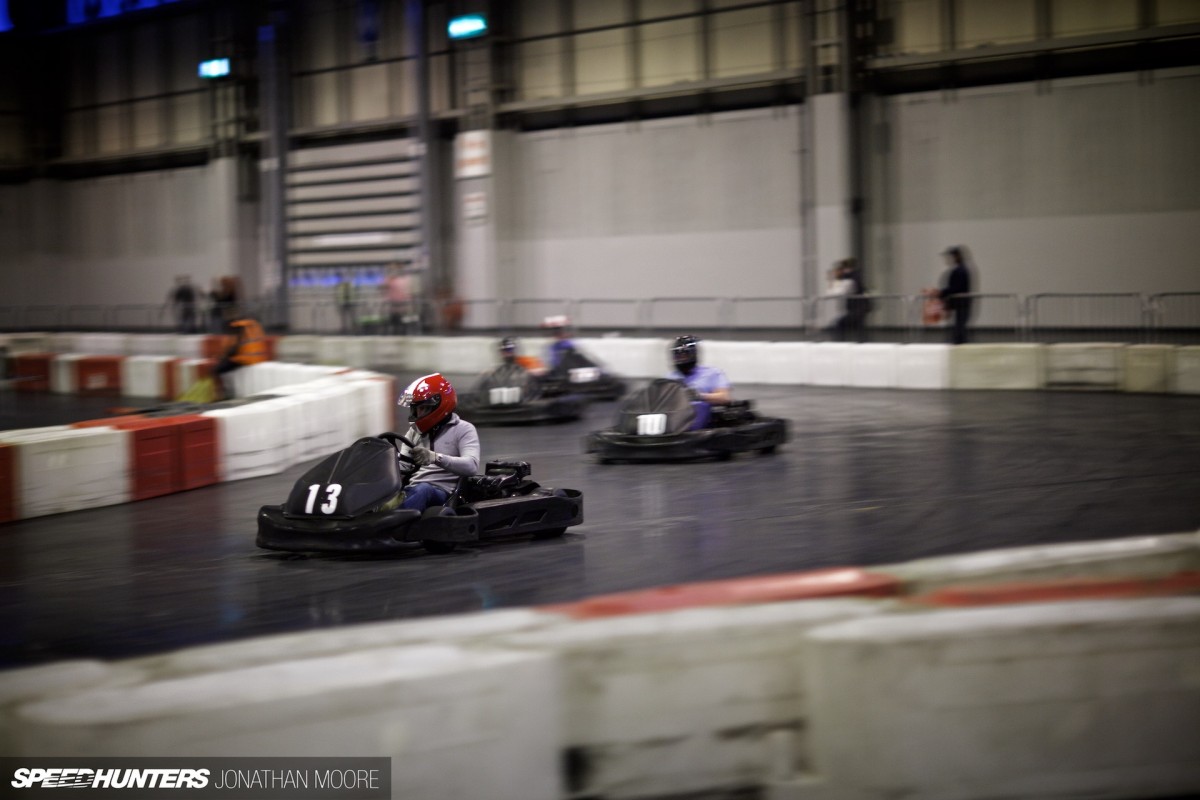 Karting is the obvious example of scratching the entry-level racing itch, though I'm always stunned that top-level junior karting can cost more than serious single-seater programmes. Along with the various kart manufacturers' stands, Autosport also had a kart track laid out next to the Ginettas for attendees to hare round.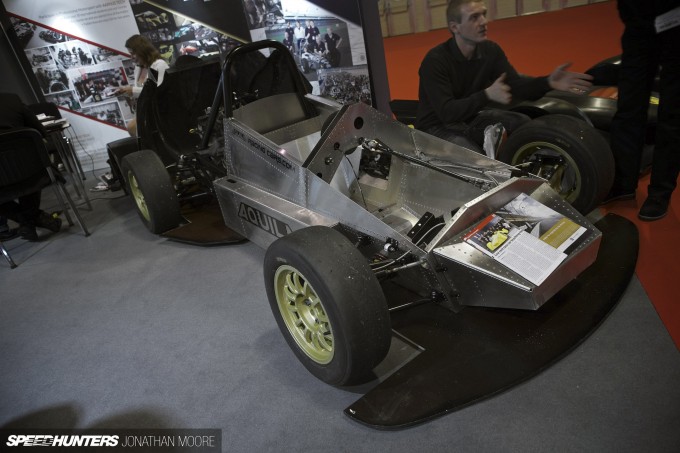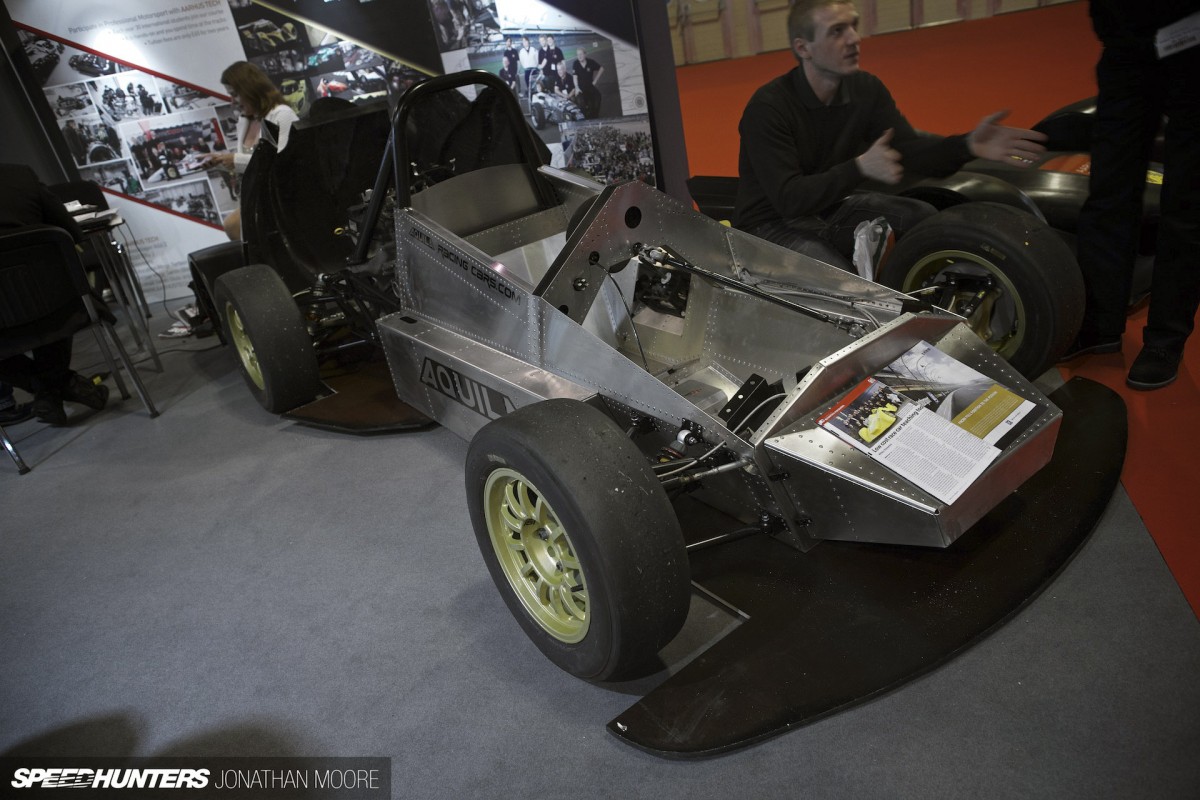 The quantity of college and university-led programmes was impressively represented, and not just from the point of view of courses but also with practical projects. For example, Birmingham City University have teamed up with the Danish Aquilla team, better known for their almost LMP-style V8-powered CR1 sportscar, to create this tiny terror: the 380kg Synergy.
Designed with the help of a graduate of the BCU, this turn-key racer is being sold to universities as a kit of parts, allowing students to learn about the design and build process as well as being able to support and race the finished car.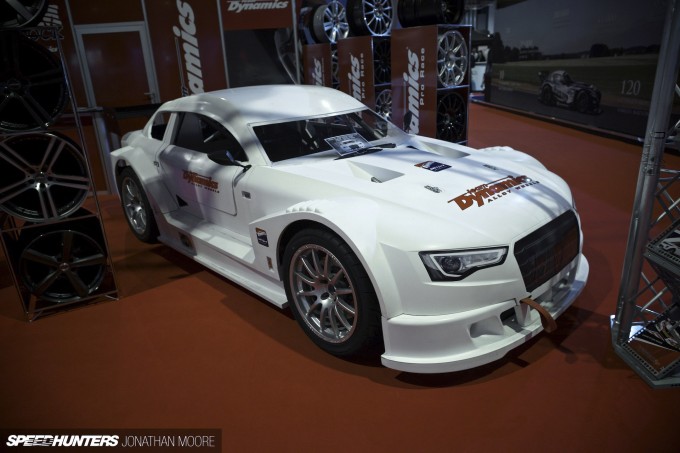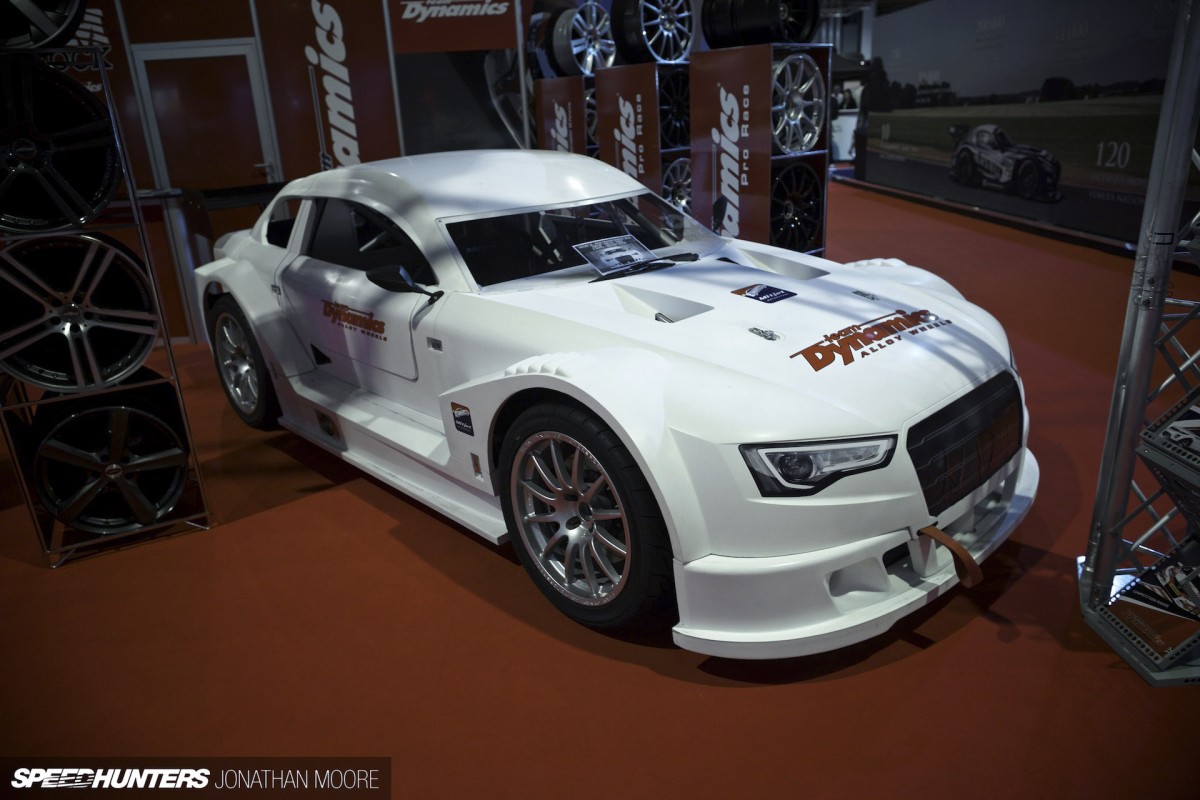 I've seen these little MitJet cars in France a couple of times, but they're now making their way across to the UK. They're like Hot Wheels models, shrunken silhouettes of regular cars, based on a generic chassis weighing just 760kg and with a 2-litre engine putting out 230hp. They make for frantic racing, so I'm looking forward to seeing them on this side of the Channel.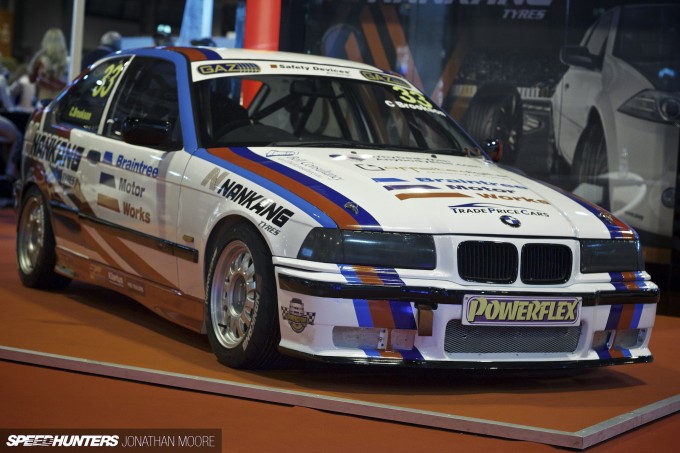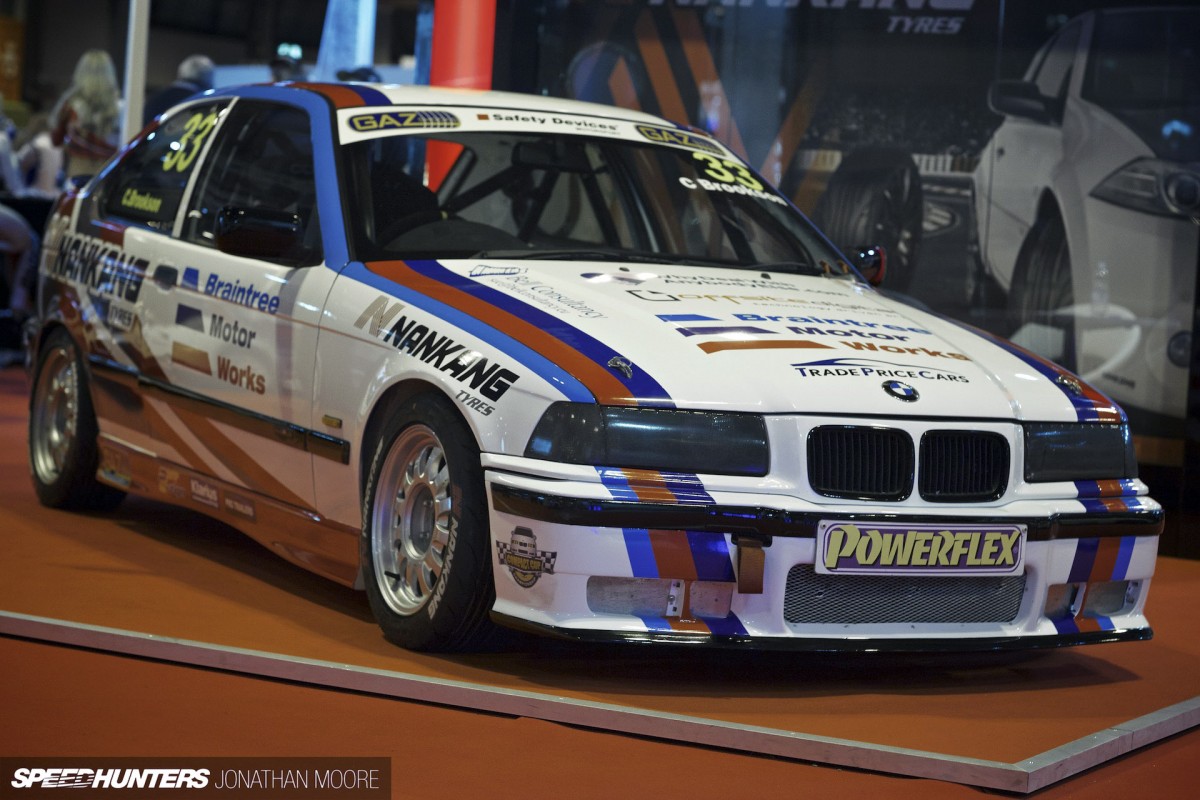 Whilst BMW were announcing their latest drivers in the British Touring Car Championship, there were also drives available for the other BMW. That is, the Braintree Motor Works… One-make series are incredibly strong and relatively cheap to boot. Name your marque: BMW, Alfa, Mazda, Toyota… they've all got something going on with packed grids and an affordable approach to racing.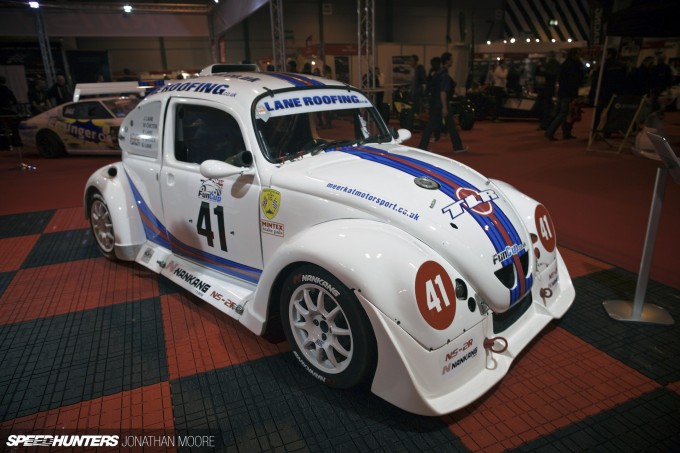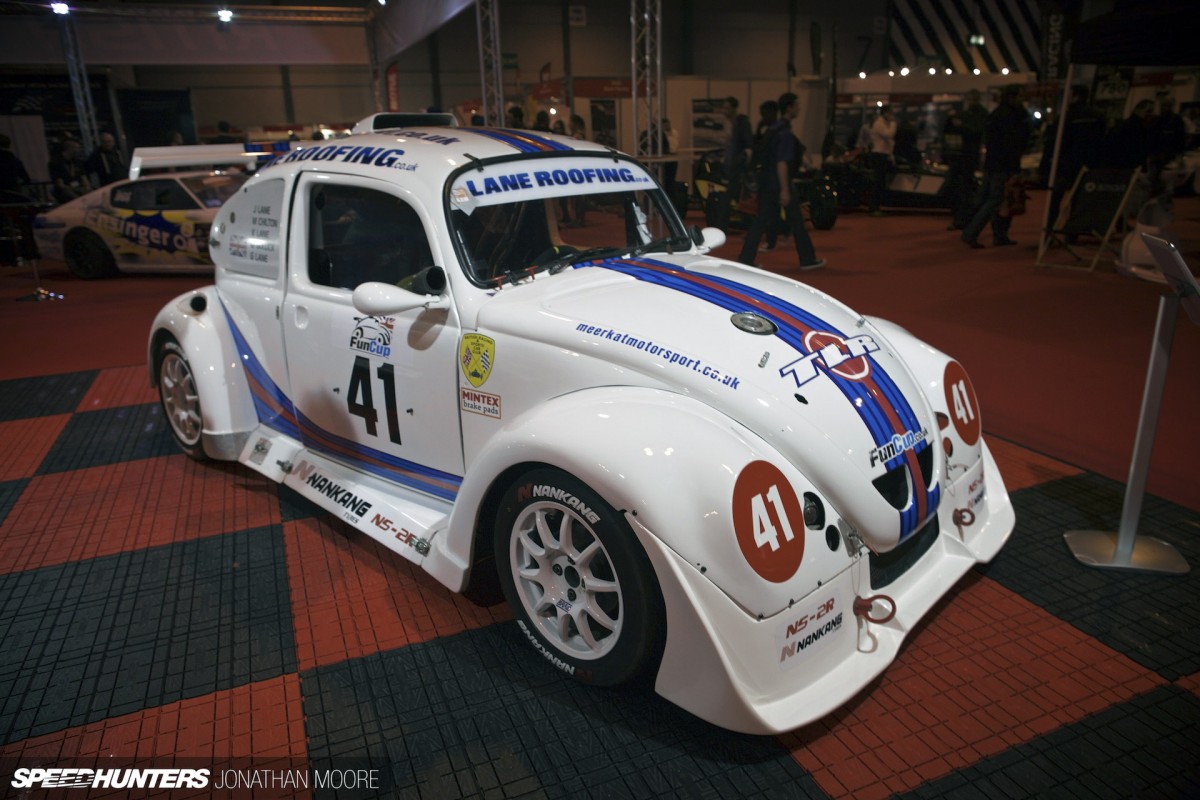 People who have driven in the VW Fun Cup tend to rave about it. I knew they got to race on some impressive tracks around the UK and Europe (including a round-the-clock-plus-an-hour enduro at Spa which looks like having about a million cars taking part), but I had seriously underestimated what was under the Beetle silhouette bodywork.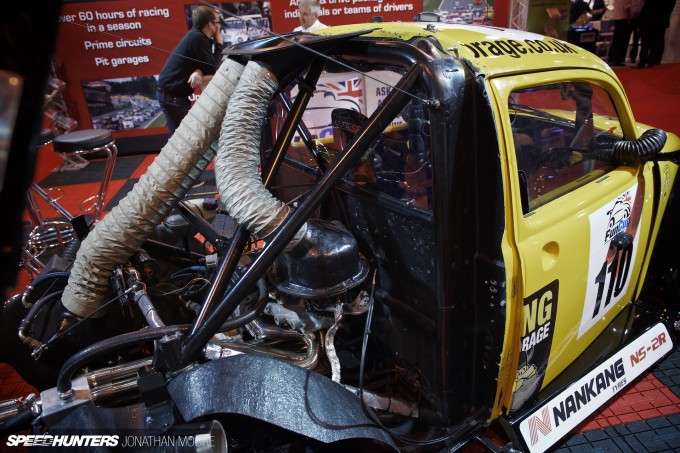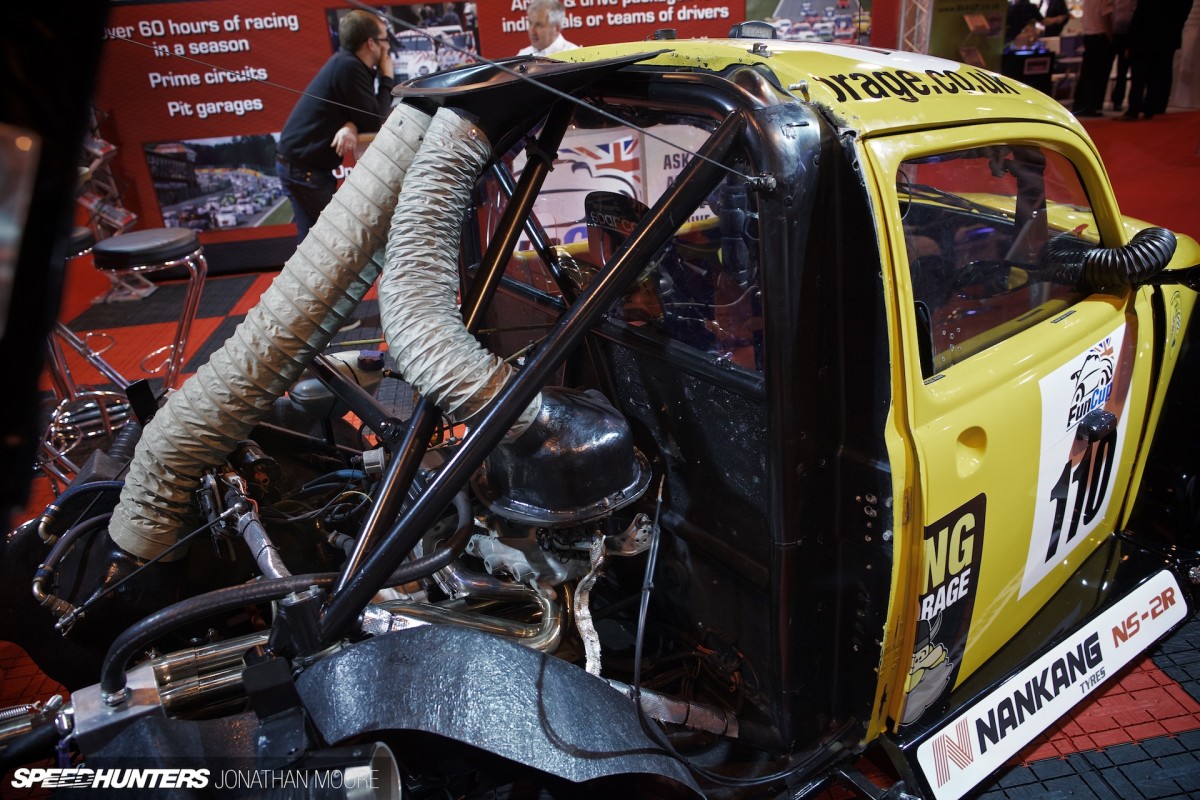 I was not expecting anything as serious-looking as this! Buried in there somewhere is a 1.8-litre VAG petrol engine making 130hp; they run sequential 'boxes and are all prepped to an identical spec. This is where the fun comes: it's about the racing and the talent of your driving team, not the tuning or the size of your budget.
A Lot Of Carbon & A Little Bit Of TA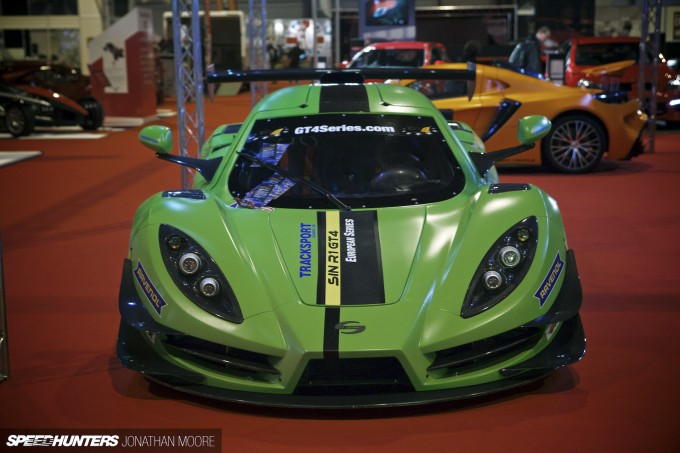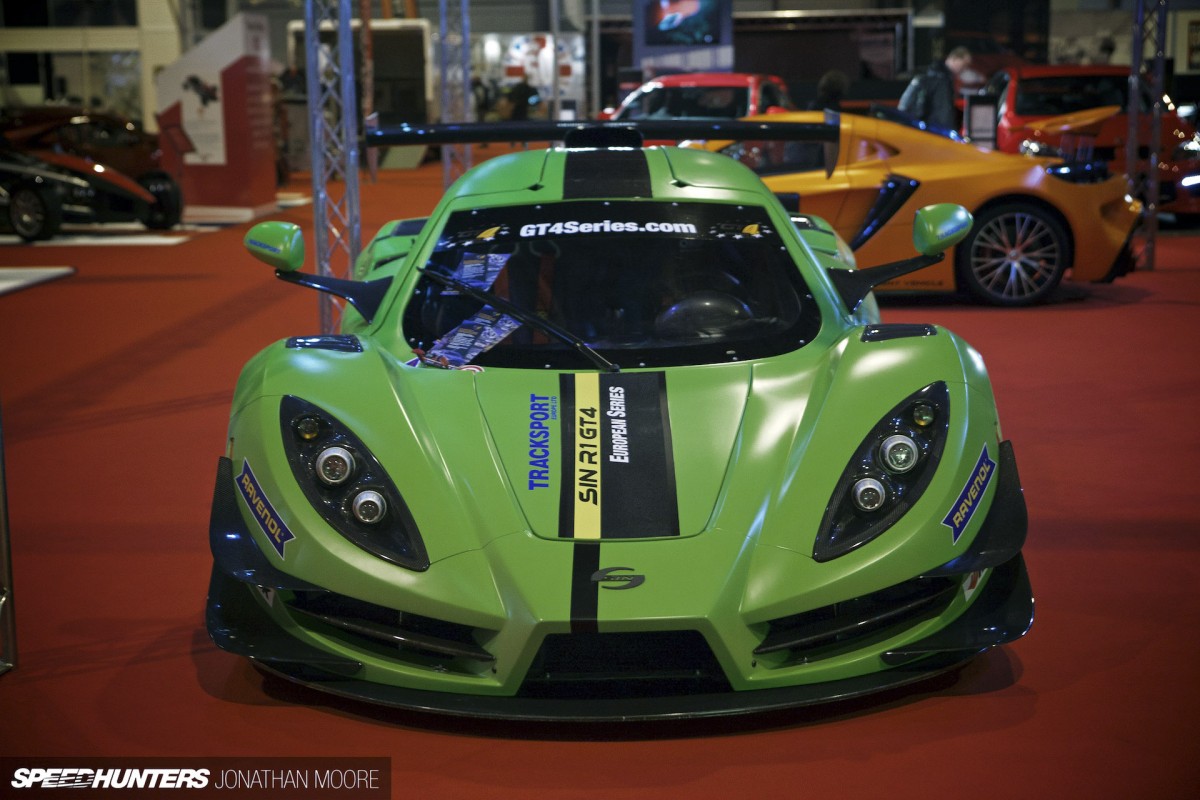 Edging towards the upper (read: more expensive) end, there actually wasn't that much at Autosport – or maybe just not much that caught my attention. The usual latest Porsche 911 Cup car, the unexpected sight of the new Riley LMP3 and so on, but there was a much bigger display of Sin's GT car than previous years. Hopefully that means this Bulgarian marque is getting traction, if you'll excuse the pun. The road car is barely less aggressive than the racer, and all for the price of an entry level 911.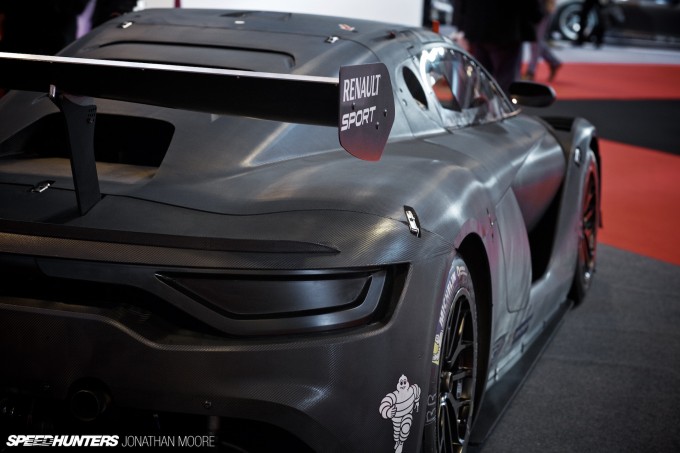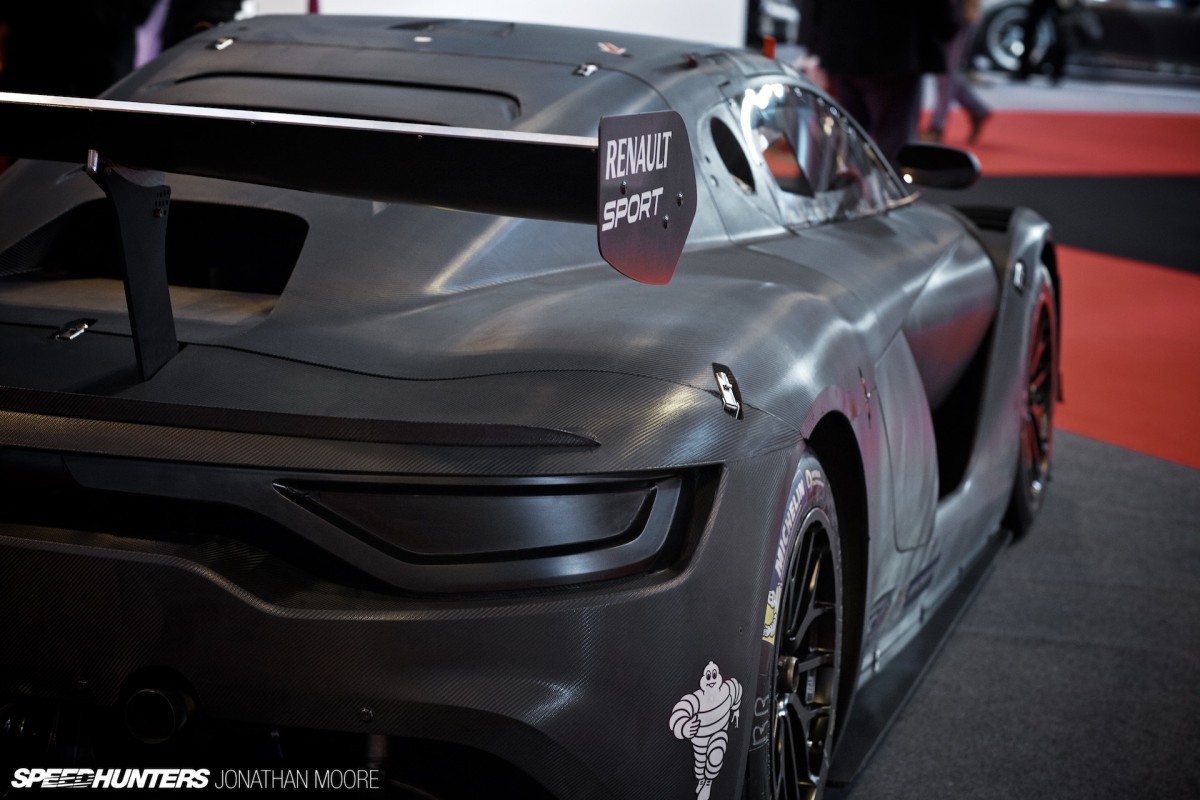 But then there was that Dark Knight of a Renault. Sitting there clothed in menacing raw carbon the RS.01 reminded me of the un-raced Zakspeed Calibra from '97.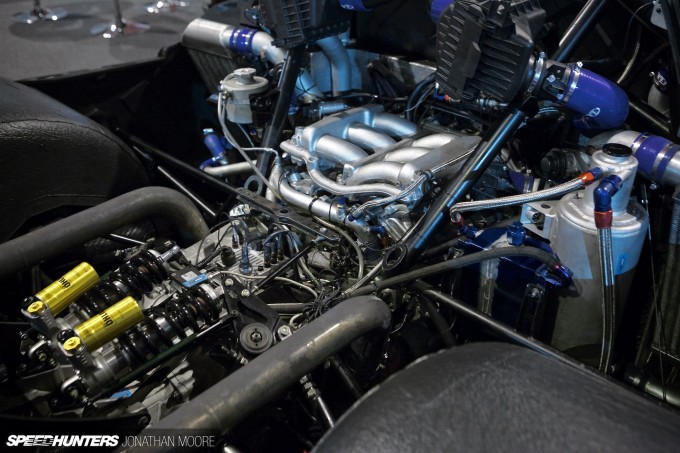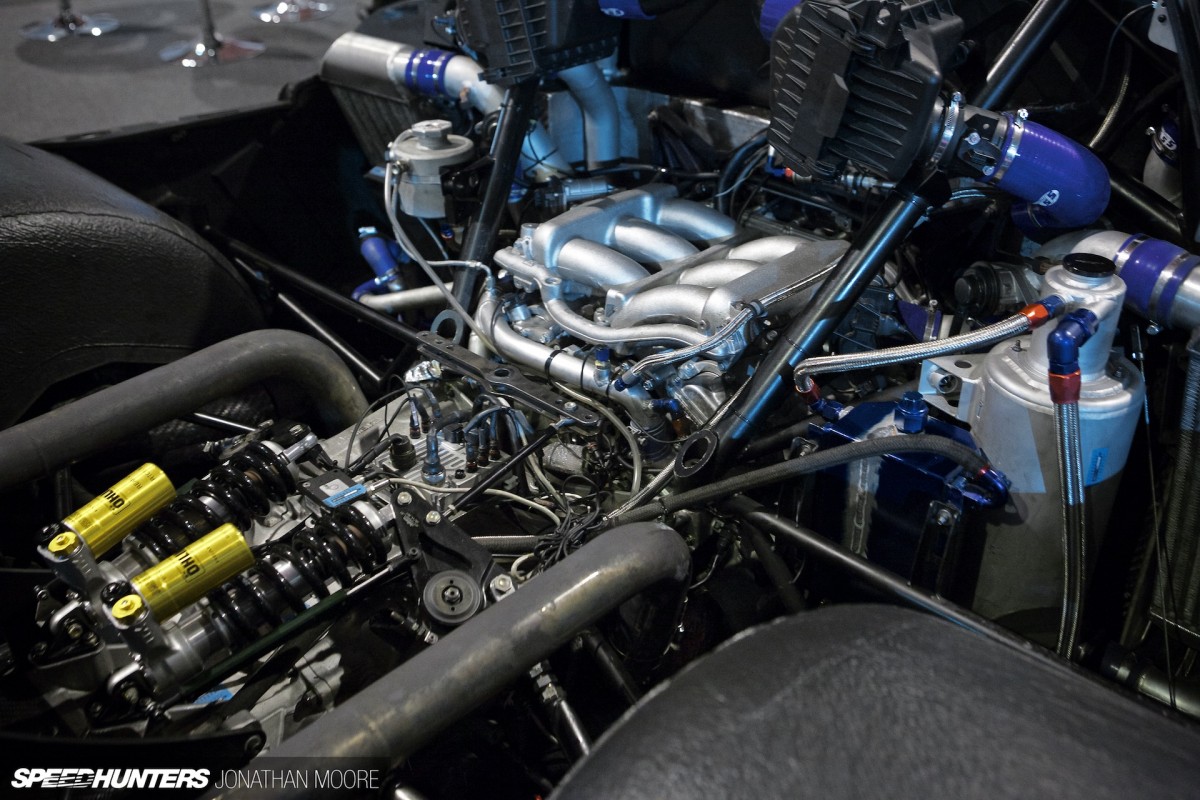 The RS.01 is based on a Dallara-built monocoque, and with the rear clamshell raised showed that this is a serious piece of kit. It's actually built to conform to LMP1 regs, and it mounts a twin turbocharged engine from the Nissan GT-R. The RS.01 is supposed to be a replacement for the Mégane one-make trophy car, but it seems like a waste. Surely it's only a matter of time before it slips into something more comfortable and appropriate. Target Le Mans?…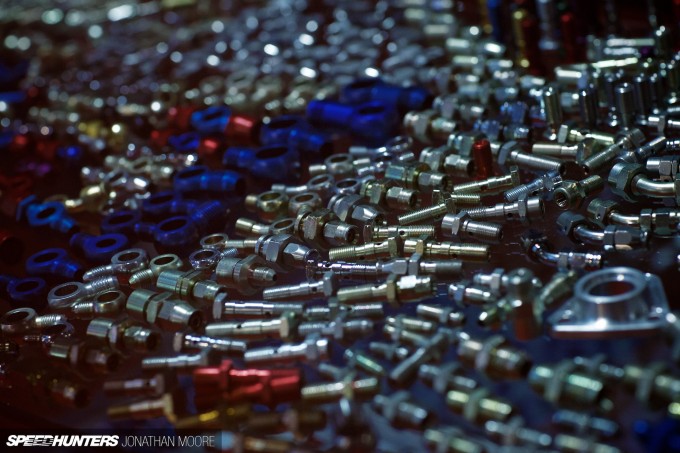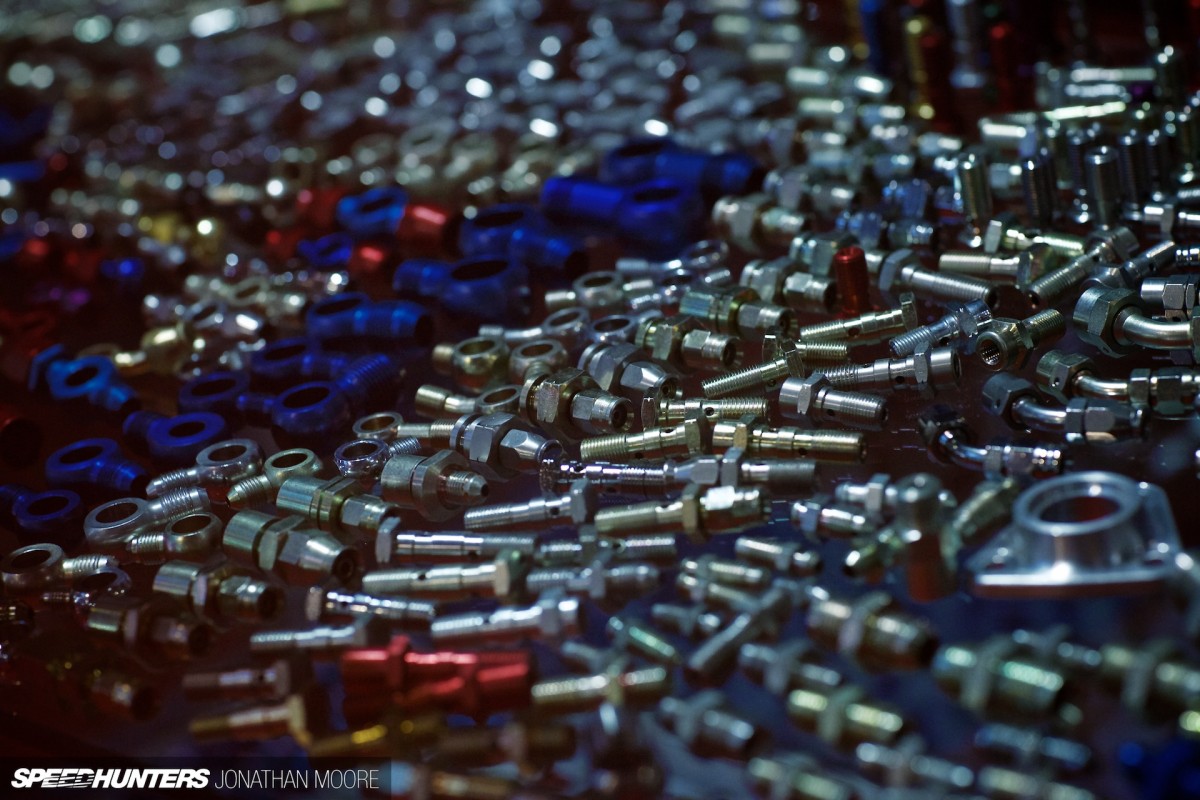 Even if you could avoid the temptation of all the cars for sale or rent, Autosport was a dangerous place to go if you were considering building a car or wanted to modify what you already had. All around temptation was waiting to strike, from individual nuts and bolts to rollcages, gearboxes, industrial CNC machinery… You name it, you could buy it.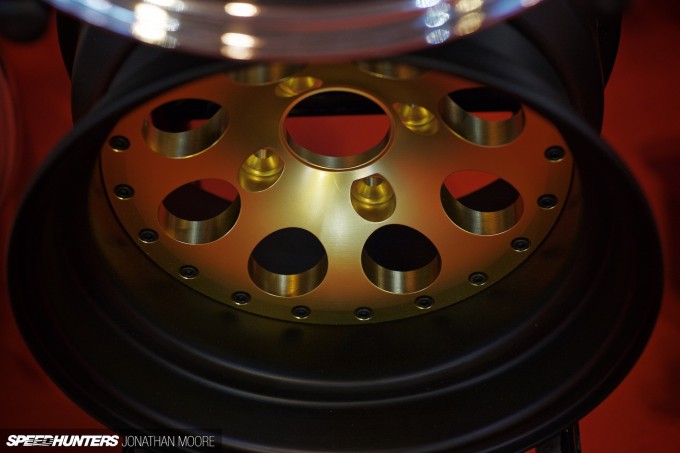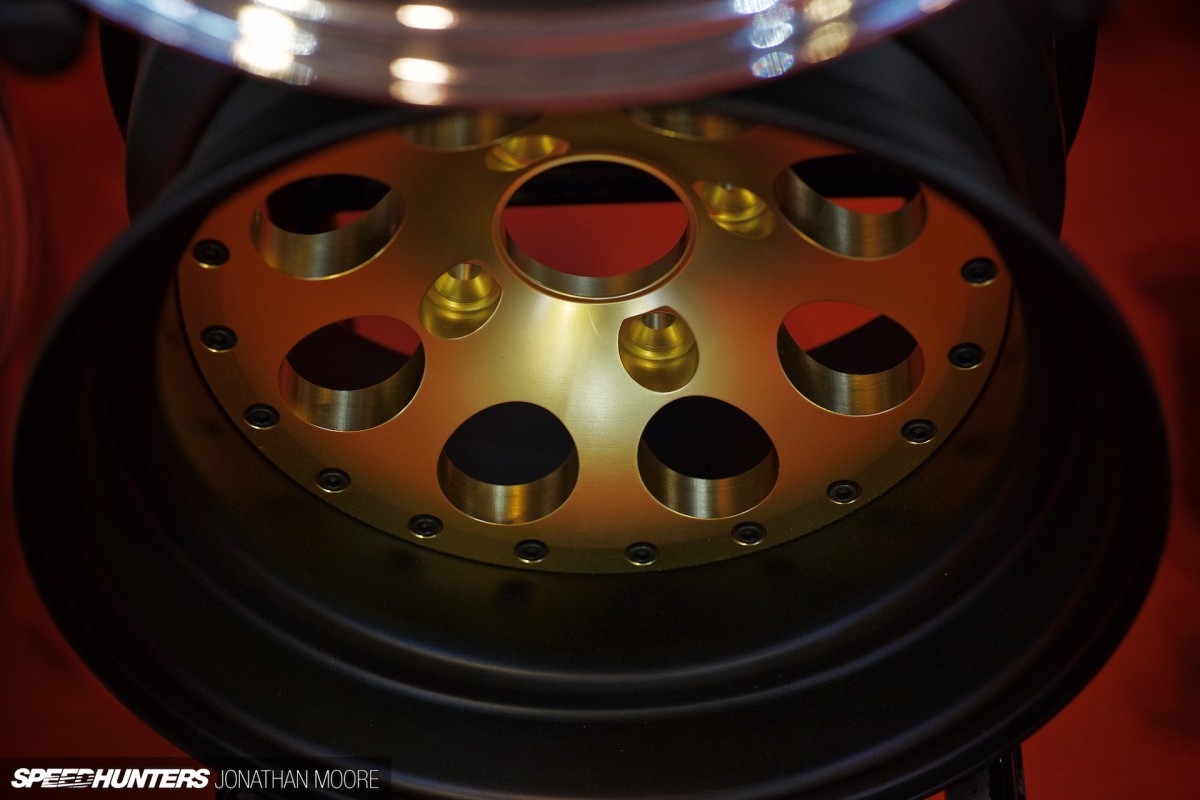 Wheels. There are always wheels. It got to the stage where I started taking side-on images so I could Photoshop them onto my car to see which ones would best suit. I had to snap out of it…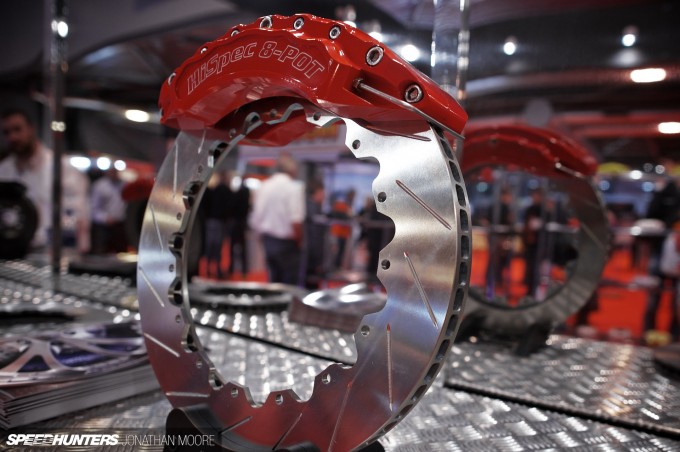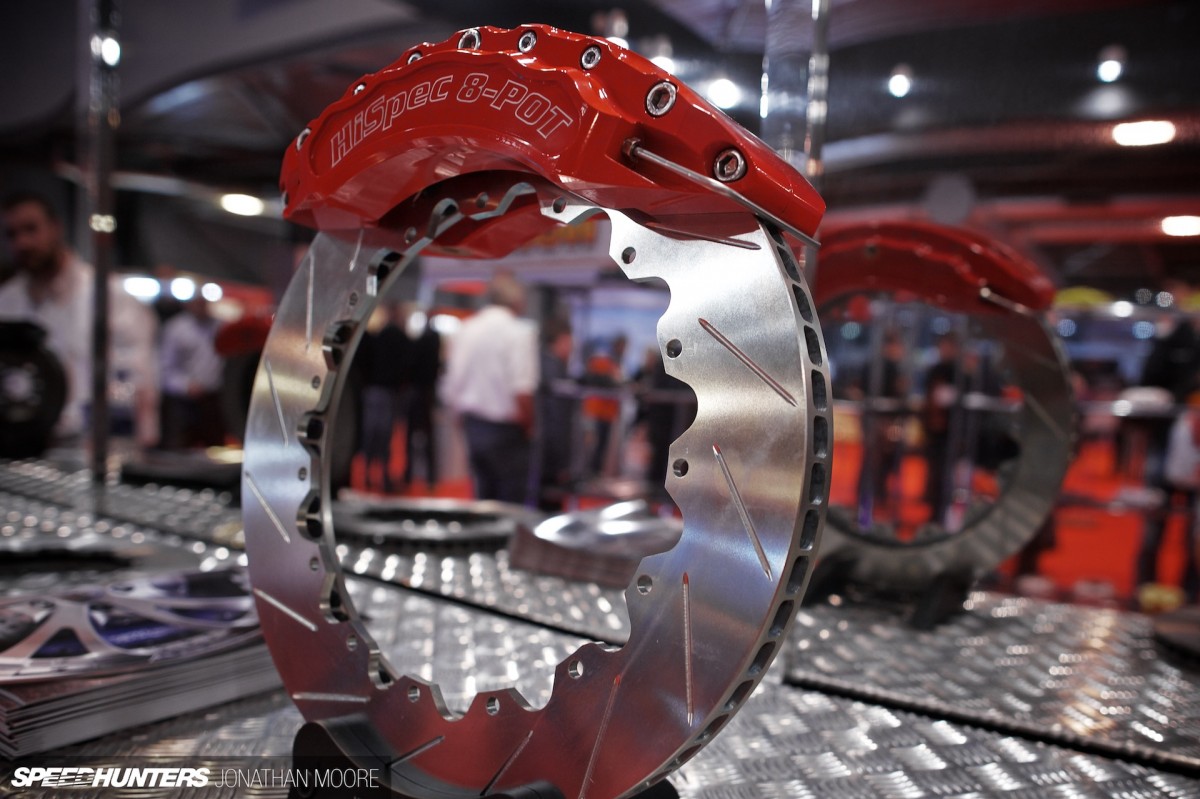 At the other end of the scale from Force Racing's beautiful little split rims for Minis (and more) was this enormous brake disk and calliper from HiSpec: the biggest eight-pots they make (450mm I think was mentioned), made for a 1,000hp Porsche Panamera.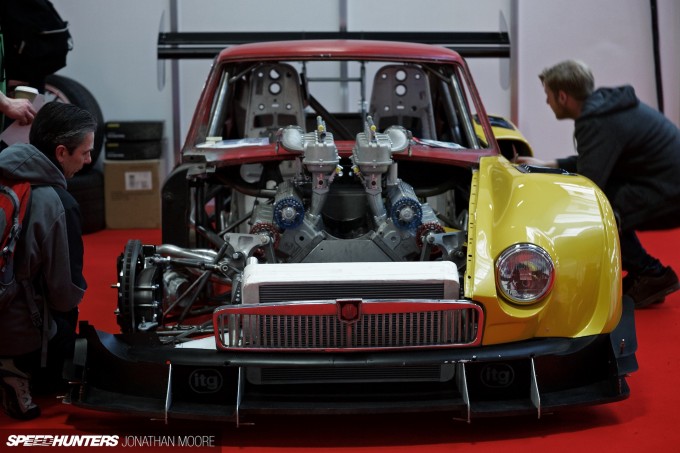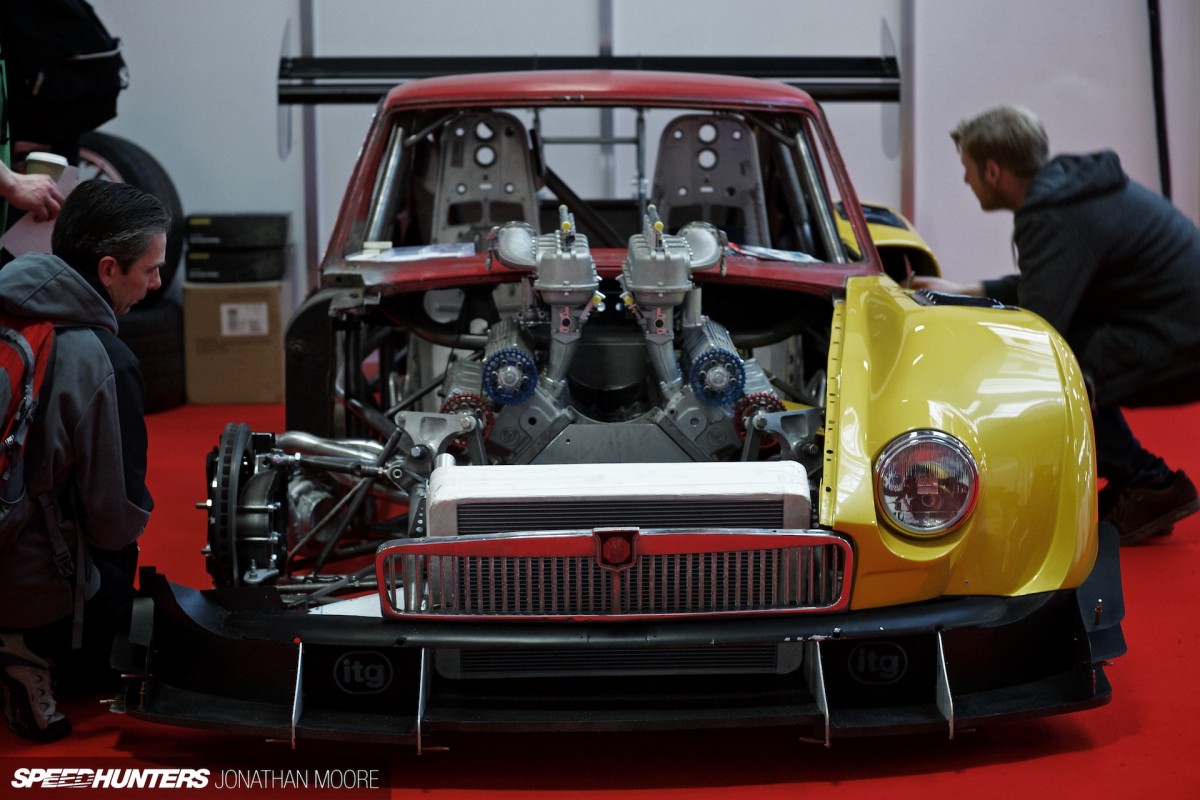 Autosport also provided the perfect place to catch up with a couple of cars I featured last year. First of all, it was awesome to see the progress on Jason Shalder's epic MG GT3 build. We're putting together the second story on his MG project now, which will concentrate on the behemoth, Frankenstein's monster of a twin turbo V8 which cannot be contained by any bonnet. The bodywork is nearing completion, and the finish could well be within sight.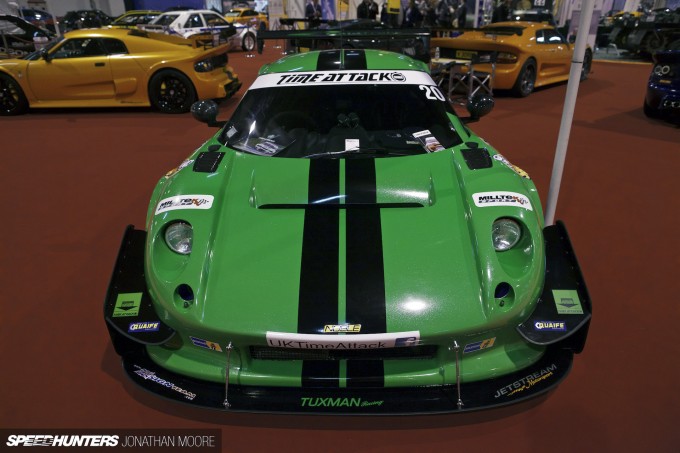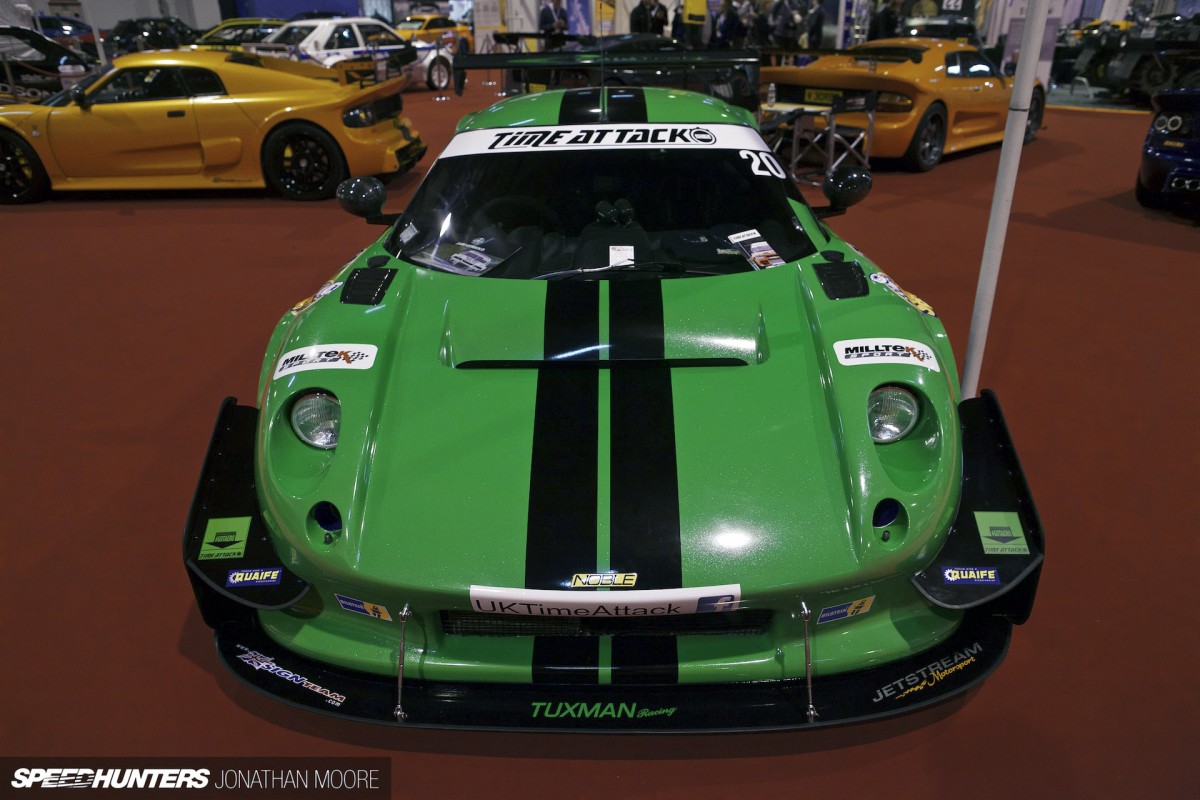 Simon Robert's Noble M12 was also at the show, but in very different form to how I saw it here last year – and even to the spec I saw at Silverstone. Simon has been seriously bitten by the Time Attack bug in the intervening months, and his Noble has seen some serious evolution. Up front the aero changes are obvious, with a new splitter and massive dive planes. Not so obvious is the solution to the problem of the nose grounding out when putting the car on a trailer: Simon has engineered a trick lift system which pops the front and raises the entire bonnet up, splitter, hoses and all, vertically about four inches. Perfect!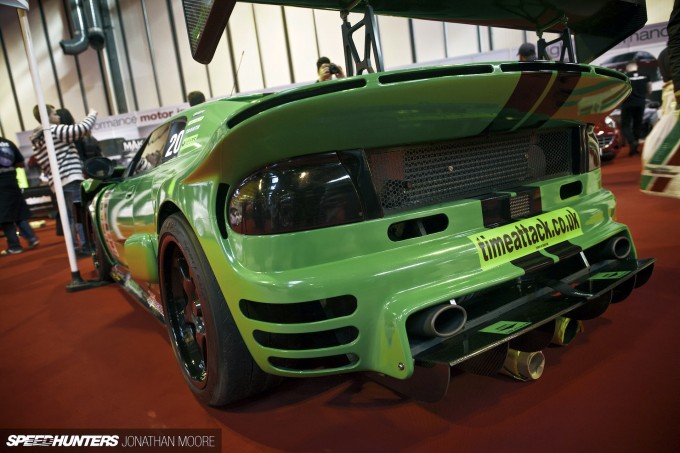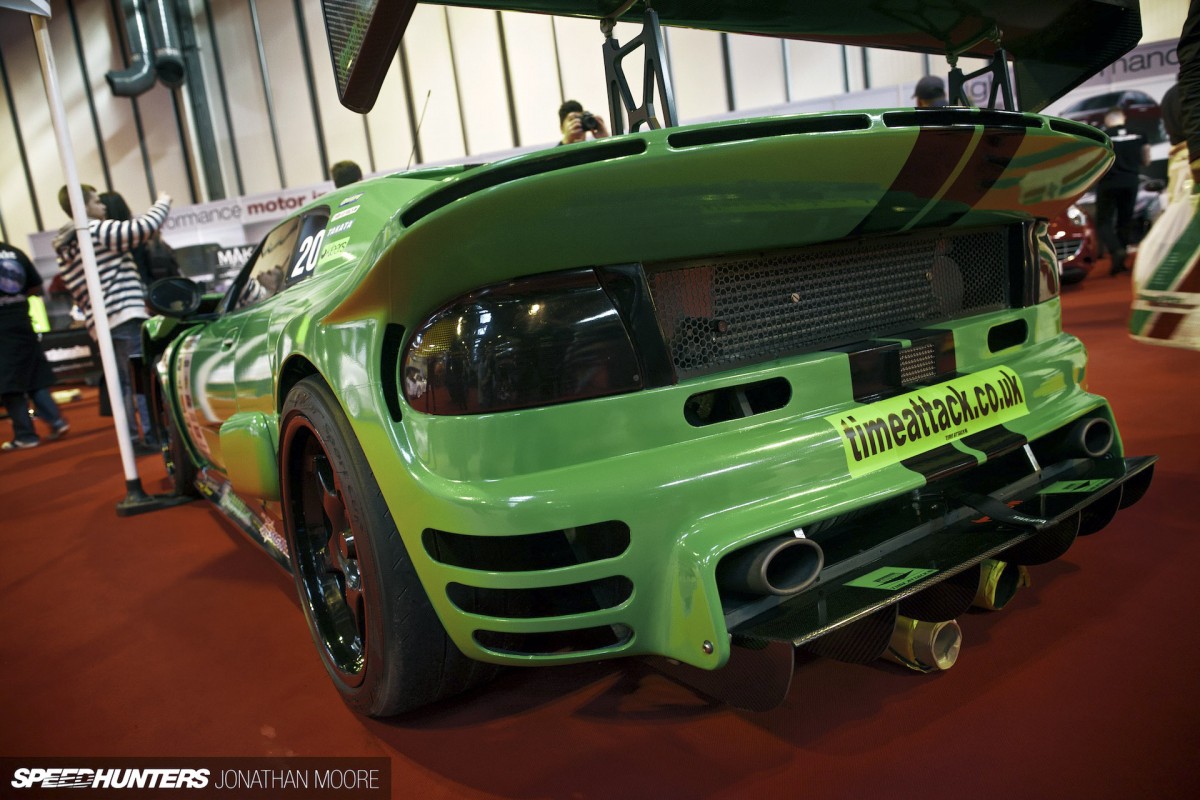 High-speed stability has been Simon's goal. At the front, some new suspension parts are in development to reduce understeer in fast corners, but the rear has already been tackled. Rear lift had been pretty worrying, but Simon bravely cut these slot gaps in both the tail spoiler and lower corners, which has dramatically improved the air flow and removed high pressure points. Sometimes you just need the will and a steady hand…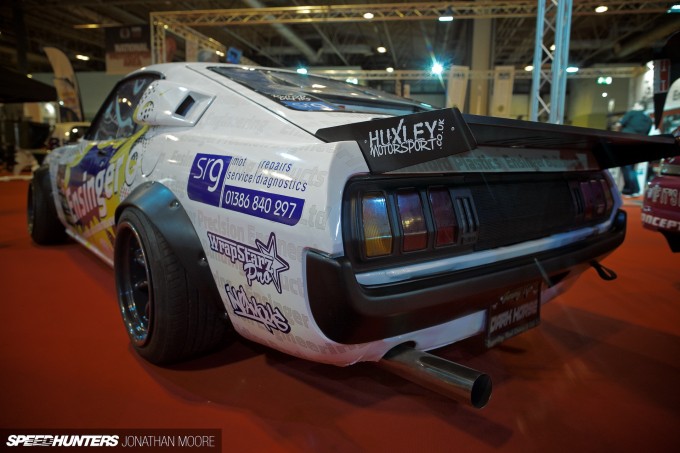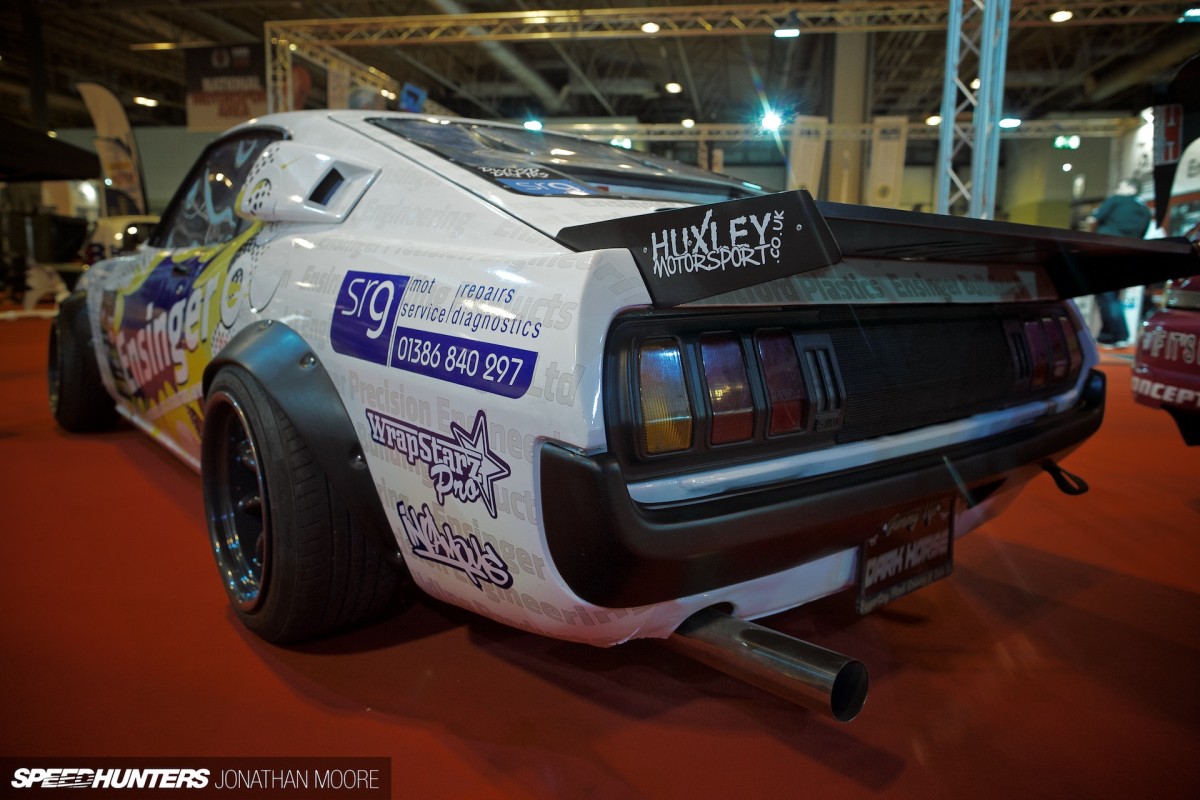 The Toyota that I led this piece with is – predictably – yet another phenomenal build from Huxley Motorsport. They just can't stop delivering the goods. This '78 Celica was built up from a barn find in just 12 weeks a couple of years back, and then during 2014 further transformed into this low-line, muscled-up beauty. Bryn has bagged the feature shoot for this, so it's another thing to look forward to in 2015!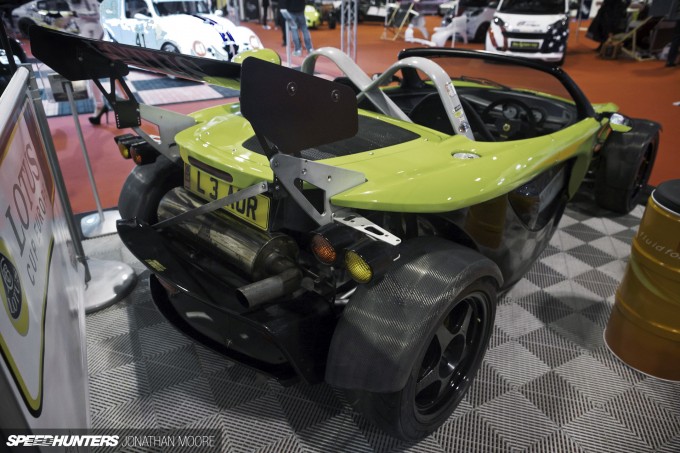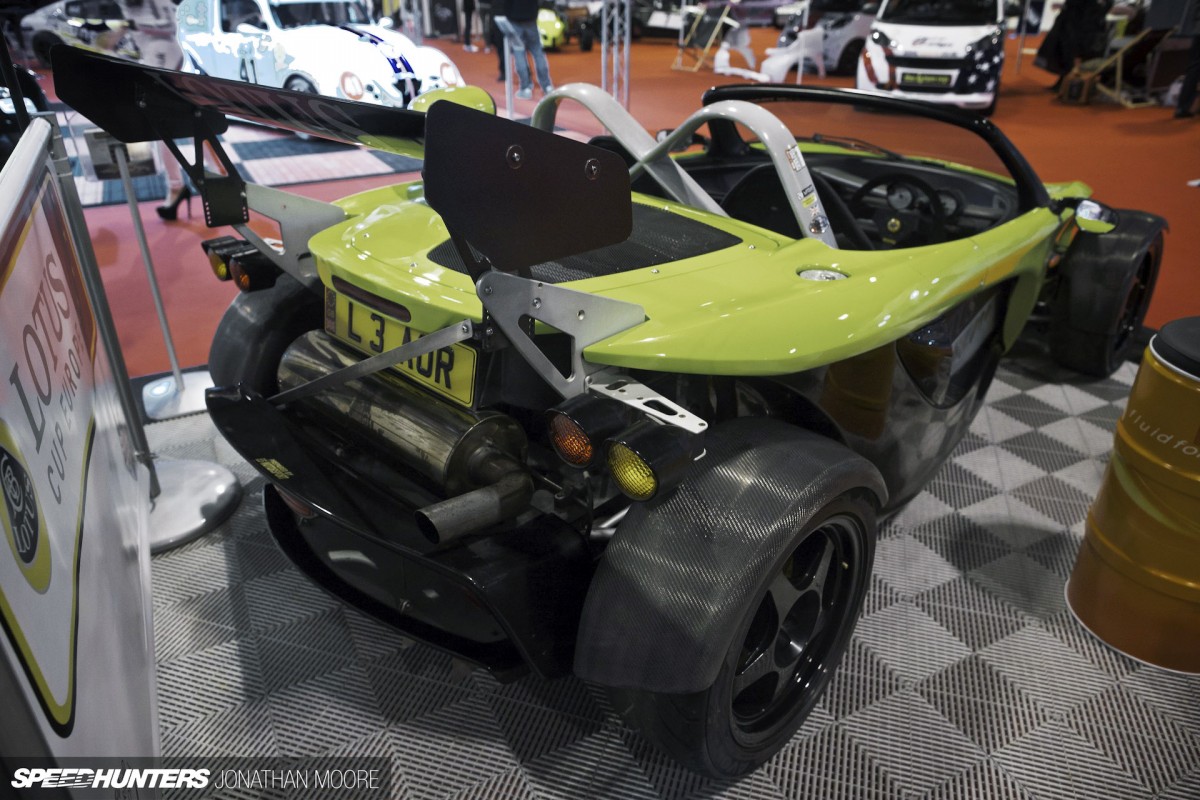 For every car I knew or had at least seen before, there were plenty more that I could add to a growing list called 'must find out more'. Lotus Elise are a de facto starting point if you want a great track car, but this ES Motorsport prepped 340R took an already brutal machine and further up-gunned it. It was all wing and weapons – the cockpit completely stripped out, even for a Lotus. It looked like an absolute rocketship.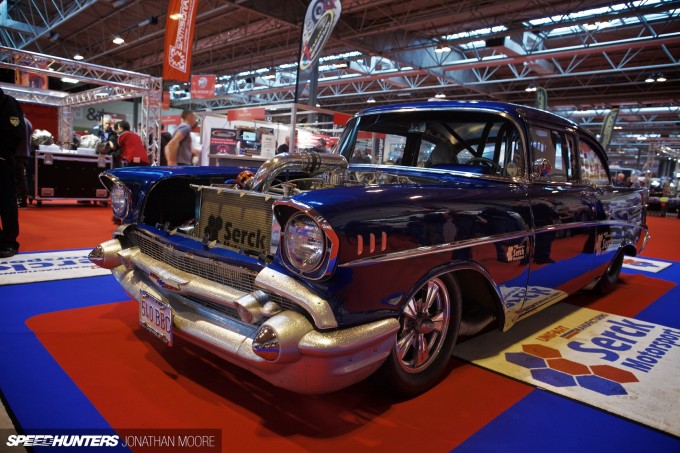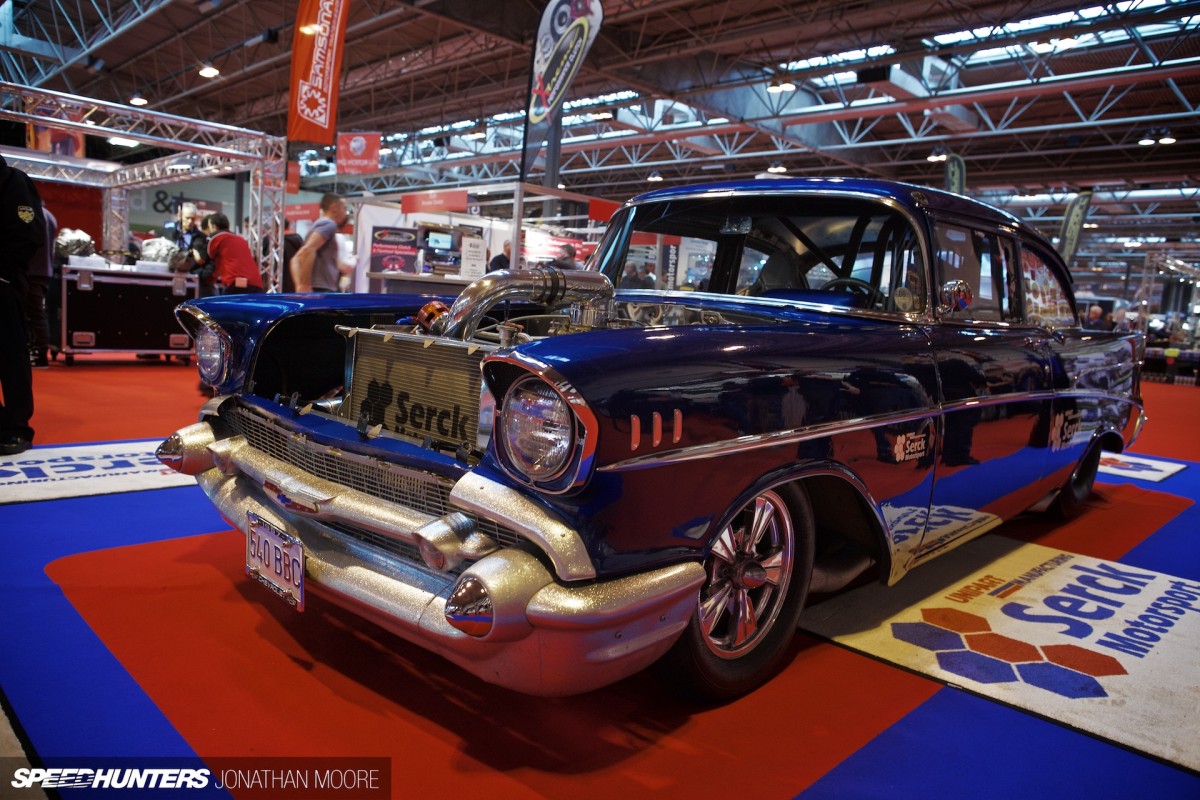 At least the Lotus vaguely looked like a road car. I still find it shocking when people say their dragsters are road legal. Having a '57 Chevy will get you noticed on Britain's roads, but when you've got a '57 Chevy with 1,300hp and an 8.8-litre supercharged V8 that can crack sub-10 second quarters, it's on another level.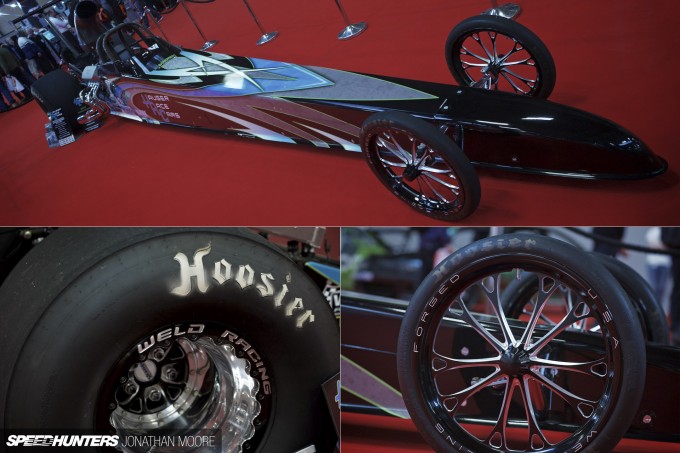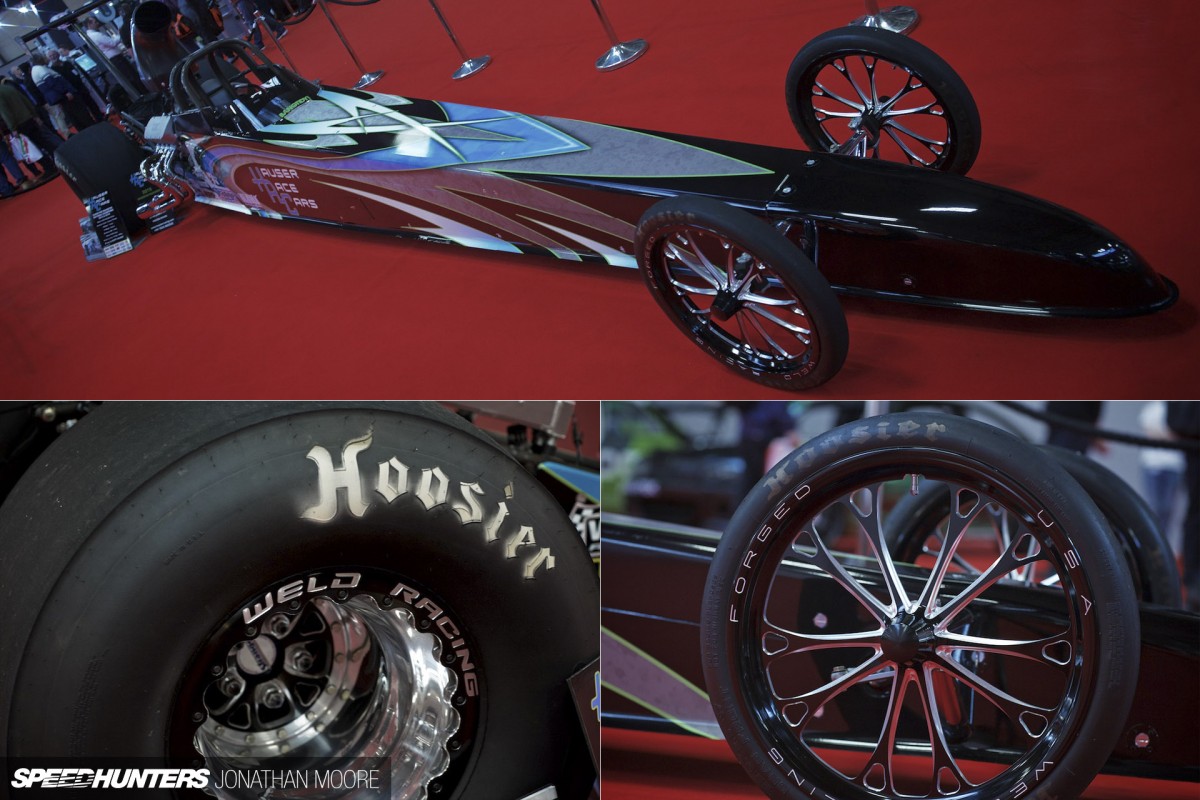 Drag racing has always seemed to me like an intimidating sport to get into. Like ski jumping. How do you even start out in that kind of thing? Hauser Racing are trying to make the path easier, with this off the shelf four-link dragster. I saw one in build when I was up taking a look at the early phase of our KM4SH Golf build, but it looks even better in the flesh. Still terrifying though…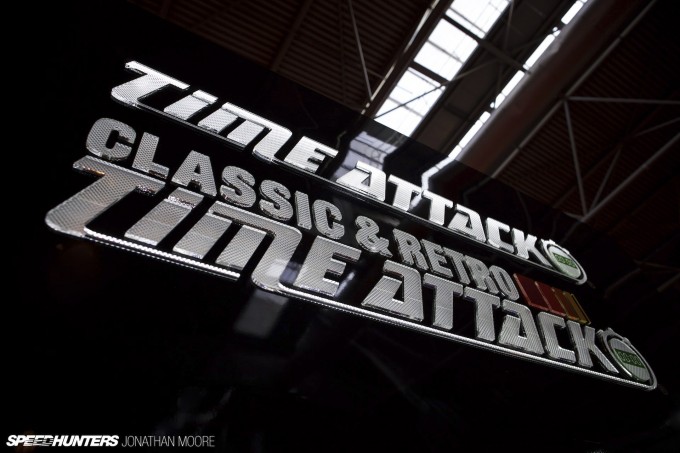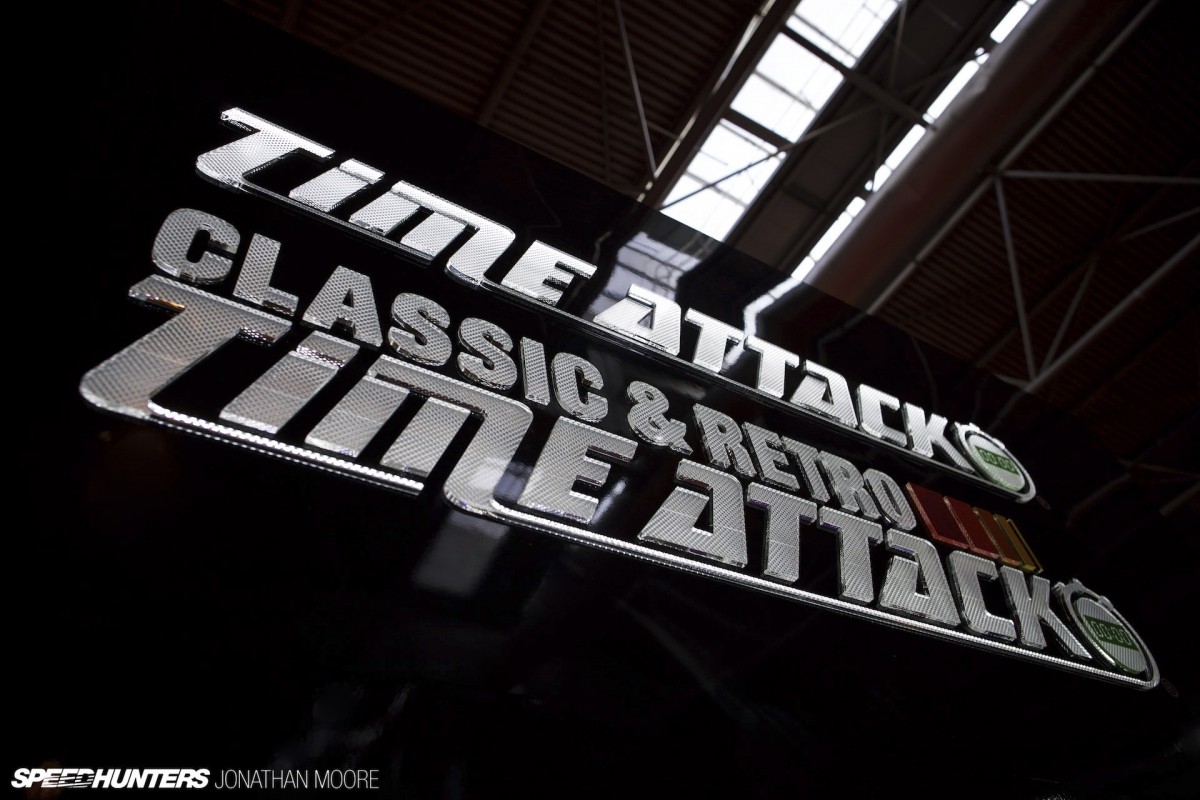 Time Attack is definitely on a serious up in the UK. I loved the night event I caught at the end of last year, and in 2015 the series is celebrating its tenth anniversary in the UK. There's also a new class in town, which from a toe in the water last year looks set to take grids stratospheric: a Classic & Retro category which will run alongside the more modern TA machinery.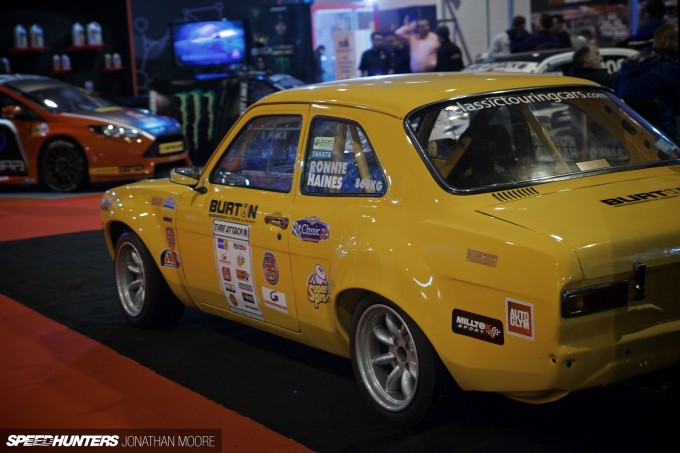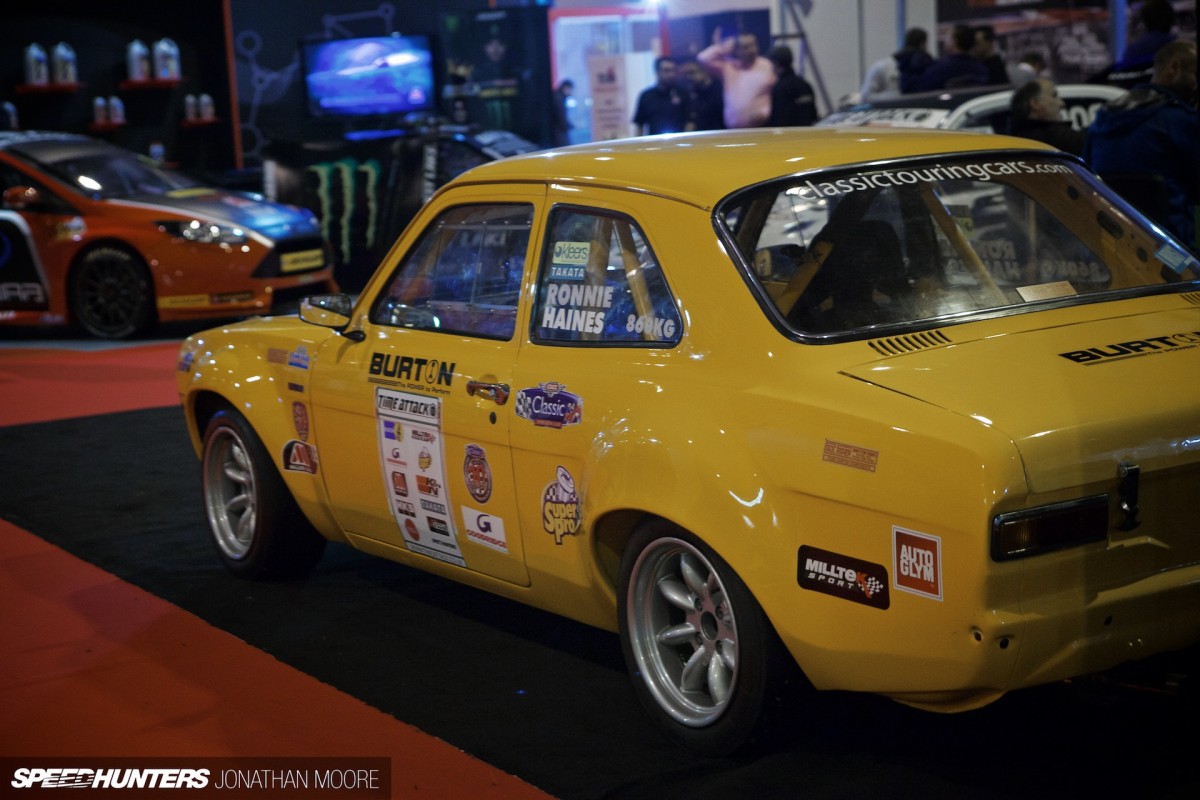 This Escort MkI looks set to star – it's got a proper 1.7-litre Ford BDA tucked away in its immaculate engine bay, with 220hp on tap. There's some more exciting machinery due out as well, so I'm looking forward to checking it out.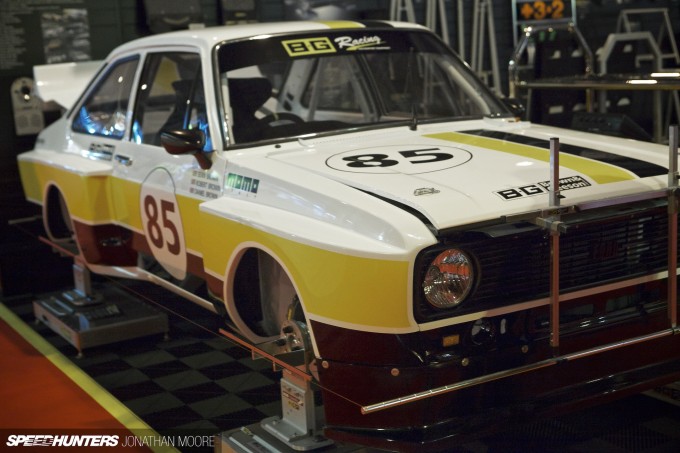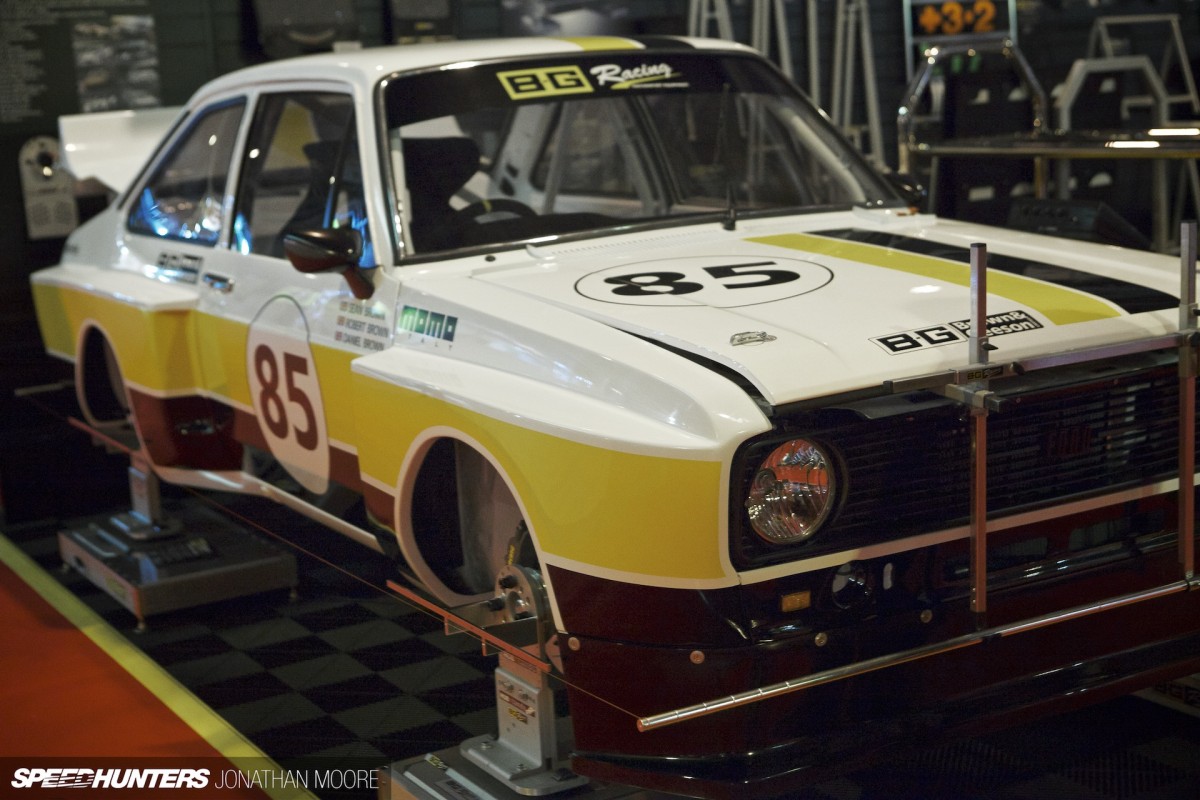 In pure number terms, Escorts ruled the roost at Autosport. That's not something you'd typically expect to say at a racing car show in 2015, and says something about the state of modern racing. Mk1s are still top of the pile, but MkIIs are gaining traction – not only being more available, but also with their more boxy shape lending itself to some saucy wide-body conversions.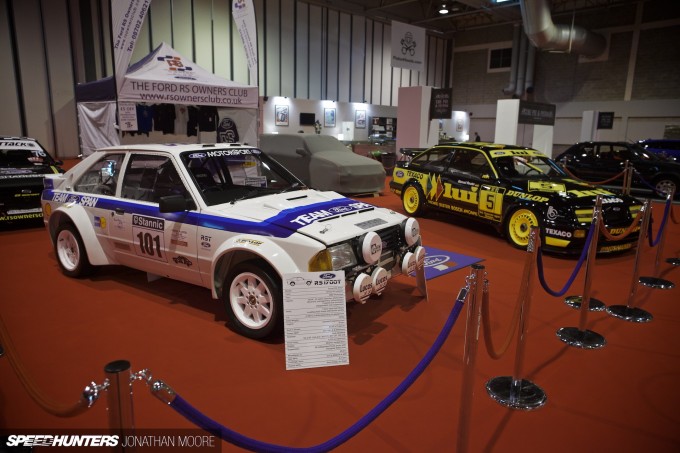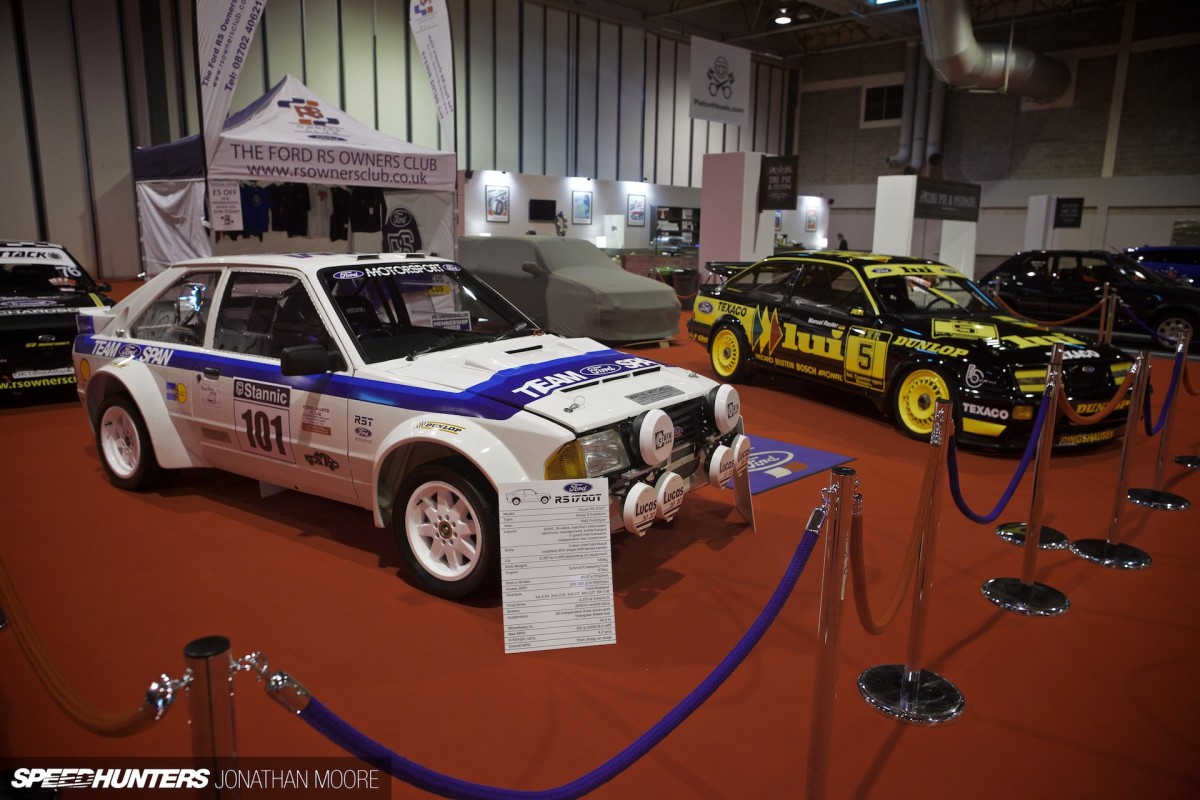 Even MkIIIs got in on the act. This looked to be one of the ultra-rare 1982 prototypes that Ford developed ahead of a proposed Group B assault. A troubled programme led to the Escort platform being abandoned, but it was replaced by the RS200, so the story had a happy ending!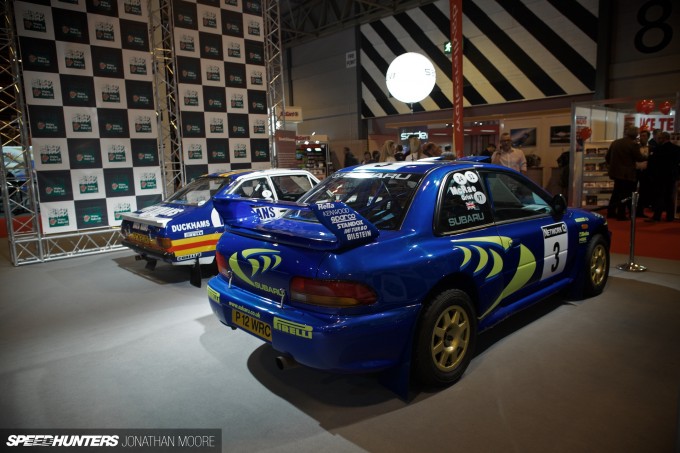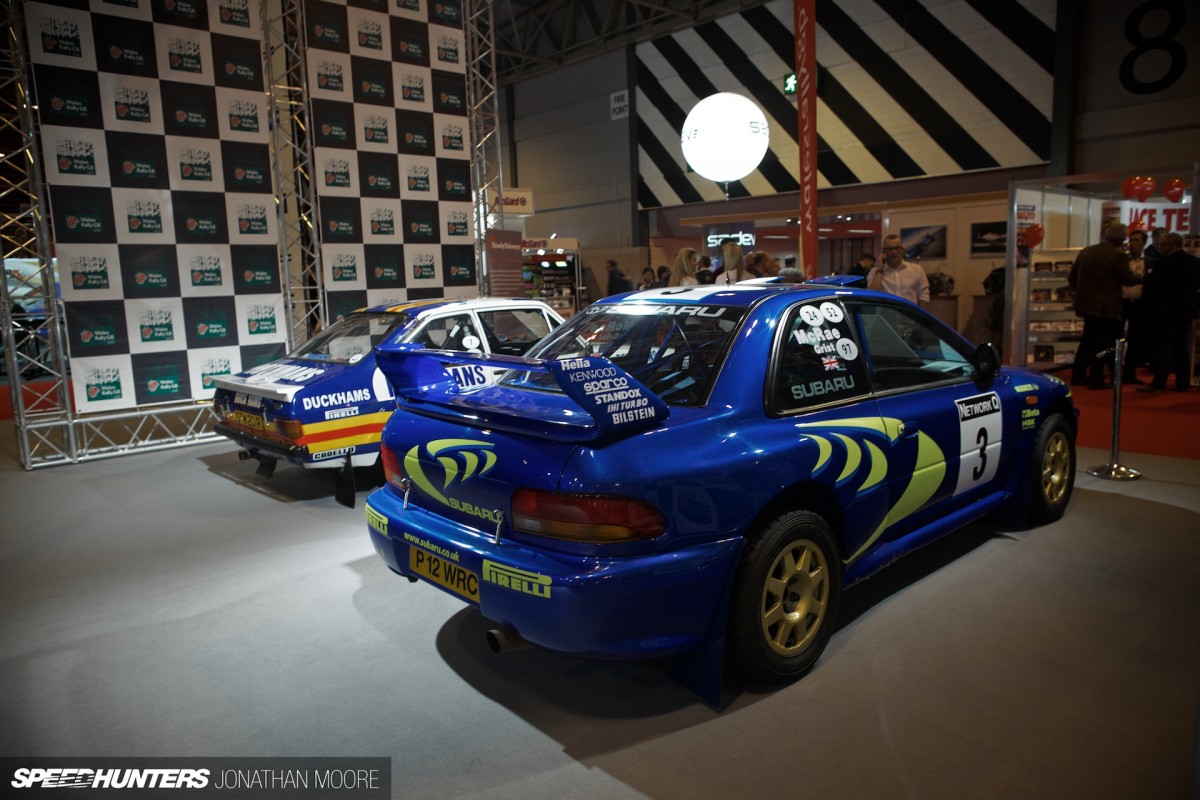 No UK show would be complete without at least one Colin McRae Impreza – I think this year there were at least three.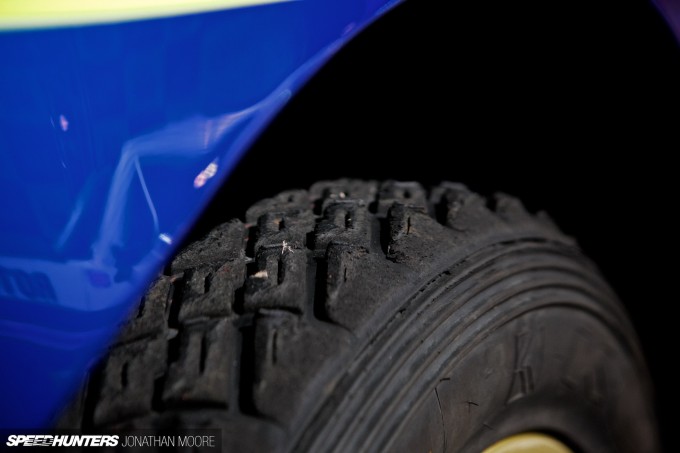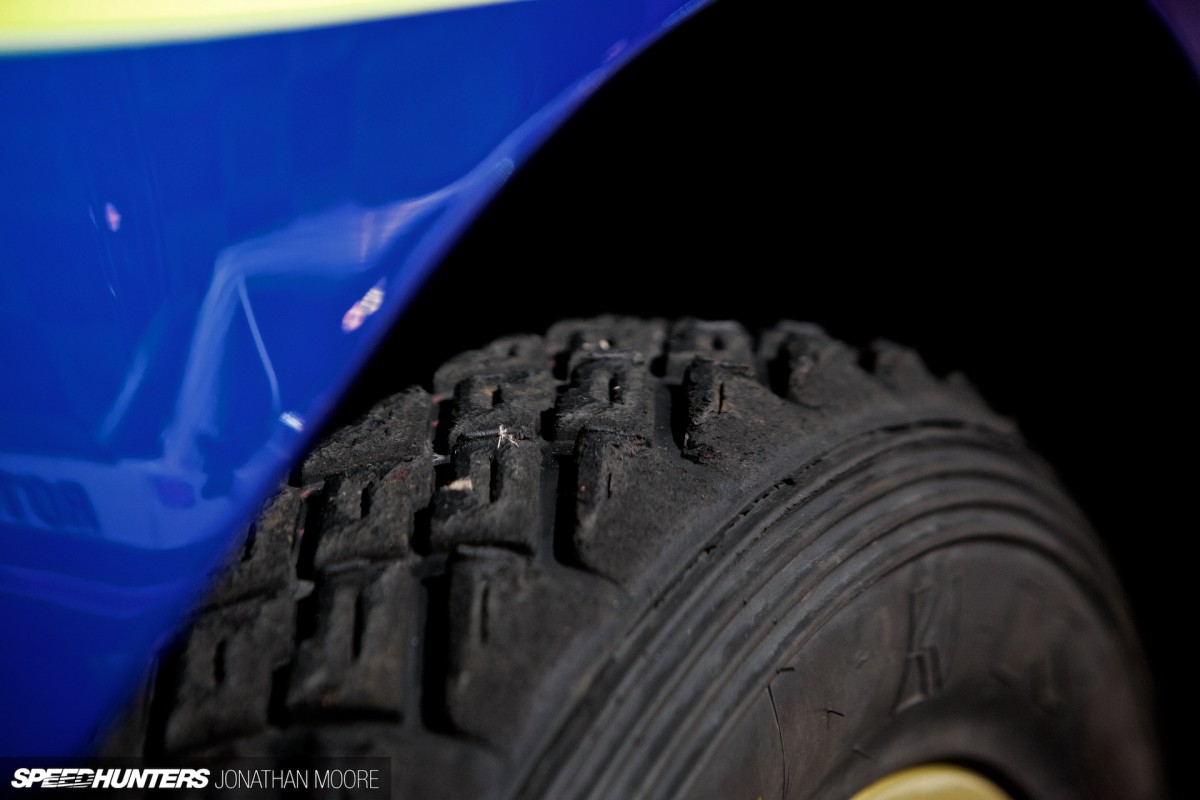 Now, I know these are old tyres, but it still there's something glorious about seeing proper loose-surface cutters like this. Agricultural, brutal… Just what the WRC was all about in this car's era.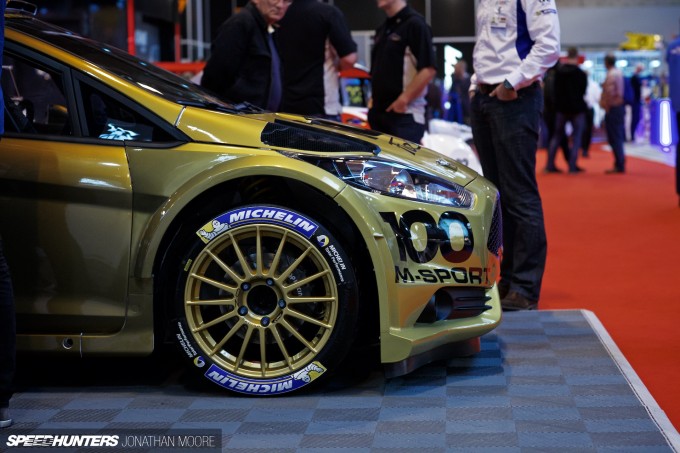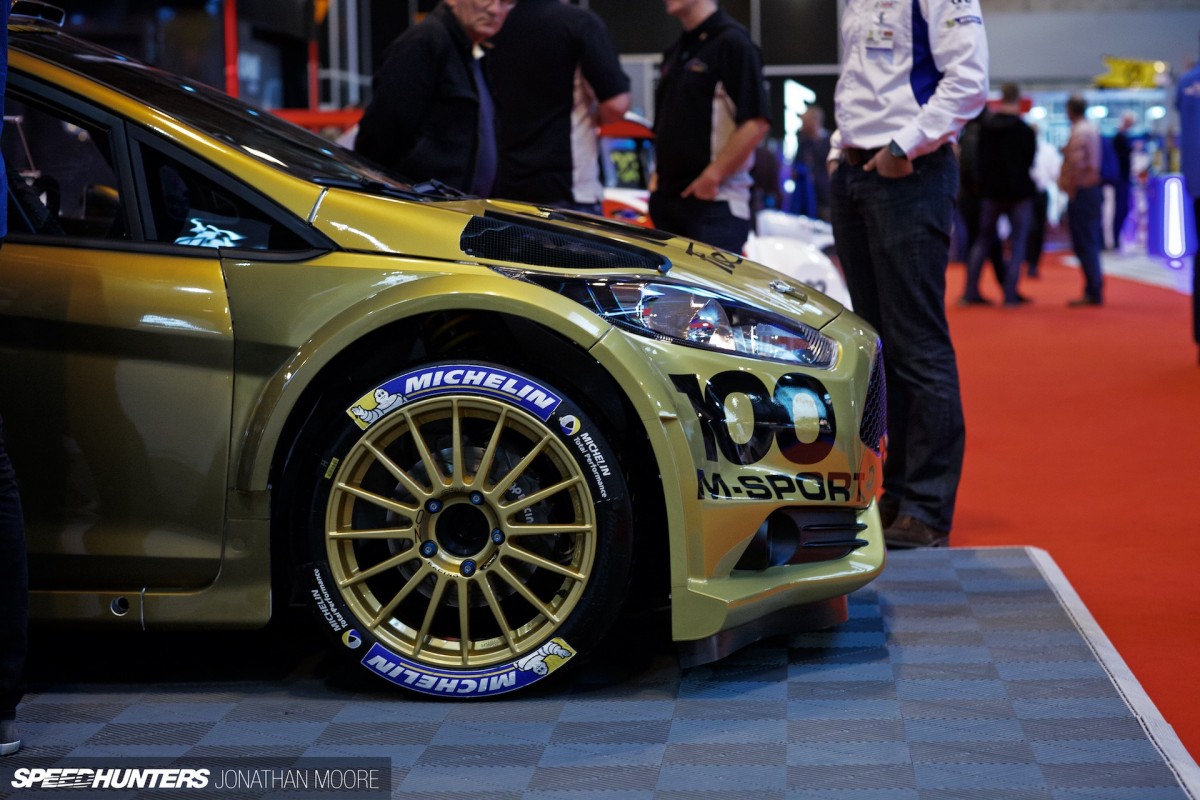 Ford stalwart Malcolm Wilson might be busy with the Bentley GT3 programme, but his M-Sport team haven't moved far from their rallying roots. Despite losing their Ford funding, M-Sport have been cranking out self-developed machines, and their stand featured their 100th entry-level Fiesta alongside Ken Block's WRC Fiesta. This R5 Fiesta reminded me that modern rally cars actually look pretty aggressive – if only the coverage of modern rallying wasn't so patchy…
Drums & Dish, Aero & Accord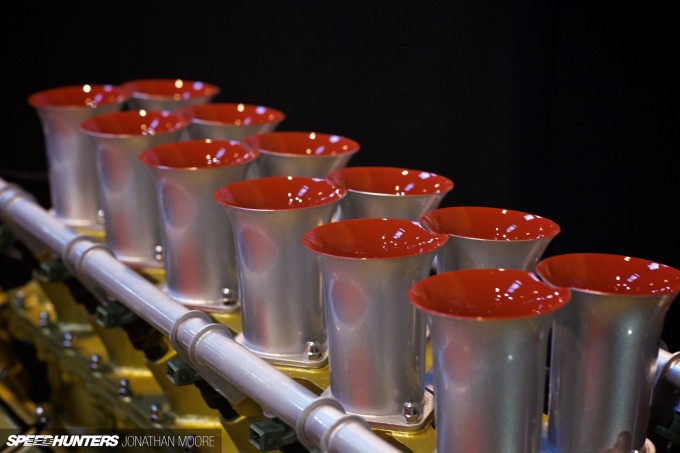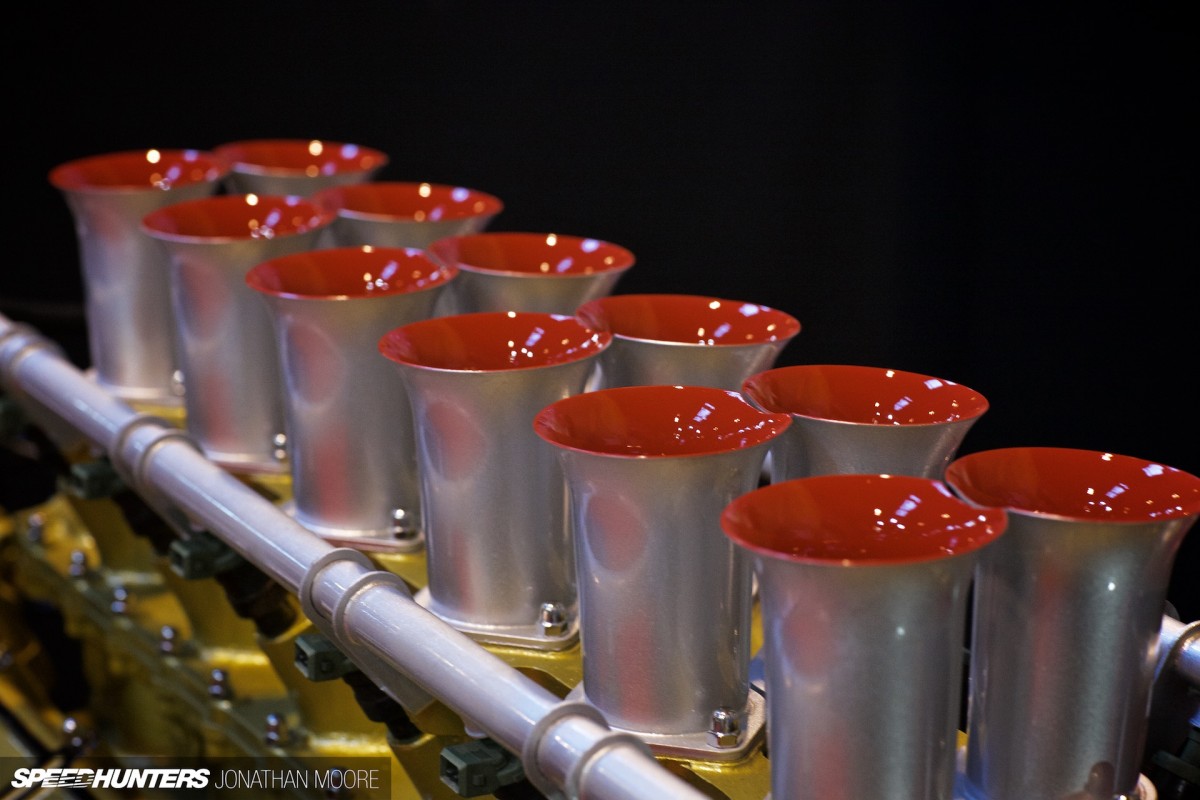 Okay, there was never really a chance of me fully adhering to my 'look at the motorsport ladder' thing – not with all the goodness that was around. It was inevitable that at some stage I would happily allow myself to drift back to slavering over legendary racing cars – or the V12s that go in them.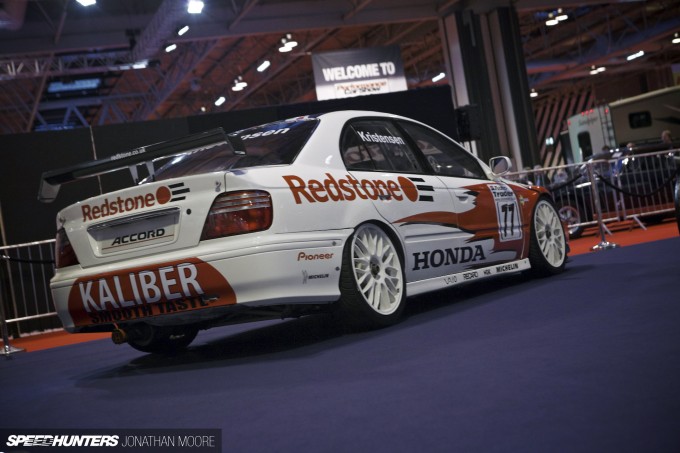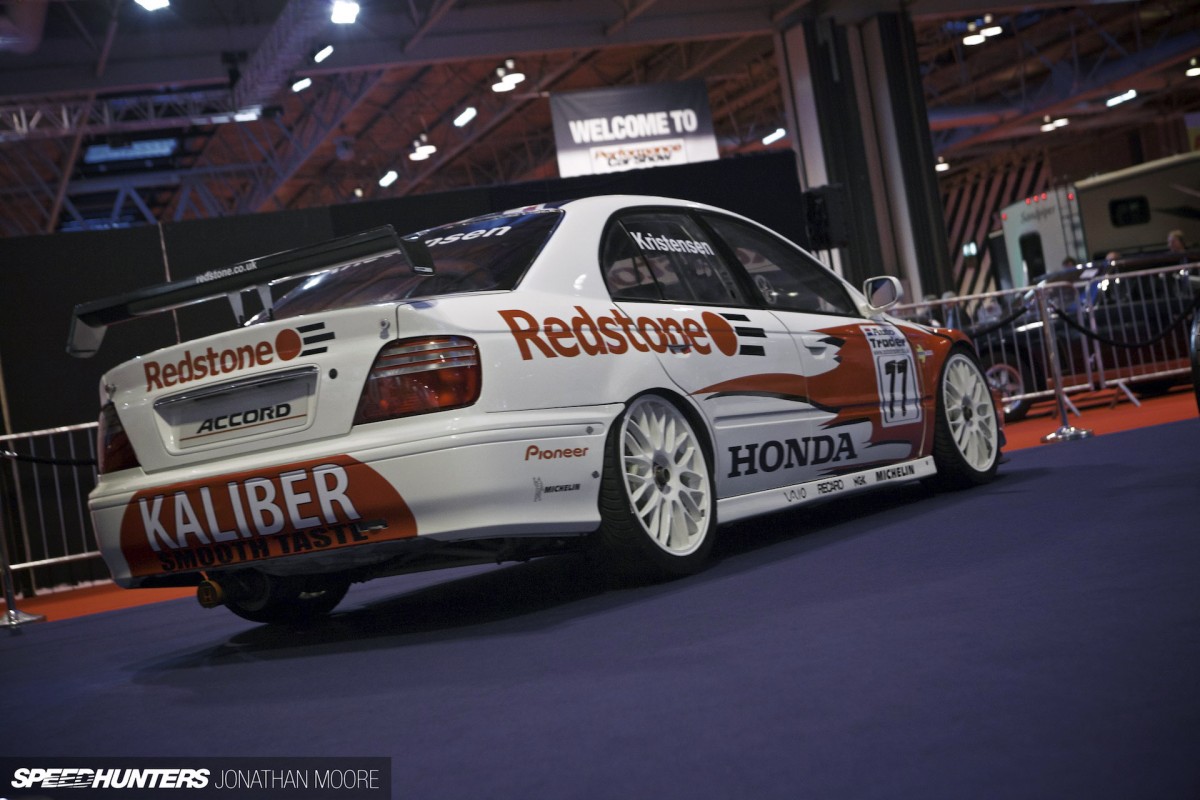 I'm not over my Super Touring phase yet – it's worse, if anything. So, that addiction was fed by not one but three Honda Accords at Autosport, with one (a '98 model) up for auction and two later cars on display.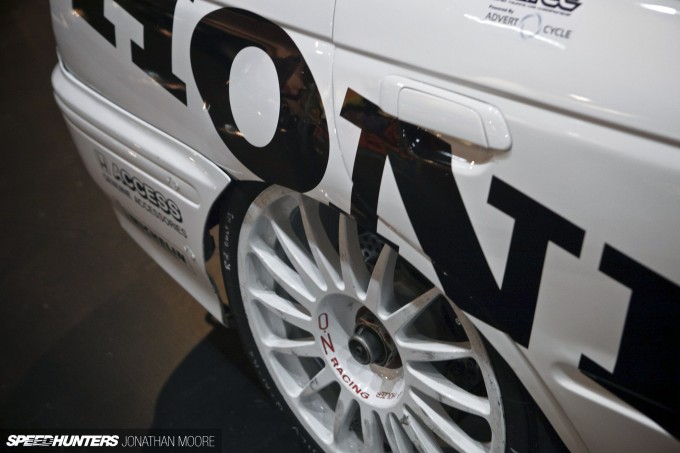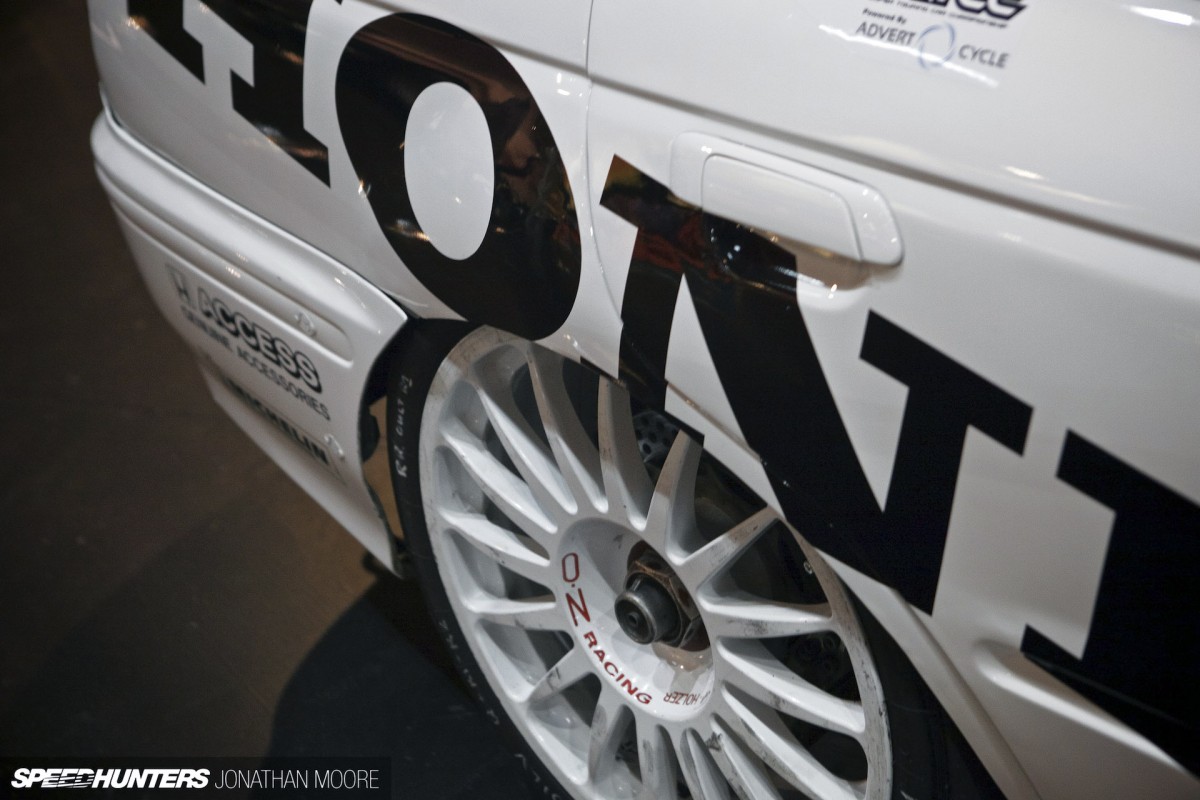 It's the tucked wheels that do it, even for me…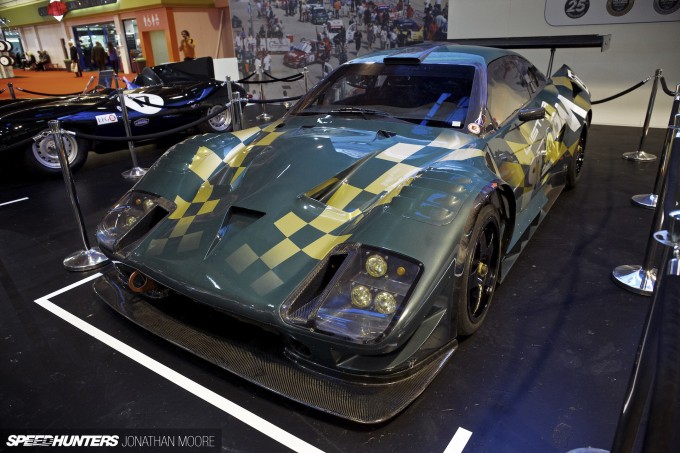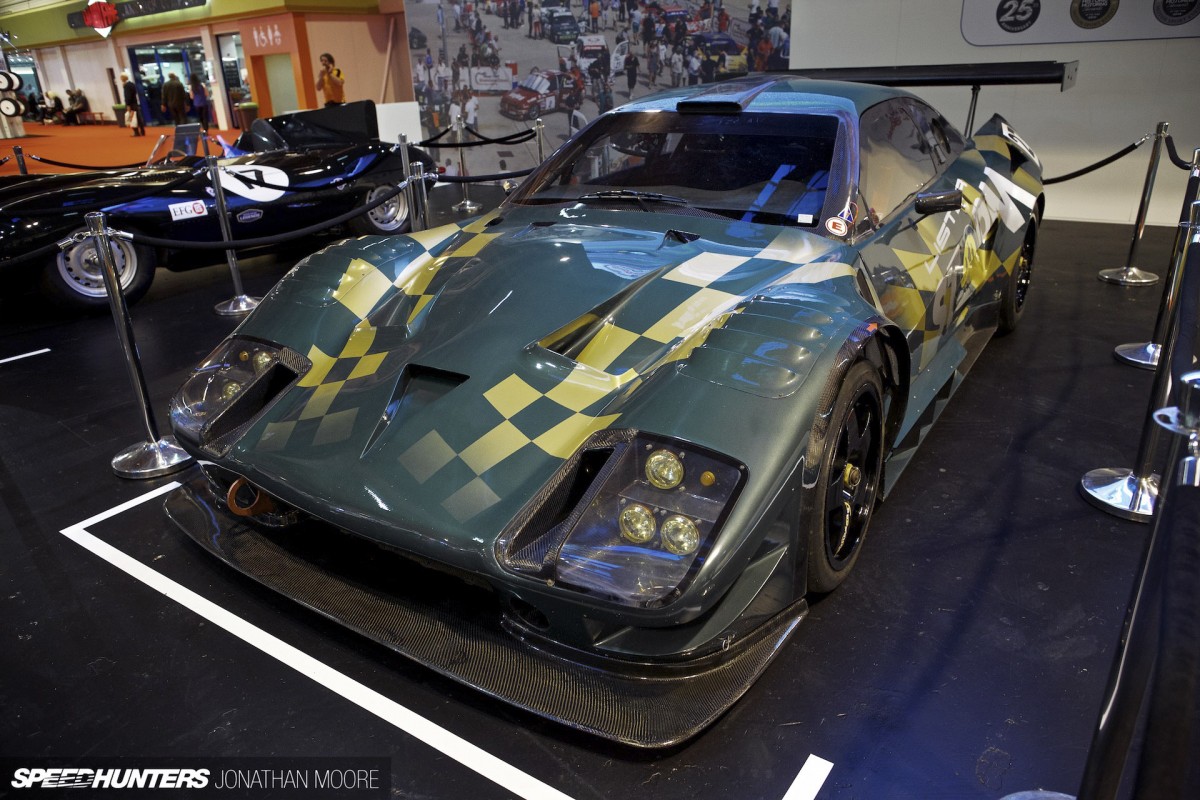 Having mused over the difficult angles of the Lister Storm street car down at Goodwood last year, seeing the GT racer big brother made all my issues go away. With the slashed nose treatment, huge splitter and even bigger rear wing, the Storm GT1 is simply epic.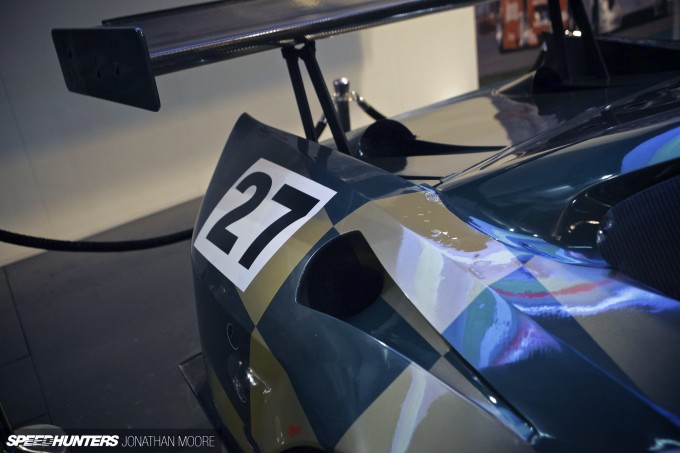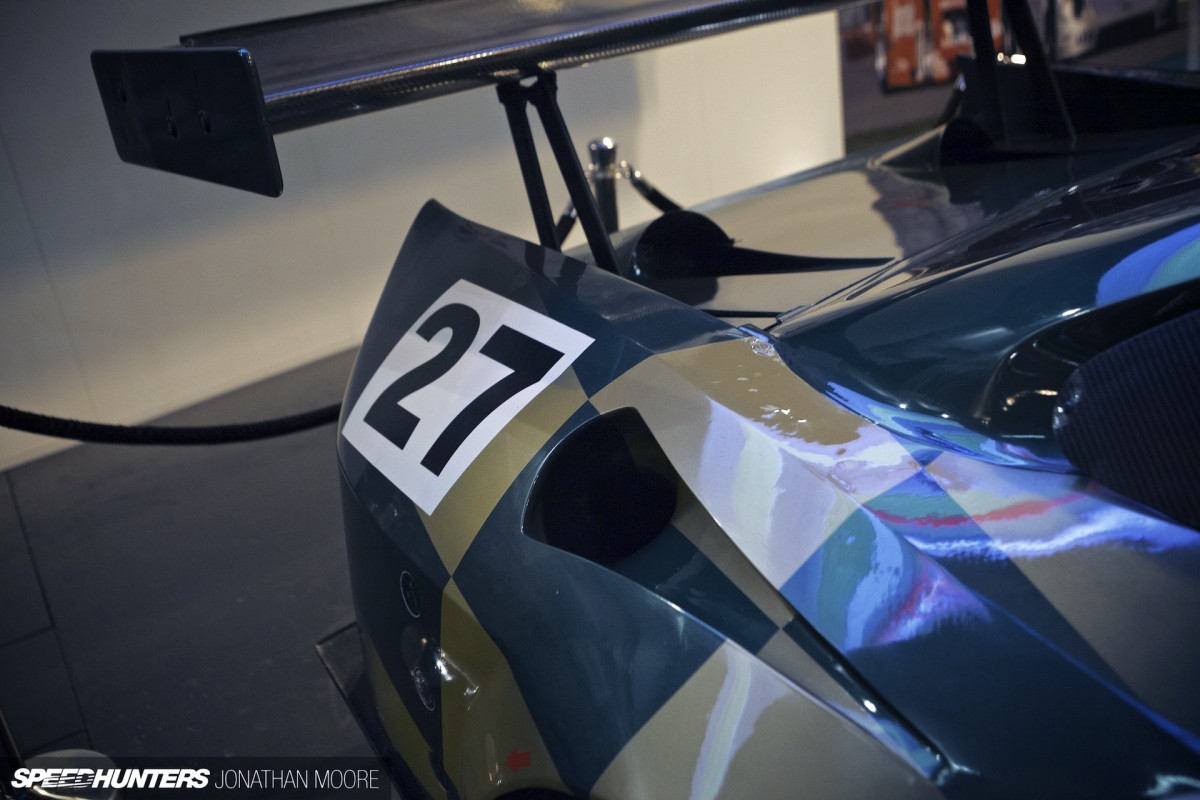 It turns out that this car was actually originally a road car, but converted to GT spec. In racing form, those sharp edges, slashed lines and multitude of ducts and intakes make it look like a sci-fi battle cruiser: total aggression. And the sound! Ah, let's hope one is out at the Silverstone Classic again. It's also easy to forget that the wedge-shaped Storm is actually front engined, its huge 7-litre V12 shoe-horned into the short nose.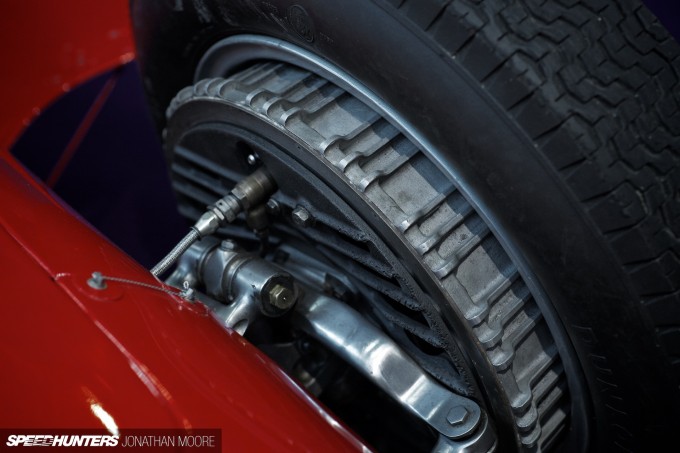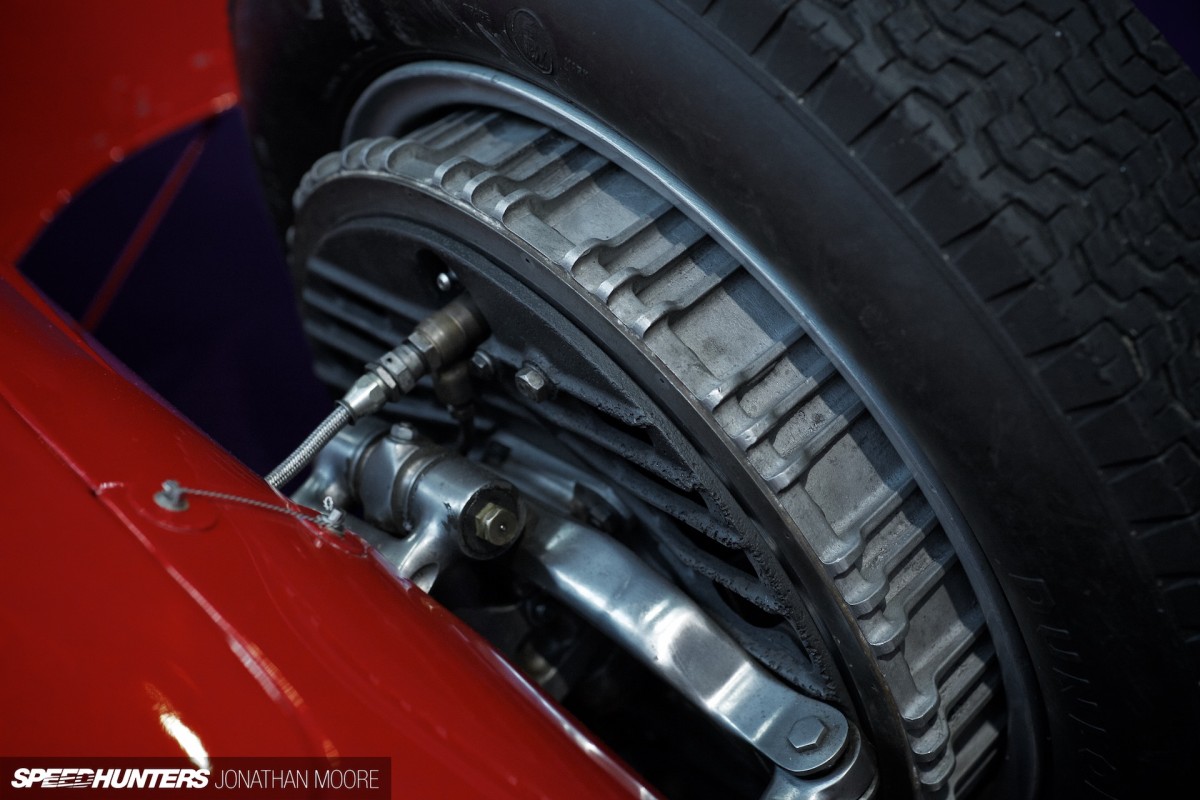 Seeing a genuine Maserati 250F is not something to be taken lightly – the one at Autosport was utterly immaculate; you could just revel in its details. For example, the short control arms and conversely huge front drum brake – all 13.4 inches of it.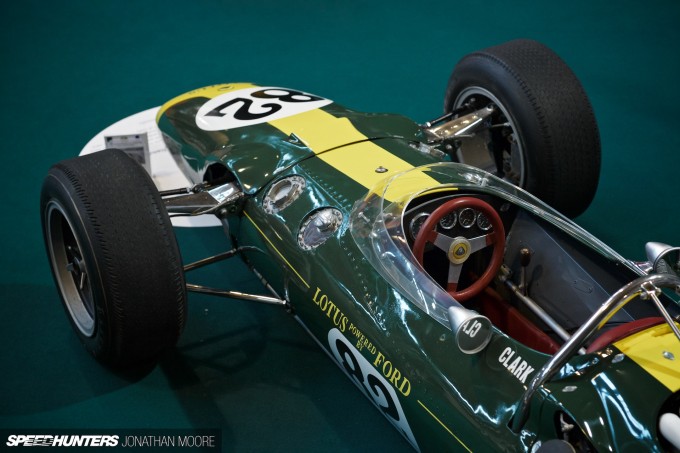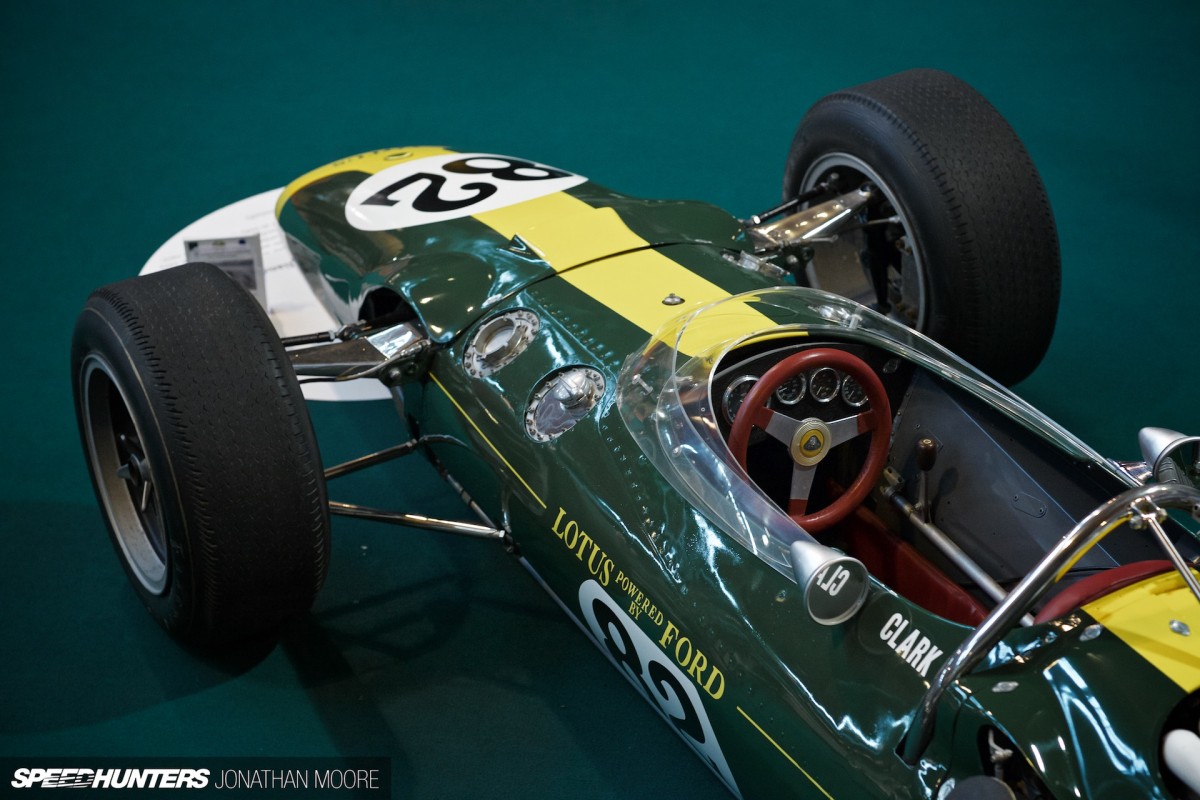 As ever, the joy of a show like this is the ability to compare decades in minutes. The Classic Team Lotus stand featured a full quartet of green and yellow heroes, including the 38/7 in which Jim Clark raced at the 1967 Indy 500. Riveted purity.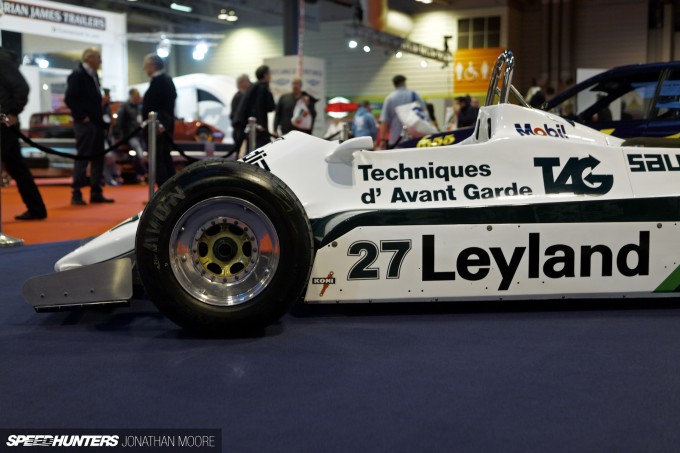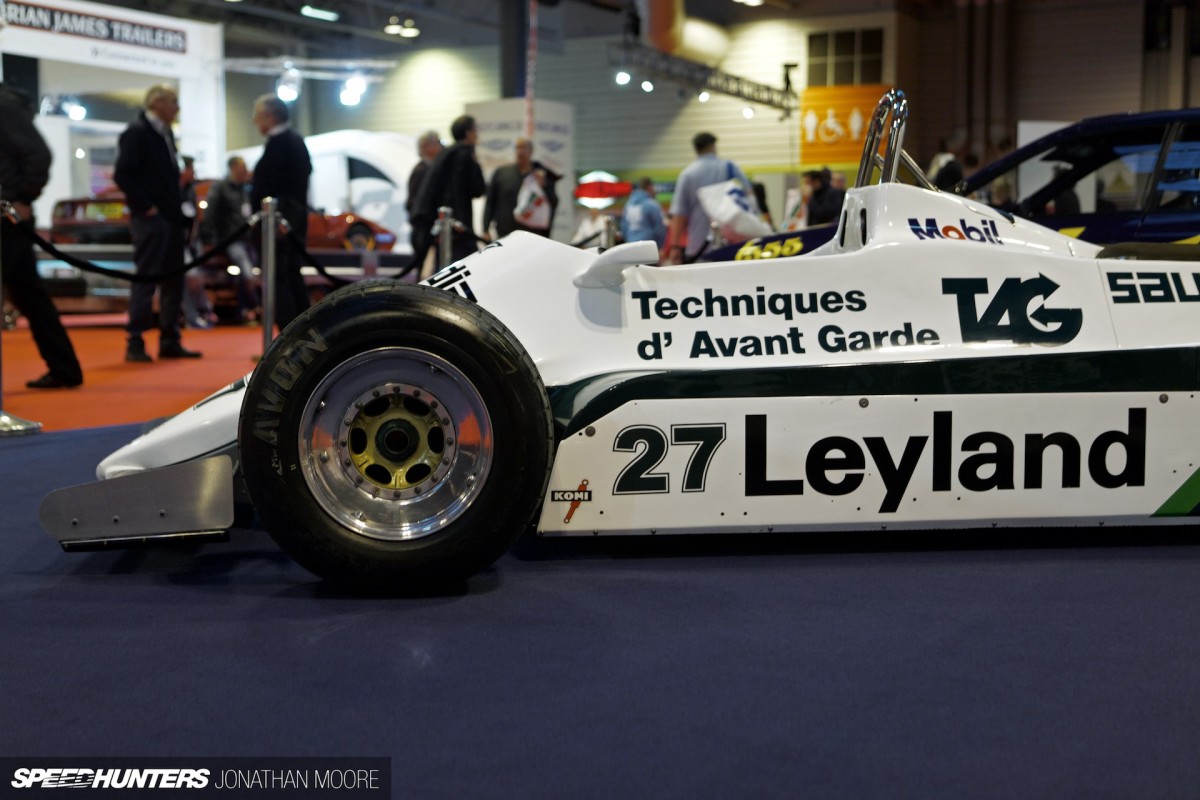 The slab sides and sharp waist of the Williams FW07 from 1979 was approaching the extreme of how far forward F1 drivers would end up sitting. It was also such an iconic livery, from a time where simplicity – whether deliberate or not – made the cars look so much more individual.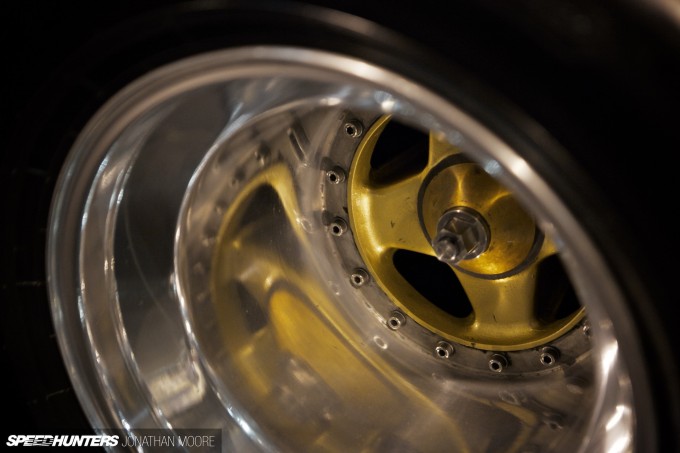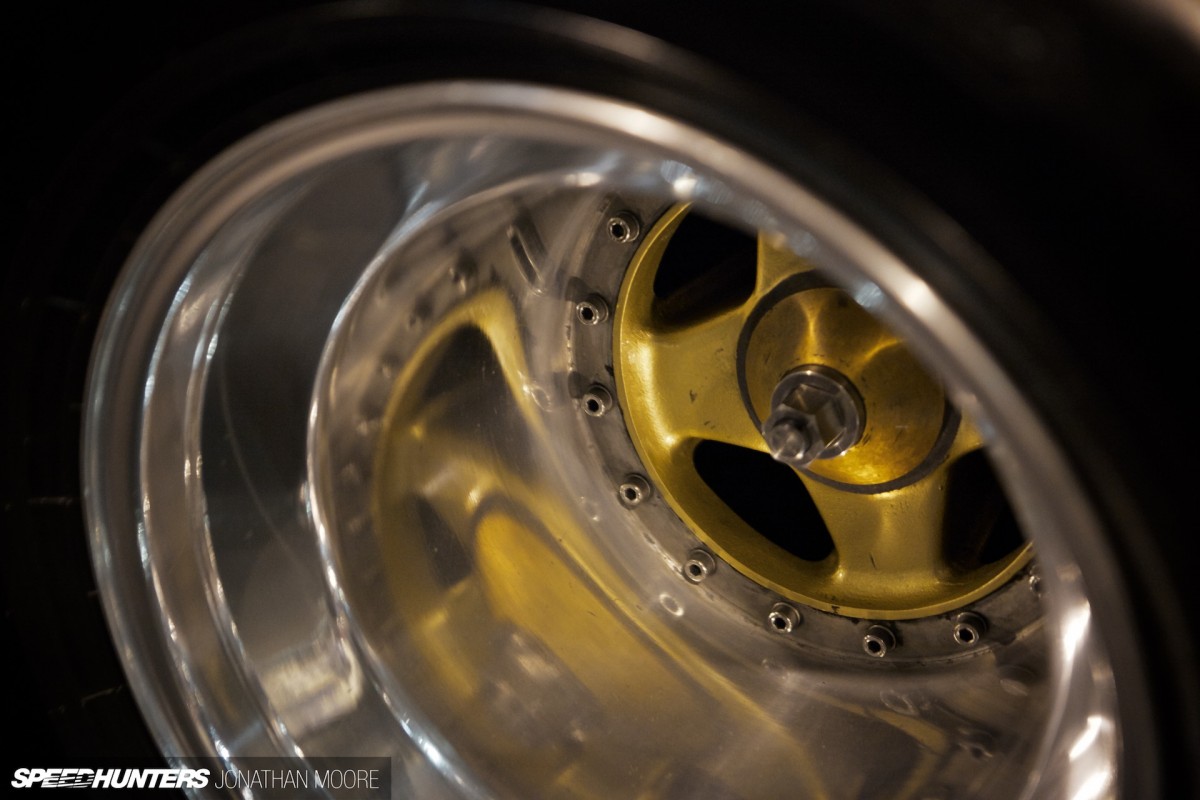 As the driver went further forward, so the dish got deeper out back. This was the cavernous rim from Nigel Mansell's '81 Lotus 87.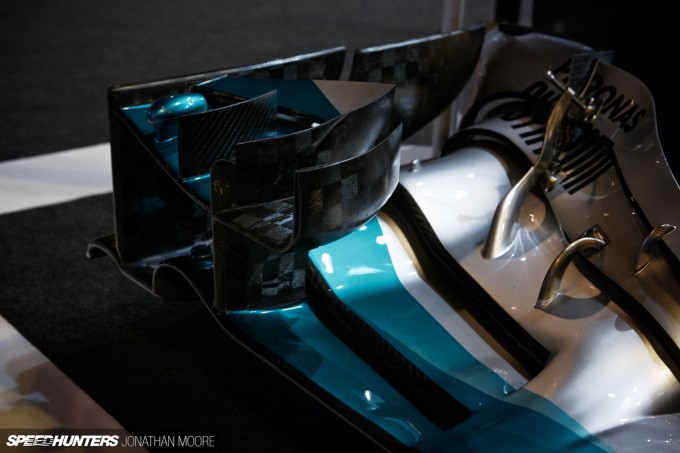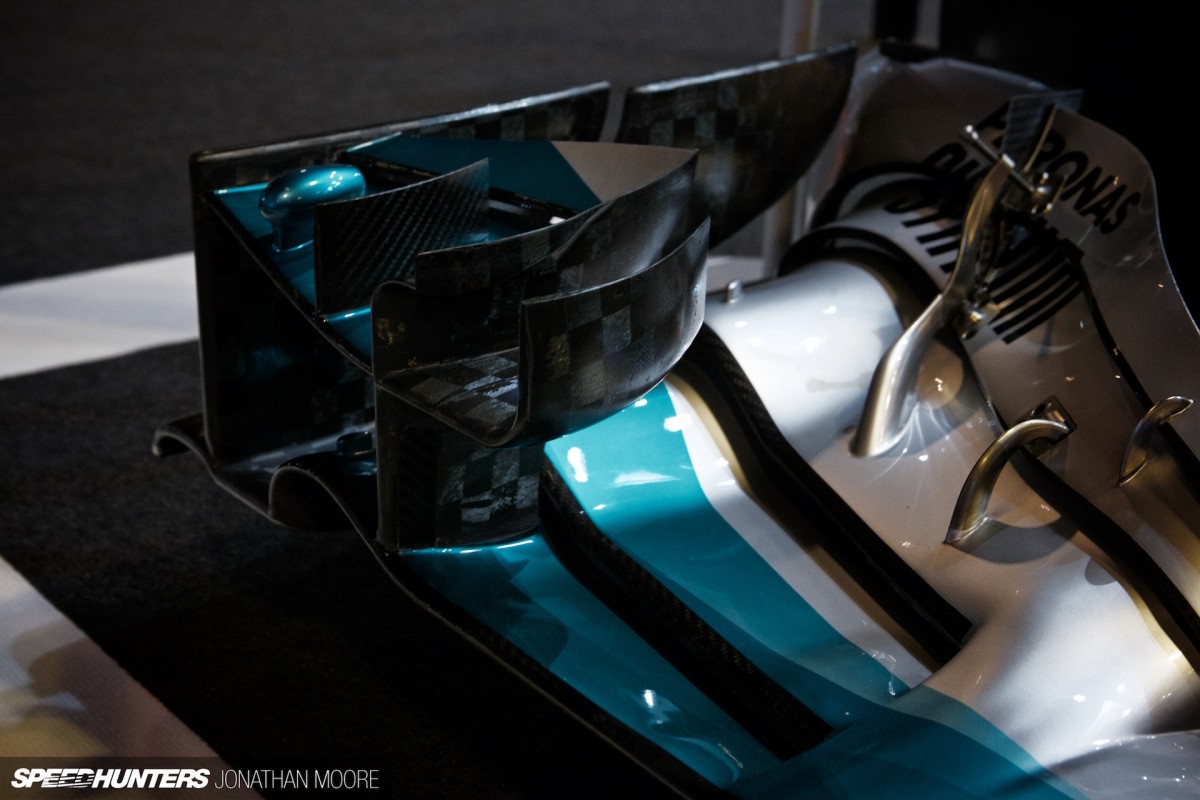 Then as the '90s ended and F1 cars went passive aero crazy, it all went a bit wrong. You could argue that it's the mid-decade cars that were the worst, but the modern front wings of the '2014' F1 cars at Autosport showed we're not out of it yet. It's like a ruinous landslide of carbon.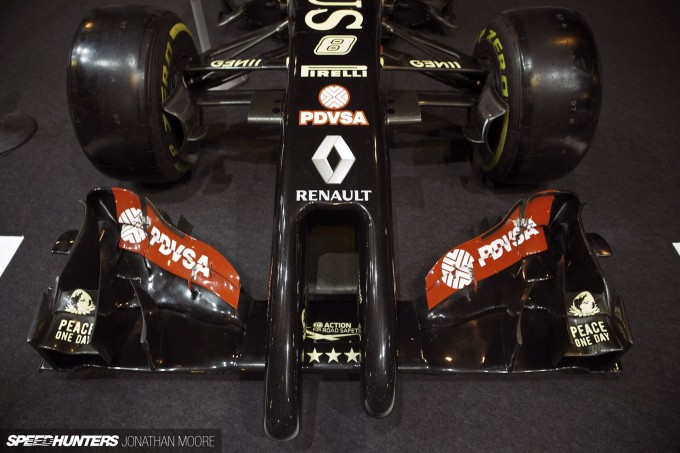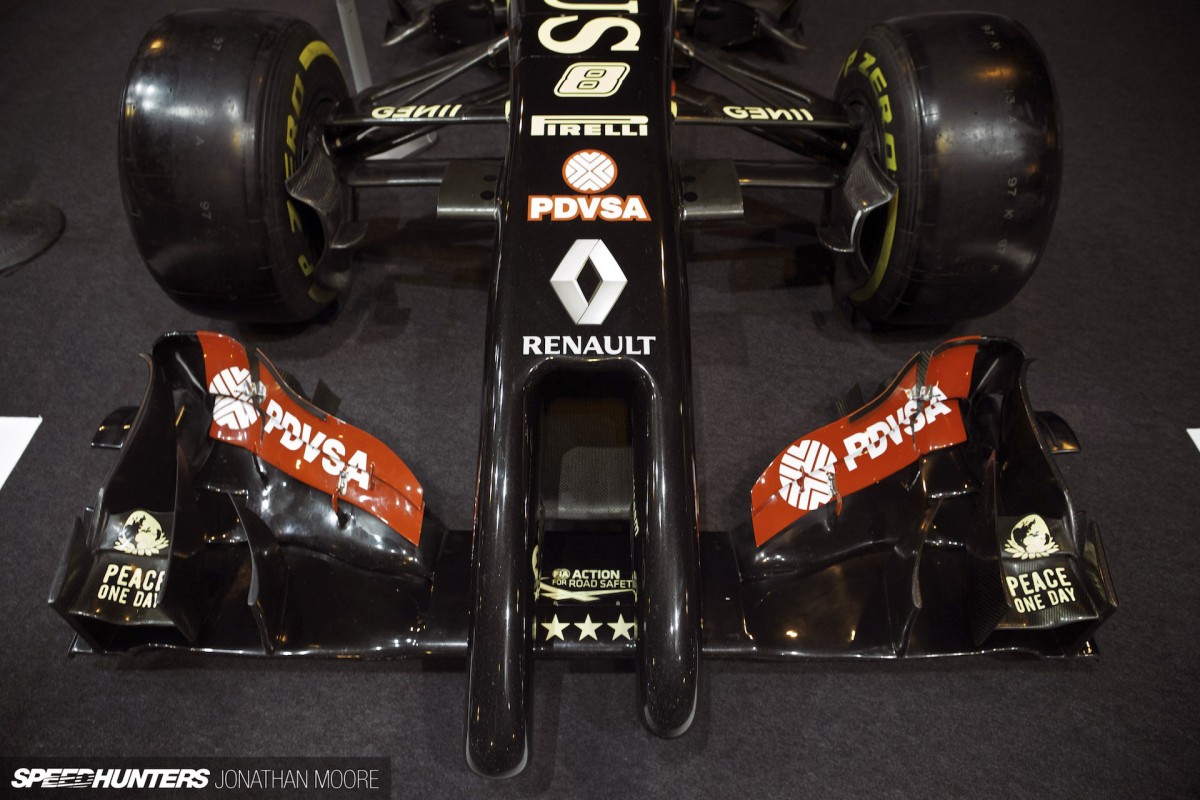 Among the cars which featured genuine 2014 parts was the Lotus-Renault E22. Its asymmetrical forked nose is one that they're probably not concerned about sustaining damage on display. I'm surprised there wasn't a sign saying the reverse of normal: Please Step On This Nose.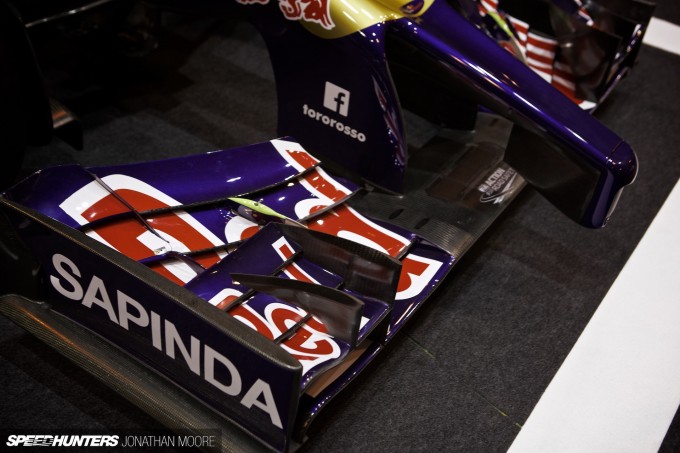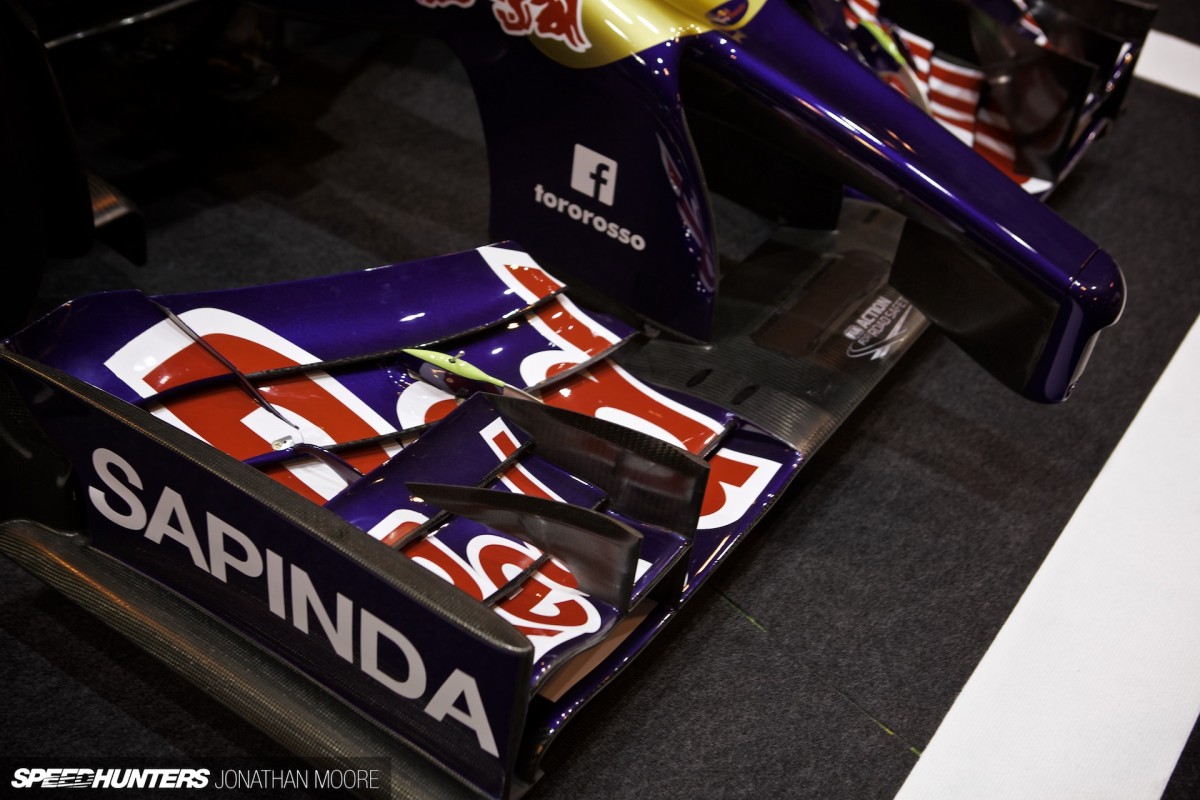 Those noses. It was the first time I'd seen them in real life, and I wish I hadn't. You can appreciate the mathematical art behind the cascading winglets, but there was no excuse for these protruding horrors. Thankfully, only a couple of the show cars had the awful 2014-spec noses attached, which was probably deliberate to not remind people about them.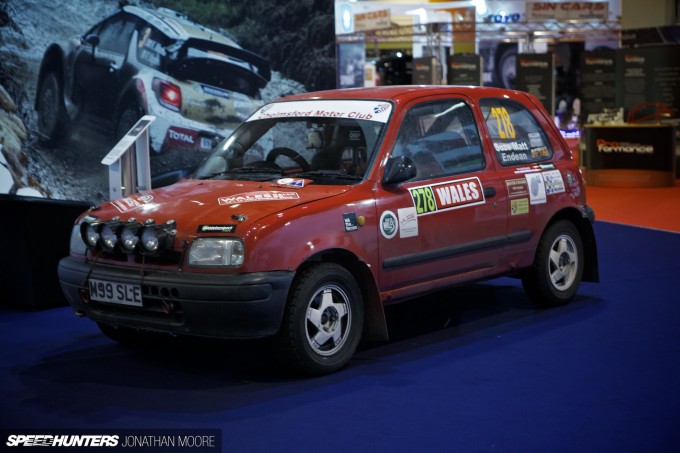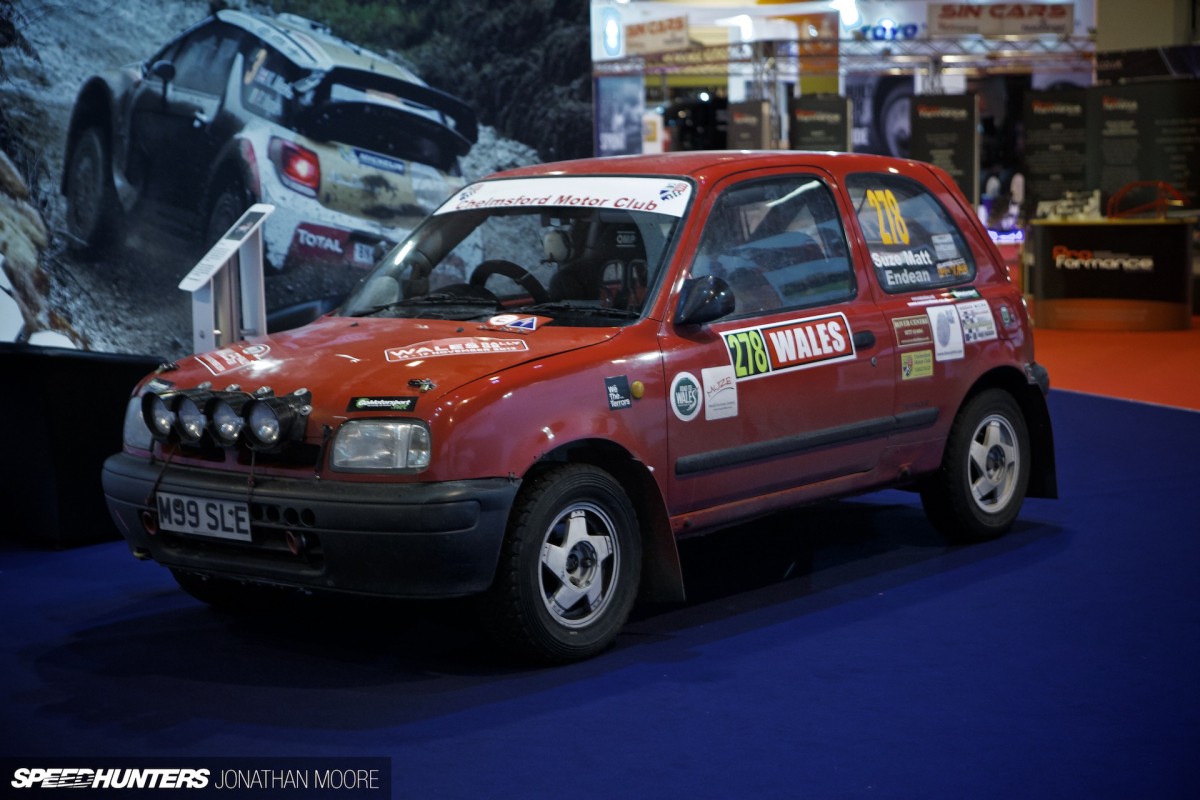 I think that's why I spent more time looking at this humble Micra. Costs virtually nothing to buy. A couple of grand gets it full FIA approved for safety equipment. And this very Micra finished fifth in class on the 2014 Wales Rally GB National.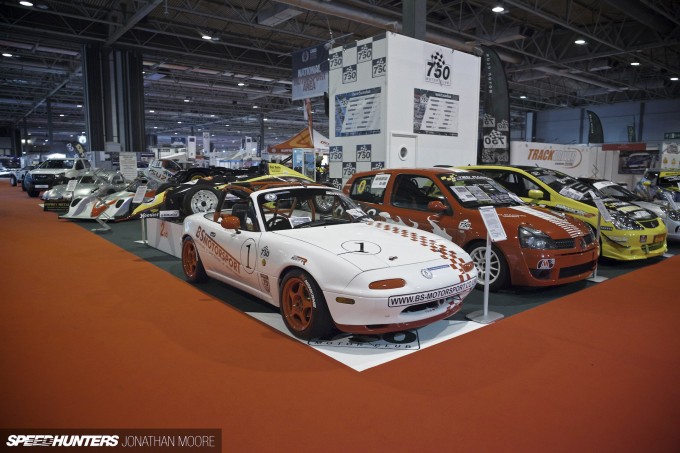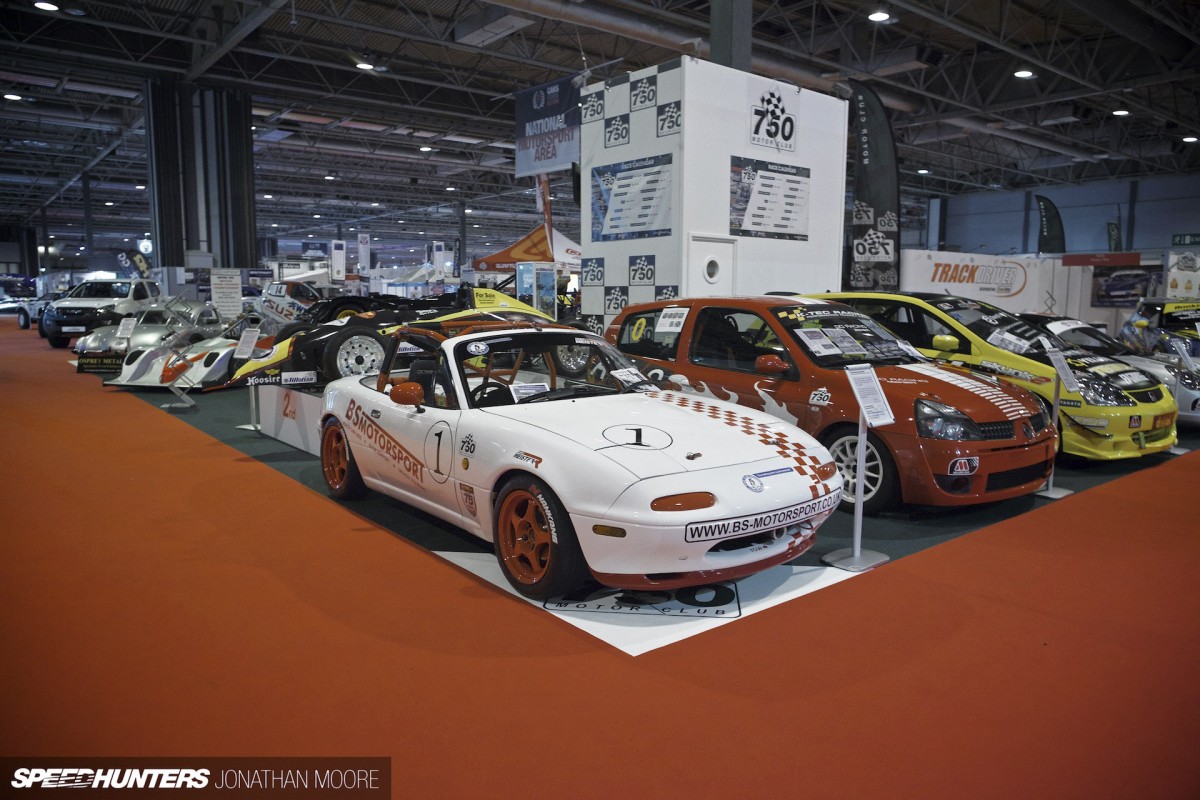 So as the various series kick-start into life, what will you be doing in 2015? Dusting down your karting gear? Maybe catching a bit of gravel with a club rally? I think it's the year to fulfil my destiny and get on the road to racecar ownership…
Jonathan Moore
Instagram: speedhunters_jonathan
jonathan@speedhunters.com