The Art Of Drift
I always find it interesting how drifting and drift cars have evolved. It may be the same discipline, but there are different ways of going about putting together a fun drift machine, not to mention driving style. Pro series around the world tell us that a drift car should be a purpose-built race machine with custom tubular front and rear chassis and subframes, sporting power levels that in some cases aren't too far away from four figures. But then you hit up some mountain roads in Japan and you find a bunch of vehicles that couldn't be more different.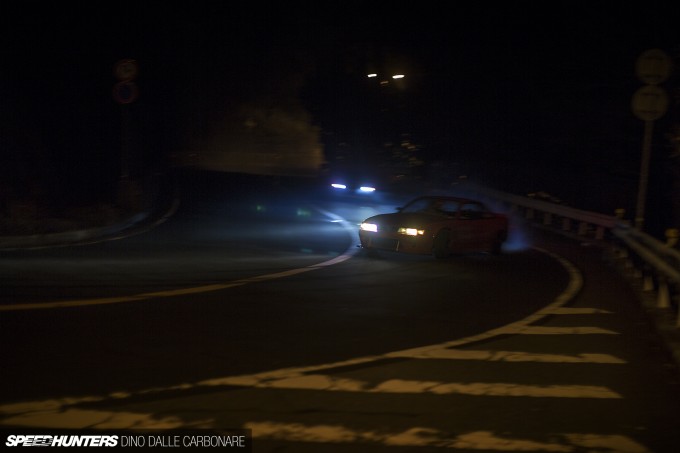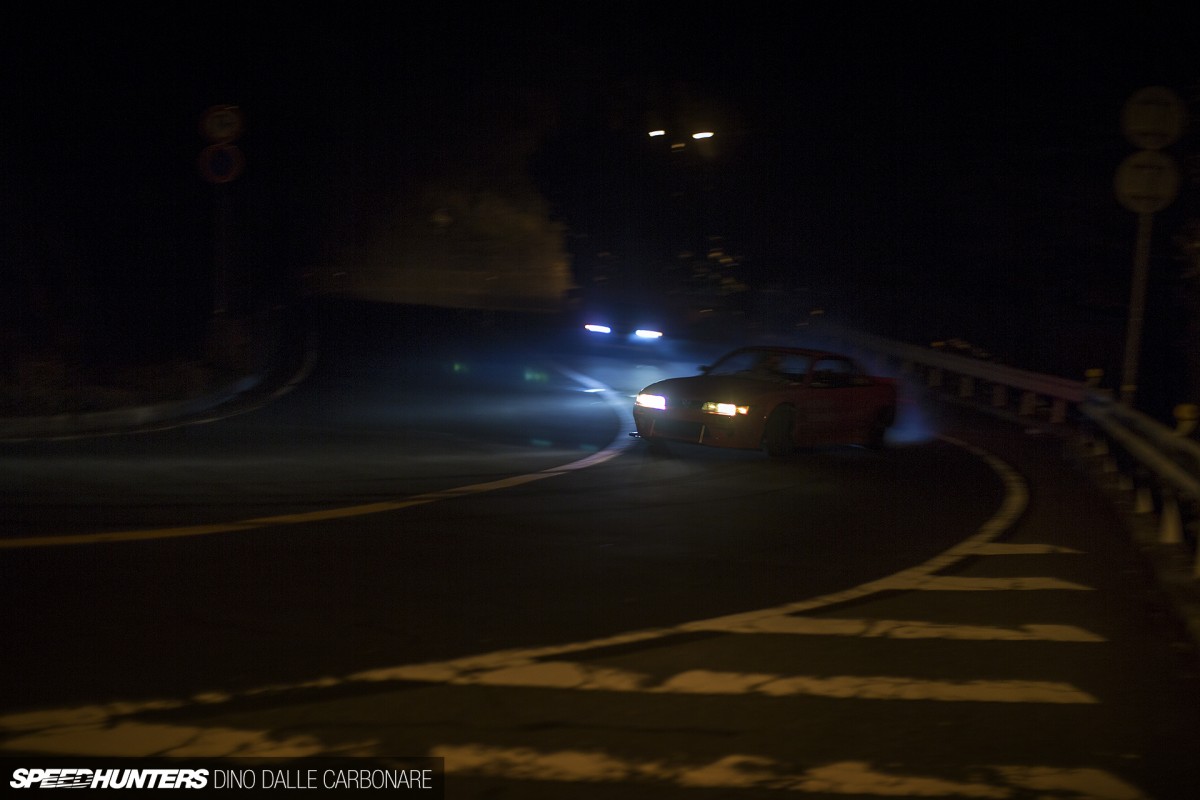 There are no huge budgets here. Everything is pieced together by the owner, built up and perfected over years of trial and error. This is the real world of drifting, out on the touge in the middle of the night, practicing your favourite corners with your buddies, nailing the perfect pass, but every once in a while screwing up and hitting a barrier. This is the spirit of drifting – something I already touched on back in the summer when I went out one night in the mountains around Rokko.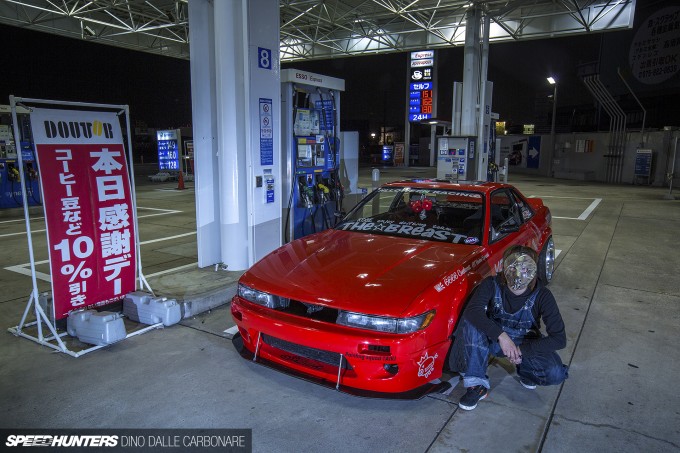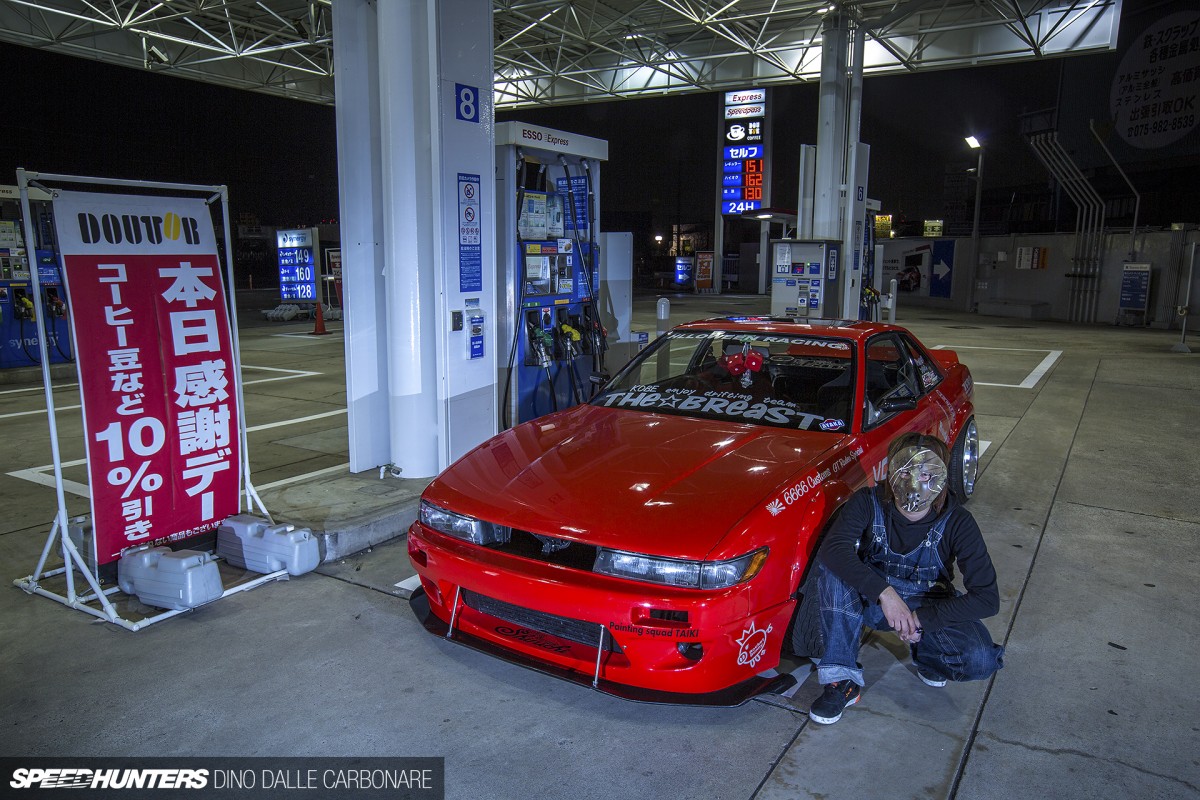 Just in case you were wondering what one of those street drifting machines are all about, you're in luck as I was able to feature a prime example at a pretty famous gas station in Kyoto late one night. I say 'famous' because this is the place that Miura-san heads to shoot his demo cars once they are complete – the same location I shot his Kanjo Civic back in the day. The owner of this particular S13 was kind enough to stick some temporary license plates on his car and take it out for some shots, seeing as it had just received an all-new aero kit and a very shiny coat of paint.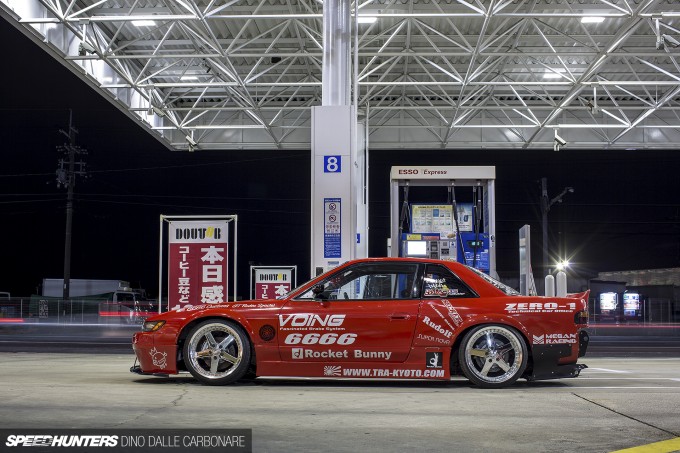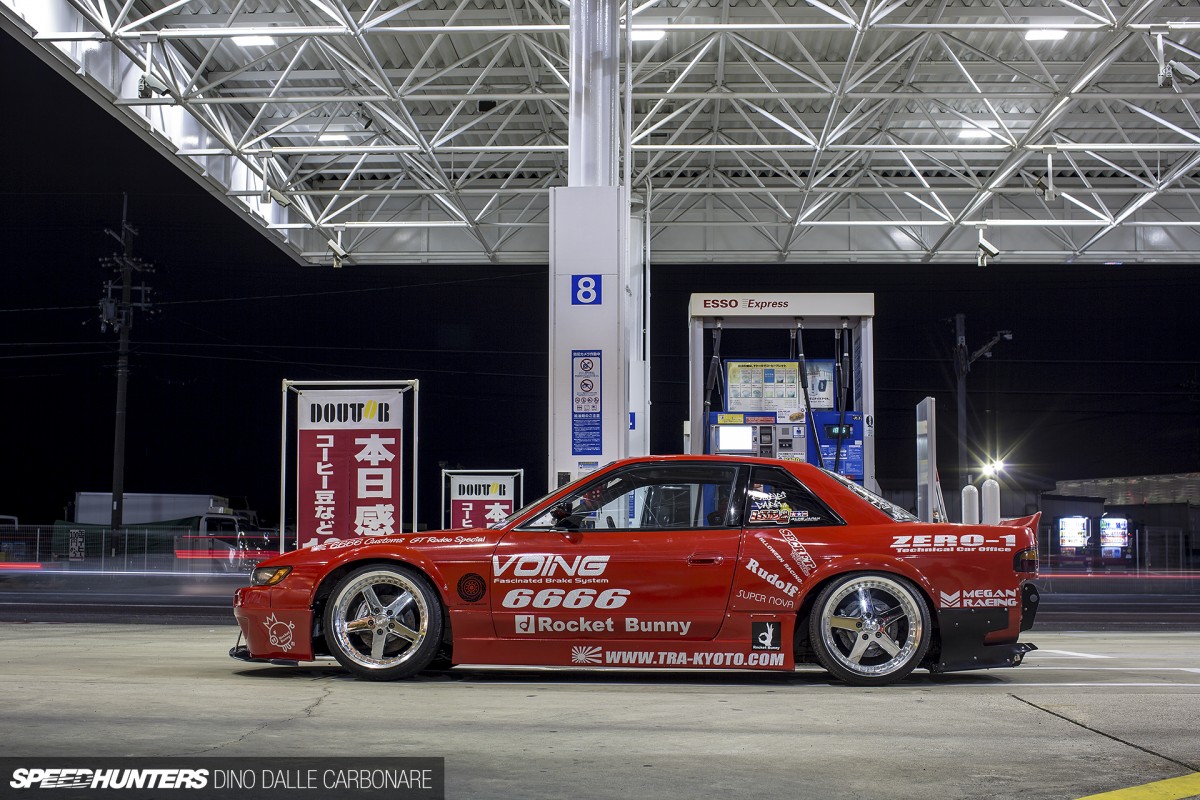 The official name of this car is the Halloween Racing with The☆BReaST Silvia – a 1990 Nissan S13 that has endured one hell of a tough life. That said, it's still in one piece, probably due to the fact that its masked owner knows how to throw it around corners with precision. It's a skill he's perfected throughout the years, having pretty much dedicated his entire adult life to the art of drift.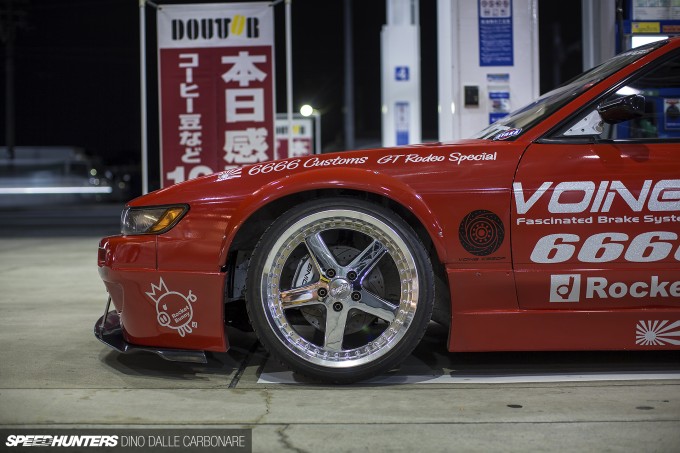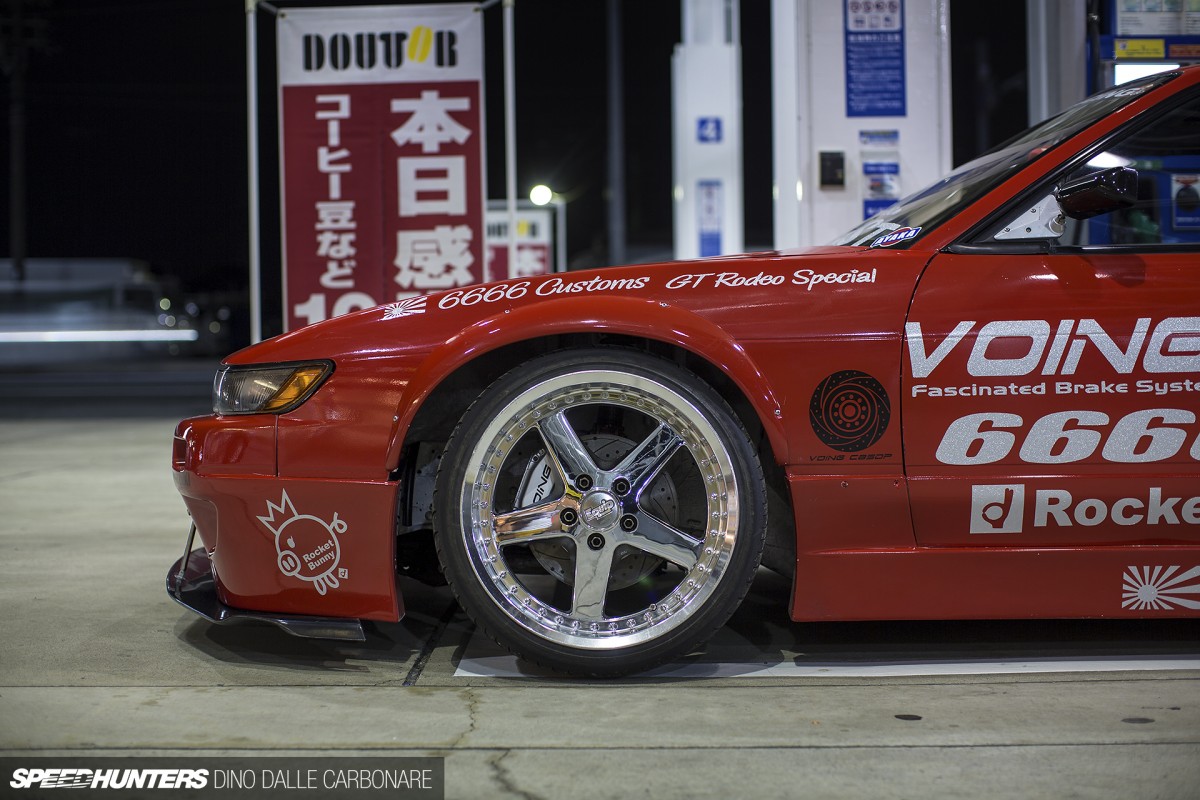 This of course includes lots of practice sessions at local tracks, but just like all the other members of his team, nothing can quite match the thrill of drifting in the mountains. Aside from the danger and illegal nature of it, this is where drifting was born, so taking it back to its roots continues to feel like the right thing to be doing. Plus, as I was told, if you can't drift bumper-to-bumper with your mates on the touge, you can't really call yourself a drifter.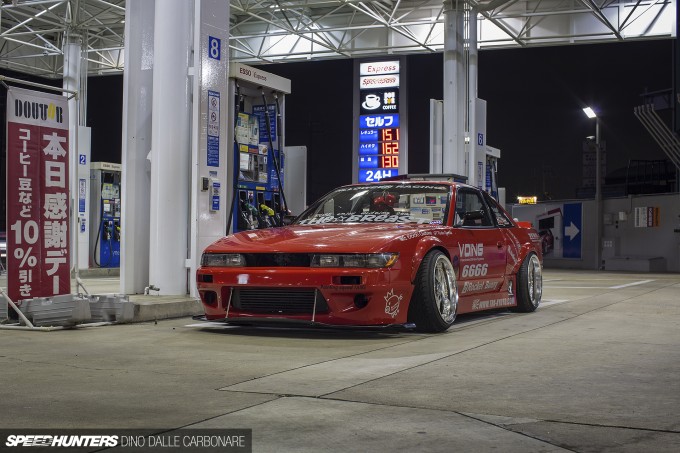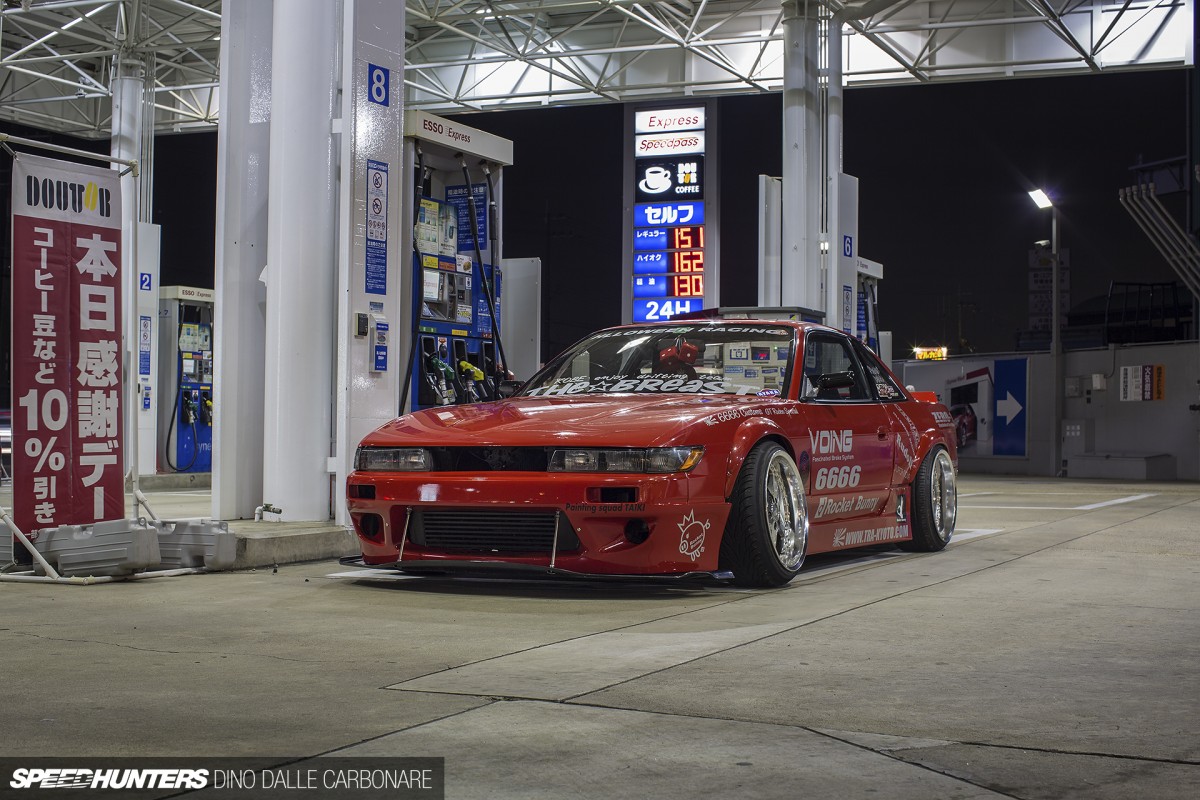 But let's talk about the car.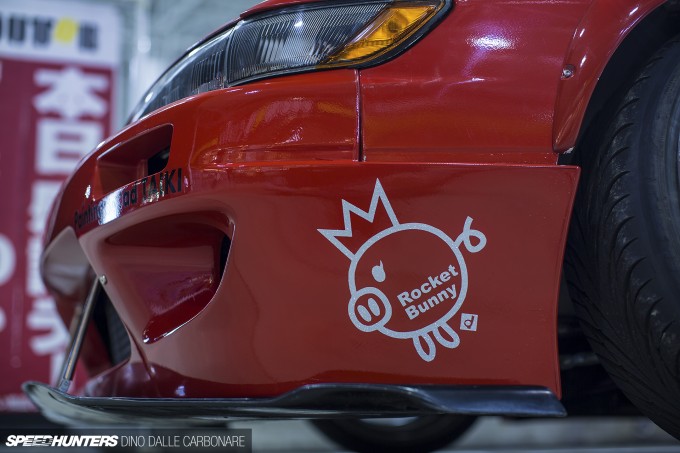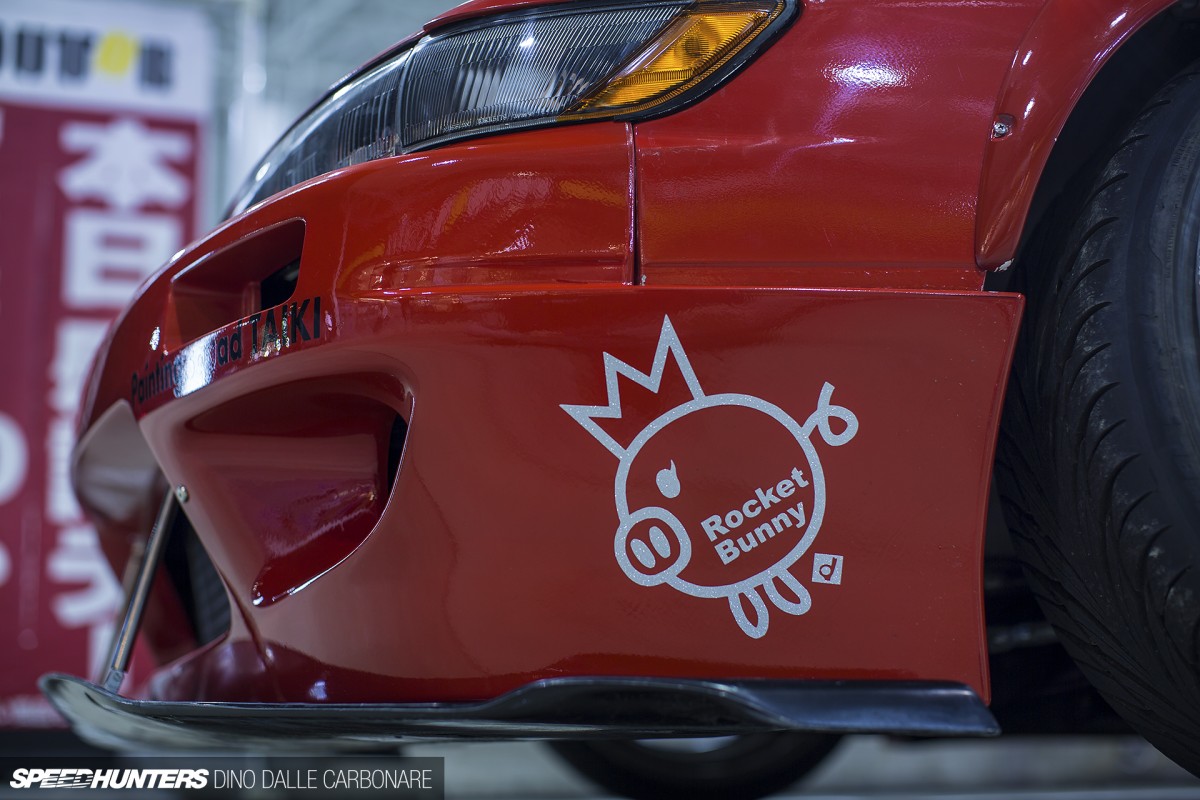 The aero is undeniably of Kei Miura origin, but the full 6666 Customs kit has been upgraded with countless additions to not only bring it right up to date with current trends, but stand alone as a unique creation.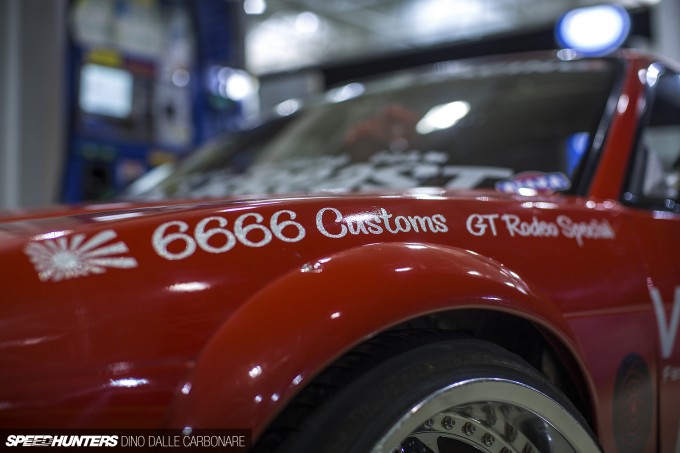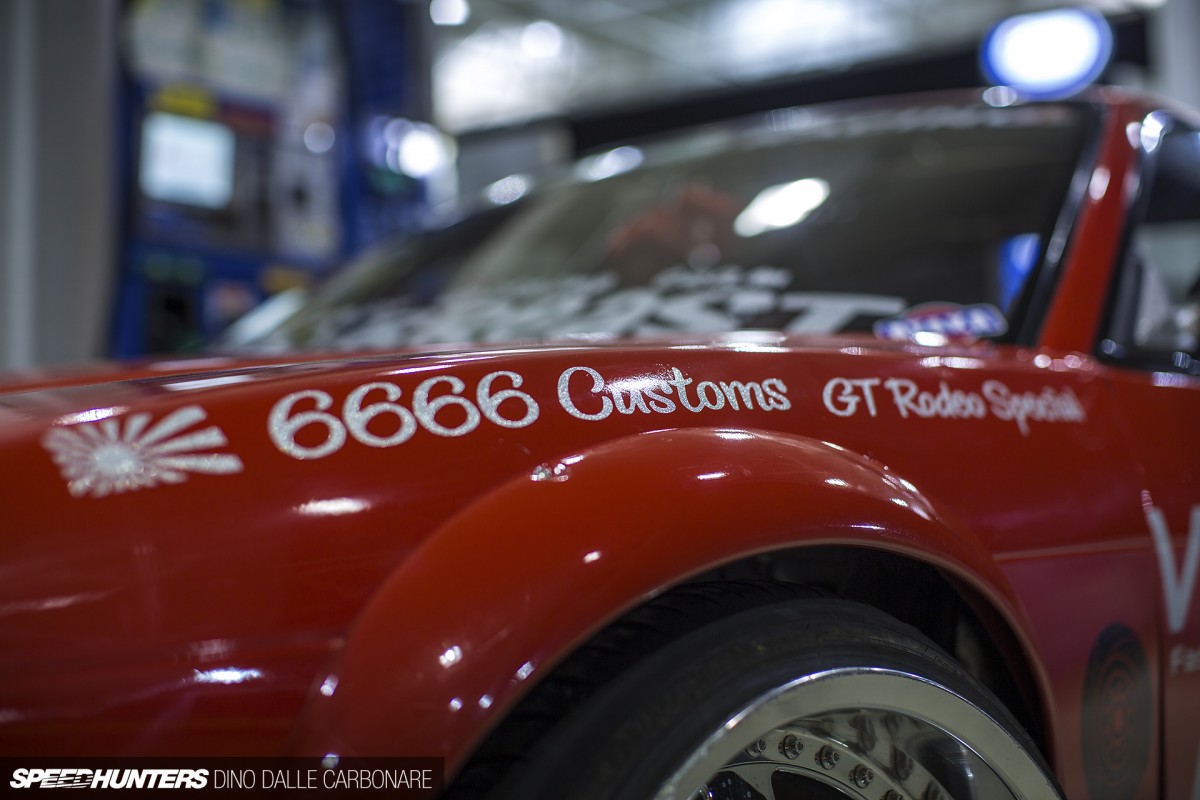 Continuing on from the bumper and splitter section, a custom set of overfenders screwed onto the body help give extra girth by boosting the S13's width by 30mm on each side.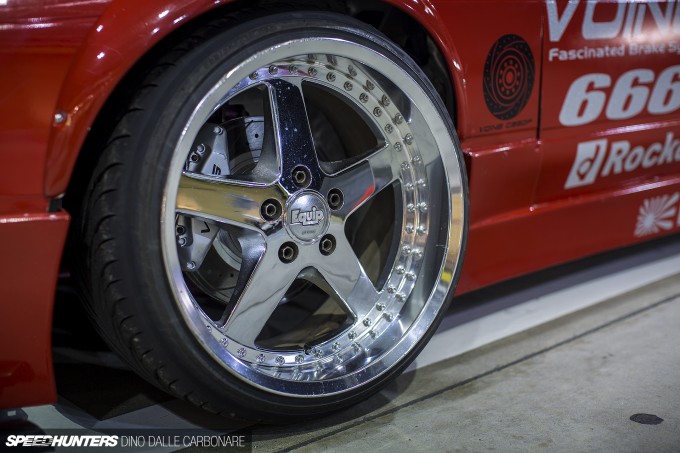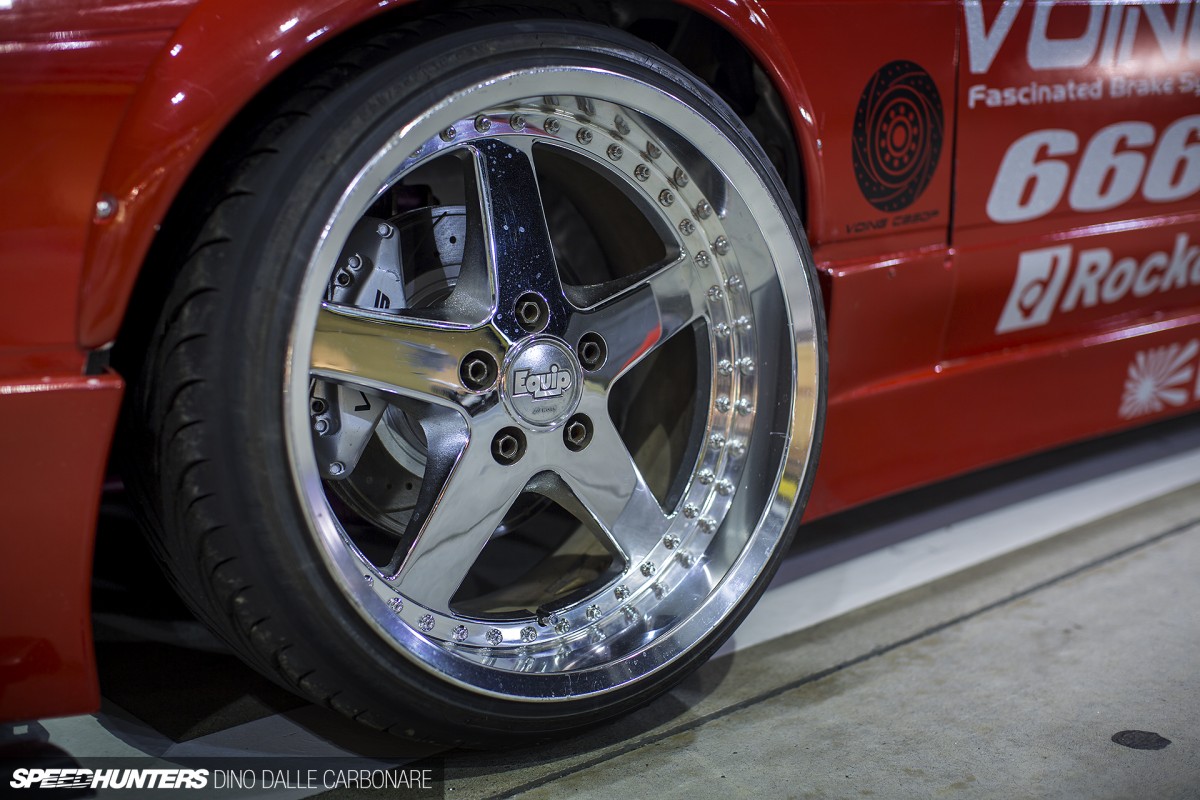 That's a necessity too, because the trick drift-oriented suspension upgrades and geometry has really pushed the Work Equips outside of the of the factory body lines. The timeless five-spoke wheels measure 18×10-inch with a +10 offset up front.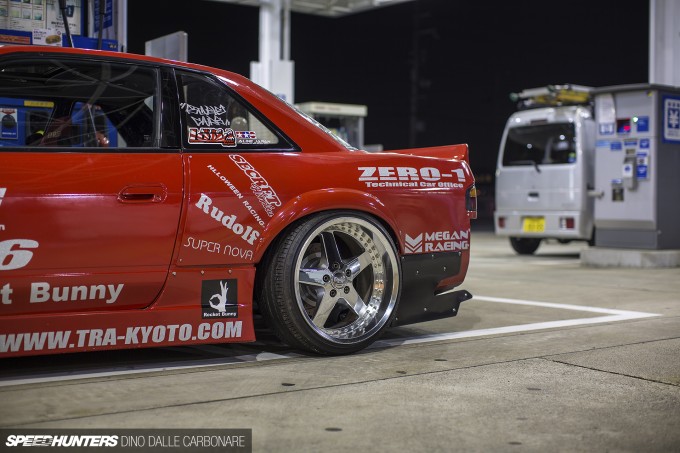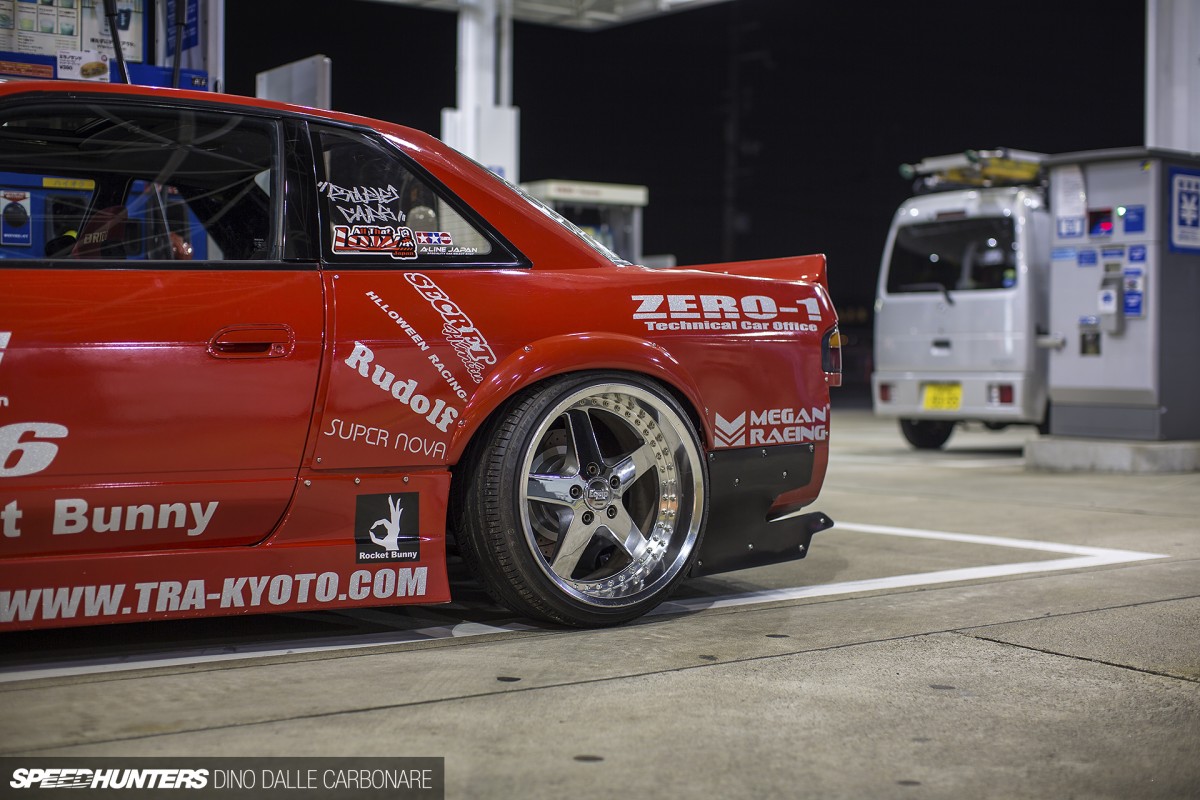 The rear wheels have the same dimensions, but with a +5 offset to fill up the wells nicely. Look closely and you'll see that some stacking has gone on at the back – fender flares mounted on top of overfenders. It's a crazy fender widening party!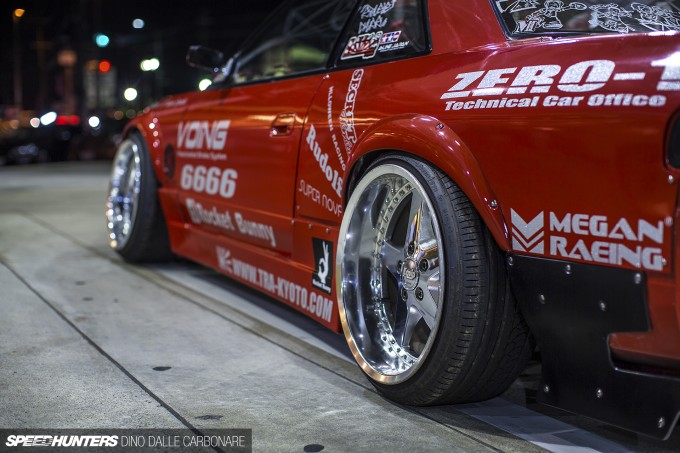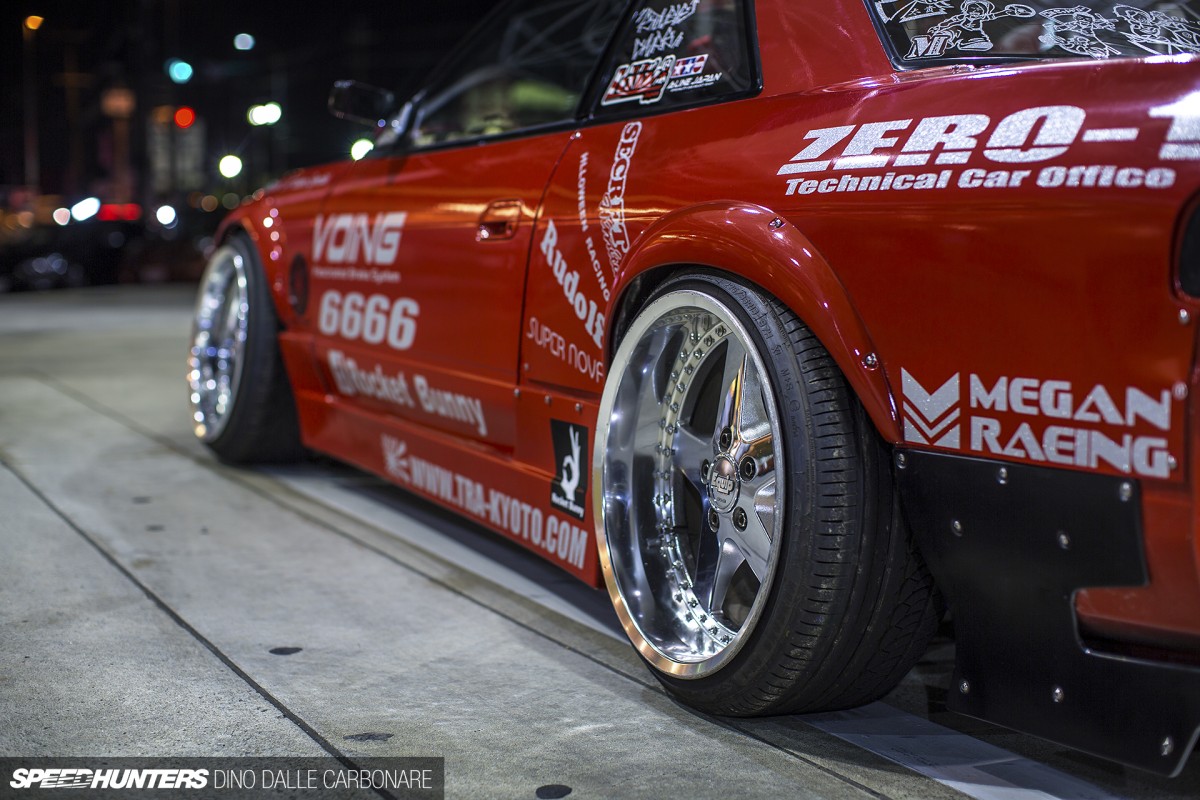 With the Megan Racing adjustable suspension set just right, the car nails the street drifter look to perfection. It's low, but not slammed. Of course, the real important bits are those that you can't see though. First up, the front runs a visible amount of negative camber, and joined with MOZE shortened knuckles and extended lower arms our masked drifter has all the steering lock he could ever need.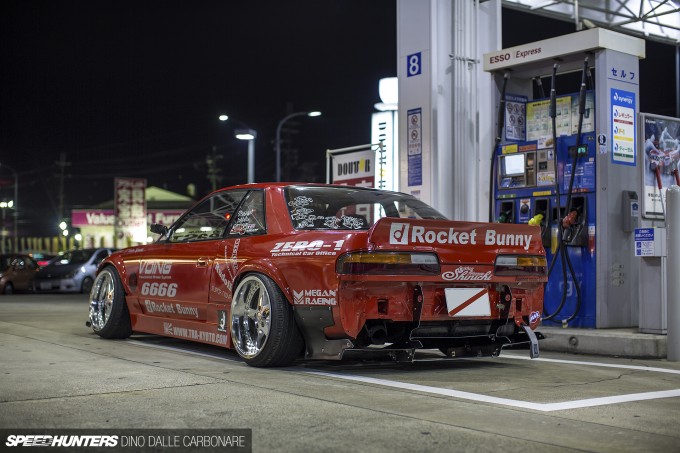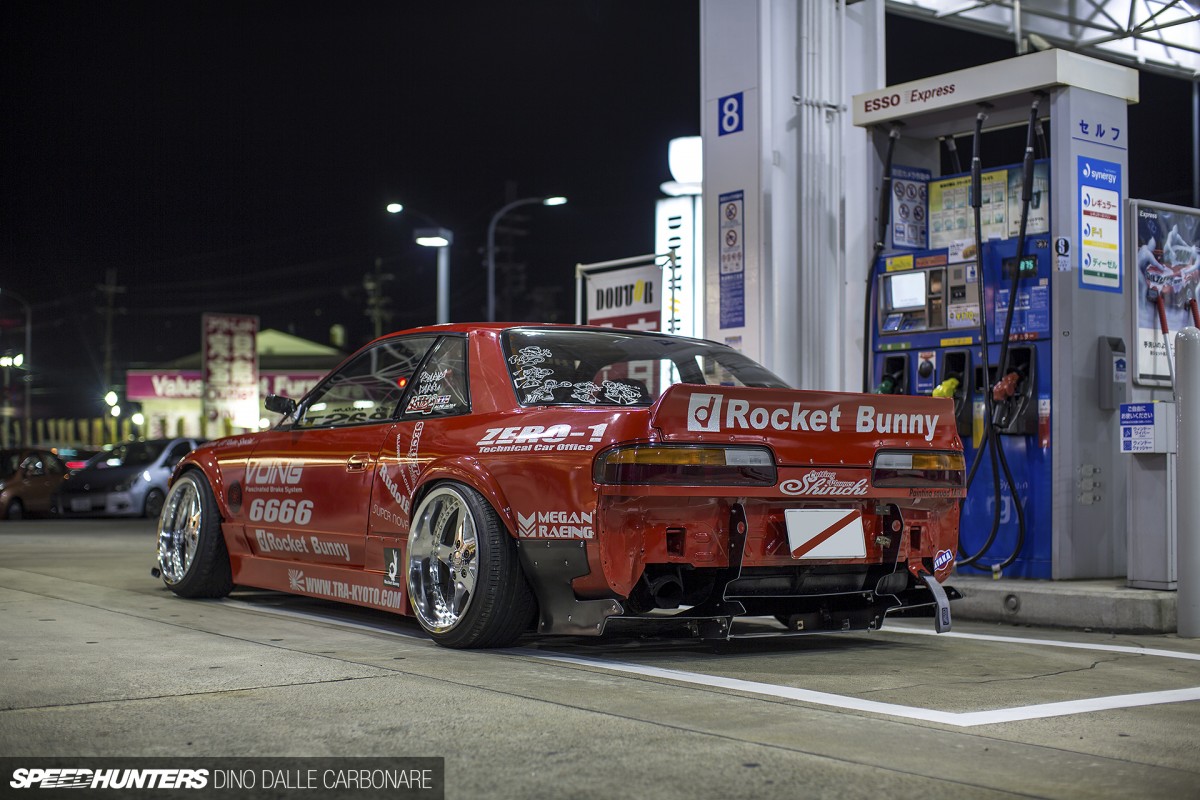 Putting the power down and developing a lot of grip might sound counterintuitive in a drift car, but it's a necessity. To get things to feel just right the S13's rear end runs toe control arms, traction rods and a reinforced subframe along with carefully dialed-in geometry.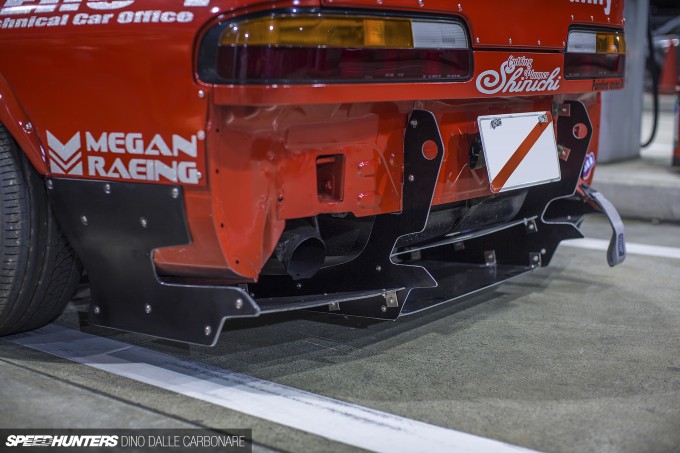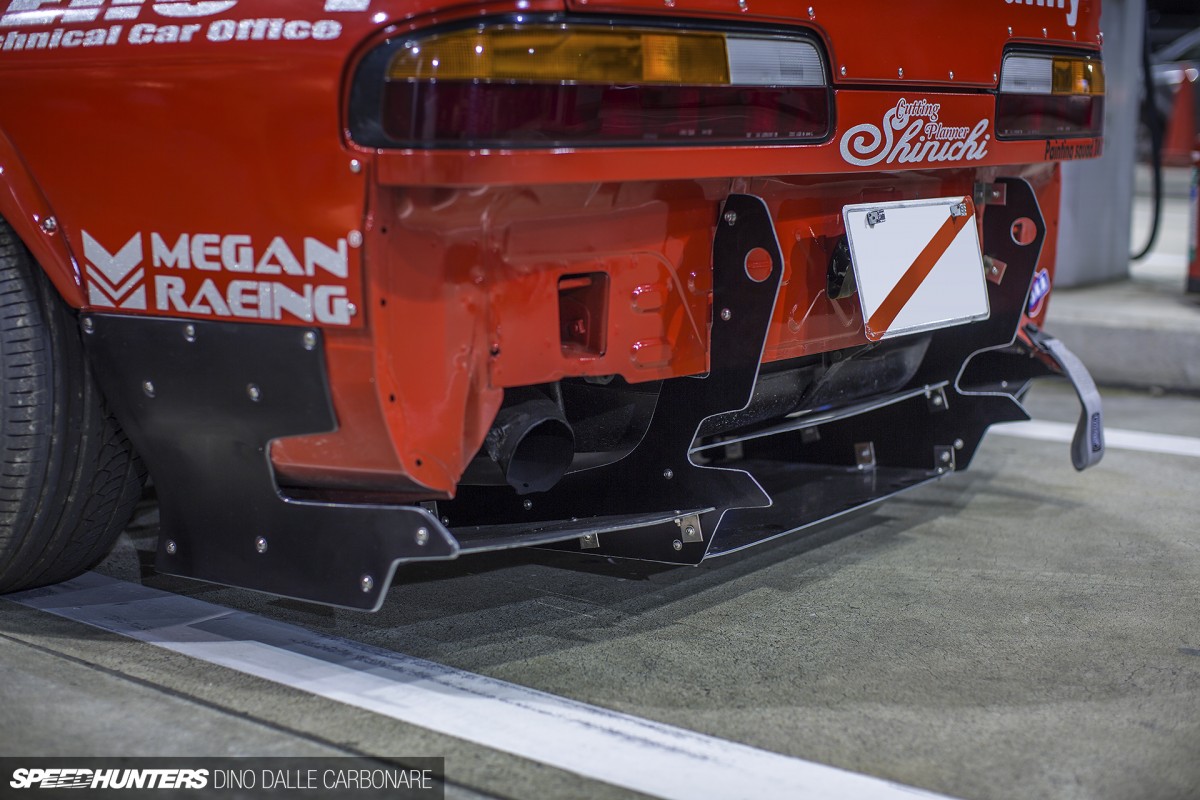 It's hard to ignore what is happening at the rear of the car, the owner loving the bumper-less look that all of Miura's cars have been sporting as of late. Its removal has freed up space to custom fit a Rocket Bunny 180SX rear diffuser, which looks menacing when you tail the car up the mountains, as I had to do!
Looking Good Is Important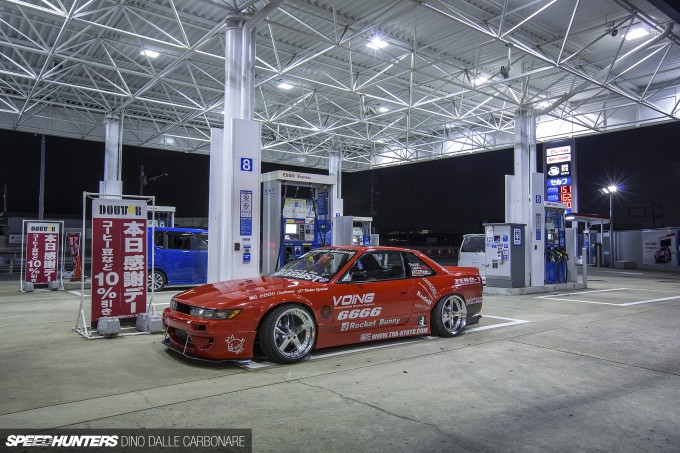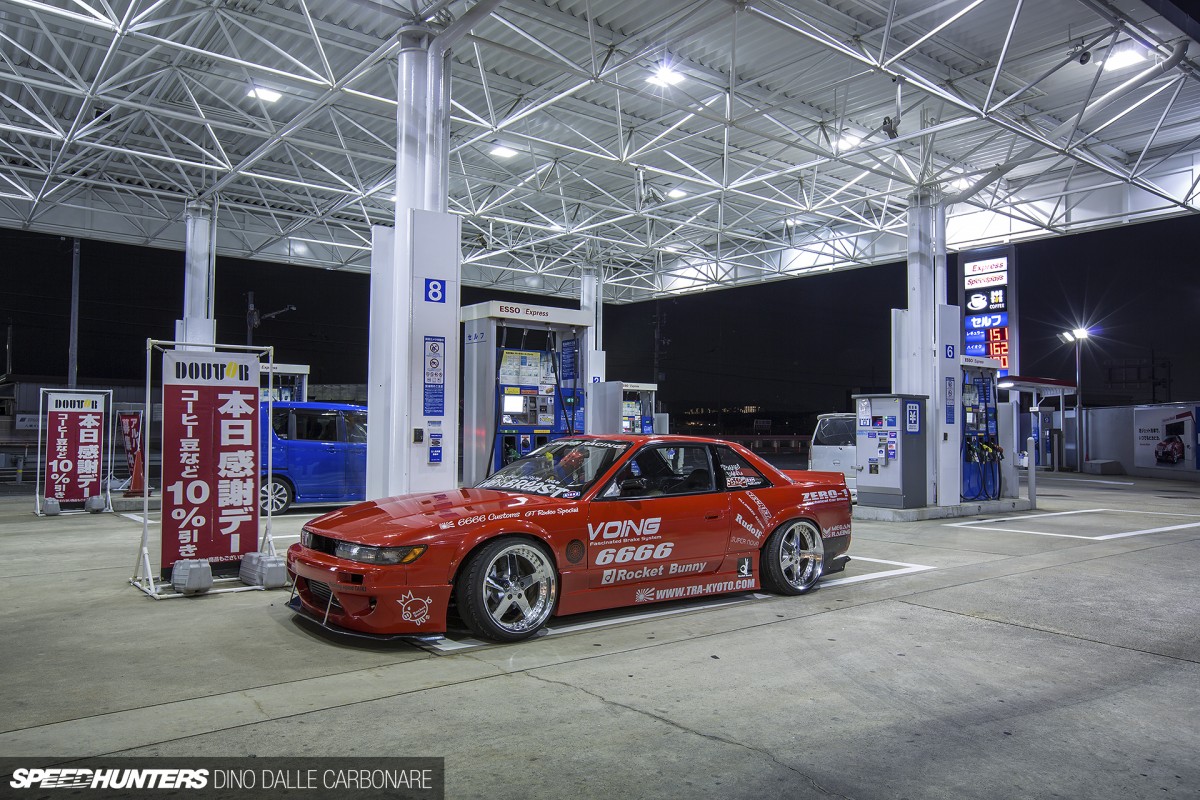 Miura also fitted a custom set of side skirts and topped it all off with the best touch of them all – his signature ducktail spoiler.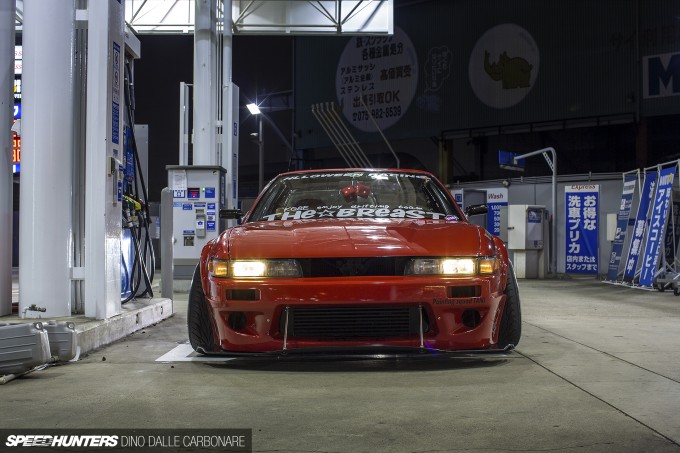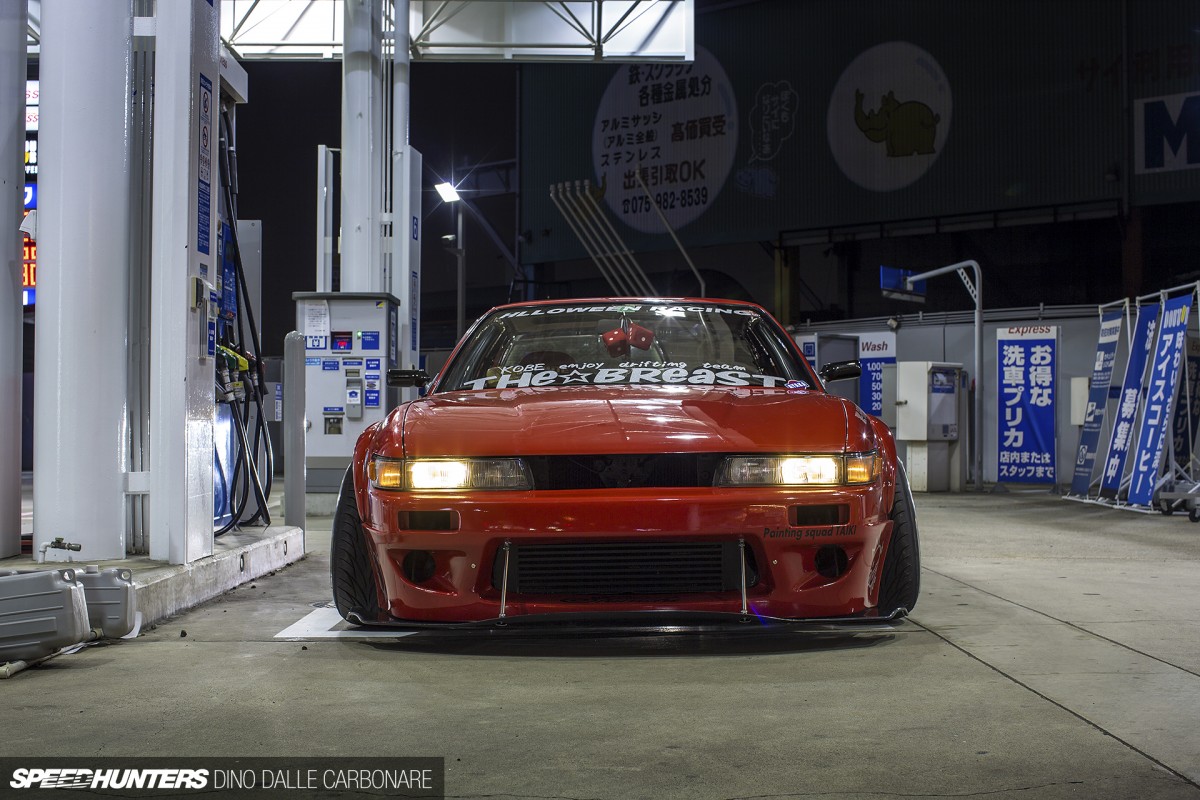 Seeing the sort of driving this car is subjected to, its owner is a brave man running such a low-sitting lip spoiler. But as he put it, driving is half of the job, looking good while doing it is the other 50 per cent!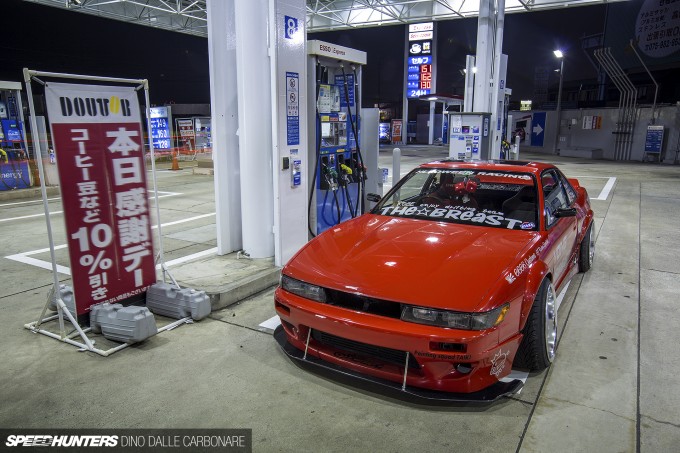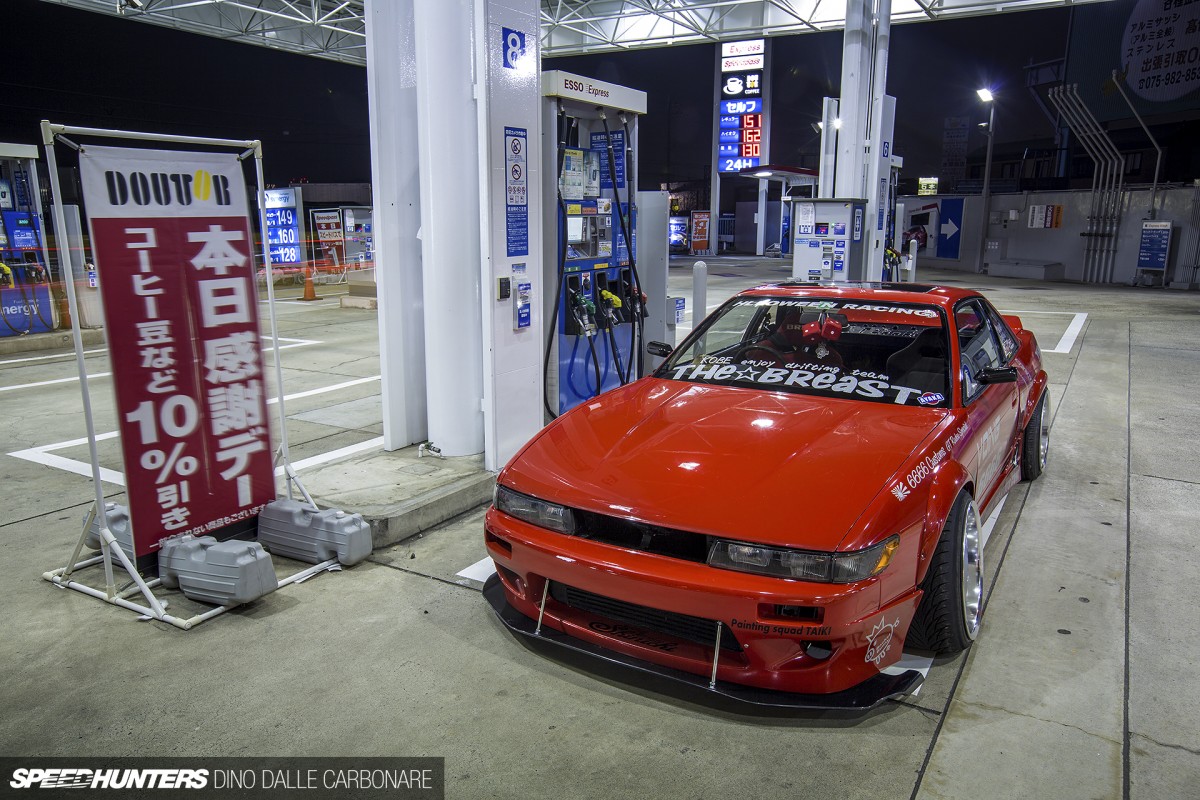 He's certainly nailed the look, dotting it with little details like the removal of the grille, the upgraded headlights, the Craft Square side mirrors, and in true JDM style a hefty dose of team and sponsor stickers.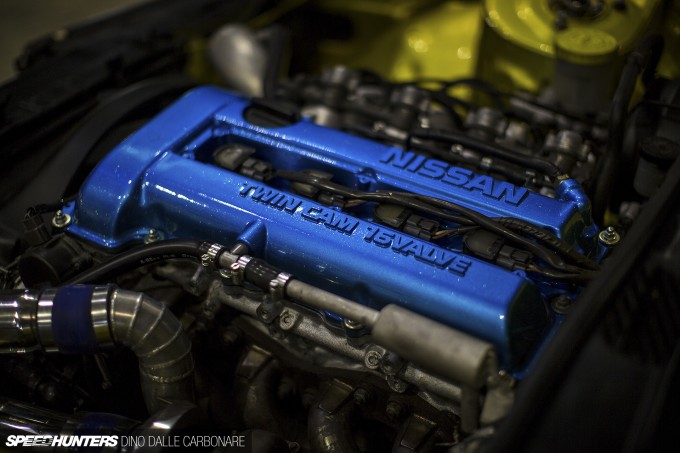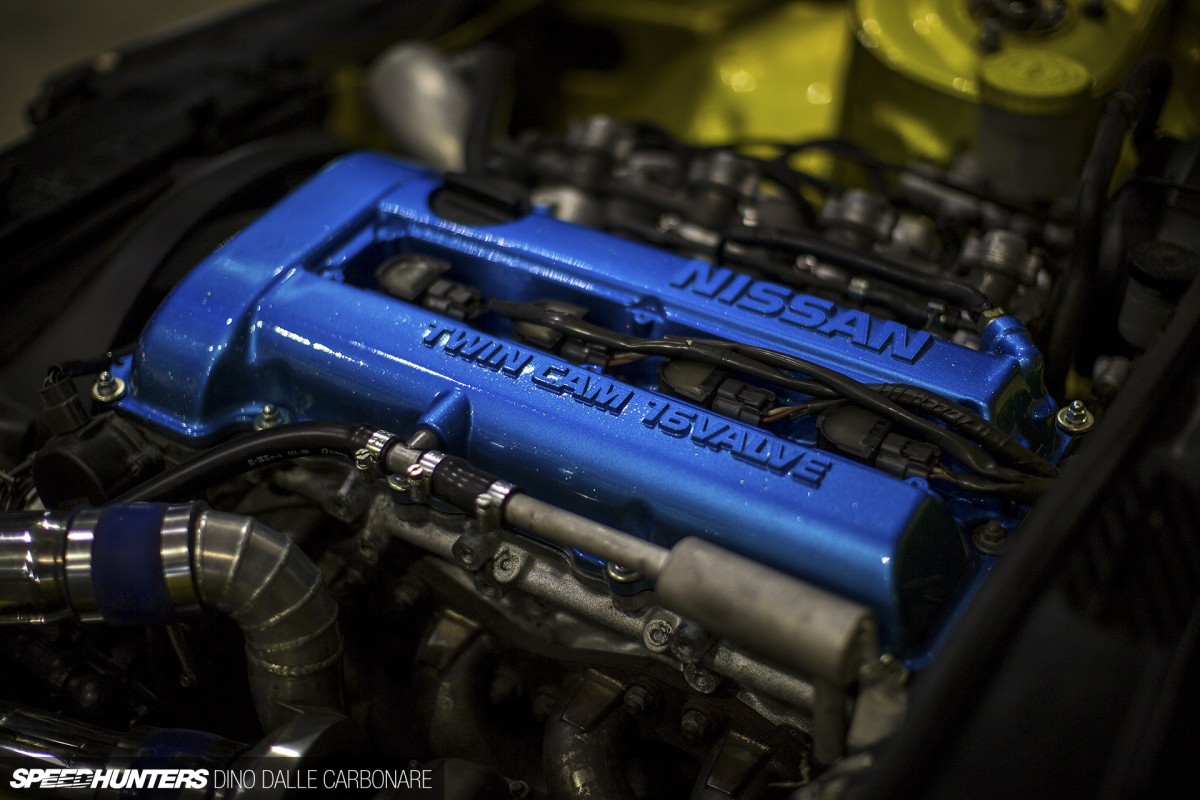 So what makes the perfect SR20DET street drift setup?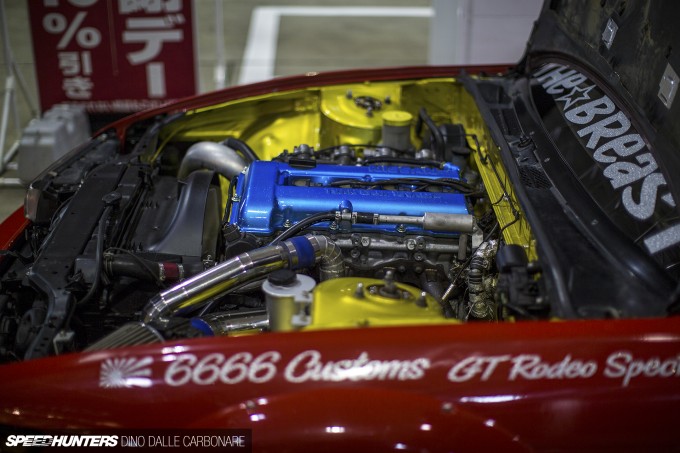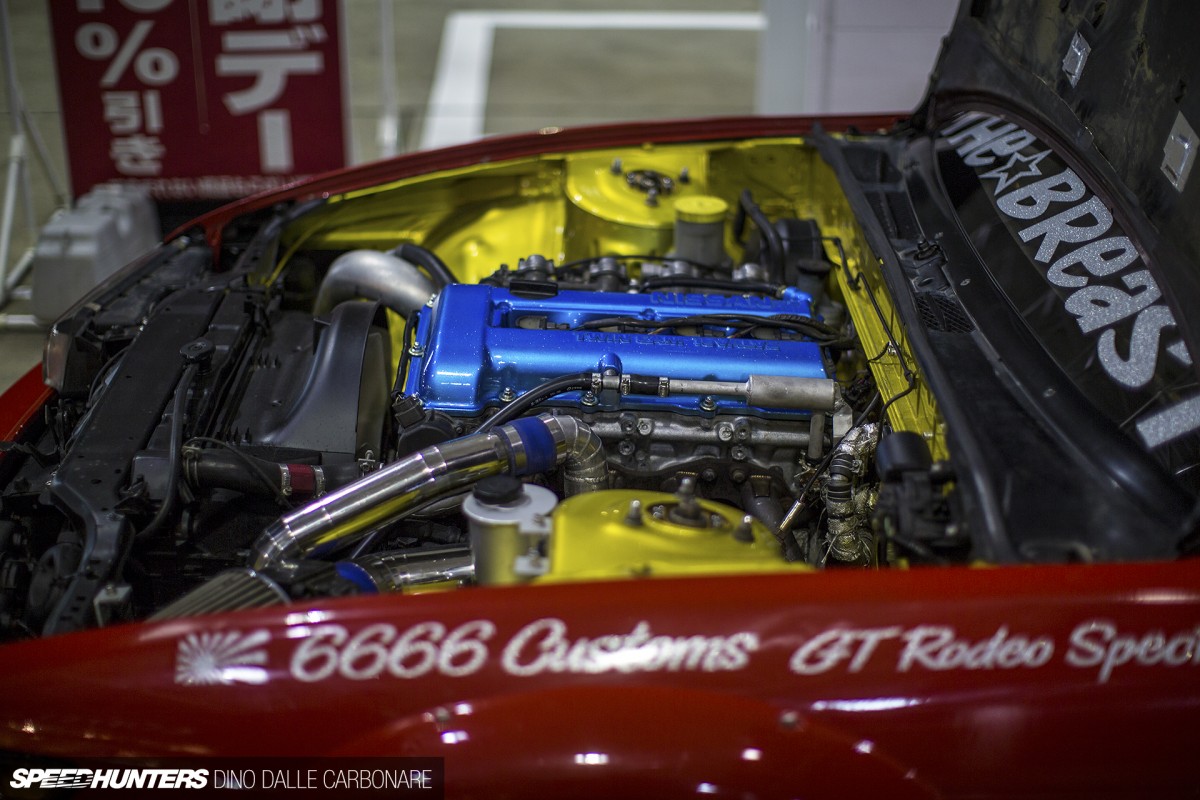 A far lot less than you probably think. Believe it or not, but street drifters hardly ever run silly amounts of power. They can't afford to, most of the time, but I'm not necessarily referring to the costs of an expensive setup. You see, running 500hp-plus on an SR20 would require you to loose low-end response. When you are out on the mountains, this can come in handy on some corners – especially when you need the response and instant surge of power to get you out of trouble. Plus, if the police show up you don't want to be struggling with massive lag when trying to casually drive back home, if you know what I mean.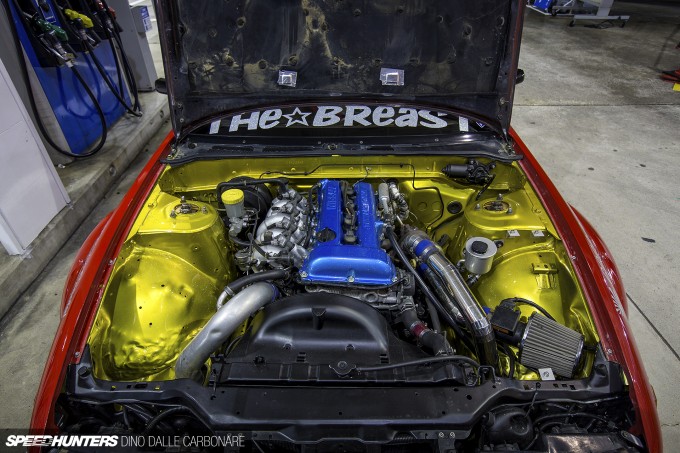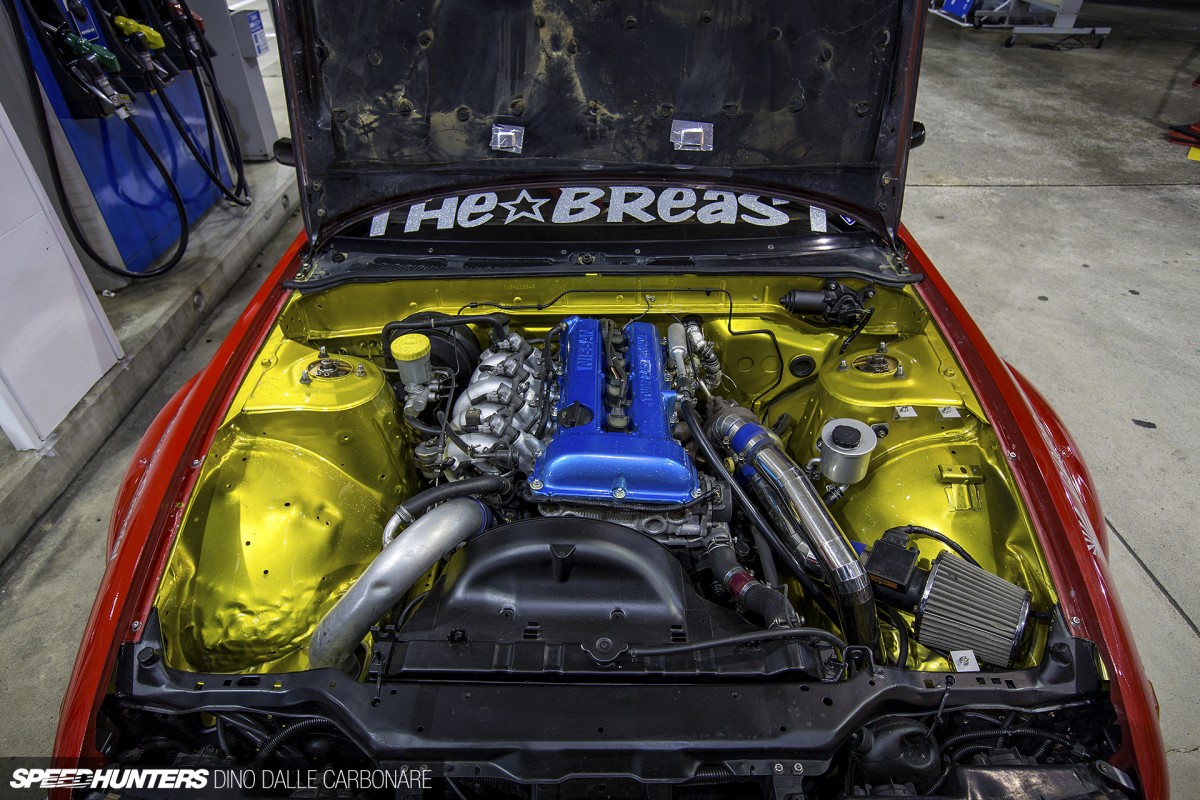 So the SR in the Halloween Racing S13 has predominately been built with reliability in mind. The piping is all custom bent and fabricated aluminium, there's a big Trust intercooler up front, and a direct intake with upgraded an airflow meter and a custom-made exhaust system.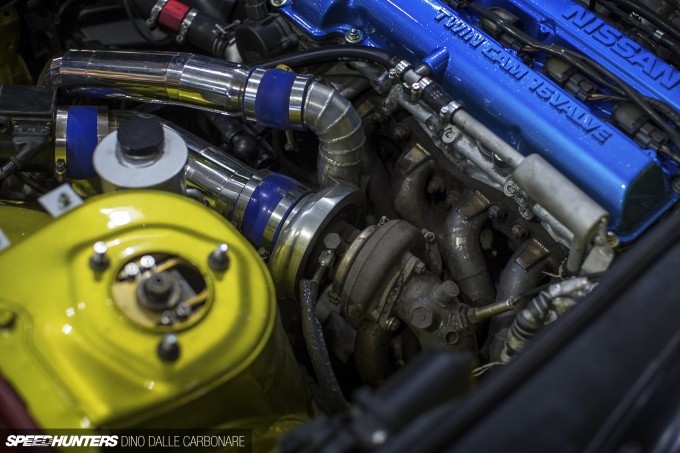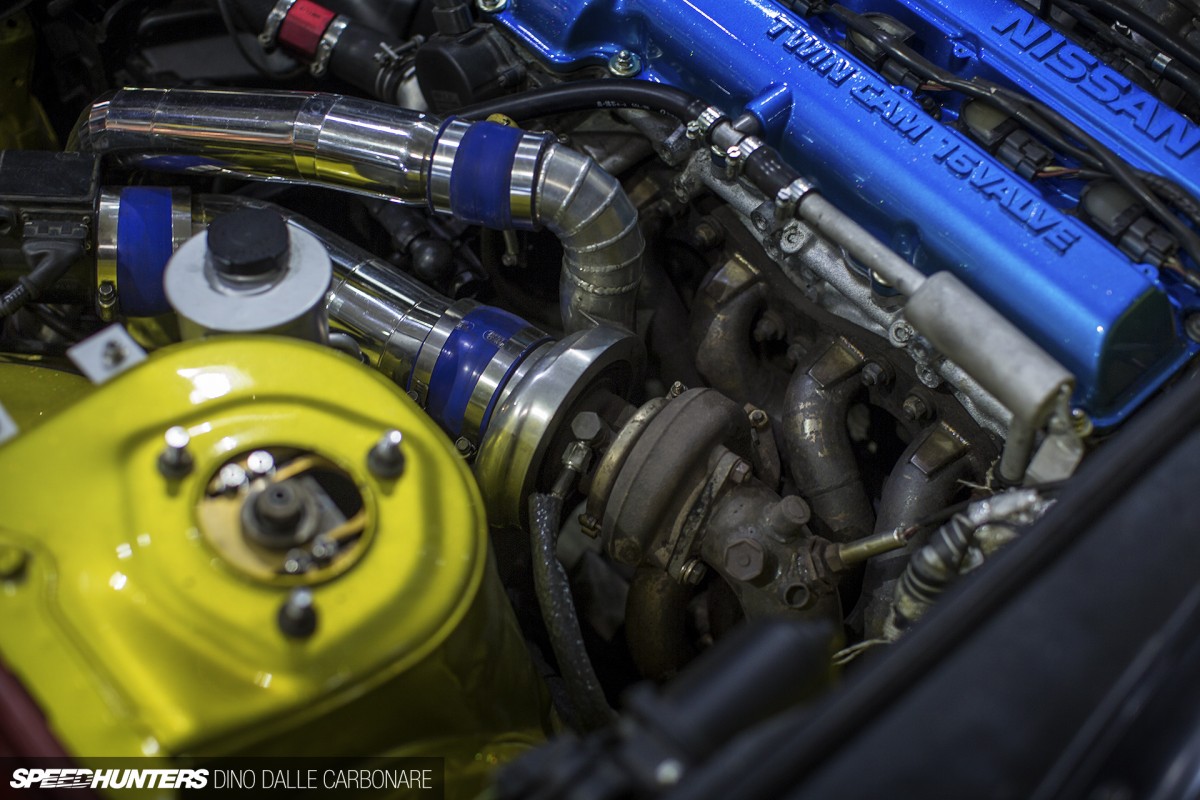 The main upgrade is the Trust TD06 turbo, mounted low on a Trust exhaust manifold and running a Trust external wastagate vented separately to get that dirty, rough, SR growl that is so hard not to love. An A'PEXi Power FC engine management system takes control of the upgraded fuel system and ignition, and all of this is good for close to 400hp with a very useable dose of torque through most of the rev range.
Keep It Safe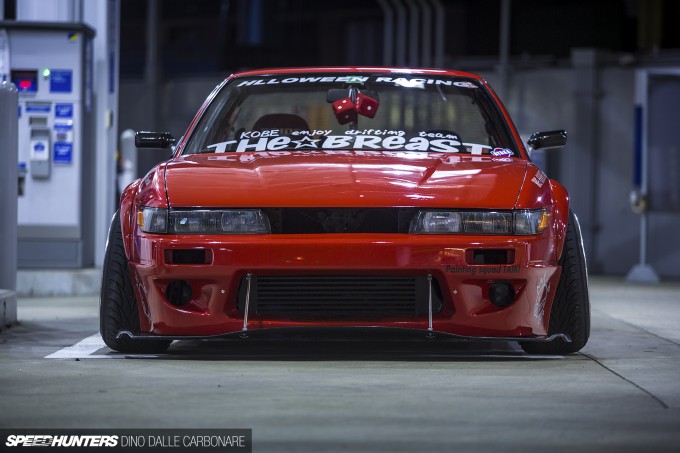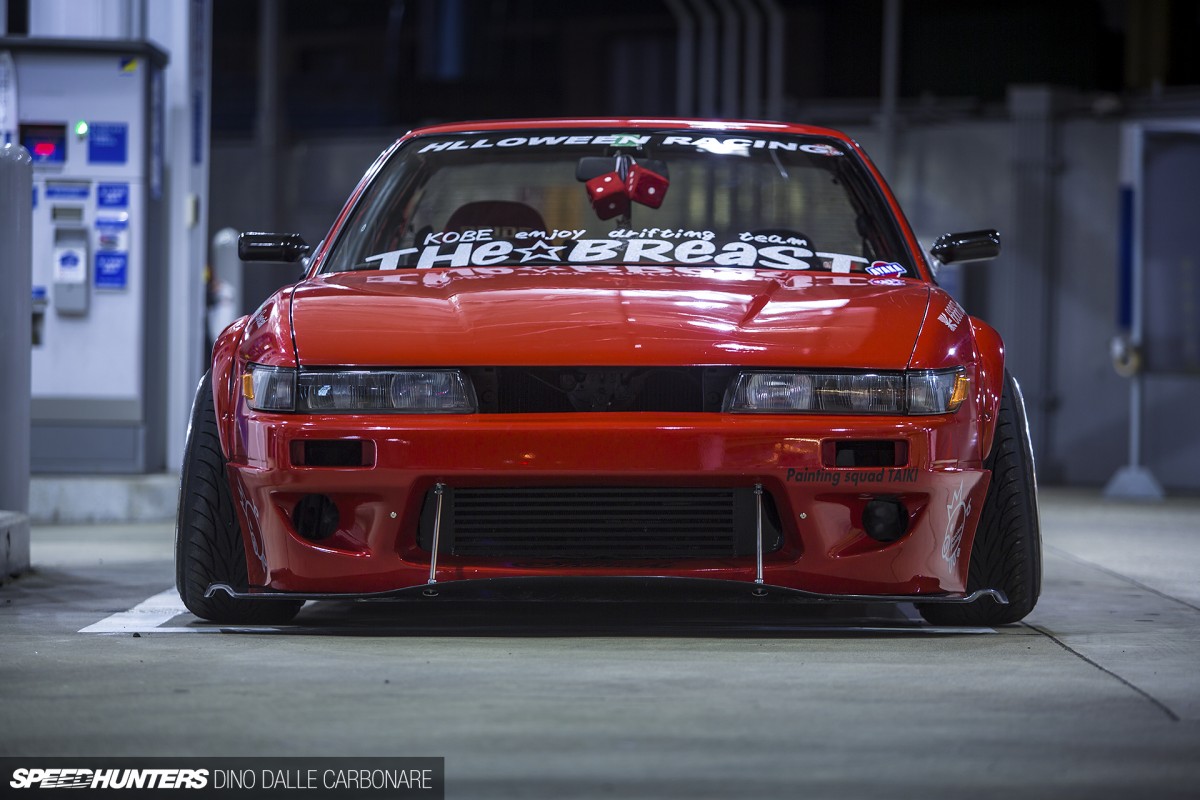 It all makes this S13 quite the chuckable machine out on the street or track.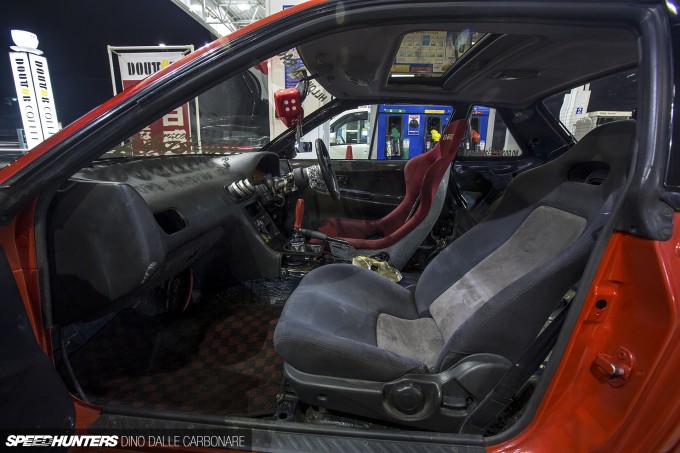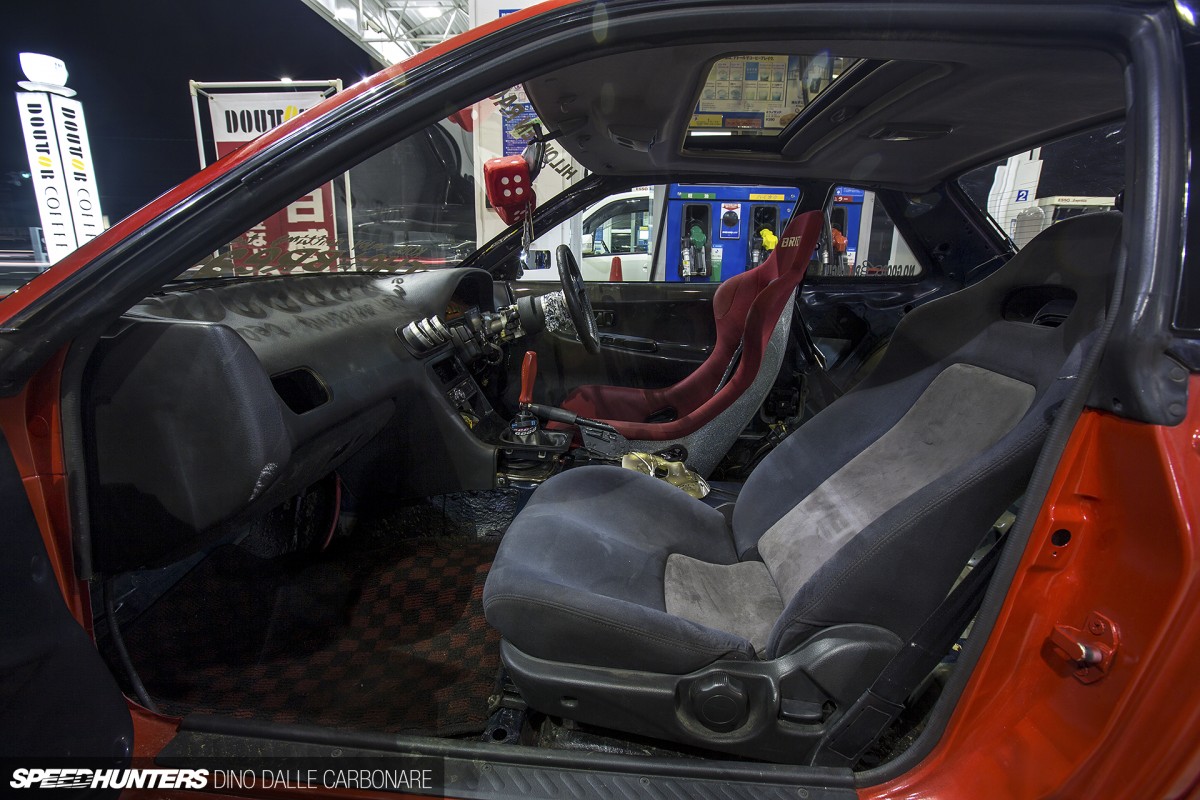 Step inside the cabin and there are no frills here. It's all geared towards creating the perfect environment for driving.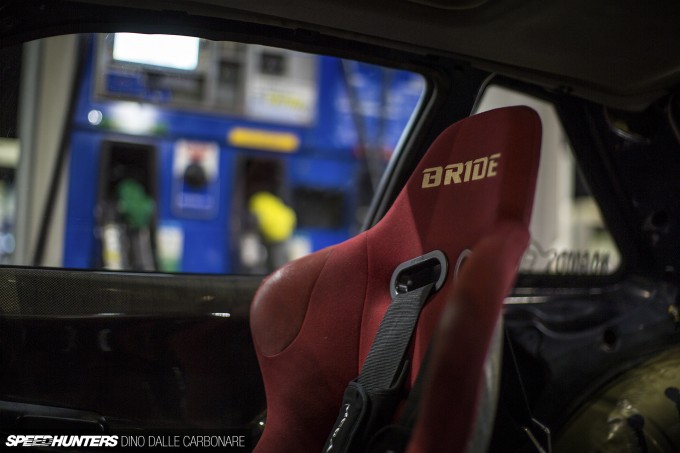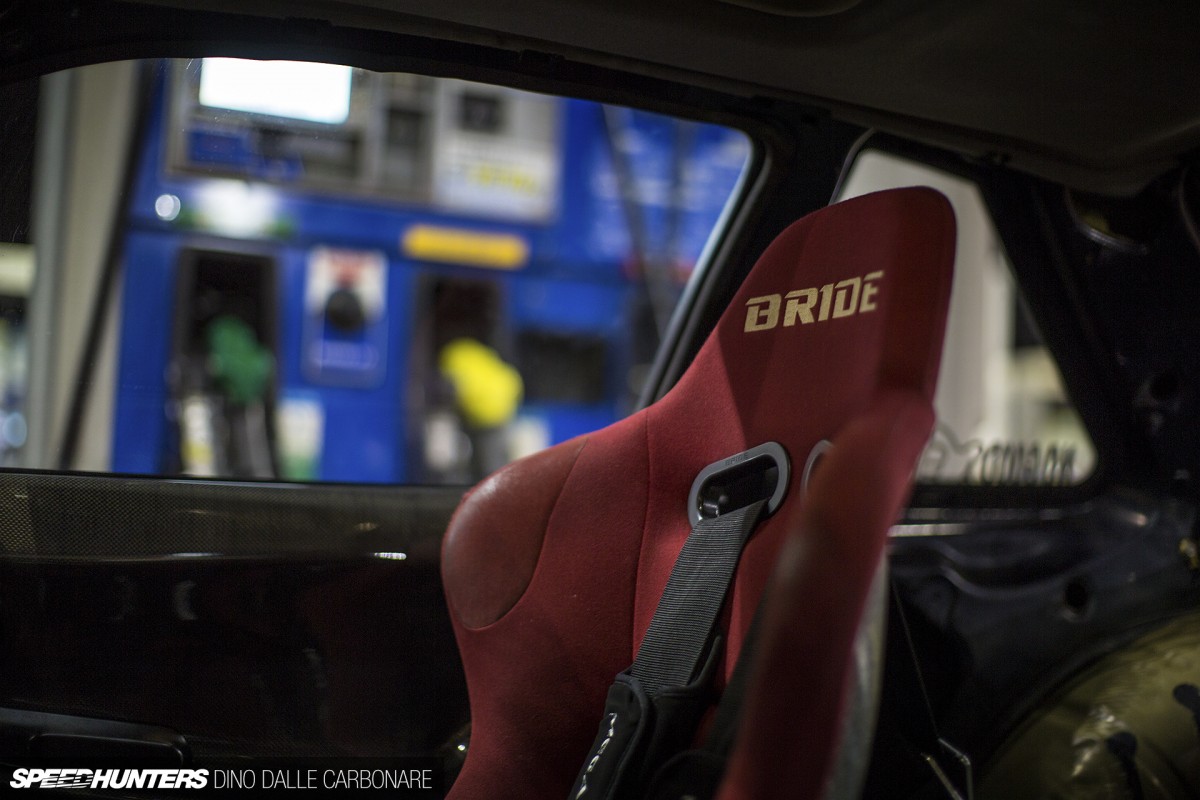 While the passenger has to make do with an R32 GT-R stock seat, the our masked driver needs all the support he can get through the corners, so he picked up a used Bride seat at his local secondhand parts store and threw on a Megan Racing 5-point harness.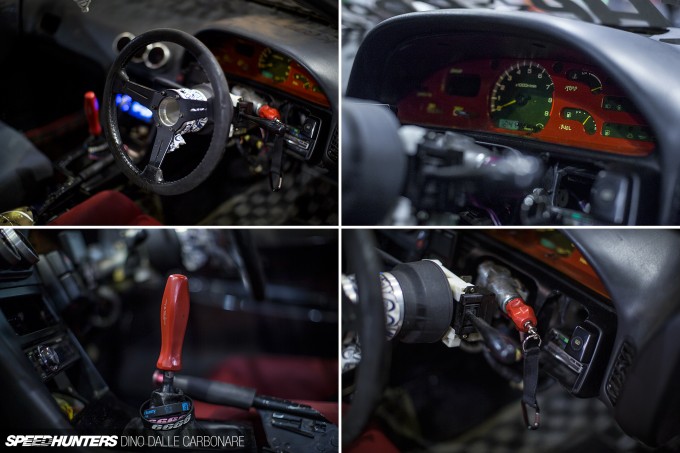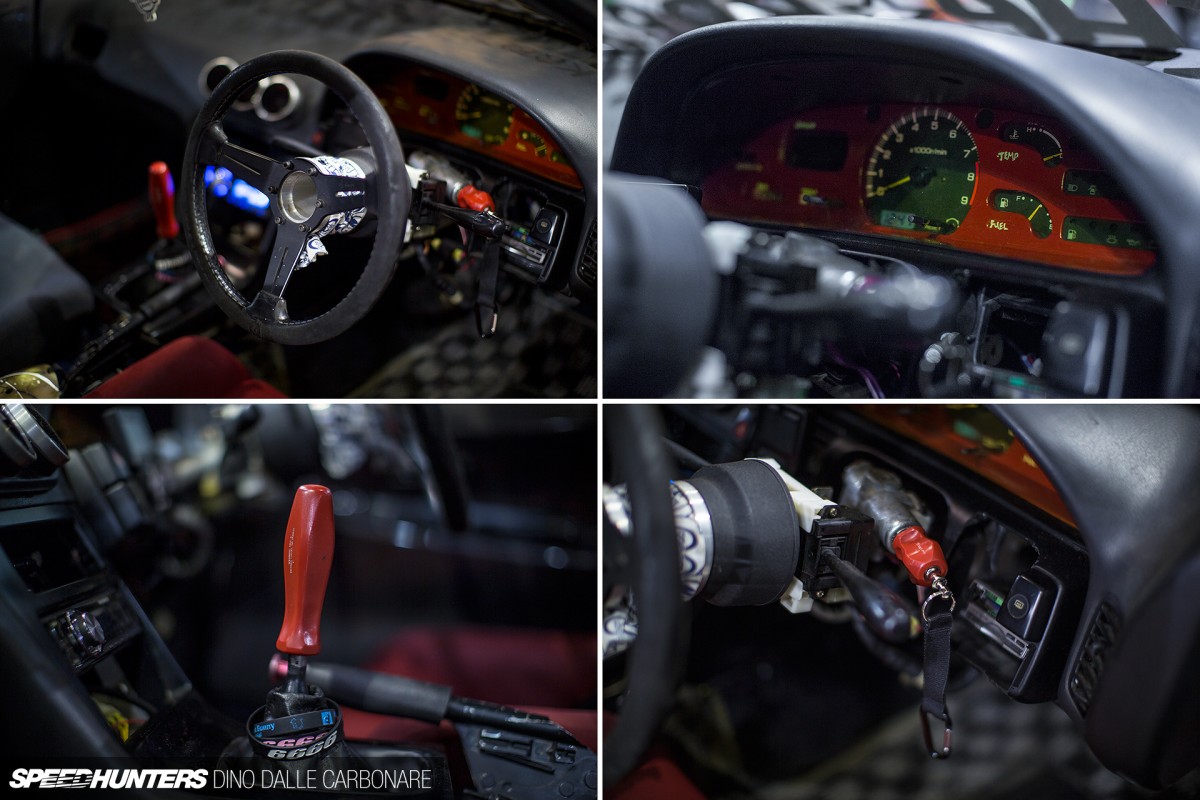 You have to love all the details, but the coolest one has to be the rare digital speedo instrumentation – a dealer option that was available for the S13 when it was new.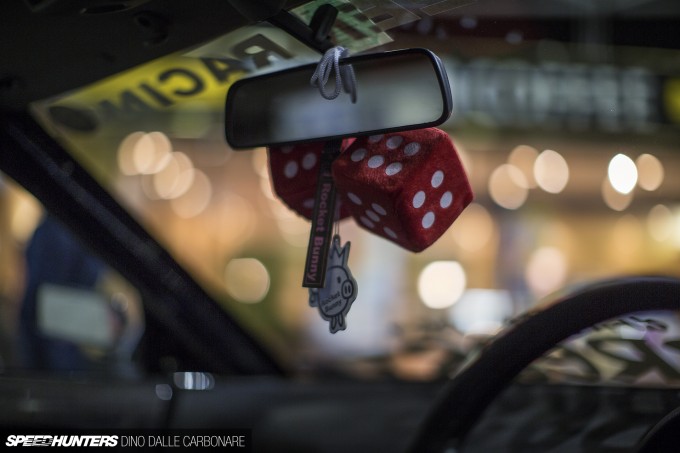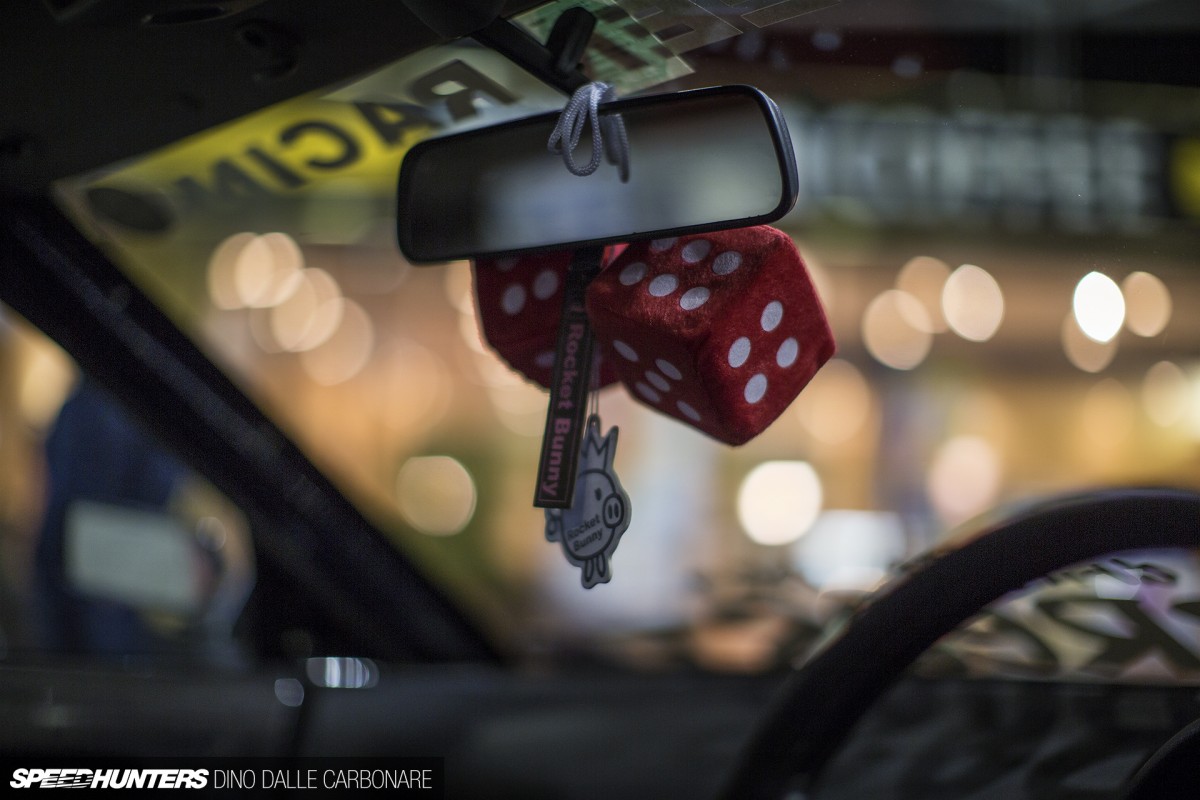 The fluffy dice are a must!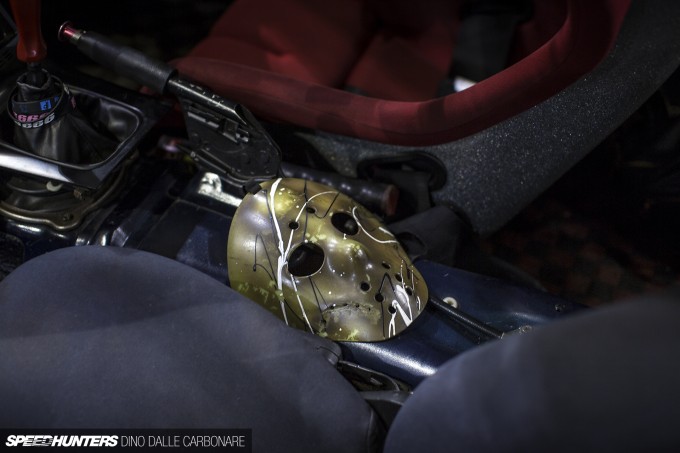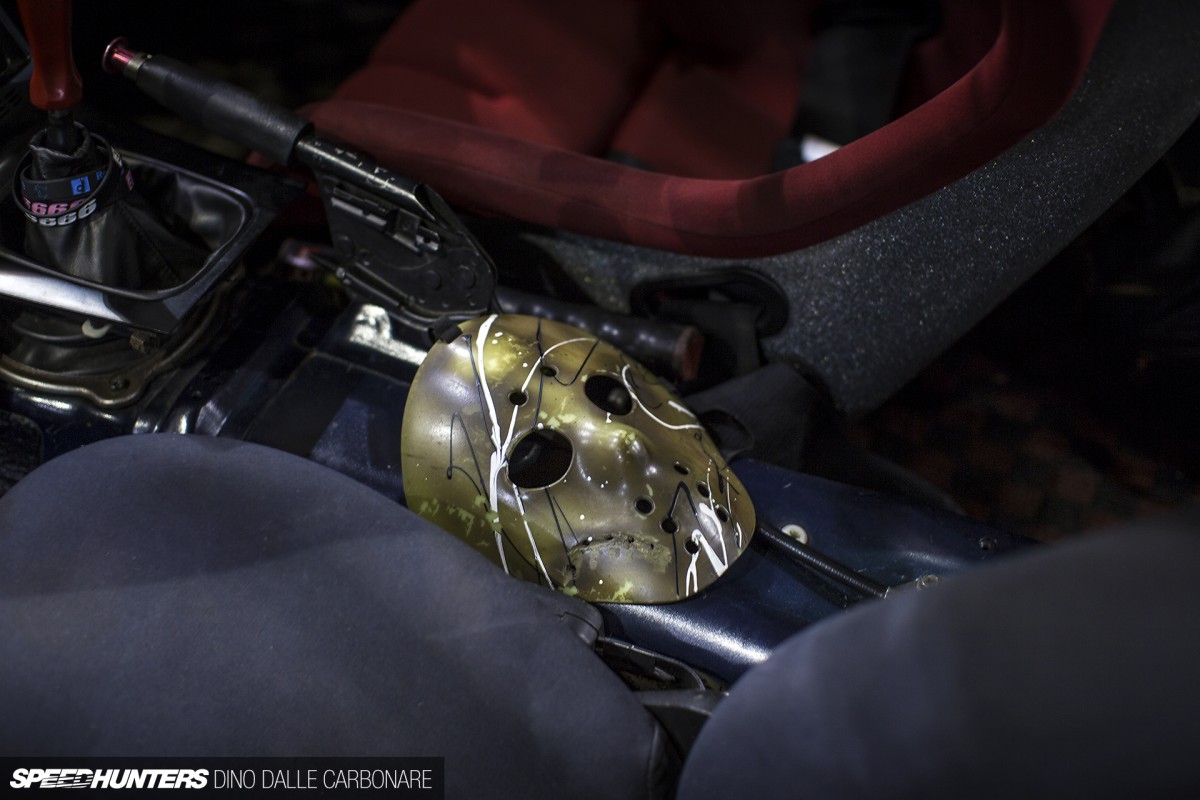 The Friday The 13th 'Jason' mask is kept within arms reach at all times – just in case the driver runs into some trouble. Keeping your identity hidden can be the difference between getting caught and getting lucky again.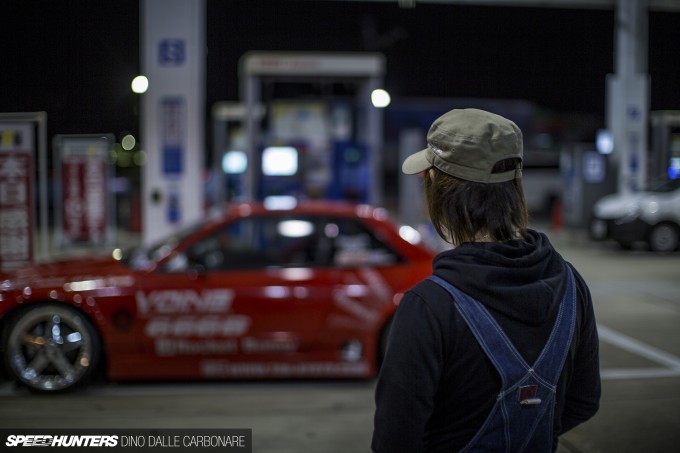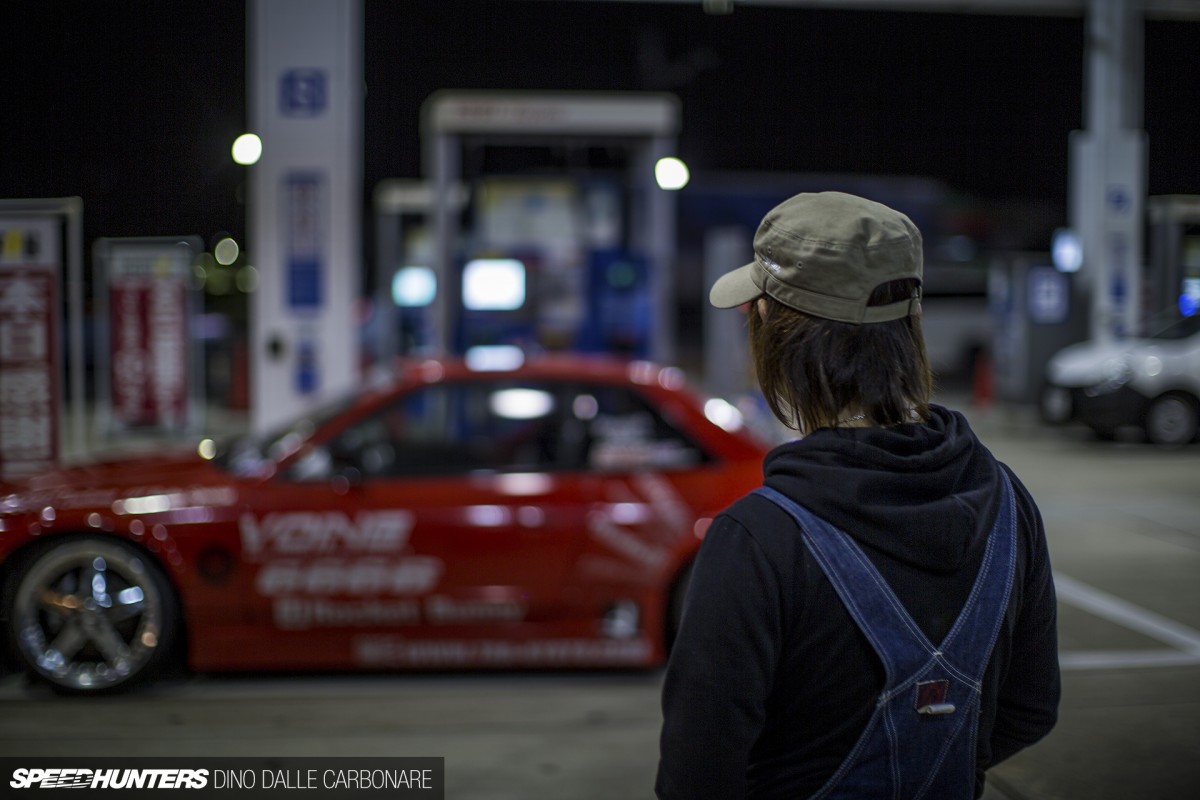 When you turn drifting into a way of life, the car you slowly build and create is what gets you noticed. It quickly becomes an extension of your own self in a way that may be hard for others to understand.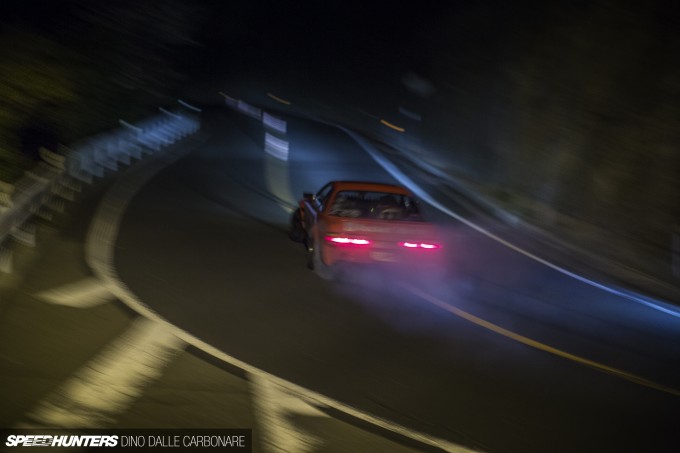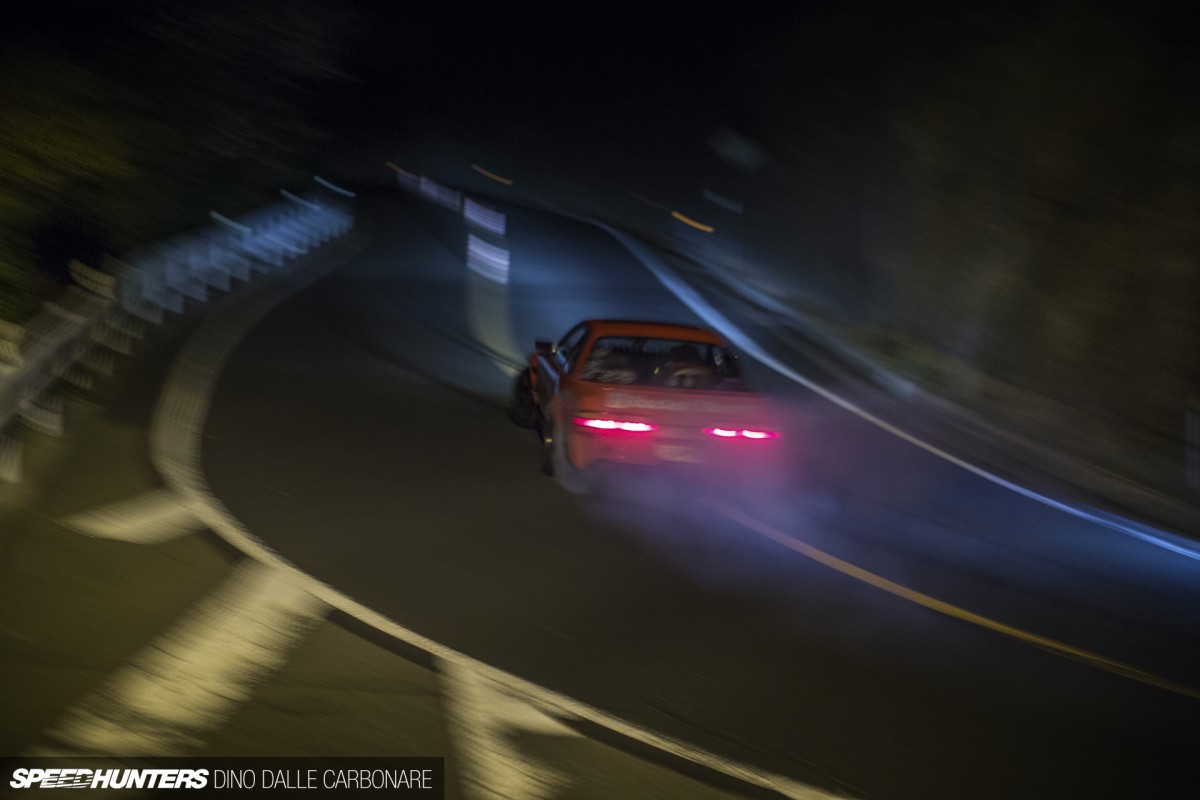 I witnessed some of the most incredible driving that night on Rokko, but what really surprised me was the underlying message of safety that these guys keep close to their hearts. They may well be doing things that the law doesn't approve of, but never would they risk putting the lives of others in danger. Think about that next time you are out driving. Safety first!
Dino Dalle Carbonare
Instagram: speedhunters_dino
dino@speedhunters.com