Over A Thousand
These days, most people know all about the Scandinavian car scene and how the people within it like to get things done (we like to think Speedhunters.com has had a big hand in that). At the point where most other enthusiasts would stop and say 'that's enough', the Scandinavians seem to not know the meaning of the word. They press onwards, chopping, changing, boosting – all with the goal of creating some of the most extreme modified cars on the planet.
Within the Norwegian and Swedish scenes, standards for what could be considered extreme are understandably much higher than in most other parts of the world, so you know that when a Scandinavian refers to a car as "impressive", you know it's going to be good.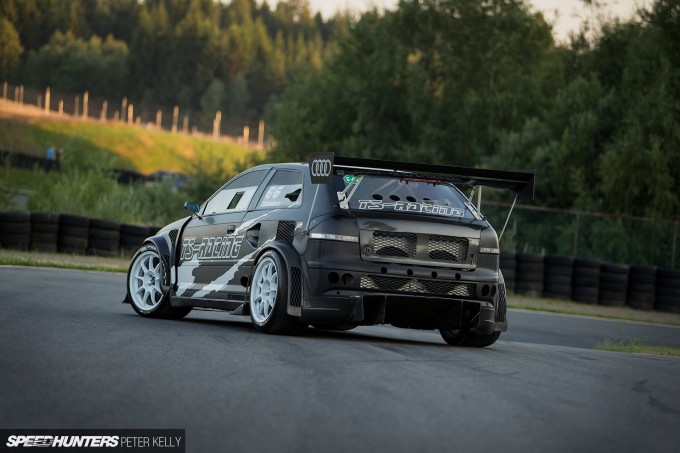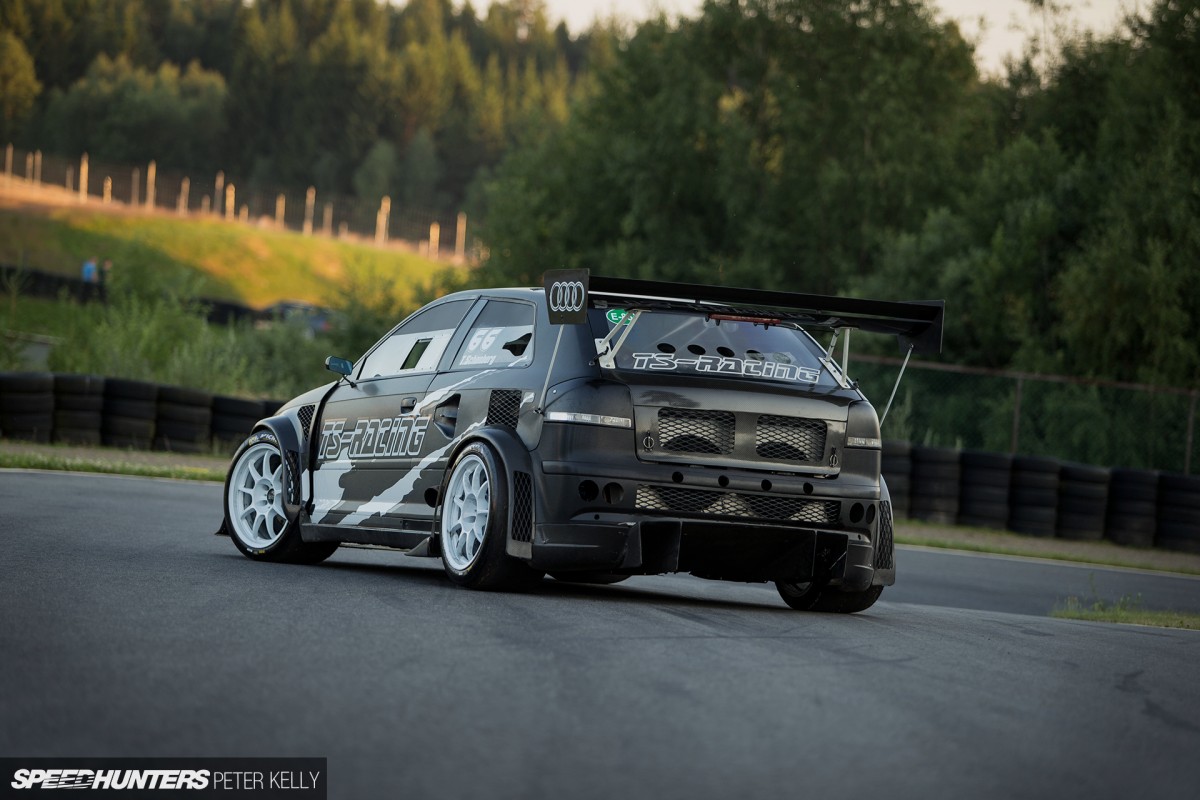 This is exactly what happened when friend of Speedhunters' and Norwegian local Egil Håskjold mentioned Tommy Schönberg's 2006 8P Audi A3. A quick conversation that included the words "boosted five-cylinder", "over 1000hp" and "Quattro driveline" sealed the deal – it was time to get a better look at this vicious machine.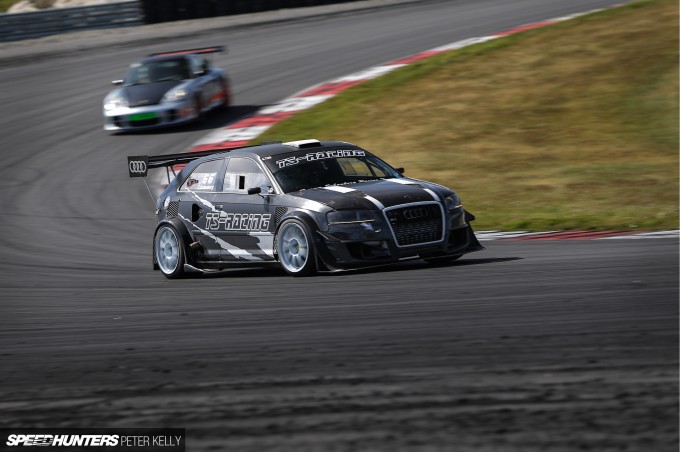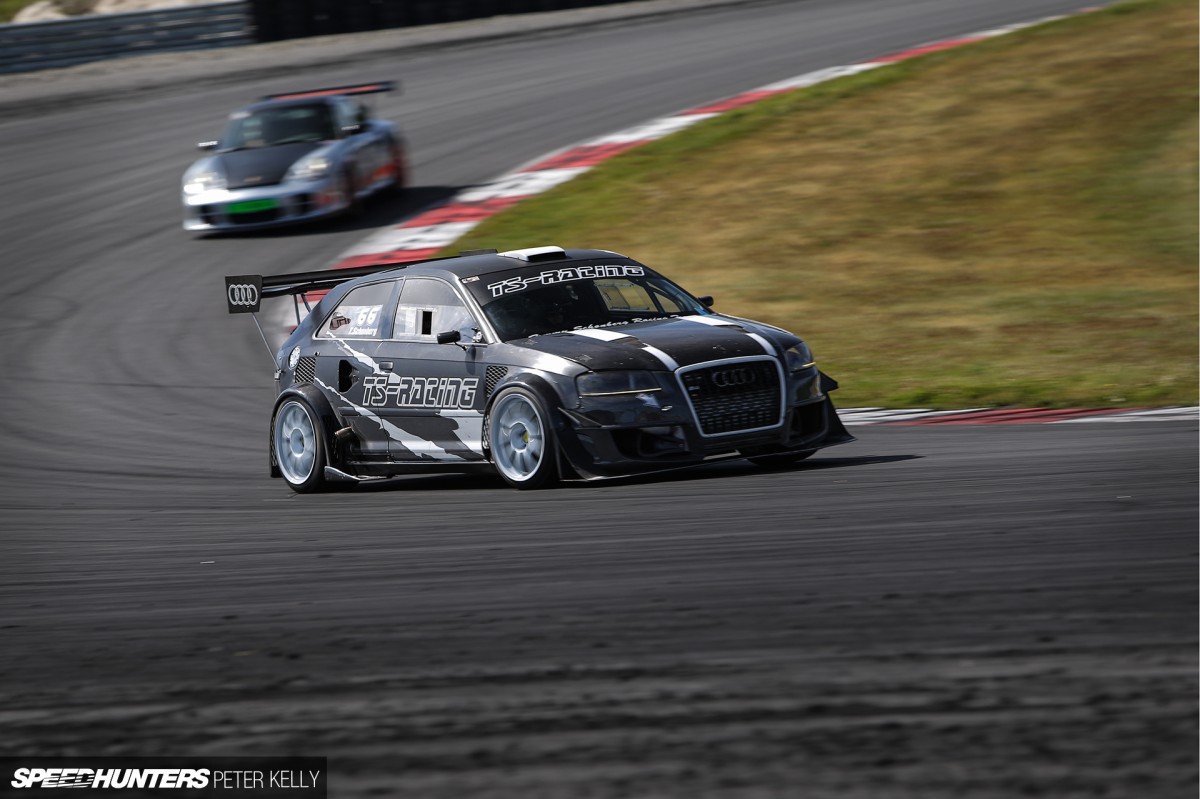 Once we got to Gatebil Rudskogen back in summer of this year, it didn't take us long to spot the A3. As soon as the practice sessions for the Extreme time attack class rolled out of the pits, you could hear the Audi and all its horsepower reverberating across the Norwegian landscape, a symphony of spooling turbo, screaming wastegate and an unmistakable five-cylinder thump.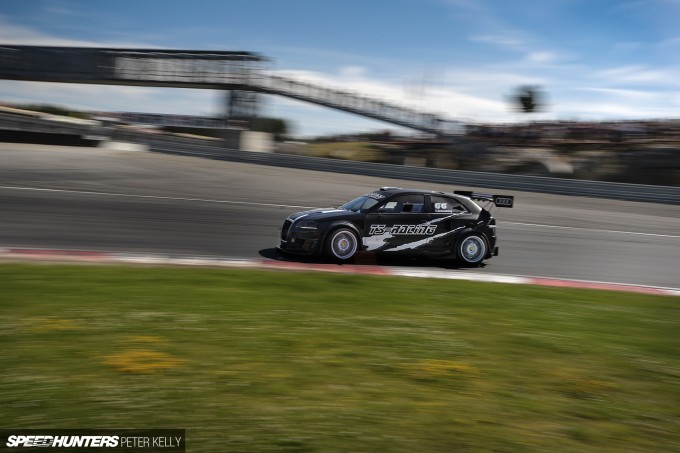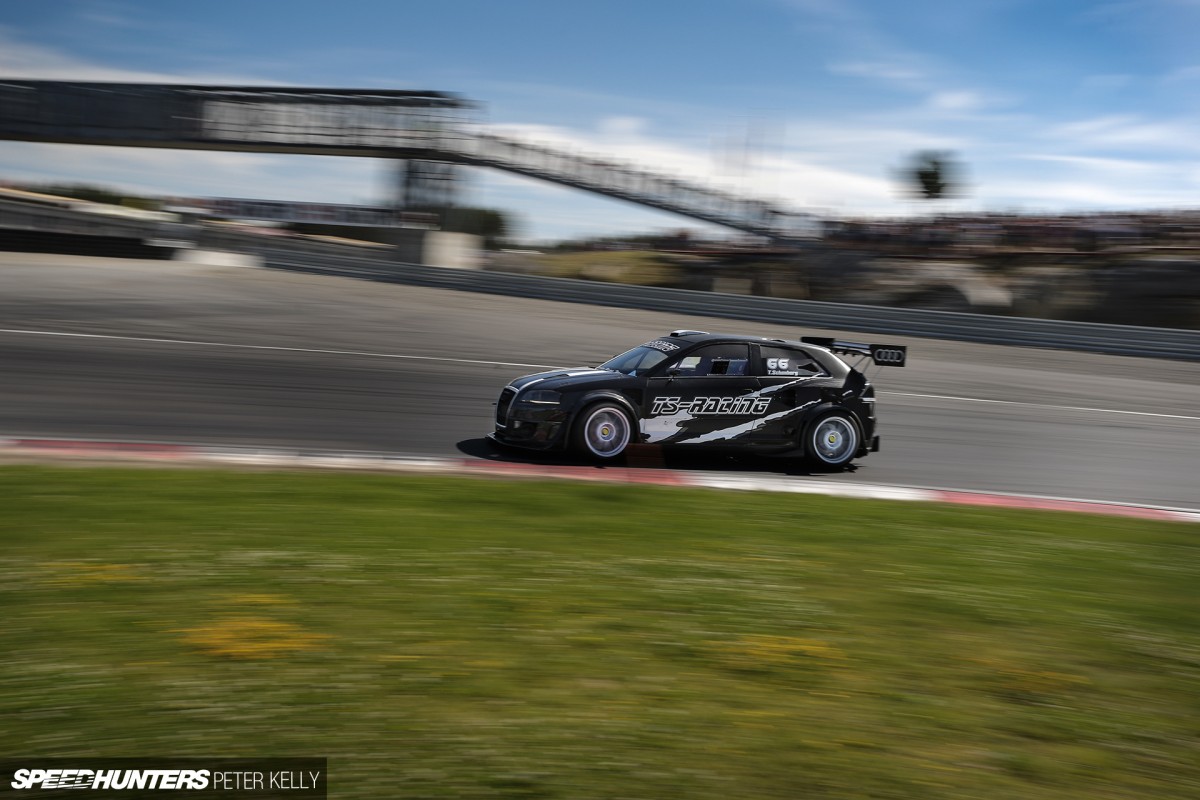 The rate at which this car gains speed is nothing short of phenomenal. Standing on the straight at Rudskogen Raceway in Norway, you can watch as the Audi blows past other extremely fast cars as if they're standing still.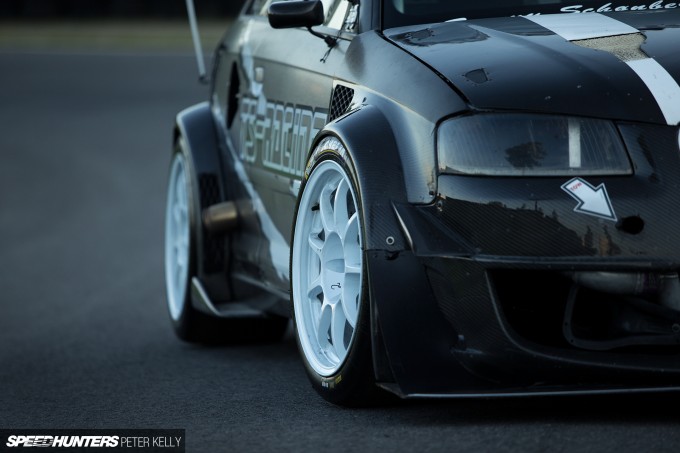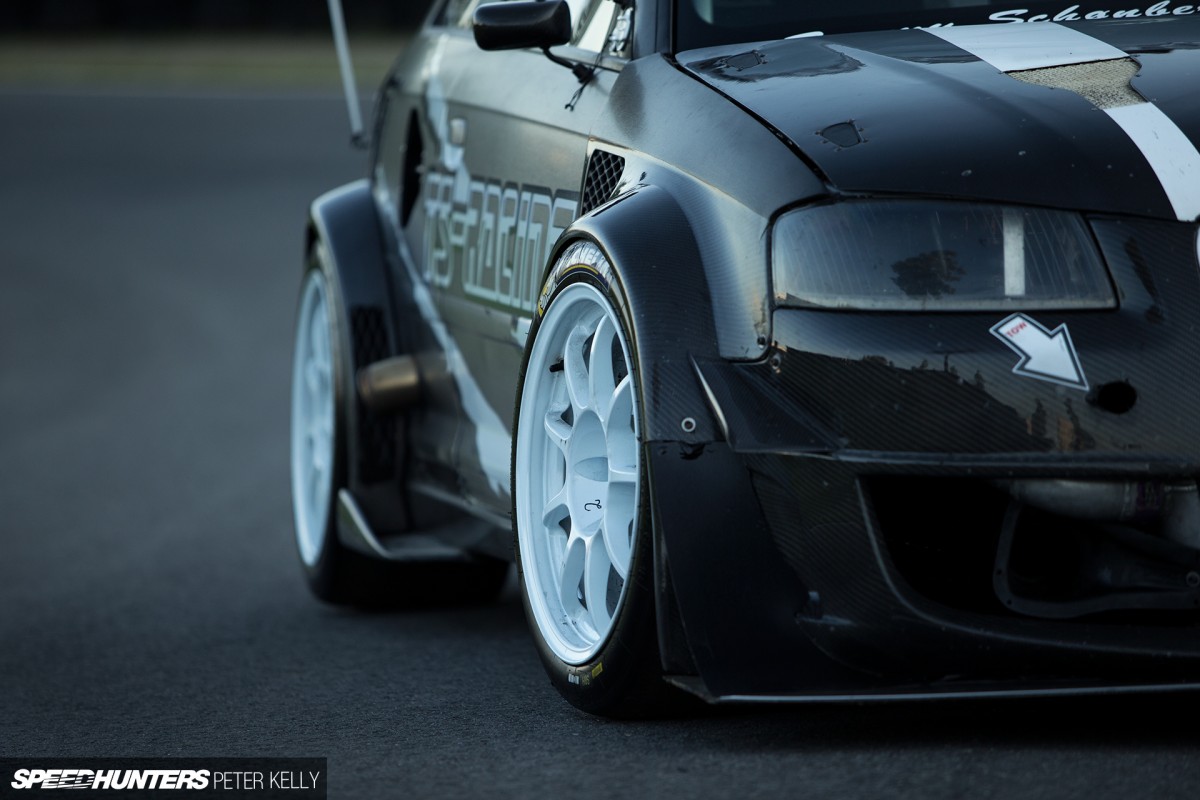 Tommy and his tuning shop, TS-Racing, are well known in Norway, and this car, which Tommy says is a rolling billboard for his shop of sorts, has been around in various states of evolution since 2007. But it's now, in 2014, that this weapon of a car has exceeded even his own expectations.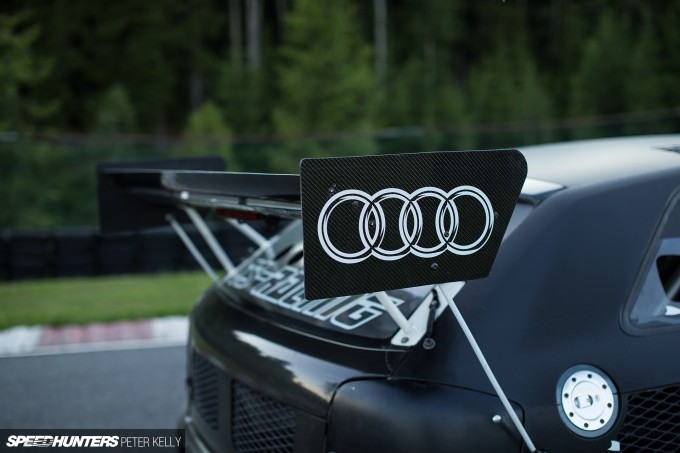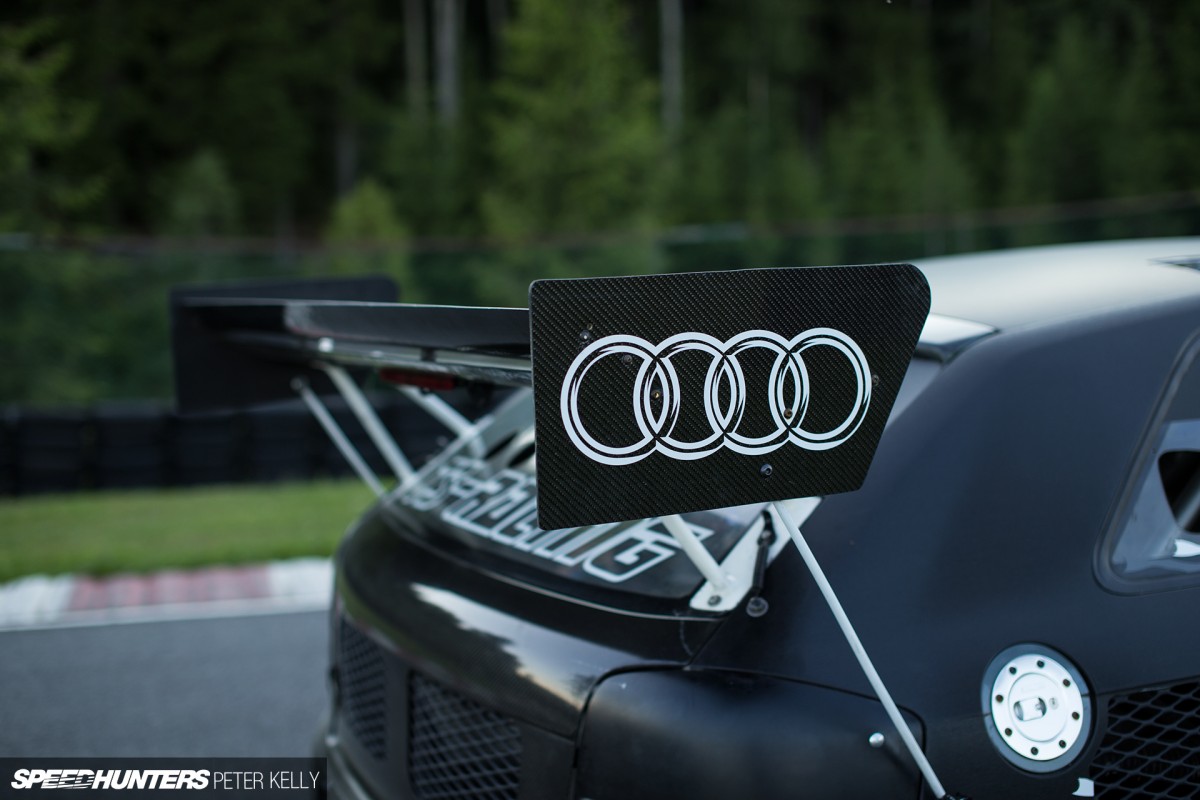 When Tommy first set out to engineer the Audi, he had only built street cars in the past. One of those was a very well known pink-hued monster A4 Avant, built to RS4 spec but using the turbocharged four cylinder. Race car craft was completely new to him, but that wasn't going to hinder the project in the slightest. In typical Scandinavian fashion, Tommy set a goal of not just 1000 horsepower, but 1000 useable, track-racing-capable horsepower – he just had to find the right platform to do it with.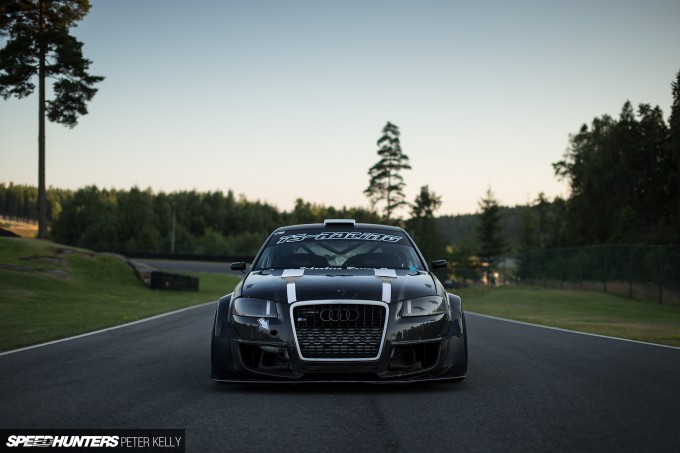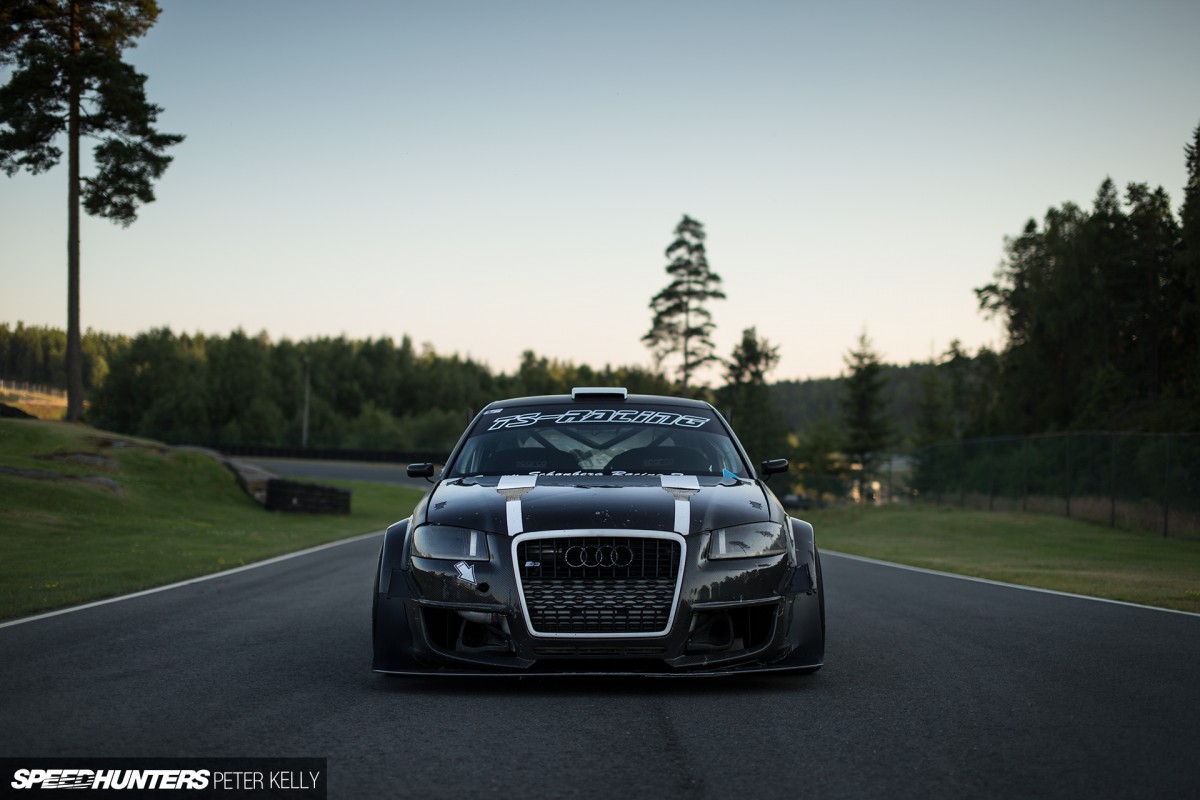 The A4, A5 and A6 were all too big, the VW Golf had already been done locally, and the first generation A3 was too ugly (according to Tommy). That left only the 8P A3, which was brand new back in 2006 when the build first got underway.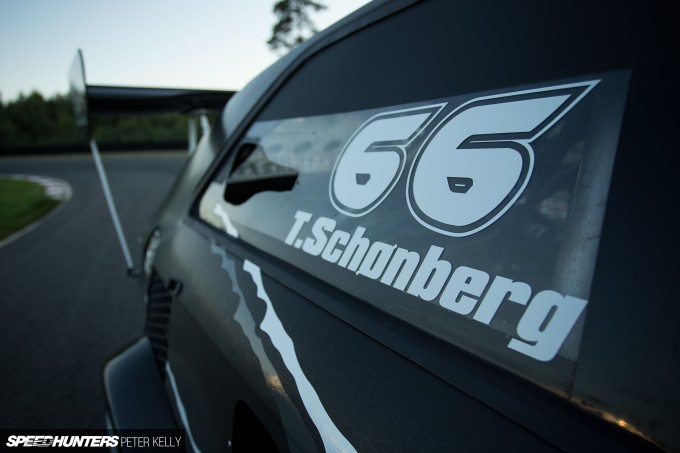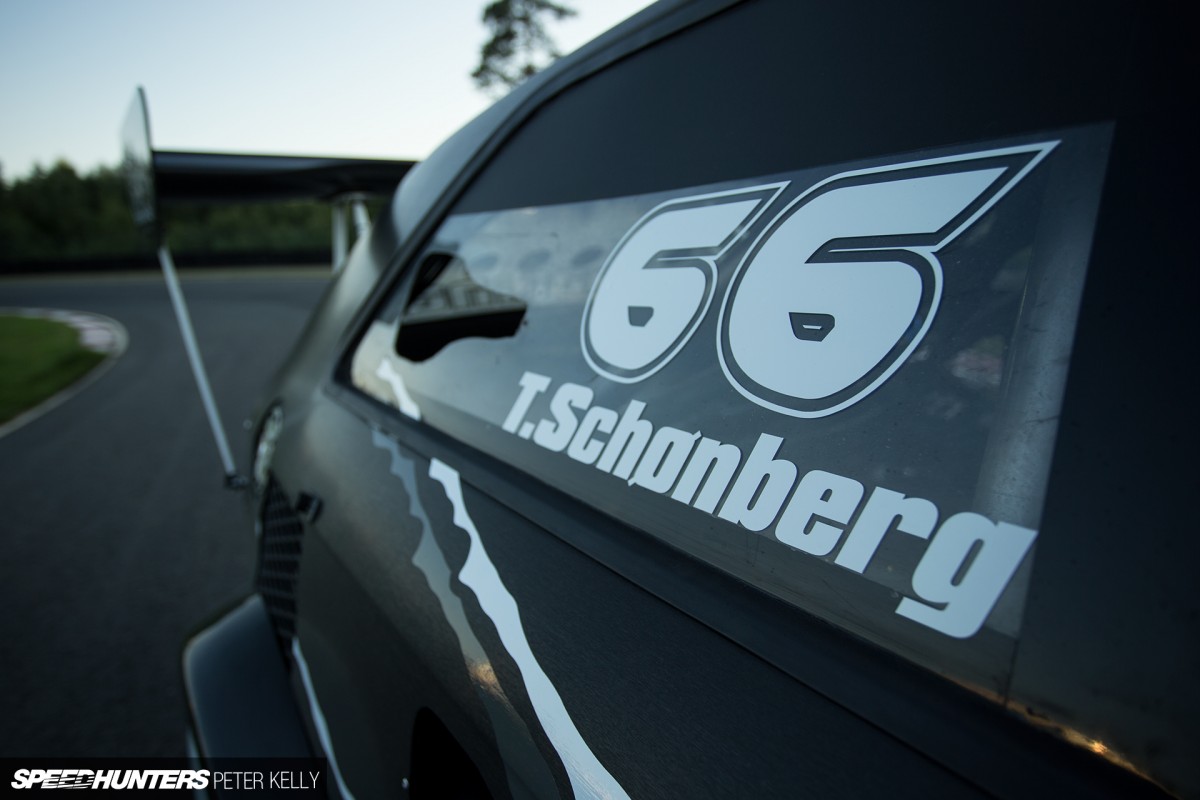 All Tommy really needed to start his new project was the bare shell, but despite various attempts at negotiation, Audi Norway had no interest in selling anything other than a complete brand new car.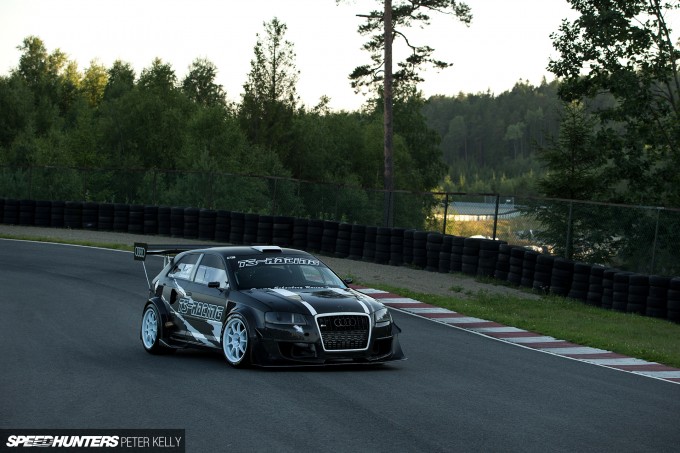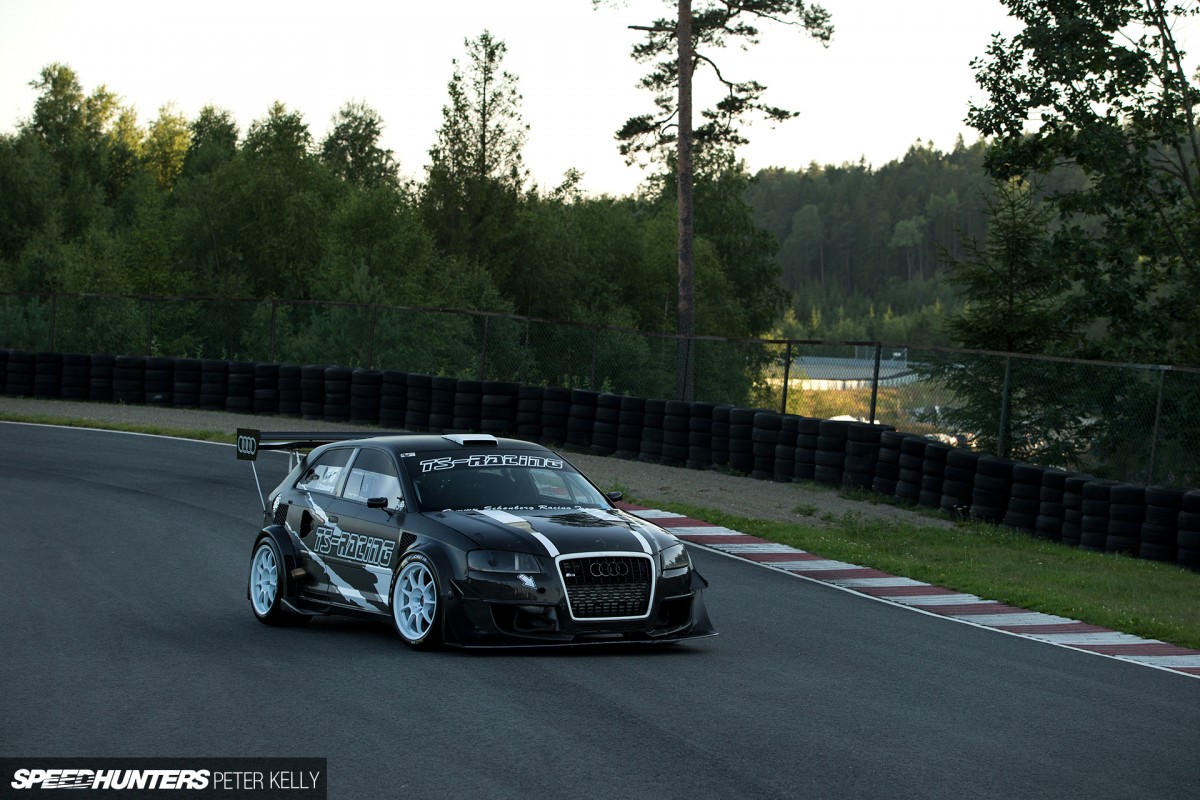 Tommy was over a barrel, but instead of caving and buying something off the lot in Norway, he instead went and found an ex-demonstrator turbo diesel 4WD A3, complete with full leather interior and sat nav, at a dealership in Germany for a far better price, and had it shipped over.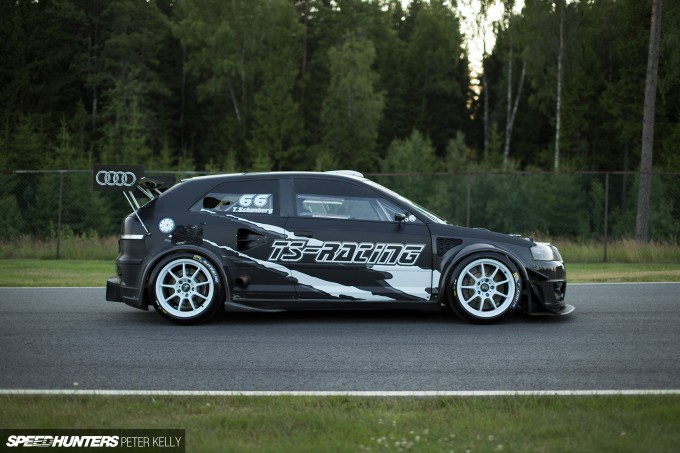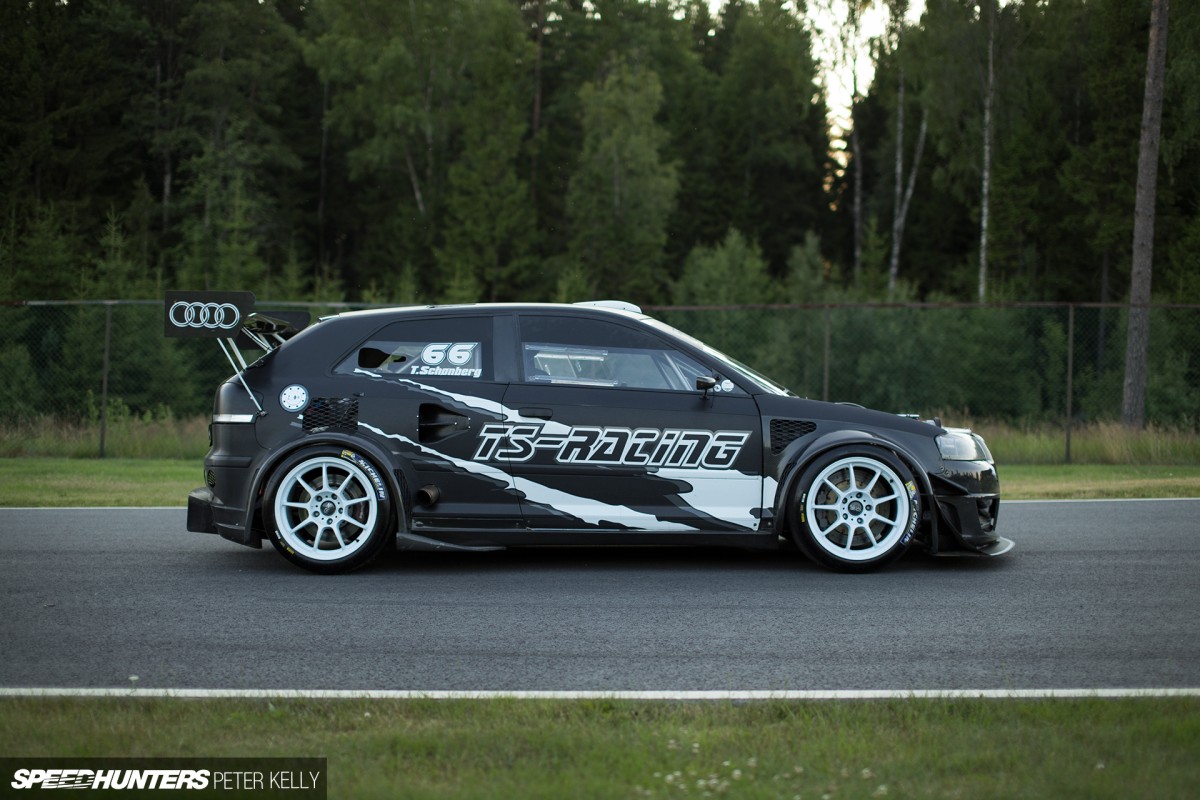 Though he'd still paid much more than he'd wanted to, things worked out okay once Tommy got in touch with a local secondhand Audi parts dealer, who not only agreed to take everything that was coming out of the brand new car, but swap it all for some crucial Quattro driveline parts from a much older, but stronger Audi RS2.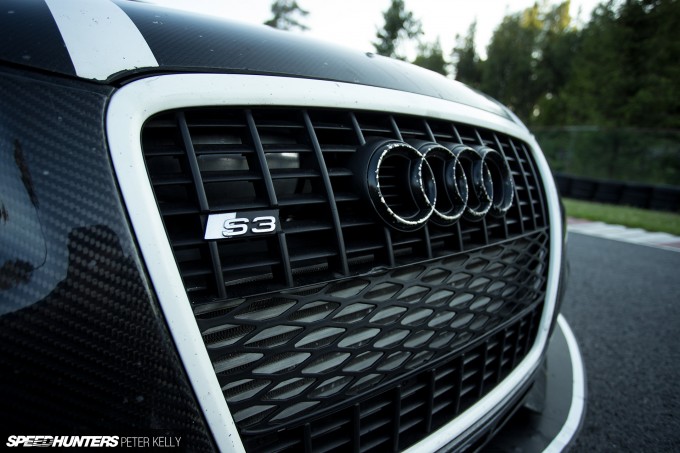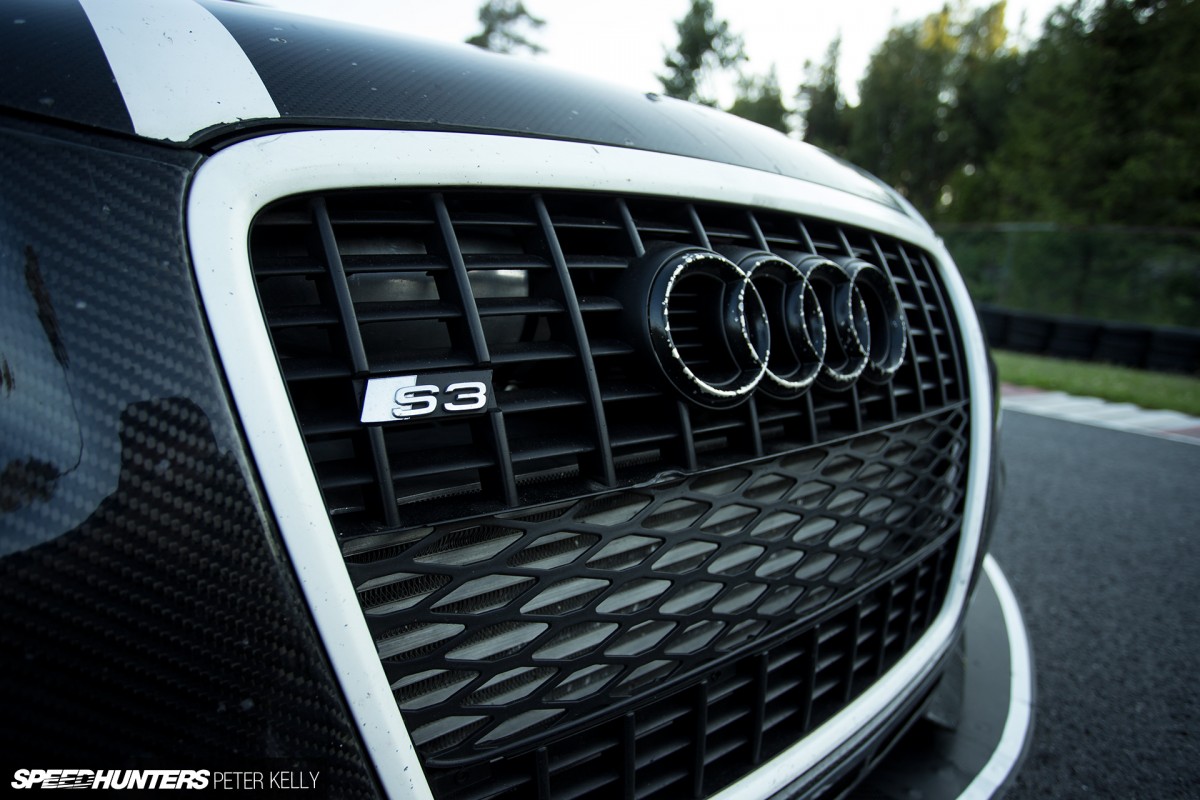 But wait, isn't the A3's Haldex system (also found in various VWs, Skodas and Seats) east-west in configuration, while the RS2's old Quattro system is north-south? Yep… it most certainly is…
Follow The Compass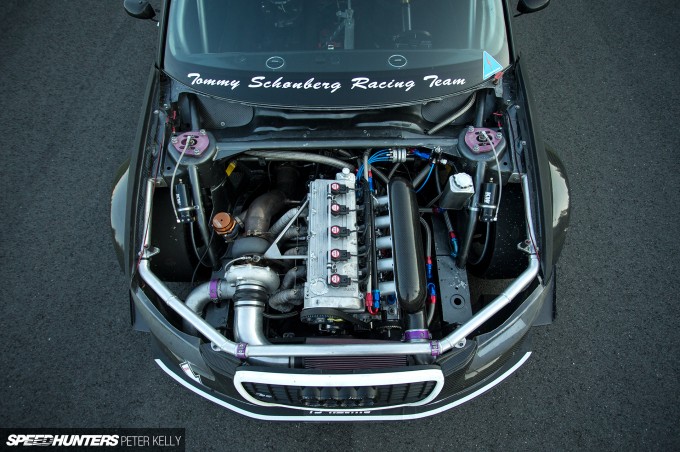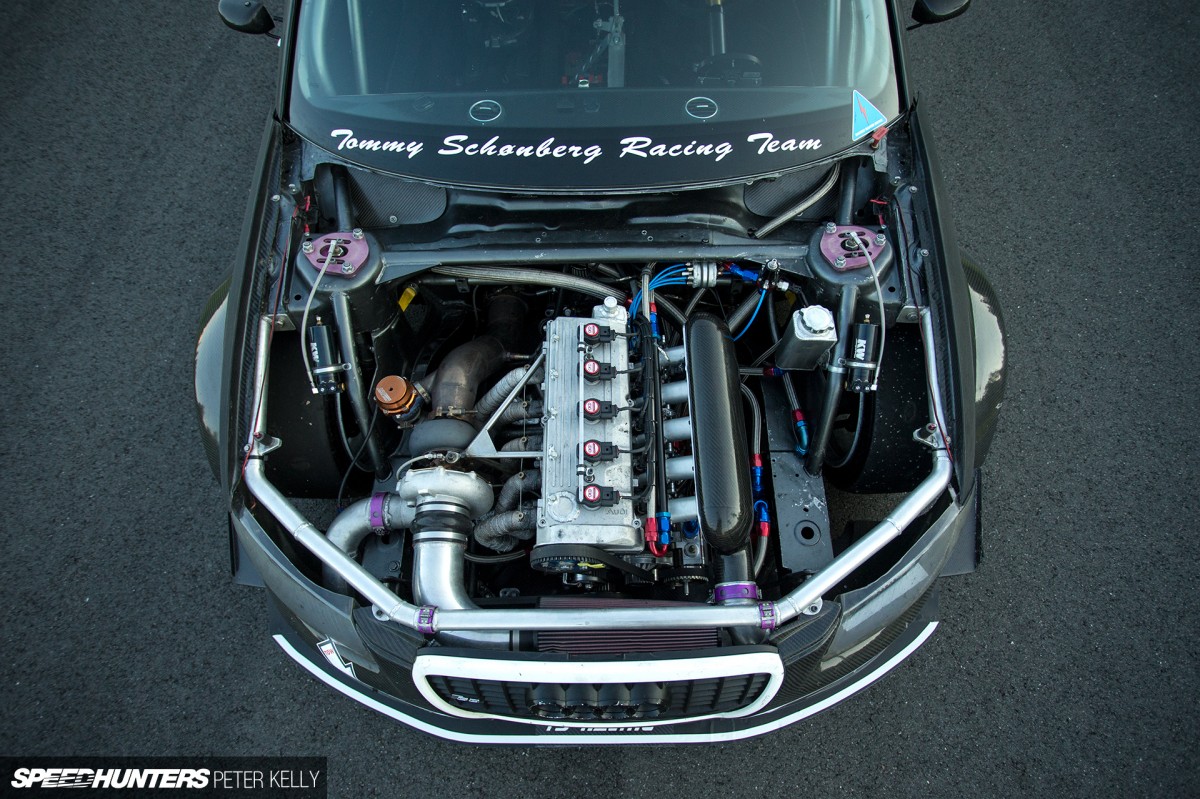 As soon as the car arrived in Norway, Tommy went down to the port, attached the numberplates from his A4 street build, and drove home – there was no point registering the A3 after all. The car was quickly stripped down to a bare shell, and the front and rear ends unceremoniously removed, all to be replaced with chromoly tube framing, which was then integrated into a chromoly rollcage to tie everything together.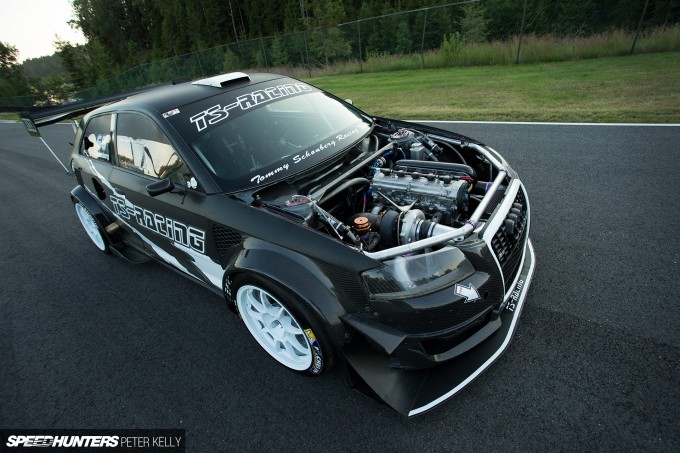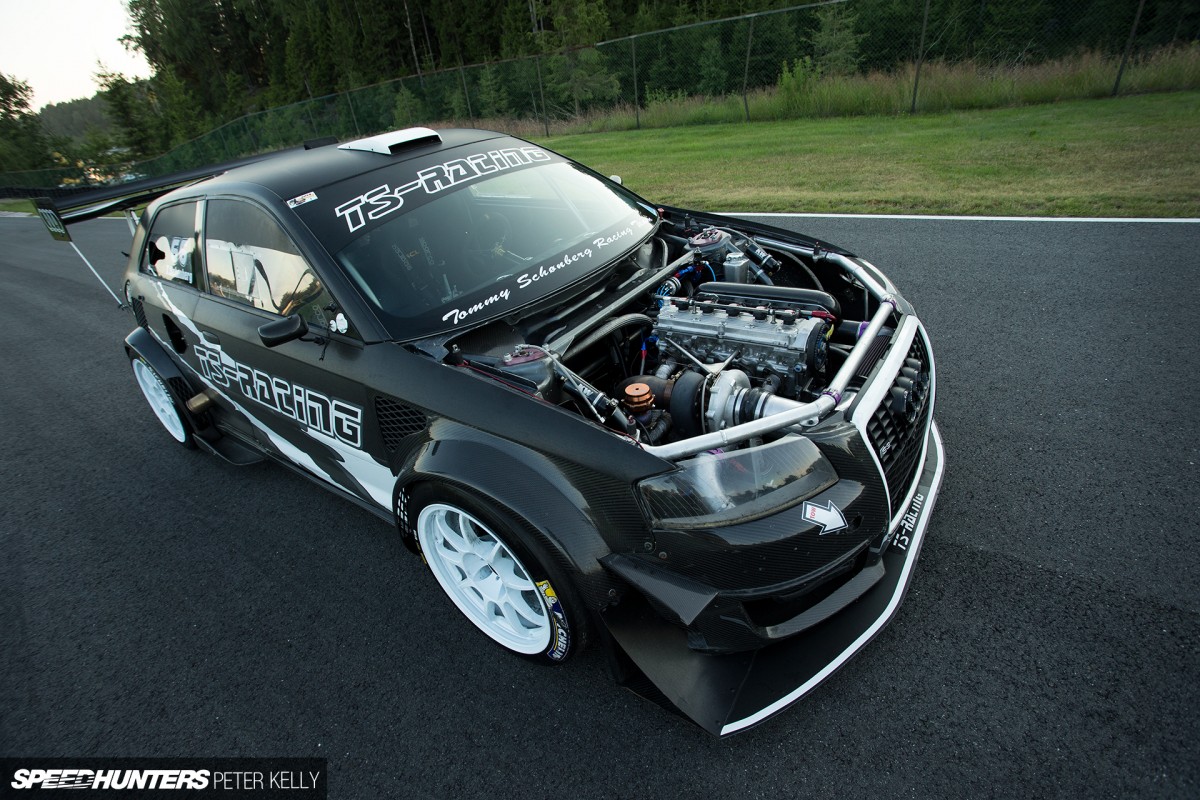 As you could imagine, going from an east-west engine and driveline configuration to north-south is never easy, and it's even harder when you're dealing with an all-wheel drive system and a relatively small vehicle. But with that said, the tube chassis forward of the firewall made things a good deal easier.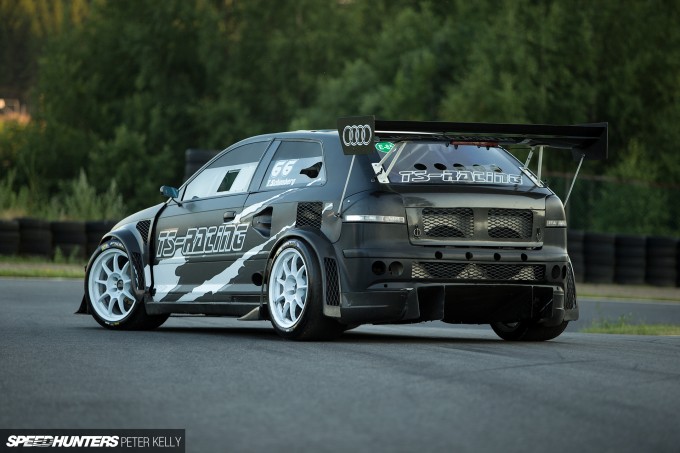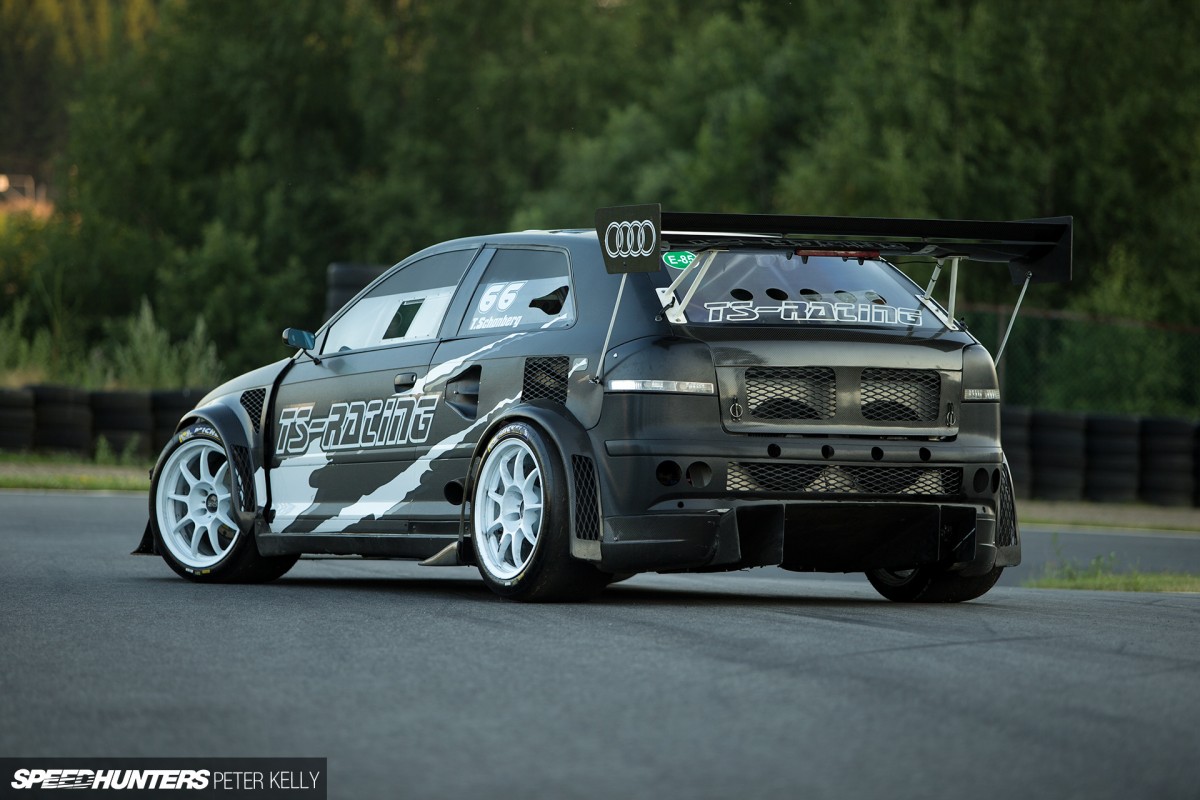 By using a custom driveshaft, which has been hardened by a local Nordic weapons manufacturer using the same process used on their rifle barrels, the older Quattro system was pieced together underneath the car, including the factory lockable diffs. Though it all phsically fit (after a few serious modifications to the gearbox tunnel), the longitudinal layout means that while the rear end is fine, the gearbox sits further back than it used to, meaning that the front axles sit at a 30-degree forward angle. While it's not dire, the extreme angles put a lot of pressure on the CV joints, and it's the most common failure point of the Audi's driveline.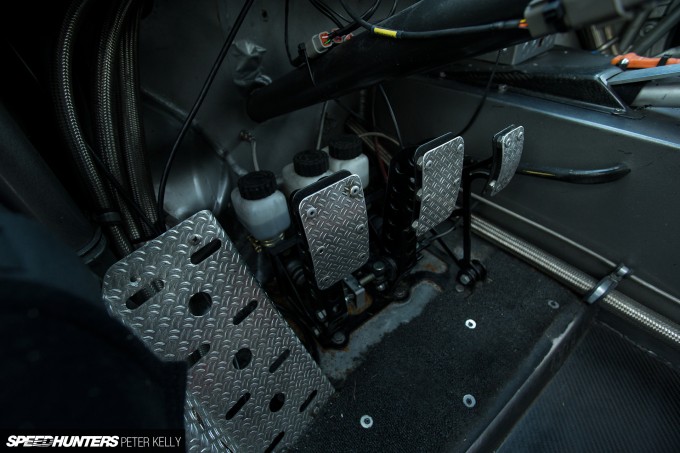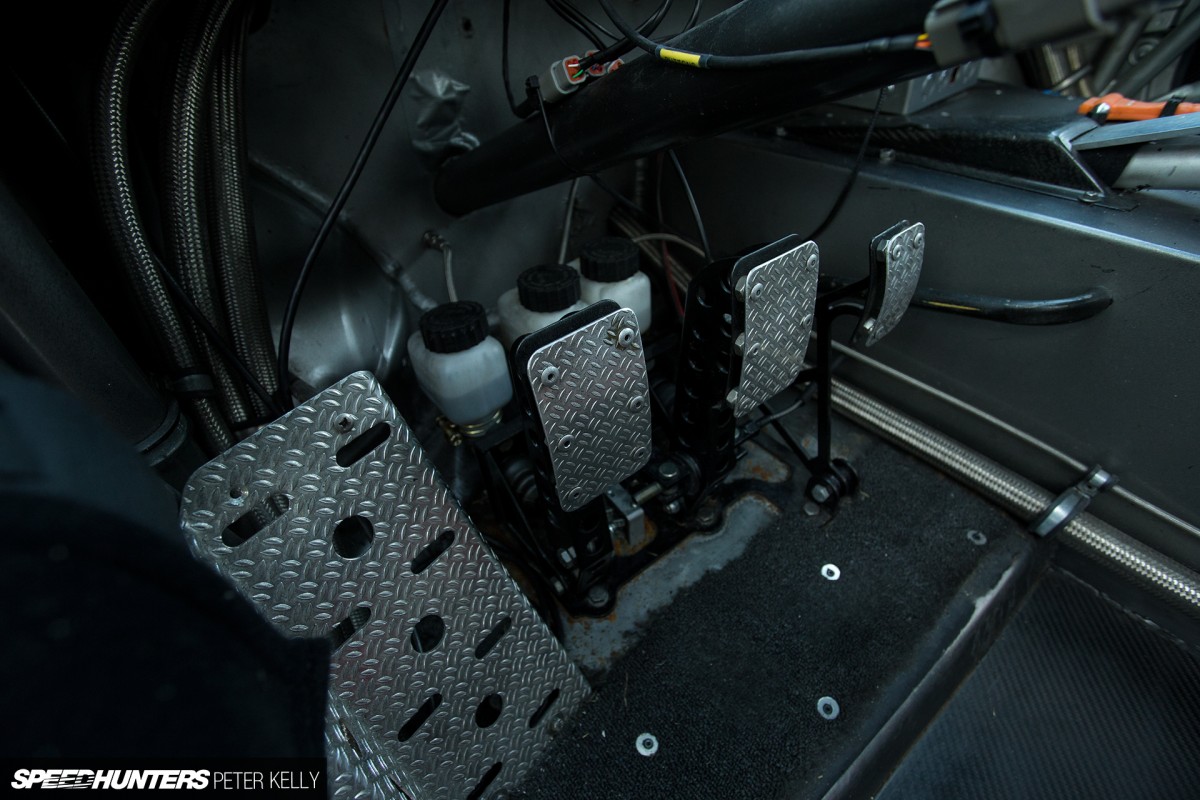 Though the gearbox may look stock from the outside, it's actually just a shell, and the innards have been replaced with a rallycross-style dog engagement setup mated to a Tilton triple-plate carbon clutch, minus first gear. When we say minus, we don't mean first is stock; we mean it's not there at all.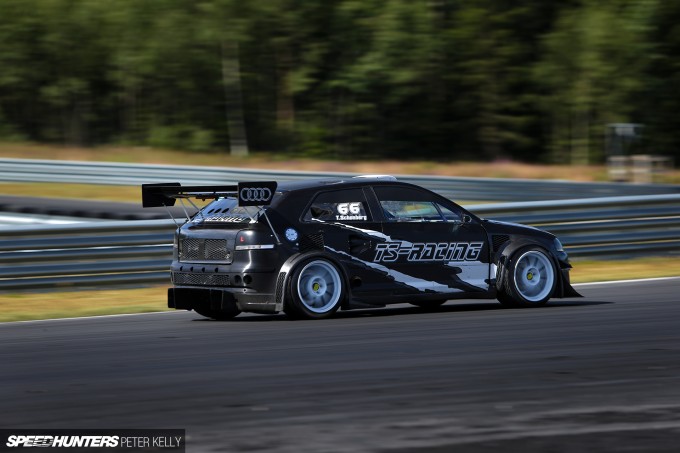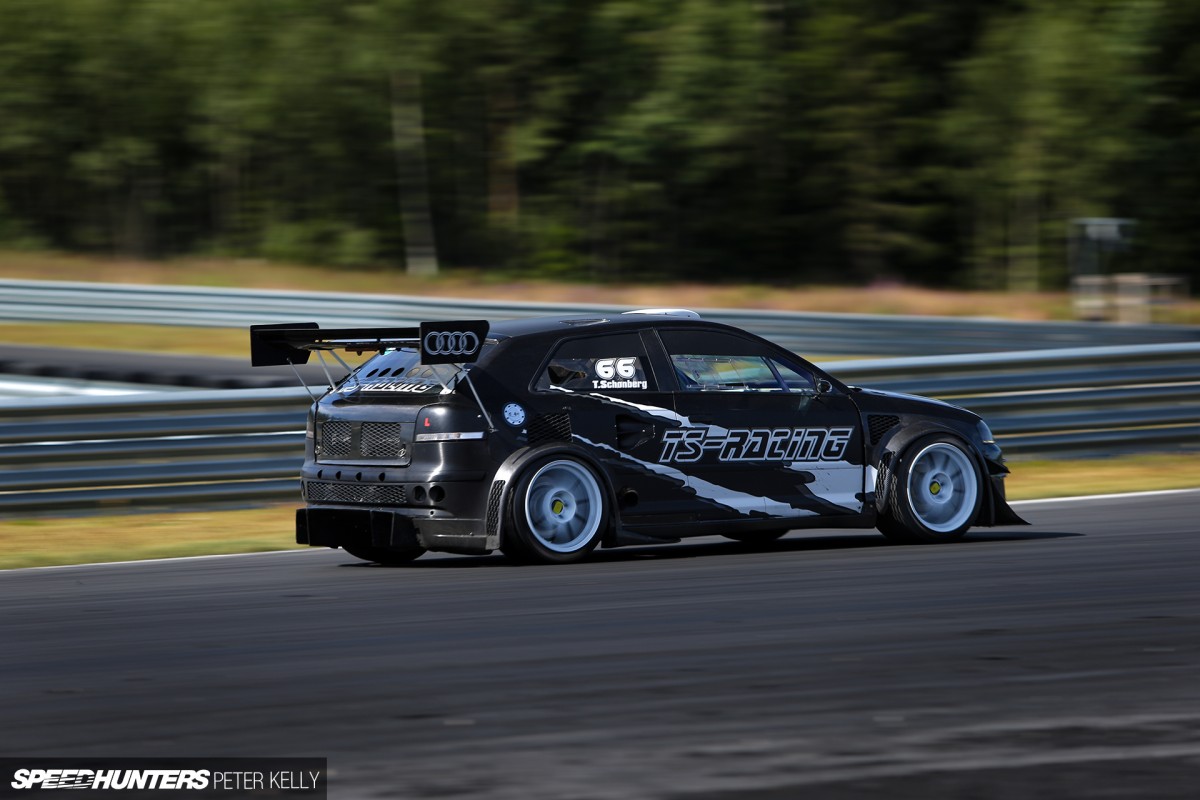 Tommy admits he's perhaps a bit vicious when shifting during a race, and something about the action of going from second to third occasionally causes first gear to eat itself. Tommy has had to fix the 'box many times because of this over the last seven years, and at 10 grand a pop, he eventually gave up and simply doesn't run a first gear. Tommy laughs and says he doesn't need it anyway; any time he's out-launched off the startline, there's more than enough power available to catch up whoever managed to eek out in front.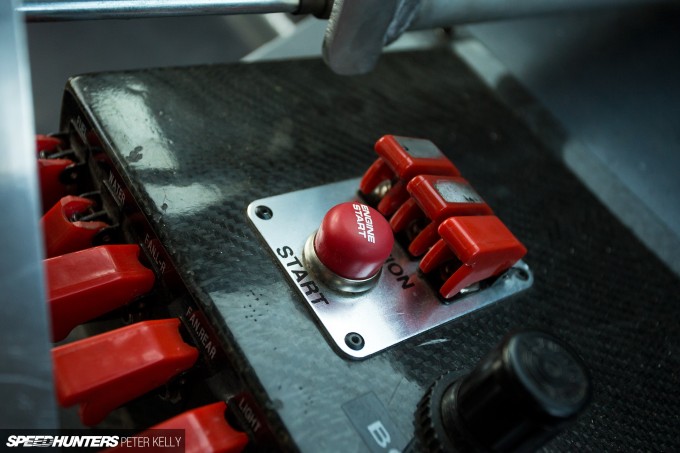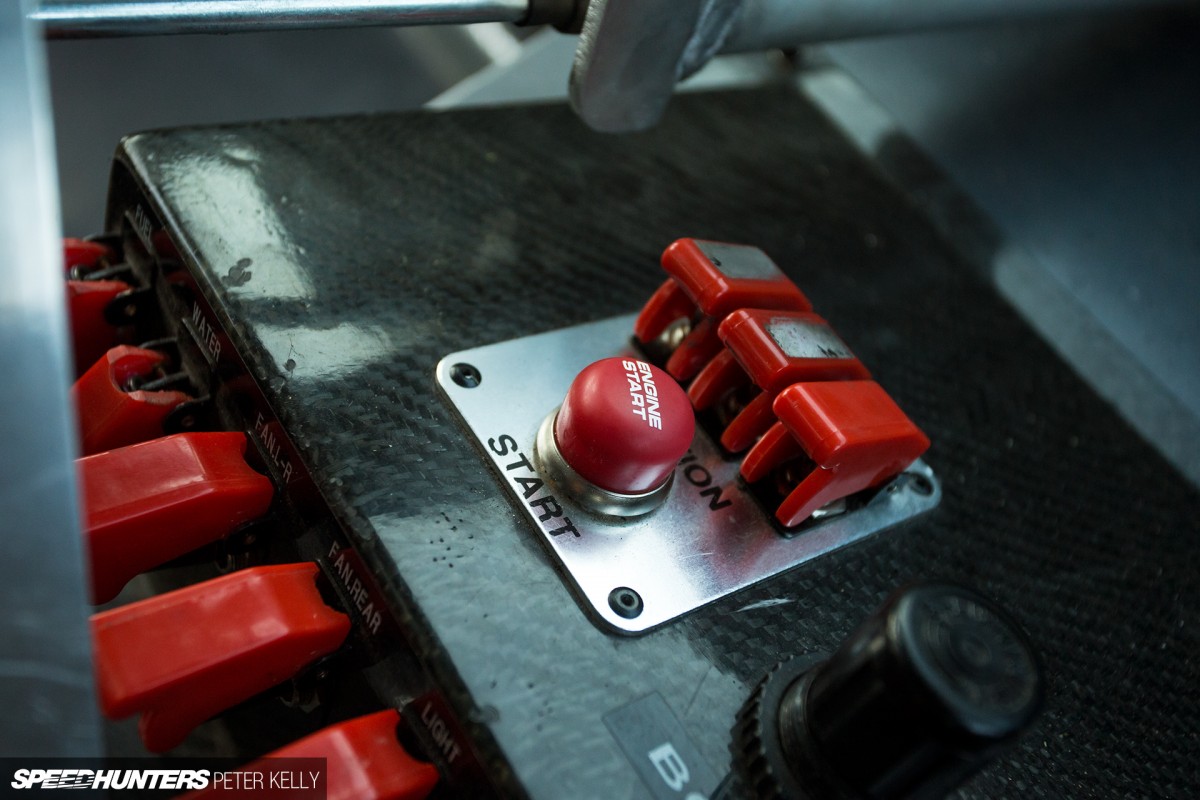 Originally, the number plates weren't the only thing to come from Tommy's A4 Avant; he also pulled the extremely modified four cylinder turbo set up, which was one of the most powerful of its type at the time. The problem was, with Tommy's local track, Rudskogen, being re-vamped and becoming much bigger in 2011, there came a need for much more torque, and try as you might, you're just not going to get that from the four banger – even if it was stroked out to 2.1 litres.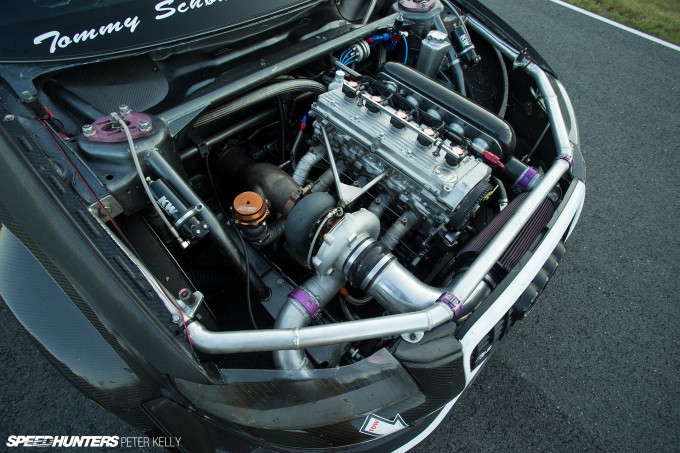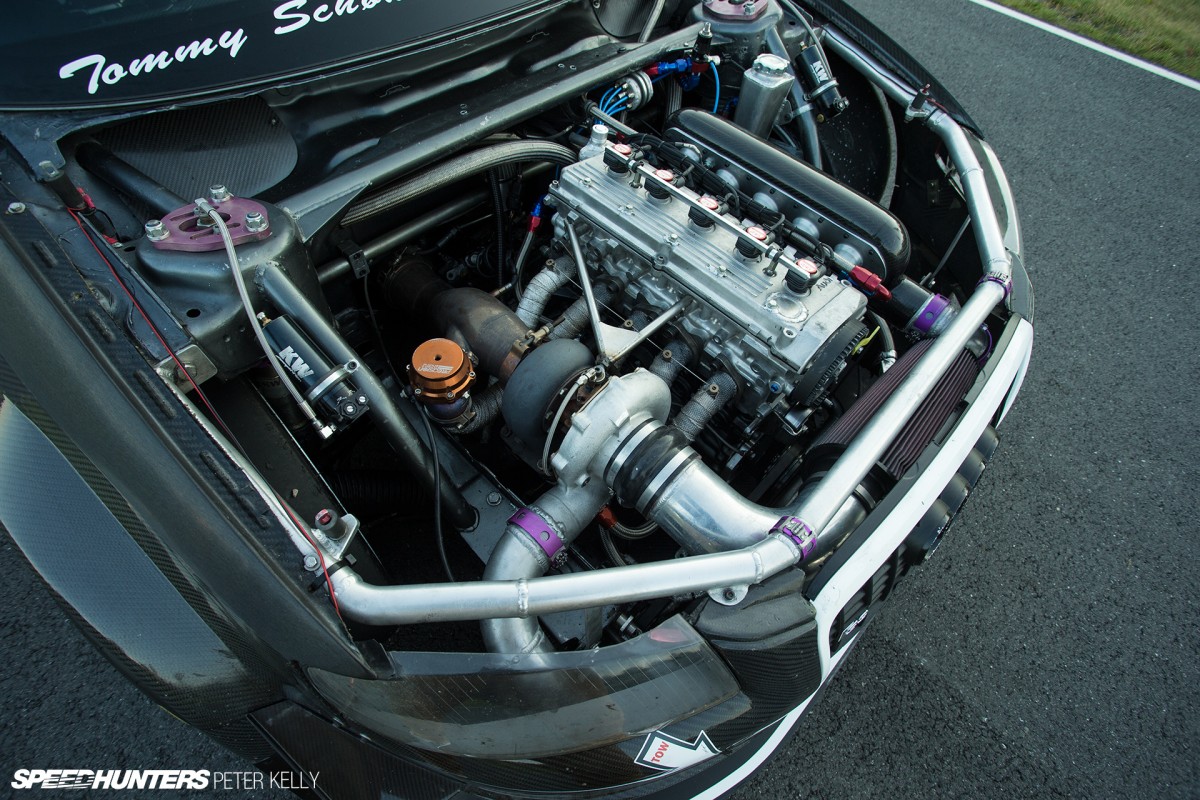 Thus, Tommy along with local engine builders VS Motor, built a new engine based around an mid-'90s Audi five-cylinder set up – something you might see in a heavily-modified S2 or RS2. The block itself actually comes from 2.5-litre diesel variant of Audi's 2.2-litre 3B and AYC motors (the factory S2 engine, depending on year), and is a good option for increasing capacity when mated to the DOHC 20-valve head.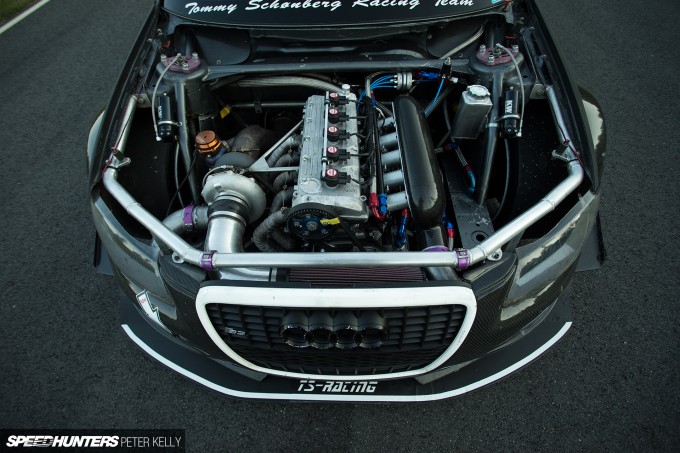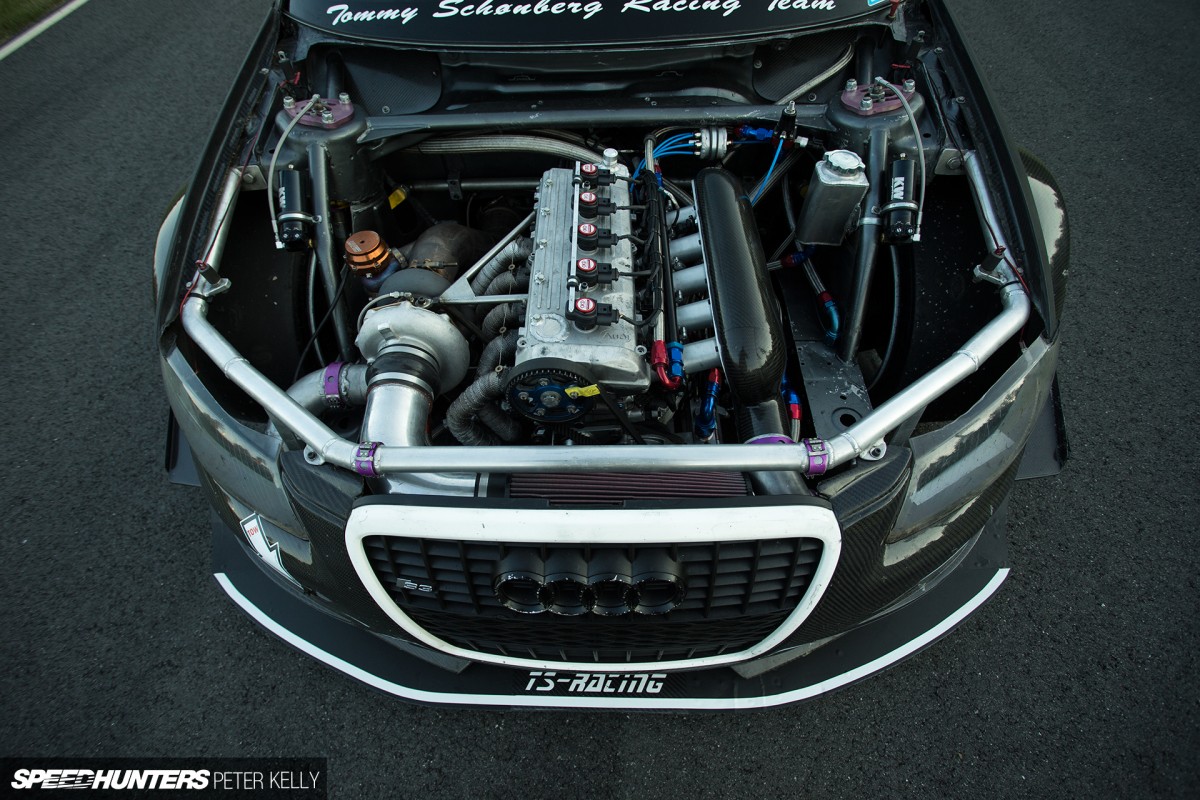 This particular motor runs the stock diesel crank pushing Pauter rods and JE forged pistons. Above sits a heavily-ported and polished ABY head with its individual coil packs, though trainspotters will notice that the cam cover itself is from an older 7A engine. The head runs a set of very aggressive custom cams and bigger valves, and sits above the stock headgasket, which is steel.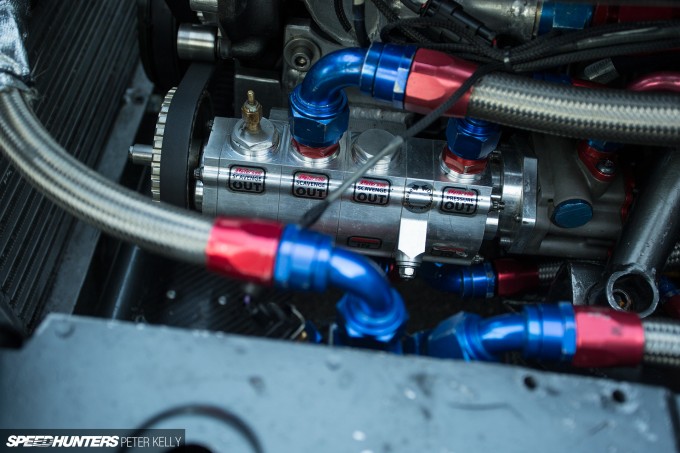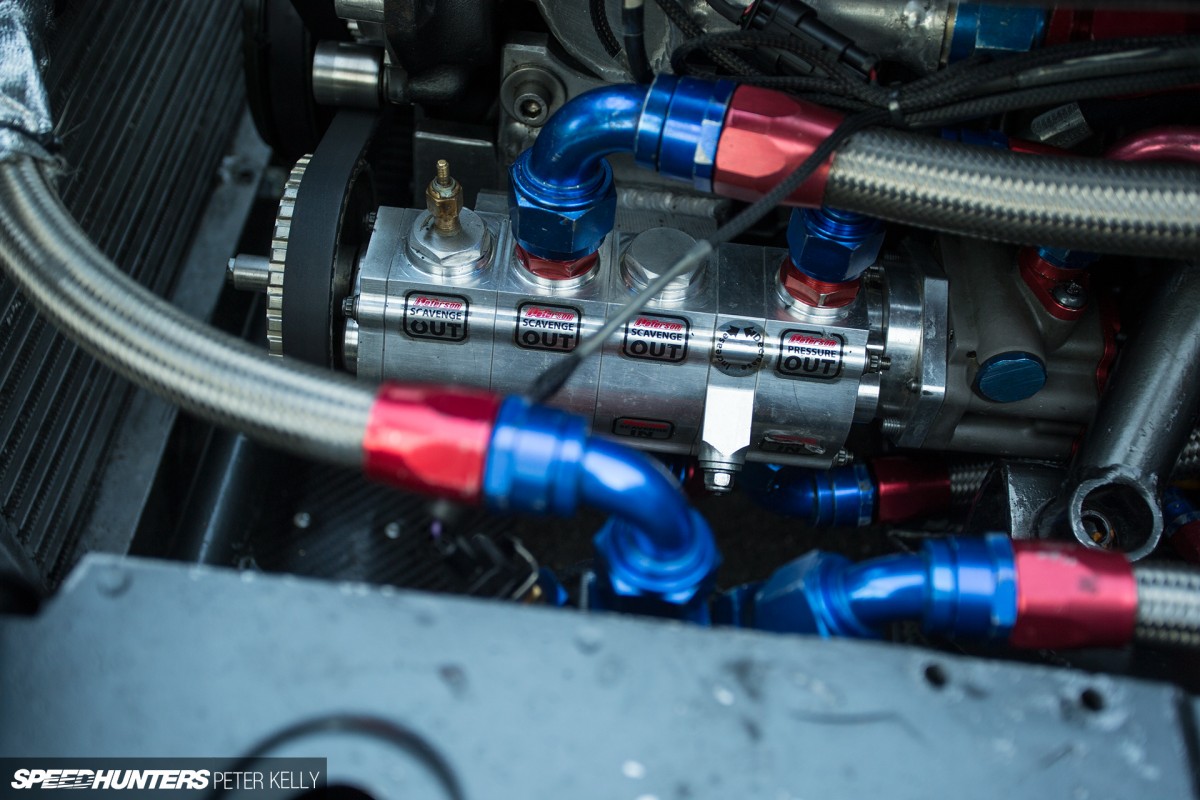 Considering the forces and strain that this engine is put under, a dry sump setup is crucial.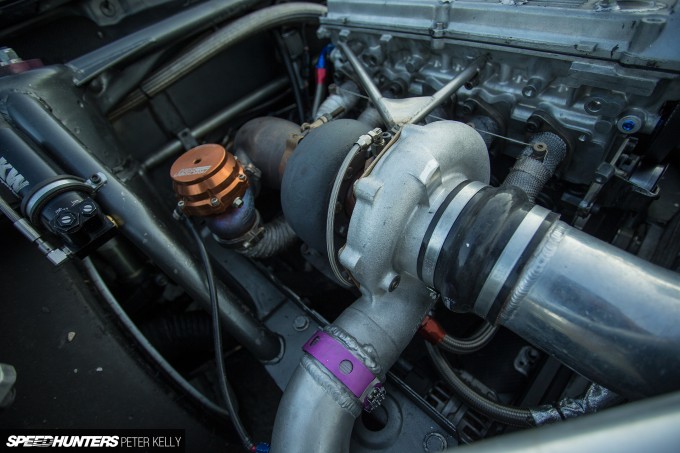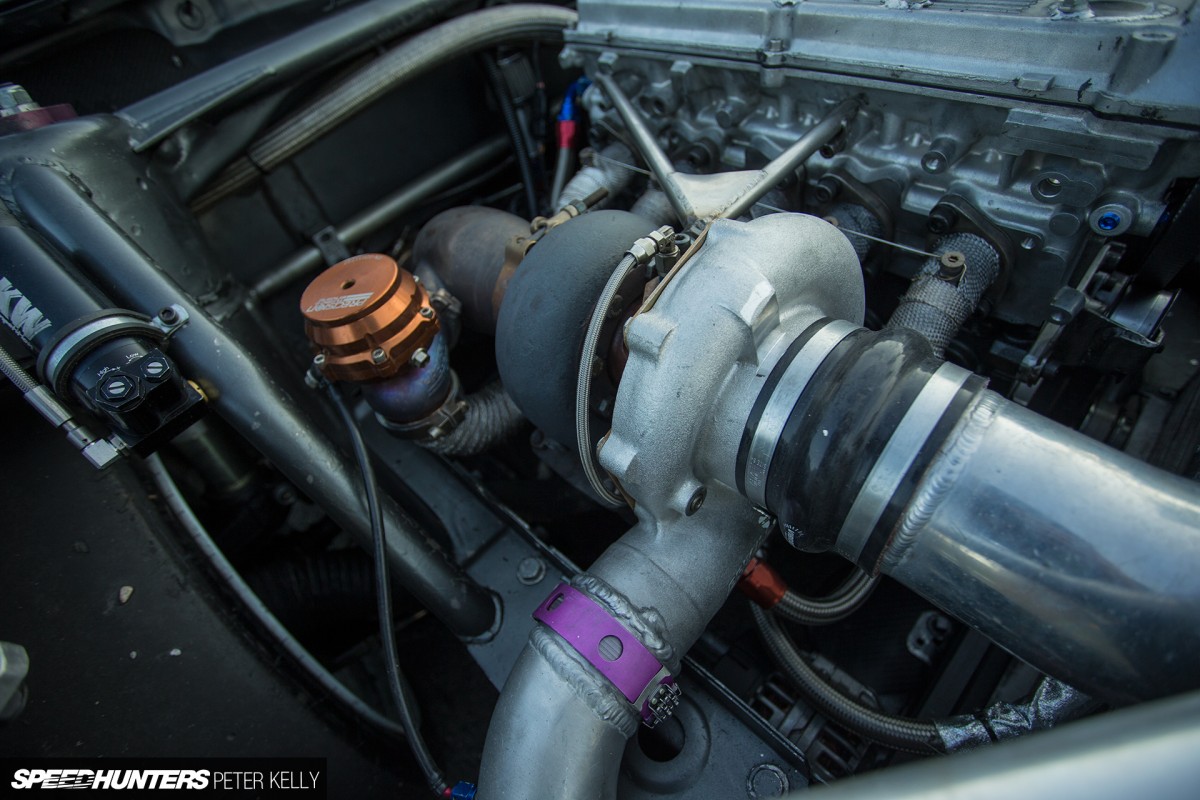 Boost is provided by a billet Precision 7175 turbo sitting on a custom stainless manifold, which dumps into a 4-inch down pipe that then splits into twin 3.5-inch exhausts running out to the sides of the car.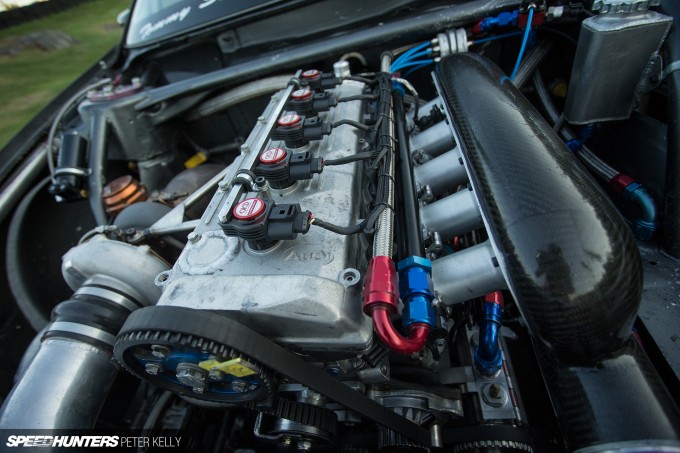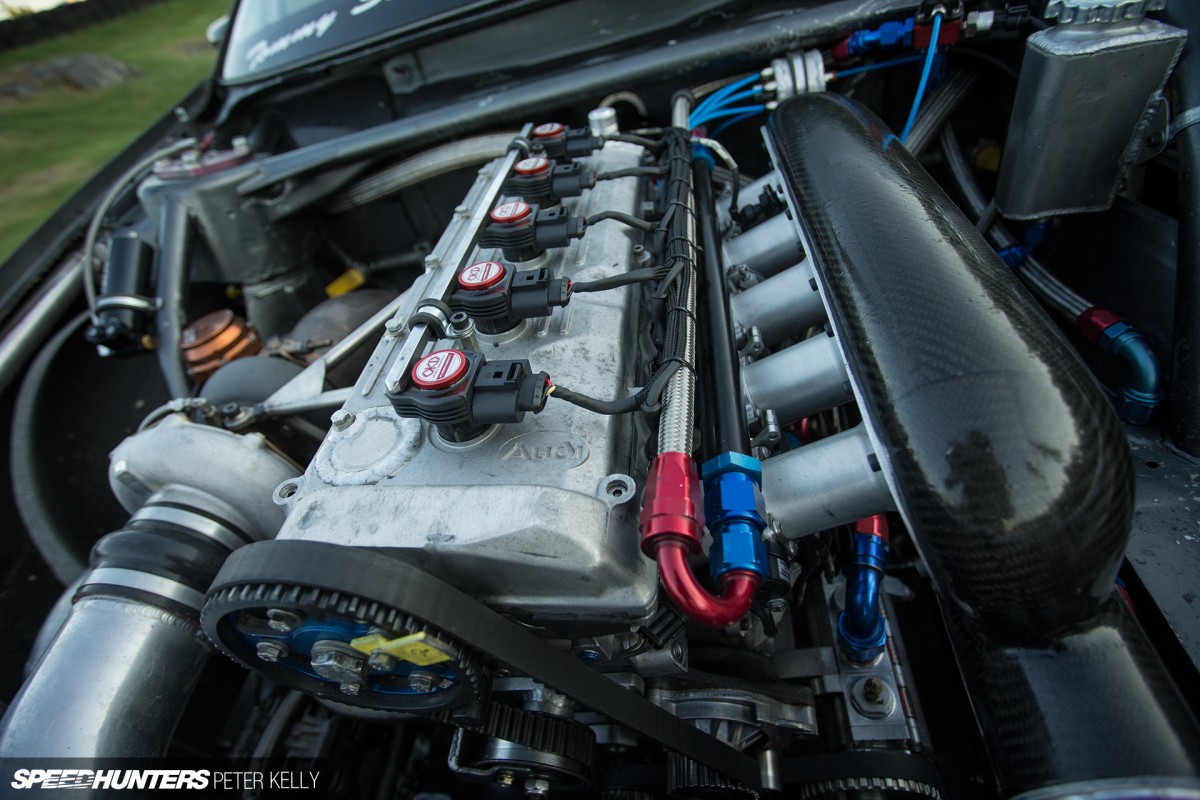 With the sort of power Tommy is running, he was struggling with the mid-range response – it was so vicious that he was having trouble driving it smoothly. The answer came with the recent addition of a new intake plenum and individual throttle bodies to replace the big single throttle the car was previously using. Apparently, it has made a huge difference and the car is now far better behaved and delivers its power in a much silkier fashion.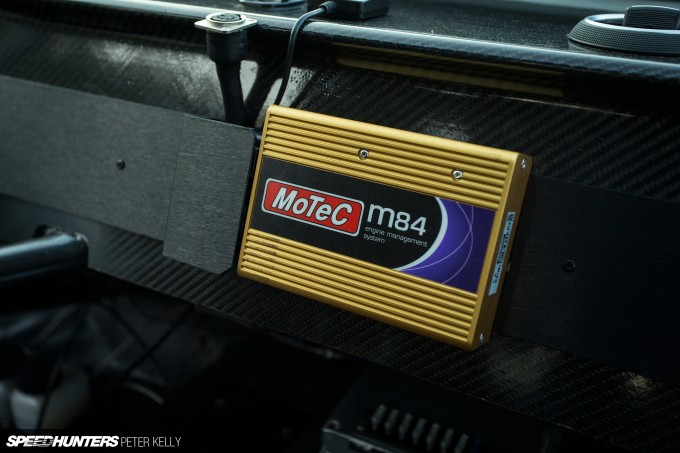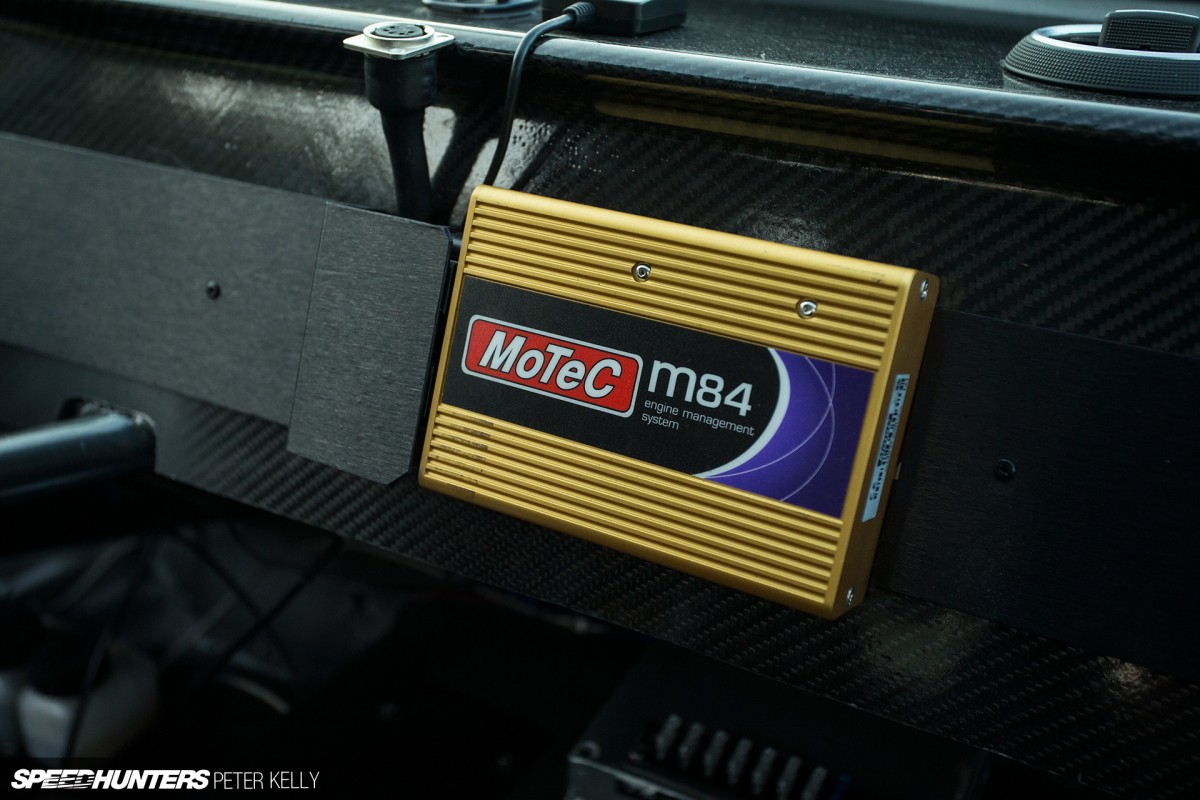 How much power exactly? Well, on VS Motor's engine dyno, the new 2.5-litre five setup easily surpassed Tommy's original 1000hp goal – so decided he might as well lean on it to see what it could do. They eventually stopped at 1150hp on 2.5-bar (36psi) when the turbo reached its maximum efficiency, just as the fuel system was about to do the same. Tommy says that it was a beautiful thing to watch as this howling five-banger loaded up on the dyno.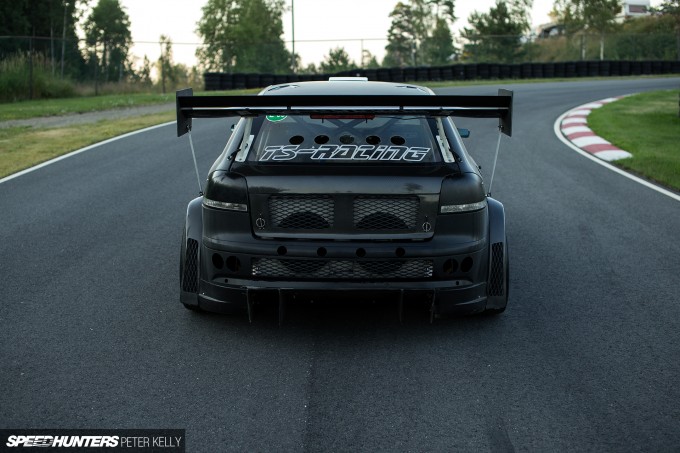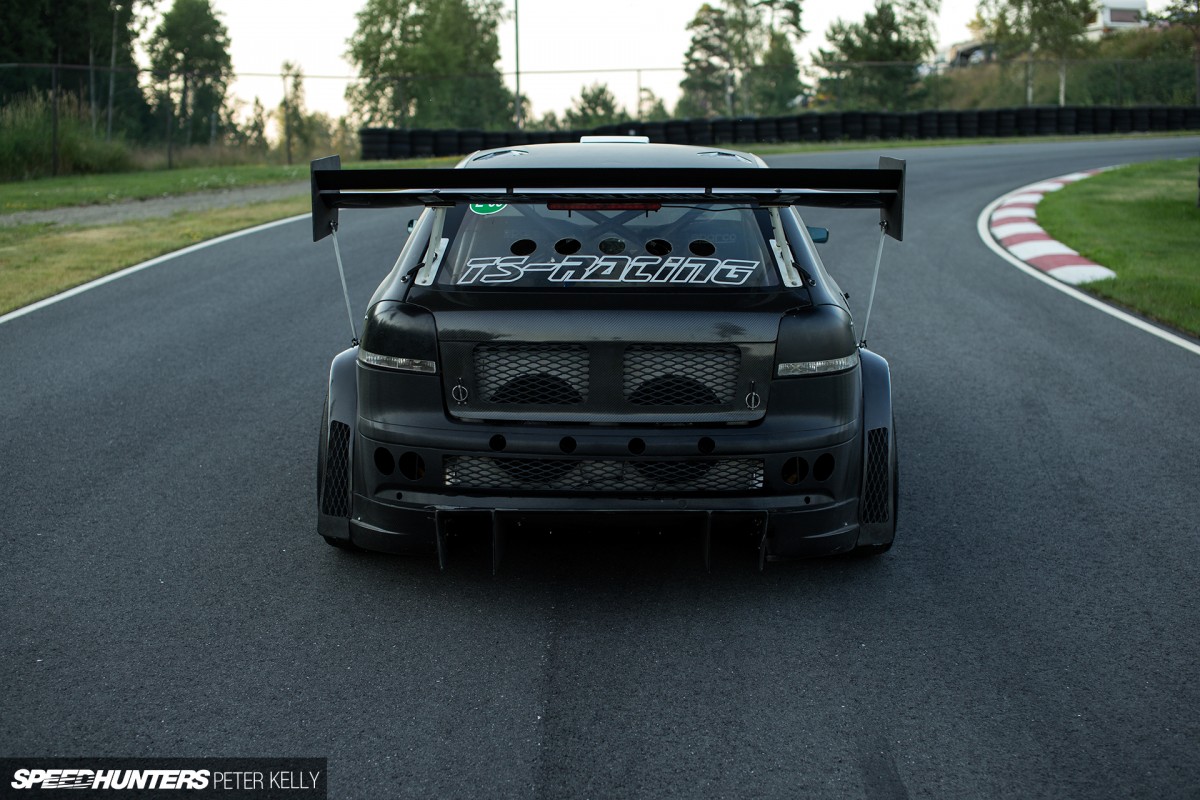 Tommy doesn't usually run all 1150 horse on track though, and winds the boost back down to a more sensible 2.0-bar (29psi), resulting in a 'conservative' figure of a little over 1000hp. This, as you could imagine, requires some serious cooling, taken care of by a huge rear-mounted radiator that's clearly visible in the back of the car.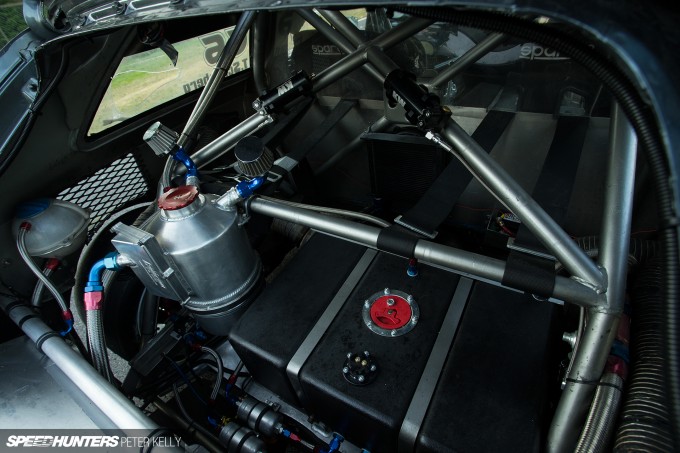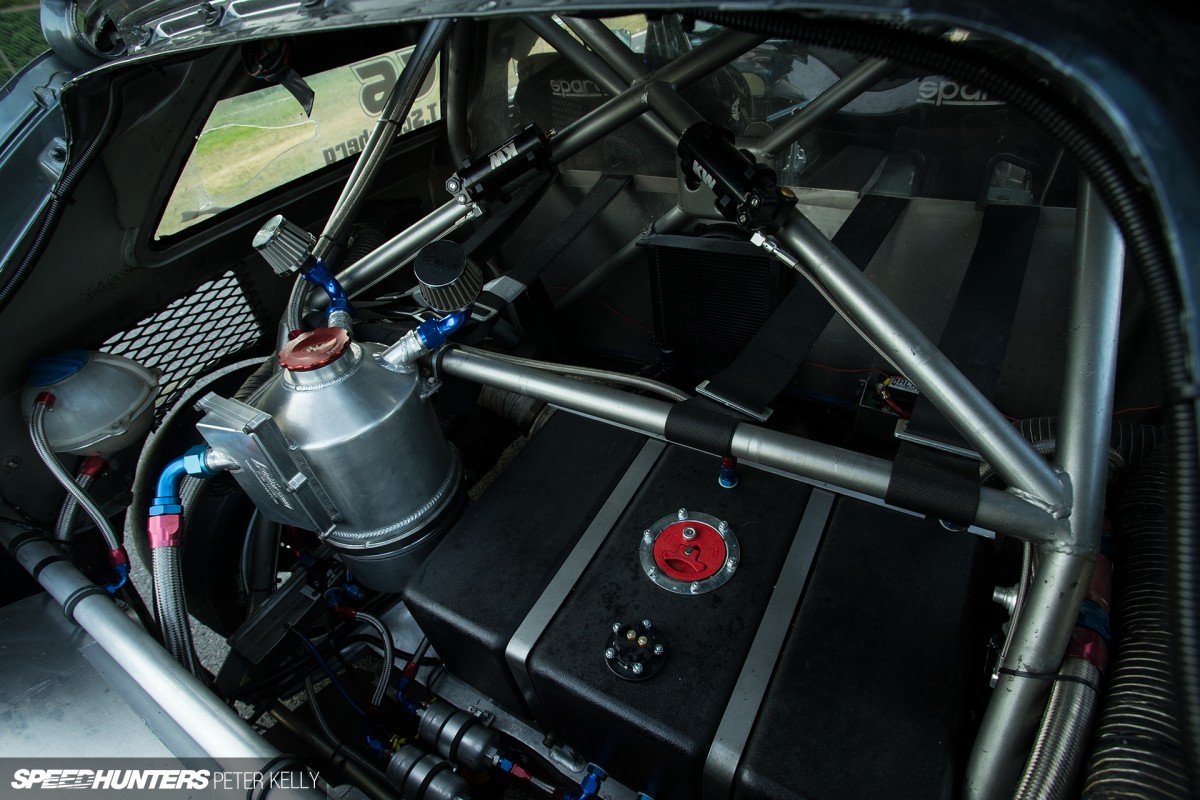 The cooling setup gulps down huge volumes of air through big vents in the haunches and the roof of the car and is accompanied by the Peterson dry sump tank and fuel system, which uses two big Bosch pumps drinking from a 30-litre fuel cell to feed the huge 2,000cc Precision injectors up front. A Perspex firewall keeps Tommy safe should anything go wrong during a race.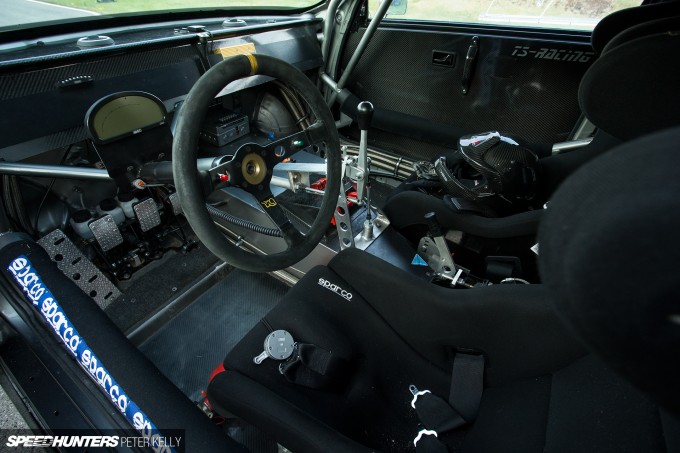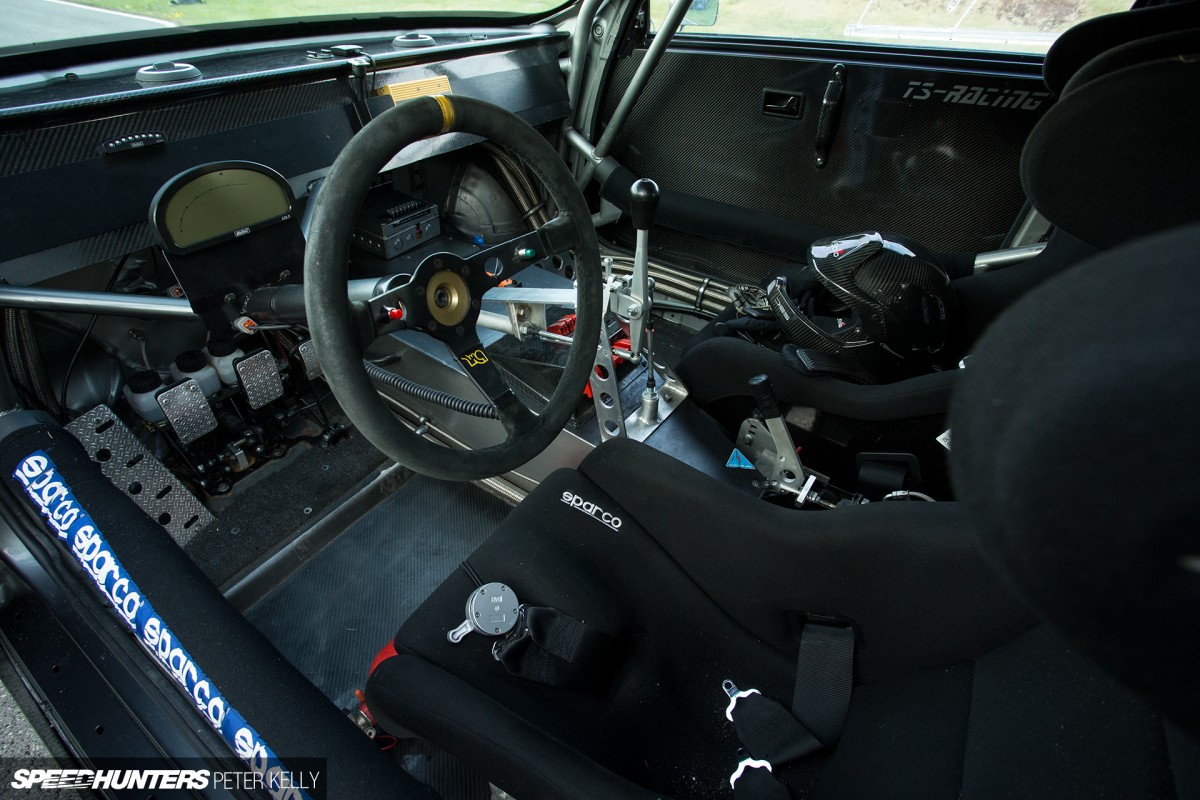 Forward of the firewall, things are simple, as you probably assumed. Carbon door cards and dash, Sparco seats and a MoTeC digital dash are all Tommy needs; this car is about going as fast as possible and that's it.
Going Fast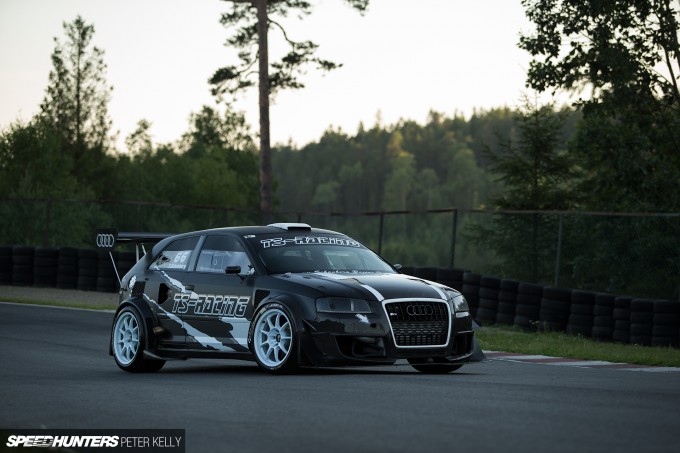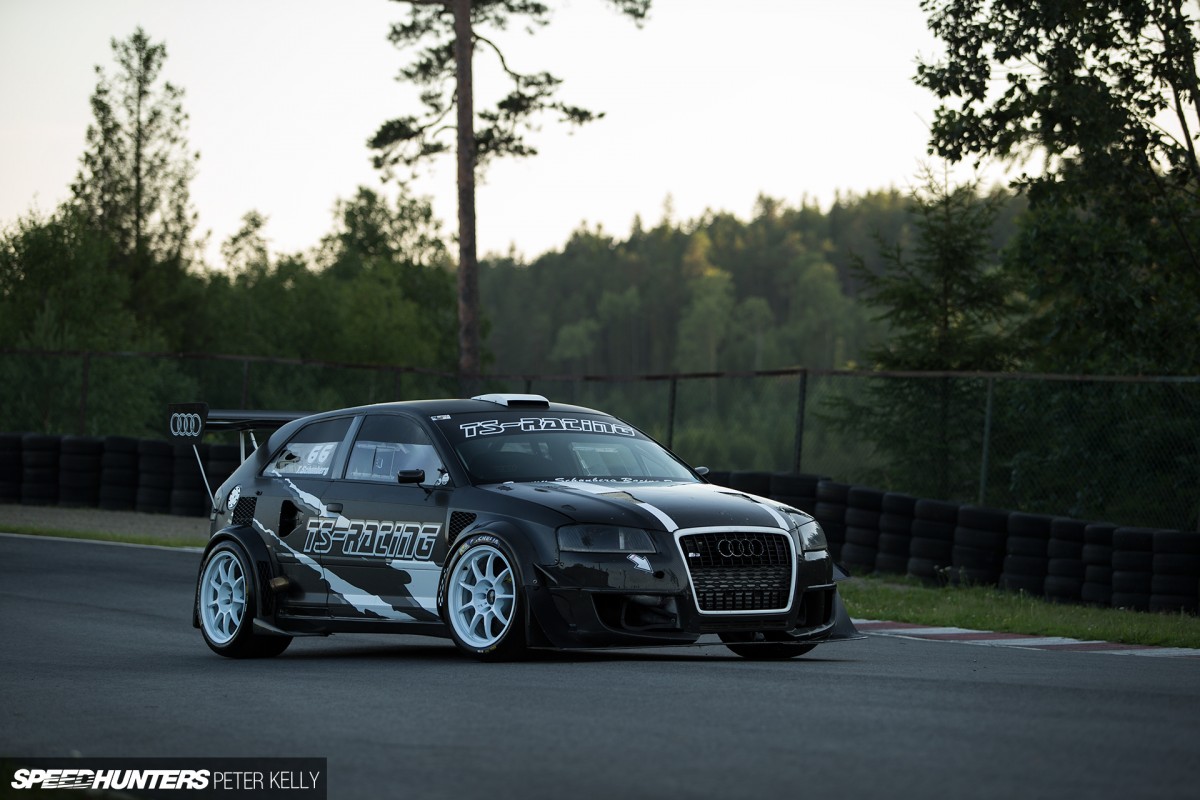 To be very clear – this Audi, which weights in at 1,200kg wet with driver and makes over 1000hp all day, every day – is extremely fast. But there is of course more to speed than just  power and weight – it needs to stay out of the kitty litter, too.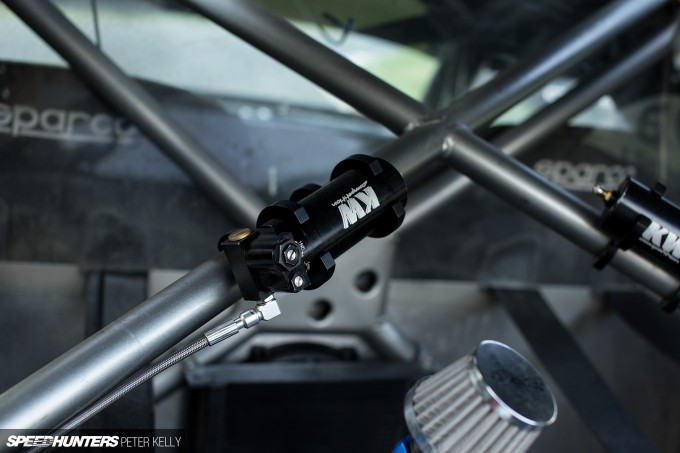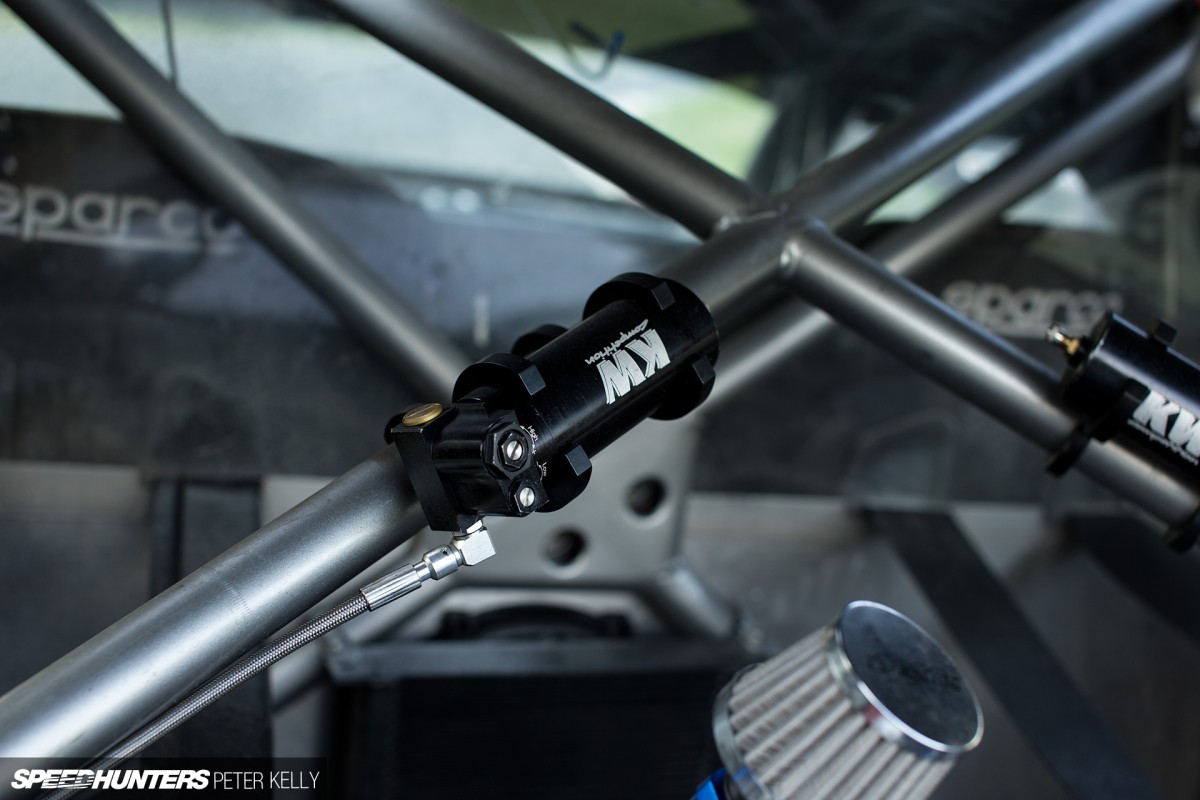 Tommy knows the guys at KW Suspension well, and they've been a great help with the build, supplying whatever he needs, overnight from Germany. The A3 currently runs a custom set of KW Competition coilovers, which spring completely custom adjustable tubular suspension arms and adjustable blade-type sway bars to provide as much control as possible; something that's easier said than done when you're pushing this much power, even with an AWD driveline.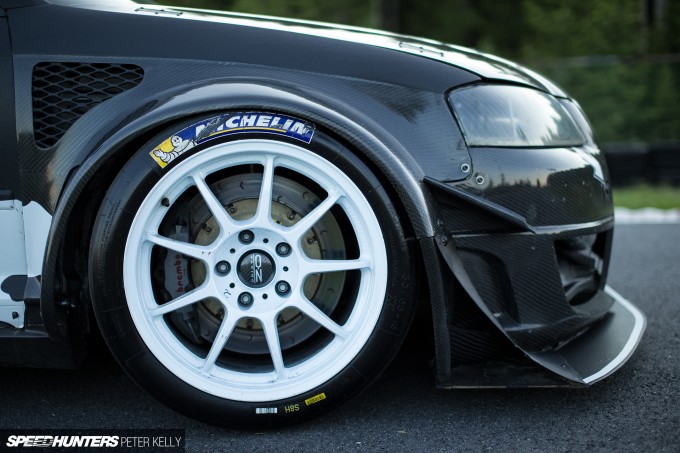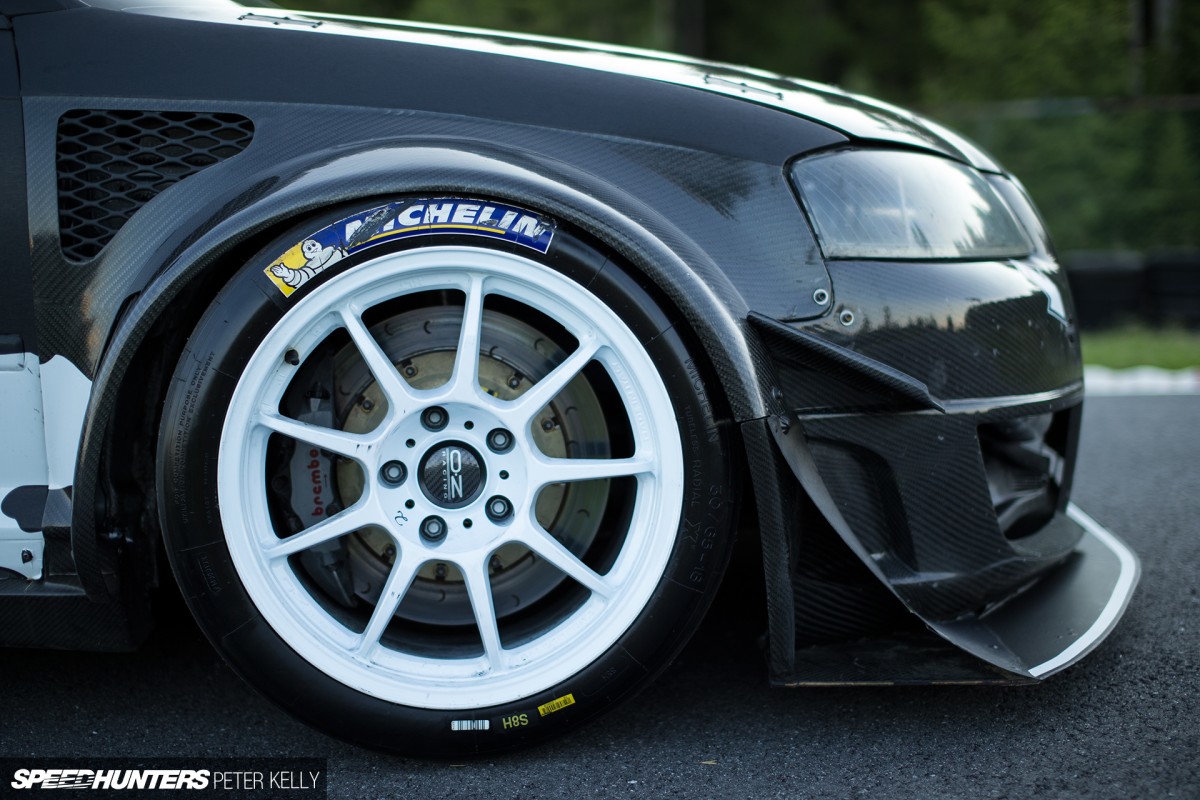 Traction is obviously going to be a major issue, and if you check out Tommy's in-car video at the bottom of this chapter, you'll see that the Audi is no stranger to oversteer. To best combat this, the car runs big 30/65/18 Michelin slicks wrapped around 18×12-inch OZ Racing Alleggerita monoblock wheels.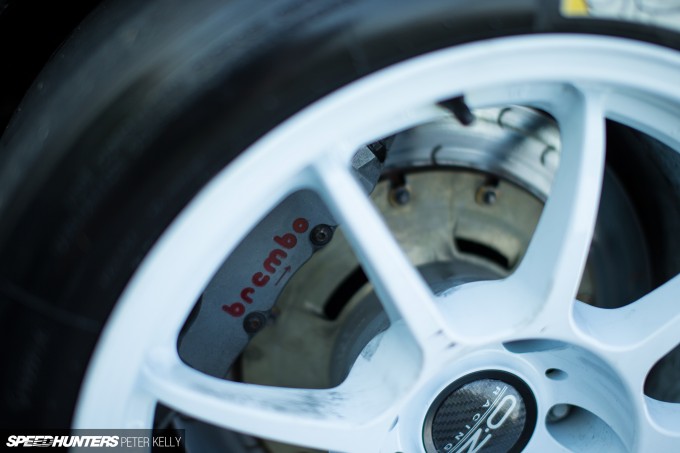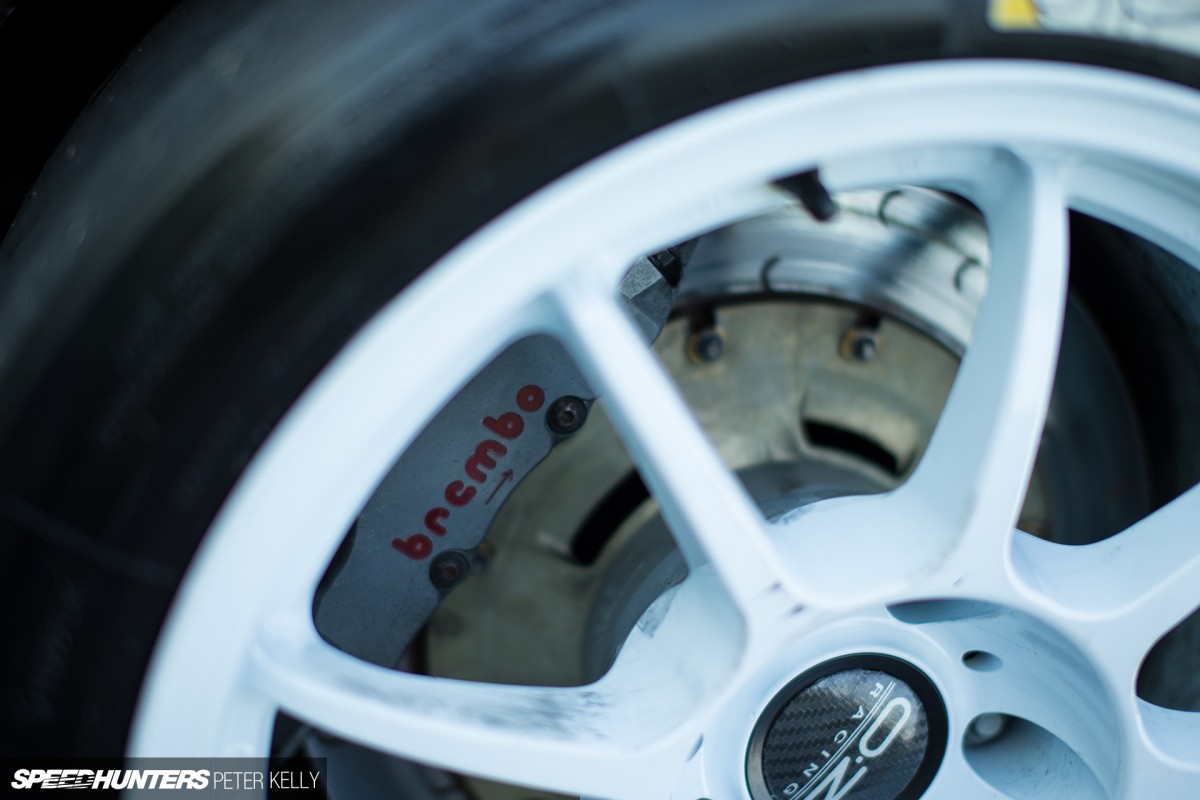 Huge 8-pot Brembo brakes and floating 2-piece rotors can be seen through the spokes on the front, while the rears have recently been downgraded to 4-pot units in an effort to reduce the stopping power out back and balance the car better under braking.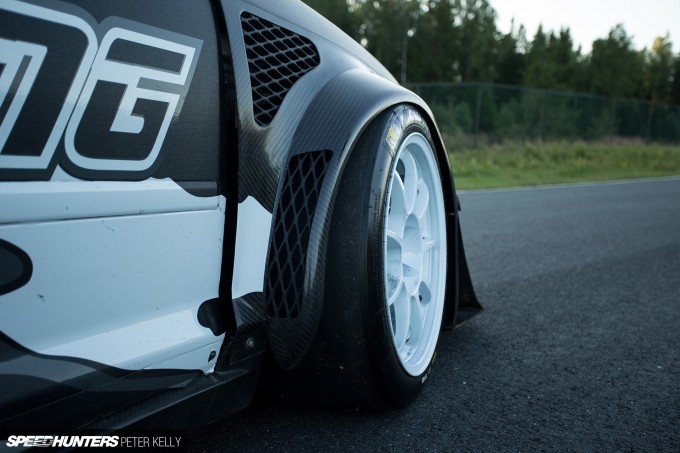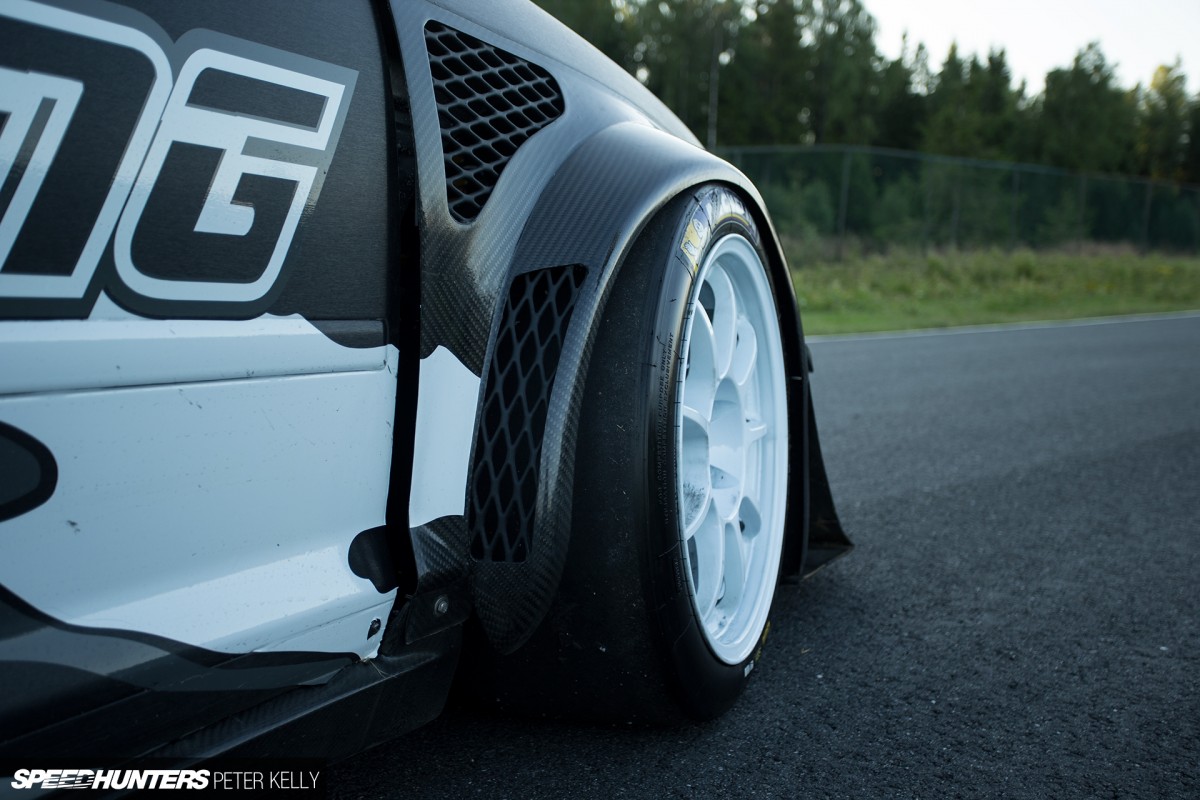 Previously, Tommy had run much narrower rolling stock on the car, and was able to get away with using over-fenders from an Audi Allroad wagon, but that was never going to fly when you're running 12-inch wide wheels and a fairly low offset. For a while, Tommy wasn't sure how to proceed, but it all clicked into place one winter's day when he was sitting in traffic and saw an Iveco commercial vehicle up ahead. The truck had the perfect shape of fender covering its dual rear wheels – a quick phone call was made and soon there were four brand new truck fenders sitting at the shop.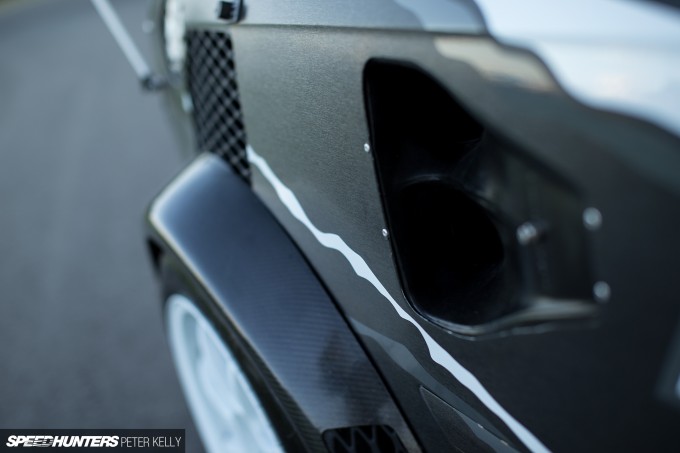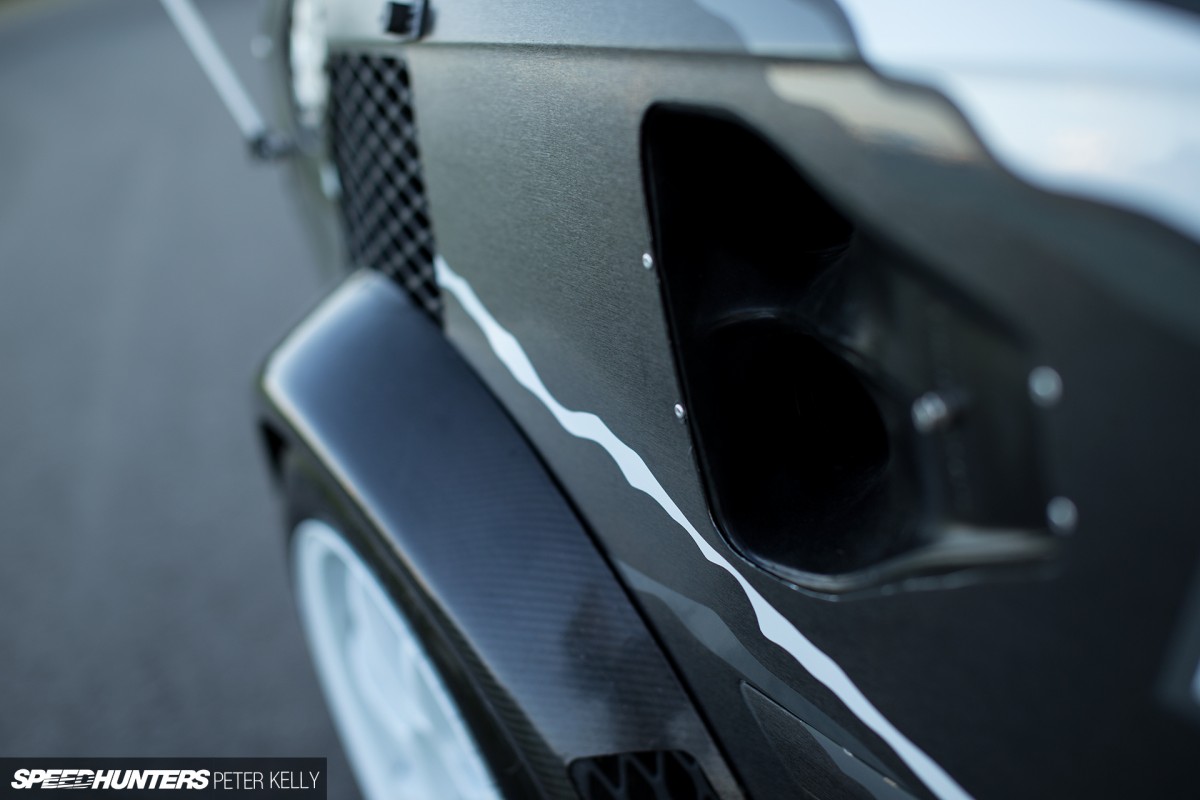 These were cut up and reshaped until they fit the A3's body perfectly, then taken off again and used to create a mold, which Tommy could then use to produce as many carbon fibre fenders as he wanted.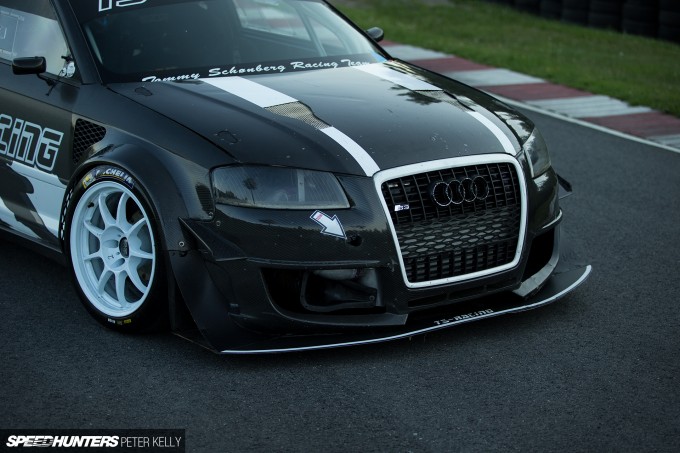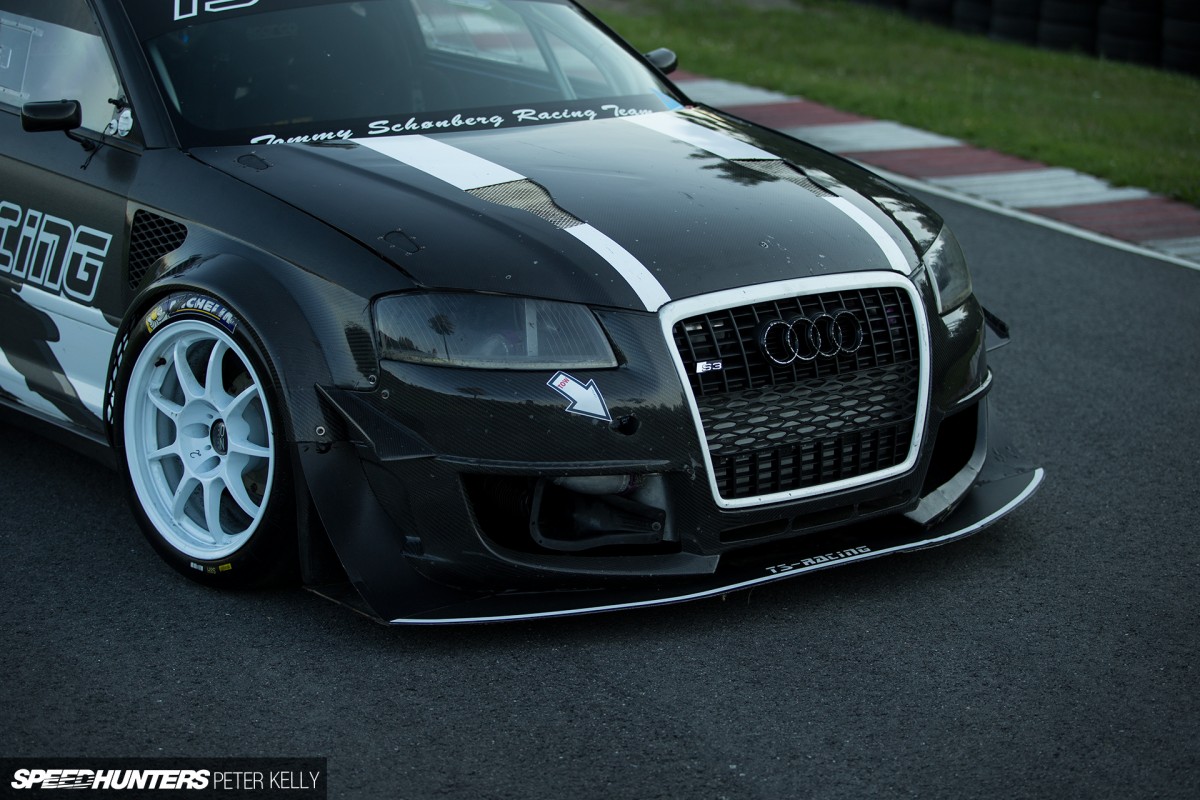 Carbon was also used to create the bonnet, bootlid and aggressive front bumper. The doors, however, remain steel, as although the composite material is very strong and light, Tommy has always been weary of what happens when it does fail, and prefers the predictability of steel should the car suffer a side impact.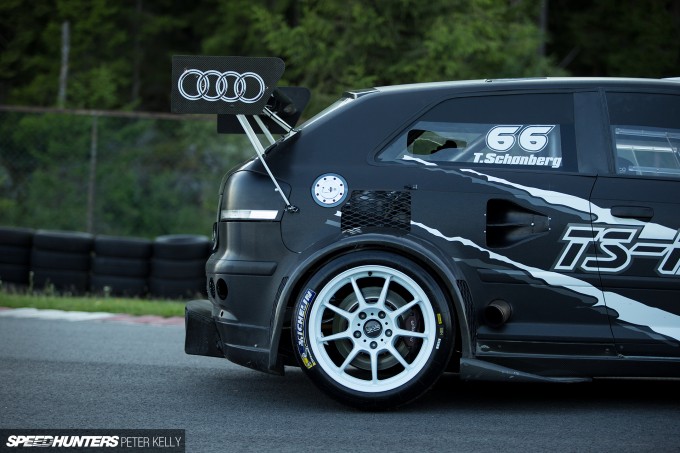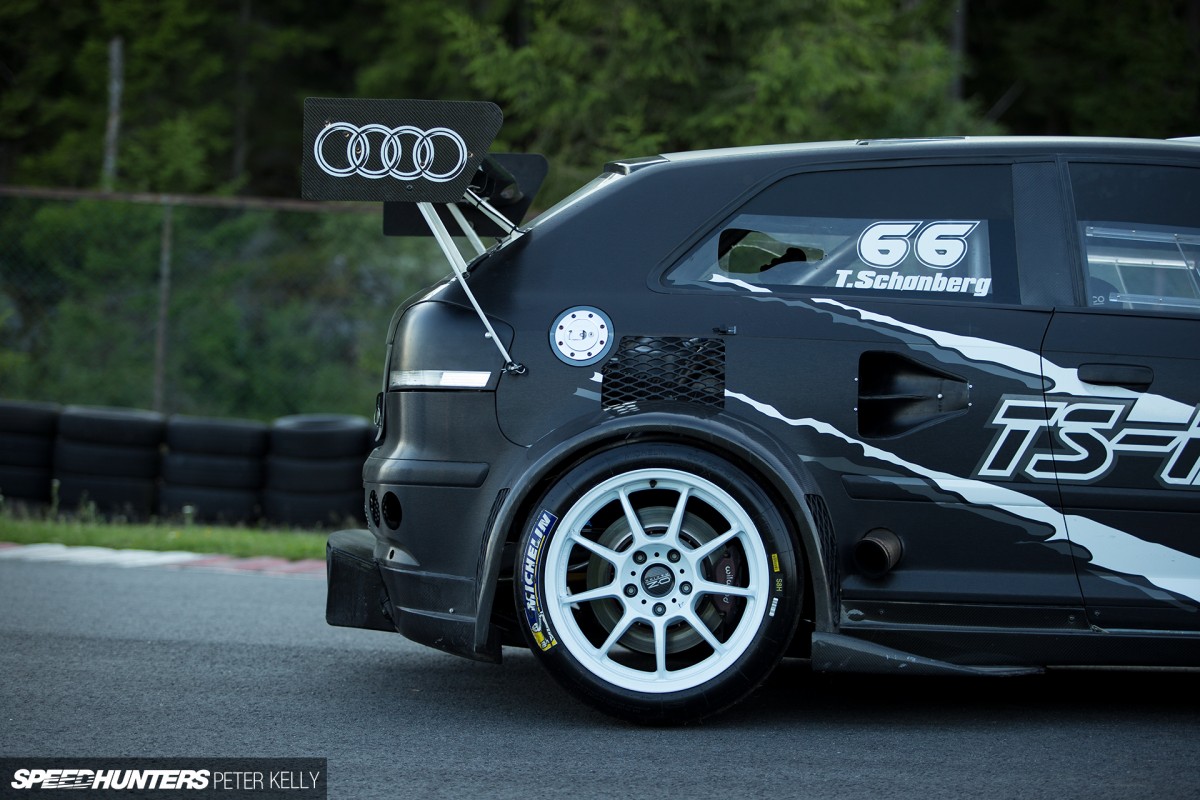 The handling, the braking, the acceleration – they all form into one cohesive package that equates to nothing short of warp-speed out on the tightly cambered hairpins, undulating sweepers and long straights of tracks like Rudskogen. The car is an absolute animal and certainly requires large amounts of both concentration and testicular fortitude to drive.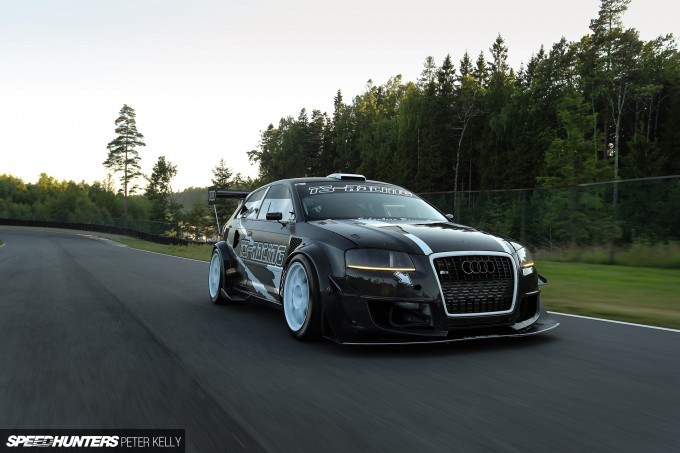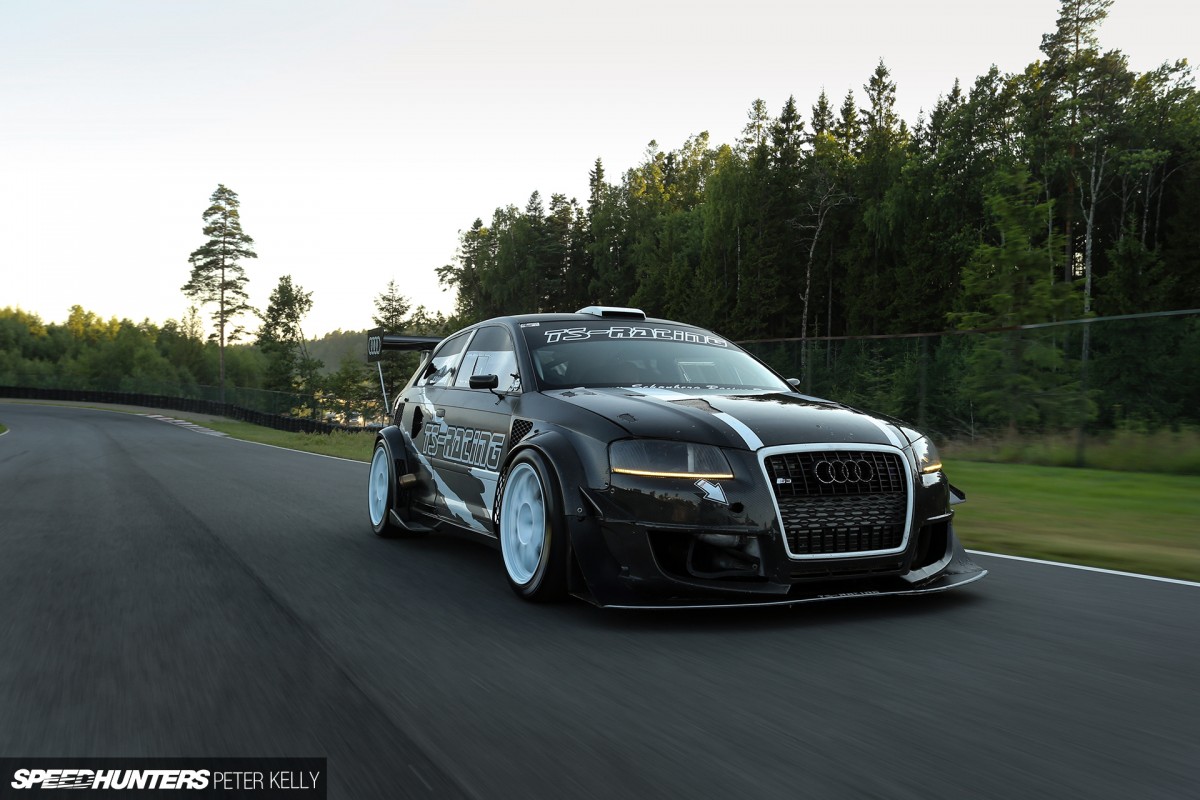 We can't help but wonder how a monster like this would fair not just attacking the local tracks of Norway and Sweden, but perhaps some of the world's best hill climbs too; Eschdorf, St Ursanne, or even Pikes Peak. That much power and speed ripping through the tight roads of a mountain pass, the unique five-cylinder howl echoing through the steep hillsides? Sounds like pure heaven to us…
Check out this in-car footage of Tommy wrestling with damp conditions at Rudskogen. Although the clip is a little on the amateur side, it certainly gives you a good idea of what it's like trying to tame this beast!
Peter Kelly
Instagram: speedhunters_pedey
pedey@speedhunters.com
Tommy Schönberg's 2006 Audi A3 (8P)
Numbers
Max Power: 1150 horsepower (507kW) at the flywheel on ethanol fuel at 32psi (2.5bar), Max Torque: 1200Nm, Weight: 2,645 pounds (1,200kg)
Engine
VS Motor-built Audi 2500cc five-cylinder diesel block, 10:1 compression ratio, JE forged pistons, Pauter rods, stock balanced crankshaft, Pedterson dry sump system, ported and polished DOHC 20-valve Audi ABY alloy head, modified 7A cam cover, stock steel head gasket, custom cams, custom valves, Precision 7175 turbo with billet wheels, individual throttle bodies, custom intake piping, front-mounted intercooler, Precision external wastegate, custom stainless exhaust manifold, 4-inch down pipe into twin 3.5-inch exhaust piping, Precision 2,000cc injectors, twin Bosch fuel pumps, 30-litre fuel cell, MoTeC M84 ECU
Driveline
Audi RS2 Quattro driveline, Martin Rallycross custom dogbox, custom ratchet shifter, factory Quattro differentials, Tilton triple-plate carbon clutch, Tilton pedal box, custom driveshaft
Suspension/Brakes
Custom KW Competition coilovers, custom adjustable suspension arms, (F) 8-piston Brembo calipers, (R) 4-piston Brembo calipers, Brembo 2-piece floating rotors, hydraulic handbrake
Wheels/Tyres
18×12-inch Oz Racing, Michelin 30/65/18 slicks
Exterior
Tube frame front and rear ends, carbon fibre boot, carbon fibre bonnet, custom carbon fibre front and rear fenders, steel doors, carbon fibre front bumper, heavily modified factory rear bumper, carbon fibre diffuser, S3 grill
Interior
Sparco seats, Sparco steering wheel, custom carbon fibre door cards, custom carbon fibre dash, custom driveshaft tunnel, custom chromoly rollcage, MoTeC CDL3 dash
Thanks
TS Racing, Brede Alnes, Niklas Hartler, Koenigsegg, Polestar, VS Motor
More Audi related stories on Speedhunters
Cutting Room Floor