Juice Worth The Squeeze
Racing is inherently dangerous, we all know this. No matter how many precautions you put in place, something is always bound to happen – especially on one of the most dangerous hill climbs in the world. Bobby Goodin, a motorcycle rider competing in the 92nd running of the Pikes Peak International Hill Climb, passed away after an incident after crossing the finish line at the summit. While I normally don't cover motorcycle racing, Bobby was a motoring enthusiast just like the rest of the drivers on that mountain and he will be sorely missed by the racing community. No one who attends or competes in a race wants to see anyone get hurt, but unfortunately it is inevitable.
The question comes to mind: is the risk worth it? Is it worth risking your life for what is essentially a bit of fun? Why don't we just live a pacified life and sit around waiting to die of old age? I don't think humans are wired that way. I know I'm not like that. I take that risk every time I strap myself into a race car, just like everyone who suited up for their race to the clouds at the 2014 Pikes Peak International Hill Climb last week. If any one of those drivers perish from this earth while doing what they love, then it was a life worth living, because no one forced them to go up that mountain road. In my eyes, there is no better way to live life to the fullest than at one of the greatest races in the world.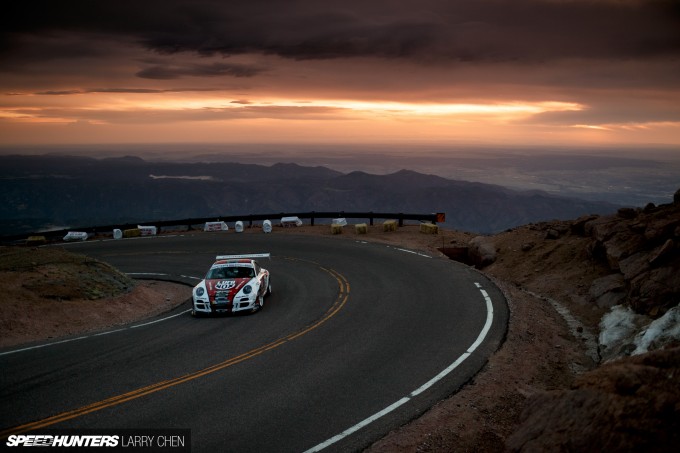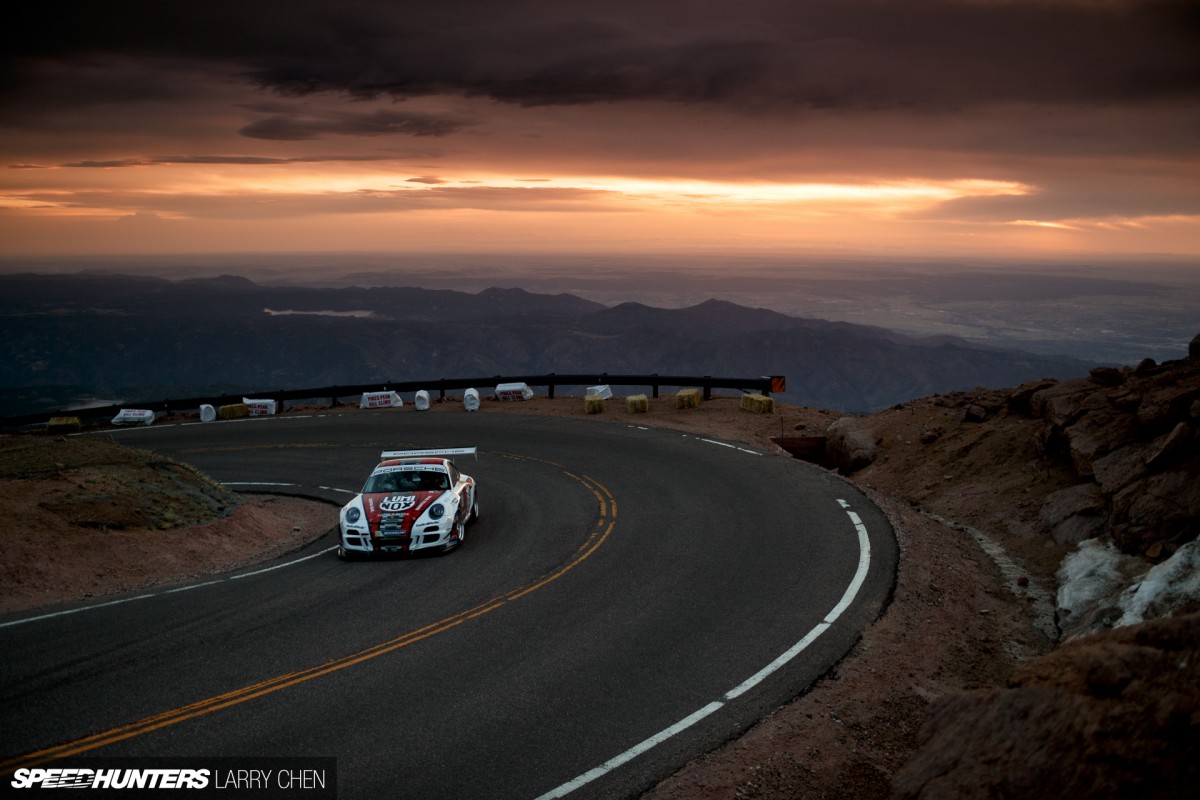 Pikes Peak is not just any race track – it's a living and breathing organism. And it's absolutely beautiful.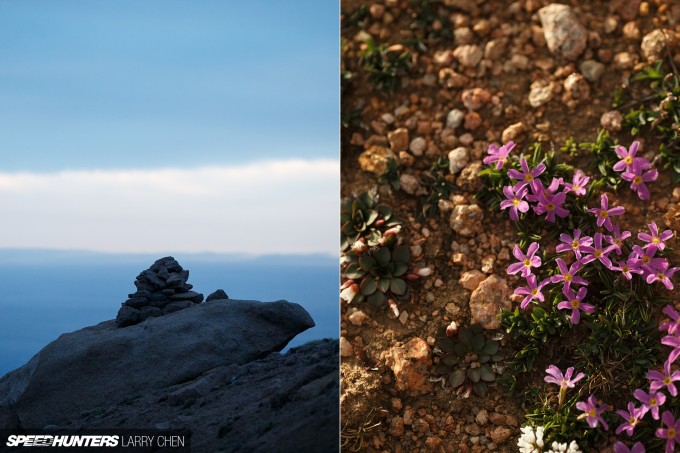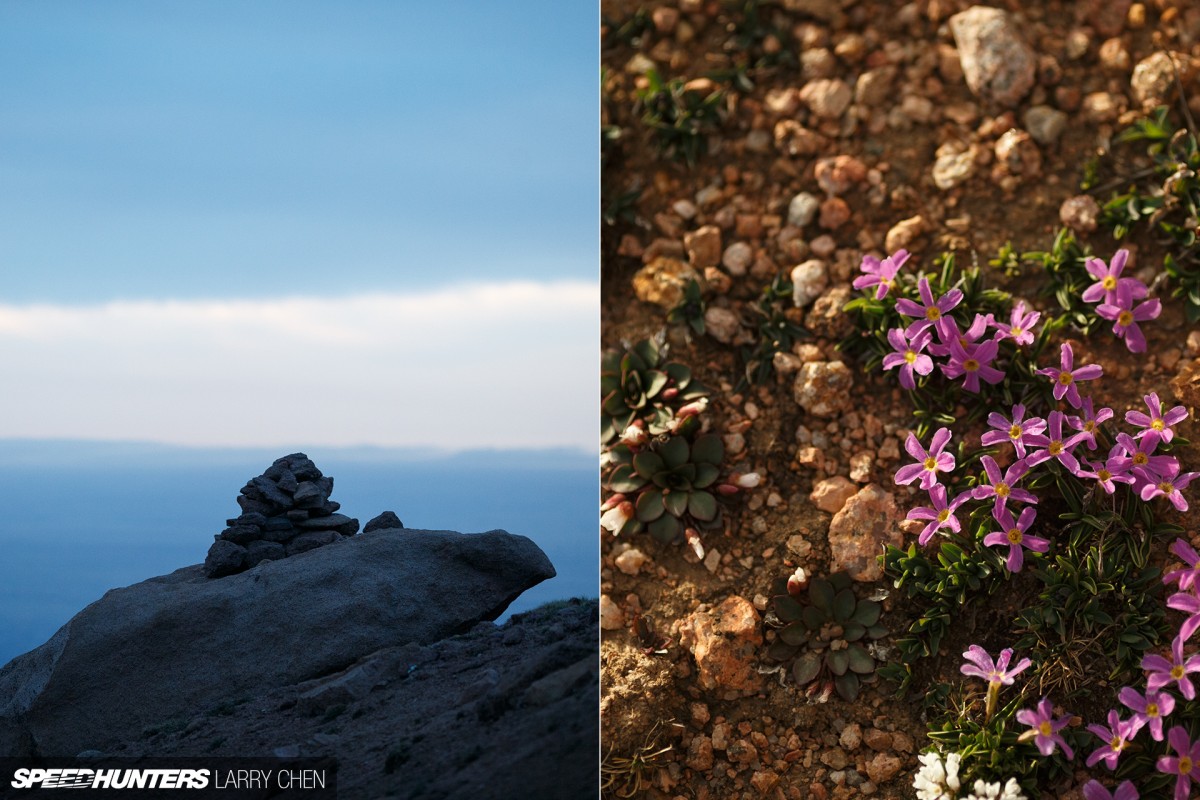 It's the only place that I have ever photographed that is above the tree line. Apart from some tiny plants and the occasional marmot there so not much life at 14,000ft.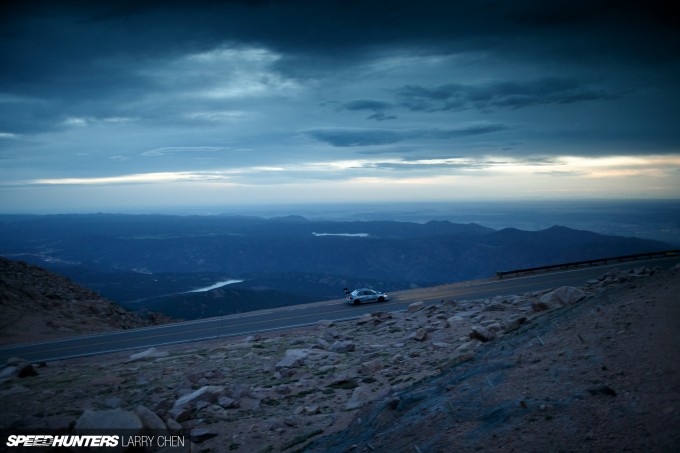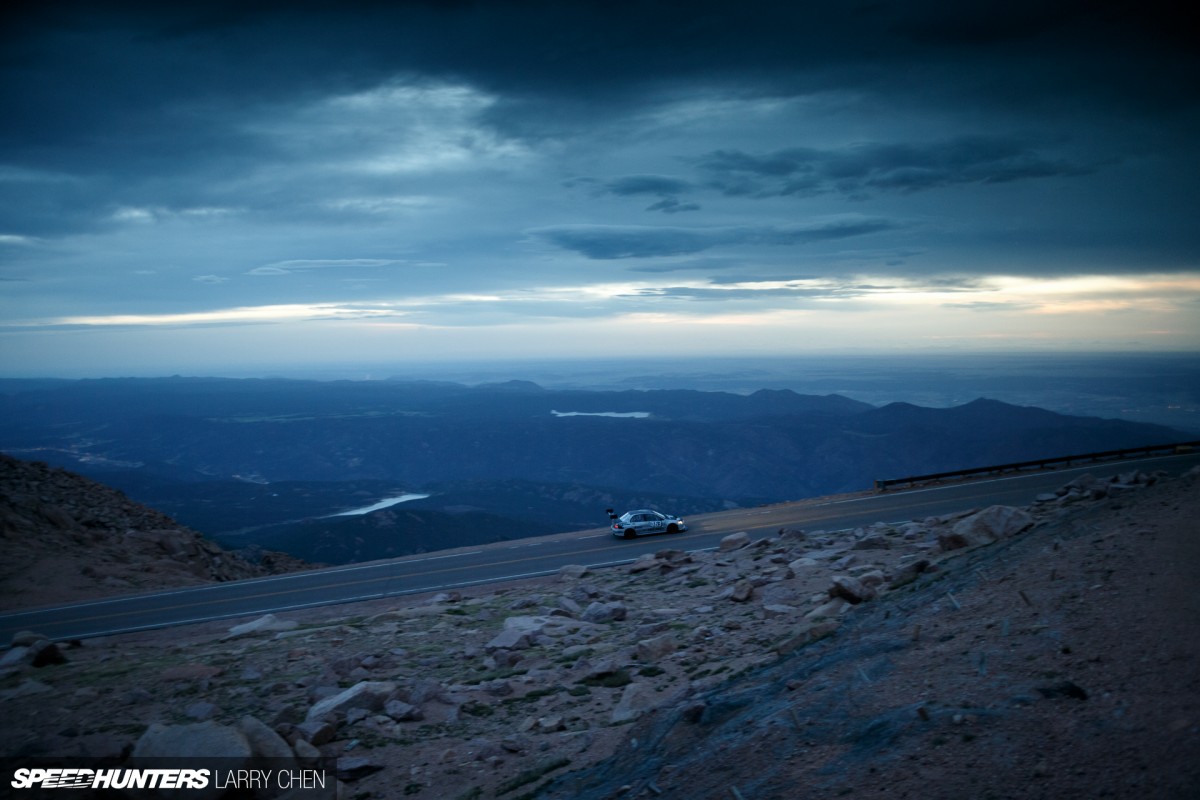 The colors from the sky here are always a nice distraction from not being able to feel your fingers and toes because of the cold – even though it's the middle of summer.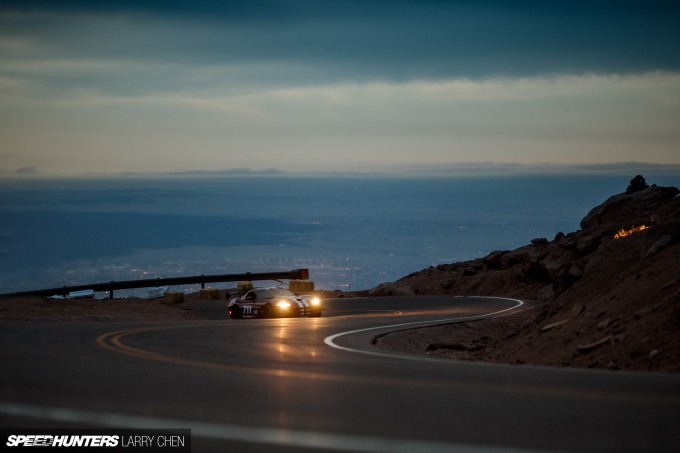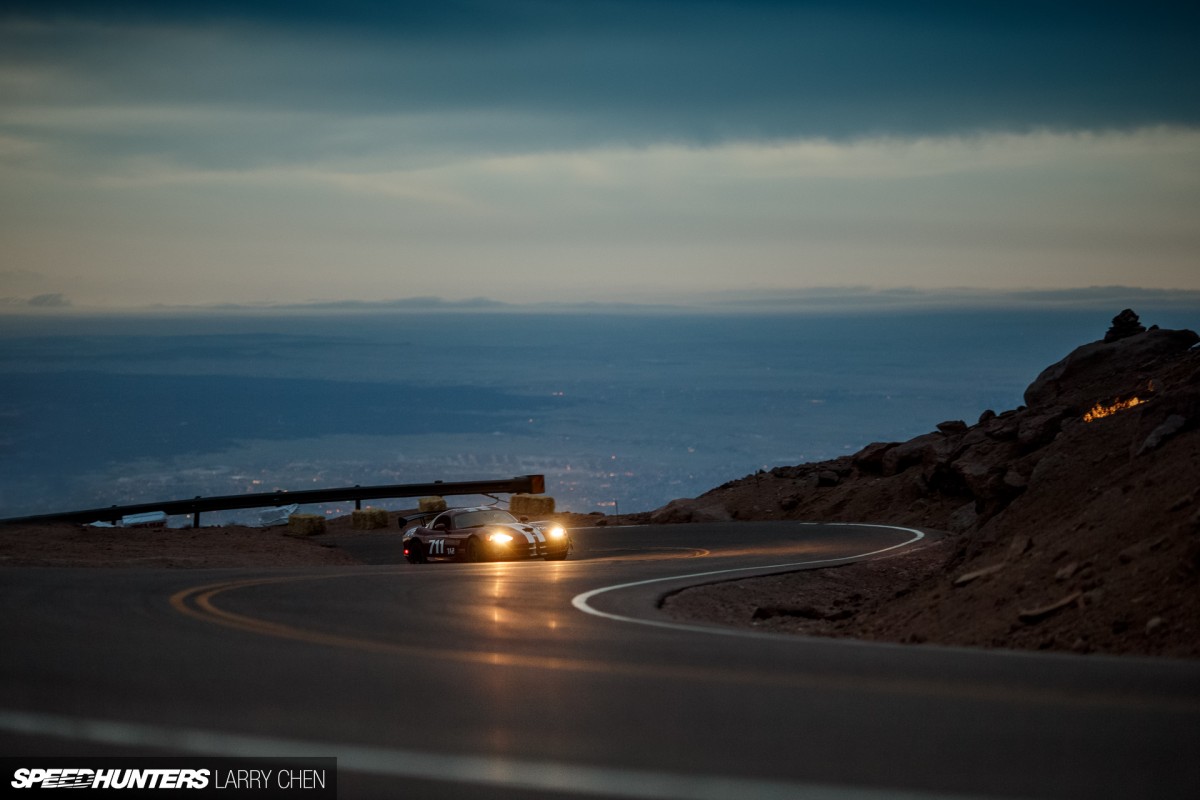 At this altitude I find myself popping aspirin pills every few hours just to keep the raging headaches at bay.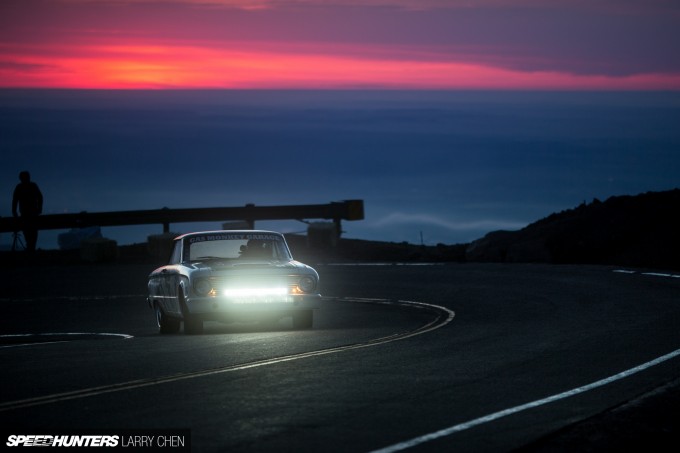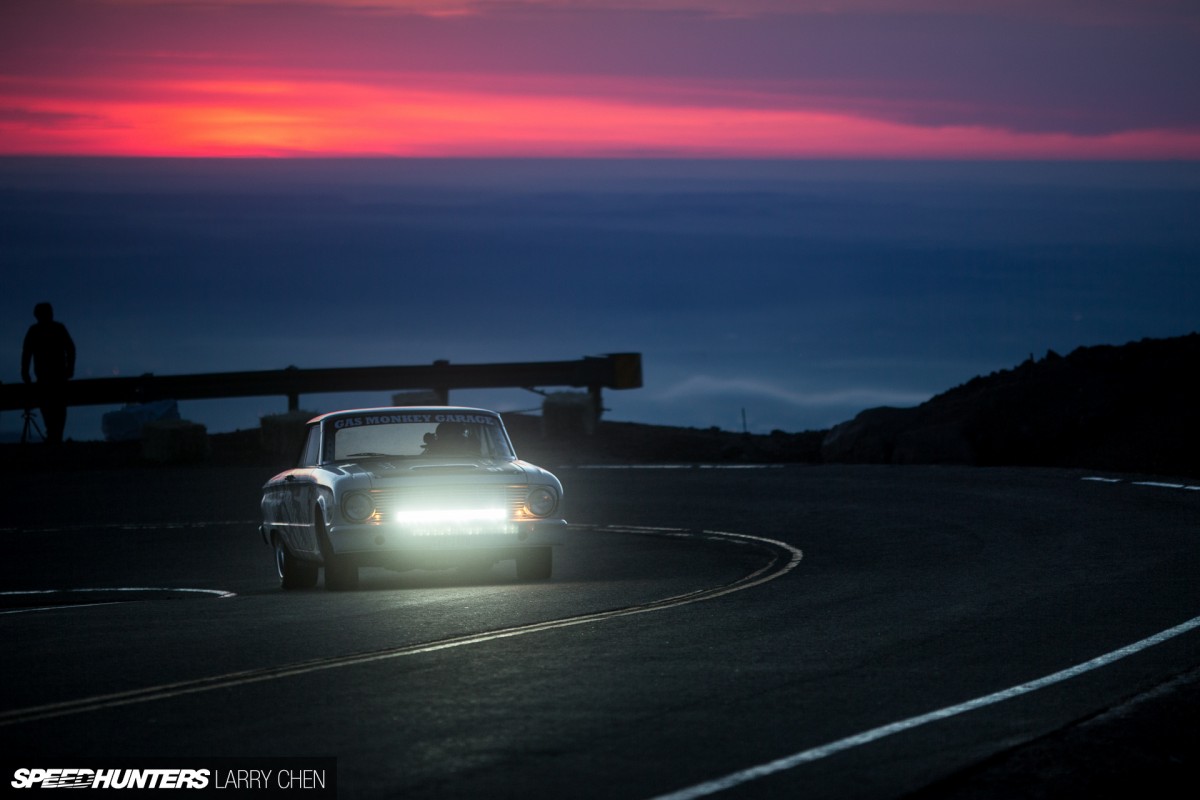 The first car leaves the line for practice at 5:30am sharp, which means that photographers have to be on the mountain by 4:00am. Which means 3:00am wake up times for the entire week. On race day it gets even better with a 1:30am wake up time because we have to be on the mountain by 2:30am. Early enough for ya?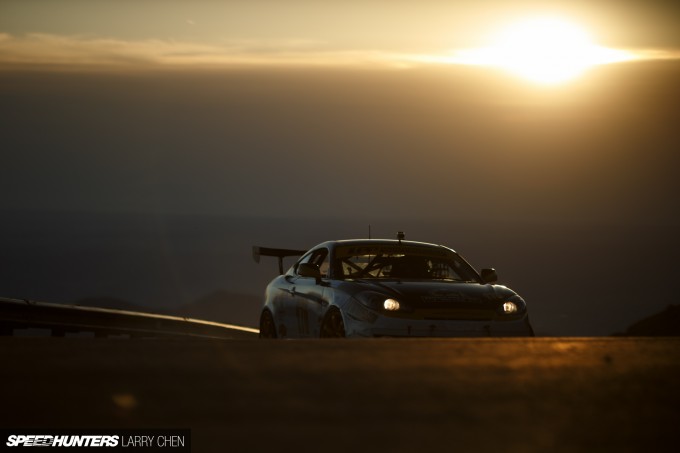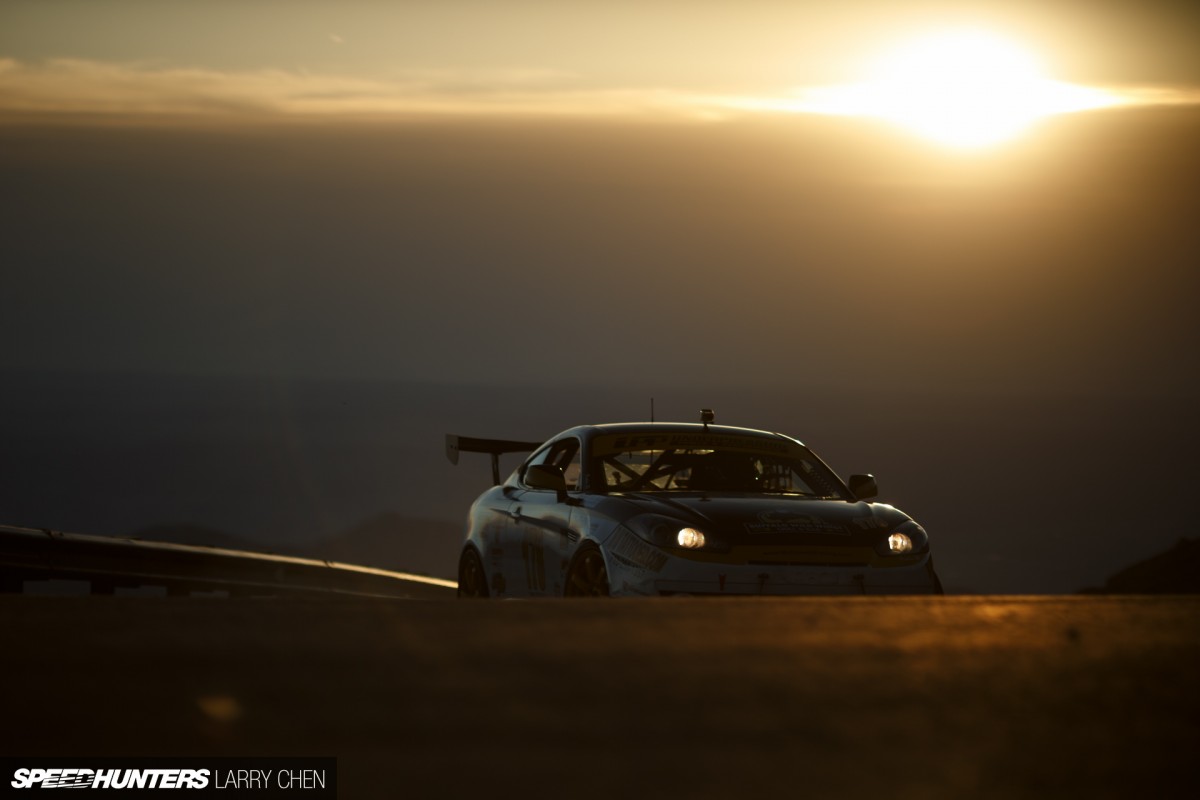 The sun does not help much with the freezing cold temperatures, because as soon as it peeks over the horizon the winds start rolling in.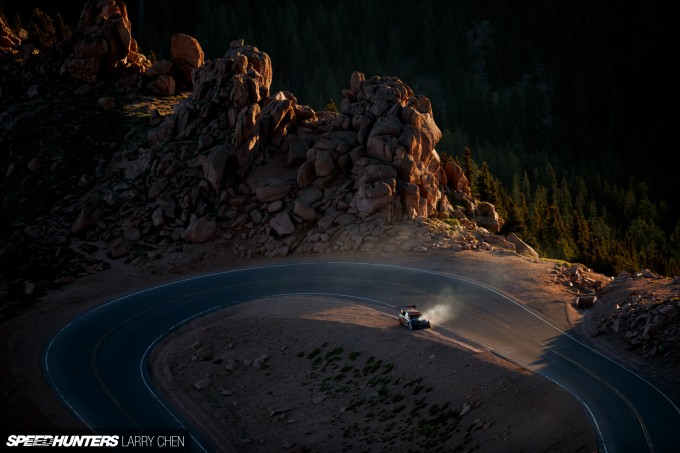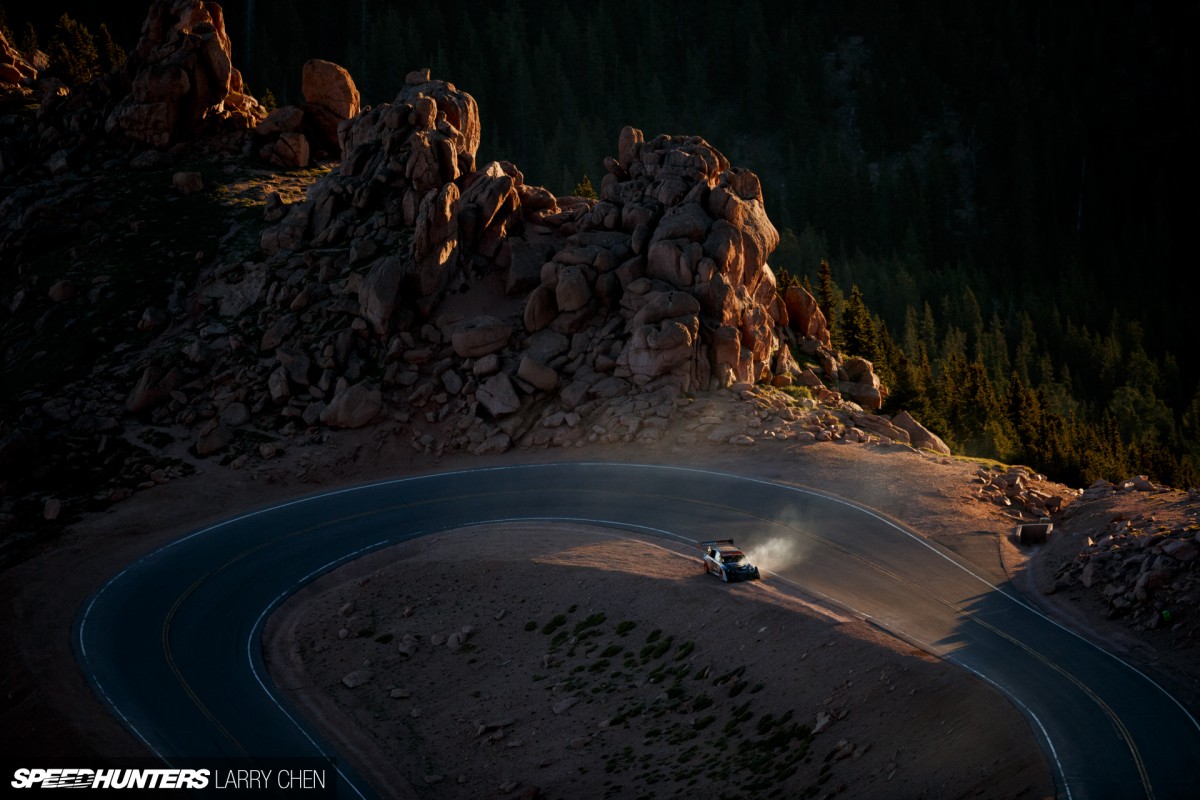 Even though the temperatures are cool, engines overheat all the time because the air is just not dense enough.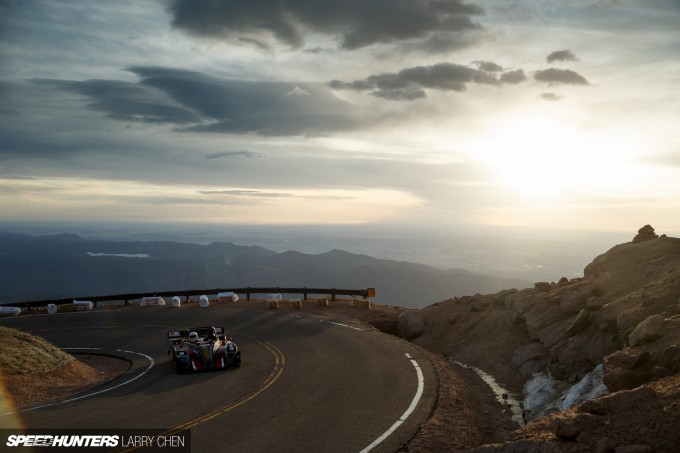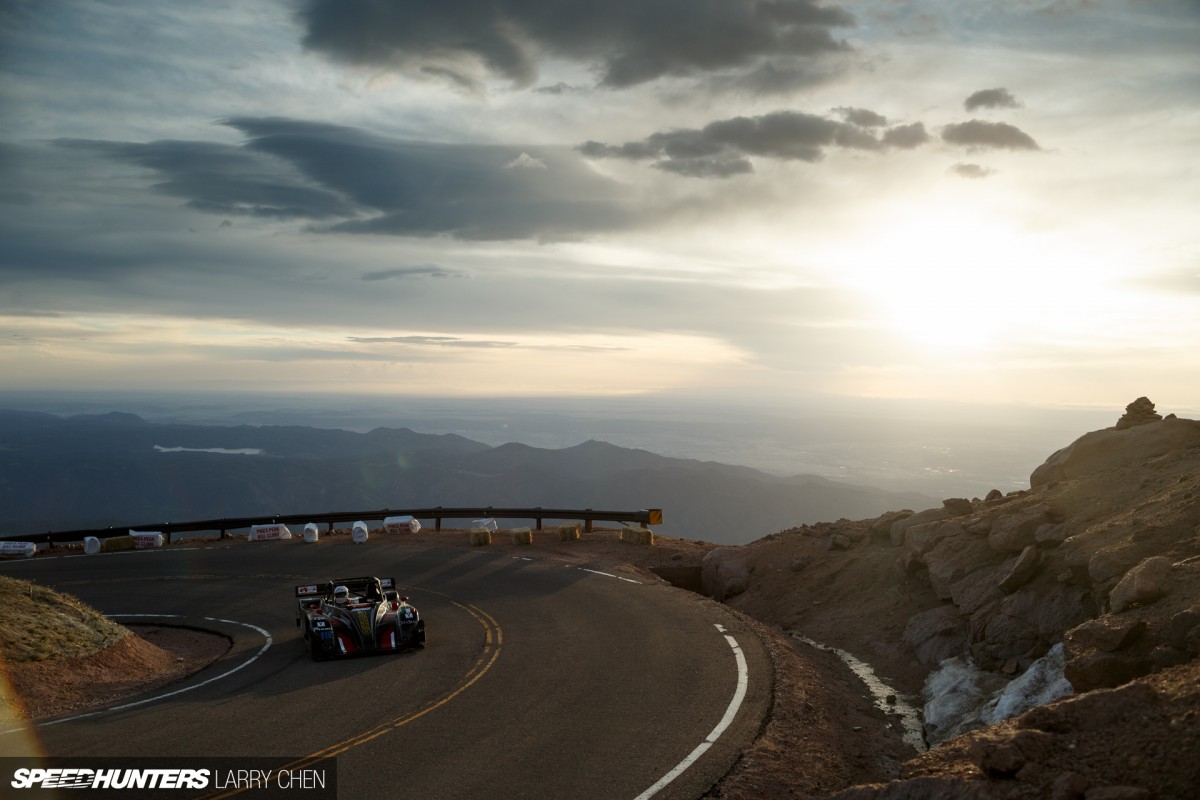 It doesn't help that the highway climbs 4,720ft (1,440m) over the course of 12.5 miles (20km).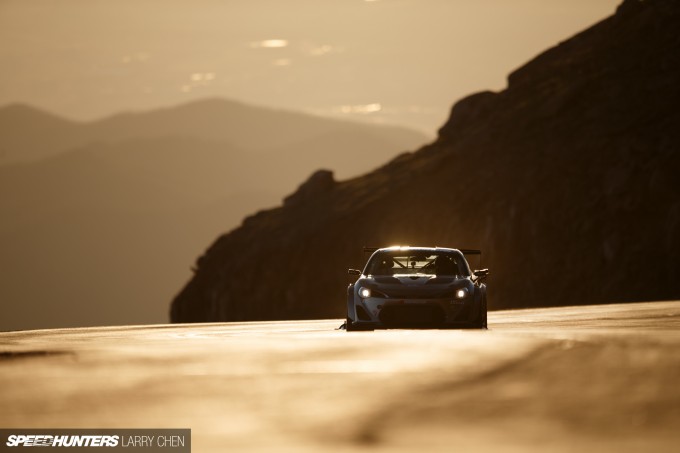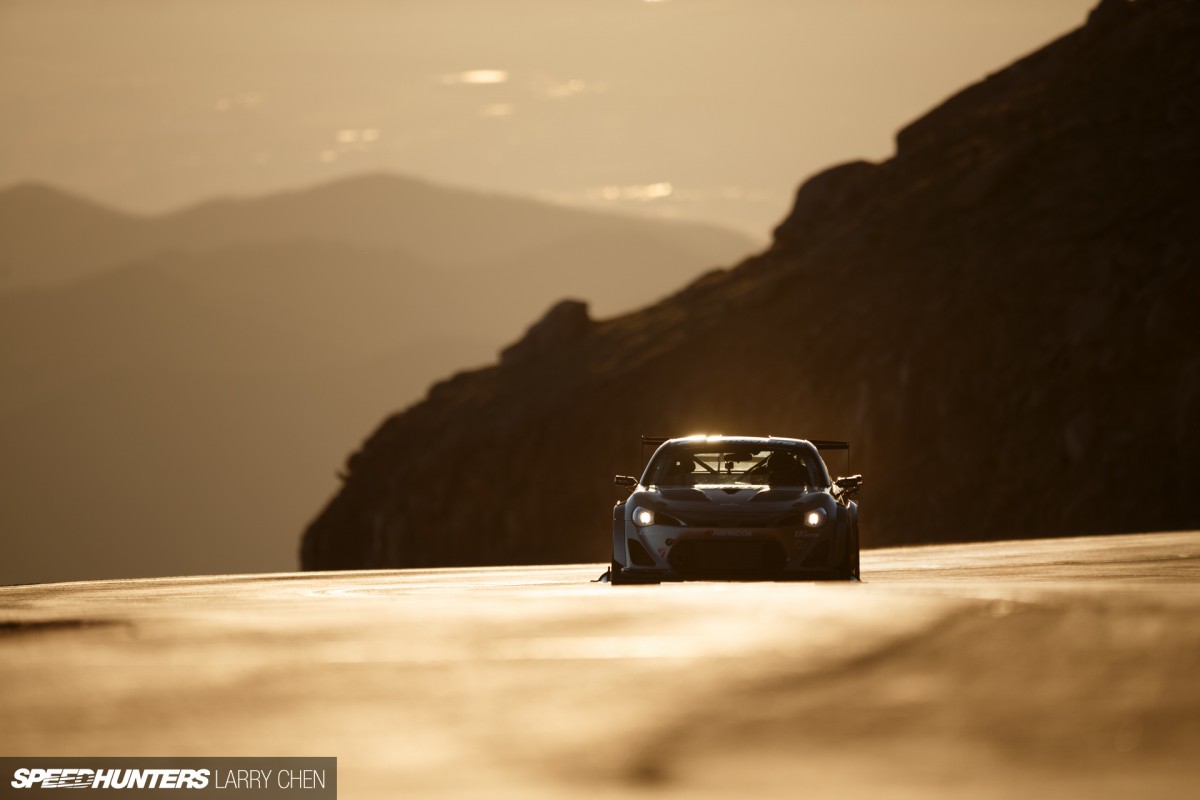 As of last week there has been a total of five deaths associated with the hill climb – one race official and four competitors. Just like everyone who races up that mountain, I risk my life every time I stand on the side of that hill photographing some of the fastest racing machines ever built. Just like the all the competitors, I take every precaution to make sure I don't get hurt. If by odd chance something did happen to me though, I can honestly that I've lived a life worth living, and that I have no regrets – just like all those drivers strapped in for an epic race to the summit.
Jeff Zwart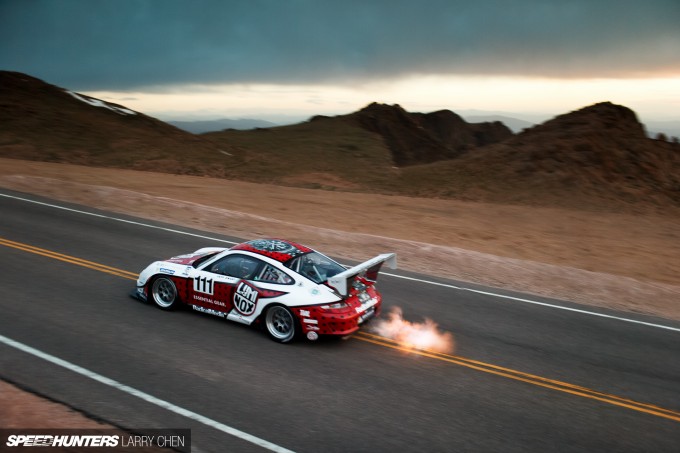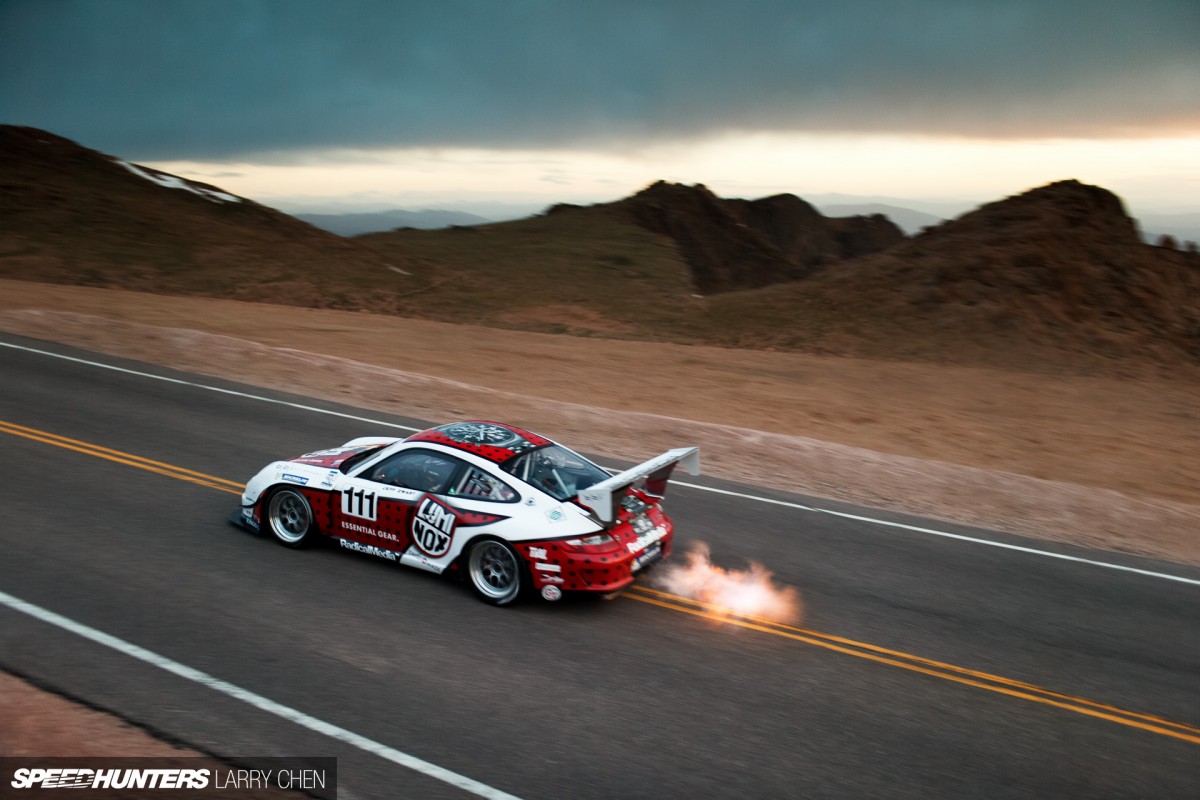 Last year I followed Jeff Zwart on his attempt to beat the Time Attack record in a insanely powerful twin turbo 997 Porsche Cup car.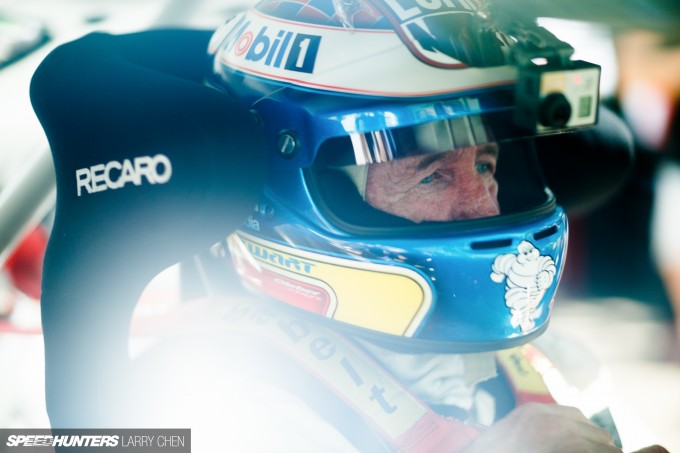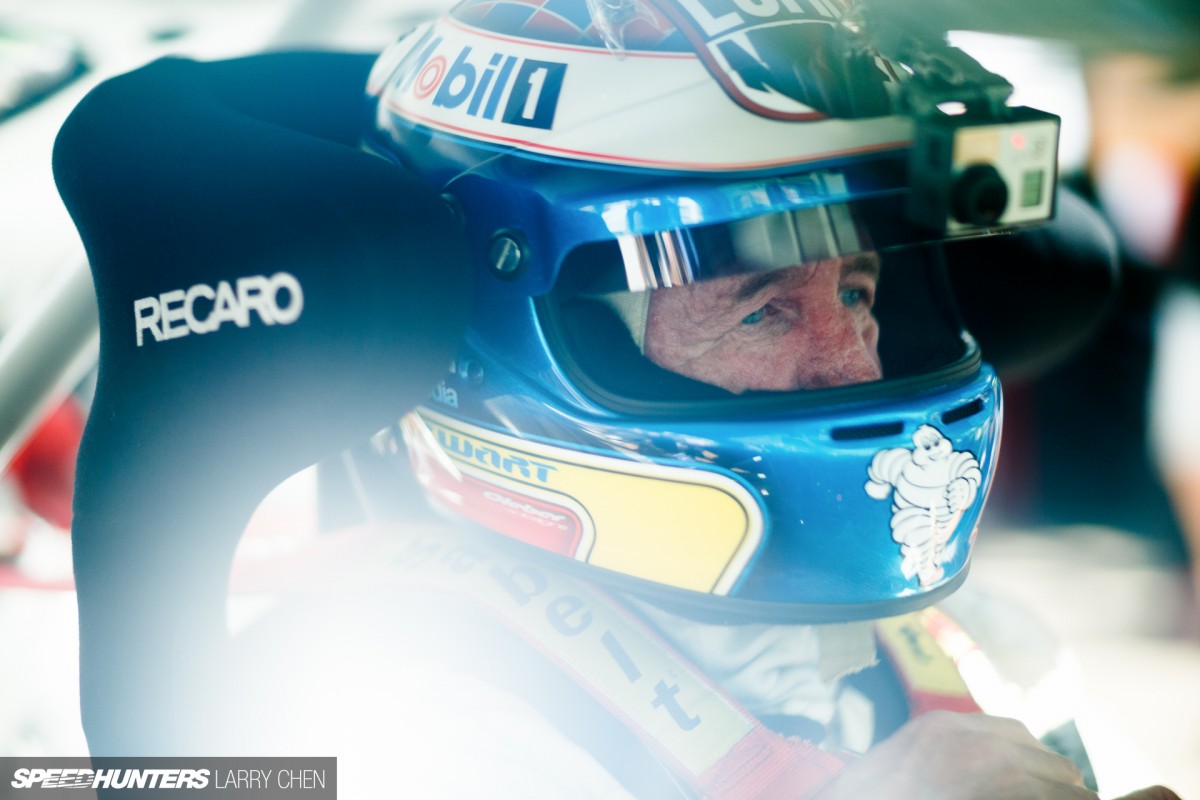 Last year it looked as if he had it in the bag, but the mountain had other plans for the veteran driver. Jeff had to drive through rain, hail and even a bit of snow to get to the summit, which of course destroyed his shot for the record.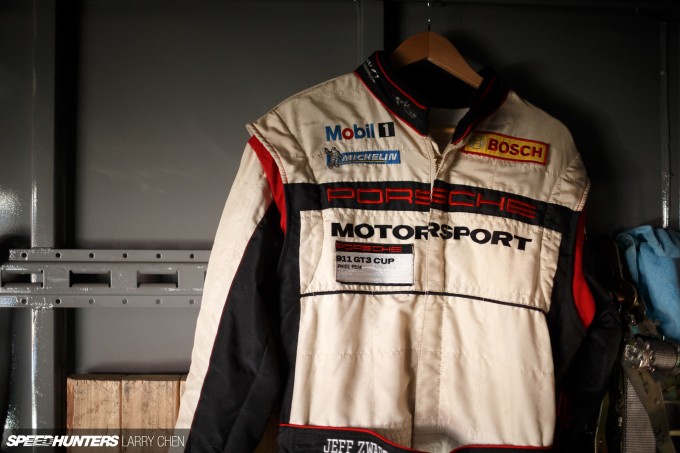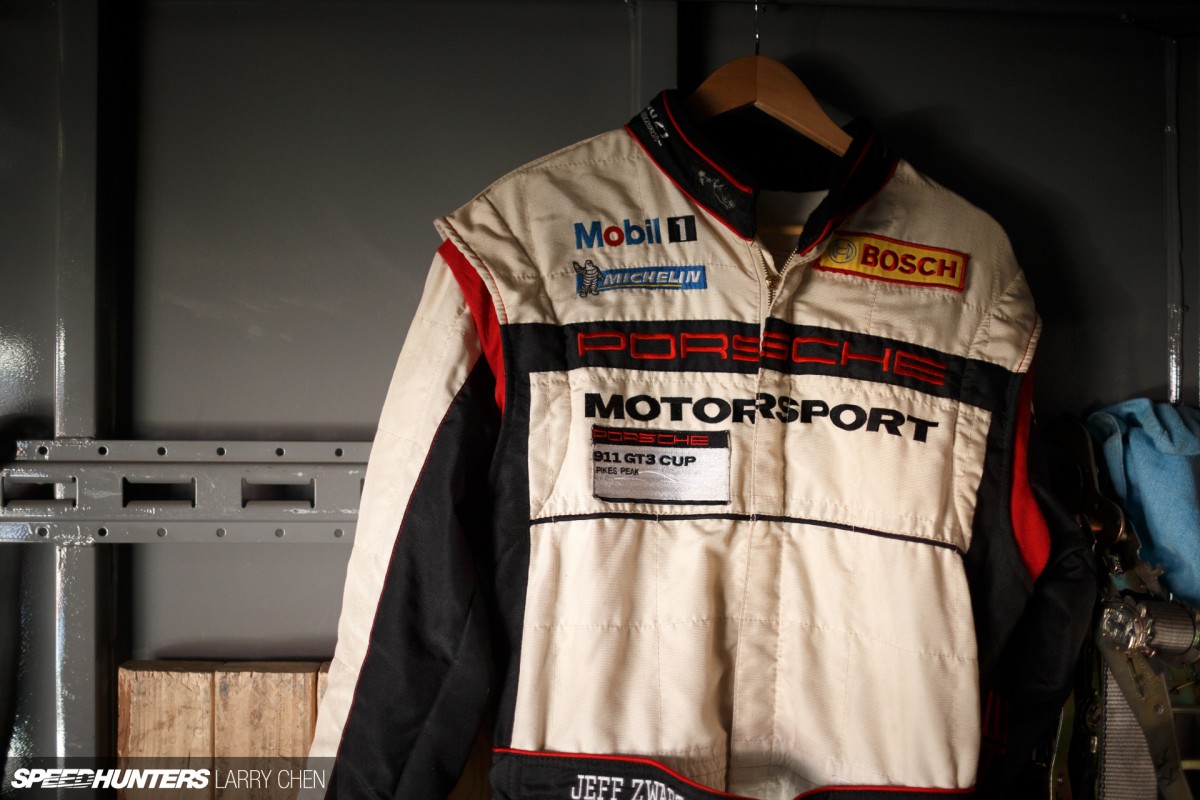 Porsche knew that he wanted to go back, and that he was super hungry for that coveted record, so they offered him a naturally aspirated Cup car to drive.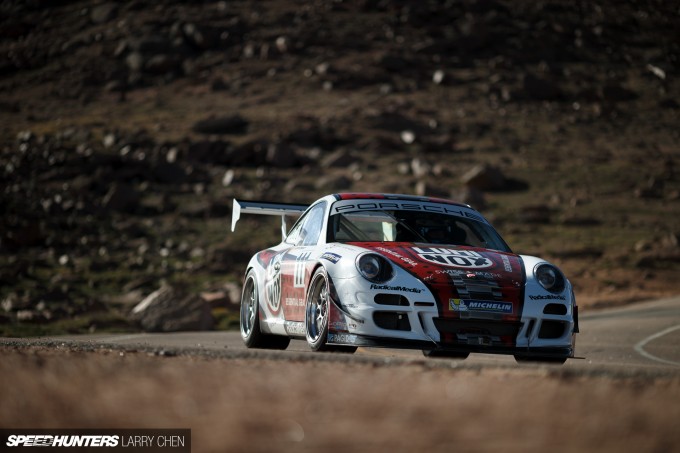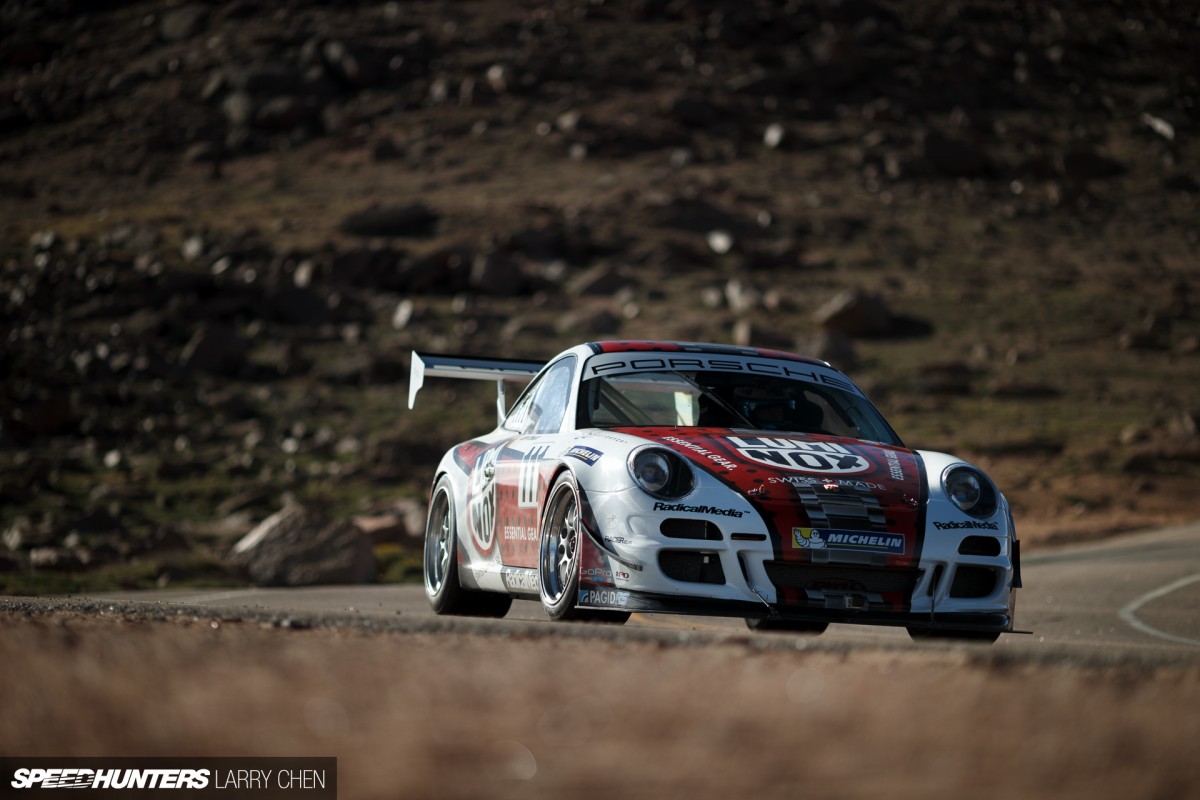 However, Jeff didn't just want to win the class for the year, he wanted to shatter the record, and the only way for him to do that was in this twin turbo mash-up built by BBI Autosport.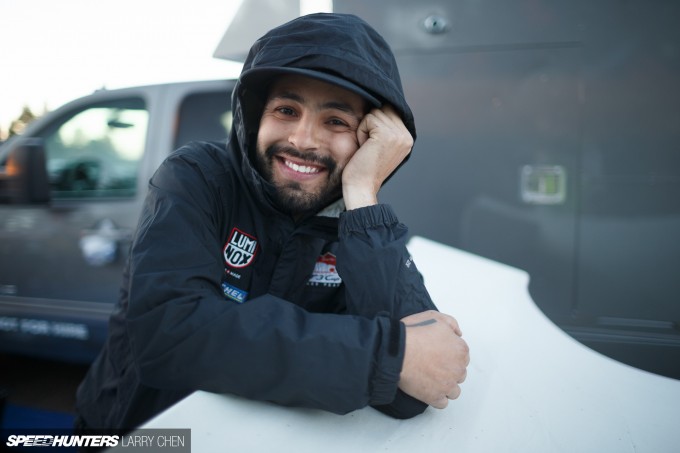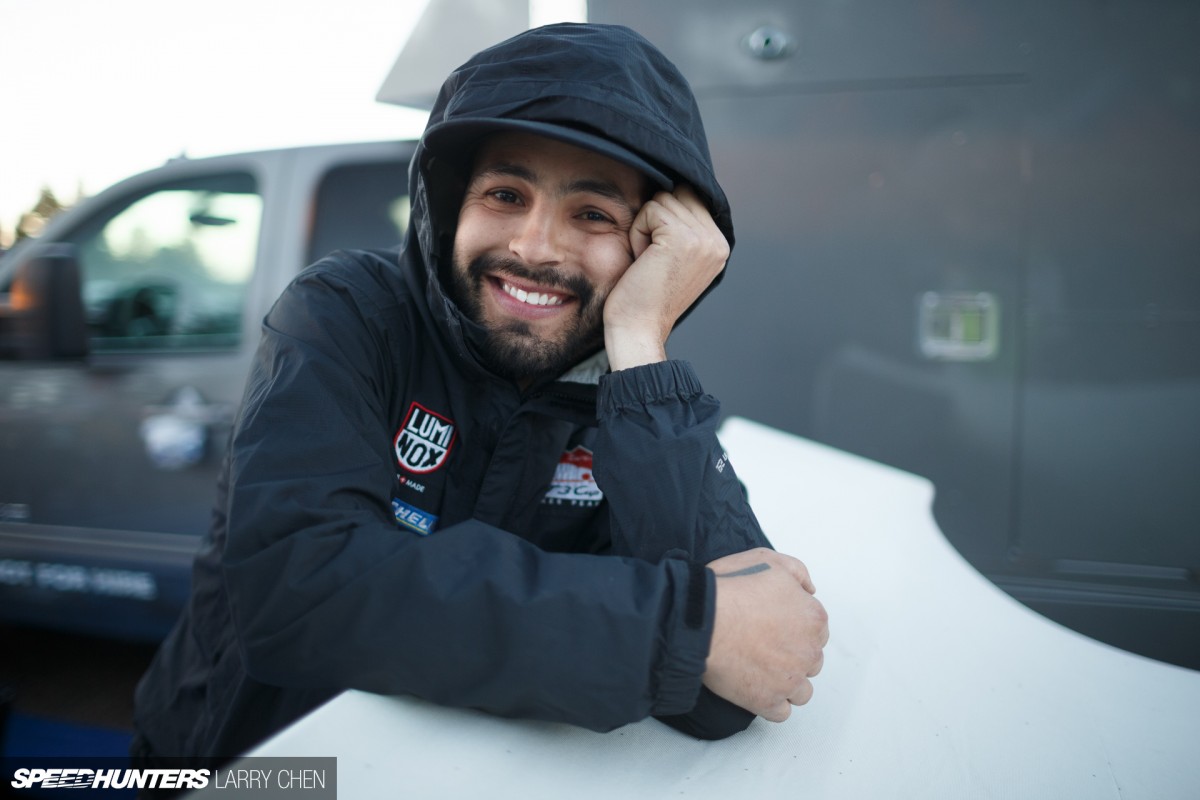 Betim Berisha – part owner of BBI – is also a racing driver. Ever since last year he has been hooked on the idea of competing at Pikes Peak himself, but of course not until they deal with some unfinished business.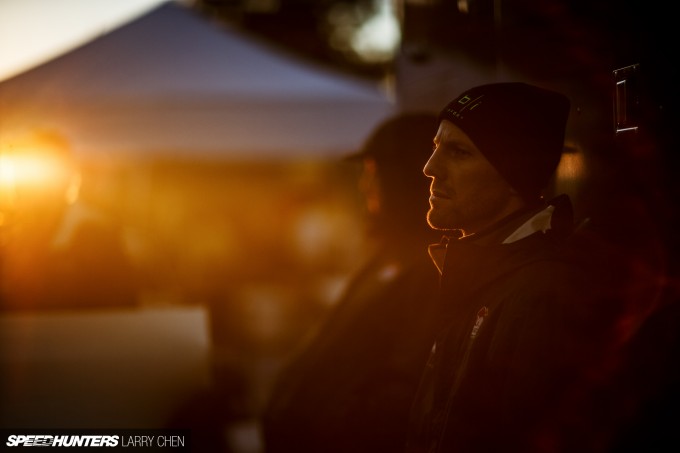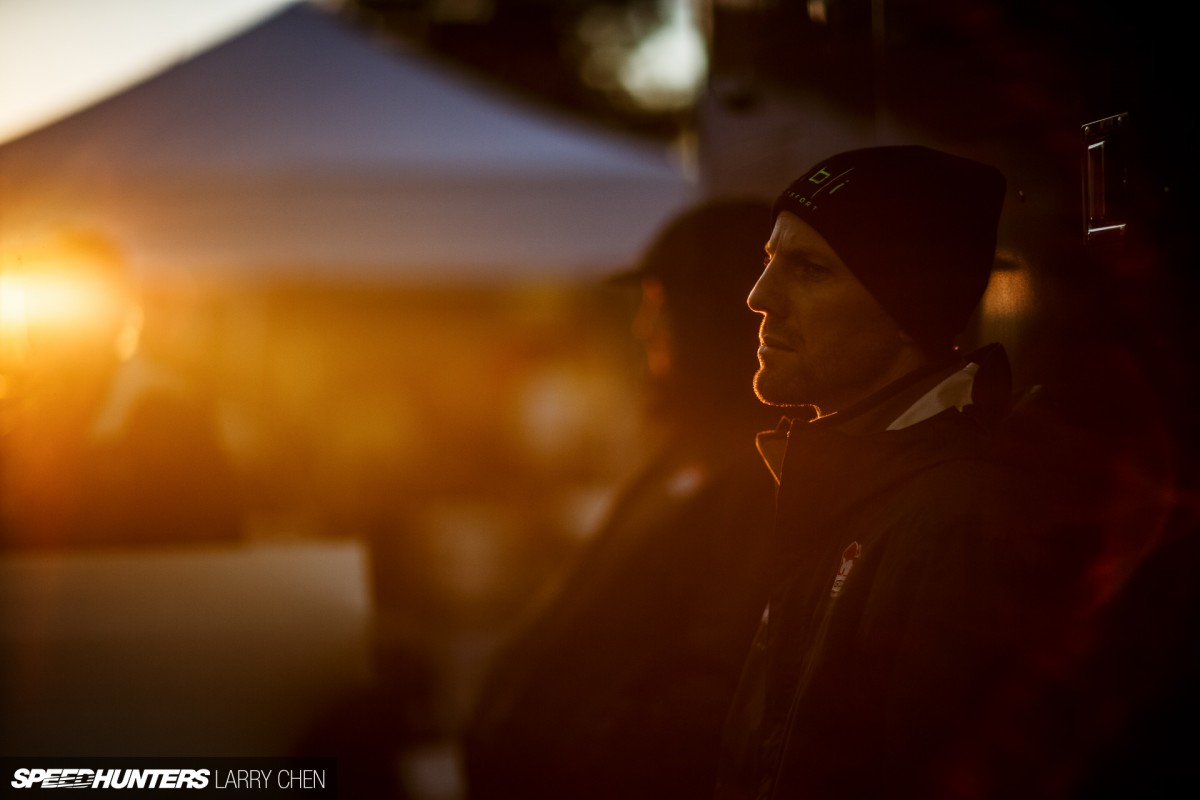 Both Betim and BBI co-owner Joey Seely wanted to prove that they could build a machine capable of shattering the time attack record with Jeff Zwart behind the wheel.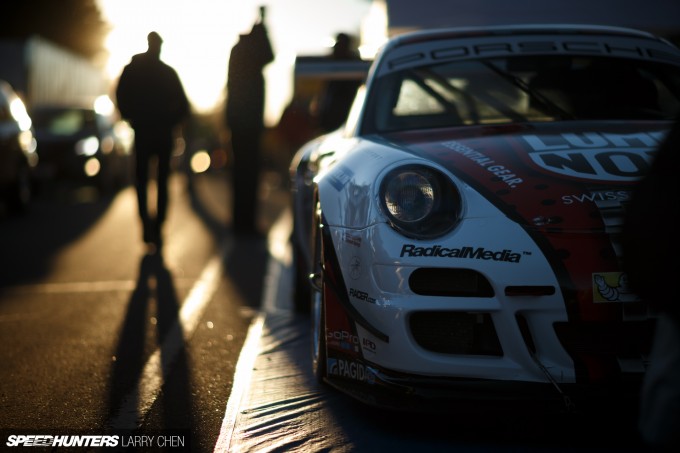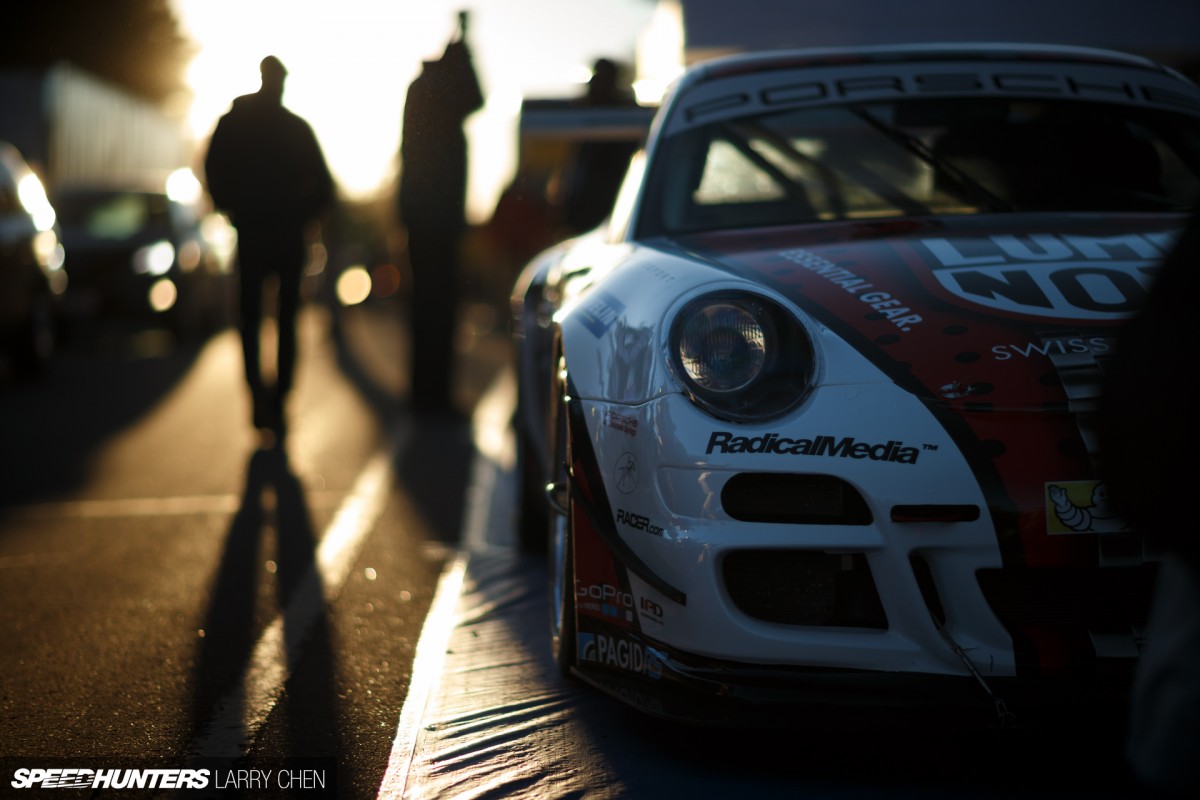 The team worked tirelessly to make sure everything was perfect for race day. The tune was perfect, the gear ratios were just right for the amount of straightaways that the closed public highway has to offer.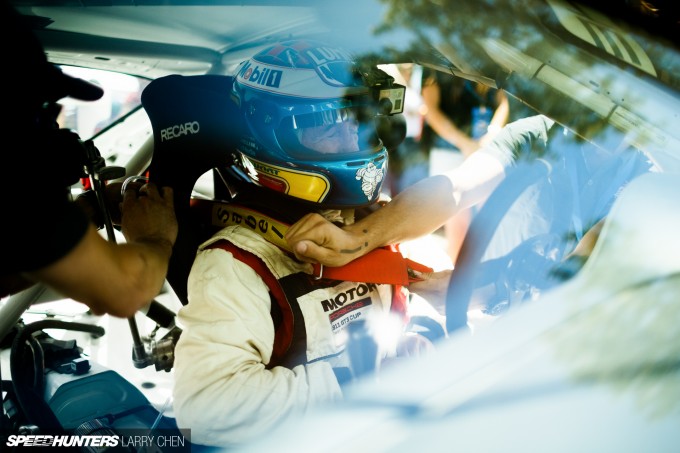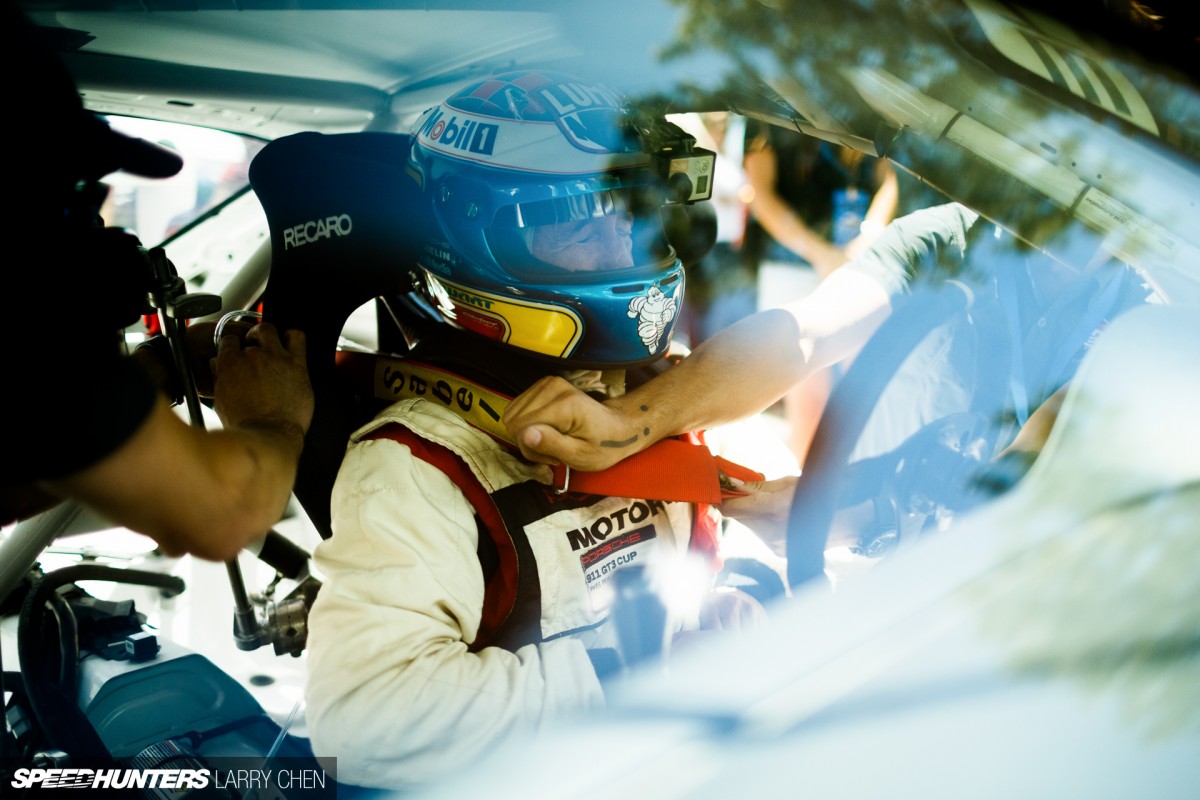 It was all up to Jeff, who for the first time decided to run an oxygen tank in the car during his attack run.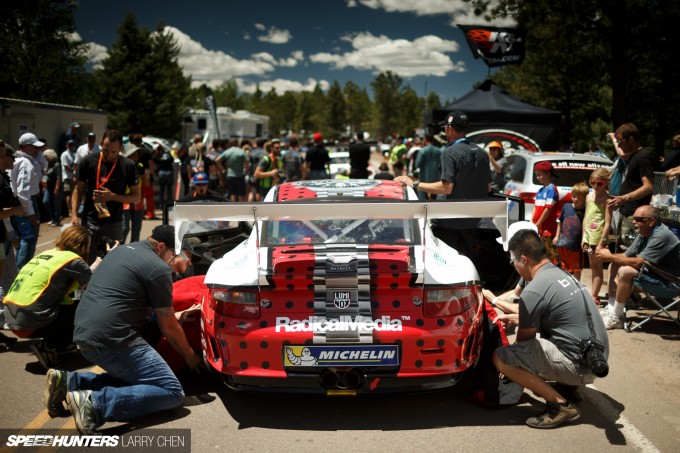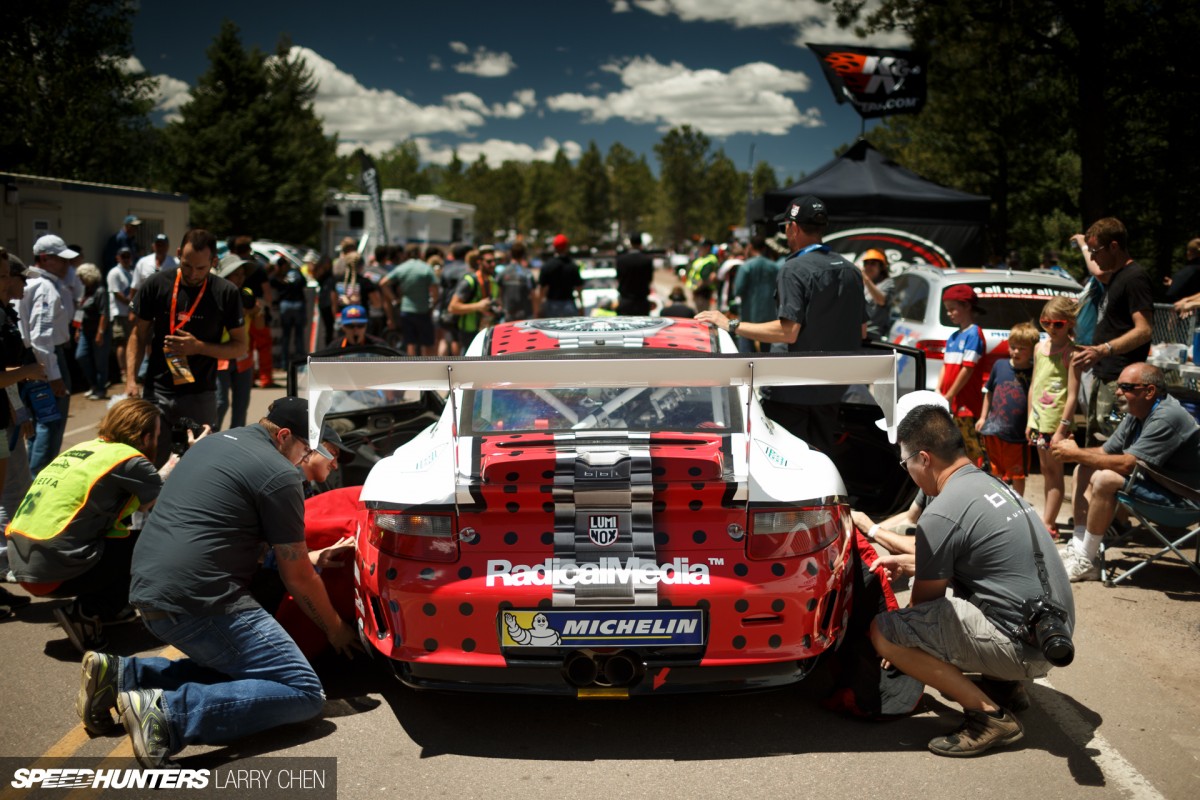 There was such excitement in the air as they pulled to the line, but of course there was a red flag right before Jeff was about to leave on his run. The team scrambled to get the tire warmers back on so Jeff would have just that little extra bit of grip needed at the start.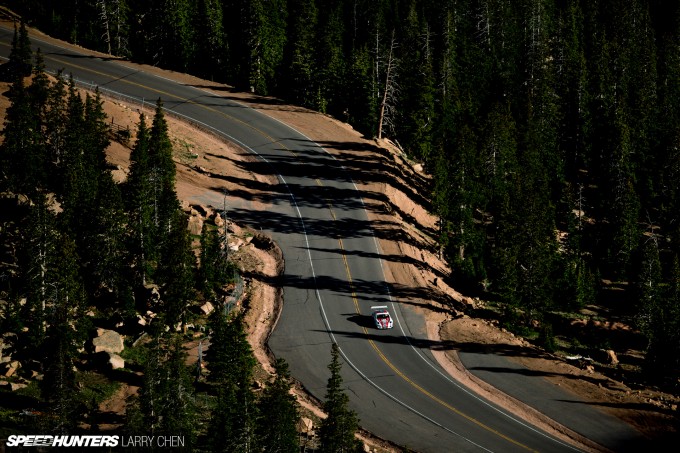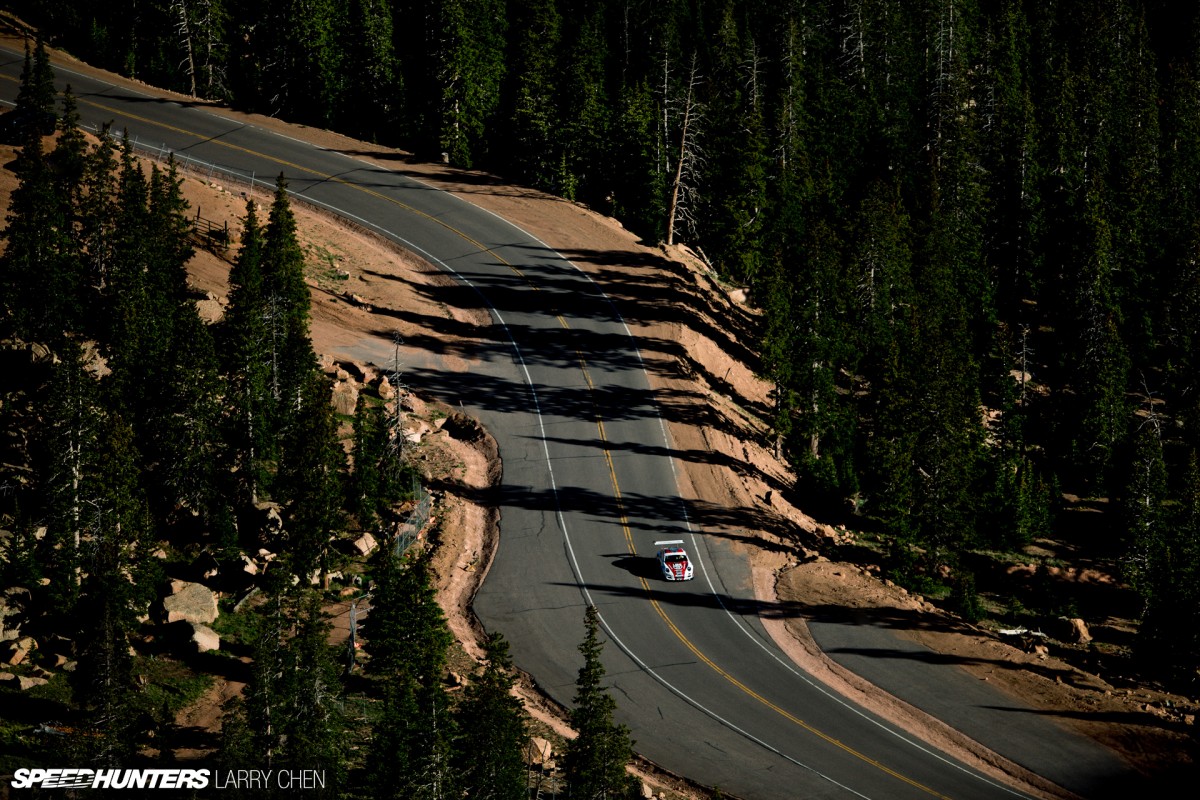 He took off with sheer speed and grace, with the rear tires clawing for grip as he banged through the gears.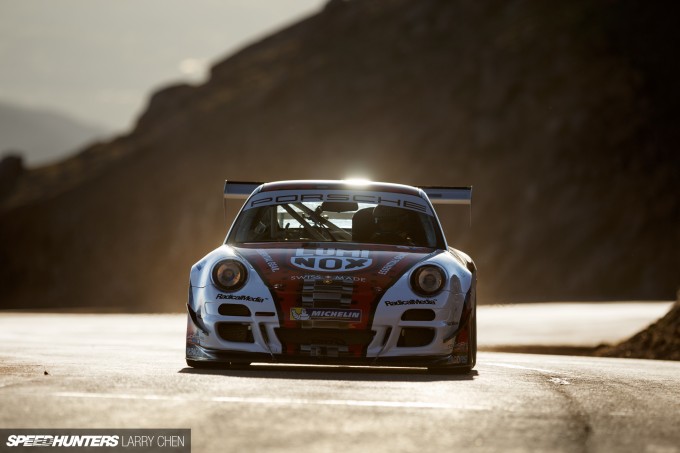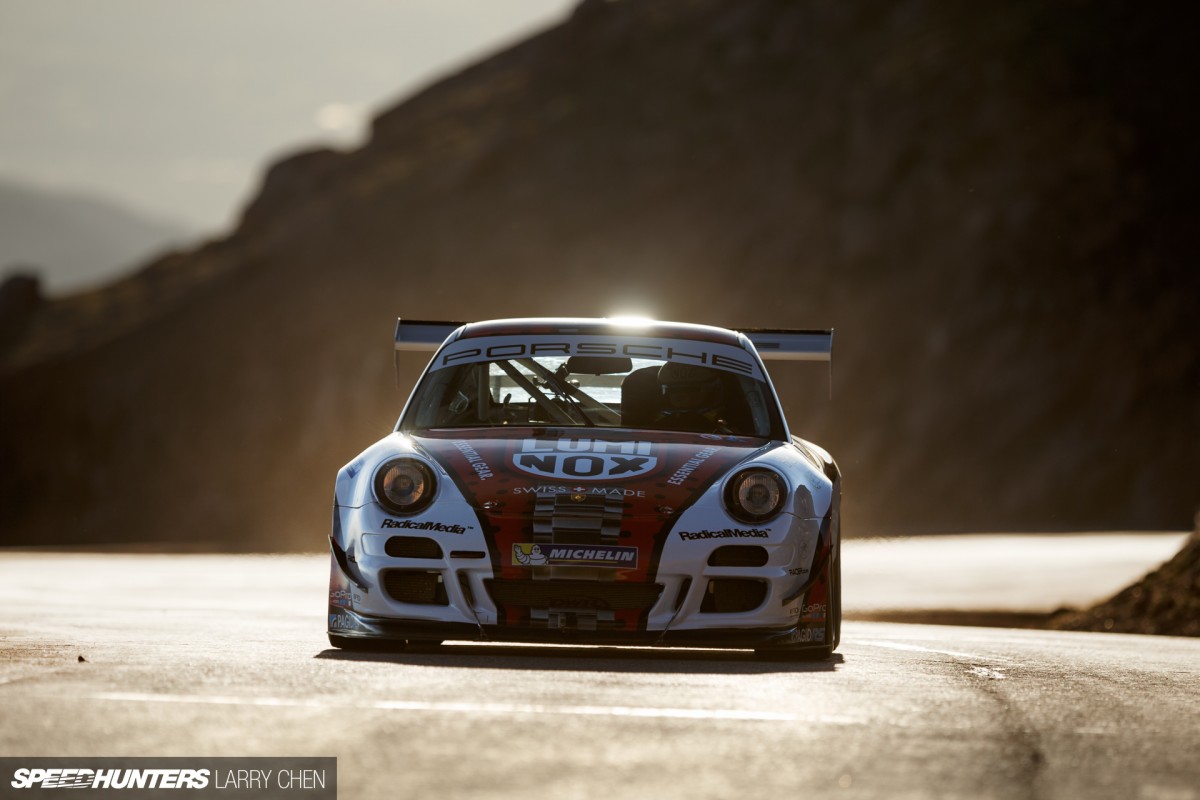 From the practice times, the team figured that if the conditions were perfect, he would be able to pull a time well under the magic 10-minute mark.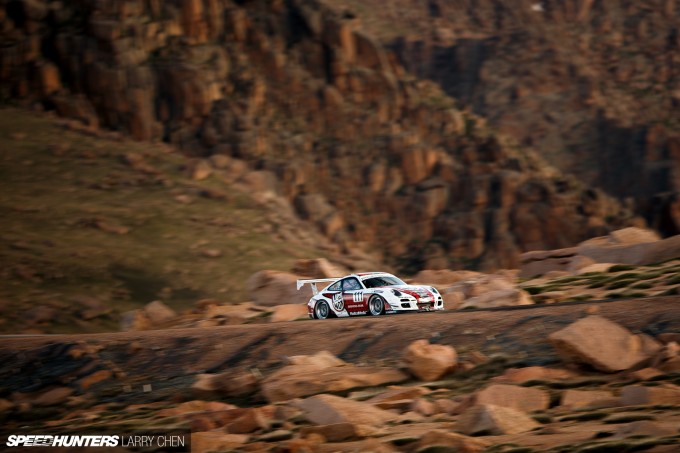 As Jeff was climbing and powering through the turns as fast as he could, something went wrong. His foot was to the floor, but the engine wouldn't accelerate at all.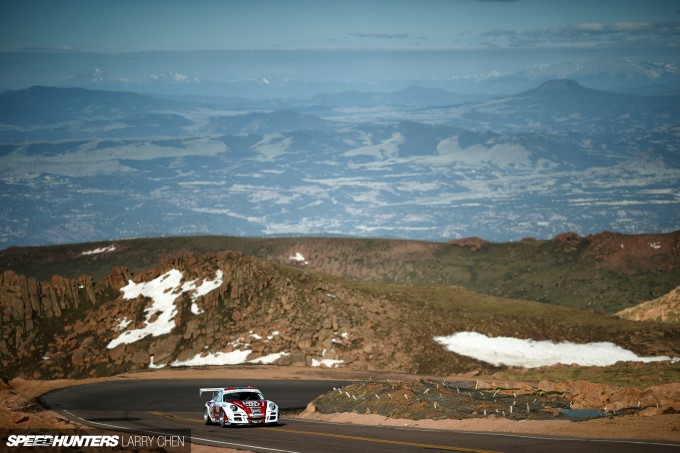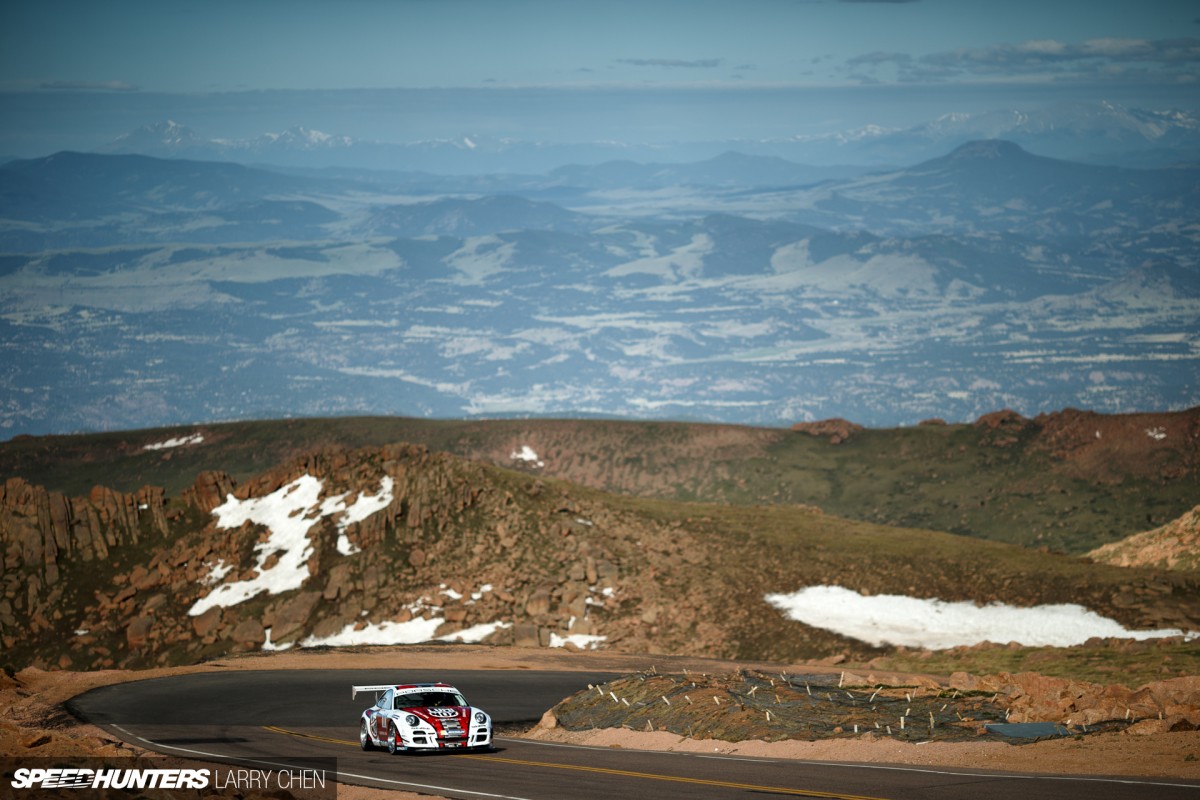 The car limped through half of the course with the engine cutting out around almost every corner. Jeff crossed the finish line just a hair past the 10-minute mark.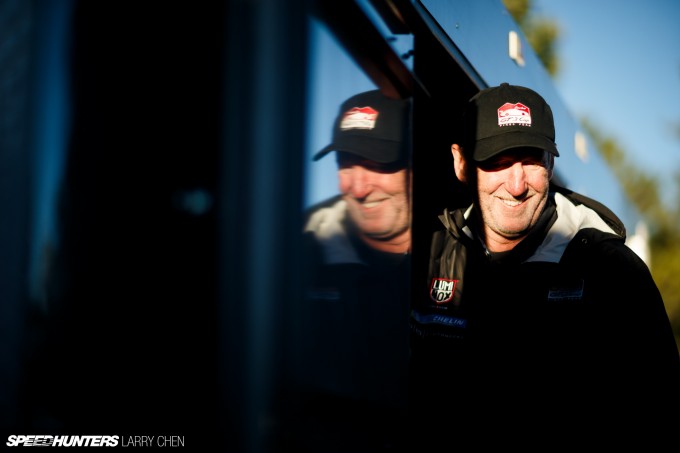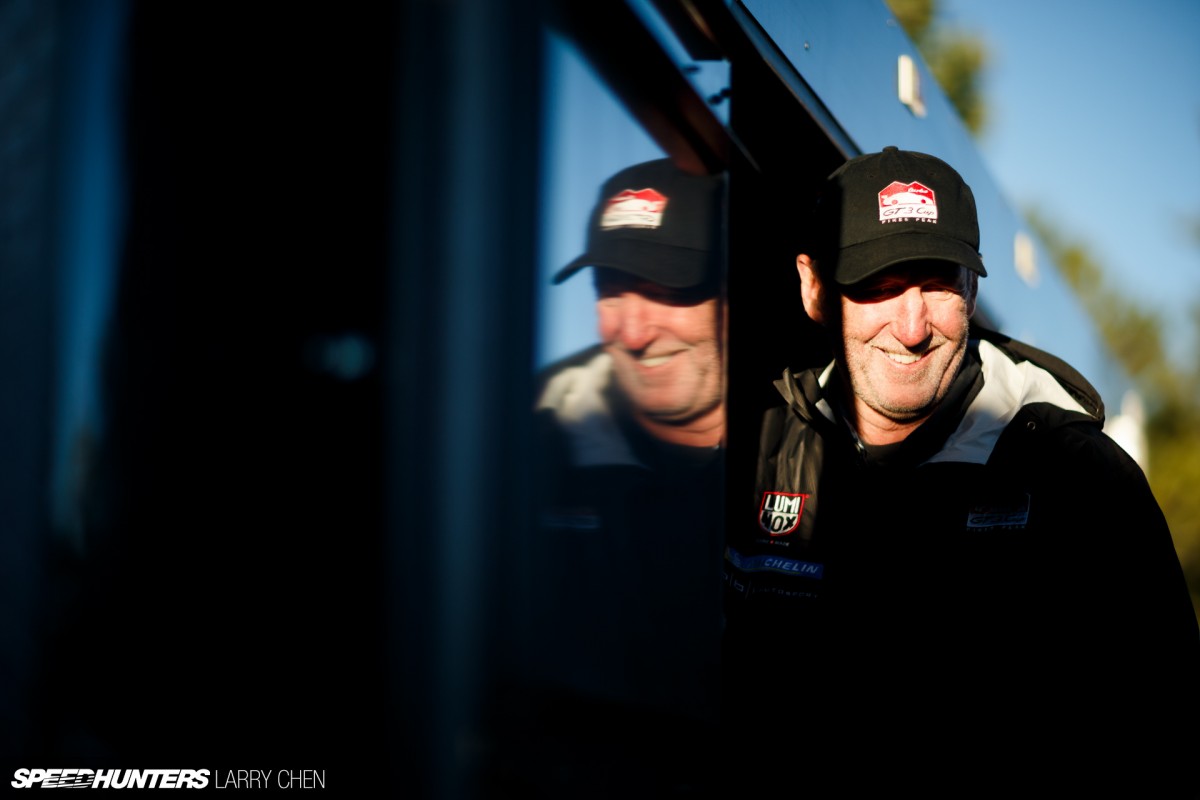 That meant second place – just over one second behind the first place getter. After the BBI team hooked the car up to the computer they found out that the fuel pump had gone bad. There was no way anyone could have predicted that.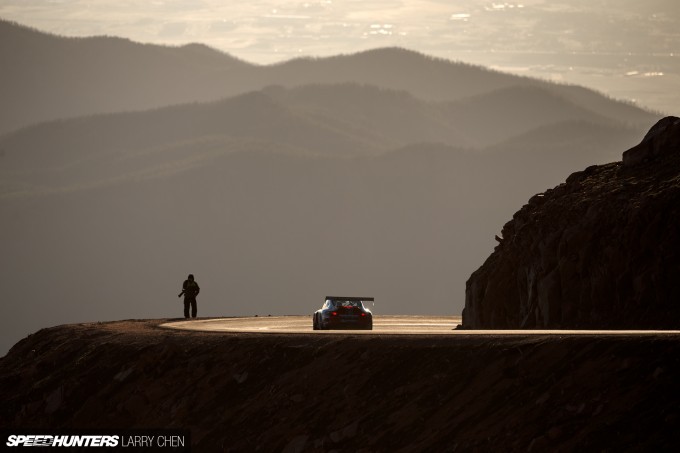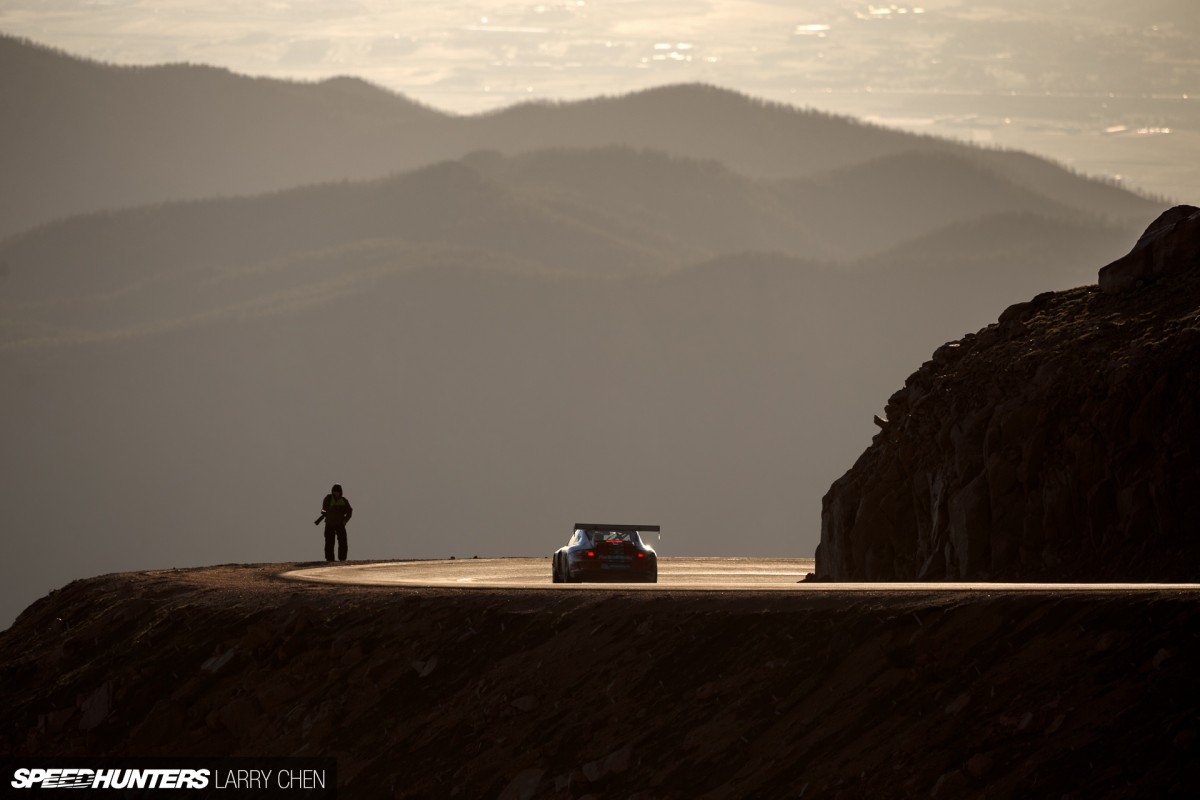 That's racing for you though. If it was easy, everyone would do it. I know for a fact that it will just be that much sweeter when Jeff beats the time attack record. It will happen – I know it.
Climb Attack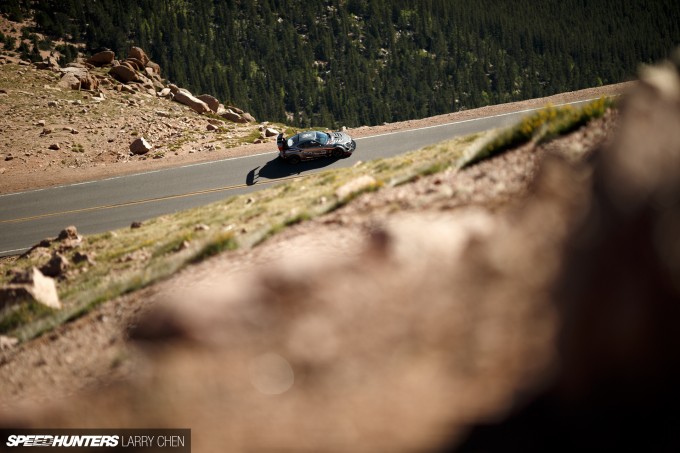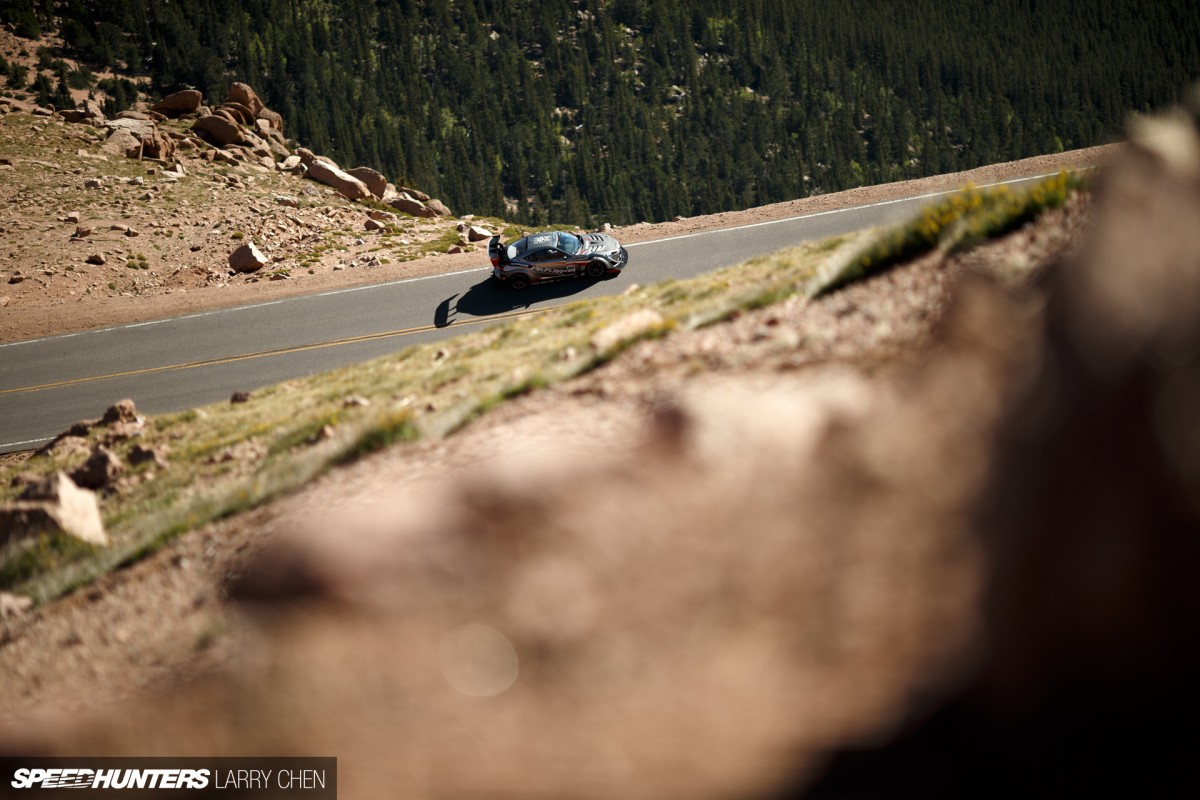 While some racing series' claim to be international when they're actually not, the Pikes Peak International Hill Climb actually does draw competitors from all over the world, and they bring a wide variety of cars with them.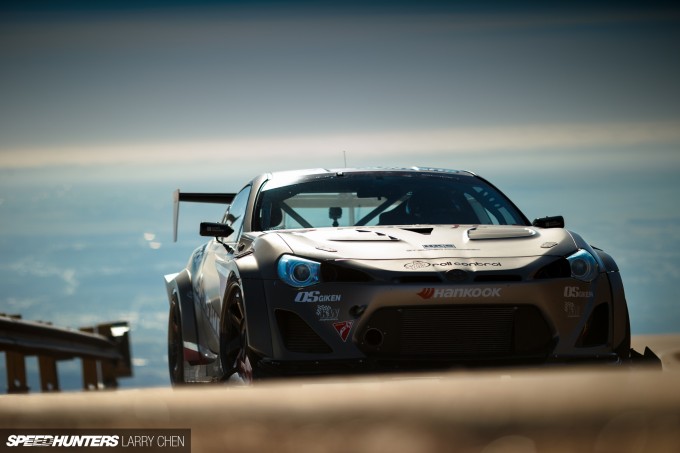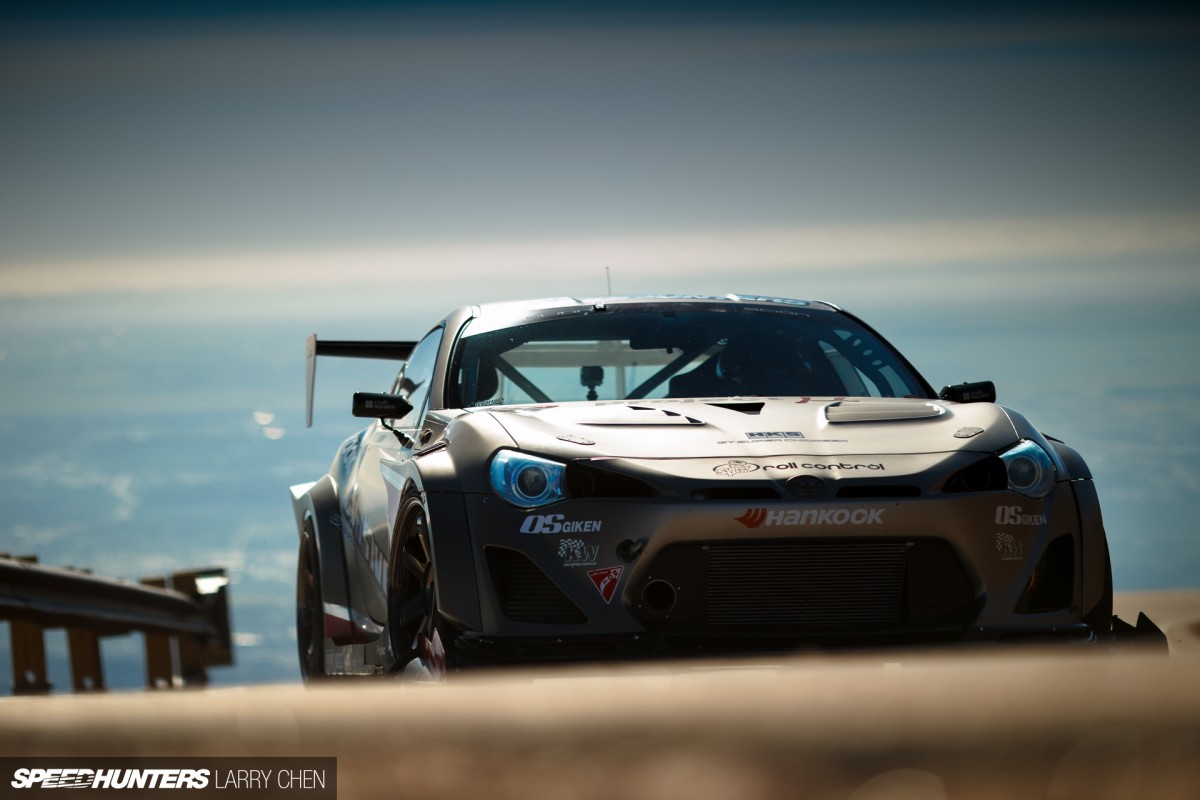 There are the local Southern California guys like Evasive Motorsports competing in their Scion FR-S.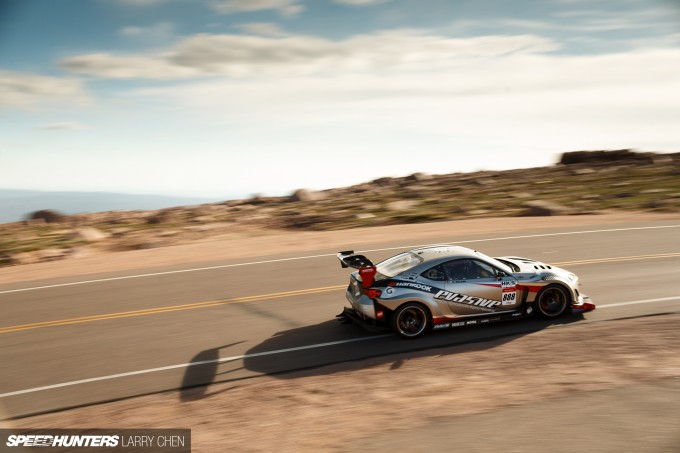 Their driver, Robert Walker, managed to pull a 10:37.791 which is more than a 22-second improvement from last year. Because they are in the Unlimited class, they plan on slapping on more power and more grip with the hopes of dropping into the nine second zone next year.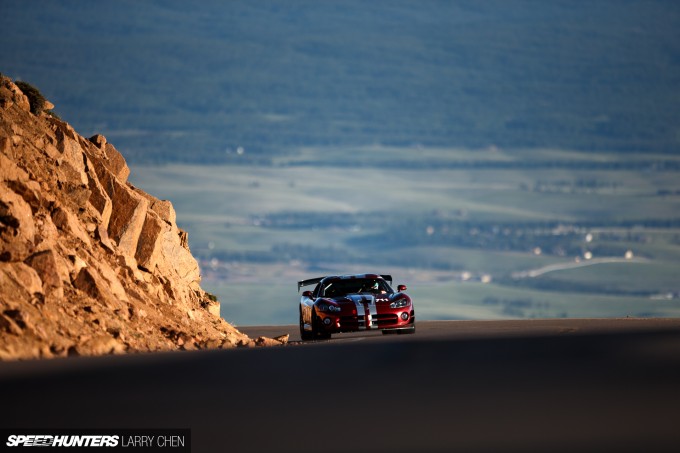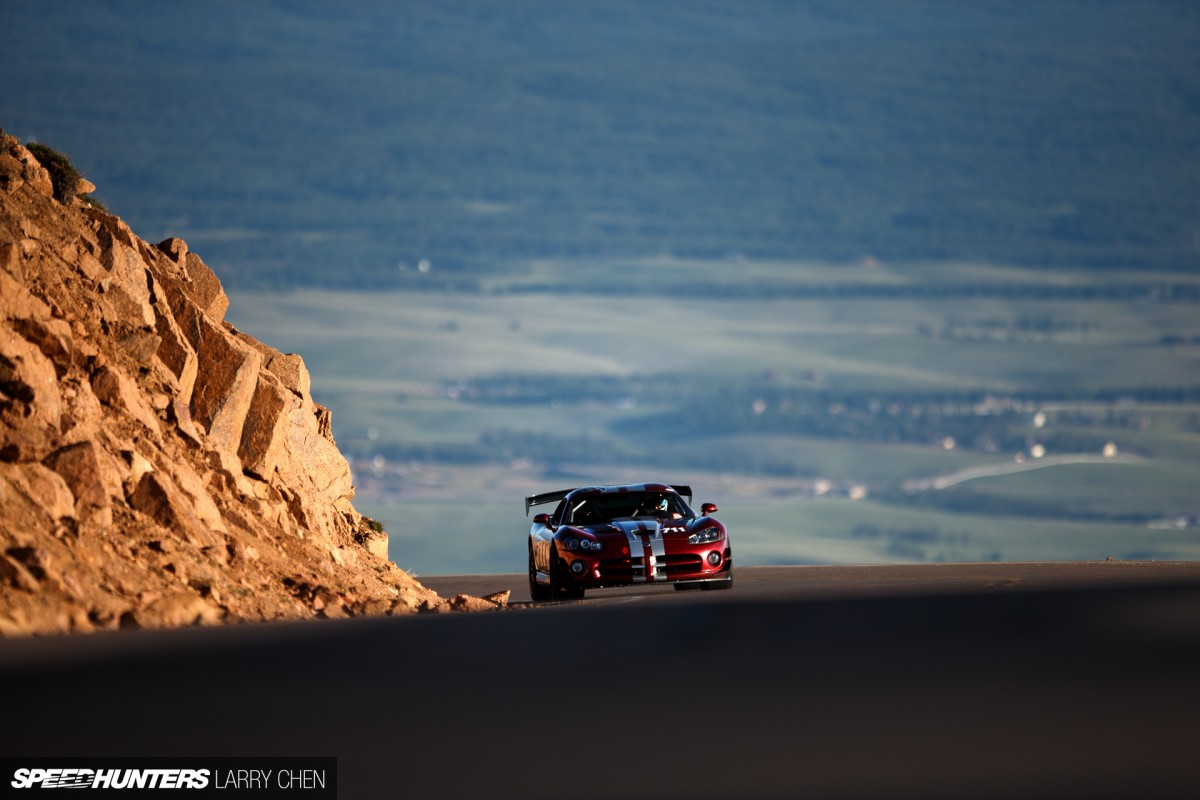 In my mind, one of the best looking cars at this year's event was this Dodge SRT Viper piloted by rookie privateer Raymund Guerrero.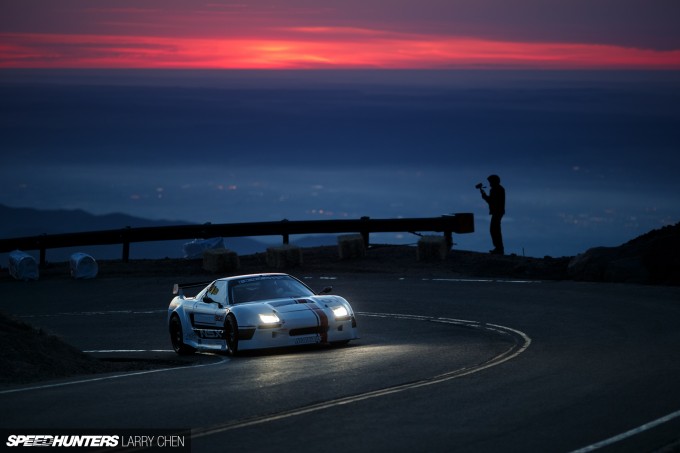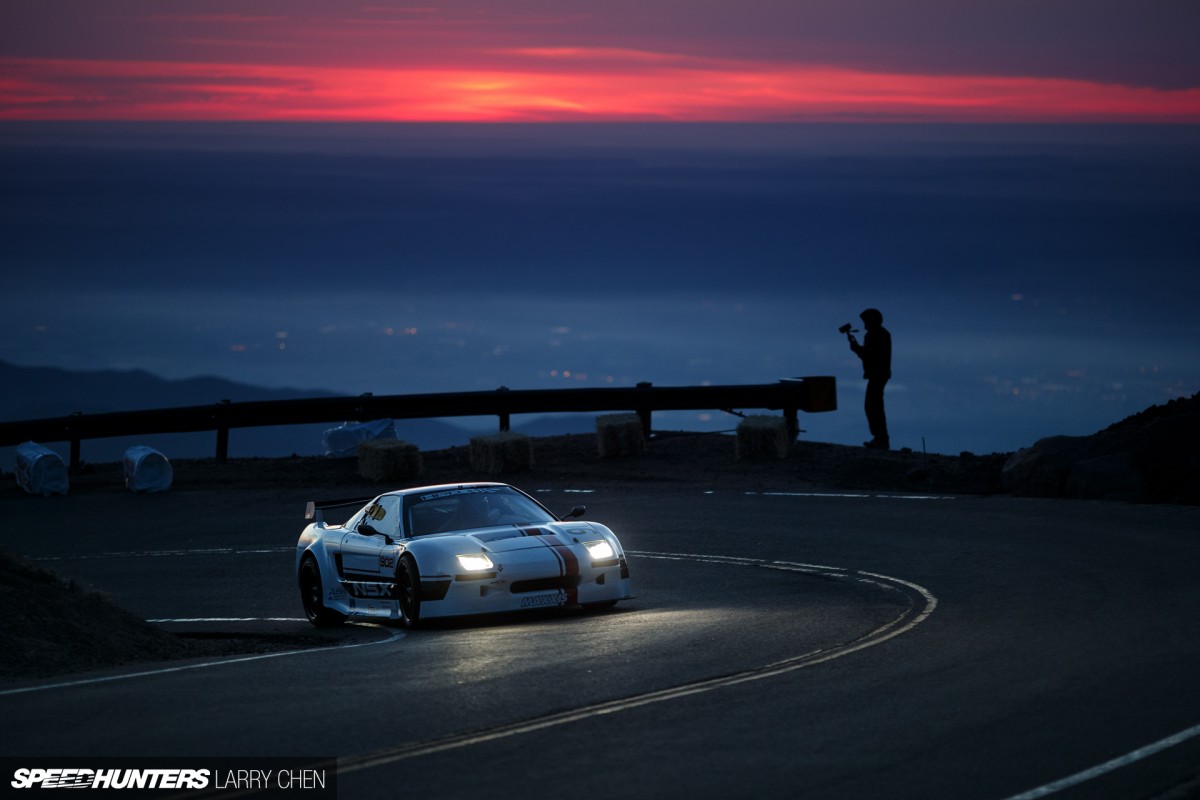 Honda campaigned quite a few cars, including this super lightweight NSX which was originally built for endurance/sports car racing duty. It had full dry carbon body panels and it was piloted by former Formula Drift competitor, James Robinson. If you've followed FD for a while you might remember him as the guy that used to drift the Honda Element.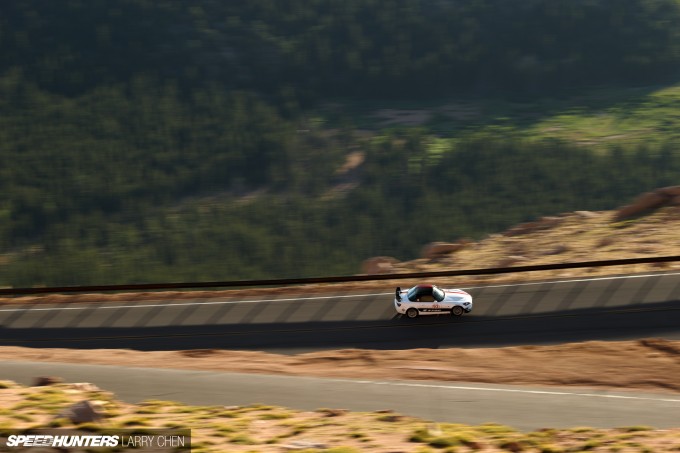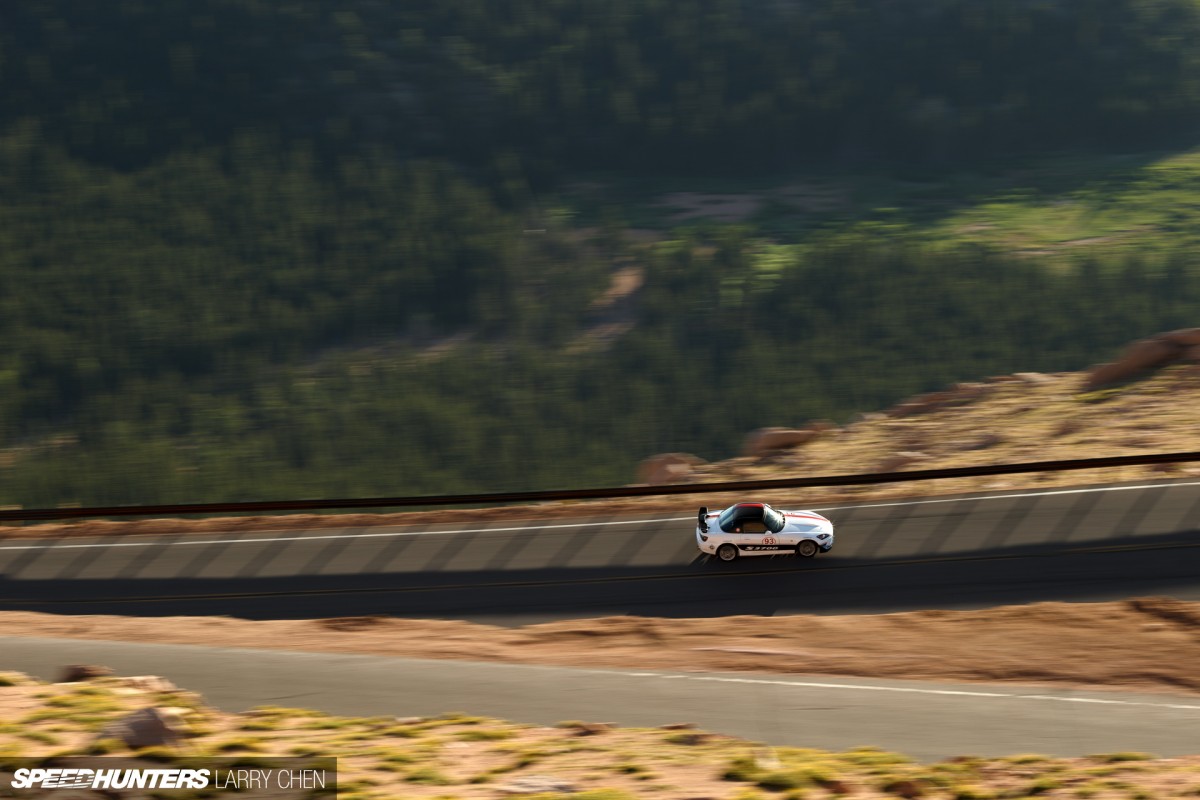 Another interesting build from Honda was this S3700 – an AP2 S2000 with a 3.7-liter V6 shoehorned into the engine bay. This was driven by Sage Marie, who I've followed before at the 25 hours of Thunderhill with Acura.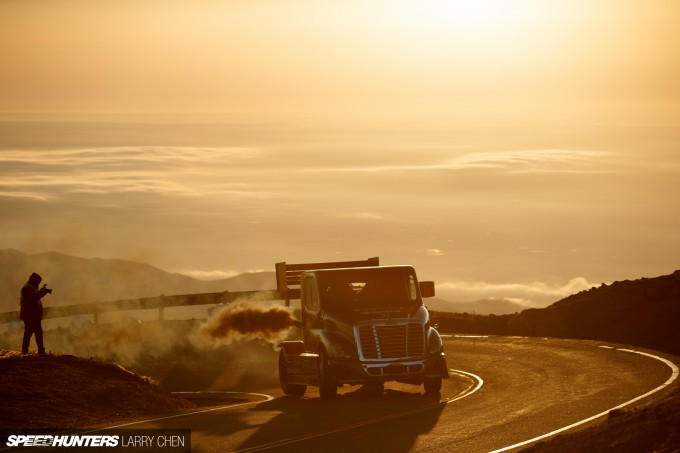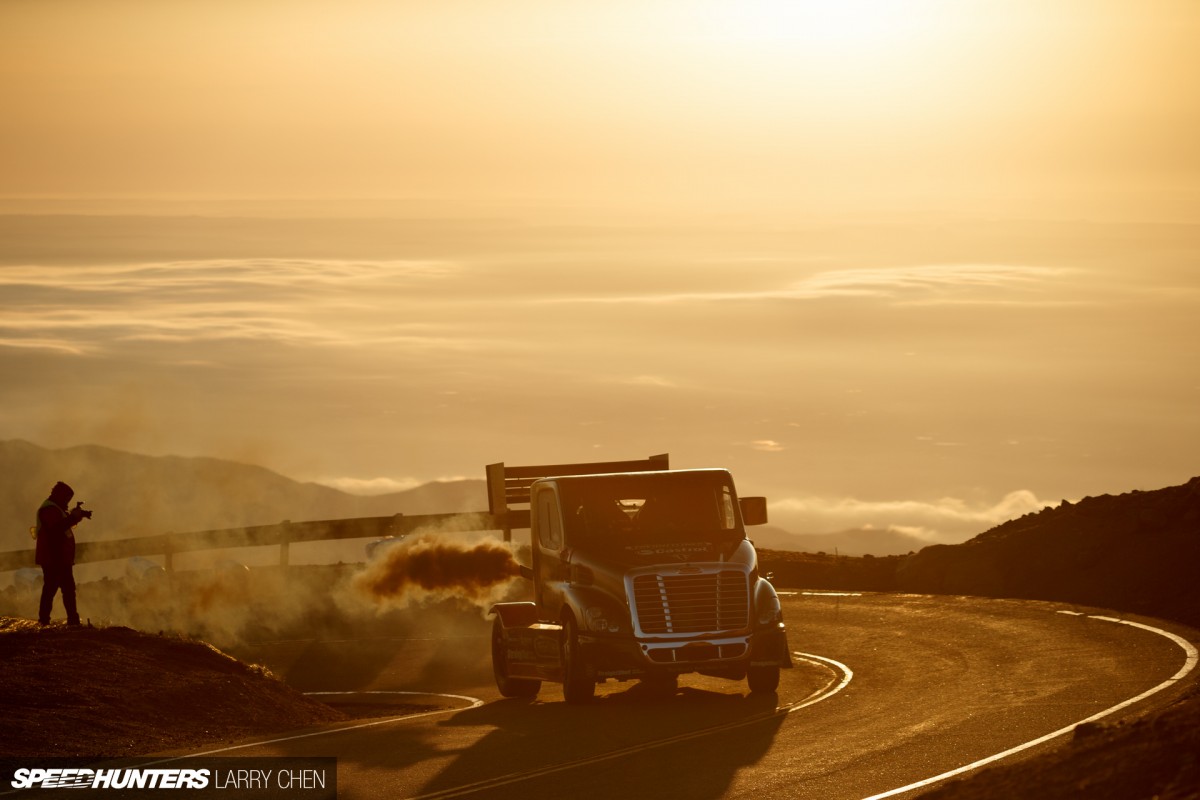 Always the showman, Hollywood stuntman Mike Ryan was up on the Peak with his massive drifting Freightliner. Unfortunately, he ended up going over one of the many cliffs, but trees took the brunt of the impact and Mike walked away without a scratch.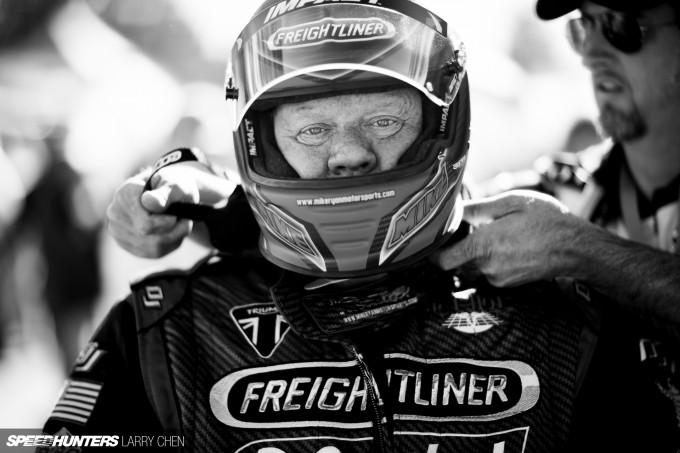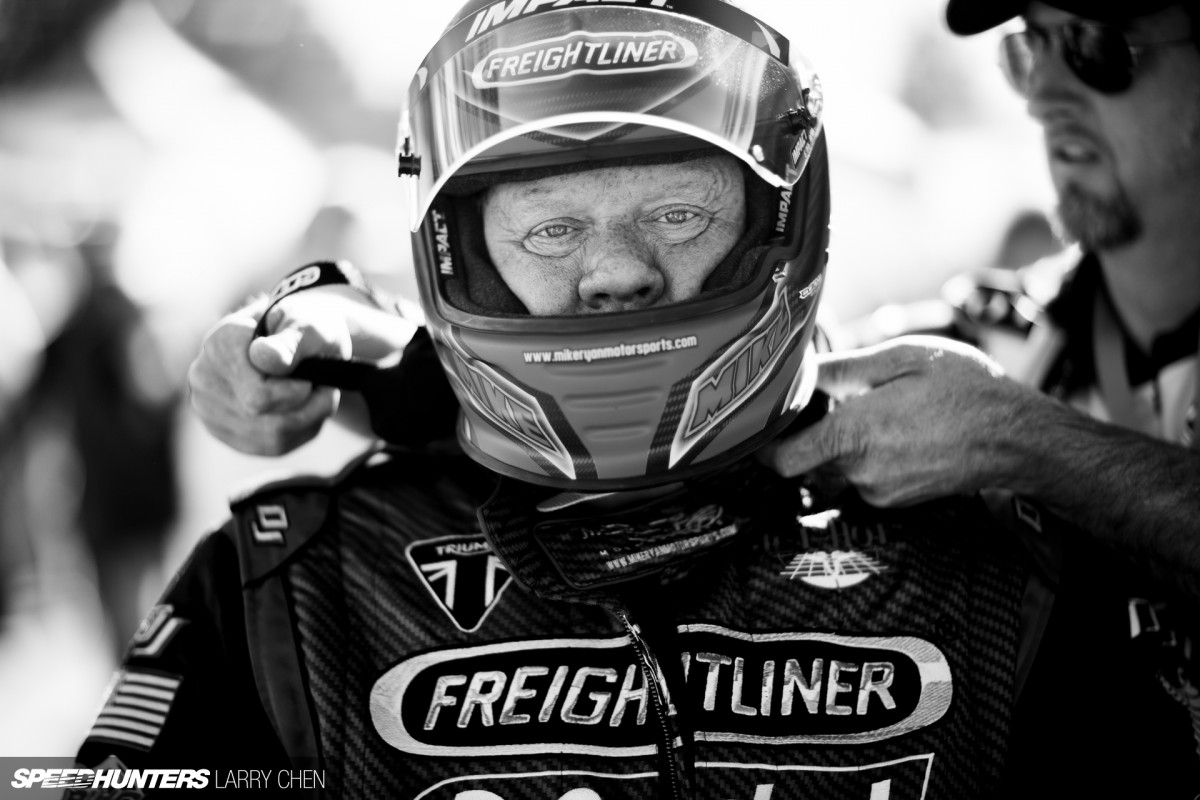 Mike actually started racing on two wheels at Pikes Peak, so the next day he jumped on his Triumph motorcycle and qualified for the main race. On Sunday he finished the course in 13:46.884, which was good enough for 4th place in class. What a trooper!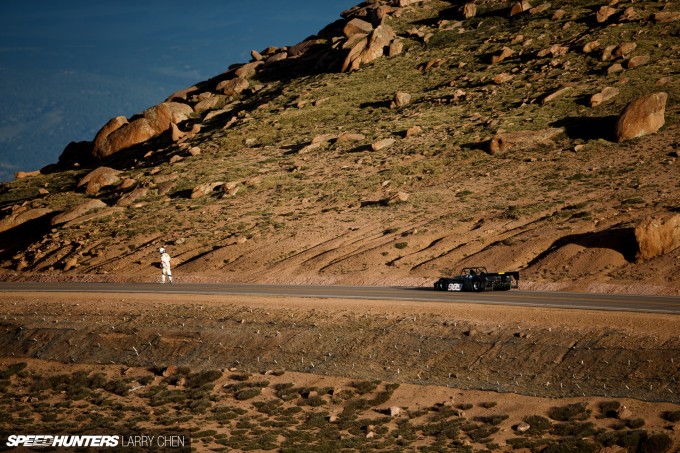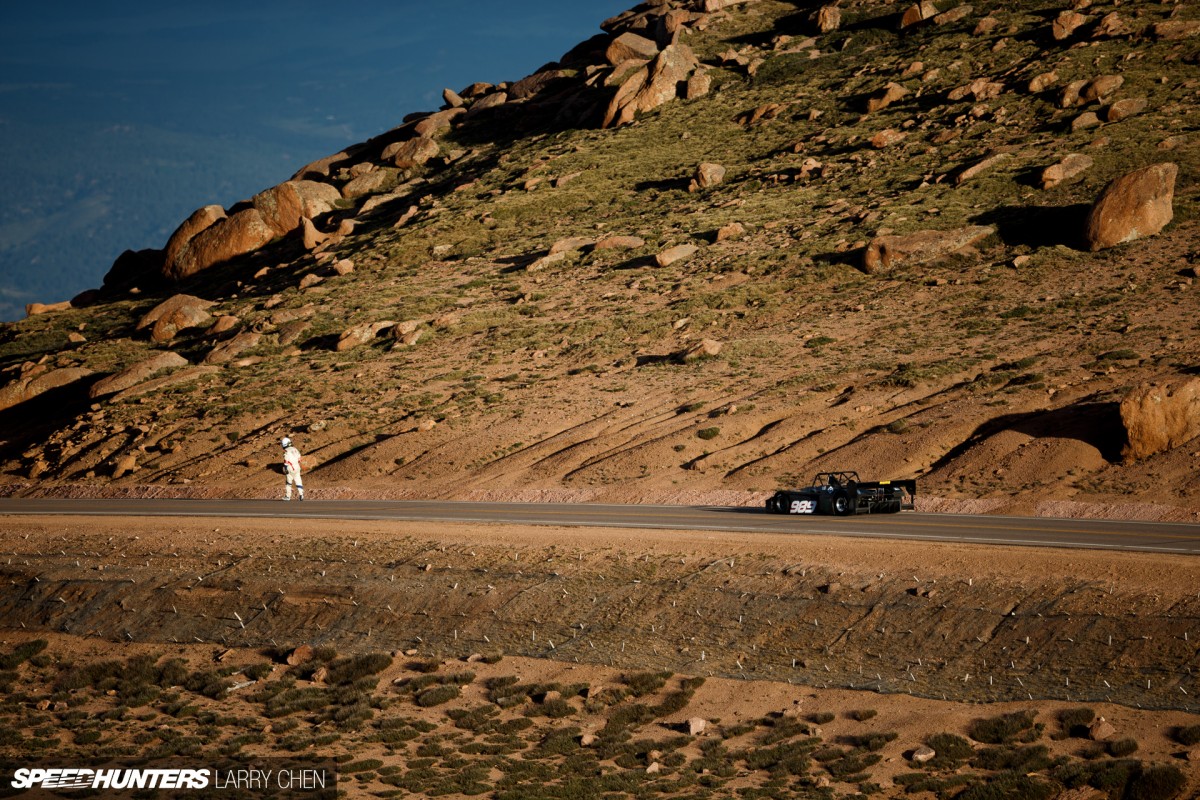 The dedication to race here is just crazy. Because the event only happens once a year, competitors go out of their way to make sure they can run on race day. Even the media helps out sometimes. When this guy was stuck my friends radioed their friends back in the pits to let the officials know that someone was stuck on course.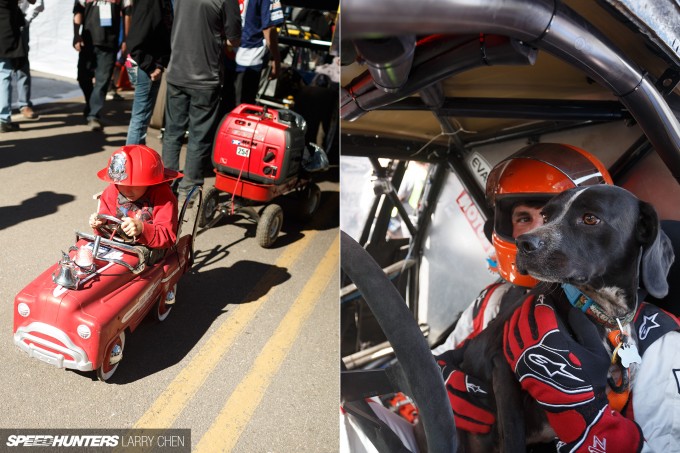 Even the little ones want to pitch in too. Teams have to carry a generator around as they approach the starting line because they need power for their tire warmers. The little dude on the right was also helping out by calming the nerves of 'Texas' Dave Carapetyan.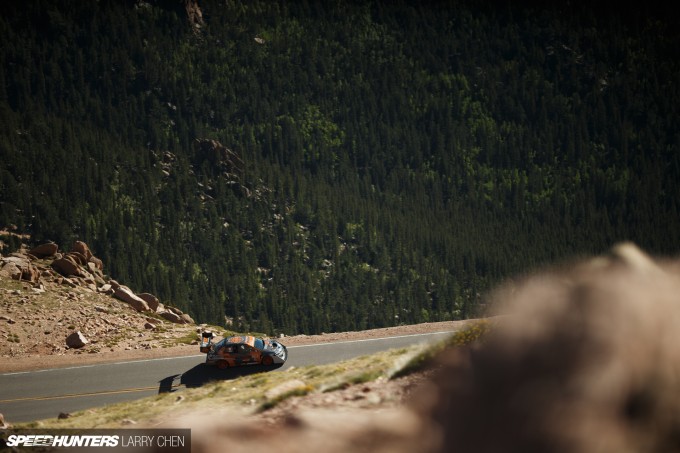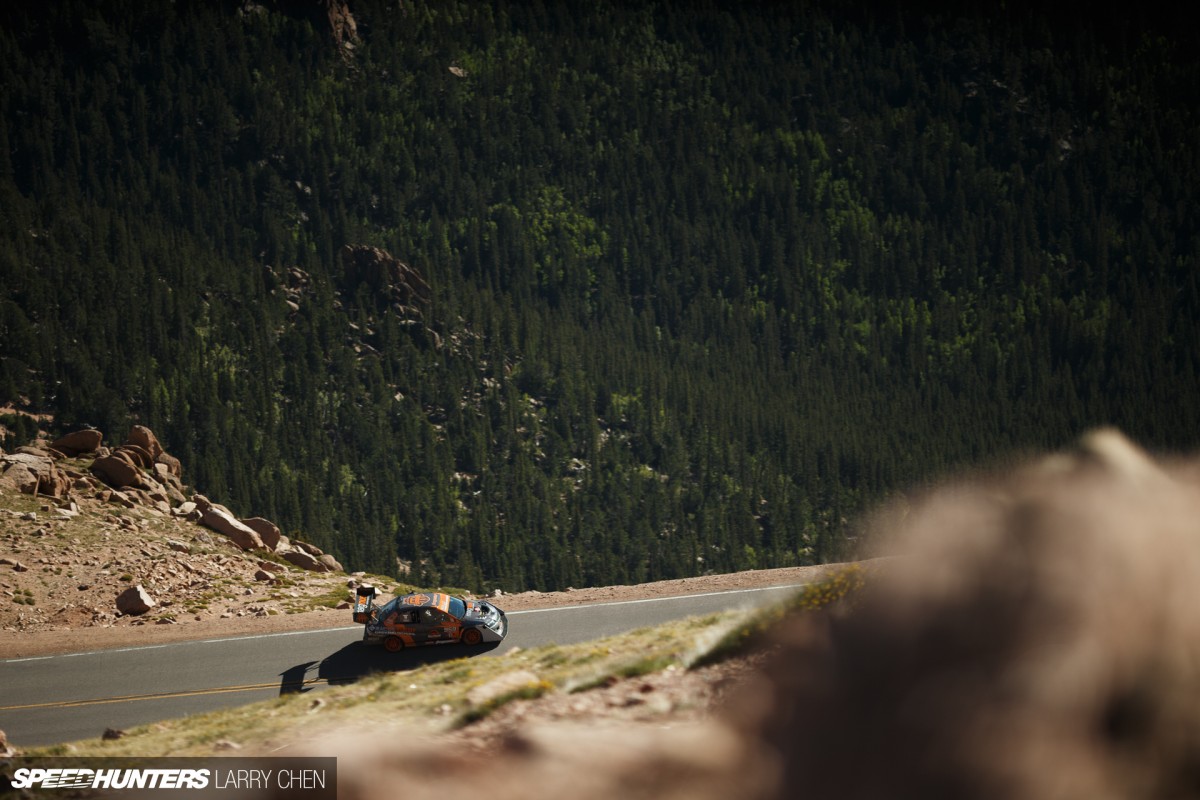 Dave had no sleep the night before the race because they cracked the head in their 2003 Mitsubishi Evo. They found another one nearby on Craigslist of all places, and swapped it overnight.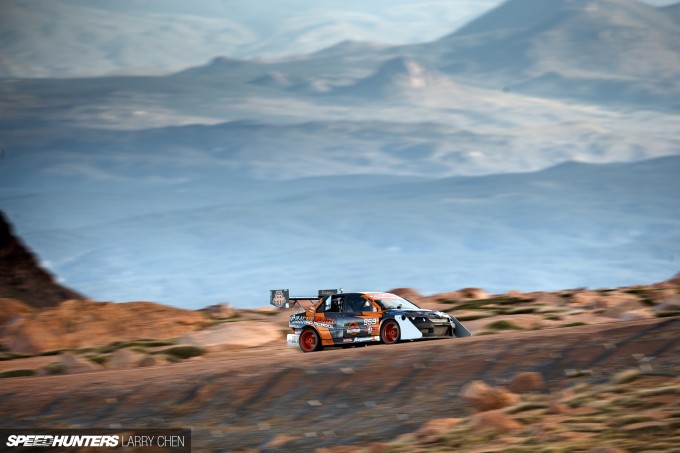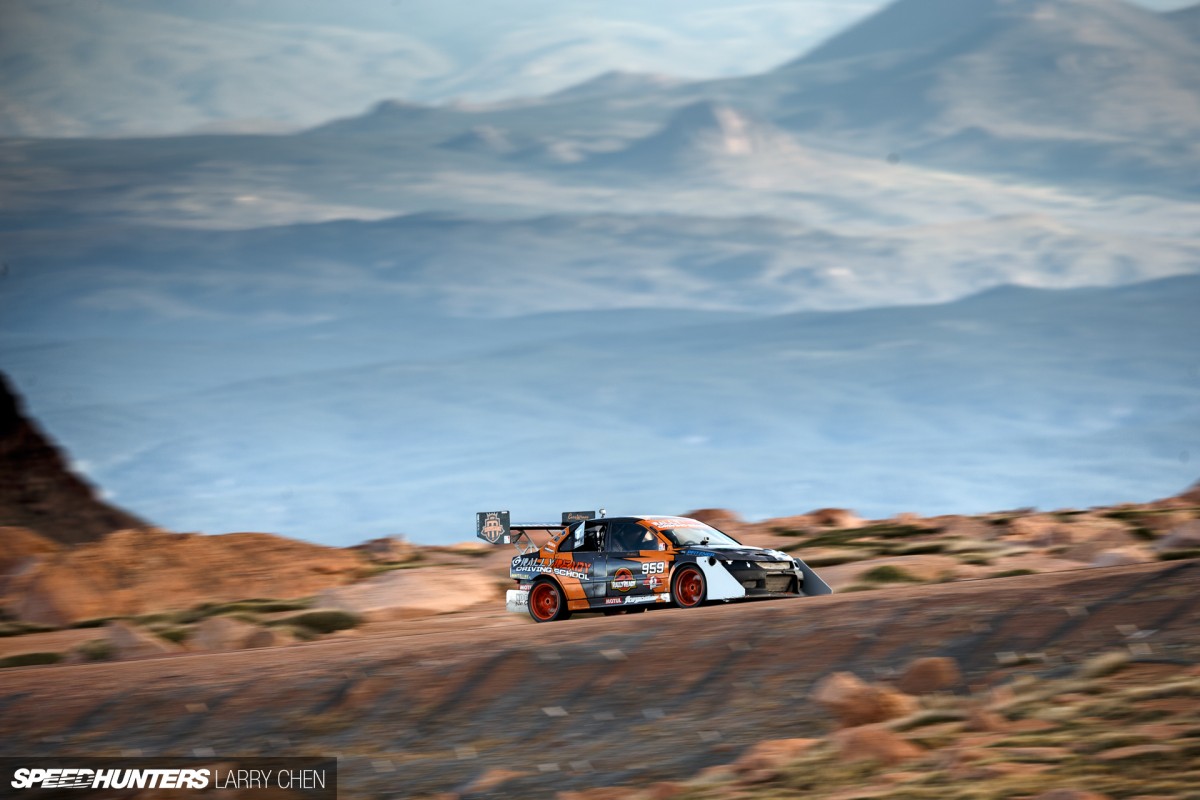 Dave did not make it up to the summit, but his Jurassic Park-themed Evo will be back again next year.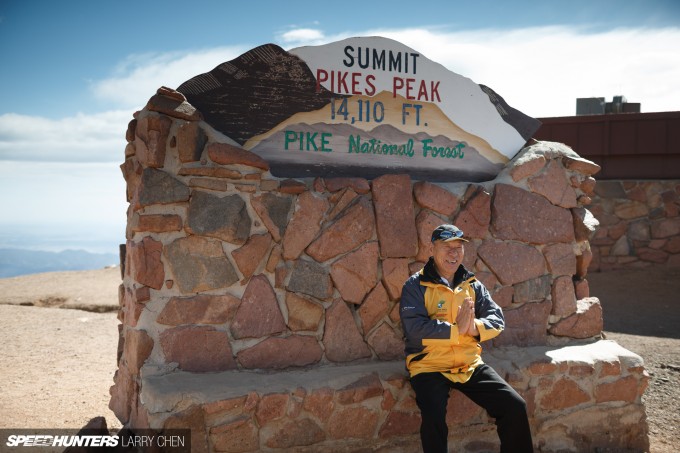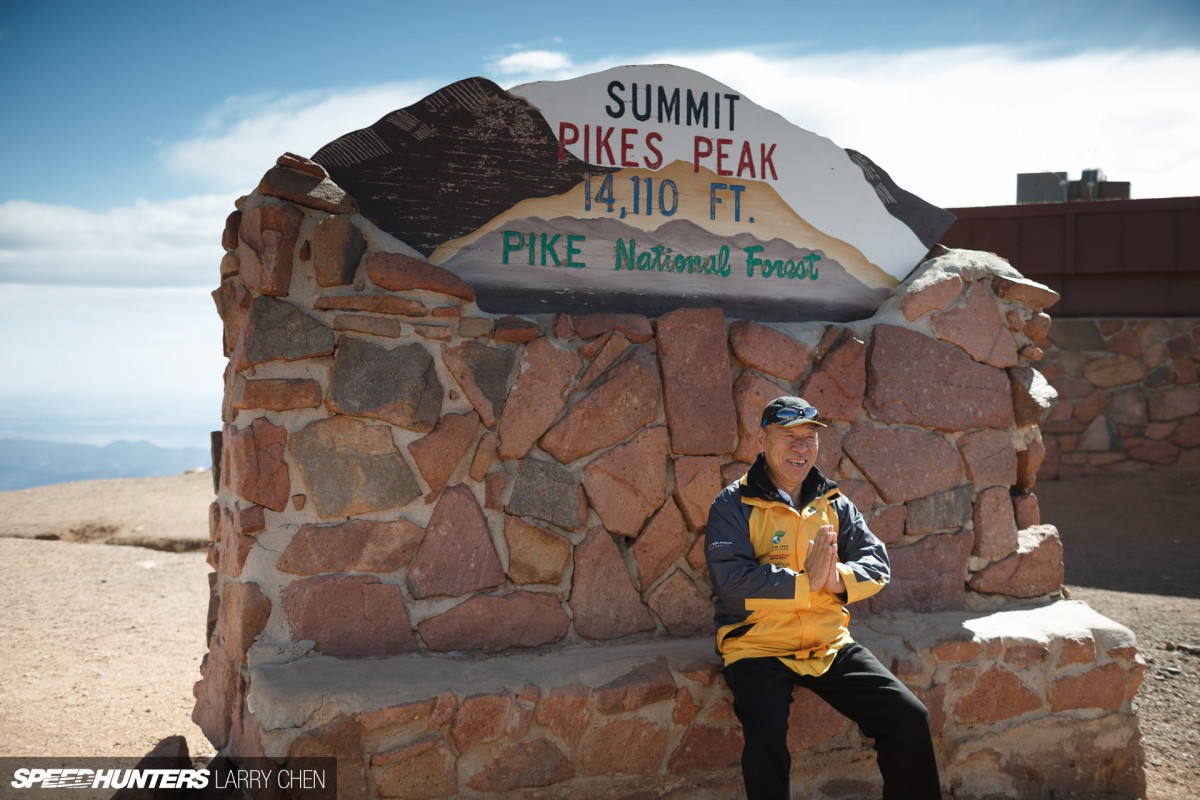 One of the most interesting characters to follow every year is Nobuhiro 'Monster' Tajima.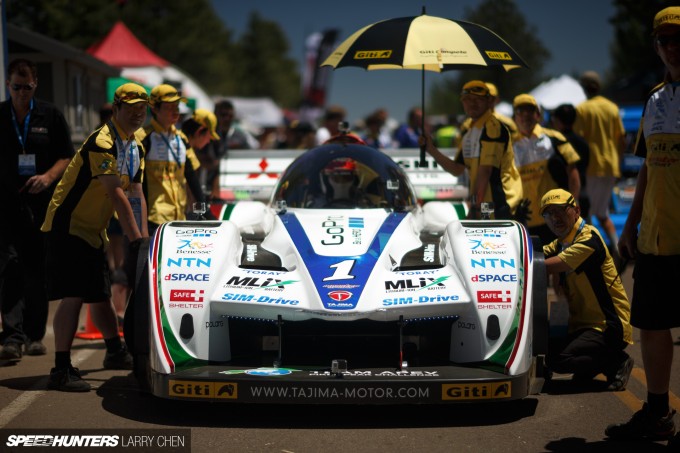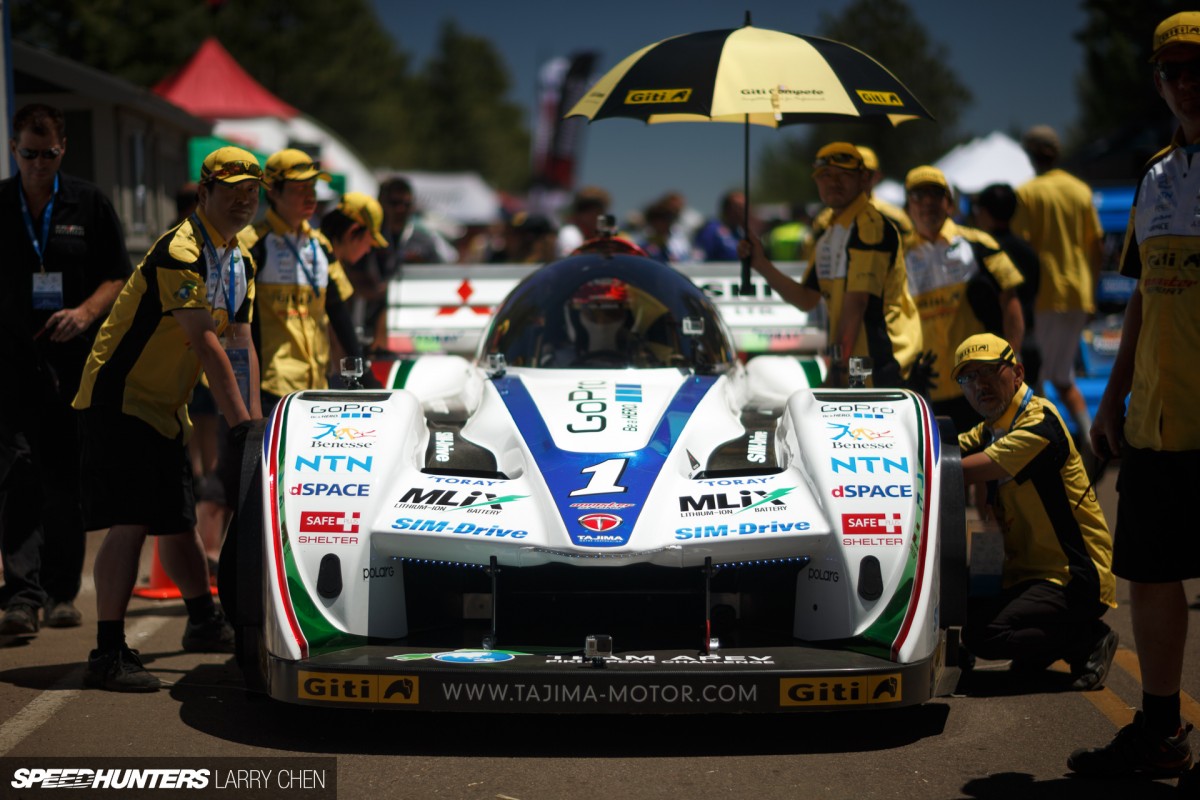 He was the very first person to make it to the summit in less than 10 minutes and is also credited with popularising Pikes Peak over in Japan.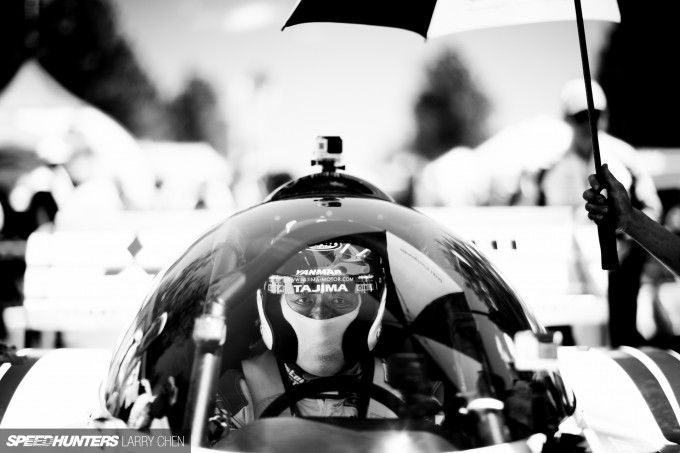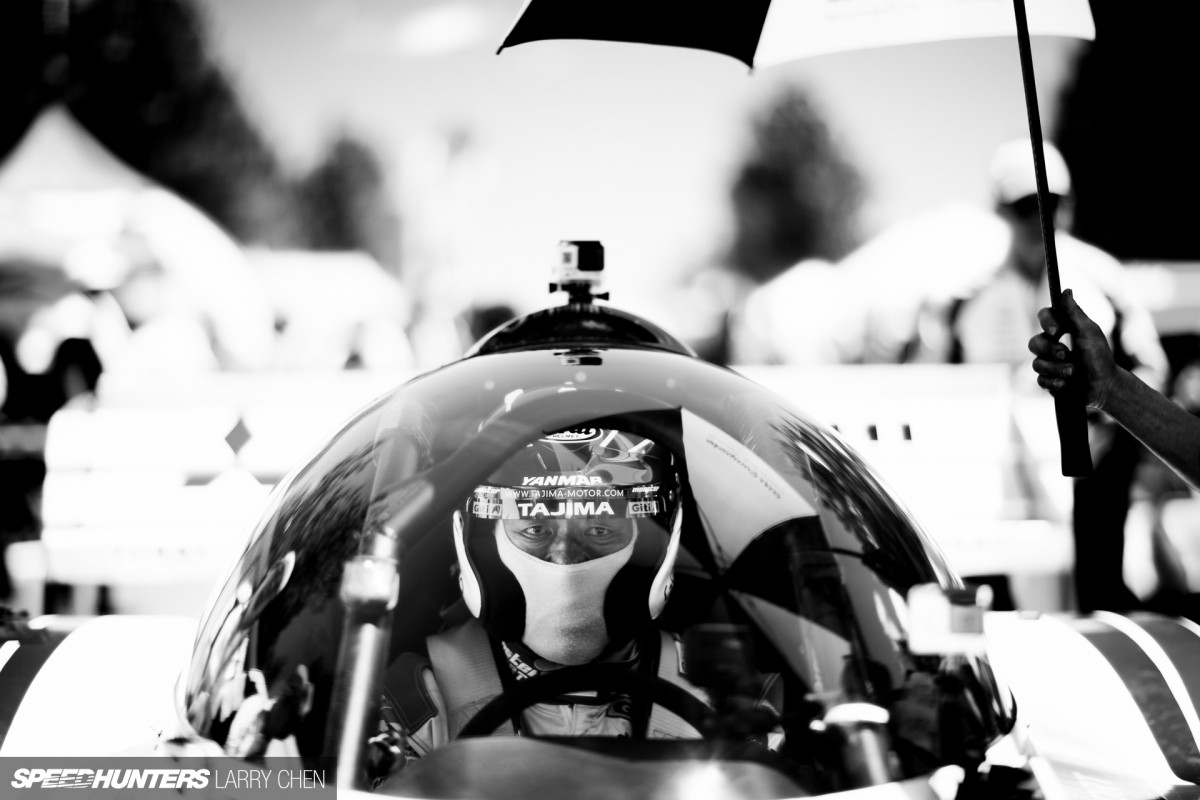 I never liked the idea of an electric race car, but when I first saw his Monster Sport E-RUNNER back in 2012, I was hooked.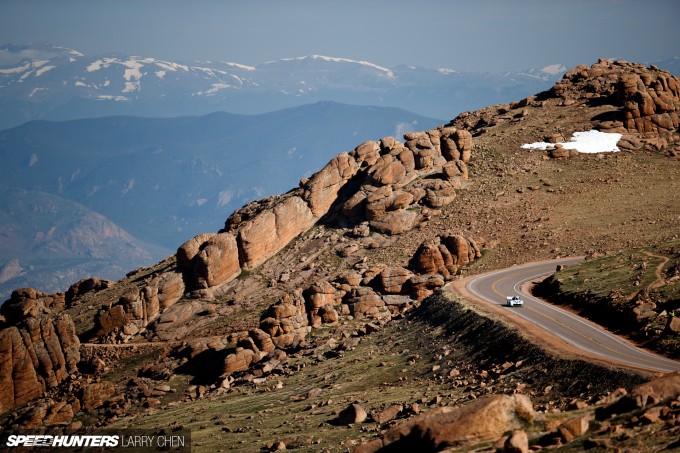 I thought it was one of the coolest cars there, and the fact that it was silent made it seem even faster. Of course, now the race officials make all of the EVs run sirens, but before then all you could hear was the slight whirring sound from the electric motors and the tires fighting for grip.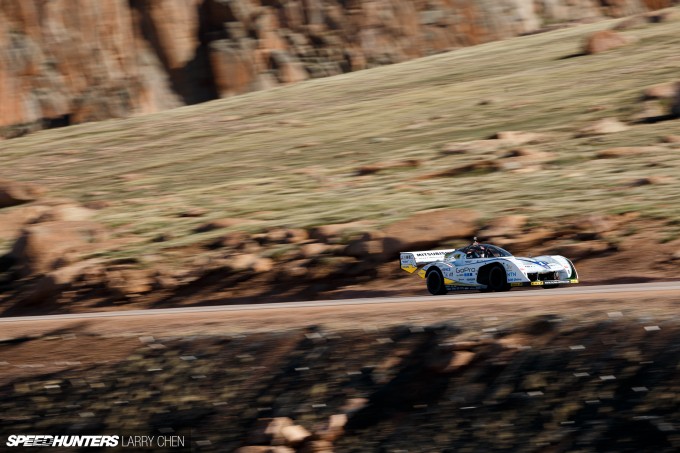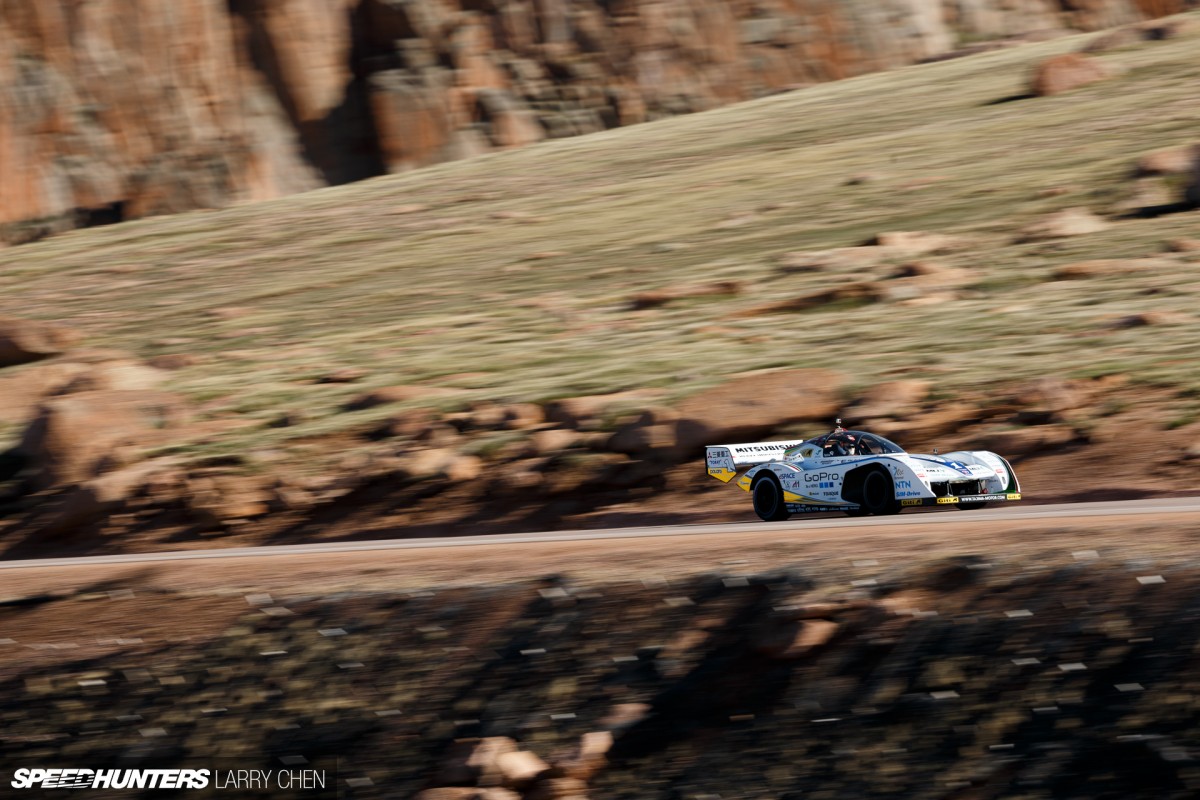 This year Tajima-san finished 4th overall and 3rd in the Electric class.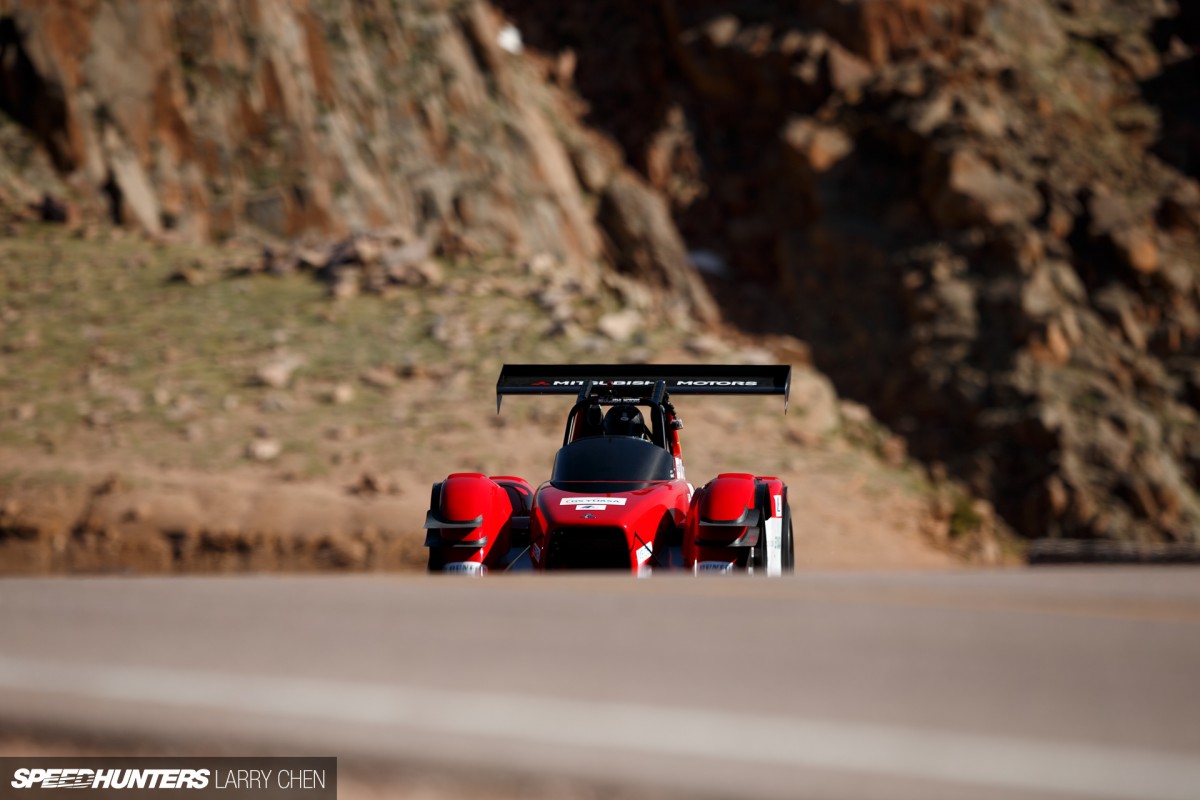 1st place in the Electric class and 2nd overall went to Greg Tracy in a Mitsubishi-powered EV.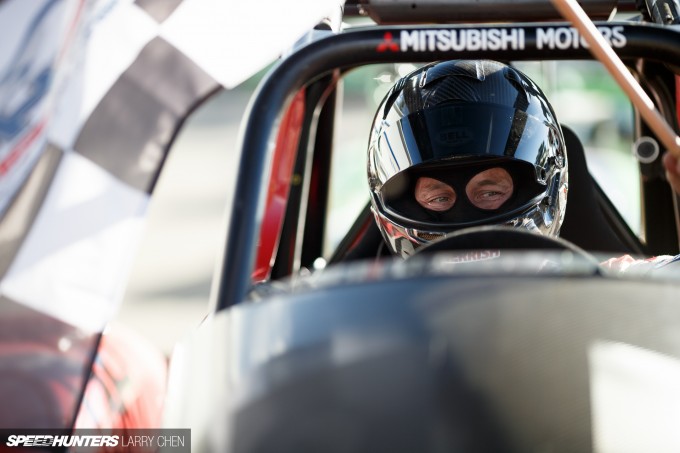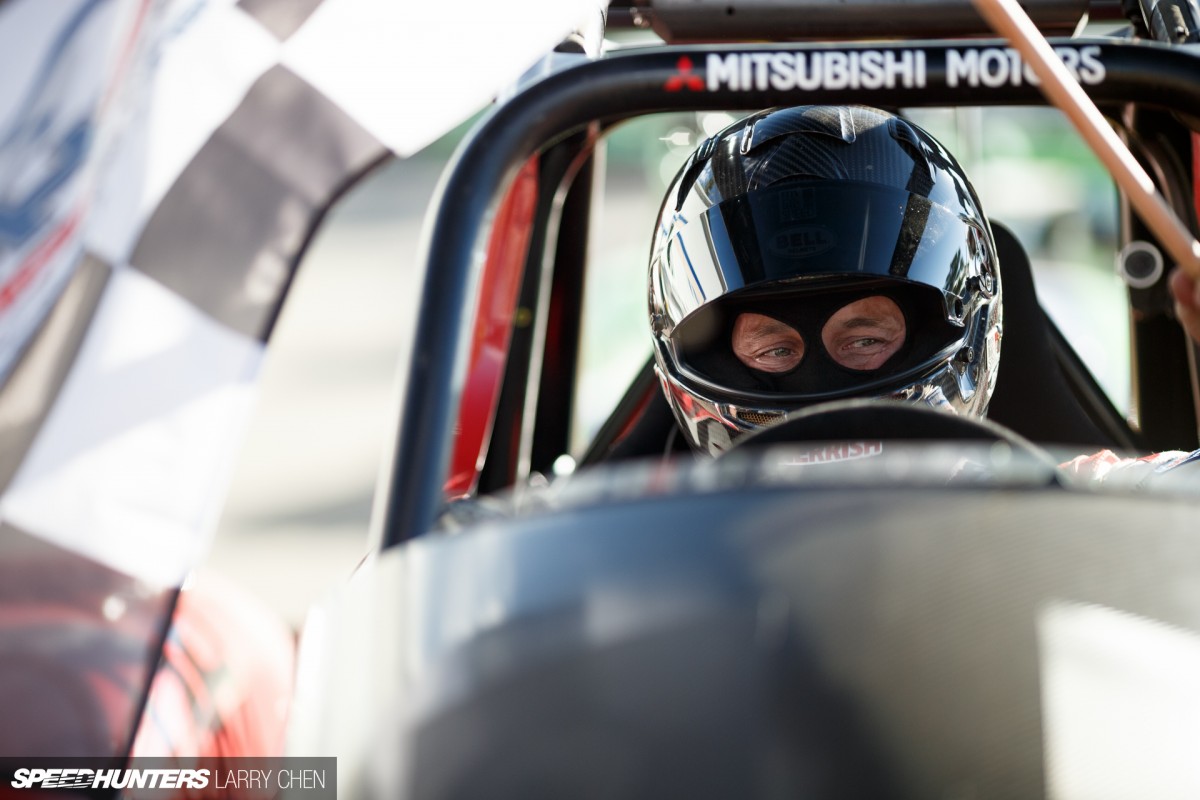 He was just a few seconds behind 1st place overall, which really goes to show how competitive electric race cars now are at Pikes Peak. Since it's only a 12-mile course the batteries only need to have enough juice for that length. There's no doubt that one day an EV will take the overall win here.
It's no secret that drifters – for one reason or another – love Pikes Peak. This year alone there were three Formula Drift drivers competing: Ken Gushi, Danny George and Toshiki Yoshioka. I interviewed the trio, so keep an eye out for my second Pikes Peak article. My good friend TJ Fry is not a Formula Drift competitor, although he does like to get sideways.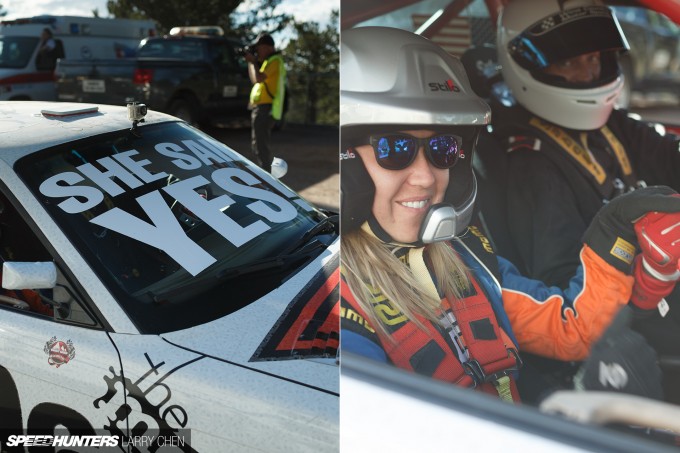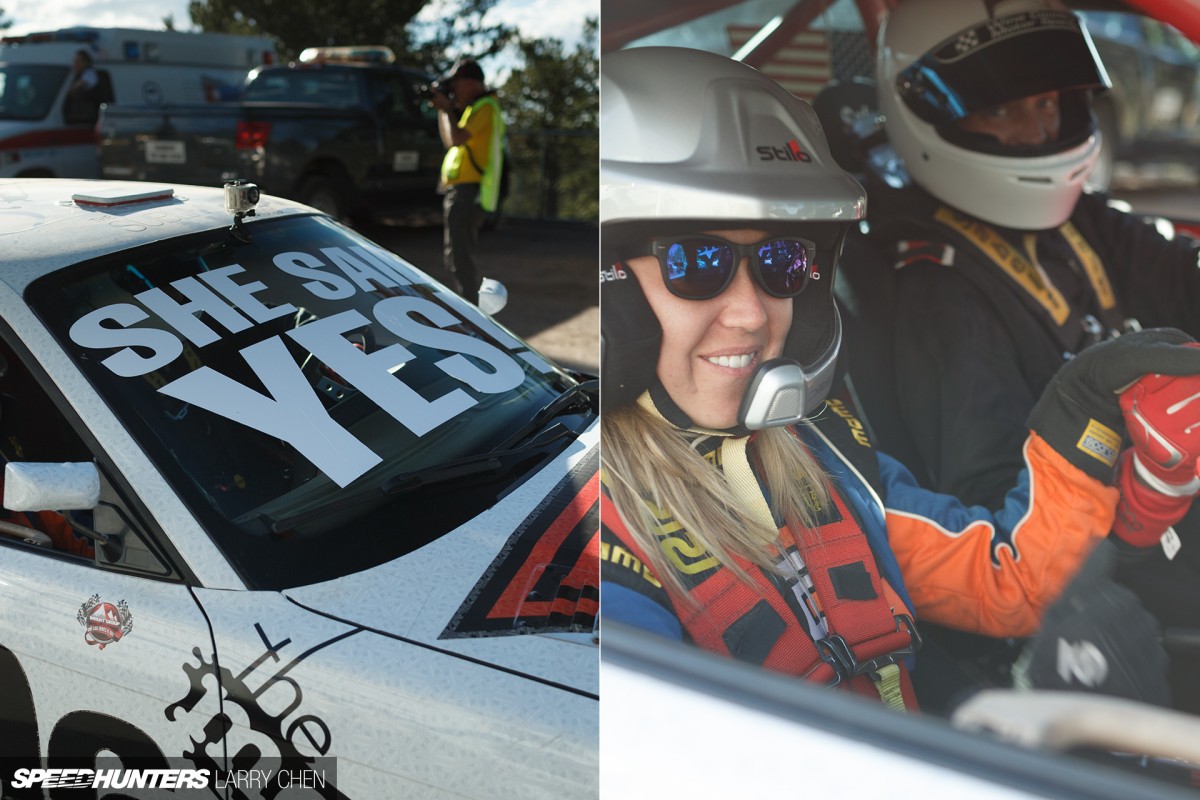 He is a driving instructor and amateur drifter, and this was his rookie year at Pikes Peak. He decided to kick it off with a bang by tricking his girlfriend to go shoot photos of him as he crossed the finish line. Little did she know, he changed his livery on the rear quarter panel with the words 'Will you marry me?' That's some way to propose, eh?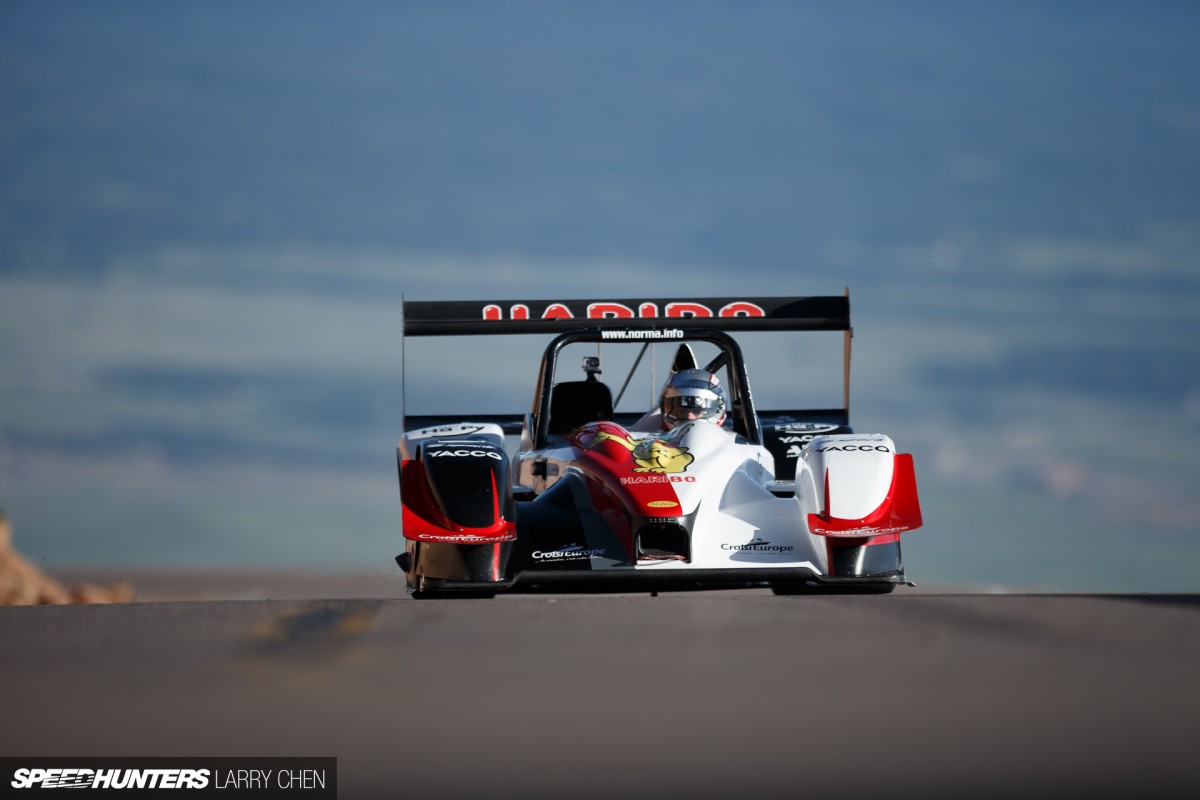 The overall winner, and the king of the mountain this year, was Roman Dumas in this Honda-powered Norma. Although this open cockpit prototype was much faster than his Porsche, I definitely miss his GT3 RS. I'm a sucker for a Porsche sports car.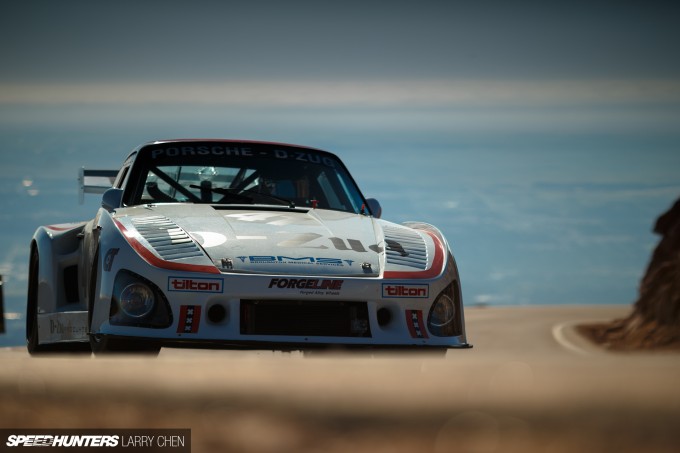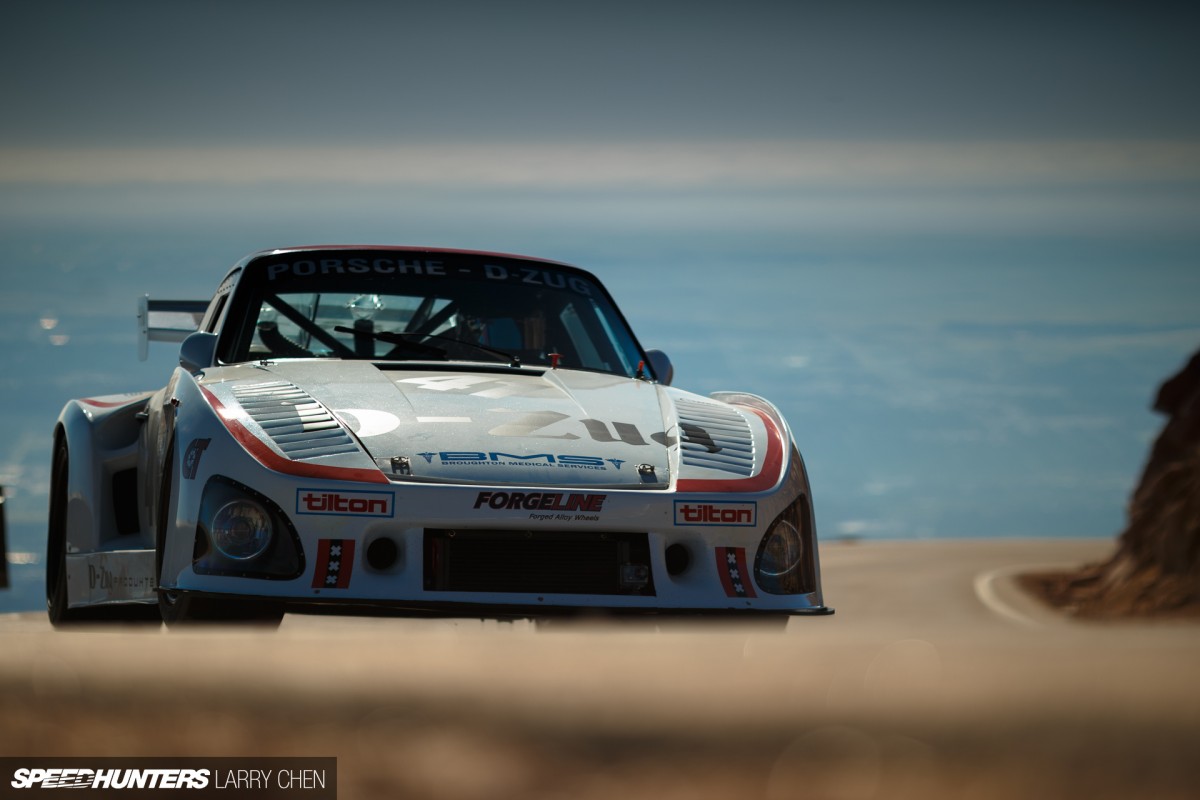 Which brings me to one of the most beautiful cars to grace the mountain this year: an absolutely stunning Porsche 935 built by D-Zug.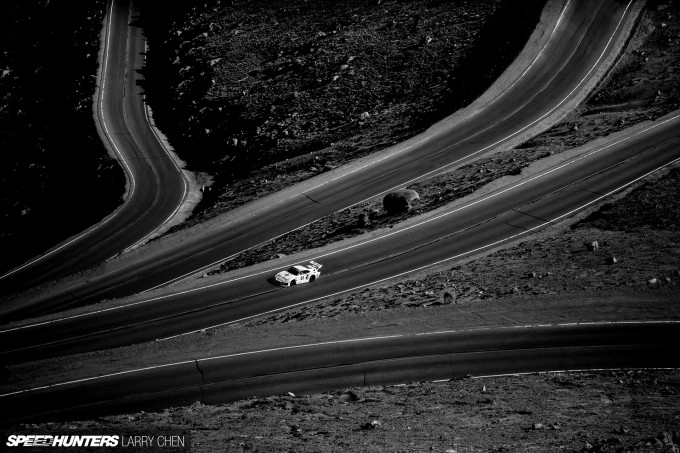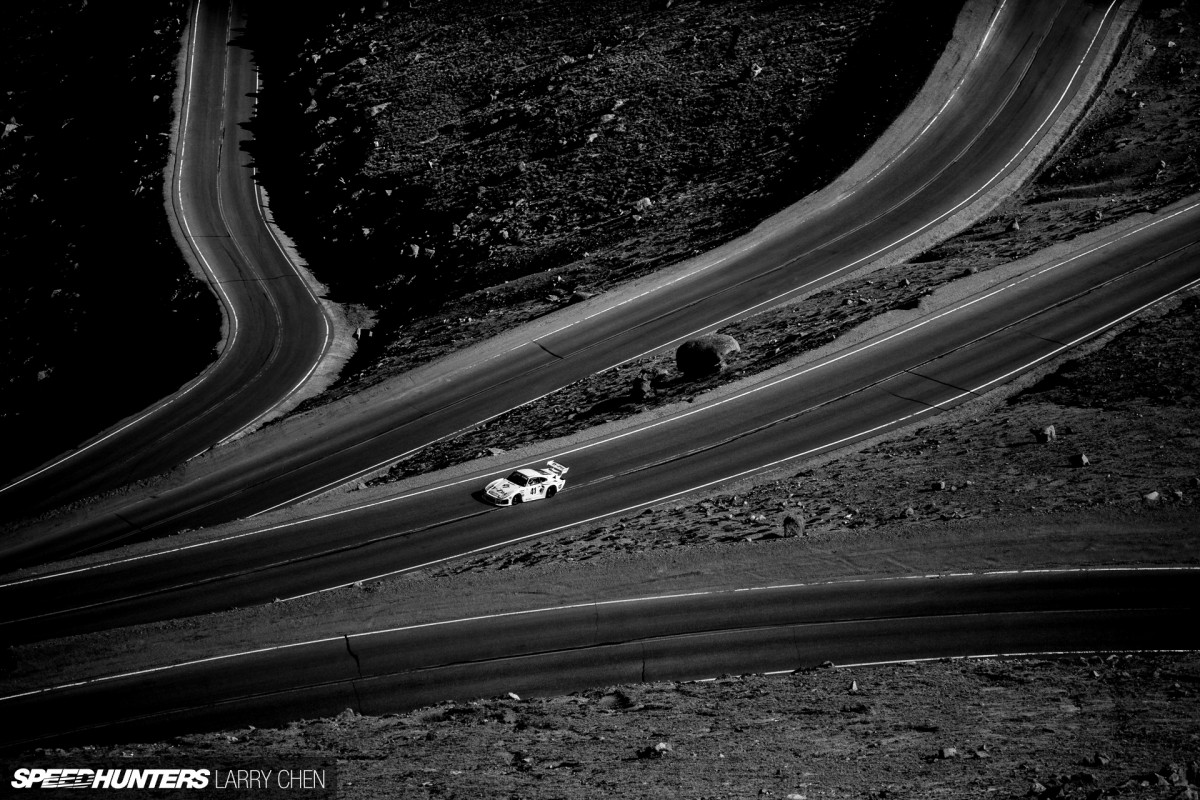 Although the team ran into some major issues during practice, they still managed to put in a few runs.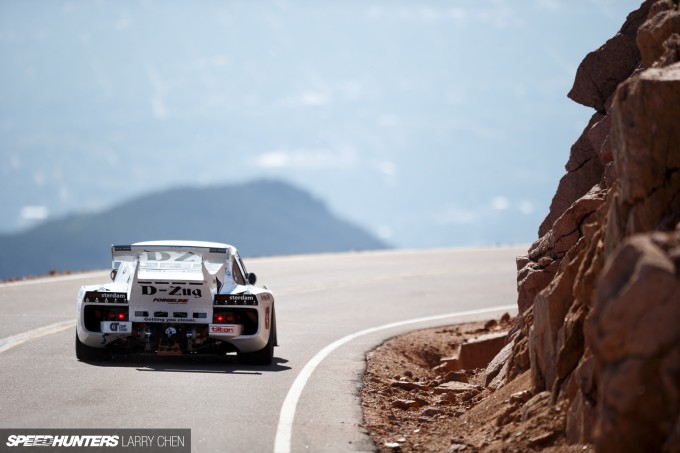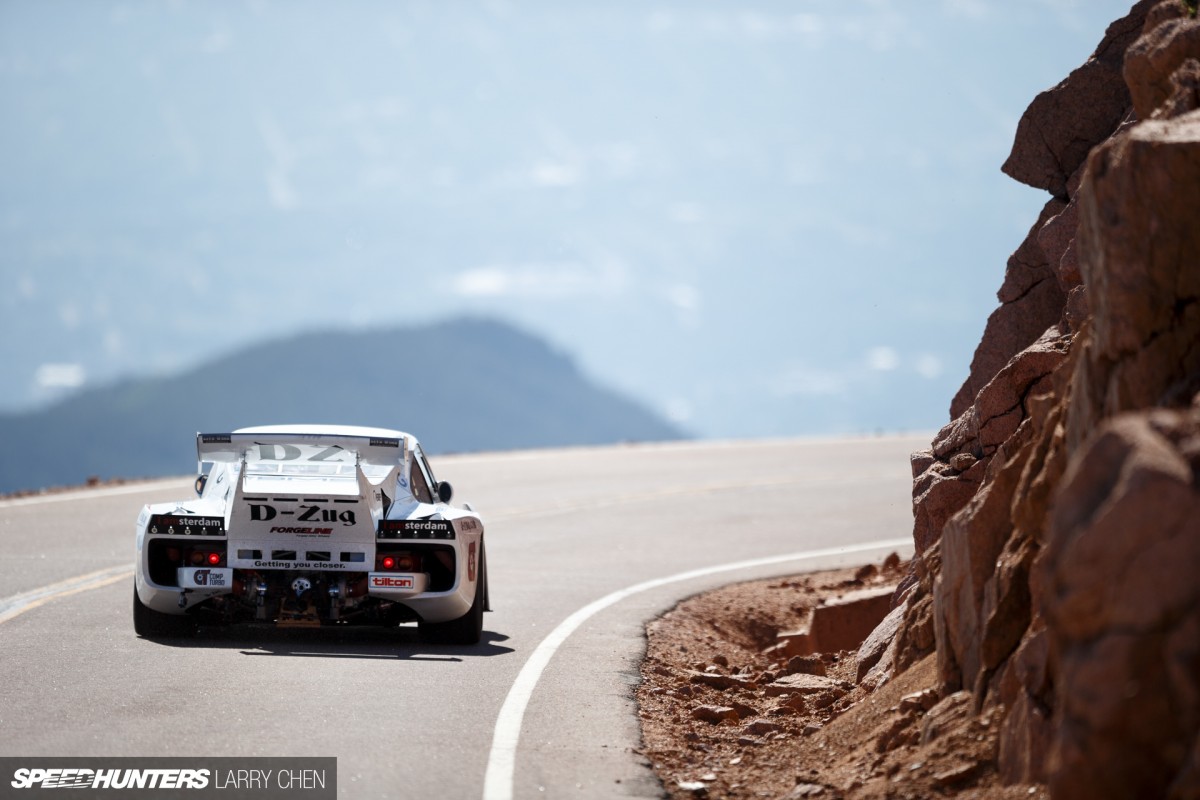 Because it was their rookie year competing at Pikes Peak, they had to run each section of the course at least once to be able to qualify for the main race day. For whatever reason though, they didn't get a chance to run the top section so they had to sit out on race day. As I have never seen a 935 drive at speed, I was really looking forward to seeing it run too.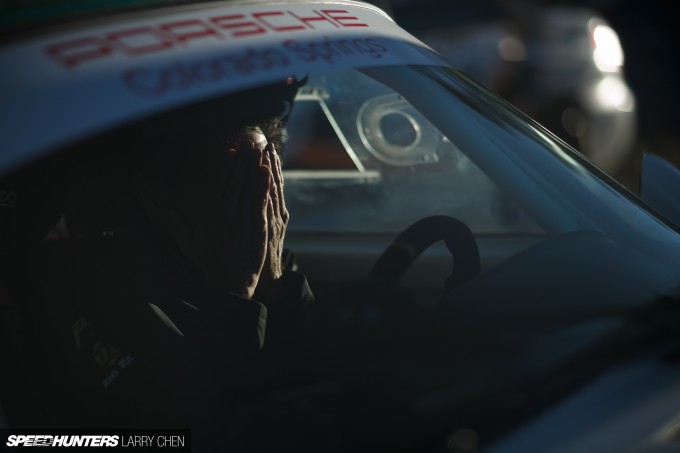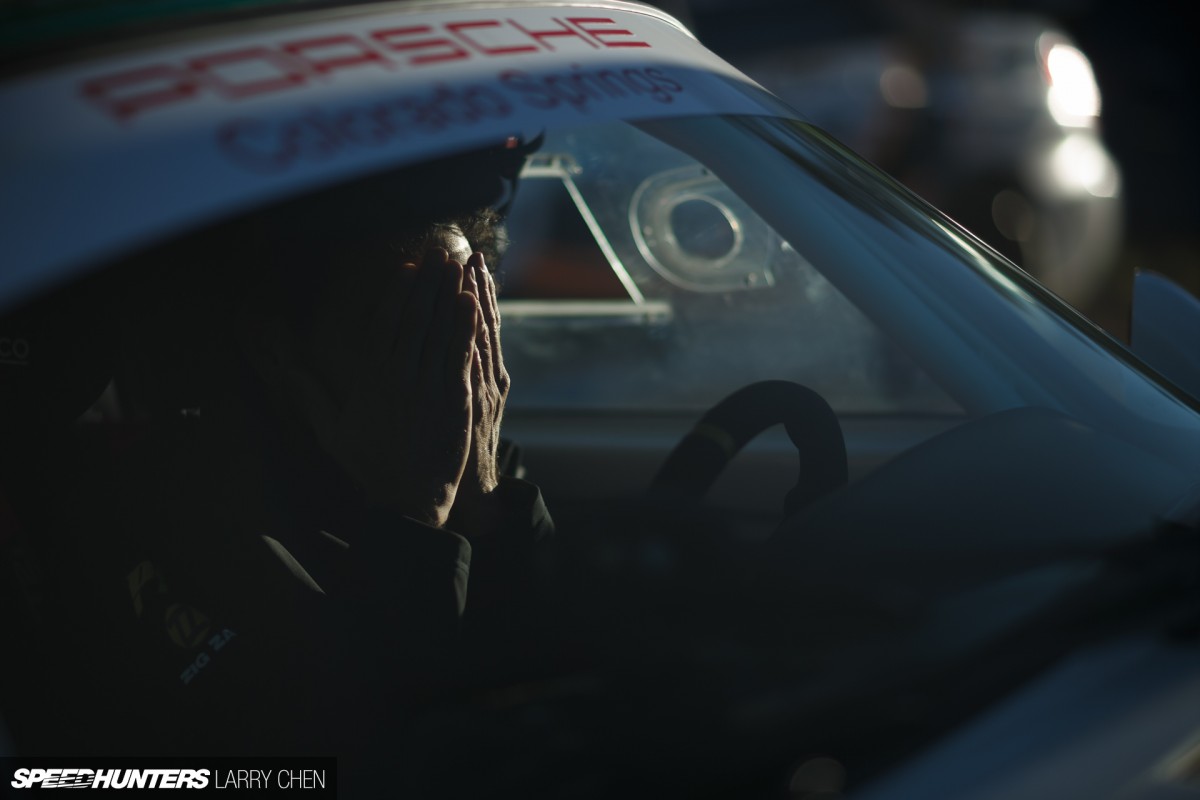 By the end of the week I think everyone was feeling tired from the early mornings and lack of oxygen.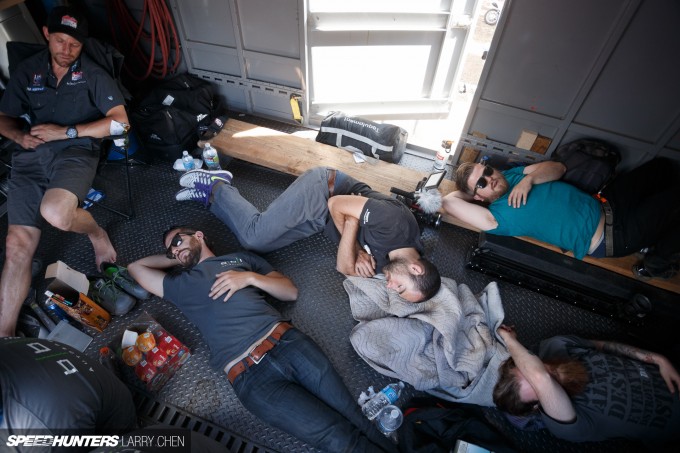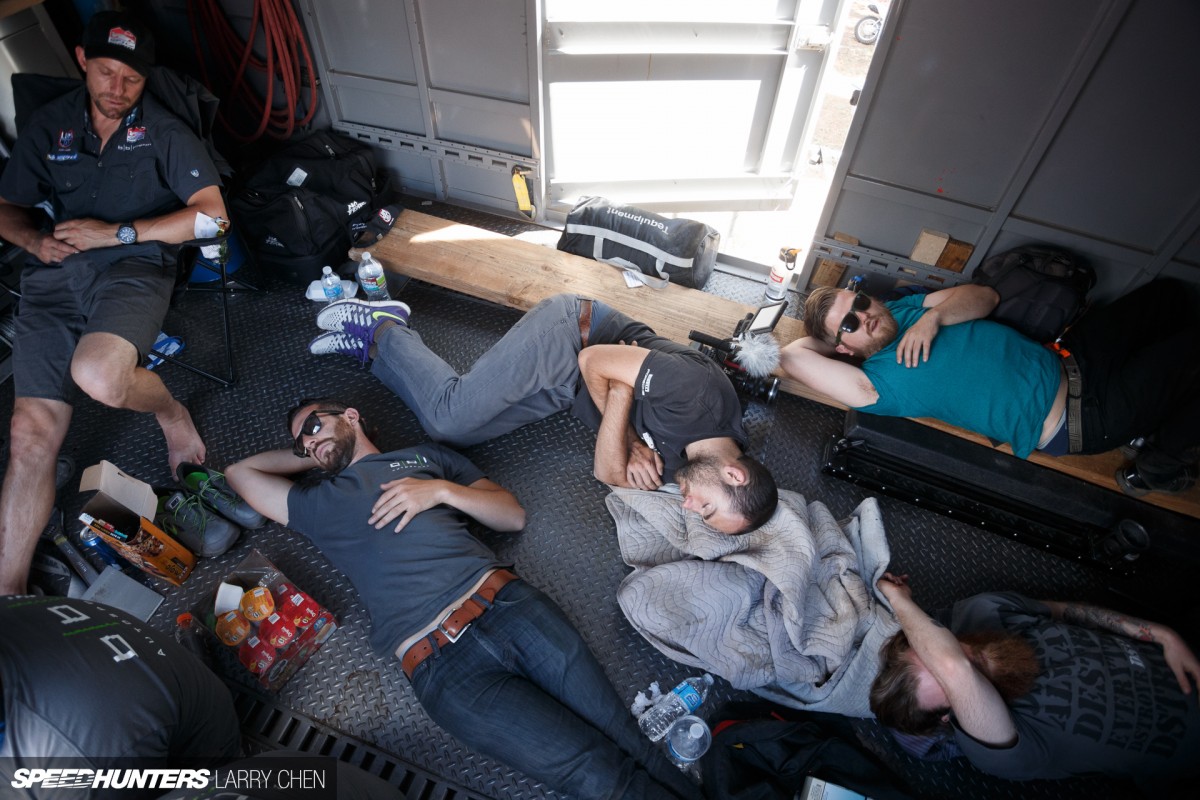 Every year I wonder why on earth would anyone continue to punish their bodies by hiking uphill to the summit at an ungodly hour just to take a few photos of some race cars. But then I remember that I am not the only one. Year after year all my friends do it as well, but by mid-afternoon on race day the exhaustion had caught up with them. Why do we continue to do it you ask? Because Pikes Peak is the greatest hill climb in the world – that's why.
Rest in peace Bobby Goodin. I hope you are dragging-knee around the best corners heaven has to offer.
Larry Chen
Instagram: larry_chen_foto
larry@speedhunters.com
Cutting Room Floor